Amazon
Contact Amazon Corporate
Toll free phone number: 206-266-1000
---
Welcome to the Amazon complaints department. The company is one of the largest online retailers in the world, a company worth billions of dollars. It is led by CEO Jeff Bezos with it's corporate headquarters located in Seattle, Washington.
Famous for their excellent customer service, Amazon offers fast shipping on books, electronics, clothes, and millions more items for sale online. Although very few of their customers report problems, negative reviews are often found. They include shipping problems, seller complaints, accounts being banned, and rude employees. Because the company is so large, it is often hard to police the entire website.
If you need to contact Amazon corporate, the best phone number to call is their support hotline at 1 (888) 280-4331. Although, the company would probably like you to use their help website. It includes information on shipping problems, order complaints, seller feedback, and more.
Amazon Contact Information
Report complaints to corporate and get satisfaction
Amazon headquarters address

410 Terry Ave. North,
Seattle
WA 98109-5210
United States

Company website

1-800 phone number

206-266-1000

Support email address

support@amazon.com

Better Business Bureau rating

A+

Customer service hours

24 hours a day, 7 days a week
Browse reviews of other Online Shopping
Top Amazon Complaints
Browse more than 949 reviews submitted so far

Mark Smith
from Buffalo, NY
Paid $99 for amazon Prime, for mainly Amazon Prime Video. Twice while watching a TV and Amazon produced series, I no longer can watch the rest of the series (season 8 of 12 and episode 8 of season 1) without paying for each additional episode. In my opinion that's called 'Bait and Switch'! Never have I had this type of situation with Netflix after almost a decade.

Helen walker
from Johnson City, TN
On two separate times I have got a email from ur company stating that a $200.00 gift cards was purchased on my card. I didn't make any such order. The cards was send to my gmail. I don't know this person. On April 30, 2016 and May 6, 2016. Order #111-0298450-2568547. I'm not responsible. Please stop any further action or card purchase at this time. Please do what needs to b done to protect my name.

Charles Current
from Albany, OR
I received terrible customer service from JB Tool Sales through Amazon, so I put up a negative seller review. Amazon took the review down at the seller's request. Then the seller emailed me to gloat about getting it taken down.

paul hames
from Montpellier, K
I have had an Amazon kindle since august It will not download books. I have been in contact with the help line and have spent weeks going through their tech support nothing will work. I have repeatedly asked for information on how to return it for repair but they refuse to do so can anyone help.

Kathy Randol
from Pueblo, CO
So Livid, I'm about ready to cancel my Prime Membership. Last Friday, I was contacted about your $100.00 gift card. I was told the shipping was $3.50, I get switch over to the Supervisor, who talked way to fast. Would not let me get a word in. I became very frustrated, I hung up on her. She called me back Saturday, and did the same thing. You waited a few days later. Guess what? She did the same time! Then I was told, they mailed the gift card, I had to send it back.
Then I was told, the gift card came back to you. What is it? Amazon needs to train their employees! I checked my checking account. You've taken out the money for shipping, plus the $10 for the plan. I spend a lot of money with Amazon. This is unacceptable! For all my troubles, I should get the gift card! I want my money back, a phone call, with someone who speaks English. (719) 271-0897 One last piece of advice. Let your trainees know, Customers Matter! If I don't hear from you in a timely manner, I will no longer do business with Amazon.

Janyth Macdonald
from Falls of Rough, KY
I ordered a Philips Respironics O2 concentrator for 585.00 New through Amazon from No medical insurance co., it worked for about 1week. I called to return it, which they will but I am to pay for return plus 20% restock fee! on a defective item, unless I except another one in exchange. So I did, this "New" one (which was also a return from someone else, as the cord is unwrapped, on/off switch left on, no bands on wheels) made a putt putt noise after about a hour into its use, but I kept it going until it finally stopped that night.
I called No insurance medical co. again and they will not return my calls now. Am I forced to pay for a piece of junk? This has been a nightmare. Does Amazon not ever play a role here to help me out? I have placed a claim with them, but no response either. it's been a month, So I guess the state attorney general, federal trade commission, and BBB are next. I'm not paying for a return or restock fee on junk I bought in good faith.

Gregory McClain
from Phoenix, AZ
I am a very active Amazon customer. More than 200 orders in 6 months. My first complaint is a general one. Any time there is a problem with an order after the supplier says it has shipped there is no link or way left to contact the seller making it nearly impossible to resolve delivery issues once the seller proclaims shipment is enroute. Can't something be done about that? It is even worse once the seller proclaims it has been delivered whether it has or not.
I do not get mail delivery at my physical address only UPS or Fed Ex. I can deliver to the physical address. When sellers use the postal service as a delivering carrier and then chose the physical address as the delivery point, it always goes wrong.
I have two orders that this is an issue with. The first, placed in February was for Honey Catalina dressing (originally diverted because of weather related issues) has never been delivered, still shows as enroute and has been charged to my card. Second is Ajax sent by post to physical address.

Charlie D.Baines
from Naperville, IL
Have not refunded the amount of money, owned to me for items ordered by mistake. Two comforters. $ 152.08. This company is a ripoff scam online. Products sucks. Bought a man bracelet. Piece of crap. Can't wear it. Clasp is no good. Don't do business with this company.

Gerry
from Brick Township, NJ
I ordered something through their site for $399. The price lowered by $100 before I received it. They won't adjust price. Told me to contact seller. I did and seller said it was a mistake and price is going up. Here it is 24 hrs later and the price is still $100 less. They won't give me a price adjustment. Terrible!

Richard Sloves
from New York, NY
Because Amazon decided to terminate and eliminate DPREVIEW, I will no longer purchase any and all camera equipment using my Amazon Prime account. Amazon could have closed down DPREVIEW and yet still maintained public access to the decade's long equipment reviews and forum histories.

Brian Vaughn
from Detroit, MI
I've been trying to get a refund from Amazon for 3 months and getting nothing but the run around they say they'll send a paper check and still haven't received a refund..call back a they say they don't issue paper checks but I have emails from them saying they do send paper checks ..no one know anything at the " customer service" it's a complete waste of time..I feel like Amazon is stealing from me $284.64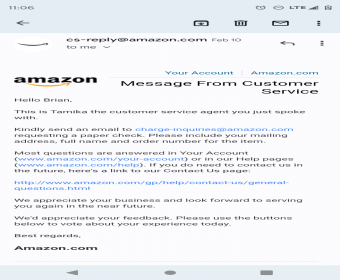 Jason Smith
from Phoenix, AZ
Order marked as fraudulent, credit card charged item not delivered been waiting since 11/13/22 for a refund.

Erin Oechsle
from Athens, GA
We are a seller of Custom Products on amazon.com. We have been unable to add new products since December of last year. the help technicians have said they see the problem but state it is nit their department. The ticket gets closed and the issue stays. I would like for someone with a passion for keeping customers happy to contact me regarding this issue. I have everything documented including case tickets. It is an unbelievable story with no ending.

Amber Torres
from Killeen, TX
I ordered a Vinyl repair kit to be delivered on Thursday March 16th. I got home from work and my package was not there I was told by a customer service rep to give it 24hrs it could be running behind even though it was marked delivered. I did, I also had to cancel with one of my customers last minute because I was unable to to repair the product before she needed it that Saturday. I started a chat on Friday 24hrs later and was told give it another 24hrs. I waited until Sunday when I called to see when I would be receiving my replacement product because I still needed it, they let me know that they will not be replacing or refunding me for the item I ordered and never received. I explained to them why would I lie about a $39 item?? I have spent 100's of dollars with Amazon and never been treated this way. So now I am out my product that I need to repair a unit that I own for my business and also out my $39. I am not the one who delivered it to the wrong address it was AMAZON'S DRIVER. a person you employ not me. I own a business and if one of my associates was the cause of a customers issue I would make sure that I made it right. I am not paying for an item I DID NOT RECEIVE! I want my product or my money back. If you can assist me with this issue please?
Thank You,
Amber Torres

Ricky Munger
from South Lyon, MI
They put my account on hold three weeks ago because I started making purchases. I have sent them copies of my bank statements my card number, even the balance in my account. And yet I keep getting lied to every day that I call that someone will contact me I have sent them everything they've asked for and they still have my account on hold and cannot verify my information. they repeatedly taking money out of my account and I cannot get it back because I can't even speak to a human. You have to email everybody. Amazon is a joke anymore and once they have ur card number they take take take and scam you out of your own money. No one has contacted me nor emailed me about this problem or even made an attempt to fix this! Only thing I haven't given them is my blood or first born child!

D Srikanth
from Hyderabad, TG
I ordered jaiib books for my banking exam on 3 mar 24, but seller sent me kids fun book ...kindly help....i lost my valuable time and money got stuck...no one is helping....I'm attaching the details plz find the attachment....kindly help.....srikanth ,mob no - +91 7071820877, mail - choudary_srikanth@yahoo.com

Geralee Frye
from Salem, OR
In interim of doing ph. transfer, from Android to iPhone..my Amazon accnt. orders portion of my app. ended up showing "no orders", & having no past orders also. I had a couple orders on way & was not able to access locker hub in lobby of my bldg. In contacting Amazon, was informed my address ,apt. bldg. nor my zip code did not exist..even tho I informed 3 different cust. service personnel that I am standing in my apt. of 11 yrs., looking out my window onto said st. @ stated zip code. Just frustrating while trying to unravel the issue at hand! Was transferred to 6+ personnel..having to repeat my situation over 2hrs. of time..most were pleasant, until you get one who is making some kind of statement of how it's going to play out & hangs up on you after all your effort,time & hope of getting your accnt back on track. It took almost 4 wks., 6+ calls, speaking to over 15 personnel , another Hangup…one which I had spoken up about the whole process yet I did not use any distasteful wording etc. I have no clue how Amazon has made it to be at all what it is while lacking incredibly in its customer service dynamics..I realize the worlds all about cost effectiveness, but please, this is costliness.

Travis Jones
from Memphis, TN
Security guard was being very disrespectful and unprofessional, they have metal detectors that is going off for no reason someone needs to investigate the issue.

natalia douglas
from Mesa, AZ
I ordered an item on Amazon their delivery said it was delivered took a picture of the wrong house. I called to talk to customer service they said there is nothing they can do and no refund will be issued it said it was delivered it doesn't matter if I send them a picture of my home. Then the manager Hund up on me. Then I did an online chat and received the same response.
No previous messages
Messaging Assistant | Customer Service
Hi! It's Amazon's messaging assistant again.
Lash Therapy Australia Eyelash Growth Serum
Is this what you need help with?
10:15 AM
Yes, that's it
10:15 AM
Messaging Assistant | Customer Service
Looks like this item was delivered on Saturday, Mar 11.
Could you confirm what went wrong, so I can help?
10:15 AM
Entire order is missing
10:15 AM
Messaging Assistant | Customer Service
Sorry to hear that. Tell me a little more about what happened.
10:15 AM
Package never arrived
10:15 AM
Messaging Assistant | Customer Service
Have you tried checking your area and asking neighbors and household members?
10:15 AM
Yes, it's not there
10:15 AM
Messaging Assistant | Customer Service
OK, looks like the delivery status may have been updated too soon.
The good news is it should arrive soon. Give us until end of day Monday, Mar 13.
Really appreciate your patience with this. Is there anything else I can help with?
10:16 AM
Yes, I have a different question
10:16 AM
Messaging Assistant | Customer Service
So, what can I help you with?
10:16 AM
An item I ordered
10:16 AM
Messaging Assistant | Customer Service
Let's see. Could you select the item you're looking for from your recent orders below?
10:16 AM
Lash Therapy Australia Eyelash Growth Serum
10:16 AM
Messaging Assistant | Customer Service
Looks like this item was delivered on Saturday, Mar 11.
Could you confirm what went wrong, so I can help?
10:16 AM
Entire order is missing
10:16 AM
Messaging Assistant | Customer Service
Sorry to hear that. Tell me a little more about what happened.
10:16 AM
Package never arrived
10:16 AM
Messaging Assistant | Customer Service
Have you tried checking your area and asking neighbors and household members?
10:16 AM
Yes, it's not there
10:16 AM
Messaging Assistant | Customer Service
OK, looks like the delivery status may have been updated too soon.
The good news is it should arrive soon. Give us until end of day Monday, Mar 13.
Really appreciate your patience with this. Is there anything else I can help with?
10:16 AM
Messaging Assistant | Customer Service
Hi! It's Amazon's messaging assistant again.
Lash Therapy Australia Eyelash Growth Serum
Is this what you need help with?
8:29 PM
Yes, that's it
8:29 PM
Messaging Assistant | Customer Service
Looks like this item was delivered on Saturday, Mar 11.
Could you confirm what went wrong, so I can help?
8:29 PM
Entire order is missing
8:29 PM
Messaging Assistant | Customer Service
Sorry to hear that. Tell me a little more about what happened.
8:29 PM
Package never arrived
8:29 PM
Messaging Assistant | Customer Service
Looks like something went wrong here. Let me get someone to help you with that.
Ok, you can chat with an associate now or request a call back.
You can also go to your Customer Service hub to fix most things or to search help pages. What do you prefer?
8:29 PM
Chat with an associate now
8:30 PM
Messaging Assistant | Customer Service
If you have details you think would help the associate, type them here.
An associate will join the chat.
8:30 PM
T
tarannum has joined and will be ready to chat in just a minute.
tarannum | Customer Service
Hello, I hope you are doing well, My name is Tarannum Tahseen and I´m here to help you today.
Could you please elaborate the query so I can assist you in best possible way?
T8:30 PM
My package says it was delivered however the picture is not of my house
8:30 PM
tarannum | Customer Service
Firstly please accept my sincere apology for the inconvenience this situation has caused to you. This is definitely not something we want our customers to experience.
Could you please stay connected for two minutes while I research this for you?
T8:30 PM
yes please
8:31 PM
tarannum | Customer Service
working on it
T8:33 PM
thank you
I can send you a picture of the front of my home if that helps
8:33 PM
tarannum | Customer Service
working on it
T8:35 PM
Thank you
8:36 PM
tarannum | Customer Service
Based on the results of our investigation, we aren't able to provide a REPLACEMENT/REFUND for this order at this time.
At this time, Amazon isn't able to resolve shipping problems after delivery, as outlined on our website in our Conditions of Use, noted under 'Risk of Loss' which states: "All items purchased from Amazon.com are made pursuant to a shipment contract. This means that the risk of loss and title for such items pass to you upon our delivery to the carrier." See https://www.amazon.com/gp/help/customer/display.html?nodeId=GLSBYFE9MGKK... for more information.
We recommend that you consider selecting a more secure shipping address, such as your workplace or an Amazon Hub Locker, in the future to avoid further problems.
Apart from this could I be of any further assistance today?
T8:38 PM
So my question is the shipping carrier is amazon not ups therefore the risk of loss did not get passed onto another company it is still in amazons title
8:39 PM
tarannum | Customer Service
I am sorry as item marked as delivered so we are unable to take any further action
From our end we have the confirmation the package was delivered to you without any issues.
Based on the results of our investigation, we aren't able to provide a REPLACEMENT/REFUND for this order at this time.
Apart from this could I be of any further assistance today?
T8:41 PM
Correct with a home picture of another residence

Rebecca Benjamin
from Lakewood, OH
in the past 2 months, Amazon has botched 3 items I ordered. The first was a dvd series, it arrived damaged. The second was a dvd, but it arrived in a way i couldn't play it on my player. And just recently, I ordered a Scottish pin to wear, and I was sent a kilt hanger. That was very far from what I ordered. The staff at Amazon need to start paying much closer attention to what they send out, and the venders need to do the same.

Paul Adams
from Aurora, CO
Was told the wrong thing by these people and it's just ridiculous!!! Need more training, this is my livelihood and you can't just get it wrong and act like you're not guilty, it's in the notes to apply for 2 days vacation because of strep, now I take it to work, thanks for nothing!!! Just pathetic

Dwight Wood
from Cornwall, ON
Be careful with Amazon now. Returns of which I have had very few are not being cared for like they use to. I shipped the item back following their instructions with Canada post. I received a tracking slip when I dropped off the item. When I check the tracking information it shows it was delivered. Still Amazon stays it's in transit. I will not not use this company any longer.

Frankie
from New Berlin, WI
Hello I wanna complain that women is smoking weed on premises and etc in her breaks and being super loud
Her name is eyllen Rodriguez she works at Amazon in Franklin Wisconsin she's an employee

Raycole Gordon
from Conyers, GA
I tried to contact customer service regarding my packages constantly being delivered to someone else's address. I even tried telling them to check the photos. They put my packages on someone else's doorstep. Amazon refuses to replace package.

Bonnie Taylor
from Groveland, FL
I am a Prime Member and receive many deliveries from Amazon during the month. However, the drivers insist on delivering on my deck/porch when my delivery instructions clearly ask for garage. I have a covered carport. I placed in my Special Instructions in English and Spanish to only deliver under covered carport and NOT on the blue deck/porch.
Continually, the packages are left on the porch and I submit a poor rating for the delivery but nothing changes. When deliveries do arrive correctly, I submit a thumbs up and check all boxes as to why I gave it a thumbs up. So, what other incentive can I provide to get the delivery drivers to READ my instructions?
My porch is visible to the street; my porch is in need of repair and don't want people on it. Don't want my packages visible to others and exposed to the elements. At least the covered carport protects my food items that are delivered.

Byron Atkins
from League City, TX
It took me 35 minutes to order Amdro Ant bait today. At first I had trouble putting the Ant bait in the cart, this took 10 minutes. The reason things were so difficult is that now Amazon tries to get you to set up automatic ordering on anything you order. Later I had a woman who was trying to assist me, she said she was unable to see my order in my account, after 5-6 minutes I asked to be transferred to a supervisor. When he came online I told him I was trying to delete a credit card that my Amazon orders were defaulting to. Well, months ago this used to be an easy process but now it has changed. The supervisor asked me why I was upset and I said it was because it took me 24 minutes to be able to get in a position to order. He then told me to refrain from using bad language. I told him to get off the line that it was best if I just tried to help myself. I don 't know why Amazon Prime has become so bad! It used to be so easy but not anymore. I'm not sure if I even want to order anything from Amazon Prime anymore. This was the worst experience I've ever had. At the end of the call a woman came on and she did help me, assuring my order was in the cart. Shame on Amazon Prime for becoming such a bad experience!

Joanderson Alcântara barroso santana
from Canoas, RS
My complaint is that my account is temporarily blocked, I have already sent the form 3 times with my card statement and the last 4 numbers as it was in the account and even so I cannot unblock it, I ask for help, my account still had an over balance $700 gift certificate. I am attaching the receipts as well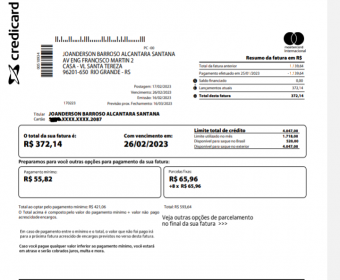 Kerrah Tate
from Mexico, MO
The ADVERTISMENT for 'The Good Dish' show on the FREEVEE CHANNEL is wretchedly HORRIBLE! The oven beeping sound at the beginning of the ad is so loud and annoying that I guarantee you people stopped watching your channel over this! Even if I liked that show I would purposely not ever watch it because of the completely out of pocket, distressingly loud beeping ad!! I know you don't care because it's free, but someone had to say something! It's disturbing!

The Amazon customer service staff are lack of training and sufficient experience via providing poor quality service including misleading and cheating on client plus sending wrong item email to confuse client.
They sent me msg but the item I never ordered and also told me some product can be returned and refundable but after I confirmed with them ordered the product, they are telling me not returned not refundable. So insane.
Customer representative Name: Anna S and Belle J per misleading and cheating client.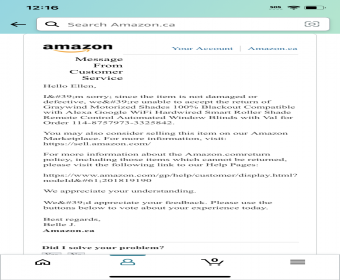 Jennifer
from Munfordville, KY
I am still waiting on a delivery that is suppose to arrive today. I ordered cat litter for my cat and I need it today because I live in a very small town. I ended up buying a different brand just so I could have it in time. I ran out of it and now amazon says it will arrive tomorrow. If I did not need it so urgent I wouldn't put in this review. I stayed home all day waiting for this package and I can not go anywhere due to my mother inlaw just getting out of hospital yesterday and needs attention. I am not very happy right now.

Brendan C Boyd
from El Paso, TX
My order number with Amazon 114-7011896-3412260 was sent to the Amazon hub locker but because it didn't have the words "Amazon Hub locker" printed on the mailing label the hub locker refused acceptance and post office is trying to recover the items which they say they are not sure that they can do. I spent 5 or 6 hours of wasted time this morning dealing with this issue So with that being the case I feel like my time is worth something to me, more than just the refund of $35.70 that I got. I feel like I got put through a lot of crap for absolutely nothing because Amazon screwed up and delivered a package without the proper label on it.

My name is Rebecca and I am the assistant manager at Sinclair Apartment Homes. I made a complaint today, 2/21/23, and sent it to Sierra Williams with Amazon. She was in our leasing office calling me a Karen and this was heard by the community manager and the leasing agent heard here saying other offensive things. Please see the email that was sent to Sierra Williams at SierrraWilliams1910@gmail.com. I also have recordings of the driver's behavior if needed.
Hello,
Your driver that visited Sinclair on February 21, 2023 around 2:51 PM, was very aggressive, rude and using profanity when asked who he was and what apartment he was visiting. This is standard procedure for us to release the elevators for Sinclair. This particular driver got very upset, followed me down the hallway yelling and refusing to leave the property after I asked him to leave. I had to call the courtesy office for assistance and he admitted his horrible behavior to him and apologized to the courtesy officer.
I was working alone in the office and was fearful to have him walking behind me yelling " Call whoever you want, but I am not leaving". He was yelling in our leasing office pacing back and forth yelling, disturbing our business.
I hope that Amazon takes this matter seriously.
Respectfully,
--
Madera
REBECCA JOHNSON, NALP
Assistant Manager
Sinclair Apartment Homes

Deepa Madhavan
from Seattle, WA
I am sending this written concern as I have talked to seven or eight of your agents and have been tossed around not to mention the time I have spent.
To start from the beginning I ordered Aguagiaro and Figna Mother yeast on Feb 13th and was waiting for this order. Yesterday, I placed an order for undercounter freezer and noticed my earlier yeast order was cancelled. No information was provided to me. Hence I started making calls to Amazon representatives.
Initially I was told the item, I ordered was not available and hence my yeast order was cancelled. I called back when my freezer was also cancelled and they transferred me to a supervisor. This supervisor named "Zee" explained I was not able to use an American express gift card to pay for transactions. She advised me to buy an amazon gift card and guided me through the process. I spent quite a bit of time to buy the Amazon gift card and this transaction got declined within the next hour.
I called back again this morning and talked to an other agent called Sam. She transferred me to an agent called Angela. Now Angela was of the opinion that the customer service agent who guided me yesterday was absolutely misinformed and we were not able to buy an amazon gift card with another gift card. I explained to her it was never my brain wave and it was the company who guided me in error. Angela kept repeating her theory and I repeated my side of the story which resulted in my" being placed on hold without warning" and transferred to your payment department. The payment department representative was unable to send a text to my phone or email after several attempts and loads of queries.
I have called American express and verified that my balance is $350 which is available for usage. I want to use this card to make the freezer purchase as my brother gave me this card as a house warming gift. If you need to see the email I received for the gift card I can send that to you.
I am looking for a solution to use the gift card and not have to talk to agents who contradict each other. Waiting for a quick response.
I am copying my Gmail and including my cell phone attached to my account.
Deepa Madhavan
P.S: I sent the above email to 'cs-reply@amazon.com' and I got a reply that the email does not accept direct email.
Question: Now who do you think provided this email address.? Answer: An Amazon customer service agent called Sam!

Hai i am mugesh. In india so many youngsters from very poor families have been not getting proper job to earn and take care of their families. But In your companies many staff has been not working properly and doing makeup stuff and put into insta and facebook. Is it sense that employees have a faith and respect the office premises? Kindly see the video. If its continues i will circulate in all social medias and all indian channels to becone viral about not doing work in it field.
Thanks

This Amazon driver was on Amity and 3rd Ave in Elizabeth NJ. She needs to be fired from her job. She was very nasty and unprofessional.
She cursed at me because I wouldn't go around her Amazon truck on a one way street. She angrily told me to go around her and I said I wasn't in any rush once she was done with her delivery and she move the truck I moved. For what was that she began to say every curse word at me. I told my car doesn't fit and I wasn't go to hit my car and the car that is park as well the Amazon truck. She began so angry and continue to curse at me. I told her to get back in the truck and do her job, because I wasn't going to waste my time with her. Today 2/14/23 god was on my side I did not let the devil get me. I did tell if she did not like her job she needed to quit. She then cursed at a struck her middle finger at me. She needs to be fired. Amazon if you hired trashy people like this what does it say about your company…plate # 004997A56: Elizabeth NJ Amity and 3rd Ave… no stars for this Amazon driver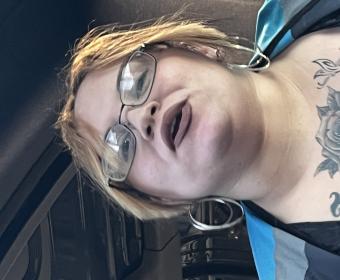 RP
from Salt Lake City, UT
Amazon has started charging a shipping and handling fee which is sometimes 1/2 the cost of the item I'm ordering. This is obviously an attempt to get people to use Prime. Well, they can take their shipping and handling fee and shove it. I'll shop elsewhere!

James Puthuff
from Los Angeles, CA
To AMAZON Management,
About three weeks ago, I called Amazon because I could not logon to my Amazon Prime Account. I could enter my User Name and Password and they were good but when Amazon sends me a text message to verify my account, I do not receive that text message. There are other situations where Amazon needs to send me a text message to provide a URL for another reason, I do receive those text messages.
I've talked to six different customer service reps (Over two sessions), to include one manager. They told me that my account is locked (They thought it might have been that someone was trying to access my account Fraudulently.) So now I need to answer security questions in order to reinstate my account. They asked the normal question about my name, address, phone number, email address and the last four digits on the credit card I use for Amazon purchases. No problem there.
Then they ask what's the balance is on my redeemed Amazon Gift Cards. I know I received $300.00 for Christmas but I've bought several things since then. I'm 84 years old and my memory is not that good. I could not give them the answer to that question. I indicated that I thought that was not a very good question to ask. Do you know what your checking balance is without looking it up? I don't think so.
Then they asked for the date and description of the last three Amazon purchases. (After going through these questions before, I had captured a page full of Amazon purchases from my Discover credit card. I was ready!) I started telling them about the dates and information from the credit card but that wasn't enough. Not good enough!!!! I needed to tell them the description of each item. That information is not available from my credit card information. I believe, if you look at your credit cards line items, you will find that it does not include the description of the purchased item. So there was no way that I could tell them exactly what I bought and when.
When I talked to the Amazon manager, he suggested that I delete my current Amazon Account and start a new account. There are two things wrong with that suggestion: (1), In order for me to delete my Amazon Account, I have to be logged in to that account. That's a problem. And (2), if I delete the account (which I can't) I would loose the balance on my Amazon Gift cards. It could be as high as $200.00.
I need for Amazon's management to help a Senior Citizen. GIVE ME A BREAK!!!
James L Puthuff
1835Mary Rose Ln.
Lincoln, CA 95648

Stuart Kelly
from Gallatin, TN
On December 11, two weeks before Christmas, I ordered a tin Caviar from you. Because I got it through Amazon, I did not even notice the name of the actual retailer nor did I notice that it was located in the Pacific region of the country. That order arrived within 48 hours of its being placed.
Today, I intended to place that order again. However, when I did so, I found that the delivery date was to be somewhere between February 23 and February 27. I need this by this coming Friday, February 17. I waited until now to place the order because of the timely response given my last order and, of course, where Caviar is concerned, no one wants to take a risk with freshness.
As a last resort, I called Red-Caviar myself and placed the order directly. They assured me that the order would be shipped today and I do expect a timely delivery.
We are no longer in a Christmas rush. So I do not understand why there should be such a delay in your delivery - especially when it comes to food items. I trusted Amazon and I still do. So I am grateful for the heads-up on the delivery date. I also saved some money dealing directly with the retailer. But in all honesty, I would have been much happier dealing through the "known quantity" and guarantees of Amazon. If I could have contacted someone about this, I would have done so. But I am a person and your robots do not want to deal with me. So sending this message to you is my only recourse.
Stuart Kelly

KIM LARRY
from Detroit, MI
Package was taken and now Amazon won't give me a refund or replacement

Donald A Gibbs
from Indianapolis, IN
WHAT has happened to Amazon? As of late it takes forever to receive orders in rural America. Samsclub and Walmart use FedEx instead of USPS which your company started using more than in the past. I haven't bought anything from ebay because they use snail mail almost exclusively. I surely hate to see your company going down that same path. In the future I will take that into consideration when ordering.

Van r
from Clearwater, FL
I ordered six items and three of the items were missing I reached out to them and they told me I could not get a refund because the weight was correct but CS said they sent 2 boxes. I only had one so the weight it irrelevant. I'm so upset they didn't care and Said i need to give a better mailing address. Sorry if I don't live in the SUBURBS! These gifts were for a child and not worth a lot but the point is they don't care!!! End my chat and said sorry nothing we can do. Also spoke to manager same result. Disgusted!!!

Oyku Hanna
from Fairfax, VA
I bought earbuds from Amazon and decided to return them. UPS was supposed to pick up but that did not work out so I took it to UPS store and dropped it off there. I have a receipt and unfortunately, I cant get my refund back! I call and they told me i had to file an incident report. I did that but then they said I had to put it as UPS Pickup instead of UPS delivery, because the system otherwise does not approve it. Now I have to call back again. This is ridicilous.

Davied E. Alexander
from Baltimore, MD
I purchased an AMD Ryzen 7 3800X processor and I received the box without the processor. I did not want my money back because I really wanted the processor. They said the only option was to refund the money for the processor Waited from January the 26 to 2/6/2023 and got an empty box, just the fan.

Mynnie Childers
from Las Vegas, NV
Amazon's customer service and delivery is horrible. I've complained about delivery drivers not following my delivery instructions and leaving packages at the front door. Amazon will not provide a refund or replacement because "after their investigation it has been determined that the delivery of the order was successfully delivered" As a consumer I am punished by Amazon because they determined through their investigation that my order was delivered even though it's representative (the driver) failed to follow my delivery instructions and did the opposite of what the delivery instructions stated.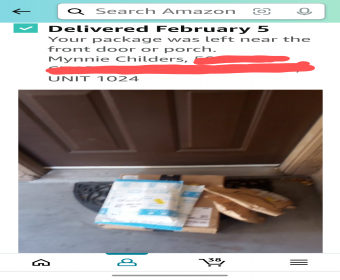 Craig Schmalz
from Bloomington, IN
The driver in my neighborhood ran me off the road going way too fast and came around the corner on my side of the road. Then I called to complain and that was like pulling teeth. Huge delay because the call is probably in India or somewhere like that. It took the person forever to respond to me once I would finish what I was saying. She did finally take my complaint but it was a long painful experience. Sounded like she was in a room with ten thousand other operators taking calls. You could hear every one of them. I try to never use this company but sometimes my wife does. I believe they are a terrible company.

Chris Handelong
from Bethlehem, PA
I returned a computer almost 30 days ago. The original payment was affirm. My account was closed and I reopened it. I have all of the order emails and UPS delivery confirmations. I want this matter resolved but your customer service has no answers.
Chris Handelong

Very rude customer service and they do not value customers at all.
Just another lips service from all.

Will
from Jacksonville, FL
Amazon used to have the best customer service in the world. Since they outsourced the service has gone in the toilet. Scamazon, as I now call them, are just that. They scam people out of their money, they scam the government out of taxpayer money, and they say everything is running fine. I CALL BS ON THAT JEFF! Employees hate you because you treat them like slaves, customer are starting to hate you because you treat us like atm machines. We helped you build your kingdom Jeff, we can help bring you back down to Earth. I will not be purchasing anything from Scamazon ever again and encourage customers who are fed up to shop elsewhere as well.

Julie Walker-Hunt
from Dearborn, MI
Amazon Driver nearly hit me trying to merge on i496-US 27 South today at 11:20 and her blinker was not on. I honked and she gave me the finger . This is in Michigan. She then was driving slow in the left lane, proceeded to merge back over no blinker nearly hitting another vehicle. I don't usually turn anyone in but this was totally uncalled for. I've attached a picture of the vehicle.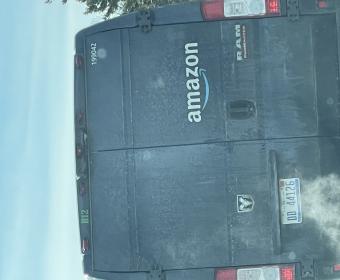 Have feedback for Amazon?
Thanks for your feedback!
Sorry. Please try again later!