Amazon
Contact Amazon Corporate
Toll free phone number: 206-266-1000
---
Welcome to the Amazon complaints department. The company is one of the largest online retailers in the world, a company worth billions of dollars. It is led by CEO Jeff Bezos with it's corporate headquarters located in Seattle, Washington.
Famous for their excellent customer service, Amazon offers fast shipping on books, electronics, clothes, and millions more items for sale online. Although very few of their customers report problems, negative reviews are often found. They include shipping problems, seller complaints, accounts being banned, and rude employees. Because the company is so large, it is often hard to police the entire website.
If you need to contact Amazon corporate, the best phone number to call is their support hotline at 1 (888) 280-4331. Although, the company would probably like you to use their help website. It includes information on shipping problems, order complaints, seller feedback, and more.
Amazon Contact Information
Report complaints to corporate and get satisfaction
Amazon headquarters address

410 Terry Ave. North,
Seattle
WA 98109-5210
United States

Company website

1-800 phone number

206-266-1000

Support email address

support@amazon.com

Better Business Bureau rating

A+

Customer service hours

24 hours a day, 7 days a week
Browse reviews of other Online Shopping
Top Amazon Complaints
Browse more than 827 reviews submitted so far

Mark Smith
from Buffalo, NY
Paid $99 for amazon Prime, for mainly Amazon Prime Video. Twice while watching a TV and Amazon produced series, I no longer can watch the rest of the series (season 8 of 12 and episode 8 of season 1) without paying for each additional episode. In my opinion that's called 'Bait and Switch'! Never have I had this type of situation with Netflix after almost a decade.

Helen walker
from Johnson City, TN
On two separate times I have got a email from ur company stating that a $200.00 gift cards was purchased on my card. I didn't make any such order. The cards was send to my gmail. I don't know this person. On April 30, 2016 and May 6, 2016. Order #111-0298450-2568547. I'm not responsible. Please stop any further action or card purchase at this time. Please do what needs to b done to protect my name.

Charles Current
from Albany, OR
I received terrible customer service from JB Tool Sales through Amazon, so I put up a negative seller review. Amazon took the review down at the seller's request. Then the seller emailed me to gloat about getting it taken down.

paul hames
from Montpellier, K
I have had an Amazon kindle since august It will not download books. I have been in contact with the help line and have spent weeks going through their tech support nothing will work. I have repeatedly asked for information on how to return it for repair but they refuse to do so can anyone help.

Kathy Randol
from Pueblo, CO
So Livid, I'm about ready to cancel my Prime Membership. Last Friday, I was contacted about your $100.00 gift card. I was told the shipping was $3.50, I get switch over to the Supervisor, who talked way to fast. Would not let me get a word in. I became very frustrated, I hung up on her. She called me back Saturday, and did the same thing. You waited a few days later. Guess what? She did the same time! Then I was told, they mailed the gift card, I had to send it back.
Then I was told, the gift card came back to you. What is it? Amazon needs to train their employees! I checked my checking account. You've taken out the money for shipping, plus the $10 for the plan. I spend a lot of money with Amazon. This is unacceptable! For all my troubles, I should get the gift card! I want my money back, a phone call, with someone who speaks English. (719) 271-0897 One last piece of advice. Let your trainees know, Customers Matter! If I don't hear from you in a timely manner, I will no longer do business with Amazon.

Janyth Macdonald
from Falls of Rough, KY
I ordered a Philips Respironics O2 concentrator for 585.00 New through Amazon from No medical insurance co., it worked for about 1week. I called to return it, which they will but I am to pay for return plus 20% restock fee! on a defective item, unless I except another one in exchange. So I did, this "New" one (which was also a return from someone else, as the cord is unwrapped, on/off switch left on, no bands on wheels) made a putt putt noise after about a hour into its use, but I kept it going until it finally stopped that night.
I called No insurance medical co. again and they will not return my calls now. Am I forced to pay for a piece of junk? This has been a nightmare. Does Amazon not ever play a role here to help me out? I have placed a claim with them, but no response either. it's been a month, So I guess the state attorney general, federal trade commission, and BBB are next. I'm not paying for a return or restock fee on junk I bought in good faith.

Gregory McClain
from Phoenix, AZ
I am a very active Amazon customer. More than 200 orders in 6 months. My first complaint is a general one. Any time there is a problem with an order after the supplier says it has shipped there is no link or way left to contact the seller making it nearly impossible to resolve delivery issues once the seller proclaims shipment is enroute. Can't something be done about that? It is even worse once the seller proclaims it has been delivered whether it has or not.
I do not get mail delivery at my physical address only UPS or Fed Ex. I can deliver to the physical address. When sellers use the postal service as a delivering carrier and then chose the physical address as the delivery point, it always goes wrong.
I have two orders that this is an issue with. The first, placed in February was for Honey Catalina dressing (originally diverted because of weather related issues) has never been delivered, still shows as enroute and has been charged to my card. Second is Ajax sent by post to physical address.

Charlie D.Baines
from Naperville, IL
Have not refunded the amount of money, owned to me for items ordered by mistake. Two comforters. $ 152.08. This company is a ripoff scam online. Products sucks. Bought a man bracelet. Piece of crap. Can't wear it. Clasp is no good. Don't do business with this company.

Gerry
from Brick Township, NJ
I ordered something through their site for $399. The price lowered by $100 before I received it. They won't adjust price. Told me to contact seller. I did and seller said it was a mistake and price is going up. Here it is 24 hrs later and the price is still $100 less. They won't give me a price adjustment. Terrible!

Yael Shany
from Fort Lauderdale, FL
Every week at least once I contact Amazon for a package that wasn't
addressed to me.
It's happening so frequently it's a shame.
I feel sorry for the customer who won't receive his/her order, but, I am
reluctant to be Amazon delivery service, for free.
Will it ever be finally addressed?
Can't the driver read the address?
It's not to the same people, it varies.
I spent so much time, on the chat, phone, and email, it's a shame.
Yael Shany

Darrell Mincks
from Waldorf, MD
I bought a over the range microwave it arrived early on July 29th so I call my electrician to get it installed. I had asked him if he installed these he said yes so I payed him to take the old one down and install the new one when he plugged the microwave in it didn't work so he checked the outlet it was working fine so I call Amazon they reimbursed me for the microwave. But I am still looking to get reimbursed for the installation. This broken microwave is still mounted In my kitchen because I have to pay someone to do that that would include installing a new microwave and I would be paying again to have one installed. Seeing that Amazon sold me a defective equipment that I should get reimbursed for the installation seeing that when I buy a nother new microwave I will still need to pay to get installed Amazon should take responseable for the installation cost of the bad microwave. I am unable to attach the receipt do to the file is to big

ROBIN PRASAD
from Phoenix, AZ
After receiving a damaged sewing machine, I returned the item. Amazon unethically charged restocking fee on the item. i called amazon customer service , the csr said Amazon charged 20% restocking fees because AMAZON cant sell the sewing machine again.first of all why would Amazon sell the demaged product to another buyer and what is the guarantee that i was not sold the same damaged machine returned by another customer. i asked AMAZON csr. i would like to talk to supervisor and she disconnected the call. i called back and was disconnected again. Andy Jassy as CEO is taking amazon in the wrong direction as all the CSR is in india and all they do is disconnted the call

Asked for a supervisor and the "supervisor" ended the call prematurely after I questioned if I could have someone else to assist me as I knew that the individual was not a supervisor. I can't get a hold of a single US based Customer Service Representative.

Bhagwan Vaswani
from Moncton, NB
Bhagwan Vaswani <swaney557@gmail.com>
12:25 PM (3 minutes ago)
to account-alert@amazon.com
---------- Forwarded message ---------
From: Bhagwan Vaswani <swaney557@gmail.com>
Date: Mon, Aug 1, 2022 at 11:14 AM
Subject: URGENT - I HAVE NO AMAZON ACCOUNT - BEING BILLED MONTHLY FOR WHAT?
To: <cis@amazon.com>
Dear Sir or Madam.
I wish to advise that I am being billed monthly to my personal bank account in the amount
of $11.19 since the past few months. I have no Amazon account! This is what is shown my bank statement:
July 21, 2022POS Purchase
OPOS Amazon.ca Prime Membamazon.ca/pBCCA
11.19
When I tried explaining to an Amazon employee by telephone, I could not get any satisfaction.
It is highly likely that there may have been an error on part of the Amazon agent who had opened
this account, while inputting the banking information of the person for whom I am being billed.
Amazon should contact that account holder and correct the banking information that has been input.
Is such an unauthorized charge to my account legal, since I have already expressed to Amazon service
agents by telephone that I am being billed incorrectly? I also initiated a voice call and spoke with an
agent about this entire issue, from 11:43 am till 12:21 pm.
I am a retired senior citizen and I live in Canada - my name is Bhagwan K. Vaswani and my address is
15, Seventh Street, Moncton, New Brunswick, E1E 3G2. If you check your data, you will find that I do
not have any Amazon service or account.
No one from my small household has authorized any such payment to Amazon.
I trust you will provide an explanation, stop charging this fee to my bank account and provide a refund for
the several months I have been charged.
Thank you.

Mona Monken
from Fairview Heights, IL
I have returned unopened, no damage, Brand new with tags still on items, unworn, in mint perfect condition items to Amazon only to have Amazon reps tell me that the returned items were damaged and unsellable therefore not providing me with a full refund. I have lost hundreds of dollars at this point to Amazon.
I have attempted to send photos to Amazon with proof quality of item at return shipping only to have Amazon tell me that they don't do that.
I asked for an email for the Amazon legal dept only to be told they can only be reached via PO Box
Really?????

Vilas K
from Bengaluru, KA
Ordered a new JBL 230NC earbuds as JBL100 (renewed) was giving earpain upon representative's promise that a return would be arranged within 2-3 days. Now none of the representatives are ready to listen to the grievance & just rudely refuse stating there is no return policy on this or any such ordered items. Some bluntly refuse, while few rudely/ sarcastically speak as if I've asked for personal favours & take it personally.

Carlette A Coleman
from Island City, OR
I'm sorry Amazon you guys have done me good for the last couple years. But now" something fishy is going on especially when I order something around the third of the month of July in that purchase it doesn't ship out for three days later. And then I ended up looking on my account and it said that the purchase was unavailable that strike me strange being that the package had already shipped so I decided to call to find out what was going on the young lady that answered the phone tells me that the package is in route and will be delivered on the 14th I will get my package if you don't let us know after the day that you don't receive it I said OK I waited until the 14th came around 14th of July came around no package a callback that very same day young man that answers the phone didn't seem very helpful and seemed a little bit standoffish when I started talking about my package being missing and he tells me well if you don't receive the package in the next couple of days you can call call us and will refund your money in 12 business days and then I told him that I wanted him to contact the seller to find out where my package was so he went ahead and did that apparently my package was in Whittier California but then he turns around and tells me that I won't be getting my package because they were out of stock and I said well I find that kind of weird mean that it already shipped in Seoul even tried to argue with me to tell me that there was no tracking number and I gave him the tracking number he ran it and said there was no tracking number for that particular package well Sunday comes around Sunday, 17 July I call to find out if that package was still coming because 35 minutes after I got off the phone with him they had sent me an email saying that they had refunded my money and canceled the order well if the order was canceled how come it's still traveling that's what I wanted to know and the girl that I was on the phone with from Amazon tells me that the reason I didn't get my package is because oh it was the wrong address so even that sounded weird and she says well I will look to check with the seller to see what's going on and why you still have a notice on your account that says it's late and that it's coming to you so she checked and sent them a message the next morning on 18 July I get a message stating that my package would be delivered to me in three or four days and then it setting at the Bethel post office in Washington well I called the Bethel post office and talk to a customer service person and turns out that the package that was billed to me was not the package that I ordered I ordered an air conditioner the package that was sitting at their post office it was connected to the tracking number weighed 1 ounces so there's some fraudulent stuff going on on Amazon please be careful consumers .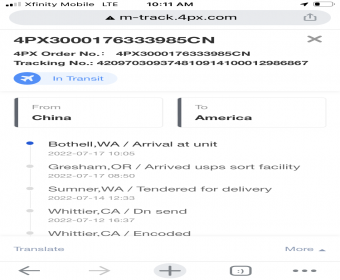 Patty WHITE
from Lawrenceville, GA
Ordered a Fire TV on Amazon from Best Buy. After 7 days it still had not shipped. Called Amazon customer service and spoke with Pritchard he was rude and could not help me. I asked for a supervisor and he hung up on me. I called back spoke with a supervisor name Chenille. She was nice but bottom line also couldn't help me. She couldn't get ahold of anybody by calling a number to Best Buy. So here I am, the customer with no answers no information just sitting here waiting. I'm on a trial with Amazon Prime. I can promise you I won't be keeping or subscribing to this service. Not if this is how you treat your customers.

Mihail Cebanu
from Dublin, L
Member of Prime and at 13 day still haven't received the package. I have over 20 escalation tickets and about 3 phone calls and each time, they are telling me the package will be dispatched within 24 hrs.
Another things to add is they wont refund me because the package is in dispatch stage. So now i am stuck in this circle.

Adhitya
from Bengaluru, KA
No order is delivered on promised time with no response from customer service either delivery team picks up the call.
Spoke to delivery manager after multiple calls and confirmed other delivery person took it to a different area so they couldn't deliver on time. And the status says they couldn't contact me... I'm trying to reach Amazon to get the details update with no luck at all.

Malgorzata Bastia
from Suwanee, GA
Sorry there is no 0. Your customer service representative hanged up on me , saying goodbye

Christina Mitchell Brading
from London, ON
I am basing my experience at a 5 for frustration. I just got off the phone with customer Service a David O he said and he had no reference number or anything to give me. I had called because my account is attached to an old email of work that I am no longer employed at. He said there was nothing he could do because the account has had no actively to it. I explained that is because I cannot get into the account to do so. I asked if he could reset it or what is the process. he stated there is no process except a security process however he couldn't do this security process because my account was no activity. I said could I start the process so I could use it and he said no the policy was there was nothing he could do I cant even go into the account and delete but also told me I was the only one that could delete it but I cant get in.
Everything he said did not make sense and he was very blunt and rude not at all who I would think a customer service rep would be. We have a business account with Amazon as well as I have my mom set up and my personal self...This has made me so upset at the lack of any resolution to assist me. Not only does this make me fear my personal information that I no longer have access to but the world could have this access or someone else if they happen to use my old work email. this is not right at all....My old work email associated with the account is christina.. I truly hope that someone reads this and understands my frustration.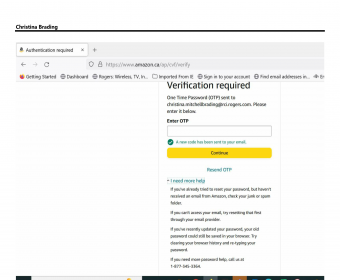 Jeremy Shumard
from East Greenville, PA
I was going over my bank statements to balance mu checkbook because my money didn't add up, and saw since January 2021 someone from Amazon was taken money out of my account for things called the emeral package i don't play games on my tablet non does my wife they gave me some money back but i still have 925.00 wrapped up with gae dtuff i didn't use i want my money. Jeremy S.

Jeremy Shumard
from East Greenville, PA
I looked at my bank statement and realized Amazon was taking money out of my account which they said it was for a game pack, i dont play game on my tablet, i am owed 900.00 from January 1, 2021 till April 2022 i was only given back 290.00 . I want sometime done about this.
Jeremy Shumard

I have order fridge ice door and it is showing delivered on 15th June which was not received till today 25th June. It was prepaid order and I have tried to complain via help desk which was also helpless. No answer till now
My order number is 408-3070310-7706768
Tracking is is 278851276862
I need my order get delivered or return/refund my money

Nell Hoyle
from Alpharetta, GA
I placed a huge order with Amazon on Sunday night. Immediately on Monday morning I realized it was being shipped to the wrong address. I contacted Amazon immediately. Nobody seemed to be able to assist me. This went on for hours. Amazon had me contacting USPS/Seller/etc…. As of tonight at 1:40am I can still not get any updates or assistance. I would list images below but the order is so large until it would take me forever. This is extremely stressful and nobody at Amazon seems to care or know how to fix the issue. Guess I will decline the charge and reorder. What a pain and unnecessary stress. Thanks Amazon! Thought more of you prior to this fiasco.

Larry Gene Osborne
from Greensboro, NC
My name is Larry Osborne. I have placed a great deal of orders with Amazon. They have always come through even
if there was a problem with the order. All in all. Amazon has done a great job.
I placed an order last Friday, June 17th for 2 packs of seat belt clips. Very small item. Still have not gotten them and today is the 20th. Customer service is going to send a replacement and should ariive tomorrow. The lady I chatted with said she was making a one time exception. That fine, if that is what she is calling it. I really don't want any exceptions for me when I am only the cutomer waiting on his order to arrive.
I wanted to send this to Amazon and I hope that corperate gets to read this. When Amzon use the usps to send items out, there will be problems. Two of those problems happened to me. I did get one of my items today and it came by USPS. I got home and opened my mailbox and the package was cramed in the box very tight. I could tell it was probably the Trident gum I ordered but I managed to get it out. Thankfully, not damaged. I would probably
never went to this extreme but I can tell when something is not right. The customer service lady said that the package that has not arrived yet was in the delivery cycle. Not sure what that means. I know that I am a prime customer and place many items with amazon. Being a prime member, I really expect the item within 2 days. That is the delivery cycle I am looking at. Going to make this short. I wanted to give my opinion to someone in management. If you continue to use USPS, you will probably run into problems. The post office here in Greensboro
could use a lot of improvement. I have delt with them before. All I know is, they are late about getting an item to the customer. I wanted to pass this on to someone there that might take a look at what is going on using the postal service. My items have always made their way to me when amazon use their own trucks which come on my street every day of the week. That is my suggestion.
Thanks,,, Larry Osborne

Larry Green
from Cabot, AR
Your drivers keep loosing my packages and delivering someone else's packages. This has happened on 3 orders in 2 weeks. Very unprofessional. If you can't keep up with your deliveries no better than that, then I will not be renewing my prime membership.

Tameka Flamming
from Akron, OH
The Amazon business customer service has been so rude and has made me lose customers due to negligence on there before constantly transferring me back and forth telling me my account is on hold when the application department stated that is not on hold. Amazon is putting my business in jeopardy with the negligence to help a customer which is me now my business is suffering I'm a small business owner just starting I can't afford this. Amazon is the worst. Never received an email stating anything of the sort

Andy Valentine
from Philadelphia, PA
Anytime I made progress paying things down I was rewarded with cuts to my credit which meant it negatively impacted my credit score. This happened 3 times. Predatory at best. I will never use Amazon again.

THe customer service was rude and ther is no way to file a complaint. He/she basically told me to fuck off before transfering me. And the lady after helped me with my problem.

jose A colon
from Boyertown, PA
I placed an order on June 6,2022 and I didn't receive the item when it was supposed to get here which was on June 8,2022 and I wasn't notified until 5pm on the 8th it was an item that I needed now they tell me it takes 3-5 business days for a refund for an item that amazon has. if I was notified the day before that the item was damaged I would be able to try and find the item elsewhere and can reorder the item but I wont get it until the 15th which is to long for me to be without a vehicle because amazon is getting so sloppy on how it treats its customers.

Ordered a drill bit. Had a construction crew waiting. Received a pair of slippers instead. Drove over 200miles to get drill bit. Seriously, SLIPPERS!! TRAIN YOU EMPLOYEES FOR GOD SAKE!!!

Jose l Gonzalez
from Tampa, FL
Customer Service has dramatically deteriorated. Looks like agents are working o. Multiple calls at same time.
Trying to get an issue resolved. Agents come on the phone several times and ask me the same questions over and over. After two hours on the phone the call gets dropped. Called again and the agent has no record of my call.
This is making me think that online shopping is becoming too much of a hazard. It is easier to go to the store and get the issue resolved

douglas Giem
from Colorado Springs, CO
Can't access my account and told due to not using the account for almost a year it got closed and deleted all my purchase history

Felix paredes
from Miami, FL
On May 8th, I placed an order for an IPHONE SE and received my order with no delay on May 11th, 2022. When I opened the box that amazon delivered. Found out that the IPHONE was sealed but empty. Took pictures and Immediately contacted amazon and they agreed to replace it. On May 13th the replacement shipment order came and to my surprise the IPHONE case was sealed but again it was empty. Immediately took pictures and once again contacted amazon and they told me that they will replace it. Which they did. On May 17th we received the 3rd shipment and once again the IPHONE case was sealed but empty. Took pictures again and contacted amazon. This time customer service said that they couldn't do anything else. Didn't offer an Investigation or try to solve the issue that looks like it is internally from the company or warehouse. After so many years of doing successfully business with amazon. They didn't care to follow up to resolve this issue. Telling me that they are not able to give me a refund or replacement which I don't want any more. This is very BAD service. I received a letter saying that I need it to file a police report, which I did, because I want to get this fixed asap. How can I order a product and never receive it? The worst thing is the box from amazon came sealed inside 3 times but was empty the IPHONE BOX WAS EMPTY. I got an Amazon box with an empty iPhone case that was sealed. Need to start an investigation, somehow the IPhone are missing/ disappearing from the box before delivery. This is Very bad and poor service. I just got my account closed because "supposedly didn't comply with the terms of their conditions. According to them I created another account to place orders which is not true. I don't know for which purpose I need to do that because I have been a customer since 2013 approx. I want the refund of this order. Pay with my debit card $450.00 plus a gift card of $30.00. I need this issue to get solved.

Laura Chenelia
from Glendora, CA
My Prime Membership was canceled without my consent. Both my Bank and Amazon admitted that it should not have been, and in a May 25th email I received from Amazon, I was told that everything was resolved and my account was restored with full access. I never lost access to my account, just to the Prime Membership. I was assuming Amazon put the Prime back. I see that they did not.
The customer service I have received from Amazon throughout this ordeal has been the worst I've ever experienced. I was canceled without my consent. I was told that I would have to speak to someone from the Corporate Office, yet was told I'd have "to Google it" to get the contact info.
I was canceled while Amazon kept my payment. The then refunded it after I asked them to restore my Prime. I just want my Prime account reinstated. My family and I use this all the time and have been members for years. The way I have been treated has been deplorable. Please help me.

Sahr Youngai Gbondo
from Dulwich, ENG
I recently started working for Leonard Buca, a delivery agent for Amazon UK. They are nothing but a bunch of incompetent business operations. I have had payment issues with them from the very first day I started working with them. I would appreciate it if I am pointed in the right direction for this type of complaint

Radha Holavanahallli
from Olney, MD
Order number: 112-0822586-3965864.
We bought a living room sofa modular set that is flimsy and broken parts. We had bought insurance as well for it. We could not put the complete set together due to the broken part. It took over a week to get the part and even that was torn underneath the sofa. The complete set is flimsy and the edges do not come together and the back tilts back is not flush with the fixtures. We have tried to communicate with the seller based on Amazon's communications but they are not responsive. We were told by Amazon that we could get rid of it or donate the item and we would get a full refund, and soon after we got another message asking it to be shipped back. In-between messages we already purchased another set (from another company). We have wasted hours on end putting it together, dismantling it and putting it back with a new part. All the cushions come compressed as well. It is difficult for us to repackage it and ship it back as even the boxes the materials came in have been discarded. We asked Amazon to come pick them up but they only told us to do so. We have spent over 3+weeks on this matter. Please send someone to dismantle it, box it and hip it back as we cannot do this. Also, Amazon should look at practicality of returns of large items before agreeing to put them up for sale. This is too difficult based on the time spent on these flimsy non-work able products for us to handle. It should be the responsibility of the seller or manufacturer to pick up the product if defective and does not live up to it's advertisement. Please call us at 4698795002.
All images are available on the communication on the Amazon page.

Jye Deck
from Atascosa, TX
I placed an order to be delivered as a gift to a post office for my son. I filled out the form available on the website during checkout for delivery instructions. Yes, it's a place of business, Monday through Friday 10am-4pm for delivery hours. No, they are not open for deliveries on federal holidays or weekends. I even filled out the additional instructions for the driver stating it was a post office and to please deliver during business hours to staff so that it could be placed in the correct box. It was to be delivered May 9. When I was tracking the package it was out for delivery May 9, however, the post office was closed. I called customer service. The representative said the only way to make sure it would be delivered during those hours would be to put in for a specific reschedule. Okay, fine. Tues, still not delivered, post office closed. I messaged customer service. They said it was done wrong and it would be delivered the following day. Wed, still not delivered, post office closed. Messaged customer service again. More apologies, to wait. Thurs, still not delivered, post office closed. Now I can no longer track the package and I am frustrated wanting to know what I will be given for recompense for this inconvenience. This was a gift! Very late! My son had now made daily trips to the post office expecting this package. I was told they could refund my purchase and still keep the item WHEN it arrived, not IF. Ok, fine. Friday, still no delivery and now they say it is lost in transit!? What? They are confused. Monday again, May 16. I message customer service, representative tries to set up a 3 way call with the carrier and amazon customer service. Failed. I only spoke on the phone with customer service. The rep understood what I dealing with and what I was told how it would be dealt with was beyond his ability and transferred me to the manager. Spoke with manager who seemed not to understand that I was I would be given a refund for the item and to keep it when it was finally delivered as recompense for the inconvenience. She had no other information on how this package was to be delivered and that it did not matter since I had received the refund. This manager was rude and got frustrated to the point of not listening to what I (the customer) had to say. She offered to give me the number to call the carrier to find out what happened to the package. Isn't that something they should have done at the beginning? Why is it now the customer's responsibility to ensure proper delivery? She asked if I had contacted them. I told her this call was supposed to be 3 way with the carrier but they failed at that due to connection problems. I asked her if she had contacted them, if anyone prior to this had? I had been told each time I contacted customer service that an escalation was being placed on the order history for the package so each time in the future they would have all the information. That seems false as I had to explain each time the problem and what I was told would be done to fix it. She then decided to just tell me that it was no longer a problem because I had already been refunded for a product I did not receive, which is still not the issue, and that she offered a gift certificate. She did, I did not decline the gift certificate, I asked what will be done about the missing package. When she got frustrated enough I asked to speak to her supervisor. She said she doesn't have one. I asked for anyone above her, phone or email contact, and for her name, again. She gave me her name which I had difficulty understanding and got upset about personal information. I was simply wanting to know how to identify her for the company for this complaint. She was supposed to give me an email. When I asked if the call was being recorded she hung up on me. She told me her name was Vee or Zee, I still am not sure. I had a difficult time understanding her through most of the call due to her accent, at the beginning it was because it sounded like her microphone was against her mouth as well. This phone call took place May 16 2022 at about 2100 CST. The phone call was initiated at 2038 CST but it was 2100 CST that it was transferred to her.
My problem is that I ordered an item for a gift, filled out the boxes provided on checkout for delivery, it did not get delivered. I have spent everyday dealing with customer service to resolve this issue for over a week, except the weekend, with no solution being applied. Now, I am expected to start the process all over again using the refund I had received for recompense in the first place to chance again if the delivery will be made. I know Amazon makes the routes and the order of delivery for the routes and then assigns them to the drivers. So why have me fill out a form for specific details for delivery if it will be ignored? After this escapade I don't know if I want to deal with Amazon again.

Amazons service has gone so far down hill in the last year. They raised their prices and somehow got even worse.
They give a delivery date and don't even ship your order until AFTER the date given. So paying for prime is really NOT worth it because you still don't get anything faster. They also refuse to refund you for items that are lost. And when you complain about companies they ship with (cough cough *ASL*) they say they won't use them for anymore of your orders. Yet end up ONLY using them.

Gayle Ostic
from Matawan, NJ
Amazon locked a business account due to charges that couldn't be replaced with another card. They only reached out via email days after it was locked and I tried calling. The customer service area could also not speak with the team who locked it and filled out a form explaining the situatio n. Each 24 hours was how they responded with very cryptic emails say account you autorized not good or associated with your business account. They never said which card they were trying and since it was closed I could not go in a fix it. Their communication was terrible and took 24 hours between each email. I called 2 different supervisors and each agreed the situation was messed up BECAUSE the account was closed and I couldn't add cards to it. They each wrote long forms explaining my situation and requitement to do business ASAP because they messed up all communication with me. Your process is broken. See their steps below. I wound up getting a second card cancelled because they charged a card that I didn't authorize and could find the order number. ALL CUSTOMERS should get a response from Amazon during order searches that say " order from another account - please log into that account!!!!!!"
Details of events:
I had a business Discover card get closed due to a fraudulent charge. It takes 8-10 days to receive another card so Amazon went and charged my Visa on my personal amazon account without my authorization. When Visa alerted me there were new charges on my card, I looked up the order (which was from my business account) and could not find it on my Amazon Prime. I didn't think to look on the business account because that account used my discover busines card. I received the new Discover card before I realized they charged my orginal VISA and added it to the business account (card 6678) THEN AMAZON LOCKED THE BUSINESS ACCOUNT. I reported the charges on my visa as unknow so THAT CARD Also GOT cancelled. But Visa said before we decline these charges check with Amazon. I called and Amazon said they were from my business account. BUT VISA cancelled my card anyway (another 10 days to get another new card). I could not reach the cb-in team at amazon becuase they kept authorizing the wrong card to charge the ones that hit the calcelled card. This HORROR went on for over 10 days to straight. YOUR PROCESS is broken. 1. if they never tried to charge my other amazon account and card this would never have happened. NOTE the Business account did NOT have my personal VISA card linked to it!!!!!
I am extremely frustrated and annoyed at this long process. Your front line Supervisors were very empathetic and tried to help but it was obvious that the team who locked the account NEVER read their submitted forms!!!!! Iwill never recommend opening a business acount with amazon. Your locking of an account and not allowing a discussion with the end user was a apoor decision. I could have straigtened this out with one phone call. BAD BAD BAD Gayle Ostic - I am a long time customer and purchase 100's of $ of items. Your handling of this problem almost caused my to loose a couple of vendors for my business.

Ashlee Rush
from Bay City, TX
After almost 3 hours on the phone and having to download 4 different apps the rude customer serve guys(3rd one I got transferred to) just hung up on me after telling him I couldn't just run to Walmart. No of it made sense and it was already hard to understand due to a language barrier. They did not explain why I couldn't just get a refund to my account for the 5 items I never received and just kept telling me to try other means such as Venmo and cash app which I use neither. It was the most unprofessional customer service I've ever dealt with and came off as very sketchy!

Danielle Peeler
from Lexington, SC
The FireTV I have had for less than 1 year is stuck on the loading screen. I have attempted all troubleshooting to no avail. The TV remains stuck on the loading screen and will not move to the actual TV. I have chatted with Amazon (where the TV was initially purchased) and they have led me through all the troubleshooting steps, which have not worked. Factory reset options are not working, and basic reset is not working as well. The TV remains stuck on the loading screen and will not load to anything else despite multiple attempts over several hours. I was on a call with Samantha from Amazon's customer service department from 4:07pm-4:39pm (after being on a chat with Megha from 3:06pm-4:07pm). Samantha was extremely unhelpful and wouldn't allow me to speak with a manager despite multiple requests. She declined to give me a number to call back if Insignia is unable to help me. She declined to give me any additional information to identify her or the problems with this call. She eventually ended up ignoring me and not responding to me at all so I had no choice but to hang up.

I also made a complaint a while ago, someone opened another account in my name and used my bank details in a different email address and I have made complaints after complaints and I still have the items here waiting for a return label to send back to you to get my money back and no one has helped me at all,I would not mind but it's items I don't need or would used, talk about theft in front of your face.

Gabriella Dejac
from Belfast, NY
I had customer service call me to see what was going on with my Amazon account because everytime I have ordered something over the past 2-3 months after placing the order a few days later usually the day it should be delivered it will say payment revision needed and we get a refund to our cards. I wanted to know why this keeps happening, if there is something wrong with the website and why/ if I can get notified when that message comes up cause I get nothing. The customer service representative I talked to was very unhelpful and just kept telling me that the order was okay cause I had fixed it already but that wasn't even the reason I was calling for help and proceeded to ignore my questions and talk over me and then hung up on me as well. I was not rude or malicious in anyway I am a CCR myself. She was not professional and did nothing to help me. I spend a lot of money on Amazon subscriptions and products and I am not happy with the customer service I received.

Tomas King
from Atlanta, GA
My problem I had with Amazon is that I order a bed from them. It was promised to be delivered between 6am and 9am. At 9:05 it still wasn't here. I called Amazon and was on the phone with the representative when it was marked delivered. I walked to my door and nothing was there. I told the representative and he tried calisthenics driver a few times but he didn't answer. I got switched to a different representative and she tried calling the driver still no answer. She could tell I was getting upset because now I'm late for work so she tried once more. He finally answered and said he must have delivered it to the wrong address. How could he deliver it to the wrong address when you have to put a code in just to get into my building. I feel like he knew he was going to be late thought I was going to be sleep and deliver it as soon as he could. He lied to them and lied about delivering the package and they didn't help me at all.
Have feedback for Amazon?
Thanks for your feedback!
Sorry. Please try again later!