Amazon
Contact Amazon Corporate
Toll free phone number: 206-266-1000
---
Welcome to the Amazon complaints department. The company is one of the largest online retailers in the world, a company worth billions of dollars. It is led by CEO Jeff Bezos with it's corporate headquarters located in Seattle, Washington.
Famous for their excellent customer service, Amazon offers fast shipping on books, electronics, clothes, and millions more items for sale online. Although very few of their customers report problems, negative reviews are often found. They include shipping problems, seller complaints, accounts being banned, and rude employees. Because the company is so large, it is often hard to police the entire website.
If you need to contact Amazon corporate, the best phone number to call is their support hotline at 1 (888) 280-4331. Although, the company would probably like you to use their help website. It includes information on shipping problems, order complaints, seller feedback, and more.
Amazon Contact Information
Report complaints to corporate and get satisfaction
Amazon headquarters address

410 Terry Ave. North,
Seattle
WA 98109-5210
United States

Company website

1-800 phone number

206-266-1000

Support email address

support@amazon.com

Better Business Bureau rating

A+

Customer service hours

24 hours a day, 7 days a week
Browse reviews of other Online Shopping
Top Amazon Complaints
Browse more than 880 reviews submitted so far

Mark Smith
from Buffalo, NY
Paid $99 for amazon Prime, for mainly Amazon Prime Video. Twice while watching a TV and Amazon produced series, I no longer can watch the rest of the series (season 8 of 12 and episode 8 of season 1) without paying for each additional episode. In my opinion that's called 'Bait and Switch'! Never have I had this type of situation with Netflix after almost a decade.

Helen walker
from Johnson City, TN
On two separate times I have got a email from ur company stating that a $200.00 gift cards was purchased on my card. I didn't make any such order. The cards was send to my gmail. I don't know this person. On April 30, 2016 and May 6, 2016. Order #111-0298450-2568547. I'm not responsible. Please stop any further action or card purchase at this time. Please do what needs to b done to protect my name.

Charles Current
from Albany, OR
I received terrible customer service from JB Tool Sales through Amazon, so I put up a negative seller review. Amazon took the review down at the seller's request. Then the seller emailed me to gloat about getting it taken down.

paul hames
from Montpellier, K
I have had an Amazon kindle since august It will not download books. I have been in contact with the help line and have spent weeks going through their tech support nothing will work. I have repeatedly asked for information on how to return it for repair but they refuse to do so can anyone help.

Kathy Randol
from Pueblo, CO
So Livid, I'm about ready to cancel my Prime Membership. Last Friday, I was contacted about your $100.00 gift card. I was told the shipping was $3.50, I get switch over to the Supervisor, who talked way to fast. Would not let me get a word in. I became very frustrated, I hung up on her. She called me back Saturday, and did the same thing. You waited a few days later. Guess what? She did the same time! Then I was told, they mailed the gift card, I had to send it back.
Then I was told, the gift card came back to you. What is it? Amazon needs to train their employees! I checked my checking account. You've taken out the money for shipping, plus the $10 for the plan. I spend a lot of money with Amazon. This is unacceptable! For all my troubles, I should get the gift card! I want my money back, a phone call, with someone who speaks English. (719) 271-0897 One last piece of advice. Let your trainees know, Customers Matter! If I don't hear from you in a timely manner, I will no longer do business with Amazon.

Janyth Macdonald
from Falls of Rough, KY
I ordered a Philips Respironics O2 concentrator for 585.00 New through Amazon from No medical insurance co., it worked for about 1week. I called to return it, which they will but I am to pay for return plus 20% restock fee! on a defective item, unless I except another one in exchange. So I did, this "New" one (which was also a return from someone else, as the cord is unwrapped, on/off switch left on, no bands on wheels) made a putt putt noise after about a hour into its use, but I kept it going until it finally stopped that night.
I called No insurance medical co. again and they will not return my calls now. Am I forced to pay for a piece of junk? This has been a nightmare. Does Amazon not ever play a role here to help me out? I have placed a claim with them, but no response either. it's been a month, So I guess the state attorney general, federal trade commission, and BBB are next. I'm not paying for a return or restock fee on junk I bought in good faith.

Gregory McClain
from Phoenix, AZ
I am a very active Amazon customer. More than 200 orders in 6 months. My first complaint is a general one. Any time there is a problem with an order after the supplier says it has shipped there is no link or way left to contact the seller making it nearly impossible to resolve delivery issues once the seller proclaims shipment is enroute. Can't something be done about that? It is even worse once the seller proclaims it has been delivered whether it has or not.
I do not get mail delivery at my physical address only UPS or Fed Ex. I can deliver to the physical address. When sellers use the postal service as a delivering carrier and then chose the physical address as the delivery point, it always goes wrong.
I have two orders that this is an issue with. The first, placed in February was for Honey Catalina dressing (originally diverted because of weather related issues) has never been delivered, still shows as enroute and has been charged to my card. Second is Ajax sent by post to physical address.

Charlie D.Baines
from Naperville, IL
Have not refunded the amount of money, owned to me for items ordered by mistake. Two comforters. $ 152.08. This company is a ripoff scam online. Products sucks. Bought a man bracelet. Piece of crap. Can't wear it. Clasp is no good. Don't do business with this company.

Gerry
from Brick Township, NJ
I ordered something through their site for $399. The price lowered by $100 before I received it. They won't adjust price. Told me to contact seller. I did and seller said it was a mistake and price is going up. Here it is 24 hrs later and the price is still $100 less. They won't give me a price adjustment. Terrible!

Keith Evans
from Birmingham, ENG
I have just received a message to say there was problem delivring parcel at 5.36p.m
I am sat inside the house the porch is open with the light on , so please explain the problem.
I currently have prime , so should have been dwlivered within 24 hours , 48 hours later still no delivery and trying to claim access issues
Please explain

Horrible service… HORRIBLE. Been using Amazon for 10+ years and I have never had an issue. BUT because of recent events have been so unprofessional and just horrific that I have to switch my opinion on Amazon and start to give my business to someone else. I had bought an item and received the wrong size (was a phone case) they told me that it would be no issue and could put the money directly on my balance in 2-3 hours so I could order another one. Mind you this is my Christmas shopping and I don't want to play with too much time. They completely lied to me and I was given the run around for 5 hours just full of people who couldn't give me a solid answer or really satisfy me as a customer at all. The customer support is so bad and just impossible to work with so you just end up taking the loss and move on. Amazon will NOT be getting anymore service from me and my family. I even tried calling cooperate and don't worry they don't help or care either. PLEASE do not use Amazon and tell your friends/family to save there money and not go with this horrible site.

Ever since they've gone completely overseas with their customer service- it has been downhill. I think they must train these reps to purposefully not help customers so that they get so fed up they give up trying to resolve whatever issue they are calling/writing in about. On multiple occasions I've had reps who just passed the call or chat off to someone else who then passed me on to someone else and so on and so forth. They purposefully take forever to respond on the chat or leave you on hold for extended periods of time just wasting your time. They are the worst group of agents ever. There should be way more oversight of these behaviors by Amazon. It's ridiculous and out of control. I am literally never helped.

Sydney McCracken
from Greensboro, NC
Contacted them about a misdelivered package and I was told I need to file a police report because it was a "verified delivery". What does that even mean? The picture was blurry and hard to see. I don't even think it was the right apartment.
The online chat was rude but kept putting smiley faces like it was going to help. It was a $250 purchase that I don't have and I do not want to get the police involved.
Amazon has been so good in the past about missing/ lost packages but not this time. It's going to be hard to deal with them in the future.

Lois Morales
from Leesburg, VA
Account is under Leopoldo Morales, polomorales @verizon.net, 7039099382.
Purchased Ross Simmons earring $475.94 ORDER # 111-6261240-1529836. Returned earrings and money was placed on Amazon Account instead of Credit Card. 2 phone calls and I am told the money would be removed from the Amazon Account and placed on the Credit Card. No money ever received. 2 more phone calls and both employees insist I spent the money on the Amazon Account. 1) money was removed from the account so it was not possible to spend the money, 2) you can see that there are not deductions in the account that would equal $475.95. Phone call to Edmund and he informed me has to be put into investigate because he can't tell where money is. The point is I did NOT get my money back. What store takes more than 10 days to correct a problem?
AMAZON DO BETTER!!
Lois Morales 7036069382

Heather Gilley
from Plymouth, IN
My order was late. When I looked online at my order status it told me I was eligible for a refund or gift card because it was late. So I called and inquired about it , thought it was a nice gesture since my package was late. Instead of giving me a credit they cancelled my delivery that was suppose to arrive today. It was literally out for delivery. They replaced the order only for it to be delivered 4 days more. I asked if there was any way they could get ahold of the driver and continue the delivery since it was literally in my area. I received no help , they were unwilling to do that. I lost a few hundred dollars because my client went somewhere else to get her hair done so the customer service agent screwed me over by a click of a button but reassured me it was cancelled. I don't understand how they couldn't reverse their mess up. Thanks Amazon for once again not delivering, I'll be canceling my long tome prime membership and will encourage family and friends to also. Why pay for it when it's not promised and no one helps.

Stephanie
from Panorama City, CA
I purchased a black couch , they sent me a grey one . After calling customer service I was directed to dispose of the item. I have chat transcript and email ...nothing was refunded. now they say they need the item back for a refund? And they apologize for the employee giving me the "wrong" information but claim they can't help??? $600 wasted amazon!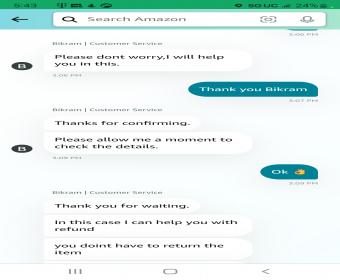 Tammy Hughes
from Smyrna, TN
My complaint is regarding shipping. We are an apartment community and the drivers are dropping packages in a pile at the front door of our property, outside at our mail area. These residents expect their packages to be dropped in a secure location, like in front of their apartment door as it should be done.
These drivers are lazy and these packages could be stolen very easily, in turn costing Amazon a lot of money to replace the items stolen.
Something needs to be done.

Daemeon Reiydelle
from Richmond, CA
Order # 112-8086273-6509836
Ordered two dehumidifies, received one dehumidifier and one 38-40' trailer cover (no kidding!)
Contacted customer support which keeps trying to tell me to "return the defective dehumidifier". Refuses to replace same. Attempted to escalate, was put on indefinite hold because I refused to "return the defective dehumidifier" and insisted on AWS shipping a replacement.
Sent pictures of label(s), description of product on box, etc. Repeatedly telling me I need to take more/different pictures, pictures of the product code, all bar codes, etc.
I DO NOT EVEN OWN A TRAILER, let alone a 20' travel trailer.
Cannot call the customer complaints number, it sends me back to customer service number.
I would attach files, but the images are high res and exceed the 2mb limit for this web site

Haris Wijayasiri
from Edmonton, AB
Bad and rude customer service agents in the Philippines call center. Difficult to understand their speech. They do not understand courtesy at all, especially when conversing with Amazons' valued customers. Just uttering "Sorry Sir' would not solve anything when the thrust and reason for the call is ignored or misconstrued. They simply do not understand English in general. They are always contesting the customer to cover-up their mistakes. Complaining to another agent would be useless as they cover-up for each other. There is an old adage 'The Customer is always right'. They should explore the vale of it. North Americans do not call them for a 'Street fight in Manila'. Amazon made it to the top. Maybe now it is downhill from here.

Jithin George
from Riyadh, 01

Peter Dunsby
from Bridport, ENG
I bought a FitBit Versa watch from Amazon. It wasn't quite the model that my daughter wanted and it went back unopened in its original packaging. Amazon initially refunded me but within days applied a "retro charge".
It took me months go through everything to work out why. First I thought Evri (the courier) had not returned it properly so I tried to get in touch with them, fat chance!!!
Then I got onto Amazon to explain I couldn't get onto the courier they asked us to use and could they help. Turns out Amazon had had the return but had, in their ultimate wisdom, decided it was not a watch that we had returned but an oversized T-shirt. We don't even have any people in the family remotely likely to have ever bought one of those T-shirts. Someone was either having a very bad day at Amazon or perhaps pocketed the quite valuable watch and said the return was something else?
I explained what had happened to customer service agents left, right and center at Amazon. Got nowhere.
Did Amazon have any proof of what they said I had returned? No they didn't.
Had they kept it? No they hadn't.
But hey! If I wanted to return the item that I had already returned they would give me a full refund. They said this line so many times and it seriously peeed me off!!!
Yesterday I went to the Customer Services chatbot one more time to get the legal address for an online money claim. They gave me it but hey presto also decided to confer and refund me the amount I had been retro charged.
So after 15 months of fighting I have managed to get what I was legally entitled to all along.
They ask if the matter has been resolved to my satisfaction? I start explaining that no it hasn't. The chat window closes and thanks me for being a loyal customer.
I repeat the effort to tell them the matter has not been dealt with satisfactorily. Again the chat window closes.
When I do deal with a member of the Customer Services Team he tells me that Amazon does not have the discretion to offer discretionary / goodwill gestures where their service has been poor.
At the end of transactions their aim of being the most customer-centric company on the planet pops up. Long way to go Jeff!!!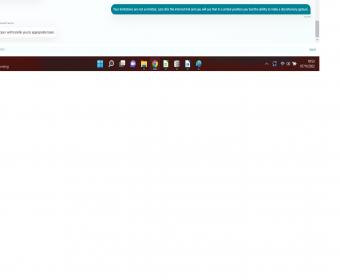 anna zhou
from Lansdale, PA
Amazon said they delivered my order but I never received them and they told me the loss is on me as it is not their problem. They couldn't provide proof of delivery and their customer service is very rude.

Jackelyn Frank
from Bremerton, WA
Amazon secured card and bank are thieves. Took my money in just a few hours but wont credit my account or give me my money back within hours. Making me wait 14 days before they will cut a check and send me my money which could take over a month. I'm low income and don't have that kind of money to just throw around an wait for. I needed the supplies an clothing ordered in which we live in a very cold part of Washington state an without the supplies I ordered can't make more money

I ordered an, which showed to be delivered on 17th OCTOBER 2022. I have had a chat with customer service they confirmed the delivery on 23rd October, but still, the product was not delivered. Now customer care is asking me the proof of it not getting delivered and the previous conversation I had with customer service. The previous chat window was not available the next day. The only proof I have is that I gave negative feedback on the delivery of the product.
The customer care service is talking rudely and has refused to solve the issue. Kindly look into the matter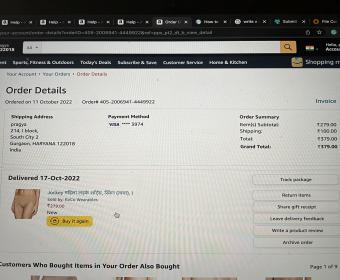 Jennifer Amorim
from Oshawa, ON
I ordered a meat grinder & when the delivery person buzzed for me to let him in, he left my very expensive meat grinder in the lobby of my building when the delivery instructions I left were clear to deliver to my unit on the 5th floor. Never in all the years I have been ordering from Amazon have I had this happen. I am extremely angry about this & if my package is stolen I will be livid!

MaryH.Magdalena Curtis
from Sacramento, CA
They tried to assist me but when difficulty arose for even the clerks trying to help me then they got mad at me and turned against me and started shouting at me saying that they already gave me one receipt too many and refused to give me my final receipt for which they overpumped the gas amount on the pump that I did not want nor approve of. Then when I went back inside with her she shouted that her boss knew me because I had been there before as a regular customer and that I should never come back! I told her that all I wanted to do was make a purchase. That I was a customer and that they should respect a customer! They just kept shouting at me to never come back again. I could not believe it! I did nothing wrong nor strange in the event. Sometimes I am down to my last penny and I get hungry so I just look around there for a good nutritious snack but I can't afford much so I must take my time looking carefully and I guess I have taken more time inside the store than they like before my purchase. I am a Senior citizen and sometimes I don't understand about all the technology with ease but I do have needs to help my disabled clients as a caregiver for the IHSS County program and I am insulted and humiliated by these clerks in this establishment more times than not. I am appalled by them! There was NO reasonable cause for them to say what they did or to treat me as they did. I could not believe their treatment of me as a customer. I just hope that I can achieve justice and be satisfied because I never want to go back there and be treated as such again! Mary Helen

Ashish G Ninnurakar
from Pune, MH
I had conversation with Namrata B in Amazon India. She is very rude while taking she does not understand my problem either she dont have any listening skill worst communication skills and worst part is she hang up my phone before giving any resolution
Thank you

Brian J Cowley
from Kansas City, MO
I made an order with Amazon for North Mountain Supply NMSCLGB12 16 oz Glass Grolsch-Style Beer Brewing Fermenting Bottles - with Ceramic Swing Top Caps - Case of 12, Clear (Pack of 12) (NMSCLGB-12).
I tried to change the address 2 minutes later and it said ti was already shipped and that I would have to not accept it or return it. 2 minutes later. I do no t believe it was already shipped. If this is how you do business, there are plenty of others out there ready to be more responsive.

Carolyn Wade
from Nashville, TN
I purchase an item on 10/20 because base on Amazon if I order before a certain time the item would be a one day delivery… even after calling and confirming with the CSR they saw no issue with the package arriving on 10/21 as promised, So the next day after lunch I checked to see the item was out for delivery… The updated status said I would receive it on 10/22 which was too late it's now 10/27 and still haven't received it… Some of the CSR's were rude and dishonest

Tiara Cohen
from Greensboro, NC
I have not been getting my packages lately I've called Amazon customer support to do a complaint and they claim to have sent the issue to a specialist but I haven't gotten a reference number no call back regarding anything just replacements no I want to know who is hiring these new ppl because I really think my packages are being stolen there was no picture taken of my packages being delivered to my home one time my package was delivered to the wrong address and I specifically put instructions detail for detail on how to get to my residence my number my building number and my apartment number! I'm tired of this if nothing is done I will be filing a lawsuit!

mike woodward
from Big Lake, MN
I get emails from amazon twice a month or so warning me about items I have for sale on amazon not being
compliant with your selling rules. I had a seller account five or so years ago. As much as I would like to sell
on your site I can not get information on how to set up my store. Please check this out as if I try to respond
I am told that that is no possible as it is an automated email.

I have been on calls 6 times with extremely rude Customer Service Reps at Amazon call centers. I have even escalated to Supervisors Johnathon and now Jay in Business Accounts who were very rude.

Amazon customer care number /this email address payment refund my mom is order cancel money refund please help me sir

Jeff Ritter
from Winlock, WA
My mother-in-law's account has been locked for 3 months. I've had her in my "Prime Family" since the Prime service was initiated but it looks like her account was flagged for misuse of services because at some point Amazon limited the number of adult users to 2 per Prime household. (She was a third on my account). We have both spent countless hours trying to get her account unlocked. It's been nothing but an endless loop of customer service black holes - calls, emails, and chats. Nobody has been able to help. I wish I knew where to turn for help.

Delanea Sanchez
from Atlanta, GA
Opened business account was sent email stating I could use their invoice pay so once I tried using it was when all Amazon's BS started. 1st locked/ froze account then fixed then next day locked again received email asking to verify business address, sent requested docs received email a few days later saying my documentation wasn't sufficient to verify card ending in XXXX. What? That's not what was requested. Why did they need that info when I was paying by invoice? But I obliged and sent requested statement and here it is 2 weeks later and still nothing, still locked out of account. Every time I called business customer service they say they need to verify information and then my issue will be escalated. Done this 8-12 times and still nothing ! Today I finally receive email from Amazon saying my invoice Pay is "suspended" and "can no longer use invoice pay"! But I can still shop at Amazon! But I still am locked out so how can I shop? This is beyond ridiculous and unprofessional I will NEVER use Amazon again and have told my experience on my vlog with over 10k followers!!

Charity Mabry
from Blytheville, AR
I paused my Kindle membership because I needed the money for something else that month. My bank card was charged anyway. When I contacted "customer service" I was told that my account was almost a month behind and they had just been able to process the payment, despite me having bank statements to the contrary.
My complaint was passed to a member of their "concerned team" named Gomanthi who brusquely told me that I could cancel and that is the only way I could get my money back. When I cancelled it myself he said it was still active, effectively calling me a liar. He then stated, "I cancelled and processed your refund. It will take 3-4 business days" He then asked if he had resolved my issue. When I told him not to my satisfaction, he sent a form reply "Have a nice day. Goodbye."
I CHOOSE to spend money at Amazon, but there are many other companies out there that provide the same services. I am highly disappointed in the "customer service" of what used to be a wonderful company.
I am beyond livid.

Jeffrey Johns
from Grangeville, ID
Ordered one product got another, I ordered a cell phone from one of Amazon's sellers in one color(grey) and condition (supposed to be excellent), but got one in black and only good or fair condition, those sell for a bit less than what I actually ordered, now after a bunch of time and effort on my part they will not handle the problem in a way to best serve my interests, unacceptable.

Judith C Tansey
from Vero Beach, FL
I have a credit card with Amazon and every month when I try to pay my bill my sign in account has been deleted and can't fix it except to call Chase and breath thru the transfers and have tech person walk me thru entering it again with their code. We aRe talking 12 months at least. I have complained every month without satisfaction. CAN YOU HELP ME? Thanks in advance if you can. Yes I know I can call in but am a senior and want to see my account.

Sandee
from Fort Morgan, CO
I have been an Amazon prime member for several years because I enjoy the free shipping and returns. I am now being charge $7.99 for each return if I have UPS come pick it up. I have over 100 miles round-trip to the ups store to drop off my package. For years, if I needed to return something, I just called Amazon and they had UPS come pick it up for free. Those days are now gone. I have to either eat the $7.99 or drive over 100 miles.

Steve Martin
from Phoenix, AZ
Packages are CONSTANTLY being delivered elsewhere. Sometimes next door, some times God only knows where they are. There are forty + people at this address, and it continually happens to every one. In fact, lately, more packages have been delivered to other addresses than have been delivered here.

Dan Whitt
from Waxhaw, NC
About half the time, delivery drivers do not follow my simple delivery instructions. The instructions say deliver to Front Door. There is a box in delivery instructions that says front porch and I do not check that, because if the package is delivered on the front porch and it rains, the package will get soaked (this has happened more than once). But, if it is delivered to the front door, it will be safe. I have had 2 conversations with Customer Service and they say they will fix it, but nothing changes. Very frustrating.

Ulkar Aliyeva
from Baku, BA
I ordered Marshall on Ear headphones, the amazon team delivered to the wrong address, when i requested refund they didn't do anything and they said they delivered to right address.

Jarrad deskins-walker
from Columbus, OH
I was sent a broken phone. While holding my money they took their time getting me a replacement. Once I got the replacement I was given until Sept 19th to return the item. On Sept 8th they charged me for not returning it. I returned it the next day and have an email saying they received it. They still are rude to me in the phone robotically repeating themselves "advising" I wait when ironically that wad exactly what they DID NOT DO. I plan on filing fraud charges against them.

Bonnie Hill
from Hamilton, ON
I have an an ongoing problem since September 9 between running to bank and calling you guys I had to get a new bank card two times because when I place an order it comes back after 24 hrs saying to revise payment I do that it said it was successful then a few hrs later says same I'm 69 yrs old and this has caused me a lot of grief as well as prices have changed I have stayed home waiting for orders that don't come I also have two refunds that have seemed to have gotten lost Bonnie hill

Tina Kirksey
from Dallas, GA
I opened a Amazon prime account and have been extremely disappointed in the delivery system of my packages not arriving.
Most of the packages I have ordered have not came and I have not been taken care of or taken serious when I contact customer support. This business is a joke.

I have used Amazon for years and still will I'm a member but today whomever the delivery person was he prop a package outside my mailbox and one on the ground and one was opened. I'm very aggravated and this has never ever happened.

Sharon Jacobs
from Smithfield, VA
I tried to order a laminator on your website. I received it and it didnt work. I returned and ordered another thinking it was defective. The second one did not work either. so first complaint is it seems you are starting to have more and more junk that does not work on your site. The reviews were all top notch but I guess I cannot trust the reviews on your site because it was a piece of junk. I brought the other one back to ups without a label as that is the option I chose. It is a half hour drive each way, only to be told I need a label and they would not accept. I used to be able to do ups pick up but now it is a huge fee for that. I don't think it is right that I have to drive all this way because you are sending me things that do not work!!!! I have decided to avoid amazon when possible in the future because you are no longer customer focused and it is too much of a pain in the neck anymore.

Rebecca Smith
from Pensacola, FL
Amazon is such a pitiful terrible company. I have been a long time loyal prime member for over 10 yrs . They use to be great. Now most all my orders are late ,especially if delivered by Amazon delivery . They mail fragile things in frickin thin bags instead of boxes , items arrived damaged , not even items I ordered or just strait up delivered at another place not even trying . Customer service is absolutely useless and offer no resolution. I have spent THREE hours over the last two days trying to get help even through supervisors . Spoken to 12 people these last two days trying to get help over chat and phone including to supervisors to no avail. They do nothing but offer the same generic replies over and over and tell me sorry and to wait longer for arrival even another 5 days ! This is absolute bull crap ! WHY do I pay for prime ?! Why do I buy anything at all from you?! I can't count how many items I have gotten that were strait up gross used customers returns that I bought as NEW! Most reviews are now fake and not trustworthy. Products cheap and low quality ,customer service and delivery even worse. Bottom of the barrel in retail and more headache anymore than anything!! What a garbage company with no integrity!
Have feedback for Amazon?
Thanks for your feedback!
Sorry. Please try again later!