Amazon
Amazon Complaints Continued... (Page 7)
1096+ reviews added so far. Upset? Call Amazon corporate: 206-266-1000

THe customer service was rude and ther is no way to file a complaint. He/she basically told me to fuck off before transfering me. And the lady after helped me with my problem.

jose A colon
from Boyertown, PA
I placed an order on June 6,2022 and I didn't receive the item when it was supposed to get here which was on June 8,2022 and I wasn't notified until 5pm on the 8th it was an item that I needed now they tell me it takes 3-5 business days for a refund for an item that amazon has. if I was notified the day before that the item was damaged I would be able to try and find the item elsewhere and can reorder the item but I wont get it until the 15th which is to long for me to be without a vehicle because amazon is getting so sloppy on how it treats its customers.

Ordered a drill bit. Had a construction crew waiting. Received a pair of slippers instead. Drove over 200miles to get drill bit. Seriously, SLIPPERS!! TRAIN YOU EMPLOYEES FOR GOD SAKE!!!

Jose l Gonzalez
from Tampa, FL
Customer Service has dramatically deteriorated. Looks like agents are working o. Multiple calls at same time.
Trying to get an issue resolved. Agents come on the phone several times and ask me the same questions over and over. After two hours on the phone the call gets dropped. Called again and the agent has no record of my call.
This is making me think that online shopping is becoming too much of a hazard. It is easier to go to the store and get the issue resolved

douglas Giem
from Colorado Springs, CO
Can't access my account and told due to not using the account for almost a year it got closed and deleted all my purchase history

Felix paredes
from Miami, FL
On May 8th, I placed an order for an IPHONE SE and received my order with no delay on May 11th, 2022. When I opened the box that amazon delivered. Found out that the IPHONE was sealed but empty. Took pictures and Immediately contacted amazon and they agreed to replace it. On May 13th the replacement shipment order came and to my surprise the IPHONE case was sealed but again it was empty. Immediately took pictures and once again contacted amazon and they told me that they will replace it. Which they did. On May 17th we received the 3rd shipment and once again the IPHONE case was sealed but empty. Took pictures again and contacted amazon. This time customer service said that they couldn't do anything else. Didn't offer an Investigation or try to solve the issue that looks like it is internally from the company or warehouse. After so many years of doing successfully business with amazon. They didn't care to follow up to resolve this issue. Telling me that they are not able to give me a refund or replacement which I don't want any more. This is very BAD service. I received a letter saying that I need it to file a police report, which I did, because I want to get this fixed asap. How can I order a product and never receive it? The worst thing is the box from amazon came sealed inside 3 times but was empty the IPHONE BOX WAS EMPTY. I got an Amazon box with an empty iPhone case that was sealed. Need to start an investigation, somehow the IPhone are missing/ disappearing from the box before delivery. This is Very bad and poor service. I just got my account closed because "supposedly didn't comply with the terms of their conditions. According to them I created another account to place orders which is not true. I don't know for which purpose I need to do that because I have been a customer since 2013 approx. I want the refund of this order. Pay with my debit card $450.00 plus a gift card of $30.00. I need this issue to get solved.

Laura Chenelia
from Glendora, CA
My Prime Membership was canceled without my consent. Both my Bank and Amazon admitted that it should not have been, and in a May 25th email I received from Amazon, I was told that everything was resolved and my account was restored with full access. I never lost access to my account, just to the Prime Membership. I was assuming Amazon put the Prime back. I see that they did not.
The customer service I have received from Amazon throughout this ordeal has been the worst I've ever experienced. I was canceled without my consent. I was told that I would have to speak to someone from the Corporate Office, yet was told I'd have "to Google it" to get the contact info.
I was canceled while Amazon kept my payment. The then refunded it after I asked them to restore my Prime. I just want my Prime account reinstated. My family and I use this all the time and have been members for years. The way I have been treated has been deplorable. Please help me.

Sahr Youngai Gbondo
from Dulwich, ENG
I recently started working for Leonard Buca, a delivery agent for Amazon UK. They are nothing but a bunch of incompetent business operations. I have had payment issues with them from the very first day I started working with them. I would appreciate it if I am pointed in the right direction for this type of complaint

Radha Holavanahallli
from Olney, MD
Order number: 112-0822586-3965864.
We bought a living room sofa modular set that is flimsy and broken parts. We had bought insurance as well for it. We could not put the complete set together due to the broken part. It took over a week to get the part and even that was torn underneath the sofa. The complete set is flimsy and the edges do not come together and the back tilts back is not flush with the fixtures. We have tried to communicate with the seller based on Amazon's communications but they are not responsive. We were told by Amazon that we could get rid of it or donate the item and we would get a full refund, and soon after we got another message asking it to be shipped back. In-between messages we already purchased another set (from another company). We have wasted hours on end putting it together, dismantling it and putting it back with a new part. All the cushions come compressed as well. It is difficult for us to repackage it and ship it back as even the boxes the materials came in have been discarded. We asked Amazon to come pick them up but they only told us to do so. We have spent over 3+weeks on this matter. Please send someone to dismantle it, box it and hip it back as we cannot do this. Also, Amazon should look at practicality of returns of large items before agreeing to put them up for sale. This is too difficult based on the time spent on these flimsy non-work able products for us to handle. It should be the responsibility of the seller or manufacturer to pick up the product if defective and does not live up to it's advertisement. Please call us at 4698795002.
All images are available on the communication on the Amazon page.

Jye Deck
from Atascosa, TX
I placed an order to be delivered as a gift to a post office for my son. I filled out the form available on the website during checkout for delivery instructions. Yes, it's a place of business, Monday through Friday 10am-4pm for delivery hours. No, they are not open for deliveries on federal holidays or weekends. I even filled out the additional instructions for the driver stating it was a post office and to please deliver during business hours to staff so that it could be placed in the correct box. It was to be delivered May 9. When I was tracking the package it was out for delivery May 9, however, the post office was closed. I called customer service. The representative said the only way to make sure it would be delivered during those hours would be to put in for a specific reschedule. Okay, fine. Tues, still not delivered, post office closed. I messaged customer service. They said it was done wrong and it would be delivered the following day. Wed, still not delivered, post office closed. Messaged customer service again. More apologies, to wait. Thurs, still not delivered, post office closed. Now I can no longer track the package and I am frustrated wanting to know what I will be given for recompense for this inconvenience. This was a gift! Very late! My son had now made daily trips to the post office expecting this package. I was told they could refund my purchase and still keep the item WHEN it arrived, not IF. Ok, fine. Friday, still no delivery and now they say it is lost in transit!? What? They are confused. Monday again, May 16. I message customer service, representative tries to set up a 3 way call with the carrier and amazon customer service. Failed. I only spoke on the phone with customer service. The rep understood what I dealing with and what I was told how it would be dealt with was beyond his ability and transferred me to the manager. Spoke with manager who seemed not to understand that I was I would be given a refund for the item and to keep it when it was finally delivered as recompense for the inconvenience. She had no other information on how this package was to be delivered and that it did not matter since I had received the refund. This manager was rude and got frustrated to the point of not listening to what I (the customer) had to say. She offered to give me the number to call the carrier to find out what happened to the package. Isn't that something they should have done at the beginning? Why is it now the customer's responsibility to ensure proper delivery? She asked if I had contacted them. I told her this call was supposed to be 3 way with the carrier but they failed at that due to connection problems. I asked her if she had contacted them, if anyone prior to this had? I had been told each time I contacted customer service that an escalation was being placed on the order history for the package so each time in the future they would have all the information. That seems false as I had to explain each time the problem and what I was told would be done to fix it. She then decided to just tell me that it was no longer a problem because I had already been refunded for a product I did not receive, which is still not the issue, and that she offered a gift certificate. She did, I did not decline the gift certificate, I asked what will be done about the missing package. When she got frustrated enough I asked to speak to her supervisor. She said she doesn't have one. I asked for anyone above her, phone or email contact, and for her name, again. She gave me her name which I had difficulty understanding and got upset about personal information. I was simply wanting to know how to identify her for the company for this complaint. She was supposed to give me an email. When I asked if the call was being recorded she hung up on me. She told me her name was Vee or Zee, I still am not sure. I had a difficult time understanding her through most of the call due to her accent, at the beginning it was because it sounded like her microphone was against her mouth as well. This phone call took place May 16 2022 at about 2100 CST. The phone call was initiated at 2038 CST but it was 2100 CST that it was transferred to her.
My problem is that I ordered an item for a gift, filled out the boxes provided on checkout for delivery, it did not get delivered. I have spent everyday dealing with customer service to resolve this issue for over a week, except the weekend, with no solution being applied. Now, I am expected to start the process all over again using the refund I had received for recompense in the first place to chance again if the delivery will be made. I know Amazon makes the routes and the order of delivery for the routes and then assigns them to the drivers. So why have me fill out a form for specific details for delivery if it will be ignored? After this escapade I don't know if I want to deal with Amazon again.

Amazons service has gone so far down hill in the last year. They raised their prices and somehow got even worse.
They give a delivery date and don't even ship your order until AFTER the date given. So paying for prime is really NOT worth it because you still don't get anything faster. They also refuse to refund you for items that are lost. And when you complain about companies they ship with (cough cough *ASL*) they say they won't use them for anymore of your orders. Yet end up ONLY using them.

Gayle Ostic
from Matawan, NJ
Amazon locked a business account due to charges that couldn't be replaced with another card. They only reached out via email days after it was locked and I tried calling. The customer service area could also not speak with the team who locked it and filled out a form explaining the situatio n. Each 24 hours was how they responded with very cryptic emails say account you autorized not good or associated with your business account. They never said which card they were trying and since it was closed I could not go in a fix it. Their communication was terrible and took 24 hours between each email. I called 2 different supervisors and each agreed the situation was messed up BECAUSE the account was closed and I couldn't add cards to it. They each wrote long forms explaining my situation and requitement to do business ASAP because they messed up all communication with me. Your process is broken. See their steps below. I wound up getting a second card cancelled because they charged a card that I didn't authorize and could find the order number. ALL CUSTOMERS should get a response from Amazon during order searches that say " order from another account - please log into that account!!!!!!"
Details of events:
I had a business Discover card get closed due to a fraudulent charge. It takes 8-10 days to receive another card so Amazon went and charged my Visa on my personal amazon account without my authorization. When Visa alerted me there were new charges on my card, I looked up the order (which was from my business account) and could not find it on my Amazon Prime. I didn't think to look on the business account because that account used my discover busines card. I received the new Discover card before I realized they charged my orginal VISA and added it to the business account (card 6678) THEN AMAZON LOCKED THE BUSINESS ACCOUNT. I reported the charges on my visa as unknow so THAT CARD Also GOT cancelled. But Visa said before we decline these charges check with Amazon. I called and Amazon said they were from my business account. BUT VISA cancelled my card anyway (another 10 days to get another new card). I could not reach the cb-in team at amazon becuase they kept authorizing the wrong card to charge the ones that hit the calcelled card. This HORROR went on for over 10 days to straight. YOUR PROCESS is broken. 1. if they never tried to charge my other amazon account and card this would never have happened. NOTE the Business account did NOT have my personal VISA card linked to it!!!!!
I am extremely frustrated and annoyed at this long process. Your front line Supervisors were very empathetic and tried to help but it was obvious that the team who locked the account NEVER read their submitted forms!!!!! Iwill never recommend opening a business acount with amazon. Your locking of an account and not allowing a discussion with the end user was a apoor decision. I could have straigtened this out with one phone call. BAD BAD BAD Gayle Ostic - I am a long time customer and purchase 100's of $ of items. Your handling of this problem almost caused my to loose a couple of vendors for my business.

Ashlee Rush
from Bay City, TX
After almost 3 hours on the phone and having to download 4 different apps the rude customer serve guys(3rd one I got transferred to) just hung up on me after telling him I couldn't just run to Walmart. No of it made sense and it was already hard to understand due to a language barrier. They did not explain why I couldn't just get a refund to my account for the 5 items I never received and just kept telling me to try other means such as Venmo and cash app which I use neither. It was the most unprofessional customer service I've ever dealt with and came off as very sketchy!

Danielle Peeler
from Lexington, SC
The FireTV I have had for less than 1 year is stuck on the loading screen. I have attempted all troubleshooting to no avail. The TV remains stuck on the loading screen and will not move to the actual TV. I have chatted with Amazon (where the TV was initially purchased) and they have led me through all the troubleshooting steps, which have not worked. Factory reset options are not working, and basic reset is not working as well. The TV remains stuck on the loading screen and will not load to anything else despite multiple attempts over several hours. I was on a call with Samantha from Amazon's customer service department from 4:07pm-4:39pm (after being on a chat with Megha from 3:06pm-4:07pm). Samantha was extremely unhelpful and wouldn't allow me to speak with a manager despite multiple requests. She declined to give me a number to call back if Insignia is unable to help me. She declined to give me any additional information to identify her or the problems with this call. She eventually ended up ignoring me and not responding to me at all so I had no choice but to hang up.

I also made a complaint a while ago, someone opened another account in my name and used my bank details in a different email address and I have made complaints after complaints and I still have the items here waiting for a return label to send back to you to get my money back and no one has helped me at all,I would not mind but it's items I don't need or would used, talk about theft in front of your face.

Gabriella Dejac
from Belfast, NY
I had customer service call me to see what was going on with my Amazon account because everytime I have ordered something over the past 2-3 months after placing the order a few days later usually the day it should be delivered it will say payment revision needed and we get a refund to our cards. I wanted to know why this keeps happening, if there is something wrong with the website and why/ if I can get notified when that message comes up cause I get nothing. The customer service representative I talked to was very unhelpful and just kept telling me that the order was okay cause I had fixed it already but that wasn't even the reason I was calling for help and proceeded to ignore my questions and talk over me and then hung up on me as well. I was not rude or malicious in anyway I am a CCR myself. She was not professional and did nothing to help me. I spend a lot of money on Amazon subscriptions and products and I am not happy with the customer service I received.

Tomas King
from Atlanta, GA
My problem I had with Amazon is that I order a bed from them. It was promised to be delivered between 6am and 9am. At 9:05 it still wasn't here. I called Amazon and was on the phone with the representative when it was marked delivered. I walked to my door and nothing was there. I told the representative and he tried calisthenics driver a few times but he didn't answer. I got switched to a different representative and she tried calling the driver still no answer. She could tell I was getting upset because now I'm late for work so she tried once more. He finally answered and said he must have delivered it to the wrong address. How could he deliver it to the wrong address when you have to put a code in just to get into my building. I feel like he knew he was going to be late thought I was going to be sleep and deliver it as soon as he could. He lied to them and lied about delivering the package and they didn't help me at all.

jacinta marie lawrence
from Long Beach, CA
failed to deliver my package to correct address. even the delivery driver left was a picture that was not my address. despite this all, I had to fill out an incident report 10 times literally for a replacement package. when I asked repeatedly to file a complaint against customer service, the customer service representatives hung up in my face. Terrible customer service accountability and no real effort to provide elevation when they made a mistake. will not be ordering anything else from Amazon again.

Alan Lyons
from West Kelowna, BC
I ordered three items did same day delivery, received one and then two were "attempted delivery". I contacted the representative and they said it would be delivered by 8am the next day. It was not delivered. I then messaged another rep to follow up and they said it was lost and they could refund the items but not the delivery but would follow up. I then contacted a rep to explain the situation and was treated rudely and then the chat was ended by the rep. See images below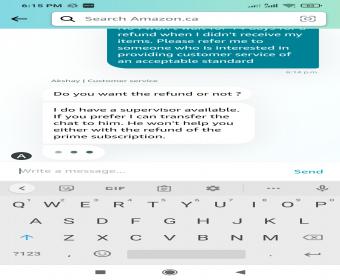 Elsbeth Welch
from Ocean Springs, MS
Your phone rep needs to have better English communication skills. Could have solved my problem in 5 minutes versus wasting my time and yours. Made me put an app on my phone to solve a problem but was not comfortable doing it. All I needed an clarification what my bill was for what I had purchased and charged on my credit card March 15,22 for $60.18. I finally hung up found it out myself.

Brian Hewitt
from Lexington, SC
Your Driver's need to slow down in my neighborhood. The name of my neighborhood is called Parkside in Lexington, South Carolina 29072. The speed limit is 25 MPH. The second thing is your driver's need to TURN onto the correct side of the road. When your drivers in the blue vans make the Left Turn off Garden Arbor Drive in Lexington, SC 29072 onto Wilmington Lane in Lexington SC 29072 they are turning onto the wrong side of the road & if there was another vehicle coming your driver would hit the other vehicle head on, plus my driveway is right there & I could get hit as well. I live right on the corner where this is constantly happening, and I am tired of seeing this. I do have Video surveillance cameras for day & night so I do have these violations on video very clear video. This is not a good look for Amazon at all & it's just a matter of time before an accident happens. There is also a STOP Sign right on the corner of Wilmington Lane & Garden Arbor Drive & your driver's need to come to a complete STOP there. This needs to be addressed & I am giving you Amazon the Opportunity to correct this. If this does not get corrected I will go to Law Enforcement & show them my video's of these violations & have them handle this. I will also report this to Law Enforcement & they will come out here & see what your driver's are doing violating the Laws of the road. This is everyday, not just occasionally. Either way still not good. Mainly this is a safety issue. Fed-Ex and UPS come back here in my neighborhood as well & they don't drive like this. Cameras don't LIE, Make sure your employee's know I am watching, and there better be some better driving going on back here. I am not attaching no images. However, like I said earlier if this continues to happen I will show Law Enforcement the images I have. Better yet I will have Law Enforcement back here in my neighborhood patrolling to catch your driver's doing this if this does not STOP.

Roberta Caito
from Fishers, IN
Your delivery man had to turn around at our closed gate. It was closed because you said package would come Saturday to Monday! Your driver tore up our lawn by the gate; obviously thought he could drive across wet grass and got stuck. Trucks turn around out there all the time, so this was truly avoidable. We have pictures if you want them sent to you, please send email with e-address. I think YOU should repair the mess the driver made-to our lawn and mud everywhere.

Nancy L Sundt
from Yelm, WA
Amazon is allowing sellers to gouge the public. Cat food I purchase is Pro Plan Chicken and Cheese, usually through chewy.com. A case of it usually runs in the low $30s but now that Chewy is out of stock, Amazon sellers are now selling it between $50-80 a case. This needs to stop. Amazon is well aware of this happening.

nakesia saulsberry
from West Des Moines, IA
i am a Prime Member. I live in an apartment. When I order packages. I like them to be delivered i front of my door so they won't get stolen. I specify that. They did it a few times, But stopped. A package got stolen. It was replaced. Customer service talked to the driver. They delivered my packages to my door. Then, they stopped. They would leave them downstairs again. It was stolen. I complain. They hung up on me. They gave me my money back. They have gotten rude. The drivers are lazy. I have been a customer for years. They weren't like this. They become so unprofessional, rude, lazy, and inconsiderate.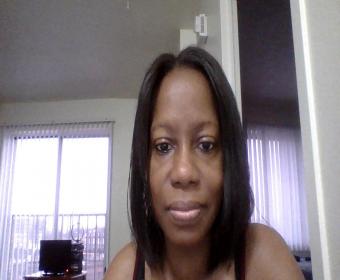 Never buy expensive items on Amazon.
I recently purchased a 900 dollar tv. The item never arrived and yet Amazon marked it as delivered. After a few rounds of painful communications and so many times of being put on hold with customer service, I was told the only suggestion Amazon can provide is for me to report to the police and come back with a complete police report, because the item lost, stolen or misdelivered is a "high value product".
Although I already filed a report after feeling a strong disappointment and anger to Amazon, as easily anticipated, there hasn't been any response from the police yet (how can they accept and issue reports for each missing delivery?). Despite that I only clicked a place order button, consequently it meant to me to pay an expensive lesson fee to learn that Amazon does not want to be responsible to customers at all for their poor logistics handling and expensive merchants they sell.
In my opinion, if a retailer is unable to handle risks of selling a product, they should not sell it from the beginning. Pushing away the customers to share all risks and responsibilities with local police obviously does not meet anyone's expectations to Amazon as a self-called "world's most custermer centric" company.

Heidi M Bryan
from Seattle, WA
I ordered some Miss Me Jeans on Amazon a few months back for over $100 a piece. I really liked the fit, so I splurged on them. Yesterday I was shocked to see the outside seam on the leg of a pair of them had come apart leaving a big hole!! I called customer service who told me to contact the manufacturer. I was surprised by this, I ha always had great service when it came to exchanges or refunds. I asked to speak to a supervisor three times before I was transferred to someone who said same thing rudely. I dont know if a supervisor or not, II did nothing to cause defect and it was obviously a defect. I cant e the only one. ive never had this happen with the cheapest of jeans so to have it happen to $100 jeans i was shocked. I contacted MissMe jeans and theyre policy is if you by from an authorized third party to go through them with proof of purchase.

LIANA HATEGAN
from Beaverton, OR
My account was blocked by Amazon for a reason that I was not explained. I called and called for the past two weeks every other day and each time I was told someone would reach out to me in the next 24 hours and nobody did. I just receive a no reply email from the Amazon security team but nothing is resolved. I called the corporate and was very UNIMPRESED by the person that I talked to, he had a short fuse and did not want to listen to my complaint and kept saying that if not resolved in the next 24 hours I should call them back. I will cancel my account with this company once I can access it as I need some information from there. This is too much and the customer service is the absolute WORST that I have ever encountered.

Jackie Ross
from Newark on Trent, ENG
I put in a order for cat food and mayonnaise, got a email saying my items had been delivered handed to resident this is not true as I was at work, got home after a 12 hour shift to find no items at all, went round to neighbors to ask if they had taken anything in but no, one of my neighbours said they had see that item were in front of the front door, my delivery instructions state to not to do this, so I contacted Amazon to tell them, they told me nothing they could do unless I got a police report! So after spending some time on the phone to no success of any refund or proper help, I had to then get a taxi as I don't drive to get my cats some more food, now I'm £25 pounds out if pocket and have to get the police involved about something that is not my fault and if the driver had took note of my delivery instructions could of been avoided, Amazon is one of the biggest companies in the world and to be treated this way is unacceptable, I feel so let down by this.This is not the way you treat your customers.
I look forward to hearing from you with a solution
Mrs Jackie Ross

Charles Rustem
from Mesa, AZ
Two of my orders in the past month have started from Phoenix, AZ then shipped to Riverside, CA and 2nd to Las Vegas, NV before proceeding to my home address in Mesa, AZ which is a half hour from Phoenix. This makes no sense.

Deborah Mcdonald
from Hudson, NY
I had someone order airpods on my account without my permission. Luckily the package came to my house and I returned it. I have yet to receive my refund and I have been getting the runaround from Amazon for months. I even contacted the better Business bureau and still nothing. UPS lost the package and Amazon is supposed to have an agreement with them where I get refund the money but still nothing. So because they let someone hack my account and charge without questioning it I am stuck eating $195.

Billy Boner Jr
from Lebanon, TN
I wrote a book when I was living as a homeless disabled veteran. Amazon has been selling my book for 10 years and refusing to pay me my royalties. First time I was on the phone with Amazon they said no one has bought my book and I know it's a lie because I bought live books from them twice and two other people I know of bought my books from them at the same time Amazon is saying they haven't sold any. I found out yesterday Amazon is now selling my book on Kindle and now they're going to deny that. I'll be talking to the Judge Advocate General's office and I'll let Amazon lie to them which can constitute a felony because they are a government agent. Amazon is stealing from veterans. I'm having money taken out of my account every month can I don't know how Amazon tapped into my bank account

Jon M. Tilley
from Las Vegas, NV
I returned a HOTT cd player because it was faulty. I gave HOTT a bad review and now they are constantly harassing me via emails to change my bad review. They keep offering me money incentives to change my review--in essence, they are trying to bribe me! I will not change my review. I feel bad that AMAZON has on its site such an underhanded company selling items to customers.

Kenneth Bawden
from London, ENG
I recently submitted a complaint relating to a charge made against my account, and received a resonse as follows:
Subject: Your Amazon.com account activity has been reviewed
Hello,
After reviewing your Amazon.com account, we did not find any unauthorized activity. As a result, we did not make any changes to your account.
In many cases, what may have appeared to be unauthorized activity could have been one of the following reasons:
-- An automatically renewed subscription.
-- Activity by people you know who share your account or have access to your payment details.
-- An accidental 1-click purchase.
-- A charge for an order you had placed previously that just shipped.
To help protect your account, we recommend you to change your Amazon account password, email password, and passwords for other websites.
For more information on how to make secure online purchases, please visit the "Security and Privacy" section of our Help pages. If you feel we have missed something, please contact our Customer Service team to get help.
Account Specialist
Amazon.com
https://www.amazon.com
I find this response utterly ridiculous, and frankly worrying due to the following facts:
All of the potential reasons for this charge cannot possibly make sense, because as I pointed out –
(1) the card number used for the transaction relates to a Barclaycard valid from April 2019
(2) the card has stayed in a drawer in my own property since I received it from Barclaycard
(3) this was the first ever transaction charged to the card
(4) the only other signatory to the account was my late wife – who died in 2016
I have always, over many years as an Amazon customer been satisfied with the standard of service, but this reaction to a clear hacking of a customer's account is deeply worrying and extremely disappointing.

Robert Hunt
from Bradenton, FL
Amazon damaged my product and returned it to wherever and issued a refund the right thigh to do is replace it at your cost not mine so I left Amazon and will use others for my business

Morgan Bates
from Colorado Springs, CO
Your customer service agent literally will not quit chatting with me. I was as rude as I possibly could be, closed the app in an attempt to stop chatting, etc. I just didn't want to speak with them anymore. I asked them straight up to quit speaking to me. They literally just KEEP GOING. This is borderline harassment. And if they say I hope you understand? ONE MORE TIME. Who trains these people? Do you train them to purposely irritate customers to the point of never using Amazon again or is this person special? I feel like I'm with my abusive ex, begging them to stop and they don't listen. Fix it. It's horrible.

Raul
from Los Angeles, CA
I was tracking the amazon logistics driver on the amazon tracker when it stoped, I was 3 stops away. After talking to two associates I found out that the package was delayed at the shipping station, unless there is one 5 miles from my house somebody is lying. I called a third time and demanded a manager, 10 minutes later I got one. She put me on hold for 30 minutes supposedly calling amazon logistics. By now my call has reached 45 minutes so I got tired and hung up. The last four of my purchase was 9400.

Samantha
from Detroit, MI
this was an order that apparently I made. I have submitted twice an unauthorized charge to amazon. I had a 25.00 dollar amazon gift card that I never got to use. I tried to use it for am item I was gonna purchase. It said it had a zero balance. I looked and it said I had purchased a 25.00 apple gift card. I don't have an apple phone. I tried to talk to someone about this and see if they can return or reverse the charge. They were no help. I buy stuff from Amazon and never have a problem. I think your return policy and the way you handle customer issues/ unauthorized charges is bullcrap. I hope someone helps me with this unauthorized charge. If not I will never buy anything from Amazon again and I know you won't give a care.

Jai Scouten
from Spruce Grove, AB
Amazon deleted my account, stole my money- including for Amazon Prime that I was not able to use, and I was charged for 2 items, that I did not receive, and I did not receive all of the products.
Arun from Amazon tells me he can not do anything- even though I have showed him my credit card bills.
I have caught him in 12 lies.
He refuses to refund any of my money.
Isn't it illegal to delete an account (or records, and not keep them for 7 years)?
Is Amazon declaring this money?
Isn't it illegal not to refund money for goods or services not rendered?

Crystal Turner
from Flossmoor, IL
Order date
Jan 16, 2022
Order #
111-8330370-9938611
Order total
$38.88 (4 items)
I purchased 4 items from seller Color Beauty on 1/16/2022. I received the items 1/19/2022 damaged. I immediately put in for a refund of the 2 damaged items which the seller agreed to the refund. After I completed the transaction I decided to return the other 2 items, to return the entire package. I did another return for the other 2 items. I had a total of 2 UPS shipping labels. I used 1 return label and returned all 4 items in one package and included the scan code for or both returns in the package. The seller refunded 2 of the items on the 1/28/2022 in the amount of $19.78. I emailed the seller to let them know I returned all 4 items in one package and did not use the 2nd UPS LABEL. Seller said once they receive the package the other credit will be given. Packages received by seller 2/3/2022 and signed by "Lisa" for acceptance. The amount of the 2nd credit is supposed to be $19.10. I have emailed the seller numerous times in regards to this credit. They said they issued it but it has never been sent to my account. I have filed numerous A to Z cases to no avail. No one has helped me. The seller is not responding anymore. I have filed a BBB case and Amazon is not responding to that either. I just want my money back. I should not have to deal with this being an upstanding Amazon customer in good standing.

Ozgur ozden
from Doha, DA
AMAZON sent me 2 wrong items as an international purchase
1- ORDER # 112-2904655-7099426
It was supposed to be Surface pro-8, i5, 8GB platinum, but instead I found
HP CHROMEBOOK in the box. Refund is issued for this item.
BUT I had to pay 998.40 QAR = 274.58$ as an international return shipping for this item via DHL, Airwaybill: 6573405661.
2- ORDER# 112-1884366-6457011
it supposed to be Surface pro-8, i5, 16 GB, but I have received 8GB version and I have also returned back, and refund issued.
BUT I also had to pay 998.40 QAR = 274.58$ as an international return shipping for this item via DHL, Airwaybill: 6573405661.
I would like you to the refund the international shipping that I have paid which is 549$.
I had to pay this because twice you have sent me wrong items and it is basically not my mistake and responsibility.
Thanks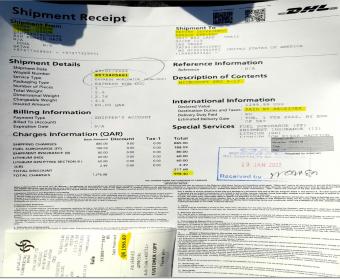 Cato Russell McDaniel
from Montgomery, TX
I spend a lot of money with Amazon and until now liked the company. I purchased a dishwasher for my sister as a gift. It arrived and when it was unboxed it was dented. A second one was sent and when it arrived was also dented in the same place. I was told on Saturday by an Amazon Rep that someone would contact me in 40 hours and correct this mess but NO ONE CONTACTED ME. I called today and the new Rep completed a bunch of forms and I smiled these to Pilot Freight Services. They were supposed to contact me within 4 hours and naturally they have not. You claim to be the Most Customer-Centric Company. I do not think so. I have wasted hours of my time and money having installers show up at my sister's house to install damaged goods TWICE and still have no resolution of this mess. You get a grade of F!
Still unresolved issues and no help seems to be on the way.

Angela Pearson
from Upper Marlboro, MD
Amazons customer service has really declined. I got a notification that my package was delivered on 2/5/2020. Forced to communicate through chat I was told to give it to the end of the day before I could file my package missing. My package was delivered to the WRONG address 400 Zelma instead of 312 Zelma. Lucky my neighbor was honest and delivered my opened package(because he was also waiting on a package and thought it was his) to my porch on 2/7/21. It is totally unacceptable for Amazon to allow their drivers to lie about a package being delivered and have their customers unnecessarily concerned that it could have been taken. Your increase in price should have provided better customer service NOT worse. It is almost impossible to reach someone via phone when previously you could put your number in and literally receive a callback in seconds. I hope Amazon doesn't become one of those companies that take their customers for granted.

Matthew
from Mountain View, CA
Amazon is the new Walmart. Was once a great place to shop . I guess i told the truth one to many times about the products they ell and now i cant leave any type of feedback. Then will bring my passive passive aggressive to a close very soon. I guess i will go back to Ebay. bye Felicia

Frederick MItchem
from San Jose, CA
This is not a complaint but a COMPLIMENT. On January 29th I was on a walk with my 2 dogs across the street from your Amazon Delivery complexes in Milpitas. My 15-year-old Yorkie happened to stray from us\ and really could not be found. Your delivery Driver Maira Alvarenga saw him wandering around the area picked him up and called me a very distraught Pet Parent informing me that she had found him and their location.
I wanted to acknowledge her deeds to her employer and let Amazon know how much my family appreciated the deed she did for us. Maira represented Amazon and herself in a caring and thoughtful manner.
I hope this message can be conveyed to her.

They DO NOT deliver to my door. I am on a 3rd floor with a respiratory disorder and directions to bring to my door. They dont. Today O had to ask the office to help bring up 6 boxes becAuse your driver wouldnt do the job. I work from home there was never an attempt to bring them to my door. Thu is lazy and its crap I [ay for prime and cant get them to my door inside a building. The driver just makes a stack by the main entrance and says attempoted delivery.
Its bs

Terri Means
from Denver, CO
I ordered 2 air pods for Christmas presents. One was fromAmazon, and one was from Costco. I decided to keep the Costco pair as it was cheaper. I had 2 identical boxes, unopened or looked at. I boxed up one pair and took it to the center for returns. that was 3 weeks ago. last night i got an email saying that they got the incorrect box and were throwing the item away and recharging my card. I have placed numerous phone calls and written emails. There is just nothing. It takes forever to get a human and then there is just:: It is our policy to discard all incorrect items." So, I'v spent 110 dollars on a set of AirPods and I don't have them. They've thrown them away. Irrespective of how wasteful that is, they threw away something that should have been returned if not accepted. I have nothing to show for the money I spent. I've just thrown away 110 dollars and they could care less. The least they could have done is send an email saying they were the wong box, and they could be sent back at my cost. A totally unbelievable experience and such inhuman service

mindy leazott
from Randolph, MA
AFTER ALL THESE YEARS AND HUNDREDS OF DOLLARS AMAZON COULD NOT FIND MY ADDRESS! I AM TERMINALLY ILL, THIS IS A GIFT AND WAS PROMISED TO BE DELIVERED BY A CERTAIN DATE I WOULD HAVE ORDERED IT OTHERWISE
Have feedback for Amazon?
Thanks for your feedback!
Sorry. Please try again later!