Amazon
Amazon Complaints Continued... (Page 7)
1005+ reviews added so far. Upset? Call Amazon corporate: 206-266-1000

Angela Pressley
from Kansas City, MO
Order# 114-5648954-7302669
This order was for $30 for Mpow ear buds. They did not work correctly.. I applied for a refund. Amazon sent me the info for a return using a drop box. The next day I put the earbuds in the same package they were shipped in with the Amazon return label. I put the package in the drop box on Industrial Parkway in Knoxville, TN. Never heard from Amazon. I contacted UPS about this, but they said they would not go to the drop box without a tracking number from Amazon. I have been in this loop for 4 months. I am not at fault, yet I am out $30.
Could you at least send UPS tracking number to go to the box return the ear buds?
Angela Pressley

Sheila Collins
from Federal Way, WA
I ordered some red licorice. When I received The lid was slightly open and Security tape was gone.
I did not keep the licorice I was afraid that someone would eat it and get sick.
This is so unusual because I've never had to complain before

Amar kadam
from Nuvem, GA
Team Amazon I have orderedKids watchFew days backBut foundDamaged the battery was not working properlyI am sharing you the order numberWhen I have got the cancel order the automaticallyIt was go on to the replacementIt's my requestPlease do not replacedAnd it get cancelled and refund my amount as soon as possible408-8620117-7844346

Amazon's customer care is the worst service that I'd ever experienced in my life.They'll send you email to pick your return stuffs, yet no one gives a shit to customers worth of time.They never call even after three days of given time.They'll just ignore as they don't want to return the refund.

CHARLES GENZEL
from Monroe, MI
IF I WAS ALLOWED I WOULD GIVE THIS DELIVERY A BIG ZERO. THE DRIVER SAID HE LEFT THE PACKAGE WITH A RESIDENT WHICH IS A LIE.
HE SET THE OVER $200.00 SONY SOUND BAR WITH SUBWOOFER ON THE BENCH OUTSIDE THE BUILDING. HE LEFT IT OUT IN THE OPEN WHERE IT COULD HAVE BEEN STOLEN BY ANYONE WALKING BY. THE BOX HAS WRIGHTING ALL OVER IT STATING WHAT IT IS WHICH WOULD BE VERY INTERESTING TO ANYONE TO STEAL. I HAVE LEFT INSTRUCTIONS TO COME INTO THE LOBBY BUZZ MY APT AND I WILL LET YOU IN TO DELIVER THE PACKAGE TO MY APARTMENT DOOR NOT THE BENCH OUTSIDE!!!
I AM VERY DISSATISIFIED WITH HIS LACK OF PROFESSIONALISM TO LEAVE A FULLY LABELED ITEM OUTSIDE.

mindy leazott
from Randolph, MA
EVERYTHING IS WRONG! PRIME VIDEO AND MY ORDERS NOT HAPPY AT ALL!

Riya nawaz
from Kochi, KL
I am your prime member, i had purchased lots of products from you. From an account Nawaz and account Riya nawaz.
Now i faced big trouble from you. I have purchased turntabel with pattern edges and decorative items. At the rate of 500.
The items showed in the picture is very different, table not turning and those patern edges they showed and explained is pain. No patterns are there. Only plain.
Okai second issues, i tried to returned it three times. Called customer care. Sheduled a date three times. Got a call from delivery person, when i took the phone, there is silent means no sound or no response. Phone automatically disconnecting amd asking for reshedule date. I fed up of
this product, couldn't return it. Thought if i took prime membership i Will get better services. All the delivery person can easily identity my location. They gave this product without asking puor calling me. But now they want to call me to confirm. Okai fine, but when i receive their phone, no body is talking, its completely silence. Blank call.
Very bad and disappointed.

Alisha McKee
from Ashburn, VA
I have been waiting on a refund for over 14 business days. No one will process the refund when the item has been received.

david jero
from Miami, FL
I never bought Andrew Jackson part 3 but was charged for it. I changed my email password and on 5th debit card this year

John Ehlets
from Birmingham, AL
Items ordered are shipping from another country. When reading the site information it said, ships in 2 to 3 days. If in the US why is it taking 30 days to arrive. Because it not shipping from the US. Amazon should state this on their site.

William D Gleason
from Allen Park, MI
Female Amazon driver drove over two (2) loading ramps (damaging same) used for loading tractor grass mower onto courtyard island. Ramps were positioned on curb in support of tractor grass mower.
On Saturday May 29, 2021 at 1:40 PM a female Amazon driver delivered a package to a neighbors home at 21327 Knudsen Dr., Grosse Ile, Michigan, 48138. After making her delivery she returned to her truck and drove away and over two (2) ramps. Both ramps are clearly visible. Driver continued to drive away and knowing she had run over the ramps due to the rocking motion of her vehicle. Driver continued driving away without any concern to damage she caused.
I am requesting that Amazon replace my ramps and that the driver receive counseling in responsibility to driving on the roadways.
I am unable to transfer pictures from my phone to this site.

K Bhardwaj
from Delhi, DL
Because of hanging of Amazon order site I ordered thrice inadvertently . Requesting to cancel my all total orders which are repeated by default & refund my payment
My duplicate orders for cancellation are given below:
17107559579757940 -1item - Rs 358/-
17135229257590744-2items-Rs 716/-
17138140530357109-2items-Rs 716/-
17177797595016331-2items-Rs 716/-

FRANCIS J. TEPEDINO, Esq.
from San Diego, CA
I have contacted AMAZON several times about the defective TECHWARE PRO KNEE SUPPORT. Amazon reperesents that it has notified TECH PRO. Nothing has been done. I hereby demand return of the price I paid and tax, for this defective product. This is a FORMAL LEGAL NOTICE. I fully expect a response in writing in the next few days. Legal action is being considered.
Francis J. Tepedino
Attorney at Law
San Diego, CA.
condorgrup@aol.com

Breanna Hsll
from Hurricane, WV
I called Amazon support about my tv not registering to my device and csr named ADAM told me I would have to upgrade to the 39.99$ plan in order to watch Amazon prime video on several different devices in my home. I told him I did not want to do that and that I always pay 13.90$ monthly
Plan and have been able to watch it on several devices til now. He kept offering me the annual price and I stated specifically no I don't want to pay in advanced annually of 119$ . I told him I pay monthly and thats all I will continue to
Pay is my original $13.90 plan amount. I told him do not charge my card or nothing because I do not want to purchase nothing and I hung up with frustration and he charged my card anyways the annual $119.00 plan because when I got off the phone with him there was a charge of Amazon prime to my debit card as soon as we got off the phone. I called customer support back and spoke with a lady who did say my card was charged for annual Amazon prime price and I was so mad bc I never told that man Adam to do that. Then the csr issued me a refund stating it would be back on my card in 3-5 business days. And then I called back to get some time of email confirmation of the refund and they kept telling me they couldn't find the charge on my account until so many minutes later they found it and said I won't get a confirmation email til
The funds are back on my card which doesn't make since bc I should be able to
havr the confirmation email of my refund before the money is deposited back on my card from an unauthorized purchase that I didn't agree to from Adam. Very upset !!!!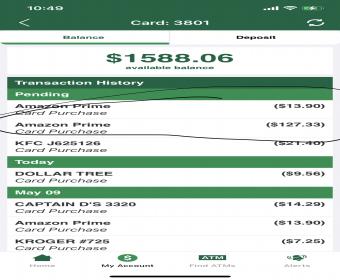 Barry J Haylor
from Ondara, VC
I returned a iPhone 11 and paid for overnight registered post. This made sure it arrived very quickly to Amazon Madrid. I asked they expedited the return as quickly as possible as I needed my mobile for working. Today is now 7 days since it arrived in Madrid Amazon and no return paid. The other thing which is extremely annoying is, that another cheaper item was posted after the iPhone and the credit went through in a few days

Donald Shafer
from Brunswick, OH
Sent an internet extender back and received no credit. Order #112-1018791-5469053.

Jennifer Silverio
from Clifton, NJ
I love amazon and i always buy from there. But for the first time i want to return an item that it is not good they are ignoring me. I have been waiting over a month for an account specialist to contact me about my return and every time i call its the same thing. "That they are going to fill out a form and its gonna take 24-48 hrs for them to respond" well it has ben a month and i haven't gotten a word about my return. I though amazon was better.

Gail Kenyon
from Oak Creek, WI
I called to Get Help to get into my account to place an order and the gentleman I got for a service rep . was Rude And UNHELPFUL. I AM Ready to pull my business from your company. I think I Deserve an Apology and hope you RETRAIN Your Phone Reps In Being HELPFUL and Problem Solvers in a Polite Way. I Spend Much Hard Earned MONEY with Your company and I Hope I get a Positive Response. I would hate to share this situation with my social networks . :(

Mary Lee
from Seffner, FL
I get library books and you replace expired ones with either white or black books that I can not remove this didn't happen on my old kindles . you want me to buy a book to remove them this is a unfair practice since I know that you used to remove them am very discussed with this

Steven Sherlock
from Dade City, FL
Amazon's shipping has become terrible. When I call customer service I am told Amazon is using private carriers who Amazon has no control over and they do not provide tracking numbers. Check my orders ending in 1436 and 8454. Both are days late and keep being rescheduled. Why should I continue to pay for Prime with such terrible delivery? Prime orders are taking 4-5-6 days to be delivered. If delivery does not improve I am cancelling my prime membership and shopping elsewhere. Steven Sherlock

Quinton Pete
from Miami, FL
A customer service representative named shane cancelled my order by accident and now i can't get my shoes on the date i needed them.

Regina Atwood
from Gordonsville, TN
I sure your delivery people don't like working on Sunday but standing in my yard and throwing my package on the porch is unacceptable. Maybe we should stop ordering from Amazon

John K Ciemniecki
from Indianapolis, IN
Terrible customer service when it comes to possible fraud on account and account placed on hold.... No way to get a live person to assist you and the emails system they use is not working........ If I could give a negative rating I would....... It not the people in customer service it is terrible company policy

michael koharchik
from Telluride, CO
i have never gotten 2 day delivery in all the years i've had prime . maybe jeff bezos should focus on that instead of POLITICS AND BANNING CHILDRENS BOOKS , STOP THE CANCEL CULTURE

Karen Bamford
from Southampton, ENG
I've got a item bought through Amazon and it's broken after a few months. It's a stool so difficult to return to company and you can do a return or exchange but can't contact the supplier to notify them of a poor product.
I feel after being used a few times it shouldn't break.
Can I please have some communication so I can get a replacement or refund

Raina chawla
from New Delhi, DL
My gift card expired in nov 2020 , since then I am regularly calling customer care or chatting ,,I am getting the same commitment every time I call of 3-5 days,, can u PlZ chk is the tat is not done of 3-5 days ,,
I must say the customer service is pathetic.
Raina chawla
-Gift Card ID: #6014850682564236
Amount - 490rs
Registered no- 9811628639
Id- raina2307@rediff.com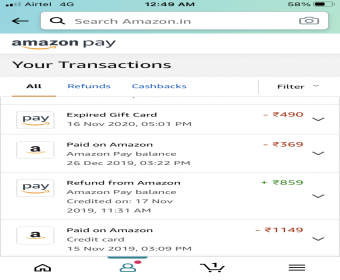 Disappointed by amazon i waited for more than a month for my order which was expected by 15march n by 13march they are telling me dat ur order is not confirmed to dispatched.very disappointing...i had order on 26 jan..

Dean Ross
from Barrington, RI
AMAZON PRIME is now 10 DAYS Delivery !!
Amazon promises of quick delivery are just LIES!

Susan Kingsley
from Metuchen, NJ
I received a package from Amazon with merchandise that I didn't order. And it's highly unlikely that this was a gift. Order included a black garden hose, some headbands, and black Q-tips. Order #114-8914063-1449035 is what's referenced with regards to the return. I chatted on-line with Deepa, who likes to use the phrase "lemme check" when asked a question. As a customer service manager, I would give her a 0 on her service evaluation for that, and additional training.
I received the return label, but my problem is - who sent this to me? My information was used without my consent. Who initiated this order? It doesn't appear that I was charged for this. The order doesn't appear in my order history. Was another account created in my name?? How do I get this information? And do I need to get my lawyer involved?
Susan Kingsley

TALHA SAGiR
from Ankara, 06
I am a reseller who implements the dropshipping business model on the Amazon website.I have listed products that do not comply with Amazon's security policies.I did not willingly do this.I am so sorry for that.For this reason Amazon has suspended my account on July 25th.For this, I wrote a appeal letter to Amazon.But nine days passed, they haven't sent me an answer yet.They keep my money inside and I need this money to pay my credit card debt.I am aware of the mistake I made, but I am also a customer of Amazon as well as being a seller but they make me victim.I demand that my grievance be resolved as soon as possible.

judith D westin
from Hillsboro, OR
Today Aug 1, 2020, the Amazon delivery driver caused considerable damage to my landscaping with his oversized delivery truck smashing 2 rare rose bushes I have had for 26 years and crushing several perennials including columbine and obedience plants plus imbedding landscape boulders into the soil. I am 73, disabled and a master gardener. The driver did not wear a mask and did not apologize for his destruction. My husband had to personally guide him out of our narrow circular driveway as his vehicle could not make the curve. I am angry and devestated by this incident. I would like to be reimbursed for the damage. Thank you.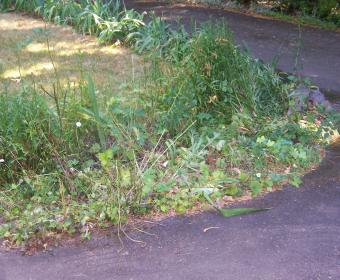 Bob Melander
from Minneapolis, MN
Followed a Prime delivery truck into a drive through Post Office drop off lane to mail some letters. The driver parked the truck and proceeded to walk into the building. We waited several minutes before he returned and drove away. I don't think this would be tolerated by your company to intentionally block a drive through drop off area when he could have parked in any other area to drop something off. This occurred on July 27, 2020 at approximately 10:20am Central Time.
A picture of the vehicle is attached.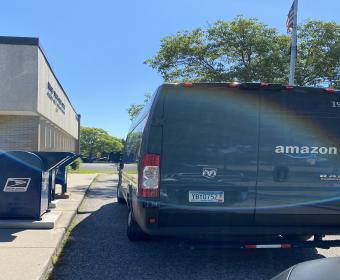 Howard Fuller
from Shrewsbury, MA
I received a coffee order today, after requesting DECAF. The 80 cup order was not only not decaf, but the capsules were not even close to being able to fit a Nespresso machine. Amazon specifies that this order is not returnable, so I will keep the entire shipment as a reminder that Amazon is perhaps less than honorable in their advertising. Too bad, guys but you just lost a customer.

Kitira Dikeman
from Olmos Park, TX
I have an extremely high gate, and my order was thrown over the gate. My order was two cameras and I am unable to check them to see if they were broken due to being thrown over my gate. Normally my deliveries are placed next to the gate on the outside with no issues. When I am able to hook up the cameras Im hoping that they are not damaged due to the landing after being thrown so far. Encase they are damaged, Im writing this as some form of documentation that it was a concern of mine as soon as I found my package

Linda King
from Bethesda, MD
I ordered alcoholic wipes on March 28. They were shipped shortly.. I HAVE NOT RECEIVED THEM AND THE LAST MESSAGE FROM.YOU WAS THAT YOU DID NOT KNOW WHEN I would receive them. Your message on your website is that you were treating health and safety products as a priority. I think alcohol wipes is a priority,but I have not received them and there is no information about when they will artive. I used your form to contact the seller, but there has been no response. I would like to receive alcohol wipes, but you have made it next to impossible.
#112-4263638-2397026

Shannon Graff
from San Jose, CA
I recieved a email stating I needed to verify my payment method and was locked out of my account. I currently use a prepaid greendot visa and due to the fact its prepaid theres no billing statement and amazon refuses to unlock my account. I have 566.00 worth of Amazon gift card balance loaded to my account and am unable to use it due to this issue. Ive screenshot the transaction history 4 times and still am denied verification the gift card balance is also not transferable to another account. This entire fiasco is over 2.16 as well. I am beyond furious

Donna Heartz
from Lake Elsinore, CA
One day my password was no good. I followed the protocol of getting another password and then my nightmare started.
I noticed they had credit card info that was not mine and wanted to verify the expiration numbers. Well, I couldn't do that because it wasn't my credit card. Then I go through all the hoops and finally, I think I'm home free when they ask me what date I purchased Amazon. A long time ago don't remember the date. I gave them my credit card number that I had just purchased the day before. they said basically too bad so sad. I keep getting shoved to one person to another. I gave them all the information. I have been a customer for a long time. I couldn't believe your customer service. they said that I was locked out for too many attempts.

Lori Mulliniks
from Henryetta, OK
Contacted Amazon regarding my account being hacked. They stated it would be taken care of within the week. 6 weeks later, spoke with Amazon many times, Account continues to be locked, Kindle has been wiped clean, and no one can or will help. E-mails are stated to be forthcoming, Fraudulent activities has not been resolved, no division can offer a plan to remedy or a person to contact.

Shailendra Kumar mishra
from Ahmedabad, GJ
Dear sir my order no 406-1641746-2394751 as per tracking record material delivered but we I am not received material

Harshita Tewari
from New Delhi, DL
Order ID: 407-2259768-3337963
I have ordered a bycycle on 22 January from Amazon received the product on 27 January and placed a return request for the product same day as I have received a damaged product and the part of the product was missing.Since 27 January I have placed the request 7 times in counting through amazon app through mail.Contacted the customer care several times.The customer care is just accelating the master dropping down mail.The delivery team is reverting back and declining the order day by day and no action has been taking up.This is to request kindly look in the matter on priority basis.Otherwise I have to accelate the matter in consumer forum as it's been 7 days now.As I am just stuck the oder is to be replaced.So I am not getting the other till it's been picked up.

Jacqueline Foy
from Palm Coast, FL
The Essential Oil I purchased in this order is defective.
I purchased the Essential oil because it was an "Amazon's Choice" product. I have purchased Essential from several different companies through Amazon and I've never had a problem with the product. The Peppermint Essential Oil purchased in my order#114-715886-2598612 has damaged my Dining Room Table and Dresser in my bedroom, both brand new.
When I received the Peppermint Essential Oil, I poured some into my diffuser on my Dining Room table and a small amount spilled on the table. I didn't notice the spill until a few hours later when the paint in the area of the spill was erased. Then I took the diffuser to my bedroom dresser, where it has been used since I bought the new furniture. The diffuser has always set on a napkin to help spills & drips. After using the Peppermint Essential Oil in my diffuser for only two days It splashed on my dresser. When I tried to wipe it up with the napkin (which is what I've done with other Essential Oils, with no problem) parts of the napkin stuck to the dresser and there are spots of paint missing on the dresser (I have attached pictures for you to view). I am also attaching receipts of my furniture.
Please contact me to let me know how you will resolve this problem.

I had two parcels, both not delivered by DHL to my home address but just dumped at a DHL service point. When I contacted Amazon customer service in Germany with all the evidence that DHL simply were not doing their job and asked if they could raise this with DHL it was simply waived away as there was nothing they could do. What a non service and poor performance!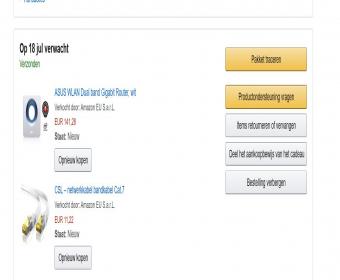 I am a prime member. Placed an order for 2 items on Tues July 16th. Order to be delivered Fri July 19 by 9pm. Received an email at 6p.m. about a delivery delay. Email stated if I do not get the items by Wed. July 24th to contact Amazon. Unacceptable so after trying to contact Amazon requesting a call back which never happened, decided to try their messenger service and got someone who helped me albeit numerous typos in his messages, in addition to me having to restate I wanted the refund to be credited to my CC rather than to a gift card decided to cancel the order.

TALETHA PATTON-BARNEY
from Decatur, GA
Been on the phone with Amazon for 3 days now!!!! 1st day over 2 hours, 2nd day 1 hour, 3rd day 1hour 41 minutes!!! Thats ridiculous! I have a Newborn, my Husband is working and I'm trying to pack up the house by myself! I shouldn't have to be on the phone that many days for that long. And one of your reps hung up in my face, another gave me wrong ínformation an this last one Fernando G. was very not compassionate or friendly or helpful.

Michelle Romo
from Elk Grove, CA
I called amazon customer service on July 19th and spoke to a man named Harry C. I explained to him that I bought a radio that cost me almost 100 dollars on amazon and that it broke and how i only used it a few months out of the year and it was stored the rest of the time. I explained to him that I wanted to see what could be done about it. He got loud and rude and told me that there's nothing they can do and than he said that they don't have a lifetime warranty with a rude and obnoxious attitude. If you decide to hire and keep employees who speak to customers like this than I will take my money elsewhere.

Athena Adams
from Chicago, IL
Wouldn't give one star but it was the only option. I order from Amazon minimum 2 to 3 times a week. I received an email from Amazon saying I had a five dollar credit on an ebook. Only reason I loiked and got one. After I purchased it, it asked me if I wanted to put itbon kindle. Then I was tild kindle books wouldn't count? Next time I went to that book page it suddenly only had a kindle option ti purchase and my app stopped giving me any information on any of my book orders. Then cutomer service supposedly refunded me with no way to check it and said if I purchased the book again I would recieve the credit. Again with no way all of a sudden to see the information in my purchase. After HOURS!!!!! getting the run around with customer service after repeatedly asking for a refund and a email as proof they said theyd email me proof. I can't believe after being such a loyal customer and all my repeated purchases weekly that I could be treated with such terrible service and they were literally really jerks. Ive never had that problem before. I hope you can find who I talked to twice, it should be recorded and teach them how to do their job or get rid of them. Im SO AGGRAVATED from their handling or should I say not handing my problem and it seems like doing their job that I am considering removing your app since I cant check anything customer service doesn't want me to see obviously and just stop using Amazon altogether and telling my family and friends how I was treated after all my business and possibly getting them to quit using you also. Im sure you probably dont care anymore than your customer service department but surely it is no way to do business.

Ofelia Shah
from Chicago, IL
I am appalled that I called customer service to inquire about my package being late with a prime membership. Instead of helping me they cancelled my membership. Basically they told me goodbye who cares leave. After so many years as a customer I was cancelled. I guess my years of business doesn't mean anything.

ricardo_cabello@satx.rr.com
from San Antonio, TX
just had 2 items deliver. the driver put the 2 boxes on the hood of my suv when he took the boxes off he scratch my suv. Don't know if those scrathes
will come off. I do belived that you need to retrain all your drivers. I might have to make a police report if the scrathes don't come off. also I might start buying from ebay if the delivery drivers don't get any better.

In the middle of the current heat wave my front AC unit died. I ordered a replacement from Amazon on 7/16 with guaranteed delivery by 7/19. UPS attempted delivery on 7/18 at 1 PM (thank you). Unfortunately, it is not clear when ordering that someone has to be home to receive it, so UPS took it back and will deliver today by 8 PM. The temperature in the house is 84F as I type this. Had I known that delivery required someone to be home I would have taken a different route.
Your management needs to know that your website does not warn people of such eventualities and it should. This is poor customer service.
Have feedback for Amazon?
Thanks for your feedback!
Sorry. Please try again later!