Amazon
Amazon Complaints Continued... (Page 7)
683+ reviews added so far. Upset? Call Amazon corporate: 206-266-1000

Robert Gauvin
from Frisco, TX
Send me an email account and I will send you pictures of the truck license and driver. September 2, 2016 about 12:40 pm Amazon made a delivery next door and upon leaving drove onto our yard and over an irrigation head and then tried to leave but we stopped him but he kept denying that ran on to our property until we informed him that he was under close caption camera and had left tire prints on the sidewalk.
He then tried to move me out of the way with his truck and I asked him several time to see his driver's license and insurance papers but he refused and also denied working for Amazon. He tried to convince me that it was ok because he was working. I estimate about $200 in damage but I prefer his termination because he should not be driving if he cannot accept responsibility.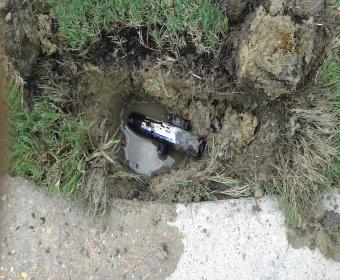 Pam Myers
from Ft. Washington, MD
I ordered one AT&T CL2909 phone, order no. 108-2165736-6628233 on Aug 29th and paid extra for one day delivery. To my disappointment the item did not arrive and when I checked Amazon status I saw it wasn't scheduled for delivery until Aug 30th., which would have normally been free 2 day shipping. If I did not need this phone right away I would never have paid for 1 day shipping! I initiated chat with Nikhil at 01:14 PM PDT (cannot upload it for your review) and was really surprised, no unhappy to see there was no tracking info for it and all she could do is reorder the item and (hopefully) refund the shipping charges I paid.
I've been an avid Amazon shopper for years and love Amazon prime, but this is really making me think twice about ordering from Amazon. Is Amazon getting too big to handle their orders? Is deteriorating customer service going to be the norm? I felt I needed to make you aware of this situation so hopefully steps can be taken to prevent future shipping errors for me as well as other customers.

Brian L Gorst
from Birkenhead, ENG
A week or so ago I purchased a tube of Loctite 243 Lock 'N' Seal Henkel medium strength from Amazon. It contains a type of adhesive which helps to stop nuts and bolts and metal items from unscrewing. Imagine my surprise when I discovered that the tube contained little more than about three drops of the Loctite 243 fluid. I thought that the tube would be full. The picture on the on-line catalogue certainly led one to believe that the tube should be full. Could you please help me contact Amazon customer service so they can give this some consideration re. compensating myself (it was certainly not cheap), and preventing future purchasers from falling into same trap.

Mrs Rosemary Ryan
from Rochester, ENG
I am a regular Amazon user. I purchased a telescopic ladder through Amazon from BuyDirect4u in January 2015. It has only been used on about six occasions and has developed a fault in that two of the rungs are not straight and the ladder has slipped when in use. I reported it to the supplier directly but as the very short one year guarantee has elapsed were not interested. To be fit for purpose a ladder must be safe and should carry a much longer guarantee period. I cannot believe how quickly this defect has appeared. A ladder should last for years. I look forward to your comments and appreciate you providing the contact info for Amazon head office.

Linda Carr
from Portsmouth, ENG
How does an unauthorized purchase get past Amazon billing department? I have just been refunded for a bread bin that l did not order and was charged £13.19 for the postage which was NOT refunded. I then had to pay another £10.50 to return it so in fact l am out of pocket for more than the bread bin itself!!! How is this rectified?

Tia Williams
from Anderson, SC
On 8/16/16, I made an order with a $20.83 Amazon card. I hadn't heard anything about it until yesterday when these "workers" claimed that I hadn't covered my bill. I did and didn't hear this none sense until two days later. One item was paid for,but not the other. Something is wrong with Amazon's customer service staff.

I purchased cool pad note 3 lite on the amazon website with an immediate delivery option by paying 100 bucks for that, It was a gift for someone on her birthday, on the very next day after it got delivered on time. After i sent it to the one for whom i bought it for, she called back on the very next hour saying it is not working. It was so embarrassing moment at that point of time which amazon would never be able to pay back. The again it started playing hide and seek games, means sometimes working fine sometimes not.
I called up amazon, they said you purchased it 22nd of June and its now 31 july the return date is over , we are unable to help you. I asked for the supervisor, lady said we cannot escalate the call, there is no supervisors available. It was a wrong decision to make a purchase from amazon , highly disappointed, dissatisfied. Now Finally after a heartbreak fight with these illiterate people i got a slot for this Saturday which is yet not sure whether someone will be coming or not because now i doubt amazon and their customer relations. Now this replacement which is still doubtful for me is happening but the trouble, embarrassment, time wastage you can never pay me back.
I am going to share my complaint on fb, twitter, everywhere. It must be easy for you to say sorry but it is difficult for me to digest.

Sue Lyons
from Sutton Coldfield, ENG
For the second time I have a complaint about Amazon. Purchased Orange flavour Naked fruit bars unhappy at the price which was 125% more than retail price in Tesco.

Sue Lyons
from Sutton Coldfield, ENG
I know I miss read either the quantity or single price but was amazed and disappointed to find I paid over 125% above market price for my order of Naked Orange bars. They retail at 75p you charge £2.

Janice Matuch
from Naperville, IL
On Saturday, July 30, 2016, the buzzer sounded for my condo. For as long as I can recall, I have trouble with fainting when startled or getting up quickly. It was afternoon and my mail had already been delivered. I was not expecting anyone and almost blacked out as I approached access door. When I cracked open the door, the delivery woman sheepishly admitted that she was playing "buzz all the condos until someone answers" and the package was not for me.
I will not hesitate to close the door on the delivery person and deny access/delivery should this EVER occur again. Furthermore, I have told my family and should I ever fall and injure myself in an attempt to answer "buzzer tag" delivery person, I will sue Amazon for all related expenses. I mean business. Find out who delivery person for Naperville Illinois 60563 was on July 30 and reprimand them. I would appreciate confirmation that this has been done.

I have purchased HP 14-AC171TU from Amazon on 17th July 2016 (on two day delivery service but received on third day. Very disappointing service form amazon courier service. When I went to avail extended 2 year warranty on this laptop, this product laptop model was not mentioned in the list. this link provided in amazon site to avail 2 year warranty offer. I feel cheated by Amazon. I called to Hp customer support they said to talk to amazon, I tried to talk in amazon but no body given justified answer. So what is the problem and how I can avail this offer.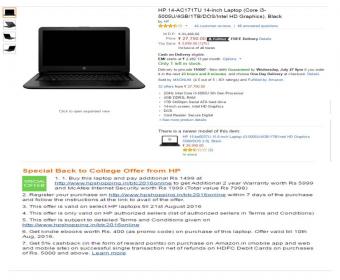 Reena Agarwal
from New Delhi, DL

Doc Ross
from Berthoud, CO
I got advice to try and sell my book on Amazon. I went through their process and all was working for a while. Then after a few months I set up a "promotional" that they recommended and my book disappeared. As in most complaints against amazon, there is no contact; the numbers they give you go to a non-English speaking person with a bad phone (four calls, same results) that either cannot or will not help but will waste lots of your time. We have been buying less and less from Amazon because of shipping/packing issues, but this is going too far. Too big to care.

Antonio Barilone
from Billerica, MA
I received an oven I ordered damaged. First I ordered it on Amazon Prime and paid shipping, why? Secondly I reached out to the vendor and made arrangements for them to send out damaged parts and they have done that. Because of time restraints I had to install the damaged oven. I dealt with the vendor because I got no respnsee from Amazon. I applied for amizon prime and am not thrilled with service, so I am going to cancel my application. Thank you for opportunity to join Prime, but right now I'm not impressed.

Brenda Clark
from Lancaster, WI
Amazon Prime package I ordered was not delivered on time because my apartment number was not pit on the shipping address. It was on the billing address, but your personnel did not print it on the shipping label. Therefore I had to wait an entire weekend to receive my package. It will be a long time before I order from your company again. I will order my items from any other company but yours.

Shantell Greene
from El Paso, TX
I placed an order for an item and never received the item. All seller will say is, " I sent it to the address as indicated". I'm out $27.95 and zero products.

E Crozier
from San Marcos, CA
As a long term seller on Amazon, I have a 4 star rating and have had no trouble until recently. On two separate orders, the buyers rejected the items I sold because the items were not, in their opinion, pristine. The items were both sales rep samples that had been in storage, and were never used, but simply shop worn. I've sold countless, similar items with no complaints.
That being said, I have absolutely no problem issuing refunds, but I expect to have my rejected item returned. After contacting these buyers requesting my item back, neither responded. I contacted Amazon about this, and was told that the buyers are not obligated to return the items, even though they received a refund. This is not fair! I don't know of any retailer (including eBay) who operates like this. What's to prevent this from happening repeatedly, with buyers getting free stuff?
I'm fed up, and If this continues, I'll relist my inventory on another site that treats its sellers fairly.

Mark Smith
from Buffalo, NY
Paid $99 for amazon Prime, for mainly Amazon Prime Video. Twice while watching a TV and Amazon produced series, I no longer can watch the rest of the series (season 8 of 12 and episode 8 of season 1) without paying for each additional episode. In my opinion that's called 'Bait and Switch'! Never have I had this type of situation with Netflix after almost a decade.

Richard Ladden
from Milpitas, CA
Wrong item sent. Two seller complaints before any myGoods response which was: "After looking into this more closely we realized there must have been a listing error internally." Translation: Incompetently advertised wrong item. myGoods statement: "There will be no cost to yourself in order to return your order." Had to pay for packaging materials to return. Avoid myGoods like the plague. Error in refund amount. $17.45 rather than $52,35.

Janyth Macdonald
from Falls of Rough, KY
I ordered a Philips Respironics O2 concentrator for 585.00 New through Amazon from No medical insurance co., it worked for about 1week. I called to return it, which they will but I am to pay for return plus 20% restock fee! on a defective item, unless I except another one in exchange. So I did, this "New" one (which was also a return from someone else, as the cord is unwrapped, on/off switch left on, no bands on wheels) made a putt putt noise after about a hour into its use, but I kept it going until it finally stopped that night.
I called No insurance medical co. again and they will not return my calls now. Am I forced to pay for a piece of junk? This has been a nightmare. Does Amazon not ever play a role here to help me out? I have placed a claim with them, but no response either. it's been a month, So I guess the state attorney general, federal trade commission, and BBB are next. I'm not paying for a return or restock fee on junk I bought in good faith.

Amazon has a delivery sticker on the door that says if no response to leave product at address if no response. Well my product was left out side on the ground in front of the garage out in the open right off the street. The Amazon delivery driver could have left it in the yard by the front door or if they would have knocked on the door some one could have taken it into the house. But they didn't even make the effort to see if any one was home if my the people next door would have not seen it who live right next door had not of seen it some one could have picked it up and that would have been history.
As of right now i am looking into how to take action so that this does not happen again this is the second it has happened. How can you fix it? Leave a return slip if know one is home. I dont feel comfortable ordering and paying in advance when the delivery service is on a scale of 1-10 is a (5). I am looking for a special offer from amazon to make sure that this never happen again if you do not agree the let me know. I like to shop on amazon but don't do me like that with my product.

Carmen aguallo
from el Campello, VC
I had a 30 day free prime trial but as I live in spain. It sent for me I used it once I was given no notices monies coming from my account and £79 has now been taken. I will now be overdrawn I do not want prime so ease put back my money. I expected more from Amazon's service department.

rahul singh
from Nagpur, MH
I was told that I'll receive my product on or before 25th may but i haven't received any delivery till 28th may. On tracking i has found the product has reached where it should have been on 19th may still delivery has not been done. Now you have revised your delivery without any reason. Now you should deliver it by tomorrow & refund the order amount as compensation.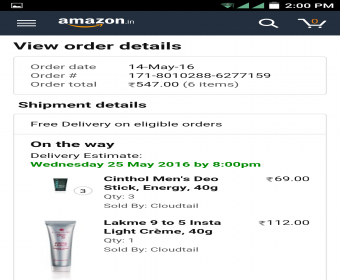 Paul Harmatuk
from Austin, TX
My service rep refuses to return my e-mails on a issue that I have. Give me an e-mail address and I shall forward the documentation on my issue. Truly an unhappy Amazon Customer.

Paula rumpsa
from Saint Paul, MN
I have cancelled my Amazon prime many times! I did so online and talked to about 5 different customer service reps, after they deducted 99$ from my checking account. Then I discovered they were double billing me on my charge card! After straightening this out , they agreed to refund my 99$ and I told them I will never get Prime again. Now 2 weeks later, they charged my account 99 again. When I called the customer support number, they said it automatically renewed. I cancelled it many times, how can it renew? It is a scam. Never do business with Amazon.

Brenda Herring
from Alma, GA
Yes i have ordered twice from amazon and both times after ordering. I have a charges on my debit card from the state of pa which i was not even in. I'm letting you know someone is using my card number to get things at other places so i have had to cancel my debit card after each order. Not sure how this is happening thought you site was secure but Im guessing its not.

Lee Dillon
from Harmony, PA
I've been trying to sign up for amazon prime and I cannot reach any one to apply. The confusing and vast systems of contacts has led me through an incident of fraud from an illegitimate site, and multiple efforts to get through on a phone (the numbers listed put me through to operators who don't even know how to direct me.) for such a successful business it is unbelievable to me that things are managed so incompetently. For all I know I might have prime with my 30 day free trial of free streaming, but we have heard nothing in the way of notification. I (and the amazon organization) are very lucky that our bank notified us of the fraudulent charge. W are supposed to get our money back but it hasn't happened yet. In any event we will be covered by our bank. In my mind, that's customer service!

Helen walker
from Johnson City, TN
On two separate times I have got a email from ur company stating that a $200.00 gift cards was purchased on my card. I didn't make any such order. The cards was send to my gmail. I don't know this person. On April 30, 2016 and May 6, 2016. Order #111-0298450-2568547. I'm not responsible. Please stop any further action or card purchase at this time. Please do what needs to b done to protect my name.

Noma Crolley
from Olive Branch, MS
Made the decision to upgrade our Sprint flip phones on Amazon and we went to the Sprint store in NLR, Arkansas. Talked with a pleasant young lady who suggested the LG Tribute 5 phone at $260.00 + a $60.00 account fee (?) w/unlimited data - also to make the change on 6 May 16 so no pro rated charges would be incurred. Went into the store today talked with the same young lady who lost our telephone number and could not call us to say that the LG 5 phone were on a universal back order, and brought out a Samsung @ double the price.
We are retired, on a fixed income and can continue to use our 15 yr old flip phones..(we are old, not stupid) Do not care for the bait & switch tactics. Came home and found the LG 5 available at Amazon for $50.00 each to be delivered on Monday. Have tried to call Sprint Account services to check the process to change to the unlimited data plan (Told to leave a number and they will call us back) Do you not want to retain customers?

Edmond Aiken
from Atlanta, GA
This is in regards to a complaint forwarded to the Better Business Bureau and the FBI. Recently Amazon suspended our account for totally unsubstantiated reasons and in the process have decided to hold on to funds for up to 90 days accumulated by our company after products have been delivered and no claims or returns have been lodged against us. Secondly, I am a unemployed Veteran officer and I made it clear that those funds were sorely needed. They base their decision on comments an/or hearsay from customers of our products, however, only (1) out of (10) products were returned.
All of the complaints dealt with issues regarding wrapping and being new to the process I admit that our budget was low and shipping through the US postal Service can sometimes be risky as many of the packages wind up damaged and/or unraveled. Nevertheless, there are no open claims against our business but they "Amazon" insist on holding the funds for a prolonged time period without justification which leads us to see probable cause for claims of "Money Laundering" since if they can do this to us than there's a probability that they are accumulating vast suns of unmonitored funds and/or revenue and we intend on passing this info over to the FBI as I believe that companies of this nature often go unobserved while practicing these activities.

Rebecca Poole
from Commerce, GA
My husband purchased some shoes from a third party seller. Poor thing didn't realize that's what he'd done, and that this seller wasn't backed by Amazon. At any rate, if the shoes had fit, I wouldn't be writing this. What do you do when you buy something that doesn't work out? You return it! No shame in that game. Unfortunately, that is not what has happened. So, as a former Amazon customer, I say tread lightly. Amazon is showing its true colors: that it is not a user-friendly, customer-oriented type of business. No longer is customer satisfaction at the core of its business practices; it is simply a company comprised of rogues looking to prey upon unwary, inexperienced online shoppers. Wolves in sheeps' clothing. Hey, if the shoe fits.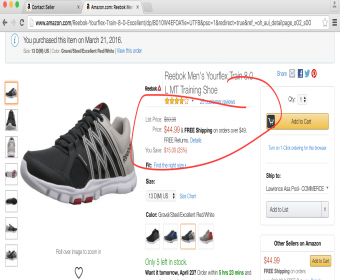 frank cox
from Charlottesville, VA
My order was sent through a supplier named "OTCRX4U" 4201 Tonnelle Ave., North Bergen NJ (201-880-7532). It was for 3 bottles of Lucky Tiger Deodorant. Though the packing slip indicated the deodorant was enclosed, I received 3 bottles of hair wax. The company's phone doesn't answer. It's mail box is full. I would like my money back or the proper order sent ASAP.

Lucy dinner
from London, ENG
Amazon has stolen money for me. For some reason my account has closed and so therefore all orders I made I was not allowed to recieve yet Amazon has still taken almost up to 500 pounds out my account. It's absurd how Amazon is trying to bully me into following nonsense instructions before giving me back the money they have stolen from me.

Mark H. Hofstad
from Bartow, FL
All I want to know is if I can rent a video to download onto my K10 to be used in flight to Europe. Your people do not seem to be able to answer a simple question without a blood test first. I think I cannot do what I want to do without buying the movie. I expect I would need internet to rent the movie. However, I cannot even get an answer to this question without giving my address and a bunch of other stupid questions. I gave my Email address. That should be enough. Amazon is now very difficult to use. The Prime scam just ticks me off. I never get a properly packed shipment. The CD containers are always cracked and books bent due to VERY POOR packaging. Now it appears that I have wasted my money on a Kindle 10 because I am not able to use it on a plane. All in all, you folks are doing a poor job.

arnold torchin
from Arverne, NY
I am trying out you new home advisor repair service. I can't contact the contractor thru your email to let him know where and when to come. Your reply service does not allow contact information to be added in a replay. How to I send him my contact information. Do you have another place? Your service is not going to work if I can't contact a service I need.

Geoffrey Phillips
from Port of Spain, POS
I am subscriber to kindle unlimited which my wife uses to access books to read. Recently she is unable to Download free books. Yet my account has been charged $9.99 this month.

Robert Harper
from Jersey City, NJ
Amazon is engaged in fraud. The product that they sent me was not the product that they advertised whatsoever. I also paid an additional $9.00 to send the product back thru U.S. Postal mail with a tracking number in case there was additional fraud going on. The company does not have a phone number whatsoever. They do have an address but no real website that I could find. They did not send me Rose Hip Oil as I ordered. They sent me RoseHip Seed Oil, a room fragrance. Please investigate these fraudsters. I put that room fragrance on my face. I'm pissed as hell and I want them investigated with all of my money back not just simple refund of $35 dollars.
I emailed Amazon support at payments-messages@amazon.com but did not hear back. This refund is for the following item(s): ArtNaturals Rosehip Oil - 100% Certified Organic - Pure Virgin, Cold Pressed & Unrefined 4oz - Best Natural moisturizer to heal Dry Skin, Fine Lines.

Gene Groeneveld
from Marshalltown, IA
I am being billed $10.00 a month from Amazon billing department for a service I did not ask for. Please stop this charge to my credit card!

Gerry
from Brick Township, NJ
I ordered something through their site for $399. The price lowered by $100 before I received it. They won't adjust price. Told me to contact seller. I did and seller said it was a mistake and price is going up. Here it is 24 hrs later and the price is still $100 less. They won't give me a price adjustment. Terrible!

Richard Stielow
from Neenah, WI
It started with a download update on a Kindle Paperwhite. I sent you a e-mail about this earlier and never heard back. Short and brief I could not delete books after the update. I talked to someone at Kindle and we agree to send me a new kindle and when I received I would return my the Kindle I am having issues with. This never happened 4=5 days later I got a e-mail stating they didn't get my Kindle. I called Kindle and got a return label. Mailed up and you received on March 9 I tracked UPS.
I keeping asking when am I going to get my replacement and they keeping saying when they get my old one and I keeping saying I having from UPS you have it. I have chatted and talked to several people and I only get the run around. I wanted copies and chats and I never get, What am I to do. Total I have spend over 6-8 hour between the download update and this issue. Can you please look into and respond to my complaint?

Hi my Amazon.co.jp account name is Coka Yu, I have a serious issue with Amazon Japan Customer Center, I need to complaint and report, require Amazon US Headquarter go out and resolve for me. I ordered two bottles (500ml x 2) face cleansing on Feb 21st, 2016. My order number is #249-9043179-0216606. However the product delivered to me is two bottles (180ml X2) and the order number is different #503-0719790-6128642. Because it's not my order and I can't believe there is cheating in Amazon, I contacted Amazon Japan customer center very soon, however they refused to product return and they refused to refund total amount, one of Amazon Japan customer center leader, 白柳 ( Mr. Shirayanagi) couldn't explain why different order came to my place, but he just insist that the products of #503-0719790-6128642 is my order and push me to receive it.
I couldn't understand all, called the customer center again and again, then they cut off all my phone call regarding any inquiry about this order. To be honest, I feel my moral rights is insulted, I am hurt. Also it's very strange that there is no statement of volume in my original order paper #249-9043179-0216606. I did check very carefully about the volume (500ml X 2), confirmed it before the order and even notified my friend that I did 500ml x2 order.
I require product return and refund total amount. And I require an explanation from Amazon Japan customer center leader, 白柳 ( Mr. Shirayanagi), why I have to receive the wrong #503-0719790-6128642 product? Why he cut off my call to Amazon japan customer center? Why my person information appeared on a wrong order number? Why I do saw the volume is 500ml x 2, but no any statement on the details of order #249-9043179-0216606? Amazon HP to the product I ordered now shows being sold out, 180ml x 2, the HP was updated and corrected in fraud. Attached is a screen shot of my order #249-9043179-0216606

charles buckshorn
from Cincinnati, OH
Ordered a digital tachometer on feb 11/2016 and Amazon customer support guys sent wrong thing. I sent it back with the ups tag that you sent you said it was reordered you said it was delivered but not to me! All i get is the run around online.

I placed an order (002-4693745-9667435) for a $100 gift card to my son to be sent to me so I could include it in a birthday card to mail to him. I evidently misread or misunderstood your instructions because you added $100 to my account instead of sending me an email attachment that I could mail to him as you had done before for a prior birthday. I then tried my best to have your reply redone or even cancelled but could not find out how to do it.
You also have no telephone number I could use to work this out with you. Your 'arms length' relationship and inability to credit my account for the $100 and reissue a birthday greeting to my son for me to mail to him is annoying, making me skeptical about ordering from you in the future. Can you help me with this? I don't want to add $100 to my account which is what you did.

Joffre Lewis
from Reading, PA
An Instant Pot 5 qt. pressure cooker was listed on Amazon for $80. I clicked on it and purchased it. When I viewed my invoice 1 week later I noticed that I was charged $109.95 which did NOT include tax or shipping. I e-mailed and called Amazon expecting to get a refund for the difference. Instead I was told that it was my fault. Before clicking on pay, I should have reviewed the order more closely. I agreed that was true but it did not change the fact that I paid much more than the listed price of the item.
I was also told that &80 was the price for the item at Amazon but my order was re-directed to a seller. that is of no importance to me. The fact is the price on Amazon's web site was $80 and how the order is processed is of no concern of mine. Customer Service, now obviously out-sourced to India, hung up on me. I e-mailed the seller who said that the problem is Amazon's--not their fault that Amazon listed the item for $80 which is not their selling price.
I remember when you could buy with confidence through Amazon. No longer. I can find the same products at the same price through many, many other sources so will now use Amazon to get information about products, read customer reviews, print photos, etc but always order through another seller.

Miller
from Bradenton, FL
I have twice ordered books for My Kindle and only gotten summaries of those books. I paid for the book (I thought) but no book only summaries? I want the books.

Jason Cint
from Saint Paul, MN
I paid full price for a movie to be streamed and I could hardly watch it with such poor streaming quality.

Lou Ann Britton
from New York, NY
I have received two shipments in the last two days which were shipped by Amazon. I live in an apartment complex which has authorized all deliveries be left at the Leasing Office if recipient is not home or does not come to the door. This has been arranged for the safety of the residents and to protect shipments they receive from being left at the wrong resident or confiscated by someone else. This is a recent occurrence as I have not had this issue with UPS in the past. Perhaps there is a new driver on the route. In any event, if I have a package go missing as a result of this driver's laziness/incompetence, you will hear from me again. Shipments tracking numbers are 1ZWX93280322344051 and 1ZW473R20331524222.

Mary Ann Frasher
from Brooklyn, NY
I ordered Amazon Basics DVI (Order #112-1831376-5000209) to be delivered today. I received a notice the item would be delivered by 9 pm. When there was no indication the order was going to be delivered on time, I checked email. Upon opening my email, there was a notice the package was delivered and left at the front door on the front porch of my apartment building. I immediately went downstairs to look for it, and there it was - laying inside the outer door where anyone off the street could open the door and take the package. And someone almost did.
As I was approaching the entrance, someone off the street picked up the package. If I wouldn't have said that's my package you have, that would have been it. Amazon has delivered many packages to my apartment. After you come into the outside door, you have to be buzzed into the building, and then buzz my apartment to gain access. I have had this problem with some UPS delivery people before. I have called them and complained, but they just brushed it off. I told them I would be willing to come downstairs to get the package if they buzzed my apartment. I have done it on occasion because some don't want to climb 12 steps. I can't fault Amazon as they have been very good.
But I would hope they would contact UPS and complain about their delivery and try to rectify the situation.

Alexandra Robinson
from Virginia Beach, VA
I had package today from Amazon mail person refused to deliver it at my home.I spent almost an hour on phone with Amazon Rep and all she eventually was told was "sorry!". I was told on the tracking number I had that USPS would not deliver as address not valid. This was a lie. My address on package clear and as other mail delivered here there was simply no way it could not be left at my house doorway. Told USPS will deliver tomorrow the 4th February from office on Viking Rd in Virginia Beach VA. This package paid for as urgent I expect it delivered on given date. I am very upset with this as no reason for not delivering today.

Charles Mallow
from Snohomish, WA
I was buying a denture adhesive from Bartell's. I was told that the company stopped making it. Went on Amazon and happened to see it for sale' At Bartell's it was $ 5.99 and at Amazon it is $ 129.00 for the same 1 oz. tube. I think this is considered price gouging. The products is called Cushion Grip and it is for sale on there web site.

Karen Crawford
from Alpharetta, GA
Amazon closed my account. They say it is because I returned too many items. Prior to them closing my account the last email that they sent to me said not to worry that my account would remain open and that I could return items. Also when I email them which is the only method they have to respond to me they do not answer the questions I am asking. They also have stated they are not going to refund my Prime Membership that I have already prepaid for due to that I somehow abused my account by returning too many items. What should I have done kept Items I did not want or like? Email them each time to see if it was okay to return a certain item or items? They told me to read there return policy. I did no where in the return policy does it say anything about a limit on returns. Please advise?

Susan Eygabroad
from Rochester, NY
My Amazon.com account was hacked and someone made two purchased on 11/17 for $39.95 and $41.29. Amazon contacted me the next morning. I let Chase know about the transactions and my account was credited. I stopped into a branch to complete the report and get my debit card reissued. ON 1/6/16, my account was debited for $41.29 - one of the two transactions. They said that it was "investigated" and determined to be "correct and authorized", which it was not. I did some research on my Amazon account. Someone had attempted to change the email address just prior to making the purchases.
In addition, for the purchase in question, someone emailed Amazon and requested that they ship the item to an address in Indonesia. I thought this was enough proof, along with my claim that I DID NOT make either purchase was enough to have them reconsider their decision. I emailed the fraud group TWICE now and no one has even bothered to respond. I knot it is only $41.29, but I didn't buy the item. I have emailed Amazon as well. If my account was debited, they received the money. Yet their notifications to me said that all orders related to these charges were cancelled.
So, they received $41.29 for something that was never shipped out (or shouldn't have been shipped). I realize that I am not a "valued" customer, since I only have a prepaid debit card with them. That is probably why they are choosing to ignore my request to escalate the decision. I don't believe that they bothered to even research it. I attempted to attach the emails and documents that I sent to them in support of my claim, but pdf documents cannot be uploaded.

Allen
from Saint Paul, MN
Now every time I try to order something it won't go through. As a company it's been too many times now that I can't get my orders through and it won't work. All I get is having to order through an operator consistently. I'm tired do wasting my time on hold. I will move to a different place to order. Goodbye Amazon after 15 years. Cancel my tax free account.

Robreisha Fields
from Alexandria, LA
I bought a scooter earlier from Amazon.com that was way to high being a single mother of 4! I wanted to get the 2 year protection plan but couldn't afford it with the scooter. Now the scooter plus protection plan are cheaper than what I purchased it for, from the same company! That's just wrong. There should be a price comparison at least. How can I contact the Amazon.com corporate office with my complaint?

Dawn Hauck
from Bettendorf, IA
I placed an order and it was to be shipped on Dec.29 or Jan.12th way too late for Christmas. It was coming from the United Kingdom. I don't understand this third party shipment. I probably will not order from Amazon again as this was my second complaint this season. I really liked the convince of the wish list, but will not use it again!

Dawn Hauck
from Bettendorf, IA
I placed an order and it was to be shipped on Dec.29 or Jan.12th way too late for Christmas. It was coming from the United Kingdom. I don't understand this third party shipment. I probably will not order from Amazon again as this was my second complaint this season. I really liked the convince of the wish list, but will not use it again!

I ordered a watch off Amazon 27 / Nov /15 and received it 30 / Nov / 15 anyways I heard the FedEx truck outside and went to go get my package from the Lady and she personally handed me two packages. One was my bath robe and the other was my $600.00 REACTOR watch, she had put the shipping box w/ the watch in a clear plastic bag and I'm thinking she did that because she was going to leave it outside because it had been raining. Ok so I get inside and my box w/ the watch inside has a judge hole in it and a large portion of the box was torn away and missing.
The lady carrier did not inform me that there was this judge hole in the box PERIOD AT ALL whatsoever nothing :( and you can't tell me that this lady carrier didn't see and know that this box had been damaged because she handled it with her hands and put it in a plastic bag. My package wasn't damaged it was ripped into and that's why I'm so highly upset :P the watch was also missing the band links and the instructions that were supposed to be in the bottom of the watch container itself.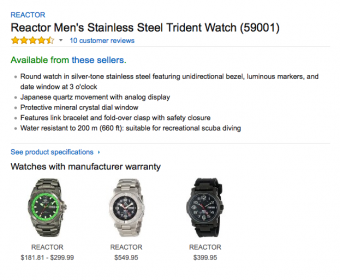 Tracey Maloney
from Pascoe Vale, VIC
I have been an amazon customer for a while now I collect my fav tv shows and movie items what is the difference in me buying seasons 3/4 box set of Stargate Atlantis trading cards but nobody will send seasons 1/2 and 5 nor will they send me the Stargate Keyrings of any kind nor can I receive any more torchwood items I don't buy these to resale I buy them for me as I love collecting what I can but why send me half a card set and nothing else I also tried amazon Australia and now I know why I don't us them all they have are books I have never had a problem never had to send anything back not a happy customer anymore why do they have to be so mean my ratings used to be 5 stars now they are o and I don't like doing this. I have had over nine items that I wanted to buy but can not I brought 7 items and have received 6 so far.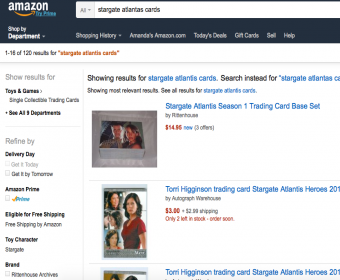 JoAnn Yoder
from Batavia, NY
Wednesday, October 21, 2015 I received my credit card statement and was charges $106.92 for an Amazon Prime Membership. I did not request a membership and I do not want a membership. Please credit my credit card for the amount of $106.92 and explain why this amount was charged to my account. Please someone help me, so far I cannot get Amazon to reply to my complaint.

JoAnn Yoder
from Batavia, NY
I received my credit card statement yesterday and there is a charge for $106.92 for an Amazon Prime Membership. I did not sign up for an Amazon membership and I do not want this membership. Please credit my credit card for this amount and explain why this was charged to my account. I am hoping someone from the corporate office will reply to my complaint.

William C Dugard
from Benton, LA
Recently ordered book thru you to Hippo Books for a book titled Things to Come by J Dwight Pentecost with a cost of $15.99 on order #119919442 on date of 8/23/2015 (Hippo Book sales order #97572770). Did not receive this book but one titled The Gunsmith 394 #6009-1-835-165200 and the USPS tracking #9241 9901 0154 9266 4107 53. It has cost me $15.99 and did not receive the book I ordered. Looked up the company Hippo Books and found unsettled complaints and find it hard that you do business with this type company. I have used amazon.com for many orders and you can verify this. Sad, we are now on a bad foot because of this type business from someone you transact business.

Karen Belan
from Mukwonago, WI
We placed an order for some jewelry for my daughters birthday on July 27 2015. the order was for over 70 dollars. we paid an extra 10 dollars for 2 day shipping. We got a confirmation notice that the order will ship on Aug. 20, 2015. My daughters birthday was on July 30th. What can we do to expedite this order? Her birthday has already passed and we are not happy with how this has played out. There was a mention that an order over 35 dollars would have free shipping, but that had strings attached and we decided to pay the extra money to ship in 2 days. We have not had a problem like this in the past and we felt like we would increase the amount of purchases over time. Our daughter lives in Ca and it is so nice to be able to shop this way. It is unlikely that we will continue if this is what we can expect for delivery. Please let us know what we can do to submit our Amazon.com complaint to the corporate offices.

I have received four messages from Amazon advertising their products. these messages were received 14/6/2015 at 00.07am. 17/6/2015 at 00.08am.and 18/6/2015 at 01.02 am . I made a complaint about this unacceptable anti-social behaviour, or so I thought. I have received a further message today 23/6/2015 at 01.01. This problem needs immediate attention by Amazon. It is not so much the unwanted advertising but the times the messages are being sent, why in the middle of the night to disturb people who are asleep. This definitely not good business practice.

I used to work for Borders and I can tell you it was going down hill before Apple came out with the iPad and before Amazon came out with Kindle. There was a lot of theft from customers. At least three employees I knew of stole from the store while I worked there. One employee liked young girls so much so, some of the female staff changed their work hours to avoid him. When I mean young girls, I mean my former colleague talked about dating high school girls. He was in his early 30's and as creepy as they come. The general manager was indecisive to such an extreme she was replaced by another general manager who fired an employee who for the past 5 years would come up with every excuse in the book to come to work late or leave work early, or not come to work at all. The excuses were inappropriate.
Anytime a rep from Ann Arbor, the headquarters, would come over there was no discussion of how to make the store more efficient or the work environment safer for the workers. I was once told to engage in a conversation with a thief whether that person was carrying a weapon or not. The pervert of the store, I mentioned him earlier, chased after a robber before face planting right outside the store. He was trying to impress a group of teenagers. Another employee over another incident was physically threatened by a customer who yelled out: "I'll cut your pockets!" I left after I realized my life was worth more than a paperback.

Susan Ivison
from Midland, TX
I was given an Amazon Kindle fire for my birthday on 5/15/2015. Worked fine until 5/27 and then I couldn't get it to come on. I asked my daughter for the receipt and took it to the local Best Buy. The girl at customer desk acted like it was an inconvenience to wait on us. Snatched the receipt out of my hand and and started counting on her fingers then told me the 15 days was up. Informed me I would have to call Kindle. When asked if there was anybody that could help me she said Nope call Kindle the 15 days are up! Basically handed me the receipt and walked off. That's not the first time they have been rude! Last time I ever go thru the doors at any Best Buy. Will suggest that my family never buy me anything there either!

Gregory McClain
from Phoenix, AZ
I am a very active Amazon customer. More than 200 orders in 6 months. My first complaint is a general one. Any time there is a problem with an order after the supplier says it has shipped there is no link or way left to contact the seller making it nearly impossible to resolve delivery issues once the seller proclaims shipment is enroute. Can't something be done about that? It is even worse once the seller proclaims it has been delivered whether it has or not.
I do not get mail delivery at my physical address only UPS or Fed Ex. I can deliver to the physical address. When sellers use the postal service as a delivering carrier and then chose the physical address as the delivery point, it always goes wrong.
I have two orders that this is an issue with. The first, placed in February was for Honey Catalina dressing (originally diverted because of weather related issues) has never been delivered, still shows as enroute and has been charged to my card. Second is Ajax sent by post to physical address.

Charles Current
from Albany, OR
I received terrible customer service from JB Tool Sales through Amazon, so I put up a negative seller review. Amazon took the review down at the seller's request. Then the seller emailed me to gloat about getting it taken down.

Charlie D.Baines
from Naperville, IL
Have not refunded the amount of money, owned to me for items ordered by mistake. Two comforters. $ 152.08. This company is a ripoff scam online. Products sucks. Bought a man bracelet. Piece of crap. Can't wear it. Clasp is no good. Don't do business with this company.

I have been happily ordering from Amazon, same items regularly every 1 -2 months, with no problems. Orders were sent by regular US Post to my post box. Last week my items did not arrive on schedule. I then received emails from Amazon saying "Shipping address is undeliverable - items have been returned to sender". I noticed that for the first time the order had been sent by FedEx, not US. I phoned Amazon customer service - what a joke! Spoke to 2 different agents who could not explain why a change had been made in the method of shipping. I asked to speak to a supervisor - there were none available.
Then I am told that.....the shipping department decides how an order will be sent. So I reply that US has worked perfectly for 2 years. Sorry, it is not possible to ask the shipping department to send an order by a specific carrier. But this is the same regular order that always arrived just fine. Oh Sorry, that can't be done. I then tell her that I will be forced to cancel all my regular subscription orders. I am told that she will send an email to somewhere telling someone that I am unhappy.
Then I am told that she will make an exception for me and will send my order by special delivery to my home. I explain that there is no home delivery, just post box. So I give her the address of the post office and she assures me that it will be delivered the next da. An hour later I get an email saying that I have been issued refunds for all the undeliverable items? So I am cancelling all orders with Amazon. There is no customer service from this company.

The listed and publicized date for the rate increase for Amazon Prime is April 17, 2014. Today when I attempted to sign up for Amazon Prime at the rate of $79 I was informed that signing up at this time would cost me $99. At this date it is the one(1) month free trial period that is pushing me beyond the April 17 deadline. When I offered to decline the one(1) month free trial period which would now make my signing up date before the publicized increase date of April 17. I was informed that I would still be billed the new not yet in effect rate of $99.
It is abundantly clear that the one(1) month free trial period in this case is designed to deliberately push anyone new signing up past the date of April 17th. when the increase is supposed to take effect. By this very shady maneuver it is in effect making the date of the increase actually March 17, 2014. I thought that Amazon was a much more reputable company with the integrity to stand behind it word and publicized dates.

I've purchased several downloads from Amazon. Here lately I went to sample a song and it automatically downloads as mpu (whatever that is). I called to report it, a complaint was submitted, that was about 2 wks ago and I still haven't got a response. I went through checking all the songs I've downloaded and they are not complete. I called in 2 days in row concerning this problem. My account was reset, they gave the go ahead to re-download, i received a message saying they were sorry, there's problems with processing my account. This was during and after the call with the rep. I don't know about ordering anything else but I can say the last couple of times I've purchased the mp3 downloads there have been nothing but problems.  I will be looking for another site t purchase my music from.

I bought a control panel from Universal Pneumatic & Electric Group – Amazon Marketplace Out of Atlanta Georgia and when i ordered it said 3-5 day delivery 10 days later i filed a complaint. I recieved a call from Universal telling me to remove my complaiont as its hurting his bussiness. I told him that i never usually complain but the delivery is not what was promised and he was hurting my bussiness and that shipping was Anazons problem not his.We responded to e-mails where he is calling me and he was stopping shipment of my order even thogh its paid for.

I recently sold a set of vhs tapes on amazon.com, the tapes were in great condition, I just made dvd copies of the tapes before I shipped them out and made sure they were rewound and the packaging was in great condition. I sent them out at a good price and within a week, I get an email saying that two of the tapes were not rewound and that they were jamed! The seller claimed that they were recieved that way. The seller is demanding a refund and shipping cost to return the tapes. What can a seller do as I don't want to get a bad report.
I have also had buyers claim they never recieved the cd's that I sent and I have started using tracking and if it is an expensive disc I request that the cd be signed for. I wonder if amazon.com tracks the deadbeat buyers that constantly do this? It seems strange to me that I have so many problems with buyers when I check my sales items and make sure they are good quality when I ship them and what can you do when they switch out their broken vhs tapes or say they didn't receive items?
You can't accuse the buyer of anything as you will get blacklisted and it sure seems funny to me that I have so many problems with buyers. Something is fishy here and I would like to know what can be done about it.

I applied for the Bank of America credit through Amazon because it held a big discount for purchases for a limited period. When it arrived I decided not to use it and cut it up and threw it away I contined to purchase all my christmas shopping thinking that I was paying with my usual debit card. Unknown to myself Amazon had placed it on the account as my default payment. I complained to the Financial Ombudsman and Amazon or Bank of America contacted me to see if things could be resolved. Incidentally, I did not receive the discount either and have been charged interest.
The lady on the phone was very clear about her side of the story and practically accused me of lying when I said I wasn't aware that I was using the card when buying things. I asked her to put things in writing and she because very rude indeed. I wonder if anyone else has had this experience. Is outrageous. I have been a loyal 10 year customer of Amazon and spent a ton load of money in that time and am seriously considering not paying the bill just so as they'll take me to court and I'll be let people know exactly how they treat their customers.

Chefs Depot has been serving customers for over 30 years. Do you think that there are complaints from the general public about them? Sure and also about everything else on the planet. They are a good company and I have been buying from them a long time. I got shafted by Amazon, people search Amazon Complaints! Chef Vlad

1st time customer.purchased pedal tractor with gears today — add says goods over 25£ free delivery to Ireland — confirmed by Melanie at Amazon by phone prior to purchase.based on this info I promised this gift to my grandson. However delivery to Ireland was refused –no choice but to use UK address and pay delivery charge. Now faced with extra cost and hassle of getting the gift to Ireland. I feel cheated by this false promise of free delivery using the Amazon website and false advertisement. 1st and last time customer of this service.

Amazon charged illegally (or rather stole) my money on the first day of my credit card billing cycle for last month. Amazon was smart to do so because the victim I would only get a chance to know that my money has been stolen after one whole month when I receive my credit card bill. I ordered items from Amazon awhile back. However, I didn't buy anything at Amazon.com anytime soon. It is weird for Amazon to start charging/stealing money from me, which is only special in that this day is the first day of my credit card billing cycle of for previous month! Some bad guys in Amazon intended/determined to steal.

after ordering an item from Amazon fri.15th Feb for £14.95 and been quoted £2.49 p&p and promised confirmation of order, which l didnt get, l check the order myself and see l have been charged £18.99 for a £14.95 item which is ludicrous. l've sent emails of complaints and spoken to a rep. from Amazon this morning who promised to email me back within 30mins – nothing!! what do you do now?

I received a book, the 17 day diet-Dr micheal rafael moreno without any amazon order No. or other info. required for returns. It was sold by:twentyfourseven-books,which is the reason I didn't get free shipping. I couldn't get a phone no. to call and discuss my problem with amazon. I am not going to order any thing from amazon.com anymore.

I'm hoping that someone may be able to assist me or at least look into this situation. I'm dealing with a bait and switch situation with Amazon.com and at this point I'm getting absolutely zero assistance from their own customer service. I purchased an expansion pack from Amazon. It was available from Amazon, not their "sellers, " and they advertised it for $9.99 plus shipping. As of October 25th, my order had still not even been shipped. I contacted Amazon customer service, via e-mail, and was told that the product is not available through Amazon and that I would need to cancel my order and purchase it from one of the "Sellers" on the Amazon product page!

I have been hissing about this all day – I love finding this site. Amazon has suspended me from selling on their site. Just because my email was accidentally entered incorrectly because I had added an extra .net. –their form is too short to show the entire email at once –not their fault –and I'm just guessing that's why- they won't tell you why you are suspended or work with you to correct anything. The Gate keepers do an excellent job. Does any one else think the amazon smile is an erect circumsized male organ? Maybe it's because I feel screwed. They are as bad as Walmart ruining local business. Boycott Amazon. How long will it be before they get this scrubbed? If you want to do business you need to bend over and grab your ankles.

For the past ten days I have been unable to download books using the kindle app on my android. When I press the button, it says processing but immediately shuts down. I have already chatted with 2 of your reps and sent 3 emails re this situation and have yet to receive an answer.
I need a solution.

Andrew Chang
from Bedminster, NJ
I purchased with cash, two $50 gift cards on 2/11/19 from a Walgreens store as gifts.
When the recipients tried to use them it indicated that the cards were already redeemed.
I went back to the store to explain that the cards had already been redeem and to see if I could get replacements or a refund and was denied.
They indicated that I would need to contact Amazon.
I am bringing this matter to your attention if an effort to come to a resolution. I would like to request replacement cards or a refund.
Your assistance is greatly appreciated.
Thank you.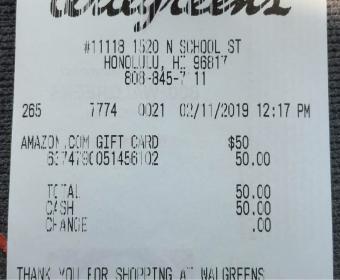 I am a very dedicated customer of Amazon. My last 3 orders I have had problems with delivery not sure what is going on. I am very disappointed in the Prime Service I pay extra for. And there is no expiations service that I am receiving this is unacceptable and the only thing customer service says is I can refund you. No I don't want a refund I want the product that I ordered. Please got to my account and read customer service call notes. I not sure If I will be ordering from you again. VERY DISSATISFIED CUSTOMER FOR THE SECOND TIME.
This is a order I submitted I pray that I have no problem with this Order # 111-6298375-7313013!!!
This is the type of message I received on both orders Order # 111-5713777-1386639 AND Order # 113-7203785-0557834
(Was expected by Sunday, February 10
We're sorry your package is late
We'll email you as soon as we have a new delivery date, and we're making every effort to ship your order as soon as possible. )

i am writing because i have made a request for a refund for an order which was placed on dec 12 which never arrived. it is now 2 months later, and i am still waiting for the refund.
https://www.amazon.com/gp/css/order-history?ref_=nav_orders_first
please help me understand your responsibility in helping to resolve this. i've exchanged several messages with the seller.
thank you,
deb

Thomas Bryant
from Santo Domingo Este, 32
My order # 111-6281059-9175406 says delivered on the tracking by USPS at 6:17PM on 2/4/19. We did not receive the package. It is not in mail box, not on porch, not at neighbors, not with family member. I have tried to wade thru the Amazon website but there is no place to place the complaint of NOT DELIVERED. I want a refund on this item OR reship the item to me. We still want the item. I have complained to the vendor, but not their responsibility; was Amazon delivery. It is obvious was a USPS delivery problem. Thank you

Craig Plummer
from Uniondale, NY
Stop signing me up for Prime, I don't want Prime. My wife watches a free movie, and then you sign me up for prime, what a scam. You ran my card for 14.00 last month, and you would not refund my money, I'm ready to file a complaint with the better business,
stop with the bs

Cathy Meyer
from Fargo, ND
I ordered a Procom Blue Flame NG wall heater on Feb 3, 2019. I receive a confirmation and it stated that my heater would be delivered , Feb 7 - Feb 11. We are in dyer need of this heater as we live in Minnesota and were expecting temperatures of -25. This heater would help to prevent my pipes from freezing. We were concerned about receiving it so I checked on my Orders at Amazon.com and it did not appear. Very confused I then looked at my credit card (Amazon card) and it was not there, I called the credit card and the clerk told me the order was canceled on Feb 5. I was shocked, she told me an email was sent to me with the cancellation notice, I never got an email, she then forwarded the email from Amazon. It says canceled due to Technical Problems, What is that? I am very disappointed with Amazon and want an explanation. How can you just cancel an order and not notify the customer especially a Heater In Winter? I ordered direct from ProCom and will be getting the heater tomorrow, and now have to pay $32.87 shipping fees! Prime did me no good.


Tammy Thompson
from Belleville, ON
I tried your free 30 day of prime video and was not happy with it so I cancelled it by phone and through app. Only to find out week later you removed a payment of $9.99 on February 6 2119. Then around 10 pm the same day you were attempting tp take another payment but this time $20. So my bank knowing about your first stunt made the decision to block all your payment and notify me that when I come tomorrow they will have a RCMP officer to get my statement and action will be done over this because its thief and fraud. I'm also meeting with newspaper to tell them the horror your company has done to me. I'm a 54 year old grandmother with terminal bone cancer who just makes end meet and by doing this your taking my food money. You should be disgusted with yourself but I guarantee everyone else will be, Im curious how many others you've got away with.

I was charged $129 for Amazon prime which I did not authorize. I did have a free trial but I canceled been mailed January. I've talked to two supervisors getting different information lying to me about when my refund will go back into my account I am going to cancel my membership with Amazon I'm on Social Security and now I have $26 left in my account I have no money for food or gas.

I brought a dress the dress came to me on today ripped on the side damaged out of the package wasn't the color I asked for and the dress was garbage I'm so in happy with amazon did not sign up with this prime stuff this company is horrible with customer service

jim bocek
from Berlin, MD
purchased an item that does not work and seller did not send return mailer label. should have since they sent a non working item
item 662434

Gregory T Rice
from Dayton, OH
I watched six seasons of True Blood on Amazon Prime. I have been a member for many years, but don't remember exactly how many. I realize Amazon has grown to such a size that my one membership loss won't effect you. I would like to finish the final season, but I will not pay Amazon for the privilege. I will either rent the final season at my local video store for around two dollars total or not see it. I have spent thousands of dollars on Amazon and this is a slap in the face.
I also have Netflix, where everything I choose to watch is FREE. Every available season of every series is included, without a stick up price to see conclusions.
I will have to re-think renewing my membership to Amazon for the coming year.
Sign me Disappointed,

Gerry
from San Antonio, TX
I couldn't access my account. The two step process did not work. Amazon answer was to wait 48 hours or cancel my account which would take 48 hours. All things which does not fix (THEIR) problem. They gave no HELP!! at all. Oh and is there anything else I can do to assist you! What a joke.

Darrell Reed
from Chattanooga, TN
I ordered some solong tattoo ink they claim they denied my payment and canceled my order. I went to my bank community national and they told me that amazon most definitly took 32.98 from my account that morning. I called amazon and they told me they did not take any money from my account. They are a bunch of liars my bank showed me where they took the money out. They wanted me to reorder and run payment again i told them no way they wasnt making another 32.98 from me and me never receive any product it would be like me paying double for the ink

My order number is #701-0421689-398585. The package was supposed to be delivered yesterday and it is still not yet. There is a large print on my email saying GUARANTEED DELIVERY DATE, JANUARY 31. Well, you did not live up to your guarantee -- this is not why I purchased Amazon Prime. What can you do about this? Reimburse me? Give me some credit? Should I cancel Amazon Prime as not living up to what it says it will do? An anniversary was missed. I am rather upset about it.
Dr. Burns

Paul McDavitt
from Dayton, OH
I have been trying to return an item I bought on Dec 3rd (received on Dec 8th). The seller said they would accept the return and would mail me a return label in "7-10 business days" and that it would then take 3-4 weeks for the refund to be issued and that I was responsible for the cost of sending the item back ($7.99). Ten business days went by and I got nothing. I recontacted the seller and they said they'd send another. Ten business days went by - nothing. Happened AGAIN, so I filed a complaint. YOUR "WONDERFUL AND HELPFUL" (they say "We're here to help" after every non-helpful reply) employees DENIED my claim saying, "You have to return the product for a refund." Now, it doesn't take an Einstein to figure out that I've been TRYING to return the damned item, but the seller is not cooperating by sending their return label! The day after your "WONDERFUL AND HELPFUL" employees accepted my claim in the first place, I got YET ANOTHER form letter from the seller saying they would send me a return label, etc, etc, and here it is - FEBRUARY 1, 2019 - and GUESS WHAT? No return label! Your "WONDERFUL AND HELPFUL" employees - after I sent them another complaint - said, "You must return the item to get a refund." REALLY? Maybe if you hired "WONDERFUL AND HELPFUL" employees IN THIS COUNTRY who are able to speak and read English, things would get done! THIS IS RIDICULOUS!! i AM TRYING TO RETURN A PRODUCT. THE SELLER IS NOT COOPERATING. I AM DOING EVERYTHING I AM SUPPOSED TO BE DOING, AND ALL I GET FROM YOU IS THAT I MUST RETURN THE PRODUCT TO RECEIVE A REFUND, WHICH IS WHAT I'M TRYING TO DO IN THE FIRST PLACE!! Thanks so much for all that "WONDERFUL AND HELPFUL" assistance. I'm glad your employees are "here to help." I can't imagine how much of a hindrance they'd be if they weren't! In other words, THANKS FOR NOTHING! Nice job by people who don't really care!

I am so done with Amazon poor customer service deceptive practices by resellers. Did twenty thousand in purchase last year with Amazon recent bought computer from Maze Tech with not warranty and found out today we can not upgrade them due to the fact the areBIOS password protected and I have no protection rights as a consumer. I hear you loud and clear Amazon I am taking my business elsewhere loyalty mean nothing to you guys nor is protecting the consumer.

Place an order using amzon gift card 2 - $25.00. Instead it showed the total after gift card was applied. I could not move forward to continue
with order. I did not know my taxes & handling which that page should show you could not go any further. I was on the line with someone almost
a hour. Which that person could not figure it out. I finally click on my credit card which then it proceed to next step.
I think when we use gift card it should show a balance what I owe or credit. How would I know what the taxes and handling charge is. I wasted time setting on the phone.

my order #114-0811634-3170639 was sent to my old address... 6689 Seagull Ct., Frederick, Md.... WHY? I changed my address over a month ago. All of my other orders are shipped to my new address which is 4967 Farringdon Ct., Frederick, Md. I did a change of address with USPS so should have arrived by now ... when I tracked it ... it stated Jan. 25, 2019 out for delivery, arriving today by 8PM...... today is Jan. 30TH where is my package ? and why was it sent to my old address ? Now I guess I just took a $75.12 loss and to go the mall to buy the 5 books that were a gift

Amal A S
from Vazhamuttom, KL
I Have purchased amazon basics UV Protection Lens Filter 55 mm . i got the delivery on Jan 26th And its not fit to my camera i Cannot see the return option . Only replacement Option is there and order expired on Jan 26th , and i contact the amazon customer care executive and they told me to contact the cloud Tail sellers and i contact the cloudtail . they give bad reply and bad response to me . they cannot regenerate a pickup option . and i have lost my money i cannot use this product .kindly take any decision to my order .
Amal A S
Cont : 9447129653

Amy Buchanan
from Salt Lake City, UT
Was locked out of my account - while trying to shop online at Whole Foods - spoke with agent Bianca who couldn't reset my two-step verification - was sent to her supervisor Natasha - who couldn't resolve either - and was about to send me and give me a number to Whole Foods, with whom I was trying to shop with - however, it wasn't WFs it was AMAZON that I couldn't log into. After 1:37:11 on the phone they tell me that I will then need to wait 24-hours to be able to use my account - why didn't the first customer serv rep know that? Where is their training? Where is their compassion about having to be on the phone that long. I was unable to purchase my groceries - had to go on my own time to Whole Foods to try and rectify the problem with them sending me back to Amazon. No food, no ability to purchase and I am really upset that I waited - very patiently- to be transferred from person to person - then Natasha told me that she could have someone call me back TOMORROW. I am really disappointed with AMAZON.

Hello My name is Sergio Aoun, I am from Lebanon
Months ago I ordered the following books: Structures why they don't fall, the code of the extraordinary mind, the Jewish state
I ordered those books in August and I still didn't hear from you till now, when I log into Amazon there is always the statement: Package is on its way but running late
I don't want the books anymore but I want a refund! Its the ultimate act of disrespect if my package was lost and you still didn't notify me!
email : aoun.sergio@gmail.com
phone number : +96170567491
Reply as soon as possible

Richard Lynn Peters
from Plano, TX
I had a package delivered today and the guy just tossed it onto my patio. I wanted to upload the video of your delivery guy preparing to toss the package on the porch but you don't allow video for some reason. I really don't expect to pay $120/yr to have my items thrown on my porch.

Jeanette Anderson
from Fort Worth, TX
Hello,
I am a repeat customer of Amazon spending hundreds per month, I have repeatedly requested that ANY of my packages not be left on my porch in an area where it can be seen from the curb.....WHY? Theft of course
Yet I constantly receive pictures of my items left out in plain sight for thieves, then amazon, takes a picture of the item left out in the open and asks me WHAT DO I Think of this picture?
I have large pillars on my front porch where the items can be left behind and not seen from the curb....
Why is my request being ignored? Again I spend hundreds of dollars per month on Amazon and I am stressed out over worrying about my items being taken.....If this happens again I will start ordering from EBAY....

My account has been hacked 4 times since last Thursday and no one is willing to help! I can only use the app and can't change my password or close my account down

yurick vandal
from Ho Chi Minh City, SG
dear Amazone, i received a strange email and i did not order anything so i would like to report to you ,,,, i just dont know how to report it!
could you provide me the good email adress of your fraud department?
I hope we can stop fraud or bad activities under your name.
yurick

PATRICIA IRWIN
from Navan, L
my experience with amazon is dreadful.
they continue to take money from my credit card despite my cancelling my account last year.
i want it stopped and all moneys refunded immediately.
i do not want amazon prime , i never signed for it . please sort it.

Todd Ide
from Kalamazoo, MI
I would give it zero if I could. I have had several issues. First, I received a grant to do a project at my school (a couple of thousand dollars). I bought the materials before Thanksgiving. They locked and froze my account for some reason (though a credit card from school was used) and I missed some Black Friday deals because I could not get a hold of anyone during the weekend to unlock the thing. Their response - sorry about that, but you are just tough out of luck that you missed the sales due to our decision. Feel free to pay the now 30% higher price.
Next, I had to send some items back through the grant because our plans changed. I sent 5 refurbished galaxy tab S3s back. I had bought insurance for all of them because as refurbished they have no warranty. I canceled 5 of the 7 insurance policies. Asurion (I bought these through Amazon) canceled all 7. I didn't realize that until last week. One is having issues. Amazon's response. Oh we are so sorry, that happened. We will investigate so it doesn't happen again, but we aren't going to fix the problem, though it was our fault. Asurion won't sell me a new policy because the tablet was bought over 30 days ago (and is now not working). Amazon admits I selected cancel 5 not all 7 insurance policies, but will not cover it, So I am stuck with a $379 paper weight.
I have called, emailed, complained via social media, did online chat (which with chat you say the same thing over and over because you keep getting handed of, or the person you are talking to drops and you get connected to a new person. This person says they are going to read what you have already said - but they don't because they try to give you the same answers you have already explained why they won't work).
Combine this with the wireless headsets I ordered for the grant too. I ordered 3 pairs. Two pair arrived within a week. The third has been saying waiting to be shipped for the past 60 days. I called last week, told they are still in the pipeline (even if they were shipped from Asia on a freighter they would be here after 60 days). Told today, no they really aren't coming but were canceled by Amazon several weeks ago. Did I ever get an email, no. The person who looked into it today states that she looked, Amazon NEVER sent an email that they were canceled.
So, I am out $379 on the tablet. Just found out the item I ordered is not coming. Amazon has really taken a crap turn in terms of customer service. And THEY DON'T CARE THAT THEY HAVE. All I get out of any of this is, Wow, that is sad, and we are sorry, but not our fault. My advice for any Amazon purchase is Cavet Emptor. I doubt I will be doing any shopping there ever again and will not be renewing my Prime membership.

Cynthia Carroll
from Germantown, MD
I ordered a chair on 12/31/18 never got it but they took my money. !!!!!!!!!!!

barry kidd
from Seattle, WA
every month i pay you 50.00 dollars every month than you take ever dime for things i never ordered why is this and why do i have to pay for things i never signed up for

Michael Jacobs
from Newport, WLS
I was an early adopter of Amazon and must, by now be one of its most loyal and lucrative customers. I used to praise it, in particular, for the ease with which we could contact it and get wrongs righted, usually within minutes.
For the past few years, however, they have increasingly obfuscated the channels through which they can be contacted and the options available for righting "non standard" wrongs. By which I mean issues not related to the mundane process of buying items (non arrival, returns, replacements, warranties etc). Dealing with these issues remains at a superior level compared to other online retailers. But as soon as we go "off piste", with even a trivial issue that should require no more than 5 minutes to fix, they offer no means of dealing with it.
The example below illustrates the problem; as indeed, does my use of your site to lodge a complaint. I'm here because I can't even find a "complaints" option on the Amazon web site. I know it used to be there but now even a google search doesn't find it.
So the first part of my complaint is that they have failed even to acknowledge a previous attempt I made to raise the issue below, a few weeks ago. I can't be more specific than that because
the second part of my complaint is that, particularly as they've failed to acknowledge the original, there is no way I can retrieve the original so that I can reference it in the repeat version I'm about to describe. (Although I've learned that lesson and will, in future, keep my own copies)
and the third part is the fact that I've had to find my way to this site in order to raise the complaint.
I anticipate they will defend the latter by presenting the obscure route through their menuing system which would indeed eventually land you on a complaint option. If they do, that actually reinforces my argument. The complaints option should be front and centre, certainly at least within the help menu. I've had cause to raise such issues with Amazon ever since the turn of the century. It used to be easy. They've now done their best to make it impossible.
Try for example the following google search: complaints site:www.amazon.com
it should reveal all the possible ways to make a complaint on the site. What it actually reveals is damning. (mostly other people writing about complaints systems generally and a few amazon links to the very customer service system designed to shield them from any actual complaints)
And here is the actual, rather trivial issue I first raised a few weeks back (with a different product) It concerns an apparent bug with their wishlist:
I have just tried to add an item to my wishlist (the product identity isn't relevant although, if they care, they can retrieve it from the next line)
It is an item I've previously ordered (most recently 6 Oct 2018 Order # 206-7113477-8808341).
On clicking the "Add to List" the site responded that it was already on the list and had been moved to the top of the list. I clicked view list. No sign.
I went to the list independently and performed a search for the product. No sign.
Even though I never use the other lists, I checked them just in case it had turned up on one of those. No sign.
I repeated this process a total of 3 times with the same behaviour and result each time. I logged out and tried again the following morning in case it was just some kind of latency problem.
I want to know if they are aware of the issue. I know I've told them before but they failed to acknowledge that attempt. Have others raised it?
Do they intend to address this issue and, if so, when?
Meanwhile, how do they suggest I add the item to my wishlist?

Mrs Donna Santiago
from Cape May, NJ
Your company took $126.88 from my disability account and I didn't order anything from anybody not did I receive anything from Amazon but when I called Disability they said that that amount was ordered from Amazon but I didn't order anything. So basically Your company stole $126.88 from my disability acct. Do I guess the next step is involving the police and it takes the cake that this shit happened at Christmas time do everybody suffered at my home.

Dwight M. Hollifield
from Newton, NC
Every delivery from Amazon over the past year or more that had the USPS in the delivery chain has been screwed up. This happens every time:
1. I receive email notification of the delivery date.
2. I track the order and see when it arrives at my local post office.
3. I receive notification from USPS that delivery was attempted but not made because they didn't want to leave package unattended.
4. Later that same day, or the following day, I receive a note from USPS in my mailbox that the package can be picked up the following day.
Therefore, deliveries are not made (I have to drive 10 miles to get them) and receipt of my orders are always 2 days later than the notification date. I would be helpful if Amazon would allow customers to opt out of USPS involvement in deliveries..

Aman sharma
from Jammu, JK
Sir..maine shoes mngwaaye the amazon blue dart se wo mere tk nii phunche courier waala kehta hai wo baapis bej diye ha october k mujhe meri money b nii mili yeh tracking number h 69323327253 blue dart m call kro wo kehte h amazon paise dega amazon ka nmbr hi nii lgtaa merii prob. Solve ki jaaye plz.. Nii to me RTI daalne lga hu...

Jose Leal GTSPTY
from Panama City, 8
I bought a Bushnell binoculars, I received a box with other item and it was perfectly seal, but the box that suppose to contend the binoculars was empty and this is the second time that something like this happened to me. the other one was a Bose micro speaker that I suppose to receive with other items, I received the other items but not the speaker.... I am very disappointed seems to be that someone took my item before seal the box

shana kent
from Cleveland, OH
A package was left on my front porch (01-14-19) and was stolen. My front porch is wide open that is why I always say to leave the packaged by the side door. This is the order number Order 112-7403683-9106648 of the missing item. Can you please tell your delivery people to NOT leave packages on peoples front porch it's not safe. Also, the email said the package was delivered at 5:10pm but that is not true because I was home sitting in my car in the driveway waiting on my sons school bus to pull up from 4:58 when I got in from work until 5:30 when the bus got there. I don't know if your drivers are keeping packages or if they are being stolen.
Please look into this matter and come up with a solution to solve this problem
Thank you
Shana Kent
216-313-5948

Debra shaffer
from Batavia, NY
My complaint is you FAILED BIG TIME IN UPDATE OF PLAYRIX TOWNSHIP GAME. WHAT IN THE HELL IS HOLDUP??????? YOU'VE HAD A WEEK! YOU ARE BIGGEST COMPANY AND IT JUST FIGURES YOU DON'T CARE ABOUT ONE APP IN YOUR VAST ARRAY. WELL THOUSANDS!!!!! OF US ARE LEFT STRANDED IN GAME BECAUSE YOU SCREWED UP! THOUSANDS! DON'T CARE? WELL HOPING ALL CANCEL MEMBERSHIPS, AND GIVE YOU BAD REVIEWS. YOU FAILED YOUR CUSTOMERS, PLAIN AND SIMPLE! SOON IS YOUR ANSWER...HOW SOON? WHEN IS SOON? WHAT TIME LIMIT IS INVOLVED IN SOON???? FESS UP! YOU SCREWED UP! BE THE GIANT YOU ARE AND COME OUT AND SAY YOU CAN'T HANDLE AN APP CHANGE! SMH! LOSERS!

Gili Cacenco
from Hounslow, ENG
I have been charged 7.99 pounds on 09/01/2019 and I don't know why. I want to know why please.
Thank you
Gili Cacenco

Nancy Page
from Port Richey, FL
I have been trying to purchase Paint Shop Pro 2019 since 12/18 with a gift card I received as a refund for a returned item. This was done online so I have no plastic showing a code. I can't order without the code. I have been searching Amazon for an answer. The help menu is a joke. There is no email address and the phone request said call completed. And there I was waiting for the By phone to ring. Another site wanted $5.00 to answer my question. I'm a retiree, 81years old. I have stage 4 lung cancer and a heart condition that cannot be fixed. It seems I may never see the program. The help request sends me to many programs I'm not interested in. I will not be a customer once the card has been used up. I hope someone can finally help me.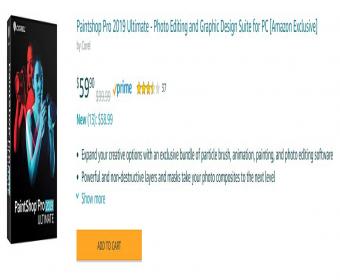 Samantha Stone
from Dallas, TX
I work at Camden Victory Park Apartments in Dallas, TX. At our apartments, we can not accept packages for residents as they are delivered to the door. The Amazon deliverer assigned to our building was informed of this, and we provided him with a map of the community, a key fob to get through gated entrances, and a cart to hold the packages. He seemed upset but we ensured him that once you get the hang of it, it is fairly simple to deliver the packages to residents' doors. Later in the day (Sunday, January 13th, 2019), it has come to our attention that instead of delivering the packages- he placed them unattended in the mail room. Below I have attached a picture of the number of packages that were left unattended in our mail room, which is located in our parking garage. If there is some way you can find out the identity of this deliverer and inform him of this we would greatly appreciate it.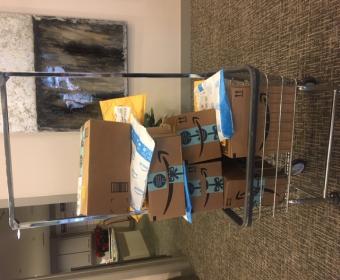 Ben Tashima
from Granada Hills, CA
Your vendor, Bulbhead, puller a classic bait and switch on me. I bought a cheap Bsvarian Edge knife sharpener on another site, and it did not work, so I thought that it was a knockoff.I looked on your site fora genuine one, a deluxe model for $29.99, and ordered it. What Bulbhead sent me did not look like the one pictured, but looked just like the cheap knockoff that I had.I sent it back. You should drop BulbHead as a vendor. They are not ethical.

Elizabeth Carroll
from New Port Richey, FL
Said all shipping was free Regardless of amount of order. Was charged shipping order one Marvel Curtain set complete amount of order showed one set but two came double charged me then to send back was shipping charge to the hell with it I'm 69 I'm not ordering anything else from y'all. You take advantage of your customers I know a 25.00 order isn't much but when you are on social security it's a big deal to some. I'm just letting my family and friends know
Thank You
Elizabeth Carroll
727-457-5690
Ps don't know how to do and image look it up

Robert Hooker
from Houston, TX

barbara a stewart
from Jacksonville, FL
ordered and received a sauder tv stand from you. my first mind set was to not accept the item. the carton was ripped open and then taped. pieces of the stand were broken and another piece was missing. had to contact sauder for new pieces. this is my first experience with amazon and I am not very happy. I feel the item ordered should be replaced at no charge to me.

Reginald Starak
from Corona, CA
To whom it may concern.
I was reading that you were not going to carry certain Items that Muslims do not want you to carry. I am sorry if that is true my friends and family are very much a fended by this. I am Christian myself. I would not ask or expect to have thing taken out of your inventory. If you are doing this for Muslims I will not buy from you again and as I said my family and friends felt the same. I was ask by them to write on there behalf. I like to hear what you have got to say about this. Thanks Reggie Stark

mr glowinski
from Islington, ENG
my order for
Elixir Gardens ® Sulphate of Potash/Potassium Gardens ® Sulphate bucket 20kg
Order # 204-4902155-2765964
Sold by: Elixir Garden Supplies
Quantity: 1
I was sent not in bucket 25 kg YARA TERA CRISTA SOP
It is not written in english,
As well as requesting a photo to waste more of my time i carried the 25 kg wrong order to my local royal mail office to be told the long bar code provided me for returns will not work on our scanners. and i need a SQUARE BAR CODE.
and i have to pay £50 at a post office to return item in question. at any post office.
please help me to fulfill my order.
as the same problem i have had with ekilar before, wrong item sent [pearlite].
if a seperate order i placed with ekilar yesterday turns out to be SIMILAR PRODUCTMATCH i will report 3 wrong orders to trading standards.
regards mr glowinski

james anderson
from Spanaway, WA
my order was delayed a 2 time I went to cancel it and could not I have prime and should be 2 days now I don't know when I will receive it while talking to costumer service I was hung up on and the only one to take a complaint was the people I was complaining about all I have been told is I can send it back when I receive the item if I ever do you have my email and my phone no to contact me as I am getting very upset over this matter and tired of getting the run aroud

Carole Lucy
from Phoenix, AZ
We order a garage door opener with service to install Greg Knutson was the man long story we did not order the track to go with it needed it dun today so we cancel opener bought one at Lowes he spent 6 hours installing it and then said it would not work $200.00 later had to get garage door people out to fix $103.00 more do not send Greg out to install garage door openers out any more!!!!
Have feedback for Amazon?
Thanks for your feedback!
Sorry. Please try again later!