Amazon
Amazon Complaints Continued... (Page 4)
1141+ reviews added so far. Upset? Call Amazon corporate: 206-266-1000

Danielle
from Oak Park, MI
We are a property in Oak Park, MI in which we have employees of Amazon in and out all day. Our policy for security reasons is if amazon employees require a key to our buildings for delivery's that we will have to hold on to their badge. Never had any push back from any of our vendors and very seldom get push back from amazon workers. However today an employee but the name of Darryn Hayden came into our office for the third time and again was very rude and aggressive. Complaining about not giving his badge up. He began to raise his voice and argue. Finally told him that he could always drop his packages off at the door of the building because that would mess up his metrics. As a property manager I understand he may have a quota to hit but we also have a business to run. Seeing that my leasing agents have complained about his horrible customer service and now I have witnessed it firsthand this will be the last time keys will be release to Darryn. He will no longer be welcome to pick up building keys here in the leasing office of The Loop on Greenfield.

Mary Mccammon
from Springfield, MO
I I just started trying to use my Amazon store card all my info matches my account and everything everytime I try to buy something my account would get locked and then when filling there form out with proof of ownership my account would right after close I tried to talk to customer service about this meny time I keep getting bounce told to do things that didn't work and all kind this last time I tried to get help the supervisor jerad keep telling its my bank which is bs because my bank says I'm fine no locks or holds and I have my full credit amount then after I tried to explain this again he just cut the chat without fixing my issue

bradford hinson
from Fayetteville, NC
Amazon has stated that my last 5 Transastions was denied by my bank, truist. My account clear shows that there are no denial to amazon. the last 5 payments was paid and posted. Amazon has hld back my paid items. and refuse to refund my money

Anonymous
from Woonsocket, RI
I rented a textbook for the semester and I Returned the rental on time (May 4th for two rentals. One was due May 23rd and the other was due on May 24th. I called Amazon at 9:00am and everyone that I spoke too did not help, put me on hold for 30 plus minutes, and kept transferring me to various supervisors per my request however all of them did not help and claimed I would not get a refund. I've been renting textbooks with Amazon for awhile and never had any problems and after what I went through today, I will mo longer be using Amazon. I have deleted my account and am very disappointed with my experience today. The company has shown the lack of knowledge and sympathy they have. I wanted to write that complain because it took 5 hours to resolve this issue and to get the money back on my card. I am beyond frustrated and again, I will not be shopping with Amazon again.

Tori Wills
from Sacramento, CA
In February of this year (2023) I purchased several items on Amazon and I returned a few of them due to damaged product. I purchased all but 3 items. The reason is in the middle of purchasing and being refunded I received a text from my bank regarding possible fraud and did authorize the amount in the text. Which replayed, no. So I immediately froze the card and then went to California Check Cashing to get a new card and cancel the old one. Now the new card is different however, it's under the same account/routing number. Anyhow, I have been trying to get my $126.05 since February 23, 2023. I became so frustrated and stressed out because I was calling constantly and I've talked to at least 15-20 different people and get absolutely no where but, so stressed out and angry that I'm crying. I eventually had to reach out to the BBB for help receiving my money. That was around the middle of April and I haven't heard anything from Amazon. They haven't even responded to the BBB who filed a claim and reached out to them. It's astonishing to me that the largest online company in the world hasn't refunded me yet. I even reluctantly agreed to them paying me by check and still nada. I've attached just the email correspondence to this complaint. It doesn't include the numerous calls I had to make wasting countless hours of my time and life. One call was 3 hours long and I still got no where.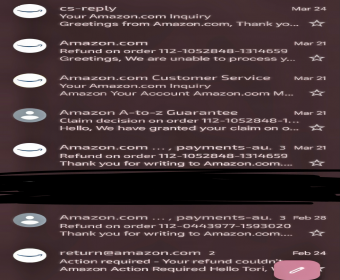 Karim ahmed
from Guarda, 09
I made an order three times and they stopped my account and i missed the promotion and also currency exchange will be more higher than before so i need an investigation in my case below is the mail i made the order twice from
Karimahmedhassan93@gmail.com
And today it costs me 831 euros so why i have to appeal this differrence
For contacting me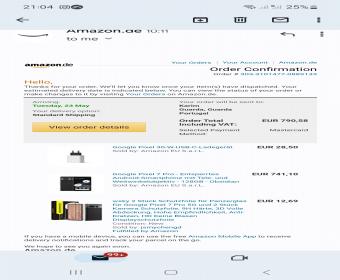 Kasheena Morgan
from Des Moines, IA
Lately my packages have been saying delivered and a delivery attempt is never being made. I work from home so Im always home and looking out for my packages. Recently an order stated the delivery was attempted and it wasnt and 72 hours later it still never arrived. Amazon delivery has been declining rapidly and I lose out on business and money when your delivery drivers steal my packages and mark them as delivered or delivery attempted. Amazon use to be convienent and now its a complete hassle and inconvenience. I do not plan on shopping with amnazon ever again but this needed to be addressed. From drivers stealing packages, to putting packages in the mail box and not following delivery instructions, to documenting false delivery attempts. Its sad and ridiculous and the quality amazon once provided no longer stands and I wont be a customer any longer. Id reather spend more money shopping in person or other online places.

Trevor Chaulk
from Clarenville, NL
Ordered a large chicken coop which came with missing parts. Contacted Amazon and wasn't given the option to get the missing parts. Was told I wouldn't get a refund until returned. It's a large item that was delivered and was told it would be picked up today for return. Didn't happen. Have another ordered and not refunded yet for this one. Who knows when it will get picked up and I'm expected to wait for my money.

Ordering items from that they say will be here at a certain date and out for delivery but actually never shipped and no way to cancel. This is deceptive business practices complain to your attorney general office use alternative vendor we've had great luck with Walmart plus you can return even third party items try that with Amazon they're failing and don't know it

Amazon Has Done Terrible Things To Me.
I have been an Amazon Prime Member for 12 years now. At the beginning their customer service was excellent and I even got their credit card. This past year they have become a nightmare to deal with & have stolen money from me & permanently banned me from writing reviews because of "suspicious activity" on my account. Let me be clear, I have left maybe 3-4 reviews the entire 12 years I've had my account, & I only reviewed something if it was a terrible product & I tried to save others from buying it.
Furthermore, I ordered a Razer Monitor a few months ago, & the package was ripped open when it arrived. I tested the monitor & it was not the model I ordered, so I sent it back. Shortly after I received an email stating that I was not getting a refund & they were keeping the $1200 monitor I sent back, so I lost a lot of money. I tried going through the Better Business Bureau & Amazon laughed in my face & said they would be happy to speak to my legal team.
Recently I ordered 3 Limited Edition Nintendo Switches, and they were stolen off my porch. I have specific delivery instructions I have left Amazon, that they are to knock and if no one answers to deliver another time, to make sure my packages didn't get taken by porch pirates. Well, they refused the refund without a Police Report, which I did. Even after the Police investigation was done and the Police Report was approved, I sent it to Amazon as instructed. They still denied me a refund/replacement, so I had to call and argue with them & they finally agreed to the refund.
Amazon in its current state is a complete mess and they no longer know how to care for their long-term customers who have spent hundreds of thousands of dollars on their platform over 12 years. Stay away from this company if you can & order from other online retailers, as places like Walmart & BestBuy Online are stocking the same products now and they have much better delivery and customer service. I wish I could give Amazon a 0.

Ken Devine
from Ann Arbor, MI
I write this because of my abject disappointment in the misrepresentations of delivery dates. Ninety percent of the time I buy from amazon based on the delivery date, but sadly I can almost bet my order will not be delivered on that date. I feel this delivery issue is getting worse. It has reached a point where I am beginning to look elsewhere and question why I should remain a Prime member.
Whatever efforts are being employed to resolve this are failing in my eyes. I would suggest you terminate wishful thinking delivery dates and face the current reality of likely delivery dates.

BRANDY P DERR
from Lawton, OK
When using an amazon business account, business customers should receive an actual paid invoice or paid receipt rather than a "final details of order #xxxxxxx" page which is not a business document or acceptable to government entities regardless of how they pay. Business to Business customers should receive a legitimate paid invoice/receipt.

LaShandra Goodman
from Andrews Air Force Base Census Designated Place, MD
I was promised merchandise delivery by 5/5 but got a random email stating it would be here on Saturday—completely after the fact and no longer necessary. Amazon Prime is POINTLESS.

Lori Ramirez
from Loma Linda, CA
I paid extra on top of my prime subscription, to receive a product (medical
Supplies) on time and the delivery was delayed 3 times because of carrier issues.I called customer service and they assured it would arrive that day and it did not. I even ask for a refund and they said I'd have to wait til I got the package. The lady wouldn't let me talk to. Supervisor. Now the package might not get here til the next day late which will make it over 20hrs late. I've spent close to 2k in the last couple months including using Amazon as a registry and I'm seriously considering canceling everything jusy by the way I've been treated.

Miss Nathaly R. an employee with Amazon, did not help in the slightest when I contacted customer service chat on my Prime account. I paid $30 for a BROWN satin shirt and received ORANGE. Only to be told if I got a replacement, I would receive the SAME WRONG color again and that there is NO way to change it without having to wait until they receive the WRONG item they sent me, BACK to them and then I can receive a refund and change the item. I was told there is NO way to contact the seller and that there is no way to change my order for my replacement even after I received the wrong order due to Amazon. Didn't offer a refund and didn't give me a way to replace the item with a different color after they lied and sent me the entirely wrong color of shirt. Offered no help at all. I spend hundreds every month on this site only to be treated this terribly due to Amazon's error. Offered zero refund and zero help changing the order even though the replacement hasn't even been shipped and is shipped by AMAZON. Also was told by the original Amazon chat associate that this was a fixable issue, was lied to and sent the wrong item and then not offered a refund and then told I couldn't receive a different replacement of the SAME ITEM. Terrible customer service, I will no longer be an amazon prime customer thanks to this horrible experience with Amazon employees.

Sophia Asberry
from Mansfield, TX
This s ,the second time I have ask you to ask your drivers not to park in front of my house 6:45 pm delivered at 4728 crenshaw , me my self live at 4725 crenshaw
Thank you,
Sophia Asberry
May 4,2023

Leigh margaret
from Pittsburgh, PA
I was transferred to 11 different customer service reps before I finally was frustrated and hung up. I have one question no one was able to answer it. I don't know if they think they're funny or just completely incompetent the worst I will never buy anything from Amazon again I would be fired at my job if I acted the way they did
Absolutely, horrible inadequate, uneducated, and ignorant beyond compare

Leoni Retzlaff
from San Francisco, CA
Try to order prime. CAN'T !!!!

kalyan pvs
from Vijayawada, AP
order number : 403-9465884-4628313
As per the complaint i filed there should be 3 items to be delivered. Only 1 item i received which is Apple Magic Keyboard i didnt receive delivery of 2 Numbers MSI 27 INCH monitors. I have asked the customer care person to check about this . However he mentioned there is a team working for this and he sent this to escalation team for complaint. The escalation team took 4 hours and confirmed all the items in the order are received. However i didnt received any. I filed a complaint to the seller of the monitors who sold me the items . He confirmed that the issue is from amazon delivery end and refunded the full amount of both the monitors. When i called back amazon to inform about this and sue them they said its not possible about this. This is a biggest fraud from amazon end which needs to be notified and taken action .
THE ESCLATION TEAM OR THE SPECALIST TEAM OR THE INVESTIGATION TEAM ARE TOTALLY USELESS GUYS WHO TRIES TO ESCAPE WHEN ISSUE OCCURS IN AMAZON . BE CAREFUL WITH THESE KIND OF PEOPLE.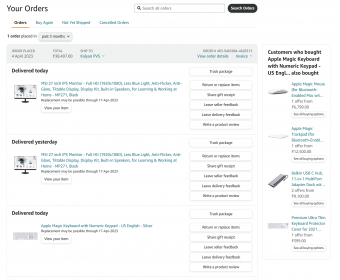 Anthony Todd
from Las Vegas, NV
I was hung up on today by Rick a person who identified himself as a Amazon customer service supervisor.
I received order #112-8634033-4976218 Power Stop Rear S4764 Pair of High-Temp Red Powder Coated Calipers on April 14,2023.
While at the Brake shop I was advised by the manager of the shop that the calipers were missing these very important washers that lock the calipers onto the brake rotors. I had to find and purchase these washers and pay to Uber to the parts store to purchase them. I have never been treated so rude as I was tonight by this Supervisor Rick. Needless to say I am a very disappointed prime customer .

Pamela McKenney
from Brooklyn Park, MN
I spent 45 minutes on the phone with your csr department where she couldn't see I was already charged for an item that was cancelled due to damaged package and cancelled item claiming I never paid for the item which I did. Its frustrating when you spend the amount of money I do with your company. Past times Ive had problems the reps were rude and I had to call back or was put on hold for 45 minutes because tbey didnt want to deal with me so I was put on "ignore". She clearly did not understand english well and kept saying I didnt pay when she didnt even search for the information. I spent over 2 hours on one call and now 45 minutes when it could have been resolved in 5.minutes. Very frustrating. Never had problems with Amazon like I have recently. Its impossible to find anywhere on your website how to deal with complaints. Very frustrated!
Pamela McKenney
612 469.3816

Kevin Packard
from Lynchburg, VA
Simple order was supposed to be here on 4/13, then 3/15, then changed carriers to make it 3/20. Accompanying email said "Please allow an additional day or two after the delivery estimate for the parcel to arrive." That would make it the 21st or 22nd. I understand things happen. What I would appreciate is some acknowledgement of inconvenience and an attitude of trying to fix the problem. This agent offered neither and said, contrary to what I'd been told on the website, that I couldn't return or order a replacement for one more day (tracing day?) when, if i reordered today, I would receive the items on the 19th. Very frustrating! ( first time I have ever been dissatisfied with Amazon customer service)
Kevin Packard

Andrew Sargent
from Temperance, MI
1. Purchased Kindle Paperwhite on 11/24/2022. Order # 114-0550377-2257066
2. Item failed early March 2023, contacted customer support and explained problem and symptoms and was advised to return item. Told customer support agent that I was in Florida for a month and would return item when
back in Michigan in early April.
3. Day after returning home to Michigan, 4/1/2023, sent item back to Amazon using UPS shipping label PROVIDED BY AMAZON BY EMAIL LINK sent to me by customer. support.
4. Nothing heard by 4/16 2023 concerning my returned Kindle Paperwhite, so called customer service and explained situation to Agent Jason.
5. He explained that I had returned item using wrong label (The one Amazon had linked to me in an email!) so my Kindle had been deactivated and I would not have been contacted again!
6. The only recourse I had was to repurchase another similar unit but now paying an additional $29 BEFORE I could receive a refund of my original purchase price being paid via an Amazon gift card and not to my credit card used for the original purchase .
7. I feel that the is very shoddy business practice.
8. Why could not a replacement item just have been shipped to me to replace the faulty item? If not, why did I have to pay an additional price over the original sale price? Why did I have to essentially pay twice for it when I did not want to HAVE TO accept an Amazon gift card forcing me to spend even more money with you?
9. VERY disappointed with this interaction with Amazon, the potential loss of a fourth Kindle purchase down the road I know is not of the slightest
concern to you, but is the the only way of indicating my displeasure.
Thank you. Andrew Sargent

Dr. Ryan Nash
from Hercules, CA
All too often, I have been let down by Amazon and its inability to keep its shipping promises. Time after time, I have ordered objects with a posted shipping date, fully expecting to receive the item on that date, only to get a notice saying, sorry, it's running late, but it is on the way. In several cases, I needed the item before leaving to go out of town, only to be forced to buy it at a local store so I could leave town as planned. In one case, I paid extra for expedited shipping, only to be told the item would arrive on the day I would have received it if I didn't pay for expedited shipping. To make matters worse, the customer service representative insisted that I wasn't entitled to a refund of the expedited shipping fee. After going round and round with him, I finally got fed up and asked to speak with a manager. Now one of my most recent orders is not being delivered as promised. If Amazon can't keep its shipping promises, you should stop posting delivery dates.

Jorge Lopez
from The Bronx, NY
I'm highly upset with the service of delivery and representative that assisted me in the process. Sadly I spoke to about 6 reps about my package not getting to me by promised date. I was surprised one of the reps brushed me off the email chat and closed out the chat. That was so unprofessional. Secondly getting promised a day and time for my package and nothing was delivered to me. This is bad for business and going to im about to start looking into a competitor that can treat me like an asset to their company and a person. With this experience I will never refer anyone to you guys ever again.

richard m matte
from Chateauguay, QC
hi my name is richard matte i requested a refund for the item i bought from amazon a hisense 50A7gvULTRA HD VIDAA SMARTTV BUT I RECEIVED DAMAGE SO I SENT IT BACK FOR A REFUND IT S BEEN 30 DAYS I HAVE BEING WAITING FOR MY REFUND MY ORDER NUMBER IS 701-5894222-2237823 SO THIS IS WHY I AM FILLING A COMPLAINT SO PLEASE RESPOND TO THIS LETTER REGARDS ...RICHARD MATTE

Roderick K Baker
from Atlanta, GA
Amazon nor the seller will honor their Customer Service Agreements. High Ticket Item that they both refuse to Acknowledge Terrible Customer service on both ends.

kim shaw
from Palm Desert, CA
I have 6 charges on my company Am Ex that I did not purchase.
They were all done on 4/13 in the amount of 14.00.
The card is for business only, and this cause's a huge problem for me.
I believe it was hacked and I need to have those charges taken off.
I never used this card on the 13th.
Its the AmEx that ends in 1113
Please let me know what needs to be done.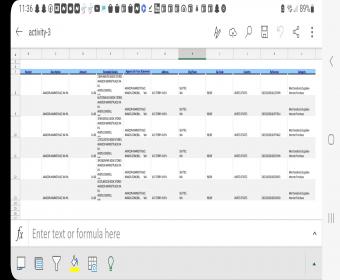 Steven S Silvers
from Sacramento, CA
Two defective scooters in a row, both returned, the latest one has been caught in limbo. UPS gave me proof that Amazin received Amazon says "it is in transit." When provided proof of delivery, Amazon changed its story to some bullshit "Well it hasn't reached our fufillment center, which is where it came from." Bullshit - UPS proved it returned it to the exact address Anaxon shipped from. I am partially disabled, fixed income, need this credit to order another scooter. They already ripped ke off of $1500 in digital purchases on my last account because they failed to change my phone number and supposedly couldn't recover my account. Scandalous jerks that out clients on shit lists.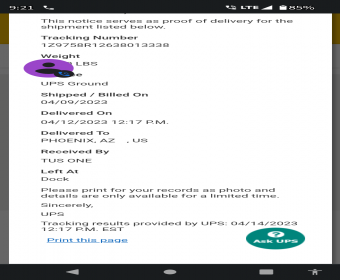 Madeline Levine
from Los Angeles, CA
It is impossible to reconcile what the charges are per item and what shows on your credit card statement. The amounts are different .

David Clark
from Friendship, AR
This company has gone .. They dont stand behind their name, they dont protect customers from fraudulant items being sold and when you try to return it they run you in circles.

I requested to return my Amazon order 112-8776296-3855446. Amazon sent a return label, and I shipped the package off on 01/04/2023. UPS delivered the package back to the Amazon facility on 01/06/2023. For the last 3 months I have been arguing back and forth with Amazon about refunding me for the item. I returned the item and they keep refusing to refund me, saying that they did not receive the item and that their facility did not "process" the return. However I have proof that UPS did ship the item back to them, and I also have the tracking number that shows the item was sent back to the right location. The amazon return UPS tracking number is: 1ZR9Y1900323804171 I also have screenshots and proof of Amazon saying that they did receive the item, however they still aren't going to refund me.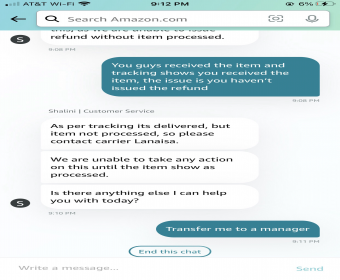 Robert Bello
from New Port Richey, FL
My name is Robert Bello
I bought a Amazon gift card 50.00 on 4/8/23
I sent it my wife so she could use it for food the money wasn't there I called customer service they said I have to wait for 24 hours so the money will be there it wasn't there in 24 hours I called back on 4/10/23 I spoke to customer service again they asked for my name and phone number they supervisor will call in a hour supervisor never called me this is why I'm contacting corporate I need my 50 dollars back in my Amazon gift card..
I'm calliing customer service service back today date 4/11/23 to see what they have to tell me today regarding my money.....
My name is Robert Bello
Please tell something regarding this situation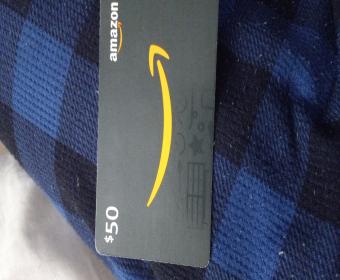 BEWARE OF AMAZON STEALING YOUR MONEY!! Amazon will not replace any items or refund any purchases even when their customer service representative admits that the package was NOT delivered and was marked delivered incorrectly! And after they tell you that it's your loss they literally hang up in your face smh I have been a prime member for many years UNTIL NOW! Not only did I cancel prime but also audible because the interaction I just experienced was disgusting and inappropriate!! Im pretty sure the majority of prime members have had atleast one package not show up, or had it delivered to the wrong address, and now Amazon will not correct their, or their drivers mistake, they will tell you it says delivered and that's too bad for you!!! Even when the driver coincidentally forgets to take the picture of the item when it's delivered and again even after the initial representative admits that the item was NOT delivered because the truck broke down and even when said conversation was on the chat and they have proof of the conversation!!! BTW the item was only a $6 box of masks!!!

Robert Cronk
from Dearborn, MI
I am being billed for things I've never ordered from you...I do not have an Amazon account and don't want one..I want my money back and whoever stay away from my money..

Dennis Stuempfle
from Leland, NC
If you have a problem relating to an order, Amazon customer service is okay. But if you have some general complaints about how the company operates or issues unrelated to an order, there is no mechanism to provide feedback. No wonder problems go unresolved for years.

Goldwin Mckinley
from Dundas, ON
I have spent 3 hours today trying to get information regarding DVDs playable in Canada. I kept being connected to Amazon. com. People who could not understand my English finally told me that they could not help with Canadian problems. Then my password was rejected, and an attempt to create a new one has kept going around in circles

Ahmed Ur Rehman Khan
from Windsor, ON
They took 5 minutes to respond to a simple question. Their answers were only copy-pasted generic messages. Other than that their vocabulary ranged from Yes or No and that's it. I don't know where Amazon finds these customer service agents, but they need some training.

Sahil nehra
from Malé, 26
since 22nd Feb i am ordering a item the support misleading and saying this stuck in fulfillment center and cancel it and reorder it since my cancelled history you can check cancelled history after that today one support told me to cancel but I refused to cancel it after that without my permission they cancelled my item now already more than 1 ND half month i am waiting and now also didn't get chance to buy a product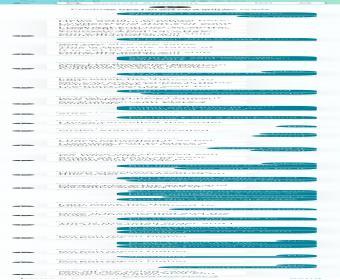 Juanita Stuart
from Jacksonville, FL
I waited all day for my order and not once did the Amazon truck pull up to my house too drop my stuff. I contacted them and told them it's saying it's been delivered but nobody ever came. They told me for the next 3 days that on April 3rd if it still hasn't arrived that they would refund it. So I got them up on the 3rd and they tell me that they denied my refund because the delivery man told them he delivered it. And then said I need too find a better place for my packages to go. Better then my house? I'm so upset I'm a loyal customer and don't deserve this

I'm lost 3 packages that show its was delivered on March 31 and I never received the package. I complained to the Amazon they couldn't replace or refund my order. This is ridiculous it's was my hard earn money that went down the drain for no reason

Ashley
from Minneapolis, MN
Hey I'm contacting your company because you have a driver by the name of kantrale Clark who works for an independent company inside your warehouse. He has been driving under a fake license. His license is suspended in Illinois I don't how he got a drivers license down there but it's illegal. I don't want your company to get in trouble and he steals packages. The ones he can't deliver. I be on the phone with him while he does it our the truck n throws the box or package in the garbage once he see what it is and see if he wants to keep it or not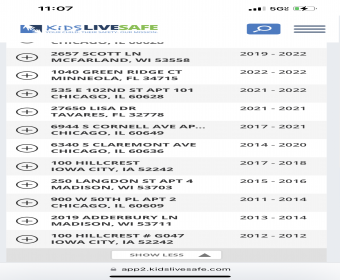 Ann C Thomas
from Potsdam, NY
I called your service dept. just a little while ago. I could barely understand the woman who answered the phone but the worst part was she had a crying baby through our whole conversation making it very difficult to hear her. I had to finally hang up and start the whole process over. The second lady was wonderful.

Ordered a Brother printer and toner from Amazon online store and returned it I have called customer service at least 20 times with no results, contact BBB but they cannot force Amazon to return my money. Amazon has its products back but has lied about the processing of my purchases and refund status. It shows they gave it but have not actually issued my refund, which is a fraud. I have receipts from UPS showing they got the purchased items back but these crooks are keeping my money. The customer service people are off-shore and feel they can do anything they want. I have filed with the attorney general office, and the FTC, because these government agencies do take action when consumers get scam by stores like this and no one takes my hard earn money get away with it.

Camille Mestas
from Denver, CO
Verification process us a joke and your customer service people are deaf or dumb sorry but it shouldn't take 35 minutes to verify my account. I have on numerous times tried updating phone number with you to receive codes but never works. I have had 3 times I have not received my refunds and no one seems to make it right. I am tempted to do away with Amazon it's a joke trying to communicate with customer service

marsha wallace
from Bastrop, LA
I need to get my refund $19.43 and FEB.22 2023 was issued but declined .gave infomation you requested and you said it would come in a ck . i have not it either . so make a note to send as soon as possible . marsha wallace 110 kirby st. # B2 Tallulah la. 71282 and Marsha Wallace 110 Kirby ST. #B2 Tallulah La. 71282 phone # 318 341 5593 and send in check . $19.43 Refund

Richard Johnson
from Wayne, PA
Dear Amazon customer service
The delivery driver pulled his truck 3-5 feet into my garden beds, crushing 2 plants and when he backed out he ended up dragging the boulders I have on the perimeter out half way into the driveway. I had to get my neighbor to help me move them back.
This occured at the beginning of my driveway where I have a turn around space and it has never happened before. The driver was very careless and he had to know he caused damage. I can provide pictues if necessary. As you can see by my account, I have frequent deliveries and there has never been an issue. this was very egregious.
My address is 517 south waterloo road, devon, pa, 19333. I have the packaging from the shipment. I don't know if this is what yu need to locate the driver but the identification on the package is TBA30587446644. The delivery was on March 23 or thereabouts.
I expect compensation in a credit or in a check. I would be satisified with $300.00
Thank You, Rich Johnson

Juliana Torres
from Zephyrhills, FL
Worst company ever. Supervisors don't know anything that they are doing I was just robbed of 50 dollars for a package that never showed and also they can't find my order.

Gabriel Sales
from Juarez, ROO
One of my business vehicles broke down and I made a purchase with Amazon for the necessary part.
Amazon allowed me to buy the part and I waited for the delivery date stated by them.
On the day of the delivery, the item never arrived, supper was contacted and they told me to wait 3 days.
The days were waited and the item did not arrive.
Support asked me to wait until the next day and their system stated the item was scheduled for delivery.
The next day came and the item DID NOT ARRIVE!
For the fourth time, I contacted their support, but this time via phone.
The representative told me the item was out of stock!
How can Amazon sell me something that is out of stock?
At the same time, provide me a date with tracking for that item on their website ?
The time wasted was just unacceptable and I was impacted brutally by
Amazon's irresponsibility to provide me this information on the first point of contact.
Instead they provided me false information with the hopes of my item being arrived on the days mentioned by their website and support.
My business lost money for 3 weeks of wait time as a result to their lack of responsibility and care for me as a client for many many years.
No attempt to recompensate or help me with the damages caused by their gap in their system/support

Desirae Chapa
from Houston, TX
Alfredo gonzalez jr from prison .. took my child didnt bring her home all night need to report him
Have feedback for Amazon?
Thanks for your feedback!
Sorry. Please try again later!