Amazon
Amazon Complaints Continued... (Page 5)
847+ reviews added so far. Upset? Call Amazon corporate: 206-266-1000

Zoraida Colon
from The Bronx, NY
During prime day I purchased a Lego set for $90; a over 50% discount. Wow, was excited to get it. But then they claimed it would arrive in 1 to 2 months. I tried to cancel less than 24 hours and was denied, claiming the shipping process had begun..
A few hours later I get a text that it's been shipped and on it's way. It arrived the next day, without a shipping box, left in the open for possible theft.
Their return policy doesn't allow returns without a box, so I wasn't offered an alternative to return the item unless I spend more money for the return. Still waiting for a solution. Besides the waste of time and inconvenience, Amazon doesn't live up to their services, especially the disabled.

It seems that lately I have a real problem with my orders. Half of what I order is lost in transit.
How is this possible in a multi-billion dollar corporation?
Why should I bother to order on amazon anymore?

Nanci N Beus
from Mesa, AZ
I just got a letter from a collections agency. Apparently I owed you (Amazon) .60 Cents. It says it was supposed to be taken out of a checking account but the account was closed, none of my accounts have been closed. I called amazon they told me to call a company called telecheck, telecheck asked for my checking account number and then said do you have another checking account. I said no, so they couldn't help me. What I want to know is why Amazon does not send a bill to tell you that you owe .60 Cents. No, they just send it to a collection agency so that I now owe $25.60. Since I can't figure out a way to talk to amazon about this, I have become very frustrated. You would think a company as big and well know as Amazon would be able to tell me how this happened. (I talked to 2 people at amazon) You would also think that Amazon would have in place a department to help people with this problem. If I'm not able to talk to anyone at amazon that can tell me what happened, I will soon be severing ties with Amazon.

Dear Amazon,
This is my humble request to solve my query with this order # 406-0112448-2062779, there are 2 items still not received since long time and in my status its showing already delivered but in actual not yet received, if I am chatting with Customer Care they are unable to solve my query, for that I attached a chatting history, you know same item I ordered before and facing problem then I contact with amazon CC then make it return and they said the problem will be solve soon, then I ordered again and my item still not received.
Note: In this order no. there was 3 item but I request for 1 item to make it return and they also cash back but only for 2 items I am facing problem since long time.
Note: Deliver my Item or return cash back.
This is my request to deliver my item and solve the query please.
Thanks
Arzoo

David Torres
from Bedminster, NJ
Order# 111-4456079-5450628 I find a promotional deal at Amazon I place an order and when it comes for me to receive the package, it doesn't get delivered. What I get instead is a make-believe that Amazon tries to deliver a package to me, but it can't deliver it, my package got throwing by some door floor outside an apartment with a picture taken that's it wouldn't even show the apartment number your so call proof of delivered and that is in my opinion because they never intended to deliver the package in the first place. So when I call Amazon a replacement isn't possible and Amazon refuses to give me the actual subject-it retail value so the I can re-order-it, in other words, Amazon expect me to pay $120.00 a year for a service that Amazon wouldn't take responsibility for and this is coming from one of you so call supervisors or managers, first I get transfer to the delivered dept. responsible for losing my package and when I ask for a supervisor the supervisor has even lest options resolving the problem all they want is to give me my money back and my discount is gone with the wind. What is the use to get a good deal you if you are not going to deliver in the first place? with "Walmart", I get to choose my delivery carrier and they take responsibility for that to be delivered, but not with Amazon and then Amazon fails to deliver on top of it, do not expect me to renew your so call promotional prime membership with this kind of service. it's just an insult to my intelligence.

I had about 8000 songs on a 128gb USB storage I bought. It worked on the computer but not in the car. I contacted Amazon and the customer service person said "that's easy, ill walk you through it" Following his instructions to a t, every song was erased and gone forever. I was going to transfer from one HD to another but the new hadn't arrived yet. Wiped that old one and sold it. Talked it's an Amazon supervisor who basically said Oh, Well. He refused to give me his last name, the name of his boss or the corporate office number. I asked again for the info I requested and he disconnected our conversation. I am out thousands because I listened to their customer service dept.

Bad as fuck. I called to cancel the order two times because it going to a wrong address and the service promised I'm getting the refund and the item won't be shipped for sure. And it's telling me it's delivered now and it hasn't be canceled. Totally wastes time

Be-Linda Shelton
from Las Vegas, NV
The people that are delivering my packages aren't coming to the door knocking or ringing the door bell. They are just throwing the packages on the ground in front of the door or in the dirt in front of the door to be stolen by package thieves. Please correct this problem. Thank you.

Dennis Cush
from Gwynn Oak, MD
Today at about 2:30 pm eastern time I went to purchase one hOmeLabs Beverage Refrigerator and Cooler - 120 Can Mini Fridge.
It had a four-year warranty offer which I declined. I purchase this product using my Amazon Prime store card. I left the internet page went back to shopping, I review my order and noticed a three-year plan for just under $60.00. so I clicked on it and an email came up though everything was good. Then an email came up saying the Amazon Prime card was declined, so they used a Debit card which was on file as an alternate means of payment. Then another email came up saying I purchased two Mini Fridges and one three year warranty WOW!
So five calls to the services department left me with one question, who authorized someone to pick another credit card from my account without notifying me on their decision? Your service department told me it will be 7 to 10 business days before that money was back in my account.
The original Amazon Prime card had a six-month payment option which I took. So tell a little bit about how you are investing my $620.00 for the next 10 days, while that money is now blocked from my use. I must go home now and tell my wife our Debit account is basically frozen for the rest of the month.
Maybe I could get a "Go Fund me page" going while Mr. Bezos invests my money.
Thanks, Jeff
Dennis

marie weese
from Minneapolis, MN
What the heck happened to your delivery practices. Found my shipment 1/8th mile from my house in a hay field. Received e-mail stating my delivery was delivered in a secure location, and thank goodness with a poor picture. In the dark the hunt begin, finally after an hour package was found in a hay field beside a corner fence post. What the heck Amazon, straighten up or business will collapse.

Kaela Caulkins
from Mesa, AZ
So when I ordered my headphones and received them, there was a piece of paper that stated that this product had a one year warranty. My headphones completely quit working within 3 months and weren't subjected to abuse or water damage so I tried to contact betron to complete this warranty. Betron sent me to their support which is on Amazon and I have yet to hear back so I made a call. The person on the phone was very rude and said that I wouldn't be able to use the warranty because Amazon didnt offer it and that I needed to go through the manufacturer. I just want my product replaced.

DUPRECE SLAUGHTER
from Minneapolis, MN
Couldn't get a answer regarding my package not being delivered. I had rude supervisors and customer service representatives.

Yeah thanks for canceling my assembly chair serves now I'm still with god damn old desk because of you fucking people and for billionaire Company you sure have shitty service

Customer service has gone to crap. I've been a Prime Member for over 6 years and I recently have had some major problems with customer service. I spoke to a supervisor in regards to defective tires that I purchased and was told that I would receive a full refund after they received the defective tire back. When I hadn't received the refund I called to ask what was going on and was told that the refund would not be what I was told by the original supervisor, and that it will be processed after they get the tire from ups. I explained that it's never been like this before. That usually I get notified within a few hours after I drop it off that my refund is being processed. Then was told that I would not receive the amount I was told and that he was sorry I was given the wrong information. So I was screwed out of 20 coming to my bank card and the 20 $ credit that I applied towards the purchase. He told me that they do not refund credits. Now today I called to do an exchange on an item and was told I need to send the item back and wait for a round to my bank, 3 to 5 days and repurchase the item. The original girl said she could get a advanced refund to my account so I can purchase the right size. She put me on hold and 15 minutes later was.told she can't do it. That this item isn't eligible for that??
It's stoped and sold by Amazon??? When I asked foe a supervisor I was put on hold for 20 minutes and got hung up on. I called back and told the rep what happend and she said she can't do it either, I asked for a supervisor and was told, they can't do anything either. I said are u denying me your supervisor, she said I am a supervisor. I said that's not what u said when I first asked. I want to speak to your supervisor and she denied me her supervisor. I wasn't getting anywhere so I hung up after telling her Amazon is going to lose a Valuable Customer. Not only a prime member but music unlimited as well. I've NEVER had Amazon Customer Service like this. They have ALWAYS gone above and beyond these past years. And these last few months have been a nightmare.
You don't tell a customer, sorry u were given the wrong info by one of our Supervisors, u honor what they told the customer originally. I am SERIOUSLY going to start looking into other providers and looking at other options. The amount of money I spend on Amazon and this is how I'm treated?? Screw that crap. My money will be going to a company who appreciates me and my money.

address-verification.....
Just send a fax, ha
10 day's of sending faxes and no response,my account is still locked.
And the card they locked the account to verify is still being billed for my Prime subscription!

The online customer chat help is complete garbage. I'm currently still on there while typing this waiting for my problem to be resolved and it's been 2 hours now. I"ve been transferred so many times, that I got transferred to the same person twice. Extremely incompetent.

Brian Marino
from Reston, VA
On or around June 28 2019 I called customer service because I received an email stating I requested a password change. I called customer service and they assured me my account and information was safe. Than on July 10 2019 my bank statement had a $25 charge from amazon on it. When I called customer service they said I had purchased a $25 google play card and it was emailed to me. I didn't not make this purchase. Customer service refused to issue me a refund and I had to dispute the charge with my bank. Now my bank account is frozen and I'm without a debit card for 5-7 business days. This experience has been awful. It's not even about the money. It's about the unwillingness to help and the inconvenience of having my bank account frozen. I was a loyal customer who never had any problems with your customer service.

I ordered a xbocat dvd player on 4/19 but it's missing a part that covers the working parts of the player, so I haven't been able to use it. I tried emailing the xbocat company per instructions that came with it on 6/14/19 but have not received a reply. I've attached a photo.
Are you able to contact the company or replace this item so I can use it?
I'm a loyal Amazon fan. Thanks so much for your help!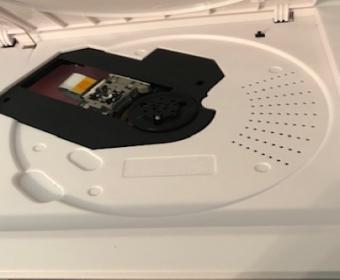 I started using the computer this morning to find out more info about amazon since I thought I'd sign up for the prime time on my new smart TV. It then took me nearly 3 hours to get that done. I spoke to 4 chat persons who couldn't figure out what was wrong insofar as me signing up for the 30 free trial. They were all unable to help me so kept transferring me to another person because they could not understand what I needed & had to keep rereading the chat screen to figure the deal out. That process was miserable. The 1st person I called on my landline phone was also not a good English speaking rep. He told me to get on the computer and fill out my app. I did that & set up my password. Then I to tried watching a movie. That wouldn't happen. It was strange the process didn't work so I realized I'd try chatting with a rep to fix the situation. The last rep I had to finally call on the phone again also had to keep checking with the supervisor to answer my questions about the problem I was having in getting the show I wanted to see play on their site. I was mad it took so long to just watch a 47 minute TV show & I hated chatting with those who could not figure out this mess. I eventually quit chatting because that was far too time consuming. It was also ridiculous to keep explaining over and over that the show would not play. Finally I explained to the last rep I chatted with that this was a shizzy process & I was going to directly call Customer Service. I then did speak to a person in customer service. His English was also unusual. It was a situation where I had to keep spelling out my name because the background noise going on in his workspace was horrible. I could hardly hear him speak. I also had to repeat a lot of my words so that convo was also very time consuming. At the end of the convo I explained that I had spent almost 3 hours attempting to find out why the 30 day free trial situation was not working. I hated wasting all that time trying to get signed up for the 30 day free trial the company offered. The last rep finally told me I would have to give the company my credit card info before they would allow me to watch the free 30 day trial shows. It would have been a very less confusing process if that info was given up front so that customers don't have to spend the nearly 3 hours on the phone trying to figure out why the process was not working. Jeff Bezos should know this is going on since the current process is wasting time and effort by all those concerned in thinking it is a quick process to sign up to watch the 30 day free trial. Clarity is very much needed in advertising this info.

Kristin Leidig
from Rancho Palos Verdes, CA
My account was hacked. I have tried 3 times to solve the issue but the people in charge of the case haven't contacted me. I have $$$ in books and movies that I can't access and no one is helping to resolve this issue.

A friend of mine was asked how Amazon vets there employees didn't think they hired women with 2 felony convictions only 3 years apart for DUI and was unemployed starts driving a new $70,000 new vehicle especially new hires In the last 2 months

Christin Somen
from Chicago, IL
Order ID: 114-4649986-9169013: the description is for flask and then add on adsl items. We added the knives and only received knives. We called and were told the flask isn't Included even though the pricing is clearly for both the flask and knife set together. They will not send us the flasks nor offer anything for their error.

Michael Bibler
from Clovis, CA
Having problems with my Kindel Fire - could not find or reset my pass word. Call customer support and was dealing with a "tech" who was not in the United States - hard to understand and was very rude and treated me like a complete idiot. All I wanted was help with getting or resetting my password so I could connect with wi-fi. I could deal with his being rude, but when I told him to forget helping me and disconnect, he cussed me and said he would gladly disconnect and was going to block my Kindel. I would like someone who speaks English to call and help me with this problem. Very dissatisfied and possible former user of Kindel.

A. Randolph Keene, Jr.
from Yorktown, VA
I received an email from Amazon that stated that I was receiving a refund on the following order:
Nature's Way Kelp; 600 mg Kelp...
Real Herbs Ginger Root Extract ...
Nutricology Super Artemisinin...
Boiron Calendula, 2.5 Ounce...
Ecological Formulas Monolaurin...
Refund total: $92.92*
I did not request a refund or do I desire a refund. The delivery address is the same as I have used in the past. I BELIEVE THE PROBLEM IS ON YOUR END. Please resend the order .
A. Randolph Keene, Jr.

Germaine Murray
from St Louis, MO
The amazon help center and chat is worthless. I have not received to orders and have been told they have been delivered by my Alexa app. They have NOT been delivered. Also, the phone help is worthless as well.

Sandy Banks
from Covington, GA
I purchased rubber floor mats for my home gym from a third party via Amazon. The product I received was defective. The seller knew it was defective. Amazon flat out lied to me. In an email, I was told that they would reimburse me for the return shipping cost of the mats. They did not!

Jon franke
from Hillsboro, WI
Product lost in shipping, not unavailable , you (Amazon ) know this , I payed for a product it's a week late and you do nothing . What kind of business knowingly sits by doing nothing . Get the product I ordered and payed for and Amazon advertised for sale to me . This is not my problem it yours . I don't won't a refund , the product is available and I ordered and payed for it get it here

I have made two orders for a bmw bicycle, one with the number #028-3411656-6417957 and the seller MGC Ltd, the other, first one with the number
#028-1006989-6891556 with the seller Barras de Cortina. Both times the sale was cancelled but the money charged is still sitting on my credit card without the sale going ahead. As I got the information from
Amazon to try again I now have two payments on my account even though I was informed that my card is not being charged. This pushed my credit card to the limit and I am asking amazon how this can happen with a registered seller. I am demanding that the contract is being kept.
Regards,
Susi

Genrikh Ratz
from The Bronx, NY
Very unreliable company, as a result every 3-4th order simply disappears, and to find it or have contact with this irrespective company, how I see it, there is no any chance. Productive contact with this company is cut by this company itself. I cancelled email notification, cancelled prime, cancelled everything possible with Amazon. But, this does not mean, that by the end of following months Amazon will not go in my bank for just my 12 or 14 dollars it wants. I sincerely and seriously do not recommend Amazon to make any contacts with, never.

raul barrios
from The Bronx, NY
complaing about mething i never arrive nor i do not sing anything is time for the return of my money.

Laura Washington
from Reynoldsburg, OH
The always short supply of your coke 12 oz bottles. Again for the millionth time it is marked not available on the regular coke bottle supply.

Monica Edwards
from Roanoke, TX
I want to file a complaint against some sellers selling books here on Amazon. They are asking 27.00 to ship one book out!!!
That should be investigated asap!. They advertise 3.99 for a book and then want $27.00 to ship it out to you.
I will not buy from any Amazon Seller taking advantage of people by charging a low price for their book and then making up for the low price by charging an outrages price for shipping.
Please look into this and mail me here on my amazon account. I can't get into the above email now.
I'm attaching some of the Sellers here...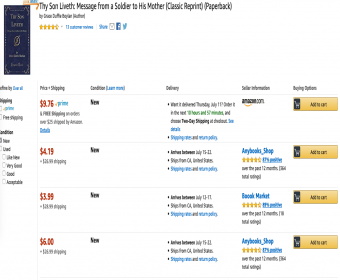 denis arvay
from Cooperstown, NY
Amazon refuses to supply information to AMEX about what I purchased, so I cannot check my AMEX statement for fraudulent purchases in my name. I order a lot of things, so if this isn't changed I'm going to challenge every single Amazon purchase listed on AMEX -- because I don't recognize a transaction record that only displays the amount. Currently searching for a public forum where I can encourage others to follow suit . . .

Eric J Mazzi
from Chambersburg, PA
Packaging issue,
First of all I placed an order for a fish filter uv pump, when received it was shipped to me without a shipping box. The product was damaged so I sent it back and spoke on chat line and got passed around like a ping pong ball from customer service telling me they would get me to the correct department, After 20 minutes of this they told me they were sorry and they would ship me another one and it would be shipped the same way with no box, so I called and got a female who told me they would send this one in a box, upon receiving this the same thing damage no shipping box I sent it back again and went threw pretty much of the same thing pass me around on chat I called again and they said they would put it in a box I also called and they assured me they would ship it in a box. Upon receiving this it was not in a box so I refused it. I got back on chat and was told they would ship me know more and if I wanted another one I would have to reorder it again. CS was down right nasty telling me that since I refused the order that I would have to tell UPS that it had to be marked refused. I told them I am not calling UPS and telling them how to do there job, I now am waiting for a refund in which as of now I have not received it. I have been buying on AMAZON for 12 years and a prime member I am not a kid I am a senior citizen who just wanted the item shipped in responsible way. I also posted on the product page about this but AMAZON would not post it. I do not understand what is going on with AMAZON but would like all people to know that they are changing for the worse.

John Nuttall
from Clifton Park, NY
We are very good customers of Amazon ! We order something at least 5 days a week! We ordered a birthday gift for our son 10 days ago we just saw the item was "lost"!! VERY FRUSTRATING!!,

Margaret Gilbert
from Colorado Springs, CO
I bought a box of Atkins 2.12 oz Chocolate Peanut Butter Bars: 16 plus 2.
They arrived all smashed and the chocolate had melted.
I am very disappointed in this order.
Margaret Gilbert

John H Boshart
from Elizabethtown, KY
An Amazon delivery van almost ran me off the road about ten minutes before this message. It was in elizabethtown ky.42701. On monica drive. Your driver is a jerk.

Sonya Lamberth
from South Bend, IN
I placed an order on Wednesday June 26th, 2019 during the whole check out process in BOLD letters Amazon told me that if I ordered within a certain time frime i would get GUARANTEED delivery by Friday June 28th, 2019 8pm. On Friday June 26th at 3:15pm i got a text that my package had been delivered and was in or near my mailbox. I get home and no package is there. I proceed to go to the front office thinking my package may be there and it is not. I contact USPS and after holding for 32 minutes I am able to start an investigation intp where my package is. I then proceed to contact Amazon customer service through the chat commands and the automated system tells me my ESTIMATED time of delivery is by July 1st, 2019. After argueing with an automated reaponse I get a supposed live person who proceeds to tell me i must wait until July 1st because postal workers sometimes mark packages as delivered even though they have not been delivered. I ask him what he thinks the wors GUARANTEED means. He tells me that he understands my inconvenience but the ESTIMATED delivery time can be delayed due to carrier issues. I point out again that the order screen did not say ESTIMATED it said GUARANTEED and Amazon obviously needa to order themselves a dictionary with GUARANTEED DELIVERY in w
2 days and 5 days later when it actually arrives they can look up the word and maybe the jackasseas that thought it would be a good idea to BOLDY place those words on their page can GUARANTEE that i wil be canceling every service with Amazon since this is now the 2nd package that i have ordered where the word GUARANTEED doesn't mean shit to Amazon

Customer service is poor they rude and don't listen and don't wanna help customers

Mark Schwartz
from Brooklyn, NY
So far I have had 2 bad experiences with Amazon where I ordered something, I was then sent a message, by Amazon, that it would not be arriving as guaranteed, I ordered replacement goods, and then I received the original order and the replacement.
The first time it was resolved by giving me a credit (deducting some of the credit even though I was told they would not). The second time I chatted with customer service for about 15 minutes before being told I have to deal with the seller.
Amazon may be too big to care about these complaints, but I spend lots of money on Amazon for the peace of mind and I will start buying many things elsewhere like Walmart to see if they are more reliable unless something is done to make this right.
Supposedly the first time it happened they were able to give me some sort of $20.00 something that I would benefit from. Apparently that's somewhere is cyberspace, because I haven't received it and have purchased hundreds of dollars worth since then.

Baher Soliman
from Somerset, NJ
Again, one more time and maybe the million, Amazon confused the delivery status and mark the order as delivered while it's not!!
This time is delivery to Amazon lockers under Amazon prime. The tracking page shows it's delivered while the order page shows undelivered. Moreover I didn't receive the locker code.
Confusion and frustration. not the first time, not the second not even the tenth!!
To put facts together, the order number is 113-8438196-4651453
Do you want more order numbers? Personally the delivery failure and confusion is up 20% with me.
Update... I need to reorder immediately but still can't find the refund in my account!! The call center is less helpful now than before guys

Yesenik
from Los Angeles, CA
The team located overseas lacks customer services training! They don't understand the customer 's value and since the company is not theirs ( customer service team) they don't care to lose a long time prime member who spends thousands of dollars in this company a year ! It's a shame amazon has taken those jobs overseas to Philippines and they don't take the time and the resources to properly train these people and leave their business in the hands of short sighted people but corporate its to blame not them ! A total shame

Brenda Henkle
from Garland, TX
I want to notify Amazon regarding a horrible encounter with a Amazon rep this afternoon.
My account number is 4640182108352786
I called at 205pm (texas time) & got hung up on at 2:09pm.
He declared his name as 'Jason' in security. He would not give further information. I asked! I requested to speak to a supervisor several times but told this was not an escalated line, therefore my issue was obviously a joke and not important.
He told me to 'take a deep breath and release'. I asked if he just said that & his response was a chuckle.
I have to tell you that was a first and unbelievably insulting. Not a good rep for your company. I called Amazon customer service not security.
I made a purchase yesterday evening with the same info with no issues.
This guy, if his name is Jason was insulting and definitely NO assistance rather outright insulting.
After getting hung up on , with NO assistance, I decided that no further purchases would be made from Amazon, but I made the purchase that I was attempting to make with the help of a caring & informative rep.Wish I had his name because he was very helpful.
Hopefully Amazon doesn't endorse this type of behaviou.
Sincerely,
Brenda Henkle

Rick Corley
from West Columbia, SC
I had a delivery from Amazon yesterday June 26 2019 and saw tire tracks through my front yard. I guess instead of pulling into my driveway h they did a big loop in my yard. This is unacceptable. Next time they will pay for it.
address is 125 narrow way lexington sc 29073

Linda Parena
from Pittsburg, CA
Recently I found 62 fraudulent transactions on my Chase Amazon Visa statements confirmed by an Amazon Customer Service representative who went through all of the Amazon orders on my bank statements. I was told by this Amazon Customer Service Representative that the woman making the fraudulent purchases had an account with Amazon and had two credit cards listed, one of which was mine. I had been ill for a few months and was not well enough to check each Amazon order on my bank statements. Once I recovered, I started checking my prior statements and found the 62 fraudulent orders. I contacted Chase Bank to report these fraudulent orders, but when the Chase fraud representative called Amazon, they refused to give any information on my Amazon account to him. I gave the Chase Fraud Department Representative the name, address, and phone number of the woman who had made these 62 fraudulent purchases, and he asked me to call Amazon to get this information in writing so that the fraud charges amounting to $1,614.74 could be credited back to me. Called Amazon Customer Service to request the information they had given to me verbally to be put it in writing so that I could submit it to Chase Bank. Amazon is giving me all kinds of excuses about why they cannot put it in writing, so I am doubtful I will get the refund from Chase. I make several purchases a month on Amazon, so I am very disappointed and will close my account if this matter is not resolved. I would like to know whether anyone else has had a similar experience with Amazon.

Tried to login to make a purchase. Had to reset password. Sent called and wanted expiration dates for credit cards that don't exist anymore due to identity theft there's no way I can get into this this your site to make a purchase was on the phone with your customer service people from for 12 minutes and they could not seem to resolve the issue although I did provide my name my address and all the kinds of information this is not acceptable and I'm furious. As a result of this I am on able to purchase anything from you so I hope you're happyI've been paying for Amazon prime for what purpose when I can't even make a possible purchase please cancel the Amazon prime that you're charging me for every month because it's useless because I cannot get into your site to purchase anything. And if you don't remove it I was contacting the Better Business Bureau and to contact my attorney this is ridiculous

When i call amazon kindle dept. no one seems to understand basic questions --- maybe its a translation thing--but very frustrating I try not to order books from here -- when they dont understand there is just a pause then they just disconnnect
Im not even sure this email will be address

Hello,
Please assist. The customer service received from your vendor did not represent their company or Amazon well at all.
The first issue is your vendor Numoon Collection shipped the wrong product and now out of stock. I am shipping back the items and reordered them from your Cymax vendor and had another unpleasant experience below with their business manager.
All I want is the tables, no hassle or any more grief.
From: Howie, Elizabeth
Sent: Wednesday, June 26, 2019 11:46 AM
To: info@cymaxstores.com
Cc: Howie, Elizabeth <Elizabeth.Howie@ncr.com>
Subject: CUSTOMER EXPERIENCE ISSUE, RE: Order Number: VRC121-18112386
Hello,
Can you please assist with my order and most importantly, the unpleasant chat with Jeremy. I also contacted Amazon as well.
I handle customers daily managing accounts for NCR Corporation. How does your company keep customers happy to keep coming back to your business? See below, I would have responded differently and Jeremy is not representing your company well.
Summary
Order date
Wednesday, June 26, 2019 6:03:12 AM PDT
Amount
$329.97
Payment method
Amazon Pay payment ID P01-7813666-9175015
Merchant information Cymax Stores
ch15999-blbdhnje@use1-1.xsell.co
Welcome to LiveChat
Jeremy
Business Account Manager
Good
Jeremy
Hello, is there anything I can assist you with?
Elizabeth G Howie
Why is my order on hold and for how long?
Jeremy
Orders will naturally go on hold for a few hours
Elizabeth G Howie
By tomorrow I can get a status and I understand the product is on back order with an anticipated date of 7/15 that is subject to change, correct?
Jeremy
Correct
Elizabeth G Howie
ok, I will check back in 24 hours. Thank you.
Jeremy
you will want to email cs@cymax.com for updates
Elizabeth G Howie
your company does not proactively provide statuses on customer orders?
Jeremy
There is nothing to update. The product is out of stock until next month
Elizabeth G Howie
Jeremy,
I'm quite smart, my ask is your company does not send any updates until AFTER 7/15 or we have to hound for an update if the product is NOT coming in on time by 7/15?
Read
Jeremy
11:28 am
I can appreciate that you are quite smart. As such I fully expect you to appreciate a business sales chatroom is not the place to ask customer service related questions. That of course would be for customer service which is the email I provided. You would receive an email when the order ships, we will not be sending you daily updates
But if you would like any further updates, you can absolutely email cs@cymax.com
Thank you.
Elizabeth Howie
936-777-0034

We are an apartment community that has an entry door, with door buzzers for each apartment located in that area. It is an open and unsecured area. Several times we have asked the delivery persons from Amazon to deliver the packages to the residents apartment doors located inside one (1) building. We continue to have the delivery people just throw the boxes in the unsecured area at the front of the building.

george mahieu
from Kingsland, GA
I am george mahieu, a prime member. on 24 june I made an order and made it thru prime because I am going out of town on the night of the 26th and prime has overnight shipping. So I ordered 2 items under order number 113-1898598-7738661. When I made the order, the site said if I order in the next 2 hours and some odd minutes, the cat furniture repellent spray would be here the next day and the cat tree in 2 days or Wed. Well Tues came and went and at midnight I contacted the company about it and they answered me with in an hour with an apology and refund. And now I see the cat tree won't bee here until thurs night, which of course is when I will be out of town. this is not at all what I am used to for service from Amazon and I am extremely pissed off. According to tracking, they did not even ship the item until 10:53 today. this tells me they did not give a tinkers dam about their word on the 2 day delivery or care about their customers and I will think twice about ordering again thru amazon. I just hope when I get home Saturday and pick up boscoe from my friends house and get home that the package is still there. Thanks alot amazon for having an unreliable vendor. In 20 years with Ebay at least I only had this issue once, this is the 3rd time with you guys in like 2 years.
Have feedback for Amazon?
Thanks for your feedback!
Sorry. Please try again later!