Amazon
Amazon Complaints Continued... (Page 5)
791+ reviews added so far. Upset? Call Amazon corporate: 206-266-1000

paul oh
from Hacienda Heights, CA
the supervisor name maria from retail department from costa rica was very rude and not just her it was all the customer service im taking this to a bigger issued matter hope amazon could change their customer service from this rating it is horrible and the worst customer service i ever experienced. i want to make a personal complaint about this but i guess amazon policy is let the customers get screwed over and have amazon customer service employees to waste our time for nothing absolutely no help.

I have had two deliveries from Amazon Prime and both have been unacceptable as far as where the package was left. The first on was just thrown on our front lawn where sprinklers run and no notice of delivery. Todays delivery was left at the front of the house on a brick pedestal where anyone driving by would see and possibly pick up. Delivery should be left at the front door, which mine is hidden from the street with a gate and walkway. Too much thievery and lack of responsibility on drivers part.
I will not continue to order from Amazon Prime if this is to continue. To much to lose financially.
Thanks for your concern.
Carol Dazzo

Sandi Nischuk
from Regina, SK
I am sick of everything being in French. I am English and only read and speak English. Take your French and stick where you wAnt but not on me. Put me back to amazon.com so i can ha e the language I know

My bank statement showed that Amazon made an unauthorised charge on my card for over $800 U.S. last month. I wasted 4 hours in chats and phone calls today trying to get them to credit my account.
Amazon finally answered:
"We can confirm that it was the result of the unauthorised use of your card number.... We recommend that you have this card cancelled and reissued.... We also encourage you to report the crime to the police. ... To receive a refund, you'll need to contact the bank that issued the card.... Your bank will then pass the appropriate paperwork to us."
They also say that they are not permitted to give me more details. SO, Amazon takes no responsibility. They think I should go to the police, but will give me no info. What should I report?? Should I report that Amazon has charged me for something I never ordered? Should I report Amazon for not protecting my card details? I have no idea where or even if a crime was committed! Which country should I report it in? Ridiculous. Amazon claims that someone else charged my card. How convenient. No other charges have been made in the 5 weeks since. No other companies claim any unauthorised use.
I would have expected Amazon to credit my account immediately. Not tell me to file a police report, based on their evidenceless claims!
What a shame. I was satisfied with Amazon for many years, but will not be placing anymore orders.

Nellie Manning
from Woodstock, VA
I need to know how to contact the maker or someone about a Confu hair dryer purchased or May 7 and received May 9. Order number 112-0740438-3685821. The hair dryer is absolutely a piece of junk. It doesn't work and the motor keeps slowing down, doesn't heat up (randomly) and it takes me three times as long to dry my hair as a cheaper dryer. I would like to know how to go about returning it and get one that works. I am not sure that I even want to try another one exactly like this one. It just doesn't work on any of the settings correctly.I thought at first the dryer was going to be fine but it continually gets slower and slower and sounds like the motor is dragging. I would write the company directly but I cannot find an address anywhere in the pamphlet. It states "return the product defective product to the or the place or store where you bought it together with your purchase receipt". Do I return the hair dryer back to Amazon or can you give me an address to notify the manufacturer? The only good thing I can say about this dryer is that it does have a nice long cord. However, the cord is not even an important feature if the dryer will not work correctly. Please tell me the proper steps and who to return the dryer to for either a refund or a replacement dryer that will work.
I do not blame Amazon but this is certainly an inferior product and of no use to me when it won't heat up or blow air. Any help you can provide me will be greatly appreciated. Thank you!

My complaint is mainly towards customer service through phone. I had customer service call me in regards to my order related problem, it was noted undeliverable package. The customer service wasn't pleasant, just by his tone of voice, he didn't provide excellent customer service. It took Alex, over 40 minutes to get my order resolved. His accent was strong which was okay at first, then he would have a hard time explaining things, he talked way to slow and hardly could finish his own sentences and confused me a few times. My suggestion for customer service, is to not have a strong accent individual resolve a customer problem because all they'll do is frustrate individuals even more. I had asked to talk to a supervisor or manager on duty and Alex mentioned they're be no use for that because they will tell you the same thing he mentioned which annoyed me even more. I also asked about the address my package is being delivered too but all he kept giving me was my city and state name, I said my package will not be delivered to a city and state because your missing more of the shipping address. There is so much more I can add to this but it will only make me angry. I would like someone to email me regarding this complaint I have. Ptelynn@gmail.com

giuliana brunner
from Denver, CO
Large white van lisc plate JHQ 859 Denver CO in the 1200 S block of Lincoln St - 5:15 PM today - was parked double parked when he had space to pull over - making our street room for one car to drive by - he had NO flashing lights on - he had the radio so loud a neighbor down the street called me and asked if there was a party on my end - politely asked him to turn the music - he nodded no and gave me the finger and quickly jumped in and drove off - - - so no time for me to grab my tel and take a picture - - - he was also pulled over against the traffic flow side of the street - west side he faced north - which is illegal in Denver -
interesting the vehicle has NO signs indicting the company - I'd be embarrassed too - I will NOT ever use Amazon again - dare you to place a hows my driving sign and tn on your delivery guys cars - hope your liability insurance covers your next accident/lawsuit - it will happen

GIRRAJ SHARMA
from Indore, MP
Myself Girraj Sharma residing at Indore M.P, India,sir I have purchase a bed (Delite kom coco single size bed,)on 02/06/2019, after installation of bed i found that there's a screech on ply ,i have sent the photograph of bed to amazon customer care,and from last 10 days i am requesting for return the item and refund for the same which i have purchase for 8000Rs but no one respond till now ,they are just bluffing me,pls help me in any manner.All details as follow:-
1) Name-GIRRAJ SHARMA
2) Mail- girraj_sharma1977@yahoo.com
3) Mobil- 9960450918
4) Address-House no-145,Ambika puri extension,60 feet road,Near indore airport,Indore ,M.P, INDIA.
5) products- 01 Delite kom coco single size bed.
06) Order no- 403-8685794-9977116.
07) pick up tracking id- 1493119338082
08) Amount- 7999/-
09)Order date-02/06/2019.

Michael Lynch
from Toronto, ON
I was told I would be refunded on 4 items that were not received by me, I called on June 14th 2019 and was on the phone for approx 45 mins, the staff member confirmed all 4 items are being refunded, I then checked my bank account today to realize none of the items has in fact been refunded, so I called Amazon today and I was told I am now being investigated and I need to wait 72 hours for a result, I was highly disappointed as I was basically lied to by 2 employees on June 14th, I spoke with a regular employee and one of their supervisors as delivery people keep leaving packages on my doorstep for people passing by to steal, I live in one of the worst neighbourhoods for crime in Toronto, Canada and this happens to many residents in this area, I even called a few times to please ask them to stop leaving ordered products on my doorstep.

Dahl Usher
from Newport News, VA
I tried to buy something at amazon. During checkout, they said I could get it in 2 days free if I accept a 30 day trial of Amazon Prime. I said okay, and as soon as they got my credit card number, I went to the cart to make the purchase. I was already logged in, but they wanted me to log in again. When I tried, it said my account was locked for security purposes and to check my email for instructions how to unlock it. No email ever came to my inbox, trash, or spam folders. I called customer support who said they would put in a ticket and someone would look at it in 48 hours. She wanted my phone number, then said they would email me. Why do they want my phone number if they are going to email me?
I can't use the contact amazon link because you have to be logged into your account to use it. Nice setup, lock the account and say check email for a message that is never coming and prevent the customer from contacting you. All I want now is my credit card info GONE from amazon and all my information gone from amazon and that account permanently closed. How can I do that?

larryward15@gmail.com
from Charleston, SC
Recently purchased SPEARMENT flavored hard candy, separately wrapped. Received on schedule. Being an 85 year old 100% disabled Marine who needs this candy for a persistent cough I was distressed that the candy had absolutely no Spearment flavor at all! As a matter of fact, it was like sucking on a sugar cube with no flavor! My advice is to remove this product from your inventory!

Sohan singh rawat
from Delhi, DL
Sir Mane vidya ka i pad liya 30may ko cash on delivery se 2 din baad hi uski battery heet ho gayi or i pad kharab ho gaya costomer service me 2 bar baat karke mane replace ke liye kaha or ladka aya bhi but vo i pad ko replace hi ni karta mtlb vo ladka khud me hi boss he kya usay kya problem he replace karne me pls mujhe mera ipad replace karo ya fir mera paisa mujhe refund karo me apko pic bhej raha hu i pad ki kis tarah vo heet hoke kharab ho gaya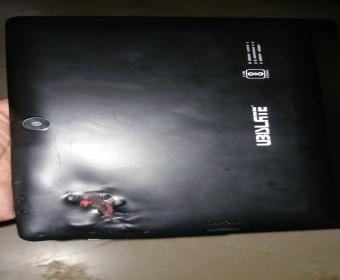 Brian Cardarella
from Hingham, MA
On June 9th at 1:10pm EST a delivery from an Amazon driver was at my house. We recently had our yard hydroseeded so nobody could walk on it. An Amazon driver came to our house and just threw our package onto our yard. We have a video:
https://www.youtube.com/watch?v=ZTF9y4eSbIo
You cannot see it from the camera view but our driveway is directly to the left of where the camera sees. There was no reason for the delivery woman to throw the package onto our property like this.

Larry Minichino
from Keystone Heights, FL
I don't know who the subcontractor is in my area, but i'm definitely not happy with them! They drive a plain white van with no markings on it. The woman delivery driver threw the package against the outside of my fence and began to drive away as I stopped her. I asked why she did that she replied because you have a dog. My dogs usually stay in my home with me and my wife, they go out to exercise and take care of business, this is Florida which is too hot to leave them outside for long periods of time. But she insisted that your policy is to leave the packages outside the fence! If in fact this your policy, then you will force me to order my dog products directly from Chewy rather than Amazon. This would be unfortunate as
we are stockholders in Amazon and have been for a couple of years.
The sticker: BB4 56-(73) TBA332637494000

Timothy Davis
from Kirkland, WA
On June 9, 2019 we ordered Noise Canceling Headphones, Order Number 112-129114-5968212. On June 10th, 2019 we ordered some filters for a Shark Vacuum Cleaner, Order number 112320928 9829072. We expected them to be delivered Tuesday, June 11th. Yesterday we received an email explaining that they were unable to deliver the products. We were surprised since they have delivered 50-100 other Amazon orders without difficulty. When we called amazon, we were informed that the delivery person was unable to gain access to our home, and perhaps it was because of a locked gate. I explained that we were a single home with no gate and direct access to our front door from the street. I was passed up the chain to someone who kept asking whether the gate has an access code. I attempted to explain there was no gate, but he kept saying "I only need to know whether there is an access code for the gate. At this point I became frustrated and asked him to listen to what I was saying. He responded by telling me he only wanted to know if there was an access code to our gate. At this point I asked to speak to his supervisor and he hung up on me. Hopefully you have a recording of the episode somewhere. I attempted to call back to talk to a supervisor. When I told the answerer what the issue was and requested to talk to a supervisor, he said one minute and I started getting music. After 15 minutes, I hung up and called again, explained that we had gotten a note about a failed delivery. He passed me up the line to a lady (I believe she said she was in Logistics). I explained the issue yet again. She evidently went to some data base and said she could see that the front door was accessable from the street and she would arrange to have the item delivered today and requested we call her back when we had received the items. I asked what number she wanted me to call to confirm delivery. She indicated that any amazon number would do.
The items have not yet been delivered, but it is only 2pm so there is a real chance they will still be delivered. My first complaint is about the gentleman who a) refused to listed to what I was saying and the b) hung up on me when I asked to speak to a supervisor. I also suspect he labeled me as a chronic complainer or abusive customer, since for the rest of the evening there were uncharacteristic delays in answering calls from my telephone number.
As I said, my hope is you have audio tapes that will confirm all of my calls and this will assist you in confirming my account of the episode.
Timothy A. Davis
davistmgl@gmail.com

Ric Lombardo
from Los Angeles, CA
UNABLE to leave a review. Please correct this.

William Ferrans
from Kent, WA
I ordered 40 tense unit 2 x 2 inch pads, and received only 4 pads I would like the other 36 please

I have repeatedly asked what I should do with an item I returned to the sender using the proper mailing Amazon provided label that was returned to me "RECEIVER MOVED, NOT DELIVERED". It is very annoying to explain this both by email and to an Amazon representative with no results. Not only has the promised refund NOT happened, but I am still stuck with an item that is unusable. Do I resend it? Do I throw it out? I answered the email sent by the vendor. No result. I spoke to Amazon twice. No result. When will the refund show up? Will someone who has some ability to problem-solve PLEASE get in touch.

Every single day somebody in my neighborhood gets deliveries from Amazon Prime and I have no idea where Prime gets their drivers from but I am sick and tired of these idiot Prime drivers blowing through the stop signs on my street.
One Sunday afternoon I came home from a birthday party and one of your idiot Prime drivers was blocking my driveway to deliver a package to the neighbors across the street, seriously!
These drivers are a joke and one of the idiots is going to hit a kid or cause a bad accident with the way they drive, this is ridiculous!

Ioannis Papaiacovou
from Concord, CA
On June 8 2019 I bought a brand new Garmin S60 approach watch. When I received the item I had a hard time to configure it and the reason was I had not enough memory. I called Garmin support and I was surprised when the Garmin person told me that the item was not new and already in their records the watch belong to someone else.
To make the long story short I paid for a new item and I received a used one. I call Amazon and canceled my Prime membership and requested a refund as well.
SHAME!!!!!!!!

First, I am a 78 years old lady, I do not appreciate being called by my first name, manners and education call being addressed to as Ms, Mrs, Mr where I come from. Lately I have been dealt with very poorly by Amazon.com Prime; and have behaved accordingly: I lost my temper and used inappropriate language... your lack of service and care are by no means a reason for me to lower myself to your level, thus I want to express my apologies for losing my temper and using foul language... you just pushed too far but, as I said, no reason for me to lose my temper and use foul language. Therefore, from now on, to spare my nerves and refrain to go on your website except to watch movies. Have a great day if you can; YOU HAVE RUINED MINE.

Henry Maurezzutt
from Ashburn, VA
Ordered# 112-9317924-8514650.. A Purple Western Digital WD 2TB HDD on Saturday the 8th of June 2019.
Also ordered by my wife with her account for me on the same day 5 minutes apart a Synology DS118,
Both Items are listed as Prime Items and are handled by amazon.
Today 6/10/2019 we received the Synology server.
Waiting for the 2nd order NEGATIVE....No Western Digital WD 2T purple HDD! I contacted Customer Support at around 9:00PM & checked the shipment online which stated the Item had not shipped yet. The initial associate basically stated that the Item was on time and It`s great that the order was arriving by 8:00 tomorrow 06/11/2019 there is no problem.. it`s on time.
I asked to speak with a MANAGER since I new this conversation was going no were and was given a SUPERVISOR Lenie in the Philipines who basically repeated what the associate said insinuating that this was my fault because I did not read an email and I did not understand the policy. I have been a member for many years and have extensively utilized this service. SO Again I placed two prime orders on Saturday and only one arrived on Monday and the 2nd will arrive Tuesday. For the Membership fee we pay for not 1 but 2 memberships as in the past I expect much more from Customer Service other than canceling the order and ordering again from another prime provider to only delay the arrival even further as suggested by customer service. I expect the Item to arrive Monday or to be compensated for this serious issue. We will be canceling at least 1 if not both memberships as the value is not there anymore in prime memberships Walmart and other vendors seem to be catching up for no membership fees and better customer service.
Note: I also simultaneously have attempted to use the amazon chat feature to no avail trying to reach a person who could provide at the very least an email or phone number to file a complaint only to receive automated canned response and options once the system try`s to reach a live person I waited for an hour no response so other that going online with the only number available being the same number I had already called twice only to speak with someone who was hard to understand and could not help due to their limitations in the Philippines.
This is extremely frustrating and disturbing!
Blogging may be the answer to affect a positive change.

Louise Longman
from Le Loreur, NOR
I am writing to you to raise an issue about: Amazon Prime
I had taken out Prime membership I had tried to use it once & didn't deduct delivery charge so
didn't go through with order as I understood that was included with Prime membership! It's been at least a couple of years since taking this agreement out. I assumed when my new debit card was issued it would cancel out my membership, it didn't Amazon still took out monthly premiums despite having a different card number! How this can happen I'm not sure? I tried to cancel via my Bank but was told to cancel direct.
I would like to my premiums to be refunded please.
I look forward to your prompt response on this matter &I would like to keep a complete record of my case, so please reply back via e-mail submitted. Thank you.
Louise Longman

I rated you one, because there was no zero. I tried to get a new account because I can' 't remember password. even though I ordered more that $2,000 in goods from multiple suppliers in the last 12 months and am trying to order more. Your not so brilliant computer won't let me.....I live at what appears to you to be an invalid address. So...trash this missive. I will never order from you again.. How the hell did I get 6 chairs. 4 tables and 12 bar stools sent to an invaiid address? I can no longer trust your system. Adios! there are other people with intelligent webs sites to work with.

Deborah Hubbard
from Attica, OH
We have a prime driver at my place of business that is repeatedly delivering packages that do not belong at our address. Since he doesn't ring the bell and wait for staff to check the packages (just dumps them at the door) we are stuck notifying Amazon and arranging for a pickup. When he does this on a Friday like he did last night after hours those packages if not noticed by security will sit outside in the elements all weekend or be stolen by a passing motorist. You would think that a company as big as Amazon would know that business delivery are different then home delivery and demand there drivers notified someone inside the building that they have made a delivery and have them verified that is were it belongs.

Linda Di Nallo
from Aurora, ON
I've never been so upset with Amazon. I have spent thousands of dollars and I ordered thru www.amazon.ca website (6) Black Stools which apparently went to a third part Angel Canada. They are the wrong depth for me and I need to return them. They want me to pay the expense to return them cause they weren't damaged. Since when is it Final Sale. I'm so upset. It will cost me $300 to send them back (as Angel Canada) won't pay for it to get a $440 refund back which they won't guarantee. I need Amazon.ca (the website I always use) to ship these 3 big boxes at your expense as a courtesy after all the drama I've been put thru this week. It's not my fault that you allow 3rd parties as part of your website. I have prime thru you not Angel Canada. I need these 6 stools sent back to Burnaby, BC not at my expense. I can't keep these brand new stools. I need either the following: You send a courier to pick these up at your expense or you send me a Prepaid Return label and I'll ship them back. I need an answer immediately. I've been ignored all week. I'm so upset. I have like 6 things to order and I don't like amazon right now. Please get back to me immediately. I will take this matter further up if I have to and also give Amazon a bad review because this experience has been very bad for me. I'm on disability and can't afford to keep things that I can't use because of your 3rd party affiliates you have that are giving you a bad name.

Gerard Rock
from Anchorage, AK
Order #112-5615372-6578613 I ordered these door panels and I was notified they were delivered on May 31st at 5:34 PM. When I got home there were no door panels. Thinking they had been stolen I contacted our local police and went to all my neighbors houses to see if they had seen anything.
On Monday June 3rd UPS delivered the panels at around 6:00 PM by just dropping them at the door and leaving with no notification.
This is a bunch of bull by either amazon or ups.

I ordered a Nintendo switch. It was delivered with no notice while I was at work. When I got home nothing was there. I contacted Amazon about it and they basically said too bad is delivered. I told them I'm not paying for something I never received. I emailed them at least 20 times about fling sobering about this and I even called several times. Finally I was told they wouldn't do anything unless I filed a police report. I did. I sent out to them and still nothing happened. I had to call several times to make sure they even did anything with it and they'd just keep hanging up on me and wasting hours of my time. I emailed again and they requested info I already sent so I sent the police report again and I'm still waiting to hear back from them. This is an expensive 300$ video game that they were supposed to price match for me in the first place down to 160$ which they never even did. I'm pissed that I don't have what I ordered but I'm even more pissed the accusatory tone of every email and the tons of emails that I've sent and they haven't even fixed it for me yet.

Theron Moss
from Great Falls, MT
I have always believed in supporting local business. With all the hype about how wonderful the customer service is with Amazon I decided to give it a try. I made 3 small orders in the last weeks. When the orders were placed they met free shipping criteria and I was given a guaranteed date for delivery. Out of the 3 orders one was delivered when promised. The first was 2 days late, second was on time, third was promised delivery on 6/5/19. I haven't seen it yet. Pretty poor service. I spent 46 years in transportation for a private company. that kind of delivery service was not tolerated and should not be.
I see no reason for me to make any further purchases from Amazon. I will go back to purchasing from a company that really does want to provide me with the service I as a consumer deserves.
Theron Moss
Great Falls, Mt.

I was in the process of placing an order, had not yet hit "proceed to checkout" - and I get a text that I had placed the order....then....I get another one telling me I signed up for "PRIME", and I had not.
When I was placing the order - it told me the total was $10.39. After Amazon decided I was going to order it, the total was $24 something, but no shipping charges showed and I did not order 2 of the items.
I IMMEDIATELY called Amazon CS and cancelled the order, PRIME and my account and I will never do business with Amazon again. You don't force people to sign up for things if they don't want it (PRIME).

Kenneth Carter
from Norco, CA
My package didn't arrive but a notification was sent saying that it was given to a person at my location. I immediately called your customer service and the next two hours is what my complaint is about.
I received treatment as if I was the one that misplaced the package. I was passed to seven different people that told me the same things over and over again. It became insulting when the person that I was talking to, the requested supervisor, told me that my package wasn't deemed lost and they required me to call today if I haven't received it. I paid for same day delivery (before 9PM). If I haven't received it by that time, then it should be deemed lost at that time!!! If this is Amazon's policy, then it should be changed because you are punishing your customers for your mistakes. I cannot do what I planned on doing until you get me the item that I charged you with delivering to me. I feel victimized and don't want to do business with you ever again.

Called the- 1800# to see where my package was and a foreigner answered "hello" so i assumed i had wrong numb and he called back i stated i had wrong numb he said this isn't a fucking fraud numb , i said no, i dialed wrong numb . He said dont call me bothering me you go to hell. Wow now thats great customer service. I honestly thought with the way he answered phone it was wrong numb.

I order a Fitbit ionic from prime. It was a prime order and it was not from a third party vendor.
I recieved a third party refurbished watch. It was not what I ordered .
I called costumer service and I got the Filipino connection. They were rude, I couldnt understand them and got nowhere with them.
Amazon should not advertise an item from prime and replace it with a third party vendor.
The watch did not work and I am returning it.
HORRIBLE COSTUMER SERVICE

Amazon sent me a parcel via ARAMEX (the worst shipping carrier) I did not get parcel, only excuses from amazon supervisor I need refund now, not next week or next month
I will not buy anything more at Amazon

Sergio DeAngelis
from Chicago, IL
I ordered an S10 plus from Amazon and they cancelled my order and they deleted 900 dollars of my gift cards. The people at address-verification@amazon.com want the claim codes. But they want the claim codes. I redeemed these cards years ago. Why do I have to keep the codes when I want to spend my gift card balance? Amazon robbed me of 900 dollars. Customer service has given me the run around 6 times already. Buying amazon gift cards is dangerous.

Fred bird
from New York, NY
Trying to send a phone case back has become a nightmare local ups is only open 2 hrs in the evening I work evenings I called amazon spoke with a broken English man I couldn't understand trying to send thru reg mail said I couldn't do without an android phone go to find out I leave work local ups doesn't except amazon package referred me to store 15 miles away thanks amazon

GERALD L BUTTITTA
from Wasilla, AK
I don't deal with sites that force captchas on me.
Get rid of it or we will never be doing business again.

---- Forwarded Message -----
o: Amazon <info@amazon.com>; jeffrey@amazon.com <jeffrey@amazon.com>
Sent: Saturday, May 11, 2019, 2:39:58 PM GMT+2
Subject: Fw: Voucher and shopping Information
Dear Customer Service,
Dear Mr.Jeffrey A Wike ,
We had been wait answer wrong enough. If you still not take any action or answer from our requirement.
This problem will forward to Media communication of Consumer protection and legal advice.
Best Regards,
----- Forwarded Message -----
To: Jeffrey.wilke@amazon.com <Jeffrey.wilke@amazon.com>; info@amazon.com <info@amazon.com>
Sent: Tuesday, April 16, 2019, 10:06:49 PM GMT+2
Subject: Voucher and shopping Information
Dear Mr.Jeffrey A Wilke, CEO Worldwide Consumer
Voucher transfer requirement
We had been not trusted system sale through Amazon, as we got product problem and we must pay the cost of return post so high 37 Euro, also import fee 66 Us dollar.
This does not work for online shopping, risk and a lot of payment lost with logistic and import fee.
The best we buy from a local country or local shopping but a not different country.
Please return voucher 250 dollars to our account that you had been charged before.
History order Order# 112-2660980-2607402
We had been ordered one Phone from Amazon,
We must return for these reasons.
1. Sound and voice do not work.
2. Video camera, the camera can not use.
3. Package to send us has many spaces. Product was shaken as so much space in the package.
4. Accessories charger adapter from Asia using, we can not use in Europe and that equipment does not belong to the iPhone.
5. The other problem still contains more.
Best Regards,
Weis./W. Family

Charlie
from Palm Harbor, FL
I ordered an item that is "prime" - if an order is "prime" why does it take a week for the items to show up? I was understanding that "prime membership" for $119 a year means my items will show up in 1 - 2 days. Amazon "Prime" is becoming a scam.

Ken Lee
from Melbourne, VIC
When i open a product page it states product able to be shipped to Australia, when i place item in cart then go to checkout, via a number of intermediate pages, the checkout page description states item cannot be shipped to Australia (IE contradicts product page).
I have complained about this a few times over the last couple of months, but this frustrating problem still exists. see photos
I suggest you do not sell goods from third party sellers that don't share your shipping destinations, I acknowledge that this may hurt your bottom line but how much do you value your customer satisfaction?, as, in my case, it is being damaged.
I tried to add two images of the problem, one of the product page and one of the checkout page, it appears to me that i can only load one photo, a major shortcoming of you complaint process.
If you need to see both images send me an email.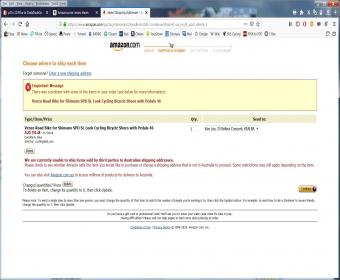 Sri Ram, who I guess is an online tech, just said "can't help you". Bad pellet grill after 5 months and was sold as Two year Amazon warranty. Right. You suck!!!!!!!!!!!!!!!!!!!!!!!!!!!!!!!!!!!!!!!!!!!!!!!!!!!!!!!!!!!!!!!!!!!!!!!!!!!!!!!!!!!!!!!!!!!!!!!!!!!!!!!!

On 05-15-2019 I received notice that I had won a $100.00 prize from Amazon. I ordered a watch & paid $ 6.99 shipping. I received the watch in 2 days & that was all fine & good. On 05-20-2019 My checking acct. was debited $98.54 dye to the fact that the shpping company said I did not cancel my new contract in 30 days with them, & they billed the full value of the watch. This watch is worth maybe $ 30.00 only.
This shipping company was Secure Luxury Shopper, or the company that debited my checking acct. was Watch My Skin. com phone# 855-628-7517. They said this continued billing was in the fine print for their contract. I told them this was not so, & I was going to contact Amazon about this & also Tom Miller, the Attorney General of Iowa about this, since I never signed up to continue on a contract basis with them. I think this is fraud, & I think Amazon should put a stop to this Give away, since I personally will never enter one of your contests again.
After telling them this, they still assured me that they could not issue me a refund, with about 20 different discounts offered to get me to stay with them. I told them no. 10 minutes later they emailed me & said my full amount had been refunded to my debit card. under Refunded order notification # 794723. I am still not happy about this since I feel they are using Amazon's good name to defraud people. I wonder how many people they have pulled this on. Please advise with an email back about this. I can tell you in a few days if this refund actually did happen. Thank you. Steve Golay

2019 5 28 Received email re order 86415619841651 from email id: Amazon@34989.eightformalsphiroshia.com under the name: Sweet and Casual saying my payment has been accepted. It is a singles site. I have never visited this site. It was time stamped 2:10 AM (I am EST) while I was asleep. I have never visited this site and have never given permission to charge my acct. I am asking you to investigate this site as a fraud/scam site. I will never pay for something I know nothing about. Johnny W. Piver

Hopefully we can resolve this once and for all.
On 5/6/19, I ordered a Hunter Ceiling Fan with a light and a remote from Amazon. The wrong fan was shipped to me from Southeast Shipments. I got in touch with Amazon and they forwarded my claim to Southeast Shipments. Southeast insisted that the correct item was sent to me. IT WAS NOT!
But, let's move past this fact. I was charged $209.32 on my Amazon Prime Credit Card. The fan that Southeast Shipments sent me (order #113-762-120-53448244) was delivered to me in a brown Lowe's Store box. There was a plastic pouch attached to the side of this box that was torn open and contained No Paper Work and No Pre-paid Return Shipping Label as Southeast continuously claims.
But, inside the Lowe's box was another Lowe's box with a sales slip saying the item was sold to someone or some company called Gulf Coast Mercantile for $128.39. A huge difference from the $209.38 I was being charge. You think maybe because the item that was sent was the WRONG FAN???
The alleged return shipping label was supposedly to be addressed and shipped to a North Wilkesboro, NC address. After multiple back and forth conversations with Southeast through Amazon by email or phone via The Amazon Customer Service Line, Southeast Shipments sent me a Return Shipping Label by email. This label was Not a Pre-Paid Label and the address was to a location in Sarasota, FL.
On 5/20/19 I sent the fan back to Southeast Shipments using the shipping label that was emailed to me. I sent the fan by FedEx and the tracking number was #787369160445 and it cost me $55.68. I emailed this tracking number to Southeast, but did not get a reply from them.
On 5/22/19, I called Amazon's Customer Service number AGAIN and relayed all this information to your representative, Stephan including the FedEx tracking number. The only thing he relayed to Southeast Shipments at that time was that I wanted the return shipping cost $55.68 added to the refund $209.38 for the fan. The response from Southeast was again to use the Pre-Paid shipping label attached to the package. NOT??? This was a waste of time.
On 5/23/19 I received an Email from FedEx that my package was delivered to Southeast Shipments.
I have ordered many things from Amazon in the past without any problems. This has been a nightmare. When I order from Amazon, I expected that Amazon would be responsible for any problems. Instead I have had to deal with whomever Amazon subcontracted the transaction to, whether it is Southeast Shipments, Lowe's, or Gulf Coast Mercantile (whoever they are).
So what I want is simple.
1. Verification from Southeast Shipments that the Ceiling Fan is in their possession.
2. Confirmation that the Reimbursement for the $209.38 is being applied to my Amazon Prime Credit Card.
3. Reimbursement for the $55.68 cost paid to FedEx for the return shipping of the fan.
I am Thanking Amazon in advance for your prompt attention and resolution of this matter. This has not been a pleasant experience and my further patronage will depend on how Amazon resolves it.

1st of all have a e-mail option available for the customer to e-mail upper management regarding a issue or complaint. I have informed by chat / phone, but not by e-mail because you don't have that option. My complaint is I would like to see that a e-mail option be available so I don't have to search online for one. My complaint is to have Amazon.com add PayPal as a ways of checking out with the option of sending Amazon.com a payment. As well as allowing the customer to choose PayPal Credit which means items need to total $99.00 or more to use PayPal Credit, Which also gives the buyer the option to pay it off within a six month period. I use PayPal & PayPal Credit when shopping several websites it is easy to use and convient and is the safest way to check out without any of our information falling into the wrong hands. I firmly believe this option would increase sales for Amazon.com by having this option I have many friends and family members saying that they won't shop Amazon.com because you don't have this option on the checkout for customers and they have said "I would consider shopping with Amazon.com only if they would add PayPal & PayPal Credit as a checkout option which is the top and safest way to shop online without any information falling into the wrong hands.
Amazon.com please add this option to the check out process I had over $155.00 in my shopping cart, but I forgot that you don't have PayPal as a means of checking out so I put the items aside and decided to go to eBay to make my purchase for the exact same products and was able to check out using PayPal Credit which allows me to pay over a six month period which is awesome.. Look everyone is afraid of fraud and having there identity stolen so why wouldn't you have one of the safest ways for customers to checkout with? I can't see any reason why you don't. Please add PayPal & PayPal Credit to the checkout process to Amazon.com.
Thank You,
Thomas Burzynski

Bob Lamperski
from Atlanta, GA
Amazon promises Free next day or 2 day shipping with Prime Membership. What is the point in paying $13/month for Prime when they can't get the products delivered as promised? Amazon insists on using FedEX, which yet again, the driver failed to even attempt to deliver the order. This is a recurring issue with FedEX driver(s) in my area. The most recent occurrence, FedEX tracking shows REDELIVERY REQUESTED. I made no such request. The rescheduled delivery date is now Wednesday 5/29, almost a full week for delivery.........assuming the driver actually delivers the package. The prior occurrence, just a couple weeks ago.....took 3 days and seven phone calls from myself and the seller to get the package delivered.
Have feedback for Amazon?
Thanks for your feedback!
Sorry. Please try again later!