Amazon
Amazon Complaints Continued... (Page 2)
1005+ reviews added so far. Upset? Call Amazon corporate: 206-266-1000

Worishmin Dietrich
from Pittsburgh, PA
Some of their products are fake. Their customer support agents are all from Russia and Ukraine with heavy accent. They are extremely rude, impolite and nasty. They hang up on you and they threaten you. I contacted them 5 times last night just to update my phone number begging them. None helped me. They hire teen agers from other countries to abuse and to insult us the customers that pay for them. They are unprofessional and really bad with no manners.

robert gideon
from Homosassa, FL
first you raise prime member fee dramatically , now you remove amazonsmile. You say Didnt Have the impact you expected.BS , your greed is out of control. And I know it is not much in the grand scheme of things but I wont be renewing prime. Thanks for the great sevice you used to provide.

Abid Chowdhury
from Houston, TX
Because of peak season, i was scheduled MET. Which is an extra hour every day im scheduled on top of an extra day. I was excited to be able to make this much money on my first couple weeks at amazon. I came in an hour late one day because the AtoZ app hasnt been working for me and i thought my shift was still 7:30-6:00 but they added met and i didnt know so i came in at 7:30 rather than 6:30am. when i approached hr about this she basically said "you're responsible for coming in on time so you will have to lose the hour of upt". i didnt want to not get paid for the hour so i used an hour of pto instead. but the next day i noticed i lost an hour of upt as well as an hour of pto. so i approached hr once again and she said she would fix it. she then told me that because i am a new hire im not supposed to have MET at all so she removed all the extra hours. i was confused as on my first day another hr associate told all of us that we were required to show up for MET unless we give a valid reason. so i spoke to another hr associate about this and she said that yes we aren't supposed to have met. then later that same day she approaches me and says that new hires are actually given the opportunity to decide whether to keep their met or not and asked if i wanted mine back, i said yes, and went home. the next day i noticed they added the extra hour everyday back but they didnt add my extra day back. i spoke to the first hr associate about it and she said she would check on it and when i came back she said she cant add me back on for that day because the "window" has passed. i lost 11 hours of time and a half because of HR's continuous mistakes.

Jesse Matthews
from Concord, NC
Ordered swing in December didn't arrive customer service said lost in transit they cancelled the order reordered due dec 27 still not here. I requested refund and a free swing or gift card to order the swing again. Refunded my money but told me they couldn't help me with swing. Unacceptable customer service I am very dissatisfied with the entire issue and how it was handled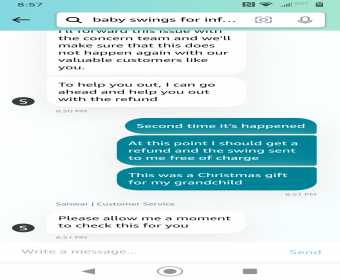 I attempted to purchase a book on my Kindle, I have a small balance available on a gift card and wanted to pay the rest w/ a credit card. I can't add a new payment method because when I attempt to sign on it sends a verification email to the email on file which I no longer have access to. I called customer service spent over 1.5 hrs. on the phone two of the reps hung up on me. I asked for help resetting my email, they suggested creating a new account, which I'm okay with, I just ask if I can transfer my balance and my books. I don't feel I should be put in the position of losing my books and my money. I don't have many books but that is not the point. Seems like the Customer Service side is severely lacking. Thank you.

Yamira Rodriguez
from Hialeah, FL
I have been an Amazon customer for many years and today I have had such a bad experience that I do not want to use their services anymore. The treatment of their customer service agents was horrible, especially the supervisors who do not have any professionalism and they give you the answer no when you haven't given them the version of what happened I hope I never have to use their services again because the quality of their supervisors has fallen my rate was 0
date of complaint 01//14/2022 Name of supervisor Mauricio Kenneth-Paú

On a weekly basis we get our next door neighbor's packages along with ours. We order weekly as does our next door neighbors. So when we get packages I naturally open them. Once I do I realize if they aren't ours based on the contents, which in turn prompts me to look at the name. Your delivery people need to pay freaking attention to the address and make the proper drop off.

Luis Rangel
from New York, NY
I have put many times a request to close my account permanently and you just keep activating over and over and also you sign me up for prime services and the worst about you company , just recently charge me for something I didn't order for $16.23 . My account needs to be close immediately.and I would never order anything from Amazon ever again.

Clyde Day
from National City, CA
Product Never shipped from supplier.
It's been 2 months, Amazon treats Me like I'm trying to steal from them.
I think it was a fake product so Amazon could steal from Me

Mark Bridavsky
from Beachwood, OH
My address is on Green Rd., Beachwood, Ohio 44122, but the packages are often being delivered to Old Green Rd., which is a parallel street. As the result the packages are left on the street subject to the elements and theft. Please, advise the delivery department about this problem.
Mark Bridavsky
3460 Green Rd., Apt. 202
Beachwood, Ohio 44122
440-983-1175

anthony padden
from Bromley, ENG
The driver/delivery man threw our delivery parcel on ground outside my front door, before he rang the bell. l was immedietly by the door inside,when l opened the door, all l could see, was the driver getting into his van and driving away.
The weather was raining , and if l had not heard the bell, it could have been destroyed.
This is not the first timethat it has happened.
The driver showed no respect whatsoever.
I will not be purchasing anything from Amazon again.
Tony Padden

Damian
from Sheffield, ENG
Hi my name is damian Lee binney and I have had no end of problems and issues with amazon iv had orders not turning up iv had representatives hang up on me iv heard there kids in the back ground party's they are very rarely helpful and they never want to put me on to a manager or supervisor but the worst part is that now they won't offer me any compensation for any hassle and troubles they have caused me through there negligence.
I pay a prime membership and get nothing from it at all.

Dana Chatham
from Madison, MS
My name is Dana Chatham. I have attempted several times to get my issue resolved via chat and also via phone with customer service. I also opened a claim regarding a refund. Both the refund in the claim and the refunds of returned items totals $160+. I have yet to receive any of the refunds. It has been more than the allotted amount of time I was given for all issues to be resolved. Still, NOTHING. No refund to date.
The first customer service representative stated I would be refunded in 1-3 days and backed up with an email from her. It's been 9 days and NOTHING. I called a second time on the 4th day of no refund and the CS representative stated, the previous representative was incorrect. He apologized, offered a $10 promotional coupon and stated that it could take 1-7 days but that all packages that were returned had been received. He also sent an email to confirm this. Again, I have yet to get a refund or even a response on my claim. I have NEVER had a single issue with Amazon that was resolved quickly and with great customer service and I have used Amazon for many, many years.
I am appalled that a multi billion dollar company can not get their crap together and get this issue resolved and refund me the mere pocket change to you but is a substantial amount to me, a 60+ hour a week registered nurse that works hard to make ends meet. This is beyond ridiculous at this point. Just refund me MY money to my gift card balance as I originally requested.
A very disgruntled and irate customer,
Dana Chatham

Janet Limpach
from Omaha, NE
The recent change to prime music has made it virtually useless to use. I'm very disappointed and wonder why you would inconvenience so many users. Everyone I've talked to hates this poor choice on Amazon's part in doing this.

Bruce Bentley
from Gardendale, AL
Amazon driver thru package at door, did not bother to come in like everyone else does. I went to the door, he got in his truck and left. He blew the horn at me and "said pick it up!" Total bone head

LEENA from Amazon Customer Service is the worst Amazon agent I've worked with.
I'd rate her condescending attitude 10/10.

Renee Ellis
from Phoenix, AZ
I spent over 40 mins with Ashwini and asked for a supervisor 2x. Next thing I know I'm talking to Shiva who NEVER comes back to me. I have the entire conversation saved because when I disconnected, I lost the chat and of course, they never sent it to me. This was at 2:00 AM MST. But I cannot upload the docx file.

John Davis
from Export, PA
It started when I called Amazon prime customer service to cancel my subscription ,I was informed at the time by him someone just charged 1000.00 on my account, then the scam started, he told me he was connecting me to capital one, which instead he connected me to a scammer posing as a capital one employee, I was instructed to do acouple things to save the rest of the money on my card like a dumbass I did because I truly believed I was talking to a capital one employee, all I no is I got scammed for 500.
00

The option of factory reset on the lock screen is ridiculous. My kid factory reset my tablet AND changed the language to one I don't understand. It took hours to get it figured out by searching Google. Can't you disconnect that option when parental controls are active? Or better yet, do it cell phones and have the option to recover password not factory reset. Who wants to lose everything to reset a password. Getting really frustrated with the difficulty experienced trying to add parental controls. I can't even use the damn thing because for some reason the parental controls are on my profile, which is supposed to be the adult profile and have access to everything. Added kids profile to lock screen doesn't actually allow kids profiles to be selected on lock screen?? What's the point of all these options if they don't actually work. Starting to wish I'd purchased an android tablet instead.

Amazon employees hanging up on me, coercing me into buying items, cannot get a hold of support need to speak to management

Hi
This doesn't happen often, but please have your delivery person double check the delivery address on both the package and house before handing it off. It's an inconvenience when I have to stay home to wait for a package that never come. I appreciate the ease of replacements, but not only do I have to stay in again to receive it, but the ordered items will come at a later date, which is an inconvenience.
Thank you and happy holidays!

Lisa Howell
from Seattle, WA
I was on chat for 1 1/2 hours during my sons birthday on 12/13/2022 trying to explain about a broken toy. I went through three to four people until the last person helped me in just a few minutes. The other people would just leave. They were horrible. They wouldn't listen.. Mind you this took away from my sons party. I spend so much on Amazon and find this unacceptable. Please review the chat and the time it took and people just leaving me hanging. I feel we should be compensated for the time taken away from my son!

BABS
from Benton Harbor, MI
Ordered iPhone 13 and Amazon delivered a shirt less than $20.I called their customer service to resolve this but all I got was unprofessionalism. I was transferred to almost eight team members and non of them could help out and they eventually hanged my call

Gene Bowers
from Janesville, WI
Srividhya has told me that he can't give me a refund without a return even though I was already told I didn't have return the items and I was already approved for the refund. Why it did not process I don't know. He was rude and lying about policies.
My items were damaged, broken and a few were missing. I think he revered the refund. I have never had this much trouble with you guys since I have been a member and this is ridiculous... you guys telling me one thing and then doing another. I was told to wait 48 hours for my refund WITHOUT RETURN because who THE HELL IS GOING TO RETURN BROKEN GLASS AND ITEMS THEY DONT HAVE!!
The communication is horrible!

Sue wilson
from Sacramento, CA
You have a driver that uses meth on a daily in your company van Samantha Wilson out of elk Grove CA

Keith Evans
from Birmingham, ENG
I have just received a message to say there was problem delivring parcel at 5.36p.m
I am sat inside the house the porch is open with the light on , so please explain the problem.
I currently have prime , so should have been dwlivered within 24 hours , 48 hours later still no delivery and trying to claim access issues
Please explain

Horrible service… HORRIBLE. Been using Amazon for 10+ years and I have never had an issue. BUT because of recent events have been so unprofessional and just horrific that I have to switch my opinion on Amazon and start to give my business to someone else. I had bought an item and received the wrong size (was a phone case) they told me that it would be no issue and could put the money directly on my balance in 2-3 hours so I could order another one. Mind you this is my Christmas shopping and I don't want to play with too much time. They completely lied to me and I was given the run around for 5 hours just full of people who couldn't give me a solid answer or really satisfy me as a customer at all. The customer support is so bad and just impossible to work with so you just end up taking the loss and move on. Amazon will NOT be getting anymore service from me and my family. I even tried calling cooperate and don't worry they don't help or care either. PLEASE do not use Amazon and tell your friends/family to save there money and not go with this horrible site.

Ever since they've gone completely overseas with their customer service- it has been downhill. I think they must train these reps to purposefully not help customers so that they get so fed up they give up trying to resolve whatever issue they are calling/writing in about. On multiple occasions I've had reps who just passed the call or chat off to someone else who then passed me on to someone else and so on and so forth. They purposefully take forever to respond on the chat or leave you on hold for extended periods of time just wasting your time. They are the worst group of agents ever. There should be way more oversight of these behaviors by Amazon. It's ridiculous and out of control. I am literally never helped.

Sydney McCracken
from Greensboro, NC
Contacted them about a misdelivered package and I was told I need to file a police report because it was a "verified delivery". What does that even mean? The picture was blurry and hard to see. I don't even think it was the right apartment.
The online chat was rude but kept putting smiley faces like it was going to help. It was a $250 purchase that I don't have and I do not want to get the police involved.
Amazon has been so good in the past about missing/ lost packages but not this time. It's going to be hard to deal with them in the future.

Lois Morales
from Leesburg, VA
Account is under Leopoldo Morales, polomorales @verizon.net, 7039099382.
Purchased Ross Simmons earring $475.94 ORDER # 111-6261240-1529836. Returned earrings and money was placed on Amazon Account instead of Credit Card. 2 phone calls and I am told the money would be removed from the Amazon Account and placed on the Credit Card. No money ever received. 2 more phone calls and both employees insist I spent the money on the Amazon Account. 1) money was removed from the account so it was not possible to spend the money, 2) you can see that there are not deductions in the account that would equal $475.95. Phone call to Edmund and he informed me has to be put into investigate because he can't tell where money is. The point is I did NOT get my money back. What store takes more than 10 days to correct a problem?
AMAZON DO BETTER!!
Lois Morales 7036069382

Heather Gilley
from Plymouth, IN
My order was late. When I looked online at my order status it told me I was eligible for a refund or gift card because it was late. So I called and inquired about it , thought it was a nice gesture since my package was late. Instead of giving me a credit they cancelled my delivery that was suppose to arrive today. It was literally out for delivery. They replaced the order only for it to be delivered 4 days more. I asked if there was any way they could get ahold of the driver and continue the delivery since it was literally in my area. I received no help , they were unwilling to do that. I lost a few hundred dollars because my client went somewhere else to get her hair done so the customer service agent screwed me over by a click of a button but reassured me it was cancelled. I don't understand how they couldn't reverse their mess up. Thanks Amazon for once again not delivering, I'll be canceling my long tome prime membership and will encourage family and friends to also. Why pay for it when it's not promised and no one helps.

Stephanie
from Panorama City, CA
I purchased a black couch , they sent me a grey one . After calling customer service I was directed to dispose of the item. I have chat transcript and email ...nothing was refunded. now they say they need the item back for a refund? And they apologize for the employee giving me the "wrong" information but claim they can't help??? $600 wasted amazon!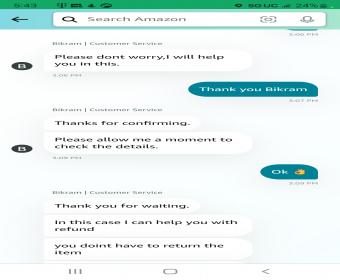 Tammy Hughes
from Smyrna, TN
My complaint is regarding shipping. We are an apartment community and the drivers are dropping packages in a pile at the front door of our property, outside at our mail area. These residents expect their packages to be dropped in a secure location, like in front of their apartment door as it should be done.
These drivers are lazy and these packages could be stolen very easily, in turn costing Amazon a lot of money to replace the items stolen.
Something needs to be done.

Daemeon Reiydelle
from Richmond, CA
Order # 112-8086273-6509836
Ordered two dehumidifies, received one dehumidifier and one 38-40' trailer cover (no kidding!)
Contacted customer support which keeps trying to tell me to "return the defective dehumidifier". Refuses to replace same. Attempted to escalate, was put on indefinite hold because I refused to "return the defective dehumidifier" and insisted on AWS shipping a replacement.
Sent pictures of label(s), description of product on box, etc. Repeatedly telling me I need to take more/different pictures, pictures of the product code, all bar codes, etc.
I DO NOT EVEN OWN A TRAILER, let alone a 20' travel trailer.
Cannot call the customer complaints number, it sends me back to customer service number.
I would attach files, but the images are high res and exceed the 2mb limit for this web site

Haris Wijayasiri
from Edmonton, AB
Bad and rude customer service agents in the Philippines call center. Difficult to understand their speech. They do not understand courtesy at all, especially when conversing with Amazons' valued customers. Just uttering "Sorry Sir' would not solve anything when the thrust and reason for the call is ignored or misconstrued. They simply do not understand English in general. They are always contesting the customer to cover-up their mistakes. Complaining to another agent would be useless as they cover-up for each other. There is an old adage 'The Customer is always right'. They should explore the vale of it. North Americans do not call them for a 'Street fight in Manila'. Amazon made it to the top. Maybe now it is downhill from here.

Jithin George
from Riyadh, 01

Peter Dunsby
from Bridport, ENG
I bought a FitBit Versa watch from Amazon. It wasn't quite the model that my daughter wanted and it went back unopened in its original packaging. Amazon initially refunded me but within days applied a "retro charge".
It took me months go through everything to work out why. First I thought Evri (the courier) had not returned it properly so I tried to get in touch with them, fat chance!!!
Then I got onto Amazon to explain I couldn't get onto the courier they asked us to use and could they help. Turns out Amazon had had the return but had, in their ultimate wisdom, decided it was not a watch that we had returned but an oversized T-shirt. We don't even have any people in the family remotely likely to have ever bought one of those T-shirts. Someone was either having a very bad day at Amazon or perhaps pocketed the quite valuable watch and said the return was something else?
I explained what had happened to customer service agents left, right and center at Amazon. Got nowhere.
Did Amazon have any proof of what they said I had returned? No they didn't.
Had they kept it? No they hadn't.
But hey! If I wanted to return the item that I had already returned they would give me a full refund. They said this line so many times and it seriously peeed me off!!!
Yesterday I went to the Customer Services chatbot one more time to get the legal address for an online money claim. They gave me it but hey presto also decided to confer and refund me the amount I had been retro charged.
So after 15 months of fighting I have managed to get what I was legally entitled to all along.
They ask if the matter has been resolved to my satisfaction? I start explaining that no it hasn't. The chat window closes and thanks me for being a loyal customer.
I repeat the effort to tell them the matter has not been dealt with satisfactorily. Again the chat window closes.
When I do deal with a member of the Customer Services Team he tells me that Amazon does not have the discretion to offer discretionary / goodwill gestures where their service has been poor.
At the end of transactions their aim of being the most customer-centric company on the planet pops up. Long way to go Jeff!!!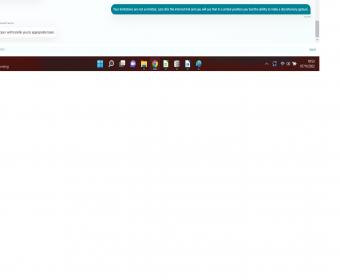 anna zhou
from Lansdale, PA
Amazon said they delivered my order but I never received them and they told me the loss is on me as it is not their problem. They couldn't provide proof of delivery and their customer service is very rude.

Jackelyn Frank
from Bremerton, WA
Amazon secured card and bank are thieves. Took my money in just a few hours but wont credit my account or give me my money back within hours. Making me wait 14 days before they will cut a check and send me my money which could take over a month. I'm low income and don't have that kind of money to just throw around an wait for. I needed the supplies an clothing ordered in which we live in a very cold part of Washington state an without the supplies I ordered can't make more money

I ordered an, which showed to be delivered on 17th OCTOBER 2022. I have had a chat with customer service they confirmed the delivery on 23rd October, but still, the product was not delivered. Now customer care is asking me the proof of it not getting delivered and the previous conversation I had with customer service. The previous chat window was not available the next day. The only proof I have is that I gave negative feedback on the delivery of the product.
The customer care service is talking rudely and has refused to solve the issue. Kindly look into the matter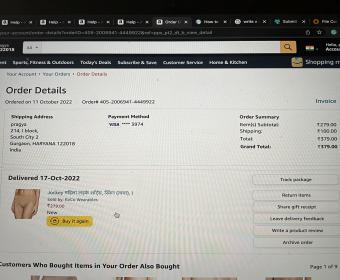 Jennifer Amorim
from Oshawa, ON
I ordered a meat grinder & when the delivery person buzzed for me to let him in, he left my very expensive meat grinder in the lobby of my building when the delivery instructions I left were clear to deliver to my unit on the 5th floor. Never in all the years I have been ordering from Amazon have I had this happen. I am extremely angry about this & if my package is stolen I will be livid!

MaryH.Magdalena Curtis
from Sacramento, CA
They tried to assist me but when difficulty arose for even the clerks trying to help me then they got mad at me and turned against me and started shouting at me saying that they already gave me one receipt too many and refused to give me my final receipt for which they overpumped the gas amount on the pump that I did not want nor approve of. Then when I went back inside with her she shouted that her boss knew me because I had been there before as a regular customer and that I should never come back! I told her that all I wanted to do was make a purchase. That I was a customer and that they should respect a customer! They just kept shouting at me to never come back again. I could not believe it! I did nothing wrong nor strange in the event. Sometimes I am down to my last penny and I get hungry so I just look around there for a good nutritious snack but I can't afford much so I must take my time looking carefully and I guess I have taken more time inside the store than they like before my purchase. I am a Senior citizen and sometimes I don't understand about all the technology with ease but I do have needs to help my disabled clients as a caregiver for the IHSS County program and I am insulted and humiliated by these clerks in this establishment more times than not. I am appalled by them! There was NO reasonable cause for them to say what they did or to treat me as they did. I could not believe their treatment of me as a customer. I just hope that I can achieve justice and be satisfied because I never want to go back there and be treated as such again! Mary Helen

Ashish G Ninnurakar
from Pune, MH
I had conversation with Namrata B in Amazon India. She is very rude while taking she does not understand my problem either she dont have any listening skill worst communication skills and worst part is she hang up my phone before giving any resolution
Thank you

Brian J Cowley
from Kansas City, MO
I made an order with Amazon for North Mountain Supply NMSCLGB12 16 oz Glass Grolsch-Style Beer Brewing Fermenting Bottles - with Ceramic Swing Top Caps - Case of 12, Clear (Pack of 12) (NMSCLGB-12).
I tried to change the address 2 minutes later and it said ti was already shipped and that I would have to not accept it or return it. 2 minutes later. I do no t believe it was already shipped. If this is how you do business, there are plenty of others out there ready to be more responsive.

Carolyn Wade
from Nashville, TN
I purchase an item on 10/20 because base on Amazon if I order before a certain time the item would be a one day delivery… even after calling and confirming with the CSR they saw no issue with the package arriving on 10/21 as promised, So the next day after lunch I checked to see the item was out for delivery… The updated status said I would receive it on 10/22 which was too late it's now 10/27 and still haven't received it… Some of the CSR's were rude and dishonest

Tiara Cohen
from Greensboro, NC
I have not been getting my packages lately I've called Amazon customer support to do a complaint and they claim to have sent the issue to a specialist but I haven't gotten a reference number no call back regarding anything just replacements no I want to know who is hiring these new ppl because I really think my packages are being stolen there was no picture taken of my packages being delivered to my home one time my package was delivered to the wrong address and I specifically put instructions detail for detail on how to get to my residence my number my building number and my apartment number! I'm tired of this if nothing is done I will be filing a lawsuit!

mike woodward
from Big Lake, MN
I get emails from amazon twice a month or so warning me about items I have for sale on amazon not being
compliant with your selling rules. I had a seller account five or so years ago. As much as I would like to sell
on your site I can not get information on how to set up my store. Please check this out as if I try to respond
I am told that that is no possible as it is an automated email.

I have been on calls 6 times with extremely rude Customer Service Reps at Amazon call centers. I have even escalated to Supervisors Johnathon and now Jay in Business Accounts who were very rude.

Amazon customer care number /this email address payment refund my mom is order cancel money refund please help me sir

Jeff Ritter
from Winlock, WA
My mother-in-law's account has been locked for 3 months. I've had her in my "Prime Family" since the Prime service was initiated but it looks like her account was flagged for misuse of services because at some point Amazon limited the number of adult users to 2 per Prime household. (She was a third on my account). We have both spent countless hours trying to get her account unlocked. It's been nothing but an endless loop of customer service black holes - calls, emails, and chats. Nobody has been able to help. I wish I knew where to turn for help.

Delanea Sanchez
from Atlanta, GA
Opened business account was sent email stating I could use their invoice pay so once I tried using it was when all Amazon's BS started. 1st locked/ froze account then fixed then next day locked again received email asking to verify business address, sent requested docs received email a few days later saying my documentation wasn't sufficient to verify card ending in XXXX. What? That's not what was requested. Why did they need that info when I was paying by invoice? But I obliged and sent requested statement and here it is 2 weeks later and still nothing, still locked out of account. Every time I called business customer service they say they need to verify information and then my issue will be escalated. Done this 8-12 times and still nothing ! Today I finally receive email from Amazon saying my invoice Pay is "suspended" and "can no longer use invoice pay"! But I can still shop at Amazon! But I still am locked out so how can I shop? This is beyond ridiculous and unprofessional I will NEVER use Amazon again and have told my experience on my vlog with over 10k followers!!

Charity Mabry
from Blytheville, AR
I paused my Kindle membership because I needed the money for something else that month. My bank card was charged anyway. When I contacted "customer service" I was told that my account was almost a month behind and they had just been able to process the payment, despite me having bank statements to the contrary.
My complaint was passed to a member of their "concerned team" named Gomanthi who brusquely told me that I could cancel and that is the only way I could get my money back. When I cancelled it myself he said it was still active, effectively calling me a liar. He then stated, "I cancelled and processed your refund. It will take 3-4 business days" He then asked if he had resolved my issue. When I told him not to my satisfaction, he sent a form reply "Have a nice day. Goodbye."
I CHOOSE to spend money at Amazon, but there are many other companies out there that provide the same services. I am highly disappointed in the "customer service" of what used to be a wonderful company.
I am beyond livid.

Jeffrey Johns
from Grangeville, ID
Ordered one product got another, I ordered a cell phone from one of Amazon's sellers in one color(grey) and condition (supposed to be excellent), but got one in black and only good or fair condition, those sell for a bit less than what I actually ordered, now after a bunch of time and effort on my part they will not handle the problem in a way to best serve my interests, unacceptable.

Judith C Tansey
from Vero Beach, FL
I have a credit card with Amazon and every month when I try to pay my bill my sign in account has been deleted and can't fix it except to call Chase and breath thru the transfers and have tech person walk me thru entering it again with their code. We aRe talking 12 months at least. I have complained every month without satisfaction. CAN YOU HELP ME? Thanks in advance if you can. Yes I know I can call in but am a senior and want to see my account.

Sandee
from Fort Morgan, CO
I have been an Amazon prime member for several years because I enjoy the free shipping and returns. I am now being charge $7.99 for each return if I have UPS come pick it up. I have over 100 miles round-trip to the ups store to drop off my package. For years, if I needed to return something, I just called Amazon and they had UPS come pick it up for free. Those days are now gone. I have to either eat the $7.99 or drive over 100 miles.

Steve Martin
from Phoenix, AZ
Packages are CONSTANTLY being delivered elsewhere. Sometimes next door, some times God only knows where they are. There are forty + people at this address, and it continually happens to every one. In fact, lately, more packages have been delivered to other addresses than have been delivered here.

Dan Whitt
from Waxhaw, NC
About half the time, delivery drivers do not follow my simple delivery instructions. The instructions say deliver to Front Door. There is a box in delivery instructions that says front porch and I do not check that, because if the package is delivered on the front porch and it rains, the package will get soaked (this has happened more than once). But, if it is delivered to the front door, it will be safe. I have had 2 conversations with Customer Service and they say they will fix it, but nothing changes. Very frustrating.

Ulkar Aliyeva
from Baku, BA
I ordered Marshall on Ear headphones, the amazon team delivered to the wrong address, when i requested refund they didn't do anything and they said they delivered to right address.

Jarrad deskins-walker
from Columbus, OH
I was sent a broken phone. While holding my money they took their time getting me a replacement. Once I got the replacement I was given until Sept 19th to return the item. On Sept 8th they charged me for not returning it. I returned it the next day and have an email saying they received it. They still are rude to me in the phone robotically repeating themselves "advising" I wait when ironically that wad exactly what they DID NOT DO. I plan on filing fraud charges against them.

Bonnie Hill
from Hamilton, ON
I have an an ongoing problem since September 9 between running to bank and calling you guys I had to get a new bank card two times because when I place an order it comes back after 24 hrs saying to revise payment I do that it said it was successful then a few hrs later says same I'm 69 yrs old and this has caused me a lot of grief as well as prices have changed I have stayed home waiting for orders that don't come I also have two refunds that have seemed to have gotten lost Bonnie hill

Tina Kirksey
from Dallas, GA
I opened a Amazon prime account and have been extremely disappointed in the delivery system of my packages not arriving.
Most of the packages I have ordered have not came and I have not been taken care of or taken serious when I contact customer support. This business is a joke.

I have used Amazon for years and still will I'm a member but today whomever the delivery person was he prop a package outside my mailbox and one on the ground and one was opened. I'm very aggravated and this has never ever happened.

Sharon Jacobs
from Smithfield, VA
I tried to order a laminator on your website. I received it and it didnt work. I returned and ordered another thinking it was defective. The second one did not work either. so first complaint is it seems you are starting to have more and more junk that does not work on your site. The reviews were all top notch but I guess I cannot trust the reviews on your site because it was a piece of junk. I brought the other one back to ups without a label as that is the option I chose. It is a half hour drive each way, only to be told I need a label and they would not accept. I used to be able to do ups pick up but now it is a huge fee for that. I don't think it is right that I have to drive all this way because you are sending me things that do not work!!!! I have decided to avoid amazon when possible in the future because you are no longer customer focused and it is too much of a pain in the neck anymore.

Rebecca Smith
from Pensacola, FL
Amazon is such a pitiful terrible company. I have been a long time loyal prime member for over 10 yrs . They use to be great. Now most all my orders are late ,especially if delivered by Amazon delivery . They mail fragile things in frickin thin bags instead of boxes , items arrived damaged , not even items I ordered or just strait up delivered at another place not even trying . Customer service is absolutely useless and offer no resolution. I have spent THREE hours over the last two days trying to get help even through supervisors . Spoken to 12 people these last two days trying to get help over chat and phone including to supervisors to no avail. They do nothing but offer the same generic replies over and over and tell me sorry and to wait longer for arrival even another 5 days ! This is absolute bull crap ! WHY do I pay for prime ?! Why do I buy anything at all from you?! I can't count how many items I have gotten that were strait up gross used customers returns that I bought as NEW! Most reviews are now fake and not trustworthy. Products cheap and low quality ,customer service and delivery even worse. Bottom of the barrel in retail and more headache anymore than anything!! What a garbage company with no integrity!

Natalia
from Brooklyn, NY
I faced discrimination. My civil and human rights were violated.

Brendan pike
from Brighton, MA
They used my debit card as a "default" method to pay for someone else's Amazon prime account. When I tried to resolve this issue they told me to dispute it, they told me to "dispute it with my bank" after asking me why I would LET SOMEONE ELSE USE MY CARD! I never let ANYONE USE MY CARD, and they didn't...AMAZON JUST USED IT.

Cathy W
from Saint Charles, MO
I love Amazon and being able to find almost everything I could possibly need. My only complaint is delivery. I order a lot from Amazon and you would think with all the deliveries they do around the world, they could learn to deliver packages to the right address. I place an order and then sit and wonder if it's going to be sent to me or delivered somewhere else. I've had to file a return multiple times in the last few years because they were delivered to the wrong house. Luckily most of the time it's delivered to my next door neighbor, but not always. Amazon, your delivery drivers need to get their act together and pay attention. People spend a lot of money on the products that they buy and expect them when they are supposed to be delivered.

Deborah jacobellis
from New York, NY
They even went as far as claiming I returned the item.
It was lost at their Appling Georgia center on 27 July but they lied about what happened to it.
I expect a free year of prime . In truth, I think you don't deserve my business this should have been expedited to me at the beginning of August when they realized they had lost it. They were just hoping they could steal my money.
To not expedite it was complete bs.
And then to lie to me and not get a supervisor to call me. This company is evil.
They owe me a free year of prime for this bs.

Sandra J Veno
from Providence, RI
I recently refunded a nylon purse. I was not even given the option for the refund to go to my Visa card, Amazon automatically put it on a gift card. Spoke to a representative who assured me that it could be changed to my Visa card. I guess she did not have that authority to do that. Very unsatisfied

Dolores Porziella
from Westwood, MA
I purchased A TV third party seller. It was damaged picked up and returned by Best Buy on July 14 th and I cannot get a credit from Best Buy or Amazon

Lance Jamal Sims
from Altamonte Springs, FL
Your manager, Tejas V. did a terrible job at resolving a simple customer return request. I will be cancelling my Prime Membership ASAP.

Tangee Franco
from Oklahoma City, OK
I recevied a recorded phone call stating that someone was purchasing an I phone for $999. It stated to press 1 if I did not authorize this charge which I did. I hung up & called Amazon support and was put into a sales call for emergency monitors. The girl on the other end wouldn't listen to me & went on with her sales pitch.
I want to make sure that my account hasn't been hacked and that no one has tried to purchase anything.
Therre should be a direct number for fraudulent issues

vikash krishnia
from Jaipur, RJ

Lynn Wagner
from Marietta, GA
This is the 2nd time I have been told that an item that I have purchased through you is "Running Late" This is annoying. I realize that things happen that are out of our control but you would think that a company this big would have the stuff together. Clearly not.

Ele Nichols
from Anaheim, CA
I ordered a pair of Sunglasses this week on Monday. First package I received was empty. Just a sealed white padded mailer with nothing in it. Second package eventually was sent out, supposed to be delivered Sunday. Along with two other orders from Amazon, it was not delivered. After 3 hours with customer support, the only thing they offered was a refund to credits. Literally, the customer support is unable to actually offer any true help. The practice is to gaslight you into thinking you're unreasonable, then point fingers at the shipper and the seller. Problem is, they are both. They had no way to even order a replacement. No information was provided about the driver, such as some identifying employee ID number and I was urged to not file a police report. Amazon's system is designed to be as maddening as possible. It operates like a criminal organization trying to scam you out of your money by pushing you to give up. If Amazon would like to stonewall it's customers from getting their packages they paid for, it makes them a criminal enterprise. It's well past time for local and federal law enforcement to crack down on their consumer fraud.

Yael Shany
from Fort Lauderdale, FL
Every week at least once I contact Amazon for a package that wasn't
addressed to me.
It's happening so frequently it's a shame.
I feel sorry for the customer who won't receive his/her order, but, I am
reluctant to be Amazon delivery service, for free.
Will it ever be finally addressed?
Can't the driver read the address?
It's not to the same people, it varies.
I spent so much time, on the chat, phone, and email, it's a shame.
Yael Shany

Darrell Mincks
from Waldorf, MD
I bought a over the range microwave it arrived early on July 29th so I call my electrician to get it installed. I had asked him if he installed these he said yes so I payed him to take the old one down and install the new one when he plugged the microwave in it didn't work so he checked the outlet it was working fine so I call Amazon they reimbursed me for the microwave. But I am still looking to get reimbursed for the installation. This broken microwave is still mounted In my kitchen because I have to pay someone to do that that would include installing a new microwave and I would be paying again to have one installed. Seeing that Amazon sold me a defective equipment that I should get reimbursed for the installation seeing that when I buy a nother new microwave I will still need to pay to get installed Amazon should take responseable for the installation cost of the bad microwave. I am unable to attach the receipt do to the file is to big

ROBIN PRASAD
from Phoenix, AZ
After receiving a damaged sewing machine, I returned the item. Amazon unethically charged restocking fee on the item. i called amazon customer service , the csr said Amazon charged 20% restocking fees because AMAZON cant sell the sewing machine again.first of all why would Amazon sell the demaged product to another buyer and what is the guarantee that i was not sold the same damaged machine returned by another customer. i asked AMAZON csr. i would like to talk to supervisor and she disconnected the call. i called back and was disconnected again. Andy Jassy as CEO is taking amazon in the wrong direction as all the CSR is in india and all they do is disconnted the call

Asked for a supervisor and the "supervisor" ended the call prematurely after I questioned if I could have someone else to assist me as I knew that the individual was not a supervisor. I can't get a hold of a single US based Customer Service Representative.

Bhagwan Vaswani
from Moncton, NB
Bhagwan Vaswani <swaney557@gmail.com>
12:25 PM (3 minutes ago)
to account-alert@amazon.com
---------- Forwarded message ---------
From: Bhagwan Vaswani <swaney557@gmail.com>
Date: Mon, Aug 1, 2022 at 11:14 AM
Subject: URGENT - I HAVE NO AMAZON ACCOUNT - BEING BILLED MONTHLY FOR WHAT?
To: <cis@amazon.com>
Dear Sir or Madam.
I wish to advise that I am being billed monthly to my personal bank account in the amount
of $11.19 since the past few months. I have no Amazon account! This is what is shown my bank statement:
July 21, 2022POS Purchase
OPOS Amazon.ca Prime Membamazon.ca/pBCCA
11.19
When I tried explaining to an Amazon employee by telephone, I could not get any satisfaction.
It is highly likely that there may have been an error on part of the Amazon agent who had opened
this account, while inputting the banking information of the person for whom I am being billed.
Amazon should contact that account holder and correct the banking information that has been input.
Is such an unauthorized charge to my account legal, since I have already expressed to Amazon service
agents by telephone that I am being billed incorrectly? I also initiated a voice call and spoke with an
agent about this entire issue, from 11:43 am till 12:21 pm.
I am a retired senior citizen and I live in Canada - my name is Bhagwan K. Vaswani and my address is
15, Seventh Street, Moncton, New Brunswick, E1E 3G2. If you check your data, you will find that I do
not have any Amazon service or account.
No one from my small household has authorized any such payment to Amazon.
I trust you will provide an explanation, stop charging this fee to my bank account and provide a refund for
the several months I have been charged.
Thank you.

Mona Monken
from Fairview Heights, IL
I have returned unopened, no damage, Brand new with tags still on items, unworn, in mint perfect condition items to Amazon only to have Amazon reps tell me that the returned items were damaged and unsellable therefore not providing me with a full refund. I have lost hundreds of dollars at this point to Amazon.
I have attempted to send photos to Amazon with proof quality of item at return shipping only to have Amazon tell me that they don't do that.
I asked for an email for the Amazon legal dept only to be told they can only be reached via PO Box
Really?????

Vilas K
from Bengaluru, KA
Ordered a new JBL 230NC earbuds as JBL100 (renewed) was giving earpain upon representative's promise that a return would be arranged within 2-3 days. Now none of the representatives are ready to listen to the grievance & just rudely refuse stating there is no return policy on this or any such ordered items. Some bluntly refuse, while few rudely/ sarcastically speak as if I've asked for personal favours & take it personally.

Carlette A Coleman
from Island City, OR
I'm sorry Amazon you guys have done me good for the last couple years. But now" something fishy is going on especially when I order something around the third of the month of July in that purchase it doesn't ship out for three days later. And then I ended up looking on my account and it said that the purchase was unavailable that strike me strange being that the package had already shipped so I decided to call to find out what was going on the young lady that answered the phone tells me that the package is in route and will be delivered on the 14th I will get my package if you don't let us know after the day that you don't receive it I said OK I waited until the 14th came around 14th of July came around no package a callback that very same day young man that answers the phone didn't seem very helpful and seemed a little bit standoffish when I started talking about my package being missing and he tells me well if you don't receive the package in the next couple of days you can call call us and will refund your money in 12 business days and then I told him that I wanted him to contact the seller to find out where my package was so he went ahead and did that apparently my package was in Whittier California but then he turns around and tells me that I won't be getting my package because they were out of stock and I said well I find that kind of weird mean that it already shipped in Seoul even tried to argue with me to tell me that there was no tracking number and I gave him the tracking number he ran it and said there was no tracking number for that particular package well Sunday comes around Sunday, 17 July I call to find out if that package was still coming because 35 minutes after I got off the phone with him they had sent me an email saying that they had refunded my money and canceled the order well if the order was canceled how come it's still traveling that's what I wanted to know and the girl that I was on the phone with from Amazon tells me that the reason I didn't get my package is because oh it was the wrong address so even that sounded weird and she says well I will look to check with the seller to see what's going on and why you still have a notice on your account that says it's late and that it's coming to you so she checked and sent them a message the next morning on 18 July I get a message stating that my package would be delivered to me in three or four days and then it setting at the Bethel post office in Washington well I called the Bethel post office and talk to a customer service person and turns out that the package that was billed to me was not the package that I ordered I ordered an air conditioner the package that was sitting at their post office it was connected to the tracking number weighed 1 ounces so there's some fraudulent stuff going on on Amazon please be careful consumers .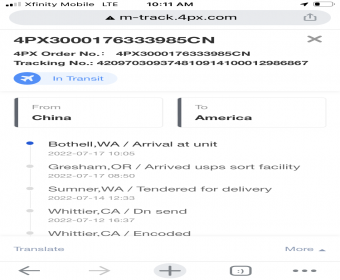 Patty WHITE
from Lawrenceville, GA
Ordered a Fire TV on Amazon from Best Buy. After 7 days it still had not shipped. Called Amazon customer service and spoke with Pritchard he was rude and could not help me. I asked for a supervisor and he hung up on me. I called back spoke with a supervisor name Chenille. She was nice but bottom line also couldn't help me. She couldn't get ahold of anybody by calling a number to Best Buy. So here I am, the customer with no answers no information just sitting here waiting. I'm on a trial with Amazon Prime. I can promise you I won't be keeping or subscribing to this service. Not if this is how you treat your customers.

Mihail Cebanu
from Dublin, L
Member of Prime and at 13 day still haven't received the package. I have over 20 escalation tickets and about 3 phone calls and each time, they are telling me the package will be dispatched within 24 hrs.
Another things to add is they wont refund me because the package is in dispatch stage. So now i am stuck in this circle.

Adhitya
from Bengaluru, KA
No order is delivered on promised time with no response from customer service either delivery team picks up the call.
Spoke to delivery manager after multiple calls and confirmed other delivery person took it to a different area so they couldn't deliver on time. And the status says they couldn't contact me... I'm trying to reach Amazon to get the details update with no luck at all.

Malgorzata Bastia
from Suwanee, GA
Sorry there is no 0. Your customer service representative hanged up on me , saying goodbye

Christina Mitchell Brading
from London, ON
I am basing my experience at a 5 for frustration. I just got off the phone with customer Service a David O he said and he had no reference number or anything to give me. I had called because my account is attached to an old email of work that I am no longer employed at. He said there was nothing he could do because the account has had no actively to it. I explained that is because I cannot get into the account to do so. I asked if he could reset it or what is the process. he stated there is no process except a security process however he couldn't do this security process because my account was no activity. I said could I start the process so I could use it and he said no the policy was there was nothing he could do I cant even go into the account and delete but also told me I was the only one that could delete it but I cant get in.
Everything he said did not make sense and he was very blunt and rude not at all who I would think a customer service rep would be. We have a business account with Amazon as well as I have my mom set up and my personal self...This has made me so upset at the lack of any resolution to assist me. Not only does this make me fear my personal information that I no longer have access to but the world could have this access or someone else if they happen to use my old work email. this is not right at all....My old work email associated with the account is christina.. I truly hope that someone reads this and understands my frustration.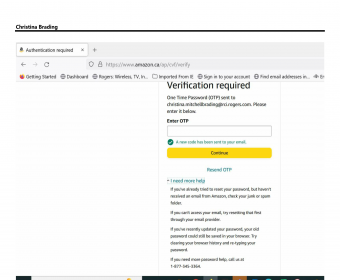 Jeremy Shumard
from East Greenville, PA
I was going over my bank statements to balance mu checkbook because my money didn't add up, and saw since January 2021 someone from Amazon was taken money out of my account for things called the emeral package i don't play games on my tablet non does my wife they gave me some money back but i still have 925.00 wrapped up with gae dtuff i didn't use i want my money. Jeremy S.

Jeremy Shumard
from East Greenville, PA
I looked at my bank statement and realized Amazon was taking money out of my account which they said it was for a game pack, i dont play game on my tablet, i am owed 900.00 from January 1, 2021 till April 2022 i was only given back 290.00 . I want sometime done about this.
Jeremy Shumard

I have order fridge ice door and it is showing delivered on 15th June which was not received till today 25th June. It was prepaid order and I have tried to complain via help desk which was also helpless. No answer till now
My order number is 408-3070310-7706768
Tracking is is 278851276862
I need my order get delivered or return/refund my money

Nell Hoyle
from Alpharetta, GA
I placed a huge order with Amazon on Sunday night. Immediately on Monday morning I realized it was being shipped to the wrong address. I contacted Amazon immediately. Nobody seemed to be able to assist me. This went on for hours. Amazon had me contacting USPS/Seller/etc…. As of tonight at 1:40am I can still not get any updates or assistance. I would list images below but the order is so large until it would take me forever. This is extremely stressful and nobody at Amazon seems to care or know how to fix the issue. Guess I will decline the charge and reorder. What a pain and unnecessary stress. Thanks Amazon! Thought more of you prior to this fiasco.

Larry Gene Osborne
from Greensboro, NC
My name is Larry Osborne. I have placed a great deal of orders with Amazon. They have always come through even
if there was a problem with the order. All in all. Amazon has done a great job.
I placed an order last Friday, June 17th for 2 packs of seat belt clips. Very small item. Still have not gotten them and today is the 20th. Customer service is going to send a replacement and should ariive tomorrow. The lady I chatted with said she was making a one time exception. That fine, if that is what she is calling it. I really don't want any exceptions for me when I am only the cutomer waiting on his order to arrive.
I wanted to send this to Amazon and I hope that corperate gets to read this. When Amzon use the usps to send items out, there will be problems. Two of those problems happened to me. I did get one of my items today and it came by USPS. I got home and opened my mailbox and the package was cramed in the box very tight. I could tell it was probably the Trident gum I ordered but I managed to get it out. Thankfully, not damaged. I would probably
never went to this extreme but I can tell when something is not right. The customer service lady said that the package that has not arrived yet was in the delivery cycle. Not sure what that means. I know that I am a prime customer and place many items with amazon. Being a prime member, I really expect the item within 2 days. That is the delivery cycle I am looking at. Going to make this short. I wanted to give my opinion to someone in management. If you continue to use USPS, you will probably run into problems. The post office here in Greensboro
could use a lot of improvement. I have delt with them before. All I know is, they are late about getting an item to the customer. I wanted to pass this on to someone there that might take a look at what is going on using the postal service. My items have always made their way to me when amazon use their own trucks which come on my street every day of the week. That is my suggestion.
Thanks,,, Larry Osborne

Larry Green
from Cabot, AR
Your drivers keep loosing my packages and delivering someone else's packages. This has happened on 3 orders in 2 weeks. Very unprofessional. If you can't keep up with your deliveries no better than that, then I will not be renewing my prime membership.

Tameka Flamming
from Akron, OH
The Amazon business customer service has been so rude and has made me lose customers due to negligence on there before constantly transferring me back and forth telling me my account is on hold when the application department stated that is not on hold. Amazon is putting my business in jeopardy with the negligence to help a customer which is me now my business is suffering I'm a small business owner just starting I can't afford this. Amazon is the worst. Never received an email stating anything of the sort

Andy Valentine
from Philadelphia, PA
Anytime I made progress paying things down I was rewarded with cuts to my credit which meant it negatively impacted my credit score. This happened 3 times. Predatory at best. I will never use Amazon again.

Goldwin Mckinley
from Dundas, ON
I have spent 3 hours today trying to get information regarding DVDs playable in Canada. I kept being connected to Amazon. com. People who could not understand my English finally told me that they could not help with Canadian problems. Then my password was rejected, and an attempt to create a new one has kept going around in circles

Ahmed Ur Rehman Khan
from Windsor, ON
They took 5 minutes to respond to a simple question. Their answers were only copy-pasted generic messages. Other than that their vocabulary ranged from Yes or No and that's it. I don't know where Amazon finds these customer service agents, but they need some training.

Sahil nehra
from Malé, 26
since 22nd Feb i am ordering a item the support misleading and saying this stuck in fulfillment center and cancel it and reorder it since my cancelled history you can check cancelled history after that today one support told me to cancel but I refused to cancel it after that without my permission they cancelled my item now already more than 1 ND half month i am waiting and now also didn't get chance to buy a product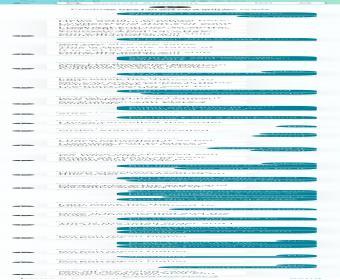 Juanita Stuart
from Jacksonville, FL
I waited all day for my order and not once did the Amazon truck pull up to my house too drop my stuff. I contacted them and told them it's saying it's been delivered but nobody ever came. They told me for the next 3 days that on April 3rd if it still hasn't arrived that they would refund it. So I got them up on the 3rd and they tell me that they denied my refund because the delivery man told them he delivered it. And then said I need too find a better place for my packages to go. Better then my house? I'm so upset I'm a loyal customer and don't deserve this

I'm lost 3 packages that show its was delivered on March 31 and I never received the package. I complained to the Amazon they couldn't replace or refund my order. This is ridiculous it's was my hard earn money that went down the drain for no reason

Ashley
from Minneapolis, MN
Hey I'm contacting your company because you have a driver by the name of kantrale Clark who works for an independent company inside your warehouse. He has been driving under a fake license. His license is suspended in Illinois I don't how he got a drivers license down there but it's illegal. I don't want your company to get in trouble and he steals packages. The ones he can't deliver. I be on the phone with him while he does it our the truck n throws the box or package in the garbage once he see what it is and see if he wants to keep it or not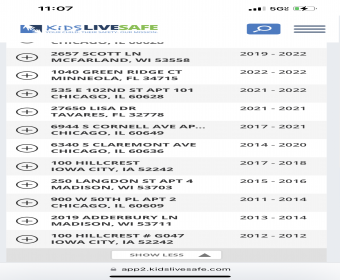 Ann C Thomas
from Potsdam, NY
I called your service dept. just a little while ago. I could barely understand the woman who answered the phone but the worst part was she had a crying baby through our whole conversation making it very difficult to hear her. I had to finally hang up and start the whole process over. The second lady was wonderful.

Ordered a Brother printer and toner from Amazon online store and returned it I have called customer service at least 20 times with no results, contact BBB but they cannot force Amazon to return my money. Amazon has its products back but has lied about the processing of my purchases and refund status. It shows they gave it but have not actually issued my refund, which is a fraud. I have receipts from UPS showing they got the purchased items back but these crooks are keeping my money. The customer service people are off-shore and feel they can do anything they want. I have filed with the attorney general office, and the FTC, because these government agencies do take action when consumers get scam by stores like this and no one takes my hard earn money get away with it.

Camille Mestas
from Denver, CO
Verification process us a joke and your customer service people are deaf or dumb sorry but it shouldn't take 35 minutes to verify my account. I have on numerous times tried updating phone number with you to receive codes but never works. I have had 3 times I have not received my refunds and no one seems to make it right. I am tempted to do away with Amazon it's a joke trying to communicate with customer service

marsha wallace
from Bastrop, LA
I need to get my refund $19.43 and FEB.22 2023 was issued but declined .gave infomation you requested and you said it would come in a ck . i have not it either . so make a note to send as soon as possible . marsha wallace 110 kirby st. # B2 Tallulah la. 71282 and Marsha Wallace 110 Kirby ST. #B2 Tallulah La. 71282 phone # 318 341 5593 and send in check . $19.43 Refund

Richard Johnson
from Wayne, PA
Dear Amazon customer service
The delivery driver pulled his truck 3-5 feet into my garden beds, crushing 2 plants and when he backed out he ended up dragging the boulders I have on the perimeter out half way into the driveway. I had to get my neighbor to help me move them back.
This occured at the beginning of my driveway where I have a turn around space and it has never happened before. The driver was very careless and he had to know he caused damage. I can provide pictues if necessary. As you can see by my account, I have frequent deliveries and there has never been an issue. this was very egregious.
My address is 517 south waterloo road, devon, pa, 19333. I have the packaging from the shipment. I don't know if this is what yu need to locate the driver but the identification on the package is TBA30587446644. The delivery was on March 23 or thereabouts.
I expect compensation in a credit or in a check. I would be satisified with $300.00
Thank You, Rich Johnson

Juliana Torres
from Zephyrhills, FL
Worst company ever. Supervisors don't know anything that they are doing I was just robbed of 50 dollars for a package that never showed and also they can't find my order.

Gabriel Sales
from Juarez, ROO
One of my business vehicles broke down and I made a purchase with Amazon for the necessary part.
Amazon allowed me to buy the part and I waited for the delivery date stated by them.
On the day of the delivery, the item never arrived, supper was contacted and they told me to wait 3 days.
The days were waited and the item did not arrive.
Support asked me to wait until the next day and their system stated the item was scheduled for delivery.
The next day came and the item DID NOT ARRIVE!
For the fourth time, I contacted their support, but this time via phone.
The representative told me the item was out of stock!
How can Amazon sell me something that is out of stock?
At the same time, provide me a date with tracking for that item on their website ?
The time wasted was just unacceptable and I was impacted brutally by
Amazon's irresponsibility to provide me this information on the first point of contact.
Instead they provided me false information with the hopes of my item being arrived on the days mentioned by their website and support.
My business lost money for 3 weeks of wait time as a result to their lack of responsibility and care for me as a client for many many years.
No attempt to recompensate or help me with the damages caused by their gap in their system/support

Desirae Chapa
from Houston, TX
Alfredo gonzalez jr from prison .. took my child didnt bring her home all night need to report him

Ian Ninness
from Brisbane, QLD
I purchased an expensive electric knife sharpener. When I received the sharpener it was poorly packed with no packing foam. The knife sharpener I received looked used. I plugged it into power and it immediately began to emit smoke and a burning smell. I immediately repacked it into the box I received it in and contacted Amazon by chat. I was issued with a return docket and was informed the $69 aud postage would be refunded as well as the purchase price when the received the item back. A couple of weeks later Amazon contacted me and told me that the knife sharpener that they received back was not the one that they sent to me and refused any refund. The refused to send me pictures showing why they believed I sent back a different item. They refuse to answer of me emails and I am $500 aud out of pocket. Deal with this company at your own peril. Order 112-5878057-1829819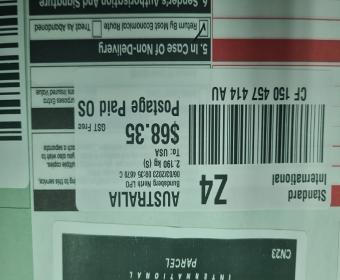 Richard Sloves
from New York, NY
Because Amazon decided to terminate and eliminate DPREVIEW, I will no longer purchase any and all camera equipment using my Amazon Prime account. Amazon could have closed down DPREVIEW and yet still maintained public access to the decade's long equipment reviews and forum histories.

Brian Vaughn
from Detroit, MI
I've been trying to get a refund from Amazon for 3 months and getting nothing but the run around they say they'll send a paper check and still haven't received a refund..call back a they say they don't issue paper checks but I have emails from them saying they do send paper checks ..no one know anything at the " customer service" it's a complete waste of time..I feel like Amazon is stealing from me $284.64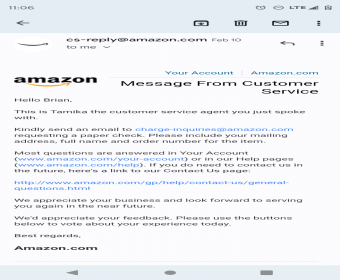 Jason Smith
from Phoenix, AZ
Order marked as fraudulent, credit card charged item not delivered been waiting since 11/13/22 for a refund.

Erin Oechsle
from Athens, GA
We are a seller of Custom Products on amazon.com. We have been unable to add new products since December of last year. the help technicians have said they see the problem but state it is nit their department. The ticket gets closed and the issue stays. I would like for someone with a passion for keeping customers happy to contact me regarding this issue. I have everything documented including case tickets. It is an unbelievable story with no ending.

Amber Torres
from Killeen, TX
I ordered a Vinyl repair kit to be delivered on Thursday March 16th. I got home from work and my package was not there I was told by a customer service rep to give it 24hrs it could be running behind even though it was marked delivered. I did, I also had to cancel with one of my customers last minute because I was unable to to repair the product before she needed it that Saturday. I started a chat on Friday 24hrs later and was told give it another 24hrs. I waited until Sunday when I called to see when I would be receiving my replacement product because I still needed it, they let me know that they will not be replacing or refunding me for the item I ordered and never received. I explained to them why would I lie about a $39 item?? I have spent 100's of dollars with Amazon and never been treated this way. So now I am out my product that I need to repair a unit that I own for my business and also out my $39. I am not the one who delivered it to the wrong address it was AMAZON'S DRIVER. a person you employ not me. I own a business and if one of my associates was the cause of a customers issue I would make sure that I made it right. I am not paying for an item I DID NOT RECEIVE! I want my product or my money back. If you can assist me with this issue please?
Thank You,
Amber Torres

Ricky Munger
from South Lyon, MI
They put my account on hold three weeks ago because I started making purchases. I have sent them copies of my bank statements my card number, even the balance in my account. And yet I keep getting lied to every day that I call that someone will contact me I have sent them everything they've asked for and they still have my account on hold and cannot verify my information. they repeatedly taking money out of my account and I cannot get it back because I can't even speak to a human. You have to email everybody. Amazon is a joke anymore and once they have ur card number they take take take and scam you out of your own money. No one has contacted me nor emailed me about this problem or even made an attempt to fix this! Only thing I haven't given them is my blood or first born child!

D Srikanth
from Hyderabad, TG
I ordered jaiib books for my banking exam on 3 mar 24, but seller sent me kids fun book ...kindly help....i lost my valuable time and money got stuck...no one is helping....I'm attaching the details plz find the attachment....kindly help.....srikanth ,mob no - +91 7071820877, mail - choudary_srikanth@yahoo.com

Geralee Frye
from Salem, OR
In interim of doing ph. transfer, from Android to iPhone..my Amazon accnt. orders portion of my app. ended up showing "no orders", & having no past orders also. I had a couple orders on way & was not able to access locker hub in lobby of my bldg. In contacting Amazon, was informed my address ,apt. bldg. nor my zip code did not exist..even tho I informed 3 different cust. service personnel that I am standing in my apt. of 11 yrs., looking out my window onto said st. @ stated zip code. Just frustrating while trying to unravel the issue at hand! Was transferred to 6+ personnel..having to repeat my situation over 2hrs. of time..most were pleasant, until you get one who is making some kind of statement of how it's going to play out & hangs up on you after all your effort,time & hope of getting your accnt back on track. It took almost 4 wks., 6+ calls, speaking to over 15 personnel , another Hangup…one which I had spoken up about the whole process yet I did not use any distasteful wording etc. I have no clue how Amazon has made it to be at all what it is while lacking incredibly in its customer service dynamics..I realize the worlds all about cost effectiveness, but please, this is costliness.

Travis Jones
from Memphis, TN
Security guard was being very disrespectful and unprofessional, they have metal detectors that is going off for no reason someone needs to investigate the issue.

natalia douglas
from Mesa, AZ
I ordered an item on Amazon their delivery said it was delivered took a picture of the wrong house. I called to talk to customer service they said there is nothing they can do and no refund will be issued it said it was delivered it doesn't matter if I send them a picture of my home. Then the manager Hund up on me. Then I did an online chat and received the same response.
No previous messages
Messaging Assistant | Customer Service
Hi! It's Amazon's messaging assistant again.
Lash Therapy Australia Eyelash Growth Serum
Is this what you need help with?
10:15 AM
Yes, that's it
10:15 AM
Messaging Assistant | Customer Service
Looks like this item was delivered on Saturday, Mar 11.
Could you confirm what went wrong, so I can help?
10:15 AM
Entire order is missing
10:15 AM
Messaging Assistant | Customer Service
Sorry to hear that. Tell me a little more about what happened.
10:15 AM
Package never arrived
10:15 AM
Messaging Assistant | Customer Service
Have you tried checking your area and asking neighbors and household members?
10:15 AM
Yes, it's not there
10:15 AM
Messaging Assistant | Customer Service
OK, looks like the delivery status may have been updated too soon.
The good news is it should arrive soon. Give us until end of day Monday, Mar 13.
Really appreciate your patience with this. Is there anything else I can help with?
10:16 AM
Yes, I have a different question
10:16 AM
Messaging Assistant | Customer Service
So, what can I help you with?
10:16 AM
An item I ordered
10:16 AM
Messaging Assistant | Customer Service
Let's see. Could you select the item you're looking for from your recent orders below?
10:16 AM
Lash Therapy Australia Eyelash Growth Serum
10:16 AM
Messaging Assistant | Customer Service
Looks like this item was delivered on Saturday, Mar 11.
Could you confirm what went wrong, so I can help?
10:16 AM
Entire order is missing
10:16 AM
Messaging Assistant | Customer Service
Sorry to hear that. Tell me a little more about what happened.
10:16 AM
Package never arrived
10:16 AM
Messaging Assistant | Customer Service
Have you tried checking your area and asking neighbors and household members?
10:16 AM
Yes, it's not there
10:16 AM
Messaging Assistant | Customer Service
OK, looks like the delivery status may have been updated too soon.
The good news is it should arrive soon. Give us until end of day Monday, Mar 13.
Really appreciate your patience with this. Is there anything else I can help with?
10:16 AM
Messaging Assistant | Customer Service
Hi! It's Amazon's messaging assistant again.
Lash Therapy Australia Eyelash Growth Serum
Is this what you need help with?
8:29 PM
Yes, that's it
8:29 PM
Messaging Assistant | Customer Service
Looks like this item was delivered on Saturday, Mar 11.
Could you confirm what went wrong, so I can help?
8:29 PM
Entire order is missing
8:29 PM
Messaging Assistant | Customer Service
Sorry to hear that. Tell me a little more about what happened.
8:29 PM
Package never arrived
8:29 PM
Messaging Assistant | Customer Service
Looks like something went wrong here. Let me get someone to help you with that.
Ok, you can chat with an associate now or request a call back.
You can also go to your Customer Service hub to fix most things or to search help pages. What do you prefer?
8:29 PM
Chat with an associate now
8:30 PM
Messaging Assistant | Customer Service
If you have details you think would help the associate, type them here.
An associate will join the chat.
8:30 PM
T
tarannum has joined and will be ready to chat in just a minute.
tarannum | Customer Service
Hello, I hope you are doing well, My name is Tarannum Tahseen and I´m here to help you today.
Could you please elaborate the query so I can assist you in best possible way?
T8:30 PM
My package says it was delivered however the picture is not of my house
8:30 PM
tarannum | Customer Service
Firstly please accept my sincere apology for the inconvenience this situation has caused to you. This is definitely not something we want our customers to experience.
Could you please stay connected for two minutes while I research this for you?
T8:30 PM
yes please
8:31 PM
tarannum | Customer Service
working on it
T8:33 PM
thank you
I can send you a picture of the front of my home if that helps
8:33 PM
tarannum | Customer Service
working on it
T8:35 PM
Thank you
8:36 PM
tarannum | Customer Service
Based on the results of our investigation, we aren't able to provide a REPLACEMENT/REFUND for this order at this time.
At this time, Amazon isn't able to resolve shipping problems after delivery, as outlined on our website in our Conditions of Use, noted under 'Risk of Loss' which states: "All items purchased from Amazon.com are made pursuant to a shipment contract. This means that the risk of loss and title for such items pass to you upon our delivery to the carrier." See https://www.amazon.com/gp/help/customer/display.html?nodeId=GLSBYFE9MGKK... for more information.
We recommend that you consider selecting a more secure shipping address, such as your workplace or an Amazon Hub Locker, in the future to avoid further problems.
Apart from this could I be of any further assistance today?
T8:38 PM
So my question is the shipping carrier is amazon not ups therefore the risk of loss did not get passed onto another company it is still in amazons title
8:39 PM
tarannum | Customer Service
I am sorry as item marked as delivered so we are unable to take any further action
From our end we have the confirmation the package was delivered to you without any issues.
Based on the results of our investigation, we aren't able to provide a REPLACEMENT/REFUND for this order at this time.
Apart from this could I be of any further assistance today?
T8:41 PM
Correct with a home picture of another residence

Rebecca Benjamin
from Lakewood, OH
in the past 2 months, Amazon has botched 3 items I ordered. The first was a dvd series, it arrived damaged. The second was a dvd, but it arrived in a way i couldn't play it on my player. And just recently, I ordered a Scottish pin to wear, and I was sent a kilt hanger. That was very far from what I ordered. The staff at Amazon need to start paying much closer attention to what they send out, and the venders need to do the same.

Paul Adams
from Aurora, CO
Was told the wrong thing by these people and it's just ridiculous!!! Need more training, this is my livelihood and you can't just get it wrong and act like you're not guilty, it's in the notes to apply for 2 days vacation because of strep, now I take it to work, thanks for nothing!!! Just pathetic

Dwight Wood
from Cornwall, ON
Be careful with Amazon now. Returns of which I have had very few are not being cared for like they use to. I shipped the item back following their instructions with Canada post. I received a tracking slip when I dropped off the item. When I check the tracking information it shows it was delivered. Still Amazon stays it's in transit. I will not not use this company any longer.

Frankie
from New Berlin, WI
Hello I wanna complain that women is smoking weed on premises and etc in her breaks and being super loud
Her name is eyllen Rodriguez she works at Amazon in Franklin Wisconsin she's an employee

Raycole Gordon
from Conyers, GA
I tried to contact customer service regarding my packages constantly being delivered to someone else's address. I even tried telling them to check the photos. They put my packages on someone else's doorstep. Amazon refuses to replace package.

Bonnie Taylor
from Groveland, FL
I am a Prime Member and receive many deliveries from Amazon during the month. However, the drivers insist on delivering on my deck/porch when my delivery instructions clearly ask for garage. I have a covered carport. I placed in my Special Instructions in English and Spanish to only deliver under covered carport and NOT on the blue deck/porch.
Continually, the packages are left on the porch and I submit a poor rating for the delivery but nothing changes. When deliveries do arrive correctly, I submit a thumbs up and check all boxes as to why I gave it a thumbs up. So, what other incentive can I provide to get the delivery drivers to READ my instructions?
My porch is visible to the street; my porch is in need of repair and don't want people on it. Don't want my packages visible to others and exposed to the elements. At least the covered carport protects my food items that are delivered.

Byron Atkins
from League City, TX
It took me 35 minutes to order Amdro Ant bait today. At first I had trouble putting the Ant bait in the cart, this took 10 minutes. The reason things were so difficult is that now Amazon tries to get you to set up automatic ordering on anything you order. Later I had a woman who was trying to assist me, she said she was unable to see my order in my account, after 5-6 minutes I asked to be transferred to a supervisor. When he came online I told him I was trying to delete a credit card that my Amazon orders were defaulting to. Well, months ago this used to be an easy process but now it has changed. The supervisor asked me why I was upset and I said it was because it took me 24 minutes to be able to get in a position to order. He then told me to refrain from using bad language. I told him to get off the line that it was best if I just tried to help myself. I don 't know why Amazon Prime has become so bad! It used to be so easy but not anymore. I'm not sure if I even want to order anything from Amazon Prime anymore. This was the worst experience I've ever had. At the end of the call a woman came on and she did help me, assuring my order was in the cart. Shame on Amazon Prime for becoming such a bad experience!

Joanderson Alcântara barroso santana
from Canoas, RS
My complaint is that my account is temporarily blocked, I have already sent the form 3 times with my card statement and the last 4 numbers as it was in the account and even so I cannot unblock it, I ask for help, my account still had an over balance $700 gift certificate. I am attaching the receipts as well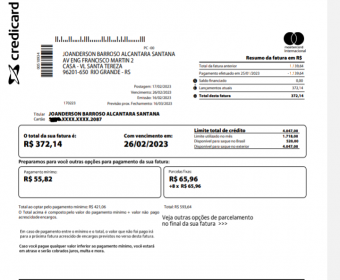 Kerrah Tate
from Mexico, MO
The ADVERTISMENT for 'The Good Dish' show on the FREEVEE CHANNEL is wretchedly HORRIBLE! The oven beeping sound at the beginning of the ad is so loud and annoying that I guarantee you people stopped watching your channel over this! Even if I liked that show I would purposely not ever watch it because of the completely out of pocket, distressingly loud beeping ad!! I know you don't care because it's free, but someone had to say something! It's disturbing!

The Amazon customer service staff are lack of training and sufficient experience via providing poor quality service including misleading and cheating on client plus sending wrong item email to confuse client.
They sent me msg but the item I never ordered and also told me some product can be returned and refundable but after I confirmed with them ordered the product, they are telling me not returned not refundable. So insane.
Customer representative Name: Anna S and Belle J per misleading and cheating client.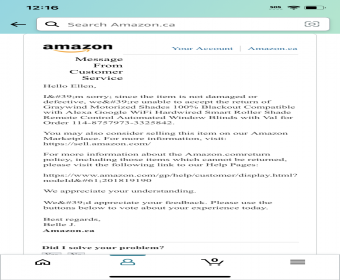 Jennifer
from Munfordville, KY
I am still waiting on a delivery that is suppose to arrive today. I ordered cat litter for my cat and I need it today because I live in a very small town. I ended up buying a different brand just so I could have it in time. I ran out of it and now amazon says it will arrive tomorrow. If I did not need it so urgent I wouldn't put in this review. I stayed home all day waiting for this package and I can not go anywhere due to my mother inlaw just getting out of hospital yesterday and needs attention. I am not very happy right now.

Brendan C Boyd
from El Paso, TX
My order number with Amazon 114-7011896-3412260 was sent to the Amazon hub locker but because it didn't have the words "Amazon Hub locker" printed on the mailing label the hub locker refused acceptance and post office is trying to recover the items which they say they are not sure that they can do. I spent 5 or 6 hours of wasted time this morning dealing with this issue So with that being the case I feel like my time is worth something to me, more than just the refund of $35.70 that I got. I feel like I got put through a lot of crap for absolutely nothing because Amazon screwed up and delivered a package without the proper label on it.

My name is Rebecca and I am the assistant manager at Sinclair Apartment Homes. I made a complaint today, 2/21/23, and sent it to Sierra Williams with Amazon. She was in our leasing office calling me a Karen and this was heard by the community manager and the leasing agent heard here saying other offensive things. Please see the email that was sent to Sierra Williams at SierrraWilliams1910@gmail.com. I also have recordings of the driver's behavior if needed.
Hello,
Your driver that visited Sinclair on February 21, 2023 around 2:51 PM, was very aggressive, rude and using profanity when asked who he was and what apartment he was visiting. This is standard procedure for us to release the elevators for Sinclair. This particular driver got very upset, followed me down the hallway yelling and refusing to leave the property after I asked him to leave. I had to call the courtesy office for assistance and he admitted his horrible behavior to him and apologized to the courtesy officer.
I was working alone in the office and was fearful to have him walking behind me yelling " Call whoever you want, but I am not leaving". He was yelling in our leasing office pacing back and forth yelling, disturbing our business.
I hope that Amazon takes this matter seriously.
Respectfully,
--
Madera
REBECCA JOHNSON, NALP
Assistant Manager
Sinclair Apartment Homes

Deepa Madhavan
from Seattle, WA
I am sending this written concern as I have talked to seven or eight of your agents and have been tossed around not to mention the time I have spent.
To start from the beginning I ordered Aguagiaro and Figna Mother yeast on Feb 13th and was waiting for this order. Yesterday, I placed an order for undercounter freezer and noticed my earlier yeast order was cancelled. No information was provided to me. Hence I started making calls to Amazon representatives.
Initially I was told the item, I ordered was not available and hence my yeast order was cancelled. I called back when my freezer was also cancelled and they transferred me to a supervisor. This supervisor named "Zee" explained I was not able to use an American express gift card to pay for transactions. She advised me to buy an amazon gift card and guided me through the process. I spent quite a bit of time to buy the Amazon gift card and this transaction got declined within the next hour.
I called back again this morning and talked to an other agent called Sam. She transferred me to an agent called Angela. Now Angela was of the opinion that the customer service agent who guided me yesterday was absolutely misinformed and we were not able to buy an amazon gift card with another gift card. I explained to her it was never my brain wave and it was the company who guided me in error. Angela kept repeating her theory and I repeated my side of the story which resulted in my" being placed on hold without warning" and transferred to your payment department. The payment department representative was unable to send a text to my phone or email after several attempts and loads of queries.
I have called American express and verified that my balance is $350 which is available for usage. I want to use this card to make the freezer purchase as my brother gave me this card as a house warming gift. If you need to see the email I received for the gift card I can send that to you.
I am looking for a solution to use the gift card and not have to talk to agents who contradict each other. Waiting for a quick response.
I am copying my Gmail and including my cell phone attached to my account.
Deepa Madhavan
P.S: I sent the above email to 'cs-reply@amazon.com' and I got a reply that the email does not accept direct email.
Question: Now who do you think provided this email address.? Answer: An Amazon customer service agent called Sam!

Hai i am mugesh. In india so many youngsters from very poor families have been not getting proper job to earn and take care of their families. But In your companies many staff has been not working properly and doing makeup stuff and put into insta and facebook. Is it sense that employees have a faith and respect the office premises? Kindly see the video. If its continues i will circulate in all social medias and all indian channels to becone viral about not doing work in it field.
Thanks

This Amazon driver was on Amity and 3rd Ave in Elizabeth NJ. She needs to be fired from her job. She was very nasty and unprofessional.
She cursed at me because I wouldn't go around her Amazon truck on a one way street. She angrily told me to go around her and I said I wasn't in any rush once she was done with her delivery and she move the truck I moved. For what was that she began to say every curse word at me. I told my car doesn't fit and I wasn't go to hit my car and the car that is park as well the Amazon truck. She began so angry and continue to curse at me. I told her to get back in the truck and do her job, because I wasn't going to waste my time with her. Today 2/14/23 god was on my side I did not let the devil get me. I did tell if she did not like her job she needed to quit. She then cursed at a struck her middle finger at me. She needs to be fired. Amazon if you hired trashy people like this what does it say about your company…plate # 004997A56: Elizabeth NJ Amity and 3rd Ave… no stars for this Amazon driver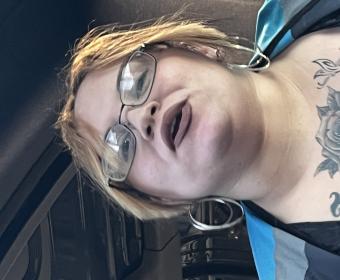 RP
from Salt Lake City, UT
Amazon has started charging a shipping and handling fee which is sometimes 1/2 the cost of the item I'm ordering. This is obviously an attempt to get people to use Prime. Well, they can take their shipping and handling fee and shove it. I'll shop elsewhere!

James Puthuff
from Los Angeles, CA
To AMAZON Management,
About three weeks ago, I called Amazon because I could not logon to my Amazon Prime Account. I could enter my User Name and Password and they were good but when Amazon sends me a text message to verify my account, I do not receive that text message. There are other situations where Amazon needs to send me a text message to provide a URL for another reason, I do receive those text messages.
I've talked to six different customer service reps (Over two sessions), to include one manager. They told me that my account is locked (They thought it might have been that someone was trying to access my account Fraudulently.) So now I need to answer security questions in order to reinstate my account. They asked the normal question about my name, address, phone number, email address and the last four digits on the credit card I use for Amazon purchases. No problem there.
Then they ask what's the balance is on my redeemed Amazon Gift Cards. I know I received $300.00 for Christmas but I've bought several things since then. I'm 84 years old and my memory is not that good. I could not give them the answer to that question. I indicated that I thought that was not a very good question to ask. Do you know what your checking balance is without looking it up? I don't think so.
Then they asked for the date and description of the last three Amazon purchases. (After going through these questions before, I had captured a page full of Amazon purchases from my Discover credit card. I was ready!) I started telling them about the dates and information from the credit card but that wasn't enough. Not good enough!!!! I needed to tell them the description of each item. That information is not available from my credit card information. I believe, if you look at your credit cards line items, you will find that it does not include the description of the purchased item. So there was no way that I could tell them exactly what I bought and when.
When I talked to the Amazon manager, he suggested that I delete my current Amazon Account and start a new account. There are two things wrong with that suggestion: (1), In order for me to delete my Amazon Account, I have to be logged in to that account. That's a problem. And (2), if I delete the account (which I can't) I would loose the balance on my Amazon Gift cards. It could be as high as $200.00.
I need for Amazon's management to help a Senior Citizen. GIVE ME A BREAK!!!
James L Puthuff
1835Mary Rose Ln.
Lincoln, CA 95648

Stuart Kelly
from Gallatin, TN
On December 11, two weeks before Christmas, I ordered a tin Caviar from you. Because I got it through Amazon, I did not even notice the name of the actual retailer nor did I notice that it was located in the Pacific region of the country. That order arrived within 48 hours of its being placed.
Today, I intended to place that order again. However, when I did so, I found that the delivery date was to be somewhere between February 23 and February 27. I need this by this coming Friday, February 17. I waited until now to place the order because of the timely response given my last order and, of course, where Caviar is concerned, no one wants to take a risk with freshness.
As a last resort, I called Red-Caviar myself and placed the order directly. They assured me that the order would be shipped today and I do expect a timely delivery.
We are no longer in a Christmas rush. So I do not understand why there should be such a delay in your delivery - especially when it comes to food items. I trusted Amazon and I still do. So I am grateful for the heads-up on the delivery date. I also saved some money dealing directly with the retailer. But in all honesty, I would have been much happier dealing through the "known quantity" and guarantees of Amazon. If I could have contacted someone about this, I would have done so. But I am a person and your robots do not want to deal with me. So sending this message to you is my only recourse.
Stuart Kelly

KIM LARRY
from Detroit, MI
Package was taken and now Amazon won't give me a refund or replacement

Donald A Gibbs
from Indianapolis, IN
WHAT has happened to Amazon? As of late it takes forever to receive orders in rural America. Samsclub and Walmart use FedEx instead of USPS which your company started using more than in the past. I haven't bought anything from ebay because they use snail mail almost exclusively. I surely hate to see your company going down that same path. In the future I will take that into consideration when ordering.

Van r
from Clearwater, FL
I ordered six items and three of the items were missing I reached out to them and they told me I could not get a refund because the weight was correct but CS said they sent 2 boxes. I only had one so the weight it irrelevant. I'm so upset they didn't care and Said i need to give a better mailing address. Sorry if I don't live in the SUBURBS! These gifts were for a child and not worth a lot but the point is they don't care!!! End my chat and said sorry nothing we can do. Also spoke to manager same result. Disgusted!!!

Oyku Hanna
from Fairfax, VA
I bought earbuds from Amazon and decided to return them. UPS was supposed to pick up but that did not work out so I took it to UPS store and dropped it off there. I have a receipt and unfortunately, I cant get my refund back! I call and they told me i had to file an incident report. I did that but then they said I had to put it as UPS Pickup instead of UPS delivery, because the system otherwise does not approve it. Now I have to call back again. This is ridicilous.

Davied E. Alexander
from Baltimore, MD
I purchased an AMD Ryzen 7 3800X processor and I received the box without the processor. I did not want my money back because I really wanted the processor. They said the only option was to refund the money for the processor Waited from January the 26 to 2/6/2023 and got an empty box, just the fan.
Have feedback for Amazon?
Thanks for your feedback!
Sorry. Please try again later!