Amazon
Amazon Complaints Continued... (Page 2)
791+ reviews added so far. Upset? Call Amazon corporate: 206-266-1000

Regina Atwood
from Gordonsville, TN
I sure your delivery people don't like working on Sunday but standing in my yard and throwing my package on the porch is unacceptable. Maybe we should stop ordering from Amazon

John K Ciemniecki
from Indianapolis, IN
Terrible customer service when it comes to possible fraud on account and account placed on hold.... No way to get a live person to assist you and the emails system they use is not working........ If I could give a negative rating I would....... It not the people in customer service it is terrible company policy

michael koharchik
from Telluride, CO
i have never gotten 2 day delivery in all the years i've had prime . maybe jeff bezos should focus on that instead of POLITICS AND BANNING CHILDRENS BOOKS , STOP THE CANCEL CULTURE

Karen Bamford
from Southampton, ENG
I've got a item bought through Amazon and it's broken after a few months. It's a stool so difficult to return to company and you can do a return or exchange but can't contact the supplier to notify them of a poor product.
I feel after being used a few times it shouldn't break.
Can I please have some communication so I can get a replacement or refund

Raina chawla
from New Delhi, DL
My gift card expired in nov 2020 , since then I am regularly calling customer care or chatting ,,I am getting the same commitment every time I call of 3-5 days,, can u PlZ chk is the tat is not done of 3-5 days ,,
I must say the customer service is pathetic.
Raina chawla
-Gift Card ID: #6014850682564236
Amount - 490rs
Registered no- 9811628639
Id- raina2307@rediff.com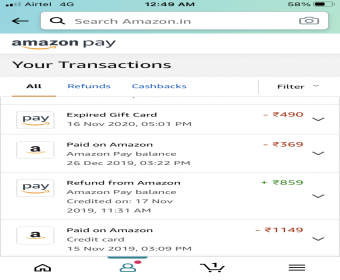 Disappointed by amazon i waited for more than a month for my order which was expected by 15march n by 13march they are telling me dat ur order is not confirmed to dispatched.very disappointing...i had order on 26 jan..

Dean Ross
from Barrington, RI
AMAZON PRIME is now 10 DAYS Delivery !!
Amazon promises of quick delivery are just LIES!

Susan Kingsley
from Metuchen, NJ
I received a package from Amazon with merchandise that I didn't order. And it's highly unlikely that this was a gift. Order included a black garden hose, some headbands, and black Q-tips. Order #114-8914063-1449035 is what's referenced with regards to the return. I chatted on-line with Deepa, who likes to use the phrase "lemme check" when asked a question. As a customer service manager, I would give her a 0 on her service evaluation for that, and additional training.
I received the return label, but my problem is - who sent this to me? My information was used without my consent. Who initiated this order? It doesn't appear that I was charged for this. The order doesn't appear in my order history. Was another account created in my name?? How do I get this information? And do I need to get my lawyer involved?
Susan Kingsley

TALHA SAGiR
from Ankara, 06
I am a reseller who implements the dropshipping business model on the Amazon website.I have listed products that do not comply with Amazon's security policies.I did not willingly do this.I am so sorry for that.For this reason Amazon has suspended my account on July 25th.For this, I wrote a appeal letter to Amazon.But nine days passed, they haven't sent me an answer yet.They keep my money inside and I need this money to pay my credit card debt.I am aware of the mistake I made, but I am also a customer of Amazon as well as being a seller but they make me victim.I demand that my grievance be resolved as soon as possible.

judith D westin
from Hillsboro, OR
Today Aug 1, 2020, the Amazon delivery driver caused considerable damage to my landscaping with his oversized delivery truck smashing 2 rare rose bushes I have had for 26 years and crushing several perennials including columbine and obedience plants plus imbedding landscape boulders into the soil. I am 73, disabled and a master gardener. The driver did not wear a mask and did not apologize for his destruction. My husband had to personally guide him out of our narrow circular driveway as his vehicle could not make the curve. I am angry and devestated by this incident. I would like to be reimbursed for the damage. Thank you.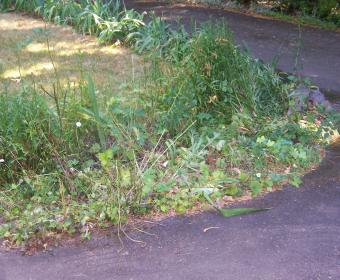 Bob Melander
from Minneapolis, MN
Followed a Prime delivery truck into a drive through Post Office drop off lane to mail some letters. The driver parked the truck and proceeded to walk into the building. We waited several minutes before he returned and drove away. I don't think this would be tolerated by your company to intentionally block a drive through drop off area when he could have parked in any other area to drop something off. This occurred on July 27, 2020 at approximately 10:20am Central Time.
A picture of the vehicle is attached.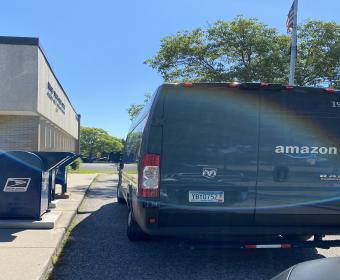 Howard Fuller
from Shrewsbury, MA
I received a coffee order today, after requesting DECAF. The 80 cup order was not only not decaf, but the capsules were not even close to being able to fit a Nespresso machine. Amazon specifies that this order is not returnable, so I will keep the entire shipment as a reminder that Amazon is perhaps less than honorable in their advertising. Too bad, guys but you just lost a customer.

Kitira Dikeman
from Olmos Park, TX
I have an extremely high gate, and my order was thrown over the gate. My order was two cameras and I am unable to check them to see if they were broken due to being thrown over my gate. Normally my deliveries are placed next to the gate on the outside with no issues. When I am able to hook up the cameras Im hoping that they are not damaged due to the landing after being thrown so far. Encase they are damaged, Im writing this as some form of documentation that it was a concern of mine as soon as I found my package

Linda King
from Bethesda, MD
I ordered alcoholic wipes on March 28. They were shipped shortly.. I HAVE NOT RECEIVED THEM AND THE LAST MESSAGE FROM.YOU WAS THAT YOU DID NOT KNOW WHEN I would receive them. Your message on your website is that you were treating health and safety products as a priority. I think alcohol wipes is a priority,but I have not received them and there is no information about when they will artive. I used your form to contact the seller, but there has been no response. I would like to receive alcohol wipes, but you have made it next to impossible.
#112-4263638-2397026

Shannon Graff
from San Jose, CA
I recieved a email stating I needed to verify my payment method and was locked out of my account. I currently use a prepaid greendot visa and due to the fact its prepaid theres no billing statement and amazon refuses to unlock my account. I have 566.00 worth of Amazon gift card balance loaded to my account and am unable to use it due to this issue. Ive screenshot the transaction history 4 times and still am denied verification the gift card balance is also not transferable to another account. This entire fiasco is over 2.16 as well. I am beyond furious

Donna Heartz
from Lake Elsinore, CA
One day my password was no good. I followed the protocol of getting another password and then my nightmare started.
I noticed they had credit card info that was not mine and wanted to verify the expiration numbers. Well, I couldn't do that because it wasn't my credit card. Then I go through all the hoops and finally, I think I'm home free when they ask me what date I purchased Amazon. A long time ago don't remember the date. I gave them my credit card number that I had just purchased the day before. they said basically too bad so sad. I keep getting shoved to one person to another. I gave them all the information. I have been a customer for a long time. I couldn't believe your customer service. they said that I was locked out for too many attempts.

Lori Mulliniks
from Henryetta, OK
Contacted Amazon regarding my account being hacked. They stated it would be taken care of within the week. 6 weeks later, spoke with Amazon many times, Account continues to be locked, Kindle has been wiped clean, and no one can or will help. E-mails are stated to be forthcoming, Fraudulent activities has not been resolved, no division can offer a plan to remedy or a person to contact.

Shailendra Kumar mishra
from Ahmedabad, GJ
Dear sir my order no 406-1641746-2394751 as per tracking record material delivered but we I am not received material

Harshita Tewari
from New Delhi, DL
Order ID: 407-2259768-3337963
I have ordered a bycycle on 22 January from Amazon received the product on 27 January and placed a return request for the product same day as I have received a damaged product and the part of the product was missing.Since 27 January I have placed the request 7 times in counting through amazon app through mail.Contacted the customer care several times.The customer care is just accelating the master dropping down mail.The delivery team is reverting back and declining the order day by day and no action has been taking up.This is to request kindly look in the matter on priority basis.Otherwise I have to accelate the matter in consumer forum as it's been 7 days now.As I am just stuck the oder is to be replaced.So I am not getting the other till it's been picked up.

Jacqueline Foy
from Palm Coast, FL
The Essential Oil I purchased in this order is defective.
I purchased the Essential oil because it was an "Amazon's Choice" product. I have purchased Essential from several different companies through Amazon and I've never had a problem with the product. The Peppermint Essential Oil purchased in my order#114-715886-2598612 has damaged my Dining Room Table and Dresser in my bedroom, both brand new.
When I received the Peppermint Essential Oil, I poured some into my diffuser on my Dining Room table and a small amount spilled on the table. I didn't notice the spill until a few hours later when the paint in the area of the spill was erased. Then I took the diffuser to my bedroom dresser, where it has been used since I bought the new furniture. The diffuser has always set on a napkin to help spills & drips. After using the Peppermint Essential Oil in my diffuser for only two days It splashed on my dresser. When I tried to wipe it up with the napkin (which is what I've done with other Essential Oils, with no problem) parts of the napkin stuck to the dresser and there are spots of paint missing on the dresser (I have attached pictures for you to view). I am also attaching receipts of my furniture.
Please contact me to let me know how you will resolve this problem.

I had two parcels, both not delivered by DHL to my home address but just dumped at a DHL service point. When I contacted Amazon customer service in Germany with all the evidence that DHL simply were not doing their job and asked if they could raise this with DHL it was simply waived away as there was nothing they could do. What a non service and poor performance!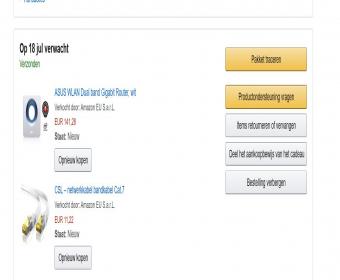 I am a prime member. Placed an order for 2 items on Tues July 16th. Order to be delivered Fri July 19 by 9pm. Received an email at 6p.m. about a delivery delay. Email stated if I do not get the items by Wed. July 24th to contact Amazon. Unacceptable so after trying to contact Amazon requesting a call back which never happened, decided to try their messenger service and got someone who helped me albeit numerous typos in his messages, in addition to me having to restate I wanted the refund to be credited to my CC rather than to a gift card decided to cancel the order.

TALETHA PATTON-BARNEY
from Decatur, GA
Been on the phone with Amazon for 3 days now!!!! 1st day over 2 hours, 2nd day 1 hour, 3rd day 1hour 41 minutes!!! Thats ridiculous! I have a Newborn, my Husband is working and I'm trying to pack up the house by myself! I shouldn't have to be on the phone that many days for that long. And one of your reps hung up in my face, another gave me wrong ínformation an this last one Fernando G. was very not compassionate or friendly or helpful.

Michelle Romo
from Elk Grove, CA
I called amazon customer service on July 19th and spoke to a man named Harry C. I explained to him that I bought a radio that cost me almost 100 dollars on amazon and that it broke and how i only used it a few months out of the year and it was stored the rest of the time. I explained to him that I wanted to see what could be done about it. He got loud and rude and told me that there's nothing they can do and than he said that they don't have a lifetime warranty with a rude and obnoxious attitude. If you decide to hire and keep employees who speak to customers like this than I will take my money elsewhere.

Athena Adams
from Chicago, IL
Wouldn't give one star but it was the only option. I order from Amazon minimum 2 to 3 times a week. I received an email from Amazon saying I had a five dollar credit on an ebook. Only reason I loiked and got one. After I purchased it, it asked me if I wanted to put itbon kindle. Then I was tild kindle books wouldn't count? Next time I went to that book page it suddenly only had a kindle option ti purchase and my app stopped giving me any information on any of my book orders. Then cutomer service supposedly refunded me with no way to check it and said if I purchased the book again I would recieve the credit. Again with no way all of a sudden to see the information in my purchase. After HOURS!!!!! getting the run around with customer service after repeatedly asking for a refund and a email as proof they said theyd email me proof. I can't believe after being such a loyal customer and all my repeated purchases weekly that I could be treated with such terrible service and they were literally really jerks. Ive never had that problem before. I hope you can find who I talked to twice, it should be recorded and teach them how to do their job or get rid of them. Im SO AGGRAVATED from their handling or should I say not handing my problem and it seems like doing their job that I am considering removing your app since I cant check anything customer service doesn't want me to see obviously and just stop using Amazon altogether and telling my family and friends how I was treated after all my business and possibly getting them to quit using you also. Im sure you probably dont care anymore than your customer service department but surely it is no way to do business.

Ofelia Shah
from Chicago, IL
I am appalled that I called customer service to inquire about my package being late with a prime membership. Instead of helping me they cancelled my membership. Basically they told me goodbye who cares leave. After so many years as a customer I was cancelled. I guess my years of business doesn't mean anything.

ricardo_cabello@satx.rr.com
from San Antonio, TX
just had 2 items deliver. the driver put the 2 boxes on the hood of my suv when he took the boxes off he scratch my suv. Don't know if those scrathes
will come off. I do belived that you need to retrain all your drivers. I might have to make a police report if the scrathes don't come off. also I might start buying from ebay if the delivery drivers don't get any better.

In the middle of the current heat wave my front AC unit died. I ordered a replacement from Amazon on 7/16 with guaranteed delivery by 7/19. UPS attempted delivery on 7/18 at 1 PM (thank you). Unfortunately, it is not clear when ordering that someone has to be home to receive it, so UPS took it back and will deliver today by 8 PM. The temperature in the house is 84F as I type this. Had I known that delivery required someone to be home I would have taken a different route.
Your management needs to know that your website does not warn people of such eventualities and it should. This is poor customer service.

I ordered plants from Handpicked Nursery for a total of $65.89. All but one of the plants has survived. I followed the instructions carefully. I have been gardening for over twenty years and considered myself to be knowledgeable about care of plants delivered. I have not had any problems in the past. These plants arrived quite late after I ordered them and were in less than quality condition upon arrival. I took them out of the packaging immediately and proceeded to follow the recommended instructions.
There have been two emails sent to Handpicked Nursery but no one has returned my emails - been two weeks now.
I would like a refund on the plants, please.

GURRAM SRINIVASARAO
from Guntur, AP
amazon returen id :dnHrKJPkRRMA,ORDER ID :405-6350689-2380310 .SO PAYMENT NOT RECIVED PLEASE HELP ME" in Amazon.in Help.

Amazon prime listed they had Amazon 7 tablets on prime day said on the site there in stock and available for 2 day shipping I brought items waited the two day got a message confining it would be shipped by Wed this week nothing came in called them they stated there out of stock so the basically lied on there site saying there in stock now I have to wait 3 to 4 weeks for my others no added discount no appologie they don't care worst service ever

New out of package defective memory card. Samsung 128GB 100MB/s (U3)
I purchased this card as the Amazon recommended device for the dash camera which it was intended to be installed in. The camera indicated defective card. I went through the process of returning it to Amazon, which in the past, has been easy and of little inconvenience. I was very surprised when I learned it would have to be returned through Kohl's Department store Amazon drop off and return. This caused the return to be an hour long process, long line at customer service, one agent on duty and a twenty mile drive to my nearest Kohl's Department Store.
AMAZON ARE YOU LISTENING ??????. This is a lousy return policy!!!!! IT STINKS!!!! please value your customers more than this, give your customers a choice, drop into nearest UPS box like in the past, or return it at Kohl's if the customer chooses to do so.
Some entrepreneur is baying at your heels, and customer-no-service policies such as this will give them the opening they need to become a major competitor to Amazon
Mr. Bezos, please halt this customer inconvenience at once.

Susan Jasin
from Waynesville, NC
You can see from my records that 2 months ago I purchased from you a new note 8. The description from Samsung on Amazon said it was fully submersible to 5 feet. It fell in the water at no more than 2 feet and died. I called Samsung service and they said the phone was not submersible (despite it clearly portrayed as such on Amazon)and not covered for warranty. One salient advantage of my signing up and using Prime is your guarantee.Please send me what I signed up for..."a fully submersible" Samsung Note phone at no extra charge and refund the money I spent on the fraudulent phone.
It gets worse. I went again to Prime and ordered a renewed Note 8 phone and here is what happened. 1. the package was never delivered to my address 695 County Road Lake Junaluska, nor was any message left for attempted delivery. 2. Because this is a vacation address I posted 2 large signs on the front of the house saying AMAZON and my last name. Still no delivery 3.When I went on line to research where it was I was given an 800 number but what I am awaiting is a new phone, mine being damaged (you just read that story) Cannot call because I do not have phone and no email address given nor name of transport, just 800 numbers.4. I finally went to the local Verizon store to use their phone where I spoke to your staff. She said it was at the Junaluska post office and connected me to them.The post office confirmed that it was there. However after a trip to that post office they told me it was at the Waynesville post office .Again whey was it not delivered to my address that was confirmed, per usual. A stroller from you was delivered a week? 5. I finally retrieved it and went back to Verizon to have it connected.However the IMEI number revealed that it was lost or stolen merchandise which they could not hook up. Result: huge stress and delay, and no phone to date. I am in a strange town by myself with no phone for over a week. Maybe I will get one on Monday but as things have been going I doubt it. This is a truly remarkable tale of bad product management, delivery and customer service which leaves me disconnected from the world( GPS mapping, no ability to contact for help in am emergency) and more inconvenience and stress than I could have imagined having dealt successfully with Prime for man years.
Please expedite and actually deliver a new, working, submersible Samsung Note phone at no additional change and refund me the money for the one that sank. That is only fair. I am st 695 County Road Lake Junaluska N.C 28745. sejasin@gmail.com

AKUA MCILWAIN
from Oak Park, MI
I HAVE ADDED INSTRUCTIONS ON MY ORDER FROM AMAZON NOT TO LEAVE ANY PACKAGES ON THE GROUNDS IN FRONT OF MY COMPLEX. I INSTRUCT THE DELIVERY PERSON VIA THE "SPECIAL ADDED INSTRUCTIONS BOX" ON MY ORDERS TO EITHER RING A SPECIFIC NEIGHBOR OR TAKE MY PACKAGE BACK TO BE PICKED UP OR RE-DELIVERED. MY LAST ORDER WAS LEFT ON THE GROUND IN THE RAIN BY A DELIVERY PERSON. I AM MORE THAT ANGRY.

Dean Drosky
from Regina, SK
I had a terrible time with customer service , ordered a chain for my Harley on Monday and paid for 2-3 day delivery to make intime for Harley convention, Wednesday I che k tracking and says pending , call customer service and she tells me it's out of stock for 2 more weeks. We check and shows two left!?? Says will cancel order and give me a $10 coupon for my headache , I find another chain sold by amazon go to purchase and no discount ! Call another customer service rep and could hardly hear her for the crying babies in background, got disconnect 3 times , she called me back twice and after the third time no call back from her , no $10 coupon/ discount, no Harley convention, I understand working from home , I get that. But it's very difficult to explain a problem with screaming kids in the background,

Jessie Garrin
from Cleveland, OH
I'm beginning to wonder why I am paying over $100 for Prime service that boasts two day delivery and fails to provide it sometimes. I placed an order last night 7.16.19, Order# 113-1935125-9069053, and see that it wont arrive until Friday, 7.19.19. Amazon often times does not deliver until late in the evening, which would make this order more of a three day delivery. Three day is still good, but you set the bar at two and I agreed to pay for two. Normally, I would overlook this since the items were not a two day necessity on my end and due to such satisfactory service most of the time, however, my last order also failed to meet the two day arrival, actually taking four days, Order# 112-2905043-9688267. I feel Amazon generally does a great job, but I feel in these instances, some kind of credit is due.
Thank you.

Zoraida Colon
from The Bronx, NY
During prime day I purchased a Lego set for $90; a over 50% discount. Wow, was excited to get it. But then they claimed it would arrive in 1 to 2 months. I tried to cancel less than 24 hours and was denied, claiming the shipping process had begun..
A few hours later I get a text that it's been shipped and on it's way. It arrived the next day, without a shipping box, left in the open for possible theft.
Their return policy doesn't allow returns without a box, so I wasn't offered an alternative to return the item unless I spend more money for the return. Still waiting for a solution. Besides the waste of time and inconvenience, Amazon doesn't live up to their services, especially the disabled.

It seems that lately I have a real problem with my orders. Half of what I order is lost in transit.
How is this possible in a multi-billion dollar corporation?
Why should I bother to order on amazon anymore?

Nanci N Beus
from Mesa, AZ
I just got a letter from a collections agency. Apparently I owed you (Amazon) .60 Cents. It says it was supposed to be taken out of a checking account but the account was closed, none of my accounts have been closed. I called amazon they told me to call a company called telecheck, telecheck asked for my checking account number and then said do you have another checking account. I said no, so they couldn't help me. What I want to know is why Amazon does not send a bill to tell you that you owe .60 Cents. No, they just send it to a collection agency so that I now owe $25.60. Since I can't figure out a way to talk to amazon about this, I have become very frustrated. You would think a company as big and well know as Amazon would be able to tell me how this happened. (I talked to 2 people at amazon) You would also think that Amazon would have in place a department to help people with this problem. If I'm not able to talk to anyone at amazon that can tell me what happened, I will soon be severing ties with Amazon.

Dear Amazon,
This is my humble request to solve my query with this order # 406-0112448-2062779, there are 2 items still not received since long time and in my status its showing already delivered but in actual not yet received, if I am chatting with Customer Care they are unable to solve my query, for that I attached a chatting history, you know same item I ordered before and facing problem then I contact with amazon CC then make it return and they said the problem will be solve soon, then I ordered again and my item still not received.
Note: In this order no. there was 3 item but I request for 1 item to make it return and they also cash back but only for 2 items I am facing problem since long time.
Note: Deliver my Item or return cash back.
This is my request to deliver my item and solve the query please.
Thanks
Arzoo

David Torres
from Bedminster, NJ
Order# 111-4456079-5450628 I find a promotional deal at Amazon I place an order and when it comes for me to receive the package, it doesn't get delivered. What I get instead is a make-believe that Amazon tries to deliver a package to me, but it can't deliver it, my package got throwing by some door floor outside an apartment with a picture taken that's it wouldn't even show the apartment number your so call proof of delivered and that is in my opinion because they never intended to deliver the package in the first place. So when I call Amazon a replacement isn't possible and Amazon refuses to give me the actual subject-it retail value so the I can re-order-it, in other words, Amazon expect me to pay $120.00 a year for a service that Amazon wouldn't take responsibility for and this is coming from one of you so call supervisors or managers, first I get transfer to the delivered dept. responsible for losing my package and when I ask for a supervisor the supervisor has even lest options resolving the problem all they want is to give me my money back and my discount is gone with the wind. What is the use to get a good deal you if you are not going to deliver in the first place? with "Walmart", I get to choose my delivery carrier and they take responsibility for that to be delivered, but not with Amazon and then Amazon fails to deliver on top of it, do not expect me to renew your so call promotional prime membership with this kind of service. it's just an insult to my intelligence.

I had about 8000 songs on a 128gb USB storage I bought. It worked on the computer but not in the car. I contacted Amazon and the customer service person said "that's easy, ill walk you through it" Following his instructions to a t, every song was erased and gone forever. I was going to transfer from one HD to another but the new hadn't arrived yet. Wiped that old one and sold it. Talked it's an Amazon supervisor who basically said Oh, Well. He refused to give me his last name, the name of his boss or the corporate office number. I asked again for the info I requested and he disconnected our conversation. I am out thousands because I listened to their customer service dept.

Bad as fuck. I called to cancel the order two times because it going to a wrong address and the service promised I'm getting the refund and the item won't be shipped for sure. And it's telling me it's delivered now and it hasn't be canceled. Totally wastes time

Be-Linda Shelton
from Las Vegas, NV
The people that are delivering my packages aren't coming to the door knocking or ringing the door bell. They are just throwing the packages on the ground in front of the door or in the dirt in front of the door to be stolen by package thieves. Please correct this problem. Thank you.

Dennis Cush
from Gwynn Oak, MD
Today at about 2:30 pm eastern time I went to purchase one hOmeLabs Beverage Refrigerator and Cooler - 120 Can Mini Fridge.
It had a four-year warranty offer which I declined. I purchase this product using my Amazon Prime store card. I left the internet page went back to shopping, I review my order and noticed a three-year plan for just under $60.00. so I clicked on it and an email came up though everything was good. Then an email came up saying the Amazon Prime card was declined, so they used a Debit card which was on file as an alternate means of payment. Then another email came up saying I purchased two Mini Fridges and one three year warranty WOW!
So five calls to the services department left me with one question, who authorized someone to pick another credit card from my account without notifying me on their decision? Your service department told me it will be 7 to 10 business days before that money was back in my account.
The original Amazon Prime card had a six-month payment option which I took. So tell a little bit about how you are investing my $620.00 for the next 10 days, while that money is now blocked from my use. I must go home now and tell my wife our Debit account is basically frozen for the rest of the month.
Maybe I could get a "Go Fund me page" going while Mr. Bezos invests my money.
Thanks, Jeff
Dennis

marie weese
from Minneapolis, MN
What the heck happened to your delivery practices. Found my shipment 1/8th mile from my house in a hay field. Received e-mail stating my delivery was delivered in a secure location, and thank goodness with a poor picture. In the dark the hunt begin, finally after an hour package was found in a hay field beside a corner fence post. What the heck Amazon, straighten up or business will collapse.

Kaela Caulkins
from Mesa, AZ
So when I ordered my headphones and received them, there was a piece of paper that stated that this product had a one year warranty. My headphones completely quit working within 3 months and weren't subjected to abuse or water damage so I tried to contact betron to complete this warranty. Betron sent me to their support which is on Amazon and I have yet to hear back so I made a call. The person on the phone was very rude and said that I wouldn't be able to use the warranty because Amazon didnt offer it and that I needed to go through the manufacturer. I just want my product replaced.

DUPRECE SLAUGHTER
from Minneapolis, MN
Couldn't get a answer regarding my package not being delivered. I had rude supervisors and customer service representatives.

Yeah thanks for canceling my assembly chair serves now I'm still with god damn old desk because of you fucking people and for billionaire Company you sure have shitty service

Customer service has gone to crap. I've been a Prime Member for over 6 years and I recently have had some major problems with customer service. I spoke to a supervisor in regards to defective tires that I purchased and was told that I would receive a full refund after they received the defective tire back. When I hadn't received the refund I called to ask what was going on and was told that the refund would not be what I was told by the original supervisor, and that it will be processed after they get the tire from ups. I explained that it's never been like this before. That usually I get notified within a few hours after I drop it off that my refund is being processed. Then was told that I would not receive the amount I was told and that he was sorry I was given the wrong information. So I was screwed out of 20 coming to my bank card and the 20 $ credit that I applied towards the purchase. He told me that they do not refund credits. Now today I called to do an exchange on an item and was told I need to send the item back and wait for a round to my bank, 3 to 5 days and repurchase the item. The original girl said she could get a advanced refund to my account so I can purchase the right size. She put me on hold and 15 minutes later was.told she can't do it. That this item isn't eligible for that??
It's stoped and sold by Amazon??? When I asked foe a supervisor I was put on hold for 20 minutes and got hung up on. I called back and told the rep what happend and she said she can't do it either, I asked for a supervisor and was told, they can't do anything either. I said are u denying me your supervisor, she said I am a supervisor. I said that's not what u said when I first asked. I want to speak to your supervisor and she denied me her supervisor. I wasn't getting anywhere so I hung up after telling her Amazon is going to lose a Valuable Customer. Not only a prime member but music unlimited as well. I've NEVER had Amazon Customer Service like this. They have ALWAYS gone above and beyond these past years. And these last few months have been a nightmare.
You don't tell a customer, sorry u were given the wrong info by one of our Supervisors, u honor what they told the customer originally. I am SERIOUSLY going to start looking into other providers and looking at other options. The amount of money I spend on Amazon and this is how I'm treated?? Screw that crap. My money will be going to a company who appreciates me and my money.

address-verification.....
Just send a fax, ha
10 day's of sending faxes and no response,my account is still locked.
And the card they locked the account to verify is still being billed for my Prime subscription!

The online customer chat help is complete garbage. I'm currently still on there while typing this waiting for my problem to be resolved and it's been 2 hours now. I"ve been transferred so many times, that I got transferred to the same person twice. Extremely incompetent.

Brian Marino
from Reston, VA
On or around June 28 2019 I called customer service because I received an email stating I requested a password change. I called customer service and they assured me my account and information was safe. Than on July 10 2019 my bank statement had a $25 charge from amazon on it. When I called customer service they said I had purchased a $25 google play card and it was emailed to me. I didn't not make this purchase. Customer service refused to issue me a refund and I had to dispute the charge with my bank. Now my bank account is frozen and I'm without a debit card for 5-7 business days. This experience has been awful. It's not even about the money. It's about the unwillingness to help and the inconvenience of having my bank account frozen. I was a loyal customer who never had any problems with your customer service.

I ordered a xbocat dvd player on 4/19 but it's missing a part that covers the working parts of the player, so I haven't been able to use it. I tried emailing the xbocat company per instructions that came with it on 6/14/19 but have not received a reply. I've attached a photo.
Are you able to contact the company or replace this item so I can use it?
I'm a loyal Amazon fan. Thanks so much for your help!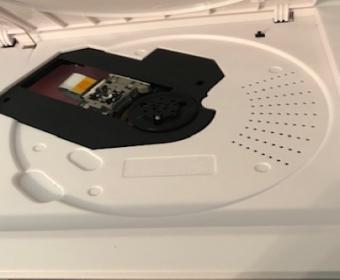 I started using the computer this morning to find out more info about amazon since I thought I'd sign up for the prime time on my new smart TV. It then took me nearly 3 hours to get that done. I spoke to 4 chat persons who couldn't figure out what was wrong insofar as me signing up for the 30 free trial. They were all unable to help me so kept transferring me to another person because they could not understand what I needed & had to keep rereading the chat screen to figure the deal out. That process was miserable. The 1st person I called on my landline phone was also not a good English speaking rep. He told me to get on the computer and fill out my app. I did that & set up my password. Then I to tried watching a movie. That wouldn't happen. It was strange the process didn't work so I realized I'd try chatting with a rep to fix the situation. The last rep I had to finally call on the phone again also had to keep checking with the supervisor to answer my questions about the problem I was having in getting the show I wanted to see play on their site. I was mad it took so long to just watch a 47 minute TV show & I hated chatting with those who could not figure out this mess. I eventually quit chatting because that was far too time consuming. It was also ridiculous to keep explaining over and over that the show would not play. Finally I explained to the last rep I chatted with that this was a shizzy process & I was going to directly call Customer Service. I then did speak to a person in customer service. His English was also unusual. It was a situation where I had to keep spelling out my name because the background noise going on in his workspace was horrible. I could hardly hear him speak. I also had to repeat a lot of my words so that convo was also very time consuming. At the end of the convo I explained that I had spent almost 3 hours attempting to find out why the 30 day free trial situation was not working. I hated wasting all that time trying to get signed up for the 30 day free trial the company offered. The last rep finally told me I would have to give the company my credit card info before they would allow me to watch the free 30 day trial shows. It would have been a very less confusing process if that info was given up front so that customers don't have to spend the nearly 3 hours on the phone trying to figure out why the process was not working. Jeff Bezos should know this is going on since the current process is wasting time and effort by all those concerned in thinking it is a quick process to sign up to watch the 30 day free trial. Clarity is very much needed in advertising this info.

Kristin Leidig
from Rancho Palos Verdes, CA
My account was hacked. I have tried 3 times to solve the issue but the people in charge of the case haven't contacted me. I have $$$ in books and movies that I can't access and no one is helping to resolve this issue.

A friend of mine was asked how Amazon vets there employees didn't think they hired women with 2 felony convictions only 3 years apart for DUI and was unemployed starts driving a new $70,000 new vehicle especially new hires In the last 2 months

Christin Somen
from Chicago, IL
Order ID: 114-4649986-9169013: the description is for flask and then add on adsl items. We added the knives and only received knives. We called and were told the flask isn't Included even though the pricing is clearly for both the flask and knife set together. They will not send us the flasks nor offer anything for their error.

Michael Bibler
from Clovis, CA
Having problems with my Kindel Fire - could not find or reset my pass word. Call customer support and was dealing with a "tech" who was not in the United States - hard to understand and was very rude and treated me like a complete idiot. All I wanted was help with getting or resetting my password so I could connect with wi-fi. I could deal with his being rude, but when I told him to forget helping me and disconnect, he cussed me and said he would gladly disconnect and was going to block my Kindel. I would like someone who speaks English to call and help me with this problem. Very dissatisfied and possible former user of Kindel.

A. Randolph Keene, Jr.
from Yorktown, VA
I received an email from Amazon that stated that I was receiving a refund on the following order:
Nature's Way Kelp; 600 mg Kelp...
Real Herbs Ginger Root Extract ...
Nutricology Super Artemisinin...
Boiron Calendula, 2.5 Ounce...
Ecological Formulas Monolaurin...
Refund total: $92.92*
I did not request a refund or do I desire a refund. The delivery address is the same as I have used in the past. I BELIEVE THE PROBLEM IS ON YOUR END. Please resend the order .
A. Randolph Keene, Jr.

Germaine Murray
from St Louis, MO
The amazon help center and chat is worthless. I have not received to orders and have been told they have been delivered by my Alexa app. They have NOT been delivered. Also, the phone help is worthless as well.

Sandy Banks
from Covington, GA
I purchased rubber floor mats for my home gym from a third party via Amazon. The product I received was defective. The seller knew it was defective. Amazon flat out lied to me. In an email, I was told that they would reimburse me for the return shipping cost of the mats. They did not!

Jon franke
from Hillsboro, WI
Product lost in shipping, not unavailable , you (Amazon ) know this , I payed for a product it's a week late and you do nothing . What kind of business knowingly sits by doing nothing . Get the product I ordered and payed for and Amazon advertised for sale to me . This is not my problem it yours . I don't won't a refund , the product is available and I ordered and payed for it get it here

I have made two orders for a bmw bicycle, one with the number #028-3411656-6417957 and the seller MGC Ltd, the other, first one with the number
#028-1006989-6891556 with the seller Barras de Cortina. Both times the sale was cancelled but the money charged is still sitting on my credit card without the sale going ahead. As I got the information from
Amazon to try again I now have two payments on my account even though I was informed that my card is not being charged. This pushed my credit card to the limit and I am asking amazon how this can happen with a registered seller. I am demanding that the contract is being kept.
Regards,
Susi

Genrikh Ratz
from The Bronx, NY
Very unreliable company, as a result every 3-4th order simply disappears, and to find it or have contact with this irrespective company, how I see it, there is no any chance. Productive contact with this company is cut by this company itself. I cancelled email notification, cancelled prime, cancelled everything possible with Amazon. But, this does not mean, that by the end of following months Amazon will not go in my bank for just my 12 or 14 dollars it wants. I sincerely and seriously do not recommend Amazon to make any contacts with, never.

raul barrios
from The Bronx, NY
complaing about mething i never arrive nor i do not sing anything is time for the return of my money.

Laura Washington
from Reynoldsburg, OH
The always short supply of your coke 12 oz bottles. Again for the millionth time it is marked not available on the regular coke bottle supply.

Monica Edwards
from Roanoke, TX
I want to file a complaint against some sellers selling books here on Amazon. They are asking 27.00 to ship one book out!!!
That should be investigated asap!. They advertise 3.99 for a book and then want $27.00 to ship it out to you.
I will not buy from any Amazon Seller taking advantage of people by charging a low price for their book and then making up for the low price by charging an outrages price for shipping.
Please look into this and mail me here on my amazon account. I can't get into the above email now.
I'm attaching some of the Sellers here...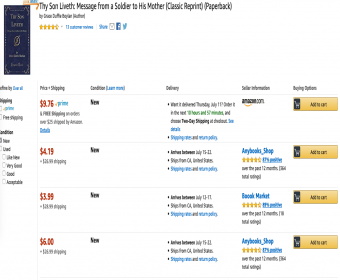 denis arvay
from Cooperstown, NY
Amazon refuses to supply information to AMEX about what I purchased, so I cannot check my AMEX statement for fraudulent purchases in my name. I order a lot of things, so if this isn't changed I'm going to challenge every single Amazon purchase listed on AMEX -- because I don't recognize a transaction record that only displays the amount. Currently searching for a public forum where I can encourage others to follow suit . . .

Eric J Mazzi
from Chambersburg, PA
Packaging issue,
First of all I placed an order for a fish filter uv pump, when received it was shipped to me without a shipping box. The product was damaged so I sent it back and spoke on chat line and got passed around like a ping pong ball from customer service telling me they would get me to the correct department, After 20 minutes of this they told me they were sorry and they would ship me another one and it would be shipped the same way with no box, so I called and got a female who told me they would send this one in a box, upon receiving this the same thing damage no shipping box I sent it back again and went threw pretty much of the same thing pass me around on chat I called again and they said they would put it in a box I also called and they assured me they would ship it in a box. Upon receiving this it was not in a box so I refused it. I got back on chat and was told they would ship me know more and if I wanted another one I would have to reorder it again. CS was down right nasty telling me that since I refused the order that I would have to tell UPS that it had to be marked refused. I told them I am not calling UPS and telling them how to do there job, I now am waiting for a refund in which as of now I have not received it. I have been buying on AMAZON for 12 years and a prime member I am not a kid I am a senior citizen who just wanted the item shipped in responsible way. I also posted on the product page about this but AMAZON would not post it. I do not understand what is going on with AMAZON but would like all people to know that they are changing for the worse.

John Nuttall
from Clifton Park, NY
We are very good customers of Amazon ! We order something at least 5 days a week! We ordered a birthday gift for our son 10 days ago we just saw the item was "lost"!! VERY FRUSTRATING!!,

Margaret Gilbert
from Colorado Springs, CO
I bought a box of Atkins 2.12 oz Chocolate Peanut Butter Bars: 16 plus 2.
They arrived all smashed and the chocolate had melted.
I am very disappointed in this order.
Margaret Gilbert

John H Boshart
from Elizabethtown, KY
An Amazon delivery van almost ran me off the road about ten minutes before this message. It was in elizabethtown ky.42701. On monica drive. Your driver is a jerk.

Sonya Lamberth
from South Bend, IN
I placed an order on Wednesday June 26th, 2019 during the whole check out process in BOLD letters Amazon told me that if I ordered within a certain time frime i would get GUARANTEED delivery by Friday June 28th, 2019 8pm. On Friday June 26th at 3:15pm i got a text that my package had been delivered and was in or near my mailbox. I get home and no package is there. I proceed to go to the front office thinking my package may be there and it is not. I contact USPS and after holding for 32 minutes I am able to start an investigation intp where my package is. I then proceed to contact Amazon customer service through the chat commands and the automated system tells me my ESTIMATED time of delivery is by July 1st, 2019. After argueing with an automated reaponse I get a supposed live person who proceeds to tell me i must wait until July 1st because postal workers sometimes mark packages as delivered even though they have not been delivered. I ask him what he thinks the wors GUARANTEED means. He tells me that he understands my inconvenience but the ESTIMATED delivery time can be delayed due to carrier issues. I point out again that the order screen did not say ESTIMATED it said GUARANTEED and Amazon obviously needa to order themselves a dictionary with GUARANTEED DELIVERY in w
2 days and 5 days later when it actually arrives they can look up the word and maybe the jackasseas that thought it would be a good idea to BOLDY place those words on their page can GUARANTEE that i wil be canceling every service with Amazon since this is now the 2nd package that i have ordered where the word GUARANTEED doesn't mean shit to Amazon

Customer service is poor they rude and don't listen and don't wanna help customers

Mark Schwartz
from Brooklyn, NY
So far I have had 2 bad experiences with Amazon where I ordered something, I was then sent a message, by Amazon, that it would not be arriving as guaranteed, I ordered replacement goods, and then I received the original order and the replacement.
The first time it was resolved by giving me a credit (deducting some of the credit even though I was told they would not). The second time I chatted with customer service for about 15 minutes before being told I have to deal with the seller.
Amazon may be too big to care about these complaints, but I spend lots of money on Amazon for the peace of mind and I will start buying many things elsewhere like Walmart to see if they are more reliable unless something is done to make this right.
Supposedly the first time it happened they were able to give me some sort of $20.00 something that I would benefit from. Apparently that's somewhere is cyberspace, because I haven't received it and have purchased hundreds of dollars worth since then.

Baher Soliman
from Somerset, NJ
Again, one more time and maybe the million, Amazon confused the delivery status and mark the order as delivered while it's not!!
This time is delivery to Amazon lockers under Amazon prime. The tracking page shows it's delivered while the order page shows undelivered. Moreover I didn't receive the locker code.
Confusion and frustration. not the first time, not the second not even the tenth!!
To put facts together, the order number is 113-8438196-4651453
Do you want more order numbers? Personally the delivery failure and confusion is up 20% with me.
Update... I need to reorder immediately but still can't find the refund in my account!! The call center is less helpful now than before guys

Yesenik
from Los Angeles, CA
The team located overseas lacks customer services training! They don't understand the customer 's value and since the company is not theirs ( customer service team) they don't care to lose a long time prime member who spends thousands of dollars in this company a year ! It's a shame amazon has taken those jobs overseas to Philippines and they don't take the time and the resources to properly train these people and leave their business in the hands of short sighted people but corporate its to blame not them ! A total shame

Brenda Henkle
from Garland, TX
I want to notify Amazon regarding a horrible encounter with a Amazon rep this afternoon.
My account number is 4640182108352786
I called at 205pm (texas time) & got hung up on at 2:09pm.
He declared his name as 'Jason' in security. He would not give further information. I asked! I requested to speak to a supervisor several times but told this was not an escalated line, therefore my issue was obviously a joke and not important.
He told me to 'take a deep breath and release'. I asked if he just said that & his response was a chuckle.
I have to tell you that was a first and unbelievably insulting. Not a good rep for your company. I called Amazon customer service not security.
I made a purchase yesterday evening with the same info with no issues.
This guy, if his name is Jason was insulting and definitely NO assistance rather outright insulting.
After getting hung up on , with NO assistance, I decided that no further purchases would be made from Amazon, but I made the purchase that I was attempting to make with the help of a caring & informative rep.Wish I had his name because he was very helpful.
Hopefully Amazon doesn't endorse this type of behaviou.
Sincerely,
Brenda Henkle

Rick Corley
from West Columbia, SC
I had a delivery from Amazon yesterday June 26 2019 and saw tire tracks through my front yard. I guess instead of pulling into my driveway h they did a big loop in my yard. This is unacceptable. Next time they will pay for it.
address is 125 narrow way lexington sc 29073

Linda Parena
from Pittsburg, CA
Recently I found 62 fraudulent transactions on my Chase Amazon Visa statements confirmed by an Amazon Customer Service representative who went through all of the Amazon orders on my bank statements. I was told by this Amazon Customer Service Representative that the woman making the fraudulent purchases had an account with Amazon and had two credit cards listed, one of which was mine. I had been ill for a few months and was not well enough to check each Amazon order on my bank statements. Once I recovered, I started checking my prior statements and found the 62 fraudulent orders. I contacted Chase Bank to report these fraudulent orders, but when the Chase fraud representative called Amazon, they refused to give any information on my Amazon account to him. I gave the Chase Fraud Department Representative the name, address, and phone number of the woman who had made these 62 fraudulent purchases, and he asked me to call Amazon to get this information in writing so that the fraud charges amounting to $1,614.74 could be credited back to me. Called Amazon Customer Service to request the information they had given to me verbally to be put it in writing so that I could submit it to Chase Bank. Amazon is giving me all kinds of excuses about why they cannot put it in writing, so I am doubtful I will get the refund from Chase. I make several purchases a month on Amazon, so I am very disappointed and will close my account if this matter is not resolved. I would like to know whether anyone else has had a similar experience with Amazon.

Tried to login to make a purchase. Had to reset password. Sent called and wanted expiration dates for credit cards that don't exist anymore due to identity theft there's no way I can get into this this your site to make a purchase was on the phone with your customer service people from for 12 minutes and they could not seem to resolve the issue although I did provide my name my address and all the kinds of information this is not acceptable and I'm furious. As a result of this I am on able to purchase anything from you so I hope you're happyI've been paying for Amazon prime for what purpose when I can't even make a possible purchase please cancel the Amazon prime that you're charging me for every month because it's useless because I cannot get into your site to purchase anything. And if you don't remove it I was contacting the Better Business Bureau and to contact my attorney this is ridiculous

When i call amazon kindle dept. no one seems to understand basic questions --- maybe its a translation thing--but very frustrating I try not to order books from here -- when they dont understand there is just a pause then they just disconnnect
Im not even sure this email will be address

Hello,
Please assist. The customer service received from your vendor did not represent their company or Amazon well at all.
The first issue is your vendor Numoon Collection shipped the wrong product and now out of stock. I am shipping back the items and reordered them from your Cymax vendor and had another unpleasant experience below with their business manager.
All I want is the tables, no hassle or any more grief.
From: Howie, Elizabeth
Sent: Wednesday, June 26, 2019 11:46 AM
To: info@cymaxstores.com
Cc: Howie, Elizabeth <Elizabeth.Howie@ncr.com>
Subject: CUSTOMER EXPERIENCE ISSUE, RE: Order Number: VRC121-18112386
Hello,
Can you please assist with my order and most importantly, the unpleasant chat with Jeremy. I also contacted Amazon as well.
I handle customers daily managing accounts for NCR Corporation. How does your company keep customers happy to keep coming back to your business? See below, I would have responded differently and Jeremy is not representing your company well.
Summary
Order date
Wednesday, June 26, 2019 6:03:12 AM PDT
Amount
$329.97
Payment method
Amazon Pay payment ID P01-7813666-9175015
Merchant information Cymax Stores
ch15999-blbdhnje@use1-1.xsell.co
Welcome to LiveChat
Jeremy
Business Account Manager
Good
Jeremy
Hello, is there anything I can assist you with?
Elizabeth G Howie
Why is my order on hold and for how long?
Jeremy
Orders will naturally go on hold for a few hours
Elizabeth G Howie
By tomorrow I can get a status and I understand the product is on back order with an anticipated date of 7/15 that is subject to change, correct?
Jeremy
Correct
Elizabeth G Howie
ok, I will check back in 24 hours. Thank you.
Jeremy
you will want to email cs@cymax.com for updates
Elizabeth G Howie
your company does not proactively provide statuses on customer orders?
Jeremy
There is nothing to update. The product is out of stock until next month
Elizabeth G Howie
Jeremy,
I'm quite smart, my ask is your company does not send any updates until AFTER 7/15 or we have to hound for an update if the product is NOT coming in on time by 7/15?
Read
Jeremy
11:28 am
I can appreciate that you are quite smart. As such I fully expect you to appreciate a business sales chatroom is not the place to ask customer service related questions. That of course would be for customer service which is the email I provided. You would receive an email when the order ships, we will not be sending you daily updates
But if you would like any further updates, you can absolutely email cs@cymax.com
Thank you.
Elizabeth Howie
936-777-0034

We are an apartment community that has an entry door, with door buzzers for each apartment located in that area. It is an open and unsecured area. Several times we have asked the delivery persons from Amazon to deliver the packages to the residents apartment doors located inside one (1) building. We continue to have the delivery people just throw the boxes in the unsecured area at the front of the building.

george mahieu
from Kingsland, GA
I am george mahieu, a prime member. on 24 june I made an order and made it thru prime because I am going out of town on the night of the 26th and prime has overnight shipping. So I ordered 2 items under order number 113-1898598-7738661. When I made the order, the site said if I order in the next 2 hours and some odd minutes, the cat furniture repellent spray would be here the next day and the cat tree in 2 days or Wed. Well Tues came and went and at midnight I contacted the company about it and they answered me with in an hour with an apology and refund. And now I see the cat tree won't bee here until thurs night, which of course is when I will be out of town. this is not at all what I am used to for service from Amazon and I am extremely pissed off. According to tracking, they did not even ship the item until 10:53 today. this tells me they did not give a tinkers dam about their word on the 2 day delivery or care about their customers and I will think twice about ordering again thru amazon. I just hope when I get home Saturday and pick up boscoe from my friends house and get home that the package is still there. Thanks alot amazon for having an unreliable vendor. In 20 years with Ebay at least I only had this issue once, this is the 3rd time with you guys in like 2 years.

I wanted to return a product but could not get them to engage on a phone call to explain why. After dealing with five or more people by web chat I eventually engaged with Niholitha who was impatient and curt and who then just kicked me off the chatline. I was left frustrated and fuming.

Machetta Hayes
from Ashburn, VA
Some time ago, my account was hacked and apparently at that time inappropraite comments/reviews were made under my account. As a result my account was blocked; I haven't been able to post reviews or more importantly ask questions about products before I purchase. I made numerous attempts to resolve, and I am repeatedly told coldly and matter of factly that they will not reverse their decision. I have had my back account compromised multiple times. I didn't jump through this many hoops with my bank to get my money back. They understand that accounts are hacked. I did not do what they have accused me of doing. I just called their coporate office hoping I could connect with someone. Receptionist said, sorry no one you can talk too. But she did give me another email address. I will try that. At that the point, that if they don't resolve, I will no longer purchase from Amazon, no longer use my Firesticks and forbid anyone in my home from shopping Amazon. We may pay more, but I prefer to be treated as an appreciated customer. Amazons riding high now, but every company has a life cycle. I realize I'm a small fish right now, but one day, every customer will count. Amazon won me over years ago when I ordered a facet that broke after some time. I contacted them in hopes of connecting with the seller for replacement...instead Amazon refunded the price of the facet. I wasn't expecting that. But that was years ago, when their business was building. Every satisfied customer meant something to them. I see now that the tide has turned, they no longer aim to please. Beware.

hiren prajapati
from Gurgaon, HR
i was order a product from amazon, after order instantly i was inform to amazons customer care about my address, it was wrong address, even i delete my old address then also delivery show on this old address.
And the wrost thing is that , your delivery boy delivered product to some body without showing any type of ID Proff. in my amazon app show that product was delivered to me and i dont get product even not a single call get from your side during delivery time.
very poor service.
cancel my all the orders from amazon and refund me instant i dont want anything from amazon. even me or my group member never purchase anything from amazone.
here is details of my order;
Order date : 20 jun 2019
order # 171-1355848-4200316
order total 750.00
item qty : 1
delivery by amazon
tracking id 221669019923
above provide all the details you can find delivery person or your service person also.
And i want immidiate refund otherwise i will go to consumer court or share this issue to social media.

Connie OBrien
from Punxsutawney, PA
I recently ordered an outfit from your website. The merchandise arrived and I found that I needed to return it. At no point in my purchase was I informed that the merchandise was coming from China. Thus, comes my complaint. When I mailed it back today, it cost me $23.50 for a package that weighed less than two pounds. $23.50!!!!!!! I was appalled. My suggestion is that your customers are made aware of the location of the seller.

Lee Schaefer
from Houston, TX
I have ordered many items from your service, but this last incident will be my last, with this incompetent company. I had ordered a 15 item purchase on june15th 2019, we were notified that our items were not coming in until june 25 to june 27. I relized then that this was too long for 3 specific items for a remodle job we were doing for a very good customer of ours. So we reordered 3 items and paid for overnight shipping. We were sent confirmed email that our packages were shipped. We contacted our customers to ease there worry that these 3 items were being shipped, and would be arriving june 25. to my horror i found out Amazon canceled our order because the credit card we had used on or previous oder was rejected. Without even a curtsey call to request and clear up the item in question. Our customer told us that they couldn't believe or total lack of competence to them and how they could ever use or services again and canceled our contract for futher future projects. Were are in the home remodeling business, and unfortunately trusted that Amazon would deliver items for our projects. The sheer lack of customer service and the so so attitude that the customer service personnel had towards us was shocking. That is why we have severed ties with this incompetent company. That project cost us over $5000.00. You might want to think again on relaying on this company for any projects you may have in the future. Lee Schaefer.

paul oh
from Hacienda Heights, CA
the supervisor name maria from retail department from costa rica was very rude and not just her it was all the customer service im taking this to a bigger issued matter hope amazon could change their customer service from this rating it is horrible and the worst customer service i ever experienced. i want to make a personal complaint about this but i guess amazon policy is let the customers get screwed over and have amazon customer service employees to waste our time for nothing absolutely no help.

I have had two deliveries from Amazon Prime and both have been unacceptable as far as where the package was left. The first on was just thrown on our front lawn where sprinklers run and no notice of delivery. Todays delivery was left at the front of the house on a brick pedestal where anyone driving by would see and possibly pick up. Delivery should be left at the front door, which mine is hidden from the street with a gate and walkway. Too much thievery and lack of responsibility on drivers part.
I will not continue to order from Amazon Prime if this is to continue. To much to lose financially.
Thanks for your concern.
Carol Dazzo

Sandi Nischuk
from Regina, SK
I am sick of everything being in French. I am English and only read and speak English. Take your French and stick where you wAnt but not on me. Put me back to amazon.com so i can ha e the language I know

My bank statement showed that Amazon made an unauthorised charge on my card for over $800 U.S. last month. I wasted 4 hours in chats and phone calls today trying to get them to credit my account.
Amazon finally answered:
"We can confirm that it was the result of the unauthorised use of your card number.... We recommend that you have this card cancelled and reissued.... We also encourage you to report the crime to the police. ... To receive a refund, you'll need to contact the bank that issued the card.... Your bank will then pass the appropriate paperwork to us."
They also say that they are not permitted to give me more details. SO, Amazon takes no responsibility. They think I should go to the police, but will give me no info. What should I report?? Should I report that Amazon has charged me for something I never ordered? Should I report Amazon for not protecting my card details? I have no idea where or even if a crime was committed! Which country should I report it in? Ridiculous. Amazon claims that someone else charged my card. How convenient. No other charges have been made in the 5 weeks since. No other companies claim any unauthorised use.
I would have expected Amazon to credit my account immediately. Not tell me to file a police report, based on their evidenceless claims!
What a shame. I was satisfied with Amazon for many years, but will not be placing anymore orders.

Nellie Manning
from Woodstock, VA
I need to know how to contact the maker or someone about a Confu hair dryer purchased or May 7 and received May 9. Order number 112-0740438-3685821. The hair dryer is absolutely a piece of junk. It doesn't work and the motor keeps slowing down, doesn't heat up (randomly) and it takes me three times as long to dry my hair as a cheaper dryer. I would like to know how to go about returning it and get one that works. I am not sure that I even want to try another one exactly like this one. It just doesn't work on any of the settings correctly.I thought at first the dryer was going to be fine but it continually gets slower and slower and sounds like the motor is dragging. I would write the company directly but I cannot find an address anywhere in the pamphlet. It states "return the product defective product to the or the place or store where you bought it together with your purchase receipt". Do I return the hair dryer back to Amazon or can you give me an address to notify the manufacturer? The only good thing I can say about this dryer is that it does have a nice long cord. However, the cord is not even an important feature if the dryer will not work correctly. Please tell me the proper steps and who to return the dryer to for either a refund or a replacement dryer that will work.
I do not blame Amazon but this is certainly an inferior product and of no use to me when it won't heat up or blow air. Any help you can provide me will be greatly appreciated. Thank you!

My complaint is mainly towards customer service through phone. I had customer service call me in regards to my order related problem, it was noted undeliverable package. The customer service wasn't pleasant, just by his tone of voice, he didn't provide excellent customer service. It took Alex, over 40 minutes to get my order resolved. His accent was strong which was okay at first, then he would have a hard time explaining things, he talked way to slow and hardly could finish his own sentences and confused me a few times. My suggestion for customer service, is to not have a strong accent individual resolve a customer problem because all they'll do is frustrate individuals even more. I had asked to talk to a supervisor or manager on duty and Alex mentioned they're be no use for that because they will tell you the same thing he mentioned which annoyed me even more. I also asked about the address my package is being delivered too but all he kept giving me was my city and state name, I said my package will not be delivered to a city and state because your missing more of the shipping address. There is so much more I can add to this but it will only make me angry. I would like someone to email me regarding this complaint I have. Ptelynn@gmail.com

giuliana brunner
from Denver, CO
Large white van lisc plate JHQ 859 Denver CO in the 1200 S block of Lincoln St - 5:15 PM today - was parked double parked when he had space to pull over - making our street room for one car to drive by - he had NO flashing lights on - he had the radio so loud a neighbor down the street called me and asked if there was a party on my end - politely asked him to turn the music - he nodded no and gave me the finger and quickly jumped in and drove off - - - so no time for me to grab my tel and take a picture - - - he was also pulled over against the traffic flow side of the street - west side he faced north - which is illegal in Denver -
interesting the vehicle has NO signs indicting the company - I'd be embarrassed too - I will NOT ever use Amazon again - dare you to place a hows my driving sign and tn on your delivery guys cars - hope your liability insurance covers your next accident/lawsuit - it will happen

GIRRAJ SHARMA
from Indore, MP
Myself Girraj Sharma residing at Indore M.P, India,sir I have purchase a bed (Delite kom coco single size bed,)on 02/06/2019, after installation of bed i found that there's a screech on ply ,i have sent the photograph of bed to amazon customer care,and from last 10 days i am requesting for return the item and refund for the same which i have purchase for 8000Rs but no one respond till now ,they are just bluffing me,pls help me in any manner.All details as follow:-
1) Name-GIRRAJ SHARMA
2) Mail- girraj_sharma1977@yahoo.com
3) Mobil- 9960450918
4) Address-House no-145,Ambika puri extension,60 feet road,Near indore airport,Indore ,M.P, INDIA.
5) products- 01 Delite kom coco single size bed.
06) Order no- 403-8685794-9977116.
07) pick up tracking id- 1493119338082
08) Amount- 7999/-
09)Order date-02/06/2019.

Michael Lynch
from Toronto, ON
I was told I would be refunded on 4 items that were not received by me, I called on June 14th 2019 and was on the phone for approx 45 mins, the staff member confirmed all 4 items are being refunded, I then checked my bank account today to realize none of the items has in fact been refunded, so I called Amazon today and I was told I am now being investigated and I need to wait 72 hours for a result, I was highly disappointed as I was basically lied to by 2 employees on June 14th, I spoke with a regular employee and one of their supervisors as delivery people keep leaving packages on my doorstep for people passing by to steal, I live in one of the worst neighbourhoods for crime in Toronto, Canada and this happens to many residents in this area, I even called a few times to please ask them to stop leaving ordered products on my doorstep.

Brittani Flynn
from Denver, CO
I understand that deliveries can be delayed due to a lot of things. But when I contact customer service multiple times and they keep telling me they promise it will arrive the next day and the next day. And yet I still have not received a package. And then refuse to remedy the situation with any type of promo to my account. It's ridiculous.

Tatricia Bethea
from Yulee, FL
Waiting on a refund for a item never received spoke with several supervisor providing wrong information and spoke with supervisor Maria today one of the rudest supervisor I ever spoke with then she advised the previous supervisor gave wrong information Maria was the most obnoxious rude and unprofessional supervisor I have ever experienced and needs to be retrained on customer service experience I hope she is placed back in customer service for a refresh class

jane K Wilks
from Highworth, ENG
Amazon.uk failed to deliver a high value item (2021 iPad 12.9 pro) a childs toy arrived in its place. Amazon did correct this the following day. Amazon customer service the claimed that my account hand a high number of refunds........totally false. many many emails sent to C.Service but just patronising emails in return. Shameful
J K Wilks

Michael w wallace
from Tulsa, OK
My complaint is I ordered a package on October 18th 2021 package was delivered but not picked up by me I left delivery notes in my delivery to either knock on the door or call me let me know the package was there because I'm going to hide theft area and this has happened several times before once I called them packages report on that package what's up all the internet on that package they locked my account and it's been locked ever since with my money $300 my money in that account I want my money thanks took that counting them but I want my $300 salary for sure plus extras for 2 months to call it every 48 hours text image it's like I have called and sent every piece of documentation they wanted over 10 times crystal clear pictures they keep saying can't verify my account every card I have that account is mine in my name and my address so they're playing a game because they don't want to repay me for this but they screwed up on have two returns in that account have promotional credits in that account and then I have another return on the incident report over filed and they probably file that now huh I WANT MY MONEY THAT THEY'VE HAD TRAPPED IN THAT ACCOUNT FOR OVER 2 MONTHS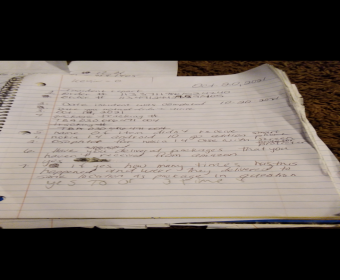 Shannon L Hinkle
from Lewis Center, OH
My fiance and I have had NUMEROUS items be claimed as "delivered" only to find they have not been. Requesting refunds is a joke. I have to file claims with Amazon, FedEx, the seller and probably Jeff himself just to get the same loose promises of "it won't happen again". The stress this causes is not worth it. We spend thousands of dollars on Amazon and disappointment seems to be what we pay for. I used to hold Amazon in a much higher regard. Now they're just as bad as eBay or wish. I've always loved Amazon for how quickly I was able to receive an item after purchase, almost as fast as store shopping. Now? Now I'm lucky if I get it in one piece or even at all.

CHARLES SAINI
from West Palm Beach, FL
i returned the wrong package. I had purchased an item that was defective and when it was time to drop it off at UPS,
i grabbed the wrong box. It contained 350 dollars of medicine and had just been delivered from CVS by UPS and the boxes were identically sized.
I realized my mistake 2 days later and with the dropoff receipt in hand, proceeded to spend over 25hrs going from UPS csr to Amazon csr to the actual UPS dropoff store to recover my package.
There is no info beyond me dropping off the package on the UPS site, and Amazon ran me around with the chats, emails and phone calls.
No one was willing to help with recovering the package sent in error.
I spend over 50k with Amazon over 3 accounts per year and expected some kind of help instead of the cookie cutter apologies and no help at all.
UPS says that Amazon has to start the investigation, not me, because it's their UPS account and Amazon tells me to deal with UPS directly although there is no info whatsoever when i track my package other than the original scan when i dropped off the wrong package.
So disappointing, i am switching my accounts to walmart.com.

JANET ANGLE
from San Diego, CA
I'm a full time employee but I'm only getting part-time work and the manager is always trying to take my hours for no reason and they use the n word I'm feel very disrespect they pick and chose who work and who doesn't I'm new there but I feel very uncomfortable working with them people and how they are so comfortable with that nigga word and I'm trying but I will not be disrespect by no one period

James
from Murfreesboro, TN
I pay for a prime membership solely for the prime shipping option, and I still gets lots of packages delivered late. Currently waiting on two packages that are already past the arrival date and customer service can give no answers. All of these issues seem to be shipments coming from the fulfillment center so it squarely lies on Amazon. I should be getting a refund for these late items.

Christine Griffin
from Mooresville, NC
I ordered 3 face masks on the 17th of November. Did the free shipping. First time customer so I thought lets see how it goes. It was scheduled to be delivered to my house today by 10 PM. I did the order tracking. Received an email as well. Both stated your order was delivered and handed to a resident at 117 PM. No package was delivered. No one knocked on my door. No one at Amazon will give me information about why this happened. All they seemed to say was it was mis-scanned give it til tomorrow. They finally refunded me 2 items and replaced on with ""guaranteed delivery on Wednesday"". This is the only spot I could find to complain. Letting all my friends and family know not to order from them ever,

Arlene Gulley
from Seattle, WA
I specifically stated that the item should be left in "front of door," but it was left in the "mail room area." I did receive it after one of the tenants brought it to my office. I also stated that the hours are from 8:30 am - 3:30 pm, and I stayed at the office until 4:15 pm(11/12/2021) and had no delivery. CAN YOUR DRIVERS PLEASE READ THE INSTRUCTIONS? That is what it is there for!!!!!

Jason Lyerla
from San Bernardino, CA
I ordered a phone 2 days ago. I found it on their website sold by them $40 cheaper than what I had paid for it. This was through a third party seller now I get that third party sellers make their own pricing and do their own thing but Amazon is representing them on their website there shouldn't have to be I have to send one phone back it hasn't been right it will arrive tomorrow and hasn't been delivered yet I have to send that phone back reorder the phone today for the cheaper price and then wait for it to show up which is fine but it's a hassle to have to do all that when they should just be able to take care of it between themselves this makes no sense and it's a bad business model

Since I became a Prime Member delivery has extremely been delayed for everything I buy. Before delivery would take days and now it takes weeks or even more than a month. The delivery has become terribly bad.

Tara Elliott
from Saco, ME
I had a package delivered today. The package was left outside in the rain. There is a porch that packages can be delivered to that is accessible and can be seen from the road. The drivers are continuously delivering these packages to the garage door that has no covering. I have ordered a sign that says this but it still has not arrived (Also, ordered on Amazon).
I am unable to get this package because I am at work and saw it on the surveillance camera. I could see the driver put up his hood because the rain was coming down so hard but did not put plastic on my package or deliver it to another location.
Tara Elliott

Don Joslin
from Antioch, CA
Expecting delivery,Had estimated Time on Mobile phone for delivery ,Watch driver from window,didn't want to take the time to look ,Laziness,not perfessional Don Joslin

A driver should be told driving in our neighborhood is not his NEIGHBORHOOD! He delivered a package on Nancy way in riverside, Ca with windows down and Music BLARING SO LOUD YOU COULD HEAR IT ALL THE WAY DOWN THE STREET. And a block way…WE DO NOT APPRECIATE THIS AT ALL, ITS BAD ENOUGH WE LISTEN TO THIS ON THE WEEKENDS. BUT FOR A COMPANY BUSINESS TO COME INTO MY NEIGHBORHOOD AND BREAK MY PEACE AND QUIET IS NOT OK! I ask driver at 4:00 p.m. to turn it down of course he could not hear me. Please inform your drivers to not drive into our neighborhood blaring music!!! We do not care to hear it…if it happens again I will file a complaint with the Riverside Police Dept, we have a noise ordnance in effect here…

Kathy j Johnson
from Edmonds, WA
I recently ordered a cabinet which came in two -70 pound boxes. It was pictured on the website as yellow. When I opened it up it was a hideous white honey oak. The color was totally unacceptable. I filed for a return - and received the label. I am 63 years old and disabled and had the two boxes taken to the ups store. when I got to UPS, they needed 2 labels since I had 2 boxes. I emailed amazon. they said its 48 hours and they needed to get a label from the third party. I called multiple customer service people while standing in the lobby at ups and got ahold of the "top" customer service who refused to help. he left me on hold for 20 minutes, then hung up on me. He refused to give me to a supervisor, he refused to acknowledge I had an issue. his only answer was to go away and come back when I had the second label. I had the boxes taken to UPS and no way to get them back home or back to UPS again. I could not get ahold of anyone. He refused to give me a different customer service person. the easy answer was to print me a label and charge back the shipping to the third party. he said its impossible. I didn't believe it at all. the only thing that worked was the nice UPS manager allowed me to leave the boxes there and email them the new labels when they arrived (which they did the next day). It was criminal and discrimination toward my age and disability. I am furious

Scott
from Arroyo Grande, CA
What a lying cheating company, i have dealt with them for many years bought mega thousands of $$$$ of products, since Andy took over as CEO, the company is horrible, tomorrow I'm dumping all our investments in AMZ, there Customer Service is a fraud, scam and lies

Jill Kenney
from Independence, Mo, MO
I complained to customer chat they charged me for 2 pairs of shorts at 50 plus dollars each. They argued with me and did nothing. So I called. After arguing they agreed to credit my account. They NEVER did. I contacted chat again.. had a huge disagreement the not wanting to bother even looking it up. Switched nervous times to more representatives who didn't read the chat and would do the same thing. They said call and you will get the same answer.
An option was made for them to call me. Finally I said forward this chat have them read it and have them call me. Within 30 seconds they called and put me on hold. I hung up. I said you didn't follow directions. The did it again. And never called back.
I also have a discreprecency on identical bras ordered days apart never received. Also a 14.10 charge last month. I didn't order anything.
2626629956

Pritesh More
from Karjat, MH
One guy cjeat with me he said he order mobile phone on cod but he order watch at place of cod now I want to return but don't have that guy amazon accont details

Bonnie E Zimmrrman
from Tonawanda, NY
On September 17 I ordered 2 $100 Razer gift cards. One worked one would not. I called to complain and was told to call Razer. I called they tolt was Amazons problem. So I called you back . They took the information and said they would call me back o
me ir credit me due to the $100 gift card not working.
I am a loyal Prime customer and am furious this is till not resolved nor heard from anyone and Im out the $100. my email is flabuf14@gmail.com or phone is 716 861 0034
Bonnie Zimmerman

Jazamier Davenport
from Piney Green, NC
Y'all took money out my account, I canceled my membership . I'm confused I why money was taken out my account . I'm going to have to find a number for y'all corporate office or something cause this makes no sense

Caroline Bernal
from Mystic, CT
I called to check on an order that I had sent in. He told me I had no order after giving my email address. I had just ordered other things in the past two weeks. I said so could you please tell me what I last ordered. The man on the phone said to me a dildo. I said excuse me he said a dildo and he hung up on me. What is wrong with that you people have people like that working there are you out of your mind for him to speak to a customer like that

Prathamesh Modha
from Rajkot, GJ
order # 402-0069233-9779565
order date :- 17/09/2021
invoice number :- AMD2-363525
invoice date :- 19/09/2021
I couldn't on the phone. So place return request on 21/09/2021. And communicate with customer care officer and explain problem. And they place return request and they said the delivery biy will come to pick up phone by 29/09/2021 but he didn't come yet. So i talk with customer care officer and they said the delivery boy comes at 01/10/2021. But yet not come to received phone. And now they said they will come at 03/10/2021.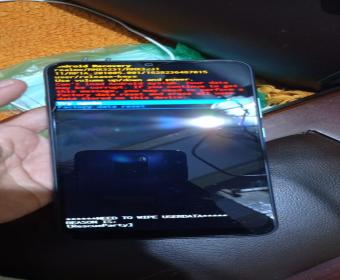 Susan Priest
from Crestline, CA
I bought a SAMSUNG Galaxy Book Pro 15.6" Laptop Computer, Intel Evo Platform Intel 11th Gen Core i7-1165G7 Up to 4.7 GHz, 16GB RAM, 1TB PCIe SSD, Intel Iris Xe Graphics, Win 10, Mystic Blue w/ GM Accessories for around $1200 dollars. Ordered on September 23, 2021 Order# 112-8039472-9985065. When I received the laptop the battery was at about 8% I tried to use the samsung charger that came with the laptop but the charger was bad. I contacted computers USA and this is the message they sent me...
Computers USA Hi, Sorry to here that. The item is 100% brand new. The item is under the limited warranty,please contact manufacturer to inquire the detail to fix it. They will take care of it. We're so sorry for the inconvenience. We're humbly to ask if you may consider removing/editing the feedback. You may follow the link below to do so: http://smile.amazon.com/gp/help/customer/display.html?nodeId=201125570&r... We refund you $30 as compensation in this purchase. It usually takes 3-5 business days. And please let us know your idea for the solution. We sincerely believe we can solve the problem for you faster and more satisfactorily. Thanks for the understanding!
I then went out and purchased a charger for $50 at Best Buy and charged the laptop. At 100% charge I had only 3 hours of time before I would need to charge again. This laptop was supposed to have nearly 20 hours of battery life new. I then completed a battery recalibration on the laptop and recharged it to 100% this gave me about 8 hours of battery life. I then contacted Samsung directly to see if they would fix the laptop because a return to Computers USA is a loss of money and a scam! I explained the problem to Samsung and they basically told me they would not fix it and I needed to do a return or exchange through computers USA because the computer was essentially a bad product.
This is the return policy for computers USA Instructions from ComputersUSA
Please return the item with all the accessories, paperwork in the original retail box.
We will send the returned product to the third party to inspect the product condition. We will verify the serial number for all returns. For any return with wrong serial number, we will charge at least 50% restocking fee. 20% restocking fee will be imposed on any opened item returned, according to Amazon's return policy. For any return with missing parts/accessories, we will charge at least 30% restocking fee.
For any return with missing original retail box, 20% restocking fee will be imposed.
I have now lost 250 dollars on this and at no fault of my own.
I am now very worried that ComputersUSA will lie and say that I did not return all of the parts so I am taking photos of everything as I pack it up to return the item. And will try to keep all or part of the money...
I can't believe that Amazon allows sellers with return policies of this caliber. If you have a bad product you don't keep someone's money all of my funds should be refunded to me once the return is complete. The seller COMPUTERSUSA is responsible for bad products not the customer. I trusted them to send me a product that was in perfect working order and they did not. Taking 20% for restocking a product is ethically wrong when the product is bad to begin with.
Sincerely,
Susan Priest

My name is reshma i have ordered below items 11/09/2021 Its showing deliverd item on 190/09/2021
to below address
Pls note that i didnt receive below item
Either u Deliver below item or return my money
ASWIN .S
VAIKUNDAM HOUSE NO SP 4/887(2)
CHEMPAZHANTHY, TRIVANDRUM
CHEMPAZHANTHY, KERALA 695587
India
RESIST+ Hand Sanitizer 500ml, 75% IPA, Isopropyl Alcohol based Hand Sanitizer Dispenser
Order# 408-7427999-0621968

Devon Cox
from Kalamazoo, MI
Amazon failed to chargeback $400 to the account which lead to a Chase (Amazon) credit card investigation. Following the investigation Chase reapplied the temporary hold of the $400. When this occurred, the transaction was reported to the credit reporting agencies resulting in a 14 point reduction. However, the $400 was never used or credited to the account.

Ed Kasky
from Los Angeles, CA
I returned an item via dropoff at UPS on September 4. I checked on it for 2 weeks and it showed in transit on the Amazon website. Next, I tried calling. All I got were canned responses basically saying that they can't do anything until the item is returned to their warehouse. I could not reach anyone who could actually do something about my refund. I sent them the tracking # from UPS to no avail. This has to be the worst customer service I can remember.

Marie White
from Wantagh, NY
Apparently my account was hacked. In addition on a separate level at the same time I had an issue with my email. To activate my Amazon account I need to answer questions one of which was to list the last 3 items I purchased. My husband purchased two items at the beginning of September. He is 76 years old, has Parkinson's and as a result has extreme memory loss. I don't know what he ordered in September and since I had an email problem, the items are not in my email. I did however give inforpmation to the customer service reps from my checking account with the item numbers of the things purchased. One was approximately $11 the about $20. Plus I ordered a book 3 dqys ago and gave them the title of the book. Plus I gave them items I ordered in the past 3 months. Plus I gave them the serial number of our KIndle. I have Fire TV stick that I just got less than 6 months ago. My TV is old and in the settings there is no indication of the serial number of the Fire TV. I don't know where to find this information on my TV but you certainly can see I ordered it in my past orders. All this was not good enough. I tried 4 times to get my account activated but no luck. I spoke to a rep last night named Kendall and he said that the account would be activated within 5 hours. He also sent me an email. And no activation occurred. I've been a customer for years and spend thousands of dollars every year. I want my account activated!

Zod Mansour
from San Jose, CA
Received a notice that we are going to be charged for Wholefood groceries. This is a fee increase on top of Prime membership. We joined Prime to have this service for free. Now you are charging. This is a double charge and I am oppose to it. I am not going to shop wholefood and I am disappointed in this fee.

Theresa Hunter
from Ashburn, VA
My beloved dad died. The first two times (08/2021I reached someone, they assured me by phone that his $79 gift card balance would be transfered to me. That was a lie both times.
I reached them again today. (9/23/21) first by chat then received a phone call. This time they offered to put it back to his credit card, which I've closed by now. They are keeping the funds. Today's rep says they can't transfer to my Amazon account.
This is so much extra trauma, hassle, and disservice over only $79.
I waited and waited. And followed up three times with them to find out I was wasting my time and lied to twice. I have other larger matters to settle. This has been hurtful and extremely wasteful of my time; each phone call costed up to half an hour.

Royston Luke Carlmain
from Cardiff, WLS
I'm missing complaint service is absolutely ridiculous I ordered a £2014 With a card which then the account went overdrawn but I wanted to refund I asked them to refund it to me on a different card or pay me as a gift card balance so I could purchase the bed again I'd waited over six months to get this bed delivered and it had no chance of ever coming.with a card which then the account went overdrawn but I wanted to refund I asked them to refund it to me on a different card or pay me as a gift card balance so I could purchase the bed again I'd waited over six months to get this bed delivered and it had no chance of ever coming Amazon completely ignored me this money was from when I took the Department of work and pensions to courts to get my sickness benefits and it was supposed to be a new start Amazon totally blanked me ignored me didn't listen to me I know I've lost that dream bed which was supposed to be a fresh start for myself I've ended up with a big huge box in my living room with a mattress what doesn't fit my current bed I feel like I'm just absolutely fab day off at every stage I am not listen to ignored constantly. I also bought a German TV 43 inch to go into the TV which is now planted on my desk. So I can't use my desk for the new business I'm trying to set up Amazon are a joke they do not feel like they have to listen to their customers or even treat them with respect anymore skin of a harsh awakening when they realise people are turning away from home because of the way they behave.

LORI L MEYER
from Petersburg, IL
Dear Sirs,
"A" for amazon products, promptness and service! "F" is for amazons' customer service, their dishonesty, work ethic, and service. My acct is on hold for I'm not really sure why? The 1st email said "unusual payment activity" (was I paying too frequently on my credit card?) Then another email said my acct was related to an acct that the card had been involved in a dispute (not me). To get to the point, I call your customer service every 1-2 days trying to get my acct open, every time I call I get the same response -" the acct specialist will email you in 24hrs", or they sometimes say 24-48hrs. NEVER HAPPENS!. Every call I make, they say we have to fill out a form to be given to the acct spec. I ask them to add, " please tell me what is required of me to get my acct open?" ....... No email! No answer! No response! Worst of all, is being lied too. The last 2x I called Sept. 9& 11@1620 CT, I was told my acct would be reinstated in 2 hrs. Sham on the 2 of you! THAT did not happen either day. Disappointment every time I call. Lastly, I was verbalizing my frustration and that person just hung up on me.
So "A" for amazon and their outstanding service and product! And it's just fun to shop on Amazon! So please unlock my acct. And please tell me why my acct is on hold so it does happen again in the future. And finally "F" is for customer frustration!

Fred Roth
from Greensboro, NC
I ordered luggage for a donation. I specifically ordered as Amazon seller and Amazon delivery. Amazon contracted with USPS for delivery on Sunday 9/5/2021. Amazon sent me an e-mail at 7:03 PM stating that USPS could not deliver and I needed to contact them to solve the issue. I called USPS and, of course they were closed. I called Amazon and after four attempts got someone in the call center who could not help and restated that I had to call USPS, your contract carrier. Have you ever attempted to call USPS and use their system? It is impossible! I called Amazon again and they said that I did not have to call USPS that was their job. I directed this person to the Amazon e-mail. She apologized and said I could call back on Tuesday. I called today and was told that the package was now out for delivery. Really, after I was told by Amazon that it could not be delivered. There must have been a modern day miracle. Remember, on Sunday it was on-hold and could not be delivered without information directly from me. Or maybe the Amazon contract carrier "just did not want to do the work and decided not to deliver." Not enough room here for the complete story, if you want to call me call my cell number in my account. I order as "Amazon as Seller and Amazon as Delivery" specifically to avoid these issues. I never expected Amazon to e-mail me and say "You have to contact our contract carrier"! I hope the package arrives before our donation deadline.

Barbara Heizman
from Lee's Summit, MO
Your drivers are coming down on our dead end street, and while it takes a minute to find a graveled spot to turn around, it is possible. Drivers are continually turning around in our yards, leaving ruts. I'm fed up!

Amber Hammond
from Saint Augustine, FL
An item I ordered for a specific event arrived and it was not like described at all and when I contacted customer service to get refund they continually argued with me and refused to do anything about it.

Angela Pressley
from Kansas City, MO
Order# 114-5648954-7302669
This order was for $30 for Mpow ear buds. They did not work correctly.. I applied for a refund. Amazon sent me the info for a return using a drop box. The next day I put the earbuds in the same package they were shipped in with the Amazon return label. I put the package in the drop box on Industrial Parkway in Knoxville, TN. Never heard from Amazon. I contacted UPS about this, but they said they would not go to the drop box without a tracking number from Amazon. I have been in this loop for 4 months. I am not at fault, yet I am out $30.
Could you at least send UPS tracking number to go to the box return the ear buds?
Angela Pressley

Sheila Collins
from Federal Way, WA
I ordered some red licorice. When I received The lid was slightly open and Security tape was gone.
I did not keep the licorice I was afraid that someone would eat it and get sick.
This is so unusual because I've never had to complain before

Amar kadam
from Nuvem, GA
Team Amazon I have orderedKids watchFew days backBut foundDamaged the battery was not working properlyI am sharing you the order numberWhen I have got the cancel order the automaticallyIt was go on to the replacementIt's my requestPlease do not replacedAnd it get cancelled and refund my amount as soon as possible408-8620117-7844346

Amazon's customer care is the worst service that I'd ever experienced in my life.They'll send you email to pick your return stuffs, yet no one gives a shit to customers worth of time.They never call even after three days of given time.They'll just ignore as they don't want to return the refund.

CHARLES GENZEL
from Monroe, MI
IF I WAS ALLOWED I WOULD GIVE THIS DELIVERY A BIG ZERO. THE DRIVER SAID HE LEFT THE PACKAGE WITH A RESIDENT WHICH IS A LIE.
HE SET THE OVER $200.00 SONY SOUND BAR WITH SUBWOOFER ON THE BENCH OUTSIDE THE BUILDING. HE LEFT IT OUT IN THE OPEN WHERE IT COULD HAVE BEEN STOLEN BY ANYONE WALKING BY. THE BOX HAS WRIGHTING ALL OVER IT STATING WHAT IT IS WHICH WOULD BE VERY INTERESTING TO ANYONE TO STEAL. I HAVE LEFT INSTRUCTIONS TO COME INTO THE LOBBY BUZZ MY APT AND I WILL LET YOU IN TO DELIVER THE PACKAGE TO MY APARTMENT DOOR NOT THE BENCH OUTSIDE!!!
I AM VERY DISSATISIFIED WITH HIS LACK OF PROFESSIONALISM TO LEAVE A FULLY LABELED ITEM OUTSIDE.

mindy leazott
from Randolph, MA
EVERYTHING IS WRONG! PRIME VIDEO AND MY ORDERS NOT HAPPY AT ALL!

Riya nawaz
from Kochi, KL
I am your prime member, i had purchased lots of products from you. From an account Nawaz and account Riya nawaz.
Now i faced big trouble from you. I have purchased turntabel with pattern edges and decorative items. At the rate of 500.
The items showed in the picture is very different, table not turning and those patern edges they showed and explained is pain. No patterns are there. Only plain.
Okai second issues, i tried to returned it three times. Called customer care. Sheduled a date three times. Got a call from delivery person, when i took the phone, there is silent means no sound or no response. Phone automatically disconnecting amd asking for reshedule date. I fed up of
this product, couldn't return it. Thought if i took prime membership i Will get better services. All the delivery person can easily identity my location. They gave this product without asking puor calling me. But now they want to call me to confirm. Okai fine, but when i receive their phone, no body is talking, its completely silence. Blank call.
Very bad and disappointed.

Alisha McKee
from Ashburn, VA
I have been waiting on a refund for over 14 business days. No one will process the refund when the item has been received.

david jero
from Miami, FL
I never bought Andrew Jackson part 3 but was charged for it. I changed my email password and on 5th debit card this year

John Ehlets
from Birmingham, AL
Items ordered are shipping from another country. When reading the site information it said, ships in 2 to 3 days. If in the US why is it taking 30 days to arrive. Because it not shipping from the US. Amazon should state this on their site.

William D Gleason
from Allen Park, MI
Female Amazon driver drove over two (2) loading ramps (damaging same) used for loading tractor grass mower onto courtyard island. Ramps were positioned on curb in support of tractor grass mower.
On Saturday May 29, 2021 at 1:40 PM a female Amazon driver delivered a package to a neighbors home at 21327 Knudsen Dr., Grosse Ile, Michigan, 48138. After making her delivery she returned to her truck and drove away and over two (2) ramps. Both ramps are clearly visible. Driver continued to drive away and knowing she had run over the ramps due to the rocking motion of her vehicle. Driver continued driving away without any concern to damage she caused.
I am requesting that Amazon replace my ramps and that the driver receive counseling in responsibility to driving on the roadways.
I am unable to transfer pictures from my phone to this site.

K Bhardwaj
from Delhi, DL
Because of hanging of Amazon order site I ordered thrice inadvertently . Requesting to cancel my all total orders which are repeated by default & refund my payment
My duplicate orders for cancellation are given below:
17107559579757940 -1item - Rs 358/-
17135229257590744-2items-Rs 716/-
17138140530357109-2items-Rs 716/-
17177797595016331-2items-Rs 716/-

FRANCIS J. TEPEDINO, Esq.
from San Diego, CA
I have contacted AMAZON several times about the defective TECHWARE PRO KNEE SUPPORT. Amazon reperesents that it has notified TECH PRO. Nothing has been done. I hereby demand return of the price I paid and tax, for this defective product. This is a FORMAL LEGAL NOTICE. I fully expect a response in writing in the next few days. Legal action is being considered.
Francis J. Tepedino
Attorney at Law
San Diego, CA.
condorgrup@aol.com
Have feedback for Amazon?
Thanks for your feedback!
Sorry. Please try again later!