Amazon
Amazon Complaints Continued... (Page 9)
847+ reviews added so far. Upset? Call Amazon corporate: 206-266-1000

Geoffrey Phillips
from Port of Spain, POS
I am subscriber to kindle unlimited which my wife uses to access books to read. Recently she is unable to Download free books. Yet my account has been charged $9.99 this month.

Robert Harper
from Jersey City, NJ
Amazon is engaged in fraud. The product that they sent me was not the product that they advertised whatsoever. I also paid an additional $9.00 to send the product back thru U.S. Postal mail with a tracking number in case there was additional fraud going on. The company does not have a phone number whatsoever. They do have an address but no real website that I could find. They did not send me Rose Hip Oil as I ordered. They sent me RoseHip Seed Oil, a room fragrance. Please investigate these fraudsters. I put that room fragrance on my face. I'm pissed as hell and I want them investigated with all of my money back not just simple refund of $35 dollars.
I emailed Amazon support at payments-messages@amazon.com but did not hear back. This refund is for the following item(s): ArtNaturals Rosehip Oil - 100% Certified Organic - Pure Virgin, Cold Pressed & Unrefined 4oz - Best Natural moisturizer to heal Dry Skin, Fine Lines.

Gene Groeneveld
from Marshalltown, IA
I am being billed $10.00 a month from Amazon billing department for a service I did not ask for. Please stop this charge to my credit card!

Gerry
from Brick Township, NJ
I ordered something through their site for $399. The price lowered by $100 before I received it. They won't adjust price. Told me to contact seller. I did and seller said it was a mistake and price is going up. Here it is 24 hrs later and the price is still $100 less. They won't give me a price adjustment. Terrible!

Richard Stielow
from Neenah, WI
It started with a download update on a Kindle Paperwhite. I sent you a e-mail about this earlier and never heard back. Short and brief I could not delete books after the update. I talked to someone at Kindle and we agree to send me a new kindle and when I received I would return my the Kindle I am having issues with. This never happened 4=5 days later I got a e-mail stating they didn't get my Kindle. I called Kindle and got a return label. Mailed up and you received on March 9 I tracked UPS.
I keeping asking when am I going to get my replacement and they keeping saying when they get my old one and I keeping saying I having from UPS you have it. I have chatted and talked to several people and I only get the run around. I wanted copies and chats and I never get, What am I to do. Total I have spend over 6-8 hour between the download update and this issue. Can you please look into and respond to my complaint?

Hi my Amazon.co.jp account name is Coka Yu, I have a serious issue with Amazon Japan Customer Center, I need to complaint and report, require Amazon US Headquarter go out and resolve for me. I ordered two bottles (500ml x 2) face cleansing on Feb 21st, 2016. My order number is #249-9043179-0216606. However the product delivered to me is two bottles (180ml X2) and the order number is different #503-0719790-6128642. Because it's not my order and I can't believe there is cheating in Amazon, I contacted Amazon Japan customer center very soon, however they refused to product return and they refused to refund total amount, one of Amazon Japan customer center leader, 白柳 ( Mr. Shirayanagi) couldn't explain why different order came to my place, but he just insist that the products of #503-0719790-6128642 is my order and push me to receive it.
I couldn't understand all, called the customer center again and again, then they cut off all my phone call regarding any inquiry about this order. To be honest, I feel my moral rights is insulted, I am hurt. Also it's very strange that there is no statement of volume in my original order paper #249-9043179-0216606. I did check very carefully about the volume (500ml X 2), confirmed it before the order and even notified my friend that I did 500ml x2 order.
I require product return and refund total amount. And I require an explanation from Amazon Japan customer center leader, 白柳 ( Mr. Shirayanagi), why I have to receive the wrong #503-0719790-6128642 product? Why he cut off my call to Amazon japan customer center? Why my person information appeared on a wrong order number? Why I do saw the volume is 500ml x 2, but no any statement on the details of order #249-9043179-0216606? Amazon HP to the product I ordered now shows being sold out, 180ml x 2, the HP was updated and corrected in fraud. Attached is a screen shot of my order #249-9043179-0216606

charles buckshorn
from Cincinnati, OH
Ordered a digital tachometer on feb 11/2016 and Amazon customer support guys sent wrong thing. I sent it back with the ups tag that you sent you said it was reordered you said it was delivered but not to me! All i get is the run around online.

I placed an order (002-4693745-9667435) for a $100 gift card to my son to be sent to me so I could include it in a birthday card to mail to him. I evidently misread or misunderstood your instructions because you added $100 to my account instead of sending me an email attachment that I could mail to him as you had done before for a prior birthday. I then tried my best to have your reply redone or even cancelled but could not find out how to do it.
You also have no telephone number I could use to work this out with you. Your 'arms length' relationship and inability to credit my account for the $100 and reissue a birthday greeting to my son for me to mail to him is annoying, making me skeptical about ordering from you in the future. Can you help me with this? I don't want to add $100 to my account which is what you did.

Joffre Lewis
from Reading, PA
An Instant Pot 5 qt. pressure cooker was listed on Amazon for $80. I clicked on it and purchased it. When I viewed my invoice 1 week later I noticed that I was charged $109.95 which did NOT include tax or shipping. I e-mailed and called Amazon expecting to get a refund for the difference. Instead I was told that it was my fault. Before clicking on pay, I should have reviewed the order more closely. I agreed that was true but it did not change the fact that I paid much more than the listed price of the item.
I was also told that &80 was the price for the item at Amazon but my order was re-directed to a seller. that is of no importance to me. The fact is the price on Amazon's web site was $80 and how the order is processed is of no concern of mine. Customer Service, now obviously out-sourced to India, hung up on me. I e-mailed the seller who said that the problem is Amazon's--not their fault that Amazon listed the item for $80 which is not their selling price.
I remember when you could buy with confidence through Amazon. No longer. I can find the same products at the same price through many, many other sources so will now use Amazon to get information about products, read customer reviews, print photos, etc but always order through another seller.

Miller
from Bradenton, FL
I have twice ordered books for My Kindle and only gotten summaries of those books. I paid for the book (I thought) but no book only summaries? I want the books.

Jason Cint
from Saint Paul, MN
I paid full price for a movie to be streamed and I could hardly watch it with such poor streaming quality.

Lou Ann Britton
from New York, NY
I have received two shipments in the last two days which were shipped by Amazon. I live in an apartment complex which has authorized all deliveries be left at the Leasing Office if recipient is not home or does not come to the door. This has been arranged for the safety of the residents and to protect shipments they receive from being left at the wrong resident or confiscated by someone else. This is a recent occurrence as I have not had this issue with UPS in the past. Perhaps there is a new driver on the route. In any event, if I have a package go missing as a result of this driver's laziness/incompetence, you will hear from me again. Shipments tracking numbers are 1ZWX93280322344051 and 1ZW473R20331524222.

Mary Ann Frasher
from Brooklyn, NY
I ordered Amazon Basics DVI (Order #112-1831376-5000209) to be delivered today. I received a notice the item would be delivered by 9 pm. When there was no indication the order was going to be delivered on time, I checked email. Upon opening my email, there was a notice the package was delivered and left at the front door on the front porch of my apartment building. I immediately went downstairs to look for it, and there it was - laying inside the outer door where anyone off the street could open the door and take the package. And someone almost did.
As I was approaching the entrance, someone off the street picked up the package. If I wouldn't have said that's my package you have, that would have been it. Amazon has delivered many packages to my apartment. After you come into the outside door, you have to be buzzed into the building, and then buzz my apartment to gain access. I have had this problem with some UPS delivery people before. I have called them and complained, but they just brushed it off. I told them I would be willing to come downstairs to get the package if they buzzed my apartment. I have done it on occasion because some don't want to climb 12 steps. I can't fault Amazon as they have been very good.
But I would hope they would contact UPS and complain about their delivery and try to rectify the situation.

Alexandra Robinson
from Virginia Beach, VA
I had package today from Amazon mail person refused to deliver it at my home.I spent almost an hour on phone with Amazon Rep and all she eventually was told was "sorry!". I was told on the tracking number I had that USPS would not deliver as address not valid. This was a lie. My address on package clear and as other mail delivered here there was simply no way it could not be left at my house doorway. Told USPS will deliver tomorrow the 4th February from office on Viking Rd in Virginia Beach VA. This package paid for as urgent I expect it delivered on given date. I am very upset with this as no reason for not delivering today.

Charles Mallow
from Snohomish, WA
I was buying a denture adhesive from Bartell's. I was told that the company stopped making it. Went on Amazon and happened to see it for sale' At Bartell's it was $ 5.99 and at Amazon it is $ 129.00 for the same 1 oz. tube. I think this is considered price gouging. The products is called Cushion Grip and it is for sale on there web site.

Karen Crawford
from Alpharetta, GA
Amazon closed my account. They say it is because I returned too many items. Prior to them closing my account the last email that they sent to me said not to worry that my account would remain open and that I could return items. Also when I email them which is the only method they have to respond to me they do not answer the questions I am asking. They also have stated they are not going to refund my Prime Membership that I have already prepaid for due to that I somehow abused my account by returning too many items. What should I have done kept Items I did not want or like? Email them each time to see if it was okay to return a certain item or items? They told me to read there return policy. I did no where in the return policy does it say anything about a limit on returns. Please advise?

Susan Eygabroad
from Rochester, NY
My Amazon.com account was hacked and someone made two purchased on 11/17 for $39.95 and $41.29. Amazon contacted me the next morning. I let Chase know about the transactions and my account was credited. I stopped into a branch to complete the report and get my debit card reissued. ON 1/6/16, my account was debited for $41.29 - one of the two transactions. They said that it was "investigated" and determined to be "correct and authorized", which it was not. I did some research on my Amazon account. Someone had attempted to change the email address just prior to making the purchases.
In addition, for the purchase in question, someone emailed Amazon and requested that they ship the item to an address in Indonesia. I thought this was enough proof, along with my claim that I DID NOT make either purchase was enough to have them reconsider their decision. I emailed the fraud group TWICE now and no one has even bothered to respond. I knot it is only $41.29, but I didn't buy the item. I have emailed Amazon as well. If my account was debited, they received the money. Yet their notifications to me said that all orders related to these charges were cancelled.
So, they received $41.29 for something that was never shipped out (or shouldn't have been shipped). I realize that I am not a "valued" customer, since I only have a prepaid debit card with them. That is probably why they are choosing to ignore my request to escalate the decision. I don't believe that they bothered to even research it. I attempted to attach the emails and documents that I sent to them in support of my claim, but pdf documents cannot be uploaded.

Allen
from Saint Paul, MN
Now every time I try to order something it won't go through. As a company it's been too many times now that I can't get my orders through and it won't work. All I get is having to order through an operator consistently. I'm tired do wasting my time on hold. I will move to a different place to order. Goodbye Amazon after 15 years. Cancel my tax free account.

Robreisha Fields
from Alexandria, LA
I bought a scooter earlier from Amazon.com that was way to high being a single mother of 4! I wanted to get the 2 year protection plan but couldn't afford it with the scooter. Now the scooter plus protection plan are cheaper than what I purchased it for, from the same company! That's just wrong. There should be a price comparison at least. How can I contact the Amazon.com corporate office with my complaint?

Dawn Hauck
from Bettendorf, IA
I placed an order and it was to be shipped on Dec.29 or Jan.12th way too late for Christmas. It was coming from the United Kingdom. I don't understand this third party shipment. I probably will not order from Amazon again as this was my second complaint this season. I really liked the convince of the wish list, but will not use it again!

Dawn Hauck
from Bettendorf, IA
I placed an order and it was to be shipped on Dec.29 or Jan.12th way too late for Christmas. It was coming from the United Kingdom. I don't understand this third party shipment. I probably will not order from Amazon again as this was my second complaint this season. I really liked the convince of the wish list, but will not use it again!

I ordered a watch off Amazon 27 / Nov /15 and received it 30 / Nov / 15 anyways I heard the FedEx truck outside and went to go get my package from the Lady and she personally handed me two packages. One was my bath robe and the other was my $600.00 REACTOR watch, she had put the shipping box w/ the watch in a clear plastic bag and I'm thinking she did that because she was going to leave it outside because it had been raining. Ok so I get inside and my box w/ the watch inside has a judge hole in it and a large portion of the box was torn away and missing.
The lady carrier did not inform me that there was this judge hole in the box PERIOD AT ALL whatsoever nothing :( and you can't tell me that this lady carrier didn't see and know that this box had been damaged because she handled it with her hands and put it in a plastic bag. My package wasn't damaged it was ripped into and that's why I'm so highly upset :P the watch was also missing the band links and the instructions that were supposed to be in the bottom of the watch container itself.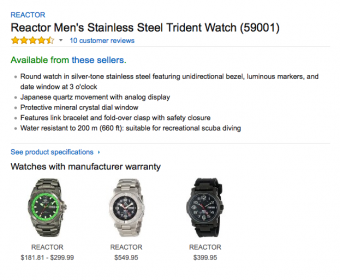 Tracey Maloney
from Pascoe Vale, VIC
I have been an amazon customer for a while now I collect my fav tv shows and movie items what is the difference in me buying seasons 3/4 box set of Stargate Atlantis trading cards but nobody will send seasons 1/2 and 5 nor will they send me the Stargate Keyrings of any kind nor can I receive any more torchwood items I don't buy these to resale I buy them for me as I love collecting what I can but why send me half a card set and nothing else I also tried amazon Australia and now I know why I don't us them all they have are books I have never had a problem never had to send anything back not a happy customer anymore why do they have to be so mean my ratings used to be 5 stars now they are o and I don't like doing this. I have had over nine items that I wanted to buy but can not I brought 7 items and have received 6 so far.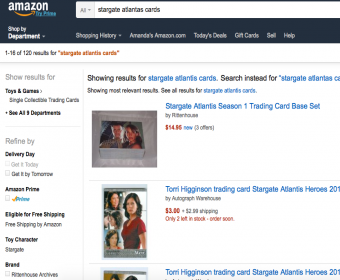 JoAnn Yoder
from Batavia, NY
Wednesday, October 21, 2015 I received my credit card statement and was charges $106.92 for an Amazon Prime Membership. I did not request a membership and I do not want a membership. Please credit my credit card for the amount of $106.92 and explain why this amount was charged to my account. Please someone help me, so far I cannot get Amazon to reply to my complaint.

JoAnn Yoder
from Batavia, NY
I received my credit card statement yesterday and there is a charge for $106.92 for an Amazon Prime Membership. I did not sign up for an Amazon membership and I do not want this membership. Please credit my credit card for this amount and explain why this was charged to my account. I am hoping someone from the corporate office will reply to my complaint.

William C Dugard
from Benton, LA
Recently ordered book thru you to Hippo Books for a book titled Things to Come by J Dwight Pentecost with a cost of $15.99 on order #119919442 on date of 8/23/2015 (Hippo Book sales order #97572770). Did not receive this book but one titled The Gunsmith 394 #6009-1-835-165200 and the USPS tracking #9241 9901 0154 9266 4107 53. It has cost me $15.99 and did not receive the book I ordered. Looked up the company Hippo Books and found unsettled complaints and find it hard that you do business with this type company. I have used amazon.com for many orders and you can verify this. Sad, we are now on a bad foot because of this type business from someone you transact business.

Karen Belan
from Mukwonago, WI
We placed an order for some jewelry for my daughters birthday on July 27 2015. the order was for over 70 dollars. we paid an extra 10 dollars for 2 day shipping. We got a confirmation notice that the order will ship on Aug. 20, 2015. My daughters birthday was on July 30th. What can we do to expedite this order? Her birthday has already passed and we are not happy with how this has played out. There was a mention that an order over 35 dollars would have free shipping, but that had strings attached and we decided to pay the extra money to ship in 2 days. We have not had a problem like this in the past and we felt like we would increase the amount of purchases over time. Our daughter lives in Ca and it is so nice to be able to shop this way. It is unlikely that we will continue if this is what we can expect for delivery. Please let us know what we can do to submit our Amazon.com complaint to the corporate offices.

I have received four messages from Amazon advertising their products. these messages were received 14/6/2015 at 00.07am. 17/6/2015 at 00.08am.and 18/6/2015 at 01.02 am . I made a complaint about this unacceptable anti-social behaviour, or so I thought. I have received a further message today 23/6/2015 at 01.01. This problem needs immediate attention by Amazon. It is not so much the unwanted advertising but the times the messages are being sent, why in the middle of the night to disturb people who are asleep. This definitely not good business practice.

I used to work for Borders and I can tell you it was going down hill before Apple came out with the iPad and before Amazon came out with Kindle. There was a lot of theft from customers. At least three employees I knew of stole from the store while I worked there. One employee liked young girls so much so, some of the female staff changed their work hours to avoid him. When I mean young girls, I mean my former colleague talked about dating high school girls. He was in his early 30's and as creepy as they come. The general manager was indecisive to such an extreme she was replaced by another general manager who fired an employee who for the past 5 years would come up with every excuse in the book to come to work late or leave work early, or not come to work at all. The excuses were inappropriate.
Anytime a rep from Ann Arbor, the headquarters, would come over there was no discussion of how to make the store more efficient or the work environment safer for the workers. I was once told to engage in a conversation with a thief whether that person was carrying a weapon or not. The pervert of the store, I mentioned him earlier, chased after a robber before face planting right outside the store. He was trying to impress a group of teenagers. Another employee over another incident was physically threatened by a customer who yelled out: "I'll cut your pockets!" I left after I realized my life was worth more than a paperback.

Susan Ivison
from Midland, TX
I was given an Amazon Kindle fire for my birthday on 5/15/2015. Worked fine until 5/27 and then I couldn't get it to come on. I asked my daughter for the receipt and took it to the local Best Buy. The girl at customer desk acted like it was an inconvenience to wait on us. Snatched the receipt out of my hand and and started counting on her fingers then told me the 15 days was up. Informed me I would have to call Kindle. When asked if there was anybody that could help me she said Nope call Kindle the 15 days are up! Basically handed me the receipt and walked off. That's not the first time they have been rude! Last time I ever go thru the doors at any Best Buy. Will suggest that my family never buy me anything there either!

Gregory McClain
from Phoenix, AZ
I am a very active Amazon customer. More than 200 orders in 6 months. My first complaint is a general one. Any time there is a problem with an order after the supplier says it has shipped there is no link or way left to contact the seller making it nearly impossible to resolve delivery issues once the seller proclaims shipment is enroute. Can't something be done about that? It is even worse once the seller proclaims it has been delivered whether it has or not.
I do not get mail delivery at my physical address only UPS or Fed Ex. I can deliver to the physical address. When sellers use the postal service as a delivering carrier and then chose the physical address as the delivery point, it always goes wrong.
I have two orders that this is an issue with. The first, placed in February was for Honey Catalina dressing (originally diverted because of weather related issues) has never been delivered, still shows as enroute and has been charged to my card. Second is Ajax sent by post to physical address.

Charles Current
from Albany, OR
I received terrible customer service from JB Tool Sales through Amazon, so I put up a negative seller review. Amazon took the review down at the seller's request. Then the seller emailed me to gloat about getting it taken down.

Charlie D.Baines
from Naperville, IL
Have not refunded the amount of money, owned to me for items ordered by mistake. Two comforters. $ 152.08. This company is a ripoff scam online. Products sucks. Bought a man bracelet. Piece of crap. Can't wear it. Clasp is no good. Don't do business with this company.

I have been happily ordering from Amazon, same items regularly every 1 -2 months, with no problems. Orders were sent by regular US Post to my post box. Last week my items did not arrive on schedule. I then received emails from Amazon saying "Shipping address is undeliverable - items have been returned to sender". I noticed that for the first time the order had been sent by FedEx, not US. I phoned Amazon customer service - what a joke! Spoke to 2 different agents who could not explain why a change had been made in the method of shipping. I asked to speak to a supervisor - there were none available.
Then I am told that.....the shipping department decides how an order will be sent. So I reply that US has worked perfectly for 2 years. Sorry, it is not possible to ask the shipping department to send an order by a specific carrier. But this is the same regular order that always arrived just fine. Oh Sorry, that can't be done. I then tell her that I will be forced to cancel all my regular subscription orders. I am told that she will send an email to somewhere telling someone that I am unhappy.
Then I am told that she will make an exception for me and will send my order by special delivery to my home. I explain that there is no home delivery, just post box. So I give her the address of the post office and she assures me that it will be delivered the next da. An hour later I get an email saying that I have been issued refunds for all the undeliverable items? So I am cancelling all orders with Amazon. There is no customer service from this company.

The listed and publicized date for the rate increase for Amazon Prime is April 17, 2014. Today when I attempted to sign up for Amazon Prime at the rate of $79 I was informed that signing up at this time would cost me $99. At this date it is the one(1) month free trial period that is pushing me beyond the April 17 deadline. When I offered to decline the one(1) month free trial period which would now make my signing up date before the publicized increase date of April 17. I was informed that I would still be billed the new not yet in effect rate of $99.
It is abundantly clear that the one(1) month free trial period in this case is designed to deliberately push anyone new signing up past the date of April 17th. when the increase is supposed to take effect. By this very shady maneuver it is in effect making the date of the increase actually March 17, 2014. I thought that Amazon was a much more reputable company with the integrity to stand behind it word and publicized dates.

I've purchased several downloads from Amazon. Here lately I went to sample a song and it automatically downloads as mpu (whatever that is). I called to report it, a complaint was submitted, that was about 2 wks ago and I still haven't got a response. I went through checking all the songs I've downloaded and they are not complete. I called in 2 days in row concerning this problem. My account was reset, they gave the go ahead to re-download, i received a message saying they were sorry, there's problems with processing my account. This was during and after the call with the rep. I don't know about ordering anything else but I can say the last couple of times I've purchased the mp3 downloads there have been nothing but problems.  I will be looking for another site t purchase my music from.

I bought a control panel from Universal Pneumatic & Electric Group – Amazon Marketplace Out of Atlanta Georgia and when i ordered it said 3-5 day delivery 10 days later i filed a complaint. I recieved a call from Universal telling me to remove my complaiont as its hurting his bussiness. I told him that i never usually complain but the delivery is not what was promised and he was hurting my bussiness and that shipping was Anazons problem not his.We responded to e-mails where he is calling me and he was stopping shipment of my order even thogh its paid for.

I recently sold a set of vhs tapes on amazon.com, the tapes were in great condition, I just made dvd copies of the tapes before I shipped them out and made sure they were rewound and the packaging was in great condition. I sent them out at a good price and within a week, I get an email saying that two of the tapes were not rewound and that they were jamed! The seller claimed that they were recieved that way. The seller is demanding a refund and shipping cost to return the tapes. What can a seller do as I don't want to get a bad report.
I have also had buyers claim they never recieved the cd's that I sent and I have started using tracking and if it is an expensive disc I request that the cd be signed for. I wonder if amazon.com tracks the deadbeat buyers that constantly do this? It seems strange to me that I have so many problems with buyers when I check my sales items and make sure they are good quality when I ship them and what can you do when they switch out their broken vhs tapes or say they didn't receive items?
You can't accuse the buyer of anything as you will get blacklisted and it sure seems funny to me that I have so many problems with buyers. Something is fishy here and I would like to know what can be done about it.

I applied for the Bank of America credit through Amazon because it held a big discount for purchases for a limited period. When it arrived I decided not to use it and cut it up and threw it away I contined to purchase all my christmas shopping thinking that I was paying with my usual debit card. Unknown to myself Amazon had placed it on the account as my default payment. I complained to the Financial Ombudsman and Amazon or Bank of America contacted me to see if things could be resolved. Incidentally, I did not receive the discount either and have been charged interest.
The lady on the phone was very clear about her side of the story and practically accused me of lying when I said I wasn't aware that I was using the card when buying things. I asked her to put things in writing and she because very rude indeed. I wonder if anyone else has had this experience. Is outrageous. I have been a loyal 10 year customer of Amazon and spent a ton load of money in that time and am seriously considering not paying the bill just so as they'll take me to court and I'll be let people know exactly how they treat their customers.

Chefs Depot has been serving customers for over 30 years. Do you think that there are complaints from the general public about them? Sure and also about everything else on the planet. They are a good company and I have been buying from them a long time. I got shafted by Amazon, people search Amazon Complaints! Chef Vlad

1st time customer.purchased pedal tractor with gears today — add says goods over 25£ free delivery to Ireland — confirmed by Melanie at Amazon by phone prior to purchase.based on this info I promised this gift to my grandson. However delivery to Ireland was refused –no choice but to use UK address and pay delivery charge. Now faced with extra cost and hassle of getting the gift to Ireland. I feel cheated by this false promise of free delivery using the Amazon website and false advertisement. 1st and last time customer of this service.

Amazon charged illegally (or rather stole) my money on the first day of my credit card billing cycle for last month. Amazon was smart to do so because the victim I would only get a chance to know that my money has been stolen after one whole month when I receive my credit card bill. I ordered items from Amazon awhile back. However, I didn't buy anything at Amazon.com anytime soon. It is weird for Amazon to start charging/stealing money from me, which is only special in that this day is the first day of my credit card billing cycle of for previous month! Some bad guys in Amazon intended/determined to steal.

after ordering an item from Amazon fri.15th Feb for £14.95 and been quoted £2.49 p&p and promised confirmation of order, which l didnt get, l check the order myself and see l have been charged £18.99 for a £14.95 item which is ludicrous. l've sent emails of complaints and spoken to a rep. from Amazon this morning who promised to email me back within 30mins – nothing!! what do you do now?

I received a book, the 17 day diet-Dr micheal rafael moreno without any amazon order No. or other info. required for returns. It was sold by:twentyfourseven-books,which is the reason I didn't get free shipping. I couldn't get a phone no. to call and discuss my problem with amazon. I am not going to order any thing from amazon.com anymore.

I'm hoping that someone may be able to assist me or at least look into this situation. I'm dealing with a bait and switch situation with Amazon.com and at this point I'm getting absolutely zero assistance from their own customer service. I purchased an expansion pack from Amazon. It was available from Amazon, not their "sellers, " and they advertised it for $9.99 plus shipping. As of October 25th, my order had still not even been shipped. I contacted Amazon customer service, via e-mail, and was told that the product is not available through Amazon and that I would need to cancel my order and purchase it from one of the "Sellers" on the Amazon product page!

I have been hissing about this all day – I love finding this site. Amazon has suspended me from selling on their site. Just because my email was accidentally entered incorrectly because I had added an extra .net. –their form is too short to show the entire email at once –not their fault –and I'm just guessing that's why- they won't tell you why you are suspended or work with you to correct anything. The Gate keepers do an excellent job. Does any one else think the amazon smile is an erect circumsized male organ? Maybe it's because I feel screwed. They are as bad as Walmart ruining local business. Boycott Amazon. How long will it be before they get this scrubbed? If you want to do business you need to bend over and grab your ankles.

The drivers have very bad attitude and just throw packages and then literally yell when you say something. I just had driver: Kerry Headley argue because we only accept deliveries in the back dock area - we have a huge sign outside that says that but he got very angry.

James Laviletta
from Monmouth, OR
Placed an order to be delivered 3/16/2019 for GP money clip for order cost of $33.97.
I have not received the order and wish to have the order cancelled immediately !!
Please ensure that there are no charges to my account.
James Laviletta

Steve Sheasly
from Pendleton, OR
Order# 113-0495526-7842618
I know Amazon is huge but if enough of the customers quit buying because of crappy customer service it will fail. I have not been able to get satisfaction over a stupid MEGA hat.
I am willing to pay the $2.00 difference but my emails are ignored. So as of right now I will not order anything on Amazon again until this is resolved.
Just so you know there are a lot of others talking about how Amazon is screwing the little people.
Steve Sheasly


i ORDER A ICINGINK CAKe printer and i use it once I tryed to contact the icingink company have not heard from them it does not work paper get caug
ht up in it i dont want to pay for something that does not work i got it on my amazon card

I bought a X Chair from you and received the wrong chair. UPS was supposed to pick it up at my home. They required me to stay home all day and then they told their office that they had left a sticker for me because I was not home . I was home and I have no sticker. Never again will I buy from Amazon, Whole Foods, or any company that Amazon owns.

Bob Fuller
from Madison, TN
This is a "chat" I had last night.
Me: Tracking ID TBA928948109000
says tried to deliver but couldn't Funny I was hom all day
You are now connected to Nikhil from Amazon.com
Nikhil: Hello, my name is Nikhil. I'm here to help you today.
Me: They did not try to deliver I don't care what they say, was home all day
Nikhil: Oh! I'm sorry to hear that you haven't received your order yet.
Me: If they try tomorrow just leave it by the garage door. I know I live in the country but they did not come
Nikhil: Let me connect you to a member of the team that will best be able to help you with this. It will only take a moment.
A Customer Service Associate will be with you in a moment.
You are now connected to Helpline Support from Amazon.com
Helpline Support: Hello, Please give me a moment to review the previous
Me: Looong moment
Helpline Support: Apologize. You have a complaint about the carrier Amazon Logistics ?
Me: Did you read the chat????
Helpline Support from Amazon.com has left the conversation.
This is not what I call customer service.
Bob

This was a GARBAGE PIECE OF EQUIPMENT. The watch appeared to have a nice look, sturdy, viable, But the piece of shit was not able to change languages, and when I called for tech support, they informed me that I would have to send the watch back and they would send a replacement. Well, they did! The next day I received the watch and then the problem was the date and time could not be changed. Called customer support again, and they informed me that they had to customer support for the watch and I would have to return it. Which I did, both watches were returned on the following day 3/13/2019 (tracking nos. 1Z46FF499037607735 and 1Z46FF499038050899, respectively! the Evershop Smartwatch was/is a piece of shit and now AMAZON does not want to refund monies back to my gift card account. I am being told that the fulfillment department has to receive (physically) before my refund will get back to me. This process of which Amazon speak is not true, in the past, I have returned items and within 1 business day, my monies were returned to my account. Also, I am a prime member. While the CSR's I have spoken to repeatedly tell me that this is what the policy is, why in the past have I not EVER had to wait this long of a period time for a refund! I feel reprehension because AMAZON is continually telling me that this is the reason for my receiving my money back and today, I received an email from them telling me that my addresses are wrong/need updating and when I go into my account the correct address are in place. I used to like the security of AMAZON but like most monopoly's the little guy gets fucked over every time. To this TRILLION DOLLAR COMPANY, you can keep that $89.00 dollar purchase and stick up your FUCKING ASSES! I FIND THAT ELIZABETH WARREN - Presidential Candidate - IS CORRECT IN HER OPINION OF HOW AND WHY LARGE ENTITIES SUCH AS AMAZON SHOULD BE BROKEN UP! TOO MUCH POWER. Now, I wonder did they hit the mark of being the first trillion dollar company due to malpractice in salesmanship, rip off vendors or company's using Amazon to sell their wares. They use subpar representatives who do not know and/or can not truly understand the gravity of the English language and the customer has to deal with incompetence at every turn! I'll go back to brick and mortar until or unless this type of bullshit is fixed, and just in case this message is not clear, I AM EXTREMELY PISSED OFF about this situation! Longtime use to be..loyal customer!

I called two women representatives. There was a problem with my order and I showed some frustration, both women gave attitude in return and showed no patience. Should not be working in customer service.

Burt Heacock
from Camrose, AB
I have a complaint about Amazon Echo. I bought 2 echos. No problem for a month. The music stopped I called Amazon Echo and I was told there is an $83.00 fee to keep the music going. I was never told this. I was never told there is a 3 month trial for music.. I paid it but was furious. Then music stopped again. I was told that Prime Music trial was over. WHAT PRIME MUSIC TRIAL?? I was never told that either. Then I was told I can still get music wthout Prime and things went well and then a year later the music stopped again and was told Prime subscription ran out.. I never wanted Prime!! Now to get music I have to pay for it either by month or year. This is rediculous. The customer service rep I called. Jacob K.( would not give me last name or ext. or proof of the call. He said the company sent me emails re: costs.. reminders etc.. NEVER. He took down my information and was going to send me information on all the emails etc. they sent and calls I had with them in the past. I said.. Ok.. what is my email address. He said he could not tell me. I said give me 2 letters out of my email to prove your going to send me info.. He said he could not. I tried sending complaints to Amazon complaints on google and got back a message saying AMAZON disconnected the connection.. I tried Safari and also Chrome.. Same message.. What has Amazon done to us? My suggestion to everyone.. DO not buy Alexa and I hear they have been caught with spy wareing. now. Im fed up.

Greg Chumney
from Grand Rapids, MI
I get an e-mail from Amazon saying my payment was declined. I THOUGHT it auto paid on the 1st but never paid atttention. My debit card got comprimised 2 days ago. So i may have to wait up to 8 more business days for a new card.
Amazon can't accept cash or checking account direct information. Guy on phone told me to use a friends card. I'm not comfortable with that. That's shady. I have money.
Im cool without. I have premium spotify, hulu and netflix accounts. My fiance can swap over to barns and noble for her books and all of my companies I run can start using any other service than amazon aws.
Please don't think Its me being petty. The customer service rep made me feel like he was judging me, like I was broke and trying to scam him. When my card got comprimised luckily the crook only got $120. Chase is really good and even credited me, which was super nice. I feel bad because somebody in the end is paying that... I wasn't expecting that but getting $120 back that was stolen was nice. Anyways, i did what anyone would do in this situation, i drove to the bank, got $400 cash from the teller so I had money for groceries etc for the 10 buisness days id have to wait and whatnot.
MOST of my bills are auto paid on the 1st, except my personal host gator and Amazon prime. But just to be safe i called them and asked what i can do if there's a delay with the new card.
Every other place; storage, netflix, xbox live, host gator(go host gator, i owe them $550.49 due in 2 days and they are working with me!), etc are all good and whatnot. But Amazon wants to treat me like im trying to scam them for $15 lol!?!?
Just glad it happened to my personal account and not business account. Because a service interruption would be painful. But, from now on we will not ship anything using any Amazon cloud services.

Patricia Izzi
from Wolcott, CT
I just received my order of poopuri and one of the bottles was opened and spilled out in the shipping bag. Can you please replace this item. Thank you

devin leroy
from Isanti, MN
I set my account up a lot of screwing around to start with so I got pissed off an my mother ordered my product threw her account witch is prime member.long story short when I got my packedge it was folded up like it should not be... then I tried for 2flippin hours to email them like it says on the package it says no address found after spelling out an explaining in detail that they should not have bent the package the way they did because they wrecked it ..now I'm trying to get this taken care of but I can only get ahold of amazon to do something about it I waited long enough to get my package now I have no use for it do to weather change im pissed off not at amazon but the dumb a$$es at www.D2Moto.com have no common sense or there just that stupid when it comes to there products they sell an ship that must be why they use you guys to do there selling cause god knows they don't no how to shipping or advertise or even set up a email address to contact.. ok my mother amazon prime account name is Patrice Leroy her email address is tazironhead@gmail.com that's were the order was made from Im responding from this account.. so please let me4 no what we can do to resolve this thank you...……….Devin LeRoy

Ronald Burk
from Riverside, CA
If this is someone's idea of a book rated as: used in very good condition.
They are sadly mistaken. The paperback book was, "The First Circle".
Please send me another book. I will be glad to return this one.
Thankyou.

Albert Gentille
from Urbana, IL
I did not receive my merchandise. I just got an empty package. It was placed on march 7 2019. It was mini LED flashlight keychain. Order #111-7103335-1725817. Thank you, Albert

I happened to check my books on Amazon today. The one entitled "The 56 Signers of the Declaration of Independence" is shown at a price of
$58.22. Please check your records on this, as this price is exorbitant. Should be less than $20. Thanks, Jay Woodard

I requested cancellation of Amazon Prime montly charges back in January 2019. Amazon charged me again in February 2019. I sent another e-mail demanding Amazon cancel Amazon Prime, and the corporation sent me an e-mail stating this was done. Now, on March 11, 2019, Amazon chaged me again $13.90. The corporation owes me $41.70. This is some sort of fraud scheme Amazon is doing to keep deducting money from my checking account.
I will file a complaint with my Congressional Representative's (Marcy Kaptur) office providing the e-mails and the account deductions of this fraud hoping a full investigation will be conducted and the appropriate employees/mamangers are held accountable through termination of employment and refunding my money.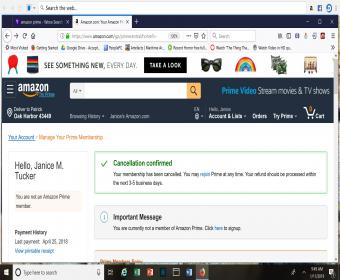 I would never order from amazon again. Every customer service rep I spoke to was very unprofessional regarding this order. I still have resolved my issue.

I ordered an item. The goods did not reach me and the order was canceled. That's why I'm not happy with Amazon.

Delivery options changed on 3/7/19 asked that all future deliveries be left in the door. Received notification and picture that item was delivered. My package was just left on the porch unsecured for anyone to just walk up and take. Very dissatisfied with amazon delivery people

erwin one
from Aurora, CO
BEHOLD, I COME AS A THEIF IN THE NIGHT. Sounds familiar? Yes, Revelation 16:15 of the Bible. Well folks, let's talk about Mead Johnson & Company, LLC: Evansville, IL 47721 that sells under the great umbrella of AMAZON. Let's not forget the CIVANT MELADERN 1.7 oz that's marked-up for $124.99 and CIVANT sells it directly for $49.99. AMAZON was informed about the outraged PRICE AND DONE JACK! Don't believe IT ABOUT THE PRICE? Go to the CIVANT website. By the way TV buyers be aware of your prices. I sent several third part sellers emails in references to the mark-up price. Um, not surprising after I discovered TV mark-up's for a $100.00 more that WALMART sells for a lesser price. These sellers are only focus on profit and anything outside of that is just a blueprint to rob your better under AMAZON UMBERILLA. Next click do your research think before you hit it. The trick is WALMART you pay cash up front where as AMAZON will bleed you with white-washed longer payments. You are only paying for conveniences. I placed an order to Mead Johnson and Company for baby formula to save $10.00. Folks did I make that $$$ million click of the mouse. They sent me four cans of formula that could compare to buying a ripe banana in the store. Just don't go out into the sun with it. You'll get better profit for your hard earned money by eating it in the store. Well folks, that's what good MEAD did for me. Baby formula that was almost to expire. I was getting the same formula at WALAMRT and KING SOOPERS (KROGER) that expire in January 2020 instead of next week. SO YOU SEE HOW OLD MEAD MAKES THEIR MONEY BY SENDING YOU A PRODUCT WITH LESS SHELVE LIFE. No worries AMAZON and LLC will protect them but who pays the hospital bill for a sick child?

Rita Gunning
from Pittston, PA
I had to call customer service 4 times today. Customer service in India and the Philippines did not know the benefits for prime benefits.Supervisor Toni V. In the Philippines would not connect me to an USA tech. This is the third time when I have called and had problems with customer service overseas. I am an prime member and have an prime credit card. I am thinking of cancelling everything with amzon. I started shopping with your company in 2009 and have been a prime member from for couple of years and brought a lot from you.
Rita Gunning 570-654-8701

Pamela Baker
from Kingwood, TX
Placed an order with a guaranteed 2 day delivery. Should have arrived yesterday. Rec'd. notice of "sorry, there has been a delay". Email this morning stated package was delivered at 12:28 this morning and left in a secure place. No package was found. I began to see numerous other complaints w/exact information from my neighbors on our neighborhood online site. Each person rec'd an email stating their package had been left in a secure place sometime around midnight last night as well. One person who lives several blocks from me had a delivery time one minute from mine. That doesn't seem possible. Driver finally arrived this afternoon all our packages. Please check your drivers. This has happened several times in our neighborhood and this was the second time for me. It has been suggested that the driver may be marking them all delivered late at night when in reality none of them had been delivered. I used to be able to trust Amazon w/delivery times but after not receiving packages as promised twice now I am not sure I will continue to trust Amazon or continue to order? Please check your drivers

steven laye
from Mount Holly, NC
I ordered a box of of no sting barrier film and the money was taken out of my debit account on 3\219 . I have not gotten any email s or any thing from you. Nothing has been shipped of no conformation number or anything. I would like to receive the product I ordered or my money returned to my account.. This is your problem so you should correct it. Steven Laye

Gary A Buie
from Lawrenceville, GA
I am a frequent Amazon customer. Normally, there are no problems. However, there was a delivery problem with my most recent order. I called the Amazon Logistics number (I had received a call from this number the day before). I spoke with three representatives whose use of English was EXTREMELY poor. They could not properly understand my email address using normal phonetics. With all the money I spend with Amazon. I requested an American representative, which did not happen. Communicating with a customer properly is essential. If Amazon, the richest, most successful company in the world cannot hire people who speak proper American English, it should be banned from doing business in the US. Putting your call centers off shore is not only an insult to the country that has made you so successful, it is an insult to your customers.

charise sullivan
from Paris, IDF
If I could give no stars I would. I think it should be illegal for you to make me pay for something I already have included in my prime account just because I am travelling. I have been watching several shows included on my prime HBO account and now that I am in Paris, I can't watch them with out purchasing them. I turned all my location services off and still can't get the shows I already have included. this should be illegal. I will look into that and thank you.

nicholas paolucci
from Thousand Oaks, CA
In December I placed an order for 2 ratchet belt buckles 1 silver an 1 black just like it was shown on the amazon site. I received 2 black ones , so I returned them, explaining the reason. They were replaced by 2 black ones again. This time I returned them with an explanation and a note with the items that I want one silver and one black just like the picture shows. As of today I have not received a replacement nor a credit to my account.
#113-8385809-9267415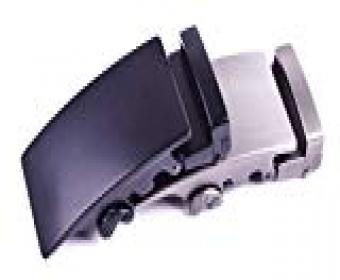 We ordered something from Amazon today it said it would be delivered March 6 now the ordered delivery is March 7 th what is this you lure people in by lower prices and fast delivery then do not deliver. This has happened before but I let it go not anymore ! Thank you

Re Richardson-Dwanyen
from Washington D.C., DC
I have been a customer with Amazon for perhaps over 12 yrs. Initially I had an account but relocated to another country for a few years. Upon my return I joined my daughter on her Prime account. She was pregnant and made many purchases during her pregnancy. Due to several missed-up, I remove myself from her account and got a new Prime account. I used to pride the services provided.
To date, the expectation of Amazon's services is up in the air. for the past 7-10 days I've received conflicting information from Amazon staffs only regarding refunds causing more confusion than I cared to deal with. I had refunds of purchases set, cancelled, redone and undone.
I've also had 2 charges erroneously place on my credit card. I had to order 2 pairs of Dr. Martin shoes and now on the 3rd one simply to get the right size, as British sizes are larger than the US . I order a set of jewelry which are categorized as delivered in the Amazon's notes but was never received. All of this happening last week.
To top all this off, I ordered a pair of Creazrise Women's Round Toe-lace-up combat mid-calf boots order#111-9534098-2070637. Last night I realized I was being sent 2 pairs and not one- so I called but wasn't able to discuss my concern right away because a I was being haggled by a Representative to id myself, which I did repeatedly but she said that wasn't how my name appeared on the account. I thought I knew my own identify. Had to call back and got another Rep. This time she had me go into my account to id myself by specifically mentioning the fact that there's a "Hyphenation" between my median name and married name. It wasn't just enough to say my name is Re Richardson-Dwanyen. I was expected to use the actual word "hyphen" that separated the two names. First I couldn't see what she was getting at. I repeated my name than asked what was different from what I'd said previously. In my explanation I said my name is the same...Re Richardson with a hyphen then Dwanyen...it was at this time she said that's it! I asked the word "hyphen", then she said yes. Oh, let me mention that for my peace of mind, I edited my name and just kept it as Re Dwanyen
I was arate. Which married women when providing her name says for example "my name is Re Richardson hyphen Dwanyen? This is the rule she says. We finally got to the extra boots being sent me. He explanation was that it was in my cart and got checked out erroneously.
I am aware that I have very little value in the eyes of Amazon...I do not have millions but I value myself and will not compromise my sanity just to remain a customer. I have a few packages to return and pending refunds. After that, I'll be closing my account.

Lloyd Aguilar
from Saltsburg, PA
P.O. # 104 866 0263 376 586 2---Lifeline Nutrients SELLER IS SELLING TOXIC PRODUCTS, HAVE TRIED GOING THROUGH REGULAR CHANNELS WITH POOR RESULTS,HAVE TALKED TO MOST OF OUTSOURCED PHONE OPERATORS ,IF YOU CAN'T HELP ME WITH THIS PROBLEM I DON'T WHERE TO TURN ,THE TOXIC PRODUCT WAS SUPPOSE TO BE FOOD GRADE BUT IT WAS NOT. I WOULD LET THE MATTER GO BUT FOR THE COST OF THIS PRODUCT WAS $69.50 FOR ONE POUND (SUCRALOS) I GUESS I COULD CONTACT THE FDA ,PLEASE GET BACK TO ME LLOYD AGUILAR PHONE 412.694.4844

Donna Roy
from Warwick, RI
I just got off the phone with Amazon after a two hour telephone call, which should have been resolved in two minutes. I contacted via chat regarding a gift card I sent my niece. I made the mistake and stated that immediately, I sent to the wrong address, I just wanted to know if it had been cashed. The rep confirmed it had but stated "no worries, we will replace for free with expedited shipping. All I need to do is go into my account & update the correct address, which I did. I then got another rep, with no explanation as to why, and he asked my visa number, last four & expiration, along with the address again and asked my phone number. Stated I needed to speak with customer service. I then got on the phone with them, and they asked the same questions again, account number, address, and let me know that the card was cashed. I stated I already knew that and was awaiting confirmation that the new one was going to be mailed. They then stated that it was cashed and they could not send a new one. I explained I had the chat conversation in front of me with rep name and what it stated. I then was put on hold again, and then asked if I had things I sent get lost before? Again on hold, came back again, and needed to submit a form to claim, she will send it out. I was not happy to say the least and said I needed to speak to someone else, again on hold, now another rep, same questions again, explained again, back on hold, can send me out the form, I stated I was not getting off the phone until I was honored with what I had in writing in front of me, a new card mailed out. Again on hold, now for an additional 20 minutes, and a manager on the phone. He was going to resolve by issuing refund to my card and then could I send a new card. He explained rep was incorrect, I said not my problem, your problem, you honor what you stated to a customer, and it is in writing. I have worked customer service for many years, a manager, and never did I treat a customer this way. I am a prime member and check the records, I order weekly, what a way to treat a customer! Your customer service lacks in so many different ways that I cannot even list them all. I just wanted to let you know that I did not appreciate being treated this way, and it took two hours to get what was promised me in the first few minutes of chat.
Please improve your customer service or I will no longer be a customer. You need to spend more time on getting customer service reps trained in a way that they know how to treat their customers with the respect that they deserve. .

Steve Hart
from Irvine, CA
LET THIS SERVE AS NOTICE to stop using AMAZON website. See below
I was unable to login to my account to return my shipping to standard delivery. It charges $32 delivery. Also way too much trouble logging on to your sight. Since my choice of password is not acceptable, please note I will no longer be using Amazon
Way too much trouble. I hope you solve your login issues, I for one,no longer deal with it.
It used to be seamless to use. I'm sure I'm not a large account, so my loss wont be felt.
My hope that it may lead to solutions to keep your customers. With so many choices,I encourage you to act quickly
Sent from my Sprint Samsung Galaxy S9+.
-------- Original message --------
From: order-update@amazon.com
Date: 3/4/19 10:01 AM (GMT-08:00)
To: Steve Hart <Steve@3LPARTNERS.NET>
Subject: Successful update of your Amazon.com order of "1/4" Split Wire Loom Tubing..."
Your Orders | Your Account | Amazon.com
Order Update
Order #114-6563368-5443467
Hello steve hart,
You've successfully updated the shipping speed for your order! We'll send a confirmation when your item ships. If you would like to view the status of your order or make any changes to it, please visit Your Orders on Amazon.com.
Your updated shipping speed is:
Two-Day Shipping
Your order will be sent to:
steve hart
3001 HARBOR VIEW DR
CORONA DEL MAR, CA 92625-1514
United States
Order Details
Order #114-6563368-5443467
Placed on Monday, March 4, 2019
Delivery Estimate: Thursday, March 7, 2019
1/4" Split Wire Loom Tubing - Color: Black - 100 Feet
Sold by Electriduct Inc
Condition: New $23.00
Item Subtotal: $23.00
Shipping & Handling: $32.00
Total Before Tax: $55.00
Order Total: $55.00
If you need further assistance with your order, please visit Help & Customer Service.
We hope to see you again soon!
Amazon.com
This email was sent from a notification-only address that cannot accept incoming email. Please do not reply to this message.

Deborah Antlitz
from Matteson, IL
Around Christmas I got an email from Amazon saying they had intercepted fraudulent purchases on my account. They claimed they had cancelled the orders and reversed the charges. But the next month I got a bill from my Chase (Amazon) card bill with those fraudulent purchases on it. I notified Chase that the charges were fraudulent, as attested to my Amazon, and they took the charges of my bill. But now Today, March 3rd, I get an Email from Amazon saying that 1) Chase has asked for money back from Amazon, and 2) Amazon has LOCKED my Account until I send them the money. I can now not get into my account even to contact them, or to remove my credit card information, or to cancel my membership, because they have themselves (Amazon Company) has hijacked my account over their own fraud mess and Locked my Account with sensitive information attached to it.
Do NOT TRUST AMAZON!!!!!

Amazon Prime Truck Delivered my order to the wrong address. Even the photo has the wrong house number but I have been on hold for 30 minutes trying to get a refund. I am done with amazon

Angela Rager
from Johnstown, PA
I joined Amazon Prime in February 2018. I logged on today to see when my subscription was up and found that if I have an EBT card or medicaid card it would only cost me $5.99. REALLY!!! I'm married, we both work full-time jobs, have two children, and budget my money to find out that Amazon is offering a cheaper service to individuals on EBT. I am not against help for individuals who need it, but it's concerning that Amazon feels because I work full-time and budget my money that they can get the $119 a year from me, which is probably making up for the $72 they are getting from people with assistance. How is Amazon Prime helping people with assistance?? I am spreading word about this to EVERYONE because this is absolutely ridiculous. I canceled my Prime and will be shredding my Amazon credit card as soon as it is paid off, with the money from my job. No I don't want you to offer me "free" PRIME, Amazon can pay my Amazon card balance off then I won't spread this ridiculous news around. It's great to see peoples faces when they are told this because they are NOT aware of this amazing service AMAZON is offering to medicaid and ebt cardholders!!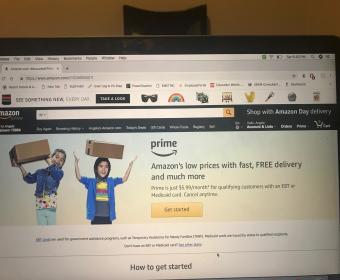 I noticed in my bank statement that on 11th January 2019 a deduction of £7.99p was recorded against your name with the term 'Prime' and some
figures. I e mailed you that I am not a member of Prime, but I got no reply. Today whilst reviewing my bank statement, again £7.99 was deducted
on 11th February against your name. I wish this to stop, I have never contracted or authorised any such deductions. please explain what this is
all about.

I ordered Tommy Robinson and Peter McLoughlin's book Muhammad's Koran: Why Muslims Kill for Islam twice, the first time on August 24, 2017 and the second time on May 26, 2018. It is an excellent book and one which everyone should read. McLoughlin has done extensive research to present the entire Koran in reverse chronological order because the verses revealed later abrogate, or replace, the more peaceful Meccan verses revealed earlier. In this version, the abrogated verses are legible but have a line drawn through them to make their abrogated status clear. The number of the ayat (verse) and surat (chapters) are given for easy reference to the relevant texts, all found in this book, which includes the entire text of the Koran, from a classic translation into English by a Muslim convert many decades ago. Since the fundamental distinction in Islam is between believers and unbelievers, every phrase expressing this distinction is highlighted.
In addition, there are about a hundred pages on Islam which are one of the best introductions to Islam I have ever read. There are thousands of footnotes with additional interesting and valuable information at the back of the book. Last year I couldn't find my first copy, and I wanted to read it again so much that I ordered a second copy. This is the most important issue of our time. Islam by its nature is a religion of war, not of peace, and it demands that every land in the world be submitted to Islamic law either by peaceful persuasion (da' wa) or by violent jihad. There are thousands of verses in the Qur' an and in the hadith (holy examples from Muhammad's life) which explicitly demand war, killing with the sword, beheading, throwing gays off of buildings, stoning accused adulterers, marrying nine-year old girls, killing all Jews, killing apostates who don't want to be Muslim anymore, killing those who criticize Islam. The problem is in Islam, not in the books which responsibly investigate the issue and give so much supporting documentation for every point made.
And I saw last night that Amazon had banned the sale of the book on its site. Why would you do this? I don't have the answer as to what could or should be done to protect Western civilization and the human rights of every person in the world, but this book is fundamental in learning about the threat. Preventing people from reading soberly-presented texts like this only enables the violence and the threat to our citizens and civilization.
Could you please look at the book? If you do, you will see that it is a serious, well-presented book, and it is important for preserving Western values. Please reinstate this book at your website. Otherwise you are contributing to the ignorance of people on a topic vital to our lives, and your action has already been compared to the Nazi book-burning in the '30s, and rightly so.
Sincerely,
Cynthia Parker, J.D., Ph.D.
ciaparker2@gmail.com

I ordered a commercial water heater on the 16 of this month (February ). I received the order on the 22nd. I was very pleased with the speedy delivery because the tank was for a restaurant and very time sensitive. The big disappointment came when I transported the 500lb. package to the restaurant for installation and found that it was totally contrary and inferior to the one that was advertised on your site; the one that I ordered. I had no choice, based upon the time-sensitive situation, but do the installation.
As you can see, I have been a steady Amazon customer for quite a while. Words cannot express the distrust and the deception that I feel. My customer knows that the heater was installed but he is not aware, at this time, that it's is not the one we looked at.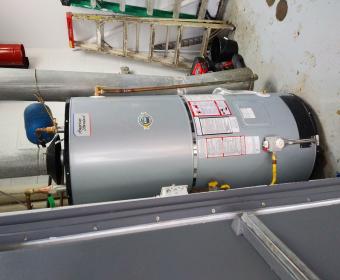 I ordered a commercial water heater on the 16 of this month (February ). I received the order on the 22nd. I was very pleased with the speedy delivery because the tank was for a restaurant and very time sensitive. The big disappointment came when I transported the 500lb. package to the restaurant for installation and found that it was totally contrary and inferior to the one that was advertised on your site; the one that I ordered. I had no choice, based upon the time-sensitive situation, but do the installation.
As you can see, I have been a steady Amazon customer for quite a while. Words cannot express the distrust and the deception that I feel. My customer knows that the heater was installed but he is not aware, at this time, that it's is not the one we looked at.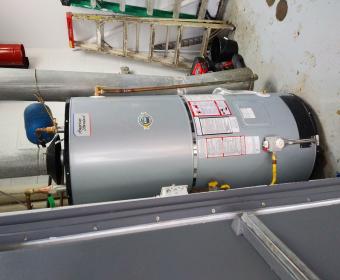 Steven Loye
from Sparks, NV
You charged my credit card $119 on 1/26/19 now I unable to sign onto Amazon Prime without too much effort to re register. No problem last night. Please fix the problem, go fuck yourself or I will file a complaint with the FCC. My phone number is 775-848-3239. I personally hope Bezo's wife takes him for $70 billion.
My name is Steve Loye and I approve this message.,

Greg Pearson
from Salt Lake City, UT
Your Amazon driver was incredibly rude. Plate 1ADD65 was delivering to 405 S. 8th Street about 130pm on 2/25/19. He parked in the middle of the road, blocking traffic. When a Fedex driver pointed this out to him, the Amazon driver began cursing loudly. Words like "motherfucker, douchebag and asshole" were audible to anyone within 200 feet, including a mother with two young children. He driver was a large gentleman with red hair

I ordered a kindle book paid full price of $12.99 but only got the sample but was charged for full book. I would like to receive the whole book if I could. The order number is Order #D01-1850330-8374651
Can you help me with this. I didn't know where else to go to.

Darla Christiano
from Oxnard, CA
In Nov 2018 I bought thru Amazon a GoKiddo T5 3 wheeled scooter type wheeled vehicle for a Christmas present for my husband. It came from the company; Go-Kiddo Riding toys, Bueliton, CA 83477. I gave it to him at Christmas but he did not open it until February 2019 so that our grand kids and he could ride it. [you wiggle your butt side to side to propel it forward; a fun & great exercise vehicle]
Well it's useless. No matter how much you wiggle your butt, nor how much effort you expend, it does not go forward. The rear wheels of the 3 wheel toy are stationary and the effort gained by the back and forth skiing type motion DOES NOT propel it.
So I sent away, thru Amazon for another thru another company. The new product works PERFECT; even though intended for an adult, and since the rear wheel articulate side to side with you motion, even our 6 year old can propel it and they all love it; my husband loves it too.
So last week I sent an email to Go-Kiddo asking if I can order, adult size, where the rear wheels articulate side to side in an adult version and they ignored me. The owner's manual says the answer complaints within 72 hours; nope - they do not. Can you help us receive a replacement product from the company & credit for this one? Darla

Gary Stricker
from Livonia, MI
See the below chats below (or the transcript you sent me by e-mail and help me.
at
Sound
Me:
what line (on the drop down menue)do I choose to contact someone about this order STEM Club Toy Subscription: 5-7 year olds
Order #
D01-9781675-7590600 The recipient has not received anything yet
You are now connected to TEKULA from Amazon.com
TEKULA:
Hello, my name is Sowmya. I'm here to help you today.
How are you doing?
I'm sorry to hear about that. Do not worry, I will help you with it.
As I check here, I see that the STEM Club Toy Subscription: 5-7 year olds for free.
It is a subscription that has been started on Dec 3, 2019 on your account.
I don't mean to rush you, but we've been idle for 1 minute. I want to make sure our chat's still connected. If you aren't able to respond in 1 minute, this chat will close.
Me:
When will the recipient receive it? what did I pay
TEKULA:
As I check here, I see that it is for free.
Me:
When will the recipient receive it? The web site says it's $19.99 and is shipped every 3 month
TEKULA:
Okay. Can you please allow me a moment while I check with this.
Me:
yes
Was a shipment to be made in Dec and then again in March
TEKULA:
Yes, Gary. It is a digital order.
It is subscription channel on your account that has been subscribed through amazon for free.
It will expire on March 3, 2019.
Me:
Was a shipment to be made in Dec and then again in March and why did I pay $19.99
TEKULA:
I'm checking with the charge of $19.99. Please be online for 2 minutes.
Sorry for the delay, Gary. I'm still checking with my leadership team. Please be online.
Me:
ok
TEKULA:
Thank you.
You are now reconnected with a new agent Summaiya.
Summaiya:
Hello, my name is Summaiya. I'm sorry your previous chat disconnected. I will try and pick up where you left off.
Me:
ok
Summaiya:
I understand that you are concerned about the order. Let me check the details and see what best I can do for you.
Me:
ok
Summaiya:
Could you please confirm your billing address?
Me:
7605 woodview #4 Westland Mi
Summaiya:
Could you please help me with the postal code?
Me:
48185
Summaiya:
Thank you, please give me a moment while I look into this.
Me:
I logged into my account why are you now asking for info on my account
Summaiya:
It is for security purpose.
Me:
I need security to ask a question???
Summaiya:
Just to confirm, you have not received,
STEM Club Toy Subscription: 5-7 year olds right?
We need to ask the billing address just to confirm that we are dealing with the correct account.
Me:
Yes the recepenant has not received anything thing yet
Summaiya:
I'm sorry for the trouble,
Please stay connected for 2 minutes, while I look into this.
Me:
ok
Summaiya:
Thank you for your patience.
I have checked the details and right away I'm transferring you to the specialist team, as they are in the best position to help you. Please stay connected for a moment.
Me:
ok
A Customer Service Associate will be with you in a moment.
You are now connected to Atheka from Amazon.com
Atheka:
Hello, my name is Atheka. Please give me a moment to review the previous correspondence.
Me:
ok
Atheka:
Gary,just to confirm are you referring to this order number#D01-9781675-7590600?
Me:
I think so
Atheka:
Item name is "STEM Club Toy Subscription: 5-7 year olds"?
Me:
yes
Atheka:
A member of our specialist team will be the perfect person to help you with this. Let me connect you to a member of our specialist team. It will only take a moment.
A Customer Service Associate will be with you in a moment.
You are now connected to Nikhil Reddy from Amazon.com
Nikhil Reddy:
Hello, my name is Nikhil Reddy. Please give me a moment to review the previous correspondence.
Me:
you are the 4th person I have chatted with, what is the problem
Nikhil Reddy:
I am really sorry for that.
Are you referring to subscribe and save?
Me:
Forget it. I have logged into my account, given you addition info and none of you have answered any of my question
I give up,
Nikhil Reddy:
Let me refer you to the retail team.
A Customer Service Associate will be with you in a moment.
You are now connected to Alagu from Amazon.com
Alagu:
Hello, my name is Alagu. Please give me a moment to review the previous correspondence.
Me:
no I am not waiting to talk to a 5th person
Alagu:
Let me connect you to a member of the team that will best be able to help you with this. It will only take a moment.
A Customer Service Associate will be with you in a moment.
You are now connected to Mohammed from Amazon.com
Mohammed:
Hello, my name is Mohammed. Please give me a moment to review the previous correspondence.
Thank you for staying connected.
I'm sorry for the multiple transfers, I'll take over the chat from here and try my best to fix it without any more further transfers.
Me:
your number six
Mohammed:
Gary, May I know on which device is the subscription activated?
Me:
I give up! I give you all the info I can and all you want is more info and to not answer my question

sunil kumar
from Faridabad, UP
dear sir we are order in amazone but not received our order and not received against his refund money so please refound our money

I bought a bluetooth headset a few months ago (Order ID 113-6839178-9920246:
1 of Bluetooth Headphones,Wireless Earbuds Rosaxton UL-12 Lightweight & Fast Pairing IPX6 Sport Sweatproof In-Ear Earphones with Mic Heavy Bass Noise Cance [Wireless Phone Accessory] [ASIN: B07C6W9L4R]
It fell apart during the 1-yr warranty period. Amazon says contact the seller (not their problem) - the seller is unresponsive and the product itself is no longer available on Amazon.
What good is a 1-yr warranty if Amazon does not stand behind fly-by-night sellers? Very disappointed in Amazon. I won't be shopping here again.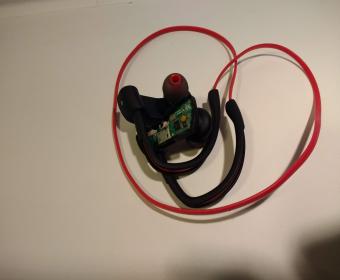 Amazon Driver Screeching tires and driving erratic through apartment complex. Around 1:00pm Central time - Location 11580 Perkins Road Baton Rouge LA 70810. Whoever this driver may be is putting lives at risk.

I ordered Mahindra tuv 300 body cover and paid amount Rs. 899/- through debit card .. expected to reach me on 18th February .. but not yet received.. I got message that the material is rejected by me and sent back.. nobody has contacted me in this regard and how can I refuse.. so please resend the material immediately or refund my amount
Have feedback for Amazon?
Thanks for your feedback!
Sorry. Please try again later!