Amazon
Amazon Complaints Continued... (Page 12)
755+ reviews added so far. Upset? Call Amazon corporate: 206-266-1000

Hadn't been on Amazon in a while and just learned of the 2-step verification process for Sellers.
Really? That wasn't part of the contract I signed up for. Also, I don't want to link phones, computer, laptops
etc. for my "security". Just let me be able to once again access my account. Please.
But, that seems to be hard for Amazon to do.
Seems when I go in to find customer service options, I can't do that either - so, how do I
report my concerns about this new "requirement" to AMazon.
What a mess.

Paul Lewis
from Plano, TX
I'm tired of dealing with the broken policies from Amazon that protect sellers and don't provide proper tools to Amazon Support so that they can act on problems. I've reported some problems for over a decade and nothing has been done. It's caused a cesspool of deceit and questionable business practices that now occur across entire departments within Amazon. I've been part of many scams and bad purchases because of this. You can't buy a cell phone and expect to get what you purchased or to have it without SOME type of malware or viruses installed, some which can be controlled and monitored by the seller. Further, there is no policy for sellers to properly packaged and protect items so you can receive store boxes with a shipping label on them and your items shaken and battered inside. Electronics cannot withstand this extra battering and should be packed in another box with popcorn/peanuts or some protection. But, you are likely to receive such items in a paper or plastic bag with no protection. There is so much shady business going on some departments that the FBI should be investigating it and Amazon should stop 3rd party sellers until it's cleaned up. They do not have sufficient security and Amazon has become more untrustworthy than eBay. The Amazon system is completely lacking in tools, either for users or for Amazon support, so you cannot easily obtain basic information about your purchases. Particularly older ones. Product information is difficult to find and many times is lacking. Sellers should not be able to post an item without filling out ALL categories so that the items are properly identified. It's also confusing and difficult to determine WHO you are buying from and how to reach them if you have a question! The responses can sometimes take more than a week. Shipping is so bad! If I want to purchase more than 1 item, I have to pay the same FULL shipping price as though the 2 items I purchased are both being shipping separately, when that is not the case. I can't understand why sellers would agree to conduct business with you! This destroys the opportunity to buy multiple items from a seller. In Summary, the site is extremely poorly managed and operated, it does not provide proper tools or information to conduct business. It's been limping along like this for decades. While other sites have kept with the times and use of technology, Amazon is more worried about installing viruses or PUPs for the Chrome Tool bar that require special effort or expense to remove. It seems when it gets right down to it, Amazon is no friend of the community the claim to support.

Paul H Rose
from Charlottesville, VA
I received a special offer today for the purchase of 54" cutting blades for $32.00. When I placed the order it came up $41.00. What is the story??? I cancelled the order immediately since i could not correct the advertised amount. Paul H Rose Prime Member

Annarita gentile
from Philadelphia, PA
Your delivery services throw the boxes at my doorstep. I have a clearly placed sign for packages to be left under near bench. I caught a teenage girl throw a package at my door. She was dropping packages while an older man drove. Shabby service. That package was a new expensive cell phone. How can I buy expensive things from you with such service ?
It was Kyocera phone just ordered.

George Banat
from Arlington, WA
Your 2 day shipping has become a joke! If you can't deliver in the time stated, then the buyer should be told prior to hitting the buy button. Also the packaging of music cd is horrible. You can't put a cd in a envelop and expect it to be unbroken!! 3 out of 5 cds that I buy from you come with a broken case. I will not buy any more cds from you! Also if shipping isn't improved I will not renew my membership!

Kyle Palmateer
from Denver, CO
What ever entitled prick just delivered something to 1057 S Wadsworth in lakewood Co decided he got to park his van sideways in front of my store for 15 min while other customers had to figure out how to get around him. As he came out I informed him that the parking spots work well, he thought it necessary to argue and tell me it didn't matter. The next driver that does this will be dealt with differently. I recommend you inform your driver's that it's not a good idea to be a jack ass to people, and maybe let them know how parking lots work.

Carolyn Butcher
from Tampa, FL
just had a live chat with customer service representative. Some real issues with person not being native English speaker. More language training? Very polite though so that part of training is good. Not very knowledgable.

barry kidd
from Seattle, WA
i shop amazon all the time and i just want to know what your going to do about amazon prime day i,m one of millions that couldn't shop that day not because we did anything wrong. i see you are trying to bring a lawsuit blaming others, so what are you going to do for the millions who were denied to shop that day

Charles B Hite
from Hixson, TN
I just spent half a morning trying to claim my $1000 gift card 'prize,' only to learn I have to spend $40 some to get it. What a cynical and inconsiderate way to treat your customers. You may also consider informing your venders to have fields you can actually fill. Guess I'm spending the rest of the morning unsubscribing and disputing the $1 I'm already out. Poor people have feelings too.

Pinky Nihalani
from Battle Creek, MI
I have ordered mobile One Plus 6 Red Edition through Amazon on 16th July 2018 . Total cost of mobile was 85045.8. I paid it using HDFC Credit ending with 6395 and debit card ending with 5208.
I need as soon as possible the total of Rs 85045.80(Eighty five thousand forty five and eighty paise) is debited to my account on urgent basis
Please find details below
S.no Date Transaction Amount
1 16-07-2018 29346.86
2 16-07-2018 27549.94
3 18-07-2018 28149
Total 85045.8
I called your call center, they are of no use and are saying not received the payment but when recheck with my bank they said all 3 amount deducted successfully from account

Lauri Wolski
from Avon Lake, OH
Ordered an item at 9am on Tuesday July 17. Needed it by Thursday the 19th. In the cart it had guaranteed arrival date as Thursday the 19th. I am a prime customer. I then received an email confirming the order with an arrival date of Friday July 20, which is too late. So I canceled the order. I can't find a telephone number to call actually check to see if it might arrive on time. I'm disgusted with this bait and switch. Amazon is ruining Zappos service. I used to order items on zappers the first half of the day and get it the next afternoon, now it takes three days with next business day shipping. I will be canceling prime membership if two day shipping becomes three day. Screw that. Order#112-0703522-2914619

Genevieve Ross
from Sewaren, NJ
After a normal day of activity with my amazon account, I unfortunately had to call the support line for issues with my kindle fire shortly after 10:30pm (7/16/18). An error message requesting that I register my kindle could not be bypassed or remedied through a password reset. The first representative told me I had no account registered to my email address, even after providing two separate email addresses to be verified along with a recent order number. She was unaware that I had logged into my account on the cell phone, but was insistent that I had no account until I informed her. I explained my issues and she proceeded to tell me that I had 5 accounts under one email address. Without explaining why or how she could assist with the issues of my kindle, I was placed on an extended hold forcing me to hang up. When I called back the second representative immediate knew I was having problems with my kindle and told me 4 of the 5 accounts registered to my email were inactive and I didn't need to worry. I asked for the accounts to be deleted and expressed concern for fraudulent activity with these shadow accounts, but he told me it was not possible. I would have been more satisfied with a reasonable explanation about a "glitch" in the system or they were not fully aware of the extent of the problem; however, there was no discussion or a proper explanation of what went wrong with my kindle and how to resolve my two problems. I am sending this complaint because I have been using Amazon and my Kindle fire for quite some time without ANY problems. Although this is the first time I had to call about any issues, I am disappointed of the response especially on the biggest day for Amazon...Prime. Day. I am also still encountering issues and would like to think I would receive help soon. Thanks in advance for your help and assistance.

Michael Hargrove
from The Bronx, NY
The MP3 Player music disk error display when I try the download music.
I am dissatisfied this product.

STROUD C. MALDARE
from Manila, 00
I ordered two packs of Hanes men's briefs on 05/262018 from Amazon seller NY- Lingerie. after not receiving this order, I made a couple of complaints. tracking numbers were no good then and this new you sent is again NO GOOD. I WAS TOLD MY COMLAINT WAS CANCELED, AND THERE WAS A NEW ORDER, which also as a fake number. STOP THIS JUNK, CANCEL THIS ORDER NOW. I already order the same items from another Amazon seller, and have already received it.

Cheryl Amuzu
from Homewood, IL
I purchased, through Amazon, a Dry Erasable Aluminum Board on 6/11/2018. The board was sent to me on time from MY Office Innovations, but it was damaged. There was a large puncture in card board wrapping that also penetrated the board itself. I saw the hole only after we moved to our new office and opened the package to hang the board. Since noticing the whole I have call and emailed to My Office Innovations at least 5 times without any response. Each time they are very courteous over the phone but also unresponsive to my emails. The board is big (8x4), so it would be difficult to send back. I am asking that they discount the board due to the damage. The Amazon PO # is 8051890. Please see the attached picture.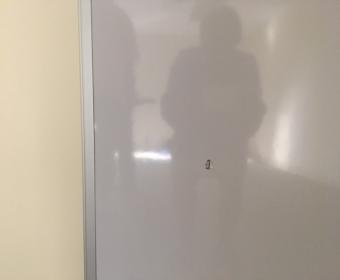 gerald gooding
from Ringgold, GA
I bought through amazon one of many many items over the years a zb1516 deik vacumn about 4 weeks ago or so and all of a sudden it stopped working because the head stop spinning the spindle, yes the roller is clean if used as a vac without the head it works so it is the head of it and I cannot get and response from deik support etc at all. I am not a very happy man at this time unless they (deik) comes through.
mr. gooding

Kabin Henke
from Phillipsburg, KS
0 customer service was terrible, no body took my complaints seriously, took me 2.5 hrs to get a customer service agent that wouldnt hang up on me, NEVER BUYING AMAZON Again, my order was screwed up and sent to the wrong address after the person who ordered it for me their account was hacked according to the customer service rep

Cynthia Gugino
from Buffalo, NY
I've had cookie jam for the past 3 years or so and for the past 2 months I get a message saying I have to go to Amazon to get it plus it doesn't load right away. Sometimes it takes 6 or 7 tries before it works. Very frustrating. HELP!!!!
/

Mark Russell
from Los Angeles, CA
I began selling a book through Amazon in 1997 and haven't been selling the book for many years - ISBN-10: 0965491609
ISBN-13: 978-0965491600. Amazon is showing that the book is for sale. Twice so far I was given wrong information and the run around to other departments. I don't want to open a new account - I want Amazon to stop offering the book for sale. The telephone originally connected to my account as a seller was 310-664-1913

Janice Basham
from Alexandria, VA
I ordered one book from Amazon named Peaks, Valley's and Overcoming The Odds.
My payment was 12.99 which was paid from checking account on April 24,2018.I am very upset and I
can't understand why Amazon keeps repeatedly taking payments out of my checking account for one book.
Since then payments have been taken out on April 27,2018, May 24,2018 and recently on July 2,2018.
Please check into this matter so that I get my money refunded to me asap.
Thank you

chris hernandez
from Fort Worth, TX
I manage an apartment community, amazon drivers are the worse. They are lazy as in they don't try to deliver the packages to the door they would prefer to lie and say they did and dump all their packages in the office. Meanwhile, the residents begin coming in looking for packages they have been waiting on but driver didn't bother to ring a door bell or knock.
They need to stop paying by the package and pay per hour, not sure that would make a difference. Just seems they are lazy and don't care.
shame on Amazon for not doing something company wide, its their brand.

Meritxell Sabidó
from Falkirk, SCT
Dear Amazon,
To my surprise through twitter I get to know that Amazon is selling fascism flags from the dictator Franco. I went to Amazon.es to confirm the information and I could find several related fascism flags (find an example in the link below). This is totally unacceptable and should be retired from Amazon. Until this type of products are not retired I will stop buying in Amazon.
https://www.amazon.es/Bandera-Espa%C3%B1a-Franco150-Sat%C3%A9n-Durobol/d...

Lenore Snyder
from Glenside, PA
I received an order today. However, the delivery person did not bother to ring the bell and I did not received email that the packages were delivered. I checked on your website and saw that it had been delivered. I went to the front door and sure enough, the boxes were there. I have no idea how long the packages were sitting there. Your notes not only claim that the delivery was made but that the delivery person actually handed it to the "resident" personally. That is a lie.
I tried to register a complaint but your instructions are incorrect (one is to press a key that doesn't exist). I will think twice before placing another order with Amazon.
Lenore Snyder

Janet Constans
from Inman, SC
We ordered this set of DVD's
The Avengers: The Complete Emma Peel Megaset
Ordered on January 17, 2018 Order# 114-2369457-0637004
Delivered Jan 19, 2018
When we attempted to play Disc's 11, 12, 13, and 16 the player software would not recognize the videos. That is the disc's could not be read. All of the other disc's worked fine. Realize this is way past the return date but it takes a while to get through 40+ videos when you only play 1 or 2 a week. Can you replace just the problem disc's?

George Koury
from Provincetown, MA
Recently I order a Norelco Razor and at check out I was informed it could not be sent to my shipping address. This is not the first product where I got such a notification. I went to another supplier and got the same item. No problem. Also, I am not getting two day deliver on many purchases and now Amazon wants a 20% increase for Prime. I will need to re-evaluate this situation.
George Koury

Valerie
from Redlands, CA
We have our book library and many other things through Amazon. We get a call from AMEX about fraudulent charges. AMEX asks us if we spent a $1 on iTunes....which we are android users and a $300+ charge. We had made no such charges that week nor do we use iTunes so of course we tell AMEX to turn off the card. Next thing we know we are locked out of our Amazon account and it tells us to login to get help and we can't log in to get help. This goes in a viscous circle. So at this point Amazon has hijacked our books and every other online library with no explanation and we can't get a hold of them. I log into an old account so that I can finally click the call us back button. We get a call and apparently a purchase we had made 2 months ago billed this week for around $300 and because we had told AMEX that we hadn't made that purchase that day....because we hadn't, we were held hostage to our books with no way to resolve. Those purchases are ours not Amazons. The courtesy would have been to tell us what had happened and that the merchant didn't bill until 60 days later....that is an entire other stupidity. You can make it so we can't purchase anything until resolved but quite frankly you can't not let us log into our library that we have already paid for. We have like five different payment methods. So Amazon owes us for prime and our books and well....someone to actually call us back.

cyndi goerke
from Apopka, FL
I love amazon. I have never been disappointed with you, and even if these times make shipping costs increase slightly, I will still use your service. PLEASE though, do not allow political bias be allowed. No matter which side your employees are on, this is their job and their personal opinion should not be reflected . please don't get caught up in the ugliness.

Elbert Kirby
from Killeen, TX
someone used my bank card to make a purchase and I want my money returned immediately

Security Director
from Clearwater, FL
I work in a Class-A office building and the type of delivery drivers that represent your company coming to my property is shameful. I just had one of your drivers reek of alcohol. most of them pull up to the front door of the building, that has the curb painted red trying to come in through the front doors. Most delivery people know to locate the loading dock area. The appearance is terrible. Cut up jean shorts, bad attitudes when directed to parking or dock areas. I found a tenant box left outside on a Saturday morning for anyone to take.
PLEASE GIVE THESE PEOPLE SOME LEVEL OF DELIVERY TRAINING AND CUSTOMER SERVICE. This is a very bad look for your brand name.

gerald wareham
from Maidstone, ENG
please cancel order to the healthy dog co. I no longer have a dog that requires this product. thank you.

I see that you have not updated your website mailing address possibilities. Occasionally I order items while in Puerto Rico. Your site does not recognize rural route addresses using Box xxxx (which is the accepted U.S. Postal Service rural route designation). Your site defaults to PO Box xxxx and as indicated the postal service will not deliver the package. The postal service in Puerto Rico will deliver a package to a rural route Box xxxx, as this address is a Highway Contract - x number, NOT a physical address box number at the post office building. Please fix this or I will have to cancel my prime membership.

mahmoud mohamed aly hassan
from Cairo, C
their return policy is against customers rights, I purchased a garment steamer, I have chooses the on of top charge to get good quality and to save my time. unfortunately the product was not valid and too time consuming. when I asked to return I got nothing and they told me if I didn't receive the product after being checked , they well get red of it instead.
please advice. thank you in advance

STROUD C MALDARE
from Apalit, 03
1. I ordered two packs of Hanes briefs on 05/26/2018. This has never been shipped? 2. I applied for a Amazon credit card months ago, and never heard anything back, I have excellent credit rating?

Florence yim
from Half Moon Bay, CA
I am waiting for my $200.00 air purifier. Ordered Monday. Spent $1000.00 with you in a week. Really need this -my boyfriend just out of ER & has pneumonia & 4th stage cold. OMG!!!! Pls get my package _need clean air to breathe & live!!!

William Newton
from Pittsboro, NC
I made a purchase on 4/19 #1118959629-04522232.It did not work. I received refund, order another one on 4/25 #114-8028500-7587434. It was like I was sent same one again. It doesn't work. I will look for different brand on Amazon site due to the fact I really like Amazon. I think that because I have been disappointed & inconvenienced I deserve some sort of credit on a Amazon gift card. Thank you William Newton.

Demi Taylor
from Chelmsford, ENG
I made a perfume order which was meant to be delivered today by Hermes. It's been out for delivery since Monday and I waited in all day. Logged onto Amazon and it has 'info needed' from Hermes. I've tried calling them and emailing them but when I call them it's always a automated service to start a live chat or email them!!! There is no one to talk to there. I sent them a email on Monday with absolutely NO REPLY. My account is still sitting at 'into needed'. I am so angry with this service. It's not the first time this has happened with Hermes.
If I don't receive my item today I will be wanting a full refund and if I don't get it I will contact the CEO once again like I've had to do last time this happened. More and more I'm thinking of deleting my Amazon account and taking my business elsewhere and Amazon are making this a very easy decision.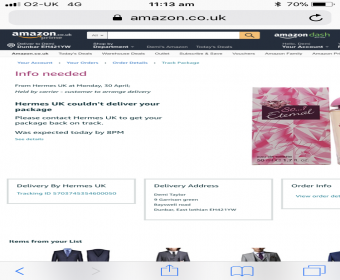 Mary Dragonetti
from Forest Hills, NY
I purchased coins for $19.99 and did not receive them. I was playing timescales. This is not the first time this has happen. It's just the first time that I can prove it. I have been charged $3000.00 for one moths purchases.when I totaled my.sheet of purchases it was almost $900.00. I want credit for the purchase of $19.99 + technical taxes. I also want you to be more accurate when people purchase game coins I don't like be ripped off.

dennis wood
from Saginaw, MI
I order a robotic vacuum for 195.00 dollars this month I went to there web site same unit a ilife model num.a4s for 159.00 dollars after it was in shipment to me why the big difference in price ??? dennis wood ....

Thomas McCormick
from Hamilton, OH
Lengthy time in processing my orders, even Amazon products. Often takes 5 days just to complete transaction. I find E-Bay, vastly superior in this regard. I can receive my package from them even before Amazon has completed the transaction. No More.

Bob woodward
from Lake Orion, MI
The last few times i have ordered on prime the delivery has been 4 TO 5 days not 2. I don't know if it is ups or amazon. And it is only late when ups deliver's it,The US mail gets it here on time why can't UPS?

Richard Perry
from Saint Paul, MN
We have purchased multiple items but lately the same day delivery is BS
If the order does'nt show up Sat I will return and cancel prime

Bridget Peterson
from Santa Rosa, CA
I arrived home today and apparently your delivery driver decided to just throw my package in the driveway. I have a very long driveway and can only assume he tossed it from the street. I do get many deliveries and the drivers always put the packages on either of my porches. I then ran over the package as I didn't see it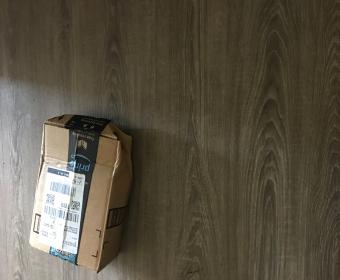 Joe Jackan
from Tryon, NC

Dale Evans
from Charlottesville, VA
Tears, I have ordered over, 275 items in the last 2 months, half or more
If My items, we're never delivered. Please help me.every time they tell
Me they will deliver. They don't. Why. I have tried to do business and
Make Amazon a great company. USPS, has stolen my packages, opened
Up. Three some items in a brown box, with brown tape. I've been
Waiting all day. They lied, said they delivered, but I never received nit.
Please help me. They steal my perfume, My binoculars, I can see.
My magnifying glass. They have treated me, like a dog. I've never done
Anything to Amazon. I had 2 Strokes, live alone, I depend on deliveries.
Every time I order they never deliver.

william somers
from Lawrencetown, NS
Found an item well underpriced at $81 by amazon prime. during the purchase the item dissapeared, and became unavailable. Called support, said it must be back ordered in the seconds between my order and confirmation. Rechecked 36 hours later it was relisted at over $200 by prime. Both online and phone support refused to honor the price that brought me to amazon to begin with, and the online guy, Sanjay I think was his name, began to get condescending.

ERNESTO A DE JESUS
from Cleveland, OH
my orders were suppose to delivered yesterday and I tracked the orders and found a photo by the front which is not my house. please retrieve and redeliver to the right address. tracking id TBA 754880401000, TBA754946468000

First, I have totally loved Amazon for many years until Amazon broke up with me! My PayPal account was hacked by someone posing as Amazon.uk and they drained my secondary checking account and put 4 charges on a credit card. The credit card company wouldn't do anything until the charge actually posted. Two charges posted, I reported them, and the credit card company "took care of" the problem and all of a sudden Amazon shut down my account without any communication. I called customer service and the account was reopened in about 2 days and I was contacted through my e-mail. I placed a couple of orders with Amazon. I called my credit card company about the remaining charges from amazon.uk and again, they were to take care of it. I also asked for new cards so the charging would stop. Amazon shut down my account again! It happened sometime early morning of February 8. I have made MULTIPLE calls to customer service trying to get the account opened and all I keep hearing is 24 to 48 hour resolution time. Today is February 14 and the issue is still unresolved. I am a Prime member and would like my membership extended by at least a week because of the fraud department's inability to bring this to resolution within the claimed time frame or even have the decency to contact me. I have the name and address of the ones that drained my checking account and that could help their investigation. Regardless, I want my account opened up completely ASAP!!

Re: Amazon Reviews
I have been a regular and supportive Amazon customer for some time and give reviews about the products received. I loved Amazon and encouraged my friends to use them. My reviews are nearly 100% positive and always honest.
Suddenly, one day, I was unable to enter a review. I "chatted" with an Amazon rep and they said they would get back to me to solve the problem. Then, I received a letter that stated all of my reviews would be suppressed and that I could no longer post content on Amazon because I a) elements of my account indicate a relationship to the products reviewed, b) my reviews were posted in exchange for compensation or c) I requested free products in exchange. NONE of these statements are true for me.
At the end of the letter, I was told they could not share any information about this decision and would not reply to further emails about this issue. They don't even tell you which review is a concern for them and suddenly, my reviews are not valid- even those made years prior.
It makes me hesitate to continue dealing with Amazon.

KAMAL CHAND JAMWAL
from Kangar, HP
SIR MY COMPLAINT IS MY PURCHASE ITEM IS NO SATISFIED ME PLZ RETRUN THIS ITEM . NO CUSTMER CARE NO IS AVILABLE PLZ SIR CALL ME 9418260636

James W.
from Duncanville, TX
Instead of bringing my package to the door and knocking, the lazy delivery driver just threw it on the ground in the driveway right by the street in plain view for anybody to just grab and go!
On the Amazon website it says "left in a secure location"!
BS...good thing we were home to see it lying in the driveway!
Amazon order # for this item is : 112-0357141-6398644
If I could rate this zero stars I would.
Have feedback for Amazon?
Thanks for your feedback!
Sorry. Please try again later!