Amazon
Amazon Complaints Continued... (Page 12)
824+ reviews added so far. Upset? Call Amazon corporate: 206-266-1000

Janet Saha
from Marysville, OH
I have a Kindle Fire a couple years old. Use it only as an e-reader from the library. Started having problems with not connecting to the internet. Spectrum says their router is not the problem since I have internet. I spent several hours trying to correct the problem and finally tried to reboot according to the internet. Unable to do so as I always comes up "Authentication problem". Called a 1-888 number to correct it. Spoke to a man who was difficult to understand due to his accent. The final--he said I had to pay $129.99 to correct the problem and could no longer get another reader as the problem would persist without paying. Is it really ruined? How do I get back to reading from the library?

BARRY BOULDS
from Cannock, ENG
I am trying to order an item on my account but each time I try I can not get into my account I keep getting messages saying code incorrect or password incorrect I have tried to change password but to no avail what can I or you do for me

Yael Cisneros
from Phoenix, AZ
My order was marked as delivered and I was sent a picture to my email of a package at a door, however not my door, not even my apartment complex. Not only was there not a number or way to contact amazon in regards to a package being wrongfully delivered, when I finally found a number and spent 35 minutes on the phone trying to resolve it, I was told to call back after 4pm (this call was at 6:30 am).

David Moore
from Auckland, AUK
Purchase an item on Amazon: Ordered on October 24, 2018 Order# 114-7478076-6698634. Have uploaded the order confirmation.
Received a delivery notive on Saturday November 24 saying it has been delivered.
It has not been delivered, or at least not to the delivery address. The tracking notification received contains no information that would permit me to contact the local courier who may still have it or delivered it to the wrong address.
I would like either this packaged traced and delivered to me or a full refund please.
Thank you for your help.
David Moore
60 Clearwater Avenue,
Christchurch 8051
New Zealand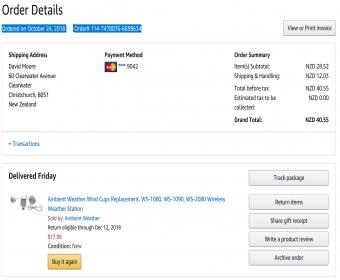 Josephine Millet
from New Bern, NC
I'am writing to express my dissatisfaction with my recent purchase with Amazon. Cyber Monday one order that consist of 4(items) which total balance
was total $208.00 that is including shipping & handling. Now I'm being charged individually S&H charges on each item. which I didn't give permission for my credit card to be charged for (which is not legal). I was not told my items was coming from third party seller! but was told by your rep "Siyanda N" that shipping and handling can not be waived or refunded as I didn't chose free shipping over standard which I never had that option. And given how much my order was ( free shipping) should have been automatically adjusted off. Now I went into overdraft with my bank I'm a single mom with a limited income used my bonus check to buy Christmas gifts for my son, which turned out to be horrific with (AMAZON) and I will be writing my story to the news. Maybe this has been happening to often and the public is not aware of it. I WILL NOT PURCHASE ANOTHER ITEM WITH THIS SITE.
1.order number #113-6930377- 9097850
2.order number #113-0318849- 8328269
3.order number # 113-5818551-1747468
4.order number # 113-9192416-0181826

Sara J Murray
from Dushore, PA
I will not use my post office box number on Amazon orders again. If they cannot ship fed ex or ups I will not order again. The post office sent another of my packages to Milford, PA instead of Mildred, PA This was a gift and it did not arrive on time. It was shipped on 11/15 in VA and took 10 days to get to Lehigh Valley, PA mail distribution center and they sent it to Milford, PA instead of Mildred, PA (someone cannot read correctly). It is now in Scranton, PA and God only knows when I will receive it and in what condition I will receive it.

Michael Boyle
from Loudon, NH
I ordered a new rifle scope to be delivered via Prime today. It's one of your ridiculous you ship it and it's delivered via USPS the world's worst package delivery service ever! Seriously? The reason USPS couldn't deliver to me today was they "couldn't get into my dwelling". We had snow today, I was out several times without difficulty. I didn't even get regular mail tonight. The roads are plowed, my driveway is plowed, my mailbox is assessable. What is the problem? I'm paying for a Prime membership that guarantees a two day delivery, why are you using a second rate delivery service to screw up your normally very perfect service? Using USPS is a joke and should be discontinued. Very dissatisfied customer considering the weather is NOT a factor! Michael K. Boyle 26 White Tail Lane Canaan, NH 03741

Tom Fisher
from Media, PA
Package was not delivered in between the storm and no regular front door. As per instructed by the sign in the front door. We have had numerous packages delivered by Amazon, and stolen.

Reinaldo Rosado
from Zion, IL
Dear Amazon Rentals,
I am completely angry that you want to charge me on a book that I received in poor condition. When I first opened the bubble wrap envelope I was an awe that AMAZON would send someone such a decrepit book. However, class had started and I needed the book.
If I am charged for this book, I will dispute it to the end. I am not going to be charged for a product that you all sent to me in that condition.
Please forward this email to Amazon headquarters because the fight will be on for the condition that I received the book in. Order #111-7545747-8205834
WR Reinaldo Rosado

eileen wakeman
from Roquetas de Mar, AN
i have received an email in my junk box saying my prime gold membership is due for renewal on 19th november i have not purchased this membership i do not want this membership nor asked for it i have not used amazon site as i had so many issues with signing in put my passwrd in not accepted new passwords sent to email words sent did not work resent passwords did not work now i get this demand for renewal gold email is sent with no reply address i am NOT happy and DO NOT WANT THIS PAYMENT OF 72.99 TAKEN FROM MY BANK.

John Ludwick
from Farmington, MI
Good morning. My wife & I have used Amazon many, many times over the years so when we decided to purchase a surveillance camera due to concerns @ our 2nd home, I was referred to Q-See. I searched for them & found them on your website & sold by you guys, not them. I purchased them last Thursday, the 8th, & had shipped direct to our 2nd home last Sat., the 10th. I noticed upon opening the box, the 1st thing in it was a red piece of paper saying do not return to online supplier, but contact them & since then, they have been a nightmare!!! In installing it last Sunday, the camera worked perfect for 10-15 minutes & then quit. I put it in box & brought it home on Monday. On Tuesday morning, I contacted them on their chat line. After an hour of chatting, yes an hour, they said he couldn't help me & was escalating this to the next level & someone would contact me by phone in 1-2 hours. After 6 hours I emailed them back. After 8:00pm, I then received a call from someone in California. This guy wanted me to plug the camera into our wireless router & give him access to our labtop. I told him he was crazy & not doing that. He then told me he thought it was the power cord & asked me to search around our home for something to plug the power cord into to test. After 40 min. on phone, I offered to send it back @ my expense. I just want a camera that works!! He finally said he would send me an email with the RMA shipping info. Instead, I got an email telling me I had to send them proof of purchase & had to do it within 3 days or else my claim would be denied. WHAT!! So I sent him the order confirmation, which shows I purchased a video recorder & 3 other items. 2 of the items were wild flower seeds, so covered that part up & sent it to them on Wed. Didn't hear from them so resent yesterday. Still nothing so I called them last night. After another 29 min. on phone, they said I would receive shipping info within 24 hours, then I had to ship back to them, & after they receive damaged camera, they would ship a replacement. So I need to wait for them to send shipping info which I still do not have, wait 5-7 days for them to receive, & another 5-7 days to receive new one--- hopefully!! Then, later last night I received another email stating I needed to send them more proof of purchase cause I didn't open up the confirmation to show the purchase or the camera--receipt only showed 4 channel nvr & other items. Its not like you can buy these @ a local store & all this for a $98.00 camera that I bought from you guys that was being sold by you, NOT A 3RD PARTY. Why did I have to deal with them & not Amazon, who I purchased this from??? I need your help & want a new camera shipped to me TODAY!! Again, we purchased this over security concerns @ our very expensive 2nd home & do not have time to wait weeks to get it up & running. I have spent over 3 hours with these people & if you cant help, think I will send back for a total refund & will move on & find another product. My confirmation is 114-3637628-4630620 Thx for your time & will wait for response, John Ludwick

victoria apsit
from Sharon, MA
2 of the 4 lotion bottles arrived with the dispenser spouts broken off. Apparently they had bounced around the box with no interior packaging materials. So these 2 bottles of body lotion don't work. What can be done about this. This is re order # 114-0686937-8146604 to Victoria Apsit. Thanks for your attention to this.

Debra Schilder
from Fond du Lac, WI
I have been trying to get my Fire Stick fixed or replaced. Someone did call me but I had a very difficult time understanding this person. I think she was asking for the numbers on my fire stick. Here they are: 8. 48719. 08378. 1. The second number is DSN: G070L815744339MT. Could someone that I can understand please contact me? My number is 920-252-2799. I do have an account with Amazon. Thank you for your time.

.Marjorie Cabral
from Woburn, MA
Every time I order a third party item from Amazon, they deliver package to front of the house, not to the side door as requested. This has happened so many times and caregivers find them out in the rain. If this happens again, I will no longer purchase from Amazon even though it is my lifeline and I depend on you.

Wayne Knudson
from Cary, IL
I have attached a complaint that I tried to submit but the system had an error and said I didn't provide an email so it dumped my comments and said to start over. Your system did not save my comments but luckily, I printed them and I'll attempt to attach them below.
Note that my copy of the email DOES have the correct email address.
Wayne Knudson, Cary, il
OH GREAT. A MERE PDF ISN'T ACCEPTED SO I'M PASTING MY TEXT BELOW.
Submit a Complaint Online
Upset about something? Fill out our free complaint form below!
Your Information
Wayne Knudson
wknudson@attnet
Complaint Information
Rate your experience (on a scale of 1 to 5 stars)
Amazon 1
When UPS delivers, they ALWAYS at least ring the doorbell at least once to warn us that there's potentially something at the door. Your new service (Amazon) NEVER notifies us... Never. The fact is that a package can be stolen or the weather can be poor. For example, there was a huge package from Celestron which I requested that it be wrapped/disguised. Nope, there it was on the step, the size of a microwave box and had the company name and contents on the box ($1300 telescope). Well, it happened again yesterday and this morning. Packages were left and today it was left on the step which had melting snow. Luckily, the dogs saw the person and we went to the door. Last week, something was delivered, left at the edge of the steps all day, while there was a misting rain. We discovered it at dinner time. Luckily, the packages inside were plastic-wrapped!
REALLY NOW, unless your service person throws packages at the door, they can raise their beleaguered, poor paw and push the bell!! Note, more than once here in the Chicago metropolitan suburbs I've seen news reports where home security cameras have captured people pitching packages at the step. Amazon does so well at so many things but this is POOR.
Oh, before I forget, finding a means to contact you in this manner took at least 1/2 hour since nothing seems to take one directly into the "complaint" bin. I finally just googled "make complaints to Amazon.com".. Right up there with delivery I'd say!
Now, we're expecting several more packages this and maybe next week and we will see if delivery improves.
Thank.
Wayne Knudson, Cary, IL
xxxxx

Wayne Knudson
from Cary, IL
When UPS delivers, they ALWAYS at least ring the doorbell at least once to warn us that there's potentially something at the door. Your new service (Amazon) NEVER notifies us... Never. The fact is that a package can be stolen or the weather can be poor. For example, there was a huge package from Celestron which I requested that it be wrapped/disguised. Nope, there it was on the step, the size of a microwave box and had the company name and contents on the box ($1300 telescope). Well, it happened again yesterday and this morning. Packages were left and today it was left on the step which had melting snow. Luckily, the dogs saw the person and we went to the door. Last week, something was delivered, left at the edge of the steps all day, while there was a misting rain. We discovered it at dinner time. Luckily, the packages inside were plastic-wrapped!
REALLY NOW, unless your service person throws packages at the door, they can raise their beleaguered, poor paw and push the bell!! Note, more than once here in the Chicago metropolitan suburbs I've seen news reports where home security cameras have captured people pitching packages at the step. Amazon does so well at so many things but this is POOR.
Oh, before I forget, finding a means to contact you in this manner took at least 1/2 hour since nothing seems to take one directly into the "complaint" bin. I finally just googled "make complaints to Amazon.com".. Right up there with delivery I'd say!
Now, we're expecting several more packages this and maybe next week and we will see if delivery improves.
Thank.
Wayne Knudson, Cary, IL

MICHEAL d ROBINSON
from Duvall, WA
your fraud department has sent my accounts notice of this and when I call the numbers given to me will not accept my calls and if they do not return my calls or supply me with some kind of working contact t I will be canceling all my accounts with you these charges on these are either mistakes or frauds but I can not fix it if I do not the info from you
accounts affected: kundagbo59@gmail.com
brpsamco702@gmail.com

Debbie Schilder
from Fond du Lac, WI
My complaint is the fact that I have twice asked to have help with my Fire Stick. It was a gift. The person that have it me has passed. I have called the support team and did everything I was told to do. Nothing worked. I was very happy with the device until it stopped working. I have been a customer of Amazon for a long time and I don't understand why I get no answer. I was told both times I would be contacted within 12 hours, as yet I have not been contacted. Please contact me by email as to what can be done about the Fire Stick. Thank you

armando garcia
from Spring Branch, TX
l purchased a kindle fire kids 7 in 12/16/17 at a best buy store the tablet was a gift so i had no info such as a serial number and the unit well not power up so i could get a serial number from it and the mother of the little girl i gave it to could not give me the information as to who register the item i have my receipt i spoke with 6 customer reps and no one could help me if i did not have a serial number or an email where this item was registered to they would not let me send the tablet in for repairs so someone could power it up and get a serial number to verify that it is under warranty i spoke to 6 different persons and half i could not understand what they were saying i am very unhappy with this purchase and warranty handling system so i threw the tablet in the trash and i well never buy another amazon product again i am for sure this complaint well not get to far in amazons latter

Dina Bulik
from Levittown, PA
Improperly packaged product damaged on arrival. See my review on BBB page.

Jill Larson
from North Las Vegas, NV
Today I saw an ad on TV offering everything free shipping until Christmas. When I went to place my order I was told that item was not eligible. What a fraud. I was told that I would have to sign up for Amazon Prime. What a crock. Aren't we being lied to enough by the government. Can't trust anyone. What is the story? Please explain.

John Barry
from Mount Martha, VIC
DVDs MALFUNCTIONING
Good Morning,
Over many years I have purchased many DVDs and VHS tapes from Amazon. Recently the following tapes are malfunctioning: -
 King Solomons Mines.
 Night and Day.
 Marie Antoinette.
 Words and Music.
To check on these and my DVD players and recorders I placed them in: -
 Two different players and recorders.
 My PC tower.
 A separate player only.
In other words, I have checked with four machines and the same problems occur, i.e. you can't watch them a certain point as they stop, start and problematic because of distortion on the screen.
I suspect that may be the recording when produced by Amazon may have been on faulty equipment or perhaps you can enlarge on this matter?
In other words what do you suggest probably replacement of the four DVDs because you cannot watch them.
I am in abeyance of a reply.

Michael Morgan
from Portsmouth, ENG
I received the wrong item when ordering from Prime. However due to a fault on their system I have been unable to return the item. I spent over an hour troubleshooting theit own problem to no avail. I even suggested very simple ways of averting the problem to allow me to return the item and get on with my day however they refused and continously told me they had to go through the system which was clearly malfunctioning. I eventually asked to speak to a manager, I was put through to a very rude Scottish man who kept asserting to me that I was wrong and his system was fine despite me demonstrating via images that I was not getting the correct address sites. I still have the item and I still havent received any money back. I wont be ordering from Amazon again and have cancelled my Prime membership for when it expires in December. The rudeness above all else was the biggest problem

I booked a redmi y2 4gb ram 64gb internal mobile phones but it automatically returned without giving any information and calling my given no....

jitendra Chaudhary
from New Delhi, DL
Service is very bad customer care services also bad

doug washburn
from Florissant, MO
I received my package today. I had order 2 ounce glass jars from vivaplex company. Amazon shipped this item to my office 525 st francois 63031 on time. When I opened the shipping box from Amazon, two boxes (12) jars each were smashed. None of the jars were broken but cases were crushed. There was no bubble wrap or insert protection of my shipment. Poor shipping ... I order a lot and shipped by amazon and usually everything's great.. but this was terrible...

IVON ERNEST YATES
from Kansas City, KS
I just hung up on Customer Service in Seattle, I was thrented , told to go to y kitchen, pick up a knife and cut
my ass, and a few other things. This all started over a recent order I placed, the charge was declined by my bank. I called mmy bank, told me I had entered my password too many times at a gas station, which was not correct, and my account was locked. No problem, they activated the account again. I went to Amazon to tell them what happened, the order also was not correct. They started pitching me to purchase a $200.00 software protection. I replied I would mail them a check for the corrected amount. I as transferred to another person, he also attempted the protection sale, which I declined. He was not for coming on a mail address for my check for about twenty minutes. He insisted that I write the check at that moment, again I declined, wanted my bank information, which I declined. At my request he put his supervisor on the phone, he sounded the same. Civility was not shown, conversation became vulgar.. I am an old 76 years old car dealer, I know when I am being hustled. I have done business with Amazon for years, no problem until today. Any problems in the past were dealt with fast and just. The conversation I had today changed my view of Amazon, that they would have anyone so sleazy doing Customer Service. Civility was not used I never was given complete information on mailing you a check. . During the conversation, several times he would speak with someone in the back ground in Spanish. My relations with Amazon has been good, I have liked the service and results. Being as large as your business is, a few employees will slip past personnel. He was really trying his best to sell me security protection, no real, problem, he was not intelligent enough to do it. Hope you have him on a recorder. Any business is only as good as it's employees are. Good luck with him.

Richard Daniels
from Albuquerque, NM
I did not get the right order from Frenchie Mini. I ordered a tuxedo bib and they sent a woman's bin that had white pearls on it.
I sent a complaint to them but who knows when the will respond.
Perhaps Amazon can correct this.
R.D. Prime member.

florencr navarro
from Richmond, VA
The package arrived as promise. Thank you. I have one problem. The package arrived opened on both ends, not taped. Just a "little" flap on both ends holding the contents inside. Nothing is missing (thank goodness) but some of the contents might have fallen off during transit. Just wanted to let you know.

Kulkarni sudeep
from Pune, MH
I order one product by cedit paying but i cancelled that delivery then by cancelling this my money was not returned to my credit account . Why?

Gerald Packer
from Fuquay-Varina, NC
It is great when you care enough to provide security for amazon accounts but when is it too much? When the actual customer can't access his account online because he does not have his current amazon card and is being sent a new one by bank and he forgets your password and does not know the expiration date on a card not in his possession. It seems that has become a security question I have never been asked before. So I contact amazon help and lol what help they were. Sent me a link to change password that circled back to, you guessed it, the same expiration date. along with computer challenge questions that I looked at and still failed 4 times. Ohhhh yeh it changed my password but still gave me challenge questions and the same security question about expiration date. Still can not access my account. Representative was great , her answer was well guess you will have to wait 2-3 weeks to access when you get new card. I had to explain to her how does the help me since I CAN NOT ACCESS ACCOUNT to add new card and new expiration date. Her answer was when you get card maybe we can add it then get you access or you can always quit amazon prime and then re-join when you get new card just sign up again. REALLY is this the best you can do for someone who has actually verified their identity and has been a customer for years. Until now I had always though you the greatest company around. *still no access*

My order no. #405-9885957-2077919 and #405-4476375-3567503 not yet delivered. It is showing delivered on the site. I have also lodged complaint few days ago but neither good is delivered nor my money is refunded till date
My order no. #405-9885957-2077919 and #405-4476375-3567503 not yet delivered. It is showing delivered on the site. I have also lodged complaint few days ago but neither good is delivered nor my money is refunded till date. I have already made the payment. Either arrange for delivery of the goods or refund my money

jack wiggins
from Long Beach, CA
Driver arrived to deliver a package about 5pm pdt today 10/21/2018 at 5250 El Cedral Street Long Beach CA 90815. Music from white van with Calif License 2182182 was incredibly loud. My wife and I expected him to drop his package and move on. He did not. he sat in van for 4-5 minutes music blasting. other neighbors came out of their houses, as did my wife and I. I approached the truck as he exited with a package. I asked him to turn down the music. He replied that he was very busy and could not turn it down. He dropped the package at my neighbors doorstep, returned to his truck, turned the music louder, remained there for another minute or more and then drove off while we all watched.
Amazon drivers in our neighborhood habitually drive well over the speed limit.Jack Wiggins

tom brent
from Jensen Beach, FL
i bought 3 cd gordon light ft bob seger abd anita baker all 3 skip and looking at tham they are scratch i would like a refund or replace ment

Krisney Rigney
from Greenville, KY
I have been using Amazon for quite some time. I pay monthly for Prime and have never had a problem until now. I logged into my account on 10/14/18 and placed an order for 3 items, total of $49.67 with delivery date of Wed 10/17. I tried to get on my account on Tuesday 10/16 to see where my package was and it said there was no account linked to my email address. I immediately contact customer service with Amazon at that time. The lady I talked to was putting a freeze on my account and I would be receiving an email in 24-48 hours with further instruction of how to get my account back up and going. I was worried because my bank account is linked to my Amazon account. She assured me nobody would have access to my account or bank account. When my items didn't arrive yesterday like supposed to, I once again reached out to Amazon customer service. The lady this time couldn't find my account when I gave her my name and email. I gave her the order number for my items from 10/14. she put me on hold, came back and said she could see the note where I called on Tuesday but nothing was done with it. She couldn't find my order even with the order number I gave her from my email. My bank has been charged for these 3 items and I don't have them and nobody seems to know what happened to my account or where my items are. I am beyond mad right now along with worried that someone has access to my bank account. I need answers and I need them now.
Krisney Rigney

Avis Durgan
from San Diego, CA
I ordered a box spring on Sunday, October 14 2018. On Monday, Oct. 15, 2018, I received an email saying that the package had shipped and I was given a tracking number and told that the package would be delivered on Tuesday, Oct. 16. I received an email as well from UPS stating that it would be delivered on Tuesday, Oct. 16 by 8pm. On Monday evening, Oct. 15, I received an email from UPS saying that it would NOT be delivered on Tuesday, Oct. 16. No further info. On Tuesday, Oct. 16, I called Amazon and was told that the package was enroute to the shipper. No other info available. On Tuesday afternoon at 4:15pm I called Amazon again because the website was still saying that the package would be delivered by 8pm today (Tuesday, Oct. 16.) I spoke to "Elaine" who was barely intelligible, and asked for her supervisor. I spoke with "Ford", whose English was only marginally better. He told me that he would issue a full refund because the package can't be delivered until Oct. 20. I am flabbergasted!! Amazon can't even FIND this package (and it weighs 56 pounds!), and you're offering me a full refund for it and claiming that it will eventually get here!?!?!! Am I actually going to get this package?? WHAT HAS HAPPENED TO YOUR CUSTOMER SERVICE??? You used to be SO good at this!!
WHERE IS MY BOXSPRING?????

Paul simmons
from Cleveland, OH
I turn my kindle off and when I turn it on I receive ads that cause me to have to restart my kindle to get online. I purchased my kindle to read books not to receive ads. If this continues, I will have to find another source for online reading. I definitely will never pay 15 per month to be ripped off by you to hear books online.

habiba mohammed
from Pune, MH
During this great indian festival offers I had ordered vivo y83 in exchange of MI A1 phone on 10th Oct2018 and paid 4103.10 INR,the amazon delivery agent arrived on 11th oct @11:30 am and refused to deliver the product when inquired about the reasons he did not mention any and was rude..he said he will cancel the order and refund will initiated..when contacted the customer care executives they assured that status of order will be updated by 12th oct morning.
when checked on 12th oct the order status is still in dispatched..so can kindly tell me how many days amazon takes to update the order status.when approached customer care via chat firstly 2 to 3 exectives don't reposnded and finally one agent replied and was not sure how to solve my issue.on the same day just in span of time he/she provided me two statements firstly mentioned the order will be re-scheduled and when asked for email suddenly changed the words and said refund will be issued..dont how they are trained to serve the customer queries.finally after 1:30 minutes of chat another floor supervisor arranged the order delivery again by 15th oct..today 14th oct morning the same case happned the amazon delivery agent was rude whenever asked for details and simply said he will cancel the order.
Now when I approach the customer care via facebook comments the customer agents are least bothered to read the full message and sent me a response stating they couldn't find any order in my amazon account for MI Y2 ..KINDLY NOTE I NVER MENTIONED MI Y2 ITS MI A1..can see how efficient they are.
this is the second instance with amazon where the customer care and delivery agents are falsifying the info ..if amazon cant manage these people don't waste customers money and time by falsifying the offers.
I need my refund ASAP its high time #order 171-7977620-8146736.
I will attach the email from your executives & chat conversation u can clearly see their efficiency.
I don't want to use amazon again ever and will delete the account as well post refund.
Regards,
Habiba

David Osborne
from Oklahoma City, OK
Received multiple calls from Amazon delivery driver and then Amazon 877 advising call will be recorded that driver is attempting to contact me to deliver a package. This on a rainy Sunday at 12:07 pm. I have never been called before whether pouring rain or shining sun to get out of bed to receive a packet of cheap metal screws. Leave them or not, I don't care, but don't harass me via phone over an order worth less than $10.
The last package I received was left in the yard wrapped in plastic. Fantastic driver.
Don't call again.

Shubham chunmun tiwari
from Lucknow, UP
Booking my packege will be time late curiur wrong but not available my packge for actual this time.
Wrong curirur patna currect curiur patti pratapgarh uttar pradesh.

Dr. Donald C, Smith
from Wallingford, CT
I know what I would do with an employee who wrote to a customer in this manner. Personally, I and any competent manager, would hand this individual one of Amazon's many boxes, to clear out their desk. Then show them the door.
Since the 90's I've been a customer and I know such rhetoric is not reflective of Amazon's corporate culture. Still, the response was so outrageous there needs to be a clear consequence. Not sure? Run it by Mr. Bezos. I have personally communicated with him before and know him to be a very bright and just man.
I expect to hear an apology from the person who wrote me before day's end on Sunday. Or, I expect to hear news of this person having been replaced.
-- Dr. Smith

JUDITH REDMOND
from Las Vegas, NV
Did you send this to me? It looks like SPAM to me. Thank you, JUDY
From: Amazon.com <amazon-department@cs1232447264-amazons.com>
To: judyaredmond <judyaredmond@aol.com>
Sent: Thu, Oct 11, 2018 11:20 pm
Subject: Revision with your amazon.com account. [case:1232447264]
Dear: judyaredmond@aol.com
Thank you for shopping with amazon.
We are sorry to inform you that regarding your account we are unable to link your credit card in your account.
This is the Last reminder to log in to Amazon as soon as possible.
1-download the secure browser window from:
attachment file
2-login to your account and follow the steps
..
Sincerely,
Amazon.com
accounts Management As outlined in our User Agreement, will periodically send you information about site changes and enhancements.
Copyright 1999-2018 Amazon. Allrights reserved.

Deane Nichols
from Denver, CO
RE: Amazon.com order number: 113-9867636-7149055
When I look at the invoice for this order, the FIRST ITEM ["2 of: Neo Compress Premium Compression Foot Sleeves..."] does not show the SIZE in the description. WHAT SIZE DID YOU SEND ME?
I ordered XL size, but when I ordered this item, the information showed "Only 6 Left", and the size chart ran to XL. Now the size chart does not show XL and the item shows "In Stock".
I'm sure this is not a supplier problem, it is an AMAZON problem. If I do not receive XL size for these sleeves, I can not use them and I will not pay for the return to Amazon or the supplier if they do not fit.
Thank you,
--Deane Nichols
10/12/18

Deborah MIllen
from Gastonia, NC
Delivery by Amazon to my house is horrible. Two cars in the driveway and the delivery person does not attempt delivery, they just leave items on the porch. Barely on the porch, which is not a covered porch. Since Amazon has begun delivering its own products it has become the recipient's job to search for the delivery person any time of the day. USPS delivery has also gotten very slack as well, but I do feel that Amazon should at least TRAIN its delivery personnel. Ring a doorbell? We've ordered a LOT of items from Amazon. Delivery is fast. But the current practice of your delivery personnel is abysmal. Also, the cirucuitous route I had to follow to file this complaint, destined for the round file I am sure, is not acceptable for the size of the company that Amazon is. Really Bezos. Monopolize the service but fail to give quality service. Shame on you.

Albertha Sturrup
from Nassau, NP
I am furious I placed several orders on September 18, 2018 and to date I am receiving items order from the same sellers in separate lots. i was being told that i needed update my payment i did but i continue to receive emails stating that my payment declined, each time i updated but continue to receive emails to up date my card. i call amazon help serval times and i was informed that payment were cleared. after speaking with them i continue to receive emails to update my card, i did. i then spoke with my bank and i was advised that the funds for the items were being held by the merchants. i called amazon help October 3, i was informed that one or serval of the items i ordered were not in stock. this infuriated me because i was not informed of this by the seller.
i mentioned to them that this was a complete inconvenience to me because these items was for my business that was to launch last we. the only item that i had anticipate a late delivery was the shower curtain. i am very angry.
You are now connected to Abrar from Amazon.com
Abrar is typing...

kimberly hoertz
from Alden, NY
I purchased jewelry.....promoted by the seller as "cultured pearls". This indicates the pearls come from the ocean,they are real!!!! I received plastic. I knew that the seller Amazon represents was in China. When these necklace sets arrived there was NO packing/company info sheets included. There was no return info etc. The item information is false advertising, frankly it's an out and out LIE! I have been ripped off !!!! I have no way to get my money back. I did not expect "fine" jewelry. I expected a "B" grade pearl necklace ect......REAL PEARLS as stated......not cheap plastic. I mean Cheap !! .I own faux pearls that are lovely......These are kiddie dress up toy jewels.....promoted on AMAZON...as..cultured real. How do i get my money back?

TREVOR DCUNHA
from Malkajgiri, TG
I Had ordered a REFRIGERATOR on LINE and paid by credit card . The ORDER NO was 404-3447988-0988369 order date 29/09/2018 INVOICE No SHYB-62001 INVOICE DETAILS TG-SHYB_1004-1819 and the HAIER REFRIGERATOR 195L4 STArCOOL SINGLE DOOR has Already been delivered to my residence a few days ago with the Courier Agency intimating that I would receive a Telephone call from the Firm with regard to date and Time for INSTALLATION. However no one has contacted me and the refrigerator still remains in its original package un installed. This is not as per the TERMS WHERE THE INSTALLATION WAS TO BE DONE WITHIN 48HOURS . IT IS CAUSING ME UNDUE GRIEF And I DEMAND THAT THE INSTALLATION BE COMPLETED ON PRIORITY . Please ACKNOWLEDGE . In case it is not feasible in the next 48 hours I may please be given a refund and the Refrigerator taken back Lt Gen T, A. DCUNHA

Angela mccoy
from Atlanta, GA
I called a few minutes ago..about not receiving my order. After 10 mins of waiting..the guy hung up
Have feedback for Amazon?
Thanks for your feedback!
Sorry. Please try again later!