Amazon
Amazon Complaints Continued... (Page 10)
824+ reviews added so far. Upset? Call Amazon corporate: 206-266-1000

I was charged $129 for Amazon prime which I did not authorize. I did have a free trial but I canceled been mailed January. I've talked to two supervisors getting different information lying to me about when my refund will go back into my account I am going to cancel my membership with Amazon I'm on Social Security and now I have $26 left in my account I have no money for food or gas.

I brought a dress the dress came to me on today ripped on the side damaged out of the package wasn't the color I asked for and the dress was garbage I'm so in happy with amazon did not sign up with this prime stuff this company is horrible with customer service

jim bocek
from Berlin, MD
purchased an item that does not work and seller did not send return mailer label. should have since they sent a non working item
item 662434

Gregory T Rice
from Dayton, OH
I watched six seasons of True Blood on Amazon Prime. I have been a member for many years, but don't remember exactly how many. I realize Amazon has grown to such a size that my one membership loss won't effect you. I would like to finish the final season, but I will not pay Amazon for the privilege. I will either rent the final season at my local video store for around two dollars total or not see it. I have spent thousands of dollars on Amazon and this is a slap in the face.
I also have Netflix, where everything I choose to watch is FREE. Every available season of every series is included, without a stick up price to see conclusions.
I will have to re-think renewing my membership to Amazon for the coming year.
Sign me Disappointed,

Gerry
from San Antonio, TX
I couldn't access my account. The two step process did not work. Amazon answer was to wait 48 hours or cancel my account which would take 48 hours. All things which does not fix (THEIR) problem. They gave no HELP!! at all. Oh and is there anything else I can do to assist you! What a joke.

Darrell Reed
from Chattanooga, TN
I ordered some solong tattoo ink they claim they denied my payment and canceled my order. I went to my bank community national and they told me that amazon most definitly took 32.98 from my account that morning. I called amazon and they told me they did not take any money from my account. They are a bunch of liars my bank showed me where they took the money out. They wanted me to reorder and run payment again i told them no way they wasnt making another 32.98 from me and me never receive any product it would be like me paying double for the ink

My order number is #701-0421689-398585. The package was supposed to be delivered yesterday and it is still not yet. There is a large print on my email saying GUARANTEED DELIVERY DATE, JANUARY 31. Well, you did not live up to your guarantee -- this is not why I purchased Amazon Prime. What can you do about this? Reimburse me? Give me some credit? Should I cancel Amazon Prime as not living up to what it says it will do? An anniversary was missed. I am rather upset about it.
Dr. Burns

Paul McDavitt
from Dayton, OH
I have been trying to return an item I bought on Dec 3rd (received on Dec 8th). The seller said they would accept the return and would mail me a return label in "7-10 business days" and that it would then take 3-4 weeks for the refund to be issued and that I was responsible for the cost of sending the item back ($7.99). Ten business days went by and I got nothing. I recontacted the seller and they said they'd send another. Ten business days went by - nothing. Happened AGAIN, so I filed a complaint. YOUR "WONDERFUL AND HELPFUL" (they say "We're here to help" after every non-helpful reply) employees DENIED my claim saying, "You have to return the product for a refund." Now, it doesn't take an Einstein to figure out that I've been TRYING to return the damned item, but the seller is not cooperating by sending their return label! The day after your "WONDERFUL AND HELPFUL" employees accepted my claim in the first place, I got YET ANOTHER form letter from the seller saying they would send me a return label, etc, etc, and here it is - FEBRUARY 1, 2019 - and GUESS WHAT? No return label! Your "WONDERFUL AND HELPFUL" employees - after I sent them another complaint - said, "You must return the item to get a refund." REALLY? Maybe if you hired "WONDERFUL AND HELPFUL" employees IN THIS COUNTRY who are able to speak and read English, things would get done! THIS IS RIDICULOUS!! i AM TRYING TO RETURN A PRODUCT. THE SELLER IS NOT COOPERATING. I AM DOING EVERYTHING I AM SUPPOSED TO BE DOING, AND ALL I GET FROM YOU IS THAT I MUST RETURN THE PRODUCT TO RECEIVE A REFUND, WHICH IS WHAT I'M TRYING TO DO IN THE FIRST PLACE!! Thanks so much for all that "WONDERFUL AND HELPFUL" assistance. I'm glad your employees are "here to help." I can't imagine how much of a hindrance they'd be if they weren't! In other words, THANKS FOR NOTHING! Nice job by people who don't really care!

I am so done with Amazon poor customer service deceptive practices by resellers. Did twenty thousand in purchase last year with Amazon recent bought computer from Maze Tech with not warranty and found out today we can not upgrade them due to the fact the areBIOS password protected and I have no protection rights as a consumer. I hear you loud and clear Amazon I am taking my business elsewhere loyalty mean nothing to you guys nor is protecting the consumer.

Place an order using amzon gift card 2 - $25.00. Instead it showed the total after gift card was applied. I could not move forward to continue
with order. I did not know my taxes & handling which that page should show you could not go any further. I was on the line with someone almost
a hour. Which that person could not figure it out. I finally click on my credit card which then it proceed to next step.
I think when we use gift card it should show a balance what I owe or credit. How would I know what the taxes and handling charge is. I wasted time setting on the phone.

my order #114-0811634-3170639 was sent to my old address... 6689 Seagull Ct., Frederick, Md.... WHY? I changed my address over a month ago. All of my other orders are shipped to my new address which is 4967 Farringdon Ct., Frederick, Md. I did a change of address with USPS so should have arrived by now ... when I tracked it ... it stated Jan. 25, 2019 out for delivery, arriving today by 8PM...... today is Jan. 30TH where is my package ? and why was it sent to my old address ? Now I guess I just took a $75.12 loss and to go the mall to buy the 5 books that were a gift

Amal A S
from Vazhamuttom, KL
I Have purchased amazon basics UV Protection Lens Filter 55 mm . i got the delivery on Jan 26th And its not fit to my camera i Cannot see the return option . Only replacement Option is there and order expired on Jan 26th , and i contact the amazon customer care executive and they told me to contact the cloud Tail sellers and i contact the cloudtail . they give bad reply and bad response to me . they cannot regenerate a pickup option . and i have lost my money i cannot use this product .kindly take any decision to my order .
Amal A S
Cont : 9447129653

Amy Buchanan
from Salt Lake City, UT
Was locked out of my account - while trying to shop online at Whole Foods - spoke with agent Bianca who couldn't reset my two-step verification - was sent to her supervisor Natasha - who couldn't resolve either - and was about to send me and give me a number to Whole Foods, with whom I was trying to shop with - however, it wasn't WFs it was AMAZON that I couldn't log into. After 1:37:11 on the phone they tell me that I will then need to wait 24-hours to be able to use my account - why didn't the first customer serv rep know that? Where is their training? Where is their compassion about having to be on the phone that long. I was unable to purchase my groceries - had to go on my own time to Whole Foods to try and rectify the problem with them sending me back to Amazon. No food, no ability to purchase and I am really upset that I waited - very patiently- to be transferred from person to person - then Natasha told me that she could have someone call me back TOMORROW. I am really disappointed with AMAZON.

Hello My name is Sergio Aoun, I am from Lebanon
Months ago I ordered the following books: Structures why they don't fall, the code of the extraordinary mind, the Jewish state
I ordered those books in August and I still didn't hear from you till now, when I log into Amazon there is always the statement: Package is on its way but running late
I don't want the books anymore but I want a refund! Its the ultimate act of disrespect if my package was lost and you still didn't notify me!
email : aoun.sergio@gmail.com
phone number : +96170567491
Reply as soon as possible

Richard Lynn Peters
from Plano, TX
I had a package delivered today and the guy just tossed it onto my patio. I wanted to upload the video of your delivery guy preparing to toss the package on the porch but you don't allow video for some reason. I really don't expect to pay $120/yr to have my items thrown on my porch.

Jeanette Anderson
from Fort Worth, TX
Hello,
I am a repeat customer of Amazon spending hundreds per month, I have repeatedly requested that ANY of my packages not be left on my porch in an area where it can be seen from the curb.....WHY? Theft of course
Yet I constantly receive pictures of my items left out in plain sight for thieves, then amazon, takes a picture of the item left out in the open and asks me WHAT DO I Think of this picture?
I have large pillars on my front porch where the items can be left behind and not seen from the curb....
Why is my request being ignored? Again I spend hundreds of dollars per month on Amazon and I am stressed out over worrying about my items being taken.....If this happens again I will start ordering from EBAY....

My account has been hacked 4 times since last Thursday and no one is willing to help! I can only use the app and can't change my password or close my account down

yurick vandal
from Ho Chi Minh City, SG
dear Amazone, i received a strange email and i did not order anything so i would like to report to you ,,,, i just dont know how to report it!
could you provide me the good email adress of your fraud department?
I hope we can stop fraud or bad activities under your name.
yurick

PATRICIA IRWIN
from Navan, L
my experience with amazon is dreadful.
they continue to take money from my credit card despite my cancelling my account last year.
i want it stopped and all moneys refunded immediately.
i do not want amazon prime , i never signed for it . please sort it.

Todd Ide
from Kalamazoo, MI
I would give it zero if I could. I have had several issues. First, I received a grant to do a project at my school (a couple of thousand dollars). I bought the materials before Thanksgiving. They locked and froze my account for some reason (though a credit card from school was used) and I missed some Black Friday deals because I could not get a hold of anyone during the weekend to unlock the thing. Their response - sorry about that, but you are just tough out of luck that you missed the sales due to our decision. Feel free to pay the now 30% higher price.
Next, I had to send some items back through the grant because our plans changed. I sent 5 refurbished galaxy tab S3s back. I had bought insurance for all of them because as refurbished they have no warranty. I canceled 5 of the 7 insurance policies. Asurion (I bought these through Amazon) canceled all 7. I didn't realize that until last week. One is having issues. Amazon's response. Oh we are so sorry, that happened. We will investigate so it doesn't happen again, but we aren't going to fix the problem, though it was our fault. Asurion won't sell me a new policy because the tablet was bought over 30 days ago (and is now not working). Amazon admits I selected cancel 5 not all 7 insurance policies, but will not cover it, So I am stuck with a $379 paper weight.
I have called, emailed, complained via social media, did online chat (which with chat you say the same thing over and over because you keep getting handed of, or the person you are talking to drops and you get connected to a new person. This person says they are going to read what you have already said - but they don't because they try to give you the same answers you have already explained why they won't work).
Combine this with the wireless headsets I ordered for the grant too. I ordered 3 pairs. Two pair arrived within a week. The third has been saying waiting to be shipped for the past 60 days. I called last week, told they are still in the pipeline (even if they were shipped from Asia on a freighter they would be here after 60 days). Told today, no they really aren't coming but were canceled by Amazon several weeks ago. Did I ever get an email, no. The person who looked into it today states that she looked, Amazon NEVER sent an email that they were canceled.
So, I am out $379 on the tablet. Just found out the item I ordered is not coming. Amazon has really taken a crap turn in terms of customer service. And THEY DON'T CARE THAT THEY HAVE. All I get out of any of this is, Wow, that is sad, and we are sorry, but not our fault. My advice for any Amazon purchase is Cavet Emptor. I doubt I will be doing any shopping there ever again and will not be renewing my Prime membership.

Cynthia Carroll
from Germantown, MD
I ordered a chair on 12/31/18 never got it but they took my money. !!!!!!!!!!!

barry kidd
from Seattle, WA
every month i pay you 50.00 dollars every month than you take ever dime for things i never ordered why is this and why do i have to pay for things i never signed up for

Michael Jacobs
from Newport, WLS
I was an early adopter of Amazon and must, by now be one of its most loyal and lucrative customers. I used to praise it, in particular, for the ease with which we could contact it and get wrongs righted, usually within minutes.
For the past few years, however, they have increasingly obfuscated the channels through which they can be contacted and the options available for righting "non standard" wrongs. By which I mean issues not related to the mundane process of buying items (non arrival, returns, replacements, warranties etc). Dealing with these issues remains at a superior level compared to other online retailers. But as soon as we go "off piste", with even a trivial issue that should require no more than 5 minutes to fix, they offer no means of dealing with it.
The example below illustrates the problem; as indeed, does my use of your site to lodge a complaint. I'm here because I can't even find a "complaints" option on the Amazon web site. I know it used to be there but now even a google search doesn't find it.
So the first part of my complaint is that they have failed even to acknowledge a previous attempt I made to raise the issue below, a few weeks ago. I can't be more specific than that because
the second part of my complaint is that, particularly as they've failed to acknowledge the original, there is no way I can retrieve the original so that I can reference it in the repeat version I'm about to describe. (Although I've learned that lesson and will, in future, keep my own copies)
and the third part is the fact that I've had to find my way to this site in order to raise the complaint.
I anticipate they will defend the latter by presenting the obscure route through their menuing system which would indeed eventually land you on a complaint option. If they do, that actually reinforces my argument. The complaints option should be front and centre, certainly at least within the help menu. I've had cause to raise such issues with Amazon ever since the turn of the century. It used to be easy. They've now done their best to make it impossible.
Try for example the following google search: complaints site:www.amazon.com
it should reveal all the possible ways to make a complaint on the site. What it actually reveals is damning. (mostly other people writing about complaints systems generally and a few amazon links to the very customer service system designed to shield them from any actual complaints)
And here is the actual, rather trivial issue I first raised a few weeks back (with a different product) It concerns an apparent bug with their wishlist:
I have just tried to add an item to my wishlist (the product identity isn't relevant although, if they care, they can retrieve it from the next line)
It is an item I've previously ordered (most recently 6 Oct 2018 Order # 206-7113477-8808341).
On clicking the "Add to List" the site responded that it was already on the list and had been moved to the top of the list. I clicked view list. No sign.
I went to the list independently and performed a search for the product. No sign.
Even though I never use the other lists, I checked them just in case it had turned up on one of those. No sign.
I repeated this process a total of 3 times with the same behaviour and result each time. I logged out and tried again the following morning in case it was just some kind of latency problem.
I want to know if they are aware of the issue. I know I've told them before but they failed to acknowledge that attempt. Have others raised it?
Do they intend to address this issue and, if so, when?
Meanwhile, how do they suggest I add the item to my wishlist?

Mrs Donna Santiago
from Cape May, NJ
Your company took $126.88 from my disability account and I didn't order anything from anybody not did I receive anything from Amazon but when I called Disability they said that that amount was ordered from Amazon but I didn't order anything. So basically Your company stole $126.88 from my disability acct. Do I guess the next step is involving the police and it takes the cake that this shit happened at Christmas time do everybody suffered at my home.

Dwight M. Hollifield
from Newton, NC
Every delivery from Amazon over the past year or more that had the USPS in the delivery chain has been screwed up. This happens every time:
1. I receive email notification of the delivery date.
2. I track the order and see when it arrives at my local post office.
3. I receive notification from USPS that delivery was attempted but not made because they didn't want to leave package unattended.
4. Later that same day, or the following day, I receive a note from USPS in my mailbox that the package can be picked up the following day.
Therefore, deliveries are not made (I have to drive 10 miles to get them) and receipt of my orders are always 2 days later than the notification date. I would be helpful if Amazon would allow customers to opt out of USPS involvement in deliveries..

Aman sharma
from Jammu, JK
Sir..maine shoes mngwaaye the amazon blue dart se wo mere tk nii phunche courier waala kehta hai wo baapis bej diye ha october k mujhe meri money b nii mili yeh tracking number h 69323327253 blue dart m call kro wo kehte h amazon paise dega amazon ka nmbr hi nii lgtaa merii prob. Solve ki jaaye plz.. Nii to me RTI daalne lga hu...

Jose Leal GTSPTY
from Panama City, 8
I bought a Bushnell binoculars, I received a box with other item and it was perfectly seal, but the box that suppose to contend the binoculars was empty and this is the second time that something like this happened to me. the other one was a Bose micro speaker that I suppose to receive with other items, I received the other items but not the speaker.... I am very disappointed seems to be that someone took my item before seal the box

shana kent
from Cleveland, OH
A package was left on my front porch (01-14-19) and was stolen. My front porch is wide open that is why I always say to leave the packaged by the side door. This is the order number Order 112-7403683-9106648 of the missing item. Can you please tell your delivery people to NOT leave packages on peoples front porch it's not safe. Also, the email said the package was delivered at 5:10pm but that is not true because I was home sitting in my car in the driveway waiting on my sons school bus to pull up from 4:58 when I got in from work until 5:30 when the bus got there. I don't know if your drivers are keeping packages or if they are being stolen.
Please look into this matter and come up with a solution to solve this problem
Thank you
Shana Kent
216-313-5948

Debra shaffer
from Batavia, NY
My complaint is you FAILED BIG TIME IN UPDATE OF PLAYRIX TOWNSHIP GAME. WHAT IN THE HELL IS HOLDUP??????? YOU'VE HAD A WEEK! YOU ARE BIGGEST COMPANY AND IT JUST FIGURES YOU DON'T CARE ABOUT ONE APP IN YOUR VAST ARRAY. WELL THOUSANDS!!!!! OF US ARE LEFT STRANDED IN GAME BECAUSE YOU SCREWED UP! THOUSANDS! DON'T CARE? WELL HOPING ALL CANCEL MEMBERSHIPS, AND GIVE YOU BAD REVIEWS. YOU FAILED YOUR CUSTOMERS, PLAIN AND SIMPLE! SOON IS YOUR ANSWER...HOW SOON? WHEN IS SOON? WHAT TIME LIMIT IS INVOLVED IN SOON???? FESS UP! YOU SCREWED UP! BE THE GIANT YOU ARE AND COME OUT AND SAY YOU CAN'T HANDLE AN APP CHANGE! SMH! LOSERS!

Gili Cacenco
from Hounslow, ENG
I have been charged 7.99 pounds on 09/01/2019 and I don't know why. I want to know why please.
Thank you
Gili Cacenco

Nancy Page
from Port Richey, FL
I have been trying to purchase Paint Shop Pro 2019 since 12/18 with a gift card I received as a refund for a returned item. This was done online so I have no plastic showing a code. I can't order without the code. I have been searching Amazon for an answer. The help menu is a joke. There is no email address and the phone request said call completed. And there I was waiting for the By phone to ring. Another site wanted $5.00 to answer my question. I'm a retiree, 81years old. I have stage 4 lung cancer and a heart condition that cannot be fixed. It seems I may never see the program. The help request sends me to many programs I'm not interested in. I will not be a customer once the card has been used up. I hope someone can finally help me.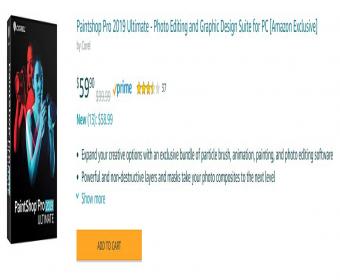 Samantha Stone
from Dallas, TX
I work at Camden Victory Park Apartments in Dallas, TX. At our apartments, we can not accept packages for residents as they are delivered to the door. The Amazon deliverer assigned to our building was informed of this, and we provided him with a map of the community, a key fob to get through gated entrances, and a cart to hold the packages. He seemed upset but we ensured him that once you get the hang of it, it is fairly simple to deliver the packages to residents' doors. Later in the day (Sunday, January 13th, 2019), it has come to our attention that instead of delivering the packages- he placed them unattended in the mail room. Below I have attached a picture of the number of packages that were left unattended in our mail room, which is located in our parking garage. If there is some way you can find out the identity of this deliverer and inform him of this we would greatly appreciate it.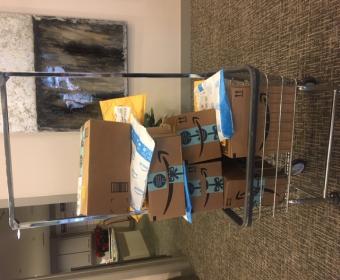 Ben Tashima
from Granada Hills, CA
Your vendor, Bulbhead, puller a classic bait and switch on me. I bought a cheap Bsvarian Edge knife sharpener on another site, and it did not work, so I thought that it was a knockoff.I looked on your site fora genuine one, a deluxe model for $29.99, and ordered it. What Bulbhead sent me did not look like the one pictured, but looked just like the cheap knockoff that I had.I sent it back. You should drop BulbHead as a vendor. They are not ethical.

Elizabeth Carroll
from New Port Richey, FL
Said all shipping was free Regardless of amount of order. Was charged shipping order one Marvel Curtain set complete amount of order showed one set but two came double charged me then to send back was shipping charge to the hell with it I'm 69 I'm not ordering anything else from y'all. You take advantage of your customers I know a 25.00 order isn't much but when you are on social security it's a big deal to some. I'm just letting my family and friends know
Thank You
Elizabeth Carroll
727-457-5690
Ps don't know how to do and image look it up

Robert Hooker
from Houston, TX

barbara a stewart
from Jacksonville, FL
ordered and received a sauder tv stand from you. my first mind set was to not accept the item. the carton was ripped open and then taped. pieces of the stand were broken and another piece was missing. had to contact sauder for new pieces. this is my first experience with amazon and I am not very happy. I feel the item ordered should be replaced at no charge to me.

Reginald Starak
from Corona, CA
To whom it may concern.
I was reading that you were not going to carry certain Items that Muslims do not want you to carry. I am sorry if that is true my friends and family are very much a fended by this. I am Christian myself. I would not ask or expect to have thing taken out of your inventory. If you are doing this for Muslims I will not buy from you again and as I said my family and friends felt the same. I was ask by them to write on there behalf. I like to hear what you have got to say about this. Thanks Reggie Stark

mr glowinski
from Islington, ENG
my order for
Elixir Gardens ® Sulphate of Potash/Potassium Gardens ® Sulphate bucket 20kg
Order # 204-4902155-2765964
Sold by: Elixir Garden Supplies
Quantity: 1
I was sent not in bucket 25 kg YARA TERA CRISTA SOP
It is not written in english,
As well as requesting a photo to waste more of my time i carried the 25 kg wrong order to my local royal mail office to be told the long bar code provided me for returns will not work on our scanners. and i need a SQUARE BAR CODE.
and i have to pay £50 at a post office to return item in question. at any post office.
please help me to fulfill my order.
as the same problem i have had with ekilar before, wrong item sent [pearlite].
if a seperate order i placed with ekilar yesterday turns out to be SIMILAR PRODUCTMATCH i will report 3 wrong orders to trading standards.
regards mr glowinski

james anderson
from Spanaway, WA
my order was delayed a 2 time I went to cancel it and could not I have prime and should be 2 days now I don't know when I will receive it while talking to costumer service I was hung up on and the only one to take a complaint was the people I was complaining about all I have been told is I can send it back when I receive the item if I ever do you have my email and my phone no to contact me as I am getting very upset over this matter and tired of getting the run aroud

Carole Lucy
from Phoenix, AZ
We order a garage door opener with service to install Greg Knutson was the man long story we did not order the track to go with it needed it dun today so we cancel opener bought one at Lowes he spent 6 hours installing it and then said it would not work $200.00 later had to get garage door people out to fix $103.00 more do not send Greg out to install garage door openers out any more!!!!

M Kudrna
from White Marsh, MD
I needed to update an account with a adult email address as a minor set up the account in error and used their email address. I was told that they couldn't update email and minor would have to call and speak to someone!!!!!! I told them that was unacceptable as they were a minor and they needed to deal with an adult and not a child. The individual I talked to was loud and not helpful, rude and wouldn't budge and insisted the minor needed to call back.. not sure what policies you have that require you to speak to an underage minor and not an adult. I would like someone to please call me as all I am looking for is a copy of a receipt from a purchase that was made.

I just received the Zack and Zoey dog shirt. It is NOT a Zack and Zoey but a cheap replica. Also, just recently I have had two attempted hacks from China on my computer. I have contacted the seller for a return as demanded on Amazon; however, my complaint goes much further than a "return!" Another issue is the length of time it took for it to arrive; however, that is the least when considering the cheap product and the hack attempts.

Bhupinder Kohli
from Troy, MI
On the following issue/order, I returned the unwanted item and after getting the item back, Amazon gave me refund of $13.98 but yesterday I got email message from Amazon that they haven't my said item and again charged my account of 11.10 without my permission. Please clear me that is it not a fraud to access my without my permission
It means Amazon has the fully access to all client's account to charge any time without client's permission.
It is clear from this transaction that your staff have all access to our accounts,that is totally illegal.
Order Details
Ordered on November 28, 2018 Order# 111-7829591-3532217
View or Print invoice
Shipping Address
• Bhupinder S.Kohli
• 2428 WILTSHIRE CT APT 105
• ROCHESTER HILLS, MI 48309-3160
• United States
Payment Method
**** 1864
Order Summary
Item(s) Subtotal:
$11.68
Grand Total:
$11.10
Refund Total
$11.10

lana pol
from Edmonton, AB
I ordered the Complete Inspector Lewis Series. I have just checked and you sent me two identical discs. You did not include the first disc with the first 6 episodes. What can you do now. I am very upset. Lana Ool

Marco Sebastiani
from Pitt Meadows, BC
I purchased a etopars 2x black car plastic universal heavy duty power door lock actuator 2wire. In the picture it showed 2 of them and when I received them there was only one in the package. The package I have says there should be 2, but I only received 1. I was not going to complain, but I thought you need to know that this occurred. I do not want for you to send me another one or to give me my money back. Just a heads up with this vendor. Thank you Marco

Jeff freestone
from Bognor Regis, ENG
I have two issues
1. There doesn't seem to be a ,'direct' method/ link to contact Amazon re issues.
2. I purchased a software dongle (Davinci Resolve) via Amazon. This it seems is a pirated copy ( according to the manufacturer 'Blackmagic' ) when I attempted to bring this to Amazons attention the message seems to be simply sent to the seller.

james taylor
from Washington D.C., DC
I ordered the Airport movie collection for Christmas, However it came in BLU Ray. I did not want Blu ray, So I contacted you and explained and was told I was going to be shipped another Airport DVD. I just checked and it's another Blu ray being shipped! I don't have a Blu ray player so I need the regular DVD, What's going on? Also the RETUR SHIPPING LABEL for the one I need to return needs to be sent via e mail so I can't print it on my PRINTER!!! Hope someone reads this and gets it taken care of!
James

Kenny Danielson
from Coeur d'Alene, ID
UPS has failed to find my address 5 times (1-2-3-4-5).
A recent shipment 1Z0W646F0321873129, again went astray.
FedEx seems to have no trouble finding me.
Amazon quick delivery is of no value when UPS fails.
The UPS driver on my route is lazy or retarded or ?
I wish there was a FedEx shipping option at Amazon.

Fanny Fitzguard
from Chicago, IL
What is going on lately??? I have had 3 out of the last 9 deliveries make it on time. And too of the deliveries (the mouth gards and lip gloss) never made it at all!
I have repeatedly tryed to get someone on the phone. I would GRATELY appreciate a call to discuss why this is happening and what we can do to solve this. I tried installing the iphone app and when I try to contact support it just keeps repeating in circles.
Please call me asap: 443-782-5449
Thank you in advance, Fan (Fanny)
Have feedback for Amazon?
Thanks for your feedback!
Sorry. Please try again later!