Amazon
Amazon Complaints Continued... (Page 11)
824+ reviews added so far. Upset? Call Amazon corporate: 206-266-1000

I WAS STANDING IN FRONT OF AN OFFICE BUILDING WHEN AN AMAZON DELIVERY PERSON PULLED UP AND ASK IF THEY COULD LEAVE A PACKAGE WITH ME. I REPLIED 'NO, I DONT WORK FOR THAT COMPANY THE PACKAGE IS FOR', AND THE DRIVER SAID 'IT DOESNT MAKE ANY DIFFERENCE'. IM GLAD IT WASNT MY PACKAGE SHE WAS TRYING TO HAND OFF TO SOMEONE JUST STANDING AROUND OUTSIDE!!!

Georgina Torres
from New York, NY
I had back surgery and I needed a recliner to sit on my living room. I bought it from Amazon on Dec27 it stop working , since then I have been trying to resolve the issue with the seller and Amazon with no luck. There have been mo resolution on this matter. The Item was and electric recliner , I will never buy a big tickect item from Amazon againg there is No guarantte . in the message center you could see the emails ect also i have made over 10 phone calls to the customer service dept. This morning they put me a supervisor by the name of Maritza she was nasty and un helpfull. Please advice what should I do . the item aarive at my address on Agust 8, and it got damage on Dec 27 waht kind of warranty do i have , please help.

Wouter Roos
from Littleton, CO
I am a proud Amazon Prime customer and am a big supporter of Amazon services and business ethics. I live in a apartment complex where many of my neighbors are Amazon customers. On December 31, as I left my apartment I found a very unusual service that was provided by a local delivery service on behalf of Amazon. I noticed that the delivery person placed the packages of numerous customers in the hallway of one of our buildings, removed from any specific apartment. These packages were supposed to be delivered to people in completely different buildings. I am sure that this individuals delivery practice is below standards of Amazon. I thought I would just inform Amazon of these low quality services that was done on Amazon's behalf. I have attached some pictures to verify my complaint, and perhaps could help avoid costly "undelivered" claims against Amazon.
Kind Regards
A Concerned Customer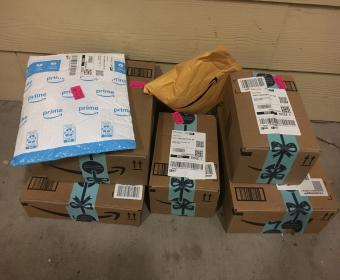 Jose Monnar
from Miami, FL
From the 12/27 I place an order that's suppose to be here in an maximum of 4 days, today 1/3 I haven't the item yet, and now the delivery day moved to 1/7 , it's a shame that the order take too many days to shipping, wake-up Amazon!!! I need a response ASAP because I pay ASAP, it's ok??

patricia ann cavanaugh
from Egg Harbor, NJ
I was ordering Dragonn filters and was offered a free gift card for
$50 for applying for an Amazon credit card. After giving them my information, they changed the offer to $10, but I had been advised my code that was furnished by them was invalid. I don't understand why they weren't forthcoming with information as to what was going on with the code they had given me in my gmail and they didn't explain why I didn't get the gift card. i would have saved on the purchase of the filters and would still have the balance on the gift card for future purchases. Maybe my credit isn't good enough, but they should have explained and not left me guessing about what was transpiring. Lots of confusion. Very little satisfaction. I don't like being offered savings and a credit card and then being dropped in mid-air. My valuable time was wasted, also my patience was exhausted. No stars, not even one, on this experience. I will share with my friends and family.

linda taylor
from Los Angeles, CA
I tried to cancel an order an hour after I placed the order the site would not let me cancel I called customer service and they were no help could not understand their English after this experience I don't want to order from your company again I read the reviews after I placed the order and they were bad I don't want that rug!!!!!!!!!!!!

Robert Janc
from North Prairie, WI
On this Order # 111-7359733-2398637 it was delivered with the following information
Your package was delivered. It was handed directly to a resident.
IN REALITY IT WAS LEFT IN A SNOW-BANK AT THE CURB.
It was delivered using Amazon's own delivery service which up to now has been fine.

Linda Morey
from Elmhurst, IL
I got a restocking charge on a shirt I ordered. The fabric was horrible. Shirt was never worn and I returned it immediately and was still charged 20 per cent charge. Beware of returning items to Amazon.

Former Tinay
from Salford Quays, ENG
I ordered L'oreal Blur on 28 December. I am told i will not get it for at least 6 WEEKS which is crazy i am with PRIME. I spoke to customer services they cannot do it. So why advertise it if it is not in stock. I'm fact you have it advertised TODAY. I think this is a bad way to treat a GOOD customer

Robert Mayer
from Santa Clara, CA
I have a prime account at Amazon that I am be billed for monthly, I tried to use it to order items during the holiday season and was rudly shut down. I would like to cancel my prime account effective immedialely, I have alrady revolked the automatic withdrawal from the account effective 12/28/2018.
If you have additional questions please call me at (925) 766-1183
Robert Mayer

Syed faizan
from Mumbai, MH
I return my product before 10days and I did not get my money

Franny Fitzguard
from Wilmington, DE
Re: Amazon Logistics? (AMZL is what the shipping tracking # shows.)
What is going on lately??? I have had 3 out of the last 9 deliveries make it on time. And too of the deliveries (the mouth gards and lip gloss) never made it at all!
I have repeatedly tryed to get someone on the phone. I would GRATELY appreciate a call to discuss why this is happening and what we can do to solve this. I tried installing the iphone app and when I try to contact support it just keeps repeating in circles.
Please call me asap: 443-782-5449
Thank you in advance, Fan (Fanny)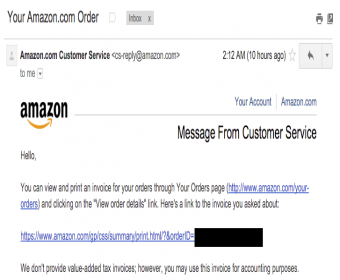 Howard Mccartney
from Albuquerque, NM
I've been trying since 10/04/2018 to successfully order a product. I get delivery dates and in one case the product shipped ( after 6 weeks I cancelled) since it never arrived. And today when my latest order was due I'm told that there's no stock yet. So now you had my money on two orders while it's obvious that the product wasn't in stock. It would be better customer service if you didn't make people wait 30-45 days on each order before saying you can't fill the order. Obviously my small amount of money is of no concern to amazon but being on a fixed income it is a concern to me. It's time I use some other company for what I need and I realize that you don't care but I will tell everyone I can about how amazon takes money with no guarantee of delivering the product
Thank you
Howard Mccartney

Fanny Fitzguard
from Elmhurst, IL
What is going on lately??? I have had 3 out of the last 9 deliveries make it on time. And too of the deliveries (the mouth gards and lip gloss) never made it at all!
I have repeatedly tryed to get someone on the phone. I would GRATELY appreciate a call to discuss why this is happening and what we can do to solve this. I tried installing the iphone app and when I try to contact support it just keeps repeating in circles.
Please call me asap: 443-782-5449
Thank you in advance, Fan (Fanny)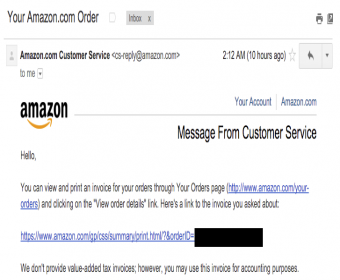 Karen Hulings
from Warren, PA
Ordered a Bladez Echelon GS stationary bike on 12/11/18 and gave as gift to Larry Davidson. Order # 112-2016447-5051451. The odometer or meter was not working. Everything else is fine. Larry tried to call Bladez and was instructed to leave a message. No one called back, then tried couple days later no one called. I went online to sign up for the one year warranty and the site said it couldn't connect. I then tried the "contact Us" tab and listed Larry Davidson as he is trying to get the part and after I typed it all out - the site said it wasn't able to take my request and I would have to try later. I then tried again to call and no way to talk to a person. There is no way to contact Bladez by email or phone and I am very concerned that I have been taken and I paid a lot of money for this item. I would appreciate any help you give me.

Kenneth Austin
from Phoenix, AZ
Last week we received a package from Amazon. The slip in it said it was an order of December 14, 2018. It was a "Queen Anne Milk Chocolate Cordial Cherries Gift Box" -- 19.8 oz. - 30 Pieces. The following information was on the slip: Miscl
Last week we received a package from Amazon. The slip in it said it was an order of December 14, 2018. It was a "Queen Anne Milk Chocolate Cordial Cherries Gift Box" --19.8 oz. - 30 pieces. The slip had the following information: Misc. X 001YDJP31 5U - 7LIC-KYI9490550308600 (Sold by Christopher Evans). There was no name of sender. Christmas day, December 25, 2018, our daughter (we haven't see her for over 10 months) texted us that she had sent it. She said there was supposed to be a note in it. It was ordered by Jane or Donald Manack. The candy box was in a large manila envelope only and was crushed the candy was smashed and leaking al over. It was a sticky mess and had to be thrown out.Please replace this box of candy, have it packaged correctly and delivered by a Delivery Service that will handle it better. The first one was delivered by a white van with no name on it. Thank you.
Kenneth L. Austin
300 N Pinal Dr
Apache Junction, AZ 85120

Meisheng Guo
from Monterey, CA
I have tried repeatedly to obtain a refund for the Dining Room Curtains Farm House Decor by Ambesonne, Sunset in Dark Pine Forest Autumn Foggy Scene with Sunbeams Trunks Shadow, Sold by: Pinklim $69.99 Many promises of the issue being resolved, and my request was made. I am very disappointed. Please refund me since the curtains are returned over two month.

James B. Ritter
from Chester, NY
I made a purchase on Dec. 7, 2018 for 2 Boenfu wire cutters with a total purchase price of 13,98, When I tried to order, my debit card was not accepted as you said it was an invalid number. After a few hours of haggling with you, you said on a phone conversation said you would give me a gift card. I never received that $10.00 gift card.
I got an e-statement for $18,96, yet my order was for $13.96. I do not understand the $4.98 additional charge. My problem is why my gift card was not issued. I am demanding that this $10,00 gift card be applied to the balance. Since my order was for $13.98, with that $10.00 gift card, my actual balance would be $3.98. THAT IS ALL I WILL PAY!!!
Since you people are giving me such a difficult time with my initial order with you, I WILL NEVER ORDER FROM YOU AGAIN. Please reply to jim.n.norma2012@gmail.com. (By the way, my debit card IS valid, as I have had it for quite a while!

Amy Strickland
from Alexandria, VA
I have always had EXCELLENT customer service experiences with Amazon, until today.
I received a Fire TV stick from my mother for Christmas, ordered from my Amazon wish list. Unfortunately, when I went to connect it, I discovered that I do not have the necessary HDMI port on my TV.
I went on Amazon's chat to find out the return policy, and I was told that, if I return it, they will only credit the original purchaser! I don't want to hurt my mother's feelings about the gift (not to mention that she lives hours away from me, so I can't easily get it to her to send back to Amaxon) and I've never run into a policy like this with any other retailer. I'm a Prime member and also have a seller account with Amazon, so I'm both surprised and disappointed.

terry bowman
from Woburn, MA
i bought 2 items from you and got hacked for over 14000 dollars.I thought you people were secured.I called because i didnt get my order.They told me that i had 2 items pending.1 wath for over 13000 dollars and one iphone for over 1000 dollars.I did not order this and i dont have that kind of money.your custer service agent said i was hacked and he tried to sell me a private ip add. for 2800 dollars i said no then it was 299.00 for him to fix it.this is a scam your site should be secured.Im so mad at you people that i might call the FBI.I will never buy from you people again.it make you people scam artist

terry bowman
from Woburn, MA
i bought 2 items from you and got hacked for over 14000 dollars.I thought you people were secured.I called because i didnt get my order.They told me that i had 2 items pending.1 wath for over 13000 dollars and one iphone for over 1000 dollars.I did not order this and i dont have that kind of money.your custer service agent said i was hacked and he tried to sell me a private ip add. for 2800 dollars i said no then it was 299.00 for him to fix it.this is a scam your site should be secured.Im so mad at you people that i might call the FBI.I will never buy from you people again.it make you people scam artist

Alice Bordelon
from Fremont, CA
Recent delivers have not been packed well, and pieces have arrived loose and/or broken. Packages not up to the standards I have had in the past!!!

Jeana Woodard
from Indianapolis, IN
On December 19, 2018, I received notification that my Debit Card was used to purchase items through Amazon. And, as of today, this order (for 2 items) appears to be going out. Please be advised that I have cancelled my card however, I find it very disturbing that this was allowed without verifying the address for the card. My bank, Huntington Bank, is investigating this as above, I reported this to be fraud activity. I would appreciate better security and, want to know how to cancel the fraudulent order that was allowed to go through. You can contact me at 317-373-1203 any time today. Please know this is not a joke and I am pissed that this was allowed. I would like to know what address was used to verify my card. Thank you. Jeana K. Woodard

Kent nelson
from Raleigh, NC
I placed an order on 4 December 2018 for an item for my child for Christmas. The item was over $200.00. A significant amount for me. The item was scheduled to be delivered between the 13th and the 19th. I was never supplied a tracking number. So I called on the 13th to check the satus. Now on the 19th 7 phone calls later hours of on hold and 3 emails from supervisors, still no item. They will not cancel it, now will the lift the credit authorization on my card. DO NOT TRUST AMAZON. They have no remorse nor do they care. I will file against them with my bank. They did not even file the release as stated.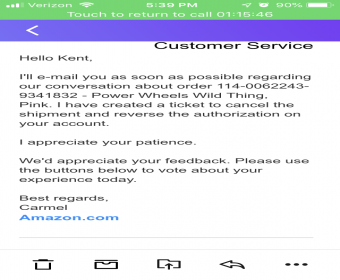 Marietta Stanley
from Columbus, OH
I'm a 75 year old widow,just recently I called Amazon when i couldn't log on.they said my password was wrong,even though I knew it wasn't,I had just paid purchases,but instead of being able too change my password,the lady closed my account,and said I needed to open a new account.So the next morning,I got 5 emails from Amazon with 5 different numbers to use to open a new account.Please help.Thank you Marietta Stanley 228 Demorest Rd. Columbus, Ohio 43204-1282 tinksissy@aol.com

staci sullivan
from Eau Claire, WI
I ordered a monster brush grill brush and when it came in the mail it was broke in half. The cardboard wrapper that goes around it was ripped off and thrown in the box. The box was huge so no way it didn't have enough room in the box. There was a sticker that said inspected. That made me chuckle. Very disappointed as it was a Christmas gift. Would like a refund please or send a new one.
Thank you Staci Sullivan
715-828-6743
7393 124th street
Chippewa Falls WI 54729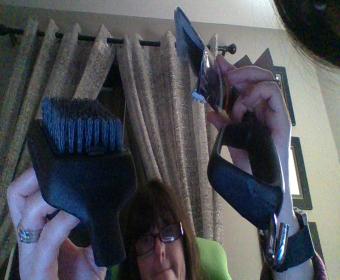 Dawn Meenach
from Florence, KY
We placed our order on November 18, 2018 we received part of the order. When we contacted the seller they said that we received everything according to their description:Description
CompR takes flexibility to another level with a single pair of stout, push-button wire terminals featuring a convenient impedance-selector slider for easily changing the dual-voice-coil impedance (2/8 Ohms or 1/4 Ohms, depending upon model). No additional wiring is needed for switching between series or parallel configurations.
Besides convenience, CompR delivers the deepest musical bass and is made to work perfectly with any mono amplifiers. The motor structure itself is a mechanical marvel, utilizing a large-diameter, progressive-roll spider for increased linearity and better sound with high-strength Spiralead tinsel leads woven through for maximum transfer of signal.
Features:
Kicker 43CWR124 12" 1000 Watt Dual Voice Coil 4-Ohm Car Stereo Subwoofer
Power Handling :
Peak : 1000 watts
RMS : 500 watts
Size : 12"
Best subwoofer in its class
Stamped Steel Basket
Spring-loaded Push Terminals
Dual 4-Ohm high-temperature voice coils
Double Stacked Magnet
Top-mount depth : 5-3/4"
Cutout diameter : 11"
Min Sealed Box Vol : 1.0 cu. ft.
Max Sealed Box Vol : 2.0 cu. ft.
Min Vented Box Vol : 1.75 cu. ft.
Max Vented Box Vol : 2.25 cu. ft.
Frequency Response : 25 - 500Hz
Sensitivity : 86.9 dB
Subwoofer Design : Round / Circle
Rockford Fosgate Prime R500X1D 500 Watt RMS Mono Block Class D Car Amplifier
12dB/octave Butterworth crossover
RCA pass-thru outputs
On-board Punch EQ with +18dB boost @ 45Hz.
High level inputs
Remote PLC (Punch Level Control)
0°/180° Phase Switch
Real time output and power supply thermal sensing
Cast aluminum heatsink
4 Gauge power/ground connectors
MOSFET power supply
Over current protection
Short circuit protection
Muted turn on
1 – 17' High Grade Twisted Pair of 100% Copper RCA Cable
___________________________
We have only received the speaker and nothing else.
We have been in contact well we have contacted the seller with limited response from them other than they are contacting the warehouse. This was last week that they gave us this response, I have been sending them messages directly with no response. They took my money but will not give me the product I paid for and this is a Christmas gift. And now if you look at the product on line it says its currently out of stock in which it was not at the time of my purchase. Here is the link: Kicker CompR 12inch Car Speaker (CWR12) - Black - New, Non-Retail Packaging https://www.amazon.com/dp/B01HTAUJ3Q/ref=cm_sw_r_sms_c_api_i_PhugCb7HK977N

Elaine Canady
from Jackson, MS
place order #112-7155711-3881031 order was delivery to wrong address. Deliver claimed he gave package to resident at my home .No one
was home. they claim the package was given to the wrong person because the driver was very busy no apology gift might not arrive before
xmas said I wanted to file a complaint was told by spokesperson that he had done the needful thing what ever that mean I never had a
problem with amazon delivery if I cannot order direct from amazon I will not order

john t coleman
from Pittsburgh, PA
my last order for 5 # of Rutland safety-T-flue chimney cleaner was so hard not a power like all the others I had to break it into chunks to use it . please check into the problem, thank you . the product does a great job, just should be powdery not a hard lump. it is still doing the job just a pain smashing it up.

Larry Prevatte
from Raleigh, NC
I received a delivery of two packages from Amazon and the packages were left on the street by my mail box , I can't believe that you pay worthless , lazy people to represent your business . After my neighbor informed my that the packages were left out by my mail box he informed me that they did the same thing to him when they delivered him packages the other day . I watch all the news about PORCH PIRATES stealing packages off peoples porches , and your drivers just leave the packages on the curb , if my neighbor had not come and told me about the delivery I'm sure that they would have been stolen . I can't believe that your company has gotten so big that you can't give your customers the service they deserve . I'll be contacting my local new agencies and let them know about your poor customer service !!!!!!

Valerie J Very
from Tarpon Springs, FL
I would like to say that I think free shipping is great!! However, during the Holiday season the items ordered need to be in at least a plastic bag that you can't see through!! I ordered a gift for my Husband that was supposed to be a surprise and the surprise was on me! It was sitting on my doorstep in the original box it came in for everyone to see, including my husband!! Needless to say, no surprise here and for safety reasons as well, the contents of the deliveries should not be for all to see!!

Lela Marsh
from Reading, PA
I purchased a pair of Converse Low TOP Optical White shoes from Greater Shoes. I did a search for womens white converse and this site came up. I seen they had size 7 so I ordered. When I received them they were for a man not a women. I didn't see anywhere in the description they were mens. I requested to return, I had to buy the return label and on top of that I was penalized with a restocking fee. I paid $57.93 and was only refunded $46.00.
Thanks,
Lela

Robert Jones
from Sugar Land, TX
There was a total mixup with shipping of my handicap ramp and it actually was forwarded to the wrong carrier. When finally redirected to USPS the tracking said it was delivered but it was not.
I still don't have my product but you have my payment. My package is now 6 days overdue.
It was either delivered to the wrong house, or not delivered at all and the USPS is trying to avoid embarrassment at their inability to do their job.

Patricia Daigle
from Washington D.C., DC
Assistance::: ex: my grand-daughter asked a spiral curling iron for xmas....I asked which one is it so grandma would be able to.find it. Description was no help,,,neither color:not brand.
Ex: if the i items has an identification number. It would be another point for search... so I have up, unable to find which one she wanted ..so now i.have to go to target with her shopping for that item...
561-744-7150
I even paste and copy it showed me 289 items.in your site...!!!!!

THEODORE MADDOX
from Roanoke, VA
On 12/10/2018, I attempted to play WTG Golf by topgolf on my Fire HD 8 7th generation which I purchase form Amazon on August 22, 2017. The only option I was giving was to download new version of the game, which I did. After download completed, I sign back in uses the same information used on the previous version. All my coins, credits, clubs were gone. These items cost a lot of money. I what to be reimbursed for my lost of 400 dollars. I called amazon complaint department 1 888 280 4331 and spoke with one of your representative who couldn't speak English. I ask to speak to a supervisor. She put me on hold and never return. This was on 12/10/2018 at approx. 6:50PM. Amazon is going to lose a lot of business your representative can not communicate.

tdemps3@comcast.net
from Oak Park, IL
Delivered today Your package was delivered. It was handed directly to a resident. This statement is not true! The package was left on porch. No notification of delivery. I did find the package luckley, later on. please inform delivery to ring bell, knock on door. Tracking ID TBA530766258000

Nancy J Gorell
from Chester, NY
I am paying for amazon prime. They I are deducting $14.94 out of my account every month.I have not been able to use the account because they say I don't have a account. Could you please fix this. Thank you
Nancy Gorell

Judy J Bonds Peters
from Miami (Downtown Miami), FL
I am sending this complaint because I ordered the book Better Late Than Ever #113-1467939-1375429 which was to be delivered on Friday December 8, 2018 and there was attempt to deliver by the Postal service on Saturday December 9, 2018 and could not get into the building. The package was being delivered to my job MBAF CPAs, LLC C/O Judy Banks 440 Park Avenue South 3rd Floor New York, NY 10016. I am have the item refunded to me account because I spoke with Shonnon M. on Saturday who assured me that she contact on Monday and I have not heard from her. I spoke another associate this morning who told the he I did not give the information no supervisor is going to help me so I hung on that person. I also with another person and requested the supervisor. Please that I am prime member and some of your customer employees need to trained to deal with clients.

My account has been stolen and I'm trying to report it. I can't even get the customer service person to understand a single thing that I say and I can't get them to transfer me to someone else that can understand me.

Morgan Frank
from Milwaukee (Avenues West), WI
I had ordered a pair of boots from amazon. There was a problem with my transaction and so I called twice because I wanted to make sure the problem was settled. Both times I called both representatives specifically stated that my transaction went through and the item was already shipped. I had them repeat it to make sure what I heard was correct. I then also stated it to make sure I heard right, and they said I was right. It was suppose to come this week but didn't. I called again today to find out my order has not yet been sent, but had been canceled. I now had to reorder and will not arrive in time for Christmas break. This is very poor customer service. You do not tell a customer false information. When a customer gets told not to worry about their package, because it is on its way, to find out days later when I call about it that not only is it not on its way, its been canceled. Poor service. Then I don't even get help to get the package here on time, I have to go through the process and rebuy the order and now have to wait until I come back from break to receive the product I've been waiting three weeks for. That's just terrible. This is also not my only problem with Amazon. Every time I have ordered products from you guys, there has been problems with lost packages, forgetting to mail product, etc. Terrible. Just terrible.

Debra Winston
from Torrevieja, VC
Dear Sir or Madam,
On the 15/12/17 a friend purchased a Fitbit on my behalf from your Amazon Spain branch.In September of this year the strap fell apart.It was sent back.To this day we have heard nothing from the complaints dept in Spain.It had a 12 month warranty with prepaid return.
My friend sent an email and was told to" call "the complaints dept.This is only available by mobile phone on a high tariff call rate.Unacceptable lack of customer service and my husband is still without his fitbit.
Kindly advise on a suitable course of action.
Yours faithfully
Debra Winston.

Isaac Howard
from Chester, NY
I paid for release-day shipping for Super Smash Bros. Ultimate and it came out yesterday and it's still delayed after 30+ hours without any other updates. What is going on?!?!?!?

Lori Harman
from Akron, OH
I have been trying to correct my email address for over 6 months. Each time I am on hold tranfered and treated rudely. You have my email as lorharman64@rossmedical.com it should be harmanlori42@ gmail.com. seriously how hard can it be to fix this. I also have 2 packages 2 return which I cant due to this mess. I had planned to do all my xmas shopping this weekend. Through amazon. So far every time I call i have not got one person who can speak english. I have been a prime member for years and this point I am disgusted with the way I have been treated. I would lile a refund for my returns which by the way I cannot return due to the wrong email. My telephone number is 8106247325 and harmanlorir2@gmail.com.

george kuczer
from Sunland-Tujunga, CA
A total mess, the package has been expected, was "out for delivery", the Amazon Customer Service in the Philippines have been talking, but not listening, I was given a repeated explanations over and over again, I had been told there is still time until the 11-th, however, the main issue has been the "out fore delivery
status, I have wasted a lot of time watching out for it, total incompetence, lack of responsibility, a "very happy" to: by the customer service, happy to cancel the Prime, OK, I went for it, five different stories in one problem, chaos, automated customer personnel, incorrect info over and over again, useless, this has been my last Amazon and ONTRACK business deal, tha's it, I have had it. good by.

Cambridge Club Apartments - Val Scofield
from Ann Arbor, MI
My complaint is with your delivery service. We are an apartment community. The Drivers are bringing the packages directly to the leasing office and not attempting to deliver them to the apartments. This is not acceptable. We do not take the packages at the office unless all delivery attempts have been made. This needs to be corrected asap. They are also just dropping of packages that belong to the condinium community next door. Feel free to contact us if you have any questions 734-930-0040 Val Scofield

Katie Perry
from Troy, MI
your delivery sucks. Every time I have had a package come though amazon delivery, and I do mean EVERY time, it is late. If I order something and it is promised to me at a certain day and time, then I expect it to be there. I pay for my products to be here ON TIME. it is absolutely ridiculous that your company cannot get a handle on getting things where they need to be. Everyone I have talked to about this says the same thing. If you plan to expand and have a growing business with the delivery, being up there with FEDEX and UPS then learn to get packages on time. After this Christmas I will no longer be ordering anything from amazon due to all the issues I have had.

Kevin A King
from Scarborough, ME
I just received a $100.00 Bill in Payment of Services. Some teenager from Brunswick purchase counterfeit money from Amazon. This teenager will likely go to jail and I am out $100.00. THIS IS AN EMERGENCY! I will wait 24 hours before I contact the media. The $100.00 is of no issue but ruining peoples' live is. You may call me at 207-318-7568 to tell me what you are going to do. kevink@promptooil.com I buy almost everything I can from Amazon Smile but that may change based on how you react. Kevin King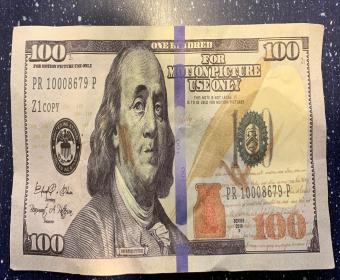 Michael
from San Bernardino, CA
What the hell! My last tow orders, "got lost." It's only close to Christmas and you F'ck up a simple order? Why should I trust you to deliver anything on time? Maybe EBay is more efficient!

ISSY DYKMAN
from Petah Tikva, M
I was informed that my purchase of a PANASONIC ELECTRIC RAZOR , WOULD NOT BE SHIPPED TO AN ADDRESS IN ISRAEL. WHY? IS ISRAEL BEING BOYCOTTED BY AMAZON ?
Have feedback for Amazon?
Thanks for your feedback!
Sorry. Please try again later!