eBay
Contact eBay Corporate
Toll free phone number: 408-376-7400
---
eBay is one of the world's largest online marketplaces and home to millions of auctions each day. It was founded in 1995 and also created Paypal to handle financial transactions online. Common eBay complaints include billing problems, seller issues, scam merchandise, and auction fraud.
Because of their unique relationship with Paypal, any billing disputes are usually handled directly through Paypal. If you have a problem with eBay you can contact the corporate office by writing a letter to eBay Headquarters at 2065 Hamilton Avenue, San Jose, California 95125, USA. For complaints, call the customer service phone number at (408) 376-7400.
Technical issues should be routed through (866) 961-9253 or you can visit their customer service website online for more information and helpful guides. eBay as a company is active on Facebook and other social media accounts. The best way to contac them is through Twitter at @AskeBay.
eBay Contact Information
Report complaints to corporate and get satisfaction
eBay headquarters address

2145 Hamilton Avenue
San Jose
CA 95125

Company website

1-800 phone number

408-376-7400

Support email address

support@ebay.com

Better Business Bureau rating

A

Customer service hours

8am-6pm PST
Browse reviews of other Online Shopping
Top eBay Complaints
Browse more than 134 reviews submitted so far

Tony Loft
from Lynnwood, WA
Here is my latest issue with Ebay, believe me, I have a lot of them. With this one I am extremely frustrated with the overall system that Ebay uses for Item not as described cases. I recently sold an autograph that had a C.O.A. I don't sell autographs very often, I mainly sell toys. When I got an offer for this particular autograph, I did my research on the buyer. He is a seller of high end autographs on eBay. So I thought this is the perfect buyer, because he knows what he is doing. He, I would assume also did his research on the item before making an offer.
So we went back and forth before agreeing on a price of $400. I get a message 3 weeks later, he is stating the item is not authentic. I have a 14 day return policy, which he missed by a couple days. But, I still was curious as to how he came to this conclusion. He said he has a letter of Authentication from Academy of Manuscript and Autograph. That was it. He didn't even show it. So I called eBay, and they said that under their 30 day money back guarantee, that he has 10 more days to return the item for a full refund. I asked them why do I have my own return policy if you just bypass it? They said my policy is just for buyers that change their mind. But for an item not as described, they use their 30 day policy. I then asked, don't they have to prove that it is not as described? They said no they don't. WOW!!!
So I decided to look into this buyer and AMA. I got the buyer to send me his letter of rejection. With that and some information from some of his current listings, I did some research on them. I found discrepancies left and right. I went to AMA's facebook page, they have not had a comment since 2011. I also googled both AMA and eBay user b7312. I found multiple blogs showing listings that had gotten pulled because they were fake. Nobody has anything good to say about AMA. So I showed some of the info that I found to b7312 and he quickly closed the return case. That to me shows that he is a complete fraud. I have reported some of his listings that I found to be fake to eBay, but they still are up more than a week later. He left me a negative feedback stating that the item was found to be a fake and buyer beware!
I asked eBay to remove it, because it is a completely false statement. He showed nothing to prove that it was not authentic. They told me I had to prove otherwise. What a joke! How can I do that? I don't have the item anymore. My listing showed that it was authentic already. They still would not remove it. So now, out of all this, I am the one who gets hit with my first negative feedback, after working for a year to get to be a top seller so my listings will show up in search. That is a whole other issue I am having. It should have been months ago that I was top seller. Again, a whole other issue.
Anyway, Ebay please clean up your site. You have top rated sellers who have over 300 negative feedbacks and treat their customers horribly, but as long as they sell thousands of items their percentage qualifies for Top Rated Seller. Just wrong!

As much as I hate to blab and report I will relate a negative buyer experience and I'll do so to help the negative feedback customers on this sellers page. Girard1222. Kept lying to me about issuing the refund on the item she must have gotten (it arrived) 2 days after I sent it back. I only got my refund because my paypal case expired but that was almost 3 months after I shipped the item back. Don't sellers have to issue refund within 6 days of receipt? Girard1222 did not, I kept waiting and waiting, all I got was time biding in answer as well as outright avoidance of Cases filed and communications sent. If you look on that seller's page you'll see the negatives and neutrals left which I did not peruse first. THIEF is in plain sight from one buyer and that this person should be taken off ebay. I think from now on I'll pay via credit card and not a bank card submitted thru paypal, as if one's bank deals with it directly you have a better chance of getting relief, whereas with paypal as the ACH they are the only entity who can deal with the matter. With this experience I've learned ebay does not "necessarily" honor their Buyer Protection or money back resolution, on one help screen they say "...and we'll get your money back ASAP for you" but I didn't experience that.

Just before Christmas I was trying to order a new Wii game for my grandson. An Ebay advertiser; "funtastic", offered the Wii plus 91 games and I ordered the product. I quickly received an email from funtastic saying "opps" the listing was wrong [which, if it was 'wrong' should have been and could have been easily pulled off the site] and they did not actually have the 91 games but did I want the Wii anyway. I said no and was finally able to cancel the transaction. Then I received a 'warranty' insurance for the Wii which I did not order and immediately deleted. I was subsequently charged nonetheless so 'funtastic' had to have been part of that since only they had access to the credit card number.
I have only now, January 16, 2012, been credited back for the fraudulent charge for insurance on a Wii I did not buy. This seller; funtastic, appears clearly to be a 'bait and switch' operation which also illegally accessed my credit card. In my opinion Ebay should not allow this seller; funtastic, on the Ebay site.

April Dawn Savage
from New York, NY
There is a 2 horse trailer listed on Craigslist. Currently have police involved with this cause. It is a 1999 two horse bumper trailer. Ad was placed in several states of origin. Current price on it is $2021. It appeared to be a legit transaction with eBay as a 3rd party. To make sure she got no money til delivery after I paid $2000 for the trailer and another $1000 for insurance. She hasn't contacted since on January 28th 2015 when I paid the insurance the ad was re-posted. The reply from the eBay site was that delivery was January 30th 2015. Insurance was refundable on delivery and never got item and she refuses to email back. Police are involved with this contact local state police in Montana the address given as hers and ours. Name on this scam is Emma Duncan.The email address is only shown after you contact the person who put add on Craigslist.

Henry Ridner
from Burlington, KY
I ordered a tailgate fro from an EBAY seller. He said that it was in great shape but had a small dent. I paid $350 for the tailgate & $120 for shipping. He used UPS. When I received it, I opened the carton that it was packed in. It looked as though it had been packed well. I was not happy to see the damages that I found. The sides are bent, there is about a 3 in dent below the handle, & other dents in the outside painted panel. I took it to my body shop & was told that it would cost more to repair than to replace with a new tailgate. I have photos of the damaged tailgate to support my claim. I've tried numerous attempts to get the seller to refund my money. He has been persistent to say that it was in good shape as he had claimed in his selling info. He has offered me $100 up until today & he said that the best he could do is refund $150. That is no good. I've sent Ebay a message several days ago but have not heard anything. I would like a full refund. I paid for it thru PayPal. What is my next step to my resolve?

I have been a seller on Ebay for over a decade. For the most part their site has worked well. However, over the course of the years, Ebay has wanted bigger pieces of the pie so to speak. I feel they have become very greedy. It has become increasingly difficult to make much of a profit. There is a lot of work in setting up good listings, taking pictures, posting pictures, writing descriptions, not to mention packing the item up and sending it. It has come to a point now that in order to make any profit, one must make their prices higher and this hurts the seller and the consumer. With this bad economy, Ebay should be giving more and taking less. I'm about ready to give up.

Simon webb
from London, ENG
The drill was given to me Christmas Day and after two days relised the drill was not functioning properly so I contacted the seller he refused to help contacted ebay no help there as they have a 30 day money back garantee but as the drill was diliverd to the wrong house I am 22 and it was deliverd to 24 ebay said my 30 days starts when 24 got it I never recieved the drill till the 8 dec as away visiting family for Christmas i contacted the seller on the 30 dec well in the 30 days and still was refused my money back not happy as I have sent the drill to hilti and the cost to repair the drill and duff battery is £270 for drill repair and £333 for new battery the seller is (polo 1011 ) and wonderd if there is anything I can do from here as I am try to get reimburse for my loss I know it's not pay pals fault but have to try everything possible to get help

I am a seller on ebay and recently sold a Georg Jensen necklace that I had purchased 6 months ago from an ebay maga seller. The buyer said it was a fake and conplained to ebay. I offered to return the buyers money and the buyer then offered 25% of the price she paid and asked me to refund 75% of the purchase price and she would keep the item. I said no… I'll take the item back and refund all the purchase price plus shipping charges. She did not send the item back to me and ebay allowed her to rate me as all ones and add a note that I sold a fake! I spoke to an ebay supervisor and she said that their policy is never to change a rating and shove off.
I have sold over 175 items and this was the first time that I was rated anything less than a 5. I am really pissed!

I just spoke with Feebe at ebay customer service . The experience was less than dull. I explained my trouble with ordering to her and her final say on the matter was for me to contact the seller. I'm sure you record every call so please contact me for whatever info you need to identify my call so you can listen to it . I prefer contact by phone. 604 466-3200 .

AFter more than 80 good purchases on eBay - I had one Seller who was unreasonable with shipping cost - when I tried to negotiate , the seller immediately reported a non-pay infraction against me. eBay does NOT have any recourse for the seller here - its a one-way road ! Whan I tried to buy an item this evening, I was refused and I get the following message "•This item is available to buyers who have not received 2 or more unpaid item strike(s) in the past 12 month(s)." Looks like the Seller hit me twice and eBay does not even notify me and there is no way to get it corrected.
Placed a bid (winner) on an eBay item. The seller was unreasonable in the cost to ship. Seller cancelled the transaction and then logged a non-pay infraction against me. Now I try to buy an item and I get the message "•This item is available to buyers who have not received 2 or more unpaid item strike(s) in the past 12 month(s)." Looks like the seller pig'd out and went full-bore on me. eBay never even gave me the chance to tell my side of it and took the seller's opinion. Looks like Sellers are God and Buyers are just P-ons.
I purchased a police patch from a seller on eBay. I did this with cash. He has answered our deal with favorable feedback and I have the patch in my possession. I can not give back feedback as I am blocked by Ebay due to their saying I have not payed for the patch. I have contacted the seller but have no comment in return. This is the second complaint against me as there was a late payment charge against me due to the Canadian Postal Strike. I have that patch in my pocession and have received favoriteable feedback from the seller in that transaction as. My complaint is simply when is it going to end. Thank you.

Hi, sometimes when i buy on ebay and have it shipped an address in my paypal and ebay address list, when the shipping information reaches the sellers store, the address that they gets and shipped the item to is not an address that is not comming from me, and it is causing problems between the seller and myself, i lost alot of items because the seller says that they ships the item to the shipping address that they get's . I don't think It's their fault because some of the items went back to them and i have to pay for re-shipping. Whatever the reason is, what can your security system do to protect a buyer from that situation. thank you.

Don't buy from this Seller and check the Seller's record - there was another person who had the same problem I had in the same month...she must have posted her rating after I purchased my item. I purchased a wig at $468.00 form this Seller that looked nothing like the wig i purchased from Ebay, nor did it fit the description of the wig. Also, if a return is required-you will need to send it to China and not Ohio (her page indicates she is doing business out of Ohio and this is not the case). Ebay has been little help, although I managed to recently get some names and phones numbers and plan to contact them directly to see how much traction I get. The Seller would not refund my money and agreed to exchange the wig for the one I should have received. I purchased the wig late november, shipped it back to China in December (can cost upwards of $200 for express shipping), here it is late January and I still have nothing. Buyers beware!!!

Rebecca Tandy
from Mooresville, IN
I bought a diet pill. They are validating his return policy. I contacted the seller several times telling him that they were not working. He emailed me phamlet. There were no instructions. They didn't come in a bottle just slips of pills. Didn't work one bit. I finally told him I wanted a refund because I gained a pound and these were too dollar pills and found out later he wasn't even allowed to sell them on eBay!! I asked for a refund 3 times once through eBay. The seller rejected saying if I didn't eat enough fat, the pill wouldn't work. Which was never disclosed. The seller is rude. And they is no way to get through to eBay because the refund policy has expired and they won't honor it. If I would have known that I would have never worked with the seller as much as I did. They took a month to receive!!

I made three offers on an item and they were rejected. Then your outfit locked me out of any futher offers. This is very irritating. What is the purpose of this? Why is this limit not disclosed in the listing?. Why do you limit the number of offers? Would you not want to offer me the opporutnity to offer the lister a better pice. This is VERY STUPID and is an insulting way to treat an ebay buyer!

I ordered a ladies belt from ebay through a seller called "daisy like" from China. On tracking the parcel number I found that it had been delivered on 4:11. But I have not received it and want to know who signed for it, I have not been given this information although I have asked several times. This item has already been paid for and I cannot find out how I can be refunded I would be obliged if you could give me some advice on this matter. 

I bought the item Sale date: 04/10/13 Tracking number: 9400109699939780392951.She sent me the wrong item and refused to refund me regardless the fact that she had put on her page the following: <> I contacted eBay authority several times , sent the photo of shonnaspretties page and all of 3 co-workers admitted during phone call: 866-540-3229, one-time passcode: 1703444 that I was right and was going to get the refund within the vicinity of $10 US Dollars.
In a minute I received email from eBay customer support stating the following: (ebay@ebay.com)1:21 AM. And they closed the case which I appealed. Regarding to that fact, I feel terribly offended (actually $11.88 US Dollars is not a big sum) and swindled by eBay.com representatives who lied to me and supported the seller who obviously broke all Terms of Service. I have already made other purchases on eBay and now feel very insecure about their delivery. Please, consider this case and let me know Your valuable opinion about the fact stated in this email.

Keep eBay a fair and safe marketplace for all members, we routinely review buying and selling activity. In reviewing your account, we found:– An unusually high rate of buyer protection cases being opened for items not received.
Because of this behavior, we've removed from related seller profiles any neutral or negative Feedback, and any low detailed seller ratings left by you within the past year. Please be aware that if this activity continues, you may be subject to a range of other actions, including limitations on your buying and selling privileges, and suspension of your account.
If you have a problem with a transaction, we encourage you to contact the seller first to work out a solution. I have been a buyer on Ebay for well over 15 yrs. over the last 2 yrs. I have filed 4 complaints on a did not receive item, but only after contacting the seller first. When the resolution did not happen between myself and the seller I put in a claim. I have never had any negative feedback from sellers. I have very, very insulted and angry with Ebay for treating me this way.

I have been selling on Ebay for several months, initially the prceeds from my sales were placed on hold until the item was received. Recently my funds were again placed on hold. When I inquired as to why the funds where again place on hold I was told that my account had been reviewed and that my seller ratings had dropped below standard I shippd the items via another provider since I was unable to add a new credit card to my paypal account for payment of the shipping now because of that Ebay is telling me that my shipping time fell below standards?
The items were shipped in a timely manner but because Ebay didnt get to monopolize the shipping Ian being penalized. I would think Ebay would want to be under the radar since they are double dipping there customers through Ebay and Paypal. I just stayed on the phone with them and realized that I was speaking to reps in the Phillipines. I cant believe that with all the money they are making they outsource their jobs. My issue of course was not resolved as they can not even relate to my issue or the anger that I have towards these policies and they have no authority to resolve any matters so there is no accountability. I want to cancel my account they couldnt help me with that either.

Kerrie kruegnet
from Melbourne, VIC
I am getting the run around trying to contact a live person about my accounts false phone numbers redirected sites automated robots do u are losing business as I just buy elsewhere this is unacceptable as I have been a good customer and am getting no help you need to be reported and follow better customer service

Bryant Fitzgerald Magee
from Belmont, MA
There was never any proper protocols and/ or paperwork signed. I also asked them how they had a direct line to eBay, they continued to asked for the activation numbers, since they knew I purchased $2500.00 in eBay Gift cards. Request immediate [REFUND]. Please advise. BFM.

Alexander Sacco
from Rock Hill, SC
Ebay Ranks #1 in making it hard for customers to resolve issues ! After wasting hours to try and resolve a return payment issue. E-bay lied and said I recewived a refund ? I haven't received a penny . I havre spent hours trying to contact a real person , but all i get is endless menu
Phone csally where they hang up on you , and still not able to reach a customer service rep. The longer i do business with e-bay the harder it becomes. Between bad sellers and NO customer service . Someone ought to replace e-bay with a new service. They oviously are not interested in providing good or even any customer service!

Robert Hanson
from El Mirage, AZ
improper use of wording..Example $200.00 or best offer. Does not say make an offer it says "or best offer" If I bid $150.00 on a item offered for $200.00 I feel I should get the product if I have the best offer. If it was stated or make an offer, than it would be implied to be accepted or denied. since he or she did not state it correctly should not be my problem. I should get it for what I offered. Thank you Bob Hanson

By pinkerton
from Minneapolis, MN
eBay began super filtering my searches so all I see are lines and no items/ I'm unable to clear search preferences

Ordered from ebay. Never received item. Need a refund from ebay for 32.99

Coleman Vetter
from Warsaw, IN
I've called ebay and spoken with 14 different representatives, two supervisors, and they hang up on me every time I try to file a complaint. The complaint line hangs up as soon as you dial it. Ebay refuses to uphold it's own policies and return my money. Ebay refuses to accept complaints. Ebay refuses to stand by it's own policies. I've sent 14 requests to speak with a supervisor and been ignored. eBay's complaint line is set up to take a reference number that ebay will not give me, and if I don't provide it the line just hangs up. This is fraud on eBay's part. Obvious fraud.

Joseph m. bunton
from Elkhorn, WI
I returned a motherboard 3 weeks ago, but ebay thinks I still have the item, I want a full refund..... i sent the motherboard back to a company called THE BEST PART 25719 hillview court Mundelien illinois 60060

Travis Gallamore
from Chicago, IL
eBay is the non performers they hold your money for 21 days but yet take your only money you have from your PayPal including the money from the sale they are holing your funds from they don't back you as a seller they don't let your transactions go through so you think your customers aren't paying so you resist for another fee and end up selling for less costing hundreds of dollars they put a defect in your seller report even though you and your customer resolved the issue be cause you were injured in a fire and couldn't get the package sent out in time costing and additional hundred dollars the say your item sold paid ship now but the payment doesn't show on your PayPal or any other account I'm sick of ebays shit

I had the worst buying experience I ever had on eBay and I'm 55 years old. My negative feedback's were removed from the seller who refused to honor his combined shipping policy and send an invoice or even communicate after several days and many messages asking then when I asked to return an item because pictures did not show everything bon the sharks tooth fossil. So he cancelled two other items already purchased and said lost or damaged then relisted them what a horrible seller. So several agents told me I can leave negative feedback only to have eBay sneak behind my back and remove them with out telling me or giving me the chance to edit or modify them and I have been on eBay for 14 years buying things everyday the seller had been on for a year. They don't give a hoot about buyers and only favor sellers very bogus offensive policy and treatment. Thepopupshop.in north Carolina.

Tarek Samee
from Irvine, CA
I am ebay seller with 100% over 4000 Positive feedback and 0 Negative. I am top Gold rated seller adapting best practices. My complaint eBay Over charge me with 25% Monthly fees including 4% penalty for selling matrix cannot be appealed or verified. With additional charges I pay over 45% of my gross sales. The penalty fees is crippling my growth.
If others have same complaint, I am interested to see if together we can find solution.

Edward
from Annandale, VA
One of my complaints is that their costumer service does not help at all... Can you please hear the conversation with Mark # 1-246617891180 that took place on February 7, 2020. around 2pm eastern time.
At the same time, your seller "advance_parts" is unresponsive to messages. I sent them a message through ebay messages on Oct-26-19 @15:06 and I m still waiting for their response. Actually back in November 2019 one of ebay representatives sent another message to them (at least I was told that over the phone) and still no response from that seller...
The message I sent has couple pictures of the car cover I purchase on October 12, 2017 for nearly $60 dollars.
Finally I was able to contact the seller telling me the following about the warranty: "This product comes with a limited lifetime warranty. The limited lifetime warranty covers sewing and elastic band only. We do sell a 7-year full warranty car cover but the price is $79.99."
Since the seller is NOT posting such terms and conditions on their ad, I would like for ebay to contact the seller persuading them to clarify their ads to avoid misleading buyers regarding the quality of their products...

sandra L mack
from Saint James, NY
ebay has been blocking me for over 18 years for something they never fully explained to me and i disputed. They were biased towards me. Its been over 18 yrs. they wont let me set up an account at all. no explanation. they have restricted me from account access. wheres the statue of limitations here ?
631-740-5820 mrs mack

martin
from Philadelphia, PA
I have been with ebay since the very beginning in 1998. I have a perfect record with ebay with not one complaint and all reviews at 5 star.
I recently sold an item and was subject to fraud by the buyer.
After he purchased and I shipped the item the buyer said that he had purchased wrong item and I should cancel shipment. I explained it was already shipped to which he replied he won't accept the shipment.
He apparently was not able to reject the shipment.
He then emailed me the item doesn't work. I asked him what is the problem. No answer. I asked him how he tested it (this is networking equipment which is very involved to test). No answer.
He then filed a request for return.
The request was accepted. I appealed and that was rejected.
Later on I called again and pointed to the conversation in which the buyer admits he bought the wrong item and needs to cancel.
I also pointed out that he was alleging non-working condition based on a superficial cosmetic defect. Pointed out I received and retested the item and it worked just as well as when I had shipped it.
They agreed with me and advised I would get refund for the shipping costs.
I never received anything. I called multiple times in the next few weeks but still nothing.
This is now over 4 weeks of back and forth. I have lost all faith in ebay.

Garian ducally
from Miami, FL
Hey everyone at eBay corporate, I am writing you guys because I need my refund off $25,000 for an item that I never received.the problem is the seller on eBay was a scam seller so eBay promise to give me my refund off $25,000 from the order that I made but I still have not gotten my money back. I don't want to report eBay to the better business bueare also know as BBB because I shop on eBay alot. So having me not report eBay to the BBB I expect to get my money back from eBay with a check in the mail. The seller was a scam seller and eBay knows it and they remove the seller from there website. So I am asking for my refund from eBay off $25000.

Darren E Smith
from Odessa, TX
If I could put zero stars I would. Customer service caters to the sellers and does nothing for the buyers. I ordered a controller on december 18th it was supposed to be delivered dec.23. To this day it has not arrived I have opened numerous tickets for not receiving this item. The seller co continually told me to be patient. Well it has been a month since I purchased it. Now customer service is giving them till the 18th before they will even step in. They won't fix it by the 18th they have already had a month to do so. This is outrageous!!! I have asked numerous times for my money back. Customer service sucks!! The seller hasnt contacted me since December 24th. I'm done with ebay and y'alls BS!!!

mathu Anantharajah
from Ajax, ON
Who may it concern Sir/Madam,
Recently I bought Milwaukee impact gun from ebay. My item expected delivery on Jan 22,2020. I got the notification threw my email on Jan 07,2020 my package been delivered. I checked /tracked it's indicate the package been delivered but I never received the package. My package should be tracked and signature on delivery but no one received the package from me or my wife.
When I contact eBay customer service ask for replacement or refund, I been advised from eBay customer service to file a report to the police station regard to the issue. I been given 10 days to file a report and Sumit the report to eBay customer service. I'm leaving the country for good 1month. I would not be able Sumit the report on file .please help with my matter.
Thansk

AMPLENTERTAINMENT
from Brookline, MA
eBay's customer service is the worst I have ever experienced. Each rep depending on what fraction of the oversees customer department you reach. I have been told that policies have been changed but not available to us because it is internally. Any changes that are made by eBay that affects protocols that involve listings, buyers and or sellers should be made available to us.
All a eBay buyer has to do is claim that the item is fake and they automatically are allowed to return the item. If the item is returned not in the same condition and is forced to it the lost. eBay should be asking the buyer to prove the item is fake, just how sellers are ask to prove the item is real by showing proof of purchase.
Someone else should start a company that can take eBay out of business, as long as that other company can provide better service then eBay, as well as listing prices, final value fees etc.

Nathan Weber
from Ladera Ranch, CA
I accidentally canceled order and the buyer now has my money and the shoes that I shipped him. I feel scammed and want my refund immediately.

Natalie
from Las Vegas, NV
So I sold a tablet to a troll in December 2019. I sold this tablet as is no refund, yet the troll desided to open a return claim over 2 weeks after recieving it. After a lot of back and forth the buyer on December 15th says they are sending it back. I responded. I asked for tracking info. But never got a response.
On January 4th 2020 I get a message from the troll asking if I got the tablet. I didn't even know it was sent since said troll never provided information or asked for my return address.
The troll then shows tracking information for a delivery on December 16th 2019, however the troll didn't send it to my primary address. So she sent it to my old address and now I don't have the tablet. Ebay refunded it money without a proper investigation and their non English speaking outsourced customer service said it was my fault for having 2 addresses even though the first is listed as primary.
How is it fair I am out money and my item? Oh yes and I was called a bitch by the buyer even though she knows what she did.
Ebay supports the buyers even though I pay fees as a seller. what a joke.
,

Had a $25 dollar discount coupon. Tried to use at time of purchase. Order went through without processing the coupon. Immediately contacted eBay and was told no problem they will fix it. Then after calling multiple times to follow-up and being accused of making up the entire story, I was told it was too late. Any changes have to be made within one hour of purchasing. Then I explained again I called minutes after purchasing and was told no problem. Still being told I'm out of luck and eBay will not remedy this issue.

Boris Zingerman
from Oak Park, CA
It's been more then 4 months, since i started to complain about problem with ebay.I use to have conversation with more then dozen of technical support people, managers, supervisors etc.so far i have not received 1 answer that i expect from such a giant company as Ebay.
The problem is still there and nobody promised to fix it.
The ebay have an option for buyers to make an offer to seller,So this option is not working on my side.I have many complains from buyers ,that they are unable to make me any offers and this is was my main source of income.I did send all information requested from your people but nothing has been changed.So ,i continue to paid for product i have posted long time ago, in the range of $800 - $900 per months and not able to received any offers.I provide to eBay tech team all information they requested and so far the last answer for me was"We will not be able to fix this "bug" in the next months.I lost great amount of my regular customers, and not making any money, already using my personal money to paid for posting which i have for long time.I strongly believe that i have to be reimburse for my loses and someone from high management need to be involved to fix this problem.I'm currently holding product which i purchased specially for Ebay (more then $10.000 invested)but not want to post it and lose even more money.Please answer my questions and do something.The situation is really bad.I been Ebay seller since 2008 and spend thousands dollars ,so i hope the problem will be fixed.My ebay store is dynamic_dvd_salls.

James Hagey
from Lawrenceville, GA
ebay has charged me a final value fee due to another member contacting me about an item in the background of the picture of an item I was selling. He did not contact me about the item for sale. ebay has the emails yet refuses to listen to common sense. They say since I took down the item that coincided with the other member contacting ME, must have sold it to him. PURE CONJECTURE on their part! I still have the item, I have told ebay I would send them a dated, time stamped picture of the item and if they wanted I would relist it, sell it and show a picture of me (time/dated) delivering to the purchaser! They can't charge me a final value fee on an assumption, me relist it and then have them charge another final value fee on the real purchase! They know they are wrong and just trying to get my money!! The member contacted me, they have the platform set up so they can do that! ebay customer service should be thrown in jail for extortion!!! I am 'assuming' they must be hard up for money! I also assume, i am not the only person they are doing this to and apparently, there is NO RECOURSE!! Totally illegal!! ebay needs to 'man up' and do the right thing. I have over 300 perfect feedbacks! I have a 100% score and they think I am now a crook! Not only defamation of character, but extortion and down right crappy business standards!!! Customer Service has been anything but Customer Service, they are getting kick backs from money they extort from their clients!!

Larry Strope
from Sayre, PA
I'd put less than one star, but I can't.
I've been unable to list anything on Ebay since 9/4/19. I've called repeatedly, only to be told, "it's a know bug and our engineers are working on it" or "it's a known glitch and our technicians are working on it" or "you've been added to the list of numbers that are affected".
I can't believe the IT people at Ebay still have jobs. They can't fix a 'glitch' in their system in 2 weeks?

Warren
from Covington, GA
Must log in on laptop every time I go to my eBay, but not on my cell phone why was this changed?

3 separate orders I made 1 on July 5th 2 on July 18th. I'm a new customer. So when it said 10% off. I thought I'd get 10% off. Period. Then 10 minutes after my 3rd order I see I have to type in a code " fun tan" I called customer service ( which I had been trying to figure out for a week on another issue, I finally gave up on) so I called them and they would not do a thing. It's eBay's promotion not the sellers but they wanted me to cancel my orders with the sellers permission, wait for my refund, and reorder. What a joke. A $9 total discount could just have been credited to my account or the 2 orders I had just made could have still been adjusted. And a credit for the 1st. Instead they lost a customer. And to think I was going to open a sellers account for my beautiful handmade quilts.

Marianne Clark
from Oshkosh, WI
I have made multiple contacts, including phone calls, Facebook postings, and private messages in the effort to get someone to fix an issue with my eBay account. This has been going on for a month now, and nothing is being done.
It began a month ago when an item I had paid for, and which had been delivered, could not be removed from my summary page because it was still listed as "payment pending." I contacted the seller and asked that he change the payment status so I could hide the item. He replied that he had no option to mark the item paid. It is STILL sitting on my summary page, listed as payment pending.
Following my first call to customer service, I suddenly could not hide OTHER items that have long since been paid for and delivered. I now have three old orders, totaling six items, stick on my summary page. One of the orders cannot be hidden at all. The other two can be hidden, but reappear as soon as the page is refreshed.
I now believe that someone who was trying to remove the first problem item -- the one still marked payment pending -- during my first two calls to eBay did something to my account that is causing this additional problem. The problem NOW is that no one in customer service is taking it seriously. The seem to think it is a "visual" problem, a cosmetic glitch, rather than a clear and distinct warning that my account has been compromised. One of your technicians told me just this morning that since it does not interfere with my ability to PAY, it isn't high on their priorities list.
The problem is: I can't safely order anything from eBay at all while my account is compromised. If THIS problem can't be fixed, what ELSE is going wrong that isn't a problem for anyone at eBay?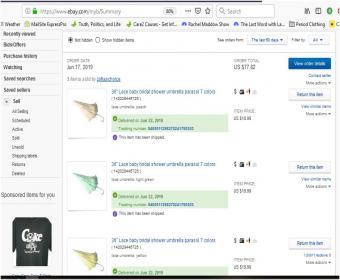 Leone doyle
from Dublin, L
I want to know why my account was suspended I payed for everything I ever got off yous I've my PayPal account to prove it I don't sell I just buy so I have the right to know what's going on because my name seems to be blackened for some reason of which I do not know

Dean Caulkins
from Texas City, TX
Dedicated user of Ebay/Paypal...problem with USPS, need help with another voice. Combination of seller and freight hauler/USPS morass. Local USPS applying inaccurate info to tracking page to indicate parcel delivered when it hasn't been, and my only recourse is to notify the seller that the info he sees is inaccurate and he in turn puts the onus completely onto my shoulders. Going back a couple of years I made several attempts at the Texas City PO to clear up this issue, nothing happened. 1 to 2 years ago I went to the Post Master Generals office in D.C. with this very same issue. It worked well until July 11, 2019/yesterday it started again. I left AMAZON over this issue and have since been using Ebay to supplant. So when does someone else step up and demand that the PMG's office in D.C. investigate. It very well could be a larger issue that just mine in Texas City...I'm asking you to not rubber stamp a generic reply.

Ordered lacome.miracle cushion on June 22 to be delivered on June 28 item not received conctacted post office per tracking number.item returned to sender contacted eba y on July 28case was open .customer rep if not resolved.by.july.11 spoke to very rude rep on July 11 and
And was told by her i should take.some initiative and get tracking # from post office which I had already done she went to cousel.me about what is fair and that package had been delivered which.it and eba y could.not refund.my account.which.means i.paying for something I did not receive plus speaking.to.a very rude argumentative confrontational
Young woman that needs to learn how to talk to people will never order from eba y again could have got the item from Amazon cheaper anyway.and no rude customer service rep

I PURCHASED AND PAID FOR A DRESS FROM MARCH AND HAVE NOT RECEIVED IT. I CONTACTED THE SELLER SEVERAL TIMES AND HE CLAIMS HE WILL GIVE ME THE MONEY WHEN I CHANGE THE BAD RATING I GAVE HIM ON EBAY. THIS IS VERY BAD BUSINESS AND WAS MY FIRST AND LAST TIME PURCHASING ANYTHING FROM EBAY. I NEED MY MONEY OR THE DRESS AND EBAY WONT HELP ME. THEY KEEP GIVING ME THE RUN AROUND!!!!!!!!

Stormy R Seal
from Moline, IL
I've been having an issue since June 13th of receiving my refund as I notified EBay and PayPal not to credit funds back to my funding source, which was card and bank account that no longer was active. I've been given the run around about receiving my refund to the point of even being told to wait more days. EBay PayPal and the bank are sending me back and forth pointing fingers and I want my money to be traced and also accredited back to me as I deserve. I am about to contact both PayPal and EBay corporate offices and file a police report and gather evidence of my classes for court if need be as a final resolution. I'm a poor single mother who has done business with EBay and PayPal for over 7 years and I trusted you all witht business only to be going through hell .
A reference number to pull up this case is available upon contact, and when you pull up this case you can see I have called several times, as I have PayPal too...even got us on a 3 way conference call to try to resolve to no avail. I understand the situation is complex however it shouldn't be this hard to resolve, I feel there's either possible fraud, or you just have lazy improperly trained customer service representatives. I will not rest excercizing all of my rights to get my refund, it's not difficult to see that the money was never received although sent out.
Thanks for your feedback!
Sorry. Please try again later!