Wendy's
Contact Wendy's Corporate
Toll free phone number: 614-764-3100
---
Need to contact the Wendy's complaint department? You can call customer service at 1-888-624-8140, this seems to be the best number to contact. An alternative complaint line is by calling 614-764-3100 or by fax at the number 615-764-3489. We could not find a company email address for Wendy's, their feedback form is linked below.
There have been more than 230 customer complaints registered about Wendy's corporate so far. Unfortunately the founder of Wendy's Dave Thomas, would probably not be happy to read what customers are saying about his chain today. He founded the first restaurant in 1969 in Columbus, Ohio. Today, the corporate headquartes is located in Dublin, Ohio. If you would like to mail a letter, the address is One Dave Thomas Blvd., Dublin, Ohio, 43017.
You can also use our free online feedback form to add a review about your local Wendy's restaurant. Or you can use the official "Talk to Wendy's" feedback form on their website to take a survey about your experience at your local restaurant. The company is also quite active on social media. So, if you do not get a response by phone or email you can connect with them on Twitter or on their Facebook fan page.
Wendy's Contact Information
Report complaints to corporate and get satisfaction
Wendy's headquarters address

One Dave Thomas Blvd.
Dublin
OH 43017
United States

Company website

1-800 phone number

614-764-3100

Better Business Bureau rating

A-

Customer service hours

9am-5pm CST
Browse reviews of other Fast Food
Top Wendy's Complaints
Browse more than 553 reviews submitted so far

Barbara Smith
from Ann Arbor, MI
The Wendy's on Boardwalk in Ann Arbor has had declining customer service over the last several months. The wait times are long and orders incorrect. The staff need more training and supervision.

Amy Martin
from Park Forest, IL
Hi there,
I wanted to follow up regarding a complaint I filed on 04/01/2018, this was in regards to the Wendy's in Orlando, FL at the intersection of Goldenrod and Colonial. I have not heard anything regarding my complaint filed and feel that a simple apology back would have sufficed. However, I received nothing which just ensures my opinion that I will not be spending my money at another Wendy's.
Thank you
Amy Martin
amyam1030@gmail.com

Greg Miceli
from Louisville, KY
I picked up a late dinner for us after working late all day-night. They didn't offer a receipt and there isn't one in the bag. Shouldn't be hard to track as I was at the Poplar level rd location around 12:40am and paid with a $100 bill which I'm assuming most don't. It was $17 something as a total. The asiago chicken sandwich had no lettuce, either did the other chicken sandwich. The Lg fries where bits and pcs of cold left overs like trash. The double stack with cheese was cold as ice. So out of the 5 things we ordered 4 had issues. I mean they forgot the chili, but I caught it so no huge deal there. Very sad meal to say the least when your exhausted and just wanting a decent bite.

john verucchi
from New Iberia, LA
i like the food that have eaten at wendy's until 4[11[2018. i t was the first meal of the day. my meal was a fish meal combo. they told me that they out tartar sauce,which i accepted. the sandwich was served on non heated bun,and the fries barely had any warmth. an hour later, i was sick on the toilet. i have worked cracker barrel and well trained in the danger of food contamination. i paid a retail price for my food and expected more than what i got.. your store is on johnston street in lafayette,la. i will go to other wendy,s nearby. i suggest that you crack down on food sanitation in this store.

Unhappy customer
from Clarksburg, WV
Went thru drivethru, got home and had wrong food... called and "manager" said she would give me one on her.....I paid for sandwich that I did not receive, how would a replacement sandw be "on her"?

JIM CAMPBELL
from Beckley, WV
Visited Wendy's harper road Beckley, WV Sat 4:00pm. iT TOOK 1/2 HOUR TO GET MY ORDER THE CHICKEN SANDWICH WAS COLD
NO ICE TEA AT THE DRINK COUNTER AND NO CATSUP. WORST SERVICE I HAVE EVER RECEIVED AT WENDY'S

steven shapiro
from Alpharetta, GA
bad customer service at restaurant call me 770 310 6677

Ralph Hoversten
from Saint Paul, MN
Advertising event not honored at Savage, MN store. Very disappointed in you folks discontinuing your senior citizens discount.

Latresa Fountaine
from Oxford, MS
I hate the buns that are used on all the hamburgers, the buns are nasty,too sweet,the buns tear very easily. If Wendy's Corporation would please take the time to read my complaint and switch back to the original buns which were the KAISER BUNS, Wendy's would have the top burgers in the fast food chain, I'm telling the truth, many many people agree with me, please go back to the kaiser bun, I'm positive your sales would go up dramatically. I know about food, and what the consumers like and dislike, I'm a single mother of four, spent many days and nights at Wendy's with my children. please make Wendy's sandwiches back to the original old fashioned hamburgers with the kaiser buns, Latresa Fountaine, 6684 Celestine St. Huberheights Ohio, 45424. (937) 903-1747. Ps.( the French fries,the next step to change back. Thanks.

ordered 2 items and on display window one was wrong (more expensive item). told the worker, she said she would tell me the total at the window. When I got to the window she told me it was MORE than she actually had said earlier. I questioned it as the item I requested was cheaper. then she came back again and said it was even more! I had given her a 5 and ordered a small fry and small chili. she came back and said I owed her more money! I requested my money back. she laughed the whole time with the other worker.

robert
from West Palm Beach, FL
your food is great but your management s**ks. my son who works for Wendy's is treated badly compared to the other workers. he asked for 20 hrs a week and gets 6. its not worth driving him to work. he washed windows today only for the manager to tell him he didn't wash the door when he told her he washed the door. she said you didn't wash it and you need to wash it. he doesn't lye. she's making him do the task twice. she also gave him a attitude because he asked her to clock him back in from break and she had a attitude because she was on the phone and didn't want to be bothered with. maybe because this manager is racist against white people as my son is the only white kid who works there in mornings that i have seen. why else would he be treated differently? nothing worse then working for a bad manager. she's been this way to him from the beginning of his employment. if this keeps up, im going to have some words with this manager as i make my son quiet. this manager would be fired in my work place. shes always on her phone and is always sitting down in mornings and does as little as possible.

Ms. Brunell Kellman
from Waldorf, MD
I went to wendy on 3/17/18 @ 11:20am and place my order the person on the speaker said hold on not welcome to wendy's the second thing she took about twenty minutes before she came back to the speaker then zi place my order I got to the window where the older lady was very friendly after geeting to the window to pick-up my order I look in the bag the order was wrong so I ask the white female at the window why did I have frieswhen I didnot order that she replied you got your junior bacon don't you I replied yes I began looking in the bag and I was missing my nuggets she replied Jesus these peoples she handeled the nuggets out the window zi ask her if she could put them in a bag she threw them in the bag and slam the window, then the burger was not fresh the cheese look as if it had been on the burger for 2 or three hours the bread was falling apart and the sandwich was cold, remind me I lived right two blocks away from the store, this is a terrible experience and zi don't think that I will be back, I don't deserve to be treated like a dog

Catina
from San Antonio, TX
I have been employed by wendys for 6 months I'm schedule gor 10-5 m-f the person that is schedule never on time now i don't get breaks not even a 15 min break so i ask my manager why i don't get breaks she said out policy says cashiers doesn't get breaks do o ask her to show mr the policy she told me she don't have time and than she sent me home so i left so i called and made a complaint and when i returned to work the next day they fired me all because i ask them to show me in the policy book wow what ever happen to chane of command and when i ask her boss cora she told me the same thing Cheryl told me she don't have time I'm trying to get ready for my meeting

Bob Lewis
from Venetia, PA
On Sunday, March 11, 2018 at 6PM, my wife and I stopped at this location.
It appeared staffed with all young people.
The place was a mess, the condiment counter was covered with stains, ketchup and other messes.
The tables need to be wiped and the trash bins were all full.
I mentioned to one of the staff, about my observations and the need for someone to take on the task, nothing happened.
We have been Wendy's fans for years, this was the worst ever, We will never stop at that location again.
That location need help !

david berrey
from Mesa, AZ
bought 3 burgers that were COLD

Dawn Brennan
from Loganville, GA
03/12/2018 It was at Wendys restaurant:#00002705
4331 US ATL Hwy 78
(770) 466-7075
ticket # 3320
Host Afokeoghene 03/12/2018
#3320 7:21 PM
reprint# 1 30321
"Food"
Auth:056181
I'd name the attendant that was ruder but she was not wearing a badge. I heard a voice over the speker, wasnt shure what it said so I started to give my order. I was told, "Excuse me, I said just a minute.".  In shock: I responded, "excuse me?" She then took the order appropriately. If this was all I would not be bothering you.
When I got to the window I noticed no badge and there was a silver bucket on the counter. She grabbed my cup and scooped the ice from the silver bucket into the cup no glove on her hand.just straight from handling money into the ice bucket, yuck.
Well I wasn't going to eat or drink after that,so when I went to pour the drink out on the ground there was next to no ice and the sprite was flat.
I opened the burger, it looked OK but based on what I saw through the window I wasnt going to risk it.
Wendys owes me $10.68 please.
Id like to give you a chance to respond before I rate the resataurant on the net.
Thankyu for your time
Dawn Brennan

Kerry Bailey
from Dallas, TX
Myself and 2 other people went to the Wendy's located in Winnsboro, Louisiana on Sunday 3-11-18 around 5:00pm. There were no customers at the counter and only 3 customerd in the store and only 1 customer at the drive through window. There were approximately 4 employees at the store from what I could see. No one was attending the counter. An employee walked past the front counter on 2 separate occasions and never acknowledge that we were waiting at the counter to place our order. Two of the other employees (one at the drive through window and the other at the preparation counter) both made eye contact with us but never verbally acknowledged us. We waited for approximately 5 minutes without so much as anyone speaking to us or acknowledging our presence in the store. At this point we all left. This should not be an acceptable practice for any business. I will not be doing business with Wendy's and will advise my friends and family of this situation.

Richmond Hts OH Wendy's on Richmond Road. Ordered a smoky mushroom burger with no onions and got a spicy chicken sandwich in the drive through. Drove a mile before realizing their error, came back, walked inside and they gave the saved burger with onions. Worst store ever and soooooooooo slow.

troy braud
from Dallas, TX

Luis Mora
from Orlando, FL
Loby is close cause employees don't want to clean and there to busy talking at 6 pm on sundays. At town center. Big island

Dave sanger
from Center Point, IA
New Wendys hwy 63&20 Waterloo could not see register,did not get a receipt,no ice,only

dennis roberson
from St Louis, MO
Visited Wendy's Restaurant #8264 located at 1951 W. Eldorado Parkway in McKinney, Tx at 7:00 pm on 3/10/2018. I found the door to the restaurant locked with a sign saying they were providing drive thru service only. This has happened several times at this location in the past. The signs on the door state the hours the interior sit down portion of the restaurant is open, however, local management seems to believe they have the option to just pick and choose when to serve their patrons. I went thru the drive thru and ordered my food at 7:08 pm. There was only one car in front of me and they received their order within a minute or so. I did not receive my order until 7:19 pm. While waiting on my hamburger and fries I watched and listened to the staff having a gay old time inside cutting up and not taking care of their patrons. While I do no expect this complaint to gather much interest from the company I still wanted to put in my 2 cents in regard to the poor service at this location.

Chris Hobbs
from Plano, TX
Hello,
Unfortunately I do have a complaint.
I do not usually have bad service at Wendy's. But, tonight's service was awful.
I was just at your store #6306 in Cary, NC
I went through the drive through since this was for my 30 minute lunch break. There were multiple cars in line when I pulled up.
The car in front of me apparently, (from the conversation I hear when I finally got to the window) had a large order.
They pulled away without their full order.
Before I got up to the window, the vehicle behind me left without getting their order.
I would have left, but, I had someone else waiting for me to bring food back.
The team member that was at the window said they were short staffed tonight, but did not really offer an apology.
Even after getting to the window, I had to wait several minutes to get my 3 sandwiches.
I was late getting back to my office from my lunch break, so, I'll have 'demerits' for that.
And my order was nearly completely wrong.
I ordered 1- crispy chicken sandwich, & 2- Jr. bacon cheese burgers. And the team member confirmed my order.
I received 2- crispy chicken sandwiches & 1- cheese burger.
I also did not get a receipt for my order.
I don't have the transaction # yet, my bank shows that it is still processing.
The date is 3/10/2018, the transaction time would be around 6:45-6:55PM. & the amount is $5.49.
In Total, I was there approximately 25 minutes.
Although I'll still eat at Wendy's on occasion, I'll NOT be back to THAT Wendy's
Thank You,
Chris

Susan Bressman
from Kansas City, KS
I take care of a lady in her home and she insists on only Wendy's hamburgers. On the average I'm at the store @ 3647 State Ave KCK, store #00002183. I went in yesterday to purchase JUST the sandwich which should of come to much less than the $10+ I was charged. The young man must of not heard me when I ordered so when I received my order I told him I only wanted the sandwich and pushed the clean cup back to him. He grabbed the fries out of the bag and wouldn't return to refund any extra money I was charged, actually not even a "I'm sorry". The phone number on the ticket is another interesting thing, you call and after many rings you receive a message telling you to put in your access number. Excuse me? Not being able to resolve the issue I returned today and after explaining what happened and I was not asking for any money back but just an apology. It didn't happen so from now on when the lady wants Wendy's I am forced to drive about 5 miles or more because I never plan on entering that store ever again. The other option I am seriously thinking about is to save used wrappers and go to McDonald's and rewrap them. So disappointed in what used to be great service. Thank You and Good Bye Wendy's

Kelley Turner
from Memphis, TN
I was at your location at 749 Highland Memphis TN. around 7:15p on February 23rd.I ordered a simple 4 for 4 double stack W/O mayo and ketchup Dr Pepper for the drink. Waited in line about 10 minutes so I just knew everything would be HOT. But that's what I get for assuming .Put whole order in trash went to McDonald's.

Jerry
from Clearwater, FL
I visit Wendy's store #174 most Friday nights. Every time they always hold back the receipt, and there's always something missing from my order. I can't stop to check every item, because I don't want to keep back anyone in the line. I think they need new supervision there, and all customer should have their receipt.

Sharon Biederman
from Fenton, MI
Awful service!
We waited 10 minutes, then waited 20 minutes to get food.
Awful
Awful
Awful

Brenda
from Goldsboro, NC
We went to the Wendy's in Goldsboro , NC on Berkley Blvd to eat lunch today 02/17/2018! The store was freezing cold! Everyone was complaining and no one gave a reason why their store was so cold! The cold air was blowing inside while we ate our meals! They didn't even turn the fan off!

David Phillips
from Atlanta, GA
Wendy's in Manning S.C I. took my money back after they made me wait 20 minutes to fix my order today and they didn't fix it. When I walked back in they had forgotten. Miles down the road today I thought I would give them another shot at the store on 211 US hwy 17 843-784-3626.....same thing! At least you are consistent as company! Good Bye.

Complaint is pertinent to your Starboard Group Paoli 103 store. Food has been marginal and service has been up and down for 15 years... to the extent we don't patronize the store other than for soft drinks or, because it's near our home, when in a hurry. Tonight my wife received not only indifferent, slow and ill-humored service, she also received an order that was not at all what she ordered. Having brought it home and discovering the order error, she returned and had it replaced. A mere modicum of attention on the part of employees would have avoided the error(s).
As indicated, we don't expect much in terms of food quality. It would be helpful, however, if the employees provided at least some glimmer of interest in their work and were less surly. We don't intend to return but will be sure to share our experience with neighbors and friends.

Farrowarthur
from Lachine, QC
Since the peel st store closed maybe one could be opened on the lot on st Jacques street near cavendish Montreal I am closer than the decarie address there is a big grocery store on the lot Do miss the chilli con carne

Kathryn Dille
from McConnelsville, OH
Your commercials about your fish sandwiches state that they are crunchy. Well, I have heard so much about your fish sandwiches, I decided to try one today. I went into the Wendy's on Greene Street at Marietta, Ohio. It was not hot and it certainly wasn't crunchy. It was just like the McDonald's, which I don't like, only a little bigger. I didn't know what the big deal was about. I have gotten much better fish at Arby's.

Barbara Shepherd
from Auburndale, FL
we visited Wendys in Branenton Florida on February 7, 2018 at 15420 Manatee Avenue around 2:00 p.m.,, terrible experience, people standing waiting for their order for quite sometime, employees noisy, didnt seem to be in a hurry to get orders out, only about 3 or 4 tables had customers but most of the empty tables had crumbs or water rings on them, and music so loud we could hardly talk. We figured they had a very poor manager or he was gone for the afternoon. Went to womens restroom and there was no toilet paper in the room. This place needs attention !

Wilma Marino
from Dallas, TX
My friend & I, went to Wendy's at DFW airport on 2/10/18. [Gate 34 (Spirit)]. Had a cheeseburger combo. Ate at 3:00 p.m. & by midnight we were throwing up pickles, etc. Have been sick ever since. Today is 2/15/18. Please advise ALL of your restaurants to use thermometers before serving any burgers to customers. Food Poisoning isn't attractive. Will never eat at Wendy's, AGAIN. Would like to know if any others have reported getting sick. Will not be contacting CDC. (FYI)

Kathy Garmon
from Goodlettsville, TN
Ordered 4/$4 meal today, February 14. I was asked "do you want any sauce"? Yes, sriracha please I said. BBQ, I was asked? No, sriracha please. Okay, $4.37 - pulled forward. Fast service at the drive thru window, BUT when I got back to work, I had NO sauce, NO napkins, NO straw. Someone needs to watch to be sure the orders are not only correct, but that everything the customer asks for and expects as standard is there. Thank you.

Richard Martinski
from Columbus, OH
I really think Wendy's is in decline. They get worse with each visit.
Stopped in this evening, stood at counter 5 minutes before being recognized, Ordered caesar salads to go....out of caesar dressing. Dining room a mess. Paper on floor, tables dirty. Checked restroom, have seen better restrooms at gas stations. Counter person barely spoke english, no smile. Handed me the bags, no thank you,,no goodbye. I suggest closing this one and starting over!

Daryl T Moore
from Orangeburg, SC
food was terrible..not fresh...Wendys restaurant #00003099 on 02/13/2018 2:36 pm ..I ordered at the drive thru...after a long wait when I made a order..finally..food received drove off went three blocks to eat..i had ordered 2 jbc 1 nuggets 6 piece and 1 chilli...when I unwrapped my jbc the whole burger was different than I usually get there..the burger look like it had been put in a microwave...bun was not fresh the lettuce was all soggy and it was slopply put togrther very disspointing ..also the chilli was not fresh been made for awhile..tasted terrible...the tv adds need to be changed to not fresh ..this is my first really bad experience at wendys....spent 8.79..dollors...and got really bad food...hope some one will check into this store..Remember people who go thru the drive thru expect there food to be fresh also... thanks DT

Barbara Riley
from Port Huron, MI
I live in Port Huron, MI, I go to your Wendy's on Hancock Street all the time and never had a complaint until yesterday. Port Huron is covered in ice and snow right now, there is a bowling ally right next door to Wendy's. Apparently, Monday night is bowling night, I left work to pick up my and my co-worker's dinner and there was not one parking place, after driving around for 10 minutes I made my own parking place almost a block away. Now I am 60 years old, and have bad knees, I had to walk almost a block on a river of ice to get to the restraunt...and the place was empty except for one other customer. The bowling ally customers were taking up every available spot in the Wendy's parking lot. Isn't there something you can do about this? I said something about this to the girl at the counter...and she just laughed! All you have to do to check this out is go to that store at 6:00 pm, on any Monday night. I do not want to slip and fall, it is a dangerous situation, and also time consuming and frustrating, please help, we love your Wendy's.

Laima Gammon
from Houston, TX
Wendys cyfair in cypress tx specifically wendy's tx in general. I wanted to go thru the drive up window but the monitor to pla...ce an order was not on.. I did notice that a customer ahead of me gave up waiting and drove off. tisk tisk. I pulled up to the pickup window and asked if they were open. indeed they were but were changing shifts and could not service a customer. All inside communications between employees was in Spanish.
I have to tell you that when I go inside the store the employees are talking in spanish makes me feel like I am in Mexico not the US
This is America! We speak English!

merle tyler
from Summit, NJ
i went to roselle nj wendys today 2/12/18 at 2pm food was cold i asked for different fries they were not hot neither were my chicken nuggets i have eaten there before but this never happened disgusting not hot food who gives someone more cold fries merle tyler 255 tucker ave apt 109 union nj 07083 908 967 1865 i want a refund

HEAVON PINION
from Saint Joseph, MO
I NEED TO KNOW HOW TO GO ABOUT GETTING A COPY OF MY W2 SINCE I HAVE MOVED SINCE THEN. THERE IS NO EMAIL TO CONTACT ANYONE SO I GUESS THIS IS HOW I HAVE TO COMMUNICATE/ I HAVE CALLED THE WENDYS THAT I WORKED AT IN SAINT JOSEPH MISSOURI BUT EITHER MANAGER ISNT AVAILABLE OR NO ONE ANSWERS.

Michael
from West Grove, PA
That so call taco salad no sorry it was disgusting get rid of it sorry I spent my money favorite fast food place taco salad disgusting wish I could get my money back

Kathleen Tindal
from Augusta, GA
Went through the drive threw ,only ordered a large taco salad,they were not busy at this time,so was only the third car in line,waited too long (in my opinion)at the drive thru ,first thing wrong but I was totally craving this,anyway got home they had forgot the taco chips ,so this aggravated me strike too,I did not get my receipt or I would have just called so I went back up to Wendy's and took my whole bag (order with me)I went inside and waited again there was No One in the inside at all and still had to wait !!! Finally when the girl at the counter came to wait on me I told her what happened (no chips) and she just put some in the bag and said "here ya go" and walked off !! This was the second time that my order has been wrong lately !!!!!!I I work retail and and am not usually one to fuss because I understand anyone can have off days,but this is 2 out of 2 times lately ,sooooo i think they need to really STEP UP, a very,very disappointed customer

MTurley
from Zephyrhills, FL
VERY GOOD FOOD AT WESLEY CHAPEL FL LOCATION
UNFORTUNATLEY THE CASHIER AND ANOTHER GAL WORKING WERE VERY RUDE AS I NEVER EXPERIENCED BEFORE AT THIS LOCATION ON ELIAND BLVD. THEY ACTED AS IF CUSTOMERS WERE IN THEIR WAY AT SERVING PEOPLE AND ARGUED W/ EACH OTHER BEHIND THE COUNTER. THIS IS MY WORST EVER EXPEREINCE AT ANY WENDYS I HAVE EVER BEEN TO IN MY LIFE. WE DINED IN THERE AROUND 6:15 PM ON 2/8/2018. I HAVE ALWAYS BEEN A FAN OF WENDYS UNTIL THIS HORRIBLE EXPEREINCE W/ RUDE WORKERS.

Shirley Stokes
from Atlanta, GA
Slippery floors when raining please put rugs down not trying to complain but this is for your benefit also

James Heisler
from Chagrin Falls, OH
We tried have lunch ( wendy s, rt 18 and rt71 mendina ohio today sat 2/ 3/18. The 1st chicken sandwitch i got was cold. The " general manager" made me " a rushed 2nd sandwich " it was horrible under cooked chicken raw bacon. Had to return chili because it was luke warm . The kitchen was filthy ( i took pics) so was the eating area. Tge gen manager said he was understaffed. I contacted the board of health filed a complaint, forwarded pics of fith. Discusting james heisler 3307189661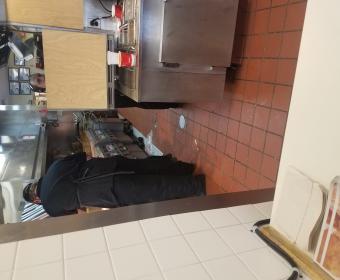 marshall bricker
from Sarasota, FL
On 12/07/17 I brought home an order from Wendy's store #3283 and one of the burgers was just a bun with no meat. My wife called, talked to Janet, and was told the order would be replaced. When I returned to have the order replaced I was told by Janet that she couldn't help me and that I should have come back within one week. Had I known the time limits I would have complied.The total was $13.44.Can you make this right?
Thanks very much,
Marshall Bricker

Sue Crapse
from Orangeburg, SC
The Wendy's on John C Calhoun Drive in Orangeburg SC needs new management. A couple months ago I went inside to order and had to walk through water to get to register and had to stand in water to place order. Two weeks later, I went back again there was still water on the floor. It looked like it was coming down the hallway to the front, maybe from the bathroom. Today I go to Wendy's drive up line. When I got in line there were two cars in front of me. It took 30 minutes of my hour lunch to order and get my food. They would only take one order and wait to fill that order before they would take another order. I love Wendy's food but if this doesn't get any better, I will not go back!

Anne Maselko
from Troy, NY
Have been getting your chili for years, it's been great. The last four times I've gotten the chili it has been very oily and the flavor very unpleasant, I kept hoping these were random incidents but they were persistent. I drive out of my way to stop because I also like your salads, just wanted you to know that the quality of the meat you are using is inferior and also since you are now charging more for a smaller amount of chili I will not be stopping by as frequently if at all. Sorry to have lost something that was a great product for so long . I used the Clifton Park ,NY Wendy's the service is very nice there and the store is always clean, so my only complaint is the chili and the quantity.

Cheryl Y. DeJonge
from Grand Rapids, MI
I ordered a Junior Bacon Cheeseburger with out tomato, I am alergic to tomatos along with a Bacon Cheese Potato. I received a Jr.BC with tomato. I tried to call the store to report the mistake and could never get an snswer. Restaurant #00008325. They don't answer their phones at 8:00 at night? I could have gotten sick if I ate this burger. order number 3340. on 2/1/2018 at 6:45 pm

Mary L. McDonald
from Frankfort, KY
A coworker of mine had been sick at work due to not eating, my favorite restaurant used to be Wendy's up until this incident which has been the third incident with them I have had, I didn't complain because I know things happen. This time, as I stated I went to buy lunch for a co worker and myself...I blame myself the firt time because I didn't look at my order before I left, but when I got back to the office and handed my coworker her food, I was humiliated at the look of the chicken strips they have given me! The strips were burnt. I attempted to contact the restaurant (#00000798) three times by phone and each time the call went to the answering machine service, which wanted me to enter a passcode to get into the answering machine. So I left work and went to the store to get some more strips...I went up to the counter where I was overlooked and ignored for at least minutes, until I said something to them. The manager told me she'd drop me a new batch and it would be ready in six minutes, six minutes came and went, again I go up to the counter, and she slides me a bag of nuggets as if I done something wrong, by asking for better strips. I looked in the bag this time before leaving where I saw nuggets in the same conditions as before. When I questioned her she said the strips are always dark. I've ordered chicken strips from Wendy's a thousand times and never have they been that dark. They weren't just dark, but they smelled of burnt grease
As I stated before this really saddens me, I not only embarrassed and upset, but I was a little hurt because all my coworkers know how much I love Wendy's in fact they bought me Wendy's gift cards for Christmas. They been telling me that Chick Fila was better but I stood by Wendy's
Below is the pictures I took of both sets of chicken strips which both look the same. One star was way too high to give them for the service and food that I got today!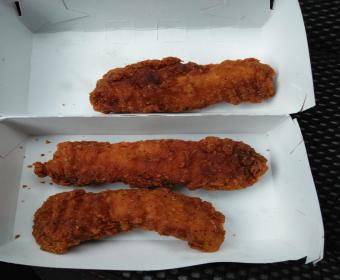 dennis dionne
from Meriden, CT
I went to wendys today for lunch worst meal I ever had !! buger came out a draw not the grill !! it was cold ! fries freezer burnt ! 8 bucks in change came back to work and puked ! never ever again commercial lies !!

John barkdull
from Philadelphia, PA
I purchased a med vanilla shake earlier. It tastes funny. Like Cinnamon and butter. Like licking Cinnamon toast. I know it is not suppose to taste like this, and all your offices I called are disrespectful. All I wanted to know was can I eat it. Sometimes ingredients are changed and stuff tastes different. But after my experience trying to find out. I don't think I trust the people working for you.

Lizabeth Dill
from Odessa, TX
I went to Wendy on JBS and University in Odessa Texas not sure store number i do apologize. I placed an order for the 4 for 4 and upgraded drink and fries to a large and a mini chocolate frosty. I did go through the drive through at around 745 pm.. When i approached the window the lady stated my total was 10.01 which Im thinking is a bit high for what I ordered but she would not hand me my food til i gave her the money. Than I never receive a receipt so I am still not sure the cost of my meal even at this point in time. The lady stated she charged me for a medium frosty but still gave me a small and was very confused at this point in time. When i got home to eat my food, it was cold. My nuggets felt like they just came out of the refrigerator and my fries tasted old. I usually go to Wendy because its higher quality than McDonald or burger king usually, Tonight i wish i had gone else where. I also had to ask for all the sauces and they just threw them at me, never received a straw for my drink. I am usually not one to complain because i have worked the food business in the past and know how things can get crazy, but this was the worse service I had ever had and felt like they threw my food at me and just wanted me gone. I feel like they stole money from me and didn't even care. Thank you hearing me out on my experience tonight. and I will definitely think twice for now on about choosing Wendy as my option to eat at.
Sincerely
Current Customers of Wendy

Either never get our orders right or "fresh" is not very fresh at all. I have worked fast food plenty of times and it's obvious our burgers have been cooked ahead of time and then just thrown on a grill to warm up. Burers wereBurnt... and nuggets were chewy to say the least..... Very disappointed!

Judy Palma
from Woodbridge, NJ
I've previously written a complaint concerning this storeabout a year ago (convery blvd. Perth Amboy NJ) but decided to give it another chance. I had just been discharged from the hospital and really wanted a Dave's single with french fries and a side of cheese sauce with unsweetened iced tea. My husband wanted a spicy chicken sandwich. Upon walking in the store your feet stuck to the floor. It wasn't a busy time (there was one person in the store) and definitely not pleasant having your feet stick to the floor. Our food was ordered to go and when we got home my husbands spicy chicken sandwich had literally nothing on the bread and the chicken was ice cold. My Dave's single must have been sitting out for over a few hours the french fries were old and cold and unfortunately my unsweetened iced tea was sweetened. It's very disappointing to go into a Wendy's where apparently no one cares about the cleanliness of the store and no one takes pride in their work. I will not give this Wendy's any more chances . I might try to find another Wendy's near me but unfortunately I believe that I'll be going to one of your competitors which is a shame because I have always loved Wendy's. I truly hope that something can be done about this store or Wendy's will continue losing more and more customers as a result of the lack of care concerning this one.

James Morris
from Morehead City, NC
On Monday, Jan. 29th at about 5 PM at the Wendy's restaurant in Swansboro N C, I was walking from the parking lot to an entrance. At the take-out driveway, which you have to cross I bent over to pick up a coin that was on the ground. The manager shouted "Get out of the driving lane"! It seems to me a manager would welcome customers rather than yell at them. A solution might be to close that entrance so customers wouldn't have to cross the take-out driveway to get to the parking lot. Sincerely, jimboat123@yahoo.com

Millie Rigby
from Butte, MT
What happened to the Wendy's in Butte Mt? It used to be the best fast food place to eat. Lately it is the worst. A couple of weeks ago we were there and the place was filthy dirty. It was 4:00 in the afternoon and every table in the building was dirty. The two people were screaming at each other behind the counter. Today we went there the food was horrible. Everything was cold, the meat on the burgers was so dry and disgusting. It has gone down hill so bad. Today was my last try at it. Not going back. I don't know what happened but it sure needs to be fixed. DISGUSTING!

Michael
from The Bronx, NY
The French fries were cold, the burger and bacon were over cooked and the building was cold.

Gene Zande
from Bellingham, WA
Wendy's has always been my favorite. Last 3 visits, each at different locations, have been incredibly disappointing so I'm considering Burger King as my new daily lunch spot. Most recently in Everett, WA ordered 2 singles stating "all I want on them is mayo, pickle and mustard." When I got them they had cheese. I brought them back and repeated my quote above. Wendy's personnel rudely stated "You have to tell us you don't want cheese." Gee, thought I did that. Prior visit in Arlington, WA I ordered Chicken Nuggets. They were not even warm, let alone hot. They were absolutely cold. Tried to return them and was told "that's the best we can do." Interestingly enough, neither place gave me a receipt. Your burgers were always my favorites. Now they're smaller and something has happened to the taste...they are not nearly as flavorable. Too bad, you had a good thing going.
Sorry to be an ex-customer. I'm crushed.
Gene

Candy Smith
from Hickory, NC
My husband and I stop at Wendy's in Wilksboro NC .they was not friendly, the food was nasty it tasted old .the drink machine was nassty like it was never cleaned .we like going to Wendy's a lot but that time was a bad one. Thank you

Teresa Williams
from Cullman, AL
My son has anxiety and other mental issues.He was hired at Wendy's in Cullman Alabama the goodhope location.He was hired to work grill and sandwiches .They started forcing him to work register and his nerves would be bad and he would walk out .He told them and I have it in my messenger were Wilma said everyone had to run register.He tried and couldn't deal with it then came home sick to his stomach .The day on his schedule to go back he found out he was fired.He has friends there that have never run the register .They were going to get Robin to hire him back but Wilma said no he wouldn't get a job back .I think he should sue but he just wants his job.This is discrimination.Just because he has been to mental health and has problems.When he was hired he watched 2 hours of video and put on the grill.His friends had a week of training .They told him bring home the videos to watch .Robin is the store manager now but Wilma is a district manager .It's a big mess down there .

William Guerrero
from Reno, NV
I really can do without the attitude. Wendys drive through order #3238 1/18/18 255pm 4997 Longley LN #6 Reno, NV 89502. Ordered a #1 medium with a diet and a #4 medium with a diet... got one small one medium. Okay, no big deal. When I made the guy aware at the pick up window he told me, "Well, that's what you ordered" and when I stated that is not what I ordered I was spoken to in a condescending manner, "Well that why we tell you to check the screen!" I was already driving away when that was asked. Contradicting the customer and giving them attitude when the customer has made you aware of an issue is not acceptable. When you have an opportunity to offer a simple solution and instead make the choice to blame the customer and give them attitude you are in the wrong line of work and should not be dealing with the public. I was a fast food manager and I would term my employee on the spot for this kind of behavior. They didn't even offer to fix it... REALLY?! So I just drove off and will probably not be back. VERY UNHAPPY!

Angelena robinson
from Montgomery, AL
I want to ler you know that wendys in lee county has very bad. Customer service u have to sit in drive tru for 20 for a salad also the cashiers are very young an unprofessional.they are running your customers off

Gailorenberg@yahoo.com
from Randolph, MA
I just left the Randolph store with my granddaughters where the manager and one of the employees where fighting and throwing things at each other my granddaughters got so scared they asked me if we can leave the manager was very red in the face and this employee started throwing things at her I tell you I have never experienced anything like this I will be getting in touch with the Corp office on this matter
Thank you
Mrs. orenberg
6 holly lane
Randolph, mass 02368

Ruth oneill
from Chicago, IL
I went to the wendys at 6324 n western at 130pm on Saturday 12/16/17 and did not walk out with my order until. 156pm. All i ordered was a grilled chicken wrap and 2 side salads. It seemed like today was the young mans first day that was pushing out the orders. He didnt know where anything was ie: salads.. The dressing or how to make a hot tea. He was just walking back and forth very lost. And i can tell he was on his phone. His ear piece was in his ear thru his uniform shirt and he was talking. Very low but was definitly talking . there was 15 people waiting for there food. Now 5 of them received there food before me. Again all i ordered was 2 side salads and a grilled chicken wrap. Now i am 3 minutes away from that wendys location and when i finally got my food and back to the office my grilled chicen wrap had regular yellow mustard on it instead of the honey mustard on it. I did not take it back. I scraped as much mustard off of it and ate it. Now while i was waiting i can tell you that there where people complaining that the pop on both machines were empty and there was no one to take care of it. The customers had to ask the guy that doesnt know what he is doing if he can fill there cups up for them behind the counter and he didnt know what to say. The lobby was a mess as well. I do understand being short handed and being busy but i have never had an experience like this one.

Donald Lascelle
from St. Catharines, ON
Location store #00006346 on Lake Street St Catharines, Ontario
I attempted to hand in my survey, number 96144, " A sandwiich for your thoughts" this evening with Jessica at the drive through window (5:20pm December 15th). I was informed that I required to pay for the full price of 2 sandwichs. She then said she would have to check with her manager. The manager confirmed the total which would be the full price of 2 sandwichs.
I have been to this location several times during this month, and have never been treated so awfull as this time this evening.
I was rudely refused the offer, and left with requesting the server's name as well as my coupon which I still have. The wait time in the drive through was over 15 minutes.
I don't run my own business this way but I can assure you,..I wont be attending this location or any other Wendy's location in the future as well as my employees.
Donald Lascelle
If you care to hear from me personally,..feel fre to call 905-646-1151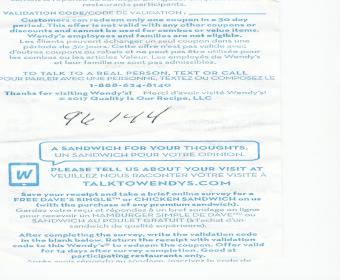 Stephen chu
from Tampa, FL
I have visited the Wendy's location on 18957 fl-54, Lutz fl 33558. There has been a few times where an employee there has just made it very uncomfortable to visit. He wears his hat backwards with his name tag on his hat. That isn't a huge issue. The problem I have with him is his attitude. The first time I went he was upset about something and I overheard him say if someone else says anything to me again word to my grandma I am going to bitch slap them. I had my 6 year old son with me at the time and he heard that as well. Last night I went with my kids and that same employee was working again. This time preparing food. He turned to someone in the drivethru and asked if they were waiting on a sandwich and when they didn't answer fast enough he threw it in the air and it would have landed in the garbage if another employee hadn't caught it. As I am watching this happen he turns to me and just stares at me as if he wanted to fight or if I had a problem with what he did. I love going to Wendy's and my kids love going there as well. This location is very close to where I live and I am happy that I can have that as my 1st choice when deciding when to eat out. However I do not feel that I should have to be uncomfortable when I go to that location because of 1 employee and his attitude problem. Especially the language used in front of my son. I wish I would have gotten his name because his attitude needs to be addressed.

Steve Morris
from Manning, SC
I have been to Wendy's many times in Florence SC & Sumter SC. It is the slowest drive through service I have ever experienced. I order a frosty and by the time I am through it is a cup of milk. It is the same at every one I go to every time I go. Hey wake up, McDonald's is taking your business.

Allyson Butzin
from Saginaw, MI
My name is Allyson Butzin and I don't really have a complaint but a comment. My husband was in a Wendy's restaurant in Bridgeport Michigan today. He is a senior who had a stroke a few years ago so is not always steady on his feet. He had a meal there and a coffee, which he often does. I was not with him but somehow the coffee got spilled on his leg. It went through his pants and burned his leg. By the time he got home his leg had blistered. I called the Wendy's where it happened and they were very nice. I just wanted them, and you, to know that obviously the coffee was way too hot if it could burn him enough to blister. Please could you address this issue so that it does not happen to anyone else. Thank You Allyson Butzin

C. Phillips
from Ozark, AL
We decided to eat at our local Wendy's in Ozark, Al. In the evening at approximately 6 pm on Dec 14, 2017. We ordered hamburgers after being told there was no chili. We then proceeded to fill our drinks. It all went down hill from there. There was no ice in the all-in-one drink machine, no sweet tea, no napkins, no salt packets, and no catsup in either of the two dispensers in the dining room. We also had to wipe down the table after we finally got some napkins. There were at least 6 employees behind the counters. There was one other couple dining other than us. The management at the Ozark restaurant may explain the low number of patrons at this location. Really sad!!! This place needs immediate corporate attention!

Larry Barefield
from Loganville, GA
I eat at Wendy's a fair amount, possibly 4-5 times per month. My concerns are two-fold. When you order a single combo, the number 1 choice at my Wendy's, it only comes with cheese. When it is keyed into the register, it only offers the with cheese option. I am lactose intolerant, so I always say, "No cheese, just lettuce, tomato, pickle, mayo, and mustard." One out of two times the burger is delivered with cheese because your only option for a number one is with cheese. I am surprised you haven't remedied this issue by now because you probably know of this information, "According to the National Digestive Diseases Information Clearinghouse, some 30 million to 50 million Americans are lactose intolerant, including up to 75 percent of African Americans and American Indians and 90 percent of Asian Americans. Common symptoms include nausea, cramps, bloating, gas and diarrhea that begin about 30 minutes to two hours after eating or drinking foods containing the milk sugar lactose." Allowing the single combo to be purchased without cheese, say at a 20 cent price decrease, would no doubt take care of this issue, and lead to many more satisfied customers. Thank you,
Larry

Anna Klink
from West New York, NJ
Last night I went to the Sewickley Pa to get a backed potato for my husband who is in rehab after a stroke. I went thru the drive thru and when I got to his room he had a hamburger instead of the potato he was looking forward to.

I went to Wendy's at 10:15p on my way to work. I ordered a 4 for $4 meal. I drove off as I had to get to work. The drink was carbonated water and not one item in the bag was fresh and tasted as if it had been sitting under a warmer for hours.I was not given a receipt. After looking up the number, I called and no one answered. So disappointed and sitting at work without lunch!!! Shame on you Wendy's!

RUBY Crandall
from Schenectady, NY
Hello.we walked into Wendy's on Altamont ave. Rotterdam ny.about 230.a large crew was working.there was only one other customer waiting for food that had already paid.we stood at the register waiting to order for at least 15 minutes! While the cashier looked at us and proceeded walk around avoiding us.after 15 minutes we walked out! We will no longer go to that Wendy's again! This was the most disrespectful thing I have ever seen.SHE should not work in the public food chain.

Tommie Taggart Jr
from Lynn, MA
I have gone to Wendy's in Lynn, Ma, Boston St. a number of times and each time the mens rest room was out of order or in need of cleaning. Today 12/09/2017 the Ladies room was out of oder and unusable while the mens room had a unisex hand written sign, inside was in need of cleaning and the urinal was out of order. At times there has been no soap to wash your hands, so how are the employees washing thier hands. Also the soda machine I used had 3 empty selections.

Jim Olive
from Bayonne, NJ
Just left my local Wendy's (Forest Ave, Staten Island, NY 10303) and once again they left items out of my salad. They just don't seem to give a crap whether an order is correct or complete. Having dined is numerous other Wendy's throughout this country, I know exactly what my salad is supposed to contain. By the time I opened it, at home, I had neither the time nor humour to get back in my car, drive several miles, or argue with a clerk.
This franchise is going down the drain quicker than a loose turd. Sad that no one cares.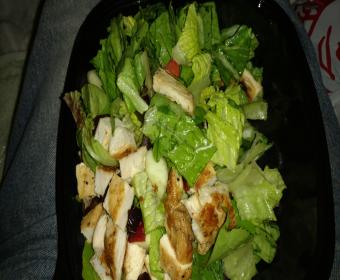 Mark Carlson
from Grand Rapids, MI
My wife, daughter, and myself went to Wendy's in Standale Mi, Lake Mi. Dr. @ 6 pm for dinner. The dining area was a disaster, food, garbage, tabletops, chairs, bathrooms, etc... waited forever to get our food inside. Waitstaff hygiene was pathetic. Very disappointed with every aspect of our visit. Dumped most of our food in the garbage which was also full and overflowing so I told my daughter to leave it cause it would blend in real well. We have a nice town with a real crappy fast food Wendy's. Thanks for wasting our hard earned money...

April Jenkins
from Piney Flats, TN
Went in with my 2 kids and a friend for a meal tonight 12/1/17 at around 6pm. The manager Jon was extremely rude. He was on his phone texting almost the entire time. Screaming and cussing at employees. He was just very rude and menacing. I have a disable child and it upset him so much that we left in the middle of our order and he was so upset we had to go home. Unacceptable behavior from a manager

Adrianna
from Loma Linda, CA
This afternoon my family and I visited the Wendy's on South Mt Vernon Ave in the city of Colton, Ca 92324. We used the drive thru- as we were ordering our meals the person taking our order had a very rude attitude. We stopped our order as we were in disbelief of this employees rudeness and told her that we needed to speak to the manager when we go up to the window. She said "mmhmm"
We get up to the window and ask the lady at the window for the manager, she asked us what it was in regards to, we told her we needed to discuss the person who took our orders attitude.
The lady who took our order then steps up to the window leans over and asks what the problem is ( all the while with the same rude attitude ) we told her we didn't appreciate the way she was speaking to us. She shrugs her shoulders and and basically didn't care about what we were saying. She rolls her eyes at us and all the while we are explaining the issue she continually says "mmhmm".
I had had enough of this and asked her if she was the manger and she nods her head yes!
I said wow, no way! And your speaking to customers in this manner?!
She continues nodding her head and rolling her eyes at us!
We ended up just driving away.
My family and I have never experienced this type of unprofessionalism at a fast food drive thru before.
We didn't get her name but apparently she is the manger there!

Ann Pattock
from Woodstock, IL
This last tues before thanksgiving i stopped at wendy s on the way to work around 1pm. I am a metro transit bus driver in mpls.....I ordered a bacon jr. cheeseburger and about an hour later I got the beginning g of "the trots". During my evening route i had to radio in for a bus to come and take. my passangers because I felt so sick and as soon as I met the bus and they got off I started heaving out the drivers window along with ruining my 96. dollar wool uniform pants ....I got sick both ways! The paramedics came and took me to north memorial hospital in robbinsdale minn. where i was such a mess that I had to get a shower before I saw the doctor.......I was fairly emptied out by that point and they gave me IV fluids and some medicine for throwing up and diarrhea....I lost a day of work the next day and my pants are ruined. Tonight, saturday has been the only meal where I haven t had to run to the bathroom......The restaurant I ate at was on University ave. near Fairview in St. Paul Mn. I felt absolutely fine before I ate there. Maybe you should t be serving bad meat or make sure people are clean! Ann Pattock

Kris oyler
from Palm Bay, FL
I just wanted to start with, I love Wendy's. I would pick Wendy's over anyone else if given a choice, but my last two experiences were disappointing. Wendy's on palm bay road in west melbourne, florida was dirty. Trash cans full and something spilled on the floor. They were out of condiments , napkin holders were empty, tables dirty. What amazed me the most was the employees could have cared less. No manager in site. No one else in store but myself and two grandchildren.My second experience was today. Store at Wickham and Aaron, melbourne Florida. I was with two of my grandchildren. We ordered 2 #10's and a spicy chicken sandwich. 4people came in after me. They all received their food before we did. My sandwich Sat on the counter for ten minutes before the rest of the items were ready. The tables were dirty, water on floor by the soda machine,but never wiped up. Just a sign. "Wet floor" you had to stand in the puddle to get your soda. My sandwich was cold as we're the fries. 6people behind the counter and all looked lost. The best one is the drive through person took a frosty that no one wanted and in front of us dumped it back into the frosty machine. Is this policy? I think you guys should do an undercover boss episode and get these guys back into shape. Again, no supervision person noted. I still love Wendy's but, the last two visit I have these concerns.thank you

The employees refused to look at us or take our order. We waited and finally left . 2 female employees seemed to have a bad attitude. Very disappointed

Donald Dawdy
from Posen, IL
I just hate at Wendy's on Pershing Avenue in Decatur Illinois. I order a large taco salad and what they did is they poured chili over the lettuce. Made everything soggy. Didn't even taste like a taco salad.

B Hedge
from Haubstadt, IN
Went to the Princeton In. Wendy's 30 minutes ago. Ordered Kids meal & 2 Jr Bacon burgers . Get home ( 5 miles to Patoka , In ) Kids meal supposed to have 4 Chicken nuggets fries & apples w/ drink. Only got 3 nuggets, fries & drink. no apples. Got the Jr bacon ones. My Grand daughter was very disappointed.

Rose Jones
from Mattoon, IL
A friend and I went into a Wendy's at Homer Adams Parkway in Alton, Illinois, around 3:10. There were workers there and another gal was called to take our order but never did take it. She went to the side and started putting papers in the trays. We were never acknowledged and waited 15 minutes without our order be taken. There was a couple with a child behind us and they finally left - then we left! What is irritating they weren't even busy! We were at the counter where you take the order. We drove across the street to Burger King - got greeted and waited on and they were busier - I WONDER WHY!
That is fine if Wendy's doesn't want our business as there is enough fast food chains! MY FRIEND AND I WON'T BE BACK!

Sam Delagardelle
from Waterloo, IA
Me and a friend went through the local Wendy's drive-thru in Waterloo, IA on La Porte road. I ordered 4 Jr. Cheeseburger Deluxe. I didn't finish two of them. It tasted bad and I felt like I was going to be sick if I ate anymore. I threw it in the garbage as I walked into the local grocery store to get more food for supper. This is disappointing because this used to be my favorite item on the menu. They got our food to us very quickly, it made me wonder if it had been sitting out for a while. Another friend of mine said he does not like to go to this Wendy's location because the food is always cold when he gets it.
Thank you for taking the time to hear my complaint. Have a good day and a Merry Christmas.

Samatha Looper
from Oxford, MS
About two weeks i went in around 7 p.m and there was a lady getting food . As i was walking in i could here her say " i am the manager i can eat free food. " But this lady was not in uniform. Then today i went in around 1:00 . Seen three different girls eating chincken strips over on the side . Now i dont know if they are or aren't alond to do this but it seems that Wendys is losing alot of money on feeding their employees. But to come in and see people eating and standing vs doing work is not good workers .I through my reciepts away but next i see this behavior again i will be shore to keep it . Will file a complaint everytime I see food being given away again. I will be looking into osha laws to about eating around food being served to the public.Wiggins, Ms 39577 East Frontage road

Patsy Franks
from Oakland, TN
No one would take our order on Wed 11/22/2017 around 11 -1115 a.m. We were the only ones in line. No one would come to the counter and take our order. 2 employees were filling orders for the drive through, however did not call anyone to the front. Nor did they say they would be with us. We were not acknowledged. I saw an older woman and gentleman leave as we came in the door with an order. I saw someone look our way as we came up to the counter and disappeared to the back. I saw the manager in the back. I asked can someone help us. We waited more than 10 mins and then left.

Francis Cadorette
from Bangor, ME
Hi,
My wife and I mostly eat at the Wendy's near the Bangor Mall off the Hogan Rd in Bangor Maine.
My complaint is the horrible soda machine at this establishment. Just recently maybe within the last 2 month the water has gone to a yellowish color even after running the machine for a few minutes it's still yellow. Tonight I had a Bart's root beer because I did not want the yellow water. Needless to say the root beer did not even taste like root beer. It was basically undrinkable. I did surface the issue to the cashier on my last visit a week ago. Nothing changed. That's why I am writing hoping someone will please fix the machine. filters??
Thank you

Jonathan Smith
from Baltimore, MD
As a drive thru customer, I was given $10 short of my change. I checked before driving off. No apology from worker. I ordered: #7 meal w/cheese added and a bacon cheeseburger. Upon arriving home (10 min away @ 5:45p.m. after working my day) I sit down to an order absent of Bacon cheeseburger get, which I was going to let slide. Opened my #7 sandwich and no cheese. I therefore, made my way back to store location #00004487 at 2045 Harford Rd and requested to speak to manager. Order was corrected, but no apology given for the inconvenience.
Poor representation of Customer Service.
I would like to hear from corporate about the inconvenience of a customer for over 40 years and to receive such disappointing service from this location that lacks professionalism and effort to expeditiously serve it's customers.

Ann Pattock
from Batavia, OH
I don't know if this pertains to poor service more then clean!iness. I was at the wend y s on university ave. near cretin ave yesterday in st Paul mn. and ordered a Jr bacon cheese urge...about an hour !after I started getting "the trots" . I am a metro transit driver and I ended up having to have another bus take my passanger s and then I got sick as a dog....in every way.......The paramedics came and took me to north memorial hospital in robbinsdale where I had to shower because my clothes were so messed especially my 96 dollar uniform pants.....after that I got I V fluids while they did some other checking of bp, etc and finally i was able to leave around 10 pm......Today I have to stick near the bathroom and also missed work...I was feeling absolutely fine until I ate at your restaurant which I probably won t do again......Ann Pattock

donna tower
from Toledo, OH
no crackers when ordered chili was told none in store the trucks were all messed up due to tomorrow being thanksgiving bad planning on their part gave no receipt given with change back went to airport hwy toledo ohio/holland 158 on 11-22 my address is 9050 manore rd grand rapids oh 43522 phone is 419-494-7952

I just took my wife and family to Wendy's at 3200 N Main, Anderson, SC, 29621. I wasn't happy the burger I received. I took it back to the counter and the lady looked at me as if she didn't understand "it's not done". She said nothing. I returned to my seat. My family finished and as we left I walked back by the counter. She then said, "did you want something?". I replied "no thanks, not now."
The table was not clean, the seats had trash on them and the floor was sticky.......... I almost left without ordering.
I wasn't going to complain, but you need to know.
By the way, my wife lost the receipt so store number, customer number etc, are unavailable.
Sorry,
Les Oxborrow

linda
from Fort Worth, TX
Beans in the chili????????????? I uses to love their chili went to drive thur yesterday bought 2 large chilis got home to eat one,It was filled with BEAN BEANS BEANS yuck I called the manager he said they have always had beans in the chili I said not I used to buy it in the winter no beans were in the chili,and it was soooooooo good tonight and mostly beans AWFUL will never buy it again

Went to Cleburne Texas location 11-15-17 order was messed up call spoke with manager said they would fix order said they would write down name and order said next time was in store could pick up remake of order came in today spoke with manager she has no clue what I'm talking about has no record anybody ever did their job and wrote it down severely disappointed with the service I received then and today Will gladly go to other locations but do not for see me giving my business back to this location Re-training needed at this location for managers and staff on how to write down complaint orders so that their dealt with an orderly fashion

David Curry
from Upper Darby, PA
I went through the drive through at the Wendy's in Glenolden Pa at 11:16 am on 11/21/2017
Purchased a #6 Med the fries where cold, no salt and pepper, no ketchup , no receipt and the worst thing is she handed me my order and slammed the window shut and never gave me my drink....I had to wait till she cam back to the window and she said what !!! I said you never gave me my drink.
Really bad customer service, I think Wendy's should refund me my money or send me some free coupons to make good on the bad customer service I had.
Thank you,
Mr. Curry 610-999-0322

Francis Simmons
from Moncks Corner, SC
Stopped at our local Wendy's last night (Redbank Road, Goose Creek, SC) after attending a grandchilds basketball game. Walked into Wendy's and one cashier was helping a customer resolve her issues. Several other persons including the Manager were off to the side making small talk. After approximately 5 minutes of standing at the counter, the cashier finally resolved the first customers issues. Feeling we would be next, but up walked a kid for a refill and another for an application of some kind. Finally, the cashier got around to us. We ordered our meal and waited, and waited, and waited. The order was finally filled--one item at a time. By the time the order was fulfilled, the first items on the tray were warm, not hot as expected. After the extended wait, having the Manager reorder was not an option. Two things I can say from my experience: (1) Dave Thomas would fire the whole crew if he knew this was how his business has degraded,and (2) Wendy's has gotten the last penny of my money!
F J Simmons
Fsimmons1946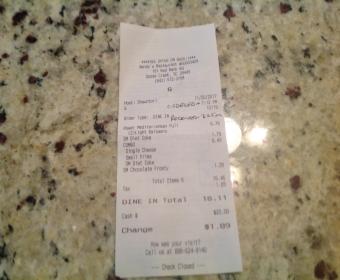 Lynne Belsito
from New Windsor, NY
I went to the drive through at location #4344. My order number is #377076 the date was 8/5/2016 at 7:05 pm, with such a short order I didn't expect to be asked to pull up ( a common practice at this location to keep drive thru times low). I refused to be moved forward without my change or order. I ordered a lg chocolate frosty which was mostly liquid and a waste of money. The single and baconator I ordered were both half cooked and bloody at the center of the meat ( I had to microwave them to fully cook the meat).
The nuggets were only luke warm and a little hard like they were sitting around for a long time. As I received my order after some time I could hear the Assistant Manager (a heavy set white woman with very short hair) state to another employee and I Quote "what's wrong with that bitch, why wouldn't she move up. give her the f**king food and get her out of here. If this is the type of supervisory staff this location hires no wonder the food was so terrible. The cashier was very apologetic to me since he knew I heard every word the Assistant Manager said.
About six hours after consuming said products both my husband and I both had severe stomach and lower intestinal issues In the middle of the night . I am demanding a total refund not only for the $17.03 I paid but also for the missed day of work. Since I work in the food environment I can't go to work this morning with Diarrhea costing me Over $175.00 for a lost days wages. It will be a long time before I go to this location again, And if I see that manager there again I will make it a point to tell others in line about her conduct.

kalee burnett
from Odessa, TX
On may 29, 2016 I was punched in my side by another coworker and I told my manager on duty that night what he did and she didn't say anything to him about it so I text my mom and told her what happened and she told my dad what happened and my dad came up their and talked to my coworker who punched me in my side and the my coworker threatened my dad. My dad didn't threaten hm at all cause I was beside my dad and then my dad called the cops and waited for them to show and the general manager Lupe I am filing assault charges on him and I want Lupe fired and I want brice to talk to bobby about what happened.
I contacted bobby and so did my dad and he hasn't returned any of our calls and I want to talk to brice personally and fill a lawsuit against wendys for firing me for no reason and I didn't do anything wrong. Do not go work at Wendy's on parkway in Odessa next to hooter they treat y like shit and find away to get rid of u or make u quit. I want wendys corporate office to be aware of the situation and handle it properly and if it doesn't I will take legal action.

Bill Horewitch
from Gilbert, AZ
I went to the Wendys in Chandler Az on Chandler Blvd and was totally disgusted and upset and have vowed never to enter a Wendys again and will tell all of my friends also I ordered to go1. the Large Summer Berry salad advertised and asked for extra tomatoes and ranch dressing. When I got it home it had a very small amount of salad 3 yes 3 total berries and the wrong dressing and 2 total tomatoes what a total rip off. 2 ordered a double cheeseburger and when home it was ice cold.
Thats not the worst. When I ordered a blackberry lemonade no ice and it came out with ice I told the counter person who rolled his eyes and said get this "what's so bad about ice" and said I guess when i said i want it no ice and get this he dumped the ice out and said here. He was totally rude and when I said looks like no berries he stated get this Well that's the way it comes and threw it at me. I expect a total refund ( no I did not take the receipt) and other compensation for the trouble and bother.

My girlfriend took a french fry from my sons chicken nugget kids meal to eat and when she bit into it, something hard inside the fry chipped her back tooth. We were driving and when she bit into it, there was a loud pop sound, which startled me. Followed by immediate pain on her tooth. She felt around in her mouth and found the chip immediately.

Latesha Allen
from Roseville, MI
My husband purchased an Apple Pecan Chicken (full) salad, my favorite, last evening for my lunch at your location on 12mi Rd in Warren, MI. I am a midnight shift RN and when I tell you I was so very disappointed, it is an understatement! When I finally got a chance to eat, I found myself picking out the old, brown, wilted lettuce, brown apples and the chicken that had a almost a spoiled taste and half my salad was gone.
I was so very upset. I wanted to inform you of the quality of food being sold at this store. I took photos and I will attach them. Please address this store's service and quality practices because people can get really sick consuming ill-prepared and not so fresh food. I know it is your goal to serve fresh, quality fast food, this store has definitely missed the mark.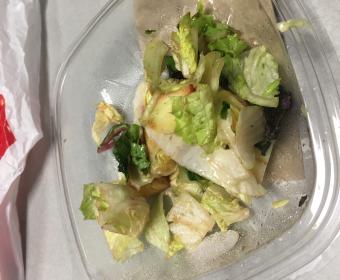 Wendy's on 58 highway Chattanooga Tennessee I went in to eat as soon I walked in the door to give my order 1St the bathroom door was opened with a disgusting smell. Of a bathroom where someone used the rest room The smellwas obvious of a stinch of a smell of a nasty rest room a man in front of me complained to the employee of Wendy' she smiled and just said sir may I take your order he addresssed the smell again he told her no thanks to Wendy's I was next in line I addressed your employeeof the terrible smell told her was ashame to come order for lunch I also told her where her manager was she said the manager was not in but to come back.. I will not return to this Wenfy's until they can do better cleaning or better yet have a new building A Secret Shopper would give this Wendy's a Failing score!

Kelly Thies
from San Antonio, TX
I went into the Wendy's on Guilbeau Rd. last week and bought 2 small frostys for $0.50 each. I asked how long they had the sale on and the guy told me until the end of the month. So this evening I went in and they told me it ended on the 11th. I told the guy that was waiting on me(same guy that told me the end of the month) that isn't what he told me last week and he said that he was told it ran through the end of the month and that they were normal price now. I asked for the manager and he was a real piece of business he told me the same thing and didn't care if I ever came back.
The bad thing about this is, if I were manager I would have told the customer I am sorry about the misunderstanding and honored it then, but knew when I came back in a couple days it would be normal price. I feel that the manager, if you want to label him as so, doesn't back up his employees. This whole thing had nothing to do with price, but a lot to do with principle. If the manager trains his employees like this I can only imagine what will become of the store on Guilbeau will become or if it could do better with better management. I own a business and know how a customer can get a bad taste in their mouth and not come back. I hope someone in Marketing or Administrative reads this.

Lakeisha Ross
from Brookhaven, PA
In the month of may 2016 I went to the Wendy's restaurant in Boardman Ohio I purchased a large container of chili I went to my car to eat the chili I ate 3 spoon full of it. On my 4th spoon of chili when I dipped the spoon in I realized that it was black ink all on my spoon &in my chili and all on my hands. So I took the chili back in the Wendy's & confronted the manager & showed her the chili &she said someone must have dropped the ink marker in the pot of chili that just have been made & she would have to change the whole pot into a new pot.
She act like she didn't have a bit of concern about this ink marker being in the chili didn't say sorry or I apologize for ink being in your chili the same night I got sick. Vomiting nausea diarrhea &chills. The point is the ink in the chili made me sick &nothing was done about it when I approached the manager about it. &now meantime I'm seeking a lawyer to get something done about it. Because Wendy's doesn't give a dam about their customers.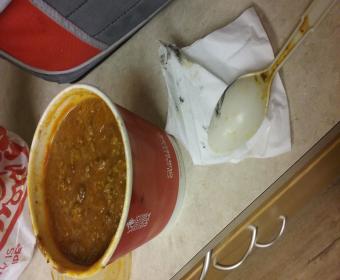 Robert Stinchcomb
from Dublin, OH
My family stopped at the Wendy's off of US71 (Jeffersonville, Ohio). We ordered through the drive thru, received our food/bags, and continued on our trip. My wife ordered the black bean burger. She took a bite and thought she was biting a stem of a cut tomato, which unfortunately turned out to be a plastic piece from a bread bag (image attached). Needless to say, her appetite was over and she threw the burger out.
This could have been a more serious situation than it turned out to be! It will be awfully difficult for us to choose using Wendy's in the future because of this. Having a 2 year old, it was convenient to stop at Wendy's for a meal for him, but we may need to reconsider our options.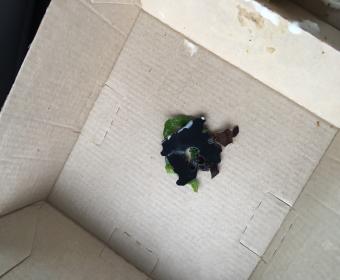 Kenny Howell
from Oak Lawn, IL
I received a screw in my Wendy's junior bacon cheeseburger. The woman who was at work was a manager named Curiston and she then told me no refund. What horrible attitude from a Wendy's employee after a potentially life threatening situation. I will think twice before ordering at this place again!

Mrs. William Griffith
from Lima, OH
This was the condition of the Elida Road , Lima, Ohio location of Wendy's on October 14, 2016 when we entered (see photos below) and it remained the same until we left forty five minutes to an hour later. There were dirty tables and debris on the floor. The carpet was filthy. We could hardly find a clean table. Other customers were noting the same thing. It was not an appetizing atmosphere to say the least. We will not return to this location any time soon. We are regular Wendy's customers wherever we travel because usually they offer a consistent product but service and cleanliness are very important. Dave Thomas would shut this location down if there was not drastic improvement.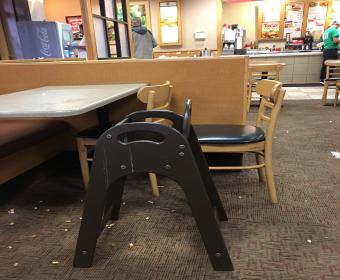 Eric L
from Huntington, NY
As a Company I find my employees go to Wendy's often at 1210 E Jericho Tpke, Huntington, NY. I honestly can say I have had an issue most every time either go in or take out from Wendy's. I am in a financial and Insurance field which can be stressful on a daily basis. The instrumental obligations of my Job are tremendously imposed on how I perform on a daily basis. Seeing the pictures below of my spoiled Lunch after opening and revealing this under the Bun is definitely not a quality of management or high priority for Customers satisfaction IMO.
I have had issues in the past and I believe no company is perfect but with a 95% unsatisfactory rate from almost every time I have been to this location I feel someone best get over there to find out what the heck is going on. Would you eat that Tomato? I have had issues with stale rolls and well done burgers from there as well. I finally took the 10 minutes to speak out and hopefully someone acknowledges this.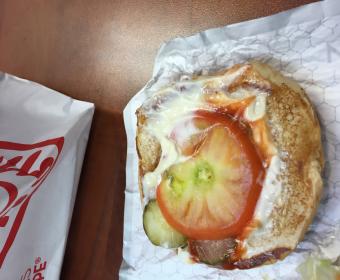 Triana Finn
from Toledo, OH

I went to your store #00001222 in Delaware on Friday night to purchase dinner for my family. When I walked into the store the first thing I noticed was the fact that all the employees, with the exception of the manager, were sitting out in the eating area just talking, laughing, and carrying on. One of them got up and went behind the counter to take my order. After placing my order she handed me a bag and 3 drinks and said I can't give you a carrier because we are out. We then discovered that I didn't have my whole order. She told another person to make my sandwiches, I am guessing that was the person in charge of that particular sandwich, but it was taking forever. I waited and waited and waited. The man who was behind me left the store because no one ever took his order. The girl that waited on me had clocked out and was leaving when the manager came out with a till in her hand and said not to leave because they had to count the till. Anyway, I was waiting and waiting and someone said, "they are making your order" and I waited and waited even longer. Finally the manager says to me, "I am making your sandwiches" and I told her that I understood that.
The point to this is that the employees were not where they were supposed to be, I had to wait an extremely long time for my food so that when I finally got my sandwiches the other stuff was cold. I didn't get a carrier so when I was carrying the stuff to my car my soda was all down the front of my shirt.
I work in customer service and this was truly the most unprofessional experience that I have had. We love Wendy's food and it is a shame that I will probably never go back. At least not to that one. That manager leaves alot to be desired. She maybe needs more training or something.
And because I work in Customer service, I feel as though I should be compensated in some way for this.
This was a terrible experience and I would hope that you will find a way to make it right.

Diana Williams
from Blacksburg, VA
I was at Wend's on 9/7/16 at 4:52 PM, and there was no one in line, I order the 4 for 4 and she ask me if I wanted the Chicken or the Bacon Cheeseburger, and I said bacon Cheeseburger and before I could say anything she said what kind of sauce and what do I want to drink and I said can I have time to talk, and I told her how I wanted my cheeseburger and my drinks, and she said come to the second window and I said you have to give people time to talk, and she did a jerk expression on her face and shrugged her shoulders and once she handed back my card she said next time I will give you more time. I go to Wendy's all the time and never dealt with Tiffany before and with her smartness I would never want to again. Store number #00005371.

Anne Kirkpatrick
from East Syracuse, NY
I ordered the Mediterranean half salad with no chicken and was told the price would be the same regardless of the no chicken. So I paid $4.99 for the attached picture of the salad. I was extremely disappointed with the size of the salad and the price. I have visited other Wendy's location and they do decrease the price when I order no chicken so I don't understand why this location (store #00001214) did not. Also, I ordered a small fry $1.99 and my friend ordered the Baconator fries(cheese & bacon) for $1.99. Why would I be charged the same price for just fries? I am very disappointed with my experience with this location and will not return to Wendy's in the future.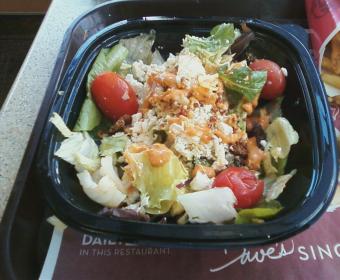 Hello,
We just ordered from drive through and a young man took our order. When we drove away, I notices there was no cheesburger in my son's kids meal. We then turn around to go back and ask for the cheeseburger. We were told to go to the second window and when we pulled up, a young woman with blonde hair that was tied up & bangs parted to one side, very quickly tossed/sorta chucked the bag with the cheeseburger. She then shouts thank you and shuts the window in my husband's face, no apology, just rudeness.
My family and I have been avid Wendys customers for over 12 years and I would have hoped for better service... Especially for something where the error was on their part. I hope to hear back as soon as possible and that proper action is carried out. Whatever was done to correct the matter, I'd like to know why exactly was done. Thank you.
Sincerely,
The Larnards

I came in about 10:30pm and an older lady was helping serve some girl who almost left without her drink. I looked at three different ladies and they pretended not to see me. I stood right in front of the older lady who looked like she was going to take my order and then went and did something else. Instead of saying anything I just turned around and left. Why give business if they don't want it? No one stopped me, they didn't care to work. This location doesn't close till 1 so it wasn't as if I got there as they were closing.

Sue Rosati
from Cincinnati, OH
My husband and I visited your store on Sunday, September 11, 2016 at 7:59:23 pm. We walked in and there was a shop vac in the entryway with the cord stretched to and into the men's room. The vac was on and the noise was loud so no one came to assist us. We said "hello" a few times and finally one of three people who were standing around on the side (we could see them) finally came over. A man took our order, but rang it under a woman's name- Destiney C.
As we were ordering, a girl came out of the men's room with the hose of the shop vac and was cleaning the floor leading up to the front. The man at the register asked her to take over and he disappeared. The girl took our money and then went to get our fries. I stopped her because she had just come from the men's room with a shop vac, handled our money and then without washing her hands she was going to touch our food. There was no one else around to fill our order.
It was a terrible experience, and I don't even know how fresh our meal was. We were so disappointed.

Phil
from Havre de Grace, MD
There was an employee smoking right next to the public entrance door. Every time the door opened smoke rolled inside for the patrons to smell. Then the service was slow and they didnt have the service machine loaded and ready. Terrible experience for my child and me wont go back there. I was there 6/14/16 at 8:04 PM.

Gregory Thompson
from Marion, AR
I went there around about 3:30pm. I was the only customer standing at the counter when i heard one of your employees (male) using a lot of profanity. When the cashier (female) came to take my order i told her that she might want to tell the young man to be aware that there are customers at the counter and that he might want to tone down the language. He took the "I don't care attude" and kept on with the language by saying quote " that he was a grown ass man". When I heard that statement i shook my head in disgust and told the young lady to forget my order and then I left. This experience left very bad taste in my mouth. I have had other not so pleasant experiences at other Wendy's restaurant but I kept going back. This particular experience has lost my business with Wendy's forever.

Michelle Van Pelt
from London, ON
I ordered a baked potato with cheese and bacon, when I got home and began to eat it I found a piece of broccoli. I am not sure broccoli is on your menu and I am concerned it came from an external source (employee's supper). Even if broccoli is somewhere on the menu cross contamination between foods is evident.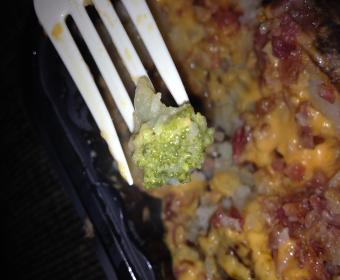 lisa holmes
from Palmdale, CA
My fiance and I went to visited a wendys in lancaster ca on 10/06/15. We placed an order and went to go sit because we was dinning in. About 3 to 5 groups of people came in after we did and order. They all received their food before we did and they was not of color. We waited between 10-15 mins before we had to say something, they never called our number. We asked for our money back and got it, we also got the meal we order. We would of been sitting of not had said anything. We don't appreciate the way we was treated because we are of color, ignored, disrespected and looked over. We never ever want to visit another wendys no matter what state or city it's in. We are and still feel pissed off and disappointed in the behavior of the employee.We are appalled at this situation. We was only treated this way because of color. The manager didn't seen to care to much because she gave us our food and money and went back to work. The employer needs to pay attention and look at who they have hired. We are just so upset at this situation. We are disgusted and lost for words.

This evening I, close to 10 p.m., I went through the drive thru at Wendys on Park St. in West Springfield, MA 01089. I ordered 2-4 piece nuggets, 1 double stack (due to allergy), a small fry with NO SALT, and 4 frostys. Besides having to wait over ten minutes for food, I expected it to be fresh. I was asked to pull up to wait for my food. The initial time I was brought the wrong order, the boy went inside, came back out and asked me again what I was waiting for, I insisted it was a burger with no onions, 2 nuggets and a fry with no salt. 5 more minutes after that another boy brought me my food.
When I went home to eat with my husband, I was given fries with no salt, but they were greasy and soggy, extremely soggy. The double stack beef patties were the color red to the naked eye, and it was loaded with onions. I tried to call this particular restaurant as I refuse to drive back after having wasted gas idling my car for 15 min. No one answered the phone and I am forced to use this as a resource to complain. If this is how the food is going to be every time I go, I will not eat there again. It shouldn't matter what time of day I go there, if you are open to 1 a.m., food at 10 p.m. should be fresh and cooked to it's proper temperature, and food made the way a customer asks, thank you for wasting my time, gas and money.

I would just like to inform you of an illness I had after eating at Wendy's at the Iowa 80 Truckstop on Friday March 21. I stopped and got a single combo hamburger and fries. I thought that the hamburger tasted stale-it was not hot and just tasted old. I also had fries with ketchup and a Diet Coke. Within two hours of eating, I had projectile vomiting and diarrhea, along with profuse sweating and chills. This persisted through the night. The next morning I felt dramatically better. I had felt completely fine before I ate. I just want to make you aware in case others were affected, or this store has had other complaints.

Recently my husband and I were in Langley, BC for several days and stayed at Canada's Best Value Inn on Fraser Highway. Right behind the motel was a Wendy's. The service was so bad that one time I was there by myself I actually left because two of the customers had waited so long for service that they were about to get into a fight! The first time we were there I ordered a pecan apple salad and got no pecans. My husband's fries were actually cold. The second time was when the fight almost happened. At that time another customer had been waiting a very long time because the staff had given him the wrong meal. I have no idea when or if he ever got the correct one.
The third time I ordered another pecan chicken salad and again there were no pecans. All three times I went in there was no staff at the register. Instead you could hear them talking in the back in whatever language it was that they spoke. I can assure you that it will be a very long time – if ever – before I go back to a Wendy's. I'm sure that this is not what Dave Thomas had in mind for his restaurant. It has gone downhill faster than Lindsey Vaughn!

Michael Westenberger
from Burnsville, MN
I had ordered a double stack hamburger with a large fry and a chocolate shake on 7/11/2016, but they had given me a chicken sandwich instead. I am not sure if they confused my order with another, but I was disappointed that by the time I got home I had realized I had paid for something I didn't order. I had just gotten off work so did not want to drive back, but I'm a little upset at Wendy's.

Dayna Molloy
from Oklahoma City, OK
I want to thank Wendy's for being so kind to my daughter today. We went to the Wendy's on 6th street in Stillwater Oklahoma around 11:00 AM today June 10, 2016. My daughter has a peanut allergy and due to a reaction a few months back, she has alot of anxiety. She asked the cashier if there were any nuts in the frosty. The cashier had the manager come out and talk to her. The manager took her over to the allergen chart that they have posted and showed her the Frosty with only allergen as milk. She made my daughter smile. When we got our Frosty's, they gave her one size bigger at no charge. Later the manager came by and asked her if it was good and my daughter had the biggest smile. The manager told her that she is allergic to pine nuts and that she understands nut allergies. I did not get the names of the cashier or the manager but we are so thankful for their kindness : )

Celia Coats
from Smithfield, NC
I go to the Wendy's on hwy. 70 in Clayton, NC about 3 times a week to get an apple chicken salad. I ordered a full size apple pecan chicken salad and told them that last time my salad did not include the blue cheese crumble so I asked them to please make sure it is on there this time and when I got home and took out my salad I noticed it did not have an blue cheese. This was on Thursday March 10th around 7pm.

Cindi gast
from Wellfleet, MA

Brenda Daniels
from Cedar Falls, IA
We stopped at the Wendy's in Hannibal, MO at 8:00 pm last night to grab two salads and 2 large chilis. They took our order and payment and at 8:30 we were still waiting to receive our chili. I approached the young man taking the orders after the first 20 minutes(they were not that busy last night) and said we still had a 3 1/2 hour drive ahead of us and needed to get going. They said sorry, but we ran out of chili and it's just about done. They gave us our salads and wondered if we wanted a substitute. We declined the substitute, but at that time said we would just take a refund and be on our way. They said "It's just done now, they are adding the meat and we'll have it right out to you". Another 10 minutes later I approached a different gentleman up front and was told the same thing only this time it was because there was someone new added to the "it's done" comment.
We then asked again for a refund and a lady walked by and rudely said "WELL IT'S DONE NOW!" but still no chili delivered to us. She then disappeared to the back. My husband then went up and asked to talk to the store manager and it was the rude woman that commented that it was done. She then gave us a refund and we left. If they had explained to us at the beginning that they had run out, we would have gotten the salads and then continued on down the road and stopped in Palmyra to get the chili. The manager was full of excuses that she had been on break, but the service was beyond slow. A gentleman that ordered a chicken sandwich and fries right after we ordered was still waiting on his meal. Another two men finally left after 15 minutes of the wait, not sure if they got any of their order.
We have stopped at this same Wendy's for years on our trips to and from St. Louis. It will be our last for a while.

I visited the Wendy's in Harper Hospital, Detroit, MI (Tuesday, March 5, 2013 at 6pm). I go to this restaurant because I like and it is very convenient because I work in the hospital. Today I visited Wendy's and receieved the worst service. It took me over 40 minutes (my hold lunchtime) get my order. The staff was playing behind the counter; laughing, playing around and using profanity. My cashier was not friendly at all Then I get my order and return to work to see that I have the wrong order, so now I have no lunch. I wish I had taken the moment to get the names of these employees, but I was so angry. I have never experienced anything like today. It was absolutely a terrible experience.

Esther Castro
from Beaumont, TX
I have had many problems with the Wendy's location on twin city highway in groves tx, but I've just had enough. I was rushed with my order and after everything I asked for kept getting a "is that it?". I specifically asked for spicy nuggets and if she would have actually listened instead of rushing me then I would of had spicy nuggets in my bag. When I pulled to the window I asked for sweet and sour sauce, ad of course it was not in m bag. At this moment I am so fed up with this location and their employees I will not visit this location again. Terrible customer service and accuracy.

I didn't receive my order complete. I make my order my window. I order 3 JR bacon 4 pack and another 4 pack of nugget additional JR Ch Deluxe. Missing on my order 1 JR bacon. I notice at my home. I may need to spend gas to drive back to get a hamburger. Next time I will double check order. store 76 at Añasco Puerto Rico.

Sharon Foster
from Charlotte, NC
Employee Tianda took my order for two kids' meals. She told me there were no toys available. I then ordered two small Frostys. While I was waiting for my order, the shift manager called Tianda over and told her to offer me two free Frostys, in place of the no toys. When she brought the rest of my order, I asked her what the lady said. I had heard her, and wanted to know what the employee would say. Taken aback, she relayed what had been told to her, and when I asked why she hadn't said anything: she indicated it was because I had already Bought the Frostys. I asked for a refund for them. She was not happy. Refund was a multi-step process. As I left, I stopped by Tianda at register and told her I didn't appreciate what she'd done, and while I was speaking, she gave me a dirty look and walked away. I expect the worst at Walmart or McDonald's. Wendy's should be a cut above. Dave would not be pleased.

Sheila Reese
from New York, NY
My experience is the workers at the establishment is to slow, I work at the New York Presbyterian Hospital at 165th Street &Broadway in Manhattan, I work the night shift, every time I come there the line is long and the workers are to slow, I can't get my food because I'm on line to long, I have to cancel my order to get to work on time. Thank you!

patt hogan
from Meridian, MS
We had to go to Meridian MS. I have always had good service there, but this time the service really bad. I only ordered a little and had to wait for 15 to 25 minutes. I don't no what to say if other customers were treated this bad. The food was cold and we had to wait so long. Wendy's is going to lose business. The store number #00007923 order number232497 price 764 on my visa. The manager. Bob Dominy, please get them right

Recently went to the Wendy's on rte 352, Middleton twp, Delaware county, pa, and ordered a baked potato,and hot and juicy hamburger. Was told they had no potatoes so substituted a cheese burger. The fact that a basic staple ,like a potato was not available,bothered me. Further when I returned home, both sandwiches where far from "hot and juicy" but cold. Obviously the ingredients had been laying around for a while. I'm not sure what the overall problem is,but if not corrected Wendy's will lose business the the several nearby fast food establishments.As for myself, I will hesitate to revisit Wendy's for a while. Thank you for your time!

Alyssa Murphy
from Clifton, NJ
At Wendy's on Main Avenue in Clifton, NJ they completely got my order wrong. Too crowded and too many people to keep track of. Very dissapointed.

Iv been working a Wendy's for a little over 3 months and sence then iv put up with working 10 pluss hour straight with no break iv opened a bank account jst so I can have direct deposit so my bills could be paid on time and it's been almost 2 months sence then and my direct still hasn't gone threw and on top of that I asked them to tweak my schedule because I'm going back to school and they took me off the schedule every day but the one I asked for which to me seems a little unfair and some what retaliatory.
But if it is I don't know why cause iv never missed a day I'm always on time and I always come in when Im called but any way thanks for Lisening if any one is. I WENT TO THE WENDY'S LOCATED IN plaza in troy ny. I went there for lunch and the manager was rude , slaming my food on the tray and nasty. first i asked for the manager and to my surprise it was the person who was waiting on me. She needs to go back to management school or maybe not be working with the public at all. to have a manager slamming food telling customers to wait and then act like she was doing us a favor by taking our orders.
POOR POOR DISPLAY FOR A MANAGER TO SHOW HER EMPLOYEES LET ALONE THE CUSTOMER. I WILL NOT BE GOING BACK TO THAT WENDY'S. VERY DISSATISFIED CUSTOMER.

Young people loitering in front of the Order line. There was no line at all but for those people standing there making it uneasy for customers. These batch of friends had more friends come and go in and out of the service area coming from outside. No uniform changing, no hand washing, phone calls made in srevice and food prep area, unkempt people loitering.. They come and go as they please. It was disgusting I started filming it on my phone. They would go out into their cars and dig around into their dirty cars/vans and just come back in and go straight into the food prep/service area and just walk around touching surfaces.
I wanted to puke after noticing this as I have finished off food I bought. The building looked so dingy. No wonder it does not look like a success story, this particular store.

On my way home from work (hospital evening shift) I was hungry and stopped at the local Wendy's in Port Orange, Florida. Ordered fries (ad said 'Natural' whatever that means) chicken nuggets and a small frostee. The nuggets were cold and had a BAAAD taste. The fries were worse..limp cold. I wanted to write to the corporate offices as this has happened before. I will NEVER go to this Wendy's store again.

My Mother In Law received several $20 bills in change from this Wendy's ALLLL of which were counterfeit. When she called the store to complain, they told her to just bring the money back in and they would exchange them. She took the money back the next day and they simply gave her more money no questions asked!!! Weird huh, I mean who just takes someone's word that they received counterfeit money from their store and you replace it with NO QUESTION ASKED and NO INVESTIGATION!!! Needless to say if you go to this Wendy's I would suggest you NOT use cash!!! I will NEVER go back to Wendy's AGAIN as when I filed a complaint with Wendy's no one even bothered to call me back!!! So much for Customer Service or Satisfaction!!!

Barbara Smith
from Ann Arbor, MI
The Wendy's on Boardwalk in Ann Arbor has had declining customer service over the last several months. The wait times are long and orders incorrect. The staff need more training and supervision.

Amy Martin
from Park Forest, IL
Hi there,
I wanted to follow up regarding a complaint I filed on 04/01/2018, this was in regards to the Wendy's in Orlando, FL at the intersection of Goldenrod and Colonial. I have not heard anything regarding my complaint filed and feel that a simple apology back would have sufficed. However, I received nothing which just ensures my opinion that I will not be spending my money at another Wendy's.
Thank you
Amy Martin
amyam1030@gmail.com

Greg Miceli
from Louisville, KY
I picked up a late dinner for us after working late all day-night. They didn't offer a receipt and there isn't one in the bag. Shouldn't be hard to track as I was at the Poplar level rd location around 12:40am and paid with a $100 bill which I'm assuming most don't. It was $17 something as a total. The asiago chicken sandwich had no lettuce, either did the other chicken sandwich. The Lg fries where bits and pcs of cold left overs like trash. The double stack with cheese was cold as ice. So out of the 5 things we ordered 4 had issues. I mean they forgot the chili, but I caught it so no huge deal there. Very sad meal to say the least when your exhausted and just wanting a decent bite.
Have feedback for Wendy's?
Thanks for your feedback!
Sorry. Please try again later!