Wendy's
Contact Wendy's Corporate
Toll free phone number: 614-764-3100
---
Need to contact the Wendy's complaint department? You can call customer service at 1-888-624-8140, this seems to be the best number to contact. An alternative complaint line is by calling 614-764-3100 or by fax at the number 615-764-3489. We could not find a company email address for Wendy's, their feedback form is linked below.
There have been more than 230 customer complaints registered about Wendy's corporate so far. Unfortunately the founder of Wendy's Dave Thomas, would probably not be happy to read what customers are saying about his chain today. He founded the first restaurant in 1969 in Columbus, Ohio. Today, the corporate headquartes is located in Dublin, Ohio. If you would like to mail a letter, the address is One Dave Thomas Blvd., Dublin, Ohio, 43017.
You can also use our free online feedback form to add a review about your local Wendy's restaurant. Or you can use the official "Talk to Wendy's" feedback form on their website to take a survey about your experience at your local restaurant. The company is also quite active on social media. So, if you do not get a response by phone or email you can connect with them on Twitter or on their Facebook fan page.
Wendy's Contact Information
Report complaints to corporate and get satisfaction
Wendy's headquarters address

One Dave Thomas Blvd.
Dublin
OH 43017
United States

Company website

1-800 phone number

614-764-3100

Better Business Bureau rating

A-

Customer service hours

9am-5pm CST
Browse reviews of other Fast Food
Top Wendy's Complaints
Browse more than 444 reviews submitted so far

Cathy L Alfano
from Virginia Beach, VA
Went to store #0001018 Virginia Beach Va. ordered $22.84 in food. ordered a chili cheese potato as part of order and kids meal. after some time my name was called by manager and bags were on counter. I checked and noticed the potato was missing and inquired. manager said yes it was not ready. so why call my name. so waited 12 more minutes and complained. cashier said the potato would be 15 minutes. I told her forget it that was ridiculous. Manager said it would be ready in 2 minutes. total cooking time was 15 minutes but that info was not offered at time of sale. waited for potato and finally left. got home and kids meal was not in the bag. I was furious. called them twice and left a message once to call me. no one called. phone # 757-498-4804,. will never go back!!! and i want refund of my money for the kids meal. $2.99 plus tax. paid with visa card. my phone # is 757-439-9981

David koon
from Charlotte, NC
I went to Wendy's in lumberton nc on Fayetteville rd drive thru the cashier had a beard was hanging out the window carring on a conversation for 10 min or more they were slow poor service i didnt even want to eat my food something has to be done about this i dont usually complain but this was bullshit thank you

Wendy's was in too much of a hurry. I was so hungry and ordered a salad, but they did not include dressing so I could not eat it. I went through the drive up so I was long gone before I noticed it. Made me frustrated and waste of money.

cynthia colletta
from Washington Township, NJ
Tonight I had a very bad experience at one of your locations. The girl taking my order was very, very rude. I asked what other sauces there were besides bbq for the chicken nuggets I ordered and she ran through them so quickly (at the drive thru where it's not always easy to hear clearly) I couldn't understand her so I politely asked her to repeat them. She did but sounded very annoyed. When I picked up my order at the window she said have a good night and slammed the window in my face before she finished her sentence. She turned around and started laughing with her other co-workers.
I do not ever complain about things in general but this was such offensive behavior I felt you should be informed.
It was the Wendys drive thru on NJ Rt 4 East in Paramus, NJ. It was approx 7:45 pm on November 9, 2017.

Carol A Hodges
from Hampton, VA
There was no one at the register to take your order. Put order in on the kiosk, other people that were in line was asking if anyone was taking orders anymore. The store was dirty and the staff was unprofessional. Laughing and playing around. The soda machine was not working and someone went to look at it and stated that they were not sure if they could fix it. Got our food to go and when we got it home nothing was made the way it was ordered and cold. We do not live that far from the store so our fries should not have been cold. It will be a while before I to to this store again. Hampton VA on Mercury Blvd

David Geller
from Columbus, OH
I pulled up to the gentleman at the pickup window and he did not greet me. He then asked if I wanted my penny's back with a goofy look on his face. Who would ask that question in the first place? He proceeded to give me my food and was talking with another employee joking around and did not say thank you. I know this is petty but I am sick and tired of employees with no manners. This makes your restaurant look bad. He was an over weight guy in his late 20's. You don't need worthless morons working for your company. Set your standards higher.

darius black
from Apopka, FL
At store 9166 in kissimee Florida I was yelled at screamed lied to from manager to manager

This is regarding the Wendy's located at 3239 S. Arlington Rd, Akron, Ohio 44312. I have reported and spoken to someone from Wendy's Corp office, I would be surprise if this is going to be addressed. They are not even 1 star!!!!! I saw employees on their cell phones while handing food, some with soiled uniforms w/o hair nets. The manager looked sloppy and her behavior was very unprofessional. She became angry because I asked for fresh fries, the ones that were served to me were cold to touch and had been given BACK from the car in front of me. She stated (in a loud tone) that " if I did like it then I could go somewhere else" and was trying to convince me that they were fresh! and then I heard a male employee say the word "Bitch". I asked for a refund, and after seeing how they were handling the food, I wouldn't eat NOTHING from them. I think the Health Department needs drop in and visit!.... #Infection Control

KATHY PERKINS
from Kansas City, MO
1.0 star rating 11/2/2017
Went thru the drive thru at 11:30 a.m. SAT in the drive thru line for 15 minutes of my 1/2 lunch break, got to pay window finally, dude just said the total I owe took my money and shut the window. First of all i believe if I am visiting an establish they should be as thankful for my business as I am of thier service. So already being frustrated with the length of time of waiting, he pissed me off more. THEN I get to the delivery wndow and still, no thank you, other than me saying it to the worker, her response, your welcome. After I leave I realized they didn't even give me my receipt! THEN I get back to work, getting out of my car, and the flippin lid wasn't on my soda properly so my drink ended up in the parking lot! On a bright note, the food was hot and tasty!

DeAnn Hair
from Turtle Creek, PA
On 10/31/17 at 9:37 PM (30511) at Store # 00002129, 2805 Jacks Run Rd White Oak, PA 15131, cost me $7.79. I went through the Drive through and ordered a #1 combo with no tomato, a Dr. pepper & Medium size. The wait wasnt too bad, the staff was friendly. When I got home, went to eat my burger and it was barely cooked. The meat was raw. I was not happy, didn't feel like driving back to the restuarant, so I called 800-624-8140 and spoke to a nice gentlemen who took down my information and explaination of the issue. He said a manager from the store will be calling me. It has been 2 days and still have not heard back, it's disappointing especially since this is one of the very few fast food restuarants I go to. I also did an online survey and didn't hear back via email either. I certainly understand things happens, however as a customer, I would have thought i would have been contacted by now
Should you care to contact me:
DeAnn Hair
deannloy@gmail.com
mobile: 203-273-9180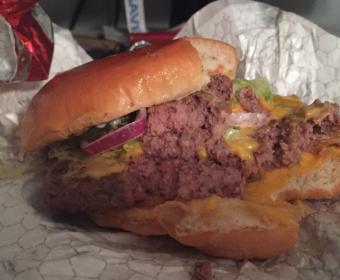 Brittany
from Mitchell, IN
I was in the Paoli, In. store and observed the night manager acting strange and telling her crew how high she had gotten and couldn't wait until she was off work so she could enjoy herself again. I don't believe that is proper behavior from any employee especially not a manager or assistant manager which ever she is. The others employees called her Kenzie. When I asked for the manager she got a little snotty and said your talking to her, so I left.

Norma Bigham
from Athens, OH
stopped at your shop in Logan, Ohio to get food for someone. Got it home to find that I didn't get what I wanted. Ordered your chili, only had juice nothing else. There was no dip for the chicken, do I need to go on. This is not the first time that this has happened. I lump you in with all of the other fast food places with not knowing how to take care of their customers.

Luis planas
from Reading, PA
The pictures of burgers that are in frames doesn't say the the same thing as too the burgers being serve, that's called fraud; your miss leading the poor, something needs to be done or I'll be the first to file a suit!! I will send photos soon!

Lissi Teskera
from The Bronx, NY

Janet Spangler
from Osgood, IN
I came to pick my daughter up from work at 9pm last night (Oct 31, 2017) and she came out crying. She said that 1 of the guy's working named Josh threatened her. He said he was going to f***en beat her a**. Then called her a b****. Manager Renee didn't do anything about it, because Josh is her boyfriend. Some of the co-works have been ganging up on my daughter for a little while now. One is named Faith. Manager Renee should be fired for dating a co-worker. It should be a rule that managers are not to date co-workers, it causes problems there. My daughter has liked Renee up until last night, because she took Josh's side because it's her boyfriend. I feel that this is going to continue to be a problem there. I went in last night to talk to the manager Renee and she was rude. She tried to blame it on Hannah and said she just wanted Hannah to stock up the chicken nugget sauces. She tried to tell me that Josh never done anything. Well I'm sorry but I don't believe that's true, my daughter wouldn't come out crying for no reason. That's not her. I would greatly appreciate it if you would do something about this and I would like for you to contact me. Here is the Wendy's my daughter works at.
Wendy's
11 Alpine Drive,
Batesville In 47006
1-812-934-2984

Paul Williams
from Fishers, IN
Tried giving your location off 126th in fishers Indiana a second chance last night on the way home
Could not a person who spoke good English
WHEN getting home discovered that they had gotten the entire order completely wrong to include missing item.

Sherlock Sanders
from Dyersburg, TN
been in Union city Tn.for 2 months, I Always eat @Wendy's @ lunch time I love the $5 tender combo & got my granddaughter the 4for 4 ask for it fresh I told them I would wait, tried it @ night time Wrong Ideal, The manager in the morning ALWAYS served it lhot Every Time I Asked, the Night Crew We got it, it was warm not HOT & FRESH,IT'S NOT ALOT OF EATING PLACES IN UNION CITY SO WHEN YOU GET A MEAL YOU WOULD LIKE IT HOT& FRESH, VERY DISAPPOINTED

anita borrego
from Watsonville, CA
Order #3159 I ordered the taco salad everything comes separate
and there was no salad dressing only salsa Every time we have been to this restaurant # 00007884 we confront some sort of problem we order tio go and we never get what should be in the order bag we live a ways away and it it a pain to go back to this store What is wron with the management here and the employees this should not be so difficult to complete the order right so you ask how was the visit was it was not good.

CALLA ACREE
from Jacksonville, FL
Three times in the last month I have visited the drive through of the local Wendy's and received mixed up orders - Lake Nona, Florida.
The last straw was yesterday when I went to this Wendy's for three lunch orders. I got back to my place of business to find that one complete order was not there even though I received three bags. I did not receive a receipt therefore I couldn't even tell if I was charged or not.
One of my employees was without lunch as a result!
I called the store and got voice mail. I left a message and no one has bothered to return my call.
Lake Nona is a prestigious area ( upper scale) and growing fast due to "Medical City" therefore, I believe that this is not a good thing for Wendy's as there are many more restaurants under construction in this area now.
Also, there is social media that includes 18 local neighborhoods that share experiences with local businesses and contractors such as pool maintenance companies, yard maintenance, cleaning companies etc.
Perhaps a phone call or email is in order for the store manager to at least return phone calls. I trust they don't want people talking in a negative way about their store. I myself, will not be there any time soon after three times of getting incomplete or wrong orders!

Carol D. Gtes
from Dowagiac, MI
Wendy's has a policy for Senior Citizens that allow for a discount. In the past two weeks, I visited your Store in Coldwater, MI, asked for my senior discount and was informed that according to a new Corporate policy a person had to go inside to receive this discount. I am wheelchair bound and this store is not accessible. I explained this to the person taking the order and still was declined. The parking spaces are NOT correct and I could not go into the store. I know a permit has to be issued and I ask "Why" has this been allowed to happen? Doesn't Corporate Headquarters check on the stores? I might add it is not only your stores. The ADA Code has been law for many years and these issues still exist.

Christopher Adcox
from Boone, NC
Wendys Boone NC
10-31-2017 10:30 am
I stoped comming to Wendys because the order is never correct
Today
Drink had no Syrup found out when i got home
4 piece tenders only had 3 didnt find out till i got home
special order son of bac was a reg burger after drive threw went over special order 3 times had to go in store to get it correct
just disapointing always something wrong

rob Dostal
from Canton, OH
I just went to Wendy's on Arlington road in Akron Ohio. I had 3 orders in which the drive through was the only option. I was told no multiple order and made to drive around 3 times. At this time the dining room was closed and there was no one in line except me. These dumbasses actually made we go around three times. After all this, I get back to work and they jacked the whole order up, We are missing a chili, two fries and all condiments. I assume I had all these problems as I am white and the whole staff is black. They are rude and make it known they don't like white people. There address is 3329 S Arlington Road Akron Ohio This is unacceptable

Buddah Kahuddah
from Waynesville, NC
We visited Wendy's in Clinton SC at 11 AM 21 Oct 2017 as were in awe how unorganized they were. To start with the cashier acted like she was doing us a favor just being there, she was one of the most unfriendliest cashiers I've ever experienced, We ordered a taco salad and chicken strip meal, the salad had 1/2" water in the bottom making it soggy/ nasty, we had to wait on the chicken strips to cook they brought them out to us minus one strip and no fries, Their were no cups for the ketchup, nor lids for the drinks or straws, the females restroom had no tissue in general it looked like they were ready to close not just opening, An employee came in @ 1120 with the crotch of his pants down to his knees, totally disgusting for a restaurant to allow such,

Zenna Hall
from Parkersburg, WV
I just wish you would place a plain grilled chicken sandwich back on the menu. I dislike the herbs, I think it is oregano, on the current Asian grilled chicken sandwich. Scraping it off doesn't do the trick, or trying to cover that flavor up with mustard. Just give me plain grilled with salt and pepper, please. Usually I eat at the Wendy's on 23rd and Grand Central Ave, Vienna, WV.

Alpha Deeno
from Laurel, MD
Hello
Very poor service as new franchise took over in Washington metropolitan area controlling hours for employees which sucks quality customer service Area manager said and cursing GM if restaurant to run the place with less then minimum because NPC issued new guidelines hours no matter customer what says every day should be minus in hours resulting bad customer service a long wait and serving old food and mostly focused on drive through because NPC watch SOS I
Looks in this situation Wendys going to be down more in next few months I am a employee since long time with company but never see this worse situation before

I waited 25 min for my food. When I got my order everything was incorrect and messy. Very disappointed and absolutely the worst service I have ever had. Not even busy. It was midnight and we had five cars after us get there orders.

Amanda Trammel
from Latonia, KY
At approximately 9:20 p.m. this evening my family and I went through the drive thru at the Wendy's in Ft. Wright, MY off of 3L HWY. Our order was a small pecan chicken salad (chicken?), #5: son of a baconatter (came with mayo, mustard and ketchup...not supposed to). A #5 with only lettuce, mayo, onion and mustard(got ketchup, no lettuce, on ring of onion, mustard and a tomato. We also had ordered more food and drinks. I was very unhappy with this visit to Wendy's.

Linda D Lazzara
from Woodridge, IL
Just visited your location at 1420 S. 75th St In Woodridge/Downers Grove, il. Needless to say, I was disgusted with the experience. First of all, there were no paper towels in the bathroom. The soda machine was out of Coke, both ketchup dispensers were not working and there were tons of fruit flies flying around. I frequently visit this location, usually through the drive thru, but went inside this time. It made me wonder about the food we were eating. I will think twice about visiting this location again.

Susan koon
from Matthews, NC
My husband went to local Wendy's store 4580 pomaria SC location on 10/20/2017 ordered fries and chilli driving to work he was eating fries when got to work dumped them out and a test strip fell out of box he stopped it by the next morning and was told a manager would contact him.No one has.This is very dangerous and we don't know if it had been used or not they have it now.we will be contacting health Dept on Monday and his Dr since he ate fried and maybe a lawyer.Get your staff better or close them down

Joseph Aseo
from Hayward, CA
I have enjoyed the food and service at this Wendy's for 0ver 20 years as a local resident. I stopped by the Blacowk Road location in Fremont CA on Saturday 10/21 after 2pm to get a quick bite to eat before heading home to San Ramon.
Oh wait a difference time makes! My order was taken and delivered in the timely fashion that I've grown accustomed to expect. However, getting a drink and noticing that the their were no lid for my cup, I tried to bring my concern to who what Thought was the manage (who couldn't been more than 18 years old and definitely needed customer service training) who took my order at the register. He just rudely replied to look for the cups my myself!.
After some "loud" grumbling looking for the cups, another customer kindly showed me that they were available in another part of the restaurant (apparently, they don't bother to check such "minor" details before, during, or after lunch).
BTW, I also tried send a customer survey to the corporate office, but the manager "conveniently" didn't provide a receipt when I paid for the meal.IIhink that may be against the law).
Even through this terrible experience at the Blacow Road restaurant, I look forward to be a loyal customer at the Wendy's restaurant on Auto Mall Parkway and the new restaurant that opened near my home in San Ramon because I do believe in the standards that Dave Thomas, the founder of Wendy's, built the business: quality is our recipe, do the right thing, treat people with respect.

Paula Gordon
from New Port Richey, FL
Slow service! I have been to this Wendy's 3 times recently and always the most inefficient service I have ever gotten in a fast food restaurant! Every time I go there is a an angry customer in front of me with complaints about the wait time and wrong orders. This last time there was 4 people ahead of me in line and no one at the register. 3 women were at the counter screaming that they had been waiting 25 minutes and there order still wasn't up. Come to find out some how it got missed. The place had a sewer smell to it (a plumbing issue?) I decided it wasn't worth the wait!

Gary Buzby
from Canton, NC
Last Sunday my wife and I went to the Waynesville Wendy's for dinner. When we got there we were the 2nd people in line. We stood there for approximately 10 minutes waiting to order. The boy took the man's order in front of us and then disappeared leaving us standing there. When he came back we placed our order. My wife request n cheese on her burger. We waited with the gentleman who ordered ahead of us for 20 minutes for our food. The gentleman who placed his order before us said it is always like this at this Wendy's. We had never eaten there before even though it is the closest one to our home. When the order came there was cheese on my wife's hamburger, our hamburgers were dry and hard and our french fries were like rubber and cold. Not wanting to wait another 20 minutes we just ate it. By this time there were about 30 people standing in line all complaining about the length of time they had to wait to order. One couple walked out. This was the very WORST WENDY'S WE HAVE EVER BEEN TO. Yesterday we drove to Newport, TN. We ate at Wendy's #00005435. What a difference. Nice juicy hamburger and steaming hot french fries that were crisp. Also the employees were very friendly and willing to help when the soda machine decided not to give us any soda. W ordered the same thing we had gotten in Waynesville and it was like night and day. Wish we lived near the Wendy's in Newport instead of the awful one in Waynesville. We will NEVER go to Waynesville Wendy's again. The meal we ordered was the Giant JBC Meal.

Edmund KULP
from Cleveland, OH
I just visited your restaurant at 250 E 222nd ST Euclid,Ohio 44119
it took me a matter of 14 minutes to get from the door to the casher.there was only one lady taking orders and a lot of people waiting to order. I got to your restaurtant about 12:06 and got my order at 12:20.
during lunch time there should be 2 cashiers do to the volume of customers this restaurant recieves.
Sincerely,
edmund2481@aol.com

Wendi Curnutt
from Knoxville, TN
The female manager on duty 10-20-17 @ 1pm used the restroom, looked in the mirror @ returned to work in the kitchen WITHOUT WASHING HER HANDS!!! Gross & will not go back to that location!

Cheryl Wasserstrom
from Boston, MA
Waited 20 minutes for the most disgusting thing called a grilled chicken sandwich....it had a texture no chicken should ever have...so gross and tasteless. Thrown together, very sloppy. Five dollars, Wendy's should be ashamed to serve this trash...

Marlene Stoltz
from Leechburg, PA
Yesterday, 10/18/17, I received three coupons from the Manager at Leechburg PA for bad baked potatoes, salads with water in them and browned lettuce, no crackers, no hot sauce and I can go on. So today, I go there and used one of my coupons and asked for the chicken plank deal, I wanted fresh chicken planks and the French fries with no salt. (I get them that way so they are hot). Well the chicken planks for good but the French fries were cold, broken etc. Looked like they were laying there for hours. I refuse to complain to them because as you see, it does not work. I live 2 minutes from Leechburg Wendys but have to drive 13 miles to go to Lower Burrell, PA Wendys because of their incompetency. I would like compensated AGAIN for their lack of not being a team and getting things right. I do not want to get another thing there... I will wait to hear from you. If not, I will go corporate.

John Haury
from Royal Oak, MI
I entered the wendys in dearborn, mi on greenfield rd. around 7 pm today. I stood at the counter for over 5 minutes. Three different employees had eye contact with me but failed to acknowledge my presence. One of them was a manager. There were 2 people inside the restaurant and 3 cars in the drive through line. I thought it was especially rude to ignore my presence.

Brenda Soltis
from Lake Hopatcong, NJ
This may or may not be important to you. I feel it is necessary to no longer be a customer at Wendy's due to my feeling about the NFL and there disrespect for our stars and stripes I am boycotting all sponsors or the NFL

On 10/7/17 I went to your store on east Washington in Colton califor nia. It was 10:30 pm. I placed my order. When I got to window I heard them tell Austin the guy to be profecianol, and tell us that they didnt have the item. When i was already told ok. They were laughing at us. Then i went to door and austin the young guy. Opens the door for me. It was 10:30 it was already closed. Anybody could of gone in thete and hurt those kids. It was LAVINIA, NIKKI, AND AUSTIN. Something needs to be done very UNPROFESSIONAL.

David LaPierre
from Nashua, NH
With 20 years of Restaurant Management experience, Including a successful stint as a General Manager for a Wendy's International Company Store, I am fully aware of the challenges facing our Industry today. I visited the Amherst Street Nashua NH store today at 11:23 AM. At 11:36 AM I finally got my food through the Drive Thru window. I counted 6 cars that pulled out of line, and went around me because they would not wait. There was much horn honking and cursing while I was waiting. NO APOLOGIES at the window. You have a customer wait 13 minutes for an order, that should have been 3 minutes and just hand out the food? I know many of my colleagues bitch about everything regarding the service they receive when they dine out. I am not usually one of them. This store should be running better because a competitor, McDonald's closed across the street.

Mary Reines
from Ladysmith, WI
We were on vacation in Canada and visited a Wendy's. I ordered a half Taco Salad and a small coke. I have never eaten at a Wendy's before and I probably will not try it again, if what happened to me "the normal for Wendy's". The salad came in parts--- the lettuce with tomatoes and a little tub of sour cream, one of salsa and a chili one. Oh yes and a bag of Tostito chips. I don't know exactly what I was suppose to do with them. I thought it would come assembled and not in parts. And I certainly did not want to pour the liquidy chili over the lettuce leaves, if that is what I was suppose to do. YUK!!!!!! I did not consider this to be fast food to putz with putting a salad together. And my small coke turned out to be a large one with NO ICE IN it. We had 35 minutes for lunch and I had already wasted 18 of it sating in line waiting to order. I would think that this salad would be mixed before it was given to me! Very disgusted with it all.

Nathan David Jackson
from Charlotte, NC
I place an order at the drive thru at location 3517, my fries look like the scraping of the barrel and my chicken sandwich was raw in the middle, transaction I'd 20171008005855, I was surprise, what I receive for my money, garbage.

Terry Siders
from Terre Haute, IN
Went to a Wendy's in Terre Haute today. Ordered chili, didn't have any. Not sure how you run out of that. Got to the drive thru window and asked for ketchup and salt. Didn't have any salt either.

Andrew Frazier
from Detroit, MI
Who is running your store in Dearborn mi on Greenfield road it is attached to a Tim Horton's coffee shop on the outside it looked nice that's why I stopped in my wife and I ordered both pop machines were out of almost everything the manager stepped up got me a leamomde from the back after making it down to the Tim hortons after listening to two employees complaining about call offs and texting some one on there cell phones they finally took my wife's order they of course screwed it up how hard is it for a bagel and glass of water really and then what they gave her was not presentable it was a bagel with crumbs from the oven still attached and the bathrooms don't get me started see the pictures they are bad real bad hair in the sink crap on the floor when we're they cleaned opening day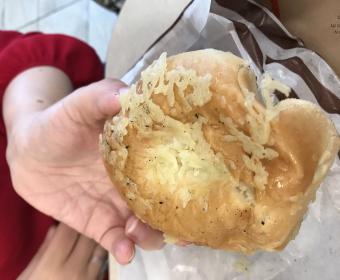 Jill Stine
from Eaton, OH
I do not know if this complaint will go to anyone. But I just had a horrible experience at my local Wendys. I ordered chicken tenders, fries, a double chocolate chip cookie, and a tropical green tea. The chicken was luke warm and very unappetizing. The french fries were cold and soggy. Couldn't eat hardly any of them. The cookie was not fresh. I was cold and dry. I will not be patronizing my local Wendys any longer. The entire meal was a horrible disappointment.

Jennie
from Cincinnati, OH
I am resending this email because I'm not sure the last one went through. Store 38 Delhi Pike Cincinnati was out of control last night. An employee in the back was cussing and the guy taking orders told him to watch his language and his response was I don't give a f***. Then the employee taking orders told the one in the back to not touch the nuggets with his hands.(I'm pretty sure those nuggets ended up on my tray. Then a lady in the back started yelling at the guy taking orders and told him she would fire him if she could. Then the manager fired him. All this was going on with customers waiting. The manager came our with her cell phone and a customer talked to her boss. About 12 customers left while the yelling and cussing was going on. If the manager fired him from the office that makes it worse because that means she was loud enough for customers to hear her from the office. We left our food on the table and left. I didn't ask for my money back because I didn't think this staff could handle it. The is unacceptable behavior for all involved especially the manager!

BERNARD HINES
from Philadelphia, PA
WE WENT TO WENDY,S ON 10/12/17 AT APPROX 7;30 PM . THE STAFF HAD NO KNOWLEDGE OF THE NEW JR. BACON CHEESE BURGER.
WE SPENT $16.00 DOLLARS AND CHANGE, MY WIFE AND I WAS VERY DISAPPOINTED WITH OUR ORDER. EVERYTHING WAS COLD, EVEN THE CHILLI WE WERE AT THE BALA STORE IN PA. ACROSS FROM ST JOE UNIVERSITY.

0 STaRs!!! Everytime I go to this place my order is wrong. If i wanted to get out of my car wit my 2 kids and get my order fixed i wouldve gone inside in the first place!!! Im allergic to mayo and onions I tell the stupid girl 3 TIMES no mayo no onions and what do I get?! Also never have any potatoes!!! Got tenders instead of nuggets! No sauce!! And smoking hot tea with no ice!! Not to mention 2 of my burgers didnt even make it to the bag!!!! Yall need to get some employees who can read a damn order screen!!!! I will never ever go there again!!!!!!

John Garcia
from Orlando, FL
I just came from the Wendy's on the corner of Jackson St. & Dunlawton Ave. In Port orange Florida. I just finished a 10 hour shift at Publix in the complex across the street. I enteted the restaurant & thete were 2 women in front of me. They proceeded to otder everything under the sun. Wuestion w everylittle thing about sauces which is fine. After stanfing behind them for more that 10 minutes with managers _ employees standing around. Not one came to ask me if yhey could help me. They jusy looked at me & kept talking. I don't rat fast food often but ehen I do it eas Wendy's. But no more. I will br sure to tell all my fellow employees at Publix tp avoud going to that Wendy's due to lavk of concern gor their customers. I eill nevergo to Wendy's again! John Garcia

Jennie
from Cincinnati, OH
We were at store 38 on Delhi Pike, Cincinnati and had to listen to an employee cussing from the back. The employee that was taking orders told him to watch his language and his response was I don't give a f***. Then the same employee told the cussing employee not to touch the chicken nuggets with his hands(I think these nuggets ended up on my tray). Then a woman from the back started yelling at both the other employees. She said that if it was up to her she would fire him, talking to the employee taking orders. A lot of yelling and hollering was going on with several customers waiting. Then the employee taking orders was fired in the back room loud enough for all the customers waiting to hear. This should have been done in an office away from customers. If the manager took him into the office that makes it worse because then she was loud enough for us to hear from the office. The store manager called her boss and brought her cell phone out and another customer talked to him or her. We waited for almost 30 minutes for our food while this was going on. At least 12 people walked out while this was going on. We left our food on the table and left. We were going to ask for our money back but we figured that would take another 30 minutes. This is really unacceptable behavior for everyone involved, especially the manager who let the situation get so out of control.

Muriel Carrie-Yancy
from Denver, CO
I went to the Wendy's at 1129 Elmwood Parkway, New Orleans, LA 70121 on October 13th, at approximately 1:15pm. I waited for my order to be taken and ordered the $5 Strip Meal. I'm sure the restaurant was short handed, as the lobby was not properly cleaned and the ice machine was full of ice. The restaurant wasn't well kept at all. I waited until 1:37 to get my food, as the orders were taking anywhere from 15-20 minutes to come out. Then the guy who was waiting on customers, was also giving out the orders (WITHOUT PLASTIC GLOVES), after handling money and other forms of payment. The fries was fried very dark and didn't have any taste and the strips were also fried darker than they should have been. And they were COLD!!! I was at work when this was noticed the way the food was.
May I suggest that ALL employees who handle food items be required to wear GLOVES when handling the food items.

Wanda wilson
from Franklin, IN
My daughter and I went through drive through around 7:15 on Oct 12 and paid for our food which came to 11.00 I didn't realize the person hadn't returned my debit card until I got home and after searching for it. So I went back to Wendy's on Coldwater road in Fort Wayne Indiana and they said they didn't have my card and the manager didn't care at all that one of his employees may have not returned the card. I feel the manager could have been a little more courteous in his talk to me and the way he handled this. Wendy's is really failing as far as I'm concerned and that location has very poor customer relations.

Valorie
from Saint Clairsville, OH
I went to wendys in Martin's ferry after a very long day. And i sat in the drive through for 20 mins, as I sat there i notice that the lady at the drive through was b.s. ing with the guy in the car. I'm sure it had nothing to do with wendys. 3 differebt cars including myself left.

Kenneth shaffer
from Perrysburg, OH
I went to Wendy's on conant Street Maumee Ohio and I ordered the 5$ giant junior bacon combo an order 3 piece chicken strips I got there at about 7:07pm and and get up to the window to pay till 7:20 then the manager tells me there's going to be a 6 minute wait on chicken strips and I'll tell her why is there going to be a 6 Min wait when I've been sitting out here for 15 minutes she said Real nasty because we don't have any ready so I said give me my card back this is some bullshit and she said to the cashier yeah give him his fucking card back we don't deal with fucking people like him and on top of it i eat at this Wendy's 2 to 3 times a week i will not go back unless something is done about it

Shirley Gaerte
from Warsaw, IN
Our store is the worst!! Sometimes they are closed at 5:30, very rude employees. Dirty bathrooms. I waited in the take out window for 20 minutes got to window, statement was, I sorry we are out of potatoes and closed the window. I think someone needs to take a look at this store

Sherry Swink
from Grand Rapids, MI
This has been the second time in the past two weeks I've gone through the drive through to get a plain baked potato.
The first time the potatoe was good. I asked for extra butter, sour cream and salt& pepper and the only thing that I got was
1 butter. Today 10/12 I went though at noon and bought the same thing asked for the same thing I did get butter, sour cream and no salt & pepper.
The potatoe was gritty and had bad spots on it thoughout the potato. I don't mean to complain but it's very frustrating. There are many other fast food resturants but I chose Wendy's. You also might want to speak to the lady running the drive through she was rude as well when I asked for the fixings.
Thank you,
Sherry

Tammy Pennington
from Middlesboro, KY
My husband and uncle went to Wendy's in LaFollette TN they ordered 4 chillies the cashier only rung up 2 they told him they order 4 they was told to go to the end of line they asked to speak to a manager she turned her back on them and start talking to another worker would not even acknowledge them did not speak one word to them very rude I am a manager at a local restaurant you do not treat your customers like that I will not go back we had a $30 order your manager needs to learn customer service and respect I my self would have give them the food I sure would not have turned my back on them we are very mad over the way we were treated by your manager I like you to call me 423-201-3655 or 423-201-8478

I visited the Wendy's in Jeffersonville, IN located on 10th street Sunday morning 10/1. I ordered a number 1 combo with a coke and paid at the first window. I then waited 20 minutes for the person in front of me to get their food (I would have driven off, but I couldn't get out) when they finally got it they apparently got the wrong order and I waited 5 more minutes while they corrected her order. When I finally got to the window 25 minutes after I ordered and paid, the girl working handed me my drink without saying a word, then she asked if I ordered 4 burgers. I said no, and without saying anything else she shut the window in my face. 1 minute later she came back and asked me what I ordered, I told her a number 1 combo, she shut the window again and I watched her standing staring at the back before I just said "screw it" and drove off without my food I had already paid for. I'm not normally a complainer, but this experience was ridiculous and it's not the first time I've had an issue with this particular location. The staff is always rude and the food always tastes slightly off and is prepared poorly, I've never not seen a customer complaining at the front. I will not be returning to this location in the future.

Customer service sucks!!! Store number 00009267. How the hell do you shout at your customers!!!???

Falisha Saxon
from Kankakee, IL
This is regarding the Wendy's located at 389 William Latham Sr Dr Ste 2, Bourbonnais, IL. I visited this location on my lunch break today. Well, after waiting almost 10minutes on my food, I asked for my money back. The manager by the name of Gareth(at least that's what he told me) told me he cannot give me a refund because there is no refund button on the machine. What the hell? What you mean you can't give me a refund. He offered me more food to try and make up for it, but I told him I did not want the food. I waited all this time now I want my money back. He said only thing he can do is take my info and someone would be calling me tomorrow. What type of customer service is this? How can you take my money and not issue me a refund? You don't have to worry about me visiting this location EVER again!!

Martin & Susan Duda
from Cleveland, OH
Good Afternoon- I want to report the unprofessional service we received at Wendy's Saturday night. My husband and I went through the drive through and had ordered 2 Baconater sandwiches. When we went up to the drive through my husband always checks the orders and when he opened the bag and discovered there was only one in there. My husband proceeded to advise the man that there was only one sandwich and the man snapped back at us and said well you only ordered one and said we can have our money back. We were shocked and said we didn't want our money back just the 2 sandwiches we ordered. He then turned around and handed my husband his money back. He asked for the manager as we thought how rude he was to a customer. He made a big deal out of nothing. We were at the Wendy's on Mentor Avenue in Painesville, Ohio at 10:00 PM the man that was at the drive through window said he was the manager but would not give a name.
Thank you for listening
Marty & Susan Duda
merrill9673@gmail.com

Danielle Harney
from Denver, CO
I went to the Wendy's drive thur in fountain Colorado Oct 1 around . First they wouldn't except the 1.99 kids meal coupon that came in the mail, second they charged me for someone else food more then what my total would of been and last they asked what sauce I wanted at the window and he still didn't give us any. Any question please contact me 7197618065

Joanne Beecher
from Camp Hill, PA
The drive-thru line tonight, Sunday October 1, around 8 pm, was wrapped completely around the store. It took us 15 minutes to reach the order window. Ordered 2 large Chilis and 2 medium frostys. Paid at the window and moved on to pickup window where we were told there was no chili. They refunded the money, even tho it was the less than it should have been and we had to correct them. They gave us the two frostys and we took the 3 minute drive home. The frostys tasted like foam and had the consistancy of chocolate milk. Mistakes can be made, I understand that, but this was rediculous. The least they could have done was given us the frostys at no charge since we waited for 15 minutes only to be told they don't cook chili on Sinday afternoons. Bery poor management and customer service!!

Kim Dennison
from Evansville, IN
I was just there 10-1-17 at 6:36 pm. Pulled up to drive thru to find all the employees out in the parking lot helping an employee get into her locked car and watching a fire that broke out. They finally came in to take my order to find out they were out of taco salad, fries and sour cream. She took forever to take my payment cause she was talking with one of the girls still trying to get into her car through their headsets and she was at the window texting. She didn't give me a receipt. Then I heard her tell the girl she would be back outside. That whole trip was unprofessional and they were more worried about getting back outside. The car in front of me pulled off. Something needs done with these employees, there is no excuse for this behavior at all.

We were at Wendy the in Indianapolis, IN. 5230 E Thompson Rd. on Oct 1,2017. Place our lives order as waiting we notice on the floor behind the counter food, junk all my over it was filthy. While the workers walked in it. Not busy but still didn't clean up. Our hamburgers were old or recorded, bake potato was cold and started to turn dark. One bite was enough to turn us off. So told the manager, she gave our money back.. I ask her to stand by me and see what a customer can see on the floor a big mess of food. She said she couldn't see it!!
This Wendy's is a disgrace to the founder Dave Thomas and should be shut down immediately!
I will be reporting it to food service in Indianapolis.

Bryan McDougall
from San Antonio, TX
yes I had to put the order in for a small Frosty and ask for chocolate they give it to me it's vanilla and they're going to take it back up they say that they don't have no chocolate my cousin made it separate order and they microwaved everything that tomato lettuce onions microwaved it all very disgusting it is not ran right and I did not see anybody in the back wearing gloves me know and as a cook by law you supposed to wear gloves in the back

Marianne Lynch
from Pflugerville, TX
Cannot Be Rehired at Wendy's in Austin , Texas Anymore I Know a Manager Was On 09 / 26 / 2017 and Now She Cannot Too Bad For I Need a Job . Such a Shame This Company Lost a Good Employee Too . I Was Wrong to Have Issues I Cannot Take Back .

I was at Wendy's on Metropolitan Avenue in Queens in drive through (5:00pm on Thursday, September 21st). The male attendant handed me a fruit punch, and the top of the drink was not on correctly as he was handing me the drink. The drink was all over my pants and top, and inside my beige interior of my truck. He didn't even apologize to me, and was laughing and smirking. I find that very disturbing and lack of professionalism on his part. I called and spoke to the manager, and I even heard her say when this was occurring that he didn't even apologize to the woman. I am so annoyed with the quality of service! Thank you.

Michelle fowler
from Jacksonville, FL
The Wendy's at 3531 U.S. 1 north st Augustine , Fl has very bad service we came through at 150 and didn't get our food till after 200 pm . The girl in the drive thru was very rude kept asking is that all when clearly she could hear two people talking . She forgot one of our frosty's and didn't even apologize he'll she didn't even say anything at all just gave a dirty look and handed me the frosty . She also failed to give a receipt.bad service all together,,,!!!!! She had long blond braids .

Bernie HIggins
from Kokomo, IN
My grandmother (93 y.o) is wanting to give her great grandchildren special prizes for a family Christmas contest this year. She is wanting to obtain $.50 off and possibly a free frosty and then place the coupons in individual frosty cups and give them to the kids. I have visited my local Wendy's (Kokomo, Indiana) to no avail. She is more than willing to pay for the coupons and cups, she doesn't want to leave the younger kids out. I have talked with one general manager who was going to get back with me per e-mail or cell phone and I have not heard from him. I stopped back in a couple weeks later and talked with another manager and he also took my name and cell number and said someone would get back with me. I still have not heard from anyone. If this is going to be too difficult for your company to pull off, she is good with that and will be disappointed but can try another franchise. Thank you for taking the time to read my e-mail.
Sincerely,
Della Mae Jarrett and Bernie Higgins

Ginger Ferrer
from Manchester, NH
Wendy's Restaurant appear to deny access to peoples with disabilities in Manchester and other locations in the state of NH. They claim that the buildings were built before the rights of disabled peoples came into being. So that they do not have to comply. However, if this is so, then why provide parking spaces designated with the handicap logo or provide a badly constructed stall in the bathroom for handicap accessibility?
The Wendy's located on South Willow St., in Manchester, NH one of the inhumane cities anywhere USA, does not provide a handicap entry system into the restaurant. No push button access. Meanwhile, the ladies room bathroom has a handicap access stall, but the door to the bathroom is so heavy and opens in instead of out, so that navigating a wheelchair in this very small space is problematic to say the least. The door to the handicap stall is partially open and has no slide lock to keep it closed so when a person in a wheelchair, walker or cane accesses the bathroom, they have to do battle with the open door while trying to get through the door of the restroom.
It is a contradiction, either no access as is allegedly allowed due to the timeframe the building was built, or provide full functioning humane access to your facility from the outside to the inside as well as to the bathrooms which should have an access button as well.
It boggles the mind to see how callously these concerns are manipulated and denied. And City Hall in Manchester allows it to be so.
Please do the right thing. All of these expenses are tax deductible. If you can take their money as a customer then perhaps you should comply with their constitutional needs of access to Wendy's Restaurant anywhere and everywhere one exists.
Ginger Ferrer, Community Advocate, Manchester, NH.
Think of the value publicity wise, if Wendy's provided full access inside and out to their handicapped citizens and customers to show they are complying with the law and the rights of these citizens.

Sandra Carter
from Cedar Rapids, IA
I am a loyal customer that visit your Wendy's restaurant just about every other day. The time I visit there I always get the chicken nuggets for my 2 year old grandbaby, along with a vanilla frosty that she loves. I go to that particular Wendy's because it is like a mile from my grandbaby's day care. I just want to say I am so disappointed because every time I do go there, their vanilla frosty is broken. It have been down for at least a month or so. I keep asking the people that work there, when will it be up and they always tell me they do not know. I always go through the drive thru window. One other time I did go thru the drive thru there was this young kid that got short with me when I asked him when it will be up. I did not like that. I was going to call and report him to the manager there, but I did not, I just let it go. What I want to know is when the machine will be back up, because my grandbaby loves the vanilla frosty. Thank you

I went to Wendy's on Greenaway Dr. and highway 18 in Jackson Mississippi and I ordered the JBC which was really great at your Ellis Ave location in Jackson Mississippi. My burger bun was wet on one end from them putting a soggy tomato in pieces in it. My burger was no where nearly as great as Ellis Ave prepared my JBC. I'm never eating there again it was about 11:25 PM. The young man who took my order was very pleasant. Please make sure this does not happen to anyone again and I did not receive my receipt either. I also had to ask for my senior discount over two times before I was told I was getting it. I threw the burger away. Hopefully my nuggets are ok my order was luke warm.

Katawna Shurme
from Dallas, TX
Had to wait almost an hour for two four for 4's, a kids meal and two potatoes. Management was rude and unconcerned

charles ramirez
from Denver, CO
location 4851 e. 60th st. commerce city.co. we had two chicken salads. they didn't have the mango chicken salad we normally get,so we got a different salad,the lettuce was old and brown, we found three large pieces of the lettuce core in the salads. paid with a credit card. no receipt was given to us,we thought it was in the bag!! The lettuce was old and should not have been used in anything. We will not be returning to this location or any Wendys!!!!!!

Julia Auzenne
from Waxhaw, NC
This afternoon, approximately 3:30pm on Wednesday 9/20/2017, I placed an order at the 7656 Charlotte Hwy, Fort Mill, SC 29707 drive-through. Please know that my son only likes Wendy's chicken nuggets for lunch everyday and he is almost 17 years old, so I have been to Wendy's at least twice a week for 17 years placing pretty much the same order with the exception we no longer order spicy nuggets. I started by asking for a large number ten combo with a sprite and no sauce. The female employee in a snappy tone asked, "Is that all?". I asked for three orders of the six piece nuggets off the right price right size menu and a large chocolate/vanilla frosty. I also noticed that the combo was a small, so I pointed it out that I wanted a large, to which she responded, "You didn't tell me that!" Now, one snap I can handle but two snaps and now I know your being rude. I get up to the window and she continues with an annoyed attitude, rudeness. She snatches my credit card and basically throws it back at me, and shoves the drink and frosty at me. Now, I'm done, I point out to her that she is being quite rude and she informs me that she didn't hear my order, turns and walks away from the window. The next thing I know, I can hear her loud and clear talking about me to other employees.
I am really not an unreasonable person, I have never had any issues at this Wendy's store and I have been going to this particular store twice a week for three years. After today, I will not be going back to this store again. There is a manager who is a fine gentleman, perhaps he is no longer there and there are several women, all who know my son and I as we order a ridiculous amount of chicken nuggets and were even more obsessed with the spicy chicken nuggets. Its to bad this particular sour puss has caused us to leave, she is an awful representative of the Wendy's Corporation, its associates, owners and executives.

Marketta White
from Cincinnati, OH
I went to the Wendy's located at 1246 Hopple Street, Cincinnati, OH. on 9/19/17 at 9:47 PM. I went to drive thru and ordered a 4 for $4 which was a Jr. Bacon Cheeseburger. There was only 1 car in front of me at the time and no one else behind me. When I pulled up to the first window and there were 3 employees standing there talking. One of the employees took my card while the others just kept her company. One of the employees I'm assuming was on break because she was just propped up on the wall talking. The other employee was also standing around her but on her phone texting. I assume she was on break too. This wasn't professional for the business nor safe for the employee cashier. Having too many people around you while on the register can lead up to money missing from the drawer as well as mishandling of the money to the customers.
As I drove to the next window, there were 2 employees standing around there waiting on the food. After 5 minutes 1 of the employees asked me had I received my drink yet, I responded with a no. She then proceeded to give me my drink. As I was still waiting for the rest of my order, a young African American lady in street clothes walked behind the front counter with an infant in her arms. She didn't seem like a manager because if so she would know that children aren't allowed behind the counter. A male employee walked up to the front to take the order of a customer and apparently she didn't have any money because there was a lot of ruckus going on about it. It wasn't professional how everything was handled. The lady looked like she was homeless and was asking for a small fry so the employee asked her if she had the money and she said no. The young lady with the baby stepped up front and asked what the customer had said. This is when I made the assumption that she was the manager after all because she said she was going to call the police on her. There again this situation was dealt with unprofessionally because she's addressing the customer with an infant in her arms. That put her and the baby in a very dangerous position had the customer decided to harm the manager. After about 5-10 minutes, I was given my food. My fries were barely warm. I returned my fries for a fresher box which it was given to me in no time. After I drove off, I wasn't pleased with the rest of my food. My nuggets were cold and my burger was old. When I pulled the burger out of the wrapper, the top bun was extremely greasy and the wrapper was greasy. I was already away from the establishment so I couldn't take my food back. So I began to eat the burger. The burger was tasteless. Nothing had any flavor, from the burger down to the lettuce and tomatoes. This was one of the worst experiences I ever had with Wendy's. Business at this location runs very slow at night and has a lot of untrained teenagers. When I use to work for McDonald's when I was a teenager, my manager would always say if you have time to lean you have time to clean. There's no reason why the dining room lobby, outside, drive thru and behind the counter isn't clean if there's no customers available. The management team needs to be reevaluated and training better. There's nothing worst to see then a bunch of ghetto acting employees standing around talking about their dates, home, text, etc. I hope this restaurant gets it together.

Richard Thomas
from Boston, MA
I go to the Wallingford, CT location every week. No matter how manNY or how few people are there, they are very slow 100% of the time.
You can expect them to be out of napkins, ketchup, hot sauce, or crackers for the chili every time I go. The place is not kept clean.
Just thought you should know.

Jim Brown
from Easthampton, MA
this place does suck to sat the least-we ordered a chicken salad-the salad was very dirty and the chicken had mold on it-the drink machine didn't work right at all-the area around the grill was disgusting-very dirty and messy-we will NEVER go there again for sure
Jim Brown

Maurice Looney
from Cumming, GA
I was in your Wendy's on Hwy 20 in Cumming, Ga. today for lunch. I could not believe how filthy the place was where the workers were that I could see. The floor looked like it had not been cleaned in a week. There was grease on the floor, French fries on the floor, paper on the floor. The cooking surfaces that I could see were dirty. If I had been a health inspector from the health department, the doors would have been shut right then. The place would have been written up for multiple violations Furthermore, out in the eating area I observed a young lady cleaning the area. She did not wipe the surfaces down with a clean rag and cleaner. All she did was clean off the surface of the tables with her hands and rearrange the chairs. Customers were eating on dirty tables. There was trash on the floor that she did not care to pick up and put in the trash bins. I ate my food there but it will take a complete overhaul of personnel in this restaurant for me to go back. They all had bad attitudes, making fun of drive thru customers. I could go on but won't. Dave Thomas would be rolling over in his grave if he saw what I saw today.

william glover
from Manhattan, KS
when I first ordered gave name started waiting then noticed that they had to many orders lined up and confusion I started seeing everyone behind me were receiving their order except me got back in line finally got back up front and asked for my money back he needed help doing this a young man came up and was going to handle this when the guy who took my order and the line cook got in a shouting match with vulgar language which led to a fight breaking out which shocked everyone sitting eating dinner many senior citizens looked on the fight hit the ground the employees having no adult supervision or training were stunned some scared,we all waited for the police to come.finally got my money back but did not get to eat this happened at the wendys on anderson ave. manhattan,kansas

Donna Beebe
from Florence, KY
My husband and I stopped into our local Wendy's a week ago at 2098 North Bend Road in Hebron, KY 41048 . We both went into the restrooms and then ordered our food. While waiting we noticed all the trash cans were overflowing to the point of not being able to put another item into them. They gave us our order and we turned to fill our drink cups. The drink counter was a mess. It was wet and the cups & lids were still in sleeves and laying in the liquid on the counter. We filled our drinks & proceeded to the table. Our burgers were room temperature and the chili was lukewarm. Neither of us mentioned it. When we left and got into our truck my husband said I didn't want to say anything until after we ate but that restroom was disgusting! Absolutely the filthiest restroom I have ever been in. The handicap toilet was filed to the rim with toilet paper and human feces. Wet & dry toilet paper all over the floor. The Ladies was the same. The doors on the handicap stalls were standing open. I Neither of us wanted to say anything because we didn't want to ruin the other ones meal. My husband says he will never go to another Wendy's as long as he lives.
It is really sad because we both love the chili and burgers. The chili is normally to hot to eat immediately and the burgers are steaming. We are sending this to tell you it would be in your best interest to slip in this location and see for yourselves how filthy it is.
Steve & Donna Beebe.

Debbie
from Jacksonville, FL
#00007162 - Jax, Fl Univ Blvd, = My office has been visiting this location once a week for the past 20 yrs. and have had nothing but perfect service, food, etc. I use to complete the Survey bcuz of the exceptional service. Not anymore I wont! You have gotten rid of the staff that cared, and you have replaced that staff with a bunch of "nobody" cares employees; with the exception of Melissa (Asst Mgr I presume??), and your new Cashier. These 2 women are the thread holding this location together. The new Manager is loud, obnoxious, and screams in front of customers & staff, making everyone feel like exiting the bldg. Seems a much needed FIRING is in order! we will not be back

Tamara Buck
from Modesto, CA
On September 17, a little after 5 pm, on 2920 NE Sandy bld In Portland OR at Wendy's I ordered a simple food: a bowl of chili and a sandwich. I drove up to the window to pick up my order.I was THE ONLY CUSTOMER AT THE TIME. The was no one else in front of me. The person working at the drive through was a younger male. So I waited for my food to be handed to me... And waited..and waited. Instead if giving me my food, this employee started taking and filling orders from customers who came after me, one after another. I am still waiting .. It started to feel wired to me and I asked for my food. The employee completely ignored me. Another female employee came in and I asked her for my food-- and she completely ignored me too. So I waited and waited and then I asked the guy again and was ingnored again and again and again..I couldn't believe what was happening. I started honking my car horn to get his attention! And was ignored again 3 times. As if they were deaf and blind and I was invisible! I have a foreign accent and I am sure I was discriminated against. I felt diminished, totally humiliated and I was appalled. I will be filing a law suit

This is at the Wendy's in Timmins, ON. I checked out the store hours online before I drove over at 9:50 pm. Got to the drive-thru speaker (no one in line), waited about 10 minutes with no answer, drove up to the second window to check the time of the store hours, which had them displayed that they closed at midnight. Drove back to the speaker, waited another 5 minutes, drove to the first window and waited about another 10 minutes before an employee came over and said that they closed at 10:00pm. I asked when did they change the hours and pointed out their sign which said they closed at midnight and they should change it then and the employee just shut the window and walked away. Horrible, horrible service as well as false advertisement.

Dawnessa P Crooms
from Miami, FL
My complaint would be on multiple occasions I've been made to feel like I'm bothering the workers when I come to eat. The truly treat me as I am NOT welcomed there at all!!!!! So very disappointed and will never go back.

Patty Lorusso
from West Chicago, IL
I just went to the Wendy's at 956 n. York rd. Elmhurst Illinois. Store #00000730. I went there for a lousy bacon and cheese and baked potato. Not only did I wait in the drive thru for 15 minutes.... No, I am NOT exaggerating. And then I got a small potato with hardly any cheese sauce. There are WAY TOO MANY CHOICES in that area ..just along York rd. I will think twice before going back. Thank you for your time. If I could my rating would be NO STARS!!!!
Patty Lorusso

Darla Dowd
from Wentzville, MO
treated horrible at wendys at 63385,was talked to at drive thru in a elmo sesame street voice, which they thought was funny , kept having to repeat our order, waited in drive thru for 30 min, got to window and they were still laughing, Order was all wrong, so then had to wait 15 more min, $28 dollars worth of food , no reciepts . Not happy about losing hard earned money on Crappy service and cold food!!!

Rich voeltzel
from Turtle Creek, PA
I was at Wendy's in Penn Hills on Rodi Road I went there on Friday night around 11:30 to drive through there was 6 cars in front of me 11:50 I went up to the speaker with my car and place my order I want a three tuner Chocolate Frosty's they took my order everything was good I got up to the window the manager was on the fry station partner hands in the fire station with no gloves eating fries putting it in her mouth and the cashier told me that he is no Chocolate Frosty's left and I asked her to give me another instead she said they close the machine down at 12 and I told her you don't close until 1 cuz I worked at Wendy's for 25 years and I was a shift supervisor for three years and I always went by the book I will put this on Facebook too because you have a lot of Promise in Penn Hills Wendy's with employees every time I go there I get chilamate oh cold hamburgers I don't know what do you want to do about this have seems like it's not like it used to be when I worked there in the 80s they cared about the employees it's like anything else now their disability

Rita Lenart
from Manitou Beach, MI
I usually don't have a problem, but this time my husband dropped me off at the door, (he was pulling our camper). I had to wait for a very long time with only 2 orders ahead of me. Then had to wait awhile after ordering. My husband finally came in wandering what was taking so long. I will never stop there again.( 1570 N. Mitchell, Cadillac, Mich. at 12:50 pm. #10043, host, Linda

Freida Toner
from Canton, MI
Your employees at the lock haven store are bullies the treat your other employees like trash even the managers are rude and out of line the pick on the weak ones and make them cry you need new management and employees her thanks for you time

Brittany
from Charlotte, NC
I placed a order for the number one small with a tea, received the order to get fries that look as if the were dropped back into the grease to be warmed which in turned made the fries greasy and limp. I drove back to the window and ask for some fresh fries the cashier took the old fries back and give me some hot fresh fries just to get home which is not even 0.8 miles away to a cold rubber burger that wouldn't even melt the two slices of chess that was placed on the cold dry black burger! Highly disappointed nothing unusual for this particular store! Just thought I would give them a shot tonight since I didn't cookout's burgers but this was a major fail. I have to waste another trip to go back to this place to take them the burger back to get a refund. Not to mention no receipt was given and I'm still hungry!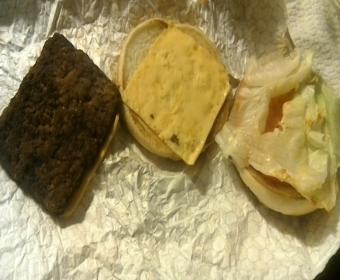 Im at the wendys in endicott.newyork I ask to speak with a maneger about my order from the night before that was wrong. I had callwd it in.. I was told the book was thrown out!!!the cashier n staff all warned me that that the super visor katrina was in a bad mood I hear her yellung at the staff.. 18 min and she still hasn't git bak to me.. I was never spoken to by maneger.. I saw she was busy but she nevwr once said hold a sec she never even acknowledged I was there.. Im stil waiting she waa so rude.. The store num is..2076

Melissa wade
from Oxford, MS
First of all, there's this talk to Wendy's bs. Which is exactly what it is the Wendy's in Wise Va. Doesn't give the receipt so can't use that! Then there is the fact I just paid almost $9.00 for a chicken sandwich combo with backed potato instead of fries asked for butter and sour cream.....which I was charged for but didn't get after paying that price!!! Next of all how old is this potato?!! For real I am a manager in food service and I would not let my employees serve this almost black potato!!! The next time I have a health inspection I will be asking how long Wendy's are to keep these things in warmer and I have taken a photo sitting here in your parking lot with time to show as well!!!

I'm a long time customer. The food, services, cleanliness,price have always been a 6 out of 5. Today, wife and I got taco salads. Nasty! LOTS of lettuce, not much else. Teaspoon each of other things. Little difference between half and full.7 and 5 plus change. Not cheap.Still will eat Dave's place. The chili, burgers, baked potato and other things are top-notch. Never again the taco salad!!!!!!!

Melinda Braun
from Randolph, MA
My local Wendy's is at: 14 Condlin Dr Randolph, MA 02368. The past three times I've been there I've left because of the slow service and lack of attention to customers. The store is clean and nice inside but the service is bad. The first time I rolled up in line at the drive through with 4 people in front of me. A after 20 minutes I still hadn't been able to give my order. Each customer sat for many minutes at a silent speaker. I left, went to McDonalds and was home in shorter time than my wait in line at Wendy's. The second time I went I decided maybe going in would be better. I was second in line and it took 15 minutes for the two groups, a total of 4 people to get their orders ordered. Then the cashier turned away and started creating parts of those orders and never acknowledged my presence. At that time there were 3 more groups behind me. I left. The third time I tried I decided on the drive through. After 15 minutes with 3 cars in front of me we had not moved forward by even one car. I left, again went to the McDonalds and was home fast. Tonight, all I wanted was a frostee. I went to the drive through. The two people in front of me moved through pretty well, less than 10 minutes to do their orders. Then I sat for 10 minutes at a silent speaker not being able to make my order. Nearly 25 minutes for a frostee at 10:30 at night. I really prefer Wendy's for fast food but this store isn't worth the wait. I dont think I'll go back.

Billy Williams
from Santa Clara, CA
I ordered the Giant JBC with no mayonnaise I ended up waiting 10 minutes and my order was not right I was given no tomatoes with mayo on it and bacon crumbs

Aaliyah Harrell
from Fredericksburg, VA
Went into Wendy's in Fredericksburg Va south point location and it was understaffed so badly I waited 30mins for my order and majority of the customers was having to send food back or ask for refunds. I heard the manager call my order out to the cook so I was pleased to know my order would be made with no bacon just as I asked but when I got home I was disappointed when my order contained bacon on all 3 orders. I called back to the store to alert the manager and she invited me back in so that she could remake my orders but I live 2 counties over so when I was back in town I brought my receipt which clearly stated no bacon on all my sandwiches.The manager had the burgers made without bacon but as I explained to her, I am Muslim and once pork has touched, been packaged, or been in the same bag the rest of the meal is considered contaminated and unclean for us to eat and being as I ordered 3 meals on the 4 for $4 the chicken nuggets and fries had to be thrown away.The manager wasnt helpful once I explained my religious dietery needs and this has been bothering me and preventing me from visiting Wendy's

Courtney Johnson
from Four Oaks, NC
My husband went through the drive-thru of our local Wendy's. When he got home we realized my son's chicken nuggets werent in the bag and neither was a receipt. When I called the local store, the employee was very unprofessional and I wasn't even sure who I had called when she answered the phone with an "Hello", after finishing her conversation with someone around her. They did not put a receipt in the bag so I was told they can't do nothing without a receipt, even though they are the ones who didn't give us one. So now my son is eating my chicken sandwich for supper. I am very disappointed and just a little bit pissed off at the poor service and understanding this employee provided. I do not know her name, but it was around 8:30pm on September 4th.

Lynne Belsito
from New Windsor, NY
I went to the drive through at location #4344. My order number is #377076 the date was 8/5/2016 at 7:05 pm, with such a short order I didn't expect to be asked to pull up ( a common practice at this location to keep drive thru times low). I refused to be moved forward without my change or order. I ordered a lg chocolate frosty which was mostly liquid and a waste of money. The single and baconator I ordered were both half cooked and bloody at the center of the meat ( I had to microwave them to fully cook the meat).
The nuggets were only luke warm and a little hard like they were sitting around for a long time. As I received my order after some time I could hear the Assistant Manager (a heavy set white woman with very short hair) state to another employee and I Quote "what's wrong with that bitch, why wouldn't she move up. give her the f**king food and get her out of here. If this is the type of supervisory staff this location hires no wonder the food was so terrible. The cashier was very apologetic to me since he knew I heard every word the Assistant Manager said.
About six hours after consuming said products both my husband and I both had severe stomach and lower intestinal issues In the middle of the night . I am demanding a total refund not only for the $17.03 I paid but also for the missed day of work. Since I work in the food environment I can't go to work this morning with Diarrhea costing me Over $175.00 for a lost days wages. It will be a long time before I go to this location again, And if I see that manager there again I will make it a point to tell others in line about her conduct.

kalee burnett
from Odessa, TX
On may 29, 2016 I was punched in my side by another coworker and I told my manager on duty that night what he did and she didn't say anything to him about it so I text my mom and told her what happened and she told my dad what happened and my dad came up their and talked to my coworker who punched me in my side and the my coworker threatened my dad. My dad didn't threaten hm at all cause I was beside my dad and then my dad called the cops and waited for them to show and the general manager Lupe I am filing assault charges on him and I want Lupe fired and I want brice to talk to bobby about what happened.
I contacted bobby and so did my dad and he hasn't returned any of our calls and I want to talk to brice personally and fill a lawsuit against wendys for firing me for no reason and I didn't do anything wrong. Do not go work at Wendy's on parkway in Odessa next to hooter they treat y like shit and find away to get rid of u or make u quit. I want wendys corporate office to be aware of the situation and handle it properly and if it doesn't I will take legal action.

Bill Horewitch
from Gilbert, AZ
I went to the Wendys in Chandler Az on Chandler Blvd and was totally disgusted and upset and have vowed never to enter a Wendys again and will tell all of my friends also I ordered to go1. the Large Summer Berry salad advertised and asked for extra tomatoes and ranch dressing. When I got it home it had a very small amount of salad 3 yes 3 total berries and the wrong dressing and 2 total tomatoes what a total rip off. 2 ordered a double cheeseburger and when home it was ice cold.
Thats not the worst. When I ordered a blackberry lemonade no ice and it came out with ice I told the counter person who rolled his eyes and said get this "what's so bad about ice" and said I guess when i said i want it no ice and get this he dumped the ice out and said here. He was totally rude and when I said looks like no berries he stated get this Well that's the way it comes and threw it at me. I expect a total refund ( no I did not take the receipt) and other compensation for the trouble and bother.

My girlfriend took a french fry from my sons chicken nugget kids meal to eat and when she bit into it, something hard inside the fry chipped her back tooth. We were driving and when she bit into it, there was a loud pop sound, which startled me. Followed by immediate pain on her tooth. She felt around in her mouth and found the chip immediately.

Latesha Allen
from Roseville, MI
My husband purchased an Apple Pecan Chicken (full) salad, my favorite, last evening for my lunch at your location on 12mi Rd in Warren, MI. I am a midnight shift RN and when I tell you I was so very disappointed, it is an understatement! When I finally got a chance to eat, I found myself picking out the old, brown, wilted lettuce, brown apples and the chicken that had a almost a spoiled taste and half my salad was gone.
I was so very upset. I wanted to inform you of the quality of food being sold at this store. I took photos and I will attach them. Please address this store's service and quality practices because people can get really sick consuming ill-prepared and not so fresh food. I know it is your goal to serve fresh, quality fast food, this store has definitely missed the mark.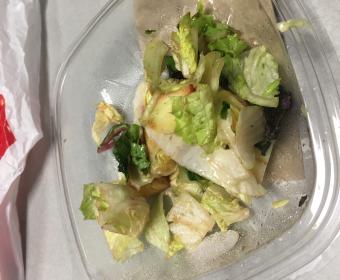 Wendy's on 58 highway Chattanooga Tennessee I went in to eat as soon I walked in the door to give my order 1St the bathroom door was opened with a disgusting smell. Of a bathroom where someone used the rest room The smellwas obvious of a stinch of a smell of a nasty rest room a man in front of me complained to the employee of Wendy' she smiled and just said sir may I take your order he addresssed the smell again he told her no thanks to Wendy's I was next in line I addressed your employeeof the terrible smell told her was ashame to come order for lunch I also told her where her manager was she said the manager was not in but to come back.. I will not return to this Wenfy's until they can do better cleaning or better yet have a new building A Secret Shopper would give this Wendy's a Failing score!

Kelly Thies
from San Antonio, TX
I went into the Wendy's on Guilbeau Rd. last week and bought 2 small frostys for $0.50 each. I asked how long they had the sale on and the guy told me until the end of the month. So this evening I went in and they told me it ended on the 11th. I told the guy that was waiting on me(same guy that told me the end of the month) that isn't what he told me last week and he said that he was told it ran through the end of the month and that they were normal price now. I asked for the manager and he was a real piece of business he told me the same thing and didn't care if I ever came back.
The bad thing about this is, if I were manager I would have told the customer I am sorry about the misunderstanding and honored it then, but knew when I came back in a couple days it would be normal price. I feel that the manager, if you want to label him as so, doesn't back up his employees. This whole thing had nothing to do with price, but a lot to do with principle. If the manager trains his employees like this I can only imagine what will become of the store on Guilbeau will become or if it could do better with better management. I own a business and know how a customer can get a bad taste in their mouth and not come back. I hope someone in Marketing or Administrative reads this.

Lakeisha Ross
from Brookhaven, PA
In the month of may 2016 I went to the Wendy's restaurant in Boardman Ohio I purchased a large container of chili I went to my car to eat the chili I ate 3 spoon full of it. On my 4th spoon of chili when I dipped the spoon in I realized that it was black ink all on my spoon &in my chili and all on my hands. So I took the chili back in the Wendy's & confronted the manager & showed her the chili &she said someone must have dropped the ink marker in the pot of chili that just have been made & she would have to change the whole pot into a new pot.
She act like she didn't have a bit of concern about this ink marker being in the chili didn't say sorry or I apologize for ink being in your chili the same night I got sick. Vomiting nausea diarrhea &chills. The point is the ink in the chili made me sick &nothing was done about it when I approached the manager about it. &now meantime I'm seeking a lawyer to get something done about it. Because Wendy's doesn't give a dam about their customers.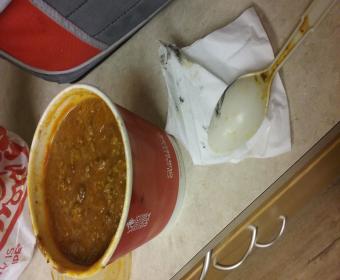 Robert Stinchcomb
from Dublin, OH
My family stopped at the Wendy's off of US71 (Jeffersonville, Ohio). We ordered through the drive thru, received our food/bags, and continued on our trip. My wife ordered the black bean burger. She took a bite and thought she was biting a stem of a cut tomato, which unfortunately turned out to be a plastic piece from a bread bag (image attached). Needless to say, her appetite was over and she threw the burger out.
This could have been a more serious situation than it turned out to be! It will be awfully difficult for us to choose using Wendy's in the future because of this. Having a 2 year old, it was convenient to stop at Wendy's for a meal for him, but we may need to reconsider our options.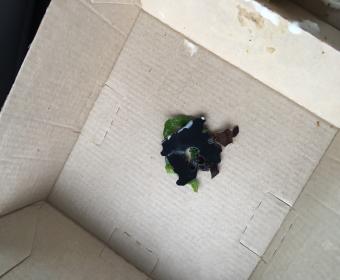 Kenny Howell
from Oak Lawn, IL
I received a screw in my Wendy's junior bacon cheeseburger. The woman who was at work was a manager named Curiston and she then told me no refund. What horrible attitude from a Wendy's employee after a potentially life threatening situation. I will think twice before ordering at this place again!

Mrs. William Griffith
from Lima, OH
This was the condition of the Elida Road , Lima, Ohio location of Wendy's on October 14, 2016 when we entered (see photos below) and it remained the same until we left forty five minutes to an hour later. There were dirty tables and debris on the floor. The carpet was filthy. We could hardly find a clean table. Other customers were noting the same thing. It was not an appetizing atmosphere to say the least. We will not return to this location any time soon. We are regular Wendy's customers wherever we travel because usually they offer a consistent product but service and cleanliness are very important. Dave Thomas would shut this location down if there was not drastic improvement.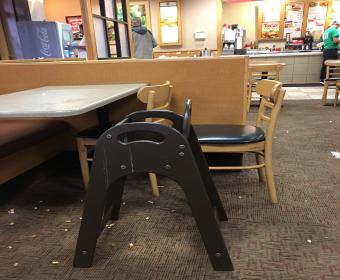 Eric L
from Huntington, NY
As a Company I find my employees go to Wendy's often at 1210 E Jericho Tpke, Huntington, NY. I honestly can say I have had an issue most every time either go in or take out from Wendy's. I am in a financial and Insurance field which can be stressful on a daily basis. The instrumental obligations of my Job are tremendously imposed on how I perform on a daily basis. Seeing the pictures below of my spoiled Lunch after opening and revealing this under the Bun is definitely not a quality of management or high priority for Customers satisfaction IMO.
I have had issues in the past and I believe no company is perfect but with a 95% unsatisfactory rate from almost every time I have been to this location I feel someone best get over there to find out what the heck is going on. Would you eat that Tomato? I have had issues with stale rolls and well done burgers from there as well. I finally took the 10 minutes to speak out and hopefully someone acknowledges this.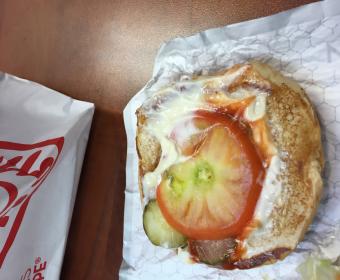 Triana Finn
from Toledo, OH

I went to your store #00001222 in Delaware on Friday night to purchase dinner for my family. When I walked into the store the first thing I noticed was the fact that all the employees, with the exception of the manager, were sitting out in the eating area just talking, laughing, and carrying on. One of them got up and went behind the counter to take my order. After placing my order she handed me a bag and 3 drinks and said I can't give you a carrier because we are out. We then discovered that I didn't have my whole order. She told another person to make my sandwiches, I am guessing that was the person in charge of that particular sandwich, but it was taking forever. I waited and waited and waited. The man who was behind me left the store because no one ever took his order. The girl that waited on me had clocked out and was leaving when the manager came out with a till in her hand and said not to leave because they had to count the till. Anyway, I was waiting and waiting and someone said, "they are making your order" and I waited and waited even longer. Finally the manager says to me, "I am making your sandwiches" and I told her that I understood that.
The point to this is that the employees were not where they were supposed to be, I had to wait an extremely long time for my food so that when I finally got my sandwiches the other stuff was cold. I didn't get a carrier so when I was carrying the stuff to my car my soda was all down the front of my shirt.
I work in customer service and this was truly the most unprofessional experience that I have had. We love Wendy's food and it is a shame that I will probably never go back. At least not to that one. That manager leaves alot to be desired. She maybe needs more training or something.
And because I work in Customer service, I feel as though I should be compensated in some way for this.
This was a terrible experience and I would hope that you will find a way to make it right.

Diana Williams
from Blacksburg, VA
I was at Wend's on 9/7/16 at 4:52 PM, and there was no one in line, I order the 4 for 4 and she ask me if I wanted the Chicken or the Bacon Cheeseburger, and I said bacon Cheeseburger and before I could say anything she said what kind of sauce and what do I want to drink and I said can I have time to talk, and I told her how I wanted my cheeseburger and my drinks, and she said come to the second window and I said you have to give people time to talk, and she did a jerk expression on her face and shrugged her shoulders and once she handed back my card she said next time I will give you more time. I go to Wendy's all the time and never dealt with Tiffany before and with her smartness I would never want to again. Store number #00005371.

Anne Kirkpatrick
from East Syracuse, NY
I ordered the Mediterranean half salad with no chicken and was told the price would be the same regardless of the no chicken. So I paid $4.99 for the attached picture of the salad. I was extremely disappointed with the size of the salad and the price. I have visited other Wendy's location and they do decrease the price when I order no chicken so I don't understand why this location (store #00001214) did not. Also, I ordered a small fry $1.99 and my friend ordered the Baconator fries(cheese & bacon) for $1.99. Why would I be charged the same price for just fries? I am very disappointed with my experience with this location and will not return to Wendy's in the future.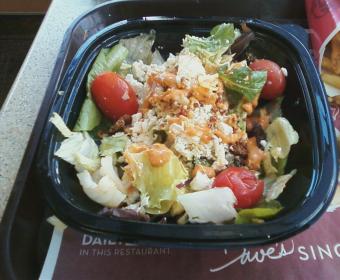 Hello,
We just ordered from drive through and a young man took our order. When we drove away, I notices there was no cheesburger in my son's kids meal. We then turn around to go back and ask for the cheeseburger. We were told to go to the second window and when we pulled up, a young woman with blonde hair that was tied up & bangs parted to one side, very quickly tossed/sorta chucked the bag with the cheeseburger. She then shouts thank you and shuts the window in my husband's face, no apology, just rudeness.
My family and I have been avid Wendys customers for over 12 years and I would have hoped for better service... Especially for something where the error was on their part. I hope to hear back as soon as possible and that proper action is carried out. Whatever was done to correct the matter, I'd like to know why exactly was done. Thank you.
Sincerely,
The Larnards

I came in about 10:30pm and an older lady was helping serve some girl who almost left without her drink. I looked at three different ladies and they pretended not to see me. I stood right in front of the older lady who looked like she was going to take my order and then went and did something else. Instead of saying anything I just turned around and left. Why give business if they don't want it? No one stopped me, they didn't care to work. This location doesn't close till 1 so it wasn't as if I got there as they were closing.

Sue Rosati
from Cincinnati, OH
My husband and I visited your store on Sunday, September 11, 2016 at 7:59:23 pm. We walked in and there was a shop vac in the entryway with the cord stretched to and into the men's room. The vac was on and the noise was loud so no one came to assist us. We said "hello" a few times and finally one of three people who were standing around on the side (we could see them) finally came over. A man took our order, but rang it under a woman's name- Destiney C.
As we were ordering, a girl came out of the men's room with the hose of the shop vac and was cleaning the floor leading up to the front. The man at the register asked her to take over and he disappeared. The girl took our money and then went to get our fries. I stopped her because she had just come from the men's room with a shop vac, handled our money and then without washing her hands she was going to touch our food. There was no one else around to fill our order.
It was a terrible experience, and I don't even know how fresh our meal was. We were so disappointed.

Phil
from Havre de Grace, MD
There was an employee smoking right next to the public entrance door. Every time the door opened smoke rolled inside for the patrons to smell. Then the service was slow and they didnt have the service machine loaded and ready. Terrible experience for my child and me wont go back there. I was there 6/14/16 at 8:04 PM.

Gregory Thompson
from Marion, AR
I went there around about 3:30pm. I was the only customer standing at the counter when i heard one of your employees (male) using a lot of profanity. When the cashier (female) came to take my order i told her that she might want to tell the young man to be aware that there are customers at the counter and that he might want to tone down the language. He took the "I don't care attude" and kept on with the language by saying quote " that he was a grown ass man". When I heard that statement i shook my head in disgust and told the young lady to forget my order and then I left. This experience left very bad taste in my mouth. I have had other not so pleasant experiences at other Wendy's restaurant but I kept going back. This particular experience has lost my business with Wendy's forever.

Michelle Van Pelt
from London, ON
I ordered a baked potato with cheese and bacon, when I got home and began to eat it I found a piece of broccoli. I am not sure broccoli is on your menu and I am concerned it came from an external source (employee's supper). Even if broccoli is somewhere on the menu cross contamination between foods is evident.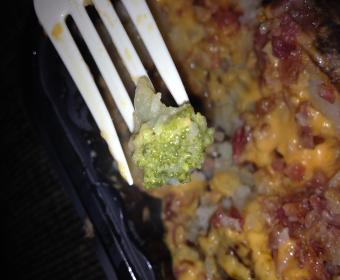 lisa holmes
from Palmdale, CA
My fiance and I went to visited a wendys in lancaster ca on 10/06/15. We placed an order and went to go sit because we was dinning in. About 3 to 5 groups of people came in after we did and order. They all received their food before we did and they was not of color. We waited between 10-15 mins before we had to say something, they never called our number. We asked for our money back and got it, we also got the meal we order. We would of been sitting of not had said anything. We don't appreciate the way we was treated because we are of color, ignored, disrespected and looked over. We never ever want to visit another wendys no matter what state or city it's in. We are and still feel pissed off and disappointed in the behavior of the employee.We are appalled at this situation. We was only treated this way because of color. The manager didn't seen to care to much because she gave us our food and money and went back to work. The employer needs to pay attention and look at who they have hired. We are just so upset at this situation. We are disgusted and lost for words.

This evening I, close to 10 p.m., I went through the drive thru at Wendys on Park St. in West Springfield, MA 01089. I ordered 2-4 piece nuggets, 1 double stack (due to allergy), a small fry with NO SALT, and 4 frostys. Besides having to wait over ten minutes for food, I expected it to be fresh. I was asked to pull up to wait for my food. The initial time I was brought the wrong order, the boy went inside, came back out and asked me again what I was waiting for, I insisted it was a burger with no onions, 2 nuggets and a fry with no salt. 5 more minutes after that another boy brought me my food.
When I went home to eat with my husband, I was given fries with no salt, but they were greasy and soggy, extremely soggy. The double stack beef patties were the color red to the naked eye, and it was loaded with onions. I tried to call this particular restaurant as I refuse to drive back after having wasted gas idling my car for 15 min. No one answered the phone and I am forced to use this as a resource to complain. If this is how the food is going to be every time I go, I will not eat there again. It shouldn't matter what time of day I go there, if you are open to 1 a.m., food at 10 p.m. should be fresh and cooked to it's proper temperature, and food made the way a customer asks, thank you for wasting my time, gas and money.

I would just like to inform you of an illness I had after eating at Wendy's at the Iowa 80 Truckstop on Friday March 21. I stopped and got a single combo hamburger and fries. I thought that the hamburger tasted stale-it was not hot and just tasted old. I also had fries with ketchup and a Diet Coke. Within two hours of eating, I had projectile vomiting and diarrhea, along with profuse sweating and chills. This persisted through the night. The next morning I felt dramatically better. I had felt completely fine before I ate. I just want to make you aware in case others were affected, or this store has had other complaints.

Recently my husband and I were in Langley, BC for several days and stayed at Canada's Best Value Inn on Fraser Highway. Right behind the motel was a Wendy's. The service was so bad that one time I was there by myself I actually left because two of the customers had waited so long for service that they were about to get into a fight! The first time we were there I ordered a pecan apple salad and got no pecans. My husband's fries were actually cold. The second time was when the fight almost happened. At that time another customer had been waiting a very long time because the staff had given him the wrong meal. I have no idea when or if he ever got the correct one.
The third time I ordered another pecan chicken salad and again there were no pecans. All three times I went in there was no staff at the register. Instead you could hear them talking in the back in whatever language it was that they spoke. I can assure you that it will be a very long time – if ever – before I go back to a Wendy's. I'm sure that this is not what Dave Thomas had in mind for his restaurant. It has gone downhill faster than Lindsey Vaughn!

Michael Westenberger
from Burnsville, MN
I had ordered a double stack hamburger with a large fry and a chocolate shake on 7/11/2016, but they had given me a chicken sandwich instead. I am not sure if they confused my order with another, but I was disappointed that by the time I got home I had realized I had paid for something I didn't order. I had just gotten off work so did not want to drive back, but I'm a little upset at Wendy's.

Dayna Molloy
from Oklahoma City, OK
I want to thank Wendy's for being so kind to my daughter today. We went to the Wendy's on 6th street in Stillwater Oklahoma around 11:00 AM today June 10, 2016. My daughter has a peanut allergy and due to a reaction a few months back, she has alot of anxiety. She asked the cashier if there were any nuts in the frosty. The cashier had the manager come out and talk to her. The manager took her over to the allergen chart that they have posted and showed her the Frosty with only allergen as milk. She made my daughter smile. When we got our Frosty's, they gave her one size bigger at no charge. Later the manager came by and asked her if it was good and my daughter had the biggest smile. The manager told her that she is allergic to pine nuts and that she understands nut allergies. I did not get the names of the cashier or the manager but we are so thankful for their kindness : )

Celia Coats
from Smithfield, NC
I go to the Wendy's on hwy. 70 in Clayton, NC about 3 times a week to get an apple chicken salad. I ordered a full size apple pecan chicken salad and told them that last time my salad did not include the blue cheese crumble so I asked them to please make sure it is on there this time and when I got home and took out my salad I noticed it did not have an blue cheese. This was on Thursday March 10th around 7pm.

Cindi gast
from Wellfleet, MA

Brenda Daniels
from Cedar Falls, IA
We stopped at the Wendy's in Hannibal, MO at 8:00 pm last night to grab two salads and 2 large chilis. They took our order and payment and at 8:30 we were still waiting to receive our chili. I approached the young man taking the orders after the first 20 minutes(they were not that busy last night) and said we still had a 3 1/2 hour drive ahead of us and needed to get going. They said sorry, but we ran out of chili and it's just about done. They gave us our salads and wondered if we wanted a substitute. We declined the substitute, but at that time said we would just take a refund and be on our way. They said "It's just done now, they are adding the meat and we'll have it right out to you". Another 10 minutes later I approached a different gentleman up front and was told the same thing only this time it was because there was someone new added to the "it's done" comment.
We then asked again for a refund and a lady walked by and rudely said "WELL IT'S DONE NOW!" but still no chili delivered to us. She then disappeared to the back. My husband then went up and asked to talk to the store manager and it was the rude woman that commented that it was done. She then gave us a refund and we left. If they had explained to us at the beginning that they had run out, we would have gotten the salads and then continued on down the road and stopped in Palmyra to get the chili. The manager was full of excuses that she had been on break, but the service was beyond slow. A gentleman that ordered a chicken sandwich and fries right after we ordered was still waiting on his meal. Another two men finally left after 15 minutes of the wait, not sure if they got any of their order.
We have stopped at this same Wendy's for years on our trips to and from St. Louis. It will be our last for a while.

I visited the Wendy's in Harper Hospital, Detroit, MI (Tuesday, March 5, 2013 at 6pm). I go to this restaurant because I like and it is very convenient because I work in the hospital. Today I visited Wendy's and receieved the worst service. It took me over 40 minutes (my hold lunchtime) get my order. The staff was playing behind the counter; laughing, playing around and using profanity. My cashier was not friendly at all Then I get my order and return to work to see that I have the wrong order, so now I have no lunch. I wish I had taken the moment to get the names of these employees, but I was so angry. I have never experienced anything like today. It was absolutely a terrible experience.

Esther Castro
from Beaumont, TX
I have had many problems with the Wendy's location on twin city highway in groves tx, but I've just had enough. I was rushed with my order and after everything I asked for kept getting a "is that it?". I specifically asked for spicy nuggets and if she would have actually listened instead of rushing me then I would of had spicy nuggets in my bag. When I pulled to the window I asked for sweet and sour sauce, ad of course it was not in m bag. At this moment I am so fed up with this location and their employees I will not visit this location again. Terrible customer service and accuracy.

I didn't receive my order complete. I make my order my window. I order 3 JR bacon 4 pack and another 4 pack of nugget additional JR Ch Deluxe. Missing on my order 1 JR bacon. I notice at my home. I may need to spend gas to drive back to get a hamburger. Next time I will double check order. store 76 at Añasco Puerto Rico.

Sharon Foster
from Charlotte, NC
Employee Tianda took my order for two kids' meals. She told me there were no toys available. I then ordered two small Frostys. While I was waiting for my order, the shift manager called Tianda over and told her to offer me two free Frostys, in place of the no toys. When she brought the rest of my order, I asked her what the lady said. I had heard her, and wanted to know what the employee would say. Taken aback, she relayed what had been told to her, and when I asked why she hadn't said anything: she indicated it was because I had already Bought the Frostys. I asked for a refund for them. She was not happy. Refund was a multi-step process. As I left, I stopped by Tianda at register and told her I didn't appreciate what she'd done, and while I was speaking, she gave me a dirty look and walked away. I expect the worst at Walmart or McDonald's. Wendy's should be a cut above. Dave would not be pleased.

Sheila Reese
from New York, NY
My experience is the workers at the establishment is to slow, I work at the New York Presbyterian Hospital at 165th Street &Broadway in Manhattan, I work the night shift, every time I come there the line is long and the workers are to slow, I can't get my food because I'm on line to long, I have to cancel my order to get to work on time. Thank you!

patt hogan
from Meridian, MS
We had to go to Meridian MS. I have always had good service there, but this time the service really bad. I only ordered a little and had to wait for 15 to 25 minutes. I don't no what to say if other customers were treated this bad. The food was cold and we had to wait so long. Wendy's is going to lose business. The store number #00007923 order number232497 price 764 on my visa. The manager. Bob Dominy, please get them right

Recently went to the Wendy's on rte 352, Middleton twp, Delaware county, pa, and ordered a baked potato,and hot and juicy hamburger. Was told they had no potatoes so substituted a cheese burger. The fact that a basic staple ,like a potato was not available,bothered me. Further when I returned home, both sandwiches where far from "hot and juicy" but cold. Obviously the ingredients had been laying around for a while. I'm not sure what the overall problem is,but if not corrected Wendy's will lose business the the several nearby fast food establishments.As for myself, I will hesitate to revisit Wendy's for a while. Thank you for your time!

Alyssa Murphy
from Clifton, NJ
At Wendy's on Main Avenue in Clifton, NJ they completely got my order wrong. Too crowded and too many people to keep track of. Very dissapointed.

Iv been working a Wendy's for a little over 3 months and sence then iv put up with working 10 pluss hour straight with no break iv opened a bank account jst so I can have direct deposit so my bills could be paid on time and it's been almost 2 months sence then and my direct still hasn't gone threw and on top of that I asked them to tweak my schedule because I'm going back to school and they took me off the schedule every day but the one I asked for which to me seems a little unfair and some what retaliatory.
But if it is I don't know why cause iv never missed a day I'm always on time and I always come in when Im called but any way thanks for Lisening if any one is. I WENT TO THE WENDY'S LOCATED IN plaza in troy ny. I went there for lunch and the manager was rude , slaming my food on the tray and nasty. first i asked for the manager and to my surprise it was the person who was waiting on me. She needs to go back to management school or maybe not be working with the public at all. to have a manager slamming food telling customers to wait and then act like she was doing us a favor by taking our orders.
POOR POOR DISPLAY FOR A MANAGER TO SHOW HER EMPLOYEES LET ALONE THE CUSTOMER. I WILL NOT BE GOING BACK TO THAT WENDY'S. VERY DISSATISFIED CUSTOMER.

Young people loitering in front of the Order line. There was no line at all but for those people standing there making it uneasy for customers. These batch of friends had more friends come and go in and out of the service area coming from outside. No uniform changing, no hand washing, phone calls made in srevice and food prep area, unkempt people loitering.. They come and go as they please. It was disgusting I started filming it on my phone. They would go out into their cars and dig around into their dirty cars/vans and just come back in and go straight into the food prep/service area and just walk around touching surfaces.
I wanted to puke after noticing this as I have finished off food I bought. The building looked so dingy. No wonder it does not look like a success story, this particular store.

On my way home from work (hospital evening shift) I was hungry and stopped at the local Wendy's in Port Orange, Florida. Ordered fries (ad said 'Natural' whatever that means) chicken nuggets and a small frostee. The nuggets were cold and had a BAAAD taste. The fries were worse..limp cold. I wanted to write to the corporate offices as this has happened before. I will NEVER go to this Wendy's store again.

My Mother In Law received several $20 bills in change from this Wendy's ALLLL of which were counterfeit. When she called the store to complain, they told her to just bring the money back in and they would exchange them. She took the money back the next day and they simply gave her more money no questions asked!!! Weird huh, I mean who just takes someone's word that they received counterfeit money from their store and you replace it with NO QUESTION ASKED and NO INVESTIGATION!!! Needless to say if you go to this Wendy's I would suggest you NOT use cash!!! I will NEVER go back to Wendy's AGAIN as when I filed a complaint with Wendy's no one even bothered to call me back!!! So much for Customer Service or Satisfaction!!!

Cathy L Alfano
from Virginia Beach, VA
Went to store #0001018 Virginia Beach Va. ordered $22.84 in food. ordered a chili cheese potato as part of order and kids meal. after some time my name was called by manager and bags were on counter. I checked and noticed the potato was missing and inquired. manager said yes it was not ready. so why call my name. so waited 12 more minutes and complained. cashier said the potato would be 15 minutes. I told her forget it that was ridiculous. Manager said it would be ready in 2 minutes. total cooking time was 15 minutes but that info was not offered at time of sale. waited for potato and finally left. got home and kids meal was not in the bag. I was furious. called them twice and left a message once to call me. no one called. phone # 757-498-4804,. will never go back!!! and i want refund of my money for the kids meal. $2.99 plus tax. paid with visa card. my phone # is 757-439-9981

David koon
from Charlotte, NC
I went to Wendy's in lumberton nc on Fayetteville rd drive thru the cashier had a beard was hanging out the window carring on a conversation for 10 min or more they were slow poor service i didnt even want to eat my food something has to be done about this i dont usually complain but this was bullshit thank you

Wendy's was in too much of a hurry. I was so hungry and ordered a salad, but they did not include dressing so I could not eat it. I went through the drive up so I was long gone before I noticed it. Made me frustrated and waste of money.
Have feedback for Wendy's?
Thanks for your feedback!
Sorry. Please try again later!