Wendy's
Contact Wendy's Corporate
Toll free phone number: 614-764-3100
---
Need to contact the Wendy's complaint department? You can call customer service at 1-888-624-8140, this seems to be the best number to contact. An alternative complaint line is by calling 614-764-3100 or by fax at the number 615-764-3489. We could not find a company email address for Wendy's, their feedback form is linked below.
There have been more than 230 customer complaints registered about Wendy's corporate so far. Unfortunately the founder of Wendy's Dave Thomas, would probably not be happy to read what customers are saying about his chain today. He founded the first restaurant in 1969 in Columbus, Ohio. Today, the corporate headquartes is located in Dublin, Ohio. If you would like to mail a letter, the address is One Dave Thomas Blvd., Dublin, Ohio, 43017.
You can also use our free online feedback form to add a review about your local Wendy's restaurant. Or you can use the official "Talk to Wendy's" feedback form on their website to take a survey about your experience at your local restaurant. The company is also quite active on social media. So, if you do not get a response by phone or email you can connect with them on Twitter or on their Facebook fan page.
Wendy's Contact Information
Report complaints to corporate and get satisfaction
Wendy's headquarters address

One Dave Thomas Blvd.
Dublin
OH 43017
United States

Company website

1-800 phone number

614-764-3100

Better Business Bureau rating

A-

Customer service hours

9am-5pm CST
Browse reviews of other Fast Food
Top Wendy's Complaints
Browse more than 785 reviews submitted so far

Christine Hackimer
from Dublin, OH
I went to the eendys on cottman and bustleton and got 10 burgers i got home my husband took a bite of his and there was a piece of plastic in it and i called that location and the manager said to what is he is supposed to do ugh im done with that location

Eric Johnson
from Broomfield, CO
We ate at a wendys restaurant today ( not the first time) The restaurant had been open for an hour I ordered a combo I wanted to get a bake potato
instead of the French fries. On several occasions we have been told that the Bake Potato were not ready so I Took the fries.
The fries were not very hot. What I don't understand the restaurant opens at 10: 00 am we usually have lunch at 11:00am I would think they would have baked potatoes ready. Like I said this is not the time this happen. Eric Johnson

Lucy Galli
from New Kensington, PA
I stopped at Wendy's in New Kensington/Lower Burrell PA 15068 at midnight on 1/5/19. I ordered chicken tenders. I realize that it was late at night but nonetheless your product should be edible whenever your restaurant is open for business. The choice of sauces were not offered to me-I had to ask what my choices were. Then the food was cold and hard. And guess what?? NO SAUCE! I am expected to do my job up until the end of my day. Your restaurant should do the same. Just awful food and a waste of almost 10.00.

Jim Gobler
from Eau Claire, WI
Your Eau Claire, Wisconsin store should be closed. YUCK!!! Not deserving of a star.
You can contact me if you want to talk about it.
I'm done with it and I'm never going back.
Jim 715 214 3855

Wendy L powers
from Detroit, MI
Bought a choc frosty today they actually gave me a vanilla one only half full. Service was very poor, drive thrust girl rude. Very displeased will not go back 4086 fort St linkin. Park mi.

Adriana Santana
from Miami, FL
First it took forever in line, they didn't have a full portion of the apple pecan chicken salad so I opted for a small and a small southwestern chicken. When I got home there was no chicken in either salad. It was late and I just didn't have the time to go back. Service was terrible. Wendy's in Miami on Flagler and 97th.

Tracy Murpht
from Kansas City, KS
Last night, I went through the drive thru to get a burger and a small diet soda. I pulled up the window and was handed a bag with a sandwich and fries no drink. I told the young lady that it was the wrong order. She gave me a look like I was an idiot. I then got the right sandwich and my soda. The cup was filled pretty much to the top with ice. Definitely did not get my money's worth on that trip. I will not be heading back to a Wendy's anytime in the near future.

Marge Kochevar
from Pueblo, CO
At approximately 5Pm on 1/4/2019 we went through the drive-thru at the Wendys on North Elizabeth in Pueblo, CO ordering a #1 and a #4. When we got home and I bit into the #1, the meat was RAW. I mean RAW, not pink. I needed to cook the meat before I could eat it. I really had a hard time then to even eat the sandwich. My husband's #4 was cold and had to be reheated.

Melinda Santana
from Staten Island, NY
Today at 9:12pm I went with my family to Wendy's on forest ave Staten Island ny
The first thing is the drive thru was empty I had a van full of my kids and there friends spent 40.37 on our dinner and everything was cold and burnt burgers I am a paying customer how in the world can I get cool French fries not hot. The drinks were flat coca colas I always visited this location I will never return again I wasted money and not satisfied.. on top of it the guy in the first window said no receipt paper..

Susan Murphy
from Estero, FL
On 12/30/2018 my husband and I went to Wendy's for a bite to eat. This Wendys is located at 8661 Commons Way, Estero, Florida...#00008565. This was the filthiest Wendys we've ever been in. Your feet literally stuck to the floor and we could not find ONE clean table in the place. We had to ask someone to clean off a table so we could sit down. And that's exactly what they did......cleaned off one table and went back to doing nothing behind the counter. Unbelievable. We will never again go inside or order at the drive through. I can only imagine how filthy the kitchen area must be. The board of health should be notified.....in fact I think I'll do that now.
Thank you.
Susan Murphy

Sharon Renee Smith
from Atlanta, GA
Very rule and I will not return the one in HOMEWOOD AND I WANT MY MONEY BACK

Nykki Dunson
from Columbus, OH
I want to complain about the WORST experience I have had at a Wendy's. I wish i could give a number of the restaurant and ticket number but I was not given a receipt or even asked if I wanted one. I was at the Lazelle Wendy's on High Street between 9- 9:30pm. I went to the drive thru and the young man talking to me at the speaker was rude. I was giving my order and he said, " Is that all" with attitude when I was waiting because the screen was wrong. Them when I repeated my order he said, "I know... is that all?" Very rude. As I pulled around to the drive thru the lady in front of me was trying to get their attention through the window and she had to flag them down to get her change and her food. When I pulled up there were 3 young guys laughing and goofing off. He barely told me my total and then took my card. The whole transaction was done with his back to me and then he shoved my food out the window and closed the window and turned around. He and the other employees were just laughing and goofing around. He didn't ask if I wanted or needed a receipt. If there was a manager in there then he should be ashamed of himself. It looked like a teenage party and they seemed annoyed that they had to stop talking and serve me. The food was ok. My baconater fries were a little greasy and messy and under salted but I was most upset with how they were acting. I have 2 teenagers myself and I don't mind some humor but this was just rude, ridiculous and whoever owns that Wendy's was wasting their money by paying those employees on this night. Very upset and not wanting to return to that Wendy's ever again.

Wayne Smith wbsmith@smithandcocpas.com
from Cleveland, OH
SLOW service. Total lack of customer service. Staff goofing around and laughing.
Visited Wendy's in Saginaw Township, MI at State and Hemmeter.
My last visit to a Wendy's.
1/3/19 at 6:30pm

Terry koenig
from North Versailles, PA
First of all let me say, that I do like Wendy's burgers and taco salads. I'm afraid I have a major complaint. I went to the North Versailles pa. Store and they were very busy. I waited in line at the drive thru for at least 20 minutes, got my order and started on my way. I go to the drive thru because I have multiple sclerosis and it's simetimes hard to walk in. I have issues with items not being in my order for quite sometime,so I decided to look in the bags. I did not receive the jr. bacon cheeseburger I ordered. I had to go into the store since the line was still so long. There was one gentleman in front of me,he placed his order and moved aside. I waited for the cashier to wait on me, she was bagging some orders and ignored me. Now the line in the store was 5 people deep. I get my sandwich and head on my way. I drove 5 mile to Wendy's , to find that when I get home the fries aren't there and the side salad I ordered looked like it was 4 days old. I threw it in the garbage. So, there was dinner. I have to tell you this is a recurring mistake at this Wendy's. I am less than 1 mile away from Burger King, but I I choose to go to Wendy's. I don't know if that's gonna happen anymore. I have gone back from them correct a problem at 5 times in the last 4 months. I'm ready to give up. I feel you should issue me a gift card for problems. I'm very frustrated and I hate wasting money and time. I honestly don't know what happened to that store, it used to be one that didn't make many mistakes. I don't know if you're management staff needs retrained or what. By the way, another lady was there with the same issue as myself,but she drove the whole way home and had to come back. This is not acceptable. There's just too many other restaurants that I could choose from.
Thank you for your time.

Wendy's openedva bew Oberlin Ohio location. I went on the first day, waited in line 30 minutes and expected. When I got home my order wasn't even half right. I was missing a large fry and a baconator. The chicken sandwich had no lettuce and the bun was hard.
I was not fighting that crowd over this.
The next day my son went on his lunch, he ordered bacon cheese fries, yet no bacon was on it. His large fry was a small fry. He waited in line about twenty minutes p, and completely expected.
Then two nights ago my husband and I went, I ordered four cheeseburgers, a large fry, spicy chicken and value chicken. The lines were much shorter after opening weekend. Not one burger had cheese. Yet I paid for cheeseburgers. My husband went inside and was informed they were out of cheese..yet took orders and charged for something they didn't even have. Not to mention when I paid, it was more like a high school party happening inside. My change included a roll of pennies for my change.
I decided to order a pop when I went to the window to pay, no large cups, understandable considering how busy they had been. Insaud medium was fine, I tried to pay the change with the rolled pennies but was looked st like I was the crazy one, yet that was my change at window one, the manager then yelled just give them the pop, give them the pop!
When we noticed the cheeseburgers had no cheese, my husband brought them in and the same manager was quite rude. I doe ting the sandwiches while knowing she had no cheese in the first place. I love Wendy's, but the experience we've had at your newest location has been awful.
I still can't get over selling and charging fir cheeseburgers when you know you are out of cheese and then inspect the burgers looking for cheese you never out on.
I am definitely a very unhappy customer and would like to speak to someone.
Thank you,
Vanessa
Sassyness819@yahoo.com

Johnny McDaniel
from Walden, NY
Went to the wendys in Vails gate ny around 6:30 last night. I drove past the building the first time due to the fact their light/sign wasn't illuminated. Once I got into the drive thru the menu wasn't lite either. I ordered and pulled forward to the window, while waiting on my order I watched an employee refilling the cup top dispenser drop several lids on the ground and pick them up and stock them right into the dispenser. I told the employee at the window what I saw but she didn't address the problem. Once I checked my order I discovered I was missing one of my three items. I frequent wendys quite often but this store's approach to cleanliness is disconcerting, please fix them!

Rhonda Lowman
from Bedminster, NJ
I have attempted to visit the Wendy's location on Hwy 30 near Tanger mall 3 times in the past two weeks and every time I have visited they have been out of sweet tea. This is very disappointing. Today was a horrible experience. I was left holding at the speaker in the pouring rain with no cover for about 3 minutes before someone came to rake my order when they then informed me that they were out of seeet tea again. I canceled my order and went elsewhere. This location is horrible.

Matthew Dykie
from Ivyland, PA
I complained twice with no reply. I got a double with cheese at Pottstown Pa on high street drive thru. The burgers were burnt black and crunchy. I
would say worst burger ever. Wendy's was good when it first moved to this area. It has declined over the years. I'm probably done with wendy's

Misty vandenburgh
from Los Angeles, CA
Wendy's on N Pima Rd is by far one of the worst Wendy's I've ever been to. First we arrive and there are two employees standing by the front door smoking. As someone who's allergic this is an issue. Next we get to the front and the older Hispanic lady was rude couldn't even say hello. We ordered a jr cheeseburger deluxe and a Dave's double. The meat was cold, the cheese was cold, unmelted. The bread was stale. I couldn't even eat by burger it was so bad. By far the worst Wendy's I've been too. This store needs training on customer Service and quality control.

Daejah Vazquez
from Bedminster, NJ
Sat in the drive thru from 11:45 up till 12:56 and niena (store manager) with an attitude said we're closed told them we sat back at the speaker for 10 mins waiting to order so pulled up cause she was talking to another customer took her order and everything then we pull up to the window after this car pulls off she gives us a rude look and we State hey we sat back there in line since 15 till midnight and she said well we turned everything off my husband says we've been here since 15 till she says welp what you want to order then. You can only get burgers. As it's still mins before midnight. With a complete attitude, for no reason. We asked for her name and she even then gives us an attitude then shuts the door on us.

Renate Marcoux
from Burlington, VT
Had lunch today at the number # 8354 afore mentioned location, it was not busy, there were very few patrons in the restaurant . The young man who toke our order was very accommodating and polite .While my husband waited for the order, I was walking around endlessly from table to table searching for a clean table but there were none, with one exception with high chairs by the side of the drive up windows. I saw a woman approaching the building spitting and tossing her cigarette, stepping on it just before entering. the establishment. That just ruined my appetite. After we ate , I made use of the Ladies room, and to my disgust there was no toilet paper, fecal matter on the wall, dirt and dirty paper matter accumulated at the back of the toilet, and no soap or paper towels available. At this point I thought someone needs to be held responsible and know about such neglect and conditions..I conveyed my disgust to the young man behind the counter, when I realized and saw the same woman spitting and loitering , that she was an employee who could have been cleaning tables as it was not busy at all , instead she was texting and working her I phone. I think inspectors would equally be disgusted, even close the restaurant down until it meets higher sanitation standards. Management needs to step up and be held responsible, that the place is clean , acceptable and presentable. It will be a long time before I set foot in at this location..

Debbie Yates
from Bedminster (Pluckemin), NJ
I went through the drive thru and ordered a grilled asiago chicken sandwich and a medium fry, they had me pull forward, I waited and watched, there were others that ordered and told to pull forward, after 30 minutes and 2 of the others going inside to inquire about their order I moved my car and went inside and after another 15 minutes and still no food I asked for my money back and the manger told me that would be best I have never had such horrible service, I will NEVER return to Wendy's and the restaurant located on Nichol Ave in Anderson Indiana is the worst!

The general manager an the manager in ladies restroom together. An I did a complaint an they did nothing. It's the Wendy's by the mall in Alexandria. An the general manager name is Kristy she's white. An the manager name was jadlen he was a black young man. An I was the one who saw them. An we had people in the dining room. I think that this is unprofessional.

Gary Pickard
from Toledo (Southwyck), OH
Very Slow drive thru, took 20 minutes to get thru, got home and had the wrong order, called the manager and she was very rude and her excuse was they are busy. Slow service is a constant at this particular restaurant. I have left the line on many occasions in the past and have seen many other customers do the same. This happened at approximately 5:45, 12-22-18 and it was the Wendy's at 6525 Airport Highway, Holland, OH 43528. This Wendy's has been poorly managed for quit some time. Somebody should really take a serious look at this establishment.
Thank you
Gary Pickard
(419) 380-0089

Heather Bays
from Akron, OH
Mean rude people refused my reject because they charged me for a large on chili's and gave us a small. I call she said she put in bag. No I had to go back and she was the most rude mean thing ever I have NEVER felt descriminated in my life I was today!!! I will never ever go to that crappy location again. My child and husband walked in to get that receipt and they were mean!!!!! Threw the receipt in his hand. They hung up in my face 4 times.... I want this store reported!!!! Worse experience at a fast food restaurant and I am a bartender. 42 years old and I know customer care and that's NOt it!!!! There's way more!!! By the time we got our small chili's and my hard potatoes I told them plain burger with cheese for my kid but no they put crap on it and we have up bc they didn't care. We went to McDonald's. I swear something needs to be done I am furious!!!!!!

Elizabeth Kelly
from Conway, SC
My Husband stopped on our way home to night after my pressure to get salty fries. And he did not want to stop but under pressure from me he did.. When we got home we had a a bag with large fries with tones of salt and. Packets of salt inside.. And the next bag had fries with salt and they were ok. We live in a area that is growing fast and Big. I always stopped with my son after school to get food at Wendy's before tutoring. We fell in love with your salty fries !! What is going on ? I saved the bag my husband and my self received tonight I would love to show what we received I need your help. What are they thinking to server the people in this area or others this poor quality food. Please respond. As. Soon as possible . I don't want to put this on FB in my area I want you to have a chance to fix this problem . Thank you in advance for your help!

Summer Hoffpauir Prejean
from New Iberia, LA
The Wendy's in Crowley Louisiana is horrible! I knew that, but it has been a while since we been there. Tonight we decided to try it again and nope! The employees are still rude and the food is still old and nasty! My daughter just threw her food away. What a waste of money. Please address that store. I used to love Wendy's, but they have ruined that..yuck!

Matt Fisher
from Findlay, OH
We were in the drive thru in Findlay Ohio Trenton Ave Store and were not impressed how our order was processed and the food was absolutely disgusting. Our hamburgers were not warm, the french fries were not worthy of eating. The oil they were fried in tasted old. From the time we placed our order and till we left took 10 to 15 minutes. Our total we spent was $21 which included a chicken caesar salad. The chicken was not cut very well and the cherry tomatoes were not fresh.

Shari Stephens
from Bedminster, NJ
A crispy chicken BLT had shredded cheese instead of a sliced cheese

Galen Milam
from Akron, OH
12-19-18. 9:55 pm. Store location #3294. No one else in dining room to be served five people behind counter and I've now been waiting over 17 minutes on my food. Drive thru getting great service but I dont matter.
McDonald's from here on out.
Piss poor service

ROBERT ROVE
from Toledo (Southwyck), OH
Ordered a double and got a single
ordered 3 fries got 2
never got any dipping sauce with chicken nugget order

james floyd
from Everett, WA
Order from DoorDash and constantly the food is done wrong. Last 3 times it was right 2 times, so I know they see it. Again today, they made it wrong. I get number 2 or 3. Flat out ask.. plain, just meat and cheese. Side ketchup packets. Thank you
That is how it reads. So, if right before, it shows me they do it on purpose. This isn't the only time. I probably have had it done wrong 8 times. So, I stopped going to Wendy's. Been going to Wendy's for over 20 years. I decided to give another chance, and that was the last 3 orders. 2 times right, today NOPE. Called the restaurant was tired of this. Spoke to a female. Asked to talk to the owner, he was not in. Asked a number I can call. Said she won't give out personal number, asked for an email, she said she won't give out personal email. (any reason he doesn't have a business email??????????) Then asked her name and she hung up. I'm seeing why a lot of stores have a 2.5/5 rating. This store is no exception, see it on YELP.com now. I'm also going to put in my experience with a 1 out of 5, and giving 1 because I can't put zero. Others need to know your employees like to do what they want with no ramifications. I have allergies, some their allergies are so bad they can have anaphylactic shock. Since this store doesn't seem to care, I'll let you know from being in the medical profession. It's an allergy so bad it closes up your throat. Yes, it kills people and is a medical emergency. Something or someone needs to actually do something. If it was me, I'd close the restaurant until it got it's act together. I don't know why you would give a franchise to someone getting a 2.5 out of 5 review. That is your name on the building and most don't know about franchise ownership, the associate it with Wendy's corporate.

Samantha agner
from Clarksville, TN
I went into Wendy's restaurant #00005612 ,12/19/18 to order some food to go for me and my coworkers. I was the very first person there at 10 o'clock. I ordered my two sandwiches for the first order because, i had two separate ones. Me and my coworkers were under the impression that that store sold breakfast, so i had and orange juice i wanted to order , as well as breakfast potatoes om the next order. The cashier, her name was Marietta instead of telling me it wasn't a breakfast store at first , instead told me to go to Walmart to get my orange juice because they didn't have it. So i was appalled and continued onto my next order , another sandwich and my potatoes, where she then got an attitude because i didn't understand it wasn't a breakfast store and told me they don't serve breakfast.I continued to tell her well we looked online and had seen that they did so that's why we assumed, and her response was that maybe the store across town by the movie theater did. I understand stand its not a breakfast store now but the lady was very rude! I happen to work customer service and was very upset with how she treated me because not once have i acted the way she did with me to a customer.

jeff homfelt
from Winter Haven, FL
visited the local wendy's in winter haven florida on state road 17....was amazed when i tried the chile they served.....completely watered down with very little meat....was a tomato soup at best....if this is a reflection of cost cutting or "watering down" your recipe and indicative of all your outlets, your company is in big trouble, as the quality of that chili
is so completely and obviously been doctored i cant imagine any of your regular customers not noticing.
i am one voice....Im sure of many on this matter.
A well run company would handle this matter quickly!
jeff homfelt

Kenya Sims
from Atlanta, GA
Me and My daughter worked for Wendy's Paul Huff Cleveland Tn. While working there an emergency occurred where i had to go back to Ga. November 17, 2018 Manager Jay Jay said that she would mail our checks off the following Tuesday the 20th. We waited until the 28th nothing came in the mail. So I called Stephanie whom said that they were never mailed out. So she said she would mail them out that day. We checked the mail December the 16th still no checks in the mail. So I complained to corporate they told me the were going to check on it. I said it should not take a month and a half to receive checks something not right. When she checked she said it had not been cashed. My thing is why should a 16 year old or adult have to pay for something someone did on purpose. Something is not right . So really any Manager if they want can throw your checks in the river then make it where you purposely have to pay $45 to stop the check they purposely lost to get resent out.That does not make sense. Then we homeless on top of it. Oh a person can think they can do people any kind of way. The Heavens always watching. It will come back on the ones taking from children also people harming children also people. Sincerely Kenya Sims.

Nancy Nunnally
from Marshfield, WI
Ordered the baconator combos today and they were so bad we couldn't eat them. Same with the fries. They had to have been leftovers from lunch. Very disappointed. It was 5:00 and they were definitely not fresh. This was our newly reopened store in Monroe and we were looking forward to it but it's worse than ever!

Nicki Massingill
from Washington D.C., DC
Went to the place in carrboro nc. Bought a meal 6.76 gave the girl 10.01. Received back 3.48 in change. Handed back the change to the girl told her she needed to learn to count. She told me I didn't need to be rude. I would have stated that same comment to my daughters. I left as I hear her discussion with someone inside. I will not return.

Ralph Shumaker
from Mansfield, OH
We had two orders of French Fries ice cold did not eat then. Told then and we did not get anything done about it. The staff was only young kids that could care less and did nothing. Put then in the trash and walk out. Will not be going back any time soon. We now know why we were the only ones in there. Thank You Ralph Shumaker

Zandra Bustamante
from Siloam Springs, AR
I would NEVER go back to any Wendy's!!! Ordered a kids meal got it in my package with my other food. No toy then handed a toy and they forgot to give me my $2 key chain. Mind you that was drive thru and no receipt, walked in asked for a management asked for a full refund and she made me wait her name was Tia she sent someone else to ask me for my creditcard. Came back said it was done I asked for a receipt she said she needed to keep it. I told her I need a copy. She came back thru it on the counter and walked away!! Very Good service Wendy's!! Went to Taco Bell Awesome Service!!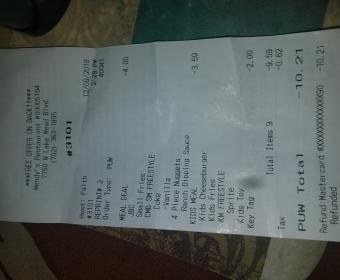 Charles Kaszycki
from San Mateo (Central San Mateo), CA
Love your chicken sandwiches but what is up with the French fries? They are always overcooked pieces of what looks like leftover cuttings & are usually inedible by the time I get to the end of the sandwich. I have eaten at your establishments for a long time & haven't had this problem in the past. Kinda wish you had a fish sandwich too. Thank You

Bruce Koski
from Germantown, TN
Saturday 24 November 2018 Cordova TN 528pm store 00004891
customer # 1081
arrived at store- employee Nicholas was our problem--- very short curt poor customer service no greeting---asked for dbl c/burger combo and chili
NO CHILI I drove to Wendy's for this---oh well wife asked for 1/2 size harvest salad-- I don't think we have a half size---Go Look Returned ok one left paid14.84 waited for meals--- went for drinks---drink machine out of all selections I wanted---went to counter apprised Nicholas=== asked him if he was having a bad day as poor service YES I AM I then told him about drinks---I AM VERY BUSy HAVE NOT GOTTEN TO THE MACHINE filled my Dr Pepper at counter---- gave us our meals-- fries cold---Nicholas grabbed them and said I would have to wait ---I asked for Manager--short black man came to counter what is wrong explained the matter No response of sorry or anything else he said fries will be out in less than a minute== got our food and went to table wife found her salad with no walnuts--- and lettuce wilted... bit into burger my lettuce was wilted and soggy--yuck...come on wendy.s Freddy.s is next door maybe we should look past you next time--
POOR CUSTOMER SERVICE ALL AROUND---FROM NICHOLAS TO MANAGER ps MAYBE RETRAIN MANAGER
I have not even mentioned the cleanliness counter dirty-stained soda machine area filthy overall a 1 for being open zero for overall remaining categories
Thanks Bruce Koski 901-443-5734

My daughter works at Wendy's in orem utah. She was very sick this week with a stomach bug the manager would not let her call in and told her she had to find someone to cover for her which she was unable to do. She made her come in sick, she was throwing up while working! Also the week before a another girl called in sick and the same manager did not make her find someone to cover for her and let her stay home this does feel like playing favorites. I don't think people handling food should do so when they are sick that is gross and can make other people sick. I no longer want to eat at Wendy's if this is what is ok. My daughter should be able to feel safe in her work environment and not feel like she will be fired because she got sick. I also feel like telling other people Wendy's let's sick people handle their food. I hope this is something you can work with managers about.

Kathie R Tucker
from Detroit, MI
GM at Wendys never has time to interview or do orientation. Continue to put the school young adults on hold never with intent to hire. Acts like he is high or on some type of medication. My grandson has been put on hold. Have been calling for three weeks just to be told " Its too busy to do orientation or he is on his way home". After asking him to come in. Just to dismiss him. Not professional at all. For three weeks after starting orientation, which stopped because it was time to close. Never completed orientation, but never finished. Very unprofessional.Please contact me at 517-977-6168

Rachel Burns
from Plainfield, IN
I went to the Wendy's on November 15, 2018 which I been to this restaurant at least twice to get salads and they where out of lettuce and today they where out of chili at 5:30 in the evening so couldn't get my Taco Salads. The Manager was rude and ask if we wanted to cancel are order. Then he asked if we wanted are money back. He really didn't want to give are money back. Please check into this restaurant , it is Plainfield on Us 40 and Main St .
ThankYou,
Rachel Burns

Christian Collins
from Perry, FL
Its late night in Madison Ms and I just pulled a dould at work. Too tired to go home to have to cook. So pulling up what's open after 10p.m. in the area on my phone I see 3 choses. Wendys being what I thought would be the best out of those choses. Boy was I wrong, I got to the speaker box and the young lady comes across and asked for my order. Politely as usual for me I tell her what I want. She replies with ,"all we have is chicken". I'm thinking that sounds like fate why not Wendys chicken anything is always great. So I order again with what I was told was available. She returns with "sorry sir but we're out of that too". So no bacon no beef just anything they can through in the fryer. 30 minutes before closing they shut down the grill and proper customer service. I will be taking it to the manager because that night crew is just collecting a check.

Cynthia Smith
from Chelsea, AL
Let me begin by saying this was worse experience ever. I managed a Subway just blocks from the Moody Alabama location. I came the drive thru at 3:31 and this horrible experience lasted for over an hour. I order a lifestyle chicken sandwich plain with cheese only, a large fry and a large chili. I asked the young man to make sure that sandwich had cheese only and he assured me that it was. I decided to check when I was half way home only to discover that it had all the regular fixing on it. I took it back another young lady came to the window and I explained to her what my order should have been. She brought everything back nice and fresh and hot. I asked if the sandwich had cheese only and she said yes. I pull off and because traffic was slow I thought I would say on my drive home, only to discover that they have me a spicy chicken sandwich because of serious sensitivities. I took the food back and asked for my money back. All of the employees were peeping at me through the window and laughing as if I had done something wrong.I could hear and see one of the employees telling whom I assume was the manager what the situation was. In the meantime I was sitting at the window waiting for him to refund my money, but he never came to even address the situation. I yelled through the window can I please get my money and is anyone going to apologize to me for wasting my time and my gas money. The manager said, "look I just got here"
This was ridiculous, insulting. Something need to be done about this.

Jean Kessinger
from Xenia, OH
If I could give it no stars I would. Wendy's chili used to be my favorite chili but no more. I just got an order of chili and a chicken sandwich. I threw most of the chili away and the chicken patty was as dry as sawdust. I got a couple of beans in the chili and no meat! It was really just tomato juice and onions which was so hot with chili powder that I had to throw it away. I have heard so many complaints about the Hillsboro, Ohio Wendys that I had to message you. I will not go there again.

J Robertson
from Portsmouth, VA
This Wendys location is by far has the slowest drive thru I've ever experienced. When its no line it's slow when its busy they can't pump out orders fast enough to make it worth being in a drive thru. When we finally get to the window the women don't speak. This place definitely needs management counseling to get this location up to par.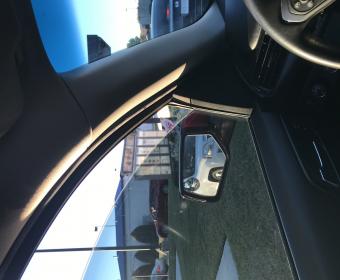 J Robertson
from Portsmouth, VA
This Wendys location is by far has the slowest drive thru I've ever experienced. When its no line it's slow when its busy they can't pump out orders fast enough to make it worth being in a drive thru. When we finally get to the window the women don't speak. This place definitely needs management counseling to get this location up to par.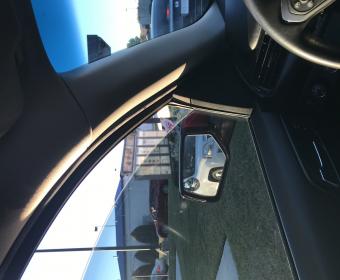 Unique
from Charlotte, NC
The cashier was very rude and nasty to me I asked a question she rolled her eyes and answered with an attitude and than when it was time for me to pay for my items I handed her the money in her hand and walked away to get a straw and she layed my money on top of a counter where i was nowhere near to grab it and continued to help another customer. Just saying what if that customer would have thought it was his/hers I really don't understand..!!! Lanesha was the cashier name she is horrible... I want something done about the situation and she stated that it was to early and they just open at five.. I don't care if you open at 3am still treat your cusromer how you would want to be treated!!!!

Omina Grant
from Brooklyn, NY
On more than 1 occaision when I purchase order through the drive through, always missing an item of food . Today I purchase apple pecan salad , no pecans to be found.. Why does this happen so many times?

Ahart Blevins
from Cleveland, OH
waited in drive thru over 15 min just to take my order got mad went inside and was not waited ,, was force to go else where to buy dinner and is was not wendys ,,,dont know about the future but for now never again will i buy for my family of 4 there

John king
from Detroit, MI
I order a number six had to wait 15 minutes to make new ones which was fine but then the girl at the register decided it was time to play games with all her friends that came in had to wait another 10 minutes to get my meal and then I get to work on my lunch break it was a double with cheese and chicken nuggets and fries and I didn't not eat it and threw it away because that wasn't what I ordered

Timothy Thomas
from Dallas, TX
I am pissed that the location pulled the OLE BATE AND SWITCH on the prices. I went to Wendy's to simply get the free nuggets once I bought a $0.99 item. WELL NO WAY was this going to happen since I got a VERY HARD time with the counter person. I clear asked about why the prices weren't the same and was told some BS about different stores Well thats not my problem. I want what I saw and it was a recent ad so Whats the problem. Then i had to buy someone else burger to get what I wanted and then was made to download the slow add which made me late for work. Once I got the app the Counter person didn't even have hot water to sell me for .99 to get the FRICKING NUGGETS.. I am very pissed about and and being a US VETERAN I will tell other about my experience at this location and NOT TO EAT THERE OR SUPPORT IT AGAIN.. Dang Where the Hell is Dave At..or Wendy.. I am pissed they sold out once Dave has passed. I will never eat here or at Wendy's again until They Do Better.
PS: Thanks Mac Donald's for there $1.00 menu with no hassle
I can be contacted if you would like to talk about fixing this major issue @ store Wendy's 5215 Spring Valley Rd:Dallas texas
Tim Thomas
214-586-3777 Cell
Wendy's 5215 Spring Valley Rd:

Joshua Sherm
from Aurora, OH
I went to Wendy's in Warrensvile Ohio on Emory road by the Jack thistledown. It took 25 minutes for 4 cars to move and was worst managed store I have ever ever seen. When I finally got my order they shorted me a junior deluxe burger. I went inside and only 2 people were in line. The girl did not know how to use register and it took 11 minutes to help first person as she not only couldn't work a register, but was also making fries for drive thru customers and txting on her phone. I held my bag up and tried to get a manager or anyone's attention. 3 people saw me and not a single one said a word and one smiled and walked into the back. I am disgusted and beyond upset and was robbed a meal.

Michael Stafford
from Elberta, AL
We stopped at the location in 410 East Meighan Blvd, Gadsden, Al, on the evening of October 18, 2015, at approximately 6:30pm. My wife ordered a Homestyle chicken sandwich. The chicken was so tough she could not bite through it. She took it off the bun and still could not bite through the chicken. This was not what we expected from Wendy's. I will say, my spicy chicken was good. We were disappointed as we were traveling from out of town and had been to the hospital to visit a sick relative. Just thought you needed to know how bad that sandwich was.

Martha Hodges
from Knoxville, TN
I am at a Wendy's in cherokee nc.One person working,line out the door,manager sitting on his ass.Pitiful,never coming back again.Get rid of that stupid idiot u call a manager.

Jane James
from South West Bend, ME
On my way home last night, I drove thru Wendys in South Portland, Maine. I have been there many times and often commented to my friend that the service there is always slow. Last night however, was the last straw. I was in line to order around 7pm. There were about four cars in front of me. I got up to the order station around 7:11pm. I was frustrated that I had waited so long to even place my order but it would have been difficult to get out of line as the car in front of me and behind me were close. I also was on a schedule to pick up my nephew near by at 7:30 so I waited it out. I placed my order: bacon, cheeseburger. 3piece chicken strip, large fry and lg. coke. By the time I got to the window to pick up my order it was 7:17. I had been in a Wendy's drive thru line for 17 min's !! I pulled over to unwrap my burger to eat on the way to pick up my nephew and noticed, no bacon, lettuce falling out, sandwich put together VERY sloppy and it was cold !!! I am not a complainer! I have never written a letter of complaint. However, I feel that someone should check up on whatever crew was manning that window, that night. Oct. 22....7pm. I could not eat the burger and did not have time to go back as I would have been late for my nephew. Very disappointed in the service and food.

Neil Wright
from San Bruno, CA
Hello
Good job on remolding your restaurant located on 499 El Camino Real, San Bruno
My suggestion is that you make the black screen on the back of the register show prices so the customer can see what is being rung up.
It wasn't until I was given a receipt that I could see what the prices were.
Its like going into a grocery store like Safeway and the screen was blank not showing what the prices were until you were given a receipt.
Other wise the employees were top notch and the food hot and fresh.
After all...If your busy and tired and you don't want to cook come to Wendy's restaurant and take a look! and take a look!
Thanks much from Neil Wright

Gregory Almond
from Palm Beach Gardens, FL
Visit our local Wendys in Palm Beach Gardens on a regular basis but on this occasion received the "WORST" Spicy Chicken Ceaser we have ever had! The chicken was so dried out and over cooked! I wouldn't even serve it to my dog! Visit this location on Northlake and Military a few times a month but will never visit your restaurant ever again!! Poor quality of food!!! Would have taken a picture but went in the "TRASH"

Manya Medrala
from Mays Landing, NJ
Last week I was in the Egg Harbor Two,NJ Wendy's,made a complaint online got no action so guess it went right to that store which will not help.
I ordered the 4 for 4. Short skinny older black lady gave me the double stack and beverage container so I wait and wait quite a while and see her disturbed and finally she said I was done. I said I think you owe me more food like nuggets and fries...she checks order and goes and grabs items real quick and says I'm good Tiago without an apology.
When I sat down, I tried the nuggets..very lukewarm,fries nice and hot, burger was lukewarm with top burger reddish pink. I took burger back and showed it to same server.
She asked if I wanted another. I said no that was done eating there and dumped burger in trash and started out door. Server went to beverage area to work. I grabbed my drink and way out of store she said you know we do have a refund policy if you want. I said, ok.Testy!!

Went to Wendy's this morning because I am sick and really wanted some chili. I got the 4 for $4 and a large chili. Got to the window to pay and they had me pull forward because they were "waiting on fries" which is fine. I work in the food industry so I understand how the process works. I also understand there are mistakes at the window BUT when you pull someone forward there should be no mistakes with the food. They asked if I wanted onions or cheese. I said no to either. They brought the food and I went home. Once I got home I got my son set up with the nuggets and fries, all was fine there. But when I went to eat my chili it was a bowl full of onions with meat, no beans. So I started pulling out all the onions thinking I would just eat it once they are out. Well that was half the bowl and at the point I didn't even want it anymore because it was still just onions, broth, and meat. So I moved on to my burger and it was raw. I am attaching the pictures. Highly unsatisfied with my whole experience today and will not be going back to the Wendy's in Champions Gate Fl.

ANGEL DIAZ
from Spring Hill, FL
On 10/20/18 at approximately 9:30pm we entered into the Wendy's restaurant
located at 1100 S. Broad St Brooksville Florida phone # 352799-0878
Store #05101784. We were greeted by Host Kristi myself and my wife headed for the restrooms. I knocked on the men's room door which has a security camera directly above it. I smelled Marijuana coming from the locked bathroom door. I decided to go place my order with Kristi after that I went back and knocked on the door. I got no answer and now the Marijuana was even stronger. I was forced to have to use the Ladies room as my wife stood watch. I came out and the Men's room was still locked. We walked over and reported this to Kristy she seemed not to know what to do or say. Suddenly a young employee Hispanic or light skin Afro American came out. Im sure the camera has a nice picture of him. He was approached by Kristy and the two went out of sight. We sat down to eat dumbfounded by the incident. Then Kristy reappeared and apologized several times. She made the statement that its hard because there is nothing that can be done because Marijuana is now legal. I advised Kristy that is if he had a prescription for smoking marijuana which is legal in the state of Florida it should not be done on premises or on company time just as smoking cigarettes is not allowed to be smoked in a Restaurant. We did see the marijuana smoking individual as he was taking out the trash and he was smiling. We left shortly after that. I am a former Deputy and my wife has 20 years in the restaurant business we have seen a lot and this was clearly wrong. These employees need to be trained on company policy and discipline left to management. Maybe he should be sent for a random drug test.
We have decided to no longer visit this Wendy's location

Aharon Williams
from Redford, MI
I Ordered An Chicken Homestyle Sandwich With An Free Chicken Sandwich Coupon With Purchase Small Or Large Drink And Fries.Tha Sandwich That I Ordered Had Been Sitting For Awhile And It Was Hard. I Requested For An Fresh Sandwich,But Instead I Was Served With An Old Azz Sandwich!I Didn't Like The Employees Attitudes Like They Don't Give An Frank!As Of Tonight I Will Never Eat From Any Wendy Restaurants Again!Point!

Brenda Deshazier
from Naperville, IL
I have been to this place twice and both times my orders were wrong, which were four for four meals. This last time the meat was very old and it upset my stomach.

Jason Wood
from Atlanta, GA
I went inside the Wendy's at the Locust Grove Georgia location because the drive through was extremely backed up. Only one register was open at lunchtime. Employees were just standing around doing nothing. I was actually next in line but did not order because I stood there waiting to place my order for five minutes all the while people that did place their order were still waiting for their food. The one guy at the register was doing all the work while no one helped him. The line inside now stretched all the way around to the front door. Frustrated, I along with several other people, left.
I just saw I could've uploaded a picture. I'm sorry I didn't take any. It would have shown one employee working a register, others doing nothing. A very long drive through line and very long inside line.

Joel Williams
from Chicago, IL
My complaint about this Wendy's Restaurant store number #06611743 145 south Western Ave Chicago Illinois
On October 19 2018 at 4:53pm .. My experience with Some the employees need more training dealing with customer. I came in with a receipt with valid confirmation number from going online taking your brief online survey for a free Dave single or Chicken Sandwich. One of your employees did not about this and what I was trying to receive she ask another employee and that employee was so rude to me. This Wendy's need better employees who know all business transaction of your corporation. I am a paying customer who come in the restaurant very often. The restaurant was in a mess very unclean. It's not the first time that I have visited the Wendy's at this location. I am very unhappy with the. Situation. I would like you to contact manager and let then know the problem.
Sincerely
Joel Williams
1155 s. Mason Ave. apt 207 Chicago Illinois 60644

Lois
from Ellwood City, PA
My husband and I went out to grab something quick for dinner. While we are ordering we hear the MANAGER mfing and calling an employee an idiot. I have never been so disgusted with someone who is supposed to be a professional. The managers name was April. And someone really needs to fire this lady! Disgusting behavior, she should be ashamed of herself. I doubt we will go back.

Margaret Prather
from Mocksville, NC
Mine is more a question than a complaint. Wendy's Restaurant #00005077 159 Turnersburg Hwy Statesville NC
Why is this restaurant soooooooooo slow? The last 2 visits, it took 30 minutes or more to get our food.

Pamela Berry
from Florissant, MO
I was watching the news.the story came on about the customer being called CHUBBY it was reported by the media cooperate office told the young man that
there was nothing cooperate can do.Think about the customer every penny earned is a penny gained for the company.. something can be done beside firing the worker perhapes check out the entire store. All the worker the cleaners if the store Call the young man . But never say nothing can be done. That was a total shame hurtful sad stupid and down right bad looking for All the restaurants it's me thinkwhat will they do to our food that might be funny but nothing can be done Right!!! I will keep that in mind that a customer dies not matter.

Fiona Miller
from Oshawa, ON
I entered the Wendy's drive thru at 9:18 PM, got to the payment window at 9:31,received my order at 9:38. I mentioned to the cashier that I had been waiting for twenty minutes. Her response "so was a lot of other people" then she closed the window, neglecting to give me a receipt.
I have heard complaints from some of my followers online regarding this location, but I personally, have never experience this type of blatant disregard for my patronage. All this lady had to do was acknowledge the fact that people were waiting unusually long for service, in way of an apology. However, she choose to be rude and dismissive instead. This is unacceptable. I have never submitted a complaint prior to this, but this was revolting behaviour. I have not gotten to my meal as yet, since I have seriously lost my appetite.

James
from Merrillville, IN
I stopped going to this store last year because the cashier at the time made a disparaging remark about my ethnicity. I finally go back today, the cashier, during a non-existent drive through line, can't be bothered to open the sliding door more than to stick his arm out to take my payment. Never says a word to me and to finish it off, the sandwich was wrong.
Fix your store, Wendys. I 100% believe this one is laundering drug money. It's an honest to goodness shit hole, which is unfortunate because they just renovated it in the last couple years.

james mitchell
from Newport, TN
The wendys in Newport ,tn needs to really check there employee. They had a young female outside trying to sale drugs to people going through drive threw. then she went in back door a male came to my window and asked if I needed anything to get to feeling good . When we said no he asked if we need some smoke/weed. we left the line and went to taco bell. we will never go there again. this store seem to have a lot of problems with the management.

Elizabeth Turnipseed
from Cookeville, TN
The manager at this location is very rude and unprofessional. She is disorganized and do not set a role-model example for the employees. The food is never fresh. It's almost like they are giving us the customers anything. Something needs to be done about this, this is my third time visiting. I love Wendy's, this location is closest to me. I just wish something could be done about the lack of business, at this location.

John Welsh
from McKeesport, PA
I was just recently at your Wendy's in Homestead there was a girl named Alicia McDonald's working the window which was very rude second of all I've never heard that I couldn't add an order of fries at the window when there's absolutely nobody in drive-thru third of all after I get through drive thru they didn't they missed giving me one of my sandwiches very disappointed very rude for as far as customer service

Sharon Camara
from Modesto, CA
I went to Wendy's on my lunch, walked up to counter to someone saying I'll be right with you. She went to the bathroom. I thought OK, as others past no one offered to help. I thought OK, shirt handed. When the other girl came back from the bathroom, she proceeded to counter, put on apron, walked over to a girl behind counter and proceeded to chat with her. As I'm just standing there looking dumb for a few minutes and nobody offered to help. I turned and walked out. Very disappointed

Joseph Delorenzo
from Daytona Beach, FL
Trainee at register during lunch time....line was out the door!Restaurant is filthy which I reported to my county health department.Absolutely disgusting threw my order in garbage.Staff has a bad attitude!!!

M. Kahoe
from Redford, MI
Ordered chili to go (for the second time) it was luke warm and watered down. Order cashier has to take payment and fill orders resulting in long wait time when you're in a hurry. Luke warm chili I might report to health department. Not a happy customer.

Pam ruff
from Greensburg, PA
Wendy's Greensburg pa 15601 route 30 Greensburg. Horrible service. Workers are rude waited almost 15 min in line to pay. French dies were cold. This happens to me all the time there. Ask for Diet Coke but always get regular coke. Have to throw it out and I paid for it. Then I even asked the last time if it was diet and she said yes. It wasn't. I love your food but need to work on customer service and listening to what people order.

Deb Chojnacki
from Salisbury, MD
If I could give no stars I would. Went through the drive though and got a burger. Got back to the office (barely a 5 min ride) maybe 10 mins later and my burger was cold. Neither the manager or customer service rep clearly understood my issue. The manager wanted to give me a refund - all fine and good but my lunch hour is over. My questions was once I have paid for a burger I cannot eat, what do you suggest I have for lunch? I am at work, with no time left on my lunch hour and with a burger I cannot eat. So now what? And no I cannot reheat it in the microwave, to much stuff on it... as a diabetic need to eat lunch... any suggestions Wendy's? Maybe if you made the manager's drive out to the workplace and replace the burger they will comprehend the issue better and train their employees.

Jamie Williams
from Apopka, FL
I am tired of spending a ridiculous amount for orders that are incorrect.
I also went to our Wendy's in downtown Apopka, FL at 8pm on 10/10/2018 and the main sign was not lit up.... It usually is not, and the menu signs were lit up but no one was in the store except for one person that I could see talking on a cell phone in the seating section.
I then went to the Wendy's in East Apopka to order and they did not have the dressing that goes with the salad I ordered.

Monica Tibbit
from Shreveport, LA
Cashier that takes money at first window does not give change back. I ordered $1 chicken nuggets w/tax $1.09 and gave her $1.10 She said thank you and that was it. I said I gave you $1.10 and she said I don't have any pennies. It is not the fact that it is a penny, it is the fact it was so easy that she kept it. So if she did that to me then what other nickels, dimes and dollars is she keeping? She could have gone to the manager to get correct change. If your policy is to not give back exact change, then you need to post it on your windows for customers to see. Please check into this employee. This was at store 8487 at 5:43pm central time,

Debbie Coffey
from Leitchfield, KY
Ordered the 4 for $4 with spicy chicken wrap for lunch when I got back to work to eat it. In the weap was a long strip of chicken little lettus n some cheese with sauce. The chicken wasn't even the size of my finger as you can see in the picture. I a woman with regular size hand. I was like oh my gosh. I took a picture. Went back up to our Wendy's restaurant. The manager apologized as if I'd like a frosty. I didn't order a frosty. She took my name and address said they would send my a coupon. I hope it's not for a frosty. Oh my. Just put my name in the drawer for another wrap would be easier. I eat different stuff up there all the time but this is a first time ut has ever been this small. If the chicken is that small may I suggest they put the whole piece on it. I have attached a picture.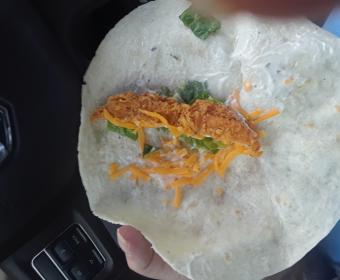 Mark Ingalls
from East Lansing, MI
Wednesday 10/10 I came in to get (2) two for twos with the double stackers. I asked to have one of the double stackers with just ketchup and mustard only. In addition I orded a jr cheese deluxe and a crispy chicken sandwich just plain. The chicken sandwich was marked the others were not. How was I to tell the difference with out opening and checking to see which one was the the one with just ketchup and mustard? Also they put cheese on both including the one I asked for with just ketchup and mustard. After trying to wrap them up I was pissed off. I went back in and told the same lady after waiting in line again that the I need to get two new ones due to me having to man handle to tell difference and that my work crew should get warm food. I again orderd two double stackers and stressed one with just ketchup and mustard and the other regular and to please mark the one with just ketchup and mustard. She said so you want cheese on both right? I once again repeated the order. She then charged me for the two plus 6% Michigan sales tax. I reluctantly paid it and then went down to the pick up area and explained to that person, thinking she might make it right for me since the order person just didn't get it. After some time she handed me a bag with the one marked so I could tell the differnce and said have a good day. I replied to her that "this is not the end of this" and subsequently wrote this complaint. The store in question is the one in Okemos Michigan. After this experiance, i'm am not sure that I will ever eat at Wendys again. I can't believe it!. I bought the right to tell anyone and everyone that story for less the $5.00. I'm just putting you on notice. I doubt any response on your part and not sure if I want to pursue this any furthed based on principle alone. Signed Mark L. Ingalls, 6082 Pheasant St., Haslett, Michigan, (517) 285-5805.

Sheryl J Gary
from Upper Marlboro, MD
Today I went to Wendy's and it was a lot of people there so I waited for my turn placed my order and waited about 15 minutes for my food. There were two Sheryls on the screen and he said order for Sheryl and I walked forward to get the order and I said to him crispy chicken. He said NO!!! With a attitude. I think that he is the manager. He is African or Jamacian and speaks with a accent. He also talks to the people that work there with a serious attitude. This was a meal for myself. I work with door dash and the forestville and Temple hills store will have you waiting for your food for ever. I no longer go to Wendy's for any door dash I decline it.

Susan
from Gettysburg, PA
Today, 10/5/18 at 1:00, was the worst for me, usually I just get the wrong thing. I know they were busy, but today I was told that they were waiting for chicken tenders to get done. I moved forward as requested and waited 20 minutes. I had to return to work so I left. I knew going in was not going to matter as I was told by another that they were having problems inside also. I will not return to the Gettysburg Wendy's again.

Patrick Primus
from McKinney, TX
the Wendy's on 3710 Belt Line Rd, Addison TX 75001 one of the employee's his name was Dontaveous is loud and belligerent 24/7 everytime I come here he's become somewhat of a disturbance to everyone here and it's not as peaceful when he's here. I'm sending this message because I believe that this sort of behavior should not be condoned espially by the employee's of this food establishment you should not walk into a restaurant to eat and enjoy a good meal and have to feel uncomfortable that is all. I believe that by sending this message a solution will be made and this ongoing problem will be over. I don't think anyone should not get to enjoy peace in eating at an establishment they paid for service.

Ida C Young
from Columbus, OH
I would like to see you change to paper cups to help the environment like many other food services such as Starbucks have done. I'd like to be proud of one of my favorite places for "take Out" here in Columbus. As a amatter of fact we have a small chili in our frig that we are having over rice for supper this evening. As a positive I really like the Senior drinks as I am 82 years old. We have a Wendy's a short distance away in both directions North and South here in Clintonville in North Columbus. Ida Young

Linda Isles
from Connellsville, PA
This is not a complaint about your service of your restaurants it's a complaint about how your management treats employees my son recently got hired there and today October 4th he asked the manager on how to make something that he didn't know how to make in she said ask someone else and proceeded to laugh very rude and then his starting shift was at 11 a.m. he asked if he could take a break at 3 and she said no ,,Really now as an manager i thought is there to help in anyway,,in any situation ,,,,I know i have been in alot of businesses such as grocery stores and restaurants it's just very discouraging for these young kids today to try to make a few dollars and feel they're being disrespected it's his first job,,,, to show him responsibility and respect for others so with all this said I hope for the best for your companies and more understanding and friendlier managers and the furture,,,oh b4 i go its goin on 5pm still no break,,,,this is not right,,,for this to be happening,,,no break insane,,,

MD Wendy's Customer
from Chesapeake Beach, MD
Consistently, Wendy's in Prince Frederick, MD delivers terrible food. I decided to give them a break and not go there for 3 months after years of bad service. On Monday, October 3, 2018 I decided to give them a try. I ordered a double, with everything except pickles, I opted for the meal. My burger had 4 pickles on it, and was so cold the cheese didn't melt. Literally, it was still in its original form. It was like they made it for someone else, didin't use it, and gave it to me, knowing full well I asked for no pickles. The fries were ice cold as well. I wound up trashing the meal, and vowing to never go there again.
It is like they do not care what they serve people, as long as they get their money. Disgusting and I am through with them. You can tell things have changed at the chain as they do not advertise as much as they used to and their ranking amongst other burger joints has them rated low.

Kelly
from Canal Fulton, OH
The Wendy's on Arlington St. in Green, Ohio has to be the worse Wendy's I have ever been to. Tonight it took them at least 8 to 10 minutes just to take my order at the drive thru, never received a receipt or apology for my wait. They messed up my order and then gave me old fries that had to been sitting there for a long time not to mention I ordered 2 baconators without mayo and I got 2 double cheeseburgers, or whatever those were, with mayo on them. The place is dirty, the staff doesn't know what they are doing. As people were waiting they were talking on their phones, shoving a burger in their mouth, putting their hand in people's food, wiping their nose while cooking food and didn't know how to operate the screens that displayed orders. When I got home my children went to eat this so called expensive food I had just bought and said it was horrible tasting and had stuff on it, we dont even know what it was. We ended up throwing the food out that cost me alot for 2 medium size baconator meals. Worst customer service, dirtiest place and worse food we have ever had. From the time I got in line for the drive thru and finally got my food I would say I was there for about 20 to 25 minutes I thought this was fast food! I will NEVER return to that Wendy's again! I really hope someone takes this complaint serious and makes the necessary changes to that restaurant so no one else has to experience what I did tonight!

KISA KOWALEWSKI
from Williamsburg, VA
Hello. Unfortunately I have a complaint on the Wendy's in Williamsburg Virginia. Store number "00000482 1989 Richmond road Willimsburg Virginia 23185.
Tonight at 6:57 at night my family and I went to get something to eat. We waited almost an hour to get food and was yelled at by an employee. The employees are locking the doors to the restaurant, which I find extremely dangerous considering the customers are still in the restaurant. They don't want anyone coming in so they yelled at my son when he opened the door for a lady and her daughter. She screamed at my son to stop opening the door! There was a mentally disabled man in front of us that didn't get his food so he asked for a refund, which they would not give him!! He then got upset because he said he missed his bus to get home. He kept begging the manager for a refund and the manager wouldn't even acknowledge him. We finally just walked out, after we found a door to get out of!!! What in the world is going on with place?? I'm considering calling the Williamsburg fire department and telling them that they are locking the doors with customers still in the building, what if there was a fire?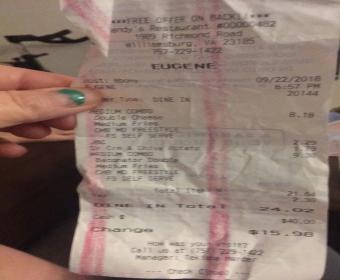 bob
from Beverly Hills, FL
asked for Hamburger got JR not large. Clerk at window stated that is what you ordered. Not so - pull the tape. Asked for regular size manager showed up " now problem I'll just charge you for the difference." My comment no you will not- I asked for her name- she then said no charge. I just left a store where attitude sucked- came to you instead of your competitor right next door. Just purchased a dinners last night and get this BS.- intent defuse- resolve issue- seems this staff needs a hell of a lot of training? Rt 50 Cortez Blvd Brooksville fl.

Timothy Petersen
from Greeley, CO
The most dispicable filthy place I have ever seen. I let them keep my money for my order as it was so dirty and disgusting I could not have not ate my meal. The French fry packets stored on the floor. I am going to contact the health department as I have never seen such a disgusting mess. I asked for the manager and she could have gave a shit less.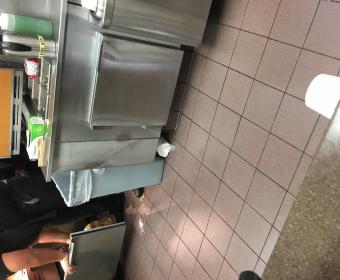 Sue Petrosky
from Tempe, AZ
9/20/18 @ 4:00 pm Store 11633 ( ZERO stars for this store)
I went inside the store to avoid a very long line of cars in drive through. Kevin, who took my order, did not acknowledge me, acted as if it was a imposition to take my order, did not thank me for placing the order, and then walked away. I wasn't even sure if he had placed the order.
Eventually my order was sitting on the counter, but no one would give it to me, and Kevin had strangely disappeared. Finally a lady came up and tossed the bag on the counter. I took it and left. I would have left this terrible excuse for customer service pass, but when I got home I realized they had only given me 2 dressings for my "full size" salad when I requested four.
I have placed this same order a hundred times at other Wendy's, and never has my request gone unanswered. I did call the store manager about this lack of customer service, and she asked me to come back and they would correctly fill the order. Why would I go back into heavy traffic to complete an order which they should have gotten right in the first place. This store is in serious need of customer service skills and attention to detail.

Marti Bielmyer
from Lyman, SC
Ashley was very rude to me when I tried to swap sweet tea for unsweet tea. She refused and said, Well, the server got it out of the unsweet machine and it is UNSWEET. I said, it is sweet. She disappeared and left me at drive thru window. I flagged down a lady i thought was manager. she apologized and said she would handle it. A nice guy swapped my tea with a smile
Manager said not to call corp. It would come down on her. Im a customer over 25 years and always treated so nice until today

Lynne Belsito
from New Windsor, NY
I went to the drive through at location #4344. My order number is #377076 the date was 8/5/2016 at 7:05 pm, with such a short order I didn't expect to be asked to pull up ( a common practice at this location to keep drive thru times low). I refused to be moved forward without my change or order. I ordered a lg chocolate frosty which was mostly liquid and a waste of money. The single and baconator I ordered were both half cooked and bloody at the center of the meat ( I had to microwave them to fully cook the meat).
The nuggets were only luke warm and a little hard like they were sitting around for a long time. As I received my order after some time I could hear the Assistant Manager (a heavy set white woman with very short hair) state to another employee and I Quote "what's wrong with that bitch, why wouldn't she move up. give her the f**king food and get her out of here. If this is the type of supervisory staff this location hires no wonder the food was so terrible. The cashier was very apologetic to me since he knew I heard every word the Assistant Manager said.
About six hours after consuming said products both my husband and I both had severe stomach and lower intestinal issues In the middle of the night . I am demanding a total refund not only for the $17.03 I paid but also for the missed day of work. Since I work in the food environment I can't go to work this morning with Diarrhea costing me Over $175.00 for a lost days wages. It will be a long time before I go to this location again, And if I see that manager there again I will make it a point to tell others in line about her conduct.

kalee burnett
from Odessa, TX
On may 29, 2016 I was punched in my side by another coworker and I told my manager on duty that night what he did and she didn't say anything to him about it so I text my mom and told her what happened and she told my dad what happened and my dad came up their and talked to my coworker who punched me in my side and the my coworker threatened my dad. My dad didn't threaten hm at all cause I was beside my dad and then my dad called the cops and waited for them to show and the general manager Lupe I am filing assault charges on him and I want Lupe fired and I want brice to talk to bobby about what happened.
I contacted bobby and so did my dad and he hasn't returned any of our calls and I want to talk to brice personally and fill a lawsuit against wendys for firing me for no reason and I didn't do anything wrong. Do not go work at Wendy's on parkway in Odessa next to hooter they treat y like shit and find away to get rid of u or make u quit. I want wendys corporate office to be aware of the situation and handle it properly and if it doesn't I will take legal action.

Bill Horewitch
from Gilbert, AZ
I went to the Wendys in Chandler Az on Chandler Blvd and was totally disgusted and upset and have vowed never to enter a Wendys again and will tell all of my friends also I ordered to go1. the Large Summer Berry salad advertised and asked for extra tomatoes and ranch dressing. When I got it home it had a very small amount of salad 3 yes 3 total berries and the wrong dressing and 2 total tomatoes what a total rip off. 2 ordered a double cheeseburger and when home it was ice cold.
Thats not the worst. When I ordered a blackberry lemonade no ice and it came out with ice I told the counter person who rolled his eyes and said get this "what's so bad about ice" and said I guess when i said i want it no ice and get this he dumped the ice out and said here. He was totally rude and when I said looks like no berries he stated get this Well that's the way it comes and threw it at me. I expect a total refund ( no I did not take the receipt) and other compensation for the trouble and bother.

My girlfriend took a french fry from my sons chicken nugget kids meal to eat and when she bit into it, something hard inside the fry chipped her back tooth. We were driving and when she bit into it, there was a loud pop sound, which startled me. Followed by immediate pain on her tooth. She felt around in her mouth and found the chip immediately.

Latesha Allen
from Roseville, MI
My husband purchased an Apple Pecan Chicken (full) salad, my favorite, last evening for my lunch at your location on 12mi Rd in Warren, MI. I am a midnight shift RN and when I tell you I was so very disappointed, it is an understatement! When I finally got a chance to eat, I found myself picking out the old, brown, wilted lettuce, brown apples and the chicken that had a almost a spoiled taste and half my salad was gone.
I was so very upset. I wanted to inform you of the quality of food being sold at this store. I took photos and I will attach them. Please address this store's service and quality practices because people can get really sick consuming ill-prepared and not so fresh food. I know it is your goal to serve fresh, quality fast food, this store has definitely missed the mark.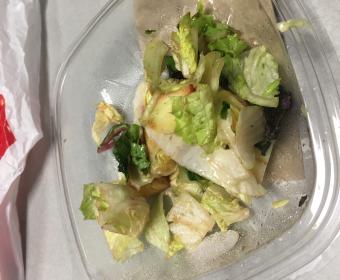 Wendy's on 58 highway Chattanooga Tennessee I went in to eat as soon I walked in the door to give my order 1St the bathroom door was opened with a disgusting smell. Of a bathroom where someone used the rest room The smellwas obvious of a stinch of a smell of a nasty rest room a man in front of me complained to the employee of Wendy' she smiled and just said sir may I take your order he addresssed the smell again he told her no thanks to Wendy's I was next in line I addressed your employeeof the terrible smell told her was ashame to come order for lunch I also told her where her manager was she said the manager was not in but to come back.. I will not return to this Wenfy's until they can do better cleaning or better yet have a new building A Secret Shopper would give this Wendy's a Failing score!

Kelly Thies
from San Antonio, TX
I went into the Wendy's on Guilbeau Rd. last week and bought 2 small frostys for $0.50 each. I asked how long they had the sale on and the guy told me until the end of the month. So this evening I went in and they told me it ended on the 11th. I told the guy that was waiting on me(same guy that told me the end of the month) that isn't what he told me last week and he said that he was told it ran through the end of the month and that they were normal price now. I asked for the manager and he was a real piece of business he told me the same thing and didn't care if I ever came back.
The bad thing about this is, if I were manager I would have told the customer I am sorry about the misunderstanding and honored it then, but knew when I came back in a couple days it would be normal price. I feel that the manager, if you want to label him as so, doesn't back up his employees. This whole thing had nothing to do with price, but a lot to do with principle. If the manager trains his employees like this I can only imagine what will become of the store on Guilbeau will become or if it could do better with better management. I own a business and know how a customer can get a bad taste in their mouth and not come back. I hope someone in Marketing or Administrative reads this.

Lakeisha Ross
from Brookhaven, PA
In the month of may 2016 I went to the Wendy's restaurant in Boardman Ohio I purchased a large container of chili I went to my car to eat the chili I ate 3 spoon full of it. On my 4th spoon of chili when I dipped the spoon in I realized that it was black ink all on my spoon &in my chili and all on my hands. So I took the chili back in the Wendy's & confronted the manager & showed her the chili &she said someone must have dropped the ink marker in the pot of chili that just have been made & she would have to change the whole pot into a new pot.
She act like she didn't have a bit of concern about this ink marker being in the chili didn't say sorry or I apologize for ink being in your chili the same night I got sick. Vomiting nausea diarrhea &chills. The point is the ink in the chili made me sick &nothing was done about it when I approached the manager about it. &now meantime I'm seeking a lawyer to get something done about it. Because Wendy's doesn't give a dam about their customers.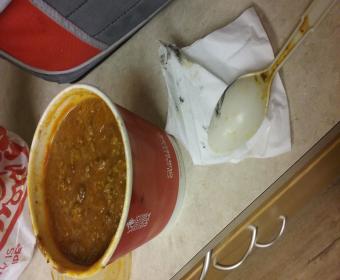 Robert Stinchcomb
from Dublin, OH
My family stopped at the Wendy's off of US71 (Jeffersonville, Ohio). We ordered through the drive thru, received our food/bags, and continued on our trip. My wife ordered the black bean burger. She took a bite and thought she was biting a stem of a cut tomato, which unfortunately turned out to be a plastic piece from a bread bag (image attached). Needless to say, her appetite was over and she threw the burger out.
This could have been a more serious situation than it turned out to be! It will be awfully difficult for us to choose using Wendy's in the future because of this. Having a 2 year old, it was convenient to stop at Wendy's for a meal for him, but we may need to reconsider our options.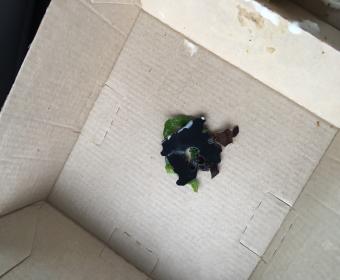 Kenny Howell
from Oak Lawn, IL
I received a screw in my Wendy's junior bacon cheeseburger. The woman who was at work was a manager named Curiston and she then told me no refund. What horrible attitude from a Wendy's employee after a potentially life threatening situation. I will think twice before ordering at this place again!

Mrs. William Griffith
from Lima, OH
This was the condition of the Elida Road , Lima, Ohio location of Wendy's on October 14, 2016 when we entered (see photos below) and it remained the same until we left forty five minutes to an hour later. There were dirty tables and debris on the floor. The carpet was filthy. We could hardly find a clean table. Other customers were noting the same thing. It was not an appetizing atmosphere to say the least. We will not return to this location any time soon. We are regular Wendy's customers wherever we travel because usually they offer a consistent product but service and cleanliness are very important. Dave Thomas would shut this location down if there was not drastic improvement.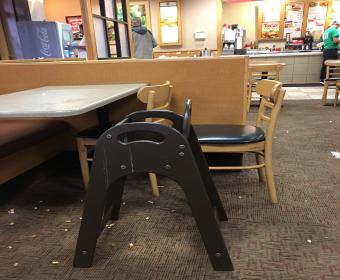 Eric L
from Huntington, NY
As a Company I find my employees go to Wendy's often at 1210 E Jericho Tpke, Huntington, NY. I honestly can say I have had an issue most every time either go in or take out from Wendy's. I am in a financial and Insurance field which can be stressful on a daily basis. The instrumental obligations of my Job are tremendously imposed on how I perform on a daily basis. Seeing the pictures below of my spoiled Lunch after opening and revealing this under the Bun is definitely not a quality of management or high priority for Customers satisfaction IMO.
I have had issues in the past and I believe no company is perfect but with a 95% unsatisfactory rate from almost every time I have been to this location I feel someone best get over there to find out what the heck is going on. Would you eat that Tomato? I have had issues with stale rolls and well done burgers from there as well. I finally took the 10 minutes to speak out and hopefully someone acknowledges this.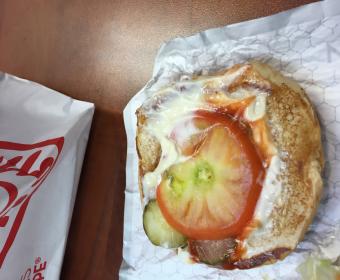 Triana Finn
from Toledo, OH

I went to your store #00001222 in Delaware on Friday night to purchase dinner for my family. When I walked into the store the first thing I noticed was the fact that all the employees, with the exception of the manager, were sitting out in the eating area just talking, laughing, and carrying on. One of them got up and went behind the counter to take my order. After placing my order she handed me a bag and 3 drinks and said I can't give you a carrier because we are out. We then discovered that I didn't have my whole order. She told another person to make my sandwiches, I am guessing that was the person in charge of that particular sandwich, but it was taking forever. I waited and waited and waited. The man who was behind me left the store because no one ever took his order. The girl that waited on me had clocked out and was leaving when the manager came out with a till in her hand and said not to leave because they had to count the till. Anyway, I was waiting and waiting and someone said, "they are making your order" and I waited and waited even longer. Finally the manager says to me, "I am making your sandwiches" and I told her that I understood that.
The point to this is that the employees were not where they were supposed to be, I had to wait an extremely long time for my food so that when I finally got my sandwiches the other stuff was cold. I didn't get a carrier so when I was carrying the stuff to my car my soda was all down the front of my shirt.
I work in customer service and this was truly the most unprofessional experience that I have had. We love Wendy's food and it is a shame that I will probably never go back. At least not to that one. That manager leaves alot to be desired. She maybe needs more training or something.
And because I work in Customer service, I feel as though I should be compensated in some way for this.
This was a terrible experience and I would hope that you will find a way to make it right.

Diana Williams
from Blacksburg, VA
I was at Wend's on 9/7/16 at 4:52 PM, and there was no one in line, I order the 4 for 4 and she ask me if I wanted the Chicken or the Bacon Cheeseburger, and I said bacon Cheeseburger and before I could say anything she said what kind of sauce and what do I want to drink and I said can I have time to talk, and I told her how I wanted my cheeseburger and my drinks, and she said come to the second window and I said you have to give people time to talk, and she did a jerk expression on her face and shrugged her shoulders and once she handed back my card she said next time I will give you more time. I go to Wendy's all the time and never dealt with Tiffany before and with her smartness I would never want to again. Store number #00005371.

Anne Kirkpatrick
from East Syracuse, NY
I ordered the Mediterranean half salad with no chicken and was told the price would be the same regardless of the no chicken. So I paid $4.99 for the attached picture of the salad. I was extremely disappointed with the size of the salad and the price. I have visited other Wendy's location and they do decrease the price when I order no chicken so I don't understand why this location (store #00001214) did not. Also, I ordered a small fry $1.99 and my friend ordered the Baconator fries(cheese & bacon) for $1.99. Why would I be charged the same price for just fries? I am very disappointed with my experience with this location and will not return to Wendy's in the future.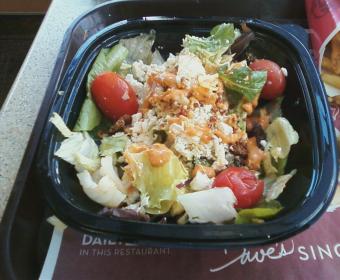 Hello,
We just ordered from drive through and a young man took our order. When we drove away, I notices there was no cheesburger in my son's kids meal. We then turn around to go back and ask for the cheeseburger. We were told to go to the second window and when we pulled up, a young woman with blonde hair that was tied up & bangs parted to one side, very quickly tossed/sorta chucked the bag with the cheeseburger. She then shouts thank you and shuts the window in my husband's face, no apology, just rudeness.
My family and I have been avid Wendys customers for over 12 years and I would have hoped for better service... Especially for something where the error was on their part. I hope to hear back as soon as possible and that proper action is carried out. Whatever was done to correct the matter, I'd like to know why exactly was done. Thank you.
Sincerely,
The Larnards

I came in about 10:30pm and an older lady was helping serve some girl who almost left without her drink. I looked at three different ladies and they pretended not to see me. I stood right in front of the older lady who looked like she was going to take my order and then went and did something else. Instead of saying anything I just turned around and left. Why give business if they don't want it? No one stopped me, they didn't care to work. This location doesn't close till 1 so it wasn't as if I got there as they were closing.

Sue Rosati
from Cincinnati, OH
My husband and I visited your store on Sunday, September 11, 2016 at 7:59:23 pm. We walked in and there was a shop vac in the entryway with the cord stretched to and into the men's room. The vac was on and the noise was loud so no one came to assist us. We said "hello" a few times and finally one of three people who were standing around on the side (we could see them) finally came over. A man took our order, but rang it under a woman's name- Destiney C.
As we were ordering, a girl came out of the men's room with the hose of the shop vac and was cleaning the floor leading up to the front. The man at the register asked her to take over and he disappeared. The girl took our money and then went to get our fries. I stopped her because she had just come from the men's room with a shop vac, handled our money and then without washing her hands she was going to touch our food. There was no one else around to fill our order.
It was a terrible experience, and I don't even know how fresh our meal was. We were so disappointed.

Phil
from Havre de Grace, MD
There was an employee smoking right next to the public entrance door. Every time the door opened smoke rolled inside for the patrons to smell. Then the service was slow and they didnt have the service machine loaded and ready. Terrible experience for my child and me wont go back there. I was there 6/14/16 at 8:04 PM.

Gregory Thompson
from Marion, AR
I went there around about 3:30pm. I was the only customer standing at the counter when i heard one of your employees (male) using a lot of profanity. When the cashier (female) came to take my order i told her that she might want to tell the young man to be aware that there are customers at the counter and that he might want to tone down the language. He took the "I don't care attude" and kept on with the language by saying quote " that he was a grown ass man". When I heard that statement i shook my head in disgust and told the young lady to forget my order and then I left. This experience left very bad taste in my mouth. I have had other not so pleasant experiences at other Wendy's restaurant but I kept going back. This particular experience has lost my business with Wendy's forever.

Michelle Van Pelt
from London, ON
I ordered a baked potato with cheese and bacon, when I got home and began to eat it I found a piece of broccoli. I am not sure broccoli is on your menu and I am concerned it came from an external source (employee's supper). Even if broccoli is somewhere on the menu cross contamination between foods is evident.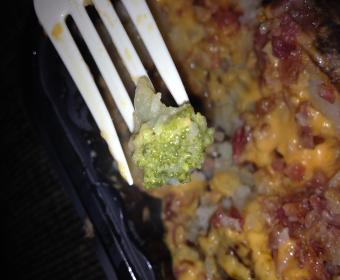 lisa holmes
from Palmdale, CA
My fiance and I went to visited a wendys in lancaster ca on 10/06/15. We placed an order and went to go sit because we was dinning in. About 3 to 5 groups of people came in after we did and order. They all received their food before we did and they was not of color. We waited between 10-15 mins before we had to say something, they never called our number. We asked for our money back and got it, we also got the meal we order. We would of been sitting of not had said anything. We don't appreciate the way we was treated because we are of color, ignored, disrespected and looked over. We never ever want to visit another wendys no matter what state or city it's in. We are and still feel pissed off and disappointed in the behavior of the employee.We are appalled at this situation. We was only treated this way because of color. The manager didn't seen to care to much because she gave us our food and money and went back to work. The employer needs to pay attention and look at who they have hired. We are just so upset at this situation. We are disgusted and lost for words.

This evening I, close to 10 p.m., I went through the drive thru at Wendys on Park St. in West Springfield, MA 01089. I ordered 2-4 piece nuggets, 1 double stack (due to allergy), a small fry with NO SALT, and 4 frostys. Besides having to wait over ten minutes for food, I expected it to be fresh. I was asked to pull up to wait for my food. The initial time I was brought the wrong order, the boy went inside, came back out and asked me again what I was waiting for, I insisted it was a burger with no onions, 2 nuggets and a fry with no salt. 5 more minutes after that another boy brought me my food.
When I went home to eat with my husband, I was given fries with no salt, but they were greasy and soggy, extremely soggy. The double stack beef patties were the color red to the naked eye, and it was loaded with onions. I tried to call this particular restaurant as I refuse to drive back after having wasted gas idling my car for 15 min. No one answered the phone and I am forced to use this as a resource to complain. If this is how the food is going to be every time I go, I will not eat there again. It shouldn't matter what time of day I go there, if you are open to 1 a.m., food at 10 p.m. should be fresh and cooked to it's proper temperature, and food made the way a customer asks, thank you for wasting my time, gas and money.

I would just like to inform you of an illness I had after eating at Wendy's at the Iowa 80 Truckstop on Friday March 21. I stopped and got a single combo hamburger and fries. I thought that the hamburger tasted stale-it was not hot and just tasted old. I also had fries with ketchup and a Diet Coke. Within two hours of eating, I had projectile vomiting and diarrhea, along with profuse sweating and chills. This persisted through the night. The next morning I felt dramatically better. I had felt completely fine before I ate. I just want to make you aware in case others were affected, or this store has had other complaints.

Recently my husband and I were in Langley, BC for several days and stayed at Canada's Best Value Inn on Fraser Highway. Right behind the motel was a Wendy's. The service was so bad that one time I was there by myself I actually left because two of the customers had waited so long for service that they were about to get into a fight! The first time we were there I ordered a pecan apple salad and got no pecans. My husband's fries were actually cold. The second time was when the fight almost happened. At that time another customer had been waiting a very long time because the staff had given him the wrong meal. I have no idea when or if he ever got the correct one.
The third time I ordered another pecan chicken salad and again there were no pecans. All three times I went in there was no staff at the register. Instead you could hear them talking in the back in whatever language it was that they spoke. I can assure you that it will be a very long time – if ever – before I go back to a Wendy's. I'm sure that this is not what Dave Thomas had in mind for his restaurant. It has gone downhill faster than Lindsey Vaughn!

Michael Westenberger
from Burnsville, MN
I had ordered a double stack hamburger with a large fry and a chocolate shake on 7/11/2016, but they had given me a chicken sandwich instead. I am not sure if they confused my order with another, but I was disappointed that by the time I got home I had realized I had paid for something I didn't order. I had just gotten off work so did not want to drive back, but I'm a little upset at Wendy's.

Dayna Molloy
from Oklahoma City, OK
I want to thank Wendy's for being so kind to my daughter today. We went to the Wendy's on 6th street in Stillwater Oklahoma around 11:00 AM today June 10, 2016. My daughter has a peanut allergy and due to a reaction a few months back, she has alot of anxiety. She asked the cashier if there were any nuts in the frosty. The cashier had the manager come out and talk to her. The manager took her over to the allergen chart that they have posted and showed her the Frosty with only allergen as milk. She made my daughter smile. When we got our Frosty's, they gave her one size bigger at no charge. Later the manager came by and asked her if it was good and my daughter had the biggest smile. The manager told her that she is allergic to pine nuts and that she understands nut allergies. I did not get the names of the cashier or the manager but we are so thankful for their kindness : )

Celia Coats
from Smithfield, NC
I go to the Wendy's on hwy. 70 in Clayton, NC about 3 times a week to get an apple chicken salad. I ordered a full size apple pecan chicken salad and told them that last time my salad did not include the blue cheese crumble so I asked them to please make sure it is on there this time and when I got home and took out my salad I noticed it did not have an blue cheese. This was on Thursday March 10th around 7pm.

Cindi gast
from Wellfleet, MA

Brenda Daniels
from Cedar Falls, IA
We stopped at the Wendy's in Hannibal, MO at 8:00 pm last night to grab two salads and 2 large chilis. They took our order and payment and at 8:30 we were still waiting to receive our chili. I approached the young man taking the orders after the first 20 minutes(they were not that busy last night) and said we still had a 3 1/2 hour drive ahead of us and needed to get going. They said sorry, but we ran out of chili and it's just about done. They gave us our salads and wondered if we wanted a substitute. We declined the substitute, but at that time said we would just take a refund and be on our way. They said "It's just done now, they are adding the meat and we'll have it right out to you". Another 10 minutes later I approached a different gentleman up front and was told the same thing only this time it was because there was someone new added to the "it's done" comment.
We then asked again for a refund and a lady walked by and rudely said "WELL IT'S DONE NOW!" but still no chili delivered to us. She then disappeared to the back. My husband then went up and asked to talk to the store manager and it was the rude woman that commented that it was done. She then gave us a refund and we left. If they had explained to us at the beginning that they had run out, we would have gotten the salads and then continued on down the road and stopped in Palmyra to get the chili. The manager was full of excuses that she had been on break, but the service was beyond slow. A gentleman that ordered a chicken sandwich and fries right after we ordered was still waiting on his meal. Another two men finally left after 15 minutes of the wait, not sure if they got any of their order.
We have stopped at this same Wendy's for years on our trips to and from St. Louis. It will be our last for a while.

I visited the Wendy's in Harper Hospital, Detroit, MI (Tuesday, March 5, 2013 at 6pm). I go to this restaurant because I like and it is very convenient because I work in the hospital. Today I visited Wendy's and receieved the worst service. It took me over 40 minutes (my hold lunchtime) get my order. The staff was playing behind the counter; laughing, playing around and using profanity. My cashier was not friendly at all Then I get my order and return to work to see that I have the wrong order, so now I have no lunch. I wish I had taken the moment to get the names of these employees, but I was so angry. I have never experienced anything like today. It was absolutely a terrible experience.

Esther Castro
from Beaumont, TX
I have had many problems with the Wendy's location on twin city highway in groves tx, but I've just had enough. I was rushed with my order and after everything I asked for kept getting a "is that it?". I specifically asked for spicy nuggets and if she would have actually listened instead of rushing me then I would of had spicy nuggets in my bag. When I pulled to the window I asked for sweet and sour sauce, ad of course it was not in m bag. At this moment I am so fed up with this location and their employees I will not visit this location again. Terrible customer service and accuracy.

I didn't receive my order complete. I make my order my window. I order 3 JR bacon 4 pack and another 4 pack of nugget additional JR Ch Deluxe. Missing on my order 1 JR bacon. I notice at my home. I may need to spend gas to drive back to get a hamburger. Next time I will double check order. store 76 at Añasco Puerto Rico.

Sharon Foster
from Charlotte, NC
Employee Tianda took my order for two kids' meals. She told me there were no toys available. I then ordered two small Frostys. While I was waiting for my order, the shift manager called Tianda over and told her to offer me two free Frostys, in place of the no toys. When she brought the rest of my order, I asked her what the lady said. I had heard her, and wanted to know what the employee would say. Taken aback, she relayed what had been told to her, and when I asked why she hadn't said anything: she indicated it was because I had already Bought the Frostys. I asked for a refund for them. She was not happy. Refund was a multi-step process. As I left, I stopped by Tianda at register and told her I didn't appreciate what she'd done, and while I was speaking, she gave me a dirty look and walked away. I expect the worst at Walmart or McDonald's. Wendy's should be a cut above. Dave would not be pleased.

Sheila Reese
from New York, NY
My experience is the workers at the establishment is to slow, I work at the New York Presbyterian Hospital at 165th Street &Broadway in Manhattan, I work the night shift, every time I come there the line is long and the workers are to slow, I can't get my food because I'm on line to long, I have to cancel my order to get to work on time. Thank you!

patt hogan
from Meridian, MS
We had to go to Meridian MS. I have always had good service there, but this time the service really bad. I only ordered a little and had to wait for 15 to 25 minutes. I don't no what to say if other customers were treated this bad. The food was cold and we had to wait so long. Wendy's is going to lose business. The store number #00007923 order number232497 price 764 on my visa. The manager. Bob Dominy, please get them right

Recently went to the Wendy's on rte 352, Middleton twp, Delaware county, pa, and ordered a baked potato,and hot and juicy hamburger. Was told they had no potatoes so substituted a cheese burger. The fact that a basic staple ,like a potato was not available,bothered me. Further when I returned home, both sandwiches where far from "hot and juicy" but cold. Obviously the ingredients had been laying around for a while. I'm not sure what the overall problem is,but if not corrected Wendy's will lose business the the several nearby fast food establishments.As for myself, I will hesitate to revisit Wendy's for a while. Thank you for your time!

Alyssa Murphy
from Clifton, NJ
At Wendy's on Main Avenue in Clifton, NJ they completely got my order wrong. Too crowded and too many people to keep track of. Very dissapointed.

Iv been working a Wendy's for a little over 3 months and sence then iv put up with working 10 pluss hour straight with no break iv opened a bank account jst so I can have direct deposit so my bills could be paid on time and it's been almost 2 months sence then and my direct still hasn't gone threw and on top of that I asked them to tweak my schedule because I'm going back to school and they took me off the schedule every day but the one I asked for which to me seems a little unfair and some what retaliatory.
But if it is I don't know why cause iv never missed a day I'm always on time and I always come in when Im called but any way thanks for Lisening if any one is. I WENT TO THE WENDY'S LOCATED IN plaza in troy ny. I went there for lunch and the manager was rude , slaming my food on the tray and nasty. first i asked for the manager and to my surprise it was the person who was waiting on me. She needs to go back to management school or maybe not be working with the public at all. to have a manager slamming food telling customers to wait and then act like she was doing us a favor by taking our orders.
POOR POOR DISPLAY FOR A MANAGER TO SHOW HER EMPLOYEES LET ALONE THE CUSTOMER. I WILL NOT BE GOING BACK TO THAT WENDY'S. VERY DISSATISFIED CUSTOMER.

Young people loitering in front of the Order line. There was no line at all but for those people standing there making it uneasy for customers. These batch of friends had more friends come and go in and out of the service area coming from outside. No uniform changing, no hand washing, phone calls made in srevice and food prep area, unkempt people loitering.. They come and go as they please. It was disgusting I started filming it on my phone. They would go out into their cars and dig around into their dirty cars/vans and just come back in and go straight into the food prep/service area and just walk around touching surfaces.
I wanted to puke after noticing this as I have finished off food I bought. The building looked so dingy. No wonder it does not look like a success story, this particular store.

On my way home from work (hospital evening shift) I was hungry and stopped at the local Wendy's in Port Orange, Florida. Ordered fries (ad said 'Natural' whatever that means) chicken nuggets and a small frostee. The nuggets were cold and had a BAAAD taste. The fries were worse..limp cold. I wanted to write to the corporate offices as this has happened before. I will NEVER go to this Wendy's store again.

My Mother In Law received several $20 bills in change from this Wendy's ALLLL of which were counterfeit. When she called the store to complain, they told her to just bring the money back in and they would exchange them. She took the money back the next day and they simply gave her more money no questions asked!!! Weird huh, I mean who just takes someone's word that they received counterfeit money from their store and you replace it with NO QUESTION ASKED and NO INVESTIGATION!!! Needless to say if you go to this Wendy's I would suggest you NOT use cash!!! I will NEVER go back to Wendy's AGAIN as when I filed a complaint with Wendy's no one even bothered to call me back!!! So much for Customer Service or Satisfaction!!!

Christine Hackimer
from Dublin, OH
I went to the eendys on cottman and bustleton and got 10 burgers i got home my husband took a bite of his and there was a piece of plastic in it and i called that location and the manager said to what is he is supposed to do ugh im done with that location

Eric Johnson
from Broomfield, CO
We ate at a wendys restaurant today ( not the first time) The restaurant had been open for an hour I ordered a combo I wanted to get a bake potato
instead of the French fries. On several occasions we have been told that the Bake Potato were not ready so I Took the fries.
The fries were not very hot. What I don't understand the restaurant opens at 10: 00 am we usually have lunch at 11:00am I would think they would have baked potatoes ready. Like I said this is not the time this happen. Eric Johnson

Lucy Galli
from New Kensington, PA
I stopped at Wendy's in New Kensington/Lower Burrell PA 15068 at midnight on 1/5/19. I ordered chicken tenders. I realize that it was late at night but nonetheless your product should be edible whenever your restaurant is open for business. The choice of sauces were not offered to me-I had to ask what my choices were. Then the food was cold and hard. And guess what?? NO SAUCE! I am expected to do my job up until the end of my day. Your restaurant should do the same. Just awful food and a waste of almost 10.00.
Have feedback for Wendy's?
Thanks for your feedback!
Sorry. Please try again later!