Wendy's
Wendy's Complaints Continued... (Page 5)
1488+ reviews added so far. Upset? Call Wendy's corporate: 614-764-3100

Daniel Wolf
from Traverse City, MI
Really bad chicken strips --- tough at a dead gator, dry as a bone, must have been "re-fried" 8 times.Pathetic

Nicholas Vardon
from Toronto, ON
Hello,
My name is Nick Vardon , I purchased 3 of your spicy chicken sandwich's on Monday April 8th. form your location at 1 Paisley Ct, Whitby On L1N 9L2 around 1:45pm (the bill was trashed with the bag)
Later that evening and more so the next morning each of us was sick, we were vomiting and the other end as well, all three of us missed work and were worried about our health. We have never experienced something like this before, it was a scary and we new it was form the chicken because all 3 of us were violently ill and that is all we had.
Your chicken made us sick!
The sickness lasted over 24 hours, this is a case of food poisoning.
Before I post on line, and review your restaurant I wanted to give you the ability to make this right. Please let me know how you can take care of this. I look forward to hearing form you soon.
Nicholas Vardon.

Tricey Baker
from Monroe, LA
So I pulled up to Wendy's about 11:28 got my order took then proceeded to the drive through window. When I got to the window I was getting my money together and as I was getting it I heard the guy in the drive through window say 'hea get ha money cause Ian got time' and the person he was talking to actually took my money now if waiting a slight second on a paying customer is a problem the why tf is he working in fast food? Then he came back to the window seen I was still sitting there and turned his fucking nose up like I was a problem maybe he was having a bad night but I'd never want somebody like that working for me and I'm a manager at a fast food restaurant.

Judy Wilcox
from Tucson, AZ
Second time in Sierra Vista Az Wendy 's both times hamburgers and Chile have been cold my chili didn't even melt the cheese something needs to be done before someone gets sick

I go to one of your drive thru restaurants, everyday Monday-Friday. 3647 U.S. 9, Freehold, NJ 07728. I go everyday as my son is autistic and everyday has to be the same. Here is my complaint. Your staffs lack of the English language leaves a lot to be desired. It's difficult at times to fully understand. They are not professional at all. One of the girls has tattoos on her neck, and hands. Does NOT make a good impression.
I am slowly trying to ween my son of Wendy's. Suggestion, you folks in Corp need to train these people, and your employees should learn the language. Having an accent is fine. They need to communicate a lot better.

Leslie B Allen
from Bedminster, NJ
Mr Thomas said he wanted customers to taste all the flavors in each bite. So. Why are u so skimpy with tomatoes? I had a sandwich today and the tomato only covered half the sandwich. It has been this way for quite a while.
Since when did a single become a single cheese? Since u wanted to automatically charge more?
I asked for a chicken club. Didn't get bacon.
This was carry out. Girl put fries in bag before sandwiches were even made. Cold when I got home. Bad training.
Years ago, I was a manager at a Wendy's. We didn't do business that way.
I guess people must get used to bad service and say nothing.
This was in Graham, NC on Main Street.
Whoever designed that drive thru must have been drunk. I think I'm through with Wendy's.

Complaint was made over the weekend regarding a baconator combo whereby the baked potato (which was dressed with everything, brocccoli cheese) was not edible. Accidentally I put the king and yonge location but it was Dundas and sumach.
As since the king and yonge location did rectify the situation.
Thank you

So Wendy's my favorite fast food ever but lately I been disappointed foods hot but I ask for extra onions didn't get em I got nuggets that tasted like they were twice cooked yuck fries over done just a bad night all around a few times but I keep going back I don't know if I will continue to though I took a chance and went to burger king tonight everything was exactly how I asked for it my fries were hot and fresh cooked same with nuggets so maybe I have a new favorite burger joint I don't know but I'm giving Wendy's another chance if it don't get better I guess I'll give it up I grew up on Wendy's the only fast food my dad would eat so I continued on but like I said the service needs to be better and I don't want re heated sides

Cheryl Aiello
from Charles Town, WV
The Wendy's of today is NOT the Wendy's of yesterday. I have been a frequent customer of Wendy's and prefer it over McDonalds, I order a double every time. I thought it was a quirk but three more visits later still the ame. Expecting the Best burger but I don't know what the deal is with your the tomato and lettuce part of the sandwich.It is one tiny thin piece of lettuce and if I don't left up the bun to see dome faint green on it I wouldn't know it was there. The tomato is sliced so thinly that you could read the paper thru it. I remember the good ole days when there was lettuce over flowing the bun and a tomato you could taste. I will think twice now before going back to Wendy's. The Wendy;s I visited was Charles Town WV. I don't want anything but the standards when Dave owned it.

Deborah Neblett
from Richmond, VA
I frequented the Wendy's on Mechanicsville Turnpike, Richmond, VA on Sunday, April 7, 2019 and when I went into the restaurant, there was one employee sitting on the phone and no one was at the register. There was no sign on the door or at the counter that the registers were down. The employee never said a word that the registers were down, she just stayed on her phone. The was already one customer at the register waiting and finally someone came out of the back and told us that they were not taking any orders. I asked her were they closed and she said no we are open, but we can't serve any food because the registers are down, which was idiotic. Why were they allowing people into the restaurant if you couldn't serve anything. Just out of common courtesy and convenience to the customers, there should have been a sign on the door and on the drive thru to alert people so they wouldn't be waiting at the drive thru or standing in the line. I frequented Wendy's on another occasion when the registers were down, but that time the employees were more considerate of the customers. One person was keeping track of the customers' orders with her phone, one was taking the money and the others were getting the food prepared. On 4/7/19, the least the one on her phone could have done was to let the people know as soon as they walked in the door that they could not serve any food. I am sure she was still getting paid a day's wage for sitting in her chair on her phone.

GREGORY GORT
from Bradenton, FL
the only complaint i have is that the food was not hot this is not the first time this has happened late night i have had no problem when eating there at lunch time location is 5400 block of tamiani trail in bradenton

Paul Collins
from Annville, KY
When we arrived at Wendy's this evening all the doors were open and it was smoky in the whole building. They need to have their exhaust fan working. The exhaust fan has been down the last couple of times we've been in there in the last couple of weeks.

I have experienced consistent problems with a store at 1705 W 21st St, Wichita, KS 67203. EVERY time I stop there I experience a problem (product not included, extremely long wait times in drive-thru, and forgetting they had me pull up to wait for an order and never came out.) I've always liked Wendy's but this store has under performed every single time. I waited once 22 minutes in line and when I asked the girl at the window why it had taken 22 minutes she looked around and said, "It's only been 11 minutes." I told her that was correct from the time she finally took my order but I was in line and then sat at the ordering box for 7 minutes before she came on to take the order. She said she could get me some free water!!!! I asked for the manager and she said she was severely understaffed. and never once apologized. I called corporate and asked for the district manager to call me because I didn't want this store to fail. The next time I ordered chicken nuggets. They said it would be 4 1/2 minutes and to pull forward. 12 minutes later I finally walked in and the girl at the counter told me that they told her I left and they had forgot that they had me pull forward. I called corporate complaint again and explained what was going on. I asked if it showed if the district manager had ever called me the last time. She said, "Yes, it was checked off and the manager said it has been taken care of." I never got a call. I asked again and she said she would email him right then and she came back and said both of them had been taken care of and he didn't need to talk with me. I then wrote the operations manager at corporate and in 3 weeks got not response. I wrote the President and haven't received a response in 2 weeks, and I wrote some board members and explained if there was no follow through like this example from anybody then I felt their chain would be destined to lose business.
From the top to the store level, nobody has address this issue that has happened multiple times and now I've quit going. It isn't worth it. It really bothers me because Wendy's was always my favorite fast food but I'm not a valuable enough customer to warrant a valid response. It's sad.

joan thomas
from Hollywood, FL
I visited Wendy's in April 6, 2019 at 5551 Sheridan St, Hollywood, Florida around 3:00. A well dressed man approached me inside and ask if I would buy him a baked potato. I was surprised and therefore I told him I would. This man was clean and well dressed and did not appear to be homeless. I placed my order and he immediately spoke up and said I was paying and ordered the potato with broccoli and cheese. I was disgusted and told the girl I was not paying for his potato and he became very irate and told the girl he still wanted it and pulled out a $10.00 bill and told me he hoped I choked on my food. I asked to speak to the manager who was not friendly at all and she quietly spoke to him. I cannot believe she did not make him leave for solicitating in the restaurant. I will never go to that Wendy's again and will spread the word on the poor service, poor management and allowing people to beg for money. Also, only one register open and the clerk and manager were rude and could have cared less how the man was acting. I would have gladly bought the man a sandwich if he was truly down and out.

Joe Reynolds
from Bedminster, NJ
Wendy's at Cambridge commons Charlotte NC. Drive thru not moving counter workers slow because could not get order correct for customers ahead of me. Store nasty. When another worker comes to counter helps people that came in after me, her friends I think

Shortly after leaving your store at 5560 W central ave Toledo, I realized I forgot my change. I called to check. I ordered a single combo with a medium soda. I paid with a $20. They tried to tell me my change was $4. What did I pay with ? A $12 bill. Obviously they pocketed the money. The $8 they were trying to steal was not worth the hassle of arguing..What a shame. I will never eat at Wendy's again.
Daniel O'Leary.
419-344-5502

Heith Yerger
from Anaheim, CA
Went to Wendy's in Cypress off of Corporate way last night. Food was great but I had my debit card info stolen and 94.60 charged to my debit account. I wondered why it took the girl so long to run the card.. well now I know! I like Wendy's food but I will not be going back to Wendy's!

Dont worry about it
from Washington, DC
This Wendy's is complete ass there is only one good worker who closes the store because the managers suck ass. I'm not ban but they wanna yell at me telling me to get the fuck out. Fix your shit

I was at the drive threw window this evening at 5 pm. I had to wait for 20 min. before anyone took my order I told them that I wanted a Taco Salad and the girl at the window told me in a very rude way that they had no chili. I was already pissed from having to wait in line so long. There were lots of cars behind me and quit a few of them just left.
I was at this same Wendy's 2 weeks ago and was told the same thing. I could not get a Taco salad because they had no chili.
REALLY I THOUGHT WENDY'S WAS KNOWN FOR THIER CHILI !!!!!!!
The Wendy's in Appomatox Va, has very rude employee's and never has any food ready. Thats to bad cause lot's of people here use to like to eat at Wendy's.

Last night, 4/4 9pm Location US 1 N. St.Augustine Fl. I drive through the drive thru to place an order, I inquired about the difference between the baconater and the son baconater sandwich, I asked 3 times and only response was one was smaller than the other, I was curious about the ounce and bun portions. I pulled up to window and I asked the young lady again and she repeated her answer to me in a smartass way I told her I will go elsewhere and don't have to put up with her attitude, she said fine with me and dropped my tea out the window on the drive thru I also noticed her manager was behind her laughing her ass off. So I went to McDonalds, I did see the managers name was Samantha. I won't say I will not go back but something should be corrected in this store. Thanks

Rhonda Cawthorn
from Asheville, NC
my son and I went to wendys to have a salad me and a sandwish he had a humburger with mushrooms and cheese one with fries and drink me water. we have gone there be for and I had the salad 2 times be for and it was great. this time it was full of white leaves no cheese no tomato I was so up set. it was so busy so we just left. it was #1648 on Hendersonville Rd Asheville NC. I feel that I want go there any more. up set. thank you. Rhonda Cawthorn 828-280-2767 if you need to talk tp me.

Feed Sanchez
from Ashburn, VA
This is the second time I've been to the Patterson California Wendy's and they don't have half salads they always tell me that they have nothing but. Salads. I don't know why you have half salads if every time I get off of work you guys only have full salads. It's becoming a routine with them. Not satisfied, with the practice at the Wendy's and Patterson.

I rate Wendy's a 0. Sorry service, took 22 min from order to serve, ran out of napkins, ketchups, Frostys and fries. Total joke and they didn't seem to care. Just a bunch of clapping monkeys.

Terrible experience today at your store at 6531 E. 82nd St., Indianapolis, IN 46250. Waited over 20 minutes in the Drive through line. There seemed to be an argument between a driver and the worker at the window. Instead of having the car move on or have the person come inside they just kept arguing at the window. I finally left. I'll never go back to this location.

CRYSTAL ESTERAS
from Star, ID
My food was so old that the meat in the chicken tenders was dried up! The FF we're cold but worse they were dark brown, from using old grease. I live to far away to be capable of returning them.
In addition, my salad was half iceberg lettuce. I would never have ordered it had I known that you did this. It appeared to be hidden in the center.
Never again will I spend my money at your establishment!
Wrong, it's wrong to do this to your customers!

This Wendy's at U.S. 278 has the most attitude towards the customers and employees...The general manager was going at with an employee in front of customers and employees...The employees are already rude but this store is very short staffed and they need to be retrained on service...

Howard Migneault
from Bedminster, NJ
Service is very bad when ordering employees are not friendly or polite.Normally I find Wendy's restaurants employees very outgoing and polite. This location in New Smyrna Beach Florida is not managed very well. I trust this will help you make the nesaserary changes that will bring this location up to the high standards that I find at other locations. Thank hope this of interest to you.

Today the average wait time for an order was 8 minutes--I timed it. Terrible service. Finally my wife & I walked out, along with 3 other couples of about 20 people waiting in line. We saw 2 of them later at McDonalds. The New Smyrna Beach store's service has always been slow but this was a new low!

Jackqulyn WHite
from Jacksonville, FL
ordered a baked potato with SHREDDED cheese and sour cream, I opened the bag I had liquid cheese, I asked the cashier to exchange it, she had an attitude and gave me the smallest potato ever, with shredded cheese and no napkin, butter salt or anything, its sad and I wish I would have checked the bag again, I would have just asked for my money back.

ANTHONY
from New York, NY
Dear Management,
On 3/31/19 around 3:00PM, I was at the Wendy's located at 2-30 Garfield Avenue, Jersey City, NJ (201) 433-3950 and I have to say that this is the worst managed facility that I have ever dined in. The place was literally a zoo. The tables and floors were dirty, there were no napkins in the dispensers, and there was only one kid working the register, and he was the worst that I have ever seen. The kid was rude and making mistakes on every order. He was also talking to his friends on the phone and flirting with the females in the store while taking orders, and all this was being done while the manager just looked on doing absolutely nothing. It took 15 minutes just to get our orders and when we received them they were the wrong items. Someone from Wendy's Corporation really needs to go to this facility undercover, then mandate training to ALL staff members, including management because this place is a disgrace to the franchise. There also needs to be diversity at this location because the only staff that I saw were African Americans. This is the same situation at the nearby post office, and the service there is also horrific. This is the reason why diversity is crucial at all companies or else staff gets complacent and the quality of service goes down.
Sincerely,
Anthony "Very Dissatisfied Customer"

I came to store #00007930 located at 1753 Macland Rd, Marietta, GA 30064, phone#678-290-5579. The person's name on the receipt if Arthur. First off, he was very rude and was rushing me, when there weren't anyone else inside the restaurant eating and no one was behind me in the drive thru. I think he wanted to get back outside, as everyone was standing outside the restaurant smoking when I pulled up. Once I finally got my order placed, he was rude at the counter when he took my money, then at drive thru window 2, the girl who handed me my phone was very rude, rushing, almost pushing the bags into my car. She didn't ask if I needed any napkins or sauce, as I assumed they would be in the bags, but when I got home, 5 minutes later, there wasn't any sauce for the nuggets, no spoons for the chili, no crackers or chili sauce, and all of the food was cold. I can understand if they were busy, but there wasn't anyone at the restaurant. also, the bags and the inside of the restaurant through the drive thru window smelled like cigarette smoke. I ordered 2 of the Bacon Double stack $5 biggie bags, large size, two large chilis and a fish sandwich. As I stated, all of the food was cold, the fish sandwich was cold and hard, and inedible. I have never had an experience like this at any wendys, and because of this I will not be back, and I will be sure to let my friends and family know as well.

Leslie Skaggs
from Little Rock, AR
I live in Las Cruces NM. Tonight I stopped in the Wendy's on Walton Dr. .
My wife and I are moving across town and wanted a quick meal.
She order a chicken sandwich combo and I ordered a ceasar salad and a large chili. When I noticed that she was charging me almost 5 dollars I asked her why. She told me they no longer serve the ceasar salad. I asked her why is it still on the menu... She looked confused. I said nevermind just give me the chili. After tasting the chili I realized it was only Luke warm at best. I took it back to the girl working the counter and explained my problem. Still looking confused she took it back. Waiting for about 5 minutes I returned to the counter and and asked about the chili. She poured me another cup witch was just as Luke warm as the first. I asked to speak to the manager. The girl came up and I explained my problem. By this time my wife was done eating and ready to go. The manager explained the chili was still warming up in the warmer. Being in the food service industry for 45 years I told her it she be at temp before it even goes in the warmer. She disagreed and told me that's the way they do it.
Needless to say I asked for my money back. And told her I don't think the health department would agree with her method of heating up food in the food warmer.... I won't be back for awhile

Erica Baker
from Akron, OH
Ordered 2 number 1s and ordered sweet tea, Diet Coke and no tomatoes.
Of course we get our food and we get unsweetened teas for both drinks, tomatoes on both sandwiches and a rude answer when we asked to correct it. I'm done with this Wendy's as it is always poor customer service. From a prior Wendy's employee, you can do better

Mr. Johnson
from Rockville Centre, NY
Terrible place here! (W. Hempstead NY.)
The WENDY'S franchise, in my opinion, for decades has always been one of the top notch fast food companies. However, it seems to be a lack of proper training and understanding, when it comes to customer service these days at some of their locations in New York.
The Wendys, West Hempstead NY location frequently keeps dirty tables and floors, at any hr of the evening when you want to dine in. Going through the drive thru, always takes 3xs as long then any other fast food drive thru, with a line of cars that stretches out to the roadway. Then when you finally receive your food, usually, grease, mayo or ketchup is all over the wrappings and the bag. This location has been sliding down hill for over 8yrs now. Some of the managers they have rotated through, like the one they have there at nights now, dont appear to have things well under control as if they are overwhelmed with the position, being inexperienced and/or under trained.
When a manager comes out of the back from doing whatever it is she was doing, yelling and talking recklessly to customers because they came inside to order their food, rather then to stay sitting on a long line and continue waiting, there is a serious problem with this person. After giving her a piece of my mind for acting like an azz, with lots of restraint, I was forced to spend my money down the road with one of Wendys competitors, where they know how to treat customers, even though the food isnt at the same level of quality.
I dont recommend anyone spending their hard earned cash at this location, its a huge disappointment, often. Not fit for family, or dating, and if you do go to the drive thru, be ready to burn, a good 25mins, along with a good bit of fuel hoping this time they get the order correct. Its just NOT worth the hassle, trust me!.

Ledarius C. Summers
from Jasper, TN
I was in the Wendys located on Third StreetChattanooga TN 37404 about 35 minutes ago , drive-thru was rapped around the building so after
waiting in line 12 minutes I decided to go in and from there I was greeted the young lady took my order in a timely manner and I got my food
II only live 5 minutes away from the business I got home and sorry to say but I wouldn't have given my food to the dog next door. I ordered a
number ten combo large with an additional 10 piece nugget. Neither the fries nor nuggets were fresh it is late now and I could't turn back around to take the food back and get fresh food. I am very disappointed. I hope in that in the future I could get fresh food they should give customers food that they would eat fresh !! not old food I would like to talk to the store manager to see if it is possible to get my order replaced with fresh food
please tell the manager to give me a call at 423 827-2535
thanks for liistening to my concern

e maset
from Mitchell, ON
the food was way below average very poor felt like I was cheated

erick j bautista
from Dallas, TX
i tried to order twice!!! the clerk was no where to be found so i waited ten minutes. i approached the register again after those ten minutes and yet no one tried to help me! michael i believe is to be the guy who was supposed to be helping me out turned out to be outside making "a deal" with someone in a car. this happened on the wendys at sring valley and north tollway!
will never be back here1 i work a few blocks away and will usually coomein here for a meal or tow a week! that is no more!!
store number is 5215

Leslie Davis
from Atlanta, GA
My son and I went to the Wendy's in Destin Florida, where we live. The drive thru line was full, but we had about 30 minutes before we had to be out of there. We were in line behind 4 cars. We sat, inching, for 20 minutes and there was still 1 car in front of us that hadn't even ordered yet. We couldn't take the chance so we had to leave. It was not unusually crowded, which is why we opted for the drive-thru. This seems to be a pattern for this store. We have a very heavy tourist season, but they are just as bad during the off season. I don't know if it's staff or management, or both, but we rarely go because of the service. We then went to the Wendy's in Niceville, Florida and sat in the drive-thru with 3 cars ahead of us. It was amazing, we only sat for about 5 minutes! This store is only 30 minutes away, and also deals with a heavy flow of tourists. Whatever the problem is, it desperately needs to be addressed.

I went in the wendys in Farmington Utah for lunch the boy behind the register walk away with his back to me ignoring me for 5 minutes so I walked out of wendys I have never seen customer service this bad I work for the city of farmington and would the like the convenience of getting a quick burger for lunch but after this experience I will not be going to this location again thanks

The cashier didn't even know what we ordered. The chili was cold. It took 7 minutes in the Sri e thru to get our food. You company is heading down hill. Your customer service at the restaurants sucks.

Hello, my name is Jason Cowsert and 2 nights ago I went through the drive thru at the Orlando Florida SeaWorld location, I believe store number 5219. When I got home we realized the burger in the combo we received was incorrect. So I called the number on the receipt, explained what happened, and was told to come back the next evening and I'd get 50% off my order. She only asked for my first name and never told me hers.
So last night I went back and was told to pull up to the window. I pulled up and the girl running the window was yelling and cussing at another employee with the window wide open, I explained what had happened and as I expected no one had any idea what I was talking about. A female employee called the manager at the time who looked like he was maybe 22 and I told him what happened, he then disappeared for roughly 10 minutes. As did everyone else. Finally when yet another employee came to the window I explained it again to her, she then turned around and started talking in Spanish to another girl and the manager. They then said there was nothing they could do. I then asked for the corporate office number and was told to look it up myself. I asked for the store number to which I was told they didn't have one. I asked for a receipt since all the information is on it to which I was told no. They once again had a three way conversation in Spanish so I couldn't understand them. I ended up at the window for over 20 minutes blocking the people behind me.
Absolutely nothing was done, the employees were extremely rude and dismissive, they didn't want to help me at all, and then tried pretending they had zero information on how I could contact anyone else. The wouldn't give me any reference names, I just know the manager was male Hispanic with a curly fo hawk styled haircut and gauges in his earlobes. The drive thru girl was a larger African American who just kept talking about her break. And two younger Hispanic girls one with reddish hair.
I love Wendy's but will definitely never go there again to that location. I'll also be informing all of my coworkers at Disney and Universal to avoid that location. They have a history of rudeness as well as unclean dining space. I'm not sure anyone will even read this, but I'll copy and paste until someone responds.
Thank you.

ekkatuth Gordon
from Marshfield, WI
I went to the Wendy's on 501 in Conway South Carolina all I had is $100 bill they asked me to go get changed and come back and place my order because they didn't have change all I was trying to do is feed my family and I'm quite upset and offended

Dolores M. Hrankaj
from Broken Arrow, OK
my daughter and I stopped at the Wendy's at 1905 E 21st,. st Tulsa OK 74114. it's by her house I have never gotten such a messed up order. EVER. I ordered a Crispy chicken, single Dave's with no pickles 2 small chocolate frostys and water.
the beverages were o k but I got a large fry (or some kind of fry) and a breaded chicken that was too spicy for me. talk about upset. my daughter wouldn't eat. I usually don't eat fries but I did this one and I had to chop off all the breading and it was still to hot.
I got the right ticket but not the right food. aren't your people trained to check it out? the car in front of me had a problem and got her money back because she refused the drink.
I should have taken the hint and che4cked mine but there were a bunch of cars in back of me.
another Wendy's had problems with their Frosty machine. why do you think people like Wendy's? THE FROSTIES.
please get your act together.

I stopped in to grab dinner to go. But when I got home, my order had been messed up. It wasn't convenient to drive all the way back, so I just ate what they gave me.
I ordered a double bacon s'awesome burger without a bun. However, somehow they forgot:
The s'awesome sauce, the pickle, the bacon, and the onion.
Essentially, I received a double cheeseburger. Not too happy to say the least.

Racheal albrigth
from Decatur, AL
Took for ever to get my food when i did it was cold and nasty. no one seem to know what was going on. the manager was drunk all you could smell was the alcohol her eyes was red . and she was moving slow the other co workers looked like they knew more then her. this place is a big joke please do not contact me back im going to call the news or something to see what i can do about this.

My family and I are regular customers at the Wendy's located in Rockingham, NC. For the last few months we have observed a continuous decline in the quality of service at this location particularly during the late afternoon or evening hours of operation. Within the last two weeks this location has been out of: large Chili Cups, ice for soft drinks, ingredients for various items on the menu, catsup, Frostys, soft drink cups, and napkins. The quality of service is poor. The manager on duty last evening allowed the service line to backup. The one server was tremendously slow taking orders. the ice machine was out of order and the Chocolate Frosty machine was down. Several customers left before being served and at least two customers cancelled their orders after learning that ice was unavailable. Many people visit this location after evening worship services on Sunday evening and find the store understaffed to handle the volume of business. It is obvious to me that the manager on duty is not up to the job. This would be a great location to send an undercover boss to personally observe the problems at this location.

Michele Harrison
from Ironton, OH
My family & I tryed to go out for dinner in your Ironton, Ohio Wendy's tonight. This place was so dirty and so nasty PLUS we witnessed a drug deal in the parking lot, plus they are letting young teenagers hang out there going in and out of the building and they are screaming & cussing each other inside the restaurant, throwing furniture around, going out the door throwing the door back far enough to brake standing around and hanging outside. My family & I will NEVER in a million years eat at this location ever again, I will drive a million miles away before eating there ever again. Thee only thing good about this place was the people who worked there. Something needs to be done about this place someone needs to take control of this place fast before it loses all of its customers! Does no one have family values anymore?

Virginia Murphy
from Pittsburgh, PA
2 days in a row we went through the same Wendy's and when we got home a small chili was not in our order. Sore # 8221 time 9:03 p.m. on 3/28/19 this store also as a problem with the ink for printing out their receipts I can't see all the information so the time off by a few min.

West 10th street Indianapolis Wednesday March 27 waited 3 to 4 minutes at the counter for an employee to inform me that the restaurant was unable to serve food account of computer had crashed. Previous time I visited this restaurant, early fall of 2018l, upon giving my order, was informed drink machine was broken. no one knew how to repair it. I do not anticipate another visit to this particular restaurant.

On Sunday, 3/24/19 I drove 700 miles from Cincinnati, OH to Brooklyn, NY to visit family, with three young children. My youngest child who is 3 years old will only eat chicken nuggets, so I decided to drive-thru Wendy's (505 Utica Ave.). I pulled up to the Drive-Thru at 7:45PM (there were 2 cars ahead of me). My order was placed at approximately 8:25PM. I pulled up to the cashier's window at approximately 8:30PM. At this time I paid over $24 for my order and they gave me all of my drinks and a salad. I was still waiting for nuggets and 3 other meals. At 9:05PM they handed me the remainder of my order and I asked what was going on with the long wait and the gentleman at the window said they were short-handed. The only reason I did not leave is because it was getting late and at this point I had 3 starving kids in the car and did not want to make a scene. This was supposed to be fast-food. This was the worst service I've experienced in my 49 years of life. It is unacceptable and the manager should be reprimanded for allowing customers to wait over one hour for "Fast-food". I will continue to reporting this incident via phone and writing other entities about how I was treated. The cashier did not apologize for the wait or offer to give my money back! I am shocked and appalled by the lack of empathy and customer service from Wendy's.


mary rush
from Rancho Cordova, CA
I ordered a meal with bacon (I think #4) with baked potato and iced tea. I received a regular hamburger, the iced tea had zero ice, and I did not get cutlery. I also did not receive the receipt so I don't know if I was charged for the more expensive #4 or not. I almost never go to Wendy's even though I really like the food. This is why. This meal was very disappointing.

Today, March 27, 2019, my husband and I stopped at Wendy's at 9401 Annapolis Road, Lanham, MD. The telephone number is 301-731-5681. Each time I tried to call, the line was busy. I have never tasted food from Wendy's this bad. All the food tastes like it was cooked in "old" oil that needs to be changed. I never want to visit this Wendy's again. We spent $8.48, which is not much, but I feel like I threw the money away. I will keep my receipt to remind me not to come back. I cannot say thank you for your service because I would be lying. There is a number, 20164 on the receipt. I do not know if that is the order number. Something needs to be done to address the way the food is cooked at this Wendys. We also did not dine in, but the receipt has "DINE IN" on it. I am very disappointed. E. Pratt

James Nelson
from North Tonawanda, NY
This was my worst experience yet with the Wendy's at 811 Youngs St. Tonawanda NY. I like Wendy's restaurants, but this one must have bad owners and bad managers. I say this because I have gone to this location for at least 30 years and 90% of the time something goes wrong. Not always crucial, but not accurate. This leads me to believe that this problem is bad owners that do not train the managers properly. This most recent experience I had was Saturday 3/23/2019 at 9:37pm(I have the receipt). I came inside to order because the drive thru does not work out for multiple orders as I had my family with me (two children under 6 years of age, Grandma, my wife and myself). I ordered to go, while the family waited in the van. While other people came in and ordered after me they all left before me (they were also very dissatisfied, checking there own orders because of multiple mistakes). We finally received our order around 10:15pm. After apologizing and assuring me the order was correct for the very long wait, it was not correct (missing sandwich food and cold sub par quality). We were already home at this time. This always seems to happen after 7pm and this has been going on for too many YEARS.

I was at the Franklin Mass Wendy's receiving a order and an employee throw a full cup of cherry coke on me through the service window and then procced to laugh in my face.

Went through the drive thru and when I got home order wasn't complete. Missing from my taco salad was the tortilla chips. Wendy's #8221
Date 3/27 time 1:00 p.m.

penny bowman
from Columbus, GA
all wendys have been good except the one on veterans dr in columbus, GA. They make wendy's look like a ghetto restaurent!!! you wait 10 minutes in the drive thru and they act like you've interrupted them, they walk around at p/u window with frowns, don't even say come back or good-by. one night after waiting at drive up i went inside just to be greeted by attitude, ordered a salad and after 10 min later she came back stating she had to make the salad when they are ordered, when i got home to eat it the chili was ice cold. if this was 1st wendy i went to, i would never go to any of them and tell friends not to either. however this is only bad one. you need to fire everyone at this one and get staff that cares

Keith Angel
from Akron, OH
I ordered dinner at one of your locations 623 E. Market Street Akron Ohio 44304 and in the middle of my chili I found what appears to be a yellow jellowy-like substance, photo attached. It made me vomit into my serving tray.
I went to the counter and asked for the Manager. He came over and I asked him what this in their chili?
He said that he did not know what this was, took it and threw it in the trash.
He did not offer to reimburse me or anything.
He just walked away. That is entirely unprofessional. There was a substance that no one knew its origin in a chili served to the public.
I have a receipt attached also for your review and confirmation that I purchased this at one of your locations.
I left the store, very upset. I have been going to Wendy's for over thirty years but I doubt if I ever go there again.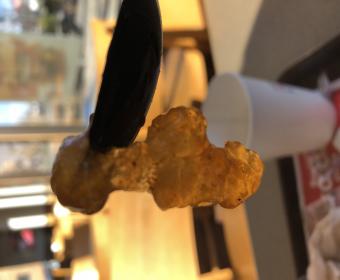 Kimberly Webster
from Cleveland, OH
Got disgusting old chicken sandwich, ordered bbq cheeseburger meal and got plain cheeseburger, paid for frosty and then got told it wasnt working

Lisa pentangelo
from New York, NY
I ordered a bacon stir from Wendy's on DoorDash without a bun it costs me 11 dollars to get and this is what a got. A dry burger with two small drops of mayo and a half piece of bacon. 11 dollars for this you should be ashamed of yourself. I will never eat Wendy's again in fact I'm posting this on all my social media.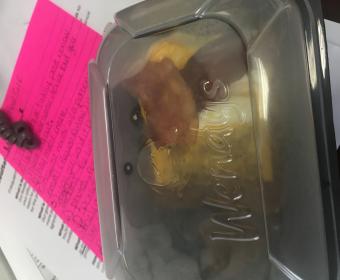 Donna Lee McTaggart
from Dayton, OH
We stopped at the Wendy's on 2948 Miamisburg Centerville Rd in Dayton Ohio a little before 4:00 pm on 3/24/19. There were several people in front of us and they eventually left the restaurant because they were not being waited on or their orders were wrong. Our order was rung up incorrectly after we waited at least 10 minutes to be waited on. It took us over 30 minutes to get our meal--and it still wasn't correct. The pop machine was not working, there were no straws or ketchup available, and the tables and the room were dirty and not picked up. When we left there were at least 10 cars at the drive-through. I will never stop at this location again. The help was rude and indifferent.

sondra pearson
from Montgomery, AL
we went to the store on zelda rd in montgomery,al on march 22,2019. we ordered our food from drive thru, the order was 2 singles with cheese and a 6pc chicken tender. once at the window we were told to pull up they had to cook our 6pc chicken tenders which took at least 20mins. when we made it home to eat we live about 5mins from wendy's, we sat down to eat the singles were cold the brread was thick crumbly and stale. beef tasted old, i feel like we wasted 8.00. can someone please refund my money or send some certificates or even coupons, please. thank you in advance for your help.

DEBRA Belles
from Philadelphia, PA
Really poor customer service. Co-workers talking loudly about other customers. Fooling around with each other while we were waiting for our food. Drive thru window was wide open for bugs, birds etc to come in( we were to proceed to the 2nd window to pay and get food. Salad was tasting rotten and when I asked for a receipt, was told it was broken..horrible experience

Joanne Heinsler
from Avon, NY
I have had a issue since back in December 2018 until now. I called and told the manager about it at that time and they said something would be sent out to me by mail. Then I thought about it again in March, because nothing had arrived so I called a manager again for them to tell me something will be sent in the mail. I still never got this issue resolved and I also sent a email like this once and got no feedback. What I had ordered at the time was the 4 dollar deal. 2 of those one for me and one for my daughter. I dont know if they were real busy that day seeing it was in December and the hustle/bustle of things. Just trying to see if things could be taken care of. My group had a get together there and that all went fine. We dined in. Just have seen no results for this situation.

Denise Witkowski
from Gonzales, LA
I love Wendy's food; my favorite "go to" for fast food. And, in general - Customer Service is better than most fast food restaurants in the area. Lent means the cod fish sandwich; which is the best of fast food fish sandwiches. Herein lies the problem, three (3) times in the past ten (10) days, at three (3) different locations; two (2) cities: New Orleans and Baton Rouge, I've placed an order for the fish sandwich and have requested and paid for cheese. Three (3) times - YES; ALL THREE (3) TIMES - there is no cheese on my sandwich!!!! If this is Wendy's cost saving tactic, it may work well in the short run, although it's a good way to lose customers for good.

Employee Ariyonna at Store #1001 refuses to wait on or serve law enforcement in uniform
Manager let employee of duty brush his hair at counter
Manager let Ariyonna yell at her talk back to her in front of us Manager would not acknowledge customers Terrible
I am at lunch trying to eat I couldn't even place order
We are Law Enforcement we have no sit down lunch we eat on the run
Another person had to take our order
She threw my food on the counter and gave me crappy French fries
She should not be in customer service
She needs to get past her bias attitude if she wants to work at Wendy's
I am sure Dave God Bless Him would never have tolerated this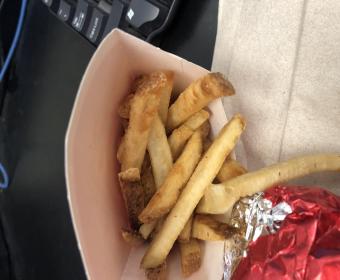 mike muraco
from Clovis, NM
Not so much a complaint as just observations.Nice try Wendy's. We went last night. First we order Give the young girl a 50 for a 17.28 meal ( overpriced if you ask me) she had to get a manager to open the cash drawer Red flag. I asked why she had to do that , she said anything over $40.00 she was required to. So She hands me my change I had it figured already. Sure enough she gave me $38.72. I walked back and gave her the extra dollar. Kinda long but funny. So we were told it would be 4.5 mins to cook (nice of them) to tell us. Ok no big deal. Our # was 2. next we find out the register dosen't automatically advance the #'s and there were 2 # 2's and or food was given opened and returned by the only other people in the place. Wait there's more: Ok no big deal but another 4.5 mins to cook. So the girl that can't subtract comes out with our food sure enough it's all wrong. I show her my ticket and she looks at me like I'm stupid. So another 4.5 mins to cook our food. Now the soda machine. Not only is it a touch screen that everyone has to touch to get there product even those that have just touched there junk and not washed their hands. But I go through all 4 screens several times to find out the 2 I want are not available at this time? Root bear and Power aid. All and all it was amusing. The food was good we got to visit for a while so hats off to you Wendy's, one other thing they just remodeled and the place looks good and clean. However they are going to need some kind of window coverings on the 10 foot tall windows this is Nm people, and the sun was already making it really uncomfortable and it's only March! Food was as expected people were nice. Clovis nm store 88101

Barbara
from Newport News, VA
The service was slow the food was cold the drank co was not properly regulated for the first time I was not a satisfied customer if you would like you can call me at7572749529
I have eaten at this location before and the food was great and so was the service

BONNIE SCHRAMM
from Alfred, ME
I don't have a complaint.
After buying 2 Frosties at the drive up in Biddeford Maine Wendy's, I moved ahead so as to not block the window, and wrestled my Frosties into a bag I'd asked for. It took about a minute, and then I secured the bag inside my carry-bag making sure they would't fall off my car seat. When I got done fooling around with all that, I looked up and was startled to see a slender little girl - an employee - standing patiently in the rain beside my car WITH MY CREDIT CARD AND RECEIPT, which I was about to drive away without. I don't know her name, but the transaction was done on 3/22/19 at 4:37 PM. The host, was Kimberly, and the cashier was Cassidy, but I don't know who the girl was who happens to be the hero of my day. I would so like to see her commended. Losing a credit card is a HUGE pain!
Why don't you have a place to feedback praise for over the top good work? Sincerely, Bonnie Schramm.

Miranda Leadbetter
from Lancaster, OH
We just ordered from there and everything was wrong. None of the sandwiches were the way we ordered. They didn't give us a kids toy and they didn't give me my baked potato. We waited for ever on the food. There was only one girl working the whole store while the manager was in the bathroom!?! I will never go back!

Stephanie
from Bedminster, NJ
I was in the drive through line for 20 minutes today at 2:00pm 3/22/2019. Nothing was offered for an explaination. When I asked the manager said the cars in front had large orders of chicken nuggets. I know you can cook more than one order at a time and they do not take longer than 5 minutes!! I asked why they did not park the cars a head if me manager said, they were there first we we're waiting in product. Worst service in the afternoon I have ever seen. This is NOT the Old Fashioned Hamburger joint I use to work at!!

Donald W Dompierre
from New Bedford, MA
The first time my wife and I had a cod fish sandwich we had them all through Kent and enjoyed them. That was your restaurant in Hyannis. We have seen a much small and heavily crusted cod fish sandwich. Why have you cheapen this product. Respectfully Submitted,Donald Dompierre

Shaniel Brown
from Miami, FL
On 3/21 9 55pm I visited Wendy's 2281 W, Florida-834 Pompano Beach Florida 33073. I had a horrible experience at the drive through. The associate that was working says welcome to "Wendy's what you want". So I said excuse me she said what you want. I'm like I don't feel welcome why you sound like that I work overnight 12 hours. I understand your tired and may want to go home but that's not how you greet valuable customers that keep the business going. She said the value for what your buying can't even pay me. Then she said you know what I'm going to let some one else take your order. The manager greeted me well and I said to her that sound like someone who wants to work. In the background I heard a loud obnoxious laughter and then she said that homosexual better going somewhere else because I will spit in this wrap. So I said the the manager to tell that "word outside of her name to go home" At that point I definitely didn't want to proceed but I drove to the window to get names. When I got there the manager said Oh can't take your payment or honor any service to you because you called my employee outside of her name. Reluctant and blatantly said she won't give name with all name tags off. I said to her in the background I heard everything she said so what do you plan to do about that. She said I will handle her and then two person joined her at the window possible the girl and another associate one of them saying Let me see Who this is. One walked back and said oh get him together let him know we all from the same place so we stick together. This is a horrible store and They are chasing away customers and making the fast food industry look bad and Delfinately making Wendy look bad. The manager said she will handle her yet she was laughing with her and at me being very discriminating so let me see what corporate will do. As I will take my homosexual money somewhere else.

Denise Martinez
from Cleveland, OH
We waited in line in the restaurant just to order for 20 minutes. Then when I went to order potato they were out of potatoes. No apology or nothing just that they didn't have potatoes!!!
My rate is a 1!!! Service was not good!

jdiuliano@yahoo.com
from Springfield, PA
Was waiting in line to place a lunch order and receive my order for over 20 minutes. There was only 3 people ahead of us. The employees
were fooling around. When I complained and my friend did as well the women who usually works the drive thru window started mouthing off
at us like we didn't have the right too. Then the shift manager who may have less class than the other girl was worse. I worked as a manager
for Pizza Hut for 10 yrs and never saw anything like this. They didn't include a receipt knowing that we probable would complain. This was the
store on Mac Dade blvd in Ridley Pa

Richard Pruitt
from Arcola, IL
Food is always great and people are good. My complaint is about the store in Urbana, Ill on Prospect Ave.. Your manager and zone manager should be ashamed, the parking lot is full of holes big enough to wreck the front end of a car and not just in one area, it's the whole lot. I won't be back till it's fixed. Don't have any photos of me, doing nothing or I would send one.
Thank You
Richard Pruitt

Deedee
from Bedminster, NJ
Ordered a spicy chicken salad told them I wanted pecans instead of croutons she said no substitutes and charged me .50 for the pecans the week before they forgot my salad dressing in drive thru

Natalie Ellison-Renk
from Marshfield, WI
I already posted my rant and rave on my Facebook but I figure nothing will change unless Wendy's is contacted directly. Had I gotten a receipt I'm sure there would have been a number on the back I could have called. My local Wendy's has the worst customer satisfaction I've ever experienced and it's every time. Apparently, I'm not the only one because many others also left their comments on my post about their negative visits at the same location. I'm not kidding when I say every time I pull through that drive through it's as if I'm an inconvenience to the workers. My order is never right or complete. Basic things like utensils..... yesterday I ordered a salad, 2 chili's, baked potato and nuggets. There wasn't a single fork, spoon, butter, salad dressing, and they were out of sour cream! I had to call the lady back to the window twice to request everything and she responded as if she was bothered or annoyed by my request. I'd normally just let it go but because this is every time over the last 5 years or so I just can't take it anymore. Sure I could find a new location I suppose, but this is the most convenient and the most slow. I just had to share my frustrations because it's not right and I don't think that's the kind of legacy Dave Thomas wanted to leave behind.

Lorraine Brown
from Little Rock, AR
I dined in at Wendy's on March 18, 2019 @ 1:01 pm. I prefer the biggie bag. On my burger I asked for no onion as I'm allergic. They put onion anyway. When I took it back to the counter they took the onion off right in front of me and handed the burger back. My fries were cold and so where my nuggets. I left it at the counter and asked for my money back. They would not refund me. I was very unhappy. I have not eaten at Wendy's and decided to go for my lunch hour. I will not be visiting your restaurant again.

Sean Hess
from Columbus, OH
Wendy's on Broad Street across from town and country have some of the rudest employees, The manager was just nasty and not a nice person! Wanted to argue and just not own the fact that they messed up....just make it right and let's move on!

TAMARA LYNN HIELDBRANT
from Sunnyvale, CA
TAMARA HIELDBRANT
80 SOUTH MARKET STREET
SAN JOSE, CA 95113
408-300-4739
TAMARAHIELDBRANT5378@YAHOO.COM
OBJECTIVE~
LOOKING FOR POSSITION AVAILABLE~
I AM A VERY HARD WORKER, FRIENDLY, AND ENTHUSIASTIC,
I HAVE WORKED IN RETAIL, WAREHOUSES, RESTURAUNTS AND ANIMAL HOSPITALS
I AM GREAT WITH CUSTOMER SERVICE, A VERY HARD WORKER, AND DETAIL ORIENTATED, AND I WORK LONG HOURS AND DON'T COMPLAINE.
EDUCATION~
CENTERAL INDEPENDENCE HIGH SCHOOL- SAN JOSE CA
WESTERN CAREER COLLEGE- SACRAMENTO CA
EMPLOYMENT~
LYON'S RESTERAUNT- SACRAMENTO CA.
TOTAL CARE ANIMAL HOSPITAL- ANTELOPE CA.
VETSMART PET HOSPITAL- RANCHO CORDOVA
I HAVE BEEN OUT OF WORK FOR SOMETIME NOW BUT I AM REALLY ENTHUSIASTIC ABOUT GOING BACK TO WORK AGAIN.
I WOULD LOVE TO WORK FOR YOU AND JOIN YOUR TEAM
PLEASE CONSIDER ME FOR THE POSSITION AVAILABLE.
CONTACT ME VIA E-MAIL OR TELEPHONE
I AM AVAILABLE FOR INTERVIEWS ANYTIME
THANK YOU FOR YOUR CONSIDERATION~

Brandi Anders
from Clarksville, TN
I go to the Wendy's in Clarksville Tn ,on Tinytown road, to order lunch on 3/16/2019 around 2pm, I order the awesome sauce burger combo #4 and i told them no pickle or tomato. I also ordered my wife the number one no pickle or ketchup. On my combo the number 4 all that was on my burger was onion , sauce and hamburger meat. My wives combo was drowned in ketchup, after I drove all the way home to eat it I seen this and didnt have a dam receipt. My wife calls and they tell her they have to have a receipt. What a dang waste of almost 18.00 on two meals and it wasnt our fault we didnt get a receipt . This is two times we have ate at this location in the last month and this time was by far the worse. THe first time the meat wasnt done and the sad part me and my family loves Wendys but I guess since this place offeres poor service we will have to go else where.

Billie Bisong
from Stockbridge, GA
Every night at the Anvilblock location in Ellenwood, Georgia, there is a long line and long wait. The cars are at a standstill. This has taken place night after night around 10pm. I like Wendy's but I end up getting out of line after 20 or 30 minutes when the line is at a stand still. Please FIX THIS PROBLEM!!!!!

Teresa Semo
from Sliders, VA
I was waiting in Drive Thru waited 2minutes for someone to take order when they did woman said get back with me. Then I could hear her talking to other co workers about specifics of the job at Wendy's, then she answered a phone call or talked to someone in walk-in dining she kept on and on finally I left cause was die at work. I give no stars to Wendy's at broads st / Tuckernuck Richmond Va all I wanted was a Wendy's burger befor my shift started.

Brenda Solomon
from Hillsborough, NC
We just ate lunch at Wendy's in Wake Forest, NC on Capital Blvd. and Wake Union Church Road. It was just filthy! The place where the orders are taken had not been cleaned lately, as well as the area behind the counter. Looking into the food prep area had not been cleaned in eons. An ice cream dispenser looked out of order, not fixed and dirty. In past years I have never encountered anything like this at a Wendy's restaurant. I was told the manager of the day was Chris. If this was owned and had my name attached I would fire all workers and start over. I can't imagine how dirty the food is if they cannot even clean their work areas. I saw a lot of standing around but no one was industrious and cleaning or doing anything productive. AND they were not swamped with customers!!! How do you continue to stay in business if you run your restaurants like this one? When Dave was alive this did not happen. I am VERY disappointed in the eatery!! Not sure if I will ever go to another Wendy's again. Do you ever send corporate to check out these places??? I will be interested to see if I get a reply from you. Thank you, Brenda Solomon

Pat kiefer
from Northridge, CA
Ordered a pecan chicken salad- no chicken, no pecans, no feta cheese. Ordered an avacado salad-no avacado. Nothing in it but lettuce, cheese, and tomato bits. Too far to drive to take it back. What's up? Usually your salads are great. Pleas respond.

tammy stevens
from Dudley, NC
The night assignt manager Named Estebone, cussing at other co worker, threating other co work in presence of customer, flirting with minor kids and co worker. saw him once handing something out of the drive threw windows and wasnt a wendy bag. my son worked there and he said he used to close at night and estevon would void stuff and take the money and he would take off to take some girl home while he is on the clock this is Wendys in Goldsboro Nc on Wayne Memorial Drive. My son finally quit he also said his friend was given a pill that got her high and very sexual and that her and estebone went out to a bar. i wont be coming back to wendys unless this is delt with i live not that far from this store

Robert Sullivan
from South Yarmouth, MA
I use to use the Wendys app on my phone for special offers but it no longer works. I called the customer service number and they said the new app will not work on my phone because the new app uses 5. Well I have a Samsung Mini4 smart phone which is a few years old. I am 71 years old and I do not plan to buy $1000.00 new smart phone to use the Wendys app which requires the new 5. I know Tvs are going 5g in the future but I guess Wendys is so advanced that it is using 5g now. I go to Wendys everyday for lunch and have for the past 14 years. I think this new 5app is ridiculous and the idiot who designed should be fired. I am sure many old people like myself do not have new 5app phones. You are at better at burgers than you are at apps. Horrible service! I would rate your app 0 stars if I could.

Wanda
from Bedminster, NJ
I wish I cld have given them zero stars. Wendy's on Chuck Dawley Rd in Mt Pleasant SC is the most unprofessional experience I've ever had at any Wendy's. A vehicle sat in front of me for all of 10 min so I went around them to see if the restaurant was open. There was a car sitting at the drive thru window forever. So I waited behind it and the car that was in front of me drove off. The woman at the window was rude and extremely unprofessional. They said they were outta sweet tea, chocolate chip cookies and then burgers. Then they took first to bring us our food. NEVER AGAIN!!

Phil Gallina
from Toronto, ON
I ordered 2 spicy chicken wraps a small chocolate sunday and a medium Coke Zero
When my order was complete I asked for 2 barbecue sauce packs
I was told that it would cost me .30 each.
I think this is outrageous and will not spend my money in your establishments unless you change your policy.

levern wilson
from Cherryville, NC
ive already sent my complaint to you twice about wendys in kings mtn n.c. 28086 about the mgr alex being rude and hateful to me and wanted to know whats been done about it.

Tom Kakadelis
from Ashburn, VA
Purchased a Dave's double large combo. Food was cold. Fries were greasy and cold. Very disappointed. No stars. Want my money back and my appetite too!

I tried your new cod fish sandwich today and was very disappointed. Have always thought Wendys food was very good, but this sandwich didn't measure up to your standards. There was more coating on the fish than there was fish. Also the batter was hard and caked up on part of the pattie. I will not be having anymore of the fish, I'm sure that others will find the same if all the cod is prepared like the one i had today.
Thank you

Giant JBC. had what appears to be one piece of bacon broken into six small pieces on it in total. Add says double the bacon. Also store employee would only wait on one customer at a time getting them their food before waiting on next customer. There was a long line and my fast food took 25 minutes to get when I was 4 th in line. Counter person said manager won't allow them to take more than one order at a time.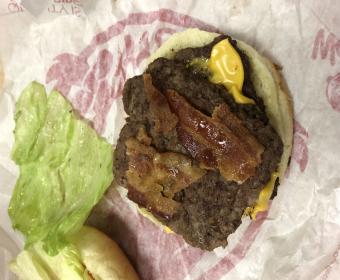 I got a quarter pound single and asked for it without certain condiments in Oskaloosa, Iowa. First, the speaker was so bad, making scratching noises. And the worker at the window was talking to the person at the pick-up window while she was talking to me. That's very irritating. Then when I got up there to the pick-up window, even though I had repeated 3 times what condiments I didn't want on my sandwich, she had to ask me again and turned around to tell the person. I think they just took a sandwich that had been in a warmer and took the stuff off because it wasn't wrapped up nice and tight, the sandwich was not hot, and the top of the bun was so dried out that it made a popping noise when I bit into it.

I ordered 2 $4 meals Jr bacon cheeseburger chicken sandwich and fries. Once I received my order , I checked and realized both orders were missing the chicken sandwich. It was lunchtime so I had to get out my car and go inside. Once I spoke to Manager explained my order, she still refused to give me what I was missing. She said everyone here has head sets on and that's what your husband ordered. I was in the car I know what he ordered. The window team member did not give me a receipt. They never do. Manager did not give me what I was missing. So I would like some compensation for this. Or something....

Larry Savalli
from Dimondale, MI
Not a complaint as much as a tip for one of your units. I spent 21 years in the restaurant industry in management and middle management. I realize the importance of building sales in order to cover expenses and hopefully build profits. Your restaurant in Lansing just off I96 and MLK and Bishop Rd. has a problem. with PM sales.
I drive pass this unit each week night on my way home from work. Once in a rare while will the sign be turned on to attract business driving by. This sign needs to be on before it gets dark outside. This is a highway restaurant that could pull in MORE business if only people knew where the restaurant is located. This was a peeve of mine when I was a unit manager and a district supervisor of a different chain.
I believe that if this problem would be corrected you would see sales improvements immediately.
Sincerely,
A Concerned Citizen
Larry Savalli

Wendys at the 7900 block of Winchester stop taking orders at 12:30 on Friday night. I pulled up to this location thinking i had unti 1:00. I pulled up to window to order at 12:30 and no response. I pulled up to the second window amd there were two ladies one with hair braids(long) and one younger lady with hair pulled up in a ponytail, i blew my horn neither lady wouldnt even recognize me blowing and asking were they open. Totally got ignored. Very unprofessional. And why would they shut down 30 minutes early? Very upset. Thank you.

Kylan Graham Daugherty
from Rock Island, IL
I went to Wendy's tonight and am very disappointed in the quality and service I got. The burgers (both of them) that my mother and I got were poor quality, fairly bland and not really hot. The fries were stone cold and probably sat out for hours. They also didn't give me my receipt when I paid either, so I couldn't even do the survey and mention it there! I bought 2 #2's (Baconator combos) and paid $20.44 and am extremely disappointed.

James Holmes
from Atlanta, GA
Visited the Wendy's in Camby Indiana on Friday night and they didn't close till 1 but when me and my family showed up to get some food 15 minutes before closing all the lights were off and they did not respond on the drive thru speaker. Very dissatisfied!

Dennis Ruebush
from Chicago, IL
Last 3 weeks i have given up and left the macomb il wendys. The line for ordering never moves. Employees move at a snails pace. No sense of urgency or work ethic.

Tammy Elder
from Grand Ledge, MI
This is now the second time that Wendy's not only screwed my order up but was rude. I let the first time go and chalked it up to a bad night, (that happens, I get it). But, I attempted to place my order and heard "hold on". Another employee came on and asked what I wanted, I again attempted to place my order and was told to "hold on". Finally I placed my order and clearly stated what I wanted, due to previous mistakes. I came home after not eating all day and tired and it was wrong, again. I believe I mentioned all day, hungry and tired. I was not going back out so I ate my fries. Please tell your employees to listen to what they are being told and I for one will not to say "the customer is always right", they are not. But, please just listen and be nice...please, thank you and sorry for the wait is just common curtesy.

We have been to the Lewisburg Tn Wendy's twice which we had horrible service. Fist time the person taking order could care less if she was working. Repeated our order several times and when we got order it was completely WRONG.
Second time ordered chocolate frosty that we had to drink. You might want to hire/train your employees that without customers their is no Wendy's. You could end up like Bojangles that was there. Out of business. Won't darkness the steps again. And believe me word of mouth is huge!!

So.....I went through the drive-thru not one but twice this week....big mistake because both times our items were missing!!! It's pathetic that one needs to check the order before driving off!!! Lesson learned....Tuesday and today, Friday, after getting home and calling, no one would answer the phone. I am not happy with the inconvenience of having to pay for missing items!!! During lunch many of us don't have time to deal with this crap!!!

debra prazeres
from Virginia Beach, VA
my wife gets a certain amount of time of for lunch... today she went to the wendys at Sam's Circle 2165
1524 Sams Cir
Chesapeake VA 23320-4693 and she had one person in front of her she stepped up and the crew just went on doing whatever and ignoring her except the ones that looked at her and were smiling at her like it was funny that they were ignoring her ... after 6 minutes she left the wendys is this the service we can expect from wendy now..this was a big shame to be treated in that manner

Pamela Poulsen
from Las Vegas, NV
Went to Wendy's last night. Had been some time since I visited, but wanted an apple bacon salad, cheese baked potato and chocolate frosty, sounded so good. The location is West Cheyenne at Rainbow Blvd, Las Vegas, Nevada. I cannot give the store number because, even after asking 3 times for a receipt, I was never given one. It was approximately 5:20 p.m., presumably a "dinner hour" for any restaurant. I went inside to place my order. I ordered a baked potato and was told "we don't have any potatoes" to which I responded "they are on your menu" and was told "yeah, but we just started some baking and do not have any done now, will probably be 30 minutes." I ordered a small chili instead, an apple bacon salad and a medium chocolate frosty. After a few minutes I was informed that they had run out of chocolate frosty and would I like vanilla. OK, not what I wanted, but will do. When I got home and opened my salad, it was just a green salad, 2 cherry tomatoes and 3 (yes 3) small slices of chicken and some grated parm cheese. At this point I was thoroughly disgusted . How does a restaurant not have popular menu items during prime dinner hour and then still not get the order right?!? It will be some time before i visit a Wendy's again!

Terrible service and the lobby and bathrooms were filthy. One good thing is when requested one young lady came out and wiped down our table.

Jeannie Marrero
from Orlando, FL
On 5/19/19 my husband and I went your store #18005219 to grab something to eat. From the moment we walked in there was trash all over the place. Not just strawberries paper or a napkin here and there but actually trash on the floor. So we ordered our food and right away cashier said there is no Coke available. So we go to get napkins and again cashier goes we ran out of napkins. We were like for real and we left. Never have I experience going to a fast food place where not only was it dirty but hardly any supplies. Trust me when I say I traveled all over even in the not so friendly places.

Barb Sellers
from Indianapolis, IN
Continually gets worse. Todays sandwiches were possibly worst ever. Bun was so dry I couldn't even eat it.

I work for DoorDash.
I ordered a pickup through the drive-through and drove up to the service window.
I used my own debit card by mistake and quickly asked them to void the transaction and use the correct payment method.
The Manager, Marta, told me that "This location doesn't do refunds..."
I've had this problem before at other locations. It's never been a problem; the transaction is voided, the canceled copy of the receipt is provided, a refund receipt is provided and then a new receipt is printed for the new payment method.
I had to get out of my car, show them my DoorDash Bag, show them the app on my phone and only then did Marta agree to do the transaction.
While she had my card to process the refund, she took a picture of my card "to verify that I work for DoorDash"
I've never had someone do that, and because I was on a delivery, didn't press the issue. I did ask her to delete it as soon as she verified with DoorDash that I was a Driver.
This morning, I received notifications about activity on my account.
I haven't checked with my bank, but if I have to replace my debit card, that's at least a week I won't be able to use it for work.
In the future, I will try to avoid using this location. My biggest concern is that my information has been used to make fraudulent purchases.

Steven N Zias
from Syosset, NY
I will start by saying at midnight I decided to visit my local Wendy's. I ordered the Awseome Sauce Chicken cutlet meal, Bacon Cheeseburger plain,and cookie Sundae. Once I pulled up to the pi k up window, I advised the employee that I forgot to mention I had a coupon for $2 off any size combo meal. The employee stated he cannot accept, that I must tell him while I'm ordering or else he cant apply it. Now, why he couldn't cancel my order, reorder my food and apply my coupon is beyond me. I work in the food industry and there's much worse then having to put someone's order in again to make them happy. So ok, I cant use my coupon. I get home, open my sandwich and my bacon is BLACK. Burnt so badly my dog wouldn't even eat it. I took a picture to show I'm not exaggerating. So to sum it up, instead of going up the block to either McDonalds, Taco Bell,KFC,or Burger King I decided Wendy's. I'm very disappointed and feel like my business would be welcomed elsewhere and they would of easily applied my coupon for me. I live across the street and visit this store frequently but after tonight's experience I'm thinking I'll drive an extra 5 minutes to a business that will go above and beyond for me as i do for my customers. Store Address: 5001 Hempstead Tpke Farmingdale NY 11735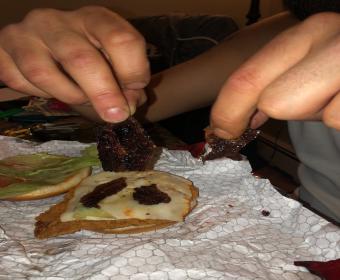 Maleah Murray
from Hartford, CT
Last week me and my family purchased 3 spicy chicken wraps, a spicy asiago ranch club, $5 biggie bag, and a barbecue bacon cheeseburger, when we got home I looked at the chicken and it was extremely slimy, and the beef was extremely chewy and I threw up later that night and I had a really bad stomach ache. I wrote complaints about the situation and I haven't gotten any response back yet.

Kimberley wright
from Gadsden, AL
I went to the Wendy's here in gadsden on east meighian Blvd. Around 4:00pm ordered 3 of the 4 for 4s. 2 jr. Bacon cheese burgers and 1 jr. Cheese burger. With 2 of them we ordered 2 strawberry fantas. We get to the window she hands us our drinks and its orange fantas. My husband said hey I ordered strawberry. She said we out. Then he asked if they had strawberry Sprite. She was very rude and said we out of everything strawberry at this machine. Using aggressive body language as she was saying it. She didn't even give me a receipt. So I guess that I couldn't complain about her rude attitude. Also she didn't give us any straws and I ordered 4 drinks. She handed 3 drinks and 4 frostys without a cup holder. All of this in drive thru. So me and my husband are having to try to hold drinks and frostys without dropping them all in my car along with me trying to drive. That was the worst experience ever I've had with drive thru.

Gp
from Washington D.C., DC
I went to Wendy's last night me and my mother and my boyfriend and the MANAGER was very rude and disrespectful. My mom doesn't really eat out so i was tryna tell her what was on the menus and mind you my mother is also an older lady. The lady was rushing us yelling at us and when my mom finally decided what she wanted the manger replied with "really, 2 junior cheese burgers" and when we told her we wanted our nuggets fresh she responded really rude and was like "Sir we been busy they will be fresh anything else" and on top of that we only got 1 ten piece fresh the other were cold. And we didn't get any sauce.

AMANDA FELLERS
from Greenville, OH
I got lunch for my coworker and I and our complaint is the new BBQ sauce is not the greatest the old BBQ sauce was amazing. Bring back the old BBQ sauce.

I came thru the drive thru today (5/30/19) around 11 am , I had ordered the 4 for 4 large size and ask for a chocolate cookie was asked again if it was the chocolate cookie i wanted i said yes. Got to window to get food told i had to wait for fresh fries waited over 5 minutes for this .Got back to work which is bout 4 minutes from wendys . My fresh fries was not fresh they were cold not done and no salt ,also the cookie i order was not the right one and my sandwich was cold . This was my lunch time i could not take back . I feel when it comes to lunch time customer are in a hurry most people only have 30 minutes . I feel the people that run the drive thru and up front should be your best people your top performers , they know the customers and they get the orders correct . this location is Groveport ohio , They really need the normal employees who runs the drive back on those positions. I also understand that training new employees is important but have your top performers there to teach them .

Yesterday (5-29-19) we stopped at 7:10 pm at the Wendy's drive through in Rogers MN (Store # 00008953) There was one car ahead of us at the ordering station. It was taking so long, we assumed that the person is the car was the problem. They were there for about 10 minutes. When they moved on, we got to the station and were told by the order taker that they would be with us shortly. They got back to us 5 minutes later. We ordered and pulled up to the window and paid. My receipt says it was at 7:26 pm. We waited another 10 minutes for our order that was for 4 people. The order taker at the window apologized several times for the delay saying that they were short staffed. I appreciated his kindness and felt badly for him, but it didn't change the situation. Over 25 minutes at a drive through is not acceptable. There were 3 cars behind us and they all left and probably went to a different fast food restaurant. You are losing customers and probably should know that.

Neca Rivera
from New York, NY
on May 29, 2019 I went to Wendy
s on Third Ave, New York, New York and order. The cashier asked for my name. I told her Neca prounced Nica. She Nica? three times I said yes. When she gave me the receipt it said N***a the N word. It was on the screen as well. As a Hispanic person this derogatory is very offensive. The cashier is Hispanic as well. My co-worker who is African American was very offended and the manager apologized and took the receipt. We were going to make it viral. You need discriminatory and customer service training. I hope he girl gets a suspension and fired. In 2019 we cannot allows this ignorance to happen. Especially when the cashier is a woman of color.

This is the 3rd time this May I have gone thru the drive through. The wait in line is far too long. I understand if it's a busy time, such as lunch or dinner time. However, the wait and service time is ridiculous! Today it was 7:20 PM. Not a busy time. I waited almost 10 minutes just to get up to where I could place an order. I was than informed that they were out of baked potatoes. I told the Wendy's worker, they need to put up a sign letting customers know, as they to are busy and do not wish to wait in line for nothing. While I was in line waiting to place an order at least 4 cars came in and left. We enjoy Wendy's food but are skeptical about going there any more. I've also gone inside to order and get take-out. It's usually much faster than drive-thru, but takes longer than we/I think it should.
Unfortunately I believe this Wendy's will go out of business if someone does management to run the business much more efficiently. I believe it's still open because the product Wendy's sells is loved by many
The WendyI'm referring to is in Lansing, Michigan. It's on the corner of Saginaw HWY and Waverly Road Zip 48917
Subway is next door, Walgreens and McDonalds are across the street. It's in a prime location! One of the busier street crossing in the Lansing area

No complaints on food or service, just wanted you to be aware of your plastic waste. I noticed you have little plastic cups for condiments. Why not change to the paper ones? Trying to save our oceans and animals. Hope you can resolve this. Thank you

Chris seagrove
from Scarborough, ON
Just ordered a baconator. At your drive through Sheppard and morningside location #00006472 I ordered it plain with onions a tomatoes only ( made it very clear exactly the way I wanted because this is not the first time this as happened) what I got was a baconator with everything on it except tomatoes and onions ! I usually don't complain about poor service but this is ridiculous . A simple fast food burger order how hard can it be ? It's the 3rd time this has happen to me at this location . Not that I eat at Wendy's a lot but I can assure you I will not be returning. I'm not looking for any compensation or free meal coupons or even an apology. I just wanted to know that your service is poor . #3273 have a good evening.

The new dipping sauces are horrible. Can you please offer both (old and new sauce) if y'all plan to keep the new version?

Dorothy
from Grosse Pointe, MI
15 mile and groebeck MI
I will not be going back, I have gone there numerous times and I don't think they have gotten my order correct once. Today was the last, 1. I asked for tomato slices to be put in my salad because they put tomato peals (literally) on them, she said yes, got peals 2. Girl at window short changed herself and I corrected her, another girl said thank you, she said nothing. 3. No sour cream in bag, had to ask, got one, told her supposed to be two. 4. Chili for salad was all watered down like soup, not chili. 5. Ordered small frosty and the cup was half full. 6. I called and told the person who answered and she said we don't have small cups so we filled it half way. I said it is the small cup and it's half full. She was just silent. Now I don't know if they are trying to save money by giving tomato peals, watery chili and filling cups half way, but they have lost a customer and I am sure I am not the only one. As I said in the beginning, I have been there numerous times and there is always something wrong and I wouldn't normally bother with this, but I have hit my limit with poor service. Mistakes happen, but most of these are not mistake.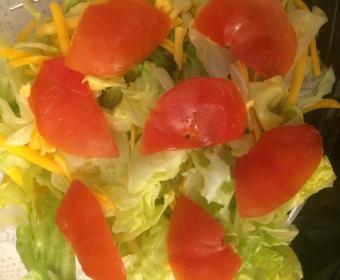 Michellene Hagler
from Ashburn, VA
To whom it may concern . UWE restaurant 4250 nannie Helen Burroughs Washington DC Northeast 219 zip code this restaurant is ridiculously slow each and every time you come inside to the restaurant or through the drive-thru you are waiting over 7 to 15 minutes for orders this is unacceptable I do dashing doordash for a living this is unacceptable it has to be a better way or they need some help with something need new managers is something this this is it's ridiculous how long you have to wait to place the order in in to pick up the food

Ken
from Nicholasville, KY
The Wendy's in Nicholasville Kentucky has to be losing money. 1 of the 2 order lanes hasn't been usable in months. My last time to visit the drive thru at this location I spent over 45 minutes in line only because I couldn't pull away. I counted 6 cars behind me pull away and leave. When I made it to the speaker to order I sat there so long with no one asking for my order that I spoke into the speaker and asked if they were even open, THEN someone asked my order. Rediculous to sit that long in a fast food drive through. That Wendy's is on Main Street in Nicholasville Kentucky

Dunes in at 300 Veterans Boulevard in Metairie. Service was non existent and consisted of the cashier complaining. Orders were promptly taken for two guests ahead of us. When we approached, the cashier shook her head "no" and walked away for close to 5 minutes to talk to another employee. My burger was sloppily made and my companions salad was old and flavorless. But my biggest complaint was the cold fries. This has been the case in every Wendy's I've been to for at least 5 years. Always fried a long time ago and left in the basket hanging over the grease. Not even the slightest bit warm. I guess I'll just go to McDonalds for fries from now on. I guess I'll be getting my burgers there too.
Even the guest in line ahead of us approached us at the soda machine to tell us, " That's not right the way they treated y'all. They have an attitude problem here. While seated to eat my meal I noticed that the type of service changed considerably based on race.

went to the drive thru at 1:30 on a Wednesday afternoon in McMurray pa 15317 ordered a double stack and received a raw burger. i left work to return the burger. when i showed the worker the burgere, i asked if she would eat it and she replied no. i then asked for the manager he turned around and looked at the burger and said what do we have here a raw burger? do you want another one.? i said no and he said nothing. never apologized or offered any explanation why this was ok, so i said well you just can't serve food like this no matter how busy you are. and again he just looked at me. i feel this man should not be ,managing a fast food restaurant. lost customer.

Crowley, LA
Salad was totally brown & old.
Could not eat

My complaint is about your latest commercial (not your food). It shows the Frosty for 50 cents (which is fine), however, I believe you are sending children the wrong message when you show the female jumping in the fountain stealing the 50 cents for her frosty. I don't think that is appropriate under any circumstances. Children (or teens and adults for that matter) should not be taught to steal.
Thanks for listening.

I visited the drive thru on King Street on Kitchener and it was the worst experience I've ever had. I ordered 2 Dave Singles, and a kids meal.
They forgot one of the singles, gave us a spicy chicken burger instead of a cheese burger and the fries were stale and cold. Basically the adults went hungry as we didn't get what was ordered. Not only was items missing, and incorrect but we sat waiting for our food for 7 minutes.
I usually pick Wendy's for their quality of food, after this visit I am not sure I will go back. I feel like it was a waste of $25 as we went hungry.

Anonymous
from Dallas, TX
Happy to no longer be a crew member at the Wendys on cherry lane. The manager favors white employees while calling the black ones niggas. Calling them retarded while being rude and yelling at them for everything. Is it okay to say Neanderthal?

judi koester
from Toledo, OH
after i picked up my daughter from work on 5/26/19 my daughter and i went to wendy's the address is 7351 central ave toledo ohio they were suppose to be open till 1 am,when i pulled in the employee i seen were all drinking pop,standing around i pulled in and it was 11:50 pm i was ready to order and a boy said very quietly over the microphone sorry there not ordering anything anymore,they were just standing all around inside,,so then we was hungry for wendy's so i drove to 4277 monroe wendy's again they closed at 1 am,,i was going to order and the girl said the cashier' is not working and laughed ,,but the kids inside were eating fries,drinking the pop..well off to burger king we went,,we have never been treated like this before at a wendy's we always liked the restaurant because how there burgers ,fries,chicken sandwhich;s are well i guess i will have to go to another restaurant,

Hello, I am a former employee at a Wendy's at Fort Dodge Iowa. I know that they aren't a corporate ran business but there is an incident following one of the managers that work there, their general manager. She has caused many problems with many people that work there and talks about them to other employee's. She recently yelled at my boyfriend also a former employee for coming into by frosties. She yelled at me when I went in about reporting me and told me and I quote "I can't believe you showed your face here after the incident that happened." The last time I reported her she called me and tried to get me to tell her the issue when shes the issue, many workers despise of her. Just recently an employee fell on ice injuring her knee to the point she needed surgery Danielle told the girl she had a job to do, but when Danielle had sunburn on her face she excused herself home. There was also an inccident where she made my cousin who was moving to a different town go buy pant and still come into work because she couldn't find any of her things. There needs to be a change this is getting out of hand and I will keep reporting until something changes. I would really like to talk with Kyle about the situation because he's a reasonable person to talk to.

Again this Wendy's on Hwy 20 in Cumming Ga is out of chocolate frosty at 7:13pm today. I drive 6 miles one way for it and they are out of one of your most advertised products
2535 Westlington circle
Cumming ga 30040

My first job was at Wendy's all you have now is a bunch or arguing black people there. My last visit.

At the store located at Stetson hills and powers in colorado springs, co
There is a black girl there that skimmed my credit card. I reported it to the police but she still works there. I am not going to continue to go to this wendy's until she is no longer there.
today 5/28/2019 at 12:00pm. working the drive through window.

I have called corporate your district manager called me back said nothing could be done about my phone being stolen by their night manager it was caught on tape I need my phone I need a phone and you guys are responsible for this I need something done ASAP

I didnt want to complain but Ive held my tongue for too long. This last visit to wendys on Harding rd (near I-24 Nashville 37211) took 45 minutes from when I entered the store to when my meal was served. 45 minutes. Only 5 people in front of me and 2 of them werent ordering.
The cashier is slow and makes mistakes often....which lead to arguments between her and someone on the food line.
Every time I eat there its a super long wait without an explanation. They dont get that busy. They dont care.
45 minutes today.
they need two people up front.
they need more people in the back OR people that actually work.
This is ridicules.
Im done with Wendys.

Tomise Files
from Hampton, VA
I wish I could give zero stars but you can! I went for a birthday concert and when it was over decided to stop at Wendy's to get something for my husband and I . We were in a whole other state and I made an order and it took forever than when I went to pay for it I notice the order was all wrong! Then so the cashier was holding my credit card the whole time trying to fix my order and when we got to the order right I thought she started handing me stuff and it was still wrong and she was forgetting everything even the drinks. Who forget drinks it's the first thing you are to hand the customers! And then once we got it right and I'm made as hell cause she' rude the whole time! We finally drive off and 2 minutes later I asked my husband for my credit card and he doesn't have it! We turned around and go back to he store I asked her for my card and she tells me she doesn't have it! She gave it back , no you didn't you couldn't get anything right so when did you hand it to us. I talked to the manager and she agreed with the lady and told me to check my car again all rude! I asked her did she had my card to another person Hell NO is what she replied as she sucked he'd teeth and yell and cussed! I called the bank and as I was standing there my card was being used at the same moment and had been used for the same store twice, gas, and like I said they were still using it! How can I be using my card if I'm in front of you! You handed my cars to some others and didn't take responsibility for it and you the manager and your employees were all rude! And god thing I had cash on me and my husband was paying for the trip or I wouldn't have had anything to pay for getting back home or good for the rest of my time there in the state but you guys really turned my trip into a low place. I didn't get anything else from no where in that state just ate at my hotels breakfast and complimentary happy hour cause you made it bad for everyone! My first time there as an adult and wouldn't go back!

Stopped in Wendy's today in Altoona pa I ordered the Hawaiin briscit sandwich witch cost me almost 10.00 dollars and it was pitiful nothing like the picture on the wall. Wendy's should be ashamed of them self for selling that sandwich it was terrible there was nothing on it I should have complained to the manager but the place was kinda busy and I didn't want to make a scene . You as a big company should be checking some of your stores out because they are not making the sandwiches right. That will be my last visit to Wendy's and I will tell everyone I know to stay away.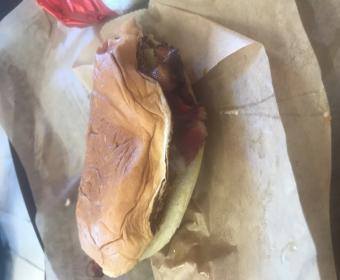 i ordered 5.00 dinner, fries where cold i gave them back ,they where suppose to make me a new order , never happened i also ate cold nuggets after working for 20 hours strait all i wanted is a good meal . I finished my meal and left without my fries. i was pissed off and tired. the floors were dirty with lots of smashed food like it has never been cleaned.i will never go to that wendys again.

Wendy's North Green Street. Morganton, NC 28655 This is a new Wendy's and the service is terrible! Every time we go there, through the drive through the wait is unreal. We were there yesterday, May 26, and waited 20 minutes o get a Carolina classic and a frosty. We enjoy their food and frosties! However, every time we go there it's just wait, wait, wait! We always swear we are not going back and then we find ourselves there again hoping things have improved, but they haven't. We saw 2 cars just pull out of the line yesterday. This service is totally unacceptable!

I specifically took my 5 kids to Wendy's for the $1.99 kids meals, only to get there and the discount was no longer offered. Once we left I realized none of the sauces were included with with the nugget kids meals. We were very disappointed.

Order was incorrect, called store was hung up on. Called another Wendy's for assistance, kind manager offered to help if we brought her receipt ( store was in another town) drove to this store.
A new manager took over for the night shift and refused to help. Meanwhile, I am sick with remains of cancer.
It's a hamburger folks, what happened to customer service, common sense or humanity.
I hope to post this story everywhere, "please don't purchase anything from Wendy's" is my campaign .
I had worked for Chick fil a at one time, and we would've replaced anything to keep customers happy, no questions asked. Yet Wendy's expects a sickly individual to drive all over to no avail....they're disgusting!!!!
Also, the food we did receive looked like it was pulled out of a dumpster (see pics)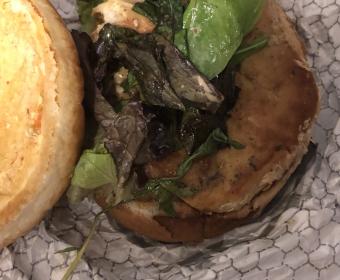 We went to the Wendy's located on Trenton Ave in Findlay, Ohio on May 26th around 4:15 pm. We waited 40 minutes in our car after giving our order in the drive through. When we received our order it was the wrong order. We parked our car and went inside. There was not one customer inside. We ordered 2 hamburgers and 1 order of French fries. It took 4 employees to fix our order. When we left the we could not eat the fries.
The hamburgers were not a quality hamburger. You need a manager at this location.
Have feedback for Wendy's?
Thanks for your feedback!
Sorry. Please try again later!