Wendy's
Wendy's Complaints Continued... (Page 5)
679+ reviews added so far. Upset? Call Wendy's corporate: 614-764-3100

Brenda
from Goldsboro, NC
We went to the Wendy's in Goldsboro , NC on Berkley Blvd to eat lunch today 02/17/2018! The store was freezing cold! Everyone was complaining and no one gave a reason why their store was so cold! The cold air was blowing inside while we ate our meals! They didn't even turn the fan off!

David Phillips
from Atlanta, GA
Wendy's in Manning S.C I. took my money back after they made me wait 20 minutes to fix my order today and they didn't fix it. When I walked back in they had forgotten. Miles down the road today I thought I would give them another shot at the store on 211 US hwy 17 843-784-3626.....same thing! At least you are consistent as company! Good Bye.

Complaint is pertinent to your Starboard Group Paoli 103 store. Food has been marginal and service has been up and down for 15 years... to the extent we don't patronize the store other than for soft drinks or, because it's near our home, when in a hurry. Tonight my wife received not only indifferent, slow and ill-humored service, she also received an order that was not at all what she ordered. Having brought it home and discovering the order error, she returned and had it replaced. A mere modicum of attention on the part of employees would have avoided the error(s).
As indicated, we don't expect much in terms of food quality. It would be helpful, however, if the employees provided at least some glimmer of interest in their work and were less surly. We don't intend to return but will be sure to share our experience with neighbors and friends.

Farrowarthur
from Lachine, QC
Since the peel st store closed maybe one could be opened on the lot on st Jacques street near cavendish Montreal I am closer than the decarie address there is a big grocery store on the lot Do miss the chilli con carne

Kathryn Dille
from McConnelsville, OH
Your commercials about your fish sandwiches state that they are crunchy. Well, I have heard so much about your fish sandwiches, I decided to try one today. I went into the Wendy's on Greene Street at Marietta, Ohio. It was not hot and it certainly wasn't crunchy. It was just like the McDonald's, which I don't like, only a little bigger. I didn't know what the big deal was about. I have gotten much better fish at Arby's.

Barbara Shepherd
from Auburndale, FL
we visited Wendys in Branenton Florida on February 7, 2018 at 15420 Manatee Avenue around 2:00 p.m.,, terrible experience, people standing waiting for their order for quite sometime, employees noisy, didnt seem to be in a hurry to get orders out, only about 3 or 4 tables had customers but most of the empty tables had crumbs or water rings on them, and music so loud we could hardly talk. We figured they had a very poor manager or he was gone for the afternoon. Went to womens restroom and there was no toilet paper in the room. This place needs attention !

Wilma Marino
from Dallas, TX
My friend & I, went to Wendy's at DFW airport on 2/10/18. [Gate 34 (Spirit)]. Had a cheeseburger combo. Ate at 3:00 p.m. & by midnight we were throwing up pickles, etc. Have been sick ever since. Today is 2/15/18. Please advise ALL of your restaurants to use thermometers before serving any burgers to customers. Food Poisoning isn't attractive. Will never eat at Wendy's, AGAIN. Would like to know if any others have reported getting sick. Will not be contacting CDC. (FYI)

Kathy Garmon
from Goodlettsville, TN
Ordered 4/$4 meal today, February 14. I was asked "do you want any sauce"? Yes, sriracha please I said. BBQ, I was asked? No, sriracha please. Okay, $4.37 - pulled forward. Fast service at the drive thru window, BUT when I got back to work, I had NO sauce, NO napkins, NO straw. Someone needs to watch to be sure the orders are not only correct, but that everything the customer asks for and expects as standard is there. Thank you.

Richard Martinski
from Columbus, OH
I really think Wendy's is in decline. They get worse with each visit.
Stopped in this evening, stood at counter 5 minutes before being recognized, Ordered caesar salads to go....out of caesar dressing. Dining room a mess. Paper on floor, tables dirty. Checked restroom, have seen better restrooms at gas stations. Counter person barely spoke english, no smile. Handed me the bags, no thank you,,no goodbye. I suggest closing this one and starting over!

Daryl T Moore
from Orangeburg, SC
food was terrible..not fresh...Wendys restaurant #00003099 on 02/13/2018 2:36 pm ..I ordered at the drive thru...after a long wait when I made a order..finally..food received drove off went three blocks to eat..i had ordered 2 jbc 1 nuggets 6 piece and 1 chilli...when I unwrapped my jbc the whole burger was different than I usually get there..the burger look like it had been put in a microwave...bun was not fresh the lettuce was all soggy and it was slopply put togrther very disspointing ..also the chilli was not fresh been made for awhile..tasted terrible...the tv adds need to be changed to not fresh ..this is my first really bad experience at wendys....spent 8.79..dollors...and got really bad food...hope some one will check into this store..Remember people who go thru the drive thru expect there food to be fresh also... thanks DT

Barbara Riley
from Port Huron, MI
I live in Port Huron, MI, I go to your Wendy's on Hancock Street all the time and never had a complaint until yesterday. Port Huron is covered in ice and snow right now, there is a bowling ally right next door to Wendy's. Apparently, Monday night is bowling night, I left work to pick up my and my co-worker's dinner and there was not one parking place, after driving around for 10 minutes I made my own parking place almost a block away. Now I am 60 years old, and have bad knees, I had to walk almost a block on a river of ice to get to the restraunt...and the place was empty except for one other customer. The bowling ally customers were taking up every available spot in the Wendy's parking lot. Isn't there something you can do about this? I said something about this to the girl at the counter...and she just laughed! All you have to do to check this out is go to that store at 6:00 pm, on any Monday night. I do not want to slip and fall, it is a dangerous situation, and also time consuming and frustrating, please help, we love your Wendy's.

Laima Gammon
from Houston, TX
Wendys cyfair in cypress tx specifically wendy's tx in general. I wanted to go thru the drive up window but the monitor to pla...ce an order was not on.. I did notice that a customer ahead of me gave up waiting and drove off. tisk tisk. I pulled up to the pickup window and asked if they were open. indeed they were but were changing shifts and could not service a customer. All inside communications between employees was in Spanish.
I have to tell you that when I go inside the store the employees are talking in spanish makes me feel like I am in Mexico not the US
This is America! We speak English!

merle tyler
from Summit, NJ
i went to roselle nj wendys today 2/12/18 at 2pm food was cold i asked for different fries they were not hot neither were my chicken nuggets i have eaten there before but this never happened disgusting not hot food who gives someone more cold fries merle tyler 255 tucker ave apt 109 union nj 07083 908 967 1865 i want a refund

HEAVON PINION
from Saint Joseph, MO
I NEED TO KNOW HOW TO GO ABOUT GETTING A COPY OF MY W2 SINCE I HAVE MOVED SINCE THEN. THERE IS NO EMAIL TO CONTACT ANYONE SO I GUESS THIS IS HOW I HAVE TO COMMUNICATE/ I HAVE CALLED THE WENDYS THAT I WORKED AT IN SAINT JOSEPH MISSOURI BUT EITHER MANAGER ISNT AVAILABLE OR NO ONE ANSWERS.

Michael
from West Grove, PA
That so call taco salad no sorry it was disgusting get rid of it sorry I spent my money favorite fast food place taco salad disgusting wish I could get my money back

Kathleen Tindal
from Augusta, GA
Went through the drive threw ,only ordered a large taco salad,they were not busy at this time,so was only the third car in line,waited too long (in my opinion)at the drive thru ,first thing wrong but I was totally craving this,anyway got home they had forgot the taco chips ,so this aggravated me strike too,I did not get my receipt or I would have just called so I went back up to Wendy's and took my whole bag (order with me)I went inside and waited again there was No One in the inside at all and still had to wait !!! Finally when the girl at the counter came to wait on me I told her what happened (no chips) and she just put some in the bag and said "here ya go" and walked off !! This was the second time that my order has been wrong lately !!!!!!I I work retail and and am not usually one to fuss because I understand anyone can have off days,but this is 2 out of 2 times lately ,sooooo i think they need to really STEP UP, a very,very disappointed customer

MTurley
from Zephyrhills, FL
VERY GOOD FOOD AT WESLEY CHAPEL FL LOCATION
UNFORTUNATLEY THE CASHIER AND ANOTHER GAL WORKING WERE VERY RUDE AS I NEVER EXPERIENCED BEFORE AT THIS LOCATION ON ELIAND BLVD. THEY ACTED AS IF CUSTOMERS WERE IN THEIR WAY AT SERVING PEOPLE AND ARGUED W/ EACH OTHER BEHIND THE COUNTER. THIS IS MY WORST EVER EXPEREINCE AT ANY WENDYS I HAVE EVER BEEN TO IN MY LIFE. WE DINED IN THERE AROUND 6:15 PM ON 2/8/2018. I HAVE ALWAYS BEEN A FAN OF WENDYS UNTIL THIS HORRIBLE EXPEREINCE W/ RUDE WORKERS.

Shirley Stokes
from Atlanta, GA
Slippery floors when raining please put rugs down not trying to complain but this is for your benefit also

James Heisler
from Chagrin Falls, OH
We tried have lunch ( wendy s, rt 18 and rt71 mendina ohio today sat 2/ 3/18. The 1st chicken sandwitch i got was cold. The " general manager" made me " a rushed 2nd sandwich " it was horrible under cooked chicken raw bacon. Had to return chili because it was luke warm . The kitchen was filthy ( i took pics) so was the eating area. Tge gen manager said he was understaffed. I contacted the board of health filed a complaint, forwarded pics of fith. Discusting james heisler 3307189661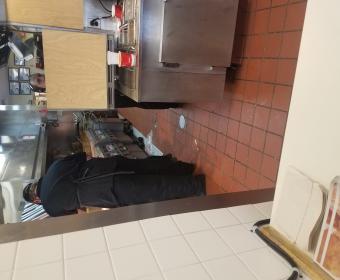 marshall bricker
from Sarasota, FL
On 12/07/17 I brought home an order from Wendy's store #3283 and one of the burgers was just a bun with no meat. My wife called, talked to Janet, and was told the order would be replaced. When I returned to have the order replaced I was told by Janet that she couldn't help me and that I should have come back within one week. Had I known the time limits I would have complied.The total was $13.44.Can you make this right?
Thanks very much,
Marshall Bricker

Sue Crapse
from Orangeburg, SC
The Wendy's on John C Calhoun Drive in Orangeburg SC needs new management. A couple months ago I went inside to order and had to walk through water to get to register and had to stand in water to place order. Two weeks later, I went back again there was still water on the floor. It looked like it was coming down the hallway to the front, maybe from the bathroom. Today I go to Wendy's drive up line. When I got in line there were two cars in front of me. It took 30 minutes of my hour lunch to order and get my food. They would only take one order and wait to fill that order before they would take another order. I love Wendy's food but if this doesn't get any better, I will not go back!

Anne Maselko
from Troy, NY
Have been getting your chili for years, it's been great. The last four times I've gotten the chili it has been very oily and the flavor very unpleasant, I kept hoping these were random incidents but they were persistent. I drive out of my way to stop because I also like your salads, just wanted you to know that the quality of the meat you are using is inferior and also since you are now charging more for a smaller amount of chili I will not be stopping by as frequently if at all. Sorry to have lost something that was a great product for so long . I used the Clifton Park ,NY Wendy's the service is very nice there and the store is always clean, so my only complaint is the chili and the quantity.

Cheryl Y. DeJonge
from Grand Rapids, MI
I ordered a Junior Bacon Cheeseburger with out tomato, I am alergic to tomatos along with a Bacon Cheese Potato. I received a Jr.BC with tomato. I tried to call the store to report the mistake and could never get an snswer. Restaurant #00008325. They don't answer their phones at 8:00 at night? I could have gotten sick if I ate this burger. order number 3340. on 2/1/2018 at 6:45 pm

Mary L. McDonald
from Frankfort, KY
A coworker of mine had been sick at work due to not eating, my favorite restaurant used to be Wendy's up until this incident which has been the third incident with them I have had, I didn't complain because I know things happen. This time, as I stated I went to buy lunch for a co worker and myself...I blame myself the firt time because I didn't look at my order before I left, but when I got back to the office and handed my coworker her food, I was humiliated at the look of the chicken strips they have given me! The strips were burnt. I attempted to contact the restaurant (#00000798) three times by phone and each time the call went to the answering machine service, which wanted me to enter a passcode to get into the answering machine. So I left work and went to the store to get some more strips...I went up to the counter where I was overlooked and ignored for at least minutes, until I said something to them. The manager told me she'd drop me a new batch and it would be ready in six minutes, six minutes came and went, again I go up to the counter, and she slides me a bag of nuggets as if I done something wrong, by asking for better strips. I looked in the bag this time before leaving where I saw nuggets in the same conditions as before. When I questioned her she said the strips are always dark. I've ordered chicken strips from Wendy's a thousand times and never have they been that dark. They weren't just dark, but they smelled of burnt grease
As I stated before this really saddens me, I not only embarrassed and upset, but I was a little hurt because all my coworkers know how much I love Wendy's in fact they bought me Wendy's gift cards for Christmas. They been telling me that Chick Fila was better but I stood by Wendy's
Below is the pictures I took of both sets of chicken strips which both look the same. One star was way too high to give them for the service and food that I got today!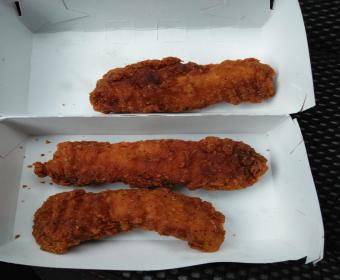 dennis dionne
from Meriden, CT
I went to wendys today for lunch worst meal I ever had !! buger came out a draw not the grill !! it was cold ! fries freezer burnt ! 8 bucks in change came back to work and puked ! never ever again commercial lies !!

John barkdull
from Philadelphia, PA
I purchased a med vanilla shake earlier. It tastes funny. Like Cinnamon and butter. Like licking Cinnamon toast. I know it is not suppose to taste like this, and all your offices I called are disrespectful. All I wanted to know was can I eat it. Sometimes ingredients are changed and stuff tastes different. But after my experience trying to find out. I don't think I trust the people working for you.

Lizabeth Dill
from Odessa, TX
I went to Wendy on JBS and University in Odessa Texas not sure store number i do apologize. I placed an order for the 4 for 4 and upgraded drink and fries to a large and a mini chocolate frosty. I did go through the drive through at around 745 pm.. When i approached the window the lady stated my total was 10.01 which Im thinking is a bit high for what I ordered but she would not hand me my food til i gave her the money. Than I never receive a receipt so I am still not sure the cost of my meal even at this point in time. The lady stated she charged me for a medium frosty but still gave me a small and was very confused at this point in time. When i got home to eat my food, it was cold. My nuggets felt like they just came out of the refrigerator and my fries tasted old. I usually go to Wendy because its higher quality than McDonald or burger king usually, Tonight i wish i had gone else where. I also had to ask for all the sauces and they just threw them at me, never received a straw for my drink. I am usually not one to complain because i have worked the food business in the past and know how things can get crazy, but this was the worse service I had ever had and felt like they threw my food at me and just wanted me gone. I feel like they stole money from me and didn't even care. Thank you hearing me out on my experience tonight. and I will definitely think twice for now on about choosing Wendy as my option to eat at.
Sincerely
Current Customers of Wendy

Either never get our orders right or "fresh" is not very fresh at all. I have worked fast food plenty of times and it's obvious our burgers have been cooked ahead of time and then just thrown on a grill to warm up. Burers wereBurnt... and nuggets were chewy to say the least..... Very disappointed!

Judy Palma
from Woodbridge, NJ
I've previously written a complaint concerning this storeabout a year ago (convery blvd. Perth Amboy NJ) but decided to give it another chance. I had just been discharged from the hospital and really wanted a Dave's single with french fries and a side of cheese sauce with unsweetened iced tea. My husband wanted a spicy chicken sandwich. Upon walking in the store your feet stuck to the floor. It wasn't a busy time (there was one person in the store) and definitely not pleasant having your feet stick to the floor. Our food was ordered to go and when we got home my husbands spicy chicken sandwich had literally nothing on the bread and the chicken was ice cold. My Dave's single must have been sitting out for over a few hours the french fries were old and cold and unfortunately my unsweetened iced tea was sweetened. It's very disappointing to go into a Wendy's where apparently no one cares about the cleanliness of the store and no one takes pride in their work. I will not give this Wendy's any more chances . I might try to find another Wendy's near me but unfortunately I believe that I'll be going to one of your competitors which is a shame because I have always loved Wendy's. I truly hope that something can be done about this store or Wendy's will continue losing more and more customers as a result of the lack of care concerning this one.

James Morris
from Morehead City, NC
On Monday, Jan. 29th at about 5 PM at the Wendy's restaurant in Swansboro N C, I was walking from the parking lot to an entrance. At the take-out driveway, which you have to cross I bent over to pick up a coin that was on the ground. The manager shouted "Get out of the driving lane"! It seems to me a manager would welcome customers rather than yell at them. A solution might be to close that entrance so customers wouldn't have to cross the take-out driveway to get to the parking lot. Sincerely, jimboat123@yahoo.com

Millie Rigby
from Butte, MT
What happened to the Wendy's in Butte Mt? It used to be the best fast food place to eat. Lately it is the worst. A couple of weeks ago we were there and the place was filthy dirty. It was 4:00 in the afternoon and every table in the building was dirty. The two people were screaming at each other behind the counter. Today we went there the food was horrible. Everything was cold, the meat on the burgers was so dry and disgusting. It has gone down hill so bad. Today was my last try at it. Not going back. I don't know what happened but it sure needs to be fixed. DISGUSTING!

Michael
from The Bronx, NY
The French fries were cold, the burger and bacon were over cooked and the building was cold.

Gene Zande
from Bellingham, WA
Wendy's has always been my favorite. Last 3 visits, each at different locations, have been incredibly disappointing so I'm considering Burger King as my new daily lunch spot. Most recently in Everett, WA ordered 2 singles stating "all I want on them is mayo, pickle and mustard." When I got them they had cheese. I brought them back and repeated my quote above. Wendy's personnel rudely stated "You have to tell us you don't want cheese." Gee, thought I did that. Prior visit in Arlington, WA I ordered Chicken Nuggets. They were not even warm, let alone hot. They were absolutely cold. Tried to return them and was told "that's the best we can do." Interestingly enough, neither place gave me a receipt. Your burgers were always my favorites. Now they're smaller and something has happened to the taste...they are not nearly as flavorable. Too bad, you had a good thing going.
Sorry to be an ex-customer. I'm crushed.
Gene

Candy Smith
from Hickory, NC
My husband and I stop at Wendy's in Wilksboro NC .they was not friendly, the food was nasty it tasted old .the drink machine was nassty like it was never cleaned .we like going to Wendy's a lot but that time was a bad one. Thank you

Teresa Williams
from Cullman, AL
My son has anxiety and other mental issues.He was hired at Wendy's in Cullman Alabama the goodhope location.He was hired to work grill and sandwiches .They started forcing him to work register and his nerves would be bad and he would walk out .He told them and I have it in my messenger were Wilma said everyone had to run register.He tried and couldn't deal with it then came home sick to his stomach .The day on his schedule to go back he found out he was fired.He has friends there that have never run the register .They were going to get Robin to hire him back but Wilma said no he wouldn't get a job back .I think he should sue but he just wants his job.This is discrimination.Just because he has been to mental health and has problems.When he was hired he watched 2 hours of video and put on the grill.His friends had a week of training .They told him bring home the videos to watch .Robin is the store manager now but Wilma is a district manager .It's a big mess down there .

William Guerrero
from Reno, NV
I really can do without the attitude. Wendys drive through order #3238 1/18/18 255pm 4997 Longley LN #6 Reno, NV 89502. Ordered a #1 medium with a diet and a #4 medium with a diet... got one small one medium. Okay, no big deal. When I made the guy aware at the pick up window he told me, "Well, that's what you ordered" and when I stated that is not what I ordered I was spoken to in a condescending manner, "Well that why we tell you to check the screen!" I was already driving away when that was asked. Contradicting the customer and giving them attitude when the customer has made you aware of an issue is not acceptable. When you have an opportunity to offer a simple solution and instead make the choice to blame the customer and give them attitude you are in the wrong line of work and should not be dealing with the public. I was a fast food manager and I would term my employee on the spot for this kind of behavior. They didn't even offer to fix it... REALLY?! So I just drove off and will probably not be back. VERY UNHAPPY!

Angelena robinson
from Montgomery, AL
I want to ler you know that wendys in lee county has very bad. Customer service u have to sit in drive tru for 20 for a salad also the cashiers are very young an unprofessional.they are running your customers off

Gailorenberg@yahoo.com
from Randolph, MA
I just left the Randolph store with my granddaughters where the manager and one of the employees where fighting and throwing things at each other my granddaughters got so scared they asked me if we can leave the manager was very red in the face and this employee started throwing things at her I tell you I have never experienced anything like this I will be getting in touch with the Corp office on this matter
Thank you
Mrs. orenberg
6 holly lane
Randolph, mass 02368

Ruth oneill
from Chicago, IL
I went to the wendys at 6324 n western at 130pm on Saturday 12/16/17 and did not walk out with my order until. 156pm. All i ordered was a grilled chicken wrap and 2 side salads. It seemed like today was the young mans first day that was pushing out the orders. He didnt know where anything was ie: salads.. The dressing or how to make a hot tea. He was just walking back and forth very lost. And i can tell he was on his phone. His ear piece was in his ear thru his uniform shirt and he was talking. Very low but was definitly talking . there was 15 people waiting for there food. Now 5 of them received there food before me. Again all i ordered was 2 side salads and a grilled chicken wrap. Now i am 3 minutes away from that wendys location and when i finally got my food and back to the office my grilled chicen wrap had regular yellow mustard on it instead of the honey mustard on it. I did not take it back. I scraped as much mustard off of it and ate it. Now while i was waiting i can tell you that there where people complaining that the pop on both machines were empty and there was no one to take care of it. The customers had to ask the guy that doesnt know what he is doing if he can fill there cups up for them behind the counter and he didnt know what to say. The lobby was a mess as well. I do understand being short handed and being busy but i have never had an experience like this one.

Donald Lascelle
from St. Catharines, ON
Location store #00006346 on Lake Street St Catharines, Ontario
I attempted to hand in my survey, number 96144, " A sandwiich for your thoughts" this evening with Jessica at the drive through window (5:20pm December 15th). I was informed that I required to pay for the full price of 2 sandwichs. She then said she would have to check with her manager. The manager confirmed the total which would be the full price of 2 sandwichs.
I have been to this location several times during this month, and have never been treated so awfull as this time this evening.
I was rudely refused the offer, and left with requesting the server's name as well as my coupon which I still have. The wait time in the drive through was over 15 minutes.
I don't run my own business this way but I can assure you,..I wont be attending this location or any other Wendy's location in the future as well as my employees.
Donald Lascelle
If you care to hear from me personally,..feel fre to call 905-646-1151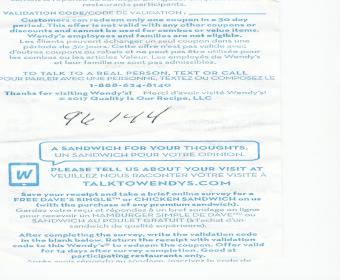 Stephen chu
from Tampa, FL
I have visited the Wendy's location on 18957 fl-54, Lutz fl 33558. There has been a few times where an employee there has just made it very uncomfortable to visit. He wears his hat backwards with his name tag on his hat. That isn't a huge issue. The problem I have with him is his attitude. The first time I went he was upset about something and I overheard him say if someone else says anything to me again word to my grandma I am going to bitch slap them. I had my 6 year old son with me at the time and he heard that as well. Last night I went with my kids and that same employee was working again. This time preparing food. He turned to someone in the drivethru and asked if they were waiting on a sandwich and when they didn't answer fast enough he threw it in the air and it would have landed in the garbage if another employee hadn't caught it. As I am watching this happen he turns to me and just stares at me as if he wanted to fight or if I had a problem with what he did. I love going to Wendy's and my kids love going there as well. This location is very close to where I live and I am happy that I can have that as my 1st choice when deciding when to eat out. However I do not feel that I should have to be uncomfortable when I go to that location because of 1 employee and his attitude problem. Especially the language used in front of my son. I wish I would have gotten his name because his attitude needs to be addressed.

Steve Morris
from Manning, SC
I have been to Wendy's many times in Florence SC & Sumter SC. It is the slowest drive through service I have ever experienced. I order a frosty and by the time I am through it is a cup of milk. It is the same at every one I go to every time I go. Hey wake up, McDonald's is taking your business.

Allyson Butzin
from Saginaw, MI
My name is Allyson Butzin and I don't really have a complaint but a comment. My husband was in a Wendy's restaurant in Bridgeport Michigan today. He is a senior who had a stroke a few years ago so is not always steady on his feet. He had a meal there and a coffee, which he often does. I was not with him but somehow the coffee got spilled on his leg. It went through his pants and burned his leg. By the time he got home his leg had blistered. I called the Wendy's where it happened and they were very nice. I just wanted them, and you, to know that obviously the coffee was way too hot if it could burn him enough to blister. Please could you address this issue so that it does not happen to anyone else. Thank You Allyson Butzin

C. Phillips
from Ozark, AL
We decided to eat at our local Wendy's in Ozark, Al. In the evening at approximately 6 pm on Dec 14, 2017. We ordered hamburgers after being told there was no chili. We then proceeded to fill our drinks. It all went down hill from there. There was no ice in the all-in-one drink machine, no sweet tea, no napkins, no salt packets, and no catsup in either of the two dispensers in the dining room. We also had to wipe down the table after we finally got some napkins. There were at least 6 employees behind the counters. There was one other couple dining other than us. The management at the Ozark restaurant may explain the low number of patrons at this location. Really sad!!! This place needs immediate corporate attention!

Larry Barefield
from Loganville, GA
I eat at Wendy's a fair amount, possibly 4-5 times per month. My concerns are two-fold. When you order a single combo, the number 1 choice at my Wendy's, it only comes with cheese. When it is keyed into the register, it only offers the with cheese option. I am lactose intolerant, so I always say, "No cheese, just lettuce, tomato, pickle, mayo, and mustard." One out of two times the burger is delivered with cheese because your only option for a number one is with cheese. I am surprised you haven't remedied this issue by now because you probably know of this information, "According to the National Digestive Diseases Information Clearinghouse, some 30 million to 50 million Americans are lactose intolerant, including up to 75 percent of African Americans and American Indians and 90 percent of Asian Americans. Common symptoms include nausea, cramps, bloating, gas and diarrhea that begin about 30 minutes to two hours after eating or drinking foods containing the milk sugar lactose." Allowing the single combo to be purchased without cheese, say at a 20 cent price decrease, would no doubt take care of this issue, and lead to many more satisfied customers. Thank you,
Larry

Anna Klink
from West New York, NJ
Last night I went to the Sewickley Pa to get a backed potato for my husband who is in rehab after a stroke. I went thru the drive thru and when I got to his room he had a hamburger instead of the potato he was looking forward to.

I went to Wendy's at 10:15p on my way to work. I ordered a 4 for $4 meal. I drove off as I had to get to work. The drink was carbonated water and not one item in the bag was fresh and tasted as if it had been sitting under a warmer for hours.I was not given a receipt. After looking up the number, I called and no one answered. So disappointed and sitting at work without lunch!!! Shame on you Wendy's!

RUBY Crandall
from Schenectady, NY
Hello.we walked into Wendy's on Altamont ave. Rotterdam ny.about 230.a large crew was working.there was only one other customer waiting for food that had already paid.we stood at the register waiting to order for at least 15 minutes! While the cashier looked at us and proceeded walk around avoiding us.after 15 minutes we walked out! We will no longer go to that Wendy's again! This was the most disrespectful thing I have ever seen.SHE should not work in the public food chain.
Have feedback for Wendy's?
Thanks for your feedback!
Sorry. Please try again later!