Starbucks
Contact Starbucks Corporate
Toll free phone number: 206-447-1575
---
Starbucks is the world's largest coffee chain with thousands of locations worldwide. Their corporate office is located in Seattle, Washington and the CEO is Howard Schultz. The company was founded in 1971 and remains headquartered in the same area as it was originally started today. If you have Starbucks customer service, the best phone number to call is 1-800-782-7282. You can also use the toll free number which is 800-Starbuc. 
The company keeps pacific hours of operation, from 3am-Midnight Pacific Time, 7 days a week. If you want to write a letter to Starbucks customer service, the corporate office provides a different mailing address then their main location Seattle. Inquires should be sent to PO Box 6363, Dover, DE 19905-6363. This is likely because the busines is incorporated in the state of Delaware for tax reasons.
Starbucks Contact Information
Report complaints to corporate and get satisfaction
Starbucks headquarters address

2401 Utah Ave. South
Seattle
WA 98134
United States

Company website

1-800 phone number

206-447-1575

Support email address

support@starbucks.com

Better Business Bureau rating

A

Customer service hours

3am-Midnight PST, 7 days a week
Browse reviews of other Fast Food
Top Starbucks Complaints
Browse more than 118 reviews submitted so far

Like most Americans, I need my caffeine fix and Starbucks truly does make the best coffee.  All the coffees have rich bold tastes and amazing flavors.  And they will make it whichever way you want.  If you would like a venti soy milk vanilla latte hold the whip with a double shot of espresso, they will make it no questions asked.  Any asinine way you want your coffee they will make.  And the free wifi, that's a plus.  Comfy chairs, table, and a cozy living room vibe makes starbucks a perfect meeting place.  Only downside is that it is a chain coffeehouse.  I have found a local coffee shop down the street to my house that is family owned, free wifi, more of a homey feel with books and games on bookshelves, and has amazing coffee as well.  I prefer that kind of place over Starbucks because it draws a more homey, comfy vibe.   

Every time I decide to try Starbucks again. I get more disappointed! As I see it your only job is provide a cup of coffee with a good experience!? None of which I get ever.
Visiting the Kirkland store today. 10 people behind the counter and at time no one was working the register. 3 people looked at me like we will get to you when it good for us. No acknowledgement what so ever. How long you you believe it should take to get a shirt double cap? I would say 20 minutes is too long.

Fort Knox Starbucks customer service has went down .. The employees the management are very rude. The store cleanliness has went down food looks old like been sitting for days . Heather is the worst never smiles. I love Starbucks but I will drive 20 mins to go to Etown just for better service .

Tan tran
from Los Angeles, CA
On 4/13/2019 I was loaded $100 on my Starbucks Card but it never go to my card until today I check with the girl but they said I have no receipt it nothing they can do .
I hop next time there should do a better job so I don't have to lose my money.

Angela Myles
from Altadena, CA
On Sunday, April 07, 2019 at the store located at 743 N. Lake Ave., me and my grandson went to get a birthday cake pop (one year old) I notice when he was eaten it the color was wrong. I took it from him and the inside of the cake pop was raw. Please help me understand how that could of happen?
Angela Myles, Consumer
amyles@dveal.com
626-318-5716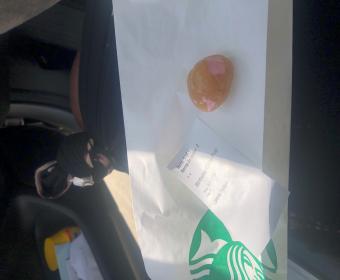 Marlene F. Hamlette
from Roanoke, VA
On 2/14/19 I went into the local Starbucks located on Williamson Road/Orange Avenue, in Roanoke, VA 24012. I was the only customer in line with (4) clerks behind the counter. I stood and stood at least (5) minutes making eye contact with several clerks as they fixed drinks for others? One customer at the window and no one in the line but me. I turned and left the store, no one spoke to me nor addressed me the entire time I was in the store. When I got to my car, I decided to return and ask for the manager, Robert Mullins I informed him as to "Why he would allow any customer to walk out of the store without being addressed by staff". He offered a lame excuse, I left and then called customer service to report my experience to this date no response. On 3/15/19, went to the other Starbucks to get a gift card for a friend, reported my experience, they took my info and promised me a call. To date no response. On 3/25/19-called Customer Service spoke with Yoli, promised me a call. Today is 4/11/19, no response. Terrible and Unprofessional Customer Service from the store to the telephone. You all must do better!

Erin Brantley
from Cleveland, OH
My birthday was in March and I never received my birthday reward.

Ralph Deppe
from Fort Wayne, IN
Hello , April 3rd I was in Vegas airport .. Being a regular customer in my home state of indiana. I stopped In the terminal for a coffee . It was so old it was too bitter to drink .had to throw it away. After about an hour in the terminal I wanted a cup so bad I tried another cup ,holding It wood be better .well at least it wasn't bitter.but it didn't taste like your normal brand of coffee ,I had to throw it out. I ? If they are using your products or sliding in something else. Note It was bad . PS.I am a share holder

Chelsey Hansel
from Gilbert, AZ
I went to a Starbucks today, ordered the same drink that I've had for months. The girl said it would take a few minutes because there was no iced coffee so she would need to make it. Got my drink. It was horrible. I told her it didn't taste right and it was lukewarm. There was no sticker on the cup so i wasn't sure what it was that was made. I told her the order again. I was the only customer ordering and the only one waiting. There was no drive thru. She remade the drink. This time it was at least cold and i saw her choose the right milk but i order sugar free and it was so sweet that i could t drink it. So i took it as i walked out and didn't try again. I hadn't ever had this problem with baristas before. But the before and after cups were both horrible. There was not a sticker on either cup. She was the only barista in the place. Super disappointing.

Vickie Hanna
from Topeka, KS
Bought a hot green tea this morning, it had zero flavor, just tasted like hot water. I waited 20 minutes for this mobile order. Because it was busy I waited to come back to ask for a different tea. I was told that was how that one tasted. So I said then I would rather have a tea with taste. I was told again, that's how it tasted, it's very light. They just stood there a stared at me. I got angry and left, they offered nothing to replace. As you can see we have been a Gold customer since 2006, this was not service as you advertise or that I have experienced in the past.

Brycen
from Bedminster, NJ
For the past five months, every time I have went to any Starbucks in Greensboro or Kernersville N.C., they told me I was only able to order one birthday cake pop. Although, when I went back 30 minutes later, they gave me another; therefore they were not out of birthday cake pops. This doesn't include the many times I've been that they haven't had ANY birthday cake pops whatsoever. They have also gotten my order wrong multiple times. I'm am very disappointed in their work ethic.

Sonia M
from Hutchinson, MN
I was on vacation and forgot to purchase a gift so I stopped at the Starbucks in the Nashville TN airport and bought a coffee mug. When I got home I noticed that the handle had a crack and it appeared to be glued back on and there were coffee spots on it. I thought this was rather odd. I know this may seem odd but the photos are taken as soon as I got home. I am not asking for a hand out just a exchange on my mug and I can send the old one back. My service was great I was just dissappointed that I couldn't give this as a gift. Thank you for your time and awesome service.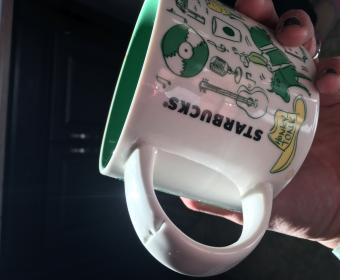 May Yip
from Westfield, NJ
I purchase a cup from Starbucks and asked them to put my drink in it. They paced the order sticker on my cup and when I tried to remove it later, it was impossible. It wound up destroying the surface of the cup. I paid over $12 for this. I can't return it because I purchased it at Dallas airport during my business trip.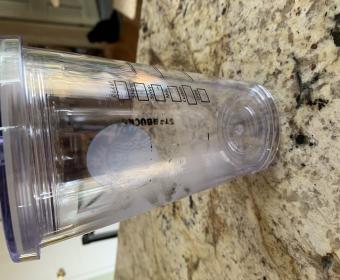 Christina
from Roseville, MI
I go to the same Starbucks at least 3 x a week. I order the same drink every time.
I went Saturday March 16th ordered a grande triple mocha frap. Got a triple mocha frap in a grande cup but it was filled like a tall. The whip cream didn't even go into the dome. It was below the dome. So I paid for a grande but got a tall. I went again on Monday March 18th ordered a tall triple mocha frap. Got a tall mocha frap. I ordered triple! I won't be going back to that Starbucks. Hall rd and Hayes Clinton Twp mi. Or maybe that's Sterling Heights mi. I will be inconvienced and go to a different one. It's not the only 2 mess ups. It has happened in the past but two days in a row is too often for the price I pay.
I do have a photo but it won't download.
Thank you, Christina Chester.

Marie Sylvia
from Nashua, NH
Went to your Taunton location to try your new Green tea Matcha! My husband got the venti iced with 2 shots of expresso and it tastes like water . He received his after waiting about 15 min . I then continued to wait for mine, after about another 5 min the server said it will be awhile longer be Ouse it was hot not iced as she continued talking to her friends! When I did get mine , I left and the first sip was a lump of green tea! It was so strong I could not drink it. When I did dump it out , it was nothing but clumps of green tea! Customer service 0.. Quality of drinks 0. 15 dollars down the drain

baylee pembleton
from Salina, KS
almost everytime i go they mess up my order. like today i got a white chocolate mocha frappe chino and it's hot. not iced and blended like it should be. another time i got a pink drink and they gave me some refresher that was disgusting. then a different time i got the pink drink again and they gave me someone else's order!! i'm tired of it. i'm done going there, i never get what I want.

Jillynn Rotolo
from Honolulu, HI
I visit my Starbuck's every single day I'm at work. My coffee costs me $5.92 each day. I order my coffee with LIGHT foam because it's so expensive I want to get as much coffee as possible. Two weeks ago on two separate occasions I picked up my coffee and I could tell by the weight that it wasn't full. When I opened the lid, I could see that it had inches of foam. I didn't want to complain, but I wasn't happy. Last week when it happened again, I decided to say something. I stuck my finger in the cup to show them how much foam and how little coffee I was receiving. They offered to remake it and I said no, that was okay, but I wanted them to know so when they see my name to please make sure my coffee is full with light foam. I order every day. They know me. Today...it happened yet again! This time I told the manager and he had them replace it. But this is frustrating for me. A $6 coffee should be full.

Tracie cramer
from Louisville, KY
I order a 7 pump chi tea nonfat no water no foam xtra hot and it was not made right. It tasted like hot milk. When I asked them to remake it the reply was we are really busy right now if I wanted to park and come inside and wait they would remake it. This was not okay. I paid $5.02 for a drink that was not drinkable.

Sharon Price
from Gig Harbor, WA
February 13, 2019, between 3 and 4pm we were at Sea-Tac International Airport Main Terminal waiting for our departure on Alaska Air for 10 days in Kona/Hilo, Hawaii. We stopped by the Bistro in the main terminal. It was very busy due to all the weather delays but your staff were organized though swamped. Very pleasant.
We received our drinks and I sipped my latte, it was super hot. I let it cool down before drinking more. By the time we boarded our plane I felt a blister forming. I got a glass of cold water to relieve the discomfort. The blister the size of a marble formed on the roof of my mouth. When it broke a couple days later leaving a painful open wound. This experience certainly put a damper on a long awaited vacation but the only positive thing was the 10 lbs. I lost instead of gaining on holiday.
Respectfully Submitted,
Sharon F. Price

Dede Dighero-Tuso
from Steamboat Springs, CO
The worst drink I have ever had. When asked for your barista to correct it they argued. I have gold status w/ Starbucks because I'm there so I often. Copper Mtn location sucks.

There should be a different approach to your mobile orders. I stood inside Starbucks for 20 minutes before they even made my drink. The only reason we went inside was because NO ONE was there. This is completely ridiculous. Staff was rude after I asked if my order was being made.

this week I went through the drive through and bought a hot chocolate, it was half full and half hot. It cost nearly $4.makes no sense why anyone would pay $4 for a drink like that??

Nancy C Moore
from Squamish, BC
Three times recently my drink has taken so long my friend has been ready to leave by the time I get mine, and she even ordered after me, First time it happened they did not even have my order, When I ask about it, which I have had to do all three times they say they are really busy. I see that, but people who ordered after me have already got their drinks and left already. I frequent this location quite regularly and by the third time this happened I am not happy about the service, and not happy about the response when asked why it was taking so long,
Your attention in this matter will be greatly appreciated
thank you
Nancy Moore

orderedCecafe coffee k cups received Cafeescapres chai latte

ordered Dunkin Donuts original DECAF coffee k cups received instead Cafe escapes chai latte keurig.

I have been to this target Starbucks and there is only one person to take orders & make coffee. It always pretty awful.

I'm a Starbucks loyalist usually visiting a drive thru 5-6 days a week. The Starbucks in Muskego WI needs help. Drive thru times consistently range from 15-20 min sitting in line during weekends. They are under staffed and not efficient at all and it continues to be very frustrating for the regulars. I go to several others throughout the week and never experience this type of slow service. Please talk to manager get them son training, help and more staff to handle the large volumes of customers.

Sandra Silagan
from Sacramento, CA
Went to Starbucks in West Sac. CA. It was cold and I wanted a hot drink. The machine to make hot drinks was broken. I had to get cold drink! So dissappointed. As I needed to have a caffeinated drink at they time to finish my work day.

Why is Starbucks only located in Kroger supermarket in Smithfield VA. This store is not a real Starbucks. You can't get specialty coffees. It really be great to have a Starbucks store — drive thru or standalone either in my area!!! Will that be possible???

Richard Bernstein
from New York, NY
On Feb.4th I tried to use the rest room at the 770 8th ave ,NYC 10036, location. The restroom indicator showed Vacant, when I asked the Barista for the code she told me that there was no bathroom in the store. Suggest that a sign be placed on the door that is apparently is the bathroom for customers to indicate that this is not a bathroom.

Mrs Laney
from Greenville, SC
There's a new Starbucks in Malden South Carolina there are coffee cold or hot doesn't taste the same or as strong as the new one up on Lawrens road South Carolina so we drive a little further to get a better coffee

I often stop at the Belle Meade Shopping Center Starbucks, Harding Road in Zip Code 37205, on Sunday mornings. It's always painfully slow, so reliably slow that the slowness is the usual topic of conversation of those in line.
This morning was particularly maddening. When I walked in 4 employees working. One person ordering, one in line, so I became the second in line. 12 people by actual head count seated and reading or talking. From speaking first word of my order, with no hemming & hawing, 12 minutes to receiving my Chirizo & Cheese toasted sandwich. I asked why so slow and the counter person, with no irony, said, "Oh, we have a big back log of orders". Total bullshit !
Then one of 3 of us waiting for our orders said, "Oh, the slowness of this Starbucks is believed by it workers to be its charm".

Jake S B
from Phoenix, AZ
I was sitting at an 8-person table in the back of the Santa Ana (17th & grand) location @ around noon on 2/2/19 which was incidentally the first rainy day of a 4-day storm. The store manager (think her name is Rosalia) approached & asked 'who do these bags (1 backpack & a small duffel) under the table belong to?Bags aren't allowed inside.' Promptly, I got my duffel & took it outside to sit in the rain & then returned inside to my seat.
Shortly after I sat, she came back & asked if we were 'gonna get any coffee soon' & that 'the seats are reserved for paying customers.' EVERYONE but me got their things & exited out into the pouring rain.
Now, I had decided earlier that I would get a cup of regular cuz I'm a 'gold rewards member' & gold members get free refills of regular coffee. However, her actions & ultimatums APPALED me!!
I googled starbucks' policy's & quickly found that NOBODY is forced to buy anything to enjoy the cafe OR the restroom(s) & this 'open-door' policy statement is found in different words in countless articles.
SOO here I am, voicing my EXTREME disappointment in the store management @ 17th & grand in Santa Ana, California.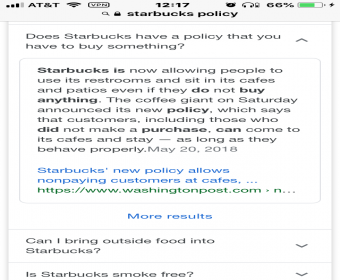 Have not received a replay from your concerning replacement of my Gold Starbucks Card. You issued me a #190115-008731 . My old card is almost ten years old and information on front is gone. The charge slip is still good. I can barely see the information on the front of the card. I would appreciate an issue of new Gold Card. Do you still issue them? Thank You . Mr. Randolph

Nancy Foster
from Cleveland, OH
I went through the drive thru this morning and ordered Venti black ice tea sweet and double smoked bacon sandwich. The order was repeated back to me. I received and drove off. The tea was unsweetened and I was not able to turn around and go back. I had no sweetener and had to throw out. Th sandwich was also different than the usual. Seemed old and not really hot as usual. I very seldom ever have a complaint but this really frustrated me. Thanks for listening. Nancy Foster

Phillip wampler
from Chicago, IL
Ordered a grande caramel machismo and it was only 3/4 full

Alberta Patterson
from Santa Cruz, CA
I live in Santa Cruz, Ca. There are four Starbucks I frequent here. I always order a venti iced cappuccino.
The price ranges from 4.45 to 5.25 for the same drink depending on location and or server. Sometimes it comes with cold foam, sometimes not. Once it was served with no ice. Once I was told Starbucks doesn't make an iced cappuccino. Once the drink came half coffee half foam. All the time the price varies.
Please tell me how to order this drink to have it priced and made the same each time I order it
Sincerely,
Alberta Patterson

Lusine Arabchyan
from Glendale, CA
My husband and I visit the Starbucks store in Glendale, CA on 1360 E Colorado St, 91205 on a regular basis. This is our ultimate coffee house experience on weekends, however for the past several times we noticed the homeless male wondering around the store. He uses the restroom several times and parks his belongings on several tables. Most importantly this individual hasn't taken a shower for several months most likely and creates an unpleasant environment for customers. These are the customers who are willing to spend money at the store and enjoy the experience. I understand that the company has gone thru some social media scandals, however the corporate and store management need to take responsibility ensuring the store is clean and welcoming for Starbucks customer.
In addition, my husband was and is a loyal customer for the past 20 years. Lately we noticed that Starbucks either changed or significantly modified the mocha recipe which tastes horrible. To make sure this is a not a specific store, we've tried others in the city and they all have changed the taste. Hope my complaint on two issues will be addressed by your customer complaints and proper department will be notified for further actions!

Kim Schrader
from Indianapolis, IN
I won't be using the mobile ordering anymore. I am tired of it not being correct. Today I ordered a hot drink and was given a cold one. I'm done. I just complained a few days ago and I am just done. I will use up my money in there and stop using it. I'm FED UP. Below is what I ordered and then what I got. And I also ordered the same thing on the 10th at a different location- they gave mine away and then remade mine but did not put the vanilla in but charged me!

DEBI KELLNER
from O'Fallon, MO
I am a regular at your store on K and 40 in O'Fallon, MO 63368, we are supposed to have a manager in that store, Hannah. However, she is on bedrest and they brought in someone from California, Ashley. We have yet to see her and customers are starting to feel this. Your staff, who is excellent in the regulars opinions are working very hard to please all of the dissatisfied customers. This store has been out of green tea for a month and other product is getting very limited. You took out the manager, Konoko, that all of us regular have a very high respect for. She was bringing a lot of the staff up to be responsible team players. Now, you can see the street on their faces, they are doing the very best, however, they need a manager in there that has their back and can provide them with the support they need day or night. Also, she should make sure they have the products in that store. Bring Konoko back, and please do not let any of our fine staff leave. I do not normally complain, but this has gone on since the holidays and several of us are getting ready to go to Dunkin Donuts.

Lucy Finelli
from Wallingford, CT
I purchased a venti cafe latte at the drive throu. The coffee was Luke warm with not much froth. I was very disappointed.

Berenice Thomlinson
from Fort Worth, TX
I went to store 2013 at 8601 South Freeway Fort Wort, TX off Everman this morning. I ordered a white & black mocha venti, blueberry oatmeal & banana bread. I confirmed it on the screen. About 3 mins after I left I looked in my bag & discovered my banana bread was missing & I was given a classic oatmeal. I called the store & asked if I had been charged for the banana bread. I was driving & didn't have the receipt and had not looked at my checking account yet. The barista who answered told me I had not been charged. I checked my bank account this evening and my debit card was charged $12.83. I realize $3 may not be a lot but I don't appreciate being lied to.

Jeanette
from Houston, TX
Victoria location sucks! Line of customers in the store and all they are waiting on is the drive thru!! I've seen 50 cars or more go through the drive thru, while customers inside are waiting for a fucking coffee that's over priced and not that good!!! Glad I don't spend money in there!

Lauren Morris
from Cleveland, OH
I got the new beautiful red holiday twenty four ounce tumbler as a Christmas gift and I was so excited to use it because I love Starbucks coffee.As I was carrying it to my local Starbucks to use it slipped out of my hands and the lid shattered. so I looked around the internet to see if you could purchase a new lid and I can't find one, I saw others review about the lid being cheaply made which sucks because Starbucks is usually a very good quality of cups. So now I have a brand new cup with no lid and was asking if you could help me out on finding a lid.

Jonathan Belkhalfia
from Hayward, CA
On Friday 14 of December 2018, I went to Starbucks located on Webster in Alameda City, California to get my regular coffee, Ms. Katelyn was talking to a customer after she gave her a receipt but kept talking, I was waiting and did not have much time, so I asked her for a regular coffee, she said that she was talking to the customer and I did not like the tone of her voice, I had to tell her what I needed 3 times when she replied: Tall Pike , I said that what I said. She looked up me with an attitude then she got me the coffee and the way she put it on the counter, she slammed it on the counter until coffee came up the lid and all over the cup as well as the counter, she also put it at the edge of the counter closest to her, I did not say anything. I got $5 bill and placed it on the edge of the counter closest to me, she looked at it for 3 seconds then reached for my money on the counter.
I felt like she was giving me charity or doing me a favor, so, I asked for my money back because I did not like her attitude treating me as a customer.
This happened between 9:10 m and 9:14 pm. If you cameras in store are working, you can review the video.
I've been coming to starbuck since 2010 and I spend an everage of $300 a month.
I do not know if you will take diceplinary action against her not because it does not matter to me, there are plainty of coffee shops around and by the way I am a restaurant owner and buy a lot of coffee from Starbucks but guess what? No more.
Best regards and happy holidays to you all.
Shalom

Patrice Wilbur
from Bedminster, NJ
Very slow service at the Bartram Oaks Julington Creek Florida location. Possibly not enough people working here.

David goh
from Seattle, WA
The whole load of banana was almost rotten, I search thru the lot and found one that is eatable
Secondly , lemon pound cake cannot warm up
But at another store in Aurora ave me
Possible
The store I am having bad experience is at north gate way , Seattle opposite total wine
Starbucks quality is really getting worse

Sandy Cummins
from Denver, CO
I visited the Starbucks located in Centennial Colorado at Smoky Hill Rd. and Buckley Rd. It was 7:45 PM on Monday December 10th. I went through the drive through and asked the option of having a blonde pour over for a venti coffee with hazelnut and almond milk, I was told my only option was Pike,that is all they had at the time. Ok... that was fine except for the following experience, when I arrived at the window I waited until someone appeared and quickly handed my coffee through the window and walked away. I have never received a cup of coffee from any coffee company where the cup was lukewarm, its always hot. I tasted it before fully pulling away from the window. Sure enough the coffee was lukewarm! I waited until the window clerk who took my order and payment returned, I mentioned my coffe was not hot, she stated the heater had been turn off under the Pike because they were trying to close. She offered FIRST a refund and reluctantly to make a pour over for me. I opted for the refund, she could have let me have my blonde pour over to begin with! I have heard other bad things about the service at this location, it's a newer location but these people should be up to spreed when the doors opened the first day. Boo hiss in this store, my worst experience ever!!!!!!
Have feedback for Starbucks?
Thanks for your feedback!
Sorry. Please try again later!