Wendy's
Wendy's Complaints Continued... (Page 6)
810+ reviews added so far. Upset? Call Wendy's corporate: 614-764-3100

Priscilla Santillanes
from Oceanside, CA
I visit Wendy's often through the drive thru and usually service is great. Great food, great workers and the wait is short. But tonight for some reason I was stuck in the drive thru line for 20 minutes and hadn't ordered yet. And then waited an additional 10 minutes to pay and receive my food. I also received the wrong order and the cashier wasn't in a good mood at all. This usually doesn't happen at Wendy's so I wanted to bring to your attention.

jasmine harris
from Park Forest, IL
me and my mom was up at wendy on monday the lady up at the window didnt believe my mother when she said she had her frosty key tags

Debra Olson
from Taylorsville, NC
To Whom it may concern. There is a TJ at the Taylorsville North Carolina Wendy's.... My daugher gave a two week notice because this manager bullied her into quiting. He just started not to long ago as a manger of the Wendy's . She is sweet girl and works very hard. She has been there longer than him . He has been rude to her and the employee's there since he resently started. Please take care of this situation. No one need to work at a place where the are bullied and treated disrespectful by this manager. Please talk to the employees about this manager. My business has been lost. Thank you very much. I would like to remain anoyomus . Thank you for taking care of this issue right away.

John W Kirschner
from Jacksonville, FL
Visit to Wendy's, 6021 Argyle Forest Blvd, Jacksonville, Florida. Site location 00011399. Location phone number (904) 265-0823.
Men's restroom had no toilet paper nor any paper towels. Fountain Service area with two soda dispensers only 1 worked. There were no straws, one ketchup dispenser was inoperable, the countertop was wet and sticky and when our order was ready we were told the establishment had no croutons for the side salad. Side salad consisted of lettuce only. The salad had no tomatoes, cabbage, or other ingredients usual to a Wendy's side salad. While eating our meal we were constantly interrupted by a woman with a child looking for a handout as she claimed she had no money to feed her child. She would not leave us alone until I gave her $10.00. We will never return to this location ever again. The money we spent on our lunch was wasted as we threw half of our meals away. We were so uncomfortable with the entire experience we decided to count our losses and leave. This Wendy's is a disgrace to Dave and the fast food industry in general. Yuck. No, that's inaccurate. I should say yuck, yuck, yuck. I have no photos as we entered this establishment to dine not to take pictures. If an inspection by the Health Department had been scheduled for today I'm sure the doors would have been locked and the key thrown away.

gerry houseman
from Columbus, OH
Windys used to be one of our favorite fast food resturants but.......after numerous times going there and getting no frostys because the machine is down,we pretty much switched. Last night my daughter stopped for a salad and they were out of all salads!! Come on-they must have bags of that in a cooler somewhere. And Windys is famous for their frostys and the machines not working!!?? Not good!

Lisa Holdt
from Akron, OH
My son loves your nuggets. I go to the S. Arlington Road, Akron, Ohio restaurant. The staff is the worst. Cars don't move in the drive thru. They sit forever. I went into the store on Sunday to avoid the long wait. There were 3 people in front of me. It took 45 minutes to get my food and of course the salad was wrong. When I asked the cashier what the problem was, he said they only had 3 people working - one at the window, one at the cashier and one helping. A young boy (around 6) came out of the bathroom and announced to his mother that the bathroom was disgusting. The whole restaurant looked dirty. I could probably remember one time where I got my food quickly. This store has gone from bad to horrible. My son has no choice - he has to find a new favorite. I'm never going back!

Nicole
from Minneapolis, MN
Every body was good, but I got a berry burst chicken salad with almonds, but the almonds where out of date, so the manager on duty called the head manager and that person say it was out of date, but it was, the almonds where exspired April 26 of 2018, and I was in there around July 7 2018. I thought your head managers are supos to be on top of that. The crew that was there today where very excellent. The place I went was 255 Maryland Ave E St.Paul MN 55117

Brad J. Obbink
from Lincoln, NE
What a horrid experience.
2645 South 48th Street Lincoln NE 68506
Saturday 7/7 7:30-7:45 PM
Ordered 2 sandwiches and an order of fries at the drive thru. After driving all the way home I found there were no fries and NO RECEIPT in the bag. I drove all the way back and requested my fries and RECEIPT. No one apologized for my inconvenience, and they acted as though they were doing me a favor by addressing my concerns I was given fries and told they were fresh and hot. By the time I drove back home my sandwiches were inedibly cold. The "fresh hot" fries were not only cold, they weren't even fully cooked. Additionally, I STILL didn't get a RECEIPT. Which is incredibly unhelpful when your customer service website requires information from the receipt I want to complain about not getting. Whatever happened to the Wendy's that cared? Bad food, bad service, bad attitudes everywhere.

Christopher Buckley
from Washington, NJ
I go to my local Wendy's about twice a month. This Saturday I ordered a few items, including a Baconator meal. I was handed my bags at the drive-thru window and didn't check them. I should have. My total bill was $19.56. I did not receive my Baconator sandwich or fries and I didn't discover this until I was home, five miles away. Oh, and, I had to ask for straws! I immediately drove back and went in. I told the girl at the register that I had not received my burger and fries. The Manager/Cashier(?) didn't apologize....it was as if to say...no big deal. Meanwhile, 2 male workers, who looked like criminals in their do-rags, were giving me dirty looks. I was thinking to my self....really??? Are you freaking kidding me? What ever happened to hairnets? Very unprofessional...and quite frankly...scary. This is not the first time I have had been given the wrong order at this Wendy's in Muhlenberg Twp. (5th Street Highway, near Reading, PA). I usually don't bother to complain...but this time...it was my whole meal...and I was disappointed by my response at the cash register upon explaining my problem. They replaced my burger and fries. Great. Now I can drive all the way back home. I will tell you this..... I will not be back.....warning my friends, co-workers and family members about this.

Now I know why McDonald's 2 doors down is packed!
I was in your 86th St. Brooklyn, NY 11209 store today and was forced to wait 15 minutes!!! for my food bc "...the French Fries needed to be cooked" said the clerk behind the counter. 7 other people got their food before me as I stood there fuming. It was only when I said I had waited too long and asked for my coffee that they finally gave me my coffee at least & then I still had to wait for my Junior Burger & chicken pieces.
The baby changer in the restroom is BROKEN & tilts dangerously towards the tiled floor. This is a lawsuit waiting to happen. I could not change my infant because of this lack.
Also, the stupid tables and chairs are counter height and need to be like the normal ones in McDonald's that are standard height. There are also too few tables and chairs and you feel like u r in a high school cafeteria.
While the food was delicious, there was also no salt or pepper to be found anywhere & I received my coffee without a stirrer & there were no stirrers to be found, The red coffee cup also has an opening that spilled hot coffee all over my stroller as I walked with it in the container clot and it also stained my blouse. You also do not serve decaf -- a major turn-off whereas McDonald's does and you forced me to open 4 creams and put them in with a straw to stir bc there were no stirrers laying around. HOW UNPLEASANT!!!
I do not have these problems at McDonald's and will go there from now on.

Patsy Walter
from Chicago, IL
We had quit going to Wendy's because food was barely room temp. After several months we decided to try again odered no salt fries so they would be hot my husband likes salt on his I don't. Fries and chicken nuggets sat on front counter for several minutes while they made burgers. By the time we got food it was barely room temp,fries were limp.My husband couldn't eat his food I ate couple bites of mine because I had to take medicine. Have you ever eaten a cold burger.I complained to the manager she said she couldn't imagine fries being cold because they were no salt. I said probably because they sat on counter for several minutes while they fixed our burgers. She said I'm sorry. We left. Today I called to speak to another manager but it was same one. Again only I'm sorry. I told her it wasn't right to serve cold food and it was over 11.00 down the drain. Her reply I sincerely apologise and hope you have a good day. My reply I hope district gets in touch with you. I'm sorry but when food is suppose to be made to order why isn't it hot. Other Wendy's we have tried in same town the food has been hot, and good service just not at this location. We brought rest of order home and gave it to the dog we had ordered him a burger too. The only thing missing was 1 bite off my husband's burger and couple off mine because I had to take medicine. Since this is the only location we get room temperature food maybe someone needs to make surprise visits more than once to check temp of food being served. My husband is a stage four cancer patient and cannot risk eating food that is not correct temperature. Thank you.

Donna Amos
from Hillside, NJ
I ordered a fish sandwich meal. I understand the drive thru and dine in areas are very busy. My order was a take out I was going to bingo which is 3 blocks blocks. My sandwich was old and cold the bread was cold the fries were cold. The next time I order from Wendys I will asked for fresh food. Very disappointed in my food. Bloomfield Ave in Newark bad service.

Angel dishman
from Macungie, PA
Girls at drive thru were very rude..didnt five my drinks and I ordered combos..2 Hot potatoes and 2 sandwiches 2 fries all shoved sideways in bag..turned around went back for drinks..didnt believe me..I said here is my receipt..she just stood there shaking her head then shooed me away..I spent 12 dollars..the other girl asked what drinks..she said I dont know..she said we owe her drinks..finally got drinks.tea very weak .unsweet..not sweet..window shut as soon as she sent them through..started dancing and laughing..got home..bag was wet from condensation of hot potatoes and sidewsys..bag busted on the ground..I took a picture to prove it..Got chilli day before..so watery..no flaver..so it could be stretched as far as possible..meat was barely cut up..it was terrible..
This was Danville va..wendys..store 3117..south Boston rd..host. Demeka
Cashier Natasha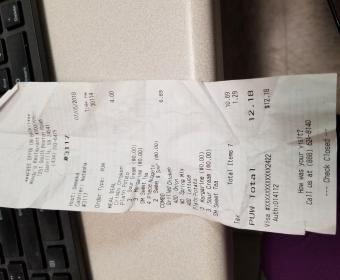 merlinsfamily@outlook.com
from Cranston, RI
I have complaint against manager and how he treated me and his cashier. She was great
he was horrible. Why no email address????
Gerry Trubeville

ginger holmes
from New Orleans, LA
I visit Wendys at least 3 times a week because i have a granddaughter that is in love with
the chicken nuggets. However, this particular Wendys is terrible.The wait time in line is
horrible and the nuggets are always cold. I am never given a receipt and usually i get the
wrong order. Poor customer service. The location is New Orleans , LA on Bullard Ave.

ROY ODONNELL
from Winter Haven, FL
I did file a complaint and did receive a phone call back and a person who identified himself as the General Manager, he was very courteous and asked me to come back to the resturant that day. I said I'm not coming back that day so we agreed on a day. I asked him to make sure if I came back that they would have my name by the register so I would have no problem. Now something came up and I was not able to get to the resturant, the next day I called just to make sure I wouldnt have a problem. I let it ring 15 times, no answer. Tried again , no answer. Waited till after the holiday, no answer. As you might guess, I dont want to go there and be embarrassed. My original order was two crispy chicken sandwich meals and a cup of chili. Meal was terrible, flat tasteless chicken and cool limp fries. Chili had see better days.

theresa Terhune
from Kearny, NJ
Went to Wendy's in Lyndhurst, NJ on June 29th 2018 at 11:50 pm my daughter ordered a spicy chicken wrap and it was raw. Very disappointed they gave me another wrap however my daughter was sick that night and missed a bridal shower the next day.Very unprofessional

Wilbur Holloway
from Newark, OH
Me and my family goes to the Wendy's On N21st Newark Ohio. The service there has become so bad when it comes to getting there food out . It dose not matter if you go in or the drive through you will wait an extra long time for your food. Since Dave Thomas has died this store has went downhill in there service and the way the food is prepared. Please fix this for my family loves going there but will find another place to go if not fixed .Thank you very much

Dawn Smith
from Boston, MA
If I had the option for no stars that would be my rating. I have a allergy to onions (severe) and I informed the drive thru clerk several times to not even let an onion touch my food. Well back at the office my sandwich was packed with onions. I went hungry and I am a diabetic and that is not healthy for me to skip meals and go hungry.
Also 2 Items were missing from my order that we as an office paid for.
So $38.00 and change later, I had no lunch and some of my co -workers as well.
I have sent complaints before and NEVER even got a reply so I do ot even expect it.
I used to love Wendy's
NOW I WILL NEVER EVER go back

Sara Keltner
from Chicago, IL
We have gone to the Owatonna, MN location 8 times in the last 2 months and walked out 6 times. The times we stayed the food was cold and terrible and the service very slow. I would suggest you do something about it. We will NOT go back.

willisha barber
from Spokane, WA
I WAS WORKING AT STORE #17 IN SPOKANE WA, the boss joe was very unprofessional and as a resoult i had to quit my job. I WORKED FOR WENDYS AND HAVE ALSO NOT BEEN PAID. i have my sol card and it cant be activated. These are my complaints. Something sould be done with how the boss conducts himself amoung the workers.

Austin Cox
from Euless, TX
My experience was at Wendy at 3924 Hwy 121, Bedford, Tx 76021
At the drive thru at this location yesterday 6-22-2018 3924 Hwy. 121, Bedford, Tx 76021
1. I ordered a side salad with honey mustard dressing - did not get any dressing.
2. Ordered a bacon cheese baked potato. The cheese and bacon was on top of the unopened potato. Extra charge was 60 cents for 3 bacons.
The menu did not indicate an extra charge for bacon. Probably less than one slice of bacon. Have ordered this same item before with no
extra charge for bacon.
3. Ordered a small vanilla frostie and received a small chocolate frostie.
Thank you for your attention.
Sincerely,
Austin Cox
2008 Windstone Ct.
Bedford, Tx 76021

kyle bernhardt
from Monroe, NC
I stopped at Wendys in Darlington SC at 989 S Governor Williams Hwy around 1:35PM today 6-22-18. I stood there waiting and all the employees behind the counter ignored me. I finally left the building and the guy waiting for his food came out behind me and said I don't know how this place stays open. He said he was waiting for his food for over 20 minutes. They never greeted me as I stood there waiting for them to take my order. They were all in the back just talking. They saw me standing there. I wish I knew the owners name of this establishment and I took some video. They should know what their employees are doing.

A. Milligan
from Arlington, VA
On Wednesday, June 20, 2018, I visited the Wendy's Restaurant (Store #00004376, located at 6210 Kenilworth Ave, in MD) and I am VERY disappointed with my experience. I'll start this correspondence with some positive feedback: Emanuel (the cashier/host) was very friendly and greeted me with a smile. Nonetheless, after placing my order, I ended up waiting 30 minutes in the lobby for my food. It should be noted that once I arrived, there were zero Wendy's patrons in line waiting for their orders. As I mentioned, I patiently waited in the dine-in area and observed five (5) new Wendy's customers arrive and subsequently leave with their orders, after I already placed/paid for my order. After waiting for an unreasonable time (30 mins), I approached the cashier and conveyed my concern to the cashier. He apologized and I waited an additional five minutes for my order (the double cheese combo with bacon). Upon receipt of my order, I left the store disappointed. Once I made it to my destination, I determined my order was incorrect - there was a single with bacon & I have a photograph), instead of the double. While I understand that "fast" food restaurants have to effectively balance customer orders, manage inventory for continuity - this should not have occurred, especially since I patiently waited for my missing order. There was also a condensation leak from the vent above the register, which is a potential health code violation and/or food safety concern. Subsequently, I'm strongly considering never returning/patroning Wendy's again, because of this issue & other sub par interactions with other Wendy's representatives. I decided to bring this disappointing incident to your attention and I'm hopeful that your office can rectify this issue by improving the training/education for your personnel.
I appreciate your time and attention to this matter.
A. Milligan
amilliga@kent.edu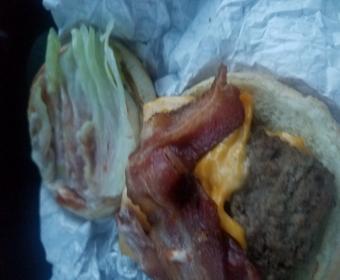 Mike Maximo
from Davenport, FL
We stopped at one of your restaurants. Waited for 30 minutes and never received the salad that was ordered. Requested a refund and received attitude. Called and waited for another20 minutes and after explaining what happened got blown off. Completely unacceptable and worst experience with a company that we've ever experienced.

Frances Lewis
from Riverhead, NY
My husband and I went into the wendy's on commonwealth ave 904-693-1540 on 5/16/2018 and ordered one apple pecan Pomergrante Half salad and
one Avacado Half salad the price on the sign said one was $4.29 and one was $4.99. When the girl rang up the sale the receipt said $4.99 and
$4.69. I proceeded to tell the girl that the price on the sign and the price on my receipt were different and she said I JUST WORK HERE. You have to talk to the Manager. Which I did she said the price on the sign was wrong and I had to pay the price on receipt.
She gave me no satisfaction. She just walked away. I know it is just 70 cents difference but she could have been more professional. If the sign says
one price that should be the price I pay. No impressed with your employees.

David Gay
from Fort Lauderdale, FL
I am a coach of a speech and Debate team staying at Doubletree on Sunrise Blvd in Fort Lauderdale, Florida. I walked across the street to get a burger from Wendy's. The dining room was closed so Iwent to the drive through window. A young girl opened the window and I explained Iwanted to order burgers for my students. A very fat woman who seemed to be in charge told me 'we don't serve anyone without a car". I turned in my rental as we leave in the morning. She refused to take my order. I asked again because I have hungry students. Then she told the nice girl, just shut the window door in his face.
I will never go to another Wendy's again and you can be assured that I will use my social media to let teachers know how they are treated when they visit Wendy's. Your customer service is very abusive.

Rita Previtera
from Little Rock, AR
Today i went to Wendy's and got 2 4for4 the girl said $8.88 , so I gave her my Wendy's gift card that had $4.85 on it and a $5.00 bill, so she used the$5.00 first leaving a balance of$1.48, most gift cards I get use card first. I asked her if I had change back, she said no I used the cash first, I didn't know what you wanted to do. She should have asked me. I will not be going back just for $1.48. burger king will have my business now.

mark heppler
from Layton, UT
to whom it may concern I don't want to get my wife in trouble since she works there but I feel that you should know how your Wendy's store is being run first of all your district manager Jaime I don't know her last name does not do a very good job in making sure things are running smoothly and for one I feel she should be fired for what she did and what I mean is she set up a person to get fired and the person who helped her stills works there if this is what a district manager employed by you does I feel that you really don't know what is going on because this person who was fired made sure the store was running at its best and now with these new general managers you have they hire people who been fired 3 time for destroying company equipment and they would rather sit around and play with their phones than work, if I would of ran my store like your Wendy's is being run right now I would of gone bankrupt, so if it were me I would either fire these new general managers and regional reps or retrain them and make sure they know what their doing and follow up every 6months so you don't lose profits because these new managers you have now have a I DONT CARE ATTITUDE and I feel they need to be put in their place also these new managers are turning away customers and when that kind of word gets out it could ruin you well I will say this if it was not for my wife trying to prep for the day nothing would get done and the same goes for the grounds keeper and stalk person please try to understand I don't like seeing how your store is being run because I was in business with my father in another type of business for 20 years I would like this to stay anominous so my wife does not get fired and thank you for your time
get

melissa myers
from Greenback, TN
my husband came in to the store on chapman hwy in Seymour tn the store was dirty my husband's order was a chili 2 jr cheeseburgers a frosty a tea and a frie we waited at least 10 min on his to go order. When we finally got home the fries were ice cold and flaky he had a hair in his frosty much longer than his because is bald! and the tea was sour he was so degusted he throw the rest of the order in trash. the manager that night was a man with a bunch of tattoos on his arms and the cashier was a girl with dark short hair with glasses. it was Friday around 6 30 on 6/15/2018 we have eaten wendys for many years and when your tired and you just want something fast and hot and you pay for and have to put in trash..... we well never eat at your store again I hope you clean it up and run your crew better and retrain people person hygiene some of the long haired girls did not have their hair pulled back I could sue you for the hair in the frosty

Jane Farady
from Ipswich, MA
Supporting Sam Bee? Guess you don't need my business!!!!

bill stafford
from Haddonfield, NJ
visited the wendys in Collingswood new jersey on 6/15/2018 my daughter entered the store at 2pm to get 2 large cokes at 2:14pm I entered the store to see if there was a problem, no they were just slow moving employees , my daughter said the one taking orders was yelling at the challenged employee for drinking soda in front o customers. but all of the above is not my complaint just a fyi , my complaint is calling wendys a fast food restaurant , is amazing when it takes 15 minutes in a line of 2 to get 2 large cokes to go. makes sense why mcdonalds right next door is packed and your lot is empty, a lesson learned for us.

Every time we visit they are either out of ketchup or the drink machine has very few drinks. We tell them but most of the time it gets ignored.

Alan & Deidre Cheney
from Bella Vista, AR
As long time customers of Wendy's, we are very disappointed that Wendy's is still advertising on Samantha Bee's TBS program. As you well know, this host recently referred to our president's daughter in a very foul way and suggested that she should wear sexy, revealing clothes to ask her father, our President, a favor. Surely, this doesn't represent Dave's or your corporate standards. We hate boycotts, but in good conscience, we can't eat at our local Wendy's until you clarify your financial support of this vile show.

Andrew Herrell
from Boise, ID
I visited the location off of eagle rd and Fairview rd in boise Idaho this afternoon. I eat here maybe once a week, but today was the worst customer service I had ever gotten. Despite being the only one in the drive through and repeating my order not 3 but 4 times, I waited a solid 15 minutes for 3 jr bacon cheeseburgers and a large fry, which ended up being 3 cheese burgers with a half full large fry box with cold fries. As I told the window attendant to have a nice afternoon she carried on with her personal conversation with her coworker without acknowledging me. I am extremely disappointed and still hungry as I am back at work with an onion allergy, unable to eat the food I paid for, and unable to go back to get it corrected. I hope you can fix this issue at that store or else I wont be in attendance to any of them any longer. Thank you

I really do like Wendy's over a lot of other fast foods.
I like the new soda dispensers and all the choices available. But for some reason my choice is always out and whats worse for us that have to avoid sugar there are times there are no diet drinks at all available. After waiting in line for long period of time last thing i want to do is go back to the counter to get attitude when asking for ice or my first choice in drinks,
I leave in Columbus Indiana

Ceanora Grant
from Newark, NJ
( State Farm Parkway) I visit this location often on 6/8/18 I experienced a manager with her shoes off while making sandwiches there was a cashier very polite and attentive. The manager mixed all of the sandwiches giving them to her in the wrong order an didn't make one order correctly the manager started to belittle the employee yelling and not fixing the situation blaming the cashier while there were several customers in line. The customer who was at the register was taken back by the managers attitude he tried to encourage the young lady by saying try to hang in there this is a hostile work environment. So I latter called in a compliant. The Store Manager called and she stated that her managers feet was hurting and she was walking on the back of her shoes and obviously she wasn't because she walking in her socks. The manager then told me her feet too hurt she has been with the company 32 years and her assistant 20 years and they are both tired and need to retire but they cant she stated that she would tell her that she has to keep her shoes on. She went on to say as far as the employee is concerned These children come In here and just want a check. I asked her if it was appropriate for her to do all that yelling on the front end of the store in front of customers she then said that she told her manager to talk with her in the back but her manager is stuck in her ways. I asked her why would that behavior be acceptable that they provided poor customer service and training and development seemed poor and her reaction to my compliant was not helpful at all it indicated that she allowed that type of actions from her managers and it was okay. Being in retail management for ten years I know that how you treat your employees is vital to the stores success. The manager did not talk as if what went on was a problem and it was clear by her conversation that the behavior that I witnessed will continue and by visiting that particular location I would constantly see different people because of turnover. This is just my opinion but the managers need to be trained properly in order to train new employees properly and if those managers are that tired to where they feel that they can do and say what they want to employees is not a good look. I did ask her if I could talk with her District Manager because her calling me was a total waste of time. She said that she would let that person know but I never received a call. I will not visit that location again.

jackson hardaman
from Reno, NV
i ordered 2 double cheeseburgers fries and soda,the cheeseburger had set to long in my guess,the bun was hard around the edges,the fries were not hot,this around 2 pm,horrible experience,i wish i had not stopped here to spend my money,yours truly jackson hardaman

Sarah Behrens
from Denver, CO
It has become a guessing game as to weather I get home with a fresh cooked sandwitch. I stop at least once a week, if I am lucky my food ranges from warm to cold half the time. My store is at 120th and Sheridan , Westminster Co. I have started waiting until a busy hour in hopes of getting a fresh cooked sandwitch which I did this afternoon, 6:00 PM, guess what the wrapper & bread was COLD the meat only slightly warm. Called the manager He offered me bring it back and it would be replaced or money refunded. Sorry, I'm not driving back again for what I sould have received the first time. GOOD BY WENDYS!

Lenore Jennings
from Toledo, OH
The worst wendys in Toledo Ohio on e. Alexis rd. Had to wait 30 minutes in drive thru line this is an ongoing problem. Will never go to any wendys again

Dan Ward
from Toronto, ON
On May tenth, I tried the special cheese bacon deluxe at the location on Victoria Street in Prince George British Columbia. The burger looked good, but tasted disgustingly like fish. If that would have been my first Wendy's burger it would also have been my last. Just hoping they will be asked to improve there ingredients separation. Thanks Dan. 250-296-3449.

Yvonne Monteiro
from Detroit, MI
I am formerly making a complaint on the general manager Kim Eddie located at the branch on can run, in Louisville, KY. Today she called my niece Kayla Wadlington, RETARDED, whom is only 16 years old and an employee of the Wendy's company until this incident. I will also be making a formal complaint with the American Disability association.

Marcia Mobley
from Orlando, FL
I went to the drive-thru at the new Wendy's on John Young and Silver Star Road in Orlando Florida I was very disappointed the line was long because the cashier was so slow maybe she was in trading I don't know however my order was totally messed up I ordered a large salad with the guacamole the chicken salad I ordered an order of bacon Nader fries and a Coke when I got to the window they asked me to pull over to the side to get my dinner girl came out no Coke so I said where is my coat so they went back in and got it I was charged $11 and some odd sense for a salad there were no Baconator fries whatsoever I would like a coupon I would like a credit I would like something I do not have proof of purchase because the receipt is probably was in the bag with the Baconator fries this was on Thursday May 9th at 8 p.m. please take care of this this is not the first time this has happened at Wendy's but I realize this is a relatively new location but that should not be an excuse please get me reimbursed thank you I expect to hear back

brian schofield
from Boise, ID
Today my wife went to the 12th St Wendy's And ordered 2 double cheeseburgers 2 frosties and 2 large fries The burgers were under cooked in red The manager was more busy talking to a young lady Then he was taking care of business in the store . Just on the under-cooked meat alone I felt cheated .

Raymond Gray
from Jacksonville, FL
We pulled into Wendy's at 6238 103rd street, Jacksonville Florida 5/11/2018 at 5:05.
It took us until 5:35 to place an order and another 10 minutes to receive our order. Cars in front of us pulled out of line and left.
There was approximately 10 other cars pulled up and left after waiting a long period of time.
I don't know what is going on there but, This is the third time this has happened in a month.
You are loosing business a horrific rate. I believe someone should look into this matter.
I myself, am a Disabled Vet and I will not return to your store.
Thank you very much
Raymond Gray

Starr Slagle
from Kansas City, MO
Went to your Wendy's in Tulsa Oklahoma, the one on admiral. I got 2 Chili's. The customer service suck. The guy taking your order Thur the drive thur was hateful. The lady at the window giving your food no thank you no nothing. I will never come back, to many other places that appreciate your business.

Carolyn Brewer
from Covington, LA
My husband and I usually frequent about every 2 weeks the Wendy's on Northshore Blvd. in Slidell, LA. For the past year or so, we have been finding this Wendy's going downhill. I think the main problem there is not enough help and/or poor management. Today, for example, we stopped in to get a bit to eat. The table was not clean, I cleaned it myself, the floor was kind of dirty, especially by the drink machine. There was water on the floor there- a caution sign was there- but the dirt had spread due to people walking there to get a drink. The drink machine was out of Coke Zero, not the first time this has happened.
When my husband brought the food to the table, my hamburger was barely warm, as well as his fries. I hope this is not going to be the "trend" in Wendy's restaurants. We are very hesitate to go there again, if at all. So disappointing because in the past this restaurant was well managed and kept cleaned.

Hattie Ashton
from Lake Charles, LA
I simply ordered a bacon cheese burger and ended up with the worst case of food poisoning . I have tried to speak with someone since mid Feb. 2018. No one has contacted me. I will seek legal consequences if I do not hear from them soon. I lost three days of work and also paid out of pocket for the medical expenses.
Have feedback for Wendy's?
Thanks for your feedback!
Sorry. Please try again later!