Wendy's
Wendy's Complaints Continued... (Page 6)
1488+ reviews added so far. Upset? Call Wendy's corporate: 614-764-3100

Richard
from Little Rock, AR
I Made an order through drive thru at the eagle co Wendy's on March 8th and when I arrived at the pick up window I saw two females horse playing (physically hitting each other.) And being loud. And my order was not made properly. The burger was messy, the fries were cold and it wasnt wrapped properly.

Went to Wendy's #264 at 3422 Taylor Blvd Louisville KY. Got order along with a lemonade. After I drove off, I took a drink. It tasted like some type of cleaner was in it. It smelled almost like alcohol. I went back to the store and the manager Tim acted like he did not believe me. I asked him to smell it, and he refused. I told him that I wanted my money back but he said no since I had said the f word to him. He said get the money from corporate. I warned the manager that the machine may need to be drained and cleaned. I called the corporate headquarters about 2 hours ago, no followup yet. I called the health department and tried to file a police report to no avail. I felt slightly dizzy from the drink and still have the drink with me.

I went to the Wendy's out in Granville, Ohio on Cherry Valley Rd last night to pick up dinner for my husband and myself. I usually don't have any problems at that Wendy's as that is the reason that I continue to go back there. Last night was a different story. I am usually not one to complain but the girl that was taking orders at the drive thru window ( her name was Paige) Well when I pulled up to give my order I kindly ask if she could give me just a minute and she did not say anything, I repeated myself as I know that she heard me because I could hear her breathing. I said hello, can you please give me a minute to look at the menu and she shouted YES very loudly. It was just rude. I then gave my order and ask her to repeat it back to me so that I knew everything was correct and she acted like that was a bother. I have never been treated so badly at Wendys. then I pull up to the window to pay her and just her whole attitude with me was very rude. She did not even say thank you, handed me my debit card and quickly walked away. I knocked on the window and said ma'am can you please give me your name and she asked why. No name tag and she finally told me her name. I said thank you and pulled away. I work for Licking Memorial Hospital and if I treated our patients the way that she treated me, I would be fired. I am not trying to get this girl fired by no means but she really has no business working in customer service. She should be back flipping hamburgers as far as I am concerned. It was just a bad experience and I will not be going back to that Wendy's nor will I recommend anyone else go to that one for the way I was treated. The guy working at the food window was very polite and I appreciate his politeness but Paige was very rude. Thank you for taking your time to listen to my experience.
Thank you,
Lee Ann Webb

liza
from Cartersville, GA
The first time I experienced bad quality was when I got a frosty I opened it to lick the lid and I saw little black things It was either hair or fiber. Today I went back cause I thought it was a one time thing turns out a long strand of hair appears when I open the lid and last time I went I went back to get another it appeared again I am disgusted with it someone needs to shut the machine down ill further notice.

I ordered a Dave's single hamburger. I got my order and went home to eat. My order was wrapped with a hamburger wrapper. But inside was a chicken sandwich that I did NOT order. And it's cold! It's not rocket science! The store was in Athol MA. So in future I will have to unwrap my order in the store to see it I am given the right order. On second thought I will just stop going there. Too much trouble to get the right order. Your service is a total failure!

Tuesday March 5 2019 @ 1:30 or so, I visited a wendy's located on Cassidy ave near Airport Rd. I ordered a $5.00 burger and chicken deal with a small frosty. I gave the girl at the register a $ 20.00 bill. my change was supposed to be $13.94. in a rush to get back to work, I pushed the change into my pocket, grabbed my order and went back to. once at work, I counted my change and found I had been shorted by $ 5.00. I did not have the time to go back to dispute this nor could I prove this after leaving. This was the only time I have ever been in that store. this could have been a mistake but after talking to my co-workers, this goes on at that location. this happened to two of my co-workers last month on different dates.
I am not looking for reimbursement as I don't have any proof but I will not visit that store again. If this is an example of the type employee Wendy's hires, I will not be visiting any Wendy's ever. I will not go out of my to bad mouth your brand but I will tell my story to all workers on every job site I am on. I work construction and I contact a lot of people every day.

Alyssa black
from Cleveland, OH
I went into Wendy's with my mom to get food for dinner and the lady did not know what she was doing when she took our order I wanted a crispy chicken and got a chicken BLT.... I can not stand cheese or bacon on my sandwiches...which is why I ordered a crispy chicken... not to mention they put the food on a tray when when we ordered To go and kept switching the food from bag to bag repeatedly touching the food with there bare hands.. the food was cold and disgusting...and they gave us kids cups we ordered a small 4 for 4 so we expected small cups not kids.... and we know they was kids cups because my mom had stopped at a different Wendy's with my brother so he could get something to eat before he went to work... see the difference between my cup and my brothers? This was at the cambridge Ohio restaurant on southgate between the car wash and subway....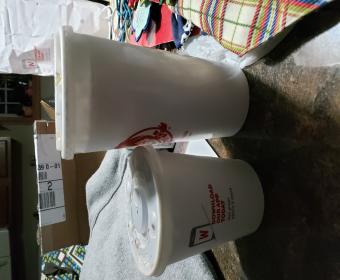 Cathy Bohrer
from Herndon, VA
?artinsburg wv 25425 fox croft ave my husband myself 2 childern walked in this restraunt to eat we had to turn around at door and leave the sewer smell is so bad my husband got sick we love your food please correct this problem or ull loose all costumers at this store to be excat there was no one in this store it was dead and if you smell it y ou know y thank you

Anonymous
from Topeka, KS
So, I work at the Wendy's in St. Robert Mo and I worked for 11 hours or more in 2 weeks and I'm pregnant so that part is understandable but I worked for 11 hours and I only got $56.00 on my check when I should have gotten more and it has me really angry I should of gotten at l eww at a little over $100 and I was supposed to go see my sick grandmother today but because of them I cant and I'm struggling with bis as well so that money would have helped wonders

We were asked last year to buy Wendys' key tags for $2.00 each to help out Dave's kids. We were told that you will get a free frosty for one year. Nothing was said about buying anything but I did ask if we bought two tags can we still get two free frosties when we buy One of the 4 for $4. We were told yes that it wouldn't be any problem. For the past 2months we have been purchasing 1-4 for $4 and getting two free frosties but as of today now we were told we had to start buying something extra to get the second free frosty. I don't feel that changing policies in mid stream is fair to the ones who have getting their orders as we have. For granted $4.36 isn't much to spend in a day for a lunch that my husband and I split but when you times that by a whole year just think how much is being spent at your store. So as of today we will never purchase any more of your key tags. If I could I would send both of them back for a refund and never buy anything else from any of your stores. Go ahead and laugh as I know that you probably are but times $4.36 by a whole year and see what one of your stores have lost.

Ordered a mushroom swiss and got a dry dry overcooked with no mushrooms very very very thin swiss, 3 little pieces of onion, and I asked for no peppers, and guess what, they took them off and the juice wss still there. I watch the commercial on TV and what I received was awfully. I am disabled and look forward to a good meal. Wendy's should be ashamed.

I will no longer be going to the Wendy's is pleasant hills Pa. Every time I go there my order is wrong. I don't know how hard it is to do their job right. That Wendy's is the worst. Service is BAD. I was sort a drink and fries this time. This is at least the 10th time this has happened. I shouldn't have to wait 45 minutes Inline when there is only 6 cars total. The people working the window have attitude problems.

David Cole
from Detroit, MI
Restaurant was not attentive to cleanliness and was discouraged to find out they no longer have plastic knife utensils.At restaurant on Ford Road 18430 #00001229

Larry McLean
from Bedminster, NJ
Ill send you a pic it says it all

If I could give them a 0 I would. My mom ordered $30 worth of food and didn't receive any of it. We ordered via door dash. The driver went MIA with the food and her tip. When I called the Wendy's it came from the manager was extremely rude, aggressive and very unprofessional. He told me they don't work with DoorDash and I'm mistaken. I spoke to a manager from doordash and she was unable to get a hold of the driver and could not understand why the manager would claim that they don't work with door dash. She even took their phone number to make sure I called the right location and it was. Your manager lied to me. I am a manager in retail and I have come across situations at my job. And the way this manager at your Wendy's handled it was uncalled for. This is our local Wendy's and they not only lost our business but they better believe we will be spreading the word In our neighborhood.the location was Wendy's
69-02 Northern Blvd
New York NY 11377

On 2/23/19 we stopped at your 1202 Lincolway LA Porte Indiana restaurant. While placing our order the girl played with her hair, handled money then preceded to handle food. Then our order was incorrect. I returned to the counter to get my correct order and they argued with me and wanted to refused me. Had to show them receipt to prove they were incorrect which caused a bit of a scene. Then we noticed the dining area was VERY DIRTY. And they had MOLD on ceiling. I would hope this would be unacceptable and you would correct this immediately. This restaurant really should be reported to the state board of health and closed.
We are in that area quite often and will NOT stop there again.

steven w merlin
from Sanford, ME
my wife and i were in mass to visit her mom in icu we were heading home it was around 730 pm stopped at wendys on rt 1 in pebody mass i ordered a asigo chicken meal and my wife ordered a chicken sandwich with just cheese and mayo well i got a grilled chicken sandwick with thousand island dressing which was not asigo chicken meal and my wifes didnt get mayo and where this store is you cannot just turn around (went through drive thru so we can get back to maine) to turn around you'd have to go about 4 or so miles to turn around was not very happy got the wrong meal paind around 9 dollars for a meal that i ordered and got totsly wrong and they weren't busy at all.

Barbara Haynie
from Baltimore, MD
McCullough Avenue in Baltimore, Md.
The Manager and Employees were very rude. The manager's name was Lisa. They were very discourteous and rude. I wouldn't go back there at all.
Thank you.

Melissa Cobb
from Allentown, PA
I was not given a receipt, but the address is 10410 Blue Star Hwy
Stony Creek, VA 23882.
We waited 40 minutes for a cheeseburger and a chicken wrap.
The wait is bad enough, but the 3 people working were in absolutely no hurry.
One lady only bagged fries and nuggets, could have cared less about the 30 people waiting.
The man working was in the middle (literally burger on the bun) of making someone's meal and he just left to use the mens room. Did not tell his coworkers and left the burger on the counter to get cold.
The third person working seemed a little concerned, she realized the man had left and she washed up and went to start preparing sandwiches. This is a very very bad reflection on your company and I thought you should know.
Thank you for your time.
Melissa Cobb

Gene hodges
from Cumming, GA
Third time visiting this particularWendy's in Cumming a that the chocolate frosty machine was broken. Seems to me if you have asignature item that you would be more attentive. I usually stop by there every other day.

Kristina Ledee
from Lakeland, FL
I visited the store located at 4308 Sterling commerce Drive, Plant city, FL 33566 this afternoon around 2:30 p.m. The line was very long so I tried to order at the kiosk. I could not use the survey coupon, and I could not get a senior drink this way. I wanted to ask the manager after I got my order, but it was not possible to wait long enough. I lost out on the BOGO with the Spicy Chicken Sandwich. I was not even given a receipt. I spent almost $17 .I am a senior and I treated my daughter and grandson to lunch. I could not even get to talk to anyone because it seemed like there were not enough people working. It was very chaotic. Please help me with some compensation. I am on fixed income. Thank you.

Amadis
from Greensboro, NC
Okay so for one I waited in Wendy's yesterday night for my food for, 20 mins just for a 4 for 4 and the lines were pack but everybody was walking slow like there wasnt people waiting in line.a little boy came inside with his food and said my mom said we missing 2 chicken nuggets the person who work there gonna say we need a receipt,, so the boy said yall didnt give me one and when I looked I didnt get a receipt either this caucasian women didnt give their receipt to nobody she sat it on the table.and then the little boy went outside and came back and said I dont have a receipt and the worker said well I cant give you your 2 chicken nuggets then.and so then the mom came in angry and THEN they wanted to serve him like. Why does it take so much to get one little thing . It wouldn't have hurt that man to give that little boy his food like wow. That's sad !!,,but yeah that what I had to say,, HORRIBLE customer service. I hope this is fixed immediately!! Oh yeah and just for me to get my food late, it was cold.

I just went through the drive through and ordered a chicken sandwich meal with no mayo. Got home and there was lots of mayo on my bun. GROSS. Ruined my meal.


Drive thru forgot my chicken nuggets - I checked the bag before I pulled away & asked for them. The window worker wanted to argue about it! She stated it 'wasn't on my order'. I said - We had a discussion on how many pieces I wanted, so I know I ordered it'. She replied ' I wasn't working the headset'. Annoyed she said - 'So do you want to add it to your order.'
Is this the way customers are treated when wendy's make a mistake?? She knew I was angry and proceeded to call me 'babe' and 'hun-'. I am 60 yrs old - I am neither to her. Her insincerity infuriated me even more.
I won't be going back - plenty of other places to pick up a quick meal.

Keith D Lewis
from Phoenix, AZ
I went to my local Wendys and they are our of chili again. Every time the weather turns cold or rainy they are out of chili. This was at 6:45PM which seems to me to be a little early to close up shop. I tried to call the store but they are on the phone and I cannot get through. I tried to access the Wendys online site but that does not work either. Since they did not have enough chili for my order I ordered a Daves Single which was so loaded with mayo that the buns turned to mush and I had to throw the whole thing away. Not sure about the store number since they gave me no receipt and the location is 2019 N. Power Road In Mesa, AZ 85215. Needles to say I think Wendys has gone from a decent fast food to rating below McDonalds which is difficult to be any worse than McDonalds on anything other than coffee.

Have always loved your restaurant, and eaten there hundreds of times over the years. Recently I have been very unhappy about the tea your serving, it used to be great I'm guessingredients it's from Coke Company and it is horrible, please send it to the curb, I don't drink sodas and that was half the reason I went there, the tea was awesome. Still like the food, but would like something to drink while there

Wendy's store located at or about 440 N high st : Columbus, Ohio Manager should be retrained or fired. I entered the store for the first time.. there were credit machines to order from. not being familiar... I went to the counter and asked" how do I order with cash?" Manager (did not know it was the manager then) MUMBLED something I could not understand. "Excuse me... I did not understand what you just said" She looked at me ... no glared at me and continued working. so I asked a customer who was eating a sandwich ."How does one get waited on with cash?" have to see the manager. I poured me a small drink and sat down in front of the window where the manager was filling sacks with orders. several people came in, ate and left... I remained .. no order... no food... no attention. I then asked to see the manager, "I am the manager" she said. I asked again.. why wouldn't you take my order for cash?" OH go through the drive through... I don't have time to deal with cash!" was her reply. I looked her straight in the face and said thank you very much.... U are about as friendly as a porkapine. . The people next to me said.. "We agree!" they had not been able to order either.... we all walked our... having not been served. this female person does not represent the Wendy's type of employees that generally greet me in your stores. Like I suggested... RETRAIN HER OR FIRE HER.... PLEASE!

Patricia Ryan
from Pembroke, MA
My husband and I eat there often. Recently, when I requested decaf coffee, one of the managers(?) said quite annoyed, "I have to make a fresh pot and then throw the rest away". He was not happy. HAVE IT YOUR WAY is not what this business projects.

Toney r
from Cleveland, OH

are you kidding me?!??WTF?!? Col Spgs Col. 8th st, set you up & FIGHT W/ YU IN THE DRIVETHROUGH!! then.. when they GET YOUR ORDER WRONG! they treat yu like sht?!??Im BOUNTY, & had to show my badge to proove my honesty! & was treated like shr! & THEY SCREWED UP- 2 SIMPLE SANDWHICHES!! wtf?!??

I visited your establishment on Freedom Dr., Charlotte N.C. On Monday 2/19/2019 at 3:00 PM. I was very surprised that the older gentleman working the register, handling money, was also handling the food without gloves. This gentleman also had a cough and was not wearing a mask. I think this is the epitome of not caring about your customers. I asked if they were short handed on employees today and he answered "I don't know ", I asked him why he was handling the money and the food at the same time without gloves, he answered "I don't know mam, I don't know". This is how germs are carried and people get sick. This should not be happening at any establishment that deals with food. My next call will be to the Health Department.

bought 4 for 4s the Venice Wendy's on Tamiami trail, old fries even chewy, cold hamburger water down coke, the nuggets were passable, I've always enjoyed Wendy's food but this was at its lowest quality.

Rob McCormack
from Brooklyn, NY
I like Wendy's, but today I was at the restaurant at 1602 Shore Parkway in Brooklyn, NY. This restaurant has a list of issues I experienced today:
The store was cold. I don't know if this was a broken thermostat, but every customer was wearing their coats while eating.
My burger was dry and the french fries were tasteless.
The bathroom stall's lock was broken, as was the coat hook (I was wearing a long coat while attempting to sit on the toilet? I think not).
Unless these issues are fixed, I will not be dining at that location again. And a soda fountain that is available to the customer instead of behind the register is something they might want to think about.

Mary Prudhomme
from Minneapolis, MN
Store Number 3229 located in St. Paul, MN has got to be the worst fast food restaurant I've ever been to. There is never a time we can get the correct order when going there. Today takes the cake - I had to repeat the order 3 times and in the end we were 3 orders of fries short. No apology or any indication that anyone even cared about me as the customer and how felt. Surprised that the store is still in operation by the way they operate. I WILL NEVER IN THIS LIFETIME VISIT THAT STORE AGAIN.

Went to Wendy's in Leominster mass for the third time in the last couple months all of our food was cold or room temperature! So frustrating because Wendy's is really good when it's hot.

DAMARIS GUEVARA
from Lorain, OH
My son and I were waiting in the drive thru with a few more vehicles to order our food, and the problem was that when we arrived to talk through the speaker the wait was way too long, we waited for 5 mins or more and nobody answered. So we left to the McDonalds that's right next to Wendy's because it was too much the wait and we noticed that the 3 employees were all together having there own conversations even when there was a ton of cars waiting on them. When we finished with our meals we were heading out and seen that the drive thru barely moved at all and the same employees were still doing there own thing talking, laughing, and NOT doing there job. This bothered us way too much because its a fast food for a reason to get our meals within a short period of time. We shouldn't have to wait for a reason that's not justified. This happened in the Wendy's from Colorado Ave. Lorain Ohio around 9:22pm on Feb 15th.

The store is never staffed well!
The food is never HOT, and the coupons you have in the paper where not honored correctly. When I asked the manager about it she was very rude and walked off.
This location is not kept clean either,
There are way too many fast food places right around Wendy's, your competition is great so you would think the store would be performing at a level beyond customer service,
I plan on telling everyone I come in contact with about the mis managed, dirty store along with NO customer service.
I would like a call from you,
423-910-0284

I went through the drive thru at 2:50 today 2/15/19 at the Germantown Wi location. After finishing my drink I looked in the bottom of the cup and found a dryed out burnt piece of meat. I almost vomited. My order consisted of a Diet Coke, vanilla frosty, baconator fries, and chili. I asked for onions on my chili and did not receive them either. The worst part was the disgusting meat in my drink!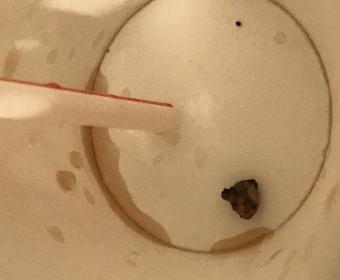 Went to Pottstown, Pa Wendy's drive thru on Friday, February 15th 2019. There were 2 cars ahead of me, it took 18 minutes to get to the ordering machine, I asked for a single hamburger with just ketchup and mustard on it and some of the baconater fries. Girl on speaker asked me twice to repeat what I wanted, annoying after I just spent 18 minutes waiting to order with just 2 cards ahead of me. When I finally got to the pay window I said to the person standing there "I have been waiting in this line for 18 minutes." He started yelling (and I mean yelling) at me that "We're busy, it's lunch time you know (excuse me, this happened at 2:15 pm, kinda past the lunch crowd.) He took my card and slammed it thru the credit card machine (and I'm thinking, if he breaks my card I will climb through this window!) When the card was finished he ripped my card from the machine. Opened the window gave me back my card and SLAMMED the window shut. When my food came he opened the window threw the food at me and slammed the window again. Having enough of this cretin I yelled Fuck You right back at him. When I got to the pick up window, I asked to speak to the Manager, i said "that guy should be fired." Her response was "Well, did you curse at him" Your damn right I did. She just stared at me and told me to have a nice day. I will tell everyone I know not to eat at this Wendy's and I will also tell them how lousy the food was. I go there all the time because I work across the street and the girl that used to be the Manager was great and I never, never, never waiting in line for 18 minutes just to get to the ordering machine. Apparently this person has anger issues and probably should not be one of your front line people, Manager isn't so hot either.

I want Bell complaint against manager name Joanna trucks at the store, West Jewell Avenue the address is 7807 West Jewell Avenue Lakewood Colorado 80232 I don't like the way she treats us employees there very rude and disrespectful with them she cusses at all in front of customers I told them to get lost she has I'm constantly I'm always in there listening and I just want the way she treats oh she don't care about them on their safety on how they get home or anything she needs to be fired I will not go in there anymore until she's gone and you to all my friends and family to not eat there so you better do something about it because I'm very pissed right now so I will not be eating that anymore because she's gone and very wrong person. And then she send people home making moves hours you know when they're there to clean after work that's wrong 2 and she's people got them off the floor and turn brown since I'm home and then let's see if I go out there and do the mopping again not happy but that either needs to be done she didn't let go she never did manager at all T is favoritism she told one employee stop talking so much and stop walking in the other employee footsteps when there's other employees that stands around and talks more than she does and she did not tell him to get to work and stop talking and then there's a place that can go outside smoke whenever they want Joanna goes out and smokes all the time every 5 minutes what is wrong why other people work so she better be gone or I will not eat there anymore

Can you please put back cheesy buger back they didnt need to be taken off

The Wendy's located on N Causeway in Metairie La. is a constant disappointment. Service is horribly slow and rude. Orders are often wrong and the quality of the food is sub par

I paid for two frosty key chains and didn't receive any. NO receipt EVER given so no proof. Very POOR service

my wife and I went to wendys for lunch today 2-13-19 I ordered a jr bacon cheese burger and a small chilli.then gave the lady my nameshe called my name i did not have the chilli had to ask for it.when i bit in to the burger there was so much mayo on it came out both sides of the bun. also the chilli was like water the beans in it was hard. i could not and did not eat that lunch i have a at this store many times but never like this. i also had my 2 forest sons with me spend over $24.00 i know this may not be very much money to some but when you are retried living on a limited in come it is. this is not what i do but when i pay for food i like to be able to eat it. hope this will help in some way.
Thanks Ray Workman

When I tried to eat at Wendy's today by ordering a cod sandwich, I was told by the cashier that Wendy's doesn't sell cod sandwiches, even though a photograph of a cod sandwich was affixed to the front of her register. The same cod sandwich photograph appeared both on the digital menu on the wall where customers line up and on the digital menu directly above the cashier's head. Despite these three visual verifications that Wendy's does indeed sell cod sandwiches, she insisted that they do not. This is a piss-poor way to run a business & I will not be attempting to eat at any Wendy's again.

loretta abrams
from Mansfield, OH
visited your restaurant at lex-springmill rd Mansfield ohio on sunday the 10th of feb ordered the grilled chicken an ff an drink I asked for extra tomatoe on the sandwich an wanted extra sauce on the side did not get any tomateo an got extra sauce but none on the sandwich
also can not take survey they never give me a receipt
thank you

Let me start of by saying I really like Wendy and come to this location often but This is my 2nd time coming to this wendy store #4936 2/9/19 1st compliant order the 2 Peppercorn mushroom burger meals and when I got home my sandwiches did not have any peppercorn sauce on it attempt to call store and no answer . 2/11/19 2nd compliant on my lunch hour order peppercorn meal again and rec'd the SSawesome bcn chzburger . I guess its my fault because I didn't pay any attention to the screen but clearly stated the number #5 combo and stated the peppercorn meal . Attempt to call again its 1212pm and phone just rings.. I don't like that I have to spend my money and go home or back to work to get the wrong order and then for no one to answer the phone. My ticket order this time is #3029. I don't like to take extra trip back n worth to a restaurant when my order should be right in the first place. Its more of a slap in the face when you can't even get anyone on the phone to even try to correct I guess I just lost my money or well because I don't have the time to go back

Roger Danis
from Westerville, OH
My daughter years ago worked at the Wendy's at Maxtowne Rd. near State St. in Westerville...that is when it was a good site. For quite a long time now...more than one year, this site is simply awful...NOT AT ALL AT WENDY'S standard...which I consider above all the rest. On Saturday evening, this site hit the all time low: 1. The fries came out half raw. When I asked for a replacement, I got the same condition. The fries are simply not being cooked properly (this has occasionally shown up before at this site). 2. The drink dispensers were 50% not useable. 3. The ketchup dispenser was broken with ketchup ending up all over the counter. The bathroom was a. dirty; b. no soap dispenser (broken)...how do the employees have clean hands? c. The paper dispenser was broken. 4. The fries ALWAYS (whenever I am there) are placed on the tray immediately and are cold by the time the sandwich is placed on the tray. I KNOW you actually want the fries to be placed on the tray last.
It simply seems like there is always chaos at this site...often dirty...and often no one cares. When advising the workers of my concerns, there is zero response. This is a corporate owned store...certainly NOT befitting your image of good food in a clean place.

Kellie Smith
from Ashburn, VA
Store #12031 in Dothan, Al is fairly new to the area. We went in to dine. The cashier was less than friendly and the dining room was filthy. We had to wipe off our own table because they were all dirty. It's shameful.

La Sharon Allen
from Sacramento, CA
2/7/2019 The Wendy's located at 4180 Northgate Blvd Sacramento,CA is the most unprofessional place ever. The drive thru line was backed up cars lined up while the employees were playing around , playing tag and throwing ice at each other.. The food was food was disgusting and the sodas were watery. If I wasn't hungry I would've it back and asked for a refund. I will never visit this location ever again and I will be sure to tell everyone I know not to go to that location. They're in there bullshitting and nobody cares.

Literally everytime I go to Wendy's I'm waiting 30 minutes or more just to even order. I'm literally in the drive they right now, haven't ordered and it's going on 40 minutes. I've worked numerous fast food jobs and understand the importance of short drive thru times. Its absurd. Currently I'm at the Turner road location in dayton Ohio.

My complaint is extremely slow ordering in the restaurants and the wait time for the food. All the Wendy's I have been to in the Mansfield area are the same, First you have to stand in line to order for a very long time, and then you have a long wait on the food. The food is good, but the wait time is not. It has been the same at Wendy's on Lexington Ave, and Lexington-Springmill Rd and the one on Possum Run Rd. I would like to know the reason for such slow service if there is one.
Thank you,
Ann Snepp

Kathleen Merritt
from East Northport, NY
Recently the last two times I went to Wendy's the order was messed up. Every time I ask for one of the combos to be plain just the cheese and bacon, it comes to me with the lettuce, tomatoes, and mayo. Even though my slip says PLAIN. I can deal with the lettuce and the tomatoes but the mayo is all over the bun and gets on the burger. Then I'm usually left with the burger because the bun is ruined. I go to Wendy's at least 2 times a week if not more and It's getting to the point that I'm gonna stop going.
Kathleen Merritt
21 Public Road
Hauppauge, NY 11788

The Wendy's I am complaining about is located at 13246 Cedar Road in Cleveland Heights, OH. I had previously visited Wendy's and it took about 25 minutes to go through the drive thru and they got my order incorrect. A couple of days later, my kids really wanted Wendy's. I did not want to go back because of the bad experience two days prior. I gave in to their wants and this time I went inside because there was only one person in line. It took 30 minutes to receive the food order. They kept giving me part of the order. After I thought I had the completed order, they told me it would be five more minutes for the wrap. In the meantime, the food I did receive was getting colder. Once I got home, I notice that most of the order was incorrect. I called the 1-800 complaint number almost a month ago and was told someone would get back to me. I have yet to hear back from anyone. I am disappointed with the service at Wendy's and disappointed that no one bothered to follow-up on my complaint. The date of service was January 17 at 5:23. I believe the store number is 10147. The meal cost me $14.15. I would appreciate a response to my complaint. You can reach me at 216-288-1461. Thank you.

Over the years Wendys has been my favorite fast food but the last few years my experience continues to get worst with the service.
I mostly stop at the one in Morris, il and at one time was the best now is the worst. Just seems like they don't care, they constantly are out
coke products, different sauces and not uncommon for them to forget something with your order. NOT SURE IF THIS IS A WASTE OF TIME
BUT I WANTED TO TRY WITH HOPES IT CAN BE WHAT IT ONCE WAS!

The attendant serving food threw it at us and messed several orders up

We have to travel 11 miles to a "local" Wendy's and we expect out orders to be correct. Twice in the past weeks when we have ordered we were missing items. When we got home the first time we were missing a double stack. Tonight I ordered two children's meals of 4 piece chicken nuggets. We received two bags but.....when we got home there was one order of nuggets in one bag and one order of fries in the other!!!! I had one very upset granddaughter. As stated previously it is too fat to go back and retrieve the missing items. This is making me wonder if we should go back at all!!

The Wendy's franchise in Covington ,TN,
is literally falling apart.
It desperately needs renovation and modernizing.
It resembles a third generation Wendy's
building.
The sunroom like structure at the front facade is deteriorating and reflects poorly on the Wendy's brand.

David
from Rio Rancho, NM
Waiting at counter 10 min. Workers walked by looked at me. Never took my orders. I asked if it was open no response. So I left. This was in Las vegas n.m

The staff at your Lakeside Store needs customer service training and my food was awful will never come here again

Kattdanacox@gmail.com
from Houston, TX
Feb1 sat nite at 9pm 2019.im disable female.wendys waco tx on vallymills dr.i call the wendys to place my order because lobbys lock.i ask her to go to the window because i dont have a car.shes staing to me no.i say i cant drive maam im ddisable.thats why i moved next door so i can walk over.shes rude and says ive got 3 cars imcbusy.no car no foid and hung up.wow really.why cant yall have a window for that the handicap can eat after libby clises to.this was so bad because i depend on my meals there.so now im hungry and i call them back no cars are there so i ask her if i could please place a order now that their not busy.shes stating no i told u no .and hung up.wow.now im sorry shes stating shes manger.why would u allow this.im a paying customer.but u want to discreanate against me because i cant drive because of my disability.im sorry she couldve walked it out to me.or i couldve easily went to drive up window.theres ni readons to be this way.and im truely SORRY but this is such a cry for the handicap people .we all cant drive maam.and how would u feel if i did u that way.i was only wanting to eat.which by the way i couldnt take my meds that nite due to must take with food.so im truely shocked .ty. K.cox.

Jean
from Millersburg, OH
So Burbank, Ohio: Wendy's. We had a Wendy's card for 15.00. So i added 4.00 and took the boys and their mother out to eat. We walked in and ordered the food. We could not find a clean table. I believe that a little dirt makes us healthier. I don't get upset about normal recent dirt…but this place was beyond that. My DIL finally asked for someone to bus table and they gave her a filthy wash rag and told her to do it. When she saw the rag she went back to ask for a clean one and they rinsed either the old one out or gave her another dirty one. So she remembered the wipes in her purse and cleaned the table. It came up dark, and dirty. Then we looked at the baby's chair and it was filthy so I took it up and asked to talk to a manager. I told her I never saw such a filthy, dirty place in my life. She ignored me so i walked back to the table and sat down. I realize we never got our drinks so I got up and asked where our drinks were. Got cups took my DIL's to her and went back to get mine. I sat down again and I didn't have my food. Walked up and got it from the same little girl who did her job okay, the order was correct even though my DIL swore that my combo was a smaller sandwich. I have no idea, I never got to look at it. I went back to the table and sat down and the boys didn't have their food. I walked back, got their food and sat down. My DIL began to talk about them spitting in our food. I got up again and went to get condiments off the filthy condiment tray and table. I picked up my food and after about 20 minutes it was cold. Really stale and cold fries by that time. So i went back and asked if they would nuke them. The manager who had self drawn tatoos up and down her arms looked at me and said NO. She was standing in a mess of chips and chip containers, and dirt on the floor. I am a BSN, RN who did mock surveys for hospitals and ICF MR for years so I unstood not bringing contamination into the back….but….think about it…the place was filthy back there., So i asked her to replace them and she said No...i told her, that i had bussed her table, had to come up there 3-4 times to just get the food right, the least she could do was give me warm food. She said "NO I didn't ask you to clean" That did it. I threw the french fries hitting the back signs. She ducked and the cashier stepped back. She started screaming for me to get out. My DIL said she was saying i assaulted her when she had to go up to the counter yet another time after I tossed the fries.. I sat down and watched them eat, because my food was at the counter or on the floor with the other fries/dirt so I had nothing to eat. . The manager yelled she was calling the cops. So we sat and waited. My DIL was a bit nervous. The other people in the place were complaining. A lady said they had forgotten their order and when she said something they took care of two more and gave them their food before getting hers done. One guy came in yelling that there was ice on the sidewalks and he was worried about falling, another one was talking about how dirty the place was, especially in kitchen because he delivers food. Said it took him along time to get over it. . I think what i saw.....if the dirt could talk, it would be talking about the civil war. Another women came up to tell me her story...then a very nice Officer came in and over to me and I held my hands up to be cuffed and said " I am sorry, i did it." He laughed. Very nice guy. We told our story, showed him the dirty nose wipes in the cracks of our bench, the food all over the tables, floors etc. The rusted food caked legs to the tables. He laughed said he wasn't going to arrest me or do anything about it at all. As he was saying it more police cars showed up and cops started to descend upon us. I said "look the swat team is showing up". He rolled his eyes and said he had forgot to call them off. I waved at them. They looked confused at me but turned around and left when our officer talked into a mic and told them it was okay.....i didn't see guns.... He said to me they did request me to leave. We were done eating. The grandchildren did not get to eat all their food, the baby had frosties all over him because of the lack of a chair. Their food was cold waiting on us to put it out….. I never got my food back. I asked him to go up and get a bag for us to put the boys food in and we were walked out by our officer. Officer Hiems is how I think he spells his name. PD at Wooster Ohio. Call him….....I took the opportunity to educated the boys on how nice the PD are and how they help us. Not sure how the DIL did with it all. I was guilty as charged. It felt good throwing those cold fries. It was wrong of me i know to toss the fries. BUT, in hind sight....I taught and participated in distracting COPE techniques in forensic and Dual diagnosis psych. I was taught for years to defuse situations by causing a distraction. I am sure that is why it is in my behaviors. Smacking a table, tossing a chair, making a distraction of any kind. Tossing cold fries made me rethink the situation and not be very mad. It distracted the manager. The behavior works.....but not my shining moment because of today snowflake stuff. I am not a snowflake. She is a poor manager (I am a nurse manager, managing group homes). Thank you for your telephone and written responses.
PS: there is no star low enough to rate this overall experience.

Don't ever go here worst customer service ever have kids running the place waited 20 min in the drive thru

Don DeWaele
from La Salle, IL
This evening I was a a Wendy's restaurant in Sterling Illinois. I'm not a complainer but there was nobody at the counter when I got there. I stood for a few minutes and the manager came up and apologized that nobody was there. I waited another minute for the girl to finish what she was doing before she could take my order. I ordered a double cheeseburger with everything on it and onion rings with a large coke. She then said that she was sorry but she ordered the baconater sandwich instead. I told her that was fine don't worry about it. She took my money but there wasn't enough change in the register so the manager had to come back with $5 bills. They had made my sandwich and it was sitting on a tray. Then after the change issue was corrected then they cooked the onion rings. The onion rings were small bits and pieces and crumbs that were dumped out of the bottom of a bag and they were very greasy. When I sat down and opened the sandwich up there was only 2 pieces of bacon about 2 inches long on the two patties and nothing else, no lettuce , tomato , onion or cheese. Remember I ordered it with everything on it.
While I was waiting for the onion rings to cook I noticed that the kitchen area was a mess. On the floor was a bucket of French fries that had been discarded and probably a bag full of fries laying everywhere on the floor. The dining area was a mess with dirty carpet and the garbage recepticals were open and had no bags in some of them.
I used to own a restaurant and I know local health food codes and I can promise you one thing this place would not pass inspections. I did not complain to the manager at the time because I was just wanting out of there. But later I thought about this and I felt somebody needs to know. All this unorganization with lack of cash in the drawer and food in a bucket that had been sitting there to long I assume and the mess on the floors must have been there all day because this was witnessed by me at 6:00pm. There was no rush hour and they didn't have time to clean up after.
I don't even know if this will get read but it makes me feel better.

Don D
from Ormond Beach, FL
25 minute so far in drive thru line. 3 cars were ahead of me. Greeter asked a question and then asked again because she wasn't paying attention. I know it's florida, but really poor service.

Linda Brinkman
from Soddy, TN
I have tried to find a place online to complain, you suck that one cannot find a place. I had a miserable experience and then I am done at Wendys..you suck.

Samuel Cobb
from Broken Arrow, OK
I have used a coupon 3 different times now with no problems (coupon code 31) at the Wendy's in Broken Arrow, OK at 111th and Elm and the coupon says valid only 1 time per visit and this last time they refused to give me back the coupon, which expires 3/3/19. This coupon is the only reason I have been to Wendy's so many times. I am very frustrated with why this time they refused to give it back and I will not be back to that location unless this can be resolved. "Valid 1 time PER visit".

D Marin
from Burleson, TX
Location: 270 NW John Jones Drive, Burleson, TX
This is a perfect location; near shopping of all kinds. Unfortunately, every single time I order there, the food is blah. Today, french fries were very stale and limp (although they looked brown and crispy until you picked one up). I got unsweetened tea instead of sweet tea. The buns are tasteless and whether it be chicken or beef, the taste just isn't there. There is not fish on the menu board, but they did have fish sandwiches. I know why they aren't on the board... my hubby said it was awful! I thought I'd make a quick drive through since I got coupons in the mail, but I have decided to take my business elsewhere. I have given this location more chances than I care to mention.

Sherry
from Marshfield, WI
The hoodrats on piedmont atlanta location necer disappoint. Ive repeatedly hven opportunity for human decency since its convenient but neither the hoodrat with 2" nails or handing food bothered to say a word to me and I'm sure it's because. My complexion is not the color of asphalt

Jackie Anderson
from Washington D.C., DC
I visit Wendy's Friday night it was not happy with the service the guy took my order and I I asked for two Chili's to nuggets so I asked him what size did he give me he said he didn't know he wasn't listening so I wasn't happy with that I drive up to the window and find the other guy making the order with one hand holding his cell your phone and its other hand making my food so I wasn't happy with that could you please contact this store and let them know that is not acceptable thank you for looking into this matter

Peggy Jenkins
from San Diego, CA
A guy was getting a soda refill and I was right next to him waiting my turn. He got his refill and I was taking off my lid to my cup to hand it to the worker and he took off without giving me my refill. The guy that was next to me said "wow, he just left! I was shocked that I was blown off like that. I was so pissed that I just threw out my EMPTY cup and left! Oh, and there was another worker just standing at the register, totally oblivious! Wow, what great customer service you have! This could have been avoided if you had the self-serve soda machine! Why doesn't this location have one???And if you're not going to get one, hire people who know what customer service means!
This location is on the corner of Zion Avenue and Mission Gorge Road, just down the way from Kaiser Hospital. The zip code is 92120.

I just bought a bowl of chili and there is no meat in it. Only contains beans and some sauce.
A bowl of chili should be mostly (at least 75%)meat. What I got did not even have 2% meat.
It was purchased at the Wendy's on Wallisville Road in Houston, Texas.
I have gotten chili from Wendy's in the past and it was good.
I will not be going back to Wendy's again.

The Wendy's in Sebring Fl in front of Lowes on state rt 27 . I have been in this store and every time the same problem is your fries taste like you greased the bottom of a auto and cold. The un and I mean UNSWEATEN has sugar added to and taste like the sugar tea. Do you have people that can not read. This is not Wendy's and I am surprised this is taken place.
The Mens bathroom smells like old grease mopped all over the entire bathroom. The floor needs stripped and resealed. There is a white line all around the entire bathroom. If it can not be cleaned better then the bathroom needs to be shut down . The stalls are fallen apart. Better the entire store needs tore down. The problem is from Corp down to the store workers are at fault. Ever since Arby's has taken over there has been a decrease in the quality of products and support.

Yesterday around 5:30pm I pulled into the Wendy's on Bay Road. There was a rather long line of cars (perhaps 5-6) ahead of me. After waiting 5 minutes and the line not having moved at all, one car pulled out and left, and soon a second car pulled out and left. The car ahead of me then finished it's order and i got up to the ordering station and ordered a Dave's Triple. I noticed that the price on the outside ordering menu was $6.69 for the sandwich, but the cashier rang it up for $6.89. When I brought it to her attention, she said, "I'll have to see about that." That was the last I heard from her. Incredibly, she didn't even apologize for the ridiculous delay. In any case the line moved up again and there was only one car ahead of me. After waiting yet another 3 minutes, I pulled out of line, left and headed to a nearby KFC to get dinner. There is no justification for such poor service and incivility.

Alamosa Wendys has a manager named Loren.she is very rude get her out.she treats fellow employees very bad

Randal martimez
from Alamosa, CO
There are two managers at alamosa Wendys.that are very rude to employees.Loren and audra.I feel you guys need these two gone asap.maybe a full investigation with employees involved.handle this or ill have to go visit my friend vice president of your store.ode like to see these managers gone

David Fauteux
from Glastonbury, CT
I ordered 2 double burgers and they had a fishy smell and taste. It was not very pleasant at all.

Marcia brack
from Bedminster, NJ
Liberal Kansas Wendy's has loud, & annoying hip hop music playing. Food is not palatable.

patricia Desh
from Bethlehem, PA
The food was fine and the service good.My complaint is about one of the workers.We must have been there at 4 for a change of shift.We saw a older female standing outside smoking when we got there.While we were in line this women came into the restaurant went behind the counter and started changing her clothes.She took her coat off and a shirt she had on ,under that she had a tank top on.She put on her Wendy's shirt all this while her clothes she just took off laid on the back counter where the food was being made.She took out hand cream and other stuff out of her purse and laid it on the same counter'Then she flipped up her hair and put it up still while standing where the food was .No one said a word to her as she started to work and never washed her hands..This totally grossed us out but since we all ready ordered and paid we were stuck eating there.I worked in the food industry for 25 years and if the board of health was there Im sure you would ofhave been cited.This was at the restaurant on South 4th Street in Allentown pa.

My complaint rate was a one meaning this being the worst it could be. Today is January 25, 2019 around 1:15 PM I stopped at the drive through to grab a sandwich and coke for lunch. I ordered a Baconator and a small Coke. After I got on the highway about 15 min down the road I started to eat my sandwich, when I unwrapped my sandwich I could not see any bacon so I removed the top of the bun and I then found the bacon any other time I get this sandwich there 3 to 4 slices of bacon sticking out both sides of the bun, well this time there was only a half a strip of bacon in the center of the sandwich. I was a far enough down the highway that I was not going back. I would give you my order number and store number but I didn't even get a receipt. Not very happy.

Eric Johnson
from Broomfield, CO
Again we went to one of your Restaurants for lunch at 10:30 ( they open at 10:00} in Westminster, Colorado #00008808 when we ordered
I asked if they had baked potatoes I was told they would be available at 11:00 am. This is not the first time we were told the baked potatoes
were not ready. I would think since the restaurant would have the baked potatoes ready when they open. Eric Johnson

jennie norred
from Germantown, MD
To whom this may concern my daughter was employed in your store on highway 142 in Covington ga. During her time of
employment she has went in 15 to 30 min before her scheduled time and staying anywhere 15 min to and hour after her shift ended waiting on someone to cover her. She has never taken off except for medical reasons that involved myself or her children. The other reason for this complaint is I have seen employees buying food and not paying for it . I have seen managers buying for certain employess and cashing it out without holding the employee resposisible. There is one instance where I know an employee was accused of stealing from a cutomer and to our knowedge nothing has been done to her and she is a manager. My daughter went from 30 plus hours down to 21 and when she questioned why she was told it was because she took off time to be with her daughter and did not come in the store to work it out but I would like you to know she did contact a manager ,but because she talked to night manager and the night manager did not relay message to day shift my daughter was written up for no call no show which I believe it totally wrong. She has been yelled at by other employees as well as the managent I fell is totally wrong. The employees and management staff I personally think need to be looked into imedately. She has also been told by the scheduling manager it is easier for her to keep her of the schedule than it is to work her in which I do not believe is right. If someone could contact me through email I would greatly appericate it thanks again a dissatisfied customer jennienorred@ymail.com

Yvonne Prince
from Ft. Pierce, FL
On my way from work about 11:30 pm stop by Wendys orders chicken nuggets 6 piece combo ate about 2 fries on my way home dump the fries out the bag into a paper plate notice something dark in my fries and it was roach nasty disgusting never seen nothing like that nuggets was fresh fries wrinkled warm not fresh at all who does that I spent my money thinking lm going to njoy my food and a roach in my food.Call the store spoke to the manager about situation she says I come more fries her name Veronica I said are you kidding me l jus hung up bad business

Jean Clark
from Salt Lake City, UT
Ordered 4 items and got 3. No chicken nuggets no receipt. Took long time to get order and still wrong. Seemed very disorganized. Lots of 2 stars. Don't think even corporate cares about service, Store was Murray UT 5600s 900E, Tried calling them 2 times but wouldn't answer.

The Paoli, Pa Wendy's is a disgrace. There were bags of garbage out back while cars were in line. they ran out of restaurant picking them up and running to dump to our right. This was not and has not been a pretty site. I suggest you look into who is running this. It seems like just a place to bring in few bucks. Wendy's has always had quality food. I literally left the line after witnessing the workers coming out running bags to dumpster and back in to work with food -

George Wagner
from Willow Springs, NC
This complaint is for the Wendy's in Clayton rt 42 beside I40. I have had many issues over the years with the speed and service of the place. Many times over the years I have also arrived home to find that there were missing items in the order (Almost always drivethru). I like your chili and have had many issues there too. I have MANY times arrived home to find small portions in the large chili. I got into the habit of telling the order taker to properly fill the chili. That has worked hit or miss and today I have had enough. I ordered 4 large and asked them to be properly filled. Well all four were well low. If I have had this many issues over the last handful of years I can't imagine what the numbers are of others having issues. Anyhow I included a pic of the first one I opened and they were are the same.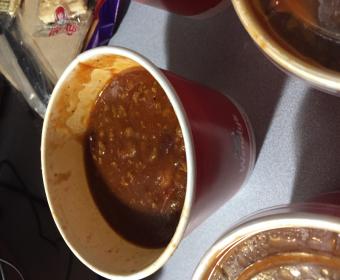 Candice Ray
from Indian Trail, NC
I purchased your Wendy's chili, in fact two large containers.. I took home and on a cold day today, January 21st, I warmed up a bowl of the chili . As I proceeded to enjoy it ended with the first spoonful in my mouth. Something was touching my lips and as I began to chew I notice again something feeling like a string and thought, Oh!!! my God!!!! it's a hair in my mouth. I began to take my hand and go towards my lips searching and feeling around my lips and as I found and pulled .. kept as this wentvon for 2 minutes are more.. I'm slowly pulling ...out came a long enough string or blonde hair.. This was so grotesque that I ran to my bathroom and throw up.. I have never , ever had such and experience.. I have the hair strand or some kind of thread caught in my mouth in my throat trying not to swallow.... so upset, angry and disgusted that I felt like turning it into the health department. In fact it appeared to long too miss.. I must have cleaned it up pulling it out of my mouth.. I rapped in kleenx and placed on my kitchen counter and used a sticky note back ground to see for myself what it was... I have a witness to my findings, it scared my family... I have not eaten Wendy's in 20 years.. There was a decline in cleanliness which was and issue in many locations I observed.. years ago... I happen to be teaching on a College Campus (UNCC) in Charlotte NC .. a few weeks ago and the student union had a fresh batch of Wendys chili and I was encouraged by management to try, it was amazing. A week later, I thought I'd try your Wendy's chili' in my community were this incident occurred, I would be remembered and known on this past Friday after a 9:00 movie , because I requested at the window more beef . I returned this time due to a visit with a girlfriend weekend outing on January 12th...revisiting this location on January 2Ist I proceeded with caution ... this store needed a face lift, the placed appeared clean and I trusted you again.. I was given nothing but beans on the 12th with friends and not enough beef in the chili.. so, on the 21st I teased the workers at the Wendy's windows drive through about the chili having nothing but beans previously.... as my personality is light hearted with young people... they were not pleasant, not happy to be there, or didn't appreciate my concern or request.. as and educator retired, I noticed behaviors that they were not happy about my asking for more beef . Being the customer , I felt maybe I must have been getting them in trouble , hoping not to offend I thought it was okay to ask for more.. .. I even ask for the manage with a pleasant smile.. I was ignored, so after getting two containers I was grateful and over and over I thanked them all.. I tried to make peace...PLEASE, DON'T attempt to give me passes or free meals.. This place needs a sanitation clean up.. as I reflect after this issue.. I wouldn't trust going back there again.. after this experience. I'm not blonde or had eaten any of the soup until today..January 21st.. around 7:30....This was just unexceptional...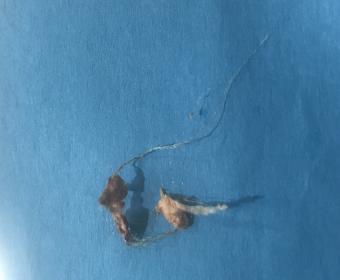 Daniel smith
from Alamosa, CO
A manager by the name of leoran.is very unprofessional.she puts down her fellow employees.instead of teaching them proper.she yells and belittles them.she needs to be gone asap.if this complaint doesn't get her fired.I'm going to a higher person.

WENDY'S ,Amherst NS.The Manager is very immature,his name is ADAM WEATHERBEE,he does not greet visable minorities with respect,he walks away from them when one arrives at this location and has an Employee wait on the visable minority,also other Management have hired employees and ended up living common-law,which could cause a conflict if the relationship did not work out,one manager,Shelby Crowe,had an affair with a Employee and left her husband for this Employee and now live common-law.This ESTABLISHMENT HAS A BAD NAME ,THEY HAVE NO code of ethics,IF A cUSTOMER HAD A cOMPLAINT,THE COMPLAINT WILL NOT BE ADDRESSED BNECAUSE OF THE common-law RELATIONSHIP.adam wEATHERBEE IS AWARE OF THESE RELATIONSHIPS,BUT FAILS TO ADDRESS THEM.i FEEL THAT IF mANAGEMENT ARE GOING TO DATE/LIVE COMMON-LAW WITH AN eMPLOYEE THAT ONE SHOULD BE LET GO OF THEIR DUTIES.tHIS IS A SMALL tOWN,AND CUSTOMERS WILL STOP PURCHASING DUE TO WHAT HAS BEEN GOING ON,also I WOULD LIKE TO ADDRESS AN INCIDENT THAT TOOK PLACE WITH OUR mla,elisabeth -smith mcrossin,.Amherst N.S. she was verbally attacked and threats made towards her and another female customer,ADAM WEATHERBEE failed to address this issue also.THE AMHERST TOWN POLICE attended by one Management,Shelby Crowe was scheduled Manager that day and failed to call for help,it was a disturbing incident and not a safe envirionment for othere.I feel that this man should be removed from his duties,and if other Management are dating/common-law,they should be removed for the safety of the company and customers,it looks like a pick up joint in AMHERST NS.ALSO one Manager DONALD MIllie fails to do his duties also.I have no intentions of returning to this ESTIBLISHMENT whatsoever,due to the fact of it not being Managed in a Professional manner,and ALL people should be treated equally by The District Manager,and someone should have contacted our MLA about her experience.Thank you for taking the time to read my complaint.I trust this will be addressed and this relationship thing be resolved,it just doesn't look good whatsoever.There must be a CODE OF ETHICS in the workplace with your Company.There is only one Manager who does her work,and does not date Employees and her first name is BERNICE.She helped MLA,MCROSSIN the day of the violent episode at Wendy's,she should be given a thank you for her compassion towards our MLA.I do not wish to be contacted,because I will never go back,nor take my children there for safety reasons and the discrimination your D.A. shows towards Africian Canadians.

There are two managers at the alamosa Wendys that are cousins.plus they work same shifts.is this not a violation of policy

Thomas Nelson
from Columbus, OH
This is my third outreach to Wendy's demanding to know why I was refused service at the Tuttle Crossing Blvd Wendy's. I gave up on waiting at the speaker, pulled around to the window, attempted to give my order and the lady stated I could not bypass the two cars who were behind me. I explained I had waited at the speaker with no acknowledgment and finally pulled around to place my order in person supporting my right laid out by the ADA. I was told to go back through the drive through if I wanted service. I refused. The cashier stated there was only 3 employee working at the time. Unacceptable. Unacceptable that I have not been contacted concerning this issue.

Vera Shaver
from Schenectady, NY
I had dinner at your Wendy's tonight on Erie Blvd Schenectady NY it was the worest experince I have ever had at Wendy's they gave me the wrong sandwich three times not just once and my french fries were very cold I'm very upset and unhappy with the service I got tonight.

Annette Souare
from Akron, OH
The service was horrible. My order was incorrect. The food was cold. It shouldn't take 25 minutes to get food from a fast food restaurant.

Josh whipple
from Enfield, CT
I went in to the East Windsor, Connecticut, Wendy's, and I Oder 4, 6 pc nuggets and I only get one dam 4 pc nugget. And this lady sue is so dam slow and I just walked out. This is bull shit and I don't think I'll ever go back that slow ass place that can't take my dam Oder right. And she is swearing behind the counter with kids in front of them vary Unprofessional. You mit want to do something about this. Ppl I k have the same problem. I'm not happy.

April Gearhart
from Redford, MI
Hello I went to the Wendy's on South Wayne Rd in Westland they completely messed up my order ,and were just very rude when I went back to have my order fixed. Every other time I go there they are just not friendly. I spend a lot of money here and don't need this kind of treatment.

Cindy Villani
from Mobile, AL
I work close to a Wendy's and have frequented this particular location over the years. I went there yesterday 1/15/19 for lunch and was highly disappointed. The quality and service has gone down hill over the years. Not sure if it is a management change but I was not satisfied. I just want to share my experience from yesterday. I went through the drive thru about 1:30 it was very busy, cars were backed up on to the street. There were also people going inside to order and dine in. I waited patiently and placed my order. When I got to the window the man that was working the window didn't offer the customer service I am used to. First he wasn't mean but he wasn't pleasant either. When he handed me the bag it was very greasy at the top, wrinkled up and had a whole in the bottom of the bag. I questioned myself it looked like it had already been used. He gave me the wrong sauce for my nuggets which I didn't realize until I was driving away. When I returned to my office and sat down at my desk to eat the quality of the food wasn't what I expected. The fries were over cooked and the burger wasn't cooked all the way there was pink inside. It was very messy. The nuggets were the exception they were decent. I am hoping by sharing my experience it will somehow improve this location to step up their game and make it a better experience for future customers.

JewlzBidondo@gmail.com
from Dallas, TX
I just went through Wendy's on Main street in Kansas city. Bought a Harvest Salad. Got back to my job to eat and pulled my salad out of the bag.
Opened it and there was nothing but lettuce 2 small pieces of a red apple a small piece of bacon and half a piece of chicken on top. In the bag
with it was a bag of croutons and Pomegranate dressing??????? WTH did I pay 7.00 for? this was not the Harvest salad. My Harvest salad comes with lettuce, red and green apples, candied walnuts, Feta cheese, cranberries, cut up chicken and Apple cider vinegar dressing!!!!Damn!!!! I threw it away cause it was not good.I will never go there again for this!!! Not sure I would go back for anything. But I would like my money back or something cause that was a 7.00 salad??I love this salad just not at this store....

Sharhonda Thomas
from Atlanta, GA
The worse drive thru ever sat In the line for 15min second car to the speaker that's bad business

C Price
from Morganton, NC
Wendy's in Boiling Springs SC restaurant walls and overall restaurant was dirty. Manager couldn't manager because she was working to prepare food. She seemed to be trying but there was a lot going on.

DENNIS MILLER
from Arlington, TX
OUR FAMILY HAD DINNER AT YOUR RESTAURANT ON 5/22/19 AT #00005257 3911 MATLOCK RD ARLINGTON. THERE WAS FOUR PEOPLE IN OUR GROUP. WE ORDERED DRINKS WITH OUR MEAL. WE WERE GIVEN CUPS, AND WHEN WE WENT TO THE DRINK MACHINE, ALL FLAVORS WE OUT. I ASKED THE LADY IF WE COULD GET DRINKS FROM THE BACK WHICH IS USED FOR DRIVE UP CUSTOMERS. WE WERE REFUSED DRINKS FOR OUR MEALS, BECAUSE WE WERE TOLD THAT DRINK MACHINE WAS FOR THE DRIVE UP CUSTOMERS.
I HAVE NEVER PAID FOR A DRINK TO BE TOLD TO GET WATER. THE NUMBER ON THE TICKET #2024
I WANT TO SAY, DAVE THOMAS WOULD BE FURIOUS. I KNOW DAVE FROM FT WAYNE INDIANA, AS HE WAS THE MANAGER OF THE HOBBY RANCH HOUSE, AND MY BROTHER WORKED FOR THE SAME EMPLOYERS AS MANAGER OF THE STORE IN COLUMBIA CITY INDIANA. I AM REQUESTING A REFUND OF $25.96 FOR MY POOR SERVICE.

Mike Lowther
from Cuyahoga Falls, OH
Today I went to the Wendy's at 1266 Canton Road Akron Ohio 44312. I was with my son and I ordered two burgers teo fries and two drinks. After I waited eight minutes for my food it was served to me with my bun torn, the meat in pieces and it was so cold it was like it was just pulled out of the refrigerator. I went to the counter to ask for a full refund so I could take my business elsewhere and got nothing but an attitude and not even an apology. Very bad business moves. Not happy. Not pleased. Lost my business. You need a zero star.

Cathy Puglisi
from Lake Worth, FL
I was at the Wendy's at Hypoluxo & Jog Rds. in Lake Worth, Florida and ordered 2 large chili's from the drive thru. I have always been a big fan of Wendy's, but today I watched as the large young man, a little sweaty, who took my order, also filled my order. He reached for the containers by putting his fingers INSIDE the cardboard cups for EACH of my 2 chilis with his thumb on the outside of the container. He proceeded to scoop the chili. Aren't your servers taught that they are not supposed to put their hands INSIDE these containers that people are going to eat from? I was quite appalled and have unfortunately had my opinion of Wendy's change drastically.
Any comments?

Clark Hirt
from Toano, VA
I went to The Wendy's
Wendy's
9116 W Broad St
(804) 747-3750
Open ⋅ Closes 1AM
On Thursday May 23rd at 1:30pm. I went inside because the drive thru was wrapped around the building. (that should have been my first clue this was not going to be a good visit). I went inside.. I was the 2nd person in line. The person in front of me ordered a salad. I noticed all the flies in the store.. NOT one.. HUNDREDS I then waited 7 minutes for the cashier to greet me and take my order. I had a coupon for $2 off a combo on my phone and she had no idea how to process this. I asked her to check with the manager (who I never did see until the end of my visit and I will explain more about that in a minute). Another associate came up and they both looked at the register as though it was a foreign object. Then they both were like.. oh there is the button for that code. I ordered a single combo. I then proceeded to wait 20 minutes for my food. In the meantime the lady in front of me who ordered the salad was also still waiting. I told the person at the register that I needed to get going as I need to get back to work as I was on my work break. Then mysteriously my food appeared. I then went to get ketchup for my fries and there was no ketchup in the lobby. At this time a lady walked in with a bag of chicken blt's that she ordered through the drive thru. She went to the cashier and asked for a manager and then after a few minutes a manager came forward and looked at the chicken BLT which the customer said were old and nasty... As she was there she started swatting the flies that have taken over the store . (I sent you a picture of just some of the flies that were hanging out in the dining area.. you can probably no less than 4 in that picture).. and this was in the dining room. The front counter was covered. The management there has changed a good amount in the last year... but it has steadily gone downhill... and more recently fast.. I try to go there once or twice a week as a lunch option.. but am more than happy to pay a little more to go next door to Chick-fil-a if this restaurant keeps going downhill. I would hope that someone takes care of the fly situation and the attention to detail on creating meals, and quickness of service all of which I experienced a lack of during my last visit. OH and by the time I left the restaurant.. the lady who ordered in front of me.. still didn't have her salad.. I hope that was detailed enough..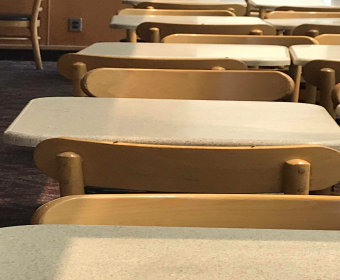 Tyler moore
from Richland, MI
i visited your paw paw location and after what happened i doubt I'll be back. Me and my kids went to go in and there was an employee cussing and being disrespectful outside a vehicle pulled up and the guy stopped and said alex get in so the employee got in ended up leaving and went somewhere else

Took over 20 mins to get my sandwich

Sheila Bradshaw
from Indianapolis, IN
The Wendy's on Racetrack Road in Fort Walton Beach needs New Management! I went inside to place an order while there were seven cars in line at the drive-thru and was ignored for approximately five minutes except for them telling me that they would be with me shortly. They worked the drive-through and was ignoring me the whole time. When I ask to speak to a manager the guy that kept telling me he would be with me shortly said that he was the manager and his name was John. As I was leaving the manager turned to me and smiled and told me to have a good evening! I ended up leaving without my food because I was tired of waiting and being ignored. I called the 800 number with a complaint and they told me they would make sure that the whole crew would get proper training. I'm very disappointed in the way I was treated and will never step foot in that Wendy's again!

kristina groh
from Cincinnati, OH
I have lived near this Wendy"s for all most 2 years, only once when I said no cheese, did I get no cheese, or get what I asked for. 3 times this week, tried to get a frosty, no go. either the machines are down or they don't have the stuff. worst place ever

Charles Swofford
from Madison, AL
Why everytime I go to wendy's I ask for a single with onions and pickles only they can't get it right. Time to stop going to this place

Sheri Kilmer
from Rochester, NY
Wemy through the drivethru fries were cold nuggets were old n cold horriable experience

they hung up on me after asking for pasta. very rude. they said they had my caller ID and i do not know what that means. very disappointed.

Eldon Smith
from Louisville, KY
The bags of roasted nuts served with salads cannot be opened. Please change your source or insist upon them making the package customer friendly.I

Janicqua Johnson
from Ashburn, VA
I came thru the drive thru window and ordered a small fry and six grilled chicken go wraps all of my wraps were raw on the inside and raw the chicken was not cooked. The cashier did not give me my reciept of purchase , my fries were burnt and the manager gave horrible customer service did not care about my needs, complaints. And or uncooked food. Iam deeply disappointed he did nothing to fix the situation all he did was further piss me off.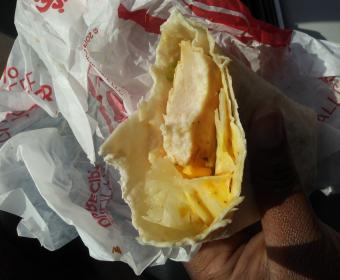 When visiting your East Harry location yesterday during dinner, I witnessed a uniformed manager get his ass grabbed more than once while laughing in full view of customers. The employees all then chose to have an inappropriate sexual conversation, jam packed with nasty words, as loudly as possible. I had my young son with me. I will not be returning to this Wendy's, and feel their behavior should be addressed.

Keith Medema
from Rock Falls, IL
Went to the Wendy's in Sterling, Illinois after our grandsons baseball game on May 21, 2019 and got there approximately 7:30pm. We went in and looked at the menu and waited for someone to come and take our order. Well my wife and I waited and waited for approximately 5 minutes we kept hearing talking and laughing from people in a back room so my wife walked over to where she could see them and asked if anyone could wait on us. Someone told her that there would be someone coming so this girl comes up and very snotty asked what we wanted. My wife said she wanted a small chilli and a baked potato and I wanted a large chilli baked potato and I had a card for a free Jr. Frosty. Well the girl said and I quote " we only have 1 baked potato and were out of chilli and are Frosty machine is broke ". Now this is at 7:30pm when we got there and this place is open until 11:00pm. We left and drove across the bridge to Rock Falls and went to Culver's what a difference fast and courteous service. Goodbye to Wendy's we will never go there again and also we will tell all our friends and relatives NOT to go to Wendy's for the lousy service we also posted are experience on Facebook.NEVER AGAIN WILL WE GO THERE!!!

Ed Cashner
from Holtwood, PA
The Wendy's that is close to our home and over the years we have used two times a week or more has changed they way you get your service about a year or so ago. When you use drive thru there is no fast service any time. The fastest we get service is 25 min. and the last time we waited 35 and didn't get to the speaker box. We left and we were not the only car that did that. And a good part of the time the order isn't right. This is the store off I 83 at Strinestown north of York, PA Some of the people there really care but most don't seem like the customer is just there for their benefit.It will be a cold snowy in the middle of the summer before I stop here anymore.

Felice Rucker
from Atlanta, GA
Visited Wendy's Friday, May 24 at approx 11pm at your establishment in Cayce, SC inside of the Pilot Establishment. The line to order was extremely long. The "manager" (with a lavender wig on) was walking around doing absolutely Nothing, and none of the employees were wearing gloves. The cashier, kylah, was taking orders and preparing orders at the same time. The floor was covered in frozen French fries and needed to be mopped and swept.
The wait was so long that many customers walked out.
I have never had to wait as long as I did tonite for my order, and unless the employees are better trained, I will not visit again.

The Schofield Wisconsin location has been going down hill for some time now but time after time we have put up with their nonsense. Again tonight the drive through didn't work need to go inside. One customer in front of me and they had to get a refund because the baked potato they ordered was unavailable. I waited and waited to order with no drive through working and five workers and it took be 15 minutes to get a order. The order was correct but this place is a mess. Dirty facility, incompetent employees and just very bad experience for me and the customers before me. This happens every time at this location is a disaster - never again!!!!!!!!!!

I was at the Dartmouth,Ma location. I ordered a taco salad and I got home hungry to see nit my salad but some chicken bacon thing. Spent cash and didnt eat. Not what I needed to eat.

27943 Southwest Freeway, Rosenberg,TX 77471
This is the filthiest restaurant I have ever been to. The flies swarmed all over us and glued to my legs. He said they make their salads fresh daily. He lied. My salad was wilted and old.
Wendy's use to be the best. This place is a disgrace to be in America. Something needs to be done.
I plan to report this to the Health Department.

I have ordered lettuce wrapped sandwiches for quite a few years. They come in a plastic container so you can use a fork and knife because the lettuce you use isn't big enough to wrap and you don't put wax paper around them. This has been great. Now for the past 4 times I went the employee say that they cannot use the containers. Please, I am diebetic and can't have a bun. It is very messy the way your store wraps them. Please if no plastic containers, at least look at the way other business wrap them. I love Wendy's but I may have to go other place because of the mess on my clothes. Please please. Thank you.

Dear Wendy's,
I really enjoy your state of the art restaurants and your delicious food. However, I read an article on Yahoo this morning that turned my stomach.
https://www.yahoo.com/lifestyle/wendys-employee-fired-bath-restaurant-si...
The story highlights an employee taking a bubble bath in the restaurant sink. I am often on tour in Florida and usually have my lunch at Wendy's restaurants. But after reading this article, I am repulsed and infuriated. The story was featured because the employee posted the video online. I am sick to my stomach, just contemplating how many times this kind of behavior may have gone unnoticed?
It's chicfila for me going forward.

The wendys on MCall in Sun City CA has new management. I work around the corner from this location at a school where many employees used to eat here. There is not many options for a quick lunch in the area. Since this management takeover that have been understaffed. I have sat in the drive they for over 20 minutes. Today there is over 12 people in line. Still 5 ahead of me and have been waiting 10 minutes. People walk in and out of the door. You would be surprised how much business this store has lost since this takeover. This drive they used to be one of the quickest drive thru locations I've ever been to. NO MORE

We stopped at the Wendy's in Marshalltown Ia and pop machine was out of diet pop didn't have any behind the counter they wasn't worried about it this is twice in two days that I've ate there and didn't have diet pop I have a diabetic on my hand so he can't have regular pop didn't get receipt with nothing it's just like they don't care they're anymore I will be eating elsewhere if this isn't resolved

Last night, Thursday May 23 at @ 8:10 pm I arrived at Wendy's East Avenue/Winton Rd store in Rochester NY. After waiting in line to GIVE my order and not moving for over 12 minutes I pulled out of line in frustration. I drove to the Wendy's in East Rochester to try again as I really wanted one of your delicious sandwiches, only to be greeted with the same type of non-moving drive through line.
I ended up leaving that line after 8 minutes of not moving and went to the Burger King a couple of miles away where I received prompt and friendly service. (mediocre food)
If there was truly a problem within the two Wendy's stores, there should have been a manager on duty at each who knew enough to walk out to the people in the drive through lane and explain what was going on.
Manager training is of utmost importance in the fast food business and it looks like Wendy's Inc. needs to check up on at least these two store managers
.
Joesph Blackburn

Gautrelle Spears
from Petersburg, VA
Service was way too slow, the employs was moving like it didn't matter weather the order got done it a timely matter. Once my order did come up I had to take it back because it was cold and it had been more than 2 minutes or longer before we got the order after I took it back for them to remake another order it felt even colder. Me and my family were very disappointed and my money was wasted for a very unsatisfied order and not to mention the place needed to be clean and this was dine-in because the drive thru was backed up as well and the orders was coming back in the front door because they were wrong. 5103 Oaklawn Blvd Wendy's in Hopewell, VA needs a whole new crew with better training and employs along with an experience manager that really wanna work and feel proud about serving fast food. I myself work in Food Service and the service me and my family received tonight wasn't quality service at all.

I went through the drive through & got my order which was $48.45..before I left I was checkin my food & the lady at the window was like it's all there..guess they was rushing me cause they had a long line behind me so I pulled off only to find out once I got home my order was not correct...I was missing 2 10 piece nuggets & I ordered a chicken BLT with bacon & there is no bacon...this is the 2nd time this has happened with this Wendy's & now I refuse to go back there..

I have more of a question than a complaint. I went to your store in Gallatin TN on 5-22-19 ordered a spicy chicken wrap I believe I paid around $1.89. Was the first time I bought one so the next day I decided I would see if I could by the strips separately to take for my lunch. Keep in mind the wrap is made with one flour shell, ranch,cheese, and a piece of chicken costing $1.89. So I ask how much just for a pice of chicken. She said it cost $2.50 each . How can you sell a wrap with more ingredients for less than one pice of chicken strip. Needless to say I did not purchase just did not seem like a fair price. Thank you for your time.

There was one car in front of us in the drive through, and it took 17 minutes of waiting for the one car's service to go through. After they were done serving the car in front of us, I drove up to the ordering window and they responded by asking me to wait even longer since their frosty machine was apparently broken. I had no intentions of ordering a frosty. Service took too much time, and the workers were unresponsive, causing me to leave. Overall, I would not come back, and the service I received was very poor.
Richard Toth

My son and I went to your store in Savannah Tennessee, after walking into the door, we were not greeted or waited on. The children that work there were yelling at each other and the amount of employees that seemed to be there they couldn't move in the kitchen. We waited for a good 10 minutes at the register and they didn't even acknowledge that we were standing there. The drive thru was empty, so it wasn't that they were busy. The lady that they were waiting on wasn't even in front of the register, they seemed to be more worried about flirting with each other than waiting on customers. I frequent this store at least once a week. I am very disappointed in the conduct of the employees. This was on may23, 2019 at 4:00.

Wendy's recently remodeled the interior of a store on Cedar Avenue in Fresno CA. This store is located across the street from Fresno's largest church. Much of the weekend business is elderly people from the church. Unfortunately the new design does not cater well to this age group, especially the high tables. I can understand the need to satisfy today's spoiled millennials but in this case it was a poor decision to remodel . One should anticipate a major decline in business at this location. Each store should look at their demographics instead of doing a cookie cutter remodel on all stores. The new design is very sterile and not very inviting. Why eliminates booths and tables that can accommodate larger groups. Please help me to understand.

The new Ranch SUCKS! It Taste like crummy "Great Value" Ranch!

Kevin ostrowski
from Bellmore, NY
This is the third time my order was wrong at the hicksville ny location this time the receipt was correct but if they do not speak English where they put the order together what good is it.got home had to through in garbage.other location I got half cooked food so after this wendys is off my list .you should have better quality control there is a lot of other places competing for business out there.also a mop once in a while would help

I Just finished explaining my recent visit to your wendys location in VA Beach 4892 Princess Anne Road, Virginia Beach, VA 23462 · I really want to make sure that " Catina" the manager appologizes to myself and classmates for her behavior. She was beyond unprofessional. It was a total of 4 classmates we were all embarrased.

Carolyn Damron
from Ashburn, VA
3 homeless people & 2dogs absolutely blocking door. Would not let you through. Go to other door and emp scrubbing walk with soap. Went inside cashier had no teeth at all. This is not the only bad thing but it's the worst. This restaurant is the worst it's ever been. Nobody came out to ask the people to at least unblock the door. The time was 11am on 5/23/19 cattlettsburg ky

After watching video of man washing.in sink in Milton Wendy's the meals we got in Crestview Wendy's we all placed them in the garbage.just lost our appetite. Hope this is isolated incident.

Kathy
from Bedminster, NJ
Bastrop Louisiana Wendy's is awful!!! Cashier was smacking on gum and took forever to take our order. Chili was too thick and not edible! It took us almost an hour to get our food. Ice machine is always broken. I will never go there again!

Lisa Owens
from Longmont, CO
I went through drive through about 1050 05/22/19
Ordered a bacon cheese burger ,dry with just lettuce and Tom ,disgusting burnt bacon about a 1/4 of mayo patty and a bun that's how I received it no napkins to even wipe off all that disgusting mayo and who would put all that when asked for dry not funny disgusting ,I called the store and no one spoke English and that's after the phone ringing over and over. Wendy's you used to be so much better than this ,will never go back .

LEVERGIA ELDER
from Atlanta, GA
i go to wendy everyday going to stop can't take it anymore either the are very slow or the food is not ready i have to wait at least 30minutes that is so crazy to me
they stand around an be talking to each other saying things like people call in so we are short
suppose to be fast food and it never is i enjoy the salad potatoes and the frosty i also get a chicken breast for my dog but they never have the chicken ready i always have to wait enough is enough

Dehserraye Tillery
from Columbus, GA
I went in to a Columbus Ga Location on 5-22-19 at 13:45 and they left out part of my order and then I ordered sweet tea and when I got to work it was unsweet tea. I always order my boss the cookies and when I got to work none of the cookies I ordered was in the bag I tried to call and it was a busy.

I eat at the Milton Florida Wendy's four or five times a month. Maybe my business is not big enough to be important to you but where is the manager and guidance these kids should be getting bathing and who knows what else they are doing, especially to the food. My stomach is so upset thinking of the food I have eaten there in the past.

We went to Wendy's at 803 East center Madisonville ky on 5/22/19 @9:55. We are from Tennessee and was in town for a graduation and as we got there there was a pregnant girl outside cleaning the parking lot and speaking to her mom about how she isn't allowed to get a break today and that she has to work 7 hours. Now I do know that this is against the law. Everyone is entitled to a break especially a pregnant girl. Then the manager comes out and yells to everyone that we are open. I didn't care for that attitude at all. Then while inside I over hear a repairman state that there was oil all over the floor and he was having problems fixing the fryer. Now during all this time the manager still fusses at all the employees. Now I don't appreciate this attitude as well. He kept going in and out and didn't help anyone but barked orders. Every employee was on edge, but they were very friendly. Good job from all of them. Maybe someone needs to explain to him that he shouldn't talk or act like he does. Now from my knowledge a store should be closed for repairs when you have oven and fryer problems and can't serve everything. I don't believe that I will ever be in this store again if he is still the manager
He is Not management material. I fell sorry for all the employees under him. Please do something about him.
Thank you for your time.

I visited the Victoria,Tx location on Houston Hwy. Wondering why the managers/leaders don't were hair nets. The workers in black uniforms had on caps/sun visors. But the worker in maroon and the one in gray uniform didn't. Yet they are putting food together for customers. I thought all foodservice employees are required to wear proper hair coverings. This is not sanitary nor is it professional. I will not be returning. Thank You

Went to Wendy's on waters ave in savannah ga,they where playing the fries was cold we took the fries back in manager was rude we waited about 25 minutes on food got home got
1 asigo chicken sandwich and a awesome bacon chicken sandwich the both was sour.I spent 24.00 there will never go back who and I got 2 of the 4 for 4's.

Sheila Hutchins
from Arvada, CO
I went to Wendy's store number 211 around 1630. Order small chill and chicken wrap. Receive chili and had to ask for chilly sauce and crackers. Chicken wrap extremely cold. Told the clerk and she finally ask did I want a fresh one. I told her no because I was completely turn off about my food at this point. Never was offer to refund me my money. So I assume I wasn't going to get it back. Went ask what was the store number and the manager came out and give it to me never once did she ask why I needed it. Truly unprofessional place of businesses. I will not be patronize this Wendy again.

Wendy's Elko NV
Haven't been to Wendy's in a very long time, mainly because so much has changed. But - I went today, just because I wanted a Frosty. The Frosty is no longer served with a spoon, but with a straw - so obviously it's no longer a 'frozen' dessert (as it once was) - just another 'run-of-the-mill' shake drink. It no longer has the slight 'peppery' taste that I loved so much.
And the bacon used for the 'Baconator' - sliced so thin you hardly know it's there, and tasteless. If I want tasteless bacon I can purchase a pound of 'ready to eat' bacon at the grocery store.
Fries (if that's what you want to call them) were burnt. I used to love the Wendy's fries over any other fast food facility - but no longer - they're practically inedible.
Very disappointed in Wendy's and won't try them again. I can make a chocolate shake at home, if I want one, and it'll be much better than what I got from Wendy's today. Can also make better bacon burger and fries.

I live in Bensalem,pa. I have been wanting to send this for about a month, I go to Wendy's, everyday to get a salad and a burger. I use the drive thru to order. I can understand waiting every now and then, I was a manager on a area restaurant for over 18 yrs. so I know about problems that happen on a daily in ''tis type of business, but for over a month , I have tried and the same thing always happens . Not durning a busy lunch or dinner hour either . I tried another Wendy's at the other end of the township, and same thing, I waited so long, the two cars behind me left, so there is A customer loss , I would not like to see the Wendy's close because of some type of mis-management. There is a lot of competition in this area . I hope someone in your district management staff will be able to solve this problem, Thank you, sincerely, Mary Estes

I received a gift card for Christmas that is showing no balance . It has $15 on it. I have reached out to the store purchased at as well as cooperate . Each told me there is nothing that can be done . I would think that as a major chain they would want to keep a valued customer . I will no longer be going to Wendy's and will let my family anc co workers know of the poor customer service

On went to the Wendy's on 412 in Hellertown, PA with my Grandson. I was standing in line waiting to give my order and three customers were waiting for their meals for 20 minutes. The person taking the orders started cursing cause her shift was over and no one was there to relieve her. She was started to curse about Management and how slow the service was. I asked her to stop my grandson did not need to her that type of language. She continue to curse - so we left the premises and went to McDonald's. The most disappointment management was there and did nothing. I wish I could rate that franchise less than a one.
Have feedback for Wendy's?
Thanks for your feedback!
Sorry. Please try again later!