Wendy's
Wendy's Complaints Continued... (Page 6)
542+ reviews added so far. Upset? Call Wendy's corporate: 614-764-3100

I am so disgusted with Wendys. They used to be good food at a decent price. Made hot and fresh just the way i want it. But now that Dave is dead all they care about is pushing you through the line as fast as possible like cattle. It does not matter if its inside or(god forbid) the drive thru! All the managers/owners care about is making their damn service times look good.
The sandwich makers have to make the sandwiches so fast that half the time they are just slopped together. And forget about getting any special requests right! And if you order inside at a busy lunch they take multiple orders then push you aside. So there you stand bunched with other people in front of the counter while the ONE poor sandwich maker on front line tries to keep up with the 5 orders at a time as fast as they can slap the crap together.
And god help all of you if the front coordinator gets messed up! then it really becomes a pooch screw! You know, as their prices continue to skyrocket and the quality of their products continue to tank it makes the real sit down restaurants much more appealing. Especially as i get tired of being treated like nothing more that a 55 year old cash cow.

I absolutely love Wendy's food,the quality of food however tonights problem at the drive through was unbelievable. 10 years ago I would have drug that employee through the window by her collar. After taking my order it was given to me totally wrong. In fact out of a chili fries burger and soda. All they got correct was the fries. The burger was a triple when I only wanted a single patty. I got her attention to fix this for me. She was very rude about it and I could see the frustration in her eyes.
At this point I could guess that her frustration was not exactly directed towards me but possibly a coworker for making it wrong. She never apologized for the misunderstanding. As I checked the rest of my order I realized my chili had onions on it. I clearly asked her for no onions at the drive up speaker and she read the order back to me just as I had ordered it to begin with. The lady abruptly took the chili back as if she almost dropped it outside the window cause she never really had a firm grasp on it but recovered it.
As she returned my chili,now made correctly she then handed my drink to me with the lid barely on. She was so upset I almost think it was on purpose. It exploded all over me an the upholstery of my car. She offered no assistance with napkins and no opology

On the weekend of March 4, 2012, We were returning from a memorial out of state and decided to stop at Wendy's in Goodland, Kansas, exit 17. Do NOT ever stop at this resturant. The staff was incredibly ignorant in every sense of the word. The girl who took our order was somber and depressive. Before saying "thank you" she quickly told me "you're welcome" and walked away.
The second girl, and I use that term loosely, was heading for a break in the dining area and was in a shouting conversation with an individual in the back. The topper was the young man, thinking it was the manager, who sat down in the dining area to express his extreme disgust with Wendy's as an employer, guess there is an issue with cashing his paycheck.
This rant was even more colorful with the multiple "F" bombs this kid laid down along with other "action verbs". There were other customers in the place. I personally fought the urge to explain the term "customer service" and ettiquette to him, but I knew the words alone would be a mystery. This individual should be fired immediately, along with the ghetto-pant-sagging-whining-screaming-morose staff employed there. So disappointed.

What ever happened to Wendy's founder Dave Thomas promise of fresh HOT food at wendy's. Wendy's corporate made a grave mistake by following Mcdonald's and Burger King in cooking their food inavanced and holding it in a food warmer, when wendy's cooked there burgers fresh they had the best burgers out of the three chains, customers wouldn't mind waiting a few extra minutes knowing they would get a HOT burger Dave Thomas promised it. i should not have to ask for hot food, burgers are cooked on the grill and fries in a frayalator it's supposed to be HOT your bugers don't even melt the cheese.
One shouldn't have to hope to get fresh HOT food one should expect it not just one time but every time Dave promised it, you don't hope i pay my total bill you expect it. So in the name of your founder and in the name of a good burger get back to what you used to do, because the next time i visit a wendy's location and i get a luke warm burger i will never give you my business again. "And i mean that".

I ordered an unsweetened tea from Wendy's charlestown road new albany indiana… Love their tea , always get it. I also order their delicious chili and baked potato. I always eat the food first then drink the tea when I'm done. So this is the process I went through. I added sweetenlow to the tea put the lid back on and shook the cup a few times , took the lid off and started drinking. Halfway through I thought I may need to stir the drink up since it didn't taste sweet enough, then decided to use the straw. Got to about 3/4 and swallowed a big chunk of something. Looked in the cup and there was something that looked like gum . I took a picture of it .
I'm never going to eat or DRINK at a wendy's again. I'm gonna throw up just thinking about it again. This just happened tonight.

I go to Wendy's because of their great food. Best fast food, worst service. Although most of them are set up for 2 cashiers, in our area they never use them both, even at rush hour. It takes 15 to 20 minutes during the rush periods, to get served. Last week I timed my wait in line. Their were 6 people ahead of me, so I figured about 10 minutes. One person was behind me. One person in front of my got disgusted with waiting so long and left. The person behind me did the same. Now, with 5 people in front of me, it took 15 minutes to get served. Everybody in line was rolling their eyes, but this is somewhat typical of Wendy's.

Hi i just wanted to tell you that i have been going to wendys for over 3 years twice a week in Cornwall Ontario canada. I was there Saturday November 19th at 5:15 pm. The hamburger was nothing but greese. I complained to the manager that was there and i was shock with her attitude that she did not give a shit. I told her were we not coming back after being there for 3 years and she did not even care at she lost a 3 year steady customer. This is deplorable attitude for a manager.
I have 27 years in public relations training and i would never let a 3 year old customer walk out of wendys with out even trying to resolve the issue. As far as i could tell this was a very lazy useless manager that did not even care about wendys customer. Personally i would never have a manger that does not care about our clienttel If this manager stays on as manager at this wendys location you might as well close it down because still is totally destroying wendys reputation as a family restaurant that cares about their customers.
This is wendys name that is at risk now if it was me i would getting rid of this manager or have her properly trained in public relations and how to deal with customers problems.
I have dealt with one manager there named Debbie Paquette and she was excellent and really truelly care about her customers. But this other manager was totally useless and not helping wendys name at all. Now you have lost a 3 year steady customer over a bad manager and greesey food.

Wendy's, 6:09 PM on 10/15/11, 2534 Bert Kouns Ind. Loop, Shreveport, LA. My husband and I are both Seniors and was out on errands and decided to swing by Wendy's and get a couple of sandwiches off the dollar menu and take them home, as our money was running short for this month. I ordered a crispy chicken sandwich with extra many (what I got was a chicken sandwich with no mayo and the chicken patty was hard); my husband got the junior cheeseburger and we said to cut the onions (what he actually got was a bun with cheese and a meat patty on it, no mayo, no lettuce, no tomatoe, no pickle, just the cheese and meat). I hope that others are not getting orders like this.
I know we only spent $2.00 but we will think twice before going to this Wendy's again for anything. Thanks for letting me vent our problem.

My husband and I are traveling thru Kansas, Missour, and decided to stop at a Wendy's. BIG MISTAKE! I gave my order for a bowl of chilli with onions and cheese. When I sit down to eat, the first bite of chilli was cold….the onions looked like a 2 year old chopped it up…..very unappealing. I don't usually complain but the chilli was cold. I took the cilli to the counter and the lady looked at me and I told her the chilli was cold. She looked at me like I was crazy. Then she said " we don't have a microwave to heat it up". She looked at another worker and asked him if the chilli was turned on……
then she said very loudy " lady I'm not arguing with you. Let me tell you, I was not there to argue with her. I just thought maybe she could return my money or fix my chilli. She in the meantime walks away from me. I tell the boy working behind the counter to forget it. About 5 minutes the boy comes to my table and tells me here is a hot bowl of chilli. There were no hamburger or beans or anything but thin liquid they brought out to me. I have to tell you, I was afraid to eat anything at Wendy's, took both chilli's and thru them in the trash.
You really need to check up on the workers at Wendy's or mayby you do not need customers. If you do, make sure you hire employees that would treat the customers like they would like to be treated.

In Johnson county ky. We went there an they handed our milkshakes all they did was talk about there personal life's an then they handed us our milkshake an one had a hole in it then took it back in an the manager tryed just handing me the cup back with another cup over that cup an went to drink the another one it had a big piece of plastic in it an the other one was supost to be vanilla an It did NOT taste nothing like vanilla it was NASTY ..an we bought four of them and none of them were mixed very well I would very much like sum thing done about this. I will never like to go to another Wendy's again because of this !!!

The wendy's in york, nebraska is ok, but every time i go there, just because I use 2 work there, the crew and managers treated me worster than they treated their customers. I don't know why they treated me that way, but I gave the wendy's in york, nebraska every oportuning to treat me better but they don't. Now i never file a complaint before, but i decided to because, the wendy's in york, nebraska need 2 stop treated me this way, because i'm getting really tired of it. I went there a comples of days ago, to get some food for my friends and me, the sandwhich fell into the trash can.
They just put it back in the bag and didn't even tried 2 make it again, and the crew leader say i push the bag even though i didn't. simlar situation has happen everytime i go to wendy's in york,nebraska. I'm not happy at all with wendy's in york, nebraska. so something needs 2 be done about the wendy's in york, nebraska.

My husband and I went to the Wendy's restaurant on Telegraph at 12 mile rd. in Southfield, Mi. and it was awful. First off, we had to wait 10-15 minutes for our food- we ordered 5 double stack burgers (which are normally very good at our usual Wendy's at 12 mile and Greenfield), a chicken nugget, and an order of fries. When we got back to our hotel, we discovered that the burgers were burnt and hard and just nasty. Also they omitted the nuggets and the fries were only half full! They didn't give us a receipt (of course) and when we tried to call them they never answered the phone.
My mother-in-law was visiting from Phoenix and I felt horrible about getting her this crap. Of course I used my last $15 on it as well.

Being that I'm young and living in a very very tight budgeted household, money is something my family and I don't like to toss around. I saw the ads for Wendy's new wild berry parfait and shakes and thought that would be something definitely worth trying. I saw their posters for the shakes and parfaits and had seen the actual size of the shake. The posters displayed the two deserts as being equally sized. I had finally earned the money for the parfait and when the actual parfait was given to me I was so mad. It was like a 5 oz. cup and 1/3rd the size of the shake and it was only $1.00 less than the shake.
Wow, way to falsely advertise and take advantage of a kid. I'll keep that in mind next time I have some cash in my wallet and a sweet tooth.

went threw drive threw and order two double baconactor and two cokes well its 1.30am I get and start eating while driving i relize it wasnt right gease was eevery where and I figer i deal with the grease IM hungry and hadn;t eating since morning so i took a very big bite it didnt taste right so i turn on my dome light it was almost raw threw it out my car window . got to pond where my husband was fishing his was as greasy and it was raw . so I spent 13.86 for food that went to trash ; and I am sick now

Wendy's issued coupons in the programs for our local baseball team to get a free 12 oz. frosty with any purchase. The acting Mgr. Tim at the Wendy's at 1401 Manheim Pike, Lancaster,Pa said their policy has changed and the 12 oz. is now a medium and they have added a 10 oz. now as small.There is no expiration date on coupon so I feel they should honor the coupon as printed. After I said I was going to inform Wendy's how I felt they offered me a larger one, which I didn't accept. Wendy's coupons is deceptive advertising.

I purchase my lunch at Wendy's almost daily; it's close to my work and the food is satisfactory, until today. I usually get the salads (mostly the cob chicken salad); the ones I have gotten in the past have been ok, except of a couple episodes of the person not remembering the dressing, or the crotons, etc. Today I ordered a spicy chicken salad (my first try at this salad) that cost almost $7 bucks; to my disappointment, this salad was comprised of a ton of lettuce and half was wilted, on top was a clump of un-identified cheese sliced thin and melted together, the chicken was cubed and tasty. This is supposed to be a SALAD, not a lettuce with clumped cheese and grilled chicken thrown on top folks.
I do not think I will purchase this said again for lack of extras beside the three mentioned above. As I said Wendy's is close to work, however, there are so many other food chains/restaurants in that area I can probably get more bang for my bucks. I was thorouly disappointed.

I went to the Wendy's in Plattsburgh new York at night. When I came through the drive thru I asked why it took so long and one of the girls said everybody was in the back with there boss Jackie watching a video on the laptop in the back. I decided to just leave because when I spoke to Jackie and asked her who her boss was she said Joe was the boss then Eric was the co manager. I asked her when they were in next and she said it didn't matter because they allowed her to do what she wanted. I will never go to Wendy's again as long as this stuff is allowed.

Five of us were picking up food at the Fairhaven, Massachusetts 02719 Wendy's drive-up during our lunch break from work. Two of us had a coupon for the Very Berry Salad, full size. We ordered 3 full-size Very Berry salads, 2 Chicken Asiago sandwiches and a Value meal crispy chicken sandwich. One friend and I each had a coupon printed off of each of our computers in our separate homes from emails received from Wendy's. The NEW manager only allowed us to use 1 coupon. Before this visit, we had been able to each use our own coupons. This was disappointing enough so as to turn us off going to Wendy's again.

I tend to eat breakfast on my way to work and am limited to McDonalds because I start work at 6 am. Local Wendy's don't open until 6 so that eliminated them and not a burger king in the area also eliminated them. Well anyway I keep hearing the Wendy's commercial about their fresh buttermilk bisquits made fresh all morning long. Well on my break at 9 am I decided I would go out of my way to get one of these fresh bisquits. I go to the drive through window order 2 bisquit and am told that they are out of biscuits. The Wendy's commercial got me their its a shame the store couldn't handle it cause now I won't be going there at any time regardless of how tempting the commercial sounds.

I am a fan of wendy's and I think that the 99 cent chicken sandwich is the best deal in town. Except at 308 west brandon blvd brandon Florida. There chicken sanwich is like no other wendy's in the tampa bay area. not even the same chicken ! you can squeeze the grease out of it looks like a fish sandwich from mcdonalds. It was square and greasy, better yet it tasted really nasty. I tell everyone about how great there 99 cent menu is and what a deal the crispy chicken is, and i will be sure to let them know about the brandon wendys as well.
the wendys i work for in atlanta, ga is a very successful wendys however, the workers are treated very poorly. the manager called us "clowns" and talks to us like were children. she wants everything to be perfect AT ANY COST. for me personally, she doesnt even say hi or bye. i use to come to work with a positive attitude, but recently got tired of it. the only time she says something to me, is if its negative…im always doing something wrong. i am not the only employee that feels this way. the manager puts on a front to the district manager like she treats us like a family, but in reality she treats us worse then the customers. i want to transfer, but she is the general manager and i dont think she will even accept the transfer. i dont know what to do.

her name is camille. and she works at the wendys on long hollow pk in goodlettsville tn 37072 and she is so rude and not friendly at all, the last time i was in there i kinda looked over it thinking she may just be having a bad day. and today a old man ask about that new salad you selling and he told her that the price should be lower since it was a new item and she just got smart. and she just stood there and acting like she was impatient while i was deciding what to order. i asked her how a ceasear roll up thing tasted and she said she didnt know she hasnt ever tried it, just another one of her unpleasant answers.

I went to Wendy's in Nitro, WV on 5/14/2011 at about 9PM and was amazed at the arrogant attitude of the manager that was on duty. She not only talks down to the employees, but when I ask to speak to her she totally ignored me. I was waiting for my order to be completed and the register clerk was standing there waiting also, the manager looked at the girl and said, "Can you find something to do besides stand there and stare at me.", the employee said "Oh, I'm sorry" and walked over to restock napkins and straws. Now, my sandwich is ready and the manager lays it where normally, the girl that she ran away, would give it to me and there was no one there.
When I said to her "Since you rudely sent the other girl away, can you hand me my sandwich?" I was ignored. I raised my voice and said "Hey" and i was ignored again. Another boy came around the corner and I told him that i wanted to speak to her, he said something to her, which i could not hear, but she wouldn't look up. He finally handed me my sandwich.

1845 Wendy's in capitol and aborn.the manager are really irresponsible.they dont treat good with the customers.the manager dollores she all the time talking with the employees even there is a customer she not talk to the customer properly.and she all the time eating fries and nuggets when she goes to the back freezer she pick up 1 nugget and eating overthere.and make the frosty and eating in the back .some time she charge for 1 sandwich with his family memeber and she gave to them a lot of food free.she eating a lot of food in working time.sometime she didnt enter the item on the computer and that dollars she put in own pocket.i dont know why u guys make like that people manager or superviser. im surprised

While eating in Wendy's the music being played had foul words in it. It kept repeating play that f–king song. I went to the manager and she stated there was nothing she could do that it came from Corporate. As my husband and I left, the manager and staff was looking at us and laughing. This occurred at Wendy's on Broad Avenue, Rockingham, NC 28379. We do not use foul language and we will not be back. There were children in the dining room at that time also.

On 5-13-2011, I ordered food through the drive thru of 3801 West Broward Boulevard 33312. I placed my order of four (5) piece and three value fries. I make the payment to the 1st window and was told to proceed to the second window. I pulled up to second window where the lady passed by order in less than 2 minutes. However, I checked the bag to make sure the order was correct and I notice there was only three nuggets dipping sauce(3 bbq's). I simply ask the lady at the window if I can have a honey mustard sauce. She looked at me as though I'd said something strange.
I repeated the request to ensure she heard me. She replied in a horrible attitude "You already got yo number of sauce you need". I replied, maam I donot and all I am asking for is a honey mustard". As she was walking away from the window she said "my ass need to pay for that sauce she asking for". I was shocked and speechless. In the meantime, the line is backing up. She returned to the window asking me how can she help me as though nothing took place seconds prior.
I repeated the request again, she then went back and forth with me about having 1 sauce per nuggests and I pulled all the food out the bag to show her there was only 3 sauce to begin with but I ask for the honey mustard and she refused to give me the honey mustard. I could not believe this was happening! I just got off work and at wendys going through this…unacceptable!!!!

Wendy's manager's should be able to handle various situations I understand that its not the easiest job in the world, being a manager myself at a mcdonalds I have been trained to handle all types of situations good or bad. Yes I understand every big restaurant has a general manager but not all general managers are the greatest some can also take advantage of employees and be disrespectful in many ways. The general manager at my job I can say is one of the greatest people there's out there regardless of the hard work needed to be in such a stressing position she know how to deal with her employees in a very professional way.
Anyways the reason I'm posting this up today is because my girlfriend has currently started working on a wendy's restaurant by the way she tells me things they need some anger management classes before they get hired the management there is horrible the general manager would send her home without a break when she worked over 6 hours I guess that wendy's need to be shown a law book because its the law u have to give Someone a break if they worked more then 5 hours also there's a lot of racism the store manager is also disrespectful to his employees.
Its ridiculous how he doesn't like to gie them hour statements and gets mad when employeess ask for them some of the employees there when demanding their hour statements noticed they weren't getting paid the correct amount instead there hours where being stolen. The wendy's store manager curses a lot to his employees.

I just purchased a Wendy's burger combo, and this is the first time that I feel the hamburger was bland, the fries have to be on the bottom of the list for taste of the french fries (plus they were cold) and the pop cup was more than 3/4 full of ice, very little pop, not enough to finish your meal. I go there quite frequently and now unless the food taste improves I will not be buying Wendy's, not when they are charging that much. Maybe Wendy's should compare their fries to McDonalds, not even close

Went to Wendy's and placed my order through the drivethru. They told me to pull forward and waiut for the order. I waited 20 minutes. Finally went in to Wendy's and asked… they said it was coming. Went back to my car fuming. They brought my order out and said they were sorry but they had to make the sandwiches plus cook the bacon. Still made, I drove off. placed my hand in the bag and the fries were cold! Went back to the window and complained. They said it would take another 3 or 4 minutes to cook a new batch. I said no, and I wanted my money back for the fries. The manager came to the register and asked for the bag, then handed back a full refund.
Not a sorry in the mix… I went on line and complained to the Wendy's website. They said they would get back with me in one to two days. Have not heard from them at all, and it has been 4 weeks. This Wendy's is in Florida/1792, Longwood. I will not visit a Wendy's ever again.

On saturday 4/23/11 I went in to Wendy's restaurant to order a spicy chicken sandwich. When i got it, i noticed that it was raw. I also ordered a coke and it had no ice, and it took forever to order my food. The manager was fighting and yelling at the employes and she did not wear gloves when grabing the chicken. The manager in charge was Kat and she was very rude to customers. I will never return to wendys ever again and please next time pick better managers to be in charge or even work there. The resturant looked very dirty and it felt disgusting eating my food there.
I took my sixteen year old, 200 pound grandson to Wendys yesterday and he ordered what looked like a huge new bacon burger and it turned out to be not much bigger than the value menu burger. Not much for a sixteen year old appetite. And not much for almost five dollars. He could hold it in the palm of his hand and ate it in three bites. Too much money for too little product. Wendys is our favorite fast food, but even McD's and BK beats you on this product. Please do something about this soon.

I pulled in the drive in window at Wendy's, and paid for an order that $3.78. I handed tje woman a $10.00 bill.The woman handed me back $1.22. I took my change and proceeded to drive off , wihen I realized that my change was not correct. I immedialty stopped my car and walked back to the Wendy's window. I said to the girl you did not give me the correct change, I said I gave you a $10.00 bill. She said no you did not,you gave me a five. I said you needto check again,because I know what I gave you. Then I heard her manager in the backround say " he better watch his tone"!
I repaeated myself saying I gave you 10.00. Anyway , to make a long story short, I was told by the Wendy's manager that I would have to wait in the lobby iuntil they counted down the regester. So I stood in the lobby for over twenty min,while I waited for my change. Eventually another manager came and handed me $5.00. I asked him for the corprate phone number, to complain he told me that was not needed,just to notify the general manager. Well that is not what I asked him.
I would like to let the people in Wendy's Corprate know the attitude in which its workers display on a day to day basis. The Wendy's store in question is located on hwy 27 in leesburg ,florida, and the manager"s mame is Deongelo, who was so very rude. I still would like to find the number to the coprate offices to lodge my complaint, verbally.

I arrived at this restaurant about 9:30pm on April 17, 2011. I ordered my food when I went to seat down I was yelled out by the Manager that the section I was fixing to seat in was closed(there was several tables with chairs not on top of the tables, but, EVERY table was dirty, I look at him and did the same thing he did to me I said from across the restaurant "I'm not seating at a dirty table" so I continued with my seating. Then I seat down to eat and I had ordered a single less onion. I opened my hamburger to see onions on it and also rat leaving on my lettuce.

Why did Wendy's replace the Mandarin Chicken Salad with that Apple Pecan Chick Flick??? In my opinion it is not as good as the mandrian chicken!!! Please bring it back Please Wendy's. Also, the crackers that are served with the chili are disgusting I do not know the brand name of the cracker served, but I ate a cracker by Zesta the other day and it was the same terrible flavor as the Wendy's cracker. Even if you dip the cracker in the chili it still can not mask the horrible taste of that flat doughy tasting cracker. Thank you for your time and I hope that you listen and bring back the mandarin chicken salads!

Sunday AM I stopped for breakfast at Wendys, 9808 Lake Worth Road, Lake Worth, Fl 33467 reg. 3 – I ordered a buriot ad a cup of coffee. I was the only customer – I went through the drive-thru. No other cars – the restaurant was empty. Because I was driving I asked the girl if she could please put the cream and sugar in my coffee so I wouldn't spill it. Her reply was "No, I am timed, and I cannot put the sugar and cream in your coffee." That would be plausible if she was busy, however I was the only patron there. I asked her if she minded if I asked her supervisor if that service was allowable. I parked my car and went into the Wendy's restaurant.
Her supervisor was a young man named Shadday – he gave me a blank stare as though I expected him to do something. So, I asked him if the next time I came in is that simple service allowed. He looked at me and said – oh, yeah, sure. As I was walking out, he made a comment to the employees "Well, that is weird" Maybe so, but I can guarantee McDonalds does that service for me everytime. Further – because I live around the corner, I frequented Wendy's several times a week for myself and children – needless to say – I will go to Burger King across the street, or McDonalds. I don't need to be abused – I should be valued as a customer.

My husband and I are in Coco Beach Florida for a wedding. We decided to take our vacation there also. We stopped to eat at Wendys as they were not busy. When we went in and waited and waited and waited, there were two elderly women in front of us,the girl behind register was very rude to them, she also took for ever to get there food, and slammed it on the counter. Oh boy it was our turn, she finally took our order, she got our french fries first, then by the time our sandwiches was ready the fries were cold. My husband ordered no tomatoes and guess what? there were tomatoes on his. Where we live Wendys is very busy, you can barely get in there to eat. That is a sign of good food and service. I hope not all Coco Beach Wendys are so bad.

I went to your Wendy's store that is located on Sherwood Forest Blvd. I went through the drive through and ordered a Pecan Chicken Salad along with 2 Frosty's and a Jr Bacon Cheeseburger. The Salad had mostly wilted lettuce, brown apples no and cranberries. Everything else was fine. Normally the salad is fresh looking.On the few occasions this has happened I call and go back with my receipt. Today I did not get one. On Tuesday I again went through the Wendy's drive and order the fries was so salty they were not edible. I like your food and I eat there regularly and normally the service is good. Just not this week, so come on guys get it together Wendy's

i really dont like how the store manager at wendys boni, handle her staff… she shout her staff … she never care about the condition of her people, she was very unprofessional manager!! when i eat there i heared some noise, she was shouting one of her staff in front of her guest it was very an respectful for her staff… one time i ask one of the crew in wendys boni i ask how their store manager handle them i was surprise when they told me about her she was very horrible!!!! they work more than 8hrs without rest day…. she get mad when they ask for a rest day, she suspend lots of her staff i think thats not reason for her to give suspension for her staff!
hope you can find time to check how she handle a wendys store mostly in her employees.. i just care about them coz i been an employee also thats why i know how to feel tired and stressed working more than 8hrs without rest day! thank you.

I received this rotten/smelly tomato on my breakfast Panini at Wendy's. The funny thing is that I asked for no tomatoes. I snapped a picture of it and posted it on their Wendy's Facebook page. At that point I was merely trying to show them what they were serving. I got a notification that someone 'liked' my comment, I click on it and I get a page is not available. Further investigation found that Wendy's deleted my comment and banned me from posting on their site. Wendy's had no reason to ban me except to HIDE from the truth that they are serving substandard products. They have turned an easily manageable customer service issue and turned it into a nightmare.
I was not angry at Wendy's, I just wanted to show them what they are serving. Now by treating me this way they have made me so angry that I am going to post this picture everywhere and make sure as many people as possible see this rotten food at Wendy's. You can't hide from poor customer service, and you can't run from online complaints. I will post this here and as many other complaints sites as I can find, because they did this to me. I have tried calling and contacting them, but keep getting ignored. I have heard since that many people get their facebook posts deleted rather than addressed.

I order from Wendy's more often than not. I am sick and tired of ordering fries with my order. Every time I get fries from the drive-thru they are either stone cold or inedible like tonight. Half the "batch" was so black it made me want to heave. The rest were so soggy my fingers are still leaving streaks on my iPhone keyboard. It's ridiculous how terrible the french fries at Wendy's have become. I'm not paying for sub par food anymore. Have some standards Wendy's! That is all…

Here is my Wendy's complaint. I ordered a bacon deluxe 1|4 piece of lettuce, no exaggeration, no tomato, no condiments. I took a couple of bites, but good thing I had my dog in the back, she gladly ate it. This Wendy's is at Barbur blvd and capitol in Portland, OR. I go to Wendy's just about exclusively when wanting a hamburger, and I know what to usually expect from your burgers. This was not a good experience at all. Wendy's complaints department can contact me at my email at Toni.young@comcast.net.

Recently my husband and I were in Langley, BC for several days and stayed at Canada's Best Value Inn on Fraser Highway. Right behind the motel was a Wendy's. The service was so bad that one time I was there by myself I actually left because two of the customers had waited so long for service that they were about to get into a fight! The first time we were there I ordered a pecan apple salad and got no pecans. My husband's fries were actually cold. The second time was when the fight almost happened. At that time another customer had been waiting a very long time because the staff had given him the wrong meal. I have no idea when or if he ever got the correct one.
The third time I ordered another pecan chicken salad and again there were no pecans. All three times I went in there was no staff at the register. Instead you could hear them talking in the back in whatever language it was that they spoke. I can assure you that it will be a very long time – if ever – before I go back to a Wendy's. I'm sure that this is not what Dave Thomas had in mind for his restaurant. It has gone downhill faster than Lindsey Vaughn!

On my way home from work (hospital evening shift) I was hungry and stopped at the local Wendy's in Port Orange, Florida. Ordered fries (ad said 'Natural' whatever that means) chicken nuggets and a small frostee. The nuggets were cold and had a BAAAD taste. The fries were worse..limp cold. I wanted to write to the corporate offices as this has happened before. I will NEVER go to this Wendy's store again.

My Mother In Law received several $20 bills in change from this Wendy's ALLLL of which were counterfeit. When she called the store to complain, they told her to just bring the money back in and they would exchange them. She took the money back the next day and they simply gave her more money no questions asked!!! Weird huh, I mean who just takes someone's word that they received counterfeit money from their store and you replace it with NO QUESTION ASKED and NO INVESTIGATION!!! Needless to say if you go to this Wendy's I would suggest you NOT use cash!!! I will NEVER go back to Wendy's AGAIN as when I filed a complaint with Wendy's no one even bothered to call me back!!! So much for Customer Service or Satisfaction!!!

in may 2117 the 11th or 12th I was asked by a staff member to build an outdoor patio cooler container built of wood in the shape of a counter top on a frame similar to a island used in kitchens.Our agreement was verbal, taking place in wendys while he was working. I made it clear to him that the payment was due at completion of the project.I have contacted the employee Brad Hildabrand several times and 1 staff member appealed for me but I have not received no payment.This is a cowardly act for an employee to do to a customer who trusted a younger man to show the honest principals I would expect.Iam living on a canada pension and trying to make it with a former trade as a carpenter.this is a disgrace for an employee to do this to a customer. call me please and give me the satisfaction to see some accountability of this employees dirty trick played on me my ph.# is 506-474-0190 Fredericton NB Canada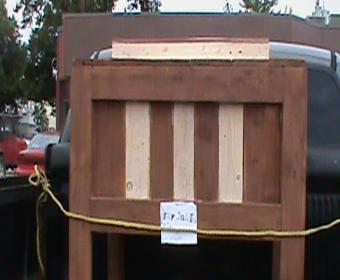 Virginia Ellis
from West Des Moines, IA
I went to Wendys on Friday and order 2 chicken nugget meals, not once was asked if fries or apples, said ranch dressing. I didn't get the ranch dressing for either and they just gave fries. Then had to ask for the toy, which really wasn't worth giving to a 2 year old or even a 4 year old. Then on Saturday was at daughter's house and watch football and kids wanted Wendy's so went to another one. Order a cheeseburger only ketchup, cheeseburger no pickle, a cheeseburger deluxe, 2 4 piece nuggets, quarter pounder meal (with no cheese) with coke to drink, and a extra large fry. I was told $18.00 and something. Never got a receipt after paying, when I got back to the house, Every one of us had a cheeseburger and they all had pretty much everything on it. This is so sad that I went to two different Wendy's and neither one of them could place an order correct and spend all this money and get crap for food. I want to know what your company is going to do about these two situations. I haven't been to your restaurant in a year or more because always got cold food. I don't know why I tried it again and once again was very very dissatisfied with it. You higher people that cannot even do a order correctly or even give out a receipt or even ask you apples or fries with that kids meal. Please advise what your company thinks of these two orders that were placed

Wayne Frazier
from Charlotte, NC
Bartow, Florida. It has been about 4 months since I have been to the Wendy's in Bartow. All because I was about to go in there one time and I saw a man come out wearing saggy pants. I mean they were below his ass. When I go to eat, that's not what I want to see. I have not been to that store since then. And I used to go 3 or 4 times a week. If that's the kind of behavior they allow in that restaurant, I will not go back.

kim rice
from Montgomery, AL
My problem started with the cashier Malaysia. She has no customer service skills at all and was very rude. I ordered a side salad which took a while for me get which should not have taken that long. This was not the first time I have experienced rude behavior from the same cashier Malaysia. She never followed up on my order after I was standing their awhile. I was with someone the first time she took my order and they can be a witness to her rudeness. You need to retrain her.I was in store #9316 2301 Marietta Blvd. The mgr was I think Albert. Thank. You

Matt Holm
from Rexburg, ID
On September 1, 2017 at 10:02 PM at Wendy's #00004054, 1333 Northgate Mile, Idaho Falls, ID, I stopped at the drive thru and ordered 3 Jr. Bacon Cheeseburgers, 1 with ketchup only and 1 small Frosty. When we got to the window the lady handed us two sodas and took our payment. When she returned, we informed her that this was not our order. She informed us that drinks come with the combo. Then proceeded to shut the window on us. She then opened the window, shoved the food bag at us and shut the window again and ignored us. Our receipt number is #3374. The Host name says Perla. Again, we ordered 3 Jr. Bacon Cheeseburgers and a small Frosty. We ended up with a meal deal for $5, a 6 piece Nuggets for $1.99 and a small Lemonade for $1.59 for a total of $9.09.
This was very unprofessional and irritating. I would rate this at 0 stars if possible. My family and I will not be returning to this Wendy's establishment and possibly any of the others if this is how we will be treated.
Sincerely,
Matt Holm
soccerfreak659@hotmail.com

nancy Graf
from Newark, NJ
Dirty, dead files on windowsills, ketchup crusted ledges, water stained wallpaper on Allaire Rd side window help up with thumb tacks, completely peeling off and water stained. Filthy stained ladies room trash pail foot pedal, tile baseboard ripped off with concrete jagged edges, dead shrubs on Allaire Road side, water downed ice tea, thought I put water in cup by mistake, same for Dr. Pepper Baked potatoes too hard to even put fork in, returned got another rock. Use to be A1 place, disgrace now, shame nice area, and friendly staff . Staff cares not taken care of

Veronica Munoz
from Rockville, MD
The coffee was absolutely cold and horrible and the breakfast sandwich was cold at the Pit stop in South Carolina. The frosty was the only thing we were able to enjoy.

Latishe Anderson
from Corona, CA
I spoke with the Manager Adriana once I discovered hair in my food I called her within 5 minutes of leaving the drive they. Once I returned I was treated so bad she actually called all the employees to the door as she rudely argued with me and called me a liar. Then the coworker said Wendy herself out the hair in my food they were laughing at me and the manager referred to me as a bitch. I returned all the food and was given $7.20. Then dhevstart speaking Spanish and they all start laughing at me. I am handicapped and I never in my life been treated like this. If you can review the camera at Around 9:20 to 9:45 you will see them arguing and laughing st me. Adriana told me Fuck you call Corporste I don't care you just want to eat for free. Here are the pictures. I requested the complaint number and was told By Adriana she will speak to her boss first and Maria said Wendy will deliver me free food and they all start laughing at me again PLEASE REVIEW THE CAMERA I am very upset about this. She is unprofessional I feel I was treated like this because I am African American. I had to request my receipt 4 times.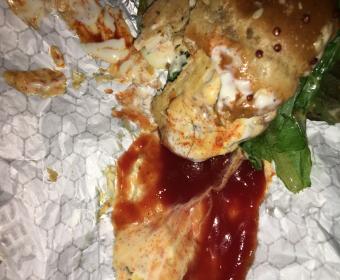 Salvador
from Chicago, IL
I went Wendy's store #3527 08/30/17 12:32 am I order my food n request freshly made fries they told ok I got my food the fries were cold and my spicy chicken sandwich had very little to no lettuce n it was cold I went back n they told me they ran out of lettuce n wanted to replaced it with the salad that they use for the lettuce bad service very unsastified with my food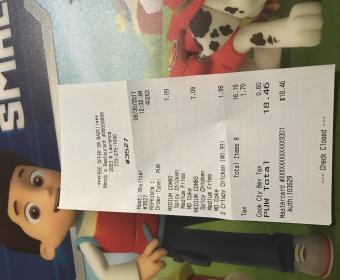 michelle chalfan
from Ashburn, VA
I got a dave's single combo...after a couple bites i noticed it was pink inside and so I told them. They said "Oh Well" in a what ever tone, and did replace it. But the 2nd one still had some pink in it and I decided to just go leave the store as figured they wouldn't replace the burger a 2nd time. I thew away the 2nd burger.
Info on receipt is this store #00011064 and order #2000 at 10:00 am. Total was paid in cash and was$ 6.64

Myself and my family stopped at Wendy's located at 980 Schechter Dr, Wilkes-Barre, PA 18702 on 8/30/17 @ 8pm. The staff was very unprofessional, rude, and very ignorant. They were making very rude and inappropriate comments and jokes out loud. The gentleman that took my order was ignorant and his demeanor was obvious that he did not want to be there. When we got home which is 5 minutes away from your location my husband unpacked our meals and the burgers were not even on the buns! I asked for cheese on our orders and there was none which I paid extra for. If I could of taken the food back and got a refund I would have done so. This is disappointing because we get meals there frequently and rarely have any issues. It really is a shame to have such ignorant incompetent people working in your facility and with the public at that. This facility was recently remodeled beautifully and the staff working the shift the night I stopped in for dinner does not fit the newly remodeled facility. I'm not one to complain or write reviews but I felt I just had to voice my mind and make you aware of the poor staff as the faces of your business.
I thank you in advance,
Mrs. Knapko

Larry Wells
from Chatsworth, GA
I went to the Wendy's at 13419 Hwy 27 Trion Georgia 30573 and have never had a worse experience in a restaurant. I was with my three grandsons and the front line host did not get my order correct and did not offer to fix the order she acted like I had no option but to take it her way. When some came to my table she used profanity that my grandson heard. After that point I was not going to be satisfied in that store today. Then a district manager came out and she has no people skills and let me no that everything was my problem not hers. My name is Larry Wells and my email is lrwells1950@ yahoo.com I am a very disappointed Wendy's customer.

Lorraine & Les Nalezinski
from Orleans, ON
My husband and I ate at the Wendy's on Innes Road (Gloucester, Ontario) on Friday, August 25th. We both ordered the same meal (the single burger with cheese combo). Within 24 hours, we were both hit with severe food poisoning. This is the only identical meal that he and I ate in the past week, so we know this occurred from our meal at Wendy's.
I have not contacted the restaurant as I'm not sure how seriously this issue would be taken. I would like head office to know in the event that you receive any further emails from individuals in our position. For clarification purposes, we have never had an issue like this at Wendy's and have in the past made Wendy's one of our main choice locations for a fast food meal. I simply wish to advise of the situation.
Thank you for your attention in this matter.

PissedOFcustomer
from Minneapolis, MN
Went to Wendy's yesterday drive thru at 7445 71st Ave. N.
Brooklyn Park, Minnesota 55428 location - around 5:20pm and received the worst customer service from a male drive thru person and the manager on duty. The male drive thru person was impatient, rude and just told me to pull to the window. The 1st window had a lady who collected the money - rude and clearly does not like her job. Move to the 2nd window and it was the male who I initially spoke to. Asked him if he was having bad day and his rudeness even escalated. the lady at the 1st window gave me my order and rudely shut the window on me. Called to talk to manager and the lady who rudely shut the window on me, got on the phone and said she was the manager on duty and took the rudeness to the next level. Came outside the building as if she wanted to fight me and address the situation.....this location needs to be looked at. the level of unprofessionalism and rudeness should not be accepted by Wendy's. They need a lesson on customer service.

Taunjua Clark
from Thomson, GA
I am unhappy with the service I received (actually did not receive service) at the Morgan, Georgia location off of I 20. I walked in with the intent of having dinner on August 29,2017 at 5 pm. The gentleman at the front counter was filling drinks. He looked at me but did not acknowledge that he would assist me. As I was waiting, I noticed that all of the employees looked my way but not one of them came to the counter to take my order. There were 2 females near the drive thru window in conversation, one of them looked my way and continued her conversation. The grill team also looked my way but still no one came to take my order. Because of this, I finally left after appx. 5 minutes with no food. I understand that people get busy, however, it appeared (my perception of course) that those in conversation were not assisting any customers. Unfortunately this lack of customer service by this team will make me think twice about visiting another Wendy's in the near future.

charles baker
from Williamsburg, VA
Franklin Va. store #00002031 8/28/2017 at 11:47 am order # 3040 for $8.20. On this day, i was at the drive thru and received my order to find out there were no fries with my combo meal and no butter or sour cream with my potato. When I asked the attendant for these items, they looked at me as if I bothered them, placed my items in a bag and handed them to me without a word, a simple sorry for that would of been nice. After I left and was across the street at the Food Lion I noticed that there was no fork in the bag, so, i went to the deli and got a fork. I have been to Wendy's 3 weeks in a row now. I would like for once to have my Dave's double cheeseburger and my fries to be hot off the grill and fresh instead of being dried out and the fires being cold. I pay for these items to be fresh and hot and they have been terrible lately. What has happened to this Wendy's store? It use to be very good. Guess I have to travel 10 miles to the one in downtown Suffolk main street.

While at the drive thru window, while the young lady was taking our payment, a guy came up from behind her. We had ordered a 6 piece chicken nugget but there were only 4 available. He was trying to ask if we would take those 4 with 2 spicy ones but he got his words mixed up.
This is highly inappropriate but I must tell you exactly what he said to me and my boyfriend. He laughed and said "damn, I messed that up" then began again. We didn't want spicy so we had to pull up and wait for our food to be brought out. The nuggets were warm. Burgers and fries were cold. Not lukewarm. Cold. We had no straws. No ketchup. The fries were not the size we ordered.
The food was terrible but the way that guy talked was unacceptable.

brendan
from Kuala Lumpur, 14
I have bad Wendy's service to report from a new store here. If the store is not ready with trained staffs please don't open! Base on below feedback to your good company. There were 3 cashiers machine available, but they opened 2 only. This was during peak lunch hours and a newly opening store. Cashiers always not in position and gather a corner and chat and have fun themselves. This was not fast food, we should call it slow food. This is the 1st in Penang please refer the 3 pictures and see the comments, check out the clock as well on wall.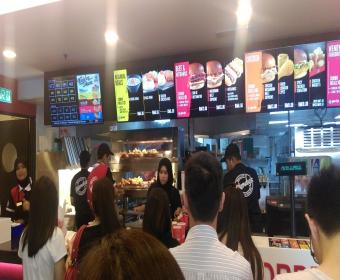 Tona Marks
from Lafayette, LA
I went to Wendy's earlier today the didn't give me a receipt so I don't know the specific time. I can show proof of my mom credit card we ordered the 2- 6 piece nugget meat with a fresh lemonade and a tea. I ordered the fresh lemonade and while I was drinking through the straw I felt something go down. I assumed it was a lemon seed. I can still at this time feel something sticking me in my throat. I call around 8:50p and told the manager that she may want to discard the lemonade in case it wasn't a seed. I don't think a seed will stay lodged in your throat. Her response was oh ok and that was the end of our conversation. I'm sending this in case someone else has a complaint about the lemonade.

Kenneth Baker
from Grand Island, NY
Well as you can see things are not clean . The windows are smeared as far as the worker can reach . Yuck all of the windows on Wendy's side of the store that is shared with Tim Hortons on Grand Island in NY. Tables were not clean floor was littered with past visitors junk. I had the 4 for 4 and the bun on the top of my bacon Swiss burger as cold as if it were stored in the refrigerator all day, by the way Tim Hortons windows were clean and the dining area much clearer. I also witnessed your slow moving " i could care less workers " chatting it up and visiting when no customers were being assisted. Time to chat? Time to clean! Get a squeegee for the windows. Teach one of the workers how to clean the windows, the floors, the tables, the bathroom.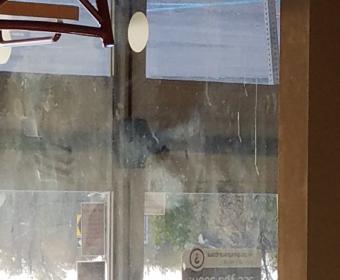 Mark Morris
from Columbus, OH
I am a regular customer of Wendy's and overall a big fan of their food and services. My complaint has to do with one particular restaurant. It is the Wendy's location in Linworth, Ohio on Dublin-Granville Road (just a short distance from Wendy's headquarters. I typically eat there every Thursday evening on my way to a men's chorus practice, at around 5:30 - 6:30 PM. Recently, in the last couple of months the management there has changed. The restaurant is extremely dirty and the service is very slow. The quality of the food has also noticeably dropped. I am writing this because I have seen this repeatedly over the last couple of months. Here are some of my observations:
The french fries are piled high and are not fresh because someone is obviously frying a large amount and leaving them piled up in an attempt to have them stockpiled ahead of time. The ones I have been served are cold and soggy. The ketchup dispensers have been out of operation for at least a few weeks (on Thursdays when I visit). They aren't even completely assembled. Instead there is a stainless steel tray with packs of ketchup sitting on the counter where they serve the food. When you reach in to get a few packs, many of them are sticky with partially dried ketchup from ruptured packs.
Last week (9/31/2016) when I visited there was a line of juice stain that had dripped from the trash can when it was emptied, running all the way across the dining room and out the door, and was just allowed to dry there on the floor leaving a dark ugly stain. I know it had been left that way a while because all of the trash cans were full and overflowing. There was not a clean table in the dining room. It looked as though no one had cleaned the tables all day long.
5. I almost walked out last week because I stood there at the counter for about five minutes before anyone even acknowledged my presence, even though there were a couple of people working where I could see them and they could see me. They didn't seem to care much about getting anything done, let alone wait on me.
This is definitely not typical of a Wendy's restaurant. I normally don't take time to write a complaint like this, but told myself last week that I should because I know someone higher up in Wendy's management would like to be made aware of what is going on. I never remembered to take the time to complain till now, as it is Thursday afternoon and I will be making my usual trip past that Wendy's on my way to practice. I will not stop there this evening, but hope to see or hear that this is being dealt with soon. Please feel free to email me with any questions, or if you request, I will call and talk to someone personally about this. I don't like to complain, but I do want to be of assistance to you if I may.

James Wilson
from Saint Cloud, FL
You say you make it easy to get hold of you to complain. What a joke. I play the game asphalt nitro and for about 7-8 months now maybe longer you don't get your rewards. Ive got 473 messages with credits that I've won but i cant collect them cause it doesn't give you the reward. Ive just won 3 expert boxes which should be put in my inventory and there not there. Its a joke this will be my 8th email and when i do get a reply you want to know the dates the time and money I've spent. Ive spent no money and whats hard about what I've explained. You made the game. When people race against you. You win credits which if you go on messages to collect them you don't get it. So what is hard to understand about that when you should know the game inside out?
A big company like yourselves and this is how you treat gamers. Im glad i haven't spent money on the game cause i would be fuming. I like the car game but for 7-8 months now everything I've won I am not getting 473 messages with credits that I've won i can but a class a or s car with it. And you say you make it easy to complain well why do i have to register to complain. Im a gamer playing your game and I've tried bringing this up with the customer care email in the game but you write it all and then it says cant send your email.
Its a joke so please can that get to someone who will look at the game and sort the problem out instead of asking what time what date and how long have you been playing. What has that got to do with the issue in the game where your not getting your rewards.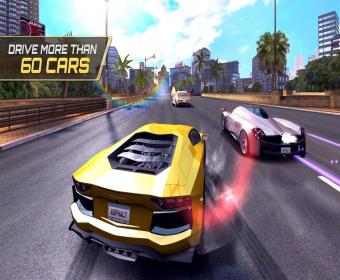 Brian Straight
from Kent, WA
Nobody at Wendy's headquarters will answer me, so here is my complaint. This letter is to inform you of an incident that occurred last week at one of your establishments. I have frequented you company for meals countless times and of course there have been mistakes in my order and other mishaps but I am not one to complain but after this I had to contact someone with my extreme displeasure.
I went to your restaurant for lunch and ordered thru the drive-in after a long wait in line. When I got to the window I was informed that my there was a need to refill the soda machine or something and if I could pull over until they could bring it out to me. Well even though I have limited time for lunch I waited 10 minutes before getting a bit annoyed and went inside. The person at the counter had no idea what I was talking about when I explained what happened, when I asked to speak to a manager they informed me that they were busy and another employee just handed me a soda with not so much as a I'm sorry.
I understand things happen and there are mistakes made but to be blown off after this incident and not being able to speak with someone in charge makes me never want to venture into your restaurant again. I'm not trying to get anyone in trouble but I don't be treating customers this way is good business practices.

Bonnie redmond
from Cambridge, ON
This is my third visit to Wendy's and they have made my order wrong every time. I went to Wendy's located on hespelervrd in cambridge. I asked for a plain cheese burger and fries. I verified with the cashier at the window that it was plain. They said yes. I drove away only having to go back and get a plain cheeseburger. I work in customer service and completely understand that accidents happen. That is why I did not complain the 1st time this happened. I did not complain when it happened a 2nd time at the same location. But tonight I went to the Wendy's located on Franklin Blvd and the same thing happened. I ordered it plain, I asked the cashier at the window if it was plain. She said yes. But I had to take it back. When I did that she said " plain?" I said yes plain.

James Estes
from Ocoee, FL
I live in Poinciana, FL and the Wendy's on Cypress and Doverplum needs a quality inspection. The food usually is cold and not fresh. I realize that they can get busy at times. But having to wait 20 to 30 minutes for non-fresh food is ridiculous. Most times the staff is nice but, other times not so nice. Ive read some of the other complaints about experiences people have had at a Wendys like my food given to another customer, sandwich is uneatable. Watered down drinks and cold fries, makes you not want to return.

Raymond LaFave
from Buffalo, NY
When we arrived at the microphone we were immediately told to wait. We waited over 10 minutes. Person speaking was clueless to what we were ordering, that took several minutes. When we came to the window finally there was no coke for multiple reasons, she gave us a bunch and it made no sense. When she asked what we wanted instead when we chose she just leaned on the window sill staring at us like we had 8 heads, we did not get fresh fries and the chicken sandwich was wrong and the meat wasn't cooked well, could barely tear it apart, was crunchy chewy and disgusting. I'm not satisfied, disgusted, hungry and feel like I threw my money away.

Carol Keller
from Bourbonnais, IL
On 9/11/16 around 5:45pm my husband and I went to your Wendy's store at 1740 west court st. Kankanee,Il. We ordered 2 #6 meals the spicy chicken meals, in the drive through. After paying was told to move ahead and they would make our meals fresh. I did as she asked. After watching about 3 car receive their orders I noticed the people in the next car was given a bag, they pulled forward past us and the driver looked upset as the passenger was digging through the bag. They then drove past us heading to the other side of the store, by the door. I sat in our truck another minute then decided to go inside, at that time one of your employees was walking towards me with the top of the bag wadded up in his hands. (Not folded down.) I asked him was that given to that other car he said "Yes."
I had to request fresh food and was given attitude from the girl that made the sandwiches the first time. She said "I just made those they, they where fresh." I do not believe that I should have to eat food that a stranger had touched. The manager never said anything to me, "the customer". He did tell the cook to just go ahead and make new ones. I never checked my sandwiches in the store and yes they where missing toppings. One was correct the other on only had the meat and bun, nothing else. The only person that treated me and the situation with respect was Semone. She should be the manager not the guy that didn't even make sure the sandwiches where made correctly as he watched them get made the second time. I will never spend my hard earned money at a Wendy's again.
I will also make sure that I tell all that will listen. I started my employment at a fast food restaurant and it was an expectation to say thank you And to treat all customers with kindness and respect. If we made mistakes we fixed it said we were sorry and have a nice day, not hand out cold food that was touched by another customer. I wonder if the state food inspectors would find that acceptable or not. You request that I rate my experience, well I can tell you that I would even give it even one star. One more thing the girl working in the drive through had made a commitment that she can't stand this and she should just quit.

Steven K. Anderson
from Temple Hills, MD
Why does Wendy's false advertise promotions saying you can get certain items at a certain price at a limited time knowing that the franchise Wendy's general do not honor the savings in cost to the customer. Every time your claim is that the costs will be cheaper for a particular item such as the limited time offer for frosty's @ $.50 they do not honor anything the corporate office unveils to the customer in savings. Therefore your claim for discounts is fraudulent with false advertising knowing full well that the average franchise Wendy's will not honor it.

Cierra Gardner
from Macon, GA
The staff today was just god awful! We pull up to the window to get our food the lady is rude doesn't even say hello. She hands us or food and a broken drink holder. My grandmother did not know it was broken and the lady didn't bother to inform us. So she shoved the drink carrying at my grandmother and while she was trying to get a good grip and as soon as my grandmother grabbed it the thing broke the drinks fell and spilled all in our car. The lady just looked at us with a rude look and said "did it waste?"

Robert Barnes
from Columbus, GA
No soap or towels in dispenser in women's restroom. Wife asked for someone to replenish at beginning of visit, went back at end of visit and still no soap, there were towels but not in dispenser. No ketchup at condiments station. Jr Chicken sandwich came slathered with mayo making bread soggy. Should be left up to customer to put own condiments and amount of choice on it.

Steven Hill
from Detroit, MI
Bought an Apple Pecan salad and 2 double cheese burgers from the drive thru at 12:34am on 9-3-16. My food (the salad) was terrible. The chicken on top the salad was small in quantity, 3/4 less than the full size salad. I could go with that. But to have the cold chicken taste be of old decayed meat is to much to fathom. I traced the bad taste to the chicken. I feel that salad was considerably old or the chicken was. Your lucky I spit that out.
Being black I'm qualified to say this. Your store in the 45206 is mismanaged in the evening and late shift. Franchises should uphold the brand perfectly. The store on Gilbert Ave. doesl not. Also no plastic ware in my bag after telling me everything was in the bag when begin to check my order. I trusted him. Oh yeah the cashier did not give me my receipt (which prompted me to write this).

Ellen Miller
from York, PA
The "new" chicken grill sandwich had rotting mixed greens on it. I called the unappetizing discovery to the attention of three workers who told me that's the way those mixed greens are, nothing wrong with that. I asked for a comment card,but they said they no longer have them. I asked how I could give feedback. They said they would get the manager. After a while, a fellow came out--and after I showed him the rotting greens he apologized and said he would talk with the crew. I went to the wendy's survey site but could not report on our visit, because we were never given a receipt for our order--which would have had the requisite store #, time of visit, etc.
We did not receive a receipt. In addition, the chicken was on the dry side and the seasoning was not good tasting. I not only would not order it again, I won't go to this Wendy's again. The bathroom was unclean and bad-smelling. This is the Wendy's on Springwood Road, in York Township, Penna.

Colleen McGrath-Smith
from Bridgewater, MA
It took over 20 minutes to make our order. 30 minutes to get the food, which was wrong. I complained. Their excuse was they were short handed. I noticed a lot of people laughing and not focused while the line of people grew longer. As we were wrapping up a man was standing in front by the registers and a young hispanic man said, " We're closed man, use the drive through", the young man had been patiently waiting for 35 minutes for his food and they completely forgotten about him.
That wasn't the topper, while we waited for our food, Order #10151 and then sat down and tried to enjoy our meal, we had to listen to the woman working in drive though call everyone names who complained about the wait. My family was shocked to have to hear this woman loudly yelling as the other members of the team tried to carry on and do their jobs.
The man with glasses and a ponytail, Sam, apologized several times, the young lady with a tinge of red in her hair and no cap on was nice, trying to give us what we paid for. The lady with the cap was rude to the entire team, rude to the customers. She should be fired. When my family went out to the car, I went up to the register, spoke to the nice young lady with the tinge of red hair, explaining this was completely unacceptable I was filing a complaint, she said sorry and agreed, but there was nothing she could do.
This happened at Wendy's Restaurant #16602290, 730 Plain Street, Marshfield, MA 781-834-2330, 08/28/16 9:34pm Order #10151

Jayne Novak
from Manlius, NY
We pulled into the drive through at your Wendy's in Auburn, NY and requested several fish fillet sandwiches and we were told that none were available because they are "seasonal". Seriously. We live in Manlius, NY and frequent the Wendy's in Dewitt, NY and regardless of the time of year when we order a fish fillet sandwich that is what we receive. Can someone explain to be why a fish fillet would be considered seasonal in one store but not another and more importantly at all.

Lori Thomas
from Winchester, KY
I'm not sure exactly when your side salads became approximately 1 1/2 ounces of lettuce. However, this makes 3 side Caesars that I have gotten that looked pitiful when compared to their containers. We have also been told that my son is not allowed to get green tea as a drink on the 4 for $4 when the menu simply specifies "a drink". I worked in restaurant management for 15+ years and I can say your attention to customer service has gone downhill.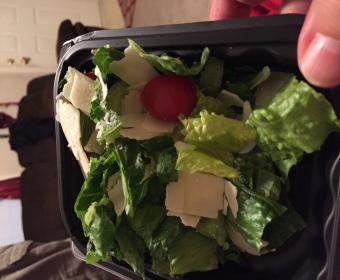 Rick Maples
from Batavia, OH
Saw your Baconator advertisement and wanted one. Went to local Wendys in Wilmington Ohio and ordered one thru the drive thru. Got home and opened the burger and on top burger were 3 one inch pieces of bacon. Opened 2nd burger and there was 2 one inch pieces on it. Thats a far cry from the advertisement that showed 6 strips of bacon supposedly on the burger. I was really disappointed after seeing the commercial.

Catherine Bearden
from Raleigh, NC
I went to Wendy's here in Raleigh, NC. I normally enjoy your service and salads. I drove up to order at the drive-through window. The young man did not tell me how much my salad would cost, "Drive up to the window and we''ll tell you how much you owe". When I went to pay for my order, I handing him $15 because I didn't know how much I owed. He put it in the register and handing me back a little change. I looked at him and said, "for $15?" He said that I didn't give him $15. He had already put it in the register so I had no proof that I gave him $15. I am confident that I gave him $15 because that is all the money I had. He received a very large tip last night.
The salad had very little chicken or berries. I was sorely disappointed and angry that I was short changed.

Matt Lloyd
from Arlington, TX
My name is Matt Lloyd. While waiting for our food in Wendy's drive-thru line on the date of 7/28/2016, panels began to fall off of the Wendy's building onto the two cars shaking them up. Due to this traumatizing event, two of my other coworkers and myself are injured. This event took place at Wendy's location 2003 E Belt Line RD, Carrollton, TX 75006. Attached is a picture of the damage, I look forward to hearing from you soon.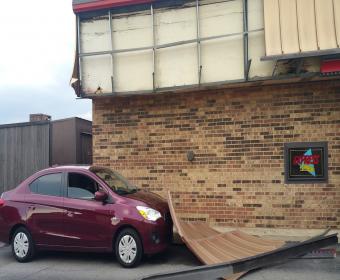 I always have your Summer Berry Salad once a week however last night this is the first time I experienced this. The packet of dried apples that was given to me to sprinkle on my salad had a dried stem about an inch long. I felt something in me mouth which was very hard as a rock and could not be chewed so when I took it out to see what was the problem there was a dried apple stem about an inch in length. I will attach a picture of it so you can see what I'm trying to explain and my advise to Wendy's is stop adding this to the salad or find something else because if this objet goes down someone's throat area and get stuck you might have a law suit.

I recently came across a video of one of the Wendy's managers smoking a bong in the Wendy's parking lot. Middle of the day too! My daughter is about the age to start working and Wendy's was on the list but after seeing this kind of conduct, and on top of it by the manager, there is no way I will allow her to work for this company! It's a disgrace.
The drug epidemic is already bad enough and I'm not going to subject my child to it knowingly. God only knows if any of that weed ends up in the food or the impact on the customers as well. I have a video where I became aware of it...I can include a snap shot from it. The pic on the left is the Mgr, glare from sun on face but can clearly see the bong in between his legs. The one on the right is the Manager's face. I came across this video on snapchat of an employee @ Wendy's when he was taking out the trash & then posted it... so a whole lot of people seen it.
I hope this is not what you want your company to represent. If you want the video I can supply that too! This is the Wendy's location on Transit Rd, Lancaster/Depew NY. I hope there is some consequence for this. Maybe start drug testing randomly!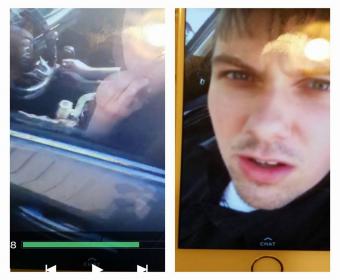 Toby Woodson
from Leesville, LA
Easy to explain, bad customer service. I'm sure that no one every takes the time to tell you guys ,about the bad food, to ugly attitudes that are on display everyday at your business. The food is slow, cold, and hardly ever made correctly, like the customer would like it. All I know, is that the service at the Deridder, Louisiana, Wendy's is bar-none the worst that I have ever experienced. I'm sorry to say that, this is on a constant bases. Got a spicy chickens with cheese,and bacon. The patty was cold, hard,and took 5 minutes to get. I hope that this problem is corrected in your restaurant. Thank you for you time.

I live in downtown Jackson, MS, and have been a regular customer at a nearby Wendy's for years now (1240 High St, Jackson, MS 39202). I usually order the same thing, a large chili and a large frosty. Lately, both have been FAR from full - as in, I could have just paid for the next smallest size and gotten the same amounts. And while I have frequented this particular Wendy's because of their better-than-average service and friendly employees, I don't like paying money for something I'm not actually getting.
I'm not sure if there was a ownership/management change or what, but little things like this will eventually drive loyal customers away. If I pay for a certain size, I damn well better get that size. There is no excuse for this to be happening repeatedly, with more than one menu item.

Deb Scalabrino
from Hudsonville, MI
My husband and I needed a quick pick us up, especially a cold drink. We ordered 4 for $4 and a Sr. Frosty. When we got our drink my husband said this is warm, she then info m d us that the ice machine was not working but, that it did just come out of the pop machine. Warm pop on a 90 degree day is not my refreshing drink. We were jumping on the express so we didn't realize no frostiness either. It seems they would have informed us right away no ice. Also go buy ice if the machine doesn't work just a suggestion. The restaurant number was partially whited out but, the restaurant is in Grandville, MI at 4435 canal ave SW.

Inez Charbonnet
from Westwego, LA
Today I had lunch at store #13308962 at 4:15 p.m. I have been having lunch here for 5 days a week for almost 2 years. I ordered chili and a salad. As I was waiting for my food I noticed all the employees were just standing around talking when I noticed a salad across the counter. I asked the employee if that was my salad, she said yes and continued talking the the other employees. The employee started yelling, no one talks to me like that, customers are not always right, she was very nasty. I then went back to counter to get my dressing for my salad and she turned her head making insulting remarks about me. I have never in my life been so humiliated in a fast food restaurant, the experience was disgusting.

pete bliss
from Naples, FL
Upon arrival it was storming outside. I gave the simple order and they kept repeating they could not hear Me so I pulled forward. When I arrived I was given an intimidating negative stare and She said "what was Your order".
I gave it again and heard the girl in the back say She already made the order. The staff screamed "No He wants just ketchup and onions only" the girl again screamed I already made the order. The order was completely wrong and My hamburger came with extra everything on it which was a mess. My Daughter looked at Me and said She was VERY rude and after all that got the order wrong. I think that front person needs to go into the back until she learns how to respect the customers..

Molly Abbott
from Phoenix, AZ
Walked into a Wendy's on a Sunday afternoon to use the restroom during our road trip and planned on getting food. As soon as we walked in we noticed immediately how dirty it was. Food everywhere on the ground, almost every single table was sticky and dirty, then in both men and women's bathroom there was NO paper towels (and no toilet paper on our stall in the women's). It was completely disgusting environment that lead us to leave, there was no way we were eating there.
It's a Sunday afternoon in Utah, no one was in there, the employees should have had that place cleaned up. I enjoy Wendy's, but this was the worst location (in Bountilful Utah) that I've ever been in. I can only attach 1 picture, but I have more upon request. Again, it was totally empty, there's no reason it should have been in this state.

Kristina
from Brooklyn, NY
Tonight I had gone to Wendy's around 10pm in north Babylon, NY on deer park avenue and was very displeased with my service. I had pulled up to place my order requesting a moment for I was unsure of what I wanted. After a few moments I had told them that I wanted a baconator meal. Without hesitation the man working who had been taking my order replied with "what else?". I have worked in fast food for 4 years and usually you would give them a minute before responding and ask if they would like anything else with that in a nice way.
The man had an attitude and when I had pulled up to the window I gave him the money and he gave me back the change without saying a word, and no receipt. Not realizing I had no receipt I pulled away from the drive thru. The fries were iced cold, with no salt. The burger was very sloppy and not at all appetizing. After this experience I would never encourage anyone to use this location. Not only was the food displeasing but the service was as well.
Have feedback for Wendy's?
Thanks for your feedback!
Sorry. Please try again later!