Wendy's
Wendy's Complaints Continued... (Page 4)
1107+ reviews added so far. Upset? Call Wendy's corporate: 614-764-3100

Denise Martinez
from Cleveland, OH
We waited in line in the restaurant just to order for 20 minutes. Then when I went to order potato they were out of potatoes. No apology or nothing just that they didn't have potatoes!!!
My rate is a 1!!! Service was not good!

jdiuliano@yahoo.com
from Springfield, PA
Was waiting in line to place a lunch order and receive my order for over 20 minutes. There was only 3 people ahead of us. The employees
were fooling around. When I complained and my friend did as well the women who usually works the drive thru window started mouthing off
at us like we didn't have the right too. Then the shift manager who may have less class than the other girl was worse. I worked as a manager
for Pizza Hut for 10 yrs and never saw anything like this. They didn't include a receipt knowing that we probable would complain. This was the
store on Mac Dade blvd in Ridley Pa

Richard Pruitt
from Arcola, IL
Food is always great and people are good. My complaint is about the store in Urbana, Ill on Prospect Ave.. Your manager and zone manager should be ashamed, the parking lot is full of holes big enough to wreck the front end of a car and not just in one area, it's the whole lot. I won't be back till it's fixed. Don't have any photos of me, doing nothing or I would send one.
Thank You
Richard Pruitt

Deedee
from Bedminster, NJ
Ordered a spicy chicken salad told them I wanted pecans instead of croutons she said no substitutes and charged me .50 for the pecans the week before they forgot my salad dressing in drive thru

Natalie Ellison-Renk
from Marshfield, WI
I already posted my rant and rave on my Facebook but I figure nothing will change unless Wendy's is contacted directly. Had I gotten a receipt I'm sure there would have been a number on the back I could have called. My local Wendy's has the worst customer satisfaction I've ever experienced and it's every time. Apparently, I'm not the only one because many others also left their comments on my post about their negative visits at the same location. I'm not kidding when I say every time I pull through that drive through it's as if I'm an inconvenience to the workers. My order is never right or complete. Basic things like utensils..... yesterday I ordered a salad, 2 chili's, baked potato and nuggets. There wasn't a single fork, spoon, butter, salad dressing, and they were out of sour cream! I had to call the lady back to the window twice to request everything and she responded as if she was bothered or annoyed by my request. I'd normally just let it go but because this is every time over the last 5 years or so I just can't take it anymore. Sure I could find a new location I suppose, but this is the most convenient and the most slow. I just had to share my frustrations because it's not right and I don't think that's the kind of legacy Dave Thomas wanted to leave behind.

Lorraine Brown
from Little Rock, AR
I dined in at Wendy's on March 18, 2019 @ 1:01 pm. I prefer the biggie bag. On my burger I asked for no onion as I'm allergic. They put onion anyway. When I took it back to the counter they took the onion off right in front of me and handed the burger back. My fries were cold and so where my nuggets. I left it at the counter and asked for my money back. They would not refund me. I was very unhappy. I have not eaten at Wendy's and decided to go for my lunch hour. I will not be visiting your restaurant again.

Sean Hess
from Columbus, OH
Wendy's on Broad Street across from town and country have some of the rudest employees, The manager was just nasty and not a nice person! Wanted to argue and just not own the fact that they messed up....just make it right and let's move on!

TAMARA LYNN HIELDBRANT
from Sunnyvale, CA
TAMARA HIELDBRANT
80 SOUTH MARKET STREET
SAN JOSE, CA 95113
408-300-4739
TAMARAHIELDBRANT5378@YAHOO.COM
OBJECTIVE~
LOOKING FOR POSSITION AVAILABLE~
I AM A VERY HARD WORKER, FRIENDLY, AND ENTHUSIASTIC,
I HAVE WORKED IN RETAIL, WAREHOUSES, RESTURAUNTS AND ANIMAL HOSPITALS
I AM GREAT WITH CUSTOMER SERVICE, A VERY HARD WORKER, AND DETAIL ORIENTATED, AND I WORK LONG HOURS AND DON'T COMPLAINE.
EDUCATION~
CENTERAL INDEPENDENCE HIGH SCHOOL- SAN JOSE CA
WESTERN CAREER COLLEGE- SACRAMENTO CA
EMPLOYMENT~
LYON'S RESTERAUNT- SACRAMENTO CA.
TOTAL CARE ANIMAL HOSPITAL- ANTELOPE CA.
VETSMART PET HOSPITAL- RANCHO CORDOVA
I HAVE BEEN OUT OF WORK FOR SOMETIME NOW BUT I AM REALLY ENTHUSIASTIC ABOUT GOING BACK TO WORK AGAIN.
I WOULD LOVE TO WORK FOR YOU AND JOIN YOUR TEAM
PLEASE CONSIDER ME FOR THE POSSITION AVAILABLE.
CONTACT ME VIA E-MAIL OR TELEPHONE
I AM AVAILABLE FOR INTERVIEWS ANYTIME
THANK YOU FOR YOUR CONSIDERATION~

Brandi Anders
from Clarksville, TN
I go to the Wendy's in Clarksville Tn ,on Tinytown road, to order lunch on 3/16/2019 around 2pm, I order the awesome sauce burger combo #4 and i told them no pickle or tomato. I also ordered my wife the number one no pickle or ketchup. On my combo the number 4 all that was on my burger was onion , sauce and hamburger meat. My wives combo was drowned in ketchup, after I drove all the way home to eat it I seen this and didnt have a dam receipt. My wife calls and they tell her they have to have a receipt. What a dang waste of almost 18.00 on two meals and it wasnt our fault we didnt get a receipt . This is two times we have ate at this location in the last month and this time was by far the worse. THe first time the meat wasnt done and the sad part me and my family loves Wendys but I guess since this place offeres poor service we will have to go else where.

Billie Bisong
from Stockbridge, GA
Every night at the Anvilblock location in Ellenwood, Georgia, there is a long line and long wait. The cars are at a standstill. This has taken place night after night around 10pm. I like Wendy's but I end up getting out of line after 20 or 30 minutes when the line is at a stand still. Please FIX THIS PROBLEM!!!!!

Teresa Semo
from Sliders, VA
I was waiting in Drive Thru waited 2minutes for someone to take order when they did woman said get back with me. Then I could hear her talking to other co workers about specifics of the job at Wendy's, then she answered a phone call or talked to someone in walk-in dining she kept on and on finally I left cause was die at work. I give no stars to Wendy's at broads st / Tuckernuck Richmond Va all I wanted was a Wendy's burger befor my shift started.

Brenda Solomon
from Hillsborough, NC
We just ate lunch at Wendy's in Wake Forest, NC on Capital Blvd. and Wake Union Church Road. It was just filthy! The place where the orders are taken had not been cleaned lately, as well as the area behind the counter. Looking into the food prep area had not been cleaned in eons. An ice cream dispenser looked out of order, not fixed and dirty. In past years I have never encountered anything like this at a Wendy's restaurant. I was told the manager of the day was Chris. If this was owned and had my name attached I would fire all workers and start over. I can't imagine how dirty the food is if they cannot even clean their work areas. I saw a lot of standing around but no one was industrious and cleaning or doing anything productive. AND they were not swamped with customers!!! How do you continue to stay in business if you run your restaurants like this one? When Dave was alive this did not happen. I am VERY disappointed in the eatery!! Not sure if I will ever go to another Wendy's again. Do you ever send corporate to check out these places??? I will be interested to see if I get a reply from you. Thank you, Brenda Solomon

Pat kiefer
from Northridge, CA
Ordered a pecan chicken salad- no chicken, no pecans, no feta cheese. Ordered an avacado salad-no avacado. Nothing in it but lettuce, cheese, and tomato bits. Too far to drive to take it back. What's up? Usually your salads are great. Pleas respond.

tammy stevens
from Dudley, NC
The night assignt manager Named Estebone, cussing at other co worker, threating other co work in presence of customer, flirting with minor kids and co worker. saw him once handing something out of the drive threw windows and wasnt a wendy bag. my son worked there and he said he used to close at night and estevon would void stuff and take the money and he would take off to take some girl home while he is on the clock this is Wendys in Goldsboro Nc on Wayne Memorial Drive. My son finally quit he also said his friend was given a pill that got her high and very sexual and that her and estebone went out to a bar. i wont be coming back to wendys unless this is delt with i live not that far from this store

Robert Sullivan
from South Yarmouth, MA
I use to use the Wendys app on my phone for special offers but it no longer works. I called the customer service number and they said the new app will not work on my phone because the new app uses 5. Well I have a Samsung Mini4 smart phone which is a few years old. I am 71 years old and I do not plan to buy $1000.00 new smart phone to use the Wendys app which requires the new 5. I know Tvs are going 5g in the future but I guess Wendys is so advanced that it is using 5g now. I go to Wendys everyday for lunch and have for the past 14 years. I think this new 5app is ridiculous and the idiot who designed should be fired. I am sure many old people like myself do not have new 5app phones. You are at better at burgers than you are at apps. Horrible service! I would rate your app 0 stars if I could.

Wanda
from Bedminster, NJ
I wish I cld have given them zero stars. Wendy's on Chuck Dawley Rd in Mt Pleasant SC is the most unprofessional experience I've ever had at any Wendy's. A vehicle sat in front of me for all of 10 min so I went around them to see if the restaurant was open. There was a car sitting at the drive thru window forever. So I waited behind it and the car that was in front of me drove off. The woman at the window was rude and extremely unprofessional. They said they were outta sweet tea, chocolate chip cookies and then burgers. Then they took first to bring us our food. NEVER AGAIN!!

Phil Gallina
from Toronto, ON
I ordered 2 spicy chicken wraps a small chocolate sunday and a medium Coke Zero
When my order was complete I asked for 2 barbecue sauce packs
I was told that it would cost me .30 each.
I think this is outrageous and will not spend my money in your establishments unless you change your policy.

levern wilson
from Cherryville, NC
ive already sent my complaint to you twice about wendys in kings mtn n.c. 28086 about the mgr alex being rude and hateful to me and wanted to know whats been done about it.

Tom Kakadelis
from Ashburn, VA
Purchased a Dave's double large combo. Food was cold. Fries were greasy and cold. Very disappointed. No stars. Want my money back and my appetite too!

I tried your new cod fish sandwich today and was very disappointed. Have always thought Wendys food was very good, but this sandwich didn't measure up to your standards. There was more coating on the fish than there was fish. Also the batter was hard and caked up on part of the pattie. I will not be having anymore of the fish, I'm sure that others will find the same if all the cod is prepared like the one i had today.
Thank you

Giant JBC. had what appears to be one piece of bacon broken into six small pieces on it in total. Add says double the bacon. Also store employee would only wait on one customer at a time getting them their food before waiting on next customer. There was a long line and my fast food took 25 minutes to get when I was 4 th in line. Counter person said manager won't allow them to take more than one order at a time.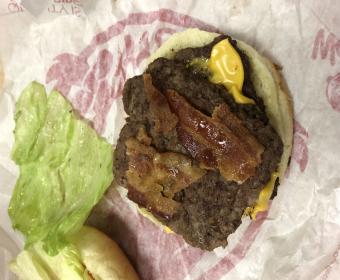 I got a quarter pound single and asked for it without certain condiments in Oskaloosa, Iowa. First, the speaker was so bad, making scratching noises. And the worker at the window was talking to the person at the pick-up window while she was talking to me. That's very irritating. Then when I got up there to the pick-up window, even though I had repeated 3 times what condiments I didn't want on my sandwich, she had to ask me again and turned around to tell the person. I think they just took a sandwich that had been in a warmer and took the stuff off because it wasn't wrapped up nice and tight, the sandwich was not hot, and the top of the bun was so dried out that it made a popping noise when I bit into it.

I ordered 2 $4 meals Jr bacon cheeseburger chicken sandwich and fries. Once I received my order , I checked and realized both orders were missing the chicken sandwich. It was lunchtime so I had to get out my car and go inside. Once I spoke to Manager explained my order, she still refused to give me what I was missing. She said everyone here has head sets on and that's what your husband ordered. I was in the car I know what he ordered. The window team member did not give me a receipt. They never do. Manager did not give me what I was missing. So I would like some compensation for this. Or something....

Larry Savalli
from Dimondale, MI
Not a complaint as much as a tip for one of your units. I spent 21 years in the restaurant industry in management and middle management. I realize the importance of building sales in order to cover expenses and hopefully build profits. Your restaurant in Lansing just off I96 and MLK and Bishop Rd. has a problem. with PM sales.
I drive pass this unit each week night on my way home from work. Once in a rare while will the sign be turned on to attract business driving by. This sign needs to be on before it gets dark outside. This is a highway restaurant that could pull in MORE business if only people knew where the restaurant is located. This was a peeve of mine when I was a unit manager and a district supervisor of a different chain.
I believe that if this problem would be corrected you would see sales improvements immediately.
Sincerely,
A Concerned Citizen
Larry Savalli

Richard
from Little Rock, AR
I Made an order through drive thru at the eagle co Wendy's on March 8th and when I arrived at the pick up window I saw two females horse playing (physically hitting each other.) And being loud. And my order was not made properly. The burger was messy, the fries were cold and it wasnt wrapped properly.

Went to Wendy's #264 at 3422 Taylor Blvd Louisville KY. Got order along with a lemonade. After I drove off, I took a drink. It tasted like some type of cleaner was in it. It smelled almost like alcohol. I went back to the store and the manager Tim acted like he did not believe me. I asked him to smell it, and he refused. I told him that I wanted my money back but he said no since I had said the f word to him. He said get the money from corporate. I warned the manager that the machine may need to be drained and cleaned. I called the corporate headquarters about 2 hours ago, no followup yet. I called the health department and tried to file a police report to no avail. I felt slightly dizzy from the drink and still have the drink with me.

I went to the Wendy's out in Granville, Ohio on Cherry Valley Rd last night to pick up dinner for my husband and myself. I usually don't have any problems at that Wendy's as that is the reason that I continue to go back there. Last night was a different story. I am usually not one to complain but the girl that was taking orders at the drive thru window ( her name was Paige) Well when I pulled up to give my order I kindly ask if she could give me just a minute and she did not say anything, I repeated myself as I know that she heard me because I could hear her breathing. I said hello, can you please give me a minute to look at the menu and she shouted YES very loudly. It was just rude. I then gave my order and ask her to repeat it back to me so that I knew everything was correct and she acted like that was a bother. I have never been treated so badly at Wendys. then I pull up to the window to pay her and just her whole attitude with me was very rude. She did not even say thank you, handed me my debit card and quickly walked away. I knocked on the window and said ma'am can you please give me your name and she asked why. No name tag and she finally told me her name. I said thank you and pulled away. I work for Licking Memorial Hospital and if I treated our patients the way that she treated me, I would be fired. I am not trying to get this girl fired by no means but she really has no business working in customer service. She should be back flipping hamburgers as far as I am concerned. It was just a bad experience and I will not be going back to that Wendy's nor will I recommend anyone else go to that one for the way I was treated. The guy working at the food window was very polite and I appreciate his politeness but Paige was very rude. Thank you for taking your time to listen to my experience.
Thank you,
Lee Ann Webb

liza
from Cartersville, GA
The first time I experienced bad quality was when I got a frosty I opened it to lick the lid and I saw little black things It was either hair or fiber. Today I went back cause I thought it was a one time thing turns out a long strand of hair appears when I open the lid and last time I went I went back to get another it appeared again I am disgusted with it someone needs to shut the machine down ill further notice.

I ordered a Dave's single hamburger. I got my order and went home to eat. My order was wrapped with a hamburger wrapper. But inside was a chicken sandwich that I did NOT order. And it's cold! It's not rocket science! The store was in Athol MA. So in future I will have to unwrap my order in the store to see it I am given the right order. On second thought I will just stop going there. Too much trouble to get the right order. Your service is a total failure!

Tuesday March 5 2019 @ 1:30 or so, I visited a wendy's located on Cassidy ave near Airport Rd. I ordered a $5.00 burger and chicken deal with a small frosty. I gave the girl at the register a $ 20.00 bill. my change was supposed to be $13.94. in a rush to get back to work, I pushed the change into my pocket, grabbed my order and went back to. once at work, I counted my change and found I had been shorted by $ 5.00. I did not have the time to go back to dispute this nor could I prove this after leaving. This was the only time I have ever been in that store. this could have been a mistake but after talking to my co-workers, this goes on at that location. this happened to two of my co-workers last month on different dates.
I am not looking for reimbursement as I don't have any proof but I will not visit that store again. If this is an example of the type employee Wendy's hires, I will not be visiting any Wendy's ever. I will not go out of my to bad mouth your brand but I will tell my story to all workers on every job site I am on. I work construction and I contact a lot of people every day.

Alyssa black
from Cleveland, OH
I went into Wendy's with my mom to get food for dinner and the lady did not know what she was doing when she took our order I wanted a crispy chicken and got a chicken BLT.... I can not stand cheese or bacon on my sandwiches...which is why I ordered a crispy chicken... not to mention they put the food on a tray when when we ordered To go and kept switching the food from bag to bag repeatedly touching the food with there bare hands.. the food was cold and disgusting...and they gave us kids cups we ordered a small 4 for 4 so we expected small cups not kids.... and we know they was kids cups because my mom had stopped at a different Wendy's with my brother so he could get something to eat before he went to work... see the difference between my cup and my brothers? This was at the cambridge Ohio restaurant on southgate between the car wash and subway....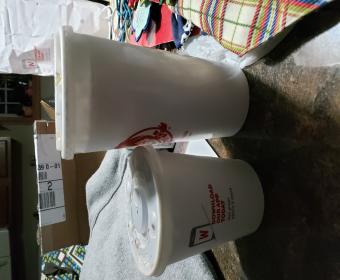 Cathy Bohrer
from Herndon, VA
?artinsburg wv 25425 fox croft ave my husband myself 2 childern walked in this restraunt to eat we had to turn around at door and leave the sewer smell is so bad my husband got sick we love your food please correct this problem or ull loose all costumers at this store to be excat there was no one in this store it was dead and if you smell it y ou know y thank you

Anonymous
from Topeka, KS
So, I work at the Wendy's in St. Robert Mo and I worked for 11 hours or more in 2 weeks and I'm pregnant so that part is understandable but I worked for 11 hours and I only got $56.00 on my check when I should have gotten more and it has me really angry I should of gotten at l eww at a little over $100 and I was supposed to go see my sick grandmother today but because of them I cant and I'm struggling with bis as well so that money would have helped wonders

We were asked last year to buy Wendys' key tags for $2.00 each to help out Dave's kids. We were told that you will get a free frosty for one year. Nothing was said about buying anything but I did ask if we bought two tags can we still get two free frosties when we buy One of the 4 for $4. We were told yes that it wouldn't be any problem. For the past 2months we have been purchasing 1-4 for $4 and getting two free frosties but as of today now we were told we had to start buying something extra to get the second free frosty. I don't feel that changing policies in mid stream is fair to the ones who have getting their orders as we have. For granted $4.36 isn't much to spend in a day for a lunch that my husband and I split but when you times that by a whole year just think how much is being spent at your store. So as of today we will never purchase any more of your key tags. If I could I would send both of them back for a refund and never buy anything else from any of your stores. Go ahead and laugh as I know that you probably are but times $4.36 by a whole year and see what one of your stores have lost.

Ordered a mushroom swiss and got a dry dry overcooked with no mushrooms very very very thin swiss, 3 little pieces of onion, and I asked for no peppers, and guess what, they took them off and the juice wss still there. I watch the commercial on TV and what I received was awfully. I am disabled and look forward to a good meal. Wendy's should be ashamed.

I will no longer be going to the Wendy's is pleasant hills Pa. Every time I go there my order is wrong. I don't know how hard it is to do their job right. That Wendy's is the worst. Service is BAD. I was sort a drink and fries this time. This is at least the 10th time this has happened. I shouldn't have to wait 45 minutes Inline when there is only 6 cars total. The people working the window have attitude problems.

David Cole
from Detroit, MI
Restaurant was not attentive to cleanliness and was discouraged to find out they no longer have plastic knife utensils.At restaurant on Ford Road 18430 #00001229

Larry McLean
from Bedminster, NJ
Ill send you a pic it says it all

If I could give them a 0 I would. My mom ordered $30 worth of food and didn't receive any of it. We ordered via door dash. The driver went MIA with the food and her tip. When I called the Wendy's it came from the manager was extremely rude, aggressive and very unprofessional. He told me they don't work with DoorDash and I'm mistaken. I spoke to a manager from doordash and she was unable to get a hold of the driver and could not understand why the manager would claim that they don't work with door dash. She even took their phone number to make sure I called the right location and it was. Your manager lied to me. I am a manager in retail and I have come across situations at my job. And the way this manager at your Wendy's handled it was uncalled for. This is our local Wendy's and they not only lost our business but they better believe we will be spreading the word In our neighborhood.the location was Wendy's
69-02 Northern Blvd
New York NY 11377

On 2/23/19 we stopped at your 1202 Lincolway LA Porte Indiana restaurant. While placing our order the girl played with her hair, handled money then preceded to handle food. Then our order was incorrect. I returned to the counter to get my correct order and they argued with me and wanted to refused me. Had to show them receipt to prove they were incorrect which caused a bit of a scene. Then we noticed the dining area was VERY DIRTY. And they had MOLD on ceiling. I would hope this would be unacceptable and you would correct this immediately. This restaurant really should be reported to the state board of health and closed.
We are in that area quite often and will NOT stop there again.

steven w merlin
from Sanford, ME
my wife and i were in mass to visit her mom in icu we were heading home it was around 730 pm stopped at wendys on rt 1 in pebody mass i ordered a asigo chicken meal and my wife ordered a chicken sandwich with just cheese and mayo well i got a grilled chicken sandwick with thousand island dressing which was not asigo chicken meal and my wifes didnt get mayo and where this store is you cannot just turn around (went through drive thru so we can get back to maine) to turn around you'd have to go about 4 or so miles to turn around was not very happy got the wrong meal paind around 9 dollars for a meal that i ordered and got totsly wrong and they weren't busy at all.

Barbara Haynie
from Baltimore, MD
McCullough Avenue in Baltimore, Md.
The Manager and Employees were very rude. The manager's name was Lisa. They were very discourteous and rude. I wouldn't go back there at all.
Thank you.

Melissa Cobb
from Allentown, PA
I was not given a receipt, but the address is 10410 Blue Star Hwy
Stony Creek, VA 23882.
We waited 40 minutes for a cheeseburger and a chicken wrap.
The wait is bad enough, but the 3 people working were in absolutely no hurry.
One lady only bagged fries and nuggets, could have cared less about the 30 people waiting.
The man working was in the middle (literally burger on the bun) of making someone's meal and he just left to use the mens room. Did not tell his coworkers and left the burger on the counter to get cold.
The third person working seemed a little concerned, she realized the man had left and she washed up and went to start preparing sandwiches. This is a very very bad reflection on your company and I thought you should know.
Thank you for your time.
Melissa Cobb

Gene hodges
from Cumming, GA
Third time visiting this particularWendy's in Cumming a that the chocolate frosty machine was broken. Seems to me if you have asignature item that you would be more attentive. I usually stop by there every other day.

Kristina Ledee
from Lakeland, FL
I visited the store located at 4308 Sterling commerce Drive, Plant city, FL 33566 this afternoon around 2:30 p.m. The line was very long so I tried to order at the kiosk. I could not use the survey coupon, and I could not get a senior drink this way. I wanted to ask the manager after I got my order, but it was not possible to wait long enough. I lost out on the BOGO with the Spicy Chicken Sandwich. I was not even given a receipt. I spent almost $17 .I am a senior and I treated my daughter and grandson to lunch. I could not even get to talk to anyone because it seemed like there were not enough people working. It was very chaotic. Please help me with some compensation. I am on fixed income. Thank you.

Amadis
from Greensboro, NC
Okay so for one I waited in Wendy's yesterday night for my food for, 20 mins just for a 4 for 4 and the lines were pack but everybody was walking slow like there wasnt people waiting in line.a little boy came inside with his food and said my mom said we missing 2 chicken nuggets the person who work there gonna say we need a receipt,, so the boy said yall didnt give me one and when I looked I didnt get a receipt either this caucasian women didnt give their receipt to nobody she sat it on the table.and then the little boy went outside and came back and said I dont have a receipt and the worker said well I cant give you your 2 chicken nuggets then.and so then the mom came in angry and THEN they wanted to serve him like. Why does it take so much to get one little thing . It wouldn't have hurt that man to give that little boy his food like wow. That's sad !!,,but yeah that what I had to say,, HORRIBLE customer service. I hope this is fixed immediately!! Oh yeah and just for me to get my food late, it was cold.

I just went through the drive through and ordered a chicken sandwich meal with no mayo. Got home and there was lots of mayo on my bun. GROSS. Ruined my meal.


Drive thru forgot my chicken nuggets - I checked the bag before I pulled away & asked for them. The window worker wanted to argue about it! She stated it 'wasn't on my order'. I said - We had a discussion on how many pieces I wanted, so I know I ordered it'. She replied ' I wasn't working the headset'. Annoyed she said - 'So do you want to add it to your order.'
Is this the way customers are treated when wendy's make a mistake?? She knew I was angry and proceeded to call me 'babe' and 'hun-'. I am 60 yrs old - I am neither to her. Her insincerity infuriated me even more.
I won't be going back - plenty of other places to pick up a quick meal.
Have feedback for Wendy's?
Thanks for your feedback!
Sorry. Please try again later!