Wendy's
Wendy's Complaints Continued... (Page 7)
787+ reviews added so far. Upset? Call Wendy's corporate: 614-764-3100

Laura Cirino
from Langhorne, PA
I want a call back ASAP what happened was a disgrace, unprofessional, rude, and by far the most unaproperiate response and actions that i have ever had to deal with, especially being in a family restaurant that has many children occupying it. My phone number is 2154323291 I expect a called first thing Monday morning or sooner. My family, friends, co-workers and all associating people will not use their money any longer to purchase food at this restaurant. The list is rising because of this incident. And, to let you know, I did have 2 children with myself at the time of this incident and they were under the age of 10. So, please tell me, what is this showing the children and younger generation??? That its ok to tell off the customers!!! WRONG..

Josh Harbison
from Lexington, KY
I order my food like any normal day when I got the food I drove to a parking space to check my food and it was all wrong I had 2 combo meals and In the bag there's chili and dollar menu burger and a baked potato when I went in to fix the order I got one combo and the same food I made them take back they made again! "Fresh" none of this is what I ordered I got home the chicken sandwich was wrong, diet pop instead of regular.... Thumbs down experience I want a refund of 17.82 or I want a gift card this is ridiculous it wasn't even busy.

Cindy Dilliplane
from Ashburn, VA
I ordered a large barbecue chicken salad . The lady when she gave it to me she said you ordered a large chicken salad but we made it a little small and want you to know next time we will make it bigger when you order it again .I ordered this thru the drive thru with my son . We were like so confused when she was saying this.never heard anything like this so unreal.. well I will not be ordering salad recommends in shamokin pa.

Ron Tupps
from Columbus, OH
I live in Dublin and work in Whitehall, OH. This last week I have had several order of chili from Wendys in Dublin. it seemed even better than usual. Meaty, and much thicker in consistency. Today, I had chili from the store on Main. st. in Whitehall. I was so disappointed that I threw away half of it. It was thicker. but not much meat. It was mostly beans. More like bean soup than chili.. Obviously someone is not following the recipe.

Tabetha Clay
from Richmond, VA
Well I went to the Wendy in Richmond Va on Midlothian ,spent 15.00 on a chicken Asiago Homestyle and 2-10 piece nuggets. The sandwich was a spicy chicken and the fries where drowned in salt and even the nuggets had salt on them. Somebody was very heavy handed with the salt. so it was a meal that I could not eat at all and it was too late to go back to this restaurant. The only thing that was good was the lemonade. I would like to have my money back I don't want new food this will be the last time I will eat from there. The salt content alone could give you a heart attack.

Norma Bokaie
from Downey, CA
I ordered a fish fillet comno, While I was eating my sandwich I felt something in my mouth. It was a big screw in the food. I told Lupe and she apologized and gave me a free salad to compensate. I wanted to speak to the manager since it made me nervous to find a screw. I called Jose Penate the manager and he apologized said this never occured before. They gave me my $ back and a 20% discount for a year.

Dennis Kirkpatrick
from Rockford, IL
I came to Wendy's late night and ordered two fish sandwiches. When I got home and bit into my sandwich, the fish was dry like cardboard as though it was sitting under a heat lamp all night. The fries weren't any better. They were cold and stale. I feel as though I paid almost $15 for garbage. They offered to replace the sandwiches, but it was late at night and I wasn't wasting my gas to go back there. They said that I could come back tomorrow but right now I am disappointed about the whole matter. You just don't claim to serve freshness and then turn around and sell garbage. As far as I'm concerned, the integrity of Wendy's has been damaged. I don't think I'm willing to return. Definitely not at night.

Marc Zoblockij
from Elgin, IL
Your wendys in carpentersville illinois is the slowest place for a fast food place t6he service is bad ive seen people come up to the counter and wait 10 minutes before anyone helps them i myself was in there one time and waited for over 10 min. no one came out from the bad room so i went next door to taco bell something has to be done about this. All this goes on around lunch time.

Francoise Padro
from Youngstown, OH
I visited you drive thru at the mahoning location in youngstown, Ohio. I asked the person did the salad come with pork she said yes bacon. I said I wanted it without pork, please. I'm muslim, I had a head cover it was clear that I didn't eat pork, however the strips of bacon were very visible right on top of my salad.

Wilk Wa
from Portland, OR
I have been a customer of Wendy's since it open, I have enjoyed your food over McDonalds hands down, however I just purchase a lunch from your #3066 location I got 2large Chilies which look like the small chilies both are watery no meat no flavor . I also got a large strawberry-lemon drink this cost me over $3.00 total cost for my entire lunch was $10.80 receipts # 3066 @ 11:54, the day before I had lunch at Wendy's got a sandwich it looked like a kid meal this also cost me $12.00 I toss this one. I just want to say this will be my last meal at Wendy's. At lease at McDonald or Jack in the box, or Burger King you get real meat and what you pay for (the 2ndary chilly was purchase for dinner). $22.50 in two days this is highway robbery for what you get.

I just went through the drive thru off Wendy's- on Freedom park , Cumming Ga, way about 30 minutes ago, I normally check my food, but had to pick the grand kids. My fries were not in the bag and my baked potato was smashed like they dropped in on the floor or something. I started eating it, but bite into grit or something. Not very satisfied. Why is it asking for a company name, I am a consumer. I had selected one because it will not submit my complaint

Terese Bass
from Odenville, AL
I am very offended by your Commercials advertising the cod fish sandwich. The Bleeped out cuss words are something that I don't want to hear on the radio. Wendys use to be a wholesome copmany.

The service is sloppy and beyond slow. On 2 separates visits to your 81st & Memorial location it has taken well over 20 mins. On one of the visits we went inside to eat, the only ones there and it took more than 15 mins. And one of the employees was actually eating out of the fry ben.

Crystal Nicholson
from Brooklyn, NY
Went to wendys #5 at 469 Flatbush ave today 3/19 and ordered a spicy chicken sandwich medium meal. When I got home what I found in my bag was kind of triple cheese burger. I do not eat burgers and it isn't realistic to go all the way back to the store. This is disappointing and annoying.

Karen Luddington
from Greenfield, MA
03/18/2015 @ 12:43pm - Host: Matthew #3073..- Reprint# 1 - Order type: PUW
First off...
We have ALWAYS chosen Wendy's over ANY (Especially Burger King)!
Today, however we were so very disappointed with the food.... not service.
Our order was: 2 Jr Cheeseburger ($0.99)
3 Jr Cheeseburger Deluxe ($1.39)
The Jr Cheeseburgers.... Patties have become very small and thin, it was overcooked and dry.
Bun was very dry (stale maybe?)
ONE tiny ring of onion!!!
Asked for extra Pickles got two total!
I had ketchup but no mustard....... cheese was not just a strip this time it was bigger then usual.
The Jr Cheeseburger Deluxe(s).... Patties were very small, thin, overcooked, and dry
NO Lettuce
NO Mayonnaise
Tiny ring of onion!
One pickle
Very disappointed.
Might I suggest you change the dollar menu to advertise.... "New Dollar Menu! SLIDERS!".
Instead of just these "burgers" we got today!
This way you can save money with smaller buns, smaller cheese, meat (keep that the tiny size it is or you'll have to call it a "coin" and you can advertise Stating....."Same Size Patty"!.
Use one pickle, and (at least TWO tiny onion rings), scant lettuce, small piece of tomato, dot of mustard and dot of ketchup, and tiny 'spray' of mayonnaise..... see where I am going?
Then you can keep the same price......... and continue to make more money.
I am hoping to hear back from someone from you department, but sadly, not counting on it.
Now we need to figure out where to go in this area for a quick drive thru during our many busy and restricted time days
Thank you for you perfect burgers in the past....
Karen

Cathy Green
from Big Spring, TX
I recently went in to eat at Wendy's in Big Spring, Texas. There was a foul smell in the whole establishment, it smelled like suer. The smell was so bad we did not stay and order, because the smell was upsetting my stomach. I feel like maybe there is some health code violation.

On the menu...there is an Asian Cashew Chichen Salad.....first of all.....you are selling a salad that is advertised with an asian dressing, yet they tell you that it is discontinued and its not available. Also it is advertised as an Asian Cashew Salad....but they just give you a little bag of Pecans!.....Hello...I know the difference between cashews and pecans.....and If you advertise something.....well thats what I expect.....I feel used and cheated since I believe that is False advertisement to the consumer.....If you don't have in stock what you advertise, them simply pull it....but dont keep selling it and deceiving people....as to where you get home and when you open your food to eat it...it is not what was advertised........if I dont hear from you soon...to see what you are gonna do about it....Im gonna file a suit against false advertisement........and believe me....I will.....Im tired of big companies getting away with doing whatever they want and thinking that us...the consumers wont do anything in regard... Thank you!

Thomas Wolfe
from Fort Worth, TX
I was at Wendy's store #9032 4200 Highway 528 Rio Rancho NM 87004 . The food was great. I was leaving when i stepped on a metal roofing staple in parking lot. I filled out a report with manager on 3-6-2015 . Haven't been contacted 3-12-2015.

Angela D.
from Greater Capitol Heights, MD
Greetings, My visits to this location always result in unsatisfactory service; no matter the time or day of the week. For example; no large cups for large order of chili, no crackers for the chili, no chocolate frosty (free per key tag), ask for extra pickles/no onion- instead I get extra onion and no pickle. No matter the concern, I barely get an apology and/or the same old excuse; our truck hasn't come in yet.

Karla Klaus
from Fort Worth, TX
My husband and I were craving a hamburger and it had been awhile since we had been to Wendy's. I told him they had big delicious burgers. We both ordered a #1 combo. We opened the burger and thought they had given us a junior burger instead. The worker said no and showed us a junior burger. I was appalled at the smaller size and the higher price. We had a huge soda, huge luke warm fries and a small burger. We won't be back and we are spreading the word.

Riley Zirkelbach
from Indianapolis, IN
All I wanted was a chicken Caesar salad from Wendy's not thinking it would be such a huge deal. I see that the new thing now is the "Spicy" chicken Caesar salad. I wanted just the regular chicken, not the spicy. I saw that they still have the regular chicken Caesar SIDE salad, but I just wanted the regular size portion, like the spicy one is. When I asked for the regular chicken and not the spicy, the lady acted like I was dumb or as if that was such a hassle and just told me to pull up to the first window for my total. Once I pay she tells me to pull forward and they will bring me out my salad in TWO MINUTES. I was thinking that was odd seeing as how its 9:00 at night and completely empty but was willing to wait two minutes anyways. Well, that two minutes turned into 12......for a half order salad that I didn't even ask for. Now you tell me what's more ridiculous; waiting 12 minutes for a small salad that was wrong, or waiting and giving them my business all together. Absolutely ridiculous.

Sanchi Hancock
from Iron Mountain, MI
I went through the drive thru with my children and as the guy at the window is handing me my food and taking my money a girl working there who doesn't like me started making loud obvious gagging faces at me with her finger going down her throat as she is preparing someone's order to the side of the cashier it was very unprofessional and scared my kids. Sara who works at iron mountain, michigan location is the worker I am speaking of and I understand she doesn't like me but when your at work you can at least act professional I didn't do anything to provoke such immature behavior from her, well she was fired some time later and me and my kids once again returned to Wendy's and she is re-hired and has to bring my food to my vehicle as soon as she sees me she roughly hands my food to me and loudly says oh my god you wouldn't believe and then the door shut but obviously she was about to go into the story about how awful I am because I am engaged to an ex of hers in front of dining customers and all the staff!
I am disgusted that this behavior is being tolerated and am sad my kids are scared to go there now being once their favorite place to eat:( this issue should be addressed I can understand treating a customer in a negative way only if that customer is provoking you in a serious way but by simply exhausting and ordering food for my kids I hardly expected anyone to show such low integrity and immaturity towards a customer and worst of all my kids! I believe upper management should definitely deal with this workers shouldn't be permitted to behave this way and do unsanitary things like stick their finger down their throat making gagging gestures while preparing someone's food it's disgusting!

Adoree Miron
from Coopersville, MI
Drive Through.....Doesn't even deserve 1 star. This is referring to the Wendy's on West Michigan at WMU campus in Kalamazoo Michigan.
1. So much ice in drink that cannot put straw in. Happens at this Wendy's time after time.
2. Never give a napkin
3. Speakers difficult to hear so the employee is rude with customers. I think there is something wrong with the speakers. Specially today...it was the last straw! 2-24-15 at approx. 12:30 PM.
4. Ordered 2 for 2 chili. They gave me 1 spoon and 2 crackers!!!!! I specifically asked for 2 spoons. This happens every week. Is the business in that much trouble you cannot give napkins and spoons and crackers out?
5. French Fries were ice cold
6. Chile is luke warm
7. Girl at window so afraid of being cold that they shut the window on me while I was talking!!!
8. NO bake potatoes again.
9. When I went to pay the girl was busy talking to another employee and totally ignored me. My drink was sitting there. My order was sitting in the window. Perhaps that is why I had cold fries.

amy evetts
from Asheville, NC
I went to Wendy's at 585 merrimon ave in Asheville North Carolina, and ordered food to go. When I got home, my hamburger had no patty on it-- just the condiments. I didn't order anything special, not that that would've mattered. Then I decided, well , I'll eat my fries. About halfway through those, I bit into a WAD of blonde hair that is not mine. Not just one hair either, like 8 all clumped together. I called the restaurant to say I was very upset that I just spent $8 on a meal that I didn't even get--- the manager couldn't find my receipt from 15 min earlier & told me if I wanted to come back shed give me another hamburger. But I ride public transit and walk a lot, on top of that I work 6 days per week-- its a lot of trouble for me to return any time soon. Customer service was mediocre at beat and now I wonder if they did it on purpose because I came in at 10 pm? I work in the food service industry and have for years , and I would be mortified to do this to a customer

This was at the lake station IN location on a Saturday about 2pm. Basically the Manager was working without gloves on. Picking up bacon then picking up buns for different customers, handling frozen chicken for chicken sandwiches all with her bare hands. The fry cook didn't have gloves on either and the girl from the drive up window was scratching her head and playing with her hair in the kitchen.

Anthony W. Casper
from Myrtle Beach, SC
stopped at Wendy's on I-95 south bound in Roanoke Rapids, N.C. went up to counter to order, the woman at counter, did not say any thing, see just looked at me, the people ahead of me was waited on nicely, and they had a burger king coupon trying to use at wendy,s , then when I got food she did not say anything again, I travel a lot, and know people have bad days, but when you work in public, need to be thankful, to people who are giving you business,this should not be a race thing but I was the only white man in the business, maybe racial thing going the other way !

Bill mossholder
from Louisville, KY
The great cod sandwich tasted like a piece of pressed nasty blanksky! It was tasteless so I looked up the calories and what a shock! What I could have had for 550 cal and 25 grams of fat and 900 sodium. I don't want my money back. I want them to pay for my hospital bill to have my heart cleaned out!!

Quite frequently I get fries that aren't even long enough to hold onto to dip. Seems like your fries are getting shorter all the time. As a whole, there pretty good but to damn short. No they don't have to be 4 or 5 inches in length, but it would be nicer than a half to there quarters inch in length. Give us something to hold on to. Seems like you are buying 2nds, Shorts. PLEASE quit taking away from our value menu, you keep chopping it down to where there is almost nothing left. You keep adding to the cost of everything and still chopping, COME ON.

I would like to get the last chili "again" like we got for years and it got changed a few months ago. We frequent Portage St. in Canton, Ohio 5 or 6 days a week for 7or 8 years and had chili everyday. Being there daily we met several people that were doing the same. As soon as you changed the ingredients I tried the new chili 3 or 4 times and have now swore off altogether. Some of the other regulars have quit coming in because of the same problem, we don't like your new chili. Another complaint is I don't care for your new plastic cups at the condiment counter. I used to get a paper cup with ketchup to dip fries or ad to my burger, I could squeeze the paper, but not now. Now I have to get a knife and spread it. The cost of paper versus plastic, I would guess plastic is more costly and now I have to use a knife also. I would think paper has to be less expensive as to a "plastic cup and a knife". You people must have more money than good sense.

I used the drive through at Wendy"s on 15355 Wallisville in Houston, Texas. This is the 3rd time they've gotten something in our order wrong.
We ordered a #10 "Grilled Chicken Combo" with an unsweetened Mix Berry Tea, a #1 large with cheese, no onion or tomato with a lemonade. When we left I took a sip of my tea and it was sweetened.
I didn't want to turn around just for that. We got home (which is 15 minutes away, but I love Wendy's fries and they are the closest to us.) to find a double cheese burger with a regular fries, and small cheese burger and small fries.
I tried calling and it took 3 tries before someone answered 30 minutes after we arrived home. I spoke to the manager and he said he'd fix the order and did. Gas isn't cheap! They really need to get their orders right!
Thanks,
Mary

My wife and I visited your store on Johnson Ferry Rd. Marietta, GA, 30068, on Feb 18th, 2013 at 6.:25PM. We had the single hamburger. When we got to the table we found both hamburgers were black and we could not eat them. Took them back to the counter and presented them to a worker. She said nothing but did prepared us better hamburgers. No one apologized or even acknowledged that the hamburgers were burnt. We have already lost one Wendy's about a mile or so away on Johnson Ferry Rd. If something isn't done soon this store will surely follow. Two people were in the dining room.

I have been to the Wendy's on 135th and 69 Hwy in Overland Park, KS 4 mornings this week at 6:45am and they have yet to be open. You see people milling around inside, but no one takes your order. This morning, 4 cars went through the drive through and left b/c no one would answer. I have been stopping at this Wendy's off and on for 4 years and they are open early. This is a waste of my time and anyone else that stops and is refused service b/c they cannot hire competent employees to open up in the morning. I WILL NOT go back to this Wendy's and will tell EVERYONE not to go, as well.

My husband and I have been a customer for over 30 years. Whenever we eat out, we ALWAYS preferred Wendy's over any other franchise. Since Dave Thomas has been gone, this corporation is not the same. Many Wendys franchises we have frequented in different states have been and continue to be a huge disappointment. But not as disappointing as Wendy's Store #05108498 (#3159) at 3725 Sun City Center Blvd., Sun City Center, FL. This franchise is the most mismanaged I've ever experienced and today's experience will be the very last.
This franchise is located in the middle of a retirement community of approximately 10,000+ seniors. We have time to be patient and to wait, but the wait time at this franchise is ridiculous and unacceptable. I had requested to speak to the Manager and was waiting and observed the customers in the order line. I counted 11 senior citizens -- 2 had walked in with canes and were supporting their weight by leaning on the railings. There was 1 person available to take these orders. At peak hours, this is unacceptable.
I had returned to the store because the cashier at the Drive-Thru window had again neglected to give me change back from a $20 bill, nor did she provide a receipt and twice had repeated the simple order of "4 small frosties -- 2 vanilla, 2 chocolate - in a carrier". She asked me how many vanilla. Then asked "how many chocolate"? How difficult was this order????????? Then, argued over how much I owed her -- she told me the total was $4.27 -- I told her it was not, it was $4.24 (7% sales tax). By the time she corrected the order and handed the 4 frosties in a carrier, I drove off without receiving my change from the $20 bill I gave her. This was not the first time this had happened -- it has happened more times than I care to recollect -- too many.
I hardly ever complain, but this was the frosting on the cake. I was upset when I returned to the store and that is why I asked for the Manager. The fact that the staff have not been adequately trained is the responsibility of the Manager and that is why I asked to speak to the Manager. The Manger refused to speak to me and sent her staff person "Javier" to handle the situation. I have never been so insulted in my entire life. I will never visit another Wendy's franchise again.
I loved Dave Thomas and I admired his business philosophy -- offer good food for a fair price, franchises were all meticulously maintained, staff were well trained and welcomed customers and bringing awareness to the Dave Thomas Foundation for adopted children, were just a few to mention. I loved and admired him as a young girl and admired his courage when he responded to his customers in the 70's by introducing the Value Menu so that customers could afford to eat out, even during an economy decline. I'm ashamed of what the Wendys Corporation has become. It no longer stands apart from the others.
If anyone is listening, you need to visit some of these franchises under cover so that you can really see how these franchises have declined. You would be embarrassed and ashamed to see what's really happening out there.
Dave Thomas - I always admired you growing up, you were so passionate about the business empire you built. It's a travesty to see how others have destroyed it and taken it from you. I pray you are resting in peace.
Donna Ayotte
2009 E. Del Webb Blvd.
Sun City Center, FL 33573
Telephone: 813-944-7258

Claim # 33820-158128 On August 30 night i had eaten 2 Wendy's cheesy burgers and fries had a bowl movement before bed woke up went to work on August 31 . I experienced stomache pain went to bathroom lost a litre of blood fell to floor split my head needed 3 stiches .
Ambulance was called and rushed to hospital for food poisoning. I told every nurse and every doctor what i ate . They all said to be careful and eat healthy. Your claims adjuster Claims pro has offered me $1000.00 dollars and feels this amount is not insulting ?
The adjusters name is Beverly Smith who personaly I do not believe does not represent Wendys best interests at all! I have told her I would settle for $15000.00 out of court no reply !
I lost a weeks vacation going to doctor once for check up second for removing stitches and thirdly for going for colonscopy to make sure I was not bleeding plus i lost a days pay and had to have a family member pick me up from hospital.
Plus I missed a performance at Casino rama with fear i may bleed . With all the bad publicty I share on going and me personaly not frequenting Wendys no longer you have and will continue to loose way more than $1 thousand .
I could have died if this happened while driving to work at 510 am in am ! off country roads in a ditch.

I have walked out of Wendy's in weirton wv 2 times in the last wk with ordering because of poor rude and slow service..on 8/28/2013 I stood in line with only I family of 4 in front of me for 26 min without being waited on. The elderly woman at the register was also working he fry station ..two younger female employees were standing at the end of the counter talking and would not even acknowledge me whee I said excuse me...a few wks prior I had to wait in line about the same amount of time because someone brought in a new born baby and all the employees were paying attention to the baby while a couple customers were waiting to order..the one time I did get my food ( drive thru) the order was a chicken sand which when I ordered a bacon burger..

I haven't eaten a Wendy's burger in awhile, so i was really in the mood for a good Cheesburger. I think Wendy's has better burgers than other fast food places. In the first place, they were short on help, so i just stood there while she waited on the drive thru.
I got my order and not only was it wrong, the bun was cold and the burger was barely warm. I went to take it back, but there was such a line, i just scraped the stuff i didn't want and ate some of it. very disappointed since i hadn't had one in awhile.

TO WHOM IT MAY CONCERN,
On Oct 15, 2012 my husband and I decided to try the new Wendy's that is located on Topsoil Road, Village Mall Plaza, NL. We recieved our meals very quickly, on the way home I was famished so I decided to eat. To my surprise when I opened my burgar (Bacon Classic) I seen a long BLACK HAIR wrapped around the meat and cheese. I returned to Wendy's and informed one of the employees which in fact, was not wearing a hair net, that I found a hair in my burgar. She was extremly rude to me and replaced my burger and sent me on my way. I want to make it known that it is not sanitary to handle food and not wear a hair net, as well that employees of Wendy's need to be concerned about customer satisfaction because the way I was treated was unfair, extremly rude. I feel that I schould of got an appology and more than a replacement buger for the trouble. If this is how Wendy's does business and treats its customers, I will no longer go there and will certainly inform the public of the unsanitary handle of food, poor customer satisfaction.

Hello,
I just perchoised my dinner from what use to be my favorite fast food restaurant. Store #00005187 has a female in the drive through window with a very poor additude. She practically threw my my order into my car and wasn't very unfriendly. When I parked to eat, I found that my number 10 chicken nuggets were very soggy, and of that wasn't dissapointing enough, my fris we unedible. They were mixed freash with old and completely covered in a very large quantity of salt. The only part of my meal that was enjoyable was my frosty.
I completely understand that no one is perfect. But I have never had to complain about Wendy's before.

Why are the French fries never fully cooked at some of the Wendy's locations? Shouldn't there be a timer on them so they are cooked the same all over? The Hurricane WV branch consistently distributes fries that are almost raw and a lot of the time cold... They are just nasty.

8/28/2013
Wendy's at the corner of Grosbeck and East 8 Mile, Warren, Michigan. I ordered two large cups of chili at 9:15 p.m.. I pulled to the pick-up window and waited 5 minutes, while package was sitting at the pick-up window. No one was there to give me the package. When someone came, I suggested that it shouldn't take that long to get a package. A lady in black was standing back with earphones one and never moved. A lady with red hair and a red top walked up to the window and handed me the package; I suggested that was too slow for this to be a fast food service. Someone should have pasted the food throught the window before 5 minutes passed. They had no reason why I had to wait that long. I feel someone should have stepped up before that amount of time went by. I do expect to hear a reply concerning this matter or I will continually send this e-mail.
Thank you,
Mr. William E. Gibbs

I went into the Wendy's on Columbia Ave. In Battle Creek MI on Thursday Jan. 16th around 8:45pm and was not greeted upon entering, then when I began to place my order the gentalman helping me answered a phone call in the middle of taking my order, while another gentalman was standing right beside him the whole time. The other worker then took over placeing my order, I had to tell him twice what drink I needed, because he was more focused on the things going on behind him......then when he finially did pat attension to my order, he then informed me in a VERY smug way that they were out of the drink I ordered as well as the toys for the kids meal that I had also ordered.......this is all during a $1.99 kids meal national marketing campaign! All I can say is what horrible store management and customer service, what is funny about not being prepaired for a area wide campaign/ not making sure your store is stocked! With management like this in such a poor economy.......is not recomended in my opinion.

Girard pa not the first time but the last my family and i will be treated to substandard food ( just plain stale ) and with an attitude to boot u can always find plenty of parking though! What a waste of money andof wendy-s reputation!

Hi. I went to the Wendy's in Cornelius, NC to grab some late night food. It says in giant lettera on the window that they are open till 2am on Thursday nights... However, I pulled up to the menu to order, and no one said anything. I looked at the time (1:06) and waited thinking maybe they were busy... I waited, and waited, called out, beeped my horn... But no one answered. So I drove up to the window, only to see that the people working were closing up for the night. Someone looked at me, but did/said nothing. I'm really not ok with this since it's the better option of the two places that are open late near where I live... :(

My choc Frosty had little pieces of hair through out it... I dip my spoon in it to eat some and I notice it taste funny. When I looked in it, it was little strands of hair.

Tuesday Jan 8th 2013 my wife and I always goes to the wendys located at 370 Main St Fredericton and last Tuesday I always order her the single baconator with just ketchup and cheese and bacon and when I go to the 2nd windows to get my order I always ask what is on that burger and they say just bacon, ketchup and cheese, and i reply ok because my wife is is allergic to all egg products.
I take it home and like always my wife checks her burger and sure enough there is mayo on the burger and we had to through it out. It made us upset. So on Jan 11 2014 we wend to Wendy's and ordered the same meals and sure enough I went through the drive through and confirmed that there was no mayo on her burger and the gentlemen did as the guys in the back because i heard him yell that's right captain. So we went home and guess what mayo on her burger.
They did replace both our means the the issue is that why cant they get our order 's right. if my wife took a bit out of that burger after i repeated that she is allergic to all egg products there would have been a lawsuit...... Our order was fixed and when i was talking to Jeremy he said that he was replacing our orders and giving us coupons for the inconvenience, he replaced our orders but no coupons in the bag. not happy with wendy's and will have to prove them selves again for my family be for i think of going there again

I had ordered a Dave's Triple burger meal and the $1 burger, 1 order of large fries and small fries and a chocolate frosty from the Wendy's on Lake ave in Rochester NY. My mom was driving so I did not notice until I got home that my order was wrong and kind of bad. I got home and saw that the Dave's triple burger was 2 wendy's classic $1 burgers, large fries, small fries and a small frosty. Not only did my mom pay over $10 for this probably $5 at the most meal but the burgers were dry and old and the frosty had brown flecks of something in it. I threw it away and had the burgers. I shared the fries with my mother. To anyone that gets any order from any place check the order before leaving.

I am complaining about your store in Bartow, Florida. The employees park along the front-side of the reataurant so the customers have to park in far rear. My grandfather has Alzheimers and is handicap and if all of those parking spots are taken along with the front-side spots I have to park in the rear and make him walk to the entrance as I can not leave him in the building by himself. Please speak to the manager(s) at this location and have this problem resolved. Thank you for your time.

Normally they dont disappoint, good fod for a cheap price but today the cashier handed my my credit card back with grease all over it. I was then given three burgers that were soggy and raw chicken nuggets. in the burger the onions were old enough that they left green strings through out the burger.

This evening I bought a Jr Baconator at Wendy's Sharonville, Ohio location north of I-275. It was incredibly greasy, the bacon was almost black and shining with pooled fat. Evidently the bacon is cooked in a deep fryer. It was pick up at the window. I was several miles away before I started to eat the sandwich which had to be discarded.
After leaving Wendy's -- at which I was the only car in line for outside service - I passed McDonalds on Hauck road only 300 yards away. Their window line wrapped around the building and the premises were well lighted. Wendy's was quite dark.
Sad to see a well established business taking the road to closure. We have stopped at that location many times over 20+ years. Lately the food quality will keep us away.

Hi there,
We purchased out dinner on Wednesday night the 10.04.2013. Together with my meal I ordered a Sprite. When I got home, I noticed that there were ants inside the colddrink.
I find this disgusting and totally unacceptable, needless to say I had to throw the whole cup down the drain.

My name is Gary Messenger. I work in Carborro, NC and eat at the Wendy's on W. Main Street in Carborro. Last Saturday, May 4, 2013 at approximately 3:15 - 3:30 PM (EDT) I walked up to the counter to order a Double Stack, Fries and a medium Coke. There were two employees; a yound balck male and female. It was moderately busy as the two were trying to fill a couple of orders. I was at the counter for maybe 5 minutes and although the employees were working, they found time to talk with each other and a customer that it seemed to me that one of them knew. Whenthe mail emoployee finished with filling the order, he came over to me and said, "I now have time for you." Although he had observed me approach the counter I was not spoken to. Itwould have been nice to have someone say. "I'll be with you in a moment sir" What botherd me was that the two employees spoke to each other , but not to me. Also, their attitude was one of indifference to anything othert than their conversation and what was going on behind the counter. After my order was filled, I spole to the employee, (the male) and told him that I thought his attitude did not make me feel like my business was appreciated nor even wanted. As I fiiled my soft drink and returned to the counter to get my sandwhich I overheard the manager complimenting the employee about how good a job he was doing not even recognizing my concern. This demonstrated his indifference to my concern. As I returned to the counter to pick up my sandwhich, I asked to speak to the manager. He came forward and I told him my name and voiced my concern with how I felt I was treaterd. He did not apologize for I felt and cxomplimented the employee for doing a good job. I sat down and started to eat my sandwhich. While seated, the manager came over to my table and placed the amount of my purchase on the table and told me that I was wrong and keeping his employee happy and motivated was more important than my satisfaction. I said, isn't it important to have the customer motivated enough to return? He replied that, If I was not happy with his resturant and service that I just leave and not return. He'd prefer that I not come back. Thisa was the same manager that I had complimented a couple of weeks earlier for his service and how well the resturant was handled when he was there. I was not loud, I was not abusive in language nor gestures; All I wanted to get across was that I felt that his attention to my presence at the counter was not recognized and what he said to me, "I now have time for you" was quite indifferent and quite insulting. At the present, I have no plans to visit any Wendy's in the future. There are other such resturants that appreciate my business more.

Went to sensual off 820 and camp bowie. Orders a number 6 meat and bread only. Went to pay and had to pull up to wait on my food for 15 minutes! Checked my meat and bread only sandwich to find everything but just meat and bread. Took the food back into wendys and told them I wanted just meat and bread......after very rudely taking the sandwich, not even a minute later I get my sandwich and head to the car. I decide to check my sandwich again........only to find the same results. I once again go back inside and this time have to wait in line. They finally get to me. Once again very rudely taking my food, they return with the correct sandwich.......what happened to Wendy's......

Went into Wendys on Fairgrove Church road Conover NC. Made my purchase and found one table that was half way descent to sit at. As I looked around more than half of the tables were the same way or worse. As it happened a manager came into the dining room and was asking people about the food. When he ask me I told him the chili was good but the dining room was dirty.
He said" hmm the tables are dirty". He turned and headed back toward the counter. I thought for sure someone would start wiping the tables, but none did while I sat and finished my chili. This is not the first time this has happened as a group of my friends and I go to this Wendys almost every Sunday night. It is a very good store but would hate to see it get ruined by neglect of the dining room.

I went to have lunch today at wendys in hopewell va on oaklawn blvd. After i ordered my food a lady that worked there stood on top of the counter where there drink station was, she gets off the counter without so much as to wipe it down, as the girl thst took our order proceeds to make our drinks she sits her hand on the counter right where the lady stood. Then grabs the lidd with the same hand and covers our drinks, i explained to her what i had just observed and without washing her hands wanted to make me another needless to say it was the mgr that stood on the counter and im explaining to her what happened as no response from her i get a refund and the other lady continued takeing orders and still did not wash her hands. Absolutely disgusted.

So a few times I have been to Wendy's I have had horrible experiences. One time I ordered fries and asked for ketchup the lady told me they don't have ketchup and closed the door in the drive thru. Anytime the dru thru manager just threw the bag at me and closed the door. Needless to say, I had to wait and blow my horn just to be presented with an attitude becuase I didn't receive my drink. No apology or anything. So when I got home my sprite tasted like seltzer so I figured I would call them to let them know. They picked up and hung up. So I called the survey number with the complaint. Never heard from them. Then the final time I ordered the gentleman at the first dru thru door that collected my money was very nice and well mannered. This gave me hope. Then the second window and my bubble was popped. They didn't give me napkins or straws and once again slammed the door. I called the number and reported the incident and still no answer. As a large company I feel as though they should really care about feedback. Guess I was wrong.

I work various shifts and usually go through drive-thrus on my way to work, especially for 2nd and 3rd shifts. I find it hard to believe that the employees at Wendy's have such a hard time getting orders correct. I've now begun to sit in the drive-thru and go through my order to make sure it's correct after soooo many wrong orders. It's either a wrong sandwich, the wrong drink, you ask for extra crackers for a large chili and get one (1) pack, sugar packets that are broken open and end up on my lap and in my car, no straws included with my order... it goes on, and on, and on. And what's worse is that it's not the same Wendy's store that's causing the problem --- it's ALL of them. And if you work 3rd shift and go through the drive-thru at 10:30 p.m., you get stale, old hamburgers on your sandwich and the fries are limp and cold. And because of all of my bad experiences, I'm done eating at Wendy's unless they change. I've NEVER gotten a bad order from MacDonald's, Taco Bell, Arby's, or other fast food restaurant as often as I do at Wendy's. It's almost every time I go to Wendy's that there's a problem with my order --- and these aren't large orders... they are for just one person and I just can't figure out why Wendy's staff can't get it right. There have been numerous times that I've caught the mistake before I've left the parking lot, and gone back through the drive-thru line to get it corrected --- which I shouldn't have to do. I don't live in a small town, as a single person I eat out often at fast-food and upscale fine dining restaurants. And all I really want is the correct food order with hot, quality food.
I'm writing to make Wendy's management aware of the problems I've encountered and to let you know that I will no longer be a Wendy's customer until things change. I'm tired of wrong orders and stale meals. I know Dave Thomas would not have wanted his business to be viewed in this manner and hope that things can be corrected soon.
Thank you for your attention to my concerns.
Patti Porter
Columbus Ohio

My son and I had dinner at Wendys in Richland's VA. There were only two customers in line in addition to us. The cashier got the person's order in front of me wrong and then the server handed the lady the wrong item and stated , "Is this fine?" The lady left unhappily with the incorrect item. We waited approximately 15 minutes for our food as there were evidently no baked potatoes ready. When we sat down to eat my Cod filet was without the added cheese I payed extra for and the baked potato was cold. I took the sandwich back and watched them add cheese to the same sandwich and hand it back. I ordered unsweetened Wildberry tea due to doctor ordered diet and was given sweet tea. Let me add that this is not the first time that service at this Wendy's has been poor however we live in a small town and my son likes Wendys so I was willing to overlook it. We left the restaurant and I inadvertently left my purse hanging on the back of my chair. I realize of course as the manager stated when I returned that Wendys is not responsible for items left in their lobby. They are however responsible for the caliber of people they hire to run and work in and represent their company. When I returned I was told by the cashier that a curious couple had returned my purse and she had given it to the manager and he had put it in the safe. When I received my purse a $100 bill was missing! I work full time and am a full time student and mother of three. This money was set aside to pay bills! I was told the general manager could not be reached that she was on vacation. He gave me an 800 number and said he did not know who it was for. He said there were cameras and when he had time he would review the video but otherwise he was sorry he could not help me. The cashier immediately left as she smiled and said ," Have a nice day " I felt hurried out of the restaurant. I left and filed a police report. I suppose I am naive but I grew up in a time when a company cared about the customer. This particular location gone beyond taking away my faith in the honest American hometown restaurant. I will not eat there again and you better believe I will share my experience. I would hope as a corporation Wendys cares enough to investigate the poor service and management of the Richlands VA location!

I just witnessed an employee who was a young African American start calling racial slurs to a white young man in the seating area of the resturant after the white young man wanted to complain to his manager for his behavior to some other people in this resturant. I have noticed in the past few months this Wendy's location going down the tubes.When I have been in there, which hasn't been much lately because of the service, everyone in there is goofing off or sitting around listening to music. I think this is disgraceful and shows a lot about the people working for Wendy's.

went to wendys in keene nh ordered two double stacked meals with no mustard or pickle when got them they were all wrong so took them back to workers up front they said were sorry and would fix so they gave me new burgers.
so i left as we wre traveling home we started to eat them low and behold they wre still wrong with me having a short temper the birds had them for lunch as i was nit going back to deal with them again and have not been back since i eat at fast food 2-3-times aweek guess it will mc ds for me

Hello, My name is Misty. Me and my husband, a friend and our two kids had stopped off to grab a bite to eat, and the closest resturant in our reach was Wendy's we had went to the drive thru window and had ordered two cheese burger delux meals and a chicken sandwhich meal, plus two kid meals of which were their chicken tenders. We were so upset becuase after getting our food we parked to eat it and realized that our orderd had been messed up everything was cold and sloppy, and wasn't what we had orderd we went back to the drive thru and told them about our order being messed up and that we hadn't gotten a reciept in our bag, They talked to their manager and she said there wasn't anything that they could do about it being's we didn't get a reciept. If there is anything at all that you could do to help us resolve this issue it would be greattly appriciated.
Thank you,
Mrs. Misty Johnson

I know an employee who works for the Wendy's franchise within the Western New York area, I recieved a phone call on 12/3/2012 that he/she would be pushed down to a part time employee in order for your Corporation to save money because the company has decided that they do not want to be bothered with covering the employees insurance coverage once Obama Care proceeds to the next step. They decided they wanted to begin early, so by January 1st all employees except for managers would be cut down from what ever they had been working for throughout their employment history to 28 and lower. I find this very unfortunate because with this day and age men and women are searching for opportunities within any company to be able to try to afford rent, groceries, and car insurance on a minimum wage paycheck and now your corporation is helping them to struggle more as if they already are not to begin with. No it is not easy searching for a job, or snapping your fingers to get a brand new car. Just because the CEO's of the company decide they do not want to pay for their employees because they are covered under insurance and they have roof over their head just shows exactly what this corporation cares about. You'd think to have a great business that is successful is that you take care of your employees, i personally work in sales and i make sure that my salesmen and women are happy because if they are not their not going to sell and I'm not going to make money. Besides increasing your prices to an outrageous price for food thats a heart attack waiting to happen was one step closer to me realizing i will never eat at your corporation again, exspecially now with the idea of saving money. I find it disgusting and ignorant. I will tell every person I come into contact with about this, because it is truely unfortionate since you have multiple locations that are bringing money on a daily basis.

The last two visits I have made to the local Wendys in Battle Creek Michigan located on Beckley Road have been less than desirable not just by me but by several other customers and I think it is do to the poor service at the REGISTER... At the busy lunch hour only one register is open creating a very long line and the wait is unacceptable.... I have walked out both times,, as well have seen other customers do the same... If I were the manager It would seem a no brainer to have both registers opened during the busy hours.... I also think that the manager is lacking in the common sense department and you may want reconsider your choice on who is fit to manage this location because clearly she is not it. Just my hummble opinion... but what a joke. Side note I seen one customer after being frustrated from waiting left and went through the drive through and was getting his food before the people that were behind him in line at the register were even close to having there order taken!!!!!!

I had a coupon for $2.00 off a premium salad. I ordered the half size premium salad and told the order taker I had a coupon the lady began arguing with me that a premium salad is a large salad, I said that's not what the coupon says, she kept getting louder then said her computer is programmed to take only coupons for the large premium salad.
From what I understand all salads besides a regular salad are considered premium for example spicy chicken salad, apple pecan, etc. I ordered the large spicy chicken salad but before i could make the order someone else got on the mike and started yelling at me.
I asked for ranch dressing and the lady said it comes with lemon dressing, and that is bull because i order this salad all the time. My other complaint is that when i pay my bill with cash the person handling my money is not wearing gloves and is handling my food.

At about 730 pm last night, I went to Wendy's on Broadway in Cleveland Ohio and purchased some nuggets and a frosty for my son . When I paid for it, they took my card, gave me the food, and I handed my son his food and pulled off without my card. When I returned 2 hours later, people were walking around looking at me acting like i was invisible. I had to knock on the window and blow the horn, 15 minutes later someone came to the window like "oh, are you the girl that left your bank card? " Im convinced he knew exactly who I was from the beginning and wanted me to pull off without my card for the 2nd time. Now I'm paranoid and Im going to change my card because I don't know what your employees were in there doing with my card.

I went to Wendy's in Lauderhill, Florida on Oakland Park Blvd. on January 25 around 10pm. I clearly told the drive thru lady that I wanted a Baja Chilli Salad with no Guacamole and tortilla chips. After receiving my order, I then had to go back. I politely told her that my salad did not have the tomatoes or the cilantro onions that are ALWAYS chopped on topped. She gave me attitude, took my salad and came back with two big tomatoes and onions on top NOT CHOPPED and said "Is that good enough". The nerve of that woman, shes lucky I should have asked for a freaking refund. I'm SO UNSATISFIED!

In the paperwork when we get hired in any fast-food business. They have open availability and as long as you give 2wks notice that you have to change availability it should be good. Peoples lives change and things happen and sometimes its personal. I have been working for Wendy's will be a little over 3 yrs I have had to change availability 2-3 times since ive been here due to family things I work very hard and beyound. And I keep getting hurrased. And they go back from day one when we were hired so ive been working days now for a long time and the GM that hired me I started on nights and she put me on days after about a yr. And I'm not the only one having alot of issues with this Wendy's. In Middleburgh on blanding. And ive contacted corporate and talked to other bosses there and it's like they don't really care. And that's not fair to us employees when we don't have a foot to stand on and everybody won't stand up only some because they are scared of getting fired.

On Friday October 19th of 2012 at 6:25 approximately I stopped at the Wendy's located on Rte 30 an in Chicago heights to order some food for my children an was greeted by a extremely rude employee who was unpleasant from the the ordering to window pick up not responding when I said anything an gave me the wrong total twice after giving a coupon for my children's meals in today's economy the people you hire need to take their job a little more seriously because there's other people out there that I know could do the job much better an to satisfaction I also got the employees name on my receipt in which it was shanice H

I went to Wendy's on Northwest Hwy in Palatine, illinois at 11:30 AM on friday 4/12/2013. i ordered and payed for a plain baked potato with 2 butters and a diet coke. After standing there for 5 minutes, cashier says we do not have any baked potatos. I said could you please refund my money. he then proceeded to take more orders before a got the key to open the drawer to give me my money back. As a customer service person working in that store, why would you be out of baked potatos at the start of lunch and furthermore not know this and make me stand there for 5 minutes before you tell me this??? Poor management and customer service!! i wasted my alotted lunch time and had to go back to work with no lunch.

I went to Wendy yesterday after church and purchased food from the dollar menu to hold us over until dinner. This visit was around 2:30 pm.
My son got a hamburger. Once we arrived home the hamburger had a plastic piece in with the burger. I took the hamburger back immediately. My son has some serious health issues. This could have affected his health.
We took a picture and return the burger back to Wendy. The manager on duty did not apology for the plastic being put in the hamburger. The manager took the sandwich after I show her what I was talking about. I asked for another
sandwich. The manager put the burger in a back and put it under the counter.
This is a manager at wendy representing the business and shows no customer concern at all. I would like to know where do wendy gets these unprofessional manager with no work ethics, or great customer service skills. This should be addressed to every employees about making sure the food is prepared properly.
The other complaint is when the cashier is working on the register and they go and start putting the fries and chickens nuggets in the bag. The workers do not have on gloves. Once, the worker put the food in the container and put the fries or nuggets in the bag they touch the food with their thumb.
Remind you they did not wash theirs hands. Once, they finished with the food they go back and ring up others customers still have not wash their hands. I am sure the Health Department would not take kindly on how the food is being handled by the employees. The store rating number need to changed until all the workers make sure they wash their hands before handling customers food.

I went to wendys that is locate in King of Prussia where I live and I went with my boyfriend and we never had problems before but as of friday 02 -22-2013 I got 2 meals I had got the combomeal of chicken and he got the baconator and we both got fries and drink and our fries were ice cold and our sandwiches were soggy . and we didnt even eat our fries we had to throw them away we didnt relize it until we were on the road . We are very upset with their service as well /. I dont think we will visit there for a while with food like that . I think people in there should pay attention to their workers . Thank You Joy

After watching a commercial on TV for Carolina Classic burger we decided to try one. The comercial showed a nice burger with plenty of chili, slaw and onions oozing from the sides of the bun.
When we opened our order of two Carolina Classic burgers, after going thru the drive-thru and getting home, we looked at the burgers and thought at first we had gotten the wrong order since all we saw from the outside was burger and bun. When we looked under the top of the roll there was about a teaspoon of what looked like slaw, chili and onions all mixed together and AUGUSTnot covering more than half the burger.
I can't believe this kind of misadvertising is Wendy's policy. If Wendy's want to sell this inferior version of Carolina Classic they should only charge 99 cents, which is more than it was worth, instead of around five dollars each, which is what we paid. BUT NOT AGAIN. Long-time-Wendy's customer

I visited the Wendy's in Harper Hospital, Detroit, MI (Tuesday, March 5, 2013 at 6pm). I go to this restaurant because I like and it is very convenient because I work in the hospital. Today I visited Wendy's and receieved the worst service. It took me over 40 minutes (my hold lunchtime) get my order. The staff was playing behind the counter; laughing, playing around and using profanity. My cashier was not friendly at all Then I get my order and return to work to see that I have the wrong order, so now I have no lunch. I wish I had taken the moment to get the names of these employees, but I was so angry. I have never experienced anything like today. It was absolutely a terrible experience.

I work for wendys in Muskegon mi 49442 on Apple for 11 months and through out that time I had work in a very Hostile environment that was create by my boss Tracy at the time who i felt was races i couldn't put my finger on why she treated me the way she did in till the distract manager switched managers with other stores and one day see spoke the N word with BItch.
I knew then what i was dealing with I was talk to crazy and disrespect to the point i would come home and cry about it because i didn't know how to go about reporting anything wendys was my first job and all i could think about was my kids so i stayed to make the money thinkin it would end alot of times i didn't want to come to work because the place was sometimes unworkable and when i did work i was talked about my proformance.
But the hostile enviroment made my proformance go down when finally i talk to crissy she did nothin about it but refered me back to her neice tracy whitch was the general manager at the time but i will make a long story short today i left wendys after a meeting we had regarding another discriminating act i was ready to take my 2wk notes she told me i shouldn't even take a 2wks notes if im going to quite and she didn't allow me to so as im leaving she said to me are u sure by that time i felt so intimidated and my emotions was kickin in.
So i left feelin as if this meetin we just had turn to something else and the blame was put on me she went to pullin out my complaints they had of me reading pointing out everything i have supposely done and that hurt and she talk to me like a child not only have i went through this but others its much to this its unbelievable the things that take place in that store.
I couldn't take it anymore knowing that crissy was discriminating she never saw what her manager did she never really was there so when things was brought forth no one would say anything on my behalf about what was an has been going on so she would take her managers side an honesty since they was family and some what closed they are going to make sure there buts are cover even if they have to lie.
Thanks for this page and allowing me to tell what has been going on.

My cashier's name was Mike and Manager was Devon Johnson, I went to Wendy's 08/16/2013 at 02:01 pm
I asked for our Burgers to be a certain way, told them my son was allergic to the point of death, got to window they were wrong on both of my kid's orders. I told the cashier and he said umm noo.U said no bun I said NO I said No Bun and only let it be Meat, Cheese and Onions he is deathly allergic to condiments and bread. And I went to hand food bag back, he said I cant take it back so it is uselss to us now. I said ok well what do u want me to do with it, he then rudely announced to another employee Oh My God we got a whiner.. She seen I heard and moved out of sight. I said do u want this bag back? Cause I need the order like I asked for it to be. He said No I can't take it back and resell it now can I. I said damn, I just want my food the way I ordered it. He hesistated then said Oh My God get it for her then. And the other burger that was messedup I told him I;d eat it and get his at mc Donalds next door he said well ok then, god bye. I said Id be writting or calling management he said ummm ok.. And turned away and never came back to window.

To whom it may concern,
I have a family member that is employed by Wendy's in Birmingham, AL area code 35223. The General Manager who is running that store is a liar, cheat, and he sleeps with every female employee at that restaurant. He goes around telling lies about people, and it's just not right!! If someone doesn't do what he wants them to do their hours per week suffer!!!. This is an abuse of power, and something needs to be done about it. The majority of people he hire is from work release centers with people who need a second chance. I feel like he hire these kind of people because they are at their lowest, and they need for someone to give them a chance, but I'm pretty sure after working for Cedric, they wish they were back in prison. Rumors are going around that he has a baby with his Assistant General Manager a.k.a Ne-Ne or Me-Me is all I know. This has really gotten to be a problem with this establishment, and it's ashame that the employees are afraid to say something for fear they will lose their job. PLEASE SOMEONE NEEDS TO GO DOWN THERE, AND PUT A STOP TO THIS MAN BECAUSE NOT ONLY DOES IT AFFECT MY FAMILY MEMBER, IT IS AFFECTING HIS FAMILY, AND OTHER FAMILIES ARE BEING DESTROYED BECAUSE THIS POOR PISS OF A GM STARTS SO MUCH MESS AT THIS LOCATION. CUSTOMERS ARE BEING TALKED TO ANY KIND OF WAY, and so are employees. I hope this is just not a place for a person to vent, and hopefully this goes straight to the coporate office and not to the store.

I feel that the GM at HuntingValley has been treating some staff unfairly as well as putting staff members in a hostile and deadly situation on numerous occassions and when District managers get invloved not evaluate the situation as a District Manager. At no given time should any managers put their employees against each other
that can cause bodily injuries or legal problems. I hope that if these manager s get terraind that this wouldn't happen sgsin

Hello,
We just ordered from drive through and a young man took our order. When we drove away, I notices there was no cheesburger in my son's kids meal. We then turn around to go back and ask for the cheeseburger. We were told to go to the second window and when we pulled up, a young woman with blonde hair that was tied up & bangs parted to one side, very quickly tossed/sorta chucked the bag with the cheeseburger. She then shouts thank you and shuts the window in my husband's face, no apology, just rudeness.
My family and I have been avid Wendys customers for over 12 years and I would have hoped for better service... Especially for something where the error was on their part. I hope to hear back as soon as possible and that proper action is carried out. Whatever was done to correct the matter, I'd like to know why exactly was done. Thank you.
Sincerely,
The Larnards

Well I was at the Wendys in Prattville right beside Cracker Barrel on March 16, 2013 everything was going fine. I guess they were changing manager cause a manager came in the front door and at that time an employee that was sitting down got up and commence to loud talk the manager coming in the young lady did not care that customers was in the lobby. She followed the man manager behind the counter using profound language. The way that young lady act if you can call her that made me want to leave. I was very upset that an employee at your restaurant would act like this in front of your customers which left a bad image about your place of business. As the manager walked to the back the young lady followed. I could hear her from the back of the store. Will I can tell you that I will not eat there again. I was so distraught that Sunday when I went to Church I prayed for the gentleman and your place of business. I was so embarassed and terrified for him. I would like to know is he ok. This kind of employee to me you don't need working for you. This put a bad taste in my mouth about your establishment and what kind of people do you'll hire because she would be the one that I would not hire and can run customer away like myself. So I'm letting you know that I will not be coming back to your establishment. God Bless and keep your establishment safe.
Thank You
Ms. Issac

Why is it when u ask for a senior drink, that the cashier doesn't automatically give you a discount. You think she would ask if your a senior and give u the discount. We never get our senior discount we go to Wendy's. and they sure do give you more ice than you need, and not alt of the drink

I have pictures to back this but to me this was horrible. I walked into Wendy's to find water pouring out of the ceiling into three large pans on the ordering counter. Not only was the water in the pans but also all over the counter and the floor, it was also poring out in the dining area as well. When asked what was going on I was told the air conditioner was broken. Now I did order and my food was handed to
Me right over the area leaking, boy do I feel safe. This is a HUGE safety issue and should be shut down until it can be fixed. To dangerous.



Disclaimer: This complaint was submitted by Margaret Anderson on 09/01/2013 at IP address 74.133.120.31 using our Wendy's on 41n Henderson ky complaint form. This opinions contained in this Wendy's on 41n Henderson ky customer review titled, "Water pouring from ceiling on food dispensing area." do not reflect the opinions of this website.

I purchased 2 double Stackers and some fries like i do a lot after work at 12 15 am on Saturday morning on November the 3rd.2012. My Fiance ate the fries and then the burgers and almost immediatly made him very sick to the stomach .The same Day went to Wendys to return the Bag with half a Burger left .The Manager on 2nd Shift named Michael asked me what do you want me to do about it?.Just wanted my Money back ,and a apology wich i never gotten .Guess Wendys will not be my Stop anymore.

Hey my name is Steven I'm actually in the Wendy's parking lot as I type this I just purchased food from the drive threw move around to the tgi Fridays parking lot to eat and as soon as I put my fries into my mouth I noticed a long string of what looks to be Hispanic hair I return to the local Wendy's after taking a picture of the hair which I also kept so when I speak to the manager of the local Wendy's on wake forest rd in Raleigh nc store#1340 Manager Gamel showed no such concern at all he says to me so what u want to me replace it with another burger or something so I'm like (wtf) a burger really so kindly ask for me a refund and I left and now I'm just so deep in thought like what if I ate some hair but didn't notice it and when I drink it feels like something caught up n my throat don't know if I would ever want Wendy's again!!!

I sent a complaint to your web site last Thursday I was told there would be a reply within 48 hours. That DID not happen & I am still mad. The Altoona Iowa location has an employee that was sweeping the dining room wearing gloves & then came to the serving window to take my order, still wearing the dirty gloves. I offered to wait until he took them off & wash his hands but he assured me he was only taking orders. After that, he proceeded to go to the fyer & remove food still wearing the dirty gloves. My entire order was incorrect. All 3 sandwiches had ketchup, even though 1 did not even have ketchup as an option for the sandwich. I paid for a Jr bacon cheeseburger, 2 portabella bacon burgers, 3 large fries & a frostie. The manager at that location is RUDE and very disrespectable to both her staff & the customers. There MUST be sanitation training in any food service establishment & this location fails on many levels. The order had to be remaid 3 times & NOT ONCE did anyone apologize for the errors & the young man never removed the dirty gloves. If you cannot reply to my complaint, I will contact the state of Iowa health department to have this looked into. This type of
sanitation is a HUGE issue that MUST be dealth with.

At 6:32, 12-26-12 I pulled into the drive thru at the local Wendy's. I placed my order (1-#6, no lettuce, no tomato and a small sweet tea). The girl taking the order gave me a total of $13!!! I explained that I only wanted one #6, she audibly sighed over the mic and told me to "Just pull around." Like she was annoyed at having misheard me in the first place!
Then I pull around, she opens the window and says "You did say two, not one." (I did say sweet tea, so I don't know if she heard tea and thought two or what.) She did not give me a new total, she did not smile, nothing, just a snide nasty comment and nothing else. HOW RUDE!!! Customer service does not mean call the customer a liar, pretend that they were in the wrong, and act like you are the queen of all drive thru windows!
She took my money, luckily I order the same thing a lot, so I knew what to hand her, then she tosses my change at my hand and slams the window closed in my face while I am trying to request a receipt and some ketchup. Once upon a time, I worked in the fast food industry doing what this girl does for a living.
I NEVER would have even thought about behaving in the manner that this girl did while at work, especially not in front of or toward a customer!!! I am NOT pleased with this Wendy's branch. I usually go to this location a minimum of 12 times a week, or more, because my schedule does not allow me to eat at home often.
I spend nearly $100 per week at this restaurant and my grandmother and her friends have social time there every other day, and these ladies spend money there also. I WILL NOT BE GOING BACK and tomorrow morning, before grandma heads out for her daily breakfast with the ladies, I will be relaying this experience to her and her friends.
I am going to recommend they go elsewhere from now on, there are other options like the local bakery for breakfast and coffee. Otherwise they will probably be disrespected and belittled too. I expect some action about this persistent problem (not the first time, I was giving her the benefit of the doubt before, no more).

I love Wendy's food on average me, my son and girlfriend eat there two to three times a week but over the last three to four years the employees and managers of the Wendy's restaurant in Connersville, Indiana. 47331 have gone down several times my order has not made right on two occasions specifically I couldn't make it back to the restaurant after going through the drive thru and placing an order I had gotten home before learning my order had not been made correctly I had called and spoke with the manager who had assured me that she would make things right by taking my name and address and then assured me that she would send me a gift card in the mail to my house which I never received recently I've started going back because I missed the food and in this I've gotten cold fries several times a raw hamburger once and had a manager get very hateful with me because I had asked for fresh fries to be made and to make sure my triple baconator was hot the manager got very hateful told me to look at the line behind me and then told me to take my petty complaints and business elsewhere. I would appreciate compensation for the forty dollars in food orders I've had that have been messed up and would also like to see some improvements in the employees at this particular Wendy's location please

We have been coming to this Wendys for the last four years as we go to Honesdale,Pa. to shop. If this store does not change or look into this problem when the boss is away then, he has a very serious on going problem. To start the hamburger was not warm and the french fries were cold and the ketchup large containers two of them were empty...I informed worker but, no one came to fill it until I informed them again. Ten minutes went by and containers were not moved to be filled. Then, they moved them and again I asked for ketchup. Finally they gave two packets. Also, they had no plastic knives available...I had to ask for it since my wife had a salad and she needs it.
They also, had a lot of talking and carrying on in the kitchen and the day manager was part of the gang. This is not or should not be a rap time for them. If these kids want to work then they should get involved and represent you as a professional who will be an asset to your organization and give respect to the owner while he is not present by becoming an asset. It is to your benefit that you look into this. I do not know if you will look into this buy, if you do not then it is your big loss.
The Wendy's stor is located in Honesdale, pa....Store # 000007796....Phone # 570/ 251-9606....#238....We were there....Aug.28,2013....at 16:59pm...We spent $ 20.19....and, come up here at least once a week and eat there. If this is the kind of service we will get then, we will not be back. We eat in every where we travel and at Wendy, and if I do not get an answer from Wendy's we will not eat there again.



Disclaimer: This complaint was submitted by Bill Lundberg on 08/31/2013 at IP address 24.102.183.181 using our Wendy's complaint form. This opinions contained in this Wendy's customer review titled, "Poor Customer Service ? Manager had no control of his workers." do not reflect the opinions of this website.

Stopped at Wendy's #00006725 in NewGlasgow N.S. Sun May 5,2013. 10:24:28 ,
Ordered our favorite burger "the baconator". , we continued on our way back home in antigonish county .When we opened the burger it was dripping with grease , the paper it was wrapper in was covered in grease, the bacon was not fully cooked but we had already eaten half of it before we noticed that that was the reason why it was so greasy . We both felt sick . This is not acceptable service!!

Ordered a double bacon portabella burger combo and that is what I paid for but what I got was a cold burger on a smashed bun and it was a single not a double very dissapoited never had such a horrible buyer.

Late night service is bad at wendy's in Yazoo City, MS. Everytime I go there after 10:00p.m., the fries are either cold or its like they drop them back in the grease they are served very dark. Sometimes the burgers are cold and the nuggets are like they are dropped back in the grease and then served, they are very hard or you can not chew them. I enjoy eating at wendy's but hate wasting money when the food is not hot and or fresh.

Here in payson az i heard a female employee talking to another employee saying she was goung to spit in someone food. when i contacted another employee and complained that that particular employee by the name of melina chambers gets away with everything.. i of course did not eat there after hearing that comment and will not be returning...this is soooo discusting.she needs to be fired

Hello, I am a regular customer at Wendys. Last night I ordered a burger, nuggets, and fries. I took a bite out of my burger and it tasted a little funny. I looked at the burger and it was pink all through it and I was and still am highly upset.
I didn't go back up there because I had made it home and im pregnant and my feet are swollen. I didn't have a receipt in the bag but I know the location and the time I went. I wanted a refund because the meat was not cooked all the way. I know there should be something you all can do to try to make this right. I do not live in the city this occurred.

Every time I go to Wendy's I have a bad experience! I won't rehash them all but today, I ordered a meal that was almost $8.00! I took the drink off & it was $7.00! Everything is a-la-cart! Then after paying $7.00 for small fries & a cheese burger, the fries were not hot & they were burned as well as they were cut from the ends of the burger! Pitiful! I NEVER get a fresh, good, low cost meal @ Wendy's! The people that work there do not care! They are so use to giving bad service because they are friends of the manager & don't speak English so it don't matter what they do the manager will protect them! I will NEVER go there again!

I am sick of your staff. I'm even more sick of filing complaints. How unprofessional is your staff if they cant open the window and ask me to pull back to the first window. Instead she knocks on the window with a disgusting look on her face and points.Granted I dont know how bad her menstrual cycle must be today but she can be descent. I damn sure wont spend a dime with you. I'll stick to Yum Brands.

Wendy's is supposed to be a fast food restaurant. I work in Greentree, PA and try to go to the Wendy's on Noblestown Road for lunch. Had to leave numerous times due to long long lines due to slow service. I only get a 1/2 hour for lunch and it is impossible to go here. They only have one person running the register during prime lunch hours which is ridiculous. When we question the employees, they always make an excuse that someone called off, etc. but it is not the truth. It is like this all the time during lunch hours. This particular store needs extra help during the peak lunch hours and has to have two registers open. There are constantly people leaving due to the long lines. I would enjoy going here for lunch but the service has made it impossible.

I went to Wendy's in hogansville ga. Was my first time their. On vacation with my family. The people act like they don't want to make your food. The bun was hard and the meat was dry. I was under the impression that fast food was what that it didn't take 20 mins to get your food. I will never go their again. And hope that soon Wendy's will be somewhat as good as the rest. Hope that this email will let whoever know that when a person pays that much for a sandwich they want it to be fresh and good. The only thing good that we saw was the cashier was very pleasant and apologetic for her coworkers. Many times before I have traveled through Georgia and went to your restaurant once and was so disappointed in the outcome. Hope you get it together soon for business sake.

While my wife and I were in Shreveport,La. we stopped at the Wendy's at 6710 Pine Road to have lunch. We have always enjoyed the food at Wendy's and we have received good service when we ate at Wendy's until now!!!! The person taking our order was rude and apparenrly preoccupied with other things and we had to repeat our order several times before she finally entered our order. She would start the order then turn and start talking with another person.
They were out of tomatoes, ketchup and napkins just to mention a few things and the restaurant was filthy. The vanila milk shake I ordered was apparently made with sour milk and it had something brown in it. I took one slip and I wanted to vomit. Some serious house cleaning needs to be done at your Wendy's Restaurant on Pine Road in Shreveport, LA.

My Wife purchased food from Wendy's on 02/14/2013 at 12:05 AM at the 4201 13th street St. Cloud, FL. store. The Coke had no flavor, the bun was stale and the fries where soggy and old. I did call the store my Wife purchased the food at but got no answer so I called the 1-888-624-8140 number. I was told I would hear from someone from Wendy's as soon as possible 24 to 48 hours and to date have not received a call as of yet. I hope to hear from you soon.

store number #00003392 Starla Jones general manager. over the last 3 months i have ate here at least 20 times i enjoy wendys food or should say i used to. Every time i order a baconator never paid too much attention to the sandwich, a friend worked there and told me that the GM was telling all the crew that they were only allowed to put 3 strips of bacon on the baconator which is suppose to get 6.... this is disturbing so over the last 3 months and 20 sandwiches later i have been purposely shorted 60 strips of bacon. when i call the phone number to the store to complain 423-562-1601 the number on the recepit no answer called 5 times just ring or busy signal. I hope someone can fix this problem i will not eat at a restaurant that knowingly rips off their loyal customers. someone please contact me about this issue my phone number is 4239122238

This is the second time I've visited Wendy's on Hwy 5 in Woodstock, GA and received awful service. The first time I had to wait for my food for 30 minutes, for fast food. This time I order an Asiago ranch and chicken club spicy large combo paid $8.43 not even sure if that's the right price. What I got was a chicken sandwich with a hand full of lettuce and mayonnaise with half undone French fries and the other half way over done. Something really needs to be done so this doesn't happen to other people and I won't be eating there again this is ridiculous.

I ate at the Wendy's store #9777 in Magna, UT on the 17th of March, 2013. The girl waiting on me kept coughing into her sleeve while taking my order. My large fries were cold and I ordered replacement which never came.
I told the girl that waited on me that both ketchup tubs were empty and during my 20 mins in the store the tubs were not filled. When I asked for the manager to address the problem with my service, they had to call a person from the back that spoke English to translate.
Trash bins were full and overall condition of seating area was dirty.

dennis roberson
from St Louis, MO
Visited Wendy's Restaurant #8264 located at 1951 W. Eldorado Parkway in McKinney, Tx at 7:00 pm on 3/10/2018. I found the door to the restaurant locked with a sign saying they were providing drive thru service only. This has happened several times at this location in the past. The signs on the door state the hours the interior sit down portion of the restaurant is open, however, local management seems to believe they have the option to just pick and choose when to serve their patrons. I went thru the drive thru and ordered my food at 7:08 pm. There was only one car in front of me and they received their order within a minute or so. I did not receive my order until 7:19 pm. While waiting on my hamburger and fries I watched and listened to the staff having a gay old time inside cutting up and not taking care of their patrons. While I do no expect this complaint to gather much interest from the company I still wanted to put in my 2 cents in regard to the poor service at this location.

Chris Hobbs
from Plano, TX
Hello,
Unfortunately I do have a complaint.
I do not usually have bad service at Wendy's. But, tonight's service was awful.
I was just at your store #6306 in Cary, NC
I went through the drive through since this was for my 30 minute lunch break. There were multiple cars in line when I pulled up.
The car in front of me apparently, (from the conversation I hear when I finally got to the window) had a large order.
They pulled away without their full order.
Before I got up to the window, the vehicle behind me left without getting their order.
I would have left, but, I had someone else waiting for me to bring food back.
The team member that was at the window said they were short staffed tonight, but did not really offer an apology.
Even after getting to the window, I had to wait several minutes to get my 3 sandwiches.
I was late getting back to my office from my lunch break, so, I'll have 'demerits' for that.
And my order was nearly completely wrong.
I ordered 1- crispy chicken sandwich, & 2- Jr. bacon cheese burgers. And the team member confirmed my order.
I received 2- crispy chicken sandwiches & 1- cheese burger.
I also did not get a receipt for my order.
I don't have the transaction # yet, my bank shows that it is still processing.
The date is 3/10/2018, the transaction time would be around 6:45-6:55PM. & the amount is $5.49.
In Total, I was there approximately 25 minutes.
Although I'll still eat at Wendy's on occasion, I'll NOT be back to THAT Wendy's
Thank You,
Chris

Susan Bressman
from Kansas City, KS
I take care of a lady in her home and she insists on only Wendy's hamburgers. On the average I'm at the store @ 3647 State Ave KCK, store #00002183. I went in yesterday to purchase JUST the sandwich which should of come to much less than the $10+ I was charged. The young man must of not heard me when I ordered so when I received my order I told him I only wanted the sandwich and pushed the clean cup back to him. He grabbed the fries out of the bag and wouldn't return to refund any extra money I was charged, actually not even a "I'm sorry". The phone number on the ticket is another interesting thing, you call and after many rings you receive a message telling you to put in your access number. Excuse me? Not being able to resolve the issue I returned today and after explaining what happened and I was not asking for any money back but just an apology. It didn't happen so from now on when the lady wants Wendy's I am forced to drive about 5 miles or more because I never plan on entering that store ever again. The other option I am seriously thinking about is to save used wrappers and go to McDonald's and rewrap them. So disappointed in what used to be great service. Thank You and Good Bye Wendy's

Kelley Turner
from Memphis, TN
I was at your location at 749 Highland Memphis TN. around 7:15p on February 23rd.I ordered a simple 4 for 4 double stack W/O mayo and ketchup Dr Pepper for the drink. Waited in line about 10 minutes so I just knew everything would be HOT. But that's what I get for assuming .Put whole order in trash went to McDonald's.

Jerry
from Clearwater, FL
I visit Wendy's store #174 most Friday nights. Every time they always hold back the receipt, and there's always something missing from my order. I can't stop to check every item, because I don't want to keep back anyone in the line. I think they need new supervision there, and all customer should have their receipt.

Sharon Biederman
from Fenton, MI
Awful service!
We waited 10 minutes, then waited 20 minutes to get food.
Awful
Awful
Awful

Brenda
from Goldsboro, NC
We went to the Wendy's in Goldsboro , NC on Berkley Blvd to eat lunch today 02/17/2018! The store was freezing cold! Everyone was complaining and no one gave a reason why their store was so cold! The cold air was blowing inside while we ate our meals! They didn't even turn the fan off!

David Phillips
from Atlanta, GA
Wendy's in Manning S.C I. took my money back after they made me wait 20 minutes to fix my order today and they didn't fix it. When I walked back in they had forgotten. Miles down the road today I thought I would give them another shot at the store on 211 US hwy 17 843-784-3626.....same thing! At least you are consistent as company! Good Bye.

Complaint is pertinent to your Starboard Group Paoli 103 store. Food has been marginal and service has been up and down for 15 years... to the extent we don't patronize the store other than for soft drinks or, because it's near our home, when in a hurry. Tonight my wife received not only indifferent, slow and ill-humored service, she also received an order that was not at all what she ordered. Having brought it home and discovering the order error, she returned and had it replaced. A mere modicum of attention on the part of employees would have avoided the error(s).
As indicated, we don't expect much in terms of food quality. It would be helpful, however, if the employees provided at least some glimmer of interest in their work and were less surly. We don't intend to return but will be sure to share our experience with neighbors and friends.

Farrowarthur
from Lachine, QC
Since the peel st store closed maybe one could be opened on the lot on st Jacques street near cavendish Montreal I am closer than the decarie address there is a big grocery store on the lot Do miss the chilli con carne

Kathryn Dille
from McConnelsville, OH
Your commercials about your fish sandwiches state that they are crunchy. Well, I have heard so much about your fish sandwiches, I decided to try one today. I went into the Wendy's on Greene Street at Marietta, Ohio. It was not hot and it certainly wasn't crunchy. It was just like the McDonald's, which I don't like, only a little bigger. I didn't know what the big deal was about. I have gotten much better fish at Arby's.

Barbara Shepherd
from Auburndale, FL
we visited Wendys in Branenton Florida on February 7, 2018 at 15420 Manatee Avenue around 2:00 p.m.,, terrible experience, people standing waiting for their order for quite sometime, employees noisy, didnt seem to be in a hurry to get orders out, only about 3 or 4 tables had customers but most of the empty tables had crumbs or water rings on them, and music so loud we could hardly talk. We figured they had a very poor manager or he was gone for the afternoon. Went to womens restroom and there was no toilet paper in the room. This place needs attention !

Wilma Marino
from Dallas, TX
My friend & I, went to Wendy's at DFW airport on 2/10/18. [Gate 34 (Spirit)]. Had a cheeseburger combo. Ate at 3:00 p.m. & by midnight we were throwing up pickles, etc. Have been sick ever since. Today is 2/15/18. Please advise ALL of your restaurants to use thermometers before serving any burgers to customers. Food Poisoning isn't attractive. Will never eat at Wendy's, AGAIN. Would like to know if any others have reported getting sick. Will not be contacting CDC. (FYI)

Kathy Garmon
from Goodlettsville, TN
Ordered 4/$4 meal today, February 14. I was asked "do you want any sauce"? Yes, sriracha please I said. BBQ, I was asked? No, sriracha please. Okay, $4.37 - pulled forward. Fast service at the drive thru window, BUT when I got back to work, I had NO sauce, NO napkins, NO straw. Someone needs to watch to be sure the orders are not only correct, but that everything the customer asks for and expects as standard is there. Thank you.

Richard Martinski
from Columbus, OH
I really think Wendy's is in decline. They get worse with each visit.
Stopped in this evening, stood at counter 5 minutes before being recognized, Ordered caesar salads to go....out of caesar dressing. Dining room a mess. Paper on floor, tables dirty. Checked restroom, have seen better restrooms at gas stations. Counter person barely spoke english, no smile. Handed me the bags, no thank you,,no goodbye. I suggest closing this one and starting over!

Daryl T Moore
from Orangeburg, SC
food was terrible..not fresh...Wendys restaurant #00003099 on 02/13/2018 2:36 pm ..I ordered at the drive thru...after a long wait when I made a order..finally..food received drove off went three blocks to eat..i had ordered 2 jbc 1 nuggets 6 piece and 1 chilli...when I unwrapped my jbc the whole burger was different than I usually get there..the burger look like it had been put in a microwave...bun was not fresh the lettuce was all soggy and it was slopply put togrther very disspointing ..also the chilli was not fresh been made for awhile..tasted terrible...the tv adds need to be changed to not fresh ..this is my first really bad experience at wendys....spent 8.79..dollors...and got really bad food...hope some one will check into this store..Remember people who go thru the drive thru expect there food to be fresh also... thanks DT

Barbara Riley
from Port Huron, MI
I live in Port Huron, MI, I go to your Wendy's on Hancock Street all the time and never had a complaint until yesterday. Port Huron is covered in ice and snow right now, there is a bowling ally right next door to Wendy's. Apparently, Monday night is bowling night, I left work to pick up my and my co-worker's dinner and there was not one parking place, after driving around for 10 minutes I made my own parking place almost a block away. Now I am 60 years old, and have bad knees, I had to walk almost a block on a river of ice to get to the restraunt...and the place was empty except for one other customer. The bowling ally customers were taking up every available spot in the Wendy's parking lot. Isn't there something you can do about this? I said something about this to the girl at the counter...and she just laughed! All you have to do to check this out is go to that store at 6:00 pm, on any Monday night. I do not want to slip and fall, it is a dangerous situation, and also time consuming and frustrating, please help, we love your Wendy's.

Laima Gammon
from Houston, TX
Wendys cyfair in cypress tx specifically wendy's tx in general. I wanted to go thru the drive up window but the monitor to pla...ce an order was not on.. I did notice that a customer ahead of me gave up waiting and drove off. tisk tisk. I pulled up to the pickup window and asked if they were open. indeed they were but were changing shifts and could not service a customer. All inside communications between employees was in Spanish.
I have to tell you that when I go inside the store the employees are talking in spanish makes me feel like I am in Mexico not the US
This is America! We speak English!

merle tyler
from Summit, NJ
i went to roselle nj wendys today 2/12/18 at 2pm food was cold i asked for different fries they were not hot neither were my chicken nuggets i have eaten there before but this never happened disgusting not hot food who gives someone more cold fries merle tyler 255 tucker ave apt 109 union nj 07083 908 967 1865 i want a refund

HEAVON PINION
from Saint Joseph, MO
I NEED TO KNOW HOW TO GO ABOUT GETTING A COPY OF MY W2 SINCE I HAVE MOVED SINCE THEN. THERE IS NO EMAIL TO CONTACT ANYONE SO I GUESS THIS IS HOW I HAVE TO COMMUNICATE/ I HAVE CALLED THE WENDYS THAT I WORKED AT IN SAINT JOSEPH MISSOURI BUT EITHER MANAGER ISNT AVAILABLE OR NO ONE ANSWERS.

Michael
from West Grove, PA
That so call taco salad no sorry it was disgusting get rid of it sorry I spent my money favorite fast food place taco salad disgusting wish I could get my money back

Kathleen Tindal
from Augusta, GA
Went through the drive threw ,only ordered a large taco salad,they were not busy at this time,so was only the third car in line,waited too long (in my opinion)at the drive thru ,first thing wrong but I was totally craving this,anyway got home they had forgot the taco chips ,so this aggravated me strike too,I did not get my receipt or I would have just called so I went back up to Wendy's and took my whole bag (order with me)I went inside and waited again there was No One in the inside at all and still had to wait !!! Finally when the girl at the counter came to wait on me I told her what happened (no chips) and she just put some in the bag and said "here ya go" and walked off !! This was the second time that my order has been wrong lately !!!!!!I I work retail and and am not usually one to fuss because I understand anyone can have off days,but this is 2 out of 2 times lately ,sooooo i think they need to really STEP UP, a very,very disappointed customer

MTurley
from Zephyrhills, FL
VERY GOOD FOOD AT WESLEY CHAPEL FL LOCATION
UNFORTUNATLEY THE CASHIER AND ANOTHER GAL WORKING WERE VERY RUDE AS I NEVER EXPERIENCED BEFORE AT THIS LOCATION ON ELIAND BLVD. THEY ACTED AS IF CUSTOMERS WERE IN THEIR WAY AT SERVING PEOPLE AND ARGUED W/ EACH OTHER BEHIND THE COUNTER. THIS IS MY WORST EVER EXPEREINCE AT ANY WENDYS I HAVE EVER BEEN TO IN MY LIFE. WE DINED IN THERE AROUND 6:15 PM ON 2/8/2018. I HAVE ALWAYS BEEN A FAN OF WENDYS UNTIL THIS HORRIBLE EXPEREINCE W/ RUDE WORKERS.

Shirley Stokes
from Atlanta, GA
Slippery floors when raining please put rugs down not trying to complain but this is for your benefit also

James Heisler
from Chagrin Falls, OH
We tried have lunch ( wendy s, rt 18 and rt71 mendina ohio today sat 2/ 3/18. The 1st chicken sandwitch i got was cold. The " general manager" made me " a rushed 2nd sandwich " it was horrible under cooked chicken raw bacon. Had to return chili because it was luke warm . The kitchen was filthy ( i took pics) so was the eating area. Tge gen manager said he was understaffed. I contacted the board of health filed a complaint, forwarded pics of fith. Discusting james heisler 3307189661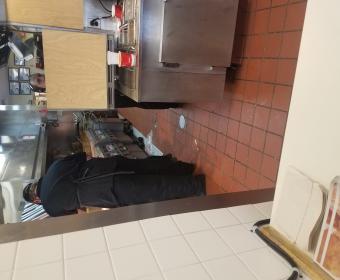 marshall bricker
from Sarasota, FL
On 12/07/17 I brought home an order from Wendy's store #3283 and one of the burgers was just a bun with no meat. My wife called, talked to Janet, and was told the order would be replaced. When I returned to have the order replaced I was told by Janet that she couldn't help me and that I should have come back within one week. Had I known the time limits I would have complied.The total was $13.44.Can you make this right?
Thanks very much,
Marshall Bricker

Sue Crapse
from Orangeburg, SC
The Wendy's on John C Calhoun Drive in Orangeburg SC needs new management. A couple months ago I went inside to order and had to walk through water to get to register and had to stand in water to place order. Two weeks later, I went back again there was still water on the floor. It looked like it was coming down the hallway to the front, maybe from the bathroom. Today I go to Wendy's drive up line. When I got in line there were two cars in front of me. It took 30 minutes of my hour lunch to order and get my food. They would only take one order and wait to fill that order before they would take another order. I love Wendy's food but if this doesn't get any better, I will not go back!

Anne Maselko
from Troy, NY
Have been getting your chili for years, it's been great. The last four times I've gotten the chili it has been very oily and the flavor very unpleasant, I kept hoping these were random incidents but they were persistent. I drive out of my way to stop because I also like your salads, just wanted you to know that the quality of the meat you are using is inferior and also since you are now charging more for a smaller amount of chili I will not be stopping by as frequently if at all. Sorry to have lost something that was a great product for so long . I used the Clifton Park ,NY Wendy's the service is very nice there and the store is always clean, so my only complaint is the chili and the quantity.

Cheryl Y. DeJonge
from Grand Rapids, MI
I ordered a Junior Bacon Cheeseburger with out tomato, I am alergic to tomatos along with a Bacon Cheese Potato. I received a Jr.BC with tomato. I tried to call the store to report the mistake and could never get an snswer. Restaurant #00008325. They don't answer their phones at 8:00 at night? I could have gotten sick if I ate this burger. order number 3340. on 2/1/2018 at 6:45 pm

Mary L. McDonald
from Frankfort, KY
A coworker of mine had been sick at work due to not eating, my favorite restaurant used to be Wendy's up until this incident which has been the third incident with them I have had, I didn't complain because I know things happen. This time, as I stated I went to buy lunch for a co worker and myself...I blame myself the firt time because I didn't look at my order before I left, but when I got back to the office and handed my coworker her food, I was humiliated at the look of the chicken strips they have given me! The strips were burnt. I attempted to contact the restaurant (#00000798) three times by phone and each time the call went to the answering machine service, which wanted me to enter a passcode to get into the answering machine. So I left work and went to the store to get some more strips...I went up to the counter where I was overlooked and ignored for at least minutes, until I said something to them. The manager told me she'd drop me a new batch and it would be ready in six minutes, six minutes came and went, again I go up to the counter, and she slides me a bag of nuggets as if I done something wrong, by asking for better strips. I looked in the bag this time before leaving where I saw nuggets in the same conditions as before. When I questioned her she said the strips are always dark. I've ordered chicken strips from Wendy's a thousand times and never have they been that dark. They weren't just dark, but they smelled of burnt grease
As I stated before this really saddens me, I not only embarrassed and upset, but I was a little hurt because all my coworkers know how much I love Wendy's in fact they bought me Wendy's gift cards for Christmas. They been telling me that Chick Fila was better but I stood by Wendy's
Below is the pictures I took of both sets of chicken strips which both look the same. One star was way too high to give them for the service and food that I got today!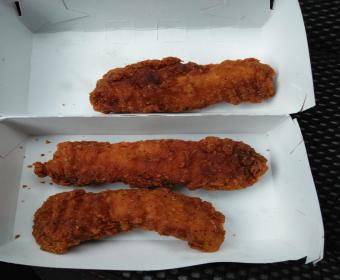 dennis dionne
from Meriden, CT
I went to wendys today for lunch worst meal I ever had !! buger came out a draw not the grill !! it was cold ! fries freezer burnt ! 8 bucks in change came back to work and puked ! never ever again commercial lies !!

John barkdull
from Philadelphia, PA
I purchased a med vanilla shake earlier. It tastes funny. Like Cinnamon and butter. Like licking Cinnamon toast. I know it is not suppose to taste like this, and all your offices I called are disrespectful. All I wanted to know was can I eat it. Sometimes ingredients are changed and stuff tastes different. But after my experience trying to find out. I don't think I trust the people working for you.

Lizabeth Dill
from Odessa, TX
I went to Wendy on JBS and University in Odessa Texas not sure store number i do apologize. I placed an order for the 4 for 4 and upgraded drink and fries to a large and a mini chocolate frosty. I did go through the drive through at around 745 pm.. When i approached the window the lady stated my total was 10.01 which Im thinking is a bit high for what I ordered but she would not hand me my food til i gave her the money. Than I never receive a receipt so I am still not sure the cost of my meal even at this point in time. The lady stated she charged me for a medium frosty but still gave me a small and was very confused at this point in time. When i got home to eat my food, it was cold. My nuggets felt like they just came out of the refrigerator and my fries tasted old. I usually go to Wendy because its higher quality than McDonald or burger king usually, Tonight i wish i had gone else where. I also had to ask for all the sauces and they just threw them at me, never received a straw for my drink. I am usually not one to complain because i have worked the food business in the past and know how things can get crazy, but this was the worse service I had ever had and felt like they threw my food at me and just wanted me gone. I feel like they stole money from me and didn't even care. Thank you hearing me out on my experience tonight. and I will definitely think twice for now on about choosing Wendy as my option to eat at.
Sincerely
Current Customers of Wendy

Either never get our orders right or "fresh" is not very fresh at all. I have worked fast food plenty of times and it's obvious our burgers have been cooked ahead of time and then just thrown on a grill to warm up. Burers wereBurnt... and nuggets were chewy to say the least..... Very disappointed!

Judy Palma
from Woodbridge, NJ
I've previously written a complaint concerning this storeabout a year ago (convery blvd. Perth Amboy NJ) but decided to give it another chance. I had just been discharged from the hospital and really wanted a Dave's single with french fries and a side of cheese sauce with unsweetened iced tea. My husband wanted a spicy chicken sandwich. Upon walking in the store your feet stuck to the floor. It wasn't a busy time (there was one person in the store) and definitely not pleasant having your feet stick to the floor. Our food was ordered to go and when we got home my husbands spicy chicken sandwich had literally nothing on the bread and the chicken was ice cold. My Dave's single must have been sitting out for over a few hours the french fries were old and cold and unfortunately my unsweetened iced tea was sweetened. It's very disappointing to go into a Wendy's where apparently no one cares about the cleanliness of the store and no one takes pride in their work. I will not give this Wendy's any more chances . I might try to find another Wendy's near me but unfortunately I believe that I'll be going to one of your competitors which is a shame because I have always loved Wendy's. I truly hope that something can be done about this store or Wendy's will continue losing more and more customers as a result of the lack of care concerning this one.

James Morris
from Morehead City, NC
On Monday, Jan. 29th at about 5 PM at the Wendy's restaurant in Swansboro N C, I was walking from the parking lot to an entrance. At the take-out driveway, which you have to cross I bent over to pick up a coin that was on the ground. The manager shouted "Get out of the driving lane"! It seems to me a manager would welcome customers rather than yell at them. A solution might be to close that entrance so customers wouldn't have to cross the take-out driveway to get to the parking lot. Sincerely, jimboat123@yahoo.com

Millie Rigby
from Butte, MT
What happened to the Wendy's in Butte Mt? It used to be the best fast food place to eat. Lately it is the worst. A couple of weeks ago we were there and the place was filthy dirty. It was 4:00 in the afternoon and every table in the building was dirty. The two people were screaming at each other behind the counter. Today we went there the food was horrible. Everything was cold, the meat on the burgers was so dry and disgusting. It has gone down hill so bad. Today was my last try at it. Not going back. I don't know what happened but it sure needs to be fixed. DISGUSTING!

Michael
from The Bronx, NY
The French fries were cold, the burger and bacon were over cooked and the building was cold.

Gene Zande
from Bellingham, WA
Wendy's has always been my favorite. Last 3 visits, each at different locations, have been incredibly disappointing so I'm considering Burger King as my new daily lunch spot. Most recently in Everett, WA ordered 2 singles stating "all I want on them is mayo, pickle and mustard." When I got them they had cheese. I brought them back and repeated my quote above. Wendy's personnel rudely stated "You have to tell us you don't want cheese." Gee, thought I did that. Prior visit in Arlington, WA I ordered Chicken Nuggets. They were not even warm, let alone hot. They were absolutely cold. Tried to return them and was told "that's the best we can do." Interestingly enough, neither place gave me a receipt. Your burgers were always my favorites. Now they're smaller and something has happened to the taste...they are not nearly as flavorable. Too bad, you had a good thing going.
Sorry to be an ex-customer. I'm crushed.
Gene

Candy Smith
from Hickory, NC
My husband and I stop at Wendy's in Wilksboro NC .they was not friendly, the food was nasty it tasted old .the drink machine was nassty like it was never cleaned .we like going to Wendy's a lot but that time was a bad one. Thank you

Teresa Williams
from Cullman, AL
My son has anxiety and other mental issues.He was hired at Wendy's in Cullman Alabama the goodhope location.He was hired to work grill and sandwiches .They started forcing him to work register and his nerves would be bad and he would walk out .He told them and I have it in my messenger were Wilma said everyone had to run register.He tried and couldn't deal with it then came home sick to his stomach .The day on his schedule to go back he found out he was fired.He has friends there that have never run the register .They were going to get Robin to hire him back but Wilma said no he wouldn't get a job back .I think he should sue but he just wants his job.This is discrimination.Just because he has been to mental health and has problems.When he was hired he watched 2 hours of video and put on the grill.His friends had a week of training .They told him bring home the videos to watch .Robin is the store manager now but Wilma is a district manager .It's a big mess down there .

William Guerrero
from Reno, NV
I really can do without the attitude. Wendys drive through order #3238 1/18/18 255pm 4997 Longley LN #6 Reno, NV 89502. Ordered a #1 medium with a diet and a #4 medium with a diet... got one small one medium. Okay, no big deal. When I made the guy aware at the pick up window he told me, "Well, that's what you ordered" and when I stated that is not what I ordered I was spoken to in a condescending manner, "Well that why we tell you to check the screen!" I was already driving away when that was asked. Contradicting the customer and giving them attitude when the customer has made you aware of an issue is not acceptable. When you have an opportunity to offer a simple solution and instead make the choice to blame the customer and give them attitude you are in the wrong line of work and should not be dealing with the public. I was a fast food manager and I would term my employee on the spot for this kind of behavior. They didn't even offer to fix it... REALLY?! So I just drove off and will probably not be back. VERY UNHAPPY!

Angelena robinson
from Montgomery, AL
I want to ler you know that wendys in lee county has very bad. Customer service u have to sit in drive tru for 20 for a salad also the cashiers are very young an unprofessional.they are running your customers off

Gailorenberg@yahoo.com
from Randolph, MA
I just left the Randolph store with my granddaughters where the manager and one of the employees where fighting and throwing things at each other my granddaughters got so scared they asked me if we can leave the manager was very red in the face and this employee started throwing things at her I tell you I have never experienced anything like this I will be getting in touch with the Corp office on this matter
Thank you
Mrs. orenberg
6 holly lane
Randolph, mass 02368

Ruth oneill
from Chicago, IL
I went to the wendys at 6324 n western at 130pm on Saturday 12/16/17 and did not walk out with my order until. 156pm. All i ordered was a grilled chicken wrap and 2 side salads. It seemed like today was the young mans first day that was pushing out the orders. He didnt know where anything was ie: salads.. The dressing or how to make a hot tea. He was just walking back and forth very lost. And i can tell he was on his phone. His ear piece was in his ear thru his uniform shirt and he was talking. Very low but was definitly talking . there was 15 people waiting for there food. Now 5 of them received there food before me. Again all i ordered was 2 side salads and a grilled chicken wrap. Now i am 3 minutes away from that wendys location and when i finally got my food and back to the office my grilled chicen wrap had regular yellow mustard on it instead of the honey mustard on it. I did not take it back. I scraped as much mustard off of it and ate it. Now while i was waiting i can tell you that there where people complaining that the pop on both machines were empty and there was no one to take care of it. The customers had to ask the guy that doesnt know what he is doing if he can fill there cups up for them behind the counter and he didnt know what to say. The lobby was a mess as well. I do understand being short handed and being busy but i have never had an experience like this one.

Donald Lascelle
from St. Catharines, ON
Location store #00006346 on Lake Street St Catharines, Ontario
I attempted to hand in my survey, number 96144, " A sandwiich for your thoughts" this evening with Jessica at the drive through window (5:20pm December 15th). I was informed that I required to pay for the full price of 2 sandwichs. She then said she would have to check with her manager. The manager confirmed the total which would be the full price of 2 sandwichs.
I have been to this location several times during this month, and have never been treated so awfull as this time this evening.
I was rudely refused the offer, and left with requesting the server's name as well as my coupon which I still have. The wait time in the drive through was over 15 minutes.
I don't run my own business this way but I can assure you,..I wont be attending this location or any other Wendy's location in the future as well as my employees.
Donald Lascelle
If you care to hear from me personally,..feel fre to call 905-646-1151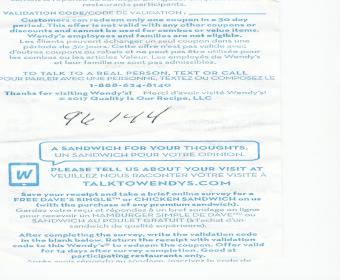 Stephen chu
from Tampa, FL
I have visited the Wendy's location on 18957 fl-54, Lutz fl 33558. There has been a few times where an employee there has just made it very uncomfortable to visit. He wears his hat backwards with his name tag on his hat. That isn't a huge issue. The problem I have with him is his attitude. The first time I went he was upset about something and I overheard him say if someone else says anything to me again word to my grandma I am going to bitch slap them. I had my 6 year old son with me at the time and he heard that as well. Last night I went with my kids and that same employee was working again. This time preparing food. He turned to someone in the drivethru and asked if they were waiting on a sandwich and when they didn't answer fast enough he threw it in the air and it would have landed in the garbage if another employee hadn't caught it. As I am watching this happen he turns to me and just stares at me as if he wanted to fight or if I had a problem with what he did. I love going to Wendy's and my kids love going there as well. This location is very close to where I live and I am happy that I can have that as my 1st choice when deciding when to eat out. However I do not feel that I should have to be uncomfortable when I go to that location because of 1 employee and his attitude problem. Especially the language used in front of my son. I wish I would have gotten his name because his attitude needs to be addressed.

Steve Morris
from Manning, SC
I have been to Wendy's many times in Florence SC & Sumter SC. It is the slowest drive through service I have ever experienced. I order a frosty and by the time I am through it is a cup of milk. It is the same at every one I go to every time I go. Hey wake up, McDonald's is taking your business.
Have feedback for Wendy's?
Thanks for your feedback!
Sorry. Please try again later!