Wendy's
Wendy's Complaints Continued... (Page 3)
542+ reviews added so far. Upset? Call Wendy's corporate: 614-764-3100

Angelena robinson
from Montgomery, AL
I want to ler you know that wendys in lee county has very bad. Customer service u have to sit in drive tru for 20 for a salad also the cashiers are very young an unprofessional.they are running your customers off

Gailorenberg@yahoo.com
from Randolph, MA
I just left the Randolph store with my granddaughters where the manager and one of the employees where fighting and throwing things at each other my granddaughters got so scared they asked me if we can leave the manager was very red in the face and this employee started throwing things at her I tell you I have never experienced anything like this I will be getting in touch with the Corp office on this matter
Thank you
Mrs. orenberg
6 holly lane
Randolph, mass 02368

Ruth oneill
from Chicago, IL
I went to the wendys at 6324 n western at 130pm on Saturday 12/16/17 and did not walk out with my order until. 156pm. All i ordered was a grilled chicken wrap and 2 side salads. It seemed like today was the young mans first day that was pushing out the orders. He didnt know where anything was ie: salads.. The dressing or how to make a hot tea. He was just walking back and forth very lost. And i can tell he was on his phone. His ear piece was in his ear thru his uniform shirt and he was talking. Very low but was definitly talking . there was 15 people waiting for there food. Now 5 of them received there food before me. Again all i ordered was 2 side salads and a grilled chicken wrap. Now i am 3 minutes away from that wendys location and when i finally got my food and back to the office my grilled chicen wrap had regular yellow mustard on it instead of the honey mustard on it. I did not take it back. I scraped as much mustard off of it and ate it. Now while i was waiting i can tell you that there where people complaining that the pop on both machines were empty and there was no one to take care of it. The customers had to ask the guy that doesnt know what he is doing if he can fill there cups up for them behind the counter and he didnt know what to say. The lobby was a mess as well. I do understand being short handed and being busy but i have never had an experience like this one.

Donald Lascelle
from St. Catharines, ON
Location store #00006346 on Lake Street St Catharines, Ontario
I attempted to hand in my survey, number 96144, " A sandwiich for your thoughts" this evening with Jessica at the drive through window (5:20pm December 15th). I was informed that I required to pay for the full price of 2 sandwichs. She then said she would have to check with her manager. The manager confirmed the total which would be the full price of 2 sandwichs.
I have been to this location several times during this month, and have never been treated so awfull as this time this evening.
I was rudely refused the offer, and left with requesting the server's name as well as my coupon which I still have. The wait time in the drive through was over 15 minutes.
I don't run my own business this way but I can assure you,..I wont be attending this location or any other Wendy's location in the future as well as my employees.
Donald Lascelle
If you care to hear from me personally,..feel fre to call 905-646-1151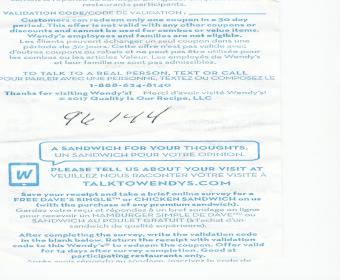 Stephen chu
from Tampa, FL
I have visited the Wendy's location on 18957 fl-54, Lutz fl 33558. There has been a few times where an employee there has just made it very uncomfortable to visit. He wears his hat backwards with his name tag on his hat. That isn't a huge issue. The problem I have with him is his attitude. The first time I went he was upset about something and I overheard him say if someone else says anything to me again word to my grandma I am going to bitch slap them. I had my 6 year old son with me at the time and he heard that as well. Last night I went with my kids and that same employee was working again. This time preparing food. He turned to someone in the drivethru and asked if they were waiting on a sandwich and when they didn't answer fast enough he threw it in the air and it would have landed in the garbage if another employee hadn't caught it. As I am watching this happen he turns to me and just stares at me as if he wanted to fight or if I had a problem with what he did. I love going to Wendy's and my kids love going there as well. This location is very close to where I live and I am happy that I can have that as my 1st choice when deciding when to eat out. However I do not feel that I should have to be uncomfortable when I go to that location because of 1 employee and his attitude problem. Especially the language used in front of my son. I wish I would have gotten his name because his attitude needs to be addressed.

Steve Morris
from Manning, SC
I have been to Wendy's many times in Florence SC & Sumter SC. It is the slowest drive through service I have ever experienced. I order a frosty and by the time I am through it is a cup of milk. It is the same at every one I go to every time I go. Hey wake up, McDonald's is taking your business.

Allyson Butzin
from Saginaw, MI
My name is Allyson Butzin and I don't really have a complaint but a comment. My husband was in a Wendy's restaurant in Bridgeport Michigan today. He is a senior who had a stroke a few years ago so is not always steady on his feet. He had a meal there and a coffee, which he often does. I was not with him but somehow the coffee got spilled on his leg. It went through his pants and burned his leg. By the time he got home his leg had blistered. I called the Wendy's where it happened and they were very nice. I just wanted them, and you, to know that obviously the coffee was way too hot if it could burn him enough to blister. Please could you address this issue so that it does not happen to anyone else. Thank You Allyson Butzin

C. Phillips
from Ozark, AL
We decided to eat at our local Wendy's in Ozark, Al. In the evening at approximately 6 pm on Dec 14, 2017. We ordered hamburgers after being told there was no chili. We then proceeded to fill our drinks. It all went down hill from there. There was no ice in the all-in-one drink machine, no sweet tea, no napkins, no salt packets, and no catsup in either of the two dispensers in the dining room. We also had to wipe down the table after we finally got some napkins. There were at least 6 employees behind the counters. There was one other couple dining other than us. The management at the Ozark restaurant may explain the low number of patrons at this location. Really sad!!! This place needs immediate corporate attention!

Larry Barefield
from Loganville, GA
I eat at Wendy's a fair amount, possibly 4-5 times per month. My concerns are two-fold. When you order a single combo, the number 1 choice at my Wendy's, it only comes with cheese. When it is keyed into the register, it only offers the with cheese option. I am lactose intolerant, so I always say, "No cheese, just lettuce, tomato, pickle, mayo, and mustard." One out of two times the burger is delivered with cheese because your only option for a number one is with cheese. I am surprised you haven't remedied this issue by now because you probably know of this information, "According to the National Digestive Diseases Information Clearinghouse, some 30 million to 50 million Americans are lactose intolerant, including up to 75 percent of African Americans and American Indians and 90 percent of Asian Americans. Common symptoms include nausea, cramps, bloating, gas and diarrhea that begin about 30 minutes to two hours after eating or drinking foods containing the milk sugar lactose." Allowing the single combo to be purchased without cheese, say at a 20 cent price decrease, would no doubt take care of this issue, and lead to many more satisfied customers. Thank you,
Larry

Anna Klink
from West New York, NJ
Last night I went to the Sewickley Pa to get a backed potato for my husband who is in rehab after a stroke. I went thru the drive thru and when I got to his room he had a hamburger instead of the potato he was looking forward to.

I went to Wendy's at 10:15p on my way to work. I ordered a 4 for $4 meal. I drove off as I had to get to work. The drink was carbonated water and not one item in the bag was fresh and tasted as if it had been sitting under a warmer for hours.I was not given a receipt. After looking up the number, I called and no one answered. So disappointed and sitting at work without lunch!!! Shame on you Wendy's!

RUBY Crandall
from Schenectady, NY
Hello.we walked into Wendy's on Altamont ave. Rotterdam ny.about 230.a large crew was working.there was only one other customer waiting for food that had already paid.we stood at the register waiting to order for at least 15 minutes! While the cashier looked at us and proceeded walk around avoiding us.after 15 minutes we walked out! We will no longer go to that Wendy's again! This was the most disrespectful thing I have ever seen.SHE should not work in the public food chain.

Tommie Taggart Jr
from Lynn, MA
I have gone to Wendy's in Lynn, Ma, Boston St. a number of times and each time the mens rest room was out of order or in need of cleaning. Today 12/09/2017 the Ladies room was out of oder and unusable while the mens room had a unisex hand written sign, inside was in need of cleaning and the urinal was out of order. At times there has been no soap to wash your hands, so how are the employees washing thier hands. Also the soda machine I used had 3 empty selections.

Jim Olive
from Bayonne, NJ
Just left my local Wendy's (Forest Ave, Staten Island, NY 10303) and once again they left items out of my salad. They just don't seem to give a crap whether an order is correct or complete. Having dined is numerous other Wendy's throughout this country, I know exactly what my salad is supposed to contain. By the time I opened it, at home, I had neither the time nor humour to get back in my car, drive several miles, or argue with a clerk.
This franchise is going down the drain quicker than a loose turd. Sad that no one cares.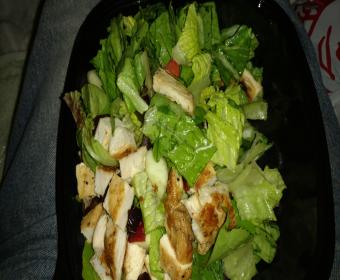 Mark Carlson
from Grand Rapids, MI
My wife, daughter, and myself went to Wendy's in Standale Mi, Lake Mi. Dr. @ 6 pm for dinner. The dining area was a disaster, food, garbage, tabletops, chairs, bathrooms, etc... waited forever to get our food inside. Waitstaff hygiene was pathetic. Very disappointed with every aspect of our visit. Dumped most of our food in the garbage which was also full and overflowing so I told my daughter to leave it cause it would blend in real well. We have a nice town with a real crappy fast food Wendy's. Thanks for wasting our hard earned money...

April Jenkins
from Piney Flats, TN
Went in with my 2 kids and a friend for a meal tonight 12/1/17 at around 6pm. The manager Jon was extremely rude. He was on his phone texting almost the entire time. Screaming and cussing at employees. He was just very rude and menacing. I have a disable child and it upset him so much that we left in the middle of our order and he was so upset we had to go home. Unacceptable behavior from a manager

Adrianna
from Loma Linda, CA
This afternoon my family and I visited the Wendy's on South Mt Vernon Ave in the city of Colton, Ca 92324. We used the drive thru- as we were ordering our meals the person taking our order had a very rude attitude. We stopped our order as we were in disbelief of this employees rudeness and told her that we needed to speak to the manager when we go up to the window. She said "mmhmm"
We get up to the window and ask the lady at the window for the manager, she asked us what it was in regards to, we told her we needed to discuss the person who took our orders attitude.
The lady who took our order then steps up to the window leans over and asks what the problem is ( all the while with the same rude attitude ) we told her we didn't appreciate the way she was speaking to us. She shrugs her shoulders and and basically didn't care about what we were saying. She rolls her eyes at us and all the while we are explaining the issue she continually says "mmhmm".
I had had enough of this and asked her if she was the manger and she nods her head yes!
I said wow, no way! And your speaking to customers in this manner?!
She continues nodding her head and rolling her eyes at us!
We ended up just driving away.
My family and I have never experienced this type of unprofessionalism at a fast food drive thru before.
We didn't get her name but apparently she is the manger there!

Ann Pattock
from Woodstock, IL
This last tues before thanksgiving i stopped at wendy s on the way to work around 1pm. I am a metro transit bus driver in mpls.....I ordered a bacon jr. cheeseburger and about an hour later I got the beginning g of "the trots". During my evening route i had to radio in for a bus to come and take. my passangers because I felt so sick and as soon as I met the bus and they got off I started heaving out the drivers window along with ruining my 96. dollar wool uniform pants ....I got sick both ways! The paramedics came and took me to north memorial hospital in robbinsdale minn. where i was such a mess that I had to get a shower before I saw the doctor.......I was fairly emptied out by that point and they gave me IV fluids and some medicine for throwing up and diarrhea....I lost a day of work the next day and my pants are ruined. Tonight, saturday has been the only meal where I haven t had to run to the bathroom......The restaurant I ate at was on University ave. near Fairview in St. Paul Mn. I felt absolutely fine before I ate there. Maybe you should t be serving bad meat or make sure people are clean! Ann Pattock

Kris oyler
from Palm Bay, FL
I just wanted to start with, I love Wendy's. I would pick Wendy's over anyone else if given a choice, but my last two experiences were disappointing. Wendy's on palm bay road in west melbourne, florida was dirty. Trash cans full and something spilled on the floor. They were out of condiments , napkin holders were empty, tables dirty. What amazed me the most was the employees could have cared less. No manager in site. No one else in store but myself and two grandchildren.My second experience was today. Store at Wickham and Aaron, melbourne Florida. I was with two of my grandchildren. We ordered 2 #10's and a spicy chicken sandwich. 4people came in after me. They all received their food before we did. My sandwich Sat on the counter for ten minutes before the rest of the items were ready. The tables were dirty, water on floor by the soda machine,but never wiped up. Just a sign. "Wet floor" you had to stand in the puddle to get your soda. My sandwich was cold as we're the fries. 6people behind the counter and all looked lost. The best one is the drive through person took a frosty that no one wanted and in front of us dumped it back into the frosty machine. Is this policy? I think you guys should do an undercover boss episode and get these guys back into shape. Again, no supervision person noted. I still love Wendy's but, the last two visit I have these concerns.thank you

The employees refused to look at us or take our order. We waited and finally left . 2 female employees seemed to have a bad attitude. Very disappointed

Donald Dawdy
from Posen, IL
I just hate at Wendy's on Pershing Avenue in Decatur Illinois. I order a large taco salad and what they did is they poured chili over the lettuce. Made everything soggy. Didn't even taste like a taco salad.

B Hedge
from Haubstadt, IN
Went to the Princeton In. Wendy's 30 minutes ago. Ordered Kids meal & 2 Jr Bacon burgers . Get home ( 5 miles to Patoka , In ) Kids meal supposed to have 4 Chicken nuggets fries & apples w/ drink. Only got 3 nuggets, fries & drink. no apples. Got the Jr bacon ones. My Grand daughter was very disappointed.

Rose Jones
from Mattoon, IL
A friend and I went into a Wendy's at Homer Adams Parkway in Alton, Illinois, around 3:10. There were workers there and another gal was called to take our order but never did take it. She went to the side and started putting papers in the trays. We were never acknowledged and waited 15 minutes without our order be taken. There was a couple with a child behind us and they finally left - then we left! What is irritating they weren't even busy! We were at the counter where you take the order. We drove across the street to Burger King - got greeted and waited on and they were busier - I WONDER WHY!
That is fine if Wendy's doesn't want our business as there is enough fast food chains! MY FRIEND AND I WON'T BE BACK!

Sam Delagardelle
from Waterloo, IA
Me and a friend went through the local Wendy's drive-thru in Waterloo, IA on La Porte road. I ordered 4 Jr. Cheeseburger Deluxe. I didn't finish two of them. It tasted bad and I felt like I was going to be sick if I ate anymore. I threw it in the garbage as I walked into the local grocery store to get more food for supper. This is disappointing because this used to be my favorite item on the menu. They got our food to us very quickly, it made me wonder if it had been sitting out for a while. Another friend of mine said he does not like to go to this Wendy's location because the food is always cold when he gets it.
Thank you for taking the time to hear my complaint. Have a good day and a Merry Christmas.

Samatha Looper
from Oxford, MS
About two weeks i went in around 7 p.m and there was a lady getting food . As i was walking in i could here her say " i am the manager i can eat free food. " But this lady was not in uniform. Then today i went in around 1:00 . Seen three different girls eating chincken strips over on the side . Now i dont know if they are or aren't alond to do this but it seems that Wendys is losing alot of money on feeding their employees. But to come in and see people eating and standing vs doing work is not good workers .I through my reciepts away but next i see this behavior again i will be shore to keep it . Will file a complaint everytime I see food being given away again. I will be looking into osha laws to about eating around food being served to the public.Wiggins, Ms 39577 East Frontage road

Patsy Franks
from Oakland, TN
No one would take our order on Wed 11/22/2017 around 11 -1115 a.m. We were the only ones in line. No one would come to the counter and take our order. 2 employees were filling orders for the drive through, however did not call anyone to the front. Nor did they say they would be with us. We were not acknowledged. I saw an older woman and gentleman leave as we came in the door with an order. I saw someone look our way as we came up to the counter and disappeared to the back. I saw the manager in the back. I asked can someone help us. We waited more than 10 mins and then left.

Francis Cadorette
from Bangor, ME
Hi,
My wife and I mostly eat at the Wendy's near the Bangor Mall off the Hogan Rd in Bangor Maine.
My complaint is the horrible soda machine at this establishment. Just recently maybe within the last 2 month the water has gone to a yellowish color even after running the machine for a few minutes it's still yellow. Tonight I had a Bart's root beer because I did not want the yellow water. Needless to say the root beer did not even taste like root beer. It was basically undrinkable. I did surface the issue to the cashier on my last visit a week ago. Nothing changed. That's why I am writing hoping someone will please fix the machine. filters??
Thank you

Jonathan Smith
from Baltimore, MD
As a drive thru customer, I was given $10 short of my change. I checked before driving off. No apology from worker. I ordered: #7 meal w/cheese added and a bacon cheeseburger. Upon arriving home (10 min away @ 5:45p.m. after working my day) I sit down to an order absent of Bacon cheeseburger get, which I was going to let slide. Opened my #7 sandwich and no cheese. I therefore, made my way back to store location #00004487 at 2045 Harford Rd and requested to speak to manager. Order was corrected, but no apology given for the inconvenience.
Poor representation of Customer Service.
I would like to hear from corporate about the inconvenience of a customer for over 40 years and to receive such disappointing service from this location that lacks professionalism and effort to expeditiously serve it's customers.

Ann Pattock
from Batavia, OH
I don't know if this pertains to poor service more then clean!iness. I was at the wend y s on university ave. near cretin ave yesterday in st Paul mn. and ordered a Jr bacon cheese urge...about an hour !after I started getting "the trots" . I am a metro transit driver and I ended up having to have another bus take my passanger s and then I got sick as a dog....in every way.......The paramedics came and took me to north memorial hospital in robbinsdale where I had to shower because my clothes were so messed especially my 96 dollar uniform pants.....after that I got I V fluids while they did some other checking of bp, etc and finally i was able to leave around 10 pm......Today I have to stick near the bathroom and also missed work...I was feeling absolutely fine until I ate at your restaurant which I probably won t do again......Ann Pattock

donna tower
from Toledo, OH
no crackers when ordered chili was told none in store the trucks were all messed up due to tomorrow being thanksgiving bad planning on their part gave no receipt given with change back went to airport hwy toledo ohio/holland 158 on 11-22 my address is 9050 manore rd grand rapids oh 43522 phone is 419-494-7952

I just took my wife and family to Wendy's at 3200 N Main, Anderson, SC, 29621. I wasn't happy the burger I received. I took it back to the counter and the lady looked at me as if she didn't understand "it's not done". She said nothing. I returned to my seat. My family finished and as we left I walked back by the counter. She then said, "did you want something?". I replied "no thanks, not now."
The table was not clean, the seats had trash on them and the floor was sticky.......... I almost left without ordering.
I wasn't going to complain, but you need to know.
By the way, my wife lost the receipt so store number, customer number etc, are unavailable.
Sorry,
Les Oxborrow

linda
from Fort Worth, TX
Beans in the chili????????????? I uses to love their chili went to drive thur yesterday bought 2 large chilis got home to eat one,It was filled with BEAN BEANS BEANS yuck I called the manager he said they have always had beans in the chili I said not I used to buy it in the winter no beans were in the chili,and it was soooooooo good tonight and mostly beans AWFUL will never buy it again

Went to Cleburne Texas location 11-15-17 order was messed up call spoke with manager said they would fix order said they would write down name and order said next time was in store could pick up remake of order came in today spoke with manager she has no clue what I'm talking about has no record anybody ever did their job and wrote it down severely disappointed with the service I received then and today Will gladly go to other locations but do not for see me giving my business back to this location Re-training needed at this location for managers and staff on how to write down complaint orders so that their dealt with an orderly fashion

David Curry
from Upper Darby, PA
I went through the drive through at the Wendy's in Glenolden Pa at 11:16 am on 11/21/2017
Purchased a #6 Med the fries where cold, no salt and pepper, no ketchup , no receipt and the worst thing is she handed me my order and slammed the window shut and never gave me my drink....I had to wait till she cam back to the window and she said what !!! I said you never gave me my drink.
Really bad customer service, I think Wendy's should refund me my money or send me some free coupons to make good on the bad customer service I had.
Thank you,
Mr. Curry 610-999-0322

Francis Simmons
from Moncks Corner, SC
Stopped at our local Wendy's last night (Redbank Road, Goose Creek, SC) after attending a grandchilds basketball game. Walked into Wendy's and one cashier was helping a customer resolve her issues. Several other persons including the Manager were off to the side making small talk. After approximately 5 minutes of standing at the counter, the cashier finally resolved the first customers issues. Feeling we would be next, but up walked a kid for a refill and another for an application of some kind. Finally, the cashier got around to us. We ordered our meal and waited, and waited, and waited. The order was finally filled--one item at a time. By the time the order was fulfilled, the first items on the tray were warm, not hot as expected. After the extended wait, having the Manager reorder was not an option. Two things I can say from my experience: (1) Dave Thomas would fire the whole crew if he knew this was how his business has degraded,and (2) Wendy's has gotten the last penny of my money!
F J Simmons
Fsimmons1946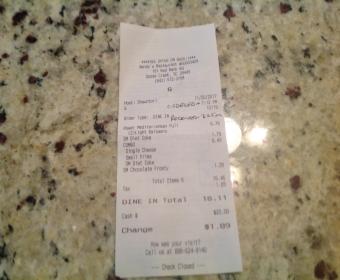 Les Robinson
from Cleveland, OH
On two separate occasions (the latest being today). Long waits for service at the drive through....rude or hostile sounding staff and unacceptable service...Today my husband and I specifically asked for a number 2 (hamburger and fries) and the young man wanted to charge us double what was posted on the menu for what we ordered..........for a total of 8 dollars and some change for an item that clearly stated 5 and some change.....We canceled the order and left. This is after sitting in the line for an inordinate amount of time.......The rudeness and the general chaotic nature of this establishment is unbelievable. I will not be returning to this despicable , deplorable location........SMH....Wendy's sure has taken a nosedive from what I always remembered.........O well.....hope you make some major changes there. Just because it sits in the middle of a blighted area does not mean customers should be treated like garbage and customer service allowed to deteriorate to this low level........................

MAUREEN FRIEDBERG
from Lombard, IL
I went through the drive thru In Chicago 3900 block of Harlem ave. I was told to drive up , I paid and then told to back up in the drive thru and wait behind the yellow pole. How dangerous is it to tell someone to back up in a drive thru when other cars are flying around the corner? It made no sense at all. The process is completely wrong. I will never go to this restaurant again.

Charles C Wyatt
from Cockeysville, MD
If I wanted to make my own taco salad i would make it at home i shouldnt have to make when you ordor a taco salad . It should be already made. I should get my money back

Tyshawn
from Middletown, CT
I went to Wendy's on Washington Ave in Middletown ct. I asked for my food to be made fresh. When the food came out I went back to the window to ask for fries with salt and handed her the fries. She took the fries and walked away and came back with the same fries and 2 salt packets. She said something pertaining to we cant mixed them back in with the other fries. I told her I wanted new ones because I wanted the salt mixed in and it would be hard for me to mix it evenly while driving and in the carton that its in. She slammed the door,through the fries away and called me a dumb bitch. This is unacceptable and told the representative that I did not want her to touch my food.

Michael Johnson
from Waycross, GA
By far the worst customer service I've ever been apart of at a chain restaurant. The staff were very rude, the inside was dirty and it looks like it hasn't been swept in over a month. My biggest issue though, was that they had the ability to RUN OUT OF sweet and sour sauce by 4pm on a Sunday. How does a restaurant as amazing and HUGE as Wendy's run out of anything?!
Overall this place needs new management and a wake up call. Between messed up orders and lazy employees, I will not be returning nor will any one of my friends. The place is absurd. Please look into it immediately. Before someone thinks it's cute to spit on food and a lawsuit occurs.

Christopher Blundell
from West New York, NJ
My wife an I ordered a meal a sandwich and some chili fries. I added a coffee to mine. What we got was a meal the fries and a cold cup of coffee. We missed the sandwich. We had been going to sit and enjoy our meal by a local lake. Needless to say that was destroyed by the lack of attention given.

Alexander Leton
from Fort Lauderdale, FL
Walked into dining room at 945 pm with my son and was promptly greeted by manager who told me they are closed. Asked her why the door was open then and she stated "drive thru is open". Had walked to location with my son as we didn't drive so we couldn't go to drive thru and ultimately walked to a KFC in the area.

sondra wilkins
from Mechanicsburg, PA
I would like to know when the last time someone in your offices purchased a salad ? I live very close to the Wendy's on Simpson Ferry Road, Mechanicsburg Pa. Several time in the past few weeks I have purchased a side salad to bring home. Cant help but wonder who ever makes them doesn't notice rotten tomatoes and soggy lettace being put into the containers. The salad I got today had 3 rotten tomatoes and half of the lettace was wilted and limp ! I don't care how in-expensive they are===they should be made with fresh ingredients. I will never buy another one.

Cathy L Alfano
from Virginia Beach, VA
Went to store #0001018 Virginia Beach Va. ordered $22.84 in food. ordered a chili cheese potato as part of order and kids meal. after some time my name was called by manager and bags were on counter. I checked and noticed the potato was missing and inquired. manager said yes it was not ready. so why call my name. so waited 12 more minutes and complained. cashier said the potato would be 15 minutes. I told her forget it that was ridiculous. Manager said it would be ready in 2 minutes. total cooking time was 15 minutes but that info was not offered at time of sale. waited for potato and finally left. got home and kids meal was not in the bag. I was furious. called them twice and left a message once to call me. no one called. phone # 757-498-4804,. will never go back!!! and i want refund of my money for the kids meal. $2.99 plus tax. paid with visa card. my phone # is 757-439-9981

David koon
from Charlotte, NC
I went to Wendy's in lumberton nc on Fayetteville rd drive thru the cashier had a beard was hanging out the window carring on a conversation for 10 min or more they were slow poor service i didnt even want to eat my food something has to be done about this i dont usually complain but this was bullshit thank you

Wendy's was in too much of a hurry. I was so hungry and ordered a salad, but they did not include dressing so I could not eat it. I went through the drive up so I was long gone before I noticed it. Made me frustrated and waste of money.

cynthia colletta
from Washington Township, NJ
Tonight I had a very bad experience at one of your locations. The girl taking my order was very, very rude. I asked what other sauces there were besides bbq for the chicken nuggets I ordered and she ran through them so quickly (at the drive thru where it's not always easy to hear clearly) I couldn't understand her so I politely asked her to repeat them. She did but sounded very annoyed. When I picked up my order at the window she said have a good night and slammed the window in my face before she finished her sentence. She turned around and started laughing with her other co-workers.
I do not ever complain about things in general but this was such offensive behavior I felt you should be informed.
It was the Wendys drive thru on NJ Rt 4 East in Paramus, NJ. It was approx 7:45 pm on November 9, 2017.

Carol A Hodges
from Hampton, VA
There was no one at the register to take your order. Put order in on the kiosk, other people that were in line was asking if anyone was taking orders anymore. The store was dirty and the staff was unprofessional. Laughing and playing around. The soda machine was not working and someone went to look at it and stated that they were not sure if they could fix it. Got our food to go and when we got it home nothing was made the way it was ordered and cold. We do not live that far from the store so our fries should not have been cold. It will be a while before I to to this store again. Hampton VA on Mercury Blvd
Have feedback for Wendy's?
Thanks for your feedback!
Sorry. Please try again later!