Wendy's
Wendy's Complaints Continued... (Page 2)
1107+ reviews added so far. Upset? Call Wendy's corporate: 614-764-3100

Stephanie
from Bedminster, NJ
I was in the drive through line for 20 minutes today at 2:00pm 3/22/2019. Nothing was offered for an explaination. When I asked the manager said the cars in front had large orders of chicken nuggets. I know you can cook more than one order at a time and they do not take longer than 5 minutes!! I asked why they did not park the cars a head if me manager said, they were there first we we're waiting in product. Worst service in the afternoon I have ever seen. This is NOT the Old Fashioned Hamburger joint I use to work at!!

Donald W Dompierre
from New Bedford, MA
The first time my wife and I had a cod fish sandwich we had them all through Kent and enjoyed them. That was your restaurant in Hyannis. We have seen a much small and heavily crusted cod fish sandwich. Why have you cheapen this product. Respectfully Submitted,Donald Dompierre

Shaniel Brown
from Miami, FL
On 3/21 9 55pm I visited Wendy's 2281 W, Florida-834 Pompano Beach Florida 33073. I had a horrible experience at the drive through. The associate that was working says welcome to "Wendy's what you want". So I said excuse me she said what you want. I'm like I don't feel welcome why you sound like that I work overnight 12 hours. I understand your tired and may want to go home but that's not how you greet valuable customers that keep the business going. She said the value for what your buying can't even pay me. Then she said you know what I'm going to let some one else take your order. The manager greeted me well and I said to her that sound like someone who wants to work. In the background I heard a loud obnoxious laughter and then she said that homosexual better going somewhere else because I will spit in this wrap. So I said the the manager to tell that "word outside of her name to go home" At that point I definitely didn't want to proceed but I drove to the window to get names. When I got there the manager said Oh can't take your payment or honor any service to you because you called my employee outside of her name. Reluctant and blatantly said she won't give name with all name tags off. I said to her in the background I heard everything she said so what do you plan to do about that. She said I will handle her and then two person joined her at the window possible the girl and another associate one of them saying Let me see Who this is. One walked back and said oh get him together let him know we all from the same place so we stick together. This is a horrible store and They are chasing away customers and making the fast food industry look bad and Delfinately making Wendy look bad. The manager said she will handle her yet she was laughing with her and at me being very discriminating so let me see what corporate will do. As I will take my homosexual money somewhere else.

Denise Martinez
from Cleveland, OH
We waited in line in the restaurant just to order for 20 minutes. Then when I went to order potato they were out of potatoes. No apology or nothing just that they didn't have potatoes!!!
My rate is a 1!!! Service was not good!

jdiuliano@yahoo.com
from Springfield, PA
Was waiting in line to place a lunch order and receive my order for over 20 minutes. There was only 3 people ahead of us. The employees
were fooling around. When I complained and my friend did as well the women who usually works the drive thru window started mouthing off
at us like we didn't have the right too. Then the shift manager who may have less class than the other girl was worse. I worked as a manager
for Pizza Hut for 10 yrs and never saw anything like this. They didn't include a receipt knowing that we probable would complain. This was the
store on Mac Dade blvd in Ridley Pa

Richard Pruitt
from Arcola, IL
Food is always great and people are good. My complaint is about the store in Urbana, Ill on Prospect Ave.. Your manager and zone manager should be ashamed, the parking lot is full of holes big enough to wreck the front end of a car and not just in one area, it's the whole lot. I won't be back till it's fixed. Don't have any photos of me, doing nothing or I would send one.
Thank You
Richard Pruitt

Deedee
from Bedminster, NJ
Ordered a spicy chicken salad told them I wanted pecans instead of croutons she said no substitutes and charged me .50 for the pecans the week before they forgot my salad dressing in drive thru

Natalie Ellison-Renk
from Marshfield, WI
I already posted my rant and rave on my Facebook but I figure nothing will change unless Wendy's is contacted directly. Had I gotten a receipt I'm sure there would have been a number on the back I could have called. My local Wendy's has the worst customer satisfaction I've ever experienced and it's every time. Apparently, I'm not the only one because many others also left their comments on my post about their negative visits at the same location. I'm not kidding when I say every time I pull through that drive through it's as if I'm an inconvenience to the workers. My order is never right or complete. Basic things like utensils..... yesterday I ordered a salad, 2 chili's, baked potato and nuggets. There wasn't a single fork, spoon, butter, salad dressing, and they were out of sour cream! I had to call the lady back to the window twice to request everything and she responded as if she was bothered or annoyed by my request. I'd normally just let it go but because this is every time over the last 5 years or so I just can't take it anymore. Sure I could find a new location I suppose, but this is the most convenient and the most slow. I just had to share my frustrations because it's not right and I don't think that's the kind of legacy Dave Thomas wanted to leave behind.

Lorraine Brown
from Little Rock, AR
I dined in at Wendy's on March 18, 2019 @ 1:01 pm. I prefer the biggie bag. On my burger I asked for no onion as I'm allergic. They put onion anyway. When I took it back to the counter they took the onion off right in front of me and handed the burger back. My fries were cold and so where my nuggets. I left it at the counter and asked for my money back. They would not refund me. I was very unhappy. I have not eaten at Wendy's and decided to go for my lunch hour. I will not be visiting your restaurant again.

Sean Hess
from Columbus, OH
Wendy's on Broad Street across from town and country have some of the rudest employees, The manager was just nasty and not a nice person! Wanted to argue and just not own the fact that they messed up....just make it right and let's move on!

TAMARA LYNN HIELDBRANT
from Sunnyvale, CA
TAMARA HIELDBRANT
80 SOUTH MARKET STREET
SAN JOSE, CA 95113
408-300-4739
TAMARAHIELDBRANT5378@YAHOO.COM
OBJECTIVE~
LOOKING FOR POSSITION AVAILABLE~
I AM A VERY HARD WORKER, FRIENDLY, AND ENTHUSIASTIC,
I HAVE WORKED IN RETAIL, WAREHOUSES, RESTURAUNTS AND ANIMAL HOSPITALS
I AM GREAT WITH CUSTOMER SERVICE, A VERY HARD WORKER, AND DETAIL ORIENTATED, AND I WORK LONG HOURS AND DON'T COMPLAINE.
EDUCATION~
CENTERAL INDEPENDENCE HIGH SCHOOL- SAN JOSE CA
WESTERN CAREER COLLEGE- SACRAMENTO CA
EMPLOYMENT~
LYON'S RESTERAUNT- SACRAMENTO CA.
TOTAL CARE ANIMAL HOSPITAL- ANTELOPE CA.
VETSMART PET HOSPITAL- RANCHO CORDOVA
I HAVE BEEN OUT OF WORK FOR SOMETIME NOW BUT I AM REALLY ENTHUSIASTIC ABOUT GOING BACK TO WORK AGAIN.
I WOULD LOVE TO WORK FOR YOU AND JOIN YOUR TEAM
PLEASE CONSIDER ME FOR THE POSSITION AVAILABLE.
CONTACT ME VIA E-MAIL OR TELEPHONE
I AM AVAILABLE FOR INTERVIEWS ANYTIME
THANK YOU FOR YOUR CONSIDERATION~

Brandi Anders
from Clarksville, TN
I go to the Wendy's in Clarksville Tn ,on Tinytown road, to order lunch on 3/16/2019 around 2pm, I order the awesome sauce burger combo #4 and i told them no pickle or tomato. I also ordered my wife the number one no pickle or ketchup. On my combo the number 4 all that was on my burger was onion , sauce and hamburger meat. My wives combo was drowned in ketchup, after I drove all the way home to eat it I seen this and didnt have a dam receipt. My wife calls and they tell her they have to have a receipt. What a dang waste of almost 18.00 on two meals and it wasnt our fault we didnt get a receipt . This is two times we have ate at this location in the last month and this time was by far the worse. THe first time the meat wasnt done and the sad part me and my family loves Wendys but I guess since this place offeres poor service we will have to go else where.

Billie Bisong
from Stockbridge, GA
Every night at the Anvilblock location in Ellenwood, Georgia, there is a long line and long wait. The cars are at a standstill. This has taken place night after night around 10pm. I like Wendy's but I end up getting out of line after 20 or 30 minutes when the line is at a stand still. Please FIX THIS PROBLEM!!!!!

Teresa Semo
from Sliders, VA
I was waiting in Drive Thru waited 2minutes for someone to take order when they did woman said get back with me. Then I could hear her talking to other co workers about specifics of the job at Wendy's, then she answered a phone call or talked to someone in walk-in dining she kept on and on finally I left cause was die at work. I give no stars to Wendy's at broads st / Tuckernuck Richmond Va all I wanted was a Wendy's burger befor my shift started.

Brenda Solomon
from Hillsborough, NC
We just ate lunch at Wendy's in Wake Forest, NC on Capital Blvd. and Wake Union Church Road. It was just filthy! The place where the orders are taken had not been cleaned lately, as well as the area behind the counter. Looking into the food prep area had not been cleaned in eons. An ice cream dispenser looked out of order, not fixed and dirty. In past years I have never encountered anything like this at a Wendy's restaurant. I was told the manager of the day was Chris. If this was owned and had my name attached I would fire all workers and start over. I can't imagine how dirty the food is if they cannot even clean their work areas. I saw a lot of standing around but no one was industrious and cleaning or doing anything productive. AND they were not swamped with customers!!! How do you continue to stay in business if you run your restaurants like this one? When Dave was alive this did not happen. I am VERY disappointed in the eatery!! Not sure if I will ever go to another Wendy's again. Do you ever send corporate to check out these places??? I will be interested to see if I get a reply from you. Thank you, Brenda Solomon

Pat kiefer
from Northridge, CA
Ordered a pecan chicken salad- no chicken, no pecans, no feta cheese. Ordered an avacado salad-no avacado. Nothing in it but lettuce, cheese, and tomato bits. Too far to drive to take it back. What's up? Usually your salads are great. Pleas respond.

tammy stevens
from Dudley, NC
The night assignt manager Named Estebone, cussing at other co worker, threating other co work in presence of customer, flirting with minor kids and co worker. saw him once handing something out of the drive threw windows and wasnt a wendy bag. my son worked there and he said he used to close at night and estevon would void stuff and take the money and he would take off to take some girl home while he is on the clock this is Wendys in Goldsboro Nc on Wayne Memorial Drive. My son finally quit he also said his friend was given a pill that got her high and very sexual and that her and estebone went out to a bar. i wont be coming back to wendys unless this is delt with i live not that far from this store

Robert Sullivan
from South Yarmouth, MA
I use to use the Wendys app on my phone for special offers but it no longer works. I called the customer service number and they said the new app will not work on my phone because the new app uses 5. Well I have a Samsung Mini4 smart phone which is a few years old. I am 71 years old and I do not plan to buy $1000.00 new smart phone to use the Wendys app which requires the new 5. I know Tvs are going 5g in the future but I guess Wendys is so advanced that it is using 5g now. I go to Wendys everyday for lunch and have for the past 14 years. I think this new 5app is ridiculous and the idiot who designed should be fired. I am sure many old people like myself do not have new 5app phones. You are at better at burgers than you are at apps. Horrible service! I would rate your app 0 stars if I could.

Wanda
from Bedminster, NJ
I wish I cld have given them zero stars. Wendy's on Chuck Dawley Rd in Mt Pleasant SC is the most unprofessional experience I've ever had at any Wendy's. A vehicle sat in front of me for all of 10 min so I went around them to see if the restaurant was open. There was a car sitting at the drive thru window forever. So I waited behind it and the car that was in front of me drove off. The woman at the window was rude and extremely unprofessional. They said they were outta sweet tea, chocolate chip cookies and then burgers. Then they took first to bring us our food. NEVER AGAIN!!

Phil Gallina
from Toronto, ON
I ordered 2 spicy chicken wraps a small chocolate sunday and a medium Coke Zero
When my order was complete I asked for 2 barbecue sauce packs
I was told that it would cost me .30 each.
I think this is outrageous and will not spend my money in your establishments unless you change your policy.

levern wilson
from Cherryville, NC
ive already sent my complaint to you twice about wendys in kings mtn n.c. 28086 about the mgr alex being rude and hateful to me and wanted to know whats been done about it.

Tom Kakadelis
from Ashburn, VA
Purchased a Dave's double large combo. Food was cold. Fries were greasy and cold. Very disappointed. No stars. Want my money back and my appetite too!

I tried your new cod fish sandwich today and was very disappointed. Have always thought Wendys food was very good, but this sandwich didn't measure up to your standards. There was more coating on the fish than there was fish. Also the batter was hard and caked up on part of the pattie. I will not be having anymore of the fish, I'm sure that others will find the same if all the cod is prepared like the one i had today.
Thank you

Giant JBC. had what appears to be one piece of bacon broken into six small pieces on it in total. Add says double the bacon. Also store employee would only wait on one customer at a time getting them their food before waiting on next customer. There was a long line and my fast food took 25 minutes to get when I was 4 th in line. Counter person said manager won't allow them to take more than one order at a time.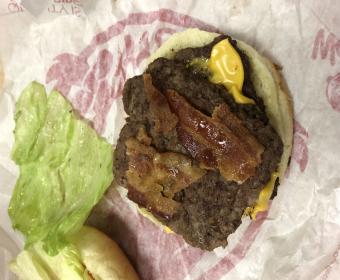 I got a quarter pound single and asked for it without certain condiments in Oskaloosa, Iowa. First, the speaker was so bad, making scratching noises. And the worker at the window was talking to the person at the pick-up window while she was talking to me. That's very irritating. Then when I got up there to the pick-up window, even though I had repeated 3 times what condiments I didn't want on my sandwich, she had to ask me again and turned around to tell the person. I think they just took a sandwich that had been in a warmer and took the stuff off because it wasn't wrapped up nice and tight, the sandwich was not hot, and the top of the bun was so dried out that it made a popping noise when I bit into it.

I ordered 2 $4 meals Jr bacon cheeseburger chicken sandwich and fries. Once I received my order , I checked and realized both orders were missing the chicken sandwich. It was lunchtime so I had to get out my car and go inside. Once I spoke to Manager explained my order, she still refused to give me what I was missing. She said everyone here has head sets on and that's what your husband ordered. I was in the car I know what he ordered. The window team member did not give me a receipt. They never do. Manager did not give me what I was missing. So I would like some compensation for this. Or something....

Larry Savalli
from Dimondale, MI
Not a complaint as much as a tip for one of your units. I spent 21 years in the restaurant industry in management and middle management. I realize the importance of building sales in order to cover expenses and hopefully build profits. Your restaurant in Lansing just off I96 and MLK and Bishop Rd. has a problem. with PM sales.
I drive pass this unit each week night on my way home from work. Once in a rare while will the sign be turned on to attract business driving by. This sign needs to be on before it gets dark outside. This is a highway restaurant that could pull in MORE business if only people knew where the restaurant is located. This was a peeve of mine when I was a unit manager and a district supervisor of a different chain.
I believe that if this problem would be corrected you would see sales improvements immediately.
Sincerely,
A Concerned Citizen
Larry Savalli

Richard
from Little Rock, AR
I Made an order through drive thru at the eagle co Wendy's on March 8th and when I arrived at the pick up window I saw two females horse playing (physically hitting each other.) And being loud. And my order was not made properly. The burger was messy, the fries were cold and it wasnt wrapped properly.

Went to Wendy's #264 at 3422 Taylor Blvd Louisville KY. Got order along with a lemonade. After I drove off, I took a drink. It tasted like some type of cleaner was in it. It smelled almost like alcohol. I went back to the store and the manager Tim acted like he did not believe me. I asked him to smell it, and he refused. I told him that I wanted my money back but he said no since I had said the f word to him. He said get the money from corporate. I warned the manager that the machine may need to be drained and cleaned. I called the corporate headquarters about 2 hours ago, no followup yet. I called the health department and tried to file a police report to no avail. I felt slightly dizzy from the drink and still have the drink with me.

I went to the Wendy's out in Granville, Ohio on Cherry Valley Rd last night to pick up dinner for my husband and myself. I usually don't have any problems at that Wendy's as that is the reason that I continue to go back there. Last night was a different story. I am usually not one to complain but the girl that was taking orders at the drive thru window ( her name was Paige) Well when I pulled up to give my order I kindly ask if she could give me just a minute and she did not say anything, I repeated myself as I know that she heard me because I could hear her breathing. I said hello, can you please give me a minute to look at the menu and she shouted YES very loudly. It was just rude. I then gave my order and ask her to repeat it back to me so that I knew everything was correct and she acted like that was a bother. I have never been treated so badly at Wendys. then I pull up to the window to pay her and just her whole attitude with me was very rude. She did not even say thank you, handed me my debit card and quickly walked away. I knocked on the window and said ma'am can you please give me your name and she asked why. No name tag and she finally told me her name. I said thank you and pulled away. I work for Licking Memorial Hospital and if I treated our patients the way that she treated me, I would be fired. I am not trying to get this girl fired by no means but she really has no business working in customer service. She should be back flipping hamburgers as far as I am concerned. It was just a bad experience and I will not be going back to that Wendy's nor will I recommend anyone else go to that one for the way I was treated. The guy working at the food window was very polite and I appreciate his politeness but Paige was very rude. Thank you for taking your time to listen to my experience.
Thank you,
Lee Ann Webb

liza
from Cartersville, GA
The first time I experienced bad quality was when I got a frosty I opened it to lick the lid and I saw little black things It was either hair or fiber. Today I went back cause I thought it was a one time thing turns out a long strand of hair appears when I open the lid and last time I went I went back to get another it appeared again I am disgusted with it someone needs to shut the machine down ill further notice.

I ordered a Dave's single hamburger. I got my order and went home to eat. My order was wrapped with a hamburger wrapper. But inside was a chicken sandwich that I did NOT order. And it's cold! It's not rocket science! The store was in Athol MA. So in future I will have to unwrap my order in the store to see it I am given the right order. On second thought I will just stop going there. Too much trouble to get the right order. Your service is a total failure!

Tuesday March 5 2019 @ 1:30 or so, I visited a wendy's located on Cassidy ave near Airport Rd. I ordered a $5.00 burger and chicken deal with a small frosty. I gave the girl at the register a $ 20.00 bill. my change was supposed to be $13.94. in a rush to get back to work, I pushed the change into my pocket, grabbed my order and went back to. once at work, I counted my change and found I had been shorted by $ 5.00. I did not have the time to go back to dispute this nor could I prove this after leaving. This was the only time I have ever been in that store. this could have been a mistake but after talking to my co-workers, this goes on at that location. this happened to two of my co-workers last month on different dates.
I am not looking for reimbursement as I don't have any proof but I will not visit that store again. If this is an example of the type employee Wendy's hires, I will not be visiting any Wendy's ever. I will not go out of my to bad mouth your brand but I will tell my story to all workers on every job site I am on. I work construction and I contact a lot of people every day.

Alyssa black
from Cleveland, OH
I went into Wendy's with my mom to get food for dinner and the lady did not know what she was doing when she took our order I wanted a crispy chicken and got a chicken BLT.... I can not stand cheese or bacon on my sandwiches...which is why I ordered a crispy chicken... not to mention they put the food on a tray when when we ordered To go and kept switching the food from bag to bag repeatedly touching the food with there bare hands.. the food was cold and disgusting...and they gave us kids cups we ordered a small 4 for 4 so we expected small cups not kids.... and we know they was kids cups because my mom had stopped at a different Wendy's with my brother so he could get something to eat before he went to work... see the difference between my cup and my brothers? This was at the cambridge Ohio restaurant on southgate between the car wash and subway....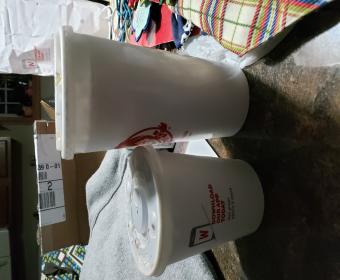 Cathy Bohrer
from Herndon, VA
?artinsburg wv 25425 fox croft ave my husband myself 2 childern walked in this restraunt to eat we had to turn around at door and leave the sewer smell is so bad my husband got sick we love your food please correct this problem or ull loose all costumers at this store to be excat there was no one in this store it was dead and if you smell it y ou know y thank you

Anonymous
from Topeka, KS
So, I work at the Wendy's in St. Robert Mo and I worked for 11 hours or more in 2 weeks and I'm pregnant so that part is understandable but I worked for 11 hours and I only got $56.00 on my check when I should have gotten more and it has me really angry I should of gotten at l eww at a little over $100 and I was supposed to go see my sick grandmother today but because of them I cant and I'm struggling with bis as well so that money would have helped wonders

We were asked last year to buy Wendys' key tags for $2.00 each to help out Dave's kids. We were told that you will get a free frosty for one year. Nothing was said about buying anything but I did ask if we bought two tags can we still get two free frosties when we buy One of the 4 for $4. We were told yes that it wouldn't be any problem. For the past 2months we have been purchasing 1-4 for $4 and getting two free frosties but as of today now we were told we had to start buying something extra to get the second free frosty. I don't feel that changing policies in mid stream is fair to the ones who have getting their orders as we have. For granted $4.36 isn't much to spend in a day for a lunch that my husband and I split but when you times that by a whole year just think how much is being spent at your store. So as of today we will never purchase any more of your key tags. If I could I would send both of them back for a refund and never buy anything else from any of your stores. Go ahead and laugh as I know that you probably are but times $4.36 by a whole year and see what one of your stores have lost.

Ordered a mushroom swiss and got a dry dry overcooked with no mushrooms very very very thin swiss, 3 little pieces of onion, and I asked for no peppers, and guess what, they took them off and the juice wss still there. I watch the commercial on TV and what I received was awfully. I am disabled and look forward to a good meal. Wendy's should be ashamed.

I will no longer be going to the Wendy's is pleasant hills Pa. Every time I go there my order is wrong. I don't know how hard it is to do their job right. That Wendy's is the worst. Service is BAD. I was sort a drink and fries this time. This is at least the 10th time this has happened. I shouldn't have to wait 45 minutes Inline when there is only 6 cars total. The people working the window have attitude problems.

David Cole
from Detroit, MI
Restaurant was not attentive to cleanliness and was discouraged to find out they no longer have plastic knife utensils.At restaurant on Ford Road 18430 #00001229

Larry McLean
from Bedminster, NJ
Ill send you a pic it says it all

If I could give them a 0 I would. My mom ordered $30 worth of food and didn't receive any of it. We ordered via door dash. The driver went MIA with the food and her tip. When I called the Wendy's it came from the manager was extremely rude, aggressive and very unprofessional. He told me they don't work with DoorDash and I'm mistaken. I spoke to a manager from doordash and she was unable to get a hold of the driver and could not understand why the manager would claim that they don't work with door dash. She even took their phone number to make sure I called the right location and it was. Your manager lied to me. I am a manager in retail and I have come across situations at my job. And the way this manager at your Wendy's handled it was uncalled for. This is our local Wendy's and they not only lost our business but they better believe we will be spreading the word In our neighborhood.the location was Wendy's
69-02 Northern Blvd
New York NY 11377

On 2/23/19 we stopped at your 1202 Lincolway LA Porte Indiana restaurant. While placing our order the girl played with her hair, handled money then preceded to handle food. Then our order was incorrect. I returned to the counter to get my correct order and they argued with me and wanted to refused me. Had to show them receipt to prove they were incorrect which caused a bit of a scene. Then we noticed the dining area was VERY DIRTY. And they had MOLD on ceiling. I would hope this would be unacceptable and you would correct this immediately. This restaurant really should be reported to the state board of health and closed.
We are in that area quite often and will NOT stop there again.

steven w merlin
from Sanford, ME
my wife and i were in mass to visit her mom in icu we were heading home it was around 730 pm stopped at wendys on rt 1 in pebody mass i ordered a asigo chicken meal and my wife ordered a chicken sandwich with just cheese and mayo well i got a grilled chicken sandwick with thousand island dressing which was not asigo chicken meal and my wifes didnt get mayo and where this store is you cannot just turn around (went through drive thru so we can get back to maine) to turn around you'd have to go about 4 or so miles to turn around was not very happy got the wrong meal paind around 9 dollars for a meal that i ordered and got totsly wrong and they weren't busy at all.

Barbara Haynie
from Baltimore, MD
McCullough Avenue in Baltimore, Md.
The Manager and Employees were very rude. The manager's name was Lisa. They were very discourteous and rude. I wouldn't go back there at all.
Thank you.

Melissa Cobb
from Allentown, PA
I was not given a receipt, but the address is 10410 Blue Star Hwy
Stony Creek, VA 23882.
We waited 40 minutes for a cheeseburger and a chicken wrap.
The wait is bad enough, but the 3 people working were in absolutely no hurry.
One lady only bagged fries and nuggets, could have cared less about the 30 people waiting.
The man working was in the middle (literally burger on the bun) of making someone's meal and he just left to use the mens room. Did not tell his coworkers and left the burger on the counter to get cold.
The third person working seemed a little concerned, she realized the man had left and she washed up and went to start preparing sandwiches. This is a very very bad reflection on your company and I thought you should know.
Thank you for your time.
Melissa Cobb

Gene hodges
from Cumming, GA
Third time visiting this particularWendy's in Cumming a that the chocolate frosty machine was broken. Seems to me if you have asignature item that you would be more attentive. I usually stop by there every other day.

Kristina Ledee
from Lakeland, FL
I visited the store located at 4308 Sterling commerce Drive, Plant city, FL 33566 this afternoon around 2:30 p.m. The line was very long so I tried to order at the kiosk. I could not use the survey coupon, and I could not get a senior drink this way. I wanted to ask the manager after I got my order, but it was not possible to wait long enough. I lost out on the BOGO with the Spicy Chicken Sandwich. I was not even given a receipt. I spent almost $17 .I am a senior and I treated my daughter and grandson to lunch. I could not even get to talk to anyone because it seemed like there were not enough people working. It was very chaotic. Please help me with some compensation. I am on fixed income. Thank you.

Amadis
from Greensboro, NC
Okay so for one I waited in Wendy's yesterday night for my food for, 20 mins just for a 4 for 4 and the lines were pack but everybody was walking slow like there wasnt people waiting in line.a little boy came inside with his food and said my mom said we missing 2 chicken nuggets the person who work there gonna say we need a receipt,, so the boy said yall didnt give me one and when I looked I didnt get a receipt either this caucasian women didnt give their receipt to nobody she sat it on the table.and then the little boy went outside and came back and said I dont have a receipt and the worker said well I cant give you your 2 chicken nuggets then.and so then the mom came in angry and THEN they wanted to serve him like. Why does it take so much to get one little thing . It wouldn't have hurt that man to give that little boy his food like wow. That's sad !!,,but yeah that what I had to say,, HORRIBLE customer service. I hope this is fixed immediately!! Oh yeah and just for me to get my food late, it was cold.

I just went through the drive through and ordered a chicken sandwich meal with no mayo. Got home and there was lots of mayo on my bun. GROSS. Ruined my meal.


Drive thru forgot my chicken nuggets - I checked the bag before I pulled away & asked for them. The window worker wanted to argue about it! She stated it 'wasn't on my order'. I said - We had a discussion on how many pieces I wanted, so I know I ordered it'. She replied ' I wasn't working the headset'. Annoyed she said - 'So do you want to add it to your order.'
Is this the way customers are treated when wendy's make a mistake?? She knew I was angry and proceeded to call me 'babe' and 'hun-'. I am 60 yrs old - I am neither to her. Her insincerity infuriated me even more.
I won't be going back - plenty of other places to pick up a quick meal.

Keith D Lewis
from Phoenix, AZ
I went to my local Wendys and they are our of chili again. Every time the weather turns cold or rainy they are out of chili. This was at 6:45PM which seems to me to be a little early to close up shop. I tried to call the store but they are on the phone and I cannot get through. I tried to access the Wendys online site but that does not work either. Since they did not have enough chili for my order I ordered a Daves Single which was so loaded with mayo that the buns turned to mush and I had to throw the whole thing away. Not sure about the store number since they gave me no receipt and the location is 2019 N. Power Road In Mesa, AZ 85215. Needles to say I think Wendys has gone from a decent fast food to rating below McDonalds which is difficult to be any worse than McDonalds on anything other than coffee.

Have always loved your restaurant, and eaten there hundreds of times over the years. Recently I have been very unhappy about the tea your serving, it used to be great I'm guessingredients it's from Coke Company and it is horrible, please send it to the curb, I don't drink sodas and that was half the reason I went there, the tea was awesome. Still like the food, but would like something to drink while there

Wendy's store located at or about 440 N high st : Columbus, Ohio Manager should be retrained or fired. I entered the store for the first time.. there were credit machines to order from. not being familiar... I went to the counter and asked" how do I order with cash?" Manager (did not know it was the manager then) MUMBLED something I could not understand. "Excuse me... I did not understand what you just said" She looked at me ... no glared at me and continued working. so I asked a customer who was eating a sandwich ."How does one get waited on with cash?" have to see the manager. I poured me a small drink and sat down in front of the window where the manager was filling sacks with orders. several people came in, ate and left... I remained .. no order... no food... no attention. I then asked to see the manager, "I am the manager" she said. I asked again.. why wouldn't you take my order for cash?" OH go through the drive through... I don't have time to deal with cash!" was her reply. I looked her straight in the face and said thank you very much.... U are about as friendly as a porkapine. . The people next to me said.. "We agree!" they had not been able to order either.... we all walked our... having not been served. this female person does not represent the Wendy's type of employees that generally greet me in your stores. Like I suggested... RETRAIN HER OR FIRE HER.... PLEASE!

Patricia Ryan
from Pembroke, MA
My husband and I eat there often. Recently, when I requested decaf coffee, one of the managers(?) said quite annoyed, "I have to make a fresh pot and then throw the rest away". He was not happy. HAVE IT YOUR WAY is not what this business projects.

Toney r
from Cleveland, OH

are you kidding me?!??WTF?!? Col Spgs Col. 8th st, set you up & FIGHT W/ YU IN THE DRIVETHROUGH!! then.. when they GET YOUR ORDER WRONG! they treat yu like sht?!??Im BOUNTY, & had to show my badge to proove my honesty! & was treated like shr! & THEY SCREWED UP- 2 SIMPLE SANDWHICHES!! wtf?!??

I visited your establishment on Freedom Dr., Charlotte N.C. On Monday 2/19/2019 at 3:00 PM. I was very surprised that the older gentleman working the register, handling money, was also handling the food without gloves. This gentleman also had a cough and was not wearing a mask. I think this is the epitome of not caring about your customers. I asked if they were short handed on employees today and he answered "I don't know ", I asked him why he was handling the money and the food at the same time without gloves, he answered "I don't know mam, I don't know". This is how germs are carried and people get sick. This should not be happening at any establishment that deals with food. My next call will be to the Health Department.

bought 4 for 4s the Venice Wendy's on Tamiami trail, old fries even chewy, cold hamburger water down coke, the nuggets were passable, I've always enjoyed Wendy's food but this was at its lowest quality.

Rob McCormack
from Brooklyn, NY
I like Wendy's, but today I was at the restaurant at 1602 Shore Parkway in Brooklyn, NY. This restaurant has a list of issues I experienced today:
The store was cold. I don't know if this was a broken thermostat, but every customer was wearing their coats while eating.
My burger was dry and the french fries were tasteless.
The bathroom stall's lock was broken, as was the coat hook (I was wearing a long coat while attempting to sit on the toilet? I think not).
Unless these issues are fixed, I will not be dining at that location again. And a soda fountain that is available to the customer instead of behind the register is something they might want to think about.

Mary Prudhomme
from Minneapolis, MN
Store Number 3229 located in St. Paul, MN has got to be the worst fast food restaurant I've ever been to. There is never a time we can get the correct order when going there. Today takes the cake - I had to repeat the order 3 times and in the end we were 3 orders of fries short. No apology or any indication that anyone even cared about me as the customer and how felt. Surprised that the store is still in operation by the way they operate. I WILL NEVER IN THIS LIFETIME VISIT THAT STORE AGAIN.

Went to Wendy's in Leominster mass for the third time in the last couple months all of our food was cold or room temperature! So frustrating because Wendy's is really good when it's hot.

DAMARIS GUEVARA
from Lorain, OH
My son and I were waiting in the drive thru with a few more vehicles to order our food, and the problem was that when we arrived to talk through the speaker the wait was way too long, we waited for 5 mins or more and nobody answered. So we left to the McDonalds that's right next to Wendy's because it was too much the wait and we noticed that the 3 employees were all together having there own conversations even when there was a ton of cars waiting on them. When we finished with our meals we were heading out and seen that the drive thru barely moved at all and the same employees were still doing there own thing talking, laughing, and NOT doing there job. This bothered us way too much because its a fast food for a reason to get our meals within a short period of time. We shouldn't have to wait for a reason that's not justified. This happened in the Wendy's from Colorado Ave. Lorain Ohio around 9:22pm on Feb 15th.

The store is never staffed well!
The food is never HOT, and the coupons you have in the paper where not honored correctly. When I asked the manager about it she was very rude and walked off.
This location is not kept clean either,
There are way too many fast food places right around Wendy's, your competition is great so you would think the store would be performing at a level beyond customer service,
I plan on telling everyone I come in contact with about the mis managed, dirty store along with NO customer service.
I would like a call from you,
423-910-0284

I went through the drive thru at 2:50 today 2/15/19 at the Germantown Wi location. After finishing my drink I looked in the bottom of the cup and found a dryed out burnt piece of meat. I almost vomited. My order consisted of a Diet Coke, vanilla frosty, baconator fries, and chili. I asked for onions on my chili and did not receive them either. The worst part was the disgusting meat in my drink!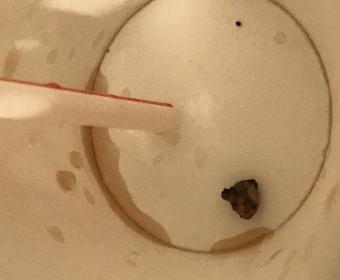 Went to Pottstown, Pa Wendy's drive thru on Friday, February 15th 2019. There were 2 cars ahead of me, it took 18 minutes to get to the ordering machine, I asked for a single hamburger with just ketchup and mustard on it and some of the baconater fries. Girl on speaker asked me twice to repeat what I wanted, annoying after I just spent 18 minutes waiting to order with just 2 cards ahead of me. When I finally got to the pay window I said to the person standing there "I have been waiting in this line for 18 minutes." He started yelling (and I mean yelling) at me that "We're busy, it's lunch time you know (excuse me, this happened at 2:15 pm, kinda past the lunch crowd.) He took my card and slammed it thru the credit card machine (and I'm thinking, if he breaks my card I will climb through this window!) When the card was finished he ripped my card from the machine. Opened the window gave me back my card and SLAMMED the window shut. When my food came he opened the window threw the food at me and slammed the window again. Having enough of this cretin I yelled Fuck You right back at him. When I got to the pick up window, I asked to speak to the Manager, i said "that guy should be fired." Her response was "Well, did you curse at him" Your damn right I did. She just stared at me and told me to have a nice day. I will tell everyone I know not to eat at this Wendy's and I will also tell them how lousy the food was. I go there all the time because I work across the street and the girl that used to be the Manager was great and I never, never, never waiting in line for 18 minutes just to get to the ordering machine. Apparently this person has anger issues and probably should not be one of your front line people, Manager isn't so hot either.

I want Bell complaint against manager name Joanna trucks at the store, West Jewell Avenue the address is 7807 West Jewell Avenue Lakewood Colorado 80232 I don't like the way she treats us employees there very rude and disrespectful with them she cusses at all in front of customers I told them to get lost she has I'm constantly I'm always in there listening and I just want the way she treats oh she don't care about them on their safety on how they get home or anything she needs to be fired I will not go in there anymore until she's gone and you to all my friends and family to not eat there so you better do something about it because I'm very pissed right now so I will not be eating that anymore because she's gone and very wrong person. And then she send people home making moves hours you know when they're there to clean after work that's wrong 2 and she's people got them off the floor and turn brown since I'm home and then let's see if I go out there and do the mopping again not happy but that either needs to be done she didn't let go she never did manager at all T is favoritism she told one employee stop talking so much and stop walking in the other employee footsteps when there's other employees that stands around and talks more than she does and she did not tell him to get to work and stop talking and then there's a place that can go outside smoke whenever they want Joanna goes out and smokes all the time every 5 minutes what is wrong why other people work so she better be gone or I will not eat there anymore

Can you please put back cheesy buger back they didnt need to be taken off

The Wendy's located on N Causeway in Metairie La. is a constant disappointment. Service is horribly slow and rude. Orders are often wrong and the quality of the food is sub par

I paid for two frosty key chains and didn't receive any. NO receipt EVER given so no proof. Very POOR service

my wife and I went to wendys for lunch today 2-13-19 I ordered a jr bacon cheese burger and a small chilli.then gave the lady my nameshe called my name i did not have the chilli had to ask for it.when i bit in to the burger there was so much mayo on it came out both sides of the bun. also the chilli was like water the beans in it was hard. i could not and did not eat that lunch i have a at this store many times but never like this. i also had my 2 forest sons with me spend over $24.00 i know this may not be very much money to some but when you are retried living on a limited in come it is. this is not what i do but when i pay for food i like to be able to eat it. hope this will help in some way.
Thanks Ray Workman

When I tried to eat at Wendy's today by ordering a cod sandwich, I was told by the cashier that Wendy's doesn't sell cod sandwiches, even though a photograph of a cod sandwich was affixed to the front of her register. The same cod sandwich photograph appeared both on the digital menu on the wall where customers line up and on the digital menu directly above the cashier's head. Despite these three visual verifications that Wendy's does indeed sell cod sandwiches, she insisted that they do not. This is a piss-poor way to run a business & I will not be attempting to eat at any Wendy's again.

loretta abrams
from Mansfield, OH
visited your restaurant at lex-springmill rd Mansfield ohio on sunday the 10th of feb ordered the grilled chicken an ff an drink I asked for extra tomatoe on the sandwich an wanted extra sauce on the side did not get any tomateo an got extra sauce but none on the sandwich
also can not take survey they never give me a receipt
thank you

Let me start of by saying I really like Wendy and come to this location often but This is my 2nd time coming to this wendy store #4936 2/9/19 1st compliant order the 2 Peppercorn mushroom burger meals and when I got home my sandwiches did not have any peppercorn sauce on it attempt to call store and no answer . 2/11/19 2nd compliant on my lunch hour order peppercorn meal again and rec'd the SSawesome bcn chzburger . I guess its my fault because I didn't pay any attention to the screen but clearly stated the number #5 combo and stated the peppercorn meal . Attempt to call again its 1212pm and phone just rings.. I don't like that I have to spend my money and go home or back to work to get the wrong order and then for no one to answer the phone. My ticket order this time is #3029. I don't like to take extra trip back n worth to a restaurant when my order should be right in the first place. Its more of a slap in the face when you can't even get anyone on the phone to even try to correct I guess I just lost my money or well because I don't have the time to go back

Roger Danis
from Westerville, OH
My daughter years ago worked at the Wendy's at Maxtowne Rd. near State St. in Westerville...that is when it was a good site. For quite a long time now...more than one year, this site is simply awful...NOT AT ALL AT WENDY'S standard...which I consider above all the rest. On Saturday evening, this site hit the all time low: 1. The fries came out half raw. When I asked for a replacement, I got the same condition. The fries are simply not being cooked properly (this has occasionally shown up before at this site). 2. The drink dispensers were 50% not useable. 3. The ketchup dispenser was broken with ketchup ending up all over the counter. The bathroom was a. dirty; b. no soap dispenser (broken)...how do the employees have clean hands? c. The paper dispenser was broken. 4. The fries ALWAYS (whenever I am there) are placed on the tray immediately and are cold by the time the sandwich is placed on the tray. I KNOW you actually want the fries to be placed on the tray last.
It simply seems like there is always chaos at this site...often dirty...and often no one cares. When advising the workers of my concerns, there is zero response. This is a corporate owned store...certainly NOT befitting your image of good food in a clean place.

Kellie Smith
from Ashburn, VA
Store #12031 in Dothan, Al is fairly new to the area. We went in to dine. The cashier was less than friendly and the dining room was filthy. We had to wipe off our own table because they were all dirty. It's shameful.

La Sharon Allen
from Sacramento, CA
2/7/2019 The Wendy's located at 4180 Northgate Blvd Sacramento,CA is the most unprofessional place ever. The drive thru line was backed up cars lined up while the employees were playing around , playing tag and throwing ice at each other.. The food was food was disgusting and the sodas were watery. If I wasn't hungry I would've it back and asked for a refund. I will never visit this location ever again and I will be sure to tell everyone I know not to go to that location. They're in there bullshitting and nobody cares.

Literally everytime I go to Wendy's I'm waiting 30 minutes or more just to even order. I'm literally in the drive they right now, haven't ordered and it's going on 40 minutes. I've worked numerous fast food jobs and understand the importance of short drive thru times. Its absurd. Currently I'm at the Turner road location in dayton Ohio.

My complaint is extremely slow ordering in the restaurants and the wait time for the food. All the Wendy's I have been to in the Mansfield area are the same, First you have to stand in line to order for a very long time, and then you have a long wait on the food. The food is good, but the wait time is not. It has been the same at Wendy's on Lexington Ave, and Lexington-Springmill Rd and the one on Possum Run Rd. I would like to know the reason for such slow service if there is one.
Thank you,
Ann Snepp

Kathleen Merritt
from East Northport, NY
Recently the last two times I went to Wendy's the order was messed up. Every time I ask for one of the combos to be plain just the cheese and bacon, it comes to me with the lettuce, tomatoes, and mayo. Even though my slip says PLAIN. I can deal with the lettuce and the tomatoes but the mayo is all over the bun and gets on the burger. Then I'm usually left with the burger because the bun is ruined. I go to Wendy's at least 2 times a week if not more and It's getting to the point that I'm gonna stop going.
Kathleen Merritt
21 Public Road
Hauppauge, NY 11788

The Wendy's I am complaining about is located at 13246 Cedar Road in Cleveland Heights, OH. I had previously visited Wendy's and it took about 25 minutes to go through the drive thru and they got my order incorrect. A couple of days later, my kids really wanted Wendy's. I did not want to go back because of the bad experience two days prior. I gave in to their wants and this time I went inside because there was only one person in line. It took 30 minutes to receive the food order. They kept giving me part of the order. After I thought I had the completed order, they told me it would be five more minutes for the wrap. In the meantime, the food I did receive was getting colder. Once I got home, I notice that most of the order was incorrect. I called the 1-800 complaint number almost a month ago and was told someone would get back to me. I have yet to hear back from anyone. I am disappointed with the service at Wendy's and disappointed that no one bothered to follow-up on my complaint. The date of service was January 17 at 5:23. I believe the store number is 10147. The meal cost me $14.15. I would appreciate a response to my complaint. You can reach me at 216-288-1461. Thank you.

Over the years Wendys has been my favorite fast food but the last few years my experience continues to get worst with the service.
I mostly stop at the one in Morris, il and at one time was the best now is the worst. Just seems like they don't care, they constantly are out
coke products, different sauces and not uncommon for them to forget something with your order. NOT SURE IF THIS IS A WASTE OF TIME
BUT I WANTED TO TRY WITH HOPES IT CAN BE WHAT IT ONCE WAS!

The attendant serving food threw it at us and messed several orders up

We have to travel 11 miles to a "local" Wendy's and we expect out orders to be correct. Twice in the past weeks when we have ordered we were missing items. When we got home the first time we were missing a double stack. Tonight I ordered two children's meals of 4 piece chicken nuggets. We received two bags but.....when we got home there was one order of nuggets in one bag and one order of fries in the other!!!! I had one very upset granddaughter. As stated previously it is too fat to go back and retrieve the missing items. This is making me wonder if we should go back at all!!

The Wendy's franchise in Covington ,TN,
is literally falling apart.
It desperately needs renovation and modernizing.
It resembles a third generation Wendy's
building.
The sunroom like structure at the front facade is deteriorating and reflects poorly on the Wendy's brand.

David
from Rio Rancho, NM
Waiting at counter 10 min. Workers walked by looked at me. Never took my orders. I asked if it was open no response. So I left. This was in Las vegas n.m

The staff at your Lakeside Store needs customer service training and my food was awful will never come here again

Kattdanacox@gmail.com
from Houston, TX
Feb1 sat nite at 9pm 2019.im disable female.wendys waco tx on vallymills dr.i call the wendys to place my order because lobbys lock.i ask her to go to the window because i dont have a car.shes staing to me no.i say i cant drive maam im ddisable.thats why i moved next door so i can walk over.shes rude and says ive got 3 cars imcbusy.no car no foid and hung up.wow really.why cant yall have a window for that the handicap can eat after libby clises to.this was so bad because i depend on my meals there.so now im hungry and i call them back no cars are there so i ask her if i could please place a order now that their not busy.shes stating no i told u no .and hung up.wow.now im sorry shes stating shes manger.why would u allow this.im a paying customer.but u want to discreanate against me because i cant drive because of my disability.im sorry she couldve walked it out to me.or i couldve easily went to drive up window.theres ni readons to be this way.and im truely SORRY but this is such a cry for the handicap people .we all cant drive maam.and how would u feel if i did u that way.i was only wanting to eat.which by the way i couldnt take my meds that nite due to must take with food.so im truely shocked .ty. K.cox.

Jean
from Millersburg, OH
So Burbank, Ohio: Wendy's. We had a Wendy's card for 15.00. So i added 4.00 and took the boys and their mother out to eat. We walked in and ordered the food. We could not find a clean table. I believe that a little dirt makes us healthier. I don't get upset about normal recent dirt…but this place was beyond that. My DIL finally asked for someone to bus table and they gave her a filthy wash rag and told her to do it. When she saw the rag she went back to ask for a clean one and they rinsed either the old one out or gave her another dirty one. So she remembered the wipes in her purse and cleaned the table. It came up dark, and dirty. Then we looked at the baby's chair and it was filthy so I took it up and asked to talk to a manager. I told her I never saw such a filthy, dirty place in my life. She ignored me so i walked back to the table and sat down. I realize we never got our drinks so I got up and asked where our drinks were. Got cups took my DIL's to her and went back to get mine. I sat down again and I didn't have my food. Walked up and got it from the same little girl who did her job okay, the order was correct even though my DIL swore that my combo was a smaller sandwich. I have no idea, I never got to look at it. I went back to the table and sat down and the boys didn't have their food. I walked back, got their food and sat down. My DIL began to talk about them spitting in our food. I got up again and went to get condiments off the filthy condiment tray and table. I picked up my food and after about 20 minutes it was cold. Really stale and cold fries by that time. So i went back and asked if they would nuke them. The manager who had self drawn tatoos up and down her arms looked at me and said NO. She was standing in a mess of chips and chip containers, and dirt on the floor. I am a BSN, RN who did mock surveys for hospitals and ICF MR for years so I unstood not bringing contamination into the back….but….think about it…the place was filthy back there., So i asked her to replace them and she said No...i told her, that i had bussed her table, had to come up there 3-4 times to just get the food right, the least she could do was give me warm food. She said "NO I didn't ask you to clean" That did it. I threw the french fries hitting the back signs. She ducked and the cashier stepped back. She started screaming for me to get out. My DIL said she was saying i assaulted her when she had to go up to the counter yet another time after I tossed the fries.. I sat down and watched them eat, because my food was at the counter or on the floor with the other fries/dirt so I had nothing to eat. . The manager yelled she was calling the cops. So we sat and waited. My DIL was a bit nervous. The other people in the place were complaining. A lady said they had forgotten their order and when she said something they took care of two more and gave them their food before getting hers done. One guy came in yelling that there was ice on the sidewalks and he was worried about falling, another one was talking about how dirty the place was, especially in kitchen because he delivers food. Said it took him along time to get over it. . I think what i saw.....if the dirt could talk, it would be talking about the civil war. Another women came up to tell me her story...then a very nice Officer came in and over to me and I held my hands up to be cuffed and said " I am sorry, i did it." He laughed. Very nice guy. We told our story, showed him the dirty nose wipes in the cracks of our bench, the food all over the tables, floors etc. The rusted food caked legs to the tables. He laughed said he wasn't going to arrest me or do anything about it at all. As he was saying it more police cars showed up and cops started to descend upon us. I said "look the swat team is showing up". He rolled his eyes and said he had forgot to call them off. I waved at them. They looked confused at me but turned around and left when our officer talked into a mic and told them it was okay.....i didn't see guns.... He said to me they did request me to leave. We were done eating. The grandchildren did not get to eat all their food, the baby had frosties all over him because of the lack of a chair. Their food was cold waiting on us to put it out….. I never got my food back. I asked him to go up and get a bag for us to put the boys food in and we were walked out by our officer. Officer Hiems is how I think he spells his name. PD at Wooster Ohio. Call him….....I took the opportunity to educated the boys on how nice the PD are and how they help us. Not sure how the DIL did with it all. I was guilty as charged. It felt good throwing those cold fries. It was wrong of me i know to toss the fries. BUT, in hind sight....I taught and participated in distracting COPE techniques in forensic and Dual diagnosis psych. I was taught for years to defuse situations by causing a distraction. I am sure that is why it is in my behaviors. Smacking a table, tossing a chair, making a distraction of any kind. Tossing cold fries made me rethink the situation and not be very mad. It distracted the manager. The behavior works.....but not my shining moment because of today snowflake stuff. I am not a snowflake. She is a poor manager (I am a nurse manager, managing group homes). Thank you for your telephone and written responses.
PS: there is no star low enough to rate this overall experience.

Don't ever go here worst customer service ever have kids running the place waited 20 min in the drive thru

Don DeWaele
from La Salle, IL
This evening I was a a Wendy's restaurant in Sterling Illinois. I'm not a complainer but there was nobody at the counter when I got there. I stood for a few minutes and the manager came up and apologized that nobody was there. I waited another minute for the girl to finish what she was doing before she could take my order. I ordered a double cheeseburger with everything on it and onion rings with a large coke. She then said that she was sorry but she ordered the baconater sandwich instead. I told her that was fine don't worry about it. She took my money but there wasn't enough change in the register so the manager had to come back with $5 bills. They had made my sandwich and it was sitting on a tray. Then after the change issue was corrected then they cooked the onion rings. The onion rings were small bits and pieces and crumbs that were dumped out of the bottom of a bag and they were very greasy. When I sat down and opened the sandwich up there was only 2 pieces of bacon about 2 inches long on the two patties and nothing else, no lettuce , tomato , onion or cheese. Remember I ordered it with everything on it.
While I was waiting for the onion rings to cook I noticed that the kitchen area was a mess. On the floor was a bucket of French fries that had been discarded and probably a bag full of fries laying everywhere on the floor. The dining area was a mess with dirty carpet and the garbage recepticals were open and had no bags in some of them.
I used to own a restaurant and I know local health food codes and I can promise you one thing this place would not pass inspections. I did not complain to the manager at the time because I was just wanting out of there. But later I thought about this and I felt somebody needs to know. All this unorganization with lack of cash in the drawer and food in a bucket that had been sitting there to long I assume and the mess on the floors must have been there all day because this was witnessed by me at 6:00pm. There was no rush hour and they didn't have time to clean up after.
I don't even know if this will get read but it makes me feel better.

Don D
from Ormond Beach, FL
25 minute so far in drive thru line. 3 cars were ahead of me. Greeter asked a question and then asked again because she wasn't paying attention. I know it's florida, but really poor service.

Linda Brinkman
from Soddy, TN
I have tried to find a place online to complain, you suck that one cannot find a place. I had a miserable experience and then I am done at Wendys..you suck.

Samuel Cobb
from Broken Arrow, OK
I have used a coupon 3 different times now with no problems (coupon code 31) at the Wendy's in Broken Arrow, OK at 111th and Elm and the coupon says valid only 1 time per visit and this last time they refused to give me back the coupon, which expires 3/3/19. This coupon is the only reason I have been to Wendy's so many times. I am very frustrated with why this time they refused to give it back and I will not be back to that location unless this can be resolved. "Valid 1 time PER visit".

D Marin
from Burleson, TX
Location: 270 NW John Jones Drive, Burleson, TX
This is a perfect location; near shopping of all kinds. Unfortunately, every single time I order there, the food is blah. Today, french fries were very stale and limp (although they looked brown and crispy until you picked one up). I got unsweetened tea instead of sweet tea. The buns are tasteless and whether it be chicken or beef, the taste just isn't there. There is not fish on the menu board, but they did have fish sandwiches. I know why they aren't on the board... my hubby said it was awful! I thought I'd make a quick drive through since I got coupons in the mail, but I have decided to take my business elsewhere. I have given this location more chances than I care to mention.

Sherry
from Marshfield, WI
The hoodrats on piedmont atlanta location necer disappoint. Ive repeatedly hven opportunity for human decency since its convenient but neither the hoodrat with 2" nails or handing food bothered to say a word to me and I'm sure it's because. My complexion is not the color of asphalt

Jackie Anderson
from Washington D.C., DC
I visit Wendy's Friday night it was not happy with the service the guy took my order and I I asked for two Chili's to nuggets so I asked him what size did he give me he said he didn't know he wasn't listening so I wasn't happy with that I drive up to the window and find the other guy making the order with one hand holding his cell your phone and its other hand making my food so I wasn't happy with that could you please contact this store and let them know that is not acceptable thank you for looking into this matter

Peggy Jenkins
from San Diego, CA
A guy was getting a soda refill and I was right next to him waiting my turn. He got his refill and I was taking off my lid to my cup to hand it to the worker and he took off without giving me my refill. The guy that was next to me said "wow, he just left! I was shocked that I was blown off like that. I was so pissed that I just threw out my EMPTY cup and left! Oh, and there was another worker just standing at the register, totally oblivious! Wow, what great customer service you have! This could have been avoided if you had the self-serve soda machine! Why doesn't this location have one???And if you're not going to get one, hire people who know what customer service means!
This location is on the corner of Zion Avenue and Mission Gorge Road, just down the way from Kaiser Hospital. The zip code is 92120.

Beverly Hurst
from Dublin, OH
Employees are not properly trained. You offer choice and yet help does not provide what was ordered. Twice my simple order in drive thru has been wrong. Once so bad because ordered hamburger, got chicken sandwich. This evening I decided to try going in since drive thru line very long. Ordered, junior cheeseburger with mayo, tomato, lettuce. Got home to finds, lettuce, tomato, onion, pickle ketchup and mustard. At least it was a junior cheeseburger! Love my Wendy's, but really getting tired of order one thing and getting something else. Please, please do something!

I went to the Wendy's at Westlake in Franklin County Virginia. I sat in the Drive-Thru for over 30 minutes waiting to place my order, which was a large order. My order subtotal came to over $40. I get to the window to pay and the woman tells me "I'm sorry we can't take hundred dollar bills." I explain that I have no other cash or cards on me. She calls the manager to the window and the manager rudely tells me "Don't you see the sign, we don't take hundreds and that's just how it is." She then yells to the back to cancel making my order and walks off shutting the drive-thru window on me. The order was so large it wouldn't have broke their drawer to give me change during their lunch rush. I was feeding ten employees on lunch break and was already late due to the waiting time. There's nowhere else fast nearby. That is the only fast food restaurant there. No one got to eat that day and I'm highly upset about it. It was embarrassing for me and a huge waste of time. If you're not going to accept hundred-dollar bills post that where you order so that people know before wasting their time or even placing an order. I'm sure food is having to be thrown away because of this. If you would rather pay for wasted food then take hundreds that's your business practice but I find it irritating that I have to have certain bills to be a customer at Wendy's. I understand this if you're buying five or $10 worth of food but not for extremely large orders. This has irritatef me so bad that I will not go back to not only that Wendy's but any Wendy's ever again. I would absolutely have rated zero Stars if I could. This is not the first incident I've had with Wendy's restaurant but this by far is the worst.

I went to the Wendy's on central ave in Sylvania Ohio on Monday 4/15/19 and ordered a full size harvest salad, I had a two dollar off coupon, when the cashier rang up my order she stated the total was 5.45 (with the two dollars off) I asked her why it came up to 5.45 she said that what the computer rang it up as, I told her the sign says the cost was 7.15 so with the two dollar coupon it should only come up to 5.15 not 5.45 she called the manager up the manager looked and said oh well they are raising the prices so the must of changed the price in the computer today because prices are going up tomorrow, so why was I being changed tomorrow's prices for today I'm not sure, I know it's only thirty cents but for each costumer that ordered salads that thirty cents extra adds up and that's not right for any company to take advantage of their costumers. Also the manager didn't offer to reimburse me the add thirty cents I was charged.

Alishea Lutts
from Memphis, TN
The Wendy's at Poplar Ave and Perkins in Memphis,Tn used to be a really nice place to eat. I can't say that now. I've had terrible service from rude employees many times. You will sit in line in drive thru forever because instead of taking the next person order like they should, people sit at the speaker until they clear out the people at the window. I understand it's good for their turn around time, but it's hurting the business. I went recently around 9:30 pm. It was raining really hard and there's no canopy over the speaker, so I grabbed my umbrella and ran to the door to order inside so my car isn't soaked. Inside hours are posted on door as 10:00 pm. An employee yells from window that they are closed. I turn to return to my car and another employee opens the door and lets me in. One employee asks her extremely rudely why she opened the door and to never do that again. They let me order, but are rude and huffing and puffing the whole time. The lack of customer service will be the downfall of this location.

Colin hubbard
from High River, AB
Ordered a number 4, and an extra two JBC's.
Drive home to find I was missing JBC.
Also, did not receive ketchup in the bag for my fries.

Robert Delile
from Chicago, IL
Today April 15th my wife and I Went to Wendys on upper main street Waterville Maine 04901. Upon entering the restaurant we smelled a very strong scent of urine, so strong we immediately exited the building telling each other we will never go back. Apparently cleanclines is not important to your corporate goals. This makes me very sad because your food is good.

I was charged twice one order i paid for online and when i picked it up they said i had to pay at window they took my card and gave me my food checked bank and it was paid online and when i picked up 27.10 ticket 9030001 3/31/2019 6.25 store 00001740 if cant take of it at least send me same in gift card i do like the food

My food was cold an it was also half done fries where still frozen an I told them multiple times if I get my food cold I'm gonna complain it was half done n cold

I see you only offer a low rating of 1 star otherwise I would rate my overall Wendy's experience as 0 stars. Drove through the drive through, waited at the window for over 8 minutes and my meal was cold. Not the first time. Has happened at least 5 other times at the same restaurant. I often eat at Wendy's because you are normally consistently good. I search for Wendy's when I am on the road because I typically can be confident that I will get a consistant experience. Unfortunately this particular store is consistently bad. I have had this same experience at least 6 times in the past year making it about 75% of my visits at this particular store. The location is in Randleman nc 27317. I called for help and your customer care rep said she would reach out to the store but offered no concession for my repeated poor service. I am very disapointed in your customer service. I was offered no recompense what so ever. I am shocked that I was treated so poorly by both the restaurant in question and even more so by the lack of concern from your customer care. If this is all you will do I will have to discontinue doing business with all of your locations and I will encourage everyone I know to do the same

Katina Vipperman
from Lyons, GA
Wendy's in Stuart Virginia is supposed to stay open until 11:00 PM. I called to make sure they would be open but when I got there at 15 minutes till they wouldn't take my order. There was three other cars behind me they refused as well.

Brian Carter
from Newark, NJ
I have a complaint about the Wendy's located on East Hollis Stree in Nashua, NH. Everytime I go this particular Wendy's they give me a hard time about the free frosty's for a year key tags. I have three of them for my three children. This time the employee was telling me I can only use one and proceeded to argue with me insisting she was right until she gave in when I said "I'm not going through this again". When I pulled up to the first window the employee that took my order was at the register taking other orders while cashing me out which I know is the norm, but when I turned off my car to show her my tags she was very rude and shushed me away as if she didn't have the time to look at my tags after giving such a hard time. Well, I'm sure you'll find out that yes, I did swear to her saying, "Have a nice fucking day!" as I pulled away to the next window. In conclusion to this incident, they denied giving me half of my order and gave me half my money back as the lady yelled through the entire store not to give my food because I swore to her. Now I understand it was not appropriate of me to say what I did and after the fact having just a little more to add to that, I will not tolerate the childish attitude for something so minor that she, as an assistant manager should know what is what and not give me a such a hard time over three little frosty's. We are adults here you can handle a swear, besides the point, I know. Anyway, I've done customer service too, bill collecting, and you can't be rude. So, in conclusion, I am not asking for anything, except whether or not I'm going to get a hard time from your employees, managers at that, over my three little frosty's every time I go there. As a single father of three kids I really don't have time to go to another one since I live right down the street. My kids look forward to Wendy's Frosty's. It was pouring rain which really added to my fustration trying to order through the speaker that doesn't really work that well. One last thing. I have a question that I need an answer to as well. On another instance one of your employees at the same store location told me that I had to buy something to use the tags. Is this true? I need to know the actual stipulations on these free frosty tags. So far no other Wendy's locations have given me a hard time what so ever except for this one over and over again. Maybe they need to read up on the stipulations as well. I just want to be able to go back and get good service that's all. Not a hard time from everyone there hooting and hollering over three small frosty's that I've already paid into might I add. Thank you. This helps my frustration. I really hope to here from a Wendy's representative of some sort on this issue as I have never put in a complaint at any fast food chain before. Thank you to whom it may concern.

Cynthia Carlton
from Fairfax, SC
I went to wendy's #00002781 @7:15 pm. Two customers in front of me had placed there order and cashier had to give change to that customer. When she had done that she said be right with you and I stood there waiting to order and her an another employee was fussing over side salad. She told him she knew what was a side salad. Then I continue waiting for her to take my order. Once I gave her my order she told me the amount I gave her $20.00 bill and was getting the change out when she said I have already wrang in the amount so I told her what she owed me and then it made her mad. She threw my receipt down and walked away. I don't have to go back but I like the bake potatoes and frosty. Just thought you would like to know. And maybe you don't care how some employees treat your customers.

Randee Olson
from Minneapolis, MN
I stopped by wendys in Bloomington,minnesota went to drive thru....I ordered a plain double cheeseburger with bacon only which was fine I also ordered 2 double cheeseburgers with everything on them I repeated the order twice nd a small chili nd a large fries,,,the order was only 14.73 so I knew he did something wrong ..I asked him at the window if these were regular size dbl cheese burgers...he assured me they were so I drove 17 miles home and I opened the bag..2 SINGLE CHEESEBURGERS PLAIN!!!! howcan anyone mess up such a simple order?? Then I called to complain to the manager after approximately 18 rings he finally answered (( this was around 4pm)) they weren't busy,,,, he did offer I could come back to get reg dbl cheeseburgers but it wasn't worth my drive!! the manager was as dumb as the drive thru kid! No wonder they only have a rating of 1 1/2 stars!! I will never go back there again!!

Today between 7pm and 730 PM at the Wendy's located at 11650 Lakeridge Pkwy, Ashland, VA 23005 me and my wife with our two boys got meals at the drive through after getting some pictures for Easter. The gentleman taking the order had a rude attitude. We waited 5 minutes or so for our drinks, which were not marked so we didn't know which was which. Also both had soda spilled all over them. We waited close to 10 more minutes for our food, when we got it we drove off and got back on interstate 95, that's when we pulled out the food and realized that the boys burgers were lukewarm bordering on cold, the fries were cold and extra salty, to top it off he never gave us a receipt so I had to use this Avenue to make this complaint. The only good thing was that my wife said no onions on her burger and it actually didn't have any onions.

I'm going to have to add my complaint along with the 1,041 complaints. I went to the two locations in West Springfield, Ma on two different days to buy a parmesan caesar salad because I'm a vegetarian. The salads we're okay but the parmesan ceasar crisps we're outdated by a couple of months, Also, has anyone had to wait in a long line at the drive thru, I waited at 20 minutes recently. One time last year, I received a salad with a bug crawling out of it. The fries are greasy, and not much is good anymore. This is unacceptable, where has quality control gone anyway? I'm going to Burger King in the future!

FRANCINE PEARLE WYLIE
from Blue Springs, MO
We had Wendy's on 4/13/2019 at the store located at 925 W 24 Highway Independence Mo. I always ask them NOT to toast my hamburger bun. Due to the fact it gets greasy. This is the third time this week they toasted my bun and it made me sick again. I am NO longer going to eat at Wendy's due to this issue. Your employees don't listen and don't care about what the customer says.

JANICE LLOYD
from Grand Bay, AL
I FREQUENT WENDY"S LOVE YOUR BURGERS & CHILI I ORDERED TWO SALADYS LAS THURSDAY IN FLEY,AL. THE S.W. SALAD HAD A LARGE AMT LETTUCE, TOPPED WITH SEVERALCUBES CHICKEN A GLOB OF AVICADO, 2 THINLY SLICES OF TOMATO & A GLOB OB CHEESE THIS IS NOT a S.W. salad; your S.W.salad use to be delicious; I threw this in the garbage. I do not know how to submit a picture

We stopped by Wendy's to pick up a hamburger and Frosty on April 12, 2019 at 11:45 pm. Waited in line and then gave our order,which was an order for two people, The Baconator burger/small fries a Frosty (vanilla, they were out of chocolate??) and my wife's order, a junior deluxe cheese burger w/ no catsup/small fries/a vanilla frosty. The drive thru cashier got the order wrong, left out the Baconator and a fry, he said that's not what you ordered, I repeated the order, he went to get my baconator, meanwhile my wife opened her burger and it was cold, we called the guy over again and he took the burger, then he brought the baconator and my wife's burger and forgot my fries, I was told that they were in the bag, I said no, he brought me the fries and after THIRTY MINUTES (FAST FOOD???). we left, my wife opened her burger not only was it cold, the wrapper was greasy, no napkins were provided, also no receipt was given, so when I went to TALKTOWENDY'S.COM I couldn't complain there (store number on receipt).
By the time we got home five minutes away our food was cold and had to be reheated in the microwave. Where was manager? Shouldn't she been making sure things were done right, apparently not. Not the quality from Wendy's I was expecting, FOOD/SERVICE/MANAGEMENT ?????
Tracy M. Jacksonville Florida

Ted Lyons
from El Paso, TX
Waited 10 minutes in the drive Thru, for 4pcs chicken and a small fries. I left got tired of waiting, plus I already paid. I will never do business with a Wendy's again. Your place was on Simpson ferry rd. Mechanicsburg, PA. Horrible!

On Thursday, May 11, 2019, I bought a half salad of the new Caesar Parmesan Salad, at 288 Park Street, West Springfield, Ma., and On Friday, May 12, 2019, I bought another from 644 Riverdale Street, West Springfield, Ma. Only to find at both places gave Parmesan Crisps given with both salads had an outdated expiration date of Feb 7, 2019. This is unexcusable to be given out outdated anything. While the salads themselves we're fresh, I am extremely disappointed in Wendy's in general. In the past, I had a salad with a bug crawling out of it, and in general everything has gone downhill. Your hamburger meat is mealy, and your fries are greasy. I am cannot tell how disappointed I am, and since I am a postal worker at a local facility with approx. 2000 employees, I will be sharing my experiences with my fellow postal workers. Things need to improve significantly.

scott sprague
from Wellington, FL
went to the new wendys #00012729, located at 15753 southern blvd, in loxahatchee, florida for lunch,, this is a brand new place and only has been open a couple of weeks now,, the employees so rude, didn't care about their jobs, treated several customers bad in front of me, while i was there in line,, service took for ever to get food, several people walked out after standing in line for awhile, god forbid you have to ask for anything they act like you have a major issue,,, already had trash on the floors, and the bathroom was a mess,, the employees were arguing about not making enough money for their jobs, and their social life, and what they were going to do when they got off work, they didn't care about what they were doing,, i don't know if they haven't had any training or not,, but i don't see this store making it with all this going on, i cant believe the management was letting this go on, but yet i didn't see anyone who seem to have authority there, and its the only fast food place in maybe 5 miles, in any direction,, what a shame!

Heather P Lester
from Cleveland, OH
Food was terrible spent 20 dollars on nasty food. Did not even get correct order.

Mary Beth Klock Perez
from Homestead, FL
THE NEW BBQ SAUCE IS TERRIBLE!!! Way way way too sweet. It ruins the chicken nuggets.
Don't save costs here..
GET THE OLD BBQ SAIUCE BACK.
It is a big mistake. I really won't buy chicken nuggets anymore. The Nuggets a great - but the sauce is the reason we eat them!

Raegan Bumgardner
from Marshfield, WI
The line never moves in the drive through or in the store, they get orders wrong and have gotten extremely slack in customer service.

Daniel Wolf
from Traverse City, MI
Really bad chicken strips --- tough at a dead gator, dry as a bone, must have been "re-fried" 8 times.Pathetic

Nicholas Vardon
from Toronto, ON
Hello,
My name is Nick Vardon , I purchased 3 of your spicy chicken sandwich's on Monday April 8th. form your location at 1 Paisley Ct, Whitby On L1N 9L2 around 1:45pm (the bill was trashed with the bag)
Later that evening and more so the next morning each of us was sick, we were vomiting and the other end as well, all three of us missed work and were worried about our health. We have never experienced something like this before, it was a scary and we new it was form the chicken because all 3 of us were violently ill and that is all we had.
Your chicken made us sick!
The sickness lasted over 24 hours, this is a case of food poisoning.
Before I post on line, and review your restaurant I wanted to give you the ability to make this right. Please let me know how you can take care of this. I look forward to hearing form you soon.
Nicholas Vardon.

Tricey Baker
from Monroe, LA
So I pulled up to Wendy's about 11:28 got my order took then proceeded to the drive through window. When I got to the window I was getting my money together and as I was getting it I heard the guy in the drive through window say 'hea get ha money cause Ian got time' and the person he was talking to actually took my money now if waiting a slight second on a paying customer is a problem the why tf is he working in fast food? Then he came back to the window seen I was still sitting there and turned his fucking nose up like I was a problem maybe he was having a bad night but I'd never want somebody like that working for me and I'm a manager at a fast food restaurant.

Judy Wilcox
from Tucson, AZ
Second time in Sierra Vista Az Wendy 's both times hamburgers and Chile have been cold my chili didn't even melt the cheese something needs to be done before someone gets sick

I go to one of your drive thru restaurants, everyday Monday-Friday. 3647 U.S. 9, Freehold, NJ 07728. I go everyday as my son is autistic and everyday has to be the same. Here is my complaint. Your staffs lack of the English language leaves a lot to be desired. It's difficult at times to fully understand. They are not professional at all. One of the girls has tattoos on her neck, and hands. Does NOT make a good impression.
I am slowly trying to ween my son of Wendy's. Suggestion, you folks in Corp need to train these people, and your employees should learn the language. Having an accent is fine. They need to communicate a lot better.

Leslie B Allen
from Bedminster, NJ
Mr Thomas said he wanted customers to taste all the flavors in each bite. So. Why are u so skimpy with tomatoes? I had a sandwich today and the tomato only covered half the sandwich. It has been this way for quite a while.
Since when did a single become a single cheese? Since u wanted to automatically charge more?
I asked for a chicken club. Didn't get bacon.
This was carry out. Girl put fries in bag before sandwiches were even made. Cold when I got home. Bad training.
Years ago, I was a manager at a Wendy's. We didn't do business that way.
I guess people must get used to bad service and say nothing.
This was in Graham, NC on Main Street.
Whoever designed that drive thru must have been drunk. I think I'm through with Wendy's.

Complaint was made over the weekend regarding a baconator combo whereby the baked potato (which was dressed with everything, brocccoli cheese) was not edible. Accidentally I put the king and yonge location but it was Dundas and sumach.
As since the king and yonge location did rectify the situation.
Thank you

So Wendy's my favorite fast food ever but lately I been disappointed foods hot but I ask for extra onions didn't get em I got nuggets that tasted like they were twice cooked yuck fries over done just a bad night all around a few times but I keep going back I don't know if I will continue to though I took a chance and went to burger king tonight everything was exactly how I asked for it my fries were hot and fresh cooked same with nuggets so maybe I have a new favorite burger joint I don't know but I'm giving Wendy's another chance if it don't get better I guess I'll give it up I grew up on Wendy's the only fast food my dad would eat so I continued on but like I said the service needs to be better and I don't want re heated sides

Cheryl Aiello
from Charles Town, WV
The Wendy's of today is NOT the Wendy's of yesterday. I have been a frequent customer of Wendy's and prefer it over McDonalds, I order a double every time. I thought it was a quirk but three more visits later still the ame. Expecting the Best burger but I don't know what the deal is with your the tomato and lettuce part of the sandwich.It is one tiny thin piece of lettuce and if I don't left up the bun to see dome faint green on it I wouldn't know it was there. The tomato is sliced so thinly that you could read the paper thru it. I remember the good ole days when there was lettuce over flowing the bun and a tomato you could taste. I will think twice now before going back to Wendy's. The Wendy;s I visited was Charles Town WV. I don't want anything but the standards when Dave owned it.

Deborah Neblett
from Richmond, VA
I frequented the Wendy's on Mechanicsville Turnpike, Richmond, VA on Sunday, April 7, 2019 and when I went into the restaurant, there was one employee sitting on the phone and no one was at the register. There was no sign on the door or at the counter that the registers were down. The employee never said a word that the registers were down, she just stayed on her phone. The was already one customer at the register waiting and finally someone came out of the back and told us that they were not taking any orders. I asked her were they closed and she said no we are open, but we can't serve any food because the registers are down, which was idiotic. Why were they allowing people into the restaurant if you couldn't serve anything. Just out of common courtesy and convenience to the customers, there should have been a sign on the door and on the drive thru to alert people so they wouldn't be waiting at the drive thru or standing in the line. I frequented Wendy's on another occasion when the registers were down, but that time the employees were more considerate of the customers. One person was keeping track of the customers' orders with her phone, one was taking the money and the others were getting the food prepared. On 4/7/19, the least the one on her phone could have done was to let the people know as soon as they walked in the door that they could not serve any food. I am sure she was still getting paid a day's wage for sitting in her chair on her phone.

GREGORY GORT
from Bradenton, FL
the only complaint i have is that the food was not hot this is not the first time this has happened late night i have had no problem when eating there at lunch time location is 5400 block of tamiani trail in bradenton

Paul Collins
from Annville, KY
When we arrived at Wendy's this evening all the doors were open and it was smoky in the whole building. They need to have their exhaust fan working. The exhaust fan has been down the last couple of times we've been in there in the last couple of weeks.

I have experienced consistent problems with a store at 1705 W 21st St, Wichita, KS 67203. EVERY time I stop there I experience a problem (product not included, extremely long wait times in drive-thru, and forgetting they had me pull up to wait for an order and never came out.) I've always liked Wendy's but this store has under performed every single time. I waited once 22 minutes in line and when I asked the girl at the window why it had taken 22 minutes she looked around and said, "It's only been 11 minutes." I told her that was correct from the time she finally took my order but I was in line and then sat at the ordering box for 7 minutes before she came on to take the order. She said she could get me some free water!!!! I asked for the manager and she said she was severely understaffed. and never once apologized. I called corporate and asked for the district manager to call me because I didn't want this store to fail. The next time I ordered chicken nuggets. They said it would be 4 1/2 minutes and to pull forward. 12 minutes later I finally walked in and the girl at the counter told me that they told her I left and they had forgot that they had me pull forward. I called corporate complaint again and explained what was going on. I asked if it showed if the district manager had ever called me the last time. She said, "Yes, it was checked off and the manager said it has been taken care of." I never got a call. I asked again and she said she would email him right then and she came back and said both of them had been taken care of and he didn't need to talk with me. I then wrote the operations manager at corporate and in 3 weeks got not response. I wrote the President and haven't received a response in 2 weeks, and I wrote some board members and explained if there was no follow through like this example from anybody then I felt their chain would be destined to lose business.
From the top to the store level, nobody has address this issue that has happened multiple times and now I've quit going. It isn't worth it. It really bothers me because Wendy's was always my favorite fast food but I'm not a valuable enough customer to warrant a valid response. It's sad.

joan thomas
from Hollywood, FL
I visited Wendy's in April 6, 2019 at 5551 Sheridan St, Hollywood, Florida around 3:00. A well dressed man approached me inside and ask if I would buy him a baked potato. I was surprised and therefore I told him I would. This man was clean and well dressed and did not appear to be homeless. I placed my order and he immediately spoke up and said I was paying and ordered the potato with broccoli and cheese. I was disgusted and told the girl I was not paying for his potato and he became very irate and told the girl he still wanted it and pulled out a $10.00 bill and told me he hoped I choked on my food. I asked to speak to the manager who was not friendly at all and she quietly spoke to him. I cannot believe she did not make him leave for solicitating in the restaurant. I will never go to that Wendy's again and will spread the word on the poor service, poor management and allowing people to beg for money. Also, only one register open and the clerk and manager were rude and could have cared less how the man was acting. I would have gladly bought the man a sandwich if he was truly down and out.

Joe Reynolds
from Bedminster, NJ
Wendy's at Cambridge commons Charlotte NC. Drive thru not moving counter workers slow because could not get order correct for customers ahead of me. Store nasty. When another worker comes to counter helps people that came in after me, her friends I think

Shortly after leaving your store at 5560 W central ave Toledo, I realized I forgot my change. I called to check. I ordered a single combo with a medium soda. I paid with a $20. They tried to tell me my change was $4. What did I pay with ? A $12 bill. Obviously they pocketed the money. The $8 they were trying to steal was not worth the hassle of arguing..What a shame. I will never eat at Wendy's again.
Daniel O'Leary.
419-344-5502

Heith Yerger
from Anaheim, CA
Went to Wendy's in Cypress off of Corporate way last night. Food was great but I had my debit card info stolen and 94.60 charged to my debit account. I wondered why it took the girl so long to run the card.. well now I know! I like Wendy's food but I will not be going back to Wendy's!

Dont worry about it
from Washington, DC
This Wendy's is complete ass there is only one good worker who closes the store because the managers suck ass. I'm not ban but they wanna yell at me telling me to get the fuck out. Fix your shit

I was at the drive threw window this evening at 5 pm. I had to wait for 20 min. before anyone took my order I told them that I wanted a Taco Salad and the girl at the window told me in a very rude way that they had no chili. I was already pissed from having to wait in line so long. There were lots of cars behind me and quit a few of them just left.
I was at this same Wendy's 2 weeks ago and was told the same thing. I could not get a Taco salad because they had no chili.
REALLY I THOUGHT WENDY'S WAS KNOWN FOR THIER CHILI !!!!!!!
The Wendy's in Appomatox Va, has very rude employee's and never has any food ready. Thats to bad cause lot's of people here use to like to eat at Wendy's.

Last night, 4/4 9pm Location US 1 N. St.Augustine Fl. I drive through the drive thru to place an order, I inquired about the difference between the baconater and the son baconater sandwich, I asked 3 times and only response was one was smaller than the other, I was curious about the ounce and bun portions. I pulled up to window and I asked the young lady again and she repeated her answer to me in a smartass way I told her I will go elsewhere and don't have to put up with her attitude, she said fine with me and dropped my tea out the window on the drive thru I also noticed her manager was behind her laughing her ass off. So I went to McDonalds, I did see the managers name was Samantha. I won't say I will not go back but something should be corrected in this store. Thanks

Rhonda Cawthorn
from Asheville, NC
my son and I went to wendys to have a salad me and a sandwish he had a humburger with mushrooms and cheese one with fries and drink me water. we have gone there be for and I had the salad 2 times be for and it was great. this time it was full of white leaves no cheese no tomato I was so up set. it was so busy so we just left. it was #1648 on Hendersonville Rd Asheville NC. I feel that I want go there any more. up set. thank you. Rhonda Cawthorn 828-280-2767 if you need to talk tp me.

Feed Sanchez
from Ashburn, VA
This is the second time I've been to the Patterson California Wendy's and they don't have half salads they always tell me that they have nothing but. Salads. I don't know why you have half salads if every time I get off of work you guys only have full salads. It's becoming a routine with them. Not satisfied, with the practice at the Wendy's and Patterson.

I rate Wendy's a 0. Sorry service, took 22 min from order to serve, ran out of napkins, ketchups, Frostys and fries. Total joke and they didn't seem to care. Just a bunch of clapping monkeys.

Terrible experience today at your store at 6531 E. 82nd St., Indianapolis, IN 46250. Waited over 20 minutes in the Drive through line. There seemed to be an argument between a driver and the worker at the window. Instead of having the car move on or have the person come inside they just kept arguing at the window. I finally left. I'll never go back to this location.

CRYSTAL ESTERAS
from Star, ID
My food was so old that the meat in the chicken tenders was dried up! The FF we're cold but worse they were dark brown, from using old grease. I live to far away to be capable of returning them.
In addition, my salad was half iceberg lettuce. I would never have ordered it had I known that you did this. It appeared to be hidden in the center.
Never again will I spend my money at your establishment!
Wrong, it's wrong to do this to your customers!
Have feedback for Wendy's?
Thanks for your feedback!
Sorry. Please try again later!