Wendy's
Wendy's Complaints Continued... (Page 8)
679+ reviews added so far. Upset? Call Wendy's corporate: 614-764-3100

I was at Wendy's on Metropolitan Avenue in Queens in drive through (5:00pm on Thursday, September 21st). The male attendant handed me a fruit punch, and the top of the drink was not on correctly as he was handing me the drink. The drink was all over my pants and top, and inside my beige interior of my truck. He didn't even apologize to me, and was laughing and smirking. I find that very disturbing and lack of professionalism on his part. I called and spoke to the manager, and I even heard her say when this was occurring that he didn't even apologize to the woman. I am so annoyed with the quality of service! Thank you.

Michelle fowler
from Jacksonville, FL
The Wendy's at 3531 U.S. 1 north st Augustine , Fl has very bad service we came through at 150 and didn't get our food till after 200 pm . The girl in the drive thru was very rude kept asking is that all when clearly she could hear two people talking . She forgot one of our frosty's and didn't even apologize he'll she didn't even say anything at all just gave a dirty look and handed me the frosty . She also failed to give a receipt.bad service all together,,,!!!!! She had long blond braids .

Bernie HIggins
from Kokomo, IN
My grandmother (93 y.o) is wanting to give her great grandchildren special prizes for a family Christmas contest this year. She is wanting to obtain $.50 off and possibly a free frosty and then place the coupons in individual frosty cups and give them to the kids. I have visited my local Wendy's (Kokomo, Indiana) to no avail. She is more than willing to pay for the coupons and cups, she doesn't want to leave the younger kids out. I have talked with one general manager who was going to get back with me per e-mail or cell phone and I have not heard from him. I stopped back in a couple weeks later and talked with another manager and he also took my name and cell number and said someone would get back with me. I still have not heard from anyone. If this is going to be too difficult for your company to pull off, she is good with that and will be disappointed but can try another franchise. Thank you for taking the time to read my e-mail.
Sincerely,
Della Mae Jarrett and Bernie Higgins

Ginger Ferrer
from Manchester, NH
Wendy's Restaurant appear to deny access to peoples with disabilities in Manchester and other locations in the state of NH. They claim that the buildings were built before the rights of disabled peoples came into being. So that they do not have to comply. However, if this is so, then why provide parking spaces designated with the handicap logo or provide a badly constructed stall in the bathroom for handicap accessibility?
The Wendy's located on South Willow St., in Manchester, NH one of the inhumane cities anywhere USA, does not provide a handicap entry system into the restaurant. No push button access. Meanwhile, the ladies room bathroom has a handicap access stall, but the door to the bathroom is so heavy and opens in instead of out, so that navigating a wheelchair in this very small space is problematic to say the least. The door to the handicap stall is partially open and has no slide lock to keep it closed so when a person in a wheelchair, walker or cane accesses the bathroom, they have to do battle with the open door while trying to get through the door of the restroom.
It is a contradiction, either no access as is allegedly allowed due to the timeframe the building was built, or provide full functioning humane access to your facility from the outside to the inside as well as to the bathrooms which should have an access button as well.
It boggles the mind to see how callously these concerns are manipulated and denied. And City Hall in Manchester allows it to be so.
Please do the right thing. All of these expenses are tax deductible. If you can take their money as a customer then perhaps you should comply with their constitutional needs of access to Wendy's Restaurant anywhere and everywhere one exists.
Ginger Ferrer, Community Advocate, Manchester, NH.
Think of the value publicity wise, if Wendy's provided full access inside and out to their handicapped citizens and customers to show they are complying with the law and the rights of these citizens.

Sandra Carter
from Cedar Rapids, IA
I am a loyal customer that visit your Wendy's restaurant just about every other day. The time I visit there I always get the chicken nuggets for my 2 year old grandbaby, along with a vanilla frosty that she loves. I go to that particular Wendy's because it is like a mile from my grandbaby's day care. I just want to say I am so disappointed because every time I do go there, their vanilla frosty is broken. It have been down for at least a month or so. I keep asking the people that work there, when will it be up and they always tell me they do not know. I always go through the drive thru window. One other time I did go thru the drive thru there was this young kid that got short with me when I asked him when it will be up. I did not like that. I was going to call and report him to the manager there, but I did not, I just let it go. What I want to know is when the machine will be back up, because my grandbaby loves the vanilla frosty. Thank you

I went to Wendy's on Greenaway Dr. and highway 18 in Jackson Mississippi and I ordered the JBC which was really great at your Ellis Ave location in Jackson Mississippi. My burger bun was wet on one end from them putting a soggy tomato in pieces in it. My burger was no where nearly as great as Ellis Ave prepared my JBC. I'm never eating there again it was about 11:25 PM. The young man who took my order was very pleasant. Please make sure this does not happen to anyone again and I did not receive my receipt either. I also had to ask for my senior discount over two times before I was told I was getting it. I threw the burger away. Hopefully my nuggets are ok my order was luke warm.

Katawna Shurme
from Dallas, TX
Had to wait almost an hour for two four for 4's, a kids meal and two potatoes. Management was rude and unconcerned

charles ramirez
from Denver, CO
location 4851 e. 60th st. commerce city.co. we had two chicken salads. they didn't have the mango chicken salad we normally get,so we got a different salad,the lettuce was old and brown, we found three large pieces of the lettuce core in the salads. paid with a credit card. no receipt was given to us,we thought it was in the bag!! The lettuce was old and should not have been used in anything. We will not be returning to this location or any Wendys!!!!!!

Julia Auzenne
from Waxhaw, NC
This afternoon, approximately 3:30pm on Wednesday 9/20/2017, I placed an order at the 7656 Charlotte Hwy, Fort Mill, SC 29707 drive-through. Please know that my son only likes Wendy's chicken nuggets for lunch everyday and he is almost 17 years old, so I have been to Wendy's at least twice a week for 17 years placing pretty much the same order with the exception we no longer order spicy nuggets. I started by asking for a large number ten combo with a sprite and no sauce. The female employee in a snappy tone asked, "Is that all?". I asked for three orders of the six piece nuggets off the right price right size menu and a large chocolate/vanilla frosty. I also noticed that the combo was a small, so I pointed it out that I wanted a large, to which she responded, "You didn't tell me that!" Now, one snap I can handle but two snaps and now I know your being rude. I get up to the window and she continues with an annoyed attitude, rudeness. She snatches my credit card and basically throws it back at me, and shoves the drink and frosty at me. Now, I'm done, I point out to her that she is being quite rude and she informs me that she didn't hear my order, turns and walks away from the window. The next thing I know, I can hear her loud and clear talking about me to other employees.
I am really not an unreasonable person, I have never had any issues at this Wendy's store and I have been going to this particular store twice a week for three years. After today, I will not be going back to this store again. There is a manager who is a fine gentleman, perhaps he is no longer there and there are several women, all who know my son and I as we order a ridiculous amount of chicken nuggets and were even more obsessed with the spicy chicken nuggets. Its to bad this particular sour puss has caused us to leave, she is an awful representative of the Wendy's Corporation, its associates, owners and executives.

Marketta White
from Cincinnati, OH
I went to the Wendy's located at 1246 Hopple Street, Cincinnati, OH. on 9/19/17 at 9:47 PM. I went to drive thru and ordered a 4 for $4 which was a Jr. Bacon Cheeseburger. There was only 1 car in front of me at the time and no one else behind me. When I pulled up to the first window and there were 3 employees standing there talking. One of the employees took my card while the others just kept her company. One of the employees I'm assuming was on break because she was just propped up on the wall talking. The other employee was also standing around her but on her phone texting. I assume she was on break too. This wasn't professional for the business nor safe for the employee cashier. Having too many people around you while on the register can lead up to money missing from the drawer as well as mishandling of the money to the customers.
As I drove to the next window, there were 2 employees standing around there waiting on the food. After 5 minutes 1 of the employees asked me had I received my drink yet, I responded with a no. She then proceeded to give me my drink. As I was still waiting for the rest of my order, a young African American lady in street clothes walked behind the front counter with an infant in her arms. She didn't seem like a manager because if so she would know that children aren't allowed behind the counter. A male employee walked up to the front to take the order of a customer and apparently she didn't have any money because there was a lot of ruckus going on about it. It wasn't professional how everything was handled. The lady looked like she was homeless and was asking for a small fry so the employee asked her if she had the money and she said no. The young lady with the baby stepped up front and asked what the customer had said. This is when I made the assumption that she was the manager after all because she said she was going to call the police on her. There again this situation was dealt with unprofessionally because she's addressing the customer with an infant in her arms. That put her and the baby in a very dangerous position had the customer decided to harm the manager. After about 5-10 minutes, I was given my food. My fries were barely warm. I returned my fries for a fresher box which it was given to me in no time. After I drove off, I wasn't pleased with the rest of my food. My nuggets were cold and my burger was old. When I pulled the burger out of the wrapper, the top bun was extremely greasy and the wrapper was greasy. I was already away from the establishment so I couldn't take my food back. So I began to eat the burger. The burger was tasteless. Nothing had any flavor, from the burger down to the lettuce and tomatoes. This was one of the worst experiences I ever had with Wendy's. Business at this location runs very slow at night and has a lot of untrained teenagers. When I use to work for McDonald's when I was a teenager, my manager would always say if you have time to lean you have time to clean. There's no reason why the dining room lobby, outside, drive thru and behind the counter isn't clean if there's no customers available. The management team needs to be reevaluated and training better. There's nothing worst to see then a bunch of ghetto acting employees standing around talking about their dates, home, text, etc. I hope this restaurant gets it together.

Richard Thomas
from Boston, MA
I go to the Wallingford, CT location every week. No matter how manNY or how few people are there, they are very slow 100% of the time.
You can expect them to be out of napkins, ketchup, hot sauce, or crackers for the chili every time I go. The place is not kept clean.
Just thought you should know.

Jim Brown
from Easthampton, MA
this place does suck to sat the least-we ordered a chicken salad-the salad was very dirty and the chicken had mold on it-the drink machine didn't work right at all-the area around the grill was disgusting-very dirty and messy-we will NEVER go there again for sure
Jim Brown

Maurice Looney
from Cumming, GA
I was in your Wendy's on Hwy 20 in Cumming, Ga. today for lunch. I could not believe how filthy the place was where the workers were that I could see. The floor looked like it had not been cleaned in a week. There was grease on the floor, French fries on the floor, paper on the floor. The cooking surfaces that I could see were dirty. If I had been a health inspector from the health department, the doors would have been shut right then. The place would have been written up for multiple violations Furthermore, out in the eating area I observed a young lady cleaning the area. She did not wipe the surfaces down with a clean rag and cleaner. All she did was clean off the surface of the tables with her hands and rearrange the chairs. Customers were eating on dirty tables. There was trash on the floor that she did not care to pick up and put in the trash bins. I ate my food there but it will take a complete overhaul of personnel in this restaurant for me to go back. They all had bad attitudes, making fun of drive thru customers. I could go on but won't. Dave Thomas would be rolling over in his grave if he saw what I saw today.

william glover
from Manhattan, KS
when I first ordered gave name started waiting then noticed that they had to many orders lined up and confusion I started seeing everyone behind me were receiving their order except me got back in line finally got back up front and asked for my money back he needed help doing this a young man came up and was going to handle this when the guy who took my order and the line cook got in a shouting match with vulgar language which led to a fight breaking out which shocked everyone sitting eating dinner many senior citizens looked on the fight hit the ground the employees having no adult supervision or training were stunned some scared,we all waited for the police to come.finally got my money back but did not get to eat this happened at the wendys on anderson ave. manhattan,kansas

Donna Beebe
from Florence, KY
My husband and I stopped into our local Wendy's a week ago at 2098 North Bend Road in Hebron, KY 41048 . We both went into the restrooms and then ordered our food. While waiting we noticed all the trash cans were overflowing to the point of not being able to put another item into them. They gave us our order and we turned to fill our drink cups. The drink counter was a mess. It was wet and the cups & lids were still in sleeves and laying in the liquid on the counter. We filled our drinks & proceeded to the table. Our burgers were room temperature and the chili was lukewarm. Neither of us mentioned it. When we left and got into our truck my husband said I didn't want to say anything until after we ate but that restroom was disgusting! Absolutely the filthiest restroom I have ever been in. The handicap toilet was filed to the rim with toilet paper and human feces. Wet & dry toilet paper all over the floor. The Ladies was the same. The doors on the handicap stalls were standing open. I Neither of us wanted to say anything because we didn't want to ruin the other ones meal. My husband says he will never go to another Wendy's as long as he lives.
It is really sad because we both love the chili and burgers. The chili is normally to hot to eat immediately and the burgers are steaming. We are sending this to tell you it would be in your best interest to slip in this location and see for yourselves how filthy it is.
Steve & Donna Beebe.

Debbie
from Jacksonville, FL
#00007162 - Jax, Fl Univ Blvd, = My office has been visiting this location once a week for the past 20 yrs. and have had nothing but perfect service, food, etc. I use to complete the Survey bcuz of the exceptional service. Not anymore I wont! You have gotten rid of the staff that cared, and you have replaced that staff with a bunch of "nobody" cares employees; with the exception of Melissa (Asst Mgr I presume??), and your new Cashier. These 2 women are the thread holding this location together. The new Manager is loud, obnoxious, and screams in front of customers & staff, making everyone feel like exiting the bldg. Seems a much needed FIRING is in order! we will not be back

Tamara Buck
from Modesto, CA
On September 17, a little after 5 pm, on 2920 NE Sandy bld In Portland OR at Wendy's I ordered a simple food: a bowl of chili and a sandwich. I drove up to the window to pick up my order.I was THE ONLY CUSTOMER AT THE TIME. The was no one else in front of me. The person working at the drive through was a younger male. So I waited for my food to be handed to me... And waited..and waited. Instead if giving me my food, this employee started taking and filling orders from customers who came after me, one after another. I am still waiting .. It started to feel wired to me and I asked for my food. The employee completely ignored me. Another female employee came in and I asked her for my food-- and she completely ignored me too. So I waited and waited and then I asked the guy again and was ingnored again and again and again..I couldn't believe what was happening. I started honking my car horn to get his attention! And was ignored again 3 times. As if they were deaf and blind and I was invisible! I have a foreign accent and I am sure I was discriminated against. I felt diminished, totally humiliated and I was appalled. I will be filing a law suit

This is at the Wendy's in Timmins, ON. I checked out the store hours online before I drove over at 9:50 pm. Got to the drive-thru speaker (no one in line), waited about 10 minutes with no answer, drove up to the second window to check the time of the store hours, which had them displayed that they closed at midnight. Drove back to the speaker, waited another 5 minutes, drove to the first window and waited about another 10 minutes before an employee came over and said that they closed at 10:00pm. I asked when did they change the hours and pointed out their sign which said they closed at midnight and they should change it then and the employee just shut the window and walked away. Horrible, horrible service as well as false advertisement.

Dawnessa P Crooms
from Miami, FL
My complaint would be on multiple occasions I've been made to feel like I'm bothering the workers when I come to eat. The truly treat me as I am NOT welcomed there at all!!!!! So very disappointed and will never go back.

Patty Lorusso
from West Chicago, IL
I just went to the Wendy's at 956 n. York rd. Elmhurst Illinois. Store #00000730. I went there for a lousy bacon and cheese and baked potato. Not only did I wait in the drive thru for 15 minutes.... No, I am NOT exaggerating. And then I got a small potato with hardly any cheese sauce. There are WAY TOO MANY CHOICES in that area ..just along York rd. I will think twice before going back. Thank you for your time. If I could my rating would be NO STARS!!!!
Patty Lorusso

Darla Dowd
from Wentzville, MO
treated horrible at wendys at 63385,was talked to at drive thru in a elmo sesame street voice, which they thought was funny , kept having to repeat our order, waited in drive thru for 30 min, got to window and they were still laughing, Order was all wrong, so then had to wait 15 more min, $28 dollars worth of food , no reciepts . Not happy about losing hard earned money on Crappy service and cold food!!!

Rich voeltzel
from Turtle Creek, PA
I was at Wendy's in Penn Hills on Rodi Road I went there on Friday night around 11:30 to drive through there was 6 cars in front of me 11:50 I went up to the speaker with my car and place my order I want a three tuner Chocolate Frosty's they took my order everything was good I got up to the window the manager was on the fry station partner hands in the fire station with no gloves eating fries putting it in her mouth and the cashier told me that he is no Chocolate Frosty's left and I asked her to give me another instead she said they close the machine down at 12 and I told her you don't close until 1 cuz I worked at Wendy's for 25 years and I was a shift supervisor for three years and I always went by the book I will put this on Facebook too because you have a lot of Promise in Penn Hills Wendy's with employees every time I go there I get chilamate oh cold hamburgers I don't know what do you want to do about this have seems like it's not like it used to be when I worked there in the 80s they cared about the employees it's like anything else now their disability

Rita Lenart
from Manitou Beach, MI
I usually don't have a problem, but this time my husband dropped me off at the door, (he was pulling our camper). I had to wait for a very long time with only 2 orders ahead of me. Then had to wait awhile after ordering. My husband finally came in wandering what was taking so long. I will never stop there again.( 1570 N. Mitchell, Cadillac, Mich. at 12:50 pm. #10043, host, Linda

Freida Toner
from Canton, MI
Your employees at the lock haven store are bullies the treat your other employees like trash even the managers are rude and out of line the pick on the weak ones and make them cry you need new management and employees her thanks for you time

Brittany
from Charlotte, NC
I placed a order for the number one small with a tea, received the order to get fries that look as if the were dropped back into the grease to be warmed which in turned made the fries greasy and limp. I drove back to the window and ask for some fresh fries the cashier took the old fries back and give me some hot fresh fries just to get home which is not even 0.8 miles away to a cold rubber burger that wouldn't even melt the two slices of chess that was placed on the cold dry black burger! Highly disappointed nothing unusual for this particular store! Just thought I would give them a shot tonight since I didn't cookout's burgers but this was a major fail. I have to waste another trip to go back to this place to take them the burger back to get a refund. Not to mention no receipt was given and I'm still hungry!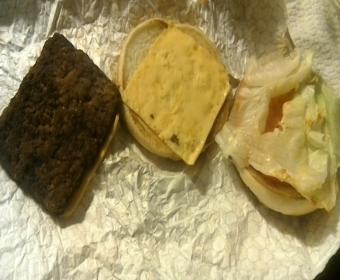 Im at the wendys in endicott.newyork I ask to speak with a maneger about my order from the night before that was wrong. I had callwd it in.. I was told the book was thrown out!!!the cashier n staff all warned me that that the super visor katrina was in a bad mood I hear her yellung at the staff.. 18 min and she still hasn't git bak to me.. I was never spoken to by maneger.. I saw she was busy but she nevwr once said hold a sec she never even acknowledged I was there.. Im stil waiting she waa so rude.. The store num is..2076

Melissa wade
from Oxford, MS
First of all, there's this talk to Wendy's bs. Which is exactly what it is the Wendy's in Wise Va. Doesn't give the receipt so can't use that! Then there is the fact I just paid almost $9.00 for a chicken sandwich combo with backed potato instead of fries asked for butter and sour cream.....which I was charged for but didn't get after paying that price!!! Next of all how old is this potato?!! For real I am a manager in food service and I would not let my employees serve this almost black potato!!! The next time I have a health inspection I will be asking how long Wendy's are to keep these things in warmer and I have taken a photo sitting here in your parking lot with time to show as well!!!

I'm a long time customer. The food, services, cleanliness,price have always been a 6 out of 5. Today, wife and I got taco salads. Nasty! LOTS of lettuce, not much else. Teaspoon each of other things. Little difference between half and full.7 and 5 plus change. Not cheap.Still will eat Dave's place. The chili, burgers, baked potato and other things are top-notch. Never again the taco salad!!!!!!!

Melinda Braun
from Randolph, MA
My local Wendy's is at: 14 Condlin Dr Randolph, MA 02368. The past three times I've been there I've left because of the slow service and lack of attention to customers. The store is clean and nice inside but the service is bad. The first time I rolled up in line at the drive through with 4 people in front of me. A after 20 minutes I still hadn't been able to give my order. Each customer sat for many minutes at a silent speaker. I left, went to McDonalds and was home in shorter time than my wait in line at Wendy's. The second time I went I decided maybe going in would be better. I was second in line and it took 15 minutes for the two groups, a total of 4 people to get their orders ordered. Then the cashier turned away and started creating parts of those orders and never acknowledged my presence. At that time there were 3 more groups behind me. I left. The third time I tried I decided on the drive through. After 15 minutes with 3 cars in front of me we had not moved forward by even one car. I left, again went to the McDonalds and was home fast. Tonight, all I wanted was a frostee. I went to the drive through. The two people in front of me moved through pretty well, less than 10 minutes to do their orders. Then I sat for 10 minutes at a silent speaker not being able to make my order. Nearly 25 minutes for a frostee at 10:30 at night. I really prefer Wendy's for fast food but this store isn't worth the wait. I dont think I'll go back.

Billy Williams
from Santa Clara, CA
I ordered the Giant JBC with no mayonnaise I ended up waiting 10 minutes and my order was not right I was given no tomatoes with mayo on it and bacon crumbs

Aaliyah Harrell
from Fredericksburg, VA
Went into Wendy's in Fredericksburg Va south point location and it was understaffed so badly I waited 30mins for my order and majority of the customers was having to send food back or ask for refunds. I heard the manager call my order out to the cook so I was pleased to know my order would be made with no bacon just as I asked but when I got home I was disappointed when my order contained bacon on all 3 orders. I called back to the store to alert the manager and she invited me back in so that she could remake my orders but I live 2 counties over so when I was back in town I brought my receipt which clearly stated no bacon on all my sandwiches.The manager had the burgers made without bacon but as I explained to her, I am Muslim and once pork has touched, been packaged, or been in the same bag the rest of the meal is considered contaminated and unclean for us to eat and being as I ordered 3 meals on the 4 for $4 the chicken nuggets and fries had to be thrown away.The manager wasnt helpful once I explained my religious dietery needs and this has been bothering me and preventing me from visiting Wendy's

Courtney Johnson
from Four Oaks, NC
My husband went through the drive-thru of our local Wendy's. When he got home we realized my son's chicken nuggets werent in the bag and neither was a receipt. When I called the local store, the employee was very unprofessional and I wasn't even sure who I had called when she answered the phone with an "Hello", after finishing her conversation with someone around her. They did not put a receipt in the bag so I was told they can't do nothing without a receipt, even though they are the ones who didn't give us one. So now my son is eating my chicken sandwich for supper. I am very disappointed and just a little bit pissed off at the poor service and understanding this employee provided. I do not know her name, but it was around 8:30pm on September 4th.

Gary Strickland
from Seagrove, NC
Store 9148
As I waa on a business trip I stopped in a Wendy's here in Orangburg SC I was in the mood for a burger and fries upon arivl staff was friendly I ordered a number 1 with no lettuce and no tomato small drink and a small frosty and then I was informed it would be 30min for fries but they did offer me a substitute of chili or baked potato I politely decline and just took the burger drink and Frosty not wanting to bring my food back to my hotel I wanted to sit in the dining area and enjoy my food after stopping to pick up a straw in a spoon and some napkins I noticed there was no napkins and no ketchup I received napkins from one of the young ladies behind the counter and proceeded to find a table to enjoy my dinner when looking at the dining room it looked like a hurricane just went through there at least 90% of the tables were dirty or had trash on them after finding a table that was clean enough to eat off of I thought to myself maybe they just were busy and haven't had a chance to clean up yet but by the time I sat down there was no line the cashier was leaning up against the wall and another just chatting away with the cashier so then I thought maybe they've just had a rough day so I looked up Google ratings for this particular restaurant and it didn't even rate a three out of five Stars and after reviewing a couple of the comments previous customers have left I seen a pattern people who work here just don't care I sat there and finish my burger drink and Frosty and then saw two employees enter the front door with cases of frozen french fries at this time the restaurant and seem to be getting busy so I decided to leave
upon leaving I stopped by the restroom just to see how clean it would be it seemed to be some what up kept but the trash was overflowing upon exiting the restroom one employee was sitting at a table next to a table that had trash crumbs napkins and even an old French fry sitting right on the top and it didn't seem to phase her whatsoever at this moment I just shook my head in disgust and left this restaurant something seriously needs to be done about this restaurant before my return

STAN CIOS, JR.
from Horsham, PA
Requested a senior beverage lemonade without ice which i prefer. Well the clerk gave me a difficult time but eventually seemed to comply. What a surprise when i go home. She made an awful choice to water down my drink. It was lousy, lousy tasting. Is wendy training people to cheat on large purchases. If this continues i will give my business elsewhere. Very sad!!!!!!!

Sally WILBORN
from Little Falls, NJ
VisitEd THE Wendy's on 9/08/17 Wayne Nj store 00003684. I ordered the home style chicken sandwich and I found a hair in my sandwich was not happy about that my fries were burnt my husband's spicy chicken sandwich seemed to be raw. And the workers did not seem they had not had the proper training. I was very disappointed because I always go to that Wendy's and never had a bad meal.

Norman Arnold
from Olathe, KS
Bought 3 items at Wendy's located in Lenexa ks located at Woodland and hwy 10. The chicken sandwich, cheese burger, and fries were all cold. Warmed them slightly in micro but that only taste very bad. What a waste of time and $'s. My wife and I have enjoyed Wendy's for years but will not be back.

Elaine shore
from Dearborn, MI
Food was cold.,missing fries, paid almost $20.00 for food that I could not even eat, more less enjoy. The person that took my order was rude. The cup he gave me for my drink was dirty. Not a satisfied customer.

in may 2117 the 11th or 12th I was asked by a staff member to build an outdoor patio cooler container built of wood in the shape of a counter top on a frame similar to a island used in kitchens.Our agreement was verbal, taking place in wendys while he was working. I made it clear to him that the payment was due at completion of the project.I have contacted the employee Brad Hildabrand several times and 1 staff member appealed for me but I have not received no payment.This is a cowardly act for an employee to do to a customer who trusted a younger man to show the honest principals I would expect.Iam living on a canada pension and trying to make it with a former trade as a carpenter.this is a disgrace for an employee to do this to a customer. call me please and give me the satisfaction to see some accountability of this employees dirty trick played on me my ph.# is 506-474-0190 Fredericton NB Canada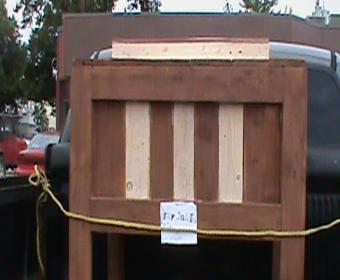 Virginia Ellis
from West Des Moines, IA
I went to Wendys on Friday and order 2 chicken nugget meals, not once was asked if fries or apples, said ranch dressing. I didn't get the ranch dressing for either and they just gave fries. Then had to ask for the toy, which really wasn't worth giving to a 2 year old or even a 4 year old. Then on Saturday was at daughter's house and watch football and kids wanted Wendy's so went to another one. Order a cheeseburger only ketchup, cheeseburger no pickle, a cheeseburger deluxe, 2 4 piece nuggets, quarter pounder meal (with no cheese) with coke to drink, and a extra large fry. I was told $18.00 and something. Never got a receipt after paying, when I got back to the house, Every one of us had a cheeseburger and they all had pretty much everything on it. This is so sad that I went to two different Wendy's and neither one of them could place an order correct and spend all this money and get crap for food. I want to know what your company is going to do about these two situations. I haven't been to your restaurant in a year or more because always got cold food. I don't know why I tried it again and once again was very very dissatisfied with it. You higher people that cannot even do a order correctly or even give out a receipt or even ask you apples or fries with that kids meal. Please advise what your company thinks of these two orders that were placed

Wayne Frazier
from Charlotte, NC
Bartow, Florida. It has been about 4 months since I have been to the Wendy's in Bartow. All because I was about to go in there one time and I saw a man come out wearing saggy pants. I mean they were below his ass. When I go to eat, that's not what I want to see. I have not been to that store since then. And I used to go 3 or 4 times a week. If that's the kind of behavior they allow in that restaurant, I will not go back.

kim rice
from Montgomery, AL
My problem started with the cashier Malaysia. She has no customer service skills at all and was very rude. I ordered a side salad which took a while for me get which should not have taken that long. This was not the first time I have experienced rude behavior from the same cashier Malaysia. She never followed up on my order after I was standing their awhile. I was with someone the first time she took my order and they can be a witness to her rudeness. You need to retrain her.I was in store #9316 2301 Marietta Blvd. The mgr was I think Albert. Thank. You

Matt Holm
from Rexburg, ID
On September 1, 2017 at 10:02 PM at Wendy's #00004054, 1333 Northgate Mile, Idaho Falls, ID, I stopped at the drive thru and ordered 3 Jr. Bacon Cheeseburgers, 1 with ketchup only and 1 small Frosty. When we got to the window the lady handed us two sodas and took our payment. When she returned, we informed her that this was not our order. She informed us that drinks come with the combo. Then proceeded to shut the window on us. She then opened the window, shoved the food bag at us and shut the window again and ignored us. Our receipt number is #3374. The Host name says Perla. Again, we ordered 3 Jr. Bacon Cheeseburgers and a small Frosty. We ended up with a meal deal for $5, a 6 piece Nuggets for $1.99 and a small Lemonade for $1.59 for a total of $9.09.
This was very unprofessional and irritating. I would rate this at 0 stars if possible. My family and I will not be returning to this Wendy's establishment and possibly any of the others if this is how we will be treated.
Sincerely,
Matt Holm
soccerfreak659@hotmail.com

nancy Graf
from Newark, NJ
Dirty, dead files on windowsills, ketchup crusted ledges, water stained wallpaper on Allaire Rd side window help up with thumb tacks, completely peeling off and water stained. Filthy stained ladies room trash pail foot pedal, tile baseboard ripped off with concrete jagged edges, dead shrubs on Allaire Road side, water downed ice tea, thought I put water in cup by mistake, same for Dr. Pepper Baked potatoes too hard to even put fork in, returned got another rock. Use to be A1 place, disgrace now, shame nice area, and friendly staff . Staff cares not taken care of

Veronica Munoz
from Rockville, MD
The coffee was absolutely cold and horrible and the breakfast sandwich was cold at the Pit stop in South Carolina. The frosty was the only thing we were able to enjoy.

Latishe Anderson
from Corona, CA
I spoke with the Manager Adriana once I discovered hair in my food I called her within 5 minutes of leaving the drive they. Once I returned I was treated so bad she actually called all the employees to the door as she rudely argued with me and called me a liar. Then the coworker said Wendy herself out the hair in my food they were laughing at me and the manager referred to me as a bitch. I returned all the food and was given $7.20. Then dhevstart speaking Spanish and they all start laughing at me. I am handicapped and I never in my life been treated like this. If you can review the camera at Around 9:20 to 9:45 you will see them arguing and laughing st me. Adriana told me Fuck you call Corporste I don't care you just want to eat for free. Here are the pictures. I requested the complaint number and was told By Adriana she will speak to her boss first and Maria said Wendy will deliver me free food and they all start laughing at me again PLEASE REVIEW THE CAMERA I am very upset about this. She is unprofessional I feel I was treated like this because I am African American. I had to request my receipt 4 times.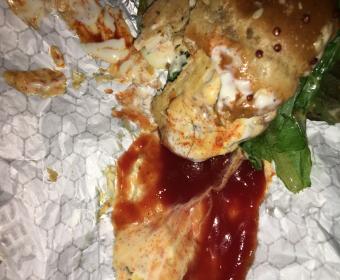 Salvador
from Chicago, IL
I went Wendy's store #3527 08/30/17 12:32 am I order my food n request freshly made fries they told ok I got my food the fries were cold and my spicy chicken sandwich had very little to no lettuce n it was cold I went back n they told me they ran out of lettuce n wanted to replaced it with the salad that they use for the lettuce bad service very unsastified with my food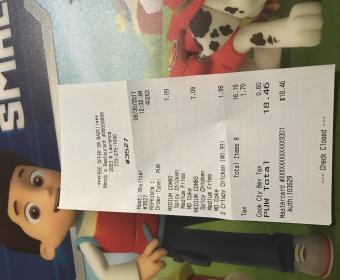 michelle chalfan
from Ashburn, VA
I got a dave's single combo...after a couple bites i noticed it was pink inside and so I told them. They said "Oh Well" in a what ever tone, and did replace it. But the 2nd one still had some pink in it and I decided to just go leave the store as figured they wouldn't replace the burger a 2nd time. I thew away the 2nd burger.
Info on receipt is this store #00011064 and order #2000 at 10:00 am. Total was paid in cash and was$ 6.64

Myself and my family stopped at Wendy's located at 980 Schechter Dr, Wilkes-Barre, PA 18702 on 8/30/17 @ 8pm. The staff was very unprofessional, rude, and very ignorant. They were making very rude and inappropriate comments and jokes out loud. The gentleman that took my order was ignorant and his demeanor was obvious that he did not want to be there. When we got home which is 5 minutes away from your location my husband unpacked our meals and the burgers were not even on the buns! I asked for cheese on our orders and there was none which I paid extra for. If I could of taken the food back and got a refund I would have done so. This is disappointing because we get meals there frequently and rarely have any issues. It really is a shame to have such ignorant incompetent people working in your facility and with the public at that. This facility was recently remodeled beautifully and the staff working the shift the night I stopped in for dinner does not fit the newly remodeled facility. I'm not one to complain or write reviews but I felt I just had to voice my mind and make you aware of the poor staff as the faces of your business.
I thank you in advance,
Mrs. Knapko

Larry Wells
from Chatsworth, GA
I went to the Wendy's at 13419 Hwy 27 Trion Georgia 30573 and have never had a worse experience in a restaurant. I was with my three grandsons and the front line host did not get my order correct and did not offer to fix the order she acted like I had no option but to take it her way. When some came to my table she used profanity that my grandson heard. After that point I was not going to be satisfied in that store today. Then a district manager came out and she has no people skills and let me no that everything was my problem not hers. My name is Larry Wells and my email is lrwells1950@ yahoo.com I am a very disappointed Wendy's customer.

Lorraine & Les Nalezinski
from Orleans, ON
My husband and I ate at the Wendy's on Innes Road (Gloucester, Ontario) on Friday, August 25th. We both ordered the same meal (the single burger with cheese combo). Within 24 hours, we were both hit with severe food poisoning. This is the only identical meal that he and I ate in the past week, so we know this occurred from our meal at Wendy's.
I have not contacted the restaurant as I'm not sure how seriously this issue would be taken. I would like head office to know in the event that you receive any further emails from individuals in our position. For clarification purposes, we have never had an issue like this at Wendy's and have in the past made Wendy's one of our main choice locations for a fast food meal. I simply wish to advise of the situation.
Thank you for your attention in this matter.
Have feedback for Wendy's?
Thanks for your feedback!
Sorry. Please try again later!