Wendy's
Wendy's Complaints Continued... (Page 8)
810+ reviews added so far. Upset? Call Wendy's corporate: 614-764-3100

I had a coupon for $2.00 off a premium salad. I ordered the half size premium salad and told the order taker I had a coupon the lady began arguing with me that a premium salad is a large salad, I said that's not what the coupon says, she kept getting louder then said her computer is programmed to take only coupons for the large premium salad.
From what I understand all salads besides a regular salad are considered premium for example spicy chicken salad, apple pecan, etc. I ordered the large spicy chicken salad but before i could make the order someone else got on the mike and started yelling at me.
I asked for ranch dressing and the lady said it comes with lemon dressing, and that is bull because i order this salad all the time. My other complaint is that when i pay my bill with cash the person handling my money is not wearing gloves and is handling my food.

At about 730 pm last night, I went to Wendy's on Broadway in Cleveland Ohio and purchased some nuggets and a frosty for my son . When I paid for it, they took my card, gave me the food, and I handed my son his food and pulled off without my card. When I returned 2 hours later, people were walking around looking at me acting like i was invisible. I had to knock on the window and blow the horn, 15 minutes later someone came to the window like "oh, are you the girl that left your bank card? " Im convinced he knew exactly who I was from the beginning and wanted me to pull off without my card for the 2nd time. Now I'm paranoid and Im going to change my card because I don't know what your employees were in there doing with my card.

I went to Wendy's in Lauderhill, Florida on Oakland Park Blvd. on January 25 around 10pm. I clearly told the drive thru lady that I wanted a Baja Chilli Salad with no Guacamole and tortilla chips. After receiving my order, I then had to go back. I politely told her that my salad did not have the tomatoes or the cilantro onions that are ALWAYS chopped on topped. She gave me attitude, took my salad and came back with two big tomatoes and onions on top NOT CHOPPED and said "Is that good enough". The nerve of that woman, shes lucky I should have asked for a freaking refund. I'm SO UNSATISFIED!

In the paperwork when we get hired in any fast-food business. They have open availability and as long as you give 2wks notice that you have to change availability it should be good. Peoples lives change and things happen and sometimes its personal. I have been working for Wendy's will be a little over 3 yrs I have had to change availability 2-3 times since ive been here due to family things I work very hard and beyound. And I keep getting hurrased. And they go back from day one when we were hired so ive been working days now for a long time and the GM that hired me I started on nights and she put me on days after about a yr. And I'm not the only one having alot of issues with this Wendy's. In Middleburgh on blanding. And ive contacted corporate and talked to other bosses there and it's like they don't really care. And that's not fair to us employees when we don't have a foot to stand on and everybody won't stand up only some because they are scared of getting fired.

On Friday October 19th of 2012 at 6:25 approximately I stopped at the Wendy's located on Rte 30 an in Chicago heights to order some food for my children an was greeted by a extremely rude employee who was unpleasant from the the ordering to window pick up not responding when I said anything an gave me the wrong total twice after giving a coupon for my children's meals in today's economy the people you hire need to take their job a little more seriously because there's other people out there that I know could do the job much better an to satisfaction I also got the employees name on my receipt in which it was shanice H

I went to Wendy's on Northwest Hwy in Palatine, illinois at 11:30 AM on friday 4/12/2013. i ordered and payed for a plain baked potato with 2 butters and a diet coke. After standing there for 5 minutes, cashier says we do not have any baked potatos. I said could you please refund my money. he then proceeded to take more orders before a got the key to open the drawer to give me my money back. As a customer service person working in that store, why would you be out of baked potatos at the start of lunch and furthermore not know this and make me stand there for 5 minutes before you tell me this??? Poor management and customer service!! i wasted my alotted lunch time and had to go back to work with no lunch.

I went to Wendy yesterday after church and purchased food from the dollar menu to hold us over until dinner. This visit was around 2:30 pm.
My son got a hamburger. Once we arrived home the hamburger had a plastic piece in with the burger. I took the hamburger back immediately. My son has some serious health issues. This could have affected his health.
We took a picture and return the burger back to Wendy. The manager on duty did not apology for the plastic being put in the hamburger. The manager took the sandwich after I show her what I was talking about. I asked for another
sandwich. The manager put the burger in a back and put it under the counter.
This is a manager at wendy representing the business and shows no customer concern at all. I would like to know where do wendy gets these unprofessional manager with no work ethics, or great customer service skills. This should be addressed to every employees about making sure the food is prepared properly.
The other complaint is when the cashier is working on the register and they go and start putting the fries and chickens nuggets in the bag. The workers do not have on gloves. Once, the worker put the food in the container and put the fries or nuggets in the bag they touch the food with their thumb.
Remind you they did not wash theirs hands. Once, they finished with the food they go back and ring up others customers still have not wash their hands. I am sure the Health Department would not take kindly on how the food is being handled by the employees. The store rating number need to changed until all the workers make sure they wash their hands before handling customers food.

I went to wendys that is locate in King of Prussia where I live and I went with my boyfriend and we never had problems before but as of friday 02 -22-2013 I got 2 meals I had got the combomeal of chicken and he got the baconator and we both got fries and drink and our fries were ice cold and our sandwiches were soggy . and we didnt even eat our fries we had to throw them away we didnt relize it until we were on the road . We are very upset with their service as well /. I dont think we will visit there for a while with food like that . I think people in there should pay attention to their workers . Thank You Joy

After watching a commercial on TV for Carolina Classic burger we decided to try one. The comercial showed a nice burger with plenty of chili, slaw and onions oozing from the sides of the bun.
When we opened our order of two Carolina Classic burgers, after going thru the drive-thru and getting home, we looked at the burgers and thought at first we had gotten the wrong order since all we saw from the outside was burger and bun. When we looked under the top of the roll there was about a teaspoon of what looked like slaw, chili and onions all mixed together and AUGUSTnot covering more than half the burger.
I can't believe this kind of misadvertising is Wendy's policy. If Wendy's want to sell this inferior version of Carolina Classic they should only charge 99 cents, which is more than it was worth, instead of around five dollars each, which is what we paid. BUT NOT AGAIN. Long-time-Wendy's customer

I visited the Wendy's in Harper Hospital, Detroit, MI (Tuesday, March 5, 2013 at 6pm). I go to this restaurant because I like and it is very convenient because I work in the hospital. Today I visited Wendy's and receieved the worst service. It took me over 40 minutes (my hold lunchtime) get my order. The staff was playing behind the counter; laughing, playing around and using profanity. My cashier was not friendly at all Then I get my order and return to work to see that I have the wrong order, so now I have no lunch. I wish I had taken the moment to get the names of these employees, but I was so angry. I have never experienced anything like today. It was absolutely a terrible experience.

I work for wendys in Muskegon mi 49442 on Apple for 11 months and through out that time I had work in a very Hostile environment that was create by my boss Tracy at the time who i felt was races i couldn't put my finger on why she treated me the way she did in till the distract manager switched managers with other stores and one day see spoke the N word with BItch.
I knew then what i was dealing with I was talk to crazy and disrespect to the point i would come home and cry about it because i didn't know how to go about reporting anything wendys was my first job and all i could think about was my kids so i stayed to make the money thinkin it would end alot of times i didn't want to come to work because the place was sometimes unworkable and when i did work i was talked about my proformance.
But the hostile enviroment made my proformance go down when finally i talk to crissy she did nothin about it but refered me back to her neice tracy whitch was the general manager at the time but i will make a long story short today i left wendys after a meeting we had regarding another discriminating act i was ready to take my 2wk notes she told me i shouldn't even take a 2wks notes if im going to quite and she didn't allow me to so as im leaving she said to me are u sure by that time i felt so intimidated and my emotions was kickin in.
So i left feelin as if this meetin we just had turn to something else and the blame was put on me she went to pullin out my complaints they had of me reading pointing out everything i have supposely done and that hurt and she talk to me like a child not only have i went through this but others its much to this its unbelievable the things that take place in that store.
I couldn't take it anymore knowing that crissy was discriminating she never saw what her manager did she never really was there so when things was brought forth no one would say anything on my behalf about what was an has been going on so she would take her managers side an honesty since they was family and some what closed they are going to make sure there buts are cover even if they have to lie.
Thanks for this page and allowing me to tell what has been going on.

My cashier's name was Mike and Manager was Devon Johnson, I went to Wendy's 08/16/2013 at 02:01 pm
I asked for our Burgers to be a certain way, told them my son was allergic to the point of death, got to window they were wrong on both of my kid's orders. I told the cashier and he said umm noo.U said no bun I said NO I said No Bun and only let it be Meat, Cheese and Onions he is deathly allergic to condiments and bread. And I went to hand food bag back, he said I cant take it back so it is uselss to us now. I said ok well what do u want me to do with it, he then rudely announced to another employee Oh My God we got a whiner.. She seen I heard and moved out of sight. I said do u want this bag back? Cause I need the order like I asked for it to be. He said No I can't take it back and resell it now can I. I said damn, I just want my food the way I ordered it. He hesistated then said Oh My God get it for her then. And the other burger that was messedup I told him I;d eat it and get his at mc Donalds next door he said well ok then, god bye. I said Id be writting or calling management he said ummm ok.. And turned away and never came back to window.

To whom it may concern,
I have a family member that is employed by Wendy's in Birmingham, AL area code 35223. The General Manager who is running that store is a liar, cheat, and he sleeps with every female employee at that restaurant. He goes around telling lies about people, and it's just not right!! If someone doesn't do what he wants them to do their hours per week suffer!!!. This is an abuse of power, and something needs to be done about it. The majority of people he hire is from work release centers with people who need a second chance. I feel like he hire these kind of people because they are at their lowest, and they need for someone to give them a chance, but I'm pretty sure after working for Cedric, they wish they were back in prison. Rumors are going around that he has a baby with his Assistant General Manager a.k.a Ne-Ne or Me-Me is all I know. This has really gotten to be a problem with this establishment, and it's ashame that the employees are afraid to say something for fear they will lose their job. PLEASE SOMEONE NEEDS TO GO DOWN THERE, AND PUT A STOP TO THIS MAN BECAUSE NOT ONLY DOES IT AFFECT MY FAMILY MEMBER, IT IS AFFECTING HIS FAMILY, AND OTHER FAMILIES ARE BEING DESTROYED BECAUSE THIS POOR PISS OF A GM STARTS SO MUCH MESS AT THIS LOCATION. CUSTOMERS ARE BEING TALKED TO ANY KIND OF WAY, and so are employees. I hope this is just not a place for a person to vent, and hopefully this goes straight to the coporate office and not to the store.

I feel that the GM at HuntingValley has been treating some staff unfairly as well as putting staff members in a hostile and deadly situation on numerous occassions and when District managers get invloved not evaluate the situation as a District Manager. At no given time should any managers put their employees against each other
that can cause bodily injuries or legal problems. I hope that if these manager s get terraind that this wouldn't happen sgsin

Hello,
We just ordered from drive through and a young man took our order. When we drove away, I notices there was no cheesburger in my son's kids meal. We then turn around to go back and ask for the cheeseburger. We were told to go to the second window and when we pulled up, a young woman with blonde hair that was tied up & bangs parted to one side, very quickly tossed/sorta chucked the bag with the cheeseburger. She then shouts thank you and shuts the window in my husband's face, no apology, just rudeness.
My family and I have been avid Wendys customers for over 12 years and I would have hoped for better service... Especially for something where the error was on their part. I hope to hear back as soon as possible and that proper action is carried out. Whatever was done to correct the matter, I'd like to know why exactly was done. Thank you.
Sincerely,
The Larnards

Well I was at the Wendys in Prattville right beside Cracker Barrel on March 16, 2013 everything was going fine. I guess they were changing manager cause a manager came in the front door and at that time an employee that was sitting down got up and commence to loud talk the manager coming in the young lady did not care that customers was in the lobby. She followed the man manager behind the counter using profound language. The way that young lady act if you can call her that made me want to leave. I was very upset that an employee at your restaurant would act like this in front of your customers which left a bad image about your place of business. As the manager walked to the back the young lady followed. I could hear her from the back of the store. Will I can tell you that I will not eat there again. I was so distraught that Sunday when I went to Church I prayed for the gentleman and your place of business. I was so embarassed and terrified for him. I would like to know is he ok. This kind of employee to me you don't need working for you. This put a bad taste in my mouth about your establishment and what kind of people do you'll hire because she would be the one that I would not hire and can run customer away like myself. So I'm letting you know that I will not be coming back to your establishment. God Bless and keep your establishment safe.
Thank You
Ms. Issac

Why is it when u ask for a senior drink, that the cashier doesn't automatically give you a discount. You think she would ask if your a senior and give u the discount. We never get our senior discount we go to Wendy's. and they sure do give you more ice than you need, and not alt of the drink

I have pictures to back this but to me this was horrible. I walked into Wendy's to find water pouring out of the ceiling into three large pans on the ordering counter. Not only was the water in the pans but also all over the counter and the floor, it was also poring out in the dining area as well. When asked what was going on I was told the air conditioner was broken. Now I did order and my food was handed to
Me right over the area leaking, boy do I feel safe. This is a HUGE safety issue and should be shut down until it can be fixed. To dangerous.



Disclaimer: This complaint was submitted by Margaret Anderson on 09/01/2013 at IP address 74.133.120.31 using our Wendy's on 41n Henderson ky complaint form. This opinions contained in this Wendy's on 41n Henderson ky customer review titled, "Water pouring from ceiling on food dispensing area." do not reflect the opinions of this website.

I purchased 2 double Stackers and some fries like i do a lot after work at 12 15 am on Saturday morning on November the 3rd.2012. My Fiance ate the fries and then the burgers and almost immediatly made him very sick to the stomach .The same Day went to Wendys to return the Bag with half a Burger left .The Manager on 2nd Shift named Michael asked me what do you want me to do about it?.Just wanted my Money back ,and a apology wich i never gotten .Guess Wendys will not be my Stop anymore.

Hey my name is Steven I'm actually in the Wendy's parking lot as I type this I just purchased food from the drive threw move around to the tgi Fridays parking lot to eat and as soon as I put my fries into my mouth I noticed a long string of what looks to be Hispanic hair I return to the local Wendy's after taking a picture of the hair which I also kept so when I speak to the manager of the local Wendy's on wake forest rd in Raleigh nc store#1340 Manager Gamel showed no such concern at all he says to me so what u want to me replace it with another burger or something so I'm like (wtf) a burger really so kindly ask for me a refund and I left and now I'm just so deep in thought like what if I ate some hair but didn't notice it and when I drink it feels like something caught up n my throat don't know if I would ever want Wendy's again!!!

I sent a complaint to your web site last Thursday I was told there would be a reply within 48 hours. That DID not happen & I am still mad. The Altoona Iowa location has an employee that was sweeping the dining room wearing gloves & then came to the serving window to take my order, still wearing the dirty gloves. I offered to wait until he took them off & wash his hands but he assured me he was only taking orders. After that, he proceeded to go to the fyer & remove food still wearing the dirty gloves. My entire order was incorrect. All 3 sandwiches had ketchup, even though 1 did not even have ketchup as an option for the sandwich. I paid for a Jr bacon cheeseburger, 2 portabella bacon burgers, 3 large fries & a frostie. The manager at that location is RUDE and very disrespectable to both her staff & the customers. There MUST be sanitation training in any food service establishment & this location fails on many levels. The order had to be remaid 3 times & NOT ONCE did anyone apologize for the errors & the young man never removed the dirty gloves. If you cannot reply to my complaint, I will contact the state of Iowa health department to have this looked into. This type of
sanitation is a HUGE issue that MUST be dealth with.

At 6:32, 12-26-12 I pulled into the drive thru at the local Wendy's. I placed my order (1-#6, no lettuce, no tomato and a small sweet tea). The girl taking the order gave me a total of $13!!! I explained that I only wanted one #6, she audibly sighed over the mic and told me to "Just pull around." Like she was annoyed at having misheard me in the first place!
Then I pull around, she opens the window and says "You did say two, not one." (I did say sweet tea, so I don't know if she heard tea and thought two or what.) She did not give me a new total, she did not smile, nothing, just a snide nasty comment and nothing else. HOW RUDE!!! Customer service does not mean call the customer a liar, pretend that they were in the wrong, and act like you are the queen of all drive thru windows!
She took my money, luckily I order the same thing a lot, so I knew what to hand her, then she tosses my change at my hand and slams the window closed in my face while I am trying to request a receipt and some ketchup. Once upon a time, I worked in the fast food industry doing what this girl does for a living.
I NEVER would have even thought about behaving in the manner that this girl did while at work, especially not in front of or toward a customer!!! I am NOT pleased with this Wendy's branch. I usually go to this location a minimum of 12 times a week, or more, because my schedule does not allow me to eat at home often.
I spend nearly $100 per week at this restaurant and my grandmother and her friends have social time there every other day, and these ladies spend money there also. I WILL NOT BE GOING BACK and tomorrow morning, before grandma heads out for her daily breakfast with the ladies, I will be relaying this experience to her and her friends.
I am going to recommend they go elsewhere from now on, there are other options like the local bakery for breakfast and coffee. Otherwise they will probably be disrespected and belittled too. I expect some action about this persistent problem (not the first time, I was giving her the benefit of the doubt before, no more).

I love Wendy's food on average me, my son and girlfriend eat there two to three times a week but over the last three to four years the employees and managers of the Wendy's restaurant in Connersville, Indiana. 47331 have gone down several times my order has not made right on two occasions specifically I couldn't make it back to the restaurant after going through the drive thru and placing an order I had gotten home before learning my order had not been made correctly I had called and spoke with the manager who had assured me that she would make things right by taking my name and address and then assured me that she would send me a gift card in the mail to my house which I never received recently I've started going back because I missed the food and in this I've gotten cold fries several times a raw hamburger once and had a manager get very hateful with me because I had asked for fresh fries to be made and to make sure my triple baconator was hot the manager got very hateful told me to look at the line behind me and then told me to take my petty complaints and business elsewhere. I would appreciate compensation for the forty dollars in food orders I've had that have been messed up and would also like to see some improvements in the employees at this particular Wendy's location please

We have been coming to this Wendys for the last four years as we go to Honesdale,Pa. to shop. If this store does not change or look into this problem when the boss is away then, he has a very serious on going problem. To start the hamburger was not warm and the french fries were cold and the ketchup large containers two of them were empty...I informed worker but, no one came to fill it until I informed them again. Ten minutes went by and containers were not moved to be filled. Then, they moved them and again I asked for ketchup. Finally they gave two packets. Also, they had no plastic knives available...I had to ask for it since my wife had a salad and she needs it.
They also, had a lot of talking and carrying on in the kitchen and the day manager was part of the gang. This is not or should not be a rap time for them. If these kids want to work then they should get involved and represent you as a professional who will be an asset to your organization and give respect to the owner while he is not present by becoming an asset. It is to your benefit that you look into this. I do not know if you will look into this buy, if you do not then it is your big loss.
The Wendy's stor is located in Honesdale, pa....Store # 000007796....Phone # 570/ 251-9606....#238....We were there....Aug.28,2013....at 16:59pm...We spent $ 20.19....and, come up here at least once a week and eat there. If this is the kind of service we will get then, we will not be back. We eat in every where we travel and at Wendy, and if I do not get an answer from Wendy's we will not eat there again.



Disclaimer: This complaint was submitted by Bill Lundberg on 08/31/2013 at IP address 24.102.183.181 using our Wendy's complaint form. This opinions contained in this Wendy's customer review titled, "Poor Customer Service ? Manager had no control of his workers." do not reflect the opinions of this website.

Stopped at Wendy's #00006725 in NewGlasgow N.S. Sun May 5,2013. 10:24:28 ,
Ordered our favorite burger "the baconator". , we continued on our way back home in antigonish county .When we opened the burger it was dripping with grease , the paper it was wrapper in was covered in grease, the bacon was not fully cooked but we had already eaten half of it before we noticed that that was the reason why it was so greasy . We both felt sick . This is not acceptable service!!

Ordered a double bacon portabella burger combo and that is what I paid for but what I got was a cold burger on a smashed bun and it was a single not a double very dissapoited never had such a horrible buyer.

Late night service is bad at wendy's in Yazoo City, MS. Everytime I go there after 10:00p.m., the fries are either cold or its like they drop them back in the grease they are served very dark. Sometimes the burgers are cold and the nuggets are like they are dropped back in the grease and then served, they are very hard or you can not chew them. I enjoy eating at wendy's but hate wasting money when the food is not hot and or fresh.

Here in payson az i heard a female employee talking to another employee saying she was goung to spit in someone food. when i contacted another employee and complained that that particular employee by the name of melina chambers gets away with everything.. i of course did not eat there after hearing that comment and will not be returning...this is soooo discusting.she needs to be fired

Hello, I am a regular customer at Wendys. Last night I ordered a burger, nuggets, and fries. I took a bite out of my burger and it tasted a little funny. I looked at the burger and it was pink all through it and I was and still am highly upset.
I didn't go back up there because I had made it home and im pregnant and my feet are swollen. I didn't have a receipt in the bag but I know the location and the time I went. I wanted a refund because the meat was not cooked all the way. I know there should be something you all can do to try to make this right. I do not live in the city this occurred.

Every time I go to Wendy's I have a bad experience! I won't rehash them all but today, I ordered a meal that was almost $8.00! I took the drink off & it was $7.00! Everything is a-la-cart! Then after paying $7.00 for small fries & a cheese burger, the fries were not hot & they were burned as well as they were cut from the ends of the burger! Pitiful! I NEVER get a fresh, good, low cost meal @ Wendy's! The people that work there do not care! They are so use to giving bad service because they are friends of the manager & don't speak English so it don't matter what they do the manager will protect them! I will NEVER go there again!

I am sick of your staff. I'm even more sick of filing complaints. How unprofessional is your staff if they cant open the window and ask me to pull back to the first window. Instead she knocks on the window with a disgusting look on her face and points.Granted I dont know how bad her menstrual cycle must be today but she can be descent. I damn sure wont spend a dime with you. I'll stick to Yum Brands.

Wendy's is supposed to be a fast food restaurant. I work in Greentree, PA and try to go to the Wendy's on Noblestown Road for lunch. Had to leave numerous times due to long long lines due to slow service. I only get a 1/2 hour for lunch and it is impossible to go here. They only have one person running the register during prime lunch hours which is ridiculous. When we question the employees, they always make an excuse that someone called off, etc. but it is not the truth. It is like this all the time during lunch hours. This particular store needs extra help during the peak lunch hours and has to have two registers open. There are constantly people leaving due to the long lines. I would enjoy going here for lunch but the service has made it impossible.

I went to Wendy's in hogansville ga. Was my first time their. On vacation with my family. The people act like they don't want to make your food. The bun was hard and the meat was dry. I was under the impression that fast food was what that it didn't take 20 mins to get your food. I will never go their again. And hope that soon Wendy's will be somewhat as good as the rest. Hope that this email will let whoever know that when a person pays that much for a sandwich they want it to be fresh and good. The only thing good that we saw was the cashier was very pleasant and apologetic for her coworkers. Many times before I have traveled through Georgia and went to your restaurant once and was so disappointed in the outcome. Hope you get it together soon for business sake.

Barbara Bedwell
from Fort Lauderdale, FL
I visit Wendy's Store #00007866 (near my home) usually a couple time per week; however, there is almost always something left off my order. I find the ladies very friendly and courteous; but I have to repeat everything and it still isn't right. They interrupt my order to ask me a question. Yesterday, I came to the store with my granddaughter for a late lunch. I ordered a sandwich combo for her, a baked potato and small lemonade for myself. Of course, the lemonade did not make the order, so I had no drink. When I made a comment that my lemonade was left off the order, I just received a blank stare. It is very discouraging to consistently have problems and makes eating there unpleasant. I am to the point I don't want to go there anymore and perhaps that is what I will do. The fast food industry is far too competitive to be constantly mistreated!!

A. Davet
from Clayton, NC
While at the Wendy's location in Clayton, NC we were given a flyer stating that Wendy's was having a fish sandwich soon. I asked when and was told next week on Wednesday, so, I came back and was told we don't have it yet but tomorrow we will have it for the public which is Thursday so, I came back Thursday and was told sorry but we will have it tomorrow which is Friday. GUESS what! Came back Friday and told sorry and they acted like they didn't know what to say but after the person taking the order asked ether the shift leader or manager (a lady) she said that we will definitely have it tomorrow which is a Saturday so I left not in a good mood. Came back today which is Saturday and told we don't have any fish sandwich but we will have it next week on Monday. I hate being lied to and will never ever go back to any Wendy's establishment and if asked trust me it wont be a good recommendation.

randy
from Saint Paul, MN
Employees need to be able to live at least at poverty levels. Welfare programs give more then Wendy's pays there money making employees. No american dream is possible working for wendys. A billion dollar company should take care of employees before donating millions, after all if your employees aren't happy neither will your customers.

Kenny Howell
from Oak Lawn, IL
I received a screw in my Wendy's junior bacon cheeseburger. The woman who was at work was a manager named Curiston and she then told me no refund. What horrible attitude from a Wendy's employee after a potentially life threatening situation. I will think twice before ordering at this place again!

Mona Moore
from Memphis, TN
I am very upset about the service (drive thru) an food - ordered a ceasar salad just a bed of old lettuce spicy chicken cut up ... over it and nothing and 2 tomatoes - also order 2 bacon cheese bacon got no bacon .. and ordered fries x 2 when presented only one fries in bag . .when told that's what I ordered whom ever it was that took the order could hear her from the back saying that's what she ordered very rude ... Wendy's Store # 00001369 Winchester- Goodlett 2385

Kenny Landers
from Searcy, AR
1/22/15 7:45 PM Vicksburg Mississippi New Wendy's on Clay street Stop at Wendy's to pick up some chili to bring home but when ordering found they didn't have any so to my suprise I Had to change my order to three chicken sandwiches.Payed at first window but when I got to 2 window they told me they had to cook the chicken an ask me to go park an they would bring my order to me .Come to found out there was another person waiting to. About 10 minutes later they brought both orders out . When I got home I only had 2 chicken sandwiches. So if I don't get a reply on this complaint the next time they ask me to pull up to wait on my order I will stay at the window till I get my order an be able to check it before I leave.

I went The Wendy's in Mansfield Ohio on Lexington ave to enjoy some food witch was great btw but the manager the bigger guy was upset because i was indecisive about what I wanted so I asked is there a problem and he said yeah now I have to open a new screen I didn't think that helping a customer out will be a problem I was really nice to the man and he was. very rude I will not be back

Eric oliver
from Paterson, NJ
This is not the first time this has happened and i not the kind of person to complain but i had enough . I came at 12:08 am late night coming from work all i wanted is to come home and have some good quality food for me and my wife ... First off the food quality was terrible i usually come during the day because the food is always fresh and employees are friendly with a speedy service but late night service isnt up to standards, i always have a problem with the order taker tho im constantly being rushed i ordered 2 combos and my order number is #3502 ones single combo only pickles. And a #5 small with a coke the fries were cold and meat on the burgers were dry theres a big difference from day to night i dont want a refund or an exchange on my order just would like for service to a the same as of if i were to come during the day.

I've been to the Wendy's in Evanston, Wy many times over the past few months. Since I have a busy schedule - drive up, grab, and go - is very convenient. Out of 10 visits, my order has been wrong 8 times. My orders are not complicated. Earlier today, I ordered a Jr. Hamburger and a 6 pc nugget with barbecue sauce. I saw them putting the barbecue sauce in the bag and when they handed it to me with "Have a nice day." I assumed the nuggets were in there. I got home and found a Jr. Bacon Cheeseburger and some barbecue sauce... but no nuggets. Other incidences include - no fries, wrong drink, getting smaller sized items while paying for larger ones, extra fries, no hamburger, wrong order completely... more than once. My receipt is always correct. So something is going awry between the order screen and the bag. I like the food. Please fix this.

I came through the drive thru after I got off work, Saturday night to get me something after a long day of work, but wasn't greeted for four minutes, then all that was said was ha you, yes that is spelled the way it was said. Had to wait an additional 10 mins in line after ordering. When I got to the window to pay I was told they out "do I want something else it gotta cook". I said I would wait, but in all honesty, it could have already been done if they just put it down when I ordered it, I did set in line 10 minutes before I arrived at the window. I just thought this was every rude and unprofessional.

I was at wendys today 04/05/14 getting lunch for myself and co-workers and I experiencied the worst customer service ever. I was also in the drive thu forever as well. The associate waiting on me was rude, cut me off, and was very ghetto. I will never go to wendys ever again if this issue is not corrected, and I will let all my friends and associates know this as well.

Today, April fifth, at 1245, I entered the Windsor Locks CT Wendy's. There was several people in line as well as people coming back to the cashier to resolve a problem with an orders they placed. I waited several minutes before the server asked me to place my order. When I asked for an order of chili , I was advised that someone" forgot" to make chili and they were in process of making some chili.
Quite frankly, I was upset for only one reason. Employees should have posted something stating that there was no chili and not have people wait for something that wasn't there. I then left Wendy's and went to another fast food service

I went to your store #00001222 in Delaware on Friday night to purchase dinner for my family. When I walked into the store the first thing I noticed was the fact that all the employees, with the exception of the manager, were sitting out in the eating area just talking, laughing, and carrying on. One of them got up and went behind the counter to take my order. After placing my order she handed me a bag and 3 drinks and said I can't give you a carrier because we are out. We then discovered that I didn't have my whole order. She told another person to make my sandwiches, I am guessing that was the person in charge of that particular sandwich, but it was taking forever. I waited and waited and waited. The man who was behind me left the store because no one ever took his order. The girl that waited on me had clocked out and was leaving when the manager came out with a till in her hand and said not to leave because they had to count the till. Anyway, I was waiting and waiting and someone said, "they are making your order" and I waited and waited even longer. Finally the manager says to me, "I am making your sandwiches" and I told her that I understood that.
The point to this is that the employees were not where they were supposed to be, I had to wait an extremely long time for my food so that when I finally got my sandwiches the other stuff was cold. I didn't get a carrier so when I was carrying the stuff to my car my soda was all down the front of my shirt.
I work in customer service and this was truly the most unprofessional experience that I have had. We love Wendy's food and it is a shame that I will probably never go back. At least not to that one. That manager leaves alot to be desired. She maybe needs more training or something.
And because I work in Customer service, I feel as though I should be compensated in some way for this.
This was a terrible experience and I would hope that you will find a way to make it right.

I came in about 10:30pm and an older lady was helping serve some girl who almost left without her drink. I looked at three different ladies and they pretended not to see me. I stood right in front of the older lady who looked like she was going to take my order and then went and did something else. Instead of saying anything I just turned around and left. Why give business if they don't want it? No one stopped me, they didn't care to work. This location doesn't close till 1 so it wasn't as if I got there as they were closing.

This evening I, close to 10 p.m., I went through the drive thru at Wendys on Park St. in West Springfield, MA 01089. I ordered 2-4 piece nuggets, 1 double stack (due to allergy), a small fry with NO SALT, and 4 frostys. Besides having to wait over ten minutes for food, I expected it to be fresh. I was asked to pull up to wait for my food. The initial time I was brought the wrong order, the boy went inside, came back out and asked me again what I was waiting for, I insisted it was a burger with no onions, 2 nuggets and a fry with no salt. 5 more minutes after that another boy brought me my food.
When I went home to eat with my husband, I was given fries with no salt, but they were greasy and soggy, extremely soggy. The double stack beef patties were the color red to the naked eye, and it was loaded with onions. I tried to call this particular restaurant as I refuse to drive back after having wasted gas idling my car for 15 min. No one answered the phone and I am forced to use this as a resource to complain. If this is how the food is going to be every time I go, I will not eat there again. It shouldn't matter what time of day I go there, if you are open to 1 a.m., food at 10 p.m. should be fresh and cooked to it's proper temperature, and food made the way a customer asks, thank you for wasting my time, gas and money.

Wendy's on 58 highway Chattanooga Tennessee I went in to eat as soon I walked in the door to give my order 1St the bathroom door was opened with a disgusting smell. Of a bathroom where someone used the rest room The smellwas obvious of a stinch of a smell of a nasty rest room a man in front of me complained to the employee of Wendy' she smiled and just said sir may I take your order he addresssed the smell again he told her no thanks to Wendy's I was next in line I addressed your employeeof the terrible smell told her was ashame to come order for lunch I also told her where her manager was she said the manager was not in but to come back.. I will not return to this Wenfy's until they can do better cleaning or better yet have a new building A Secret Shopper would give this Wendy's a Failing score!

I wanted a side caesar salad with chicken. I understand that the chicken is $2.50 extra. Which would make a small Caesar salad around $7. Which is super expensive but I would be willing to pay for it. So why is it that I got it before but I can't get it now? He didn't even try to do it. Either offer a regular Caesar salad or just PUT THE CHICKEN ON! This was the Wendy's in San Jose off of aborn.

Young people loitering in front of the Order line. There was no line at all but for those people standing there making it uneasy for customers. These batch of friends had more friends come and go in and out of the service area coming from outside. No uniform changing, no hand washing, phone calls made in srevice and food prep area, unkempt people loitering.. They come and go as they please. It was disgusting I started filming it on my phone. They would go out into their cars and dig around into their dirty cars/vans and just come back in and go straight into the food prep/service area and just walk around touching surfaces.
I wanted to puke after noticing this as I have finished off food I bought. The building looked so dingy. No wonder it does not look like a success story, this particular store.

I would just like to inform you of an illness I had after eating at Wendy's at the Iowa 80 Truckstop on Friday March 21. I stopped and got a single combo hamburger and fries. I thought that the hamburger tasted stale-it was not hot and just tasted old. I also had fries with ketchup and a Diet Coke. Within two hours of eating, I had projectile vomiting and diarrhea, along with profuse sweating and chills. This persisted through the night. The next morning I felt dramatically better. I had felt completely fine before I ate. I just want to make you aware in case others were affected, or this store has had other complaints.

I was at Wendy's today, 3-20-14. I arrived at 12:04 pm. I went in side to order. There were 2 people in front of me that had not ordered and 3 that were waiting on their food. My ticket was time stamped at 12:17:21pm. I waited another 15 minutes for my food. This is entirely too long for anyone to have to wait for their lunch. There was only one person taking orders. There were several other employees there, but no one seemed to be in any hurry to serve food. I usually eat at this Wendy's once a week and they have always been slow, but it is getting worse. I'm surprised that this business has not lost customers because of this problem, as I will be taking my business else where, in order to be served in a timely manner. There is absolutely no excuse for this type of slow service in this restaurant or any other. Thank you for your time.

Well this manager at north attleboro Wendy's always has a bad attitude with customers everytime I'm there. Tonight was the night I've had it with her. The cashier didn't suggest a small chili so I asked him if I can get my free chili so he have me a coupon for the free small chili. I then asked if I could use it now and he said yes. He didn't know what to do so he asked the manager (that I hate and won't rest until she's fired) over for help. She then told me I couldn't use it unless I bought something with it. I didn't hear her the first time so I said, "what" and she then gave me attitude and said after, "do you get it now?!?" So I bought a small fry for $1.07 and I have her a $10 bill. Everything was fine until she have me 95 cents in nickels when I clearly saw quarters and dimes in the cash register. Please respond to this or I'm going public.

I ordered a cabada burger with fries and drink I made it loud and clear of what I wanted but when I got home I had a burger with purple lettuce on it swiss cheese and pickles that's not what I ordered I've been calling my local wendys where I got it from no one picks up the phone.
Disclaimer: This complaint was submitted by Bernice Jone on 03/19/2014 at IP address 172.56.11.19 using our wendys complaint form. This opinions contained in this wendys customer review titled, "wrong meal provided" do not reflect the opinions of this website.

I went to the wedys store #01100109. at 2133 e livingston ave columbus ohio 43209. at 12:03pm. I had 3 orders to go. I ordered 3 asian chicken salads and the girl rang me up as 1asian and 2 apple salads. So when I heard that they were wrong I asked that they correct my order.(Also they charged us for dine in when we were taking it to go. My co worker ordered a # 2 and his burger was raw.) Then I also asked if i could have the money back for the difference in the price.
The girl working the front asked the manager to help her. Then the manager said I dont know its only a few cents.(they also kept my recipets) If I gave people a nasty attiude like that I would not have my job for long. My office goes to that location every week. It was not my fault that it was rang in wrong and it was busy. I did not like the attiude that the manager was giving me. I told her to never mind and my Dr. would not get his money back. Then I left.

My family and I dined at the Wendy's on San Jose Blvd in Jacksonville, Florida on Sunday, March 16, 2014. I am not one to complain about anything, I usually just deal with it. But, this particular experience has made me not want to go back. We ordered two combo meals (double w/cheese and a spicy chicken) plus 2 chicken nugget kids meals. This cost 23.58. Now, for what I paid for, I would expect to get some decent service…but, no. We waited for nearly 20 minutes as they skipped over us continuously. When my husband went to ask someone about our food, they said they forgot because they threw away our ticket.
Upon receiving the food, my burger only had a piece of lettuce and some mayo..nothing else. It was supposed to come with lettuce, tomato, onion, pickle, mayo and ketchup. Then, we noticed the kids meals had no toys. Again, my husband asked if he could could get two toys and the employee told him they were out without even looking. The cashier went to the back to look and came back with a handful. I just think that Wendy's should know the type of service that customers are getting so that maybe they can fix the problem.

As i was getting my salt and pepper to put in my to go bag, i felt one of the managers staring at me. Then as we were leaving, she walk us to the door. I didn't think much of it but as we were outside getting in the car, she appeared to be taking picture with her phone of us getting into the car. Possibly my license plates. I really don't know why she was doing that. But that kinda made me curious. Kinda felt like when i was younger and was shopping in store and having someone follow me around, like i stole something.
Again there was no confrontation. I just felt very uncomfortable. I bought my food, i waited for it. I didn't complain about the time it took to get it. I was not upset. I was just out with my son to shop and get some food Before i came there i had just told him that Wendy's has the best burgers. There was something there that did not set me right and i don't know if i could go back there.

it seems that wendy's nation-wide has decided to screw ALL the customers by not providing any hot food outside of the lunch and dinner hours. they will go so far as to tell you their fryer has problems to insure no hot food will be served. apparently they do a real big dinner so they can save the extra cold burgers for the rest of the night. you won't be around very long with all the stories of rude management and workers in general EVERYWHERE! when nobody cares to make it right, you will all be looking for jobs, hopefully NOT in the restaurant industry. you have and will continue to lose the masses because of this. some things cannot be forgiven and wendy's practices of intentionally pissing off the customers is probably the biggest one you could have chosen. RIP wendy's. you no longer have the ability to get any more of my hard earned dough. it was only good while Dave was still alive. you really should dump whoever took over …and make it quick if it isn't already too late.

I am writing this letter to your corporation hoping that there will be some change in the wendy's located on ft.smallwood road in Pasadena, md 21122. My daughter whom is 17 years old started working at your restaurantabout a month ago. i must say that her experience at you company was herrific..
The manager by the name of MAY made her work there unberable. She tould my daughter she was stupied when she did things wrong and constant yelling instead of taking the time out to explain to her the procedures. My daughter would come home in tears. I am a manager at a retail business. I find this unexcetable..
I work with young teenagers and would never talk to them in this manner NEVER.We are having issues all over the world with bullying this to me is a bully. I want to address this to you so that you can take care of this manner. I don't want this to happen to another employee the end result may not come out so well. I will be sending this letter to the better business beaur

My husband and I went to Wendy's in Dearborn a couple of weeks ago to purchase fishe sandwiches. We saw the advertisments on television and in the magazine. The sandwiches in the advertisments looked good, however when we received our sandwiches from the restaurant they were flat, fish was small and flat. I will never order this sandwich again.

38 degrees outside this Jan. 19, 2013 around 8:30 pm in Dayton, Tennessee. Went into Wendy's and ordered and the inside temperature was colder than the outside temp at this location. We asked the girl (Katherine,or Katlynn not sure of her name) if she could turn some heat on and she told us that they have no control over the temperature in their store. I asked what happens when it gets even colder outside and how they turn up some heat. Her response was she didn't know and guessed that they would have to call someone in to change it.
It left us and other customers wondering how this could be possible. Does Wendy's have a central system somewhere that monitors the temps in individual stores and turns the heat on when it thinks it's cold enough in this store compared to another store in the general area of the State?? If so, what idiot came up with this "money saving" idea??
This is not the way to keep customers coming back!! I don't think this girl was the manager. Never seen the Manager to this store.

I went through wendy drive thru last night about 9 p.m about I am not very happy with what had happened. First of all I was in line for almost ten minutes before my order got taken and also when I got to window to recieve my order the lady at the window I did happen to see her name tag and her name was debra she had a different color shirt on than the other employees so Im thinking she might of been a manager.
She was very rude with me and got snobby with me when I asked for condiments with my order and to top it all of my food was cold and my fries were soggy like they had been sitting out for atleast 30 minutes. I really think something needs to be done about this this is crazy for paying customers to put up with this.

Earlier this I ordered 2 Wendy's burgers,fries and drink. It was about 8pm ,there was only one other couple there. I ordered 2 burgers,fries and drink. The bun was soggy as if not thawed completly and burger only warm ! And so I brought it to counter, told the Wendy's employee, he said it was because of the cold tomatoe? First time i EVER heard that one.
Before going up to Wendy's counter, I had checked the other burber, lo and behold it towas a soggy bun. My fries got cold waiting for the new burgers. Secound time aroung wasn't much better..Mind you, I usually eat there (1005 W. Trinty Mills) twice a week and it hasn't happen before. So sad.

hi went too wendys with my family the young girl was rude she ask me my order 4x then i pulled up and she rolling her eyes laughing rubbing her nose i ask her if sumthing was wrong and then she said very rudly im not talking too you so then i get my food fries and chicken was cold and the cheesebugers were unwrapped and in one of them there was a piece of black hair in it and too make worse i dident even get my 2 salads i ordered i dident even relise that till i got home buy then i was so upset too go all the way back there and get treated like that no ty

i recently went in the wendys in atwater ca and their was nobody in resturant . i went to place our order and the girl Ana actually rolled her eyes at us and I was totally livid.we have had bad service at this particular wendys before so this just fueled the fire more. so I started to order anyway because i was already their and she was just so rude .
I asked for potatoes she acted like she had to go outside to pick them ,I ordered # 3 hamburgers and she hissed at me so I told her she was rude and she said so sarcastily sorry bitch i was so mad I just left . i cant believe that you really want these kinds of people working for you( resaon for this compaint ) just thought you should ' know four lost customers

My son used to work at the Clayton, NC Wendy's until he started complaining about the chemicals used to clean dishes and the floors. He tells me that the customers are potentially harmful to the customer. It's potentially bad if the chemicals are not completely removed off of the cooking utensils. The labels on the bottles even say that the cleaning chemicals are bad for humans and animals. Is that a risk that a Wendy's restuarant is willing to take on their customer?

5 o'clock on December 26 second busiest shopping day of the year. I proceeded to pay for my meal with 100 dollar bill and the manager told me she had just changed all the drawers and was unable to change my 100 dollar bill. she looked at me with her eyes rolled saying don't you have a credit card or something else. Being a victim of identity theft I am on able to get a credit card so the answer is No and was no! so she told me she could not help me so. I gave her the food back and she gave me my money back. there was no apology or any type of trying to keep me as a customer. so I would appreciate to go across the street and eat at McDonalds. I find it inexcusable that a franchise like wendys did not have change at dinner time onsucj a busy night. They did not seem to care if I ever came back as a customer and I don't think they have to worry about it because I won't be back.

I am so disgusted with Wendys. They used to be good food at a decent price. Made hot and fresh just the way i want it. But now that Dave is dead all they care about is pushing you through the line as fast as possible like cattle. It does not matter if its inside or(god forbid) the drive thru! All the managers/owners care about is making their damn service times look good.
The sandwich makers have to make the sandwiches so fast that half the time they are just slopped together. And forget about getting any special requests right! And if you order inside at a busy lunch they take multiple orders then push you aside. So there you stand bunched with other people in front of the counter while the ONE poor sandwich maker on front line tries to keep up with the 5 orders at a time as fast as they can slap the crap together.
And god help all of you if the front coordinator gets messed up! then it really becomes a pooch screw! You know, as their prices continue to skyrocket and the quality of their products continue to tank it makes the real sit down restaurants much more appealing. Especially as i get tired of being treated like nothing more that a 55 year old cash cow.

I absolutely love Wendy's food,the quality of food however tonights problem at the drive through was unbelievable. 10 years ago I would have drug that employee through the window by her collar. After taking my order it was given to me totally wrong. In fact out of a chili fries burger and soda. All they got correct was the fries. The burger was a triple when I only wanted a single patty. I got her attention to fix this for me. She was very rude about it and I could see the frustration in her eyes.
At this point I could guess that her frustration was not exactly directed towards me but possibly a coworker for making it wrong. She never apologized for the misunderstanding. As I checked the rest of my order I realized my chili had onions on it. I clearly asked her for no onions at the drive up speaker and she read the order back to me just as I had ordered it to begin with. The lady abruptly took the chili back as if she almost dropped it outside the window cause she never really had a firm grasp on it but recovered it.
As she returned my chili,now made correctly she then handed my drink to me with the lid barely on. She was so upset I almost think it was on purpose. It exploded all over me an the upholstery of my car. She offered no assistance with napkins and no opology

On the weekend of March 4, 2012, We were returning from a memorial out of state and decided to stop at Wendy's in Goodland, Kansas, exit 17. Do NOT ever stop at this resturant. The staff was incredibly ignorant in every sense of the word. The girl who took our order was somber and depressive. Before saying "thank you" she quickly told me "you're welcome" and walked away.
The second girl, and I use that term loosely, was heading for a break in the dining area and was in a shouting conversation with an individual in the back. The topper was the young man, thinking it was the manager, who sat down in the dining area to express his extreme disgust with Wendy's as an employer, guess there is an issue with cashing his paycheck.
This rant was even more colorful with the multiple "F" bombs this kid laid down along with other "action verbs". There were other customers in the place. I personally fought the urge to explain the term "customer service" and ettiquette to him, but I knew the words alone would be a mystery. This individual should be fired immediately, along with the ghetto-pant-sagging-whining-screaming-morose staff employed there. So disappointed.

What ever happened to Wendy's founder Dave Thomas promise of fresh HOT food at wendy's. Wendy's corporate made a grave mistake by following Mcdonald's and Burger King in cooking their food inavanced and holding it in a food warmer, when wendy's cooked there burgers fresh they had the best burgers out of the three chains, customers wouldn't mind waiting a few extra minutes knowing they would get a HOT burger Dave Thomas promised it. i should not have to ask for hot food, burgers are cooked on the grill and fries in a frayalator it's supposed to be HOT your bugers don't even melt the cheese.
One shouldn't have to hope to get fresh HOT food one should expect it not just one time but every time Dave promised it, you don't hope i pay my total bill you expect it. So in the name of your founder and in the name of a good burger get back to what you used to do, because the next time i visit a wendy's location and i get a luke warm burger i will never give you my business again. "And i mean that".

I ordered an unsweetened tea from Wendy's charlestown road new albany indiana… Love their tea , always get it. I also order their delicious chili and baked potato. I always eat the food first then drink the tea when I'm done. So this is the process I went through. I added sweetenlow to the tea put the lid back on and shook the cup a few times , took the lid off and started drinking. Halfway through I thought I may need to stir the drink up since it didn't taste sweet enough, then decided to use the straw. Got to about 3/4 and swallowed a big chunk of something. Looked in the cup and there was something that looked like gum . I took a picture of it .
I'm never going to eat or DRINK at a wendy's again. I'm gonna throw up just thinking about it again. This just happened tonight.

I go to Wendy's because of their great food. Best fast food, worst service. Although most of them are set up for 2 cashiers, in our area they never use them both, even at rush hour. It takes 15 to 20 minutes during the rush periods, to get served. Last week I timed my wait in line. Their were 6 people ahead of me, so I figured about 10 minutes. One person was behind me. One person in front of my got disgusted with waiting so long and left. The person behind me did the same. Now, with 5 people in front of me, it took 15 minutes to get served. Everybody in line was rolling their eyes, but this is somewhat typical of Wendy's.

Hi i just wanted to tell you that i have been going to wendys for over 3 years twice a week in Cornwall Ontario canada. I was there Saturday November 19th at 5:15 pm. The hamburger was nothing but greese. I complained to the manager that was there and i was shock with her attitude that she did not give a shit. I told her were we not coming back after being there for 3 years and she did not even care at she lost a 3 year steady customer. This is deplorable attitude for a manager.
I have 27 years in public relations training and i would never let a 3 year old customer walk out of wendys with out even trying to resolve the issue. As far as i could tell this was a very lazy useless manager that did not even care about wendys customer. Personally i would never have a manger that does not care about our clienttel If this manager stays on as manager at this wendys location you might as well close it down because still is totally destroying wendys reputation as a family restaurant that cares about their customers.
This is wendys name that is at risk now if it was me i would getting rid of this manager or have her properly trained in public relations and how to deal with customers problems.
I have dealt with one manager there named Debbie Paquette and she was excellent and really truelly care about her customers. But this other manager was totally useless and not helping wendys name at all. Now you have lost a 3 year steady customer over a bad manager and greesey food.

Wendy's, 6:09 PM on 10/15/11, 2534 Bert Kouns Ind. Loop, Shreveport, LA. My husband and I are both Seniors and was out on errands and decided to swing by Wendy's and get a couple of sandwiches off the dollar menu and take them home, as our money was running short for this month. I ordered a crispy chicken sandwich with extra many (what I got was a chicken sandwich with no mayo and the chicken patty was hard); my husband got the junior cheeseburger and we said to cut the onions (what he actually got was a bun with cheese and a meat patty on it, no mayo, no lettuce, no tomatoe, no pickle, just the cheese and meat). I hope that others are not getting orders like this.
I know we only spent $2.00 but we will think twice before going to this Wendy's again for anything. Thanks for letting me vent our problem.

My husband and I are traveling thru Kansas, Missour, and decided to stop at a Wendy's. BIG MISTAKE! I gave my order for a bowl of chilli with onions and cheese. When I sit down to eat, the first bite of chilli was cold….the onions looked like a 2 year old chopped it up…..very unappealing. I don't usually complain but the chilli was cold. I took the cilli to the counter and the lady looked at me and I told her the chilli was cold. She looked at me like I was crazy. Then she said " we don't have a microwave to heat it up". She looked at another worker and asked him if the chilli was turned on……
then she said very loudy " lady I'm not arguing with you. Let me tell you, I was not there to argue with her. I just thought maybe she could return my money or fix my chilli. She in the meantime walks away from me. I tell the boy working behind the counter to forget it. About 5 minutes the boy comes to my table and tells me here is a hot bowl of chilli. There were no hamburger or beans or anything but thin liquid they brought out to me. I have to tell you, I was afraid to eat anything at Wendy's, took both chilli's and thru them in the trash.
You really need to check up on the workers at Wendy's or mayby you do not need customers. If you do, make sure you hire employees that would treat the customers like they would like to be treated.

In Johnson county ky. We went there an they handed our milkshakes all they did was talk about there personal life's an then they handed us our milkshake an one had a hole in it then took it back in an the manager tryed just handing me the cup back with another cup over that cup an went to drink the another one it had a big piece of plastic in it an the other one was supost to be vanilla an It did NOT taste nothing like vanilla it was NASTY ..an we bought four of them and none of them were mixed very well I would very much like sum thing done about this. I will never like to go to another Wendy's again because of this !!!

The wendy's in york, nebraska is ok, but every time i go there, just because I use 2 work there, the crew and managers treated me worster than they treated their customers. I don't know why they treated me that way, but I gave the wendy's in york, nebraska every oportuning to treat me better but they don't. Now i never file a complaint before, but i decided to because, the wendy's in york, nebraska need 2 stop treated me this way, because i'm getting really tired of it. I went there a comples of days ago, to get some food for my friends and me, the sandwhich fell into the trash can.
They just put it back in the bag and didn't even tried 2 make it again, and the crew leader say i push the bag even though i didn't. simlar situation has happen everytime i go to wendy's in york,nebraska. I'm not happy at all with wendy's in york, nebraska. so something needs 2 be done about the wendy's in york, nebraska.

My husband and I went to the Wendy's restaurant on Telegraph at 12 mile rd. in Southfield, Mi. and it was awful. First off, we had to wait 10-15 minutes for our food- we ordered 5 double stack burgers (which are normally very good at our usual Wendy's at 12 mile and Greenfield), a chicken nugget, and an order of fries. When we got back to our hotel, we discovered that the burgers were burnt and hard and just nasty. Also they omitted the nuggets and the fries were only half full! They didn't give us a receipt (of course) and when we tried to call them they never answered the phone.
My mother-in-law was visiting from Phoenix and I felt horrible about getting her this crap. Of course I used my last $15 on it as well.

Being that I'm young and living in a very very tight budgeted household, money is something my family and I don't like to toss around. I saw the ads for Wendy's new wild berry parfait and shakes and thought that would be something definitely worth trying. I saw their posters for the shakes and parfaits and had seen the actual size of the shake. The posters displayed the two deserts as being equally sized. I had finally earned the money for the parfait and when the actual parfait was given to me I was so mad. It was like a 5 oz. cup and 1/3rd the size of the shake and it was only $1.00 less than the shake.
Wow, way to falsely advertise and take advantage of a kid. I'll keep that in mind next time I have some cash in my wallet and a sweet tooth.

went threw drive threw and order two double baconactor and two cokes well its 1.30am I get and start eating while driving i relize it wasnt right gease was eevery where and I figer i deal with the grease IM hungry and hadn;t eating since morning so i took a very big bite it didnt taste right so i turn on my dome light it was almost raw threw it out my car window . got to pond where my husband was fishing his was as greasy and it was raw . so I spent 13.86 for food that went to trash ; and I am sick now

Wendy's issued coupons in the programs for our local baseball team to get a free 12 oz. frosty with any purchase. The acting Mgr. Tim at the Wendy's at 1401 Manheim Pike, Lancaster,Pa said their policy has changed and the 12 oz. is now a medium and they have added a 10 oz. now as small.There is no expiration date on coupon so I feel they should honor the coupon as printed. After I said I was going to inform Wendy's how I felt they offered me a larger one, which I didn't accept. Wendy's coupons is deceptive advertising.

I purchase my lunch at Wendy's almost daily; it's close to my work and the food is satisfactory, until today. I usually get the salads (mostly the cob chicken salad); the ones I have gotten in the past have been ok, except of a couple episodes of the person not remembering the dressing, or the crotons, etc. Today I ordered a spicy chicken salad (my first try at this salad) that cost almost $7 bucks; to my disappointment, this salad was comprised of a ton of lettuce and half was wilted, on top was a clump of un-identified cheese sliced thin and melted together, the chicken was cubed and tasty. This is supposed to be a SALAD, not a lettuce with clumped cheese and grilled chicken thrown on top folks.
I do not think I will purchase this said again for lack of extras beside the three mentioned above. As I said Wendy's is close to work, however, there are so many other food chains/restaurants in that area I can probably get more bang for my bucks. I was thorouly disappointed.

I went to the Wendy's in Plattsburgh new York at night. When I came through the drive thru I asked why it took so long and one of the girls said everybody was in the back with there boss Jackie watching a video on the laptop in the back. I decided to just leave because when I spoke to Jackie and asked her who her boss was she said Joe was the boss then Eric was the co manager. I asked her when they were in next and she said it didn't matter because they allowed her to do what she wanted. I will never go to Wendy's again as long as this stuff is allowed.

Five of us were picking up food at the Fairhaven, Massachusetts 02719 Wendy's drive-up during our lunch break from work. Two of us had a coupon for the Very Berry Salad, full size. We ordered 3 full-size Very Berry salads, 2 Chicken Asiago sandwiches and a Value meal crispy chicken sandwich. One friend and I each had a coupon printed off of each of our computers in our separate homes from emails received from Wendy's. The NEW manager only allowed us to use 1 coupon. Before this visit, we had been able to each use our own coupons. This was disappointing enough so as to turn us off going to Wendy's again.

I tend to eat breakfast on my way to work and am limited to McDonalds because I start work at 6 am. Local Wendy's don't open until 6 so that eliminated them and not a burger king in the area also eliminated them. Well anyway I keep hearing the Wendy's commercial about their fresh buttermilk bisquits made fresh all morning long. Well on my break at 9 am I decided I would go out of my way to get one of these fresh bisquits. I go to the drive through window order 2 bisquit and am told that they are out of biscuits. The Wendy's commercial got me their its a shame the store couldn't handle it cause now I won't be going there at any time regardless of how tempting the commercial sounds.

I am a fan of wendy's and I think that the 99 cent chicken sandwich is the best deal in town. Except at 308 west brandon blvd brandon Florida. There chicken sanwich is like no other wendy's in the tampa bay area. not even the same chicken ! you can squeeze the grease out of it looks like a fish sandwich from mcdonalds. It was square and greasy, better yet it tasted really nasty. I tell everyone about how great there 99 cent menu is and what a deal the crispy chicken is, and i will be sure to let them know about the brandon wendys as well.
the wendys i work for in atlanta, ga is a very successful wendys however, the workers are treated very poorly. the manager called us "clowns" and talks to us like were children. she wants everything to be perfect AT ANY COST. for me personally, she doesnt even say hi or bye. i use to come to work with a positive attitude, but recently got tired of it. the only time she says something to me, is if its negative…im always doing something wrong. i am not the only employee that feels this way. the manager puts on a front to the district manager like she treats us like a family, but in reality she treats us worse then the customers. i want to transfer, but she is the general manager and i dont think she will even accept the transfer. i dont know what to do.

her name is camille. and she works at the wendys on long hollow pk in goodlettsville tn 37072 and she is so rude and not friendly at all, the last time i was in there i kinda looked over it thinking she may just be having a bad day. and today a old man ask about that new salad you selling and he told her that the price should be lower since it was a new item and she just got smart. and she just stood there and acting like she was impatient while i was deciding what to order. i asked her how a ceasear roll up thing tasted and she said she didnt know she hasnt ever tried it, just another one of her unpleasant answers.

I went to Wendy's in Nitro, WV on 5/14/2011 at about 9PM and was amazed at the arrogant attitude of the manager that was on duty. She not only talks down to the employees, but when I ask to speak to her she totally ignored me. I was waiting for my order to be completed and the register clerk was standing there waiting also, the manager looked at the girl and said, "Can you find something to do besides stand there and stare at me.", the employee said "Oh, I'm sorry" and walked over to restock napkins and straws. Now, my sandwich is ready and the manager lays it where normally, the girl that she ran away, would give it to me and there was no one there.
When I said to her "Since you rudely sent the other girl away, can you hand me my sandwich?" I was ignored. I raised my voice and said "Hey" and i was ignored again. Another boy came around the corner and I told him that i wanted to speak to her, he said something to her, which i could not hear, but she wouldn't look up. He finally handed me my sandwich.

1845 Wendy's in capitol and aborn.the manager are really irresponsible.they dont treat good with the customers.the manager dollores she all the time talking with the employees even there is a customer she not talk to the customer properly.and she all the time eating fries and nuggets when she goes to the back freezer she pick up 1 nugget and eating overthere.and make the frosty and eating in the back .some time she charge for 1 sandwich with his family memeber and she gave to them a lot of food free.she eating a lot of food in working time.sometime she didnt enter the item on the computer and that dollars she put in own pocket.i dont know why u guys make like that people manager or superviser. im surprised

While eating in Wendy's the music being played had foul words in it. It kept repeating play that f–king song. I went to the manager and she stated there was nothing she could do that it came from Corporate. As my husband and I left, the manager and staff was looking at us and laughing. This occurred at Wendy's on Broad Avenue, Rockingham, NC 28379. We do not use foul language and we will not be back. There were children in the dining room at that time also.

On 5-13-2011, I ordered food through the drive thru of 3801 West Broward Boulevard 33312. I placed my order of four (5) piece and three value fries. I make the payment to the 1st window and was told to proceed to the second window. I pulled up to second window where the lady passed by order in less than 2 minutes. However, I checked the bag to make sure the order was correct and I notice there was only three nuggets dipping sauce(3 bbq's). I simply ask the lady at the window if I can have a honey mustard sauce. She looked at me as though I'd said something strange.
I repeated the request to ensure she heard me. She replied in a horrible attitude "You already got yo number of sauce you need". I replied, maam I donot and all I am asking for is a honey mustard". As she was walking away from the window she said "my ass need to pay for that sauce she asking for". I was shocked and speechless. In the meantime, the line is backing up. She returned to the window asking me how can she help me as though nothing took place seconds prior.
I repeated the request again, she then went back and forth with me about having 1 sauce per nuggests and I pulled all the food out the bag to show her there was only 3 sauce to begin with but I ask for the honey mustard and she refused to give me the honey mustard. I could not believe this was happening! I just got off work and at wendys going through this…unacceptable!!!!

Wendy's manager's should be able to handle various situations I understand that its not the easiest job in the world, being a manager myself at a mcdonalds I have been trained to handle all types of situations good or bad. Yes I understand every big restaurant has a general manager but not all general managers are the greatest some can also take advantage of employees and be disrespectful in many ways. The general manager at my job I can say is one of the greatest people there's out there regardless of the hard work needed to be in such a stressing position she know how to deal with her employees in a very professional way.
Anyways the reason I'm posting this up today is because my girlfriend has currently started working on a wendy's restaurant by the way she tells me things they need some anger management classes before they get hired the management there is horrible the general manager would send her home without a break when she worked over 6 hours I guess that wendy's need to be shown a law book because its the law u have to give Someone a break if they worked more then 5 hours also there's a lot of racism the store manager is also disrespectful to his employees.
Its ridiculous how he doesn't like to gie them hour statements and gets mad when employeess ask for them some of the employees there when demanding their hour statements noticed they weren't getting paid the correct amount instead there hours where being stolen. The wendy's store manager curses a lot to his employees.

I just purchased a Wendy's burger combo, and this is the first time that I feel the hamburger was bland, the fries have to be on the bottom of the list for taste of the french fries (plus they were cold) and the pop cup was more than 3/4 full of ice, very little pop, not enough to finish your meal. I go there quite frequently and now unless the food taste improves I will not be buying Wendy's, not when they are charging that much. Maybe Wendy's should compare their fries to McDonalds, not even close

Went to Wendy's and placed my order through the drivethru. They told me to pull forward and waiut for the order. I waited 20 minutes. Finally went in to Wendy's and asked… they said it was coming. Went back to my car fuming. They brought my order out and said they were sorry but they had to make the sandwiches plus cook the bacon. Still made, I drove off. placed my hand in the bag and the fries were cold! Went back to the window and complained. They said it would take another 3 or 4 minutes to cook a new batch. I said no, and I wanted my money back for the fries. The manager came to the register and asked for the bag, then handed back a full refund.
Not a sorry in the mix… I went on line and complained to the Wendy's website. They said they would get back with me in one to two days. Have not heard from them at all, and it has been 4 weeks. This Wendy's is in Florida/1792, Longwood. I will not visit a Wendy's ever again.

On saturday 4/23/11 I went in to Wendy's restaurant to order a spicy chicken sandwich. When i got it, i noticed that it was raw. I also ordered a coke and it had no ice, and it took forever to order my food. The manager was fighting and yelling at the employes and she did not wear gloves when grabing the chicken. The manager in charge was Kat and she was very rude to customers. I will never return to wendys ever again and please next time pick better managers to be in charge or even work there. The resturant looked very dirty and it felt disgusting eating my food there.
I took my sixteen year old, 200 pound grandson to Wendys yesterday and he ordered what looked like a huge new bacon burger and it turned out to be not much bigger than the value menu burger. Not much for a sixteen year old appetite. And not much for almost five dollars. He could hold it in the palm of his hand and ate it in three bites. Too much money for too little product. Wendys is our favorite fast food, but even McD's and BK beats you on this product. Please do something about this soon.

I pulled in the drive in window at Wendy's, and paid for an order that $3.78. I handed tje woman a $10.00 bill.The woman handed me back $1.22. I took my change and proceeded to drive off , wihen I realized that my change was not correct. I immedialty stopped my car and walked back to the Wendy's window. I said to the girl you did not give me the correct change, I said I gave you a $10.00 bill. She said no you did not,you gave me a five. I said you needto check again,because I know what I gave you. Then I heard her manager in the backround say " he better watch his tone"!
I repaeated myself saying I gave you 10.00. Anyway , to make a long story short, I was told by the Wendy's manager that I would have to wait in the lobby iuntil they counted down the regester. So I stood in the lobby for over twenty min,while I waited for my change. Eventually another manager came and handed me $5.00. I asked him for the corprate phone number, to complain he told me that was not needed,just to notify the general manager. Well that is not what I asked him.
I would like to let the people in Wendy's Corprate know the attitude in which its workers display on a day to day basis. The Wendy's store in question is located on hwy 27 in leesburg ,florida, and the manager"s mame is Deongelo, who was so very rude. I still would like to find the number to the coprate offices to lodge my complaint, verbally.

I arrived at this restaurant about 9:30pm on April 17, 2011. I ordered my food when I went to seat down I was yelled out by the Manager that the section I was fixing to seat in was closed(there was several tables with chairs not on top of the tables, but, EVERY table was dirty, I look at him and did the same thing he did to me I said from across the restaurant "I'm not seating at a dirty table" so I continued with my seating. Then I seat down to eat and I had ordered a single less onion. I opened my hamburger to see onions on it and also rat leaving on my lettuce.

Why did Wendy's replace the Mandarin Chicken Salad with that Apple Pecan Chick Flick??? In my opinion it is not as good as the mandrian chicken!!! Please bring it back Please Wendy's. Also, the crackers that are served with the chili are disgusting I do not know the brand name of the cracker served, but I ate a cracker by Zesta the other day and it was the same terrible flavor as the Wendy's cracker. Even if you dip the cracker in the chili it still can not mask the horrible taste of that flat doughy tasting cracker. Thank you for your time and I hope that you listen and bring back the mandarin chicken salads!

Anne Maselko
from Troy, NY
Have been getting your chili for years, it's been great. The last four times I've gotten the chili it has been very oily and the flavor very unpleasant, I kept hoping these were random incidents but they were persistent. I drive out of my way to stop because I also like your salads, just wanted you to know that the quality of the meat you are using is inferior and also since you are now charging more for a smaller amount of chili I will not be stopping by as frequently if at all. Sorry to have lost something that was a great product for so long . I used the Clifton Park ,NY Wendy's the service is very nice there and the store is always clean, so my only complaint is the chili and the quantity.

Cheryl Y. DeJonge
from Grand Rapids, MI
I ordered a Junior Bacon Cheeseburger with out tomato, I am alergic to tomatos along with a Bacon Cheese Potato. I received a Jr.BC with tomato. I tried to call the store to report the mistake and could never get an snswer. Restaurant #00008325. They don't answer their phones at 8:00 at night? I could have gotten sick if I ate this burger. order number 3340. on 2/1/2018 at 6:45 pm

Mary L. McDonald
from Frankfort, KY
A coworker of mine had been sick at work due to not eating, my favorite restaurant used to be Wendy's up until this incident which has been the third incident with them I have had, I didn't complain because I know things happen. This time, as I stated I went to buy lunch for a co worker and myself...I blame myself the firt time because I didn't look at my order before I left, but when I got back to the office and handed my coworker her food, I was humiliated at the look of the chicken strips they have given me! The strips were burnt. I attempted to contact the restaurant (#00000798) three times by phone and each time the call went to the answering machine service, which wanted me to enter a passcode to get into the answering machine. So I left work and went to the store to get some more strips...I went up to the counter where I was overlooked and ignored for at least minutes, until I said something to them. The manager told me she'd drop me a new batch and it would be ready in six minutes, six minutes came and went, again I go up to the counter, and she slides me a bag of nuggets as if I done something wrong, by asking for better strips. I looked in the bag this time before leaving where I saw nuggets in the same conditions as before. When I questioned her she said the strips are always dark. I've ordered chicken strips from Wendy's a thousand times and never have they been that dark. They weren't just dark, but they smelled of burnt grease
As I stated before this really saddens me, I not only embarrassed and upset, but I was a little hurt because all my coworkers know how much I love Wendy's in fact they bought me Wendy's gift cards for Christmas. They been telling me that Chick Fila was better but I stood by Wendy's
Below is the pictures I took of both sets of chicken strips which both look the same. One star was way too high to give them for the service and food that I got today!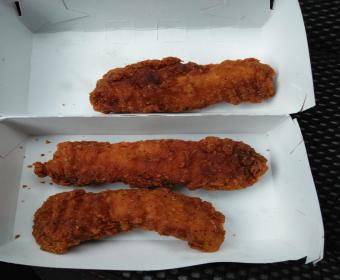 dennis dionne
from Meriden, CT
I went to wendys today for lunch worst meal I ever had !! buger came out a draw not the grill !! it was cold ! fries freezer burnt ! 8 bucks in change came back to work and puked ! never ever again commercial lies !!

John barkdull
from Philadelphia, PA
I purchased a med vanilla shake earlier. It tastes funny. Like Cinnamon and butter. Like licking Cinnamon toast. I know it is not suppose to taste like this, and all your offices I called are disrespectful. All I wanted to know was can I eat it. Sometimes ingredients are changed and stuff tastes different. But after my experience trying to find out. I don't think I trust the people working for you.

Lizabeth Dill
from Odessa, TX
I went to Wendy on JBS and University in Odessa Texas not sure store number i do apologize. I placed an order for the 4 for 4 and upgraded drink and fries to a large and a mini chocolate frosty. I did go through the drive through at around 745 pm.. When i approached the window the lady stated my total was 10.01 which Im thinking is a bit high for what I ordered but she would not hand me my food til i gave her the money. Than I never receive a receipt so I am still not sure the cost of my meal even at this point in time. The lady stated she charged me for a medium frosty but still gave me a small and was very confused at this point in time. When i got home to eat my food, it was cold. My nuggets felt like they just came out of the refrigerator and my fries tasted old. I usually go to Wendy because its higher quality than McDonald or burger king usually, Tonight i wish i had gone else where. I also had to ask for all the sauces and they just threw them at me, never received a straw for my drink. I am usually not one to complain because i have worked the food business in the past and know how things can get crazy, but this was the worse service I had ever had and felt like they threw my food at me and just wanted me gone. I feel like they stole money from me and didn't even care. Thank you hearing me out on my experience tonight. and I will definitely think twice for now on about choosing Wendy as my option to eat at.
Sincerely
Current Customers of Wendy

Either never get our orders right or "fresh" is not very fresh at all. I have worked fast food plenty of times and it's obvious our burgers have been cooked ahead of time and then just thrown on a grill to warm up. Burers wereBurnt... and nuggets were chewy to say the least..... Very disappointed!

Judy Palma
from Woodbridge, NJ
I've previously written a complaint concerning this storeabout a year ago (convery blvd. Perth Amboy NJ) but decided to give it another chance. I had just been discharged from the hospital and really wanted a Dave's single with french fries and a side of cheese sauce with unsweetened iced tea. My husband wanted a spicy chicken sandwich. Upon walking in the store your feet stuck to the floor. It wasn't a busy time (there was one person in the store) and definitely not pleasant having your feet stick to the floor. Our food was ordered to go and when we got home my husbands spicy chicken sandwich had literally nothing on the bread and the chicken was ice cold. My Dave's single must have been sitting out for over a few hours the french fries were old and cold and unfortunately my unsweetened iced tea was sweetened. It's very disappointing to go into a Wendy's where apparently no one cares about the cleanliness of the store and no one takes pride in their work. I will not give this Wendy's any more chances . I might try to find another Wendy's near me but unfortunately I believe that I'll be going to one of your competitors which is a shame because I have always loved Wendy's. I truly hope that something can be done about this store or Wendy's will continue losing more and more customers as a result of the lack of care concerning this one.

James Morris
from Morehead City, NC
On Monday, Jan. 29th at about 5 PM at the Wendy's restaurant in Swansboro N C, I was walking from the parking lot to an entrance. At the take-out driveway, which you have to cross I bent over to pick up a coin that was on the ground. The manager shouted "Get out of the driving lane"! It seems to me a manager would welcome customers rather than yell at them. A solution might be to close that entrance so customers wouldn't have to cross the take-out driveway to get to the parking lot. Sincerely, jimboat123@yahoo.com

Millie Rigby
from Butte, MT
What happened to the Wendy's in Butte Mt? It used to be the best fast food place to eat. Lately it is the worst. A couple of weeks ago we were there and the place was filthy dirty. It was 4:00 in the afternoon and every table in the building was dirty. The two people were screaming at each other behind the counter. Today we went there the food was horrible. Everything was cold, the meat on the burgers was so dry and disgusting. It has gone down hill so bad. Today was my last try at it. Not going back. I don't know what happened but it sure needs to be fixed. DISGUSTING!

Michael
from The Bronx, NY
The French fries were cold, the burger and bacon were over cooked and the building was cold.

Gene Zande
from Bellingham, WA
Wendy's has always been my favorite. Last 3 visits, each at different locations, have been incredibly disappointing so I'm considering Burger King as my new daily lunch spot. Most recently in Everett, WA ordered 2 singles stating "all I want on them is mayo, pickle and mustard." When I got them they had cheese. I brought them back and repeated my quote above. Wendy's personnel rudely stated "You have to tell us you don't want cheese." Gee, thought I did that. Prior visit in Arlington, WA I ordered Chicken Nuggets. They were not even warm, let alone hot. They were absolutely cold. Tried to return them and was told "that's the best we can do." Interestingly enough, neither place gave me a receipt. Your burgers were always my favorites. Now they're smaller and something has happened to the taste...they are not nearly as flavorable. Too bad, you had a good thing going.
Sorry to be an ex-customer. I'm crushed.
Gene

Candy Smith
from Hickory, NC
My husband and I stop at Wendy's in Wilksboro NC .they was not friendly, the food was nasty it tasted old .the drink machine was nassty like it was never cleaned .we like going to Wendy's a lot but that time was a bad one. Thank you

Teresa Williams
from Cullman, AL
My son has anxiety and other mental issues.He was hired at Wendy's in Cullman Alabama the goodhope location.He was hired to work grill and sandwiches .They started forcing him to work register and his nerves would be bad and he would walk out .He told them and I have it in my messenger were Wilma said everyone had to run register.He tried and couldn't deal with it then came home sick to his stomach .The day on his schedule to go back he found out he was fired.He has friends there that have never run the register .They were going to get Robin to hire him back but Wilma said no he wouldn't get a job back .I think he should sue but he just wants his job.This is discrimination.Just because he has been to mental health and has problems.When he was hired he watched 2 hours of video and put on the grill.His friends had a week of training .They told him bring home the videos to watch .Robin is the store manager now but Wilma is a district manager .It's a big mess down there .

William Guerrero
from Reno, NV
I really can do without the attitude. Wendys drive through order #3238 1/18/18 255pm 4997 Longley LN #6 Reno, NV 89502. Ordered a #1 medium with a diet and a #4 medium with a diet... got one small one medium. Okay, no big deal. When I made the guy aware at the pick up window he told me, "Well, that's what you ordered" and when I stated that is not what I ordered I was spoken to in a condescending manner, "Well that why we tell you to check the screen!" I was already driving away when that was asked. Contradicting the customer and giving them attitude when the customer has made you aware of an issue is not acceptable. When you have an opportunity to offer a simple solution and instead make the choice to blame the customer and give them attitude you are in the wrong line of work and should not be dealing with the public. I was a fast food manager and I would term my employee on the spot for this kind of behavior. They didn't even offer to fix it... REALLY?! So I just drove off and will probably not be back. VERY UNHAPPY!

Angelena robinson
from Montgomery, AL
I want to ler you know that wendys in lee county has very bad. Customer service u have to sit in drive tru for 20 for a salad also the cashiers are very young an unprofessional.they are running your customers off

Gailorenberg@yahoo.com
from Randolph, MA
I just left the Randolph store with my granddaughters where the manager and one of the employees where fighting and throwing things at each other my granddaughters got so scared they asked me if we can leave the manager was very red in the face and this employee started throwing things at her I tell you I have never experienced anything like this I will be getting in touch with the Corp office on this matter
Thank you
Mrs. orenberg
6 holly lane
Randolph, mass 02368

Ruth oneill
from Chicago, IL
I went to the wendys at 6324 n western at 130pm on Saturday 12/16/17 and did not walk out with my order until. 156pm. All i ordered was a grilled chicken wrap and 2 side salads. It seemed like today was the young mans first day that was pushing out the orders. He didnt know where anything was ie: salads.. The dressing or how to make a hot tea. He was just walking back and forth very lost. And i can tell he was on his phone. His ear piece was in his ear thru his uniform shirt and he was talking. Very low but was definitly talking . there was 15 people waiting for there food. Now 5 of them received there food before me. Again all i ordered was 2 side salads and a grilled chicken wrap. Now i am 3 minutes away from that wendys location and when i finally got my food and back to the office my grilled chicen wrap had regular yellow mustard on it instead of the honey mustard on it. I did not take it back. I scraped as much mustard off of it and ate it. Now while i was waiting i can tell you that there where people complaining that the pop on both machines were empty and there was no one to take care of it. The customers had to ask the guy that doesnt know what he is doing if he can fill there cups up for them behind the counter and he didnt know what to say. The lobby was a mess as well. I do understand being short handed and being busy but i have never had an experience like this one.

Donald Lascelle
from St. Catharines, ON
Location store #00006346 on Lake Street St Catharines, Ontario
I attempted to hand in my survey, number 96144, " A sandwiich for your thoughts" this evening with Jessica at the drive through window (5:20pm December 15th). I was informed that I required to pay for the full price of 2 sandwichs. She then said she would have to check with her manager. The manager confirmed the total which would be the full price of 2 sandwichs.
I have been to this location several times during this month, and have never been treated so awfull as this time this evening.
I was rudely refused the offer, and left with requesting the server's name as well as my coupon which I still have. The wait time in the drive through was over 15 minutes.
I don't run my own business this way but I can assure you,..I wont be attending this location or any other Wendy's location in the future as well as my employees.
Donald Lascelle
If you care to hear from me personally,..feel fre to call 905-646-1151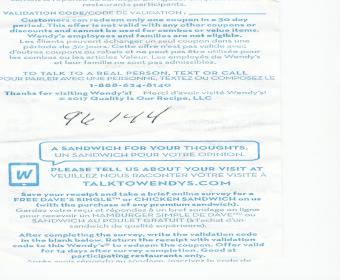 Stephen chu
from Tampa, FL
I have visited the Wendy's location on 18957 fl-54, Lutz fl 33558. There has been a few times where an employee there has just made it very uncomfortable to visit. He wears his hat backwards with his name tag on his hat. That isn't a huge issue. The problem I have with him is his attitude. The first time I went he was upset about something and I overheard him say if someone else says anything to me again word to my grandma I am going to bitch slap them. I had my 6 year old son with me at the time and he heard that as well. Last night I went with my kids and that same employee was working again. This time preparing food. He turned to someone in the drivethru and asked if they were waiting on a sandwich and when they didn't answer fast enough he threw it in the air and it would have landed in the garbage if another employee hadn't caught it. As I am watching this happen he turns to me and just stares at me as if he wanted to fight or if I had a problem with what he did. I love going to Wendy's and my kids love going there as well. This location is very close to where I live and I am happy that I can have that as my 1st choice when deciding when to eat out. However I do not feel that I should have to be uncomfortable when I go to that location because of 1 employee and his attitude problem. Especially the language used in front of my son. I wish I would have gotten his name because his attitude needs to be addressed.

Steve Morris
from Manning, SC
I have been to Wendy's many times in Florence SC & Sumter SC. It is the slowest drive through service I have ever experienced. I order a frosty and by the time I am through it is a cup of milk. It is the same at every one I go to every time I go. Hey wake up, McDonald's is taking your business.

Allyson Butzin
from Saginaw, MI
My name is Allyson Butzin and I don't really have a complaint but a comment. My husband was in a Wendy's restaurant in Bridgeport Michigan today. He is a senior who had a stroke a few years ago so is not always steady on his feet. He had a meal there and a coffee, which he often does. I was not with him but somehow the coffee got spilled on his leg. It went through his pants and burned his leg. By the time he got home his leg had blistered. I called the Wendy's where it happened and they were very nice. I just wanted them, and you, to know that obviously the coffee was way too hot if it could burn him enough to blister. Please could you address this issue so that it does not happen to anyone else. Thank You Allyson Butzin

C. Phillips
from Ozark, AL
We decided to eat at our local Wendy's in Ozark, Al. In the evening at approximately 6 pm on Dec 14, 2017. We ordered hamburgers after being told there was no chili. We then proceeded to fill our drinks. It all went down hill from there. There was no ice in the all-in-one drink machine, no sweet tea, no napkins, no salt packets, and no catsup in either of the two dispensers in the dining room. We also had to wipe down the table after we finally got some napkins. There were at least 6 employees behind the counters. There was one other couple dining other than us. The management at the Ozark restaurant may explain the low number of patrons at this location. Really sad!!! This place needs immediate corporate attention!

Larry Barefield
from Loganville, GA
I eat at Wendy's a fair amount, possibly 4-5 times per month. My concerns are two-fold. When you order a single combo, the number 1 choice at my Wendy's, it only comes with cheese. When it is keyed into the register, it only offers the with cheese option. I am lactose intolerant, so I always say, "No cheese, just lettuce, tomato, pickle, mayo, and mustard." One out of two times the burger is delivered with cheese because your only option for a number one is with cheese. I am surprised you haven't remedied this issue by now because you probably know of this information, "According to the National Digestive Diseases Information Clearinghouse, some 30 million to 50 million Americans are lactose intolerant, including up to 75 percent of African Americans and American Indians and 90 percent of Asian Americans. Common symptoms include nausea, cramps, bloating, gas and diarrhea that begin about 30 minutes to two hours after eating or drinking foods containing the milk sugar lactose." Allowing the single combo to be purchased without cheese, say at a 20 cent price decrease, would no doubt take care of this issue, and lead to many more satisfied customers. Thank you,
Larry

Anna Klink
from West New York, NJ
Last night I went to the Sewickley Pa to get a backed potato for my husband who is in rehab after a stroke. I went thru the drive thru and when I got to his room he had a hamburger instead of the potato he was looking forward to.

I went to Wendy's at 10:15p on my way to work. I ordered a 4 for $4 meal. I drove off as I had to get to work. The drink was carbonated water and not one item in the bag was fresh and tasted as if it had been sitting under a warmer for hours.I was not given a receipt. After looking up the number, I called and no one answered. So disappointed and sitting at work without lunch!!! Shame on you Wendy's!

RUBY Crandall
from Schenectady, NY
Hello.we walked into Wendy's on Altamont ave. Rotterdam ny.about 230.a large crew was working.there was only one other customer waiting for food that had already paid.we stood at the register waiting to order for at least 15 minutes! While the cashier looked at us and proceeded walk around avoiding us.after 15 minutes we walked out! We will no longer go to that Wendy's again! This was the most disrespectful thing I have ever seen.SHE should not work in the public food chain.

Tommie Taggart Jr
from Lynn, MA
I have gone to Wendy's in Lynn, Ma, Boston St. a number of times and each time the mens rest room was out of order or in need of cleaning. Today 12/09/2017 the Ladies room was out of oder and unusable while the mens room had a unisex hand written sign, inside was in need of cleaning and the urinal was out of order. At times there has been no soap to wash your hands, so how are the employees washing thier hands. Also the soda machine I used had 3 empty selections.

Jim Olive
from Bayonne, NJ
Just left my local Wendy's (Forest Ave, Staten Island, NY 10303) and once again they left items out of my salad. They just don't seem to give a crap whether an order is correct or complete. Having dined is numerous other Wendy's throughout this country, I know exactly what my salad is supposed to contain. By the time I opened it, at home, I had neither the time nor humour to get back in my car, drive several miles, or argue with a clerk.
This franchise is going down the drain quicker than a loose turd. Sad that no one cares.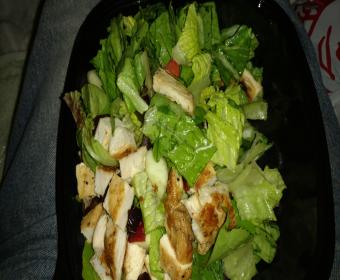 Mark Carlson
from Grand Rapids, MI
My wife, daughter, and myself went to Wendy's in Standale Mi, Lake Mi. Dr. @ 6 pm for dinner. The dining area was a disaster, food, garbage, tabletops, chairs, bathrooms, etc... waited forever to get our food inside. Waitstaff hygiene was pathetic. Very disappointed with every aspect of our visit. Dumped most of our food in the garbage which was also full and overflowing so I told my daughter to leave it cause it would blend in real well. We have a nice town with a real crappy fast food Wendy's. Thanks for wasting our hard earned money...

April Jenkins
from Piney Flats, TN
Went in with my 2 kids and a friend for a meal tonight 12/1/17 at around 6pm. The manager Jon was extremely rude. He was on his phone texting almost the entire time. Screaming and cussing at employees. He was just very rude and menacing. I have a disable child and it upset him so much that we left in the middle of our order and he was so upset we had to go home. Unacceptable behavior from a manager

Adrianna
from Loma Linda, CA
This afternoon my family and I visited the Wendy's on South Mt Vernon Ave in the city of Colton, Ca 92324. We used the drive thru- as we were ordering our meals the person taking our order had a very rude attitude. We stopped our order as we were in disbelief of this employees rudeness and told her that we needed to speak to the manager when we go up to the window. She said "mmhmm"
We get up to the window and ask the lady at the window for the manager, she asked us what it was in regards to, we told her we needed to discuss the person who took our orders attitude.
The lady who took our order then steps up to the window leans over and asks what the problem is ( all the while with the same rude attitude ) we told her we didn't appreciate the way she was speaking to us. She shrugs her shoulders and and basically didn't care about what we were saying. She rolls her eyes at us and all the while we are explaining the issue she continually says "mmhmm".
I had had enough of this and asked her if she was the manger and she nods her head yes!
I said wow, no way! And your speaking to customers in this manner?!
She continues nodding her head and rolling her eyes at us!
We ended up just driving away.
My family and I have never experienced this type of unprofessionalism at a fast food drive thru before.
We didn't get her name but apparently she is the manger there!

Ann Pattock
from Woodstock, IL
This last tues before thanksgiving i stopped at wendy s on the way to work around 1pm. I am a metro transit bus driver in mpls.....I ordered a bacon jr. cheeseburger and about an hour later I got the beginning g of "the trots". During my evening route i had to radio in for a bus to come and take. my passangers because I felt so sick and as soon as I met the bus and they got off I started heaving out the drivers window along with ruining my 96. dollar wool uniform pants ....I got sick both ways! The paramedics came and took me to north memorial hospital in robbinsdale minn. where i was such a mess that I had to get a shower before I saw the doctor.......I was fairly emptied out by that point and they gave me IV fluids and some medicine for throwing up and diarrhea....I lost a day of work the next day and my pants are ruined. Tonight, saturday has been the only meal where I haven t had to run to the bathroom......The restaurant I ate at was on University ave. near Fairview in St. Paul Mn. I felt absolutely fine before I ate there. Maybe you should t be serving bad meat or make sure people are clean! Ann Pattock

Kris oyler
from Palm Bay, FL
I just wanted to start with, I love Wendy's. I would pick Wendy's over anyone else if given a choice, but my last two experiences were disappointing. Wendy's on palm bay road in west melbourne, florida was dirty. Trash cans full and something spilled on the floor. They were out of condiments , napkin holders were empty, tables dirty. What amazed me the most was the employees could have cared less. No manager in site. No one else in store but myself and two grandchildren.My second experience was today. Store at Wickham and Aaron, melbourne Florida. I was with two of my grandchildren. We ordered 2 #10's and a spicy chicken sandwich. 4people came in after me. They all received their food before we did. My sandwich Sat on the counter for ten minutes before the rest of the items were ready. The tables were dirty, water on floor by the soda machine,but never wiped up. Just a sign. "Wet floor" you had to stand in the puddle to get your soda. My sandwich was cold as we're the fries. 6people behind the counter and all looked lost. The best one is the drive through person took a frosty that no one wanted and in front of us dumped it back into the frosty machine. Is this policy? I think you guys should do an undercover boss episode and get these guys back into shape. Again, no supervision person noted. I still love Wendy's but, the last two visit I have these concerns.thank you

The employees refused to look at us or take our order. We waited and finally left . 2 female employees seemed to have a bad attitude. Very disappointed

Donald Dawdy
from Posen, IL
I just hate at Wendy's on Pershing Avenue in Decatur Illinois. I order a large taco salad and what they did is they poured chili over the lettuce. Made everything soggy. Didn't even taste like a taco salad.

B Hedge
from Haubstadt, IN
Went to the Princeton In. Wendy's 30 minutes ago. Ordered Kids meal & 2 Jr Bacon burgers . Get home ( 5 miles to Patoka , In ) Kids meal supposed to have 4 Chicken nuggets fries & apples w/ drink. Only got 3 nuggets, fries & drink. no apples. Got the Jr bacon ones. My Grand daughter was very disappointed.

Rose Jones
from Mattoon, IL
A friend and I went into a Wendy's at Homer Adams Parkway in Alton, Illinois, around 3:10. There were workers there and another gal was called to take our order but never did take it. She went to the side and started putting papers in the trays. We were never acknowledged and waited 15 minutes without our order be taken. There was a couple with a child behind us and they finally left - then we left! What is irritating they weren't even busy! We were at the counter where you take the order. We drove across the street to Burger King - got greeted and waited on and they were busier - I WONDER WHY!
That is fine if Wendy's doesn't want our business as there is enough fast food chains! MY FRIEND AND I WON'T BE BACK!

Sam Delagardelle
from Waterloo, IA
Me and a friend went through the local Wendy's drive-thru in Waterloo, IA on La Porte road. I ordered 4 Jr. Cheeseburger Deluxe. I didn't finish two of them. It tasted bad and I felt like I was going to be sick if I ate anymore. I threw it in the garbage as I walked into the local grocery store to get more food for supper. This is disappointing because this used to be my favorite item on the menu. They got our food to us very quickly, it made me wonder if it had been sitting out for a while. Another friend of mine said he does not like to go to this Wendy's location because the food is always cold when he gets it.
Thank you for taking the time to hear my complaint. Have a good day and a Merry Christmas.

Samatha Looper
from Oxford, MS
About two weeks i went in around 7 p.m and there was a lady getting food . As i was walking in i could here her say " i am the manager i can eat free food. " But this lady was not in uniform. Then today i went in around 1:00 . Seen three different girls eating chincken strips over on the side . Now i dont know if they are or aren't alond to do this but it seems that Wendys is losing alot of money on feeding their employees. But to come in and see people eating and standing vs doing work is not good workers .I through my reciepts away but next i see this behavior again i will be shore to keep it . Will file a complaint everytime I see food being given away again. I will be looking into osha laws to about eating around food being served to the public.Wiggins, Ms 39577 East Frontage road

Patsy Franks
from Oakland, TN
No one would take our order on Wed 11/22/2017 around 11 -1115 a.m. We were the only ones in line. No one would come to the counter and take our order. 2 employees were filling orders for the drive through, however did not call anyone to the front. Nor did they say they would be with us. We were not acknowledged. I saw an older woman and gentleman leave as we came in the door with an order. I saw someone look our way as we came up to the counter and disappeared to the back. I saw the manager in the back. I asked can someone help us. We waited more than 10 mins and then left.

Francis Cadorette
from Bangor, ME
Hi,
My wife and I mostly eat at the Wendy's near the Bangor Mall off the Hogan Rd in Bangor Maine.
My complaint is the horrible soda machine at this establishment. Just recently maybe within the last 2 month the water has gone to a yellowish color even after running the machine for a few minutes it's still yellow. Tonight I had a Bart's root beer because I did not want the yellow water. Needless to say the root beer did not even taste like root beer. It was basically undrinkable. I did surface the issue to the cashier on my last visit a week ago. Nothing changed. That's why I am writing hoping someone will please fix the machine. filters??
Thank you

Jonathan Smith
from Baltimore, MD
As a drive thru customer, I was given $10 short of my change. I checked before driving off. No apology from worker. I ordered: #7 meal w/cheese added and a bacon cheeseburger. Upon arriving home (10 min away @ 5:45p.m. after working my day) I sit down to an order absent of Bacon cheeseburger get, which I was going to let slide. Opened my #7 sandwich and no cheese. I therefore, made my way back to store location #00004487 at 2045 Harford Rd and requested to speak to manager. Order was corrected, but no apology given for the inconvenience.
Poor representation of Customer Service.
I would like to hear from corporate about the inconvenience of a customer for over 40 years and to receive such disappointing service from this location that lacks professionalism and effort to expeditiously serve it's customers.

Ann Pattock
from Batavia, OH
I don't know if this pertains to poor service more then clean!iness. I was at the wend y s on university ave. near cretin ave yesterday in st Paul mn. and ordered a Jr bacon cheese urge...about an hour !after I started getting "the trots" . I am a metro transit driver and I ended up having to have another bus take my passanger s and then I got sick as a dog....in every way.......The paramedics came and took me to north memorial hospital in robbinsdale where I had to shower because my clothes were so messed especially my 96 dollar uniform pants.....after that I got I V fluids while they did some other checking of bp, etc and finally i was able to leave around 10 pm......Today I have to stick near the bathroom and also missed work...I was feeling absolutely fine until I ate at your restaurant which I probably won t do again......Ann Pattock

donna tower
from Toledo, OH
no crackers when ordered chili was told none in store the trucks were all messed up due to tomorrow being thanksgiving bad planning on their part gave no receipt given with change back went to airport hwy toledo ohio/holland 158 on 11-22 my address is 9050 manore rd grand rapids oh 43522 phone is 419-494-7952

I just took my wife and family to Wendy's at 3200 N Main, Anderson, SC, 29621. I wasn't happy the burger I received. I took it back to the counter and the lady looked at me as if she didn't understand "it's not done". She said nothing. I returned to my seat. My family finished and as we left I walked back by the counter. She then said, "did you want something?". I replied "no thanks, not now."
The table was not clean, the seats had trash on them and the floor was sticky.......... I almost left without ordering.
I wasn't going to complain, but you need to know.
By the way, my wife lost the receipt so store number, customer number etc, are unavailable.
Sorry,
Les Oxborrow

linda
from Fort Worth, TX
Beans in the chili????????????? I uses to love their chili went to drive thur yesterday bought 2 large chilis got home to eat one,It was filled with BEAN BEANS BEANS yuck I called the manager he said they have always had beans in the chili I said not I used to buy it in the winter no beans were in the chili,and it was soooooooo good tonight and mostly beans AWFUL will never buy it again

Went to Cleburne Texas location 11-15-17 order was messed up call spoke with manager said they would fix order said they would write down name and order said next time was in store could pick up remake of order came in today spoke with manager she has no clue what I'm talking about has no record anybody ever did their job and wrote it down severely disappointed with the service I received then and today Will gladly go to other locations but do not for see me giving my business back to this location Re-training needed at this location for managers and staff on how to write down complaint orders so that their dealt with an orderly fashion
Have feedback for Wendy's?
Thanks for your feedback!
Sorry. Please try again later!