Taco Bell
Contact Taco Bell Corporate
Toll free phone number: 1-800-TACO BELL
---
Taco Bell is an American fast food chain specializing in Mexican food and is a subsidiary of Yum! Restaurants International. Serving over 2 billion customers each day including worldwide franchises, Taco Bell is based in Irvine, CA. With revenues reported at US 1.9 billion in 2009, employees number over 175,000.
If you have a problem with product or service you may call 1-800-822-6235. You may fill out contact us form here. If you would like to send communication to the CEO, Brian Niccol, you may address your correspondence to One Glen Bell Way, Irvine, CA 92618. The Irvine corporate office phone number is 949-863-4500. You may want to consider the Yum! corporate offices at 7100 Corporate Drive, Plano, Tx 75024 with corporate phone number 972-338-8100.
Taco Bell began as a hot dog stand in Downey, CA in the 50's and in 1962 opened the first taco stand called Taco Tia after noticing long lines outside a Mexican food restaurant and gaining trust to watch their food assembly. Because of the size of the company, many Taco Bell complaints relate to the poor quality of the food used in processing.
There have many noteworthy promotions and the current slogan is: Live Mas! On the night of November 19, 2015 the first Taco Bell building was moved to the Irvine Corporate Headquarters.  Social media presence may be found on Facebook, Twitter, Instagram and YouTube.
Taco Bell Contact Information
Report complaints to corporate and get satisfaction
Taco Bell headquarters address

1 Glen Bell Way
Irvine
CA 92614

Company website

1-800 phone number

1-800-TACO BELL

Support email address

contact@tacobell.com

Better Business Bureau rating

B+

Customer service hours

24 hours a day
Browse reviews of other Fast Food
Top Taco Bell Complaints
Browse more than 341 reviews submitted so far

Ok so I love taco tell but the taco bell on broadway ave in elmira ny is a freaking joke! We went there tonight and yes we usually no we probably won't get what we want but since we love it we deal with it. But today we went and ordered a grande meal and my boyfriend wanted sour cream on his tacos they said it was an extra 50 cents per taco for sour cream he said that was fine and we continue through the drive thur. We get to the window looks like everything is there and head home. When we get home to our surprise we have all the tacos we ordered. We begin to eat and my boyfriend releases there is no sour cream. Now usually we wouldn't care but come on we paid 5 extra dollars on sour cream so he goes back. when he is there he tells them that he paid extra and would like what he paid for, they point fingers and then eventually get to his order mean while he watches the other customers order of course they forget things like normal but the kicker is, is that they have asked every customer if they would like to round the price of their meal up! Are you kidding me I'm giving you $18.75 what it cost and you have the nurve to ask if they would like to make it an even $19 what the hell are you running?? We can honestly say we will send our $20 somewhere else so long taco bell! Hello taco night!

Bryan Ellis
from Fitzgerald, GA
My girlfriend and I got food from the drive thru and when we got home and started eating, the food tasted funny. We only ate about half of it and threw it away. I looked for the receipt and realized the clerk never gave me one. Later that night I started to have really bad stomach pains and sweating. My girlfriend started to have the same symptoms the next morning. We were both in pain and spent some time in the bathroom between that night and the morning after.
I called and spoke with the manager at the location and she basically told me it wasn't her problem and there was nothing to investigate because no one else complained. She basically dismissed my complaint and had no regard for the pain I had endured the previous night. I run a business and this is not how a business should treat a customer with a serious health complaint. I need to hear back from someone about this issue. At Taco Bell 829 Russell Pkwy. Warner Robbins, Ga, 31088

Joe Suppes
from New Lenox, IL
O stars. The store in New Lenox, IL is a flat out joke. Now 2 times in a row short food. Who determines the size and weight of a supposed 1/2 lb burrito? Tired of being shorted and ripped off this store is bad news. No consistency at all. Nacho cheese container less than 1/3 full. Looks like el burrito loco from now on. This restaurant needs new management. You owe me money.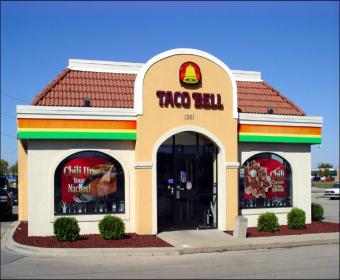 I have been patient, I have been kind. I have filled out Feedback form after feedback form after feedback form after feedback form after......getting annoying yet? yeah.....that's how I feel! I understand you guys have a lot on your plate.....but the Pendleton, Oregon 97801 Taco Bell (I'd give you a store number, but seeing as your employees were incompetent to give my husband a receipt I cannot provide such number and have no back receipts on hand) is lacking in many aspects. My biggest complaint is the fact that every 8 out of 10 times I go to Taco Bell and order a Chicken Quesadilla, it does not come with that zesty delicious sauce that I love the Quesadilla for to begin with. I just want my sauce on my Quesadilla....that's all I'm asking for. I'm begging at this point. And my second complaint, every 7 out of 10 times I go to this Taco Bell my husband will order a Crunch Wrap Supreme with no sour cream (as he is allergic) and no tomatoes. And every time, there is sour cream and tomatoes. I'm your biggest fan, I love Taco Bell with a passion and I never want to give it up....so that's why I'm begging you to please fix this. I'm tired of boycotting Taco Bell for weeks at a time just to see if maybe a new crew will come around and this one will be better. Please, please.....fix this.
Thank you,
someone who just wants their sauce!!

I do not have a complaint other then I really don't like the website when I want to leave a message, for I went to Taco Bell 020143, that's in Jackson Missouri, the time was 6:01 on Friday November 6, and my cashier was Kiersten G, but yet another women helped her, I have to say what an outstanding 2 girls. Yes I went to the drive threw and the car in front of me ordered I feel half the store, but it didn't matter. I was greeted with a smile hello and they actually acted like they liked their jobs. Please tell them outstanding! people like that makes the business.

pat quatraro
from Akron, OH
My complaint has nothing to do with your food or your service. It has everything to do with the current commercial you have with the elderly woman flashing her breasts at her husband. I find it highly offensive and degrading. I hope you get enough complaints to pull the commercial. I wouldn't want my grandchildren to see the commercial when watching tv with me. It would be an embarrassing situation and difficult to explain away.

I went to taco bell long john silvers on my way home. my order was very specific. L9 NO HUSHPUPPIES PLEASE!!!!dr. pepper no ice. cashier said ok total is 4.91. i pulled around to pay and was given my food and my drink. drink was with ice as ordered. food has HUSHPUPPIES in the box. i was informed it comes with the HUSHPUPPIES and he would remove them. WHY IS IT HARD TO JUST NOT PUT THEM IN MY BOX????????? they do at other ljs. this is the LAST TIME i will stop there!!!!!! this would be a good establishment to go & do UNDERCOVER BOSS!!!!!!

I went to Taco Bell store number 1506 in Huntsville, Tx. And Tamara, the girl that gave me my food bitched at me because I didn't pay at the first window. THERE WASN'T ANYONE AT THE FIRST WINDOW. She let out a deep sigh and said "well give me your card". So I did and when I asked for sauce she rolled her eyes and threw it in the bag. When I said thank you, she slammed the window. Seriously pissed me off. When I called to speak to a manager, I called 5 times and no one answered. I guess they knew a complaining customer was calling. Terrible. She should not have this job if she isn't going to be nice to people that come in.

Robert Karczynski
from Wyandotte, MI
I'm tired of ordering sour cream on every item and not getting it but getting charged for it. Every single time I go to the Southgate, Mi taco bell on fort street, I order the same damn items, a mexican pizza plus sour cream and a mexi melt plus sour cream, and I 4-5 times per week. More than half the times I do not get sour cream on them. We got 16 inches of snow yesterday, should I have to drive back up there just to get my sour cream on them? It isnt right, its like giving taco bell a free dollar every time i go there, and I dont want to quit giving them my business but its getting old fast.

Mittie Ballard
from Ridgeland, MS
I went to taco bell in my town and ask to order a cantina bowel and they told me that they don't serve them after 9 pm and I ask when did you stop cause I stop here 3-4 times a week to get them after I get off work at 11 pm the cashier told me she didn't know but we not to tonight. My thing is if you stop serving something 9 then why don't you have it on the menu are at less tell your people so they will know what to tell the customer. I far one will not shop at Byram Ms. taco bell again cause they are just rude and don't know too how to inform the customer.

As a bartender, I tend to get off of work at the same time as most drunks leave the bar. Seeing as I arrive at work at 330 or 4, I am usually exhausted and starving at two in the morning on my way home. On december 22 of 2012, after leaving my job I visited taco bell number 000511.
I was treated as if I was under the influence of alcohol ( their headsets should have been turned off when speaking of the customer, myself, in the drive through) and they messed everything in my order up except my Mexican pizza. I ordered the meal that came with the Mexican pizza and two taco supremes.
While my tacos came out as soft shells, neither had any sour cream or tomatoes. Also I ordered a volcano burrito with no ground beef sub refried beans. It was correct on my order screen, but incorrect when I tried to eat said burrito. As the young woman in the drive through window so eloquently put, "she's drunk, she'll never know.".
I'm not only insulted but irritated that they could have rang my order in correct but give so little concern because your employees assumed I was intoxicated.

JIMMY HARGROVE
from Madison, AL
I ordered the Doubledilla, it is steak and cheese on a tortilla supposed to be double meat, the cost is $4.99 or five dollars and change with tax for the sandwich a few chips and a small container of salsa. What I got was a large tortilla with steak and cheese folded in half and cut into 4 pieces, all of the steak and cheese were in the middle two slices and there wasn't much in them. There were a total of 3 small pieces of meat in the two outside slices.
The kids that were running the place acted like they were totally lost and confused as to what was going on and the manager who looked about 17 was more lost than anyone. All in all it was a bad experience. The service was bad, there were complaining customers (I didn't complain at the site) and the kitchen wasn't clean. I don't spend a lot of money at Taco Bell but you can be sure that it will be a last resort from now on.
FYI this is the Taco Bell KFC in Ardmore Tennessee,

My daughter worked for Taco Bell in Redding Calif. The Manager, Nick, was very rude to my daughter. He belittled her, changed her schedule constantly. He puts her down in front of other employees. There was blood in the bathroom, told her to go clean it. He did not giver her proper equipment or protective wear. My daughter quit, now she has depression and anxiety. He also is not giving her a decent recommendation.
She worked very hard and was dependable. I feel like he was not happy with her and should have fired her. Instead he kept her on to verbally abuse her. I am going to make this public where we live.

I just got done working a 12 hours shift and wanted something quick and filling. I stopped in at the Taco Bell in Portage Indiana and it didn't appear to be busy. I ordered the $5 box special and my wife ordered a meximelt. The time on our receipt says 6:27 and we got our food at 6:43. The lady behind the counter (who appered to be stoned) must have put the order in wrong because we ended up with a pizza instead of the meximelt and the burrito I got was cold and looked like a pile of s&!$. What is it I paid $15 for again??? I have never waited that long for fast food and will never come back to the Portage Taco Bell

Ashley Touchet
from Jacksonville, FL
Very slow service! Employees outside standing around talking. The truck in front of us was at the order board for 10 minutes. We timed it. Then we get to order the employee asked us to wait. Took 6 minutes to order... When she finally took our order she was very rude about our specifications! This isnt the first time! Very unprofessional! This needs to be dealt with. Taco bell Abbeville, la.

I'm in Anderson, Indiana, from Texas visiting my mom. I used to work at the Taco Bell on Nichol Ave. Store and moved with it to what is now Rabel Ave.
I've eaten at all three Taco Bells here in town and they've all started getting really subpar as far as the Taco Bell standards I worked under goes. The taco salads have no bottoms. They are so small, McDonald's salad shakers are far bigger in comparison. Half the meat in the Chalupas and burrito Supremes...The Anderson stores had better standards! I'm half tempted to go get my money back but the employees are too stupid to know what a refund is.

Melody Paris
from Spokane, WA
Last Saturday June 2nd I purchased nachos bel grande for my granddaughter, the chips were so salty they were inedible. I called the restaurant where I purchased them & spoke with the manager about the situation, she thanked me for letting them know & then offered to replace the nachos she told me the next time we came in to let them know & they would give us a replacement order at no charge, so today Friday June 8th my husband went in to buy dinner & when he mentioned the free nachos the manager who was on duty both last Saturday & tonight said she didn't recall the conversation & refused to give him the free nachos her name is Sabrina. I will not return to that Taco Bell.

no name
from Sarasota, FL
hello i wanted to complaint about this girl name sydney that she looked so high while serving me i wonder if they do any drug background or do drug testing is not safe for her to be a cahsier or to serve food like being on weed she smell like strong oder it smelled like weed bit i am not sure what kind drug it was i know it was taco bell on clark rd sarsasota manager is darnell

Velvet Robinson
from Duncan, SC
5/12/2018 I went through the drive through at 655 Hwy 28 Bypass in Anderson SC. When I got home with my order I found that the 5 steak soft tacos I ordered for $12.45 were not in the bag. I tried calling the number on my receipt and no one answered the phone. I had to drive back 10 miles to get the rest of my order. I asked for fresh tacos and was told the cook was making them. However, when I got home I has cold tacos. I do not believe that fresh ones were made. My order totaled to $21.61.
I feel I should be compensated for my time, gas and the fact that I was given the tacos that were left off the order to begin with. I always go to Taco Bell but feel that if I am not compensated I will not return and I will inform all my friends of what happened to me today with poor customer service.
I look forward to hearing back from you.
The cashier that took my order was Caleb G and the order number on the receipt is 312694. The survey code: 3475-8033-1412-2216.

Paul Kiehn
from Ruckersville, VA
At a Taco Bell in Charlottesville, VA on 5/8/18 I had a poor food experience and want my money back. The food was ordered through the driveup window, which seems to be a frequent problem, as driveup customers leave the premises, or go home to eat their food, and are not likely to complain as would a dine-in customer. However, I ordered two stuffed XXL Burritos with extra sour cream. The tortilla was hard around the edges (stale?), had no rice inside, no meat, chicken was hard and barely noticeable, and the burrito was mostly refried beans. There was no extra sour cream. The other burrito was the same poor quality. It was like a very large BEAN BURRITO !!! I don't want to pay for this meal and the last time I had a poor quality meal at Taco Bell, they sent me a coupon for more Taco Bell food. I had to call the store and physically come down to receive a refund. I have the receipt for $12.27. Paul Kiehn paulease2001@yahoo.com

shannon robeson
from Blair, NE
last three or 4 times I have went to taco bell I have started ordering the bean,rice and cheese burritos. I ask for the red sauce to be put on the burritos. the burritos are a dollar a piece. I get charged 50 cent for every burrito they add sauce too that is nuts by the way that is half the amount of the burrito cost just to get sauce on it. wow! anyway everytime i have asked for this I barely get any sauce at all added to the burrito I'm lucky to even get a few drops on them. on top of that there is so much empty tortilla that is very dry and hard to choke down sometimes it would be nice if I have to pay for sauce I would at least get plenty of it on there instead of just having a lil bit at one end of the burrito I really enjoy these burritos when they are done right but it looks like I will be taking my business somewhere else if the problem can not be fixed.... thanks for your time. Shannon Robeson 100 hollostone dr blair 68008

Nancy
from Carrollton, TX
Went to the location on midway and 635 005640 on 5/4/2018 at 11:54pm and the cashier Jose M was really rude and unprofessional while taking my order I had to repeat my self many times, and he kept changing languages on me from Spanish to English and when I asked him for different kinds of sauce he only graved a handful of what ever sauce he had there and put it in the bag and close the drive thru window without me finish asking him for what I need it

Kelly Bleier
from Columbus, OH
On May 1st around the 6:30 PM hour I went thru the drive thru on Mall Road in Florence KY. My order came to $20.44.
When I had my order handed to me the taco salad lid was not closed and the Cinnabons had fallen out of their bag.When I got my order home the drink Baja Mountain Dew I ordered was all carbonation which the person fixing the drink should have known. Needless to say it was not able to be drank. The 2 chili cheees chilitos ordered was basically just the soft shell with practically no filling. When I tried calling the store several times after I got homer the phone at Taco Bell was never answered. The phone would just stop ringing like it was answered but no one on the other end.
Anytime I visit this particular there always seems to be an issue of some sort with my order. I feel most of my order from May 1st was very unsatisfactory and wasted. The workers there at that location always seem to have "don't care" attitude. I will not be going back and I will share with my family & friends the horrible experience. I would like to be compensated somehow for this last experience. I never have complained before but enough is enough of bad service.

Michael R. Coffey
from Inverness, FL
The taco bell at 616 W Main St. Inverness ,Florida 34450 has not had a dew freeze since the first of the year . From January till now I have gone to taco bell at least two times a month and ask for a dew freeze with my food order . Always told the machine is down or we have no Dew freeze . If this is so then remove it from the menu at the drive thru . If not then fix the machine . A responsible manager should have some one come in and repair the machine or remove the item from the menu . Because of this I not longer go to taco bell . Also when I did go their and order had to get out a magnifying glass to find anything other than the taco shell and a few veg. I now enjoy Burger King . There I get what I pay for each and every time .Sometimes more than I can eat . Also your other site for filing a complaint sucks .Try for 10 min. to fill out the form only to be told my home street address does not exist . Also when entering the time also told to try again . If you go to the internet and look up a map of Inverness you can see Beck Street on the map . The post office even says I live here .

Frank Edwards
from Germantown, MD
This is the second time that we have had a problem with the Taco Bell Restaurant in Muncie, IN that is at 15th and south Madison Avenue We let the problem the first go by with out complaining. This time it was very up setting. I ordered a Mexican Pizza combo with no cheese bend after waiting for 15 minutes it came out and had cheese all over it I took it back to the counter for a replacement. The worker took it towards the back laughing and talking to another worker I set there and was waiting for my order another 10 minutes while they kept filling every body else order I had to ask the worker why they were not taking care of me and they just smirked. Finally 10 minutes more and I received my order I am not Happy.
Frank Edwards

Cheryl Gibson
from Rapid City, SD
I was in your store on east north store in rapid city, sd. order my food and the second soft shell I started to eat cut my lip. I wouldn't have know , but the next one I saw blood on it. We eat there some and had never had that kind of problem, but I don't know even if they tossed out the meat. They gave me a Chicken taco salad, but I was a little freaked out as my mouth was bleeding. This isn't the first time we have had problems. The last time we stop useing that store and went across town to the other one. All I know I won't be going there any more and have told all that will listen to stop as well. It scared me as I have no idea what I had eat to get my lip all cut up. Shame as we like the food, but I sure am not going to be eating food that cut my mouth all up. It took some time to even go back there and we do and this happens. Hope you don't get anymore as this could be very serious. Thanks Cheryl Gibson 718 Halley Ave, Rapid City SD 57701 (605)391-8554!

Theresa Lee Miller
from Dayton, OH
If I could rate you a zero or minus that would be the one I picked. We went to the Taco Bell on Harshman Rd in Dayton, Ohio and it was horrible. We arrived home to eat our 4 crunchy taco supremes, pinto's and cheese and 7 layer burrito, we unwrapped a taco supreme, all lettuce barely found any meat, sour cream or cheese and NO TOMATOES! We continued to open all our items and they were all the same! Did you guys start leaving out the meat on purpose because this has happened several times. We usually have great service at this location but this last 4 or 5 times was not great. We have tried several Taco Bells and they all the same, poor quality and left out ingredients. I see your stores fading out soon if this doesn't improve.
- ZERO RATING!!!

MARITZA ACOSTA
from Orlando, FL
HORRIBLE CUSTOMER SERVICE AT THE STORE ACROSS FRO SEA WORLD , ORLANDO FL TODAY. SELLING SODAS WITHOUT ICE AND NOT TELLING CUSTOMERS , AND WHEN I WENT I CALLED THE STORE THE SO CALLED MANAGER/ BLACK GIRL WITH LONG ACRYLIC NAILS HAD A NASTY ATTITUDE SPELLNG HER NAME SEVERAL TIMES REFUSING TO LET ME TALK.

Dustin Rice
from Maumelle, AR
You guys are terrible. Waited for over 20 minutes and only moved up 2 car lengths. You should be ashamed of how terrible your service is. Fire everyone you have st the union location near the hospital because it's the worst I've ever seen. You guys fucking suck

Natalia Goussarova
from Tampa, FL
Hello,
I would like to report a huge issue at one of the Taco Bell restaurants on Saturday, March 31, 2018.
I went with my son and we made 2 orders. One for me and another one for my son. We made orders at 5:51 PM. Then we started to wait for our food. 3 people who made the orders after us already got their food. But, we still didn't get anything. Finally, after 15 minutes of waiting, my son got his food. But, I still didn't get mine. I kept waiting and waiting, and I asked them what's going on, they just ignored me.
Then, I raised my voice and asked them where's my food. They started to ask each other, but nobody knew where my order was. They couldn't find it, so they lost it.
I had to give them my receipt so they could complete my order. After half an hour of waiting, I FINALLY got my food. They didn't even apologize! This is something I've never experienced before at ANY fast food restaurant.
I was so upset, that I couldn't even eat my food. This is completely unacceptable! Our Saturday evening was ruined. I will never go to Taco Bell again, I will rather take my business to the McDonalds across the street, where I know I'll get superior customer service.
My name is Natalia G.
Taco Bell 029577
7329 W Waters Ave
Tampa, FL 33634
Thank you.

Coral Anderson
from Sevierville, TN
The Taco Bell On Wears Valley in Pigeon Forge , Tn on good Friday is supposed to be open till 1 AM At 11:25 PM six cars sat in the drive-through the car by the speaker said he had sat for for 20 minutes we sat for an additional 15 never got any service lights were on so anyway that disappeared and hour and a half early you've lost a lot of money totally pissed that with the only place to get food after a nine hour day at work and no lunch

Ruth Turk
from Oakdale, CA
This afternoon at approximately 2:20pm I placed an order through the drive thru.at the location on Pelandale in Modesto. I ordered a tostada and the Grande meal consisting of 6 tacos and 4 burritos. (3 soft and 3 hard shell tacos). I was the only person in the drive through and the parking lot was almost empty. Upon getting home I opened the tostada and was very disappointed as it had very little anything on it. I've had them quite often and normally they are packed with beans, tomatoes and lettuce etc. but this time it was a disappointment. The tacos were also almost empty of beef, and other ingredients. They normally are packed and very good. I am a senior with limited income and this food was a waste of my money. I've experienced orders over the months that have an issue or two but this entire order felt like they had "run out of food" inside the kitchen and I received the scrapings and this is why I'm sending this complaint. You can reach me at 209 545-5301 (leave a message if I'm not there) or contact me using my email address which is above Thank you

Tom Muckel
from Kalamazoo, MI
I waited 25 minutes for my order eating in. I got 95 cents in change in nickles as no one would get change. The place was filthy. the kitchen area floor was covered with food, bags. etc. No one was cleaning tables, in fact two customers cleaned off tables so people could sit down. I ordered chips and cheese with my tacos and I had maybe 5 chips I could dip in the cheese. There was no napkins, even when told there was no napkins. It will be along time before I go into this taco bell again. People were leaving with out there food and some where asking for there money back.
Thank You.

GUADALUPE BELK
from San Diego, CA
I WENT THIS MORNING AROUND 7:05AM AND DROVE THRU DRIVE THRU, NO ANSWER FOR ABOUT 3 MINUTES. I FINALLY DROVE TO THE GLASS WINDOW AND A GENTLEMEN WAS APPARENTLY ON THE CASH REGISTER TAKING CARE OF A CUSTOMER. AFTER 10 MINUTES HE FINALLY CAME TO WINDOW AND TOLD ME THAT THEY DID NOT HAVE ANY EGGS ONLY POTATOES. WOW! YOU'D THINK THAT THEY WOULD KNOW THIS A DAY BEFORE KNOWING THAT THEY GET ALOT OF BUSINESS IN THE MORNING!!

Lynda Colson
from St Louis, MO
On 1-20-18 We ordered 2 bean burritos, chicken mini wrap and a doritos nacho supreme. The burritos were so small that the 2 of them might would make the size of what is usually served. The wrap was small and very thin but what was there was tasty. Doritos taco was good too. We ordered through the drive thru and my husband said is it all in there because the bag felt too light for what we ordered but I checked and all was in there just very small portions. We will not go to this location again for it's not worth the money spent for such little portions.
This is the 2nd time contacting you about this problem. I called also and I was told that I was going to receive some coupons in the mail but today is 2-15-18 and I didn't receive anything yet.
Lynda Colson 29 Pike trail Arnold,Mo. 63010
emerald_gryphon2@yahoo.com

lee wold
from Salt Lake City, UT
Taco Bell 2212 S 1300 E Salt Lake City - I had a very large order and was placing it at the drive-up window when the taco bell employee told me to hurray up because there was a time limit at the drive up window. There was no one in line behind me - I canceled my order and left. When I called to speak with a manager he could have cared less. I went to a 2nd Taco Bell 621 E 400 S Salt Lake City - told the drive up window employee that I had a large order and was told they could only take 2 orders at the drive-up. I let him know that my order was very large, but just one order. I was charged for guacamole and sour cream for the Mexican Pizza, but, they did not bother to give it to me (you just made money for nothing) I also had to remind them to give me the drinks I ordered and paid for. I have not patronized Taco Bell for a very long time, and it will be an extremely long time before I patronize them again. Evidently you do not need customers or business. I will be sharing my terrible experience and service with many, many, many people.

cecelia akers
from Aurora, CO
ssaturday 01/27/18 to store on hampden and tower red ,aur colo the mgr is mary travis i asked the super is the WORST ever of any around us and this is ALWAYS. I had sit in line for 1.2 hr to get my order becausem3 cars head had trouble with their order and they just sit instead of moving them to the front. These orders were big and took a long time after the 1st they too 10mins to fill the two infront of me why with all that hold time can't they have orders reDY WHEN I GOT TO THE WINDOW MY OrDER WAS NOT COMPLETE SO I HAD TO WAIT I looked in the window there were only 2 people in the whole restaurant then I loud hear nothing but laughing going on and the young man at the window was annoyed so he shut the window so i dn't keep hearing it when i asked for the mgr name he dn't know so had to go to the office where i am sure the mgr was sitting or laughing not watching that there were 8 cars behind me and i have already sat 1/2 hr i dn't want to do this but this is very common here and most time the orders are wrong please take care of this it is a busy store for many years and needs a real mgr to supervise these kids facebook would have a hay day over this by the way i usually spend 12 to 20 dollars each time

Hey Davis
from Maysville, KY
On the night of January 27th me and my wife went to the Taco Bell in Maysville,KY and spent about $20. The food was ok despite the fact I had to take my nacho fries ( the main reason I went there to begin with) back because they where cold! The person working the front register and cleaning the dining room was walking around in the dining room complaining about the store and how bad it sucks the whole time we were inside, not very quietly either. Also, before we left we ended up being insulted, yelled at, and told to pretty much leave by that same person! In short I have never had a more horrific experience at a restaurant in my entire life! If we ever decide to return and are greeted by that same employee we will most certainly be leaving!! If anyone would like to speak to me about this my name is Jerry Davis and my telephone number is (606) 584-0957.

Emiley
from Belleville, MI
THE CUSTOMER SERVCE AT THIS LOCATION IS HORRIBLE. Ordered the new fries which had about 5 fries and I asked for the manager and her response is well there are complaints across the US and that's what we have to do..so if you don't want them give me them back and I will give you a dollar. How is this girl a manager!?!? Also while sitting inside I see two different oeople leave and go back in because they messed up theirs order. Something has changed at this Taco Bell and it is ruining the place. I can't even tell you how many times I get take out and get home to have food I ordered and paid for missing!! SOMEONE REPLACE THIS MANAGEMENT AT THIS SPRINGBORO LOCATION ALREADY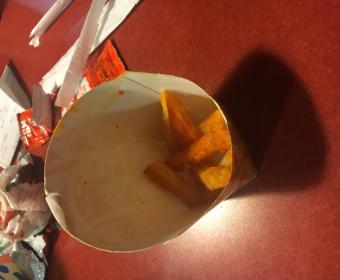 Caroline
from Lewisville, NC
My frito burrito has no Fritos. We are not driving all the way back up there.

R Sesters
from Woodway, TX
i just left your taco bell 030166 ordered a chicken quesadilla to go. it was burned so i gave it back to the counter person. was told they would make me another. what i got home with was two slices from the one i handed in & two slices of a new one. that is not right. you will lose me as a customer. the order number is 142954 also said my number is 154

Micheal House
from Newark, NJ
My order was wrong and the people in charge didn't care or fix it I was only white person there and had to wait till they served all black customers first and it is not the first time will not ever come back

Elaine Gallegos
from Houston, TX
Went in to get food for me amd my family and I order k10 7.99 with 3 piece chicken with 2 sides and a biscuit and a drink. When i order I always check my food because it is always wrong or missing something. I open the box of chicken and found 3- 2inch size of chicke legs 2 sides mash potatoes and mac and cheese no biscuit. Asked the girl that took my order it soupose to be a thigh and she said no look at the picture i said excuse me you look. She went to talk to the manager and Edwardo didnt say nothing to me so I said I want my Money and toss the money at me and grab the food and left not saying nothing. Very ruxr customer service.

Joelle M Spencer
from Albany, OR
I went through the Taco Bell drive-thru near my home tonight, and for the 5th time in the last 18 months, they got my order wrong. I gave everyone else their food, but I took mine and went back to the location to get the item they left out of my bag. When I arrived I explained the problem, and noted that now my food would be cold because of their error. The supervisor offered an order of cinnamon twists or a drink as an apology. I accepted. When the employee brought the food, they did not replace my cold food. I insisted it be replaced. When I finally got home with the food, I gave my daughter her food and the "twists", then went to eat my food. My daughter handed me back the bag of "twists", because it was not twists, it was tacitos and cheese sauce. My daughter is a vegetarian. There is no way I would have accepted an offer of tacitos. I understand that being the branch located next to the freeway makes it a busy location, but this is ridiculous! I've even been told by others who used to work there, that there is a "game" the staff is known to play where they intentionally screw-up the drive-thru orders, expecting that often the customers will be long gone before the "mistake" is discovered, therefore they won't bother to come back to get it fixed. I didn't use to believe this claim, but as this has happened so many times to me alone, I can't help but believe it! This is FAR from acceptable! Taco Bell used to be my favorite. Not anymore! Plus, now I can't even give you a transaction number, as the supervisor took my receipt and never returned it to me.

Lynn Miller
from Chicago, IL
While enjoying a meal before going to work, employees at the Plainfield Taco Bell were having a loud, heated argument in the back, behind the counter. Customers and other employees were watching the incident very uncomfortably. Some customers left without placing their order. It was very unprofessional.

fredrick russell
from Jackson, MS
a few weeks ago I visited the taco bell #032307 I orderd the $5 meal and specified no whip cream on the gordia crunch.i opened it and it had some white cream on it.the cashier adreaun k took it to the acting manager who responded in a very harsh and rude way that it wasn't sour cream.i politely stated that Id prefer no cream of any type no ranch etc.she rolled hers eyes and mumbled something under her breath.i didn't say anything I just got my food and ate.if these workers don't like what they do then waste management is hiring

becky scoggin
from Cave City, AR
I went thru drive thru taco bell in Newport,arkansas hwy 67 on 301 I place a order I wanted 4 burritos I drove up to window this chubby black lady was very rude towards me I gave her the money she handed or should I say shoved at me I look in bag only 2 burritos she slam the window shut and I trying get her to open window well she did and I said I order 4 burritos she said screen shows 2 and slam window again I still sit there she opens window and goes screem whats ur problem and I said can I please get 2 more burritos please she screem loud at me u order 2 u got 2 that's all u can get real loud and rude I had no choice to pull away cause cars was behind me I couldn't go in cause I have breast cancer stage 4 very sick it made me scared to go back to any taco bell if that's how I was gonna get treated I'm 57 year old woman dying with cancer that was just uncalled for made me start shaking to where I couldn't even drive . I call a lawyer he said if the complaint department couldn't do something he would . that was just down right wrong . I eat taco bell for years . I thought I was gonna have go to hospital over this matter. thank you for your time hope this wont happen to another person they have a heartattach thank you again.
10-25-2017 2;15 pm

James M Elmer
from Indianapolis, IN
Bad attitude from managers every time we go there they messed up our order rude and disrespectful when asked to fix the order and half the time the food is cold when we eat it there u can call me at 317 419 4634 this at the Taco Bell on West Washington Street & Lynhurst in Indianapolis Indiana 46241 i am to the point i am going to stop eating there all together and tell my friends and family not to eat there anymore.

Went in to the taco bell location at Perkins Rd and Essen Ln during shift change. I ordered the crispy chicken quesadilla 5 dollar box. I waited 17 minutes for my meal while they made meals for all of the people that were getting off of their shift and ordered at least 4 minutes after I had, they all (5) got their meals before I did. I asked the manager about my meal and he told me that they were making it now 17 minutes later? WTF? I ask for a corporate number and was told they don't have one. Will never go here again! People that I know that usdd to go here feel the same way. Quality and customer service is non existent here.
Have feedback for Taco Bell?
Thanks for your feedback!
Sorry. Please try again later!