Taco Bell
Contact Taco Bell Corporate
Toll free phone number: 1-800-TACO BELL
---
Taco Bell is an American fast food chain specializing in Mexican food and is a subsidiary of Yum! Restaurants International. Serving over 2 billion customers each day including worldwide franchises, Taco Bell is based in Irvine, CA. With revenues reported at US 1.9 billion in 2009, employees number over 175,000.
If you have a problem with product or service you may call 1-800-822-6235. You may fill out contact us form here. If you would like to send communication to the CEO, Brian Niccol, you may address your correspondence to One Glen Bell Way, Irvine, CA 92618. The Irvine corporate office phone number is 949-863-4500. You may want to consider the Yum! corporate offices at 7100 Corporate Drive, Plano, Tx 75024 with corporate phone number 972-338-8100.
Taco Bell began as a hot dog stand in Downey, CA in the 50's and in 1962 opened the first taco stand called Taco Tia after noticing long lines outside a Mexican food restaurant and gaining trust to watch their food assembly. Because of the size of the company, many Taco Bell complaints relate to the poor quality of the food used in processing.
There have many noteworthy promotions and the current slogan is: Live Mas! On the night of November 19, 2015 the first Taco Bell building was moved to the Irvine Corporate Headquarters.  Social media presence may be found on Facebook, Twitter, Instagram and YouTube.
Taco Bell Contact Information
Report complaints to corporate and get satisfaction
Taco Bell headquarters address

1 Glen Bell Way
Irvine
CA 92614

Company website

1-800 phone number

1-800-TACO BELL

Support email address

contact@tacobell.com

Better Business Bureau rating

B+

Customer service hours

24 hours a day
Browse reviews of other Fast Food
Top Taco Bell Complaints
Browse more than 379 reviews submitted so far

Ok so I love taco tell but the taco bell on broadway ave in elmira ny is a freaking joke! We went there tonight and yes we usually no we probably won't get what we want but since we love it we deal with it. But today we went and ordered a grande meal and my boyfriend wanted sour cream on his tacos they said it was an extra 50 cents per taco for sour cream he said that was fine and we continue through the drive thur. We get to the window looks like everything is there and head home. When we get home to our surprise we have all the tacos we ordered. We begin to eat and my boyfriend releases there is no sour cream. Now usually we wouldn't care but come on we paid 5 extra dollars on sour cream so he goes back. when he is there he tells them that he paid extra and would like what he paid for, they point fingers and then eventually get to his order mean while he watches the other customers order of course they forget things like normal but the kicker is, is that they have asked every customer if they would like to round the price of their meal up! Are you kidding me I'm giving you $18.75 what it cost and you have the nurve to ask if they would like to make it an even $19 what the hell are you running?? We can honestly say we will send our $20 somewhere else so long taco bell! Hello taco night!

Bryan Ellis
from Fitzgerald, GA
My girlfriend and I got food from the drive thru and when we got home and started eating, the food tasted funny. We only ate about half of it and threw it away. I looked for the receipt and realized the clerk never gave me one. Later that night I started to have really bad stomach pains and sweating. My girlfriend started to have the same symptoms the next morning. We were both in pain and spent some time in the bathroom between that night and the morning after.
I called and spoke with the manager at the location and she basically told me it wasn't her problem and there was nothing to investigate because no one else complained. She basically dismissed my complaint and had no regard for the pain I had endured the previous night. I run a business and this is not how a business should treat a customer with a serious health complaint. I need to hear back from someone about this issue. At Taco Bell 829 Russell Pkwy. Warner Robbins, Ga, 31088

Joe Suppes
from New Lenox, IL
O stars. The store in New Lenox, IL is a flat out joke. Now 2 times in a row short food. Who determines the size and weight of a supposed 1/2 lb burrito? Tired of being shorted and ripped off this store is bad news. No consistency at all. Nacho cheese container less than 1/3 full. Looks like el burrito loco from now on. This restaurant needs new management. You owe me money.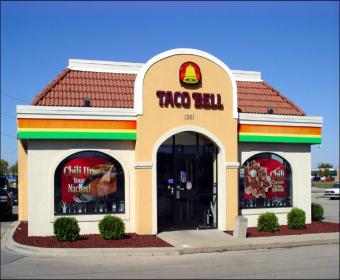 I have been patient, I have been kind. I have filled out Feedback form after feedback form after feedback form after feedback form after......getting annoying yet? yeah.....that's how I feel! I understand you guys have a lot on your plate.....but the Pendleton, Oregon 97801 Taco Bell (I'd give you a store number, but seeing as your employees were incompetent to give my husband a receipt I cannot provide such number and have no back receipts on hand) is lacking in many aspects. My biggest complaint is the fact that every 8 out of 10 times I go to Taco Bell and order a Chicken Quesadilla, it does not come with that zesty delicious sauce that I love the Quesadilla for to begin with. I just want my sauce on my Quesadilla....that's all I'm asking for. I'm begging at this point. And my second complaint, every 7 out of 10 times I go to this Taco Bell my husband will order a Crunch Wrap Supreme with no sour cream (as he is allergic) and no tomatoes. And every time, there is sour cream and tomatoes. I'm your biggest fan, I love Taco Bell with a passion and I never want to give it up....so that's why I'm begging you to please fix this. I'm tired of boycotting Taco Bell for weeks at a time just to see if maybe a new crew will come around and this one will be better. Please, please.....fix this.
Thank you,
someone who just wants their sauce!!

I do not have a complaint other then I really don't like the website when I want to leave a message, for I went to Taco Bell 020143, that's in Jackson Missouri, the time was 6:01 on Friday November 6, and my cashier was Kiersten G, but yet another women helped her, I have to say what an outstanding 2 girls. Yes I went to the drive threw and the car in front of me ordered I feel half the store, but it didn't matter. I was greeted with a smile hello and they actually acted like they liked their jobs. Please tell them outstanding! people like that makes the business.

pat quatraro
from Akron, OH
My complaint has nothing to do with your food or your service. It has everything to do with the current commercial you have with the elderly woman flashing her breasts at her husband. I find it highly offensive and degrading. I hope you get enough complaints to pull the commercial. I wouldn't want my grandchildren to see the commercial when watching tv with me. It would be an embarrassing situation and difficult to explain away.

I went to taco bell long john silvers on my way home. my order was very specific. L9 NO HUSHPUPPIES PLEASE!!!!dr. pepper no ice. cashier said ok total is 4.91. i pulled around to pay and was given my food and my drink. drink was with ice as ordered. food has HUSHPUPPIES in the box. i was informed it comes with the HUSHPUPPIES and he would remove them. WHY IS IT HARD TO JUST NOT PUT THEM IN MY BOX????????? they do at other ljs. this is the LAST TIME i will stop there!!!!!! this would be a good establishment to go & do UNDERCOVER BOSS!!!!!!

I went to Taco Bell store number 1506 in Huntsville, Tx. And Tamara, the girl that gave me my food bitched at me because I didn't pay at the first window. THERE WASN'T ANYONE AT THE FIRST WINDOW. She let out a deep sigh and said "well give me your card". So I did and when I asked for sauce she rolled her eyes and threw it in the bag. When I said thank you, she slammed the window. Seriously pissed me off. When I called to speak to a manager, I called 5 times and no one answered. I guess they knew a complaining customer was calling. Terrible. She should not have this job if she isn't going to be nice to people that come in.

Robert Karczynski
from Wyandotte, MI
I'm tired of ordering sour cream on every item and not getting it but getting charged for it. Every single time I go to the Southgate, Mi taco bell on fort street, I order the same damn items, a mexican pizza plus sour cream and a mexi melt plus sour cream, and I 4-5 times per week. More than half the times I do not get sour cream on them. We got 16 inches of snow yesterday, should I have to drive back up there just to get my sour cream on them? It isnt right, its like giving taco bell a free dollar every time i go there, and I dont want to quit giving them my business but its getting old fast.

Mittie Ballard
from Ridgeland, MS
I went to taco bell in my town and ask to order a cantina bowel and they told me that they don't serve them after 9 pm and I ask when did you stop cause I stop here 3-4 times a week to get them after I get off work at 11 pm the cashier told me she didn't know but we not to tonight. My thing is if you stop serving something 9 then why don't you have it on the menu are at less tell your people so they will know what to tell the customer. I far one will not shop at Byram Ms. taco bell again cause they are just rude and don't know too how to inform the customer.

As a bartender, I tend to get off of work at the same time as most drunks leave the bar. Seeing as I arrive at work at 330 or 4, I am usually exhausted and starving at two in the morning on my way home. On december 22 of 2012, after leaving my job I visited taco bell number 000511.
I was treated as if I was under the influence of alcohol ( their headsets should have been turned off when speaking of the customer, myself, in the drive through) and they messed everything in my order up except my Mexican pizza. I ordered the meal that came with the Mexican pizza and two taco supremes.
While my tacos came out as soft shells, neither had any sour cream or tomatoes. Also I ordered a volcano burrito with no ground beef sub refried beans. It was correct on my order screen, but incorrect when I tried to eat said burrito. As the young woman in the drive through window so eloquently put, "she's drunk, she'll never know.".
I'm not only insulted but irritated that they could have rang my order in correct but give so little concern because your employees assumed I was intoxicated.

JIMMY HARGROVE
from Madison, AL
I ordered the Doubledilla, it is steak and cheese on a tortilla supposed to be double meat, the cost is $4.99 or five dollars and change with tax for the sandwich a few chips and a small container of salsa. What I got was a large tortilla with steak and cheese folded in half and cut into 4 pieces, all of the steak and cheese were in the middle two slices and there wasn't much in them. There were a total of 3 small pieces of meat in the two outside slices.
The kids that were running the place acted like they were totally lost and confused as to what was going on and the manager who looked about 17 was more lost than anyone. All in all it was a bad experience. The service was bad, there were complaining customers (I didn't complain at the site) and the kitchen wasn't clean. I don't spend a lot of money at Taco Bell but you can be sure that it will be a last resort from now on.
FYI this is the Taco Bell KFC in Ardmore Tennessee,

My daughter worked for Taco Bell in Redding Calif. The Manager, Nick, was very rude to my daughter. He belittled her, changed her schedule constantly. He puts her down in front of other employees. There was blood in the bathroom, told her to go clean it. He did not giver her proper equipment or protective wear. My daughter quit, now she has depression and anxiety. He also is not giving her a decent recommendation.
She worked very hard and was dependable. I feel like he was not happy with her and should have fired her. Instead he kept her on to verbally abuse her. I am going to make this public where we live.

I just got done working a 12 hours shift and wanted something quick and filling. I stopped in at the Taco Bell in Portage Indiana and it didn't appear to be busy. I ordered the $5 box special and my wife ordered a meximelt. The time on our receipt says 6:27 and we got our food at 6:43. The lady behind the counter (who appered to be stoned) must have put the order in wrong because we ended up with a pizza instead of the meximelt and the burrito I got was cold and looked like a pile of s&!$. What is it I paid $15 for again??? I have never waited that long for fast food and will never come back to the Portage Taco Bell

Rochelle Standberry
from Chicago, IL
I am truly hurt because of disrespectful customer service that myself and my daughter as well as her boyfriend received this past Wednesday through the drive thru from the Taco Bell on 71st and Michigan.
When my daughter's boyfriend tried to place an order the guy said you must be old since your ordering from the old menu. He started laughing.
I yelled out that I wanted the number1 and he snapped back NO order from the new one. He started laughing.
He finally stopped playing and took the order.
I was pissed because I needed to eat before I took my medication. I have Multiple Sclerosis. I had to ask my daughter who is 28 and her boyfriend whom is I I30 just to chill because I had to eat.
When we went to the window he told us the total and started laughing. My daughter's boyfriend said so I am old. He asked him how old he was and when he told him he said yeah you are old and he saw my cane and told me you are definitely old all of you are old.
I tried to let it pass but I could not. I have cried over this disrespect. I will not be returning and neither will my daughter or her boyfriend.
I am also going to talk to my friends about this issue.
I should not have to worry about discrimination over my disability or disrespect while ordering food.

Connie Robbins
from Cookeville, TN
I have visited the Taco Bell in Crossville Tn. three times in the last month and the service has been terrible. the first the drive-thru was down could only order if you went in, second time i ordered a taco salad they were out, tonight I went to get dinner after church drive-thru was down again so I go in there is one person taking orders with 6 people in line, telling them they are short staffed, mean while another employee walks and smokes on the sidewalk outside the front door. I am usually very understanding because I was a manager for one of the top restaurant in the business and I know we all have a bad night, but these is not good guest service or management. I left and went to another business after waiting five minutes or so. I hope these are issues the company would want to know and fix. thank you for listening.

Karen Wickiser
from Cuyahoga Falls, OH
Approximately 3.45 today I went through drive thru at 360 Howe Rd. in Akron, ohio and ordered a taco salad without meat. I got it home...horrible.
Lettuces was watery, soft, soggy, almost slimy. Maybe because I came between lunch and supper. I will never do that again.I had two bites, the tomatoes were awful as well. So this hungry customer threw the salad in the trash.
ICK what a waste of money

Lisa Cottrell
from Painesville, OH
Wael I am upset that Taco Bell get something that I like they discontinue it and when you ask for an Item and you dont carry anymore they say we can motified it but they dont tell you that there is an additional cost to you.I real think that is crap to add an additional charge for something you dont make anymore that is why I dont like going to get anymeals from there. I really think you as a company should get you business straighten up and notified the customer of any additional cost or that you discontinue an item

Sinque Sadler
from Charlotte, NC
I ordered a number 5 nacho bell grande. The guy at the window took my order wrong! He only gave me the chips with cheese on it, and I didn't find out until I arrived in my house. I drive all the way back (wasting gas)! The manager was letting a customer out and it was a couple of people eating in the diner. I spoke with her at the door about a refund, and instead of her taking my receipt and food at the door, she made me go to the drive thru window! I walk around and asked for my refund, and she denied it, saying I have to drive to the window (mind you its several customers in the line, and it's moving slowly! I finally make it to the window and the guy running the drive thru, had short term memory of my request. I told him I'm the guy who wants the refund, and I didn't appreciate the time it's taking me to get my refund! I asked for him name, and the manager ladies name, and he an attitude with me and threatened not to give me my refund or their names! (Very bad customer service)! I never had a problem at the taco bell on Sugarcreek, Charlotte NC. up until tonight! As long as they're working there, I will never go back!!! I feel like a victim of racial profiling, and I will give that taco bell bad reviews and will spread the word, until something is don't about this! They didn't try to compensate me for wasting my gas, my time or my food! And gave me attitude because of their wrong doing!

David Hildebrand
from Denver, CO
Your Taco bell location on 120th in Broomfield Colorado....(ive been going to for years)....has turned into the nastiest location you have in my opinion.
I find it hard to believe how nasty it has gotten in the past few months. You have employees there walkng through garbage all over the floor.....and not giving it any thought to even bother cleaning the place....or picking up what they are tripping over.
My niece went in the bathroom, to find it littered with paper towels scattered everywhere.
We use to go there at least a few times a week following school activities and games.
We wont be going there anymore until some new management cleans up the nasty place......the health dept really needs to look into the mess.....but Im contacting you first. Feel free to contact me for any further details.
Thank You
D.L. Hildebrand
Broomfield Colorado
303-995-9533

Dede Allen
from Oklahoma City, OK
In Oklahoma City, we have a taco bell on NW 23rd Ave. I was in the drive up line today (8/7/2018) from 12:48 to 1:26pm. I only have an hour for lunch. I drove straight back to my office which is only 5 minutes away. I ordered the $5 box that has the Nacho fries, two tacos and a burrito The food was cold, and they forgot to include the cheese for the fries!! There was only 1 positive thing about my visit to this Taco Bell today and that was the lady at the window. She was so sweet and for her to be that nice when every one at that drive up was totally raged by the time they got their food, tells me she is a saint on earth. The cars ahead of me were doing their best to "speed" out of there, obviously a display of their high level of dissatisfaction with the service. But she was still as sweet as she could be. In our office we normally send one person to get everyone's lunch. That was not the case today as I was the only one ordering for myself. I realize this location will probably not notice, but our office has decided that we can no longer get our lunches from this Taco Bell or the person picking it up will jeopardize being late back from lunch. Thank you.

Janet Owens
from Lansing, MI
I was at the Lansing West Saginaw Taco Bell on Sunday went through the drive-thru and spent $27.31 on food. My order was missing a steak nacho box and I was told after waiting in line for about 30 minutes to come inside. I came inside and explained this to the cashier...I then waited over 25 minutes for the steak nacho box. I had people waiting at home for the food and by the time I got everything the first order was no longer even warm. I spoke with others who had been waiting over 30 minutes for their food. I spoke with the manager and all she could say was she was short people. No i'm sorry or anything. Very disappointing! This happens a lot at all different times of the day. I am not sure that I can even go back there. It's one thing to have to wait, but then to have to come in and wait again with not even an apology. What can be done to rectify this?

Janet Ellis
from Alamo, CA
They don't have a Chicken soft taco supreme on the menu. When I order it some will give me a Chicken soft taco and charge me extra for the tomatoes and sour cream. That seems fine but not all places. I get something different many times. Either they charge me extra but I don't get the extras. Or I end up with the shredded chicken that comes with sauce, yuk. Recently I ended up with Steak or ground beef. I wish they put it on the menu so I know what I'm getting.
Also I love the Watermelon Freeze but lately most of Taco Bell's run out and I end up with a flavor I didn't want.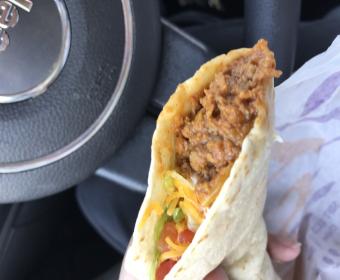 Cathy Westerfield
from Georgetown, TX
I went to Taco Bell in Burnet Texas today around 1 pm. There were a few customers waiting inside and a long line of cars in the drive through. It became apparent that folks inside had been waiting 20-30 minutes for their lunch. The cashier put on gloves and tried to help the very slow cooks. This left the register unmanned and at least 8 potential customers waiting. When he returned he warned them it would be a long wait. Many just walked out. Meanwhile , I also saw orders coming back for inaccuracies. People needed to return to work and had spent their whole lunch waiting for food. I hope there is a manager who cares. Otherwise this business will be unsuccessful.

Janet Ellis
from Alamo, CA
They don't have a Chicken soft taco supreme on the menu. When I order it some will give me a Chicken soft taco and charge me extra for the tomatoes and sour cream. That seems fine but not all places. I get something different many times. Either they charge me extra but I don't get the extras. Or I end up with the shredded chicken that comes with sauce, yuk. Recently I ended up with Steak or ground beef. I wish they put it on the menu so I know what I'm getting.
Also I love the Watermelon Freeze but lately most of Taco Bell's run out and I end up with a flavor I didn't want.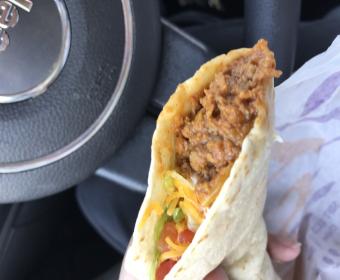 Spencer Wright
from Salt Lake City, UT
Pulled up to the drive through speaker, and waited for approx 5 mins and no response. Pulled up to the window and figured I would be able to order there. They told me that I couldn't order at the window. I had to order at the speaker. So either pull around and order at the speaker that now has 5 other cars in it, or come inside. I was frustrated and asked what kind of three ring circus they were running. They again told me they couldn't help me at the window. I drove to Wendy's.

RANDY BRYAN
from San Antonio, TX
On two separate occasions I went to the Taco Bell located in the 200 block of Loop 337 in New Braunfels Texas 78130. Each arrival found the lobby pretty full of guests with drinks and nobody eating yet. the first visit had (6) staff making orders. The second visit had (4) staff working orders. The first visit resulted in the staff telling me that it would be 25 minutes for me to receive my order. My second visit was yesterday (7/26/2018) and I experienced a 20 minute wait to get a $5.00 order. This never happens to me at any other Taco Bell that I visit and I cannot imagine that this is good for business. I understand new staff and training and such, but this was a ridiculous amount of time. I should also mention that the majority of the orders I saw served and some were wrong and none of the orders were large. Please address the matter and make the location a strong fast food experience that is enjoyable to visit.

arlan pavlenko
from Independence, MO
I never had a worse restaurant drive thru visit july twenty fourth two thousand eighteen at seven clock eight minutes and fifty four seconds pm it took me over a half hour with only three cars in front of me they were having cars in line most of the time taken more than ten minutes after paying for their food I also the manager on duty if they could bring their order out to the cars instead of deliberately holding of the the line when I asked for the phone number for your nationwide complaint department they told me it was on my reciect the only number I could find was the taco bell I placed my order you deserve rating of much lower of one that taco bell should be closed and managers and assistant managers should be fired and should not be given another job at at taco bell im also going to file a complaint with the better business beureau in Gladstone mo andbody I can find in Missouri or in the united states the taco bell I was at the address is 6321 n oak trafficway Gladstone Missouri 64118 the phone number is 8164138792 my order number is 034388

Natasha Williams
from Kalamazoo, MI
Very RUDE manager was very disrespectful to me I front of my children and being a manager myself that is no way to speak to a customer at all and I do not appreciate it one bit.

Blair E Sterling
from Paris, TN
Order# 218282 07/24/2018 Refund at 2:55:35 PM $8.74 1 Nacho BellGrande, 3 Crunchy Taco
I ordered on line because I did not want to sit in a hot car at a drive thru. Nor did I want to sit in the store waiting. I paid with my Visa on line. According to the message on my computer, the order was ready and waiting. I chose pick-up at drive thru. When I got to the store though, I went inside to pick up as there were autos ahead of me. The order was not only not ready, it had not even begun to be prepared. I explained that I ordered and paid on line and messaged that the order was ready. It took me a couple of minutes to get to the store that is about 2 miles from my house. The man running the register, Roman Cool was very polite. An unidentified woman came zipping up and went on and on and on about how the order would not be prepared until I got there. I asked then why did it message me on my computer that the order was ready? She continued to go on and on repeating all again (maybe the woman thought I was not able to hear). I was told by the woman wearing Taco Bell things, "this is not the store's fault. This is the fault of corporate". As a result after my Visa was refunded by Mr. Cool, I went across the street to Burger King. I find this a very wrong way to do business.

Steven Hardy
from Las Vegas, NV
The new policy of only 2 orders per car in the drive through is rediculous and a waste of customers time. We've been going to our local Taco Bell in Henderson, NV for nearly 6 years and always go through the drive through. Never have we heard of such an asinine rule.

Darlene Mackett
from Oak Creek, WI
I went through the drive thru at the Taco Bell in South Milwaukee, WI on Chicago Ave and placed my order. I had requested sause with my order. After I received my order, I checked the bag and saw that I did not receive any sause. I waited at the window until the girl came back to the window. I said I did not get any Fire sause and asked if I could get some. The girl started riffling thru the container with the sause packets throwing packets around the counter and then picked up the container with the sause packets and proceeded to dump the contents onto,the counter and floor. She then came to the window with a smile and handed me a large handful of sause packets. I thanked her, and said "have a nice day".
This type of behavior was not very professional and I found it very disturbing, as I was not rude or abusive to the clerk when requesting some sause.
I hope this employee does not drive business away from this location. I don't know if I want to return after seeing this behavior.
Best regards,
Darlene Mackett
3724 E. Carpenter Ave Cudahy, Wi 53110

Joel Kuperberg
from Yorktown Heights, NY
When you advertise on TV a Triple Melt with a drink for $2.00 that's what I expect to pay not $2.59 at the Fishkill NY location. Also at the Yorktown NY location where I live, they charged me $2.99 instead of $2.00. Told them about the TV ad, but that did not matter to them. And also charged me $4.00 for 2 regular taco's & I believe the price is about $1.29 each. Also I was told there is no Senior discount on one occasion, and I know you offer a senior discount. They are simply ripping off the public, and are not abiding with corporate policy. You should look into this matter, Thank You, Joel Kuperberg 1627 Amazon Road, Mohegan Lake, Ny 10547

Joshua Brewster
from Elk River, MN
I have been coming to the same Taco Bell in Dickinson North Dakota for almost a year now. Over that time I've noticed the orders have been messed up quite frequently and the wait time to get your order through the drive-through has been getting longer and longer. I have currently been waiting for a half hour in the drive-through and still do not have my food and there are two cars in front of me only two or three cars have been served food since I've been here for the past 30 minutes. I don't understand how this can be considered a fast food restaurant. I am deeply regretting coming here this evening. I don't even have an option of leaving the drive-through because the drive-through lane is so narrow I can't get around anybody to leave so I'm stuck here.

Natonya Jordan
from Chester, VA
I spent $25.00 at the taco bell in colonial heights and my order was incorrectly put together. We received all regular tacos when that was NOT our order. The taco's were stale and wet at the bottom very mushy at the bottom. The only thing done correctly as the sodas. I tried calling 2 times no answer at all

David Koppa
from Colorado Springs, CO
I went to the Taco Bell on Nevada Ave. in Colorado Springs on July 15. I ordered a meal. I went to the restroom. The restroom had a sign to ask for a key. The cashier was busy taking orders; so, I asked one of the workers for a restroom key. The worker told the cashier that I wanted a restroom key. The cashier said "In a minute.". There were multiple people in line.
I waited.
In the meantime, one of the employees got the restroom key and walked out of the work area,
Finally, the cashier had serviced all of the people, I asked again for the restroom key. The cashier said one of the employees was using the restroom.
I believe this is very poor service. I should not be refused a restroom key when I ask for a locked restroom.
I asked for my money back, and I complained to the manager. The manager did not seem to care.

Anna Higa
from Phoenix, AZ
1 piece of some sort Rubber- type Debri inside my Bean Burrito.. Omg luckily I was aware while I was me eating my order if not maybe I'm dead now..
The Management should take it so serious this incident because someone can kill in this rubber type inside my food.. The life of the people is not replaceable!!!
I will include the location and the address where I got my order.. I tried to contact the manager but it seems she don't care about my report.. That why I decided to contact the Management..
Taco Bell 2881 S Market St. Gilbert Az 85296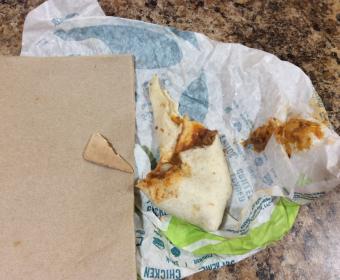 Mike Beauchamp
from Massena, NY
Got home and part of the order was missing.

Luci Hoover
from Woodstock, IL
Having been a customer at Taco Bell in Rockford, Illinois for many years. My husband and I are retired and really enjoy the $1 cravings menu and the senior drink being complimentary. Imagine my surprise when we stopped at the Taco Bell in Plover, WI on our way back from our cabin Tuesday to find that they don't have the $1 cravings menu and the items which are usually on that are at least 10 cents to39 cents more. For example, the spicy tostada is $1 on the cravings menu but it is $1.39 at that Taco Bell. I do understand that each franchise has the option of offering the free senior drink or a discount (they did do a discount on the drinks) but did not realized that they can arbitrarily inflate the $1 cravings menu. I would appreciate response regarding this issue. Thank you.

Jessica Morley
from Seattle, WA
I went through the drive through in Roseburg oregon, and the chalupas I received were in very stale shells. Inedible. I couldn't go back as I was returning from California.

Diane Lofton
from Shreveport, LA
I don't want to give it a one star but can't change that. This is the worse Taco Bell ever in Madison, Mississippi and has been since they opened. Never have change, will tell you credit card only, always out of most things. I haven't been there in over 8 months because of this. Today, I decided to give them a try. WRONG!! I walk inside at 1:30 p.m and was told they weren't taking orders inside that I would have to go through the drive thru. So I go back to my car and get in the drive thru line. After waiting 20 minutes I was told they didn't have large cups nor did they have ice. After being told I couldn't order inside, no large cups and no ice, I asked the girl why they were even open. Her response was to make money. That they were short people and the ice machine had been broke for 2 weeks because no one would come fix it. This has been going on since they opened. I have never gone and gotten what I wanted with out any problems. I have seen the district manager in there and them tell people they didn't have change so they could only take credit cards. And he allowed this. I am a manager of a store and if we couldn't run my business any better than they do, how can they stay open? They have got to be in trouble. This city is not cheap for rent especially on a brand new building. Some one needs to take it over and get it in shape or close the doors. And I hear this from so many other people here. Its not just me. And this is my 2nd or 3rd complaint I have filed myself. Just gave up complaining and quit going there. Guess my business doesn't matter.

mary ewing
from Jackson, MS
Went through drive through to get meal, sweet tea was old, think and syrupy. Tried to call them but fax machine sound came on, receipt said complete survey to possibly win $500, see back of receipt, there was nothing printed on back of receipt. Called customer service number, they were closed. Went online to fill out complaint and after writing a detailed account of my experience it said I had an invalid time entered, which was 8:00 pm. It never would take my complaint because site was flawed. Nothing was wrong with my time entry. I mean come on people . . . all I was going to do was to call and tell them they owed me a drink! DRINKS ARE ALWAYS TERRIBLE THERE AND ALWAYS HAVE BEEN.

Like some most food at TB. The service is atrocious.
St. George Utah and Mesquite nv.
We end up goeing there serveral times a month. At least once a week. They ask me to go through drive thru. It always ends badly.
I went to Mesquite TB drive thru, a few days ago. Wasn't my plan. But I decided to get some things, for myself.
The order was, Asked and I oked the screen. They generally screw up the taco order so I took a quick look and even felt bottom of bag to be assured the tacos where there. saw side etc. no time to inspect every item.
Upon arrival home I was asked why I didn't order anything but a side. Ordered a beans and rice and a ended up with a 1/3 cup of mushy slimy bean, I think they where bean? No rice.
I ordered 12 item Cinnabon and that disappeared completely. Items where's missing, altered or just charged on receipt.
I can't tell you how many times I have had to go back and go inside to get lost items.
I just lost my appetite that day. I Ames never to be on TB duties again. Mostly everyone's favorite. But losing money bad. The good thing is not adding calories.
Expensive way to diet.

charlotte baxter
from Connersville, IN
went into the taco bell in Hamilton Ohio the store number is 016995 and they got our order wrong when we went to tell them the manager nikki s was very rude and was yelling at us and at my daughter when we was trying to tell her what was wrong. I finally got tired of getting treated like crap and told her to just give me my money back, she took my receipt and went to the drive through window and to the back where we could not see her and when she came back i could tell she had changed the receipt, after she called me a lair for calling her out on it i told her just give me money. the hole time she was yelling and treating us like crap,everyone in the restaurant was telling us to call into to corporate and tell them what was happening.they were all saying that they are always rude here and they even had a meeting about it recently. When i finally got my money back and got home i checked the bank and i was right she cheated me almost 2 dollars so she stole two dollars of my money.to top it all off she refused to give me my origional reciept back with my partial credit card number on it.

Andy Ivory
from Flomaton, AL
I have been waiting twenty minutes for steak nachos which seems is unheard of. This place appears to be poorly managed.

Terri Gast
from Menomonee Falls, WI
The taco bell in Sussex, WI had the worst customer service or lack of. My husband and I came in inside. There was one family of 5 a head of us.
We all stood there for 15 mins waiting for someone to take are order or even acknowledge we were standing there waiting. My husband & I finally just left. When we left the people standing in front of us were trying to talk their kids into going somewhere else. All these people working in the back and getting drive thru orders and not one could even say we will be with you in a minute.

Alfonso potts
from Mt. Dora, FL
I went to the Taco Bell Located on 17060 US HWY 441 in Mt. Dora, FL at approximately 2:17pm my order was taken at the drive thru (3 cars in front of me), I did not receive my order until 2:45pm. I am a frequent Taco Bell customer but the wait time for a order of 2 hard tacos and a chulupa was extremely long. To the point were I was late back from lunch the drive thru line is setup as such ,once you enter you cant leave. I believe the employees of Taco Bell are hard workers and are dedicated to there jobs, but this is the 3rd time I have had to wait what I fell like is a awful long time for so call fast food. Totally unacceptable I would love to continue enjoying the delicious food that is offered at Taco bell however but after this 3rd time I will be choosing some other options available in my area.

Ann Marie King
from Columbia City, IN
I ordered your new 5.00 Steak meal. Sorry to say the meal was a real disappointment. The meat was so small my mother Ann Marie stated it was not worth the money There were a lot of chip and cheese. She felt she just have order chip and cheese......The Toco Bell in Knox Indiana really need to add the meat to the meal. Sorry I didn't think to take a photograph.

Phyllis Hansford
from Beckley, WV
Was at Taco Bell late Sunday eve in the drive-thru, several cars were in line. Took me a while to actually get to the intercom to order my food. Once my food was ordered, it still took me an additional 15 mins to get to the window to pay for it. Once I had paid, I sat there for another 10 mins watching thru the window, 2 girls were standing and talking to one another and txting on their phones, and a boy was casually going from the back with a tray to the front counter with food on it every once in a while. I finally got their attn and told the girl that I had been in line for over 40 mins that I wanted my order. She said, "I'm sorry it's been a while, you want me to get you a refund?" I said NO, I been in this line 40 freaking mins already, I want my food ! She said ok, he's getting ready to start on yours now...I said what ?? Getting ready to start on it ? She said yes ma'am, it will just be a few mins and shut the window. So in about 4 mins, my food came thru the window...I was beyond furious...and still am..This is a new store that just opened in March. In the beginning, they were so courteous and they whizzed you right thru. Now that they have taken Hardee's business and they will soon be closing, and McDonald's business seems to be slowing, they don't seem to care abt their customer base any longer. But that's ok, what goes around comes around. There is more restaurants coming to the neighborhood. They think bc this is a one horse town they got it going on right now.
Taco Bell
901 Robert C. Byrd Dr
Sophia, WV 25921

stephen
from Spring Hill, FL
On several occasions I have gone to your Port Richey Florida location to order at night and on several occasions I was told computers were down. So on Monday June 25th I went again and again was told computers were down. So I left and called the location and ask what time they closed and they said 1 and it was only drive thru so if your computers were down wouldn't you tell a customer that on phone. Customer service at this location is horrible employees smoking in parking lot with no one in store and just being out right lazy and rude to customers.
Have feedback for Taco Bell?
Thanks for your feedback!
Sorry. Please try again later!