Taco Bell
Taco Bell Complaints Continued... (Page 5)
523+ reviews added so far. Upset? Call Taco Bell corporate: 1-800-TACO BELL

I just got done working a 12 hours shift and wanted something quick and filling. I stopped in at the Taco Bell in Portage Indiana and it didn't appear to be busy. I ordered the $5 box special and my wife ordered a meximelt. The time on our receipt says 6:27 and we got our food at 6:43. The lady behind the counter (who appered to be stoned) must have put the order in wrong because we ended up with a pizza instead of the meximelt and the burrito I got was cold and looked like a pile of s&!$. What is it I paid $15 for again??? I have never waited that long for fast food and will never come back to the Portage Taco Bell

Bought combo number 8 with no lettuce or cheese on tacos. Since I did not get lettuce or cheese I asked for just a few extra tomatoes and onions. I was charged 40 cents per taco for extra tomatoes and onions. There was not any more on there than a regular taco. Taco was so small. I was very disappointed since I can't have lettuce or cheese due to a medical condition. When you leave off several items it doesn't seem right to have to pay extra. It's not my fault that I an sick. I love Taco Bell but I am sad that I have to pay so much. This is one of only a few items of food that I can have. Please look at your policy for those of us who are retired with not much money so we can continue enjoying your product. Thank you and blessings, Rev. Sharrion Payne

So my boys decided on Taco Bell. So I drug my old butt off the couch to take them. They went in to order while I stayed in the car. We get home and they didnt give us our whole order. I asked the boys is it worth it to go back? They said no don't go back when we placed our order they started yelling and cussing at us and the cashier was saying sorry,sorry you just have a big order. WHAT?? I grabbed up the receipt and marched my butt over to the Tecumseh, Michigan Taco Bell. The manager on shift said I just got here and have no idea what happened. I said this is ridiculous!! This is a place of business and your job is to sell food and when my 13 and 15 yr old order they get cussed at? She said there is nothing I can do but say I am sorry. I asked for a number to corporate and she could not give me one! WHAT?? She said to go on the web site to find a number but not to bother because nothing will happen. SERIOUSLY!!! I am still fuming inside! I will NEVER step foot in this Taco Bell EVER again!

I not only waited 15 minutes waiting to have my order taken the food was terrible! I threw it out! The tacos had nothing but a teaspoon full of ,eat and lettuce no chess what so ever the shell tasted like it was old! My order was incorrect! I'd worked 12 hours and busted stopped by to pick up a quick bite and then couldn't eat the crap!

i ordered empanada from your menu. the picture looks like a pie!!! i was so disappointed when i received it!!! where is the pie like desert????!!! unbelievable!!! the shape doesnt look like the picture the outside deep fried crust is not as the picture!! i did not want something deep fried in oil oil oil!!
thanks alot waste of my money !!! cause i threw it away!! another person was w me and they ordered a double decker taco supreme and it came wiithout sour cream and no tomatoes !! which is not a supreme!! all this after waiting a half hour in your line !!!! what the heck is going on with you guys ?? u need to re train your employees???
or just supervise a little closer? whatever your problem is i hope you fix it by the next time i'm brave enough to go to your establishment!! thank you so much for the poopy experience!!!
My son wife and I walked into taco bell, we were standing in front of the register and the cashier was at a table talking to her some customers(friends). Even after she saw us she made no attempt to speak. I asked her if she was the cashier and I got a mean look for interupting her conversation.
After we ordered we sat down, after waiting ten minutes my wife got up to go wait on the food, and when the cook realized that she was looking at him goofing around he looked at her then "started" our order.

The first time our order was completely wrong. Didnt even give us the right burrito. This last time i had ask for and paid for extra sauce and got home to find there wasnt even any sauce on either of my quesadilla. Im frustrated to ask for stuff and pay for it and have them not even care

Me and my boyfriend went to Taco Bell on six forks and Strickland in Raleigh and got there at 10:50 sat at the drive thru for 5 minutes then procceeded to the window because no one was talking back to us and tapped on the glass (it was now 10:58) and we asked if they were open (knowing they didn't close until 11:00) the delivery guy rudly said no while the employees were hiding behind the wall laughing. I replied seriously and he said seriously leave. It was very disrespectful and don't ever plan on going back and spreading the word about my experience.
Sincerely,
A disappointed customer

I went to Taco Bell store number 1506 in Huntsville, Tx. And Tamara, the girl that gave me my food bitched at me because I didn't pay at the first window. THERE WASN'T ANYONE AT THE FIRST WINDOW. She let out a deep sigh and said "well give me your card". So I did and when I asked for sauce she rolled her eyes and threw it in the bag. When I said thank you, she slammed the window. Seriously pissed me off. When I called to speak to a manager, I called 5 times and no one answered. I guess they knew a complaining customer was calling. Terrible. She should not have this job if she isn't going to be nice to people that come in.

I placed an order at Taco Bell in Olive Branch, MS about a month ago. My order was correct on the screen, I paid, and drove away. When I got home, my bag was missing an item. ( chicken quesadilla) I called the store and spoke with a manager who gave me her name and said next time I come in to mention her name and they would replace my missing item. Tonight, I went to get my order and the cashier says it has to be within seven days. I tell her the manager on the phone never mentioned that. She says she asked her manager and he's sticking to the seven day rule. So, not only did I not get my order, I also don't get a refund. What happen to good customer service? I will not be eating at Another Taco Bell again.

First, I want to start off by saying that the first impression of this Taco Bell was horrible. There were two people ahead of us in line. One person waiting at the window and the other placing their order. The person taking orders was talking so loud that we could hear them and repeatedly corrected the customer after taking their order. After that customer finally pulled ahead three minutes later, it took the Taco Bell associate over twos uses to even acknowledge that we were at the window to place our order. We ordered, going by the assumption that the grillers were still a dollar because it was before the cut off point that we arrived at the window, but the associate didn't take our order until after the cut off point. Needless to say, another disappointment when we got to the window almost ten minutes after placing our order to ask why our bill was so high. We decided not to get our order after the cashier basically told us, the customer, that we were wrong! After we cancelled our order, she tells back to the cook, "don't cook the grillers!" After waiting for that long in line, they hasn't even started preparing our food? Needless to say, the locals won't be congrats back and will continue to spread it around that customer service is horrible at this establishment. We won't be returning any time soon, and neither will our friends or neighbors. I would rather take my money elsewhere.

I went to Taco Bell tonight, tried to order a smothered Burrito. They said they were out of beans. I asked her what they were going to substitute, says
said nothing was going to be substituted, I asked her what about adding some more rice she said that would be extra. That is poor business. It is bad enough their service is slow. I wished you could check on this.

Called Taco bell to complain, because it made my son sick after biting into a taco with hair in it, she asked if we wanted some additional food, and of course we didnt, we wanted our money back, she said she could do it.

I went through the drive thru at the Taco Bell located on Palmdale Rd. in the city of Victorville, Ca. on the evening of March 4th 2013. I bought 2 Crunchwrap Supremes, 2 Locos Tacos, and a medium Sierra Mist. When I got home, I began to eat one of the Crunchwraps and on the second bite, I found a chewed up blue piece of gum inside that I had bitten a piece of. It was the most disgusting thing I have ever experienced in dealing with Taco Bell. The Crunchwrap was taken back to the Taco Bell along with the gum and they didn't seem to care very much. They asked if I was sure that it was gum and I proceeded to show them. The woman behind the counter just said ewww and said so what, you want another Crunchwrap? She was informed that I will never eat anything from them again. I truly hope that something is done to make sure no one else has to deal with disgust and the utter disregard I received at this "place of business". I've also experienced them keeping $8.00 worth of change and laughing in my face. I guess they felt ok doing that because they did not believe I could prove it. I will never do business with Taco Bell again in life.

It is crazy that every time I go to the Centralia il resteraunt that my drive thru time is never under 10 to 15 minutes regardless if there is even 1 car in front of me. Tonight I sat in the drive thru for 26 minutes for 3 items. Half the time your order is wrong an the employees are completely rude . I have decided not to return in the future. Hope that something can be done to improve your customers wait times and all around experience because it is just plain pathetic!

I live in central Pennsylvania and have several Taco Bells around me. I occasionally eat there, but I wanted to send my son some Taco Bell gift cards as there is a Taco Bell walking distance from his college. I stopped at a Taco Bell in a mall and they told me they do not have them there as they're not a corporate store. I would need to go to a different store. The mall store was combined with KFC. So I went to another Taco Bell and mistakingly asked for a gift certificate. they said they do not carry them. I then called an 800 number for Taco Bell and they informed me they do not offer gift certificates, but rather gift cards, which is what I meant in the first place. The 800 number told me Taco Bell will have gift cards. Then I went to a DIFFERENT Taco Bell, only to be informed they're a corporate store and do not sell gift cards. I would have to go to Walmart. I went to Walmart and they do not carry them. They said they might have around Christmas, but do not anymore. After being sent on a wild goose chase, (if it was just for me, I would've stopped at round 2), I've come to the conclusion Taco Bell doesn't really need the business. I buy my son gift cards for McDonalds and Subway and neither of those restaurants have any problems with issuing me gift cards. Thanks for listening.

On 1/5/13 my husband and daughter went to drive thru and placed an order of 2 Varity taco 12pk. of which they were suppose to be 12 soft tacoes no lettuce and 6 Doritoes tacoes no lettuce and 6 doritoes taco with lettuce and 1 burrito Supreme no lettuce and an apple empenanada Total of 29.46 and when my husband got home with the order and checked it the only thing really right was the burrito and the apple Empandada was right.
WE had 6 cold no lettuce tacoes and 18 cold tacos with lettuce I called the taco bell in troy,ohio wher we are about 5 mins . away from this Taco Bell when I called and talked to manage she said everthing was right by them and its on the screen this lady manager didn't even offer an exchange, I then ask her wher the mild sauce was and she said they were out and truck was coming tomorrow I am not sorry for me being very upset.
I have never been mistreated like this from any type of manager nor have I had to tell my very sick daughter with leukima canser I would take her lettuce off her tacos for it made her sick and our food was cold me or my husband and .daughter did not get to have a care free dinner from taco bell because we were spending our time cleaning up you mistake at Taco Bell and on top of that my daughter got sick so thank Taco Bell for a wonderful evening.

A few weeks ago I have them a $20 at the drive through window but they claimed I only gave a 10. Thinking ok, maybe I made a mistake, I accepted that but have been ultra careful since then with the bills I hand over.
Today the same thing happened. I am 100 percent certain I handed over a 20 but the attendent insisted it was only a 10. I drove off and will never go there again. I am ABSOLUTELY certain that it was a 20 that I handed over.

I went to taco bell on 11/10/12 @ 3:48 am address 32940 mi ave Wayne ,mi 48194. I spent $18.17 for my order not to be made correctly! I called and explained my problem and the sassy African American employee told me I was wrong and that some of it might be,made wrong but he knows he made it right and the hung up on me! AfterwArds I called back to try to get his name and he said your gonna have call back tomorrow were closed and hung up again! You don't treat customers like this when there is another restaurant across the street from you! I spent almost $20 and could have went to McDonalds and got slot more food for less just horrible. He should not be dealing with customers

I went to Tace Bell tonight on heckle Blvd. in rock hill sc. i was in line for 25 mins. i asked the person at the window did'nt they they have a time limit to serve the customer's and she replied no not when I'am the only one in the kitchen. I'm in management and she was wrong to tell a customer that, howevre they are the worst every time i go to this fast resturant. they act like time to a customer doesn't matter. thank you

I ordered and paid for a cool ranch taco and when I got home, the item ordered was a regular crunchy taco. They were having some issues with the drive thru machine and I was the last person they were able to get my order. I understand things can happen and I waited patiently for my food and the girl at the window was very nice. But having to come home and find a messed up order disappointed me. I paid for something I didn't even want&i would brought it back to get my right order but 20min drive back was not going to be worth it.

I ordered Taco Bell To-Go this afternoon, around 3pm. I was home by 3:10 and immediately sat down to eat. My food is still hot, but both of my tacos and my quesadilla are extremely soggy; even the paper is soggy, and has melted to the food, making opening the wrapper impossible without picking off each shred of the wrapper. I am absolutely disgusted with this; I adore Taco Bell, but this is gross. This food has quite obviously sat on a warmer all afternoon.
I also wasn't offered taco sauce, and didn't realize it until I got home! So heartbroken... it's like a naked taco.

I have a complaint regarding a specific Taco Bell location. (This is a KFC Taco Bell) My family loves Taco Bell but we recently had a very poor experience that I just simply cannot overlook. 12 years ago my husband & I lived in Portland, IN (47371) and visited the same Taco Bell location frequently.
The restaurant has made zero updates since then. This wouldn't be such a big deal if things weren't falling apart...but it just isnt good.
I have a LIST of complaints so I can keep this as short as possible:
Its winter here..TOO COLD inside.
Tables are always dirty.
Tables are starting to 'rust' along the edges in a 'mold like' fashion.
My 6 yr old refused to eat over it :(
Outdated & showing age & wear.
My husband & 1 of my sons used the mens restroom. Urinal was "falling? & had been repaired with 'clear wrap' & duct tape, that would no longer 'adhere' to the dirty walls." The door handle on the outside of the door had been 'torn' off ? And never replaced or repaired. My other son was the first to visit the restroom & he only opened the door before he changed his mind all together :(
According to our reciept it took 10 minutes for us to recieve our order, & they prepared our nachos first. :(soggy):
My husband observed 1 employee eating the food while we waited on ours.
Other employees acted in an obscene manner.
I could go on but I will just STRONGLY suggest that someone be sent to check in on this facility. I am not one that files complaints but the people of Portland & those passing through deserve a better experience without having to travel to another town.

I went to taco bell/kfc last week with my children. i worked a long day and didnt want to cook. I have always loved taco bell and the food. I usually go through drive thru but my oldest son wanted to go inside and eat. After i ordered i went and found a table to sit at. Whiich there wasnt a clean one in the whole place. So i chose a table and took out my sons baby wipes and wiped a table down and its chairs. Also had to scrub the booster seat i put my child in.
Im was grossed out completely when it took five baby wipes and they were black! Obviously the table has not been cleaned in forever or the chairs or booster. As i sat there and waited for myfood i was looking around. The floors looked like they werent swept once all day, the napkin holders whichare two large ones were empty. The garbage full. The co workers were even sloppy looking with ripped up, baggy black pants. Im happy i didnt order much cause i just wanted to leave. I ordered a gordita and ate almost all of it.
Well i woke up at 2 am sicker then ever and vomiting. Im thinkin the sauce on the gordita was sour. it had a funky taste when i was eating it but i just thought i was grossed out with just eating there. I just think that place needs some good management or a food inspection. I am sorry to say i will not eat there again! not even through drive thru. i had no idea the place was this dirty!! please please clean it up..

The chicken flatbread was my alltime favorite fast food choice and i understand its a seasonal item but its time for it now and its not back i would just like to no the reason for this and hope it comes out soon.......... when i was down on my luck and they were .99 they kept me fed because the flatbread is so filling... id pay more than that for them now since im back on my feet id just love to see them again

This evening my husband and I stopped in at the Franklin, Indiana Taco Bell for dinner. While we were waiting to order, someone came into the resteraunt with a dog. The Taco Bell employee named Christy, who took our order, came behind the counter and informed the customer who had the dog that if the dog is not a service dog they had remove the dog from the resteraunt. While she was speaking to the customer she petted the dog and asked another employee (who was eating) if they would watch the dog outside while the customer ordered their food. The employee was happy to do so. Then Christy returned to the counter to take our order without WASHING her hands. At that time, we placed our order. Then we waited 25 minutes and asked how much longer it would take. Christy apologized for the wait and encouraged the cook to speed up. We finally received our food after 30 minutes if waiting!!! My husband ordered a Big Box with both tacos being a supreme taco. Unfortunately, neither taco in his Big Box were supreme tacos. The ONLY type of offer received for our inconvenience was a Carmel Apple Empada. Needless to say, we were exteremly dissatisfied with the service received and may never return!!

We recently visited store 004012 in Paducah ky. They acted like they had no time to wait on us. They were loud and obnoxious. One girl was on the phone with apparently her boyfriend screaming and cursing. Then are order wasn't right and when I took it back they acted very rudely. I love Taco Bell but after this experience my faith in your hiring practices kinda make me not want to eat at another

I ordered a mexican pizza meal, which came with two taco supremes.. after eating the first supreme, I noticed that the second one had green mold on one of the tomatoes and a smaller spot on another tomatoe. This was by far the most disgusting experience I have ever encountered at any fast food chain. You have lost a loyal costumer and more than likely my friends and family after I spread the word. It was at the state st. Location in rockford, il. I would hope you take this seriously, as people could become sick and start a lawsuit against your company. Thank you for your time.

When I drove through the Algonquin, IL store on Randall Rd. This evening. Something. Was going on but it wasn't serving food. At the order speaker I ordered #8 3 crunchy tacos with. A sierra mist. The person came over the speaker & all you heard was people laughing & talking in the background. I was asked to repeat my order 3 times because the person couldn't hear me over their co workers. When I got my ordere I didn't receive a receipt to do the actual survey & didn't get a straw for my drink. Obviously the employees were not focused on the customers.

I went to taco bell in yuma AZ 026030 on 32nd street.we went around 7:30pm .the manager Brandon was really rude about me letting him that there was a hair on my burrito.he even blame me about putting the hair on the burrito.this is not how you run a store with rude managers like this one.very upset and will never recommend this or any taco bell to no one and I'll make sure everyone know how rude managers are

About 90 percent of the time I go to this Taco Bell they mess up my order I know how to order it and what comes on it but it seems like they intentionally put the fiesta sauce on it just to tick me off. I will even tell the cashier to verbally tell them to not put it on there it doesn't come with it on there so they are just doing it for free!! This has happened well over ten times I'm a very frequent taco beller every time I call them or have it replaced and yet they still make me something not even on the menu if it was still on the menu it would make me ordering easier and cheaper!!

I live about 15 minutes out of town. I just went to taco bell for my kids dinner. I had ordered 2 chicken burritos for my daughter and of course I recieved 2 chicken tacos. She does not like the tacos and would not eat. This has happened to me before more than once. It is very incovienent for me to run all the way back to town just to replace $2.00 worth of food when gas is so high. I called and they say when you are in the next time we will replace them. That does not help when that was my daughters super. There had also been times that I came home and did not recieve all my food. When I order out to eat food it is because I didn't have time to cook and when this happens I have to cook anyway so what is the purpose of stopping in the first place. Instead of saying they will replace it the next time they need to waste the time and gas to bring it to me. At times I look in the bag but other times I am in such a hurry I don't think to look. I have a tight scedule where my time is limited because I have a mom at home with dementia and I have to pay a sitter while I am gone along with several appointments for my disabled child

Hi,
I was recently at a corporate taco bell store 000015 on 1/23/13 at 3:01 and my order number was 582470. I have been to taco bell many times and was disappointed when I went in today and got home and I don't live far. However when I got him my food was already cold and I ordered a double decker and it tasted like dog food and was really soggy. It was so bad my three year old wouldn't even eat it. Hopefully my next experience is bad with the food quality, if I decide to ever try it again.

Monsieur/Madame
-i've noticed for some time now that the food that is being served at taco bell doesn't even come close to quality and quantity anymore (such as years ago)
-this evening i ordered 2 bean burritos and all i got were two deflated pitas with nothing but cheeze whiz in the middle, and hardly any meat at all, it was like eating pita and nothing else
-what i saw on the menu and what i received was not the same at all
-maybe being a loyal customer to taco bell i should have complained to someone at the restaurant, and it might have made a difference or not, but i don't believe it should come to that
-what i saw was embarassing and this is why i submit this complaint
-just consider me now a past taco bell customer

I was at the Taco bell at Williams, AZ on Tuesday 02/19/13 with my extended family of 11. We were wanting to get some bean chalupas however the lady at the front desk rudely said that even though they will remove the beef/ meat, they will charge 49 cents extra.
On trying to reason with her, she did not want to listen. On asking for the manager/ the customer service number she pointed to the wall to find the number myself. On myself finding the manager, I was informed that this is the decision of the franchise owner and not Taco Bell. is

Why did you change a great thing? Your new favored chicken does not taste good. While I realize it may enhance the flavor of new products why use it in all dishes? It completely changes the taste. I have been a Tack bell fan my whole life. Craving chicken Mexican pizzas. However due to the new favor I find them citrus tinged and frankly gross. Why ruin a good thing? You just lost a very loyal customer and I am sure I am not the only one. Please give your customers the ability to choose whether to use the new artificial lime flavored chicken.

I ordered a Doritos Los Tacos meal #11 from a Taco Bell store down the road from my house. I asked for regular and the lady told me that it was supreme when she read the meal back to me. I told her I wanted regular not supreme and she said "Okay, please pull up the window." I got to the window and she asked me for six dollars and change. I don't remember the exact amount she asked and I can't even tell you what store it was from because after everything that I'm about to tell you she never gave me my receipt back which is another thing that I'm VERY upset about... this wasn't my first time at Taco Bell and wasn't my first time getting that exact meal so I knew 6$ and change for the meal I wanted wasn't correct. I mentioned this complaint to her and she insisted that I was still wrong, so I thought maybe the price increased since I had last been there and I gave her my credit card. She handed me my receipt and I checked it and not to my surprise it said "#11 SUPR." Last time I checked supr stood for supreme not regular, and I noticed it said 5.79 and I almost was certain that regular said 5.49... so again I mentioned to her the mistake that was made and she still insisted for a good two minutes that I was wrong... Then after a while she got the manager and he also insisted for another two minutes that I was wrong... then after about another minute of thinking he finally realized that she charged me for a supreme meal... At that point I was EXTREMELY mad and upset and was never wanting to come back to Taco Bell again, and I thought common courtesy at fast food places was if they give you the wrong price that you get your meal free and all she did was give me a dollar and NOT APOLOGIZE. I was so extremely disappointed in this service... I may never come back to Taco Bell.

Ok so on my way to a 12 hour shift at work I decided to stop at Taco Bell in Temple Tx. When I arrived there were 3 cars ahead of me and a few already in the drive though. After 5 min of the car ahead of me not moving and he had plenty of room to pull up to the window to order. I moved my car ahead and was waiting in line. I pulled up to the window and was denied service because of a customer complaint. I was embarrassed and had to go to work on an empty stomach. I did not know the car that was ahead off was going to the drive though.

The last two occasions I have eaten at Taco Bell, I have gotten all the way home before realizing my whole order wasn't there! Both times it was my sons food who is only 23 months! When I did go back to the restaurant to get the remaining part of my order, they did not apologize or anything. They just gave me the food and sent me on my way. If that is not poor customer service I don't know what is. And one time they tried to give me the original food that they forgot to put in my bag the first time, which had been setting there since I originally ordered, left and went home and came back. I DON'T THINK SO!! I paid my hard earned money for fresh food!
Sincerely, Chasity

I decided to go through the drive-thru at the closest Taco Bell where I lived for our dinner tonight. When I first pulled up, the guy asked me to wait a minute and he'd be right with me; no problem! He then proceeded to take my order. There was only one car in front of me, so I pulled up behind this car. I waited behind this car for 5 minutes. A little timely, but ok I can deal with five minutes. I finally pull up to the window, the same boy took my money and gave me my change. I waited five more minutes before he gave me my drink. I waited and waited (he had left the window half open so I could hear pretty much everything going on inside). Two of the employees (including the one who was "helping" me) were standing there joking and laughing and throwing around the F-word very loudly! Finally, the boy asks if I needed any sauce, I told him no I didn't need anything else other than my food. He then closed the window behind him and again I waited and waited. The boy finally gave me my food, all the while, he never once apologized about the long wait, no thank you, no have a great night, nothing! So from pulling up to driving away, I spent 32 minutes in the DRIVE-THRU!! I could've eaten at a restaurant if I had known it was going to take that long! So I drive home, we open our food & guess what? My order is wrong!! (Of course it is!! After waiting over half an hour for it, they couldn't even get my order correct!) I pulled out my receipt with their phone number and called them several times, but no answer any if the times! I am very disgusted and just plain pissed off! They are lucky my food didn't get thrown at their window bc I was very close to driving back up there, but luckily for them, they aren't worth my damn gas. They DO need to get their shit together though and if they are going to hire these 16 year old assholes to work there, they need to educate them in time management AND better customer service!

I just left the sulphur springs tx taco bell where I was treated so rudely by not one but two people and I'm trying hard to be nice in how I phrase this due to being so angry. I ordered two of the new cool ranch boxes as well as three individual regular doritos tacos for my boyfriends daughter and when I pulled to the window I payed for our food and noticed we were shorted a drink.
I mentioned it and asked for our drink she asked what it was I said Mr pibb she said we only carry Pepsi products I said yes you have Mr pibb listed on the menu she rudely said again we only have Pepsi products so you get Pepsi. We received our food and I looked in the bag and noticed four tacos where two boxes and three individual tacos should have been.
I waived for the girl to come back to the window and when I expressed my problems with our order she said your tripping I know what you ordered. I asked for q manager who did nothing about her employee who u addressed being rude gave me my order rudely and slammed the window. As I was driving away the rude employee gave me the middle finger. Mind you I have a child in the car.

To whom it may concern,
Before I start to write about my complaints, I would like you to know that I am a former taco Bell employee. I use to work for Ottawa Kansas Taco Bell, therefore I'm speaking out of experience.
Several times now I have gone to Tillicum Washington's Taco Bell on Union Avenue. Several times they have not spread thier ingredients equally among most of their products, like their burritos. Ingredients like sour cream, guacamole, fiesta sauce, and etc. This prevents customers from getting the ingredients they not only pay for, but what they also expect to taste in every bite. Therfore,customers will be unpleased with your products. Also resulting in lack of business.
Another problem is that today (10-1-12) I had bought my 1 year old daughter some Cinnamon Twists. When I had tasted them, they tasted as if they were past their expiration time or had been fried in bad/dirty grease.
I hope you take into consideration what these problems could do to your business.
Thank you.

I went to Taco Bell 027886 and purchased 2 xxl nachos on chicken and one steak and I received as much meat that's on a nacho supreme if it was chicken or steak I called the store and asked to speak to the manager and told her the problem she stated that she made it herself her name was Amy I asked how much was it suppose to weigh I forget what the said but there's no way this met this criteria I asked if I brought it back and we weighed it it wodnt weigh that she said yeah it wouldn't after two minutes and this was after I informed her I live right down the street I think it's a total rip off to charge me just about seven dollars for a nacho and give me about three dollars and fifty cents in product. If u need pictures I have them

At 901 E Broadway North Little Rock Ar 72114. Everytime I order regular tacos I will recieve a half a teaspoon of meat and it will be empty one inch on each end, the shells are always cracked all the way down and stale and the lettuce is often wilted and clear. Their food even tastes like it was all the stuff the other stores would have thrown out days before. Everytime I have brought the taco back to them to complain they refuse to do anything about it.
At times it seems like he is useing what should be used to fill one desent taco elsewhere to fill 3 at his store, and I am not exagerating at all. One time I ordered a taco salad with extra meat, willing to pay to get some meat, and I was shocked when he charged me extra and literally put half of what he normally would, and that aint much, which is why I ordered extra in the first place. It was almost like a slap in the face and flat out robbery.
I will get a little bit better deal when Mr Allen isnt there, but when he is I've learned to go to the one on McCain instead and get my moneys worth. If you dont believe me? Go there and let him ruin your day. Just because the store is in and economically challenged area doesnt mean he should take advantage of the locals just because he is a different race. Be prepared to order twice as much food than you normally would elsewhere. Want 2 tacos? You better get 4.

Not once, not twice, but three times your Fort Mill, SC location has managed to screw up my order. The first time I was inside of the store and had decided to eat in due to the long drive-thru wait. I noticed that my order had been screwed up I took it back and they fixed it. The second time I was not so lucky however. I ordered a nachos supreme out of the drive-thru and specified what items were not to be anywhere near my nachos and soft taco. Arriving home I discovered every single item I specified to not be on my order staring me in the face. I threw it all away and made myself soup. Today however was the last straw. I had an order made in the drive-thru for my family. Arriving home I found that all of my items had been messed up in a similar fashion to Trip #2. It is my assumption that the workers must have ingested a large amount of methamphetamine an wildly threw in toppings and tacos regardless of what the order said. This location is just an embarrassment to your corporation at this point. The Fort Mill Taco Bell has never had any problems that I have heard of before these last few months. I have listened to numerous complaints recently from my friends and have clearly witnessed the incompetence firsthand. Fix this or prepare to lose a good number of customers and a corporation-wide loss of integrity.

hi i ordered a chicken burrito and beef chalupa today at your taco bell location in saint clair shores, michigan...martin and harper location..take two bites into my chicken burrito and bite into a penny spit it out immediately..i take it back and ask to speak to the manager all she basically said was sorry do you want your money back..thought she would of at least said i will check the rest of our chicken or whatever and make sure there is nothing in the food so this will not happen too anybody else..taco bell is one of my favorite restaurants but after today i don't think i will ever eat taco bell again

I went to the taco bell in MATTESON, Il. I purchase a National Advantgage Card, the green one in August.
When I went to use my card which says" taco bell buy 1 burrito supreme, taco, gordita a regular price, get one free" . I showed this card to an employee, and he stated" Our store does not accept this". But the card states " Good nationwide at all participating locations". If you would like me to fax a copy. I can be reached at708-898-2431. I don't understand why people are not trained correctly to know a funderasier card. This is to help the community not turn them away. This suppose to be helping Americans, but I think some of these restaurants don't want to help. I've had the same problem with this card with SUBWAY, KFC. But Burger King and McDonalds accepted my card with no problem.

My wife and i decided to take our son to get the cool ranch taco. We went to the one at 609 naamans creek rd claymont delaware. First they messed up when taking our order then we waited for 20 mimutes or so to get it. They gave our son the wrong tacos so he had to go back in to get the right stuff. My wife and i ordered a 12 pack of cool ranch tacos and 2 chicken quesadillas. We ended up with regular tacos and 1 quesadilla. By this time we were too pissed off to go back. I have never had so mutch trouble at any fast food joint like this. Because of this i will probably never try the doritos tacos since i doubt i will ever stop in one again.

On Oct. 8, 2012 I ordered a Chicken Cantina Bowl for lunch at the Taco Bell at 1310 Broadway St., Pearland, TX 77581.
I had nothing to eat prior to purchasing this order. Several hours later, I developed a fever and severe diarrhea and flatulence (salmonella poisoning?), which lasted about 36 hours. I am in the medical profession and I felt I needed to inform you of this incident.
Thank you,
Carol Knight

Everytime i go to taco bell they always ask me what kind of sauce i would like and by the time i get to the window and drive off i come home and there is no sauce it really upsets me because I love hotsauce i cant eat any of their food without hotsauce. They always give me the wrong thing i order something and when i get home its the wrong thing and i dont eat it i would rather not return to taco bell i love their food when they do it right of course im just really dissapointed

The spicy chicken burrito was the best food offered by any fast food restaurant! I got one almost every day and was heartbroken when it was discontinued. Now I prefer McDonalds or del taco when that was NEVER THE CASE! The fact that I could get spicy chicken in more than just a burrito was amazing! Your chicken was the best I've ever tasted and I have seen many questions online asking how to make it. Nothing compares please bring it back please! Del tacos spicy chicken is a major joke and I'd rather eat my toe nails!

Around 7 pm Saturday October 27, 2012 I entered the Taco Bell drive through in La Porte TX. I pulled up to the speaker and asked the operator to please hold as I was on the phone with my wife. After my wife finished telling me what she wanted I proceeded to relay the message to the intercom operator, after repeating my order twice and getting no response I said hello. The operator said are you talking to me, I said yes sir, he said how am I supposed to know, you been talking on your phone. He said this in a very rude tone. I asked him why are you being rude. He said I'm not, I'm just saying how am I supposed to know who the hell you are talking to when your on the phone. I then decided I no longer wanted to eat from a establishment that treats there customers in such manor and pulled around the get the name of the person I was talking to. When I pulled up to the window and asked his name he mumbled something and picked up his phone. I asked him again and mumbled something again. I told him it was ok, I would contact his manager, as I was driving off he called me a fucking pussy. I drove off and I looked up the phone number to this location and called, a young lady answered the phone and I asked to speak to the manager, she said I was speaking to the manager. I told her what had happened and she said not to worry she was already wrighting the person I was speaking to up. I than started asking her name and the name of the employee I was making the complaint about. She became very hesitant and did not give me any names. She then stated she was not the actual manager, but an assistant manager. I told he not to worry about it, I would come in and find out everyone's name. I went back to the Taco Bell and the first person I came to was the same person I spoke to on the phone. A girl who had just started that day according to her. Not a manager at all, so I asked her who the real manager was and she said she did not know, so I asked someone who was sitting down eating, she also said she did not know. So I asked the guy who I had the problem with from the first place what his name was since he was not wearing a name tag. He finally came over to me and said he was infact the manager. I coul not believe it, this is the kind of person treating people like this and he is the manager of the store. I said look I am not trying to argue with you any more, just give me your name and I will call it into corprate office. He told me its on the wall, he don't give a shit who I call, he said I have witnesses and I got you on camera. I just wrote his name down and left the store. I drove across the street to the KFC to order food from there and as I was sitting in the drive through line I seen someone comming across the street from the Taco Bell, the young girl who was posing as the manager walked up to the back of my truck and started reading off my license plate over the phone. I asked her why was she following me and calling out my license plate. She said noting and walked off. This was the worst, most disrespectful experience I have ever had with a fast food resturant. This guy having talked to me like he did, then have people lie for him is not the example a manger should be showing employees. Especially one that was luring for him who was on her first day. UNACCEPTABLE !!! The managers name after I took it from the wall is chrisoval alverado, he was a male. Please call me at 832-764-6659 if any additional info is needed

I received an incomplete order from Taco Bell. I specifically ask the staff if the entire order was in the bag as it seemed lite. I was assured it was complete. When I got home and checked the order it was missing items and items in the order were missing ingredients. Upon returning ti the taco bell store #019978 the "Manager" was completely unprofessional and had no concept of customer service. I was told if I wanted to give her my name and number the owner might want to send me something. When I asked why I was told my order was complete, the response was "Oh, we're training that guy at the window today."

I go to this Taco Bell quite frequently. Almost every time I go my order is messed up. Today my husband and our 2 children went to the drive thru and ordered 2 xxl nachos, one with steak and 1 with beef. We checked our food as we pulled away and there was no tomatoes and like a dime size amount of guacamole on both our nacho orders. We paid 5.99 a piece for these. When we turned around to get it fixed the drive thru was so slow we just gave up and came home. It's ridiculous with the gas prices being so high and the economy like it is that a restaurant can mess up orders like that. They should be wanting more business and more frequent customers.

Went to Taco Bell on Sat. Aug. 17th approx. time 1:00. Address 102 Franks Drive, Madison, Indiana. I ordered a taco salad w/ no rice. I was at work. Approx. 3:30 started pucking. Then came home and had the runs till my body was empty. For breakfast all I had was a protein drink. Had to be tace bell that made me sick. Missed Riverfest in downtown Madison Saturday night and paid 20.00 each for tickets for hubby and me. Ok call the store today Sunday at 2:00. phone #812-273-2355. I talked to Mary the manager on duty. She told me she has some medical something and no way could I get food poisoning that quick. BULL!!! Had this twice before and happens the same way everytime. This is why I am filling a complaint. She was terrible and very unconcerned. I know I had food poisoning/ had it before and for her to tell me she knows more than me and too bad. Not a very good response. Look forward to hearing from you soon.
Thank you,
Karen Brown
Work #812-273-5411 Cell #317-501-6037

When I arrived at 7:30 PM at this location there was a line of cars in the drive thru and several people inside. I went inside and got in line. 25 minutes no one took any order from anyone inside, yet the take out window was moving and we could see staff in the kitchen.6 people left and I moved to the second in line. Oh, did I mention those 6 who left never place an order because no one was taking orders. Then shortly before 8:00 PM a staff person came in from outside with a soft drink in hand did something on the register and left. Saying someone one should be there shortly. Less than a minute later he returned and started taking orders.
Apparently he had to take his jacket off and get rid of his drink! 4 more staff came in over the next 20 minutes and more customers came in, again during this time no one was taking orders again. The fellow who help me went to the kitchen. I have no idea where the four who just entered went? The take out window was still moving cars.
Then a lady came out and announce to all customers. "I will take your orders but I will also be honest and tell you all it will be 15-30 minutes for us to get to your orders!" What the hell? All the customers had left. No word was given on my order! The take out line was moving and still be processed. I heard the server tell a new counter customer we need to help the take out windows first! Again what the hell!Still more customers came in and then were told and left making no orders. I like the lady in from of me were stuck as we had paid and are still waiting.
Finally at 8:43 P.M. yes, 8:43 PM..... I got my order. I all but ran from the building not checking the order just ran. After I arrived home my partner opened on bag...pulled out 4 Tacos, I ordered 4 Dort Locos Supr. We opened the second bag, and It had 2 bean burritos.

Wanted to try xxl steak nachos. Don't eat gaucamole so asked for another scoop of sour cream. They told me they would have to charge me. That green stuff costs more than that reduced fat sour cream. The substitution should have been free. I won't be going back. Same location to run out of chicken and beef. How does that happen.

I pulled up to the drive thru at 10:30 on a monday night and was greeted with "Hey, Taco Bell, what you wont" (sic). I ordered a beef burrito with meat and cheese only. the girl told me " that be a combo burrito but it has beans with it" i told her no i just want meat and cheese. "she said "oh so you want us to make it special for you" i said i dont care what you have to do to make it but i only want meat and cheese, ' she said " fine that be $(whatever the amount was)" i said no im not done yet "she said "well hurry up" i laughed it off to my friend and said ok i also want 2 doritos tacos with no lettuce and no sour cream. "she said huh sour cream?", ok that be $7.19. i said NO i do not want sour cream. she said " i said $7.19. and again i said " i said i do not want sour cream" she said " i FUCKING heard you, SHIT". so i pull around to the window, and i had not driven 35 minutes i would have right then canceled my order and left. anyway she walks up to the window and bob her head and just stares at me for about 15 seconds. i just stared back an no words at all were exchanged. so i finally handed her my debit card and she snatched it from my hand and said "BITCH" then swiped it and literally threw it back into my window and it landed on my lap. i immediately asked to speak with her manager and she said "whatever bitch" then she yelled "charles! somebody wanna tell you something" i heard a voice in the kitchen and she replied " i AINT DO FUCKING SHIT" . Charles ran to the window and shut it and moved her away and then approached me to ask what was going on. I told him the entire dialogue that was shared and he was so embarrassed and extremely apologetic. he gave me my money back and continually apologized the the young woman who obviously doesn't speak for taco bell. i just could not believe that it happened. especially at a store in collierville. but the main reason for this email is because i finally went back this week to the same store and Juwanna was at the counter and i walked up and she looked at me and then immediately looked straight down at the computer . never said one word until finally after about 20 seconds she said "is you gonna order or is you just gonna stand there looking stupid all day" .. the store was busy as it was lunch time but seriously no matter the situation you can not talk to a customer that way. i ordered 4 doritos tacos with meat and cheese and tomatoes only. she said " well why cant you just order a supreme.' i said because i do not want sour cream. "well a supreme comes with meat cheese lettuce tomatoes and ...... um....." i said SOUR CREAM. i DO NOT WANT LETTUCE OR SOUR CREAM. she then said "well it takes a while to custom make one at lunch" im not stupid, you do not prep tacos for later sale. well my food came out and what did i get?? i got 2 not four 2 doritos tacos with only lettuce and sour cream. when i returned them i was told by another employee that "that how she rang em in so next time order em how you want em the first time.
NEVER AGAIN WILL I GO BACK TO TACO BELL IN COLLIERVILLE. IM ALSO POSTING MY EXPERIENCE ON FACEBOOK AND TWITTER TO MY 1400 FRIENDS WHO LIVE, WORK, AND EAT IN COLLIERVILLE TN TO NEVER GO TO THAT LOCATION.
i cannot believe someone with that sort of work ethic can have a job....

On 10-30-2012 at approximatley 9:30 p.m. I visited the Taco Bell on 33rd st. In Edmond Oklahoma. Behind the counter where the food is prepared there was large amounts of taco's and miscellaneos food scattered everywhere. This was not just a few items but several dollars worth of food on the floor and the employee's were stepping over and around this mess. I left approximately 30 minutes later and the mess was still there. If I hadn't already ordered and payed I would have walked out. One thing I did do was take a picture of the disgusting mess and can email it if needed. I don't make it a habit to report matters like this but if I was a owner, I would be very upset to see this.
Thanks for your time,
Brent

, i ordered my food and i paid,when i was given my change he told me,''can u please pull up''.so i did..(on my receipt it has the time of 6:25) so i pulled up and parked waiting for my order, another suv pulled in back of me 3 minutes after.. 6 minutes passed and the maneger came outside and was helpfull to her,her food was tucken to her al the way to her car in the parking lot,he walked by me two times and didnt give me information about my order,so when the time was 6:43 i entered the store and asked the cashier in the drive thru that told me topull forward that he never told me to pull forward and that i was a lier,so i told him that i eanted my money back and i gave him my receipt and he snachet it from my hand with a attitude so i gave him back 63 cents,thats the same amount he gave me ,so the drive thru cashier told th manager to give me back my money so he did but the manager gave me back my money but never made eye contact with me to give me back my money like if he was ignoring me ,i didnt even grabe my money when he was already attending another person,....! taco bell supports racism,taco bell has racist workers,taco bell has un profesional workers,taco bell why do u sopport this??? i was treated like shit,the customer should be treated way better not like animals,i will never buy from ur franchise ever in my life and i will post what happend to me on facebook,i have around 600 friends so i hope they do the ame as i....! i think i am not going to hear from anyone but ur food is the best,but ur employes have given me a reason to not support u guys everagain, peter juarez...thishappened november the 4th,2012...at 6:43 pm,its located in los angeles ,ca..its on crenshaw blvd and i think its one block of adams blvd...90017 0r 90018...! what happend is on cameras i mean if they work...!

My Son order a Chicken Burrito , what was suppose to be a boneless chicken burrito but WAS NOT !!! It Hurt His Throat Pretty Bad , He even Cried & He's 16 yrs. old . I Called Taco Bell in Middlesboro , Ky & they told me they would need me to bring it in So they could Freeze it & Return it to the Company that sold it to them & that it was a Liability . I Need To Know What Can Be Done About This , Had He been Smaller or Had a Smaller Child ate this They could Had done some Real Damage , Or even DIED !!! This Was Bought at the Middlesboro , Ky Taco Bell at 8:47 pm on Feb. 23 ,2013

Hi my name is Aidaelys Hernandez. My complaint is for the Taco Bell thats located on W Johnson St. in Fond du Lac WI. I order food thru drive thru and once I finally got home and settle down to eat. I got half way near my burrito and there was a hair in it. It wasnt just on the top. It was in super deep when I removed it beans cme out with it. I have never had any issues like this ever from Taco Bell. I love eating there and would hate to stop. I called the store tk speak with a manager to be able to complain about tgis and the employee that answered the phone her name is Melissa. I told her at the start of my conversation that I would like to speak with a Manager and she told me that there two managers on duty. She began to ask questions about my complaint. I told her the issue I had and she began to just offer a coupon and I told her that I want this issue to be address to the employees. She was really rude. She didnt have sympathy to whaty concern was. She seemed that she didnt want to get a manager for me. Then she said she was a manager. So if she was manager why she didnt address that in the start of the conversation. I am noy looking for coupons nor free food. I just wanted to make sure they new that they needed to keep an eye out on there employees because finding a hair in the food is very disgusting. Also my biggest complaint is how the suppose mamager Melissa talked to me over the phone. With attitude and every time I said somethinf or asked a question she wouldnt say nothing. Before she transfer me to amother manager she said well I would get you another manager but he.is also going to say the same thing a coupon is all I can do. This is no way to speak with your customers. I have been in retail bussiness for 10 years and I will never speak to any of my customers that way. If she is a manager I wpuld really double think that.

The wait was long, my food was made a totally complete different way from what I ordered.... Then when I went to confront about my crappy ordered, the cashier were rude, very rude!! I felt like that was $22.47 gone down the drain.

My family went to Taco Bell store #023160 in Bowling Green Kentucky Saturday, October 20, 2012. First thing was it took them 3 times to get my order correct. Then one of the employees was eating nachos at the counter. We had our order to go, then on the way home (we live an hour south of Bowling Green and usually eat at the Taco Bell in Glasgow), they still didnt get our order right , as there was lettuce on my daughters tacos after we specifically told them no lettuce. Then part of the order wasnt even there. And the burritos tortillas were hard all around the edges. We usually eat Taco Bell at least once a week if not more. This is the worst service and food I have ever had at Taco Bell.

Every time I go to Taco Bell I get a cheese quesadilla and ask for extra cheese and jalapeño sauce. When I get my food the cheese quesadilla may have a sprinkle of cheese on it and the rest is bread. This aggregates me when I am paying for extra cheese and jalapeño sauce. I get less, if that's what I wanted I would just go buy a tortilla from the store and eat it!

On the way home last night I was going to stop by tacobell and grab me a bite to eat. I am a manager where I work myself so I had just goten off work after a long day at 11:15pm.. I got to tacobell off of hudson BLVD on the way home at 11:20 to find out that they were closed already!! There hours at that location are 12:00pm! So wow we had rite at 3inch of snow yesterday if evan that... no reason to close a fast food place! I run a skating rink and we stay open all that night till our hours posted! And so did cookout! Where I ended up having to get my food! What pore management!!

The Silsbee, Texas Taco Bell has finally crossed the line...I'll get weak & visit this location for some of my all time favorite Mexican junk food..most of the time the issue is "we're outta beans tonight, would you like it without beans?" Or I'll rush out with my bag because my family is waiting on dinner & it took 15-25 minutes to make my food..really! 15 + minutes to prepare $10-$20 worth of Taco Bell food? Then when I get home I either end up not eating what I ordered because they failed to put it in the bag or just didn't make it.
Or I have to drive back up there, wait in line, explain what is missing or wrong, let them inspect my receipt and wait for them to make my missing items.. The straw that broke the camels back tonight & has me ranting & HOPING someone will take charge of this store..it has to be losing PepsiCo money! I ordered food about 2 weeks ago & the lady that seemed to be in charge (Rena) took my order, she was very polite & helpful, they called my order number much faster than I was use to so I grabbed my bag, thanked the staff member with a smile wondering if maybe just maybe y'all made a decision to get a handle on this place ..only to arrive at home close the garage door walk in to my smiling wife & son only to discover.
If I had any hair I'd have pulled it out... It was late & I was worn out from work & didn't feel like going back to the store so I called to see if they'd give me a rain check for the ones they failed to give me that I paid for. Once again Rena was very nice & apologetic. She did tell me to hang on to my receipt & she'd make sure my order was taken care of on my next visit. She did explain they left my Mexican pizzas in the "steamer" I believe she called it.. So tonight I go to Taco Bell & before I place my order I let the lady know about the missing pizzas from my last visit & she told me she thought they were out of the flat shells.
She then returned to tell me they'd make more flat shells if I didn't mind waiting a few minutes I told her I'd wait and continued to place the rest of my order..I then asked them to please have all my food ready at the same time. I am not a fan of soggy nachos or Mexican pizzas nor would my wife be excited about cold KFC chicken.
The lady assured me it will all be good. So about 5 minutes later a young man calls out that some volcanic nachos & an empinada were ready. I told him I ordered those items however there are other items that go with that..he said " don't know what to tell you, I'm on the Taco Bell side, here's your food." I took it & sat & waited for the rest of my order. Knowing my nachos were getting soggy I decided to eat them..finally they call my order number about 7 minutes after they gave me the nachos.
When I approached the counter I asked where my Mexican pizzas were & pointed out they failed to put my empinada in the bag, at this time a young woman explained to me that she can't give me my pizzas without the receipt . I get the whole "rules are rules" idea, but being an assistant director in a very successful service oriented company I really understand taking care of the customer. When they already paid for the goods & or services I promised to provide. My wife is a clean freak and threw the receipt away.

Mindy Watts
from Merritt Island, FL
I went to the Taco Bell in Merritt Island #026970. My order was placed at 5:15:27 pm at the drive thru. There were only 2 people at the counter inside and a car ahead of me that received his food as I was pulling around to the window. I sat at the drive thru window until 5:28 I received my small order. It was raining out I pulled forward to find 2 of the 6 items were missing after all that wait in line. It was pouring rain I did not want to pull around park and walk inside so I drove home. Then gave what had to everyone and made myself a sandwich. This is not the first time this has happened at this location and I do not usually complain about things but this has happened several times and thought someone should know.

Robert Karczynski
from Wyandotte, MI
I'm tired of ordering sour cream on every item and not getting it but getting charged for it. Every single time I go to the Southgate, Mi taco bell on fort street, I order the same damn items, a mexican pizza plus sour cream and a mexi melt plus sour cream, and I 4-5 times per week. More than half the times I do not get sour cream on them. We got 16 inches of snow yesterday, should I have to drive back up there just to get my sour cream on them? It isnt right, its like giving taco bell a free dollar every time i go there, and I dont want to quit giving them my business but its getting old fast.

I ordered a Taco Bell 12 pack and paid for food at first window and went to second window to get food. The employee shoved the box out to me and didn't say a word to me. Could at least said here's your order or bye. But said nothing and I continued to sit there and she looked at me and rolled her eyes and said, "yes is there something wrong?" -- she was very rude! I just wanted to let someone know about this, I will think twice before going to this same Taco Bell again.

russ chlysta
from Charter Township of Clinton, MI
Hi I've been a fan of your food for some years probably since the 90s so I go tonite 1/25/15 into a taco bell on I75 near Findlay ohio to order a Mexican pizza and was told we don't sell them because we don't have a deep fryer? What's with that I go into any taco bell in this country nd order pizza I don't need to here this my question is why am I standing in one of your franchises and I can't order a Mexican pizza because your franchise doesn't have a deep fryer ? You want my business but I put up with this?

Nancy Gagliano
from Phoenix, AZ
My husband went yesterday to the taco bell on 40th street and chandler blvd in phoenix az. In our order my chees roll up was missing and we ordered soft taco supremes and the lady did it up with a drink to make it cheaper and our tacos were wrong. They messed up on something else my husband had too. he complained a bunch of kids were working in there and had no clue what they were doing. Where is the manager there on this? Not good customer service. This needs to be fixed. Also, that restaurant needs to be remolded. I never get a really good feeling when I go in there on the cleaning. It really needs to be cleaned up like the one they just remolded on warner and 48th st in phoenix az. Thank you

I went sat at 10:30pm and ordered a gordita box. And service was slow because they had a car broken down. I called a family member to help who had a tow truck. I ate the food and went to church and at church the next day. I was rushed to the ER for food poisoning and I waited till Tuesday to talk to them and the GM took care of me by giving me a full refund. But I will never eat their again I am too afraid.

Brandi
from Carlinville, IL
I am extremely upset over the fact that not only did I fine hair in my food, in my crunch wrap to be exact, which is completely disgusting and I understand that sometimes things happen. So I tried to do the best thing which is take it back to the store and let them know and ask for a new one. I'm not a rude or mean person and was being polite. I had just spent $55.00 on food for my family of 5 people. Now not only did I find the hair but we were also short several items. Now I didn't go home I left the drive thru was hanging out the food items to my family and that's when we noticed the items were missing. In that time of driving back around I went to take a bite of my crunch wrap and YEP you guessed it but into a long brown hair!!!! So needless to say I was hungry yes but that sort of thing will make you loose your appetite!!!! However my children were hungry and I needed to get the missing items. This is where I really complain. I told the drive thru person that the items were missing and that I found a hair in my crunch wrap. He proceeds to tell me come to the window in a very rude and harsh way. I drove around to the window and sat there for 10 minutes waiting. when he came to the window he said yes what can I help you with. I said you we didn't recieve these items and gave him the receipt and showed him the bags and he the tells me well how dominions you didn't already eat them. I said what?? You can clearly see on the receipt that I was literally just through the drive thru. I didn't have time to eat then and my chikdren are hungry. He looked at me and said your sure you didn't eat them. Now I'm a plus size girl but what he was insinuating was completely and utterly shameful. I have never been treated so badly in my life. Especially by going through a drive through. I said well I also bit into my crunch wrap and but right into a hair. I said but in sorry do you think I out that in there too since it's cooked into the meat. He then said well what do you want me to do. I said young man are you serious right now. I said how about replacing the missing items and the crunch wrap that had the hair in it so my family can eat. She didn't say a word and shut the drive thru window. I waited what seemed forever. I finally had to knock on the window. He came back to the window and said yes.. I asked again about getting the items reolaced. He said I don't know im seeing what can be done. I asked for my receipt back he said no he had to have it to show his boss. I said forget it I will spend my money somewhere else and I will call to speak to manager about this. I asked for my money back and was told no they couldn't do that. So I drove away. Now I drove away without any of the missing items or the crunch wrap and 3 hungry children. I called to speak to the manager the next day and was placed on hold then told that the manager was busy and would call me back. I left my number and haven't heard from them since and I have called several times and no one ever has time to talk or return my calls. All I wanted was my food items that I paid for and the one replaced. I was the one that was out almost $50.00 in food. I don't see the fairness in this. I even left a message for management and left my address and asked them to just send me gift card or gift certificate to have dinner with my family during the day time hours sometime and stil got no response!!! This happened in Litchfield, IL 62056. I only remember his name being Josh. I know people have bad days and stuff but that was so unprofessional and really just completely rude!!!

Lisa Walker
from Warren, MI
I am writing in reguarding this is the 3rd meal in which hair was in the food. Your staff at the Hoover location in Warren, Michigan. I NEVER see the staff wearing hair nets or plastic gloves in food prep. I know this is a major violation to the Board of Health. I had long hair in the cheese of nacho's, another time was hair FROZEN in the Starburst freeze!!!!! the 3rd and last time was hair across my Tostada. Your need to have your management team enforce the proper code which requires gloves and hair nets to be worn during food prep. My your children are no longer interested since these last 3 events. Maybe we should check into DEl Taco and see if that staff wears golves and hairnets during food prep. Please pass this on to the management team at this location.
Lisa Walker and disappointed family of (6)

K so i go to taco bell one morning to order some food first had to say hello into the drive thru speaker then this snotty man says its gonna be just a minute to fix something i don't remember what. but asked if i should come inside and very unprofessionaly was told it doesn't matter either way so just hold on well after fifteen minutes i said hello again. n once again ws told it's still gonna be a few minutes fifteen minutes after that i said hello again was told ok just one minute and u can order. well i gt to the window and the guy who turned out to b a manager wass still being rude my order. wasn't right i was over charged because there was sourcream added to extra burritos one of my children is allergic to dairy three tacos had no meat my tostada was thrown together sloppy if i had time i wd have went back but i did tell the guy i was contacting customer service

On Friday 3/21 I bought two beef chalupas from the east broad st location and they were very good. The next day
I decided to do lunch at the taco bell on south Hamilton rd. Big mistake. The shell were too hard to eat. I tried
breaking off the very hard edges but still could not eat them. The only reason I didn't take them back is because I
was too far away. I will never go there again. Whoever made those chalupas had to know that they were not fit
for human consumption.

On the night of March 28, 2014, I called the Taco Bell on Markham St in Little Rock, AR ph 501-664-5161, was told they would cook me 2 empenadas and so I drove over across the street and no lights were on, no cars in the parking lot and nobody in the building. I was very upset. I work at the hospital across the street so I had taken a non-paid break to go there and they were closed. That was extremely inconsiderate.

I visited a North Lauderdale Taco Bell on Rock Island Rd a few days ago and on the counter is a game that you drop in your quarters/dimes etc and you can win some food. I gave my grandson a $1.50 and his friend that was with us 50 cents. They were dropping in the money and the friend at the last quarter got it on the yellow ledge which meant he won something. He was so happy at that time the guy behind the counter wiggles the thing the coin fell off and he said that thing is broken. The kids just looked like WHAT I asked to speak to a manager and he was no help at all. He said I can give you a free taco. I was like it is not free i just paid $2 dollars for it. He said well i cant give you the money back. I asked him why when the kids had been playing the game for a while did you wait til they got one on the yellow ledge before you said it was broken? He didnt have anything to say. I feel this is a scam . There was a lot of money in the game and I wonder how many other people got scammed. Please respond and tell me why this is ok.

To day we where at the above mentioned store, an older lady urinated in the booth, when she left I told
Manager about it he said he would take care of it, he did not take any actions to clean up, then the
Cashier lady started to clean tables without gloves, she wiped the urine off seat, then wiped table with same rag, went to another table and wiped that, I went and told her about the urine, she was mad that Manager had not told her, she then put rag down and went back to taking care of new customers, did not wash hands, my friend went to Manager and told him that he should close the place and clean it up, he responded, that he was taking care of it, he still had not dome anything by the time we left. A lady and two children were about to sit at one of the tables that she wiped up with the urine rag, we told her what had happened.
This is a very serious sanitation problem.
I am expecting to receive a response from you regarding this bad Management problem, we will not be eating at this Taco Bell again, and after I tell everyone I know in Twin Falls, I know they will not be eating there either.
March 26th 2014

I took my grandson and his friend to Taco Bell in north laudrdale yesterday and on the counter near the cash register there is a game. Where you drop a coi. In and can win free food. I gave my grandson. 1 50 in coins and 50 cents to his friend. As they put the coins I to the game the last coin landed on the yellow bar. My grandsons friend said yeah I won. At that moment I looked to see it on the yellow shelf. Then the man behind the counter shook if off and said that is broken. The kids were like what happened. I asked to see the managed because they watched the kids put the money in and never said if was broken until they won. The manager was. I help at all. He had no answers but to give me a free. Taco. I said if is not free thy just laid for if in the Adam machine I try to tell my kid that fair is fair and they saw today that this is not always true. I would like a response as to why this would happen and if it is a practice to have a fame you would not honor. Thank tou

I'm a vegetarian and every time I go to Taco Bell there is always a wait. I don't know if beans and no meat is really a hold up but every time I wait. Tonight I received a chicken quesadilla instead of just cheese which I checked while still there. When I got home to eat it, it had like 3 strands of cheese in it cause they rushed to make it. I love Taco Bell but the service is ridiculous!! Thanks

Came in after work at the taco bell on hwy 78 in ga, and had to stand at the cashier for about 6-7 min. Before anyone came up to take my order. Everyone was in the kitchen playing around and being loud. Then when I got my order they messes it up. This is the second time it has happens at this location. It is a good location for me on my way home, but I will NOT be coming back here and just might not ever eat taco hell again.

On 4/5/13 I entered Taco Bell at the Bluffton Ohio location. Upon entering the store I was by an employee it would only be 1 minute. About 30 seconds go by and a car pulls up and they took their order. 2 other employees came to the counter and said just a moment and yet another car pulled in and their order was taken. There were no other customers in the store except my son and I. This is very poor customer service and was very angry and left. That's a loss of about $15 dollars I would say. Please correct this and make customer service a lot better at this location.

I am do sick of visiting the Taco Bell In Port St Lucie Fl. They never know what they have it takes them 2 minutes ro ring up a tostada and they don't know what rice they sell? Not going back time waster

On 5/4/2013, about 8:00pm my soin in law went to Taco Bell to get us dinner. My daughter and I had Taco Salads. Upon eating them, my daughter found a large bone in the salad. It is about one inch long and about 1/4 inch in diameter. She was very lucky not to crunch her teeth on it or swallow it. I don't know where you get your hamburger for these salads, but they need to be checked.
Thank You

On Saturday 5-4-13 at or around 1820 hrs I was refused service at Taco Bell for wearing a "hoodie" style sweat shirt, one I purchased at an upscale vendor, until I removed said article of clothing. There are no posted dress code signs and I was wearing a name tag from my employer with my face and full name is clear view at shoulder level.

I want to start out by saying I go to tacobell once a week. I'm not sure if I will ever go back. I ordered my food on Thursday 4/25/13. Got home, and half of it was wrong and to top it off I didn't even get my food. I tried calling. Finally the 3rd try someone answered. I told the lady about not getting my food. The proceeds to tell me she made it and it was in the bag. Calling me a liar. I don't need to call waisting her and my time for a lie.
Then told her about the other food that was wrong. She told me to bring it back. I told her I went ahead an feed my kids cuz I had been trying to call for the past 20 minutes. She had an attitude the whole time we were on the phone. There are plenty of other place to eat but I like tacobell. But I don't appreciate being treated like a liar. Please inform your employees and tell them if they keep doing that they will lose customers. Thanks

So dining at Taco Bell on Pecos, Store # 000165 in Westminster Co. we received all of our order fairly quickly about 10 min to make it out. I don't mind waiting as long as my food is made fresh. But the crunch wrap was completely soggy! It had to be sitting a very long time! So I asked nicely if I could get a new one , the cashier William B. looked at me like I was crazy, walked partially out of sight, laughed and said yeah just give her that. Then turned back to me and said just a minute. Not sure why I didn't take it as a bad sign, maybe having faith in Taco Bell was to much to ask.
Well 2 min later I revived what I can only describe as a reheated crunch wrap. I am guessing it was the same one I received before just stuck back into the grill press. If you have any common since you would know that once a taco shell is soggy no amount a reheating will un-sog it. It made me feel nauseous and with the comment that was made left me questioning if they may have done something to it. I only made it through maybe 1/3 before just throwing it away I would rather starve then eat crap, It was gross , nothing like normal. I will never eat at the Pecos Taco Bell again and will highly discourage it with everyone I know!
My Family loves Taco Bell, it the only fast food my sone will eat! Normally we do not eat here. But at the location on Washington and 84th ave. They are GREAT, if we ever have a problem which is very rare but happens, They are super nice and always go out of their way to fix it! Go to eat at the 84th one! I highly recommend them! and they are super clean, unlike this place!

I have told Taco Bell store number 2531 for several years to get the old screen menu ordering model out and replaced with the newer screen menu ordering models that reads your order. Why? I am hard of hearing, disabled and the new menu screen ordering models have proven to be effective with correct orderings and faster drive thru services.
The old screen menu ordering model messes up my orders and when arrive to drive thru window, its not what I ordered so therefore, the drive thru gets halted and its a waste of everybody's time. Simple solution: replace old talking screen menu ordering model and put in the new screen menu ordering model box! Please please someone help and make that store replace the old order box and especially since its the busiest store, downtown!

Where to begin.. We went to Taco Bell on March 31 2013, and we walked in the door at 9:30, and were immediately reminded that they were closing in 1/2 an hour and then at 5 minute intervals we were reminded they were closing and given the exact minutes. Meaning that a worker would come by our table and say " We don't want you to think we are kicking you out but we close in, ( insert the minutes).
Then on April 5, we thought we'd try again, now it was 9:40 and we were told they were closing in 20 minutes and they wouldn't let us in the door. Even though we told them we were going to get it to go, because there was like 10 of us and they definitely do not do split orders in the drive thru.
Why keep going back you ask well friday is our hockey night and by the time we get done everything else is usually closed. But I will not be back to this one ever as I now have a picture that one of the local seniors from our high school posted of him licking a whole stack of taco shells. If I could post it I would. When the students that received the photo showed it to the managers they were told there was nothing they could do. Really!? Well just know that this mom is going to spread this photo to everyone I know until something is done about it.

I received horrible service at the Taco Bell on 1416 N Harrisson street in Shawnee Oklahoma. I ordered a two dollar meal deal that came with no Doritos, my nachos bell grande was cold, and I only received a half of a serving of cheese with my nachos. Also I tried to call the store 3 times and no one answered on all three calls. I am extremely dissatisfied with my purchase.

I am very unhappy the worse food I have ever had. I am a regular the store located on Alma School and Warner in Candler Az. Tonight 2/25/13 I went to get food after work. First of all we got the wrong drinks which was no big deal the guy changed them out. I orderd two chicken bajas along with some other stuff for my roommate. I only live two streets away my food was ice cold, and was so hard I couldn't even bite into it. I tore apart the bajas to eat the insides of it and there was no baja sauce they were made with sour cream. Also, never got a reciept so couldnt even just call the store.

My wife and went to ur taco bell on tenth ave in Greeley Colorado and when we go home and opened a taco there was a baby roach on the shell of the taco this is one the most gross things I've have eve seen I really hope you and your company make thus right in one way or form thank u for ur time

During a visit to Taco Bell in Wagoner, Oklahoma my finger was cut badly on a broken chair between two pieces of metal. Not only were we not helped until we complained we had to leave quickly and didn't get the right food. We did visit with the manager who filled out some kind of paper work but was never followed up on. I have since lost my complete finger nail from the situation. Not only did we get the wrong food but not all of our food. That is beside the point, no one ever phoned or wrote to check on the situation or the cost of stitches or such. I am very disappointed, and have not visited a Taco Bell since nor has any of my family. To me this speaks volumes of costomer service and professionalism of TACO BELL.
Sincerely,
Sharon McClure

As I was eating my taco this evening, I was half way through and noticed an odd texture. I spit it out and it was a piece of sharp black plastic! If I would have swallowed that, no doubt I would have been sliced as it left my body! NOT SAFE!

Today (02/17/2013) around 4:45pm are 5pm I went to taco bell on 2972West Wheatland Rd. (972)572-7522.I catch the bus and have to catch it certain times and be in a certain rush.When I got to the cashier I pointed at the sign and answered politely I would like the six dorito taco and six crunch taco pack with a Mexican pizza and burrito supreme with no onions are tomatoes.She gave me my receipt the way I ordered it .I go to the restroom and see a guy waiting and when I come out a Hispanic family nears in but I thought of nothing.I then notice Bo exchange and when I get my meal;mysteriously my receipt is missing when I get home and my 12 pack was wrong with 6 crunchy with 6 soft tacos.
I called and asked a lady for the cross street and she didn't know but knew there and had changed up my order after I told her the wrong price to see if she cooperate and which she didn't.

The staff was ok but very slow. Two cars were in the drive thru two families of four ahead of me and my two children. It took about 10 minutes to get our food. But they only had two workers at the time. One cashier and one cook. I just think this location needs to be redone. The windows are all steamed up and are wet in the inside. The tables are all carved on and the silk plants are dirty. It diffently does not look like the other locations. All I ask is that someone takes the time to take a look at the inside if this location. also they did ran out if trays to serve the food and there were only 3 other families inside.

I swung through a Taco Bell on 1 90th St. in Gardena today. I made a mistake.
I ordered the Volcano nachos with no jalapenos the way I always do. At first the girl tried to charge me for a volcano burrito, But after several minutes of trying, she finally got my order right. Keep in mind, I only ordered one item. I got around in the drive-through window, handed her my card and paid, and she handed me the bag with the nachos. I just been straight to my office and took them out of the bag. They looked horrible. They look like somebody had thrown a bunch of stuff on the wall and scraped it off to put it in a bowl. I took a photo, and if you would like to receive a photo of my email, please let me know right away and I will gladly email it to you. Despite the appearance I decided I was hungry enough to try to eat it anyway. The chips were extremely stale and chewy. Everything in the dish was cold as ice cubes. There was water in the bottom of the container.
I am an avid blogger. If I do not hear back with some sort of apology from Taco Bell within the next several days, I do plan to tell the world and show the world what I received. Right now my reach is about 20,000 people a day.
Thank you. I await your response.

I visited Taco Bell DeRidder, LA 005254 on 1/10/2013 drive through. First, my doritos chips was missing…returned to drive through to retrieve them. Second, the chicken burrito was not prepared as ordered..returned a second time to get the right thing. I felt like I waited until all lobby orders were done until I received my Correct order. Now 30 minutes + the first order of taco's are soggy and I paid over $14.00 for my order. So much for crunchy taco's

I love Taco Bell. I actually go there quite a bit, even though the Taco Bell in Stillwater hasn't gotten my order right once in 4 years. Sometimes, I'll even drive to a different town to go to Taco Bell because the service at this location and the quality of their food is so awful. A couple of years ago I even went to the Stillwater location and ordered steak soft tacos with no lettuce. I ended up at home in Ripley, 20 miles away, with 4 steak soft tacos with only lettuce and a tortilla. No meat, no cheese, nothing but lettuce. But that's besides the point. I went last night and ordered my food. I came home with over half the order missing or wrong. Granted I should have checked it before I came home but I was being rushed so I didn't. The point is, I think I've finally given up on Stillwater Taco Bell. I've complained to the manager there before, I've tried contacting corporate headquarters and I've tried Facebook and no one ever gets back with me. I thought maybe I'd try this as a last ditch effort. If nothing else, maybe someone can give them a call.

Velvet Robinson
from Duncan, SC
5/12/2018 I went through the drive through at 655 Hwy 28 Bypass in Anderson SC. When I got home with my order I found that the 5 steak soft tacos I ordered for $12.45 were not in the bag. I tried calling the number on my receipt and no one answered the phone. I had to drive back 10 miles to get the rest of my order. I asked for fresh tacos and was told the cook was making them. However, when I got home I has cold tacos. I do not believe that fresh ones were made. My order totaled to $21.61.
I feel I should be compensated for my time, gas and the fact that I was given the tacos that were left off the order to begin with. I always go to Taco Bell but feel that if I am not compensated I will not return and I will inform all my friends of what happened to me today with poor customer service.
I look forward to hearing back from you.
The cashier that took my order was Caleb G and the order number on the receipt is 312694. The survey code: 3475-8033-1412-2216.

Paul Kiehn
from Ruckersville, VA
At a Taco Bell in Charlottesville, VA on 5/8/18 I had a poor food experience and want my money back. The food was ordered through the driveup window, which seems to be a frequent problem, as driveup customers leave the premises, or go home to eat their food, and are not likely to complain as would a dine-in customer. However, I ordered two stuffed XXL Burritos with extra sour cream. The tortilla was hard around the edges (stale?), had no rice inside, no meat, chicken was hard and barely noticeable, and the burrito was mostly refried beans. There was no extra sour cream. The other burrito was the same poor quality. It was like a very large BEAN BURRITO !!! I don't want to pay for this meal and the last time I had a poor quality meal at Taco Bell, they sent me a coupon for more Taco Bell food. I had to call the store and physically come down to receive a refund. I have the receipt for $12.27. Paul Kiehn paulease2001@yahoo.com

shannon robeson
from Blair, NE
last three or 4 times I have went to taco bell I have started ordering the bean,rice and cheese burritos. I ask for the red sauce to be put on the burritos. the burritos are a dollar a piece. I get charged 50 cent for every burrito they add sauce too that is nuts by the way that is half the amount of the burrito cost just to get sauce on it. wow! anyway everytime i have asked for this I barely get any sauce at all added to the burrito I'm lucky to even get a few drops on them. on top of that there is so much empty tortilla that is very dry and hard to choke down sometimes it would be nice if I have to pay for sauce I would at least get plenty of it on there instead of just having a lil bit at one end of the burrito I really enjoy these burritos when they are done right but it looks like I will be taking my business somewhere else if the problem can not be fixed.... thanks for your time. Shannon Robeson 100 hollostone dr blair 68008

Nancy
from Carrollton, TX
Went to the location on midway and 635 005640 on 5/4/2018 at 11:54pm and the cashier Jose M was really rude and unprofessional while taking my order I had to repeat my self many times, and he kept changing languages on me from Spanish to English and when I asked him for different kinds of sauce he only graved a handful of what ever sauce he had there and put it in the bag and close the drive thru window without me finish asking him for what I need it

Kelly Bleier
from Columbus, OH
On May 1st around the 6:30 PM hour I went thru the drive thru on Mall Road in Florence KY. My order came to $20.44.
When I had my order handed to me the taco salad lid was not closed and the Cinnabons had fallen out of their bag.When I got my order home the drink Baja Mountain Dew I ordered was all carbonation which the person fixing the drink should have known. Needless to say it was not able to be drank. The 2 chili cheees chilitos ordered was basically just the soft shell with practically no filling. When I tried calling the store several times after I got homer the phone at Taco Bell was never answered. The phone would just stop ringing like it was answered but no one on the other end.
Anytime I visit this particular there always seems to be an issue of some sort with my order. I feel most of my order from May 1st was very unsatisfactory and wasted. The workers there at that location always seem to have "don't care" attitude. I will not be going back and I will share with my family & friends the horrible experience. I would like to be compensated somehow for this last experience. I never have complained before but enough is enough of bad service.

Michael R. Coffey
from Inverness, FL
The taco bell at 616 W Main St. Inverness ,Florida 34450 has not had a dew freeze since the first of the year . From January till now I have gone to taco bell at least two times a month and ask for a dew freeze with my food order . Always told the machine is down or we have no Dew freeze . If this is so then remove it from the menu at the drive thru . If not then fix the machine . A responsible manager should have some one come in and repair the machine or remove the item from the menu . Because of this I not longer go to taco bell . Also when I did go their and order had to get out a magnifying glass to find anything other than the taco shell and a few veg. I now enjoy Burger King . There I get what I pay for each and every time .Sometimes more than I can eat . Also your other site for filing a complaint sucks .Try for 10 min. to fill out the form only to be told my home street address does not exist . Also when entering the time also told to try again . If you go to the internet and look up a map of Inverness you can see Beck Street on the map . The post office even says I live here .

Frank Edwards
from Germantown, MD
This is the second time that we have had a problem with the Taco Bell Restaurant in Muncie, IN that is at 15th and south Madison Avenue We let the problem the first go by with out complaining. This time it was very up setting. I ordered a Mexican Pizza combo with no cheese bend after waiting for 15 minutes it came out and had cheese all over it I took it back to the counter for a replacement. The worker took it towards the back laughing and talking to another worker I set there and was waiting for my order another 10 minutes while they kept filling every body else order I had to ask the worker why they were not taking care of me and they just smirked. Finally 10 minutes more and I received my order I am not Happy.
Frank Edwards

Cheryl Gibson
from Rapid City, SD
I was in your store on east north store in rapid city, sd. order my food and the second soft shell I started to eat cut my lip. I wouldn't have know , but the next one I saw blood on it. We eat there some and had never had that kind of problem, but I don't know even if they tossed out the meat. They gave me a Chicken taco salad, but I was a little freaked out as my mouth was bleeding. This isn't the first time we have had problems. The last time we stop useing that store and went across town to the other one. All I know I won't be going there any more and have told all that will listen to stop as well. It scared me as I have no idea what I had eat to get my lip all cut up. Shame as we like the food, but I sure am not going to be eating food that cut my mouth all up. It took some time to even go back there and we do and this happens. Hope you don't get anymore as this could be very serious. Thanks Cheryl Gibson 718 Halley Ave, Rapid City SD 57701 (605)391-8554!

Theresa Lee Miller
from Dayton, OH
If I could rate you a zero or minus that would be the one I picked. We went to the Taco Bell on Harshman Rd in Dayton, Ohio and it was horrible. We arrived home to eat our 4 crunchy taco supremes, pinto's and cheese and 7 layer burrito, we unwrapped a taco supreme, all lettuce barely found any meat, sour cream or cheese and NO TOMATOES! We continued to open all our items and they were all the same! Did you guys start leaving out the meat on purpose because this has happened several times. We usually have great service at this location but this last 4 or 5 times was not great. We have tried several Taco Bells and they all the same, poor quality and left out ingredients. I see your stores fading out soon if this doesn't improve.
- ZERO RATING!!!

MARITZA ACOSTA
from Orlando, FL
HORRIBLE CUSTOMER SERVICE AT THE STORE ACROSS FRO SEA WORLD , ORLANDO FL TODAY. SELLING SODAS WITHOUT ICE AND NOT TELLING CUSTOMERS , AND WHEN I WENT I CALLED THE STORE THE SO CALLED MANAGER/ BLACK GIRL WITH LONG ACRYLIC NAILS HAD A NASTY ATTITUDE SPELLNG HER NAME SEVERAL TIMES REFUSING TO LET ME TALK.

Dustin Rice
from Maumelle, AR
You guys are terrible. Waited for over 20 minutes and only moved up 2 car lengths. You should be ashamed of how terrible your service is. Fire everyone you have st the union location near the hospital because it's the worst I've ever seen. You guys fucking suck

Natalia Goussarova
from Tampa, FL
Hello,
I would like to report a huge issue at one of the Taco Bell restaurants on Saturday, March 31, 2018.
I went with my son and we made 2 orders. One for me and another one for my son. We made orders at 5:51 PM. Then we started to wait for our food. 3 people who made the orders after us already got their food. But, we still didn't get anything. Finally, after 15 minutes of waiting, my son got his food. But, I still didn't get mine. I kept waiting and waiting, and I asked them what's going on, they just ignored me.
Then, I raised my voice and asked them where's my food. They started to ask each other, but nobody knew where my order was. They couldn't find it, so they lost it.
I had to give them my receipt so they could complete my order. After half an hour of waiting, I FINALLY got my food. They didn't even apologize! This is something I've never experienced before at ANY fast food restaurant.
I was so upset, that I couldn't even eat my food. This is completely unacceptable! Our Saturday evening was ruined. I will never go to Taco Bell again, I will rather take my business to the McDonalds across the street, where I know I'll get superior customer service.
My name is Natalia G.
Taco Bell 029577
7329 W Waters Ave
Tampa, FL 33634
Thank you.

Coral Anderson
from Sevierville, TN
The Taco Bell On Wears Valley in Pigeon Forge , Tn on good Friday is supposed to be open till 1 AM At 11:25 PM six cars sat in the drive-through the car by the speaker said he had sat for for 20 minutes we sat for an additional 15 never got any service lights were on so anyway that disappeared and hour and a half early you've lost a lot of money totally pissed that with the only place to get food after a nine hour day at work and no lunch

Ruth Turk
from Oakdale, CA
This afternoon at approximately 2:20pm I placed an order through the drive thru.at the location on Pelandale in Modesto. I ordered a tostada and the Grande meal consisting of 6 tacos and 4 burritos. (3 soft and 3 hard shell tacos). I was the only person in the drive through and the parking lot was almost empty. Upon getting home I opened the tostada and was very disappointed as it had very little anything on it. I've had them quite often and normally they are packed with beans, tomatoes and lettuce etc. but this time it was a disappointment. The tacos were also almost empty of beef, and other ingredients. They normally are packed and very good. I am a senior with limited income and this food was a waste of my money. I've experienced orders over the months that have an issue or two but this entire order felt like they had "run out of food" inside the kitchen and I received the scrapings and this is why I'm sending this complaint. You can reach me at 209 545-5301 (leave a message if I'm not there) or contact me using my email address which is above Thank you

Tom Muckel
from Kalamazoo, MI
I waited 25 minutes for my order eating in. I got 95 cents in change in nickles as no one would get change. The place was filthy. the kitchen area floor was covered with food, bags. etc. No one was cleaning tables, in fact two customers cleaned off tables so people could sit down. I ordered chips and cheese with my tacos and I had maybe 5 chips I could dip in the cheese. There was no napkins, even when told there was no napkins. It will be along time before I go into this taco bell again. People were leaving with out there food and some where asking for there money back.
Thank You.

GUADALUPE BELK
from San Diego, CA
I WENT THIS MORNING AROUND 7:05AM AND DROVE THRU DRIVE THRU, NO ANSWER FOR ABOUT 3 MINUTES. I FINALLY DROVE TO THE GLASS WINDOW AND A GENTLEMEN WAS APPARENTLY ON THE CASH REGISTER TAKING CARE OF A CUSTOMER. AFTER 10 MINUTES HE FINALLY CAME TO WINDOW AND TOLD ME THAT THEY DID NOT HAVE ANY EGGS ONLY POTATOES. WOW! YOU'D THINK THAT THEY WOULD KNOW THIS A DAY BEFORE KNOWING THAT THEY GET ALOT OF BUSINESS IN THE MORNING!!

Lynda Colson
from St Louis, MO
On 1-20-18 We ordered 2 bean burritos, chicken mini wrap and a doritos nacho supreme. The burritos were so small that the 2 of them might would make the size of what is usually served. The wrap was small and very thin but what was there was tasty. Doritos taco was good too. We ordered through the drive thru and my husband said is it all in there because the bag felt too light for what we ordered but I checked and all was in there just very small portions. We will not go to this location again for it's not worth the money spent for such little portions.
This is the 2nd time contacting you about this problem. I called also and I was told that I was going to receive some coupons in the mail but today is 2-15-18 and I didn't receive anything yet.
Lynda Colson 29 Pike trail Arnold,Mo. 63010
emerald_gryphon2@yahoo.com

lee wold
from Salt Lake City, UT
Taco Bell 2212 S 1300 E Salt Lake City - I had a very large order and was placing it at the drive-up window when the taco bell employee told me to hurray up because there was a time limit at the drive up window. There was no one in line behind me - I canceled my order and left. When I called to speak with a manager he could have cared less. I went to a 2nd Taco Bell 621 E 400 S Salt Lake City - told the drive up window employee that I had a large order and was told they could only take 2 orders at the drive-up. I let him know that my order was very large, but just one order. I was charged for guacamole and sour cream for the Mexican Pizza, but, they did not bother to give it to me (you just made money for nothing) I also had to remind them to give me the drinks I ordered and paid for. I have not patronized Taco Bell for a very long time, and it will be an extremely long time before I patronize them again. Evidently you do not need customers or business. I will be sharing my terrible experience and service with many, many, many people.

cecelia akers
from Aurora, CO
ssaturday 01/27/18 to store on hampden and tower red ,aur colo the mgr is mary travis i asked the super is the WORST ever of any around us and this is ALWAYS. I had sit in line for 1.2 hr to get my order becausem3 cars head had trouble with their order and they just sit instead of moving them to the front. These orders were big and took a long time after the 1st they too 10mins to fill the two infront of me why with all that hold time can't they have orders reDY WHEN I GOT TO THE WINDOW MY OrDER WAS NOT COMPLETE SO I HAD TO WAIT I looked in the window there were only 2 people in the whole restaurant then I loud hear nothing but laughing going on and the young man at the window was annoyed so he shut the window so i dn't keep hearing it when i asked for the mgr name he dn't know so had to go to the office where i am sure the mgr was sitting or laughing not watching that there were 8 cars behind me and i have already sat 1/2 hr i dn't want to do this but this is very common here and most time the orders are wrong please take care of this it is a busy store for many years and needs a real mgr to supervise these kids facebook would have a hay day over this by the way i usually spend 12 to 20 dollars each time

Hey Davis
from Maysville, KY
On the night of January 27th me and my wife went to the Taco Bell in Maysville,KY and spent about $20. The food was ok despite the fact I had to take my nacho fries ( the main reason I went there to begin with) back because they where cold! The person working the front register and cleaning the dining room was walking around in the dining room complaining about the store and how bad it sucks the whole time we were inside, not very quietly either. Also, before we left we ended up being insulted, yelled at, and told to pretty much leave by that same person! In short I have never had a more horrific experience at a restaurant in my entire life! If we ever decide to return and are greeted by that same employee we will most certainly be leaving!! If anyone would like to speak to me about this my name is Jerry Davis and my telephone number is (606) 584-0957.

Emiley
from Belleville, MI
THE CUSTOMER SERVCE AT THIS LOCATION IS HORRIBLE. Ordered the new fries which had about 5 fries and I asked for the manager and her response is well there are complaints across the US and that's what we have to do..so if you don't want them give me them back and I will give you a dollar. How is this girl a manager!?!? Also while sitting inside I see two different oeople leave and go back in because they messed up theirs order. Something has changed at this Taco Bell and it is ruining the place. I can't even tell you how many times I get take out and get home to have food I ordered and paid for missing!! SOMEONE REPLACE THIS MANAGEMENT AT THIS SPRINGBORO LOCATION ALREADY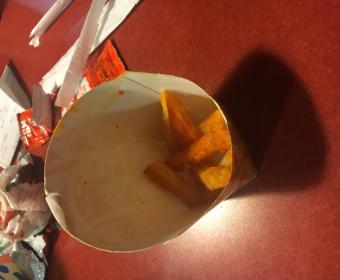 Caroline
from Lewisville, NC
My frito burrito has no Fritos. We are not driving all the way back up there.

R Sesters
from Woodway, TX
i just left your taco bell 030166 ordered a chicken quesadilla to go. it was burned so i gave it back to the counter person. was told they would make me another. what i got home with was two slices from the one i handed in & two slices of a new one. that is not right. you will lose me as a customer. the order number is 142954 also said my number is 154

Micheal House
from Newark, NJ
My order was wrong and the people in charge didn't care or fix it I was only white person there and had to wait till they served all black customers first and it is not the first time will not ever come back

Elaine Gallegos
from Houston, TX
Went in to get food for me amd my family and I order k10 7.99 with 3 piece chicken with 2 sides and a biscuit and a drink. When i order I always check my food because it is always wrong or missing something. I open the box of chicken and found 3- 2inch size of chicke legs 2 sides mash potatoes and mac and cheese no biscuit. Asked the girl that took my order it soupose to be a thigh and she said no look at the picture i said excuse me you look. She went to talk to the manager and Edwardo didnt say nothing to me so I said I want my Money and toss the money at me and grab the food and left not saying nothing. Very ruxr customer service.

Joelle M Spencer
from Albany, OR
I went through the Taco Bell drive-thru near my home tonight, and for the 5th time in the last 18 months, they got my order wrong. I gave everyone else their food, but I took mine and went back to the location to get the item they left out of my bag. When I arrived I explained the problem, and noted that now my food would be cold because of their error. The supervisor offered an order of cinnamon twists or a drink as an apology. I accepted. When the employee brought the food, they did not replace my cold food. I insisted it be replaced. When I finally got home with the food, I gave my daughter her food and the "twists", then went to eat my food. My daughter handed me back the bag of "twists", because it was not twists, it was tacitos and cheese sauce. My daughter is a vegetarian. There is no way I would have accepted an offer of tacitos. I understand that being the branch located next to the freeway makes it a busy location, but this is ridiculous! I've even been told by others who used to work there, that there is a "game" the staff is known to play where they intentionally screw-up the drive-thru orders, expecting that often the customers will be long gone before the "mistake" is discovered, therefore they won't bother to come back to get it fixed. I didn't use to believe this claim, but as this has happened so many times to me alone, I can't help but believe it! This is FAR from acceptable! Taco Bell used to be my favorite. Not anymore! Plus, now I can't even give you a transaction number, as the supervisor took my receipt and never returned it to me.

Lynn Miller
from Chicago, IL
While enjoying a meal before going to work, employees at the Plainfield Taco Bell were having a loud, heated argument in the back, behind the counter. Customers and other employees were watching the incident very uncomfortably. Some customers left without placing their order. It was very unprofessional.

fredrick russell
from Jackson, MS
a few weeks ago I visited the taco bell #032307 I orderd the $5 meal and specified no whip cream on the gordia crunch.i opened it and it had some white cream on it.the cashier adreaun k took it to the acting manager who responded in a very harsh and rude way that it wasn't sour cream.i politely stated that Id prefer no cream of any type no ranch etc.she rolled hers eyes and mumbled something under her breath.i didn't say anything I just got my food and ate.if these workers don't like what they do then waste management is hiring

becky scoggin
from Cave City, AR
I went thru drive thru taco bell in Newport,arkansas hwy 67 on 301 I place a order I wanted 4 burritos I drove up to window this chubby black lady was very rude towards me I gave her the money she handed or should I say shoved at me I look in bag only 2 burritos she slam the window shut and I trying get her to open window well she did and I said I order 4 burritos she said screen shows 2 and slam window again I still sit there she opens window and goes screem whats ur problem and I said can I please get 2 more burritos please she screem loud at me u order 2 u got 2 that's all u can get real loud and rude I had no choice to pull away cause cars was behind me I couldn't go in cause I have breast cancer stage 4 very sick it made me scared to go back to any taco bell if that's how I was gonna get treated I'm 57 year old woman dying with cancer that was just uncalled for made me start shaking to where I couldn't even drive . I call a lawyer he said if the complaint department couldn't do something he would . that was just down right wrong . I eat taco bell for years . I thought I was gonna have go to hospital over this matter. thank you for your time hope this wont happen to another person they have a heartattach thank you again.
10-25-2017 2;15 pm

James M Elmer
from Indianapolis, IN
Bad attitude from managers every time we go there they messed up our order rude and disrespectful when asked to fix the order and half the time the food is cold when we eat it there u can call me at 317 419 4634 this at the Taco Bell on West Washington Street & Lynhurst in Indianapolis Indiana 46241 i am to the point i am going to stop eating there all together and tell my friends and family not to eat there anymore.

Went in to the taco bell location at Perkins Rd and Essen Ln during shift change. I ordered the crispy chicken quesadilla 5 dollar box. I waited 17 minutes for my meal while they made meals for all of the people that were getting off of their shift and ordered at least 4 minutes after I had, they all (5) got their meals before I did. I asked the manager about my meal and he told me that they were making it now 17 minutes later? WTF? I ask for a corporate number and was told they don't have one. Will never go here again! People that I know that usdd to go here feel the same way. Quality and customer service is non existent here.

raymond sallee
from Wilmington, OH
this makes 3 times in the last month I have gone to taco bell in Wilmington, ohio, 45177 to get something to eat and the first time we got there at 10:30 a.m. and were met outside by an employee who said no manager had shown up and they were still closed and couldn't get in. the second time we went had to wait for over ten minutes just to get waited on as the first guy couldn't figure out how to work the register so he walked off and we stood there until a girl walked up and asked if we had been waited on and we said no and she said well someone would be there in a minute and walked off. third time placed my order and while waiting told guy at the register that pop was all over the floor and he said yeah he knew and did nothing. people behind me placed a big order and received their order and another person placed an order and they all received their orders and I asked if they had forgotten my order and the guy said no but I still had no order so then the manager came up and checked the screen and said here is his order you forgot his order but she had the order wrong too. so I told them to give me my money back and I would NOT be back. you need a new manager and some employees who actually care about their work.

chris huepenbecker
from Columbia, SC
My family and myself frequent this location maybe once a week (not any longer) so on our visit there on 10/06/2017 we went inside and order our food when it was ready we got it and went home which is in Gaston. Well once home we found out our order was completely wrong so my wife immediately calls the store and talks to a manager that manager apologizes and offers to remake our order however I'm all the way in Gaston and I'm not making another trip to red bank so the manager states that she will put my wife's name down so next time she came in that the store would make the order correct.
So my wife and kids went to the taco bell in red bank on 10/19/2017 as they were running some other errands in the area to get our corrected order that was promised to us. Unfortunately it could not have been the same manager as my wife spoke to on 10/06/2017 because the managers first reaction was like she is lying and then tells my wife that she does not see her name so my wife told her to call the other manager which this manager say she is going to and comes back to the front of the store and said yes I spoke to her do you want your order my wife replies yes. So my wife and kids now have been waiting almost 1hr my daughter goes up to the counter and ask how much longer they tell her 10 mins. Still waiting over that 10 mins so my wife ask how much longer for my order the manager then states oh I got him making them now. The lady already lied to my daughter talking about 10 mins so my wife says something about contacting the corporate office on the staff to the manager which her name is latoya I would like actions taken against her and the staff on the evening of 10/19/2017 approximately 6:00 - 730pm
then they called the local sheriff's department because they wanted my family to leave never had an experience like this before an we were regular costumers but not any longer.

The food was great but the cleanliness was bad. We sat in three different sticky covered chairs. The table you couldn't touch it was so dirty. I started looking around and the entire place needs cleaned. Top to bottom. They need to soap the rags and clean and rinse the furniture better. My code on the receipt is 8630-3127-1084-3012 It was in Hamilton, OH
When you eat out you shouldn't have to worry about going home and washing your clothes.

gina galvan
from Stockton, CA
On Thursday Oct 12.2017 i was heading out of town i was to far to go back. i ordered 3 mexican pizza combos they were soggy some didn't have very much in was not happy 2 burrito supremes 1 had no sour cream.i ordered the varietytaco pack half nacho cheese doritos locos tacos they was all origanal crunchy tacos. i had to except the order counldnt go back i love Taco Bell but was not happy sorry to complain but it needs to get things in order

Christina
from Norfolk, VA
I bought a chicken burrito and ate about half. As I was swallowing, I thought I was swallowing a hard piece of chicken. I then could not breath. I ran to my GM at work and she gave my the Heimlich. I spat out a piece of plastic bag that was beginning t opening up i my throat. I then vomited. I am now waiting for corporate to call me back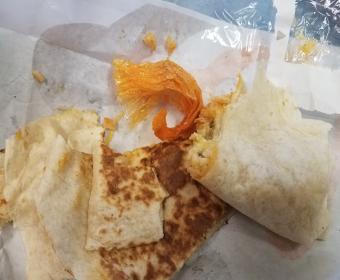 Naomi Valentin
from Boston, MA
Hello my family and I went to our local taco bell we love your food! Our order wasn't complete I ordered the Doito cheese tacos,two double decker supreme with two mtn baha freeze drinks and was missing a drink along with a meal. The worker had an attitude and want very helpful the wait was long so my husband decided we should leave because it didn't seem like our order was gonna be completed. Very disappointing especially since I've gone to taco bell a lot during my pregnancy.

Remonia Brashear
from Rapid City, SD
I'm from Louisiana staying in kingfisher Oklahoma and the people here doesn't know how to make the right right stuff to put into a toco supreme plus we got food poison off the stuff we ate
The people that work in there are rude and really don't care I will be calling the health department on the one here

Rae Richey
from Aurora, CO
WHY no sacks or bags to carry your purchase home in. I purchased a Taco Salad which was put in box, also some other Tacos and Burritos THESE WERE IN A SMALL PAPER BAG, I wanted a sack, bag, or something large enough to carry all of it home in - the manager told me they had NOTHING. You used to have at least a plastic bag for me. NOT THIS TIME. Even a larger paper bag would have accommodated my purchases. THIS IS A BIG DEAL.
WHAT IF I HAD PURCHASED TWO TACO SALADS, Tacos ad Burritos - NO WAY could I have handled it all, including sodas. You need to provide a sack of some kind so that people can easily have take out orders, without having to juggle two or three items. I GUESS I WILL have to cease ordering your taco salads, or even quit buying your gift cards. I NEED A LARGER BAG FOR ALL MY PURCHASES - OR ELSE I WILL BE FORCED TO NO LONGER BUY YOUR TACOS - WHICH I DEARLY LOVE - BUT THERE IF LIFE AFTER TACO BELL!
I would appreciate a quick reply oh, b- just purchased another one of your gift cards, but this will be the last $25.00 I spend. GUESS I WILL HAVE TO START TAKING IN MY OWN BAG - TO FINISH OUT THIS GIFT CARD.

Geni Friend
from Taft, CA
On September 17,2017, my husband and I ordered 1 Crunchwap Supreme and 1Beef XXL GSB, cashier Lourdes and order number 350928. When I opened my crunchwrap, there was very, very little meat. My husband took it back and there were four girls there and the manager. The one girl, with a star tattoo behind her ear kept arguing. A second crunchwrap was then given to my husband and he brought it home. Same thing. I decided to go down there to see what was going on. As I entered Taco Bell, three employees and the manager were there. I said what's going on here, I ordered a crunchwrap supreme and there is very little meat. The girl with the tattoo started arguing right away. I asked for the manager and she was one of the females standing there. I let the girls know I was going to video the conversation and the shortest one started walking an yelling, You can't record us, this is illegal and I'm going to call the cops. I said go ahead and call the cops. Needless to say, she did not call the cops. I then asked this person, if I could speak to the person in charge of this Taco Bell. With a smirk this short female said, it's his day off so you can't talk to him.
I proceeded to talk to the manager and let her know that she was the manager and could not let these girls tell her what to do. I told her, my husband is an Associate Warden at a prison and I am a teacher and there is no need for this. The manager kept apologizing for the girls and said she would make me another wrap. There was no need for this escalation with a customer. Very poor employees. 661-619-2171

Martha Halterman
from Biloxi, MS
Taco Bell 028578
I live very close to this Taco Bell and have numerous problems, this is just the latest. Ordered a 12 pack Cinnabon left and when we opened the bag we had 11 and they were hard and cold. They are suppose to open at 7:00 and on many occasions do not open until 7:15 or later. One week ago we ordered 12 pack Cinnabons and were told there wasn't any cooked and they were not cooking any just for us. Service there is pretty poor sometimes, they can be rude.
I love Taco Bell and I hate the fact that I can not eat there.
Please help to make this Taco Bell and better place that people want to go to.
Martha Halterman

joe blow
from Westminster, CO
one of the RGM's by the name of faith hunter is a very rude and disrespectful to a lot of the workers there at the taco bell on 104th in melody. we as workers don't know how to deal or approach her without having more problems from her. she had promoted an employee by the name of Stephanie to be an assistant manager to an RGM as well but has not even attempted to train her for the position and is very rude to her while at work. we as workers was told we could have a free drink cause were all working so one of the older lady's that we work with gave 3 girls one water cup each and faith hunter turned to that older lady and said that if she wanted to keep her job, that she had better not do it again. the older lady that we work with has a hard time walking fast so since how she wasn't walking fast enough for faith, faith grabs her by the apron and pulls her out of the way. we were told that we weren't allowed to work at the same store with our best friends, family members, or have any type of relation that we cant work with them well she has brought one female from florida and they work the same hours together and is bringing another friend or family member from there to , to work together as well. she has also been taking dry goods from the store when she leaves to go home, that's theft. so why do all the team members getting in trouble by her for little things when faith has been doing the most can somebody explain that one to me?

Diana Roca
from Odenton, MD
I recently was in a rush, went to establishment in Woodbridge, VA through drive through. No one in line in front or behind. Asked for assistance with menu needing on salads the one with least calories and carbs. I was told I would have to go in and look at the menu because she didn't know. Called manager and was told staff doesn't know menu and that information is for guest dinning in only. How sad. I left and went to Taco Bell and even though they had a line gave me information and suggested ways to lower carbs for healthy meal and offered me free water.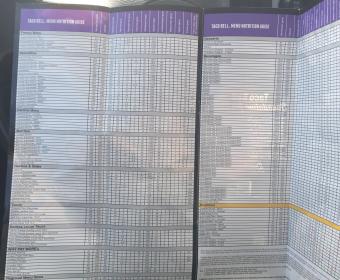 Jeffrey Stevens
from Charleston, WV

sharon james
from Fort Smith, AR
Went to taco bell springfield, TN at 10:43p on 7-23-2016 waited in line until 10:56 before even getting to the order area and then was told it would be 20 min. before I could order they were out of everything, I left and went back 1 hour later was in line again for 10min. before getting to the order area and was told they were closed. I commented that I thought you were open till 2am on weekends and the gentleman replied no we started closing at 12 midnight as of tonight. So when I got back to work I looked it up on the website and it says they are still open till 2am.
If your employees can't keep up with making and preparing your product or they run out something then maybe they need to be replaced with someone who can keep up or be given extra workers on the weekends when its busier and order extra stuff/and prepare extra so they don't run out. In the 2 times I was there on this night I watched them turn away 17 cars which is business you lose.

Susie Thompson
from Louisville, KY
I walked in before 6:30 pm on Tuesday night June 28,2916. I had my daughter in law and three cranky kids that were very hungry after spending the day at a daycare. When we started giving the order the clerk asked another lady how long it will be. The lady said about fifteen minutes! For a fast food restaurant? Get real! Well, they lost the five of us plus a single guy. We left and we t to the hikes point restaurant. In and out no problem. Also a lot cleaner than the Jefferson town store. Someone needs to get production up and running or get a new manager.

Susan Wofford
from Dallas, TX
The Lake Highlands area of NE Dallas is an upscale area. I would expect even fast food restaurants to have some of their best employees working there. The majority speak little to no English. Those who do speak English are insolent or disinterested at best. We check every order because there is a 90% chance something is wrong. When the food is returned, the employee stands and stares as if to say " what do you want me to do about it" Tonight we ordered a multitude of items. I'm going to try and attach a pic of my tostada.
It looks like someone vomited on it. I'm assuming hot liquid cheese, but who can say for sure...all of my friends refuse to eat at TB, citing the low grade ingredients. I've always liked Taco Bell, but I have to say, I think now I'm done. So tired of the crappy service, messed up orders. PLEASE send someone undercover to the store on Walnut Hill Lane DallasTX 75238.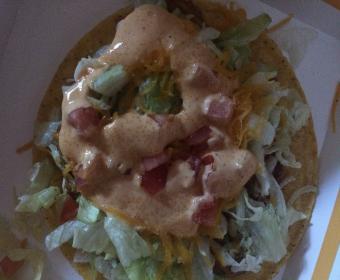 Lori Johnson
from Washington, MO
The quality of the food has gone down in the past few months at our location. The kids working inside are more Interested in playing with each other. The shredded chicken mini quesa no longer has sauce unless you ask and then are charged .40 each. The chicken is in there and a half teaspoon of sauce on one end. This has happened more than a few times. Look at the crusty bean burrito. Tired of it. Washington Missouri location.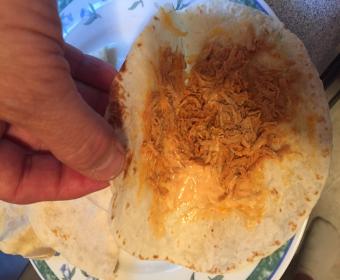 Have feedback for Taco Bell?
Thanks for your feedback!
Sorry. Please try again later!