Taco Bell
Taco Bell Complaints Continued... (Page 5)
620+ reviews added so far. Upset? Call Taco Bell corporate: 1-800-TACO BELL

Everytime i go to taco bell they always ask me what kind of sauce i would like and by the time i get to the window and drive off i come home and there is no sauce it really upsets me because I love hotsauce i cant eat any of their food without hotsauce. They always give me the wrong thing i order something and when i get home its the wrong thing and i dont eat it i would rather not return to taco bell i love their food when they do it right of course im just really dissapointed

The spicy chicken burrito was the best food offered by any fast food restaurant! I got one almost every day and was heartbroken when it was discontinued. Now I prefer McDonalds or del taco when that was NEVER THE CASE! The fact that I could get spicy chicken in more than just a burrito was amazing! Your chicken was the best I've ever tasted and I have seen many questions online asking how to make it. Nothing compares please bring it back please! Del tacos spicy chicken is a major joke and I'd rather eat my toe nails!

Around 7 pm Saturday October 27, 2012 I entered the Taco Bell drive through in La Porte TX. I pulled up to the speaker and asked the operator to please hold as I was on the phone with my wife. After my wife finished telling me what she wanted I proceeded to relay the message to the intercom operator, after repeating my order twice and getting no response I said hello. The operator said are you talking to me, I said yes sir, he said how am I supposed to know, you been talking on your phone. He said this in a very rude tone. I asked him why are you being rude. He said I'm not, I'm just saying how am I supposed to know who the hell you are talking to when your on the phone. I then decided I no longer wanted to eat from a establishment that treats there customers in such manor and pulled around the get the name of the person I was talking to. When I pulled up to the window and asked his name he mumbled something and picked up his phone. I asked him again and mumbled something again. I told him it was ok, I would contact his manager, as I was driving off he called me a fucking pussy. I drove off and I looked up the phone number to this location and called, a young lady answered the phone and I asked to speak to the manager, she said I was speaking to the manager. I told her what had happened and she said not to worry she was already wrighting the person I was speaking to up. I than started asking her name and the name of the employee I was making the complaint about. She became very hesitant and did not give me any names. She then stated she was not the actual manager, but an assistant manager. I told he not to worry about it, I would come in and find out everyone's name. I went back to the Taco Bell and the first person I came to was the same person I spoke to on the phone. A girl who had just started that day according to her. Not a manager at all, so I asked her who the real manager was and she said she did not know, so I asked someone who was sitting down eating, she also said she did not know. So I asked the guy who I had the problem with from the first place what his name was since he was not wearing a name tag. He finally came over to me and said he was infact the manager. I coul not believe it, this is the kind of person treating people like this and he is the manager of the store. I said look I am not trying to argue with you any more, just give me your name and I will call it into corprate office. He told me its on the wall, he don't give a shit who I call, he said I have witnesses and I got you on camera. I just wrote his name down and left the store. I drove across the street to the KFC to order food from there and as I was sitting in the drive through line I seen someone comming across the street from the Taco Bell, the young girl who was posing as the manager walked up to the back of my truck and started reading off my license plate over the phone. I asked her why was she following me and calling out my license plate. She said noting and walked off. This was the worst, most disrespectful experience I have ever had with a fast food resturant. This guy having talked to me like he did, then have people lie for him is not the example a manger should be showing employees. Especially one that was luring for him who was on her first day. UNACCEPTABLE !!! The managers name after I took it from the wall is chrisoval alverado, he was a male. Please call me at 832-764-6659 if any additional info is needed

I received an incomplete order from Taco Bell. I specifically ask the staff if the entire order was in the bag as it seemed lite. I was assured it was complete. When I got home and checked the order it was missing items and items in the order were missing ingredients. Upon returning ti the taco bell store #019978 the "Manager" was completely unprofessional and had no concept of customer service. I was told if I wanted to give her my name and number the owner might want to send me something. When I asked why I was told my order was complete, the response was "Oh, we're training that guy at the window today."

I go to this Taco Bell quite frequently. Almost every time I go my order is messed up. Today my husband and our 2 children went to the drive thru and ordered 2 xxl nachos, one with steak and 1 with beef. We checked our food as we pulled away and there was no tomatoes and like a dime size amount of guacamole on both our nacho orders. We paid 5.99 a piece for these. When we turned around to get it fixed the drive thru was so slow we just gave up and came home. It's ridiculous with the gas prices being so high and the economy like it is that a restaurant can mess up orders like that. They should be wanting more business and more frequent customers.

Went to Taco Bell on Sat. Aug. 17th approx. time 1:00. Address 102 Franks Drive, Madison, Indiana. I ordered a taco salad w/ no rice. I was at work. Approx. 3:30 started pucking. Then came home and had the runs till my body was empty. For breakfast all I had was a protein drink. Had to be tace bell that made me sick. Missed Riverfest in downtown Madison Saturday night and paid 20.00 each for tickets for hubby and me. Ok call the store today Sunday at 2:00. phone #812-273-2355. I talked to Mary the manager on duty. She told me she has some medical something and no way could I get food poisoning that quick. BULL!!! Had this twice before and happens the same way everytime. This is why I am filling a complaint. She was terrible and very unconcerned. I know I had food poisoning/ had it before and for her to tell me she knows more than me and too bad. Not a very good response. Look forward to hearing from you soon.
Thank you,
Karen Brown
Work #812-273-5411 Cell #317-501-6037

When I arrived at 7:30 PM at this location there was a line of cars in the drive thru and several people inside. I went inside and got in line. 25 minutes no one took any order from anyone inside, yet the take out window was moving and we could see staff in the kitchen.6 people left and I moved to the second in line. Oh, did I mention those 6 who left never place an order because no one was taking orders. Then shortly before 8:00 PM a staff person came in from outside with a soft drink in hand did something on the register and left. Saying someone one should be there shortly. Less than a minute later he returned and started taking orders.
Apparently he had to take his jacket off and get rid of his drink! 4 more staff came in over the next 20 minutes and more customers came in, again during this time no one was taking orders again. The fellow who help me went to the kitchen. I have no idea where the four who just entered went? The take out window was still moving cars.
Then a lady came out and announce to all customers. "I will take your orders but I will also be honest and tell you all it will be 15-30 minutes for us to get to your orders!" What the hell? All the customers had left. No word was given on my order! The take out line was moving and still be processed. I heard the server tell a new counter customer we need to help the take out windows first! Again what the hell!Still more customers came in and then were told and left making no orders. I like the lady in from of me were stuck as we had paid and are still waiting.
Finally at 8:43 P.M. yes, 8:43 PM..... I got my order. I all but ran from the building not checking the order just ran. After I arrived home my partner opened on bag...pulled out 4 Tacos, I ordered 4 Dort Locos Supr. We opened the second bag, and It had 2 bean burritos.

Wanted to try xxl steak nachos. Don't eat gaucamole so asked for another scoop of sour cream. They told me they would have to charge me. That green stuff costs more than that reduced fat sour cream. The substitution should have been free. I won't be going back. Same location to run out of chicken and beef. How does that happen.

I pulled up to the drive thru at 10:30 on a monday night and was greeted with "Hey, Taco Bell, what you wont" (sic). I ordered a beef burrito with meat and cheese only. the girl told me " that be a combo burrito but it has beans with it" i told her no i just want meat and cheese. "she said "oh so you want us to make it special for you" i said i dont care what you have to do to make it but i only want meat and cheese, ' she said " fine that be $(whatever the amount was)" i said no im not done yet "she said "well hurry up" i laughed it off to my friend and said ok i also want 2 doritos tacos with no lettuce and no sour cream. "she said huh sour cream?", ok that be $7.19. i said NO i do not want sour cream. she said " i said $7.19. and again i said " i said i do not want sour cream" she said " i FUCKING heard you, SHIT". so i pull around to the window, and i had not driven 35 minutes i would have right then canceled my order and left. anyway she walks up to the window and bob her head and just stares at me for about 15 seconds. i just stared back an no words at all were exchanged. so i finally handed her my debit card and she snatched it from my hand and said "BITCH" then swiped it and literally threw it back into my window and it landed on my lap. i immediately asked to speak with her manager and she said "whatever bitch" then she yelled "charles! somebody wanna tell you something" i heard a voice in the kitchen and she replied " i AINT DO FUCKING SHIT" . Charles ran to the window and shut it and moved her away and then approached me to ask what was going on. I told him the entire dialogue that was shared and he was so embarrassed and extremely apologetic. he gave me my money back and continually apologized the the young woman who obviously doesn't speak for taco bell. i just could not believe that it happened. especially at a store in collierville. but the main reason for this email is because i finally went back this week to the same store and Juwanna was at the counter and i walked up and she looked at me and then immediately looked straight down at the computer . never said one word until finally after about 20 seconds she said "is you gonna order or is you just gonna stand there looking stupid all day" .. the store was busy as it was lunch time but seriously no matter the situation you can not talk to a customer that way. i ordered 4 doritos tacos with meat and cheese and tomatoes only. she said " well why cant you just order a supreme.' i said because i do not want sour cream. "well a supreme comes with meat cheese lettuce tomatoes and ...... um....." i said SOUR CREAM. i DO NOT WANT LETTUCE OR SOUR CREAM. she then said "well it takes a while to custom make one at lunch" im not stupid, you do not prep tacos for later sale. well my food came out and what did i get?? i got 2 not four 2 doritos tacos with only lettuce and sour cream. when i returned them i was told by another employee that "that how she rang em in so next time order em how you want em the first time.
NEVER AGAIN WILL I GO BACK TO TACO BELL IN COLLIERVILLE. IM ALSO POSTING MY EXPERIENCE ON FACEBOOK AND TWITTER TO MY 1400 FRIENDS WHO LIVE, WORK, AND EAT IN COLLIERVILLE TN TO NEVER GO TO THAT LOCATION.
i cannot believe someone with that sort of work ethic can have a job....

On 10-30-2012 at approximatley 9:30 p.m. I visited the Taco Bell on 33rd st. In Edmond Oklahoma. Behind the counter where the food is prepared there was large amounts of taco's and miscellaneos food scattered everywhere. This was not just a few items but several dollars worth of food on the floor and the employee's were stepping over and around this mess. I left approximately 30 minutes later and the mess was still there. If I hadn't already ordered and payed I would have walked out. One thing I did do was take a picture of the disgusting mess and can email it if needed. I don't make it a habit to report matters like this but if I was a owner, I would be very upset to see this.
Thanks for your time,
Brent

, i ordered my food and i paid,when i was given my change he told me,''can u please pull up''.so i did..(on my receipt it has the time of 6:25) so i pulled up and parked waiting for my order, another suv pulled in back of me 3 minutes after.. 6 minutes passed and the maneger came outside and was helpfull to her,her food was tucken to her al the way to her car in the parking lot,he walked by me two times and didnt give me information about my order,so when the time was 6:43 i entered the store and asked the cashier in the drive thru that told me topull forward that he never told me to pull forward and that i was a lier,so i told him that i eanted my money back and i gave him my receipt and he snachet it from my hand with a attitude so i gave him back 63 cents,thats the same amount he gave me ,so the drive thru cashier told th manager to give me back my money so he did but the manager gave me back my money but never made eye contact with me to give me back my money like if he was ignoring me ,i didnt even grabe my money when he was already attending another person,....! taco bell supports racism,taco bell has racist workers,taco bell has un profesional workers,taco bell why do u sopport this??? i was treated like shit,the customer should be treated way better not like animals,i will never buy from ur franchise ever in my life and i will post what happend to me on facebook,i have around 600 friends so i hope they do the ame as i....! i think i am not going to hear from anyone but ur food is the best,but ur employes have given me a reason to not support u guys everagain, peter juarez...thishappened november the 4th,2012...at 6:43 pm,its located in los angeles ,ca..its on crenshaw blvd and i think its one block of adams blvd...90017 0r 90018...! what happend is on cameras i mean if they work...!

My Son order a Chicken Burrito , what was suppose to be a boneless chicken burrito but WAS NOT !!! It Hurt His Throat Pretty Bad , He even Cried & He's 16 yrs. old . I Called Taco Bell in Middlesboro , Ky & they told me they would need me to bring it in So they could Freeze it & Return it to the Company that sold it to them & that it was a Liability . I Need To Know What Can Be Done About This , Had He been Smaller or Had a Smaller Child ate this They could Had done some Real Damage , Or even DIED !!! This Was Bought at the Middlesboro , Ky Taco Bell at 8:47 pm on Feb. 23 ,2013

Hi my name is Aidaelys Hernandez. My complaint is for the Taco Bell thats located on W Johnson St. in Fond du Lac WI. I order food thru drive thru and once I finally got home and settle down to eat. I got half way near my burrito and there was a hair in it. It wasnt just on the top. It was in super deep when I removed it beans cme out with it. I have never had any issues like this ever from Taco Bell. I love eating there and would hate to stop. I called the store tk speak with a manager to be able to complain about tgis and the employee that answered the phone her name is Melissa. I told her at the start of my conversation that I would like to speak with a Manager and she told me that there two managers on duty. She began to ask questions about my complaint. I told her the issue I had and she began to just offer a coupon and I told her that I want this issue to be address to the employees. She was really rude. She didnt have sympathy to whaty concern was. She seemed that she didnt want to get a manager for me. Then she said she was a manager. So if she was manager why she didnt address that in the start of the conversation. I am noy looking for coupons nor free food. I just wanted to make sure they new that they needed to keep an eye out on there employees because finding a hair in the food is very disgusting. Also my biggest complaint is how the suppose mamager Melissa talked to me over the phone. With attitude and every time I said somethinf or asked a question she wouldnt say nothing. Before she transfer me to amother manager she said well I would get you another manager but he.is also going to say the same thing a coupon is all I can do. This is no way to speak with your customers. I have been in retail bussiness for 10 years and I will never speak to any of my customers that way. If she is a manager I wpuld really double think that.

The wait was long, my food was made a totally complete different way from what I ordered.... Then when I went to confront about my crappy ordered, the cashier were rude, very rude!! I felt like that was $22.47 gone down the drain.

My family went to Taco Bell store #023160 in Bowling Green Kentucky Saturday, October 20, 2012. First thing was it took them 3 times to get my order correct. Then one of the employees was eating nachos at the counter. We had our order to go, then on the way home (we live an hour south of Bowling Green and usually eat at the Taco Bell in Glasgow), they still didnt get our order right , as there was lettuce on my daughters tacos after we specifically told them no lettuce. Then part of the order wasnt even there. And the burritos tortillas were hard all around the edges. We usually eat Taco Bell at least once a week if not more. This is the worst service and food I have ever had at Taco Bell.

Every time I go to Taco Bell I get a cheese quesadilla and ask for extra cheese and jalapeño sauce. When I get my food the cheese quesadilla may have a sprinkle of cheese on it and the rest is bread. This aggregates me when I am paying for extra cheese and jalapeño sauce. I get less, if that's what I wanted I would just go buy a tortilla from the store and eat it!

On the way home last night I was going to stop by tacobell and grab me a bite to eat. I am a manager where I work myself so I had just goten off work after a long day at 11:15pm.. I got to tacobell off of hudson BLVD on the way home at 11:20 to find out that they were closed already!! There hours at that location are 12:00pm! So wow we had rite at 3inch of snow yesterday if evan that... no reason to close a fast food place! I run a skating rink and we stay open all that night till our hours posted! And so did cookout! Where I ended up having to get my food! What pore management!!

The Silsbee, Texas Taco Bell has finally crossed the line...I'll get weak & visit this location for some of my all time favorite Mexican junk food..most of the time the issue is "we're outta beans tonight, would you like it without beans?" Or I'll rush out with my bag because my family is waiting on dinner & it took 15-25 minutes to make my food..really! 15 + minutes to prepare $10-$20 worth of Taco Bell food? Then when I get home I either end up not eating what I ordered because they failed to put it in the bag or just didn't make it.
Or I have to drive back up there, wait in line, explain what is missing or wrong, let them inspect my receipt and wait for them to make my missing items.. The straw that broke the camels back tonight & has me ranting & HOPING someone will take charge of this store..it has to be losing PepsiCo money! I ordered food about 2 weeks ago & the lady that seemed to be in charge (Rena) took my order, she was very polite & helpful, they called my order number much faster than I was use to so I grabbed my bag, thanked the staff member with a smile wondering if maybe just maybe y'all made a decision to get a handle on this place ..only to arrive at home close the garage door walk in to my smiling wife & son only to discover.
If I had any hair I'd have pulled it out... It was late & I was worn out from work & didn't feel like going back to the store so I called to see if they'd give me a rain check for the ones they failed to give me that I paid for. Once again Rena was very nice & apologetic. She did tell me to hang on to my receipt & she'd make sure my order was taken care of on my next visit. She did explain they left my Mexican pizzas in the "steamer" I believe she called it.. So tonight I go to Taco Bell & before I place my order I let the lady know about the missing pizzas from my last visit & she told me she thought they were out of the flat shells.
She then returned to tell me they'd make more flat shells if I didn't mind waiting a few minutes I told her I'd wait and continued to place the rest of my order..I then asked them to please have all my food ready at the same time. I am not a fan of soggy nachos or Mexican pizzas nor would my wife be excited about cold KFC chicken.
The lady assured me it will all be good. So about 5 minutes later a young man calls out that some volcanic nachos & an empinada were ready. I told him I ordered those items however there are other items that go with that..he said " don't know what to tell you, I'm on the Taco Bell side, here's your food." I took it & sat & waited for the rest of my order. Knowing my nachos were getting soggy I decided to eat them..finally they call my order number about 7 minutes after they gave me the nachos.
When I approached the counter I asked where my Mexican pizzas were & pointed out they failed to put my empinada in the bag, at this time a young woman explained to me that she can't give me my pizzas without the receipt . I get the whole "rules are rules" idea, but being an assistant director in a very successful service oriented company I really understand taking care of the customer. When they already paid for the goods & or services I promised to provide. My wife is a clean freak and threw the receipt away.

11/25 taco bell on 12:33 pm, 1642 mulkey rd. austell, ga.
I bought some food today and noticed they deleted the cost of 3 $.99 tacos and replaced it with 3 $1 donations on the reciept i was given. I was originally asked if id like to donate $1 to boys club charity and i said no. When i went back to get 2 items that were left off my order i noticed this on my reciept. I told the worker and someone who looked like the manager that i didnt wish to donate and was told they were trying to raise money. I pointed out that by them doing so , i was overcharged by $.03. She asked if i wanted my 3 cents back and i said yes. Then the attitude came out big time. She sarcastically thanked me , gave me the 3 cents back, gave me the wrong food again. Basically they were slightly overcharging and saw nothing wrong with it. The attitude just made the whole thing even worse. Why should i be made to feel bad for not donating to their charity and asking to be charged the right amount. I would fire my employees if they purposely overcharged, no matter the amount. Are they doing this to all customers?

I used to use Ft.Oglethorpe, Ga 30742 TB until the food become horrible. Months later after getting past the ongoing bad food at Ft. O, I tried different location. the one about my complaint TB- Ringgold GA 30736 #004682. Months now eating at #004682, the food has been wonderful. Just like my experience at another location in area that was in the 80's. The #004682, food great, manager great (always remembered me, glad to see me) I bragged to them how great, would even often get family meals on way home that evening. But, 11/27/12 was unacceptable. I am not expecting to be treated special or different from others, just great food and service as anyone would. It started out with asst. manage (don't know name I just glanced at tag when incident happened). The order filled placed on counter eat in- one bean burrito, (I get several times a week). It was so skinny I commented to that ass. man. burrito did not look like what I usually get. His exact words were, '2 oz. that's what it is.' I said okay, then I had to order of beans and cheese to compensate burrito he did not offer to remake. He said, 'what do you expect for the price', then said, 'Thanks' after ordering beans. When stared eating I promise you (now I cook with measures at home) it may had about a teas. 1/2 in the middle the rest was tortilla folds. I'm glad I ordered beans) The second item was meximelt. I always get too. when I unwrapped meximelt it was soggy/ stuck to paper I was not about to complain again, he would not had done anything about it either. not just soggy & wet & stuck to paper, I tried to salvage what I could with a fork. Meximelt was not even right ingredients. no red sauce instead watery corn salsa. I had to throw away. I'm afraid to go back another day unless the tall young manager is there. he will give me excellent food no doubt. The manager I'm complaining about is short, dark hair and I could barely get past no teeth. I'm not judgemental I can past employee appearance but to get this pathetic food uncalled for. Needless to say my craving now is not there, which is sad for my lunch time/quick family meals at least once a week. I will not get fast food that's not good, this location kept me from a sandwich daily. Changes need to be adjusted I highly impressed with the tall younger manager. Please address this it's not fair for the incident manager ruin the other crews.

We stopped at the Taco Bell in Edinburgh, Indiana last night on the way home from northern Indiana. We had been driving for several hours. It was about 8 pm. I went to the mens room and was totally appalled at how dirty it was. The toilets and urinals had not bee cleaned in months. They were all black in the bottom of the bowl. I don't think I have seen a worse restroom ever. Also, the service was horrid. We ordered two chicken tacos and a diet coke and it took ages to get it. There was hardly anyone working behind the counter. The workers seemed all stressed out as they were trying to do too much. You need to drop in and audit this place. It does not reflect well on your company.

first off there isnt a taco bell near me so i gotta drive out my way just to get the only thing i even like from taco bell which is the quesadilla only reason i go there is cause i love the sauce they put in the quesadilla but every time i go they seem to forget it is i wanted a tortilla with cheese i would cook it my damn self this frusterates me every time cause i hate driving back just to get my order right then they always ask what kind of sauce you want but im constantly finding my self having to park m y car and go inside to retrieve my sauce im fed uo with it and am no longer a taco bell customer soooooo irratated and hungry right now all because of taco bell fuckkk you

On the night of March 16,2013 I went to Taco Bell on 35th avenue Oakland, Ca. I order a crunchwrap, 2 enchiritos, 2 cinnamon twist. When I arrived at home , I decided to eat my crunchwrap. I had already eaten my twists in the car. After eating most of my cruchwrap, I was on the last few bites and all of a sudden I begin to gag while I was chewing and I spit up a large piece of plastic. OMG! Can you imagine, being choked and killed on a piece of plastic. That piece of plastic could have gotten trap in my esophagus/ trachea. This was the worst experience I've ever encountered. I immediately contacted Taco bell and spoke to a hispanic woman claiming to be one of the managers. I explained to her that I will be making a formal complaint with corporate on Monday morning. She could hardly speak english, I was so mad at the time I had to pray! I been feeling funny since then. Make me never want to eat out again at fast food restaurants.

I am the mother of a Taco Bell employee at store # 002531. I went through the drive through at 10:51am on 01/16/13. My daughter was the cashier and took my order. My daughter might be mad at me at times but just because she is my daughter does not give her the right to tell me WHATEVER while working. I normally would not make a complaint about something like this but employees cannot treat customers in such a rude manner no matter who they are. I will not be giving my service to this establishment again if this type of behavior continues. At work you are an employee not a parent, child, or any other type of relative or friend. Thank you.

My husband and I took our grandson to Taco Bell #022189 in Springfield, IL today. The cashier, named James, was struggling with the cash register when we gave our order. After several attempts and several mistakes, he then enlisted the help of another employee. He proceeded to tell her how I had made him make mistakes because I didn't order correctly. He talked as if I wasn't even in the store. I don't know if He thought this was acceptable because I am handicapped and in a wheelchair, but I told him I didn't care for his attitude. He promptly told me that he didn't have an attitude, I needed to learn how to order! Had I not promised my grandson tacos, I would have insisted on talking to a manager, but didn't. We just waited through all the muttering and bad manners, ate our food, and left. But you can be sure, I will never go to that store again, and will gladly tell everyone I know about my experience.

On Tuesday 4/30 at 8:52pm my family and I stopped at your location on Eureka rd in Southgate store number 005095. I was so unhappy with this visit. I ordered $25 dollars worth the food and definately felt ripped off. I always order atleast 2 of the fiesta potatoes because I love them but this time I could've jumped both bowls together and it still wouldn't have been enough for 1 full order. Sometimes the bowls have been lower than usual but this time it was pretty bad. My daughter loves soft tacos and after eating about half of her first one she asked what was all over her. She had tons of grease dripping down her hands while trying to eat. I opened the taco up and never saw such a mess. It was slopped with barely any meat and the meat that was in there was soaked with grease. The rest of the food was hit and miss. Tried the new grillers and those were amazing and I'm hoping they will stay on the menu but the steak in the quesadilla was very rubbery and hard to chew. I've never had a great visit and this location but its never been this awful. I honestly can say that I will probably take my buisness elsewhere from now on. Very unhappy customer. Kim Fritz

We went to tacobell tonight lwe didnt relize till we got home they never gave us our drinks and we asked twice for no sour cream on our tacos and its like they put extra on them so disaponted we give tacobell lots of service but we are so tired of them messing up we dont even want to go back..we couldnt eat the tacos do to the sour cream that we can not have so we pr wasted 15$ and till had to go some where different to eat.so unhappy.

ive been to this taco bell in ardmore tennessee multiple times. Im just getting fed up with the poor portion rations. I went wednesday march 20, 2013 to get my favorite. A spicy buffalo chicken griller. My chicken was cold, i complained and got a fresh one. I went home and the next day my stomach was hurting something horrible, and i had sever bowel movements. I got sick twice. Everytime i complain to a so called manager, nothing ever gets fixed. I will not be visiting this out of control, poor serviced "business" anymore! Taco bell can suck it!

My complaint with your Spicy Buffalo Chicken Griller is this, it tastes NOTHING like buffalo chicken. It is made with your volcano sauce which I find terrible. You should name something buffalo chicken, advertise it as buffalo chicken, and then make it with your volcano sauce and not buffalo checkin sauce. It should be named the volcano chicken Griller instead. But you already know that and know that you would sell alot more by claiming it as "buffalo" chicken. Way to deceive the public and your customers! Great job

This is America. If you want to advertise on an English speaking channell, advertise in English. If you want to advertise in Spanish, do it on a Spanish-speaking channel. I'm referring to your commercial about tacos made from Doritos.

I went to the taco bell on linton blvd in delray beach. First I guess customer service is going the way of the dodo, but when employees are speaking a different language infront of customers is probally the most rude thing that can happen. Second it took two employees to mske one taco salad while they were just chit chatting. When I got my order it was just handed off with not so much a sorry for the wait. And lastly im done with your restaurant because im sick of paying for delapitated tacos. They are always weak and its a total bait and switch from whats advertised

Taco Bell in Tappahannock VA is a disgrace. The dining room walls have food splatters on them as do the seats. Floor is nasty. Employees today 05/04/30213 at the counter were very rude. No greeting, lots of eye rolling and tsking. Both cashiers acted as if customers were an imposition.

I called last Saturday with a complaint and was told I would hear from someone in three days. That did not happen and I am still furious. I have an eight year old grandson with severe allergies and I ordered him 3 crunchy tacos (meat and cheese only). When I got home with the takeout order it was a good thing he looked at the tacos before he started eating, there were refried beans in them for some reason and had he not checked we would have ended up at the hospital in the ER. HE IS ALLERGIC to legumes but I don't understand what they would be doing in a taco. I think whoever is in charge of the Taco Bell in Lenox Twp., MI on 26 Mile rd should reevaluate their workers because this could have turned in to a very bad situation . I really don't want to think of what could have happened and I believe this should be addressed as soon as possible.
Sincerely, Patricia Hamel

No $5 gift cards. These were going to be extras in in gifts for fellow employees. I went to one taco bell, none. I called another and they told me no Taco bell carries $5 gift cards. When I called customer service after not being able to just send an email through your website, I was told no $5 gift cards. I proceeded to tell her that was unfortunate, not only did you lose sales, but what about the people that can only give a "Little" something. I was disturbed by the fact that the smallest was $10. Not everyone can afford to spend $10 and feel fortunate to be able to receive and give a $5 gift card. I can afford to spend more than $5 but can't imagine how someone would feel going to a Taco Bell and being told "Sorry you have to spend $10" I feel for them and it breaks my heart. After I was done with my calm complaint....come to realize the person was not even on the phone any longer!

I love Taco Bell.. But whenever I go in the evening to the local one in Durant Oklahoma the service sucks and the food is not good.. The meat tastes like it is old and the Five Layer Burritos are not made correctly. It is like night and day literally..
I can go in the earlier part of the day and the service is outstanding and fast the food tastes amazing and there is no problems. But, if I go after say 6pm it is totally different. There is a guy that is the manager in the evening. Apparently he does not check his employees work or the food that they are putting out.
But I will not go in the evening anymore.

On 10/10/12 I ordered a pizza combo. I was told the wait would be approx. 7 min. I was in the drive thru and had to wait in front of the building. That was fine, but I ended up waiting 20 minutes before I actually received my pizza order. When I went inside to check on the order, they still had not put my pizza or breadsticks in the machine to cook. I paid $5.99 for the combo and had to wait 20 min. This is unacceptable. My order # was 336628 at the Taco Bell on Magnolia in Huntington Beach, Ca. On 10/17/12 I ordered a Cantina chicken burrito. I paid $4.79. I taste realllly bland, yuck. I want my money back on both items!!

Hello. I am writing this letter because I was recently unsatisfied with a particular location. Two weeks ago, I visited the Taco Bell on Clairemont Ave in Eau Claire, Wisconsin. As I pulled into the drive thru, I had to swerve rather quickly for a GIANT pothole which was hidden by a curb. I am unaware whether or not this issue has been brought to your attention; however, I went back to that Taco Bell today before work around 1:45pm. As I turned into the drive thru, I drove right into this giant pothole (which was now filled with water). It is impossible to avoid unless you are very aware and careful of it. I am now getting a vibration in the front end of my vehicle. This hole needs to be filled immediately as it is not the customers prerogative to be on the lookout for craters this large in a fast food drive thru. As of when I noticed this, that giant pothole has been untouched for over two weeks. Please get back to me as soon as possible to address the issue. Thank you.
Drew

I purchased a new vista middle school tiger discount card that offers buy one get one free Doritos locos tacos good for up to 10 tacos and the store manager miguel won't honor it was very rude!! The girl nisa was rude too and very sarcastic! I wouldn't have bought the card if I couldn't use it.
When I asked for the number to corporate I was given a local number to someones cell phone 661-547-3651 for Jesus that is not the corporate office number! I have used this discount card before with no problems at this same location as well as other locations in the antelope valley!

My husband and myself visited the Taco Bell #026026 at 719 W. Market St. In Bolivar Tn . When we entered the restaurant there was no one waiting for service altho we had to wait a full five minutes before even getting greeted by the staff or getting our order taken. We had to wait on the server to finish her conversation with another employee to get our order taken. Once our order was taken we were promptly ignored again. The customer that came in behind us had to wait as well. Someone from the back had to come up and take their order. I would better understand this if the store was busy but there was no one in front of us. I felt this was extremely rude.

I was at Taco bell on Front St in Harrisuburg, PA and the Mountain Dew I got was terrible. It seemed to be watered down. Felica is listed on the receipt, she was very nice and did a great job. The food was good, I enjoy eating at taco Bell from time to time.

Tonight, my husband & I wanted our regular Taco Bell dinner. We go there at least once a week & this visit has changed our minds about ever going back! The location was Chicago Drive, in Grandville/Jenison, Michigan. When ordering, my husband asked for a Steak Quesadilla with extra sauce & a Doritos Locos taco seperate from the meal. We paid, checked everything to make sure it was all present & left. After arriving home, we sat down to eat our meal, only to find out that our order was completely wrong! Instead of Dr. Pepper, we were given Pepsi. My husband opened up his quesadilla to find that 1/4 of it had cheese on it, it wasn't a steak, but a chicken quesadilla, & here's the kicker!; it had ONE piece of chicken in it! Do you know what my husband did? He folded up the quesadilla & ate the entire thing in ONE bite! & that's supposed to "satisfy your craving"? That is supposed to be a meal?! My husband & I are 23; do you know how much a 23 year old male eats? On top of the fact that instead of extra sauce, it had NO sauce & they replaced his extra taco, instead of getting it on the side. I called the location four times & got nothing but an answering machine. I have NEVER been so dissatisfied with a food organization, let alone any organization at all! This is an absolute embarrassment & we are completely dissatisfied. I took pictures of this tortilla (..since that's all it was, not the quesadilla that we had asked for!) & will definitely be posting for friends & family to see! NO customer should be served like this! My trips to Taco Bell are over! Get your act together, Taco Bell!

I recently went to Taco Bell and ordered a Mexican pizza with no tomatoes because I am allergic to them and no tomatoes on my tacos well when I got my order it seemed as if they just slapped everything on the plate it was so messy of the cheese was off of the Mexican pizza and to beat it all I got tomatoes and I didn't see it till I got home I wasn't gonna take it back because I live 20 mins from town wasn't gonna waste my gas. Very disappointed.

I was at the taco bell on frontage road in meridian ms today. I have never been so pissed. I got home today to eat my food and all 3 of the tacos was soggy and falling apart. There was hardly any sour cream or tomatos on any of them.and they were cold. I will not be back to that taco bell any more. I am pregnant and I REFUSE TO EAT COLD AND SOGGY FOOD. the service always sucks, the people that makes the food sucks because they don't make it they just through it all on a soggy shell, and the management sucks because they allow it to happen. Every day all day. Everytime me and my family go in there they aint doing anything but running there mouth. If they would learn to manag better and control there cooks and everyone else maybe it would be better. I will not show back up ever again for now on I will take my business else where.have a nicr day!

My husband got Taco Bell for dinner tonight. Normally we do not have a problem and we love the food there. Tonight was the exception. The taco salad that was ordered had no steak at all, which we paid for, only rice. The 7 layer burrito had only rice, and refried beans and two tomatoes, no beef. The double deckers that were orderd had a lot of refried beans and hardly any ground beef. It seems like the store he visited may have been low on ground beef?? He visited the Taco Bell / kfc on spectrum drive in Frederick md. We live 15 miles away so we are certainly not going to drive to return the food that was incorrect. I work in the retail industry and figured that Taco Bell would like to know the food that is being produced this Taco Bell. It is irritating to get home to sit down and eat to find out that your order is not correct or that it is sub par food compared to the food we normally receive from Taco Bell.
Thank you for your time
Kerri guild

I went to Taco Bell store 003376. They did not have taco meat or mild sauce! Why would a Taco Bell not have taco meat. It's like a Pizza Hut not having dough or cheese. It's Mismanagment !! This is the 2nd time I have been the this same Taco Bell and they have not had meat or sauce!!
I am so disappointed, my wife and I went to taco bell in jacksonville fl. Off emerson and philips. When we got home to eat my crunch.wrap was empty her xxl nacho only had beas in it. So disgusted by the food and service. I used to love taco bell. What a waist of 15.00 dollars. Its like they just dont care.

On about Sunday between the hours of 11 and 3 my husband and I walked into the Taco Bell on 1612 blackstone avenue in Fresno ca, 93703. When we entered the store we noticed employees goofing off and one employee had started to spit into the sodas and food that was made for waiting customers. I immediately approached the employee and asked for her name she replied with a nasty attitude and finally gave me her full name which was Tesla Wilson. We notified Taco Bell and they called my cell phone and spoke to a manager who never gave his name but he seemed to take the employee side of the story and began to argue her point but never gave me the chance to fully explain my side of the story. I am surprised Taco Bell hires these kinds of employees. As a customer I would like action taken upon the situation of your employee tesla wilson spitting in customers food/beverages. I really think an employee that does that should not work in a restaurant. If these actions aren't taken in action I'm going to the local news and reporting to them that I have repeatedly brought this to their attention and they keep an employee because of favoritism. My lawyers will also hear from your manager for not hearing a customers complaint and taking actions. What if that customer who ate or drank the items they bought from tacobell got them sick? Then you would have a serious lawsuit in your hands. Thank you for your time and I am hoping actions are taken place as soon as possible

The last two times I have been at the Washington, IL taco bell we have had a 16 minute wait and an 18 minute wait for our food. All our order contained was a few 5 layer beefy burritos, about 3 tacos, and a cheese quesadilla. The staff that was preparing the food was very young, immature, and VERY slow. I think this is completely dissatisfying and I don't think we will come to this store again. I am very offended that my business is not important to this Taco Bell, I have been to several of your restaurants in the area and besides the Northpoint Taco Bell in Peoria they usually give me very good service, if your employees don't feel that prompt customer services is necessary I would be happy to take my business to Chipotle, Tequilas, Sol Azteca, or Quidoba.
I think the management needs to completely reevaluate how they are running this store I know if the business I work for ran like that we would be out of business from incompetence of the employees. And to top it off there was not much of a crowd which I should have had excellent service not waiting extremely long times for my order. I am not happy at all! I am getting tired of apologies for the wait time of our food and think I will just buy the ingredients and make it at my own home. It is made to order. I get it but it should be much faster. I will be happy to tell anyone who will listen how the services at the Washington Taco Bell and with the big holiday season approaching this could divert business for busy shoppers. 

On 11/9/12 after placing my order I was waiting to hear my total. However, the drive thru cashier left the speaker on for about 20 secs. Therefore I informed her that I completed my order. She replied sharply I'm putting in your order. Next she asked me was my order correct, I replied yes and was told to pull to the window. When I got to the window I politely asked if I could add on a steak burrito. She let out a breath and closed the window without telling me yes or no. I asked her was it problem and she rolled her eyes at me and stated "Ikm trying to see if you can add on". I told her to not worry about it and I left the drive thru. My husband and I frequently patronize Taco Bell, but after receiving this type of service, I do not think we will return. The incident happened around 4:20 pm at the Corrunna and ballenger location. I do not know what happened to excellent customer service, however, I will not spend my hard earned money somewhere where that provides poor customer service. Keran

The person after myself waiting in line for a Taco Bell order was formally told they were the last order of the evening. Not only was a refused service, but the person after myself was apparently treated dishonestly and additionally refused. Not only was humor expressed amongst the employees about the matter afterword, but the manager named Scott Prater personally refused my business afterword. Dishonesty in addition to personal refusal of service is not only a travesty, but a personal offense from this establishment. I certainly hope this information is reviewed by someone with the interest of profit in mind as well as customer service, and the experience will not further impose itself upon my future experiences with this organization. If different management were in place, I imagine this establishment t would be not only more customer friendly but more profitable. Nevertheless, the presence of Scott Prater upon this establishment is the negation of an otherwise profitable venture.

I have had several issues with this location, multiple times while working we would send one person from shift to go get the food for the crew. This time we returned to work with half the food and one less drink. After going back to this location they accused us of not being truthful. Now we had to retrieve the receipts and show them. We are now running behind won't be able to eat our food at a decent hour, since we have to continue to our duties and won't get to eat our food while its fresh. I think you are missing out on an opportunity to serve the community with having disrespectful employees



Disclaimer: This complaint was submitted by Dustin Post on 08/30/2013 at IP address 166.216.130.162 using our Taco Bell Liberal Ks complaint form. This opinions contained in this Taco Bell Liberal Ks customer review titled, "Service is horrible " do not reflect the opinions of this website.

Went through drive-thru Taco Bell, store #024972. We ordered a #5 and a #7. We asked for sauce, none was given, and there were no straws for our drinks. When I opened the Nachos Bellgrande container, The filling, mostly beans, very little meat was in one big clump on one side, and the cheese and sour cream were on the other side in a pile, no tomatoes either. My husband's quesadillas, maybe had two pieces of meat and mostly cheese, and the tacos that come with them, mostly lettuce and cheese-hardly crunchy.For almost $12, is this the best Taco Bell can do? Forget the new shell variation, put something in them! I won't go back until something changes.

This Taco Bell always has bad service ever since I've gone to it 3 years ago. Tonight was the worst yet though. First of all we sat at the drive thru window for 10 minutes and had no clue why, there was only 2 customers inside... Then we finally get our food and there are no napkins, no chips(we ordered two deals), no sauce that we actually wanted...
No fork for my friends cheesy potatoes and my chicken burrito was disgusting. All my chicken burrito had on it was PLAIN white rice, 2 pieces of chicken and hardly any cheese... I've never had such bad food/ service from a Taco Bell ever. NEVER eat at the Taco Bell/KFC in Gadsden, Alabama.

This restaurant is so dirty and is in serious need of a good cleaning.
The floors, walls, tables, chairs and high chairs are not fit for people
To use. I will not bring my family into this establishment until its been
Cleaned.
The condiment station smells.
The bathrooms are so bad that my 3 yr old even refused to enter.
But the worst part was the indoor play area which my kids love- it is so gross and smells like
Vomit and feces. Disgusting.
Please clean up your act Taco Bell.

Im a regular customer at taco bell.. i been going to taco bell everyday until the new cantina menu came out.. i used to eat the chicken in everything i ordered.. im not happy that u guys have changed the chicken.. i have bought chicken tacos and had a food allergy with the new chicken.. please change the chicken back to the old chicken.. i think that taco bell should b aware that customers dont like lemon and lime.. i will never eat at taco bell again until the chickents gets changed.. alot of people dont like the new menu and i think u guys will lose alot of customers due to the change in chicken

I have been patient, I have been kind. I have filled out Feedback form after feedback form after feedback form after feedback form after......getting annoying yet? yeah.....that's how I feel! I understand you guys have a lot on your plate.....but the Pendleton, Oregon 97801 Taco Bell (I'd give you a store number, but seeing as your employees were incompetent to give my husband a receipt I cannot provide such number and have no back receipts on hand) is lacking in many aspects. My biggest complaint is the fact that every 8 out of 10 times I go to Taco Bell and order a Chicken Quesadilla, it does not come with that zesty delicious sauce that I love the Quesadilla for to begin with. I just want my sauce on my Quesadilla....that's all I'm asking for. I'm begging at this point. And my second complaint, every 7 out of 10 times I go to this Taco Bell my husband will order a Crunch Wrap Supreme with no sour cream (as he is allergic) and no tomatoes. And every time, there is sour cream and tomatoes. I'm your biggest fan, I love Taco Bell with a passion and I never want to give it up....so that's why I'm begging you to please fix this. I'm tired of boycotting Taco Bell for weeks at a time just to see if maybe a new crew will come around and this one will be better. Please, please.....fix this.
Thank you,
someone who just wants their sauce!!

The Taco Bell I ordered from at Highway 360 and Brown Blvd. in Arlington TX had no sauce. When asked why the employee at the window said his manager was trying to teach them s lesson. He said the employees were giving to much out to each customer. This is by far the worst reason I've heard for a restaraunt to be out of something. I'm very disappointed in this Taco Bell. I prefer from here all the time but if this is the kind of service I'm going to receive then I won't anymore.

I want to mention first that this complaint is being made towards the Taco Bell in Centerville, Iowa. I am diabetic. My husband and I enjoy the Grilled Steak Burritos. However, I cannot have the rice and beans. We always ask for double meat, cheese and sour cream. It always seems to be an issue at this certain Taco Bell. The employees are always rude, short with us and down right snotty. They act like it's a problem for them to make our special order. I can see them through the window while we are ordering at the drive through and they are laughing at us and pointing!!!!!!! Now, I cannot help that I am diabetic. And I do like to have a 'treat' every now and then that is not on my regular diet. But, whenever we do go to this certain Taco Bell, they make me feel like I am causing them more work and that it's a big hassel to fix my food the way I want it. This has happened more than once. We always say that we will not go back. This time I mean it. I refuse to go to a place that makes me this upset and unworthy. This incident happened Saturday evening, October 27, 2012. The time on the receipt is 6:17:46 PM. Cashier: Karen C. There were 2 ladies @ the window laughing at us and pointing. One was tall with dark hair the other was short with blonde hair. When we pulled up to the window, they were talking and kept turning and looking at us with smirked on their faces. Plus, we did not even get a thank you.

I went through the drive thru at taco bell north shore slidell la. And my cashier was very very rude it was my turn to order but since there was a line the car in front of me was Still in front of the speaker I wasn't able to order the cashier started yelling when the car infront if me moved and I tried to order they ignored me I had to repeat my order3 times and I was just ordering a chalupa then when I went to the pick u window the cashier took my card she slide it and then gave it to me whither my food and closed her window since I wanted sauce I was calling her and she opens the window and said WHAT! I asked her for my sauce and she just let it drop in my hand and closed her window. Worst experience ever!!!

On Saturday, November 3rd, 3012 my niece and I went into Taco Bell in Ludington, MI. We waited at the counter for twenty minutes to be waited on. The only other customer was waiting for her order to be tixed. I finally leaned over the counter and asked if there was anyone that could wait on us and also told them that who ever was talking to the customer at the drive thru could stop talking about a party and also cussing and wait on the customer which was me. A lady (whom happened to sitting the restaurant) went to the counter and talked to someone. She then came over to me and told me that the shift manager was her son and that he would be coming to talk to me before his shift was over. He did come over to me and apolizied to me about my order (which was wrong ) and the languange the employee was using, he also said they were very short handed with only three people and that someone had showed up an hour late. I explained to him that I had been in the retail business and there was no excuse for what had happened. If you are that short handed then the manager should be called and at least come in and provide help. He left and said he would be back in a minute. I saw him talking on the phone and when he returned he asked for my name and said he had talked to his manager and they would repremand the employee and the next time I came in I woiuld receive a free meal.. I asked him the employee"s name which was Jake and the shift manager"s name was Anthony I think. You couldn't read his name tag. I feel a free meal is the least he could do. I frequent this location quite often and am very disappointed with this solution.

I was at Taco Bell on east Washington st Indianapolis indiana. Store number 21025. This was on sat march 22nd or 23rd. This is the second time I had been there recently and both times I waited nearly a half hr for my food. I'm so mad I will never go to Taco Bell again. They are slow and not to mention, one if the employees was taking out trash. He had his buddy parked in the handicap spot. And had his sound system in his car blaring rap so loud that you couldn't hear. Elderly people were disgusted as they walked in and said this place and area of town has him down hill. It is the worst Taco Bell by far. I grew up here in this area an it used to be wonderful. But the professionalism of the employees there was strictly ghetto.
And elderly people couldn't even park in the handicap spot because of this employees little black buddy was dancing to his music and parked in the space! I heard two more people who waited in line say they Were not coming back because this place has gotten out of hand! I have never taken it upon myself to write about service anywhere. But as I was holding the door for the elderly walking in today, an to see them shake their heads at the loud music, the dancing stupid kid, and poor ass service. I felt obligated. I will never eat at this place again. Hopefully you get it under control. 

Went to Taco Bell on Airline Dr close to David dr in Metairie , La 70003 Saw a commercial on Tv about the loaded Grillers so they tell me that they ran out of potatoes so I can't get a loaded potatoe griller. That not the first time I went to this Taco Bell and told me they were out of beef when I wanted a Taco. This is ridiculous this Taco Bell it's always the after 10pm shift.So I wish Taco Bell could adress this constant inconvienece problem of not having products in stock that's on the Menu.

the manager of the suffolk location in virginia was completely rude to me when i returned the food i was served previously. i went in there around 8pm, & ordered a few things & watched this girl named chelsey austin make my food.
the girl has been rude to me, & my boyfriend every time we have been there. this time my food was stale & disgusting. so i returned it about 15 minutes later.
the manager then took the food from me, re-made it without even apologizing, or asking me if i even wanted it remade. i go there all the time, this visit was very unprofessional, & very disappointing. i probably will not return until the issue of customer service is handled.

The Taco Bell located on Beebe Caps Highway in Searcy, AR has consistently bad food! This is the third time in a year (and believe me we spaced it out to give the business the benefit of the doubt, that we have all gotten sick after eating at Taco Bell.
This time my husband has been very sick with nausea and debilitating diarrhea and I was considering taking him to the hospital but he says he thinks he's getting better. Still, he looks terrible! The rest of the people in our household (my son and daughter in law) have experienced the cramping diarrhea but are not as bad as my husband.
I think Taco Bell at this location should be investigated by the Health Department. In fact, that is my next task.

I ordered 5 crispy Potato Taco and 4 Bean Burrito in Lafayette, La at 1224 N.E. Evangeline Trwy 70501and was not pleased with the food I received. First we waited for 5 min or more . We also noticed in order to make sure they are not having customers wait too long under the window for not having the food ready, we are asked to move forward pass the window.
With the Potato taco, I counted 4 potatoes in one and lack of sauce in all. With the bean burrito, the beans were cold and the burrito looked very old as if it had been sitting for a while. I would like to say this has been the first time being unhappy with this particular, but it is not. Sadly enough, it is the only one in the area where we are located.

I have been visiting tacobell on a daily basis sometimes multiple times a day , recently i ordered a 5 layer burrito , this burrito was flat nasty , i came in the morning , it was perfectly clear they used ingredients from the previos day , the cheese was cold and chunky tasted spoiled, the meat was dripping with greese , the sour cream actualy tasted sour, i also requested it grilled which they failed to do .
I called them to inform them of possible food contamination which they did not take seriose and denied anything was wrong with my order. They knew it was me before preparing my burrito which leads me to believe it was intentionally improperly made . Since this incident i have tried to give them another chance but every time since then , my food has been very unsatisfactory . However i am not the only one to state this , it is starting to get a reputation around town for undesirable food.

As a bartender, I tend to get off of work at the same time as most drunks leave the bar. Seeing as I arrive at work at 330 or 4, I am usually exhausted and starving at two in the morning on my way home. On december 22 of 2012, after leaving my job I visited taco bell number 000511.
I was treated as if I was under the influence of alcohol ( their headsets should have been turned off when speaking of the customer, myself, in the drive through) and they messed everything in my order up except my Mexican pizza. I ordered the meal that came with the Mexican pizza and two taco supremes.
While my tacos came out as soft shells, neither had any sour cream or tomatoes. Also I ordered a volcano burrito with no ground beef sub refried beans. It was correct on my order screen, but incorrect when I tried to eat said burrito. As the young woman in the drive through window so eloquently put, "she's drunk, she'll never know.".
I'm not only insulted but irritated that they could have rang my order in correct but give so little concern because your employees assumed I was intoxicated.

I was visiting my Mother in Hutchinson ,Kansas for Christmas holidays when we saw a Taco Bell on 4th st. We went inside to order when my Mom and I noticed the cashier rubbing his nose sticking his finger inside the nostril . This upset my Mom and she said to the cashier that he should wash his hands.
He laughed and said if it bothers you go somewhere else. He appeared to be the manager, but wasn't wearing any name tag. Another man who was management also asked what happened, and when was informed just looked at the first man and just shrugged his shoulders and walked away.
My Mom is 75 years old and was totally disrespected at this store.I was standing right there and observed the whole situation. Your company needs to teach your franchises better health practices along with treating customers with more respect.
I don't my Mom or her husband will ever patronize that Taco Bell again. I'm a truck driver and frequent Taco Bell stores a lot and was quite surprised at that stores arrogance.

I took a trip to the closest Taco Bell and went through the drive thru, after pulling up to the speaker I heard no greeting. After deciding what I wanted to eat I said "hello?" And I got a low voiced "what?!". So I ignored it and said my order. I can't quite remember what it was I ordered I was too distracted by the rudeness of the drive thru attendant. She mumbled the price back to me and told me to pull up because apparently I was holding up the line.(there was two cars behind me that I could see). Arriving at the window I was greeted with a dirty look, gross teeth when she talked and an outstretched hand that looked far from clean. I asked her what she said the price was again and she looked at me like I was stupid and told me the price which was reasonable and at that point I did feel stupid for not checking the order screen quick enough because it closed before I pulled away. I handed her my money, she handed me change which I later found was about $0.20 short. When I asked for fire sauce I came home to find about 25 packets of mild. I don't know what her problem was but I extremely regret that trip to Taco Bell and have considered going to the one much further from my house for the sake of my self esteem, and quality of experience. If I do I back however and experience this worker again I will get her name and see to it she gets my complaints.

not to long ago at the store in hialeah florida 1075 w 49 street my uncle went in to dine...he does not know spanish at all so one of the employees was calling the numbers in spanish..he asked what number is it and she said it again in spanish..he replied i do not know spanish..the lady coped an attituded and said i dont know how to speak english embarrassing my uncle infront of the people inside the store..my uncle filed a complaint..they contacted him saying they were going to investigate this problem..corparate office contacted him asking him how he wanted to resolve this..he explained and they said they would consider it and get back to him..they also said that what he had said was not going on which i thought was bullshit..i went in a few times after that fact and it was indeed true but i so happened to step in on 1119
2012 when i walked in their were 3 people off to the side liked they had already ordered i figured i was next..i waited 10 mins for someone to approach the cash register to take my order but the people got in front of me so that right there means what were the people doing in the back??? god knows how long they were waiting for their order to be taken..i shrugged it ogg and said let me just order...as im awaiting my order i hear the numbers only and i repeat only in spanish multiple orders and multiple times.. a man in a pirate costume was awaiting his order and the lady called the number 2 times in spanish and the man in the costume asked my girlfriend that was awaiting her order what number are they calling.. she told him and he replied thank you.. as he went up the lady was asking him spanish if he wanted something that had to do with the order..he still didnt understand what she was saying..two other customers told him what she was saying to him..i looked at my girlfriend and i said see the corporate office is doing nothing about this after they told my uncle they are..as i ate my food i notice that the taco only had half sour cream and half beef like if they had a shortage of food plus the lettuce was not fresh ..
it tasted like it was sitting in a bag all day.. i left to have a ciggarrette outside and my girlfriend was waiting on a apple empananda that took them 20 mins just to give her...when she told me that i went back into the store..i stopped one of the employees and asked for the manager..they asked me what the problems were..i explaned and they said they did not even see me in the store..even the highest rank lady in their seen me and kept repeating in spanish she never seen me..i replied back that i want the ladys name that is calling out the orders in spanish,the managers name,and the store number...
they replied back that they didnt even see me order..i told them i just left..they still stuck with their story..i replied back this place has cameras if i was attempting to rob the place the cameras,the people inside, and the employees working would have seen me then..i would like someone to contact me on this discrimination matter a.s.a.p. if not i will seek legal consultation on what i can do about this and make this public cause this is ridiculous the way that restaurant is under management...and being ran.... thank you and have a nice day!!

I am applauded at the way taco Bell handled my complain this evening. I ordered and paid for two nacho bell grande, and one chicken cantina bowl. I arrived home and the chicken bowl was missing. So I called the business up and was told they would have to review the cameras. I have waited about one hour and still haven't received a phone call back. Is this really the way to handle this. I am 66 yrs old and have lived in my home 50 years. I have never been treated like this before. I am no thief, for goodness sake. I will never buy there again. at Taco Bell. located at2300 Barrett Ave. Richmond CA 94804-1608 (5100237-2292 my order number was 359210 11/20/2012. Thank You for listening to my complaint.

I'm not a big fast food eater, but on occasion I eat Taco Bell when I get off work too late to do anything else for dinner. Normally, Taco Bell meets the standards that I would expect from fast foot. Delicious junk food. But my experience tonight was not that. First off, when I first approached the drive thru window, the guy on the other end said, "go ahead."
And nothing else. Now I know it's a drive thru but every other time I've been there I get a "good evening" or "welcome." Whatever, not a big deal. I proceed to order my late night meal and drive to the window. When I get there the man asked me if I wanted any sauces. I told him "hot sauce. And lots of it please!" Because, in all honesty, that's the main reason I can eat the food and guiltily enjoy it. Once I got home, I dove into my bag of tacos and quesadillas to find there was no sauce at all! So bummed. Tobasco is just not the same.
When I tried to open my quesadilla, there was smashed cheese all over the outside of the wrapping. Messy. The quesadilla was so smashed and there was cheese sticking the wrapping to the food. Kinda gross. And somehow, not sure how, but the quesadilla was burnt on the outside and the cheese was barely melted in the middle. The only melted cheese was all over the wrapper.
Again, I know it was late at night, and it's a fast good drive thru, but I'm usually satisfied with the meals I get there. This experience makes me want to check out the McDonald's down the street.

The person after myself waiting in line for a Taco Bell order was formally told they were the last order of the evening. Not only was a refused service, but the person after myself was apparently treated dishonestly and additionally refused service, but I myself was so refused.
Not only was humor expressed amongst the employees about the matter afterword, but the manager named Scott personally refused my business afterword. Dishonesty in addition to personal refusal of service is not only a travesty, but a personal offense from this establishment.
I certainly hope this information is reviewed by someone with the interest of profit in mind as well as customer service, and the experience will not further impose itself upon my future experiences with this organization.
If different management were in place, I imagine this establishment t would be not only more customer friendly but more profitable. Nevertheless, the presence of him upon this establishment is the negation of an otherwise profitable venture.

A couple days ago in Anchorage, Ak, i ordered some Doritos locos tacos. When I got home i opened them up and every one was literally only 1/2 full! I have a picture of it too! I was pissed. So, i went all the way back to the same store and complained and thinking that they would just give me a normal taco, i went home and i opened up the first one and it was just the same! Are you kidding me? Really? So here i am complaining on this web site about a damn 1/2 a taco.... Actually 8 of them. Its not just that store either. Its just about all the Taco Bells in Anchorage. Very inconsistant and not nearly as good as other states stores. So, don't think I am not going back. I like the taste of the food. I just want what I pay for and believe me I will be checking my orders every time which I shouldn't have to do, right?

I am writing to comment or complain about the dismissal of the manager of Taco Bell on Lincoln Way East in Mishawaka, IN. I am speaking not fust for myself, but a group who meet there every Tuesday. We have become familiar with the staff and have seen a few employees come and go. We are strenously objecting to the firing of the manager, George. He is the best manager we have seen there and does an excellent job, working right along with employees with whatever has to be done. He has won awards for this location and even won a vacation to California from your company. Why you would even consider dismissing someone who is committed to doing the best job possible and deals with the customers and his employees the way he does is a mystery to us. Please reconsider this action so we can feel good about going there on a regular basis. I hope you will seriously reconsider this decision to terminate him. Thank you for taking action to this complaint.

I ordered 2 Doritos tacos from # 028965 in Kingston PA @ 1:31am. When I arrived home to eat, I opened the first one a d it was badly broken without the cardboard sleeve around it but I just dealt with it. Then I got to the second one and it was like a wrapper full of taco salad, again no sleeve. I went back with my pseudo salad and stopped at the drive thru speaker to announce I had an issue with my order then pulled up. After the car in front pulled out and I pulled up, 2 workers were at the window somehow already aware my tacos were pulverized and handed me a bag with 3 more of the same tacos claiming they forgot to use the cardboard which caused the tacos to spontaneously disintegrate. I questioned the theory but was reassured by the other employee named Fred that this is indeed what caused the issue. However I don't believe that this taco shell magically explodes in the absence of a sleeve but instead think the staff may have been upset to receive an order a half hour before closing and took it out on the poor Doritos.
To this I say, I don't enjoy waking up early in the morning so I've found a way to make a living working 3 pm till 11 pm. My point being, if you hate your Job don't take it out on others. Just find something more suited for your lifestyle and temperament.

I went to Tacobell/ Pizza hut express on 18 e 14 street new york, ny ,10003. I ordered a cheesy gordita crunch, large drink and nacho supreme. I ate about two thirds of the gordita before I realized there was mold on it!I went back to the store and demanded to speak to a manager. The managers name was Tukur. I showed him the food and he apologized for it. He threw the food away and offered to exchange it or refund my money. I said I wanted a refund. He gave me my money just for the gordita and nachos. He wouldn't give me back my money for my drink. You would think he would be gracious enough to return all my money after I found mold on my food.

my daughter & i went to taco bell @ 3910 madison ave. indianapolis indiana 46227 on october 29 2012 @ 11:36 am....we ordered one nacho belgrande, four taco supremes & 2 med drinks.....none of our food had tomatoes or sour cream on them. then when i called & talked to a manager she was rude...that is no way to do business...when you say supreme you should get more than cheese lettuce & hamburger..we would like a refund or a certificate to get the food we ordered @ no charge, because it was taco bell's mistake not ours...please let me know what you are going to do to fix this, or next time i will call the better business bureau cause they are ripping people off not giving us what we paid for...very dissatified customers here!!!!!

We were driving through Brigham city. Had a long day and hadn't ate all day so we were starving. The girl at the drive thru charged my card the wrong amount at first so she had to run my card again. She forgot the hot sauce she asked if we wanted. She didn't give us any napkins. And my bean burritos were supposed to be only beans and cheese. No red sauce or onions. They came out only beans. So I had beans rolled in a semi warm tortilla with no hot sauce to even add flavor. Unhappy.

I saw your add for the free Dority Taco on the world series. I told my firend and she went to her Taco Bell in Walnut Creek CA and I went to mine in Alameda CA. I expected a line but I didnt not expect a line where you cant more forward. The line had between 20 and 30 people in it and that was fine. But the line didnt go down. Kids which were 90% of the line kept letting thier friends cut in. After about 3 or 4 cut ins right in front of me I said to the young girl excuse me but werent you behind me? and she laughed and said Im not even in the line. With that she put her hand accross the ropes to form a line so I could not move forward and she went on ahead of me. She and her friends all laughed.
I gave up new kids comming in all the time keep cutting into the line and it was going no place. I wanted to tell her I hoped when she went home she would tell her mother how she cut a 75 year old woman out of her place in line. There was no controls on the line and even when a man tried to intervene he finally said its not worth a big hasstle. So I left. My friend in Walnut Creek said she went there and went away when the line was around the building. We like the Encharitos and go there often for lunch when we get together but his was a big dissapointment that there was not better control over the number of people that were there and that the kids ruled the world. But I guess thats the way it is. They all have a screw you attitude but then again whats new.

Robert Bates at Taco Bell store 305 has been treating coworkers unfairly. There has also been several accounts where he makes up and excuse and has some one else deal with upset customers. He will not come talk to customers 1/1. Just sits at the back desk and claims to be one the phone. But when he did come out never once did he acknowledge me standing there. Something needs to be done about this. Rude rude rude. Makes me not want to step foot in that store.

I went to the Taco Bell in Trenton Ga..ordered my food and sat there for twenty minutes before I received my food. My mother and brother in law ordered food and was done eating before I even got my food. The manager on duty was making sure people in the drive thru were getting their food in a timely manner before the people in the lobby. I use to work for a fast food restaurant so I know that you have to get the drive thru food out before the timer on the board starts flashing. This was undxceptable. The restaurant was completely filthy and there wasn't any toilet paper in women's bathroom so my daughter had to use the men's room instead. I understand when it gets busy and you get behind but this was completely unexceptable. I went to the young woman and asked for my money back. My entire family was done eating before I received my food. You need more than just teenagers working at this restaurant because have the time you don't even get what you orderd right!

I went through the drive threw and ordered a chicken burrito, beefy nacho burrito, and an order of nachos. I could tell the employee screwed up my order so when I got to the window I repeated what I wanted, yet they still didn't understand. After repeating my order to them for the third time I gave my money and drove home.
As I was ready to grab my nachos I realized there were none. Instead there was a taco that I hadn't ordered plus a spicy nacho burrito that burnt my mouth when I bit into it and upset my stomach. Plus everything was wrapped incorrectly so I had to then open the burritos to find out what I was eating and make sure I wasn't going to bit into something spicy again.
I'm aggravated but am not going to drive back and complain to someone who probably won't understand what the hell I'm saying to them. The employees were screwing around and not paying any attention to their work which reflected on my order.

I have been visiting your 5019 location for over 2 yrs now at least 4-5 times a week. I am allergic to tomatoes and always place my orders without them. J have recieved many orders with tomatoes and always been good about checking before I bite. This one peticular night I bit into my burrito supreme and tomatoes were in it.
I have never been one to complain but I felt I needed to let someone know about it. I called around 11 pm about a month ago and spoke to an Asian male whom I can't remember his name and had expressed to me that he was sorry and replace the burrito at anytime by telling the manager my name . I have made several visits of course before tonight but haven't claimed it. I placed my order at the drive thru, with your team member Mai and told her about the burrito.
The manager John got on the speaker was outrageously rude immediately saying in a confrontational tone, " who did you speak too , Do you gave a receipt ? I don't. I said . He said I can't give you it with out a receipt just because you give me a name doesn't mean i can just give it you. I immediately asked for Taco Bell corporates complaint number. He said tack bell. Com and said nothing more. He didn't even ask if I still wanted my order. I paid for my order and left.
I am a manager at Carl's jr in Selma and never have I come across such a rude and idiotic behavior toward a customer. I feel that he really need some counseling on this issue before this store stars losing lot all customers. Thank you got your time and I will hope to hear from someone regarding this issue. I'm hoping to continue my frequent bid it's to 5019 location but if this problem persists I will reluctantly have to take my business elswhere.

No problems with the food. HOWEVER the so called free wifi does not exist. At a restuarant in Mobile AL I was unable to get on-line. Not even the singon screen. when I check the local network I found all of the ports on the router were closed. Perhaps this is a way for the company they hired to operate the network to save money on bandwith cost. No network - no cost - no return!

I have never complained about service before. However, my order was wrong and I have been craving Taco Bell all day. They put one piece of chicken on my nacho bell grande when I ordered chicken on it. I was charges 99 cents, but received one piece. The soda was flat and the food was cold. I am very unhappy with the Springfield, Missouri Taco Bell lpcated on West Sunshine Street.

The Metropolis, Illinois Taco Bell has serious issues in cleanliness. There is food all over the place (everywhere on the floor behind the counter), in plain view of customers. (This location was not busy and the staff had plenty of time to clean up between customers). The manager apologized for a customer complaining about the service and food, but didn't do anything about helping calm the other customer down or fixing the problem. Instead she went outside to smoke a cigarette. The staff are unprofessional and look like they haven't cleaned themselves either. The service is horrible. My family and I were there this evening and while we were there 4 other different customers brought back their food due to getting the wrong things. The staff do not pay attention to the orders. Too busy clowning around. While we were attempting to eat what we were given, the entire staff all went outside to smoke a cigarette leaving only one employee in the building. I can understand if the place were busy and unable to keep up with the demand, but that was not the case. This location use to be a really good Taco Bell. Since the first of 2013 it has gone completely downhill. I suggest that better managers are hired or trained properly. Also to hire someone who is presentable to the customers with proper training in customer service. The girl we had tonight should not be allowed to wait on customers. I am highly disappointed with the service and staff. This is not the first time at this location we have had or experienced this, but tonight was the worse. I recommend a surprise visit from corporate. This location needs help or shut down.
signed,
Highly Dissatisfied Customer

I went to taco bell long john silvers on my way home. my order was very specific. L9 NO HUSHPUPPIES PLEASE!!!!dr. pepper no ice. cashier said ok total is 4.91. i pulled around to pay and was given my food and my drink. drink was with ice as ordered. food has HUSHPUPPIES in the box. i was informed it comes with the HUSHPUPPIES and he would remove them. WHY IS IT HARD TO JUST NOT PUT THEM IN MY BOX????????? they do at other ljs. this is the LAST TIME i will stop there!!!!!! this would be a good establishment to go & do UNDERCOVER BOSS!!!!!!

On 11/10/12 I went to taco bell waited for 30 mins. I went inside to order my food since they ALWAYS get my order wrong. This is a big problem because I'm ordering for several kids. I filed a complaint already and have yet to have a response or even an acknowledgement that they would review the problem. There were at least 7 different customers waiting this long. One lady got a refund after waiting that long. Point I'm trying to make is it was horrible service, unacceptable wait time, wrong food in bag, LEFT OUT SEVERAL ITEMS AGAIN! Still nothing done. This is my 3rd complaint since Saturday and will continue to make them until I get a satisfactory response.

I made a drive through order tonight 10/4 @ 7:45 pm at the Taco Bell in Buckeye, Az. I requested no onions on my burritos. At the pay window I asked her to make sure since I am allergic to them. She yelled to the prep line no onions on those. I got home took a bit of my burrito and found my mouth full of onions. My sons burritos had them as well. I was unable to eat the food I ordered and quickly took allergy medication. I tried to call the store but the phone was busy for 45 minutes when I gave up. This could have been an accident but due to the age and attitudes of the workers I have a feeling this was ment as a joke. It's not funny. In fact it's highly dangerous and life threatening.

Today my friend and I went to a local Taco Bell where we were picking up a large order to take home for a group of us to enjoy while watching football. Some of the order was fine, but we had a good sized order of Doritos Locos tacos that we were extremely disappointed with. Normally I'm not a big complainer but the tacos we received were so under portioned it was rediculous. We had 15 of them and the taco shells were broken down the seam at the bottom bc there was nothing inside to keep them from folding in half. We took a taco and were able to fit the entire contents that were inside onto a tablespoon. That's meat, lettuce, and tomatoes....or lack thereof. We spent a good amount of money there and were all extremely unhappy with the product and felt we were ripped off . The only reason we didn't take it back to return it was bc we had a very long drive and we were starving. I took pictures of the tacos to show how rediculous they are but didn't know if I could upload them here. I will gladly send them if need be. The location of this Taco Bell is Royersford, Pa. I've been to many other Taco Bells and always enjoyed the product but this was different. The reason I've issued the complaint is so maybe this location is checked up on or something to make sure they're not cheating everyone. I will return there and won't leave next time until I check everything. If this is indeed read, then I thank you for your time and wish you a happy holiday!

I am a 70 year old veteran. Your Super Bowl commercial is demeaning, insulting and in bad taste. You show no respect for the elder population. I do not frequent fast food often, but be assured, it will not be Taco Bell when I do. A public apology to seniors would be the responsible response.

Good afternoon my name is vanessa burch i went to the taco bell in stanton #002763 general managers name wasirma i visited this store on 10/15/12 at 1:35 pm i went to get a refill and the wooden facade board cover the fron of the takeble the soda machine fell off and landed on my foot it was an inch thick abot 12 inches high and three feet across my foot immediately started swelling and bruising my fiancee told the manager who seemed irritateand rude didnt offer an apology took down my info aand said she would call me she didnt offer to call an ambulance my father came to pick me up to take me to the er and he asked for a copy of the report but was rudely reffused to be given once again no apology was offered i have notrecieved a return call nor has my father the dr. said i had deep contusion to my foot

On January 9, 2013, I entered the drive thru of the Marshall, TX (75670) Taco Bell around 10:40 pm. I attempted to place a order, but failed on the first attempt due a younger lady employee saying she was failing to hear me thru the speaker. I then pulled around to the window to place the order so I could be better understood.
Immediately I was unable to speak because of a older gentlemen employee by the name of Mr. Wilson, informing me in a absolute rude manner (shrugging his sholders and hand gesturing as if he did not care) that he would not take my order from the window that I must place the order from the drive thru speaker. I attempted for about a minute to explain to him that the younger lady was unable to hear me and I was trying to make it easier on her from the window now. T
his still seemed to agitate Mr. Wilson and further explained to me that I could not order from the window. I then became agitated myself (after telling Mr. Willson that his rudeness wa not necessary) and seeing that there was not going to be any reasoning with the gentlemen, I pulled back around the drive thru. I then had to procede to yell at the speaker. (I admit while in a complete agitated state due to the rudeness of Mr. Wilson) I placed the order yelling into the speaker. then made it back to the window.
I immediately asked the name of the manager so I could place a compliant, which the name was refused by Mr. Wilson, the younger lady and what seemed to be three or four other employees. I stated further that even without the name of the manager I would still file the complaint, at which time Mr. Wilson pointed to the other employees and proceded to say "I think I have about four or five others here."
I then left the property after paying for the food. I find the extreme rudeness of the employee to be completely unprofessional. While I expect nothing will really come of this email I want to let the owner and manager of the facility to know exactly the conduct that their employee processes to the customers that seek their business. Thank you.

This is the 3rd time in the last month that I visited the taco bell store at 820 eastgate south dr. Cinti. Oh. 45245 and my order was wrong. My order number was 344124 and dated 01/09/2013. I am tired of this. I immediately called the store with the offer of bring the wrong stuff back tonite or come in later for replacements of the items that were wrong. I live approx 6 miles from the store and it is a big inconvience to go back plus I did not get what I paid for. I was told nexttime I come in the manager would personally makemy order, that's what happened the previous times qand they still get my order wrong and I am tired of it.
This hapens at no other stores that I visit. If the employees cqnt mqke the orders right they should be corrected and not at the edpence of my extra time and gas for an even replacement. Please fix this and I would appreciate a response before I go to get my replacement. They did not ev en take my name or a reciept number so how do they verify me.

I went to the Taco Bell in Loveland, Colorado, 1330 Lincoln, at 7:45 pm on Saturday, April 14, 2012. I purchased a double decker taco supreme. When I opened it up, there was not tomato or sour cream on the taco. I took it to the counter and the manager said they would make me a new one.
I commented that if she just gave me some tomatoes and some sour cream on the side, they wouldn't need to make a new one and waste the one I had, creating a great expense or loss to them. She gave me two containers and the sour cream was near a dimes worth. I asked for a little more and she was not willing. I left the double decker on the counter and decided I was not going to get what I had asked for, feeling it was a small request.
I then asked the cashier for my refund and she said they couldn't when I disposed of the food. I told her that I didn't dispose of it that I left it on the counter for them to decide what they needed to do with it. She discussed some with the manager and then gave me money back for the double decker without the tax. I lost all the way around. The real sad thing about it, my husband and I go there quite frequently and are satisfied customers, until this incident.
Over a small drop of sour cream.

My husband & I eat Taco Bell almost every weekend. I never complain about asking for more red sauce and no onions in my bean burrito which they screw up constantly. I let it go. I am a server/waitress. I know how it is to have people unsatisfied & complaining over petty stuff. HOWEVER... I always order my bean burrito & chicken quesadilla. This time I had a slice of chicken in it with NO CHEESE. It's very frustrating paying over $4 for that. I know it's "fast food" but c'mon. Why am I paying that much for a tortilla and sauce? My husband offered to go back or add cheese for me. Instead I drenched it in your fire sauce. So now I ate a tortilla and hot sauce. I could have made that myself. I never do this, but I thought you should know. Especially from one of your customers who always chooses Taco Bell. Even when they constantly screw up our order. Thanks for your time. By the way, I took a picture if you want to see it. :)



Disclaimer: This complaint was submitted by Anna Honcoop on 08/31/2013 at IP address 70.161.149.173 using our Taco Bell complaint form. This opinions contained in this Taco Bell customer review titled, "My quesadilla " do not reflect the opinions of this website.

Hello,I went to the Taco bell at 4105 E.8 mile rd.Warren mi 48091 I went thru drive thru late night bout 12:30am my brother in law and I.We ordered family pack 2 bean burrito extra extra red sauce,8 hard shell tacos,1 5 layer burrito,2 soft tacos,and steak quedela a chulpa beef combo with soft taco no lettuce with strawberry fruiteze.Got home did not have 2 soft tacos and my hard shells had hardly any meat meat in them..So,I called the store.some manager answered and I asked her name she didn't say..so,I started telling her what was messed up.she started getting rude with me.said what you want me to do one back I said I can't she said well I can't help.hung up.so I talked back told her that was rude of her and she started yellling things at me saying I don't know who I'm messing with..I said I will go over her head to complain.I dfont like being treated like this just she is having a bad day..,I have my receipt still.if u want to contact me my cell is2698049526!

Ok so I love taco tell but the taco bell on broadway ave in elmira ny is a freaking joke! We went there tonight and yes we usually no we probably won't get what we want but since we love it we deal with it. But today we went and ordered a grande meal and my boyfriend wanted sour cream on his tacos they said it was an extra 50 cents per taco for sour cream he said that was fine and we continue through the drive thur. We get to the window looks like everything is there and head home. When we get home to our surprise we have all the tacos we ordered. We begin to eat and my boyfriend releases there is no sour cream. Now usually we wouldn't care but come on we paid 5 extra dollars on sour cream so he goes back. when he is there he tells them that he paid extra and would like what he paid for, they point fingers and then eventually get to his order mean while he watches the other customers order of course they forget things like normal but the kicker is, is that they have asked every customer if they would like to round the price of their meal up! Are you kidding me I'm giving you $18.75 what it cost and you have the nurve to ask if they would like to make it an even $19 what the hell are you running?? We can honestly say we will send our $20 somewhere else so long taco bell! Hello taco night!

The two burrito supremes I ordered, the shells were HARD. And the meat in theXXL nachos steak was mushy and some of it had alot of fat like stuff in it. I get the steak taco salad all the time. But the steak in the XXl nachos was nothing like the steak I get in the taco salad. I was very dissapointed !!!

I don't understand the point of having happy hour drinks, when the machines are never working. Why advertise something that costumers can't buy? I've been to a few locations and their frozen drinks machines aren't working. For a week straight one location machine was down, isn't there a way they can get it fixed?

Victoria Garcia
from Bellevue, WA
Every time i come thru the drive thru and even if theres only 3 cars in line they stil somehow take 20 min why i dont understand. I understand if theres a long line not2 or 3 cars thats not cool. Makes me not want to come back but this is the only taco bell close to me. This has happened at least 4 times out of 5 and not a good thing. Thank you for your time.. Maybe need different attentive employees.

Scott Dormann
from Atlanta, GA
I was at the Taco Bell Atlanta Midtown on Weds and there was no one at the cash register to take my order I waited 7 mins and no one appeared and another customer had to get up and tell the staff that was in the hall way that I was waiting to order. Even better one of the employees walked right behind me and still no one decided to wait on me. I should not have to wait 7 mins to get waited on when there is one customer with his food and no employees to take my order. I ended up leaving since the employee decided to give poor customer service.

Heather goodson
from Harriman, TN
While using your app to order my dinner I had theee gift cards on there along with my debit card. I used the 3 gift cards and then the remainder of the bill to be put on my debit. Your app put the whole amount on my debit card and deleted all three gift cards so for the time wasted waiting in line on an orde that should have been ready it cost me double. I need to know how you plan to Fix this. Immediate attention is required.

Steven Kownslar
from Irving, TX
I visited store #027812 on Thursday night at 8:50 pm, I was immediately told by the cashier - employee Cheyenne T. that I could order inside but, could not eat inside the store. Is this per company policy? I have worked in the restaurant industry for 20 years of my life and as long as the doors were open to the restaurant I was never nor ever told such a thing. I then asked for the corporate number from the manager LAVE and she said she didn't have it because they were not a corporate store. I asked her was it corporate guidelines to tell customers that if they ordered their food before 9:00pm that they could not eat their food on premise? She didn't respond. My order number is 222323. I am a Texas conservative and I have a YouTube channel with 649,000 followers. I could do a video tomorrow about this incident as my crowd links to other conservative YouTube Channels. I am very anxious about the corporate stance on this. Please respond as soon as possible.

Frank Cortez
from Atlanta, GA
On 12/20/18 I purchased 1 spicey tostada and some tacos to go, when I got home my wife opened the tostada box and it was just garbage, there was no way she was going to eat it, so at that point there was no way to trust the integrity of the tacos so we threw the entire food items away. I called Taco Bell at 1049 west I 35 frontage rd Edmond ok, 73034 and advised them that the food was just not for consumption and the person I spoke with told me that she would give me a full refund I told her that I would not be back there until the next day after work and she told me she would write my name down for a refund of 6.57. the next day I stopped by and told the cashier the reason, she then called Justin Or Jason he identified himself as the General Manager, when I told him why I was there he immediately became combative and started to interrogate me as to what time I had called and with whom I had spoken and so forth, I told him I just wanted to get my refund and that I was not going to get into a pissing match with him over 6.57, he then told ma again that he was the general manager and those decisions are made by him, I told him to forget the refund and that I would contact the corporate office, he then informed me to go right ahead as this store is independent and that the corporate office would just send the complaint to him and that we were done. So I asked him if he was going to give me my refund and with a bad attitude he said yes and that he reserves the right to refuse service to anyone and that I was no longer welcomed at taco Bell and he said do not come back.I really think he had an issue with me as I am Hispanic and his actions are based on being prejudiced. Am I to understand that if I have an issue with Taco Bell I better not complain or I am then told not to ever come back. I doubt I will ever visit any Taco bell again. What is very disturbing is that the General Manager says that because this store is independent that they do not have to follow any corporate guidelines. Next door there is Chic fill a and Whataburger they always have customers in line but their service is superior. That immature General Manager should be retrained or fired.

Mary McAllister
from Madison, WI
I have NEVER had a problem at any of the Taco Bell's in Madison, Wisconsin, until today. I stopped at: 100East Broadway, Monona, Wisconsin.
I ordered the Sausage Egg and Cheese Breakfast wrap, at the drive throw. I was 2 Miles away on my way to my Next pick up of a client on the other side of town when I got a chance to take a bite. All was good except for the Hash Brown. You can not deep fry that one any harder to make it feel like gravel. It was so over cooked it looked like orange stones. With that bite the whole hash brown fell apart like little pebbles. All over my lap and interior of the van. When I got to a parking lot I opened it up and pitched as much of the hash brown as I could. Biting into it hurt my mouth. It was well beyond crunchy. I will NEVER go to THAT Taco Bell again!

The Taco Bell located in Moultrie Georgia has the worst service I have ever experienced at any restaurant. The staff is rude and they seem to have no regard for customer satisfaction. I've called to ask a question about going back to get something that was not put in my drive through order and I was laughed at and talked about while on the phone with the manager.

Kourtney Bacon
from Milwaukee, WI
I placed an order online to pick up at the store on Highway 100 and National in West Allis, WI. We tracked our order and we didn't go to the store right away when we received confirmation that the order was ready. We got to the store and our order was NOT ready. The employees acted like everything was ok. If we wanted to wait for our order being made, we would've went through the drive though or ordered when we got there. We would NOT have ordered ahead. This has only happened when the certain employees that were working tonight were working, as this happened once before. Please find out who was working at this store and I need a call back. 414-702-8366. This is unacceptable

Jonathan hogue
from Boston, MA
On the night of December 17th, I placed an order at Taco Bell in Cabot Ar. Apon entering the lobby, the smell of marijuana was noticeable. I approached the register to place my order and seen that the shift leader Michelle, along with other workers were red eyed and giggling excessively. When taking my order, several mistakes were made and my order was incorrect. Shift leader Michelle, approached the counter smelling strongly of marijuana and apologized for the mistake and made corrections to my order. I am not satisfied with the service received and I strongly believe drug usage is taking place during store hours by several crew members and manager.. Please check into this situation to hopefully avoid more complaints about the store.

I went to Muskego Taco Bell on Janesville rd at 7pm on 12/16/18. The same female that took my order last time I was there, started taking my order tonight. I was careful with how I worded the order, she last time she mistakenly overcharged me for 5 extra tacos. I think her hearing is bad. I wanted 4 tacos and a 5th taco without lettuce. she said I said 6th taco, and I said I had not said 6th. she persisted that I told her 6th, and kept arguing this point. I asked her name, and she refused to give it to me, since I told her I would make a complaint. she then refused to let me order food. I did not raise my voice, but I guess I brought up the complaint card too soon, and she didn't like it. IT WAS THE WORST EXPERIENCE I'VE EVER HAD AT A RESTAURANT. please, teach this employee how to properly treat customers, as if it actually was her own restaurant!!!

joseph m smith
from Jacksonville (Maxville), FL
i called this taco bell location at 11:15 and asked about a 24 taco pack to go, i was told the 24 pack was available and the price was $17 and change. i drove over to taco bell at 12:30 and preceded to place my order but was told there was no 24 taco pack period! i let the staff and manager know i had called to inquire, i but was called a liar until the manager checked her phone log and confirmed my call, upon which the manager, simply said your right! she offered no kind of solution to her mistake so i left hungry and very disappointed with this taco bell location! not good customer service!
this taco bell is located at 3649 philips hwy jacksonville florida 32207

Sandy
from Poughkeepsie, NY
SO LAST NIGHT I WENT TO THE TACO BELL IN POUGHKEEPSIE NEW YORK ON MAIN STREET . WELL LET ME TELL YOU I WILL NEVER GO AGAIN . THE SERVICE SUCK THEN ALL WHERE HIGH AND SMOKING WEED IN THE STORE . THIS IS NOT THE FIRST TIME I SMELLED WEED AND I HAVE SEEN THEM DOING IT IN THE PARKING LOT . I ASK TO SPEAK TO THE MANAGER A LADY CAME TO THE WINDOW SAID SHE WAS THE GENERAL MANAGER . I TELL HER THAT THE PEOPLE ARE RUDE AND THAT WHEN THEY OPEN THE WINDOW TO ME ALL I SMELLED WAS WEED. AS TO MY SURPRISE AND WASHING AND SMELLED LIKE WEED AS WELL . NOT A GOOD PLACE TO EAT AT OR BRING YOU FAMILY . SOMEONE NEEDS TO DO SOMETHING ABOUT THIS . IT'S LIKE SHE DIDN'T CARE . HOPE THIS GETS FIXED SOON. THE PERSON THAT OWNS THIS PLACE NEEDS TO KNOW WHAT THEIR DOING .

The Taco Bell at Parker crossroads wait time for food in the lobby was terrible 25 minutes to get your food

Jim Slarzynski
from Milwaukee, WI
Mount Pleasant, So on Washington is a terrible location.
1. No Pepsi
2. No taco sauce
3. No receipt given with order
4. Asked for no tomatoes and got them anyways in my order.
5.Extremely long waiting in drive thru at 1.am

Linda Little
from Elmhurst, IL
I do not like your new furniture. Chairs and benches are very hard wood and no padding. The old booths before renovation were very comfortable. Now its horrible. My local store just renovated. Bloomingdale Illinois and I was very disappointed. I really like your food but will think twice about going in. I always go in. No padding on the seats.

dale
from Rancho Cordova, CA
to many kids playing around at taco bell located 8750 elk grove blvd elk grove ca order wasn,t what i order manger working very disrespectful i feel she was out of pocket and if u cant handle cleaning up ur back yard im sure bbb can make it happen food is very serouis

Kat Billiter
from Buffalo, NY
The general manager at taco bell in beaver dam,ky yells at her underage employees.She has also told all the employees there that if any of them if any them contact corporate on her she will write them up and suspend them without pay.She also complains about every employee that calls in sick to all other employees and tells them the others personal info.Ashley also tells the employees there is no crying there and to suck it up no matter what is wrong.She even lies on other employees there and she is why so many people have stopped working there in the past month or so including my two kids.Allen Kiper and Michaela Billiter on 12/10/18 because Ashley went as far as to have another employee lie with her on my son today and talking shit about my daughter to other employees.She hardly is ever there and when she is there Ashley won't help teach others or do actual work.She sits in the back doin nothing.And if she does have to do something she gets all upset and then leaves calling Sammantha in or Missi.

Donna wilson
from Nashville, TN
I went to taco bell on 12-01-2018 at 3:30pm i order 2 of 3 layer Nachos there was nothing on them pinch of cheese, beans , hardly no meat. I went today 12-10-2018 at 7:45 pm order 2 beef burritos supreme that were sloppy and hardly nothing on them. I have been eating at taco sense 1979 this is the worst food i have had sense i started eating taco bell

Eva Giessinger
from Chicago, IL
We found a plastic glove cooked into our spicy chicken Quesadilla, after biting into the quesadilla. This is totally disgusting, my child vomited all over the place on the carpet, on the sectional sofa, and all over other electronics. We contacted the restaurant, only to be told that it couldn't be true. However, if it was a refund we were seeking to comeback up to the restaurant for a full refund. Location 8013 S. 84th St, La Vista NE 68128. This disgusting experience is going to cost me a new furnishings.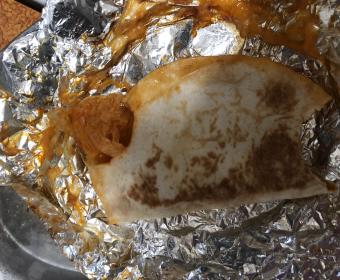 Mike Boudreau
from Manchester, NH
Your New commercial with the driver going thru the yellow lite isn't very helpful in following the law. There are enough people running yellows and blowing thru red life's already. Terrible commercial!!!!!!!

Ervin vonSeggern
from Washington D.C., DC
Went to Taco Bell on tower and Hampden in aurora co. Stood at counter for close to 10 min. 3 different employees saw me and didn't even try to serve me. No one made an attempt to even come to the counter. You have told me what I should expect from Taco Bell. I will respect your wishes as you don't want me to buy there. That's ok. Del taco. And taco johns do want my business

Debbie Strickland
from Nampa, ID
I have no complaint about the food or the service. My family was so excitTed when you built a Taco Bell in Kuna Idaho, it is one of our most favorite fast foods. Thursday evening my husband and I stopped in to have dinner there before going to our Grandson's basketball game. Upon receiving our order and sitting down to eat, we noticed one of your employees cleaning the snowflakes and Holly off the windows. When we asked why they were removing the beautiful decorations, they simply said they were told by corporate to remove it. I would like to understand why you would do this. There was nothing on there that should offend anyone, no Merry Christmas, no wording of any kind! I'm shocked by this move, I would like to understand your reasoning behind this action. Your response to this action may change my liking of Taco Bell and my choice of being one of your customers, and I may point out, it became quite an open discussion within your restaurant, all your customers there, yes all, wanted to know the same reasoning. Please respond and help me understand this action.

Margaret Merchain
from Phoenix, AZ
I'm at the counter ready to order and I waited and waited. No one comes to help me for over 5 minutes. The employee kept helping the drive thru. I asked her if they cater to drive thru. She didn't answer and finally took my order. NEVER told me "sorry for the wait"
Unhappy customer!!!

tawndra hudson
from Siloam Springs, AR
I go toi taco bell all the time I want too taco bell in new Iberia la I walked in and no one was in line but me a couple was waiting and they was upset but I did not think anything about it I stood there for 30 min before anyone took my order before anyone even said ill be with you in a min iam very upset and think some one needs to do something about it I want too know what will be done date of visit 12/04/2018 at 4:30

Joey Sulipeck
from Newark, NJ
Look. This isn't a "the world is ending" email ... but it's super annoying to get to work after waiting at a drive through and your order is wrong. I asked for a Power Bowl with extra pico. Go charged for extra pico. Get to work and there's ABSOLUTELY NO PICO. Not just "no extra". I mean none. After I paid for extra. Did it bankrupt me? No. Does it infuriate me as a customer? Yes. So simple. And yet so frustrating.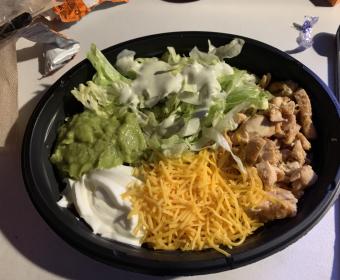 Suzette Conner
from Siloam Springs, AR
Taco Bell, Zachary, La Highway 19, Sunday December 2, 2018 6:00 pm:
We waited 45 minutes and did not receive our order. There were 12 people waiting and we were all informed by the Manager, after waiting 25 minutes , that we will be waiting a looong time. She was completely unapologetic. After 45 minutes, my husband asked to speak to the Manager and asked what the problem was. She informed him that they didn't have enough people working. I counted about 5 people including herself working. My husband asked for and received a refund. This occurred on Dec 2, 2018 at 6:00 on Sunday evening . This will be my last time at this Taco Bell in Zachary, La on Highway 19!!

Laura a Sullivan
from Chicago (Central), IL
I ordered a #1 my burrito& taco were rotten in fact I felt movement when i bit into it..I returned
the rotten food & requested a manager & refund. Kathy said she was the manager she snatched the food & tossed it without looking at it & refused to give me money back.. instead she interrogated me for 15 minutes asking me what was wrong with the food as a means to try to frustrate me..she told me there was nothing wrong with it& that she could replace the food only... I declined U left.. I feeling sick because In swallowed some of that food..Kathy was very unprofessional.. I need a supervisor to contact me immediately..312-778-1060

robert miller
from Lockport, NY
i have been going to the store in niagara falls ny. i would wait in line in the drive thru for at least 20 mins each time i go there. the last time i went i asked to speak to the manager. when the kid came o the window i started to talk about the service he walked away not saying a word to me. i was told that he was not going to talk to me because he didn't want to hear about my complaint. each time that i go there the line is always long and the service is very very slow. i always see workers outside smoking or just standing up against the counter laughing and not working to get the food out. i would go to a different store but that store is the only one that is close to me. and if it wasn't for the love of your food i would never go back to your store at all. i go to your store almost nightly after work and the service is getting worse by the day. I complained many times to the store manager and got the cold shoulder and to me it seams like the workers don't care about it's customers at all. i did find a mighty taco close to me so i ma just go to them from now on so i don't have to deal with our rude managers and staff at this location.

maryam Rashid
from Murfreesboro, TN
well I have been charged a dollar extra for each crunch wrap sup order just because I forgot to tell them to change the beef to chicken literary it took me less than 10s and I told the associate and I apologized for him and he act so pissed and shut the drive-through window on my face and I got charged extra 6.50$ just for the crunch wrap while I ordered 8 of them a night before and got charged for only .70$ extra.

Alyssa Charbonneau
from Bellflower, CA

Kyle Folse
from Mobile, AL
Pulled up to a location in Byram, Ms. at 12 am last night. (An hour before they actually close) I was completely ignored by the three staff members who were clearly visible, and having quite a time doing whatever it is that they were doing other than working. The car behind me got the same treatment and then when I went across the street to the Wendy's and was taken care of with no problem, I saw a few more cars get done the same way by your employees at this particular Taco Bell. They were all standing around the front counter cutting up and was visible to the people that were pulling up to the window and around the building to see if they were actually opened. A week ago at about the same time I was also rudely told that they were about to close at 12:30 AM when I was trying to place an order and then I was asked to drive around to the front of the building where I waited for my order for a considerable amount of time considering I was the only person there.

Melody Janzen
from Sparks, NV
Went to Taco Bell drive thru at 191 Disc drive, Spanish springs, NV 89436 on November 17, 2018, and one again it was closed early for no reason. I arrived there at 920 PM, they are posted to be open until midnight on Saturday. There were two other customers in line at the drive thru as well, however, no one was taking their order. The customer in front of me and I finally drove through, and when I stopped to get the store number to file a complaint, a young employee opened the window and said they were closed and gave no reason. There were no signs on the drive thru menu to let their customers know that they were closed early, and all the drive thru lights were on. This is not the first time this store has closed early and did not inform their customers. I took my business elsewhere and will not visit this location again, it's very unprofessional and displays poor management skills.

sheila hensley
from Burlington, KY
VISTED TACO BELL IN INDEPENDENCE 11/16/18 TO CARRY OUT, STOOD THERE 10 OR 15 MINTUES THE GIRL KEEPS WAITING ON THE DRIVE THUR NEED TO TAKE TURNS WITH YOUR CUSTOMERS! THIS IS THE SECOND TIME THIS HAS HAPPENED TO US! MYBUSINESS IS JUST IMPORTANT AS THE DRIVE THUR CUSTOMERS! I JUST WANTED YOU TO KNOW!

Pamela Lipscomb-Glover
from Dallas, TX
Hi, I use to be a Taco Bell LOVER, as well as, my son and grandson! I reside in Dallas, TX and would like to vote the facility from my located at Taco Bell Store # 022872, 11829 Abrams Road, Dallas, TX 75243, telephone #- 214/575-6201, home the WORST Taco Bell in Texas. I use to frequent this facility no less than 2-3 times weekly, and now it's like 1-2 retimes every 2 weeks! The food is ALWAYS cold, regardless of what you order. They make the tacos in advance and the shells are soft, with very little meat in them, tons of lettuce and 3 grains of shredded cheese! I went through the drive thru on 11/9/18 at 4:11 pm, placed an order Tacos, Crunchwrap Supreme, and Beefy Frito Burritos, along with drinks,(Order #022872). Well, the Tacos were COLD, VERY LITTLE MEAT, the Shells were soggy (which to me indicates they were old), the Crunchwrap and the Frito Burritos were COLD! The SKITTLES FREEZE, INCLUDED NO SKITTLES, So why did I pay the extra $.30, for the Skittles?
I Kept the food for 2 days, while trying to call that Taco Bell and regardless of when I called, it would ring and I eventually got the Fax Machine! To me, this makes no sense! I guess you have to eat at Taco Casa, Taco Bueno, El Pollo Roca, and all the other fast food Tex Mex and scratch Taco Bell off the list!,
Someone owes me, as I'm sure they owe tons of other customers!

Jeff Bridgwood
from Brockton, MA
I just recently went to Taco Bell store #021084 in Raynham Ma and I feel I have been getting ripped off for ordering a side of Steak. Lately the side of steak is now coming in the cheese sauce container you use for nachos at a $1.80 which is way to expensive for a side of steak. I also asked how much a side of beef would be and got told it's $ 0.70 cents. Now I ask you does an ounce and a half of truly cost $ 1.80 I don't think so. I was also told that is also the amount of steak you put into a steak burrito and I know that is right cause I used to work for Taco Bell and I know its 3 ounces you put in a steak burrito. If this store does not change its procedure on a side of steak then I will go somewhere else that I can get what is right.
Thank you Jeff B

Justin Huckestein
from Trenton, MI
I went to taco bell to grab dinner to have at work because I work midnights. I order 2 hot grotto burritos they whwre correct. I order a xxl steak and beef burrito combo with no pico (tomatoes) because im allergic to them and nicely let the cashier no. So aroind 145am i finally got a break and went to eat. And the x xl burrito was missing steak only beef and had pico (tomatoes) on it. As well as the hard taco that comes with the combo was missing cheese. So i only got to eat the 2 burritos because they where correct and I order not to die from the tomatoes and who eats a dry plan taco with no cheese. Im very upset i spent 9.79 on the combo i couldn't eat. I don't want a refund I'd just like the food replaced correctly

Phaedra lafarge
from Carl Junction, MO
Didn't get complete/correct order! It's seriously NOT that hard but somehow EVERY time it's wrong. I should've checked my order before I left. Taco Bell #020648 West 7th st Joplin mo!

Jaxon Gross
from College Station, TX
I was told by a cashier to "shut up bitch." Spoke with manager at window, nothing happened. The cashier just kept talking badly to me
Called instantly to complain and no one has contacted me back. I've called multiple times In the last two weeks but no response yet. VERY DISAPPOINTING.

Hillary Crone
from Chino Hills, CA
This has been an issue multiple times. I have tried grabbing breakfast on the way to work. All of the times I have been in the driveway after 7am (when they open). Half the time they do not awknowledge me, the other times I have had to call in order to get their attention. Today I was told (after calling) that they would not be ready for another 10-15 minutes.

Robert Wilson
from Ballwin, MO
Just saw where your store in warrenton mo. refused to serve a trump supporter, the video is on face book. Is this what you would call customer service? This is NO different than refusing someone because of race, sexual orientation or religious belief . If this girl isn't reprimanded or fired I, as a LONG time customer will never darken you doors again and I will make sure all my friends and relatives and associates know about this incident and where to view it and endorse refusal to eat at your resturants

This is the Taco Bell in Florida in Palmetto I went and got a number 9 went to the drive-thru and when I got back to where I was working I took a few bites from the Crunchwrap and it had the plastic sauce that was open and stuck between the meat I ended up almost swallowing it but luckily I didn't someone had to put that in there this stuff needs to be known and it needs to be looked at I did talk to a manager I was giving back my money he took my name and number this was Friday the 2nd at 12:24 a.m.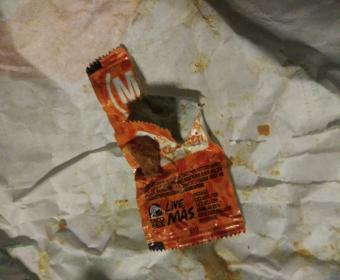 Brenda Godlove
from Cumberland, MD
two managers have mistreated my granddaughter , Paige Thomas,that works at the taco bell in Cumberland MD. Shannon gets in paiges face and cusses her out and calls her a bitch face, Paige yet another manager allows another coworker to cuss paige out and told paige to stop telling Jason to stop it. In maryand it is the law that breaks are to be given. Paige rarely gets a break or a lunch break. She loves working for taco bell but she had enough of the horrible treatment and walked out. Paige called me very upset she was waiting for a cab outside alone after 11 pm and its not safe here to do that. I would like this to be looked into and something done about shannon and the manager paige. they can not keep employees there for very long and I can see why. Then you get one like paige Thomas that loves working there and Shannon and the other paige treat her badly. I will be waiting for your email,

DIANNE ROOF
from Germantown, MD
Entered the store at 2600 N. College Rd. in Wilmington, N C around 9:30 pm Had to wait for the cashier to come out of the office to wait on us. She took our order Order was made and sat in front of preparer for a few minutes. another preparer said "they are waiting for their order and the first preparer said well I am doing this order. The second preparer noticed that I had overheard the conversation and he said something else to the first guy. The first guy said I am doing this order. The second guy then proceeded to put my order in a bag and politely handed it to me and was very nice. The first guy was sandy blond, almost shoulder length hair and no hair net. I will not be back again.

Diane Triplett
from New Orleans, LA
I was just charged $1.49 for a cup of water. I didn't want to hold up the drive thru line and didn't have time to go inside. When I asked why I was charged, she said they'd run out of cups and had to give me what looks like a slushy cup.
I love Taco Bell and have been going for years. And I don't know if I've ever written a letter of complaint, but I'm just really aggrieved. Thank you.

Sam BurrisBurris
from San Pedro, CA
#1--Taco Bell #028514 (204 N. Gaffey St., San Pedro CA 90731) On Friday, 11/2/18, 1:05 pm--this location was out of Hot Sauce packets...all flavors! It is not that big of a deal really, but I did request a refund of my order, which they did. (order #294)
#2--KFC/TB #E791040 (26715 Western Ave., Lomita CA) On Saturday, 11/3/18, 12:12 pm--this one is strange...the ice dispenser was out of order when I attempted to use it. Other patrons, also waiting for ice, told an employee and the ice machine worked for several people. At my turn, it didn't work again. I waited a minute or so and alerted the employee again. She said, "Try now." and it worked for me. I THINK...that she had to push a button to activate the ice/beverage machine. IF...that is the case, this is a bizarre (and inconvenient) practice. (ticket #2055)
Thanks--Sam Burris

latisha brooks
from La Grange, GA
taco salads had only lettuce and rice. called to complain and manager told me they were right. she hung up on me and when I called back she said hello hello! She did not even say taco bell. She refused to give me her name and gave me a fake name and number for corporate!

Connie Miller
from Marshfield, WI
On Nov. 1st. Taco Bell was to give customers a free taco from 2 to 6 p.m. for a promotion for when someone stole first base in the World Series game. We asked for our free Taco and they had no idea what we were talking about. They said that we needed a coupon for that free taco and the promotion didn't start until next week. That is not what we seen in the ad on t.v. I also checked it out on the computer and nothing was mentioned that we needed a coupon. I became very upset and walked out. The employees of Taco Bell need to be made aware of these promotions.
Thank You Connie Miller

T.j. hammerquist
from Mount Ephraim, NJ
hello to whom it may concern I went to the taco bell 1110 in Deptford, NJ. the reason of my complaint is I had a very racist experience in this restaurant and I have been coming to this taco bell for a long time. what happen was people where making my food and decided to place cop in the restaurant and stair at me because of my choice of clothing. and they think they are managers and they are food prepares. I mean I didn't expect this kind of attitude and racist remarks from them and the process in waiting for my food was slow and it was like they had the power to complain about me. I didn't say anything and this is the type of drug addicts you people higher. the morning crew looks like they were drinking or smoking pot and accusing me of doing drugs to. I hope this problem gets corrected

Jane Droke
from Cabot, AR
Visited Taco Bell located off I-40, Prothro Junction, North Little Rock, AR on Sunday evening, 10/21 at 6:45. ATTEMPTED to order, 12 Pac of tacos. Was stopped before completing order and told, "we would have to drop some beef." Layman's terms, they had NO hamburger prepared at 6:45 in the evening NOR were they planning on doing so. So tell me, were they NOT planning on serving for the rest of the evening? Several vehicles pulled in behind me. When informed no beef. They left. This is the 2nd time I've visited this franchise and they had NO beef. It's not uncommon for them to be out of the packages of sauces but we add our home made any way. Need to do MUCH better.

Connie Puett
from Manhattan, KS
Last email was kudos for an employee, whom I hope got recognized.
This one is different: 22 Oct 18 7:52:21 PM Waiting to order and shoes sticking to floor. Thought was my shoes, but lady in line with me said no it was the floor. Nasty!! Said I hope the tables were cleaner that the floor. Might need more cleaning agent or more muscle.
No help, did see you were trying to hire. Asked for PLAIN nachos and cheese...….got a package like cinnamon twists come in for the chips.
Said you have got to be frigging kidding me. I don't car about price if that is your issue. I wanted or expected same as the nacho supreme serving.
Didn't order those since most of time cheese is never hot anyway.
Guess could call for health inspection for a customer complaint. You need the first heads up and then next time I'm in if not solved that will be my route. Really should probably have just went that route, not sure anyone listens!
Have feedback for Taco Bell?
Thanks for your feedback!
Sorry. Please try again later!