Taco Bell
Taco Bell Complaints Continued... (Page 2)
415+ reviews added so far. Upset? Call Taco Bell corporate: 1-800-TACO BELL

R Sesters
from Woodway, TX
i just left your taco bell 030166 ordered a chicken quesadilla to go. it was burned so i gave it back to the counter person. was told they would make me another. what i got home with was two slices from the one i handed in & two slices of a new one. that is not right. you will lose me as a customer. the order number is 142954 also said my number is 154

Micheal House
from Newark, NJ
My order was wrong and the people in charge didn't care or fix it I was only white person there and had to wait till they served all black customers first and it is not the first time will not ever come back

Elaine Gallegos
from Houston, TX
Went in to get food for me amd my family and I order k10 7.99 with 3 piece chicken with 2 sides and a biscuit and a drink. When i order I always check my food because it is always wrong or missing something. I open the box of chicken and found 3- 2inch size of chicke legs 2 sides mash potatoes and mac and cheese no biscuit. Asked the girl that took my order it soupose to be a thigh and she said no look at the picture i said excuse me you look. She went to talk to the manager and Edwardo didnt say nothing to me so I said I want my Money and toss the money at me and grab the food and left not saying nothing. Very ruxr customer service.

Joelle M Spencer
from Albany, OR
I went through the Taco Bell drive-thru near my home tonight, and for the 5th time in the last 18 months, they got my order wrong. I gave everyone else their food, but I took mine and went back to the location to get the item they left out of my bag. When I arrived I explained the problem, and noted that now my food would be cold because of their error. The supervisor offered an order of cinnamon twists or a drink as an apology. I accepted. When the employee brought the food, they did not replace my cold food. I insisted it be replaced. When I finally got home with the food, I gave my daughter her food and the "twists", then went to eat my food. My daughter handed me back the bag of "twists", because it was not twists, it was tacitos and cheese sauce. My daughter is a vegetarian. There is no way I would have accepted an offer of tacitos. I understand that being the branch located next to the freeway makes it a busy location, but this is ridiculous! I've even been told by others who used to work there, that there is a "game" the staff is known to play where they intentionally screw-up the drive-thru orders, expecting that often the customers will be long gone before the "mistake" is discovered, therefore they won't bother to come back to get it fixed. I didn't use to believe this claim, but as this has happened so many times to me alone, I can't help but believe it! This is FAR from acceptable! Taco Bell used to be my favorite. Not anymore! Plus, now I can't even give you a transaction number, as the supervisor took my receipt and never returned it to me.

Lynn Miller
from Chicago, IL
While enjoying a meal before going to work, employees at the Plainfield Taco Bell were having a loud, heated argument in the back, behind the counter. Customers and other employees were watching the incident very uncomfortably. Some customers left without placing their order. It was very unprofessional.

fredrick russell
from Jackson, MS
a few weeks ago I visited the taco bell #032307 I orderd the $5 meal and specified no whip cream on the gordia crunch.i opened it and it had some white cream on it.the cashier adreaun k took it to the acting manager who responded in a very harsh and rude way that it wasn't sour cream.i politely stated that Id prefer no cream of any type no ranch etc.she rolled hers eyes and mumbled something under her breath.i didn't say anything I just got my food and ate.if these workers don't like what they do then waste management is hiring

becky scoggin
from Cave City, AR
I went thru drive thru taco bell in Newport,arkansas hwy 67 on 301 I place a order I wanted 4 burritos I drove up to window this chubby black lady was very rude towards me I gave her the money she handed or should I say shoved at me I look in bag only 2 burritos she slam the window shut and I trying get her to open window well she did and I said I order 4 burritos she said screen shows 2 and slam window again I still sit there she opens window and goes screem whats ur problem and I said can I please get 2 more burritos please she screem loud at me u order 2 u got 2 that's all u can get real loud and rude I had no choice to pull away cause cars was behind me I couldn't go in cause I have breast cancer stage 4 very sick it made me scared to go back to any taco bell if that's how I was gonna get treated I'm 57 year old woman dying with cancer that was just uncalled for made me start shaking to where I couldn't even drive . I call a lawyer he said if the complaint department couldn't do something he would . that was just down right wrong . I eat taco bell for years . I thought I was gonna have go to hospital over this matter. thank you for your time hope this wont happen to another person they have a heartattach thank you again.
10-25-2017 2;15 pm

James M Elmer
from Indianapolis, IN
Bad attitude from managers every time we go there they messed up our order rude and disrespectful when asked to fix the order and half the time the food is cold when we eat it there u can call me at 317 419 4634 this at the Taco Bell on West Washington Street & Lynhurst in Indianapolis Indiana 46241 i am to the point i am going to stop eating there all together and tell my friends and family not to eat there anymore.

Went in to the taco bell location at Perkins Rd and Essen Ln during shift change. I ordered the crispy chicken quesadilla 5 dollar box. I waited 17 minutes for my meal while they made meals for all of the people that were getting off of their shift and ordered at least 4 minutes after I had, they all (5) got their meals before I did. I asked the manager about my meal and he told me that they were making it now 17 minutes later? WTF? I ask for a corporate number and was told they don't have one. Will never go here again! People that I know that usdd to go here feel the same way. Quality and customer service is non existent here.

raymond sallee
from Wilmington, OH
this makes 3 times in the last month I have gone to taco bell in Wilmington, ohio, 45177 to get something to eat and the first time we got there at 10:30 a.m. and were met outside by an employee who said no manager had shown up and they were still closed and couldn't get in. the second time we went had to wait for over ten minutes just to get waited on as the first guy couldn't figure out how to work the register so he walked off and we stood there until a girl walked up and asked if we had been waited on and we said no and she said well someone would be there in a minute and walked off. third time placed my order and while waiting told guy at the register that pop was all over the floor and he said yeah he knew and did nothing. people behind me placed a big order and received their order and another person placed an order and they all received their orders and I asked if they had forgotten my order and the guy said no but I still had no order so then the manager came up and checked the screen and said here is his order you forgot his order but she had the order wrong too. so I told them to give me my money back and I would NOT be back. you need a new manager and some employees who actually care about their work.

chris huepenbecker
from Columbia, SC
My family and myself frequent this location maybe once a week (not any longer) so on our visit there on 10/06/2017 we went inside and order our food when it was ready we got it and went home which is in Gaston. Well once home we found out our order was completely wrong so my wife immediately calls the store and talks to a manager that manager apologizes and offers to remake our order however I'm all the way in Gaston and I'm not making another trip to red bank so the manager states that she will put my wife's name down so next time she came in that the store would make the order correct.
So my wife and kids went to the taco bell in red bank on 10/19/2017 as they were running some other errands in the area to get our corrected order that was promised to us. Unfortunately it could not have been the same manager as my wife spoke to on 10/06/2017 because the managers first reaction was like she is lying and then tells my wife that she does not see her name so my wife told her to call the other manager which this manager say she is going to and comes back to the front of the store and said yes I spoke to her do you want your order my wife replies yes. So my wife and kids now have been waiting almost 1hr my daughter goes up to the counter and ask how much longer they tell her 10 mins. Still waiting over that 10 mins so my wife ask how much longer for my order the manager then states oh I got him making them now. The lady already lied to my daughter talking about 10 mins so my wife says something about contacting the corporate office on the staff to the manager which her name is latoya I would like actions taken against her and the staff on the evening of 10/19/2017 approximately 6:00 - 730pm
then they called the local sheriff's department because they wanted my family to leave never had an experience like this before an we were regular costumers but not any longer.

The food was great but the cleanliness was bad. We sat in three different sticky covered chairs. The table you couldn't touch it was so dirty. I started looking around and the entire place needs cleaned. Top to bottom. They need to soap the rags and clean and rinse the furniture better. My code on the receipt is 8630-3127-1084-3012 It was in Hamilton, OH
When you eat out you shouldn't have to worry about going home and washing your clothes.

gina galvan
from Stockton, CA
On Thursday Oct 12.2017 i was heading out of town i was to far to go back. i ordered 3 mexican pizza combos they were soggy some didn't have very much in was not happy 2 burrito supremes 1 had no sour cream.i ordered the varietytaco pack half nacho cheese doritos locos tacos they was all origanal crunchy tacos. i had to except the order counldnt go back i love Taco Bell but was not happy sorry to complain but it needs to get things in order

Christina
from Norfolk, VA
I bought a chicken burrito and ate about half. As I was swallowing, I thought I was swallowing a hard piece of chicken. I then could not breath. I ran to my GM at work and she gave my the Heimlich. I spat out a piece of plastic bag that was beginning t opening up i my throat. I then vomited. I am now waiting for corporate to call me back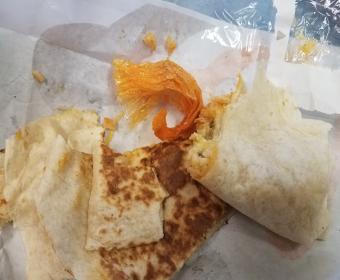 Naomi Valentin
from Boston, MA
Hello my family and I went to our local taco bell we love your food! Our order wasn't complete I ordered the Doito cheese tacos,two double decker supreme with two mtn baha freeze drinks and was missing a drink along with a meal. The worker had an attitude and want very helpful the wait was long so my husband decided we should leave because it didn't seem like our order was gonna be completed. Very disappointing especially since I've gone to taco bell a lot during my pregnancy.

Remonia Brashear
from Rapid City, SD
I'm from Louisiana staying in kingfisher Oklahoma and the people here doesn't know how to make the right right stuff to put into a toco supreme plus we got food poison off the stuff we ate
The people that work in there are rude and really don't care I will be calling the health department on the one here

Rae Richey
from Aurora, CO
WHY no sacks or bags to carry your purchase home in. I purchased a Taco Salad which was put in box, also some other Tacos and Burritos THESE WERE IN A SMALL PAPER BAG, I wanted a sack, bag, or something large enough to carry all of it home in - the manager told me they had NOTHING. You used to have at least a plastic bag for me. NOT THIS TIME. Even a larger paper bag would have accommodated my purchases. THIS IS A BIG DEAL.
WHAT IF I HAD PURCHASED TWO TACO SALADS, Tacos ad Burritos - NO WAY could I have handled it all, including sodas. You need to provide a sack of some kind so that people can easily have take out orders, without having to juggle two or three items. I GUESS I WILL have to cease ordering your taco salads, or even quit buying your gift cards. I NEED A LARGER BAG FOR ALL MY PURCHASES - OR ELSE I WILL BE FORCED TO NO LONGER BUY YOUR TACOS - WHICH I DEARLY LOVE - BUT THERE IF LIFE AFTER TACO BELL!
I would appreciate a quick reply oh, b- just purchased another one of your gift cards, but this will be the last $25.00 I spend. GUESS I WILL HAVE TO START TAKING IN MY OWN BAG - TO FINISH OUT THIS GIFT CARD.

Geni Friend
from Taft, CA
On September 17,2017, my husband and I ordered 1 Crunchwap Supreme and 1Beef XXL GSB, cashier Lourdes and order number 350928. When I opened my crunchwrap, there was very, very little meat. My husband took it back and there were four girls there and the manager. The one girl, with a star tattoo behind her ear kept arguing. A second crunchwrap was then given to my husband and he brought it home. Same thing. I decided to go down there to see what was going on. As I entered Taco Bell, three employees and the manager were there. I said what's going on here, I ordered a crunchwrap supreme and there is very little meat. The girl with the tattoo started arguing right away. I asked for the manager and she was one of the females standing there. I let the girls know I was going to video the conversation and the shortest one started walking an yelling, You can't record us, this is illegal and I'm going to call the cops. I said go ahead and call the cops. Needless to say, she did not call the cops. I then asked this person, if I could speak to the person in charge of this Taco Bell. With a smirk this short female said, it's his day off so you can't talk to him.
I proceeded to talk to the manager and let her know that she was the manager and could not let these girls tell her what to do. I told her, my husband is an Associate Warden at a prison and I am a teacher and there is no need for this. The manager kept apologizing for the girls and said she would make me another wrap. There was no need for this escalation with a customer. Very poor employees. 661-619-2171

Martha Halterman
from Biloxi, MS
Taco Bell 028578
I live very close to this Taco Bell and have numerous problems, this is just the latest. Ordered a 12 pack Cinnabon left and when we opened the bag we had 11 and they were hard and cold. They are suppose to open at 7:00 and on many occasions do not open until 7:15 or later. One week ago we ordered 12 pack Cinnabons and were told there wasn't any cooked and they were not cooking any just for us. Service there is pretty poor sometimes, they can be rude.
I love Taco Bell and I hate the fact that I can not eat there.
Please help to make this Taco Bell and better place that people want to go to.
Martha Halterman

joe blow
from Westminster, CO
one of the RGM's by the name of faith hunter is a very rude and disrespectful to a lot of the workers there at the taco bell on 104th in melody. we as workers don't know how to deal or approach her without having more problems from her. she had promoted an employee by the name of Stephanie to be an assistant manager to an RGM as well but has not even attempted to train her for the position and is very rude to her while at work. we as workers was told we could have a free drink cause were all working so one of the older lady's that we work with gave 3 girls one water cup each and faith hunter turned to that older lady and said that if she wanted to keep her job, that she had better not do it again. the older lady that we work with has a hard time walking fast so since how she wasn't walking fast enough for faith, faith grabs her by the apron and pulls her out of the way. we were told that we weren't allowed to work at the same store with our best friends, family members, or have any type of relation that we cant work with them well she has brought one female from florida and they work the same hours together and is bringing another friend or family member from there to , to work together as well. she has also been taking dry goods from the store when she leaves to go home, that's theft. so why do all the team members getting in trouble by her for little things when faith has been doing the most can somebody explain that one to me?

Diana Roca
from Odenton, MD
I recently was in a rush, went to establishment in Woodbridge, VA through drive through. No one in line in front or behind. Asked for assistance with menu needing on salads the one with least calories and carbs. I was told I would have to go in and look at the menu because she didn't know. Called manager and was told staff doesn't know menu and that information is for guest dinning in only. How sad. I left and went to Taco Bell and even though they had a line gave me information and suggested ways to lower carbs for healthy meal and offered me free water.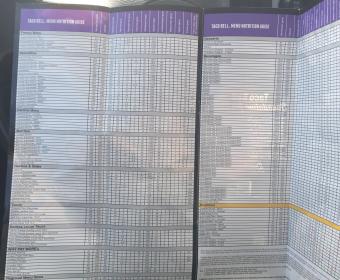 Jeffrey Stevens
from Charleston, WV

Joe Suppes
from New Lenox, IL
O stars. The store in New Lenox, IL is a flat out joke. Now 2 times in a row short food. Who determines the size and weight of a supposed 1/2 lb burrito? Tired of being shorted and ripped off this store is bad news. No consistency at all. Nacho cheese container less than 1/3 full. Looks like el burrito loco from now on. This restaurant needs new management. You owe me money.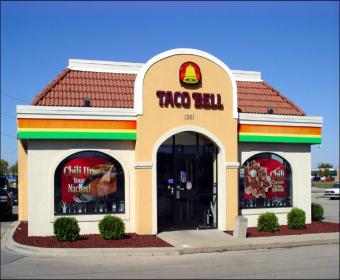 Bryan Ellis
from Fitzgerald, GA
My girlfriend and I got food from the drive thru and when we got home and started eating, the food tasted funny. We only ate about half of it and threw it away. I looked for the receipt and realized the clerk never gave me one. Later that night I started to have really bad stomach pains and sweating. My girlfriend started to have the same symptoms the next morning. We were both in pain and spent some time in the bathroom between that night and the morning after.
I called and spoke with the manager at the location and she basically told me it wasn't her problem and there was nothing to investigate because no one else complained. She basically dismissed my complaint and had no regard for the pain I had endured the previous night. I run a business and this is not how a business should treat a customer with a serious health complaint. I need to hear back from someone about this issue. At Taco Bell 829 Russell Pkwy. Warner Robbins, Ga, 31088

sharon james
from Fort Smith, AR
Went to taco bell springfield, TN at 10:43p on 7-23-2016 waited in line until 10:56 before even getting to the order area and then was told it would be 20 min. before I could order they were out of everything, I left and went back 1 hour later was in line again for 10min. before getting to the order area and was told they were closed. I commented that I thought you were open till 2am on weekends and the gentleman replied no we started closing at 12 midnight as of tonight. So when I got back to work I looked it up on the website and it says they are still open till 2am.
If your employees can't keep up with making and preparing your product or they run out something then maybe they need to be replaced with someone who can keep up or be given extra workers on the weekends when its busier and order extra stuff/and prepare extra so they don't run out. In the 2 times I was there on this night I watched them turn away 17 cars which is business you lose.

Susie Thompson
from Louisville, KY
I walked in before 6:30 pm on Tuesday night June 28,2916. I had my daughter in law and three cranky kids that were very hungry after spending the day at a daycare. When we started giving the order the clerk asked another lady how long it will be. The lady said about fifteen minutes! For a fast food restaurant? Get real! Well, they lost the five of us plus a single guy. We left and we t to the hikes point restaurant. In and out no problem. Also a lot cleaner than the Jefferson town store. Someone needs to get production up and running or get a new manager.

Susan Wofford
from Dallas, TX
The Lake Highlands area of NE Dallas is an upscale area. I would expect even fast food restaurants to have some of their best employees working there. The majority speak little to no English. Those who do speak English are insolent or disinterested at best. We check every order because there is a 90% chance something is wrong. When the food is returned, the employee stands and stares as if to say " what do you want me to do about it" Tonight we ordered a multitude of items. I'm going to try and attach a pic of my tostada.
It looks like someone vomited on it. I'm assuming hot liquid cheese, but who can say for sure...all of my friends refuse to eat at TB, citing the low grade ingredients. I've always liked Taco Bell, but I have to say, I think now I'm done. So tired of the crappy service, messed up orders. PLEASE send someone undercover to the store on Walnut Hill Lane DallasTX 75238.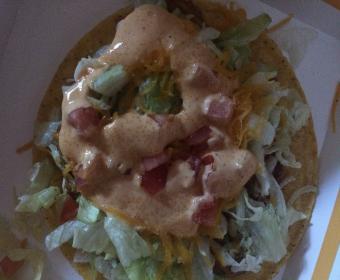 Lori Johnson
from Washington, MO
The quality of the food has gone down in the past few months at our location. The kids working inside are more Interested in playing with each other. The shredded chicken mini quesa no longer has sauce unless you ask and then are charged .40 each. The chicken is in there and a half teaspoon of sauce on one end. This has happened more than a few times. Look at the crusty bean burrito. Tired of it. Washington Missouri location.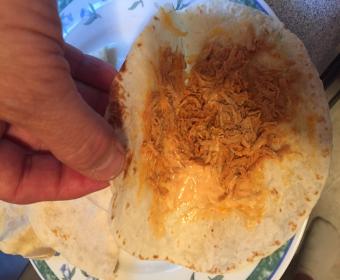 Diane York
from Orlando, FL
Went to Taco Bell # 023298 at 2403 Hiawassee Rd. in Orlando Fl. last night 5/8/16 at about 9:45 PM and waited over 30 minutes in the drive through lane. After 15 minutes I went to the front door to go inside and it was locked. Went back to my car and waited another 20 minutes to get my order. Finally was able to leave at 10:20 PM. Worst customer service EVER. My order number was 328321 and the cashier was Laetrice S. Will NOT be returning to Taco Bell anytime soon.

Ron ostendirf
from Los Angeles, CA
Went in to the Taco Bell on Foothill Blvd in Rancho Cucamunga on Friday 2-12-16. I ordered my food then asked to use the bathroom. They unlocked it and it was disgusting splattered crap on the toilet in plan view. Got my food and started looking around filthy Windows, counters, floors everything. Parking lot trash all over. Take some pride and get a manager that cares. DISGUSTING.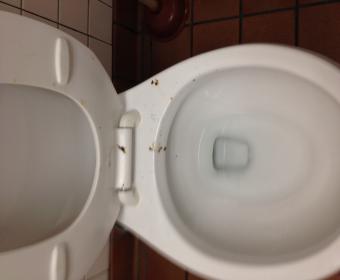 Jason sinclair
from Petal, MS
At 8:22 pm order number 309177 my wife Ashley Sinclair was in in the drive thru placing our order. The young lady took our order but made a mistake, which is no big deal. My wife told her again we need to add an order or rice and beans and still the young lady had a had time hearing my wife. Some lady other than the one that was taking our order came across the intercom and said, "B**** it's just rice and beans, place your order or pull to the window" my wife said pardon me in shock and the same quote was repeated.
My wife demanded to speak to the manager and the young lady that originally took our order said ma'am can you please take your food we have other customers. My wife again said get your manager. The manager came over laughing with his name tag backward and said "what's your problem ma'am?" My wife said I don't have a problem but I will not tolerate being talked to in the fashion the young lady spoke to me.
My wife asked his name and he plainly said "I'm the manager" she then asked what was the young lady's name that cursed at her and he said her name is "girl", here are some coupons for free tacos please leave. She said I don't want the tacos I want something done about this unacceptable behavior. He said you eat your tacos, I'll handle this. Is that a deal? My question is this how things or done? Is this your customer service? The guy never gave a name or nothing and was laughing the entire time. I want to be contacted immediately from corporate or the franchise owner. This will not be tolerated!

I wasn't the one to go to Taco Bell for this incident, but I know someone who went today. I overheard this. They had to go inside to pay for their food due to drive thru not moving. When they got their credit card back, the cashier giving the card back dropped the card on the counter by accident, and a bunch of white powder fell out of the cashiers hand all over the card. It's unclear why this situation even occurred, but the person paying suspected it to be drugs (their guess was cocaine). The cashier merely gave a scornful look, as if that person did nothing wrong and was eavesdropped on. This incident occurred today (31 Jan 2016) at Altus, OK.
I used to eat here all the time. The quality of this food has been deplorable for the past many months, I have heard so many negative opinions about the service in general, and now this? I just ate here yesterday, the rice tasted disgusting like someone was smoking over my food as it was being made and no sauce. The food was awful, the burritos/wraps/etc. are not being fully filled, and service takes forever. Personnel seem to just not care. I refuse to eat here anymore until an investigation occurs, personnel are fired, and retrained.

Sue Kovac
from Leawood, KS
Family requested Taco Bell for dinner last night. I went to the drive up and it did take awhile for someone to answer. I warned the young man that I had a large order and he said okay and I placed the order for $29.65. The freeze machine was still broken and has been for a few weeks now. I got my order and then pulled over in a parking lot to check the order and it was not correct. I went back through the line and also requested mild and hot sauce.
They were out of mild sauce. I was charged for my order but it was five items short. So I did get my items and hot sauce only. He also said they were short handed. In addition, the register needs a new ribbon or cartridge because it also has not worked correctly for a few weeks you cannot read it. I don't know if the owner or managers are not aware of these problems but I think you have some issues. I know that things go wrong and machines break but nothing is getting fixed at this place. I think that we will wait a long time before we get our dinner at Taco Bell, the kids love it but I did not like taking home a very cold dinner. This Taco Bell is located at 7100 W. 119th St., Overland Park, KS 66213.

Dock Buckhalter
from Hernando, MS
My dad and I went to taco bell , but the door was locked. My dad pulled on it and the woman said go to the drive thru. When we went to the drive thru my dad asked why there wasn't a sign on the door or somewhere else that said go to the drive thru without getting out of the vehicle. Then we couldn't read menu board cause there was ice on it. The woman said she asked the manager and said and done nothing. Then my dad said well all it takes is paper and pen. Taco Bell 024204 2650 McIngvale Rd. Hernando, MS 38632.

I was wondering if only employees and managers are allowed to take free food home? I have seen a manager take bags and bags of food and not ring it up.....is this being offered to the public as well? Store in mcallen texas, on 10th street, manager gloria. She is also very vulgar and disrespectful to employees. Again i would like to know how we,the public, may receive free food too?

The service was ok. But I have a problem with Taco Bells prices and the way they post the menu. I ordered a potato wrap that I thought was going to have plenty of steak in it. But only got a real thin layer of steak with cold potatoes and bits of bacon. Hmm not worth 4.99. It was suppose to be the Steak/Potato Boss Wrap. That's a joke. I can get two combination burritos at Del Taco for 5.00 bucks and be totally content. Look at the picture, do u see Steak? Very little.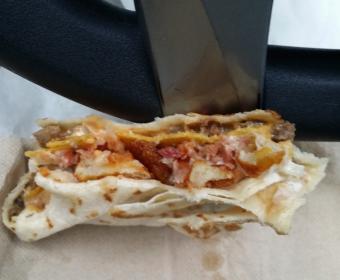 Marilyn Robberson
from Ozark, AR
First I had to sit in line outside for 10 mins.because they were slow answering the speaker for all of us in line--3 vehicles drove off after waiting so long. Then when she answered the speaker, she asked me to wait 1 moment which turned out to be 5 mins. I would have drove off myself but my son loves to eat here. I finally ordered having to repeat the order twice which she finally got correct. Then another long wait---several mins again. It wouldn't be so bad if they had enough employees working--I only saw 3 young people working--very hectic in there. Then when I finally got my order, the man handed it to me and didn't verify the order. I drove home--opened the sack and I had someones order but had my correct receipt with it. I drove back down there and waited again.
Finally got to report the mistake and the girl acted strange-I repeated the order-she took the sack and my receipt. She asked a man to help me--He asked if I ordered something different ( 2 fiery tacos), I repeated my order and told him she took the food and receipt, he said ok and asked me to pull up front. I waited 10 more minutes. I finally went in to see what the problem was and the girl was blaming me to the man that I ordered those fiery tacos, and I told him to read my receipt--they corrected it and I finally got my order. We eat here a lot, and occasionally have to wait awhile, but this night crew needs help .We probably won't be back for awhile. Not to mention someone else didn't get their order because it had gone to me at the start. I am not a complainer but this was ridiculous and uncalled for.

Mittie Ballard
from Ridgeland, MS
I went to taco bell in my town and ask to order a cantina bowel and they told me that they don't serve them after 9 pm and I ask when did you stop cause I stop here 3-4 times a week to get them after I get off work at 11 pm the cashier told me she didn't know but we not to tonight. My thing is if you stop serving something 9 then why don't you have it on the menu are at less tell your people so they will know what to tell the customer. I far one will not shop at Byram Ms. taco bell again cause they are just rude and don't know too how to inform the customer.

Malia Jeter
from Irving, TX
Sunday, November 8, 2015, between 5:00pm and 5:45pm. 1022 W Shady Grove Rd, Irving Texas 75060. I was in line almost 45 minutes. There were 6 cars in front of me. It is getting to where it takes that long no matter what day or time it is. I don't know if they don't have enough employees or what, but it ridiculous at the amount of time it takes to get your order. When I finished placing my order, I was told to pay at the first window. When I got to that window, no one was there, or ever came there. When I got to the second window, it took a while just to pay, but the young man was very nice. I asked if they were short handed and he said yes. He apologized several times and offered me a free soda. The ONLY reason I continue to go there is this is the only fast food restaurant close to my home, but I could have driven to Beltline Rd and back in THAT amount of time!! Please check this out and it would be greatly appreciated if something could be done to speed up the process.

I do not have a complaint other then I really don't like the website when I want to leave a message, for I went to Taco Bell 020143, that's in Jackson Missouri, the time was 6:01 on Friday November 6, and my cashier was Kiersten G, but yet another women helped her, I have to say what an outstanding 2 girls. Yes I went to the drive threw and the car in front of me ordered I feel half the store, but it didn't matter. I was greeted with a smile hello and they actually acted like they liked their jobs. Please tell them outstanding! people like that makes the business.

On Thursday October 1, I ordered from store # 002509 in South Charleston Wv. I had stopped going to this Taco Bell location in the past because of issues with food orders. However, I went against my better judgement and went through the drive thru. I have food allergies, tomatoes and avacodes make blisters in my mouth that require Silver Nitrate to be used (expensive and painful). My order number was 347614. I ordered a steak cantina burrito with. my order.. Also, a tostada with no tomatoes. I made it perfectly clear during my order that I have a food allergy and that my orders are always wrong at this location. 'please make sure that it is correct'! 'No problem', I was told. At the screen upon confirmation of my order, I explained that it had no tomatoes. Again, I was told it was taken care of. At the window, I said for the THIRD time that I have an allergy. Again, I was told it was taken care of.
Lo and behold, when I got back to my job I had a chicken cantina burrito AND it was loaded with Avocado, but I had bitten into it. So I checked the tostada and guess what? Tomatoes! I submitted my complaint online at thebell.com and no response! and that was after trying for 2 hours calling the store to speak to a manager. This is unacceptable. There are no excuses for food preparation to be wrong after confirming 3 times. I will not EVER use this location! There are no excuses on this matter, I also have photo evidence as well as witness'. The following day, I had to go to a provider to get Silver Nitrate and missed an hour of work. Thank God, I do not anaphylaxis allergies to these ingredients because this is borderline negligence.

Ashley
from Paso Robles, CA
I have a picture of my food. It's absolutely horrible. For example my nacho chips its just chips with like sprinkles of nothing. It taste like they made it and let it sit out for hours and re headed it. Definitely not satisfied what so ever with my order and I had a family member give me a ride. So I'm not about to go back. Plus the person at the drive through window was so rude. She was laughing over the speaker and pretty much through my food at me. I just spent over 20 dollars there. I am not very happy right now!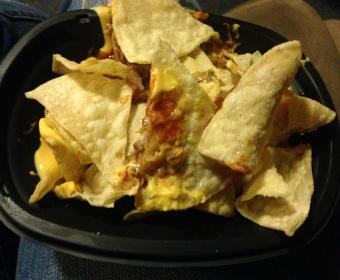 Tori Kanwich
from Matthews, NC
I waited for over forty-five minutes for an order. I could not get any response. It was crowded but that is not acceptable. If I had not paid I would have walked out. When I finally got my order which was over ten dollars I had two tacos with broken shells. Had to eat them with a fork which none was available. Mexican pizza was not barely cooked and others was cold not even cheese melted. I usually visit Taco Bell at least three times a week but I think that will change and go to another place instead. This is the worst customer service I have ever experienced!

Eunice White
from Iowa City, IA
In Iowa City, I bought a 12 pk box of tacos...and 3 fire tacos. I live quite a distance from taco bell and upon eating our food...one of the kids noticed that there were pieces of potatoes inside of the taco instead of the beef we ordered. then we opened the entire meal and found that 5 of the tacos had potatoes instead of meat. we drove back to the establishment and complained to the manager..Nick...not only was he rude...he allowed the other employees to have their say in the fact that they were giving us 5 tacos...which now we are afraid to eat for fear that they have at the very least spit in or on them...i spent $16 on a meal that we have now thrown in the garbage. I do not play with my food and do not want anyone else to do it either.
If this was a joke it was not funny to me....how many other costumers had the same problem and ate the meal without noticing this. What I should be doing is calling the Police...instead I will be calling back to that store to speak to a day manager as the rude Nick gave no satisfaction on this situation. I would like to be reimbursed for my meal with an apology or I will call the Police along with seeing that the local newspapers puts something in a column about this,,, I will put this on all of the social media sites that I can find. I will share my complaint that this store has rude and nasty employees and see if we can gather some people to boycott the store. I am ashamed that this store is BLACK run, and I am black is this how we act and treat this community. Now I will go to McDonald's to feed my family tonight.

Joyce Ruelle
from Ukiah, CA
Got my niece a $15.00 Taco Bell gift card for her birthday. She tried using it for her lunch at Taco Bell today at Ukiah ca. 95482. She was told they do not accept refillable gift cards in Ukiah. My niece went without lunch today. At the same time I purchased the same type card for my friends birthday which is this Sunday. Oh Great. Now I am out $30.00. How can you sell gift cards and we can't use them.
I love Taco Bell. Me and my girlfriends meet every Thursday at noon. I am very upset over this. How do I get my $30.00 back?

Gail Berryhill
from Oxford, MI
Ok. We stopped at the Standish, Mi Taco Bell Monday, 10/5/2015. As I was exiting our truck I put one foot down and slipped on what looked to be a mixture of oil and rain. I told the cashier what had happened. She looked totally unconcerned and said ok she'll tell manager. Not wanting to slip again my husband went to bring the truck to the door. He talked to a male employee in the parking lot. Showed him where I fell and how slippery it was. We'll another unconcerned employee. We came back a some hrs later and nothing had been done! I am alright, sore, but alright. If I had really gotten hurt I would be suing. Not just to sue but to let these people know that they need to make their workplace safe for their customers!

Juanita Campbell
from Jacksonville, FL
I have been a customer at the Normandy St. Taco Bell in Jacksonville, Fl. 32205 for years but lately there is a noticeable deterioration in food quality and service. Several weeks ago I ordered a taco salad and had to return it for lack of meat. Today I got two soft tacos and both tasted as if they were full of rice or something similar mixed in with the beef. Actually it did not even look like beef. Very unsavory and left a distinctly unpleasant taste in my mouth. The taco itself was not large enough to completely cover the filling. While my service was OK, as I was waiting for my tacos inside the store, a woman brought back a salad which she opened and showed them there was nothing but lettuce. The clerk took it to the back and returned it to the lady who again opened it and put it back on the counter and asked for her money as nothing apparently had been added. The clerk gave the to her but not before saying the lady had thrown it on the counter. A very unpleasant scene. I will think twice before returning there.

Sandra Carmack
from Sorrento, LA
The Taco Bell in Paragould, Arkansas is the focus of my complaint. I ordered a chicken cantina bowl. I found no chicken in my food. I went to the person at the cash register. I told him there was no chicken in my chicken cantina bowl. Mostly I wanted him to know the person putting them together wasn't doing it correctly. He just looked at me and said "well, ma'am, this is fast food and it isn't consistent." Gosh, I guess expecting to get what I paid for is expecting too much. I wonder if Taco Bueno supports this attitude among its employees.

jimmer crouch
from Sturgeon Bay, WI
I bought 6 hard shell tacos from the drive though on green bay road in Sturgeon Bay Wisconsin today (8/25/2015) When I got home my wife said there is hardly any meat or cheese in them. she was right they were about 90% lettuce . Bless you taco bell but "where's the beef".

Linda G Finley
from Friendswood, TX
After waiting for about 5 minutes for anyone to come to the counter, I placed my order. I had wanted a freeze but was told the machine was out of order so I told them I just wanted water then. While waiting for my order (which took about 10 minutes) i looked at my receipt and saw I had been charged 1.49 for the water. Again I waited a few minutes when someone finally came to the counter and I told them what happened and the response was ...oops! They then told me to just get a drink. I didn't want a drink which I explained to them so they said well then pick something off the dollar menu? Okay, so I was very tired and getting frustrated so I said I would take another taco.
When my order was Finally up front I asked what was in the bag and they repeated my original order without the extra taco I was suppose to get to compensate for the charge for the water. Which by the way was not an even trade-off. The young man came back with a soft taco and told me that was all he had. Really? While all this was going on someone came in that had been in the drive thru that didn't get all his order and someone else also at the counter with their receipt. I think this facility in Pearland had new workers that evening and no one was there that knew what the heck was going on!! Ridiculous!

JIMMY HARGROVE
from Madison, AL
I ordered the Doubledilla, it is steak and cheese on a tortilla supposed to be double meat, the cost is $4.99 or five dollars and change with tax for the sandwich a few chips and a small container of salsa. What I got was a large tortilla with steak and cheese folded in half and cut into 4 pieces, all of the steak and cheese were in the middle two slices and there wasn't much in them. There were a total of 3 small pieces of meat in the two outside slices.
The kids that were running the place acted like they were totally lost and confused as to what was going on and the manager who looked about 17 was more lost than anyone. All in all it was a bad experience. The service was bad, there were complaining customers (I didn't complain at the site) and the kitchen wasn't clean. I don't spend a lot of money at Taco Bell but you can be sure that it will be a last resort from now on.
FYI this is the Taco Bell KFC in Ardmore Tennessee,

My daughter worked for Taco Bell in Redding Calif. The Manager, Nick, was very rude to my daughter. He belittled her, changed her schedule constantly. He puts her down in front of other employees. There was blood in the bathroom, told her to go clean it. He did not giver her proper equipment or protective wear. My daughter quit, now she has depression and anxiety. He also is not giving her a decent recommendation.
She worked very hard and was dependable. I feel like he was not happy with her and should have fired her. Instead he kept her on to verbally abuse her. I am going to make this public where we live.

Laurie Eckroat
from Newcastle, CA
April 26, 2015 My husband and 4 friends wanted to dine at the New Taco Bell in Lincoln. All of us chose Taco Bell after church feeling it was a great idea. Unfortunately, I have misplaced my receipt. But you can check with this location on some of the information I am going to share. The goal of me submitting this complaint is for management to step up and give adequate customer service along with quality food.
The most disappointing poor service was waiting in the dining area 45 minutes for our food. My husband and mine's order was simple, but that's not the issue it was unacceptable service. We ordered 5 crunchy Tacos, a burrito, and a Lemonade freeze. I asked the girl to give me a Senior Discount. She was pleasant and said she would give us a Senior Discount.
While I was waiting I noticed she didn't give me a discount. I went back to the register, and she said she would help me as soon as she got done with that customer. She told me she did give me a discount. So I asked her to please show me on my receipt where the discount was presented. She looked at it and said she will be right back. So she goes and talks to a manager. Comes back to the register and asks me to wait while she helps another customer. Five customers later she refunded my money. I was unable to have the Lemonade Freeze because it was watered down. The young man offered to make another freeze.
My tacos barely had any cheese on all three of them. Unfortunately this was unacceptable even if it is new. Taco Bell has been in business too many years to give this unacceptable lack of service. My husband and four friends hope you will take action immediately. Other Taco Bell Customers asked for their money back. Taco bell lost profit.

Debra Christian
from Odessa, TX
Ok I go in to order and have to wait for 5 minutes to get waited on because there is only one cashier waiting on customers and getting their food ready. All the other workers are in back just standing around. When I order I don't get what I ordered. I ordered 3 supreme tacos with the works, only got one supreme taco, the other two were plain. also ordered a chicken quesedilla with a soft taco, got a crunchy taco, ordered a chicken cantina bell bowl and was told that they don't do the chips and salsa, corn, guacamoli on the side or put black beans in the bowl any more.
Also when I told her I didn't want the drink with the Tacos she told me I had to take it. Also when she checked me out she had to do it on the drive thru register. This was at the KFC Taco Bell in Farmerville,La. Funny I went to the one in El Dorado just a few days before and got the same thing with no problems. This Taco Bell sucks. You really need to get a manager who will do their job nd treat the customers right and give them what they order and make their workers work. These people reall need to get their act together, They Suck!!

Nora Karam
from El Paso, TX
Last night my husband and I saw your new commercial for Taco Bell. We were totally disgusted! What does an elderly couple with a woman showing her husband her breast have to do with having a Taco Bell sandwich? We will not eat at Taco Bell again. We Will tell all her friends who agree with our point of view not to eat at Taco Bell. And believe me all of our friends at church agree with our point of view. I am so sorry we will not be abl Will tell all her friends who agree with our point of view not to eat at Taco Bell. And believe me all of our friends at church agree with our point of view. I am so sorry you have given in to the world's point of view on selling products through sex.

I haven't been to this location in a while do to the lack of meat on the product, so again its been a couple months so I stopped to get a Crunch wrap Supreme. I asked for 4 mild sauce and continued home. Again I am very disappointed, 1 sauce and with each bite lettuce and dough. I decided to unfold the crunch wrap and really was not shocked to see about one tablespoon of ground beef on one side of the wrap barely any cheese or sour cream. Plenty of lettuce and tomatoes only in one clump also to one side. Ridiculous!!! And to my amaze I believe it was the manager who made the wrap. Brown hair and glasses with a white shirt. Jaun L. Was the cashier that gave me one packet of sauce. $2.99 worth of lettuce, shame on you. I will not be back!!! I will have to drive to W 110th on Lorain Avenue to get a decent Crunch wrap. Maybe you need to send someone to retrain especially the day Manager. 4/13/2015 at 1:20:59 PM. Order # 311124. Cleveland Ohio

Mary C. McIntosh
from Evansville, IN
We tried your breakfast menu cheesy burrito It was the worse,. It stuck to paper tasted like raw dough and no cheese We did talk to manager who made us another breakfast which was better as it was grilled this time. I would like suggest that you change your wrapping paper with some wax paper or other surface on inside to keep it from stiicking to the paper. the second breakfast was made better with eggs and sausage and cheese wrap on inside o soft shell instead of egg the soft shell sausage and more soft shell. I will go back again but will only have the grilled option. Manager was very nice and said he had that complaint before but company did not address the complaint of sticking paper to the food. your burrito has better tast than mcdonalds not so spicy. I will try others types next time. Thanks for the time to read this complaint and I sincerely hope you change your wrapping paper to something better.

Tom Clobes
from Hutchinson, MN
Ordered 1 Mango bbq Chick star, 1 bacon ranch Chick star,2 double decker tacos,1 nacho supreme taco, and 1 gordita crunch and apple empanada.
What we got was 1 mango chicken griller,1 bacon ranch chicken griller, 2 fiery tacos, 1 nacho taco. I then went back to the Taco Bell to talk to a manager and was told there was no manager on duty. They precede to remake the order only to wait another 30 plus minutes to get it. I have eaten at this Taco Bell location many of times in Hutchinson, Minnesota 55350 but the service was the worst I've every see. Had to wait the first time about 15 minutes and they were not busy.

pat quatraro
from Akron, OH
My complaint has nothing to do with your food or your service. It has everything to do with the current commercial you have with the elderly woman flashing her breasts at her husband. I find it highly offensive and degrading. I hope you get enough complaints to pull the commercial. I wouldn't want my grandchildren to see the commercial when watching tv with me. It would be an embarrassing situation and difficult to explain away.

I went to the local Taco Bell here in Cleveland, Tennessee with my friends yesterday around 7:45. The one by all of the other restaurants. I chose Taco Bell because I had always thought it had good prices. I ordered two loaded grillers and a medium manzanita sol, aka the apple soda. We left and went to the apartment. I finished my drink as soon as we got home. Surprised, I opened the cup and saw that my cup was literally filled to the brim with ice. I felt so ripped off.

The bean burritos I ordered were super dry. The beans smelled of smoke. Disgusting. The chicken soft taco was dry. As though the meat was cooked in a microwave until it was dehydrated. The 4 cars in front of me in the drive through took 40 mins. . This occurred @ 10pm to 1040pm on3-28-15. These food smelled like campfire. I haven't. Ever filed a complaint before , I usually have more important issues on my plate. Train your help and more of them. There is no excuse for this.

Branden Carpoff
from Portland, OR
I was in the drive thru for approx 23 min waiting for a car to go ahead of me because this restaunt has a very poor design and only a single lane to drive thru making myself feel entrapped in said line asking the car in front of me to go and being refused and having to wait to leave this brings up many problems the first and most important safety I feel as if I need to contact OSHA to get any results as the manager was very rude and unhelpful to my plight and this businesses safety I am hoping you can help with this probl if not I will have to explore other avenues thank you Branden Taco Bell in redmond OR

Tonight(3/28/2015) at 9:15pm at the George Washington Way Taco Bell Location in Richland, WA. I ordered $15.99 in food and drink including 2 mini shredded chicken quesadillas. On my second bite into my first mini quesadilla I bit down on a large(3/4" long) piece of bone. It jarred my jaw and sent a sharp pain in one of my back teeth. It doesn't seem to have broken my tooth though. I subsequently choose to not finish the rest of my meal as I was not feeling hungry anymore. I took pictures of the bone, the quesadilla, and my receipt from the purchase. I would like to be contacted regarding this matter and compensated appropriately.

Ruth Whitesel
from Princeton, WV
The service at the counter was great, it wasn't until I started to get my drink, There was something wrong with the drink machine. I told the cashier about the problem and she acted like it was important. Then I went to get sauce for my food and the bin was empty, I ask the cashier for some and she said that they were out of the sauce (mild) that I was asking for. I would think that if I was out of the sauce that I would call a different location to see if I could a box from them, then replace it with one I received later. I understand that, yes this can happen, but I would think that if used more of that kind of sauce I would order more, so this would not happen again. Taco bell is great, but just wondering how long the store has been out. The store is in Bluefield, Va.

Cathy Ragsdale
from Memphis, TN
I can't remember a time that my order was ever correct. Yes I continue to go to a taco bell because I do like the food, but I am loosing that urge because my order hasn't been right in 15 years.

I ordered a taco salad as usual it had no cheese,no tomatoes and overloaded with rice and lettuce! I have a picture of this mess I was hoping to attach!

yolanda warner-galina
from Petaluma, CA
Today, March 21, 2015, my husband and I went to the Taco Bell in Petaluma CA. The music was VERY loud country-western, with heavy Christian overtones in the lyrics of the 3 songs that played. We did not go there to be evangelized, nor to be forced to endure the high volume of the music. It is not appropriate that a public eatery be forcing religion on its customers!

I know for a fact that there is a 22 year old Supervisor taking advantage of the minor girls at that Taco bell in 2050 S Townsend Ave, Montrose, CO 81401. His first name starts with C. and if you don't check into it I know there will be a big problem. The girl has not come home until 5 am when her shift was suppose to end at 1 am. There are to many other things that these young girls have started doing that I will not speak of. But one word of warning you need to REALLY need to check into this problem.

Darlene Powell
from Melbourne, FL
I always order the same thing. 2 -3 times a week. Worst food but the best tasting. I never go to fast food joints, only Taco Ball. I never get a real tostada with beans, cheese, tomato's and lettuce. I get tom, LETTUCE, sliver of cheese and have to look for the beans. My last trip, today I even took a picture of the tostada. I was in shock that the server, when I asked if he put beans on the shell, he said yes and pointed to the mound of shredded lettuce. I would rather pay more for a "real" tostada but it is not offered. The TC I went to is #023303, Melbourne, Florida and I frequent Satellite Beach (32937) Florida and Melbourne (US 192). All the same, no beans.
Do the employees get kudos. I can't imagine repeat customers. I say something and usually get what I want and offer extra $$.Get a grip, up the price or give a choice of meals. Get rid of the $ menu if you will go into bankruptcy by putting better helpings. Beans are REALLY cheap especially when they are loaded with fillers anyway.. The rating, 1 star, listed above is not what I would give. It should start off with no stars and let people enter "their" choice. BTW. Impossible to contact TB.

Karen Danner
from Marysville, OH
All we wanted was to go in have a few drinks couple appetizers. Husband really wanted the brisket nacho's, I just wanted something lighter which I ordered the won ton appetizers. Absolutely the worse nacho's ever first off whoever thought fresh jalapeno was a good idea is a IDIOT! Nothing like getting a plate of nacho no cheese,no sauce, very few pieces of brisket with a piece of fat. I asked the waiter where is the meat , cheese or whatever comes with nacho's? All he could say was like do up you want something else?i was furious the manager on duty was at the table beside us never once apologized that the nacho's were not up to par?.... If you send it back who is suppose to contact the manager? I called when I got home he was like wow now I'm not hungry. Well first of all don't put my bad food On you, second he should of been notified. Our man complaint is if you run a TV commercial. or on your menu at least try to come close.

monica goode
from Keswick, VA
I ordered some food from taco bell and when I got my food the beg and the food had blood on it. I believe somebody cut their finger and I'm very disappointed.

Brenda young
from Toledo, OH
I purchased two Quesalupas chicken and they made me very very sick tore my stomach up. I would like my money back and I promise I will never buy another!

Natalee
from Mountain View, CA
The taco bell in Lemont Illinois, is discussing. The floors are filthy and infested with ants. The booths and tables are dirty or broken. This place is definitely a health hazard and should be inspected.

Me and my wife were in Aberdeen MD. for an over night stay. She looked on the Internet for taco bell closing time and it said 3 am no lobby time no drive-thru time so we walk 2 blocks in the cold to find the lobby closed. Us and another gentalmen both standing out side think not a prob. Just order and get food threw drive-thru walk back to room and eat...wrong she tells us threw the locked window that can't take your order unless you are in a car... sorry my truck won't fit in your drive-thru anyway. So I told her threw her locked window that they need to fix time on web. She then opens window and starts arguing with me... your window is now open why can't you take an order????!!!!!!!! Taco bell you suck!!!!!!

I go to Taco Bell aprox 3 times a week when I get off work and they're always out of Sauce and hard taco shells tonight I went there and ordered very impressed they had hard shells. I ordered 3 hard shell tacos with sour cream and guacamole and paid for it when I got home I had 1 (one) pack of hot sauce no sour cream & no guacamole I asked for hot & mild sauce last week. I went there and ordered 6 things before I found what you had to eat I live in jackson ms and go to the one on hwy 80 west is that Taco Bell broke and going out of business ? Never anything there you always pay for things they're out of and they're always out of everything

We went through the drive through and waited half an hour. Once we complained to the drive thru attendant he said "We shouldn't complain because there are starving kids in Africa and it wasn't a big deal we had to wait 7 minutes." He proceeded to hand us a random bag of chips that we did not ask for and said that he wouldn't give us any discount. We are extremely disappointed by the unacceptable service we received.

Terry Malloy
from Rockingham, NC
I went in to rockingham store told the lady what I wanted got home. I told her that I didn't want the rice, sour cream, I got home and all I had on my food was the beef and cheese. I was upset I have always eaten at Taco Bell and I was very disappointed.

I am writing to comment or complain about the dismissal of the manager of Taco Bell on Lincoln Way East in Mishawaka, IN. I am speaking not fust for myself, but a group who meet there every Tuesday. We have become familiar with the staff and have seen a few employees come and go. We are strenously objecting to the firing of the manager, George. He is the best manager we have seen there and does an excellent job, working right along with employees with whatever has to be done. He has won awards for this location and even won a vacation to California from your company. Why you would even consider dismissing someone who is committed to doing the best job possible and deals with the customers and his employees the way he does is a mystery to us. Please reconsider this action so we can feel good about going there on a regular basis. I hope you will seriously reconsider this decision to terminate him. Thank you for taking action to this complaint.

I ordered 2 Doritos tacos from # 028965 in Kingston PA @ 1:31am. When I arrived home to eat, I opened the first one a d it was badly broken without the cardboard sleeve around it but I just dealt with it. Then I got to the second one and it was like a wrapper full of taco salad, again no sleeve. I went back with my pseudo salad and stopped at the drive thru speaker to announce I had an issue with my order then pulled up. After the car in front pulled out and I pulled up, 2 workers were at the window somehow already aware my tacos were pulverized and handed me a bag with 3 more of the same tacos claiming they forgot to use the cardboard which caused the tacos to spontaneously disintegrate. I questioned the theory but was reassured by the other employee named Fred that this is indeed what caused the issue. However I don't believe that this taco shell magically explodes in the absence of a sleeve but instead think the staff may have been upset to receive an order a half hour before closing and took it out on the poor Doritos.
To this I say, I don't enjoy waking up early in the morning so I've found a way to make a living working 3 pm till 11 pm. My point being, if you hate your Job don't take it out on others. Just find something more suited for your lifestyle and temperament.

I went to Tacobell/ Pizza hut express on 18 e 14 street new york, ny ,10003. I ordered a cheesy gordita crunch, large drink and nacho supreme. I ate about two thirds of the gordita before I realized there was mold on it!I went back to the store and demanded to speak to a manager. The managers name was Tukur. I showed him the food and he apologized for it. He threw the food away and offered to exchange it or refund my money. I said I wanted a refund. He gave me my money just for the gordita and nachos. He wouldn't give me back my money for my drink. You would think he would be gracious enough to return all my money after I found mold on my food.

my daughter & i went to taco bell @ 3910 madison ave. indianapolis indiana 46227 on october 29 2012 @ 11:36 am....we ordered one nacho belgrande, four taco supremes & 2 med drinks.....none of our food had tomatoes or sour cream on them. then when i called & talked to a manager she was rude...that is no way to do business...when you say supreme you should get more than cheese lettuce & hamburger..we would like a refund or a certificate to get the food we ordered @ no charge, because it was taco bell's mistake not ours...please let me know what you are going to do to fix this, or next time i will call the better business bureau cause they are ripping people off not giving us what we paid for...very dissatified customers here!!!!!

We were driving through Brigham city. Had a long day and hadn't ate all day so we were starving. The girl at the drive thru charged my card the wrong amount at first so she had to run my card again. She forgot the hot sauce she asked if we wanted. She didn't give us any napkins. And my bean burritos were supposed to be only beans and cheese. No red sauce or onions. They came out only beans. So I had beans rolled in a semi warm tortilla with no hot sauce to even add flavor. Unhappy.

I saw your add for the free Dority Taco on the world series. I told my firend and she went to her Taco Bell in Walnut Creek CA and I went to mine in Alameda CA. I expected a line but I didnt not expect a line where you cant more forward. The line had between 20 and 30 people in it and that was fine. But the line didnt go down. Kids which were 90% of the line kept letting thier friends cut in. After about 3 or 4 cut ins right in front of me I said to the young girl excuse me but werent you behind me? and she laughed and said Im not even in the line. With that she put her hand accross the ropes to form a line so I could not move forward and she went on ahead of me. She and her friends all laughed.
I gave up new kids comming in all the time keep cutting into the line and it was going no place. I wanted to tell her I hoped when she went home she would tell her mother how she cut a 75 year old woman out of her place in line. There was no controls on the line and even when a man tried to intervene he finally said its not worth a big hasstle. So I left. My friend in Walnut Creek said she went there and went away when the line was around the building. We like the Encharitos and go there often for lunch when we get together but his was a big dissapointment that there was not better control over the number of people that were there and that the kids ruled the world. But I guess thats the way it is. They all have a screw you attitude but then again whats new.

Robert Bates at Taco Bell store 305 has been treating coworkers unfairly. There has also been several accounts where he makes up and excuse and has some one else deal with upset customers. He will not come talk to customers 1/1. Just sits at the back desk and claims to be one the phone. But when he did come out never once did he acknowledge me standing there. Something needs to be done about this. Rude rude rude. Makes me not want to step foot in that store.

I went to the Taco Bell in Trenton Ga..ordered my food and sat there for twenty minutes before I received my food. My mother and brother in law ordered food and was done eating before I even got my food. The manager on duty was making sure people in the drive thru were getting their food in a timely manner before the people in the lobby. I use to work for a fast food restaurant so I know that you have to get the drive thru food out before the timer on the board starts flashing. This was undxceptable. The restaurant was completely filthy and there wasn't any toilet paper in women's bathroom so my daughter had to use the men's room instead. I understand when it gets busy and you get behind but this was completely unexceptable. I went to the young woman and asked for my money back. My entire family was done eating before I received my food. You need more than just teenagers working at this restaurant because have the time you don't even get what you orderd right!

I went through the drive threw and ordered a chicken burrito, beefy nacho burrito, and an order of nachos. I could tell the employee screwed up my order so when I got to the window I repeated what I wanted, yet they still didn't understand. After repeating my order to them for the third time I gave my money and drove home.
As I was ready to grab my nachos I realized there were none. Instead there was a taco that I hadn't ordered plus a spicy nacho burrito that burnt my mouth when I bit into it and upset my stomach. Plus everything was wrapped incorrectly so I had to then open the burritos to find out what I was eating and make sure I wasn't going to bit into something spicy again.
I'm aggravated but am not going to drive back and complain to someone who probably won't understand what the hell I'm saying to them. The employees were screwing around and not paying any attention to their work which reflected on my order.

I have been visiting your 5019 location for over 2 yrs now at least 4-5 times a week. I am allergic to tomatoes and always place my orders without them. J have recieved many orders with tomatoes and always been good about checking before I bite. This one peticular night I bit into my burrito supreme and tomatoes were in it.
I have never been one to complain but I felt I needed to let someone know about it. I called around 11 pm about a month ago and spoke to an Asian male whom I can't remember his name and had expressed to me that he was sorry and replace the burrito at anytime by telling the manager my name . I have made several visits of course before tonight but haven't claimed it. I placed my order at the drive thru, with your team member Mai and told her about the burrito.
The manager John got on the speaker was outrageously rude immediately saying in a confrontational tone, " who did you speak too , Do you gave a receipt ? I don't. I said . He said I can't give you it with out a receipt just because you give me a name doesn't mean i can just give it you. I immediately asked for Taco Bell corporates complaint number. He said tack bell. Com and said nothing more. He didn't even ask if I still wanted my order. I paid for my order and left.
I am a manager at Carl's jr in Selma and never have I come across such a rude and idiotic behavior toward a customer. I feel that he really need some counseling on this issue before this store stars losing lot all customers. Thank you got your time and I will hope to hear from someone regarding this issue. I'm hoping to continue my frequent bid it's to 5019 location but if this problem persists I will reluctantly have to take my business elswhere.

No problems with the food. HOWEVER the so called free wifi does not exist. At a restuarant in Mobile AL I was unable to get on-line. Not even the singon screen. when I check the local network I found all of the ports on the router were closed. Perhaps this is a way for the company they hired to operate the network to save money on bandwith cost. No network - no cost - no return!

I have never complained about service before. However, my order was wrong and I have been craving Taco Bell all day. They put one piece of chicken on my nacho bell grande when I ordered chicken on it. I was charges 99 cents, but received one piece. The soda was flat and the food was cold. I am very unhappy with the Springfield, Missouri Taco Bell lpcated on West Sunshine Street.

The Metropolis, Illinois Taco Bell has serious issues in cleanliness. There is food all over the place (everywhere on the floor behind the counter), in plain view of customers. (This location was not busy and the staff had plenty of time to clean up between customers). The manager apologized for a customer complaining about the service and food, but didn't do anything about helping calm the other customer down or fixing the problem. Instead she went outside to smoke a cigarette. The staff are unprofessional and look like they haven't cleaned themselves either. The service is horrible. My family and I were there this evening and while we were there 4 other different customers brought back their food due to getting the wrong things. The staff do not pay attention to the orders. Too busy clowning around. While we were attempting to eat what we were given, the entire staff all went outside to smoke a cigarette leaving only one employee in the building. I can understand if the place were busy and unable to keep up with the demand, but that was not the case. This location use to be a really good Taco Bell. Since the first of 2013 it has gone completely downhill. I suggest that better managers are hired or trained properly. Also to hire someone who is presentable to the customers with proper training in customer service. The girl we had tonight should not be allowed to wait on customers. I am highly disappointed with the service and staff. This is not the first time at this location we have had or experienced this, but tonight was the worse. I recommend a surprise visit from corporate. This location needs help or shut down.
signed,
Highly Dissatisfied Customer

I went to taco bell long john silvers on my way home. my order was very specific. L9 NO HUSHPUPPIES PLEASE!!!!dr. pepper no ice. cashier said ok total is 4.91. i pulled around to pay and was given my food and my drink. drink was with ice as ordered. food has HUSHPUPPIES in the box. i was informed it comes with the HUSHPUPPIES and he would remove them. WHY IS IT HARD TO JUST NOT PUT THEM IN MY BOX????????? they do at other ljs. this is the LAST TIME i will stop there!!!!!! this would be a good establishment to go & do UNDERCOVER BOSS!!!!!!

On 11/10/12 I went to taco bell waited for 30 mins. I went inside to order my food since they ALWAYS get my order wrong. This is a big problem because I'm ordering for several kids. I filed a complaint already and have yet to have a response or even an acknowledgement that they would review the problem. There were at least 7 different customers waiting this long. One lady got a refund after waiting that long. Point I'm trying to make is it was horrible service, unacceptable wait time, wrong food in bag, LEFT OUT SEVERAL ITEMS AGAIN! Still nothing done. This is my 3rd complaint since Saturday and will continue to make them until I get a satisfactory response.

I made a drive through order tonight 10/4 @ 7:45 pm at the Taco Bell in Buckeye, Az. I requested no onions on my burritos. At the pay window I asked her to make sure since I am allergic to them. She yelled to the prep line no onions on those. I got home took a bit of my burrito and found my mouth full of onions. My sons burritos had them as well. I was unable to eat the food I ordered and quickly took allergy medication. I tried to call the store but the phone was busy for 45 minutes when I gave up. This could have been an accident but due to the age and attitudes of the workers I have a feeling this was ment as a joke. It's not funny. In fact it's highly dangerous and life threatening.

Today my friend and I went to a local Taco Bell where we were picking up a large order to take home for a group of us to enjoy while watching football. Some of the order was fine, but we had a good sized order of Doritos Locos tacos that we were extremely disappointed with. Normally I'm not a big complainer but the tacos we received were so under portioned it was rediculous. We had 15 of them and the taco shells were broken down the seam at the bottom bc there was nothing inside to keep them from folding in half. We took a taco and were able to fit the entire contents that were inside onto a tablespoon. That's meat, lettuce, and tomatoes....or lack thereof. We spent a good amount of money there and were all extremely unhappy with the product and felt we were ripped off . The only reason we didn't take it back to return it was bc we had a very long drive and we were starving. I took pictures of the tacos to show how rediculous they are but didn't know if I could upload them here. I will gladly send them if need be. The location of this Taco Bell is Royersford, Pa. I've been to many other Taco Bells and always enjoyed the product but this was different. The reason I've issued the complaint is so maybe this location is checked up on or something to make sure they're not cheating everyone. I will return there and won't leave next time until I check everything. If this is indeed read, then I thank you for your time and wish you a happy holiday!

I am a 70 year old veteran. Your Super Bowl commercial is demeaning, insulting and in bad taste. You show no respect for the elder population. I do not frequent fast food often, but be assured, it will not be Taco Bell when I do. A public apology to seniors would be the responsible response.

Good afternoon my name is vanessa burch i went to the taco bell in stanton #002763 general managers name wasirma i visited this store on 10/15/12 at 1:35 pm i went to get a refill and the wooden facade board cover the fron of the takeble the soda machine fell off and landed on my foot it was an inch thick abot 12 inches high and three feet across my foot immediately started swelling and bruising my fiancee told the manager who seemed irritateand rude didnt offer an apology took down my info aand said she would call me she didnt offer to call an ambulance my father came to pick me up to take me to the er and he asked for a copy of the report but was rudely reffused to be given once again no apology was offered i have notrecieved a return call nor has my father the dr. said i had deep contusion to my foot

On January 9, 2013, I entered the drive thru of the Marshall, TX (75670) Taco Bell around 10:40 pm. I attempted to place a order, but failed on the first attempt due a younger lady employee saying she was failing to hear me thru the speaker. I then pulled around to the window to place the order so I could be better understood.
Immediately I was unable to speak because of a older gentlemen employee by the name of Mr. Wilson, informing me in a absolute rude manner (shrugging his sholders and hand gesturing as if he did not care) that he would not take my order from the window that I must place the order from the drive thru speaker. I attempted for about a minute to explain to him that the younger lady was unable to hear me and I was trying to make it easier on her from the window now. T
his still seemed to agitate Mr. Wilson and further explained to me that I could not order from the window. I then became agitated myself (after telling Mr. Willson that his rudeness wa not necessary) and seeing that there was not going to be any reasoning with the gentlemen, I pulled back around the drive thru. I then had to procede to yell at the speaker. (I admit while in a complete agitated state due to the rudeness of Mr. Wilson) I placed the order yelling into the speaker. then made it back to the window.
I immediately asked the name of the manager so I could place a compliant, which the name was refused by Mr. Wilson, the younger lady and what seemed to be three or four other employees. I stated further that even without the name of the manager I would still file the complaint, at which time Mr. Wilson pointed to the other employees and proceded to say "I think I have about four or five others here."
I then left the property after paying for the food. I find the extreme rudeness of the employee to be completely unprofessional. While I expect nothing will really come of this email I want to let the owner and manager of the facility to know exactly the conduct that their employee processes to the customers that seek their business. Thank you.

Rochelle Standberry
from Chicago, IL
I am truly hurt because of disrespectful customer service that myself and my daughter as well as her boyfriend received this past Wednesday through the drive thru from the Taco Bell on 71st and Michigan.
When my daughter's boyfriend tried to place an order the guy said you must be old since your ordering from the old menu. He started laughing.
I yelled out that I wanted the number1 and he snapped back NO order from the new one. He started laughing.
He finally stopped playing and took the order.
I was pissed because I needed to eat before I took my medication. I have Multiple Sclerosis. I had to ask my daughter who is 28 and her boyfriend whom is I I30 just to chill because I had to eat.
When we went to the window he told us the total and started laughing. My daughter's boyfriend said so I am old. He asked him how old he was and when he told him he said yeah you are old and he saw my cane and told me you are definitely old all of you are old.
I tried to let it pass but I could not. I have cried over this disrespect. I will not be returning and neither will my daughter or her boyfriend.
I am also going to talk to my friends about this issue.
I should not have to worry about discrimination over my disability or disrespect while ordering food.

Connie Robbins
from Cookeville, TN
I have visited the Taco Bell in Crossville Tn. three times in the last month and the service has been terrible. the first the drive-thru was down could only order if you went in, second time i ordered a taco salad they were out, tonight I went to get dinner after church drive-thru was down again so I go in there is one person taking orders with 6 people in line, telling them they are short staffed, mean while another employee walks and smokes on the sidewalk outside the front door. I am usually very understanding because I was a manager for one of the top restaurant in the business and I know we all have a bad night, but these is not good guest service or management. I left and went to another business after waiting five minutes or so. I hope these are issues the company would want to know and fix. thank you for listening.

Karen Wickiser
from Cuyahoga Falls, OH
Approximately 3.45 today I went through drive thru at 360 Howe Rd. in Akron, ohio and ordered a taco salad without meat. I got it home...horrible.
Lettuces was watery, soft, soggy, almost slimy. Maybe because I came between lunch and supper. I will never do that again.I had two bites, the tomatoes were awful as well. So this hungry customer threw the salad in the trash.
ICK what a waste of money

Lisa Cottrell
from Painesville, OH
Wael I am upset that Taco Bell get something that I like they discontinue it and when you ask for an Item and you dont carry anymore they say we can motified it but they dont tell you that there is an additional cost to you.I real think that is crap to add an additional charge for something you dont make anymore that is why I dont like going to get anymeals from there. I really think you as a company should get you business straighten up and notified the customer of any additional cost or that you discontinue an item

Sinque Sadler
from Charlotte, NC
I ordered a number 5 nacho bell grande. The guy at the window took my order wrong! He only gave me the chips with cheese on it, and I didn't find out until I arrived in my house. I drive all the way back (wasting gas)! The manager was letting a customer out and it was a couple of people eating in the diner. I spoke with her at the door about a refund, and instead of her taking my receipt and food at the door, she made me go to the drive thru window! I walk around and asked for my refund, and she denied it, saying I have to drive to the window (mind you its several customers in the line, and it's moving slowly! I finally make it to the window and the guy running the drive thru, had short term memory of my request. I told him I'm the guy who wants the refund, and I didn't appreciate the time it's taking me to get my refund! I asked for him name, and the manager ladies name, and he an attitude with me and threatened not to give me my refund or their names! (Very bad customer service)! I never had a problem at the taco bell on Sugarcreek, Charlotte NC. up until tonight! As long as they're working there, I will never go back!!! I feel like a victim of racial profiling, and I will give that taco bell bad reviews and will spread the word, until something is don't about this! They didn't try to compensate me for wasting my gas, my time or my food! And gave me attitude because of their wrong doing!

David Hildebrand
from Denver, CO
Your Taco bell location on 120th in Broomfield Colorado....(ive been going to for years)....has turned into the nastiest location you have in my opinion.
I find it hard to believe how nasty it has gotten in the past few months. You have employees there walkng through garbage all over the floor.....and not giving it any thought to even bother cleaning the place....or picking up what they are tripping over.
My niece went in the bathroom, to find it littered with paper towels scattered everywhere.
We use to go there at least a few times a week following school activities and games.
We wont be going there anymore until some new management cleans up the nasty place......the health dept really needs to look into the mess.....but Im contacting you first. Feel free to contact me for any further details.
Thank You
D.L. Hildebrand
Broomfield Colorado
303-995-9533

Dede Allen
from Oklahoma City, OK
In Oklahoma City, we have a taco bell on NW 23rd Ave. I was in the drive up line today (8/7/2018) from 12:48 to 1:26pm. I only have an hour for lunch. I drove straight back to my office which is only 5 minutes away. I ordered the $5 box that has the Nacho fries, two tacos and a burrito The food was cold, and they forgot to include the cheese for the fries!! There was only 1 positive thing about my visit to this Taco Bell today and that was the lady at the window. She was so sweet and for her to be that nice when every one at that drive up was totally raged by the time they got their food, tells me she is a saint on earth. The cars ahead of me were doing their best to "speed" out of there, obviously a display of their high level of dissatisfaction with the service. But she was still as sweet as she could be. In our office we normally send one person to get everyone's lunch. That was not the case today as I was the only one ordering for myself. I realize this location will probably not notice, but our office has decided that we can no longer get our lunches from this Taco Bell or the person picking it up will jeopardize being late back from lunch. Thank you.

Janet Owens
from Lansing, MI
I was at the Lansing West Saginaw Taco Bell on Sunday went through the drive-thru and spent $27.31 on food. My order was missing a steak nacho box and I was told after waiting in line for about 30 minutes to come inside. I came inside and explained this to the cashier...I then waited over 25 minutes for the steak nacho box. I had people waiting at home for the food and by the time I got everything the first order was no longer even warm. I spoke with others who had been waiting over 30 minutes for their food. I spoke with the manager and all she could say was she was short people. No i'm sorry or anything. Very disappointing! This happens a lot at all different times of the day. I am not sure that I can even go back there. It's one thing to have to wait, but then to have to come in and wait again with not even an apology. What can be done to rectify this?

Janet Ellis
from Alamo, CA
They don't have a Chicken soft taco supreme on the menu. When I order it some will give me a Chicken soft taco and charge me extra for the tomatoes and sour cream. That seems fine but not all places. I get something different many times. Either they charge me extra but I don't get the extras. Or I end up with the shredded chicken that comes with sauce, yuk. Recently I ended up with Steak or ground beef. I wish they put it on the menu so I know what I'm getting.
Also I love the Watermelon Freeze but lately most of Taco Bell's run out and I end up with a flavor I didn't want.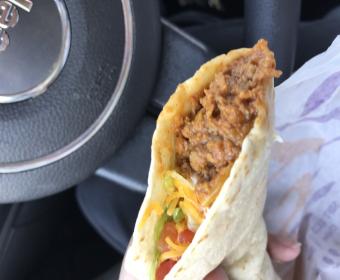 Cathy Westerfield
from Georgetown, TX
I went to Taco Bell in Burnet Texas today around 1 pm. There were a few customers waiting inside and a long line of cars in the drive through. It became apparent that folks inside had been waiting 20-30 minutes for their lunch. The cashier put on gloves and tried to help the very slow cooks. This left the register unmanned and at least 8 potential customers waiting. When he returned he warned them it would be a long wait. Many just walked out. Meanwhile , I also saw orders coming back for inaccuracies. People needed to return to work and had spent their whole lunch waiting for food. I hope there is a manager who cares. Otherwise this business will be unsuccessful.

Janet Ellis
from Alamo, CA
They don't have a Chicken soft taco supreme on the menu. When I order it some will give me a Chicken soft taco and charge me extra for the tomatoes and sour cream. That seems fine but not all places. I get something different many times. Either they charge me extra but I don't get the extras. Or I end up with the shredded chicken that comes with sauce, yuk. Recently I ended up with Steak or ground beef. I wish they put it on the menu so I know what I'm getting.
Also I love the Watermelon Freeze but lately most of Taco Bell's run out and I end up with a flavor I didn't want.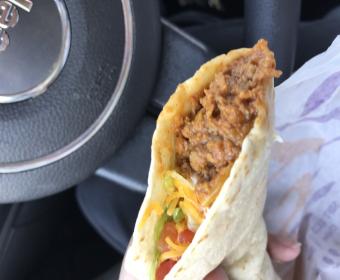 Spencer Wright
from Salt Lake City, UT
Pulled up to the drive through speaker, and waited for approx 5 mins and no response. Pulled up to the window and figured I would be able to order there. They told me that I couldn't order at the window. I had to order at the speaker. So either pull around and order at the speaker that now has 5 other cars in it, or come inside. I was frustrated and asked what kind of three ring circus they were running. They again told me they couldn't help me at the window. I drove to Wendy's.

RANDY BRYAN
from San Antonio, TX
On two separate occasions I went to the Taco Bell located in the 200 block of Loop 337 in New Braunfels Texas 78130. Each arrival found the lobby pretty full of guests with drinks and nobody eating yet. the first visit had (6) staff making orders. The second visit had (4) staff working orders. The first visit resulted in the staff telling me that it would be 25 minutes for me to receive my order. My second visit was yesterday (7/26/2018) and I experienced a 20 minute wait to get a $5.00 order. This never happens to me at any other Taco Bell that I visit and I cannot imagine that this is good for business. I understand new staff and training and such, but this was a ridiculous amount of time. I should also mention that the majority of the orders I saw served and some were wrong and none of the orders were large. Please address the matter and make the location a strong fast food experience that is enjoyable to visit.

arlan pavlenko
from Independence, MO
I never had a worse restaurant drive thru visit july twenty fourth two thousand eighteen at seven clock eight minutes and fifty four seconds pm it took me over a half hour with only three cars in front of me they were having cars in line most of the time taken more than ten minutes after paying for their food I also the manager on duty if they could bring their order out to the cars instead of deliberately holding of the the line when I asked for the phone number for your nationwide complaint department they told me it was on my reciect the only number I could find was the taco bell I placed my order you deserve rating of much lower of one that taco bell should be closed and managers and assistant managers should be fired and should not be given another job at at taco bell im also going to file a complaint with the better business beureau in Gladstone mo andbody I can find in Missouri or in the united states the taco bell I was at the address is 6321 n oak trafficway Gladstone Missouri 64118 the phone number is 8164138792 my order number is 034388

Natasha Williams
from Kalamazoo, MI
Very RUDE manager was very disrespectful to me I front of my children and being a manager myself that is no way to speak to a customer at all and I do not appreciate it one bit.

Blair E Sterling
from Paris, TN
Order# 218282 07/24/2018 Refund at 2:55:35 PM $8.74 1 Nacho BellGrande, 3 Crunchy Taco
I ordered on line because I did not want to sit in a hot car at a drive thru. Nor did I want to sit in the store waiting. I paid with my Visa on line. According to the message on my computer, the order was ready and waiting. I chose pick-up at drive thru. When I got to the store though, I went inside to pick up as there were autos ahead of me. The order was not only not ready, it had not even begun to be prepared. I explained that I ordered and paid on line and messaged that the order was ready. It took me a couple of minutes to get to the store that is about 2 miles from my house. The man running the register, Roman Cool was very polite. An unidentified woman came zipping up and went on and on and on about how the order would not be prepared until I got there. I asked then why did it message me on my computer that the order was ready? She continued to go on and on repeating all again (maybe the woman thought I was not able to hear). I was told by the woman wearing Taco Bell things, "this is not the store's fault. This is the fault of corporate". As a result after my Visa was refunded by Mr. Cool, I went across the street to Burger King. I find this a very wrong way to do business.

Steven Hardy
from Las Vegas, NV
The new policy of only 2 orders per car in the drive through is rediculous and a waste of customers time. We've been going to our local Taco Bell in Henderson, NV for nearly 6 years and always go through the drive through. Never have we heard of such an asinine rule.

Darlene Mackett
from Oak Creek, WI
I went through the drive thru at the Taco Bell in South Milwaukee, WI on Chicago Ave and placed my order. I had requested sause with my order. After I received my order, I checked the bag and saw that I did not receive any sause. I waited at the window until the girl came back to the window. I said I did not get any Fire sause and asked if I could get some. The girl started riffling thru the container with the sause packets throwing packets around the counter and then picked up the container with the sause packets and proceeded to dump the contents onto,the counter and floor. She then came to the window with a smile and handed me a large handful of sause packets. I thanked her, and said "have a nice day".
This type of behavior was not very professional and I found it very disturbing, as I was not rude or abusive to the clerk when requesting some sause.
I hope this employee does not drive business away from this location. I don't know if I want to return after seeing this behavior.
Best regards,
Darlene Mackett
3724 E. Carpenter Ave Cudahy, Wi 53110

Joel Kuperberg
from Yorktown Heights, NY
When you advertise on TV a Triple Melt with a drink for $2.00 that's what I expect to pay not $2.59 at the Fishkill NY location. Also at the Yorktown NY location where I live, they charged me $2.99 instead of $2.00. Told them about the TV ad, but that did not matter to them. And also charged me $4.00 for 2 regular taco's & I believe the price is about $1.29 each. Also I was told there is no Senior discount on one occasion, and I know you offer a senior discount. They are simply ripping off the public, and are not abiding with corporate policy. You should look into this matter, Thank You, Joel Kuperberg 1627 Amazon Road, Mohegan Lake, Ny 10547

Joshua Brewster
from Elk River, MN
I have been coming to the same Taco Bell in Dickinson North Dakota for almost a year now. Over that time I've noticed the orders have been messed up quite frequently and the wait time to get your order through the drive-through has been getting longer and longer. I have currently been waiting for a half hour in the drive-through and still do not have my food and there are two cars in front of me only two or three cars have been served food since I've been here for the past 30 minutes. I don't understand how this can be considered a fast food restaurant. I am deeply regretting coming here this evening. I don't even have an option of leaving the drive-through because the drive-through lane is so narrow I can't get around anybody to leave so I'm stuck here.

Natonya Jordan
from Chester, VA
I spent $25.00 at the taco bell in colonial heights and my order was incorrectly put together. We received all regular tacos when that was NOT our order. The taco's were stale and wet at the bottom very mushy at the bottom. The only thing done correctly as the sodas. I tried calling 2 times no answer at all

David Koppa
from Colorado Springs, CO
I went to the Taco Bell on Nevada Ave. in Colorado Springs on July 15. I ordered a meal. I went to the restroom. The restroom had a sign to ask for a key. The cashier was busy taking orders; so, I asked one of the workers for a restroom key. The worker told the cashier that I wanted a restroom key. The cashier said "In a minute.". There were multiple people in line.
I waited.
In the meantime, one of the employees got the restroom key and walked out of the work area,
Finally, the cashier had serviced all of the people, I asked again for the restroom key. The cashier said one of the employees was using the restroom.
I believe this is very poor service. I should not be refused a restroom key when I ask for a locked restroom.
I asked for my money back, and I complained to the manager. The manager did not seem to care.

Anna Higa
from Phoenix, AZ
1 piece of some sort Rubber- type Debri inside my Bean Burrito.. Omg luckily I was aware while I was me eating my order if not maybe I'm dead now..
The Management should take it so serious this incident because someone can kill in this rubber type inside my food.. The life of the people is not replaceable!!!
I will include the location and the address where I got my order.. I tried to contact the manager but it seems she don't care about my report.. That why I decided to contact the Management..
Taco Bell 2881 S Market St. Gilbert Az 85296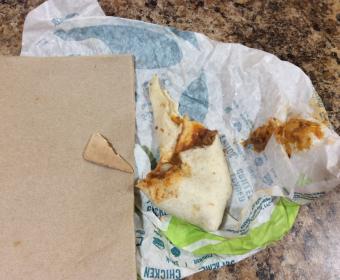 Mike Beauchamp
from Massena, NY
Got home and part of the order was missing.

Luci Hoover
from Woodstock, IL
Having been a customer at Taco Bell in Rockford, Illinois for many years. My husband and I are retired and really enjoy the $1 cravings menu and the senior drink being complimentary. Imagine my surprise when we stopped at the Taco Bell in Plover, WI on our way back from our cabin Tuesday to find that they don't have the $1 cravings menu and the items which are usually on that are at least 10 cents to39 cents more. For example, the spicy tostada is $1 on the cravings menu but it is $1.39 at that Taco Bell. I do understand that each franchise has the option of offering the free senior drink or a discount (they did do a discount on the drinks) but did not realized that they can arbitrarily inflate the $1 cravings menu. I would appreciate response regarding this issue. Thank you.

Jessica Morley
from Seattle, WA
I went through the drive through in Roseburg oregon, and the chalupas I received were in very stale shells. Inedible. I couldn't go back as I was returning from California.

Diane Lofton
from Shreveport, LA
I don't want to give it a one star but can't change that. This is the worse Taco Bell ever in Madison, Mississippi and has been since they opened. Never have change, will tell you credit card only, always out of most things. I haven't been there in over 8 months because of this. Today, I decided to give them a try. WRONG!! I walk inside at 1:30 p.m and was told they weren't taking orders inside that I would have to go through the drive thru. So I go back to my car and get in the drive thru line. After waiting 20 minutes I was told they didn't have large cups nor did they have ice. After being told I couldn't order inside, no large cups and no ice, I asked the girl why they were even open. Her response was to make money. That they were short people and the ice machine had been broke for 2 weeks because no one would come fix it. This has been going on since they opened. I have never gone and gotten what I wanted with out any problems. I have seen the district manager in there and them tell people they didn't have change so they could only take credit cards. And he allowed this. I am a manager of a store and if we couldn't run my business any better than they do, how can they stay open? They have got to be in trouble. This city is not cheap for rent especially on a brand new building. Some one needs to take it over and get it in shape or close the doors. And I hear this from so many other people here. Its not just me. And this is my 2nd or 3rd complaint I have filed myself. Just gave up complaining and quit going there. Guess my business doesn't matter.

mary ewing
from Jackson, MS
Went through drive through to get meal, sweet tea was old, think and syrupy. Tried to call them but fax machine sound came on, receipt said complete survey to possibly win $500, see back of receipt, there was nothing printed on back of receipt. Called customer service number, they were closed. Went online to fill out complaint and after writing a detailed account of my experience it said I had an invalid time entered, which was 8:00 pm. It never would take my complaint because site was flawed. Nothing was wrong with my time entry. I mean come on people . . . all I was going to do was to call and tell them they owed me a drink! DRINKS ARE ALWAYS TERRIBLE THERE AND ALWAYS HAVE BEEN.

Like some most food at TB. The service is atrocious.
St. George Utah and Mesquite nv.
We end up goeing there serveral times a month. At least once a week. They ask me to go through drive thru. It always ends badly.
I went to Mesquite TB drive thru, a few days ago. Wasn't my plan. But I decided to get some things, for myself.
The order was, Asked and I oked the screen. They generally screw up the taco order so I took a quick look and even felt bottom of bag to be assured the tacos where there. saw side etc. no time to inspect every item.
Upon arrival home I was asked why I didn't order anything but a side. Ordered a beans and rice and a ended up with a 1/3 cup of mushy slimy bean, I think they where bean? No rice.
I ordered 12 item Cinnabon and that disappeared completely. Items where's missing, altered or just charged on receipt.
I can't tell you how many times I have had to go back and go inside to get lost items.
I just lost my appetite that day. I Ames never to be on TB duties again. Mostly everyone's favorite. But losing money bad. The good thing is not adding calories.
Expensive way to diet.

charlotte baxter
from Connersville, IN
went into the taco bell in Hamilton Ohio the store number is 016995 and they got our order wrong when we went to tell them the manager nikki s was very rude and was yelling at us and at my daughter when we was trying to tell her what was wrong. I finally got tired of getting treated like crap and told her to just give me my money back, she took my receipt and went to the drive through window and to the back where we could not see her and when she came back i could tell she had changed the receipt, after she called me a lair for calling her out on it i told her just give me money. the hole time she was yelling and treating us like crap,everyone in the restaurant was telling us to call into to corporate and tell them what was happening.they were all saying that they are always rude here and they even had a meeting about it recently. When i finally got my money back and got home i checked the bank and i was right she cheated me almost 2 dollars so she stole two dollars of my money.to top it all off she refused to give me my origional reciept back with my partial credit card number on it.

Andy Ivory
from Flomaton, AL
I have been waiting twenty minutes for steak nachos which seems is unheard of. This place appears to be poorly managed.

Terri Gast
from Menomonee Falls, WI
The taco bell in Sussex, WI had the worst customer service or lack of. My husband and I came in inside. There was one family of 5 a head of us.
We all stood there for 15 mins waiting for someone to take are order or even acknowledge we were standing there waiting. My husband & I finally just left. When we left the people standing in front of us were trying to talk their kids into going somewhere else. All these people working in the back and getting drive thru orders and not one could even say we will be with you in a minute.

Alfonso potts
from Mt. Dora, FL
I went to the Taco Bell Located on 17060 US HWY 441 in Mt. Dora, FL at approximately 2:17pm my order was taken at the drive thru (3 cars in front of me), I did not receive my order until 2:45pm. I am a frequent Taco Bell customer but the wait time for a order of 2 hard tacos and a chulupa was extremely long. To the point were I was late back from lunch the drive thru line is setup as such ,once you enter you cant leave. I believe the employees of Taco Bell are hard workers and are dedicated to there jobs, but this is the 3rd time I have had to wait what I fell like is a awful long time for so call fast food. Totally unacceptable I would love to continue enjoying the delicious food that is offered at Taco bell however but after this 3rd time I will be choosing some other options available in my area.

Ann Marie King
from Columbia City, IN
I ordered your new 5.00 Steak meal. Sorry to say the meal was a real disappointment. The meat was so small my mother Ann Marie stated it was not worth the money There were a lot of chip and cheese. She felt she just have order chip and cheese......The Toco Bell in Knox Indiana really need to add the meat to the meal. Sorry I didn't think to take a photograph.

Phyllis Hansford
from Beckley, WV
Was at Taco Bell late Sunday eve in the drive-thru, several cars were in line. Took me a while to actually get to the intercom to order my food. Once my food was ordered, it still took me an additional 15 mins to get to the window to pay for it. Once I had paid, I sat there for another 10 mins watching thru the window, 2 girls were standing and talking to one another and txting on their phones, and a boy was casually going from the back with a tray to the front counter with food on it every once in a while. I finally got their attn and told the girl that I had been in line for over 40 mins that I wanted my order. She said, "I'm sorry it's been a while, you want me to get you a refund?" I said NO, I been in this line 40 freaking mins already, I want my food ! She said ok, he's getting ready to start on yours now...I said what ?? Getting ready to start on it ? She said yes ma'am, it will just be a few mins and shut the window. So in about 4 mins, my food came thru the window...I was beyond furious...and still am..This is a new store that just opened in March. In the beginning, they were so courteous and they whizzed you right thru. Now that they have taken Hardee's business and they will soon be closing, and McDonald's business seems to be slowing, they don't seem to care abt their customer base any longer. But that's ok, what goes around comes around. There is more restaurants coming to the neighborhood. They think bc this is a one horse town they got it going on right now.
Taco Bell
901 Robert C. Byrd Dr
Sophia, WV 25921

stephen
from Spring Hill, FL
On several occasions I have gone to your Port Richey Florida location to order at night and on several occasions I was told computers were down. So on Monday June 25th I went again and again was told computers were down. So I left and called the location and ask what time they closed and they said 1 and it was only drive thru so if your computers were down wouldn't you tell a customer that on phone. Customer service at this location is horrible employees smoking in parking lot with no one in store and just being out right lazy and rude to customers.

Courtney
from Jackson, MS
I was very disappointed in the service we received at our local Taco Bell in Magnolia, Ar this evening. The person taking our order I need the drive thru started having an attitude while taking our order when I questioned if they had taken part of it correctly because it was not correct on the screen. The attitude continued when we got to the window. When I was handed my order, he held on to the bag instead of just handing it to me, just being disrespectful. The manager on duty was standing there the entire time and also laughed. This is not the first time this employee has had a bad attitude with me when I have went there. If this is the type of people you are going to employ there, I will stop going!! Shouldn't you employ people that at least try to show good customer service?! I would appreciate a reply letting me know what you plan to do about this so that I know if I should return or not. My children like your restaurant, but if nothing is going to be done, then we will not be back!! Thank you!

Terrance Havens
from Muskegon, MI
I went to this store on 6/21 at 8:20pm and was told due to only having four employees it would be at least 15 minutes to get food. First off the restaurant was trashed like always. Both the kitchen and dining room were trashed. I said i would take my business elsewhere and the manager continued to scream at me til i was outside that she was just trying to let me know. The filth is one reason we have chosen to take our business elsewhere. I have 19 years of management experience in restaurants and have never ever let my restaurants look or run this way. I have been short staffed but never used it as an excuse. I have never been in this store and been out in under ten minutes regardless of how busy or what not. I have never yelled at a customer til they left the building like I was desperate to have them there. This manager has no clue what she is doing and since her family was there talking about how she was being promoted from crew to shift and now to assistant manager in under a year it seems like she is just being given a job she has no clue how to do. I Know nothing about Taco Bell and could do a better job than any manager that store has had in the last ten years. I do not want to speak to anyone in the store as it never fixed anything. I will gladly speak to a district manager even though i have tried to reach them before with no return call. I will also gladly speak to anyone from corporate level who would like to know what is actually going on in this store.

Ashley Touchet
from Jacksonville, FL
Very slow service! Employees outside standing around talking. The truck in front of us was at the order board for 10 minutes. We timed it. Then we get to order the employee asked us to wait. Took 6 minutes to order... When she finally took our order she was very rude about our specifications! This isnt the first time! Very unprofessional! This needs to be dealt with. Taco bell Abbeville, la.

I'm in Anderson, Indiana, from Texas visiting my mom. I used to work at the Taco Bell on Nichol Ave. Store and moved with it to what is now Rabel Ave.
I've eaten at all three Taco Bells here in town and they've all started getting really subpar as far as the Taco Bell standards I worked under goes. The taco salads have no bottoms. They are so small, McDonald's salad shakers are far bigger in comparison. Half the meat in the Chalupas and burrito Supremes...The Anderson stores had better standards! I'm half tempted to go get my money back but the employees are too stupid to know what a refund is.

Melody Paris
from Spokane, WA
Last Saturday June 2nd I purchased nachos bel grande for my granddaughter, the chips were so salty they were inedible. I called the restaurant where I purchased them & spoke with the manager about the situation, she thanked me for letting them know & then offered to replace the nachos she told me the next time we came in to let them know & they would give us a replacement order at no charge, so today Friday June 8th my husband went in to buy dinner & when he mentioned the free nachos the manager who was on duty both last Saturday & tonight said she didn't recall the conversation & refused to give him the free nachos her name is Sabrina. I will not return to that Taco Bell.

no name
from Sarasota, FL
hello i wanted to complaint about this girl name sydney that she looked so high while serving me i wonder if they do any drug background or do drug testing is not safe for her to be a cahsier or to serve food like being on weed she smell like strong oder it smelled like weed bit i am not sure what kind drug it was i know it was taco bell on clark rd sarsasota manager is darnell

Velvet Robinson
from Duncan, SC
5/12/2018 I went through the drive through at 655 Hwy 28 Bypass in Anderson SC. When I got home with my order I found that the 5 steak soft tacos I ordered for $12.45 were not in the bag. I tried calling the number on my receipt and no one answered the phone. I had to drive back 10 miles to get the rest of my order. I asked for fresh tacos and was told the cook was making them. However, when I got home I has cold tacos. I do not believe that fresh ones were made. My order totaled to $21.61.
I feel I should be compensated for my time, gas and the fact that I was given the tacos that were left off the order to begin with. I always go to Taco Bell but feel that if I am not compensated I will not return and I will inform all my friends of what happened to me today with poor customer service.
I look forward to hearing back from you.
The cashier that took my order was Caleb G and the order number on the receipt is 312694. The survey code: 3475-8033-1412-2216.

Paul Kiehn
from Ruckersville, VA
At a Taco Bell in Charlottesville, VA on 5/8/18 I had a poor food experience and want my money back. The food was ordered through the driveup window, which seems to be a frequent problem, as driveup customers leave the premises, or go home to eat their food, and are not likely to complain as would a dine-in customer. However, I ordered two stuffed XXL Burritos with extra sour cream. The tortilla was hard around the edges (stale?), had no rice inside, no meat, chicken was hard and barely noticeable, and the burrito was mostly refried beans. There was no extra sour cream. The other burrito was the same poor quality. It was like a very large BEAN BURRITO !!! I don't want to pay for this meal and the last time I had a poor quality meal at Taco Bell, they sent me a coupon for more Taco Bell food. I had to call the store and physically come down to receive a refund. I have the receipt for $12.27. Paul Kiehn paulease2001@yahoo.com

shannon robeson
from Blair, NE
last three or 4 times I have went to taco bell I have started ordering the bean,rice and cheese burritos. I ask for the red sauce to be put on the burritos. the burritos are a dollar a piece. I get charged 50 cent for every burrito they add sauce too that is nuts by the way that is half the amount of the burrito cost just to get sauce on it. wow! anyway everytime i have asked for this I barely get any sauce at all added to the burrito I'm lucky to even get a few drops on them. on top of that there is so much empty tortilla that is very dry and hard to choke down sometimes it would be nice if I have to pay for sauce I would at least get plenty of it on there instead of just having a lil bit at one end of the burrito I really enjoy these burritos when they are done right but it looks like I will be taking my business somewhere else if the problem can not be fixed.... thanks for your time. Shannon Robeson 100 hollostone dr blair 68008

Nancy
from Carrollton, TX
Went to the location on midway and 635 005640 on 5/4/2018 at 11:54pm and the cashier Jose M was really rude and unprofessional while taking my order I had to repeat my self many times, and he kept changing languages on me from Spanish to English and when I asked him for different kinds of sauce he only graved a handful of what ever sauce he had there and put it in the bag and close the drive thru window without me finish asking him for what I need it

Kelly Bleier
from Columbus, OH
On May 1st around the 6:30 PM hour I went thru the drive thru on Mall Road in Florence KY. My order came to $20.44.
When I had my order handed to me the taco salad lid was not closed and the Cinnabons had fallen out of their bag.When I got my order home the drink Baja Mountain Dew I ordered was all carbonation which the person fixing the drink should have known. Needless to say it was not able to be drank. The 2 chili cheees chilitos ordered was basically just the soft shell with practically no filling. When I tried calling the store several times after I got homer the phone at Taco Bell was never answered. The phone would just stop ringing like it was answered but no one on the other end.
Anytime I visit this particular there always seems to be an issue of some sort with my order. I feel most of my order from May 1st was very unsatisfactory and wasted. The workers there at that location always seem to have "don't care" attitude. I will not be going back and I will share with my family & friends the horrible experience. I would like to be compensated somehow for this last experience. I never have complained before but enough is enough of bad service.

Michael R. Coffey
from Inverness, FL
The taco bell at 616 W Main St. Inverness ,Florida 34450 has not had a dew freeze since the first of the year . From January till now I have gone to taco bell at least two times a month and ask for a dew freeze with my food order . Always told the machine is down or we have no Dew freeze . If this is so then remove it from the menu at the drive thru . If not then fix the machine . A responsible manager should have some one come in and repair the machine or remove the item from the menu . Because of this I not longer go to taco bell . Also when I did go their and order had to get out a magnifying glass to find anything other than the taco shell and a few veg. I now enjoy Burger King . There I get what I pay for each and every time .Sometimes more than I can eat . Also your other site for filing a complaint sucks .Try for 10 min. to fill out the form only to be told my home street address does not exist . Also when entering the time also told to try again . If you go to the internet and look up a map of Inverness you can see Beck Street on the map . The post office even says I live here .

Frank Edwards
from Germantown, MD
This is the second time that we have had a problem with the Taco Bell Restaurant in Muncie, IN that is at 15th and south Madison Avenue We let the problem the first go by with out complaining. This time it was very up setting. I ordered a Mexican Pizza combo with no cheese bend after waiting for 15 minutes it came out and had cheese all over it I took it back to the counter for a replacement. The worker took it towards the back laughing and talking to another worker I set there and was waiting for my order another 10 minutes while they kept filling every body else order I had to ask the worker why they were not taking care of me and they just smirked. Finally 10 minutes more and I received my order I am not Happy.
Frank Edwards

Cheryl Gibson
from Rapid City, SD
I was in your store on east north store in rapid city, sd. order my food and the second soft shell I started to eat cut my lip. I wouldn't have know , but the next one I saw blood on it. We eat there some and had never had that kind of problem, but I don't know even if they tossed out the meat. They gave me a Chicken taco salad, but I was a little freaked out as my mouth was bleeding. This isn't the first time we have had problems. The last time we stop useing that store and went across town to the other one. All I know I won't be going there any more and have told all that will listen to stop as well. It scared me as I have no idea what I had eat to get my lip all cut up. Shame as we like the food, but I sure am not going to be eating food that cut my mouth all up. It took some time to even go back there and we do and this happens. Hope you don't get anymore as this could be very serious. Thanks Cheryl Gibson 718 Halley Ave, Rapid City SD 57701 (605)391-8554!
Have feedback for Taco Bell?
Thanks for your feedback!
Sorry. Please try again later!