Taco Bell
Taco Bell Complaints Continued... (Page 6)
523+ reviews added so far. Upset? Call Taco Bell corporate: 1-800-TACO BELL

I got home opened my burrito to add hot sauce and to my surprise the burrito only had the tortilla cheese n sour cream and less than a table spoon of beef. What happend to the beans. How can u not add what u are advertising. Now I know never to go to taco bell ever again. I have had verry bad expirinces whit this resturants. Im done paying for something that im not getting. This happened at the taco bell on 1190 n mclean elgin,il 60123. On 1-7-13. Your workers there suck. What to contact me 224-600-0166 il be waiting to hete from you.

From hearing from an old friend that worked at Taco Bell old have heard some pretty disgusting things that have happened at the Taco Bell on Gilbert and Basline. Hearing that most of the workers there are under the influence half of the time really upsets me. I've also heard that done employees will chew tabacco during work and sometimes spit in their customers food. I have also heard that some employees have had sex with a manager inside of the Taco Bell restaurant. These things my friend has participated in and have witnessed makes me never want to see a Taco Bell again.

I WENT TO TACO BELL AT 302 MALL BLV IN SAVANNAH, GA I ORDER COMBO 3 WITH A LARGE DEW WHEN I GOT HOME AND WENT TO ENJOY MY TACOS IT WAS AWFUL FIRST MY SHELLS WERE OLD THERE WAS NO SOUR CREAM LETTUCE BROWNING. NEEDLESS TO SAY I WAS VERY DISAPPOINTED I EAT TO THIS TACO BELL 3 TO 4 TIMES A WEEK AND THIS IS MY 3RD EXPRIENCE WERE MY FOOD WAS LESS THEN HIGH STANDARDS THAT I EXPECT REGARDLESS THAT ITS A FAST FOOD PLACE EVEN THOUGH MY MEAL WAS ONLY 5.98 IT WAS MY HARD EARNED MONEY AND I PAID FOR A SERVICE THAT EXPECTED TO RECIEVE UNFORTUNATLY I DIDNT AND I HATE TO KEEP EXPRIENCING THIS OVER AND 3TIMES IS ENOUGH TO STOP WASTING MY MONEY I HAVE OTHERS WHO SAY THEY ARE DISAPPOINTED IN TACO BELL I THINK YOU NEED TO GET UP ON YOUR STAFF BEFORE THEY CAUSE YOU GOOD AND LOYAL CUSTOMEERS. I FEEL THAT I SHOULD EITHER 1 BE REFUNDED OR 2 GIVING A DINE AT YOUR EXPIENCE CARD/ GIFT CERT. THANK YOU FOR YOUR PROMPTNESS IN THIS MATTER AND I EXPECT NOTHING BUT EXCELLENTS FROM YOUR BUSINESS

I was a bit furious when I found out that the place I eat at maybe three times a week ripped me off. I was working and sent my bf in to Taco Bell on Kingshighway in Cape Girardeau, MO 63703. He went inside and ordered a black bean burrito and a chicken burrito and he paid for them both. This was around midnight of 12-29-12 to 12-30-12. This past Saturday evening. After he paid for it, some guy in the back came up and said that they stopped making the black bean burrito at 11pm. They told that to my bf Scott. Then the cashier talked about it to her friend right in front of my bf, because he told me what was said. and I think its absolute crap. They gave him a bean burrito but did not refund his money. Im mad as shit, because this is my favorite place to eat and im poor so you all owe me 70 cents, thats how I see it, but I also think your cashier ripped you all off by pocketing the extra money. So Id look into it.

I was at store number 002964 and my order was #317672. My 7 layer burrito did not have cheese or sour cream. I paid for something I did not receive.

Hello,
I saw the taco bell ad for 12 tacos for $10. This sign was on the window of the store. 4200 Davie Road, Davie FL. 33314 My bill was $11.65. When I asked, the woman behind the counter said that this store charges $10.99 for the box. I had several children to feed and did not argue for fear of having someone spit in our food. Later that night I went to another store in the same area and was told that I should fill out a complaint. Thank you.
-Sybil
9542603485

We just left your store#017412 in Valdosta Ga. We waiting at least 10 mins to get to window while two people ahead of us just left. After paying we waited 5-7 mins more for food. Very long wait. The bean burrito was very dry with LOTS of sauce. Bad service. Bad food.

Arrived in the drive through at 12:57am on 1/1/13. 72nd ave in yakima washington! We watched them turn the drive through light off!!! They just stopped taking orders! We sat in line for 25 minutes!!!! It is called customer service! You take care of the customers in the line instead of just ignoring them! An employee should have stepped out of the Side door facing 72nd and explained that the drive through was closed! My order should have been taken and the car behind us, as they arrived at the exact same time. As the cars finally were able to clear out I stopped at the window and told them they should have taken care of the cars in line. The employee stated it is their policy not to leave the building! I am sorry but everyone would have been able to back up their cars and leave if someone could have just stepped out the side door and let everyone know they were closed! I do not think that was leaving the building! That is called customer service! I WANT A CALL BACK From someone that can explain to me why this happened! 509-823-9011 Terri Lamb. I will also be calling the store manager or owner Cindy when the store opens to give her and ear full and I will be asking for a refund of the $100 I spent on gift cards for Christmas! I WILL NOT BE GOING BACK,! You lost good customers over a stupid mistake!!! Very POOR customer service!

I went to Taco Bell tonight at the Norfolk, VA location on little creek road. I went through the drive thru and looked and thought all of my $25 order was correct. I got him to find I had only been given one correct item. So I drove back and waited in line to fix my order and was told my order was correct. I got home to realize everything was the same exact hong just a wrong order of nachos added. So even if this was correct the food was cold. So I had to drive all the way back and wait another 30 mins for more wrong food. I left the house at 1 am and at 2:30 I still had no food. They wouldn't give my money back or a gift card. I am disgusted and will never eat at this location again. Not a good way to bring in the new year.

We arrived at the Taco Bell # 005727 in Enterprise ALabama 36330 at 5:15 pm 12/30/2012 we were second person in line with only 3 others sitting down waiting on orders or eating after waiting almost 20 minutes I went up to the cashier and asked were was our order almost 6 other people ordered after us and all received their order he asked and someone shouted in the back we made that order already, I told him if they did the didn't give it to us . He then told them to make it again and they did in about two minutes and after sitting down with my wife to eat the order was just thrown all together we everything falling out and only one item out of 4 we ordered was right the rest was not what we ordered, we were so disgusted we just threw it all away and left. This is the second time at this facility on a Sunday evening we received the same type of problem. I will NOT go back to this Taco Bell again and we have a lot of family in this area and friends. You all should send a under cover boss to this facility on a Sunday night and see for him or her self how it is run. Sincerly, Mr. John Cammarota

Service is very slow ans not so good.I have waited as long as 1/2 hour for food more than once at the Colmar Manor ,Bladnedburg MD Taco Bell.I have been there many times over the years and the past two visits have been the worst.CUSTOMERS WERE GETTING IMPATIENT AND FRUSTRATED AT THE WAIT TIME AS WELL AS MESSED UP ORDERS.I HAVE SEEN WORKERS SLOW POKING IT ,HALF FILLING ORDERS AND WALKING AWAY LIKE THEY FORGOT WHAT THEY WERE DOING,ORDERS UP AND NOT GIVEN TO THE CUSTOMER WITHOUT THE CUSTOMER ASKING.MANY YEARSAGO I WORKED FAST FOOD AND WOULD HAVE BEEN FIRED FOR THIS KIND OF POOR PERFORMANCE.I don't think I will go back any time soon and business is really bad at this site.

December 27,2012 about 830 pm i was in the Susanville CA Taco Bell drive threw. I noticed that there were four cars infront of myself and i have been sitting for about 5 mins then it was my turn to order, at the moment i started to order i started my stop watch, because in the past i know this Taco Bell takes awhile in the drive threw but never started my watch. I was thinking they might be short handed today thats why it is taking a little bit longer to make the food, when i i finally came up to the window and paid for my food i watched the employes. That is when i noticed there were five people working but only one person making food and taking his sweet time doing it taking little breaks every few mins to take a drink of soda. while the other people working were just joking around standing there. when i finally got my food i stoped my watch it took 25 mins and 51 seconds from when i ordered my food to when i got it. I did not even get a sorry we are a lil slow. I would have gotten my food faster at a sit down mexican place. I have talked to other people around the susanville area and they say the same thing there always slow i dont know how this place is still in bussniess when you got a bunch of kids working here with not a care in the world just there for a paycheck.

Everytime I go to the taco bell location on 22nd and Wisconsin I'm disatisfied with my purchase, It's a big difference in the way other taco bell locations make tacos 22nd and Wisconsin location is the worst location in Milwaukee and suburbs,
Out of 12 pack of tacos you might be able to get 6 decent ones, on talking a knife plastic knife full of meat a pinch of lettuce couple shards of tomato And when I say pinch I mean a pinch. It's like eating a meat flavoured taco shell they need help its the same thing whenever I go there I'm fed up with that location I won't be going there anymore.
I'm going further out from now on. On south 27th out by Romines they're pitiful. To whom it may concern.

I ordered my food, and there was no line in the drive thru. It was only us and one car in front, that car was at the window for over 20 minutes, until they received their 12 pack of tacos. I was already very upset with that, and then I sat at the window for another 10 minutes before receiving my food, the wait was very unnecessary for my 2 burritos to be made.. So,finally I got my food and both the burritos are very poorely made, they were almost all tortilla shell with nothing on the inside. Plus, they put onions in my bean burrito when I asked them not to!! I am very disappointed in Taco Bell!
-Taylor Anne
Gridley, California

i live in brunwick.ga a mile from taco bell which i go to often i and my family were eating when i notice the wallpaper fallen from the wall because of the wall s being saturated with water on all three corners also with black mold yes black mold the worst kind the walls are also warped from water this is something that corperate office needs to action on soon i sorry to say but its the worst taco bell i have ever seen in this condition you can smell mildew and mold water thats behind walls apon inspection you will see this true i have never filed a complaint like this before but i truely enjoy the taco products thanks the oquinns

This is about store #W750274 1978E Osceola Parkway Kissimmee FL-32824. We picked our son from school. He was hungery and asked us to take him to Taco Bell. Unfortunately we picked up same Taco Bell location we had bad experience one week earlier. We went to drive thru and there were 3 cars ahead of us.
We had to wait 7.5 minutes at the order before the order taker responded and took our order 2 Bean Burritos and a Shake. after placing order we sat at same spot for another 4 minutes before car ahead move forward By the time we reachead at pick up window it already over 30 minutes. I called the manager.
She came out of her office with two other girls, it seemed there was little party in office totally unaware about service timings and kitchen issues. I asked are you the store manager she said no store manager if off today. I asked her who a District Manager she ignored me and went inside. It seemed the store was running by itself. Just imagine at 4:28 pm after lunch hours.
Transaction time is over 30 minutes What would be during rush hours and how many people would leave without ordering.
Some one has to look into it. I do not think the management team is capable to handle busy periods and manager incharge of the area
take some pain to shop to find out by themselves. But certainly me my family and friends will stay away from this store. Sad to see bad management but what can we do. take our business to some one who can take care.
I hope this message reach to Colonel, who sweat and spend his life to earn reputation. Bad apples tarnishing everything he earned.

The current promo is the xxl chalupa you know double meat all that great stuff. We went this evening and ordered 5 got home and opened them you couldn't even see the meat. They were pathetic. So I dug out the receipt and called the manager and he was willing to replace the order ok cool. But when I said he should do a quality check he informed me everyone that was there had been there for a while and it wasn't an issue. I just wanted to ask him are you trying to save you food cost because its the end of the month. Even worse you can't contact corporate or atleast I couldn't find a way. The whole point is ripping off your customers effects your profit line too.

The other day I was on my way in ur taco bell store in belleville Illinois off Carlyle and there were three of your employees sitting in there car smoking marijuana and I had my three little girls with me and it made me very upset and I don't appreciate you hiring people that use drugs especially on the job I think you should at least drug test people before you hire them and during employment this was me and my family favorite place to go but not anymore please do something about the problem by the way they were all females thank you.

My husband and I went to taco bell the other day because they have the fresco menu which is Vegas friendly if you substitute the meat for beans. Anyway I order the fresco burrito supreme with beans instead of meat, i even finished off my order with "no meat no dairy" it took them 4 times to get my order right. The last time we went up to tell the girl the order was still wrong, she grabbed the burritos out of my husbands hands and looked strait at him and said "really?" and thew them in the trash. What makes it worse is, we then went to tell the manager and he told us, that we changed our order and it wasn't a big deal.
With total disregard for the fact that his employee was out of line and blamed us. If you live in Utah never go to the 7200 south and highland location.

I was out late last night and was very hungry. I made a run for the border (Taco Bell). I ordered 4 crunch tacos (Fresco style – no cheese, and add pico). I wasn't drinking. I vomited 45 minutes after eating. I have been feeling lousy all day with an upset stomach and flu like symptoms. I know it was the food, I should be fine by tomorrow but paid the price for last nights snack!

we went to the kfc taco bell in forsyth mo. several times when it first opened.the staff were dirty sloppy and not once did they get my order rite, drive up or inside. we didnt go for a long time aftwr that. two weeks ago i decided to try again. i went inside figuring it would be faster sence the driveup line was so long.got insuide and was greated by a woman that looked like she had sleped in her clothes.i ordered 4 soft shell tacos and 2 hard shell tacos. it appered i was the only one at the counter, and then realized 3 others were wating. one made the good luck coment.the woman in front of me had already been there 30 minutes.i asked her what she ordered,she 6 tacos.
i then waited 45 minutes for my order. they did get it rite but it had been setting on the counter for at least 25 minutes. last friday i was in a hurry and decited to give it one more shot (herd someone else was managing. i went to the driveup and ordered a 3 peice chicken dinner with slaw and pototatoes, and a # 5 which is a natcho bellgrande with 2 hard shell tacos. the girl that took my order aperently got side tracked because a young man came on and sied my total was 6 dollors and some ghange. my quick mind relized he was a little short. i said does that include my natcho belgrande.
he said no it would be 12 dollars and some change.i drove up to the window and about gagged. there was so much crud on and arround the window, paid my bill and hurred home. opened the bag and to my supprise, no tacos. i will never go back to that store again, the store on shepard of the hills expressy is a model store. all stores should me modeled after.

The last 3 times I went to the KFC/Taco Bell in Forsyth, Mo. I got the wrong order. We went there when they first opened, and the chicken was the worst ever in a KFC. So we hadnt been back. I saw your ad about the chicken fresca tacos. I tried 2 and liked them. The next three times, I received, 1. 2 beef tacos and an awful burrito type thing, when I ordere 3 chicken fresca tacos. 2. I got 3 crispy beef tacos. 3. I got 4 soft beef tacos again, and I asked if I got my right order this time. The lady at the window said that the supervisor was working the kitchen and sure that the order was right. This KFC franchise should be removed from the present owner.

Why would anyone willingly eat taco bell which keeps Imodium in business? Their "taco" meat is like 80/20 ground beef and minced heart/tounge boiled in taco seasoning. Maybe its why gout is making a comeback (lol)? Maybe that's why she was cranky, she gets paid in all the tacos she could eat and no benefits, so no treatment for the gout and she can't afford the Imodium. I'd be cranky too if it hurt to walk and I had to clench my cheeks all the time. All the regulars prolly have gout too and they're cranky.
Maybe they should serve some free zanax and Imodium with every meal and everyone would be happy? Maybe next time you go into taco bell you should bring in a bottle with you and you'll get better service? Maybe I need to go take a bottle brush to my brain now to get all that visual out of my head. I think Taco Bell is just a grade about dog meat, or maybe it's a grade below dog meat, lol. Funny how people will eat anything as long as you pour on enough saucey sauce on top!
'Scuse me, gotta go (lol)

Diane York
from Orlando, FL
Went to Taco Bell # 023298 at 2403 Hiawassee Rd. in Orlando Fl. last night 5/8/16 at about 9:45 PM and waited over 30 minutes in the drive through lane. After 15 minutes I went to the front door to go inside and it was locked. Went back to my car and waited another 20 minutes to get my order. Finally was able to leave at 10:20 PM. Worst customer service EVER. My order number was 328321 and the cashier was Laetrice S. Will NOT be returning to Taco Bell anytime soon.

Ron ostendirf
from Los Angeles, CA
Went in to the Taco Bell on Foothill Blvd in Rancho Cucamunga on Friday 2-12-16. I ordered my food then asked to use the bathroom. They unlocked it and it was disgusting splattered crap on the toilet in plan view. Got my food and started looking around filthy Windows, counters, floors everything. Parking lot trash all over. Take some pride and get a manager that cares. DISGUSTING.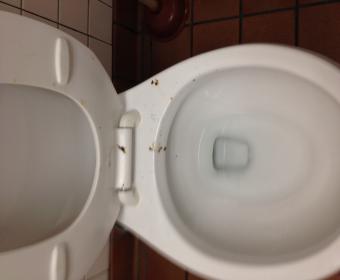 I wasn't the one to go to Taco Bell for this incident, but I know someone who went today. I overheard this. They had to go inside to pay for their food due to drive thru not moving. When they got their credit card back, the cashier giving the card back dropped the card on the counter by accident, and a bunch of white powder fell out of the cashiers hand all over the card. It's unclear why this situation even occurred, but the person paying suspected it to be drugs (their guess was cocaine). The cashier merely gave a scornful look, as if that person did nothing wrong and was eavesdropped on. This incident occurred today (31 Jan 2016) at Altus, OK.
I used to eat here all the time. The quality of this food has been deplorable for the past many months, I have heard so many negative opinions about the service in general, and now this? I just ate here yesterday, the rice tasted disgusting like someone was smoking over my food as it was being made and no sauce. The food was awful, the burritos/wraps/etc. are not being fully filled, and service takes forever. Personnel seem to just not care. I refuse to eat here anymore until an investigation occurs, personnel are fired, and retrained.

Sue Kovac
from Leawood, KS
Family requested Taco Bell for dinner last night. I went to the drive up and it did take awhile for someone to answer. I warned the young man that I had a large order and he said okay and I placed the order for $29.65. The freeze machine was still broken and has been for a few weeks now. I got my order and then pulled over in a parking lot to check the order and it was not correct. I went back through the line and also requested mild and hot sauce.
They were out of mild sauce. I was charged for my order but it was five items short. So I did get my items and hot sauce only. He also said they were short handed. In addition, the register needs a new ribbon or cartridge because it also has not worked correctly for a few weeks you cannot read it. I don't know if the owner or managers are not aware of these problems but I think you have some issues. I know that things go wrong and machines break but nothing is getting fixed at this place. I think that we will wait a long time before we get our dinner at Taco Bell, the kids love it but I did not like taking home a very cold dinner. This Taco Bell is located at 7100 W. 119th St., Overland Park, KS 66213.

Dock Buckhalter
from Hernando, MS
My dad and I went to taco bell , but the door was locked. My dad pulled on it and the woman said go to the drive thru. When we went to the drive thru my dad asked why there wasn't a sign on the door or somewhere else that said go to the drive thru without getting out of the vehicle. Then we couldn't read menu board cause there was ice on it. The woman said she asked the manager and said and done nothing. Then my dad said well all it takes is paper and pen. Taco Bell 024204 2650 McIngvale Rd. Hernando, MS 38632.

I was wondering if only employees and managers are allowed to take free food home? I have seen a manager take bags and bags of food and not ring it up.....is this being offered to the public as well? Store in mcallen texas, on 10th street, manager gloria. She is also very vulgar and disrespectful to employees. Again i would like to know how we,the public, may receive free food too?

The service was ok. But I have a problem with Taco Bells prices and the way they post the menu. I ordered a potato wrap that I thought was going to have plenty of steak in it. But only got a real thin layer of steak with cold potatoes and bits of bacon. Hmm not worth 4.99. It was suppose to be the Steak/Potato Boss Wrap. That's a joke. I can get two combination burritos at Del Taco for 5.00 bucks and be totally content. Look at the picture, do u see Steak? Very little.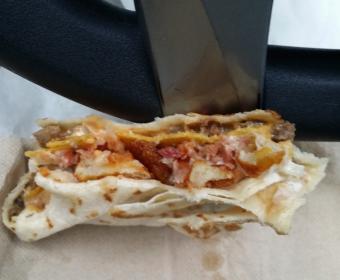 Marilyn Robberson
from Ozark, AR
First I had to sit in line outside for 10 mins.because they were slow answering the speaker for all of us in line--3 vehicles drove off after waiting so long. Then when she answered the speaker, she asked me to wait 1 moment which turned out to be 5 mins. I would have drove off myself but my son loves to eat here. I finally ordered having to repeat the order twice which she finally got correct. Then another long wait---several mins again. It wouldn't be so bad if they had enough employees working--I only saw 3 young people working--very hectic in there. Then when I finally got my order, the man handed it to me and didn't verify the order. I drove home--opened the sack and I had someones order but had my correct receipt with it. I drove back down there and waited again.
Finally got to report the mistake and the girl acted strange-I repeated the order-she took the sack and my receipt. She asked a man to help me--He asked if I ordered something different ( 2 fiery tacos), I repeated my order and told him she took the food and receipt, he said ok and asked me to pull up front. I waited 10 more minutes. I finally went in to see what the problem was and the girl was blaming me to the man that I ordered those fiery tacos, and I told him to read my receipt--they corrected it and I finally got my order. We eat here a lot, and occasionally have to wait awhile, but this night crew needs help .We probably won't be back for awhile. Not to mention someone else didn't get their order because it had gone to me at the start. I am not a complainer but this was ridiculous and uncalled for.

Malia Jeter
from Irving, TX
Sunday, November 8, 2015, between 5:00pm and 5:45pm. 1022 W Shady Grove Rd, Irving Texas 75060. I was in line almost 45 minutes. There were 6 cars in front of me. It is getting to where it takes that long no matter what day or time it is. I don't know if they don't have enough employees or what, but it ridiculous at the amount of time it takes to get your order. When I finished placing my order, I was told to pay at the first window. When I got to that window, no one was there, or ever came there. When I got to the second window, it took a while just to pay, but the young man was very nice. I asked if they were short handed and he said yes. He apologized several times and offered me a free soda. The ONLY reason I continue to go there is this is the only fast food restaurant close to my home, but I could have driven to Beltline Rd and back in THAT amount of time!! Please check this out and it would be greatly appreciated if something could be done to speed up the process.

On Thursday October 1, I ordered from store # 002509 in South Charleston Wv. I had stopped going to this Taco Bell location in the past because of issues with food orders. However, I went against my better judgement and went through the drive thru. I have food allergies, tomatoes and avacodes make blisters in my mouth that require Silver Nitrate to be used (expensive and painful). My order number was 347614. I ordered a steak cantina burrito with. my order.. Also, a tostada with no tomatoes. I made it perfectly clear during my order that I have a food allergy and that my orders are always wrong at this location. 'please make sure that it is correct'! 'No problem', I was told. At the screen upon confirmation of my order, I explained that it had no tomatoes. Again, I was told it was taken care of. At the window, I said for the THIRD time that I have an allergy. Again, I was told it was taken care of.
Lo and behold, when I got back to my job I had a chicken cantina burrito AND it was loaded with Avocado, but I had bitten into it. So I checked the tostada and guess what? Tomatoes! I submitted my complaint online at thebell.com and no response! and that was after trying for 2 hours calling the store to speak to a manager. This is unacceptable. There are no excuses for food preparation to be wrong after confirming 3 times. I will not EVER use this location! There are no excuses on this matter, I also have photo evidence as well as witness'. The following day, I had to go to a provider to get Silver Nitrate and missed an hour of work. Thank God, I do not anaphylaxis allergies to these ingredients because this is borderline negligence.

Ashley
from Paso Robles, CA
I have a picture of my food. It's absolutely horrible. For example my nacho chips its just chips with like sprinkles of nothing. It taste like they made it and let it sit out for hours and re headed it. Definitely not satisfied what so ever with my order and I had a family member give me a ride. So I'm not about to go back. Plus the person at the drive through window was so rude. She was laughing over the speaker and pretty much through my food at me. I just spent over 20 dollars there. I am not very happy right now!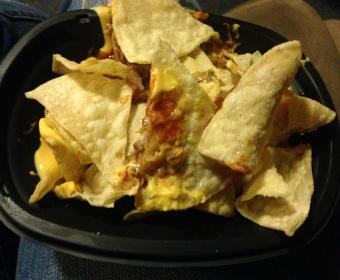 Tori Kanwich
from Matthews, NC
I waited for over forty-five minutes for an order. I could not get any response. It was crowded but that is not acceptable. If I had not paid I would have walked out. When I finally got my order which was over ten dollars I had two tacos with broken shells. Had to eat them with a fork which none was available. Mexican pizza was not barely cooked and others was cold not even cheese melted. I usually visit Taco Bell at least three times a week but I think that will change and go to another place instead. This is the worst customer service I have ever experienced!

Eunice White
from Iowa City, IA
In Iowa City, I bought a 12 pk box of tacos...and 3 fire tacos. I live quite a distance from taco bell and upon eating our food...one of the kids noticed that there were pieces of potatoes inside of the taco instead of the beef we ordered. then we opened the entire meal and found that 5 of the tacos had potatoes instead of meat. we drove back to the establishment and complained to the manager..Nick...not only was he rude...he allowed the other employees to have their say in the fact that they were giving us 5 tacos...which now we are afraid to eat for fear that they have at the very least spit in or on them...i spent $16 on a meal that we have now thrown in the garbage. I do not play with my food and do not want anyone else to do it either.
If this was a joke it was not funny to me....how many other costumers had the same problem and ate the meal without noticing this. What I should be doing is calling the Police...instead I will be calling back to that store to speak to a day manager as the rude Nick gave no satisfaction on this situation. I would like to be reimbursed for my meal with an apology or I will call the Police along with seeing that the local newspapers puts something in a column about this,,, I will put this on all of the social media sites that I can find. I will share my complaint that this store has rude and nasty employees and see if we can gather some people to boycott the store. I am ashamed that this store is BLACK run, and I am black is this how we act and treat this community. Now I will go to McDonald's to feed my family tonight.

Joyce Ruelle
from Ukiah, CA
Got my niece a $15.00 Taco Bell gift card for her birthday. She tried using it for her lunch at Taco Bell today at Ukiah ca. 95482. She was told they do not accept refillable gift cards in Ukiah. My niece went without lunch today. At the same time I purchased the same type card for my friends birthday which is this Sunday. Oh Great. Now I am out $30.00. How can you sell gift cards and we can't use them.
I love Taco Bell. Me and my girlfriends meet every Thursday at noon. I am very upset over this. How do I get my $30.00 back?

Gail Berryhill
from Oxford, MI
Ok. We stopped at the Standish, Mi Taco Bell Monday, 10/5/2015. As I was exiting our truck I put one foot down and slipped on what looked to be a mixture of oil and rain. I told the cashier what had happened. She looked totally unconcerned and said ok she'll tell manager. Not wanting to slip again my husband went to bring the truck to the door. He talked to a male employee in the parking lot. Showed him where I fell and how slippery it was. We'll another unconcerned employee. We came back a some hrs later and nothing had been done! I am alright, sore, but alright. If I had really gotten hurt I would be suing. Not just to sue but to let these people know that they need to make their workplace safe for their customers!

Juanita Campbell
from Jacksonville, FL
I have been a customer at the Normandy St. Taco Bell in Jacksonville, Fl. 32205 for years but lately there is a noticeable deterioration in food quality and service. Several weeks ago I ordered a taco salad and had to return it for lack of meat. Today I got two soft tacos and both tasted as if they were full of rice or something similar mixed in with the beef. Actually it did not even look like beef. Very unsavory and left a distinctly unpleasant taste in my mouth. The taco itself was not large enough to completely cover the filling. While my service was OK, as I was waiting for my tacos inside the store, a woman brought back a salad which she opened and showed them there was nothing but lettuce. The clerk took it to the back and returned it to the lady who again opened it and put it back on the counter and asked for her money as nothing apparently had been added. The clerk gave the to her but not before saying the lady had thrown it on the counter. A very unpleasant scene. I will think twice before returning there.

Sandra Carmack
from Sorrento, LA
The Taco Bell in Paragould, Arkansas is the focus of my complaint. I ordered a chicken cantina bowl. I found no chicken in my food. I went to the person at the cash register. I told him there was no chicken in my chicken cantina bowl. Mostly I wanted him to know the person putting them together wasn't doing it correctly. He just looked at me and said "well, ma'am, this is fast food and it isn't consistent." Gosh, I guess expecting to get what I paid for is expecting too much. I wonder if Taco Bueno supports this attitude among its employees.

jimmer crouch
from Sturgeon Bay, WI
I bought 6 hard shell tacos from the drive though on green bay road in Sturgeon Bay Wisconsin today (8/25/2015) When I got home my wife said there is hardly any meat or cheese in them. she was right they were about 90% lettuce . Bless you taco bell but "where's the beef".

Linda G Finley
from Friendswood, TX
After waiting for about 5 minutes for anyone to come to the counter, I placed my order. I had wanted a freeze but was told the machine was out of order so I told them I just wanted water then. While waiting for my order (which took about 10 minutes) i looked at my receipt and saw I had been charged 1.49 for the water. Again I waited a few minutes when someone finally came to the counter and I told them what happened and the response was ...oops! They then told me to just get a drink. I didn't want a drink which I explained to them so they said well then pick something off the dollar menu? Okay, so I was very tired and getting frustrated so I said I would take another taco.
When my order was Finally up front I asked what was in the bag and they repeated my original order without the extra taco I was suppose to get to compensate for the charge for the water. Which by the way was not an even trade-off. The young man came back with a soft taco and told me that was all he had. Really? While all this was going on someone came in that had been in the drive thru that didn't get all his order and someone else also at the counter with their receipt. I think this facility in Pearland had new workers that evening and no one was there that knew what the heck was going on!! Ridiculous!

Laurie Eckroat
from Newcastle, CA
April 26, 2015 My husband and 4 friends wanted to dine at the New Taco Bell in Lincoln. All of us chose Taco Bell after church feeling it was a great idea. Unfortunately, I have misplaced my receipt. But you can check with this location on some of the information I am going to share. The goal of me submitting this complaint is for management to step up and give adequate customer service along with quality food.
The most disappointing poor service was waiting in the dining area 45 minutes for our food. My husband and mine's order was simple, but that's not the issue it was unacceptable service. We ordered 5 crunchy Tacos, a burrito, and a Lemonade freeze. I asked the girl to give me a Senior Discount. She was pleasant and said she would give us a Senior Discount.
While I was waiting I noticed she didn't give me a discount. I went back to the register, and she said she would help me as soon as she got done with that customer. She told me she did give me a discount. So I asked her to please show me on my receipt where the discount was presented. She looked at it and said she will be right back. So she goes and talks to a manager. Comes back to the register and asks me to wait while she helps another customer. Five customers later she refunded my money. I was unable to have the Lemonade Freeze because it was watered down. The young man offered to make another freeze.
My tacos barely had any cheese on all three of them. Unfortunately this was unacceptable even if it is new. Taco Bell has been in business too many years to give this unacceptable lack of service. My husband and four friends hope you will take action immediately. Other Taco Bell Customers asked for their money back. Taco bell lost profit.

Debra Christian
from Odessa, TX
Ok I go in to order and have to wait for 5 minutes to get waited on because there is only one cashier waiting on customers and getting their food ready. All the other workers are in back just standing around. When I order I don't get what I ordered. I ordered 3 supreme tacos with the works, only got one supreme taco, the other two were plain. also ordered a chicken quesedilla with a soft taco, got a crunchy taco, ordered a chicken cantina bell bowl and was told that they don't do the chips and salsa, corn, guacamoli on the side or put black beans in the bowl any more.
Also when I told her I didn't want the drink with the Tacos she told me I had to take it. Also when she checked me out she had to do it on the drive thru register. This was at the KFC Taco Bell in Farmerville,La. Funny I went to the one in El Dorado just a few days before and got the same thing with no problems. This Taco Bell sucks. You really need to get a manager who will do their job nd treat the customers right and give them what they order and make their workers work. These people reall need to get their act together, They Suck!!

Nora Karam
from El Paso, TX
Last night my husband and I saw your new commercial for Taco Bell. We were totally disgusted! What does an elderly couple with a woman showing her husband her breast have to do with having a Taco Bell sandwich? We will not eat at Taco Bell again. We Will tell all her friends who agree with our point of view not to eat at Taco Bell. And believe me all of our friends at church agree with our point of view. I am so sorry we will not be abl Will tell all her friends who agree with our point of view not to eat at Taco Bell. And believe me all of our friends at church agree with our point of view. I am so sorry you have given in to the world's point of view on selling products through sex.

I haven't been to this location in a while do to the lack of meat on the product, so again its been a couple months so I stopped to get a Crunch wrap Supreme. I asked for 4 mild sauce and continued home. Again I am very disappointed, 1 sauce and with each bite lettuce and dough. I decided to unfold the crunch wrap and really was not shocked to see about one tablespoon of ground beef on one side of the wrap barely any cheese or sour cream. Plenty of lettuce and tomatoes only in one clump also to one side. Ridiculous!!! And to my amaze I believe it was the manager who made the wrap. Brown hair and glasses with a white shirt. Jaun L. Was the cashier that gave me one packet of sauce. $2.99 worth of lettuce, shame on you. I will not be back!!! I will have to drive to W 110th on Lorain Avenue to get a decent Crunch wrap. Maybe you need to send someone to retrain especially the day Manager. 4/13/2015 at 1:20:59 PM. Order # 311124. Cleveland Ohio

Mary C. McIntosh
from Evansville, IN
We tried your breakfast menu cheesy burrito It was the worse,. It stuck to paper tasted like raw dough and no cheese We did talk to manager who made us another breakfast which was better as it was grilled this time. I would like suggest that you change your wrapping paper with some wax paper or other surface on inside to keep it from stiicking to the paper. the second breakfast was made better with eggs and sausage and cheese wrap on inside o soft shell instead of egg the soft shell sausage and more soft shell. I will go back again but will only have the grilled option. Manager was very nice and said he had that complaint before but company did not address the complaint of sticking paper to the food. your burrito has better tast than mcdonalds not so spicy. I will try others types next time. Thanks for the time to read this complaint and I sincerely hope you change your wrapping paper to something better.

Tom Clobes
from Hutchinson, MN
Ordered 1 Mango bbq Chick star, 1 bacon ranch Chick star,2 double decker tacos,1 nacho supreme taco, and 1 gordita crunch and apple empanada.
What we got was 1 mango chicken griller,1 bacon ranch chicken griller, 2 fiery tacos, 1 nacho taco. I then went back to the Taco Bell to talk to a manager and was told there was no manager on duty. They precede to remake the order only to wait another 30 plus minutes to get it. I have eaten at this Taco Bell location many of times in Hutchinson, Minnesota 55350 but the service was the worst I've every see. Had to wait the first time about 15 minutes and they were not busy.

I went to the local Taco Bell here in Cleveland, Tennessee with my friends yesterday around 7:45. The one by all of the other restaurants. I chose Taco Bell because I had always thought it had good prices. I ordered two loaded grillers and a medium manzanita sol, aka the apple soda. We left and went to the apartment. I finished my drink as soon as we got home. Surprised, I opened the cup and saw that my cup was literally filled to the brim with ice. I felt so ripped off.

The bean burritos I ordered were super dry. The beans smelled of smoke. Disgusting. The chicken soft taco was dry. As though the meat was cooked in a microwave until it was dehydrated. The 4 cars in front of me in the drive through took 40 mins. . This occurred @ 10pm to 1040pm on3-28-15. These food smelled like campfire. I haven't. Ever filed a complaint before , I usually have more important issues on my plate. Train your help and more of them. There is no excuse for this.

Branden Carpoff
from Portland, OR
I was in the drive thru for approx 23 min waiting for a car to go ahead of me because this restaunt has a very poor design and only a single lane to drive thru making myself feel entrapped in said line asking the car in front of me to go and being refused and having to wait to leave this brings up many problems the first and most important safety I feel as if I need to contact OSHA to get any results as the manager was very rude and unhelpful to my plight and this businesses safety I am hoping you can help with this probl if not I will have to explore other avenues thank you Branden Taco Bell in redmond OR

Tonight(3/28/2015) at 9:15pm at the George Washington Way Taco Bell Location in Richland, WA. I ordered $15.99 in food and drink including 2 mini shredded chicken quesadillas. On my second bite into my first mini quesadilla I bit down on a large(3/4" long) piece of bone. It jarred my jaw and sent a sharp pain in one of my back teeth. It doesn't seem to have broken my tooth though. I subsequently choose to not finish the rest of my meal as I was not feeling hungry anymore. I took pictures of the bone, the quesadilla, and my receipt from the purchase. I would like to be contacted regarding this matter and compensated appropriately.

Ruth Whitesel
from Princeton, WV
The service at the counter was great, it wasn't until I started to get my drink, There was something wrong with the drink machine. I told the cashier about the problem and she acted like it was important. Then I went to get sauce for my food and the bin was empty, I ask the cashier for some and she said that they were out of the sauce (mild) that I was asking for. I would think that if I was out of the sauce that I would call a different location to see if I could a box from them, then replace it with one I received later. I understand that, yes this can happen, but I would think that if used more of that kind of sauce I would order more, so this would not happen again. Taco bell is great, but just wondering how long the store has been out. The store is in Bluefield, Va.

Cathy Ragsdale
from Memphis, TN
I can't remember a time that my order was ever correct. Yes I continue to go to a taco bell because I do like the food, but I am loosing that urge because my order hasn't been right in 15 years.

I ordered a taco salad as usual it had no cheese,no tomatoes and overloaded with rice and lettuce! I have a picture of this mess I was hoping to attach!

yolanda warner-galina
from Petaluma, CA
Today, March 21, 2015, my husband and I went to the Taco Bell in Petaluma CA. The music was VERY loud country-western, with heavy Christian overtones in the lyrics of the 3 songs that played. We did not go there to be evangelized, nor to be forced to endure the high volume of the music. It is not appropriate that a public eatery be forcing religion on its customers!

I know for a fact that there is a 22 year old Supervisor taking advantage of the minor girls at that Taco bell in 2050 S Townsend Ave, Montrose, CO 81401. His first name starts with C. and if you don't check into it I know there will be a big problem. The girl has not come home until 5 am when her shift was suppose to end at 1 am. There are to many other things that these young girls have started doing that I will not speak of. But one word of warning you need to REALLY need to check into this problem.

Darlene Powell
from Melbourne, FL
I always order the same thing. 2 -3 times a week. Worst food but the best tasting. I never go to fast food joints, only Taco Ball. I never get a real tostada with beans, cheese, tomato's and lettuce. I get tom, LETTUCE, sliver of cheese and have to look for the beans. My last trip, today I even took a picture of the tostada. I was in shock that the server, when I asked if he put beans on the shell, he said yes and pointed to the mound of shredded lettuce. I would rather pay more for a "real" tostada but it is not offered. The TC I went to is #023303, Melbourne, Florida and I frequent Satellite Beach (32937) Florida and Melbourne (US 192). All the same, no beans.
Do the employees get kudos. I can't imagine repeat customers. I say something and usually get what I want and offer extra $$.Get a grip, up the price or give a choice of meals. Get rid of the $ menu if you will go into bankruptcy by putting better helpings. Beans are REALLY cheap especially when they are loaded with fillers anyway.. The rating, 1 star, listed above is not what I would give. It should start off with no stars and let people enter "their" choice. BTW. Impossible to contact TB.

Karen Danner
from Marysville, OH
All we wanted was to go in have a few drinks couple appetizers. Husband really wanted the brisket nacho's, I just wanted something lighter which I ordered the won ton appetizers. Absolutely the worse nacho's ever first off whoever thought fresh jalapeno was a good idea is a IDIOT! Nothing like getting a plate of nacho no cheese,no sauce, very few pieces of brisket with a piece of fat. I asked the waiter where is the meat , cheese or whatever comes with nacho's? All he could say was like do up you want something else?i was furious the manager on duty was at the table beside us never once apologized that the nacho's were not up to par?.... If you send it back who is suppose to contact the manager? I called when I got home he was like wow now I'm not hungry. Well first of all don't put my bad food On you, second he should of been notified. Our man complaint is if you run a TV commercial. or on your menu at least try to come close.

monica goode
from Keswick, VA
I ordered some food from taco bell and when I got my food the beg and the food had blood on it. I believe somebody cut their finger and I'm very disappointed.

Brenda young
from Toledo, OH
I purchased two Quesalupas chicken and they made me very very sick tore my stomach up. I would like my money back and I promise I will never buy another!

Natalee
from Mountain View, CA
The taco bell in Lemont Illinois, is discussing. The floors are filthy and infested with ants. The booths and tables are dirty or broken. This place is definitely a health hazard and should be inspected.

Me and my wife were in Aberdeen MD. for an over night stay. She looked on the Internet for taco bell closing time and it said 3 am no lobby time no drive-thru time so we walk 2 blocks in the cold to find the lobby closed. Us and another gentalmen both standing out side think not a prob. Just order and get food threw drive-thru walk back to room and eat...wrong she tells us threw the locked window that can't take your order unless you are in a car... sorry my truck won't fit in your drive-thru anyway. So I told her threw her locked window that they need to fix time on web. She then opens window and starts arguing with me... your window is now open why can't you take an order????!!!!!!!! Taco bell you suck!!!!!!

I go to Taco Bell aprox 3 times a week when I get off work and they're always out of Sauce and hard taco shells tonight I went there and ordered very impressed they had hard shells. I ordered 3 hard shell tacos with sour cream and guacamole and paid for it when I got home I had 1 (one) pack of hot sauce no sour cream & no guacamole I asked for hot & mild sauce last week. I went there and ordered 6 things before I found what you had to eat I live in jackson ms and go to the one on hwy 80 west is that Taco Bell broke and going out of business ? Never anything there you always pay for things they're out of and they're always out of everything

We went through the drive through and waited half an hour. Once we complained to the drive thru attendant he said "We shouldn't complain because there are starving kids in Africa and it wasn't a big deal we had to wait 7 minutes." He proceeded to hand us a random bag of chips that we did not ask for and said that he wouldn't give us any discount. We are extremely disappointed by the unacceptable service we received.

Terry Malloy
from Rockingham, NC
I went in to rockingham store told the lady what I wanted got home. I told her that I didn't want the rice, sour cream, I got home and all I had on my food was the beef and cheese. I was upset I have always eaten at Taco Bell and I was very disappointed.

11/25 taco bell on 12:33 pm, 1642 mulkey rd. austell, ga.
I bought some food today and noticed they deleted the cost of 3 $.99 tacos and replaced it with 3 $1 donations on the reciept i was given. I was originally asked if id like to donate $1 to boys club charity and i said no. When i went back to get 2 items that were left off my order i noticed this on my reciept. I told the worker and someone who looked like the manager that i didnt wish to donate and was told they were trying to raise money. I pointed out that by them doing so , i was overcharged by $.03. She asked if i wanted my 3 cents back and i said yes. Then the attitude came out big time. She sarcastically thanked me , gave me the 3 cents back, gave me the wrong food again. Basically they were slightly overcharging and saw nothing wrong with it. The attitude just made the whole thing even worse. Why should i be made to feel bad for not donating to their charity and asking to be charged the right amount. I would fire my employees if they purposely overcharged, no matter the amount. Are they doing this to all customers?

I used to use Ft.Oglethorpe, Ga 30742 TB until the food become horrible. Months later after getting past the ongoing bad food at Ft. O, I tried different location. the one about my complaint TB- Ringgold GA 30736 #004682. Months now eating at #004682, the food has been wonderful. Just like my experience at another location in area that was in the 80's. The #004682, food great, manager great (always remembered me, glad to see me) I bragged to them how great, would even often get family meals on way home that evening. But, 11/27/12 was unacceptable. I am not expecting to be treated special or different from others, just great food and service as anyone would. It started out with asst. manage (don't know name I just glanced at tag when incident happened). The order filled placed on counter eat in- one bean burrito, (I get several times a week). It was so skinny I commented to that ass. man. burrito did not look like what I usually get. His exact words were, '2 oz. that's what it is.' I said okay, then I had to order of beans and cheese to compensate burrito he did not offer to remake. He said, 'what do you expect for the price', then said, 'Thanks' after ordering beans. When stared eating I promise you (now I cook with measures at home) it may had about a teas. 1/2 in the middle the rest was tortilla folds. I'm glad I ordered beans) The second item was meximelt. I always get too. when I unwrapped meximelt it was soggy/ stuck to paper I was not about to complain again, he would not had done anything about it either. not just soggy & wet & stuck to paper, I tried to salvage what I could with a fork. Meximelt was not even right ingredients. no red sauce instead watery corn salsa. I had to throw away. I'm afraid to go back another day unless the tall young manager is there. he will give me excellent food no doubt. The manager I'm complaining about is short, dark hair and I could barely get past no teeth. I'm not judgemental I can past employee appearance but to get this pathetic food uncalled for. Needless to say my craving now is not there, which is sad for my lunch time/quick family meals at least once a week. I will not get fast food that's not good, this location kept me from a sandwich daily. Changes need to be adjusted I highly impressed with the tall younger manager. Please address this it's not fair for the incident manager ruin the other crews.

Taco Bell in Tappahannock VA is a disgrace. The dining room walls have food splatters on them as do the seats. Floor is nasty. Employees today 05/04/30213 at the counter were very rude. No greeting, lots of eye rolling and tsking. Both cashiers acted as if customers were an imposition.

My husband got Taco Bell for dinner tonight. Normally we do not have a problem and we love the food there. Tonight was the exception. The taco salad that was ordered had no steak at all, which we paid for, only rice. The 7 layer burrito had only rice, and refried beans and two tomatoes, no beef. The double deckers that were orderd had a lot of refried beans and hardly any ground beef. It seems like the store he visited may have been low on ground beef?? He visited the Taco Bell / kfc on spectrum drive in Frederick md. We live 15 miles away so we are certainly not going to drive to return the food that was incorrect. I work in the retail industry and figured that Taco Bell would like to know the food that is being produced this Taco Bell. It is irritating to get home to sit down and eat to find out that your order is not correct or that it is sub par food compared to the food we normally receive from Taco Bell.
Thank you for your time
Kerri guild

I was visiting my Mother in Hutchinson ,Kansas for Christmas holidays when we saw a Taco Bell on 4th st. We went inside to order when my Mom and I noticed the cashier rubbing his nose sticking his finger inside the nostril . This upset my Mom and she said to the cashier that he should wash his hands.
He laughed and said if it bothers you go somewhere else. He appeared to be the manager, but wasn't wearing any name tag. Another man who was management also asked what happened, and when was informed just looked at the first man and just shrugged his shoulders and walked away.
My Mom is 75 years old and was totally disrespected at this store.I was standing right there and observed the whole situation. Your company needs to teach your franchises better health practices along with treating customers with more respect.
I don't my Mom or her husband will ever patronize that Taco Bell again. I'm a truck driver and frequent Taco Bell stores a lot and was quite surprised at that stores arrogance.

I took a trip to the closest Taco Bell and went through the drive thru, after pulling up to the speaker I heard no greeting. After deciding what I wanted to eat I said "hello?" And I got a low voiced "what?!". So I ignored it and said my order. I can't quite remember what it was I ordered I was too distracted by the rudeness of the drive thru attendant. She mumbled the price back to me and told me to pull up because apparently I was holding up the line.(there was two cars behind me that I could see). Arriving at the window I was greeted with a dirty look, gross teeth when she talked and an outstretched hand that looked far from clean. I asked her what she said the price was again and she looked at me like I was stupid and told me the price which was reasonable and at that point I did feel stupid for not checking the order screen quick enough because it closed before I pulled away. I handed her my money, she handed me change which I later found was about $0.20 short. When I asked for fire sauce I came home to find about 25 packets of mild. I don't know what her problem was but I extremely regret that trip to Taco Bell and have considered going to the one much further from my house for the sake of my self esteem, and quality of experience. If I do I back however and experience this worker again I will get her name and see to it she gets my complaints.
Have feedback for Taco Bell?
Thanks for your feedback!
Sorry. Please try again later!