Taco Bell
Taco Bell Complaints Continued... (Page 3)
415+ reviews added so far. Upset? Call Taco Bell corporate: 1-800-TACO BELL

Went to Taco Bell on Airline Dr close to David dr in Metairie , La 70003 Saw a commercial on Tv about the loaded Grillers so they tell me that they ran out of potatoes so I can't get a loaded potatoe griller. That not the first time I went to this Taco Bell and told me they were out of beef when I wanted a Taco. This is ridiculous this Taco Bell it's always the after 10pm shift.So I wish Taco Bell could adress this constant inconvienece problem of not having products in stock that's on the Menu.

the manager of the suffolk location in virginia was completely rude to me when i returned the food i was served previously. i went in there around 8pm, & ordered a few things & watched this girl named chelsey austin make my food.
the girl has been rude to me, & my boyfriend every time we have been there. this time my food was stale & disgusting. so i returned it about 15 minutes later.
the manager then took the food from me, re-made it without even apologizing, or asking me if i even wanted it remade. i go there all the time, this visit was very unprofessional, & very disappointing. i probably will not return until the issue of customer service is handled.

The Taco Bell located on Beebe Caps Highway in Searcy, AR has consistently bad food! This is the third time in a year (and believe me we spaced it out to give the business the benefit of the doubt, that we have all gotten sick after eating at Taco Bell.
This time my husband has been very sick with nausea and debilitating diarrhea and I was considering taking him to the hospital but he says he thinks he's getting better. Still, he looks terrible! The rest of the people in our household (my son and daughter in law) have experienced the cramping diarrhea but are not as bad as my husband.
I think Taco Bell at this location should be investigated by the Health Department. In fact, that is my next task.

I ordered 5 crispy Potato Taco and 4 Bean Burrito in Lafayette, La at 1224 N.E. Evangeline Trwy 70501and was not pleased with the food I received. First we waited for 5 min or more . We also noticed in order to make sure they are not having customers wait too long under the window for not having the food ready, we are asked to move forward pass the window.
With the Potato taco, I counted 4 potatoes in one and lack of sauce in all. With the bean burrito, the beans were cold and the burrito looked very old as if it had been sitting for a while. I would like to say this has been the first time being unhappy with this particular, but it is not. Sadly enough, it is the only one in the area where we are located.

I have been visiting tacobell on a daily basis sometimes multiple times a day , recently i ordered a 5 layer burrito , this burrito was flat nasty , i came in the morning , it was perfectly clear they used ingredients from the previos day , the cheese was cold and chunky tasted spoiled, the meat was dripping with greese , the sour cream actualy tasted sour, i also requested it grilled which they failed to do .
I called them to inform them of possible food contamination which they did not take seriose and denied anything was wrong with my order. They knew it was me before preparing my burrito which leads me to believe it was intentionally improperly made . Since this incident i have tried to give them another chance but every time since then , my food has been very unsatisfactory . However i am not the only one to state this , it is starting to get a reputation around town for undesirable food.

As a bartender, I tend to get off of work at the same time as most drunks leave the bar. Seeing as I arrive at work at 330 or 4, I am usually exhausted and starving at two in the morning on my way home. On december 22 of 2012, after leaving my job I visited taco bell number 000511.
I was treated as if I was under the influence of alcohol ( their headsets should have been turned off when speaking of the customer, myself, in the drive through) and they messed everything in my order up except my Mexican pizza. I ordered the meal that came with the Mexican pizza and two taco supremes.
While my tacos came out as soft shells, neither had any sour cream or tomatoes. Also I ordered a volcano burrito with no ground beef sub refried beans. It was correct on my order screen, but incorrect when I tried to eat said burrito. As the young woman in the drive through window so eloquently put, "she's drunk, she'll never know.".
I'm not only insulted but irritated that they could have rang my order in correct but give so little concern because your employees assumed I was intoxicated.

I was visiting my Mother in Hutchinson ,Kansas for Christmas holidays when we saw a Taco Bell on 4th st. We went inside to order when my Mom and I noticed the cashier rubbing his nose sticking his finger inside the nostril . This upset my Mom and she said to the cashier that he should wash his hands.
He laughed and said if it bothers you go somewhere else. He appeared to be the manager, but wasn't wearing any name tag. Another man who was management also asked what happened, and when was informed just looked at the first man and just shrugged his shoulders and walked away.
My Mom is 75 years old and was totally disrespected at this store.I was standing right there and observed the whole situation. Your company needs to teach your franchises better health practices along with treating customers with more respect.
I don't my Mom or her husband will ever patronize that Taco Bell again. I'm a truck driver and frequent Taco Bell stores a lot and was quite surprised at that stores arrogance.

I took a trip to the closest Taco Bell and went through the drive thru, after pulling up to the speaker I heard no greeting. After deciding what I wanted to eat I said "hello?" And I got a low voiced "what?!". So I ignored it and said my order. I can't quite remember what it was I ordered I was too distracted by the rudeness of the drive thru attendant. She mumbled the price back to me and told me to pull up because apparently I was holding up the line.(there was two cars behind me that I could see). Arriving at the window I was greeted with a dirty look, gross teeth when she talked and an outstretched hand that looked far from clean. I asked her what she said the price was again and she looked at me like I was stupid and told me the price which was reasonable and at that point I did feel stupid for not checking the order screen quick enough because it closed before I pulled away. I handed her my money, she handed me change which I later found was about $0.20 short. When I asked for fire sauce I came home to find about 25 packets of mild. I don't know what her problem was but I extremely regret that trip to Taco Bell and have considered going to the one much further from my house for the sake of my self esteem, and quality of experience. If I do I back however and experience this worker again I will get her name and see to it she gets my complaints.

not to long ago at the store in hialeah florida 1075 w 49 street my uncle went in to dine...he does not know spanish at all so one of the employees was calling the numbers in spanish..he asked what number is it and she said it again in spanish..he replied i do not know spanish..the lady coped an attituded and said i dont know how to speak english embarrassing my uncle infront of the people inside the store..my uncle filed a complaint..they contacted him saying they were going to investigate this problem..corparate office contacted him asking him how he wanted to resolve this..he explained and they said they would consider it and get back to him..they also said that what he had said was not going on which i thought was bullshit..i went in a few times after that fact and it was indeed true but i so happened to step in on 1119
2012 when i walked in their were 3 people off to the side liked they had already ordered i figured i was next..i waited 10 mins for someone to approach the cash register to take my order but the people got in front of me so that right there means what were the people doing in the back??? god knows how long they were waiting for their order to be taken..i shrugged it ogg and said let me just order...as im awaiting my order i hear the numbers only and i repeat only in spanish multiple orders and multiple times.. a man in a pirate costume was awaiting his order and the lady called the number 2 times in spanish and the man in the costume asked my girlfriend that was awaiting her order what number are they calling.. she told him and he replied thank you.. as he went up the lady was asking him spanish if he wanted something that had to do with the order..he still didnt understand what she was saying..two other customers told him what she was saying to him..i looked at my girlfriend and i said see the corporate office is doing nothing about this after they told my uncle they are..as i ate my food i notice that the taco only had half sour cream and half beef like if they had a shortage of food plus the lettuce was not fresh ..
it tasted like it was sitting in a bag all day.. i left to have a ciggarrette outside and my girlfriend was waiting on a apple empananda that took them 20 mins just to give her...when she told me that i went back into the store..i stopped one of the employees and asked for the manager..they asked me what the problems were..i explaned and they said they did not even see me in the store..even the highest rank lady in their seen me and kept repeating in spanish she never seen me..i replied back that i want the ladys name that is calling out the orders in spanish,the managers name,and the store number...
they replied back that they didnt even see me order..i told them i just left..they still stuck with their story..i replied back this place has cameras if i was attempting to rob the place the cameras,the people inside, and the employees working would have seen me then..i would like someone to contact me on this discrimination matter a.s.a.p. if not i will seek legal consultation on what i can do about this and make this public cause this is ridiculous the way that restaurant is under management...and being ran.... thank you and have a nice day!!

I am applauded at the way taco Bell handled my complain this evening. I ordered and paid for two nacho bell grande, and one chicken cantina bowl. I arrived home and the chicken bowl was missing. So I called the business up and was told they would have to review the cameras. I have waited about one hour and still haven't received a phone call back. Is this really the way to handle this. I am 66 yrs old and have lived in my home 50 years. I have never been treated like this before. I am no thief, for goodness sake. I will never buy there again. at Taco Bell. located at2300 Barrett Ave. Richmond CA 94804-1608 (5100237-2292 my order number was 359210 11/20/2012. Thank You for listening to my complaint.

I'm not a big fast food eater, but on occasion I eat Taco Bell when I get off work too late to do anything else for dinner. Normally, Taco Bell meets the standards that I would expect from fast foot. Delicious junk food. But my experience tonight was not that. First off, when I first approached the drive thru window, the guy on the other end said, "go ahead."
And nothing else. Now I know it's a drive thru but every other time I've been there I get a "good evening" or "welcome." Whatever, not a big deal. I proceed to order my late night meal and drive to the window. When I get there the man asked me if I wanted any sauces. I told him "hot sauce. And lots of it please!" Because, in all honesty, that's the main reason I can eat the food and guiltily enjoy it. Once I got home, I dove into my bag of tacos and quesadillas to find there was no sauce at all! So bummed. Tobasco is just not the same.
When I tried to open my quesadilla, there was smashed cheese all over the outside of the wrapping. Messy. The quesadilla was so smashed and there was cheese sticking the wrapping to the food. Kinda gross. And somehow, not sure how, but the quesadilla was burnt on the outside and the cheese was barely melted in the middle. The only melted cheese was all over the wrapper.
Again, I know it was late at night, and it's a fast good drive thru, but I'm usually satisfied with the meals I get there. This experience makes me want to check out the McDonald's down the street.

The person after myself waiting in line for a Taco Bell order was formally told they were the last order of the evening. Not only was a refused service, but the person after myself was apparently treated dishonestly and additionally refused service, but I myself was so refused.
Not only was humor expressed amongst the employees about the matter afterword, but the manager named Scott personally refused my business afterword. Dishonesty in addition to personal refusal of service is not only a travesty, but a personal offense from this establishment.
I certainly hope this information is reviewed by someone with the interest of profit in mind as well as customer service, and the experience will not further impose itself upon my future experiences with this organization.
If different management were in place, I imagine this establishment t would be not only more customer friendly but more profitable. Nevertheless, the presence of him upon this establishment is the negation of an otherwise profitable venture.

A couple days ago in Anchorage, Ak, i ordered some Doritos locos tacos. When I got home i opened them up and every one was literally only 1/2 full! I have a picture of it too! I was pissed. So, i went all the way back to the same store and complained and thinking that they would just give me a normal taco, i went home and i opened up the first one and it was just the same! Are you kidding me? Really? So here i am complaining on this web site about a damn 1/2 a taco.... Actually 8 of them. Its not just that store either. Its just about all the Taco Bells in Anchorage. Very inconsistant and not nearly as good as other states stores. So, don't think I am not going back. I like the taste of the food. I just want what I pay for and believe me I will be checking my orders every time which I shouldn't have to do, right?

I am writing to comment or complain about the dismissal of the manager of Taco Bell on Lincoln Way East in Mishawaka, IN. I am speaking not fust for myself, but a group who meet there every Tuesday. We have become familiar with the staff and have seen a few employees come and go. We are strenously objecting to the firing of the manager, George. He is the best manager we have seen there and does an excellent job, working right along with employees with whatever has to be done. He has won awards for this location and even won a vacation to California from your company. Why you would even consider dismissing someone who is committed to doing the best job possible and deals with the customers and his employees the way he does is a mystery to us. Please reconsider this action so we can feel good about going there on a regular basis. I hope you will seriously reconsider this decision to terminate him. Thank you for taking action to this complaint.

I ordered 2 Doritos tacos from # 028965 in Kingston PA @ 1:31am. When I arrived home to eat, I opened the first one a d it was badly broken without the cardboard sleeve around it but I just dealt with it. Then I got to the second one and it was like a wrapper full of taco salad, again no sleeve. I went back with my pseudo salad and stopped at the drive thru speaker to announce I had an issue with my order then pulled up. After the car in front pulled out and I pulled up, 2 workers were at the window somehow already aware my tacos were pulverized and handed me a bag with 3 more of the same tacos claiming they forgot to use the cardboard which caused the tacos to spontaneously disintegrate. I questioned the theory but was reassured by the other employee named Fred that this is indeed what caused the issue. However I don't believe that this taco shell magically explodes in the absence of a sleeve but instead think the staff may have been upset to receive an order a half hour before closing and took it out on the poor Doritos.
To this I say, I don't enjoy waking up early in the morning so I've found a way to make a living working 3 pm till 11 pm. My point being, if you hate your Job don't take it out on others. Just find something more suited for your lifestyle and temperament.

I went to Tacobell/ Pizza hut express on 18 e 14 street new york, ny ,10003. I ordered a cheesy gordita crunch, large drink and nacho supreme. I ate about two thirds of the gordita before I realized there was mold on it!I went back to the store and demanded to speak to a manager. The managers name was Tukur. I showed him the food and he apologized for it. He threw the food away and offered to exchange it or refund my money. I said I wanted a refund. He gave me my money just for the gordita and nachos. He wouldn't give me back my money for my drink. You would think he would be gracious enough to return all my money after I found mold on my food.

my daughter & i went to taco bell @ 3910 madison ave. indianapolis indiana 46227 on october 29 2012 @ 11:36 am....we ordered one nacho belgrande, four taco supremes & 2 med drinks.....none of our food had tomatoes or sour cream on them. then when i called & talked to a manager she was rude...that is no way to do business...when you say supreme you should get more than cheese lettuce & hamburger..we would like a refund or a certificate to get the food we ordered @ no charge, because it was taco bell's mistake not ours...please let me know what you are going to do to fix this, or next time i will call the better business bureau cause they are ripping people off not giving us what we paid for...very dissatified customers here!!!!!

We were driving through Brigham city. Had a long day and hadn't ate all day so we were starving. The girl at the drive thru charged my card the wrong amount at first so she had to run my card again. She forgot the hot sauce she asked if we wanted. She didn't give us any napkins. And my bean burritos were supposed to be only beans and cheese. No red sauce or onions. They came out only beans. So I had beans rolled in a semi warm tortilla with no hot sauce to even add flavor. Unhappy.

I saw your add for the free Dority Taco on the world series. I told my firend and she went to her Taco Bell in Walnut Creek CA and I went to mine in Alameda CA. I expected a line but I didnt not expect a line where you cant more forward. The line had between 20 and 30 people in it and that was fine. But the line didnt go down. Kids which were 90% of the line kept letting thier friends cut in. After about 3 or 4 cut ins right in front of me I said to the young girl excuse me but werent you behind me? and she laughed and said Im not even in the line. With that she put her hand accross the ropes to form a line so I could not move forward and she went on ahead of me. She and her friends all laughed.
I gave up new kids comming in all the time keep cutting into the line and it was going no place. I wanted to tell her I hoped when she went home she would tell her mother how she cut a 75 year old woman out of her place in line. There was no controls on the line and even when a man tried to intervene he finally said its not worth a big hasstle. So I left. My friend in Walnut Creek said she went there and went away when the line was around the building. We like the Encharitos and go there often for lunch when we get together but his was a big dissapointment that there was not better control over the number of people that were there and that the kids ruled the world. But I guess thats the way it is. They all have a screw you attitude but then again whats new.

Robert Bates at Taco Bell store 305 has been treating coworkers unfairly. There has also been several accounts where he makes up and excuse and has some one else deal with upset customers. He will not come talk to customers 1/1. Just sits at the back desk and claims to be one the phone. But when he did come out never once did he acknowledge me standing there. Something needs to be done about this. Rude rude rude. Makes me not want to step foot in that store.

I went to the Taco Bell in Trenton Ga..ordered my food and sat there for twenty minutes before I received my food. My mother and brother in law ordered food and was done eating before I even got my food. The manager on duty was making sure people in the drive thru were getting their food in a timely manner before the people in the lobby. I use to work for a fast food restaurant so I know that you have to get the drive thru food out before the timer on the board starts flashing. This was undxceptable. The restaurant was completely filthy and there wasn't any toilet paper in women's bathroom so my daughter had to use the men's room instead. I understand when it gets busy and you get behind but this was completely unexceptable. I went to the young woman and asked for my money back. My entire family was done eating before I received my food. You need more than just teenagers working at this restaurant because have the time you don't even get what you orderd right!

I went through the drive threw and ordered a chicken burrito, beefy nacho burrito, and an order of nachos. I could tell the employee screwed up my order so when I got to the window I repeated what I wanted, yet they still didn't understand. After repeating my order to them for the third time I gave my money and drove home.
As I was ready to grab my nachos I realized there were none. Instead there was a taco that I hadn't ordered plus a spicy nacho burrito that burnt my mouth when I bit into it and upset my stomach. Plus everything was wrapped incorrectly so I had to then open the burritos to find out what I was eating and make sure I wasn't going to bit into something spicy again.
I'm aggravated but am not going to drive back and complain to someone who probably won't understand what the hell I'm saying to them. The employees were screwing around and not paying any attention to their work which reflected on my order.

I have been visiting your 5019 location for over 2 yrs now at least 4-5 times a week. I am allergic to tomatoes and always place my orders without them. J have recieved many orders with tomatoes and always been good about checking before I bite. This one peticular night I bit into my burrito supreme and tomatoes were in it.
I have never been one to complain but I felt I needed to let someone know about it. I called around 11 pm about a month ago and spoke to an Asian male whom I can't remember his name and had expressed to me that he was sorry and replace the burrito at anytime by telling the manager my name . I have made several visits of course before tonight but haven't claimed it. I placed my order at the drive thru, with your team member Mai and told her about the burrito.
The manager John got on the speaker was outrageously rude immediately saying in a confrontational tone, " who did you speak too , Do you gave a receipt ? I don't. I said . He said I can't give you it with out a receipt just because you give me a name doesn't mean i can just give it you. I immediately asked for Taco Bell corporates complaint number. He said tack bell. Com and said nothing more. He didn't even ask if I still wanted my order. I paid for my order and left.
I am a manager at Carl's jr in Selma and never have I come across such a rude and idiotic behavior toward a customer. I feel that he really need some counseling on this issue before this store stars losing lot all customers. Thank you got your time and I will hope to hear from someone regarding this issue. I'm hoping to continue my frequent bid it's to 5019 location but if this problem persists I will reluctantly have to take my business elswhere.

No problems with the food. HOWEVER the so called free wifi does not exist. At a restuarant in Mobile AL I was unable to get on-line. Not even the singon screen. when I check the local network I found all of the ports on the router were closed. Perhaps this is a way for the company they hired to operate the network to save money on bandwith cost. No network - no cost - no return!

I have never complained about service before. However, my order was wrong and I have been craving Taco Bell all day. They put one piece of chicken on my nacho bell grande when I ordered chicken on it. I was charges 99 cents, but received one piece. The soda was flat and the food was cold. I am very unhappy with the Springfield, Missouri Taco Bell lpcated on West Sunshine Street.

The Metropolis, Illinois Taco Bell has serious issues in cleanliness. There is food all over the place (everywhere on the floor behind the counter), in plain view of customers. (This location was not busy and the staff had plenty of time to clean up between customers). The manager apologized for a customer complaining about the service and food, but didn't do anything about helping calm the other customer down or fixing the problem. Instead she went outside to smoke a cigarette. The staff are unprofessional and look like they haven't cleaned themselves either. The service is horrible. My family and I were there this evening and while we were there 4 other different customers brought back their food due to getting the wrong things. The staff do not pay attention to the orders. Too busy clowning around. While we were attempting to eat what we were given, the entire staff all went outside to smoke a cigarette leaving only one employee in the building. I can understand if the place were busy and unable to keep up with the demand, but that was not the case. This location use to be a really good Taco Bell. Since the first of 2013 it has gone completely downhill. I suggest that better managers are hired or trained properly. Also to hire someone who is presentable to the customers with proper training in customer service. The girl we had tonight should not be allowed to wait on customers. I am highly disappointed with the service and staff. This is not the first time at this location we have had or experienced this, but tonight was the worse. I recommend a surprise visit from corporate. This location needs help or shut down.
signed,
Highly Dissatisfied Customer

I went to taco bell long john silvers on my way home. my order was very specific. L9 NO HUSHPUPPIES PLEASE!!!!dr. pepper no ice. cashier said ok total is 4.91. i pulled around to pay and was given my food and my drink. drink was with ice as ordered. food has HUSHPUPPIES in the box. i was informed it comes with the HUSHPUPPIES and he would remove them. WHY IS IT HARD TO JUST NOT PUT THEM IN MY BOX????????? they do at other ljs. this is the LAST TIME i will stop there!!!!!! this would be a good establishment to go & do UNDERCOVER BOSS!!!!!!

On 11/10/12 I went to taco bell waited for 30 mins. I went inside to order my food since they ALWAYS get my order wrong. This is a big problem because I'm ordering for several kids. I filed a complaint already and have yet to have a response or even an acknowledgement that they would review the problem. There were at least 7 different customers waiting this long. One lady got a refund after waiting that long. Point I'm trying to make is it was horrible service, unacceptable wait time, wrong food in bag, LEFT OUT SEVERAL ITEMS AGAIN! Still nothing done. This is my 3rd complaint since Saturday and will continue to make them until I get a satisfactory response.

I made a drive through order tonight 10/4 @ 7:45 pm at the Taco Bell in Buckeye, Az. I requested no onions on my burritos. At the pay window I asked her to make sure since I am allergic to them. She yelled to the prep line no onions on those. I got home took a bit of my burrito and found my mouth full of onions. My sons burritos had them as well. I was unable to eat the food I ordered and quickly took allergy medication. I tried to call the store but the phone was busy for 45 minutes when I gave up. This could have been an accident but due to the age and attitudes of the workers I have a feeling this was ment as a joke. It's not funny. In fact it's highly dangerous and life threatening.

Today my friend and I went to a local Taco Bell where we were picking up a large order to take home for a group of us to enjoy while watching football. Some of the order was fine, but we had a good sized order of Doritos Locos tacos that we were extremely disappointed with. Normally I'm not a big complainer but the tacos we received were so under portioned it was rediculous. We had 15 of them and the taco shells were broken down the seam at the bottom bc there was nothing inside to keep them from folding in half. We took a taco and were able to fit the entire contents that were inside onto a tablespoon. That's meat, lettuce, and tomatoes....or lack thereof. We spent a good amount of money there and were all extremely unhappy with the product and felt we were ripped off . The only reason we didn't take it back to return it was bc we had a very long drive and we were starving. I took pictures of the tacos to show how rediculous they are but didn't know if I could upload them here. I will gladly send them if need be. The location of this Taco Bell is Royersford, Pa. I've been to many other Taco Bells and always enjoyed the product but this was different. The reason I've issued the complaint is so maybe this location is checked up on or something to make sure they're not cheating everyone. I will return there and won't leave next time until I check everything. If this is indeed read, then I thank you for your time and wish you a happy holiday!

I am a 70 year old veteran. Your Super Bowl commercial is demeaning, insulting and in bad taste. You show no respect for the elder population. I do not frequent fast food often, but be assured, it will not be Taco Bell when I do. A public apology to seniors would be the responsible response.

Good afternoon my name is vanessa burch i went to the taco bell in stanton #002763 general managers name wasirma i visited this store on 10/15/12 at 1:35 pm i went to get a refill and the wooden facade board cover the fron of the takeble the soda machine fell off and landed on my foot it was an inch thick abot 12 inches high and three feet across my foot immediately started swelling and bruising my fiancee told the manager who seemed irritateand rude didnt offer an apology took down my info aand said she would call me she didnt offer to call an ambulance my father came to pick me up to take me to the er and he asked for a copy of the report but was rudely reffused to be given once again no apology was offered i have notrecieved a return call nor has my father the dr. said i had deep contusion to my foot

On January 9, 2013, I entered the drive thru of the Marshall, TX (75670) Taco Bell around 10:40 pm. I attempted to place a order, but failed on the first attempt due a younger lady employee saying she was failing to hear me thru the speaker. I then pulled around to the window to place the order so I could be better understood.
Immediately I was unable to speak because of a older gentlemen employee by the name of Mr. Wilson, informing me in a absolute rude manner (shrugging his sholders and hand gesturing as if he did not care) that he would not take my order from the window that I must place the order from the drive thru speaker. I attempted for about a minute to explain to him that the younger lady was unable to hear me and I was trying to make it easier on her from the window now. T
his still seemed to agitate Mr. Wilson and further explained to me that I could not order from the window. I then became agitated myself (after telling Mr. Willson that his rudeness wa not necessary) and seeing that there was not going to be any reasoning with the gentlemen, I pulled back around the drive thru. I then had to procede to yell at the speaker. (I admit while in a complete agitated state due to the rudeness of Mr. Wilson) I placed the order yelling into the speaker. then made it back to the window.
I immediately asked the name of the manager so I could place a compliant, which the name was refused by Mr. Wilson, the younger lady and what seemed to be three or four other employees. I stated further that even without the name of the manager I would still file the complaint, at which time Mr. Wilson pointed to the other employees and proceded to say "I think I have about four or five others here."
I then left the property after paying for the food. I find the extreme rudeness of the employee to be completely unprofessional. While I expect nothing will really come of this email I want to let the owner and manager of the facility to know exactly the conduct that their employee processes to the customers that seek their business. Thank you.

This is the 3rd time in the last month that I visited the taco bell store at 820 eastgate south dr. Cinti. Oh. 45245 and my order was wrong. My order number was 344124 and dated 01/09/2013. I am tired of this. I immediately called the store with the offer of bring the wrong stuff back tonite or come in later for replacements of the items that were wrong. I live approx 6 miles from the store and it is a big inconvience to go back plus I did not get what I paid for. I was told nexttime I come in the manager would personally makemy order, that's what happened the previous times qand they still get my order wrong and I am tired of it.
This hapens at no other stores that I visit. If the employees cqnt mqke the orders right they should be corrected and not at the edpence of my extra time and gas for an even replacement. Please fix this and I would appreciate a response before I go to get my replacement. They did not ev en take my name or a reciept number so how do they verify me.

I went to the Taco Bell in Loveland, Colorado, 1330 Lincoln, at 7:45 pm on Saturday, April 14, 2012. I purchased a double decker taco supreme. When I opened it up, there was not tomato or sour cream on the taco. I took it to the counter and the manager said they would make me a new one.
I commented that if she just gave me some tomatoes and some sour cream on the side, they wouldn't need to make a new one and waste the one I had, creating a great expense or loss to them. She gave me two containers and the sour cream was near a dimes worth. I asked for a little more and she was not willing. I left the double decker on the counter and decided I was not going to get what I had asked for, feeling it was a small request.
I then asked the cashier for my refund and she said they couldn't when I disposed of the food. I told her that I didn't dispose of it that I left it on the counter for them to decide what they needed to do with it. She discussed some with the manager and then gave me money back for the double decker without the tax. I lost all the way around. The real sad thing about it, my husband and I go there quite frequently and are satisfied customers, until this incident.
Over a small drop of sour cream.

My husband & I eat Taco Bell almost every weekend. I never complain about asking for more red sauce and no onions in my bean burrito which they screw up constantly. I let it go. I am a server/waitress. I know how it is to have people unsatisfied & complaining over petty stuff. HOWEVER... I always order my bean burrito & chicken quesadilla. This time I had a slice of chicken in it with NO CHEESE. It's very frustrating paying over $4 for that. I know it's "fast food" but c'mon. Why am I paying that much for a tortilla and sauce? My husband offered to go back or add cheese for me. Instead I drenched it in your fire sauce. So now I ate a tortilla and hot sauce. I could have made that myself. I never do this, but I thought you should know. Especially from one of your customers who always chooses Taco Bell. Even when they constantly screw up our order. Thanks for your time. By the way, I took a picture if you want to see it. :)



Disclaimer: This complaint was submitted by Anna Honcoop on 08/31/2013 at IP address 70.161.149.173 using our Taco Bell complaint form. This opinions contained in this Taco Bell customer review titled, "My quesadilla " do not reflect the opinions of this website.

Hello,I went to the Taco bell at 4105 E.8 mile rd.Warren mi 48091 I went thru drive thru late night bout 12:30am my brother in law and I.We ordered family pack 2 bean burrito extra extra red sauce,8 hard shell tacos,1 5 layer burrito,2 soft tacos,and steak quedela a chulpa beef combo with soft taco no lettuce with strawberry fruiteze.Got home did not have 2 soft tacos and my hard shells had hardly any meat meat in them..So,I called the store.some manager answered and I asked her name she didn't say..so,I started telling her what was messed up.she started getting rude with me.said what you want me to do one back I said I can't she said well I can't help.hung up.so I talked back told her that was rude of her and she started yellling things at me saying I don't know who I'm messing with..I said I will go over her head to complain.I dfont like being treated like this just she is having a bad day..,I have my receipt still.if u want to contact me my cell is2698049526!

Ok so I love taco tell but the taco bell on broadway ave in elmira ny is a freaking joke! We went there tonight and yes we usually no we probably won't get what we want but since we love it we deal with it. But today we went and ordered a grande meal and my boyfriend wanted sour cream on his tacos they said it was an extra 50 cents per taco for sour cream he said that was fine and we continue through the drive thur. We get to the window looks like everything is there and head home. When we get home to our surprise we have all the tacos we ordered. We begin to eat and my boyfriend releases there is no sour cream. Now usually we wouldn't care but come on we paid 5 extra dollars on sour cream so he goes back. when he is there he tells them that he paid extra and would like what he paid for, they point fingers and then eventually get to his order mean while he watches the other customers order of course they forget things like normal but the kicker is, is that they have asked every customer if they would like to round the price of their meal up! Are you kidding me I'm giving you $18.75 what it cost and you have the nurve to ask if they would like to make it an even $19 what the hell are you running?? We can honestly say we will send our $20 somewhere else so long taco bell! Hello taco night!

The two burrito supremes I ordered, the shells were HARD. And the meat in theXXL nachos steak was mushy and some of it had alot of fat like stuff in it. I get the steak taco salad all the time. But the steak in the XXl nachos was nothing like the steak I get in the taco salad. I was very dissapointed !!!

I don't understand the point of having happy hour drinks, when the machines are never working. Why advertise something that costumers can't buy? I've been to a few locations and their frozen drinks machines aren't working. For a week straight one location machine was down, isn't there a way they can get it fixed?

3130 lee hwy, bristol, va We asked for chalupa steak and chicken and paid extra for Baja. We order 4 and got 5 steak. Lousy tasting. Old sour cream, wilted lettuce, greasy chalupa I got this home and no one could eat it $17.00 waste of money. We will not be eating at Taco Bell For some time. Last time ordered 2 soft tacos meat and cheese only They came with lettuce and tomato The time before we went my daughters chips tasted Like detergent had been spilled.

I was at you're south elgin on Randall and I I'm bilingual. And the female manager and one female employee was so concerned about gossiping of a male employee the only one who seemed to be working caused them to be so consumed with there conversation that my order wasn't taken right away and while the manger step back to prepare my food she touched money than made my food without gloves I asked her to please remake my food with gloves on. She rolled her eyes said they ran out of gloves her size I than ask for someone else to remodeling my order with gloves she slammed Ddown my food tray. Causeing my food to fly all over tray and me shesaid either I take this food or I can go some where else she wasn't going to remake she used profanity about me in Spanish to other female employees calling me the b word now my children who are bilingual heard this also plus my 87 year old mother I refused food she refused to give me my money back. So we left without food and 26.45 gone.I cannot believe she is management. I am not going to let this go. I expect a full refund by mail her fired or I will never eat at taco bell agaim I spend at least 160 a week on take out and almost always eat taco bell twice a week solve this now or I will make sure my large faimly and friends will boycott taco bell

For the last month or so, every single time I've ordered a bean burrito with extra onions, I have had my order messed up. Either I get a burrito with no onions, a burrito with sour cream, or a burrito with no cheese. Never have I gotten a burrito with extra onions like I order. This has happened about 7 times. The location of the Taco Bell this had happened in is 4th street, Leavenworth, Kansas. If something could be done about this, I would greatly appreciate it. I'm getting really tired of wasting my money and not getting what I ordered and paid for.

This all happened tonight around 9:50pm.. First off u need a new speaker system in the drive thru. My total on my bill was 10.86. So I handed the guy a 20 and one penny he gave me back 9 dollars. 15c not a big deal but I went the trouble to get the penny so that I could get 15c back not 14. So that's the beginning. Who eats taco bell without a sauce. He asked I said yes mild please. So we're driving to the casino no sause. Who ever came up with idea to put the straw in the bag fire them right now, please. Your sitting there with a cold drink and no straw hopeing that the underpaid high school kid remembers to put it bag. But why not hand em together. It just makes since I'm driving that's why I came through the drive thru I need a straw. We got a bowl of rice with no spork. And no receipt. Thanks for a horrible night. I coulda bought 4 steaks from Kroger and make it the way I want to instead of always getting let down by taco bell. This all took place at taco bell 2400 s walnut st in bloomington,in

My fiancé went into the lobby to order. He had ordered two chicken chalupas two Mexican pizzas and a XXL chicken nacho. We noticed the sour cream tasted funny, the chicken was cold and usually it is warm. We only live 5 min away from Taco Bell. I was a manager in the fast food business for two years. We love going there to eat and normally it's good food.
When I called to complain, the gal that I talked to I asked to speak to a manager and she said,"maybe I can help u."(In a restaurant business when someone asks to speak to a manager you let them speak to a manager). I told her my fiancé went into the lobby to order and when i tried to explain to the gal what was wrong she interrupted me twice asking me if he grabbed the wrong bag.
I had told her no and finally got to explain my reason for calling. Then she said,"I'm gunna have to get your name and number because I can't help you. A manager will call u back." I never got a call back. As a customer and a former manager I feel I had been treated poorly and not put as a valuable customer. Store location: W. Main St Rapid City SD 57702

I ordered the Box for $5.00. I ordered 2 Soft Tacos, Regular Fries, Cinnamon Twists and a Diet Pepsi on Friday night at the Ajax Ontario location on Bayly Street. This was my first visit to this location.
First of all. the Pepsi machine was broken so I took a Water. I got home and opened the Box and found that they had given me 2 Bean Burritos, Nachos & Cheese and the Cinnamon Twists. (only item correct our of my complete order)

So I'll start off by asking, how many times have you said, "Ok, I'll give it one more try." This was what I was telling myself as I debated after what to eat after a long 14 hour shift with not many options out there. I had been cheated by taco bell at numerous occasions for the lack-of-meat in...well...just about anything I ordered and vowed never again, only to find myself at 10pm standing in front of the archaic lit sign telling myself it would be a mistake. It was. So I decided to try the XXL Chalupa and a taco to subdue my apetite. I got the items home and I expected the box to be way bigger than the XXL Chalupa, not surprised.
I expected it to be not as big as advertised. It wasn't. HOWEVER, when the amount of meat in my XXL Chalupa is the same as or less than a regular taco, NOW I have a reason to complain. It's pitiful and false advertising. They only do this so you pay more and only get a vegetarian pita sandwich instead. What's the deal, it's not even 100% ground beef and only enough to pass food standards at that. So don't be fooled by this campaign to boost the Taco Bell corporate fat cats by advertising something that's not. I wish I could submit pictures to show proof.

I went to Taco Bell on my lunch hour. I had company over and I was bringing the food. I ordered 20 tacos, 10 hard shell and 10 soft shell. I received my order and asked the clerk TWICE if that was my complete order and she replied "Yes". She also stated my receipt was in the bag. Of course, when I got home, I was missing 10 soft tacos. I had paid for these, did NOT have the receipt. I called the store, in Bend, Oregon, and all I got was a sorry. I was offered to return to the store to get the rest of my order. I did just that, and was given the 10 soft tacos. Not even an apology, a couple extra tacos for my troubles, a coupon, or anything. When I returned home, the tacos were COLD. I did not even have time to eat or enjoy my company. This has happened on more than this one occasion, I am filing a complaint this time because I was on my lunch hour and had company. Please Taco Bell, hire competent people!

I was at the west mifflin Taco Bell tonight and I had a big order. they forgot to give us our 2 cheesy gordita crunches so we went back to get them. the guy told us he didn't charge us for them but I wouldn't know because he never gave me my receipt. he also forgot out other hard taco which he did not charge us for. when we got back to our house we found that the big box we ordered was missing a burrito and taco. I just would like my orders to go through and have an easy time getting the food I want.

Me and my Husband had went to taco bell yesterday in Mt. Pleasant Mich. and we had ordered a family pack of soft shell taco's, 2 chicken chilupas, 2 mexican pizza's, and 2 Nacho's. Our order was not what we had ordered.. Our taco's were only lettus, when we had ordered half with lettus, and half with tomato, Our mexican pizza we only got one of those and it was really sloppy looking, and instead of Chicken chilupas we had gotten to chicken spicey burritos. We had went through the drive thru and didn't get a recipet, so there for the manager could not help us. It's just sad that we spent so much money on what we wanted for them to mess our order up like that and not even fix it our refund us our money. I would so greatly appriciate it if you could just send us free coupons for the stuff that we had ordered.

On oct 22nd in the afternoon my family went to taco bell on hegenberger in oakland ca we ordered two mexican pizza combos a nacho bellgrande and a kids meal with an extra taco it came to 23.00 and when we got home my husband said his pizza tasted funny,like it was stale. I in turn tried mine and it tasted like stale chips. It was gross so we shared the nacho bellegrande and the chips were old and didnt taste fresh at all. I ended up with diarrhea and an upset stomach which upset me. My husband threw up and didnt feel well after consuming this food. On top of that I didnt get a receipt with my order I am upset because ive been a customer of taco bells for years and this location always has an issue with freshness and accuracy of getting orders right. I want to be compensated in some way I am reporting this location to the health dept. Of oakland and filing a complaint with the BBB.

On Oct 1st my daughter an employee of a Taco Bell told me they were maggots in her store. On Oct 2nd we stoped by and the employees were talking about the incident. During the conversation one of the employees on duty said, omg theres another on, and pointed at it, I looked over at the swinging door seperating the lobby from the back kitchen and sure enough there was a maggot. A male employee grabbed some cleaning solution and a towel and cleaned it up. I left the store and contacted the Health Department. I also contacted Taco Bell corporation. I not only spoke to a represenative, I also emailed him at his request. When it was discovered I was infact an employees parent the incident was swept under the carpet so to say. They weremore concerned that I an employees relative reported it, then the incident itself.
By the way. later that week a customer brought back a Cantina bowl with a dead cricket head in it. Theres also various other things going on in that store that the higher management doesn't seem to concerned with. If you have cameras, you might want to check them out, managers clocking themselves in when no ones even in the store yet. You can also check the alarm company, I'm sure they keep a record when the stores entered. Not scheduling enough employees to deal with rushes, leaving the store and telling the staff, by the way you will run out of beef. Your team members are only as good as its management team.

I work over nights (9pm-5:30am) my lunch falls at 2am every night. This means I only get to eat Taco Bell on Fridays &saturday when they are open until 3am. Also I only get 30 minute lunches, usually takes me 5 mins there 5mins order 5 mins back. Today 11/4/12 was the end of day light savings so time went from 1:59am back to 1:00am, so my lunch was "postponed" until the actual 2:00am. Taco Bell #028279 apparently didn't do the same ( work until the REAL 3:00am) instead they closed at 2:00am. Not only that when I pull to the window the gentleman opened it and was very rude about the ordeal telling me its really like 3:000am for people who work over night (I work overnight) I know it may seem like 3:00 am but I had to work an extra hour and had to wait an extra hour for lunch!
Had he just been polite and said maybe that its policy for Taco Bell to do this during time change (but in spring do they stay open an hour late?) but he didn't instead be made me feel like the dumb one in the situation instead of using good customer service and explaining that maybe Taco Bell can't pay an extra hour for their employees or whatever reason the company has for not following time change like the rest of the world. In the end I effectively used the same 15 minutes I usually do to make a trip to Taco Bell but got no food, & by then had no time to go else where, so now stuck at work hungry with another 4 hours left in my shift & since I had no food for the last 15 minutes of my lunch break I used that time to fill out this survey.
I usually receive great service from this store besides employees having shirts untucked and piercings in their face, fake nails and find it ok to carry on their conversation about their lives and joke while I'm at the window, usually food is good and service is fast. This experience may change my usuall Friday & Saturday lunch at Taco Bell ( which I have done for the last 13 months) also my fellow co-workers had the same experience that had lunch at 2:00am and tried Taco Bell. Disappointed!

After waiting more than five minutes to have my order taken, I then sat in the drive thru for 22 minutes waiting for a simple taco and xxl steak nachos. 22 minutes. Seriously? Then I ask what's going on, he tells me that he is short staffed and I just need to "chill out, and calm down". There wad only one car in front of me when I got there. This is the worst taco bell location I have ever been to and I have been all over the country. I have never had a positive experience at this location! Then to top it all off my food was not even remotely hot or fresh. This is ridiculous, after serving people all day myself all I wanted was a hot meal! Worst $8 bucks I've ever spent.

I have recently made a stop by Taco Bell in Odessa, Tx on West County RD. The inside was filthy, none of the tables were clean. The service was horrible. After receiving our food, we noticed that our food was not fully cooked. I asked to speak to a manager and the manager on duty that night, walked out of the entrance walked back in and said, " You're talking to her." The young lady was very disrespectful. I'm sure if I had eaten that food I would have gotten food poisoning. I will never eat at this location again. I am writing this complaint because of the service that was provided was aweful. I have and will keep reporting this location to the health department until something is done about this. As long as this service keeps taking place, I do not see this location being opened very much longer. Every fast food restaurant has it flaws, however what took place was very out of line. I will do what it takes to share my voice.
Thank you
Kasondra Becerra

I like taco bell a lot, so don't think I am displeased with every taco bell restaurant. but the one at market place mall in champaign, IL 61821 has the WORST service ever. on multiple accounts I have waited in line for ten minutes (due to their slow service) only to get to the register and have them tell me that their credit card machine is down. I understand things break but when there's a long line of people waiting to get food, the least you can do is post a sign that says the credit card machine is down. I work at the mall and I'm not find of spending half my break waiting in line only to get turned down because the credit card machine isn't working. not only that, but multiple times They have been open for an hour to an hour and a half and I will try to perfect something and their grill still isn't ready. one time all I asked for was a large drink and the lady said she couldn't do it cause yet were out of large cups...you have been open for an hour!! how are you out of large cups?? and regardless of how long they have been open, I feel like they should be ready to go when they open, just like any other food service. I enjoy taco bells food and usually enjoy their service but this branch is the WORST and I highly suggest something is done to improve it.

I am a regular at koramangala outlet. This time I was closer to Bannerghatta road hence dropped in at gopalan mall - Taco Bell along with my family.The behaviour of the guys who serve us is just next to horrible.Very rude and arrogant. I ordered quite a lot for my family and myself which was just so bad that all of us fell sick getting back home.
Food was tasteless. I tried to tell the attendee there but to no avail. Forget compensating or giving fresh made stuff they went on defensive and did not even accept they could be on the wrong end too. Totally disappointed with the service and the food.
If I'm not well compensated for the loss of health and time and money I spent on this place I would never ever return to TACO BELL and would see to it that my friends and family too don't visit any outlets.

Every time I go to taco bell my order is always wrong even after repeating myself multiple times and my second complaint would be that the people that are working there can't seem to even make the food correct. When asking for a burrito the ingredients are placed in random parts of the burrito instead of being placed evenly in the burrito or if you ask for certain things to be left out of your order they still leave it in.

I'm taking my complaint straight to the FTC for gross intentional false advertising. Got sucked into buying one of these from the world series commercials and what a major disappointment. The amount of food in the commercial was at least four times what they actually give you. In fact, it's no more than the standard Beef Chalupa Supreme which is a fraction of the cost. Got lots of pictures to show the incredible discrepancy from what they show you in the commercials.

On Dec 6 2013 at 4:00pm Me and friend visited Taco Bell in Sulphur La at 215 S. Cities Service Hwy, The cashier was not friendly at all, not a smile,can i help you, thank you, are a come back,,, believe me, we didn't ring the bell upon leaving, we dine in that day, we ordered two number 7..which was awesome, but opening it up, there was like 2 to 3 pieces of small chicken on each one of them, i was so disappointed, any other Taco Bell seems to put more chicken, then the Taco, i could hardly see the meat on it.
This is not going to stop me f rom visiting Taco Bell, just not at that location, i live in Westlake La, and we dont have one here, so i have to travel to Sulphur La are Lake Charles La to get to a Taco Bell...Ok now the BIG question...ARE YALL EVER GOING TO BRING BACK THE BELL BURGERS, i grew up on them, and they was so good, Thank You for your time and have a Merry Christmas...just sorry that i had to complain..but this is the frist for me, bc other Taco Bells have always treated us so good...again thanks
Disclaimer: This complaint was submitted by Arlanda Bass on 12/09/2013 at IP address 24.112.54.174 using our Taco Bell complaint form. This opinions contained in this Taco Bell customer review titled, "The service and food" do not reflect the opinions of this website.

The Taco Bell restaurant located in Covington, Tn. is ridiculous. There has been a period of three weekends in a row that reminds me why I stopped eating at Taco Bell to begin with. First weekend, the lady comes to the drive thru speaker and thanks me for coming to Taco Bell but they are out of meat, hard taco shells, tomatoes, cheese, sour cream, and potatoes along with anything else that was needed to eat at Taco Bell. I asked her what do you have? She giggled and said a few soft tacos and coke to drink. The next week, I try it again, drive to the drive thru and the lady says their system is down. The next week, the week of Dec. 8, 2012, I get the same response. This was the last straw. First of all, I go through the drive thru at 11:30 pm.
What restaurant is completely out of everything? That restaurant needs a new manager because someone is NOT doing their job. The lights are out when I drive in the parking lot every night like they are closed when they do not close until later. The employees are having a great time in the lobby, where all can see because we are driving by. This has been going on for a while. It would not surprise me if the revenue at this restaurant has decreased. It is ridiculous. I like Taco Bell food but if this is the representation that is allowed I can eat somewhere else. I work hard for my money to spend it at an establishment that is irresponsible enough to allow their food storage to deplete, their employees to have parties in the lobby for all to see and a company to not keep up on technology to keep a system working for a simple transaction.

I went to Taco Bell on oct 27th at about 7pm. The location was downtown Santa Cruz ca. It was the scarest place I've been in along time. When you walk up their is a court yard full about 10 or so men that look like the worst of f the worst but my husban and I were hungry, so we went in anyways. What a mistake. The manager at that location has let bums and drug addicts take over. When we made our way in it was about 90 degrees it the lobby, full of trash, and their are very few seats at that location most of the seating is outside is in the court yard. We waited 15-20 min for 2 items and we had to wait outside with the scum of the earth.
I was the only female and I felt very afraid & was thinking we could be followed out and robbed. That is not how I should feel grabbing a quick bite. As we waited he could hear 2 men talking how they new the same people from prison and about how 1 had just gotten out of pelican bay ( the worst prison in ca) after doing 6yrs. I don't want to eat next to that! They aren't even eating TB just haing out. One table was covered in blood spatter ( I should call the health department ) we saw 3 very obvious drug deals in the court yard and one man that followed a family with a a young child to haras them for money and the family had to run to their car. That is bull shit! I work hard for my money and will never spend it at Taco Bell.
I was so afraid we almost left with out our food and by the time I got it my tummy was in nots. I had one bite and trashed the food Taco Bell cured my hunger but not in the way I wanted. Taco Bell is my favorite fast food and was one of my 1st job. My feelings have changed & my family will take are money to a safe place to eat next time as I have an 8 yr old daughter and I would never take her there. We normally go to the soquel ca TB and it is very nice and it has the best employees, they get it right every time but now I will never go again to any Taco Bell because of the bad time I had in downtown Santa Cruz. As long as druggies are ther my money will not be. Get it together Taco Bell.

Hi. I love taco bell but I am extremely disappointed with the last service I received. My cantina bowl was a little runny but I thought it was melted sour cream. Next day i had diarrhea ALL DAY. Worst experience I've ever had with taco bell. I'll be sure to let people know about my experience

This is not the first time I have had problems with the Taco Bell in Newaygo, Michigan but I have had enough after yesterday. I purchased and paid for 6 hard taco supremes and 6 soft taco supremes and what I received was 6 regular hard tacos and 6 regular soft tacos. I live 25 miles away from Newaygo and by the time I got home and everyone started eating I realized they were not what I ordered. Like I said this is not the first time this has happened and I nor my family will no longer be using KFC/Taco Bell in Newaygo, Michigan any longer. This is store number E331002. My ticket number was 4347. Date was October 16, 2012. Casheir was Rebecka but she was not the one who gathered my order. Rebecka was kind and very good customer service.

Went to taco bell004583, montgomery ,Al.
5/3/2013. .. Order# 109169 & 109170...ordered 2 bean burritos with xtra cheese no onion..& mex pizza..got 2 bean burritos hardley any chees but got charged for 2 xtra cheese...also ordered burrito supreme w xtra onions , no cheese,no sour cream no tomato... Did not get onions... Had to ask for onions....would have gone back but was traveling and on I 85 before noticed...i do not live there... Live in beach city Tx
If they ask you what you want and do what they want it does not do any good asking what we want

Went to taco bells on 1/22/2013 at 8:30 pm. Came home and noticed a roach in my box. I call to tell the Manger want I discovered and she replied that they don't have roaches. I told her can I send her a picture from my phone. Said no. Then another lady came to the phone what did I order.
I replied that I would like your manger's number. The she hung the phone up. Roaches and bad customer services. I wasn't going to make a scene about. Until she hung up the phone.
Taco Bell
6215 Zebulon Rd
Macon GA 31210
478-405-8300

Every time my boyfriend and I go to the Taco Bell on W Kennedy Blvd in Tampa Fl - store #G135063, we ALWAYS have something wrong with our order. They do not care whatsoever about customer service. On this particular occassion, Not only was my crunchwrap supreme burnt and had lettuce in it after asking for it to be held, but they gave us a Pepsi instead of a Mountain Dew. When my boyfriend realized the drink was wrong after pulling away, he pulled up to the front door to get it switched out. The employee who was sitting on top of the counter would not let him in, claiming that "they were closed". He then banged on the door and shouted for someone to fix their mistake and someone else had to come out from the back to open the door and switch out the drink...all while the other guy sat on his butt. It floors me that this store and the employees are allowed to continue operating in this manner without corporate interference. Talk about giving Taco Bell a bad name, this store is so unprofessional and I will never be dining here again. The lack of care and courtesy gets me so angry and irritated, that it is not worth it anymore. Looks like I'll be going elsewhere, because I also refuse to drive further for another Taco Bell that MIGHT get my order right.

Ordered food through the drive thru in Abbeville, LA.. Ordered Black Bean Burrito for myself and Chicken Soft Taco 86 Lettuce for my daughter. Get the receipt with my change and notice they charged me for two chicken soft tacos.. That's ok.. Figured someone would eat it. Get my bag, see three items. Leave. I noticed none were wrapped like the last time I ordered my black bean burrito. Checked all three, all three were beef soft tacos, no lettuce. We were on our way home, we live thirty minutes from the closest taco bell. We weren't turning around. Being a vegetarian, I couldnt consume any of that mistake. I work at a restaurant as well and know the responsibility of getting out correct food! Do your job right, please. I don't like giving my money and getting something I Do not want in returns.

I used to love taco bell but the past 6 or 7 times ive went there ive had to double check my order with personnel 3times for one order. I am sadto say I was treated poorly and talked to like I was dumb. All my orders have been cold and they refuse to fix my order cause I submitted it over the intercom. This is the coeur dalene Idaho appleway taco bell I hope this gets taken care of soon and I can stop feeling like I'm stupid eating at my favorite place and feel like I'm not wasting my money.

I have been a eating at the Kipling and believe for 2 years now. I will not step foot in that business again! Two of your employees are disgusting they talk inappropriately in front of patrons have abnormal color hair and can't seem to do there job i asked and payed for a kids meal my son got a spicy burrito when i asked for them to make it right the employee "Kat" (has purple Mohawk) told me maybe i should know how to order food for my child a?nd to pull the d out of my mouth and her "boyfriend" Cody (green Mohawk) gives me dirty looks and make snide comment?s about me and my family if nothing is done about these two I will take this to the City I'm sick and ti I'm sick and tired of the way your employees treat their customers I've talked to the manager about this over the phone and in person but I guess that's what you ge when you don't care what your employees do or what they look lik to me that just shows you don't care about your busines employees should have norma employees should have normal haircuts norma normal colors and you have respec for thei for their patrons

I just got done working a 12 hours shift and wanted something quick and filling. I stopped in at the Taco Bell in Portage Indiana and it didn't appear to be busy. I ordered the $5 box special and my wife ordered a meximelt. The time on our receipt says 6:27 and we got our food at 6:43. The lady behind the counter (who appered to be stoned) must have put the order in wrong because we ended up with a pizza instead of the meximelt and the burrito I got was cold and looked like a pile of s&!$. What is it I paid $15 for again??? I have never waited that long for fast food and will never come back to the Portage Taco Bell

Bought combo number 8 with no lettuce or cheese on tacos. Since I did not get lettuce or cheese I asked for just a few extra tomatoes and onions. I was charged 40 cents per taco for extra tomatoes and onions. There was not any more on there than a regular taco. Taco was so small. I was very disappointed since I can't have lettuce or cheese due to a medical condition. When you leave off several items it doesn't seem right to have to pay extra. It's not my fault that I an sick. I love Taco Bell but I am sad that I have to pay so much. This is one of only a few items of food that I can have. Please look at your policy for those of us who are retired with not much money so we can continue enjoying your product. Thank you and blessings, Rev. Sharrion Payne

So my boys decided on Taco Bell. So I drug my old butt off the couch to take them. They went in to order while I stayed in the car. We get home and they didnt give us our whole order. I asked the boys is it worth it to go back? They said no don't go back when we placed our order they started yelling and cussing at us and the cashier was saying sorry,sorry you just have a big order. WHAT?? I grabbed up the receipt and marched my butt over to the Tecumseh, Michigan Taco Bell. The manager on shift said I just got here and have no idea what happened. I said this is ridiculous!! This is a place of business and your job is to sell food and when my 13 and 15 yr old order they get cussed at? She said there is nothing I can do but say I am sorry. I asked for a number to corporate and she could not give me one! WHAT?? She said to go on the web site to find a number but not to bother because nothing will happen. SERIOUSLY!!! I am still fuming inside! I will NEVER step foot in this Taco Bell EVER again!

I not only waited 15 minutes waiting to have my order taken the food was terrible! I threw it out! The tacos had nothing but a teaspoon full of ,eat and lettuce no chess what so ever the shell tasted like it was old! My order was incorrect! I'd worked 12 hours and busted stopped by to pick up a quick bite and then couldn't eat the crap!

i ordered empanada from your menu. the picture looks like a pie!!! i was so disappointed when i received it!!! where is the pie like desert????!!! unbelievable!!! the shape doesnt look like the picture the outside deep fried crust is not as the picture!! i did not want something deep fried in oil oil oil!!
thanks alot waste of my money !!! cause i threw it away!! another person was w me and they ordered a double decker taco supreme and it came wiithout sour cream and no tomatoes !! which is not a supreme!! all this after waiting a half hour in your line !!!! what the heck is going on with you guys ?? u need to re train your employees???
or just supervise a little closer? whatever your problem is i hope you fix it by the next time i'm brave enough to go to your establishment!! thank you so much for the poopy experience!!!
My son wife and I walked into taco bell, we were standing in front of the register and the cashier was at a table talking to her some customers(friends). Even after she saw us she made no attempt to speak. I asked her if she was the cashier and I got a mean look for interupting her conversation.
After we ordered we sat down, after waiting ten minutes my wife got up to go wait on the food, and when the cook realized that she was looking at him goofing around he looked at her then "started" our order.

The first time our order was completely wrong. Didnt even give us the right burrito. This last time i had ask for and paid for extra sauce and got home to find there wasnt even any sauce on either of my quesadilla. Im frustrated to ask for stuff and pay for it and have them not even care

Me and my boyfriend went to Taco Bell on six forks and Strickland in Raleigh and got there at 10:50 sat at the drive thru for 5 minutes then procceeded to the window because no one was talking back to us and tapped on the glass (it was now 10:58) and we asked if they were open (knowing they didn't close until 11:00) the delivery guy rudly said no while the employees were hiding behind the wall laughing. I replied seriously and he said seriously leave. It was very disrespectful and don't ever plan on going back and spreading the word about my experience.
Sincerely,
A disappointed customer

I went to Taco Bell store number 1506 in Huntsville, Tx. And Tamara, the girl that gave me my food bitched at me because I didn't pay at the first window. THERE WASN'T ANYONE AT THE FIRST WINDOW. She let out a deep sigh and said "well give me your card". So I did and when I asked for sauce she rolled her eyes and threw it in the bag. When I said thank you, she slammed the window. Seriously pissed me off. When I called to speak to a manager, I called 5 times and no one answered. I guess they knew a complaining customer was calling. Terrible. She should not have this job if she isn't going to be nice to people that come in.

I placed an order at Taco Bell in Olive Branch, MS about a month ago. My order was correct on the screen, I paid, and drove away. When I got home, my bag was missing an item. ( chicken quesadilla) I called the store and spoke with a manager who gave me her name and said next time I come in to mention her name and they would replace my missing item. Tonight, I went to get my order and the cashier says it has to be within seven days. I tell her the manager on the phone never mentioned that. She says she asked her manager and he's sticking to the seven day rule. So, not only did I not get my order, I also don't get a refund. What happen to good customer service? I will not be eating at Another Taco Bell again.

First, I want to start off by saying that the first impression of this Taco Bell was horrible. There were two people ahead of us in line. One person waiting at the window and the other placing their order. The person taking orders was talking so loud that we could hear them and repeatedly corrected the customer after taking their order. After that customer finally pulled ahead three minutes later, it took the Taco Bell associate over twos uses to even acknowledge that we were at the window to place our order. We ordered, going by the assumption that the grillers were still a dollar because it was before the cut off point that we arrived at the window, but the associate didn't take our order until after the cut off point. Needless to say, another disappointment when we got to the window almost ten minutes after placing our order to ask why our bill was so high. We decided not to get our order after the cashier basically told us, the customer, that we were wrong! After we cancelled our order, she tells back to the cook, "don't cook the grillers!" After waiting for that long in line, they hasn't even started preparing our food? Needless to say, the locals won't be congrats back and will continue to spread it around that customer service is horrible at this establishment. We won't be returning any time soon, and neither will our friends or neighbors. I would rather take my money elsewhere.

I went to Taco Bell tonight, tried to order a smothered Burrito. They said they were out of beans. I asked her what they were going to substitute, says
said nothing was going to be substituted, I asked her what about adding some more rice she said that would be extra. That is poor business. It is bad enough their service is slow. I wished you could check on this.

Called Taco bell to complain, because it made my son sick after biting into a taco with hair in it, she asked if we wanted some additional food, and of course we didnt, we wanted our money back, she said she could do it.

I went through the drive thru at the Taco Bell located on Palmdale Rd. in the city of Victorville, Ca. on the evening of March 4th 2013. I bought 2 Crunchwrap Supremes, 2 Locos Tacos, and a medium Sierra Mist. When I got home, I began to eat one of the Crunchwraps and on the second bite, I found a chewed up blue piece of gum inside that I had bitten a piece of. It was the most disgusting thing I have ever experienced in dealing with Taco Bell. The Crunchwrap was taken back to the Taco Bell along with the gum and they didn't seem to care very much. They asked if I was sure that it was gum and I proceeded to show them. The woman behind the counter just said ewww and said so what, you want another Crunchwrap? She was informed that I will never eat anything from them again. I truly hope that something is done to make sure no one else has to deal with disgust and the utter disregard I received at this "place of business". I've also experienced them keeping $8.00 worth of change and laughing in my face. I guess they felt ok doing that because they did not believe I could prove it. I will never do business with Taco Bell again in life.

It is crazy that every time I go to the Centralia il resteraunt that my drive thru time is never under 10 to 15 minutes regardless if there is even 1 car in front of me. Tonight I sat in the drive thru for 26 minutes for 3 items. Half the time your order is wrong an the employees are completely rude . I have decided not to return in the future. Hope that something can be done to improve your customers wait times and all around experience because it is just plain pathetic!

I live in central Pennsylvania and have several Taco Bells around me. I occasionally eat there, but I wanted to send my son some Taco Bell gift cards as there is a Taco Bell walking distance from his college. I stopped at a Taco Bell in a mall and they told me they do not have them there as they're not a corporate store. I would need to go to a different store. The mall store was combined with KFC. So I went to another Taco Bell and mistakingly asked for a gift certificate. they said they do not carry them. I then called an 800 number for Taco Bell and they informed me they do not offer gift certificates, but rather gift cards, which is what I meant in the first place. The 800 number told me Taco Bell will have gift cards. Then I went to a DIFFERENT Taco Bell, only to be informed they're a corporate store and do not sell gift cards. I would have to go to Walmart. I went to Walmart and they do not carry them. They said they might have around Christmas, but do not anymore. After being sent on a wild goose chase, (if it was just for me, I would've stopped at round 2), I've come to the conclusion Taco Bell doesn't really need the business. I buy my son gift cards for McDonalds and Subway and neither of those restaurants have any problems with issuing me gift cards. Thanks for listening.

On 1/5/13 my husband and daughter went to drive thru and placed an order of 2 Varity taco 12pk. of which they were suppose to be 12 soft tacoes no lettuce and 6 Doritoes tacoes no lettuce and 6 doritoes taco with lettuce and 1 burrito Supreme no lettuce and an apple empenanada Total of 29.46 and when my husband got home with the order and checked it the only thing really right was the burrito and the apple Empandada was right.
WE had 6 cold no lettuce tacoes and 18 cold tacos with lettuce I called the taco bell in troy,ohio wher we are about 5 mins . away from this Taco Bell when I called and talked to manage she said everthing was right by them and its on the screen this lady manager didn't even offer an exchange, I then ask her wher the mild sauce was and she said they were out and truck was coming tomorrow I am not sorry for me being very upset.
I have never been mistreated like this from any type of manager nor have I had to tell my very sick daughter with leukima canser I would take her lettuce off her tacos for it made her sick and our food was cold me or my husband and .daughter did not get to have a care free dinner from taco bell because we were spending our time cleaning up you mistake at Taco Bell and on top of that my daughter got sick so thank Taco Bell for a wonderful evening.

A few weeks ago I have them a $20 at the drive through window but they claimed I only gave a 10. Thinking ok, maybe I made a mistake, I accepted that but have been ultra careful since then with the bills I hand over.
Today the same thing happened. I am 100 percent certain I handed over a 20 but the attendent insisted it was only a 10. I drove off and will never go there again. I am ABSOLUTELY certain that it was a 20 that I handed over.

I went to taco bell on 11/10/12 @ 3:48 am address 32940 mi ave Wayne ,mi 48194. I spent $18.17 for my order not to be made correctly! I called and explained my problem and the sassy African American employee told me I was wrong and that some of it might be,made wrong but he knows he made it right and the hung up on me! AfterwArds I called back to try to get his name and he said your gonna have call back tomorrow were closed and hung up again! You don't treat customers like this when there is another restaurant across the street from you! I spent almost $20 and could have went to McDonalds and got slot more food for less just horrible. He should not be dealing with customers

I went to Tace Bell tonight on heckle Blvd. in rock hill sc. i was in line for 25 mins. i asked the person at the window did'nt they they have a time limit to serve the customer's and she replied no not when I'am the only one in the kitchen. I'm in management and she was wrong to tell a customer that, howevre they are the worst every time i go to this fast resturant. they act like time to a customer doesn't matter. thank you

I ordered and paid for a cool ranch taco and when I got home, the item ordered was a regular crunchy taco. They were having some issues with the drive thru machine and I was the last person they were able to get my order. I understand things can happen and I waited patiently for my food and the girl at the window was very nice. But having to come home and find a messed up order disappointed me. I paid for something I didn't even want&i would brought it back to get my right order but 20min drive back was not going to be worth it.

I ordered Taco Bell To-Go this afternoon, around 3pm. I was home by 3:10 and immediately sat down to eat. My food is still hot, but both of my tacos and my quesadilla are extremely soggy; even the paper is soggy, and has melted to the food, making opening the wrapper impossible without picking off each shred of the wrapper. I am absolutely disgusted with this; I adore Taco Bell, but this is gross. This food has quite obviously sat on a warmer all afternoon.
I also wasn't offered taco sauce, and didn't realize it until I got home! So heartbroken... it's like a naked taco.

I have a complaint regarding a specific Taco Bell location. (This is a KFC Taco Bell) My family loves Taco Bell but we recently had a very poor experience that I just simply cannot overlook. 12 years ago my husband & I lived in Portland, IN (47371) and visited the same Taco Bell location frequently.
The restaurant has made zero updates since then. This wouldn't be such a big deal if things weren't falling apart...but it just isnt good.
I have a LIST of complaints so I can keep this as short as possible:
Its winter here..TOO COLD inside.
Tables are always dirty.
Tables are starting to 'rust' along the edges in a 'mold like' fashion.
My 6 yr old refused to eat over it :(
Outdated & showing age & wear.
My husband & 1 of my sons used the mens restroom. Urinal was "falling? & had been repaired with 'clear wrap' & duct tape, that would no longer 'adhere' to the dirty walls." The door handle on the outside of the door had been 'torn' off ? And never replaced or repaired. My other son was the first to visit the restroom & he only opened the door before he changed his mind all together :(
According to our reciept it took 10 minutes for us to recieve our order, & they prepared our nachos first. :(soggy):
My husband observed 1 employee eating the food while we waited on ours.
Other employees acted in an obscene manner.
I could go on but I will just STRONGLY suggest that someone be sent to check in on this facility. I am not one that files complaints but the people of Portland & those passing through deserve a better experience without having to travel to another town.

I went to taco bell/kfc last week with my children. i worked a long day and didnt want to cook. I have always loved taco bell and the food. I usually go through drive thru but my oldest son wanted to go inside and eat. After i ordered i went and found a table to sit at. Whiich there wasnt a clean one in the whole place. So i chose a table and took out my sons baby wipes and wiped a table down and its chairs. Also had to scrub the booster seat i put my child in.
Im was grossed out completely when it took five baby wipes and they were black! Obviously the table has not been cleaned in forever or the chairs or booster. As i sat there and waited for myfood i was looking around. The floors looked like they werent swept once all day, the napkin holders whichare two large ones were empty. The garbage full. The co workers were even sloppy looking with ripped up, baggy black pants. Im happy i didnt order much cause i just wanted to leave. I ordered a gordita and ate almost all of it.
Well i woke up at 2 am sicker then ever and vomiting. Im thinkin the sauce on the gordita was sour. it had a funky taste when i was eating it but i just thought i was grossed out with just eating there. I just think that place needs some good management or a food inspection. I am sorry to say i will not eat there again! not even through drive thru. i had no idea the place was this dirty!! please please clean it up..

The chicken flatbread was my alltime favorite fast food choice and i understand its a seasonal item but its time for it now and its not back i would just like to no the reason for this and hope it comes out soon.......... when i was down on my luck and they were .99 they kept me fed because the flatbread is so filling... id pay more than that for them now since im back on my feet id just love to see them again

This evening my husband and I stopped in at the Franklin, Indiana Taco Bell for dinner. While we were waiting to order, someone came into the resteraunt with a dog. The Taco Bell employee named Christy, who took our order, came behind the counter and informed the customer who had the dog that if the dog is not a service dog they had remove the dog from the resteraunt. While she was speaking to the customer she petted the dog and asked another employee (who was eating) if they would watch the dog outside while the customer ordered their food. The employee was happy to do so. Then Christy returned to the counter to take our order without WASHING her hands. At that time, we placed our order. Then we waited 25 minutes and asked how much longer it would take. Christy apologized for the wait and encouraged the cook to speed up. We finally received our food after 30 minutes if waiting!!! My husband ordered a Big Box with both tacos being a supreme taco. Unfortunately, neither taco in his Big Box were supreme tacos. The ONLY type of offer received for our inconvenience was a Carmel Apple Empada. Needless to say, we were exteremly dissatisfied with the service received and may never return!!

We recently visited store 004012 in Paducah ky. They acted like they had no time to wait on us. They were loud and obnoxious. One girl was on the phone with apparently her boyfriend screaming and cursing. Then are order wasn't right and when I took it back they acted very rudely. I love Taco Bell but after this experience my faith in your hiring practices kinda make me not want to eat at another

I ordered a mexican pizza meal, which came with two taco supremes.. after eating the first supreme, I noticed that the second one had green mold on one of the tomatoes and a smaller spot on another tomatoe. This was by far the most disgusting experience I have ever encountered at any fast food chain. You have lost a loyal costumer and more than likely my friends and family after I spread the word. It was at the state st. Location in rockford, il. I would hope you take this seriously, as people could become sick and start a lawsuit against your company. Thank you for your time.

When I drove through the Algonquin, IL store on Randall Rd. This evening. Something. Was going on but it wasn't serving food. At the order speaker I ordered #8 3 crunchy tacos with. A sierra mist. The person came over the speaker & all you heard was people laughing & talking in the background. I was asked to repeat my order 3 times because the person couldn't hear me over their co workers. When I got my ordere I didn't receive a receipt to do the actual survey & didn't get a straw for my drink. Obviously the employees were not focused on the customers.

I went to taco bell in yuma AZ 026030 on 32nd street.we went around 7:30pm .the manager Brandon was really rude about me letting him that there was a hair on my burrito.he even blame me about putting the hair on the burrito.this is not how you run a store with rude managers like this one.very upset and will never recommend this or any taco bell to no one and I'll make sure everyone know how rude managers are

About 90 percent of the time I go to this Taco Bell they mess up my order I know how to order it and what comes on it but it seems like they intentionally put the fiesta sauce on it just to tick me off. I will even tell the cashier to verbally tell them to not put it on there it doesn't come with it on there so they are just doing it for free!! This has happened well over ten times I'm a very frequent taco beller every time I call them or have it replaced and yet they still make me something not even on the menu if it was still on the menu it would make me ordering easier and cheaper!!

Theresa Lee Miller
from Dayton, OH
If I could rate you a zero or minus that would be the one I picked. We went to the Taco Bell on Harshman Rd in Dayton, Ohio and it was horrible. We arrived home to eat our 4 crunchy taco supremes, pinto's and cheese and 7 layer burrito, we unwrapped a taco supreme, all lettuce barely found any meat, sour cream or cheese and NO TOMATOES! We continued to open all our items and they were all the same! Did you guys start leaving out the meat on purpose because this has happened several times. We usually have great service at this location but this last 4 or 5 times was not great. We have tried several Taco Bells and they all the same, poor quality and left out ingredients. I see your stores fading out soon if this doesn't improve.
- ZERO RATING!!!

MARITZA ACOSTA
from Orlando, FL
HORRIBLE CUSTOMER SERVICE AT THE STORE ACROSS FRO SEA WORLD , ORLANDO FL TODAY. SELLING SODAS WITHOUT ICE AND NOT TELLING CUSTOMERS , AND WHEN I WENT I CALLED THE STORE THE SO CALLED MANAGER/ BLACK GIRL WITH LONG ACRYLIC NAILS HAD A NASTY ATTITUDE SPELLNG HER NAME SEVERAL TIMES REFUSING TO LET ME TALK.

Dustin Rice
from Maumelle, AR
You guys are terrible. Waited for over 20 minutes and only moved up 2 car lengths. You should be ashamed of how terrible your service is. Fire everyone you have st the union location near the hospital because it's the worst I've ever seen. You guys fucking suck

Natalia Goussarova
from Tampa, FL
Hello,
I would like to report a huge issue at one of the Taco Bell restaurants on Saturday, March 31, 2018.
I went with my son and we made 2 orders. One for me and another one for my son. We made orders at 5:51 PM. Then we started to wait for our food. 3 people who made the orders after us already got their food. But, we still didn't get anything. Finally, after 15 minutes of waiting, my son got his food. But, I still didn't get mine. I kept waiting and waiting, and I asked them what's going on, they just ignored me.
Then, I raised my voice and asked them where's my food. They started to ask each other, but nobody knew where my order was. They couldn't find it, so they lost it.
I had to give them my receipt so they could complete my order. After half an hour of waiting, I FINALLY got my food. They didn't even apologize! This is something I've never experienced before at ANY fast food restaurant.
I was so upset, that I couldn't even eat my food. This is completely unacceptable! Our Saturday evening was ruined. I will never go to Taco Bell again, I will rather take my business to the McDonalds across the street, where I know I'll get superior customer service.
My name is Natalia G.
Taco Bell 029577
7329 W Waters Ave
Tampa, FL 33634
Thank you.

Coral Anderson
from Sevierville, TN
The Taco Bell On Wears Valley in Pigeon Forge , Tn on good Friday is supposed to be open till 1 AM At 11:25 PM six cars sat in the drive-through the car by the speaker said he had sat for for 20 minutes we sat for an additional 15 never got any service lights were on so anyway that disappeared and hour and a half early you've lost a lot of money totally pissed that with the only place to get food after a nine hour day at work and no lunch

Ruth Turk
from Oakdale, CA
This afternoon at approximately 2:20pm I placed an order through the drive thru.at the location on Pelandale in Modesto. I ordered a tostada and the Grande meal consisting of 6 tacos and 4 burritos. (3 soft and 3 hard shell tacos). I was the only person in the drive through and the parking lot was almost empty. Upon getting home I opened the tostada and was very disappointed as it had very little anything on it. I've had them quite often and normally they are packed with beans, tomatoes and lettuce etc. but this time it was a disappointment. The tacos were also almost empty of beef, and other ingredients. They normally are packed and very good. I am a senior with limited income and this food was a waste of my money. I've experienced orders over the months that have an issue or two but this entire order felt like they had "run out of food" inside the kitchen and I received the scrapings and this is why I'm sending this complaint. You can reach me at 209 545-5301 (leave a message if I'm not there) or contact me using my email address which is above Thank you

Tom Muckel
from Kalamazoo, MI
I waited 25 minutes for my order eating in. I got 95 cents in change in nickles as no one would get change. The place was filthy. the kitchen area floor was covered with food, bags. etc. No one was cleaning tables, in fact two customers cleaned off tables so people could sit down. I ordered chips and cheese with my tacos and I had maybe 5 chips I could dip in the cheese. There was no napkins, even when told there was no napkins. It will be along time before I go into this taco bell again. People were leaving with out there food and some where asking for there money back.
Thank You.

GUADALUPE BELK
from San Diego, CA
I WENT THIS MORNING AROUND 7:05AM AND DROVE THRU DRIVE THRU, NO ANSWER FOR ABOUT 3 MINUTES. I FINALLY DROVE TO THE GLASS WINDOW AND A GENTLEMEN WAS APPARENTLY ON THE CASH REGISTER TAKING CARE OF A CUSTOMER. AFTER 10 MINUTES HE FINALLY CAME TO WINDOW AND TOLD ME THAT THEY DID NOT HAVE ANY EGGS ONLY POTATOES. WOW! YOU'D THINK THAT THEY WOULD KNOW THIS A DAY BEFORE KNOWING THAT THEY GET ALOT OF BUSINESS IN THE MORNING!!

Lynda Colson
from St Louis, MO
On 1-20-18 We ordered 2 bean burritos, chicken mini wrap and a doritos nacho supreme. The burritos were so small that the 2 of them might would make the size of what is usually served. The wrap was small and very thin but what was there was tasty. Doritos taco was good too. We ordered through the drive thru and my husband said is it all in there because the bag felt too light for what we ordered but I checked and all was in there just very small portions. We will not go to this location again for it's not worth the money spent for such little portions.
This is the 2nd time contacting you about this problem. I called also and I was told that I was going to receive some coupons in the mail but today is 2-15-18 and I didn't receive anything yet.
Lynda Colson 29 Pike trail Arnold,Mo. 63010
emerald_gryphon2@yahoo.com

lee wold
from Salt Lake City, UT
Taco Bell 2212 S 1300 E Salt Lake City - I had a very large order and was placing it at the drive-up window when the taco bell employee told me to hurray up because there was a time limit at the drive up window. There was no one in line behind me - I canceled my order and left. When I called to speak with a manager he could have cared less. I went to a 2nd Taco Bell 621 E 400 S Salt Lake City - told the drive up window employee that I had a large order and was told they could only take 2 orders at the drive-up. I let him know that my order was very large, but just one order. I was charged for guacamole and sour cream for the Mexican Pizza, but, they did not bother to give it to me (you just made money for nothing) I also had to remind them to give me the drinks I ordered and paid for. I have not patronized Taco Bell for a very long time, and it will be an extremely long time before I patronize them again. Evidently you do not need customers or business. I will be sharing my terrible experience and service with many, many, many people.

cecelia akers
from Aurora, CO
ssaturday 01/27/18 to store on hampden and tower red ,aur colo the mgr is mary travis i asked the super is the WORST ever of any around us and this is ALWAYS. I had sit in line for 1.2 hr to get my order becausem3 cars head had trouble with their order and they just sit instead of moving them to the front. These orders were big and took a long time after the 1st they too 10mins to fill the two infront of me why with all that hold time can't they have orders reDY WHEN I GOT TO THE WINDOW MY OrDER WAS NOT COMPLETE SO I HAD TO WAIT I looked in the window there were only 2 people in the whole restaurant then I loud hear nothing but laughing going on and the young man at the window was annoyed so he shut the window so i dn't keep hearing it when i asked for the mgr name he dn't know so had to go to the office where i am sure the mgr was sitting or laughing not watching that there were 8 cars behind me and i have already sat 1/2 hr i dn't want to do this but this is very common here and most time the orders are wrong please take care of this it is a busy store for many years and needs a real mgr to supervise these kids facebook would have a hay day over this by the way i usually spend 12 to 20 dollars each time

Hey Davis
from Maysville, KY
On the night of January 27th me and my wife went to the Taco Bell in Maysville,KY and spent about $20. The food was ok despite the fact I had to take my nacho fries ( the main reason I went there to begin with) back because they where cold! The person working the front register and cleaning the dining room was walking around in the dining room complaining about the store and how bad it sucks the whole time we were inside, not very quietly either. Also, before we left we ended up being insulted, yelled at, and told to pretty much leave by that same person! In short I have never had a more horrific experience at a restaurant in my entire life! If we ever decide to return and are greeted by that same employee we will most certainly be leaving!! If anyone would like to speak to me about this my name is Jerry Davis and my telephone number is (606) 584-0957.

Emiley
from Belleville, MI
THE CUSTOMER SERVCE AT THIS LOCATION IS HORRIBLE. Ordered the new fries which had about 5 fries and I asked for the manager and her response is well there are complaints across the US and that's what we have to do..so if you don't want them give me them back and I will give you a dollar. How is this girl a manager!?!? Also while sitting inside I see two different oeople leave and go back in because they messed up theirs order. Something has changed at this Taco Bell and it is ruining the place. I can't even tell you how many times I get take out and get home to have food I ordered and paid for missing!! SOMEONE REPLACE THIS MANAGEMENT AT THIS SPRINGBORO LOCATION ALREADY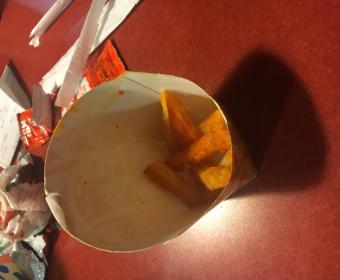 Caroline
from Lewisville, NC
My frito burrito has no Fritos. We are not driving all the way back up there.

R Sesters
from Woodway, TX
i just left your taco bell 030166 ordered a chicken quesadilla to go. it was burned so i gave it back to the counter person. was told they would make me another. what i got home with was two slices from the one i handed in & two slices of a new one. that is not right. you will lose me as a customer. the order number is 142954 also said my number is 154

Micheal House
from Newark, NJ
My order was wrong and the people in charge didn't care or fix it I was only white person there and had to wait till they served all black customers first and it is not the first time will not ever come back

Elaine Gallegos
from Houston, TX
Went in to get food for me amd my family and I order k10 7.99 with 3 piece chicken with 2 sides and a biscuit and a drink. When i order I always check my food because it is always wrong or missing something. I open the box of chicken and found 3- 2inch size of chicke legs 2 sides mash potatoes and mac and cheese no biscuit. Asked the girl that took my order it soupose to be a thigh and she said no look at the picture i said excuse me you look. She went to talk to the manager and Edwardo didnt say nothing to me so I said I want my Money and toss the money at me and grab the food and left not saying nothing. Very ruxr customer service.

Joelle M Spencer
from Albany, OR
I went through the Taco Bell drive-thru near my home tonight, and for the 5th time in the last 18 months, they got my order wrong. I gave everyone else their food, but I took mine and went back to the location to get the item they left out of my bag. When I arrived I explained the problem, and noted that now my food would be cold because of their error. The supervisor offered an order of cinnamon twists or a drink as an apology. I accepted. When the employee brought the food, they did not replace my cold food. I insisted it be replaced. When I finally got home with the food, I gave my daughter her food and the "twists", then went to eat my food. My daughter handed me back the bag of "twists", because it was not twists, it was tacitos and cheese sauce. My daughter is a vegetarian. There is no way I would have accepted an offer of tacitos. I understand that being the branch located next to the freeway makes it a busy location, but this is ridiculous! I've even been told by others who used to work there, that there is a "game" the staff is known to play where they intentionally screw-up the drive-thru orders, expecting that often the customers will be long gone before the "mistake" is discovered, therefore they won't bother to come back to get it fixed. I didn't use to believe this claim, but as this has happened so many times to me alone, I can't help but believe it! This is FAR from acceptable! Taco Bell used to be my favorite. Not anymore! Plus, now I can't even give you a transaction number, as the supervisor took my receipt and never returned it to me.

Lynn Miller
from Chicago, IL
While enjoying a meal before going to work, employees at the Plainfield Taco Bell were having a loud, heated argument in the back, behind the counter. Customers and other employees were watching the incident very uncomfortably. Some customers left without placing their order. It was very unprofessional.

fredrick russell
from Jackson, MS
a few weeks ago I visited the taco bell #032307 I orderd the $5 meal and specified no whip cream on the gordia crunch.i opened it and it had some white cream on it.the cashier adreaun k took it to the acting manager who responded in a very harsh and rude way that it wasn't sour cream.i politely stated that Id prefer no cream of any type no ranch etc.she rolled hers eyes and mumbled something under her breath.i didn't say anything I just got my food and ate.if these workers don't like what they do then waste management is hiring

becky scoggin
from Cave City, AR
I went thru drive thru taco bell in Newport,arkansas hwy 67 on 301 I place a order I wanted 4 burritos I drove up to window this chubby black lady was very rude towards me I gave her the money she handed or should I say shoved at me I look in bag only 2 burritos she slam the window shut and I trying get her to open window well she did and I said I order 4 burritos she said screen shows 2 and slam window again I still sit there she opens window and goes screem whats ur problem and I said can I please get 2 more burritos please she screem loud at me u order 2 u got 2 that's all u can get real loud and rude I had no choice to pull away cause cars was behind me I couldn't go in cause I have breast cancer stage 4 very sick it made me scared to go back to any taco bell if that's how I was gonna get treated I'm 57 year old woman dying with cancer that was just uncalled for made me start shaking to where I couldn't even drive . I call a lawyer he said if the complaint department couldn't do something he would . that was just down right wrong . I eat taco bell for years . I thought I was gonna have go to hospital over this matter. thank you for your time hope this wont happen to another person they have a heartattach thank you again.
10-25-2017 2;15 pm

James M Elmer
from Indianapolis, IN
Bad attitude from managers every time we go there they messed up our order rude and disrespectful when asked to fix the order and half the time the food is cold when we eat it there u can call me at 317 419 4634 this at the Taco Bell on West Washington Street & Lynhurst in Indianapolis Indiana 46241 i am to the point i am going to stop eating there all together and tell my friends and family not to eat there anymore.

Went in to the taco bell location at Perkins Rd and Essen Ln during shift change. I ordered the crispy chicken quesadilla 5 dollar box. I waited 17 minutes for my meal while they made meals for all of the people that were getting off of their shift and ordered at least 4 minutes after I had, they all (5) got their meals before I did. I asked the manager about my meal and he told me that they were making it now 17 minutes later? WTF? I ask for a corporate number and was told they don't have one. Will never go here again! People that I know that usdd to go here feel the same way. Quality and customer service is non existent here.

raymond sallee
from Wilmington, OH
this makes 3 times in the last month I have gone to taco bell in Wilmington, ohio, 45177 to get something to eat and the first time we got there at 10:30 a.m. and were met outside by an employee who said no manager had shown up and they were still closed and couldn't get in. the second time we went had to wait for over ten minutes just to get waited on as the first guy couldn't figure out how to work the register so he walked off and we stood there until a girl walked up and asked if we had been waited on and we said no and she said well someone would be there in a minute and walked off. third time placed my order and while waiting told guy at the register that pop was all over the floor and he said yeah he knew and did nothing. people behind me placed a big order and received their order and another person placed an order and they all received their orders and I asked if they had forgotten my order and the guy said no but I still had no order so then the manager came up and checked the screen and said here is his order you forgot his order but she had the order wrong too. so I told them to give me my money back and I would NOT be back. you need a new manager and some employees who actually care about their work.

chris huepenbecker
from Columbia, SC
My family and myself frequent this location maybe once a week (not any longer) so on our visit there on 10/06/2017 we went inside and order our food when it was ready we got it and went home which is in Gaston. Well once home we found out our order was completely wrong so my wife immediately calls the store and talks to a manager that manager apologizes and offers to remake our order however I'm all the way in Gaston and I'm not making another trip to red bank so the manager states that she will put my wife's name down so next time she came in that the store would make the order correct.
So my wife and kids went to the taco bell in red bank on 10/19/2017 as they were running some other errands in the area to get our corrected order that was promised to us. Unfortunately it could not have been the same manager as my wife spoke to on 10/06/2017 because the managers first reaction was like she is lying and then tells my wife that she does not see her name so my wife told her to call the other manager which this manager say she is going to and comes back to the front of the store and said yes I spoke to her do you want your order my wife replies yes. So my wife and kids now have been waiting almost 1hr my daughter goes up to the counter and ask how much longer they tell her 10 mins. Still waiting over that 10 mins so my wife ask how much longer for my order the manager then states oh I got him making them now. The lady already lied to my daughter talking about 10 mins so my wife says something about contacting the corporate office on the staff to the manager which her name is latoya I would like actions taken against her and the staff on the evening of 10/19/2017 approximately 6:00 - 730pm
then they called the local sheriff's department because they wanted my family to leave never had an experience like this before an we were regular costumers but not any longer.

The food was great but the cleanliness was bad. We sat in three different sticky covered chairs. The table you couldn't touch it was so dirty. I started looking around and the entire place needs cleaned. Top to bottom. They need to soap the rags and clean and rinse the furniture better. My code on the receipt is 8630-3127-1084-3012 It was in Hamilton, OH
When you eat out you shouldn't have to worry about going home and washing your clothes.

gina galvan
from Stockton, CA
On Thursday Oct 12.2017 i was heading out of town i was to far to go back. i ordered 3 mexican pizza combos they were soggy some didn't have very much in was not happy 2 burrito supremes 1 had no sour cream.i ordered the varietytaco pack half nacho cheese doritos locos tacos they was all origanal crunchy tacos. i had to except the order counldnt go back i love Taco Bell but was not happy sorry to complain but it needs to get things in order

Christina
from Norfolk, VA
I bought a chicken burrito and ate about half. As I was swallowing, I thought I was swallowing a hard piece of chicken. I then could not breath. I ran to my GM at work and she gave my the Heimlich. I spat out a piece of plastic bag that was beginning t opening up i my throat. I then vomited. I am now waiting for corporate to call me back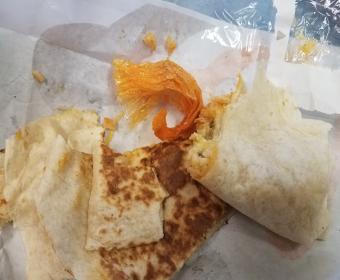 Naomi Valentin
from Boston, MA
Hello my family and I went to our local taco bell we love your food! Our order wasn't complete I ordered the Doito cheese tacos,two double decker supreme with two mtn baha freeze drinks and was missing a drink along with a meal. The worker had an attitude and want very helpful the wait was long so my husband decided we should leave because it didn't seem like our order was gonna be completed. Very disappointing especially since I've gone to taco bell a lot during my pregnancy.

Remonia Brashear
from Rapid City, SD
I'm from Louisiana staying in kingfisher Oklahoma and the people here doesn't know how to make the right right stuff to put into a toco supreme plus we got food poison off the stuff we ate
The people that work in there are rude and really don't care I will be calling the health department on the one here

Rae Richey
from Aurora, CO
WHY no sacks or bags to carry your purchase home in. I purchased a Taco Salad which was put in box, also some other Tacos and Burritos THESE WERE IN A SMALL PAPER BAG, I wanted a sack, bag, or something large enough to carry all of it home in - the manager told me they had NOTHING. You used to have at least a plastic bag for me. NOT THIS TIME. Even a larger paper bag would have accommodated my purchases. THIS IS A BIG DEAL.
WHAT IF I HAD PURCHASED TWO TACO SALADS, Tacos ad Burritos - NO WAY could I have handled it all, including sodas. You need to provide a sack of some kind so that people can easily have take out orders, without having to juggle two or three items. I GUESS I WILL have to cease ordering your taco salads, or even quit buying your gift cards. I NEED A LARGER BAG FOR ALL MY PURCHASES - OR ELSE I WILL BE FORCED TO NO LONGER BUY YOUR TACOS - WHICH I DEARLY LOVE - BUT THERE IF LIFE AFTER TACO BELL!
I would appreciate a quick reply oh, b- just purchased another one of your gift cards, but this will be the last $25.00 I spend. GUESS I WILL HAVE TO START TAKING IN MY OWN BAG - TO FINISH OUT THIS GIFT CARD.

Geni Friend
from Taft, CA
On September 17,2017, my husband and I ordered 1 Crunchwap Supreme and 1Beef XXL GSB, cashier Lourdes and order number 350928. When I opened my crunchwrap, there was very, very little meat. My husband took it back and there were four girls there and the manager. The one girl, with a star tattoo behind her ear kept arguing. A second crunchwrap was then given to my husband and he brought it home. Same thing. I decided to go down there to see what was going on. As I entered Taco Bell, three employees and the manager were there. I said what's going on here, I ordered a crunchwrap supreme and there is very little meat. The girl with the tattoo started arguing right away. I asked for the manager and she was one of the females standing there. I let the girls know I was going to video the conversation and the shortest one started walking an yelling, You can't record us, this is illegal and I'm going to call the cops. I said go ahead and call the cops. Needless to say, she did not call the cops. I then asked this person, if I could speak to the person in charge of this Taco Bell. With a smirk this short female said, it's his day off so you can't talk to him.
I proceeded to talk to the manager and let her know that she was the manager and could not let these girls tell her what to do. I told her, my husband is an Associate Warden at a prison and I am a teacher and there is no need for this. The manager kept apologizing for the girls and said she would make me another wrap. There was no need for this escalation with a customer. Very poor employees. 661-619-2171

Martha Halterman
from Biloxi, MS
Taco Bell 028578
I live very close to this Taco Bell and have numerous problems, this is just the latest. Ordered a 12 pack Cinnabon left and when we opened the bag we had 11 and they were hard and cold. They are suppose to open at 7:00 and on many occasions do not open until 7:15 or later. One week ago we ordered 12 pack Cinnabons and were told there wasn't any cooked and they were not cooking any just for us. Service there is pretty poor sometimes, they can be rude.
I love Taco Bell and I hate the fact that I can not eat there.
Please help to make this Taco Bell and better place that people want to go to.
Martha Halterman

joe blow
from Westminster, CO
one of the RGM's by the name of faith hunter is a very rude and disrespectful to a lot of the workers there at the taco bell on 104th in melody. we as workers don't know how to deal or approach her without having more problems from her. she had promoted an employee by the name of Stephanie to be an assistant manager to an RGM as well but has not even attempted to train her for the position and is very rude to her while at work. we as workers was told we could have a free drink cause were all working so one of the older lady's that we work with gave 3 girls one water cup each and faith hunter turned to that older lady and said that if she wanted to keep her job, that she had better not do it again. the older lady that we work with has a hard time walking fast so since how she wasn't walking fast enough for faith, faith grabs her by the apron and pulls her out of the way. we were told that we weren't allowed to work at the same store with our best friends, family members, or have any type of relation that we cant work with them well she has brought one female from florida and they work the same hours together and is bringing another friend or family member from there to , to work together as well. she has also been taking dry goods from the store when she leaves to go home, that's theft. so why do all the team members getting in trouble by her for little things when faith has been doing the most can somebody explain that one to me?

Diana Roca
from Odenton, MD
I recently was in a rush, went to establishment in Woodbridge, VA through drive through. No one in line in front or behind. Asked for assistance with menu needing on salads the one with least calories and carbs. I was told I would have to go in and look at the menu because she didn't know. Called manager and was told staff doesn't know menu and that information is for guest dinning in only. How sad. I left and went to Taco Bell and even though they had a line gave me information and suggested ways to lower carbs for healthy meal and offered me free water.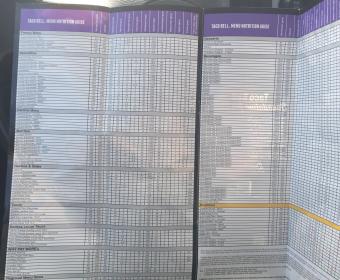 Jeffrey Stevens
from Charleston, WV

sharon james
from Fort Smith, AR
Went to taco bell springfield, TN at 10:43p on 7-23-2016 waited in line until 10:56 before even getting to the order area and then was told it would be 20 min. before I could order they were out of everything, I left and went back 1 hour later was in line again for 10min. before getting to the order area and was told they were closed. I commented that I thought you were open till 2am on weekends and the gentleman replied no we started closing at 12 midnight as of tonight. So when I got back to work I looked it up on the website and it says they are still open till 2am.
If your employees can't keep up with making and preparing your product or they run out something then maybe they need to be replaced with someone who can keep up or be given extra workers on the weekends when its busier and order extra stuff/and prepare extra so they don't run out. In the 2 times I was there on this night I watched them turn away 17 cars which is business you lose.

Susie Thompson
from Louisville, KY
I walked in before 6:30 pm on Tuesday night June 28,2916. I had my daughter in law and three cranky kids that were very hungry after spending the day at a daycare. When we started giving the order the clerk asked another lady how long it will be. The lady said about fifteen minutes! For a fast food restaurant? Get real! Well, they lost the five of us plus a single guy. We left and we t to the hikes point restaurant. In and out no problem. Also a lot cleaner than the Jefferson town store. Someone needs to get production up and running or get a new manager.

Susan Wofford
from Dallas, TX
The Lake Highlands area of NE Dallas is an upscale area. I would expect even fast food restaurants to have some of their best employees working there. The majority speak little to no English. Those who do speak English are insolent or disinterested at best. We check every order because there is a 90% chance something is wrong. When the food is returned, the employee stands and stares as if to say " what do you want me to do about it" Tonight we ordered a multitude of items. I'm going to try and attach a pic of my tostada.
It looks like someone vomited on it. I'm assuming hot liquid cheese, but who can say for sure...all of my friends refuse to eat at TB, citing the low grade ingredients. I've always liked Taco Bell, but I have to say, I think now I'm done. So tired of the crappy service, messed up orders. PLEASE send someone undercover to the store on Walnut Hill Lane DallasTX 75238.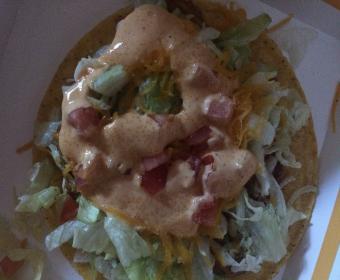 Lori Johnson
from Washington, MO
The quality of the food has gone down in the past few months at our location. The kids working inside are more Interested in playing with each other. The shredded chicken mini quesa no longer has sauce unless you ask and then are charged .40 each. The chicken is in there and a half teaspoon of sauce on one end. This has happened more than a few times. Look at the crusty bean burrito. Tired of it. Washington Missouri location.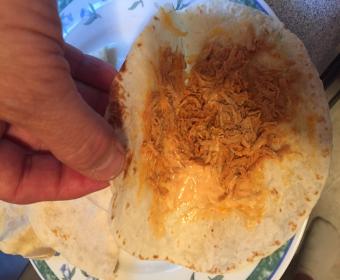 Diane York
from Orlando, FL
Went to Taco Bell # 023298 at 2403 Hiawassee Rd. in Orlando Fl. last night 5/8/16 at about 9:45 PM and waited over 30 minutes in the drive through lane. After 15 minutes I went to the front door to go inside and it was locked. Went back to my car and waited another 20 minutes to get my order. Finally was able to leave at 10:20 PM. Worst customer service EVER. My order number was 328321 and the cashier was Laetrice S. Will NOT be returning to Taco Bell anytime soon.

Ron ostendirf
from Los Angeles, CA
Went in to the Taco Bell on Foothill Blvd in Rancho Cucamunga on Friday 2-12-16. I ordered my food then asked to use the bathroom. They unlocked it and it was disgusting splattered crap on the toilet in plan view. Got my food and started looking around filthy Windows, counters, floors everything. Parking lot trash all over. Take some pride and get a manager that cares. DISGUSTING.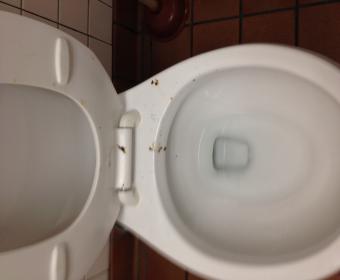 I wasn't the one to go to Taco Bell for this incident, but I know someone who went today. I overheard this. They had to go inside to pay for their food due to drive thru not moving. When they got their credit card back, the cashier giving the card back dropped the card on the counter by accident, and a bunch of white powder fell out of the cashiers hand all over the card. It's unclear why this situation even occurred, but the person paying suspected it to be drugs (their guess was cocaine). The cashier merely gave a scornful look, as if that person did nothing wrong and was eavesdropped on. This incident occurred today (31 Jan 2016) at Altus, OK.
I used to eat here all the time. The quality of this food has been deplorable for the past many months, I have heard so many negative opinions about the service in general, and now this? I just ate here yesterday, the rice tasted disgusting like someone was smoking over my food as it was being made and no sauce. The food was awful, the burritos/wraps/etc. are not being fully filled, and service takes forever. Personnel seem to just not care. I refuse to eat here anymore until an investigation occurs, personnel are fired, and retrained.

Sue Kovac
from Leawood, KS
Family requested Taco Bell for dinner last night. I went to the drive up and it did take awhile for someone to answer. I warned the young man that I had a large order and he said okay and I placed the order for $29.65. The freeze machine was still broken and has been for a few weeks now. I got my order and then pulled over in a parking lot to check the order and it was not correct. I went back through the line and also requested mild and hot sauce.
They were out of mild sauce. I was charged for my order but it was five items short. So I did get my items and hot sauce only. He also said they were short handed. In addition, the register needs a new ribbon or cartridge because it also has not worked correctly for a few weeks you cannot read it. I don't know if the owner or managers are not aware of these problems but I think you have some issues. I know that things go wrong and machines break but nothing is getting fixed at this place. I think that we will wait a long time before we get our dinner at Taco Bell, the kids love it but I did not like taking home a very cold dinner. This Taco Bell is located at 7100 W. 119th St., Overland Park, KS 66213.

Dock Buckhalter
from Hernando, MS
My dad and I went to taco bell , but the door was locked. My dad pulled on it and the woman said go to the drive thru. When we went to the drive thru my dad asked why there wasn't a sign on the door or somewhere else that said go to the drive thru without getting out of the vehicle. Then we couldn't read menu board cause there was ice on it. The woman said she asked the manager and said and done nothing. Then my dad said well all it takes is paper and pen. Taco Bell 024204 2650 McIngvale Rd. Hernando, MS 38632.

I was wondering if only employees and managers are allowed to take free food home? I have seen a manager take bags and bags of food and not ring it up.....is this being offered to the public as well? Store in mcallen texas, on 10th street, manager gloria. She is also very vulgar and disrespectful to employees. Again i would like to know how we,the public, may receive free food too?

The service was ok. But I have a problem with Taco Bells prices and the way they post the menu. I ordered a potato wrap that I thought was going to have plenty of steak in it. But only got a real thin layer of steak with cold potatoes and bits of bacon. Hmm not worth 4.99. It was suppose to be the Steak/Potato Boss Wrap. That's a joke. I can get two combination burritos at Del Taco for 5.00 bucks and be totally content. Look at the picture, do u see Steak? Very little.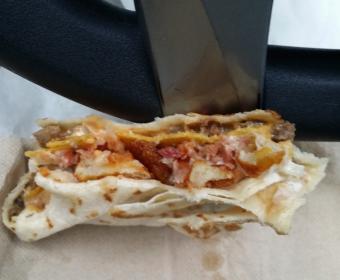 Have feedback for Taco Bell?
Thanks for your feedback!
Sorry. Please try again later!