Taco Bell
Taco Bell Complaints Continued... (Page 3)
391+ reviews added so far. Upset? Call Taco Bell corporate: 1-800-TACO BELL

First, I want to start off by saying that the first impression of this Taco Bell was horrible. There were two people ahead of us in line. One person waiting at the window and the other placing their order. The person taking orders was talking so loud that we could hear them and repeatedly corrected the customer after taking their order. After that customer finally pulled ahead three minutes later, it took the Taco Bell associate over twos uses to even acknowledge that we were at the window to place our order. We ordered, going by the assumption that the grillers were still a dollar because it was before the cut off point that we arrived at the window, but the associate didn't take our order until after the cut off point. Needless to say, another disappointment when we got to the window almost ten minutes after placing our order to ask why our bill was so high. We decided not to get our order after the cashier basically told us, the customer, that we were wrong! After we cancelled our order, she tells back to the cook, "don't cook the grillers!" After waiting for that long in line, they hasn't even started preparing our food? Needless to say, the locals won't be congrats back and will continue to spread it around that customer service is horrible at this establishment. We won't be returning any time soon, and neither will our friends or neighbors. I would rather take my money elsewhere.

I went to Taco Bell tonight, tried to order a smothered Burrito. They said they were out of beans. I asked her what they were going to substitute, says
said nothing was going to be substituted, I asked her what about adding some more rice she said that would be extra. That is poor business. It is bad enough their service is slow. I wished you could check on this.

Called Taco bell to complain, because it made my son sick after biting into a taco with hair in it, she asked if we wanted some additional food, and of course we didnt, we wanted our money back, she said she could do it.

I went through the drive thru at the Taco Bell located on Palmdale Rd. in the city of Victorville, Ca. on the evening of March 4th 2013. I bought 2 Crunchwrap Supremes, 2 Locos Tacos, and a medium Sierra Mist. When I got home, I began to eat one of the Crunchwraps and on the second bite, I found a chewed up blue piece of gum inside that I had bitten a piece of. It was the most disgusting thing I have ever experienced in dealing with Taco Bell. The Crunchwrap was taken back to the Taco Bell along with the gum and they didn't seem to care very much. They asked if I was sure that it was gum and I proceeded to show them. The woman behind the counter just said ewww and said so what, you want another Crunchwrap? She was informed that I will never eat anything from them again. I truly hope that something is done to make sure no one else has to deal with disgust and the utter disregard I received at this "place of business". I've also experienced them keeping $8.00 worth of change and laughing in my face. I guess they felt ok doing that because they did not believe I could prove it. I will never do business with Taco Bell again in life.

It is crazy that every time I go to the Centralia il resteraunt that my drive thru time is never under 10 to 15 minutes regardless if there is even 1 car in front of me. Tonight I sat in the drive thru for 26 minutes for 3 items. Half the time your order is wrong an the employees are completely rude . I have decided not to return in the future. Hope that something can be done to improve your customers wait times and all around experience because it is just plain pathetic!

I live in central Pennsylvania and have several Taco Bells around me. I occasionally eat there, but I wanted to send my son some Taco Bell gift cards as there is a Taco Bell walking distance from his college. I stopped at a Taco Bell in a mall and they told me they do not have them there as they're not a corporate store. I would need to go to a different store. The mall store was combined with KFC. So I went to another Taco Bell and mistakingly asked for a gift certificate. they said they do not carry them. I then called an 800 number for Taco Bell and they informed me they do not offer gift certificates, but rather gift cards, which is what I meant in the first place. The 800 number told me Taco Bell will have gift cards. Then I went to a DIFFERENT Taco Bell, only to be informed they're a corporate store and do not sell gift cards. I would have to go to Walmart. I went to Walmart and they do not carry them. They said they might have around Christmas, but do not anymore. After being sent on a wild goose chase, (if it was just for me, I would've stopped at round 2), I've come to the conclusion Taco Bell doesn't really need the business. I buy my son gift cards for McDonalds and Subway and neither of those restaurants have any problems with issuing me gift cards. Thanks for listening.

On 1/5/13 my husband and daughter went to drive thru and placed an order of 2 Varity taco 12pk. of which they were suppose to be 12 soft tacoes no lettuce and 6 Doritoes tacoes no lettuce and 6 doritoes taco with lettuce and 1 burrito Supreme no lettuce and an apple empenanada Total of 29.46 and when my husband got home with the order and checked it the only thing really right was the burrito and the apple Empandada was right.
WE had 6 cold no lettuce tacoes and 18 cold tacos with lettuce I called the taco bell in troy,ohio wher we are about 5 mins . away from this Taco Bell when I called and talked to manage she said everthing was right by them and its on the screen this lady manager didn't even offer an exchange, I then ask her wher the mild sauce was and she said they were out and truck was coming tomorrow I am not sorry for me being very upset.
I have never been mistreated like this from any type of manager nor have I had to tell my very sick daughter with leukima canser I would take her lettuce off her tacos for it made her sick and our food was cold me or my husband and .daughter did not get to have a care free dinner from taco bell because we were spending our time cleaning up you mistake at Taco Bell and on top of that my daughter got sick so thank Taco Bell for a wonderful evening.

A few weeks ago I have them a $20 at the drive through window but they claimed I only gave a 10. Thinking ok, maybe I made a mistake, I accepted that but have been ultra careful since then with the bills I hand over.
Today the same thing happened. I am 100 percent certain I handed over a 20 but the attendent insisted it was only a 10. I drove off and will never go there again. I am ABSOLUTELY certain that it was a 20 that I handed over.

I went to taco bell on 11/10/12 @ 3:48 am address 32940 mi ave Wayne ,mi 48194. I spent $18.17 for my order not to be made correctly! I called and explained my problem and the sassy African American employee told me I was wrong and that some of it might be,made wrong but he knows he made it right and the hung up on me! AfterwArds I called back to try to get his name and he said your gonna have call back tomorrow were closed and hung up again! You don't treat customers like this when there is another restaurant across the street from you! I spent almost $20 and could have went to McDonalds and got slot more food for less just horrible. He should not be dealing with customers

I went to Tace Bell tonight on heckle Blvd. in rock hill sc. i was in line for 25 mins. i asked the person at the window did'nt they they have a time limit to serve the customer's and she replied no not when I'am the only one in the kitchen. I'm in management and she was wrong to tell a customer that, howevre they are the worst every time i go to this fast resturant. they act like time to a customer doesn't matter. thank you

I ordered and paid for a cool ranch taco and when I got home, the item ordered was a regular crunchy taco. They were having some issues with the drive thru machine and I was the last person they were able to get my order. I understand things can happen and I waited patiently for my food and the girl at the window was very nice. But having to come home and find a messed up order disappointed me. I paid for something I didn't even want&i would brought it back to get my right order but 20min drive back was not going to be worth it.

I ordered Taco Bell To-Go this afternoon, around 3pm. I was home by 3:10 and immediately sat down to eat. My food is still hot, but both of my tacos and my quesadilla are extremely soggy; even the paper is soggy, and has melted to the food, making opening the wrapper impossible without picking off each shred of the wrapper. I am absolutely disgusted with this; I adore Taco Bell, but this is gross. This food has quite obviously sat on a warmer all afternoon.
I also wasn't offered taco sauce, and didn't realize it until I got home! So heartbroken... it's like a naked taco.

I have a complaint regarding a specific Taco Bell location. (This is a KFC Taco Bell) My family loves Taco Bell but we recently had a very poor experience that I just simply cannot overlook. 12 years ago my husband & I lived in Portland, IN (47371) and visited the same Taco Bell location frequently.
The restaurant has made zero updates since then. This wouldn't be such a big deal if things weren't falling apart...but it just isnt good.
I have a LIST of complaints so I can keep this as short as possible:
Its winter here..TOO COLD inside.
Tables are always dirty.
Tables are starting to 'rust' along the edges in a 'mold like' fashion.
My 6 yr old refused to eat over it :(
Outdated & showing age & wear.
My husband & 1 of my sons used the mens restroom. Urinal was "falling? & had been repaired with 'clear wrap' & duct tape, that would no longer 'adhere' to the dirty walls." The door handle on the outside of the door had been 'torn' off ? And never replaced or repaired. My other son was the first to visit the restroom & he only opened the door before he changed his mind all together :(
According to our reciept it took 10 minutes for us to recieve our order, & they prepared our nachos first. :(soggy):
My husband observed 1 employee eating the food while we waited on ours.
Other employees acted in an obscene manner.
I could go on but I will just STRONGLY suggest that someone be sent to check in on this facility. I am not one that files complaints but the people of Portland & those passing through deserve a better experience without having to travel to another town.

I went to taco bell/kfc last week with my children. i worked a long day and didnt want to cook. I have always loved taco bell and the food. I usually go through drive thru but my oldest son wanted to go inside and eat. After i ordered i went and found a table to sit at. Whiich there wasnt a clean one in the whole place. So i chose a table and took out my sons baby wipes and wiped a table down and its chairs. Also had to scrub the booster seat i put my child in.
Im was grossed out completely when it took five baby wipes and they were black! Obviously the table has not been cleaned in forever or the chairs or booster. As i sat there and waited for myfood i was looking around. The floors looked like they werent swept once all day, the napkin holders whichare two large ones were empty. The garbage full. The co workers were even sloppy looking with ripped up, baggy black pants. Im happy i didnt order much cause i just wanted to leave. I ordered a gordita and ate almost all of it.
Well i woke up at 2 am sicker then ever and vomiting. Im thinkin the sauce on the gordita was sour. it had a funky taste when i was eating it but i just thought i was grossed out with just eating there. I just think that place needs some good management or a food inspection. I am sorry to say i will not eat there again! not even through drive thru. i had no idea the place was this dirty!! please please clean it up..

The chicken flatbread was my alltime favorite fast food choice and i understand its a seasonal item but its time for it now and its not back i would just like to no the reason for this and hope it comes out soon.......... when i was down on my luck and they were .99 they kept me fed because the flatbread is so filling... id pay more than that for them now since im back on my feet id just love to see them again

This evening my husband and I stopped in at the Franklin, Indiana Taco Bell for dinner. While we were waiting to order, someone came into the resteraunt with a dog. The Taco Bell employee named Christy, who took our order, came behind the counter and informed the customer who had the dog that if the dog is not a service dog they had remove the dog from the resteraunt. While she was speaking to the customer she petted the dog and asked another employee (who was eating) if they would watch the dog outside while the customer ordered their food. The employee was happy to do so. Then Christy returned to the counter to take our order without WASHING her hands. At that time, we placed our order. Then we waited 25 minutes and asked how much longer it would take. Christy apologized for the wait and encouraged the cook to speed up. We finally received our food after 30 minutes if waiting!!! My husband ordered a Big Box with both tacos being a supreme taco. Unfortunately, neither taco in his Big Box were supreme tacos. The ONLY type of offer received for our inconvenience was a Carmel Apple Empada. Needless to say, we were exteremly dissatisfied with the service received and may never return!!

We recently visited store 004012 in Paducah ky. They acted like they had no time to wait on us. They were loud and obnoxious. One girl was on the phone with apparently her boyfriend screaming and cursing. Then are order wasn't right and when I took it back they acted very rudely. I love Taco Bell but after this experience my faith in your hiring practices kinda make me not want to eat at another

I ordered a mexican pizza meal, which came with two taco supremes.. after eating the first supreme, I noticed that the second one had green mold on one of the tomatoes and a smaller spot on another tomatoe. This was by far the most disgusting experience I have ever encountered at any fast food chain. You have lost a loyal costumer and more than likely my friends and family after I spread the word. It was at the state st. Location in rockford, il. I would hope you take this seriously, as people could become sick and start a lawsuit against your company. Thank you for your time.

When I drove through the Algonquin, IL store on Randall Rd. This evening. Something. Was going on but it wasn't serving food. At the order speaker I ordered #8 3 crunchy tacos with. A sierra mist. The person came over the speaker & all you heard was people laughing & talking in the background. I was asked to repeat my order 3 times because the person couldn't hear me over their co workers. When I got my ordere I didn't receive a receipt to do the actual survey & didn't get a straw for my drink. Obviously the employees were not focused on the customers.

I went to taco bell in yuma AZ 026030 on 32nd street.we went around 7:30pm .the manager Brandon was really rude about me letting him that there was a hair on my burrito.he even blame me about putting the hair on the burrito.this is not how you run a store with rude managers like this one.very upset and will never recommend this or any taco bell to no one and I'll make sure everyone know how rude managers are

About 90 percent of the time I go to this Taco Bell they mess up my order I know how to order it and what comes on it but it seems like they intentionally put the fiesta sauce on it just to tick me off. I will even tell the cashier to verbally tell them to not put it on there it doesn't come with it on there so they are just doing it for free!! This has happened well over ten times I'm a very frequent taco beller every time I call them or have it replaced and yet they still make me something not even on the menu if it was still on the menu it would make me ordering easier and cheaper!!

I live about 15 minutes out of town. I just went to taco bell for my kids dinner. I had ordered 2 chicken burritos for my daughter and of course I recieved 2 chicken tacos. She does not like the tacos and would not eat. This has happened to me before more than once. It is very incovienent for me to run all the way back to town just to replace $2.00 worth of food when gas is so high. I called and they say when you are in the next time we will replace them. That does not help when that was my daughters super. There had also been times that I came home and did not recieve all my food. When I order out to eat food it is because I didn't have time to cook and when this happens I have to cook anyway so what is the purpose of stopping in the first place. Instead of saying they will replace it the next time they need to waste the time and gas to bring it to me. At times I look in the bag but other times I am in such a hurry I don't think to look. I have a tight scedule where my time is limited because I have a mom at home with dementia and I have to pay a sitter while I am gone along with several appointments for my disabled child

Hi,
I was recently at a corporate taco bell store 000015 on 1/23/13 at 3:01 and my order number was 582470. I have been to taco bell many times and was disappointed when I went in today and got home and I don't live far. However when I got him my food was already cold and I ordered a double decker and it tasted like dog food and was really soggy. It was so bad my three year old wouldn't even eat it. Hopefully my next experience is bad with the food quality, if I decide to ever try it again.

Monsieur/Madame
-i've noticed for some time now that the food that is being served at taco bell doesn't even come close to quality and quantity anymore (such as years ago)
-this evening i ordered 2 bean burritos and all i got were two deflated pitas with nothing but cheeze whiz in the middle, and hardly any meat at all, it was like eating pita and nothing else
-what i saw on the menu and what i received was not the same at all
-maybe being a loyal customer to taco bell i should have complained to someone at the restaurant, and it might have made a difference or not, but i don't believe it should come to that
-what i saw was embarassing and this is why i submit this complaint
-just consider me now a past taco bell customer

I was at the Taco bell at Williams, AZ on Tuesday 02/19/13 with my extended family of 11. We were wanting to get some bean chalupas however the lady at the front desk rudely said that even though they will remove the beef/ meat, they will charge 49 cents extra.
On trying to reason with her, she did not want to listen. On asking for the manager/ the customer service number she pointed to the wall to find the number myself. On myself finding the manager, I was informed that this is the decision of the franchise owner and not Taco Bell. is

Why did you change a great thing? Your new favored chicken does not taste good. While I realize it may enhance the flavor of new products why use it in all dishes? It completely changes the taste. I have been a Tack bell fan my whole life. Craving chicken Mexican pizzas. However due to the new favor I find them citrus tinged and frankly gross. Why ruin a good thing? You just lost a very loyal customer and I am sure I am not the only one. Please give your customers the ability to choose whether to use the new artificial lime flavored chicken.

I ordered a Doritos Los Tacos meal #11 from a Taco Bell store down the road from my house. I asked for regular and the lady told me that it was supreme when she read the meal back to me. I told her I wanted regular not supreme and she said "Okay, please pull up the window." I got to the window and she asked me for six dollars and change. I don't remember the exact amount she asked and I can't even tell you what store it was from because after everything that I'm about to tell you she never gave me my receipt back which is another thing that I'm VERY upset about... this wasn't my first time at Taco Bell and wasn't my first time getting that exact meal so I knew 6$ and change for the meal I wanted wasn't correct. I mentioned this complaint to her and she insisted that I was still wrong, so I thought maybe the price increased since I had last been there and I gave her my credit card. She handed me my receipt and I checked it and not to my surprise it said "#11 SUPR." Last time I checked supr stood for supreme not regular, and I noticed it said 5.79 and I almost was certain that regular said 5.49... so again I mentioned to her the mistake that was made and she still insisted for a good two minutes that I was wrong... Then after a while she got the manager and he also insisted for another two minutes that I was wrong... then after about another minute of thinking he finally realized that she charged me for a supreme meal... At that point I was EXTREMELY mad and upset and was never wanting to come back to Taco Bell again, and I thought common courtesy at fast food places was if they give you the wrong price that you get your meal free and all she did was give me a dollar and NOT APOLOGIZE. I was so extremely disappointed in this service... I may never come back to Taco Bell.

Ok so on my way to a 12 hour shift at work I decided to stop at Taco Bell in Temple Tx. When I arrived there were 3 cars ahead of me and a few already in the drive though. After 5 min of the car ahead of me not moving and he had plenty of room to pull up to the window to order. I moved my car ahead and was waiting in line. I pulled up to the window and was denied service because of a customer complaint. I was embarrassed and had to go to work on an empty stomach. I did not know the car that was ahead off was going to the drive though.

The last two occasions I have eaten at Taco Bell, I have gotten all the way home before realizing my whole order wasn't there! Both times it was my sons food who is only 23 months! When I did go back to the restaurant to get the remaining part of my order, they did not apologize or anything. They just gave me the food and sent me on my way. If that is not poor customer service I don't know what is. And one time they tried to give me the original food that they forgot to put in my bag the first time, which had been setting there since I originally ordered, left and went home and came back. I DON'T THINK SO!! I paid my hard earned money for fresh food!
Sincerely, Chasity

I decided to go through the drive-thru at the closest Taco Bell where I lived for our dinner tonight. When I first pulled up, the guy asked me to wait a minute and he'd be right with me; no problem! He then proceeded to take my order. There was only one car in front of me, so I pulled up behind this car. I waited behind this car for 5 minutes. A little timely, but ok I can deal with five minutes. I finally pull up to the window, the same boy took my money and gave me my change. I waited five more minutes before he gave me my drink. I waited and waited (he had left the window half open so I could hear pretty much everything going on inside). Two of the employees (including the one who was "helping" me) were standing there joking and laughing and throwing around the F-word very loudly! Finally, the boy asks if I needed any sauce, I told him no I didn't need anything else other than my food. He then closed the window behind him and again I waited and waited. The boy finally gave me my food, all the while, he never once apologized about the long wait, no thank you, no have a great night, nothing! So from pulling up to driving away, I spent 32 minutes in the DRIVE-THRU!! I could've eaten at a restaurant if I had known it was going to take that long! So I drive home, we open our food & guess what? My order is wrong!! (Of course it is!! After waiting over half an hour for it, they couldn't even get my order correct!) I pulled out my receipt with their phone number and called them several times, but no answer any if the times! I am very disgusted and just plain pissed off! They are lucky my food didn't get thrown at their window bc I was very close to driving back up there, but luckily for them, they aren't worth my damn gas. They DO need to get their shit together though and if they are going to hire these 16 year old assholes to work there, they need to educate them in time management AND better customer service!

I just left the sulphur springs tx taco bell where I was treated so rudely by not one but two people and I'm trying hard to be nice in how I phrase this due to being so angry. I ordered two of the new cool ranch boxes as well as three individual regular doritos tacos for my boyfriends daughter and when I pulled to the window I payed for our food and noticed we were shorted a drink.
I mentioned it and asked for our drink she asked what it was I said Mr pibb she said we only carry Pepsi products I said yes you have Mr pibb listed on the menu she rudely said again we only have Pepsi products so you get Pepsi. We received our food and I looked in the bag and noticed four tacos where two boxes and three individual tacos should have been.
I waived for the girl to come back to the window and when I expressed my problems with our order she said your tripping I know what you ordered. I asked for q manager who did nothing about her employee who u addressed being rude gave me my order rudely and slammed the window. As I was driving away the rude employee gave me the middle finger. Mind you I have a child in the car.

To whom it may concern,
Before I start to write about my complaints, I would like you to know that I am a former taco Bell employee. I use to work for Ottawa Kansas Taco Bell, therefore I'm speaking out of experience.
Several times now I have gone to Tillicum Washington's Taco Bell on Union Avenue. Several times they have not spread thier ingredients equally among most of their products, like their burritos. Ingredients like sour cream, guacamole, fiesta sauce, and etc. This prevents customers from getting the ingredients they not only pay for, but what they also expect to taste in every bite. Therfore,customers will be unpleased with your products. Also resulting in lack of business.
Another problem is that today (10-1-12) I had bought my 1 year old daughter some Cinnamon Twists. When I had tasted them, they tasted as if they were past their expiration time or had been fried in bad/dirty grease.
I hope you take into consideration what these problems could do to your business.
Thank you.

I went to Taco Bell 027886 and purchased 2 xxl nachos on chicken and one steak and I received as much meat that's on a nacho supreme if it was chicken or steak I called the store and asked to speak to the manager and told her the problem she stated that she made it herself her name was Amy I asked how much was it suppose to weigh I forget what the said but there's no way this met this criteria I asked if I brought it back and we weighed it it wodnt weigh that she said yeah it wouldn't after two minutes and this was after I informed her I live right down the street I think it's a total rip off to charge me just about seven dollars for a nacho and give me about three dollars and fifty cents in product. If u need pictures I have them

At 901 E Broadway North Little Rock Ar 72114. Everytime I order regular tacos I will recieve a half a teaspoon of meat and it will be empty one inch on each end, the shells are always cracked all the way down and stale and the lettuce is often wilted and clear. Their food even tastes like it was all the stuff the other stores would have thrown out days before. Everytime I have brought the taco back to them to complain they refuse to do anything about it.
At times it seems like he is useing what should be used to fill one desent taco elsewhere to fill 3 at his store, and I am not exagerating at all. One time I ordered a taco salad with extra meat, willing to pay to get some meat, and I was shocked when he charged me extra and literally put half of what he normally would, and that aint much, which is why I ordered extra in the first place. It was almost like a slap in the face and flat out robbery.
I will get a little bit better deal when Mr Allen isnt there, but when he is I've learned to go to the one on McCain instead and get my moneys worth. If you dont believe me? Go there and let him ruin your day. Just because the store is in and economically challenged area doesnt mean he should take advantage of the locals just because he is a different race. Be prepared to order twice as much food than you normally would elsewhere. Want 2 tacos? You better get 4.

Not once, not twice, but three times your Fort Mill, SC location has managed to screw up my order. The first time I was inside of the store and had decided to eat in due to the long drive-thru wait. I noticed that my order had been screwed up I took it back and they fixed it. The second time I was not so lucky however. I ordered a nachos supreme out of the drive-thru and specified what items were not to be anywhere near my nachos and soft taco. Arriving home I discovered every single item I specified to not be on my order staring me in the face. I threw it all away and made myself soup. Today however was the last straw. I had an order made in the drive-thru for my family. Arriving home I found that all of my items had been messed up in a similar fashion to Trip #2. It is my assumption that the workers must have ingested a large amount of methamphetamine an wildly threw in toppings and tacos regardless of what the order said. This location is just an embarrassment to your corporation at this point. The Fort Mill Taco Bell has never had any problems that I have heard of before these last few months. I have listened to numerous complaints recently from my friends and have clearly witnessed the incompetence firsthand. Fix this or prepare to lose a good number of customers and a corporation-wide loss of integrity.

hi i ordered a chicken burrito and beef chalupa today at your taco bell location in saint clair shores, michigan...martin and harper location..take two bites into my chicken burrito and bite into a penny spit it out immediately..i take it back and ask to speak to the manager all she basically said was sorry do you want your money back..thought she would of at least said i will check the rest of our chicken or whatever and make sure there is nothing in the food so this will not happen too anybody else..taco bell is one of my favorite restaurants but after today i don't think i will ever eat taco bell again

I went to the taco bell in MATTESON, Il. I purchase a National Advantgage Card, the green one in August.
When I went to use my card which says" taco bell buy 1 burrito supreme, taco, gordita a regular price, get one free" . I showed this card to an employee, and he stated" Our store does not accept this". But the card states " Good nationwide at all participating locations". If you would like me to fax a copy. I can be reached at708-898-2431. I don't understand why people are not trained correctly to know a funderasier card. This is to help the community not turn them away. This suppose to be helping Americans, but I think some of these restaurants don't want to help. I've had the same problem with this card with SUBWAY, KFC. But Burger King and McDonalds accepted my card with no problem.

My wife and i decided to take our son to get the cool ranch taco. We went to the one at 609 naamans creek rd claymont delaware. First they messed up when taking our order then we waited for 20 mimutes or so to get it. They gave our son the wrong tacos so he had to go back in to get the right stuff. My wife and i ordered a 12 pack of cool ranch tacos and 2 chicken quesadillas. We ended up with regular tacos and 1 quesadilla. By this time we were too pissed off to go back. I have never had so mutch trouble at any fast food joint like this. Because of this i will probably never try the doritos tacos since i doubt i will ever stop in one again.

On Oct. 8, 2012 I ordered a Chicken Cantina Bowl for lunch at the Taco Bell at 1310 Broadway St., Pearland, TX 77581.
I had nothing to eat prior to purchasing this order. Several hours later, I developed a fever and severe diarrhea and flatulence (salmonella poisoning?), which lasted about 36 hours. I am in the medical profession and I felt I needed to inform you of this incident.
Thank you,
Carol Knight

Everytime i go to taco bell they always ask me what kind of sauce i would like and by the time i get to the window and drive off i come home and there is no sauce it really upsets me because I love hotsauce i cant eat any of their food without hotsauce. They always give me the wrong thing i order something and when i get home its the wrong thing and i dont eat it i would rather not return to taco bell i love their food when they do it right of course im just really dissapointed

The spicy chicken burrito was the best food offered by any fast food restaurant! I got one almost every day and was heartbroken when it was discontinued. Now I prefer McDonalds or del taco when that was NEVER THE CASE! The fact that I could get spicy chicken in more than just a burrito was amazing! Your chicken was the best I've ever tasted and I have seen many questions online asking how to make it. Nothing compares please bring it back please! Del tacos spicy chicken is a major joke and I'd rather eat my toe nails!

Around 7 pm Saturday October 27, 2012 I entered the Taco Bell drive through in La Porte TX. I pulled up to the speaker and asked the operator to please hold as I was on the phone with my wife. After my wife finished telling me what she wanted I proceeded to relay the message to the intercom operator, after repeating my order twice and getting no response I said hello. The operator said are you talking to me, I said yes sir, he said how am I supposed to know, you been talking on your phone. He said this in a very rude tone. I asked him why are you being rude. He said I'm not, I'm just saying how am I supposed to know who the hell you are talking to when your on the phone. I then decided I no longer wanted to eat from a establishment that treats there customers in such manor and pulled around the get the name of the person I was talking to. When I pulled up to the window and asked his name he mumbled something and picked up his phone. I asked him again and mumbled something again. I told him it was ok, I would contact his manager, as I was driving off he called me a fucking pussy. I drove off and I looked up the phone number to this location and called, a young lady answered the phone and I asked to speak to the manager, she said I was speaking to the manager. I told her what had happened and she said not to worry she was already wrighting the person I was speaking to up. I than started asking her name and the name of the employee I was making the complaint about. She became very hesitant and did not give me any names. She then stated she was not the actual manager, but an assistant manager. I told he not to worry about it, I would come in and find out everyone's name. I went back to the Taco Bell and the first person I came to was the same person I spoke to on the phone. A girl who had just started that day according to her. Not a manager at all, so I asked her who the real manager was and she said she did not know, so I asked someone who was sitting down eating, she also said she did not know. So I asked the guy who I had the problem with from the first place what his name was since he was not wearing a name tag. He finally came over to me and said he was infact the manager. I coul not believe it, this is the kind of person treating people like this and he is the manager of the store. I said look I am not trying to argue with you any more, just give me your name and I will call it into corprate office. He told me its on the wall, he don't give a shit who I call, he said I have witnesses and I got you on camera. I just wrote his name down and left the store. I drove across the street to the KFC to order food from there and as I was sitting in the drive through line I seen someone comming across the street from the Taco Bell, the young girl who was posing as the manager walked up to the back of my truck and started reading off my license plate over the phone. I asked her why was she following me and calling out my license plate. She said noting and walked off. This was the worst, most disrespectful experience I have ever had with a fast food resturant. This guy having talked to me like he did, then have people lie for him is not the example a manger should be showing employees. Especially one that was luring for him who was on her first day. UNACCEPTABLE !!! The managers name after I took it from the wall is chrisoval alverado, he was a male. Please call me at 832-764-6659 if any additional info is needed

I received an incomplete order from Taco Bell. I specifically ask the staff if the entire order was in the bag as it seemed lite. I was assured it was complete. When I got home and checked the order it was missing items and items in the order were missing ingredients. Upon returning ti the taco bell store #019978 the "Manager" was completely unprofessional and had no concept of customer service. I was told if I wanted to give her my name and number the owner might want to send me something. When I asked why I was told my order was complete, the response was "Oh, we're training that guy at the window today."

I go to this Taco Bell quite frequently. Almost every time I go my order is messed up. Today my husband and our 2 children went to the drive thru and ordered 2 xxl nachos, one with steak and 1 with beef. We checked our food as we pulled away and there was no tomatoes and like a dime size amount of guacamole on both our nacho orders. We paid 5.99 a piece for these. When we turned around to get it fixed the drive thru was so slow we just gave up and came home. It's ridiculous with the gas prices being so high and the economy like it is that a restaurant can mess up orders like that. They should be wanting more business and more frequent customers.

Went to Taco Bell on Sat. Aug. 17th approx. time 1:00. Address 102 Franks Drive, Madison, Indiana. I ordered a taco salad w/ no rice. I was at work. Approx. 3:30 started pucking. Then came home and had the runs till my body was empty. For breakfast all I had was a protein drink. Had to be tace bell that made me sick. Missed Riverfest in downtown Madison Saturday night and paid 20.00 each for tickets for hubby and me. Ok call the store today Sunday at 2:00. phone #812-273-2355. I talked to Mary the manager on duty. She told me she has some medical something and no way could I get food poisoning that quick. BULL!!! Had this twice before and happens the same way everytime. This is why I am filling a complaint. She was terrible and very unconcerned. I know I had food poisoning/ had it before and for her to tell me she knows more than me and too bad. Not a very good response. Look forward to hearing from you soon.
Thank you,
Karen Brown
Work #812-273-5411 Cell #317-501-6037

When I arrived at 7:30 PM at this location there was a line of cars in the drive thru and several people inside. I went inside and got in line. 25 minutes no one took any order from anyone inside, yet the take out window was moving and we could see staff in the kitchen.6 people left and I moved to the second in line. Oh, did I mention those 6 who left never place an order because no one was taking orders. Then shortly before 8:00 PM a staff person came in from outside with a soft drink in hand did something on the register and left. Saying someone one should be there shortly. Less than a minute later he returned and started taking orders.
Apparently he had to take his jacket off and get rid of his drink! 4 more staff came in over the next 20 minutes and more customers came in, again during this time no one was taking orders again. The fellow who help me went to the kitchen. I have no idea where the four who just entered went? The take out window was still moving cars.
Then a lady came out and announce to all customers. "I will take your orders but I will also be honest and tell you all it will be 15-30 minutes for us to get to your orders!" What the hell? All the customers had left. No word was given on my order! The take out line was moving and still be processed. I heard the server tell a new counter customer we need to help the take out windows first! Again what the hell!Still more customers came in and then were told and left making no orders. I like the lady in from of me were stuck as we had paid and are still waiting.
Finally at 8:43 P.M. yes, 8:43 PM..... I got my order. I all but ran from the building not checking the order just ran. After I arrived home my partner opened on bag...pulled out 4 Tacos, I ordered 4 Dort Locos Supr. We opened the second bag, and It had 2 bean burritos.

Wanted to try xxl steak nachos. Don't eat gaucamole so asked for another scoop of sour cream. They told me they would have to charge me. That green stuff costs more than that reduced fat sour cream. The substitution should have been free. I won't be going back. Same location to run out of chicken and beef. How does that happen.

I pulled up to the drive thru at 10:30 on a monday night and was greeted with "Hey, Taco Bell, what you wont" (sic). I ordered a beef burrito with meat and cheese only. the girl told me " that be a combo burrito but it has beans with it" i told her no i just want meat and cheese. "she said "oh so you want us to make it special for you" i said i dont care what you have to do to make it but i only want meat and cheese, ' she said " fine that be $(whatever the amount was)" i said no im not done yet "she said "well hurry up" i laughed it off to my friend and said ok i also want 2 doritos tacos with no lettuce and no sour cream. "she said huh sour cream?", ok that be $7.19. i said NO i do not want sour cream. she said " i said $7.19. and again i said " i said i do not want sour cream" she said " i FUCKING heard you, SHIT". so i pull around to the window, and i had not driven 35 minutes i would have right then canceled my order and left. anyway she walks up to the window and bob her head and just stares at me for about 15 seconds. i just stared back an no words at all were exchanged. so i finally handed her my debit card and she snatched it from my hand and said "BITCH" then swiped it and literally threw it back into my window and it landed on my lap. i immediately asked to speak with her manager and she said "whatever bitch" then she yelled "charles! somebody wanna tell you something" i heard a voice in the kitchen and she replied " i AINT DO FUCKING SHIT" . Charles ran to the window and shut it and moved her away and then approached me to ask what was going on. I told him the entire dialogue that was shared and he was so embarrassed and extremely apologetic. he gave me my money back and continually apologized the the young woman who obviously doesn't speak for taco bell. i just could not believe that it happened. especially at a store in collierville. but the main reason for this email is because i finally went back this week to the same store and Juwanna was at the counter and i walked up and she looked at me and then immediately looked straight down at the computer . never said one word until finally after about 20 seconds she said "is you gonna order or is you just gonna stand there looking stupid all day" .. the store was busy as it was lunch time but seriously no matter the situation you can not talk to a customer that way. i ordered 4 doritos tacos with meat and cheese and tomatoes only. she said " well why cant you just order a supreme.' i said because i do not want sour cream. "well a supreme comes with meat cheese lettuce tomatoes and ...... um....." i said SOUR CREAM. i DO NOT WANT LETTUCE OR SOUR CREAM. she then said "well it takes a while to custom make one at lunch" im not stupid, you do not prep tacos for later sale. well my food came out and what did i get?? i got 2 not four 2 doritos tacos with only lettuce and sour cream. when i returned them i was told by another employee that "that how she rang em in so next time order em how you want em the first time.
NEVER AGAIN WILL I GO BACK TO TACO BELL IN COLLIERVILLE. IM ALSO POSTING MY EXPERIENCE ON FACEBOOK AND TWITTER TO MY 1400 FRIENDS WHO LIVE, WORK, AND EAT IN COLLIERVILLE TN TO NEVER GO TO THAT LOCATION.
i cannot believe someone with that sort of work ethic can have a job....

On 10-30-2012 at approximatley 9:30 p.m. I visited the Taco Bell on 33rd st. In Edmond Oklahoma. Behind the counter where the food is prepared there was large amounts of taco's and miscellaneos food scattered everywhere. This was not just a few items but several dollars worth of food on the floor and the employee's were stepping over and around this mess. I left approximately 30 minutes later and the mess was still there. If I hadn't already ordered and payed I would have walked out. One thing I did do was take a picture of the disgusting mess and can email it if needed. I don't make it a habit to report matters like this but if I was a owner, I would be very upset to see this.
Thanks for your time,
Brent

, i ordered my food and i paid,when i was given my change he told me,''can u please pull up''.so i did..(on my receipt it has the time of 6:25) so i pulled up and parked waiting for my order, another suv pulled in back of me 3 minutes after.. 6 minutes passed and the maneger came outside and was helpfull to her,her food was tucken to her al the way to her car in the parking lot,he walked by me two times and didnt give me information about my order,so when the time was 6:43 i entered the store and asked the cashier in the drive thru that told me topull forward that he never told me to pull forward and that i was a lier,so i told him that i eanted my money back and i gave him my receipt and he snachet it from my hand with a attitude so i gave him back 63 cents,thats the same amount he gave me ,so the drive thru cashier told th manager to give me back my money so he did but the manager gave me back my money but never made eye contact with me to give me back my money like if he was ignoring me ,i didnt even grabe my money when he was already attending another person,....! taco bell supports racism,taco bell has racist workers,taco bell has un profesional workers,taco bell why do u sopport this??? i was treated like shit,the customer should be treated way better not like animals,i will never buy from ur franchise ever in my life and i will post what happend to me on facebook,i have around 600 friends so i hope they do the ame as i....! i think i am not going to hear from anyone but ur food is the best,but ur employes have given me a reason to not support u guys everagain, peter juarez...thishappened november the 4th,2012...at 6:43 pm,its located in los angeles ,ca..its on crenshaw blvd and i think its one block of adams blvd...90017 0r 90018...! what happend is on cameras i mean if they work...!

My Son order a Chicken Burrito , what was suppose to be a boneless chicken burrito but WAS NOT !!! It Hurt His Throat Pretty Bad , He even Cried & He's 16 yrs. old . I Called Taco Bell in Middlesboro , Ky & they told me they would need me to bring it in So they could Freeze it & Return it to the Company that sold it to them & that it was a Liability . I Need To Know What Can Be Done About This , Had He been Smaller or Had a Smaller Child ate this They could Had done some Real Damage , Or even DIED !!! This Was Bought at the Middlesboro , Ky Taco Bell at 8:47 pm on Feb. 23 ,2013

Hi my name is Aidaelys Hernandez. My complaint is for the Taco Bell thats located on W Johnson St. in Fond du Lac WI. I order food thru drive thru and once I finally got home and settle down to eat. I got half way near my burrito and there was a hair in it. It wasnt just on the top. It was in super deep when I removed it beans cme out with it. I have never had any issues like this ever from Taco Bell. I love eating there and would hate to stop. I called the store tk speak with a manager to be able to complain about tgis and the employee that answered the phone her name is Melissa. I told her at the start of my conversation that I would like to speak with a Manager and she told me that there two managers on duty. She began to ask questions about my complaint. I told her the issue I had and she began to just offer a coupon and I told her that I want this issue to be address to the employees. She was really rude. She didnt have sympathy to whaty concern was. She seemed that she didnt want to get a manager for me. Then she said she was a manager. So if she was manager why she didnt address that in the start of the conversation. I am noy looking for coupons nor free food. I just wanted to make sure they new that they needed to keep an eye out on there employees because finding a hair in the food is very disgusting. Also my biggest complaint is how the suppose mamager Melissa talked to me over the phone. With attitude and every time I said somethinf or asked a question she wouldnt say nothing. Before she transfer me to amother manager she said well I would get you another manager but he.is also going to say the same thing a coupon is all I can do. This is no way to speak with your customers. I have been in retail bussiness for 10 years and I will never speak to any of my customers that way. If she is a manager I wpuld really double think that.

The wait was long, my food was made a totally complete different way from what I ordered.... Then when I went to confront about my crappy ordered, the cashier were rude, very rude!! I felt like that was $22.47 gone down the drain.

My family went to Taco Bell store #023160 in Bowling Green Kentucky Saturday, October 20, 2012. First thing was it took them 3 times to get my order correct. Then one of the employees was eating nachos at the counter. We had our order to go, then on the way home (we live an hour south of Bowling Green and usually eat at the Taco Bell in Glasgow), they still didnt get our order right , as there was lettuce on my daughters tacos after we specifically told them no lettuce. Then part of the order wasnt even there. And the burritos tortillas were hard all around the edges. We usually eat Taco Bell at least once a week if not more. This is the worst service and food I have ever had at Taco Bell.

Every time I go to Taco Bell I get a cheese quesadilla and ask for extra cheese and jalapeño sauce. When I get my food the cheese quesadilla may have a sprinkle of cheese on it and the rest is bread. This aggregates me when I am paying for extra cheese and jalapeño sauce. I get less, if that's what I wanted I would just go buy a tortilla from the store and eat it!

On the way home last night I was going to stop by tacobell and grab me a bite to eat. I am a manager where I work myself so I had just goten off work after a long day at 11:15pm.. I got to tacobell off of hudson BLVD on the way home at 11:20 to find out that they were closed already!! There hours at that location are 12:00pm! So wow we had rite at 3inch of snow yesterday if evan that... no reason to close a fast food place! I run a skating rink and we stay open all that night till our hours posted! And so did cookout! Where I ended up having to get my food! What pore management!!

The Silsbee, Texas Taco Bell has finally crossed the line...I'll get weak & visit this location for some of my all time favorite Mexican junk food..most of the time the issue is "we're outta beans tonight, would you like it without beans?" Or I'll rush out with my bag because my family is waiting on dinner & it took 15-25 minutes to make my food..really! 15 + minutes to prepare $10-$20 worth of Taco Bell food? Then when I get home I either end up not eating what I ordered because they failed to put it in the bag or just didn't make it.
Or I have to drive back up there, wait in line, explain what is missing or wrong, let them inspect my receipt and wait for them to make my missing items.. The straw that broke the camels back tonight & has me ranting & HOPING someone will take charge of this store..it has to be losing PepsiCo money! I ordered food about 2 weeks ago & the lady that seemed to be in charge (Rena) took my order, she was very polite & helpful, they called my order number much faster than I was use to so I grabbed my bag, thanked the staff member with a smile wondering if maybe just maybe y'all made a decision to get a handle on this place ..only to arrive at home close the garage door walk in to my smiling wife & son only to discover.
If I had any hair I'd have pulled it out... It was late & I was worn out from work & didn't feel like going back to the store so I called to see if they'd give me a rain check for the ones they failed to give me that I paid for. Once again Rena was very nice & apologetic. She did tell me to hang on to my receipt & she'd make sure my order was taken care of on my next visit. She did explain they left my Mexican pizzas in the "steamer" I believe she called it.. So tonight I go to Taco Bell & before I place my order I let the lady know about the missing pizzas from my last visit & she told me she thought they were out of the flat shells.
She then returned to tell me they'd make more flat shells if I didn't mind waiting a few minutes I told her I'd wait and continued to place the rest of my order..I then asked them to please have all my food ready at the same time. I am not a fan of soggy nachos or Mexican pizzas nor would my wife be excited about cold KFC chicken.
The lady assured me it will all be good. So about 5 minutes later a young man calls out that some volcanic nachos & an empinada were ready. I told him I ordered those items however there are other items that go with that..he said " don't know what to tell you, I'm on the Taco Bell side, here's your food." I took it & sat & waited for the rest of my order. Knowing my nachos were getting soggy I decided to eat them..finally they call my order number about 7 minutes after they gave me the nachos.
When I approached the counter I asked where my Mexican pizzas were & pointed out they failed to put my empinada in the bag, at this time a young woman explained to me that she can't give me my pizzas without the receipt . I get the whole "rules are rules" idea, but being an assistant director in a very successful service oriented company I really understand taking care of the customer. When they already paid for the goods & or services I promised to provide. My wife is a clean freak and threw the receipt away.

11/25 taco bell on 12:33 pm, 1642 mulkey rd. austell, ga.
I bought some food today and noticed they deleted the cost of 3 $.99 tacos and replaced it with 3 $1 donations on the reciept i was given. I was originally asked if id like to donate $1 to boys club charity and i said no. When i went back to get 2 items that were left off my order i noticed this on my reciept. I told the worker and someone who looked like the manager that i didnt wish to donate and was told they were trying to raise money. I pointed out that by them doing so , i was overcharged by $.03. She asked if i wanted my 3 cents back and i said yes. Then the attitude came out big time. She sarcastically thanked me , gave me the 3 cents back, gave me the wrong food again. Basically they were slightly overcharging and saw nothing wrong with it. The attitude just made the whole thing even worse. Why should i be made to feel bad for not donating to their charity and asking to be charged the right amount. I would fire my employees if they purposely overcharged, no matter the amount. Are they doing this to all customers?

I used to use Ft.Oglethorpe, Ga 30742 TB until the food become horrible. Months later after getting past the ongoing bad food at Ft. O, I tried different location. the one about my complaint TB- Ringgold GA 30736 #004682. Months now eating at #004682, the food has been wonderful. Just like my experience at another location in area that was in the 80's. The #004682, food great, manager great (always remembered me, glad to see me) I bragged to them how great, would even often get family meals on way home that evening. But, 11/27/12 was unacceptable. I am not expecting to be treated special or different from others, just great food and service as anyone would. It started out with asst. manage (don't know name I just glanced at tag when incident happened). The order filled placed on counter eat in- one bean burrito, (I get several times a week). It was so skinny I commented to that ass. man. burrito did not look like what I usually get. His exact words were, '2 oz. that's what it is.' I said okay, then I had to order of beans and cheese to compensate burrito he did not offer to remake. He said, 'what do you expect for the price', then said, 'Thanks' after ordering beans. When stared eating I promise you (now I cook with measures at home) it may had about a teas. 1/2 in the middle the rest was tortilla folds. I'm glad I ordered beans) The second item was meximelt. I always get too. when I unwrapped meximelt it was soggy/ stuck to paper I was not about to complain again, he would not had done anything about it either. not just soggy & wet & stuck to paper, I tried to salvage what I could with a fork. Meximelt was not even right ingredients. no red sauce instead watery corn salsa. I had to throw away. I'm afraid to go back another day unless the tall young manager is there. he will give me excellent food no doubt. The manager I'm complaining about is short, dark hair and I could barely get past no teeth. I'm not judgemental I can past employee appearance but to get this pathetic food uncalled for. Needless to say my craving now is not there, which is sad for my lunch time/quick family meals at least once a week. I will not get fast food that's not good, this location kept me from a sandwich daily. Changes need to be adjusted I highly impressed with the tall younger manager. Please address this it's not fair for the incident manager ruin the other crews.

We stopped at the Taco Bell in Edinburgh, Indiana last night on the way home from northern Indiana. We had been driving for several hours. It was about 8 pm. I went to the mens room and was totally appalled at how dirty it was. The toilets and urinals had not bee cleaned in months. They were all black in the bottom of the bowl. I don't think I have seen a worse restroom ever. Also, the service was horrid. We ordered two chicken tacos and a diet coke and it took ages to get it. There was hardly anyone working behind the counter. The workers seemed all stressed out as they were trying to do too much. You need to drop in and audit this place. It does not reflect well on your company.

first off there isnt a taco bell near me so i gotta drive out my way just to get the only thing i even like from taco bell which is the quesadilla only reason i go there is cause i love the sauce they put in the quesadilla but every time i go they seem to forget it is i wanted a tortilla with cheese i would cook it my damn self this frusterates me every time cause i hate driving back just to get my order right then they always ask what kind of sauce you want but im constantly finding my self having to park m y car and go inside to retrieve my sauce im fed uo with it and am no longer a taco bell customer soooooo irratated and hungry right now all because of taco bell fuckkk you

On the night of March 16,2013 I went to Taco Bell on 35th avenue Oakland, Ca. I order a crunchwrap, 2 enchiritos, 2 cinnamon twist. When I arrived at home , I decided to eat my crunchwrap. I had already eaten my twists in the car. After eating most of my cruchwrap, I was on the last few bites and all of a sudden I begin to gag while I was chewing and I spit up a large piece of plastic. OMG! Can you imagine, being choked and killed on a piece of plastic. That piece of plastic could have gotten trap in my esophagus/ trachea. This was the worst experience I've ever encountered. I immediately contacted Taco bell and spoke to a hispanic woman claiming to be one of the managers. I explained to her that I will be making a formal complaint with corporate on Monday morning. She could hardly speak english, I was so mad at the time I had to pray! I been feeling funny since then. Make me never want to eat out again at fast food restaurants.

I am the mother of a Taco Bell employee at store # 002531. I went through the drive through at 10:51am on 01/16/13. My daughter was the cashier and took my order. My daughter might be mad at me at times but just because she is my daughter does not give her the right to tell me WHATEVER while working. I normally would not make a complaint about something like this but employees cannot treat customers in such a rude manner no matter who they are. I will not be giving my service to this establishment again if this type of behavior continues. At work you are an employee not a parent, child, or any other type of relative or friend. Thank you.

My husband and I took our grandson to Taco Bell #022189 in Springfield, IL today. The cashier, named James, was struggling with the cash register when we gave our order. After several attempts and several mistakes, he then enlisted the help of another employee. He proceeded to tell her how I had made him make mistakes because I didn't order correctly. He talked as if I wasn't even in the store. I don't know if He thought this was acceptable because I am handicapped and in a wheelchair, but I told him I didn't care for his attitude. He promptly told me that he didn't have an attitude, I needed to learn how to order! Had I not promised my grandson tacos, I would have insisted on talking to a manager, but didn't. We just waited through all the muttering and bad manners, ate our food, and left. But you can be sure, I will never go to that store again, and will gladly tell everyone I know about my experience.

On Tuesday 4/30 at 8:52pm my family and I stopped at your location on Eureka rd in Southgate store number 005095. I was so unhappy with this visit. I ordered $25 dollars worth the food and definately felt ripped off. I always order atleast 2 of the fiesta potatoes because I love them but this time I could've jumped both bowls together and it still wouldn't have been enough for 1 full order. Sometimes the bowls have been lower than usual but this time it was pretty bad. My daughter loves soft tacos and after eating about half of her first one she asked what was all over her. She had tons of grease dripping down her hands while trying to eat. I opened the taco up and never saw such a mess. It was slopped with barely any meat and the meat that was in there was soaked with grease. The rest of the food was hit and miss. Tried the new grillers and those were amazing and I'm hoping they will stay on the menu but the steak in the quesadilla was very rubbery and hard to chew. I've never had a great visit and this location but its never been this awful. I honestly can say that I will probably take my buisness elsewhere from now on. Very unhappy customer. Kim Fritz

We went to tacobell tonight lwe didnt relize till we got home they never gave us our drinks and we asked twice for no sour cream on our tacos and its like they put extra on them so disaponted we give tacobell lots of service but we are so tired of them messing up we dont even want to go back..we couldnt eat the tacos do to the sour cream that we can not have so we pr wasted 15$ and till had to go some where different to eat.so unhappy.

ive been to this taco bell in ardmore tennessee multiple times. Im just getting fed up with the poor portion rations. I went wednesday march 20, 2013 to get my favorite. A spicy buffalo chicken griller. My chicken was cold, i complained and got a fresh one. I went home and the next day my stomach was hurting something horrible, and i had sever bowel movements. I got sick twice. Everytime i complain to a so called manager, nothing ever gets fixed. I will not be visiting this out of control, poor serviced "business" anymore! Taco bell can suck it!

My complaint with your Spicy Buffalo Chicken Griller is this, it tastes NOTHING like buffalo chicken. It is made with your volcano sauce which I find terrible. You should name something buffalo chicken, advertise it as buffalo chicken, and then make it with your volcano sauce and not buffalo checkin sauce. It should be named the volcano chicken Griller instead. But you already know that and know that you would sell alot more by claiming it as "buffalo" chicken. Way to deceive the public and your customers! Great job

This is America. If you want to advertise on an English speaking channell, advertise in English. If you want to advertise in Spanish, do it on a Spanish-speaking channel. I'm referring to your commercial about tacos made from Doritos.

I went to the taco bell on linton blvd in delray beach. First I guess customer service is going the way of the dodo, but when employees are speaking a different language infront of customers is probally the most rude thing that can happen. Second it took two employees to mske one taco salad while they were just chit chatting. When I got my order it was just handed off with not so much a sorry for the wait. And lastly im done with your restaurant because im sick of paying for delapitated tacos. They are always weak and its a total bait and switch from whats advertised

Taco Bell in Tappahannock VA is a disgrace. The dining room walls have food splatters on them as do the seats. Floor is nasty. Employees today 05/04/30213 at the counter were very rude. No greeting, lots of eye rolling and tsking. Both cashiers acted as if customers were an imposition.

I called last Saturday with a complaint and was told I would hear from someone in three days. That did not happen and I am still furious. I have an eight year old grandson with severe allergies and I ordered him 3 crunchy tacos (meat and cheese only). When I got home with the takeout order it was a good thing he looked at the tacos before he started eating, there were refried beans in them for some reason and had he not checked we would have ended up at the hospital in the ER. HE IS ALLERGIC to legumes but I don't understand what they would be doing in a taco. I think whoever is in charge of the Taco Bell in Lenox Twp., MI on 26 Mile rd should reevaluate their workers because this could have turned in to a very bad situation . I really don't want to think of what could have happened and I believe this should be addressed as soon as possible.
Sincerely, Patricia Hamel

No $5 gift cards. These were going to be extras in in gifts for fellow employees. I went to one taco bell, none. I called another and they told me no Taco bell carries $5 gift cards. When I called customer service after not being able to just send an email through your website, I was told no $5 gift cards. I proceeded to tell her that was unfortunate, not only did you lose sales, but what about the people that can only give a "Little" something. I was disturbed by the fact that the smallest was $10. Not everyone can afford to spend $10 and feel fortunate to be able to receive and give a $5 gift card. I can afford to spend more than $5 but can't imagine how someone would feel going to a Taco Bell and being told "Sorry you have to spend $10" I feel for them and it breaks my heart. After I was done with my calm complaint....come to realize the person was not even on the phone any longer!

I love Taco Bell.. But whenever I go in the evening to the local one in Durant Oklahoma the service sucks and the food is not good.. The meat tastes like it is old and the Five Layer Burritos are not made correctly. It is like night and day literally..
I can go in the earlier part of the day and the service is outstanding and fast the food tastes amazing and there is no problems. But, if I go after say 6pm it is totally different. There is a guy that is the manager in the evening. Apparently he does not check his employees work or the food that they are putting out.
But I will not go in the evening anymore.

On 10/10/12 I ordered a pizza combo. I was told the wait would be approx. 7 min. I was in the drive thru and had to wait in front of the building. That was fine, but I ended up waiting 20 minutes before I actually received my pizza order. When I went inside to check on the order, they still had not put my pizza or breadsticks in the machine to cook. I paid $5.99 for the combo and had to wait 20 min. This is unacceptable. My order # was 336628 at the Taco Bell on Magnolia in Huntington Beach, Ca. On 10/17/12 I ordered a Cantina chicken burrito. I paid $4.79. I taste realllly bland, yuck. I want my money back on both items!!

Hello. I am writing this letter because I was recently unsatisfied with a particular location. Two weeks ago, I visited the Taco Bell on Clairemont Ave in Eau Claire, Wisconsin. As I pulled into the drive thru, I had to swerve rather quickly for a GIANT pothole which was hidden by a curb. I am unaware whether or not this issue has been brought to your attention; however, I went back to that Taco Bell today before work around 1:45pm. As I turned into the drive thru, I drove right into this giant pothole (which was now filled with water). It is impossible to avoid unless you are very aware and careful of it. I am now getting a vibration in the front end of my vehicle. This hole needs to be filled immediately as it is not the customers prerogative to be on the lookout for craters this large in a fast food drive thru. As of when I noticed this, that giant pothole has been untouched for over two weeks. Please get back to me as soon as possible to address the issue. Thank you.
Drew

I purchased a new vista middle school tiger discount card that offers buy one get one free Doritos locos tacos good for up to 10 tacos and the store manager miguel won't honor it was very rude!! The girl nisa was rude too and very sarcastic! I wouldn't have bought the card if I couldn't use it.
When I asked for the number to corporate I was given a local number to someones cell phone 661-547-3651 for Jesus that is not the corporate office number! I have used this discount card before with no problems at this same location as well as other locations in the antelope valley!

My husband and myself visited the Taco Bell #026026 at 719 W. Market St. In Bolivar Tn . When we entered the restaurant there was no one waiting for service altho we had to wait a full five minutes before even getting greeted by the staff or getting our order taken. We had to wait on the server to finish her conversation with another employee to get our order taken. Once our order was taken we were promptly ignored again. The customer that came in behind us had to wait as well. Someone from the back had to come up and take their order. I would better understand this if the store was busy but there was no one in front of us. I felt this was extremely rude.

I was at Taco bell on Front St in Harrisuburg, PA and the Mountain Dew I got was terrible. It seemed to be watered down. Felica is listed on the receipt, she was very nice and did a great job. The food was good, I enjoy eating at taco Bell from time to time.

Tonight, my husband & I wanted our regular Taco Bell dinner. We go there at least once a week & this visit has changed our minds about ever going back! The location was Chicago Drive, in Grandville/Jenison, Michigan. When ordering, my husband asked for a Steak Quesadilla with extra sauce & a Doritos Locos taco seperate from the meal. We paid, checked everything to make sure it was all present & left. After arriving home, we sat down to eat our meal, only to find out that our order was completely wrong! Instead of Dr. Pepper, we were given Pepsi. My husband opened up his quesadilla to find that 1/4 of it had cheese on it, it wasn't a steak, but a chicken quesadilla, & here's the kicker!; it had ONE piece of chicken in it! Do you know what my husband did? He folded up the quesadilla & ate the entire thing in ONE bite! & that's supposed to "satisfy your craving"? That is supposed to be a meal?! My husband & I are 23; do you know how much a 23 year old male eats? On top of the fact that instead of extra sauce, it had NO sauce & they replaced his extra taco, instead of getting it on the side. I called the location four times & got nothing but an answering machine. I have NEVER been so dissatisfied with a food organization, let alone any organization at all! This is an absolute embarrassment & we are completely dissatisfied. I took pictures of this tortilla (..since that's all it was, not the quesadilla that we had asked for!) & will definitely be posting for friends & family to see! NO customer should be served like this! My trips to Taco Bell are over! Get your act together, Taco Bell!

I recently went to Taco Bell and ordered a Mexican pizza with no tomatoes because I am allergic to them and no tomatoes on my tacos well when I got my order it seemed as if they just slapped everything on the plate it was so messy of the cheese was off of the Mexican pizza and to beat it all I got tomatoes and I didn't see it till I got home I wasn't gonna take it back because I live 20 mins from town wasn't gonna waste my gas. Very disappointed.

I was at the taco bell on frontage road in meridian ms today. I have never been so pissed. I got home today to eat my food and all 3 of the tacos was soggy and falling apart. There was hardly any sour cream or tomatos on any of them.and they were cold. I will not be back to that taco bell any more. I am pregnant and I REFUSE TO EAT COLD AND SOGGY FOOD. the service always sucks, the people that makes the food sucks because they don't make it they just through it all on a soggy shell, and the management sucks because they allow it to happen. Every day all day. Everytime me and my family go in there they aint doing anything but running there mouth. If they would learn to manag better and control there cooks and everyone else maybe it would be better. I will not show back up ever again for now on I will take my business else where.have a nicr day!

My husband got Taco Bell for dinner tonight. Normally we do not have a problem and we love the food there. Tonight was the exception. The taco salad that was ordered had no steak at all, which we paid for, only rice. The 7 layer burrito had only rice, and refried beans and two tomatoes, no beef. The double deckers that were orderd had a lot of refried beans and hardly any ground beef. It seems like the store he visited may have been low on ground beef?? He visited the Taco Bell / kfc on spectrum drive in Frederick md. We live 15 miles away so we are certainly not going to drive to return the food that was incorrect. I work in the retail industry and figured that Taco Bell would like to know the food that is being produced this Taco Bell. It is irritating to get home to sit down and eat to find out that your order is not correct or that it is sub par food compared to the food we normally receive from Taco Bell.
Thank you for your time
Kerri guild

I went to Taco Bell store 003376. They did not have taco meat or mild sauce! Why would a Taco Bell not have taco meat. It's like a Pizza Hut not having dough or cheese. It's Mismanagment !! This is the 2nd time I have been the this same Taco Bell and they have not had meat or sauce!!
I am so disappointed, my wife and I went to taco bell in jacksonville fl. Off emerson and philips. When we got home to eat my crunch.wrap was empty her xxl nacho only had beas in it. So disgusted by the food and service. I used to love taco bell. What a waist of 15.00 dollars. Its like they just dont care.

On about Sunday between the hours of 11 and 3 my husband and I walked into the Taco Bell on 1612 blackstone avenue in Fresno ca, 93703. When we entered the store we noticed employees goofing off and one employee had started to spit into the sodas and food that was made for waiting customers. I immediately approached the employee and asked for her name she replied with a nasty attitude and finally gave me her full name which was Tesla Wilson. We notified Taco Bell and they called my cell phone and spoke to a manager who never gave his name but he seemed to take the employee side of the story and began to argue her point but never gave me the chance to fully explain my side of the story. I am surprised Taco Bell hires these kinds of employees. As a customer I would like action taken upon the situation of your employee tesla wilson spitting in customers food/beverages. I really think an employee that does that should not work in a restaurant. If these actions aren't taken in action I'm going to the local news and reporting to them that I have repeatedly brought this to their attention and they keep an employee because of favoritism. My lawyers will also hear from your manager for not hearing a customers complaint and taking actions. What if that customer who ate or drank the items they bought from tacobell got them sick? Then you would have a serious lawsuit in your hands. Thank you for your time and I am hoping actions are taken place as soon as possible

The last two times I have been at the Washington, IL taco bell we have had a 16 minute wait and an 18 minute wait for our food. All our order contained was a few 5 layer beefy burritos, about 3 tacos, and a cheese quesadilla. The staff that was preparing the food was very young, immature, and VERY slow. I think this is completely dissatisfying and I don't think we will come to this store again. I am very offended that my business is not important to this Taco Bell, I have been to several of your restaurants in the area and besides the Northpoint Taco Bell in Peoria they usually give me very good service, if your employees don't feel that prompt customer services is necessary I would be happy to take my business to Chipotle, Tequilas, Sol Azteca, or Quidoba.
I think the management needs to completely reevaluate how they are running this store I know if the business I work for ran like that we would be out of business from incompetence of the employees. And to top it off there was not much of a crowd which I should have had excellent service not waiting extremely long times for my order. I am not happy at all! I am getting tired of apologies for the wait time of our food and think I will just buy the ingredients and make it at my own home. It is made to order. I get it but it should be much faster. I will be happy to tell anyone who will listen how the services at the Washington Taco Bell and with the big holiday season approaching this could divert business for busy shoppers. 

On 11/9/12 after placing my order I was waiting to hear my total. However, the drive thru cashier left the speaker on for about 20 secs. Therefore I informed her that I completed my order. She replied sharply I'm putting in your order. Next she asked me was my order correct, I replied yes and was told to pull to the window. When I got to the window I politely asked if I could add on a steak burrito. She let out a breath and closed the window without telling me yes or no. I asked her was it problem and she rolled her eyes at me and stated "Ikm trying to see if you can add on". I told her to not worry about it and I left the drive thru. My husband and I frequently patronize Taco Bell, but after receiving this type of service, I do not think we will return. The incident happened around 4:20 pm at the Corrunna and ballenger location. I do not know what happened to excellent customer service, however, I will not spend my hard earned money somewhere where that provides poor customer service. Keran

The person after myself waiting in line for a Taco Bell order was formally told they were the last order of the evening. Not only was a refused service, but the person after myself was apparently treated dishonestly and additionally refused. Not only was humor expressed amongst the employees about the matter afterword, but the manager named Scott Prater personally refused my business afterword. Dishonesty in addition to personal refusal of service is not only a travesty, but a personal offense from this establishment. I certainly hope this information is reviewed by someone with the interest of profit in mind as well as customer service, and the experience will not further impose itself upon my future experiences with this organization. If different management were in place, I imagine this establishment t would be not only more customer friendly but more profitable. Nevertheless, the presence of Scott Prater upon this establishment is the negation of an otherwise profitable venture.

I have had several issues with this location, multiple times while working we would send one person from shift to go get the food for the crew. This time we returned to work with half the food and one less drink. After going back to this location they accused us of not being truthful. Now we had to retrieve the receipts and show them. We are now running behind won't be able to eat our food at a decent hour, since we have to continue to our duties and won't get to eat our food while its fresh. I think you are missing out on an opportunity to serve the community with having disrespectful employees



Disclaimer: This complaint was submitted by Dustin Post on 08/30/2013 at IP address 166.216.130.162 using our Taco Bell Liberal Ks complaint form. This opinions contained in this Taco Bell Liberal Ks customer review titled, "Service is horrible " do not reflect the opinions of this website.

Went through drive-thru Taco Bell, store #024972. We ordered a #5 and a #7. We asked for sauce, none was given, and there were no straws for our drinks. When I opened the Nachos Bellgrande container, The filling, mostly beans, very little meat was in one big clump on one side, and the cheese and sour cream were on the other side in a pile, no tomatoes either. My husband's quesadillas, maybe had two pieces of meat and mostly cheese, and the tacos that come with them, mostly lettuce and cheese-hardly crunchy.For almost $12, is this the best Taco Bell can do? Forget the new shell variation, put something in them! I won't go back until something changes.

This Taco Bell always has bad service ever since I've gone to it 3 years ago. Tonight was the worst yet though. First of all we sat at the drive thru window for 10 minutes and had no clue why, there was only 2 customers inside... Then we finally get our food and there are no napkins, no chips(we ordered two deals), no sauce that we actually wanted...
No fork for my friends cheesy potatoes and my chicken burrito was disgusting. All my chicken burrito had on it was PLAIN white rice, 2 pieces of chicken and hardly any cheese... I've never had such bad food/ service from a Taco Bell ever. NEVER eat at the Taco Bell/KFC in Gadsden, Alabama.

This restaurant is so dirty and is in serious need of a good cleaning.
The floors, walls, tables, chairs and high chairs are not fit for people
To use. I will not bring my family into this establishment until its been
Cleaned.
The condiment station smells.
The bathrooms are so bad that my 3 yr old even refused to enter.
But the worst part was the indoor play area which my kids love- it is so gross and smells like
Vomit and feces. Disgusting.
Please clean up your act Taco Bell.

Im a regular customer at taco bell.. i been going to taco bell everyday until the new cantina menu came out.. i used to eat the chicken in everything i ordered.. im not happy that u guys have changed the chicken.. i have bought chicken tacos and had a food allergy with the new chicken.. please change the chicken back to the old chicken.. i think that taco bell should b aware that customers dont like lemon and lime.. i will never eat at taco bell again until the chickents gets changed.. alot of people dont like the new menu and i think u guys will lose alot of customers due to the change in chicken

I have been patient, I have been kind. I have filled out Feedback form after feedback form after feedback form after feedback form after......getting annoying yet? yeah.....that's how I feel! I understand you guys have a lot on your plate.....but the Pendleton, Oregon 97801 Taco Bell (I'd give you a store number, but seeing as your employees were incompetent to give my husband a receipt I cannot provide such number and have no back receipts on hand) is lacking in many aspects. My biggest complaint is the fact that every 8 out of 10 times I go to Taco Bell and order a Chicken Quesadilla, it does not come with that zesty delicious sauce that I love the Quesadilla for to begin with. I just want my sauce on my Quesadilla....that's all I'm asking for. I'm begging at this point. And my second complaint, every 7 out of 10 times I go to this Taco Bell my husband will order a Crunch Wrap Supreme with no sour cream (as he is allergic) and no tomatoes. And every time, there is sour cream and tomatoes. I'm your biggest fan, I love Taco Bell with a passion and I never want to give it up....so that's why I'm begging you to please fix this. I'm tired of boycotting Taco Bell for weeks at a time just to see if maybe a new crew will come around and this one will be better. Please, please.....fix this.
Thank you,
someone who just wants their sauce!!

The Taco Bell I ordered from at Highway 360 and Brown Blvd. in Arlington TX had no sauce. When asked why the employee at the window said his manager was trying to teach them s lesson. He said the employees were giving to much out to each customer. This is by far the worst reason I've heard for a restaraunt to be out of something. I'm very disappointed in this Taco Bell. I prefer from here all the time but if this is the kind of service I'm going to receive then I won't anymore.

I want to mention first that this complaint is being made towards the Taco Bell in Centerville, Iowa. I am diabetic. My husband and I enjoy the Grilled Steak Burritos. However, I cannot have the rice and beans. We always ask for double meat, cheese and sour cream. It always seems to be an issue at this certain Taco Bell. The employees are always rude, short with us and down right snotty. They act like it's a problem for them to make our special order. I can see them through the window while we are ordering at the drive through and they are laughing at us and pointing!!!!!!! Now, I cannot help that I am diabetic. And I do like to have a 'treat' every now and then that is not on my regular diet. But, whenever we do go to this certain Taco Bell, they make me feel like I am causing them more work and that it's a big hassel to fix my food the way I want it. This has happened more than once. We always say that we will not go back. This time I mean it. I refuse to go to a place that makes me this upset and unworthy. This incident happened Saturday evening, October 27, 2012. The time on the receipt is 6:17:46 PM. Cashier: Karen C. There were 2 ladies @ the window laughing at us and pointing. One was tall with dark hair the other was short with blonde hair. When we pulled up to the window, they were talking and kept turning and looking at us with smirked on their faces. Plus, we did not even get a thank you.

I went through the drive thru at taco bell north shore slidell la. And my cashier was very very rude it was my turn to order but since there was a line the car in front of me was Still in front of the speaker I wasn't able to order the cashier started yelling when the car infront if me moved and I tried to order they ignored me I had to repeat my order3 times and I was just ordering a chalupa then when I went to the pick u window the cashier took my card she slide it and then gave it to me whither my food and closed her window since I wanted sauce I was calling her and she opens the window and said WHAT! I asked her for my sauce and she just let it drop in my hand and closed her window. Worst experience ever!!!

On Saturday, November 3rd, 3012 my niece and I went into Taco Bell in Ludington, MI. We waited at the counter for twenty minutes to be waited on. The only other customer was waiting for her order to be tixed. I finally leaned over the counter and asked if there was anyone that could wait on us and also told them that who ever was talking to the customer at the drive thru could stop talking about a party and also cussing and wait on the customer which was me. A lady (whom happened to sitting the restaurant) went to the counter and talked to someone. She then came over to me and told me that the shift manager was her son and that he would be coming to talk to me before his shift was over. He did come over to me and apolizied to me about my order (which was wrong ) and the languange the employee was using, he also said they were very short handed with only three people and that someone had showed up an hour late. I explained to him that I had been in the retail business and there was no excuse for what had happened. If you are that short handed then the manager should be called and at least come in and provide help. He left and said he would be back in a minute. I saw him talking on the phone and when he returned he asked for my name and said he had talked to his manager and they would repremand the employee and the next time I came in I woiuld receive a free meal.. I asked him the employee"s name which was Jake and the shift manager"s name was Anthony I think. You couldn't read his name tag. I feel a free meal is the least he could do. I frequent this location quite often and am very disappointed with this solution.

I was at Taco Bell on east Washington st Indianapolis indiana. Store number 21025. This was on sat march 22nd or 23rd. This is the second time I had been there recently and both times I waited nearly a half hr for my food. I'm so mad I will never go to Taco Bell again. They are slow and not to mention, one if the employees was taking out trash. He had his buddy parked in the handicap spot. And had his sound system in his car blaring rap so loud that you couldn't hear. Elderly people were disgusted as they walked in and said this place and area of town has him down hill. It is the worst Taco Bell by far. I grew up here in this area an it used to be wonderful. But the professionalism of the employees there was strictly ghetto.
And elderly people couldn't even park in the handicap spot because of this employees little black buddy was dancing to his music and parked in the space! I heard two more people who waited in line say they Were not coming back because this place has gotten out of hand! I have never taken it upon myself to write about service anywhere. But as I was holding the door for the elderly walking in today, an to see them shake their heads at the loud music, the dancing stupid kid, and poor ass service. I felt obligated. I will never eat at this place again. Hopefully you get it under control. 

Went to Taco Bell on Airline Dr close to David dr in Metairie , La 70003 Saw a commercial on Tv about the loaded Grillers so they tell me that they ran out of potatoes so I can't get a loaded potatoe griller. That not the first time I went to this Taco Bell and told me they were out of beef when I wanted a Taco. This is ridiculous this Taco Bell it's always the after 10pm shift.So I wish Taco Bell could adress this constant inconvienece problem of not having products in stock that's on the Menu.

raymond sallee
from Wilmington, OH
this makes 3 times in the last month I have gone to taco bell in Wilmington, ohio, 45177 to get something to eat and the first time we got there at 10:30 a.m. and were met outside by an employee who said no manager had shown up and they were still closed and couldn't get in. the second time we went had to wait for over ten minutes just to get waited on as the first guy couldn't figure out how to work the register so he walked off and we stood there until a girl walked up and asked if we had been waited on and we said no and she said well someone would be there in a minute and walked off. third time placed my order and while waiting told guy at the register that pop was all over the floor and he said yeah he knew and did nothing. people behind me placed a big order and received their order and another person placed an order and they all received their orders and I asked if they had forgotten my order and the guy said no but I still had no order so then the manager came up and checked the screen and said here is his order you forgot his order but she had the order wrong too. so I told them to give me my money back and I would NOT be back. you need a new manager and some employees who actually care about their work.

chris huepenbecker
from Columbia, SC
My family and myself frequent this location maybe once a week (not any longer) so on our visit there on 10/06/2017 we went inside and order our food when it was ready we got it and went home which is in Gaston. Well once home we found out our order was completely wrong so my wife immediately calls the store and talks to a manager that manager apologizes and offers to remake our order however I'm all the way in Gaston and I'm not making another trip to red bank so the manager states that she will put my wife's name down so next time she came in that the store would make the order correct.
So my wife and kids went to the taco bell in red bank on 10/19/2017 as they were running some other errands in the area to get our corrected order that was promised to us. Unfortunately it could not have been the same manager as my wife spoke to on 10/06/2017 because the managers first reaction was like she is lying and then tells my wife that she does not see her name so my wife told her to call the other manager which this manager say she is going to and comes back to the front of the store and said yes I spoke to her do you want your order my wife replies yes. So my wife and kids now have been waiting almost 1hr my daughter goes up to the counter and ask how much longer they tell her 10 mins. Still waiting over that 10 mins so my wife ask how much longer for my order the manager then states oh I got him making them now. The lady already lied to my daughter talking about 10 mins so my wife says something about contacting the corporate office on the staff to the manager which her name is latoya I would like actions taken against her and the staff on the evening of 10/19/2017 approximately 6:00 - 730pm
then they called the local sheriff's department because they wanted my family to leave never had an experience like this before an we were regular costumers but not any longer.

The food was great but the cleanliness was bad. We sat in three different sticky covered chairs. The table you couldn't touch it was so dirty. I started looking around and the entire place needs cleaned. Top to bottom. They need to soap the rags and clean and rinse the furniture better. My code on the receipt is 8630-3127-1084-3012 It was in Hamilton, OH
When you eat out you shouldn't have to worry about going home and washing your clothes.

gina galvan
from Stockton, CA
On Thursday Oct 12.2017 i was heading out of town i was to far to go back. i ordered 3 mexican pizza combos they were soggy some didn't have very much in was not happy 2 burrito supremes 1 had no sour cream.i ordered the varietytaco pack half nacho cheese doritos locos tacos they was all origanal crunchy tacos. i had to except the order counldnt go back i love Taco Bell but was not happy sorry to complain but it needs to get things in order

Christina
from Norfolk, VA
I bought a chicken burrito and ate about half. As I was swallowing, I thought I was swallowing a hard piece of chicken. I then could not breath. I ran to my GM at work and she gave my the Heimlich. I spat out a piece of plastic bag that was beginning t opening up i my throat. I then vomited. I am now waiting for corporate to call me back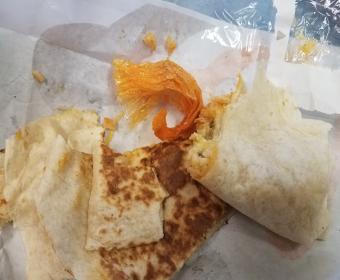 Naomi Valentin
from Boston, MA
Hello my family and I went to our local taco bell we love your food! Our order wasn't complete I ordered the Doito cheese tacos,two double decker supreme with two mtn baha freeze drinks and was missing a drink along with a meal. The worker had an attitude and want very helpful the wait was long so my husband decided we should leave because it didn't seem like our order was gonna be completed. Very disappointing especially since I've gone to taco bell a lot during my pregnancy.

Remonia Brashear
from Rapid City, SD
I'm from Louisiana staying in kingfisher Oklahoma and the people here doesn't know how to make the right right stuff to put into a toco supreme plus we got food poison off the stuff we ate
The people that work in there are rude and really don't care I will be calling the health department on the one here

Rae Richey
from Aurora, CO
WHY no sacks or bags to carry your purchase home in. I purchased a Taco Salad which was put in box, also some other Tacos and Burritos THESE WERE IN A SMALL PAPER BAG, I wanted a sack, bag, or something large enough to carry all of it home in - the manager told me they had NOTHING. You used to have at least a plastic bag for me. NOT THIS TIME. Even a larger paper bag would have accommodated my purchases. THIS IS A BIG DEAL.
WHAT IF I HAD PURCHASED TWO TACO SALADS, Tacos ad Burritos - NO WAY could I have handled it all, including sodas. You need to provide a sack of some kind so that people can easily have take out orders, without having to juggle two or three items. I GUESS I WILL have to cease ordering your taco salads, or even quit buying your gift cards. I NEED A LARGER BAG FOR ALL MY PURCHASES - OR ELSE I WILL BE FORCED TO NO LONGER BUY YOUR TACOS - WHICH I DEARLY LOVE - BUT THERE IF LIFE AFTER TACO BELL!
I would appreciate a quick reply oh, b- just purchased another one of your gift cards, but this will be the last $25.00 I spend. GUESS I WILL HAVE TO START TAKING IN MY OWN BAG - TO FINISH OUT THIS GIFT CARD.

Geni Friend
from Taft, CA
On September 17,2017, my husband and I ordered 1 Crunchwap Supreme and 1Beef XXL GSB, cashier Lourdes and order number 350928. When I opened my crunchwrap, there was very, very little meat. My husband took it back and there were four girls there and the manager. The one girl, with a star tattoo behind her ear kept arguing. A second crunchwrap was then given to my husband and he brought it home. Same thing. I decided to go down there to see what was going on. As I entered Taco Bell, three employees and the manager were there. I said what's going on here, I ordered a crunchwrap supreme and there is very little meat. The girl with the tattoo started arguing right away. I asked for the manager and she was one of the females standing there. I let the girls know I was going to video the conversation and the shortest one started walking an yelling, You can't record us, this is illegal and I'm going to call the cops. I said go ahead and call the cops. Needless to say, she did not call the cops. I then asked this person, if I could speak to the person in charge of this Taco Bell. With a smirk this short female said, it's his day off so you can't talk to him.
I proceeded to talk to the manager and let her know that she was the manager and could not let these girls tell her what to do. I told her, my husband is an Associate Warden at a prison and I am a teacher and there is no need for this. The manager kept apologizing for the girls and said she would make me another wrap. There was no need for this escalation with a customer. Very poor employees. 661-619-2171

Martha Halterman
from Biloxi, MS
Taco Bell 028578
I live very close to this Taco Bell and have numerous problems, this is just the latest. Ordered a 12 pack Cinnabon left and when we opened the bag we had 11 and they were hard and cold. They are suppose to open at 7:00 and on many occasions do not open until 7:15 or later. One week ago we ordered 12 pack Cinnabons and were told there wasn't any cooked and they were not cooking any just for us. Service there is pretty poor sometimes, they can be rude.
I love Taco Bell and I hate the fact that I can not eat there.
Please help to make this Taco Bell and better place that people want to go to.
Martha Halterman

joe blow
from Westminster, CO
one of the RGM's by the name of faith hunter is a very rude and disrespectful to a lot of the workers there at the taco bell on 104th in melody. we as workers don't know how to deal or approach her without having more problems from her. she had promoted an employee by the name of Stephanie to be an assistant manager to an RGM as well but has not even attempted to train her for the position and is very rude to her while at work. we as workers was told we could have a free drink cause were all working so one of the older lady's that we work with gave 3 girls one water cup each and faith hunter turned to that older lady and said that if she wanted to keep her job, that she had better not do it again. the older lady that we work with has a hard time walking fast so since how she wasn't walking fast enough for faith, faith grabs her by the apron and pulls her out of the way. we were told that we weren't allowed to work at the same store with our best friends, family members, or have any type of relation that we cant work with them well she has brought one female from florida and they work the same hours together and is bringing another friend or family member from there to , to work together as well. she has also been taking dry goods from the store when she leaves to go home, that's theft. so why do all the team members getting in trouble by her for little things when faith has been doing the most can somebody explain that one to me?

Diana Roca
from Odenton, MD
I recently was in a rush, went to establishment in Woodbridge, VA through drive through. No one in line in front or behind. Asked for assistance with menu needing on salads the one with least calories and carbs. I was told I would have to go in and look at the menu because she didn't know. Called manager and was told staff doesn't know menu and that information is for guest dinning in only. How sad. I left and went to Taco Bell and even though they had a line gave me information and suggested ways to lower carbs for healthy meal and offered me free water.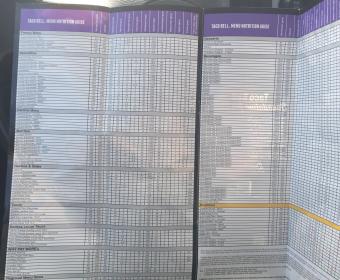 Jeffrey Stevens
from Charleston, WV

sharon james
from Fort Smith, AR
Went to taco bell springfield, TN at 10:43p on 7-23-2016 waited in line until 10:56 before even getting to the order area and then was told it would be 20 min. before I could order they were out of everything, I left and went back 1 hour later was in line again for 10min. before getting to the order area and was told they were closed. I commented that I thought you were open till 2am on weekends and the gentleman replied no we started closing at 12 midnight as of tonight. So when I got back to work I looked it up on the website and it says they are still open till 2am.
If your employees can't keep up with making and preparing your product or they run out something then maybe they need to be replaced with someone who can keep up or be given extra workers on the weekends when its busier and order extra stuff/and prepare extra so they don't run out. In the 2 times I was there on this night I watched them turn away 17 cars which is business you lose.

Susie Thompson
from Louisville, KY
I walked in before 6:30 pm on Tuesday night June 28,2916. I had my daughter in law and three cranky kids that were very hungry after spending the day at a daycare. When we started giving the order the clerk asked another lady how long it will be. The lady said about fifteen minutes! For a fast food restaurant? Get real! Well, they lost the five of us plus a single guy. We left and we t to the hikes point restaurant. In and out no problem. Also a lot cleaner than the Jefferson town store. Someone needs to get production up and running or get a new manager.

Susan Wofford
from Dallas, TX
The Lake Highlands area of NE Dallas is an upscale area. I would expect even fast food restaurants to have some of their best employees working there. The majority speak little to no English. Those who do speak English are insolent or disinterested at best. We check every order because there is a 90% chance something is wrong. When the food is returned, the employee stands and stares as if to say " what do you want me to do about it" Tonight we ordered a multitude of items. I'm going to try and attach a pic of my tostada.
It looks like someone vomited on it. I'm assuming hot liquid cheese, but who can say for sure...all of my friends refuse to eat at TB, citing the low grade ingredients. I've always liked Taco Bell, but I have to say, I think now I'm done. So tired of the crappy service, messed up orders. PLEASE send someone undercover to the store on Walnut Hill Lane DallasTX 75238.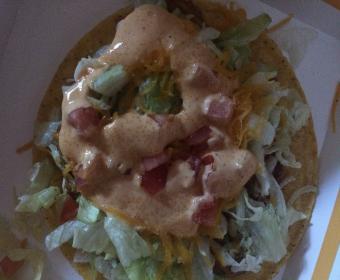 Lori Johnson
from Washington, MO
The quality of the food has gone down in the past few months at our location. The kids working inside are more Interested in playing with each other. The shredded chicken mini quesa no longer has sauce unless you ask and then are charged .40 each. The chicken is in there and a half teaspoon of sauce on one end. This has happened more than a few times. Look at the crusty bean burrito. Tired of it. Washington Missouri location.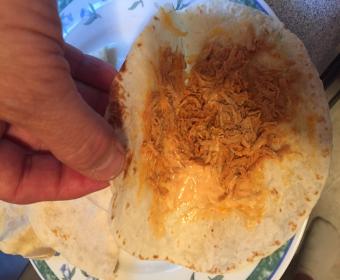 Diane York
from Orlando, FL
Went to Taco Bell # 023298 at 2403 Hiawassee Rd. in Orlando Fl. last night 5/8/16 at about 9:45 PM and waited over 30 minutes in the drive through lane. After 15 minutes I went to the front door to go inside and it was locked. Went back to my car and waited another 20 minutes to get my order. Finally was able to leave at 10:20 PM. Worst customer service EVER. My order number was 328321 and the cashier was Laetrice S. Will NOT be returning to Taco Bell anytime soon.

Ron ostendirf
from Los Angeles, CA
Went in to the Taco Bell on Foothill Blvd in Rancho Cucamunga on Friday 2-12-16. I ordered my food then asked to use the bathroom. They unlocked it and it was disgusting splattered crap on the toilet in plan view. Got my food and started looking around filthy Windows, counters, floors everything. Parking lot trash all over. Take some pride and get a manager that cares. DISGUSTING.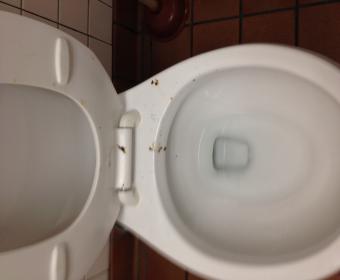 I wasn't the one to go to Taco Bell for this incident, but I know someone who went today. I overheard this. They had to go inside to pay for their food due to drive thru not moving. When they got their credit card back, the cashier giving the card back dropped the card on the counter by accident, and a bunch of white powder fell out of the cashiers hand all over the card. It's unclear why this situation even occurred, but the person paying suspected it to be drugs (their guess was cocaine). The cashier merely gave a scornful look, as if that person did nothing wrong and was eavesdropped on. This incident occurred today (31 Jan 2016) at Altus, OK.
I used to eat here all the time. The quality of this food has been deplorable for the past many months, I have heard so many negative opinions about the service in general, and now this? I just ate here yesterday, the rice tasted disgusting like someone was smoking over my food as it was being made and no sauce. The food was awful, the burritos/wraps/etc. are not being fully filled, and service takes forever. Personnel seem to just not care. I refuse to eat here anymore until an investigation occurs, personnel are fired, and retrained.

Sue Kovac
from Leawood, KS
Family requested Taco Bell for dinner last night. I went to the drive up and it did take awhile for someone to answer. I warned the young man that I had a large order and he said okay and I placed the order for $29.65. The freeze machine was still broken and has been for a few weeks now. I got my order and then pulled over in a parking lot to check the order and it was not correct. I went back through the line and also requested mild and hot sauce.
They were out of mild sauce. I was charged for my order but it was five items short. So I did get my items and hot sauce only. He also said they were short handed. In addition, the register needs a new ribbon or cartridge because it also has not worked correctly for a few weeks you cannot read it. I don't know if the owner or managers are not aware of these problems but I think you have some issues. I know that things go wrong and machines break but nothing is getting fixed at this place. I think that we will wait a long time before we get our dinner at Taco Bell, the kids love it but I did not like taking home a very cold dinner. This Taco Bell is located at 7100 W. 119th St., Overland Park, KS 66213.

Dock Buckhalter
from Hernando, MS
My dad and I went to taco bell , but the door was locked. My dad pulled on it and the woman said go to the drive thru. When we went to the drive thru my dad asked why there wasn't a sign on the door or somewhere else that said go to the drive thru without getting out of the vehicle. Then we couldn't read menu board cause there was ice on it. The woman said she asked the manager and said and done nothing. Then my dad said well all it takes is paper and pen. Taco Bell 024204 2650 McIngvale Rd. Hernando, MS 38632.

I was wondering if only employees and managers are allowed to take free food home? I have seen a manager take bags and bags of food and not ring it up.....is this being offered to the public as well? Store in mcallen texas, on 10th street, manager gloria. She is also very vulgar and disrespectful to employees. Again i would like to know how we,the public, may receive free food too?

The service was ok. But I have a problem with Taco Bells prices and the way they post the menu. I ordered a potato wrap that I thought was going to have plenty of steak in it. But only got a real thin layer of steak with cold potatoes and bits of bacon. Hmm not worth 4.99. It was suppose to be the Steak/Potato Boss Wrap. That's a joke. I can get two combination burritos at Del Taco for 5.00 bucks and be totally content. Look at the picture, do u see Steak? Very little.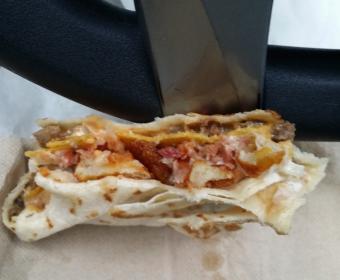 Marilyn Robberson
from Ozark, AR
First I had to sit in line outside for 10 mins.because they were slow answering the speaker for all of us in line--3 vehicles drove off after waiting so long. Then when she answered the speaker, she asked me to wait 1 moment which turned out to be 5 mins. I would have drove off myself but my son loves to eat here. I finally ordered having to repeat the order twice which she finally got correct. Then another long wait---several mins again. It wouldn't be so bad if they had enough employees working--I only saw 3 young people working--very hectic in there. Then when I finally got my order, the man handed it to me and didn't verify the order. I drove home--opened the sack and I had someones order but had my correct receipt with it. I drove back down there and waited again.
Finally got to report the mistake and the girl acted strange-I repeated the order-she took the sack and my receipt. She asked a man to help me--He asked if I ordered something different ( 2 fiery tacos), I repeated my order and told him she took the food and receipt, he said ok and asked me to pull up front. I waited 10 more minutes. I finally went in to see what the problem was and the girl was blaming me to the man that I ordered those fiery tacos, and I told him to read my receipt--they corrected it and I finally got my order. We eat here a lot, and occasionally have to wait awhile, but this night crew needs help .We probably won't be back for awhile. Not to mention someone else didn't get their order because it had gone to me at the start. I am not a complainer but this was ridiculous and uncalled for.

Malia Jeter
from Irving, TX
Sunday, November 8, 2015, between 5:00pm and 5:45pm. 1022 W Shady Grove Rd, Irving Texas 75060. I was in line almost 45 minutes. There were 6 cars in front of me. It is getting to where it takes that long no matter what day or time it is. I don't know if they don't have enough employees or what, but it ridiculous at the amount of time it takes to get your order. When I finished placing my order, I was told to pay at the first window. When I got to that window, no one was there, or ever came there. When I got to the second window, it took a while just to pay, but the young man was very nice. I asked if they were short handed and he said yes. He apologized several times and offered me a free soda. The ONLY reason I continue to go there is this is the only fast food restaurant close to my home, but I could have driven to Beltline Rd and back in THAT amount of time!! Please check this out and it would be greatly appreciated if something could be done to speed up the process.

On Thursday October 1, I ordered from store # 002509 in South Charleston Wv. I had stopped going to this Taco Bell location in the past because of issues with food orders. However, I went against my better judgement and went through the drive thru. I have food allergies, tomatoes and avacodes make blisters in my mouth that require Silver Nitrate to be used (expensive and painful). My order number was 347614. I ordered a steak cantina burrito with. my order.. Also, a tostada with no tomatoes. I made it perfectly clear during my order that I have a food allergy and that my orders are always wrong at this location. 'please make sure that it is correct'! 'No problem', I was told. At the screen upon confirmation of my order, I explained that it had no tomatoes. Again, I was told it was taken care of. At the window, I said for the THIRD time that I have an allergy. Again, I was told it was taken care of.
Lo and behold, when I got back to my job I had a chicken cantina burrito AND it was loaded with Avocado, but I had bitten into it. So I checked the tostada and guess what? Tomatoes! I submitted my complaint online at thebell.com and no response! and that was after trying for 2 hours calling the store to speak to a manager. This is unacceptable. There are no excuses for food preparation to be wrong after confirming 3 times. I will not EVER use this location! There are no excuses on this matter, I also have photo evidence as well as witness'. The following day, I had to go to a provider to get Silver Nitrate and missed an hour of work. Thank God, I do not anaphylaxis allergies to these ingredients because this is borderline negligence.

Ashley
from Paso Robles, CA
I have a picture of my food. It's absolutely horrible. For example my nacho chips its just chips with like sprinkles of nothing. It taste like they made it and let it sit out for hours and re headed it. Definitely not satisfied what so ever with my order and I had a family member give me a ride. So I'm not about to go back. Plus the person at the drive through window was so rude. She was laughing over the speaker and pretty much through my food at me. I just spent over 20 dollars there. I am not very happy right now!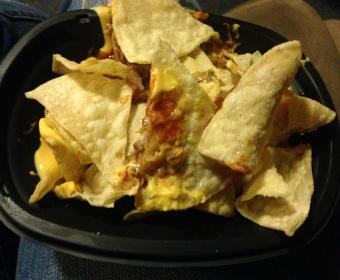 Tori Kanwich
from Matthews, NC
I waited for over forty-five minutes for an order. I could not get any response. It was crowded but that is not acceptable. If I had not paid I would have walked out. When I finally got my order which was over ten dollars I had two tacos with broken shells. Had to eat them with a fork which none was available. Mexican pizza was not barely cooked and others was cold not even cheese melted. I usually visit Taco Bell at least three times a week but I think that will change and go to another place instead. This is the worst customer service I have ever experienced!

Eunice White
from Iowa City, IA
In Iowa City, I bought a 12 pk box of tacos...and 3 fire tacos. I live quite a distance from taco bell and upon eating our food...one of the kids noticed that there were pieces of potatoes inside of the taco instead of the beef we ordered. then we opened the entire meal and found that 5 of the tacos had potatoes instead of meat. we drove back to the establishment and complained to the manager..Nick...not only was he rude...he allowed the other employees to have their say in the fact that they were giving us 5 tacos...which now we are afraid to eat for fear that they have at the very least spit in or on them...i spent $16 on a meal that we have now thrown in the garbage. I do not play with my food and do not want anyone else to do it either.
If this was a joke it was not funny to me....how many other costumers had the same problem and ate the meal without noticing this. What I should be doing is calling the Police...instead I will be calling back to that store to speak to a day manager as the rude Nick gave no satisfaction on this situation. I would like to be reimbursed for my meal with an apology or I will call the Police along with seeing that the local newspapers puts something in a column about this,,, I will put this on all of the social media sites that I can find. I will share my complaint that this store has rude and nasty employees and see if we can gather some people to boycott the store. I am ashamed that this store is BLACK run, and I am black is this how we act and treat this community. Now I will go to McDonald's to feed my family tonight.

Joyce Ruelle
from Ukiah, CA
Got my niece a $15.00 Taco Bell gift card for her birthday. She tried using it for her lunch at Taco Bell today at Ukiah ca. 95482. She was told they do not accept refillable gift cards in Ukiah. My niece went without lunch today. At the same time I purchased the same type card for my friends birthday which is this Sunday. Oh Great. Now I am out $30.00. How can you sell gift cards and we can't use them.
I love Taco Bell. Me and my girlfriends meet every Thursday at noon. I am very upset over this. How do I get my $30.00 back?

Gail Berryhill
from Oxford, MI
Ok. We stopped at the Standish, Mi Taco Bell Monday, 10/5/2015. As I was exiting our truck I put one foot down and slipped on what looked to be a mixture of oil and rain. I told the cashier what had happened. She looked totally unconcerned and said ok she'll tell manager. Not wanting to slip again my husband went to bring the truck to the door. He talked to a male employee in the parking lot. Showed him where I fell and how slippery it was. We'll another unconcerned employee. We came back a some hrs later and nothing had been done! I am alright, sore, but alright. If I had really gotten hurt I would be suing. Not just to sue but to let these people know that they need to make their workplace safe for their customers!

Juanita Campbell
from Jacksonville, FL
I have been a customer at the Normandy St. Taco Bell in Jacksonville, Fl. 32205 for years but lately there is a noticeable deterioration in food quality and service. Several weeks ago I ordered a taco salad and had to return it for lack of meat. Today I got two soft tacos and both tasted as if they were full of rice or something similar mixed in with the beef. Actually it did not even look like beef. Very unsavory and left a distinctly unpleasant taste in my mouth. The taco itself was not large enough to completely cover the filling. While my service was OK, as I was waiting for my tacos inside the store, a woman brought back a salad which she opened and showed them there was nothing but lettuce. The clerk took it to the back and returned it to the lady who again opened it and put it back on the counter and asked for her money as nothing apparently had been added. The clerk gave the to her but not before saying the lady had thrown it on the counter. A very unpleasant scene. I will think twice before returning there.

Sandra Carmack
from Sorrento, LA
The Taco Bell in Paragould, Arkansas is the focus of my complaint. I ordered a chicken cantina bowl. I found no chicken in my food. I went to the person at the cash register. I told him there was no chicken in my chicken cantina bowl. Mostly I wanted him to know the person putting them together wasn't doing it correctly. He just looked at me and said "well, ma'am, this is fast food and it isn't consistent." Gosh, I guess expecting to get what I paid for is expecting too much. I wonder if Taco Bueno supports this attitude among its employees.

jimmer crouch
from Sturgeon Bay, WI
I bought 6 hard shell tacos from the drive though on green bay road in Sturgeon Bay Wisconsin today (8/25/2015) When I got home my wife said there is hardly any meat or cheese in them. she was right they were about 90% lettuce . Bless you taco bell but "where's the beef".

Linda G Finley
from Friendswood, TX
After waiting for about 5 minutes for anyone to come to the counter, I placed my order. I had wanted a freeze but was told the machine was out of order so I told them I just wanted water then. While waiting for my order (which took about 10 minutes) i looked at my receipt and saw I had been charged 1.49 for the water. Again I waited a few minutes when someone finally came to the counter and I told them what happened and the response was ...oops! They then told me to just get a drink. I didn't want a drink which I explained to them so they said well then pick something off the dollar menu? Okay, so I was very tired and getting frustrated so I said I would take another taco.
When my order was Finally up front I asked what was in the bag and they repeated my original order without the extra taco I was suppose to get to compensate for the charge for the water. Which by the way was not an even trade-off. The young man came back with a soft taco and told me that was all he had. Really? While all this was going on someone came in that had been in the drive thru that didn't get all his order and someone else also at the counter with their receipt. I think this facility in Pearland had new workers that evening and no one was there that knew what the heck was going on!! Ridiculous!

Laurie Eckroat
from Newcastle, CA
April 26, 2015 My husband and 4 friends wanted to dine at the New Taco Bell in Lincoln. All of us chose Taco Bell after church feeling it was a great idea. Unfortunately, I have misplaced my receipt. But you can check with this location on some of the information I am going to share. The goal of me submitting this complaint is for management to step up and give adequate customer service along with quality food.
The most disappointing poor service was waiting in the dining area 45 minutes for our food. My husband and mine's order was simple, but that's not the issue it was unacceptable service. We ordered 5 crunchy Tacos, a burrito, and a Lemonade freeze. I asked the girl to give me a Senior Discount. She was pleasant and said she would give us a Senior Discount.
While I was waiting I noticed she didn't give me a discount. I went back to the register, and she said she would help me as soon as she got done with that customer. She told me she did give me a discount. So I asked her to please show me on my receipt where the discount was presented. She looked at it and said she will be right back. So she goes and talks to a manager. Comes back to the register and asks me to wait while she helps another customer. Five customers later she refunded my money. I was unable to have the Lemonade Freeze because it was watered down. The young man offered to make another freeze.
My tacos barely had any cheese on all three of them. Unfortunately this was unacceptable even if it is new. Taco Bell has been in business too many years to give this unacceptable lack of service. My husband and four friends hope you will take action immediately. Other Taco Bell Customers asked for their money back. Taco bell lost profit.

Debra Christian
from Odessa, TX
Ok I go in to order and have to wait for 5 minutes to get waited on because there is only one cashier waiting on customers and getting their food ready. All the other workers are in back just standing around. When I order I don't get what I ordered. I ordered 3 supreme tacos with the works, only got one supreme taco, the other two were plain. also ordered a chicken quesedilla with a soft taco, got a crunchy taco, ordered a chicken cantina bell bowl and was told that they don't do the chips and salsa, corn, guacamoli on the side or put black beans in the bowl any more.
Also when I told her I didn't want the drink with the Tacos she told me I had to take it. Also when she checked me out she had to do it on the drive thru register. This was at the KFC Taco Bell in Farmerville,La. Funny I went to the one in El Dorado just a few days before and got the same thing with no problems. This Taco Bell sucks. You really need to get a manager who will do their job nd treat the customers right and give them what they order and make their workers work. These people reall need to get their act together, They Suck!!

Nora Karam
from El Paso, TX
Last night my husband and I saw your new commercial for Taco Bell. We were totally disgusted! What does an elderly couple with a woman showing her husband her breast have to do with having a Taco Bell sandwich? We will not eat at Taco Bell again. We Will tell all her friends who agree with our point of view not to eat at Taco Bell. And believe me all of our friends at church agree with our point of view. I am so sorry we will not be abl Will tell all her friends who agree with our point of view not to eat at Taco Bell. And believe me all of our friends at church agree with our point of view. I am so sorry you have given in to the world's point of view on selling products through sex.

I haven't been to this location in a while do to the lack of meat on the product, so again its been a couple months so I stopped to get a Crunch wrap Supreme. I asked for 4 mild sauce and continued home. Again I am very disappointed, 1 sauce and with each bite lettuce and dough. I decided to unfold the crunch wrap and really was not shocked to see about one tablespoon of ground beef on one side of the wrap barely any cheese or sour cream. Plenty of lettuce and tomatoes only in one clump also to one side. Ridiculous!!! And to my amaze I believe it was the manager who made the wrap. Brown hair and glasses with a white shirt. Jaun L. Was the cashier that gave me one packet of sauce. $2.99 worth of lettuce, shame on you. I will not be back!!! I will have to drive to W 110th on Lorain Avenue to get a decent Crunch wrap. Maybe you need to send someone to retrain especially the day Manager. 4/13/2015 at 1:20:59 PM. Order # 311124. Cleveland Ohio

Mary C. McIntosh
from Evansville, IN
We tried your breakfast menu cheesy burrito It was the worse,. It stuck to paper tasted like raw dough and no cheese We did talk to manager who made us another breakfast which was better as it was grilled this time. I would like suggest that you change your wrapping paper with some wax paper or other surface on inside to keep it from stiicking to the paper. the second breakfast was made better with eggs and sausage and cheese wrap on inside o soft shell instead of egg the soft shell sausage and more soft shell. I will go back again but will only have the grilled option. Manager was very nice and said he had that complaint before but company did not address the complaint of sticking paper to the food. your burrito has better tast than mcdonalds not so spicy. I will try others types next time. Thanks for the time to read this complaint and I sincerely hope you change your wrapping paper to something better.

Tom Clobes
from Hutchinson, MN
Ordered 1 Mango bbq Chick star, 1 bacon ranch Chick star,2 double decker tacos,1 nacho supreme taco, and 1 gordita crunch and apple empanada.
What we got was 1 mango chicken griller,1 bacon ranch chicken griller, 2 fiery tacos, 1 nacho taco. I then went back to the Taco Bell to talk to a manager and was told there was no manager on duty. They precede to remake the order only to wait another 30 plus minutes to get it. I have eaten at this Taco Bell location many of times in Hutchinson, Minnesota 55350 but the service was the worst I've every see. Had to wait the first time about 15 minutes and they were not busy.

I went to the local Taco Bell here in Cleveland, Tennessee with my friends yesterday around 7:45. The one by all of the other restaurants. I chose Taco Bell because I had always thought it had good prices. I ordered two loaded grillers and a medium manzanita sol, aka the apple soda. We left and went to the apartment. I finished my drink as soon as we got home. Surprised, I opened the cup and saw that my cup was literally filled to the brim with ice. I felt so ripped off.

The bean burritos I ordered were super dry. The beans smelled of smoke. Disgusting. The chicken soft taco was dry. As though the meat was cooked in a microwave until it was dehydrated. The 4 cars in front of me in the drive through took 40 mins. . This occurred @ 10pm to 1040pm on3-28-15. These food smelled like campfire. I haven't. Ever filed a complaint before , I usually have more important issues on my plate. Train your help and more of them. There is no excuse for this.

Branden Carpoff
from Portland, OR
I was in the drive thru for approx 23 min waiting for a car to go ahead of me because this restaunt has a very poor design and only a single lane to drive thru making myself feel entrapped in said line asking the car in front of me to go and being refused and having to wait to leave this brings up many problems the first and most important safety I feel as if I need to contact OSHA to get any results as the manager was very rude and unhelpful to my plight and this businesses safety I am hoping you can help with this probl if not I will have to explore other avenues thank you Branden Taco Bell in redmond OR

Tonight(3/28/2015) at 9:15pm at the George Washington Way Taco Bell Location in Richland, WA. I ordered $15.99 in food and drink including 2 mini shredded chicken quesadillas. On my second bite into my first mini quesadilla I bit down on a large(3/4" long) piece of bone. It jarred my jaw and sent a sharp pain in one of my back teeth. It doesn't seem to have broken my tooth though. I subsequently choose to not finish the rest of my meal as I was not feeling hungry anymore. I took pictures of the bone, the quesadilla, and my receipt from the purchase. I would like to be contacted regarding this matter and compensated appropriately.

Ruth Whitesel
from Princeton, WV
The service at the counter was great, it wasn't until I started to get my drink, There was something wrong with the drink machine. I told the cashier about the problem and she acted like it was important. Then I went to get sauce for my food and the bin was empty, I ask the cashier for some and she said that they were out of the sauce (mild) that I was asking for. I would think that if I was out of the sauce that I would call a different location to see if I could a box from them, then replace it with one I received later. I understand that, yes this can happen, but I would think that if used more of that kind of sauce I would order more, so this would not happen again. Taco bell is great, but just wondering how long the store has been out. The store is in Bluefield, Va.

Cathy Ragsdale
from Memphis, TN
I can't remember a time that my order was ever correct. Yes I continue to go to a taco bell because I do like the food, but I am loosing that urge because my order hasn't been right in 15 years.
Have feedback for Taco Bell?
Thanks for your feedback!
Sorry. Please try again later!