Pizza Hut
Contact Pizza Hut Corporate
Toll free phone number: (972) 338-7700
---
Pizza Hut is an American fast food chain, international franchise and a subsidiary of possibly the world's largest mega restaurant corporation, Yum!Brands, Inc. Pizza Hut has over 11,000 outlets worldwide with 6,000 in the United States. Employing over 160,000 there are outlets in approximately 94 countries. Corporate website is www.pizzahut.com.
If you experience a problem with your dining experience at any Pizza Hut you may call 1-866-364-0082 in Canada and 1-800-948-8488 US. You may also address correspondence to the CEO, David W. Gibbs at 7100 Corporate Drive, Plano, Texas 75024 or call the corporate office at 972-338-7700.
Pizza Hut was started in a small house in June of 1958 in Wichita, Kansas by Dan Carney and Frank Carney. Pizza Hut uses promotions, movie sponsorships, seasonal offers and products to capture extra marketing opportunities. Social media presence may be found in Facebook, Twitter and YouTube.
Pizza Hut Contact Information
Report complaints to corporate and get satisfaction
Pizza Hut headquarters address

7100 Corporate Drive
Plano
TX 75024

Company website

1-800 phone number

(972) 338-7700

Support email address

feedback@pizzahut.com

Better Business Bureau rating
Browse reviews of other Fast Food
Top Pizza Hut Complaints
Browse more than 558 reviews submitted so far

James Jones
from Houston, TX
I ordered a pizza on line i got charged 31.38 never got pizza and bread sticks order # a027119x81t2353 how do i get a refund i will never order from Pizza Hut again i even called and the lady said it was scheduled for delivery at 1:07am now we are starving and will have to find a burger joint thanks a lot Pizza Hut i have to go out on the road with all the rodeo drunks .

David Ford
from Carlsbad, CA
How can they employ a thief and a liar like Brandon ? His clothes are filthy dirty and he wears the same clothes to work every day. He smokes weed all the time. He just got out of prison in November of 2015 for breaking into a building, stealing a four wheeler and selling it. He lies to everyone to get people to feel sorry for him so he can use them to get what he wants. You really can't believe anything he says. He also has a desire for young girls. He has been with a 12 year old within the last year. How can you possibly keep him employed?

Patricia Kinney
from Fort Worth, TX
I placed an order tonight August 3rd 2016 4 the 2-inch 1299 Pizza for delivery. The driver came out and I missed him I didn't hear the knock so I called. And when I talk to I guess the shift manager there he told me that someone came ten minutes ago he was going to have them come out and run the same order but I did not want the same order and I apologize for having the driver come out and I would like to place another order. He put me on hold for about a minute or two then he came back on and said he can not have his driver come out again until our apartment.
When I asked him why he said because it's not safe for the drivers to go to the same address more than once in the same time period. So I asked him if I place the order online again is he going to cancel my order and he said if it's coming from my address yes he will or I can come pick it up. I was very upset because his demeanor over the phone was as if he did not care about my apology and he didn't have time for it. I just want to know is that Pizza Hut policy. And I informed him that I order there frequently I know at least more than 3 times a month I was very unhappy with the way he handled the situation.

Patti Smith
from Jefferson City, MO
first I would like to say we have had negative experiences with the Capital Mall Pizza Hut in Jefferson City MO in the past but yesterday was the icing on the cake. My husband all them at 3:53 and ordered a large thin super supreme with extra cheese. They gave him the total and said it would be ready in 20 minutes. He phones me to go by after work and pick it up. I get there and the manager is at the register. I told him the name and what I was picking up and he said he didn't have any order for that. After giving him my name my husbands name both phones numbers he still says he has nothing. Not to mention he is rude and short. He didn't seem to care one way or the other to help us out or anything. Didn't apologize offer a discount nothing. I said never mind I don't have time to wait. My husband calls back and talks to a woman there and she says she is sorry and agreed he must have called considering he knows the exact total, they offer to deliver it. Again we are on a time frame here. He gives her our address and they said they would have it there in 15 min. 25 mins later she calls back and says out computer messed up can I get your address again. It will be another 10 mins. He said no. we don't have time for all this. this will be be LAST time we EVER eat at pizza hut. There are way to may pizza places in Jefferson City to put up with this crap. I seriously have no idea how this place stays open if they treat all their customers this way and that manager needs an attitude adjustment. If he hates being so bad then maybe he needs a new line of work. I'm not expecting a reply. I'm sure you all don't care is why you want this emailed and won't talk on the phone about complaints.

Nichole Smith
from Visalia, CA
I ordered a pizza online for the first time ever. After waiting in the living room for over an hour I realized it was taking way to long. So I called and they said that my card had been declined and they canceled my order. First there was nothing wrong with my card. Also they said they had tried to call but that was nearly an hour after I had ordered. Why would you cancel an order without trying to make the delivery and obtain cash. Which I would have been fine with. I was so upset I didn't even want it anymore. The only reason for that card to be declined whold be if they put in the wrong info. I'm so disappointed with my first attempt at online ordering. And on top of that they weren't even apologetic.

I was online and noticed a free $50 gift card from pizza hut if you signed up and purchased a living christian CD and subsequent monthly membership. I purchased the cd and then never received the $50 FREE gift card from pizza hut. Naturally Pizza Hut denies there was such an offer online! So I returned the living christian cd and they want to now charge my account because they said I never returned the cd even though I have proof the cd was returned by the post office. I will fight this one for all of us who make mistakes buying stuff online! Pizza hut really screwed me on this one and I still can't believe this!

Nakeisha Gibson
from Philadelphia, PA
I placed an order for carry out. When I went to pick up the order, the cashier almost forgot my pizza. After getting what I believed to be my entire order, I headed home. When I got home I realized that you had forgotten my wings. I attempted to call the store, but the line kept giving me a busy signal, sometimes immediately and others times after 2 or 3 rings. Ordinarily I would have just gone back up to the store, however, the weather is horrible, which is why I decided to pick up the order while I was out. Attached is a screenshot of my order.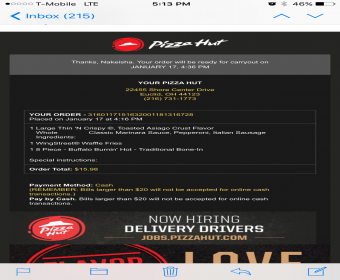 Mercedes
from Jackson, MS
I had placed 2 orders for pick up I was told it would be a 45 min wait. I waited 45mins then I came in and paid for them and I was told my order was ready. I got 1 of my pizzas and they said it would be another 5mins for my other pizza. After 10mins they asked me again what I was waiting for. And they still could not find my other pizza. I waited almost another hour and by that time my other pizza was cold and the person up front just gave me a random pizza and gave me my money back.

The place is a complete dump. Has been for awhile now. It takes 1-2 hours to get a carry out pizza on a weeknight not even a weekend. Pizza is always messed up or not good at all it's always to greasy and half cooked. Booths and tables are digusting and filthy. Makes you not even want to sit down or if you do you want to take a shower as soon as you leave . Ceiling tiles falling down bathrooms filthy I could go on and on about this ridiculous place. It needs new management or just needs to be shut down. I will drive 45 mins out of the way if I want Pizza Hut again. Will not be back to the new Albany one until something is done

I wanted fo reward the a team of ladies I work with for a great job they did in our department store in Louisville Kentucky. i order three large pan pizzas from the Pizza Hut on shebyville Rd near St Matthew Mall. First the who delivered the pizza was rushing me and when I checked the pizzas they were not pan they were thin crust the topping were wrong. I call and spoke with the manager he said he gave me the thin crust because they ran out of pan.He didn't even call to ask If It would be ok. I order pizza all the time from the Preston Hwy location and Its great. I was very disappointed.

Howard Rooks
from Naperville, IL
This complaint is to Pine Ridge SD Pizza Hut We have been calling for 30 minutes! They finally answered and told me they are not taking orders for 30 minutes! Last time we called in a order we went to pick it up some ladies were outside smoking in the back and no one to help us then they didn't have our order ready! This place needs a new manager!

Tamarah Arthur
from Philadelphia, PA
On dec 9 i oredered online when i went to pick it up at the store the associate said there system was down and anything that was oredered online wasnt received nd u had to pay in cash at the store,in bridgeton nj 08302 not only i didnt receive my food it took my pizza hut points from ordering online.There shoulda been something online saying there system was down..smh

Amber N Rogers
from Marshfield, WI
My ticket number #125 I order lemon pepper boneless wings and a family chicken alfold pasta well when it showed up at my house I had one thing of pasta and plain chicken wings and when I took it back to the store and dammed to speak with the manger they had to go outside to get him and he wants to come in and I snap at him and cussed because everytime I order from that store #031158 my order is always wrong and messed up ALWAYS and I'm sick of it.

Kathleen Lanier
from Tallahassee, FL
Was staying at a hotel and called about 9:00 and was placed on hold. I called back to place an order and was talked to very rude by an associate. Saying mam we are not taking any more order but the time online said 11:00 mama mam we are not we are getting ready to close and then hung up. They really need to work on their people skills/customer service. This was not professional at all.

Order # 17258918. I ordered a pizza online yesterday at about 10:30 PM and I wrote instructions very clearly in bold letters that "DO NOT RING THE DOORBELL. PLEASE CALL ON ARRIVAL!". Even then, the delivery driver banged the door many times very loudly and rang doorbell many times resulting in chaos in the house waking up everybody. Moreover, the delivery driver parked his car wrongly and police came there. Now, I called the customer service and its transferring me and I am on hold for long. SHAME ON YOU PIZZA HUT, A BIG SHAME!

Corey Koser
from Chester, NY
The last four pizza's my family ordered were all incorrect. I am very upset with how my orders seems to always be wrong now and nothing is ever done about it. at the store I go to.
1. My first out of the 4 examples was when I was given coupon and it was not accepting it online. I called my local Pizza Hut and the gentleman said just bring the coupon with you and we'll take care of it. He takes my order and when it's done I go to pick it up and the guy in there tells me I have to talk to the manager. This lady that did not dress appropriately for a kitchen style job walks over and tell me I have to do it online. I attempt to tell her that I was unable to do that. She cuts me off and tells me she can give me a dollar off my order. I cancelled my order and left. This was very upsetting considering this was my planned dinner for my family. I was one thing by an employee that clearly shouldn't have said that and it wasn't honored. It's a pizza, not like I was buying a car.
2. I ordered a stuffed crust pizza for me and my son. I get home and notice it's burnt. On top of it being burnt we were also missing some of the marinara sauce that I paid for. Neither of us really wanting to eat it so we ordered something else. I didn't call because I know Pizza Hut in Chillicothe, IL doesn't have anyone in management that has any type of training on how to resolve an escalation.
3. My wife ordered us a large dinner box. The two pizza's that came in that were doughy. The breadsticks had practically NO seasoning on them. The wings were very dry as if they had been cooked and sitting out. The wings also hardly had ANY sauce on them. It was pretty much like eating a regular chicken nugget. Moral of the story, this dinner went in the trash like the other 2. Again no complaint.
4. Next day. I have family over and they unfortunately wanted Pizza Hut. We order it have it delivered and it's burnt to hell. At this point I have had it with Pizza Hut. The food is garbage, the service from their "management" is absolutely trash. I call and I get a so called manager on the phone. I tell her about all 4 scenarios. Now, keep in mind all four of these happened back to back. This "manager" kept cutting me off and trying to talk over me. Anyone in management should have basic skills on how to resolve conflict and escalations. Cutting someone off and talking over them only makes it worse. I immediately tell her I want Corporates number. She once again cuts me off and spits out a number. Not sure how anyone would have been able to write it down as fast as she was saying it. This was absolutely a disgrace on how I was treated. I call the number that I was given and 24 hours later I still have yet to hear back from this person. This manager told me my Stuffed Crust pizza was NOT burnt. I've never had a stuffed crust pizza where it snaps in half, it was so black you couldn't taste the cheese or sauce. The crust hardly had any cheese in it like my 1st stuffed crust I had that was burnt too. If she doesn't think that was burnt, she needs to be replaced. No one should be in a managerial position if they treat customers like this.
Is this really the service you want? I don't like to complain when my orders are messed up. I understand people make mistakes because we're all human. What I do NOT accept is being called a liar when my food has been shit for the last 4 times. I am sure that is almost near a 100 dollars in food that I just threw away.

Brenda Schmucker
from Goshen, IN
I went to the store in Nappanee Indiana two weeks ago , I ate in it took almost an hour for my pizza then it was wrong I asked to talk to a manager the manager on duty was too busy so shift manager and waitress came out half hour later had my pizza in a box and told me they were sorry for the wait , i'm sorry and hour and a half for pizza was not acceptable to me they did not offer me anything but I sit there and ate my pizza and paid my bill once again I complain to the waitress and the manager , nothing was done . I called a gentleman named Tracy I got his phone number from another Pizza Hut so I called him complaining and he tells me he was going to send me a refund for my bill and then send me a gift card for the inconvenience that I had at the store well two weeks have gone by I have not heard anything or seen anything not that I'm out for anything but when somebody tells me they're going to do something I expect that instead of being lied to

ROBIN DURRANT
from Bromley, ENG
I ordered a pizza deal on 24th November, I was quoted 30 mins and the delivery took 1hr 20 mins this was after I called the restaurant to ask where it was at the hour mark. When the food arrived the driver had to return as he forgot to leave an item. In addition the food was cold. The final issue was when the food was checked it was wrong. This is not the service I'd expect from a restaurant of your calibre.

Asif Khawaja
from Jersey City, NJ
Hi; The Pizza Hut # 013125 at 701 State Route 440, Jersey City NJ 07305 & Ticket# 145.
Hope all is well. I would like to start with telling you that my family loves Pizza hut, and do not eat meats. So let me start with placing my order.
As you can see my phone log also, When I called for the order Mackel simply hang up on me because he could not understand English and failed to continue my order and hang up the line twice, which I ignored thinking it's OK. Then finally, a young girl took the call third time and took my simple order and was courteous. I had stressed enough to her about "No chicken" in Alfredo pasta which we always did and never was a problem. As I went to pick up my order, I asked for extra sauce when Mackel asked for 50 cents more, I paid and left.
After getting home, as I served pizza to my family I noticed the pasta had chicken in it. So I called the store and Mackel answered the phone. I explained to him that pasta had chicken in it, but he ignore the fact and I offered to send him the picture, but he insisted on "no no I checked it myself" and then he hang up on me. Then, what bothered me the most that when I called again few times and every time he kept on saying " Sorry this is McDonald's, and hang up on me. It was so agitating that was very upsetting. I spoke to Albert (Manager) Saturday morning and I told him the situation, he heard me but not sure if he will report that to corporate. I would like to request my whole order refunded, and please address the employee about hanging up the call and saying this is McDonald's. It's was very un-professional of him being a night supervisor of the store.
Thank you very much for taking the time to hear me.
Asif Khawaja
201-736-7243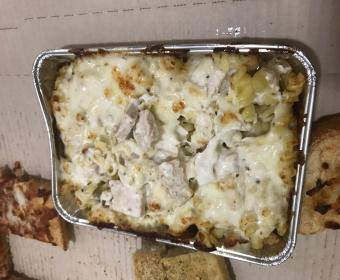 Asif Khawaja
from Jersey City, NJ
Hi;
Hope all is well. I would like to start with telling you that my family loves Pizza hut, and do not eat meats. So let me start with placing my order.
As you can see my phone log also, When I called for the order Mackel simply hang up on me because he could not understand English and failed to continue my order and hang up the line twice, which I ignored thinking it's OK. Then finally, a young girl took the call third time and took my simple order and was courteous. I had stressed enough to her about "No chicken" in Alfredo pasta which we always did and never was a problem. As I went to pick up my order, I asked for extra sauce when Mackel asked for 50 cents more, I paid and left.
After getting home, as I served pizza to my family I noticed the pasta had chicken in it. So I called the store and Mackel answered the phone. I explained to him that pasta had chicken in it, but he ignore the fact and I offered to send him the picture, but he insisted on "no no I checked it myself" and then he hang up on me. Then, what bothered me the most that when I called again few times and every time he kept on saying " Sorry this is McDonald's, and hang up on me. It was so agitating that was very upsetting. I spoke to Albert (Manager) Saturday morning and I told him the situation, he heard me but not sure if he will report that to corporate. I would like to request my whole order refunded, and please address the employee about hanging up the call and saying this is McDonald's. It's was very un-professional of him being a night supervisor of the store.
Thank you very much for taking the time to hear me.
Asif Khawaja
201-736-7243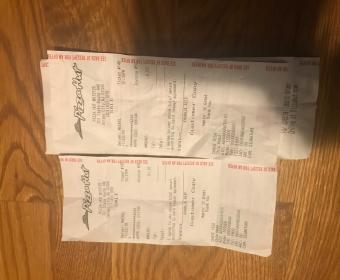 Lipsa Rout
from Lucknow, UP
This is the second time that money has been deducted from my account and yet the order hasn't been placed

Marc Daigle
from Arlington, VA
Hello,
My name is Marc and I am writing about a very bad experience with one of your restaurants. First I would like to say that it is very difficult to find someplace to do this. I tried the "tellpizzahut" survey listed on the receipt. I assumed it was going to be like the survey listed on other receipts I have had at other restaurants. I was wrong. It went to a survey about my buying and living habits even though the receipt says on it "we'd love to hear about your experience". The survey never asked me about my experience. This was almost as frustrating as the meal I had at the restaurant. Any way I found this email address on a blog and I hope that it is the right place.
My dining experience went like this. After church on Wed the 21st of Nov my wife and I went to pizza hut to eat. We arrived at around 15 minutes to 1 pm. When we walked in we found that the restaurant was not very busy. We saw only two tables with customers and only one customer paying at the counter. The employee taking his money said to us that we could sit anywhere. We walked down the row of booths and found that none were clean. All had crumbs and sauce and obviously had been left uncleaned after having been used. We chose the cleanest one and I took some paper towels and cleaned it myself. I should have taken this as a sign of things to come but I overlooked it. The employee that was at the counter walked over after a few minutes and asked about what we wanted to drink. After he walked away, we waited for those drinks. They were slow in coming but not slow enough to warrant a complaint on its own. It did appear that he was alone. My wife said to me that she wanted to be ready to order when he came back with the drinks because of the wait time. I agreed and when he brought the drinks we ordered. My wife asked for an order of cheese sticks as an appetizer and she ordered a medium thin crust cheese pizza for her lunch. I ordered the 8 bone less wings and fries for lunch. Then we waited and waited and waited. I asked the waiter a couple times for the appetizer and he kept saying that it was coming. Finally after what was more than enough time the pizza was brought to our table. The waiter put it down and gave my wife and I each a plate and said for us to enjoy our meal. We looked at each other in disbelief. As he started to walk away my wife stopped him and asked "what about my husband's meal?' He appeared perplexed but after a few seconds he composed himself and said "it will be out soon". I thought REALLY? He was not convincing. I don't think he even remembered that we ordered other food. I later noticed on the receipt that a woman named Catherine actually entered the ticket not the waiter. After he walked away we looked at the pizza and were very disappointed. The pizza appeared as if it had been too long in the oven and had been allowed to sit too long after it came out. By that description I mean the cheese was very dark and not at all melted. The crust was just as dark and was not crispy but was chewy. The pizza itself was not hot to touch but was warm instead. I told my wife I was sending it back. She said no she was too hungry and no longer wanted to wait. She ate a couple pieces of pizza and I waited for my lunch. When my wings finally arrived they were without the accompanying fries or ranch dressing. I asked the waiter about the fries and dressing and he said that he would get them. I assume he got busy because he did not come back. I went up to the counter and got the attention of the person cooking. I asked for the fries and dressing. This person made an attempt to walk around the kitchen area looking for them but never produced them. At this time I complained to the manager. After complaining I went and sat down. Soon after the waiter appeared with the ranch dressing but not the fries. I was really hungry by now so I started eating the wings. By now though the wait for the dressing had caused the wings to cool and the buffalo sauce had soaked in and the breading was no longer crispy and hot but was warm and mushy. I ate only 4 of the 8 wings. They were horrible. While eating the third or fourth wing the fries finally came out and soon after the appetizer appeared. Now the problem with the appetizer was twofold. First as we only eat pizza hut on occasion we made the mistake of assuming that "cheese sticks" meant sticks of cooked cheese sticks. I guess at this restaurant "cheese sticks" means a big huge piece of bread with cheese and garlic on it. That's my fault for assuming. It's also corporates fault for not putting descriptions on the menu. The second problem was IT IS AN APPETIZER it is supposed to come out first not last. The "cheese sticks and the fries were the only things that were delivered piping hot. The fries were crispy and the cheese was melty and hot. Meaning to me that these items had only been put in the cooking device after we complained. I explained to the waiter that we did not want the Bread we wanted cooked cheese sticks he said that these are cheese sticks. The manager appeared and said "Oh you meant mozzarella cheese sticks". At this time my wife and I started laughing. This meal had become like an episode of the three stooges or the Marx brothers. The manager left and within minutes the "cheese sticks" were taken away and replaced with "Mozzarella Cheese Sticks". I ate a couple of fries and we wrapped up the appetizer. My wife sipped at her diet coke (which had never been refilled) and we decided to leave. The manager wanted to cover the bill but I insisted on paying. I did not complain to get a free meal I complained to get the meal I was paying for in a timely and quality manner. The only good thing I can say is that the employees were pleasant.
The store was the pizza hut in Culpeper Virginia. I am looking at the receipt now but I do not see a store number like on other receipts. I do see a number on the date and time line but it is not labeled store number. That number is 023495. My ticket number is #0028.
Marc Daigle
19106 loggers rd Culpeper Va 22701
571 238 0196

michael skinner
from Birmingham, AL
I am very disappointed with your delivery service with many reason that I will state to you:
1) your service did not deliver my pizza in a timely fashion. Over a hour late.
2) from that 1st reason which result in a COLD pizza which you guys state in ur advertisement that my pizza should arrive hot
3) as well since you guys took your time in making my pizza ur establishment forgot to add my toppings that I specifically asked for. Plus I payed for them. When I placed my order
This has happened plenty of times from when I order pizza from your business and it's a very poor run business. Please upgrade your service. I spend alot of money with this company. I deserve better.

Monica Murrell
from Millington, TN
Ordered 2 lrg pizzas wings and 2 liter Pepsi. I got half my order. Just 2 large pizzas. Delivery driver said that's all they gave me, but I'm like look at receipt it clearly shows 2 items missing. My family ate without wings and drink. What we supposed to do wait an hour til we got the rest of the order. Either way poor service. I call and see what's taking so long and let the store know what happened and all I get is sorry, but he is on his way.
Ordered from Arlington branch 11_17/18 @ 5:14. CSC#75 Ticket: 101

Todd Cornwall
from Chicago, IL
I filled out a survey, and will copy/paste for you:
A huge miss on everything. I ordered double sauce, I got regular sauce. Everything was 10 minutes late and not even hot. It seems that some things were cooked and ready, but they sat on a shelf getting cold waiting for the other items. Chicken in the pasta was gross. That's the second time I get hard crunchy grissly fatty pieces of "premium" chicken. The pizzas were rushed. They didn't look at my order and get me the double sauce and some slices had NO pepperoni while others had 4 pieces.
Based on this last visit, I don't think that I'll return to that pizza hut until things get better. They were doing really well for a while, I was really impressed with the food. Last two times were absolute failures. It seems that when they get busier, they don't bother with quality. I get emails about "game day promotions" in order to get me to order from them on game day, yet, your so damn busy, the food quality is horrible. The chicken is getting specifically nasty. Fatty, crunchy grissle. It's the garbage you should be trimming off the chicken instead of feeding it to people. Slowly losing me as a customer again, and this time not sure I'd come bad since there are other options nearby.

Earl Hansen
from Killeen, TX
Yesterday, 11/15/18, my wife and I stopped at the Belton, TX Pizza Hut at the 6th ave., exit on I-35 for lunch and ordered wings and a medium meat lover's pizza. While waiting for the meal the friendly waitress brought our drinks and I noticed pizza goo caked around her thumb and finger nails. Shortly thereafter a cook brought out part of our order and the waitress then brought out the pizza. She then began mopping the floor, stopping shortly to give out an order to go at which time she opened each of four boxes to show the products inside. She then walked out with the customer and had a smoke while outside, returning in a couple minutes to continue mopping the floor and hallway to the bathrooms. She then checked on the inside customers stopping to pick-up trash off a table and the floor, after which she broke down the buffet stand and stored the food in the back. She returned carrying toilet paper and installed it in the bathroom, returning to the dining area to wait on customers. At no point did this waitress stop to wash her hands and we saw none of the employees, waitresses or cooks wearing any hand covers, including what appeared to be the owner that went back and forth between his car, cell phone and kitchen area. DISCUSTING and UNSANITARY - WE WILL NOT RETURN TO THIS ESTABLISHMENT and I would highly recommend the health department investigate and issue a few citations.

I ordered a simple cookie and some cinnamon sticks and it was $20 and i never got any of it and Pizza Hut never showed up. They robbed me of my money and never delivered my food.

Wood Shopp
from Sarasota, FL
Since PH moved stores I an 2 to 3 blocks out of range for delivery with 2 stores! I can't get delivery anymore!

Jamekia Caldwell
from Greenwood, SC
I ordered your 2 or more $5.00 deal tonight. The order was a hand tossed pepperoni pizza and a hand tossed beef pizza with no extra toppings , this order was placed online under the name JAM CAM at 10:15 pm. After I placed the order I called to see if they were still going to make the food because it was 45 minutes until closing time and I also called to see if I could add a garlic sauce on to my order but I nicely declined after the young lady said it would be $1.00 extra for such a small sauce, so my total was still $14.72. $10.00 for the 2 pizzas, $3.50 for delivery and $1.22 for tax as the receipt online explained. I work from 4 pm till 12 am so the pizza was supposed to be delivered to my job and I also gave instructions for them to call my number (864) 377 3714 when they were at the guard shack with the order. The young lady said it would be ready by 10:45 and I agreed. I waited outside in the freezing cold and rain for this food and no one showed so I called again as to where the young lady working had just told me that the man was "on the way now" with my food. This was at 10:52 pm. As I waited there was no car to pull up with the pizza hut logo on the hood nor did I receive a phone call, so by 11:14, 22 minutes later , I called again. The young lady said they were closed so I asked her ' At this point is my food going to be free? or atleast discounted? " she says, "Well he was supposed to be on his way , so let me just call him really quick" and she hung up. I called several times after we hung up to tell her to just cancel it but didn't receive an answer from her again. The driver called my phone at 11:18 and said he was at the gate. I flashed my lights on my car and told him I was sitting outside at the gate for atleast 20-30 minutes , and did the girl say anything to him about a deal for the strenuous wait? He said " No but I got your food, I'm the only delivery guy they have tonight and she hit me with like 5 of them back to back." I said well she said she would call you because you were supposed to have been here before now"...he said "Well aint no discount and it shouldn't be cause the food is still hot so just come and check your food and pay for it..when she called I told her I was on south main!" Even though I was inclined to still buy the food after he was being rude with that nasty attitude on the phone, when I walked up to the car he was still mumbling and talking trash, with what I would assume to be his girlfriend or something on the passenger side of the car. So I said no thank you , and he said, "fine fuck it" and sped off. I am so disgusted by the driver and the cashier for not finding a better solution, especially seeing that my job Carolina Pride, on 1 Packer Ave Greenwood SC 29646 is only 5 MINUTES away from 1506 Edgefield st, Greenwood SC 29646 which is Pizza Hut NEAREST THE JOB. Everything that I have stated is true please check your online system so that you can verify the addresses, the distance , and the times. THE DRIVER CALLED FROM THE NUMBER (864) 554 8622.No matter if he was having an awful day or not that attitude took my whole appetite away, and even if the young lady decided not to answer the phone for me anymore at least she was half-way courteous. This is bull crap and I will be calling corporate, and although I didn't lose anything because I didn't pay for anything I did wait an extra 15 minutes past my 30 minute lunch break. I feel cheated. Please resolve the issue.

Mamiedoylemd@gmail.com
from Alexandria, VA
I ordered pizza online for delivery from your store 703-781-8181 I spoke with the manger Ingrid who was very rude and had very poor customer service! When answering the phone I said hello how are you this evening she said what ?? I repeated my self and her response was ok !! I explain that I was not satisfied with my pizza that had no topping that I order she well ok we just put on there what corporate tells us then she said you. An send those back and I will put alittle more on before I could say anything else she hung up I called back no answer and I never got my pizza . I paid $ 4 dollars for dilvery and I gave a tip ! Very disappointed with the way she talked to me and how she treated the situation has if she gave me the pizza I paid for it and wanted what I paid for ! Unexceptionable service amd I will never order pizza from there again .

RON
from Ciudad Acuña, COA
SHIFT MANAGERS FRIEND (MARIA) WALKS IN FROM STREET AND MAKES CHANGE FROM CASH REGISTER, DOES NOT WORK HERE. THEN WITH UNWASHED HANDS BEGINS TO MAKE PIZZAS. I HAVE SEVERAL PICTURES OF THIS HAPPENING. WHEN BROUGHT TO MANAGERS ATTENTION HE CUT MY HOURS THEN FIRED ME.

bobby oliver
from Mobile, AL
we order pizza 2 times a month everytime we pick it up their is not enough topings saterday i asked the cashier why she said when you buy a pizza for $7.99 you get less topings if that is so that is false advertisement we are going to take our business elsewhere,

Linda Sacca
from 'Ewa Beach, HI
I ordered 2 medium Pizzas,1Bottle Diet Pepsi and 6 Chicken Wings on Friday the 2nd of November.I didn't speak to anyone at the Pizza store in Ewa Beach,Hawaii. I spoke to someone at a different place.She was not someone I would have hired in my stores in New York.She was not personable and lacked the good manners one needs to be an asset in any business.I was still. talking to her when she abruptly hung up .I. Immediately called back and didn't she did not apologize at all .I said she was rude and asked her if the delivery person has change of $20.00. She. Said yes and hung up again.The delivery man was polite and I welcomed the change.
Upon opening my pizza ,I found it very thin and over cooked.The Chicken Wings we're soaking in a very oily sauce.I and my family have ordered many times from the same Pizza Hut store.but we always received a delicious meal. This was horrible and the girl on the phone needs to change her behavior.New York Pizza Huts are second to none.
Thank you for this opportunity to help your business improve communications with your Pizza Customers

Jaclyn Hudson
from Houston, TX
i had for extra sauce on pizza and didnt get any, the food was cold and the driver didnt come until 1 hour and 30 minutes later

Christopher Gray
from Winchester, KY
Online order at 4:16 for delivery at 7:30, it's now 8:00 and no pizza! Run around from PH and no answer from local store. This is ridiculous and completely unprofessional and unacceptable. Pizza Hut you have failed miserably...you had one job!

Since 5 months ago, I have noticed that Pizza Hut restaurants in China no longer have any vegetarian pizza options in their menu. Not even vegetarian pastas, nothing. In the world nowadays more and more people are becoming vegan or vegetarian. It would be nice to bring back your veggie pizza deals, so everyone can enjoy the delicious food of Pizza Hut.

I was trying ordering for deliver person on phone was very rude wait time for delivery is 90 mins thats just sad. I was trying to cancel my order had to call back 10 times before someone answered

Antawnett Smith
from Irving, TX
Well I Have Numerous Of Complaints For The Sycamore Store , From the time I walked in customer service was bad I seen a young lady sweep the floor the later on go prepare food after that I didn't seen no employees wash their hands before handling food I walked out sat in my car and waited until my order was ready !!!!! WELLL I WAITED I 15 Mins Plus TO RECEIVE COLD BREAD STICKS & Warm PIZZA THAT WAS FOREMOST THE WORST EXPERIENCE IVE EVER ENCOUNTERED SO WHEN I WALK THEN AND TALKED TO THE MANAGER SHE WAS NOT SO FRIENDLY AS WELL PIZZA HUT GET IT TOGETHER

Amanda Batten Pepevnik
from Gastonia, NC
I order from pizzahut quite often and usually my order's are correct ,but this past time I ordered a few day's ago ,it wasn't ! I ordered a brownie and the brought me a cookie and see my kid's we're hungry ,so I didn't want to have to call them and have to wait for them to bring me a brownie back,so we just went on ahead and ate ,but here I am ordering tonight and I noticed that the brownie costs more than the cookie the other night ,which it's not but a couple of dollar's more ,but still to a struggling family every dollar counts ,so I would just like to say that maybe they should have the delivery driver make sure everything's correct before they leave ,from now on ! Maybe that'll solve the issue ,you know ?

Randall Hankinson
from Las Vegas, NV
It is bad enough you stopped serving warm marinara sauce. You don't get nearly enough with one sauce for the breadsticks so I buy and additional one. Now I pay 49 cents plus tax for a sauce that is filled 1/3 full. (SEE ATTACHED PHOTO). The portion cup and lid cost more than what you filled it with. Bottom line is pizza hut just lost a customer because you are being cheap and skimping on your product.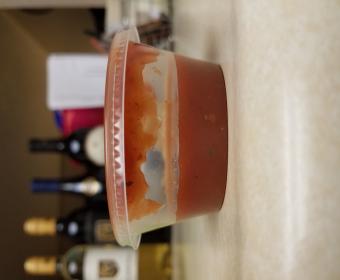 On 10-22-18, at your store in Canton NC, we had a bad experience. We arrived for the lunch buffet at 1143am. We were seated, and told that due to being understaffed, there would be a limited buffet. I asked if pizzas were still going to come out, and we were assured that they would be. There were parts of three pizzas at the buffet. In the next 50 minutes, two pizzas came out. One pepperoni home crust, and one thin crust pepperoni and banana pepper. The waitress never did come and refill our waters, and never apologized for the lack of variety or quantity of pizzas. This is the second time in 6 weeks that we have had issues with this store. My employees will be taking your store off of our lunch rotation because of this poor lack of management, quality, and quantity. The waitress' name was Chelsea. I still have my receipt. This is the second complaint I have filed, as I have not heard back from my complaint on the 22nd.

Lisa M Huntley
from Bettendorf, IA
The store is completely ridiculous! I ordered the pizza online, changed my address because sometimes I have it delivered to my work and Hayley calls me to say half the stuff I ordered can't be made because their fryer is down and when she called she was so rude I hung up on her! I called back to get a corporate phone number she put me on hold 8 min to tell me there is no phone number to call and the website she gave directs you too a website of survey are you shopping black Friday at Walmart. The delivery driver calls and says hes at Walmart.. I said I changed it on my app to my home address ok where do you live, I tell him and he says ok, 4 min later hayley calls again rude and making excuses of why her stuff doesn't work and she doesn't control the app and being very rude..I ask for her bosses information she takes another 4 min to come back and say she will send him an email..I do not trust her, I want my money back and her manager to call me!! I will never shop pizza hut again. The regional manager over this area just called and offered free pizza but based on customer service and now my kids will be late to bed and my day starts at 5 am I am completely pissed!

I ordered online a $10 dinner box when the delivery driver got to my residence I made sure to go outside and greet her so she'll know which apartment to bring the pizza to Incase she tried to call because my phone had been disconnected & she sees me and gets out & i waive to signal I'm the one who ordered the pizza but she gets back in the car and drives off and i try to flag her down but she keeps driving. I finally get a hold of a phone to call the store and they tell me it's my fault because she called but my phone was disconnected but she'll direct me to a manager & i hear the driver in the background say f*ck that I'm not coming back ,what she need to speak to a manager for ? They place me on hold and the call mysteriously drops. I call back and finally get the manager on the phone he tells me there's nothing he can really do because i paid with my card and he didn't want to void the order out to give me a discount for waiting so long for my order because it would "make him look bad in the system " so all he can do is give me a $10 gift card for my next order and I'll have to wait for the next shift driver to come in and deliver me my pizza. I ended up waiting over an hour and 20 mins for my pizza. When I finally got my pizza it looked like it had been messed with and it was cold .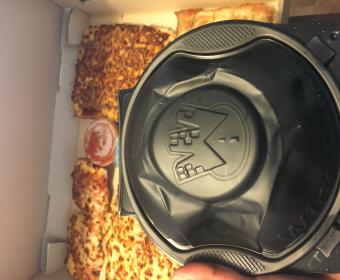 Jennifer
from Perrysburg, OH
I live in Perrysburg, Ohio. Our Pizza Hut has recently reopened. On our local Facebook group someone asked how the pizza and service is now that it is reopened. One lady stated a poor experience that she had. Attached is a response from I believe someone said a kitchen manager. I can't believe that this is how Pizza Hut employees treat customers who have had a poor experience. Then when another lady defended her for stating her experience, he then threatened to get that customer banned for life. I have zero desire to support a company who supports such disrespect from their employees.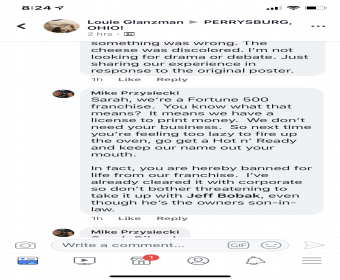 Lucinda Taylor
from Beachwood, OH

Jennifer S
from Chicago, IL
We just called to order a pizza for delivery. It is 6:13pm on Friday evening 10-19-18. We were told that delivery time would be 10pm!!!! I thought the guy was joking!!!! I've never in my life heard something so outrageous. Even on super bowl or New Year's Eve. This is some kid either TRYING to get fired or hates the owner. Pathetic.

Lisa McCaughey
from Dahlonega, GA
We just ate at the Dahlonega Georgia Pizza Hut. Took over 35 minutes to get our food. The soup had mold in it, the personal pizzas were not cooked all the way and the waitress was rude and not at all in touch with customers.

Elizabeth Irvin
from Amarillo, TX
I ordered a pizza to be delivered and after waiting 45 minutes I called and they said it never left the hopper. They brought the pizza and not only was it cold it was the wrong pizza. I called and they said they would refund my money. When I didn't see a credit I called back and they said It would take up to 5 hrs. I was never credited!!!!!!!!!!!!!
Have feedback for Pizza Hut?
Thanks for your feedback!
Sorry. Please try again later!