Pizza Hut
Contact Pizza Hut Corporate
Toll free phone number: (972) 338-7700
---
Pizza Hut is an American fast food chain, international franchise and a subsidiary of possibly the world's largest mega restaurant corporation, Yum!Brands, Inc. Pizza Hut has over 11,000 outlets worldwide with 6,000 in the United States. Employing over 160,000 there are outlets in approximately 94 countries. Corporate website is www.pizzahut.com.
If you experience a problem with your dining experience at any Pizza Hut you may call 1-866-364-0082 in Canada and 1-800-948-8488 US. You may also address correspondence to the CEO, David W. Gibbs at 7100 Corporate Drive, Plano, Texas 75024 or call the corporate office at 972-338-7700.
Pizza Hut was started in a small house in June of 1958 in Wichita, Kansas by Dan Carney and Frank Carney. Pizza Hut uses promotions, movie sponsorships, seasonal offers and products to capture extra marketing opportunities. Social media presence may be found in Facebook, Twitter and YouTube.
Pizza Hut Contact Information
Report complaints to corporate and get satisfaction
Pizza Hut headquarters address

7100 Corporate Drive
Plano
TX 75024

Company website

1-800 phone number

(972) 338-7700

Support email address

feedback@pizzahut.com

Better Business Bureau rating
Browse reviews of other Fast Food
Top Pizza Hut Complaints
Browse more than 346 reviews submitted so far

James Jones
from Houston, TX
I ordered a pizza on line i got charged 31.38 never got pizza and bread sticks order # a027119x81t2353 how do i get a refund i will never order from Pizza Hut again i even called and the lady said it was scheduled for delivery at 1:07am now we are starving and will have to find a burger joint thanks a lot Pizza Hut i have to go out on the road with all the rodeo drunks .

David Ford
from Carlsbad, CA
How can they employ a thief and a liar like Brandon ? His clothes are filthy dirty and he wears the same clothes to work every day. He smokes weed all the time. He just got out of prison in November of 2015 for breaking into a building, stealing a four wheeler and selling it. He lies to everyone to get people to feel sorry for him so he can use them to get what he wants. You really can't believe anything he says. He also has a desire for young girls. He has been with a 12 year old within the last year. How can you possibly keep him employed?

Patricia Kinney
from Fort Worth, TX
I placed an order tonight August 3rd 2016 4 the 2-inch 1299 Pizza for delivery. The driver came out and I missed him I didn't hear the knock so I called. And when I talk to I guess the shift manager there he told me that someone came ten minutes ago he was going to have them come out and run the same order but I did not want the same order and I apologize for having the driver come out and I would like to place another order. He put me on hold for about a minute or two then he came back on and said he can not have his driver come out again until our apartment.
When I asked him why he said because it's not safe for the drivers to go to the same address more than once in the same time period. So I asked him if I place the order online again is he going to cancel my order and he said if it's coming from my address yes he will or I can come pick it up. I was very upset because his demeanor over the phone was as if he did not care about my apology and he didn't have time for it. I just want to know is that Pizza Hut policy. And I informed him that I order there frequently I know at least more than 3 times a month I was very unhappy with the way he handled the situation.

Patti Smith
from Jefferson City, MO
first I would like to say we have had negative experiences with the Capital Mall Pizza Hut in Jefferson City MO in the past but yesterday was the icing on the cake. My husband all them at 3:53 and ordered a large thin super supreme with extra cheese. They gave him the total and said it would be ready in 20 minutes. He phones me to go by after work and pick it up. I get there and the manager is at the register. I told him the name and what I was picking up and he said he didn't have any order for that. After giving him my name my husbands name both phones numbers he still says he has nothing. Not to mention he is rude and short. He didn't seem to care one way or the other to help us out or anything. Didn't apologize offer a discount nothing. I said never mind I don't have time to wait. My husband calls back and talks to a woman there and she says she is sorry and agreed he must have called considering he knows the exact total, they offer to deliver it. Again we are on a time frame here. He gives her our address and they said they would have it there in 15 min. 25 mins later she calls back and says out computer messed up can I get your address again. It will be another 10 mins. He said no. we don't have time for all this. this will be be LAST time we EVER eat at pizza hut. There are way to may pizza places in Jefferson City to put up with this crap. I seriously have no idea how this place stays open if they treat all their customers this way and that manager needs an attitude adjustment. If he hates being so bad then maybe he needs a new line of work. I'm not expecting a reply. I'm sure you all don't care is why you want this emailed and won't talk on the phone about complaints.

Nichole Smith
from Visalia, CA
I ordered a pizza online for the first time ever. After waiting in the living room for over an hour I realized it was taking way to long. So I called and they said that my card had been declined and they canceled my order. First there was nothing wrong with my card. Also they said they had tried to call but that was nearly an hour after I had ordered. Why would you cancel an order without trying to make the delivery and obtain cash. Which I would have been fine with. I was so upset I didn't even want it anymore. The only reason for that card to be declined whold be if they put in the wrong info. I'm so disappointed with my first attempt at online ordering. And on top of that they weren't even apologetic.

I was online and noticed a free $50 gift card from pizza hut if you signed up and purchased a living christian CD and subsequent monthly membership. I purchased the cd and then never received the $50 FREE gift card from pizza hut. Naturally Pizza Hut denies there was such an offer online! So I returned the living christian cd and they want to now charge my account because they said I never returned the cd even though I have proof the cd was returned by the post office. I will fight this one for all of us who make mistakes buying stuff online! Pizza hut really screwed me on this one and I still can't believe this!

Nakeisha Gibson
from Philadelphia, PA
I placed an order for carry out. When I went to pick up the order, the cashier almost forgot my pizza. After getting what I believed to be my entire order, I headed home. When I got home I realized that you had forgotten my wings. I attempted to call the store, but the line kept giving me a busy signal, sometimes immediately and others times after 2 or 3 rings. Ordinarily I would have just gone back up to the store, however, the weather is horrible, which is why I decided to pick up the order while I was out. Attached is a screenshot of my order.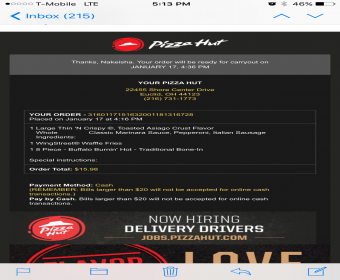 Mercedes
from Jackson, MS
I had placed 2 orders for pick up I was told it would be a 45 min wait. I waited 45mins then I came in and paid for them and I was told my order was ready. I got 1 of my pizzas and they said it would be another 5mins for my other pizza. After 10mins they asked me again what I was waiting for. And they still could not find my other pizza. I waited almost another hour and by that time my other pizza was cold and the person up front just gave me a random pizza and gave me my money back.

The place is a complete dump. Has been for awhile now. It takes 1-2 hours to get a carry out pizza on a weeknight not even a weekend. Pizza is always messed up or not good at all it's always to greasy and half cooked. Booths and tables are digusting and filthy. Makes you not even want to sit down or if you do you want to take a shower as soon as you leave . Ceiling tiles falling down bathrooms filthy I could go on and on about this ridiculous place. It needs new management or just needs to be shut down. I will drive 45 mins out of the way if I want Pizza Hut again. Will not be back to the new Albany one until something is done

I wanted fo reward the a team of ladies I work with for a great job they did in our department store in Louisville Kentucky. i order three large pan pizzas from the Pizza Hut on shebyville Rd near St Matthew Mall. First the who delivered the pizza was rushing me and when I checked the pizzas they were not pan they were thin crust the topping were wrong. I call and spoke with the manager he said he gave me the thin crust because they ran out of pan.He didn't even call to ask If It would be ok. I order pizza all the time from the Preston Hwy location and Its great. I was very disappointed.

Howard Rooks
from Naperville, IL
This complaint is to Pine Ridge SD Pizza Hut We have been calling for 30 minutes! They finally answered and told me they are not taking orders for 30 minutes! Last time we called in a order we went to pick it up some ladies were outside smoking in the back and no one to help us then they didn't have our order ready! This place needs a new manager!

Richard Stutts
from Mooresville, NC
Ordered pizza to be delivered, 1hour and 15 min, Wanted Big Box with one Thin Crust and one Pan, I was told I couldn't get that. Got the Big Box and a side Salad and she said it was $34 and some change. That seems awful high, that's OK because next time I'll order somewhere else

corey bullock
from St Louis, MO
my pizza was cold and they was so rude never going back ever .

Joanne oconnell
from Pittsburgh, PA
Please call reconsidering claim #0101578501or03 waiting since 10-29-2017 Joanne cornell 412-7045790

Robbie L.B.G Davis
from Nashville, TN
As of NOVEMBER 9th, me & my brother had ordered 2 large Delivery- Pizza's from Pizza Hut location ;2700 Gallatin Pike ,Nashville ,TN.37216 ....when the delivery person arrived, he had 2 Med pizza's ... me and my brother told the delivery person that was NOT WHAT WE HAD ORDERED.....the delivery man called to the store and explained the order was NOT CORRECT..the Manager told the delivery man that's what we ordered,,,this went back & forth for OVER 25 MIN.!!!! finally the delivery man handed me his phone to speak to the Manager myself...I asked for his name ,it was Wisely Pruitt , I asked him to just make what we had ordered and why was he being difficult and ARGUING WITH A CUSTOMER ,instead of just saying NO PROBLEM we can make you your correct order ...but instead WISLEY PRUITT KELPT ARGUING basicly CALLING ME A ( LYE ) of what I had ordered!!!! I told him that I WAS APAYING CUSTOMER AND I WAS NOT GOING TO PAY FOR SOMETHING I DID ( NOT) ORDER !!!!! instesd of him RESPECTING ME AS A PAYING CUSTOMER,WISLEY PRUITT REFUSED to make me a SATISFIED CUSTOMER ,he had YELLED AT ME OVER THE PHONE WHILE REFUSING TO CORRECT THE SITUATION at hand.....I had asked him for a complaint no. he replied ,there's NOT ONE for me to call ,which I found that NOT to be TRUE !!! I have never had a place of business that REFUSE to correct and to SATISFY THE PAYING CUSTOMER ,instesd he wanted to keep ARGUING !!!!! I asked him OVER & and OVER ,AM I NOT THE PAYING CUSTOMER ....JUST PREPARE ME A CORRECT PIZZA , HE still ignored ME and my request ...WISELY PRUITT need a 101 in CUSTOMER SATISFACTION and go to a ARGUE MANAGMENT CLASS FOR A WHOLE YEAR !!!!! OR BE TERMINATED !!!! WISLEY PRUITT IS TO( GHETTO) and SALVAGE for me,I will make sure my MONEY GOES else where when it comes to a PIZZA , IT IS MANY OTHER COMPETITERS for me to CHOOSE FROM,with pleasure,after this GHETTO MANAGER EXPERIENCE ENCOUNTER !!!! I WILL NEVER RECOMMEND PIZZA HUT IN THE HOOD !!!!! JUST PITIFUL ON ALL LEVELS.

Stephanie Reese
from Salt Lake City, UT
Used to be one of my favorite pizza places, but starting to rethink...I Ordered online for the Payson UT restaurant and both times my pizza didn't have the flavored crust I wanted, and one of the times they didn't have one of the toppings I wanted and it still charged me for 2 toppings...I didn't bother to go in and have them remake it either time for the crust, they did give me a $10 off for not having a topping which was cool, but the fact that they have a website that can't even get orders right, and have a store number that doesn't even work for to do the survey when the receipt doesn't have an 11 digit number at the bottom makes me not want to order there anymore.

Shirley Lenz
from Greeley, CO
This complaint is in regards to the Pizza Hut in Wheatland Wyoming (#007554). I have never ever had such a horrible experience at a Pizza Hut. I am livid!!! Today, my co-workers and I went to have lunch....we were the first ones there....no one else in the whole place. We placed our order....which was boneless wings, garlic knots, pizza rolls and bread sticks. 45 minutes later the waitress/asst manager brought us cold wings and nothing else. She said it would still be a few minutes for the rest. At the end of 1 hour and 10 minutes......we still did not have the right order. No bread sticks....got charged for them though but got credit for garlic knots and we had to take it all to go because we were already late back from lunch. This is just ridiculous!!! Not only did we lose time at work....we had to work the rest of the day hungry. Please do something this. Thank you for your time. Shirley Lenz

mensha wood
from Cardiff, WLS
Good afternoon sir/madam, I ordered a pizza at 18 Cardiff road Newport Gwent last night and asked for two large pizza with no pork, only to discover that the two pizza was full of pork then I called pizza hut to explain, I was told that pork is not pepperoni and that they will not refund my money or change the pizza, I then called a taxi and whet to see the manager, he was very rude and arrogant and call me a black bastard,how can I get my money back and an apology, the managers name is Jamie.
yours faithfully
mensha wood

chris gobbi
from Oldham, ENG
having to my family to pizza hut for a celebration of a family birthday i.m not very happy with my visit and sevice with waiting for are orders having our main courses brought while we was eating our starters waiting for garlic bread when are main had been brought what they had forgot to bring and make and brought one piece what was very small the pizza toppings what was very little of them on the pizzas the restaurant was under staffed so i will not be visiting pizza hut again me or my family and friends

Jeff hernandez
from Houston, TX
My husband ordered pizza at 7:40 said it would be a 54 wait time which is fine bc it's Halloween. An hour and a half goes by he calls they said it's on it's way. Two hours and no pizza so he calls and the store tells him they don't have wings he needs to place another order. Husband requests refund and to cancel order. The guy states it's Pizza Hut policy to not refund any money that they will give him credit. He said no I'm not satisfied with this I do not want a credit. The party I had here was hungry they left and I don't want your services anymore. The guy continued to argue with him until he asked for manager. He told my husband the manager wasn't available. Continued to argue with my husband that they would not give him his money back. Said they are busy. Kept giving excuses. Then we heard a female in the background that said just hang up. It was the manager my husband was waiting for. She got on the line identified herself denied what she said and then hung up on my husband after he demanded his money back. It's now three hours and we do not have our pizza and Pizza Hut has now stolen our money without giving us the product nor our money back. At this time we will never order from Pizza Hut again and we want a full refund within the next 24 hours or we will pursue legal action for how we were treated and how the local store refused to give us our money back for a product we did not receive. The store was in victoria Texas 77901 phone number 361 5739137 the guys name was John that was extremely rude and not professional.

I want to make a HUGE complain about the order in subject and ask for the refund!!!
I've ordered pizza at 8pm, as you can see from the image attached, and around 9.10pm I was still waiting for my pizzas so I've called the restaurant asking information about my order. They told me that the delivery should have been here soon. So I said ok no problem and I thanked the person.
At 9,30 I rang again, as I haven't received my pizza yet, and the person at the phone told me that the delivery went back to the restaurant because he forgot the receipt with the address on it and that he should have been here soon. So I replied saying that if he would have been here in max 15 min I would have cancelled my order.
At 10pm I called for the third times MAKING THE SAME complain about the awaiting pizzas and asking for cancelling my order and having the refund. The person at the phone said that the driver was out to deliver the pizzas but I replied that I didn't want my pizzas anymore, after have waited 2 HOURS for 2 Margherita. UNBELIEVABLE!!! He told me to ring the restaurant tomorrow and speak with the manager and in the meanwhile send an email to the customer service making a complain and asking for refund to you.
I WOULD NEVER EVER ORDER PIZZA FROM PIZZA HUT ANYMORE!!! 2 HOURS FOR 2 PIZZAS!!!! AND THE RESTAURANT IS ONLY 10 MIN FROM WHERE I AM!!! I'M SHOCKED!!!! UNBELIEVABLE.
That said, I DEMAND MY MONEY BACK.
Look forward to hearing from you as soon as possible.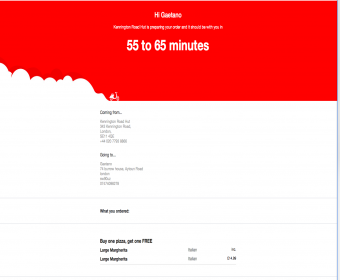 shani pettaway
from O'Fallon, MO
This was the worst pizza hut in America. The staff was horrid, nasty, mean and dishonest... it took over four hours for them to deliver my pizza after I was told that it would be a 1 and 1/2 hour wait. I tried to call to cancel my order and the staff lied several times and said my pizza is on the way. I was at work and had to wait until my shift was over to try to get my pizza or my money back. after 4 hours I when up to the store (15002 Ella blv Houston TX 77090) and spoke with someone who claimed to be a manager ( he gave me the name Charles but the receipt sais Iscc) and he said that not only can I not get my money back but he had no idea where my pizza were... There was a man there African American, tall very, heavy, mid length greed locks in hair, and with what looked like bad teeth who claimed to be the manager " Charles" is the name he gave me but the receipt he gave me said "Iscc" was so mean and dishonest. He first lied and said this was not the proper pizza hut, then that the call center did not place the order correctly, then then that they didn't take a payment then that I did get my pizza. If he is a manager he need more training... the made this one of the worst food service experience of my life. He scared me.
And I still have not received my money back on my card.
I have a video that I cant seen to up load but I do have it...

Mike baker
from Nashville, TN
10-3-17@ 600pm watress ask for drink order/ water went to salad bar mad a bowl & then to pizza bar- table no drink yet. Eat Salad &three slices of pizza. Had to get an attention of other water he come over and ask what I needed.@ and I said what do you see is missing here & he look dumb founding . Not to even to notic that there was no glass on the table - I said I order a glass of water.. & I said how a bout slapping the waitress & tell here to do here job . In an kidding mainer 10:min. Latter I finly got the water by this time it's 6/7 slices without any thing to drink. I was Ignore - no refills / plates - boles - paper & discard food -clears from table. went to pay bill was ask how was every thing I replied service sucked- and there were 6 to seven people standing at the reg and young person - Mail said that what I had said to water was offensive. And that t why I was Ingored . Do thes young kids today think life is an bed of roses & cant Handel a little sarcasm-kidding then they in for an rede awaking. What every happen to customers servi. Note to complaint Dept. I did apologize to young man and every one stand there even the young lady waitress. PS here are the pictures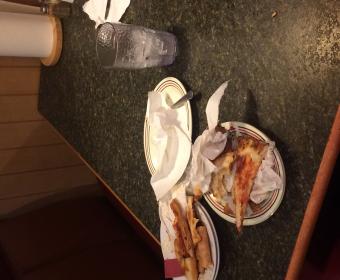 GLENN BRIGGS
from Coppell, TX
I AM BEYOND MAD.....U ASKED ME TO TAKE A SURVEY AND I WOULD GET $10.00 OFF MY NEXT ORDER. EVERY DAY I GET 25 TO 45 JUNK EMAILS SINCE I DID UR SURVEY. THIS IS BEYOND CRAZY AND I BLAME YOU. THIS HAS NEVER HAPPENED BEFORE SO I KNOW YOU ARE THE CAUSE. YOU NEED TO FIX THIS AND / OR MAKE THINGS RIGHT. I HAVE BEEN A LOYAL CUSTOMER FOR OVER 15 YRS AND YOU DID ME WRONG. THAT WILL CHANGE IF YOU DONT DO THE RIGHT THING. YOU SHOULD BE ASHEMED OF YOURSELVES.

toni Edwards
from Chicago, IL
Had 6.99 coupon for a large pizza with one topping. Ordered via phone large veggie pizza with pineapple topping. Upon arrival, to pick up the manager (he identified himself as Jose) said that the veggie pizza was a specialty pizza and I couldn't use the coupon. I questioned why they took my order (I might say the first person hung up after holding for a while). Called back placed an order and left to pick up. Jose said that I could only get it by paying the full price approx. 13.00. I felt he should have honored my order, but he refused. The best he did was give me a pepperoni pizza with pineapple for the 6.99 pizza. His explanation for the mixup was that his crew was new and didn't realize that what I wanted was a specialty item
The store I visited was at 4356 Leimert Blvd., LA, Ca . 323 291-4000 on 9/18.

Teresa Smith
from Concord, NC
the worst service ever, I placed my order online at 1100, call the store around 1230. THE manger told me that the order was brought back to the store. I asked why didn't the driver call me when they were in the lobby. Then the manger stated we can deliver it in 45 minutes, so I asked why 45 minutes if the driver just retuned it. So I assume the pizza was never made. As I am typing this message I still have not received my pizza. The day I provide lunch for my co-workers this happens.
Credit Card payment of $18.33will be charged
Total does not include tip. Please remember to show your appreciation to your driver. If paying with a credit card, you can add a tip to your total when signing your order receipt - cash is not necessary
Confirmation Number
3170921100305001184014523
Order Date
Thursday, 09/21/2017, 11:03AM
Scheduled Delivery Time
Thursday, 09/21/2017, 12:49PM
Delivery Address
3506 Tyvola Rd
Charlotte, NC 28210
as you can see the time for ordering and delivery It is now 1:53, our lunch time has passed no one has had lunch because the store still have not delivered the pizza. I called 3 times with a reply the pizza is on the way.
this is the worst service ever I will no longer use your company far any more of your services.

Angela alcorta
from Dallas, TX
I recieved coupons from you due to a complaint i filed about my order not ever getn delievered and now when i try and use these coupons they tell me that these coupons are not valid or can not accept them. I dont know what,the problem is now with this location but this seeiously does not make me want to return. The location is lamesa texas

When I placed my order at the store and I waited about 15 minutes. My pizza was ready but the cashier missed one of my order and I asked as where is my cheese sticks. She said she forgot to add that order. It was big disappointed as I like to eat my pizza very hot. She placed other order and made me pay for her mistake which is ok. I asked as how long will I have to wait for cheese sticks to be ready and she said it would take about 7 minutes. I sat and waited more than 15 minutes. When my cheese stick ready after 15 minutes and I checked the cheese sticks and it looked very OVERCOOKED as it was very dark brown and hard.. I was so angry!!! My dinner turned horrible.... no pleasure!!
P.S I tried to enclose a picture of cheese sticks but appear to me that your web site is not working correctly when I picked a picture to download but it came out as a different picture.

Wilbur Young
from Waycross, GA
Ordered hot wings and BBQ wingsgot only hot for both orders.

Regina Kinsey
from Cleveland, OH
An hour after my delivery was supposed to have come, I called to see why it was so late. Paul, who identified himself as the shift manager, gave me 3 different excuses as to why my food hadn't arrived and they were all MY fault. His disposition was rude, argumentative and defensive. No solution was offered until I asked if he planned to resolve my order not being delivered. At that time, he told me he could discount my order since 'That's what I was getting at anyway'. I told him no thank you. I typically order pizza or other menu items twice a week from this store. Never again!

Chris Fletcher
from Liberty, MO
I ordered the 10 dollar any way you want it pizza. Although I could get a Supreme I was not able to get a simple cheese pizza with extra cheese without an upmcharge. Your company originated in Kansas and I have taken great pride in that. I ordered your food even when quality became an issue. And it is an issue in a lot of your stores. Your company could not wven provide the most basic pizza order without reneging on your sales offer.
I will NEVER purchase anything from your company EVER again. I don't expect to hear back from you. It appears you care even less about your customers than you care about your product. I will also denigrate your product every time I have the chance. So sue me. Truth is a great defense to what you offer.

scott feder
from Woodland Hills, CA
1. 90+ minutes for my pizza and chicken
2. food cold
3. wrong chicken (wrong sauce)
4. 90 minutes to get replacement chicken
5. surly person on the phone
Complete failure of service, super disappointed. I want a full refund for my order (24.65) and I want coupons for future orders - absolutely ridiculous you charge delivery charge and give such pathetic 3rd world service.
Feel free to call me - 818 516 1200

Todd Shell
from Crestwood, KY
Hi, my wife called in an order as she left work. We do this at least once a week, sometimes twice. She picks it up and brings it home. Well....this time when she got it home, I hear her in the kitchen say "what the heck' ! I went in and the pizza was as thin as a piece of cardboard, the crust was hard, no sauce, very little cheese. It was almost a bread frisbee. I refused to eat it, my wife tried...she took one bite and said don't even try it.
So we took it back, and the manager Daniel, right off was a smartellic about everything. He said it's been put to long I can't give you you're money back. My wife said I come here all the time, and you always show it to me and this time you didn't, so you knew something was wrong with it. He immediately called my wife a liar. So I stepped in, and I was pretty upset at this point to have some little smartass teenager calling my wife a liar. I told him she just wanted her money back and we will go elsewhere from now on. He just laughed and said ....that's not gonna happen. I asked him what he could do...he said they could make another two for us. I said there's no way in hell you all are going to remake something for me to eat. And he said well then our business here is done. By this time I was steaming. I asked for the manager, he informed me that he was the manager and what he says goes. I lost it, I did say to him that he better f'n apologize to my wife. He said that wasn't going to happen and for using that language in his store he demands I leave. I said that's not happening. My wife stepped up again and put her hand on my chest, he took the pizzas to the back, and walked back up to the counter. My wife said you are willing to do nothing to make this right ? He said I told you we could remake them but that's it, they have been out to long for a refund. We live about 45 minutes away from this place.
So I asked for his boss's name and number and a number for corporate, he informed me that his boss was out of town and was unavailable to take calls....nice try though.
Yes he said that.
So I told him I want my pizzas back so I can show someone what we were expected to eat, and I wasn't leaving til I got a number for corporate. He said Oh....now you want your pizzas, I thought you didn't want them. I said I paid for them, I'm not getting a refund, they are my property. He went back and got them, tossed them on the counter, put a piece of paper on top of the box with the corporate number on it.
By this time a gentleman walked in with his lil girl, and I apologized to him for the inconvenience....the gentleman said no problem. I opened the box and showed him our pizza and told him to make sure and check his when he gets it. He told me that ours looked disgusting and he would double check his.
The manager, then told me again to leave his store. I informed him of all the negative feedback they would get from my stores. He said 'whatever....leave'. My wife had already walked out crying.
Once again I said you are going to do nothing ? He said I offered to make you another two, and I offered a credit. My wife was standing at the door and came back in. She said you never offered me a credit, and he said I sure did. Again, making it look like my wife is a liar.....he never offered a credit. So she handed him her debit card, and he smiled and said I don't need that....I'm not giving you a refund. She asked what a credit was then, he said he would give us credit towards our next order. I said ok, and we can go to a different Pizza Hut ? And he laughed and said 'nope', 'just this one'. I said nevermind we will never be back at this store. I informed him of my name and where my store is where I could be found. The other two employees that I saw there were one that was first at the counter, that ran to the back and never came back. And the one that was actually working in the back never said anything.
Anyway....I find this unbelievable that anyone would treat a customer this way. Especially a customer that has been buying from you for a few years every week. And his mouth is going to get him and this store in alot of trouble one day. I stayed as calm as I could because my wife was there, then there was a child there, if I was by myself this would have escalated into a whole different outcome. I'm glad that didn't happen, but just in disbelief that someone acting like this is not only working with the public....but a store manager as well.
If my stores treated people this way....I would be out of business.
I don't know what has changed in this store, we have never had a problem before.
On the ticket, this is store #014321
3610 Springhurst Blvd
Louisville, ky 40241
Ticket #56
His name is Daniel
And we will stay on this until there's some sort of satisfactory resolve. I personally would be happy for me to not be around him at all, but he should be made to at least apologize to my wife for talking to her the way he did, and for calling her a liar.

Visited Pizza Hut in Humacoa Puert Rico on 08/05/16 at about 5:30 pm. I went in the store and placed an order. The employee ask me if I had a coupon. I told her no. While she was placing the order I verified my purse and indeed found I had a book of coupons they had given me on a previous visit. The employee had already placed the order, but she said it was a ok she would cancel it and process a new order with the coupon. She called the store manager who came with and attitude and rudely ask her what she wanted.
The employee explained the situation. She looked a me with an attitude and told me I am going to do you the favor this time but next time you come in you better notified first that your going to use a coupon. I told her what are you talking about that your going to do me a favor I don't understand. She told me again that she was going to do me the favor. I told her once again I did not know what she was talking about. The store was full of customer and it was very embarrassing for me.
Seeing the attitude she had towards me and the employee I decided to leave the store. I am not used to use the so call coupons. She acted like if I was asking for free food. You should look into this and what kind of people you have employed. I had visited this Pizza Hut in the past and the employees have been very polite. I can't say the same for the manager that was that day in the location. Unfortunately I did not get her name, but I guess that with the time and date provided you will be able to contact her and tell her how to treat people with respect.
Pizza Hut located in Humacao Puerto Rico near Sam's Club.

Tiffany Brazil
from Crosby, TX
This store always forgets something from our order every single time it never fails we always get the meaty marinara sauce for 4 which comes with a set of breadsticks and we usually order an extra set, the cheese breadsticks, and they always forget one or the other either the regular breadsticks or the cheese ones. This happens even when I call the store after placing the order to remind the workers and ask not to forget. Never fail something is always missing and no I swear I'm not exaggerating something is always missing! Well this order I decided to not order the extra breadsticks and try the s'mores cookie thing I ordered the family pack for 4 pasta and the s'mores cookie and I added an order of marinara sauce which doesn't come with the package deal.
The driver shows up which was very polite and said the manager made sure the marinara sauce was in here and I look to 1 box with the pasta, the s'mores box and the marinara no breadsticks and I asked please don't tell me they forgot the breadsticks and she said I'm so sorry I don't know why they would have sent marinara with no breadsticks that seems kinda silly. And said that she would go get them and bring them back which she did. But the problem is this happens every time we order and it's so frustrating.
Once in a while I could understand but it's not its every time! And when I call it's always I will credit your account or send what was missing which the rest of the food it was meant to be eating with is cold by the time it gets there. Now I would just like someone to please tell these workers to pay more attention and if you was to look at our account you would probably see all the problems if they even put them on there.

Jessica Harris
from Henderson, NV
Purchased two pizza dipper pizzas ordered online well in advance on 8/1/16. Order was delivered on time but, when order was received I only received one. I called back and explained situation I was told when the driver return they will have missing pizza ready and the driver would bring it back. I wasn't told the actual wait time so as I wait i inspect the pizza that was delivered and the quality was horrible, it looked like it was thrown together.
Forty-five minutes pass still no return drive. I go to the location 715 Boulder Hwy, Henderson NV 89015. I take the delivered pizza and walk in and explained who i was and asked for manager and show them quality of pizza and the took it back and I am thinking they remade both. 20 mins go by and my order is ready. I was only shown 1 pizza. I get home and gave my children their specific pizza and I open the box for my husband and myself specific pizza.
It's the same poor quality cold pizza that i had to reheat in the oven. I was told I had a credit for the purchase amount. I really don't believe that. I felt taken advantage of and i paid my hard earned money for this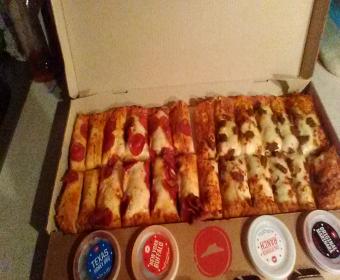 Kristy Webb
from Monroe, LA
I placed an order online for four medium pizzas. Three of the pizzas were hand tossed and one was thin crust. Once I arrived home, I was highly disappointed that all four pizzas were hand tossed. They never read the special requests such as pizza well done, extra sauce, light aauce, etc. Every time I visit the Pizza Hut in Minden, LA, my order is either incorrect or the quality of food is lacking.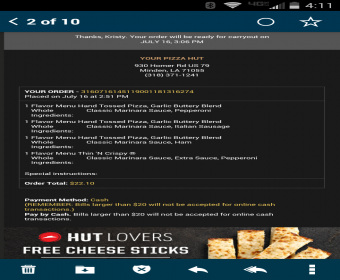 Shawn sprague
from Pittsburgh, PA
I ordered a care your order online for your Niles store. 745 Youngstown road Niles Ohio. I had an online coupon I received for completing a survey. The coupon was for $10 off an order of $20 or more. I didn't put the code in for my online order. I didn't realize I needed to. I took the coupon to the store and they refused to honor it. I refused the food. I order pizza and other food from this location several times a month. I probably spend over $400 a year there. I won't be ordering anything from Pizza Hut anymore.

Beverly Cole
from Denver, CO
Every time I order from this location it's a problem. They don't get my order right , it takes too long for delivery like 2 hours. I ordered my pizza at 7:41 p.m. and it's now 9:38 p.m. and I still haven't received my pizza. Then when it gets here it's cold. Once I even had the driver to tell me he had to go back and get the rest of my order from the restaurant. I order extra cheese and I don't get it. I even stopped ordering from Pizza Hut and started using Papa John's, but I decided to use them again and I'm getting the same bad service. I need to be compensated for my getting such bad service when I was a regular customer. I am located in Meridian, MS. The store I'm referring to is on North Hills Street.

Terri Jo Frederick
from Florence, AL
I am highly upset with Pizza Hut. I had to cancel my order 3 hours after I ordered it due to the fact that I never received it. I talked to the 'Manger' of that night and she proceeded to give me a credit of $25. I greatly appreciated it and was accepting. Today I tried to use that credit which for the record, I have not ordered since July 2nd which was the day I received my credit. I was then told that I did not have a credit of any kind. This was a shock and I assumed it was some sort of a mistake.
Well, they told me that there were no records of me placing an order on July 2nd and there were no records of me ever receiving a credit. Well, I have phone records and an email both proving and I did in fact order on July 2nd. I asked if there was any way to get this cleared up and she told she could do nothing because her records said otherwise. More than likely, I and my family will never be ordering from Pizza Hut ever again because I find this to be absolutely ridiculous.

Marcia Rudolp
from Great Falls, MT
I ordered dinner from one of our Pizza Huts here in our town. The driver who delivered it to our door was covered in either cat or dog hair, his shirt looked like it was alive there was so much hair on it. The third bite of pasta my husband took he found a six inch hair in the food he was eating. It was from someones head. I will never order again from Pizza Hut. It was disgusting.

Nicole Mckinney
from Lafayette, LA
Well I put my order in at 7:32pm after 9:00pm I called the store tell them I haven't got my order yet the lady said they left with my order. Ok, she didn't say she was sorry are why they are running later she was just like ok they are on the way. Now I know Pizza Hut is busy and all and at the same time they are right down the road from me...now I just NOW got a phone call it 9:30pm asking if I still want my food (Well yes I paid for it) the she say he just got back he couldn't find the lot# if that is the case all they had to do is call my phone and ask.
I know my number is on the paper he is reading off of now this is the reason I don't eat out this is to much and I only order out because my kids wanted something different for now on if I have to fix pizza myself. I will this is bull then she talking to me like in the problem really all I wanted to do is eat pizza and have a movie night with my kids hell its time for bed. I have work in the morning it's 9:41 and my pizza just got here really what a hell of a night and my food is cold.

Cris Gama
from Sacramento, CA
On Tuesday June 28 I bought super supreme and buffalo wings on El Camino and Northgate store. The buffalo wings smells spoiled. It smelled like spoiled chicken meat. I didn't have time to go back and complaint about it. I still have the chicken to prove it because nobody wants to eat it. I dont want refund, I just want Pizza Hut to serve fresh food.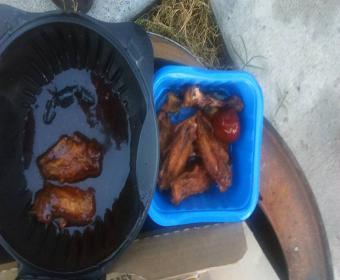 Tommecca Thomas
from Buford, GA
I called in to order a pizza on 6/7/2016 @6:54pm. I specifically informed the employee I Absolutely don't eat pork and I want to order a large stuffed crust cheese with hamburger xtra cheese pizza. When I picked up my pizza the 1st time I doubled checked to see was my order correct but when I opened the box, there was no hamburger on my pizza so the employee apologized and offered 2 prepare another one with meat on it.
When it was "So Called Cooked Fresh" I got home ate 2 pieces but realized the meat tasted bad and 1 1/2hr I became extremely ill. I have severe vomiting and extremely bad stomach pains. If I'm not feeling better I will have to go to the hospital.Attached below is a picture of my receipt of purchase and a pic of the meat that Supposed to be hamburger. I plan on having this meat examined by a lab and pray this experience happens to anyone else.

Emanuel Abbott
from Baton Rouge, LA
Last Sunday I went to Pizza Hut on bluebonnet and Burbank. I told them I wanted a pizza for carry out and told them I WANTED hut flavor crust seasoning. To make a long story short, I got there late because of traffic and gas, and I told them this. Got the pizza paid for it, had no seasoning and crust was hard as a rock. They said it was because I got their late, but I explained how could me getting there late affect the way the crust tastes and being overbooked?! They had an attitude and offered me another one but I refused!

bill johnston
from Youngstown, OH
We ordered pizza and wings and from our local Pizza Hut in Austintown Ohio. First let's start off saying the pizza was great and everything we order was there and right. But when we got to the wings we were really depressed. The wings were so small the mushrooms were bigger than the wings. Thanks for understanding my concerns. I have added a picture.

Melanee Martin
from Niceville, FL
I order a family pack and for one got the wrong food after a seriously long wait. I had a game to get to so I just took the wrong food. It really sucks because I had a crowd of people I was feeding and did not have the appropriate food for them. The food I ordered. Since it took so long to get anything. I just took it to get to the game. I feel shorted and done very wrong. Can someone fix this situation and comp me for my meal.
Have feedback for Pizza Hut?
Thanks for your feedback!
Sorry. Please try again later!