Pizza Hut
Contact Pizza Hut Corporate
Toll free phone number: (972) 338-7700
---
Pizza Hut is an American fast food chain, international franchise and a subsidiary of possibly the world's largest mega restaurant corporation, Yum!Brands, Inc. Pizza Hut has over 11,000 outlets worldwide with 6,000 in the United States. Employing over 160,000 there are outlets in approximately 94 countries. Corporate website is www.pizzahut.com.
If you experience a problem with your dining experience at any Pizza Hut you may call 1-866-364-0082 in Canada and 1-800-948-8488 US. You may also address correspondence to the CEO, David W. Gibbs at 7100 Corporate Drive, Plano, Texas 75024 or call the corporate office at 972-338-7700.
Pizza Hut was started in a small house in June of 1958 in Wichita, Kansas by Dan Carney and Frank Carney. Pizza Hut uses promotions, movie sponsorships, seasonal offers and products to capture extra marketing opportunities. Social media presence may be found in Facebook, Twitter and YouTube.
Pizza Hut Contact Information
Report complaints to corporate and get satisfaction
Pizza Hut headquarters address

7100 Corporate Drive
Plano
TX 75024

Company website

1-800 phone number

(972) 338-7700

Support email address

feedback@pizzahut.com

Better Business Bureau rating
Browse reviews of other Fast Food
Top Pizza Hut Complaints
Browse more than 391 reviews submitted so far

James Jones
from Houston, TX
I ordered a pizza on line i got charged 31.38 never got pizza and bread sticks order # a027119x81t2353 how do i get a refund i will never order from Pizza Hut again i even called and the lady said it was scheduled for delivery at 1:07am now we are starving and will have to find a burger joint thanks a lot Pizza Hut i have to go out on the road with all the rodeo drunks .

David Ford
from Carlsbad, CA
How can they employ a thief and a liar like Brandon ? His clothes are filthy dirty and he wears the same clothes to work every day. He smokes weed all the time. He just got out of prison in November of 2015 for breaking into a building, stealing a four wheeler and selling it. He lies to everyone to get people to feel sorry for him so he can use them to get what he wants. You really can't believe anything he says. He also has a desire for young girls. He has been with a 12 year old within the last year. How can you possibly keep him employed?

Patricia Kinney
from Fort Worth, TX
I placed an order tonight August 3rd 2016 4 the 2-inch 1299 Pizza for delivery. The driver came out and I missed him I didn't hear the knock so I called. And when I talk to I guess the shift manager there he told me that someone came ten minutes ago he was going to have them come out and run the same order but I did not want the same order and I apologize for having the driver come out and I would like to place another order. He put me on hold for about a minute or two then he came back on and said he can not have his driver come out again until our apartment.
When I asked him why he said because it's not safe for the drivers to go to the same address more than once in the same time period. So I asked him if I place the order online again is he going to cancel my order and he said if it's coming from my address yes he will or I can come pick it up. I was very upset because his demeanor over the phone was as if he did not care about my apology and he didn't have time for it. I just want to know is that Pizza Hut policy. And I informed him that I order there frequently I know at least more than 3 times a month I was very unhappy with the way he handled the situation.

Patti Smith
from Jefferson City, MO
first I would like to say we have had negative experiences with the Capital Mall Pizza Hut in Jefferson City MO in the past but yesterday was the icing on the cake. My husband all them at 3:53 and ordered a large thin super supreme with extra cheese. They gave him the total and said it would be ready in 20 minutes. He phones me to go by after work and pick it up. I get there and the manager is at the register. I told him the name and what I was picking up and he said he didn't have any order for that. After giving him my name my husbands name both phones numbers he still says he has nothing. Not to mention he is rude and short. He didn't seem to care one way or the other to help us out or anything. Didn't apologize offer a discount nothing. I said never mind I don't have time to wait. My husband calls back and talks to a woman there and she says she is sorry and agreed he must have called considering he knows the exact total, they offer to deliver it. Again we are on a time frame here. He gives her our address and they said they would have it there in 15 min. 25 mins later she calls back and says out computer messed up can I get your address again. It will be another 10 mins. He said no. we don't have time for all this. this will be be LAST time we EVER eat at pizza hut. There are way to may pizza places in Jefferson City to put up with this crap. I seriously have no idea how this place stays open if they treat all their customers this way and that manager needs an attitude adjustment. If he hates being so bad then maybe he needs a new line of work. I'm not expecting a reply. I'm sure you all don't care is why you want this emailed and won't talk on the phone about complaints.

Nichole Smith
from Visalia, CA
I ordered a pizza online for the first time ever. After waiting in the living room for over an hour I realized it was taking way to long. So I called and they said that my card had been declined and they canceled my order. First there was nothing wrong with my card. Also they said they had tried to call but that was nearly an hour after I had ordered. Why would you cancel an order without trying to make the delivery and obtain cash. Which I would have been fine with. I was so upset I didn't even want it anymore. The only reason for that card to be declined whold be if they put in the wrong info. I'm so disappointed with my first attempt at online ordering. And on top of that they weren't even apologetic.

I was online and noticed a free $50 gift card from pizza hut if you signed up and purchased a living christian CD and subsequent monthly membership. I purchased the cd and then never received the $50 FREE gift card from pizza hut. Naturally Pizza Hut denies there was such an offer online! So I returned the living christian cd and they want to now charge my account because they said I never returned the cd even though I have proof the cd was returned by the post office. I will fight this one for all of us who make mistakes buying stuff online! Pizza hut really screwed me on this one and I still can't believe this!

Nakeisha Gibson
from Philadelphia, PA
I placed an order for carry out. When I went to pick up the order, the cashier almost forgot my pizza. After getting what I believed to be my entire order, I headed home. When I got home I realized that you had forgotten my wings. I attempted to call the store, but the line kept giving me a busy signal, sometimes immediately and others times after 2 or 3 rings. Ordinarily I would have just gone back up to the store, however, the weather is horrible, which is why I decided to pick up the order while I was out. Attached is a screenshot of my order.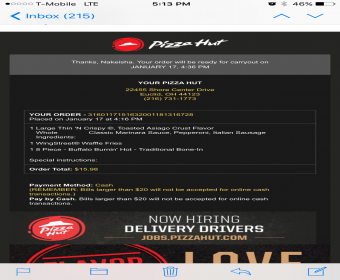 Mercedes
from Jackson, MS
I had placed 2 orders for pick up I was told it would be a 45 min wait. I waited 45mins then I came in and paid for them and I was told my order was ready. I got 1 of my pizzas and they said it would be another 5mins for my other pizza. After 10mins they asked me again what I was waiting for. And they still could not find my other pizza. I waited almost another hour and by that time my other pizza was cold and the person up front just gave me a random pizza and gave me my money back.

The place is a complete dump. Has been for awhile now. It takes 1-2 hours to get a carry out pizza on a weeknight not even a weekend. Pizza is always messed up or not good at all it's always to greasy and half cooked. Booths and tables are digusting and filthy. Makes you not even want to sit down or if you do you want to take a shower as soon as you leave . Ceiling tiles falling down bathrooms filthy I could go on and on about this ridiculous place. It needs new management or just needs to be shut down. I will drive 45 mins out of the way if I want Pizza Hut again. Will not be back to the new Albany one until something is done

I wanted fo reward the a team of ladies I work with for a great job they did in our department store in Louisville Kentucky. i order three large pan pizzas from the Pizza Hut on shebyville Rd near St Matthew Mall. First the who delivered the pizza was rushing me and when I checked the pizzas they were not pan they were thin crust the topping were wrong. I call and spoke with the manager he said he gave me the thin crust because they ran out of pan.He didn't even call to ask If It would be ok. I order pizza all the time from the Preston Hwy location and Its great. I was very disappointed.

Howard Rooks
from Naperville, IL
This complaint is to Pine Ridge SD Pizza Hut We have been calling for 30 minutes! They finally answered and told me they are not taking orders for 30 minutes! Last time we called in a order we went to pick it up some ladies were outside smoking in the back and no one to help us then they didn't have our order ready! This place needs a new manager!

Jennifer West
from Chicago, IL
Delivery was unavailable tonight. A Saturday night at 6:30 PM.

Alvin Helland
from Cary, IL
Well I made a small mistake and some how the no cheese button got clicked I called and complained and they wouldn't do nothing the pizza was burnt and hard as a rock I also didn't get no sauce with my ka poppas I payed for extra ranch and sell didn't get that either all they would do is if came back give me a sauce

Brian Sadowski
from Orlando, FL
I was driving and was cut off by a Pizza Hut driver in a White Ford Mustang. He exited the parking area rather quickly to get into the first lane, ten without enough room he cut me off about 10 yards down the street causing me to serve and almost hit another vehicle. I contacted the store and all they said was he will be talked to and the GM Chelsey gave me attitude when I tried to explain the situation. I am a regular customer to this but now I will drive the extra miles to not use this store. She did not even cAre that her driver was driving reckless. I would like this addressed and the drivers understand the rules to delivery. I did not think Pizza Hut employee's reckless individuals

Darryl Basham
from Marietta, GA
See email traffic below. Very unprofessional!!!!!
From: Darryl Basham <bashamrealty@aol.com>
To: tyler.fednander <tyler.fednander@muypizzas.com>
Sent: Thu, Feb 15, 2018 6:00 pm
Subject: Re: Pizza Hut incident
By the way, I just called Pizza Hut (770) 943-3400 and was informed that there isn't nor was there ever a $15 credit applied to my phone number!!
-----Original Message-----
From: Darryl Basham <bashamrealty@aol.com>
To: tyler.fednander <tyler.fednander@muypizzas.com>
Sent: Fri, Feb 2, 2018 2:36 pm
Subject: Re: Pizza Hut incident
I'm an IT guy and there's too much technology available to not be able to provide an online coupon!! I will instruct my employees and constituents to avoid ordering from Pizza Hut due to the caliber of my previous order and the credit issuing process.
-----Original Message-----
From: Tyler Fednander <tyler.fednander@muypizzas.com>
To: Darryl Basham <bashamrealty@aol.com>
Sent: Fri, Feb 2, 2018 2:21 pm
Subject: RE: Pizza Hut incident
I do apologize the system is just so complex with the number of different companies operating Pizza Hut franchises that the online system will not recognize a credit in the system. That is why I make sure to put it in the original email because I do understand that it is often not the entry method of choice but for us to see the credit this is the only system that we have that will work for the entire network of operators.
From: Darryl Basham [mailto:bashamrealty@aol.com]
Sent: Friday, February 02, 2018 1:04 PM
To: Tyler Fednander <tyler.fednander@muypizzas.com>
Subject: Re: Pizza Hut incident
I didn't place my previous order over the phone so why would I have to place a telephonic order to receive a $15 discount. I've never ordered over the phone however, my phone number is associated with my online account. Disregard the request, this is once again terrible customer service.
-----Original Message-----
From: Tyler Fednander <tyler.fednander@muypizzas.com>
To: Darryl Basham <bashamrealty@aol.com>
Sent: Fri, Feb 2, 2018 2:00 pm
Subject: RE: Pizza Hut incident
You will have to place the order over the phone for them to discount.
From: Darryl Basham [mailto:bashamrealty@aol.com]
Sent: Friday, February 02, 2018 12:30 PM
To: Tyler Fednander <tyler.fednander@muypizzas.com>
Subject: Re: Pizza Hut incident
When ordering, I don't see the credit associated with my account!!!
-----Original Message-----
From: Tyler Fednander <tyler.fednander@muypizzas.com>
To: bashamrealty <bashamrealty@aol.com>
Sent: Wed, Jan 17, 2018 11:08 pm
Subject: Pizza Hut incident
Darryl Basham,
I just wanted to reach out and apologize for your recent unsatisfactory experience with Pizza Hut. I applied a $15 credit to your phone number to discount your next order placed over the phone. I am sorry we messed up and I will follow up with the team members directly on my next visit to this unit as well as the GM will be notified of the occurrence to help remediate. Thank you for your time and bringing this to our attention.
Sincerely,
Tyler Fednander
(404)543-7179
Tyler.Fednander@muypizzas.com

Katelyn Vaughan
from Frederick, MD
My local pizza hut in frederick md off rosemont has horrible product and customer service. Eveytime i make an order, its wrong, the manager there is rude and will not help. Your coupons and deals are misleading. I am constantly bereaded by the managers at this location for their error.

Janis Washington
from Birmingham, AL
I used my debit card to complete my purchase at the restaurant and they did not let me sign my receipt. I checked my bank account and was over charged. Found out they signed my receipt and added their own tip. This is absolutely unacceptable. Something has to be done about this. I hear this happen all the time from whoever I spoke to.

Jack Engel
from Las Vegas, NV
I ordered 2 med carry-out pizzas, Took aprox 80 min. (What a joke) Was so irritated , just left. Got home and one pizza was completely burnt . The other was ok. Called back to the store, they never answered. The next day called into customer service to complain. I was told and assured that someone would call me back within 24 -48 hours. This was a week ago... PIZZA HUT SUCKS AND THEY DO NOT CARE ABOUT CUSTOMERS....
# 026625
10525 S Eastern Hendrson Nv, 89012
I paid $18.05 for this crap dinner. I will NEVER order from Pizza Hut. Papa Johns has a new customer!!!!!!

DENNIS LOONEY
from Clarksville, TN
IM GOING TO START OFF BY SAYING THAT THE PIZZA HUT FRANCHISE IN OAKGROVE KENTUCKY IS THE WORST BY FAR. MY WIFE USDE TO WORK THERE THE AREA MANAGER NEVER DID HIS JOB. MY WIFE WAS THE GENERAL MANAGER THERE AND SHE LEFT BECAUSE THERE WAS HARDLY EVER ANY HEAT IN THE BUILDING AND WHEN SHE ASKED IF THEY WERE GOING TO FIX IT THE AREA MANAGER DAVID SMITH WOULD ALWAYS SNAP AT HER, MY WIFE WANTED TO GO BACK TO PIZZA HUT AS A COOK WORKING 3-4 DAYS A WEEK AND THEY TOLD HER SHWE WAS NOM REHIREABLE BECAUSE OF THE WAY SHE QUIT. I KNOW FOR A FACT YOU HAVE AN EMPLOYEE WHO WAS FIRED FOR STEALING PRODUCT AND STEALING MONEY AND SHE GOT REHIRED AS A MANAGER AND THERE IS ANOTHER EMPLOYEE WHO HAS WALKED OUT NUMEROUS TIMES AND GOT REHIRED. I DONT KNOW WHAT KIND OF BUSINESS PRACTICES YOU TEACH YOUR FRANCISEES BUT THERE IS FIXING TO BE A LAW SUIT FILED FOR THE REASONS I HAVE ALREADY TOLD YOU. PLUS IM GOING TO CALL THE LOCAL BUILDING AND CODES IN OAK GROVE KENTUCKY .BECAUSE THEY HAVE A SEWER PIPE I THE STORE AND YOU CAN SMELL THE SEWAGE WHICH I KNOE THE PIPE IS SUPPOSE TO BE POINTED OUTSIDE. AND THERE ALSO BAD WIRING IN ONE OF THE OVENS. I KNOW ALL THIS BECAUSE MY WIFE USED TO THE GENERAL MANAGER AT THIS STORE AND YES THERE IS GOING TO BE A LAWSUIT FILED IF THIS NOT TAKEN CARE OF.IF YOU HAVE ANY QUESTIONS YOU CAN CONTACT ME AT 931-218-5061 ORT THROUGH MY WIFES EMAIL LILBABYGURL2640@GMAIL.COM

Ricky Duncan
from Salisbury, NC
Well, I ordered food about an hour ago. Took it that long to get here, and the guy even forgot one of my items, and it's almost been an hour and he still hasn't come back yet. This is honestly ridiculous, and he was so lax about it, it honestly kind of pissed me off.

Catherine Boat
from Indianapolis, IN
We ordered pizza with 3 toppings and extra sauce, bread sticks, 2 liter and desert. The total was more than $20 also asked for extra sauce on the pizza. When I returned home after picking up and paying and driving all the way home to sit down & relax to eat and wow absolutely no sauce no sign of olive oil on bottom side of dough crust most tasteless pizza ever took a fork flip the toppings over and no sauce except around outer rim a little hint of red sauce now if you think customers will return for that your nuts and marinera dipping sauce was cold also. Monday 2/12 pickup @ approx 7:00 pm order in indianapolis at the southeastern ave & emerson ave store indianapolis, in.

Sherri tolley
from Waycross, GA
I ordered two medium pizzas one with pepperoni thin crust the sec it was pepperoni and bacon I got nine pepperonis on a medium pizza and maybe two pieces of the little pieces of bacon and the manager there at Pleasant view Pizza Hut was a smart ass told me that only nine pepperonis come on a medium pizza very dissatisfied will not go back to the Pizza Hut again The manager on duty was named John and he was a smart ass

Narayan Gopal
from Pleasanton, CA
order pizz hut at # 011717 , pizza was not cooked and it was very hard like card board

I redeemed my free pizza and it's old. I was waiting all day for this and was able to order it and then when I get it youn can planly see thats it was cooked a while ago. I order food from here all the time and never got anything this awful before. This is just gross but I have to eat it since I'm stuck at the hospital but come on now.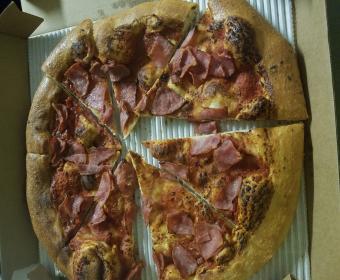 Alberto Arreguin
from Oceanside, CA
02/07/18 pizzas never came I place an order about 21;00 pm they take my name phone # and address they told me in 25 to 30 minute will be there
an hour pass and I call back the first person told me they dont find my name or order they pass the manager on duty and she told me that the driver was calling me because they dont find my address and they cancel my order I ask for the mgr and she told me she is the mgr she never offer or ask me if I want my pizzas she says your order its cancel I ask for corporated phone # and she give an anwser you can get that on line its not the firts time this things happen who ever owns that franchaise if they can take care of business dont let then put your reputation down we love pizza hut
but we this kind of mgr and poor service customer service its a nightmare order food delevery the location its collage and oceanside blv in oceanside phone #760 631 0112 Ihope you do somethig aboyt this problem

Thomas Solomon
from Ashburn, VA
Trying to order food and spend money at this place and nobody will answer the phone. Been calling for 20 minutes and nothing. 5338 Miller town Pike Knoxville, TN

Julie Fulk
from Plymouth, IN
I tried placing an order online and they said my order couldn't be placed so I then called my local pizza hut and they tried taking money out twice so money was taken out of my account 3 times. I had to call the 800 number just to get my money back. they kept on saying I don't know why it did that but we don't have your orders. the first order yaken out was for 42 dollars and the others were for 16.15. they are lucky it didnt overdraft my bank account. after all this trouble im up in the air on ever going back to pizza hut

Santayana H.
from Nashville, TN
To whom it may concern:
I am very displeased and unsatisfied with the service I received on today! I called in to order a pizza for my party and the manager gets on the phone and tells me that he out of all ingredients needed to make a pizza!! This has further left a very bad taste in my mouth because now I must find a last minute food substitute to serve my guests! This is embarrassing! I expect someone to write me back at the above email address pronto! What type of operation is this company running who allows their shipment not to come and to only serve limited amount of customers? Then the over and beyond service the manager tells me to call back tomorrow and order at that time.
Yours Truly,
Dissatisfied Customer

Amir Wilson
from Waynesboro, VA
At the 2900 n broad st location in Philadelphia PA. Kiarra Wiles one of your employees is delivering pizzas with her 3 yr old son in the car. I've called your customer service line multiple times and also called the local authorities. Next I will be calling License & Inspection to notify them about this problem and how this employee maintains her job by putting her child in physical jeopardy. On multiple occasions I've seen her get into arguments because of her blocking up traffic and once almost got into a physical altercation all in the presence of her 3 yr old child. Hopefully this matter will be fixed and I won't have to contact the authorities about this matter much longer, but as long as this woman puts this child's life in danger. I will do my duty as a concerned parent to protect this child

Jamal Bankston
from Houston, TX
My pizza is always cold and I was short on my wings I paid for.

I ordered pizza hut 7/27/18 online from ave D. My 2 pizzas was not freshly made, in the box they appeared old and dry and they were not cut properly, whenever you tear a piece it tears piece of another slice. Also the box seemed old and wilted and the pizza was warm not hot. My daughter and I ate about 3 slices each. Now its 5-6am in the morning, 7/28/18 and my daughter and I are sick with diarrhea. These pizzas were not freshly made and I will never order from pizza hut again. "I want a refund."

jeffrey marks
from Oxford, MS
I ordered a large pizza from your mabelvale ar store n didnt get pizza or a refund i orderd wth a mastercard n manager was rude n said three buisness days n it has been over a week i will get wth better buisness bearu n tell all my friends n family to never order from pizza hut again period

Sherry Mckee
from Jackson, MS
I ordered a pizza box. My pizza had approximately 8 or 9 pepperonis on it.

Lisa Leer
from Ridgecrest, CA
I placed an order and was missing a pizza, called Pizza Hut back and phone has been busy for 36 hrs.. This is absolutely ridiculous. How on earth does a delivery business not have a phone to contact them. STILL WAITING FOR MY MISSING PIZZA..

Mary Thompson
from Los Angeles, CA
The Pizza Hut located at 8947 Pico Blvd Los Angeles creates a continuous disgusting, hazardous waste pile behind their location. My garage faces the alley and everyday I exit my garage I am faced with their garbage everywhere. I have spoken to the manager on several occasions, but to no avail. He is very dismissive and rude, saying that they are not responsible because they cannot help it. Today the Sanitation truck refused to pick up the garbage because they said that is too much and overflowing. The Sanitation truck also took pics. I am at a loss of who to complain too, since the manager seems to not care one bit about the mess he is creating. I will be contacting whomever I can to resolve this matter.
Thank you very much.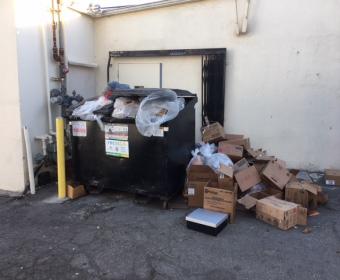 derek mckee
from Omaha, NE
we only have one pizza hut in schuyler neb. over the last couple of months we have had many problems with are orders. i order on line and when we get there they down have what we had order so offer to give us something else. at first it was just a normal mistake it seemed but it happened the next six times we ordered. one time they said they would comp are wings and then ended up charging us any way. then we order deilevery it took over an hour and half.

Lindsey Cauthon
from Philadelphia, PA
Was at your morrisville pa location on Jan 19 at 5pm the place is filthy rude employees also

Richard C. Hoffpauer
from Irvine, CA
On Dec 29, 2017, I responded to a Pizza Hut e-mail (which I regularly receive) offering a 40% discount on an order placed on-line. After experiencing some difficulty, I was finally able to place the order somewhere between 6:00pm and 8:00pm PST. However, upon checking the order I learned that I had not been given the 40% discount offered. I had ordered two large supreme pizza's, and was charged $43.89 - the full price, including the delivery fee. I called the store to inquire (located at - 3800 Barranca Pkwy, Ste P, Irvine, CA 92606-8220 - (949) 551-1505) and was told to call someone by the name of Olivia at phone number (909) 525-5385. I telephoned Olivia that evening at approximately 9:28pm PST, and left a voice mail, explaining what had happened, and asked if she could return my call. Due to the holiday weekend I certainly didn't expect to receive a call until at least Tuesday, 1/02/18. By 1/03/18 I had not been contacted, so I called again, leaving a similar voice mail and asked that she return my call. As of today (1/18/18) I have had no response. Upon checking my credit card on-line statement I learned that the order on record was placed on 12/30/17, not 12/29/17, and did not contain the order number. It did not post until 1/02/18.
My concern is whether or not my issue will be addressed, and whether or not I will be either (1) reimbursed the difference of the full price (to include delivery charge) and the 40% discount, or (2) be given credit equal to 40% off my order for a future order. I do not normally contact customer service or corporate headquarters, as an issue such as this has not occurred in the past. I am at a loss as to why my phone call to Olivia has not been returned. The outgoing message to leave a voicemail did not say or indicate that'd Olivia was out of the office, or that due to an extremely heavy workload that it might take some time to get to my call This is the reason I am writing this e-mail to you today, in hopes that this issue can be handled in an expeditious and fair manner.
My family and I have enjoyed Pizza Hut for many years, and this is the first time I have encountered a problem. Thank you in advance for your prompt attention to this matter. You can contact me by either telephone or e-mail, or of course by return mail. Hope to year from you soon.
Sincerely,
Richard C. Hoffpauer
P.S. A copy of this letter was sent to Corporate Office & Headquarters at 14841 Dallas Parkway, Dallas, TX 75254 on 1/05/18. As of this date I have not had any reply to that letter. Also, I was not given a hard copy of my receipt. But since the order was placed on-line there should be a copy of it somewhere in the store's on-line account.

Norman Adams
from Houston, TX
Ordered pizza online at 4pm 1-17-2018, order confirmed for pickup at 5pm. Arriver at 5pm, paid for my order. Manager told me he had a large order for 40 pizzas. Tv screen showed norman adams order Ready. Another customer came in to place order, he was told it would take 45min.. I asked him how long before I received my order, he said its only 5:06. I told him I could not wait 45 min. for my order, so I asked for refund. He became very angry and thew my debit card an receipt down on the floor. Then said he didn't want to wait on me. I think hes a manager named Danny. He was screaming that hes a man an nobodys gonna talk to him that way. I was very calm an just asked for refund. Two other employees tried to calm him down, when they asked him for my receipt an debit card he said now u need me. I hope u have cameras working in that store18539 kuykendahl Houston texas 77379, So u can see the person u have representing your store, by cursing customers. I would like to here back from someone on this event. If not I will no longer be a Pizza Hut customer.

Gina Foster
from New Orleans, LA
Good Morning Sir/Madam,
I Gina Foster purchased two medium pizzas on February 10, 2018 at 6:30 pm. I was told by pizza hut employee that it will take around 80 minutes. I stated "Okay". At 7:55pm I called back to where were my order? the same young lady(Ms. Marisa, Manager) answered the phone and stated "It's out the door". I stated 'Okay". At 8:39 I called back and inquired about my order. The same young lady stated 'My driver came and called but no one answered his call or came to the door; so I cancelled the order". All of which wasn't true. I'm a switchboard operator and our job is answer all incoming call in a timely manner and at our location a VA police is always on duty at the front doors, side doors, back doors and at the front desk. No one never call from the store(Pizza Hut on Carrollton Ave., NOLA) itself to ask or stated that one of their drivers were at or on the VA property. This was VERY UNPROFESSIONAL OF THESE EMPLOYEES. I inquired about compensated for my inconvenience and the employee stated I can't do anything about that and I did cancelled your order. Me and my staff shift is 3:00-1:30am. Because of this situation and do to the fact that some of my staff is a diabetic, which can cause a serious medical situation if not eaten at the proper time. I intern had to refer to our nutrition department , which was closed to make sure that my employee(s) will be taken of medically. THIS WAS VERY VERY POOR SERVICE AT THE LOCATION 301 N. CARROLTTON AVE, NOLA -504-482-6111.

Stephanie
from Clay Center, KS
They charged the person with 4 pizzas for our 1 pizza order. $20 for 4! Then asked us if we would pay $60 for 1 pizza because they messed up! We said no so they charged us for the next persons order that was $18. Now that $18 order will be charged $60! They handled that ALL WRONG!!!

Mrs. Sylvester
from Houston, TX
I purchase a pizza at pizza hut, only to discover they sold me a pizza with wrong crust. I call to make them aware of my complaint, and requested to speak with the manager. I was inform by worker he was unable to come to the phone because he was very busy. I understood he was busy. However, being that I was the customer I felt I should have been spoken too better then I was by worker. It was my understanding the manager told the worker he would credit me $3.00 [dollars] on the pizza I purchased. As manager he demonstrated poor professionalism in not assisting and reflecting good communication skills one, on one. For more information, please feel free to contact me at my email address
Respectively Yours
Mrs. W Sylvester

trent headley
from Orlando, FL
ordered from online a custom meat lover and it came late it was cold and it also had olives on it which im allergic too when i called it in i was hung up on which was very unprofessional tried to call in again and samething. i got in touch with the store the next morning and was told to call in the credit whenever i was ready to use it. i called in today and was told there was nothing there. every time i call in for this it always shows not there. i feel that pizza just doesnt care for customers of black color.

peggy s ward
from Newport News, VA
Confirmation Number3171216120406001183025315
Order DateSaturday, 12/16/2017, 1:09PM
Estimated Carryout TimeApproximately 15 - 25 minutes
Your Hut13659 WARWICK BLVD
NEWPORT NEWS, VA 23602
(757) 877-9000
This pizza hut is great staff t they do not have enough people. On this date I arrived 25 mins after placing the order to find out that my order has not even been started and so there would be no time to pick up, I ordered from papa John instead. A week prior to that I came for carry out only to be met with lock door, finally, delivery person opened the door and said the manager was not here and so they could not sell the pizza to me. the week prior to that we had to wait additional 30 mins after placing the order online so total wit was over 1 hour.. This store needs to get more help or close you are losing so many people. The manager is super nice and the delivery people are the best but once i ordered i went somewhere else to get my pizza...good people do not make up for any service

We order a speciality pizza with free bread sticks I paid 27$ for my pizza gave a 8 $ tip wrong pizza plus no free bread sticks this was in kewanee illinois I want this right plus they took the old pizza back I work in food since 1987 I am a chief by state law that is not right you never take food back.

roxanne hopp
from Raleigh, NC
We'll on November 30,2017 went to pizza hut at 6429 Glenwood ave. Raleigh, Nc 27612 at 12:50 pm, my mother my grandson and myself ordered personal pan pizzas, i asked for water and also asked if they had lemon to put in my water ,they didn't because they have no tea .The manager Shertonia said, ok so i went to fountain drink and splashed pink lemonade in my cup. The manager Shertonia came by our table snatched the cup without asking, very rude she said i didn't purchase a fountain drink and said i was stealing brought a empty plastic cup back and slammed on the table. In my life had i had such an bad experience and being a manager it was absolutely uncalled for, the service was horrible. As we left i called her to the side and said that was not necessary ,she argued was very loud yelling and continued to say i was stealing as we were walking out the door. It was belittling , embarrassing and i will never step foot in their again i believe she needs training to communicate with customers or to be fired why is this woman in this industry if she can't treat her customers with respect or relate to them. My grandson 3 years was very scared. app code:024955. II am not one to complain but it really bothered me n i would hate for someone to have this experience

Art Hayzlett
from Liberty, MO
I ordered a large thin crust, half with pepperoni and sauages and the other half with beef and bacon.. along with some cajun fries, for pickup, from the store at the corner of 291 and 152 in Liberty MO.
Imagine my surprise when they opened the box and there was a pan pizza with pineapple on it.. so they had me wait in the store while they made me another pizza for 40 minutes, the whole time I'm watching the fries stand there and get soggy and cold, and being ignored when I kept asking them to remake the fries as well. They all, each and every one of them, had a "I don't care" attitude.. even the so-called manager.
Sometime between the time they put the new pizza in and the time it was done the old fries went away... but were never remade.
So which is it ? Am I supposed to eat cold soggy fries or cold soggy pizza ? What's the point of ordering online if they just go ahead and make what-ever pizza they want to make ?
At this point I'm done with your company... I was REALLY in the mood for pizza hut pizza tonight, but the piss poor service, and the inability to even make the correct order has me pissed off more than I can say.

Linda Gray
from High Point, NC
I have order pizzas with yall for as long as you been in archdale I used too work for you when I was able my complaint is I called to place my order as have done almost weekly. They refuse to allow me to place my order and deliver it because I wanted the $7.99 med. pizza delivered, I also wanted the $20.00 dinner box. I had just ordered 4 medium pizzas the week before and had them delivered and got them. The store number is 2586 an order that should have been $27.99 plus tax they wanted $45.00 Thank you
Have feedback for Pizza Hut?
Thanks for your feedback!
Sorry. Please try again later!