Pizza Hut
Contact Pizza Hut Corporate
Toll free phone number: (972) 338-7700
---
Pizza Hut is an American fast food chain, international franchise and a subsidiary of possibly the world's largest mega restaurant corporation, Yum!Brands, Inc. Pizza Hut has over 11,000 outlets worldwide with 6,000 in the United States. Employing over 160,000 there are outlets in approximately 94 countries. Corporate website is www.pizzahut.com.
If you experience a problem with your dining experience at any Pizza Hut you may call 1-866-364-0082 in Canada and 1-800-948-8488 US. You may also address correspondence to the CEO, David W. Gibbs at 7100 Corporate Drive, Plano, Texas 75024 or call the corporate office at 972-338-7700.
Pizza Hut was started in a small house in June of 1958 in Wichita, Kansas by Dan Carney and Frank Carney. Pizza Hut uses promotions, movie sponsorships, seasonal offers and products to capture extra marketing opportunities. Social media presence may be found in Facebook, Twitter and YouTube.
Pizza Hut Contact Information
Report complaints to corporate and get satisfaction
Pizza Hut headquarters address

7100 Corporate Drive
Plano
TX 75024

Company website

1-800 phone number

(972) 338-7700

Support email address

feedback@pizzahut.com

Better Business Bureau rating
Browse reviews of other Fast Food
Top Pizza Hut Complaints
Browse more than 620 reviews submitted so far

James Jones
from Houston, TX
I ordered a pizza on line i got charged 31.38 never got pizza and bread sticks order # a027119x81t2353 how do i get a refund i will never order from Pizza Hut again i even called and the lady said it was scheduled for delivery at 1:07am now we are starving and will have to find a burger joint thanks a lot Pizza Hut i have to go out on the road with all the rodeo drunks .

David Ford
from Carlsbad, CA
How can they employ a thief and a liar like Brandon ? His clothes are filthy dirty and he wears the same clothes to work every day. He smokes weed all the time. He just got out of prison in November of 2015 for breaking into a building, stealing a four wheeler and selling it. He lies to everyone to get people to feel sorry for him so he can use them to get what he wants. You really can't believe anything he says. He also has a desire for young girls. He has been with a 12 year old within the last year. How can you possibly keep him employed?

Patricia Kinney
from Fort Worth, TX
I placed an order tonight August 3rd 2016 4 the 2-inch 1299 Pizza for delivery. The driver came out and I missed him I didn't hear the knock so I called. And when I talk to I guess the shift manager there he told me that someone came ten minutes ago he was going to have them come out and run the same order but I did not want the same order and I apologize for having the driver come out and I would like to place another order. He put me on hold for about a minute or two then he came back on and said he can not have his driver come out again until our apartment.
When I asked him why he said because it's not safe for the drivers to go to the same address more than once in the same time period. So I asked him if I place the order online again is he going to cancel my order and he said if it's coming from my address yes he will or I can come pick it up. I was very upset because his demeanor over the phone was as if he did not care about my apology and he didn't have time for it. I just want to know is that Pizza Hut policy. And I informed him that I order there frequently I know at least more than 3 times a month I was very unhappy with the way he handled the situation.

Patti Smith
from Jefferson City, MO
first I would like to say we have had negative experiences with the Capital Mall Pizza Hut in Jefferson City MO in the past but yesterday was the icing on the cake. My husband all them at 3:53 and ordered a large thin super supreme with extra cheese. They gave him the total and said it would be ready in 20 minutes. He phones me to go by after work and pick it up. I get there and the manager is at the register. I told him the name and what I was picking up and he said he didn't have any order for that. After giving him my name my husbands name both phones numbers he still says he has nothing. Not to mention he is rude and short. He didn't seem to care one way or the other to help us out or anything. Didn't apologize offer a discount nothing. I said never mind I don't have time to wait. My husband calls back and talks to a woman there and she says she is sorry and agreed he must have called considering he knows the exact total, they offer to deliver it. Again we are on a time frame here. He gives her our address and they said they would have it there in 15 min. 25 mins later she calls back and says out computer messed up can I get your address again. It will be another 10 mins. He said no. we don't have time for all this. this will be be LAST time we EVER eat at pizza hut. There are way to may pizza places in Jefferson City to put up with this crap. I seriously have no idea how this place stays open if they treat all their customers this way and that manager needs an attitude adjustment. If he hates being so bad then maybe he needs a new line of work. I'm not expecting a reply. I'm sure you all don't care is why you want this emailed and won't talk on the phone about complaints.

Nichole Smith
from Visalia, CA
I ordered a pizza online for the first time ever. After waiting in the living room for over an hour I realized it was taking way to long. So I called and they said that my card had been declined and they canceled my order. First there was nothing wrong with my card. Also they said they had tried to call but that was nearly an hour after I had ordered. Why would you cancel an order without trying to make the delivery and obtain cash. Which I would have been fine with. I was so upset I didn't even want it anymore. The only reason for that card to be declined whold be if they put in the wrong info. I'm so disappointed with my first attempt at online ordering. And on top of that they weren't even apologetic.

I was online and noticed a free $50 gift card from pizza hut if you signed up and purchased a living christian CD and subsequent monthly membership. I purchased the cd and then never received the $50 FREE gift card from pizza hut. Naturally Pizza Hut denies there was such an offer online! So I returned the living christian cd and they want to now charge my account because they said I never returned the cd even though I have proof the cd was returned by the post office. I will fight this one for all of us who make mistakes buying stuff online! Pizza hut really screwed me on this one and I still can't believe this!

Nakeisha Gibson
from Philadelphia, PA
I placed an order for carry out. When I went to pick up the order, the cashier almost forgot my pizza. After getting what I believed to be my entire order, I headed home. When I got home I realized that you had forgotten my wings. I attempted to call the store, but the line kept giving me a busy signal, sometimes immediately and others times after 2 or 3 rings. Ordinarily I would have just gone back up to the store, however, the weather is horrible, which is why I decided to pick up the order while I was out. Attached is a screenshot of my order.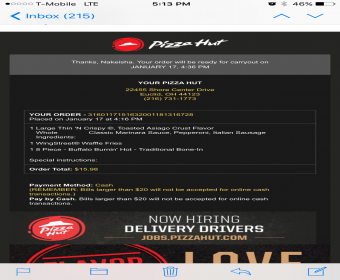 Mercedes
from Jackson, MS
I had placed 2 orders for pick up I was told it would be a 45 min wait. I waited 45mins then I came in and paid for them and I was told my order was ready. I got 1 of my pizzas and they said it would be another 5mins for my other pizza. After 10mins they asked me again what I was waiting for. And they still could not find my other pizza. I waited almost another hour and by that time my other pizza was cold and the person up front just gave me a random pizza and gave me my money back.

The place is a complete dump. Has been for awhile now. It takes 1-2 hours to get a carry out pizza on a weeknight not even a weekend. Pizza is always messed up or not good at all it's always to greasy and half cooked. Booths and tables are digusting and filthy. Makes you not even want to sit down or if you do you want to take a shower as soon as you leave . Ceiling tiles falling down bathrooms filthy I could go on and on about this ridiculous place. It needs new management or just needs to be shut down. I will drive 45 mins out of the way if I want Pizza Hut again. Will not be back to the new Albany one until something is done

I wanted fo reward the a team of ladies I work with for a great job they did in our department store in Louisville Kentucky. i order three large pan pizzas from the Pizza Hut on shebyville Rd near St Matthew Mall. First the who delivered the pizza was rushing me and when I checked the pizzas they were not pan they were thin crust the topping were wrong. I call and spoke with the manager he said he gave me the thin crust because they ran out of pan.He didn't even call to ask If It would be ok. I order pizza all the time from the Preston Hwy location and Its great. I was very disappointed.

Howard Rooks
from Naperville, IL
This complaint is to Pine Ridge SD Pizza Hut We have been calling for 30 minutes! They finally answered and told me they are not taking orders for 30 minutes! Last time we called in a order we went to pick it up some ladies were outside smoking in the back and no one to help us then they didn't have our order ready! This place needs a new manager!

Ellen Brion
from Danville, PA
Worst experience ever. Took 40 minutes to get a pizza. Waitress made excuses that take out and delivery was before us. This was a slow night and if you cannot provide 1 pizza maybe you should just shut your doors and do only takeout. I will never return and not recommend to everyone!

Mark Nasi
from Minneapolis, MN
I ordered a pizza for delivery. Never got a call or knock on the door. 2 hrs later I finally got a hold of someone who would listen to my complaint. They said the delivery driver brought it back to the store. What the heck?!? Ordered Sunday, February 10, 2019 from the Bloomington, MN location. The guy also said my money would be refunded with in 24-48hrs. Well that has passed by almost 5hrs. What a joke!

Misty Oler
from Bridgeport, CT
I walked in to the Pizza Hut restaurant on Boston ave Bridgeport ct and the employee running the front informed me it would be a hour wait! There was only one customer in the lobby at this time. I said wow a hour, his response was yes were backed up on everything. I would understand a hour for delivery customer but here I am in your store already! I personally work at another fast food pizza place in the never by area and I know based on my work history it shouldn't be a hour wait no matter how "backed up" the service my be running! I am very disappointed because I like your guys food over the place I work and it was my night off so I figured I'll go in. Also to be noted I asked will everything be a hour wait even if I only got a order of chicken.. his response was yes! A hour! And that's unbelievable

Ordered a supreme pizza Sunday evening for take out, got home with it & it certainally was NOT a supreme, not sure exactly what it was! It was overdone with nothing on it but cardboard pepperoni, at least we think it was pepperoni, hard to tell. We were unable to eat it. I can not imagine sending something so pathetic out. Shameful! So disappointing. We just relocated to this area & really looking forward to a Pizza Hut pizza. ☹️

Sarah Ward
from Leicester, ENG
Hello
We ordered take away pizza, when we opened the pizza boxes one of the pizzas was burnt ( please see attached image). Also I selected re order from a previous order and to my disappointed it had a garlic and herb dusting on the pizza, this wasn't on our previous order. We were very dissatisfied with the pizzas we received. I look forward to your response
Kind regards
Sarah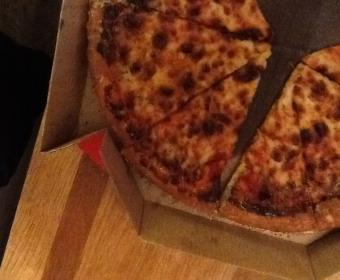 Sarah Ward
from Leicester, ENG
Hello
We ordered take away pizza, when we opened the pizza boxes one of the pizzas was burnt ( please see attached image). Also I selected re order from a previous order and to my disappointed it had a garlic and herb dusting on the pizza, this wasn't on our previous order. We were very dissatisfied with the pizzas we received. I look forward to your response
Kind regards
Sarah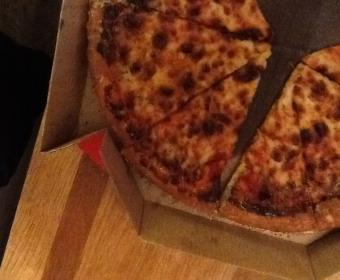 Mary Allen
from Houston, TX
Ordered two cheese pizzas that taste like they came off a buffet table that had been sitting for over an hour, thin hard crust, hardly any cheese and over browned.

I pay the extra $2 for extra cheese on my pizzas and never get extra cheese. I get more cheese from Little Caesars. I bought 2 medium pizzas tonight both with extra cheese and they had the same amount as my 3rd pizza. It's really making me angry, I used to work at Pizza hut I know how important it is to cheat customers on toppings. I feel I want my money back for all the extra cheese orders I have made. I will call corporate.

Michael & Ashley Wells
from Chicago, IL
On January 22 2018 at 21:34 I contacted the on duty manager (male) at Pizza Hut located at 102 E Quincy St, Pittsburg, KS 66762, via phone at (620) 231-8990. I advised the manager that our deep dish pizza was not cooked thoroughly and both pizzas we're cold. The manager asked if we wanted them remade and I stated, yes. The manager then stated there would be two to three deliveries in front of us and the call ended. That call lasted 2 minutes and 23 seconds.
I then advised my wife what the manager had stated to me. My wife asked if I would just call back and see if we could get a credit. She was tired and just wanted to go to bed by this point. I called the same store at 21:37 and the phone was answered by a female. I explained the situation and advised her that I just spoke with the on duty manager. I asked if we could just get a credit instead of having the order remade and wait on it. I over heard the female ask the manager if a credit would be fine. I heard the manager state yes that it would be fine. The female returned to the phone and stated that he would add a credit to our account. I asked how I would redeem the credit and I was advised it would be under my phone number.
My wife decided tonight that she didn't feel like cooking so we agreed on using our credit from January 22nd 2019. My wife called the same Pizza Hut located at 102 E Quincy St, Pittsburg, KS 66762, via phone at (620) 231-8990 at 17:35 on January 25th 2019. An employee by the name of Lindsey answered the phone. My wife explained that we had a credit for $28.29 that we would like to use. Lindsey stated that there was no credit under (417) 793-4422. Lindsey then asked the manager, a female, about the credit. The female manager then laughs where I can hear her and and says rudely there is no credit over and over. The manager then yells over the phone and says. "Do you know how many times I've heard that one!
My wife hung up in tears. We have been loyal customers of Pizza Hut for over 25 years. Our local Pizza Hut in Missouri knew us by name until we moved here to Pittsburg this past summer. We have never seen such disregard, rudness, and hatefulness torwards a customer, especially by someone who is suppose to be a manager. We do expect our credit to be placed on our account, I also hope my wife is afforded an apology as well. I'm not sure what the disconnect is with this female manager, but I hope she gets proper training moving forward. If she hates her job that much, I'm sure someone else would love the opportunity.
Respectfully,
Michael & Ashley Wells
801 S Joplin St.
Apt. A
Pittsburg, KS 66762
(417) 793-4422
Original order #: 3190122211531001432.
January 22, 2019
$28.29
+50 points
Create Your Own
280 cal/slice, 8 slices
Large Hand Tossed Pizza
Ham, Pineapple, Classic Sauce, 4 GarlcBB
Create Your Own
Large Original Pan® Pizza
EZ on Sc, Chicken, Black Olive, Classic Sauce, 4 GarlcBB
MTN DEW®
1020 cal/bottle, 1 bottle
PEPSI®
900 cal/bottle, 1 bottle
Total
$28.29
Delivered to: 801 S Joplin St Apt A, PITTSBURG, KS 66762
Cash
Order Number : 3190122211531001432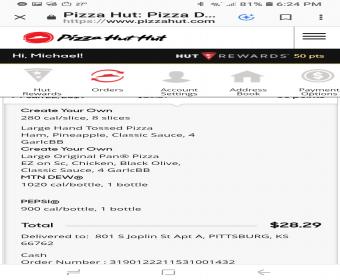 Kelsey Kemp
from Bloomington, IN
I ordered a medium meats pizza with banana peppers and a half order of breadsticks for carryout. There were too much toppings on the pizza so the crust was still half dough and it was all concentrated in the middle of the pizza. The breadsticks were the only remotely good part about the order a bit flat but still good. The pizza though was disgusting as it was basically like taking a bite out of a chunk of meat and adding a gooey dough to it.

Catherine Nelson
from De Forest, WI
Pizza ordered for carry out 1/9/18.Picked up &left with my kids-I returned 10 minutes later &surprised not eaten. Knots dry & over cooked/burnt at spots. Pizza had dollaps of some sauce on crust-kids didn't eat their crust and the whole Pizza should have been gone. They were unhappy with it & threw plates away with food on...not typical in my house of boys. Called Waunakee Pizza Hut &spoke to Joe Morgan. He told me to send pics to his personal email-I did & he replied that he would talk to general manager & get back to me. This was on 1/10/19. No response since.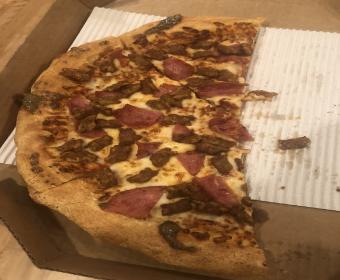 Rick Wilken
from Valley Park, MO
I'm not one who complains matter of fact I feel its important to pass this along. On January 24 , 2019 at 18:15 hours I was picking up a order at 1358 Big Bend Square in the City of Twin Oaks, While checking out the gentleman had a issue with the register, he asked for assistance from a fellow worker (female) who proceeded to remedy the problem. While she attending to the issues I noticed the gentleman preparing pizza's while sweating and wiping his forehead, I noticed he was not wearing GLOVES placing his hands in the in the pepperoni cheese and other topping.
I've been a customer for many years at this location however i placed my last order their.
Rick Wilken , If you like I paid by credit card and feel free to verify

We have had terrible food the last 2 times we have ordered from Pizza Hut in Oakley, KS. January 14th my husband ordered sandwiches and I left work 20 minutes after he ordered them to pick them up (a 2-3 minute drive). I got there and one sandwich was not done yet. I was told the forgot to cook the bacon for on the sandwich. I waited 15 minutes and finally got our order. Got home, only to realize that my sandwich was a black forest ham and my husbands was a buffalo chicken, neither of which had bacon on them. The sandwiches were dried out and the worst sandwich I have ever gotten, only took a couple of bites and threw the rest away.
My son and grandkids came over last night and wanted pizza so my son ordered online at 6:23 and it would be ready in 15-20 minutes. I went to pizza hut at 6:40 and there were 2 others waiting for their pizza. One told me she had been waiting over 45 minutes the other had been there for 30 minutes (both had ordered ahead). There was one other couple sitting at a table and they said they had been there for a long time and still no food. I asked how long it would be for my pizza and no one could give me an answer. I finally did pay and they said, we added a discount ($3.71 off). They said I could have a complimentary salad. I went to the salad bar and the one bin of lettuce was brown and there wasn't more than a cup of lettuce in there. The other side had decent lettuce but no more than 2 cups in that bin. Most of the toppings and sides were over 1/2 to 3/4 gone. One of the worst salad bars I have ever seen.
The lady who had been there for 45 minutes finally got her pizza around 6:50. At 7:00 another family walked in and they had to ask for a table to be cleaned off for them (remember, there was only one other table occupied and there were 4 people working, 1 just standing around and she should have had the table clean already.) There was no food that came out of the oven for over 10 minutes. They finally brought out one sandwich for the dine in, but the other person at the table still did not have her food when I left, a good 6 -7 minutes after he had his sandwich! I finally got my pizza at around 7:07 and the other poor lady was still standing there and we overheard them say, we still need a large pepperoni and beef, and she told me that is what she had called in around 6:15, and she was still waiting. Got home and both of the pizzas were soaked in grease.
If i could rate it a negative 5 stars, I would do so.
We will not go back there for a very long time,if ever. We will instead order Pizza from Caseys.
You need to get good help in there or close the doors.

Debbie Eason
from Darlington, SC
I ordered pizzas from the Boone Trail Fayetteville NC store last night. I ordered the 2 pizza special and it was to be delivered. I was told 30-45 minutes. I waited 59 minutes and called to check status just to be told they did not have a order for me. I asked to speak with a manager and spoke with manager Sam. She said the one that took my order thought I was just checking prices which is totally obscene. I have used this store many times and have only had one other issue in all my years ordering from them. I was so upset I hung up and called Domino's and ordered my dinner. This is totally unacceptable customer service so I guess Domino's will take your business from now on and I do intend on spreading the word on social media. I have had friends that have had similar complaints and said they are now using other restaurants as well. It should be a sign when you have to file complaints by email because you can't answer all the calls obviously. I have used Pizza Hut for over 30 years because you do have the best pizza but the customer service sucks in the past few years.

Che Adams
from Washington D.C., DC
So basically it was a situation where there was a two hour wait for delivery and instead of the store telling me that, they kept putting me on hold for 30+ mins then would hang up. I would call back and they would hang up again. Then when I finally get a chance to talk to someone she's very rude and very inconsiderate and tells me that it was a wait and I'm like I've called from three different numbers, they kept putting me on hold. I would start talking and they would cut me off and put me right on hold. It was disgusting and very bad for you guys business. I would never order from there again! That's messed up!

Dorothy Olive
from Tucson, AZ
I called your location on Valencia and country club in Tucson Arizona. I placed a order with Anthony he told me it was $52 and change it is 10:30pm he never told me how long so I assume 45 minutes at least. I waited and waited until 1 hour later no food. So I call them back this time spoke with Cathy who never acknowledged she was the manager I might add. I inquired about my order she then proceeds to tell me that you are suppose to pick it up! I said no I wanted my order at 10:30pm mind you delivered. She then gets into her role only after I ask to speak with the manager she acknowledges she is the manager. I never would have expected her to be after not helping solve the misunderstanding!!! By now it is 11:30 PM almost midnight! She was more focused on being s smart ass than being a helpful manager. Also when I did call back 1 hour later she told me that my order had just came up 5 minutes ago. I guess I was suppose to know that to since after all no times were discussed. I live very close to this store less than 5 minutes to be exact. When I wanted to know the general manager name she just said James. I said what's her first name she told me she is not allowed to give it out. What are a secret service joint now. I canceled my order now have to wait 2 days for a refund. Not happy at ALL!!!! I want to know why??? I then asked are the phone calls recorded because I wanted someone to review the conversation that took place she said no for HIPAA reasons. That's how confident Iam in what took place. I never experienced this before. My contact info is 520-296-9662

I would like to complain about a manger yelling at employee in front of everyone, including me the customer ! He was in the employees face , yelling at him , he sounded very threatening and hostile ! . All because the employee set a water bottle in the wrong the place . This is one of the most disrespectful things I have ever witnessed! The employee was in tears ! The name of the manger is JAY GOLDSTEIN ! This employee should not be working at your establishment! The store is located 5856 s Lowell blvd Littleton Colorado .

Rina Cuellar
from Denver, CO
I ordered an 8 piece boneless Oder of wings and only got 5 when the order arrived. I called the store back to try and get my order fixed and they said they'd said it back out. After about 40 minutes they dropped an offset but left someone else's wings and the driver ran off before I could say anything. Called the store back and management was extremely rude and not helpful at all. Told me to call back 2 hours later for a credit because she had other calls to take. Below is the wrong order I received the 2nd time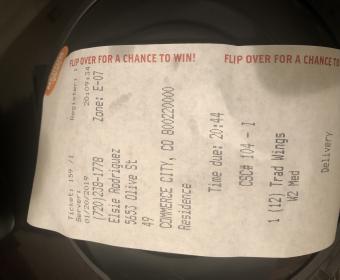 Joe fisher
from New Iberia, LA
I ordered pizza hour ago, picked carry out by mistake , someone we don't know picked up our pizza , Pizza Hut would not refund our money or replace pizza. When I called , all they did was argue with me . I gave up and ordered from dominoes , wouldn't trust pizza from Pizza Hut now anyway !!!

NO COMPLAINT, just want to let you dunces know, that i walked into pizza hut, at west lawn pennsylvania, to order 3 large pizza, she was telling me, that a lot of people order the deep pan, so said is it $7.99 , like the large is, she said there pizza is $11.00, i said on the computer, it says $7..99 for a large, she said, if you order on line, so i left the store and order across the street, at dominoes, so your loss, is their gain, isn't that great, since you don't know how to train these young stupid kids you hire, isn't that great, they gained , and you loss, see they accept money, to them its all the same, hope i made your day, maybe you should fire your area bosses, since they must not be able to train new employees right, also , last summer you had a guy , that knew what he was doing, good for you , did you fired that guy, since he isn't there, lol,

Peter Algieri
from The Bronx, NY
Last nite I purchased a dinner box to my surprise the pizza was the worst I ever had...it was extremely spicy and salty...the bread sticks were over done and hard..My family loves Pizza Hut but after this experience don't know if we'll ever go again...I tried to call the store he wanted the food back..but we ate the pizza only and drank lots of water....I feel that the person incharge just didn't care...Thank you for your time and help with this matter...Peter

Kathryn Horton
from Clover, SC
I ordered a pizza tonight. I live about 5 minutes away from the Pizza store in Lake Wylie, SC. I ordered a medium pizza with beef, peppers and onions with a thin crust. It came barely warm, hardly any toppings and the crust was so hard it crunched with each bite. I love PIzza Hut pizza and usually it meets all expectations. Thought you needed to know. I am going to try to attach some pictures so you can see for yourself. Thank you for your time.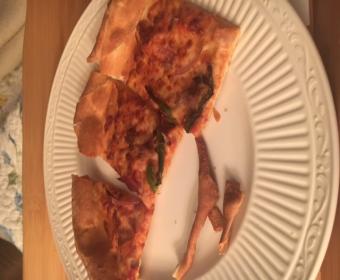 Dorothy Burns
from Aiken, SC
1/17/2019 I have been waiting over two hours for a pizza and it is still not here! Just so frustrating order at 730 and it's almost 10pm

Diane Hart
from El Monte, CA
I ordered 2 pizza's from Pizza Hut on Live Oak in Arcadia, CA in late October. My order was for hand tossed crust. When I got them home the crust was thin as paper and was literally dripping with grease. Took them back and was told they could remake them or give me a credit for the $13.58 on a future order. As my guest were hungry, I made up a quick meal and then took the pizza's back so I told the cashier to just put a credit on my account. I have been ill and then the holidays came so I did not have a chance to go back to Pizza Hut until earlier this week. I was told by a VERY RUDE young lady at the counter that I should have come back THE NEXT DAY or within a week for my credit pizza. At the time I took back the pizza's there was NO mention that I had a time limit on my re-order ! I am a 70 year old senior citizen on Social Security and do not appreciate some young rude kid speaking to me in the manner she did nor do I have extra funds to throw away on bad food. I have been a customer of this Pizza Hut for many years and this is the first time I have received such horrible food and the lack of respect I received. I am demanding either full credit for the $13.58 I paid or a check for same amount as reimbursement. You have no right to steal money from your customers or subject them to incredibly rude, disrespectful employees.

Louis Dipofi
from Marshfield, WI
Pizza and wings took 1.75 hours suppose to be 60 min. Pizza cold. Wings cold. Complete waste of money. Your 10.00 off survey does not work. Rating is 0

Pamela Saulsberry
from Metairie, LA
I order a pizza on 1/16/19 and they stated that I did not answser but I have a copy of the website and tracking screen showed it out still being made and I spoke with a Marrisa and she said the driver knocked and called but I did not receive a call and the tracking showed that it was in process being made. I am requesting a refund. I just want to make sure my account is credited back this amount. I didnot get the pizza and she said that it will be an additional charge if I had to reorder.

Mike Dickson
from Katy, TX
Pizza ordered at 6:34PM on Saturday January 12th and we received an email stating that the order would be delivered by 7:20. I called at 8:35PM and the excuse was given that we were new customer and the order needed to be verified prior to it being filled. We were not contacted and the store had already proceeded with placing the charge on my credit card. The person I spoke with said she did what the computer told her to do.
I will never buy another item from your company and at this rate you will end up on the same list as Sears.....
See attached email.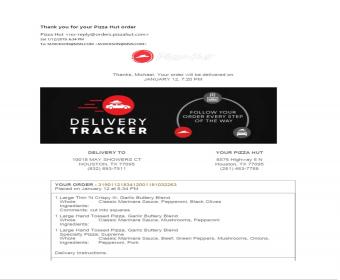 Ali Law
from Springfield, MO
Ordered pizza dinner box, comes with pizza, cheese sticks at upgrade and cinnamon sticks. Ordered other stuff too. Received everything except pizza from dinner box. Was charged almost $70 for 4 things off 5$ deals, apple pies $5, and $5 cookie and the box . I would NEVER order cheese sticks and cinnamon sticks ever ever without the pizza. I put gas because it's a good deal. 2 different stores said they didn't send me pizza. Well somebody did!!!!!! A manger then yells at me on the phone. I yell at him, screenshot all my info and they refuse to send me the pizza or do anything about it. He hung up on me on the phone. I'm probably the most loyal customer in my area and they had the audacity to treat me that way when I've spent well over a grand on pizza from them. Fuck Pizza Hut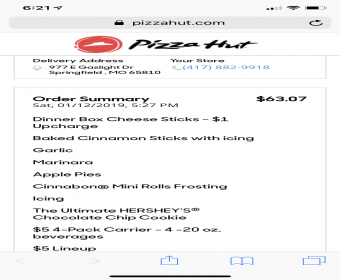 randi bardo
from Royersford, PA
Had a terrible experience with my online order which was placed on Sunday, 1/6/2019. I placed an online order for 2 medium pizzas and 2 orders of chicken wings at 4:05 pm and was promised a pick up time at 4:50 pm. When I entered the store, I was told by the manager named "Rambo"( it was probably a made up name)that my order wouldn't be ready for another hour, atleast and there were many people ahead of me. I was livid because we had people at our home watching the football game and they were hungry. I went back to the store at 6:05 pm and waited on a long line. When I got to the counter I was told by the manager that my order was cancelled. I would never cancel my order and was " fuming". The manager had 2 pizzas ready but they were burnt to a crisp and was told that the store ran out of chicken wings. The manager wasn't respectful and treated me poorly. People waiting on line was told the same thing... a long wait ahead of them. I regularly ordered from this Pizza Hut location and this has been the worst experience ever.

Jeffery Jerome
from Fort Wayne, IN
I only ordered 1 pizza and got charged for 2. I called the store and the manager was very rude and said it was my fault. This isn't the first time either it's every time I've ordered from the location in New Haven, Indiana.

BYRON A CERRE JR
from Houston, TX
I ordered a pizza over the phone personal pan meat lover's add Banana peppers. I was quoted a price of Approximately 4.82. I stated that a meat lover's always has cost me 5 dollars and some change, was he sure that it was a meat lover's, he said yes twice. I get to the store wait 10minutes in line, get the pizza and it's wrong, plain pizza. They tell me the delivery driver took the order and did i want them to remake it. Yes i say . They ask did i want to pay for it now. By all means my time it unimportant, the only thing that matters is that i pay for the pizza. So the manager is watching all this, she doesn't say anything but at the last minute she makes sure I'm charged the right price. No statement about the order being wrong, no statement about Inconveniencing me, no comp for the mistake even after I told the order taker that it couldn't have been right, now she wants to make sure I'm charged correctly. I have bad experiences this was the worst. Pizza Hut ,Carrollton Avenue, New Orleans

I placed an order at my local Pizza Hut (1 mile down the road in New Martinsville WV) at 7pm. They told me it would be 15-20mins. An hour and 15mins later it finally shows. No big deal.. until I realize they didn't even bring me all I paid for. So I call the store and after it ringing for the first 5mins I'm transferred to the call center. I explain the situation and he transfer me to the store. Exactly 6 mins later they finally answer at the store and the lady says "let me put you on hold for a manager. 4mins go by (I have screened shots of each occasion) the manager gets on and I explain. After telling me I was lying about how long I was on hold, and telling me I never ordered ranch, The only solution she could give me was that when the driver gets back she can have her run it up. I asked if it would be another hour? She said well i don't know what time it will be she's out on a run.
I hope you can understand my frustration and complete horror by the disrespect and lack of management skills. I deal with the public in hospitality everyday. I couldn't Imagine EVER treating or speaking to my guest as such.. and not offering a better solution is just ridiculous.

Jerry Frugia
from San Antonio, TX
I was staying in a motel in Marlin, Tx and call the Pizza Hut store there for delivery and was informed they do not deliver. After looking at their website it shows they offer delivery until 10pm, the person who answered the phone said they just don't deliver. I asked "if the drivers were off or what the deal was because the website says delivery until 10pm." Again the person said they just don't deliver. Why advertise delivery on the website if they are not going to honor what the website says? Seems like false advertisement to me! Their website should be changed or they should start delivering. Thank You

Joan Marshall
from Greensboro, NC
My husband and I decided we wanted a pizza and we wanted a dine in restaurant where we could sit and enjoy our meal instead of getting a to go pizza and taking it home. There are not many dine in pizza restaurants in our area but we knew that there was a Pizza Hut in Reidsville, NC. We had not been to it in quite a while and decided we would go. We arrived shortly before 5:00 pm on a Tuesday evening January 8th. We ordered a large thin crust pizza with peperoni, mushrooms and beef toppings. The pizza was brought to our table and we started to enjoy our meal. It turns out that the pizza was horrible. The crust tasted like dried cardboard. The beef topping was extremely hard and dry like it was over cooked and the sauce was very lacking. My husband said that if he held up a piece it was so thin he could almost read through it. Needless to say we were not pleased. As I mentioned it had been quite a while since we had been there, but I can tell you that we probably will not go there again. Thank you for giving us the opportunity to voice our displeasure.

Eugenique Anders
from Shreveport, LA
First off, it took almost 2 hours for delivery, not hot and order was wrong. On my order requested extra sauce, well, ny pizza was dry,no sauce at all, and in the comments specified extra sauce. The Pizza Hut at 9631
Mansfield Rd, is unprofessional and terrible. They will no longer be getting my business.

Pat Thomas
from Irwin, PA
I ordered a Pizza with mushroom and pepperoni. When I got there, there was only one topping on the pizza. They asked if I could wait for 10 minutes. I waited and when I got the pizza home there was only pepperoni. I called to complain about no mushrooms and he hung up on me. No wonder that place isn't busy anymore.

Robby Bennefield
from Birmingham, AL
Ordered pizza's at 3:30 pm to be delivered at 5 pm. At 5:30 pm I called the location to complain about my order being 30 min late and the first person was unprofessional by asking in a smart tone "so what do you what me to do about it" I asking for the manager and was put on hold for about 30 sec then was hung up on. Called back and talked to the manager and was told the food was on it's was and I was credited $5, and as of this moment of writing this complaint my food is 45 min late. I'm a big fan of Pizza Hut since it came to Birmingham, Alabama to the exclusion of all other pizza companies. This has been by far the worst experience, but it will not be my last with your company, just wanted to vent my flustration. Please contact me at the above email address if needed. Thankyou for your time.
Have feedback for Pizza Hut?
Thanks for your feedback!
Sorry. Please try again later!