Pizza Hut
Pizza Hut Complaints Continued... (Page 8)
1002+ reviews added so far. Upset? Call Pizza Hut corporate: (972) 338-7700

Kamilah Gregory
from Bellevue, WA
I travelled about 18 miles from my house to order pizza at the new Pizza Hut in Willingboro New Jersey I had already made my order online and which I had to wait an additional 25 minutes for my order after my email stated that my order was completed when I received my order my pizza was cold I asked for garlic parmesan boneless wings my boneless wings were nothing but chicken nuggets that we were not created and saw that all there was a little tiny bit of sauce when I spoke to the woman in charge she acted like she had a attitude this store this store is very unprofessional and very very very very sloppy and messy the food was horrible and after I had drove so far and waited and promise to my children that they were getting Pizza Hut I then had to turn around and my car and return my items this service was very poor I recommend better management and I am a very dissatisfied customer there was Pizza Huts in Mount Holly and the town in which I live which closed down and they never had this type of problem I actually enjoyed Pizza Hut pizza but they ruined this visit and I will never attend this Pizza Hut restaurant again

Joan Marshall
from Greensboro, NC
My husband and I wanted to set down and enjoy a pizza rather than taking one home. We don't have many dine in pizza restaurants in our area but knew that there was a Pizza Hut in Reidsville NC. It had been quite a while since we had been to this location but decided to go. We arrived around 5:00 pm on Tuesday, Jan. 8th. We ordered a large, thin crust pizza with pepperoni, mushrooms and hamburger. The pizza was horrible. It was very bland tasting. The crust was like very thin cardboard. The hamburger was very hard almost like it was over cooked and the sauce was very skimpy. My husband said that if he held it up he could almost read through it. We don't think that we will be visiting Pizza Hut again in a very long, long time if ever. Wanted to let you know of our very unfortunate experience.

Carolyn Graham
from Memphis, TN
I had gone to Pizzahut yesterday, in a hurry ordered a chicken pizza with black olive. The manager assisted me name Maraina. I asked for the online large special which I was prepared to order online , she told their wasn't a need she could assist me.i told her word to be true. When I got the pizza it was a black olive pizza with bits and pieces of chicken, very little sauce, very little cheese if any, I have always concerned Pizzahut to be a place where I could get a decent pizza from, but after this experience I beg the differ. I am complaining because I feel cheap out of the ingredients and the respect as customer, should feel as a paragon. You spent your money for goods and should receive good products. I am among furlough employee, surely I deserve better service than this. I could count the pieces of chicken on one hand on a large pizza, some slices wasn't any. The crust was thin I asked for a hand tossed. I am very displeased with order. Phone 901 846 7821, Name is Carolyn Graham, Amount of pizza 7.99 plus tax.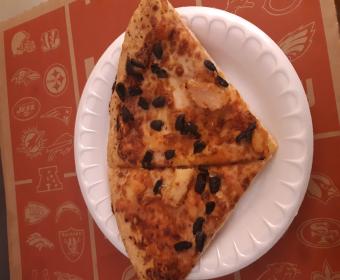 Sherone Scott
from Marrero, LA
U wait all the time for your order to get here than when it do it's burned u call store she make u wait 30 more minutes don't give nothing for inconvenience just say o we gonna have to pick up old pizza

Dennis
from Bedminster, NJ
Went to Pizza Hut in Nevada at 7 pm. And they had put away the salad bar. We left. They said they was slow so they just put it away even though they are open till 11. Waisted our trip.

James Harrison
from Laurel, MD
I am the most loyal Pizza Hut fan I know and I can honestly say in the past 2 years I have been extremely disappointed in the way your brand has gone down. I have received several pizzas that were burnt to where there is no cheese left on the pizza and it's been delivered to my house like that. The same exact thing happen to me when I did carry out! The pizza was so burnt and it took for me to say something for them to say "oh yea that does look bad" yet they were the one to put the pizza in the box so I know they saw it! I have had all these issues at one particular Pizza Hut store. It's the store that is located in Baltimore, MD @ 2303 Dogwood road. I know this store very well cause my mother has lived in this area for over 30 years but also cause I this Pizza Hut was my first place of employment! The staff over the years have been great! I remember the manager when I worked there and his name was Damon! It was all about the customer and they came first! I learned a lot from him and I felt he held the Pizza Hut brand in very high regard. I don't see that anymore at this location. Well on Sunday January 6, 2019 @ 6:28pm I ordered my family's Sunday dinner at my favorite place to eat... Pizza Hut! I went in the app on my phone like I usually do more then twice a month and placed my order online. I decided to pick it up and pay when I went to pick it up due to the several issues I have had in the past with this location. The email I received said my order would be ready for me at 6:50pm so I arrived at the store at 6:53pm. I waited my turn in the carry out line and when it was my turn I told the young lady my name. She advised me that my order wasn't ready yet and it would take a few minutes. I said ok and took a seat in the waiting area. While i was waiting i watched the workers as they laughed, joked and talked about what happen on television the night before and who was sleeping with who and saw NO ONE working! Well as I'm sure you guessed that few minutes turned into 7:25pm when I had to go back up to the young lady and ask her was my order ready yet. She explained that everything was ready except one thing and that would take about 2 more minutes. At this point I am starting to get upset because it had been exactly 1 hour and 2 minutes since I ordered my food and it's still not ready. So I asked the young lady why was it taking so long because I ordered my food over a hour ago and she replied "I don't know".
Me knowing the Pizza Hut standards and core values, I know that answer is unacceptable! So I say ok and sit back down and wait about 5 minutes when my name is called. She tells me my order is complete and she tells me my total. I say to her "Do I get a discount or something taken off of my total since I have been waiting over 40 mins over the time that I was told my food would be ready?" As I was saying this statement I look down and I don't see my side salad that I ordered. She looks down at my food then looks at my receipt and looks at the food again. Then she turns around to the two workers making the pizzas and asked them "where is the salad for this order". They both reply "We didn't make a salad" and continue during what they were doing. So the young lady goes and talks to her manager. She comes back and says to me that "We are making your salad now. Then she gives me a new total and I realize the new total is $5's cheaper. I asked what kind of discount is that and she replies "We took the salad off of the order". I said "wow, that's it?" She just looks at me and then calls her manager over. She explains to her manager what my issue is and I chime in and say "I feel I should get more off my bill then just the cheapest item that I have. At this time it is 7:40pm and my order is still not complete! The manager says to me "If I take anything else off I would have to change everything your ordered to full price first and then discount it from that total. I told her that didn't make sense and I also know that the information she gave me wasn't true. I explained to the manager that what she just said didn't make any sense and it wouldn't be discounted if she did that. She replied "It's cheaper for you to just pay the total as is then for me to do all that anyway". Totally disregarding the fact that I ordered my food over a hour ago and that even after a hour and 14 minutes of waiting my order was still not done! I said wow, so it's nothing else you can do?" She replied no, that's all I got. I was so disgusted with the lack of responsibility for not having my order ready and lack of caring that my time was being wasted. I looked at her and said "I don't want it" and walked out of the store. I decided to write this email because I loved your pizza for years. I have had birthday parties at Pizza Hut. My kids have had their birthday parties at Pizza Hut. When I walked out empty handed after waiting a hour and 22 minutes I told myself that I would never eat Pizza Hut again due to all these negative experiences! When I worked for Pizza I remember the training class out Columbia, MD and I learned so much about customer service and how to deal with certain things and situations that I honestly still use in my life today. I don't see that in anymore at Pizza Hut. I have no hope for your brand nowadays. From the people you hire and the way that they don't care about the product, how it looks and how long it takes to be made! The employees at Dogwood Pizza Hut could careless about anything but a paycheck! No pride is given to keeping the great legacy of Pizza Hut going and it's sad! I won't be giving Pizza Hut ANYMORE of my hard earned money!

jordan pollack
from Fort Myers, FL
On Dec 27th, i paid a visit to the Pizza Hut store on E. Tamiami Trail in East Naples Florida at 12:51PM. Unit 002264
It was the worst experience I have ever had in a pizza restaurant. I should have paid a visit to the buffet area
before paying for the lunch buffet. I paid for the meal and then went to the buffet to have my meal. The food looked absolutely
terrible. There were four trays in the bufffet area consisting of dried out pieces of pizza that looked like they were there for
many hours. The trays were mostly empty. The sauce container was virtually empty and the ladel to spoon out the sauce
was covered in sauce droppings from being handled by several people. When the servers were asked when they were
going to replenish the pizza, they said they were busy filling orders and it would take a while. In the meantime, several
customers came into the resataurant looking to have lunch and saw that the buffet was almost empty and rather disgusting looking and laughed and left. I paid $7.40 for the "lunch" and left after seeing that there was no movement to replenish the pizza after a period of time.
I have never taken the time to write a note to a company regarding the appearance of the food but I feel that I threw away money
intended for lunch.
I am requesting a refund of the $7.40. I do not feel animosity towards other Pizza Hut restaurants at this time. But I feel that my feelings are
justified. It was just a bad situation. By the way I have my receipt for this "lunch" expense.
Jordan Pollack

Jeffrey Lawson
from Shawnee, KS
I ordered 4 pizzas and they were all bad. 3 of them didn't have the flavor on the crust, as I ordered. I didn't get a thin crust as ordered and I couldn't tell the difference between the hand tossed crust from the pan crust that I ordered. This location has been getting worse every time I order, but they are the closest location. The pizzas were lacking in flavor and toppings. I ordered on line and waited the 20 minutes before going to pick up the pizzas and had to still wait for the breadsticks. The store address is 15327 W 67th St Shawnee, KS 66217

Eugenique Anders
from Shreveport, LA
First off, it took almost 2 hours for delivery, not hot and order was wrong. On my order requested extra sauce, well, ny pizza was dry,no sauce at all, and in the comments specified extra sauce. The Pizza Hut at 9631
Mansfield Rd, is unprofessional and terrible. They will no longer be getting my business.

Pat Thomas
from Irwin, PA
I ordered a Pizza with mushroom and pepperoni. When I got there, there was only one topping on the pizza. They asked if I could wait for 10 minutes. I waited and when I got the pizza home there was only pepperoni. I called to complain about no mushrooms and he hung up on me. No wonder that place isn't busy anymore.

Robby Bennefield
from Birmingham, AL
Ordered pizza's at 3:30 pm to be delivered at 5 pm. At 5:30 pm I called the location to complain about my order being 30 min late and the first person was unprofessional by asking in a smart tone "so what do you what me to do about it" I asking for the manager and was put on hold for about 30 sec then was hung up on. Called back and talked to the manager and was told the food was on it's was and I was credited $5, and as of this moment of writing this complaint my food is 45 min late. I'm a big fan of Pizza Hut since it came to Birmingham, Alabama to the exclusion of all other pizza companies. This has been by far the worst experience, but it will not be my last with your company, just wanted to vent my flustration. Please contact me at the above email address if needed. Thankyou for your time.

Thomas Smith
from Mount Holly, NC
I was a loyal , and I mean very loyal Pizza Hut customer , but Pizza Hut , especially Pizza Hut in Stanley NC has really deteriorated in Wuality , and Customer Service . Even Little Cesar's , and Dominos , two that I used to never buy my pizzas from have improved their quality , and are much better than Pixza Hut , as well as Papa Jpihns . My wife and I just watched a Pixza Hut commercial . I turned to her and stated , ya know their pizzas look nothing like that anymore . They really scrimp on the toppings , and quality . She agreed whole heartedly . Just telling you why your business is going to shit , compared to what it used to be . If you want any further advise . Please feel free to contact me at7046850578.

Gregory D. West
from Atlanta, GA
We're going to discuss last night's disaster in my neighborhood with a simple call to Pizza hut on West Broadway. I am a loyal citizen who is currently disgusted with my pizza hut for telling me that they don't deliver in/at my address at the present if 1814 Bolling Ave 40210, I use to drive for pizza hut in 1998 back where I lived Columbia, Ky.

Vanessa tharpe
from Millers Creek, NC
January 2 went. To pizza. Hut in elkin n.c the place was filthy the service was awful the pixxz. Was burnt my grand kids. Would not eat it. They took the. Topping. Off and ate it and we were lied to about said they. Were out but. They. Were. Sending. Them. Out with delivery orders as far as I am concerned my. Family will never go back to pizza

Angel Vega
from Tulsa, OK
Hi! It has been 1 hour and 40 since I placed my order and it hasn't been delivered, can someone tell me what's going on? 3190103175017001314031009

Kelly Rice
from Altus, OK
I have ordered on two different occasions at the North Main Pizza Hut in Altus Oklahoma 73521. On the initial order placed on 12/24/18 at 5:06 pm. I ordered 2 medium pizza, 3 orders of 6 piece wings and a supreme sandwich. Drove 25 minutes home to get home and only have 2 orders of hot wings. Called and notified the North Main Pizza Hut, who said they would put a credit on my phone number for the whole order. I orders the exact same order tonight, 1-3-19 plus an additional medium pizza, again drive another 25 minutes to Pizza Hut on North Main in Altus, Oklahoma and 25 minutes back home, as I live in a different town the Altus, To again, only have 2 orders of wings. Both orders on both receipts were entered by Jacinda. I asked to speak with the manager, Valeria was her name. It told me well if it wasn't on the order, then no, you wouldn't receive. I asked, can a person not order 3 set of wings and receive them. Valeria, told me that she was not able to look up any order except what was placed tonight. Again Valeria telling me in a rude voice that if it was not on the ticket I would not receive it. Apparently Valeria, just does not understand that I have tried to order 3 sets of wings and can never receive. I asked to speak to her Supervisor. Told me she could not give me her name but that I could call back in the morning or that I could go online. This is not the 1st or 2nd time this has happened. Customer service is the Key. I would hope that Pizza Hut employees(Valeria) realize, that people like myself are the reason they have a place to go to work ( the customers). Valeria has no concept of customer service. I told Valeria, that she would not have to worry about me calling and placing another order from North Main Pizza Hut in Altus Oklahoma. Then she hung up. We have several pizza places in Altus, Dominos, Little Cesears and Papa Johns and Luigs. I will say I will never order from another Pizza Hut Again.
Kelly Rice

Neil trammell
from Morrow, AR
O neal baton rouge. Showed up a d pizza was ready n cinnamon rolls had not even started. One pizza way pretty old tasting but the thin crust tasted like it was made last week. It was so dry and hard
We threw it away. Which is crazy. Even one dollar frozen pizza is better

Michelle South
from Belfast, NIR
We visited the meridian store today 31 December and it was filthy tables all dirty food on the floors I had to wipe our table first we had a voucher to use a Christmas present or we would of gone else where £55 we spent today. I have the receipt. No service waited ages to order no staff on the floor. Salad bar all messy. Very disappointed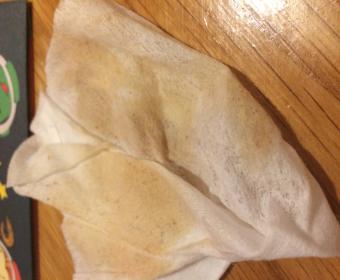 Tosha Sloughter
from Canandaigua, NY
I recently ordered Pizza Hut online for a pickup order at the Canandaigua NY location, ticket number 0014 on December 23rd. I ordered two pizzas and two double orders of bread sticks. I was shorted an order of double bread sticks and not only were the employees rude about it, they tried to tell me the one box I received was the double order and even when I showed my reciept showing the two double orders they were still rude and told me I would have to wait ten to fifteen minutes for the rest of my order while they were giving others their breadsticks. Not only did this hold me up longer than expected (pick up is normally ready to go but I had to wait) I was surprised at the lack of customer service and rude attitudes I received for their mistake, not mine. My family and I are hesitant at best to return to a Pizza Hut in the future and are left feeling very disappointed.

JT Locklear
from Seattle, WA
I placed an order on line, half of the order was left out, when I called in i was transferred to a call center out of state. I spoke with a very unhelpful "supervisor" name Mya. This has for sure costed a Customer for life. Your customer service is terrible. I will for sure be voicing my experience on whatever media I have.

Donna Houston
from Rocky Mount, NC
My husband picked up our order tonight and brought it home for our dinner. We open the box and both pizza's were wrong! When I called the Hope mills, nc Store I was put on hold for 14 minutes. My husband had to drive back to hope mills, from Parkton nc to pick up pizzas we ordered. They refuse to take anything off price we had paid but yet we use our gas and time. Please call 910 978 5967

Isaiah Smith
from Chicago, IL
Ordered 2 cheese medium pizzas for $5.99 each at the NE Central location in MN I walked in to pick up my food and after I payed I had noticed my pizza was badly burned and disfigured I respectfully told they man working at the time which was today around 7pm that I wasn't satisfied with my pizza and if they could be remade he rudely told me there wasn't a way they could be remade due to limited supplies and no refund could be given to me because it's against Pizza Huts rules as I further calmly explained all I wanted was a remake I was told to call corporate and they would do nothing but put me on a blacklist for complaining about and I quote " good pizza ( as in perfectly fine )" I just want my money back why was that so hard 0 stars

Debbie Hall
from Atlanta, GA
Need to not list toppings on menu that you don't have (ex: green olives)

Robert Bessey
from Tampa (Downtown), FL
Last night we used your online order program. Ordered a hand tossed pepperoni mushroom and onion large pizza. When it finely arrived it was not only cold but it had very little cheese and mushrooms only!!!. Now when we called to see why. The manager said there was nothing he could do because he was out of everything to make a pizza. He ask us to check the confirmation email there was none. But again he said nothing he could do because was out of everything very rudely. I know it's just a pizza but at $17.96 for a three item pizza I would expect the pizza at least warm and correctly made. Wouldn't you???

Cindy Utpadel
from Houston, TX
They forgot to make one of my pizzas, so had to wait an extra 25 minutes. Left my pizzas on the counter for 10 minutes while they tried to figure out their screw up. Manager was more worried about smoking than my order. Manager is always snippy and unprofessional. This is the last straw for me and I will never order from pizza hut again. I spent $85.85 for poor service.

Becky Griffin
from West Monroe, LA
I ordered a pizza and the guy that answered said they only have 2 sizes available thin or pan so i took the pan.i got the pizza and it was a warmed over thin pan pizza, they were about to close so i called today the lady named Teresa argued with me,wouldn't lake my pizza right and said I had to do it online,the night I called in the pizza was not online because they told me i had to get a pick 5 since they were closing so i got the pizza and cheese sticks and both had been cooked over warm time and temperature, they have me something that had been in the warmer for hours and they didn't wanna cook because it was closing. I just would like to have what I ordered fresh out the oven not warmer.

Tammy Monreal
from Roscoe, IL
We had ordered pizza hut online. First of all they were late, the pizza was cold and they did not get the order right. It was the worst pizza we had ever had. They tried to make it right by giving us a credit, so when we ordered again we thought we would try something different, again the order was just terrible. We asked for plates, napkins and parmesan cheese packets both times, and they forgot all those items each time. Pizza Hut is just terrible. I was to be compensated and make it right for the third time.

David Conner
from Winter Haven, FL
I experienced very poor customer service. I called to have an order delivered, as we have several times over the past few months. The lady who answered the phone was very unpleasant, and eventually was told that delivery was not available to my house, then she told me my house did not exist. If delivery is unavailable to my house, then how do we get Pizza Hut delivered at least once a month from that exact store? The store is located only 4.3 miles away (by Google search), but yet dominos pizza, a couple miles further away is happy to deliver, as is hungry howies that's over 10 miles away.
The second part of my issue comes when I requested to speak to the manager, and I was told the manager wouldn't come to the phone. I then requested the corporate number, she hung up on me. This is totally unacceptable behavior, and I am attempting to resolve my complaint through this medium prior to taking other action to tell of my experiences.

Rocco Santo
from Clearwater, FL
Not even a one. I ordered a large pepperoni pan light on the sauce and cooked extra. What we got is sauce running and would you believe DOUGH in the crust. We called the manager Palm Harbour Pizza Hut Florida. She said I'll give you a ten dollar credit. What? They charged us $19.03. Ticket number 111register 2 Unit number 004630 12/22/2018 19:24. The receipt says easy sauce well done. What really makes me angry is the attitude of your manager.
Should anyone care, my telephone number is (727)422-3286.

David Conner
from Winter Haven, FL
I experienced very poor customer service. I called to have an order delivered, as we have several times over the past few months. The lady who answered the phone was very unpleasant, and eventually was told that delivery was not available to my house, then she told me my house did not exist. If delivery is unavailable to my house, then how do we get Pizza Hut delivered at least once a month from that exact store? The store is located only 4.3 miles away (by Google search), but yet dominos pizza, a couple miles further away is happy to deliver, as is hungry howies that's over 10 miles away.
The second part of my issue comes when I requested to speak to the manager, and I was told the manager wouldn't come to the phone. I then requested the corporate number, she hung up on me. This is totally unacceptable behavior, and I am attempting to resolve my complaint through this medium prior to taking other action to tell of my experiences.

Linda Martin-Smith
from Washington D.C., DC
I went to pick up my pizza the person who was fixing it didn't have on any gloves than he kept wiping his nose it unsanitary.

Carrie Vroman
from Hillsboro (Tanasbourne), OR
I hold an executive position within a small division of our bank, however I manage associates in several regions. I was planning for a collective conference call/pizza party and had planned to have pizzas delivered to each of our offices. We had successfully placed the order for 3 of our locations but received a call back from your Klamath Falls location, stating that they would be unable to fulfull the delivery unless there would be a party present to pay for the order as they could not accept the credit card information on line. I inquired about a work around to verify that I am the card owner and that I authorize the pizza order and payment of the same, but they refused and stated that someone at the location would have to cover the cost. I explained that I could not ask my associates to cover the cost of their own pizza and canceled the order. I then tried to place a call to your corporate office to see if someone would be able to assist. Unfortunatley, the service answering the phone explained that I could leave a message but there would not be a party available to take a call until later in the day. Completely disappointing service.

Betty Thompson
from Cleveland, OH
I purchased pizza for our church on Wednesday dec Dec 12 the bolivar tenn 38008 the amount was for 77.30 they preauthorize my debit card four times I called ur accounting debt four times and spoke with Thomas he did not and would not do anything to help I spoke to 4 different managers at the location they gave me stories of yes this has happen to me and I will get it straighten out but never got the 1st call back from anyone
Then I contact Joan the district manager she promised she would call me on Monday dec 17 it is dec 18 and she still has not called me back fortunately my bank said they could take of care of 3 of the preauthorization since the actually charge had cleared these preauthorization took and locked over 200 dollars in my account that I couldn't use I could not buy gro bc my debt was locked I can not finish my Christmas bc this was so screwed up I didn't know how much was actually in the account since all this was going on so for over a week I could not use my debt card thank God I had a little cash to make through the weekend my family of four had 50 dollars for a week I will not purchase anything from Pizza Hut in bolivar tenn again they are the none caring people I have ever seen I have been told by others in the community that u have a lot going on in this store tips being but on people's cards without permission and cc being stolen u really may want someone to check ur managers out my receipt number was 40
I hope u take this complaint to heart and check into this this has really caused a problem for my family over the week
Customer service means noth
ing now and it is very sad
Thank u
Betty Thompson

Deseree Scott
from Dallas, TX
The employees are very rude on the phone and in person .I waited over and hour for my pizzas so I called the lady said they couldn't find my apt. Funny how i have ordered from the same place for over a year. I asked why didnt someone call ? Answer was i will send the driver back. I love pizza hut but the service is HORRIBLE.

Kimberly L Cartee
from Flemingsburg, KY
The food was 35 minutes past time I asked for it. I ordered online and wanted it at 4 PM and never got it till 435 PM. Two pizzas were cold, sauce for breadsticks were cold and the breadsticks wasnt even cut. Hardly any sauce or cheese on 2 of the pizzas. Very poor service. Didn't offer a discount or anything to make up for the poor service and food. This use to be our favorite hut near home but we wont be using it again sadly.

Bad service need my cash bavm

Cindy
from Highlands Ranch, CO
I waited over 2 hours for my pizza & received it ice cold, with Italian sausage instead of pork, pieces with no sauce, cheese or any toppings & had chunks of crust missing from being banged around? Just called to let them know and they closed at 8. Hung up not interested in the excuses.
Unit #004859
Zone b-06
Ticket 90/I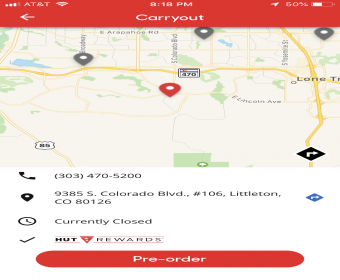 JERRY MCANALLY
from Newark, NJ
YOU HAVE PRICED YOUR SELF OUT OF BUSINESS .
2 PERSONAL PAN PIZZAS TOTALED 13.83 WOW ? AT LUNCH TIME ,SKIPPED ON YOUR PIZZA , THERE'S WAY TO MANY OTHER CHOICES LESS EXPENSIVE .

Tonya Morgan
from Louisville, KY
My grandkids wanted pizza for dinner it had been awhile since I ordered because last time my order was messed up so I gave in and ordered tonight. The pizzas were so bad that my grandkids took one look at it and said I'm not eating that. Their pizza was horrible and the one I had ordered for myself came as a chicken pizza which I did not order. The service and the food leaving this store is horrendous. I immediately called and ask the driver to return and give me a refund less his tip because it wasn't his fault the food was so bad. And no I don't want free pizza just want you to know that you have lost a customer because I definitely will never order another pizza from Pizza Hut. Again it's really sad when a 10 year old won't eat it and they are served school pizza lol. I've enclosed pictures just to show how bad it was.
You have lost a customer oh and I had not touched this pizza it came this way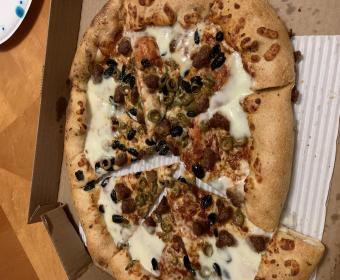 Brandi Henager
from Abilene (Original Town South), TX
So last night I placed an order on line (I always order from Pizza Hut) waited 20 mins and then went to pick it up. Pulled up to drive through there was a truck. I waited 30 mins before calling Pizza Hut and telling them how long I'd been waiting and asked them to ask the truck to pull around if their food wasn't ready. So they did I pulled up paid for my food and the young man said they had been messing up on a lot of orders so that's why they are slow. He then said mine was coming out of the oven now. Waited 40 more minutes then a young lady comes and ask me to move. I said no I ordered over 1.5 ago so she went to get manager. Then the manager approach's the window with an attitude and wants me to pull around . I told her I had been waiting over 1.5 hours for my food and the gentleman said 30-40 mins ago mine was coming out of the oven I suppose he lied to me? She said she don't know what I ordered or when it will be done she would go look. 20 mins later I get my pizza. Only to get home and one of them be burnt. This is ridiculous! And the way that manager talks to people is uncalled for. We are the customers bringing her the money in there is no reason she should talk to us like she did. I will not be doing business there and that's really sad because I went at least 1-2 times a week with my family. She needs some attitude adjustment

Felisha
from Salt Lake City, UT
I had placed an order online approximately 7:47 mountain standard time. I originally ordered a $5 on the line deal tonight 12/13 which was a large 2 topping Italian sausage and pineapple pan pizza. An order of bone out $5 Cajun and $5 garlic Parmesan wings only for my order to be delivered like the picture below!! The driver didn't have pepper or cheese and I wondered why he hadn't opened the box to show me the pizza and how it looked. By the time I opened the pizza he was long gone! He also only delivered my one order of wings when I had ordered 2. I called Pizza Hut and was put on hold a few times and then hung up a third time. I ended up driving to the Pizza Hut which I never intended to in the first place to avoid leaving my house I had it delivered!! I went in and showed my pizza and complained about it. Got a new pizza which took less than 10 mins and my wings with a complimentary cookie pizza and when I got home the pizza was just doughy! My kids even mentioned that it wasn't how we always order our pan pizza. I'm seriously dissatisfied, disappointed and I would like my refund back! This is so unacceptable and I can't believe it took over an hour to finally get my pizza and with the frustration it didn't come out as it should've. My family and I are very unhappy to say the least!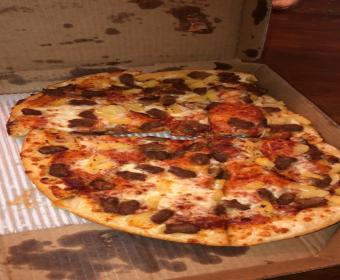 Myriah Sharp
from Houston, TX
Purchased 3(6 piece wings) , 2 pizzas and cheese sticks. Upon pick up I was greeted by a young man on his cell phone not in uniform. The wings were all 1 large container. We asked for 2 smaller containers to separate the order. He stated "they are .50 each." I asked why were they all together when they were 3 separate orders. He then stated "I'm not wasting No box when they're all the same flavor!". I then asked for cheese and peppers seeing I wasn't getting anywhere and no manager was in sight. He barked " We don't got None!" I just pulled off. We check the boxes and the pizza looked dry and cheese sticks were half covered in cheese. I am a REGULAR customer to this location and never been treated soo badly.

Shannon
from Corvallis, OR
Hi I am writing this while currently annoyed with my local Pizza Hut... I waited for 55 minutes to only have both pizzas be wrong. I have hungry kids here and called immediately and said I need you to make the right ones and send them out asap. They had the nerve to come here and ask me for the Pizza back?!?! Really? The kids will not sit here for another 50 mins and be hungry going to bed. So Pizza Hut thinks it's ok to mess up orders and then take back Pizza that has taken 2 hrs to get right? Ridiculous. The worker was more helpful and then the manager got on the phone. Anyways this was the Lebanon OR store. Would love an email back. Thanks

Leslie Alvarado
from Jamestown, NY
First they forgot breadsticks and wings.
Second my pizza was wrong and I had to wait 4 hours to get my wings and breadsticks. Ridiculous.

Markena Elam
from Milwaukee (Layton Park), WI
I order a big box pizza to be delivered Friday 12/7/18 at 6:47 received a text that my order was out for delivery at 7:18 pm, However It did not arrive to my home until 8:36pm. I called the store at 8:15pm and was told the driver would be at my home in a couple of minuets. I called back at 8:31pm and was told with an apology that I will get a 10 dollar credit. When the pizza arrived it was cool to the touch, I told the driver to take it back and I will call for a refund. The driver told me " since it was my fault you keep the pizza and I will make sure you get a refund, I'll keep your receipt don't sign it I'll take care of it, I truly apologize, I will call you when it's done." After waiting with no call, I called the store explained to the young lady what the driver said, she told me he had not made it back yet but she would refund me the $29.50 after taking my debit card info. It is now Tuesday 12/11/18 and the charge is still on my account. I called my bank to confirm and indeed it had been withdrawn and no pending transactions of it been returned. They emailed me a coupon code for a free large pizza that I will not be using, as I would rather have they $29.50 I spent on pizza wings and bread sticks that I tried to return to the driver because it was cool and not worth the money or wait.
I would appreciate if someone can refund my $29.50.
I ordered this pizza in Milwaukee Wisconsin from the Browndeer Pizza hut 6807 W. Browndeer road 414-354-0600.
Markena Elam
414-208-1591
Thank you for listening

Latifah Warren
from Dallas, TX
Hello my name is Latifah I recently placed an order at the Pizza Hut on 4407 W .Fuqua Rd Houston, TX 77053 I placed my order at 7:22 pm I received a call at 8:05 pm from the manager stating that my order wouldn't be delivered because we were in a dead zone ..the system still allowed me to place my order ..she then went on to say that I would either have to pick the order up or cancel it. I arrived to pick my pizza up and proceeded to ask for the manager she was very rude and unprofessional I asked for cooperates number she said we are franchise we don't have a cooperate office. Honestly I would never order from Pizza Hut again this is the only one that's really close I'm demanding attention for my order and my inconvenience that I had to leave out my home to pick up a pizza that I wanted delivered .
Sent from my iPhone

Todd mcallister
from Weston, WV
How do you run out of large pizza dough? Am I missing something???? Sent me 4 medium instead of 2 larges. Not the 1st time I've dealt. W Lincoln Illinois Pizza Hut n not been happy!!!!!!
Have feedback for Pizza Hut?
Thanks for your feedback!
Sorry. Please try again later!