Pizza Hut
Pizza Hut Complaints Continued... (Page 9)
1027+ reviews added so far. Upset? Call Pizza Hut corporate: (972) 338-7700

Rachel Myers
from Shawnee, OK
I went on the mobile site & found a deal for 2 medium any toppings pizzas for 6.99 each. When I typed in my address, it said that they were unable to deliver to my address so I called the location which is one and a half (1.7) miles from my home. I spoke with 3 different people on the phone whom each took my order, name address & phone number. 45 minutes later, I received one pizza and paid $18 for one pizza!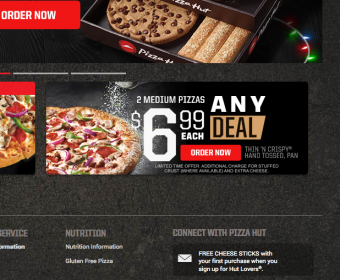 Lisa McKinney
from Bismarck, ND
My family always tries to order online from wheelersburg Ohio. They are either not available for taking orders or they never have what you want to order. They have poor service. This has been going for over a year now. This used to be one of my family's favorite places to eat at home when we didn't want to cook at night for dinner. But because of such poor service in wheelersburg Ohio. We will no longer be eating there any longer. We will find another pizza place like papa johns or Giovanni's who do care about there customers. I did try to take this up with them over the phone several Times over past year but have gave up with that when nothing has been done about it.

Roneshia Allen
from Tallahassee, FL
This is my third time ordering from this location and never received the delivery which already had a wait time of an hour. No one ever calls and try to reach out. Wait two hours then call store to ask about order and it's always the same lame excuse, the driver couldn't find location. Use map quest, HELLO! when asked well why no one contact the lie is the same and claim the driver called to no answer which is bull crap, the delivery location is a prison for god sakes! Worst location ever 6607 W Colonial Drive, Orlando, FL 32818 (407) 297-7287. Needs new management!

Tiffany madan
from Portland, OR
The coffee was cold and burnt. The breadsticks came with marinara water. The pizza was exactly opposite of what we ordered. They forgot sauce on one pizza. Asked them to refill the sugar holder and Was given two packs for all of us to share? The wings came very dry and about a tablespoon of sauce on them. They were cooked long before we came in. I asked for double pepperoni regular pineapple and was given the pizza in the picture attached. The manager (who was also the cook) was very rude. And did not try to help us with our complaints at all. I am a waitress/bartender and I would never treat customers that way. We were not rude or yelling at all. On top of it all, we were charged more than what we owed.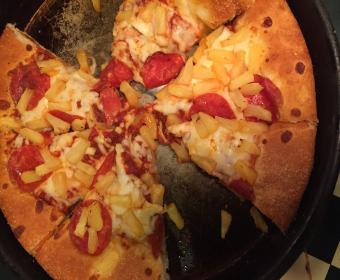 Frances tolson
from Severn, MD
I ordered dinner for 5, after tasting a bite I have a whole pizza left, half of the breadsticks and a third of the pasta. Everything was over cooked and dry. I wasted almost. $40 on dinner and had to fix my family something else. Which I didn't want to do that's why I ordered out. I deserve some type of compensation or refund from Pizza Hut corporate for this. Calling the complaint hotline tomorrow and showing them this image!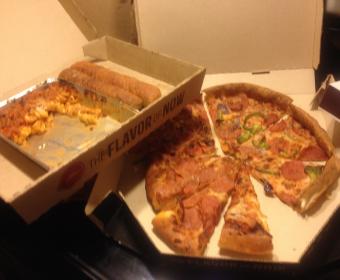 Erica Craft
from Washington, DC
My husband placed a carry out order at the East Brainerd location on Chattanooga Tennessee on Saturday November 14, 2015. Being a weekend, they were extremely busy and he was given an estimate of twenty- five minutes. He arrived within thirty minutes and proceeded to wait an additional twenty minutes with no end in sight. A lady at the counter informed him that she couldn't get in the kitchen and they would call his name when his order was ready. Many other customers received a refund and left without their food. The phone was ringing continuously and seemed to fall on deaf ears. My husband eventually left without our food because a gentleman stated he couldn't even tell him if the pizza was in the oven or still being prepared. I worked in the pizza business for many years, including Pizza Hut. I have spent countless Saturdays in the weeds, yet I never neglected to answer the phone or found it impossible to locate a customer's order.

Deborah Lee
from Oklahoma City, OK
I called an ordered a medium pizza at the Pizza HUt at Blackwelder and NW 23rd in OKC, OK at 5:12 pm. They told me it would take about 45 minutes to deliver. At 6:30 it had not been delivered, I called and verified that they still had my order. The person on the phone asked me my name, said the driver had problems with their vehicle and was back making deliveries. At 7:07, I called again, the guy said the driver should be around my neighborhood and it should be delivered soon. At 7:45, I called again and asked for the manager. He told me he had never had an order for me and I told him I gave my credit card and the person took my credit card information and the manager hung up on me. I have never had such bad service and for a manager to deal with a customer like that, is really inexcusable. I am calling my credit card place and will not honor the charge as I never received anything and after this, I will never purchase another pizza from Pizza Hut.

Russell Wier
from Olathe, KS
A while back I ordered a large pizza to go and waited on it, I had to drive about 18 miles home before eating it. When I opened it up and tried to eat it, it was the worst pizza I've ever had, even the frozen pizza I buy at the grocery store are so much better than this one! I have been a Pizza Hut customer all my life and have never received on this bad and I'm 70 years old!! I ordered a large Italian sausage pizza and there was hardly any sauce or meat on it, it was tasteless. I purchased it in Paola, Ks.

claude paul jr
from Decatur, GA
I order a medium double pepperroni and double cheese. Charge was $14.18 Ticket # 0098 enter by L00C 026418 on 11/13/15 at 6:54pm.Hand Toss.They gave me one pizza didn't look like what I order. So I send it back. Then They gave me another pizza that wasn't what I order again. But I took it because I was tied of waiting. Got home and no double cheese or pepperoni and pizza had been sitting out for a long time, didn't taste fresh at all. I call back and yhey gave me the run around. I guss that's the way they were trained. Bad cooking. I thought I was at Little Ceaser or no name pizza place, I see why your rating only have one star. Bad customer service. I just don't have the words to explain how disappointed I was and I'm. You managers really need to do something about that location on covington hwy Decatur, Ga. Need to fire that whole staff on that shift.

Patty Douglas
from New Bern, NC
Last month I ordered a pizza...it arrived with no sauce. I called to complain. I got an apology and the manager said my next pizza would be free. I just ordered another pizza. The guy that answered the phone was very nice and checked with the manager about my free pizza. She talked to me and confirmed my free pizza. I had told the guy taking my order to make sure it had sauce on it and " just in case" please send me a little dipping cup of sauce. I just got my pizza.....no sauce could be spotted after lifting up all the toppings on every piece. This is after all I talked about was make sure it had sauce... I called the manager and she is making me a new pizza. She said she was the one that made it. She is making me another one and sending it out. She said I should ask for extra sauce and I told her how can it be extra when there is None? So, second time....2 pizzas, no sauce. She said that had to go by portions....is none a portion. I'm not exaggerating....only a dot of pink, not red, on one piece. Pizza is not rocket science... Crust, sauce, toppings. We like Pizza Hut best, but I'm not going through this anymore. You can keep "my portion" of sauce.

Awilda Gonzalez
from Covington, GA
On November 7, 2015, we order Pizzas for our 4th Quarter Explosion programs for Teen. We spoke with Courtney who quoted 2 medium pizzas for $6.99. Our budget is limited so we was so happy with the price we order 12 pizzas. We paid we our credit card. When I realized the amount paid we went to Pizza Hut and tried to speak with Dun who refused to speak to us he send a worker "Billy" who refused to give us our reimbursement. To make matters worst the other employee said to Ms. Cookie, "Dun told me we will call the cops and reported as a fraud. I front of other customer. This worker did not know that she was talking to a retiree Officer. Ms. Cookie told the worker call the cops. We have 800 members in our subdivision and we will not support Pizza Hut. This Pizza Hut practices are unethical and their customer services sucks. Shame of them.

Mr. Bud Wolf
from Noble, OK
Actually I would rate it below the 1star. It was the worst service I have ever received! I took my family out to eat after Church to eat and rest on Sunday, November 8,2015 at the local Pizza Hut in Noble, OK. We had to wait 30 minutes to order drinks, so we ordered the food at that time. We waited 10 more minutes to receive the drinks. We finally got our food after 1 1/2 hours.

Mr. Bud Wolf
from Noble, OK
I took my family to the Pizza Hut @ 803 N. Main St. in Noble, Ok this past Sunday, (11/8/2015) after Church to enjoy lunch then go home and relax. We were there for 30 minutes before we even got to order our drinks, and when the waitress finally came for our drink order, we gave our food order, also at that time. There were 9 of us, 5 adults, 4 children, it took another 10 minutes to get our drinks, we were there for 1 1/2 hours before we got to eat and had to almost beg for drink re-fills. No apology for the delayed service, no discount for poor service, just excuses. There were 11 people total in the dinning area. No big rush type crowd to deal with. I spent $82.33 for lunch and I will not go back!!!!! Cici's Pizza has better pizza, friendly service. You have lost my business and the business of my family and when I tell my friends and Church members, their business, also.

pamela baker
from Dallas, TX
My fiancee went to get us lunch. We ordered a personal pan pizza (Italian sausage), a small order of bread sticks, and 8 garlic Parmesan wings. We were told they would be ready in 15 minutes. When he got up there, the girl at the front was rude and complaining about everything. He waited for another 20 mind with our food sitting under the warmer. By the time we finally got our food it was cold. The wings weren't even sauced. They were thrown on top of the sauce. All of the food was gross and cold. Seriously unhappy with our service email today.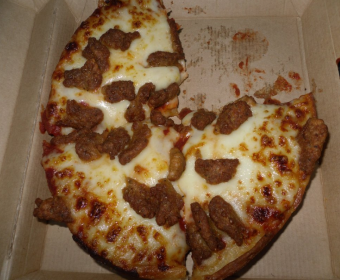 Annalisa Clute
from Schenectady, NY
I ordered a pizza box and mozzarella sticks on November 2, 2015 at 6:04pm through online ordering. I was confirmed that it would be arriving at 6:34pm. The pizza did not arrive at that time and at 6:45 pm my husband and started calling. Pizza Hut kept on hanging up on us when we tried to call to find out where our order was. When we called the customer service hotline they only patched us through to the local store and we proceeded to get hung up on or receive busy signals! My husband finally went to the Pizza Hut store and while he was gone the pizza showed up! The driver was over 30 minutes late, the pizza was cold, and we did not get our mozzarella sticks! When I questioned the driver (oh and he didn't even have a pen on him for me to sign the slip), he said "yeah I'm the only driver". When my husband got to Pizza Hut he demanded a refund and they claimed to have no file of online orders! I would like a FULL REFUND! This is absolutely ridiculous! Your customer service is appalling and you should be ashamed of yourselves! My order number is: 3151102170437001184317011. My local Pizza Hut is Altamont Avenue located in Rotterdam, NY. Their phone number is (518) 356-5655. My Order was for $32.23. I want a refund! Make this right Pizza Hut!

Jody Goode
from Richmond, VA
I ordered over the phone to the Pizza Hut in Henrico Virginia to unit #004581. My ticket #67. I sent my daughter to pick up my order, she did not know what I ordered. They never gave us our bread sticks and extra marinara sauce. My daughter stated that when she was walking up to the counter the young lady told her that she was going to have to wait. Then the manager walked to the counter and the girl stated are you going to help these people and the manager said I reckon so. This Pizza Hut has gotten really bad on customer service that I do not want to get pizza from there anymore. In my opinion Pizza Hut owes me for bread sticks and extra marinara. I did not call back up there because I know how rude that location is. Thought you should know about our experience.

Teri Ramos
from San Antonio, TX
I ordered my pizzas at around 9:45/9:50pm at the the 16100 San Pedro location in San Antonio for delivery. I placed a second order for a pizza I forgot to order on the first order for carryout at 9:54pm. I received an email for the second order but not the first. My son picked up the carryout order at 10:15 and saw the delivery driver with the four pizzas on our order standing talking to employee. My son went to the bank and got home at 10:30 and we still hasn't received our pizzas. I attempted to call the store four times and no one answered the phone. My husband drove to the store at 10:45 and the doors were locked. The store was not supposed to close till 11:00. My pizzas finally arrived at 10:52 and you could tell they had been sitting because they were warm and soggy. We waited an hour for our pizzas. I would understand if they were busy but since the driver could stand around talking I am going to assume that was not the case!

Joseph
from Olive Branch, MS
On Friday October 16, 2015 I stopped at the Pizza Hut restaurant at 705 highway 65 South in Dumas, Arkansas for lunch. The advertise sign outside of the restaurant read lunch buffet for $4.99 plus taxes. I was charge and paid $7.30 for the lunch buffet with a glass of water. The cashier did not return my receipt and could not explain why the outside advertise sign price was different from the inside price.

Brian Gaddy
from Jackson, MI
I ordered 2 medium pizzas with ANY toppings I wanted. (This was after being told I couldnt get the $10.00 any topping pizza for delivery) So I was happy they offered this deal to me. I asked "Any Toppings"??? The person on the phone said "you can have 1 of all our toppings if you want, for $6.99 each !!! So I said YES and proceeded to order. When he read me the total, he said about $3 more than I expected. So I asked "Is the tip included"? He said "There is a delivery charge" I said OK thinking it was the drivers tip.........BUT when the pizzas arrived I asked the driver if the total included his tip. He said NO. I asked why it was so much, as I analyzed the receipt. I noticed that I had been charged for extra toppings which I was told "You can have any toppings you want " So I called the manager.
The Manager (Chris???) was the biggest excuse making, non caring about the customer, NON-LISTENING , arrogant person , etc.etc.!!! He kept saying "You got extra items" "and started counting them to me, over and over again. I had to hang up on him. His Driver Carmen said "I cant stand him either".

Jessie
from Huntington, WV
On 9-15-15 at your store in welch West Virginia I was waited on by a lady named Amy whom was nice to me but the was I seen her act towards a black customer upset me. She was all nice and smiles to me but when waiting on them she wouldn't smile and was more rude. I don't want to get anyone in trouble or fired but I don't think she has the right to treat someone this way over there skin color.

I made an order online delivery specialty cheese pizza, the pizza was burnt, we also ordered buffalo wings and got boneless wings instead. I called the store to let them know of the mistake and the person on the line consistently argued that I ordered boneless wings. I asked her are not going to correct this mistake she said no as they show it as boneless. I do not eat boneless wings. I hung up but called back to get a corporate number from Jared and he responded that I needed to speak to a manger he did not have that information, unfortunately I was left on hold after 5 minutes I hung up..... Giordano pizza is way better than what we got and with out the bad customer service.....Never again will we have pizza at pizza hut....never!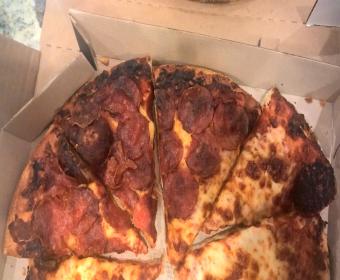 Kathy Helms
from Orlando, FL
My husband and I were visiting in Ormond Beach Florida (#026496) and decided to eat dinner at the Pizza Hut. We were greeted promptly and taken to a booth. It went downhill from there. It took 15 minutes for us to get our drink order. We had ordered bread sticks and it took another 15 minutes to get those. When we ordered the breadsticks I asked if they had nacho cheese for the breadsticks as I don't care for marinara sauce. The waiter told me yes. What I got was "cold" cheddar cheese sauce. The breadsticks were hard and not very good. We had ordered a Supreme pizza and it took forever to get it. The waiter kept telling us it would be out in "5" minutes. When we finally got it, it was not hot so I am assuming it had been sitting for quite some time. There were several people coming and being seated by the same person that had sat us. It appeared the waiter was the "only" waiter working. He was also being the cashier. There were several people that came in and had been seated but ended up leaving because they never got waited on. My guess is that the waiter just could not keep up with everything. I did see one other person in the back working but it appeared that the poor waiter was just overwhelmed which created most of the problems. I don't blame the waiter for the issues but I do blame that particular Pizza Hut for not having enough staff working. We ate here on September 24, 2015. I would have to say if I ever visit Ormond Beach again, I will skip the Pizza Hut.

Laura Sanchez
from San Antonio, TX
I ordered four pizzas for my company and on one of the pizzas my co worker bit into a slice of supreme pizza and hit a rock the size of a quarter. She hurt her tooth pretty bad. So, I called the pizza hut to talk to a manager and he was very rude, insisting his work environment dose not have rocks in it. Well duh. Then he continued to say we work for a flooring company and that we threw a rock in the pizza our self. He was no help and very rude I will be sure to never order from that place again. You all really need to watch who becomes managers cause he made no sense what so ever. and is very disrespectful.

Karyn Krise
from Austin, TX
Ordered through call center for carry out. Both pizzas were incorrect. This was not the restaurants error! I'm now waiting for the correct pizzas to be made. RIDICULOUS! While waiting, another customer had the same problem. We must have both talked to the same rude person at your call center. Your losing customers!

Karen Bennett
from Louisville, KY
While at the Pizza Hut located at 2508 Preston HWY, Louisville KY 40217 On May 29th 2015 at approximately 12:30PM I had ordered the buffet as I have done quite often. I noticed a family of 3 with one small child eating the buffet as I was. Keep in mind there are a stack of to go boxes located next to the soda machine.
I witnessed them stuffing box after box of buffet pizza into those boxes and piling them up next to them on their chairs. They even had 2 or 3 of them on top of the table. Then an employee was wiping tables down right in front of them and he said nothing to them so I figured it was ok to take a couple of pieces home to my family for later when they got home. While I was putting the 2 pieces into a box the employee told me that I wasn't allowed to do that and I informed him of the other family that had several boxes full of food. Naturally they had already left the building at this point as it was time for the buffet to end.
I am not asking for anything, just know I am not happy for the double standard that went on today and I may not return to this location for the buffet. I just think that if the boxes are not to be used for buffet leftovers or otherwise they shouldn't be set out during the buffet hours.

Darin Suhs
from Houston, TX
Walked in for dining with my parents at 6 pm in Cedar Park Texas. No one greeted us and we waited over 15 minutes before we got handed menus. The manager said his server was out. I asked for any specials and he said two large pizzas with Pepsi and bread sticks for 25.00. We had to go to another table to grab silverware and we ordered two medium pizzas and small wings. No one filled our drinks or checked on us and we were the only ones in the dining room. I had to go to the counter to ask for box and pay and the bill wad over 45.00. I feel I was taken and want to complain.

I went to the Pizza Hut in Claremore Oklahoma to order one large pizza. The website was temporarily down and when I called was hung up on TWICE! Which is why I went in, tell the young man behind the counter what was going on he replies " our phones are down" but I see a girl answer another order right in front of me!? The guy takes my order then walks away to another kid and says help her!? I thought he already did.
So then this kid walks up and says I can help you but you need to hurry because our system is about to shut down!? What customer service! I think the district manger needs to know how this location is being run. I would've talked to the manager but she was hiding behind the wall listening to all of this. She obviously didn't want to rectify the situation. I've never had a problem at this location until now. A check on staff is much needed at this location and I would like my bad experience to be resolved!

Kathy Love
from Chattanooga, TN
Pizza Hut# 031140 5/9/15 We ordered from our hotel room on line in Fairburn GA. Two custom expensive pizzas. Order arrived, one pizza great, one pizza completely wrong. Called and spoke to "manager." They agreed the order was wrong and promised to send new pizza (another 45 minutes).
New pizza arrived - same wrong order. Ran and caught driver, who compared his actual order ticket and what he'd delivered and agreed that indeed it was wrong AGAIN! Called Pizza Hut again! They apologized, told us to keep both of the yucky pizzas we didn't want, and they would credit my card for the pizza. We would only be charged for one pizza.
Very unhappy but at least we had 1 good pizza and 2 crappy pizzas for the price of one right? NOT SO FAST!!! They have never credited my account!!! I was charged $31.03 not including the driver tips for a single pizza (we could not even eat the two incorrect ones).
Believe it or not, we have always ordered Dominos, this was our first experience with Pizza Hut. I still have the receipts showing the correct pizzas on the receipt - how frustrating. My family and I will NEVER order from any Pizza Hut again, and it is too bad for them. I also order huge pizza quantities (typically 12-15) for my work at least 4 times a year and obviously I would NEVER order from any Pizza Hut for that either!

Reneh Mcpherson
from Big Rock, TN
Hello, We had an experience last night that may keep us from ordering from your company again. About a week and a half ago we ordered the new Big Flavor Pizza Dipper and it was absolutely delicious! So last evening we decided to order another one, we do order online. My husband ordered the pizza and was told the wait would be 15 minute, so he got there early but they said it wasn't done. Finally he went back inside and it was there waiting, he opened it up and we got one heck of a shock.. The pizza was stone cold and nothing like the first one we had received before. Now in the add it has 3 pepperoni's on each piece, but unlike the first one, this one had only 2 pepperoni's SHARED between 2 slices! So instead of 3 pieces on a slice, it came down to one pepperoni to a slice.
Now when you see the add on television it clearly shows exactly what you advertise, so why has it been changed now? Are you comfortable enough in selling his new pizza that you think you can get by with that? Have you told employees to be a little light handed now? Sadly we paid money for a cold, rubbery cheese pizza with a very stingy amount of pepperoni. We could have taken it back, but the stories about employees (spitting) on the new one sticks in my head and I for one don't like taking anything back. All in all, this was a horrible attempt to make a pizza. Maybe they were close to being out of pepperoni, but if so they should have just told us. It would have been kinder in the long run! I'm not happy and neither was my husband, we did eat a couple of pieces I will admit, but soon gave up out of pure irritation :( It's such a shame to cheat people, not to mention false advertising. You may have lost our business as I refuse to go through that again!

lenae andrews
from Waunakee, WI
My complaint is not with my service today, but with the fact that I am charged a 2.50 delivery fee, and then expected to tip the driver. If I already pay a fee for the delivery , then pizza hut should give a certain amount back to the driver, like at least 1/2 of my charge. I will not tip a driver when I have already paid for the delivery. I am sure I am not the only consumer who feels this way. This is a pizza hut problem!

I ordered two large pizzas online, and a wing meal. I ordered one with Italian sausage and pepperoni. The other with chicken and fresh spinach. I opened the boxes of pizzas to find that the Italian sausage and pepperoni pizza was burnt. I opened the other pizza and it was missing the fresh spinach. The breaded wings were hard to bite through My order didn't arrive on time thirty minutes late. I am very disappointed and will not order from the location on Cullen ever again. Poor service.

Deanna Asbell
from Long Beach, CA
I placed an online order to the Pizza Hut on Market Street in Long Beach California. The time of delivery would be 30 minutes...Approximately 10 minutes later, I jumped in the shower and proceeded to get ready for work knowing I would have enough time before my order would arrive. I was left a message on my phone saying that if I didn't return their phone call in 5 minutes they would cancel my order,which they did. The manager was rude and told me I could reorder but I would have to wait another 30 to 45 minutes. What's the point of ordering online if you get a phone call back?

mary thomas
from Biloxi, MS
I ordered 2 pizzas by phone at 2 pm. They told me it would be 45 minutes. At 3pm, no pizza. I called back and they told me the driver was out and had 3 deliveries before mine and it should be coming. At 3:30 the store called and told me they do not deliver to our area. I told her that we always have our pizzas delivered from there and have never had a problem before. I live 10 minutes from the store. She said I would have to wait for the driver to return with my pizzas and see what he wanted to do.
Does she think I would want a pizza that has been out in the car for almost 2 hours?? She asked me if I wanted to cancel my order. Well of course if it can't be deivered and it is old now. What was the driver going to do change his mind and deliver it. I am confused over this delivery thing. When they have always delivered and if not anymore they should have said so when I called. Supper ruined!!!

The cashier at the desk at the Cleburne, Texas store was rude from the very beginning. When I asked for Parmesan and red pepper, she clicked her tongue and sighed. Then she only gave me one cup of Parmesan cheese and a couple single servings of red pepper. I asked her if I could have some more Parmesan, two dipper pizzas was a lot of pizza. She replied "well that's a lot of Parmesan" then walked off. She said her name was Stacy when I asked.

I ordered a pizza from the Pizza Hut store located on 15th street in Tuscaloosa, AL. I was never contacted about my order, and I waited over an hour. I decided to call in and check on the order, and the associate placed me on hold never to return. This is my second time not getting an order and I wonder if management is aware of the careless acts? Young kids are usually running the place, but are they doing a good job? If they don't like to make money they should close the store.

robert quinn
from Erie, PA
My family and I visited your store in Erie Pa on Buffalo rd tonight for a birthday dinner. As we were at the register paying our bill, we hear someone screaming from the back of the restaurant. They were screaming somebody better answer the f*ing phone or else. I was stunned to be hearing that while in line with my three children.
When I asked the young gentleman cashing me out who or what that was, he looked at me and said I am sorry sir that is just our general manager. So disappointed to be a witness to this, and I will assure you we will not be visiting your establishment anymore. My children nor I needed to here that and the employees should not be talked to like that. Just felt that someone should know

Calvin Tharp
from Marinette, WI
We ordered a large supreme pizza, barbecued wings with waffle fries, bread sticks and garlic butter sauce. When the order arrived, there was no garlic butter sauce, and no waffle fries. We called the Pizza Hut where the order was placed and told them of the shortages and they told us they would have a driver deliver what was short. the garlic butter sauce, and the waffle fries. They sent old cold waffle fries.
My order came to just over $40. For that price they need to get the order correct. I've never complained about a food order before, and felt this could not be over looked.

christal
from Bainbridge Island, WA
Last nite I ordered the new big dipper pizza for me and my 4 kids. It did not feed us all, did not get sauces shown, same as cheese when I said make sure not too. The website would not take the special so I got charged more and no free soda. We order every Wednesday and multiple times a month, 3 to 4 pizza each time. Every time I order here the cheese is put on blotchy and does not cover all the pizza, sometimes to greasy makes everyone sick. Also time before this the pizza was burnt and missing a topping, sent a new one out and still burnt. If I could I would eat pizza every day, my kids are obsessed. So i would like to get 4 pizzas no cost plus it delivered and the 2 littler or two for not being able to get my soda and extra charged. Every thing you look about pizza hut or talk to people its rated very bad. Its my fav but its getting bad. I need to make my children happy and they love pizza special hearing the pizza man is coming so please make this right. Maybe one dessert with all this since there are 4 kids. Also every time I get extra cheese only for my pizza and it never is.

Kathleen Eldridge
from Gainesboro, TN
We ordered pizzas and hot wings online on April 19 from the store on West Main Street in Livingston, Tennessee. We have ordered before and have been pleased with the orders. We got this home and the pizza, which was vegetable had scarcely enough bell peppers and onions. . . The wings were ordered with no sauce and came drenched in a hot sauce that we could not eat. I would have told the store, but I somehow deleted the form that wanted to know if everything was satisfactory.

After entering Pizza Hut in Nettleham road, Lincoln with our three hungry children for dinner. We were not welcomed nor acknowledged by any staff at all, then one of the staff finally came over and offered us a table but because we needed a high chair said we'd have to wait a little longer. After a further twenty minute wait, more customers came in who also required a high chair was offered a table before us. Once I made the staff aware we were first and had been waiting a while. She rudely replied that we had a further wait as she was busy setting the table for the other customers. By this time my children were very upset after a 30 minute wait, so we left to leave without dinner. We are extremely disappointed as we have used Pizza Hut for our family dinners out for many years.

Christi Silcox
from Winnie, TX
I called at 9:45am in the morning. I told them I needed 15 hand-tossed large pizzas for 2pm for a party at our Elementary School. I was told to call back at 11:00am as they didn't take orders until then. So, I called back at 11 and was told that they cannot do that many pizzas by 2pm. She said there are area schools, churches etc... We are a small community. There is nothing going on at any of the churches and very doubtful much is going on at the schools. She couldn't name one single event that she was talking about. We have never had to give 24 hours notice for 15 large pizzas. She told me I had to. So, I called Beaumont Pizza Hut. They agreed that was ridiculous. What if 5 people call in 3 larges each? If I had time, I would do that. She also gave me a quote "school discount" which is the online price with a coupon. That is not a discount. Very rude and seemed like she just didn't want to do the work to fill our order. We have never had that experience before.

When I walked into Pizza Hut, the male manager was sitting on the counter with his cell phone in hand. After noticing we had come in, he barked to his female cashier that "she had customers". Okay...we thought maybe it had been a slow night and maybe she was slacking off...but then we heard him ask another employee to do something when in fact it was obvious she was in the middle of another task. It just occurred to me that he could have been helping these girls instead of telling them to do things, so he could sit in a bin and do whatever on his phone...these girls still remained polite and happy to complete our order. I wasn't able to get this manager's name, but I'm sure I cannot be the only customer to say something about his behavior...not professional, not a place I would come back to in the future. People make the place. You should know who is representing your brand...in my experience the more they suck up..the less they do!!!

Sam Rodriguez
from San Antonio, TX
My girlfriend's ex ordered Pizza to be delivered for their kids. When it got here, we opened it seeing it had been almost dropped by the driver, or when they put it in the box. The initial delivery time was 45 minutes to an hour. We called back to complain and the General Manager said they could re-make it it'll take 45 minutes to an hour. I asked if we could get a credit for the pizza and we'll keep the pizza. This was the agreement, when we went to get a slice, there was a hair on the pizza slice. I called back and was asked if I could hold, I said I needed to speak to a manager. I spoke to the Assistant Manager and he said it'll take 45 minutes to an hour to get a new pizza to us, bare in mind they're about 8 minutes away. I said no I needed one in 15-30 minutes, he said it'll be the same time frame, 45 to an hour. I asked to speak to the General Manager - Beatrice, she said the same thing that the Assistant Manager said.
I asked for the district's number, and got a voicemail. I decided to take the pizza down there. When I got there, I told the CSR that I wanted the pizza re-made and explained what happened. The pizza was taken to the GM - Beatrice, and she came to tell me that my girlfriend's ex had said he didn't want the pizza remade. I said okay, and left the store calling my girlfriend to confirm. She said that wasn't true, I was the only person that had called the Pizza Hut. I returned to explain the situation, and I asked if the money was going to be returned. She said it would, and I asked if we would still have the credit for the pizza as well, and she said that my girlfriend's ex said not to put it on the account. I knew it was a lie, and I said to her I spoke to her, she kept questioning me, asked for his full name, and I gave it to her. She continued to contest me, and I said I wouldn't deal with her anymore, I was going to speak to district.
I was upset at her poor customer service skills, and her stand offish attitude. I called my girlfriend to explain what happened, and she said that her ex called the Pizza Hut. The General Manager - Beatrice said that I was threatening, making a scene and if I had gone back in she would call the cops on me. It was discussed between the GM and my girlfriend's ex that the pizza would be delivered. They arrived 45 minutes after that, knocked on the door, when we went to get the keys they left (30 seconds).
-I was far from being disrespectful to the General Manager, I was not threatening nor used vulgarity
-It's $2 to make a large pep pizza
-My complaint had no priority as the normal delivery time was 45 to an hour, and we were told we'd still have to endure that same wait.
-There was a hair in our pizza
-Our pizza was sloppy
-I gave them plenty of chances to fix it
I'll definitely never go back, and I'm definitely going to pursue an official complaint, as well as maybe one with the BBB.
To say this experience was ludicrous isn't even coming close.

Richard A Georgick
from Decatur, TN
My wife myself and my 23 year old grandson went to the Pizza Hut in liberty ky today thursday 4/16/2015 at about 5:45. We ordered appetizer wings a salad for 1 and 2 large pizzas.The service was very good as usual, but in the other dining room there was a childrens party. We could not believe the screamimg running and seemed to be awful behaivor. We ate 2 slices of pizza and one salad talked to our server about the 150 decebel noise. We were told that the manager was not there. We paid our 50plus dollar bill and got boxes to bring the food home. I am 64 and my wife is 70. My 23 year old grandson could not hear any of our conversation over the screaming. Should not a adult have been present? We are both retired and on social security. Fifty dollars for dinner is hard to afford as it is, could we have a little consideration for us too? If as a adult I was making I tenth of that noise I would have been asked to leave. How can I or others that I KNOW go back to eat and have this happen again?

Lucille Black
from Marionville, VA
We live in Suffolk Va 23435. I was tickled to death when a Pizza Hut delivery and take-out come to our area so we could get delivery to our home. I love Pizza Hut pizza's better then Papa Johns or Domino's. Domino's was the only one that delivered to our area. My first order from the new Pizza Hut on Bridge Rd Suffolk Va came on time and was right. From then on it was a disaster. Couple of times they couldn't find us, but also didn't call to get exact directions. I think because it's not run very well that they get a big turn over of delivery drivers. So, with that said, I decided to start calling in the order and going and picking it up. I called in my order Friday evening April 10th 2015 and got there to pick it up and it was made incorrectly. I call in the order instead of doing it online because my husband likes different things on his pizza then I do and he can't eat the cheese.
I called in my order and specifically told the order taker that it has to be definitely NO cheese on one half and when I got there it had cheese all over so I had no choice but to wait for them to cook another. Another lady come in right after me who had made an order and it wasn't even in the computer and she had a confirming email on her phone that the order was made. I've had enough of these problems. I will just have to call in my order to a location further away that I hadn't had problems with and drive to get it cause that location doesn't deliver here. This new location has truely got a lot of problems and is very much a disappointment to a Pizza Hut Lover.

I was placing order online using my code from the survey $10 off when i spend $20. it take my code so i called pizza hut in galloway NJ 08205. The guy told to place my order and they gonna take care of it when i get there so i did. When i got there the lady told me can't use the code co'z my order is on the deal sale.I was trying to cancel she said i can't and she was rude. When i got home and ready to eat my pizza i was very very disappointed. The pizza wasn't even slice and its sticking on the box and its falling apart. I had a feeling that they might mess up my pizza co'z of the argument that we had. I used to love this place and i switch to papa johns, but they close. So! I went back to pizza hut, NOW! I think I'm done, this is not the first time it happened to me at this place. Im going to try dominos pizza

Well, I ordered my kids a stuffed crust pepperoni pizza (their favorite) and it was HORRIBLE!!!. There were hardly any pepperoni or cheese on the pizza, just the bread for the most part. Then the man said that I had 15 minutes before they closed and that might be the reason why it was awful: cause they were rushing. Well, the pizza was horrible....soggy, half done, and only 10 pepperoni's on the entire pizza! I am never going to Pizza Hut again! They have lost my business. I will be going to Dominoes instead! At least their pizzas never come out soggy.

Karen craft
from Ashland, OH
I ordered the garlic parmesan chicken like I always do and two large pizzas from Claremont ave Pizza Hut in ashland, Ohio. When it got here it was dry and over cooked with no sauce. I called for reorder and when the order came I have them the old order and proceeded to kitchen to eat. When I opened the box it was almost full of sauce. Drenched. So much it soaked through the box and those are very thick boxes. I felt this was unnecessary as I only wanted a good dinner as I had always received in the past. I wish I could attach a photo of the box. I gave up cause each time I tried a piece I would choke on the sauce. This was not an accident someone had to purposely pout that much sauce in the box. I will not order from Pizza Hut again. Can't rust someone that allows crew to do that with food. Manager should have checked it before it left to be delivered since it was a reorder.

Candice Palmer
from Odenville, AL
I was sitting facing the back where the pizzas are made. The manager who had long hair in a pony tail went back there, stuck his finger in his ear, then touched the food in the containers where the food is kept. When confronted, he apologized and did not deny this. If the manager does things like this what do you think the other staff members are doing.

Tammy Elder
from Las Vegas, NV
Almost every time I order from store #026596 (Blue Diamond Location), they have managed to screw up the order or once delivered it 30 minutes past the 1:20 they said it would be here because the driver got lost. Tonight was the final straw as we waited 45 + minutes only to have the wrong pizza delivered. I had ordered a large cheese with half cheese, the other half with extra black olives and extra mushrooms. The pizza was half black olives and half pineapple. They did offer to make a new one but it was already 8 pm. I chose to have a credit for next time. I feel at this point a credit isn't enough as I have had continuous problems with my orders from this location. I shouldn't have to go through this every time I order. I have decided that I will order one last time to get my credit but from now on I will order from a different pizza company. I am tired with Pizza Hut screwing things up but only willing to provide a credit - they should do more for the customer who waits for their delivery only to get the wrong order.

Vashea Stanford
from Chicago, IL
Was calling to make a order did not have the exact number for the address. One of the employees was still taking my order. So after the supervisor Patty got on the phone with an unpleasant attitude and was cutting me off during the conversation. She also did not want to progress my order even though i was going to call right back with the right number for the address. Patty needs to learn how to courteous and respectful towards the customer.

Rick and angie Hawkins
from Mountain View, CA
We ordered 2 pizzas online with specific instructions. Even delivery specifications were noted due to our neighborhood. . Despite our online attempts to ensure that the driver didn't go to the wrong house or the pizza maker prepare our order incorrectly, our pizzas were not edible. . I received a call from the driver asking me to open the door bc he was at my home, which he was not. . After redirecting him, pizzas arrived. . We had teenagers over and after the 1st bites, each one put the pizza down and couldn't eat them bc the wrong drizzle sauce was put on it. . We ordered balsamic vinegrette and got buffalo. . After calling and asking what happened the employee who answered explained by my description that the wrong sauce Was used. . Then I am placed on hold only to be scolded by the manager who argues with what I am telling her. . She said that I was wrong and she knew that for a fact bc she personally prepared the pizzas herself. . She was rude and increased her volume as I tried to explain that I could take a picture and send it to her that the sauce was indeed buffalo. . She hesitantly said she would send another pizza but had to send the other pizza back. . I had no problem sending the pizza back and explained that it had extra cheese on it from our home to try to make it edible and jokingly asked her if we could have extra cheese since I used ALl of mine. She again raised her voice to speak over me and rudely cut me off at any attempt to speak at all. . When I raised my voice back, she rudely told me that I would have to eat the damn pizza bc she was not going to send another. . I called back to ask if I understood it that we would not receive a new pizza and she rudely said no we would not get a replacement pizza and that I could call corporate if I wanted to . . So after discussing this with my family and friends, I called back to get her name and she immediately gets on the phone and asked me if I was the one who keeps calling. . I told her yes and tod her I wanted her name. . She told me her name, wouldn't give me the number, and told me that if I called back, that she would call the police. So here I am, sending this lengthy complaint to hopefully encourage pizza hut in warner Robins on Watson Blvd to hire someone who is empathetic and actually concerned about the products being prepared and sold to customers. After all, we are the ones who put the numbers in her paycheck. . Managers name was "carshinka byrd" according to the woman who fought with me over the inedible pizza that was never replaced. . Please make it a priority to have this store replace my order from that evening. . A personal apology from Ms Byrd would be extremely appreciated as she embarrassed our family while hosting guests. I will never forget that evening but I love pizza hut more than any other store and would like to continue to enjoy it.

lakenya Crump
from Pfafftown, NC
I placed an order today at 7:04 online and it is now 8:08 and my order is still not complete. I have been waiting on my wings all this time. My total says $20.54. But the manager on duty tried to charge us $30+ dollars. After we checked our wings while there 2 of our boxes only had 5 wings. Then the manager said sorry but you will have to wait if you want the rest. I said sir just give us some type of discount so we can leave and he said no. I order from pizza hutt every week. And this is not how a loyal customer should be treated.

First our waitress poured all of our drinks down one of the girls backs and all over her child. She constantly came to our table. Good service is great when you need it like a refill but every 5 mins isn't necessary. She also constantly kept taking plates off of our table with our food still on it! She was horrid. The food was good and fresh but the servers def need some training. This was in Jackson, Ohio and the servers name was Tia.

Kimberly
from Louisville, KY
My order was delivered to another address. I was on hold for 7 minutes. The manager finally got on the line and tried to convince me that I signed for my order. Needless to say I didnt! I paid online. The driver told 2 different stories where my order was delivered. There was a gentleman by the name of Joseph who signed. That was not me. Rudely I was told we technically don't deliver there at night.... So I don't know what to do ma'am. After 17 min going back and fourth my food was delivered with no receipt, no refund offered, or coupon. I will not be ordering from Pizza Hut buechel bypass Louisville ky again!!

Went to the Pizza Hut in Dahlonega GA today for lunch. They only had one waitress and she couldn't get everone watied on. Keeping in mind that me and my group only had one hour for lunch. I finally went up to the register and asked for a salad plate so that I could at least eat something for lunch. She finally got our order and whe it arrived at our table the order was wrong. We had ordered a large pizza -1/2 cheese and 1/2 veggie. It was all veggie. My grandchildren will only eat cheese. They also made us pay in FULL for the order even though it was wrong. Won't be visting there for a VERY long time!

When I walked in it took 5 minutes before anyone acknowledged me there were multiple people working in the front the woman who helped had a nasty attitude no greeting rang me up and handed me my pizza I told her I had wings with my order and her response was I don't know when she is the one who rung me up and gave me my receipt which had my order of wings on it when my wings were given to me there was no thank you and I placed this order on my phone at 3:43 pm and got to the store at 4:13 pm and didn't leave the store until 4:25 there was no one in there but me this is not the first time this location has left me unsatisfied they need a course on good customer service this is why I choose to drive to a farther location instead of this one

ali a. mostafa
from Gainesville, GA
I went to pizza Hut brown bridge rd. Gainesville ,Georgia, I placed the order (2 large) and I handed $100 bill , that is what I have at the time, the girl she took the order refuse to accept the money even befor she touch it, she said we do not accept $100 bill. the lady manager was standing next her, and they asked me to go and get change from somewhere else. IT WAS 6PM ON FRIDAY BEFOR EASTER. 6PM they must have change for $100. 6pm on Friday the customer fighting the traffic to buy pizza. $100 is an American money issued by the American government to be spend in usa. I am wondering what the law can say about it?

I ordered 3 different pizza's and 2 family size breadsticks, order of garlic bread with cheese and chocolate dunkers with cheese sauce, and marinara sauce. Got all of it the small taco pizza didn't have hand tossed, it was thin the manager said they couldn't hand toss with a small, started to eat it and there was a black hair in it. and all three of the pizza's were cold. as well as the bread sticks, garlic bread with cheese, and the sauces were cold. Called the manager again and she said she needed the taco pizza back, and the ticket number is 00110 on 4/3/15 at 7:00 pm. This is the second time they screwed my order up, and not tell me the order is more than I was told on the phone and I spent 42.79 on this and I want you to know that this pizza hut is just right down the street from where I live so I don't understand why it was cold. The girl who took the order was new and she should have had help with it from the managers, since there are more than 1 managers there tonight. try 3 and they still screwed my order up. Cause they only put one double order of bread sticks on the receipt so please get some new managers!

Sarah cooper
from Sheffield, ENG
we tried to use a sorry code for delivery and was told rather rudely it wasn't worth the delivery drivers time for £5. We wanted to order the spring Easter deal which is £15 - the £10 sorry code which left us £5 to pay. We was also told it was a minium payment of £10.99 for deliver which technically we was willing to spend. Iam rather confused ??? We ended up ordering elsewhere. We order from pizza hut at least Afew times a month .. I don't understand the confusion???

Patti Smith
from Jefferson City, MO
first I would like to say we have had negative experiences with the Capital Mall Pizza Hut in Jefferson City MO in the past but yesterday was the icing on the cake. My husband all them at 3:53 and ordered a large thin super supreme with extra cheese. They gave him the total and said it would be ready in 20 minutes. He phones me to go by after work and pick it up. I get there and the manager is at the register. I told him the name and what I was picking up and he said he didn't have any order for that. After giving him my name my husbands name both phones numbers he still says he has nothing. Not to mention he is rude and short. He didn't seem to care one way or the other to help us out or anything. Didn't apologize offer a discount nothing. I said never mind I don't have time to wait. My husband calls back and talks to a woman there and she says she is sorry and agreed he must have called considering he knows the exact total, they offer to deliver it. Again we are on a time frame here. He gives her our address and they said they would have it there in 15 min. 25 mins later she calls back and says out computer messed up can I get your address again. It will be another 10 mins. He said no. we don't have time for all this. this will be be LAST time we EVER eat at pizza hut. There are way to may pizza places in Jefferson City to put up with this crap. I seriously have no idea how this place stays open if they treat all their customers this way and that manager needs an attitude adjustment. If he hates being so bad then maybe he needs a new line of work. I'm not expecting a reply. I'm sure you all don't care is why you want this emailed and won't talk on the phone about complaints.

This is my second time calling the Pizza Hut in the batesburg area at 30 minutes before closing and them telling me there wing machine is broken down and cleaned really I was once a shift manager and thirty minutes before closing is a no no .

I placed my order online like always 3/31/2015 7:48 p.m. Ticket#00164. Okay when the driver got to my house she didn't have the whole order. She had to go back and get the 2-liter Dr.Pepper. Ok so while she was gone getting that I opened up The waffle fries they had been cooked so hard you could not even bite them. So then I checked my Cinn Sticks nothing was wrong with it. the pizza had been over cooked it was so hard it didn't make any sense. So when the driver came back I asked her to look at the pizza and the fries. She said she would tell her manger, I told her better yet here take this back to pizza hut with you my husband said no it was not here falut so I gave her the box of waffle fries and said make sure you show your manger and tell her about our pizza too. She said she was sorry someone would call me I never heared from anyone. When I called up there I didn't get a answer and I waited and called later still no answer. You would think they would fix the order or give me my money back call and apologize I got nothing and I am very upset that nothing was ever done about it

I wanted fo reward the a team of ladies I work with for a great job they did in our department store in Louisville Kentucky. i order three large pan pizzas from the Pizza Hut on shebyville Rd near St Matthew Mall. First the who delivered the pizza was rushing me and when I checked the pizzas they were not pan they were thin crust the topping were wrong. I call and spoke with the manager he said he gave me the thin crust because they ran out of pan.He didn't even call to ask If It would be ok. I order pizza all the time from the Preston Hwy location and Its great. I was very disappointed.

I ordered a large pizza with two toppings. The pizza had very little topping. I showed the pizza to lady at the window and her reply was that was the proper amount. I looked at the add on the box and it had a lot more topping. I told the lady that she had just lost a customer. This bate and switch is clearly poor business and problably against the law.

I ordered a carryout order for 24 wings and received 16. Also ordered a Pepsi that was supposed to be in the bag uugh. I will never use pizza Hut again. This was order that was placed to the on perkins in Stillwater Oklahoma.

I have made a home delivery order at 8.15 p.m. today i.e. 31st March 2015 at Hyderabad Sindh Pakistan it is already 9.45 p,m, and pizza delivery is not received and my kids are drowse to sleep as they have to School in early morning. Please make it possible to send us pizza before my little kids sleeps hungry. Thanks

I sent a email before to pizza hut guess it went to wrong place back on 2/27/15 I ordered pizza ticket 144 unit 004287 went to your call center ordered a med extra. Extra sauce guess what no sauce pluce it was 1hr late I don't know what is happened to ya but I am going to buy from the store t then I can blame myself hope one day you can get back the way us use to be

I had ordered two pizzas for pickup, and they were terrible. The order had been placed at the Wilmington, DE location (302-998-8859) on 3/29/15 (ticket# 48) for my wife and I. She even said, "This is the worst Pizza Hut pizza I ever had", which is really revealing as she worked for your company before for 12 months. I went out of my way to select Pizza Hut and , unfortunately, we received a product that was virtually inedible; we forced down two slices apiece as hunger got the best of us. In the future, I will not purchase your product and will, instead, "go out of my way" to choose a competitor.

Matthew Killian
from Atwater, CA
We ordered the pretzel stuffed pizza with medium hot wings. The pizza was delivered late. The cheese inside the crust was solid (not melted), the bottom of the pizza was soggy ( like it was raw). The wings were cold! Very disappointed! This was from the Atwater, Ca Pizza Hut!

I placed an ordered at 6:48pm. I didn't receive my order until 8:30pm. My wings were greasy and the pizza was cold. I called several times and they hung up in my face. This ridiculous and my family wasn't satisfied. My order was over $30 and it was horrible. AMERICUS, GA location has pitiful customer service.

Lois Bentz
from Mooseheart, IL
I ordered a personal pan pizza in Brownsville , TN on Thursday evening to be picked up at 6:20. They were not busy and only had 2 tables to serve. I stood there for 10 minutes looking at my little pizza sitting on the counter waiting for me to take it out. I finally asked someone from the kitchen to please hand it to me so I could go. It took longer for them to give it to me than it did for them to make it. Never again. I asked for red pepper flakes and did not get them either.

Marion Whight
from London, ENG
Went to pizza hut Covent garden which had gone so update your web then walked to strand pizza hut and was closed So not got our pizza had to go elsewhere Not hapoy

Howard Rooks
from Naperville, IL
This complaint is to Pine Ridge SD Pizza Hut We have been calling for 30 minutes! They finally answered and told me they are not taking orders for 30 minutes! Last time we called in a order we went to pick it up some ladies were outside smoking in the back and no one to help us then they didn't have our order ready! This place needs a new manager!

Mr Paz Chande
from Telford, ENG
The wife and I decided to book a table for 7 of us at the above Pizza Hut restaurant as we were having friends that were visiting us in Telford for the first time. The table was booked for 7:45pm and when we arrived we were made to wait 25 minutes before we were seated which was some what surprising to say the least as there were only a handful of people in the restaurant. We were eventually shown to our table which in fact could barely seat seven of us and which was cramped when we sat down and I new that once our food and plates came along we would not have much room whatsoever, we were seated in a booth type seating, all seven of us!!! I kindly requested the staff members if we could move to somewhere with more room and I was abruptly told that there was no other room in the restaurant???? I was shocked to hear this as the whole restaurant was virtually empty apart from one other occupied table with four customers - whom in fact - over heard our conversation with raised eyebrows!! Anyway, this is not the main reason for my compliant.
The same male staff member came back to our table after a further 20 minutes to take our order, 20 minutes!! (Bare in mind only two tables occupied in the whole restaurant) he then plonked down salad bowls on our table which had NO cutlery and which we requested and then eventually had to get ourselves from other tables!! Once we all got our salad from the salad bar to nibble on we were abruptly told that we are only allowed 4 salad bowls and that his Manager had just pointed this out. We were actually eating from the salad bowls at this time which the staff member provided for us in the first place!!!!! When our pizzas arrived they were just about warm and in fact once of them, the margareta was stone cold!!! The plates that were provided, 4 of which were not clean and also wet!
To be perfectly honest with you if I had not been with my visitors I would have walked out well before I even placed any orders with your restaurant. The whole situation was embarrassing for my wife and myself in front of the friends we were entertaining that evening and not to mention the fact that the staff were very abrupt with their customer service and the way we were spoken too. I also blame the Management that didn't even bother to address the situation. I was told that this restaurant was under new management. What a pity if that's the way this restaurant is now under!! Can I also point out that when our bill came through - we were charged for the 3 extra salad bowls (that we weren't told about in the first place!) and I also want to mention that the glasses were also filthy at the refillable drinks machine area too.
Rather than making a scene I decided to pay the Bill and not have any further embarrassment, but, it will probably be the last time I visit this restaurant under this management!! What is going on Pizza Hut?? Recently there has been chains of other restaurants opened in this area like Zizzis, Nandos, Pizza Express, Franky & Bennys etc and with all the competition around - it's no wonder that the whole restaurant at Pizza Hut was nearly empty and if this is the way customers are treated is it any wonder???

Russell Swart
from Seymour, TN
This order was awesome got stuffed crust meatball pizza n apple sweet and was great but last time i ordered i got a pizza with the sauce and seasoning and it was first time i tried it and seemed just regular so i called and asked for manager and seemed i didnt get the sauce n seasoning on the pizza cause i couldnt reconizr it and when manager answered the phone she was like oh its on there i know it cause i put it on there well after this order second time trying i realized it def wasnt on it i dont want amything but if you can look up my last order to 106 jersey dr apt 7 russell swart who ever managed that day you may want let them know not lie that something was made right when it wasnt i work pizza and i realize customer complaints can be annoying but i was going send whole order back just the pizza actually just to get it right for i could try it way its suppose be cause heard how good it was and i will admit getting it this time was awesome one best pizzas id ever have thank you for that

Larry Cooley
from Greenville, OH
I visited the pizza hut in Eaton, Ohio with my son. First off there was only about 3 tables of people, but still waited 10 min for a waitress. I ordered a stuff crust pizza with sausage and boneless wings with buffalo sauce. The wings came out first there was only sauce on about half of them and was not fresh at all. Then the pizza came out, when the waitress set it down there was literally puddles of grease on it(which I don't mind a little grease) when I said something to the waitress in her exact words she said"When I get something greasy I get it off with a paper towel." Then I should of just sent it back, but I'm not like that. Me and my son ate 1 piece apiece and couldn't eat anymore. I'm a single dad so needless to say I eat pizza hut once a week in my town of Greenville, Ohio and it is always great. To put it lightly if there was a negative star rating I would give it to this store.

Bobbie Seaberg
from Richmond, VA
Horrible service from manager Blanca off of Orchard Road in Aurora IL She was rude and mean. She should not be a manager or a counter person with such a horrible attitude. She did not wan t to correct my order that was wrong.

I had a really bad experience, first of all the staff needs to be more friendly, they need to learn how to explain the menu to people who doesn't speak english and lower them selfs to a child who its trying to order a pizza. Really bad service!

We called & ordered 2 large stuff crust pizzas & they were suppose to put garlic butter on the crust it was the worst pizzas we have had in a very long time. They did not put anything on the crust,we were 25 miles from that pizza hut otherwise we would of taken them back. They did not have hardly any toppings on them & the crust was like card board.

Ashley Martin
from Maryville, TN
Submitted a order for pickup. Waited an hour past the time the order was said to be ready.

T Christian
from Sugar Land, TX
We ordered 1 Large, Thin Crust Bacon and Pineapple with Extra Bacon and Extra Pineapple. 1 Large Thin Crust Supreme. These were ordered from the store in West Columbia Texas @ 625pm and picked up @ 700pm. When the we started to eat the pizza the Pineapple was so Bitter you couldn\\\'t eat the pizza so we decided to eat the Supreme instead. When we took several slices of pizza from the box it had Two pieces of hair cooked into the pizza. I called that Stupid Pizza Hotline you people ignorantly started and I was told that there was No direct number to the store and when they Tried to call the store so i could speak to a Manager, the employees at that store conveniently Didnt answer.
So, I had to speak to a Customer Service Manager by the name of Michael, who was of NO Help at all. He did NOT ask what was wrong with the pizza. He didn\\\'t even care that we found HAIR in the pizza. He asked if he could have the store make more pizzas and I explained to him that tomorrow would be good cuz it took us 35 min to get there and 35 min to get back and it wasn\\\'t worth the drive to go back tonight. He then offered to give us a credit. With 3 pizzas we paid $42. He Said that he could only give us $25 credit for the pizza and that was All he could give us. My daughter\\\'s ordered pizza from the Same store in West Columbia Texas and when they went in to get their pizzas, that were Already done and waiting, they were made to Wait 10 min before someone came to the front, the kid putting together the pizzas was Not wearing a uniform, no apron, no Gloves, and nothing protecting his hair from falling into the food.
She also said that the blond woman working there was treating the pizza maker Really Bad, ignored them, and was then Rude to them when they finally got her attention to give them their pizzas. Pizza Hut has become a Real Crappy business over the years and these incidents shows that Pizza Hut is only getting Worse instead of Better. I would Greatly Appreciate someone contacting me back so that these Issues can be Resolved.

Pizza was cold and hard and was post to be 2 cheese stuffed crust supremes and wasn't and. They wouldn't. Do nothing bout it when I called back I would lime my pizzas replaced.

Lon Dee
from Arlington, TN
I called the Pizza Hut line to place an order. I placed the order and requested that the special garlic sauce not be spread on the crust. The call taker assured me that the garlic sauce was only used on request. I attempted to explain to the call taker that this particiualr location puts it on all pizzas. The call taker abruptly gave me my total and time for pick up and hung up on me. Of course when I arrived to pick up the pizza, it had the garlic sauce on the crust. Guess I can't blame the location but the call taker was very rude and not customer friendly. No pizza for me.

They delivered the pizza to the wrong address three times. Finally, they realized there are no stores that will deliver to my address. Not the brightest company.

I recently ordered 3 large pizza's from the Scottsburg Indiana Pizza Hut. When I placed my order I was very adamant about extra sauce, But when I received my pizza's they had no sauce! I called to complain, and the manager was very polite and replaced the pizza's, But when I got my replacement pizza, again NO SAUCE even though I specifically asked for EXTRA SAUCE. The replacement pizza's not only had no sauce, but the toppings were skimp and center loaded.I was a manager for Pizza Hut for 6 years, and I would have never let product like that leave my store, and I will never be back to this store again. I guess Papa Johns will be our new pizza place, and we eat pizza at least once a week.

Jean Garder
from Saginaw, MI
Found out today that Pizza Hut is going to discontinue their eat in restaurants and go to drive in and take out only. No wonder they are charging their customers such high prices. I won't bother taking advantage of their new set up. Plenty of other pizza places in town. I don't have to bother with them. Corporate has their ideas where the sun does not shine.

Tysha Chambliss
from Salisbury, MD
My family and I dined in your Pizza Hut on Mt. Herman Rd, Salisbury, MD, and we were ALL highly disappointed. We entered the establishment on today, Thursday, March 12, 2015 at approximately, 6:50 p.m. When we entered the place of business, the main door was propped wide open and there were several customers in line to pick up their pizza. To the register, was a gentlemen named Larry, who displayed a very nonchalant disposition. When we were finally seated, I asked the server if someone would "tidy up" the salad bar because it was a mess. Once we received our drinks, I went to the bar again and it was still a mess. I then asked Larry, if someone would tidy up the salad bar. He looked at me and didn't say a word.
Nevertheless, the salad bar was not maintained and I was told that the bar could not be "turned over" because they would be "taking it down at 7:30 (mind you I had already been there by 7 p.m.). When I placed my ordered I asked for extra cheese on my 2 pizzas and it was not included. We only received our initial beverages and never did see our waitress again. The server, Jessica was the only server trying to provide orders to several customers in a hectic environment. This establishment was not well maintained, unorganized and chaotic. The customer service was very poor. As a Government Employee, I was very dissatisfied with this establishment and would not recommend any of my colleagues to visit this Pizza Hut. I was so frustrated that I contacted your corporate office and spoke with "Zack" to voice my complaint. He did give me an incident number which is 0100791922. Therefore, I will be eager in hearing back from someone who really cares about the customer relations and satisfaction of this establishment as it relates to the quality assurance of this facility.

Alandis Davis
from Atlanta, GA
I placed a order at 7:46 the order was said to arrive at 8:46. I called at 8:50 to see if it had left yet and they told me that the driver had not come back yet. I called at 9:22 and they said the drive had just got back and was leaving with the order. Then I called back at 9:33 and they said he had already left. I asked to speak with the manager and the lady on the other end said that she was busy. She said that my order would be free due to the terrible service and long wait. Eventually I end up driving to the pizza hut and when I arrived they said that my order had been cancelled because they did not have any meatballs to make the pizza with. They also said that they tried to call me and tell me that they where out of meatballs but I never received a call from them, neither did they tell me during the times that I called to check on my order the service was TERRIBLE. I never received my food and now me and my two year old daughter are eating grilled cheese and noodles good job Pizza Hut.

james anderson
from Silver Spring, MD
Store #023623 - paid $18.28 for a large pizza and i never had a pizza that was. this bad.it was so salty and greasy and the box weighed as much as the pizza. I asked for thin slice with extra sauce and extra cheese as well pepperoni and green peppers. It taste so bad that we could not eat it. It was less than a quarter inch thick. I have eaten at Pizza Hut for years and never was served food this bad -- at Pizza Hut and/or anyplace. I feel that I should be reimbursed for this bad experience. Maybe you send somebody to check it out. I was the only customer there. That isn't saying much for someone who has that franchise. That looks bad for Pizza Huts reputation. Other Pizza Huts that I have been too, I have always been satisfied with the food and service. This was the first time that I have been at this Pizza Hut and the last time. The location is Rock Creek Shopping Center in Rockville, MD.

Janelle Beecham
from Bulimba, QLD
Just ordered 3 five dollar pizzas over phone. Moorooka qld store. Was so noisy could hardly hear or understand person on phone. When pizza was collected charged 23.65. First pizza ordered was five dollar meat pizza on pick up had turned into BBQ meat lovers at 10.95.... 5 dollar ham had turned into ham and pineapple 7.95 and pepperoni was 4.95 as all 3 should have been. Second time they have pulled this so were very clear about 3 five dollar pizzas....daughter who wanted ham is allergic to pineapple....... Disgusting service when picking up.. Should have apologised and given order customer wanted instead od charging extra and not giving what was wanted. NEVER again.

Well me and the wife went in to Princeton In. To pizza hut very bad don't know how they stay in business. You pay for a buffet and they don't put any pizza out there. They had one pizza to much money for that . Never go back again I hope they go belly up.

Floyd Miller
from Brunswick, GA
I ALWAYS ask for extra sauce but never get. Tonight I have almost no sauce at all. My money is always good so my pizza should be good also.

James Jones
from Houston, TX
I ordered a pizza on line i got charged 31.38 never got pizza and bread sticks order # a027119x81t2353 how do i get a refund i will never order from Pizza Hut again i even called and the lady said it was scheduled for delivery at 1:07am now we are starving and will have to find a burger joint thanks a lot Pizza Hut i have to go out on the road with all the rodeo drunks .

Patricia Roberts
from Jacksonville, FL
I ordered two pizza at630 didn't get it until820 That was bad enough then it was cold ordered thin pepperoni with rxtra extra sauce gess what there was no sauce it was like cheese toast the other was abeef an mushroom it was also cold igot one bite of sauce your cooks need to read an learn to make the pizza to order!

I ordered the boneless honey bbq wings. I like the flavor, but the pieces have progressively been getting smaller. And the fact that they charge $.75 for a single dipping sauce is terrible. For the price you should get at least 1 free sauce.

Brad Blanchard
from Baton Rouge, LA
On Thursday, February 26, 2015 I visited the Pizza Hut in Baton Rouge, LA located at 2906 Government St. I came to pick up an order I called in 20 minutes prior. Upon arrival, I noticed my name on the screen with a status "Ready" next to my name. I gave the cashier my name and she pulled up the order and I paid. I waited for the cashier to retrieve my pizza. Upon return, she said it wasn't ready. I told her the screen indicated it was ready. She said "it's almost ready." I waited. Then I waited some more. People were coming in, ordering, and leaving with their food all while I was waiting. The cashier was back in the kitchen preparing hot wings and there were four people waiting in line. When she finally returned, I asked if she could check on my order.
She said she was about to find out. Nothing. Finally, after waiting 30 minutes, the manager came to the front. She gave me a ticket which indicated the sale had been voided. I presumed she was giving me a refund for the trouble. Nope. I said, so, I'm not getting a pizza today? She looked at the cashier and said "you told me he wanted a refund!" (I never requested a refund). Feeling frustrated by the incompetence of this location I left and reordered at a different pizza company. There was a least one other gentlemen who did request a refund while I was there. I like Pizza Hut pizza but the mental and emotional cost of getting one is too much.

andrea shelton
from Orleans, IN
On Feb. 23,2015 I took my family to the local pizza hut located in paoli indiana. I place a dine in order starting with 2 orders of breadsticks the first order was brought right out they was hard and cold. You could definitely tell not fresh at all. The second order took several minutes to arrive to which was hot . We then finished our breadsticks and sat waiting for pizza over 20 minutes or longer. Watching others come in to dine finally our pizza arrived to our disappointment . I had order a half pepperoni/ half supreme large pan pizza. I was beyond disappointed the pizza was barely warm the pan itself you could touch it with your hand without being burnt. It was barely brown on the bottom. The supreme side of the pizza didnt have a single pepperoni on the pizza was over killed with sausage and raw vegetables. I have never paid 34.65 for a dinner so piteful in having. I left without barely eating and would not recommend this resturant to anyone. I was beyond upset with the lack of caring the manager showed and give us in the complaint i had with the barely cooked messed up pizza. :(

Eric Rummel Sr
from Rootstown, OH
Server was very RUDE to me and a another customer in line. Had been to this store many times and this was the first time I was treated poorly. Even though there was a kids party going on was no reason not to be greeted when at the counter to pick up a on line order. I spent 40 years in retail management and if I had a employee like it would have been her last day of employment store #024643 Server Melissa

Cindy Utpadel
from Houston, TX
They forgot to make one of my pizzas, so had to wait an extra 25 minutes. Left my pizzas on the counter for 10 minutes while they tried to figure out their screw up. Manager was more worried about smoking than my order. Manager is always snippy and unprofessional. This is the last straw for me and I will never order from pizza hut again. I spent $85.85 for poor service.

Becky Griffin
from West Monroe, LA
I ordered a pizza and the guy that answered said they only have 2 sizes available thin or pan so i took the pan.i got the pizza and it was a warmed over thin pan pizza, they were about to close so i called today the lady named Teresa argued with me,wouldn't lake my pizza right and said I had to do it online,the night I called in the pizza was not online because they told me i had to get a pick 5 since they were closing so i got the pizza and cheese sticks and both had been cooked over warm time and temperature, they have me something that had been in the warmer for hours and they didn't wanna cook because it was closing. I just would like to have what I ordered fresh out the oven not warmer.

Tammy Monreal
from Roscoe, IL
We had ordered pizza hut online. First of all they were late, the pizza was cold and they did not get the order right. It was the worst pizza we had ever had. They tried to make it right by giving us a credit, so when we ordered again we thought we would try something different, again the order was just terrible. We asked for plates, napkins and parmesan cheese packets both times, and they forgot all those items each time. Pizza Hut is just terrible. I was to be compensated and make it right for the third time.

David Conner
from Winter Haven, FL
I experienced very poor customer service. I called to have an order delivered, as we have several times over the past few months. The lady who answered the phone was very unpleasant, and eventually was told that delivery was not available to my house, then she told me my house did not exist. If delivery is unavailable to my house, then how do we get Pizza Hut delivered at least once a month from that exact store? The store is located only 4.3 miles away (by Google search), but yet dominos pizza, a couple miles further away is happy to deliver, as is hungry howies that's over 10 miles away.
The second part of my issue comes when I requested to speak to the manager, and I was told the manager wouldn't come to the phone. I then requested the corporate number, she hung up on me. This is totally unacceptable behavior, and I am attempting to resolve my complaint through this medium prior to taking other action to tell of my experiences.

Rocco Santo
from Clearwater, FL
Not even a one. I ordered a large pepperoni pan light on the sauce and cooked extra. What we got is sauce running and would you believe DOUGH in the crust. We called the manager Palm Harbour Pizza Hut Florida. She said I'll give you a ten dollar credit. What? They charged us $19.03. Ticket number 111register 2 Unit number 004630 12/22/2018 19:24. The receipt says easy sauce well done. What really makes me angry is the attitude of your manager.
Should anyone care, my telephone number is (727)422-3286.

David Conner
from Winter Haven, FL
I experienced very poor customer service. I called to have an order delivered, as we have several times over the past few months. The lady who answered the phone was very unpleasant, and eventually was told that delivery was not available to my house, then she told me my house did not exist. If delivery is unavailable to my house, then how do we get Pizza Hut delivered at least once a month from that exact store? The store is located only 4.3 miles away (by Google search), but yet dominos pizza, a couple miles further away is happy to deliver, as is hungry howies that's over 10 miles away.
The second part of my issue comes when I requested to speak to the manager, and I was told the manager wouldn't come to the phone. I then requested the corporate number, she hung up on me. This is totally unacceptable behavior, and I am attempting to resolve my complaint through this medium prior to taking other action to tell of my experiences.

Linda Martin-Smith
from Washington D.C., DC
I went to pick up my pizza the person who was fixing it didn't have on any gloves than he kept wiping his nose it unsanitary.

Carrie Vroman
from Hillsboro (Tanasbourne), OR
I hold an executive position within a small division of our bank, however I manage associates in several regions. I was planning for a collective conference call/pizza party and had planned to have pizzas delivered to each of our offices. We had successfully placed the order for 3 of our locations but received a call back from your Klamath Falls location, stating that they would be unable to fulfull the delivery unless there would be a party present to pay for the order as they could not accept the credit card information on line. I inquired about a work around to verify that I am the card owner and that I authorize the pizza order and payment of the same, but they refused and stated that someone at the location would have to cover the cost. I explained that I could not ask my associates to cover the cost of their own pizza and canceled the order. I then tried to place a call to your corporate office to see if someone would be able to assist. Unfortunatley, the service answering the phone explained that I could leave a message but there would not be a party available to take a call until later in the day. Completely disappointing service.

Betty Thompson
from Cleveland, OH
I purchased pizza for our church on Wednesday dec Dec 12 the bolivar tenn 38008 the amount was for 77.30 they preauthorize my debit card four times I called ur accounting debt four times and spoke with Thomas he did not and would not do anything to help I spoke to 4 different managers at the location they gave me stories of yes this has happen to me and I will get it straighten out but never got the 1st call back from anyone
Then I contact Joan the district manager she promised she would call me on Monday dec 17 it is dec 18 and she still has not called me back fortunately my bank said they could take of care of 3 of the preauthorization since the actually charge had cleared these preauthorization took and locked over 200 dollars in my account that I couldn't use I could not buy gro bc my debt was locked I can not finish my Christmas bc this was so screwed up I didn't know how much was actually in the account since all this was going on so for over a week I could not use my debt card thank God I had a little cash to make through the weekend my family of four had 50 dollars for a week I will not purchase anything from Pizza Hut in bolivar tenn again they are the none caring people I have ever seen I have been told by others in the community that u have a lot going on in this store tips being but on people's cards without permission and cc being stolen u really may want someone to check ur managers out my receipt number was 40
I hope u take this complaint to heart and check into this this has really caused a problem for my family over the week
Customer service means noth
ing now and it is very sad
Thank u
Betty Thompson

Deseree Scott
from Dallas, TX
The employees are very rude on the phone and in person .I waited over and hour for my pizzas so I called the lady said they couldn't find my apt. Funny how i have ordered from the same place for over a year. I asked why didnt someone call ? Answer was i will send the driver back. I love pizza hut but the service is HORRIBLE.

Kimberly L Cartee
from Flemingsburg, KY
The food was 35 minutes past time I asked for it. I ordered online and wanted it at 4 PM and never got it till 435 PM. Two pizzas were cold, sauce for breadsticks were cold and the breadsticks wasnt even cut. Hardly any sauce or cheese on 2 of the pizzas. Very poor service. Didn't offer a discount or anything to make up for the poor service and food. This use to be our favorite hut near home but we wont be using it again sadly.

Bad service need my cash bavm

Cindy
from Highlands Ranch, CO
I waited over 2 hours for my pizza & received it ice cold, with Italian sausage instead of pork, pieces with no sauce, cheese or any toppings & had chunks of crust missing from being banged around? Just called to let them know and they closed at 8. Hung up not interested in the excuses.
Unit #004859
Zone b-06
Ticket 90/I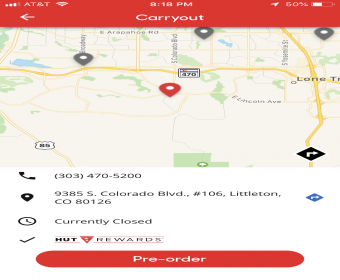 JERRY MCANALLY
from Newark, NJ
YOU HAVE PRICED YOUR SELF OUT OF BUSINESS .
2 PERSONAL PAN PIZZAS TOTALED 13.83 WOW ? AT LUNCH TIME ,SKIPPED ON YOUR PIZZA , THERE'S WAY TO MANY OTHER CHOICES LESS EXPENSIVE .

Tonya Morgan
from Louisville, KY
My grandkids wanted pizza for dinner it had been awhile since I ordered because last time my order was messed up so I gave in and ordered tonight. The pizzas were so bad that my grandkids took one look at it and said I'm not eating that. Their pizza was horrible and the one I had ordered for myself came as a chicken pizza which I did not order. The service and the food leaving this store is horrendous. I immediately called and ask the driver to return and give me a refund less his tip because it wasn't his fault the food was so bad. And no I don't want free pizza just want you to know that you have lost a customer because I definitely will never order another pizza from Pizza Hut. Again it's really sad when a 10 year old won't eat it and they are served school pizza lol. I've enclosed pictures just to show how bad it was.
You have lost a customer oh and I had not touched this pizza it came this way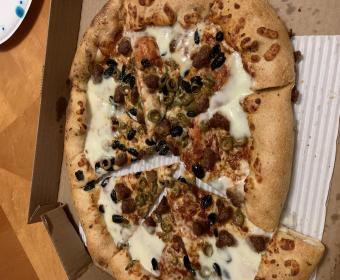 Brandi Henager
from Abilene (Original Town South), TX
So last night I placed an order on line (I always order from Pizza Hut) waited 20 mins and then went to pick it up. Pulled up to drive through there was a truck. I waited 30 mins before calling Pizza Hut and telling them how long I'd been waiting and asked them to ask the truck to pull around if their food wasn't ready. So they did I pulled up paid for my food and the young man said they had been messing up on a lot of orders so that's why they are slow. He then said mine was coming out of the oven now. Waited 40 more minutes then a young lady comes and ask me to move. I said no I ordered over 1.5 ago so she went to get manager. Then the manager approach's the window with an attitude and wants me to pull around . I told her I had been waiting over 1.5 hours for my food and the gentleman said 30-40 mins ago mine was coming out of the oven I suppose he lied to me? She said she don't know what I ordered or when it will be done she would go look. 20 mins later I get my pizza. Only to get home and one of them be burnt. This is ridiculous! And the way that manager talks to people is uncalled for. We are the customers bringing her the money in there is no reason she should talk to us like she did. I will not be doing business there and that's really sad because I went at least 1-2 times a week with my family. She needs some attitude adjustment

Felisha
from Salt Lake City, UT
I had placed an order online approximately 7:47 mountain standard time. I originally ordered a $5 on the line deal tonight 12/13 which was a large 2 topping Italian sausage and pineapple pan pizza. An order of bone out $5 Cajun and $5 garlic Parmesan wings only for my order to be delivered like the picture below!! The driver didn't have pepper or cheese and I wondered why he hadn't opened the box to show me the pizza and how it looked. By the time I opened the pizza he was long gone! He also only delivered my one order of wings when I had ordered 2. I called Pizza Hut and was put on hold a few times and then hung up a third time. I ended up driving to the Pizza Hut which I never intended to in the first place to avoid leaving my house I had it delivered!! I went in and showed my pizza and complained about it. Got a new pizza which took less than 10 mins and my wings with a complimentary cookie pizza and when I got home the pizza was just doughy! My kids even mentioned that it wasn't how we always order our pan pizza. I'm seriously dissatisfied, disappointed and I would like my refund back! This is so unacceptable and I can't believe it took over an hour to finally get my pizza and with the frustration it didn't come out as it should've. My family and I are very unhappy to say the least!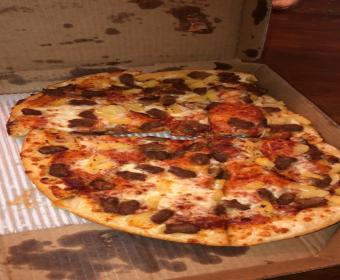 Myriah Sharp
from Houston, TX
Purchased 3(6 piece wings) , 2 pizzas and cheese sticks. Upon pick up I was greeted by a young man on his cell phone not in uniform. The wings were all 1 large container. We asked for 2 smaller containers to separate the order. He stated "they are .50 each." I asked why were they all together when they were 3 separate orders. He then stated "I'm not wasting No box when they're all the same flavor!". I then asked for cheese and peppers seeing I wasn't getting anywhere and no manager was in sight. He barked " We don't got None!" I just pulled off. We check the boxes and the pizza looked dry and cheese sticks were half covered in cheese. I am a REGULAR customer to this location and never been treated soo badly.

Shannon
from Corvallis, OR
Hi I am writing this while currently annoyed with my local Pizza Hut... I waited for 55 minutes to only have both pizzas be wrong. I have hungry kids here and called immediately and said I need you to make the right ones and send them out asap. They had the nerve to come here and ask me for the Pizza back?!?! Really? The kids will not sit here for another 50 mins and be hungry going to bed. So Pizza Hut thinks it's ok to mess up orders and then take back Pizza that has taken 2 hrs to get right? Ridiculous. The worker was more helpful and then the manager got on the phone. Anyways this was the Lebanon OR store. Would love an email back. Thanks

Leslie Alvarado
from Jamestown, NY
First they forgot breadsticks and wings.
Second my pizza was wrong and I had to wait 4 hours to get my wings and breadsticks. Ridiculous.

Markena Elam
from Milwaukee (Layton Park), WI
I order a big box pizza to be delivered Friday 12/7/18 at 6:47 received a text that my order was out for delivery at 7:18 pm, However It did not arrive to my home until 8:36pm. I called the store at 8:15pm and was told the driver would be at my home in a couple of minuets. I called back at 8:31pm and was told with an apology that I will get a 10 dollar credit. When the pizza arrived it was cool to the touch, I told the driver to take it back and I will call for a refund. The driver told me " since it was my fault you keep the pizza and I will make sure you get a refund, I'll keep your receipt don't sign it I'll take care of it, I truly apologize, I will call you when it's done." After waiting with no call, I called the store explained to the young lady what the driver said, she told me he had not made it back yet but she would refund me the $29.50 after taking my debit card info. It is now Tuesday 12/11/18 and the charge is still on my account. I called my bank to confirm and indeed it had been withdrawn and no pending transactions of it been returned. They emailed me a coupon code for a free large pizza that I will not be using, as I would rather have they $29.50 I spent on pizza wings and bread sticks that I tried to return to the driver because it was cool and not worth the money or wait.
I would appreciate if someone can refund my $29.50.
I ordered this pizza in Milwaukee Wisconsin from the Browndeer Pizza hut 6807 W. Browndeer road 414-354-0600.
Markena Elam
414-208-1591
Thank you for listening

Latifah Warren
from Dallas, TX
Hello my name is Latifah I recently placed an order at the Pizza Hut on 4407 W .Fuqua Rd Houston, TX 77053 I placed my order at 7:22 pm I received a call at 8:05 pm from the manager stating that my order wouldn't be delivered because we were in a dead zone ..the system still allowed me to place my order ..she then went on to say that I would either have to pick the order up or cancel it. I arrived to pick my pizza up and proceeded to ask for the manager she was very rude and unprofessional I asked for cooperates number she said we are franchise we don't have a cooperate office. Honestly I would never order from Pizza Hut again this is the only one that's really close I'm demanding attention for my order and my inconvenience that I had to leave out my home to pick up a pizza that I wanted delivered .
Sent from my iPhone

Todd mcallister
from Weston, WV
How do you run out of large pizza dough? Am I missing something???? Sent me 4 medium instead of 2 larges. Not the 1st time I've dealt. W Lincoln Illinois Pizza Hut n not been happy!!!!!!

Tamarah Arthur
from Philadelphia, PA
On dec 9 i oredered online when i went to pick it up at the store the associate said there system was down and anything that was oredered online wasnt received nd u had to pay in cash at the store,in bridgeton nj 08302 not only i didnt receive my food it took my pizza hut points from ordering online.There shoulda been something online saying there system was down..smh

Amber N Rogers
from Marshfield, WI
My ticket number #125 I order lemon pepper boneless wings and a family chicken alfold pasta well when it showed up at my house I had one thing of pasta and plain chicken wings and when I took it back to the store and dammed to speak with the manger they had to go outside to get him and he wants to come in and I snap at him and cussed because everytime I order from that store #031158 my order is always wrong and messed up ALWAYS and I'm sick of it.

Kathleen Lanier
from Tallahassee, FL
Was staying at a hotel and called about 9:00 and was placed on hold. I called back to place an order and was talked to very rude by an associate. Saying mam we are not taking any more order but the time online said 11:00 mama mam we are not we are getting ready to close and then hung up. They really need to work on their people skills/customer service. This was not professional at all.

Order # 17258918. I ordered a pizza online yesterday at about 10:30 PM and I wrote instructions very clearly in bold letters that "DO NOT RING THE DOORBELL. PLEASE CALL ON ARRIVAL!". Even then, the delivery driver banged the door many times very loudly and rang doorbell many times resulting in chaos in the house waking up everybody. Moreover, the delivery driver parked his car wrongly and police came there. Now, I called the customer service and its transferring me and I am on hold for long. SHAME ON YOU PIZZA HUT, A BIG SHAME!

Corey Koser
from Chester, NY
The last four pizza's my family ordered were all incorrect. I am very upset with how my orders seems to always be wrong now and nothing is ever done about it. at the store I go to.
1. My first out of the 4 examples was when I was given coupon and it was not accepting it online. I called my local Pizza Hut and the gentleman said just bring the coupon with you and we'll take care of it. He takes my order and when it's done I go to pick it up and the guy in there tells me I have to talk to the manager. This lady that did not dress appropriately for a kitchen style job walks over and tell me I have to do it online. I attempt to tell her that I was unable to do that. She cuts me off and tells me she can give me a dollar off my order. I cancelled my order and left. This was very upsetting considering this was my planned dinner for my family. I was one thing by an employee that clearly shouldn't have said that and it wasn't honored. It's a pizza, not like I was buying a car.
2. I ordered a stuffed crust pizza for me and my son. I get home and notice it's burnt. On top of it being burnt we were also missing some of the marinara sauce that I paid for. Neither of us really wanting to eat it so we ordered something else. I didn't call because I know Pizza Hut in Chillicothe, IL doesn't have anyone in management that has any type of training on how to resolve an escalation.
3. My wife ordered us a large dinner box. The two pizza's that came in that were doughy. The breadsticks had practically NO seasoning on them. The wings were very dry as if they had been cooked and sitting out. The wings also hardly had ANY sauce on them. It was pretty much like eating a regular chicken nugget. Moral of the story, this dinner went in the trash like the other 2. Again no complaint.
4. Next day. I have family over and they unfortunately wanted Pizza Hut. We order it have it delivered and it's burnt to hell. At this point I have had it with Pizza Hut. The food is garbage, the service from their "management" is absolutely trash. I call and I get a so called manager on the phone. I tell her about all 4 scenarios. Now, keep in mind all four of these happened back to back. This "manager" kept cutting me off and trying to talk over me. Anyone in management should have basic skills on how to resolve conflict and escalations. Cutting someone off and talking over them only makes it worse. I immediately tell her I want Corporates number. She once again cuts me off and spits out a number. Not sure how anyone would have been able to write it down as fast as she was saying it. This was absolutely a disgrace on how I was treated. I call the number that I was given and 24 hours later I still have yet to hear back from this person. This manager told me my Stuffed Crust pizza was NOT burnt. I've never had a stuffed crust pizza where it snaps in half, it was so black you couldn't taste the cheese or sauce. The crust hardly had any cheese in it like my 1st stuffed crust I had that was burnt too. If she doesn't think that was burnt, she needs to be replaced. No one should be in a managerial position if they treat customers like this.
Is this really the service you want? I don't like to complain when my orders are messed up. I understand people make mistakes because we're all human. What I do NOT accept is being called a liar when my food has been shit for the last 4 times. I am sure that is almost near a 100 dollars in food that I just threw away.

Precious Morgan
from Indianapolis, IN
I waited two hours just for my food...

Jamie sholtz
from Chattanooga, TN
I live at 8205 bill reed rd ooltewah tn 37363.I called your Pizza Hut in ooltewah on ooltewah -ringold Rd today about 5 minutes ago . There has not been a problem delivering pizzas here before but today for some reason they won't deliver to my house and say they never have and that they have never delivered here . The man argued with me about them delivering to my house . Saying I was lying without actually calling me a (LIAR).i have a house full of kids and can't leave the house and they pick today to be lazy. I would appreciate it if something will be done about this
Thank you,
Jamie

Starr Mleziva
from Green Bay, WI
My husband and i have tried to order from the pizza hut web site and we are told that there is no pizza hut in our area and just not true there is a pizza hut right down the street from us on the corner of Henry st and University ave and our address is 2809 University ave its only about seven or eight blocks from us

Joe Falcone
from Chicago, IL
My wife and I were traveling with my sister and her husband and ate at your Pizza Hut in Collinsville, IL. This was the dirtiest Pizza Hut I have ever been in. It started out with us having to request them to clean our table. When I used the restroom the floor was slippery like it had a layer of grease on it and the toilet had feces stuck to the side of the bowl. When I returned to my table I spotted crumbs under the booths next to our table. When we received our food I removed the paper towel roll and there was a ring of grease around were the paper towels were. My wife went on their web pages and read their reviews. This does not seem to be a one time situations from the reviews that we read. Rather then make a scene we decided to just pay for our food and leave. We were out about $50.00 dollars and left us with a very negative impact on Pizza Hut. Please have someone visit this site so other Pizza Hut customers don't have to have this same experience.

conference jones
from New Orleans, LA
I placed my order on-line carryout ; also pre -paid with my credit card. I arrived at the restaurant for my order;which was showing ready on the order screen.I allowed ample time for preparing the order, so I expected to not have much wait time. There were only two customers waiting for their orders. I waited for someone to just acknowledge me standing at the register. Finally, a young man put my order on the counter and told me the manager had to cash it out before I could take it. She just took such a incredible amount of time to come do it. This is not the first time I have encountered this woman; that I believe is the manager. She has a terrible attitude towards customers. The pizza was not good at all ;it was very dry. I ordered 2 large pizza (special for $7.99 on -line only), a pan of pasta (lg.) that was supposed to come with bread sticks( i did not receive).
My experience was horrible, and really feel i should be given a refund ($28.40).
This was December 4,2018 @ 6:30 pm ticket#55
Pizza Hut ,1088 West bank expy., Westwego La. 70094
I hope that this is addressed. I do not know if they are shorthanded and overworked , but the service is extremely BAD!!

Erin Bynoe
from Queens, NY
Dear Pizza Hut,
I've been to your Pizza Hut on 63rd Drive Rego Park, New York and experienced bad customer service and food the past few times I went to this location. The first bad experience I encountered was when my pizza pie came back incorrect with missing toppings, barely no marinara sauce and very doughy crust. When I let the gentleman know about the poor job they did making my pizza, they told me that they are about to close and can't do anything about it. The second bad experience was also a mix of poorly made food and very disinterested, rude employees. The third bad experience took place recently and the woman who made my pizza very late even though I placed an online pick up order. I am a patient person, I didn't mind that-but I become frustrated when the cashier gave me attitude throughout our interaction. I asked her for napkins, and she was annoyed--then asked her for a little extra marinara sauce (because there was barely any on), she was annoyed--and lastly, I asked her for more Hut Favorite sauce (because there was barely any on) and says that she can't give me any because it's not a sauce, it's seasoning we sprinkle on top...I thought this statement was very odd considering that I have requested more of this in the past and was given it. I love your pizza, but overall the last few times have been extremely disappointing. Your pizza is pricey and it doesn't feel good to receive poor quality food on top of nasty workers who are preparing it and supposed to make the customer feel comfortable.
Thank you for taking the time to read this,
A Queens County Customer

My friend visited to porirua Pizza hutt yesterday to have his lunch and he ordered a hot and spicy veg pizza. But by mistake staff made an error and made a hot and spicy beef pizza. He is a pure vegetarian and never ever touched meat in his whole life. As soon as he realised that it's a wrong food that he's eating he gave a call to the store and staff apologies to him and offered him another pizza next time on his visit.
Now when he went to grab his pizza in the evening the manager (Tammy) told him to bring the old pizza back? Seriously?? This is your fault and u guys promised us that he will get a free Pizza next time.. no one told us to bring back the old pizza? And that was the same day of the complain and what is he goes there after 2-3 days? Do we still need to carry that wrong pizza with us?
Also wanted to add that Tammy's behaviour is really rude and arrogant. She is not suitable for that position because manager needs to be calm and should be able to resolve problems on the spot. It's just a value pizza and no one wants a free value pizza. He was asking for the pizza he has paid for. Tammy's behaviour clearly showed that she doesn't care about customers at all. I Just wanted to ask a question to you guys. Have you guys finished her management training ? I've heard that pizza hutt trains their manager before they start handling them shifts. Is that even true because after last nights incident it seems like she needs a lot of training starting from the beginning.
Like I said my friend is a pure vegetarian and never touched meat in his whole life, but you made him eat it. This is ridiculous. And all he was asking was an apology. Tammy denied that too and instead she simply told him that she doesn't believe him? Seriously ?
Get back to me otherwise I'll put this to Facebook community page. I am attaching the pic of that pizza and will keep it as a sample until you sort this out.
TRAIN YOUR MANAGERS BECAUSE YOUR BUSINESS DEPENDS ON THEM!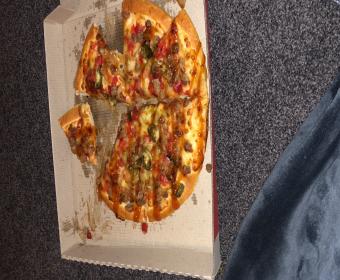 Jamie olesen
from Chicago, IL
the driver stated that she called many times there was no calls there was no text no nothing I waited two hours for the pizza to be delivered there was nothing delivered at all this is happening murres times and I am done

Chris Vandiver
from Huntsville, AL
Erica Smith at Florence Al Pizza Hut located on Coz Creek Parkway, tried resolving a mixup with the food and the quality of the food by sending a re-order at my address. We waited for 2 hours and after calling back she said they can't replace the order after she said she was sending the replacement because we did not have proof. After I asked for a refund she told me she doesn't have to do anything because they are a franchise and we couldn't do anything about it. After lying and not receiving my order, I'm continuing this complaint by sending to state representatives as well as the Mayor of Florence and the Governor of Alabama and to include the Alabama State Health Dept. I strongly urge everyone in the public NOT to engage in transactions with this company.

Patrick king
from New York, NY
Stopped at the Pizza Hut at Abercorn 204 in Savannah at about 4:30 pm Saturday evening. Walked in to order and a lot of people standing around to order and to pick up also. One female on the phone talking to a friend not a customer for about 10 minutes. The other female was just folding boxes ignoring everyone waiting. Finally another customer said is anyone going to wait on any of us. Well they both acted as if it was a bother for them. After finally getting to place my order after 15 minutes I had to wait another 15 minutes to get mine to go. And when I got home you could see they were very over cooked. I will never stop at the Pizza Hut again. Bad experience and rude ass employees.

Lisa Campbell
from Huntington Beach, CA
Pizza Hut in HB,CA on Beach Blvd and Slater Ave.. This Pizza Hut is the worst ever!!! I now remember why I stopped ordering and eating Pizza Hut over 3 years ago.. Tried calling store after I got my pizza delivered and one of the pizza's was wrong and had ordered 4 ranch that I pad for and never got even tho I asked the delivery guy for them at my door he pointed to the box's and said" they are in there" they weren't!! Called the 714 number to the store not knowing until the 6th customer service person I spoke to told me that number goes to a "customer service line not the actual store"6th person that tells me they will transfer me to the store manager then call goes to a busy tone for the 6th time and hangs up on me!!!! Horrible horrible customer service the reps need correct training in "customer service".. I will be contacting and sending corporate a letter and posting my horrible experience I have receive on social forums..I was trying to return the delivery but could not get a live person.. I want my money put back on my card and a full refund!! The worst service I've ever had in my life!!! I will warn other people and never use Pizza Hut again.. I'm surprised they are still in business and papa johns is no longer.. I've never received this bad of service in my life!!!! I want a full refund as I was trying to send everything back but got nowhere because no one ever answered for over 45 minutes of trying.

Melissa House
from Des Moines, IA
The manager jimmy refused to take our coupon, stated we had to put it in online. We have always turned it in at window since we started these couons off the survey! We have been doing this for months. He was rude. We eat at this Pizza Hut 1-2 times a week. I am guessing there are other eating establishments we will visit from now on! Ridiculous to be faithful customers and be treated this way.

Keresha Coleman
from Victoria, TX
Hi. So me and my bf use to eat at pizza hut but haven't eaten there since the last issue we have two kids so we usaully buy a good amount of food sodas, desert. Breadsticks, and two pizzas. But the last time we ate there was it for us. Our food was horrible the pizzas were soggy and no not from the oil.The desert was more so burnt and hary any toppings it was just a bad experience for us and we work hard for our money.. We usually love pizza hut and that's definitely a go too for lunch but we have to find somewhere else do to the last issue.

Violet Goben
from Marshfield, WI
Hillview Ky Pizza Hut
Went in to place an order, waited 10 minutes at register, Finally stuck my head in the back door and asked if anyone was working the register. A man came out and told me it would be at least 15 minutes before he could take my order. He said he was too busy at the moment to help me. I left and purchased my pizzas at another store. Pitiful!!!!!!!!!

Tisha Floyd
from Rock Hill, SC
Friday 11/30/2018 I place an order online for the five dollar pizza I ordered two pizzas and some mini cinnamons. Online I did not have the option under the $5 option to remove the sauce. I then called the store and was answered by someone in the call center. I advised her of the situation and that I am allergic to the sauce. She then placed me on hold and I was instantly put back in a cue about 15 more mins passed and another call center agen answered and advised me to hold. The line was answer by an African American with a kind of rough voice. I advised him of the situation. No apologies nothing to show compassion. What he did say was normally when it comes through the internet it becomes a customer issue but as courtesy I will resend the pizza. Very rude individual. He sent the second pizza outbit too had sauce on it. I called the store was on hold 21 mins and the line disconnected I was never able to speak with any individual. I was left with no dinner for the night or eat a pizza that I was allergic to the sauce. This is a major problem and could be a law suit if I get sick from eating the pizza unaware at first that there was sauce on it!!! In the picture below you can see both pictures have sauce around the edges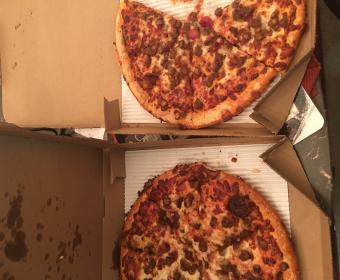 Anthony Hernandez
from Phoenix, AZ
I got off a 12 hour shift at work,I got home and decided to order pizza.I always place my order online for your store on (21 W. VanBuren St. Phoenix,AZ 85003).Well i waited an hour for delivery when the website stated 30-40 minutes delivery.After waiting so long i called the store and they said "The Driver forgot your order but we're sending out now.Well by that time my pizza would have been old and cold the manager did not offer to remake it,he did not apologize,did not offer a discount or anything.I am a long time customer and earn pizza hut rewards as well,i am completely unhappy with this service and would like it to be handled professionally to keep me as a customer until further notice i will not be ordering from Pizza Hut in the future.

scott mouzon
from Georgetown, SC
I ordered some pizzas for the family tonight it was 8:28pm when I placed my order the guy said it would be out in about 15 minutes 45 minutes went by I called they said he was on the way 2 hours went by still no pizza I called back and asked what was wrong the lady was so rude I just hung up the phone

Susan Cole
from Nicholasville, KY
I called to place a delivery order for pizza and dessert. I live 2.7 miles from the store However they said they could not find me in their system. How is that possible when I could find them. I had placed a order before and yet today they could not deliver. So I called papa Johns and they were farther away and yet they delivered to me. This is not how you keep customers.

Larondrial Hayes
from Brenham, TX
Pizza is cold ...and nasty...the wings are aweful..wasent any thing fresh ...and other was a hour late
Have feedback for Pizza Hut?
Thanks for your feedback!
Sorry. Please try again later!