Pizza Hut
Pizza Hut Complaints Continued... (Page 4)
902+ reviews added so far. Upset? Call Pizza Hut corporate: (972) 338-7700

Angel kendrick
from Mount Airy, NC
To whom it may concern,
I am a regular customer in at your Pizza Hut in Mount Airy NC 27030. Tonight on 02-23 at 6:30pm I placed an online order for the 7.99 large pizza carry out and some breadsticks. I ordered the thin crust, half pepperoni and onions and the other half cheese. I got to the Pizza Hut at 7:00pm. I went ahead and paid the total which was 13 and some change. I was told it wasn't ready yet. So 30 mins later, I was giving a large pizza-pepperoni and sausage. NO breadsticks. I went back in to return and they took it back and made me wait again. 20 mins later got a second pizza that was wrong AGAIN and they gave me breadsticks. So I went back AGAIN and they took that pizza back and made me wait another 20 mins. I finally got my order almost an 1 1/2 after I was supposed to receive it. The whole store was filled with customers with wrong orders and complaints. I am very disappointed in this whole situation tonight. I was not offered any free items nor a discount or for them to take care of the bill. This is very unprofessional for a food business. My family will NOT be back to this particular Pizza Hut.
Matthew and Angel Kendrick
336-673-8243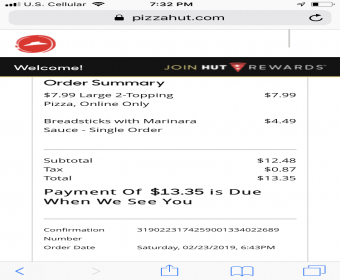 Susan Rucker
from Carrollton, TX
I was watching your tv commercial where s girl sees the new scalloped edge pizza and then proceeds to say-'oh my —-! That made me not want to order from your Pizza Huts any more. Please remove this add to stop broadcasting God's Name in vain.

Donna
from Alpharetta, GA
I called South Main Street location in Alpharetta they put me on hold for 15 minutes and then when I tried to call back and make an order they acted very clueless and kept putting me on hold and I called five or six times. When I called back the last time I told her I had already placed my order she kept asking for my telephone number and I said look I've already placed my order tell me how much it is and she just kept saying give me your telephone number so I hung up tried to call back to say I was going to report her and she would pick up the phone and hang it up pick up the phone and hang it up I have all the calls to show you . No wonder this Pizza Hut has a very bad rating. The only reason I go there is it's right across the street from my house. Please contact me and let me know what you plan to do about this

Jennifer
from Vancouver, WA
After waiting over 2 hours for our order and being hung up on twice, our order finally arrived... Cold. The marinara sauce tasted like it just came out of the fridge. We ordered a LG regular pizza, a gluten free pizza and bread sticks. The gluten free pizza dough was raw in the middle. The cheese was sour on both pizzas. We had to throw our pizzas away because we were afraid of getting sick from the undercooked food and apparently old cheese. So.... About $40 down the drain and we had to go get something else to eat. Totally disgusting.

Ordered pizza from the Derr Road Springfield, OH location. I've never been so disrespected on the phone before in my life. I called to inquire about my delivery order which was placed at 533pm. The quote time was 45-55 minutes. No big deal. However at 700, 90 minutes after placing my order I called to check on the pizza. I worked a 12 hour shift, and was hoping to be able to feed my children pizza. The lady on the phone proceeded to tell me it would be another half an hour. I responded I can't wait another half an hour to feed my kids as they have bedtimes. This set the lady on the phone off, Sandra or Pamela or something of that nature. I was then told about how she only has 1 driver and what do I want her to do. When I attempted to respond, she proceeded to hang up on me. When I tried to call back, it just rang and rang and rang. The driver showed up shortly after that with my food. Oh, which by the way we had to heat up before we could even eat it. I place an order, pay for it online, get yelled at, hung up on and avoided. I understand being short people, but that's not my problem or my fault. I ordered pizza which is supposed to be delivered hot, it's luke warm at best, I'm yelled at, hung up on, and avoided. Absolute bullshit and no way to handle customers. I spent 30 bucks for cold pizza and a bad attitude on the phone. Driver was very nice, and apologized more than once, but extremely upset with the disrespect and lack of care by the employee. I'm pissed and super unhappy. If I don't hear back from someone about this, I will never eat at another Pizza Hut again, and I order pizza at least 1 or 2 times a month when I've had a long day at work and the kids are hungry. I work in customer service and it would never be tolerated at my job to ever deal with a customer like this.

I called on 2/17/19 about a deliver service and still haven't received any email or response, my complaint is Me and my fiancé ordered on Sunday night at the Brandon ave pizza hut in Roanoke va 24015, it said the delivery would be 25-30 threw the complete process and even when we had to verify the order , then after we entered the credit card information and submitted it said 80-90 minutes, then it was 30 minutes later than that so to get our order it took 2 hours UNACCEPTABLE AND NOT RECEIVING A RESPONSE ON THIS COMPLAINT IS UNACCEPTABLE!!!!!!!!!!!!!!!!!!!!!!! The pizza was cold and the chicken wings were all dried out this is not acceptable from your company.

Mark Brown
from Denver, CO
Ordered my food online. Pan pizza and 6 wings for 14 bucks. Wait 45 mins and head over to the store to only find out that they have not received my order. I ask to be refunded, lady said yes. As of today 14 bucks was charged and never received no food. Thanks Pizza Hut.

I ordered a cheese pan pizza online for the #026794 store in South Boston, VA. I picked it up and looked at it, but it was not a pan pizza, it was very thin. I told the woman at the register, she went in the back and told the manager, the manager didn't come up front but told her that all of the pan pizzas were turning out like that. when I got home to eat, it didn't taste like a pan and had very little cheese on it. it was the worst pizza hut pizza I had ever eaten.

Last night while watching a basketball game I saw your ad and I was shocked and insulted. I have been a loyal customer for years and even started a program at my former school. We served your pizza every Friday and were always satisfied with your service and reputation. When we had a teachers meeting, we would order pizza.
The ad I am referring to showed two young girls (high school age) one girl said loudly and emphatically "Oh my God" look at that crust. I waited and watched it again to make sure that she was really saying "God". The message was very clear, it is perfectly acceptable to use God in that manner. In this age it is already very difficult to instill Christian values within our youth, but to use an ad that reaches so many young people is deplorable and out of place as an example of moral and Christian attitudes. I am very disappointed and will do whatever I can to see that anyone I can influence will no longer
frequent your stores until there is a positive change with your advertisements.

My complaint is not about the quality of pizza or service at any Pizza Hut. I would like to express my displeasure at the recent ad involving the
two girls coming up on the pizza with the different shaped crust. Of all the excited exclamations your advertising department could have come up
with why did the powers that be decide on "oh, my God.?" As a Christian, I find it offensive and inappropriate.

My son placed an online order @ 1/20 for delivery @ 1 pm. I called @ 9 pm because we never received the order. The manager said they had no drivers after my son had been told after he called twice that the order was on the way... The manager said he was crediting my account $30, but I had to call rather than order online to get the credit. Today I tried to use the credit only to be told it's not showing. Spoke with the manager who seems to not remember any of this! Darrell Raddens refused to give me the corporate/complaint # & hung up in my face! He's the store manager & has this type of behavior! The level of customer service or lack there of is horrible & I don't think it is up to your standards or the public for that matter. I have been a long time customer of Pizza Hut, but now you're with Papa Johns (I'll never order anything again)! Someone will need to contact me because this is RIDICULOUS! (205) 821-7353

Richard Stinson
from Pensacola, FL
after receiving my pizza and cheese sticks they were both burned, then when my wife called to complain the second order was the same, the driver said the reason they appeared burned was because of the cheese, which is an insane answer, also upon 2 request we were not give the packets of crushed peppers, I really can't believe the poor quality of service we have gotten in the last 3 purchases, seems like training of the employees in the kitchen needs to be improved, I cannot believe that I payed $33.00 for a meal that was worth no more than a store bought pizza, I'll be surprised if I get your response to my complaint, please know that if this is the service I'll be getting in the future then I will not indulge in this poor service of your products.
Respectfully,

Cindy Cumberledge
from Dayton, OH
Your new commercial "OMG" is offensive to God and to me as a Christian. There are so many other phrases to choose from, for your delicious pizza.

Aquita Russell
from Lancaster, CA
I order online & was highly disappointed. I spent $44 dollars & I didn't enjoy my food first my order was warm not hot & I stay right around the corner, my food on had 6 wings & I had brought an 8 wing order the sauce for the breadsticks where watery & I really am unhappy with the food I didn't even eat. I will never order from Pizza Hut again online

Katie Gingery
from Winter Park, FL
Really offended by your commercial aired during Daytona 500. Oh my G** is not something I want to hear.

William Krug
from Clifton Park, NY
Your TV commercial has a teenage girl exclaiming "O my God!" over a pizza crust. I am a Christian and believe we should not use God's name in vain. Please respect Christian values and edit that exclamation to "O my gosh!"
I will not buy Pizza Hut until you do.
Thank you.
W. Krug
Clifton Park, NY

Robert Quarzenski
from Chicago, IL
Driver forgot my wings called pizza hut said he was coming back he never did

Bridgeport pizza hut bout to be on news for allowing toddlers in restraunt & kitchen while parent works & knowing (Alyssa Custer) the childsmother doing pills & smoking marijuana at work.. I went to school with her never changed came to eat not smell that an see pills getting done by workers in your bathroom.

I order basically the same thing when I order (might change up the flavor) 6 pc wing and fry. I ordered 6 pc garlic Parmesan with lemon pepper fries and side of ranch just a few days ago and amount was $12 and change. I added tip to equal $15. Today I go to order the same thing because I did enjoy it last time and the woman who took the order said it would be $14.98. I asked why the price difference and she said delivery charge went up 29 cents. Ok mathematically that does not add up. I said to cancel my order and I will order else where. I am not sure if the employee's are making their own prices and pocketing the difference because that's how I felt. It's a shame because I did really enjoy Pizza Hut until now.

Jessica Mingo
from Spring, TX
The food was not how i ordered it. I ordered a pan pizza that I paid extra for the gave me thin whe I told them it was incorrect the young lady told the cook amd she said you can give her a dollar back no apology no can we make you another pizza thet were just unprofessional. The wing I order bonless with garlic parmesan barely had any sauce on them. My order was to be ready at 7:05pm I didn't get it until 7:27pm.

Genene Blades
from Wausau, WI
I was charged for a order I didn't order you owe me $17.83 cents it was put on my credit card 12/12 / 2018 I believe have screenshot and a credit card ( debit card ) as my proof This better get resolved. I have contacted you 10 Times I will have the bank handle it next...

Initially when I received my large pizza which was supposedly "straight out of the oven" is was barely warm. I checked immediately after getting into the car and the temperature felt like it was sitting around for about 20-30 minutes before giving it to me, but the wait time for it did not take that long. Also i did not see anyone making pizza behind the desk and i'm pretty sure they gave me an attempt at a reheated pizza or something. I did not make a complaint because I was tired and not feeling well and not in the mood for confrontation, so I just took it home and threw it in the oven to heat up.. Not worth $30 in my opinion. The location was 7485 Tecumseh Rd E, Windsor, ON N8T 1G2 the time and date of ordering was 9:30pm on February 14th 2019.

My complaint has to do with your online Customer Service rigamarol!
I filed a query and was given Case #168577 on a no-reply email, which said another email would direct me to help.
That other email said I must enter email address and a password, which did not go through.
So I'm back to square one without any help.
How about an email to answer my initial query without all this carrying on?

I had ordered 6 medium cheese pizza for my preschool class did not arrive on time matter of fact it was 30 min late and when arrived other class did not receive their pizza so I gave one of mine to them. I called back was asked to be put on hold I said no because you didn't come he said to bad and hung up.

Ellen Brion
from Danville, PA
Worst experience ever. Took 40 minutes to get a pizza. Waitress made excuses that take out and delivery was before us. This was a slow night and if you cannot provide 1 pizza maybe you should just shut your doors and do only takeout. I will never return and not recommend to everyone!

Mark Nasi
from Minneapolis, MN
I ordered a pizza for delivery. Never got a call or knock on the door. 2 hrs later I finally got a hold of someone who would listen to my complaint. They said the delivery driver brought it back to the store. What the heck?!? Ordered Sunday, February 10, 2019 from the Bloomington, MN location. The guy also said my money would be refunded with in 24-48hrs. Well that has passed by almost 5hrs. What a joke!

Misty Oler
from Bridgeport, CT
I walked in to the Pizza Hut restaurant on Boston ave Bridgeport ct and the employee running the front informed me it would be a hour wait! There was only one customer in the lobby at this time. I said wow a hour, his response was yes were backed up on everything. I would understand a hour for delivery customer but here I am in your store already! I personally work at another fast food pizza place in the never by area and I know based on my work history it shouldn't be a hour wait no matter how "backed up" the service my be running! I am very disappointed because I like your guys food over the place I work and it was my night off so I figured I'll go in. Also to be noted I asked will everything be a hour wait even if I only got a order of chicken.. his response was yes! A hour! And that's unbelievable

Ordered a supreme pizza Sunday evening for take out, got home with it & it certainally was NOT a supreme, not sure exactly what it was! It was overdone with nothing on it but cardboard pepperoni, at least we think it was pepperoni, hard to tell. We were unable to eat it. I can not imagine sending something so pathetic out. Shameful! So disappointing. We just relocated to this area & really looking forward to a Pizza Hut pizza. ☹️

Sarah Ward
from Leicester, ENG
Hello
We ordered take away pizza, when we opened the pizza boxes one of the pizzas was burnt ( please see attached image). Also I selected re order from a previous order and to my disappointed it had a garlic and herb dusting on the pizza, this wasn't on our previous order. We were very dissatisfied with the pizzas we received. I look forward to your response
Kind regards
Sarah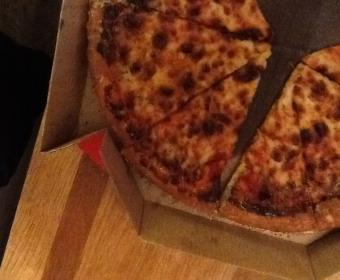 Sarah Ward
from Leicester, ENG
Hello
We ordered take away pizza, when we opened the pizza boxes one of the pizzas was burnt ( please see attached image). Also I selected re order from a previous order and to my disappointed it had a garlic and herb dusting on the pizza, this wasn't on our previous order. We were very dissatisfied with the pizzas we received. I look forward to your response
Kind regards
Sarah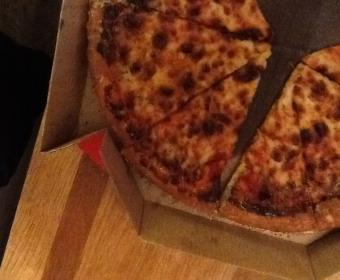 Mary Allen
from Houston, TX
Ordered two cheese pizzas that taste like they came off a buffet table that had been sitting for over an hour, thin hard crust, hardly any cheese and over browned.

Carr Mitchell
from Clarion, PA
Me and my husband went into the Pizza Hut in Brookville Pa, well when we first walked in the floor was disgusting food every where, so I thought they had a lot of people in and didn't have a chance to clean up, well while waiting to be served we watched 5 people stand around and did not attempt to clean the floor. then we asked about the salad bar it was empty and asked if it was going to be filled that we would like to have the salad bar, the waitress laughed and said ya it is empty I just got here so not sure who or when it will be filled. then the Manager came out and sat in a booth by us with one of her workers and proceeded to tell him well your not going to be fired but you need to start doing more things and she was very loud about it do not think this was really appropriate to do n front of customers. I really do think someone need to look at this place very disappointed with my experience.

Yesterday I ordered 2 medium pizza the $5 when I took a bite it tastes different. So I look at both pizza no sauce i called the pizza hut talked to manager out me in hold for 8 minutes really. Finally talk with him and explain to him he's ok that give me 2 large pizza and return the other two pizza so he could see. And drive supposed to take them back. The driver came have me the two pizza and I have him back other two. 39 mins later when I went outside i saw the two pizza boxes on the streets behind the car's. Just like he tossed it out in the streets to me that was really inorgorance that young Mexican driver did. I called back the manager told him he was sent the driver to get it but it's still in the streets. Now this pizza hut i ordered was at 47th Damen back of the yards.This is why I rather ordered from lil
Ceaser the two large pizza they sent finally sauce they did put sause on this time but the crust suck. This pizza hut has issued no more i ordered pizza hut it will be boneless wing's cause my son like them. Hopefully this issued take care of and the driver . Again this on 47th Ramen that why my husband don't order from no more it took 45 minutes and the ride was messed up and cold. So he cancelled his ordered. That's shamed this pizza hut don't care but there's lots other pizza to eat. Thanks Tisa

Michael Swartz
from China Grove, NC
We were debating about from where to order pizza and although I really like your pizza, we went with papa johns. Why? Well the last pizza we got from your franchise had toppings over, maybe, half the pizza....given that area is pi square radius.....you can see where that is a problem. Had they bothered to lift the box lid, I would have declined to pay for that POS, pardon my English. Not only was there no cheese and toppings over less than half the pizza, they completely neglected the extra sauce request. Even though I believe that 'Papa John' was screwed by his company, I will now order from them rather than your company. I really regret leaving a 25% tip at the counter.....you should be ashamed of handing me a pizza of such completely crap quality.

Patricia whitmore
from Scotland Neck, NC
I went ahead at-11 one one North Fairview Drive in Rocky Mount North Carolina order a hand for medium cheese. Waited for almost 30 minutes before the pizza was ready got home get ready to eat my supper. Gave me I had a thin crust cheese pizza I called and on the explanation if they could give me was there was running out of dough. I do not think that is a good excuse not giving me what I ordered. I spoke to the manager and we said that there was making them so fast that they ran out of dough. Only do that on Friday Saturday and Sunday I don't think that's proper business for the customer thank you

Paul Clay
from Hendersonville, TN
The last two times I've ordered carryout, this long haired red headed young man waits on me rubbing his hands through his hair I don't like that, and I don't think anyone else would. If your reading this in the Complaint Department you wouldn't either. 170 E. Main St Hendersonville,TN 37075

The pizza hut in yukon is absolutely trash. The female that addressed me when i came in immediately had an attitude. I even saw her say something under her breath. She was rude when asking me the name on my order and acted like she didn't want to be there at all. By the end after I got my pizzas i asked her if i could speak to her manager and she told me that she was the manager. Her name was michaela and she was rude throughout the entire process. they need to hire staff that actually cares and it's rude to their customers

Tried to order 20 pies online but website wouldn't take more than 1 pie at a time so I called the Ennis, TX 75119 Pizza Hut and asked if the manager could place the order, was told, "No, go online". I filed a complaint and a rep from Pizza Hut called , Daniel, and he placed the order. I ordered the online special of large pizza two toppings $7.99. I get to the store to pick my 20 pizzas up and was presented with a total of over $200 so I asked to see what was charged. Manager comes out and I told her $7.99 times 20 is $159.80 plus the tax. She redid it and now it came out to $183.59 but instead of arguing with her and needing to get back to the plant I signed off on it. I'm telling you that you need to watch this place as it was trying to overcharge me by almost $30 and I still feel she overcharged us by $10. Instead of ringing up $7.99 she rang us $13.97 for each pizza and then deducted $109 for the ? coupon but should've deducted $119. Don't know if this manager is shady but who knows how many other customers have been overcharged. Altogether NOT a good experience with Pizza Hut

When I picked up my pizza from the boulevard & 33rd store in Edmond Oklahoma I could smell one employee in particular and I worry about the cleanliness and hygiene of the staff who are handling my food. His body odor was overwhelming and filled the small lobby. Frankly it put me off my appetite and I will not be returning to this location.

We made a mistake on an online order and instantly called and tried to fix it and the gentleman that I spoke to told me that it's too late and I needed to pay more attention.

Matt long
from Yeronga, QLD
So what a joke you take money from my account, we sit here for 40 minutes waiting for food we have payed for.
Then when we ring we get a child with no idea what to do and then tells me his manager is out. You have no idea where my money is or my pizza is WOW
At least this will look good on facebook

Thelma L Armstrong
from Pooler, GA
Ordered a pizza in store st Berwick in Savannah ga associate looked it up
By phone to make sure I got right pizza I waited 35 minutes they didn't check the pizza when I got home it was all completely wrong called to tell them and was told it was my responsibility to check before I left the store I was charged for something I didn't receive. Never got to talk to manager won't be back to Pizza Hut

Ordered pizza online total came up to 34$ my credit card got charged 51$. Talked to the sturgeon bay Pizza Hut and they told me there was nothing they could do. Contact corporate. The least they could have done was offer a free pizza or two. It's customer service. They won't refund my money or give me a credit on my account for the 20$ difference

I was over charged for a stuffed crust pizza w cheese and pepperoni
It should have came to $14.83 without coupon , I was charged $16.63 , the Manager Jim at the presqule Erie pa location said oh you paid for it already there's nothing I can do about it and it should not have costed that much , oh well , Seriously?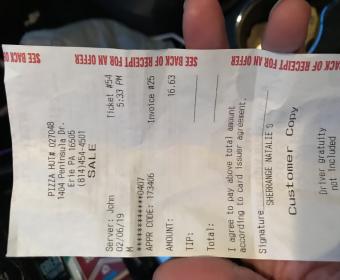 I placed an order online on Saturday 2/1/19 My email confirmation said it would be 25-35 min delivery to arrive at 8:15 pm at 8:45 I called to ask where my pizza was, and the manager said it's on the way. I said it was supposed to be here by now I need to know where it is. I have children to feed that need to go to sleep. She was very rude and said you can't get a free pizza until it's been over an hour. I said I'm not trying to get a free pizza, but I want to know why it's not here and being that I'm the customer spending money you should be more empathic to the situation. She then started to argue with me and hung up in my face. Her name is Elana. The receipt says unit #004122 the phone number for the store I called is 901-309-0612. This manager was so unprofessional and rude. She said they messed up my order at the call center quoting me the wrong delivery time and that they were on a 90 min wait. I told her several times I didn't order through the call center. I ordered online, and it said 25-35mins. She said she didn't have anything to do with that which sounds ridiculous. After she argued with me and hung up. I called back and someone else answered the phone and I asked for the manager's name the person wouldn't give it to me. They too argued with me and hung up in my face. So, I called the call center and asked for a manager. At this point I have been hung up on twice by people that work for your company. I spoke with Deon he was the only person I spoke to from your company that had sense that night. He was very polite and understood the situation. At this point I was upset, and he managed to calm me down. He also said that the store wasn't on a 90 min wait but at that point a 45 min wait. Still wasn't the time I was quoted online but wasn't what Elana said (Deon gave me her name). So not only was Elana very rude, argued with me but was also lying. Deon refunded me my money for the order which I appreciated. The pizza didn't arrive until 8:54 And like I told Deon I spend too much money with your company to be treated this way. This is unacceptable.
I hope you will address this matter promptly!
Thanks
Disappointed Customer
Michelle Brown

Very hostile driver followed me home swearing and taking pictures of vehicle when I called store to get resolved the guy had a attitude like I was wrong for. COmplaining about his driver who was swearing if any damage happens to my car I have the license plate to the driver Quentin took a picture to protect myself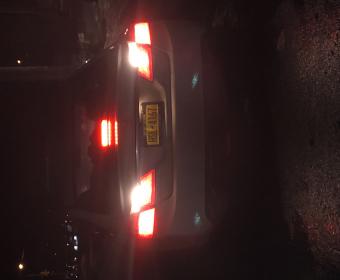 I'm an American living in Egypt. When I go to an American franchise I expect the same food experience that I'm used to in the states. I'm irritated that Pizza Hut charged extra for tomato sauce on our pizzas ! I worked for Pizza Hut many years ago and know that the first ingredient is the tomato sauce. The employee's response when asked why they don't use tomato sauce was that Egyptians don't like it. That's funny because 90% of Egyptian recipes have tomato sauce. I don't think it's fair to charge me for something that is supposed to be on our pizzas. I've had other Americans living here complain to them about this same issue. The problem in Egypt is that there is never consistency in this country so it's alien for them to conform .
Have feedback for Pizza Hut?
Thanks for your feedback!
Sorry. Please try again later!