Pizza Hut
Pizza Hut Complaints Continued... (Page 3)
620+ reviews added so far. Upset? Call Pizza Hut corporate: (972) 338-7700

Antawnett Smith
from Irving, TX
Well I Have Numerous Of Complaints For The Sycamore Store , From the time I walked in customer service was bad I seen a young lady sweep the floor the later on go prepare food after that I didn't seen no employees wash their hands before handling food I walked out sat in my car and waited until my order was ready !!!!! WELLL I WAITED I 15 Mins Plus TO RECEIVE COLD BREAD STICKS & Warm PIZZA THAT WAS FOREMOST THE WORST EXPERIENCE IVE EVER ENCOUNTERED SO WHEN I WALK THEN AND TALKED TO THE MANAGER SHE WAS NOT SO FRIENDLY AS WELL PIZZA HUT GET IT TOGETHER

Amanda Batten Pepevnik
from Gastonia, NC
I order from pizzahut quite often and usually my order's are correct ,but this past time I ordered a few day's ago ,it wasn't ! I ordered a brownie and the brought me a cookie and see my kid's we're hungry ,so I didn't want to have to call them and have to wait for them to bring me a brownie back,so we just went on ahead and ate ,but here I am ordering tonight and I noticed that the brownie costs more than the cookie the other night ,which it's not but a couple of dollar's more ,but still to a struggling family every dollar counts ,so I would just like to say that maybe they should have the delivery driver make sure everything's correct before they leave ,from now on ! Maybe that'll solve the issue ,you know ?

Randall Hankinson
from Las Vegas, NV
It is bad enough you stopped serving warm marinara sauce. You don't get nearly enough with one sauce for the breadsticks so I buy and additional one. Now I pay 49 cents plus tax for a sauce that is filled 1/3 full. (SEE ATTACHED PHOTO). The portion cup and lid cost more than what you filled it with. Bottom line is pizza hut just lost a customer because you are being cheap and skimping on your product.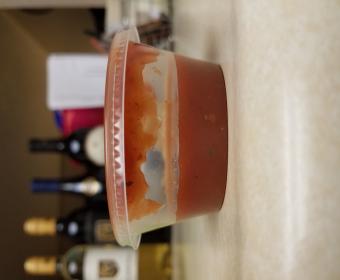 On 10-22-18, at your store in Canton NC, we had a bad experience. We arrived for the lunch buffet at 1143am. We were seated, and told that due to being understaffed, there would be a limited buffet. I asked if pizzas were still going to come out, and we were assured that they would be. There were parts of three pizzas at the buffet. In the next 50 minutes, two pizzas came out. One pepperoni home crust, and one thin crust pepperoni and banana pepper. The waitress never did come and refill our waters, and never apologized for the lack of variety or quantity of pizzas. This is the second time in 6 weeks that we have had issues with this store. My employees will be taking your store off of our lunch rotation because of this poor lack of management, quality, and quantity. The waitress' name was Chelsea. I still have my receipt. This is the second complaint I have filed, as I have not heard back from my complaint on the 22nd.

Lisa M Huntley
from Bettendorf, IA
The store is completely ridiculous! I ordered the pizza online, changed my address because sometimes I have it delivered to my work and Hayley calls me to say half the stuff I ordered can't be made because their fryer is down and when she called she was so rude I hung up on her! I called back to get a corporate phone number she put me on hold 8 min to tell me there is no phone number to call and the website she gave directs you too a website of survey are you shopping black Friday at Walmart. The delivery driver calls and says hes at Walmart.. I said I changed it on my app to my home address ok where do you live, I tell him and he says ok, 4 min later hayley calls again rude and making excuses of why her stuff doesn't work and she doesn't control the app and being very rude..I ask for her bosses information she takes another 4 min to come back and say she will send him an email..I do not trust her, I want my money back and her manager to call me!! I will never shop pizza hut again. The regional manager over this area just called and offered free pizza but based on customer service and now my kids will be late to bed and my day starts at 5 am I am completely pissed!

I ordered online a $10 dinner box when the delivery driver got to my residence I made sure to go outside and greet her so she'll know which apartment to bring the pizza to Incase she tried to call because my phone had been disconnected & she sees me and gets out & i waive to signal I'm the one who ordered the pizza but she gets back in the car and drives off and i try to flag her down but she keeps driving. I finally get a hold of a phone to call the store and they tell me it's my fault because she called but my phone was disconnected but she'll direct me to a manager & i hear the driver in the background say f*ck that I'm not coming back ,what she need to speak to a manager for ? They place me on hold and the call mysteriously drops. I call back and finally get the manager on the phone he tells me there's nothing he can really do because i paid with my card and he didn't want to void the order out to give me a discount for waiting so long for my order because it would "make him look bad in the system " so all he can do is give me a $10 gift card for my next order and I'll have to wait for the next shift driver to come in and deliver me my pizza. I ended up waiting over an hour and 20 mins for my pizza. When I finally got my pizza it looked like it had been messed with and it was cold .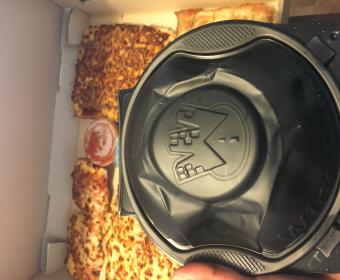 Jennifer
from Perrysburg, OH
I live in Perrysburg, Ohio. Our Pizza Hut has recently reopened. On our local Facebook group someone asked how the pizza and service is now that it is reopened. One lady stated a poor experience that she had. Attached is a response from I believe someone said a kitchen manager. I can't believe that this is how Pizza Hut employees treat customers who have had a poor experience. Then when another lady defended her for stating her experience, he then threatened to get that customer banned for life. I have zero desire to support a company who supports such disrespect from their employees.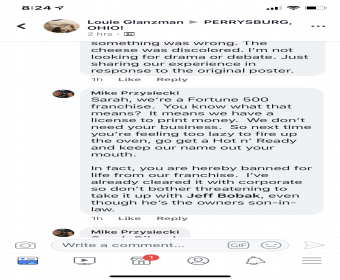 Lucinda Taylor
from Beachwood, OH

Jennifer S
from Chicago, IL
We just called to order a pizza for delivery. It is 6:13pm on Friday evening 10-19-18. We were told that delivery time would be 10pm!!!! I thought the guy was joking!!!! I've never in my life heard something so outrageous. Even on super bowl or New Year's Eve. This is some kid either TRYING to get fired or hates the owner. Pathetic.

Lisa McCaughey
from Dahlonega, GA
We just ate at the Dahlonega Georgia Pizza Hut. Took over 35 minutes to get our food. The soup had mold in it, the personal pizzas were not cooked all the way and the waitress was rude and not at all in touch with customers.

Elizabeth Irvin
from Amarillo, TX
I ordered a pizza to be delivered and after waiting 45 minutes I called and they said it never left the hopper. They brought the pizza and not only was it cold it was the wrong pizza. I called and they said they would refund my money. When I didn't see a credit I called back and they said It would take up to 5 hrs. I was never credited!!!!!!!!!!!!!

Kathy Lewis
from Troy, MO
we visited the pizza hut in houston, missouri on monday 10/15/18 for the lunch buffet. Purchased 2 buffets. The buffet had 3 or 4 pizzas over cooked, dark crust & what looked like dried up toppings on the pizzas themselves. We sat & waited for them to clean these pizzas off & put out fresh, new ones. All but 1 was left the entire time we were there trying to eat our lunch. Melinda our servor was very apologetic & had told the cook & the manager on duty. She also explained she could not remove them that the cook would have to. No one ever removed them, we paid the entire bill reluctantly & left. This is a location we have been to a number of times & was very surprised. Respectfully, Kathy Lewis

Thomas Toole
from Indianapolis, IN
I ordered 6 pizza online to be deliver at noon. I had a problem getting it thought because I pick the 12(noon) and had to go back to put in the "00" They did not show up until 12:33. it was Pharmacy technician appreciation day. I ordered it at 10:30. They all did their work to be free at noon for hot pizza. We do not have a lot of extra time and they had to get back to work. So they all got warm to cold pizza.
Thanks
I watched your tracker and they did not put the pizza in until after noon. They were made 317 917 8844 there was no address. The drive was nice. I can not order from you for event again. it has to be on time. maybe in the future you will not treat other large orders like this.

The online web made my order at location 30 minutes away, I still drove to pick up my order, it was wrong and the manager give me attitude, was VERY RUDE and ended up giving me cold pizza. This place is terrible, the customer service is terrible and (this is my opinion, but the pizza tasted like shit, which it probably was mixed with) NEVER ORDER FROM THIS ESTABLISHMENT.

Donna Rigaud
from Denham Springs, LA
Your advertisement stuff cheese knots ,did not have cheese in them ,if I wanted bread I would have ordered bread sticks ,waste of money ,pizza is awesome

Jeanette Jackson
from Akron, OH
I placed an order today at approximately 5:12 pm. I can see in the email I received that it was to be delivered approximately 25-35 mins later. I waited by the door for well over an hour but no delivery. I came back to my phone and saw a message was left indicating that the driver could not find my address. Well, I find that hard to believe because I have been a long standing customer for well over four years at this address. I raised three children who love Pizza Hut! I have been a loyal customer thru the years(40yrs). However, not only am I disappointed in this service failure but the manner in which your General Manager at the Copley store addressed my concern was appalling. He refused to give his name and when asked for the phone number for the Corporate Office he refused that as well. In my mind, a general manager is trained to solve customer concerns and problems regarding service. What makes a product great is not just the product itself but the outstanding customer service given that compliments the product offered to the public. Your Copley Pizza Hut General Manager(Mr X,) is in need of re-training and/or replacement of his service or lack thereof. This is the second time they have disappointed me. In the summer, my delivery was so oily I could not manage to finish it. After making the manager aware of this I let it go. But, this time I knew I needed to make someone aware of how your customers are being treated by the Copley Store and how the managers there lack sensitivity.

margarete lapointe
from King, NC
orderd a large pizza baccon and italian sausage went to pick it up they had 2 mediums pepperoni and the manager said and pork pizzas we said no thats not correct we still where going to buy the 2 wrong made pizza at the price of the one we where going to buy the manager said no and we had to waite 15 minutes he was and acted as if there was going to be no pleasing the costumer and was rude so we left and went to little italy and bought a pizza their he has no social skills

Kimberly Carroll
from Mooresville, IN
I ordered three pizzas on October 1st 2 large thin crust with double pepperoni and 1 large thin crust with bacon and sausage. All 3 were made wrong, I received 2 large thin crust with single pepperoni and 1 large crust with pepperoni and sausage I took them back in and requested they remake them correctly. The 2 double pepperonis were still made incorrectly after having to wait an hour for them to remake them. The manager said if we would except the incorrect pizzas they would comp us 2 free large pizzas with 2 toppings to my account. I called on October 12th to redeem my free pizzas and was told there was nothing on my account and when they refused to honor the two free pizzas I asked to speak to a manager and the gentleman said he was one of the managers and that he would not do anything to honor the free pizzas because they were not in the system. This same thing has happened more than once at the Camby, Indiana store and the staff gets rude when you asked them to remake it correctly and Itheyvalways drag it out over an hour when remaking and in this case they still got it wrong which has also happened in the past. I'm just tired of being promised one thing and they never deliver. Also they never read the comments section of the on line order (see attached)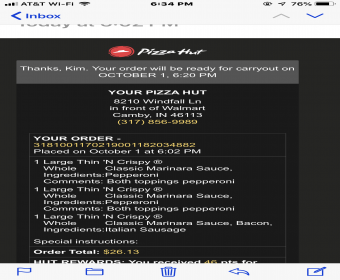 Jennifer K Walker
from San Antonio, TX
I received an email for my birthday, as a Hut Rewards member, for free Cinnamon Sticks, when ordering online. The top of the email shows that it's valid at my regular location on Walzem Road. But, when I tried to redeem it, the website stated "Not valid at this location." So, I called the store & was told they don't honor it! I placed my order online & when I picked it up, I spoke with the manager, Sandra, who said "we don't accept anything like that at this location." I showed her the email & pointed out where it states that it's valid at Walzem Road. She was very gruff throughout our conversation, and did say for me to call her the next day and she would ask her superior, I think she said the Regional Manager. So I called just before closing the next day & Sandra said "Oh, I forgot." I told her I'd call again. Two days later I called Sandra, and again, she was very gruff, and said "It's only valid online," which I reminded her that I'd done that, but got the message "not valid at the Walzem location." She then said "you'll have to use it at a different location." Now it's expired, but overall, this is utter crap! I'm very disappointed in Pizza Hut, & will be calling the corporate office. Thanks so much for not honoring my birthday gift! I'll be sharing this with everyone I know, and all over social media. Obviously, Pizza Hut DOES NOT VALUE IT'S CUSTOMERS, NOR IT'S "HUT REWARDS" MEMBERS! I doubt I'll ever return to Pizza Hut again as I don't spend my money at businesses that DO NOT VALUE ITS CUSTOMERS OR ITS OWN PROMOTIONS!

Yesterday night,i faced a very bad experience with Pizza hut.This was my wife birthday and i want to make a surprise to her.I had an order from Pizza hut and it came very late (one hour and half late ) and each time calling the call center,they advise that the delivery guy is on his way !!!!!!!!!!! noted that my home is 5 min. from Pizza hut walking!!!!!!!!!!
Then at last it came non fresh and cold .I called them to bring back it
IT IS A SHAME THAT BRAND NAME LIKE PIZZA HUT HAS SUCH SERVICE LIKE THAT

Michael Evans
from Youngstown, OH
Getting tired of your Steelers Commercials , 1 st the bratty girl shredding the box thing , got a mental problem there , second the newest one with the dancing jerks .Guess you've figured by now I,m not a steeler fan , along with the many millions across the country.So i'm going to the dominos , put some more steelers crapola on the tv.

Annette
from Grand Haven, MI
About a year ago we had fabulous pizza on Grand Haven Road in Muskegon. under a new manager. Beginning on mother's day, the food was disappointing. We spent 150.00 on pizza and the toppings were virtually non existent and there was no notable cheese on the breadsticks. When we brought this to their attention we were told that it had cheese and didn't offer to make anything right.
We have ordered out a couple of times since hoping to get the same service we had received a year ago. It keeps getting worse.
Another local Pizza Hut loads the topping generously so there is no reason to go to this location any longer. Tonight was the last straw: I had a house full of hungry people and everyone complained about the skimpy toppings. I decided to take a photo of my two slices. This is NOT a veggie lovers pizza.... and some slices were even skimpier.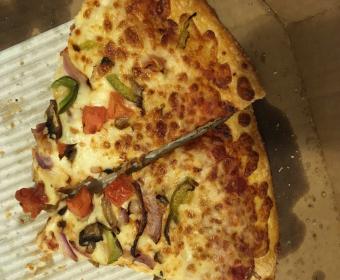 Beverly Smith
from St Louis, MO
The Pizza Huts in Columbia Mo desperately need upper level management assistance. They are horrible, especially the store on Worley. Never answer the phone to take orders, pizza comes burnt, etc. will no longer give my business to PH.

Greg Avent
from Franklin, VA
Called Franklin, Virginia PIzza Hut store at 6:47 pm. Was put on hold for 10 mins. Hung up and called back, told the employee that answered the phone that I had been waiting on hold for 10 minutes. They proceeded to talk to another employee while on the phone with me. I found this very rude and unprofessional.I hung up and called another Pizza place with my order and was treated with the utmost respect. These Franklin, Pizza Hut employees need a class on customer service. I am very disappointed and not sure if I even want to attempt to do business there again to be treated like this.

Patty Teague
from Little Rock, AR
Brady Texas Pizza Hut represents the poorest Brand representatives I have experienced anywhere! The management has the worst customer service skills in the food industry. We ordered by phone and were told it would be 1 1/2 hour wait if we picked it up and a 2 hour wait for delivery on a 10/04 Thursday night. I drove to the store and they had 1 table of customers and that was it. We were told they had too many deliveries and take outs to do it any faster. Unfortunately that is unacceptable for such a small town. With that kind of management here the Pizza Hut name won't last very long!! Maybe a Dominos would be more efficient for this small town possibly !!!

Leonard diaddario
from Westerville, OH
Delivery driver called asking for my apartment number. Went to my vm, 30 seconds after the vm was left I called back. No answer 9 calls later and 22 minutes he answered. Then store cancelled my order telling me reorder. Very upset and still hungry. I better not be charged. Really not happy.

Rene Revilla
from Dallas, TX
I placed my order at 6:45pm and waited till 8:45 to as about my order that had been out for delivery for at that time 45 minutes. When I called the store I was told it was out for delivery and when I told them yes for the past 45 minutes I was hung up on! I called back 14 more time and hung up on. So I drove up to the store to cancel my order that I never receive and I was told it was made so I should have gotten it!

shawna martinez
from Huntsville, TX
I will never again go to pizzahut. ordered online, received call stating they did not have driver, agreed to pick it up. when got to store they did not have my order. waited 45mins for said order when went in for order they still had not made my order so a total of 1 hour and 15mins waiting with still no order. asked for manager and refund, manager upset and stated they didn't know how to do refund. had to argue 30 more mins for refund. Center TX PizzaHut will never again get my business.

we have had delivery for years today they told us they will not bring us our pizza. we spend tons of money with you guys and was told they can only go out 3 miles we are 5! we always have been 5 miles away and never had a problem. please let me know why they can not bring us our pizza anymore.

john haugh
from Sanger, TX
your krum tx location is a friggin joke, ur manager is a snob and ur delivery what a joke. when u say its going to be delivered at 6... 6 means 6 not 635 and the all u can say is ur sorry!!! i live about 1.5 miles from the store... i guess u can be like this since ur the only pizza place in town

Shabir Bhatti
from Willesden, ENG
We bought two large pizzas from the Bracknell express branch on Tuesday at 19:30 ish
They were without doubt the!!! Worst two large pizzas we have ever ever experienced and as a regular Pizza Hut goer with children was so annoyed that someone so incompetent could be allowed to throw such a dire disgusting mess together
The pizza had no source on the base covered in one !!! Item mainly and no cheese to add insult!!! We have always been pleased as at worst anpizza hut pizza is ok but never bad!! Disgusted never will we go to that branch ever! A refund and apologies for spoiling our dinner would be nice
Kind regards
S Bhatti
07968388118

Shirley Williams
from Gonzales, LA
I did an online order for this location: when I arrived there were 2 female employees who did not greet me nor asked if they could help me. I waited approximately 1-2 minutes while they were talking and still they did not ask if I needed assistance. My daughter order 2 pizzas online for me in the name of Alisa Jones. When I asked if they were ready the counter employee rudely replied they are in the oven. They did not give me a time as to how long. I had my 2 grandchildren with me and one had a runny nose; I asked if they had napkins, she replied yes and looked at the other employee. Do you think they gave me a napkin to wipe my kids nose:? no she didn't. I left they store without the order. Your employees were very unprofessional, unfriendly and have absolutely no people or personality skills. It is and was awful that I had to be subjected to that type of treatment by employees of your company. If you need to contact me I can be reached by email or by phone cell 225-978-4706 and home 225-673-3018. I am looking forward to and expecting to hear from you concerning this matter.
Sincerely;
Shirley Williams
P.S. If I had to rate my experience it would not be any stars; it was that awful

Tamisha Cobb
from Atlanta, GA
I recently ordered from your Lenora Church Road location in Snellville, GA. Although I tipped in cash, my card was charged an additional $3.00 for a tip meaning that the driver wrote in an additional tip. After waiting over a week to hear from the manager this is the response that I received in the middle of the night and it's unacceptable. I've also attached proof from m bank that they over charged me!!!! Please make this right. 470.262.9705
Matthew Snowden <matthew.snowden@npcinternational.com>
Aug 28, 2018, 10:15 PM (10 hours ago)
Tamisha Cobb,
Thank you for contacting us about your recent poor experience at the Pizza Hut in Snellville. We do apologize for the lack of customer service that you received. This is not the way that we wish to treat our customers and we would like to try and make amends for your inconvenience. Upon looking at your latest order, the charge showing in our system is showing $28.43 with no tip. Please be assured that the $3.00 has not been added. If your statement is still showing the additional amount, please contact your banking institution for further assistance.
Thank you for bringing this issue to our attention, and hopefully, giving us another chance to provide the service that you should expect from Pizza Hut.
Thanks again,
Matthew Snowden
Area General Manager
Peachtree Area
Mr. Snowden,
It's not about the $3. It is about your employee stealing from a customer. We will never order from this location again. How many other customers has this happened to? What has management done to correct your employee's behavior?
My bank statement was clearly charged an additional $3 after we generously tipped in cash.
I'm an accountant. I'm definitely not the one you want to steal from. I see that Pizza Hut only cares to cover up this misdeed and sweep it under the rug.
Disappointed.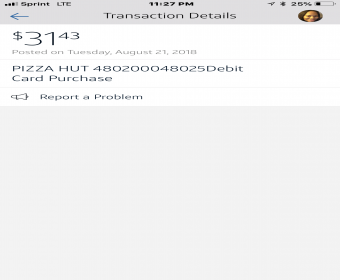 G Brown
from Fredericksburg, VA
Order pizza online pan pizza with sausage pizza was burn black around outside crust and not done in the middle my receipt all I can make out on it is ticket order 0109 ending up throw 1/2 of it away . This store is at 1224 Powhatan Street Fredericksburg, Va. 2240 Unexceptable I buy pizza here all the time

Yvonne Fink
from Frederick, MD
Ordered carry out yesterday August 16, 2017 at the pizza hut Sugarloaf pkwy. Frederick Maryland. I ordered it on line to pick up at five pm. I was having a party. My ticket number is 0017. I ordered two large cheese bites, one large thin pineapple and ham, one large thin sausage and one order cinnamon sticks. The cheeses bite pizza was so over cooked there was no cheese I the bites. The others were also over baked. I must tell you I was very unhappy with the pizzas. I did serve them because I had nothing else planned. But I can tell you I had a lot of leftovers and there were nine adults and kids here to eat, and we were only serving pizza. My bill was $52.95 I had a hundred dollar bill to pay and they said they had no change. So I had to walk to a crocery store ad buy something so I could get change. There is no sign that they do not take big bills. I am very dissatisfied period.
Thank you
Yvonne Fink
4104 Reels Mill road
Frederick Maryland 21704
240-315-5950
Order number 318081614291001181027440

Stephanie
from San Antonio, TX
I ordered a pizza on line,received a text confirmation and then was first tils I didnt order it, and then after being put on hold for a while was told u must of placed it at a wrong pizza hut. Then put on hold again and had the driver put on the phone and he then said he called and left a message. I have no missed calles and no messages. Rude staff.

Susan McClain
from Oklahoma City, OK
I ordered the buffet. There was no salad, 1/2 of the containers that hold the veggies was empty or simply not there. There was no pasta, the chicken alfredo, there was no sauce, the container was empty. There were no forks, the lady working the floor had to retrieve some from a plastic bucket. The drink fountain was out of Dr. Pepper, I ask if they were going to refill, I was told no. There was no any clean tables, so I removed the dirty plates from a table, wiped it with a napkin, and sat down. After eating 2 slices of pizza (which were good) I went to check on the salad and the bowl was full of brown salad. There were no tomatoes, onions, cucumbers, nothing to add to the green salad. I feel like I wasted my money and I would like a refund. I paid $10.08 for the buffet that was less than desirable! I would appreciate a response and hopefully this can be fixed. I was at the Pizza Hut located at 4709 N Lincoln Blvd, OKC, OK 73105. My visit was today, 8-17-18 at 12:17pm, and my cashier was Stephanie. Thank you for all your help and understanding.

Karen Cossio
from Fort Lauderdale, FL
I ordered 2 pizzas last night for dinner and I got 2 burned pizzas, no pan, no garlic buttery blend crust, no toppings we requested, it was the must nasty cardboard I've ever seeing, needless to say I couldn't give dinner to my family until 2 hrs later. We waiting 1 1/2 hrs when we were told it was going to take 1/2 hr.
The location was the Dania Beach, fl location, I need someone to give me a call this is called stealing my money.
KAREN COSSIO.
Karencossio@live.com
786.258.0089

Valerie Green
from Chesapeake, VA
Warren and Jeff
Hi, I'm Valerie Green (last 5 digits of my SS# are 40301). My new boss, Warren Smith, wants to fire me - because I didn't like his music.
First of all, I was supposed to be transferred (not borrowed) from the store at 6633 Indian River Road. But, Jeff did not transfer me over correctly. Therefore, I was reverted to "driver, temp" on the schedule for two weeks after my name had properly shown on the computer. So, Jeff did not do his job!
Because of Jeff, I had some confusion with my schedule. I was listed as BOTH "driver, temp" AND "Valerie Green" - with non-matching schedules! At least twice previously, Warren had told me to pay attention to the "driver, temp" schedule line on the paper. So, I did. This caused me to be confused enough to make a "no-call, no-show" mistake.
The night before my "no-call, no-show" confusion, Warren decided to loudly play his favorite, very distracting, black-magic music. The lyrics were horrible! He subjected everybody to it, and at least two of the other three employees said something to me to the effect of "We're taking it for the team", and/or "we wish we could hear something else." I had to yell to a male coworker only a few inches from me to communicate!
To make lighter of the dismal music, I told Warren the old joke, "You know why they sing so high? It's the tight pants!" (This is a clean joke that I tell, because I don't even curse.) Well, instead of being amused Warren looked angry and defensive! I never expected that!
I was washing dishes at the time, and the dishwasher is right next to the speakers. The music was border lining on giving me a headache. While Warren was helping a customer in the front for several minutes, I turned the sound down to zero to give my ears a break. When Warren came back, he said, "Where's my music?" and I told him I turned it down. Warren immediately rectified the situation by turning the volume back up to blaring.
As he was doing this, I asked him if he could get Classical music on his device. He replied, "I don't listen to classical." So, I asked him, "Do you like Techno?" Him (defensively), "I don't listen to Techno." Then, I asked him, "Well, what other types of music do you like?" Warren tersely answered, "I only like the music I'm listening to now."
Most people like to talk about their music, but they don't get defensive when someone shows discomfort. Some even have enough manners to apologize, but not Warren Smith! I did not even insult the music, yet he suddenly decided that he did not like me anymore. I had worked at this location without incident or any hint of conflict with anybody, for three weeks by then. I overheard him say to the cook, "She's only here because she knew who to call." Well, his store was only the second one I called when I was looking for a place to transfer to for more hours.
Close to the end of my shift, Mr. Smith's wife came in with a two-week-old baby girl. After about fifteen minutes of being exposed to the loud, vulgar music, the baby began to cry. I do not know if there was any other reason for the baby to cry, but I did hear Warren's wife say, "Seriously?" to the baby. It could have been anything, but after Warren finally (angrily) turned it off, the baby stopped crying. She was peaceful after that. Go figure.
Warren's behavior fits the term "mens rhea" which means "guilty mind". Basically, people who feel guilty about something, or know what they are doing is wrong, tend to overreact. This is used in the court system - judges are trained to look for behavioral cues in their patrons to help them determine who is in the wrong. Warren's behavior is the equivalent of a drug-addict's instant ire and defensive attitude when somebody say, "Hey, your eyes are dilated!" The guilty mind never says, "Thanks for letting me know," or "Really? I was unaware." Oh, no! There is an immediate leap to defend the bad behavior because 1; they know there is a problem, 2; they know they are the cause of the problem, and 3; they don't care.
The day after, I was had such a severe brain-fog that I forgot to call and ask which line of the schedule was my real one. I did not feel fit to drive, and just assumed I had the day off, because of the work-pattern.
If he still liked me, he could have just chalked the mishap up to a "sick day", or a minor write-up, but no! He texted me that my offense was a "no-call, no-show", and that it was a "final write up". I HAVE NO PREVIOUS WRITE-UPS FOR ANYTHING SINCE I WAS HIRED TO WORK FOR PIZZA HUT SIX MONTHS AGO! I texted him back that another employee had told me a final write-up was not actually firing, but that they said it came with a probationary period. When I asked him how long the probationary period was, he texted me back, "We'll talk tomorrow."
In other words, he is not interested in giving me a future chance at employment ...because I don't like his music. (I am experienced enough with arbitrary bosses to know what non-disclosure of details means - I always get fired; then, the bad boss later gets into trouble with the corporate office, because I tell them what happened "behind the scenes" when I ask for my job back. I have gotten three conniving managers fired, two were moved, and one was demoted - all just by telling the truth!)
If Warren's store has more employee turnaround than others, the problem is Warren. This fool will try to fire me after 5:30 tomorrow, August 10. If you would like me to keep my job, or just simply disagree with Mr. Smith's conduct, feel free to call him before 5:30 p.m.
Thank you for your consideration.

Jitendramani Yadav
from Mumbai, MH
I made online order twice and paid for same. On both instances order got cancelled automatically but money has not been refunded. I have made 40-50 calls to support at pizza hut (India) and have received only one call from them still refund has not been done. each time I am informed that they are working on it. Details are as below.
Order ID: 2836114 & 2836300
Order Date : 26 May 2018
Money to be refunded : 572.25 + 572.25
Total time lapsed since order placed: 2.5 Months
Order placed from id: jitu.1903@gmail.com

david l. johnson
from Dallas, GA
my name is daivid l. Johnson the reason of this complaint is that I ordered a pizza from pizza hut in which the young lady that spoke with denied me service and I never had a problem before with pizza hut bringing me what I ordered and on numerous occasions and now all of a sudden its a problem now to bringing a a pizza to my address 4611 county road 708 enterprise Alabama I never had a problem then and now its a problem now and I must let you all know now that this is not the first time I had a problem with pizza hut on that particular time in question one of those employees wanted to charge me $20 dollars for 2 cinnamon sticks and I asked to speak with a manager or a supervisor and she had told me that it was not any body there but her in which she was pretending that she was the supervisor and it was her and like I said this is not the first time that this has happened to me and I felt that young lady was playing on my intelligence I felt that discriminated against and the only thing that I wanted was service and I must say that I deserved to be treated that way by no body and then she tried to justify it and this is the reason for this complaint those people that work for pizza hut are making you all look bad.

unnone
from Bentonville, AR
To Whom may it concerns:
This is regarding to the purchase I just did yesterday. I order 2 2-topping pizza. When I came home and check one pizza looks like they had it fresh made and other one they put it together leftover from two different pizza pies from the afternoon buffet and made one pie. you can see the different crusts. I can understand they can do that sometime as soon as buffet is over. But I order my pizza around 5pm for 5:45pm. This is the first time I am putting my compliant in last 20 year to the any costumer service. Most of the time I just don't complaint just let it go. Ordering Pizza all the time from Pizza Hut all around the USA this is really bad experience I had. I was new in town and don't know the routine of the town so I walk in to pickup my pizza. The person near the desk look at me like I made mistake walk in for pickup. She ran my credit card and left I don't even know I am allow to pick up pizza from behind the register. I waited for them to come for five minutes or so then she told me you can take it from their. It seems like they don't like me being their. Also I can understand if they are busy but when I went they do not have any one inside. I am not complaining to get moneyback or any coupon. Just want to let Pizza hut know. This is the only location they have near where I leave. What was my experience with this location.
Thank you

rosie johnson
from San Antonio, TX
i called on an order at 7:20 pm be delivered to my mother who is 83 old. she saw the add on tv about the cheese bites pizza and wanted one i was told it would be 45 to 65 min. i called her at 845 to see how she liked her pizza. she than told me it had not come. i called the store at 2035 hackberry san antonio texas . i said the pizza had not been delivered yet, i got the manager who would see why not ..at that time 8;55 my mother said they just delivered it . asked her if it was hot . she said no cold hard and the cheese was hard. so the manager said he would make her another . but at 9;00 she is already in bed. he than said he would give her credit for another order.. well, with bad service and bad product , she will not order from them again, he said the only way to get money back is to return the pizza. i called my mom and said to hold on to the pizza and i would take it back.. she had already tryed to eat it , and it was not eatable so she thew it away, all i ask it to get the price of the $16.77 back to her thank you

Stanley F Johns
from Lexington, KY
I placed an order on 8/2 at 12:10pm to a Pizza Hut less than 1/2 mile from my work since I was too busy to leave and pick it up. It said an hour, which was fine. It didn't arrive at 1:10pm, I waited until 1:30 and called...they had no way to see if out for delivery and gave me D13 code for 3 dollars off. I called back at 1:45 and was transferred to PA (I am in KY) and she said it was out for delivery. My 2 pizza's finally arrived around 2pm.
They were barely warm, which isn't a problem...I eat cold pizza all the time. But these were dried out, both were awful. I couldn't eat them. The only thing good was the brownies. So basically I am out 23 dollars because you were short handed? My bank account doesn't even reflect the 3 dollar discount.
Very disappointed in the service and especially the product I received. 23 dollars is alot for lunch and not have lunch or leftovers due to not ediblie.
I am requesting a refund...I realize delays happen...but when I can't eat it after it arrives, is an issue. I tossed it yesterday and the more I thought about it last night, decided to email you my opinion.
I ordered from: Unit # 002969....Pizza Hut on Richmond Road, Lexington KY 859-266-1030
I look forward to hearing back from you. Thanks

Valerie Johnson
from St. Petersburg, FL
On June 2, 2018, I used my hut rewards points to order:
Create Your Own
- Medium Original Pan® Pizza (Beef, Jalapenos, Meatballs, BBQ Sauce)
- Hershey's S'Mores Cookie
- Triple Chocolate Brownie
Upon delivery of my order, I noticed that the pizza had no sauce whatsoever, the S'Mores cookie had toppings only on half of the cookie and the brownie was not cooked all the way through. I got in my car, drove to the store-after my items had originally been delivered and returned the entire order due to the unacceptable state of it. I spoke with Jennifer, the manager at the 5750 Hwy 98 N, Lakeland, FL 33809 when I got to the store who tried to argue with me that there was sauce on the pizza. I asked for a refund and she said she would process the refund and I would have my money back within 3-5 business days. Well, here it is Aug 2, 2018 and not only have I called the store numerous time to get this matter resolved, but I also spoke with a Regional Manager who was filling in for Jennifer who promised to correct the discrepancy, but I still have not gotten my refund. It is going on 60 days and not only did I spend my hut reward points, gas money and my time, but I received no product and no refund. Please correct this deficiency.
Thank you,
Valerie Johnson

Natasha Yearwood
from Fort Lauderdale, FL
I placed a call with pizza hut for delivery my bill came up to 20.69. I then called back and told them I was picking it up so they charged me again which was 16.94. I called them back and told them they double charged me and now they refuse to credit my credit card for the 20.69. the people there were extremely rude how can i get my refund the location to this pizza hut is 1401 S State Road 7 #106, North Lauderdale, FL 33068 there telephone number is 954-968-4900. Can someone please get in touch with me 954-245-9190 i want my money that they owe.

Sadie Savage
from Watertown, NY
I got a thin crust medium pizza tonight and the crust was very much over baked, it was hard and no flavor, will not order one of them again, salad was very good

Celia White
from Talladega, AL
This is not my first complaint about Store #034465 Childersburg, Alabama. Gave them my order was told it would be ready in 25 min. It was an hour later when my order was delivered. Tried to call to fine out what was going on and fine out its a Call Center and she said she couldn't get them to answer the phone. My order was not right. So I WILL NOT order from Childersburg store ever again. To bad Sylacauga won't deliver to me that store is AWESOME!!! so I guess if I want pizza delivered it will be Domino's

Angela Alcorta
from Eunice, NM
On 7/26/18 i made an online order for a sleep over my child was having. After an hour i called and no answer. I contiued to call up until past closing and never got an answer and my pizza never arrived. Im a loyal customer but im starting to rethink ordering from pizza hut ever again due to this locations notorious reputation of messing up or not even delievering the orders. Lamesa location seriously needs help supervising and training to do things correctly .
Have feedback for Pizza Hut?
Thanks for your feedback!
Sorry. Please try again later!