McDonalds
Contact McDonalds Corporate
Toll free phone number: 800-244-6227
---
If you are an upset McDonald's customer, you should contact the corporate office directly. McDonald's corporate office provides multiple contact options including a corporate page and an online feedback form.
The best customer service phone number is 800-244-6227. According to their website that phone number is available 7 days a week from 7am to 7pm CST. You can also write their corporate headquarters at McDonald's Corporation, 2111 McDonald's Dr., Oak Brook, IL 60523.
Although a letter will take several weeks to be processed by the corporate staff. There are thousands of locations worldwide, which probably means there are hundreds of thousands of registered pieces of customer feedback each year. If you would like a more immediate way to complain, try social media. McDonald's has a Twitter feed just for customer complaints at @reachout_mcd.
McDonald's customer service also has a Facebook page, but with 59,000,000 fans your complaint is not likely to see any attention there. Although we tried to find a good email address, none has been provided by the company yet. McDonald's is usually pretty responsive on social media.
Please note: Complaints submitted on this website are not forwarded to McDonald's!
McDonalds Contact Information
Report complaints to corporate and get satisfaction
McDonalds headquarters address

1 Mcdonald's Plaza
Oak Brook
IL 60523
United States

Company website

1-800 phone number

800-244-6227

Support email address

help@mcdonalds.com

Better Business Bureau rating

A-

Customer service hours

24/7
Browse reviews of other Fast Food
Top McDonalds Complaints
Browse more than 402 reviews submitted so far

Thomas Hunkin
from San Marcos, TX
Went inside and placed a to go order. Got home and started eating the fries when I noticed the fries were not only stale but had ketchup on a few of them. I had not even unwrapped the burger so I know it did not come from that. I dumped the fries on the table and found more with ketchup. Everything went into the trash. I live too far away to deal with poor service. This was at the Mcdonald's in San Marcos, TX, IH35 and Center Point Rd.

on 11-15-12 I went thru the drive-thru for fruit and maple oatmeal. When i got to my office I found there was no fruit or maple in it, therefore I had to throw it away. Last week I went thru another drive-thru for 2 orders or oatmeal. I was asked to go to the specialty parking spot and they would bring it out. I waited for 15 minutes in the car, then had to get out to get my oatmeal. More times than I can count I've ordered food from McDonalds only to get home and find that items I had paid for are no where to be found in my bag. I have given McDonalds a great amount of money and haven't received 1/2 the items I've paid for.

tracy jeffery
from Mount Vernon, OH
I had applied for a job at mcdonalds on Coshocton road. mount Vernon ohio. They have a sign in the window that states they have positions available. However when I went in for my interview with Jessica she was very short with me. She asked me if there was anything about myself that I could change what would it be. I replied with nothing. I feel she will not give me a chance because a have a birth mark on my face that she could not quit starring at rudely. to me this is discrimination.
I have qualifications for the job. I have called out to that store on three different occasions since they still have their sign in the window. she will not return my calls. I am letting you know my complaint on her and I will be pursuing discrimination against me. If that store is not hiring then she should not have the sign up in the window.

I feel that the McDonald's corporate office should be a little more concerned about how their employees are treated by the management personnel you have as managers. I wanted to contact McDonald's directly but instead they put me on hold waiting on the phone for 32 minutes! My experience at the Robertsdale location was very disturbed. I have never been to a fast food restaurant and have heard or seen a manager speak about customers in such a way that it wanted me to get up and leave the store. I also didn't appreciate the way she talked to her co-workers. Corporate should also be doing random drug test on employees.
The conversations among your staff is also not appropriate. I over heard employees talking about the young female manager being a drug user. That would explain her outburst behaviors. I have worked jobs where customer service is very important. My complaint is about Sharon. I can honestly say if I had a friend or family member working at this location I would be ashamed. In all honesty I probably will not be returning to this location. This would be the reason why McDonald's is always needing help. Customer service and team work is greatly appreciated no matter where you work.

Patrick bloodgood
from Post Falls, ID
Years ago I started work at the McDonald's in Newport Washington where I worked for 7 years. I worked whenever I could If I saw a chance for extra hours I took it. In 2006 I was told no matter how much I wanted to move up to a higher position it would never happen cause I wasn't built for it. At the start of 2009 I started being treated very poorly I got wrote up every day I got blamed whenever anything went wrong. I was told when I started filing my unemployment I would be fired if I kept doing so. The last 6 months I was there I felt like I didn't exist. I never got promoted or was offered any opportunities because the owners did not like me. I can't find work now cause every time I apply some where I get a bad reference. I'm 34 and I wanna work. McDonald's is the worst franchise I have ever seen in my life the ceo should be ashamed of himself for the operation that he's running.

Bob Howard
from Omaha, NE
Purchased a two cheeseburger meal at the mcdonalds @ 5327 Cornhusker in Lincoln Nebraska. After getting several miles down the interstate I opened my meal only to find that neither of my cheeseburgers had a beef patty. Cheeseburgers require one (1) beef patty. Employees certainly do not deserve $15 per hour if they cannot count to ONE. Also purchased a double quarter pounder and it was cold with beef patties that tasted like hockey pucks.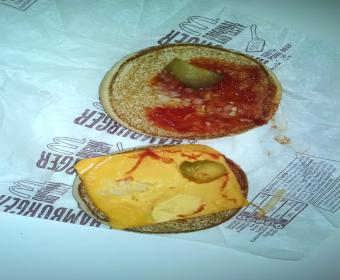 Jordan Astek
from Salem, IN
I know people make mistakes, but its completely uncalled for when your order is messed up. I use to come thru the Salem (Indiana) Mcdonalds every night between 7 and 8pm. I dont know why I keep going back because just in the last two weeks it has gotten worse. Lazy worker who cant get the orders right and there so slow. I have better things to do than wait 10 minutes for my food. Its even worse when you go inside. The workers and management dont care. Its the same issue over and over again. Thats why I wont return anymore. I can spend my money elsewhere and get better service.

Nadine Gallegos
from Rio Rancho, NM
I drove up to McDonalds placed my order and drove up to first window. I handed over my credit card, and she passed a receipt to me. The person at the register then accused me of cutting in front of the car behind me. She then said she had charged me for the wrong order. I gave her my credit card once again so she charged me for my order. I was also expecting a reversal on first transaction would take place. I drove to the second window and spoke to the manager re: accusation. Manager said he would speak to her. The next day there was no reversal of first transaction so I drove to McDonalds and provided two receipts and bank statement. I was given a refund. This is unacceptable service.

Dwight Cruz
from Lemoore, CA
This morning about 5:32am I visited the drive through at the McDonalds on 810 W. Grangeville, Hanford CA 93230. I made my order with no "Good Morning" no "Total Price" from the young lady taking the order. Once I arrived at the window, I stated my "Good Morning" to both the young lady and the shift manager and received nothing but a rolling of the eyes. To kick it even further, there was a young man taking out trash from a bin and I stated my "Good Morning" to him and received a positive "Good Morning Sir." A "Good Morning" may not seem mush to some people but it strongly favors in my life, and with McDonald's happy smile it would be nice to have a positive greeting no matter the time of day.

Cynthia Saxon
from Sorrento, LA
I'm sick and tired of paying for food that is hard as a rock. I was using the White Oak Texas store because I have been getting great fresh fish sandwiches there, unlike the Estes Parkway store in Longview. Tx and the Gladewater. Tx store who have served me old food that is ready for the trash. I work in Lake Port, Tx and live in Gladewater, Tx. I come through late at night around 10:00 pm. I love the fish sandwich but not when the are hard as rubber and cold and just trash. Got my husband and I two filet of rubber trash tonight. So now White Oak McDonalds sucks just like the others I mentioned.

Judy spinnati
from Portsmouth, OH
I was in McDonald's at Wheelersburg, OH this morning and went in the restroom. A worker came out and walked right out without washing her hands. I didn't order anything after that I just left. It was 8:30 a.m. No name badge when I looked at her behind the counter but everyone else had blue shirts and hers was red,she was around 20 yrs old. This is 8/13/1916. We always drove over from Portsmouth, OH.

My daughter who started work for mcdonalds leckwith road Cardiff UK, she was nearly 17 she started her training she worked 4 hrs first day and she enjoyed it she was so exited to go back the next day,on the next day she went in where she met with a manager,who was covering for holidays, she was told,not to smile at customers, and just to take there orders, she took the order from a customer when the manager wiped the order from the till told her to give his change from her head my daughter was very nervous she gave him 10 pence to much,he them told her not to serve any more customers bearing in mind he was training her,he told her he would show her how there floors were mopped,after mopping he called all the other staff,laughed and said l had to train her on how to mop a floor,then said to her that she fancied him,also made her search through all the wasted food in the rubbish, so she would know what customers threw out,she was belittled all day In front off staff by this manager,l could go on, she was only 16 she lasted a few more days,then had the cheek to say,she was not good enough to work for them,is this how they train young people,she was made to look feel stupid,and degraded, lm going to flood facebook and Twitter then see how mcdonalds react

Rebecca chafin
from Edgewater, FL
I worked for Mcdonalds in New Smyrna Beach Florida from 11/12-02/15 and was treated horrible. I was sexually harassed from the day I started till Feb, 2013 by a manager. I told a different manager but nothing got done until 4 months later. They allowed him to quit instead of firing him so he could get a job at a different restaurant. I was so uncomfortable working because they allowed him to come in and he would always stare at me. That is just not right!! Then I worked with a bf/gf and they would always fight. I would find the gf on the floor in the office crying cause they would be fighting all night.
Again nothing was done to separate the 2. I was never late for work in the nearly 3 years that I was there, would come in when asked, stay late when asked and when my Granddaughter was born took 10 days off but they called me in 3 times and I went. My GM Cody tatro told me I coudn't be employee of the month and never was. then last week I was sexually harassed again by another crew person and when I went to work three days later there was the same man who had done that to me. i walked out on my job and the owner blames me.

Christy Lane
from Loveland, OH
I often visit the Landen oh location, but will not return. If I am not mistaken, we are in America. So why then do I have to deal with Mexicans every time I go to this location. Now, my problem is, they don't speak English!!!! This is the mangers! I have seen the looks on the faces of the other employees and couldn't imagine what they must go thru! I had an order messed up, and not only was the little short lady rude, but I couldn't even understand her! I will no longer visit this location!

Connie Delgado
from Denver, CO
I went to McDonalds on Navarro Street in front of Mall in Victoria, Texas and ordered a Fish Sandwich combo. When I opened it up there was a small piece of melted cheese about 1" x 2 1/2" and the amount of tarter sauce was about the size of a pencil eraser on the other side. The rest was dry bread and the bread was not all that soft when I picked it up it crumbled. It cost $6.48 for a dry fish sandwich on stale bread and cold fries. This happened a little after 12 noon so you would have thought food would have been hot. The service was good. Employee was friendly and thanked me. I was just on lunch so I could not run back over there to show them. It will be a long time before I go back.

Gary Green
from Berryville, VA
I was short changed $10 in the drive through at the McDonalds in Stafford, VA. 22554 on the morning of 5/6/15 at 8:55 am. This one is located at the intersection of Sheldon Shop Rd. and Garrisonville Rd. I ordered a chicken sandwich, small sprite, and sausage and egg English muffin meal with a orange juice. The bill came to $10.46, (within a few cents; I was NOT given the receipt). I had two one dollar bills in my cup holder but only 5 twenties in my wallet. I pulled out one of the $20, but not wanting 5's and 1's for change, I gave the cashier $21.
Of course she is taking the next order etc. while making my change. She gave me back the change and I told her it was $10 short. She immediately took offense and said I think you gave me a $10. I said no, I did not have a $10 so I had to give a $20. At that point she told me she would "check on it" and continued with the next customer.
When I got my food I told the food person I was waiting for change and she told me to pull up and wait. 15 minutes later I was still sitting there so went inside and tried to speak to a manager. There was none, so I left to get my grandkids to school. I called back and asked for update and they said there was no extra $10 ??? I asked for next level supervisor and they said Jo Anne was in a class but would return on Monday.
I know if this is not resolved by a supervisor sometime today it will not happen. After a few more calls I was given Jo Anne's number but only got her answer message. I was also given a number for Lamar Brown but no one answers that number either.
I don't appreciate being ripped off for $10, especially with the attitude and no one giving a crap about it. I stop by this McDonalds a few times a week, and the food orders are messed up half the time but I put up with that with no complaint. But I am not going to let the short change go by with no action.
Regarding this particular cashier, I don't think she would pocket $10, but when she finds the extra $10 I am convinced she would trash it before letting it show she made an error. But with no supervisor to monitor what she is doing maybe she has nothing to worry about.
This will be my last trip to McDonalds. I don't have this happen at Chick-fil-a or Hardees a little farther down the road so that is where I will be going from now on. If this is not resolved as I now don't expect it to be, I will leave negative reviews for McDonalds wherever such opportunity exists to warn others about the lack of oversight of employee actions.

Bonnie Grayer
from Washington, DC
I have an employee complaint about McDonald's. I have been an employee since August 2015 at store #1226, dereen. Location in Savannah g.a the I witness the owner Brad totally Disrespect his general managers as well as his workers he has no respect for his employee time after time again no good morning no good job. No encouragement he calls is workers stupid dump he yells and he constantly talks down to his employees and make the feel worthless I don't feel that this is acceptable. He is to represent McDonald's corporate name and held accountable.

Kelli Schmidt
from Sunnyvale, CA
I was stuck in the drive thru at the McDonald's located at 4800 Almaden Expressway, San Jose, CA 95118 for 25 minutes. There was no way to get out of line. My experience at other McDonald's is that if your food is not ready they have you pull into a parking spot and an employee will bring out your order to speed up the line. When I got to the window the employee had no idea what I ordered. I asked if I could speak to a manager and was told she was busy. I said no problem I have waited 25 minutes what is a couple more. The manager, Griselda, then appeared but refused to talk with me. She was not doing anything but said she would not come to the window. It was not until I waited there 7 minutes that she finally came to the window. She was so unprofessional and this is enough that I will never go back to that McDonald's and will be sharing my complaint with everyone I know.

Todd Renner
from Holmdel, NJ
So now the McDonalds commercials show breakfast 24 hours a day. If you show a biscuit sandwich on television you should serve it. Letting customers down is not what I expected out of a so called leader of the industry. 53rd and meridian Wichita Kansas is not serving breakfast and I am calling everyone to tell them about my story. I posted this on Facebook and will be complaining on Twitter to McDonald's later.

On Saturday, May 16, 2015 I was in the drive-thru at the Salt Lake McDonalds located at 848 Ala Lilikoi Street, Honolulu, HI 96818. I got there at 12:45pm and sat in the drive-thru for over 1/2 hour. I was the 4th vehicle to the cashier window and was in the position for the duration until I got my food. I called from my car to the manager inside and was told that they were filling orders.
For one, the parking lot was not busy with walk-in customers....the drive-thru was! I called again after not moving for 15 minutes and the staff did not know what to say but sorry. By the time I got to the cashier, I asked him what was going on and he mentioned he just got on shift and they have a new manager, Ashley. I told him we should not pay for our food or be given coupons for the inconvenience of a 40 minute wait in the drive-thru. The traffic in the drive-thru was long!
When I got my food I told them the service and management is very poorly run and that I will be reporting this to the corporate headquarters. No apology at the window and the manager was there looking all stressed. This should not be happening and if the manager is not trained to handle orders or the drive-thru, it's a problem! I was looking for an apology from the manager who should have been by the drive-thru window as we exited and passed out coupons or something!

Bill Ryan
from Ozawkie, KS
On April 29 2015 I went to McDonalds at 416 west 6th ST in Junction City KS. I ordered a 20 piece McNugget and one double cheese burger to go through the drive-in window. Very slow service. Now it is midnight and I got my order and my order was wrong. I told the employee it was wrong, he then called his manager. They got my correct order and gave me a refund receipt for $7.10. OK? this charge was never refunded to me at this time.
I also went into my overdraft with this transaction costing me $29. I was late for my shift at work also. The things with one visit. $29 charge (overdraft) $7.10 charge I never got back. I was late for work. This is ashame I will never go back to McDonalds ever again Amen. Cost me $36.10 for a $7,43 meal, and got into a problem at work to. I still have my receipts for this ordeal.

deborah
from Redwood City, CA
Last week, I went into the McDonalds on Woodside in Redwood City, Ca. I usually go through the Drive-Thru. My concern was one last week the woman forgot to give me a receipt or change. I didn't have the heart to say anything as she may be new since they have had a sign looking for help.
Yes I know I should have said something as that helps with there training, I let it slide, that was my error. BUT 3 days later I went again, a different young lady was at the window, she gave me the receipt but not the change and it was over $4.00,
I did remind her of the change she didn't look to happy, but they do have some who work the window who look unhappy especially if they error. I hope you can understand my concern, I have found myself when someone wants to go to McDonalds is to say don't go to the one on Woodside, they will not give you your change. At this time, I usually suggest going to different hamburger place other than McDonalds.

David Rayburn
from Horn Lake, MS
Placed order for two sausage and biscuit and two senior coffee in drive up-there was a sign that there was free coffee with any breakfast sandwich, got to the window to pay the lady charged me for two senior coffee, I ask why she said there was a charge for the coffee. I usually buy at a McDonalds on Goodman Rd in Southaven, Ms but the last two times I visited there; there has been a line all the way to the street and one time after placing the order they told me I would have to come in to place the order they were having technical difficulties- The difficulty they were having was no one to wait on people. I usually get free senior coffee at local McDonalds-is there different policies with different stores??

Solomon Grant
from Brooklyn, NY
I live in Crown Heights Brooklyn and the McDonald's on Utica and Eastern Parkway is disgusting. This McDonald's has homeless people come and hang out in the restaurant for hours. Some even sit on the floor by the door! The tables are sticky and filthy and cleaned so sporadically that they smell awful. I have never seen so much garbage on a floor in a McDonald's in my life. It overflowed from the garbage bin and nobody bothered to pick it up. This is literally the most disgusting place that served food that I have ever walked into in my life. I'm very surprised the Department of Health hasn't shut it down. I was so hungry that I ordered my food anyway and left as quickly as possible. Than on the way home I threw the food in the trash. Just looking at it made me sick and I couldn't bring myself to eat it. Shame on McDonald's for allowing such a disgusting place to stay open. Shame on you McDonald's!

Richard Beyer
from Ypsilanti, MI
Ordered a meal but did not the the fries ask the cashier they said they did not charge me for fries i said okay then i will buy went to hand my credit card now cash only after they took my card 3 min before to pay for the meal this Is BS they told me can't do anything sorry sir how can a company mess up an order then not make it right even when i said i would pay. Very Bad Business.

This is the Absolute Worst I have Ever seen Any Mcdonaldd restaurant! They are Not busy and this store is Absolutely Disgusting! Trash overflowing out of can, all over floor throughout restaurant. Not 1 clean table at all even the "party area" that is closed is Absolutely Disgusting! Employees walked through lobby numerous times and just ignored the mess.

ricky seritt
from Sand Springs, OK
I went to Mcdonalds in Sand Springs Oklahoma yesterday morning 2-9-2015. It was 4:30 am. When I pulled up to the drive thru order speaker I was told "We can't take your order right now because of "technical difficulties" . So I said "I have a $1.07, the price of a sausage biscuit. Can't you just microwave one and take my money". I was answered with" We can't take your order now because of "technical difficulties", please drive away!" What kind of business is Mcdonalds running? People aren't smart enough to take someones money and give the a f-in sausage biscuit.

Bonnie Reeves
from Spring, TX
I ordered breakfast on September 18. Two gift cards were swiped and they both said: transaction not approved. I was not given a response as to why two cards were not going through, such as: maybe the system was down. Is there a way that workers can check to see if systems are down? Just imagine the embarrassment of having 2 cards rejected! Fortunately I had my American Express card with me, so I was able to have breakfast this morning! I called the McDonalds 1-800 number to check my balance and there was money on both of my cards. This happened at the McDonald's at Louetta Spring Crossing, Spring, Texas.

Charissa Ragsdale
from Tulsa, OK
After going to McDonalds on Southwest Boulevard in Tulsa, OK for over 4 years every other morning during the work week, I had a terrible experience with this McDonalds and will never, ever go back. I saw the add Sunday night for either a sausage muffin or sausage biscuit with a hash brown for $1.50. We went there this morning and requested the muffin and hash brown and they told us that they did not have it. We got to the window and asked why they did not honor their TV add since they do have muffins and hash brown, seems simple to me to honor the add and not hold up the line and argue with us and make a regular customer mad, but they chose to do this anyway and were hateful - I will NEVER go to McDonalds from now on - Carl's Jr. here I come!!!!!!

Good morning
In Cape Town there is a taxi strike this morning. This morning, as I do every morning after I drop my child at school, I stop at the Plattekloof McDonalds for a cup of coffee since I only have to be at work at half past eight. The time 7h42.
Upon getting there, I tried to open the front door, but was shown, via a hand sign by the person behind the counter, to " go around", which I interpreted to be the door around the corner. Get there, but that door is also locked. Back to the front door and knocked, only to be shouted at by the person behind the counter that " their is a staff shortage, go around to the drive through".
I cannot begin to describe how outraged I was by this behaviour. A list of questions come to mind:
1. - you don't shout at the customer from behind a closed door.
2. - are the staff trained on how to deal with events such as these
3 - why is there not yet a sign on the door
4 - where is the night staff manager ( or was this member the manager?)
5 - oh!, and the best of all, there were customers inside the restaurant already. How did they get there?
The training of this branch's personnel has been a concern since I started going there about a year ago, and there are some other points to be addressed as well:
1. As I mentioned, I am a regular customer who orders coffee every morning. Every morning I have to ask to be given a tray, not offered.
2. No eye contact is made when I place an order. I have to fight with the conversation going on in the background ( between the personnel) to be heard. Not a "good morning, please may I take your order".
3. Trying to have a telephone conversation on your cell phone or the person sitting across from you, is out of the question, since the conversation between the personnel is too loud.
This is not the way I am used to or expect to be treated as a customer. The personnel is not at all client orientated, and carry on as if they are in their own kitchens at home. NO, absolute NO professionalism whatsoever. NO pride in their work. The customer are treated as an inconvenience which have to be gotten rid of as soon as possible, so they can continue their private conversations.
Please address this matter urgently, since this branch of McDonalds are not living up to expectations whatsoever.
Regards
Dee

Kvpintagro
from Jamestown, NY
On Saturday sound 7 pm I entered the Foote Ave location and placed an orderived for 3 adults and 4 children. I waited over 20 min for my food, patently bc I myself worked in McDonald and know dinner time is high volume. When my friend received his promotion sandwich the chicken gauqamoly, the chicken was dry to the point we couldn't even bend it to brake. When my friend asked politely for his chicken to be replaced he was told it was with in shelf life, and if he wasn't happy with that chicken he wouldn't be happy with any chicken. And there was NOTHING HE COULD DO. I then approached the counter and asked if he really just told him there was nothing he could do. I myself was a manager and know it's nothing to just replace the chicken on a $32 order. So I then took out my phone to take a picture of the sandwich and get his information to report to corporate. At that point my husband then began to record. The Manger tells us we need to stop talking pictures and videos now he will have us arrested. At this point he go's back to the office, I had recieved the information I needed and went back to the play area to join my kids. About a 30/45 min later an officer came to excoriat myself and my children off the property. I then upset and in disbelief posted a picture of the food I received and explained the situation. At witch point Deny Coca, his friends, and a few fellow employees begin to comment there opinions. Comments such as "we should have spit on it if it was to dry" to "his manager said he was in the right" . I myself have worked for the company and know that this is not corporates hospitality standards for management. I do not reflect one person actions on the company. I do expect the issue to be addressed.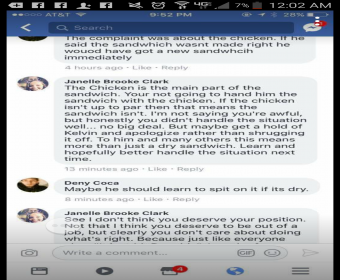 Manager refused to let an African American United States Air Force Veteran into his store in Castle rock Colorado at 1100pm. His reason was that he had no employees.Meanwhile an elderly Caucasian man was standing in the store waiting for someone to take his order. This was the exit 194 McDonalds.

Jeff Kosloske
from Des Moines, IA
I usually never have a issue with McDonalds, But the one tonight we went to pick up food at was terrible. I love Big Mac's and the fries are the best anyplace but when we got to work with our dinner it looked like our dinner went thru WW3. We are in Des Moines and went to the McDonalds on University Ave by Mercy Hospital. My god the fries were cold and burgers were all tossed in the box, Literally had to re-make them before we ate them. Its what Grandpa wanted for dinner in the hospital. It was very sad and the worst experience I ever had. Like I said I never complain but never ate at this one also. I always go to Urbandale where I live. I was so disappointed cause it might be Grandpa's last Big Mac and it was horrible. I will not ever use this one again and start going back to Burger King by work. Sorry even though your fries are the best around.

Denese Allen
from Charleston, WV
I went there yesterday sept 9,2017 my big Mac was cold and very nasty the fries same way the box the big Mac came in was all greasy looking on top I think they need to hire better help very rude employees

Alan Bazzini
from Grass Valley, CA
The Cameron Park McDonald's is by far the worst McDonalds ever.They run out of certain items. They do not have specials as advertised on t.v. and the help is poor to say the least.I end up going to Taco Bell a couple of doors away and everything is run like a fine tuned machine.Sorry for the lost business but someone needs a good quality check on this location.

Edith M Bergh #157 13401 Rancho Vistoso Oro Valley AZ 85755
from Tucson, AZ
I love my Mc Cafe drinks. But when I try to buy 5 and get one free it fails to give me my logo. It has happened at least 3 times now and I am tired of it.
What can I do.? I am a retired lady and I want my coffee. By the way I love those drinks. Please help me. I have at least 3 logos coming.
Thanks
Edith Bergh

From what I can affirm from. Mcdonalds does not like children. They fired my fiancé in Delphi, Indiana nearly 2 years ago for missing work for a miscarriage. I am now putting a youtube video together explain why mcdonalds is against children. I noticed as well that when the Delphi killer was around all the camera crews went to mcdonalds. OK so when mcdonalds fires a woman illegally for miscarrying a twin when the other lived in a risky pregnancy its OK, but when 2 kids get murdered its not. Mcdonalds is going down. I have everything in record with medical records for my fiancé. How much is a discrimination against a medical illness and pregnancy settlement for? couple hundred thousand,? maybe even a couple million? especially when she HAD doctors notes and written from her actual manager that it was ok to take time off for the doctors appointments but then turned around and fired her when she missed a day for miscarrying.!!! FUCKING BASTARDS YOU WILL PAY!!! I will make sure I destroy your food chain reputation in Delphi... I will be testing your managers legally as a customer and recording it on a hidden camera!!! btw I have heard the new one say spick, nigger and faggot quite a few times behind the line.... Fuck you mcdonalds Your Delphi Indiana food chain reputation will be ruined. :)

Gloria Sala
from Hollywood, FL
Came through Mcdonalds at 18250 NW 27th Ave at approximately 6:30 this morning which was September 1, 2017. The lady that took my order was very polite and energetic, her name was Mrs Janet, she's very professional. I'm garunteed to get awesome customer service when she's in the drive-thru. I haven't seen anyone else demonstrrate this type of service. I paid with my credit card, she informed me that the credit card machine was slow. It took 7 minutes for my payment to go through. Mrs Janet was very attentive to me as I waited, she apologized at least 3 times. Mcdonalds needs to do something about this.

Hope Lumpkin
from Baltimore, MD
WENT TO THE MCDONALDS ON PAXTON STREET IN HARRISBURG PENNSYLVANIA AND THE NIGHT MANGER WAS RUDE..ON 8/29/ AT AROUND 1239 AM EST MY SPOUSE PULLED UP TO THE ORDER BOX AND NO ONE WAS THERE..MY SPOUSE LATER BLEW THE HORN..THE MANAGER QUICKLY TOLD MY SPOUSE HOW HE BLEW HER EAR DRUMS OUT..WHICH BECAME A DEBATE FOR HER..BUT MY SPOUSE APOLOGIZED..AND SHOULD NOT OF HAD TO BECAUSE NO ONE WAS AT THEIR STATIONS AT THIS HOUR...THE MANAGER GOT RUDE AND LIPPY WHICH CAUSED AN EMPLOYEE TO DEFEND THE MANAGER AT THIS POINT STATED AHE HAD HEARD MY HUSBAND BLOW THE HORN WHICH HE STATED HE DID BECAUSE NO ONE CAME TO THE WINDOW...THIS LOCATION HAS POOR SERVICE, MANAGERS ARE RUDE AND THE EMPLOYEES ARE ARGUMENTATIVE
I WE LOOK FOR GOOD FOOD, BECAUSE WE PAY OUR HARD EARNED MONEY.....I CAN NOT STRESS ENOUGH
THIS LOCATION NEEDS TO BE CLOSED OR REHIRE NEW PEOPLE....SOMEONE NEEDS TO CONTACT ME

Dan Cortez
from Riverside, CA
Went to Mc Donald drive through on Spruce and Iowa in Riverside,CA I ordered a number 4 double quarter pounder meal. Just one meal. paid went to the window received my soda and was told to go to window two. Well nobody was at window two. After watching seven or eight cars behind me roll up get their food and leave at window one. I was frustrated it was 108 degrees outside and I'm stuck waiting. after ten minutes I left. Tried to call but the phone just said voicemail hadn't been set up. I got that message for half an hour. I don't know what their excuse is quite frankly I don't care. What I would like to know is Does McDonalds simply not want me at their establishment? It's an honest question.

Rafael Vicente
from Hollywood, FL
On today's date, 08/28/2017, I went to the Mcdonalds located at 17850 NW 57 ave miami, Fl. 33055. At the time of the visit, I went through the drive through and ordered a double cheeseburger which according to the sign was $1.69. When I got to the window to pay I spoke with a rude manager named Yaleny (would not give last name or id #). Yaleny stated that the price was $2.19. I told her several times that the price they have advertised is $1.69, she said no. I said every Mcdonalds I go to it's $1.69 she said so. She proceeds to tell me that she is pregnant and doesn't care. She was laughing and being unprofessional. There was also a worker behind her being unprofessional making comments about it not being a big deal. I know Mcdonalds does not care about any one customer but at the very least your workers should be polite and be able to explain any differences in price. All I wanted was for the price advertised to be honored. I left this Mcdonalds and went to one at 16701 NW 67 Ave and the price was $1.69. I believe Yaleny doe snot know what she is talking about, I know her English is not the best so I spoke to her in Spanish but she still did not understand about there being an error in the price advertised and the one that is being charged.

Robert Pena
from Phoenix, AZ
Your person at the register on Socorro N.M., very rude. I was paying with my card and swiped it then he said Chip, Chip, needs customer service training, then was in the process of handing my ice cream cone to the person behind me. I have never experienced this before at any of your other restaurants. Just a heads up from a frequent cistomer. at some of your other Mc Donalds

William Wasson
from Kansas City, MO
Went to the newly built store on the north belt highway in St. Joseph in Missouri. The service was so slow people were pulling out of the drive though lane and going somewhere else. This store, before it was torn down, had the slowest, laziest, employees I have ever watched work. My guess is poor management. McDonald's needs to start over and rethink their hiring practices. I love McDonald's and would hate to see their business fail.

Me and my son always we go to McDonalds in Mecca Maca mall. I asked for happy meal with 6 pieces but the lady on the cash did not know how to do it because I asked a toy with it. The same manager who always I had issues with him interfered and raised his hand and point it into my face (it was after 9 o'clock evening on 10,08.16) . The manager in duty his name is Mustafa is always rude and I do not believe that he should represent such well know chain like McDonald's. I officially raised a complaint by calling the phone number for the store by the manager hung up on me. So, I hope by posting it at Hissing Kitty I get some help!

Christie Rose
from Amarillo, TX
I sent in a complaint last week and I received an email back giving me some dumbass link to go to. I went to the link and it sent me right back to this page. I emailed back asking for explanation about what to do and heard nothing back! The last time I had to complain about this store I wasn't given this link so why this time? Pretty bad when the complaint department gives you the run around! So who do you complain to about the complaint department?
My initial complaint was about the McDonalds at 45th and Teckla in Amarillo Texas. Don't know the store #. Short version of my complaint, they are slow and never get orders right. Sat in drive threw for at least 20 minutes. 10 of those 20 minutes was being asked to pull to the side because my order wasn't ready yet. It was a Large Iced Carmel Mocha for crying out loud! Which by the way, they never get right. I always end up with a Chocolate Iced Mocha which tells me they do not know the abbreviations. They got 3 other orders wrong in this 20 minute waiting period. Last time this happened and I complained all I got was a sorry about your bad luck. Not going to cut it this time! Not only did I get the wrong thing, I was late to work because of it.
This needs to be fixed. Not only with me but with this store. And I don't want an email back telling me to go to some link that sent me back to this page.

Sue Holli
from Fort Wayne, IN
McDonald's double drive throughs are absolutely ridiculous! People don't pay attention as to who's next, but assume they are! These drive throughs cause too many problems! Most people have an equivalent 5th grade knowledge capacity, so this is too confusing for them. They should really please find a way to "dumb this down!"

Tammy Weldon
from Carrollton, GA
I went to the drive-thru at around 3am one friday night. Not a customer in sight. First of all, I waited 8 minutes for someone to take my order. Then I paid for it and went to the next window. There were , at least 2 employees in there. one white girl and one black. They glanced at me and snickered, a lot. After about 10 minutes, i went home.
Have feedback for McDonalds?
Thanks for your feedback!
Sorry. Please try again later!