McDonalds
McDonalds Complaints Continued... (Page 5)
684+ reviews added so far. Upset? Call McDonalds corporate: 800-244-6227

Ronald Ricket
from Stevensville, MD
I ordered my food at the drive thru. Went to the first window and paid. Went to the second window and an employee named Crystle asked if I ordered a peach tea and Mc chicken. I told her I did. She told me "the next time someone tells you to wait for your total you wait for your total." I was in shock and asked her to repeat what she said. She said the above statement over again. I told her she cannot talk to a customer like that. She then told me to "shut up". I asked to talk to the store manager. An assistant manager came to the window and apologized. This McDonalds is located in Chestertowm Maryland. I cannot believe you employee people like this.

Tom Powell
from Montreal, QC
This happens OFTEN. 2 coffee, 2 muffins, 1 correct of each. 2 years ago I started to count 58 visits 32 correct these are regular visits with a mix of food and coffees. I just stopped going there for over a year until recently and low and behold. No change. ordering 2 coffee - 2 muffins and getting one wrong coffee one wrong muffin. I mean come on. It was 4pm I was the only one in the line I even asked the speaker guy if he got it right, then again when I paid. I just knew it would be wrong. I asked again when she handed it to me which one had the sweetener, she told me even asked what kind of muffins she told me.

Went to McDonalds on Mcgavok pike in Donelson, TN. I ordered a ham biscuit and hash browns. Got to work and the biscuit had to be leftover from the day before or later. The hash browns were soaked in grease and cold. McDonalds your quality has never been great...but in the past year or so, it has dropped to the bottom of the barrel. You all need to give it up and shut down.

Barbara Ann Alexander
from Springfield, MA
Complaint is regarding t.v. commercial. "I'm lovin; it' phrase I believe is an extremely selfish phrase. to the eyes, heart of a toddler/pre-schooler/early grade schooler. How about 'Wish you were here' or "Come join us'. That leads to conversation w/caregiver-opens/closes the reality of going to McDonald's. Instead of sitting there as a very young child with 'mixed' feelings.

Sheila Smith
from Scarborough, ON
I went to McDonald's inside Bramalea City Centre, 25 Peel Centre Drive, Brampton, Ontario L6T 3R6 today. I ordered two coffees, one Bacon Egg McMuffin and one Hot cakes. Fortunately my spouse and I were eating in, otherwise we would have taken home an incomplete order. When I took the food to our table, my husband undid the Hot Cakes and found three individual servings on butter but no syrup. He went back to the counter and was told "We are out of syrup." (Why didn't they tell me that when I ordered them. Do people eat pancakes with butter only?).
He came back to the table a little stunned and I went back, with the pancakes and asked "Do you actually think people eat pancakes with butter only?" I got a blank stare and asked "Do you want your money back?" I said "Well, yes. But I will order a Sausage Egg McMuffin instead". She gave me my money back and then I paid her for the Sausage Egg McMuffin. I found it particularly annoying that I was not told in the first place there was no syrup and they expected someone to eat them like that. However, if I had been going through a drive through i would have been stuck with it. Not professional at all.

Linda Katsis
from Toledo, WA
Chehalis, WA. Wal-mart in-store McDonalds 4/16/2015 at 5:30 PM, ordered one of your NEW spicy chicken sandwich, paid $5.17, dark brown bun top very dry, such small piece of spicy fried chicken that it fit inside the middle of the bun not even close to edges, stingy amount of mayo, one small slimy piece of lettuce, tomato slice was only acceptable piece of food in entire sandwich, first bite was so dry & mostly bun that I had to ask for more mayo, was given 3 pkgs (& used/needed all 3 too!), have been big McDonalds fan forever (I am 68 yrs. old), my son had his 1st job at McDonalds, our entire family ate breakfast there every Sunday & loved it but am so very disgusted w/this last spicy chicken sandwich (NOT the $1.00 spicy chicken sandwich but the big $4.79 spicy chicken sandwich) that I will never order it again and will most certainly let my friends know what a terrible & expensive sandwich it is. I am one unsatisfied customer! Thank you for your time and consideration in this matter.

taco
from Ormond Beach, FL
McDonalds...1376 West International Speedway, Daytona Beach, Fl. 32114. Every time I have been to this Charlie Brown restaurant, the drink station area is so sticky and garbage all around. The tea dispensers are always empty, the bathrooms are so disgusting and smell like urine, there is only one person taking orders while others are bumping their gums. I have had to walk out, without ordering, the last three times I went inside. Today was one of those days. Today was so ridiculous that a worker leaving her shift yelled through the place, back to the employees, "people are waiting on their food!" Not once have I seen the acting shift manager each time I have gone there. This place is ran by unsupervised management and def needs to be clean-slated and given a new life...especially due to the high volume of tourists.

Willie Jang
from Vancouver, BC
I visited the Drive thru at the location in Richmond at Alderbridge and No. 3 Road. I have visited seveal months aga and ordered a vanilla latte. Upon picking it up and using the coupon for a free specialty drink, the semployee asked for an additional 30 cents. I asked why and I was given the response, we are independant and our owner told us to charge for syrup. I was taken back and called the corporate office to complain. I was told this would be taken care of with your independents.
I ordered a latte with an extra expresso shot.yesterday and I was asked again to pay 75 cents for the expresso shot. I asked not to have the additional charge and I was given a vanilla latte ?????
I am very diappointed that this location continues to make their own rules. I have visited a number of different locations and I have never been asked to pay for a specialty drink charge. I would like a response to this and some explanation to the conduct of the owner.

Pat Simpkins
from Tuscaloosa, AL
I debated about going to McDonalds' or Bojangles' (they are right across the street from each other) so I stopped at McDonalds'; big mistake. I walked in ordered food and was waiting on my change. The cashier did not have enough pennies. She gave some money to who looked like the manager. Since she did not have any pennies, she gave me 2 pennies over. As we joked about the 2 pennies another customer walked up and said to me "you are in the good". Since I was not speaking to this customer, I said I am talking to the cashier! Then the manager came out behind the counter, looked at me and said "What is she waiting for" (very RUDE) to the cashier. I said 2 egg McGriddles'. She slammed the food on the counter and said "have a nice day" as if that would help her rudeness. This happened at University Blvd East in Tuscaloosa, AL. Please let this manager know, I was waiting on McGriddles' this morning but from now on I won't be waiting on McDonald's any more! Get some customer service training.

With ref. to order no. 24736 placed on 12.04.2015. The order was suppose to reach me in 29 min. but was delayed for more than 1 hour. Also, the products reached to me were not looking fresh and not at all hot. Even on asking for 50 Rs. coupon due to delay (for which I got the msg), the executive said he doesn't have that and would be adjusted next time. Very poor service and not at all expected from McDonalds. Highly Unsatisfied.

Scott Beetham
from Colorado Springs, CO
Tonight, I went to the Colorado Springs McDonalds on Fillmore and Stone street, waited in drive thru lane #2 while two cars who were behind me got their orders taken in lane #1. I got tired of waiting and didn't want to order anything by the time they go around to me, and had to wait in line behind all the other cars who had ordered ahead of me who were behind me to start with, but didn't make the mistake of getting in lane #2. This isn't the first time I've gotten bad service at this McDonalds. I sometimes go to this store for breakfast because it's conveniently on the way to work, but on at least two occasions I couldn't get a large coffee because they were out of cups. Many times they are out of other items like apple pie. It's called fast food because the customer is suppose to get a meal quickly, with the same level of customer service as any other McDonalds elsewhere, but at this one the only fasting you're likely to get is the kind where you drive away with nothing. This store is poorly managed, and after tonight, the Burger King across the street on Fillmore just gained a regular customer who use to go to McDonalds.

On several occasions, when I am at the Walmart at Quarry Bend in Sandy, Utah, I have attempted to buy a hot fudge sunday and have been turned away because the ice cream machine is allegedly broken. I have not heard that excuse at any other McDonald's. I think, the personnel at this particular McDonald's just do not want to bother exchanging the empty ice cream bag with a fresh one. Especially, if that individual is about to go off shift.

David Rayburn
from Horn Lake, MS
Placed order for two sausage and biscuit and two senior coffee in drive up-there was a sign that there was free coffee with any breakfast sandwich, got to the window to pay the lady charged me for two senior coffee, I ask why she said there was a charge for the coffee. I usually buy at a McDonalds on Goodman Rd in Southaven, Ms but the last two times I visited there; there has been a line all the way to the street and one time after placing the order they told me I would have to come in to place the order they were having technical difficulties- The difficulty they were having was no one to wait on people. I usually get free senior coffee at local McDonalds-is there different policies with different stores??

jennifer
from Weymouth, MA
I worked for mcdonalds in weymouth on main street for three years. It was awsome in the beinging but a knew manager came on board named shannon toomy. Right away, I noticed she had an attiude with fellow employees and customers. As a result of that, I left for another job and when I left three other people followed me. She is not manager material and I am suprized she is still there. While I was still working at mcdoalds my husband needed surgery and I had to take a month off from work to take care of him. Shannon gave me a hard time. She said you have a choice working here or family. Well when it comes to my family, I am there for them she didnt even care! A former employee of mcdoalds in weymouth

Rosendo Morales
from Tucson, AZ
Just try to get food through drive thru, and get a 3 piece chicken meal large... They have me a salad instead, I ask to change the order and they did ,.. Good and ok but when I asked the receipt they pull me out from the window and park on the waiting parking ok, now I'm asking for a change but the manager or whoever isit said and insisting that I gave 7 dollars in which I gave 20 dollar ,. And that I have no change bec they were the same price .. I paid almost 7.75 actual but my bill was only 5.80 dollars.. And keep on arguing that I don't have a change and the freaking manager with a very thick Mexican accent was rude .. Could you send this guy to a seminar? How to handle customer complaint... All I want is to get my change and I the right to get it but he's pushing me that it has the same price , while talking to him He just turn around and go back to his store... WoW what an unprofessional gesture...rude and no manners,.. It made me snap so I'll find this complaint site right away..I still have the receipt with store # 8800 broadway ,.. Tucson AZ store # 10511..

kim westerfeld
from Kingsland, GA
Took grandchildren to mcdonalds in kingsland georgia...play area is absolutely dirty, even the play tree they crawl is so dirty that you can see it all over it. The girls hands, faces and feet were black with dirt...the seats near play area were dirty. There was no sanitation in container..an empty wipe container..ask for wipes to clean the girls..person working would not get any, said he didn't know where they were...He never offered to get us any help... Another grandmother ask to speak with manager, the guy said he was busy...never went to get manager or wipes..we went to bathroom to wash hands and face before we let them have anymore of their food or ice cream, there were no paper towels available.. I have lived in Camden Co...all my life...But I will not take my grandchildren to that Mcdonalds again..I believe that the play area is unsanitary, and it is hard to take them and not let them play..So until I know that it has improved I find a other business to go to.

I was pulled into McDonald located on 1410 n. Lemon st. Anaheim, CA 92801 drive thru to get my coffee around 5:25pm 04/09. And this guy "Raule"told me "wait 3 minutes. Wa are brewing fresh coffee" So I pulled into reserved area and waited about 5 minutes, and this guy did not come. So I decided to come in the store, asked for coffee and this "Raule" told me "I am off work". There was no apology nothing but he kept saying "I am off work". I did not want to argue because I was already late for my school, so I asked "Alfonse" for the store manager and he said "there is no store manager". So I asked "Alfonse" to write down all the names (the guy name, your name, and store manager) and number I can reach. So I came outside, I noticed this guy "Raule" circling around the parking lot and waited for me to come outside. I ignored and drove away and he literally followed me about 2miles. I was about to call police but I've lost him.

Gearldine Cherry
from Laurel, IN
My complaint is regarding the store in Memphis, Indiana. It is a 24 hour store. Lately when I go there after work, the drive thru is closed. I have a very bad back. I hurt too bad to go inside. I am very disappointed when I can't get anything. I understand that they may be short of help. Surely something could be worked out. It has happened numerous times in the past month.

I know your stores are franchised . store # 26590 I visit this store and ask if they had the quarter pounder DELUXE they said NO ! so I ordered a quarter pounder value meal . I pulled up to pay for my meal $7.01 I gave them a twenty and one cent I GOT BACK 13 ONE DOLLAR BILLS ! then I went to pick up my order and asked why the Downer street store has the DELUXE and they did not . the server got the manager and I ask him . " oh we have the deluxe " well I was told NO ! " it is a number 5 ! I will correct them on that " he did nothing to even ask me if I still wanted the deluxe . all I got was a " sorry sir " as I was handed my meal and closed the window . the only reason I stopped at this store was because I had just finished shopping in the same plaza .normally I go to the one on downer street . I HAVE GREAT SERVICE FROM THIS STORE ! IF I go to MC Donald's again I will drive pass this store to any other one ! this has left a sour taste for MC Donald's ! first insult was getting all ones back for change ! then to treated like just another person with a complaint and BRUSHED OFF AS ONE ! you need to RETRAIN THE WHOLE CREW ! or is this the way they are trained .

earlier that day my daughter & I went to McDonald to order some food, the workers took a long time to serves the food they talk a lot instead of providing they services that we pay our hard earn working money. During my time at McDonald I noticed that the workers where making milkshakes & mc flurry 's & there wasn't anything wrong with the machine ,I ordered a milkshake & a mc flurry the worker who was taking our orders shouted with rudeness there weren't any milkshake & that the machine was broken when I saw two other workers handed out four milkshakes to other customers.Everyone who were ordering their foods were shocked about the girl outburst & rudeness that some of the customers left.The place is filthy & the services is bad they gives you something else instead of what you order.Someone need to go & investigate that place because I was treated unfairly & so is my child that we left the place .

Ordered Steak Wrap and small plain Sunday at 1.20p.m on 1/4/2015 I received the Sunday straight away after 2 minutes the young lass said there will a 2 min wait for wrap could not believe what I was hearing 26 c with a Sunday soon becomes a drink the training needs to be smartened Up I was not impressed when the girl bought the wrap to the waiting bay she certainly didn't look like she was enjoying the job all I ask for is great service which I know you guys are known for sadly Wodonga is not living up to your standards I will leave this with you hoping you can turn standards around Regards Ann

I am Asian American. I walked into a busy McDonalds Store with My bleached t shirt, shorts and blonde hair .I was tired and anyone could've seen it in my face. I wanted something , anything to make me feel better. I stood in line and waited to be called. The manager then opened another register and started calling people out of the first line. When my turn came, she walked away and started working on other tasks leaving me hanging . I don't know if it could've been my hair , me being half Asian, or my bleached t shirt that lead her to make me feel unimportant. She just took two orders at a very fast welcoming pace , what will it take to just take one more. I don't understand. I felt as if my appearance caused her to leave me waiting. I don't think people in her position should make decisions upon people appearance, especially with McDonalds prestige reputation. I was at Store #2747 , The Manager's name is Celeste. I believe someone should scold her for her discrimination against poor-looking people. I'm too nice to do that so I hope this would bring on corporates attention. If I was Bill Gates, this complaint wouldn't be necessary. I could've bought a ton of Mcdonalds stock with the time I spent writing this. I lost faith in Mcdonalds as an Investor . I think Wendy's is a better Investment now.

patronized the Coopersville, mc donalds and ordered a big breakfast. proceeded to work and to eat my breakfast. only to find that I didn't receive any syrup for my hotcakes. called the store and complained, and was sent a coupon for another breakfast. I redeemed it last week for another breakfast same as before, proceeded to work as before only to find that I was shorted butter for my pancakes. I immediately called mc donalds in Coopersville and asked for the manager. talked with her explaining my problem, she said she had checkeed the order herself and was confident everything was there. it seemed as though all she wanted to do was argue and tell me I was mistaken. believe me I have a lot more to do than spend my time on the phone reporting a problem. I did not dream up the shortage, why would I. last but not least, I do not lie and certainly felt the attitude was totally unprofessional.

Niecy Burkett
from Delray Beach, FL
This is not exactly a complaint but the closed thing I could find to tell you my suggestion. Have you ever thought of serving wheat buns as a choice instead of white buns? So many times I want to get something from McDonald's but prefer wheat buns , so much healthier than the white buns you serve. So I go some place else.

Chris weiland
from Rialto, CA
I go to McD all the time on Baseline and Riverside ave. In Rialto ca....My son can't have Cheese and I always order him a Mcdouble ..No cheese with ketchup only...I go almost every day....they never get it right.....well 10% of the time they do ...sometimes I'm 5 miles away when I figure it out...they never do anything to compensate me for the countless times they do this to me.....Very Frustrated......how hard can that be....McDonald's do something for me.........Please......or hire smarter people...

Holly Spille
from Cincinnati, OH
My husband and I went into the McDonalds at 5020 Delhi Pike Cinti, Ohio on Sat. 3/28 at 18:18. We went there as I had been sent a complimentary value meal from a previous complaint for being in the drive thru for 23 minutes. First we ordered and went and made our drinks, sat in the lobby for approx. 10 minutes, no food. We watched the employees behind the counter fake boxing, talking on cell phones (later we discovered I think that was the person in charge), eating and drinking and having a great time. We finally went up to the counter and ask about our food. They said well what did you order. Then the food was prepared. As we were sitting in the restaurant eating there were teenage kids laying in the booths and the place had garbage all over inside on the floor, ketsup was dripping from the stools where you can sit at a counter and eat. The next thing about 10 kids came in the door and finally a girl came from behind the counter and made them leave.
The kids working behind the counter had the own personal drinks sitting on the trays that are used for patrons and had to move them when someone was dining in. Another employee had a sweatshirt on of a college team and the hood up as he waited on customers. It was a mess. I worked in this particular McDONALDS when I was in high school myself and I have to say that it has drastically went downhill. The Board of Health would not be to happy that the tray my food was served on had the employees drinks sitting on them behind the counter and moved them to put my food on. I think someone needs to get a handle on this place. I know there were three other couples our age (mid 50"s) that will find another place to stop when we are looking for something fast as this place on Saturday was disgusting and management should not be management. Oh but one thing I did forget due to the fact that we were one of three patrons in the place when we came in and they forgot our food they did offer us a free apple pie. It still does not make up for the fact the place is not a place that you would want to frequent again. Thanks for your time.

Emily Del Rosario
from Grants Pass, OR
Grants Pass Oregon: Walt-Mart at 135 NE Terry Lane has a MC Donald's restaurant inside the store.I am an animal lover,but other than real service dogs,I don't think MC Donald should allow long haired Chihuahua or any mute where they prepare food.I complained too the person behind the counter and he said they can allow service dogs in.That dog was not a service animal.

Keisha Worthington
from Seattle, WA
Got to the McDonald's on mission and Hamilton in Spokane wa. On March 29 2015 at 1:15 pm ordered 2 mc chickens a cheeseburger sprite with light ice coke with light ice and a sweet tea light I lie and lemon. Everything good so far and then got to the pick up window and I'm in a truck by myself asked for a drink carrier and the girl became rude. This happens a lot at his establishment they are always rude when asked to do something extra. Told her she didn't need to be rude and she got even worse. As long as I have been alive 41 yrs I been taught always treat the customer good not at this McDonald's and I will not be going back there. Usually go 2 or 3 times a day. Thanks a used to be valued customer.

Chris
from Birkirkara, 04
Hi I go to McDonald's 3 days in a weak and most of the days I go I find something wrong. I order a big tasty no sauce and ice tea many times I found the burger with sauce, or the drink water only without any taste. Today I went to airport and, the burger was OK but the ice tea was water and the chips without salt, now I'm watching for another place to go for thanks!

Richard Armstrong
from Burnham, PA
every time, and I mean everytime I go to the store in Lewistown pa or electic avenue pa,something is wrong, these stores are going down hill and fast. my food is always cold, and I mean very cold, this morning my egg mcmuffin went right out the window!!!! of my car. either its cold, wrong order, no napkins or straw, or u ask for drink no ice, and you get ice!! always mest up, sick of waisting my money on these dives!!

Warren Brown
from Glendale, AZ
Could you please explain this to me. I am extremely offended and I did not like viewing the flag hanging upside down. You have lost a faithful customer Boycott McDonalds PHOENIX (KSAZ) - It is a story that has been trending on social media. A flag flying upside down at a Glendale McDonalds restaurant. Was it disrespectful, or a simple mistake? A Marine reservist saw it, and took matters into his own hands. FOX 10 spoke with the reservist and the restaurant's franchise owner who is a former Marine. He explains how the flag ended up being flown upside down. "I actually thought it was plain disrespect that someone would raise our own nations flag upside down," said Elias Marzeleno. Marzeleno, who serves in the military as a reservist in Arizona, said he did a u-turn when his girlfriend pointed out the flag flying upside down outside of a McDonalds near 67th Avenue and Camelback this past Saturday.
"I looked around to see if anything was out of the ordinary," said Marzeleno. Flying the flag upside down is recognized as a symbol of distress. Marzeleno said once he determined there was no problem, he took matters into his own hands. "I actually went to try to lower the flag, but it was knotted in such a way you couldn't lower it, so I went to the car, I got my knife, and I cut the rope," he said. "Being a Marine myself, and going through the Vietnam War era, we're gung-ho but we need to curtail our feelings sometimes and take more logical steps than overreact to it," said Steve Lanini, the franchise owner. Franchise owner Steve Lanini said it was an unintentional mistake that could have easily been resolved had Marzeleno talked with a manager first.
"If you're familiar with how you fold a flag, sometimes if you get the hooks on wrong, you pull the wrong way and it goes upside down, it's happened I'm sure over the years and this one wasn't caught," he said. Regardless of how it happened, both reservists say the flag should never have flown upside down. They say whoever raised the flag should have looked up. "No, I'm not disciplining any body as a matter of fact, to this day I don't know who did it," said Lanini. The restaurant now has a sign on the door notifying customers apologizing for the incident. Lanini says they bought a new rope and will be raising the flag again soon, the correct way. "Believe me, it was a mistake, we don't do that," he said. "All I want people to know is to have basic protocol to raise our flag, and give our own flag respect," said Marzeleno.

I have gone to McDonalds in Moberly Mo. quite often with my children. I have seen numerous times of a manager being hateful to her employees. I couldn't believe things I have heard from a manager. Last time I looked at her name tag so I could contact you. Her name is Renee, taller, dark hair, skinny women. Pretty girl really. The first time I saw her a girl had messed up on the cash register and Renee had to help her. The teenage girl told her she was sorry and Renee said "good you should be" and walked away from this girl. This little girl was surprised and hurt at the comment. I told her not to worry about it, she must be having a bad day. The second time I was there a guy messed up on a sandwich and she yelled to the back "how long have you been working her God!"
The third and last time a girl was asking her a question and Renee rolled her eyes and walked away and the girl was left no knowing what she was supposed to be doing. I understand people have bad days. I work with customers all day long. If something bad happens you can't take it out on the next person. As a manager she needs to learn how to manage. You don't yell at these kids and make them feel like crap. You encourage them. Help them become better. If you encourage and help someone, the better a worker will become. If you discourage them they will be timid and not be as good for you. If she doesn't like her job, she should not work there.
I just think she needs more people skills and management skills. These poor kids are trying and are learning. For most, this is their first or second job. Shooting them down does nothing for her or them. The first time I passed it off as a bad day. The second time I was just feeling WOW. The third I couldn't help but let someone know. Thank you. Hopefully making our managers better to make a team better. Thanks again.

At the havenwood McDonald's Baltimore MD drive through....again my order was not completed properly. I paid for an item never received. This happens often to me so I imagine it happens often to others. This time I was feeding 3 young girls who were extremely disappointed. This is not an acceptable business practice.

Doreen Wagatha
from Charter Township of Clinton, MI
Went through the drive-through ordered a cheeseburger a large HighC orange and the fries with no salt. I waited approximately five minutes before the girl came out with my order and tells me there's no salt. I went inside the building and there's all kinds of salt by the pop. I talk to Joel of the manager who was not very polite and asked why I was told there was no salt. He told me he doesn't know what's out there he just know there's no salt in the back. I cannot believe a big place like McDonald's does not have any packets salt in their inventory.

Cynthia Edwards
from Sanford, FL
I went through the drive thru on Friday evening March 20 2015 at around 7:15 and ordered three kid meals. I drove to the window to pay and the girl Marilyn told me $12 and some change (I think $12.22) and I handed her my debit card. She gave me my card and receipt and I put them in my purse. i drove to the second window where a young man was very confused and could not figure out my order and that is when Champagne also appeared at the window and after a few minutes Champagne informed me my order would be $12.22 and I told them I paid at the first window that I was not paying again. Champagne then firmly said I did not, to produce my receipt. I could not find it and then they informed me Marilyn had charged me the wrong order and I said no I didn't that Marilyn had said $12.22 before I handed her my card at this time the three children i had with me were getting frightened and cars were lined up behind me so they asked me to pull over and find my receipt so I did and indeed she had charged me the wrong order.
I then gave my daughter my credit card and told her to go in and pay the difference even though they were the ones who made the mistake not me. When my pregnant daughter went in to pay the difference she had said she did not see why we were responsible because of their mistake and Champagne became very rude and threw the receipts at my daughter and she pushed them back at her and i saw what I thought was a man in my daughters face yelling at her so i got out of the car and went inside and by this time there was a third person named Karen who said she was the manager who had came forward because Champagne was yelling "you will only get whats on the receipt you produced" and said my daughter assaulted her and we were absolutely horrified and then Champagne launched at us and Karen had to push her back, actually push her over two times. I could not believe what I was seeing. We were embarrassed, angry and so confused that this was all happening with my grandson and his friends watching, the customers in the store all over three kids meals.
I sent my daughter in to pay the remainder owed and Champagne turned it into a brawl. The manager Karen said Champagne told her my pregnant daughter assaulted her and I said no she did not and that I wanted the security video of this event and she said she could not do that. We were assaulted by your manager in training Champagne and I am seriously considering legal measures. The man I thought was yelling at my daughter was Champagne, which is a girl with an attitude. I did everything right and did not deserve to be treated like that. We have been going to this McDonalds for over 25 years and we go at least twice a week after my grandsons baseball games.

Sara Bissinger
from Lancaster, PA
I went to the Mcdonalds on columbia Ave about 7:30pm last night. I waited about 5 minutes. They were not busy at the time. they may have had one or two cars in the drive thru. they also had 2 other customers inside that were waiting to get their food. I was not even acknowledge that I was even there. No one said Hi or we will be right with you. After 5 minutes I left. This is not the first time I have been in this Mcdonalds. They seem to cater to drive thru than inside. I know they are busy at times but when they are busy inside and the drive it seems drive thru gets there food first. No one gets theiir food in the inside of the store. every one seems to be helping people in the drive thru lane. I have waited for food a lot of times. It seems lately its getting worse. I can go to other locations and get faster service and the other employees seem to be more attentive and happier. Everyone at this McDonalds seems to not be happy and dont care about anyone. I have gone to this McDonals before and wait a long time jhust to order food and then wait even longer just to get the food even when they are not busy. I will not go this McDonalds for a long time. This McDonalds needs to work on customer service and lesrn to get the food out quicker than they are now. Sometimes they food is also cold when I got it. If they cant do there jobs right maybe they should not be in business there or get other people that can do the job the right way.

Mittie Ballard
from Madison, MS
I went to the drive thru and order 2 big breakfast and 3 large sweet teas and a sausage biscut and the total was $12.25 and when I went to the window to get my order they handed me 1 tea I told the associate I had order 3 and she said well she didn't charge u but far ! so she came to the window and told me it would be $2.76 far the other 2 teas so I handed her a 5 and she never gave me my change she just gave me my tea and said have a great day I know it's just $2.24 change but every time I go there and the associate is at the window she seem to be having a bad day are either she don't like her job cause she has a real mean look on her face and this isn't good for this company cause I far one don't like it.
The shift leader has a bad adatuide also she was behind the associate saying something about me cause she and I have had words before about a over charge I'm trying to let you all know how this store is being run by some very rude people and you need to come here and check on this store this whole store needs new managers and associates. I hope you come and check it out because I'm not going back there and I eat there 4 or 5 times a week but seems to be going on when the store manager isn't there cause he's very nice and he always try to make your rite if he's there they don't say a word back to you if it's not right they just fix it for you so that's why I think it's the shift leaders there and this one associate. Thanks Mittie Ballard

I called on the phone and someone pick up and awnser and said hello how are you and said ok OK and hung up right when. I was asking about employment.

judy davis
from Wichita, KS
we went through long john silvers about 8 last night. we used to eat there all the time but not any more. we asked for fresh food. the fries was hard and cold and all the food was not fresh and tasted like it just came out of the refrigerator. my husband ordered 3 chidken and 2 fish platter and got 1 chicken 2 fish and 3 shrimp. we did not order that and everything tasted terrible.

Ordered a Big Mac and a cup of coffee at the McDonald's in terminal A at ICH. Saw them pour the last drop of the pot into my cup and thought well this sucks but...... Got my sandwich, found a table and took a bite. Bread partially frozen, sandwich fixings all (including the meat) ice cold. No line no waiting no excuses. Took the sandwich back to the counter and told them "it was not fit to eat". The 3 people working the store just looked at me like I had 3 heads. I walked away and dumped my coffee. Didn't even want to taste it. Not interested in getting my money back as that would imply that all is forgiven. It's not. McDonald's at this location sucks. Don't eat here!!!

Lori Powlen
from South Bend, IN
Went to McDonalds on Bremen Highway in Mishawaka. 2 weeks ago I went Saturday morning 8:00 am on my way to work and ordered egg white delight and md mocha. I was asked what I ordered and they gave me my sandwich and told to pull forward for Mocha. I did and waited and waited. I counted 15 cars that went thru behind me and saw some of the cups handed out the window were also the McCafe drinks. After 15 minutes I was getting ready to get out of my car to go in when the girl finally came to window and gave me my drink. She said sorry and said she made me a large for waiting. I told her 15 minutes was ridiculous and now I was late for work and to let her manager know that I would be calling later that day. I did not call because my kids told me if I did they would remember me and do something the next time I ordered.
I didn't believe something like that would happen but it did anyway. I went this past Saturday, again at 8:00 am on my way to work and again was told to pull forward. I told the guy working that the last time I had to wait 15 minutes and please don't forget me. I got my Mocha in about 3 minutes and he smiled and said have a nice day. I thanked him and told him to have a nice day also. As I was driving to work and took a drink it dribbled on me every time. When I got to work I took the lid off and found a cut out in cup where you take a drink. I was lucky I had coat zipped up and it didn't burn my skin or cause an accident. I feel this was intentional and will never return to that McDonald's and will let everyone know what happened to me. This has never happened at any of the other McDonald's in the area. I feel there needs to be more training at the Mishawaka store or a change in employees. They may think it is funny, but this could cause a serious accident.

Solomon Grant
from Brooklyn, NY
I live in Crown Heights Brooklyn and the McDonald's on Utica and Eastern Parkway is disgusting. This McDonald's has homeless people come and hang out in the restaurant for hours. Some even sit on the floor by the door! The tables are sticky and filthy and cleaned so sporadically that they smell awful. I have never seen so much garbage on a floor in a McDonald's in my life. It overflowed from the garbage bin and nobody bothered to pick it up. This is literally the most disgusting place that served food that I have ever walked into in my life. I'm very surprised the Department of Health hasn't shut it down. I was so hungry that I ordered my food anyway and left as quickly as possible. Than on the way home I threw the food in the trash. Just looking at it made me sick and I couldn't bring myself to eat it. Shame on McDonald's for allowing such a disgusting place to stay open. Shame on you McDonald's!

Sheldon Lemco
from Orlando, FL
I just called the complaint department for McDonalds and a Cristina answered so was so un professional that I had to repeat myself several time for questions I all ready answered. She was not paying attention or understanding anything until I repeated myself. The fact is that when I told her that I waited on line she have told her that I was inside the store. She then asks if I was inside or in the drive through. I had this happen all through my conversation with Christina. This fact tells me that McDonalds does not care about complaints or their lack of Professional service. I feel that the New CEO should be made aware of the lack of Professional service that McDonalds has now. I have been a Customer of McDonalds for 49 years however if things do not improve soon, I will turn my Business over to Wendys since Burger King also has bad service.

christy hurst
from Chanute, KS
Yes, when I went by my local McDonald's this morning, was hoping to grab something real quick and head home this morning. Having things to do I was hoping to grab and be done. I proceeded to ask for 2 breakfast burrito's. However, when I quickly pulled up ans asked the girl at the window, did you put sauce in the bag, she very quickly say's yes. Guess what, I got to my destination, hoping to quickly eat and get things done this morning, when I dump things from my bag and NO sauce. I did call the store, a joke !!!

Richard Beyer
from Ypsilanti, MI
Ordered a meal but did not the the fries ask the cashier they said they did not charge me for fries i said okay then i will buy went to hand my credit card now cash only after they took my card 3 min before to pay for the meal this Is BS they told me can't do anything sorry sir how can a company mess up an order then not make it right even when i said i would pay. Very Bad Business.

nathan hopgood
from Coburg, VIC
At 735am 8\3\15 I was ordering 2 frozen cokes and 2 sour mellon frozen drinks in the drive thru and the actual manager of the store Jake was abusive I drove up to the window and he said don't use that language ???? I didn't know what he was on about i have a speech impedament i treed to speak and place the rest of my order but he rudely slammed the window closed i really found that offensive and abusive coming from a senior member of there team really bad for a family restaurant.

My daughter who started work for mcdonalds leckwith road Cardiff UK, she was nearly 17 she started her training she worked 4 hrs first day and she enjoyed it she was so exited to go back the next day,on the next day she went in where she met with a manager,who was covering for holidays, she was told,not to smile at customers, and just to take there orders, she took the order from a customer when the manager wiped the order from the till told her to give his change from her head my daughter was very nervous she gave him 10 pence to much,he them told her not to serve any more customers bearing in mind he was training her,he told her he would show her how there floors were mopped,after mopping he called all the other staff,laughed and said l had to train her on how to mop a floor,then said to her that she fancied him,also made her search through all the wasted food in the rubbish, so she would know what customers threw out,she was belittled all day In front off staff by this manager,l could go on, she was only 16 she lasted a few more days,then had the cheek to say,she was not good enough to work for them,is this how they train young people,she was made to look feel stupid,and degraded, lm going to flood facebook and Twitter then see how mcdonalds react

Diane silva
from Livingston, CA
went thru drive thru window ordered fresh chicken nuggets and tenders were not fresh not even hot. I ask them three times if fresh they said yes lie I ordered iced tea asked for just a little sweet im diabetic, got home tea was sweet had to throw it out. I don't like wasting my money. will go elsewhere.

Linda miller
from Pittsburgh, PA
Took my grandson his order was all wrong but the bad part was my Big Mac was ice cold and hair was in my French fries.

Joe Rippe
from Clover, SC
See the email response below from McDonald's customer care department. Well, I have serious doubts that you really care about your customers, us early morning ones anyhow. I visited your Lake Wylie location again this morning, interested to see if anything improved. This time it was 5:10 AM. Door was locked. There were two women inside talking but you were not open. Do you just not care? In this day and age when so much interest is placed in customer satisfaction I am amazed that this keeps happening. Well, carry on, do as you please, it won't affect me anymore, I give up.
Sent from my iPad
On Nov 22, 2014, at 5:01 AM, <McDonalds.CustomerCare@us.mcd.com> wrote:
Hello Joe:
I want to thank you for taking the time to share your recent experience at the McDonald's in Lake Wylie, SC with me. Your feedback is very important to us as it allows us to better understand how we can improve our service to you.
I am sorry that the restaurant was not open during its normal business hours. Please be assured that we want to provide you with an exceptional experience every time you visit us. From your email, it is clear we did not meet your expectations. Again, I am truly sorry we disappointed you.
I want you to know that I have already taken action on your feedback. After reading your email, I immediately shared the information you brought to our attention with the local franchise owner of the restaurant you visited. Additionally, customer feedback is reviewed with our regional McDonald's consultants as part of our ongoing commitment to improving our restaurants' operations.
Again, Joe, thank you for sharing your feedback. We appreciate your business and we hope to have the pleasure of serving you soon.
Ashley
McDonald's Customer Response Center
ref#:11543317
--------------------------------------------------------------------------------------------------------------
Please do not "reply" to this email response. No "replies" can be received through this mailbox. If you wish to contact McDonald's Customer Response Center again, please visit our website at www.mcdonalds.com
--------------------------------------------------------------------------------------------------------------
Our food. Your questions. Get more answers to your food questions by tweeting @McDonalds or asking us on Facebook. Visit our FAQs to learn more.
You wrote:
Your door states that you open at 5 AM. The last three times I have stopped, slightly after 5AM the door was locked, closed. If you aren't opening until say 5:30 or 6:00 please say so. This is the only fast food place on my way to work so if you are not opening as advertised I need to make alternate plans.

jason chedester
from Elyria, OH
I order some food we only got half and they gave us a crack foam cup of ice tea and I got it home the cup break tea every where all over my carpet that store is every bad. It is the McDonald's in Elyria, Ohio.

Rebecca chafin
from Edgewater, FL
I worked for Mcdonalds in New Smyrna Beach Florida from 11/12-02/15 and was treated horrible. I was sexually harassed from the day I started till Feb, 2013 by a manager. I told a different manager but nothing got done until 4 months later. They allowed him to quit instead of firing him so he could get a job at a different restaurant. I was so uncomfortable working because they allowed him to come in and he would always stare at me. That is just not right!! Then I worked with a bf/gf and they would always fight. I would find the gf on the floor in the office crying cause they would be fighting all night.
Again nothing was done to separate the 2. I was never late for work in the nearly 3 years that I was there, would come in when asked, stay late when asked and when my Granddaughter was born took 10 days off but they called me in 3 times and I went. My GM Cody tatro told me I coudn't be employee of the month and never was. then last week I was sexually harassed again by another crew person and when I went to work three days later there was the same man who had done that to me. i walked out on my job and the owner blames me.

Bruce Michael Perry
from Reno, NV
On 23 Feb.'15,i went to the McDonalds off of Oddie Blvd./Silverada ,Spark's,Nv. The Crew Was Friendly,courious as usual,However,i brought my Lap Top,and got onto McDonalds Free WI-FI,because of that,alone,I gotten Malware,onto my Lap Top,then when I brought it back home,i couldn't use my password to login,I had lost all of my personal information,my writing projects/comic book conception artwork,I couldn't even download it onto my flash drive,now I cant even upgrade my dell d610 latitude,Now,im looking at loss of future royalties off of all 13 book's on Wicca,I was intending on publishing,I,will be expecting compensation for loss of intellectual property,and all that time and effort into typing it all on my Laptop,Now,i just found out that,im losing my place to live,pending ssi,disabled and in a wheelchair.I will be expecting compensation,of a newer upgraded Laptop,please have McDonalds contact.

This is the Absolute Worst I have Ever seen Any Mcdonaldd restaurant! They are Not busy and this store is Absolutely Disgusting! Trash overflowing out of can, all over floor throughout restaurant. Not 1 clean table at all even the "party area" that is closed is Absolutely Disgusting! Employees walked through lobby numerous times and just ignored the mess.

My family went inside and dined in a Chattanooga McDonald's located on dayton blvd, on Saturday January 5th 2013 around 7:20 pm. My child ordered a 6 piece nugget kids meal. After we had sat down and began eating he brought to my attention a small black looking insect that he removed from the outside of his nugget, which was still in the box. Looking closer at the object I noticed that it had tiny legs and was moving. I immediately took what appeared to look like a tiny worm of some sort to the manager.
The lady immediately agreed that it was moving. She told me that they were going to have to turn this in. My family and I were so disgusted by this. I was a little shocked and bothered that they were asking me what they could do to make this right. My child at this point wanted nothing else to eat nor did we finish our food at this point. They did give him a mcflurry. I left there sick to my stomach not to mention irate. We will not be frequenting that McDonalds or any other for that matter.

We found hair in 2 out of the 4 big macs that we ordered. When I returned the first one to the staff she was apologetic and quickly ordered another one. When I brought back the second one the staff laughed and found melted cheese mixed with hair to be hysterical! I asked if the kitchen staff wore hair nets and they said they didnt know....umm...okkkk. Totally grossed out, the kids didnt want to finish eating so we left. Glad staff laughs at their issues instead of doing something about it, like ensuring food handles are properly uniformed at ALL times!! Grosse, never going there again and warning everyone I know about it!

My name is Jacquline Balderas. I turnt in a job application at McDonald's in Wasco,Ca on November 23 2012. Today, november 25, 2012 , I get an anonymous call saying they had all my information because McDonald's handed out my application I filled Out. I called and made a complaint and they had me ask the anonymous caller for my application to avoid Harrassment. I went in to the McDonald's to discuss this and all they could say was there sorry. Luckily, the anonymous caller was a good friend of mine, but say it was a bad Person who steals identity, then what??

I go to mc Donald's in Maldon every Sunday to get breakfast and every Sunday they get the order wrong. I always order a bagel with no egg and my boyfriend can't eat the egg and every Sunday they get it wrong! I'm gettin so dick of coming there a recieving that treatment! Even the boy who was serving me said the kitchen staff obviously can't read! What does that tell you about your buisness. If the problem isnt resolved I will be forced to take my custom elsewhere!

I went to the drive thru of Mcdonald's in Dettro drive in Mattoon IL. 61938 ( parking lot is under construction)at 7:59 p.m. April 13,2013 . I ordered Bigmac w/ cheese, double cheeseburger,and premium chicken and bacon wrap with a coupon and i specific said to her that transaction is done and the person next to me wanna order the premium chicken and bacon wrap with a coupon. The lady in the microphone said to me sorry Ma am we can only used one coupon . I said I understand that that's why we order two transaction and she insist that is your policy to used one coupon per customer per visit.
I decided we go inside and ordered the same thing , we both fall in line and ordered using our coupon with no problem. I asked the lady who gave my food if she was the one who got my ordered at the drive thru because her voice sounds familiar, she said yes her name tag said ALEX , so i explain to her what i was trying to do and she said Oh I didn't understand you. No sorry from her. I understand she might be tired but I'm caregiver and worked two jobs , work 8 to 14 hours a day most of the week . Thank god i still managed to smile and apologized if i make a mistake and let them know that I will try to remember to LISTEN and not to make the same mistake again. If Mcdonalds don't want people to use the coupon in the drive thru you have to say that in your ad.
Lorelei Sheff

there are several men aged 50 to 70 years of age that are ganging up against my cousin because one of the customers doesn't like her. He has bad mouthed her to every one she makes friends with at McDonalds. He has threatened to complaiin about her service dog that she brings into teh restaurant. Every one knows about him, and he has caused a hostile enviornment against her and this is not right.
She has reported it to teh managers and they said they will take care of it. Right now we are just making you aware of this so if any thing comes up ... you will be aware of it.
Thank You!!
A Concerned Cousin

I recently visited a McDonald's and right when I started my order I got a horribly rude attitude from one of your employees. She was totally ignoring what I was saying and cutting me off. I got over it but than once I got my food it was all wrong, wrong hamburger, a water instead of soda wrong ice cream. She was rude and inattentive. I'm not sure why your establishment would hire someone like that. I was extremely frustrated after that experience

I was at the McDonald's in south normanton on the 17/03/13. It was 1am Monday morning and I always finish off at McDonald's after work. I ordered my usual meal that I have and payed for it. When it came out the fries were cold, the hot chocolate was watery and the burger was missing the bottom off the bun, and seemed to have been cooked with no pride at all. I complained and the staff just giggled and joked with the chef. This is not on I'm disgusted in the service I received and the action taken.

I wish to complain about the way your job application process is conducted. My son got to the second stage of the job application and was invited to an interview at MacDonalds. When he arrived there he was told to fill out a form which he duly completed then he was told to go home where they would contact him by the end of the week if he was through to the next stage of the interview. By the time he had got home he had already received an email saying he was unsuccessful in his application, how could this be when he didnt even have an interview? they know nothing about my son and his capabilities, obviously if he had got through the first stage he was of the right calibre to do the job. Did the Manager therefore judge him on his appearance, that of a teenage boy? what a waste of time for him to make the effort of coming into the shop to produce documents to prove who he is. I was appalled that he did not have a verbal interview with the manager so he could find out what sort of a person my son is, obviously his face did not fit to be turned down before he had even reached home. It is sad that your company has such a high profile that you should treat individuals wishing to better themselves this way. It would be nice to get an explanation as to why this happened, but as with everything else in life I suppose this will just be put in the delete bin.

After waiting in the drive through line for ten or so minutes we got the wrong order the cashier took the order back through the window and we hear the managers arguing very loudly in front of all the employees and costumer so we finally get our order back and get home to find our order still wasn t right. After spending over twenty dollars and my time waiting I am not happy. Hickory store number 13823 hwy 321! Please contact me about this matter at 828 781-1020.

I am an asian and use to love eating macdonalds,had a fillet o fish meal everyday. Last week i went to macdonalds i was refused to be served as the staff in macdonalds are claiming that the the fillet o fish meal is not suitable for vegeterians as the staff are not doing thier job properly, because at the end of the day when they filter the oil out to clean it they are not keeping the fillet oil separate and are filtering it with the rest of the other food which means contamination. I am very disappointing to the fact that up until now i have been eating something which is not halal for me, and the fact that the staff in there are not doing their jobs properly.

I, apparently, am not a typical customer. I expect butter and syrup when I order hotcakes. When I specify no cheese, because I am lactose intolerant, I expect no cheese. A spoon and fork works for also. I can't seem to receive these "special" items when I visit your restaurant. I AM PISSED!!! In the past I sympathized with foreigners coming to this country to make a better life, and hiring the young to begin the process of developing work ethics. It's a good thing. But I am finding that my quality of life is being compromised as a result. For the last year or so, I changed my breakfast stop to McDonalds. But often I have to throw my carryout meal away because I got no syrup for my hotcakes, cheese on my sandwiches, no salt or pepper and once, no spoon or fork. You added cheese to all your sandwiches, and now I have to pay you extra to screw up my sandwich. Get this; Americans thrive on quality and price. But offering price alone is unacceptable because you don't get what you really want to enjoy; the experience. This is the first time I took the sandwich back. I complained and refused the free sandwich offered. You want customers? Get it right!! Train them to get it right. Have you ever heard of Poka-Yoke?

Hi, I'm a crew worker at Mcdonalds Restaurant located at 5666 N Blackstone ave in Fresno. Today 4/13/2013, we are busy and when taking orders from customer and after cashing it out, the customer come back and say they don't want their food and want to exchange or refunds for their food. I was being blame at that its my fault but before I'm going to cash it out I repeat the order and the customer say its correct then when cash out they come back and say its not correct and want to exchange them. I'm really disappoint and mad that I'm being blame at while its not my fault to be blame or yell at. I have decided that its not worth blaming on me that its not my fault while I did repeat the order back to the customer before I cash them out. I'm not happy because its not my fault its the customer fault because they don't know what they are ordering and then when come back to correct the order I help correct the order and still being blame at. I feel that being a part of McDonald's is a good place to be but its doesn't seem like it anymore.

We order 6 filet-o-fish meal and than we asked for extra tarter sauce and she gave few. we asked her for 1 more and she said we had to pay for it. Many time we go to burger king and we asked for extra sauce and they always give us without saying anything. So im surprised on mc donalds behavior. They also using half slice of cheese. It should be 1 full slice not half. If this is not solved im never going back to mc donalds.

I am beyond pissed off with the 9638 160th St in Surrey, BC location. Online it says that they are open until 3am, I have walked into other McDonalds after 2am and been served. Yesterday(Saturday April 13th) I went to McDonalds at 11:30pm only to find all the doors locked. I knocked on the door but was ignored. I decided to walk through the drive thru so that maybe I could ask why the lobby was closed. A woman working opend the window and said "Sorry, we don't serve customers on foot." I asked to speak to the manager, she replied with "have a nice day" and closed the window in my face and locked it! I want to know why I was denied service and the right to speak to a manager during hours of operation, the sign says 24 hours and does not state lobby hours. The woman was rude and the manager was right behind her when she closed the window in my face. I have never had such a horrible experience in all of my life! I will NEVER be going back to this location ever again!

It seems like the past 3 or 4 months, McDonalds cannot get my order correct thru the drive-thru. To give credit where credit due.1 out of 6 orders are correct , and the employees are nice most of the time. When we order food for example fries, hashbrowns, McDoubles and apple pies, sauage and biscuit when I ordered gravy biscuit. I always go thru the drive thru because my grandchildren are with me. I drive away from the window that gives you the food, park and check my order. When it is wrong, I have to go back thru the drive-thru. This does not include cold fries. This gets OLD VERY FAST!!!! All we have in this town is Sonic, KFC, and McDonalds. Alot of people. including me and my family, WISH we had a Wendys or Burger King instead of McDonalds.

Extremely mad at willmar mn McDonald's! They won't give out cups of water.. Even for paying customers in fear that the customer will turn around and walk inside to steal pop?! Ridiculous!! Never has any other McDonald's (or any other fast food restaurant) done this to me! What a joke! Would not recommend this McDonald's to anyone!
How can you visit a fast food restaurant like McD's and not get water to drink with your meal, is this what the world is coming to! I don't mind paying for water if it's of higher quality, but they want give me this is amazing to me. They are basically calling McDonald's customers a thief, like we won't complain about this.

On 9/2/13 we visited McDonald's at22333 east 9mile rd ads,no store # 6927 around 12ish...we watched five members walk by us and never once offer assistance to take our order...the manager walked by..still no welcome..No acknowledgement of our presence.When I asked for help after 20minutes the rude staff got the order wrong#398 and then proceeded to state in my presence what I did or did not offer. I live close by and will not return to this store,the customer service us poor,store is often not clean and staff were very unprofessional.



Disclaimer: This complaint was submitted by Tammi on 09/02/2013 at IP address 64.134.160.182 using our mcdonalds complaint form. This opinions contained in this mcdonalds customer review titled, "lack of customer service,rude team memvers" do not reflect the opinions of this website.

About a week ago i went to McDonalds at Thinford in county Durham. Food and service was great at the time and we never have any issues with regards to food. When being served , we went to pay with a card, entered card as normal then, the card machine said remove card. We removed the card and entered it again, the same happened. We then had to sign for the transaction and thought nothing else of it(no receipts given)When we checked the same transaction went through twice, exactly same amount at the same time. We phoned up and the lady who served us said she had never known this before, so gave us a number to ring in which we tried but could not actually get through to talk to an actual person! I went through to the McDonalds the next day to see if some kind of management was in store just to see if i could get a refund but the store was busy and i just got directed to the same number i was given the day before. The order was only for £8 but it's got to the point where i am just complaining on principle of the bad way i have been treat in solving a simple problem.

I want to make the corporation aware of an inexcusable managerial employee who is breaking numerous labor laws. This employee's name is Ilene Komiko and she is currently at the American Fork, Utah store on State Street. Supposedly, she is sent in to clean up troubled stores, but let me tell you what has been happening.
My husband was hired as a manager trainee in May. He was supposed to be on a 90 day trial period while he was being trained. He still hasn't been certified, even though they have been telling him for two months that Daniel will be meeting with him to discuss his salary and get him certified.
14 managers have quit since May. Most of them have quit since Ilene came to the store due to her abusive nature. There have been too many hourly employees to count that have quit and most new hires last about three days.
Ilene yells at the employees and every sentence starts with one of these threats: You will do this or you will be written up or terminated. Due to losing so many employees, they are unable to fully staff their shifts, so most employees are doing the work of 2 people. No one is getting breaks and they are working 8 to 14 hours. Then she makes the managers stay until the store is cleaned but she makes them work off the clock, stating that they have to do whatever they didn't do on their scheduled shift. My husband was the only one in the kitchen and he was cooking AND putting the food together, so when was he supposed to clean the floors? There wasn't a dish washer, so he had to do that, too. This has happened on numerous occasions. She put a new hire who wasn't hired to cook in the kitchen and yelled at her all night to work faster. she didn't even know how to make the food!
Ilene has gone in and altered time cards so she doesn't have to pay overtime. She requires the managers (even the ones who are training so they are hourly) to come in for meetings and then she refuses to pay them. She made them come in for a meeting on Sunday that was supposed to start at 3 but she didn't show up until 5. Then she brought Little Ceasar's pizza and they ate it in the sitting area with customers! Then she made them come back in at 10:30 pm until 1:30 am to train them how to clean and she refused to pay them for that, too.
I don't know if you have a way to check the hiring and release dates of those employees, but I think you would be shocked if you saw how she has decimated that store. My husband almost walked out tonight because of her rudeness, but he really wants to be a part of your organization. She has been very rude to customers and employees alike. I think you ought to send in an undercover person to see what is happening first hand. She has been with the corporation for 20 years but I can't believe you would condone her actions. It doesn't jive with my idea of a happy place to be for families when it is actually painful to work there.
Another problem is that there are managers who have been there over 5 years with no raise and no benefits. When they do ask, they are told their paper work has been lost, so they are only making $8/hr.
I choose to believe that this store is an anomaly because I have been a patron of yours since you opened! I was excited for my husband to be start working for you because I believed that it would be a positive environment that would appreciate his many years of customer service and people skills. I know you want to see employees that are smiling because they love their jobs. Please do something to fix this situation. The customers are unhappy because they have to wait a long time for their food. The shake machine is broken 80% of the time and needs to be replaced. They desperately need more employees. A manager named Andrew is supposed to take over soon. I would suggest that happen sooner than later because he is a nice, level-headed man who might actually save the store. Please get Ilene out of there before everybody leaves!

The policy where I work is to be polite to our customers at all time . However apparently this is not the case with macdonalds. After the member of staff had thrown down my food I was spoken to like crap .. its absolutely disgusting and needs to be sorted . There is no need for it .......

I wish to make a complaint about the North Shore store in Townsville.
Almost everytime I go to this store something is either broken or out of order, or the chips are cold or we are given the wrong order...This is the only store in our area, the next nearest store is a 15minute drive away...The Frappe machine is still out of order and awaiting parts..
The icecream machine was out of order last night and when we complained the girl behind the till just shrugged her shoulders and said nothing she could do...Don't you think that these machines should be replaced while they are waiting to be fixed.. I have seen them cleaning the machine at their busiest times so therefore they are placed out of order.
This store is only new and these problems are just not acceptable...

I frequented the Orrville, Oh McDonalds until the Manager, was not only rude but humiliated me in front of other customers by her words and actions. I have never had a complaint until now. My last visit was Dec 20, 2012 and I can not bring myself to stop there again after how I was treated. I thought it would pass as I have frequented that store regularly prior to this incident. I feel I am owed an apology from her.
Most times I go through the drive through but I was with a friend and we wanted to eat in. I have kept my receipt if you need any information on it other than the store # which is #11923 and mer# 25710002 and kvs order 91.
On Dec 20, 2012 at 9:32 am the incident which I am referring to is I ordered a Egg n Cheese McGriddle (no meat). The young lady at the register taking our order didn't know how to ring it up as there is no key for it as there is 1 for the Egg n Cheese Biscuit I frequently order. I started to tell her how this store other stores ring it up, which is --- 2 McGriddles, a Folded Egg and slice of Cheese---comes up to $1.99. This woman (which turned out to be the manager) came over and said I could not order it like that.
She told the girl not to do it like that. I started to say but they always have and she quickly interrupted me. She loudly said whoever has been doing that is wrong, this is her store and it is her way. Said I could not have the folded egg on the sandwich but had to take the scrambled egg since I was ordering separate items for a sandwich. I again started t o say something but she wouldn't let me finish before again saying this was her store and it had to be done her way. She told the girl to ring it up as a scrambled egg not folded for Egg n Cheese McGriddle Sandwich.
There was no saying anything to her because she was insisting I was wrong and whoever has been doing it like that is wrong at her store or any store. With all the customers standing there listening to this I just let it go. I did ask her name and said I might complain to higher ups. She said she didn't care because she was right and that's how it will be done and repeated her name loudly. I felt bad for the girl waiting on us as she seemed embarrassed by all this also.
The Scrambled Egg was horrible on that sandwich, it was sloppy and falling apart. All I was asking for was a McGriddle Sandwich with no Meat and didn't want to be charged for the meat. I've never had a problem until this time. I guess it was because I didn't go through the drive through.
Even before they had a key for the Egg n Cheese Biscuit they always rang up the items separate, Biscuit, Folded Egg and Cheese. I was not forced into taking a Scrambled egg on the sandwich which makes for a sloppy sandwich. I have even gotten a Toasted Cheese from McDonald's on occasion.
I know that this manager is new to this store in Orrville as Manager but no excuse to treat or talk to customers this way. I can only imagine that if she feels so free to treat and talk to a customer this way how she must treat the employees.
I really feel I deserve both a verbal and written apology from this Manager, as to how she talked to and treated me. Until then I just can't bring myself to patronized that store.
Thank-you for taking the time to read this.

Tonight, after a 13 hour day at work, I stopped by this McDonalds to bring my kids home dinner. I ordered 4 hamburgers and a mcflurry. When my kids opened their hamburgers, there was a single slice of tomato and a pickle. No hamburger, no condiments, nothing but a single slice of tomato and a pickle. It was 10:38 pm, and as soon as I pulled up to order a guy said "sorry, we're closed," and I heard snickering. I said "I'm sorry, did you say you're closed?" A woman with a thick Indian accent replied "what's your order?" Confused, I repeated "Are you closed?" She again repeated "What's your order?" My order was simple: 4 hamburgers and an oreo mcflurry. I was the ONLY customer.
Thanks to this McDonalds, I'm trying to find something to fix for dinner at midnight and my kids are waiting up while I cook it. Not to mention the money I'm out since I wasn't even given a receipt; although, I if I were doing things like that at work I wouldn't hand out my name and a managers phone number on a receipt either. I don't know if they think it's funny or cute, but I'm not tolerating service like that. It's disgusting. Doing it on all 4 clearly indicated it was on purpose, especially since I had no special requests.
Many hard workers are looking for jobs, and if McDonalds thinks it's appropriate to hire employees like that, it's a very easy decision to not support the business. This McDonalds will never be used by me or my family again. It's not worth it. Why would I drive there, pay them money, and still have to come home and cook? Thanks for wasting my time and money McDonalds- the two things this single working mom can't afford to spare.

I asked the lady if I could get fresh fries and she told me they were fresh and they were not. The fries got cold and hard as soon as I left the store. I tried to eat the fries along with my fish sandwich and my sandwich was hard and cold too. I took the food back and the manager refused to replace my food! I'm disgruntled and upset!

My husband and I went through the drive way of McDonald's on overland and Venice blvd Los Angeles ca 90034 and we could barely understand the employee taking our order and she could barely understand us.. She kept say what? So when we received our order it was all wrong we didn't get our sauce and the fries were old cold and oily .. It was a horrible experience.. They have employees working there that barely speaks the English language.. And that is a frustrating experience for customers that are spending there money with the restaurant

Visited the drive-thru at McDonald's at 17:15 on Saturday the 13th April. Had around 6 instant wins , when we handed them over to the man serving on the first window , he took 2 and handed the rest back saying ' there's the other ones back for another day' without explaining why he was doing this, I asked him ' can I not use thes all today?' To which the woman worker on the headphone set for the drive-thru at the same window rudely butted in and in an agressive tone said ' that's the rules, I'm not going to put them through and loose my job over you' I was quite taken aback at her reaction to my question! I often visit this McDonalds and do not think her tone or rudeness was necessary. I think you need to find out who this worker was and she defintly needs a lesson in manor ism! I won't be going back to this McDonald, thanks.

I was recently in McDonald's restaurant and me and my partner ordered a Big Mac meal and a mc chicken meal the burgers and also the chips were both under cooked, I am not best pleased with this at all your staff are meant to make sure the customers food is fully cooked and presented to the customer in a nice way and not throw on. I want this to be sorted or I will go further about this and make sure people know what McDonald's food is really like. Thank you for your co-operation and hope this is sorted soon.

I went to McDonalds tonight Monday April 1st. I waited in the drive through pick up window for at least 5mintues waiting on my food and could see the front counter and it was dead in there. Then I get home eat my food and my order was wrong. I got a Angus Bacon & Cheese and I asked for it plain but to keep the Bacon on it, my sandwhich was missing the Bacon and tasted like ketchup like theye put ketchup on my burger wipped it off and put a new bun on it. I was not happy with my visit to Mcdonalds tonight.

On Friday Dec,6, 2013 at approx. 11: 00 PM, the dining room needed cleaning, overflowing trashcans and trash on floor. We ordered from a gentleman and he then went outside to smoke and make a phone call. he returned aprox 10 min later and our order was not complete yet, he saw the french fries had not been put in fryer yet, He bagged our burgers and set them on counter. while waiting for fries i asked to see manager. I was very surprised to see that the gentleman that took my order was the manager. at this point several people had already walked out because no-one was at the register. I asked for a refund because our burgers would have been cold by the time our frys were done. a refund was given but not before asking about our drinks which were left on the table. This poor experience cost us 30 minutes extra on our trip late at night. 

My E-mail- I visit your restaurant infrequently, though I did stop in to my local Mc Donald's within 3 weeks of your starting your advertising of your Frozen Strawberry Lemonade in mid May. I bought one for myself and one for my daughter. I was exceptionally dissatisfied with the product and feel like the nearly $5 dollars I spent was a complete waste of money. I might have as well thrown the $5 dollar bill in the garbage container out side the store. Your advertising is misleading the whole drink tasted chemical, tons of artificial flavoring and coloring for both the strawberry and the lemon. It was horrible really horrible.
I very much doubt if there was even 1 drop of either real strawberry fruit or lemon juice in those beverages. No where on the cup did the product say 0% fruit juice. I took one sip out of mine and my daughter did out of hers we promptly tossed the drinks in the trash. Lots of your customers would neither know or care and I'm sure you've made lots of money on the product.I have 30+ yrs. experience in Advertising as a designer.
I expect Leaving such information out of this particular product isn't criminal. You weren't advertising it as "Juice" but it wasn't "Strawberry Lemonade" either only by the color. 'Rip off'.Shame on you.I would really like my money back.Also you will remember in restaurant management training. How many people will some one tell when they have a bad experience with a business incl. restaurants;17 others as I remember.What happened to quality?
Notice with their reponse below no attempt was made to refund my money or satisfy my complaint is any way.
Mc Donald's corp. response below.
Mc Donald's corp. response-
Thank you for contacting McDonald's. Customer feedback is very important to us, and I'm sorry to hear that you're disappointed with our Frozen Strawberry Lemonade.
Be assured that at McDonald's, we continually review our menu to ensure that we serve the products that our customers will enjoy most. As appropriate, our Menu Management team makes changes or enhancements to our menu. We strive to satisfy the tastes of the nearly 50 million people we serve each day.
Again, thank you for contacting McDonald's. We look forward to serving you for many years to come.
McDonald's Customer Response Center
I've got news for them... here is public notice on a lousy product, my opinion, and their customer service or lack of it.You can't even talk to a real person to complain.

Today, I ordered two combo meals w/ lemonade for my boys through drive thru, but my children realized that the drinks weren't lemonade instead they were ice waters. Then, I parked my car and walked with my two boys into the store and told one of the female employee about the drinks. She gave me two new cups but didn't even say sorry. She then told me to fill the drinks , but it was water again. so I went back and told her again this time, she didn't even bother to care. I was very disappointed with this type of service. As a customer, I think I deserve an apology from the employee because it caused an inconvenience. Imagine, if my children didn't drink their drinks until home, we would had to drive back to the store just for the drinks.

they told me to pull ahead and when i did they forgat about me for the second time after 22min i went in the stor and they did not have my order i understand things happen but this was the second time i a week . the waterloo store in central new york is the worst store by far the geneva and auburn stores are great . the waterloo store half the time forgets your order or is always missing some of your order it is bad and somebody should look into it

Dear sir/madam,
I visited one of you're mcdonalds stores this evening, at the norwich airport. It is one that myself and husband use often!. And i would just like to say, how under qualified ALL the staff where there!. I used the drive threw, started in order. I always ask for a special burger!!. (Grill!!). And befor i had finished giving my order, the young man told me to go to the next window!!.. at this stage i had not given him my seconder order, and he didnt even as when drink i would like with either of him. He kept telling me to go to next window befor i had finished ordering!. So i go to next window. I payed by card! Handed the young man thw card reader he then shut the shutters and turned his back!!. So i move to the next window!..where i was told to wait in bay one!. When i recieved my food, the young lady who came out.. passed me my food and said.. here ya go!!!... cheers!!!...
Im guessing they are all new staff as i did not reconised any of them and that they all had new uniform on. But that doesnt not excuse the way they should traet or talk to customers!!!.. this may only be little to yourselfs but to me it was unperfecional!!. And rude!. If i hear nothing from yourselfs i shall be conta ctin kevin foley muself and take matters further as i think all staff should be trained to talk to their customers with a little bit of respect! I have also walked into this particular mcdonalds and have heard the staff behind the tills swearing useing the F word!.. this was when young childern are about!!.. a discrase i would say!.. thankyou for your time!. I hope i have explained myself on here as good as i could. Will be waiti g to hear from yourself.

We ordered about 35 dollars of food took almost 30 mins to complete my order to me. Then they came gave me my food asked me if everything was right till I noticed Mt fries were not all there had to go back inside and told them. Thought that was all then she forgot two sandwiches the store number 5589 is a joke I go literally about one to twice a week and find everything always messed up its sad. I just cant imagine all the complaints you as a company gets from all your mangers not able to run the floor its just sad. they also told me you guys have no quantity buttom bcuz I order lik 10-15 mcdoubles the same only ket chz and pickles sad how they cant get that right. That location sucks just sucks for me because that place is the closet but I bet if I go to Litchfield and McDowell I can make it home with everything and stoll warm the mcdonalds down the road by the time in home cold. The other thing is that your fries are expensive to be shorted paying for a large but getting a medium thats sad I am one more bad service from any location to be done with your establishment for good me and my entire family!!!

I went to Mcdonalds in Torquay, UK today on the 2nd April 2013 and ordered a McChicken sandwich using a voucher. I gave the person at the till a ten pound note and only received two pound change. I told her that she didn't give me enough change because she typed in the till that I used a five pound note and she went to call the manager. They told me to wait so they can count up and when they returned the manager told me that the amount is correct and said that I must of put a five pound note in my purse instead of a ten when I told her I knew for a fact that I used a ten because that was the only money in my purse I had and I know that because its my pocket money. Money that I earn and she practically called me a liar when I said so by saying that I must of only had a five pound note. Not only that but when I got home I found out that the order was wrong instead of a McChicken sandwich I got a Big Mac that ended up costing Seven pounds because the manager wouldn't give me back my money. I'm going to tell everyone what happened and never recommend this Mcdonald resturant for anyone else, what with the bad service, being called a liar and spending more money than what it's worth. Especially with the manager making me feel embarrassed and angry for losing my money.

At least 3 times a week, I drive through the McDonalds on Roam Hilliard-Renner Road in Hilliard, Ohio and if I arrive after 9:00 pm I am always told that they are not offering hot beverages because machines are being cleaned for the next morning. Yesterday I drove through at 8:30 pm and was told the same thing. I don't understand why the machines are being cleaned so early in the evening when the drive through stays open late. This is an inconvenience when I can go to another McDonalds and get served but this McDonalds is the closest to my house and not out of the way. Can the machines not be cleaned at a less busy time or after midnight? There is a high school nearby and after football/basketball games many parents/students would love to be able to get at least a hot chocolate. 

This morning, when going to the McDonald's on the corner of Ralph Avenue and Dixie Highway in Shively, there was no one in the store. This was at 6:15 am. It was open, but all employees were sitting on the sidewalk outside the store. I realize there was suppose to be a walk out but the majority of all other restraunts were working as usual. These 'Young" kids should not be allowed to do this. If they worked for me they would be fired. My business will now be taken Wendy's and I'm sure a lot of others will do the same.

Orders constantly wrong eg; order lge flat white recieve sml cappucino inlge cup same with other drinks, totally wrong meals supplied only found out when i got home something that happens nearly every time sick of excuses when i complain . But to add to this annoyance 9/10 times i have a min of 10 -20 mins wait for my order only to get home and find it wrong again .Why can other stores get it right where this one our closest store FAILS miserably?

I just came from Macdonalds now and are furious. After struggling to put my med meal order thru to find out I have to pay extra for a large meal because they don't have med cups or chips casings (not my problem) then eventually after getting my order thru we drove around to pay. My child wanted a cone with a flake and she took her R10 and gave it to my husband the till lady took it from my husband then said she will find out if they have ice cream wasting my time again. She came back and said no they don't have. On our left was a male staff member of our car and he tried to explain they don't have the milk. My husband was furious and moved forward, the next car in line moved forward and I told my husband the till lady still have the R10 as we drove around and got to her she denied it! I am appalled at the service, its stealing! This was at Rustenburg ranch! Macdonalds will never ever see me again that's a promise!

I like McDonalds food & especially the Breakfast Menu. The closest McDonalds to me is the one at Hyw 109 & Eastgate Blvd, Lebanon TN. 37090. But it seems that every time I go thru the drive thru that something in the order gets messed up. Either there won't be Napkins or Plastic Ware or the order is filled wrong. The main times is week ends but week days also. ( week ends ) gravy bowls aren't filled up, most are half full or less & not enough to cover 2 biscuit halves. This morning 2/20/13 I ordered a Country Ham & Egg Biscuit and got Canadian Bacon instead of Country Ham. I drove 5 miles back to get it what I ordered. The Management ( if you can get one to speak to you ) seems to care less about complaint's, just brush you off with a I'm sorry, here's a Apple Pie. I'd much rather have my order correct and get the Full order the 1st time I get it. I'm sure I'll keep going to this location just because it's the closest one to me, but it would be nice if the SERVICE improved. I'm not looking for or asking for a Free Meal or an Apple Pie, I'd just like to get what I pay for. Good Food, the Correct Amount & Good Service.

I am really upset and shocked to no that I got sacked over the pettiest thing!! Apparently I didn't smile enough I can say 100% hand on heart I smiled a lot more then half the original staff were!! Then I got told it's because I took 1 day off, so they would prefer me come in with a bad stomach and sneezing everywhere, what more to make me angry then the manager sacking me who has never seen me working before and has only been there a week her self!! How can you sack someone without giving them a chance!!! It was like my 4th shift. I didnth even know we could get the sack with 4 days of been there! I want to write to the head office as I am not at all happy!

While on vacation I visited the McDonalds in Berlin,MD and got terrible service. I ordered a McDouble, fries, a small soda and a small coffee which may have taken all of ten minutes to complete, since there was no line. Instead I waited 30 mins and left with no order. This particular location gives a bad name to all other locations as either the staff is not properly trained or management has no clue on how to run this store. I will advise everyone I know to avoid this location at all costs. We were not the only ones to have a late order,, we paid and still left this location.. Please fix this or assign some regional manager that can!

I sent a compliant Friday but I guess the wrong place. I was in Bangor on broadway always stop on the way home for a to go order. Got my meal and got by the driveway to go back in took a fry it was cold ate another one it was cold too. I had to throw them away I can say usually they are the best fries not this day.

On Tuesday the 2nd of April 2013 my family and I visited McDonalds on the Chester road Birmingham near castle vale. On entering I noticed how dirty the restraint was because it was hard to find a clean table. This should not have been the case as only 5 tables were occupied. One of which was occupied by 5 team members. After finding a clean table my partner then had to find a clean high chair! This became an impossible task to. So my partner got the baby wipes out and did the job herself. On returning to the table with my food my children commented on how dirty the floor and tables were.( they ate 6 and 8 my eldest). We then started a meal which all I can say was cold and stuckto the bottom of the box.
I have now been in the restraunt over 30 minutes and I have not seen anyone with a cloth a broom or a mop. So if they can't keep the front of house clean what's happening out back?
That was my last meal this week I have been unable to eat food and keep it down since!

I'm currently staying in Brunei..I wanted to lodge a complaints on the bad services of Brunei mc Donald. The issue is the staff was very rude when myself called in ask for delivery 2 times and my sister also called in twice and we get the same feedback and answers from the staff. My house is just 15min away from mc Donald, while we call for delivery, they say not going to deliver it. While I ask, you don't want to do business? And the staff reply me, ya...I don't want to do your business. Mc Donald is worldwide business and how could it be this kind of bad services and attitudes from the staff. I hope to get a feedback ASAP

Terry K Ward
from Sebring, FL
I almost died today from choking on a Egg McMuffin today because it had Egg Shell in it! The egg shell cut my gums and the rest went down my throat, I only realized it had cut my gums after I had almost choked too death; now I know how people feel that has almost choked too death, it's a CHILLING FEELING!
P.S. I guess there is no Quality Assurance at McDonald's, people be sure you check everything that you eat from McDonalds first; because all the shortcuts they have been taking the last decade or so must be catching up too them!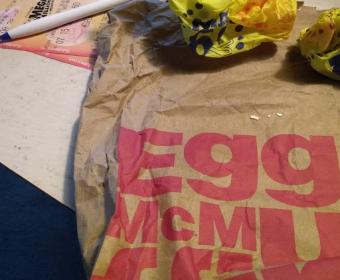 Doyle Yates
from Barstow, CA
My wife and I were at this location on 04/18/2018 @ 02:30 PM. ticket #351 order # 51. They took our order and I paid cash and was given my drink cups. When I got to the drink machine the whole area was dirty and drink spilled all over the place there was drink spilled on the floor in front of the machine and down the isle way for several feet. I let someone at the counter know. They had someone come out to clean it up. He did not do a very good job. Then we went to get a booth or table to eat our meal and we had to go to 3-4 tables and booths because the were so very unclean with food and drink on them and around the area. Then when we got our food it was not very good either the sandwich had old dark leaves on them. My wife and I at this point decided to leave. I did not talk to management about this because I did not want to cause any trouble. We will not be going to this location again.

Beverley Walls
from Mississauga, ON
I would like to start this off by saying that I was under the impression that the drive through was for convenience ! I have experienced nothing but slow incompetent service each time being served by Nadia !!! This morning as usual I went through the drive through , slow taking order, but we have come to understand that multi tasking is not her thing , however we ordered 2 medium blueberry smoothies, 1 large coffee and a medium hot chocolate. When we got to the window we paid the amount due only to have Nadia at that time inform us that the smoothie machine needed to be filled !!!!! Are you kidding me, we have jobs to get too, and her incompetence just put us back 20 minutes ! she told us to pull aside and wait for the attendant to bring out our order, which we did . I finally had to go in and see what the hold up was, no smoothies were made, I asked for a refund and told Nadia that this is not an isolated incident, that she's incompetent on the window and every morning we dread her being our server. Had she of told us that the smoothies were not available at that time , we would have just taken the rest of the order, the fact that we paid to sit and wait on her convenience is beyond disturbing !!!!!! This location does have extremely friendly staff, however Nadia is not one of them. Using the Creditview & Eglington location is an everyday stop for myself along with the many staff I work with . Nadia is not the girl to have on the window when people generally like to start their day in a refreshing mood too take through the day !!!
Thank you
Beverley Walls

john madey
from Berea, OH
I went to restaurant 3710 in Berea Ohio and placed an order at 10:17 pm today 4-17. This location closes at 11 pm.I ordered a hot apple pie and was told that "they were out." I asked the drive thru attendent why they did not have pies and was told they stopped making them at 10 pm because the manager tells them to to avoid waste.This has hapend before at this location to me and I complained as I am doing now.You're corporate office responded the location manager called me and I was assured it wouldn't happen again.so with enough time passing they again do what they want.I feel if you have a menus item it hold be available.

Tod M
from Walla Walla, WA
I seen the Mertle Beach incident where a man brought a homeless man in to buy him a meal. Management called the police to remove the homeless man just because he is homeless~!~ Then they made the good Samaritan man leave also. I WILL NEVER STEP FOOT IN A MCDONALDS AGAIN~!~ I personally know many people with whom we share experiences in life, and you can bet they will know about this~!~

Samuel
from Rhinelander, WI
The McDonald's in myrtle beach Florida is full of bitches! Kicking out a homeless man how horrible

went through the drive threw ordered a sausage mc griddle went back to work which i work maybe 3 minutes away, opened my sandwich no sausage inside so i go back maybe 30 minutes later and told the manager her name April what happened she asked me wheres my receipt i told her i didnt have it because i was working but that I'm a regular customer i come here everyyyyy day for breakfast and lunch she was veryyyyyyy rude and told me she needs the sandwich back or the receipt..then she just gave a sandwich which was ok with me... i didn't like the way she handled it by being very rude..,,when mcdonalds need s change they come to where i work and i give them excellent customer service....she should've just tell me ok I'm sorry heres another one .... not give me attitude....shes new there she should be more friendly with the customers...otheres that go there say the same thing about her she's rude....the staff is great been going there for the last 13 years Sara assistant manager is great if she was there she wouldve taken care of me the right way ....this has happened before and i never got any negative response.. Im not a satisfied customer anymore guess ill be going to burger King...

Terra Lewis
from Round Lake, IL
Today I drove home with my husbands, kids, and my meals. My 2 girls had happy meals and my husband and I had Qrt Pounder meals. $27.70 for the total. We where very upset to get the happy meals totally wrong. My husbands and my meals where fine but not the girls. My order on the receipt was all correct but not the happy meals which is why I think someone at the Lake Villa, IL Mc Donalds does not know how to read at all!!!! ! Happy meal Ch Burger ONLY Shredded Lettuce and extra Pickle is what i ordered. Well they gave her a Chicken sandwich with the lettuce and extra pickle not a burger. My daughter said it was gross and refused to eat it. My other daughter ordered 4 piece chicken nugget happy meal. She got a cheese burger w ketchup and one pickle. She hates cheese burgers. So my kids didnt eat there lunch and I wasted my money. Very unhappy! when my husband called they didnt seem to want to do anything about it.

Katy McLennan
from Weatherford, TX
We need the foam cups back! I have been to mcdonalds several times in the past few weeks and the new cups start to leak really bad and also do not keep the drinks as cold. thank you!

jesse smith
from Phillipsburg, NJ
on march 17 2018 at 10pm i went to the store at 660 memorial parkway Phillipsburg NJ 08865 when i pulled up we notice light were off, so the drive threw was wrap around the building and i was not waiting because they were taking forever. so i call the store and ask why the dining room was lock and there was no sign posted ( i have pic) and the time is post to be closed at 1 am , the lady told me there was only 2 people on because there was a call out, which means they should called more people in for that reason or put a sign up stating dining room closed due to lack of people working,,

Robert Gillespie
from West Chester, PA
WE GO TO MC DONALDS ON A DAILY BASIS MC DONALDS IN EXTON PA MANAGER JAKE 3/17/2018
.MY DAUGHTER HAS DIABETES TYPE 1
AND WE ALWAYS ORDER DIET SODA
THIS IS 3RD TIME WE HAVE GOTTEN WRONG SODA, BEING SUGAR SODA
I COMPAINED ON ALL OCCASIONS AND TOLD MANAGER JAKE HOW SERIOUS A SUGAR SODA CAN BE FOR A DIABETIC
HE WAS VERY SORRY AND REPLACED OUR ENTIRE MEAL THE FIRST TWO TIMES
THIRD TIME AFTER TELLING MY WIFE HE WOULD TAKE CARE OF US
HE TOLD MY WIFE REPLACE SODA ONLY YOU GET NOTHING ELSE
NOT GOOD CUSTOMER SERVICE MY, WIFE WAS VERY EMBARRASSSED
ROBERT & MARY GILLESPIE

Pallavi Sethi
from Sydney, NSW
I was at the Rydalmere McDonalds Restaurant Number #1535 on 14.03.2018 at 05:40 am. Me and my partner waited in the waiting bay for almost 15 minutes for coffees. When I placed the order I requested for Extra hot coffees and when I partner went inside he found the coffees were cold and just lying at the register.
He told the girl and asked to make the coffees again , The staff member gave him attitude and made the wrong order. My partner insisted the staff member that this is not my order ,can you please check it. She ignored the request and made the order incorrectly almost 3 times . She used inappropriate terms as well e.g. "you placed an order 8000 seconds ago".Then the manager intervened and served us.
order number was #84-REG#12

Michael hudson
from Mexico, MO
I went in to McDonald's in new Florence missouri and the first thing I see is a big a vary dirty mess of ketchup right in front of the main counter and then I get up to the counter to order and noticed that there were two people I thought were in line two order but then I noticed they were there just hanging out chating with the employees and were even going behind the counter and laughing and joking with people in the drive thru window then I asked for someone to take my order and was treated vary rudely and and when I placed my order I had to tell her several times what I wanted and had to ask her to take off things I didn't order because she was more into her friends conversations more then what my wife and myself were saying and then I get my drink cup and head over to fill my cup and the drink area was filled with spills and trash all over the counter as I get my drink I head over to the table and wait for my food when I got my food the fries were cold so I returned to the counter and asked for fresh fries because they were cold and got a additude and she mumbled under her breath by the time I drank two glasses of tea and my wife finished her food my fries finally was done and this is not the only time I have had problems at this location but this is the first time I have made a complaint and I will say this I will not ever return to this location I did take pictures of the mess but could not get the attachment to up load them and I as I was leaving the store the employee came out to clean the floor and I noticed she didn't have a mop she used a hand full of napkins .thank you for taking the time to read this

karina clay
from Dodgeville, WI
on march 4th 208 I went to drive through and this mcdonalds aloud strangers to come in and make fun of me and ake my order they served me garbage write off food and a large cup of urine I did not deserve this treatment they even made me pay full price for it mcdonalds restarunt number is 10423 order 53mks number 13 sidel I want them all fired for who took part in this I got sick and went to my family doctor on this because Ib een treated for a cervical cancer I don't want to have to do a lawsuit but I can if I do not get an appology letter and explaination of why they aloud tis at there store I worked mcdonald's 3 times and never had such disrespect before this is one of the reason why I wont comeback 608-408-0450 I want the managers replaced and fired for lack of ability to allow this to happen to me

dutchessangela@comcast.net
from Ridley Park, PA
I live North East PA and not far from DE. Every area McDonald's I go to is LOUSY!! (food, service). It's basically slop. The double cheeseburger's
are dried-out, the French fries are not cooked properly ex. not brown---I give them to the seagulls they love them. The quality is gone!
As far as the service sometimes I don't even get a thank you(that's in drive thru) just push the food in my face---I'm totally disgusted with
the food and go elsewhere to have lunch.
I've been wanting to send a complaint for years, but figure it's not going to make a difference. Like who cares?

Maxima Galang
from Poway, CA
I bought a to go 5 fish sandwiches today (2/23/18) & one of the fish sandwich's fish is missing. When I got home my husband drove back to Mc Donald for missing fish on his sandwich. He drove 4 miles of that single missing stick or square patty of fish. We were furious about it. The Hispanic guy in charge did not even apologized for my husbands for the special trip or inconvenience. My husband gave them back the bun with a missing fish and the cashier hand it the manager. They just slipped the fish in the bun touched by the cashier and gave it back to him. It is unsanitary since cashiers are touching cash and their hands were dirty. Is that how they treat their customers for not even a customers fault of missing fish? Especially now of the flu season & different virus/germs around. I told just my husband to just trashed the sandwich since I work at the Hospital as a scientist.
Mc Donald Restaurant # 3187

Jim Healy
from Thomaston, CT
I always thought your big Mac was the best burger out there. But lately they are dry and barely any Mac sauce. I brought it to there attention and they said they would tell the cook. When I got the second sandwich it was as bad as the first one.I didn't ask for a deal or anything free just a good sandwich, couldn't get it. Even was told at one McDonald's that if I wanted more Mac sauce it would cost me more. When they don't even put as much on as they should?

jeff oliver
from Grand Rapids, MI
Our orders are never right at the battle creek Michigan 49037 on Columbia avenue. in and out of the restaurant. Our order is anywhere from 50-70 dollars for 9 people.
I know it may not be the normal order but time and patience can make putting it together correct every time.
on 2/17/2018 we had a take out order and 75% of the order was incorrect.
order was supposed to be 4 big mac meals large with shakes, 3 mighty meals with choc milk and gogurt , 1/4 lb cheeseburg deluxe with shake. (unfortunately my 3 toddlers didn't know to tell me their gogurt was missing until after the second trip was over and i kept getting hung up on)
instead we got one big mac meal was missing, 2 big mac meals rung up as medium, no chocolate milks, all fries that were there were medium.
Called store told them what was wrong we were told they would not fix the incorrect 2 big mac meal mediums, but would give us missing large mac meal and shake, 3 chocolate milks.
upon arriving to the store: was given 2 milks and told the manager (young african american lady) there were to be three milks, mac meal and one missing large fry. I had receipt with everything circled and what was missing written on it, it was never asked for. After coming home 2nd time and frustrated again it was wrong. Called to tell them and the manager said it was all in the bag and everything else would be based on the receipt (she never asked for or saw)
This made me angry and i elevated my voice to tell her it is not what i spoke of i was hung up on. Called back she said we have caller ID and hung up. I had someone else call and she again said this conversation is done, had to call several times before i got a different person to answer. The new person identified themselves as a manager but it was not the same person spoken to before and the one who hung up on us several times, and she spoke to us with the manager we had talked to answering in the background. I was told to hold on during the conversation if she was the manager she could have handled the problem alone.
I dont appreciate at any time being talked AT, treated unprofessionally, and never to be called a liar. The first order was wrong, second (fix it) was wrong but WE were supposed to think that they couldnt have messed it all up. When twice in a row two trips they were wrong. So we ordered large on every meal but was told basically too bad, OH BUT BY THE WAY TRUST US WE DID THOSE TO MEALS RIGHT JUST MESSED UP EVERYTHING AFTER THAT. How would anyone think they did any of it right after all this. But it was what we were told to do.
During this the Manager kept referring to the receipt and what she said re receipt wasnt correct understandably since she never saw it. This whole thing felt racist, the way the manager talked to us and handled the whole situation. I even asked and told second person without raising my voice because it was making me feel uncomfortable hearing her in foreground during our conversation and she said it was rude and hung up.
I called back the Manager answered said this is the black girl you asked about don't call back or i will call the police. Answering the phone this is the black girl just warrants what i mean and the tone of voice along with it. Constantly diversity is mentioned in situations like this happens when it happens in reverse. I believe in diversity but when its 100% on both sides. Not to mention to argue with and talk like this to a customer is outrageous. I have worked with customer service over 20 yrs. We have all had bad days but going off unprofessionally is not how a manager is suppose to handle any situation.
I was so upset and shaking crying out of anger, i called another location for help and to file a complaint. I spoke with Bailey at the S.W Capital store in Battle Creek she was very kind and helpful.
I would like resolution, I don't want to travel extra miles for dinner i can get in minutes, and i don't think should have to.
Any one any where no matter where you go car shop, hair cut, hospital, etc. there are expectations if you paid money for break job and left with squeaky breaks you would go back, and if they said to you well we replaced them sorry sir/mam I don't know what to tell you, you would not let it go (just an analogy) my point being customer service.
So McDonalds keeps my money and food, treats us this way and by a manager.

richard kahl
from Oceanside, CA
Today at your location : Oceanside blvd and College in Oceanside ca 92056 was Charged $6 for two Sausage egg Mcmuffins with cheese
last visit the charge was $3,99 for 2
seems to me way out of line.
Please answer\
A very Good Customer
Richard

Margaret Rasch
from Moreno Valley, CA
You dont have enough minus starts to be rated. One star says nothing. We just went to the McDonalds on Iris Street in Moreno Valley, CA, the drive thru, and had to wait over thirty minutes watching car after car drive off with their food, while four cars sat there waiting. Person came out with a bag, only half of what we ordered and when we told her, she laughed and went back in the store. She did not come back out so I went in and after hearing the girl in the drive-thru window, say "her she comes" I wnet through the door seeing our mac jrs, just sitting on the counter waiting for someone to notice them. Whether we order 2 or 20 things, we always have to wait. By the time we got home, the mac jrs were cold and dry, the chicken nuggets were cold and hard. I spent $22.42. on food that we could hardly ear. which we didn't eat half of it, our dog loved it. I dont want a sorry that McDonalds doest mean., I dont want another coupoun for a breakfast or whatever the last one had on it that you sent us. I want mcdonalds to care about its customers and hire people that actually give a dam. You want to make $15.00 an hour because your underpaid for the amount of work that you do. This store doesn't deserve $ .15 an hour. When I went into the store to get our food, there were more employees in the back, bumping into each other that customers in the dinning room and drive thru together. I want my $22.42 refunded and want to know when I can come pick it up. Phone No. 951-269-5694. I've seen all the complaints online, I wonder how many complaints have to be files before your corporate office actualy gives a dam!!!!!!!!!!!

darren leivers
from Nottingham, ENG
I went to mcdonalds last night on junction 30 m1 .I ask for fresh cooked food as I drove through I did speak on the speaker and he was quite rude and when I got to counter I said again to him it is fresh cooked yea and he just starred and nodded not yes sir and thankyou.he rolled is eyes only.when I got my food the chips was cold ,nuggets was luke warm and cheeseburger warm only and as I was driving through a gal was sticking her arm out to hand me my drink before I hadn't even got to collect my food. this is the third time on the bounce ive been there and been treated like this and I did at alfreton .I won't be going to mcdonalds again .disgusting food and treatment.these kids must be thick or never listen when a customer ask for fresh cooked food and need to learn manners. I nearly got out my car and went in and through it at them .

Theresa Dipirro
from Akron, OH
Alliance McDonald's on State Street avoid at all cost! Waited a total of 20 minutes for food. Disorganized man agent. Food when I did end up getting it. Drive a little further down the road to Wendy's were there food is hot and fast!!!

Dale Tarrant
from Mauldin, SC
This happened to me not once, not twice, but three times in a row. Early morning breakfast thru the drive thru. I ordered, the big breakfast with bacon and with out the hot cakes. I also wanted 4 extra strips of bacon. When I got to work and opened the bag and took out the meal. There was no bacon but had 1 sausage patty instead. This is the 3rd time this has happened to me at the same McDonald's. A customer shouldn't have to worry when they drive away if their order is right! It should be right no if' and or butts about it. I will never go back to this McDonald's ever again. You pay for something, and you end up with something different. I'm sure this isn't the first time you are hearing about this. But something needs to be done.
Thank you
Dale Tarrant

mary ann
from Ontario, CA
I went to several mc I ordered a smoothly, they told me they were cleaning the machine, this is on a Tuesday. I went to another mud ordered a smoothie, they told me the machine was broken, I visit mud often and I really don't understand why they clean a machine in mid week and during dinner time. Also I ordered a Fanta, they said they ran out, go figure. These are the mud I went to. Fourth St Ontario calf, mountain Ave, Ontario. Thank you for your understanding.

kenneth pors
from Bethlehem, PA
I am writing in regards to my wife and 88 year old mother in-law.
My wife visits her mom in Walnutport every week and they usually go to the McDonalds there.
Today Feb 13th my wife was waited on by a young woman and my wife ordered food costing maybe seven dollars and change so she hand the person behind the counter a twenty dollar bill and her change was only three dollars.
When she questioned the girl she said you didn't hand me a twenty but a ten dollars...
My wife had just been to the local bank for her mother to get money for her and the money she withdrew from the bank was all in twenties, she had no ten dollar bills with her.
The manager counted the drawer and said the count was right so they called my wife a lier.Could you please help us.

Andy Vu
from Huntington Beach, CA
Dear Mikey Ds,
I have been a great and very loyal customer and once an employee of McDonald. I have tossed the crates of buns and meat patties into the storage room while changing shift and closing up at night. I tossed those meat patties into the grills and made many burgers each day with great taste. I have fried the french fries better than the French themselves. I have cleaned my hand before I served. I was subjected to food serving qualification prior to the hiring. At young age, I was able to ate all those hamburgers and BigMac for free until it became 50% off for employees. I have never thought that this restaurant have become less original and quality in it's sanitation. I purchased a McChicken and Bacon McDouble yesterday at the Hunting Beach 16866 Beach Blvd, number 857. I came home about 30 minutes later with an explosive diarrhea.
The services that I have watched over the years, going back around 5 years. Something went wrong or something spook the workers. It wasn't the way that it used to be. I have done my shared, but the services nowadays needed much more improvement. I hope you will take this as an improvement feedback instead of a complaints. Yeah, it went all out of my gut in less than five seconds.

Troy True
from Yankton, SD
Wrong breakfast order, very long wait 10 minutes, short on breakfast sausage biscuit, had to substitute McMuffininitially lost my Visa Debit Card, then forgot my 6 fruited yogurt parfaits, called local store, many excuses, asked 3 times for refund or coupons, asked to speak to franchise owner/manager Bridget, was told they have large inspection coming up Tuesday, so she won't have time to talk to me. Been McDonalds customer over 37 years. This was in the Yankton, South Dakota McDonalds 2/11/18 at 6:13 a.m. Just want order corrected, an apology and friendly service.

Ava Dekker
from Red Bank, NJ
Hello,
I proceeded to McDonald's at around 8:00 p.m. on February 10th, 2018. As any other event, I enjoined a six piece chicken mcnugget and a medium fry. I then came home and opened my bag to eat my supper. I opened my chicken mcnugget box, which essentially was made for a 6 piece, and perceived the fact I was only presented with 5 chicken mcnuggets. I personally do not understand how one can miscount a six piece mcnugget order, but I am completely flabbergasted with the inexplicable absurdity I have witnessed tonight. I personally appreciate the consideration you take in my complaint.
Thank you,
Ava Dekker

I bought a Filet-O Fish 2.8.2018 it was all dried out like it was made hours before was not good did not know until I got home

Joshua Monte
from Duncan, SC
My experience here is always terrible. I am a local business owner In Greer, South Carolina and this McDonalds never ceases to negatively amaze me. I went through this morning at 6:51 am and proceeded to order a bacon egg and cheese meal w/Dr. Pepper. Upon arriving at the office I quickly realized that my order was completely wrong, but it doesn't stop there. They gave me a sausage egg and cheese and the sausage was UNCOOKED. I didn't want to complain so I tried to eat it before noticing the uncooked sausage (even though I hate sausage) and after one bite I spat out my food and almost threw up. I called the McDonalds I had placed the order at, 308 W. Wade Hampton Blvd. and I was told they would issue me a refund once I was available to come back, I came back at 4:05 pm and asked for the refund (politely), I was rejected and cursed at relentlessly. The manager Bree repeatedly cursed at me and said "sir you need to leave before I call the cops... Byeeeee bye now". I was jotting down notes throughout verbal onslaught, I have significant proof of this entire occurrence and I am absolutely astonished at this establishment, This is not the first time I have dealt with this mistreatment from this location and I am sure many more people deal with it. This franchise is tarnishing this McDonald's brand and stomping all over the core values, I had to leave the building while being yelled at by "Bree" (amongst other customers) and I did not receive a refund. Receipt number and transaction are illegible due to low ink, but I still have the receipt. I spoke with a complaint rep named "Jennifer". My Cell 864-546-0330 is what I called from. Thanks.

sharon maloy
from Bristol, PA
I paid for my order in the drive thru at 6:15pm and they pulled me to the curb to wait on chicken tenders. I sat there and watched 2 different cars come and go, they too were pulled over. We were told 2 minutes from the girl in the drive thru. After 10 minutes an employee brought a bag of food out to the car next to us - but not our food. I had to enter the store and approach the manager on duty to get a refund at 6:34. Takeout food is a luxury to my family and I don't always have extra money to spend on it. This was a real treat for us, we all got full meals Receipt # 10918-13930-20218-18153-00205-3 ours was order # 93 and I know this particular McDonalds is closing but the people and the service were finally enough to push me over the edge. No more of my hard earned money will ever be spent on McDonalds again. I really liked your food but I like being treated well more than I like your food. This experience really deserves a negative stars on the scale because you have management that doesn't care and doesn't know what she was doing. to make matters worse, you have workers who were yelling at me and one was fighting with me from behind the counter. They wasted/took 20 minutes of my time, insulted me and a worker berated me at the counter in front of a store full of people. ENOUGH!!! I will be sure to tell everyone about my experience. you think because you are a big corporation that I don't matter. I'm just one person. BURGER KING GIVES US COUPONS AND GOOD SERVICE WITH A SMILE!!!

Veronica Mora
from Ensenada, BCN
Hi. I am a regula customer to the McDonald at your location 727 E San Ysidro Blvd, San Diego, CA 92173. Today when I came in I made an order of 6 items order #150. The cashier was very nice. Then when it came to picking up my order there was a Waite of 15 minutes and there were at least 15 customers. As I was waiting I noticed that the man named Bryan figaro was handing them out with no problem no question, but when it came toy order I new right away I had the biggest order. He put ketchup with put asking if the customer wanted then proceeded to call the order number. When I got close to the cashier he then looked at me and said in a ruded tone " is this your order" and gave me a dirty look. I the said yes 150 with my recipe in hand he then rudely held on to the bag and demanded that I gave him my recipe because he did not believe it was my order. I showed him my recipe and when I asked for a specific quantity of ketchup he ignored me. I then asked to speak to manager and asked her for ketchup he rudely interupted and replied you already have ketchup. As I was explaining the issue he was laughing. I don't understand how some one with such rude additued could take my order. I've came many times and had no problem till today. If this can please be taken care of. I will no longer be coming to this McDonalds. Thank you

Mary Stephens
from Gainesville, GA
Me and my family had lunch/dinner at the McDonald's in Oakwood, Ga on 1/31/2018 around 4:30pm. We ate in our car in the parking lot and we went in the restaurant to refill our drinks when the manager (a black lady, not sure of her name), came up behind us and very loudly said "Ladies, that is gonna cost you $1.07 each". I polieyly told the rude lady that we had already ordered and ate. She informed us (very loud) since we didn't eat inside that we were not intitled to refills. I was so embarrassed and so was my 15 year old daughter!! We eat in that restaurant and many others at least 3-4 times a week, but I don't think we will ever step foot near any of the restaurants ever again! There's a way to handle each situation and way to say everything. She needs some training or maybe just to be fired! That's how upset we are! Maybe someone needs to specify when or where your aloud to get refills!!

I stopped at McDonald's this morning for breakfast and received bad service. In my order was a large sweet tea with light ice. When I ordered in the drive thru, I did mention light ice. When I pulled up to the window I was handed my drink and mentioned to the lady I ordered light ice where my drink was full with ice. The lady took my cup dumped the tea out and tossed the cup in the trash, with attitude, then turned and spoke to the other associate, who may be a manager now as she has been there for over 5 years, and then proceeded to replace my drink. When handed the drink, the lady handed me a cup and said "here's your ice" and then gave me another cup with tea. Over a span of 17 years I have been to this McDonald's and have not had the service that I had this morning. I did not get my receipt, so I don't have the the store number or exact time I was there, but it was between 7:29 AM and 7:40 AM on 01/31/2018, and this is the location, 12135 N I 35, Oklahoma City, OK 73131.

Teofila Matar
from Kerman, CA
I ordered food from your establishment at the Kerman Ca 93630 store on whitesbridge through my Mobil app.I then proceeded to give all my information on the last step which completed my order I then went to pick up my order and was told they didn't have anything for me they claimed that the system was down and even though I had proof that my order had been submitted and I was charged for the food they went on to say that there was nothing they could do to fix the problem I showed them that I was actually charged twice on my card they still were very uncooperative stating that I would have to take it up with corporate and I was not getting any food from them unless I paid again there.When I checked my account I was charged twice for the order thus putting my account in an overdrawn state. I will not accept that I should be responsible for the extra overdraft fee that my bank is now charging me or for the food (which I didn't receive)or the additional $6.99 I was charged for Lord knows what. it is not my responsibility to pay this I was only suppose to pay $8.83 and when I looked at my account I was also charged an additional $6.99 which was the reason for My bank to charge me with an overdraft fee, we called the McDonalds when we got home and they stated that the system had been down all day and even said that there was no way that we could have placed the order. Which seemed funny to be because I have the code and I screen shot the page in which it told me to pick up my order.so the manager in charge who's name is Brad said that the general manager who's name is Elizabeth Ortiz was told that the system was down and she did nothing to fix it or report it all day today. This to me is unacceptable with all the technology we have at our finger tips today. I stated to the young man that for him to not honoring our food order was very unprofessional and extreme bad customer service being that we had clearly paid for it.he stated again "well there's nothing I could or will do about it" he also stated that the system is new and they are still learning how to work it.I am 52 years old and have learned so much of todays technology and it is a shame that such a huge corporation as McDonalds does not have proper training for its employees. I am pretty sure its not from lack of funds. Just my Family of 5 alone spends at least $50 a week there. I will wait for someone to clear this matter up and return my funds to my account and my over draft fees since we didn't receive any food from your restaurant. I'm hoping I get a response to these issues.
My name Is Teofila Anna Matar and my phone number is 559-644-6594

SONIA BEARD
from Milwaukee, WI
Hello, My son Kourtney Beard works at one of your stores in WI, N56W15475 Silver Spring Dr. in Menomonee Falls WI. 53051, 1-262-252-4609, my son has been there for a few months working weekends only we; he is 17 years old first job, I spoke to the manager to have him to work weekends only because I would be the one taking and picking him up, the days that we decided were every Friday, Saturday from 5 pm.- 11p.m. and every Sunday from 3p.m. – 9 p.m. So these are the days and times my son were coming in each time he would come in he either was not on the schedule at all or he was only on one day I talked to the scheduling manager over and over but nothing is seem to be done about this, I need your help to resolve this manner.
Thank you
Mrs. Beard
414702-5427

LorrieAnn
from Quesnel, BC
My 81 year old Dad goes to McDonald's every day except Tuesdays (he has a Mcdonalds meal on this day) for your coffee and muffin deal.
Often, there are no muffins. His favorite is blueberry. Often, there is no blueberry. Today we went and there were no muffins of any flavor. Yet, the advertising for this deal is splashed all over the restaurant, the menu, and T.V. He is always so disappointed. Sometimes the staff member working the till will go into the back and get him a muffin. Today they refused to even look. Just wanted to let you know.

Patricia Lehmann
from Lakeland, FL
Store manger Justin, you will need to watch film back to believe this, he embarrassed me and humiliated in my whole life, I left McDonalds in tears in my heart beating out of my chest, need to speak in person, it happen through drive thru, the cashier called the manger because the McDonald app, would not work and it was because we had to make a shake a med., I said ok, got to the window they gave me another frap. I did not order and they did not take off for the app, they called Justin back over and that is when he got rude saying I don't know how to use the app, I told him that I never had trouble before with the other mangers and he said that is because the other mangers and I don't know how to read it correct, I told him you don't have to be rude to me and I had my grandchildren in the car listen to him talk to me that way, I told him, I don't need free drink just give me my food, he would not I ask him again, he just stood there with line of cars behind me wanting argue about the app. after taking my phone from my hand, then I said just give me my money back by then I was very upset, he told me that I was going to park and he would give me my money back after he was done with all the other customers, then I said I was here and I want my money now and I would not come back and I told him he should not treat customers that way the only thing I did was yell at him to give my card back and he would not, he went out side letting me sit at window he kept me there for total of 40 minutes. after he came back inside made Jokes to the employees she can wait, and they started laughing and he proceeded to tell the customers also, he I was crying by then I am 57 and never been talk to that way, I sign the receipt and gave it back to him, he ask me if I was recording him, I told him I was calling customer service to report him, I never told him I was recording him, I ask him to give my card back that I was back customers up but he did not care, I pulled around front he came out front said he was going to show me he called the law I said good you send to me at my house I was taking my kids home he would not give me my bank card, he waved it at me so grabbed it but the film will show I did not touch him, he was yelling at me say you touched me, I told him he should be ashamed, what happened to treating someone kind, I gave him several chances to give me food being kind or give me my money, he was the nasty one but yes I did get very upset after I seen everyone laughing what kind of leader is he? I can't get over this, my sons and Daughter all of us and my church is going take this further no one should every be treaded like this.
863-701-6503 Patricia Lehmann

Ms. Goines
from Montclair, NJ
I have made a complaint about a week ago and I still did not get any email concerning this matter. The complaint was about this McDonald's
783 Springfield Ave, The date January 22, 2018, I was at a teacher's work shop, we decided to go to this MC.D, and the lady manger there was very rude, this is no way to treat customers. If we work in a community we should treat the people in that community with respect, if not go and find a job in a community that you can and will show respect.
Irvington, NJ 07111

Ms. H. Goines
from Short Hills, NJ
On 1/20/2018 there was a work shop for Irvington's teachers. Some of us decided to go to McDonalds at 783 Springfield Ave. Irvington NJ. There was a woman manager worker there around 12:15 PM. She was very unethical to me when I was trying to get her attention, because my order was coming next, and I wanted to change it, before they made it. I said Ms. Ms. Ms. she walked away, then came back and took the woman behind me, which was her ethnic background. This cause the woman and myself to exchange words, because I ask the manger was it a problem, why are you taking this woman when I'm next. She was very unprofessional, not people friendly at all. If we work in a community, we must treat the people in that community with respect. Thank You

McDonalds at Quivira &135th in Overland Park, KS. Very poor & rude service by DORA. Ordered 6 pc tenders & fries., Ordered 6 tenders only received 5. The fries were soggy. I went back through the drive to tell them. Dora gave me a chicken nugget instead of the tender and she acted like is my fault. Dora is always rude. I won't be back ever! Initially, I thought she was having a bad day but this has happened her rudeness many times. There are so many other places to go and have someone be friendly. Not going back, very rude. Dora shouldn't be dealing with the public. Typically, I don't open the box to count and did just as I was leaving. Terrible service and mean.

Rose Oehling
from Bethel Park, PA
I stopped by my local McDonalds this morning, 5261 Library Road, Bethel Park, PA 15102. McDonald's employee stated to me in a huff "you are going to have to wait, I'm here by myself and I have to take care of the drive thru that's been waiting longer than you". I said I can't wait, I'll be late for work. Employee said can't help you out. I left and went to Burger King who greeted me with a smile on their face and took my order immediately. That's what I call customer service. I have visited this same McDonald location many times and service is definitely not what I had experience in the past years with McDonald's. I want to give my business to the company that want's my business. I thought McDonald's promoted fast food. I would appreciate hearing from you. Thank you! Rose

Irvin Turner
from Lutcher, LA
I waited in line for 15 min. to get a cup of coffee, which I have no compliant about. I asked for 12 sugars and 2 cream to be put in the manager said that is to much and handed me sugar and cream in a bag. This is the only store I have that problem.(store #26657). I have asked to speak to the manager he would not come to the window. I have called the store and they would not pick up the phone.

Haven't been to a McDonalds for 6 months. Excited about your new prices and menus I ordered the 2for5 Special for $5.00 at the store located in Payson,Utah.
I had the filet of fish as one option along with the Big Mac.
I remember the filet of fish sandwich served on a WHITE soft bread bun that fit the sandwich great. Instead I received a round almost WHEAT like bun and of all things it was toasted?
I normally do not complain but the sandwich was HORRIBLE! It actually made me mad that I had to throw it away and cost me $2.50 for the worst piece of crap I ever tasted.
I will not be patronizing McDonalds again soon if this is what the Filet has come to!

lucille scott
from Gainesville, FL
i didn't want to rate at all, it is 1/10/18 my visit was within the 9pm to 10pm hour block. went to McDonald order 10 nugget meal with sweet tea, and hamburger small fries. usually the tea is not sweet to me so I asked for 4 pumps of liquid sugar. the guy , rolled his eyes and said to another crew member, "these customers be trippin" so since I heard it. I asked to speak to a manager, because what is 4 pumps of sugar. she came to the window with a attitude, I told her what he said. she rolled her eyes and said "oh I'll take care of that with the girl and guy standing there. the guy at the window must of said he wasn't gonna give me my food, so your so called manager gave me the food with an attitude! I thanked her and asked for her name she said "KIM" I said thanks ms, kim and came home and typed this out without eating my food. kim should have been taught how to calm a situation down not make it ten times worse. she was rolling her eyes, giving attitude!! I know who run that McDonald's, the crew workers. I worked in many fast food places and I firmly believe the customer is not always right, but there is always a right way to handle them. and by the way the tea was sweet!! this mc'donalds is in Gainesville, Florida Williston road.

Karla Scarborough
from Louisville, KY
On 12/1/17 at about 7:00 pm thru the drive-thru, I ordered a #4 large, no onion and a #9 large. I was told the #9 was no longer available despite the fact it was still listed on the menu. I then opted for the #7 large with Ranch and 2 more additional Ranch on the side. Got home and discovered I had NO Ranch at all, the fries were old and cold and the #4 had excess amounts of onion as opposed to the NO onion I had requested. The #7 also had only 9 chicken nuggets instead of the 10 the meal was supposed to have.
I initially made this complaint on 12/1/17 and I heard back from no one despite the fact I requested a followup.
The store in is located at 2500 Dixie Highway, Louisville, KY 40216.
I am not happy with the lousy customer service I received and the lack of concern for this poor customer service this particular store has shown. It also is really sad that a customer has to literally request fresh food when this should be the standard.
I expect someone to follow up with me in a TIMELY manner.

Karla Scarborough
from Louisville, KY
On 12/1/17 at about 7:00 pm thru the drive-thru, I ordered a #4 large, no onion and a #9 large. I was told the #9 was no longer available despite the fact it was still listed on the menu. I then opted for the #7 large with Ranch and 2 more additional Ranch on the side. Got home and discovered I had NO Ranch at all, the fries were old and cold and the #4 had excess amounts of onion as opposed to the NO onion I had requested. The #7 also had only 9 chicken nuggets instead of the 10 the meal was supposed to have.
I initially made this complaint on 12/1/17 and I heard back from no one despite the fact I requested a followup.
The store in is located at 2500 Dixie Highway, Louisville, KY 40216.
I am not happy with the lousy customer service I received and the lack of concern for this poor customer service this particular store has shown. It also is really sad that a customer has to literally request fresh food when this should be the standard.
I expect someone to follow up with me in a TIMELY manner.
Have feedback for McDonalds?
Thanks for your feedback!
Sorry. Please try again later!