McDonalds
McDonalds Complaints Continued... (Page 5)
816+ reviews added so far. Upset? Call McDonalds corporate: 800-244-6227

Samuel Williams Jr
from Fayetteville, NC
I ordered two number 3 combo meals double quarter pounders. My burgers was half cooked I happen to be eating the burger in the dark watching tv and noticed the color coat of the burger as well as the upset feeling I was getting on my stomach. I have pics of the burger and called back for a refund. My question is how are y'all going to accommodate me for my upset stomach and throwing up after consuming this burger. If I have to I will seek legal action with my paralegal.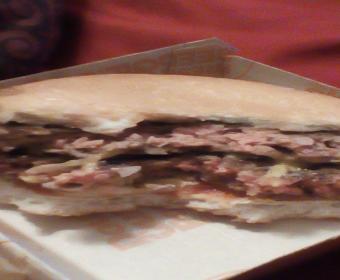 Dr dave
from New Hudson, MI
I was at your strore in warren Michigan 14 mile an Ryan service sucks no Americans working it took over 10 minutes to get my food manger must be 15 yrs. old would not help she maid use your rich screen I'm color blind so a customer help me I'm looking into a lawyer!!!!!!!!!!!!!!

Linda McCartney
from Dallas, TX
We are encouraged to tell about our visit (by wwwmcdvoice.com).. I do it after each visit and always use the validation code to receive free items. It takes my time, but I always use the coupons before they are declared invalid. The last three visits I have turned in the receipts with the validation code on them, still within the acceptable time frame. They did not honor them. Two of them were for BOGO egg mcmuffins and one was for coffee. What do you do for your customers, when they are lot treated fairly?

Went to McDonalds on 10/09/18 with my family. Ordered myself a double cheese burger and fries and coke. When I got my burger the cheese was not even melted and the meet looked dry. You could tell that the burger was cold. I talked to the manager (Monica) and told them if they can make me a new burger and all they did was heated up and gave it back to me with the cheese almost being liquefied. I return their burger back and told them to keep it and walked out. This happened at the McDonalds in El Paso, TX Store # 5581.
Don't know why they hire young kids that don't know how to provide customer service.
Thank you,

Jazzmine
from Bakersfield, CA
To whom it may concern I was at the McDonalds on 8400 Rosedale highway enjoying my favorites the chicken burger and the chicken mcnuggets and I saw a group of five vegetarians eating your food so I thought it would be a good idea to put real meat in your food if you agree please contact me back thank you

Diane Herrle
from Kailua-Kona, HI
I ordered a spam and scrambled egg breakfast. It comes with rice! I asked them to keep the rice . I also ordered a large coffee and a yogurt parfait. I paid and they gave me the food. When I got home I noticed that they gave me egg and rice but no spam. I was so hungry I ate the egg then I took it back. I told them they had messed up my breakfast. They took the rice back but would only give me the spam they had not given to me. I asked them why they did not give me the egg cause they were the ones that messed up the order! I talked to the manager but she would only give me the two pieces of spam! I like eating the egg and spam together! The manager did not understand the concept that they messed up my order and should give me my whole breakfast back!! I didn't accept the two pieces of spam cause I don't like eating it without the egg!! So it was a huge time waster and I went away feeling cheated by the management! When t went back to the order taker admitted her finger slipped and that is why my order is messed up!!

Phil Clark
from Mt. Pleasant, SC
I am unhappy about and plan to boycott McDonald's for trying to push out Customer staff relating to me at the front counter. The installation of and pushing kiosk order stations is not the personal character I expect and have come to enjoy in the past when I walk into any McDonald's nationwide.
I believe that this is an attempt to take more people out of the work force as well as it depersonalizes the ordering and eating experience in your local stores. I appreciate talking with an employee and I believe that there need to be fewer machines doing things people are capable of doing. I like the food McDonald's however, I will not continue to go to McDonald's if there cannot be personal employee service at the front counter.
One other comment; the hand cooked Quarter Pound Hamburger that was offered for a short time I really loved! I hope it might be offered on a regular basis or permanent basis. It really brings out the flavor so much more and is worth the money you charged for that service and fine food.
Thanks for listening.

julia Flagg
from Plymouth, MI
September 17th, Store #12012 Northville Township
The store was nearly vacant at 4:49 in the afternoon, it should have been busy. The only two guests present complained that they had been there waiting for their orders for over 30 minutes. They said the service has declined steadily after the remodel. I ordered an ice cream sundae, which after 4 or 5 minutes I was handed the sundae, no peanuts, so I asked again for the peanut topping. The employee then went around the corner and then returned with the bag of chopped peanuts. This did not appear to be very efficient for the workers. Upon leaving the building, I realized the employee overfilled the container, not securing the lid, and ice cream and chocolate was oozing all down my hand and arm. I stood in the parking lot and ate what I could with it all over my hands and the parking lot. With no trash containers in view, I walked back into the store to throw the mess away and used the restrooms to wash my hands. Clearly something is wrong with this store!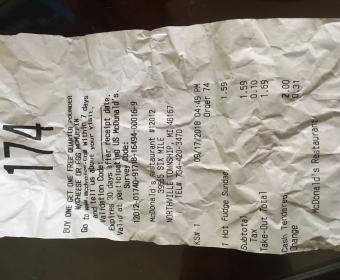 Went through the drive through about 5.30pm 22/9/18, one car in front of me. Ordered cheese burger and a large cappuccino from Holden Hill SA. Received burger but told to wait in waiting bay for coffee but couldn't say how long the wait would be but told it would be wait. Waited for a while and gave up Paid for product didn't receive.

Kathy Brabender
from Madison, WI
I love the SW salads, but his time the chicken seemed half the normal size and very dry.
There was so much lettuce and spinach it was like I was eating a plan lettuce salad.
It was horrible.
Resturant #13480 - 9/19/2018 - 5:30pm

Scott Kremers
from Charlotte, NC
The incompetence of your employees at the Arboretum shopping center store in Charlotte N.C. is staggering.Twice I've left the store because of (1)unreasonable delay when attempting to order and (2) an incredibly long wait ,along with 12 other cars in the drive through lane after placing an order.With no movement of the cars ahead of me I parked my vehicle and entered the store, Customers were waiting to be acknowledged,but were being ignored. There was one employee serving the drive thru,too busy to take orders from the customers inside the store. The only other employee present appeared to be the cook.A women and her daughter had waited so long that she requested that a fresh batch of french fries be prepared,not wanting to eat the fries that had been sitting for God knows how long. I received a surly response from the employee,telling me to get back in the drive thru and wait my turn. At this point I canceled my order. I will never frequent that establishment again. In fact I doubt I will ever eat at a McDonalds again . I rate my experience a negative 5 stars

Kate Evans
from Manhattan, KS
It isn't worth the time nor the food to tolerate the rude dismissive service my party had to put with at Westloop McDonald's in Manhattan Kansas. The mornings you are treated with respect. But the incompetent staff of the evening made several people wait too long for their food, while those coming after them were given their food quickly. My guest was finally given 2 undone quarter pounders and the fudge sundae was melted as they left it on the warm counter too long while the rest of the order was being under cooked. (that is how stupid the staff is) I watched this and is when I went up to the clueless manager & told her 3 people were served & given their food AFTER my guest and another poor patient customer had ordered and had to wait and wait. I refused my cone, told her I wanted my money back and I was turning them in for their socializing with people instead of paying attention to their customers. Why in the world would we have to wait nearly 30 minutes for 2 hamburgers, a melted sundae so that the staff of McDonalds can socialize with the few people who came in they recognize? No respect for their customers, taking advantage of the politeness of paying customers. I will never recommend McDonalds to anyone who wants to come in for lunch or dinner. They gave other people their cones quickly after ordering, WE & another person were ignored and with the given the ice cream has melted? We paid for this garbage!???

jack Grodner
from Dayton, OH
Sat. Sept 8th I went to the McDonalds on rt 48 south in Centerville Ohio about 6:30 pm I ordered a hamburger, small fry, a cheeseburger, a quarter pounder with cheese and a large fry. Due to the long line behind me I did not check my order which I believe a customer should not have to due, and my order was not complete. They forgot to include the hamburger. I am not looking for a reimbursement, but I feel it is imperative that your employees check every order for accuracy before it is handed to the customer. Thank You

Brendon Louth
from Toronto, ON
While pacing an order of a Mac and two large fries,I had to repeat myself 4 times Because your server SHERIFF Did not know WHAT A MAC IS The man was just rude, he informed me that he speaks 4 different languages but did not seem to know what a MAC to me as a customer this is unexeptable.this happed AT Queen and Javis Toronto. I will put the word out to all NOT TO EAT ORDER ANYTHING FROM THIS LOCATION UNTIL THIS MATTER IS CORRECTED. YOURS BRENDON LOUTH.

Jason McKinney
from Chicago, IL
Went to the McDonalds in Southfield, Mi on Northwestern highway by 12 Mile and ordered a Bacon Smokehouse combo in the drive-thru. The attendant asked me if that was what I ordered and then still gave me the wrong sandwich. Got a plain chicken sandwich.

john estabrook
from Greenwell Springs, LA
I called the store in central on hopper rd within 30 minutes and they said they had the new chx tenders. went down and they were out. for this store it's not the first time they just wanted you in and didn't have the product. mickki ds in central sucks.

Jerry W McCoy
from Monroe, NC
I'm probably wasting my time. But, here goes. Customer # 253, time : 11:39am 9-6-18 ,Store # 2601, Monroe, NC 28110. I told the manager (Taych) the diet coke was out. I stood there for a response. So I said sir, what about the diet coke, he turned around and said with a very smart attitude, did you not hear what I said. I said you have not responded to me and let me know anything after standing here for 5 minutes or more. He turned around with an attitude and ignored me. People like that has no place in public work.
I expect a response in a timely manner, if not, I will put this whole experience on Face Book, and Twitter in capital letters McDonalds experience in Monroe, NC , Store #2601.

ziggy
from Independence, MO
went into mc donalds in pleasant hill mo 64080 on 7 hi way
and order the two for five this was at 9:20 pm i was very hungry
hadent had anything to eat all day they take my order and while
i am waiteing for my food i nappened to look back were the food was
being made and notice that the person makeing my burger had one glove off
handleing my bugers with a bear hand he did us the the thongs to get the burger out of the hot tray but put them on the buns with his bear hand
so i ask for my money back and they gave it back but the guy kept comeing up until i left giveing me dirty looks
thatwas totally un called it not my fault he had a glove off doing his job and why would he have one on and one off
i told the front counter that i wanted my money and the reason and she told him to put on his glove and he did
but befor that he had served about four or five orders with no glove on bottom line i will never eat there again thats just to nasty for me
and as far as a rateing that place gets a big - 1000

Caro McCutcheon
from Collins, MS
I have been a Golden Arches fan since 1950. No more. My friend and I went in for iced coffee lattes. We did not want to use the kiosk so we went to the counter. After an extended wait, the manager finally noticed us and asked if we had been served. No. He instructed the male mopping the floor to take our order. He attempted to do so after he wiped his hands on his apron...hardly sanitary!! He was unable to place the order..after many questions..and called the manager over. After an argument and with much difficulty, the manager FINALLY succeeded. As we stepped away from the counter,the man behind us was also obviously irritated that he had a repeat his order for a hot fudge sundae twice. Since then, I have spoken to several other people who have had unpleasant experiences since then renovations and will take their business to Wendy's rather then to return there.
As for the new renovations, all the chrome, low counters, emptiness, kiosks, etc would be appealing...IF you were an ice cold robot. It is hardly warm, friendly, family oriented atmosphere that was the original appeal. I suppose the next move will be to redesign the McDonald clown as a robot

Jo Ann Maples
from Seguin, TX
McDonalds, Seguin, Texas.
First the young girl that took my order had the attitude she could care less about my order. Second even with the cashier she could not count my change back. Third after waiting 20 minutes for my order and not receiving it I decided to ask for my refund. Which I received. The Seguin McDonalds needs a better manager!

Ronald Wells
from East Orange, NJ
Hello to all I hope this complaints reaches you of right mind body and soul. However I experienced an encounter in one of your locations in Elizabeth by Division and Trumble Street that disturbed me. The manager during the graveyard shift refused to give me his name for this complaint after I complained about his credit card machine being down repeatedly during these hours forcing people to use cash from atm inside. In addition, it was reported that this store refused to grant a receipt for purchases made in cash. This led me to believe theft of money is going on during these hours. The Police were called but took some time to respond so I was forced to leave and go to work. The manager even refused to give me my order of Sausage mcgriddle, after mistakingly giving me the bacon mcgriddle. As a result, he refunded my money and refused to serve me my correct order. Another employee got involved by calling names as I video taped his actions.

ronnie terrell
from Louisville, KY
I went to mcdonalds at 330 today and ordered chicken tenders he told me they were out of them and would not have any till tomorrow how can a multi million dollar business be out of a product at 330 in the afternoon we have some bad management or something I don't understand please explain. the location is at us 42 prospect at timber ridge dr 40059 there is no excuse I was really pissed

Sabrina Burnett
from Minneapolis, MN
I went through the drive-thru yesterday and ordered 2 other breakfast items and an egg McMuffin with no meat. I looked in the bag when I received my food, saw 3 items, and saw that one had the white sticker on the wrapper, so I drove away, believing my special order was correctly handled. When I got home and unwrapped it, however, my egg McMuffin (correctly) did not have meat, but also DID NOT HAVE ANY EGG. It was an English muffin with a slice of cheese. That's all. The sticker on it said no sausage. It did not say to hold the egg. This menu item I order ALL THE TIME at that restaurant (and receive correctly most of the time) because it is my favorite item, went out missing the key ingredient: The egg. The other menu items were correct.
This was the restaurant at 5400 West Broadway in Crystal MN. The receipt is almost useless because there was hardly any ink in the register, so I can't be sure, but it looks like it might be store number 581, or perhaps 531. I couldn't make out the phone number because the receipt was so light, so I had to google the phone number. I called the restaurant twice and it just rang and rang; I never got to speak to anyone so it was never resolved. This was not during lunch or dinner rush, this was 2:30 in the afternoon. It was a very frustrating experience.

Terry Lovato
from Montrose, CO
McDonalds here is getting worst as time goes by. First I was buying quarter-pounders then they are now letting not cook all the way. I call them had to take it back to them and was told they are suppose to leave then a little bloody the Corp told them they stated. Now tonight I went and bought fries and guess what they are pinching the cup to give us a lot less but for the same money. First time I was told to bring back the quarter pounder and which I did and they give me another one just as bloody as the first. I had to drive all the way back there just to get a bloody burger again when I call they said they could not return my money but could exchange it for another. I waste to much gas running back and forth just to get a bloody burger again. I believe the next step will be to report it to a higher office.

tara brown
from Dallas, TX
I am a very upset customer with McDonalds (2) locations i visited last
Night was very unprofessional and I will never visit those locations
Again the McDonalds on Illinois let us sit in the drive thru for 20 minutes
Only to tell us they ran out of hamburger they only had chicken, now that
Is all well and good it happens but no one came out side to announce it
They just let the lines pile up we ended up leaving and once we left we seen
Two employees coming from behind the bushes smoking weed, we then left and
went to the McDonalds on 35 and Keist it was worst all of the employees were sitting
Around talking from what we could see inside and the lines were piled up and once we finally
Got to the intercom we were then told they were out of one item we wanted so we
proceeds to order the remaining food and we stayed in line 15 min one person order a big order
So instead of them telling him to go park we had to wait and once i
Got to finally get my order the fries were threw in the bag and cold they were not in the
Holder they were just in the bottom of the bag and cold i got a soda that i did not order
And the clerk asked me several time my order saying very rudely i just got here. I am here to say I will never go to either one of those location again.

Victoria Farley
from Macon, GA
Today 8/18/2018, I came today to speak with the General Manager Mrs. Sonja of Day Shift, my daughter works there and they always having words, so I took her to talk to the General Manager, since she the only one my daughter having problem with, I asked her to come outside to have a conversion, after we talked, she didn't know that I had came in the Store behind her, everything we talked about outside she came in and was telling the other staff, that my daughter is a grown woman but she got her mother to come up her questioning me, and was repeating everything to them.
There have been many time she had words with other employee, she unprofessional, messy, and very childish, and very petty, how can you manage a store if your employees have to fuss and curse you out, then she will take the person off schedule for two week because they voice their opinion of how she do things there.
Signe is a very hard worker and she always come to work when they call her to come, but this Sonja is the only one she have problem with, today the night manager even call Signe to come back to work, after Sonja sent her home around lunch time, just because she questioning her.

Ronald Kendrick
from Gastonia, NC
I witness a shift leader berating an employee in front of customers of and her co-workers for no apparent reason. His name is Antwain Cunningham at the Mcdonalds on West Franklin Blvd Gastonia, NC. This is the second time in this Mcdonalds I have witnessed his behavior. If he is in management and behaving that way I will stop bringing my family and tell my friends not to bring their families either. He was out of control cursing, swearing. In my opinion, I think he is power happy and should not be employed until his attitude is adjusted. The management team there
must really be desperate if they allow him to continue to work. I was so intrigued I asked other employees about him and they said he has curse them and their parents. Mcdonalds surely you can do better. I own a small business and if I were to talk to my workers in front of my customers that way I'm sure my business would suffer.

kevin delong
from Fort Wayne, IN
When the alleged give away of the Big Mac coins was announced I went to 4 McDonalds in my area starting at 11 Am. I was told by all 4 stores that they were sold out. Very strange all 4 sold out 1/2 hour after the minimum start of being able to buy them at 10:30 as before that only breakfast was sold.. Found out by employees that assistant Managers and store managers were not issuing coins and holding them back to sell on ebay or trade for cash under the table. Found on ebay over 1,100 listings for MC Donalds coins. What the employees told me was absolutely true

McDonalds Complaint, 17 Aug 18
On 17 Aug 18, I walked into the McDonalds's N. 15635 on John Young Blvd in Orlando FL to order a meal. I ask the attendant if they offered military discounts and she did not know so she asked the manager (Shawanda?) and she offered a 10% discount. I asked for my free Friday med fry and she did not know how to do that and asked the manager. She ended up canceling my order and reentering it. She said to place my on phone bar code into the reader. I tried to bring it up and it would not allow me to bring up the free fry code. It kept telling me to relog in. I did about five times and then tried to reset my pass word. The app asked if I wanted to reset my password to log in. I tapped on it and it dropped me into a loop and would not allow me to log in. I asked the manager what I should do to get my free fries and she said to enter in the barcode for the scanner. I explained the app would not allow me to do that and asked her what to do. After her telling me and me reexplaining it several times, she out of frustration provided the free medium fries. When she printed off the receipt, I noticed I did not get the discount anymore and pointed it out. She said I did not get the 10% discount anymore because she gave me the free medium fries. She then provided my hot fudge Sunday and I had to ask for a spoon and nuts.
When I went up to ask for the spoon and nuts there were two others having the same problems and received the same response (it is the customers problem and/or corporate).
I was not impressed with her problem solving skills and lack of knowledge of customer relations.
I provide this to correct a number of issues identified so other customers do not have the same negative experience.
Thank you.
Curt Read
4630 S. Kirkman Road, #416
Orlando, FL 32811
253-227-6995
curtread@hotmail.com

Ray Ford
from Broadbeach, QLD
This morning I ordered a sausage n egg a bacon n egg muffin with a hot chocolate from the drive thru I was about 1 minute up the road when I started eating the bacon n egg which wasn't very hot to start with but still continued to eat it anyway when half way through it I felt a crunch of a piece of egg shell and immediately with discuss spat it out the window and then proceeded to turn around and go back to complain about my finding and when speaking to the manager that was there about it he asked if I had brought it back with me I said no I hadn't as I instantly spat it out the window where he explained back to me that without proof he cant do anything about it so I queried him about that if I did bring it back that he was actually going to physically sift through some chewed up food that I had already crushed in between my teeth as proof I think not and as I looked to me he was in a bit of a hurry to go home and in my view was very rude about the whole situation so before I lost my temper with this manager I left disgusted with the whole experience hence why I am now putting this complaint in which has put a real shitter on the start of my day other than that the service from the girls was always a pleasant experience as I frequent that store regularly , thank you R Ford

Isis Billings
from Miami, FL
I applied for employment on August 10, 2018, I understand for reasons unknown to me that I was not hired, The problem is that I called to find out if a decision had been made since I went to an interview, Lilibeth the Manager said that I was not hired because I was a felon! I said what! I just graduated high school and I'm going to college and to be told I was a felon, over the phone really distrubed me, I was shocked, and hurt! Did she say this because I am a young Black American, was it because the way I look, I just don't understand why! I can't understand why she would say that to me over the phone. I have NEVER been arrested or in any trouble, because of this I will NEVER eat at or go to the McDonalds located at 6150 South Dixie Highway store number 792, I would like for someone to contact me about your policy and why the Manager would treat me like this, I can be contacted at 7863469714 and email Tilisab35@yahoo.com

Jacqueline Pearce
from Garner, NC
I went into the McDonald's in holly springs and couldn't believe what I witness. I don't know what the circumstances were, but a manager called an employee the devil... Not in jest, but to be mean... The employer!looked like she wanted to cry it hurt her feelings... And it was bullying... I left... I hate that I left before getting names... I was just so angry

Rosalie Wilson
from Evansville, IN
I have the worst experience at Mcdonalds on Broadway Drive; in Hattiesburg MS every time I visit that location! There is a manager ; young African American female, that is so rude and disrespectful! I ordered and was asked to go to a space labeled #2; after sitting for 15 minutes; she comes out and ask for my receipt; and then begins to tell me that my order was given to another vehicle; I just told her to refund me. After following her into the establishment ; she proceeds to get loud; and be very unprofessional; and gives me an amount not equal to the amount tendered. I paid $20.11 and she attempted to give me a little over $18 back which was the amount before taxes were added! This location is HORRIBLE! There are too many "kids" working there that clearly knows nothing about customer service! It is so sad when people have to drive 20 mins out of their way to get McDs; because that location sucks

susan medrano
from Gainesville, FL
i asked if i could have my big mac off the grill and the manger was rude and told me why did i say anything and told me i was not getting hot fries i got my money back

Fred Beyers
from Southfield, MI
While I understand that the majority of the business at your outlets is through your drive-throughs, as long as you have inside dining it seems that as long as you continue inside service, it should actually be SERVICE.
I also realize that the training of two trainees contributed to this morning's lack of service. When I entered your establishment, there was one customer ahead of me who had apparently had difficulty getting her order read from her phone, the kiosk, or something--anyway there were three people attempting to straighten her order out to no avail. The shift manager then came to help and after a while got it kind of straightened out?? and then proceeded to take the orders of two employees at the second register while the trainee took my order at the original register and gave me a ticket. Meanwhile I believe two, if not three individuals were involved trying to get the order ahead of me done not sure what the problem as it wasn't a huge order--a little over $6 I believe--mass confusion--finally after a total of about seventeen minutes I simply asked for a refund and left--the manager was very apologetic but I felt that I had been more than adequately patient.
Perhaps you should simply discontinue inside service.

John dimatteo
from Pittsburg, KS
I made a complaint to Corperate already. I ate at the McDonalds in southpoint ohio at the Wal-Mart and I got sick the next day I thought at first I had the flu so I stayed in bed for two weeks then I started showing signs of hep a so I went to the hospital and they told me I did so I reported it to McDonalds Corperate I was there with my girlfriend it was on the 15 of July she returned her food cause she took a bite of her burger and it was still bleeding I had already ate mine and I don't eat out a lot so I know it came from there the store is dirty.. Your insurance company called me took all my info which is American family insurance the claim number is 00225242737. I have a lawyer looking into it... The lady I talked to is trying to close the case cause she says that I wouldn't have had hep a symptoms the next day she don't understand cause I got sick from the food the hep a symptoms showed up two weeks later when my pee turned reddish and my poo looked like clay so I am right and if this is how McDonalds and their Insurance agents treat people that's messed up I know where I got it and I'm not going to drop it this shit could mess up my liver for life and who knows when or if it will leave my system I read up on it and everyone is different..and I will drag McDonalds threw the mud if you all disregard my case I will YouTube it ill stand in front of any of your stores with a sign I really don't care I just know this is messed up and if this is the way McDonalds treats there costumers that meased up and the world will know I will make it my life goal you can bank on that no threats I promise..... 304-962-0518

Mary M Friedline
from New Port Richey, FL
Went to the Mc Donald's (#21597- 8937 Rancho Del Reno 34655 hard to read receipt could use ink in machine) and ordered 4 bacon egg n cheese biscuits. And then proceed to go home , which is about 4 minuets from there. When I got home and took the sandwich's out of the bag and unwrapped them, the biscuits were hard . Not just slightly hard, I mean HARD. I have gotten breakfast sandwiches numerous times before and never had a problem. I was just wondering if any biscuits left over at the end of the day was used the followering day. Thank you for taking the time to read my complaint.
Thank

Pamela Greer
from Mission, TX
waited in line for almost 8 mins after ordering. Was there a total of 14 mins drive thru. Ordered what I order every other day... Large coke light ice and sausage and cheese mcmuffin.... no egg as I have reactions with egg. I didn't even pay attention to receipt, as I deal with same lady in morning and was just chatty... plus in a time crunch to get to work on time. got to work, was in my morning meeting came out to eat- egg on sandwich... check my bank account almost $5 taken out... my total is always 2.37 so I know I was charged for a sandwich I always so no egg on. Not happy. Now I cant eat till dinner tonight.

Refilwe
from Johannesburg, GT
Carlton center- The service is poor ,orders take long and they don't provide straws ,serviettes and ketchup for take away orders. And don't know how to handle pick hours and towards months end.

mae fallowfield
from Sun Valley, NV
the mcdonalds in sun valley Nevada sucks and the workers don't listen to what the customers want every time I go through drive thru I tell them ice tea with lots of ice and I get the tea and no ice get workers in there that don't have their heads up their asses are you may lose a lot of customers I rate you at no stars

Gregg Carter
from Seaside, CA
Piss poor service. I went to mcdonalds in sand city California and waited more than 40 minutes for my order. One staff member kept calling for order #268. He kept calling it so I went to the counter and asked if the order was mine and was told by the shift manager Lana that "it was still in the oven and it will be a few minutes for your order. Lana said the customer for order 268 must be in the rest room. I went and looked and I was still the only customer in the building. I was called to the counter for a bag of apple pies. I asked where is my order and they said that it was the order #268 that they kept calling. I am furious beyond imagination at the total ineptness of the people that are representing your brand/store. Sum total of my time spent was more than an hour. I asked for a refund and left the cold food with them. There was more ineptness because she did not give me the 2.99 for the apple pies that I left there. I am not going to end this until these two people are reprimanded. The names are Mgr? Lana, and the person Harold who took my order and did not even check to see whether it was my order, when asked about the order he shrugged and that was it!!!!!!!!!!!!!
I will pursue this until my satisfaction is met. I am now on my way to Jack in the box to buy there. This episode is absolutely untenable and inexcusable.
At my consultant fee of $102.00 an hour I will have by the time I go to Jack in the box and back will have been 240.00 dollars. I would if possible like to speak to headquarters concerning this horrendous service.
Gregg Carter (831-747-1664)
p.s. while I was waiting for my order she had the gall to be at the counter eating a hamburger instead of attending to her customers orders.

michael vialpando
from Phoenix, AZ
I ordered a cheese burer with no catchup and still got burgers with catchup

Constance Mitchell
from Brooklyn, NY
I placed an order on mobile app. When I reached the McDonald's at 875 Garrison Ave, Bronx, NY 10474. I informed the cashier that I was there to pick up my order. She stated you have to check in. I showed her the app stating that they see me at the location. She said you have to check in. When I tried to check in the app showed that there was no internet connection. I explained that to her. She said, "oh well you have to purchase the order again." I said, why when the money was already deducted from my checking account. She proceeded to take orders from other people like I was not standing there. Eventually, she said to cancel the other order. I explained that I do not know how to do this can you guide me. She stated, "I don't know how to do it." I ask to speak to the manager. She said, "I am the manager." I ask for the number to corporate office. She said, "look on your phone." At that point, I was very disappointed with the services I received from someone that has the title of manager. I went outside and contacted a mobile team representative. The representative told me to re-install the app to my phone and the order should erase. I went back inside and waited to be serviced and the manager that was taking the orders had disappeared. There was no one standing there to take orders. I said to the worker that was handling the food, is anyone coming to take my order. She stopped what she was doing and came to help me. I feel that I paid double for my breakfast. I feel that I wasted time when I was due at work. I am very unhappy with this location. Every time there is always an issue. I had two previous events where I used my card to purchase food and someone obtained my information and spend $49.00 in food and then proceeded to make other purchases at order merchants. Also, I used my credit card there and was told it decline. I went back to the job to get my other credit card and to obtain cash, just in case. My card was declined again. The same manager decided to say, "oh the credit card machine does not work." This is my fault for going back and patronizing this establishment because the service there is horrible and the employees lack proper training in customer service. I do not have money to give away!!!!!

DIANE BERRY
from Shelbyville, TX
I ordered food at the drive thru window . when I went to the window to get my order the young lady started handing me the wrong drinks. I told her I didn't order the items given. she had to ask for my receipt. after looking at my order. I was told she gave my order to the car in front of me. told me to pull ahead and wait while they had to make my whole order. this took at least 20 minutes. I was not given a sorry or anything such, not even an offer for a free drink or sandwhich.
very disappointed , my family uses Mcdonald's several times a week. never had any complaints. an apology could have at least been given.
thank you

Jennifer Daniel
from Shelby, NC
The McDonald's I went to tonight I had ordered a buttermilk sandwich and when I got home to eat it, it tasted like it was not cooked fully and had to end up throwing the whole sandwich away. I refuse to return to that McDonald's location since this is not the first incident like this and I'm tired of wasting my money on something that I have to throw away and the company will not compensate without having to waste gas to return to the same location.
Restaurant #11438
Order #86

Frank Guzzo
from Prairie du Sac, WI
The service is GREAT ..The burger was raw in the middle and I did not see it untill I had eaten half. brought it back to the. counter. The manager in charge,looked at the meat and agreed. She replaced it. Second one was raw in the middle. She informed me the kind of the meat has been changed recently and when heated up to temperature, it kills all bacteria in the meat. Needless to say, I had an upset stomach all evening. I won't be ordering hamburgers again, and passing the word onto my family.

Charlotte Jadicus
from Ipswich, ENG
Just been to MacDonalds in Colchester Stanway . Was told that i cant go though drive on my mobility scooter as i cant get into store with scooter. The lady was laughing at me .
This is not the way to treat customers and will be getting some legal advice about this . Macdonalds are discriminate against people with disability's

Keyisha
from La Grange, GA
Went to macdonalds on commerce ave in Lagrange Ga I advised the woman over the drive threw speaker that the dinner side was not lit up just the breakfast side and she said theres nothing I can do about that so I took my business else where....
Have feedback for McDonalds?
Thanks for your feedback!
Sorry. Please try again later!