McDonalds
McDonalds Complaints Continued... (Page 4)
684+ reviews added so far. Upset? Call McDonalds corporate: 800-244-6227

William Wasson
from Kansas City, MO
Went to the newly built store on the north belt highway in St. Joseph in Missouri. The service was so slow people were pulling out of the drive though lane and going somewhere else. This store, before it was torn down, had the slowest, laziest, employees I have ever watched work. My guess is poor management. McDonald's needs to start over and rethink their hiring practices. I love McDonald's and would hate to see their business fail.

Judy spinnati
from Portsmouth, OH
I was in McDonald's at Wheelersburg, OH this morning and went in the restroom. A worker came out and walked right out without washing her hands. I didn't order anything after that I just left. It was 8:30 a.m. No name badge when I looked at her behind the counter but everyone else had blue shirts and hers was red,she was around 20 yrs old. This is 8/13/1916. We always drove over from Portsmouth, OH.

Me and my son always we go to McDonalds in Mecca Maca mall. I asked for happy meal with 6 pieces but the lady on the cash did not know how to do it because I asked a toy with it. The same manager who always I had issues with him interfered and raised his hand and point it into my face (it was after 9 o'clock evening on 10,08.16) . The manager in duty his name is Mustafa is always rude and I do not believe that he should represent such well know chain like McDonald's. I officially raised a complaint by calling the phone number for the store by the manager hung up on me. So, I hope by posting it at Hissing Kitty I get some help!

Christie Rose
from Amarillo, TX
I sent in a complaint last week and I received an email back giving me some dumbass link to go to. I went to the link and it sent me right back to this page. I emailed back asking for explanation about what to do and heard nothing back! The last time I had to complain about this store I wasn't given this link so why this time? Pretty bad when the complaint department gives you the run around! So who do you complain to about the complaint department?
My initial complaint was about the McDonalds at 45th and Teckla in Amarillo Texas. Don't know the store #. Short version of my complaint, they are slow and never get orders right. Sat in drive threw for at least 20 minutes. 10 of those 20 minutes was being asked to pull to the side because my order wasn't ready yet. It was a Large Iced Carmel Mocha for crying out loud! Which by the way, they never get right. I always end up with a Chocolate Iced Mocha which tells me they do not know the abbreviations. They got 3 other orders wrong in this 20 minute waiting period. Last time this happened and I complained all I got was a sorry about your bad luck. Not going to cut it this time! Not only did I get the wrong thing, I was late to work because of it.
This needs to be fixed. Not only with me but with this store. And I don't want an email back telling me to go to some link that sent me back to this page.

Sue Holli
from Fort Wayne, IN
McDonald's double drive throughs are absolutely ridiculous! People don't pay attention as to who's next, but assume they are! These drive throughs cause too many problems! Most people have an equivalent 5th grade knowledge capacity, so this is too confusing for them. They should really please find a way to "dumb this down!"

Tammy Weldon
from Carrollton, GA
I went to the drive-thru at around 3am one friday night. Not a customer in sight. First of all, I waited 8 minutes for someone to take my order. Then I paid for it and went to the next window. There were , at least 2 employees in there. one white girl and one black. They glanced at me and snickered, a lot. After about 10 minutes, i went home.

Rick Ferrell
from Jonesboro, AR
I have been ordering a sausage and biscuit every morning for several years. I have noticed lately that the quality of the sausage is terrible with fragments of bone in every patty. i usually go to the Mcdonald located on the corner of Nettleton Ave and Caraway Rd in Jonesboro, AR. but lately I have switched to Burger King.

wayne burse
from Grimsby, ON
I went to get a fish filet at McDonald's in beamsville on at 4:30 Tues 2016 the fish was over cooked and the cheese was dried out and hard. This is the first time it happened it must of been sitting for hours for it was not even warm, if this how they serve (hot ) food then it will be my last. There is always A&W and Wendy's.

Annie Gilmore
from Baton Rouge, LA
Every Friday night and sometime during the week there's a bunch of employee in the store none of them working and the McDonald's On Essence Lane, Baton Rouge is always closed before time or the frapple machine is always broke. I thought the purpose is to make money, not have a bunch of lazy people on the clock Friday at 11.30 they are close several cars pull in an was told they are closed I reported this to management once before.

Claudette H Parker
from Jacksonville, NC
I ordered 2 ham biscuits on 4/8/16 paid for it at 7:14 and was told to wait at the 2nd pick up window, I waited 20 minutes and nobody ever came back, so I went inside and waited another 7 minutes at the counter and was ignored. I would like to have a refund for $4.90 and you will not have to worry about my business again. I was discriminated against because I am a senior citizen.

Tamra Kae Wheeler
from Broken Bow, OK
I am writing this for my ex-husband. He doesn't know a thing about emails or computers. He asked me to submit his information to McDonalds. He is an aggravated customer about McDonalds serves breakfast all day. He says that McDonalds is false advertising because every different McDonalds that he goes to in Oklahoma tells him that after 10:30am and some McDonalds say that after 10:00am he can't get breakfast. McDonalds does advertise breakfast served all day. Any how that he is his complaint. He has spent a lot of money at McDonald's for a long time.
He wants breakfast whenever he wants it and says McDonald's is false advertising about breakfast being served all day. He asked me to tell McDonalds to call him at his phone number above. If he doesn't answer, please leave him a voice-mail and what number to call and speak to someone in upper management and leave a person's name to speak with along with the phone number to call back if you reach his voicemail. Please call him or write to him. You can let me know via email what McDonald's plan is to settle this complaint from him. My email is twheeler7931@yahoo.com. I have no complaints about McDonalds. I don't like anything from McDonalds at all.
Sorry, but it is some awful food to me. Mr. Wheeler, however likes McDonalds breakfast. Please respond to me via email and/or call Mr. Wheeler at the number that I have provided for McDonalds. Please respond in a timely manner. Thanks.

Ginger Delvecchio
from Warsaw, IN
We took our grandsons to the McDonalds on Hwy 28, Mulberry (Miami Twshp/Milford, Ohio ) on Easter evening, April 27,2016. They each ordered a 6 pc. chicken nugget happy meal with fries and when asked what drink I asked if they could have a small shake, the worker said yes. When I was paying I noticed that I was charged for the happy meal and a separate charge for a small shake for each of them. When I questioned this I was told that the shake was a separate ordered item-it was not offered as a drink with the happy meal.
So I said since I paid separately for the shake that I wanted the 2 soft drinks that the boys would have gotten with their meals. The manager said it "doesn't work that way" and would not honor the happy meal compete meal purchase. With my meal and theirs it was a $19. + meal purchase, and I will not go back to that McDonalds again. After we ate, the boys, age 8 & 10 played in the play area-then 3 teenage boys went in and climbed into the tunnels and hid. I went and told the manager who simply looked in, didn't see the boys because they were hid in the tunnels, and did nothing. I had my grandsons come out & we left unhappy.

Jane Johnson
from Middletown, CT
I am a daily customer at my local McDonald's and buy hot coffee every day. On a visit in late February I ordered and received my hot coffee with 2 creams on the side. When I lifted it to put my creams inside the lid came off and the coffee spilled all over my hand resulting in 2nd degree burns. See photos below.. As a chemotherapy patient any infection can lead to death as my immune system is compromised by the maintenance chemotherapy that I receive every 6 weeks. I was treated with IV antibiotics and healed eventually.
As a citizen that doesn't believe in frivolous lawsuits I let it go but in reconsidering the seriousness of this situation I am hoping to receive a satisfactory response from McDonald's on my own. Please see photos below to verify the seriousness of the burn.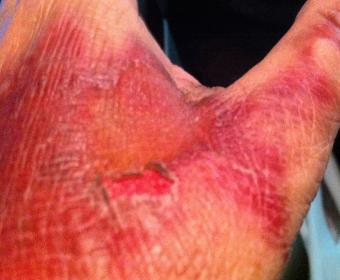 John Patterson
from Athens, GA
Ordered 20 piece chicken nuggets. Asked for 2 sweet sour sauce, 2 hot sauce, 2 barbecue sauce and received nothing but a 20 piece nugget that was hard as a rock. on top of that the expediter was rude and unprofessional. this seems to be a problem @ most McDonalds. I have had enough of the negligence and incompetence with the workers in this franchise. McDonalds needs to up there game and hire better quality people if they want to continue to be competitive in todays fast food market. the store in question is 3825 Atlanta Highway Athens, Georgia 30606.

Betty Stromer
from Bridgman, MI
I am not complaining about anything except for the lack of chairs, the owner will not get new chairs, so they are about 8 short. I am a daily customer every morning for years, since it opened. The crew and manager are wonderful, but since there are so many of us, we use chairs to sit at a table for 4. Yesterday someone could have been hurt, as the chair had a bad leg and one of these days they will have an injury. The manager Tina took it away.
I am a stock holder at McDonalds and my husband worked over 10 years in Michigan City, IN for a company run by the Lubeznick family, now they were very, very good business people who saw to it that everything was always fixed and in order. This owner, whoever he is, has a wonderful set up with 94 being right there and busses coming in, I believe he owns other places in MI also.

Andray M deCordova
from Milwaukee, WI
This morning I went to the McDonalds at 4925 W Hampton Avenue, and was very upset with the level of service there. The workers were extremely slow and the manager was useless at best. She was busy making fun of some customers and joking around with her staff. After I ordered my breakfast number 2 with a medium orange juice, and I saw customer after customer complaining about the service. I mentioned it to another customer and he said that he has gotten used to it. I told him it only takes one time for me.
After seeing that there was no change in the level of service asked to speak to the manager and asked for my money back. She just handed gave me the money and walked away. I wanted to tell her that I did not mean to be difficult but never had the chance to do so. I am a manager in a public utility and in my opinion she is in need of more training, mainly people skills. Lastly I would have been more patient if it was actually busy.

Mark Bennett
from Washington, DC
For 50 years, McDonald's fries have been one of the joys of my life. For the last year or so, Winston-Salem, NC area franchises have started a practice of pre-scooping fries into cartons and racking them under the lamp, RATHER THAN allowing the fries to remain in the bin until ordered. I understand this may be seen as a time-saving measure, but the end result is a few hot fries on top, and the remainder of the carton being lukewarm, or worse. I'm wondering at what corporate level this decision has been made, local? Regional? National? This may seem trivial, but has resulted in my hesitation to select McDonald's for lunch, with so many nearby options.

Barbara Hobbs Pollack
from Cabot, AR
McDonald's on 67th and Camelback had the flag upside down, so I went and ripped the rope and fixed that disrespectful scene. Not only is it illegal but so disrespectful to all our brothers and sisters in arms, let this incident go viral, and share it to all America, let everyone know that they disrespect all of us, share and tag others, please don't let this go unheard, God bless america and our troops.
This was written by a very angry marine in the Phoenix, AZ area. His name was Elizas Duarte-Muzeleno. He is sharing this all across Facebook along with a picture of the flag upside down. It came across mine and I live in Arkansas. Thought HissingKitty might want to see how it is representing McDonald's company.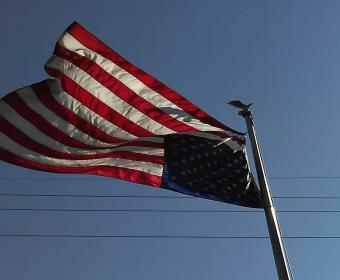 Mike Termini
from Pewaukee, WI
My name is Mike T. and I went to the McDonald's this morning located on 1425 West Av in Waukesha, Wi. My number receipt number was 370. I ordered a Sausage Egg Biscuit meal with a large coffee. I arrived at 9:40 am. Another 3 customers came in and had much larger orders and all received there meals before I did. At 9:55 I went to the girl at the register and told her that I had not received my order and for just to return my money and charge me for the coffee which by the way was luke warm at best.
The girl called for the manager who was approx. 5 feet from her but she was busy. I waited yet another 10 minutes to get the managers attention. Not mind you it is now 10:05 am and no one has yet to get my order. So make that 25 minutes and I'm still waiting for a sausage egg biscuit meal. Finally after I practically laid on the counter to get the managers attention she asked me what I needed. i told her that after waiting 25 minutes for my order that I wanted my money back. She returned my money and did apologize. Now let me say that the is not the first time that i have had issues at this restaurant.
One time I was there and there were 5 people ahead of me and only one person taking orders. I was in a hurry and left and as I was leaving I noticed a man in a white shirt and tie in the parking to smoking a cigarette talking two men who were outside a truck drinking a beer. now mind you it was 8:30am. I approached him and asked him if she realized that there was a back up at the counter. he said that he was on his break and would be in there shortly. This place has a habit of only working one person at the register and there is a back up at the counter. I have seen other people walk out. Ironically I can honestly say that i will not be going there any time soon as I'm moving to Florida tomorrow. I have gone to a Mc Donalds every morning now for coffee now for the last 5 years.
This store is probably the worse that I have been to. On a scale of 1-10 I give it a 1. Then tonight I tried the McDonald's at 1635 E. Main St. in Waukesha. I ordered the Buttermilk Chicken sandwich meal and a shamrock shake. I received 10 minutes later just the sandwich. I had to argue with the person who took the order that i ordered a meal. After finally showing him the receipt he said , OH! and then I got cold fries. I left everything on the counter but the shake and left. Your prices continually rise and your food gets worse tasting a service is terrible. I'm to the point that I an done with Mc Donalds.

Yah ayah Conteh
from Philadelphia, PA
I visited a McDonald's restaurant at 7500 City Line Avenue, Philadelphia PA 19152. Store #: 10545 @ around 8:49am. I ordered 2 egg white sandwiches and paid $7.75. To my surprise, the sandwiches were poorly prepared, watery, and completely unsafe for someone to consume. I immediately alerted the teller who mounted an aggressive argument and shows no sign of professionalism.
Since I was powerless not been allow by the teller & her teammates to express myself, I gave them back the sandwiches and left the restaurant with no recovery of my money. This type of behavior is totally unacceptable and a violation of customer service. I am not complaining to recover my money, but for the disrespect and misrepresentation of the staff persons towards valuable customers. I believed I was mistreated because of my accent. Had it been someone like them, that would have been a different story today. Praise God, I was able to restraint my self to avoid any further incident.

Carol Anello
from Victor, NY
Just left your establishment after a few months. We decided to give it another try, hoping the last fiasco was a fluke. NOT. Same crap, different day. We went to the Farmington, NY branch. Ordered 1 Fillet O fish, and 1 chicken nuggets with a small fries and drink: My husband ordered a double 1/4 pounder meal deal. The order was done and on the tray before we even paid for it. Right then I knew something was seriously wrong. First, our fries were COLD, they brought us new, microwaved fries.... Really? We ate a couple. They were chewy, but hot. The nuggets were OK, nothing to write home about. My fish smelled. You shouldn't be able to smell the fish.
I took it to the manager who refused to smell it. That says a lot, huh. Now I know why it's been a while since we ate there, and never again. I will surely tell everyone I know not to visit this franchise. The manager offered to make a, "different" one. Not in my lifetime. I think we're just done with the Farmington franchise. Tired of being sold old food and not even being offered a refund.when there was only one bite taken out of it.. I'm sure I'll never hear from you, so I will do my part in banning this franchise from selling to the public before they make someone sick. Why should I have to give them even one star. They deserve so much less than that.Thanks. Carol Anello

Stephanie Abernathy
from McDonough, GA
I stop at mcdonalds store 1938 just about every morning. Half of the time their mocha machine is down or not working. This morning I stopped by there and ordered a med hot mocha and she charged me for a med mocha, ran my debt card and when I got to the second window they then informed me that the machine was warming up and it would be about 10 minutes and offered me a large coffee instead. This really aggravated me because I love the mochas and this store always seem to have problems with this machine or they just don't want to use it. Not really sure if I will be stopping by there in the future any more.

William Smith
from Salt Lake City, UT
I went into McDonald's and ordered a large drink. After approximately 30 minutes I was approached by the manager and informed I had to leave. I was told, i had, had enough time to drink my soda, and was asked to leave again. management was very rude, disrespectful, and demeaning to an everyday customer and I take exception to the treatment I love and respect McDonald's and it's properties. I am giving HissingKitty this information in an effort, to resolve this issue to prevent McDonald's reputation from becoming tarnished further. The McDonald's was in Taylorsville Utah on 5400 South and about 3850 West at approximately 6 a.m.

Norma Wilson
from Fayetteville, NC
My main complaint at the moment is regarding the new coffee cups. I've seen these at other McDonald's and didn't like them. Now they're at the local McDonald's that I visit daily (West Jefferson, NC). These are the worst coffee cups that I've ever seen. They will burn you when the coffee is hot. The lids don't fit properly and continue to leak. I've spilled more coffee on my clothes with these cups than any others. I continue moving the lids around trying to find the spot where it doesn't leak.
Then I've noticed the coffee gets cold much faster than in the other cups. They are shorter and wider so they don't fit in my cup holder in my car easily either. Trying to reach down to pick up my cup from the cup holder is a major problem sometimes. I have a problem trying to pick up the cup because I have to pick it up from the top and I'm afraid the lid won't stay on. The cup seems to be made out of cheaper material and is flimsy. Please bring back the old cups! I buy several cups of coffee daily from McDonald's! I don't even make coffee at home anymore because I love McDonald's coffee so much. But if I continue having to fight with my coffee cups like this I may just have to start making it at home again!

Jeff Juranek
from Los Angeles, CA
The McDonald's in my neighborhood, located at 11300 National Blvd., Los Angeles, CA has had a broken milkshake machine for the last 3 months. Every time I go to this McDonald's, about once week, the shake and ice cream machine is always down. It has been my experience that the customer service has gone down over the last year, food is often cold, and the cleanliness is poor.
I have spoke to the local on-site management, and they are not helpful or courteous. My request is for the Corporate Office to get some help at this location. I would like to support my neighborhood McDonald's, but I am not happy with the service or capability of the staff. Please help.

James Stagner
from Sherwood, AR
I went through the drive through to get a breakfast special (egg, bacon cheese, biscuit) with medium coffee and received my order and drove away since other patrons were in line too for their order. Got to work and pulled out my biscuit only to find they had left off the egg. This is the second time I have not received my correct order at this McDonalds on Arch Street in Little Rock Arkansas.

Lindsey Prince
from Raleigh, NC
Went to McDonald's the manager was already yelling at the staff to get on line and help prepare food. Well she got on line herself and I noticed she was making my food (I had a big order) she did not have on any gloves after just coming up front touching the computer screen then going back to prepare food not washing her hands or putting on a glove to cover the huge band aid on her hand. I also asked for no pickles or onions and of course there was.

Denice Krumdieck
from Cincinnati, OH
After paying for my order I sat in my car for 13 minutes until I got my food. There was a problem with the fourth car ahead of me. Instead of making that car pull to the side to take care of what ever problem they were having they let that car wait until it got its order. This made me 15 minutes late to work. When I did sit down to eat my order is was cold and the fries where not fully cook. I eat at McDonalds at least three times a week. I found this unacceptable.

Robert
from Janesville, WI
I frequent McDonalds several times a week. I stop in for lunch at the S Park St location in Madison Wisconsin. I stood in line for at least 5-10 minutes. I was the only one. Employees just walked by and act if I wasn't even there. I finally left and went thru the drive thru. I don't want any response from your company. I can assure you I will not go to another McDonalds.

sandra gortz
from Fresno, CA
A am a regular customer of the McDonalds in Fresno, Calif, 689 Nees Ave 93720, and usually go for coffee through the drive-through. Yesterday, at 4:45 p.m. I ordered a medium decaf coffee. When I drove forward to the pay window, the girl was laughing as she took my money. When I went forward to the pick-up window, the other girl was smirking as she handed me my coffee. When I got home and opened the coffee, I saw dark sludge instead of coffee. Apparently she was too lazy to make fresh coffee so she gave me what was left from the first morning coffee. I guess these two employees think it is funny to give an old lady a cup of sludge. Who knows what else they do to people's orders for a laugh?!

Debra Brown
from Decatur, GA
The McDonalds location at 1429 Riverstone Pkwy, Canton, Ga 30114 was understaffed during the morning of Wed, Feb 24,2016. I went inside because the two drive through windows were impossible to even enter. The biscuit I received was tough and not in the condition it should have been. The outside trash containers were overflowing with trash and trash was on the parking lot pavement. I left with a very unfavorable impression of this location. This is not the first time I have felt disgusted with this location. Major improvements in staff, management and maintaining the location sorely need to be made. As much money as McDonalds takes in, surely someone could improve this location. Disgusting way to start my day for sure.

Debbie Fuoss
from East Chicago, IN
I went to McDonald's at 100 Sauk Trail South Chicago Heights, Il 60411 Store #1924 on Feb 23,2016 18:32. I have had several issues at this location in the past few months. I have contacted the store directly previously and it seems things have not been addressed or if they have nothing has changed. So I have decided to reach out another way because there is no reason for preventable issues. Last night I went inside to eat with my 2 daughters. I think it is first of all very unprofessional for employees regardless if they are clocked out to be hanging out in the dinning room. There were 4 employees one I assume was on break because by time we left he was headed back behind the counter.
During his time in the dinning room in his uniform myself and my daughters had to listen to his personal phone call which he was not quite about. Dropping the "F" word every other word and complaining about not taking care of no babies 2 & 3 years old that are not his! My order was not correct and I didnt even waste my time going to have them fix it because I have dealt with Veronica the manager on duty other times and she is EXTREMELY RUDE! While waiting for my order a customer hands her a cell phone with some lady trying to place her order over the phone or asking about orders all while the manager continues working while on the cell phone. This particular McDonald's is a joke with the employees and how they are allowed to behave!!! I asked 2 people why every time I have been in there not one but both Ketchup pumps are completely empty and no one had a response for me....
I wasted $15.00 last night there with RUDE service and ignorant phone conversations from employees topped off with my order not correct! What does it take to get these issues addressed at this location?? Customer service at that location is unacceptable! I work for a company and I am in charge of the companies customer service from who is hired to all of their training and expectations! So I am not a customer that is complaining in order to receive free product. I am complaining because all around it is unacceptable for a billion dollar company to not have a handle on its employees and continue to allow them to get away with their behavior. I would like to speak to someone on the phone regarding these issues.

Phil Griffin
from Melbourne, VIC
I attended Mc Donald's at Stawell on the 20/02/16 at 9:11 am. I ordered 2 x Mc Muffin meals, I x Coffee with 2 sugars, 1 x med sprite and 1 x extra hash brown. There were three cars in front of me and four behind me. I then waited until 9:27 a.m. before I got my meal. I understand that they may have been busy but honestly 15+ minutes to get my order. Not good enough. I could have driven to Ararat and got served faster. I have complained about the service at Stawell before and gave them the benefit of the doubt but after this I will not be returning to Mc Donald's and will be getting my food and coffee elsewhere. That whole place needs a damn good shake up. You have now lost a customer and will lose more. Wake up at Stawell or shut it down. Not darn good enough by a long shot.

Lois Cole
from Laguna Niguel, CA
I had my dinner at the McDonald's at 27331 La Paz RD in Laguna Niguel, CA 2/19/2016 Time 18;05 They gave me the round disk, that I am familiar with Although they brought my dinner to me
At that time I told the server there was 2-3 big splatters of Ketchup on the floor as you step into the booth, I didn't see it until I sat down I told the server and he said he would clean it up, well I finished my dinner and it still wasn't done.
I went to throw the trash away, which a young lady was just starting to empty, it was full and people were putting their trays trash and all where normally just trays go, I told her about the spill and she immediately put out cones. There was only one person taking orders and if I am not mistaken she was the one who was emptying the trash! I told her the register was posting so I could see the charges, she just kind of brushed it off.
The people sitting across from me were upset bc there was just enough Ketchup for the little container to not even fill. There soda"s are so watered down. My fries looked as if they had been put in the fryer a second time. I frequent this McDonald's at least two times a week Drive thru the prices on some items are not posted. Senior coffee went from .59-.79 Soda's are no longer $1.00 now $1.79 a few days before $1.69 prices are not posted. I could go on and on.
Why is there so many different people working there, never the same people like there used to be? Who knew what they were doing, someone always cleaning the floors etc.

I am an Australian university teacher living in Guang Zhou with my wife and eight-year-old son. At 3.50 p.m. on 18/02/16, my wife purchased Chicken McNuggets, fries and a Happy Meal from McDonalds at Zhong Shan Si Lu, Guang Zhou, China. My wife and son ate their nuggets and other foods at the time of purchase and brought some nuggets home for me which I ate at about 6 p.m. We had nothing else for dinner that night as we all, for some reason, had little appetite.
By 3 a.m., my son was vomiting violently, followed by myself, which was repeated another four times for me and an alarming nine or more times for my son throughout the early morning hours. My wife also began vomiting, three times from about 6 a.m. to 9.30 a.m. When my wife rang the respective McDonalds reporting that we had all suffered food poisoning from eating the chicken nuggets, she was met with (words to the effect), "We sold many nuggets to many customers, but you are the only ones who have complained.There is nothing wrong with our food."
This was from the manager, "Ye Jun Tao", who initially proved quite reluctant to give his name. I find this somewhat dismissive response totally unacceptable, if not reprehensible, particularly in view of the fact that my wife and child required medical treatment for nausea and diarrhea, the latter which I also suffered from, albeit less severely. Furthermore, as a result of the illness we all suffered, my wife and I had to absent ourselves from teaching for the day, as did my mother-in-law who tended my son who was kept home from school.
My wife's major concern was not getting a refund, free meal voucher or even an apology; rather, she was concerned that the contaminated chicken nuggets would continue to be sold, potentially afflicting other customers with food poisoning. I can only hope and pray that this food doesn't carry Bird Flu virus, the outbreak of which has been a major health concern in this country. We have enjoyed McDonalds in both Australia and China for many, many years, but now our confidence in the quality of McDonalds products has been severely compromised, if not shaken.
We would very much appreciate McDonalds earliest investigation of said franchise, at least for the sake of protecting future customers. For the time being, however, we will be avoiding dining at any McDonalds restaurants until this matter is resolved.

Lorraine Yates
from Surrey, BC
Sunday Feb.14/16 at 6 p.m. I went through the drive through at the Scottsdale store in Delta B.C. 120th street at 72 ave. North Delta B.C. Canada. I ordered the COB sandwich for the first time. I had to wait 5 minutes or more in the holding area parking as there were no chicken burgers ready. This is not a problem, I thought I would get a really fresh product. The lettuce on the sandwich was a wilted mess, just slimy, there was almost no dressing or bacon in the sandwich and the bun was verging on stale tasting. For the most part I usually get the fish sandwich and am always pleased with that, tried something new and it was not up to par at all.

Suzanne Livingston
from Citrus Heights, CA
I was at the McDonalds at 10355 Folsom Blvd. Rancho Cordova, CA and I noticed they were charging 9% sales tax instead of the 8% sales tax for Sacramento County. This is illegal. I questioned it and was told that the owner raised the sales tax. The owner can raise the price of the food but he can not arbitrarily raise the sales tax. It is what it is for that County. It wasn't the small amount that I was overcharged but if you add that up for every item sold daily, weekly and monthly; the owner is getting quite a bit of extra profit. If I do not hear back from the corporate office, I will take this complaint to the County of Sacramento and let them know that this McDonald's is overcharging the sales tax.

Dwendolyn Wilson
from Columbia, SC
On 2/13/2016 I went through drive-thru and ordered a southern chicken sandwich, which I had a coupon for a medium fries and medium soda. I paid at the first window and move to the second window for my order. As I approached the second window a you black male was standing there, he looked at me and walked away, I sat there for about three or more minutes waiting for him to return to the window.
The young lady from the first window came up and handed me the fries and sandwich, i told her I did not drink coke and asked for a sprite, she never returned. about another three minutes the young male return and gave me a coke, I told him I wanted a sprite.
He gave me a angry look and took his time to give me a sprite. The fries were barely warm but I didn't want to say anything to him because he had an attitude already. I don't like complaining.

Jose Miranda
from The Bronx, NY
McDonald's in the Bronx on Fordham Road is the worst. As soon as I arrived there was no one on any of the registers. The female on the grill had called a co worker to let her know there was a customer. The employee arrived and said if the customer was desperate for his order.

Stephanie Alston
from Baltimore, MD
I ordered a fish sandwich and I asked for fresh French fries. I noticed that the fries were being fried in the fryer furthest away from the front and that there was only a small amount of fries after he dumped the order out. but did not think anything of it. When the fries were done the manager he is African American with a bald head laughed along with the assistant manager and a worker and stated fries right out of the grease. After I left the store I noticed the fries were not very hot, then a woman who had been in the store said all he did was but an order of French fries that had been sitting there back in the fryer and gave them to me. I have had other issues with this store but choose to ignore them (even though I should not have) but that was the last straw. I will not be going back to this store Number 2606 again.

tracy jeffery
from Mount Vernon, OH
I had applied for a job at mcdonalds on Coshocton road. mount Vernon ohio. They have a sign in the window that states they have positions available. However when I went in for my interview with Jessica she was very short with me. She asked me if there was anything about myself that I could change what would it be. I replied with nothing. I feel she will not give me a chance because a have a birth mark on my face that she could not quit starring at rudely. to me this is discrimination.
I have qualifications for the job. I have called out to that store on three different occasions since they still have their sign in the window. she will not return my calls. I am letting you know my complaint on her and I will be pursuing discrimination against me. If that store is not hiring then she should not have the sign up in the window.

Nancy Aderholdt
from Montreal, QC
I have received for Christmas a McDonald $25 gift card. I presented in 3026, Rue Notre-Dame Ouest in Montreal, QC. 3 times and the card does not. Yet I turned online and was told that the balance is $25. That must be the magnetization of said card is not working. But what inconvenience caused by this card. I sent HissingKitty the card number so you can help me find where to cancel it and return a functional me I would be grateful or at least contact me.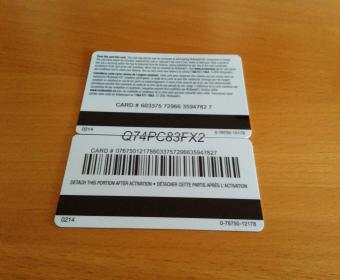 karen bedell
from Minneapolis, MN
Every week for the last year I have been ordering chocolate chip frappes on Wednesday, Thursdays, Fridays, and once a week the frappes machine has been broken, now this morning which is 1/7/2016 at 7:00am in the morning they are cleaning the machine but every week once a week something is wrong with the machine. They should have this machine replaced and also clean this machine at night not during rush hour for work. The address of this Mcdonalds is at 300 n. moorland road in Brookfield, Wisconsin.

Reita Gillette
from Matawan, NJ
I am terribly upset over the fact McDonald's doesn't think Florida is a Southern State and will not serve breakfast all day. I am a 5th Generation Florida Native. I am as Southern as they come. I would appreciate them changing your views about Florida people and treat us accordingly. I love McDonalds and stop often. Please make that change.

Dave Aurand
from Orlando, FL
As it was early morning, I ask if the food was fresh and hot! Neither was the case. The fish had dried out on the edges, the cheese had a crust on the outer edges, and instead of being steamed, the bun was grilled for a fish sand. The fish was down right cold! My wife had the Buttermilk Chicken, and that was also cool. I asked for a fresh food, not something that was in a warmer drawer. I asked when I went through the drive thru, if it would be HOT. The guy said because of the time, (3:20 am) everything had to be cooked!
This store was just rebuilt and is not more then two or three weeks old. Before the old store, we also got very bad food. This time, was no different. On the occasions of having the Buttermilk Chicken, (10 or 12 times) it tastes like they were fried in OLD OIL, they were very dark, and NOT golden brown. They also had a burnt taste to them. I called and talked to Pebbles, and she said to come in at my convenience, and the order would be replaced. As an ex employee, I find that pride no longer exists at McDonald's. This is the type of thing that drives McDonald's customers away.

I went through the McDonalds drive thru in New Lebanon ohio around 9:30pm, got my daughter a happy meal and a vanilla cone in a cup, on my way home I noticed a rotten smell from the ice cream so I tried it thinking maybe it was just me, and it was not. The ice cream tasted like rotten milk. So still thinking it might be me I went back and had my father taste it, he said the same thing and went and brushed his teeth and told me to take it back. I decided to go into the store instead of the drive thru, I told the lady that came to the counter that the ice cream was rotten and all she kept telling me was that they get cleaned every night and asked if I wanted a refund or a new cone.
I asked for a new cone since my daughter really wanted one. I tasted it again while standing there, still tasted and smelled rotten so I told her I didn't want it and she threw it on the counter and started working on someone else order, she came back and I asked her to try it so she did, facing away from me, she turned and said they must have added milk to it and that it taste ok to her and yelled for someone to get a bag of vanilla ice cream, as i'm waiting there I watch the other employee add a new bag to the ice cream already in, so I just got some cookies. Clearly the ice cream was bad, they should have shut it down and cleaned it not add fresh ice cream to try to cover it up.
The ice cream made me sick, and this needs to be taken serious because my daughter would have ate this. I work at a fast food place and this is not excepted. I'm very curious to see if anyone else took theirs back too. This is very upsetting to me since we go there all the time, your serving the public and you need to follow the rules that is why their there. You can make someone very ill by added fresh ice cream to rotten ice cream.

Bonnie Grayer
from Washington, DC
I have an employee complaint about McDonald's. I have been an employee since August 2015 at store #1226, dereen. Location in Savannah g.a the I witness the owner Brad totally Disrespect his general managers as well as his workers he has no respect for his employee time after time again no good morning no good job. No encouragement he calls is workers stupid dump he yells and he constantly talks down to his employees and make the feel worthless I don't feel that this is acceptable. He is to represent McDonald's corporate name and held accountable.

Kimberly A Sears
from West Dover, VT
On December 15, 2015 at approximately 10 p.m in the evening I went through the drive through location of McDonald's located in Derby, VT where I placed an order for a Crispy ranch chicken wrap, a small fry, and a McDouble burger. The total came to $13.13 which if I may add isn't all that cheap but I just remembered I added 2 small strawberry shakes. When I got home my husband opened his wrap and began eating it when he literally bit down on something so hard it broke a piece of his tooth off and pierced a small hole in his tongue that bled for several moments.
I immediately took a photo of the bone as well as put it directly into a zip lock baggy a for prove we are not lying. This is quite devastating to us as we are both loyal customers and have been for quite sometime now. I'm so upset and so mad that we don't even know where to go from here I'm that upset. This "piece" of bone was not small by any means so we need to come to some sort of agreement on where to go from here on what can be done for us now.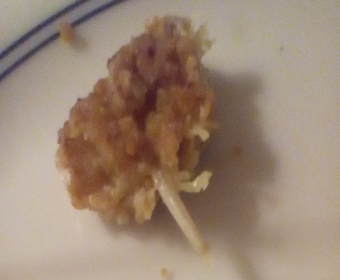 Michael Fuller
from Wilmington, DE
This is a ongoing problem. I stop at McDonald's store #7312 twice everyday; and I've noticed that a lot of times they refuse to accept my Valid Coupons; even the little Free sandwich/ French Fry Stickers. Yet I can take the same Coupon or Sticker to another nearby McDonald's and they accept it without a problem. Store #7312 will refuse a valid coupon/ sticker on Monday yet accept it on Tuesday. If I order a breakfast sandwich and want to exchange sausage for bacon; one day they'll charge extra; yet others they won't. Where is the consistency with McD's corporate policy?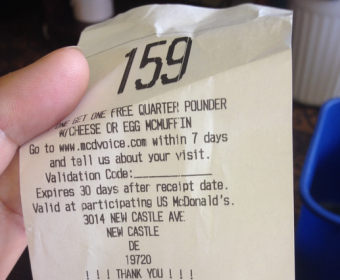 Winona Stoecklein
from Burbank, CA
I downloaded the McDonald's app, this week, after seeing it on my coffee cup. I wanted to get the buy 5 get one free coffee. It worked the first time, but the next day at another MCD'S it just kept spinning and wouldn't work, even after I had opened MCD'S internet. I am very frustrated, because I have tried to use it several times and it just spins or says timed out, or tells me they are having a problem and please sign in again. Tonight, I went to the McDonald's in Oceanside, and tried to get the special of buy one get one free happy meals for my grand kids. I turned my phone off and on again three times but it kept saying, sorry there is a problem, please sign in again.
I finally had to pay full price, which was very frustrating, when it says right on my app that it is buy one get one free. They were supposed to have the toy's from the peanuts movie, but said that they ran out. They gave them a sponge Bob toy instead. This is unacceptable, since they are trying to collect the whole set, and were so disappointed.I also ordered a chicken lettuce wrap sandwich with no sauce and it was loaded with mayonaise. We regularly go to McD's several times a week, and hope that this can be resolved.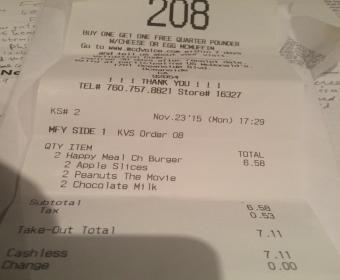 First off all we went to get our food the hot chocolate tastes off just hot water so we was not happy. We phoned support and spoke to the manager they said call back and we refund your order as we did. The mango pineapple smoothie made my partner very ill. She left half off it and it doesn't look right at all so we are looking to go see if she got food poisoning. This should not be happening, if so we will take it further.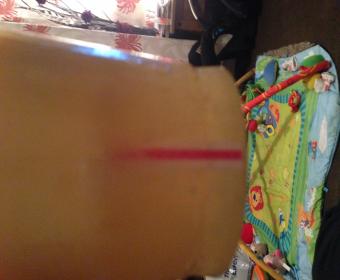 Bob Howard
from Omaha, NE
Purchased a two cheeseburger meal at the mcdonalds @ 5327 Cornhusker in Lincoln Nebraska. After getting several miles down the interstate I opened my meal only to find that neither of my cheeseburgers had a beef patty. Cheeseburgers require one (1) beef patty. Employees certainly do not deserve $15 per hour if they cannot count to ONE. Also purchased a double quarter pounder and it was cold with beef patties that tasted like hockey pucks.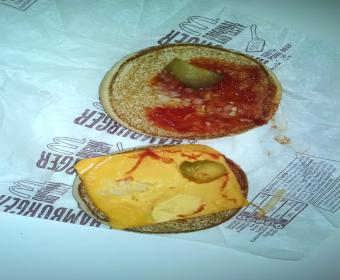 Cynthia Saxon
from Sorrento, LA
I'm sick and tired of paying for food that is hard as a rock. I was using the White Oak Texas store because I have been getting great fresh fish sandwiches there, unlike the Estes Parkway store in Longview. Tx and the Gladewater. Tx store who have served me old food that is ready for the trash. I work in Lake Port, Tx and live in Gladewater, Tx. I come through late at night around 10:00 pm. I love the fish sandwich but not when the are hard as rubber and cold and just trash. Got my husband and I two filet of rubber trash tonight. So now White Oak McDonalds sucks just like the others I mentioned.

Eva Leo
from Plainfield, IN
I go to the McDonalds on 38th St and 465 Indianapolis, Indiana every single workday. They know who I am. I am there EVERY DAY!!!! Although now I am never going back. I put up with my food order being wrong at least 2 days a week. I never complain about that. I put up with getting diet coke when I order a coke. I put up with getting chocolate chip cookies when I ordered oatmeal. But today is the last straw. I went through the drive through with a $50 ordered a $7 breakfast and they refused to take the money. Don't you people have a marker you can swipe over a damn bill to see if it is real. I reiterate. I am in there store EVERY DAY.

Alicia Hernandez
from Wittmann, AZ
I purchased 6 gift cards @$5 each for a total of $30, these were given to my grandchildren for Halloween. When one of my grandchildren went to use his gift card he was told the card had no funds. So my question is this my other grandkids used their cards and the one was told no funds were available, does mcdonalds just pockets the rest of the money. This is very frustrating because they were supposedly activated at the time of purchase, they were in sequence how can five be activated and the other not, but still was charged the $30. To top it off you can't argue because the cashiers are rude and there's a line waiting. This matter needs to be resolved and my $5 be returned or another gift card issued. Hopefully, this can be resolved, I realize its $5 but if you charged all the people an extra $5 can you imagine. Please help.

Dan Eastman
from Baton Rouge, LA
I visited the McDonalds store # 10548 at 4979 Jones Creek Road, Baton Rouge, Louisiana 70817 on November 9th at 1:55 PM. As I got to the counter there were two ladies together being helped by the only cashier, who had to change the register tape(he seemed like a trainee). There was also a gentleman in front of me and he was there before I came in. After what seemed like five minutes he was not happy and walked out the door without ordering. It became my turn and I was the only one at the counter except for the two ladies waiting on fries. Another person who acted like the manager took my order. It took over 9 minutes to get my order.
My main complaint is that you have people walking out your store and I do not want to go back to this store which is in my neighborhood because the manger seemed like she had a "could care less attitude" She knew I had been waiting for my order and she never came over and said she was sorry. With the five minutes before the guy walked out and the time I received my food it was almost 15 minutes. I'm also a business owner and it is sad to see someone getting paid and not having respect for the customers. You lost one persons business today and now you will lose mine and people I know in the area. We have many other choices.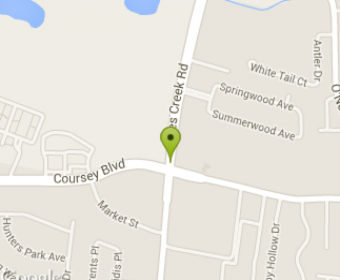 I went through your drive thru on Saturday October 17th @ 10:05 am to get a large coffee , and the lid was not on all the way and I wore the whole cup of coffee , my cell phone was in the middle part between the seats and it was ruined and the passenger side seat and floor is stained from your coffee. I called your 800 number with my complaint on Saturday the 17th @ 10:40 am and was told that someone would get back to me on Monday the 19th and I have never heard from anybody. I did get a survey to fill out last week about how my complaint was handled, I replied to it saying no one ever contacted me. I want someone to contact me personally. I want my car cleaned and my cell phone replaced. The employee that gave me the coffee without the lid being on all the way couldn't apologize enough to me. All your employees knew what happened. No manager came to the drive thru to make sure I was alright. I will be looking forward to having this issue resolved as early as possible.

Lola Antonio
from Bolton, ON
I have some concern about food handling and safety of the products in these restaurants. I went to one of your restaurant at 2625 F Weston Rd., North Your, Ontario to pick up a coffee and a muffin on Nov. 2, 2015 and I was served by a person with very long painted fingernails and they're digging in my muffin. So I asked one of the employee if that acceptable and she told me that they're allowed to have extremely long fingernails but I was in a hurry to argue with her and try contacting McDonald via customer complain.
I work in a food manufacturing industry too and we're all required to wear hairnets, not allowed to have long nails let alone painted,and gloves and most of your food handlers don't even wear gloves while making orders and I don't want my food to be made like that and my question is, does McDonald 's really allows that? I have to stop buying foods from restaurants if that's the case. Thank you very much and I hope my concern will be addressed for the safety of all McDonald customers.

Mrs Carol Beaumont
from Lincoln, ENG
I moved to Skegness in July 2014 and was happy there is a McDonalds but the cleanliness leaves a lot to be desired. The ladies toilets have always been bad but when I went on Friday morning 6th November they were disgusting. There was dried up feces on the top of the toilet seat. The underneath of all the toilet seats are unbelievable to say the least, I doubt they have ever been cleaned, the floor was filthy, didn't look as though the sanitary bins had been moved for days, the sinks and taps must have had more germs on them than the toilets. In fact, I don't think there was anywhere clean in the toilet area at all.

Erika Frober
from Memphis, TN
This morning 4:30 AM like every morning I stopped by your place of business to purchase my daily cup of coffee. My order usually a large black coffee no cream no sugar, but this morning I added a Sausage McMuffin. As always I had to wait quiet a time. So as I was waiting, I was looking through the window to be served, I notice several large roaches running up the wall and above the coffee table. So the manager finally came with my order. So I told him Sir you have roaches climbing the wall. His respond was "I take care of it" and handed me my order. I did not leave the window, I just sit there to see what the manager was going to too. He just started filling the next order. After he noticed I did not move he just took a napkin and reached up and smashed several roaches and continue his routine. My respond was " O my God". He just looked at me like there was nothing wrong with the whole situation. This is just nasty. I just left and dispose my food as well as my coffee in the trash. Believe me, I feel like this was totally out of line, his response, as well as his action, as well as his like of apology. Hope to hear from you soon,as well to hear what action was taking to clean this mess up.

Pattie Johnson
from Los Angeles, CA
We were at McDonalds in Carson city Michigan on Friday morning to get breakfast, around 10:30 am, there was a woman waiting to get coffee and no one would wait on her, she was there for about five minutes, they completely ignored her, and she finally walked out, and their employees were not organized no one knew what the other was doing, we had to wait about fifteen minutes for our food, and there were people still waiting to get their food, I was totally unhappy with the service there, this is suppose to be a fast food place, well this was not. All of us were waiting and the employee that was the cashier was told to go on break, that should not have happened until all were served their food. We do not live in this city we were on a trip, but still it was not very good service.

Linette V.
from Minneapolis, MN
I work the night shift in the hospital and dread seeing this employee working as he so obviously HATES to make what i order, a mocha frappe. I have heard him throw things around in the back and swear when he has to get the machine parts/blender from the dish washer. tonight he took it one step farther, he threw the parts on the counter in front of me by the mocha maker. I finally said something which was "careful Marty, you're going to break something" to which he replied something to the effect that it was not my business/not my concern. Then i said he did not have a very positive attitude for which he said "i was entitled to my opinion". I then told him i was entitled to my mocha frappe. I spend 3.99 when i work for these on a regular basis, that adds up. I bet if he got a dollar every time i ordered a frappe he would have a whole new attitude.
My co-worker, Emily, wont even go down to order if he is working, so i order for her. I've spoken with the other night staff, a lovely lady, who has heard all sorts of complaints about him, mostly from women. I do notice he does not make the snide remarks to male customers who order the same thing and will add choc sauce to the sides of their cup but not mine. This is not fair! Seriously, he is intimidating making one not want to order from him but he is the one that is usually working. i can hardly wait for tomorrow night to do it all again! i decided it was time to actually make a formal complaint, he crossed the line for the final time with this ANW hospital employee of 40,000+ hours. I was working here when the hospital held the vote for which restaurant we wanted! This was at the McDonald's located in ANW Hospital, 810 E 27th St. Mpls, MN 55407.

Toni Smith
from Kennesaw, GA
First of all the drive thru window is always backed up around the building and have to wait in line forever at drive thru. Then when you go inside it is even worse. Line backed up and no one taking orders at the register. No one comes to front to say anything such as we will be right with you or something. Then it is nasty over where you get your drinks. The tea container, the tops are off and anything can fall in the tea. The lady that was at the drive thru was very rude and unprofessional.
This is customer service and she does not need to be in customer service. Very Very Rude. She act as though she is doing us a favor, however it is the other way around, you are going to loose lots of customers at this store because everyone was complaining. This is the worst McDonalds I have been to. I plan to never return there.

Janice E. Sherrieff
from Saint Petersburg, FL
Granddaughter and I went to this restaurant and bot ordered the dbl cheeseburger meal, medium fries "NO SALT". Got food to go and once we were about five blocks away, we realized our food was cold, including he fries which should be finger burning hot. The only thing that was hot on my burger as the pickles, bread was cold, not toasted and the tea looked like weak water with a dash of color. I spent over $10 for the two meals and was not happy and didn't eat my meal. My real complaint is that I was too disgusted to go back, considering it took so long though there was only two customers ahead of me. This is the first time I've ever had such a bad experience at this particular store, normally we do drive thru, but today I decided to go inside, BIG mistake. would normally rate this particular store a five whenever I visit, in or drive thru, but this was THE second worse experience at a McDonald's. This past Monday, I had to wait about 20 minutes just for fries at one on 34thStreet and 13th Ave. No. Totally getting tired of bad fast food!

Kelli Schmidt
from Sunnyvale, CA
I was stuck in the drive thru at the McDonald's located at 4800 Almaden Expressway, San Jose, CA 95118 for 25 minutes. There was no way to get out of line. My experience at other McDonald's is that if your food is not ready they have you pull into a parking spot and an employee will bring out your order to speed up the line. When I got to the window the employee had no idea what I ordered. I asked if I could speak to a manager and was told she was busy. I said no problem I have waited 25 minutes what is a couple more. The manager, Griselda, then appeared but refused to talk with me. She was not doing anything but said she would not come to the window. It was not until I waited there 7 minutes that she finally came to the window. She was so unprofessional and this is enough that I will never go back to that McDonald's and will be sharing my complaint with everyone I know.

John P Lanzo
from Shawnee, OK
First off, I have never complained to any company before in my life. I arrived at McDonald's at 1 30 pm. I ordered pancakes and sausage and 2 sausage and biscuits to go the girl said no biscuits after 2 pm I said it was 1 30. no biscuits available. So I said OK sausage muffin. She gave me the price and I paid. No receipt she and said my number was 181 I asked for a receipt she said no paper in printer. I waited til 5 of 2 and she called out pancakes and sausage muffin I went to the counter and the food was on a tray I said I ordered this to go she said no I did not I asked to talk to a supervisor none available I asked for a manager none available. I understand staff calls in and your of people happens. I'm a 68 year old man I worked in las vegas as a casino shift manager with 6 supervisors and 28 dealers working with me. CUSTOMER SERVICE means keeping the customer happy so they return. you listen to their problem and solve it -- you do it in a professional manner. I understand some of your employees are starting their first job. Customer service is the key. I was hired to open the firelake grand on the highway and took pride in teaching casino games and the way to customer needs.

Chrystola
from White Hall, AR
First this week I ordered a sausage and cheese biscuit and when I opened my order is was a egg and cheese biscuit. Today I asked for a large coffee and the girl charged me for a small coffee. This is ridiculous.

Brian Muffie
from Bradford, PA
I was in the Jamestown store today right off interstate 86 in NY. I ordered my normal #4 with decaf, once I left to go to my next store in Gerry NY I realized there was no hash brown ...I was a little upset, but it was short lived. I have been visiting this location 3 times a month for about 1.5 yrs. I am an Area Manager of a similar kind of business. This store had some really bad service issues ( speed of service). But over the past 4 to 6 months you have really got some good people, the lady that handed me my food today was so sincere and inviting with a fantastic smile. You also have two black women that have been there, one handing food through drive thru window and I believe the other might be a manager of some kind that you also get this feeling. I know I am rambling on this McDonalds, but in this town it is very hard to find good help like this, please send my congratulations to this Manager and give them a pat on the back for me, the changes are noticeable and I would love to offer them jobs. But I will not because I know just how hard it is to find people like this.

Todd Renner
from Holmdel, NJ
So now the McDonalds commercials show breakfast 24 hours a day. If you show a biscuit sandwich on television you should serve it. Letting customers down is not what I expected out of a so called leader of the industry. 53rd and meridian Wichita Kansas is not serving breakfast and I am calling everyone to tell them about my story. I posted this on Facebook and will be complaining on Twitter to McDonald's later.

Melanie ONeal
from Murfreesboro, TN
I went to the McDonald's on Lebanon Pike in Murfreesboro, TN. This is the McDonald's I usually visit since my work is just down the road. Over the course of the past 6-8 months, the service has increasingly gotten slower, so I changed locations. For a while, I started going to the McDonald's on Lascassas Pike and the service is exceptional!!! Tonight I went back to Lebanon Pike and AGAIN, service is terribly slow. I guess I'll be seeing the Lascassas Pike location again. By the way, multiple people I work with have had the same experience with Lebanon Pike McDonald's!

I've been to this McDonald's three separate times with my daughter and all at different times of the day. My complaint is the service is extremely slow there this last time I was there was 8:50 pm October 14 2015 there where two cars in front of me and I waited 12 minutes to receive a 4 piece chicken nugget, medium fries and apple pie. The line was going so slow, the cashier at the first window was giving there orders through her window so they didn't have to wait. Finally once I got to the window and received my food I asked why it took so long to receive it the gentleman said because they are under staffed. Besides all of that the place looks very dirty and run down. This McDonals is Located Pleasant St., Attleboro, MA 02703.

Debbie Taylor
from Los Angeles, CA
I went to the Sand City, CA McDonald's to get dinner. I spent $45.01 didn't get everything.Called to tell them I didn't get sandwich Yolanda was very rude and hung up on me very unhappy with this store! Not sure if I will go back since she did terrible service when she came to help me. I ordered my breakfast large size to get the fries since of course they had no hash browns. She said no I couldn't even order a meal since they didn't have hash browns and refused to give them to me after spending all that money and not giving me everything I am so upset with this service. to hang up on me when I call also is so unprofessional I could of went somewhere else. I hope she isn't management because I felt she was racist by the way she treated me. Since I work by there and go there daily I just might have to start going somewhere else if she is there!

Christy Lane
from Loveland, OH
I often visit the Landen oh location, but will not return. If I am not mistaken, we are in America. So why then do I have to deal with Mexicans every time I go to this location. Now, my problem is, they don't speak English!!!! This is the mangers! I have seen the looks on the faces of the other employees and couldn't imagine what they must go thru! I had an order messed up, and not only was the little short lady rude, but I couldn't even understand her! I will no longer visit this location!

Randy Estes
from Springfield, OH
Want to the McDonald's on Hillcrest Ave. in Springfield ohio today and order 5 breakfast sandwiches. When get home, 2 of the sandwiches were wrong, and cheaper sandwiches at that. This has happened a few times now. I feel that it is sad that a person has to unwrap the food before leaving the window. People don't take pride in their work.

Patricia Ball
from Cadillac, MI
The McDonald's in Lake City Michigan is THE WORST I have ever been too, 9 times out of 10 your wait TO ORDER is a minimum of 10 min. I guess that tells you how long the entire wait for ANYTHING ends up being. they NEVER have any pull up into the Waiting space. I have gone there for coffee and waited for approximately 20min. I have complained to the manager but nothing has ever been done. I was in line this afternoon to get a cup of oatmeal, I ended up pulling out of line (I hadn't gotten to order yet) because I had ice cream in the car and didn't want it to melt. We frequent quite a few McDonald restaurants and Lake City is by far the very worst. It is not ONLY the driver through either. I won't even mention how many times the order is wrong.

Ronney Poor
from Tulsa, OK
It's hard for me to understand how a 24 hour drive through can be closed down. I was told they were receiving freight and was closed due to being out of food. This McDonalds is in Catoosa Okla in front of the Hard Rock Casino at 2:45 am, at one of the busiest times ( 9/2/15 ). I call it RUSH hour after the clubs close down. There were 7 employee's standing on the side of the building smoking and no trucks being unloaded or even a truck in the parking lot! I guess I will start going to What-A-Burger!

Connie Delgado
from Denver, CO
I went to McDonalds on Navarro Street in front of Mall in Victoria, Texas and ordered a Fish Sandwich combo. When I opened it up there was a small piece of melted cheese about 1" x 2 1/2" and the amount of tarter sauce was about the size of a pencil eraser on the other side. The rest was dry bread and the bread was not all that soft when I picked it up it crumbled. It cost $6.48 for a dry fish sandwich on stale bread and cold fries. This happened a little after 12 noon so you would have thought food would have been hot. The service was good. Employee was friendly and thanked me. I was just on lunch so I could not run back over there to show them. It will be a long time before I go back.

Regina
from Washington, DC
Please tell your employees not to stand in front of customers and pick their eyes or wipe their noses on their sleeves or stick their hands in side of cups that they serve the drinks in. It is disgusting and not sanitary when handling money. I experienced this at one of your franchise last week when I was standing in line to make a purchase. I appreciate the quick responses and the locations in the community because one can go and get a meal.

Dawn Barnard
from Eureka Springs, AR
I have frequented the Eureka Springs, AR McDonalds over the past yr and have yet to have fresh fries, ice for my coke, fast service, quality food and enough employees. It would be nice to have these issues addressed. This is a busy tourist town, I expected more. Otherwise, the closest McDonalds is 30 miles away...

Sandra Pittelkau
from Winchester, VA
You advertise a summer special double cheeseburger and small fries for $2.50. A friend and I went to McDonalds in Warrenton Va #5075. We ordered the summer special and they didn't know what I was talking about so I ordered a double cheeseburger and small fries. I was charged $1.49 for d cheeseburger and 1.19 for small fries. I know it not much difference but it's just the point.

On Saturday, May 16, 2015 I was in the drive-thru at the Salt Lake McDonalds located at 848 Ala Lilikoi Street, Honolulu, HI 96818. I got there at 12:45pm and sat in the drive-thru for over 1/2 hour. I was the 4th vehicle to the cashier window and was in the position for the duration until I got my food. I called from my car to the manager inside and was told that they were filling orders.
For one, the parking lot was not busy with walk-in customers....the drive-thru was! I called again after not moving for 15 minutes and the staff did not know what to say but sorry. By the time I got to the cashier, I asked him what was going on and he mentioned he just got on shift and they have a new manager, Ashley. I told him we should not pay for our food or be given coupons for the inconvenience of a 40 minute wait in the drive-thru. The traffic in the drive-thru was long!
When I got my food I told them the service and management is very poorly run and that I will be reporting this to the corporate headquarters. No apology at the window and the manager was there looking all stressed. This should not be happening and if the manager is not trained to handle orders or the drive-thru, it's a problem! I was looking for an apology from the manager who should have been by the drive-thru window as we exited and passed out coupons or something!

Visited McDonalds the second time in the past week with my two kids. Again NO new toys available for kids. McDonalds seem to have problems with sales but the biggest draw for McDonalds: The kids's Happy Meal - does not provide toys, except the outdated ones. If I was the CEO of McDonalds something would change! Forget the new salads, the menu - go back to your basics!

Kris Seymour
from Grants Pass, OR
When I arrived at McDonald's in Grants Pass Oregon. I ordered the new serlion steak house sandwich with the mushrooms. I then drove away and parked opened the sandwich box to find that their was no mushrooms. I then went back in to fix my order and ask if I can get my mushrooms put on my sandwich. The GM replied with o my gosh I forgot the mushrooms. She didn't tame my sandwich, instead she walked away a brought back a box of mushrooms. I thought it was very unprofessional of her. I returned back to my car to make my sandwich my self to only take a bite of dry, discolored meat that tasted horrible as if it is old. I then just put it back in the bag and thrown it away. This isn't the first time something has happens at this location. A few times I had ordered a mc double. I parked and with my reaction I looked to see if there was no pickle and then to find a pile of seasonings. I have been told through the grape vine that the kitchen is horrible, mold in a big hole under the sink, the fryer not being cleaned, appliances not being cleaned behind them, grease corroded all behind the appliances wire's. All of this has made me concerned about the management at this location. I'm really concerned about the safety of costumers and employees.

Albert Schaffer
from Phoenix, AZ
I am a 4th grade teacher and went to McDonalds at 43 Ave & Thunderbird in Phoenix AZ after work and they were out of key-chains for teachers. Then I went to the McDonalds at 51Ave and Cactus in the Glendale AZ and they gave me a free drink with my teachers badge and told me I could bring it in any time until the end of the year for a free drink. I went there today and was told it is only for one day. (While you are not under any obligation I think it would be nice to honor what you tell customers at any McDonald Store.)

Madeline
from Providence, RI
Me and my husband went to McDonald's on Universal Drive, Ct, and asked for a parfait. The cashier says they don't have any. First this is all the time at this location, my husband says to her this is the second location I went to today that don't have it. She catches an attitude, turns her face away. My husband tries telling her he was joking she wouldn't even acknowledge our presence so we walked away without making a purchase. If she don't know how to take a joke she should be working in the back where she doesn't have to come in contact with the customers because at the end customer is always right.

Gary Green
from Berryville, VA
I was short changed $10 in the drive through at the McDonalds in Stafford, VA. 22554 on the morning of 5/6/15 at 8:55 am. This one is located at the intersection of Sheldon Shop Rd. and Garrisonville Rd. I ordered a chicken sandwich, small sprite, and sausage and egg English muffin meal with a orange juice. The bill came to $10.46, (within a few cents; I was NOT given the receipt). I had two one dollar bills in my cup holder but only 5 twenties in my wallet. I pulled out one of the $20, but not wanting 5's and 1's for change, I gave the cashier $21.
Of course she is taking the next order etc. while making my change. She gave me back the change and I told her it was $10 short. She immediately took offense and said I think you gave me a $10. I said no, I did not have a $10 so I had to give a $20. At that point she told me she would "check on it" and continued with the next customer.
When I got my food I told the food person I was waiting for change and she told me to pull up and wait. 15 minutes later I was still sitting there so went inside and tried to speak to a manager. There was none, so I left to get my grandkids to school. I called back and asked for update and they said there was no extra $10 ??? I asked for next level supervisor and they said Jo Anne was in a class but would return on Monday.
I know if this is not resolved by a supervisor sometime today it will not happen. After a few more calls I was given Jo Anne's number but only got her answer message. I was also given a number for Lamar Brown but no one answers that number either.
I don't appreciate being ripped off for $10, especially with the attitude and no one giving a crap about it. I stop by this McDonalds a few times a week, and the food orders are messed up half the time but I put up with that with no complaint. But I am not going to let the short change go by with no action.
Regarding this particular cashier, I don't think she would pocket $10, but when she finds the extra $10 I am convinced she would trash it before letting it show she made an error. But with no supervisor to monitor what she is doing maybe she has nothing to worry about.
This will be my last trip to McDonalds. I don't have this happen at Chick-fil-a or Hardees a little farther down the road so that is where I will be going from now on. If this is not resolved as I now don't expect it to be, I will leave negative reviews for McDonalds wherever such opportunity exists to warn others about the lack of oversight of employee actions.

Heidi Guy
from Montgomery, AL
Wetumpka, AL location. I go to the drive through, only person in line for both lines. I wait for about 3 minutes with no one telling to me to hold or taking my order. A car pulls in the other drive through and is immediately helped. After saying hello 5 times someone finally says "What do you need?"HOW RUDE! After paying and getting my food I ask for extra napkins and get the BIGGEST sigh and she rolls her eyes at me. You are lucky to get 1 napkin from that McDonalds, so I guess we are not entitled to receive or even ask for anything.
I guess I was interrupting their conversation with one another. It was 1:30 in the afternoon, not busy at all. I have had several bad experiences with that McDonalds, they are always very rude. McDonalds has always had a horrible reputation for their employees being rude, and I agree completely. I think I will be taking my business for now on to Chick-fil-A where they actually are nice and treat their customers with respect.

Bill Ryan
from Ozawkie, KS
On April 29 2015 I went to McDonalds at 416 west 6th ST in Junction City KS. I ordered a 20 piece McNugget and one double cheese burger to go through the drive-in window. Very slow service. Now it is midnight and I got my order and my order was wrong. I told the employee it was wrong, he then called his manager. They got my correct order and gave me a refund receipt for $7.10. OK? this charge was never refunded to me at this time.
I also went into my overdraft with this transaction costing me $29. I was late for my shift at work also. The things with one visit. $29 charge (overdraft) $7.10 charge I never got back. I was late for work. This is ashame I will never go back to McDonalds ever again Amen. Cost me $36.10 for a $7,43 meal, and got into a problem at work to. I still have my receipts for this ordeal.

I have to be at work at 8:00 am. I do not go to McDonald's in the morning for breakfast because the drive-thru is too slow and they make me late for work. If I am going to go to McDonald's in the morning I need to get up earlier and leave earlier for work. This is probably my 3rd complaint on this restaurant. I went in this morning even though it was against my better judgment; I saw cars lined up and there was no one at the food window waiting on the cars. (I have gone through before and left because of this same scenario).
Upon placing my order of a bacon, egg, cheese biscuit combo with a small coffee with 6 creams and 4 Splenda, I noticed the screen said bagel, I corrected her and she asked me what did I want in my coffee, so I repeated it. The line was moved and I paid promptly, and then I got to the food window where everything stopped. The girl was standing there with my bag which she sat down, and then picked up and handed it to me and asked me again what I wanted in my coffee. I repeated it.
I looked in the bag and saw that there was no hash brown, I handed the bag back to her and she said Oh I forgot. She handed me the bag again, I informed her that this is the reason I don't come there in the morning, because they are slow and they make me late for work. The employee began to defend herself by saying that she doesn't make the food, the cooks make the food and she just hands it out the window, I said but you forgot the hash brown, she then got an attitude and walked away! I said as she was walking away I will report it to your manager. The lady behind her asked me what the problem was and what I wanted in my coffee!!!! I repeated it again!!!! She apologized and got the coffee for me, she was very polite.
I have tried this McDonald's thing over and over. It is right down the street from my house, but I think I will have to go out of my way from now on to get breakfast. The manager was there on her cell phone and was not paying any attention. She has been the manager there for a long time, but things are not working out for me at this McDonald's. I give up.

Joyce Hawkins
from Los Angeles, CA
On 5/2/15 12:14 pm I ordered a Quarter Pounder with cheese after waiting for longer than what I thought was a fast food establishment I took a seat. I noticed customers who ordered after me, received their food and exit. I walked up to ask if they forgot about my order. A few minutes later I was given my order. I checked the order and noticed the meat was NOT hot, nor Warm to the touch. I asked was this a left over from the previous night. I was offered another burger, but after the wait I didn't have the time to wait any longer, so I asked for a refund.
2/15 7:00am A few months ago this same location gave me a cold breakfast sandwich, with a difference meat than what I ordered. I ordered an egg white sandwich with sausage instead of the ham. I asked the cashier at the drive through if this was sausage and she responded with a Yes.
This is the second time I've visited this location and both experiences were unfavorable. This location get no stars from me. The restroom was filthy, and dirty. I had to ask if someone could clean, I waited for the young man to clean, he then went back to buzz me in to use the restroom, as I was using the restroom I could hear someone enter. I assumed it was another female. When I exit the stall the young man who was previously cleaning was inside the ladies restroom. Surely he was aware I was there since earlier I was waiting for him to clean, and after cleaning he closed the door. I had then asked if I could use the restroom, and he went to buzz me in. I was uncomfortable with his presence. I will never visit this location again.
At 5 my grand son informed me McDonald's is not real food, and refuse to eat there, and insisted on going to Chic fil A for lunch. Smart kid

Twice a year we drive coast to coast and stop at many McDonald's for food, coffee and bathrooms. The McDonald's in Arkadelphia off I30 is the first McDonald's we've ever walked out of without eating. The woman's restroom was filthy - the dining area was filled with flies. We drove on the next exit. Last year, we complained about the store in Forrest City and this year it was much improved.

David schoen
from Ronkonkoma, NY
Me and my friend went through the drive through in Coram. I had to tell the girl 6 times what I wanted and they got annoyed. The other guy came and asked what the problem was and I told him. His reply in a very Nasty tone said to me stop being so nasty. Excuse me but having to repeat myself six times and she still did not get it tends to annoy customers.
I have had other experiences in that place and I have decided not to patron McDonald's any longer due to nasty service. When I brought this to your management again I received a nasty attitude. This is no way to run a business and I am sure you will lose plenty of other business due to this kind of thing. I am contacting corporate will not tolerate being treated this way.

On the 2 May 2015 at 15:35 Went to The Mcdonalds Kuilsriver Cape Town and used the restroom but when I went in it was filthy and stinking then when I was done I wanted to wash my hands but the tap was not working so there was no water and there was already handwash on my hands.On top of that there was no toilet paper to clean my hands. Or wipe the Handwash off then I went to the Counter Service infront and while waiting there I asked to speak to the Manager which I saw standing there and I saw him which he blatantly refused to see me or speak to me and sent a cashier to speak to me which I find utterly rude and unethical. I am seriously dissapointed in this service I got and not a Happy Customer.

Time/Date of Incident: Hwy 109 N. Lebanon, TN - Fri 5/1 - 7:00 PM. At the front counter, I ordered a plain McDouble - no cheese. I was told it would be while because they were currently processing a larger order. I said 'no problem."
When my order was called - my burger was placed on a tray - and I took it back to my table - only to discover that it only had one burger on it. I took it back to the front counter and the McDonald's Team Member sent it back to be fixed - no apology or attempt to be nice. The tall Team Member in the back opened the burger up, looked at it - re-wrapped it and sent it back up as a completed order.
At this time, I asked the young man behind the counter to check and see if it was done correctly. He handed it to me and I had to check it. It was not. He took it back and the tall man behind the sandwich warmer asked me "Do you not want it plain?" I had to tell him that a McDouble has two patties on it! Finally, he added the second patty and my burger was returned to me. Not one of the three people involved - or the manager standing by - apologized or went out of their way to see what they could do to make me - the customer, feel respected in that situation.

deborah
from Redwood City, CA
Last week, I went into the McDonalds on Woodside in Redwood City, Ca. I usually go through the Drive-Thru. My concern was one last week the woman forgot to give me a receipt or change. I didn't have the heart to say anything as she may be new since they have had a sign looking for help.
Yes I know I should have said something as that helps with there training, I let it slide, that was my error. BUT 3 days later I went again, a different young lady was at the window, she gave me the receipt but not the change and it was over $4.00,
I did remind her of the change she didn't look to happy, but they do have some who work the window who look unhappy especially if they error. I hope you can understand my concern, I have found myself when someone wants to go to McDonalds is to say don't go to the one on Woodside, they will not give you your change. At this time, I usually suggest going to different hamburger place other than McDonalds.

McDonald's in Amarillo Tx I-40 and Ross Osage. The manager is allowing people to bring in food from am outside source into you store. She or the cashier has done nothing about it. If the manager would get off her phone long enough to pay attention to what's going on and do something, you would not have gotten this message. You know this is cross-contamination and is not taken lightly by the Health department.

Clarissa baker and James sawyer
from Port Angeles, WA
Me and my girl went to McDonald's in sequim and are food was not cooked all the way I got a new one and my girl eat hers and she gave it back and got her money back we are sick now.

Justin brooks
from Indianapolis, IN
My wife and daughter and myself went to McDonalds in Glenwood, AR at approx 7:10 p.m. on Thursday, July 12th . We went through the drive thru and ordered exactly this
2 mcdoubles
2 mcdoubles mayo onion only
3 small fries
1 large coke
2 apple pies
We sat in the drive thru for quite some time (approx 10 minutes) and received our order incorrectly. We got 4 mcdoubles mayo onion only and all the rest of the order was correct. When we then had to come back to the store to get burgerss corrected, the inside was completely empty. Not one customer inside and we had to wait extremely long for our food. And then given the wrong items to then be treated like crap. The burgers yanked out of.my hands and chunked in the trash right in frobt of me. Very rude. And to think, McDonalds is one of the only fast food restaurants in our small community to choose from. But they make it really easy to avoid them at all cost. Customer service is horrible and food is consistently incorrectly made.

Mary Ann Federico
from Winter Garden, FL
Cocoa fl,went in for a fish sandwich no cheese xtra target sauce,they were charging me additionall 45 cents for a condement,that's like charging xtra for kethup. Needless to say I did not stay cancelled my order and left, I will not pay extra for a condiment I just won't go there I mean the sandwich itself is 339 and its barely the size on the regular $0.89 hamburger.

Love McDonalds but ate and used the restroom at McDonalds in Le Mars Iowa. The bathroom was disgusting!!! The general appearance of this location floor and tables was not as clean as I would be comfortable eating at. This happened July 12 around 2 pm. Thanks and not the first time I was not impressed with that locations cleanliness

Debra DuBois
from Millbrook, NY
Hi, Iam writing this this morning my daughter was having a problem with her bank card .She goes there 4 times a week for my granddaughter they gave her food and then took it back , my granddaughter then was so upset, the thing that bothers me is i know that everyone has to pay, just don't know how they could take it back it was for only my granddaughter they went to the bank which is two minutes from there and then returned and got the food , she is only 4 years old and didn't understand there are good people in this world and she would of came back and paid, again all the hurt that was done all over a breakfast just upset me and was wondering if there is such a policy for customers that they see often Thank You and have a great day.

Larry Parker
from Fayetteville, NC
I am upset with the small amount of gravy that my local McDonald's at 3000 N. Main Street in Hope Mills NC 28348 -#5749. I have been informed by employees at this McDonald's that they will start giving you a reasonable amount of gravy on your Sausage Gravy Biscuit. Last week they did just that but this visit 07/11/2018 I ordered the Sausage Gravy Biscuit and there wasn't even enough to cover one Biscuit. When you complain and ask for more gravy they will charge you $1.00 more. I don't have a problem paying you $2.79 for the sausage gravy biscuit ,so you should at least allow me a reasonable amount of gravy on my order. Sincerely, Larry Parker , 914 Linda Ave. Fayetteville NC 28306.

Bonnie Van Pelt
from Mesa, AZ
While across town on my way home I stopped at 1785 e University in Tempe Az. store #22111 @ 5:18 p.m. used drive through, lobby was closed. orderd a bundle. As i got home to enjoy my meal with my family we notice that the big macs only had one hamberger patty. I called the # on the reciept, 480 446 8619 three x's with no answer. Again across town, no answer by phone, lobby is closed. Very disappointed. Ate anyways we were hungery. F.Y.I. KS# 13 07/11/2018 05:18 PM side 1 order 19 surveycode 22111-13190-71118-17182-00140-4

yes, today July 10 th at 9:03 am pulled into the McDonalds on 9mile in Eastpointe MI. to get a sausage mcmuffin before work. i pull up to the drive thru window. There is a hand written sign out of order pull to the 1 st window. Had to wait 13 minute while the car before me was searching there car for change. I pull up to the 1st window, there is another handwritten sign that states "exact change, debit or credit card only." I ask the attendant i only want a sausage mcmuffin can you brake a 5 dollar bill. She stated nicely Did you not read the sign. I state yes and thank you then left. I proceeded to Tim Horton's I guess my question is, this McDonads was open at 6 am how many customers did it lose to Tim Horton's, that is only 7 blocks away,because the had no money to make change.Did no one know how to open the safe. Did know one try to go to the corner store to break a 20.00. i am sorry but there is no excuse. Thank you for your time

peggy booth
from Sevierville, TN
McDonalds Rest. 1977 Cumberland Falls Hwy., Corbin KY.........................
My husband and I stopped in Friday July 6th around 1:00 AM right after midnight on Thursday. Ordered four cheeseburgers and a large order of french fries. Paid young unkempt man at window.
Drove to next window and noticed more young unkempt people behind counter. Didn't notice any McDonald uniforms on these people. A young female had a sleeveless dress with criss crossed wide straps in the back exposing her bra. We commented to each other about the young people and the unprofessionalism. We recieved our food and left.
Luckily, I decided to get my burger out and eat it in the car. I opend it to remove the pickel and found there was NO MEAT. . My husband told me to check the rest of the burgers. Unbelievably there was NO MEAT on the others and the fries were barely warm. Needless to say, we drove back. Explained to the young woman that there was no meat on all four burgers. Her comment to us was that the cook was very stupid and that he was the dumbest cook she had ever known. (not making this up people) We let her know the fries were barely warm. She said they were going to get right on it and get us taken care of. She asked us to drive forward and wait. We waited and waited until my husband became impatient. He backed the car up to the window and asked the young man what was the hold up on our order. He said it was coming up in a minute.
We waited and waited again while looking at the young people behind the counter talking and standing around.
Finally the order came. We checked and found hot fries and meat on the burgers but no napkins or the extra ketsup my husband had previously ordered.
This is by far the worst McDonald's we have ever visited. Can't imagine what the restaurant looked like inside. The owner needs to know this and the manager should have approached us with an apology. Whew!

Oscar Albarez
from Van Nuys, CA
Mc Donalds located in California city ca on 9628 California city blvd. Have been using $1 dollar Sandwich. Coupon located in Mc Donalds app, and have been purchasing a Quarter pound with cheese that is supposed to be 100% real beef but actuall have been using leftover beef to serve the $1 dollar sandwich for the quarter pound with cheese.

MICHELLE SUTTON
from Cleveland, OH
Please advise the best time of day to visit this restaurant for good food or good customer service? I haven't found any time of the day that the restaurant personnel are courteous or helpful! I went through the drive thru at 9:00 PM tonight (07-06-18) and could not see their menu board due to NO LIGHTS on any of the menu boards. I asked that the lights be turned on and they could not do that! The lights may be on a timer but they should be on by 9pm and if not, the timer needs changed.
I wasn't sure what " type" of shake item I wanted. Order taker said SHAKE MACHINE WAS DOWN!! This is the third time I have gone in at different evening times and the shake machine has been down. The shake machine could be put on wash during the times of 3:00 am or 5:00 am and it would not create a problem. I told the order taker well I can't see the menu board and you don't have any type of milkshakes so GOODBYE! Ridiculous!! This would be a "good place to start a restaurant!" I speak from plenty of restaurant management experience as I was the manager of several restaurants and have 10 years management experience. I was paid well, respected my customers and my restaurants made money. Thanks for listening, Michelle Sutton mybadcat@yahoo.com

Joe Woodle
from Mullins, SC
I visited the McDonalds at 2014 Irby St. Florence, SC today and the service was pathetic. On top of getting my order wrong, it took at least 10 to 15 minutes to get my order, there was only one other person waiting inside the store. It was hard to understand why it was taking so long because there were at least 10 associates standing behind the counter (not including the cooks and sandwich artists in the back). The manager and assistant manager were among the 10 associates. If this store makes any profit it is a wonder. The owner of this franchise would well served to take a good hard look the operations at this store.

Thomad Anderson
from Tacoma, WA
I've been going to the same restaurant in tacoma wash.980404 on 72nd pacific ave.I order sausage egg mc muffins 2 for about year and a half my complaint is more then not most visits the muffins are so hard you cannot bite into them I've brought this to the attention of so many different mangers .some replace the food some say bring in the receipt I'm always in a hurry not looking for free food I just can not understand how a muffin could get that hard it's been a constant problem I've worked in many restaurants it's pretty hard to over cook a English muffin unless it's burned and I've received both burnt and stale hard as a rock wouldn't give it to the homeless person.that should say a lot you have a problem I will visit one more time and if I waste almost $7.00 on 2 more inedible mc muffins I'm done with your business sincerely Tom at pensharpen@hotmail.com

James hilliard
from Wheeling, IL
The bacon mc double are ok but the bacon is like eating rubber most of it is fat. On your app there are No prices for any of the Coffees and doesn't McDonald's care at all how each and every store are being Operated !!!!!!!!. Plus the McDonald's that I go into there is little or no real management.

Oscar Alvarez
from Pacoima, CA
Received a phone call at approximately 10:49am from a person named Ashley concerning some feedback I provided to the customer service number at 18002446227, ashley said to mention the name Ashley in mc donalds when ordering and also mention that Ashley said an ice latte would be on the house. So i did today on 6/30/18 in the morning and received a plastic cup with uknown substance Inside not a latte at all. Appreciate the gesture but it was an uknown substance and that I do not appreciate.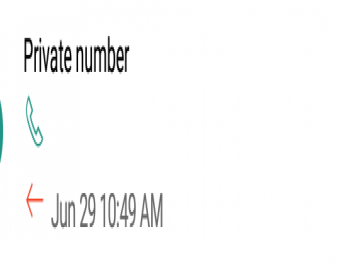 Bonny
from Johannesburg, GT
I was in the shop to buy food for my family and i have received a very poor service. I have asked for manager and they Refused to call him or her for me. We were left unattended without any notice for more than 5 minutes. I have sent The lady called Goitse, Mpho and to call manager the just ignored me. I am so disappointed really about the poor service. On top of that o have waited for my order for 45 minutes no communication. I have also spoken to the guy called Ditiro and he told me that Manager said he or she is busy. Is this how you handle your customers. A guy called Eliot attend me only after i have sent my complaint. I will never go and buy there and i will not recommended anyone to buy there. Disappointed with poor poor poor service. If you think i am not telling the truth sent unknown person there and this is not for the first time.
Regards
Bonny Molale
076 861 5162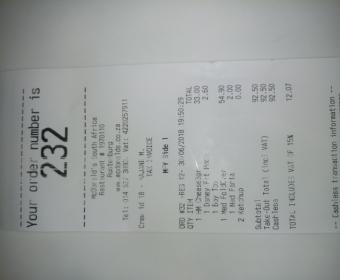 linda garrett
from Cleveland, OH
food all over the place, floors greasy and slippery, fry girl told the order taker to stop taking orders. out of 8 beverages all were water except for three NEED I GO ON? I WILL NEVER GO BACK THERE ONLY IN THE WHITE NEIBORHOOD DO YOU GUYS CARE ABOUT BECAUSE I HAVE CALL ABOUT THIS BEFORE SO GOODBYE TO MCDONALDS

Bobby Adkins
from Marietta, GA
worst svc. ever = I had to wait over 15 minutes to receive my order + a 5 minute wait just to place the order
all in all = it took over 20 minutes to receive my simple order of 2 mcmuffins = all of the workers are evil obama clinton
deep state democrat racist scalawags who hate white americans = like myself = I will HATE mcdonalds for all eternity
you evil basdtards are ALL evil "obama-clinton" democrta communist nigger nazi thieves = damn you bastards to hell!

Louise Healy
from Tucson, AZ
Yesterday I went to the Mcdonalds at Park Place Mall in Tucson, Arizona; there were about 4 people ahead of me; while I was waiting I saw that one of the customers before me had 9 individual orders; each with its own money; the line was getting longer and the gentleman working the counter did not get more help to move this line along. After standing there for 20 minutes; I gave up and left even though I really wanted a Mcdonald's Fish Sandwich. When I looked around a little while later; the person with the 9 orders was waiting for the orders and the line has not gone down. In my opinion this was not what I would call fast food. if you have to stand and wait to order for a long time; that is bad. I will probably not ever go to that
Mcdonalds again and that's a shame because I happen to like their food. Could someone please contact me reference this matter; it was very disappointing and I don't know if I would recommend that place to anyone.
Thank You
Louise

Mary Pandey
from Elyria, OH
North Ridgeville, Ohio Lorain road location. Double Quarter Pounder was RAW... Took it back in and did not get a new one. Left disappointed.

Carol Spencer
from Jerseyville, IL
I am a regular at McDonald's. Coffee at least 3 times daily. I take my grandkids there and often grab a sandwich for lunch. Jerseyville, IL McDonald's has to be one of the worst..Often times, no complaints. However, the last month service has gone very poor.. I always get cream in my coffee.. Many times, 3 to be exact, no cream when I get my coffee to work. My granddaughters happy meals are not complete.. No fries, wrong items, etc. The turnover of employees seems to be very high... Today, I experienced the same thing. One poor girl working who appears to be training two new employees at one of the busies times for drive through.. I no longer see any familiar managers.. I think I need to look somewhere else for my coffee fixes...

boo bob
from Fort Collins, CO
Specifically referring the the south college mcdonalds in fort Collins, Colorado. they are going through yet another remodel and choose to stay open even though it horribly inconvenient and a disservice to their customers. the customers get nothing from this remodel, could care less what the building looks like. on top of this they have raised their prices again. they are thieves who think they can charge whatever and treat the customers poorly. I will go elsewhere, the food is very low quality, hamburgers so thin you can see through them and grainy. awful

Nancy moreira
from South Weymouth, MA
I purchased just a lg. hot coffee at rest.#2599 at 10;08 am.When I got back to the car and went to put the cup in the car cup holder,it popped open and sprayed hot coffee all over my car seat and my hand.I doused it with bottled water I had.it turns out that the paper cup was damaged on the lip and that is why the lid didn't fit correctly.My hand was painful and red the whole morning at work.

Barbie
from Milwaukee, WI
I just had a new quarter pounder and it was the worst thing I have ever had. The burger was dripping in grease and I had to use napkin just to eat it and catch all the grease. Could not even eat it. It was dripping grease all over me and my car. If you used quality beef there should have been that much grease. Come on this is not healthy. Never will have one again. Thanks for listening!

Roger and Pam Dalrymple
from Chantilly, VA
I would have given store 3663 in Westminster Md. 0 stars if that was possible -- the poor service, long wait, and poor quality of the food when we finally received it on 12 June was brought to the attention of the store manager, with many promises by him to make good by sending us a McDonalds gift card, to be used in any store -- to date, nothing has arrived -- the last message we received said the card(s) had been mailed on the 20th, nothing has arrived as of the 27th, and most of our inquiries go unanswered. Clearly not high on his priority list. We are asking for the name and contact info for the district manager, and/or of the owner, and are asking for any simple resolution to our request -- it's time for McDonalds to fix this. Thank you.

sherry
from Pleasanton, CA
Out here in Rwanda CA. Wanna the manager won't serve the home less for the past for years this is been going on so much tussle there's a bout a forget of us or more where going to the medeia

Milton Wilcox
from Foster, RI
I asked the weight of a mcdouble hamburger patty and it was a problem telling me. It was a simple question

C. Barth
from Chicago, IL
McDonalds Restaurant #12157
Mequon, WI on 6/22/2018 @ 9:55am
Upon entry the crew demeanor was horrible! No one smiled, no one seemed in a hurry to place my order. There was one person waiting for their food already. One female worker with an attitude , who I am assuming was trying to go on break, was standing about 4 foot from the cash register we asked if she was waiting she told us to go ahead. We stepped to the register to place order and a guy (who I assume was still training) had the register open attempting to break a coin sleeve he closed the register and very softly spoke while still holding the half opened coin sleeve. I told him I could not hear him so a tad louder he said "go ahead".I told him I wanted 2 sausage egg muffin meals with breakfast sauce and one with a coffee and the other with an orange juice. He looked at me very confused and said "two sausage muffin meals?" I said yes he said "oh I put in 3." At this point a few other customers walked in and the lady that was trying to go on break walked back around the counter, with an even worse attitude, to assist the guy with putting my order in. I had to repeat my order another 3 times and just to be told they didn't have orange juice. Meanwhile, a few other people walked in to order and one lady asked if they could open another register and the female worker just looked at her with an attitude and shook her head. I said oh ok then a milk. She told me my total and then walked off. I used my debit card to pay and then the guy handed me my the receipt and said have a nice day. At this point I was waiting for my food to come ready. Two different people from the drive though came in to get their order corrected. Another worker walked in to start her shift who also had an attitude, started to ring people up. Not once did she say hello to anyone or smile. Several people told them they were out of ice and lids. Not one worker said sorry or went to stock the empty stuff they just took a lid out of a sleeve from under the counter and handed it to the customer. Now, there are about 8 people waiting for their orders. Three people received their order before me due to the drive through girl clearing my order before I received it. The worker that was trying to go break ordered her food and went and sat down. The worker who had just clocked in a few minutes ago kept playing with her phone and even had her phone sitting on the counter next to her register. When she wasn't playing with her phone she either had her arms folded with a horrible look on her face or was too busy with her hands down the back of her pants trying to pull them up or whatever it was she was doing. Either way, that is absolutely unacceptable!!!! I do not want you handling my food or drinks or touching anything after you just had BOTH of your hands down your pants!!! It took 18 minutes for me to receive my food and then I still hadn't been given my milk or coffee. The front end manager handed me the drinks and I had to ask to get creamer. She had 3 very long fake nails and the others were missing making me wonder if they had fallen off in someone's order! Out of all the customers, I was the only one who was apologized to for the wait. As a former McDonalds employee, I know the standers that are expected of the employees. NONE of which were met at this location. Not one employee seemed to want to be there nor do their job. I know times can get busy and hectic but that still do not excuse the lack of worker ability nor customer service. The only crew member that was attempting to hustle was the back of house manager making the sandwiches. The women's bathroom had urine on the floor and needed some serious attention. The food and coffee was barely warm. As many of McDonalds I have visited in my life, this location is BY FAR the worse!!!!! This entire crew, minus the trainee, needs a serious attitude adjustment and need to be re-education on what customer service means and the expectations of the job they were hired for!!!!

Paula Smith
from Florence, KY
Your McDonald's store on dream street in Florence kentucky is the worst. I went there on June 15, 2018 at 9:30 pm . I was in the drive through for 30 minutes and when I did order the manager said there was only one other person working there besides her. She told me that she was going to close. That store lost so much money that night. The drive through was all the out to the street and a lot of them were leaving because of it. Someone needs new management. Sad very sad....

Anthony Arnold
from Fort Wayne, IN
I have lost all confident in the two McDonalds that we have close to us as they just don't care about the customers and the stores are ALWAYS dirty and can never find a seat and that they only care about drive thru. Its too bad you don't have someone who can impersonate a customer and see it thru their eyes as this will tell the whole story.
I have work in food service most of my life, and it's an embarrassment to see how these stores operate, and if there were competition in the area they would not be in business, as people deserve to be treated as guest not just another number on the screen.
One of the other stores that we visit we waited 30 min just for a plain chicken sandwich while fifteen other tables had been taken care of, when I talked to the manager on duty I was informed that they were short staffed and that they apologized but if I had any time to eat somewhere else I would have but instead my 30-min lunch break was over and had to eat on the run and ended up buying a Snickers bar just because I would not have time.
I hope this response and survey doesn't land on deaf ears as I feel it might, because the bigger a business becomes the less important a customer will become and more important is sales.
Please PROVE ME WRONG!!!!!!!!!!!!!!!!!!!!!!!!!!!!!!!!!!!!!
I submitted this complaint to McDonalds and they NEVER Followed up on this as I guess they would. God I hate being right.

Gerald Robinett
from Auburn, WA
I went thru the drive thru ordered a double quarter pounder meal with a coke went fine got my food pulled over in the Walmart parking lot to starting eating my meal Now I eat all my food before drinking anything so when I got to my coke and took a big drink and wow to my surprise my was not only coke but it had whiskey or rum in it and strong too at first I thought I was crazy so I took it home to have my wife taste it and she was surprised as I was it definately had alcohol in it I called the Spanaway MC and reported it to a manager she told me she was going to tell the other manager and would review the camera footage she took my name and number but I have yet to hear anything from them I have the coke in my fridge I'm not sure my next step is going to be this is a really serious thing and should find out how who and why someone put alcohol in my coke just lucky this time it was not a child who received this coke

Lori Petlock
from Hollidaysburg, PA
The person who took my order at the drive through window at station mall, Altoona, pa 16602 on 06/12/18 was very rude by making me feel rushed to order, extremely poor hygiene, and handed me my change and turned and walked away without saying thank you or have a good night. She seemed so disgusted that I was there to order food. I will never return to that location ever again.

Ray Tutor
from Glen Allen, VA
Waited in the drive thru of so minutes place order still waiting to pay get to window to pay waited some more get to next window to get food gave me my drink ask me to pull up they would bring food out. Waited 12 minutes they bring me my food. The food was cold not warm why did I have to wait 12minutes to get cold food . Extremely dissatisfied very poor service.I
Restaurant #17539
893 Garrisonville Rd
Stafford Va. 22554
Ray Tutor

greta bircheat
from Bowman, SC
2 drive through windows creates confusion for your staff in keeping orders straight, 4 out of 10 orders are not correct;correct (sounds like a small % ); however. when you live 12 miles away, it becomes a wrinkle in your day. My 9 year old grandson, a pain when his food is not right, likes plain burgers with cheese ( never eats bread) frequently has to have his fast food washed off and re-fixed at home. I have learned to pull over and check each burger before I leave. June 9th his burgers were wrong again so I drove around again, The order girl asked if I was the burgers and mocha, I said no 2 plain double cheeseburger; she said drive to the next window, At the 2nd window I was asked if I was the burger and mocha-repeated my order-she asked if I had my paper - she closed the window then returned with a bag, When she handed me the bag, I was trying to return the other food, she closed the window and walked away. I pulled down and checked my order and found 2 plain burgers in the bag instead of 2 plain double cheeseburgers. At his point I was to mad to go back and talk. Your staff at the windows should practice customer service and learn to smile and greet customers..People should feel they are welcome at McDonald's even if orders have to corrected.My grandson thinks we should eat more chicken and tacos until they learn how to get the orders right

FRANCIS J NICOLO
from Rural Valley, PA
I'M A US NAVY VET AND ON MY WAY HOME STOPPED AT MCDONALDS IN ST MARYS ON JUNE 8TH FRIDAY AND PLACED A ORDER
BETWEEN 1:30 AND 2PM, I WAITED 40 MIN. FOR A FISH SANDWICH AND FINALLY WENT IN TO COMPLAIN AND THEY PROMPLY
GAVE ME MY FISH SANDWICH AFTER I COMPLAINED, NO EXCUSE FOR THAT, POOR MANAGEMENT I WOULD SAY, SURE PEOPLE MAKE MISTAKES, BUT UNACCEPTABLE IN THAT PLACE OF BUSINESS, I BELIEVE THEY FORGOT AND I WILL NEVER GO IN THERE AGAIN, I'M SORRY BUT THATS THE WAY IT IS, BEST WISHES, FRANK.

Theresa Ann Burkholder
from Lancaster, PA
I was at the north reading rd Ephrata Pa McDonlds this morning and I sat in the drive thru line for all but 20 min. They only had 1 person working both windows and when I got my order (after I had driven away) I noticed my order was even wrong! This is ridiculous that they only have 1 person working at 7:30 in the morning!!!! I will probably not go back there!!
Theresa Burkholder

Michelle McKinnie
from Crete, IL
Good Evening, I am writing this letter to file a recent compliant. I went to the McDonald's in my neighborhood today 6/2/2018. Unfortunately, my experience in the drive thru was horrible. I sat in the line from 5:44pm to 5:54 pm just for a Southwest Salad. I am not certain what is going on with this McDonald's, however this is not expectable for a Fast Food restaurant. Possibly this site needs additional help? I know this is not how McDonald's wants to be recognized. However, this has happened on numerous occasion1s.
Richton Park-McDonald's ILLINOIS 60471

Brenda Batey
from Anniston, AL
I contacted the store directly and the manager had a awful attitude after 3 attempts to get what we wanted I called to discuss the issue an the manager who stated her name was Susan was sarcastic and very rude and would not resolve our issues nor did she want even talk about it she rather argue than try to explain to me that they were wrong so we paid for three items that we did not want nor do we order and she did not even attempt to fix it, sad that a manager is so childish an would rather talk over an I've worked in the restaurant industry for 25 years an never have I experience a manager that was an awful as she was,so we spent money on 3 items we didn't want nor ask for because we did not know the proper name of the coffee the drink that we ordered she refused to even look and she kept saying we don't have frozen coffee instead of explaining to me that their coffee was called certain things she wanted to argue about it, pathetic service when management can't control themselves 1 even 2 mistakes but 3 an to then have her conduct in a manner to which she did ,maybe McDonald's has just taken anyone who doesn't remember there job title and how to act,I've dealt with employees who had more common knowledge than her,I've been a customer for a long time an I'm ashamed of McDonald's an who they allow to resolve issues,very dissatisfied an shocked at this type of behavior she might not care but I work hard for my money an this is has a feeling of takin my hard money from me an didn't care shame on u

tonya trail
from Oxford, MS
They blocked off all the doors and said the lobby is closed and it dont close till 5am here. Then after they said they was closed they let people in but not me i feel like they was being racist toward me me cause im half white. And they told another lady they was closed too. A black couple they let in. There something needs to be done bout this. This is at your marion sc 29571 location.

Shaun
from Johannesburg, GT
Every time we come to Mc donalds by the entrance by carnival mall, which we visit twice a week they tell us that we need to go and park something doesnt work, but everything outside work and the card machine, is this purr laziness or what??? Also what happen is that u can place an order by the drive thru and pay then they will tell u to pay and go park when there is no one infront to wait for an order!!! We are a family of 5 and spend alot of money there and like i said twice a week, but this is getting out of hand and if this wount change we will rather drive to another mc donalds.
From a very very unhappy customer!!!!

Carol Phillips
from Portsmouth, OH
quarter pounder with cheese was not cooked completely. This has happened twice--yesterday, May 8, 2018 was the second time.
as expensive as these are, I do not appreciate having to throw 1/2 of it away.
this happened both times at the Mc Donalds in Thurman, Ohio.

Joyce Sankus
from Linville, VA
I placed and order when I got to the window to pickup I was told that the French fries were cooking would I move up. More than happy to wait for fresh cooked hot fries. To my surprise when I was given the bag the fries were not fresh cooked infact they were cold, (very cold) This is the second time I have not been happy with this McDonalds.

merle Overton
from Greenville, NC
this is the second time this has happen at the Mcdonalds on Greenville Blvd, Greenville, NC. Service was very slow and employees not friendly at all.
I ordered a large Moca Fappe, it was in al large cup but only about half full and whip was then added to make it look like it was full and the whip was not even at the top of the large cup. When I questioned if that was large I was told very rudely that it was. this is the second time I have gotten less than a full cup. thought maybe the first time was by accident so I did not say anything. I did not say anything then since it was packed with customers. I eat at Mcdonalds several times a week and was very sadden by the service at this location.

Don Myers
from Phoenix, AZ
I ordered the Big Box, extra plain burger and large f2f at 5:30 p.m. after approx. 20 minutes I went to manager asked if my order would be ready soon. He said "I thought that one had been served". I said "no I`m still waiting". Finally got my order at 5:53 p.m. From the temp. of the food as well as taste I believe they found my order sitting waiting to be served and they gave me my order that had been sitting for at least 20 minutes. There was no apology to go with my cold soggy ff and burgers no "sorry for the wait to go with my hard stale hamburger bun.
It was Restaurant #4518.
Don Myers
reggired69@cox.net

Atif malik
from Islamabad, IS
dear mcdonald my name is Atif malik Deputy captain of the army from askri 14 rawalpindi 03415772011 Today I went to your branch at jinnah park rawalpindi I am going there for eight years But today, for the first time I feel so bad there There was one of your female employee Naila This name was written on their shirt i was so hurt today by listening to such a dirty language With McDonald's Staff That my heart is broken today after going there That's why I can not go there with my family So please keep your quality as the first Otherwise we have some other options.

Stephanie hanway
from South Sioux City, NE
You gave us coupons so we could try McDonald's in Sidney me again no grilled chicken again this time machine broke what is wrong with this place

Ernest Anthony
from Franklin, NC
Bad meal didn't eat it about $8.50 want my money back April 14 at about 12 sylva NC 28713
today I ate at other place not a MCD
Ernest

patricia price
from Cincinnati, OH
it mcdonald on 5341 glenway cincinnati ohio i go to mcdonald a t least for 3-4 time a week because it right down street from me i have lot restaurants around me burger king/rally/subway /firsch/plus more i choose mcdonald lately i have not been complaint but this time your third shift is very bad about 5:00 in morning on saturday morning i alway stop at mcdonald before 5:15 in morning because i know it take at least 15 minute for order i was there on 4/21/ at 5:19 am no one didn't answer for a least 5 minute so i waited a couple x minutes no answer so i drove around to place order inside the door are lock and said on your door that they open at 5:00 am so knock on door they walking around like zombie didn't response so i call no answers call again at 6:45 no answer this time really disappointed at customer service i work at hotel front desk so this business is 24 hour so can imagine i not at front desk for 5 minute when a guest come up to checkout or not answer phone i in business of make sure guest is taken care of i have so very bad time to but i smile and deal with it that business you in with customer service

dora steele
from Jackson, MI
i went to drive thru at 1130 on 4/19. my order was wrong The fries were old and the nuggets were hard. I tried to call that night but didnt get an answer. So i called the next day and talked to the night manager and he said he would replace my meal. I went up there showed my receipt and first the lady manager acted like I was lying and she was very rude. The night manager finally figured out who I was. I waited for an hour to get my replacement meal and then they gave me the wrong size fries. I asked for a cup and she said I only replace food not drink. The lady manager that was there at 8 pm was very rude.

Pat
from Hendersonville, NC
I just watched an appalling incident on FB that someone took with their cell phone. A good Samaritan took a homeless man into a McDonald's to buy him a meal & the establishment called the police to have him removed. The meal was paid for & the good Samaritan & the homeless man were made to leave by police. The establishment would not give him his $$$ back. McDonald's is a public place & anyone should be able to go in & buy food & eat it w/o any discrimination. That is not what happened here. What's this country coming to? Please view this link to see what happened. I believe you also will be appalled. Hopefully some restitution can be made here & the mngr called on the carpet for treating a customer like this. https://www.facebook.com/ViralAudience/videos/166686257315103/UzpfSTE1MD...
Thank you for checking this out.
Have feedback for McDonalds?
Thanks for your feedback!
Sorry. Please try again later!