McDonalds
McDonalds Complaints Continued... (Page 6)
685+ reviews added so far. Upset? Call McDonalds corporate: 800-244-6227

After waiting in the drive through line for ten or so minutes we got the wrong order the cashier took the order back through the window and we hear the managers arguing very loudly in front of all the employees and costumer so we finally get our order back and get home to find our order still wasn t right. After spending over twenty dollars and my time waiting I am not happy. Hickory store number 13823 hwy 321! Please contact me about this matter at 828 781-1020.

I am an asian and use to love eating macdonalds,had a fillet o fish meal everyday. Last week i went to macdonalds i was refused to be served as the staff in macdonalds are claiming that the the fillet o fish meal is not suitable for vegeterians as the staff are not doing thier job properly, because at the end of the day when they filter the oil out to clean it they are not keeping the fillet oil separate and are filtering it with the rest of the other food which means contamination. I am very disappointing to the fact that up until now i have been eating something which is not halal for me, and the fact that the staff in there are not doing their jobs properly.

I, apparently, am not a typical customer. I expect butter and syrup when I order hotcakes. When I specify no cheese, because I am lactose intolerant, I expect no cheese. A spoon and fork works for also. I can't seem to receive these "special" items when I visit your restaurant. I AM PISSED!!! In the past I sympathized with foreigners coming to this country to make a better life, and hiring the young to begin the process of developing work ethics. It's a good thing. But I am finding that my quality of life is being compromised as a result. For the last year or so, I changed my breakfast stop to McDonalds. But often I have to throw my carryout meal away because I got no syrup for my hotcakes, cheese on my sandwiches, no salt or pepper and once, no spoon or fork. You added cheese to all your sandwiches, and now I have to pay you extra to screw up my sandwich. Get this; Americans thrive on quality and price. But offering price alone is unacceptable because you don't get what you really want to enjoy; the experience. This is the first time I took the sandwich back. I complained and refused the free sandwich offered. You want customers? Get it right!! Train them to get it right. Have you ever heard of Poka-Yoke?

Hi, I'm a crew worker at Mcdonalds Restaurant located at 5666 N Blackstone ave in Fresno. Today 4/13/2013, we are busy and when taking orders from customer and after cashing it out, the customer come back and say they don't want their food and want to exchange or refunds for their food. I was being blame at that its my fault but before I'm going to cash it out I repeat the order and the customer say its correct then when cash out they come back and say its not correct and want to exchange them. I'm really disappoint and mad that I'm being blame at while its not my fault to be blame or yell at. I have decided that its not worth blaming on me that its not my fault while I did repeat the order back to the customer before I cash them out. I'm not happy because its not my fault its the customer fault because they don't know what they are ordering and then when come back to correct the order I help correct the order and still being blame at. I feel that being a part of McDonald's is a good place to be but its doesn't seem like it anymore.

We order 6 filet-o-fish meal and than we asked for extra tarter sauce and she gave few. we asked her for 1 more and she said we had to pay for it. Many time we go to burger king and we asked for extra sauce and they always give us without saying anything. So im surprised on mc donalds behavior. They also using half slice of cheese. It should be 1 full slice not half. If this is not solved im never going back to mc donalds.

I am beyond pissed off with the 9638 160th St in Surrey, BC location. Online it says that they are open until 3am, I have walked into other McDonalds after 2am and been served. Yesterday(Saturday April 13th) I went to McDonalds at 11:30pm only to find all the doors locked. I knocked on the door but was ignored. I decided to walk through the drive thru so that maybe I could ask why the lobby was closed. A woman working opend the window and said "Sorry, we don't serve customers on foot." I asked to speak to the manager, she replied with "have a nice day" and closed the window in my face and locked it! I want to know why I was denied service and the right to speak to a manager during hours of operation, the sign says 24 hours and does not state lobby hours. The woman was rude and the manager was right behind her when she closed the window in my face. I have never had such a horrible experience in all of my life! I will NEVER be going back to this location ever again!

It seems like the past 3 or 4 months, McDonalds cannot get my order correct thru the drive-thru. To give credit where credit due.1 out of 6 orders are correct , and the employees are nice most of the time. When we order food for example fries, hashbrowns, McDoubles and apple pies, sauage and biscuit when I ordered gravy biscuit. I always go thru the drive thru because my grandchildren are with me. I drive away from the window that gives you the food, park and check my order. When it is wrong, I have to go back thru the drive-thru. This does not include cold fries. This gets OLD VERY FAST!!!! All we have in this town is Sonic, KFC, and McDonalds. Alot of people. including me and my family, WISH we had a Wendys or Burger King instead of McDonalds.

Extremely mad at willmar mn McDonald's! They won't give out cups of water.. Even for paying customers in fear that the customer will turn around and walk inside to steal pop?! Ridiculous!! Never has any other McDonald's (or any other fast food restaurant) done this to me! What a joke! Would not recommend this McDonald's to anyone!
How can you visit a fast food restaurant like McD's and not get water to drink with your meal, is this what the world is coming to! I don't mind paying for water if it's of higher quality, but they want give me this is amazing to me. They are basically calling McDonald's customers a thief, like we won't complain about this.

On 9/2/13 we visited McDonald's at22333 east 9mile rd ads,no store # 6927 around 12ish...we watched five members walk by us and never once offer assistance to take our order...the manager walked by..still no welcome..No acknowledgement of our presence.When I asked for help after 20minutes the rude staff got the order wrong#398 and then proceeded to state in my presence what I did or did not offer. I live close by and will not return to this store,the customer service us poor,store is often not clean and staff were very unprofessional.



Disclaimer: This complaint was submitted by Tammi on 09/02/2013 at IP address 64.134.160.182 using our mcdonalds complaint form. This opinions contained in this mcdonalds customer review titled, "lack of customer service,rude team memvers" do not reflect the opinions of this website.

About a week ago i went to McDonalds at Thinford in county Durham. Food and service was great at the time and we never have any issues with regards to food. When being served , we went to pay with a card, entered card as normal then, the card machine said remove card. We removed the card and entered it again, the same happened. We then had to sign for the transaction and thought nothing else of it(no receipts given)When we checked the same transaction went through twice, exactly same amount at the same time. We phoned up and the lady who served us said she had never known this before, so gave us a number to ring in which we tried but could not actually get through to talk to an actual person! I went through to the McDonalds the next day to see if some kind of management was in store just to see if i could get a refund but the store was busy and i just got directed to the same number i was given the day before. The order was only for £8 but it's got to the point where i am just complaining on principle of the bad way i have been treat in solving a simple problem.

I want to make the corporation aware of an inexcusable managerial employee who is breaking numerous labor laws. This employee's name is Ilene Komiko and she is currently at the American Fork, Utah store on State Street. Supposedly, she is sent in to clean up troubled stores, but let me tell you what has been happening.
My husband was hired as a manager trainee in May. He was supposed to be on a 90 day trial period while he was being trained. He still hasn't been certified, even though they have been telling him for two months that Daniel will be meeting with him to discuss his salary and get him certified.
14 managers have quit since May. Most of them have quit since Ilene came to the store due to her abusive nature. There have been too many hourly employees to count that have quit and most new hires last about three days.
Ilene yells at the employees and every sentence starts with one of these threats: You will do this or you will be written up or terminated. Due to losing so many employees, they are unable to fully staff their shifts, so most employees are doing the work of 2 people. No one is getting breaks and they are working 8 to 14 hours. Then she makes the managers stay until the store is cleaned but she makes them work off the clock, stating that they have to do whatever they didn't do on their scheduled shift. My husband was the only one in the kitchen and he was cooking AND putting the food together, so when was he supposed to clean the floors? There wasn't a dish washer, so he had to do that, too. This has happened on numerous occasions. She put a new hire who wasn't hired to cook in the kitchen and yelled at her all night to work faster. she didn't even know how to make the food!
Ilene has gone in and altered time cards so she doesn't have to pay overtime. She requires the managers (even the ones who are training so they are hourly) to come in for meetings and then she refuses to pay them. She made them come in for a meeting on Sunday that was supposed to start at 3 but she didn't show up until 5. Then she brought Little Ceasar's pizza and they ate it in the sitting area with customers! Then she made them come back in at 10:30 pm until 1:30 am to train them how to clean and she refused to pay them for that, too.
I don't know if you have a way to check the hiring and release dates of those employees, but I think you would be shocked if you saw how she has decimated that store. My husband almost walked out tonight because of her rudeness, but he really wants to be a part of your organization. She has been very rude to customers and employees alike. I think you ought to send in an undercover person to see what is happening first hand. She has been with the corporation for 20 years but I can't believe you would condone her actions. It doesn't jive with my idea of a happy place to be for families when it is actually painful to work there.
Another problem is that there are managers who have been there over 5 years with no raise and no benefits. When they do ask, they are told their paper work has been lost, so they are only making $8/hr.
I choose to believe that this store is an anomaly because I have been a patron of yours since you opened! I was excited for my husband to be start working for you because I believed that it would be a positive environment that would appreciate his many years of customer service and people skills. I know you want to see employees that are smiling because they love their jobs. Please do something to fix this situation. The customers are unhappy because they have to wait a long time for their food. The shake machine is broken 80% of the time and needs to be replaced. They desperately need more employees. A manager named Andrew is supposed to take over soon. I would suggest that happen sooner than later because he is a nice, level-headed man who might actually save the store. Please get Ilene out of there before everybody leaves!

The policy where I work is to be polite to our customers at all time . However apparently this is not the case with macdonalds. After the member of staff had thrown down my food I was spoken to like crap .. its absolutely disgusting and needs to be sorted . There is no need for it .......

I wish to make a complaint about the North Shore store in Townsville.
Almost everytime I go to this store something is either broken or out of order, or the chips are cold or we are given the wrong order...This is the only store in our area, the next nearest store is a 15minute drive away...The Frappe machine is still out of order and awaiting parts..
The icecream machine was out of order last night and when we complained the girl behind the till just shrugged her shoulders and said nothing she could do...Don't you think that these machines should be replaced while they are waiting to be fixed.. I have seen them cleaning the machine at their busiest times so therefore they are placed out of order.
This store is only new and these problems are just not acceptable...

I frequented the Orrville, Oh McDonalds until the Manager, was not only rude but humiliated me in front of other customers by her words and actions. I have never had a complaint until now. My last visit was Dec 20, 2012 and I can not bring myself to stop there again after how I was treated. I thought it would pass as I have frequented that store regularly prior to this incident. I feel I am owed an apology from her.
Most times I go through the drive through but I was with a friend and we wanted to eat in. I have kept my receipt if you need any information on it other than the store # which is #11923 and mer# 25710002 and kvs order 91.
On Dec 20, 2012 at 9:32 am the incident which I am referring to is I ordered a Egg n Cheese McGriddle (no meat). The young lady at the register taking our order didn't know how to ring it up as there is no key for it as there is 1 for the Egg n Cheese Biscuit I frequently order. I started to tell her how this store other stores ring it up, which is --- 2 McGriddles, a Folded Egg and slice of Cheese---comes up to $1.99. This woman (which turned out to be the manager) came over and said I could not order it like that.
She told the girl not to do it like that. I started to say but they always have and she quickly interrupted me. She loudly said whoever has been doing that is wrong, this is her store and it is her way. Said I could not have the folded egg on the sandwich but had to take the scrambled egg since I was ordering separate items for a sandwich. I again started t o say something but she wouldn't let me finish before again saying this was her store and it had to be done her way. She told the girl to ring it up as a scrambled egg not folded for Egg n Cheese McGriddle Sandwich.
There was no saying anything to her because she was insisting I was wrong and whoever has been doing it like that is wrong at her store or any store. With all the customers standing there listening to this I just let it go. I did ask her name and said I might complain to higher ups. She said she didn't care because she was right and that's how it will be done and repeated her name loudly. I felt bad for the girl waiting on us as she seemed embarrassed by all this also.
The Scrambled Egg was horrible on that sandwich, it was sloppy and falling apart. All I was asking for was a McGriddle Sandwich with no Meat and didn't want to be charged for the meat. I've never had a problem until this time. I guess it was because I didn't go through the drive through.
Even before they had a key for the Egg n Cheese Biscuit they always rang up the items separate, Biscuit, Folded Egg and Cheese. I was not forced into taking a Scrambled egg on the sandwich which makes for a sloppy sandwich. I have even gotten a Toasted Cheese from McDonald's on occasion.
I know that this manager is new to this store in Orrville as Manager but no excuse to treat or talk to customers this way. I can only imagine that if she feels so free to treat and talk to a customer this way how she must treat the employees.
I really feel I deserve both a verbal and written apology from this Manager, as to how she talked to and treated me. Until then I just can't bring myself to patronized that store.
Thank-you for taking the time to read this.

Tonight, after a 13 hour day at work, I stopped by this McDonalds to bring my kids home dinner. I ordered 4 hamburgers and a mcflurry. When my kids opened their hamburgers, there was a single slice of tomato and a pickle. No hamburger, no condiments, nothing but a single slice of tomato and a pickle. It was 10:38 pm, and as soon as I pulled up to order a guy said "sorry, we're closed," and I heard snickering. I said "I'm sorry, did you say you're closed?" A woman with a thick Indian accent replied "what's your order?" Confused, I repeated "Are you closed?" She again repeated "What's your order?" My order was simple: 4 hamburgers and an oreo mcflurry. I was the ONLY customer.
Thanks to this McDonalds, I'm trying to find something to fix for dinner at midnight and my kids are waiting up while I cook it. Not to mention the money I'm out since I wasn't even given a receipt; although, I if I were doing things like that at work I wouldn't hand out my name and a managers phone number on a receipt either. I don't know if they think it's funny or cute, but I'm not tolerating service like that. It's disgusting. Doing it on all 4 clearly indicated it was on purpose, especially since I had no special requests.
Many hard workers are looking for jobs, and if McDonalds thinks it's appropriate to hire employees like that, it's a very easy decision to not support the business. This McDonalds will never be used by me or my family again. It's not worth it. Why would I drive there, pay them money, and still have to come home and cook? Thanks for wasting my time and money McDonalds- the two things this single working mom can't afford to spare.

I asked the lady if I could get fresh fries and she told me they were fresh and they were not. The fries got cold and hard as soon as I left the store. I tried to eat the fries along with my fish sandwich and my sandwich was hard and cold too. I took the food back and the manager refused to replace my food! I'm disgruntled and upset!

My husband and I went through the drive way of McDonald's on overland and Venice blvd Los Angeles ca 90034 and we could barely understand the employee taking our order and she could barely understand us.. She kept say what? So when we received our order it was all wrong we didn't get our sauce and the fries were old cold and oily .. It was a horrible experience.. They have employees working there that barely speaks the English language.. And that is a frustrating experience for customers that are spending there money with the restaurant

Visited the drive-thru at McDonald's at 17:15 on Saturday the 13th April. Had around 6 instant wins , when we handed them over to the man serving on the first window , he took 2 and handed the rest back saying ' there's the other ones back for another day' without explaining why he was doing this, I asked him ' can I not use thes all today?' To which the woman worker on the headphone set for the drive-thru at the same window rudely butted in and in an agressive tone said ' that's the rules, I'm not going to put them through and loose my job over you' I was quite taken aback at her reaction to my question! I often visit this McDonalds and do not think her tone or rudeness was necessary. I think you need to find out who this worker was and she defintly needs a lesson in manor ism! I won't be going back to this McDonald, thanks.

I was recently in McDonald's restaurant and me and my partner ordered a Big Mac meal and a mc chicken meal the burgers and also the chips were both under cooked, I am not best pleased with this at all your staff are meant to make sure the customers food is fully cooked and presented to the customer in a nice way and not throw on. I want this to be sorted or I will go further about this and make sure people know what McDonald's food is really like. Thank you for your co-operation and hope this is sorted soon.

I went to McDonalds tonight Monday April 1st. I waited in the drive through pick up window for at least 5mintues waiting on my food and could see the front counter and it was dead in there. Then I get home eat my food and my order was wrong. I got a Angus Bacon & Cheese and I asked for it plain but to keep the Bacon on it, my sandwhich was missing the Bacon and tasted like ketchup like theye put ketchup on my burger wipped it off and put a new bun on it. I was not happy with my visit to Mcdonalds tonight.

On Friday Dec,6, 2013 at approx. 11: 00 PM, the dining room needed cleaning, overflowing trashcans and trash on floor. We ordered from a gentleman and he then went outside to smoke and make a phone call. he returned aprox 10 min later and our order was not complete yet, he saw the french fries had not been put in fryer yet, He bagged our burgers and set them on counter. while waiting for fries i asked to see manager. I was very surprised to see that the gentleman that took my order was the manager. at this point several people had already walked out because no-one was at the register. I asked for a refund because our burgers would have been cold by the time our frys were done. a refund was given but not before asking about our drinks which were left on the table. This poor experience cost us 30 minutes extra on our trip late at night. 

My E-mail- I visit your restaurant infrequently, though I did stop in to my local Mc Donald's within 3 weeks of your starting your advertising of your Frozen Strawberry Lemonade in mid May. I bought one for myself and one for my daughter. I was exceptionally dissatisfied with the product and feel like the nearly $5 dollars I spent was a complete waste of money. I might have as well thrown the $5 dollar bill in the garbage container out side the store. Your advertising is misleading the whole drink tasted chemical, tons of artificial flavoring and coloring for both the strawberry and the lemon. It was horrible really horrible.
I very much doubt if there was even 1 drop of either real strawberry fruit or lemon juice in those beverages. No where on the cup did the product say 0% fruit juice. I took one sip out of mine and my daughter did out of hers we promptly tossed the drinks in the trash. Lots of your customers would neither know or care and I'm sure you've made lots of money on the product.I have 30+ yrs. experience in Advertising as a designer.
I expect Leaving such information out of this particular product isn't criminal. You weren't advertising it as "Juice" but it wasn't "Strawberry Lemonade" either only by the color. 'Rip off'.Shame on you.I would really like my money back.Also you will remember in restaurant management training. How many people will some one tell when they have a bad experience with a business incl. restaurants;17 others as I remember.What happened to quality?
Notice with their reponse below no attempt was made to refund my money or satisfy my complaint is any way.
Mc Donald's corp. response below.
Mc Donald's corp. response-
Thank you for contacting McDonald's. Customer feedback is very important to us, and I'm sorry to hear that you're disappointed with our Frozen Strawberry Lemonade.
Be assured that at McDonald's, we continually review our menu to ensure that we serve the products that our customers will enjoy most. As appropriate, our Menu Management team makes changes or enhancements to our menu. We strive to satisfy the tastes of the nearly 50 million people we serve each day.
Again, thank you for contacting McDonald's. We look forward to serving you for many years to come.
McDonald's Customer Response Center
I've got news for them... here is public notice on a lousy product, my opinion, and their customer service or lack of it.You can't even talk to a real person to complain.

Today, I ordered two combo meals w/ lemonade for my boys through drive thru, but my children realized that the drinks weren't lemonade instead they were ice waters. Then, I parked my car and walked with my two boys into the store and told one of the female employee about the drinks. She gave me two new cups but didn't even say sorry. She then told me to fill the drinks , but it was water again. so I went back and told her again this time, she didn't even bother to care. I was very disappointed with this type of service. As a customer, I think I deserve an apology from the employee because it caused an inconvenience. Imagine, if my children didn't drink their drinks until home, we would had to drive back to the store just for the drinks.

they told me to pull ahead and when i did they forgat about me for the second time after 22min i went in the stor and they did not have my order i understand things happen but this was the second time i a week . the waterloo store in central new york is the worst store by far the geneva and auburn stores are great . the waterloo store half the time forgets your order or is always missing some of your order it is bad and somebody should look into it

Dear sir/madam,
I visited one of you're mcdonalds stores this evening, at the norwich airport. It is one that myself and husband use often!. And i would just like to say, how under qualified ALL the staff where there!. I used the drive threw, started in order. I always ask for a special burger!!. (Grill!!). And befor i had finished giving my order, the young man told me to go to the next window!!.. at this stage i had not given him my seconder order, and he didnt even as when drink i would like with either of him. He kept telling me to go to next window befor i had finished ordering!. So i go to next window. I payed by card! Handed the young man thw card reader he then shut the shutters and turned his back!!. So i move to the next window!..where i was told to wait in bay one!. When i recieved my food, the young lady who came out.. passed me my food and said.. here ya go!!!... cheers!!!...
Im guessing they are all new staff as i did not reconised any of them and that they all had new uniform on. But that doesnt not excuse the way they should traet or talk to customers!!!.. this may only be little to yourselfs but to me it was unperfecional!!. And rude!. If i hear nothing from yourselfs i shall be conta ctin kevin foley muself and take matters further as i think all staff should be trained to talk to their customers with a little bit of respect! I have also walked into this particular mcdonalds and have heard the staff behind the tills swearing useing the F word!.. this was when young childern are about!!.. a discrase i would say!.. thankyou for your time!. I hope i have explained myself on here as good as i could. Will be waiti g to hear from yourself.

We ordered about 35 dollars of food took almost 30 mins to complete my order to me. Then they came gave me my food asked me if everything was right till I noticed Mt fries were not all there had to go back inside and told them. Thought that was all then she forgot two sandwiches the store number 5589 is a joke I go literally about one to twice a week and find everything always messed up its sad. I just cant imagine all the complaints you as a company gets from all your mangers not able to run the floor its just sad. they also told me you guys have no quantity buttom bcuz I order lik 10-15 mcdoubles the same only ket chz and pickles sad how they cant get that right. That location sucks just sucks for me because that place is the closet but I bet if I go to Litchfield and McDowell I can make it home with everything and stoll warm the mcdonalds down the road by the time in home cold. The other thing is that your fries are expensive to be shorted paying for a large but getting a medium thats sad I am one more bad service from any location to be done with your establishment for good me and my entire family!!!

I went to Mcdonalds in Torquay, UK today on the 2nd April 2013 and ordered a McChicken sandwich using a voucher. I gave the person at the till a ten pound note and only received two pound change. I told her that she didn't give me enough change because she typed in the till that I used a five pound note and she went to call the manager. They told me to wait so they can count up and when they returned the manager told me that the amount is correct and said that I must of put a five pound note in my purse instead of a ten when I told her I knew for a fact that I used a ten because that was the only money in my purse I had and I know that because its my pocket money. Money that I earn and she practically called me a liar when I said so by saying that I must of only had a five pound note. Not only that but when I got home I found out that the order was wrong instead of a McChicken sandwich I got a Big Mac that ended up costing Seven pounds because the manager wouldn't give me back my money. I'm going to tell everyone what happened and never recommend this Mcdonald resturant for anyone else, what with the bad service, being called a liar and spending more money than what it's worth. Especially with the manager making me feel embarrassed and angry for losing my money.

At least 3 times a week, I drive through the McDonalds on Roam Hilliard-Renner Road in Hilliard, Ohio and if I arrive after 9:00 pm I am always told that they are not offering hot beverages because machines are being cleaned for the next morning. Yesterday I drove through at 8:30 pm and was told the same thing. I don't understand why the machines are being cleaned so early in the evening when the drive through stays open late. This is an inconvenience when I can go to another McDonalds and get served but this McDonalds is the closest to my house and not out of the way. Can the machines not be cleaned at a less busy time or after midnight? There is a high school nearby and after football/basketball games many parents/students would love to be able to get at least a hot chocolate. 

This morning, when going to the McDonald's on the corner of Ralph Avenue and Dixie Highway in Shively, there was no one in the store. This was at 6:15 am. It was open, but all employees were sitting on the sidewalk outside the store. I realize there was suppose to be a walk out but the majority of all other restraunts were working as usual. These 'Young" kids should not be allowed to do this. If they worked for me they would be fired. My business will now be taken Wendy's and I'm sure a lot of others will do the same.

Orders constantly wrong eg; order lge flat white recieve sml cappucino inlge cup same with other drinks, totally wrong meals supplied only found out when i got home something that happens nearly every time sick of excuses when i complain . But to add to this annoyance 9/10 times i have a min of 10 -20 mins wait for my order only to get home and find it wrong again .Why can other stores get it right where this one our closest store FAILS miserably?

I just came from Macdonalds now and are furious. After struggling to put my med meal order thru to find out I have to pay extra for a large meal because they don't have med cups or chips casings (not my problem) then eventually after getting my order thru we drove around to pay. My child wanted a cone with a flake and she took her R10 and gave it to my husband the till lady took it from my husband then said she will find out if they have ice cream wasting my time again. She came back and said no they don't have. On our left was a male staff member of our car and he tried to explain they don't have the milk. My husband was furious and moved forward, the next car in line moved forward and I told my husband the till lady still have the R10 as we drove around and got to her she denied it! I am appalled at the service, its stealing! This was at Rustenburg ranch! Macdonalds will never ever see me again that's a promise!

I like McDonalds food & especially the Breakfast Menu. The closest McDonalds to me is the one at Hyw 109 & Eastgate Blvd, Lebanon TN. 37090. But it seems that every time I go thru the drive thru that something in the order gets messed up. Either there won't be Napkins or Plastic Ware or the order is filled wrong. The main times is week ends but week days also. ( week ends ) gravy bowls aren't filled up, most are half full or less & not enough to cover 2 biscuit halves. This morning 2/20/13 I ordered a Country Ham & Egg Biscuit and got Canadian Bacon instead of Country Ham. I drove 5 miles back to get it what I ordered. The Management ( if you can get one to speak to you ) seems to care less about complaint's, just brush you off with a I'm sorry, here's a Apple Pie. I'd much rather have my order correct and get the Full order the 1st time I get it. I'm sure I'll keep going to this location just because it's the closest one to me, but it would be nice if the SERVICE improved. I'm not looking for or asking for a Free Meal or an Apple Pie, I'd just like to get what I pay for. Good Food, the Correct Amount & Good Service.

I am really upset and shocked to no that I got sacked over the pettiest thing!! Apparently I didn't smile enough I can say 100% hand on heart I smiled a lot more then half the original staff were!! Then I got told it's because I took 1 day off, so they would prefer me come in with a bad stomach and sneezing everywhere, what more to make me angry then the manager sacking me who has never seen me working before and has only been there a week her self!! How can you sack someone without giving them a chance!!! It was like my 4th shift. I didnth even know we could get the sack with 4 days of been there! I want to write to the head office as I am not at all happy!

While on vacation I visited the McDonalds in Berlin,MD and got terrible service. I ordered a McDouble, fries, a small soda and a small coffee which may have taken all of ten minutes to complete, since there was no line. Instead I waited 30 mins and left with no order. This particular location gives a bad name to all other locations as either the staff is not properly trained or management has no clue on how to run this store. I will advise everyone I know to avoid this location at all costs. We were not the only ones to have a late order,, we paid and still left this location.. Please fix this or assign some regional manager that can!

I sent a compliant Friday but I guess the wrong place. I was in Bangor on broadway always stop on the way home for a to go order. Got my meal and got by the driveway to go back in took a fry it was cold ate another one it was cold too. I had to throw them away I can say usually they are the best fries not this day.

On Tuesday the 2nd of April 2013 my family and I visited McDonalds on the Chester road Birmingham near castle vale. On entering I noticed how dirty the restraint was because it was hard to find a clean table. This should not have been the case as only 5 tables were occupied. One of which was occupied by 5 team members. After finding a clean table my partner then had to find a clean high chair! This became an impossible task to. So my partner got the baby wipes out and did the job herself. On returning to the table with my food my children commented on how dirty the floor and tables were.( they ate 6 and 8 my eldest). We then started a meal which all I can say was cold and stuckto the bottom of the box.
I have now been in the restraunt over 30 minutes and I have not seen anyone with a cloth a broom or a mop. So if they can't keep the front of house clean what's happening out back?
That was my last meal this week I have been unable to eat food and keep it down since!

I'm currently staying in Brunei..I wanted to lodge a complaints on the bad services of Brunei mc Donald. The issue is the staff was very rude when myself called in ask for delivery 2 times and my sister also called in twice and we get the same feedback and answers from the staff. My house is just 15min away from mc Donald, while we call for delivery, they say not going to deliver it. While I ask, you don't want to do business? And the staff reply me, ya...I don't want to do your business. Mc Donald is worldwide business and how could it be this kind of bad services and attitudes from the staff. I hope to get a feedback ASAP

i recently went into mcdonalds in wigston leicester to order some food for my 5 year child myself and a few of his friends and the way the staff spoke to me infront of them was disgusting very rude and in appropriate in front of such you g children. once the food had arrived it wascold the burgers for the kids were rock hard amd my salad was disgusting the leaves were old wilted and not an ounce of chicken was i that salad wen i toom it back to the counter to complain the staff serving was aguing back and refused to give back my money. so evetually wewalked out my child and frinds were really upset by that and its disgusting that i paid for something which was un eatable and unable to get my money back.
i would lime somethidone about this and some sort of compensation to be sent to me as an apology as my child was very upset

We have two Mcdonalds here in Mesquite Nevada. The biggest complaint is that most of your employees do not know english very well for example "Light on the sauce" does not mean put on more sauce. Another is " a number 2 " does not mean give me 2 more. Another is "Can we get are napkins" Does not mean no napkins. And on and on and on. We have lived hear 5 years and when we get food from your company it is because we are on our way out of town and it is by the freeway entrance and even after our order we check the count to see if everything is their but now we even have to check to see if it is what we ordered.
Your company in the last 5 years is batting 1000. We have yet to get everything we ordered or our order right yet, without leaving the window and going in to take the wrong order back or get our order. We would not normally complain because your men is not that expensive but we thought you should know. What really bothers us is that we finally get our order right and hop on to the freeway only to find our food is cold because we had to wait for the corrections. I would like to know if you even read this. If not we can always put out adds in our community to beware off ordering Mcdonalds in Mesquite Nevada.
Another McDonald's Customer Complaint in Illinois...
Today I went to your Mcdonalds located right by the Oakbrook Mall in Illinois. I was asked to pull up to the 3rd window and park while I wait for a smoothie. I figured they maybe there behind or busy or something like that but no its jus slopw service all together. I have waited at this window for the past 15 minutes and still no smoothie. I can't jus leave my car here, the inside is closed I can't go in and I definitely don't want to pull around to the front and get back in line. Horrible service the employee finally brought5 the drink m...
Another McDonald's Bad Review from Georgia...
My husband and I went to the McDonalds in Byron, GA. On 01/02/12. We ordered a hot caramel mocha and a cheeseburger happy meal with a coke to drink. The person in the speaker kept repeating the wrong thing after we repeated what we ordered three times. We thought they finally had it right but when we got to the window to pay it was wrong.
We told the person again and repeated it to make sure and he still got it wrong when we got up to the window to pick up our order they gave us a cold frappe which we didn't order and a diet coke which we did not order. We had to pull up for the to fix the drinks again. This is the worst McDonalds I have ever been to. Every time we go there the service is awful but it is the only one in Byron. Something should be done about the service. The best McDonalds is in Fort Valley GA.
Here is a woman upset with McDonald's in Washington...
I was recently eating at the Hawks Prarie Mcdonalds In lacey washington and i had the worst exp ever. I am a 50 year old women that visited the mcdonals and when i was leaving the store and opproching my car with my 2 grandsons the car next to me there were 2 people in the car smoking marijuana and i seen they both had mccdonals uniforms on. They were blowing the smoke at my 2 grandsons and i asked them if they could take that somewhere else the male i seen his name tag it said russell he said fuck off old lady it a free country. I have been coming to this store for many years and i will never come back because of this. I do hope you will do something about this.
This NY McDonald's customer claims a mice infestation...
The McDonalds at 340 Peninsula Boulevard, Hempstead, NY 11550-4913 has a major mice infestation. Went to the location at 1:30am this morning for Ice Cream and there were sworms of mice by the back and side doors and all in the bushes. Most of the people that saw this were just getting off of the drive-thru line and leaving. As a result of this rodent problem that they are having at this location, not only did they loose customers, but I will never eat there ever again. This problem needs to be seriously addressed and corrected with major outside pest and rodent control.

Hello,
I was in your Mc Donald's drive thru at your Keysborough store on Sunday 20th January 2013. I ordered your Pavlova Mc Flurry with extra topping of meringue buds and passionfruit toppings. I am aware there is 50 cents extra charged for each extra item you request, however I was charged $5.45. I normally get the exact same order at my local Mc Donalds in Noble Park for $5.15. I asked the attendant as to why there was a 30 cent price increase/difference as the two stores are not that far from each other, and he answered that the all the stores have different prices for different things. I thought the prices were the same across the board??I realise that it may only be 30 cents, but am wondering as to why Mc Donald's have different prices from store to store? I will also say that the Pavlova Mc Flurry was un editable due to the fact it was over filled with Passionfruit syrup/topping and it made it too sickly to enjoy and eat, therefore it had to be thrown out. I won't be going back to your Keysborough store in future and am throughly disappointed in the service and the poor quality of what I ordered and normally enjoy.
Regards,
Lainie, Noble Park, VIC, Melbourne 3174
0411 452 070

I went inside the McDonald's restaurant on Route 41 (Piney Forest) in Danville Virginia on Sunday 9/1/13 at 5:00 PM. When I arrived, there was only 1 person in line who had already been waited on. It took a few minutes for me to be acknowledged by a staff member. Once my order was placed, I proceeded to step back and wait. It took approximately 15 minutes to receieve my order. This was absolutely ridiculous as I only ordered a Big Mac combo, 2 Mc Doubles and 1 apple pie. The staff were moving about as if there was no customer waiting, very unconcerned and inattentive. While I was waiting for my food, the female employee stated to her male co-worker, "She's watching you make that so don't so anything nasty." The male employee simply grinned. This comment was extremely inappropriate, rude, uncalled for and unprofessional.
This raises the question of what things are done to the food items during cooking and/or prior to serving to the patient. It's whatg we can't see that concerns me. The other concern I have is that the cashier handling money then handles food items without washing their hands or applying gloves. This poses a major health concern! I feel that this particular location needs to receive a visit from corporate and be educated on cleanliness as well as customer service.

My daughter was told she was going to be terminated because she got a tattoo. While I'm not a fan of her getting the tattoo, she had turned 18 and got an extremely small cross on the inside of her wrist in memory of a close friend whom passed away. She covered it while at work and it got back to her manager that she had gotten a tattoo. I'm a nurse myself and work with professionals who have tattoos that cover them. I feel that is discrimination and even though she has moved on and got a better job now, it still bothers me because I feel her rights as well as others that I've heard of at the Tompkinsville, Ky McDonalds has been violated. I don't see how they can legally fire you because you got a tattoo. I realize that some states are "at will" states and can terminate you over anything. But I would really like to make a difference if at all possible with this.

Hello my name is luis and I live in greeley colorado. I have visited mcdonalds on 8th ave plenty of times and 8 out of 10 times the people in charge of making the sandwiches are doing it with their bare hands! It really grosses me out.

for the second or third time this week we have had to wait a long period of time at the drive thru once there wasn't anyone in line and only 3 cars in the parking lot and we still had to wait twice this week we didn't get all of our order so I think it is about time someone lets the company know what's going on there are numerous people with the same complaint but nobody wants to blow the whistle well somebody better be lighting the fire under somebody's ass or they are going to be out of business because people are getting tired of it we waited a long time to get McDonald's here it would be a shame to loose it over something so stupid

I recently visited McDonalds in barnsley old mill lane on the 21st march this year. I went through the drive through with my mum. I ordered a quarter pounder plain cheeseburger meal large, and a plain cheese burger and small chips. We had to wait in a parking bay whilst our food was cooking as we only have cheese on our burgers. We waited around 10 mins until we received our meals. Wen we got them I checked the receipt just to make sure it said only cheese, which it did. We drove home and opened the bag to find we had no small chips and. We didn't mind as this can be forgotten by an accident so I shared mine with my mum. I bit into the burger and couldn't believe it wasn't plain, there was no cheese on the burger but a stack of onions,gherkins and relish on my burger. The only reason I am writing this in a complaint is that I am allergic to onions and gherkins this is why I am upset, as this is very dangerous to me as my mouth and glands swell up, if I had eaten more of the burger I could have ended up in a & e. I don't think I will be able to eat at McDonalds again.

i am a night hgv driver, and in barton, near leicester.. i had drove from exeter in devon to there to deliver goods. i had off loaded and had just left for the return trip, i saw this small macdonalds and thought i feel a little tired... grab a coffee. being 0130 in the morning the doors were locked so i went to the side window. i asked for a latte and the young girl there said "i'm sorry i can't serve you as u haven't driven through the drive through" i said i can't as my lorry is far to big... she said " i'm sorry sir i can't serve you, company policy" can i speak to the manger please..
a woman in her late 20's came to the window and said with out using the drive through i could not be served, i said, but i can't go through the drive through, she said well i can get the sack if i serve u... i said ok, forget it, but if i fall asleep and kill people and myself on the m42, i think it could be down to you both, just a coffee' not much to ask!!!!

When to macdonalds drive through and ordered 2 big Mac meals when git home there was no burger in the bag so was no happy at all to find it missing! Also the sticker on the chips box was blank when it clearly states a winner every time on monopoly but sticker was completely blank! This was at macdonalds Bedford aspects leisure center. Hope to hear from you soon.

I went to the McDonalds in Chester and bought a large Big Mac meal and a large quarter pounder meal, the drinks were only half full and one of the drinks had a large chunk of about 7-8 ice cubes stuck together in it..don't see why I paid for a large meals and practically didn't have any drinks with them!! Would either like a refund or taken further.

Me and my 5 children visited mcdonalds on queen city drive in cumberland maryland on 04-28-13 and 05-02-13 both times our food was wrong I myself wanted 2 cheeseburger meal with absolutly no onion I get home open it to eat and there was a stack of chopped unions all threw them , I had to throw them away because I cant eat onions and I didnt have time to go back nor should I have had to just to have what I clearly ordered , 5-2, my daughter always gets a plain cheeseburger happymeal and this time we get home no cheese on it , a month ago they put ketchup and onions on it and forgot to give me a small vanilla shake. This stuff happens to much ,yes human error does happen to anyone but for it to happen the last hands full of times and more im not to thrilled about wanting to eat from there. Not to mention I was stopping 5 days a week for a large mocha frappe and stood in line for 32 minute, 26 minutes, 20 minutes, way to long for fast food , the management pretends like they dont see anything and the poor cashiers take the heat from the customers. Each time I walk in I hear atleast 3 to 4 people complaining while standing in line waiting so long. I work in customer service 8 years in management and I never would let a customer stand in line that long nor let the cashiers just deal with pist off customers.

Iv'e been in the food business myself for quite a while, whats exiting is when i see people eating my food enjoying and being fully satisfied. I ordered a CBO meal at store number 10798 in west Rotterdam, not only did i wait to long for my meal, but i felt disccriminated against because others where served before me. When i brought the meal back to work to eat it there i noticed you can count the onions that where put in the sandwhich. According to the advertisement you can actually see the the sandwhich draped in onions which is what makes the sandwhich. My french fries where cold as well and my job is only ten minutes away. I took a picture of the sandwhich and i will post it so that everyone can see how cheap mcdonalds has become.

Me and my husband went to McDonald capricorn muizenberg on 5jan2013 and bought four meals,three with shakes and one with a diet coke. On returning home my husband sipped on his drink but the liquid didn't want to come through,so he open the lid and to his surprise found a McDonald plastic bag in his cup.
We went back to the store to complain but the staff as well as the manager looked at us as if to say we put the plastic bag in the cup. Its not like we have McDonald plastic bags at home. All the manager did was to refund the cool drinks money not even a apology. This will be the last time ill go to that McDonald,clearly the staff don't take note of what the doing.

I was at McDonald's on 3/31/2013 in Rural Retreat order two biscuits ( sausage & egg) it took five mins. to get it ordered then it was ten more mins before I got my order because your shift leader was so worried about someone that clocked in or out I don't know all I know she was yelling at a employee on the floor and people was walking out I'm sure you lost a lot money.
I don't know but I think this could have been taken care of after the shift some where off the floor. I don't think I will go back this is uncalled for and service is the worst I've every seen and its not the first time that I've been there and the service sucked.
I think someone needs to go in there on Saturday or Sunday Morning an just watch what happens there was no straws for drinks on the floor it was just very, very bad something needs to be done soon.

So I this morning I went though my local McDonald's drive thru and ordered a "sausage egg and cheese bagel with round egg".... I drive away, reach in the bag and I have in my hand a cheeseburger! I take it back in to the manager. They bring me a bacon egg and cheese mc griddle (scrambled egg). First of all, at 8:45 am during breakfast service, how do you make a cheeseburger? I mean it wasn't even a 1/4lb burger pattie on a breakfast type bread. It was straight out a hamburger bun... Lunch time cheeseburger!!!! Second, as a manger, how do you mess the order up so bad and the second time? I was offered nothing in terms of we apologize, I felt like I was being the bother....

Nadine Gallegos
from Rio Rancho, NM
I drove up to McDonalds placed my order and drove up to first window. I handed over my credit card, and she passed a receipt to me. The person at the register then accused me of cutting in front of the car behind me. She then said she had charged me for the wrong order. I gave her my credit card once again so she charged me for my order. I was also expecting a reversal on first transaction would take place. I drove to the second window and spoke to the manager re: accusation. Manager said he would speak to her. The next day there was no reversal of first transaction so I drove to McDonalds and provided two receipts and bank statement. I was given a refund. This is unacceptable service.

Dwight Cruz
from Lemoore, CA
This morning about 5:32am I visited the drive through at the McDonalds on 810 W. Grangeville, Hanford CA 93230. I made my order with no "Good Morning" no "Total Price" from the young lady taking the order. Once I arrived at the window, I stated my "Good Morning" to both the young lady and the shift manager and received nothing but a rolling of the eyes. To kick it even further, there was a young man taking out trash from a bin and I stated my "Good Morning" to him and received a positive "Good Morning Sir." A "Good Morning" may not seem mush to some people but it strongly favors in my life, and with McDonald's happy smile it would be nice to have a positive greeting no matter the time of day.

Eric Rovang
from Minneapolis, MN
Did not accept our coupons -Staff was rude. Was a huge McDonalds Fan before this. Now I understand why guests get upset with them. Will never visit a McDonalds again. All over a free cookie coupon! The staff at a North Mankato, Mn store was mean and nasty. They were only interested in making a case for their coupon refusal. WELL DONE MCDONALDS !!!

ricky seritt
from Sand Springs, OK
I went to Mcdonalds in Sand Springs Oklahoma yesterday morning 2-9-2015. It was 4:30 am. When I pulled up to the drive thru order speaker I was told "We can't take your order right now because of "technical difficulties" . So I said "I have a $1.07, the price of a sausage biscuit. Can't you just microwave one and take my money". I was answered with" We can't take your order now because of "technical difficulties", please drive away!" What kind of business is Mcdonalds running? People aren't smart enough to take someones money and give the a f-in sausage biscuit.

Paul H Doucette
from Key West, FL
this is not the first time this has happened, I live in Key West Florida, Store 1183, Placed my Order number one medium with a diet, side of 20 chicken nuggets and a side of cheese sticks and sauces. got order drove home family was served there food, and no big mac for me, tried calling store, they advised me to drive back 20 minutes just to get the sandwich that was forgotten, REALLY. I paid for it should have been in the bag, not the first time this has happened 4th time actually. im really pissed off.

Patrick bloodgood
from Post Falls, ID
Years ago I started work at the McDonald's in Newport Washington where I worked for 7 years. I worked whenever I could If I saw a chance for extra hours I took it. In 2006 I was told no matter how much I wanted to move up to a higher position it would never happen cause I wasn't built for it. At the start of 2009 I started being treated very poorly I got wrote up every day I got blamed whenever anything went wrong. I was told when I started filing my unemployment I would be fired if I kept doing so. The last 6 months I was there I felt like I didn't exist. I never got promoted or was offered any opportunities because the owners did not like me. I can't find work now cause every time I apply some where I get a bad reference. I'm 34 and I wanna work. McDonald's is the worst franchise I have ever seen in my life the ceo should be ashamed of himself for the operation that he's running.

Robert
from Naugatuck, CT
I go very often to Macdonald 751 New Haven Rd Naugatuck, CT .. but I'm not very happy because there are several things I do not like .. the first is that the store manager spends all his time in his cell and not it is the first time I'm late for my work attendance bad part of it .. the second, his manager serving on the front are very rude to customers and I do not like for me and my family. I hope to focus on this problem because as many more families to stop going there ... thank you very much.

rob pierce
from New York, NY
I went to Mcdonalds at 1045 am asked for cheeseburger the manager turned around at looked up at the board, turned her back and stood there embarrassing me because it wasn't lunch yet. I will not put up with this rudeness. Its not my job to know your damn rules in a paying customer. That was so damn rude I'll never go back ever. I'm not some stupid idiot standing in line. Old front street Binghamton my 13905. Purple uniform, black long sleeves, no name tag, I've never been more frustrated with McDonalds, no I don't want free food or coupons nothing.

Megan
from Murfreesboro, TN
Well, I turn in to McDonald's and I get up to the speaker to get my order taken.... No one responds I sit there for about 7 minutes and so I drive forward, I get to the window and then I tell him about it he was nice and said sorry but the I asked if they had pies at the moment he went to go check and no he didn't but he could make some, so there were cars infront of me and he told me 2 minutes are so. I said sure not a problem took both of my orders. The second window. I ordered a flurry apparently the ice cream machine breaks I get it and they ran out of strawberry pies, and the employee at the second window was nice as well offered me something else. He gave me pies that my friend ordered, and I pulled up.
I sit and wait for about 15 minutes and I told my friend to go inside so in return I wanted nuggets and then apparently they never dropped the nuggets so I have to wait for them even more. So I wait a little So I wait a little longer and it comes about 15 more minutes. And then I go inside wanting my money back! I tell the manager about why I was mad and just looked at me. What the hell? Then I said I want my money back and I want something in return for waiting 40 minutes. And he said I'm not going to give you anything. I'm a manager at a fast food restaurant and we give stuff out all the time for our mistakes. Never once has our customer waited on our property for 40 minutes then denied when wanting something!!! Joshua was the manager at the time. I would of rather went to another McDonald's if they would of told me the ice cream machine was out in the first place instead of making me pay. I will never come back to this mcdonalds.
Not to mention when I got home and looked at the pies he gave my friend they said 11:57 on them. It was 12:06 when I pulled up to the second window.

I hace recently learned Marjuana and other drugs have been going around in the Erwin Tn MCDonalds I fact one of the managers Julie Obryan has said to have bought pot there. I do not think this is good influence for children and is not fit for a family establishment. You need to start random drug testing

carrie mack
from Racine, WI
I was at McDonald's on Lathrop Ave/ in Racine,WI and I waited 10minutes in line for a dollar McChicken all because the manager stopped the workers running the line for the people having their food there so they could continue serving the drive-thru people because they were behind in orders. This McDonalds is rude/ghetto/ and slow at service.

warren laesch
from Grosse Pointe, MI
I went to the Harper Woods, MI drive through January 25, 2015. Ordered 2 sausage and egg biscuits. When I was pulling away I noticed they had cheese on them. Went back and told them order was wrong. Girl working window asked what I was supposed to get. She came back and gave me a bag. Opened them up and then I received just egg biscuits. Gave bag back and told her what I wanted again. Then she came back and said I was charged for just egg biscuits and that I would have to pay more. Now I don't mind paying what I owe but after order was messed up on their end twice already I thought this could have been let go. I asked to see manager and when she came to window she was rude and argumentative right off the bat. I told her I didn't think it was right to recharge me after my time was wasted by their incompetence. She stated she would tell the girl to listen better when taking orders then slammed window shut. Very rude. These workers want more than minimum wage but if you can't get a simple order right and you want to treat customers rudely then you shouldn't be rewarded. That manager has a bad attitude also and should be demoted or fired. The customer is always right. We pay their salaries.

I'm pissed they changed the gravy in the biscuit and gravy meal it is shit don't change stuff I go to McDonald's every morning for breakfast and some times in evening if change anything do breakfast all day that would be a good change I'm in mt Gilead, Ohio. Please bring back the good gravy not this flower gravy.

Carrie Hanser
from Gilmanton, NH
My family and I went through the Drive Thru tonight at the Tilton McDonalds, the girl that took our order was sighing and then after we sat at the first window for 5 min, she opened the 3rd window and yelled out 3RD window!!! We drove down there and my husband said I couldn't understand you, she said I SAID 3rd WINDOW! No eye contact, no smile, no nothing, handed us our shakes and said oh and by the way we are out of cherries, my husband said your attitude sucks, she continues to look down while she gets his change and throws it at him. Im not happy, this is not how we want to be treated as paying customers at your business! Now I wish we would have chose to spend our money at Burger King or Wendys down the road, at least we wouldn't have been treated badly for spending money.

When I go threw drive through I sit their for an hour waiting for my food and when I do get my food they forget half of it.

On 3/31/2014 I went into a Walmart location where one of your McDonanld's is located on the inside , I need to get something to eat due to I just left the doctors office. I was very hungry and ask for a hot cup of coffee for my sister and I remember seeing on the news that it was free for that day and the cashier tried to charge me, she rung it up and started to pretend that she did not understand what I was saying or asking for, So she turns to another worked asks him in Spanish if the coffee is free? Then he walks up and I tell him the same he says yeah yeah that he knows but I needed to place my order for my food before he could give me the coffee. So I placed my order and tell him that my sister is in the line in the walmart that I wanted one for her also he tells me only one per customer. I says okay by then my sister was there next to me, she ask for one cup of coffee from this same cashier that started out helping me the lady, and she tell her that the coffer is 1.08 I said mam no this coffee is suppose to be free, she look at me with this unpleasant look and give my sister the coffee and if she did not want to help her. My meal was cold and was not the way that I order it. did not notice it until I had already drove away. I end up tossing it in the trash. Some times people just make you act ugly when you don't want to, thank god I kept my cool. I tell you what I have had several incidents at different locations about my food and the service, I'm just going to look for other places to take my business, this is your company losing business due to unprofessional conduct. My family may be unhappy about it because this is where they love to eat all the time, but it pays to be safe and sorry and be happy with hot fresh meal and go customer service.

I visited the store on this past Saturday and the manager on duty was very rude and impatient. she was a heavy set woman with short hair. as she placed my order on the counter she called my number and as i was preparing my drinks she became rude saying that she did not have time to wait for people to decide to answer her. she dropped my order rolled her eyes and walked away. when i got my food she was saying how sick and tired of these people she was and that she would be glad when she got off. i was very offended and do not think that my family and i will be returning. I have been a loyal customer for many years and have never been so insulted in all of our visits.

The McDonald's that is located at 839 Westchester Avenue Bronx, NY 10455 lack proper training in customs and courtesy. The shift that works from Monday to Friday mornings lack courtesy to the customers. I seen the employees in that restaurant move slow in the morning and have an attitude while dealing with customers. The shift managers just stay there and watch it happen. There was an incident that a customer asked for orange juice which they didn't have. The informed the customer about which she wasn't too please. The Donald's employee refuse to service the customer becuse of the customer's reaction. Another incident is when I ordered a drink and the shift manager was telling her employee to give me that drink that was made hours ago. The employee was telling her that I was not going to take that drink and the shift manager today her that she didn't care. The employee told her I don't want to get wild if the customer gets upset. I don't know how McDonald's how they employee but they need to revamp the screening process. If you going to hire shift managers to hold the supervisory job then make sure you hire the right individual that are capable to do the job.

This is the third time I've took my 3 little boys to McDonald's at bramley and they have all recieved a different themed toy in there happy meal. This is upsetting for them as they see the toys that should be in the happy meals advertise on TV. They are excited to go but upset when they leave.

I'm a 71/2 month pregnant women who was craving McDonalds so I woke my husband up @ 10:00 @ night to ride with me to get something to eat. I drive to the McDonalds rite off of 6-10 and Cullen and order a 20 peice nuggets, two mc doubles with no onions add mc sauce, two apple pies and a large Carmel frappe with extra Carmel just like I like it as I always get… I pay for my order she gives me my change but she didn't give me my receipt, so I wait til she finishes taking the next order. She sees me and I tell her that she didn't give me a receipt she tells me that they will give it to me at the next window. I pull up to the next window and the next employee gives me my food then my Carmel frappe. I tell the worker that I ordered a Carmel frappe with extra Carmel but they didn't put the extra Carmel when i was charged for it and i paid for it. So she then tells the manager, she comes to the window and I tell her my problem. She asks me for my receipt i tell her the lady in the front didn't give it to me she told me to get it from here. So she looks in my bag checks the receipt and sees that i paid for extra Carmel. Then she tells me that it has extra in it already but I know I doesn't because I buy them all the time @ least once a day and no matter where I go they always fixes them the same, this time just happened to be different. So she then gets a attitude & trys to give me my money back for the Carmel but its not about the money for me I don't want the money I told her I'll pay another 30cents if I have to just to get extra Carmel. She then SNATCHES the cup from me & I tell her don't snatch anything from me, I didn't do anything to you and its rude and disrespectful, snatch one more thing from me and its going to be a problem. Once she's done she gives me my frappe and she tells me thank you bitch and still didn't give me my receipt. This was the worst experience I've ever had with any fast food restaurant and It makes me want to ever go to McDonalds again!!!! This is crazy especially coming from a manager. This happened exactly at 10:21.

On 3/22/2014 about 12:30pm my wife & I stopped for lunch. Our order was taken quickly and food was ready very quick. Fries were cold. This happens quite often at this McDonalds. I asked for fresh/hot fries. The woman filling order said to manager the I wanted new fries. The manager snapped back at her and said to tell me it would be 2.5 minutes. This was said right in front of me. The manager could have told me politely instead of snapping at the employee. I said all food would be cold by then.
The manger heard me and still did not talk to me, she just continued to yell at woman filling order. That is when I asked for my money back. When manager was told of my request she said to offer me new food. She still would not talk to me. The women (older) then refunded my money. I have been to the rest. many times and quite often get cold fries and cold food. This McDonalds definitely needs a few lessens on how to treat customers. I will continue to eat at other McDonalds in area but not this one.

Took my grandson on an outing to McDonalds only to find the food cold and it tasted like the oil in the french fries hadn't been changed in a while unless your company have changed the way you do french fries. I used to llike your food but the past couple of times I visited a McDonalds I have been disappointed one way or another. My daughter used to work for a Mcdonalds in Flordia but it seems Pennsylvania has different standards, shame on you.

We visited the McDonalds in Charleston, WV for some time but it got to the point that when we went for ice cream, the machine was frequently down. We started visiting the McDonalds in Quincy WV and are now seeing the same problem with the machine being down. With the cost of gas this is rather frustrating to take the time, effort and expense to drive there only to be told the machine is down. What is the problem with these machines that they are down so much? We expect better from a major corporation like McDonalds.

I work the night shift on Fridays and stopped for food on March 7. I waited a total time of thirteen minutes before being served making me late for work. When I opened the big Mac it was just thrown together and my fries were only half filled and not fresh. The employee at the drive through rolled her eyes and acted put out to put ketchup in the bag. This is not my first time having an issue on Friday night food stops. This was the final straw. I will not be stopping at the McDonalds in Highland due to the repeat problems I have encountered and wanted to let someone be aware.

I bought a large cup of coffee this morning around 7:56 at the Mcdonalds #10155 in Columbia md. The Kings Contrivance store at the drive in window. When the server handed me my cup of coffee the lid was not on tight and the cup collapsed spilling hot coffee all over my hands, clothes, inside my car. I would like for McDonalds to pay for my cleaning of my clothes and my car interior. My hands was burned, don't know how bad but its painful. Please contact me on what you are going to do about this.

Mc Donald's 600 w. F st. Casper, Wyoming 82601-1300. March 10,2014 time; 19:03. (Drive-Up Window) I was handed a medium drink… lid half on… popped off completely as the employee handed it to me. . My hand and sleeve got wet because of this. I said nothing to her but "I need a new lid, it came off" She said nothing.
I checked the sack (my order) to see if it was complete. A straw and napkins were not in the sack. I waited till the employee returned to the window. I told her "I need a straw and napkins". As she handed me the straw and napkins out the window she was giving me a very bad look as to suggest I was putting her out and she had better things to be doing! She slammed the window (she never said a word nor smiled at any time). I asked her name as she closed the drive-up window, but she kept on walking away.
That will be the last time I visit this McDonald's. Is this the way you instruct your employees to treat their customers? I don't believe it is. I have never treated by one of your employees like this before, and it sure won't happen at this McDonald's again! So, I do not have the offending employees name but she has red hair and is heavy set, maybe early to late 20's. (maybe 20 something) and was working the 2nd window (pick-up window) at 19:03 pm .

Me and my family was at McDonald's in Auburndale yesterday evening around 7:46 and my child got a chicken nugget happy meal the nuggets were hard fries nasty seems like they don't change the grease very often. Me and my mom we got quarter pounder with cheese meal the meat hard over cooked the fries cold and hard I took the sandwiches to the counter employee asked if she could help me I told her I would like to talk to a manager Kelly walked over and told me to talk to Tiffany manager which was taking care of another customer. Tiffany was very nice and she asked what she could do for me I told her about the sandwiches and showed her.She had them remade then my sandwich was good. Kelly is rude lack of customer service. Tiffany cares about her customers. At the beginning when the order was placed had to wait 39 minutes to even get food .863304-2516 cell

Every once in a while we will get a receipt at McDonalds that says go to the website McDonaldsFeedback.com leave feedback and get a free item but when you try to go there it doesn't exist. I called McDonalds and was told that promo had probably stopped in our area. This was on the same day I had gotten the receipt. Well it happened again. Can someone spell ripoff?

i eat at this mcdonalds all the time. i had went through there on april 22 2013 and placed an order and got the wrong thing. as i returned to bring the food back to let them know the manager told me she had no proof that that wasnt the food i was suppose to get. she took the food put it in the trash and told me to have a nice day. $27 worth of food and bad service!!!!!!!!!!!!!! 557 east dorsett avenue asheboro nc……would like sone kind of compinsation please contACT ME BY MAIL

April 30th, we visited the McDonald's here in Bardstown Ky. We got a quarter founder and the bun was hard like it was frozen. The burger was beyond cold. Went in again this morning for breakfast . Only two ppl in line, and we all was waiting at least 15min to get our order. We asked how much longer, and the reply was, oh, they haven't started making it yet. So, we along with the other two ppl cancelled our orders. As we were waiting, an employee came in to work, and without removing her jacket or even washing her hands, started making food WITHOUT gloves. This is always a problem with this McDonald's. Always a long long wait and you never get the right order. Its ridiculous…..

So this is the third time in 2 weeks I've gone to McDonald's on Missouri blvd in Jefferson City at it before 11am and been told that the machine was being cleaned. I understand that equiptment must get cleaned but why would you clean your coffee machine in the morning when people typically drink coffee. This concept completely baffles me and have to question the manager who put this system in place. In my Mind as a restaurant operator this is like cleaning your fryers during the lunch rush. This is a 24 hour a day McDonald's and it seems they could find a better time to clean the coffee machine than in the morning!! I called about this issue about 2 weeks ago and realize nothing will be done and you folks won't follow up but I'm so angry that I can't start my day with a cup of coffee.
Chris Johnson

I stopped at the McDonalds on Hwy #190 on Tues 4/8/13 The Big Mac I purchased looked as though the ingredients had been just thrown together and the sandwhich tasted and felt as though it had just been removed from a cooler The store itself had trash on the floor ands an odor of uncleanliness, Last time I will give into the urge to visit a McDonalds

We went inside the Mcdonalds and couldn't even get our food because there was no one there that spoke english. All of the employees spoke spanish. I was not the only one that got mad and left. The drive thru line was also very very long. You need to make sure that there are english speaking workers there at ALL TIMES!!!! I have been there before and have never seen anything like this until today. We couldn't even get our food, we had to leave empty handed.

My best friend from flew in from Nebraska and went to the Mc Donalds 11250 Port washingington Rd.The person that took our order was short with us ,like he was in a really bad mood.Like he looked grumpy and mad.His name tag said "Mark" he was short and bald.He never greeted us,just looked like he was in a hurry or something and when our order was done,he did not say anything at all. I told my friends and family in this area who happen to live in Mequon.And they will not go back to this location again,until this person is still working there. From now on I will go to another location. I hope this situation is solved and taken care of.The other employees seemed fine and of course I have been coming to this location for years and I had Never had an experience like this before.

To whom it may concern I'm writing this letter because of the bad experiences I had with McDonalds. The date was April 9 2013 at the store #25077 11311 Nuckols rd glen Allen Va. My daughter and son n law with my two grandchildren live in Richmond Va. I was visiting them on their spring break and like most grandparent taking my grandchildren to McDonald's. I ordered 2 happy meals 1 spicy chicken sandwich and fish sandwich. They told me to pull up to receive my order in which I did. We waited I know it was at least ten minutes, so I decided to go in to see what's going on. They did not have my order and acted so unconcern if it was my fault. I have been going to MCDONALD'S for years and never experience so irresponsible service in my life.

I have been collecting the stickers that are required, to try and win the certain prizes that are up for grabs. I found out that one of the prizes, happened to be a mobile phone that I have wanted for a while. So I thought that it would be great if I was to win the phone without having to spend a lot of money, actually buying this mobile, when I might have a chance at winning it through the Monopoly Fortunes Game that is currently running at the McDonalds Restaurant near myself in Merseyside.
I currently have two of the three property stickers that a required to win the mobile and the two that I have are 'Bow Street' and 'Marlborough Street' and therefore the last property sticker that I require, is 'Vine Street' I have been severally times to McDonalds in order to try and get this last sticker, this was when I was chatting with the shift manager about this game and the fact that I only need one sticker to get a certain prize. This was when she informed me that her friend was the same, in so far as they only required one sticker to get the prize that they were trying to go for, but she then informed me that when this game was on last year they actually found out that they had left one of the stickers from each set of properties, so that you would require a certain property sticker but you would always get doubles even triples of every other property sticker other than the one that you require to complete the set.
Therefore causing you the heartache and misery of buying a meal and never getting that sticker, this is misrepresentation and fraud as you are continuously buying meal after meal in order to hopefully get that sticker, meaning that you're spending pounds and pounds buying the meals several times a week or even a day in order to try and get the sticker. By which time when you actually top up the money that you've spent in order to try and get the last property sticker need for that prize, it may have been just as quick to actually go to a mobile phone store and buy the phone out right, which totally defeats the whole plan of trying to win the prize, through the Monopoly Fortunes Game because there's not a cat in hells chance of ever getting the last sticker that you require as that said sticker isn't actually available or that it does but just not in your area.

Your restaurant on McIntosh Road in Dover Florida was very rude to my husband and I. We sat in a drive thru line for 25 minutes before even getting up to the order box. There were two cars a head if us and the first car finally go to order and move up. We then waited another five minutes for the the person to order and they had not even came on to take her order.
I left the car to see if there was problems with the system to see they had no customers at the counter. They were only taking drive thru orders. I went back to the car to see that they still had not taken the car in front if us order. She finally ordered and we finally moved up to be told they would be with us in moment. I then went back inside and asked for the manager. She came out and after asking about the time limit she told me they were short handed and only had one firm on drive thru. I told her about no one being at the counter why were they not helping her.
She apologized. I then went back to the car to find out that my husband still had not ordered. When the girl did cone on he told her the order and said "What did you sat". So I spoke louder so she could hear because my husband is soft spoken. She then preceded to tell me to calm down or she could not take my order. She asked for the order again and we repeated it and my husband told here how long wee had been waiting and she told him they had a timer and that was not so.
He went to finish the order and we realized that there wasting listening. We pulled up to find two other girls at the window and the girl with the head set for the drive thru was gone. By this time we were done and told them we were reporting this. We then went across the street to McDonalds and hot food in a timely manner. I hope this us not how all your restaurants work. Especially those near an interstate

I was at the McD's in Fairhope ,Al 36533 Store #32314 at 12:49. The manager Christopher Johnson was working the back line and it was taking him forever to place orders,he also was not sending them out in the order they were placed. I was with a friend and it took us over 20,minutes to get chicken wraps and fries. There was a young girl that would try to put the orders together but she was mixing orders up repeatedly.
I felt so sorry for Kiersten Reed who was the cashier, because was trying to keep the manager and the young girl straight. Orders were backed up behind my friend and I, that Kiersten had taken but were not being filled ,because the manager was slower than molasses in Jan. I feel Kiersten should be manager, the young girl better trained and Mr. Johnson fired,he was worthless.
They didn't even have diet soda and did not let patrons know, so several of us did with out a drink while we ate. I frequent this store frequently, and like it because of thje service, but there are other places in Fairhope. When you pay almost seven dollars for a fast food meal you expect just that FAST SERVICE.

i went to mc d at 3.30 am.. she called me to the window directly.. she said they will not serve me lunch and they have only brkfast available.. but the sign said the brkfast starts at 4.30am.. i have the receipt.. as proof.. i told her i dont eat buscuits and i want 3 mc chickens for which aprox cost is 3.00 dollars..
she said she wont give me dat.. den she charged me for buscuits aprox 3$ EACH and gave me chicken in cold bun saying she has turned off her toaster.. she was not giving me a receipt untill i was about to dial 911.. made me stand der fr 15 mins saying her register was messed up.. i would like to sue mc d

Morning,
I wish to explain about the unexpected & unprofessional customer dealing by Mc Donald's management at Mount Waverley & Blackburn intersection.
I went for my breakfast at 9:45am on Saturday(14/02/13), no-one was there on front counter to deal with the customers & I wait for while. The manager was hanging out with mobile n crew. I usually go there 3/4 times a week n every time I had worst experience. Toilets & customer area floor was discusting. Toilets still ofel. Even the Store Manager (MEG) don't know how to interact with customers and she is too casual. I request you to please highlight his issue n take a strict action against management.

As I do every morning, I went to the drive-thru window at the Mcdonald's at 16 st and Alton rd. Miami Beach, Florida. Once at the window I ordered two small coffees and two orders of hot cakes and sausage. At the time I requested two additional syrup for the hot cakes; the young lady at the window was getting ready to hand them over; the out of nowhere the manager took them away from her and instructed her to charge me for the extra syrup and walked away.
I tried to get the managers attention, but he simply walked away. I did not get his name, but he was a young latin with a very rude attitude, This happend Saturday morining at 8:15 am 1/19/2013. I will no longer be a customer at this location.

I came through and got 6 double cheeseburgers and a 20 piece nuggets and 4 sweet teas yesterday evening on the way to take my family out of town at the luray Virginia store 22835 the burgers were solo sloppy with ketchup gobbing out the sides and they gave me unsweet tea and my nuggets were cold and old.
I am very unhappy about this. Please get your act together and give me my money back or food the way its supposed to be. Plus ur window worker at window one looks dirty and drugged up. If she would have to touch my food I wouldn't have even bought anything. U really should check it out. Not a good image for a family business.

Every time I go to mcdonalds werribee they put me in the waiting bay for 20min. Happens everytime a certain employee serves me.
Her name is ashleigh. I have done nothing to offend this worker but she does this every time she's serving food at the drive thru but it seems
That she only does this to me. The manager should be aware of this and do something about it as he/she must notice that their is a car in the waiting bay for nearing 20 MINUTES!!. This should not be happening as I am a paying customer and I do not deserve to be treated like this.
She did this to me again this morning, I was waiting in the wait bay while about five customers went past me with their food. 20minutes later my food
Arrives. I made him take back the food and give me a refund. I asked why it took so long, he replied "they forgot about my order".once again
This should not be happening as my money is as good as anyone's.
Im not one to complain about random miss haps, but this is an ongoing thing & will hopefully be dealt with.

to whom it may concern
I have been to mcdonalds loads of time and always been happy with the food.
On the 11|1|13 i was on my wasy to visit family and stopped at your mdonalds in thetford.
I ordered a happy meal for my little boy and a grilled chicken salad for myself.
I opened the happy meal for my son and was dissappointed at the amount of chips in there i know you dont get alot in the happy meals but i could easily have counted them just on my fingers.
I then opened my salad and it looked horrible the leaves were not crispy i had one cherry tomatoe. But the worst of it was the chicken it was pale in colour and warm. Now i know that chicken is not suppose to be that colour especially a grilled chicken so i didnt eat it at risk of being ill. I wsould of took it back but i had already left the restaurant and was back on the road.
So i wasted £6.08 of my money as was still hungry as didnt eat any of it.
So i am writing you this to say i would like a voucher or my money back if not you have lost one valued customer.
My address is 26 Clovelly court, Corby, northamptonshire, nn18 8ef
I look forward to hearing from you
Nicola Cooper

This complaint is for the McDonald's in Clinton Arkansas. For over 2 months, the toilet in the mens room has not flushed properly. You go in there and there is shit and paper in the toilet. When I picked up my breakfast sandwich, I told the girl waiting on me about it, and she rolled her eyes and said "I know, I've told the manager many times." I asked if the manager was there and she pointed her out. I told her that the toilet has not flushed right in months, and she needs to call a plumber. She said that she can get it to flush. That does not fix the problem, because we can not get it to flush. Hopefully, you can. Get a plumber there and fire that manager ! Roger

I was at your McDonalds in Burlington Wisconsin for lunch today. I saw that you have the new melted Cheddar with fried onions burger. I was excited to see that so I ordered for lunch. Upon returning to work to eat, this is what I got, a McDonalds Cheeseburge with onions. No melted cheddar and the onions were ice cold.
While I have NEVER complained about your food this just really made me mad. This sandwich was not at all what you had shown on your sign, plus being cold. I ended up just throwing it away. What a waste of my money.

On 1/6/13 I took my twin nephews to store #15569 in Plainfield Indiana and the play ares was as cold as outside!! It was maybe about 30 degrees outside!!!! I complained, along with others, to the manager. He said he couldn't adjust the temperature in the play area but he had called someone & he was waiting for response. Well evidently he never go a response because we were there for at lease 90 minutes and nothing was ever done about the temperature!!!
I was told by someone that use to work at McDonald's for years & they said that was untrue. I was told there is a key for the therm0stat and it CAN be adjusted by the manager.
We go there quite often and my nephews really love the play area & is good exercise in the winter months when it is too cold to play outside. I would hate to think that McDonald's doesn't care more for their customers than this. It was just ridiculous how cold it was in there. Against my better judgement, we stayed longer than we should have. I really thought they would be more concerned than what they were about the comfort of their customers using the play area!!!

Karla Scarborough
from Louisville, KY
On 12/1/17 at about 7:00 pm thru the drive-thru, I ordered a #4 large, no onion and a #9 large. I was told the #9 was no longer available despite the fact it was still listed on the menu. I then opted for the #7 large with Ranch and 2 more additional Ranch on the side. Got home and discovered I had NO Ranch at all, the fries were old and cold and the #4 had excess amounts of onion as opposed to the NO onion I had requested. The #7 also had only 9 chicken nuggets instead of the 10 the meal was supposed to have.
I initially made this complaint on 12/1/17 and I heard back from no one despite the fact I requested a followup.
The store in is located at 2500 Dixie Highway, Louisville, KY 40216.
I am not happy with the lousy customer service I received and the lack of concern for this poor customer service this particular store has shown. It also is really sad that a customer has to literally request fresh food when this should be the standard.
I expect someone to follow up with me in a TIMELY manner.

P. Henderson
from Brevard, NC
We visited the drive thru at mcdonalds located on radio hill in canton nc 28716. We spent $12.55 on 4 double cheese burgers 1 bacon egg and cheese and 2 drinks. We took our food straight from the bag and began to eat it. My husband is a fast eater. He usually finishes before the rest of us are half way. Half way through his double cheese burger he found a hair. A long hair and his hair is visibly short. In turn it stopped the rest of us from eating. Therefore the $12 meal was thrown away. I would like to be reimbursed for the $12.55. I believe that is the least they could do. If someone wants to contact me through my email. I will be glad to return my name and address. Thank you for your time.
Ms Henderson

MARILYNN HEARNE
from Brooklyn, NY
I just came from your Mc Donald's in Levittown, N.Y. 11756--first off the drive thru line was so slow--we spent over 10 minutes --it was both at the money collection end and the people who gave the food. When I got to the last window the girl made a comment that the orders she had on her counter were way ahead of the people who were at the window--meaning me--so I said well we have been waiting for over 10 minutes--she totally ignored me and said have a good night---then to top that off-I ordered a Filet of Fish--and when I got home it had no tartar sauce on it and it was completely dry. I threw it in the garbage--this is not the first time I have had problems with this restaurant--but I assure you it is the last--I, nor 17 members of my family, will be using Burger King from now on and I will let everyone know, thru the internet, how poorly your company operates.

Betty Garrett
from Shinnston, WV
Once again the MCDonalds in Mannington poor service is disappointing ,,,Tisme foe new Manager cannot get hash browns with breakg=fast agin ...if they don.t want to make something they saym they are out of it and why put gravy over biscuit on carryout..soggy Gee please check on your store in Mannington WV 26582

PISSED OFF
from Wickliffe, OH
THE MCDONALDS IN WILLOUGHBY OFF EUCLID AVE - BY LOWES - WHAT A JOKE - REALLY? DEC - 14 -17 5PM - 600PM LOOK AT VIDEO - TEENAGERS GROUPED TOGETHER VERY LOUD - LANGUAGE WAS BAD EMPLOYEES WERE JOINING THEM AT BREAK YELLIND ALONG WITH THEM - PLACE IS VERY DURTY - SMALL BUGS FLYING AROUND GARBAGE AND FOOD - PEOPLE WERE LEAVING - VERY BAD ATMOSPHERE ! BAD! LOOK AT VIDEO YOU'LL SEE - PLACE SHOULD BE CLOSED -- BAD FOR PEOPLE WITH KIDS OR JUST WANT TO EAT IN A GOOD ENVIORMENT -- NOT THERE THEY LEFT......... YOU HAVE A BIG ISSUE LOOK AT VIDEO

Dakoda Redden
from San Antonio, TX
Dear McDonalds corporate;
I regret to inform you that I am under harassment by your workers at your 71241 location.
I am unaware of their names Sir/Ma'am.
They have been SLANDERING my name, DEFORMING my character and making my experience at your food chain EXTREAMLY unprofessional/upsetting.
It has been CONTINUOUS and if they wish to CONTINUE SLANDERING my name, DEFORMING my character I WILL seek SETTLEMENT through your corporation.
Thank you Sir/Ma'am for your time/consideration on the subject.
Sincerely yours, -Dakoda Redden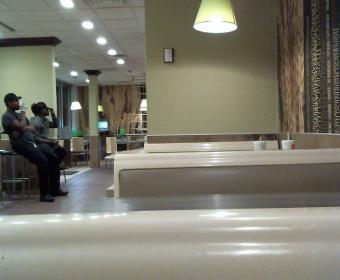 Joanne Masciopinto
from Centereach, NY
I went to McDonald's at 9:15pm this evening and ordered my food when I went to sit in the dining area the girl said the dining area is closed but they are open til 10pm. Soo I had to stand with my family and eat our food. Another woman and her 2 yr old daughter came in and a stool could have fallen on her because they were staked. And it almost did. Soo the woman asked to speak to the manager which didn't even come to the counter right away. When they weren't even busy to speak to the customer. No saying sorry basically telling that's what they are told to do and that is it. Extremely poor people skills not to mention the girl in the dining room having a hissy fit because the woman and I said something than she proceeds to say we can sit in the dining area but drenched the Seats with spray. Now I worked in this industry and never saw such unprofessional behavior by a manager and worker. It's baffling to see a person mopping the floor around a c customers feet while he sat and ate! That is a liability if he fell than what. This was a horrible experience I hope these workers are retrained because really seeing the girl in the dining room saying I'm just doing my job stomping her feet basically was pathetic. She watched us eat standing up and didn't feel bad or even care! I hope this issue gets corrected. Thank you for your time! This incident took place inside Wal-Mart McDonald's Setauket By

Sosene Seupule
from Leichhardt, NSW
I brough 2small sundays&2large sundae both large sundae wer same as the small sundae i was unhappy how totaly poor the service was in anycustomers eyes this is wrong&needs tobe corrected i stand up on what i belive in paying for something thats is not right canleyvale maccas has a totaly poorservice thats need tobe corrected this is so poorservice i will never buy from any maccas again!!!

Mike Bommarito
from Brighton, MI
I went through the drive-thru or two orders of hotcakes and a sweet tea they didn't give me no syrup no silverware and when I call them to try to get new meals they said they would not reimburse me they give me one not both I've called multiple times the owners called me 3 times and he will not do anything to fix the problem I'm going start picketing until they resolve this problem

john nichol
from South Shields, ENG
I took my daughter to McDonalds drive through opposite the marriot hotel at the metro centre tyne and wear at 9 30 am this morning there was about five cars in front of me we did not leave until 10 am nobody was moving when I inquired what the problem was I was told they just didn't have the staff the last thing I wanted to do on a sat morning was wait half an hour for a McDonalds breakfast a disgruntled customer !

cold burgers no ketchup on burger cold French fries poor service

Absolutely no french fries throughout the day, I went without and that was part of my order. French Fries are a main entry on the menu there should have been no problem.

Michael O'brien
from Hollywood, FL
I had a very terrible experience when i visited this Mcdonald's restaurant located in Florida. This Mcdonald's address is 1400 South US Hwy 1 Delray Beach, Florida 33483. The managers there are very rude and unprofessional. On Wednesday 22, 2017, at 8:05 a.m., I went there to eat breakfast. I ordered a cup of coffee with a sandwich then payed with my bank debit card. A young black lady, ( and I believe she is Haitian by national) served me a cup of coffee which was not warm but cold. I told her that my coffee was not warm but cold she raised her voice in high pitch and said something to me in Creole which I did not fully understand but I knew that the language was Creole because the Haitian community here in South Florida is vast. So I knew it was Creole that she had spoken to me because I am familiar with little Creole words here and there. Anyway, she said what said and I did not understand it but I knew it was rude and unpleasant. Then she. The her hand up in the air with her eyes wife open as she kept on talking. As she was talking, I looked over and saw another woman who was making my sandwich, spit in the sandwich. This woman did not see me due to distance parameter. When they presented me the sandwich, I refused to take it. I called the managers who were a man and a woman both of them, I believe still are Haitians by national, these two managers told me, " if you don't like it, leave it!" Then they started to laugh. I continued to express my discontent about what I saw and what just happening, the black Haitian man came over around the counter and stood right before me in a threaten manner and with his fist tighten and told, " get the fuck out of here, we run this here!" By this statement, I take it this Mcdonald's restaurant they are working in has become franchise, maybe that is why they are behaving this way. This is still unprofessional and not good for business. Please remedy this poor action by a removal process of these two managers.

Dave Hood
from Holland, OH
On 11/16/17 I was in your Mc donald's in Fostoria, Ohio and had to wait over 20 minutes for 2 cups of coffee and a hamburger,and
with that being said there were only 4 other people in there I thought this in being very very poor services and uncallrd for.
I went in there again tonight 11/21/17 ordered a Large cup of coffee and paid for it and after 10 minutes of waiting I walked out
they are not only getting slower and slower it is very disappointing to me as my wife and I use to go there on a regular basis
but due to poor services we will no longer be going there and I will be sure to let everyone I know not to go there as the services is very poor.
I would hope someone would do something to correct this problem.
Dave Hood a very upset customer that will not return to this store.

Anthony Brown
from Honolulu, HI
At this location is where I had trouble one of my friend I buy coffee for said she couldn't get a refill of coffee I even gave her the receipt so she wouldn't have any trouble cause she didn't buy it but I buy it for her. I was told from a employer that she would not give her a refill cause I buy it for her the employer said I have to get the refill for her why is that, it happen when I wasn't with my friend but today I got her a refill of coffee as of 11/21/2017 this morning. I even told that is my friend that I buy coffee for and y'all refused a refill of coffee to her when I buy it for her wow. Also one of the employer was very rude to me.

Ruth Ann Fitzgerald
from Florissant, MO
I went to the 1090 Shackelford & Mullanphy , Florissant, MO. 63031..@ 2:01 p.m. 11-16-2017 Store was NOT BUSY, 3 or 4 workers were in the cooking area No one was behind the counter or anywhere to be seen. Then a couple of workers walked behind the counter never asked if they could help us. One was throwing a rolled up paper ball up in the air. catching it. Fed Ex. finally hollered to a guy walking around & asked if we could get waited on. he said I'll see and went thru a door. No one was by the drive up window. Finally after about another 3 minutes a girl came over that was walking around & waited on the Fed Ex guy, cause I knew he had to get to work. Then a young girl comes in to the counter and the girl behind the counter started to wait onher. I am 83, I said, " I have been here for awhile". She gave me a look that could kill & looked at the young girl & said I have to wait on her. The store is dirty. Every other McDonalds --as soon as you walk in they greet you and Say Good morning or afternoon. can we help you!! This is not the FIRST TIME --SERVICE IN THIS STORE IS TERRIBLE.
This one has been noted for the bad service. I called the # 1-618-676 3289 THREE TIMES Left my name & number . No one ever calledI called three separate days

Richard Sp[ika
from Lombard, IL
On Nov 17th, 2017 I had a problem at MacDonald in Lombard at, rt38 and Stewart. The manager did a very nice job in rectifying the problem. She gave me two "Be Our Guest Free 4pc Buttermilk tenders, extra value meal" coupons which expires on 12/31/2017. Today on Nov 21st 2017 I go to the same MacDonald and try to use the two coupons, they advise me they are out and I would have to go to another location. I asked if your out than how can you fill the orders list on the menu in the driveup. Could not give me an answer.
I next stop at the MacDonald at Rt64 and Bloomingdale Rd and order two from the above noted coupons. They also advise not only that they are out but will no longer have. I questioned this as you can still get the four pcs chicken tender. They than said the promo was over, I advised them the coupons is good till 12/31/2017, something is wrong here. i told them I would be contacting corporate as they were unwilling to fix this. They had the 4 pc tender meal, all they had to do was make it a large fry and drink, DONE, They refused again to do even that, Rather than argue further, I am writing to you (Corporate). Several attitudes at this location were not very friendly, Will most likely not go back to this location! If this promo is truly over than why give coupons that expires 12/31/17.

Nelda Ervin
from Portsmouth, VA
My son works for London Blvd Location in Portsmouth Va 23704. The managers and team leaders there are HORRIBLE. My son been working for this company for almost 9 months now he only missed 1 day due to sickness. He had a really bad headache and cold. He was scheduled to work on 11/20/2017 from 3-8pm. He get right off of school and head to work. He was sent home because he was told to not leave the drive thru However he seen a new team member struggling he help her for a split second and returned back to his destination. The manager then sent him home. That is not a reason to send some one home especially when they already need all the help they can get. He was very respectful. A lot of the team members feel used and abused. The managers Monique and Vivian are very disrespectful and rude. Monique had a customer who made a mistake and drop something on the floor pick it up herself. Poor customer service. Most of them don't speak don't say thank you come again or nothing just hand you the bag and move to next customer. Mrs. Vivian is extremely rude she yells and screams at the team members. Please help and investigate. Some of the employees stand outside smoking weed.

Pat Wilson
from Charlotte, NC
The breakfast burrito is the most disgusting thing possible. It looks like baby poop. Runny, yellow with little pieces (very few) of i think sausage, hard to tell. The taste is as bad. If it is supposed to be egg, cheese and sausage it is NOT. I will never try those again. I love Burger Kings and thought it would be similar but not good at all.

PISS POOR SERVICE SLOW ORDERED A CHOCOLATE SHAKE WAS GIVEN A VANILA TOLD IT I WANTED A CHOCOLATE SHAKE LOOKED AT ME AND SAID THAT IS CHOCOLATE. I TOLD HER IM NOT GOING TO ARGUE WITH YOUR DUMB ASS I WILL FILE A COMPLAINT.
HERE IT IS .

linda wade
from Birmingham, AL
I went thru the drive thru approximately 30 min ago. I ordered a large sweet tea and a large hot chocolate.
I was told to drive to window 2 for my total.
I was very surprised at $4.72 for two drinks but paid. I was not given a receipt nor any change. Granted $.28 is not
much but it was the attitude of the guy playing with the other clerk as they handed my drink back and forth and ignored
the fact that I am watching them play. Apparently there is no management at night at the Tarrant location.
Not only did they play for several minutes before finally giving me my drink (which I ordered hot chocolate and it
was not even lukewarm. Appeared they used warm tap water to mix)
I dp not mind paying for what I order however, this is always the case. They NEVER charge me correctly for tea
at nite and apparently now you cant get ANYTHING there. No hot chocolate no change no receipt but the guy and
the girl can flirt and play and ignore the cutomer.
This is NOT ACCEPTABLE BEHAVIOUR in most business but apparently no one cares at the Tarrant location.

Ruth Steigerwald
from Littleton, CO
I was visiting a McDonald's on Monday at lunch time. I had my 2 year old granddaughter with me. I had seen a lighted sign that said "buy a happy meal, get one free" I made sure that deal was still good by checking with cashier Before I ordered. I ordered 2 happy meals and was charged $3.77. She gave me a numbered sign to put on my table, so food would be brought to me. I then went in the play place and let my granddaughter play. I was waiting for quite a while, which seemed like forever. Finally the lady brings me my food, no eye contact, and left to speak to 2 other people at another table. I then opened my burger and found that it was stone cold, and the fries were stone cold. And to top things off, I only got ONE meal. Not asked if I wanted apples or gogurt. I assumed she would come back and bring the other meal. But no. Problem was I had a very temperamental child, who would have pitched a fit if I had taken her away from her play. So I decided to take it up when we decide to leave. But by then, it had many customers coming in for lunchtime. It was 10:51 when we arrived. So there was no way I was gonna stand there forever while trying to hold my granddaughter. I also have a very bad back. I usually don't complain cause I don't like confrontation.. I let a lot go. But NOT this time. I was very angry. Another point, if I had to wait so long to get my food, you would think it would be hot. But it wasn't even warm. I threw it away, I would like to get this resolved.
Thankyou for your attention to this matter
Ruth Steigerwald

Ruthie Steigerwald
from Littleton, CO
I was visiting a McDonald's on Monday at lunch time. I had my 2 year old granddaughter with me. I had seen a lighted sign that said "buy a happy meal, get one free" I made sure that deal was still good by checking with cashier Before I ordered. I ordered 2 happy meals and was charged $3.77. She gave me a numbered sign to put on my table, so food would be brought to me. I then went in the play place and let my granddaughter play. I was waiting for quite a while, which seemed like forever. Finally the lady brings me my food, no eye contact, and left to speak to 2 other people at another table. I then opened my burger and found that it was stone cold, and the fries were stone cold. And to top things off, I only got ONE meal. Not asked if I wanted apples or gogurt. I assumed she would come back and bring the other meal. But no. Problem was I had a very temperamental child, who would have pitched a fit if I had taken her away from her play. So I decided to take it up when we decide to leave. But by then, it had many customers coming in for lunchtime. It was 10:51 when we arrived. So there was no way I was gonna stand there forever while trying to hold my granddaughter. I also have a very bad back. I usually don't complain cause I don't like confrontation.. I let a lot go. But NOT this time. I was very angry. Another point, if I had to wait so long to get my food, you would think it would be hot. But it wasn't even warm. I threw it away, I would like to get this resolved.
Thankyou for your attention to this matter
Ruth Steigerwald

Ruth Steigerwald
from Littleton, CO
I was visiting a McDonald's on Monday at lunch time. I had my 2 year old granddaughter with me. I had seen a lighted sign that said "buy a happy meal, get one free" I made sure that deal was still good by checking with cashier Before I ordered. I ordered 2 happy meals and was charged $3.77. She gave me a numbered sign to put on my table, so food would be brought to me. I then went in the play place and let my granddaughter play. I was waiting for quite a while, which seemed like forever. Finally the lady brings me my food, no eye contact, and left to speak to 2 other people at another table. I then opened my burger and found that it was stone cold, and the fries were stone cold. And to top things off, I only got ONE meal. Not asked if I wanted apples or gogurt. I assumed she would come back and bring the other meal. But no. Problem was I had a very temperamental child, who would have pitched a fit if I had taken her away from her play. So I decided to take it up when we decide to leave. But by then, it had many customers coming in for lunchtime. It was 10:51 when we arrived. So there was no way I was gonna stand there forever while trying to hold my granddaughter. I also have a very bad back. I usually don't complain cause I don't like confrontation.. I let a lot go. But NOT this time. I was very angry. Another point, if I had to wait so long to get my food, you would think it would be hot. But it wasn't even warm. I threw it away, I would like to get this resolved.
Thankyou for your attention to this matter
Ruth Steigerwald

Ruth Steigerwald
from Littleton, CO
I was visiting a McDonald's on Monday at lunch time. I had my 2 year old granddaughter with me. I had seen a lighted sign that said "buy a happy meal, get one free" I made sure that deal was still good by checking with cashier Before I ordered. I ordered 2 happy meals and was charged $3.77. She gave me a numbered sign to put on my table, so food would be brought to me. I then went in the play place and let my granddaughter play. I was waiting for quite a while, which seemed like forever. Finally the lady brings me my food, no eye contact, and left to speak to 2 other people at another table. I then opened my burger and found that it was stone cold, and the fries were stone cold. And to top things off, I only got ONE meal. Not asked if I wanted apples or gogurt. I assumed she would come back and bring the other meal. But no. Problem was I had a very temperamental child, who would have pitched a fit if I had taken her away from her play. So I decided to take it up when we decide to leave. But by then, it had many customers coming in for lunchtime. It was 10:51 when we arrived. So there was no way I was gonna stand there forever while trying to hold my granddaughter. I also have a very bad back. I usually don't complain cause I don't like confrontation.. I let a lot go. But NOT this time. I was very angry. Another point, if I had to wait so long to get my food, you would think it would be hot. But it wasn't even warm. I threw it away, I would like to get this resolved.
Thankyou for your attention to this matter
Ruth Steigerwald

Bonita Cumberworth
from Denver, CO
Drove there on my lunch break, awaited in the long drive thru lane. Made my order known, pulled to the pay window and could not find my debit card, so I paid with a 100.00 dollar bill and was told they do not accept 100.00 dollar bills. I had to go to sonic where they did accept it, but couldn't finish my lunch because I was late getting back from lunch. Totally uncalled for, scince when can't a busy resteraunt take a 100.00 dollar bill

Ms. Jayne Jefferson
from Ashburn, VA
Dear McDonalds, I have been a patron of your restaurant since its 'inception. 2 days ago I went to your restaurant @ 2091 Stewart Ave. which is now named Metropolitan Pkwy. The store hours are posted to open @ 6:am, however the store did not open until 7am. When the man who cleans up in there opened the door he left the keys in the door! I walked in to place my order after telling Ms. Julia what I wanted only to be asked out along with the customer behind me. I was refused service. Why? Ms. Julia said she did not have a cashier! You lost 5 customers that morning. This is the 2nd time she has refused to serve me, stating she did not have a cashier although there were 3 other people standing around doing nothing. Your people are very rude and don't seem to care. On another day the air condition man came off the roof, walked behind the counter, got a soda cup, filled it up with soda and went to the back. On another day the manager came in in Bermuda shorts and a hat on(street clothes) and began to bag up has browns because the help was moving tooooo slow, I was livid and called your office to complain. Taday you lost 15 customers because the line was tooo long and people refused to wait. we all went to wendys, also it is tooo cold inside the restaurant but we were told , we cannot regulate the temp. Sorry I'm done, not coming back!!!

charity mcgee
from Fort Worth, TX
The night crew that works at the McDonalds on 80 in Marshall TX is rude and doesn't know how costumer service should be id be checking into their crew really

Dan
from Lake Elsinore, CA
A waste of time to complain when no one will read this. At least it makes me feel a little better to say Mac Donald's got their last dime from me tonight. I am sure this is really going to hurt their bottom line considering the 6 billion other costumers that are not so sensitive to rude employees..

ERNESTINE MULLINS
from Villa Rica, GA
after school my great grandaught wants to get nugget happy meal. she always looks for the toy. last couple times we get a little book, all Spanish, no English. this not only upsets her but me. we are total American, speak or read on Spanish. I took one back and threw the others away. when going yesterday I ask the girl what the toy was, when I told her we didn't want the book, she answered well you should teach your child Spanish. H--- no I live in America. she informed me the toy was a pink mask. My grand daughter was ok with that., get home and no toy at all. I guess we will be going to wendys. I know one order don't amt. to anything with a big corp. but I still need to say this. I am 72 years old have been taking kids to mcdonalds for so many years and never been this mad until the girl gave us that ans.

Christine pommerening
from Greenslopes, QLD
Good morning
For the last year and a half I have been going to MacDonalds Wakerly for my coffeee which is a large cap 2 sugars and caramel the young man that has been serving me for I don't know how long and the young lady before him never once did they ask for 70 cents on my free coffee if you add up Monday to Friday every morning for a year and a half that's a good customer I found this young man yesterday 1.11.17 and today 2.11.17 very rude which resulted in me never returning to MacDonalds
Have a great day
Christine

I went to the drive through and ordered a small pumpkin spice latta the teller said the order right but when I got to the window to pick up my order it was a small iced pumpkin spice I told him i ordered a hot one and he said he was sorry and he would make me another one he also gave me the cold one which I thought was nice and I had never tried one then he came back and said I am sorry about that I said that was ok and I left with my hot cup right it was not! When I got down the road I went to take a drink and it was in a small coffee cup but was COLD like the other one . I was in a hurry and did not check it before I left . He was a nice guy but I don't know how that happen I was also nice to him. I know in the mornings they have a lot of people that come in. We come to this McDonald's every Saturday morning and Sunday morning for coffee and some times to eat breakfast. Because of the price and I think your better than Starbucks ! But that pumpkin spice latta made me mad being in a coffee cup and being cold! I know thing happen. Just thought you should know. Hatch road and michell road in Ceres ca

Daniel Gilbert
from Danbury, CT
For years I've been stopping at the McDonalds @ 3435 West 16th Street (46222-2659) on my way to work M-F. The service has always been bad and the food quality have gotten worse. I continue to stop because I like their coffee. Well this morning I had enough. I get to work only to find that my egg mcmuffin was very noticeable burnt. Who would serve that to anyone. I'm DONE! See photo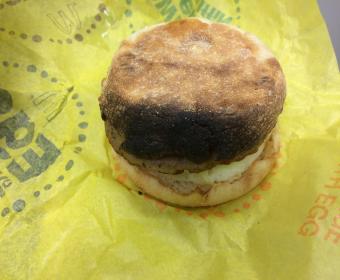 Fran Bryant
from Waycross, GA
Was served an egg white delight and egg white was in puddle around muffin. It was not even cooked enough to stay together on muffin. I showed it to my waitress and she said or did nothing like it was no big deal. I do not eat raw egg white. I have eaten at this location since it opened many years ago and this is the worst service ever.

edwin peters
from Brooklyn, NY
I will not purchase any of your products as long as you continue to advertise on the NFL and so will all of my friends and business associates
Both my son are active duty ARMY and most of my family have served

Daisy
from Brownsville, TX
It's the second time that I order the Orangeade Minute Maid. The first time was at the location inside Walmart in Brownsville, TX. I had it remade because it had chocolate chips in it. Today, I ordered it from the location on International in Brownsville, TX to go. I'm seating in my office drinking an orangeade that tastes like coffee. The first time I was told that they use the same blender for coffee and slushies and that's why they come out that way. THAT IS VERY WRONG!! And I'm pretty sure there's a poor food safety problem there. We order slushies not slushies that taste like coffee. McDonald's should provide their locations with 2 blenders one for coffee and one for slushies so these type of things don't happen. And the staff has got to CLEANED THEM!!! It is gross and disgusting what they do!!

Bob Boyd
from Little Rock, AR
On several occasions I have waited in the drive through line for some time before being asked for my order. Tonight there was no one else in either of the 2 drive through lines and only 2 or 3 cars on the parking lot, and yet I had to finally ask someone to take my order. Tonight about 8:20 there were 2 other drive-through customers sitting waiting in the 2 reserved spots for their orders and I had to pull up next to the door rail and wait for mine. Recently my wife went inside to place an order and waited much too long for her order. She said one other customer, a man, got fed up waiting and walked out.
The location where we have had this problem several times, is at Rodney Parham and Breckenridge Drive in Little Rock, Arkansas, the location nearest our home. I asked the girl who finally brought my order out (the other 2 cars were still parked and waiting) if they were short-handed and she said yes. I don't know who owns this Little Rock franchise but I may check records to see. They need to know what's going on. It is a frequent occurrence here. We also occasionally go to the Cantrell Road location and the West Markham location and have not had these exasperating delays there.
We usually go to McDonald's on the average of once a week. I know that is not meeting your standards. I might suggest you have an inspection team go around and check all your franchises and make a written report to the home office. I think it would be money well spent. Your company is held in high regard in comparison with your competition, but incidents like these can cost you your high rankiing if they are endemic.

store29039 was there staff is most of the time very rude nothing working ice-cream machine most of the time the way they serve food and the was they packed the food its really horrible they serve most of the time cold food and when asked the guy who was working in the kitchen slam the food on the tray this location is horrible but we work there so some time no choice we go there but its really horrible there with service. today they serve me cold 10 pieces of chicken nuggets when asked to replace the guy who was working in the kitchen slam the nuggets on the try and walk away have to wait 5 min and come up with cold chicken nuggets again we spend money there don't deserve this kind of treatments and they are making your name looks BAD DO SOMETHING

Earl alspach
from Birmingham, AL
Went to McDonalds for breakfast this morning, Saturday, October 21, 2017, at the store in Meridianville, Alabama, and my wife placed an order for an egg, bacon, and cheese biscuit. Upon receipt, the bacon was cold and there was no cheese. When queried the manager delivered an new egg, cheese and bacon biscuit. Again, the cheese was cold, as well as the bacon. We left the place, and told our car club about the experience. Our club was meeting there for a day long drive out.
The manager did nothing to remedy the situation. Again, I have told many people of our experience and will not patroniz your place again.
You may reach me at 2566035772, address: Mr Alspach, 224 Woodland Lake Dr, Laceys Spring, Alabama, 35754.

Jane Okelley
from Spring Hill, FL
Yesterday I stopped at Mcdonald's in Spring Hill, I ordered 10 chicken tenders with buffalo sauce, when I got home I had 10 chicken nuggets I paid $10.32 for. I call the store spoke to Manager Marsha, very professional and concerned, I explained I live off 50 and I didn't want to drive back to there, she understood and asked if I would go to the one on 50 she would call the manager and I could go through the drive thru. I thanked her and I went to the one on 50 took the nuggets and my receipt with me, explained to the person in the drive thru she got the manager he asked if I had my receipt yes I do, he came to the window took the nuggets and receipt told me to pull up to the second window, the girl there said for me to pull into one of the parking places, well, 20 minutes and several employee's asked if I was waiting on various orders that were not mine, finally after 5 more an employee brings me my tenders , no sauce, I just left I was over it.
Not a very good experience.

On October 19 went to drive thru, girl couldn't hear me well told me to come to the pay window. At the window I gave her my order which was a boys Happy meal 4 pc nuggets with the yogurt honey mustard and barbecue sauce and chocolate milk. and my grandson also asked for a hamburger with extra pickle, onion and ketchup, ,2 #3 value meals medium sized,' diet coke and regular coke ..I gave her my credit card, told me to drive up to pick up window.. A person comes to the window, said they charged me someone else bill which was 7 dollars and change and she credited me back. My bill was 13.01. Now she credited my card back. That was first wrong thing. NOW she hands me the happy meal, I handed it to my grandson, then she gives me the chocolate milk. Now hands me the bag which was suppose to be 2 quarter cheese, 2 french fries and the hamburger. My daughter passed to my grandson his burger, he opened it and there was nothing on it but the meat., Handed it back to the girl, which in turn they gave another burger, he opened it up, only one pickle was there, no onion and a drop of ketchup. My grandson refused to eat it being it wasn't what he asked for., now she hands me a diet coke and the yogurt. I said, the order is missing my value meal which was the #3 with regular coke. she said its not on the receipt, I said suppose to be I told the girl 2 # 3 an one diet and one regular. They don't know what they are doing in there, whole order was wrong and held up the line 10 minutes. They need training and put on their listening ears. The girl who took the order didn't understand english spoke broken language. The store I went to was 150 Route 17 S. Mahwah, NJ 07430 Had to ask again for the sauces, cause they weren't in the bag, restaurant 12002. If survey helps you who this was the survey number is12002-13221-01917-13385-00130-1

Darlene Hernandez
from Baldwin Park, CA
Went to McDonald's, store #19375 Baldwin' Park, California..ordered 2 double cheeseburgers..the meat was do burnt it was black. I as a a frequent customer d McDonald's. Do expect better food service this particular McDonald's i go to because of its convenience close to my home. I've taken coffee back cuz of being cold old..services windowsthrugh drive up dirty which i brought that to the manager. Stood in line 15 minutes or k.her bcuz of customer Did Not get those order right which made the customer be then start to argue. I do believe someone from.your corporate need a to get down to that store and check.it out. I am.a frequent customer of McDonald's for years. But I will no longer patronage at this McDonald's any longer. From a very unsatisfied Customer. Look on Yelp..youll see their ratings

Dawn Shively
from Austin, TX
I stopped at McDonalds at Slaughter Lane and Manchaca in Austin Texas at approx. 6PM today, October 20th.
I entered the store and waited more than 10 minutes for someone to take my order. I finally asked a McDonald's employee if someone could take my and other customer's orders. With no apology for making us all wait, your employee stated that they were too busy filling orders for the drive-up window and we would just have to wait and she did not say how long that wait might be. Taken aback by the insensitive remark, I left your McDonalds store and it will be an extremely long time before I visit any McDonalds store.
Something needs to be done about the poor customer service.

Sherri Delay
from Spokane, WA
First trip to new McDonald's and my order was messed up but I said nothing. Next time it took forever to get through the drive thru line. I make my order but when I get to window my order is all messed up. Next window my order is still messed up! I asked for three burgers but only got one. A very rude person came up, never apologized but said I need to pay more money if I want the burgers. I told them to hell with it, take my food and start to drive away. While I'm moving these idiots start laughing at me! So rude I can't believe it! I call the manager and she's nice and offers me coupons which I'm not sure I want but figure since I work in a grade school I can give them to s student. Well, I'm still waiting after 2 weeks. So now I've been lied to. I've made sure and let everyone in the school know about it plus everyone in the school district. Lots of people! Bad sevice, extremely rude people and liars! Plus slower than slow! I'd be embarrassed.......

Mrs. Willie Mary Nash
from Milwaukee, WI
Purchased your new item, Chicken Tenders, Saturday 10/14/17. What a soggy, wet mess I received. Chicken Tenders were awful, I have had some bad experiences with some items from your menu, but this was way below your standards. I did not receive a receipt for my purchase. The McDonald's is located at 6409 W. Bluemound Rd.

Dennis
from Parramatta, NSW
Shop Manuka MacDonald .. aprox 19 minute waite time through drive through i asked to speak to the manager i asked his name very reluctant in giving it and presented aggressive displayed grandiose behaviour " like he has a substance abuse problem " when I complained re excessive waite time . He made no apology refusded to aknowledge me as a customer refused to take payment for my order because i was complaining or indeed give me my order .. I have never ever experienced this level of rudeness or disrespect from anyone in the service industry let alone from a big Corp brand like MacDonald s .. he is a disgusting human being and a 19 minute waite time in drive through with no empathy or appology " just rage " and rudeness explains his performance levels . Date 15th October 2017 time .. of incident approx 8.45 pm .. . How dare he treat MacDonald customers with such rudeness and disrespect !! I look forward to your response.. yours kindly Dennis Labathas

Rubye Miller
from Prattville, AL
My granddaughter and I went to the McDonald's on Fairview Avenue in Montgomery, Alabama at approximately 8:00 p.m. We had gone through the Drive through and I ordered the buttermilk crispy chicken for the two of us and two slushes. After paying for my order we receive the two slushes, but we had to wait for the chicken. So we were waiting and I drank out of my granddaughter 's drink by mistake. She of course got upset, so she went in to see if they would give her another one. The manager told her she had to bring in the other one, but I had already poured the rest into my cup. So I went in to see if I could get another one and ask since we had been waiting for at least 30 minutes, if I could get a complimentary slushy for her. The manager then began to say no,we don't give out free drinks, and if you want one, you will have to pay. So I began to give her the money and she pointed to the line and said you get in the line like everybody else.Then she began talking about me to her friends like I wasn't even there. So I said excuse me, and she came to the register to ring up my order. Now a young lady was already there but, she wanted to show her control over, so continued to talk to me in a belittling way. So I asked for a small slushee, and she said we don't sell small, all in a nasty voice. I then told her that I didn't want it. She then told me to get out , get out of her store right now. I didn't move so she had the security to put me out and the security was a big woman who literally push me towards the door until I told her not to push me again, but she did it three times. I am 61 years old, and about to be 62 next month, and I never been treated this way in my life. I am a regular customer of all the McDonalds all around Montgomery, Prattville, and surrounding towns. I am just glad my granddaughter was in the car because we would probably both have been locked up tonight over some foolishness. The young lady is named Eleanor Givner, and she is very rude and inconsiderate. She yelled at me in that store and other people were in there and they were just looking surprised. Other workers were scared, they wouldn't even give me a number to make a complaint. I had to come home shaking and find another manager to get the district manager and call in a complaint.She litterallly has the workers scared and she is very unprofessional. I hope you can get someone else to do that job, because she is bad for your business.

Beryl Voss
from Perth, WA
We took our granddaughters to your Yanchep store for a treat, what a joke. The tables, chairs and floors were dirty, the rubbish bin was so full you couldn't put anything in it.
The staff were to busy playing ball games.
I spoke to some young man who said he was the manager and told him how disgusted we were with the condition on the shop, he said he would get someone to clean, it was still dirty when we left.
Also it is the only McDonalds store that doesn't give seniors discount unless you buy a happy meal.
Our first and last visit to that store.

Thabang
from Johannesburg, GT
I went to mcdonald westdene, Bloemfontein with my family, the order was mixed up, chicken big Mac is beef, I bought happy meal for kids n there was no juice. Cream soda tastes like water even the water that I paid for I didn't get. Staff members were fighting at a window. I wasted my money and my time.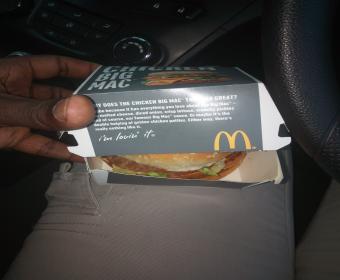 Teresa Stahl
from Continental, OH
Went through drive through and placed my order
4 plain CB
2 reg CB
20 pc Chicken nuggets
10 Butter Milk Chicken Strips
2 McChickens add cheese No Mayo
3 Large Fries
1 Large Diet coke
1 Med reg coke
1 med sprite no ice
the order total on one price than it was cheeper . i know that they combined and make meals to help with pricing. Paid and pulled to next window. they asked me to pull ahead was a wait on the Butter Milk Chicken. so i did . I waited for 10 min. the person came with my items and I stated that the order did not look to be enough. so i checked the order. they forgot the 3 large fires. so she ask for my reciept i gave it to her . she stated that the fires was not on there. so she said she could go and find out how much it would coast . I gave her a 10.00 bill and told her to just pay and bring them out. I made statement that the time i had to wait they should be free. and also stated the kid that took order must have deleted the order instead of putting it into meals. so she went in and 2 or 3 min went by . she came out with my money and said no charge but there was a 37 sec. wait on fires. my point is i already waited 10 min for order to begin with. than messed it up and was paying for french fries and yet instead of just waiting on the fries and bringing them and my money same times would have saved time for me. i took my 10.00 back and as she walked away she was walking so slow looking around i just left. this is not the first time that i have waited and have found order messed up and than have to wait again i do not know what is wrong with the McDonald in Paudling Ohio but it is the most aggravating McDonald i have been too. poor service , too slow and always messing up orders.
Thank you Teresa Stahl
Have feedback for McDonalds?
Thanks for your feedback!
Sorry. Please try again later!