McDonalds
McDonalds Complaints Continued... (Page 6)
913+ reviews added so far. Upset? Call McDonalds corporate: 800-244-6227

myrtle armstrong
from Washington D.C., DC
I stopped at your McDonalds at 2485 Blanding Blvd in Middleburg Fl I placed an order for 3 hamburgers and 2 large sweet teas that was at 1244 am and was not served my items until 1am. This was at the drive through with me being the only car in line. The 3 hamburgers were cold and there was grease dripping from the wrappers. I went back through the drive through and spoke to the manager about the problem. Her response to me was that they had a new trainee. And she would have the burgers remade. Now you expect me to wait another 15 or so minutes? This not exceptible for service or food. I find it hard to believe that a manager would blame an employee for her not doing her job of training. How many people have to become sick or stop going to you stores before problems like these are corrected?

Carolyn Starr
from Lexington, KY
I was at your store at 2483 Nicholasville Rd, Lexington, KY 40503 , a lady came in bought food sat down said a prayer and proceeded to eat the food she bought there , when your fatass employees started harrassing her for no reason , told her she had 30 minutes from the time she walked in to finished her food and get out or they were going to call the police on her !! I will never eat at any Mcdicks ever again !!! this was so uncalled for, it is cold here in Ky . she is probably homeless and justed wanted to eat and get warm .. Your staff is the most heartless bunch of maggots I have ever seen !!!!

Upon receiving our order I double checked the food in the bag and we were missing 2 items. I waited almost 10 minutes and no one opened the window to see if we needed anything. I watched as the staff carried on conversations and ignored us. I pulled back around not to hold up the customer behind me. I arrived at the window again to be looked at and ignored by the manager. she also carried on a personal phone call while on shift behind the counter. I had to knock on the window to get the attention of the staff so I could get the remainder of my food. I clearly stated that some items were missing and I have the receipt. the response I got from the manager was " I don't remember that order, did I serve you?, no I don't think so" in condescending tone. Also when she served us the remainder of the food she just threw it in the bag and thrusted the bag out to me and didn't say anything and stormed off with a bad attitude. This manager displayed a horrible attitude the entire time I was talking to her. this occurred 28 November 2018 1035 PM at 440 Mary Esther Blvd, Mary Esther FL 32569. The name of the manager was either Alisha or Felicia. she did not show proper managerial skills nor customer service skills. I believed she should be removed from management or fired from the restaurant. if I could give lower than 1 star rating I would because that is not how you should be serving the public.

jeffrey sato II
from Fort Walton Beach, FL
Upon receiving our order I double checked the food in the bag and we were missing 2 items. I waited almost 10 minutes and no one opened the window to see if we needed anything. I watched as the staff carried on conversations and ignored us. I pulled back around not to hold up the customer behind me. I arrived at the window again to be looked at and ignored by the manager. she also carried on a personal phone call while on shift behind the counter. I had to knock on the window to get the attention of the staff so I could get the remainder of my food. I clearly stated that some items were missing and I have the receipt. the response I got from the manager was " I don't remember that order, did I serve you?, no I don't think so" in condescending tone. Also when she served us the remainder of the food she just threw it in the bag and thrusted the bag out to me and didn't say anything and stormed off with a bad attitude. This manager displayed a horrible attitude the entire time I was talking to her. this occurred 28 November 2018 1035 PM at 440 Mary Esther Blvd, Mary Esther FL 32569. The name of the manager was either Alisha or Felicia. she did not show proper managerial skills nor customer service skills. I believed she should be removed from management or fired from the restaurant. if I could give lower than 1 star rating I would because that is not how you should be serving the public.

Jane Lee
from El Cerrito, CA
I went to McD a week ago, ..their mcNuggets tastes like dried crap, w cheap used oil..their burger and meat was 1/4 of the size..tried those new bacon cheesefries, and it had 1 peice of cheese, not even melted w sprinkled bacon. I can go back just to get a pic for you. Sick. Had diarrea a few hours later.

Sonya Barton
from Texarkana, TX
My husband and I came through, after a doctors appt. for a late breakfast, because no food before appt. The staff was very friendly, and helpful, but the food was just horrible. I guess if you don't get it at breakfast time, you just are outta luck on getting it fresh, because you obviously get what was left over. It should have been free, it was that bad..Oh wait! The drinks were ok..kinda..I went inside to order, and brought it home to eat it

Jacky
from Charles Town, WV
I have a complaint about one of the manger of the mcdonalds in moorefield wv the manger named Sam she said the f word like 15 Times in front of children in the store she very rude and needs to be fired I asked her if she could not talk like that in the store she told me it was her store and could do what she wanted talked to the big manger and nothin was done and she yells at her employees all day long

Mr S.W. Ainsworth
from Johannesburg, GT
On Friday 23/10/2018 we went to you Lambton branch Germiston. First complaint Mc Donalds motor bikes parked in the disabled park, making it very difficult for me to park in a normal parking and to get my wheelchair out the car. The my partner and I go to the toilets, only to find there are no locks on the toilet doors. As these are public toilets, I find this totally unacceptable. When confronting the manger about the two problems, he just acted as though he new nothing about the motor bikes and the lock situation in the toilets. Surely if you are the manager you must know what is happening around you business.
My experience a Mc Donald's has left me with the feeling that this is a business that just wants to take your money and has no interest in the customers.
Regards

susie Winningham
from Raleigh, NC
Nearly every McDonalds downtown Raleigh N.C. the homeless are sleeping under the tables or in the booths with all they own. They hang around outside and try to start to talk to you wanting money or food. If this is what you want to support I can not understand this. Last night was my last time at McDonalds. My children love going there.

Christopher E Cubbage
from Sherwood, OR
I have had enough negative experiences with McDonalds of late that I felt the need to reach out. The simple challenge for me is that the easiest way for me to express my dissatisfaction is to quit frequenting your restaurants much like people did years ago when McDonalds experienced a signifiant decline in business. I also recognize the futility in reaching out to a large organization that is likely tone deaf to its customers. Nonetheless here goes... I drove up to a drive through this evening to get warm fries and a frosty coke. I love your fries and your coca cola has a secret that makes it better! Suffice to say a cold soggy fry did not light my fire. When I went into the restaurant to complain the manager essentially made it my fault for complaining yet admitted to serving an inferior product intentionally! Thus the slipper slope of just getting away with inferior service an delivery. Also I don not like the kiosk ordering system. Is this a people business or just a assembly line for hamburgers. You guys decide but nobody has to get a hamburger at McDonalds. You might want to remember this is just a hamburger. I can get cold fries and a stale coke anywhere. I doubt you guys care about losing a single customer.. Assuming you do what are you going to do to win back a customer?
Chris

Michael Yeager
from O'Fallon, IL
The McDonalds on 906 Carlyle Ave. in Belleville, IL 62221 has been progressively getting worse in service cleanliness, and drive through times. The management at this location is severely lacking. People are just plain out lazy. For one exception, "Scotty" , is probably one reason why people come back in the morning times. I do avoid going to this location because of the complaints listed above. Hope things change,
Michael Yeager.

Wendy Lobley
from Ashfield, NSW
Mc Donald's Arndell park.
On Friday 16/11/2018 I went through the drive thru to order to children happy meals. I was asked what I wanted I said 2 happy meals. Please note I had two children with me they both wanted McDonalds. I got to the pay counter and I said to the girl can I get a medium coke as well, she said sure I tapped my card never noting the cost never having the order confirmed. I drove to pick it up at the next window maybe 15 m away. I got to the window and was given one happy meal. I said I ordered two. The young girl turn to a young "in charge person" who said they will have to back through the drive thru we don't take cash here...............................
Here my complaint.
1. I ordered two
2. they never read my order back
3. The cash register is 15m away or may be 5 m away in the store.
I drove back thru the drive thru as I had two children who need food. As I cam back throu the said in charge woman was laughing. I did yell a bit of abuse at her but....
3. Clearly they did not hear my order
4. Its not funny to make someone drive around the block
5. I am the customer what horrible service
6. the cash register was never more then 5 m away
its not the first time I have had trouble at this Mc Donalds but this was just ridiculous.
My mistake on the nigh was I should have asked for a refund as the order offered was not what I wanted. Question would I have had to drive around to get a refund.
SERIOUSLY BAD SERVICE> I would like too know what you think of such bad service.. Or is that acceptable
I was so angry, at the stupidlity of driving around and furious at the fact the staff thought it was funny. Arndell Park mc Donald is laughing matter I am there at the sporting club regularly and all the families laugh at it but interestingly not to the face of the staff....
I am sure my complaint will just become electronic fodder but I will keep telling my story as I sit right near the shop.5 m is to far for you not service focused staff to walk what a joke worst service I have ever received.

Andy Luong Vu
from Santa Ana, CA
Dear Ronald McDonald,
I grew up with Miki Dsss in my blood and I also served the restaurant during my several first employment. I am one of your most loyal customer in the world; however, when it comes to services, I was always the extra miles kind of worker. Messing with customers is one of the most disobedience action taken while on your clock committed by some of the services. Today, I got my first classic Big Mac meal. I specifically said I didn't want Ketchup, but I got a lot of ketchup to toss away as waste to your money. I said that I wanted a medium Coke, they gave me a large Pepsi. Another service misunderstanding into the trash can of waste. In addition, the fries were soft and bitter? Why? What happened to MIKI DSSSSSS.
Validation code: 00616-12871-11818-15145-00064-6, McDonald's #616, Westminster at 0314PM

David Hill
from Yellow Springs, OH
I was at the store 11277 north main st dayton ohio and I stood at the counter. A girl at the register stood there looking out the window finally she asked me what I wanted. I can't give you her name because she had no name tag. frizzy hair black hoodie with white lettering saying pink. I asked for 2 cheese burgers small fry and mocha frappe. still looking out the window she asked what I wanted again. I had to tell her 3 times. I waited 15 minutes for my order to which they finally told me the machine was broke. They asked me if I would like something else in it's place. I said no that, that was the real reason I stopped in. and said I wanted just to be refunded for the drink. They yelled for someone named Dianne . Dianne never came they yelled for 2 more time and still she didn't come. I stood there for 25 minutes and still nobody refunded me the money. I assume that this store needs to be retrained for lack of customer service. I wouldn't have complained but this wasn't the first time of bad service at this store. I will no longer patron this store. even though I have to drive farther. I love your food and it's value but not willing to pay this stores wages and not get the product. I eat everyday at McDonalds. ks#2 side 1 order 10 date and time 11 18 2018 12:34 pm

Jerri Greene
from Lake Worth, FL
My family and many of my friends have stopped going to McDonalds for the following reasons:
The Filet of Fish sandwiches - They used to be so good and now they are horrible. There is only 1/2 slice of cheese on each one. They are lukewarm and hard when served (the last 4 times I visited), and there is only 1/2 tsp of sauce on them that covers only the center of the sandwich.
The French fries are lukewarm and are tough in texture.
The chicken nuggets are lukewarm to cold and are tough after sitting for long periods.

Diana lee
from Carson, CA
Food was done incorrectly. I called to explain and the .manager was rude and acted like I was lying. People who prepare the food should pay attention to the screens and order tiers should write down everything you say. Even if you show proof your order is messed up,theirs always one uncompassionate manager their. I request a refund for my entire order please

julie welladsen
from Kellyville, NSW
on 17/11/2018 at 1659hrs I attended the McDonalds store at Wollongong #0369 - the best part about my visit to that particular store was my purchase of my McHappy socks - I stood at the McCafe counter for approx. 2-3 minutes whilst the girl made coffees - she eventually looked up and said "my register isn't working - order at the other counter" - no apology - to which i replied "well maybe some sort of signage would be beneficial" - I then moved to the main counter where there was 3 registers and no person serving and 5 people waiting - eventually one of the staff who were cleaning tables was called to serve customers - I ordered my coffee and coconut pineapple bread to "eat in" which was read back to me "eat in" I confirmed "yes" - after waiting 18 minutes I received my coffee in a takeaway cup - I queried it to which i was told "well thats what they put it through as" - I wasnt going to wait another 18 minutes so I accepted it in a takeaway cup and then waited another 5 minutes for my coconut pineapple bread - a total of 23 minutes - the lack of staff the slow service - the way the staff spoke to paying customers was and is disgraceful

cindy brutcher
from West Monroe, NY
hello I weitnt to mcdonalds in a very bad snow storm to get myself and grandchildren dinner at restaurant nimber1515. it was a wait of 7 minutes in line until I ordered that was fine. after paying at the drivethru window I got to next window . they told me to pull up. ok no problem. after 15 minutes and the cars behind me were driving by me I waited another 3 minutes. I didn't want to go in because my grandson had no jacket for it was taking at an event we were at by someone. but I had to go in the line was long again, so we went in. I asked for manager and the man said I am one of the managers. I explained whats was going on. he spoke to another man and brought me my bags of food. I told him it was now over 20 minutes old and wanted fresh he asured me it was not cold , so I took food out before I left and it was very cold!!!!. I was upset . I said I would like some kind of reembustment he told me only thing he could do was refund me my money. I said im not asking for you to give me my whole meal but one free fry or coffee would be nice . again he told me all I can do is refund u your money. well I was hungery and my gran children were was a long nite at hockey practice.i man 62 and have never been trated like this in my whole life from a mcdonalds. id like something done. like maybe this manager needs to be trained on how to take care of customers when something goes wrong and not be treated like this trying to give me cold food. glad I checked it I should not of had to though. he should of known my food be cold after sitting this long

Mariel C. Pajes
from Makati City, 00
I ordered around 8:30 am (Order #dtcp6z). almost 9:36am still no food arrive. I call up your customer service and he told me that my order is for verification. I repeatedly told him that I didn't received any call from you! but instead of apologizing for the delay, your customer representative still insist that my order is for verification. I want a nice answer and just an apology instead. but I only received a "MAARTE" speaking words from your call center representative.
Almost every week I ordered and always suggesting to order from you because of your fast delivery service.
Until now, while doing this complaint, my order still not arrive!!

Kevin Boswell
from Alton, IL
4 out of 5 orders is usually missing something..
They are rude when I call to complain they will mail me a coupon
It never happens
Store at homer Adams park way
Alton Illinois
62002

RICHARD GALLAGHER
from Arlington, VA
I have complained about this site previously. They do not properly maintain (clean) the iced tea dispenser. Sometimes, their iced tea has a distinctly sour, spoiled smell and taste. I live on iced tea at home and know from experience that tea will "turn" after two days at room temp. I had followed up with this site's supervisor previously, who let me know their procedures & checklists specified daily cleaning. She also told me that on the days in question, their night shift had NOT cleaned the units. This morning's visit was at 0530 this morning just as they opened. I went thru the drive-thru. The tea was distinctly sour, spoiled! Clearly, the units had NOT been cleaned the entire Veteran's Day weekend! Otherwise, how could the iced tea have been so disgusting just at this morning opening? The local food service inspectors should audit their shift records and cite this McDonalds with a fine appropriate for the risk they have subjected their customers. An appropriate inspection placard should be posted.

Sandra Purcell
from Havertown, PA
My daughter had ordered food from the menu and had paid for it at the first window. When we got up to the next window to pick up the food, I decided I wanted a Diet Coke. The gal told me it would be $1.07, I handed her $1.10 (one dollar bill and two nickels). She dropped the change outside the window and told me she dropped it I kept my mouth shut and gave her and additional quarter. When she handed me the drink, it was not full (about two inches from the top. When I asked her to fill it up, she told me she couldn't that it was done automatically. Really, she couldn't top it off.
I am 67 years old and have never made a complaint before,but this whole experience is uncalled for (not a good customer service experence at all.

hope deleon
from Azusa, CA
i went to get something to eat ordereds a 10 piece chicken nugget meal. got to my house and sat down to eat picked up a chicken nugget and bit into it and realized that i was biting downon a chicken bone. its not so much a big deal but i have a 6 year old who was sharing with me snd she would have ate it and choked on it and something where to happen.

Angela Shepherd
from Charlotte, NC
On 11/7/18 about 9pm I went to the McDonald's and ordered a McRib combo and this is what I got after setting at the first window for a while before pulling up to the second window to pay. Then they had an attitude because I pulled up. They folded the meat in half and placed in on a regular hamburger bun that was mashed and then half wrapped it.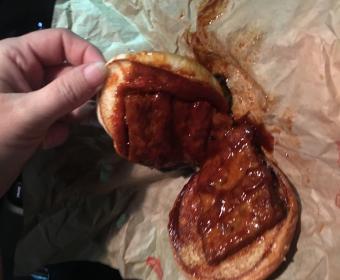 I would like to make a complaint about one of your franchises that is located in Izmir/Turkey. It is the Ege Park shopping mall franchise, where i always order my Mcdonalds via an app called "yemek sepeti" . Today i ordered my double cheese, coke and fries are king size. The app gives 70 mins for delivery. So they did deliver my menu in 70 mins; however, it was really cold and the coke was the smallest size and halfway poured. I only live ten minutes walking distance away from this franchise. I wonder how it took to bring it 70 mins. Even though it did, it was such a shame for i did not get what i wanted. I believe that this franchise is a shame to Mcdonalds image. If you check the comments in the app, you can see everybody complains about their late delivery and reckless preparation. If any responsible reads this complaint, please audit this franchise. I did not appreciate getting wrong products while paying the king size cost.

bob
from Newport News, VA
I went to Mcdonalds 11.07 on and ordered 2ea egg mc muffin meals and the the receipt indicated a mcgridlel and a large sweet tea. I ordered 2 large unsweet teas.and they subs bacon egg & cheese biscuit. THEY ARE VERY UNATTINTIVE AND DONT LISTEN . THERE ORDER ACCURACY IS USALLy 99.9% incorrect THE STORE NUMBER IS 1750. THE ORDER NUMBER IS1389

timmie Cantwell
from Carlisle, PA
Friendly complaint, Your coffee cups, the lids do not seal on the cup tight enough today 11/7/18. I stop to get a cup of coffee while taking a drink the lid popped off. This allowed the coffee to spill down my chest resulting in a very hot moment. I think your organization could design a better cup and lid, so this does not happen to any other of the McDonald's costumers.
v/r
Tim cantwell
Loyal concerned customer
4222 Carlisle road
Gardners Pa.
tcantwell1 2@gmail.com

Cindy Christen
from Canton, OH
I experienced for the first time at a McDonalds, the worst customer service and disrespectful young man, who proclaimed he is a manager, in my entire life. I have patronized the McDonalds on the corner of E Lincoln Highway and Trump Ave in Canton, Ohio ever since it opened. I stop for a sausage egg mcmuffin 5 days a week on my way to work. It is local in my neighborhood and I was glad to do business there. The ladies that typically wait on me are awesome and the nicest people you would like to meet. Right now the restaurant is under construction and only the drive thru is open. As of this morning 11/06/18, they have taken out the normal order stand. I pulled in between 7:45-8:00, after I voted, to get my breakfast sandwich. All I saw were more white barrier horses and a pile of dirt where the speaker was, so I pulled around thinking they were taking orders at the window. There happen to be a lady in front of me who wasn't paying attention to the cars front of, her more interested in her phone, so she delayed orders for about 6-7 minutes. I pulled up and the young man, black hair, black plastic framed glasses, black facial hair, tan sweater, white shirt under it, I wish I would have gotten his name. I went to give him my order...he said he couldn't take it and I would have to pull around and order at the speaker....I told him I did not see a speaker... he said it's out there go give my order there...I asked why he could take my order...he said he wasn't allowed and he was taking other orders...I told him to stop for a minute and take my order for an egg sausage mcmuffin...he told me no and to move, I told told him I was not going to pull back into a long line of cars he created by not simply taking my order....he said "not happening" I told him I came everyday and all the other ladies were so nice, why did he have such an attitude?.... he said "so other people come too" "no problem you can sit there, I have all day, I get off at 1:00" I asked to speak to the manager...he told me he was a manager and he was all I would get...I told him for a manger he does not know how to provide customer service and I wanted to speak to the older lady who manages most of the time during the morning....He said she wasn't there...I told him young man then we will have a stand off...after what seem like a couple more minutes...he finally said "what do you want" I told him, gave him my $3.00 cash, he wouldn't give me a receipt....I pulled up to the pick up window and told the regular girl who was there how he spoke to me and refused to take my order, she called the manager over, she was a younger girl, very sweet, she said she was a general manager, she apologized, told me breakfast was on her tomorrow, because she knew I come there every workday and she would speak to him...I was in tears by the time I explained to them what had transpired...I was weepy, on my 40 minute drive to work and didn't even eat it I was too upset, it really made a good morning into a not so pleasant one....I didn't expect a free breakfast, even though it was a kind gesture and I won't get it tomorrow either... I can tell you this, I will never return to that McDonalds, I will go out of my way to a competitor now and there are two more McDonalds on my way to work on the same roads...even though I like the girls who normally wait on me there...I have gotten wrong orders before or they have forgotten a part of my order, I never complained because mistakes do happen, but the people are nice and service is good, they always chat a few seconds while I wait for the line to move or my food to be ready...Somebody has missed the mark with that disrespectful young man, trying to make him a manager, he is better off working as maintenance where he does not have to interact with the people who keep your restaurant open.
So you know I pass this McDonalds on my way back home and looked for the speaker I missed that started this young man's ill behavior... I saw it sitting between the two barriers, same height as the barriers with a dirt pile behind it and hanging flat with the barriers was a piece of board with order here painted in orange on it, hanging perpendicular with the barrier...you have to swing out away from it as you approach and swing back in to get to the window...the way you come around the building if that sign isn't angled towards the front of the building you are not going to see it...I suspect I probably was not the only one who missed it....I know $15.00 a week is not much money to a corporate company, but it's a lot to me and if your ill-suited manager can't appreciate loyal business I will take it elsewhere.
Sincerely,
Cindy Christen

randy brown
from Elizabethtown, KY
my kids wanted French fries last night at about 830pm. I took them to the mcdonalds near the intersection of the joe prather and 31w in Radcliff ,ky.My daughter had won a free medium French fry from a visit on saterday morning. I tried the drive through and after waiting 5 min and not moving at all I pulled out of the drive through and went in. there was a small 3-4 line of folks ahead of me. I did my order on the computer in the lobby but still had to pay at the counter because of the free fry coupon from my daughter. the customers in front of me were mad their orders were taking so long. quite a few were complaining to the manager. I don't think she was taking the criticism very well. she in turn lashed out at the girl who was running the cash register. I could clearly hear the manager cuss the cashier . the cashier did cuss back after the manager inisiated the exchange. manager continued to berate the cashier , cashier said she had kids and needed her job . I also clearly heard the manager say I don't give a damn about your kids. I watched the manager who was trying to fill the gaps in her team to fill the orders. I watched the cashier take a few orders, handle complaints from folks walking up to the counter, take walk in complaints from un happy drive in customers with wrong orders. those two were working but not together. there were two other employees who might as well have been glued to one spot. didn't help anyone do anything. I think I saw the cashier quit and walk out. I was the last customer in the store and finally the manager asked me if I had been helped. I told her I was still waiting on my order. took her 30 seconds to get me two French fries. I entered the store at 830. I got my order at 857. normally I would have left too but this was like watching a slow train wreck. I kept the reicpt and have all the info from it. please review any security footage from that evening too.
order number 171
survey code
27659-01711-10518-20304-00020-0
mcdonalds restaurant #27659
3120s dixie blvd
radcliff, ky 40160
11/05/2018 830pm
order 71
looking forward to your reply

Shirley shubert
from West Palm Beach, FL
My husband and I recently moved to Florida and located a wonderful McDonalds on Lake Worth Fl. We have never any issues until today. There were separate table with about 20 teens. Not only were there disgusting tables but yelling and screaming. One teen even placed his food on our table and walked away. I politely asked him to remove it. Not one person or manager said a word or cleaned up any mess. I was appalled. The store # was 34868. Please help.
7578 Tahiti ln
103
Lake worth Fl 33467

Janet Brower
from Myrtle Beach, SC
Window employee not helful.when asked for condiments no ketchup.she said they had none.i said the whole restaurant' had none.no just her window.so do without.asked for unsweetened tea,got sweet. Fries cold.im extremely un happy

David M. McGrain
from Levittown, PA
To whom it may concern,
This morning I went to McDonalds to get breakfast for my family. I was greeted nicely from the person at the drive thru and where I paid for my food. After I paid for my food I moved up to the next window to receive my food which was taking a long time to get. When the girl finally came to the window and gave me my bags with the food I asked her for another hash brown and tried to hand her money for it. She shouted to someone there real loud " HE WANTS A HASH BROWN ". She then tells me that I will have to come in and get it or go back in the long line of the drive thru and get it. I couldn't go in the store to get one because I had twisted my ankle yesterday and it hurt a lot and when I had explained it to her she said " I don't know what to tell you " and then closed the window and walked away. I did not go back in the drive thru because the line was real long and the road to go back in is dangerous. Is this how McDonalds train their employees to treat customers? I never ever had a problem with that store but today I felt that it was real rude for that person to treat me like that and that the person in charge that she was talking to should of let me buy another hash brown. Burger King is closer to my house. Thank you , David McGrain

Gary Shipman
from Marquez, TX
Went in recently to the McDonalds at Madisonville Tx to eat breakfast. Ordered and tried to sit down and enjoy my food. The music was so loud and very inappropriate I had to leave. Said something to person behind the counter, she just gave me a "who cares" look and turned around and walked off. There were children present. This music should not have been heard by them.

Shondon Renee LeBlanc
from Charlotte, NC
Used mobile order. Paid for 2 extra chicken nuggets in Happy Meal for my autistic son and did not get them. The 4 I got were way overcooked as were his fries which were cold and chewy.

Rick Fischer
from Loudon, TN
I stopped to buy dinner takeout at your Loudon, TN, location two days ago. The takeout line was full of cars and pickups, stretching around the back of the building, so I went inside to the counter. I found several people waiting for their order. There was a crew of two boys and three girls. None of them was doing anything of note. Hardly any activity was noticeable behind the counter.
I placed my order and waited. The fry cook had a single patty on the grill, which he passed to the girl assembling two sandwiches. These and two fries were bagged and given to a customer with "sorry for the long wait". I saw nothing to justify any wait at all.
For the full time I was there, not a single patty was fried. It became immediately obvious that the bun toaster was controlling the output of product, and the buns were dropping very slowly. When one dropped, another was put in. The sandwich girl mostly stood around waiting for a bun to drop, then assembled another sandwich, and resumed waiting. The fry boy did nothing while I was there, not one thing to speed up product. He once walked over to drop a bun into the toaster, but not one thing else.
That toaster should have been dropping buns at a fast rate, given the number of customers waiting.
The boy who took my order wandered over the the french fry station, stirred them up a bit, then stood there absently scrapping the side of the warming bin for a minute, then wandered back. He did make two cones for a couple, but other than that, he did nothing to move product out the door.
The window girl had nothing to pass through the window. She make a coffee or two for the counter, but other than that, stood there waiting.
The fifth girl had the job of waiting with an open paper sack for sandwiches to arrive, which while I was there, perhaps eight or ten minutes, only happened twice. She then passed the bag to the window girl who put fries in, and passed the bag out the window. They processed two cars all the while I was there.
They all then resumed waiting for another bun to drop. And all us customers waited.
It was absolutely clear that this crew had no idea how to speed up production, no idea how to step in and help out.
But this is what was most upsetting. The bag girl was constantly regaling the crew with funny stories, which had herself in tears of laughter and was clearly distracting the other crew. She had her back to the counter the whole time, oblivious to us customers waiting there.
I finally had enough, and said loudly for the whole crew to hear that this was without doubt the most incompetent McDonald's crew I had ever seen. No one was doing anything productive. They had customers waiting at the counter and the whole takeout line was full, and they clearly did not give a tinker's damn. They had no idea how to work together to get product out the door.
Then the bag girl had the nerve to tell me that I had not been waiting long for my "one sandwich and fries", so I shouldn't complain. I responded that the manager should be made aware of this situation, upon which she declared "I am the manager", as if that was something of pride.
I told her that if she was the manager, she was to blame for the terrible example she was setting for her crew, for their lack of training and their inability to move customers quickly.
Lest you think I caught them at an inopportune moment, the lady behind me thanked me for speaking up. She said, quote, "I eat here most days, and they are always like this". Unquote.
You people might as well hang up a sign "If you have been waiting a long time, We. Don't. Care."

Dennis H Monnin
from Buffalo, NY
The food and service is great. But how do I enter my Trick Treat codes?

LISA MAY
from Madison Heights, MI
facebook video of store on john r road between 11 and 12 mile road in Madison height, shows completely filthy conditions of the store and there is a person walking around with a puppy, quit going to this store years ago and I live down the road...it's always dirty, they always get my order wrong and the management is rude and the caldeans that work there don't understand or speak very good english

Christi Shelton
from Germantown, TN
Your store at the corner of Millbranch Rd and Winchester Rd in Memphis, TN is not being managed well. It used to be my favorite store. Now the service is slow, the orders are inaccurate and there are two bullet holes in the drive-through order kiosk. The kiosk looks scary and is a real turnoff. The service has changed in the last 6 months. The staff is completely different and they are doing a horrible job. Your prior staff worked well together, but none of those people are there now. Please check on your manager there. It is very disappointing how this store is representing McDonald's so poorly.

Joseph O'Brien
from Bainbridge Island, WA
I and a friend went to McDonalds to eat. My frient wanted breakfast and I wanted a hamburger. I also had the latest coupon book from McDonalds
cbook-1007 WWOA V206 which showed a Free Big Mac next to a free biscuit breakfast sandwich. Problem solved, he would get his breakfast meal and I would get the Big Mac. When I ordered I was informed that hamburgers were not served until 10:30 which it almost was. I then had to order a breakfast item which I really didn't want to do. When The items were being served I ask the sales people why is the Big Mac being advertised on the The most important deal of the day page when it can't be served until 10:30? Very irritating!

Jeffrey Oliver
from Danville, VA
On 10/21 at 2:53 pm I ordered 3 filet o fish w/ tomatoes and extra tartar and 1 leg fries. I clearly asked the manager of store 1255 to drop my fish fresh which she acknowledged and placed on receipt cook to order. The fish was obviously recooked, very hard and bitter. This cost 16.50 and was terrible. I don't normally write complaints but this was a I don't care attitude toward me and my request. This needs to be addressed ASAP.

Joe a Vandenheuvel
from Walker, MN
I ate at a McDonalds south of Missula, Mt., Ended up with food poisoning. I have been sicker than a dog for two days, just getting better, and don't dare go very far from a bathroom. I wish there was a way to get compisated for last time and sickness, but I suppose I'll get a free bi mac or something. I called the so called coporate office and got to explane what happened to a phone answering service. No more big macs for me.

Steven Urquiza
from Huntingtown, MD
Visiting McDonald's in Dunkirk, Maryland on Oct. 17th I ordered two hot apple pies to go. After I got home one of the pies was Pumpkin and I hate
Pumpkin. Well I thought a small glitch in the system. Today on the way to work I ordered two apple pies again, well the same thing, one of the pies was pumpkin. The two boxes containing the pies were both marked APPLE. Someone boxing the pies is not paying attention,
Steve

Lester Cline
from Vinton, VA
I personally won't wait on my self we have a store in Harrisonburg VA I have asked for someone to take my order they point at the self order congratulations you are now in the Walmart category I won't go there a whopper is almost as good and they can still pay cashiers it's a shame you think all you need is management

When ever I go to city center mall Doha McDonald's the 24 hours restaurant I Just leave very mad due to the bad attitude from the staff, last time I memorized the name of Bett she is veryyyyy impolite, they also used to serve me not fresh meal, and when I just request to check my food she just through it in the garbage front of me and I just used to leave the order and go. That's really very bad for the name of McDonald's as an international and known brand. I'm so mad because of that as it was not the first time. Please a gentle request to the management team to double check with their instructions

judy freiermuth
from Buffalo, NY
We were planning on having breakfast at McDonald's. We walked in at 10:08 am We waited in line for fifteen minutes. Only one cashier/order taker. We finally place our order, well we tried. My husband said he wanted the Big Breakfast. The manager said, "we are serving lunch now". The ads on television and the sign in the restaurant says BREAKFAST SERVED ALL DAY. People were waiting for coffee refills, they took care of them first.
So what am I missing here? We left . Extremely unhappy. We had breakfast at Tim Horton's.
No problem at all. Very disappointed at your place .Customers behind us, walked out with us!! Not very good, no wonder businesses are closing.

Thomas Kratofil
from Murrysville, PA
On Oct 14,2018 My wife and I went to McDonald on Rt.22 in Delmont after Church that we been doing for years, both of us are in the high 70ths. When we got their the place was locked and they had a sign on the door saying (Due to lack of employees we cannot let you in) and that you have to go through the drive through. If you had to use the Rest Room you were out of luck. Cars were lined up off of Rt. 22 coming in to McDonald and they did not know what was going on. Either shut the place down or get a Owner that knows how to run a restaurant. My wife was Head Manager at Kings Family Restaurant for 29 years and she said this is BULL.. There is a McDonald down in Murrysville but that is like 20 miles round trip from were I live. If you have one thing like this happen and the word will get out and make McDonald look bad. I would appreciate it if you would look into this matter and the owner. They would have been better off if they would have shut down the entire store till they got enough employees to run it. There been employees of this McDonald store that should never have been employ their. I live off of Rt.66 and my name is Thomas Kratofil I live at 303 Evergreen Ct. Export Pa. Phone Number 724-468-3744. Thank you for your time.

Samuel Williams Jr
from Fayetteville, NC
I ordered two number 3 combo meals double quarter pounders. My burgers was half cooked I happen to be eating the burger in the dark watching tv and noticed the color coat of the burger as well as the upset feeling I was getting on my stomach. I have pics of the burger and called back for a refund. My question is how are y'all going to accommodate me for my upset stomach and throwing up after consuming this burger. If I have to I will seek legal action with my paralegal.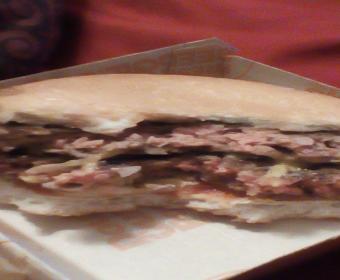 Dr dave
from New Hudson, MI
I was at your strore in warren Michigan 14 mile an Ryan service sucks no Americans working it took over 10 minutes to get my food manger must be 15 yrs. old would not help she maid use your rich screen I'm color blind so a customer help me I'm looking into a lawyer!!!!!!!!!!!!!!

Linda McCartney
from Dallas, TX
We are encouraged to tell about our visit (by wwwmcdvoice.com).. I do it after each visit and always use the validation code to receive free items. It takes my time, but I always use the coupons before they are declared invalid. The last three visits I have turned in the receipts with the validation code on them, still within the acceptable time frame. They did not honor them. Two of them were for BOGO egg mcmuffins and one was for coffee. What do you do for your customers, when they are lot treated fairly?
Have feedback for McDonalds?
Thanks for your feedback!
Sorry. Please try again later!