McDonalds
McDonalds Complaints Continued... (Page 3)
816+ reviews added so far. Upset? Call McDonalds corporate: 800-244-6227

McDonalds Complaint, 17 Aug 18
On 17 Aug 18, I walked into the McDonalds's N. 15635 on John Young Blvd in Orlando FL to order a meal. I ask the attendant if they offered military discounts and she did not know so she asked the manager (Shawanda?) and she offered a 10% discount. I asked for my free Friday med fry and she did not know how to do that and asked the manager. She ended up canceling my order and reentering it. She said to place my on phone bar code into the reader. I tried to bring it up and it would not allow me to bring up the free fry code. It kept telling me to relog in. I did about five times and then tried to reset my pass word. The app asked if I wanted to reset my password to log in. I tapped on it and it dropped me into a loop and would not allow me to log in. I asked the manager what I should do to get my free fries and she said to enter in the barcode for the scanner. I explained the app would not allow me to do that and asked her what to do. After her telling me and me reexplaining it several times, she out of frustration provided the free medium fries. When she printed off the receipt, I noticed I did not get the discount anymore and pointed it out. She said I did not get the 10% discount anymore because she gave me the free medium fries. She then provided my hot fudge Sunday and I had to ask for a spoon and nuts.
When I went up to ask for the spoon and nuts there were two others having the same problems and received the same response (it is the customers problem and/or corporate).
I was not impressed with her problem solving skills and lack of knowledge of customer relations.
I provide this to correct a number of issues identified so other customers do not have the same negative experience.
Thank you.
Curt Read
4630 S. Kirkman Road, #416
Orlando, FL 32811
253-227-6995
curtread@hotmail.com

Ray Ford
from Broadbeach, QLD
This morning I ordered a sausage n egg a bacon n egg muffin with a hot chocolate from the drive thru I was about 1 minute up the road when I started eating the bacon n egg which wasn't very hot to start with but still continued to eat it anyway when half way through it I felt a crunch of a piece of egg shell and immediately with discuss spat it out the window and then proceeded to turn around and go back to complain about my finding and when speaking to the manager that was there about it he asked if I had brought it back with me I said no I hadn't as I instantly spat it out the window where he explained back to me that without proof he cant do anything about it so I queried him about that if I did bring it back that he was actually going to physically sift through some chewed up food that I had already crushed in between my teeth as proof I think not and as I looked to me he was in a bit of a hurry to go home and in my view was very rude about the whole situation so before I lost my temper with this manager I left disgusted with the whole experience hence why I am now putting this complaint in which has put a real shitter on the start of my day other than that the service from the girls was always a pleasant experience as I frequent that store regularly , thank you R Ford

Isis Billings
from Miami, FL
I applied for employment on August 10, 2018, I understand for reasons unknown to me that I was not hired, The problem is that I called to find out if a decision had been made since I went to an interview, Lilibeth the Manager said that I was not hired because I was a felon! I said what! I just graduated high school and I'm going to college and to be told I was a felon, over the phone really distrubed me, I was shocked, and hurt! Did she say this because I am a young Black American, was it because the way I look, I just don't understand why! I can't understand why she would say that to me over the phone. I have NEVER been arrested or in any trouble, because of this I will NEVER eat at or go to the McDonalds located at 6150 South Dixie Highway store number 792, I would like for someone to contact me about your policy and why the Manager would treat me like this, I can be contacted at 7863469714 and email Tilisab35@yahoo.com

Jacqueline Pearce
from Garner, NC
I went into the McDonald's in holly springs and couldn't believe what I witness. I don't know what the circumstances were, but a manager called an employee the devil... Not in jest, but to be mean... The employer!looked like she wanted to cry it hurt her feelings... And it was bullying... I left... I hate that I left before getting names... I was just so angry

Rosalie Wilson
from Evansville, IN
I have the worst experience at Mcdonalds on Broadway Drive; in Hattiesburg MS every time I visit that location! There is a manager ; young African American female, that is so rude and disrespectful! I ordered and was asked to go to a space labeled #2; after sitting for 15 minutes; she comes out and ask for my receipt; and then begins to tell me that my order was given to another vehicle; I just told her to refund me. After following her into the establishment ; she proceeds to get loud; and be very unprofessional; and gives me an amount not equal to the amount tendered. I paid $20.11 and she attempted to give me a little over $18 back which was the amount before taxes were added! This location is HORRIBLE! There are too many "kids" working there that clearly knows nothing about customer service! It is so sad when people have to drive 20 mins out of their way to get McDs; because that location sucks

susan medrano
from Gainesville, FL
i asked if i could have my big mac off the grill and the manger was rude and told me why did i say anything and told me i was not getting hot fries i got my money back

Fred Beyers
from Southfield, MI
While I understand that the majority of the business at your outlets is through your drive-throughs, as long as you have inside dining it seems that as long as you continue inside service, it should actually be SERVICE.
I also realize that the training of two trainees contributed to this morning's lack of service. When I entered your establishment, there was one customer ahead of me who had apparently had difficulty getting her order read from her phone, the kiosk, or something--anyway there were three people attempting to straighten her order out to no avail. The shift manager then came to help and after a while got it kind of straightened out?? and then proceeded to take the orders of two employees at the second register while the trainee took my order at the original register and gave me a ticket. Meanwhile I believe two, if not three individuals were involved trying to get the order ahead of me done not sure what the problem as it wasn't a huge order--a little over $6 I believe--mass confusion--finally after a total of about seventeen minutes I simply asked for a refund and left--the manager was very apologetic but I felt that I had been more than adequately patient.
Perhaps you should simply discontinue inside service.

John dimatteo
from Pittsburg, KS
I made a complaint to Corperate already. I ate at the McDonalds in southpoint ohio at the Wal-Mart and I got sick the next day I thought at first I had the flu so I stayed in bed for two weeks then I started showing signs of hep a so I went to the hospital and they told me I did so I reported it to McDonalds Corperate I was there with my girlfriend it was on the 15 of July she returned her food cause she took a bite of her burger and it was still bleeding I had already ate mine and I don't eat out a lot so I know it came from there the store is dirty.. Your insurance company called me took all my info which is American family insurance the claim number is 00225242737. I have a lawyer looking into it... The lady I talked to is trying to close the case cause she says that I wouldn't have had hep a symptoms the next day she don't understand cause I got sick from the food the hep a symptoms showed up two weeks later when my pee turned reddish and my poo looked like clay so I am right and if this is how McDonalds and their Insurance agents treat people that's messed up I know where I got it and I'm not going to drop it this shit could mess up my liver for life and who knows when or if it will leave my system I read up on it and everyone is different..and I will drag McDonalds threw the mud if you all disregard my case I will YouTube it ill stand in front of any of your stores with a sign I really don't care I just know this is messed up and if this is the way McDonalds treats there costumers that meased up and the world will know I will make it my life goal you can bank on that no threats I promise..... 304-962-0518

Mary M Friedline
from New Port Richey, FL
Went to the Mc Donald's (#21597- 8937 Rancho Del Reno 34655 hard to read receipt could use ink in machine) and ordered 4 bacon egg n cheese biscuits. And then proceed to go home , which is about 4 minuets from there. When I got home and took the sandwich's out of the bag and unwrapped them, the biscuits were hard . Not just slightly hard, I mean HARD. I have gotten breakfast sandwiches numerous times before and never had a problem. I was just wondering if any biscuits left over at the end of the day was used the followering day. Thank you for taking the time to read my complaint.
Thank

Pamela Greer
from Mission, TX
waited in line for almost 8 mins after ordering. Was there a total of 14 mins drive thru. Ordered what I order every other day... Large coke light ice and sausage and cheese mcmuffin.... no egg as I have reactions with egg. I didn't even pay attention to receipt, as I deal with same lady in morning and was just chatty... plus in a time crunch to get to work on time. got to work, was in my morning meeting came out to eat- egg on sandwich... check my bank account almost $5 taken out... my total is always 2.37 so I know I was charged for a sandwich I always so no egg on. Not happy. Now I cant eat till dinner tonight.

Refilwe
from Johannesburg, GT
Carlton center- The service is poor ,orders take long and they don't provide straws ,serviettes and ketchup for take away orders. And don't know how to handle pick hours and towards months end.

mae fallowfield
from Sun Valley, NV
the mcdonalds in sun valley Nevada sucks and the workers don't listen to what the customers want every time I go through drive thru I tell them ice tea with lots of ice and I get the tea and no ice get workers in there that don't have their heads up their asses are you may lose a lot of customers I rate you at no stars

Gregg Carter
from Seaside, CA
Piss poor service. I went to mcdonalds in sand city California and waited more than 40 minutes for my order. One staff member kept calling for order #268. He kept calling it so I went to the counter and asked if the order was mine and was told by the shift manager Lana that "it was still in the oven and it will be a few minutes for your order. Lana said the customer for order 268 must be in the rest room. I went and looked and I was still the only customer in the building. I was called to the counter for a bag of apple pies. I asked where is my order and they said that it was the order #268 that they kept calling. I am furious beyond imagination at the total ineptness of the people that are representing your brand/store. Sum total of my time spent was more than an hour. I asked for a refund and left the cold food with them. There was more ineptness because she did not give me the 2.99 for the apple pies that I left there. I am not going to end this until these two people are reprimanded. The names are Mgr? Lana, and the person Harold who took my order and did not even check to see whether it was my order, when asked about the order he shrugged and that was it!!!!!!!!!!!!!
I will pursue this until my satisfaction is met. I am now on my way to Jack in the box to buy there. This episode is absolutely untenable and inexcusable.
At my consultant fee of $102.00 an hour I will have by the time I go to Jack in the box and back will have been 240.00 dollars. I would if possible like to speak to headquarters concerning this horrendous service.
Gregg Carter (831-747-1664)
p.s. while I was waiting for my order she had the gall to be at the counter eating a hamburger instead of attending to her customers orders.

michael vialpando
from Phoenix, AZ
I ordered a cheese burer with no catchup and still got burgers with catchup

Constance Mitchell
from Brooklyn, NY
I placed an order on mobile app. When I reached the McDonald's at 875 Garrison Ave, Bronx, NY 10474. I informed the cashier that I was there to pick up my order. She stated you have to check in. I showed her the app stating that they see me at the location. She said you have to check in. When I tried to check in the app showed that there was no internet connection. I explained that to her. She said, "oh well you have to purchase the order again." I said, why when the money was already deducted from my checking account. She proceeded to take orders from other people like I was not standing there. Eventually, she said to cancel the other order. I explained that I do not know how to do this can you guide me. She stated, "I don't know how to do it." I ask to speak to the manager. She said, "I am the manager." I ask for the number to corporate office. She said, "look on your phone." At that point, I was very disappointed with the services I received from someone that has the title of manager. I went outside and contacted a mobile team representative. The representative told me to re-install the app to my phone and the order should erase. I went back inside and waited to be serviced and the manager that was taking the orders had disappeared. There was no one standing there to take orders. I said to the worker that was handling the food, is anyone coming to take my order. She stopped what she was doing and came to help me. I feel that I paid double for my breakfast. I feel that I wasted time when I was due at work. I am very unhappy with this location. Every time there is always an issue. I had two previous events where I used my card to purchase food and someone obtained my information and spend $49.00 in food and then proceeded to make other purchases at order merchants. Also, I used my credit card there and was told it decline. I went back to the job to get my other credit card and to obtain cash, just in case. My card was declined again. The same manager decided to say, "oh the credit card machine does not work." This is my fault for going back and patronizing this establishment because the service there is horrible and the employees lack proper training in customer service. I do not have money to give away!!!!!

DIANE BERRY
from Shelbyville, TX
I ordered food at the drive thru window . when I went to the window to get my order the young lady started handing me the wrong drinks. I told her I didn't order the items given. she had to ask for my receipt. after looking at my order. I was told she gave my order to the car in front of me. told me to pull ahead and wait while they had to make my whole order. this took at least 20 minutes. I was not given a sorry or anything such, not even an offer for a free drink or sandwhich.
very disappointed , my family uses Mcdonald's several times a week. never had any complaints. an apology could have at least been given.
thank you

Jennifer Daniel
from Shelby, NC
The McDonald's I went to tonight I had ordered a buttermilk sandwich and when I got home to eat it, it tasted like it was not cooked fully and had to end up throwing the whole sandwich away. I refuse to return to that McDonald's location since this is not the first incident like this and I'm tired of wasting my money on something that I have to throw away and the company will not compensate without having to waste gas to return to the same location.
Restaurant #11438
Order #86

Frank Guzzo
from Prairie du Sac, WI
The service is GREAT ..The burger was raw in the middle and I did not see it untill I had eaten half. brought it back to the. counter. The manager in charge,looked at the meat and agreed. She replaced it. Second one was raw in the middle. She informed me the kind of the meat has been changed recently and when heated up to temperature, it kills all bacteria in the meat. Needless to say, I had an upset stomach all evening. I won't be ordering hamburgers again, and passing the word onto my family.

Charlotte Jadicus
from Ipswich, ENG
Just been to MacDonalds in Colchester Stanway . Was told that i cant go though drive on my mobility scooter as i cant get into store with scooter. The lady was laughing at me .
This is not the way to treat customers and will be getting some legal advice about this . Macdonalds are discriminate against people with disability's

Keyisha
from La Grange, GA
Went to macdonalds on commerce ave in Lagrange Ga I advised the woman over the drive threw speaker that the dinner side was not lit up just the breakfast side and she said theres nothing I can do about that so I took my business else where....

Tim Walker
from Johnson City, TN
McDonald's advertises free fry Friday with the app then when I visit the store here in elizabethton, Tennessee today at 4:30 pm I order 4 cheeseburger 2 large fries and the Friday free fry... I pull up to the window and the girl taking money informs me she has no idea what the free Friday is... so..... I just buy the 2 lg fries and 4 Cb.. pick up my food at the next window and drive 3minutes to my house from McDonald's we get home sit down to eat and the burger is as old as I am, the fries are cold... I'm not happy at all..

i recive the worst service my oder was wrong and i wanted them to fix and they said they dont have to very rude

wendell murray
from Lexington, KY
tried to go into the store and the front door is locked (7:46am)but they are taking orders in the drive thru.i went to the window and told the manager and she just looked at me like I was crazy and left the window...

daisy aldridge
from Springfield, OH
I have been to this mcdonalds a lot and always so slow as needing help I assume. tonight long time to wait on in drive thru and then got cold fries again as I knew that upon leaving but the line too long to go back. . had enough of this mcdonalds. one car pulle d out from waiting. . went ahead and ate now stomach upset. #34778 .1480 hillcrest ave. springfield, oh 45503 7/26/18 1007 pm. order 63.

Darleen Dankert
from Madison, WI
Was in drive through line, cars all over the place no one was taking people's order some left I went inside to order a hot fudge sundae and after waiting 10 minutes was told no hot fudge. Finally got my money back.
Help all over the place but not paying attention to their job.
THIS WAS ON NORTHPORT DRIVE MADISON WI?
That place should be shut down or a manager who knows how to manage go in there and clean up staff and place. No one is in uniform and they saunter in and out as they please. Will never go back.
Should be a 0 on your rating scale.

Connie Phillips
from Hixson, TN
I am very upset that the last three big mac I have ordered were very dried why have you cut back on sauce that what makes the Big MAC so good please if you have to cut back on something don't put so much lettuce big macers love the sauce now all you have is a plain burger thank you Connie

hasmukhlal gandhi
from Monroeville, AL
on 24th july 2018 around 12.30 pm central time i went to mcdonald on exit 11 on I 85. north of montgomery..AL. four stupid cashier were talking and enjoying gossip and myself going from one cash register to another..they dont care about f. customer.i waited for few min. watching this idiot talking loudly on business premises busy with one customer. WHY THEY care for customer..After close to five min. one cashier came and took my order.
Then my wife gave order and the cashier charge close to four dollar. No meat in sandwitch only bread , one cheese and tomato ..Vow four dollar u bastard are f. Worst than beggers..?????? Shame on the whole F. MCDONALD CHAIN.?????
HER order came without f. cheese.,.Lucky she open in front of cashier and the lady cashier told cook to prepared again. NEVER EVER ENTER IN F. MCDONALD in LIFE.. what a f.. MCDONALD IS ??????. FIRE ALL STUPID BLACK IDIOT ASS doing nothing and taking paycheck. Go and see the video....

Juan Failach
from Jensen Beach, FL
I was accused of "racial slur" and trespassed from McDonald's. I'm an old Hispanic male with Indian Indigenous blood. I have never ever been a racist. A week before the trespass notice. The African American lady named " Diedre Edwards" was going to give me a contaminated Chicken Sandwich. I physically saw her use a dirty glove to make my sandwich and I asked for my money back. I also filed a complaint with McDonald's. On 7/23/2018, I was notified by Ms. Edwards that she was calling police and that I can no longer come to this McDonald's and she said all of this with anger and furry. I was humiliated and now have a record for what? being a racist? I have never in my life have been or will be a racist. I don't care if Ms. Edwards is African American or blue or yellow I could care less. I care that that her hygiene and dirty nasty manners. She tried to kill me with a contaminated Chicken sandwich. This McDonald's is located at 3199 SW Port Saint Lucie Blvd, Port Saint Lucie FL, 34953.

Diana Dalman
from Berne, IN
Called Customer service line 1-800-244-6227 was on hold over 10 mins hung up. The Only McDonalds in my town,m store #6306 is getting unbearable. I eat every morning sometimes 2 times, but after today can't take it. For three days the sausage mcmuffin was so dry a child got choked on it. I realized that the muffin was out of package not toasted with semi cold sausage and given to us. I finally spoke to manager Jane, said her GM Manager Angel, told them to serve them that way cause the TOASTER was broke oh my goodness that is too much to even imagiine. I waited in drive up line for 20 mins and there was only 4 cars. Hashbrowns was cold. This is the worst service and food ever. Was told by a former employee and not out of spite, that the health dept would close them down how nasty the kitchen is. WHAT IS GOING ON????

Michelle
from Grayslake, IL
7/24/18 @10:30pm, in Round Lake IL (Rollins & Hainesville Rd). I was at this drive thru McDonald's location to get a large coke with no ice ($1.08). There was about 3 cars in front of me. As I got up to pay, the girl was about to hand me a frap & said $31. I said it was a large coke no ice. She said it wasn't on the list order. When she got my order ready, I saw her get it. It disgusted me. The automated drink poured in the cup, she then added I believe with her bare hands to put some ice in it. Then she realized no ice so she tried to get it out, then took a cap to get the ice out. Then she got a put some coke in & poured in my cup. She gave me the cup dirty with coke around the outside. She didn't even wipe off so I had to ask for a napkin. I should've told her to get me a new one but it was late & I was tired to. This is at least the 5th incident that something simple as an order they can get it wrong. Last year I ordered a 6 piece nugget happy meal for my daughter for lunch. Came home & they put a chocolate chip cookie in the nugget box instead of the nuggets. This is the last time I will ever go to this McDonlad's again! I'd rather drive a little further with better service than this unsanitary, untrained teenage employees who don't care about service. She & this over teenage boy seem to be flirting with each other as well while taking messing people's orders in the mean time. I need to at least tell you guys this to do something about training these teenage kids or a serious manager older to keep an eye out.

Susan Kinsey
from Shelton, CT
Gone to this Mcdonalds many times. Store #6150, Milford CT. Tonight was the worst experience I ever had. Went through Drive-thru. Placed my order at 10:19 for two items. Told to pull over and the food would be brought out. Sat at window 5 minutes. The food was not brought out to me until 10:35 plus. Not acceptable.
Ate food on my way home from work. Order was wrong! Got a sausage McMuffin and bacon, egg cheese biscuit (wrong). I ordered the McMuffin and a McGriddle. Only ordered 2 items and they got it wrong. Took over 16 minutes to get the food. They weren't that busy!

sherman gibbons
from Brainerd, MN
received only a third of my fries and they were cold cold cold. was charged double and had to argue to get money back.. should i go on.. my grand daughter got about half her fries n were just as cold. probably never going back. took me eight years to try ur junk since the last time u pissed me off. u cannot call yourself a restaurant, maybe a fake one.

noel rodriguez
from Chicago, IL
I went to the McDoanld's at 3245 W. North Ave. bought 25.00 worth of food guess what happen with the credit card I gave. Decline I gave another 3 other credit card all decline. go to Burger King down the same street MY GOD The first card I gave at McDonld that was decline WORKED !!!!!!!
Please everytime I go there there always problems...either they leave off sandwichs or something....I live close by but I think that Burger King does a better job !! I KNOW YOU DON"T CARE !!!!!! GUESS WHAT I DON"T EITHER FOR YOUR STORE ON 3245 W> NORTH AVE EITHER !!!!

Jeff Lewis
from Kansas City, MO
I have to be at work at certain time in the evening, I send my surveys every night about my complaints. It takes 10 minutes or better for service in the drive thru at store number 10938. Last night I had to go in to get my order after ordering outside speaker and there was one person working the front line. Poor guy can't blame him when I came out the same seven cars still in line, also I keep telling in my surveys it goes a lot faster when they use both windows. The line person taking the money has to walk over to the front counter register pay and then back to customer with change than get the order, also the counter line window receipts have been getting where you can't read the print I ask for that to be fixed for over two months. The 1st window receipt looks great every time. The management has told me several time it's been resolved works great that night then back to always.
It's just not working for my working with the local management there, and I use this McDonalds day and night because it's close, only have this problem at night between 9-10 P.M. Hope this correspondence helps me thanks for listening love those cheese burgers. Jeff Lewis lucndoit@aol.com

Barbara Richardson
from Maryville, TN
I went through the drive through and ordered 2 double quarter pounders sandwich only. A single quarter pounder xtra pickles xtra onion meal with
and ex large unsweet ice tea. Repeated my order 3 times, got to the window, asked for her to repeat the order she said 3 quarter pounder meals
I said no and repeated my order again.
got to the window to pick it up it was wrong they called the manager the manager asked to see my receipt I gave him my receipt told him what my order was suppose to be and said look just give me my money back and I'll go elsewhere, He said well this is what I can do for you ,,,,, we never got
to the end of the conversation as I said this is not what I ordered just keep you're hamburgers and give me my money back as I had things in the car
that were melting he got all indignant and and walked away all in a huff- so here's the deal this is the 3rd time in 3 weeks that I ordered and not once was the order correct, this happened at 35773,2315
Market Place Drive, Maryville, TN 37802 phone number 865 982 7880 - July 20th 2018 at 3:45 pm can I blame the staff? well sure but in reality It's poor management policy, poor training., a lack of customer service a lack of taking pride in what they are doing and the manager on duty at that store needs to be demoted if not fired, This order came to $16.75

thomas wanko
from Granville, NY
poorchanges are made service at the Granville ny store. seems like my orders are always getting fed up pay for and do not receive all I paid for. this store has teenagers who value their social lives more than doing their jobs.I.am fed up with getting short end of my orders getting messed up 12 times in 3 years. I will not go back to this store or any other stores until

Ralf Toahty
from Dallas, TX
I ordered an ice cream cone from your Perry store just now and after I left driving down the road the cone was flat . Flat as in taste flat. And had a soggy rubbery texture about it. I can't find the store number when searching so I made the complaint here . Maybe let them know their cones suk. At 1.30 for an ice cream you get to hear it . Thanks

Jeff Carpenter
from Alliance, OH
I ordered a quarter pounder and my wife ordered chicken nuggets. Her nuggets were raw and disgusting and my burger was soggy and had a 20 inch hair in the middle of it which I discovered the hard way through choking and pulling half the length out of my throat with food still attached. The other half was still anchored inside the burger. I showed the contamination and demanded my money back and they said it was against company policy. Against company policy to return my money that I paid for them contaminating and undercooking my dinner. Unbelievable.

I AM ZIONSDAUGH2ER
from Fort Lauderdale, FL
ON JUNE 29/2018 I WALKED INTO THE MCDONALDS RESTAURANT- NUMBER 32379 ON PALM AVE/MIRAMAR, FLORIDA @ APPROXIMATELY 10:17AM; PLACED MY ORDER AT 10:22 (DUE TO A SHORT LINE OF PEOPLE ALREADY WAITING) BUT DIDN'T RECEIVE MY ORDER UNTIL 10:33AM..WHICH IS ABSURDLY, RIDICULOUS!!!!!!!!!!!!!!!!!!!!!!!!!!! I NOTED TWO (HAITIAN) SUPERVISORS/MANAGERS THAT WORKED THIS PARTICULAR MORNING. BOTH SEEMED DISCONNECTED IN THEIR OVERALL DUTIES AND PERFORMED FLOOR TASK TO A BARE MINIMUM. WHAT THEY'RE HAUTINESS DID ASCERTAIN [TO ME PERSONALLY] WAS THAT THEY WERE IN CHARGE. INSTEAD OF ASSISTING IN THE PREP SERVICES WITH STAFF, THEY SLOWLY FLOATED BACK AND FORTH IN THE FRONT. WAVERING OVER THE SHOULDERS OF THEYRE SUBORDINATES; WITH LITTLE TO NO HELP AT ALL. I FOUND THIS TO BE TOTALLY DISGUSTING AND WAS OFFENDED FOR THE WORKERS THAT WOULDN'T OPEN THEY'RE MOUTHS!!! PUT SOMEBODY ELSE IN CHARGE. THEY ARE AN EMBARRASSMENT TO THE DILIGENT REPUTATION OF THIS COMPANY AND SHOULD BE REPRIMANDED FOR LACK OF LEADERSHIP DISPLAYED AND POOR MANAGEMENT SKILLS.

Deanna Reich
from Houston, TX
First of all, as I approached the counter I wasn't greeted. Instead a manager yelled for the cahier to get on her registar. Then as I ordered the manager again yelled at the cashier as I had paid for sundae but wanted it after I The manager said to cashier why didn't you tell us this before. As I went back to get ice cream sundae, they did not even give me a full cup of ice cream. Another young man chimed in when I asked her why isn't the cup full. He said they got in trouble for filling up the ice cream. I took a picture of the ice cream and will be sharing it on my social media page. The behavior of this crew is loud and disrespectful. They completely lack customer service skills.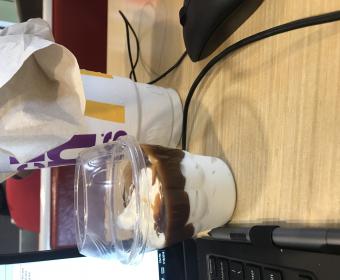 brian hannanm
from Halifax, NS
I was in Halifax for the day and decided to get a take out meal a one of your stores. I asked for no cheese because I am lactose intolerant. by the time I noticed that there was cheese I was some distance away from the store and could not return to get I new meal. I felt that I was robbed of my meal because I couldn't eat it with cheese on it. thought you should know that your employees should watch the screens more closely

LIONEL CROOKS
from Lakeland, FL
4 items on the dollar menu= 4 dollars
same items as a meal $4.39
why are they charging more for the meal when the items are on the dollar menu
specifically the burrito breakfast meal

Gayle Jackson
from Greenwood, IN
This is my last complaint it's pretty sad you are right next door to me and I have to take my business else where. I don't just complain, I am letting you know where you lack in customer service and believe me you restaurant at 31 and declaration drive is in need of people who care if I get an egg muffin that is so hard you couldn't eat it or that I came there with my grandson and waited 45 minutes in a parking space for food that was lost or never cooked and asked for a call back from the manager and never received it, or we got a frappe and the cup was cracked we took it in and it took twenty minutes to get another one when they could have just poured it into another cup maybe it's all due to poor training, it's not my job to figure out why it's so bad there it starts with the manager and when it gets so bad I guess the owner should look into it . I have known Paul and his family mom and dad, brother for years back when they were my customers at jerry's restaurants they are good people and good business people! So I believe they or Paul will take interest in what I have to say. Thank you Gayle jackson

Vickie Bennett
from Detroit, MI
Went through the drive thru first off no greeting just opened the window took my card went to 2nd window same thing no greeting no thank you come again NOTHING. Went back to hotel which is right behind McDonald's fries were cold and my quarter pounder was salty needless to say no happy with all the choices around I chose to go there but not again... They need help with customer service and in the grill area.

I'm a disabled veteran. Proud of my vet status too. I wear a vet cap everywhere I go. So ppl KNOW i'm a vet. Went to their drive thru. Unbeknownst to them, while I was sitting in the Drive thru (two lanes I'm in left one and only person ahead of me in that lane, five or six cars are in other one. My fr's were inside the store.) So I get in left lane, the car ahead of me pulls off, and I pull up to the box, and the employee asks me to wait for a few seconds. Ok fine I can wait a few seconds. So while I"m sitting there, the cars in the right lane, ALL get their orders taken and I"m still waiting wth? So finally I get fed up with waiting see my fr's are out anyhow and so I pull up to them. That's when the "prblm" began. They informed me, this employee had seen me pullin in, seen my vet cap, and had asked me to wait on purpose, and was inside laughing, about me waiting while others are getting their orders taken. Since this is how McDonald's treats veterans here is what I have decided to do. A: I am affording McDonalds time to respond to this complaint. Before I pursue the matter further.

Darell Leurquin
from Green Bay, WI
We went to McDonalds on East Mason St. in Green Bay Wisconsin. We got ice cream. The difference in price between different McDonalds is appalling. We seen a big billboard along side the highway advertising a $.59 cone. We were charged $1.19. What's up with that? Should'nt they all be the same? I would love to know why. That was quite a shock. Also the sundaes didn't come to the top of the bowl. Not happy.

Richard roussellr
from Biddeford, ME
My wife and I went to your macdonalds in Biddeford me. I ordered a quarter pounder and my wife ordered a sausage biscuit sandwich. After waiting about 10 minutes and watching your emplyeees just fooling around, they came back and told us that they were out of biscuits. Well we ask for our money back, with the promise of never going back. You need to hire managers that do their jobs, instead of just fooling around. We will never go back to your restaurant again. You need better management. Thank you for lousy service.

debbie best
from Chino, CA
I am extremely upset over the poor business practices of McDonalds on mission and Ramona in Montclair calif. I got buy 1 get 1 free quarter pounders they didn't honor.. I got them there.. then I used mobile app for coffee get 6th free scanner wouldn,t except it free...I tried to use the $1.00 sandwhich they honored 1 time now the guy says scanner doesn't except your qrt pounder sandwhich..........seriously they are scammers.. I am disabled and I look forward to eating out once in awhile and on a very low income they make it hard for me to treat my grandson who I am raising...this is crap..........ty

amanda derise
from Wheeling, IL
i went there to order a drink first my order was wrong to fixed it then get to next window and she was giving me a medium drink with no ice I ordered a large coke with extra ice she fixed it but had to redo it cause she put no ice in it she was very rude. I only get to work and realize its flat.

Sherri Edwards
from Lexington, KY
I went to McDonalds on 7/14/2018 I order the new Quarter pounder single. When I got home and bit in to my burger it was RAW inside and I tried to contact them by phone and no answer. Also I have been calling Corp office No answer.

johnny contreras
from Alamo, CA
I had ordered my food and was waiting go my order and 15minutes had gone by then 30minutes had gone by so I asked about my order and they said it got canceld so they asked what I had and I told them and I got home after about an hour of heating and did have all my order that was the worst visit I ever had at a McDonald's it was # 26873 I will not be going back to that McDonald's again.

Clarissa baker and James sawyer
from Port Angeles, WA
Me and my girl went to McDonald's in sequim and are food was not cooked all the way I got a new one and my girl eat hers and she gave it back and got her money back we are sick now.

Justin brooks
from Indianapolis, IN
My wife and daughter and myself went to McDonalds in Glenwood, AR at approx 7:10 p.m. on Thursday, July 12th . We went through the drive thru and ordered exactly this
2 mcdoubles
2 mcdoubles mayo onion only
3 small fries
1 large coke
2 apple pies
We sat in the drive thru for quite some time (approx 10 minutes) and received our order incorrectly. We got 4 mcdoubles mayo onion only and all the rest of the order was correct. When we then had to come back to the store to get burgerss corrected, the inside was completely empty. Not one customer inside and we had to wait extremely long for our food. And then given the wrong items to then be treated like crap. The burgers yanked out of.my hands and chunked in the trash right in frobt of me. Very rude. And to think, McDonalds is one of the only fast food restaurants in our small community to choose from. But they make it really easy to avoid them at all cost. Customer service is horrible and food is consistently incorrectly made.

Mary Ann Federico
from Winter Garden, FL
Cocoa fl,went in for a fish sandwich no cheese xtra target sauce,they were charging me additionall 45 cents for a condement,that's like charging xtra for kethup. Needless to say I did not stay cancelled my order and left, I will not pay extra for a condiment I just won't go there I mean the sandwich itself is 339 and its barely the size on the regular $0.89 hamburger.

Love McDonalds but ate and used the restroom at McDonalds in Le Mars Iowa. The bathroom was disgusting!!! The general appearance of this location floor and tables was not as clean as I would be comfortable eating at. This happened July 12 around 2 pm. Thanks and not the first time I was not impressed with that locations cleanliness

Debra DuBois
from Millbrook, NY
Hi, Iam writing this this morning my daughter was having a problem with her bank card .She goes there 4 times a week for my granddaughter they gave her food and then took it back , my granddaughter then was so upset, the thing that bothers me is i know that everyone has to pay, just don't know how they could take it back it was for only my granddaughter they went to the bank which is two minutes from there and then returned and got the food , she is only 4 years old and didn't understand there are good people in this world and she would of came back and paid, again all the hurt that was done all over a breakfast just upset me and was wondering if there is such a policy for customers that they see often Thank You and have a great day.

Larry Parker
from Fayetteville, NC
I am upset with the small amount of gravy that my local McDonald's at 3000 N. Main Street in Hope Mills NC 28348 -#5749. I have been informed by employees at this McDonald's that they will start giving you a reasonable amount of gravy on your Sausage Gravy Biscuit. Last week they did just that but this visit 07/11/2018 I ordered the Sausage Gravy Biscuit and there wasn't even enough to cover one Biscuit. When you complain and ask for more gravy they will charge you $1.00 more. I don't have a problem paying you $2.79 for the sausage gravy biscuit ,so you should at least allow me a reasonable amount of gravy on my order. Sincerely, Larry Parker , 914 Linda Ave. Fayetteville NC 28306.

Bonnie Van Pelt
from Mesa, AZ
While across town on my way home I stopped at 1785 e University in Tempe Az. store #22111 @ 5:18 p.m. used drive through, lobby was closed. orderd a bundle. As i got home to enjoy my meal with my family we notice that the big macs only had one hamberger patty. I called the # on the reciept, 480 446 8619 three x's with no answer. Again across town, no answer by phone, lobby is closed. Very disappointed. Ate anyways we were hungery. F.Y.I. KS# 13 07/11/2018 05:18 PM side 1 order 19 surveycode 22111-13190-71118-17182-00140-4

yes, today July 10 th at 9:03 am pulled into the McDonalds on 9mile in Eastpointe MI. to get a sausage mcmuffin before work. i pull up to the drive thru window. There is a hand written sign out of order pull to the 1 st window. Had to wait 13 minute while the car before me was searching there car for change. I pull up to the 1st window, there is another handwritten sign that states "exact change, debit or credit card only." I ask the attendant i only want a sausage mcmuffin can you brake a 5 dollar bill. She stated nicely Did you not read the sign. I state yes and thank you then left. I proceeded to Tim Horton's I guess my question is, this McDonads was open at 6 am how many customers did it lose to Tim Horton's, that is only 7 blocks away,because the had no money to make change.Did no one know how to open the safe. Did know one try to go to the corner store to break a 20.00. i am sorry but there is no excuse. Thank you for your time

peggy booth
from Sevierville, TN
McDonalds Rest. 1977 Cumberland Falls Hwy., Corbin KY.........................
My husband and I stopped in Friday July 6th around 1:00 AM right after midnight on Thursday. Ordered four cheeseburgers and a large order of french fries. Paid young unkempt man at window.
Drove to next window and noticed more young unkempt people behind counter. Didn't notice any McDonald uniforms on these people. A young female had a sleeveless dress with criss crossed wide straps in the back exposing her bra. We commented to each other about the young people and the unprofessionalism. We recieved our food and left.
Luckily, I decided to get my burger out and eat it in the car. I opend it to remove the pickel and found there was NO MEAT. . My husband told me to check the rest of the burgers. Unbelievably there was NO MEAT on the others and the fries were barely warm. Needless to say, we drove back. Explained to the young woman that there was no meat on all four burgers. Her comment to us was that the cook was very stupid and that he was the dumbest cook she had ever known. (not making this up people) We let her know the fries were barely warm. She said they were going to get right on it and get us taken care of. She asked us to drive forward and wait. We waited and waited until my husband became impatient. He backed the car up to the window and asked the young man what was the hold up on our order. He said it was coming up in a minute.
We waited and waited again while looking at the young people behind the counter talking and standing around.
Finally the order came. We checked and found hot fries and meat on the burgers but no napkins or the extra ketsup my husband had previously ordered.
This is by far the worst McDonald's we have ever visited. Can't imagine what the restaurant looked like inside. The owner needs to know this and the manager should have approached us with an apology. Whew!

Oscar Albarez
from Van Nuys, CA
Mc Donalds located in California city ca on 9628 California city blvd. Have been using $1 dollar Sandwich. Coupon located in Mc Donalds app, and have been purchasing a Quarter pound with cheese that is supposed to be 100% real beef but actuall have been using leftover beef to serve the $1 dollar sandwich for the quarter pound with cheese.

MICHELLE SUTTON
from Cleveland, OH
Please advise the best time of day to visit this restaurant for good food or good customer service? I haven't found any time of the day that the restaurant personnel are courteous or helpful! I went through the drive thru at 9:00 PM tonight (07-06-18) and could not see their menu board due to NO LIGHTS on any of the menu boards. I asked that the lights be turned on and they could not do that! The lights may be on a timer but they should be on by 9pm and if not, the timer needs changed.
I wasn't sure what " type" of shake item I wanted. Order taker said SHAKE MACHINE WAS DOWN!! This is the third time I have gone in at different evening times and the shake machine has been down. The shake machine could be put on wash during the times of 3:00 am or 5:00 am and it would not create a problem. I told the order taker well I can't see the menu board and you don't have any type of milkshakes so GOODBYE! Ridiculous!! This would be a "good place to start a restaurant!" I speak from plenty of restaurant management experience as I was the manager of several restaurants and have 10 years management experience. I was paid well, respected my customers and my restaurants made money. Thanks for listening, Michelle Sutton mybadcat@yahoo.com

Joe Woodle
from Mullins, SC
I visited the McDonalds at 2014 Irby St. Florence, SC today and the service was pathetic. On top of getting my order wrong, it took at least 10 to 15 minutes to get my order, there was only one other person waiting inside the store. It was hard to understand why it was taking so long because there were at least 10 associates standing behind the counter (not including the cooks and sandwich artists in the back). The manager and assistant manager were among the 10 associates. If this store makes any profit it is a wonder. The owner of this franchise would well served to take a good hard look the operations at this store.

Thomad Anderson
from Tacoma, WA
I've been going to the same restaurant in tacoma wash.980404 on 72nd pacific ave.I order sausage egg mc muffins 2 for about year and a half my complaint is more then not most visits the muffins are so hard you cannot bite into them I've brought this to the attention of so many different mangers .some replace the food some say bring in the receipt I'm always in a hurry not looking for free food I just can not understand how a muffin could get that hard it's been a constant problem I've worked in many restaurants it's pretty hard to over cook a English muffin unless it's burned and I've received both burnt and stale hard as a rock wouldn't give it to the homeless person.that should say a lot you have a problem I will visit one more time and if I waste almost $7.00 on 2 more inedible mc muffins I'm done with your business sincerely Tom at pensharpen@hotmail.com

James hilliard
from Wheeling, IL
The bacon mc double are ok but the bacon is like eating rubber most of it is fat. On your app there are No prices for any of the Coffees and doesn't McDonald's care at all how each and every store are being Operated !!!!!!!!. Plus the McDonald's that I go into there is little or no real management.

Oscar Alvarez
from Pacoima, CA
Received a phone call at approximately 10:49am from a person named Ashley concerning some feedback I provided to the customer service number at 18002446227, ashley said to mention the name Ashley in mc donalds when ordering and also mention that Ashley said an ice latte would be on the house. So i did today on 6/30/18 in the morning and received a plastic cup with uknown substance Inside not a latte at all. Appreciate the gesture but it was an uknown substance and that I do not appreciate.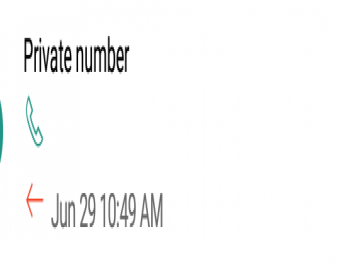 Bonny
from Johannesburg, GT
I was in the shop to buy food for my family and i have received a very poor service. I have asked for manager and they Refused to call him or her for me. We were left unattended without any notice for more than 5 minutes. I have sent The lady called Goitse, Mpho and to call manager the just ignored me. I am so disappointed really about the poor service. On top of that o have waited for my order for 45 minutes no communication. I have also spoken to the guy called Ditiro and he told me that Manager said he or she is busy. Is this how you handle your customers. A guy called Eliot attend me only after i have sent my complaint. I will never go and buy there and i will not recommended anyone to buy there. Disappointed with poor poor poor service. If you think i am not telling the truth sent unknown person there and this is not for the first time.
Regards
Bonny Molale
076 861 5162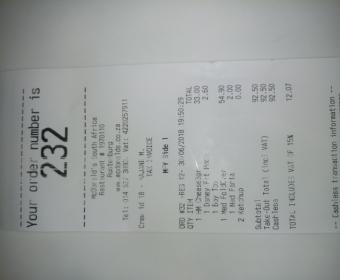 linda garrett
from Cleveland, OH
food all over the place, floors greasy and slippery, fry girl told the order taker to stop taking orders. out of 8 beverages all were water except for three NEED I GO ON? I WILL NEVER GO BACK THERE ONLY IN THE WHITE NEIBORHOOD DO YOU GUYS CARE ABOUT BECAUSE I HAVE CALL ABOUT THIS BEFORE SO GOODBYE TO MCDONALDS

Bobby Adkins
from Marietta, GA
worst svc. ever = I had to wait over 15 minutes to receive my order + a 5 minute wait just to place the order
all in all = it took over 20 minutes to receive my simple order of 2 mcmuffins = all of the workers are evil obama clinton
deep state democrat racist scalawags who hate white americans = like myself = I will HATE mcdonalds for all eternity
you evil basdtards are ALL evil "obama-clinton" democrta communist nigger nazi thieves = damn you bastards to hell!

Louise Healy
from Tucson, AZ
Yesterday I went to the Mcdonalds at Park Place Mall in Tucson, Arizona; there were about 4 people ahead of me; while I was waiting I saw that one of the customers before me had 9 individual orders; each with its own money; the line was getting longer and the gentleman working the counter did not get more help to move this line along. After standing there for 20 minutes; I gave up and left even though I really wanted a Mcdonald's Fish Sandwich. When I looked around a little while later; the person with the 9 orders was waiting for the orders and the line has not gone down. In my opinion this was not what I would call fast food. if you have to stand and wait to order for a long time; that is bad. I will probably not ever go to that
Mcdonalds again and that's a shame because I happen to like their food. Could someone please contact me reference this matter; it was very disappointing and I don't know if I would recommend that place to anyone.
Thank You
Louise

Mary Pandey
from Elyria, OH
North Ridgeville, Ohio Lorain road location. Double Quarter Pounder was RAW... Took it back in and did not get a new one. Left disappointed.

Carol Spencer
from Jerseyville, IL
I am a regular at McDonald's. Coffee at least 3 times daily. I take my grandkids there and often grab a sandwich for lunch. Jerseyville, IL McDonald's has to be one of the worst..Often times, no complaints. However, the last month service has gone very poor.. I always get cream in my coffee.. Many times, 3 to be exact, no cream when I get my coffee to work. My granddaughters happy meals are not complete.. No fries, wrong items, etc. The turnover of employees seems to be very high... Today, I experienced the same thing. One poor girl working who appears to be training two new employees at one of the busies times for drive through.. I no longer see any familiar managers.. I think I need to look somewhere else for my coffee fixes...

boo bob
from Fort Collins, CO
Specifically referring the the south college mcdonalds in fort Collins, Colorado. they are going through yet another remodel and choose to stay open even though it horribly inconvenient and a disservice to their customers. the customers get nothing from this remodel, could care less what the building looks like. on top of this they have raised their prices again. they are thieves who think they can charge whatever and treat the customers poorly. I will go elsewhere, the food is very low quality, hamburgers so thin you can see through them and grainy. awful

Nancy moreira
from South Weymouth, MA
I purchased just a lg. hot coffee at rest.#2599 at 10;08 am.When I got back to the car and went to put the cup in the car cup holder,it popped open and sprayed hot coffee all over my car seat and my hand.I doused it with bottled water I had.it turns out that the paper cup was damaged on the lip and that is why the lid didn't fit correctly.My hand was painful and red the whole morning at work.

Barbie
from Milwaukee, WI
I just had a new quarter pounder and it was the worst thing I have ever had. The burger was dripping in grease and I had to use napkin just to eat it and catch all the grease. Could not even eat it. It was dripping grease all over me and my car. If you used quality beef there should have been that much grease. Come on this is not healthy. Never will have one again. Thanks for listening!

Roger and Pam Dalrymple
from Chantilly, VA
I would have given store 3663 in Westminster Md. 0 stars if that was possible -- the poor service, long wait, and poor quality of the food when we finally received it on 12 June was brought to the attention of the store manager, with many promises by him to make good by sending us a McDonalds gift card, to be used in any store -- to date, nothing has arrived -- the last message we received said the card(s) had been mailed on the 20th, nothing has arrived as of the 27th, and most of our inquiries go unanswered. Clearly not high on his priority list. We are asking for the name and contact info for the district manager, and/or of the owner, and are asking for any simple resolution to our request -- it's time for McDonalds to fix this. Thank you.

sherry
from Pleasanton, CA
Out here in Rwanda CA. Wanna the manager won't serve the home less for the past for years this is been going on so much tussle there's a bout a forget of us or more where going to the medeia

Milton Wilcox
from Foster, RI
I asked the weight of a mcdouble hamburger patty and it was a problem telling me. It was a simple question

C. Barth
from Chicago, IL
McDonalds Restaurant #12157
Mequon, WI on 6/22/2018 @ 9:55am
Upon entry the crew demeanor was horrible! No one smiled, no one seemed in a hurry to place my order. There was one person waiting for their food already. One female worker with an attitude , who I am assuming was trying to go on break, was standing about 4 foot from the cash register we asked if she was waiting she told us to go ahead. We stepped to the register to place order and a guy (who I assume was still training) had the register open attempting to break a coin sleeve he closed the register and very softly spoke while still holding the half opened coin sleeve. I told him I could not hear him so a tad louder he said "go ahead".I told him I wanted 2 sausage egg muffin meals with breakfast sauce and one with a coffee and the other with an orange juice. He looked at me very confused and said "two sausage muffin meals?" I said yes he said "oh I put in 3." At this point a few other customers walked in and the lady that was trying to go on break walked back around the counter, with an even worse attitude, to assist the guy with putting my order in. I had to repeat my order another 3 times and just to be told they didn't have orange juice. Meanwhile, a few other people walked in to order and one lady asked if they could open another register and the female worker just looked at her with an attitude and shook her head. I said oh ok then a milk. She told me my total and then walked off. I used my debit card to pay and then the guy handed me my the receipt and said have a nice day. At this point I was waiting for my food to come ready. Two different people from the drive though came in to get their order corrected. Another worker walked in to start her shift who also had an attitude, started to ring people up. Not once did she say hello to anyone or smile. Several people told them they were out of ice and lids. Not one worker said sorry or went to stock the empty stuff they just took a lid out of a sleeve from under the counter and handed it to the customer. Now, there are about 8 people waiting for their orders. Three people received their order before me due to the drive through girl clearing my order before I received it. The worker that was trying to go break ordered her food and went and sat down. The worker who had just clocked in a few minutes ago kept playing with her phone and even had her phone sitting on the counter next to her register. When she wasn't playing with her phone she either had her arms folded with a horrible look on her face or was too busy with her hands down the back of her pants trying to pull them up or whatever it was she was doing. Either way, that is absolutely unacceptable!!!! I do not want you handling my food or drinks or touching anything after you just had BOTH of your hands down your pants!!! It took 18 minutes for me to receive my food and then I still hadn't been given my milk or coffee. The front end manager handed me the drinks and I had to ask to get creamer. She had 3 very long fake nails and the others were missing making me wonder if they had fallen off in someone's order! Out of all the customers, I was the only one who was apologized to for the wait. As a former McDonalds employee, I know the standers that are expected of the employees. NONE of which were met at this location. Not one employee seemed to want to be there nor do their job. I know times can get busy and hectic but that still do not excuse the lack of worker ability nor customer service. The only crew member that was attempting to hustle was the back of house manager making the sandwiches. The women's bathroom had urine on the floor and needed some serious attention. The food and coffee was barely warm. As many of McDonalds I have visited in my life, this location is BY FAR the worse!!!!! This entire crew, minus the trainee, needs a serious attitude adjustment and need to be re-education on what customer service means and the expectations of the job they were hired for!!!!

Paula Smith
from Florence, KY
Your McDonald's store on dream street in Florence kentucky is the worst. I went there on June 15, 2018 at 9:30 pm . I was in the drive through for 30 minutes and when I did order the manager said there was only one other person working there besides her. She told me that she was going to close. That store lost so much money that night. The drive through was all the out to the street and a lot of them were leaving because of it. Someone needs new management. Sad very sad....

Anthony Arnold
from Fort Wayne, IN
I have lost all confident in the two McDonalds that we have close to us as they just don't care about the customers and the stores are ALWAYS dirty and can never find a seat and that they only care about drive thru. Its too bad you don't have someone who can impersonate a customer and see it thru their eyes as this will tell the whole story.
I have work in food service most of my life, and it's an embarrassment to see how these stores operate, and if there were competition in the area they would not be in business, as people deserve to be treated as guest not just another number on the screen.
One of the other stores that we visit we waited 30 min just for a plain chicken sandwich while fifteen other tables had been taken care of, when I talked to the manager on duty I was informed that they were short staffed and that they apologized but if I had any time to eat somewhere else I would have but instead my 30-min lunch break was over and had to eat on the run and ended up buying a Snickers bar just because I would not have time.
I hope this response and survey doesn't land on deaf ears as I feel it might, because the bigger a business becomes the less important a customer will become and more important is sales.
Please PROVE ME WRONG!!!!!!!!!!!!!!!!!!!!!!!!!!!!!!!!!!!!!
I submitted this complaint to McDonalds and they NEVER Followed up on this as I guess they would. God I hate being right.

Gerald Robinett
from Auburn, WA
I went thru the drive thru ordered a double quarter pounder meal with a coke went fine got my food pulled over in the Walmart parking lot to starting eating my meal Now I eat all my food before drinking anything so when I got to my coke and took a big drink and wow to my surprise my was not only coke but it had whiskey or rum in it and strong too at first I thought I was crazy so I took it home to have my wife taste it and she was surprised as I was it definately had alcohol in it I called the Spanaway MC and reported it to a manager she told me she was going to tell the other manager and would review the camera footage she took my name and number but I have yet to hear anything from them I have the coke in my fridge I'm not sure my next step is going to be this is a really serious thing and should find out how who and why someone put alcohol in my coke just lucky this time it was not a child who received this coke

Lori Petlock
from Hollidaysburg, PA
The person who took my order at the drive through window at station mall, Altoona, pa 16602 on 06/12/18 was very rude by making me feel rushed to order, extremely poor hygiene, and handed me my change and turned and walked away without saying thank you or have a good night. She seemed so disgusted that I was there to order food. I will never return to that location ever again.

Ray Tutor
from Glen Allen, VA
Waited in the drive thru of so minutes place order still waiting to pay get to window to pay waited some more get to next window to get food gave me my drink ask me to pull up they would bring food out. Waited 12 minutes they bring me my food. The food was cold not warm why did I have to wait 12minutes to get cold food . Extremely dissatisfied very poor service.I
Restaurant #17539
893 Garrisonville Rd
Stafford Va. 22554
Ray Tutor

greta bircheat
from Bowman, SC
2 drive through windows creates confusion for your staff in keeping orders straight, 4 out of 10 orders are not correct;correct (sounds like a small % ); however. when you live 12 miles away, it becomes a wrinkle in your day. My 9 year old grandson, a pain when his food is not right, likes plain burgers with cheese ( never eats bread) frequently has to have his fast food washed off and re-fixed at home. I have learned to pull over and check each burger before I leave. June 9th his burgers were wrong again so I drove around again, The order girl asked if I was the burgers and mocha, I said no 2 plain double cheeseburger; she said drive to the next window, At the 2nd window I was asked if I was the burger and mocha-repeated my order-she asked if I had my paper - she closed the window then returned with a bag, When she handed me the bag, I was trying to return the other food, she closed the window and walked away. I pulled down and checked my order and found 2 plain burgers in the bag instead of 2 plain double cheeseburgers. At his point I was to mad to go back and talk. Your staff at the windows should practice customer service and learn to smile and greet customers..People should feel they are welcome at McDonald's even if orders have to corrected.My grandson thinks we should eat more chicken and tacos until they learn how to get the orders right

FRANCIS J NICOLO
from Rural Valley, PA
I'M A US NAVY VET AND ON MY WAY HOME STOPPED AT MCDONALDS IN ST MARYS ON JUNE 8TH FRIDAY AND PLACED A ORDER
BETWEEN 1:30 AND 2PM, I WAITED 40 MIN. FOR A FISH SANDWICH AND FINALLY WENT IN TO COMPLAIN AND THEY PROMPLY
GAVE ME MY FISH SANDWICH AFTER I COMPLAINED, NO EXCUSE FOR THAT, POOR MANAGEMENT I WOULD SAY, SURE PEOPLE MAKE MISTAKES, BUT UNACCEPTABLE IN THAT PLACE OF BUSINESS, I BELIEVE THEY FORGOT AND I WILL NEVER GO IN THERE AGAIN, I'M SORRY BUT THATS THE WAY IT IS, BEST WISHES, FRANK.

Theresa Ann Burkholder
from Lancaster, PA
I was at the north reading rd Ephrata Pa McDonlds this morning and I sat in the drive thru line for all but 20 min. They only had 1 person working both windows and when I got my order (after I had driven away) I noticed my order was even wrong! This is ridiculous that they only have 1 person working at 7:30 in the morning!!!! I will probably not go back there!!
Theresa Burkholder

Michelle McKinnie
from Crete, IL
Good Evening, I am writing this letter to file a recent compliant. I went to the McDonald's in my neighborhood today 6/2/2018. Unfortunately, my experience in the drive thru was horrible. I sat in the line from 5:44pm to 5:54 pm just for a Southwest Salad. I am not certain what is going on with this McDonald's, however this is not expectable for a Fast Food restaurant. Possibly this site needs additional help? I know this is not how McDonald's wants to be recognized. However, this has happened on numerous occasion1s.
Richton Park-McDonald's ILLINOIS 60471

Brenda Batey
from Anniston, AL
I contacted the store directly and the manager had a awful attitude after 3 attempts to get what we wanted I called to discuss the issue an the manager who stated her name was Susan was sarcastic and very rude and would not resolve our issues nor did she want even talk about it she rather argue than try to explain to me that they were wrong so we paid for three items that we did not want nor do we order and she did not even attempt to fix it, sad that a manager is so childish an would rather talk over an I've worked in the restaurant industry for 25 years an never have I experience a manager that was an awful as she was,so we spent money on 3 items we didn't want nor ask for because we did not know the proper name of the coffee the drink that we ordered she refused to even look and she kept saying we don't have frozen coffee instead of explaining to me that their coffee was called certain things she wanted to argue about it, pathetic service when management can't control themselves 1 even 2 mistakes but 3 an to then have her conduct in a manner to which she did ,maybe McDonald's has just taken anyone who doesn't remember there job title and how to act,I've dealt with employees who had more common knowledge than her,I've been a customer for a long time an I'm ashamed of McDonald's an who they allow to resolve issues,very dissatisfied an shocked at this type of behavior she might not care but I work hard for my money an this is has a feeling of takin my hard money from me an didn't care shame on u

tonya trail
from Oxford, MS
They blocked off all the doors and said the lobby is closed and it dont close till 5am here. Then after they said they was closed they let people in but not me i feel like they was being racist toward me me cause im half white. And they told another lady they was closed too. A black couple they let in. There something needs to be done bout this. This is at your marion sc 29571 location.

Shaun
from Johannesburg, GT
Every time we come to Mc donalds by the entrance by carnival mall, which we visit twice a week they tell us that we need to go and park something doesnt work, but everything outside work and the card machine, is this purr laziness or what??? Also what happen is that u can place an order by the drive thru and pay then they will tell u to pay and go park when there is no one infront to wait for an order!!! We are a family of 5 and spend alot of money there and like i said twice a week, but this is getting out of hand and if this wount change we will rather drive to another mc donalds.
From a very very unhappy customer!!!!

Carol Phillips
from Portsmouth, OH
quarter pounder with cheese was not cooked completely. This has happened twice--yesterday, May 8, 2018 was the second time.
as expensive as these are, I do not appreciate having to throw 1/2 of it away.
this happened both times at the Mc Donalds in Thurman, Ohio.

Joyce Sankus
from Linville, VA
I placed and order when I got to the window to pickup I was told that the French fries were cooking would I move up. More than happy to wait for fresh cooked hot fries. To my surprise when I was given the bag the fries were not fresh cooked infact they were cold, (very cold) This is the second time I have not been happy with this McDonalds.

merle Overton
from Greenville, NC
this is the second time this has happen at the Mcdonalds on Greenville Blvd, Greenville, NC. Service was very slow and employees not friendly at all.
I ordered a large Moca Fappe, it was in al large cup but only about half full and whip was then added to make it look like it was full and the whip was not even at the top of the large cup. When I questioned if that was large I was told very rudely that it was. this is the second time I have gotten less than a full cup. thought maybe the first time was by accident so I did not say anything. I did not say anything then since it was packed with customers. I eat at Mcdonalds several times a week and was very sadden by the service at this location.

Don Myers
from Phoenix, AZ
I ordered the Big Box, extra plain burger and large f2f at 5:30 p.m. after approx. 20 minutes I went to manager asked if my order would be ready soon. He said "I thought that one had been served". I said "no I`m still waiting". Finally got my order at 5:53 p.m. From the temp. of the food as well as taste I believe they found my order sitting waiting to be served and they gave me my order that had been sitting for at least 20 minutes. There was no apology to go with my cold soggy ff and burgers no "sorry for the wait to go with my hard stale hamburger bun.
It was Restaurant #4518.
Don Myers
reggired69@cox.net

Atif malik
from Islamabad, IS
dear mcdonald my name is Atif malik Deputy captain of the army from askri 14 rawalpindi 03415772011 Today I went to your branch at jinnah park rawalpindi I am going there for eight years But today, for the first time I feel so bad there There was one of your female employee Naila This name was written on their shirt i was so hurt today by listening to such a dirty language With McDonald's Staff That my heart is broken today after going there That's why I can not go there with my family So please keep your quality as the first Otherwise we have some other options.

Stephanie hanway
from South Sioux City, NE
You gave us coupons so we could try McDonald's in Sidney me again no grilled chicken again this time machine broke what is wrong with this place

Ernest Anthony
from Franklin, NC
Bad meal didn't eat it about $8.50 want my money back April 14 at about 12 sylva NC 28713
today I ate at other place not a MCD
Ernest

Yenkanna Sami
from Wollongong, NSW
I bought a burger from Mt Druitt Macdonald which doesn't have the whole burger the bottom part of the burger was missing. I have attached find image of the burger below.
Generally the service at Mt Druitt Macdonald is pathetic and the behavior of the staffs are unprofessional and too many teenagers working and they lack customer service experience.
I hope my compliant will be taken seriously.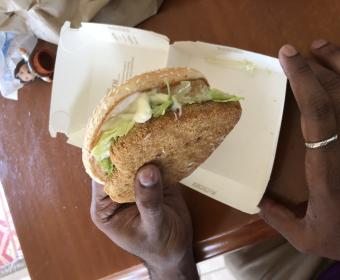 SH Madison
from Bedminster, NJ
We eat at Mc Donald's quite a bit on the road. We like to drink tea. Lately though the tea is either empty , sweet in unsweetened or old tasting. Tea is not being monitored like it should be. Don't have this problem at Chic fil a

Ricardo Marttini
from Guelph, ON
Kitchener ON , McDonalds at Ottawa St. and Alpine Rd..…..
I'm surprise how the employees handle the food with out gloves, the manager mentioned that every body wash there hands. Use of gloves should be mandatory ….I notes a guy maybe having cold wiping his nose with his back hand.....Definitely its not right and unhygienic...

Dan Cranmer
from La Veta, CO
Used your curbside app at McDonalds in Pueblo West. Co. We Ordered and waited before we knew it we had waited 45 minutes. So I went inside and told someone about the issue. Was told they would get or order ready right now. I said no we are not waiting and I wanted a refund. He said my card would not be charged because the order was not complete. So I look on my account and sure enough I was charged for the order.
Mobile Order Receipt
Dear Dan,
Thank you for using McDonald's Mobile Ordering app. Here is your detailed receipt.
Order Date: 2019-01-26T12:07:15
Order Number: 1959
Restaurant Name: PUEBLO, CO-PUEBLO WEST
Address: 1012 N MARKET PLZ
City: PUEBLO WEST
State: CO
ZIP: 81007
Country: US
Phone: 719 547 9458
Qty
Item Detail
Item Cost
2
Hash Brown
$3.38
1
Large Coffee
$1.00
2 Cream
2 Splenda
2 SME for $4.00
2 Sausage McMuffin with Egg
$4.00
Discount:
$2.00
Sub-Total:
$8.38
Tax:
$0.33
Total:
$8.71
Total Savings:
$2.00
Payment Details
Card Issuer
Visa
Authorization:
01152D - 1/26/2019 12:07:05 PM
Account/Card number:
************2024
Approved Amount:
$8.71
Merchant ID:
MO08502936002
Sequence Number:
440813
Balance:
$0.00
We hope you enjoyed your experience, and look forward to serving you again, soon!
Regards,
McDonald's

b. johnson
from Birmingham, AL
i went in today to get a gift card for my granddaughter, They did not have any?????

Judith Drew
from Docklands, VIC
Hi there,I ordered 2 double Big Macs & received the normal Big Mac & missing the nuggets,drove back to work only to find what I ordered was wrong,I drove back & got what I ordered..it's not the first time with missing something..I will not be go to Frankstom macdonalds again... So un professional ..cheers

camisha charlton
from Lynchburg, VA
I got poor service had to wait in drive thru for more than 30 min ridiculous. When I got my food it was cold, cold fries big mac had the middle section missing, it looked like it was slopped together. I'm paying for good service and quality. I received neither I will never go back money wasted. 434-665-4325

Jim McVicker 634 E. Ash Pl. Griffith, In. 46319 E mail jimsr634@sbcglobal.net
from Highland, IN
I visited my local McDonald this morning and placed my order at the drive thru. The restaurant number is 32848 on Ridge Road in Highland, In. I ordered 2 Sausage & egg Mcmuffins. I paid and advanced to the pick up window where I waited a few minutes for my order. I was driving home to the next town and took out one of my sandwiches. It was a sausage only sandwich. I pulled over to check the other sandwich and the receipt and the other sandwich was the same. my receipt showed 2 Sausage & egg Mcmuffins. I drove back and went in to the restaurant and asked to talk to the manager. I showed him my receipt and gave him the bag with the sandwices They cooked up some new ones and handed me the bag. Never apologized for the mistake or my inconvience. I asked for my receipt back since it was not in the new bag and he went back to get one. My new receipt has duplicate written on it. He was not a friendly or hospitable manager. I would think that he should have offered me a free something or other for my time, gas and inconvience. This was at 11:25 am, today 1/22/19. I am a retired senior. Thank You. Jim McVicker

Hamza Hammdani
from Dubai, DU
Just i have by some food from the( Dubai ferstival city) there is one philpine girl she have very very miss behaive she is really very bad girl i am regular cstmr of ur but i dont want to come again really i am very cry

william Ramsdell
from Machias, ME
the machias maine is serving their burgers cold.everyone is biching about ,i got a big mac sunday and it was cold again,no special sauce on it.i had to throw it away again,the next time i get it cold i wont come back,i luv mcdonalds food if its hot but not COLD!pleas get this corrected so i can continue to do business in machias maine 04654

Shirley
from Albuquerque, NM
I live in Silver City ,NM the Mcdonalds here is really getting bad. I caught one of your managers Max on 1/19/19 and a co worker (I couldn't read the name tag) doing drugs in the men"s restroom. I:m not talking smoking marijuana either. This manager was yelling at the other young ladies that were working there. He was telling them that if they didn't like the way he was doing things for them to get the hell out> Excuse me but with customers in the area that language is so unacceptable. It is not acceptable in my world for any manager, shift lead or whatever he is to talk to anyone in that way, Besides the Service itself is getting bad, no one can get an order right and then when you say anything the employees get yelled at by whomever is in charge but the manager never comes out to say anything.
I don't think the owners are even trying to correct things or even want to acknowledge what is going on in this store. My family and I used to go in every sunday for breakfast, and I would stop on my lunch break because it was quick and good. Now we go somewhere else and for me going to get lunch somewhere else is faster. Just thought you would like to know what is going on in that store when no manager is present. Or even when a manager is present. A concerned customer.

Lesley Fagan
from Liverpool, ENG
On Saturday 19th January I went to your Upton branch on the Wirral on 2 occasions first was between 6-7 pm ,I spent over £19 paid cash ,,I bought 4happhy meals 1 6 chicken nugget meal and a cheese burger meal ,I waited and was told to park up as it wasn't ready ,I waited for about 10mins then they brought the meals out ,I received the meals then left only to relize I would have to go back for the drinks k did so and received them ,then I went back with my other grandchildren at 9ish again through the drive through and was left at least 5 mins waiting to place my order while the other order point had 3 cars through,when I mentioned this to the assistant she said they had a mobile order,I use your Upton branch quite often as I have 9 grandchildren,but I was very disappointed with the service I received today,.

William D. Hand
from Colorado Springs, CO
I have traveled the world and frequented your restaurants everywhere. I would estimate the number of restaurants that I have visited to be around 400, maybe more. I do not feel any other fast food chain can compare to the product you provide to your customers. However, there have been a few that have disappointed me throughout the years.
There is one restaurant in your chain that I recommend you send someone to evaluate. That MacDonald's restaurant is the one located in Falcon, El Paso County, Colorado. I moved my family to this vicinity 2 1/2 years ago. We often stop at the restaurant when we travel to visit our daughter in Elbert, Colorado. The restaurant is about half way from where we reside to her house. I feel comfortable in saying we have frequented the restaurant at least 25 times since we moved to our home in Colorado Springs. Once in awhile the service is spot on. Most of the time not very good and more often than not, we never get the correct food order. Today was the WORST DAY EVER, any I would never recommend anyone to eat at this facility. I went through the drive through and sat in line for over forty-five minutes. My order was incorrect and the french fries were cold to the touch, They appeared to have been placed in the frier for maybe one minute because there was absolutely zero heat to them. I am confident that there was little, if any, supervision at the store because a manager would never allow such food to be served and definitely never allow anyone to wait in line for such a long time. I again emphasize someone needs to go to the Falcon MacDonald's Restsursnt to evaluate the operation of the store. The bad service I have constantly received there certainly must effect other patrons and I am sure they would share my opinion. By the way, I would say that my family and I have spent many thousands of dollars at your MacDonald's stores, so I am pretty sure I know what I am talking about. I think this is the last time I will stop at Falcon, they have disappointed me too many times and that is sad for me to say.

Bonnie Heming
from Batavia, OH
The McDonald's store in Harrison, Ohio . Has the worst ice tea I have ever had . It tastes like it has. been setting for ever never tastes fresh.
I quite going to this McDonald's. Thank you
Bonnie Heming

reva brontiu
from Elmvale, ON
I would like to know why in Elmvale Ontario the food and coffee are way more pricey than other McDonald's? a med coffee here is 2.02 vs other McDonald's at 1.75 there meals are also priced at 1.00 to 2.00 more per meal. when asking them why such a difference you get familiar answerers as this is not part of the McDonald's franchise??? how's is that!!!!! you are a McDonald's and you sell McDonald's food?? stupid answer. it is greedy managers as far as I am concerned.

George Egler
from Bedminster, NJ
My wife and I stopped by McDonalds restaurant #29955 in Fort Myers Florida to get some lunch. We got in line at the register around 1:30 in the afternoon today (1/5/19) behind another couple. We waited for well over 10 minutes with no one coming to take our order. Finally someone we presumed to be a manager yelled across the floor from behind the counter saying we had to use the KIOSK if we wanted food and then turned away. An employee standing near her echoed her comment and also turned away. The restaurant was not crowded and neither the manager or employee were doing anything and could well have taken our order.
This was nothing less than a display of ignorance and arrogance on their parts. We left and went to Burger King where they still are customer service oriented. We are not going to use a KIOSK and we sure aren't going to be bullied into using one by arrogant employees. I honestly don't believe the McDonald's corporation wants customers to be treated in this manner. I also believe that the McDonald's Corporation would want to know if people like the ones we encountered today are in their employ. Their attitude was pathetic and about as unprofessional as it could be..
Our phone number is 302-399-1625 if you would care to speak with us.

Audrey Gates
from Birmingham, AL
Good Morning,
To whom this may concern. 1st I would like to say I moved to the neighborhood 2 years ago with my now teenage son. We moved so he would be able to attend a better school and have a better success in life. Last night we went to McDonalds at 1907 CenterPoint Parkway Birmingham, AL (205)854-4362 for dinner. I purchased a Big Mac Meal, the 2 Cheeseburger Meal and a Fish Filet Meal for myself. We had another child with us. When we got home and I open my fish filet the bread was hard as a brick you could not bite through it. Now I am not a complainer I like things to run smooth. But this was the second time this has happened to me on the fish sandwich the bread was hard. So I decided to call not to get anything back in return just to let them know that what ever you are doing to the bread on the fish sandwich was not good because this was my second time and the bread was very hard. I asked for the manager when I call. I was very polite as I explained to her that this was the second time this has happened to me.She told me she was sorry in a very ugly voice and told me to bring it back. I told her that I live to far to bring it back. She rudely said what do you want me to do about it. I told her it would cost me more money in gas to come back. She hung the phone up in my face. I Called back no one answered, I called back again someone picked up the phone and then hung it up again. I called back again the phone rang for a long time someone finally answered I asked for the managers name she said Ashley and she will be here in the morning. I am sure that was not the correct name. I am not asking for a refund nor am I asking for anything free. I hope this email does not fall on deaf ears. I am just letting someone no what is going on at the McDonald's in CenterPoint. I will not go back. Who ever the manager was at 7:00pm January 4th at this location should not be in management. She handled this very poorly.
Thank you,
Audrey Gates

Barb Germain
from Sioux Falls, SD
I have been a customer of Mcdonalds for years. In Aberdeen SD they said the hazelnut iced coffee was no longer available The manager said that some flavors were discontinued. Hazelnut flavor is a very popular request by many people. I do not understand why they would make a good seller like hazelnut become not available to the customer.
Barb Germain home phone 605-225-9881

Donald coykendall
from San Jose, CA
Breckenridge tx everytime fillet o fish are on sale 2 for 5 dollars there fish fryer is broke went to eastland they sell them ok this is second or third time that this has happened this is my favorite sandwich that is sold at mcdonalds sure would be nice to get them at sale price in my own town

steve lawson
from Kingsport, TN
your store in Rogersville tn. has the laziest emplyees they are always out of salads because they are to lazy to fix them just went again to night to order a bacon ranch salad and again we are out of salads twice in one week so I ask if salads was discontinued she said no but when I drove to second window to pick up sundae it had more caramel on out side of cup than it did inside I got it all over my hands and car but I really like Mcdonalds but Im done with the one in rogersville

albert lock
from Bromley, ENG
when to one of your drive though at Downham at 5 45 on the 02 01 2019 it took 20 min to get to were you collect your order still not ready ask to wait in car park very angry

sandra newsom
from Jonesboro, AR
my husband and I went inside to get something to eat and drink and the music was so loud we couldn't hear each other talk so we walked out and went to the window

carl raska
from Kennewick, WA
Its really frustrating when I order a fish sandwich plain they always put cheese on it even when I say no cheese it don't take a rocket scientist to see when it says plain that means nothing on it I live a few miles out of town so you don't just go back to the store to fix it I have complained to the manager before usually when I stop there I'm in a hurry so I grab and go finding the screw up after I'm home I have family and friends that have told me they stopped going to mcdonalds because of the crapy service I should have taken their advise sooner I learned my lesson and will not be going back

Linda Jones
from New Iberia, LA
I went through Mcdonald on today and when I arrived at my house my food wasn't right and tried to call back they didn't answer..that's the second time I tried to them and no answer..I went back they was rude...They didn't address it at all...they did give me my food...I didn't understand my food was paid for was left out of my order...LJ

Theresa Pams
from Charlotte, NC
The restaurant was very unclean. There was trash all over the floors and counters. A broom and dustpan was lying out . One of the workers came to work and asked if a tornado had come through! The workers were using profanity and very unprofessional. An eating establishment should never look like this. I ordered my food but decided to get a refund after the workers began arguing about how understaffed and busy they had been all day. Please correct this situation immediately.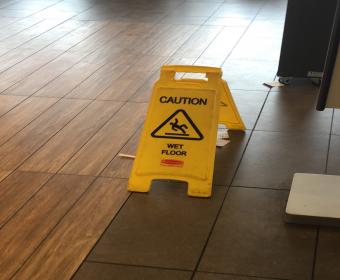 i went to mcdonalds at 5am today ordered 1-burrito meal 1-mcgriddle meal 1- big breakfast 1 extra hash brown and 2 extra burritos When i got home they was only one burrito in the bag. I not didn't get the 2 extra burritos but i never even got a full meal. and i never received my receipt for it. This is not the first time something like this has happened to me.
Thanks for listening.

Robert Silva
from San Antonio, TX
Every time I stop at this McDonalds there is a African American worker is working he is very rude and today when I go I ask for oatmeal and he gives it to me without water. I call and talk to mgr and he is also very rude.

amanda Driesen
from Washington D.C., DC
The wenatchee McDonalds is slow there dude and I've gotten food so old the nuggets crunched when you bit into them tonight took over half hour to get thur drive thur and made me late to work and I didn't have time to eat after that the people are rude there they dont do anything to make right there wrongs there .

20 min. from lot to pay. Window 2 says "no eggs", wait at Window 3. I waited at Window 3 for 12 more min. then informed window 2 I entered lot 35 min prior, still waiting. 3 min later I was given a sack. The person showed zero gratitude, zero apology, zero concern. Asked if she thought an apology might be warranted, she didn't understand English well. Zero concern. Begrudgingly wished her well and left. My order was 1337. They gave me order 1228 (how long ago was that?). I got the wrong order, AGAIN. Called Phelan Mgmt for survey. Recording says leave feedback at beep - there was never a beep, only repetitive loop. EVERY menu option led to false statements -not one chance to leave message or speak to person, no chance to enter survey code, during normal biz hours. Next called store and they refused to answer phone - it hangs up. Called for Phelan Mgmt again 12/27, phone menu had changed but yet again, the menus lie. No tones sound enabling messages. NO opportunity to speak to a person. Unable to provide feedback to Phelan. Are they sincere or going thru motions to satisfy corporate? Documented, w/ evidence 8 negative aspects in single visit. Asian Phelan's playing games w CUSTOMERS

Teresa Dodds
from Lafayette, TN
Went to McDonald's in Portland, Tn.last week and found hair in my hamburger. Today being Christmas, not a lot of choices. Went to McDonald's in Gallatin, Tn.. My bill was 5.56, I gave him a hundred dollar bill and 56 cents.He had to ask for help with the register and still shorted me 10.00. The man behind me also getting his order paid for, this boy could not count and as I sat there, he had to have help with every single order, and my two cheese
burgers were cold. I understand decent help us hard to come by, but at least train what you
have.

Anne Stroker
from Irving (Las Colinas), TX
I visited McDonalds in Hasselt, Belgium. It was a nightmare.
We had to wait 45min before receiving our meal.
The kitchen was covered with food rests, empty frie boxes, etc...
The whole restaurant floor was dirty and shining from grease.
As a result, not only was our food cold, but due to this soiled floor, I slipped, fell on my leftside on the floor and hit my head very badly against a doorframe. Many people witnessed this and helped me getting up. The McDonalds personnel did not even bother.
At that moment I did not experience and discomfort, apart from a big bump on my head. However, yesterday and today 2 days later, I'm in more and more pain. Especially my head; neck; shoulder; left arm and hip. I'm filing this complaint, but will also contact HQ in Chicago and Belgium, as well as the food inspection.
I've never experienced this before with McDonalds. This restaurant is not worth to remain open. It's the Christmas holidays, when unfortunately no doctor can be consulted here and as such I will have to wait till at least December 26th before getting treatment and in the meantime suffer from pain.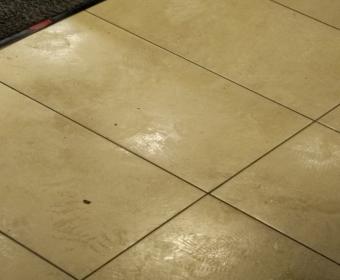 Justin Thornhill
from Fort Worth, TX
If I could give the McDonald's in Sherman Texas a no star review I would because this place is trash and the people that work there overnight are useless and need to find a job that they want to be at because the last 3 times I have been there I've got some bs excuse on why I couldn't get anything to eat because they are too lazy to do their job and cook the food. I've been told they can't take a card, and even though I have been there plenty of times and got food they have told me twice that they only have breakfast even though I've been there and got cheeseburger and fries after they told me that and then I just got told that again I will never go back to this place ever again and I encourage other people to stay away also if I had the time on my lunch break to go to the next town I would

cheryl pinckney
from Buffalo, NY
I went to McDonalds on 1630 Jamaica Avenue on 12/22/18. I ordered one $2.00 sausage McGriddle and a small coffee I put my credit card in the slot before realizing the amount was $4.36. When I questioned why it was so much, I was told you ordered the special and because you ordered one sandwich the coffee was $2.00. I told her I ordered the $2.00 McGriddle which is clearly on the $1,$2,$3 menu and the small coffee (which is $1.39 I go to McDonadls often) I told her again I ordered the $2.00 McGriddle, and a small coffee why was I being charged $2.00 for a small coffee. Another cashier told me they had no control on the way it rang up, that -that is the way the system works pointing to the cash register WHAT!!!!! I told him that made no sense, he told me they had no control of how things are rung up and I can always go to Dunkin Donuts and get their coffee WHAT!!!!. I asked to speak to the manager and explained to him what happened, he looked at my receipt said I ordered the egg cheese and bacon McGriddle, and because I ordered one sandwich I was charged $2.00 for the coffee. I told him I did not order that sandwich I ordered the $2.00 McGriddle again which is clearly on the menu, and a small coffee. He refunded me, but for the wrong amount $5.76 ( which I still do not see on in my bank account) and charged me for a small coffee??????Really your staff made a big mistake, made me feel like I did not know what I was ordering, took three of you all to figure out what was going on and still charged me for the coffee, but did not order me another sausage McGriddle. I told him that was very bad customer service and obviously the cashiers did not know what they were doing. I was so annoyed I took my coffee and left. I went back to the same McDonalds on 12/23/18,(different cashiers and manager) ordered the same thing I ordered yesterday and the total was $3.27 at least someone knows what they are doing. I may have let this slide but when the cashier told me I can always go to Dunkin Donuts and get their coffee, and had they been a little bit apologetic, I would have let it go.

Mary Biddle
from Washington D.C., DC
On Monday December17, 2018 and Tuesday December 18, 2018 we saw Mcdonalds commercials on tv that stated If you purchase a big mac you could purchase the second big mac for a penny on Wednesday December 19th only. The same commercial stated that if you purchased a 10 piece Mcnuggets you could also get a second 10 piece Mcnugget for a penny. On Wednesday December 19, 2018 after shopping we went to our local McDonalds in Arcadia, Florida. We ordered the big mac and the 10 piece nugget. My husband wanted the second big mac but we had to pay full price. We left with two big macs $7.58 and only one 10 piece nugget. I still have my receipt. When we arrived home and while we was eating our food we saw the exact same commercial offer with the big mac and the 10 piece nugget. Very frustrating and aggravating. Seriously!!!
Mary Biddle

kim veale
from Roanoke, VA
Visited the McDonalds on Airline Blvd in Portsmouth VA today for lunch and was not satisfied with services. First, staff(young) were all playing around and goofing off, laughing, talking about personal relationships and stuff in front of customers. Observed some team members looking at their phones and not interacting with customers. Secondly, I chose to dine in, however all the tables were dirty and no one came to the dining area to clean tables or sweep floors. This location is poorly managed, I have been there several times for lunch. A mature staff and manager needs to be present instead of children. The cleanliness is horrific.
Sincerely,
Unhappy customer

Sarah hughes
from London, ENG
Ok me and my family have been to the tonypandy branch twice this month for a ice cream.the first time we quid for ten mins in the drive thru only to be told when we got to the window there was no ice cream...today we went back for a malteesers ice cream for the four of us only to be told there wasn't any...I'm disgusted and will be telling friends about this.

vanisha chetty
from Randburg, GT
I visited McDonald's Old Fort Road, Durban, South Africa on 16 December 2018. Till Slip 4309. We used the drive through. We were told to park our vehicle in the parking lot and someone will bring the order to us. We drove to the parking lot and had to park in the disabled parking as there was no other parking.. We waited 15 minutes before our meal was brought to us. At that stage the milkshake was melted and the cool drink was warm. Note that I enjoy having my French fries with my milkshake. I informed the lady that brought the order to the car. She did not say anything. I am a regular Customer at McDonald's. I would like a reimbursement of my meals. Thank you.

Gerry Hambrick
from Jackson, MS
We stoped at McDonalds in Winchester Tn. on Sat 12-15-2018. My wife's bis egg and bacon was so hard that she could not eat it at all. My McMuffin was also very hard. I was able to eat it, but it was not the best. We were going on a trip and could not turn back. We love McDonalds and will continue to eat their, just thought you should know. Order number 59 at 07:12 AM

Gregory Suzanne sr.
from Saranac Lake, NY
Hello, I talked to you're CEO this summer early. the manager Mike served my wife again after all the former problems she had with him asking for KETCHUP. she just went through drive thru for a salad. the girl gave my wife her change and threw it all over the ground. she was served her salad by manager Mike at window. the SALAD was tipped all over the bag!!! this is NOT professional to McDonalds standards. I believe this manager is going to give McDonalds a bad reputation. I believe a harsh reprimand is in order sir. regards Greg Suzanne Sr. 5186376552 oh, I would of attached a photo of served salad if she wasn't so upset!

Rhonda Shaffer
from Naperville, IL
the new ordering system at ur Ann Arbor rd Jackson , mi Location is the biggest pain at lunch time its busy enough without having to try and order and then it takes 20 mins out of the 30 min lunch !!!!!!!!!!!!!! I can tell u first hand my co-workers and myself will no longer be eating at McDonald's for lunch Wendy's is a block away and u get REAL service not some stupid ass computer to order our food ..whom ever came up with this idea is a complete moron have a good day

T. Henry
from Baton Rouge, LA
I went to the McDonalds on the corner of Perkins & Bluebonnet in Baton Rouge, La. for lunch today around 11:30. I don't have the store# because I accidently threw my receipt away. Though my customer service experience was good and my food was fresh, when I went to sit down in the dining area, I hear the Manager on shift loudly fussing at an employee about being 10 minutes late from his break. Then, she proceeds to yell out loudly to the entire staff about taking orders correctly. This was very unprofessional to talk to the staff like that in front of customers. It got so bad, she and one of the employees got into an altercation (fuss match) about how she was talking to them. The Manager proceeded to say things like 'you are below me', 'I make twice what you make', 'go home and clock out or I can call the police'. The employee she was yelling at, I could barely hear what she was saying but I'm reporting this because every time I go to this particular restaurant - it's always something. I had stopped going to this one and starting going to the one on Siegen Lane. I think the Manager needs some managerial behavior classes. No one wants to be talked to like that and I'm sure she doesn't either and her professionalism was awful and did not show very good leadership skills to the other staff. Someone needs to handle that because I know I don't want to hear hollering and fussing while I am eating my lunch. Thank you.

vicky harvey
from Jackson, MS
I when too mcdonalds after I got off work it was 2.30 in the morning I am a food server anyway I when by there too get a sauge biscuit anyway I had when by there 2 nite ago but for 2 days they said they were closed it suppose too be open 24 hours anyway I sit there for 15 minutes waiting for my biscuit finally when I got it I was asking the girl that was working why it took so long she slam the window in my face I am 64 years old I dont need some young treating me that way the place is located in Gulfport on coward road an I-10 these people need too wear name tags well that done it with me I will do without before I ever go back there again this happen on dec.12 at 3.00 in the morning these young kids need too be train better

Christine Kelly
from Garfield Heights, OH
Let me start by saying I love your products! The coffee is especially great, and this is the ONLY reason I go to the awful store here in Garfield Hts, OH. I have been going to this store since 2009 and at least 3X per week. I spend $5.79 every time I come and if my addition is correct, I have paid this store about $10,000 over the course of the last 9 years. The store in which I am referring and filing this complaint has been sub par for the past 5 years. It has changed ownership and was doing a little bit better for about a month, then the owners turned it over to the managers. The service is Slow at best. I have made comments to the manager about staff working like they strolling through the park on a Sunday to no satisfactory change. The customer base at this store is lower- middle wage working class and 9 of 10 times, we are just trying to get our coffee before going in to work. Over the course of the years of coming here, I have realized that if there are more than 2 cars in the drive through, I can expect to be in line for at least 20 minutes. When there are more than two cars, I used to just go inside because it seemed to be quicker. Until, they hired this woman who is easliy confused, never makes my coffee correctly, and mumbles under her breath that she will "pray for me" when I correct her on what I want in my coffee. Today was the final straw when I ordered a blueberry muffin as I always do (they are GREAT) and this woman attempted to put it a cookie bag as I watched through the drive through window. When I tried to ask her to put it in a small sandwich bag as to not smash it, she again mumbled something and when I asked what she said, she denied saying anything. The MOD just watches everything that happens there and I have never seen her try to train or correct any staff member even when a customer has complained. It is obvious that Im not much of a complainer as evidenced by this being my first time comtacting corporate, but I am seriously thinking of switching breakfast food restaurants in the search for better and faster service. I hear Taco Bell has a pretty good breakfast with cinnamon delights.
Thank You,
Christine Kelly
Intake Coordinator
Charak Center for Health and Wellness
216-587-6727 ext 3403

Patricia garcia
from San Jose, CA
I came into McDanolds today it was 49 degrees outside. Inside it was cold. I ask the personal if they could put the heater because it was cold. They said, they didn't Know how to move the control. There were three counting the supervisor at night. They laughed and shrugged there shoulders. The supervisor told us I don't know. No one turned it on for us. We are clients of McDonald's every Saturday we are here along with 8 more people. I can't believe the supervisor is not trained on all the lights and controls and the other Co workers. That is a shame being we are locals. Please have more training on your employees. I feel at night it's more like a game for them instead of caring for customers.

Cheryl Perry 0408 675 424
from Alexandria, NSW
EVERY morning since McDonalds have opened up in Gordonvale I have bought a large lactose free coffee..This Monday morning 10.12.2018 waiting in line in drive through I was told NO lactose free milk...Had to wait till all other cars have there order before I could go..was not happy. Not all people can have full cream milk. Today I go back again to give them one more chance and NO Lactose free milk again! You are in a service station get the milk from them! No we cant do that.. I feel this is terrible customer service for anyone who can't tolerate full cream milk! I will be going to Zarrafas froM noW on where I know I get what I order.. A few months ago we were abused by one of your managers in the drive through and I put in a complainT and received a phone call the next day with an apology and was advised you will receive a voucher so you can buy your coffee each morning,,Guess what?? No voucher was ever received ... I don't think McDonalds take any complaints seriously and I will not be going back there again and will be voicing my opinion on social media as this is not good enough. I feel like I have been discriminated against due to being lactose intolerant.

Raymond Moore
from Albemarle, NC
Our McDonalds on Hwy 52 in Albemarle N.C. has the worst service of all the McDonalds I have ever been in. I went there for breakfast on my way to church, Dec 2nd 2018. They were six people standing in line waiting to be served. After about 4 or 5 minutes of being ignored, a man called for the manager. The lady working behind the counter identified her self as the manager. He ask her if we were going to be waited on and she said they had to wait on the drive up first. She announced loudly, she did not make the rules she just worked there. Almost all the people walked out. This is a very unfriendly staff. No one likes the kiosh ordering, but looks like it is being forced on us. This staff needs additional training.

Sabrina Ranking
from Atlanta, GA
For start this McDonald's is absolutely beautiful from the outside, so I decided to go inside and order. I noticed one of the employees had on a bonnet. Not any type of bonnet, but the one that you sleep in, and then when I received my cup I went to the Coke machine and there was garbage everywhere. Just nasty. Honestly I got very little ice and coke. My food was hot when I received it, but upon eating it I realized that my fries had been reheated. I was literally sick. I will NEVER go back to that McDonald's again. I love your food, but this experience has been the worst ever. If I could I would give this store 0 stars.
Restaurant # 38758
4640 S. Orange Blossom Tr
, Orlando FL 32839
, n407-839-3840

Ray Collins
from Amsterdam, NH
I live in the Philippines and probably order at least five times a week. Several times made online orders for delivery...I have three branches within a mile or less from my house and several times I'm told the branch doesn't not want to cater my order or that they can't find a branch to accept my order. Tonight I was told they no longer take 24 hour orders and then when I found out by going to the branch I was told that the branch stopped accepting orders after 1130pm cause they had to many orders. I explained that they should not cancel the order but call me and state they are behind and my order would take x-amount longer to be delivered and let me decide if that is acceptable. But, they refused and said that branch won't accept the order and the other two branches said they wouldn't cause it wasn't their responsibility to handle a branch that can't keep up with orders. That isn't acceptable! Why keep letting franchises be franchised if no matter how many you put around me they wan't catter my orders. My primary branch is at RMR square Tandang Sora Ave Philippines. They are also indangering their customers cause there is only one entrance and exit to the branch...they chain locked their second floor doors and their two other exits are always locked. I have told the security and management this is a fire concern but they just scrug their shoulders and do nothing.
Have feedback for McDonalds?
Thanks for your feedback!
Sorry. Please try again later!