KFC
Contact KFC Corporate
Toll free phone number: 1-800-225-5532
---
Kentucky Fried Chicken is the second largest fast food chain in the world. There are 18,875 worldwide outlets in 118 countries as of 2014. Revenues for KFC in 2013 were US 23 billion. KFC is a subsidiary of parent company Yum! Brands with corporate headquaraters in Louisville, KY, USA.
The website lists one customer service number number you can call two ways: 1-800-CALL-KFC or listed as for "urgent calls" 1-800-225-5532. This is the same number. When trying to find a "contact us" on the website a cookie will repeatedly pop up asking for your location.
If you have a problem with KFC, the website "contact us" is an email form asking for a zip code of the location you are referencing. In case you want to contact KFC by writing a letter you may reach David C. Novak, CEO of KFC at 1441 Gardiner Lane, Louisville, KY, 40213 or call the corporate office directly at 502-874-8300.  
KFC was one of the first franchises to grow internationally and began as a small fried chicken shop in Corbin, KY during the 1930's depression. Opened as the Sanders Court & Café by Harland Sanders, the slogans that made KFC famous are "finger lickin' good" and more recently "Nobody does chicken like KFC".  Social media presences include Facebook, Twitter, Instagram and YouTube.
KFC Contact Information
Report complaints to corporate and get satisfaction
KFC headquarters address

1900 Colonel Sanders Ln
Louiseville
KY 40213

Company website

1-800 phone number

1-800-225-5532

Support email address

feedback@kfc.com

Better Business Bureau rating

A
Browse reviews of other Fast Food
Top KFC Complaints
Browse more than 475 reviews submitted so far

Barbara Egly
from Frankfort, IN
On 4/5/16 at 2:19 p.m. in the afternoon, my sister and I decided to stop get chicken for supper. I went thru the drive-thur and told the girl that I needed 8 original thighs. The cashier said we are out right now and it will take 25 minutes to cook, do you want to wait. I ask if they had legs, no was the answer. I said well we don't want to wait 25 minutes on thighs, you have no legs so I ask, do you have chicken breast originals. She checked and said I have some original and some crispy.
I said okay I need 12 breast. I then ordered 12 biscuits, 3 large mash potatoes-gravy, 1 large coleslaw. the total order came to $62.70. When we pulled around to pay, the cashier said that it would be a few minutes and could I pull forwarded. I ask her why there was nothing ready and she replied, oh, we got busy and we have not caught up yet. When we got home I found only 4 original breast, the biscuits were burnt and had not even risen up. When the cashier came to the car she never offered anything. Her name on our ticket #1671 said Rhiannon. Needless to say that some of the breast were not done in the middle and we ended up cutting the chicken in small pieces to my cats. Very unsatisfied.

Bryan Wilson
from Bangkok, 10
I am living in Bangkok Thailand for the last 30 years and always enjoyed having a KFC meal in the restaurant near where I was staying. KFC is unique in its taste due to the magical mix of herbs that Colonel Sanders concocted a long time ago now, but sorry that is no longer the case here in Bangkok, at least as far as the home delivery is concerned. The batter is bland, oily and has no taste whatsoever now of those magical herbs. Its like any fried chicken you can buy of the many small street vendors and yet we pay a hell of a lot more for it. I won't be buying t anymore that's for sure. I used to think it was probably just a one off bad delivery, but no its the same every time now, bland and greasy. I would start looking into the problem if I were you because its not Colonel Sanders recipe anymore...its pure plain batter and not even crispy anymore.

Vertis Slappey
from Covington, GA
I downloaded a coupon off the web for KFC the coupon got KFC trademark on it. They wouldn't take it at the KFC store. So I call KFC complaint department at 1-800-225-5532. They told me that it was nothing they could do. Why upload coupons on the web if the coupon can't be use?
Well KFC has lost me as a customer. \When I want to eat fry chicken out I will just go to Church's Fry Chicken. To me it's better chicken anyway and they do take web coupons without any problems. I just hope other feel the way I do. Does the same. I am uploading the coupon that KFC won't take so all can see it is a KFC coupon. P.S. This not the first coupon I try to use at KFC that they wouldn't take. Just I am not going to try any more. I gave KFC customer service 1 star because I couldn't give it a 0.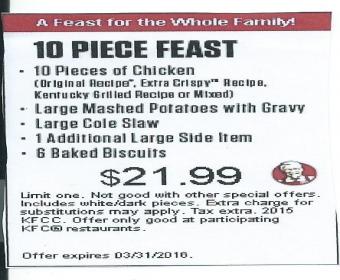 Richard Bennett
from Kingsland, GA
My wife and I ordered a 2 piece meal and a 3 piece meal. We were told original chicken was being cooked and would we like to wait or take extra crispy. We chose to wait. Our order was a 2 piece meal small mashed potato, small cole slaw, a 3 piece meal, small mashed potato, small cole slaw, a large wedge, a large gravy. Simple order. Our wait was a couple of minutes, no problem. We drove home and discovered we got 2 meals each with 2 pieces of chicken, and one of those pieces in each meal was extremely small. But I paid for a 3 piece meal.
I called KFC and the phone rang and rang and rang more than 30 times. Finally someone answered and I described the issue. I was told to come back and they would give me my missing piece of chicken plus some extra for my inconvenience. Upon arrival I asked for the manager so I could get my chicken and I was asked if I was the person that called a few minutes ago. I said yes. She said let me see your slip, I gave it to her and she boxed my missing one piece of chicken. I had asked for the manager but she refused to get that person. I left with my piece of chicken.
There is a Subway, McDonald's, Wendy's, Burger King, OPS, Captain D's, chick Filet, Dick's Wings, Firehouse subs, Zaxby's and a Popeyes all nearby. This happened last month also, which only made me that much more angry with your establishment since nothing has changed. It is only two strikes, but I think your OUT and I will spend my money at some of the other fine establishments nearby. My server was Kyle, he was great, told me there was a short wait and he would bring our food out to us when it was ready.
He did just that. Too bad his co-workers can't fill the order properly. Too many people completing one order with no one watching that the proper items were placed in the order. That is a training issue. A ten year old could have done better. I doubt I will hear from you folks, however you can be sure that I will tell everyone I know to be sure to check their order before leaving your restaurant. I should post this to yelp.

Mrs. Jayne Rhines
from Novato, CA
When I arrived at the KFC at 7145 Redwood Blvd, Novato, CA 94945 at 5.24PM on March 19th, I was greeted by a nice young man alone (by himself not another employee in sight). I inquired if he was alone and he said yes. I noticed that the backdoor was wide open. Anyone could have walked in unnoticed. I placed my order. I pointed out to the young man that the drink station was a mess and over flowing with ice. There were NO napkins in either sleeve on the station leading to the dining room. Trash was also all over that station. I mentioned that that was not very appetizing looking. I inquired when the other employees were scheduled to come in. He then told me that everyone was on break. Why would you send everyone on break at the same time during the dinner hour?
I received my order which was a 10 pc (crispy) chicken bucket. After getting home I have to say that the chicken did not have its usual juiciness. It was dry. My guess would be that it was past its holding time. This was not the first time that I have gotten take out at this location. I have seen things in the past but I now feel that I needed to say something. Hopefully my comments won't fall on deaf ears.

Dianne Hoapili
from Hana, HI
Receipt: Order 8718 20:01 #07 FEB. 16`16 REG0001 at KFC WAIANAE H730275, 85-054 KAUPUNI STREET (808) 696-3211. Food not the complaint. Irresponsible, care less, poor service was the complaint. Not getting what I wanted and ordered was the greater complaint. I ordered 6 pc. original and 6 pc. crispy chicken for $23.55. I got 6 only original and 6 spicy wings plus 4 biscuits (for $23.55 and not worth my original order? Unacceptable), because the order I wanted would take 18 minutes. Could I wait? Yes and did until I was told I had to wait for the crispy chicken (another 18 min., unacceptable, again), because it was sold to a drive thru. How could they do that? The bus is my transportation and already 8:18 PM. I demanded they give me what they had, so I would not miss the bus. Big mistake. I demand a full refund and a change in service.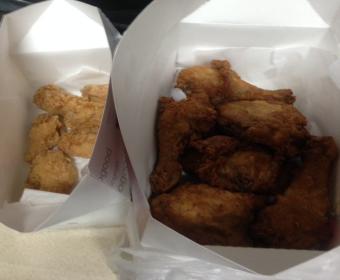 Dale B. Mitchell
from Somerset, KY
Placed an $18 order at Drive through. Drove to pay window. Handed $20 to lady. Noticed sticker on window that Senior Discount available upon request. She tried to hand me my change, and I asked for the S.C. discount. They would not give it to me. Said I had to ask when I ordered. I told them the sign did not say that, and that sign was not available until after I ordered. Refused because it was "company policy". After much discussion, I cancelled the order. They deducted over a dollar because of "their cost". The food was never handed out the window, and was never seen my me. I did not cost them anything. If the delay cost them, it was because of the poorly placed sticker at pay window. I do not want anything. No free meal. Nothing. I have been a faithful KFC diner since I went to Harlan Sanders birthday party in Corbin in the early 70's --- No more. KFC at Somerset, KY is pathetic.

Debra F Harman
from Louisville, KY
My order was incorrect I have my receipt showing what I was supposed to get the manager cut me off and started telling me what I ordered. How does she know? I have a receipt with my name on it and what I ordered along with my CC information. She then hung up on me. Seriously the Manager. Is the type of customer service a manager gives a customer. I do no think so. I work in customer service. She assumed when I called. She was talking over me and cutting me off . I will take this all the way to the top if I have to. This is ridiculous and totally uncalled for. When I called back she ignored me and was working not listening me and totally ignored me. Then I called back it was busy for hours. She was wrong. My drink wasn't even full when I looked in the cup.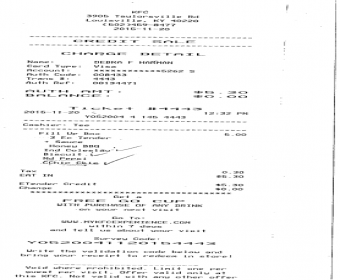 Nikki Edwards
from Johannesburg, GP
I am not a complainer, but thought I should bring the following to your attention - I have been a loyal customer over the years, but this morning have decided not to buy from KFC again - three weeks back I ordered a 6 piece and 4 of the 6 pieces were the smaller cuts wings/legs and this morning I bought a colonel burger, cant believe how small it was and the chicken fillet was half the normal size - Blouberg Beachfront Store in Cape Town - very disappointing!!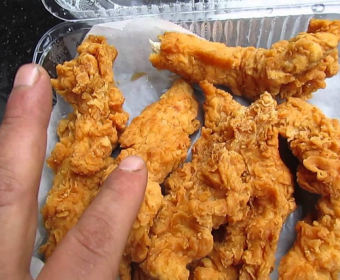 Christopher Eklund
from Hanoi, 64
I'm American living in China. The KFC does deliver breakfast food at all in the city of Wuhan where I live, so today I ventured out in an ice storm (I didn't know when I left or I wouldn't have bothered) to get my favorite breakfast at KFC, the bacon-egg sandwich with the real bread which is a luxury in China. I live in Hankou, and all of the KFC's near my home are on Jifeng Dadao street. I had to go to three different KFC's because each one was telling they were out of the that sandwich (the ham one too), and I was furious because I was freezing cold, burning my hands off as I forgot my gloves, it was that important I have this breakfast. But three places said no. Finally, at 9:50am, at the third restaurant, I explained to one Chinese girl who had good English that I had gotten out of bed early, drove to two other KFC's and now was frozen nearly to death, and two other stores had refused me. I said "Why? Why don't you have this sandwich? I've been to KFC's in Hangzhou and Shenzhen and they always have them.
No one ever eats that sandwich but me. At those cities, I ate the same meal every day for a week while on vacation, it was always there, because they don't run out of something Chinese people won't eat. So I am sure you really do have those sandwiches, you just don't want to have to make one because it will take you 10 minutes, and by then it's 10:00, isn't that the truth?" And she turned red and nodded that yes, I what I said was true. And she told me they have the sandwiches and that she would go ahead and make them for me. Which leads me to believe that none of the other restaurants wanted to make it for me, and so they lied about not having them. In China, KFC's are willing to throw away customers and not help them, and even infuriate them and make them hate you for not having certain key foods that really make our lives feel happier in a country where our kind of food is not popular and is not found often. For example, in 2010, China banned pancakes from all McDonald's in china.
PANCAKES, a foreigners favorite breakfast food. It was like China and Mcdonald's were saying "forget you, we hate you, get out of our country!" ... they are many of my foreign friend's and my own favorite breakfast. Now I go to KFC for this breakfast sandwich which is the best, because they won't even deliver that to us in the morning! I would order this every day, spend $10 a day if I had to! (Delivery is only $1.25 in China, very cheap for delivery fee, and no tips can be given, either.) KFC Corporate, you've got a real problem with customer service in China, I just wanted you to know. You don't make them support delivery, and we the customer never know when they are lying about ACTUALLY being out of anything, since the main reason they say they are out is because they don't want to make that food because foreigners are the only ones who eat it and they either A)don't know how to make it or B)refuse to make someone's day that much brighter by offering the very thing they came there for. It's just sick.

Juan sampel
from Hartford, CT
These is the second time I go to the kfc on new Britain ave in west Hartford ct and order a $5 fill up box two piece meal on drive through and noticed when I got home that I got two drum sticks instead of a drum stick and thigh. It would be nice if they would let me know ahead of time and not make me feel like I got what I ordered. I just feel like they're trying to fool me. Not cool. Thank you for your time!

alice barber
from Clarkton, NC
No complaint w/ service, just giving you a heads up on my order today, the chicken pot pie, which I love, they are very good, but, I did find a bone in mine today, first time that has ever happened with a pie order, just thought you would like to know that. I ordered the pie from my local KFC location 301 S Poplar St. Elizabethtown, restaurant #J970017. No other problems.

sayed jaffar
from Dubai, DU
I like KFC a lot. I always go there to eat. Today when we asked for 3 lunch treat spicy we have been served with non-spicy chicken pieces. One of us went and asked so the guy in KFC changed his entire plate and he got spicy chicken.me and my other friend didn't bother but we left without eating n decided not to come there n tell our friends as well. More over the guy says he has never received a complaint from people eating same chicken. Please understand we are not mad to complaint if we have got the right spicy chicken. This is Happened At a KFC outlet in Dubai (Al Khaleej center mall- Bur Dubai, Dubai, UAE). I will suggest my friends not go there again.

Julie Buhr
from Bellevue, NE
My son applied for a position at the KFC location at 48nd and L st. He was called in for an interview and the hiring Manager Byron interviewed another person close by where my son was. With knowing my son was there he asked why he should hire that person over my son, and that is unprofessional to interview people in front of others. Especially it being another candidate, yes he asked my son the same question. Well come to find out he did not hire my son he hired the other person because she is a girl. From inside sources that is all he has hired. All guy applications are on the bottom of the pile and all the girls is on top. I will keep my eye on this store and if I don't see a change then I will take further action against what seems to be a sexist manager. No, its not because my son did not get hired and no I do not want my son working there now. I think that it should all be fair to all the applicants that apply.

Ted Cudal
from Las Vegas, NV
I have been using my Military discount for lunch at the KFC (Pilot Gas Station) at I-15 and Craig Rd in North Las Vegas. Today, the manager told me she would not Honor my Military ID card because I was not in uniform. I was pissed. I ate at Raising Caines; they always give me the Military discount (in uniform or not). I am a Commander in the US Navy, and if I want to bring my family to KFC --- it should not matter if I am in uniform or not. The real funny thing is... this KFC is a few miles from Nellis AFB. I will never eat at KFC as long as they discriminate against any member of the Armed Forces!

Jeffrey
from Whitney Point, NY
I went to the KFC/Taco Bell on Kendall Way in Malta, NY,12020. The restaurant was so dirty with straw wrappers and taco and chicken wrappers everywhere. Th e drink machine had a bunch of caps and straws all around it. None of the employees noticed the trash and kept on working. I was so grossed out I couldn't get anything.

scott
from Table Grove, IL
Got a bucket of original chicken from Macomb IL. and sat down to eat at home the bucket was full of old grease and the chicken was so saturated in old grease the coating was falling off. Ate one piece and it was so greasy , but it was the taste old chicken and grease made us sick the entire bucket went into the trash. Never ever in my life have i seen such bad chicken and cooking from a fast food. I have notified the HEALTH Department so no one else will get sick. They need to shut that store down .And i use to love Kentucky Fried Chicken never again will i eat at the Macomb IL. store. I probably will never eat at any of the stores.

The Kentucky Fried Chicken location on 65 Highway Sedalia, Missouri 65301 is very poorly run. Every time that I have stopped ( almost every Saturday evening ), there are several unprofessional young staff members. They do not seem to have any idea what they are doing, i.e. at the front register is unattended; it is impossible to order off of the menu (when trying to place an order, after a long wait for staff to come take the order, the answer is always "We don't have that item ready tonight if you would like to order that you need to call ahead at least 20 minutes"). Tonight 01/18/2013 a customer had taken the time to call ahead for a large order, and he had to stand and wait for at least 45 minutes, because he was repeatedly told by at least 3 staff members that they hadn't received the message that he had placed an order ( The entire staff stays out of sight behind the counter, at least they should be able to answer the phone and have orders ready, but this team is hopeless! Also, it seems futile to call ahead for a Chicken fried steak, or a pot pie, as the message would not be relayed appropriately!) The staff obviously feels that the poorly stocked buffet is all that they are responsible for (in what other resteraunt would you place an order off the menu and be informed that the item is not available!)
Also, many times there is very limited amount on the buffet, and the selection is obviously been sitting too long, i.e, the chicken is soggy, the biscuits are hard, etc. It is obvious that KFC does not care whether they continue to have customers come into the Sedalia, Missouri location! Truly it is amazing that anyone continues to stop at and place orders for food at the Sedalia, Missouri KFC, it would require a great love of fried chicken or the ability to overlook a terrible group of employees who are obviously only present for the pay, and have not been trained to provide even tolerable customer service. Also, the bathroom is filthy and the toilet seat is too small for the toilet! Management please visit and correct this situation!

Marilyn
from Bloomington, IN
Been to KFC in a month to get Chicken ,,Two of the times no chicken...Went today on 4/21/18 order the special 8 pieces with 2 mash potatoes ,1 gravey ,4 biscuits,cole slaw..ask if I could replace the cole slaw lady said yes so I replace it with mac &cheese the chicken was suppose to be half /half oringal and ex crispy ..Got it to go..Live 30 minutes away ..Got home NO half /half chicken and chicken wasn't really done..No mac& cheese ..Like to got hot wings but they don't sell them NO MORE..back them back please..Only one mash potaoe and suppose to been 2...Not happy with KFC...For the money I spent there I should had my items...Very upset ..

Mrs Williams
from Stoke-on-Trent, ENG
I went to treat my family tonight at 7.45 to order a 10 piece family feast to be told there was an half an hour wait for chicken?? Its a drive thru service? Who wants to wait around for half an hour!!! It wasnt busy at the time and there wernt many customers in the shop? This is not the first time it has happened at the kfc in Sandyford, stoke on trent. We have been there twice in the past ( before 9pm) to be told there isnt any CHICKEN left? Its kfc why wouldn't there be any chicken left. The staff are rude and ignorant and the service is very poor! We ended up driving away and getting a take away which took them 10 mins to bring!!!! Really not happy at all. Thanks for your time mrs Williams

Brady Hatch
from Lehi, UT
I just wondered why we always see the $20 fill up box on TV for $20.00 but the Lehi (Robinson) store always sales it for more? They used to have a big red 5 sticker over the 0 and charge 25.00 I did not come back for a long time and now I see they charge $22.00.
I do not know how you can show it on TV for $20 But charge $22.00 for it? It was way out of control tonight but the food was still good. Usually when it is out of control the big Lady is their and the food not so good.
Glad to see the American Fork store is open now so I can go there. Years ago there was a young husband and wife that ran the place in AF and it was really great not the same anywhere anymore but that is the way it is.

Skye Elson
from Andover, ENG
My husband has just been to the kfc store at the leisure park Basingstoke. He was the only customer in the drive through being 23:45 and ordered and paid for two big daddy box meals. Only to be handed two crushems at the next window. Obviously he said he didn't order these to which the staff argued that he did! After getting the big daddy boxes he drove home. Once he was home we opened our meals to find the spiciest pieces of chicken. I don't eat spicy food and it didn't have a hash brown in either. Very disappointed.

Eve
from Blue Springs, MO
About two weeks ago, I went to KFC located at 3522 State Ave Kc KS. Went through their drive-through and after a couple minutes of waiting the worker got on the intercom and said they were closed and couldn't help me. This was around 8:50pm, I then asked what time they closed and he said "well we will be closing soon" I asked again for a second time when they closed and he finally responded with a time 9:00pm. I said to him technically this location is still open, you guys are just refusing to take my order? He didn't respond anything back. I then pulled up to the window where I clearly saw their hours of operation and decided to call and speak with their manager and got no answer. I went home very upset and will not return back ever again to this location. I've heard very poor stories of this location and never thought I would experience one myself. Worst thing is, I contacted the corporate office and was promised a call back from the owner but never got one. I feel that this owner perhaps should take his/her franchise somewhere else or at least educate the staff.

David kyte
from Skelmersdale, ENG
Ordered zinger tower burger from robin park wigan see photo attached disgusted

Josh Wiedemann
from Sterling Heights, MI
I went to the kfc Taco Bell in Fort Stockton Texas and ordered 3 honey mustard tenders and 2 hard shell taco plain meat and cheese only, with extra meat and a drink that I had to switch out because it was bad. I went back to the hotel ate the chicken which was good and opened the taco wrapper up and it had everything on it and no extra meat. It's to late to go exchange it and I was pulling my work trailer through the drive thru honestly it's not that big of a deal I just want y'all to make it right thank you

Nina Milner
from Hull, ENG
I visited kfc in hull St Andrew quay. Where there was hardly any stock and so I ordered a zinger burger meal with beans the beans where cold and the zinger burger bread roll was rock hard. I will not be visiting this branch again and will be telling family and friends about my experience

Anita Salters
from Birmingham, AL
15 members of my family went to your Gardendale, Al location on Sunday 03/25/2018, to begin with we all love the Chicken Livers and were told they no longer serve Chicken Livers! (Big Mistake for Gardendale) as I know for a fact that my family alone goes at least two times a month for the Chicken Livers. Then there was no crispy wings even though that is one of your special boxes you advertise. They messed up with giving the correct sides. They had one person taking orders and pulling the orders at the peak of after church service time. Not friendly at all and it was take what we got or not attitude. Then Monday I learned their was a grease fire and they are closed down temporally. But I must sat that I think if you advertise you have specials and Chicken livers those items should be available. To discontinue an item without previous notice is totally not good customer service.. My family we not be back until better customer service can be accomplished. And please bring back the Chicken Livers...

Mrs Massingham
from Wigan, ENG
We went to Elk Mill restaurant today and there was no drinks and no BBQ sauce I was very unimpressed and not happy with the services

David kyte
from Preston, ENG

Barbara
from Powhatan, VA
On March 17 at 7:15 -7:30 pm ...at Kfc in powhatanva on Anderson highway ..I waited in drive thru placed my order , went to window to pay and item I order the cashier said I needed to wait three minutes for the item I ordered , which was 2 apple emborto for me to pull up and they will bring out to me . I said ok I'll wait .
I waited for three minutes and when the Kfc rep brought my food to me ... he said we not suppose to give extra items such as an apple embornada , (this is what I waited for ) maybe a cookie or something but not an apple embonado . I said well since I waited I think it would've an complimentary to receive it . He said yea but I'm not suppose to give it to you .
He was so rude to tell a waiting customer about what he couldn't and he can't do this next time ...how disrespectful and inconsiderate of him .

Daniel Beaton
from Newport, WLS
I arrived at KFC nant-garw last night at 20:38 and I ordered 2 10 piece family feasts which was stated on the board and with a ubrupt sarcastic voice I was told I can not have family feasts and when I asked why I was told I just can not have them but I can have the bargain buckets which is the same 10 piece for the same price but I won't get the sides but I can order them extra at an extra cost... so I just accepted the rude attitude and order what I was told and when collecting I placed the food in my car and took it to work and then couldn't believe it when dishing the meal amongst 8 people turned out there was enough chicken for 2 pieces each with none left over quite shocking I believed and as I was in work I couldn't return so thank you for such a horrifying experience with KFC and hope the penny pinching does you well!

Sean Christopher
from Hacienda Heights, CA
I stopped at a KFC located at 41 800 Washington Street in Bermuda Dunes California telephone number 760-200-4255 my ticket number was 2711 on 315 of 2018 at 2:05 p.m. I bought a $5 fill up box I asked for two size coleslaw and a dr. Pepper I received my $5 fill up but with mashed potatoes and gravy I went through the line a second time and as I come out the order was wrong again because I had placed a leg and a thigh in the order so I ended up throwing the whole order out in the trash and I left. I'd like to have be compensated for my meal which was $5.39 and why was it after I went through the second time they still got the order wrong and of course the supervisor was working the window so what's going on here?

Richard lee
from Shaw, ENG
Made an order of mighty bucket for one and a boneless banquet only to be told no chicken. They said it will be seven minutes to cook. Half an hour later it was done. Other customers was coming and going with discust of the wait. This was at Greenwich London

sall padilla
from Riverside, CA
again, I got chicken pot pie with no chicken

Keith Wilson
from Brookville, OH
Slowest service ever plus order was wrong again! The Brookville Ohio store is the absolute worst and they don't care. I swore 3-4 months ago I wouldn't go back. My wife and couldn't decide on supper tonight so she asked to try it. Big mistake, worse than months ago. I will not return. My only hope is they build a RAISING CAINES in town that knows how to give good service and get their order right.

Tony duncan
from Mount Washington, KY
All of your colonel sanders commercials are just annoying but the reba colonel commercials are the worst most stupid an annoying of all.

KFC in Stevenage leisure park took ages got people's orders wrong and staff a girl called Katie were extremely rude. She got our order wrong didn't say sorry just rolled her eyes and gave us a dirty look and then didn't bother getting us drinks had to wait for someone else to come by to ask. Shocking behaviour.

michael moss
from Columbus, OH
MADE A RECENT VISIT TO YOUR WESTERVILLE,OHIO LOCATION. NOW I WISH I HADN'T. WENT DAIRY QUEEN AND THEY HAVE A SO MUCH BETTER PRODUCT. I TOOK A GAMBLE AND TRIED YOUR SKOKY MOUNTAIN BBQ FINGERS FIRST OF ALL THEY LOOKED LIKE STRIPS OF BACON. THAT THIN. OVER COOKED. AND DRY. I SHOULDOF KNOWN BETTER.. YOUR COMPANY AND OTHERS GET AWAY WITH MAKING THE FOOD LOOK GOOD ON TV.IN REALITY IT'S NOTHING LIKE THAT. I MIGHT AS WELL TELL YOU ABOUT YOUR SO-CALLED 11 HERBS AND SPICES. I REMEMBER WHEN MR. SAUNDERS WAS STILL ALIVE AND HE OWNED THE COMPANY. THE PIECES OF CHICKEN WERE MUCH LARGER, THERE REALLY WAS 11 HERBS AND SPICES. YOU COULD ACTUALLY SEE IT ON THE CHICKEN,NOW IT'S GONE. THE CHICKEN WAS COOKED IN A PRESSURE COOKER MEAT WOULD FALL OFF THE BONE, REALLY! IF YOU EVER GET BACK TO THE WAY IT USED TO BE , CARS WOULD BE LINED UP DOWN THE STREET. I PROBABLY WILL NEVER EVER TRY YOUR PRODUCTS AGAIN. UNLESS SOMEONE CAN PROVE TO ME IT'S CHANGED FOR THE BETTER. HERE I AM LONGING FOR THE REAL THING, MICHAEL MOSS

Lawrence Salem Preston
from Maryland Heights, MO
Me and my family were on way back from long drive after funeral. We decided to have KFC for dinner, my kids choice bc they usually love it. Well we ordered a 16pc Original Meal with Mashed potatoes, green beans, and macaroni. We get home which was another 30 min later and we all gather around the table to enjoy our food to open and realize that our chicken was destroyed completely and we had no macaroni or green beans. The chicken looked like it was squished in purpose bc I do not see how it could of gotten that way without. My food was cold but I did drive home so that may have helped with the coldness but with the chicken destroyed and sides missing my family was very let down and had to go to gas station to grab expensive pizzas to have supper. I don't have receipt, I have looked but couldn't find. What can I do about this?

The KFC store in Cowra, NSW, Australia must have to be the filthiest KFC in Australia and I am very well travelled and have never seen worse, carpark always has rubbish blowing around, dining area always has rubbish everywhere, floor always filthy, tables are filthy, chicken dried out and unappetising, I have eaten there many times out of nothing else available but never again.
Sell me the store and I will clean it up.

Dewayne Johnson
from Fort Stockton, TX
I went to the KFC here in FT. STOCKTON TEXAS 79735 tonight to get some chicken. I tried to order 6 original thighs. They told me that they no longer have original, that all they do is crispy. I said ok, then give me 6 crispy thighs. They said that they can't give me 6 thighs that they have to do a mix. Well, in the 40 years that I have been buying KFC, I have never been told that. I have always been able to buy anything that I want to order. Has it come to this or not? Is KFC trying to tell me what I have to eat? If so, I will never step in another KFC as long as I live and that is a promise. The people in this store have always been a little on the rude side. I have been going to this KFC for the past 4 years and this is the first time I was told what I had to buy. I am very disappointed. Not only in the service here, but also the fact that they no longer serve the original receipt. What is up with that? I have been in your stores all over the USA and this is by far the worst of them all. By the way, I drove a few blocks down and went into Bush's Chicken and asked if they would sell me 6 thighs and they gave me 7. Go figure. Some people just want my business.

I drove by your KFC located on 6566 Riverside Blvd, Loves Park, IL at approximately 6:05pm on Monday, Feb 5th. We wanted to try the new Smoky Mountain BBQ basket that has recently been advertised. To my dismay-the restaurant was closed! I do not understand why they would be closed during the prime-time dinner hour as they close at 9:00pm. I am very unhappy and chose to spend my money elsewhere.
Can somebody get to the bottom of this?
Thank you for your time regarding this inquiry.

Victoria lowe
from Chelmsford, ENG
Svery time I got there I have to wait for chicken to be cooked I never see it probed it took 25 minuets for my order because they were waiting for pop corn chicken and we collected out goo last night and since 3 o'clock this morning my the 3 that ate it have been really I'll never using your service again as it's always happening at the Horsham branch i use to buy it all the time but for the last 6 months when ever I purge as it we have food poisoning chickens always raw and I'm sick of it a very angry customer that yet again has to change loads of bedding due to poorly children and to be honest it make me sick that it's always happening there also couldn't alter my order as the pressed subtotal absolutely ludicrouse

James Washington
from Arvada, CO
On February 1st, 2018. I entered a KFC store located at 2815 Colorado Boulevard around 5:15 pm. The KFC employee that took my orderi had asked him if they still had the chicken wing special. he asked me if i was talking about #13 ? I told him I didnt know. I, was still looking at KFC menu board and I didnt see the chicken wing special. So I proceeded to describe to him the KFC chicken wing special that I wanted: chicken wings, two sides and a biscuit.. The KFC employee completed the order and I paid him for my meal. When he brought my order, I look in side of the bag . I notice that this wasn't what I had ordered; and I told the KFC employee this isn't what I had ordered and didn't want it. He replied I gave you what you had order. I, reiterated that I don't wanted. The KFC employee disappeared for about five or six minutes before returning with my order. when I got home and began to eat my meal. The chicken wings crust was greasy and the meat was hard, dried out and over cook. I, started to sick and couldn't finish my meal. I immediately call the store numerous times trying to reach a store manager no one answered the phone. I have also called numerous times throughout the day ( 02/02/18) to no avail. I, believe that KFC employee may have intentionally gave me some old chicken wings out spite because I didn't take the first order. I am requesting that KFC corporate headquarter investigate this complaint and review the surveillance cameras to determine whether or not this KFC employee intentionally gave me some old stale chicken wings.
Im still going to try and contact a store manager at that location to file a complaint with them

Waited nearly 10 mins to order no reply went to window we're member of staff very rude refused to serve me got manager who in turn was rude and said I swore at member of staff which I didn't as I had my children in car with me what a job baildon kfc is

Charlie Smith
from Hampton, VA
Stopped in for 6 Chicken Littles and 3 tenders. Took 6 mins just to get waited on. After waiting 20 mins went to counter to ask about my order. The cashier said "MY Bad, I Did Not Put it On the Screen". 6 more mins finally saw my food arrived. This is not unusual for this store, it is ALWAYS very slow. Your chicken is good but this is the slowest FAST FOOD place that you claim to be I have ever been in. Wife called to see what happened to me, thought something had happened to me. Told her the story and made her mad also. Guy waiting with me also said he did not know why he came in here because it is always the same. KFC 1604 Pembroke Ave Hampton va

Peter nile
from Newton Abbot, ENG
Visited plymouth branch about 10 miles from home for lunch,was busy at 1.35 pm receipt code110510129182028 order no 2028.had ordered 2 meals.fltbgr1pbxmlwith side and drink side I requested was coleslaw meal 2 3 PCs ml.got to our table to find got wrong side and both meals was cold and felt like they had been re warmed.at this time of day was very busy so tried to get attention but with no luck so put both meals in you trach.so that make a bad day.always had good meals in the past,but has put me somewhay

John Workman "Tony"
from Eau Claire, WI
I have lived in the Hudson,WI area for about 15 years, and have visited this location alone and with my family on numerous occasions. I grew up with and have always loved KFC and how your chicken tastes...regular,extra crispy and bbq, (which at that time,in the late 70's when I first had your chicken, was all you offered). I have found memories of every Sunday,during the summer, in Orange CO. CA, after the bowling tournament my grandparents ran was over, stopping and getting a bucket of regular and a bucket of bbq and all the fixing's, it was always delicious, and a great "family" meal. this particular store ,has always had an issue with cleanness,quality of food and line attendance,(buffet bar). 97 percent of the time I have gone in, the floors are dirty, most, if not all empty tables have not been bussed,the condiments are ill stocked and messy, and the buffet line is gross! food smeared on the front,sneeze Gard dirty,food looks old and "tired", the salad bar used to be good, competitive with other establishments. Not anymore... in this day of everyone trying to eat healthier, it is a disappointment that all you offer is lettuce,croûtons and shredded cheese,with only 2 choices of dressing. how much is a can of peas? bacon bits? cucumbers? tomatoes?
olives? etc... the chicken is ALWAYS great! Your mac and cheese...awesome! Why is it not on the line? the gravy,weather it's the brown or country, is the most bland tasting I have ever tasted. I'm not into ocher or sweet potatoes ,so my options are; A weak ass salad, soggy biscuits covered with bland vegetable gravy, mashed potatoes, corn and dry biscuits. come on, does anyone taste what they are putting on the line? I know your taste standards are much higher than this store is producing. and I can't believe your standards of house cleaning are this poor. I went into location today...line was filthy, all empty tables had not been wiped, and there was NO chicken.. I sat down, no pepper in shaker and the one next to me was empty also. when I went up for more chicken, I noticed on the wall behind the buffet, that the stores "reviews", awards and accomplishments were posted. it said that they had a 97% in cleanness and a 97% on food taste, with multiple awards/accomplishments next to them. LMAO, no way, that any one would say that,on average, that store was operating at a 97 % of perfection! I want to continue to patronize your establishments, I just think a bit more effort on a few things would make the entire "eating at KFC experience", way more enjoyable and satisfying. thank you for your time and effort in reading my thoughts. JOHN WORKMAN

Dave Humphreys
from Liverpool, ENG
Ordered extra salsa on the burger. Portion was comical and hardly stained the bun.
Asked for a rib and breast piece of chicken with box meals but had to send back due my request being completely ignored.
My rib piece was as dry as it could be and inedible. Had to throw it away.
Portion size of large chips and a beans was totally laughable. I've submitted a complaint about a beans portion before and was reassured that the area manager would be informing the branch about this. Can you explain why I am getting mediocre portion sizes after being told it would be addressed???
I've just spent £13.56 on what I can only describe as a total waste of money. Why are requests at the drive through being ignored by the restaurant??? And with the standard of food being so poor that it has to be thrown away???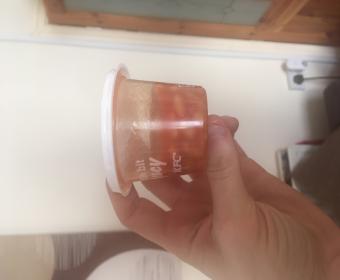 Thanks for your feedback!
Sorry. Please try again later!