KFC
KFC Complaints Continued... (Page 5)
597+ reviews added so far. Upset? Call KFC corporate: 1-800-225-5532

Ordered a 12 piece dinner and gave the cashier a coupon for such. She said that it expired one day earlier and could not accept it. I told her I was a regular customer at this establishment and could I go home and print off another coupon off the internet which was not expired to apply for the cost of this meal. She said no that she was unwilling to hold my meal and wait for my return. I reluctantly paid full price but due to the cashier's rudeness and unwillingness to try to save me a few dollars., I will probably not be a returning customer at this KFC. Considering the coupons that are circulated via the Sunday papers and off the internet., I thought that KFC would value these and would try to accommodate its customers., but this is not the case.

I went to your Grants Pass, OR store and got a honey bqq snack sandwich and an order of honey bqq wing. When I had the wings it was like having hot wings with honey bqq sauce on them. I love the wings with the bones in them. I will not get the honey bqq wings from this store ever again. In fact I will not go to this store again as they do not have the original chicken seasoning. They add hot spices on the regular chicken so I have not got your chicken from the store for years as my husband did not like it hot. He made me go to Albertsons that is in the same shopping center to get fried chicken and I have others tell me they did not like the chicken at this store.
Donna Mason

I went to KFC at 9 15 in the evening on 23/02/13 I ordered a 3 piece large and a tower burger. When leaving the drive through and getting home and finding my tower wasn't in the bag but I got my sunkist drink. How does tht work. I'm very disappointed from the service at Armadale KFC on Jull street I expect a full refund of both meals for the inconvenience of you dier staff. I expect a reply from head office ASAP, to resolve the matter. Again very disappointed.
Oliver Ashford

They have repeated calling my cell phone 4 times after me calling them and saying that they must have called the wrong number manager was very very rude and obnoxious this started happening at 6:30 p.m. until 6:44 p.m. if this persists I will seek an attorney for harassment the number they are calling from is 865-483-5059 and is coming from oak ridge tn I don't even live in that area I reside in white pine tn I would really prefer for somebody to call me after you receive this complaint my number once again is 865-761-0218 I used to be a good customer of kfc in Morristown tn but after being talked to and treated the way I was by your oak ridge store I doubt very seriously if me or my family will proceed to eat or deal with any kfc again sorry but I wasn't trying to be rude to him and him being a manager shouldn't have responded the way he did he should control his employees at a better manner and why are employees being allowed to use a company phone every company I've worked for wasn't allowed on company phones need to control and watch your stores and managers and employees better

For family business I find this AD very offensive by deciveing a child plus lying to him really sends the wrong message to a child . This may be a reason that our generation's responsibility for teaching our children right from wrong has failed based on the actions of the younger generation of today.

Dear Sir/Madam, on Tuesday 16th October 2012 i went to my local KFC store in Hackney to buy two pieces of chicken (a Drumstick and Side Breast) and when i arrived home and opened the bag it wasn't what i asked for, a Chicken Thigh (which i don't like) was in the bag instead of a Drumstick.
This has happened about four times now and i've gone back to the store to complain twice before but nothing seems to be solved so this is why i'm making this complaint now and further more if they don't have the order that you want they shouldn't be allowed to give you anything that is available or they should say they don't have what i just ordered so I could choose what else i want.
Thank You
Pauline Stevenson

I visited Store# Y336058 on 1-18-13 at 12:18pm and simply ordered a #2 (doublicious combo). I've ordered this many times in the past so I was surprised to find that instead of being made with a chicken breast it was made with what appears to be a dark meat chicken strip that had almost as much breading as actual chicken. I wasn't able to have them remake it because it took several minutes for them to even get it to me despite being the only order being made and I had to be back at work. It wasn't until I sat down to eat that I was able to notice this. Normally I do not have any issues at this store, I go specifically there because I always have problems with the other stores in my area. I just do not understand how or why they would just put an entirely different piece of meat on there and it really ruined the sandwich.

On Easter Day we bought a 12 piece family value meal, we ate it around 4:00 pm, and after an hour 3 of my kids and myself got really sick with vomiting and diarrhea all day and night. One of my kids,who is the youngest, ended up in the hospital for food poisoning. I do not know if the chicken was bad, old or not cooked properly.We went to the location where we bought the chicken at, and they did give us our money back. I would like to have an answer to my complaint, before we take a legal action of some sort. We have always been a customer at KFC, but after this issue we do not know if we would like to go back, because my 3 year old was in the hospital, and we would not like this issue to happen to someone else, because having the whole family with food poisoning is not pleasant.

I went into KFC tonight and ordered a grilled twister max at approximately 10:40pm, they informed me they had no grilled strips and offered me original strips which I was fine with, I asked for no sauce and no tomato on my twister, the first time my order was given to me it contained sauce which I had asked not to have on there so I went back in and told them I had asked for no sauce at all, the second time they tried making my order it contained tomato which I asked for not to be on there, I shouldn't have to go in there 3 times to get a simple order made correctly, it's quite frustrating...

Yesterday, Thursday Sept.23,2011, me and my friends went to KFC at Al Khalej Centre in Bur Dubai.We reach around 3:50 pm in the counter and straight away ask for the lunch meal promotion for Dhs.15/-, but unfortunately the person in the counter said its closed already.How come! The timing says it starts from 12:00 to 04:00 pm.but then they didn't allow us to order the promotion coz they said in their system its already 4:15pm.
Then one supervisor came which i don't want to mention the name, says,they cannot do anything coz this is from the management and if we want to complain we can call and then he give us one of your take away plastic which has the number on it.You think its the right way? I don't think so!It's very unprofessional!!! I'm sorry to say. He could have done better than that. Either, change your system timing or change the timing from your poster or brochure make it 12:00 to 3:35 pm. since your system is 25 minutes ahead.
People won't care your system timing anyway, we all follow the standard timing in our watch.I hope you will look into this matter....If you really care about your customers!!!

I went to the Upper Hutt KFC today I found the customer service absolutely disgusting! when I got to the window to pay and collect my food I asked if I can get extra seasoning on my chips. the girl who was serving me at the window was very helpful at that stage and said yes of course and gave me extra seasoning. that was when I heard the 2 other females who were packing the food pipe up and say we don't do extra seasoning anymore (which was news to the girl who was serving me).
They then proceeded to say that if they really need it give them a pack of salt or even better tell them to bring their own if they want it. all of this banter was going on while I was still at the window but weather they thought I could hear or not this is not what a customer should be hearing. I got my food and drove off very unimpressed and not wanting to go back really. I don't know names of these females but the girl at the window was a Maori/islander the other 2 - 1 was a European lady and a Maori/islander and I believe she is the manager?
I manage in a food place myself and I would never let my staff talk about customers in such a way. customer service means serving the customers needs. I wish that these people are talked to as they need to realise they are customer facing and they need to sort out their ways of talking and acting.

On Wednesday evening we ordered a family feast from the mingara, central coast, now takeaway. When we got the food home the gravy lid wasn't on properly and had leaked all through the bag & food. Also we realised that the food we were given wasn't the family feast. We returned to the shop and were informed by Sean that they were now closed, apologised & told us to come by the following evening & we would receive a free family feast. We told him we would be driving by at 7pm & would call in. Sean assured us he was working at that time, however when we called in that evening he wasn't working & wasn't even on the rota to work at all. The young girl apologised but there was nothing she could do about it. KFC owe me my money back for the meal we originally ordered. We go to KFC once a week after footy training but we won't be going again ! There are other chicken takeaway shops here on the coast & will be getting our hard earned money in future.

Your location at 80th and Wadsworth in arvada CO is horrible. 99% of my visits I end up having to go back to get missing food. I was at that KFC every Thursday but the horrible made me stop going to KFC six months ago. Two weeks ago I decided to give it another try. I had to return twice. My large cole slaw was missing. I was so upset I left my home and went back. When I returned home I noticed they had also forgot the dinner rolls. I need you to know that the location have young people who do not care about the customer. The manager laughed when I returned for a second time and said "we have new people training new people". ??

We went to Waterloo NY KFC drive-thru and then drove 45minutes to our home only to find part of our order was missing. We called the store to report the mistake and we were told that because of the great distance to the store that we would be reimbursed the entire amount of our purchase in food credit by the store manager.When we went to the store later , we were told that because the store had made so many mistakes lately that they would not be honoring the fore-mention good-will offer,but only replacing the food that was missing .when I asked about the offer the other manager had made with us ,we were told rather bluntly that with was not their problem! All this was done in front of many other people waiting to order. I don;t believe this is what KFC had in mind when they trained their employees.This store WILL NOT get another chance to embarrass us again!!!

I went to store #J295004 in Poteau, Ok at 7:42 pm , 15 Dec 20012 to order my dinner. Upon doing so I joined the sizable group of people standing there waiting for their food. The faces of these customer were not happy ones as they waited while the crew of approximately 7 young people lolllygagged and horseplayed. Their did not appear to be any adult supervision. Their enthusiasm for service left much to be desired. The one young man that finally got my food looked and moved like he would have rather been anywhere but at work. I observed him assembling orders with obvious beligerence. The quality of my food left much to be desired. I live less than a mile from that store an when I opened my food immediately upon returning home I found it to be cold. This is not the first time my family and I have experienced slow service and poor food quality. If there were another place to get chicken other than a convenience store I would go there. Thank you for your time. I hope someone takes this seriously.

I am 60 years old and have eaten and enjoyed kfc for a long time. Now, suddenly , I can no longer eat it due to the fact that is way too hot and spicy.
did you change your original recipe. I have tried eating it with milk, bread and butter etc. My mouth is on fire. Others have said the same thing. what happened to my favorite chicken place.

Hello,I am a regular buyer of KFC,I love KFC,but the people who are working in your KFC shops are cheating the customer.I've been in Wembley high road at KFC and order a wicked bucket(as in every weekend) to take away ,and when I'm in hurry I don't heck all the time to see if everything is in the bucket,and i'v noticed that they are cheating,they don't put your full order.Either your pieces of chicken are missing,or your gravy ,or ketchup(and I always order large gravy and ketchup) and I pay extra for this.I am very disappointed with the services of KFC in Wembley High Road.You wait so long for your order to be completed ,you pay extra for what you want,and when you get home you notice that you have been cheated by the people who worked there.Very dissapointing.I will never buy again from KFC in Wembley.

yesterday i used a buy 1 get 1 free coupon at kfc big chicken marietta ga roswell rd. i was supposed to get 1 dark and 1 white piece chicken in ecah dinner. when i got home all 4 pieces of chicken were dark meat. i also ordered green beans with each meal but was given cole slaw instead. i love kfc and was dissapointed since i was trying to try your new white meat boneless chicken. i would like my money back 4.99 plus tax or another coupon to try again. thanks loyal customer barry kelly 404-316-9901.

This happen in Buenos Aires, Argentina, we have one store that oppened a few months ago:
Last Friday in Buenos Aires, Argentina I ordered some chicken strips and inside my box there was a USED BANDAGE! I had already eaten several strips so I asked them to tell me why the person who has the bandage on was waring it, in order to see if I had to take precautions for my health. They ensure me that they where going to find that out. Two days later I was not given any information and they told me that they throw the bandage away! They said that the bandage couldn't come from inside the store, and they didn't take any responsability. But you CAN CHECK THE VIDEO OF THE MALL and see that it came out of there! It's a shame that they are not considering the health of their customers. And now I am very concerned for my health.

I was in the Rockyhill CT KFC on Sunday Jan 6, 2013 we placed a order for a 12 piece Meal for 26.99 which should of had 2 mashed, 6 bisquits and a cole slaw, we only received 1 mashed first problem. Then we also ordered a 3 piece orginal recipe meal for 7.79 which we did not even receive. The only thing that was correct in the whole order was the 6 piece strips.
I called the Rocky Hill store @ 860-257-7255 and was told I could come back for what they forgot well I live at least 10 miles away so no to that. He then told me to just stop by sometime and he would give me a 3 piece he had logged me in the book well again and I am not over there very often so I asked that they credit my account and I was told they could not do that either.
This is insane not only did I not get what was ordered but now I spent 46.00 for something that we never received and my husband was so disgusted that we both did not even eat. I think this is ridiculios and I should be refund the whole meal I am driving back over there on my gas so I can get what they forgot to give me. Very Upset

I am from Cairo Egypt. Living in El Rehab City. On Friday 11Jan2013 by 16:00 hour me and couple of my friends agreed to make an order from KFC that is located less than 1klm from my house.
So I picked my phone and contact the delivery serving center and began to give them my order, but the person who has taking my order advised me that he would not be able to take my order as the electricity in the related branch next to my place is cut off. I asked him to transfer me to the complaints department to raise this issue and to find a solution with me.
A lady replied on me under the name of Soha. Advised me that would not be able to place any order to my as the related branch near to me has a problem of electricity and they do not deliver.
So I have asked her even if I pass by them myself in tge El Rehab branch would I be able to make my order, she advised me back that the branch is opened but they do not serve customer due to the electricity problem.
Even when I have asked her of the other nearest branch that could serve me, she advised me that there are no other branch can deliver me, so I asked her of the nearest branch so I can reach it myself and do the order, she advised me that she knows the nameof the branch that exist in a mall but when I asked her for its address she replied that she does not know and that she can give me its number and I call them to know their address.
I have have asked her at that time to open a complain ticket for me and when I have asked her for the ticket reference number she told me that there are no such a thing and the complain has been rejestered under my phone.
I did not have any choice except taking my car and go to get the order myself. I took couple of my friends and agreed first to check on the related close branch that has a problem and the surprise was that the branch was working normally and accepting orders, serving people, even when I asked for the branch manager he advised me that they did not have any problem of electricity the whole day.
I have called the call center again "complains" asked for the related manager, advised him with what exactly happened to me and that I am talking to him from the branch that was suppose to have a problem with electricity and that I was able to do my order and that they did not have any electricity problem the whole day.
My problem here is.
1- I could not get my service properly.
2- There was a miss communication between the call center and the branches
3- When I have arrived to the related branch, I felt that the responsible in the call center were lying on me
4- I had to leave the people at my house and to go myself get the whole order.
Make sure to find why this whole lie was raised and I was not be able to be provided with a proper service. Note, I would thank the related branch manager for his assistance, as his cashier in the branch was also under stress and was unable to fulfill my order.

My daughters and I ate dinner at KFC tonight and were very disappointed in the service and the food on the buffet,the food was old and dried up,no fresh chicken or biscuits,no forks,napkins. Every time we needed something we had to ask and it seemed to bother the employees standing around doing nothing.For 23.00 dollars i think they could have done a better job,it was not busy at all maybe 5 other people in the whole place.We will not be going back!!!

I and my family of 40 walked into your store on 4-23-13 to order a picnic valued at around $200.00 and we were totaly ignored by the staff and even the manager of the store. And yes there was only 1 customer in the store. So we left and went to chick a flick down the street. I will never eat there again and will not recomend you all.

My husband and I have lived in Ontario Oregon for the last three years, we recently visited the KFC there and were very dissatisfied with the Customer Service we recieved there. First of all I told one of the employees that the ice machine was broken, and he just blew me off, so I went back to the table to get my husband to try and get it to work, but he couldn't do anymore than I could with the machine. So to some up everything, we were unhappy when we left the resturant, and have Know plans to revisit. I think you need to revisit training employees, as they really don't understand how to treat their customers.

On 26/02/2013 i went to my local KFC in swindon, as i was waiting for my order some guy walked in complaining about mould on one of the buns to his mini fillet so decided to check mine in the shop only to find i had exactly the same problem, i walked back to the counter to complain, all i got was a grin, he then took the burger and bought another one out to me, i had no apology from anyone in the shop, i am absolutely disgusted with not only the food but the way i was treated as a paying customer!
I will wait for a reply back and if nothing gets done about it i will take it further!

I never had a good experience everytime i go to KFC, the first experience i had that really pissed me off , i was given an uncooked chicken at the drive thru in one of the store in prince albert, sk (near days inn) We complained about it the next time we visited thier store but staff there they just listened & didn't do any action nor apologized. Today, may 5th 2013 12:40nn we happened to drop by again at kfc idlewyd dr in saskatoon for lunch, i didn't know that if you order a chicken meal they always cook a thigh & drumstick part but i wanted to have 2thighs so i asked if its possible to have it changed, the staff incharge in food prep sounds so rude, i just left the counter & didn't bother to get her name since i don't want my holiday ruined because of her but i can't let this experience pass without complaining. To kfc management, you should train your staff in giving your customers the excellent customer service we deserve, i have been a customer service oriented person for 8 years & i tell you customer service really matters.

I went to KFC just about 30min before. Yesterday i had received a coupon from KFC Saying get $2 off from your next combo meal or 2,3,4 piece chicken meal at KFC. The girl there refused to give me $2 off i'm pretty sure she did not understood what the coupon said. People working for KFC do not even know how to speak English properly i mean this is about our food they should hire people who understand English she said No that does not include combo even tho it said combo meal. i was going to tell her to call someone else but because there was a line behind me i was like what ever and i dint say much i dun care about $2 off but if im going there with a coupon at least they should know there promos and what deals they have I will never ever go to KFC cashiers are rude they don't understand there own COUPONS how LAME!

I recently dined at manvers way KFC resteraunt in barnsley South Yorkshire we had to wait 15 minutes before we were served despite been the front of the que and once we had placed our order we had to wait a further 15 minutes t get our food which wasn't very warm when it was served to us due to the amount of time we had already had to wait we decided to leave the meals and go elsewhere

I placed a order for 40 pieces honey barbeque wings for my grandchildren dinner.I was pacific about the chicken wings not being spicy, when i got home and served the children they were firey hot. I called the store to complain about the order that they had gave me and I talk to the manager Jeremy and the General manager Lisa and was told that all of the wings were firey hot and they just dipped them in barbeque sauce and I no that is not true for all kentucky restaurants because I ordered some from another store a few days ago and they were perfect. The sign states honey barbeque or firey hot.I was disatisfied with the service there service.Thank you in advance .

Dear sir/Madam, I am a usual costumer of KFC. Today Morning at 11:30am I was purchased two party meal from Mangaf shop (Block :4, Kuwait Cahier name in bill Mr. Eslam hesham). And I requested to him to provide me 20 paper plate he refused to give, normally they were providing. But he replied me that now company is not allowing more than 15 paper plate. I feel very bad when he replied this way this kind of service will spoil your company goodwill and customer satisfaction

I am very disappointed as once again when we got home after purchasing KFC we were not given all our order and hear we got was incorrect. We ordered a family pack with one burger to have just chicken only and also a snack pack. When we got home there was no snack pack and no plain burger. This was very upsetting as that meant my son had no dinner and the grandchildren had to have a few chips in bread. It's is not the first time it has happened but I just couldn't be bothered to complain.
This time I have had enough as we got charged for what we ordered but did not get what we wanted. We have KFC every week so we are good and regular customers who are not satisfied with this service. While I understand it gets busy, I would think that one thing they would do before giving you the order was check it was all there. I look forward to your response. It was purchased at gunghalin store canberra.

We went to KFC in Moreno Valley (Heacock), CA ordered meals for family get together. I do understand that there are customers, but had to wait extra half an hour since the first meals were ready for takeout and forgot about the other meals, so they asked us for another half hour so they can get the rest of the orders which was not even ready but they had to cook. We were very patient and decided that we will wait for the other rest of the meals.
They eventually finished and handed our meals and did not apologise for the delay. We didn't mind at all since i and the rest of the family grew up eating Colonel Sanders as Finger lickin' Good. This time i noticed that the chicken wasn't cooked well and the spices on it was not the same taste as it usually is. I was very disappointed. This is not how the Colonel satisfied their customers. Please give me some suggestions on how this type of problem could be corrected and never happens again. I still love KFC, but i kind of got grossed out by the chicken and made me very giddish to buy or eat chicken for a while. I would be very happy to have a resolution to my question and thank you for your time and patience. God Bless.

Today, November 2, 2012, I went to KFC store #549 in Puerto Rico at 3:44pm to be precise. There is an advertising about a bucket of crispy chicken. So I went and ordered it. I was told I would have to wait 14 minutes for the chicken to which I agreed. I asked the lady taking the order (drive thru) that I would like to choose my chicken pieces to which she said that the crispy chicken only comes in thigh and legs . To my surprise because I've had it before. Nonetheless this is not what the advertisment indicates as it pictures chicken breast, wings, etc. So I decided to ordere indivual meals, which was not my intention. Once I get to the window, I pay and the lady hands me my drinks. I ask her for a drink tray (for three drinks) and she said they didn't have. So here we are struggling with the drinks so they won't spill in the car. Then she hands me my order and I'm still struggling with the drinks. Another female employee comes to the window and starts calling and saying: "here is the rest of your order lady" and kept calling lady, lady. I look up securing the last drink and as I did she threw the rest of my order on the counter and walked away. This is not how I expect to be treated while ordering and buying food. Needless to say, if a piece of chicken it's not part of the promotion then why isn't stated on the advertisment. I'm really disappointed at the service and advertising which seems to be inacurrate.

Good day,
Lats Night 20 December 2012 18:55. I phoned to place an order with KFC Brakpan. At 20:00 still no delivery i tried and phone them on the same number (011 740 7221) i used to place my order and then it kept on saying call failed. I then contacted the call centre which gave me another number (011 740 9530) which also when i phoned kept on saying call failed. I contacted the call centre 3 times and they said they will try and get hold of them but still no one came back to me. At 20:42 my food arrved almost 2 hours later and only to discover they did not give me everythin i ordered!!

I had the worst fast food experience ever @ KFC located at 2834 Boyer Street in Charlotte N.c 28208 704-697-8002. I went through drive-thru because for some reason the lobby doors were locked before 10p.m,, I placed my order which was two number one combos one with a mountain dew for the drink the other with Pepsi. I also asked for one of the combos to have a side of mac and cheese and the other to have a side of potato wedges. in addition i asked for an extra side of wedges and an extra side of mac and cheese.
After placing my order i had to repeat everything because the cashier obviously did not hear my order. The cashier told me my total was $14.29, once i got to the window i gave the cashier a $5 bill nine $1 bills and 30 cent. the cashier was so busy trying to take the next customers order that he did not give me a receipt nor did he give me my $0.03 in change and i did not see him put the money that i gave him in the cash drawer.
I was asked to pull up to the next window by the cashier (kendall) and once there i was asked what my order was because kendall obviously had not rung it up. Taking up to much time at the window the manager quickly approached, he said that the order was not on the screen and asked did I have my receipt. I told him that kendall did not give me a receipt nor did he give me change. Kendall argued back and forth that he did which i thought was very unprofessional so instead of them just fixing the order i asked for a refund.
Who would want to eat from a restaurant that has given them bad customer service? The manager then asked for me to pull up to the lobby door so that he could count down kendalls cash drawer. I waited for about 10-15 mins and no one came out so i drove back around through the drive-thru. The manager came to the window and told me that kendalls drawer was correct and that they had a no-refund policy so he could not give me my money back all he could do was give me his managers card with information on it regarding how to make a complaint. 

I was at KFC and was trying to use a coupon that was in the post bulletin and they would not honor it. I said it was in the paper and that is false advertising when they give a coupon and won't let me use it. They woould no t.. I bought the food anyway but do not think it is right to get cou[pons to get people to the store and then they refuse it...

We have just visited kfc st helens 30/09/2012 we have been before but today was awful the girthey l's bethind the counter were to busy talking said we have no beans yet they had some as customer after us got some then they said they had no tango my son pointed out some behind her then she said the krushum machine wasnt working she use gave a customer had to recieved 1 an the girl said il fill machine if u really want wait i said yes so reluctantlyshe filled it slammed krushum on counteasr asaid no lids i am disgusted with staff today

Today May 3, 2013 at 6pm. The associate supervisor ( wearing red KFC T shirt) whose name was withheld to us by the store manager treated us rudely and disrespectfully. We had difficulty understanding each other regarding my order,so with an insulting demeanor she turn her back with her thumb pointed at me she shouted" Can somebody explain to this guy) then left" I felt stupid and illiterate with her action. I can speak and write in English very well. To help KFC maintain excellent customer service, i brought to the attention of the store manager( LIZA) the insulting demeanor of her supervisor and requested for the name of the associate in the red t shirt and the tel. no of KFC corporate she then said that she would talk to the supervisor concern. Instead of providing us the tel. no of the KFC corporate office, Liza instructed the supervisor ( red t shirt) to approach us while taking our meal. She us ask if she could talk to us to which i answered why? She then again turn her back to us and with both hands waving she said that's it. Meaning, were done. After our meal, i again talked to the store manager (Liza) for the name of the supervisor in red t shirt and the tel. no.of the corporate office to file our concern. She responded by saying that i sent her out to apologize to you but you simply responded with why? She then abruptly turn her back and left without providing my wife and myself the Tel. no of the corporate office and name of the person we would like corrected and trained on good customer service We feel that the responds and action of Liza is very unprofessional and below the standard of the customer service of KFC. ( Store#KO71098. 527 Franklin Mills Circle, Philadelphia. Tel 215 612 9096) Receipt ticket no.3896 6:00 pm. Thank you for your kind attention and more power to KFC

I have a concern about recent TV commercials that depict an angry husband confronting a clerk behind the counter at a KFC store. I find the ads creepy and offensive. I don't think there is anything funny about controlling husbands following their wives and being aggressive towards the clerk. It is obvious to me that whoever created these ads thought this was humourous. There is nothing humourous about this kind of man especially if you are the the wife of one of them. You cannot normalize such behavior. Maybe some sober second thought should have gone into this ad campaign. I think you should stop these ads and create new ones that are not offensive. Thank you for listening and hopefully KFC will care enough about your brand that future advertising will be better for all. Cathie Mitchell

re KFC 405/407 Ashley road .Parkstone. On many occasions on visiting this outlet late evening during advertised opening hours on the front doors, to be told ,we have shut down the cookers ,and there is no food !!!! This is not an acceptable practice for franchise who rely on profit turn over to make money for their head office .
The closing hour is 12pm (midnight) , this happens at 11.15pm . Are the staff on a mission to point their customers to the opposition , California Chicken shops and so reduce profit ? When complaints are made , a blank look of disgust by the staff ,of how dare we ask for food in an out let that purports to be a food out let . May be they are on a mission to get this shop closed by lack of turn over .
I hope that you look into this matter ,and await you`r reply .

HI, This is in relation to our visit at the KFC outlet in RGI Airport, Shamshabad(A.P) on 12.12.2012 at 10:57 pm. Considering KFC to be such a big brand, we decided to eat at KFC for the first time. Personally being a vegetarian, I enquired about the vgetarian options to eat at KFC. The response of the attendant present then was very cold, unwelcoming and lethargic.
He did not have the manners to even respond, even though there was no one at the outlet. Thereafter Mr. Apsar Basha suggested vegetarian options for me after 5 minutes took the order and disappeared in the kitchen. After a gap of about 3 additional minutes Mr. Dilip Reddy came out and on enquiring about our order he realized that the invoice was just lying at the table there.
Realizing the mistake he immediately apologized and asked us 10 minutes, in the hurry serving us the wrong dish. Before taking the dish , we enquired with Vikram, Dilip Reddy and Apsar Basha whether it was vegetarian to which Apsar Basha replied in the assertive.
To my horror it was nonveg, we gave back the toasted twister to which they realized the mistake again apologized and my friend thereafter purchased veggie snacker(11:13pm ) for me since I was hungry, to which they took 10 minutes and said that it would take 5 more minutes.in frustration I got up from my seat and said I do not want it, to which Mr. Pasha said that I have already paid for it by swiping my card and that my order will be ready.
Thereafter Mr. Nanda came in and offered us a complimentary veg meal, however we didn't take it and left it there only and asked the staff to eat it.
It was the first time I had nonveg in my life. Please find attached the bill for the same, highlighting the venue,time,date and also photograhs of the outlet. and staff.
I understand Mr. Nanda and Vikram saying that the employees are new but in that case they should be provided with requisite training.
This is to highlight that the behavior of the staff was really not acceptable ,they displayed no standards and were absolutely rude. The mistakes were repeatedly committed and their callousness and lack of interest in work was shown. They wasted our time. We landed at KFC at 10:30 and the order was taken at 10:57 and we weren't being served on time
For a vegetarian who repeatedly enquired 2 times if the stuff was veg and what were the options in veg, I think providing non veg after discussion was not acceptable. All this has caused a lot of mental trauma and waste of time and an unpleasant experience.
The attitude and behavior is not acceptable. My entire experience of being in Hyderabad itself has turned sour on account of this occasion
I wouldn't trust any KFC outlet to serve me veg or on any words of KFC employee.

The store I am complaining about is on 8034 Greenback Lane, Citrus Heights, CA. I have been using this store for a couple of years but starting last year this store every time I order a couple of meals I always get home without a full order. In fact I have changed stores but unfortunate it is out of my way a few times so I use the Greenback store and again I get my order home and I am missing parts of my order. And to top it off they never give you a receipt so that I can call them. I am tired of going out of my way to get the rest of my order, and I want you people to punish this store some how. Also when I do go back to get my order they never offer me any compensation for my TIME. I also think the problem is that store, in the evenings, only seem to have young men working there who obviously don't care about your customers. I will be going to the other store from now on.

Went into restaurant Store # D3330117 on 3/17/2013 at 5:31 p.m., Receipt # 3996. We purchased 2 senior buffets & an order of hot wings. The buffet looked very unattended by the staff. Food was not up to temperature, the stuffing looked very dry, dark in color and was not hot at all. NO chicken on buffet at all. Bisquits were as hard as a rock, gravy had a hard film across the top, corn was cold, and bread pudding looked gross. We asked a staff member, Kiara if they were going to do something about the buffet. Kiara acted like we had asked the impossible, she said she was to busy. She had extremely bad customer service skills and should NEVER work with your customers. The way we were treated needs to be addressed to this staff member. We finally had to ask 3 times before receiving any chicken over the front counter. NEVER was there any chicken directly put out on the buffet nor was the buffet ever replenished with fresh food. If this was not a Sunday evening we would of called the Health Department for this was a serious health violation. This is the second time we have experienced issues with this store and would appreciate this to be addresed IMMEDIATELY. If I do not hear anything the Health Department will be addressed with this store.

I visited the KFC 6625 victoria, montreal on thursday, I asked for 8 pieces of white meeat. I was told I can't have it because KFC needed to keep some for other customers!!!! What kind of policy is this! I'm paying for these items so I believe I can ask which part of the chicken I want!
I was told by tow girls from stuff .theirs name is Roubee n Laura I can have only 2 white then she went to ask her manager and she said I could have 3 white out of the 8!!!!KFC, you might need to get your staff to review their CUSTOMER Service responses!
Because telling the customer in front of you that you can't offer them something because you have to keep it for other customers!!! Seriously!!! neither they dnt no how to talk with costumers , what's with the whatever you say attitude!!!

I am writting in reguards to a complaint made to me by a friend on my facebook. As well as from personal experience. My friend Susie Dudra Klee was at KFC today during dinner hours and was having the buffet with her mom when She seen this handicapped man in front of her. He was filling his plate just like anyonelse would with his favorite food macaroni and cheese when she spotted several employees and customers making fun of him behind his back and while he was in plain earshot . She proceeded to complain to the manager on duty when he commented to her that we was just being wasteful and shouldn't be here. He wasnt doing anything wrong except for doing what anybodyelse does when they are there. He is a paying customer like anyone and should of been treated with respect. This not only makes me sick because I have a child myself who is special needs but i also have a brother who is special needs as well. We like comming to Taylorville to that location however I'm hesitant to do so now knowing that if y our not like the rest you will be teased. And considering I have family in that town I think I will inform them of this as well. I wouldn't want my cousin becoming another victim as well. original statement below :
Susie Dudra Klee
GOD HELP ME! I am about to lose it.I spent a wonderful day early Christmas shopping with my mom in Taylorville.We stopped at KFC for lunch and everything was fine.A mentally challenged man bought a dinner to the buffet.He filled his plate with macaroni.Every staff member in the place began making fun of him. Right in the dinng area.I complained to the manager who told me he was wasteful.LOOK HE PAID!DOESN'T THAT MEAN HE GETS TO DO WHAT HE WANTS?EAT WHAT HE WANTS?BE ALLOWED TO EAT WITHOUT BEING WATCHED?
her email:
killersusan@facebook.com
my email: beyersgirl@yahoo.com

I orders the hot wing combo but instead I was given some sandwich with bacon on it. I couldn't go back because i had to return to class but I was highly upset, this is the 3rd time my order was messed up. I won't be back!

I was at your KFC in Canton, Ohio on Portage Rd.
I was told to go ahead with my order then asked
To wait for like 2minutes in the rain for the order taker.
I was annoyed but imagein how I felt when I
Found out your staff did not give me the food I
Ordered. When I got home I discovered there
Were on sides or biscuit for one meal. I called and
Let some one named, "Helen." This person was
Completely riddle and never apologized for her
Her self or your company!!! I just don't understand
Why you make a mistake n yell at me about it.
Some one should call me for the whole story.

I went to KFC/Taco Bell in Ardmore, TN at 9:45pm on November 14, 2012. This location closes at 11pm. I ordered a family bucket of chicken with mashed potatoes and gravy and biscuits. The biscuits were rock hard, and the chicken was like rubber. After returning home to find this out, I went back up to KFC to ask for fresh food, where I received horrible customer service. Was rudely told that I would need to wait 20 minutes on my chicken and that since an hour and fifteen minutes before closing the employees shut down the oven, that I was not able to receive the biscuits that I had already paid for. Why the employees are allowed to shut down equipment so early, I am not sure. I think that this is very unprofessional and should not be allowed. All I wanted was fresh food, which I asked for before purchasing. I would like something to be done. Thank you for your time.
Sincerely,
Shaina George

So I went into KFC last night and it was 840 pm. I get up to the register and I have to wait there for about 4 minutes even though they had no customers and they saw me in there. The woman that took my order walked very slowly and acted like it was an inconvenience that I was there. I ordered the KFC bowl and some Macaroni and cheese she told me it would take 10 minutes for the Mac and cheese so I said that's ok. She came back to tell me that they close the lobby in 20 minutes and that if I wanted the Mac and cheese I would have to go through the drive thru. Are you kidding me? I've worked in fat food places before and if a customer comes in 20 minutes before closing you cannot turn them away!

We ordered a KFC yesterday from Qurum, Oman,just before 7p.m. After a wait of 1 hour we recalled them. Answer in 15 minutes it will be there...... After half an hour another call as the kids were now very hungry....... Answer in 5 minutes........Finally after around 9.30 the food arrive....... we were on the line asking them to cancel as we have already made an order to Pizza Hut.....The manager then spoke to the delivery boy asking him to return..........40minutes later Manager calls again saying his sorry and except it with no payment......finally when we got the food....the chip boxes were all smashed and miserable to look at..food cold...Coleslaw has spilled in the bag.....It was just good for the dirt bin...IS THIS THE SERVICE WE GET FROM SUCH AN INTERNATIONAL FOOD SERVICE......Please see to this matter.......

i am one of the staff working in tafs food company under this they having branches in dalston,hackney, highbury, stoke newington,illford, seven kings, seven sister, startford centre, stratford westfield, walthomstove centre, leabridge, forestgate and leabridge. in all of those branches they are not following procedures because i am working in that company.
they get work from people they working for them and they will not treat them properly because they wont provide staff meal and we wont provided peoper safety equpiments and they will tell to work us it may affect us if future if any of the people asking this things to the manager or area manager we will loose their job or they will give hard time and they will sack them immediately.
i was working as a cook if am cooking the chicken means it will get expires in 1hour 30 minitues afer that kfc rules is to put that one in scrap but in our company we are doing this things we will keep those things untill those this are sold, the people who are paying for their food they are not getting the value of their money.
and if i cook fillet and zinger it will expires in 1 hour but they will keep it for whole day. now a days there are too many things to cook chicken, hotwings, fillet, minifillet, hotshots, and bbq rancher, but they will put only one peoplr for cooking and they wont help us.
if they working properly means they will get daily like too much scrap like waste things but in above mentioned stores it never happen. if CER or EHO visit they they will follow the rules on that day we use to put too much waste after that when they left the store they use to take the waste things and they will hake it reheat and they will sell those things.
and if some things we will defrost for business for example bbq rancher it contains 20 in a bag but we wont sell 20 bbq rancher in a day what our people will do means change the date and they will keep it for 4 to 5 days but procedure is to through it by end of second day. like this happening in our company simply i can tell is.
this is not KFC this is chicken and chips by these kind of company KFC getting bad name please visit those store and investigate those things. by the time of investigation please follow the counting in RMF aswell because you can see how many waste things we entering daily and how many sold by this you can find out how those people running the business.

I was in KFC restaurant at 960 S State Street, Bartlett IL with my daughter on March 17, 2013. I cannot tell you what a horrible experience I had. The cashier did not seem trained enough to handle the order taking by himself. I wonder if he was even trained at all!
There were about 3 other customers ahead of me that were waiting for what seemed like a very long time, at one point, one customer walked out because she couldn't wait any longer for her food, or maybe it was because of the constant talking and laughing of the kitchen staff. These people are preparing customers food, not at a social club!!!!
The kitchen staff didn't stop even after more customers tried to dine in and enjoy their meals in PEACE! I do not see myself going back to that KFC restaurant AGAIN! I certainly will NOT recommend my family or friends in going there. It makes me wonder what is going on with the quality of service these days!

The people who work at the queensway and park lawn location in toronto ontarioare so ignorant and they speak on their cell phones when your standing in front of them waiting to order. The give a tremendous amount of attitude, just toss your fries in the bag, get upset that they have to serve you and use awful manners when speaking! I dread everytime I have to go into this location and the only reason I go to that one is because it's walking distance to my house. I have filed previous complaints but nothing has ever been done about anything! It is discussing that these are the people you are letting represent your company!
Regards!

Last Wednesday my partner and myself stopped in at your store in mackay and purchased some original chicken pieces on our way to airlie beach for our Easter holiday at club crocodile resort. 3hours after our meal my partner was so sick she could not move she was just vomiting all day and I thought it must not have been the KFC because I was ok!!
Hours after I was same as her it was a horrible experience spending the one yearly holiday we take sick with food poisoning. This was the only same meal we had together that day ie it was the KFC witch poisoned us..
I rarely eat KFC because I worry about this Kind Of thing? Thanks for ruining our holiday.

I went to store #D212059 @ 10720 Baseline in Mesa, AZ . An acrid odor was present as soon as we entered the store . It smelled like very old grease. I thought someone had probably just emptied the cookers. I went ahead and placed my order. When we got ready for dinner and put the chicken on the table the same horrible odor was present. We tasted the chicken and the skin tasted just like the odor. We have been KFC customers for many years and have never had a bad experience until now. The owner of this franchise should be paying more attention to his product. My bill was $23.64 for inedible food. I believe the owner should be notified. This occurred on 05/06/2013 @ 3:28 pm.

I entered the store in Bradford, Saltaire just before the saltaire roundabout at around 8.20pm. I ordered a big daddy meal and a boneless banquet. Last time I ordered only about two weeks ago. In store they had failed to put bacon on my big daddy. There had been other instances months before. However, this time I checked whilst in the store. Once again they had not put bacon in the big daddy. I asked the manager why. His answer was they had no bacon. He expected me simply to accept it. I mentioned he should have informed me as I only choose big daddy because it has bacon. I asked for a refund as I found him to be arrogant and rude.
It is my suspicion the store is refusing to serve bacon. And does not inform customers prior to purchase. They. Should inform customers if they are indeed doing this. I was very dissatisfied and let down. I do like KFC. But do not trust the staff in the store. They also sit in the customer dining area on free breaks chatting whilst customers wait. They genuinely look annoyed when having to serve you. It's very unnerving.

I entered the KFC store#E791048 in Lancaster, CA to find myself number 3 in line. The girl behind the counter was counting pennies into the cash drawer. I thought the first person in line had paid with change and the girl was counting it. The longer I stood there it became apparent the girl was ignoring all of us. The girl continued to count the coins in the cash drawer. The first person in line asked the girl if the restaurant was open. The girl looked up and said yes then looked down and continued to count the coins in the cash drawer. The customer asked if the girl would take her order. The girl looked up and said she was counting her drawer and told the customer she had to count the drawer. The two customers in front of me turned and walked out of the restaurant. I asked the girl if the only way to get service was to go through the drive through and she said yes. I walked out and drove through the drive through to get my dinner.
When I arrived at the drive through to pay for my dinner there was an employee in the background yelling at the other employees about pot pies.
This was not the kind of restaurant for customer service.

I live in Knoxville Iowa and our KFC here just needs to be shut down!! Everytime I go there and order our meals we never end up with what we ask for. Tonight I ordered a chalupa with extra sourcream and guess what? No sour cream at all. Last time we spoke right to the shift mgr and the drive thru person ordering 4 famius bowls with macaroni instead of corn and guess what? We got corn in all 4. The time before that they forgot my biscuit. This place I swear is ran by a bunch of Add people. Customer service is absolutely horrible and they are so slow .I have waited 10 minutes in the drive thru for my food. Im fed up andvthey will never get my business again.

I went with my two childeren to the KFC on south 27th st and College ave in Milwaukee, WI on saterday 1/112/2013 . As I walked in there were a couple of poeple on line ahead of us. It took a bout 15 just to get to the counter to satrt our order to go. The employees were given all attention to the drive thru window and alot less to those inside . We can only see 3-4 employees total serving . I ordered the family bucket . After long wait , we were told they are out of crispy and it will take at least another 15 minutes for a new batch if we didnt want to take original instead. We got realy dissappointed but were forced to wait because the kids didnt want to cancell the order . I thought any courtesy action would have made feel a lttle less dissappointed , but they wouldnt do anything at all...that is bad .

I purchase the 20 piece strips and other side and got home with no dipping sauces, I called and told them and the superviser not only was rude he hung up on me, I called back and he claimed he dropped the phone. He said I had to ask for the sauces, that is silly. I was not going to go back as the store is 15 miles away and it would have cost me more in gas, He did not even offer me a coupon, did not say when you come in next time we will make an ajustment. He was just out and out rude. I told him that I will not go there again and I have alot of friends that will not longer visit this location. I know this may seem like a small thing but had he not been rude and said I am sorry this happened I would not be writting this, he needs to know you get alot more with honey than you do with vinegar.

I ordered a streetwise bucket meal with spoonfuls online, then as usual - received a call from KFC to cinfirm my order. I was frustrated to hear that the "spoonfuls" was not yet available until tomorrow..The problem here I'd that the representative was so un professional until I got irritated and become an irrate customer than what I really am..becquse she even lied that the chickens too were not available and I gave her the tone that is it possible??? Then she corrected herself saying she only made a wrong statement..though I already know that she wanted me to cancel my order..No customer compassion, until hearing a strong voice from me..They even put on the speaker phone that made the call more irritating, for I couldn't hear her very well because of the background!

i went to the drive in at your store in warrington alben retail park , i orded 12 boneless box and i was asked what bottle of pop i would like i said pepsi , i paid for my meals £22.48 i paid by card , when i went to collect my order the young lady told me the she had no bottles of pepsi she only had diet i advised her that i had paid for normal pepsi not diet . i asked her for a credit not as i had paid for my drink she said no , then asked me if i wanted 7up again i said no , she told me there would be a 3min wait for my food ,i said ok i parked up and waited to collect my food after 10 min i received my food but i still asked the young lady for a note for my bottle of pepsi , she still said no her customer service was poor , i asked for the shop s phone number and the managers name , she told me she didnt know the shop number but the managers name was ste ,
i took my order and went home , only to find my side order of gravy , the lids was not on tight and went over the boxes of food , and also the food was cold , is this good customer service ???

Respected sir, My name is pushpendu bardhan from kolkata, India,today i was going one kfc outlet,and i ordered 2 pic chicken with Pepsi, when they give me i saw bad smelling from chicken then i told them i can not eat it because it too smelling please change it, but they misbehave with me and they didn't change it , this incident happen with me in kolkata, diamond plaza kfc outlet, and person misbehave with me his name is bapi, and he told me i can not change it because you are not special customer if yo do not take action against him then i will go go to court ,he used slang language with me, indecent happen in 1.51 pm, today in kolkata near nagerbazar in diamond plaza kfc outlet, i will take action against on kfc if you do not taking any action, the person who misbehave with me his name is bapi working diamond plaza kfc outlet.

I can see that all complaints to KFC are on deaf ears and they could care less, anyway. Harlan Sanders would turn over in his grave if he knew how sorry some folks are that attempt to run his business. My compaint is about the sorry restruant being operated on Albia Street in Almaty, Kazakhstan. My wife and I thought, oh boy, a KFC in Asia. We were in for a big let down. Other than being clean, the business is only a KFC in name only and we would know, because I am from Kentucky myself.
The chicken is over cooked in oil that doesn't get changed regularly, the portions are all small, no dinner meals, no bread, no mash potatoes and gravy, you pay for Ketsup for your french fries and if you want a refill, you pay for another drink, not to mention the rude and unorganized service which is normal for this country. I am really surprised that such a sorry resturant is allowed to operate under the KFC franchize. If folks had a chance to eat at a real KFC back in the USA, they would laugh this place out of business.

We decided to treat ourselves to a nice family feast meal tonight instead of cooking. We got the 15 piece bucket with the extra large fry, large gravy, two salads coleslaw & potato and 2L bottle of pop at the Midland Ontario KFC. Took it home and took everything out of the bags and the potato salad looked funny it has a funny color to it and we tried it and it has the macaroni salad dressing on it instead of the potato salad dressing and it is awful and sour tasting. The coleslaw has such a strong chemical taste to it and it instantly turned our lips numb. I'm happy to say for the first time that our kids did not have any salad not that its the kind of salad that is healthy for anyone anyway but once in a while we like to have KFC as a treat and it was really gross. I want to know what is in the salads and I am terrified by what we just ate. Are the chemicals in there to preserve it and make it last longer? Wow its bad enough getting greasy heart attack chicken but we only eat like that once in a while so its not like its going to kill us but the chemicals is that necessary? I feel ripped off by KFC and this will be our last meal there which is too bad because I remember KFC being so much better and it use to be a nice treat once in a while. I would like our money back and want someone to test the salads to see what is in them .

Just bought a KFC in Jersey to eat on the go, but all 3 pieces of chicken were barely luke warm with a soggy coating from all the greasy oil. The fries were also just luke warm and soggy soft. I would have returned them but my parking card was about to run out.
The boat show is being held near by so would have expected the outlet to be very busy, which it wasn't, and it's no wonder!
Very disappointing.
N Parkinson.

I have just purchased a colonel burger - my favorite burger from KFC that i buy frequently - and cannot believe how unbelievably DRY and CHEWY it is!! The Chicken Pattie has CLEARY been sitting for FAR too long. I have NEVER gotten such bad food at KFC before and am very disappointed. I would gladly have taken it back if i hadn't taken a twenty dollar fare taxi home!! On the bright side, the customer service was superb as it always is at KFC Princess street, Palmerston North, NZ.

This message is concerning the uniform wearing of employee named "Arthur." It is very inappropriate and disrespectful to wear uniforms in such manner as "Arthur" was. His pants were way below is waist-line and I was very disgusted when I saw this. Employees should HAVE to wear their uniforms properly. I was very displeased as a customer coming in to Kfc and seeing this. Being very disgusted I am stating my opinion that every employee should use proper employee uniform customs to the best of their ability if they want to truly work in that business. Respectfully I ask that this complaint I have be taken seriously, and there be something done about this situation.

The KFC on Martin Luther dr In North Chicago , Il 60064 they always out of the advertised items I went there for hot wings no hot wings I went there for fried chicken no chicken went vigor pot pies no pot pies this store never has anything advertised! I won't ever go there again!!!

after going into your kfc store in fenton,s-o-t,england i was disappointed how unclean it was,i had to wipe over our table to be able to eat after no staff were on hand to clean it for us,also the food was cold which seems to always be when we treat our children there. our family like kfc but we are getting to the point where we would rather go somewhere else for our weekly treat.

Drive up window, 1st time, ask for 6 piece boneless white mea family dinner. Had to wait 3 minutes for white meat fine, when we got got home we had 4 thighs and 2 white meat. Next day ordered 2 piece white boneless dinner drink came with dinner, and added an. Potatoes and gravy. No drink, no potatoes and gravy, when we got home. And I had 1 white and 1 dark, suppose to have been2 white.

I'd just like to say that we were at the kfc in Somerset, PA on Wednesday April 24,2013 over the busy lunch rush hour. While waiting at the counter for our food we observed what I'm guessing was a manager, he was a taller man with dark hair and glasses, screaming and cursing at one of his cooks. I found this vet unprofessional and ridiculous. First I was there with my five year old, so I was not happy about the language being used. Second I can't believe he would act that way in front of customers or even treat an employee that way. It was absolutely ridiculous and I will never eat there again or at any other KFC if they think that kind of behavior is acceptable!!

Ordered a 15 Pcs bucket for a mini party @ home with friends, usually choice goes to KFC. But this time the quality of the food served sucks and it was stinking. Thw whole party mood was spoilt. Dint expect this from a well established food chain like KFC, im a regular person to order from KFC during weekends , this came as a shock and felt too bad.
Ordered from Dubai - on 04-Apr-2013 @ 7.45 PM order number : 1697214 from Qusais Eppco.

I have just perchased a kfc from the popular resteraunt on county road,liverpool and I am appauled with the service provided! Firstly the server named karcolina was unbelievably rude and had an appauling attitude, and frankly looked like she could not be bothered. While serving us she got the order wrong, and claimed we were lying about our order! Secondly she was scratching her skin all through serving us, we also very clearly saw her lift up her t-shirt and scratch all her body before placing a burger bun on the grill with her bare hands which she didn't even wash after stratching.
After confronting her about the scratching she lied and said she didn't, when we very clearly did, I have two witnesses and cctv evidence of this! She claimed she would make a new meal after we confronted her and we obviously said yes. To find out she'd make another without wearing any sort of gloves or even washing her hands! Something has to be done and I will never be eating at that resteraunt ever again. The hygeine standards are appauling and I would never recommend anybody to even step foot in there!

I was eating in your KFC restaurant in Renfield Street Glasgow on the 6th of november 2012. I had the chicken selects meal, my sister had popcorn chicken and chicken wings. When my sister went to eat her meal she discovered it was cold and returned it for a hotter meal I foolishly ate mine, which was slightly cold. I have had stomach cramps, have been feeling sick and unwell since. I have not been able to eat anything since.. I will not be eating in your KFC restaurant every again, and i will also be telling all my friends and family about my experience. There was a sign that the shop was closing early for maintaince work I am just wondering if the cookers were not working properly.

The KFC in Palmerston is run by the worst managers I have ever seen.
I have been there a few and everytime the service is appalling, employees including managers are rude and extremely slow!
the whole restaurant is quiet there is no such thing as team work or time management.
As a past employee of several KFC restaurants in Queensland I was absolutely disgusted in the staff working at this particular restuarant.
Just on Saturday I was served by a very rude loud young lady of culture who could hardly speak english and it took her over 30mins to provide me with a simple family feast! when she finally gave me my order she slammed it down on the counter and served the next customer. I walked away and took my meal home to eat because she had bagged the meal up providing me with no serviettes, spoons etc which to me made me feel very unwelcomed and appreciated.
That night my partner and I were up sick the remainder of the night because we ate the family feast that had disgusting slimy chicken and the potato and gravy looked and tasted like it was weeks old, the texture of the gravy was chunky!
I would like feedback on this complaint so I know that this will be dealt with. I highly recommend further training or new recruitments for this restuarant as I know how excellent KFC restuarants are encouraged to perform especially as a team.
Kind regards,
Tamara McLean

Whilst visiting your store in devonshire rd blackpool on weds 10th april i was extremely unsatisfied with our meal orders and the customer service offered.... the big daddy burgers appeared to have been just chucked together and the bun was sum what dry and crumbling as though it was left out and had gone hard as a result.... when we took our gravy back to the girl at the til to complain it was more like brown water than that constitute of gravy her reply was it must be a faulty batch which in my opinion it shouldnt have been served but fot rid of and a new batch served. we was told we could have beans which was unsatisfyingi as we niether wanted or liked them..... i was really unsatisfyed with the whole service of the store and will not be returning there in a hurry what a truely horrible experience all round.

I just went to KFC tonight and the wait in the drive thru was very long, the guy taking the order was very rude & abrupt. What really aggravated me, was that after I got home & opened my box, I was quite disgusted with my white meat that I had to pay so much extra for. I got a breast that was about the size of a card deck and the wing was the smallest I have ever seen.
I can't believe you have to pay so much extra to get white meat & then to find this. The food was barely warm & the biscuit was actually cold. The mashed potatoes were like soup. I am very disappointed in KFC. They use to be SO good, and now chicken at Dierberg, Schnucks, Lee's & Church's beat them by far, including the price. For a fast food place, the service was not very fast.
I just would think that in this day and age with the economy the way it is, that places should be falling all over themselves to make you happy and give you your money'sworth to try and keep you as their customer when their are many more places you could patronize instead.
After reading all the complaints on line about various KFC's, there is obviously a BIG problem with this place of business. It wouldn't surprise me if they didn't close down soon. No one seems to be happy with them. Perhaps it is time for someone to do something about it. Thank you.

My family & I visited KFC at Durham Retail Park Co Durham on 4/4/13.
1 The person who served us was unprofessional and grubby in appearance. He interupted me whilst I was placing my order to comment on how dirty his inputting screen was.
2 When we received our order there was tomato ketchup on the tray.
3 The food was cold.
4 Automatic closing mechanism on the door was broken - the door was constantly open and it was blowing a gale.
5 There was a group of teenagers on the premises being disruptive and were unchecked.
In summary, it was an all round disappointing experience and one not to be repeated in the near future.

Hello, I am from danville,va. I went to kfc on memorial drive and they did not have any potato wedges. Then I went to the one on piney forest and they also didnt have any, I ordered a breast meal with two sides and wanted two orders of sweet corn, they only had enough for 1, so I had to get corn on the cob. I also ordered 3 chocolate chip cookies and they had none! I want to know why they ran out because as a manager you should know how much to order when putting in orders for your store. I am just not happy about this! Please let me know what's going on!

To whom it may concern
After a night out on Saturday 4th November 2012 myself and my husband decided to have a KFC we were out in Long Eaton Nottinghamshire tI have used this KFC just twice before and the food was ok not great but we could eat it the time was around 9.30pm so not really late we ordered a six piece meal with side of gravey and four small fries at a cost of £9.99 the shop wasnt that busy and we did get quick services.
We took the food home which took us 10minutes to get their when we opened the bucket we found fries that looked liked they had been reheated at least twice they were limp and tasted just nasty moving on to the chicken well this looked like it had been put in a microwave and left to just go dry and hard and just not nice nothing finger licking good about it im sorry but when I pay money for food I do expect to enjoy it I can honestly say I have never tasted such horrible food from a KFC. I suggest you go take a look at the quality of the food that is beinging serviced at the this KFC.
Yours Emma Lees

Please offer a low salt chicken, I had to quit eating KFC because I could feel my
BP going up because of the salt. We are older now, as everyone will be one day
and even our friends had to quit eating KFC because of High Salt
Thank You

I have sent this to my local mp David Heyes
and would like you to deal with your side of my complaint I would like to be informed of the out come aswell thank you.
Hello Mr Heyes I hope this email finds you well,
I have a complaint about the treatment of my two sons Charlie (11 years old) and Jack (9 years old) and there friend Megan (11 years old) while visiting the local KFC on Oldham road Failsworth on Friday the 21st of March.
The three children went there during there half term and ordered a snack box meal and after paying the bill they were told that they were only allowed to sit outside the store and not inside ( the store was not full and the children had used their manners).
I rang the store in question to confront the manager (and I use this term very loosely ) only to be told that it is a policy that has been implemented by KFC and the local police (the name given was sergeant O'hare ) when I asked for the managers name I was told his name was Wayne,when I asked for his full name I was told "you don't need my second name" reason given it was a data protection issue(a manager of a store should not have this attitude) any way that is an issue I'll be taking up with KFC themselves, and I'm only telling you this to tell you the situation.
The complaint you can help me with is the police side of things (if true, I have rang twice to be told someone would contact me and this hasn't happened).
I think in this day and age with all the stories in the press about children being abused,preyed upon and molested ( locally the Rochdale situation springs to mind ) for the police to say that a child isn't allowed to eat in a fast food restaurant (which I believe is aimed at children and young people) is in itself an abuse of power on behalf of the police at most and an ageist stance at least, if there has been trouble at the failsworth KFC with getting young people out of the restaurant who are not spending any cash on food or just choose to loiter surely this should be down to KFC to employ security to deal with this just as the pubs and clubs have to.
I am also sure if I opened a restaurant and told Asian or Black people that they could not eat inside only outside the police would have me in chains for racism (and rightly so) this situation is no different just because the children are young doesn't mean they are second class scum who do not get a chance to eat with the better people of the town,it sounds an awful lot like singling out a group of people because of their age and I for one think this is illegal stance from both KFC and the police and would appreciate your opinion and help to get this matter sorted!
I look forward to your swift response regarding this matter,
Yours hopefully
Mr Paul Trafford (a very concerned parent)

I went to the WILKINSBURG (PITTSBURGH), PA KFC store, ordered and PAID FOR(!) their 7-pc legs/thighs order. Drove home, 20-minute drive, half-gallon of gas, away, sat down & saw I only received SIX (6) pieces of chicken. I called the KFC phone # on the receipt, spoke with the mgr, MIKE, and he VERY ARROGANTLY(!) told me I could drive all the way back to the store and he will give me a drumstick that was missing from my order.
I asked him why would a person who GAVE THEM THEIR MONEY(!) want to drive for almost an hour, round-trip, and waste half a gallon of [$4.66/gallon] gas in order to be given ONE (1) SINGLE DRUMSTICK??? He replied by saying "give me your name and address, and I will mail you a coupon for one (1) 'FREE' drumstick." When I told him that was not being reasonable.
He, in essence, told me to take it or leave it! I asked for KFC's headquarter's customer service phone number; he said he did not have it! I asked for ANY contact info to KFC's headquarters. He told me "there's no point bothering because headquarters will only tell me to take care of the matter and you will only be receiving a phone call from me in a couple of days, ANYWAY, so do you want to come and pick up the drumstick, or give me your name & address so I can mail a coupon to you so you can receive a 'FREE' drumstick; it's your choice! What do you want to do(!)?
I told him that I'd prefer to see what KFC headquarters customer service rep's response would be. He arrogantly said okay & hung up the phone. Now I totally believe all the comments I've read about the sleezy service that customers have written about! KFC used to be a wonderful company to do business with, with good food and even good customer service. I still think the food's good, but the people skills of their employees, even the managers, is enough to cause people to never want to do business with them again.

Good Afternoon, I have been to KFC at the Angrigion Shopping Centre On Friday 28th 2012. I was treated with disrespect . Firstly i went around 7:45 pm , an the Mall Closes at 9Pm. When arriving their i wait in line because their were 2 Customers in front of me. When arriving at the cash to place my Order i have Notice on the Menu they had a Special for 8 - 12 or 24 Family Pak Piece of Chicken with a 10 Dollars Coupon.
So i requested the 8 piece only to be told We cannot give you your order becuase we Only have 20 Piece of Chicken an we have to keep for other Customers. So i told them it is only quarter to 8 . They told me they are cleaning the machine an they cannot make the chicken an i should go to Shcivenko so i said Madam i came shopping and with friends she said her decision is final and she will not give me the chicken .
So i Asked to speak to the Manager ( Nichole) an she said we have to keep for the other customers and they have only 20 piece so she cannot give it to me. And I said to her but Madam i am in line an you have 20 piece why you cannot give me 8 piece, an her respond to me is they have to last us until 9pm an she stared laughing .
I felt so humilated so i asked her can i have the complain department of K.F.C she said she do not have the phone Number , an she called Sow one of the workers an he give me their phone Number to make the complain and when i called they really starting laughing hard.
I think this treatment from employees is very disrespectful and she should not be working in the public. Please kindly look into this complaint . Looking forward in hearing from you all.

Hello, i would just like to let you know about the disgusting extra i just received wrapped up with my Zinger Bacon and Cheese Burger that i just purchased from your store on Bagot Road, Darwin. I am absolutely disgusted that i found a cockroach underneath the zinger burger.
As i picked it up to take a bite (luckily for me it was before i put it near my mouth) i noticed a cockroach laying lifeless on the wrapper. I called the store to tell them, and was offered ANYTHING i want for FREE. (this was after i said that i was going to make a complaint) I said i would rather not eat anything from their store again so declined the offer.
This whole incident is pretty disturbing and i am considering calling the health department about this.

debra smith
from Staunton, IL
I'm upset about the quality of KFC today. It's slipped many times in recent years to now being one of the worst ever. How can your franchise serve chicken like that. They were so small had to go and make more food at home to eat to get full. What ever happened to QUALITY... I quit buying KFC six years ago for the same reason, thought I would give it another chance. $23.00 for anorexia chicken. Never again.

I have been patronizing the KFC location in DeQueen Arkansas for the past 8 years since moving here. This Business is progressively becoming more and more poorly run as the dining area is always filthy. The salt and pepper shakers were greasy at out table today and the chairs had to be raked out before we could sit down. The windows and floor are nasty in the dining area as well as the floor in the kitchen. My Wife wanted to go somewhere else before we even ordered, but I was rushed due to owning a Business in town myself and had limited time to eat. Dining out is limited here due to being a small town, but there is no excuse for uncleanliness in any public Restaurant that expects to have a steady Customer base.
This KFC is going down. The food is usually good, but the thought of the process and help handling it is not appetizing at all. The Manager was filling an order and asked the Employee cleaning and wiping tables to help us. He did not wash his hands, had no gloves on while separating our buffet plates and cups to put on our trays that were also wet. The help employed there are very undesirable looking people also. I do not want any "free meal," "coupons" or anything else from you. I am letting you know this as one Business Owner to another. Someone needs to try to clean up this Restaurant while you can. I'm done eating there until I see improvements. Sorry for this note, but I felt someone needed to know.

Nicole Morgan
from Paramatta, NSW
Hi, My Name is Nicole Morgan, I went through the Merrylands drive thru at the Merrylands KFC store on Saturday 7/2/2015 at 1pm. Ordered my food which came to a total of $35 the order was all wrong and when I question the young lady who served me all I got was attitude and she completely ignored me. I will never eat at a KFC restaurant again. I am extremely unhappy.

Jessie Richmond
from Swartz Creek, MI
I choked on this bone, and complained only to be told by the store..well your ok and we all make mistakes and no ones perfect? We will give you a free 2 piece dinner. I am upset and insulted. This happened Friday the 30th of January 2015 at the Grand Blanc MI store on Dort highway. I have pictures of the pot pie and the bone if needed.

Tina Boyd
from Brantford, ON
Hello... I don't usually write in to complain, and I'm usually the one who sends the positive emails of praise, but...... I am REALLY not happy with the service from today. First of all, as I entered KFC this evening for a meal, I noticed it was pretty backed up and no one seemed to be getting their food. I waited and watched as the cashier kept taking orders and the sole cook was beside herself frustrated at the lack of organization of receipts. Every order was messed up and people were ending up with the wrong orders. As I waited, someone who had just left, called in saying their order was wrong. A guy who had placed his order an hour previous was yelling at the young cashier because he was STILL waiting for his order.
I honestly felt so bad for the two girls working as you could see they were trying so hard. The thing is...... I waited over 40 minutes for my meal, which I honestly didn't mind (although I was getting pretty restless and annoyed as orders kept getting taken when about 10 of us were still waiting for ours and it was obvious to everyone that they needed to slow down and organize the orders first) My order was placed at 6:28pm and I finally received it at 7:09pm. It took 40 minutes!!!!!!!! But that's not even what I'm upset about, I could handle the long wait, what I can't handle is that when I finally got my food, not only was it SUPER cold (I don't live far at all so it should've still been warm), my fries and popcorn chicken were way underdone and so soggy (we couldn't even eat them), the grease was literally dripping off the chicken pieces (WAY more than usual) like they hadn't been left to drain at all, and the dip'ems were tasteless and chewy. Even the gravy was so chunky with slimy balls in it that even once stirred, my kids wouldn't touch it. The only good thing about the meal was the salads, which were great.
I'm frustrated because I spent $54.22 on this meal and we don't get to have this very often so it's a treat when we do. This was extremely disappointing to say the least. Like I said earlier, I don't usually complain and I'm gonna be honest to say that I've complained twice in my entire life and both have been to KFC for this location. Funny thing is that I stopped going to that location after my last bad experience, especially since I never heard back from my complaint. But I figured it was a long time ago so I would give it another chance..... and THIS is what happened.
I am a store manager at a large retail store so I understand the importance of customer service. I do hope that unlike the first time, I hear a response from you regarding this horrible experience. Date of visit January 31st at 6:28pm KFC #1518 - Charing Cross, Brantford ON Term ID K3101518 and total $54.22. Please understand that this by no means is meant to jab at the girls working since I know they were getting stressed and flustered, but of the circumstance that caused me to waste a great deal of time, food and money. Please feel free to contact me if you should have any questions.

Carla Claycomb
from Crawfordsville, IN
My son and I went to the KFC on Lafayette Ave. in Terre Haute Indiana. We were in Terre Haute for a dance competition at Terre Haute North High School his daughter was in. We got to the high school, paid, she performed so we decided to go out and get lunch before she performed again. We went to KFC and was very impressed. It was clean, the employees were friendly, the food was good however my son left his coat there and another customer had to have taken it after we left. We are not accusing any employees of taking it. The coat was a medium green aeropostale mens coat. We left and realized he didn't have it so found the number on the internet and called. They said it was not there so we too went and looked and it was gone. Gary is 38 and dealing with some health and financial issues. I asked if security cameras could see who took it and was told there are none in the dining rom. Yes Gary left it there but a customer had to have taken it. I was wondering if you have any suggestions because it was a coat his brother gave him so not even sure how much it cost.

Richard Johnson
from Houston, TX
Stopped by KFC at 9510 Main St Houston TX today (1/30/15) around 3:30pm to treat my kids. The service was slow. I noticed that several customers had received their food prior to me placing my order. I called out my ticket #4497 to the (female) cashier and before she responded a male employee shouted out and began cursing and threating me physically in front of my kids and several customers standing waiting on their order. As I stood their with my kids not knowing what to expect next. The manager standing as an on looker did nothing to defuse the aggression he had towards me. She later pulled him aside as if it was OK and more my fault.
A female customer in line (Lori Williams) asked if she could call the cops. I said thank you and she did. The cops arrived 45mins later after the manager slipped the male worker out the backdoor and denied everything that happened. She refused to provide the store owner's name and number and continued to lie in to Ms Williams who witnessed the whole incident. This was an extremely frightening experience for my kids and myself. And for the manager to try an cover up and protect an employee of his wrong doing is an all time low.
A police report has been filed. And I promise you that I will see this to the end.

Christopher Eklund
from Hanoi, 64
I'm American living in China. The KFC does deliver breakfast food at all in the city of Wuhan where I live, so today I ventured out in an ice storm (I didn't know when I left or I wouldn't have bothered) to get my favorite breakfast at KFC, the bacon-egg sandwich with the real bread which is a luxury in China. I live in Hankou, and all of the KFC's near my home are on Jifeng Dadao street. I had to go to three different KFC's because each one was telling they were out of the that sandwich (the ham one too), and I was furious because I was freezing cold, burning my hands off as I forgot my gloves, it was that important I have this breakfast. But three places said no. Finally, at 9:50am, at the third restaurant, I explained to one Chinese girl who had good English that I had gotten out of bed early, drove to two other KFC's and now was frozen nearly to death, and two other stores had refused me. I said "Why? Why don't you have this sandwich? I've been to KFC's in Hangzhou and Shenzhen and they always have them.
No one ever eats that sandwich but me. At those cities, I ate the same meal every day for a week while on vacation, it was always there, because they don't run out of something Chinese people won't eat. So I am sure you really do have those sandwiches, you just don't want to have to make one because it will take you 10 minutes, and by then it's 10:00, isn't that the truth?" And she turned red and nodded that yes, I what I said was true. And she told me they have the sandwiches and that she would go ahead and make them for me. Which leads me to believe that none of the other restaurants wanted to make it for me, and so they lied about not having them. In China, KFC's are willing to throw away customers and not help them, and even infuriate them and make them hate you for not having certain key foods that really make our lives feel happier in a country where our kind of food is not popular and is not found often. For example, in 2010, China banned pancakes from all McDonald's in china.
PANCAKES, a foreigners favorite breakfast food. It was like China and Mcdonald's were saying "forget you, we hate you, get out of our country!" ... they are many of my foreign friend's and my own favorite breakfast. Now I go to KFC for this breakfast sandwich which is the best, because they won't even deliver that to us in the morning! I would order this every day, spend $10 a day if I had to! (Delivery is only $1.25 in China, very cheap for delivery fee, and no tips can be given, either.) KFC Corporate, you've got a real problem with customer service in China, I just wanted you to know. You don't make them support delivery, and we the customer never know when they are lying about ACTUALLY being out of anything, since the main reason they say they are out is because they don't want to make that food because foreigners are the only ones who eat it and they either A)don't know how to make it or B)refuse to make someone's day that much brighter by offering the very thing they came there for. It's just sick.

david suire
from Lafayette, LA
I had a very bad service at your restaurant #K032026. The location is 2630 N. Westport Drive, Port Allen, Louisiana and the phone is (225) 346-1748. My son and I stop to get something to eat, on Sunday January 25. We place our order and we had to over 30 for us to receive our food. My fired chicken was cold, and my son order taco bell. There was three people working on the KFC side, and only one person was working. The other two person was just standing around. I always enjoy eating KFC and Taco Bell, you shouldn't have to wait over 30 minutes for your food. I am just a concern customer, and you need to know what gone on at your restaurant.

sayed jaffar
from Dubai, DU
I like KFC a lot. I always go there to eat. Today when we asked for 3 lunch treat spicy we have been served with non-spicy chicken pieces. One of us went and asked so the guy in KFC changed his entire plate and he got spicy chicken.me and my other friend didn't bother but we left without eating n decided not to come there n tell our friends as well. More over the guy says he has never received a complaint from people eating same chicken. Please understand we are not mad to complaint if we have got the right spicy chicken. This is Happened At a KFC outlet in Dubai (Al Khaleej center mall- Bur Dubai, Dubai, UAE). I will suggest my friends not go there again.

Col Rupinder Singh
from Mansa, PB
I am one of the oldest and biggest fan of KFC but yesterday at KFC Barnala road Bathinda when we asked for RIZO RICE and FIERY GRILLED CHICKEN we were served with plain boiled rice with soggy cold fiery chicken . On inquiring we were told that company has recently changed the contents in the dish and method of preparation. A huge disappointment. Ultimately went to Mcdonald close by.

Sayed jaffar
from Dubai, DU
I like KFC a lot. I always go there to eat. Today when we asked for 3 lunch treat spicy we have been served with non-spicy chicken pieces. One of us went and asked so the guy in KFC changed his entire plate and he got spicy chicken.me and my other friend didn't bother but we left without eating n decided not to come there n tell our friends as well. More over the guy says he has never received a complaint from people eating same chicken. Please understand we are not mad to complaint if we have got the right spicy chicken.

Dennis R. Lawrence
from Wilson, NC
My name is Dennis R. Lawrence I have been employed for five years part time at the kfc in Tarboro, NC, never miss anytime out of work for anything. Just a few weeks ago my mother passed away so the general manager Monica Ricks.. gave me a few days off . I work a full time job so my schedule at kfc is 7-10 and 7-11fri. And sat. Yesterday 1/23/2015 I was only 15 to 20 late due too traffic heavy coming from work and the general manager Monica Ricks got a cashier to call me and say u just got fired. The general manager claimed to call me numerous times never received any calls from kfc, never did she call my home phone. Then when I arrive at kfc she had already left 10 to 15 min. Prior to me getting there and left message for me to leave my shirt and hat plus she had already call another employee in too do my job. But never did she contact me direct as general manager. She said it was a no call no show but i arrived at work 7:20 I was a few minutes late but i did showed......Then most night that I get off at 10 she tell me it's my job too stay there off the clock until then manager on duty locks the restaurant for the night or the night she do inventory I have to clock out at my regular time but still stay there off the clock til she finish .. so that's working off the clock..she has a very nasty attitude don't know how to talk too the employee very disrespectful! My question is if u disrespectful too your employees how do u as general manager expect your employees to be respectful too the customers. Then I only work 3 hours a day and she have me to clock out 30 min for break period I thought over 4 or 5 hours then u clock out for a break period I'm not sure but most employers are different. I really need my job.

Sabir Hussain Muhammad
from Sharjah, SH
Hi , I went to KFC Al Ramsa , sharjah, uae. me and my 3 brothers faimly we are regular costumer. but last night I was realy disappointed to find the recook chicken. means to say the chicken was not fresh. just little bit worm. the potato was also not fresh .i also order for the rice . but result is same. the rice was also not fresh and its happening last 3,4 times.If this is a change in your product we will go some another fast food.We also notice that there is Not much chicken. What was there was dried up. Empty pans. Mashed potatoes dry. 2 workers sitting on a chair.staff manager also sitting on chair and enjoing the music.he dont care about costumer. just 1 worker sweeping the floor and Puddle of water on floor. Now I know why there were only a handful of customers in there!

David's Israel
from Lakeland, FL
Your commercial with the idiot hitting a football player on the behind has given my daughter and I a reason to never, ever eat at any KFC ever again. Colonel abusing someone on t.v. in front of children only shows how low your company has sunk. I rate KFC a zero.

Carolyn callahan
from Timmins, ON
I got a couple of 5 dollar fill ups they are geting smaller mash pototoesmaybe 4 oz no cookies. This has happen a few times since new people toke it over will not go there again poor service half the time the ice machine is down

Edward Gandy
from Louisville, KY
Neither the KFC on Brownsboro Rd, Louisville or the KFC on Westport Rd, Louisvile ever have "Hot Wings! Today at 3PM, Wesport Rd had 4 wings for sale! Really!! And... I wasn't offered an alternative! No "sorry sir, we can drop some fresh if you would like to wait!" Nothing!! Every time I go to either one of those stores, they either have "0" wings or not enough to complete even a small order! Maybe you should just take them off the menu since they NEVER have any ready to go anyway! I might add that I never have issues getting hot wings at the KFC stores on the west side of I65....
I have never, ever gone through a KFC near or on the other side of I65 without complete satisfaction! Can you explain why that's so?

Dikeledi Matlhare
from Hartbeespoort, NW
a loyal pregnant customer, the toilet is always out of order they say there is no water. which is not true pls I need to enjoy my meals relaxed

jim anderson
from Green Bay, WI
Not the first time we visited this location. 1696 Main St. Green Bay, WI. Store is dirty, service is terrible, and the employees are unprofessional and obviously untrained. Manager is oblivious to the problem. Won't visit this store again or any other KFC locations that are dirty. I will report this location to the local health department. KFC, please clean up your act!

Eric Fronstin
from Phoenix, AZ
Date of complaint: 9/6/2017, 3:49 P.M. Store D212067, Ticket 3245.
I came into store. No other customers. I asked a Hispanic lady, no name tag for a 2 piece original meal, 2 thighs, mashed potatoes and Cole slaw.
I specifically asked again for 2 thighs and she nodded her head yes. When I got the meal to go, I asked a 3rd time, are there 2 thighs, YES. I went to my car, opened box to check and there was 1 thigh and 1 leg. I took the box back in and asked for a different employee. She took the leg out and added a thigh. No Sorry, no nothing !!!!!!!!!!!!!! I'm letting you know ONLY because there's no sign that states a customer can't have 2 thighs. It's just horrific Customer Service !!!!!!!!!!!!!! Pretty sad that a customer cannot trust this location to get an order correct. I'm so close to going on Social Media to let everyone know to go elsewhere or check your boxes whether in drive-thru (holding up a line) and in store.

Philip mauro
from Salinas, CA
The parking lot is horrible with grease and milky funk all around.Inside has old grease and dirt all over the kitchen. The air conditioner is not working and the smell was horrible.not to mention children's dirty diapers by the front door.i love KFC but that branch should have the health department look at it.

Nashawna Jones
from Kent, WA
To whom it may concern on September the 1st 20017
after a long day of work I decided to go to your KFC/LONG JOHN SILVER location in
Kent WA store address 10414 SE 260th #328 Kent Wa 98030
so I a paying customer place my order to your cashier name RASHAWNAR THAT WHAT THE RECEIPT SAY
E720484 4 68 4418 @ 4:31pm
I ordered the L5 and i was told its cooked to order so i waited only to be served trash the food had all types of particle on it
and mind you before I was handed the food I clearly let the cashier know that i was concerned about my food i have the cook on
camera being unprofessional playing on his cell phone and then handling the food to be served to the public with no gloves on
I finally requested to speak to the manger whom said her name is Tammy i explained to her the situation and showed the store manger the food that was served to me with all the particle on it and I informed the manger Tammy that I have her cook on camera playing on his phone and then handling food that there serving to the public i then proceed to show the store manger the video of the cook playing on his phone @ this time after she reviewed the tape i asked for the cook name because this is so unacceptable she tell me the cook name is Alfonso I explain to the store manger Tammy that I file a complaint @ that time after I said that she refunded me my money and re cooked my order
so in Washington State food safety rules and chapter 246-215 wac your employee is in violation before i go any further I'm giving you the opportunity to correct the problem to have someone do something to your food out of spite is the worst and for you to have employee that works for you that would harm a consumer food is unacceptable
there are so many germs on a cell phone it is one of the most dirtiest possessions with bacteria all over it and for a cook to display such poor regards about food safety is unacceptable
i still have images on my phone that i showed your store manger for some reason it will no upload but if you need proof i can go to a friends computer to show you sincerely Miss Jones

Patricia DeRenzo
from Wallingford, CT
I had 7 pc meal that cost me $17.01 only to get 3 thighs (small) and even smaller 4 pcs. chick legs. Got small biscuits and bland mashed potatoes. Gravy was fine. The chicken tasted "funny", dried out and not hot. Biscuits were dry and not very good. I drove from Wallingford,CT to Hamden, Ct to have KFC because we don't have KFC in Wallingford any more. So very unhappy with this KFC experience. About ten minutes after eating, I felt stomach sick. Got up to take Pepto Bismal and then, had to take Alka Seltzer..burping and feeling stomach sick for hours. An hour later, my sister, who shared this meal with me, asked me if I had "adjada"....which means upset stomach. I told her yes and she, too, said her stomach was sick and she couldn't stop burping. I am expecting a full refund of $17.01 and seeking to speak to whoever necessary to resolve this horrible experience

HERBERT BROWN
from Troy, OH
been going there for years and I a nd my lady was there on 9-1-17 and there was not much food in the buffet and what was in there was dried up some of it and I told them that they needed to fill the buffet and I waited and waited for 15 mins and I told them again my food that I got while waiting got cold so I went there to the counted for the third time and I think it was the manager and told her that I was not going back there anymore and all she did was looked at me like big deal.

Sheryl Lundy
from New Hartford, CT
I ordered a 16 pc. meal that they charged me for. and they gave me a 12pc meal. I discovered the mistake when I got home. Which is a bit of a drive. But it took about 12 min. to get someone in the place to even take my order. The Torrington, CT restaurant just is steadily going down fast on quality of food some of the chicken pcs in the bucket looked like they cut the small pieces in half and counted each pc as 1 pc. (really people, they are that cheap.) I don't mind waiting if there are other customers in the building but I was the only one there. This wasn't the first time the quality of service and/or the food has had a issue. We went to kfc last week and did the buffet. some of the food looked like it was there all day and the mashed potatoes started to have crack lines, no grilled chicken or biscuits and the chicken that was there was hard and dried out. and that is the 2nd time I have found the buffet in that state. unbelievable. I WAS VERY UPSET WITH THE STATE OF THE SITUATION. I work in the quality control field (for 30 yrs.) and this wasn't it. $42.00 for a wannabe bucket of chicken with some of the stuff missing really do you think I want to go back and get ripped off again. and how many other people has this just happen to occur with. Corporation needs to fix this.

Bill Hillman
from Houston, TX
Your KFC store at 20320 FM 529 in Cypress, Texas is the worst KFC I have ever been a customer with. I have been purchasing food there for 3 years and the food keeps getting worse and worse. Today when I tried to purchase a 3 piece meal, all white, grilled, I was told that this particular store didn't sell grilled chicken anymore. Reluctantly, I ordered crispy instead. When I got home and opened the box, the chicken was greasy and looked and tasted like it was cooked days ago. Until KFC corrects it's menu and monitors this store better, I will not waste another penny at this restaurant.

My drive through order was shorted; I was handed the bag and thanked; when I got home, I found the order was short. I typically do not tie up the line by checking each item in my order; I trust that the person at the window has verified my order is complete. The purchase was for $19.35. Since the dollar bill is the only form of consequence for poor service at my disposal, my family and I will avoid this store for 19 weeks.

thomas timothy
from Hamilton, OH
I am fed up with your tiny pieces of chicken. How much smaller can they get? I've been a KFC lover for over 30 years but the size of the pieces he reached an unacceptable level. I wish I could post pictures. I just got the 20 piece and the two breast are small and the wings aren't much bigger than what I get at a buffalo wild wings restaurant. The drumsticks were the same way. Your piece size have slowly gotten smaller over the decades. But the have got to the point of ridiculousness. I'm hoping you will take my disappointment seriously. I can't be the only one that has noticed this significant size difference.

Caroline whitworth
from Halifax, ENG
Just being to your branch at Marsh, Huddersfield, and I have to say I was appalled at the service. I ordered 2 zinger wraps meals and a snack box. The wraps came with no salad. The drinks were poured from bottles and were flat and warm and one of the wraps had mold on. Took them back and they made 2 more, got back to work and again no salad in them, took them back again. Spoke to the manager and got a refund, I only have half an hour for lunch and it took me 15 mins to get served and after going back twice my dinner was over.

Ashay
from Port Louis, PL
I am hereby writing you as a very disappointed customer. I was today present at the KFC of G.Bay La Croisette at around 8.00 PM. It was a quick service, I bought two zinger with pineapple and cheese as add-ons. I moved to my table and started eating with my friend. I was really shocked when I faced such an unprofessionalism from the part of the KFC staff. When I started eating, the outer layer cooked, but when I reached the interior layer, it was a complete disaster, the inner layer was not properly cooked, I could sense the raw taste of the chicken.
I firstly thought it was in my mind. But when I asked my friend how was my zinger, he confirmed that it was not properly cooked. We immediately packed it again and moved to the cashier where we bought the zinger. There she took it from us and moved to the back in the kitchen. I was asked to wait with my friend. There, the person in charge came to meet us, and he told us that no, the zingers were properly cooked. We insisted that no it was properly cooked. But the person in charge had already made his mind. And Sir, we were really shocked with firstly the way he talked with us, we did not expect such a treatment from the person in charge of the KFC branch of G.Bay La Croisette.
Secondly I do confirm with you Sir, we did not expect that the person there would take back our zingers to a place where they were out of our sight, and come back to us and tell us that it is properly cooked and expect us to eat it again? The person in charge returned us the zingers and when we opened the box in front of him to show him, he watched it and even took pictures of it and returned us it.
And I think he expected us to eat this not properly cooked zinger. Is that Sir, the way KFC, an international outlet operates? And I always heard that the customer is always right? And today the person there actually proved it wrong. He told us that not only two chicken are cooked together, but many more. And no one complained that the chicken was not properly cooked? So if no one else bothered to come back to complain, so the zinger was perfectly cooked? I was really very disappointed today with the staff of KFC G.Bay La Croisette.
To conclude Sir, we were very disappointed how we were treated there in front of everyone and secondly how could this guy tell us that the chicken was properly cooked when it was not the case. We would be very grateful if you could look into the matter.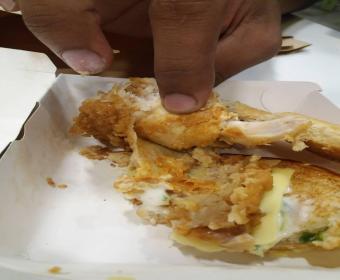 Helen Calhoun
from Aiken, SC
Well today my brother went to KFC on Jefferson Davis highway Beech Island SC phone 803-593-4778 we purchased a 8 piece family meal. When we receive the food it was dried out and had so much salt on it you couldn't eat it. Therefore, I called the store back to speak to the manager which he stated for me to bring it back I couldn't because my brother had left and I am disable. He ask for my name in the process of giving it to him the call was disconnected so I call back multiple time and they refuse to answer.

Sheila Zborek
from Knoxville, TN
My family met at kfc in lafayette indiana on 52. 4 people in the place took staff 10 min. For anyone to help us. We got the buffet, it was all dried up from being on the steam table for a long time. Had to ask for chicken. Had to ask for sweet tea that we never got. My son had to use his shirt to clean off a table. Manager was very rude. It was very filthy!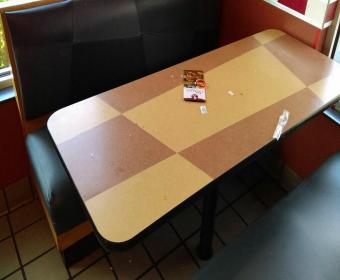 Benjamin Truong
from Tuart Hill, WA
I bought a couple of things from KFC in Morley. The wait was a long, there was only 1 person working at each station. The chip were old and cold, I found out I was missing the burgers, even though I double check with the servers to make sure everything was in the bag, she said yes. Once I arrived home, ready to tuck in, I'm missing the burgers, the chips are cold and old, and the it just doesn't very appetising. I think I'll stick with other fast food chains instead a KFC. You have gone down on your standards. Disappointed.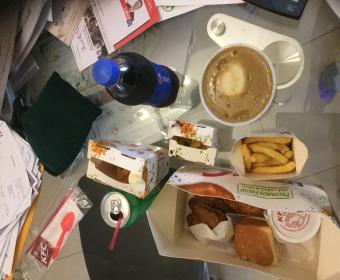 I am a regular customer. I used to purchase via drive thru at Malaysia, store # 1010832. Each time my purchase was not given a receipt. Never mind of that but I wanted to try the survey to get a 10% discounts but was not able to do so because no validation code found on the receipt. Do you think this is equivalent to cheating as receipt stated get a 10% discount on your next purchase after completing the survey, but the receipt has no code to continue the survey and they save 10% on our next visit. They get profit of 10% because they don't give the 10% discount. This is a real cheat.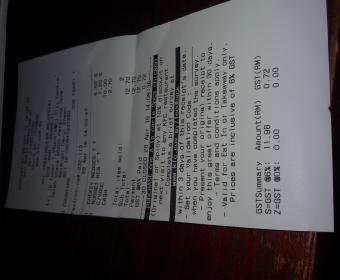 Today I and my kids went to reservoir KFC, we bought family feast and 4 crushers for take away. When we went home and started eating we found at least five very tiny small pieces. I took 3 pieces to the shop and I said to her, we had at least 5 tiny pieces of chicken and we went to many stores and ate in and that didn't happened. She said we have to put about 5 small pieces and she talks like a boss without a respect to the customer or even offering to swap them or apologising and I said to her thanks any way and left the chicken pieces there and said to her I will lodge a complaint.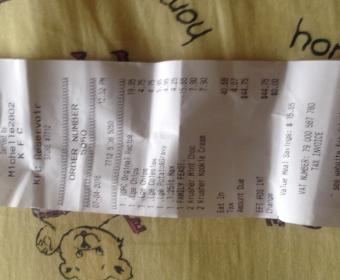 I ate at your #g135034?KFC Long John Silvers 3949 North 132 Maple Omaha Nebraska yesterday 12:45PM. What a mess it smells like old grease the employees are loud, uniforms filthy dirty looking. My Food took forever. Manager to young and dumb to know how to run this ghetto store he was running around yelling even heard crew say im not doing that manager states fuck your not. My wife and I just about lost it but we just were waiting for food 20 minutes. I have seen so many managers come and go from here.
We wont be back unless you fix this mess. I would suggest finding someone who is Professional and old enough to manage his group and be a leader it was the blind leading the blind. I could go on but I won't it will be sometime before I go back. I will be telling our Catholic church to stay away.

H Cortés
from Hialeah, FL
They where Cleaning the Store At 7:54 pm ok 02/11/2016. I came At the time above TO order 6 original Chicken breast, large mash potatoes and large wedges. I approached the counter and they told me they weren't accepting Credit cards only Cash. And then the conversation transpired TO christian the employee With the Assistant Manager whether they should take money or Credit Card contradicting each other what they were going TO do. I noticed they were Cleaning the restaurant and things were putting Away even though the store closes At 10:00 pm.
The appearance Of the Store is dirty. The Assistant manager Marry i requested her My food and she said she only had two pieces and i wanted 4 More and she denied TO Cook them. And she became argumentative about her service. And when i requested for her manager she said she had none and she didnt know who her Boss was. Then she started being rude and Not being helpful With the FOOD or information.
I decided i was upset about the demeanor the customer customer Service, how can she be an Assistant Manager and Not have any information on who her employer is. She said she was Not trained in customer Service. And that she didn't have TO give me Amy names or information Of managers and owners so i DON'T make the complaint. And then she threatened me (the customer) to Call the Police because i was questioning her and trying TO obtain the Manager information TO Call her At a later time. This is about the fourth time i commented to this Store in the hours between 7:00 pm TO 10:00 pm and always are More interested in closing the Store rather than selling the food.
The Store Number is 305 226 3596. I am gonna post this in the social media for People TO avoid get ring mistreated Not giving FOOD that is properly FOOD. (Not Fresh) and the Store to be dirty when you have 5 People working that shift .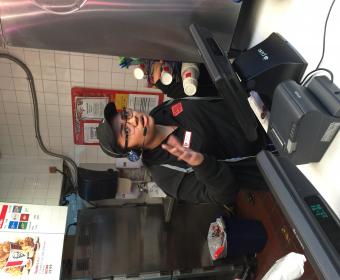 Amelia Jones
from Phoenix, AZ
Went to kfc on Richland ave. in Aiken sc and they wouldn't sale me any chicken wings. Said they was saving them for the family meals. I should be able to go to a restaurant and order what I want. Then one of the employees knocked the tongs on the floor and picked it up and put them back and they continued to serve chicken even after a customer complained about it.

Jacqueline Foster
from New York, NY
I have been sending you this request on date Dec.12, 2015 been complaining about your salted chicken and salted fries, I have high blood pressure on more than one. I visited your resturaut very offend and been talking to customer now I need you to send me what I am requesting.

anuj oberoi
from Mumbai, MH
Visited a KFC stall that was there in the fete. This was held at The Asian School, Dehradun, India. And the microwave they were using had a broken glass tray which they were using to heat the food items they were giving to customers visiting the stall. On being caught, the KFC people denied it and were continuously. Is this The reputation of KFC and is it really a customer care? Hopefully corporate views this complaint.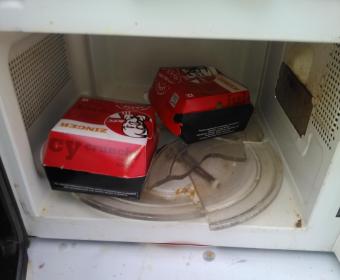 Richard Silliboy
from Monticello, ME
On Nov. 25th around 8pm I went into the KFC at 808 Main St. Presque Isle, Maine. I ordered my meal and set at a table facing the counter, I could see the bathroom doors and the door going into the kitchen. The janitor who was working on the floors was walking around pushing a bucket of soapy water, he walked past me and went to the area behind me and left the bucket there. I see him walk back toward the counter on the other side of the eating area. When he got back to the front where he was right in front of me, he went to the kitchen door, he paused, put him hand on the handle, leaned down a little bit and BLEW HIS NOSE ON THE FLOOR.
He continued into the kitchen and came out with a spray bottle and did a couple of tables without washing his hands. He wassn't in the kitchen long enough to wash his hands. I decided that I had enough to eat and took my tray to the garbage bin, He was standing there watching some young kids and I asked him his name and he said Bob. I went to the counter and waited for someone to come, Bob asked what i needed and I told him a complaint form. He told me that they were on line, I started to leave and decided that I had to speak to a manager so i went back to the counter and finally after hollering for the manager he came out. I explained what happened with Bob and he called him Rob and said that he would have a talk with him. Didn't get the managers name, he was a young person, probably 5' 6" and he had a thin beard. I do swear that this statement is true as written.

joe fogarty
from Denver, CO
Re: Complaint about KFC in, my home town, Streator in Illinois. Two visits in a year, most recent November 7th 2015 for my mother's 90th birthday. Not by my vote, our party of twelve had KFC chicken and several sides for Mom's birthday dinner. The chicken is/was THE WORSE...as TERRIBLE as could be...the thought of it makes nearly VOMIT! The skin was not edible...i did not order it so i can't say how it was done but certainly was not fried...PUTRID! The chicken was also pink in the middle...no one wanted to ruin Mom's b-day dinner but a couple family members i sat next to agreed...TERRIBLE...KFC corporate needs to visit this store! It dies no justice representing you!

Violet Olivia
from Saugus, MA
Because your new colonel Sanders comes across and non genuine and nauseating by both his appearance his voice and his demeanor, my family and I have stopped purchasing your product and now bring our business to Popeyes Chicken. If you get a more pleasurable colonel sanders I may decide to return but until then Popeyes it is.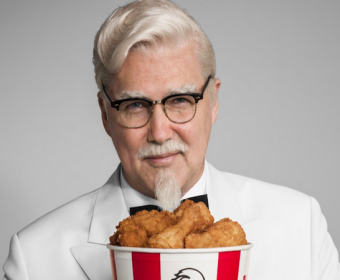 Kelly Johnson
from Hillsboro, OR
I went through the drive thru last night, got home and surprise surprise my meal wasn't correct. I called and spoke to the manager, whom i had a hard time understanding. I went back in - she tossed my food and started gathering the new order with all items I purchased. She had to call out for a large baked beans and the gal from the back ran to the front to do it. Meantime the manager was closer to get this order together. Meantime, the gal ran up started to scoop the beans and in the middle "whipped her nose" grabbed the container again - and continued to fill the order. The manager stood there just watching. I told her on the phone i was a refund on my order OR credit since they had me come back to fix their mistake and credit my time to get their items fixed. She was rude and unprofessional. I expect to hear from someone to do something about this. Meantime, i will make notice to the health department with my issues. With Chip-ole having had ecoli issues i want to prevent this to happen to others also. This manager should be fired with the lack of training, training the employees incorrectly, not back checking and not making them work in a healthy and safe manor.

I have been a faithful customer of the St Albert KFC 195-001. I always get the combo#3 with fries supreme, and beans instead of the beef on everything (I'm vegetarian). The last time I went there I was charged extra money to add beans. $0.69 for each soft taco, and $0.69 for the fries supreme. So a total extra of $2.18. Which I have never been charged before. They usually just substitute the beef for the beans (which is cheaper). When I questioned the window attendant she was very rude and harsh, and basically said take it or leave. She said that's what I'm charging to add beans, I tried to explain I was only trying to substitute the beans for the beef. She would not hear it! And that I have never been charged this before. She didn't care "about before". I quite arguing as I could see she absolutely didn't care. After receiving my food I was waiting for my change, she came back to the window, and said "is there still a problem?" I said I was waiting for my change. She was really ticked then. She gave me the wrong change back, but I left.
To be honest, I was ticked about the extra charge, but more upset about her attitude and her mannerism. Very unprofessional! And did not make me ever want to return. I have once since, to see if things had changed, and they had not. I Ordered the same thing, and was charged the extra again. She was at the window, still very poor attitude, and I didn't say a thing about the extra charge. She just doesn't have the customer service. Our family of 6 has always enjoyed going there, and it has been our favorite place for vegetarian option, but we Will not be returning there. I very disappointed in the service. It hasn't been this way in the past, but I see there are mostly all new staff there now. I can go across the street to Taco Time for the same meal, same price, and better service, and no up charge!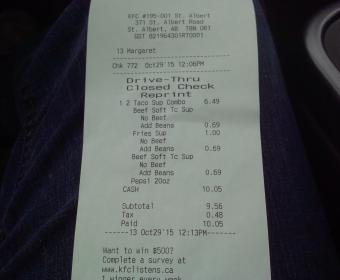 Kendall Griffith Jr.
from Pittsburgh, PA
I went to KFC on Rodi Road in Penn Hills, PA drive thru and ordered a 20 dollar family box due to my family coming in from out of town. I asked for Crispy chicken but when I got to the window, a young lady informed me that they do not have crispy breast chicken and instead they would give me chicken tenders. When I got home and opened the box there was only 4 pieces of crispy chicken and 3 tenders. The amount of food given to me was no where enough food to feed any family. I did attempt to call the store immediately several times but no answer. I think this is unacceptable and should be looked into. I understand busy times and rush hour but we are all customers that need services rather we are in the store or on the phone.

karen ota
from Fort Lauderdale, FL
I order at same store on a weekly sometimes twice weekly basis. I was excited to open box of a chicken breast and usually its soggy but this one was freshly fried, as I bit into it I smelled fish, thought 'well maybe they fry fish in same oil", as I continued to eat It -the white meat smelled rotten. them meat from the bone was a purple, red color ,which was also odd to me -trust me I have been eating KFC as a child so I know my KFC and never had this experience. When I took it back to store Oakland Park and NW 21st St, Oakland Park Florida, they disputed my sense of smell, but did return my money. Disappointing and scary that KFC doesn't have a better quality control, the manager had said she had just had the quality control people there this morning. the drive thru was a 10 minute wait in front of the menu board, so not only did I have to wait - the meat was bad. how disappointing.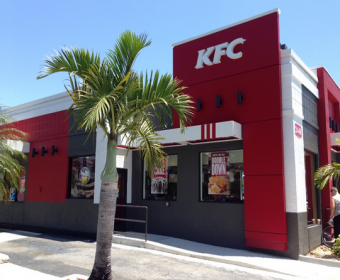 Bear Bryant
from Glasgow, KY
If the real Col. Sanders could see these ads of men pretending to be him, he would turn over in his grave. He was a distinguished gentleman, not a stupid clown. Clean up your ads and honor the real Col. Sanders. I wish that I could send a letter to the corporate executives at KFC and tell them how upset these commercials make me.

Marianne Carlisle
from Southfield, MI
My complaint is not about a specific location (however, I do not eat at any very often because it is just not the quality it used to be). What bugs me and just about everyone I talk to about it is your TV advertisements. The guy that you have dressed as the Colonel is not right for the part. I don't know him personally so I won't call him an idiot but his portrayal as the Colonel is ridiculous. He looks like the Colonel until he opens his mouth. He does NOT act or sound like the southern gentleman the Colonel would be. He sounds more like a pervert or a dirty old man. It really is a very obnoxious experience. Are you trying to close down? He's terrible! Fire him and find a real southern gentleman with a deep man's voice. Thanks for listening.

Derek scott
from Aberdeen, SCT
Had lunch today at the elgin branch scotland bit of a mixed experience the customer service and ordering was very efficient and the food and drink came in very short time so that was fine the problem that we then faced was to find a clean table to sit at there were only another two tables in the place occupied at the time so we were spoiled for choice but unfortunately there were no clean tables we decided to choose the least grubby one on seating noticed there was bits of food and ketchup stains up the leg of the table and one of the kfc workers then came with a wet cloth and wiped the tables next to us no disinfectant spray or anything spoiled my dining experience the food was tasty but the hygiene in the place was substandard working in the catering trade I thought it was necessary to alert you to this thanks look forward to eating your lovely chicken in your cleaner restaurants soon.

jim ratliff
from Indianapolis, IN
We waited at the drive-thru for approximately 5 minutes speaking hello, hello into the speaker with no response. Then, so we drove to the window ask the young lady if there was something wrong with the speaker and she said no she must have hit the wrong button on her head set. After all this irritating time in the drive thru we tried to place our order.with a two piece classic extra crispy the side orders were greenbeans with worker said that we have no green beans so we said corn she just stared at me for afew seconds and then it seemed like it registered thru her stare and then at the end of our order and this long long drive thru ordeal she said it would be an 8 to 10 minute wait for the biscuits and I said are you kidding me and I told her to forget our order a nd we drove off laughing and cursing about the time wasted there and went and had a hamburger. My wife loves KFC that is why I would go to the trouble to complain but this is probably the 4th time we have had a bad experience at this one KFC.Indianapolis store southport and gray road. You have to do something about this store. more than likely a last time customer.

Mary Voshell
from Stafford, VA
Went to the KFC in Middletown, Delaware. Ordered the Family fill-up box. Told the girl that I wanted wedges instead of the mashed potatoes. She told me that she couldn't do that. I asked her why and she said that they didn't make changes. I know that is not so because the customer that placed an order for the same thing got his items switched. If you can do it for one customer you should do it for all customers. I asked her if she was going to make the switch but she no.I said that I didn't want the order and that I would go next door to McDonalds to eat. I didn't like doing this because we eat at KFC at least 2 times a week. This is my first bad experience that we have had and is disappointing. August 29, 2019 at 5:30 pm.
.

cally harris
from Dover, DE
I have not gone to Camden, DE 19934 for along time because last time went we got our order wrong and of course, did not notice till got home and this store is not clean by any means and very very slow in service. I went to a friends house a couple weeks ago and she had POT PIES which were delicious / nice chucks of white meat and nice crust, So thought would try them myself for family. Went to this store 3:30 on 8/26 and ordered 2 pot pies. After 15 minutes told by them had only one pie but if would wait another 15-20 was making fresh ones.
So I waited another 20 minutes to be told that they only had the one pie and NEVER made the other one or any fresh ones. They offered me a 2 pc chicken deal in its place which I had no choice to take but it was awful. It was a small breast and very dry. The pot pie had shredded or pulled chicken not the chunks I had at my friends house. All in all another bad experience. order 4169. People were so agitated about service. This will be our last visit 4 sure.

Debra Turney
from Searcy, AR
I went to KFC Monday after work around 4:30 p.m. ordered a bucket of chicken with sides and a Large Liver, I asked if the chicken and livers were fresh they said yes and I ordered extra crispy. When I got home wit our meal the chicken was all dried out not extra crispy, livers were hard as a rock, biscuits were so hard you couldn't eat them, the slaw was dry had not been mixed with any mayo or anything! only got legs and thighs no breast or wings. I work for min. wage and my husband is disabled we don't get to have take out food very often, but when we d we expect good food I payed $22.97 for food we could not even eat.
I work for a hotel here in Searcy Ar. I have recommended KFC many time, but sorry if things don't change I will never recommend it again, if you would have seen our food you would have been very upset, I just wished I had a cell phone to have taken pictures of the so called food that I payed good hard money for. I had to work over three hrs. to pay for this Please resolve this matter, I still have my receipt.

Charles T. Nelson
from Sturgis, SD
My wife and I visit the KFC in Spearfish, SD as we live in the Black Hills of South Dakota near Spearfish. Today 6-26-15, and were so disappointed that we will probably not revisit this KFC. It was 12:30pm and we had to ask for a tray to go to the buffet, the serving line was very dirty with spilled food and most of the food was empty, including the chicken station, the drink station was so messy and wet that you could not put your tray down. The women's restroom was so dirty my wife would not use it. Also all the handles and locks were torn off the stalls. I asked one of the employees to come out and clean the serving area and the drink station and they acted like it was a surprise!! Enough said and we will not revisit this KFC and the company should be ashamed.

Evelyn A. Tuccitto
from Bellevue, NE
I just want to tell someone in your organization how disappointed I am in your latest commercial. I find the voice of the actor playing Colonel Sanders quite repulsive as well as his dialogue and his laugh. I doubt I will ever be able to eat at any KFC establishment because of this commercial. Whatever your intent, it has certainly failed in this area as I have heard negative comments from many friends also.

Donna Burton
from Laguna Niguel, CA
I'm writing to tell you how horrible your commercials with this really stupid man posing as the Colonel are. Some years ago, I was up for the KFC commercials. I was first interviewed by the ad company, and the second interview was with the original Colonel. The original Colonel was very nice, intelligent, asked intelligent questions and was NOTHING like this man on the latest commercials is trying to be. This one and his words and behavior, I'm sure has the original colonel turning over in his grave.
I believe you should drop this that you are doing and bring the whole structure, person and feeling up to an intelligent , well written and stated commercial, that people will respect. By the way, I had the job, but my husband was a Naval aviator and he got orders to move, so I had to resign.

Galry Schlageter
from Bonaire, GA
I went to the Perry Ga. KFC and ordered a 3 piece dark meat as advertised on your board. I asked for Legs and come to find out their is a 25 cent charge for legs. You advertise a 3 piece dark meat meal and charge extra for dark meat. You should advertise two thighs and a leg--not a 3 piece dark meat meal. This is the old bate a switch and is not an honest thing to do. I asked the clerk what type meat was a leg and she said dark. How can you charge extra for dark meat with I bought a dark meat meal. I do not believe in misleading customers. Do the correct thing and update your meal listing to reflect what a customer will get.

David Hall
from Tulare, CA
Can't be too specific with 100 words, obviously you really don't want to hear complaints. So I will give you the very short version. I went to store Tulare 845 E. Prosperity #H830011at 4:02pm this date. Order 10 piece chicken, but was then told that is only dark meat, however since there was nothing posted anywhere, Mgr Christine with a real attitude had to adjust increase my charges and added white meat 10 piece. I got home with 8 pieces of dark meat.
So I went back and asked for the Mgr. and was told the new shift mgr had just come on so she very politely asked to help. I told her count the pieces and look at the receipt. As soon as the rude Mgr Christine heard it was short she started loudly from the back stating "you packed it" I didn't, I didn't do it. Fine I don't care who DID it and if she wanted to show her rude behavior and treatment to staff to entire restaurant that is fine too, just make it right. Obviously you don't give these people ANY training.
Well I guess I can't say that because the new girl on shift was very polite and apologized over and over. I asked for the other Mgr name and she still yelling from the back, and wouldn't give her name so the new shift mgr wrote Christine's name on the receipt for me. You need to talk to your employees and find out how they are being treated if this is how the customer gets treated

Marleen Carr
from New York, NY
I went to KFC location Bristol - Address 2701 Durham Rd Bristol, PA 19007 Store #K071080 4 171 4183. Today 05/13/2015, I place my order Chicken cup to go. When eatting the first piece of chicken tenders, it was 1/2 raw on the edges so I threw it away. Then I pulled the second piece apart it was also raw on the side where you saw the flesh pink. I then went back into KFC and spoke with the Asst. Manager who verified the chicken was not cooked all the way.
The cook immediatley burst out and said very louldy That chicken was done, he cooked that chicken - I told him then he was calling me a liar, because you could clearly see the chicken was very pink flesh like. He should not have said anything in front of me, the customer, this was very, very unpleasant and unprofessional. If eaten, I could have gotten very ill and then what will he have to say about that. Because I would have definetly SUED for undercook chicken.
He needs to be spoken to immediately!!!!! In results of that experience, KFC has just lost a CUSTOMER. I will never refer KFC to anyone. This was a very bad experience.

Moira
from Melbourne, VIC
Stopped at Yass KFC on Sunday 26th April around 4 pm. The place was filthy, bits of food of the tables and the floors. It was chilly but my family chose to sit outside, but being eldery didn't want to, asked at the counter for something to clean
a table was informed not allowed but someone would clean up. Only cleaned 2 tables by the time I left nothing else was done. Definitely not on the stopping list.

Deborah Clemons
from Cedar Rapids, IA
Went to KFC and ordered the five dollar fill up and the double chicken breast sandwich. I also ordered one of each side. A lady, I will assume to be the manager, was just standing there chit chatting, also two of the male employee were tossing chicken (like playing a game) and collecting points. One man who was at the drive thru left very angry as they made him repeat his order over and over. When I finally got my food, 25 mins later, it was no where near fresh or hot. I was so angry I threw the food away.
My bill was $20 and some change, I was there May 4th at about 7:30 pm and paid with my Visa card.

cindy cantrell
from Alpharetta, GA
I visited a store in Villa Rica Ga yesterday. First and foremost, the lady at the drive thru (Tisha or nisha). Was extremely rude. We orders the $5 boxes but with 2 legs instead of thighs and sweet tea to drink and was informed they had no tea or no ice. So I asked if I could just get another biscuit instead and they said no.
Then was told to pull up and wait till they brought it out. They gave us the thighs instead, original recipe instead of crispy because they were out and no silverware to eat potatoes and realized this and they forgot cookies. 10 miles down and to think we spent $17. For nothing we really wanted and waited 19 min. For what I'm not sure because I know that chicken was NOT FRESH. Worst experience EVER. Now I know why KFCs business continues to decline.
Thanks for your feedback!
Sorry. Please try again later!