KFC
KFC Complaints Continued... (Page 8)
723+ reviews added so far. Upset? Call KFC corporate: 1-800-225-5532

Having gone to KFC in Bently Bridge Wolkverhampton at around 2.40 today Sunday the 2/10/13 it was a disgrace I myself work in fast food and appreciate how hard it is, the restuarant itself was filthy the tables were littered with other peoples dirty trays serviettes screwn around the place chips mashed into the floor that was for starters, but i found myself staying there to see what the service was like, they had 6 staff to which i could see working there, and only one girl on the counter, someone finally from around the back looked at the que and shouted for Nathan to come and help.
They seemed more bothered about the drive through than the people in the restuarant we qued for a good 10mins, we ordered our food which was a godfather boxed meal that didnt even come in a box and a big daddy meal again no box, when my partner came to pay the debit machine wasnt working no way will we ever be going there again judy.

On Monday September 26,2011, around 2:00pm, my daughter and i decided to get some lunch at KFC. We were the only coustmers in the drive thru. We ordered the hot wing bucket and the new popcorn chicken, and extra order of french fries and two apple pies. when we got home to our surprise we had chicken tenders and french fries. I imediately called the store but. the young lady who took the order so happen to answer the phone, before i could say much she stopped me and said i gave you the wrong food. at that time she asked was i able to come back.
i informed her that i was to far away. at that time she asked me to hold on while to take to the manager, (i can hear them conversing) she was told to just take my name and give it to him, and when i get a chance to come back and tell the manager who i am and they will give me what i actually ordered for free. I asked did i need to bring anything back. Her response was no the manager has your name in the office and i already know what you ordered. when i went back on September 29th and asked for the manager and informed him of who i was and the situation he told me it was nothing he can do for me. I told him my name was taken and put in the office, he never check just said no it's not.
i began to explain again and he asked me for a receipt. I told him i was told i need nothing but to say who i was. He began to actually yell at me in a store with employees and customers present about how he's not going to fix the situation. I asked his name and he yelled Hague. While gritting my teeth i politely explianed that i am not going to tolorate him talking to me in that tone. At that time he told me to come back in a week to see the GM.

September 3rd, 2011. We just arrived home from ordering 2 2pc. meals to discover the order was wrong.We went inside to order, so we would speak to an employee directly, and placed 2 orders of 2 pc. breast and wing with 2 side dishes and paid for what we had ordered. We had the employee repeat the order back to us so there would be no mistake since we have recieved the wrong order before going thru the drive window. We we arived home, 20 minutes later, we discovered the employee gave us a leg and a thigh. The only correct items were the side dishes. We called the KFC store and talked to the assistant manager and she told us there was no riembursements.
How can a coorporation have such incompentent employees working for them. Who controls your employees? I am so discussed with KFC right now that we will never go back to KFC again. We live in Las Vegas, Nevada.

I bought 2 bacon cheeseburgers, 2 fries, 2 chicken snackers, large coleslaw and 2 drinks at the Petaluma store. When I got home the only hot thing was one bag of fries because the food was sitting there getting cold as they cooked one fries. The people working did not have their act together and I had to wait about half hour for the food. What is happening to KFC – I understand A W is going out of business – maybe that's why – poor management. Also I called about 6 times last night and 2 times today and no one answers the phone. Not good!

On the 6th August saturday approx 3.20pm ,Belmont Forum, we went through the drivethrou service and ordered and popcorn chicken snackbox and a zinger burger meal, which I didnt start to eat until we reached a friends place only to find out that instead of a chicken fillet piece, was a chicken wing as I bit into my burger which I wasnt impressed with at all and as now will not be going to a kfc store again ,the belmont store which I purchased it from was slow and dirty inside, and staff stood around talking…as we live in Rockingham…hope this matter is looked into and action taken…

On Friday 2011/08/05 at approximately 10:30 I went to the drive thru at the kfc on the N12 in klerksdorp,when I got to the drive thru I was not even greeted by the lady that was taking my order, I requested a meal and I ask the attendant if I can please have coke zero with my meal instead of coke, she replied in a very abrupt and rude manner that the meal does not come with coke zero, and I must choose another meal in a very abrupt way, is this the way that paying customers are being treated, I ask her for her name and she didn't reply she totally ignored me, then I ask if I can speak to her manager n she continuously ignored me.
I drove to the next window n requested to see the manager, I got no joy out of him, and he did not even apologize. Unsatisfied customer!

Recently i found out we can no longer get toys to go with the kids meals i think its a rip of due to the cost of a kids meal the kids were certainly not happy.Also the workers at Batemans Bay kfc N.S.W. Australia are incredibly stupid they dont listen to what you tell them to what your order is and thats going through the drive through.When you get home you find that you have at least 4 things that are missing they wont go to your house to drop of your order you have to drive all the way out to the store its all most like the workers dont know whats in every meal that people are suppose to get which includes your drinks and sauces.
The workers are either extremely lazy,stupid or were never trained.I have over heard workers talking badly about a customer all because the man had a German accent and they were making fun of him.Its extremely rude and something should be done about it what the owners need to do is hire more mature workers instead of being extremely cheap,and hiring lazy kids who are only their for money they dont give a crap about customer service older people do a better job and make better managers and supervisors they know how to serve people better.
Bring back the toys or drop your prices on the kids meals instead of being greedy you will lose customers if you dont.

This was earlier reported but no action on refund has been taken as yet. The case: On 17/06/11 I ordered for foodstuff worth Rs.210/- at KFC, Sipra Mall, Indirapuram. But, the counter person had deducted Rs. 21000/- from my HDFC credit card. When I asked for immediate refund of my money by cash it was not agreed. In stead it was simply told that the excess money will be credited into my account within 7-9 days. I had put up this complaint 5 days back but, no mail from KFC has been received so far regarding my refund. The manager at the counter on my pressure gave one undertaking regarding his mistake and refund of the money illegally deducted.
I would request KFC Authority to send confirmation about the refund and the mode of payment to HDFC credit card section so that this money I need not pay in my next billing cycle. Management should take appropriate action on the person at KFC, Sipra Mall, Indirapuram who has done the mistake to plug such loop holes.

An order for food worth Rs. 210/- was placed at KFC counter at Sipra Mall at Indirapuram Ghaziabad on 17.06.11 evening. While credit card was given at the counter for charging the amount they had deducted Rs. 21000/- to my surprise. It was simply told that the money would be credited to my account in the next 7 to 9 days. Such a grand mistake has been committed by KFC counter person but their reaction to the incident was very poor. Why the money was not refunded in cash immediately to me as it was proved to be a grand mistake ? KFC management must wake up and respond to this incident to resolve it by paying cash to me. Action to be taken on such employee at the counter.

i make an order today 18 June 2011 at 8.10 pm through person called hisham and he told me on the phone within maximum 40 minutes will recieve your order , after 70 minutes i recieve my order no 2228493 here in my place ( media city ) dubai and the delivery person told me i went back to office at 8.50 to take new orders …which means that there is no driver to deliver … how come kfc dont have a driver and they promise customer to recieve his order within 40 minutes ….. am so disappointed from this service and my friends in the office after 30 minutes from my order …ask for macdonald order , they recieved thier order and finish eating and am still waiting !!! what a rude service

Purchased 20.00 meal deal at 7:30 pm on june 6, 2011 at kfc chicken. Gravy, mashed potato, slaw, and biscuits were good. Hence the problem, there is no doubt in my mind that the extra crispy chicken we received was good when it was made at noon. The chicken was dry, the breading was hard (not crispy). The last time we were there at kfc was six months ago, and the service was poor, meal items were forgotten and I suppose six months from now there will be another issue and that will put us in 2012. When we travel out of town to kfc our experience is normlly better.

We have just returned from our second "experience" at KFC on Bowman Avenue in Danville, IL; we always give a place a second chance. We ordered the buffet. There were two pices of crispy chicken in one pan, four pieces of the greasy chicken in the other. The piece I took was not hot. The other items on the buffet were not hot. The corn pan was neaerly emnpty, the cornwas tough, as was the greens. I took the last biscuit, the gravy was very good. We were there for about 45 minutes. KFC Employees walked past the buffet numerous times and looked at the empty pans but did not fill them.
Two other families got the buffet, no chicken. One man stood at the buffet for twenty minutes, he was waiting for more chicken, employees walked past him countless times and ignored him. Employees were focused solely on carryouts, chicken was going out the door in buckets. The place was filthy. I won't go back.
FD Campbell

I am a 38 year old woman who recently worked at the KFC in Sayre PA. I have been a manager of 4 fast food restaurant and have never been treated so badly by owners, managers and employees. I have just been diagnosed with CHOREA, which is rare, possibly a form of Huntingtons disease. While working at the store in Sayre i was picked on and laughed at by the GM, shift managers and KFC employees, all because of the Huntington's disease. I am now embarrassed because of who i am and what i do. Thank you KFC for making me feel like a failure because of something i can not control.

I went through the drive through at the KFC on American Leigon Hwy in Boston, MA. I peeked in the bag quickly to see if everything was there, and it looked fine to me. I don't live in the area, I live completely across town. When I got home, my family didn't eat right away. When we opened the bag from KFC, we noticed a couple errors. 1. I ordered a breast and wing meal, and got a breast and leg. Not a huge deal. I also ordered a sandwich meal. I asked to sub the fries for mac and cheese, and still got fries. Again, not a huge deal. Only minor errors, nothing to be upset over. But, when I opened my sandwich carton, the sandwich looked a little flat.
I took a look, and I had ordered a chicken sandwich…..I got a cheese and bacon sandwich instead. How can you go to KFC and they forget the CHICKEN??

Me and my wife have just been to a kentucky fried so called chicken shop. When we walked in to KFC there was 8 empty tables, 7 of those tables had half eaten food ,drinks spilt and rubbish strewn all over , it was discusting. There was no queue so i asked for someone to clean the tables ( 8 people serving nobody behind the counter ) still took 7 minutes for someone to come to start cleaning the tables. So i went to order food 2piece kentucky fried chicken x2,1 7up and a cup of tea ( not so hard to do is it ??? ). He got my hot food ready then poured 7up went to make tea no tea bags.so off he went lucking for tea bags , after nearly 5 mins he asked a girl ( who was serving at the time )and guess what they were under his nose ( mean while our food is going cold )when he eventually made the tea ( by putting tea bag in hot water ).
I paid and went to where my wife had got a table ( which had been cleaned by my wife ) i sat down. My wife took the lid off the cup low and behold tea leaves floating the bag had burst, so she took it back. When we eventually tucked into the food it was very cold , the so called chicken were skin and fat hardly any meat, to be honest it was discusting i complained to a young girl ( whom was still cleaning tables ) about the size of the chicken all she said was ITS NORMAL with that comment i thru my chicken on the table and walked out followed by my wife. I had just paid 8 pounds for cold chicken cold chips and to eat in a DISCUSTING place. This isnt right, but no KFC manager to complain to.
Yours in disgust, Tony
P.S. i will not be going in a kentucky fried chicken again and i WILL be telling all my friends not to!

i entered the kfc on eccallsal road in Sheffield about 3 weeks ago. they were closing and had nothing on the hot grills, they said i could still have an order as they had just put the chicken in a storage bin. so being a little tipsy with a hungry 6 year old and my partner i bought 3x 2 pieces x fries coming to about 9 pounds 80p. we got home and the chicken was inedible, dried up disgusting. i went down to shop and complained to kfc and the manager gave me an address which i lost and cannot find one anywhere. whilst in the shop a saw about 6 ants i told an asian employee and he just wiped them up. this should all be on video!
he openly admitted it to the kfc manager. i am absolutely outraged by how i was treated im disgusted at the way the food is kept and served when they were closed, im appalled at the quality off the food and i will go as far as i can with this kfc complaint, we all could have had food poisening which can lead to death please help, where do i go from here. sincerely, catherine bell.

We ordered a bucket of KFC chicken and side orders. When we got it home it was so bad that I would not have feed it to my dogs. when I called the KFC restraunt the manager told me to just take the skin of and eat it. When I told her no she said well I am more frugal than that. Well it's not her $20.00 ,it's mine and I do not need someone like her telling me what to do with the food I paid for. I will be waiting to hear from KFC corporate. My phone number is 1 541 888 9629. thank you.

I had my kids birthday party at Kentucky Fried Chicken in AbuDhabi and there was no service/entertainments/gifts as promised. Instead of enjoying the party I have to take Video camera myself, serve food myself, because the KFC staff took off without informing the manager! No one from the KFC based in UAE listens to my complaints. Can anyone let me know how come I can complaint directly to the main KFC office based in US. As we all know that KFC is an established chain but their customer service attitude especially in Abudhabi, UAE should be changed. Can i get any response or this type of attitude continues…

I went into KFC in Meyerton yesterday and the noise coming from behind the counter was unbelievable! When we first walked in I did not know if they were rioting or fighting with each other. The staff were shouting and laughing and singing so loudly that I could not hear my brother standing right next to me. I stood there with my hands over my ears trying to decided what to order, I would have walked out but we were in a hurry and needed to get something to eat. The staff members were totally unaware of how to behave themselves in a restaurant environment. I will never eat at this KFC location again!

I saw this lady ranting and raving about a KFC employee for not getting her order right. She looks about 400 pounds, and I'm guessing she takes her fried chicken very seriously! Are you kidding me people? She said, and I quote, "You can go to hell!". It's just chicken jeez. You wish she goes to hell over a PIECE OF CHICKEN?! Maybe that is the only chicken they had at the current time you ordered. If you had an issue with it go to another KFC store? Or better still DON'T buy the product! I can't believe the ignorancy of some people such as yourself claiming people should go to hell over a piece of chicken. Where do you get off?

Dear Sir, or Madam. I don't like complaining, but in this case, I feel I must, My husband and I, went to ask for a £9.99p bucket from Tower park. in Poole Dorset. and she said it was not £9.99, it was £10.99 she said, We couldn't be bothered to argue, or make a scene. so we payed, sat down to eat it, So out side the k.f.c. I took a picture of the add which was on the window, I am sure you know this is illegal to do this, and could be in trouble. We use the K.F.C a lot. but this is not on.

KFC had a competition running to win a rocking box speaker set. I was so happy when I was contacted by phone to announce that I had won the KFC grand prize! Sadly to date, the prize has never been delivered. I wonder with these big companies, they advertise stuff and you win. How sure are we that anyone ever gets the bogus giveaway prizes they win? I mean its almost 4 months later and still no prize. The public must be wary because I really think that these restaurants like KFC advertise falsely just to attract customers!

I ordered grilled and got fried, no biscuit, chicken cold and no seasoning, and the fat lady was proud that she messed up my order – out came the hand telling me "she'll do what she pleases", then the manager man shook his greasy head right to left telling me to go ahead and complain to corporate cuz "nothin will happen, we run this"…Bottom Line: Stay away – unless you want drugs…

Jacqueline Foster
from New York, NY
I have been sending you this request on date Dec.12, 2015 been complaining about your salted chicken and salted fries, I have high blood pressure on more than one. I visited your resturaut very offend and been talking to customer now I need you to send me what I am requesting.

anuj oberoi
from Mumbai, MH
Visited a KFC stall that was there in the fete. This was held at The Asian School, Dehradun, India. And the microwave they were using had a broken glass tray which they were using to heat the food items they were giving to customers visiting the stall. On being caught, the KFC people denied it and were continuously. Is this The reputation of KFC and is it really a customer care? Hopefully corporate views this complaint.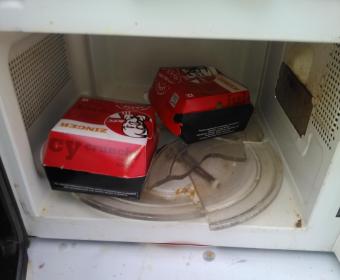 Richard Silliboy
from Monticello, ME
On Nov. 25th around 8pm I went into the KFC at 808 Main St. Presque Isle, Maine. I ordered my meal and set at a table facing the counter, I could see the bathroom doors and the door going into the kitchen. The janitor who was working on the floors was walking around pushing a bucket of soapy water, he walked past me and went to the area behind me and left the bucket there. I see him walk back toward the counter on the other side of the eating area. When he got back to the front where he was right in front of me, he went to the kitchen door, he paused, put him hand on the handle, leaned down a little bit and BLEW HIS NOSE ON THE FLOOR.
He continued into the kitchen and came out with a spray bottle and did a couple of tables without washing his hands. He wassn't in the kitchen long enough to wash his hands. I decided that I had enough to eat and took my tray to the garbage bin, He was standing there watching some young kids and I asked him his name and he said Bob. I went to the counter and waited for someone to come, Bob asked what i needed and I told him a complaint form. He told me that they were on line, I started to leave and decided that I had to speak to a manager so i went back to the counter and finally after hollering for the manager he came out. I explained what happened with Bob and he called him Rob and said that he would have a talk with him. Didn't get the managers name, he was a young person, probably 5' 6" and he had a thin beard. I do swear that this statement is true as written.

joe fogarty
from Denver, CO
Re: Complaint about KFC in, my home town, Streator in Illinois. Two visits in a year, most recent November 7th 2015 for my mother's 90th birthday. Not by my vote, our party of twelve had KFC chicken and several sides for Mom's birthday dinner. The chicken is/was THE WORSE...as TERRIBLE as could be...the thought of it makes nearly VOMIT! The skin was not edible...i did not order it so i can't say how it was done but certainly was not fried...PUTRID! The chicken was also pink in the middle...no one wanted to ruin Mom's b-day dinner but a couple family members i sat next to agreed...TERRIBLE...KFC corporate needs to visit this store! It dies no justice representing you!

Violet Olivia
from Saugus, MA
Because your new colonel Sanders comes across and non genuine and nauseating by both his appearance his voice and his demeanor, my family and I have stopped purchasing your product and now bring our business to Popeyes Chicken. If you get a more pleasurable colonel sanders I may decide to return but until then Popeyes it is.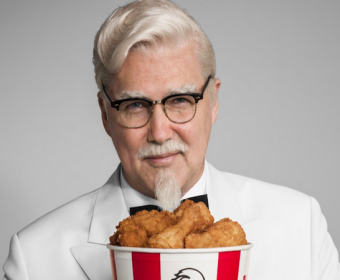 Kelly Johnson
from Hillsboro, OR
I went through the drive thru last night, got home and surprise surprise my meal wasn't correct. I called and spoke to the manager, whom i had a hard time understanding. I went back in - she tossed my food and started gathering the new order with all items I purchased. She had to call out for a large baked beans and the gal from the back ran to the front to do it. Meantime the manager was closer to get this order together. Meantime, the gal ran up started to scoop the beans and in the middle "whipped her nose" grabbed the container again - and continued to fill the order. The manager stood there just watching. I told her on the phone i was a refund on my order OR credit since they had me come back to fix their mistake and credit my time to get their items fixed. She was rude and unprofessional. I expect to hear from someone to do something about this. Meantime, i will make notice to the health department with my issues. With Chip-ole having had ecoli issues i want to prevent this to happen to others also. This manager should be fired with the lack of training, training the employees incorrectly, not back checking and not making them work in a healthy and safe manor.

I have been a faithful customer of the St Albert KFC 195-001. I always get the combo#3 with fries supreme, and beans instead of the beef on everything (I'm vegetarian). The last time I went there I was charged extra money to add beans. $0.69 for each soft taco, and $0.69 for the fries supreme. So a total extra of $2.18. Which I have never been charged before. They usually just substitute the beef for the beans (which is cheaper). When I questioned the window attendant she was very rude and harsh, and basically said take it or leave. She said that's what I'm charging to add beans, I tried to explain I was only trying to substitute the beans for the beef. She would not hear it! And that I have never been charged this before. She didn't care "about before". I quite arguing as I could see she absolutely didn't care. After receiving my food I was waiting for my change, she came back to the window, and said "is there still a problem?" I said I was waiting for my change. She was really ticked then. She gave me the wrong change back, but I left.
To be honest, I was ticked about the extra charge, but more upset about her attitude and her mannerism. Very unprofessional! And did not make me ever want to return. I have once since, to see if things had changed, and they had not. I Ordered the same thing, and was charged the extra again. She was at the window, still very poor attitude, and I didn't say a thing about the extra charge. She just doesn't have the customer service. Our family of 6 has always enjoyed going there, and it has been our favorite place for vegetarian option, but we Will not be returning there. I very disappointed in the service. It hasn't been this way in the past, but I see there are mostly all new staff there now. I can go across the street to Taco Time for the same meal, same price, and better service, and no up charge!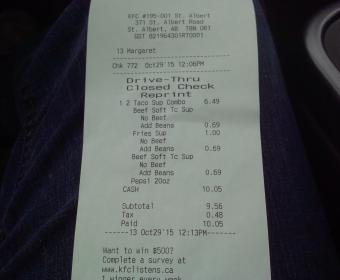 Kendall Griffith Jr.
from Pittsburgh, PA
I went to KFC on Rodi Road in Penn Hills, PA drive thru and ordered a 20 dollar family box due to my family coming in from out of town. I asked for Crispy chicken but when I got to the window, a young lady informed me that they do not have crispy breast chicken and instead they would give me chicken tenders. When I got home and opened the box there was only 4 pieces of crispy chicken and 3 tenders. The amount of food given to me was no where enough food to feed any family. I did attempt to call the store immediately several times but no answer. I think this is unacceptable and should be looked into. I understand busy times and rush hour but we are all customers that need services rather we are in the store or on the phone.

karen ota
from Fort Lauderdale, FL
I order at same store on a weekly sometimes twice weekly basis. I was excited to open box of a chicken breast and usually its soggy but this one was freshly fried, as I bit into it I smelled fish, thought 'well maybe they fry fish in same oil", as I continued to eat It -the white meat smelled rotten. them meat from the bone was a purple, red color ,which was also odd to me -trust me I have been eating KFC as a child so I know my KFC and never had this experience. When I took it back to store Oakland Park and NW 21st St, Oakland Park Florida, they disputed my sense of smell, but did return my money. Disappointing and scary that KFC doesn't have a better quality control, the manager had said she had just had the quality control people there this morning. the drive thru was a 10 minute wait in front of the menu board, so not only did I have to wait - the meat was bad. how disappointing.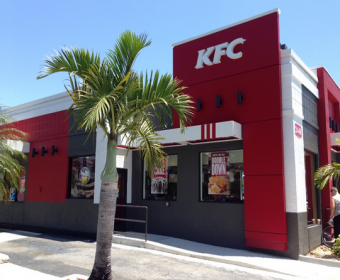 Bear Bryant
from Glasgow, KY
If the real Col. Sanders could see these ads of men pretending to be him, he would turn over in his grave. He was a distinguished gentleman, not a stupid clown. Clean up your ads and honor the real Col. Sanders. I wish that I could send a letter to the corporate executives at KFC and tell them how upset these commercials make me.

Marianne Carlisle
from Southfield, MI
My complaint is not about a specific location (however, I do not eat at any very often because it is just not the quality it used to be). What bugs me and just about everyone I talk to about it is your TV advertisements. The guy that you have dressed as the Colonel is not right for the part. I don't know him personally so I won't call him an idiot but his portrayal as the Colonel is ridiculous. He looks like the Colonel until he opens his mouth. He does NOT act or sound like the southern gentleman the Colonel would be. He sounds more like a pervert or a dirty old man. It really is a very obnoxious experience. Are you trying to close down? He's terrible! Fire him and find a real southern gentleman with a deep man's voice. Thanks for listening.

Derek scott
from Aberdeen, SCT
Had lunch today at the elgin branch scotland bit of a mixed experience the customer service and ordering was very efficient and the food and drink came in very short time so that was fine the problem that we then faced was to find a clean table to sit at there were only another two tables in the place occupied at the time so we were spoiled for choice but unfortunately there were no clean tables we decided to choose the least grubby one on seating noticed there was bits of food and ketchup stains up the leg of the table and one of the kfc workers then came with a wet cloth and wiped the tables next to us no disinfectant spray or anything spoiled my dining experience the food was tasty but the hygiene in the place was substandard working in the catering trade I thought it was necessary to alert you to this thanks look forward to eating your lovely chicken in your cleaner restaurants soon.

jim ratliff
from Indianapolis, IN
We waited at the drive-thru for approximately 5 minutes speaking hello, hello into the speaker with no response. Then, so we drove to the window ask the young lady if there was something wrong with the speaker and she said no she must have hit the wrong button on her head set. After all this irritating time in the drive thru we tried to place our order.with a two piece classic extra crispy the side orders were greenbeans with worker said that we have no green beans so we said corn she just stared at me for afew seconds and then it seemed like it registered thru her stare and then at the end of our order and this long long drive thru ordeal she said it would be an 8 to 10 minute wait for the biscuits and I said are you kidding me and I told her to forget our order a nd we drove off laughing and cursing about the time wasted there and went and had a hamburger. My wife loves KFC that is why I would go to the trouble to complain but this is probably the 4th time we have had a bad experience at this one KFC.Indianapolis store southport and gray road. You have to do something about this store. more than likely a last time customer.

Mary Voshell
from Stafford, VA
Went to the KFC in Middletown, Delaware. Ordered the Family fill-up box. Told the girl that I wanted wedges instead of the mashed potatoes. She told me that she couldn't do that. I asked her why and she said that they didn't make changes. I know that is not so because the customer that placed an order for the same thing got his items switched. If you can do it for one customer you should do it for all customers. I asked her if she was going to make the switch but she no.I said that I didn't want the order and that I would go next door to McDonalds to eat. I didn't like doing this because we eat at KFC at least 2 times a week. This is my first bad experience that we have had and is disappointing. August 29, 2019 at 5:30 pm.
.

cally harris
from Dover, DE
I have not gone to Camden, DE 19934 for along time because last time went we got our order wrong and of course, did not notice till got home and this store is not clean by any means and very very slow in service. I went to a friends house a couple weeks ago and she had POT PIES which were delicious / nice chucks of white meat and nice crust, So thought would try them myself for family. Went to this store 3:30 on 8/26 and ordered 2 pot pies. After 15 minutes told by them had only one pie but if would wait another 15-20 was making fresh ones.
So I waited another 20 minutes to be told that they only had the one pie and NEVER made the other one or any fresh ones. They offered me a 2 pc chicken deal in its place which I had no choice to take but it was awful. It was a small breast and very dry. The pot pie had shredded or pulled chicken not the chunks I had at my friends house. All in all another bad experience. order 4169. People were so agitated about service. This will be our last visit 4 sure.

Debra Turney
from Searcy, AR
I went to KFC Monday after work around 4:30 p.m. ordered a bucket of chicken with sides and a Large Liver, I asked if the chicken and livers were fresh they said yes and I ordered extra crispy. When I got home wit our meal the chicken was all dried out not extra crispy, livers were hard as a rock, biscuits were so hard you couldn't eat them, the slaw was dry had not been mixed with any mayo or anything! only got legs and thighs no breast or wings. I work for min. wage and my husband is disabled we don't get to have take out food very often, but when we d we expect good food I payed $22.97 for food we could not even eat.
I work for a hotel here in Searcy Ar. I have recommended KFC many time, but sorry if things don't change I will never recommend it again, if you would have seen our food you would have been very upset, I just wished I had a cell phone to have taken pictures of the so called food that I payed good hard money for. I had to work over three hrs. to pay for this Please resolve this matter, I still have my receipt.

Charles T. Nelson
from Sturgis, SD
My wife and I visit the KFC in Spearfish, SD as we live in the Black Hills of South Dakota near Spearfish. Today 6-26-15, and were so disappointed that we will probably not revisit this KFC. It was 12:30pm and we had to ask for a tray to go to the buffet, the serving line was very dirty with spilled food and most of the food was empty, including the chicken station, the drink station was so messy and wet that you could not put your tray down. The women's restroom was so dirty my wife would not use it. Also all the handles and locks were torn off the stalls. I asked one of the employees to come out and clean the serving area and the drink station and they acted like it was a surprise!! Enough said and we will not revisit this KFC and the company should be ashamed.

Evelyn A. Tuccitto
from Bellevue, NE
I just want to tell someone in your organization how disappointed I am in your latest commercial. I find the voice of the actor playing Colonel Sanders quite repulsive as well as his dialogue and his laugh. I doubt I will ever be able to eat at any KFC establishment because of this commercial. Whatever your intent, it has certainly failed in this area as I have heard negative comments from many friends also.

Donna Burton
from Laguna Niguel, CA
I'm writing to tell you how horrible your commercials with this really stupid man posing as the Colonel are. Some years ago, I was up for the KFC commercials. I was first interviewed by the ad company, and the second interview was with the original Colonel. The original Colonel was very nice, intelligent, asked intelligent questions and was NOTHING like this man on the latest commercials is trying to be. This one and his words and behavior, I'm sure has the original colonel turning over in his grave.
I believe you should drop this that you are doing and bring the whole structure, person and feeling up to an intelligent , well written and stated commercial, that people will respect. By the way, I had the job, but my husband was a Naval aviator and he got orders to move, so I had to resign.

Galry Schlageter
from Bonaire, GA
I went to the Perry Ga. KFC and ordered a 3 piece dark meat as advertised on your board. I asked for Legs and come to find out their is a 25 cent charge for legs. You advertise a 3 piece dark meat meal and charge extra for dark meat. You should advertise two thighs and a leg--not a 3 piece dark meat meal. This is the old bate a switch and is not an honest thing to do. I asked the clerk what type meat was a leg and she said dark. How can you charge extra for dark meat with I bought a dark meat meal. I do not believe in misleading customers. Do the correct thing and update your meal listing to reflect what a customer will get.

David Hall
from Tulare, CA
Can't be too specific with 100 words, obviously you really don't want to hear complaints. So I will give you the very short version. I went to store Tulare 845 E. Prosperity #H830011at 4:02pm this date. Order 10 piece chicken, but was then told that is only dark meat, however since there was nothing posted anywhere, Mgr Christine with a real attitude had to adjust increase my charges and added white meat 10 piece. I got home with 8 pieces of dark meat.
So I went back and asked for the Mgr. and was told the new shift mgr had just come on so she very politely asked to help. I told her count the pieces and look at the receipt. As soon as the rude Mgr Christine heard it was short she started loudly from the back stating "you packed it" I didn't, I didn't do it. Fine I don't care who DID it and if she wanted to show her rude behavior and treatment to staff to entire restaurant that is fine too, just make it right. Obviously you don't give these people ANY training.
Well I guess I can't say that because the new girl on shift was very polite and apologized over and over. I asked for the other Mgr name and she still yelling from the back, and wouldn't give her name so the new shift mgr wrote Christine's name on the receipt for me. You need to talk to your employees and find out how they are being treated if this is how the customer gets treated

Marleen Carr
from New York, NY
I went to KFC location Bristol - Address 2701 Durham Rd Bristol, PA 19007 Store #K071080 4 171 4183. Today 05/13/2015, I place my order Chicken cup to go. When eatting the first piece of chicken tenders, it was 1/2 raw on the edges so I threw it away. Then I pulled the second piece apart it was also raw on the side where you saw the flesh pink. I then went back into KFC and spoke with the Asst. Manager who verified the chicken was not cooked all the way.
The cook immediatley burst out and said very louldy That chicken was done, he cooked that chicken - I told him then he was calling me a liar, because you could clearly see the chicken was very pink flesh like. He should not have said anything in front of me, the customer, this was very, very unpleasant and unprofessional. If eaten, I could have gotten very ill and then what will he have to say about that. Because I would have definetly SUED for undercook chicken.
He needs to be spoken to immediately!!!!! In results of that experience, KFC has just lost a CUSTOMER. I will never refer KFC to anyone. This was a very bad experience.

Moira
from Melbourne, VIC
Stopped at Yass KFC on Sunday 26th April around 4 pm. The place was filthy, bits of food of the tables and the floors. It was chilly but my family chose to sit outside, but being eldery didn't want to, asked at the counter for something to clean
a table was informed not allowed but someone would clean up. Only cleaned 2 tables by the time I left nothing else was done. Definitely not on the stopping list.

Deborah Clemons
from Cedar Rapids, IA
Went to KFC and ordered the five dollar fill up and the double chicken breast sandwich. I also ordered one of each side. A lady, I will assume to be the manager, was just standing there chit chatting, also two of the male employee were tossing chicken (like playing a game) and collecting points. One man who was at the drive thru left very angry as they made him repeat his order over and over. When I finally got my food, 25 mins later, it was no where near fresh or hot. I was so angry I threw the food away.
My bill was $20 and some change, I was there May 4th at about 7:30 pm and paid with my Visa card.

cindy cantrell
from Alpharetta, GA
I visited a store in Villa Rica Ga yesterday. First and foremost, the lady at the drive thru (Tisha or nisha). Was extremely rude. We orders the $5 boxes but with 2 legs instead of thighs and sweet tea to drink and was informed they had no tea or no ice. So I asked if I could just get another biscuit instead and they said no.
Then was told to pull up and wait till they brought it out. They gave us the thighs instead, original recipe instead of crispy because they were out and no silverware to eat potatoes and realized this and they forgot cookies. 10 miles down and to think we spent $17. For nothing we really wanted and waited 19 min. For what I'm not sure because I know that chicken was NOT FRESH. Worst experience EVER. Now I know why KFCs business continues to decline.

christal
from Bainbridge Island, WA
Theirs been numerous times I went and the food is just poor, they always forget something, i was over charged once and they completely ran out of biscuits and extra crispy chicken. I have 4 kids and we always order more than 40 dollars of food everytime. I get my own which is 3-4 different items there then same for each kid. I think I should be redeem what I normally spend for all the times this was bad.

Sharron Croft
from Wakefield, ENG
My son has worked 22 hours for this company and for the past 3 weeks has been given various excuses why he hasn't been paid. He has returned his uniform and has had to go down to the restaurant 3 times to take documents, id etc. When they already had all his details. He was told he had to go down to collect a wage slip then the next day when he went down the wage slip was not there!
One manager said they were going to email head office and told my son to phone back a few days later. My son has phoned several times and was told last week the outstanding money would be in his bank today..... It is NOT in his bank so yet again he made another phone call to KFC. He was told he had to phone back yet again tomorrow. My son is a student and has earned this money. He did do the late shifts so it was not easy for him. Please can this be sorted out as soon as possible instead of fobbing him off all the time. My sons name is Mac Rathmill.

Darren Hickey
from St Kilda, VIC
I went into KFC in Kingsmeadows, Launceston. I asked for Family feast +4 extra pieces. with no wings or drumsticks .I was told I had to have at least two of each. I said every time I come in here and ask for the same thing and get a different story each time. I was told a long time ago I would be able to have this as long as I bought the family feast plus the 4 extra pieces. I was then told they would not have enough chicken that I would have to wait 15 minutes. Which I agreed to do. It took the whole 15 minutes. A different girl gave me my order and told me the price. I said looking at the order aren't I allowed a drink as well , seeing she hadn't asked? Which she referred Yes too.But had never asked. When I arrived home right at the bottom of the bucket they snuck in a wing. How unprofessional.

Sandra McNulty
from North Las Vegas, NV
KFC 6965 Aliante Pkwy. North Las Vegas,NV. Every single time I have gone to your restaurant, When I get home, I am either short something or given the wrong item that I ordered. I really think you need to look into management at this location. I tried calling the store and I could not even get thru. The number on the receipt is 702-395-2734, it rings a 1/2 ring then disconnects. With all the completion out there, one would think that your number one priority would be CUSTOMER SATISFACTION!! Please take action before places like Canes and Popeye's put you out of business!!!!!!!!!

Richard V. Greville
from Pleasanton, CA
In response to TV Monday night special on CBS for a two pcs chicken ( leg & thigh ) with mash potato & gravy, corn cob, biscuit for $3.99, I went to the local KFC to purchase the special. I was told there was no special, but could purchase my order. Not thinking of the purchase price, I order two orders charging It on my Visa card. When arriving home I saw being charged $6.29 each plus sales tax. The total price for two orders including sales tax was $13.78...$5.04 more than should have been. Store personnel said the franchise didn't honor the ad ! !
The KFC restaurant #E720276 located at 1803 Santa Rita Road Pleasanton, Ca. 94566. Ticket #4214.. dated 2015-04-20 time 4:57pm...E720276 4 26 4214 Cashier : TRAVISB. In all the years in purchasing food from KFC this has never happen ! Bad business practice ! ! !

Dessia Chapman
from Scottdale, PA
On April 17,2015 I went to the Belle Vernon, Pa FKC at about 4:30pm I ordered a 8 piece meal. There was not a breast. The chicken was greasy. The skin was almost black. It seemed the chicken was "old". It was fairly moist but you could not eat the skin. The sides we got were fine but we went for the chicken. The whole family was very disappointed. They only ate one piece. I have left overs. That never happens when we get KFC. Not sure anyone will want to eat the left over chicken!!!!! I feel I wasted my money...I do not have money to waste. I will have to think HARD before I go back to KFC!!!

While traveling through Glasgow Ky, enroute home from a deceased relatives visitation, we stopped at the KFC there. It started with a very surly young lady taking orders. After reluctantly taking our order she informed us the mashed potatoes were not ready and they would bring them to our table when ready. When we were close to ending our meal, my wife went in search of the potatoes, and they were setting at the end of the counter.It was about 6.30 wed evening wed 4-15-15 and there were about 4 customers in the establishment. At least she showed the same disdain to everone. The best KFC we have found is in Greenfield, In and the worst in Glasgow Ky.

kate
from Birmingham, ENG
Visited KFC Maypole Birmingham and the restaurant was dirty we had to clean our own table, the staff was miserable the one looked like she was on drugs. We asked for salt and we got given a big tub as there was no sachets. There was only one member of staff serving it took ages to be served and the restaurant was very busy. Not very happy at all as we use KFC often but will not be entering this branch again which is a disappointment as its our nearest restaurant.

Ruth Ferguson-Ferrarari
from Richmond, VA
On Sunday, April 12, 2015, I arrived at the store after 9 am morning services at my church. The church services ended at 10:20 am. I arrived at 10:35 am the store doors were locked. I then tapped on the door to get someone attention and finally a young Black man came to the door, it seems he were the only 1 there. The sign on the front door reads Sunday opening at 10:30 am, the guy proceeds to say they weren't opened yet due to no preparations of food. I look through the glass door and there no food in the ovens cooking. It were very inconvenient for me because I had family coming over for lunch. So, I hung around in that area and proceeded to go back around at 11:20 am, the doors still locked, at that time a young black lady were at the register. At that time a few more people had arrived, I tap on the door, the young man finally open the doors upon discretion of the young Black lady at the register who weren't please. My order rung up at 11:24 am. I asked to speak with the manager, my reguest rest on deaf ears.

Norma
from Haltom City, TX
My husband and I were in the drive thru window and he was smoking his electronic cigarette minding his own business when the manager approached our vehicle and said if he did not stop smoking She was going to call the cops. Mind you he was in his own private vehicle not inside the store.. She then processed to be very rude and toss us Our food and one of the employees flipped us the middle finger. I will never ever eat there again. Worst service I have ever received in my entire life. This was at the kfc located in Big spring Texas. I tried calling the store to speak with the manager but they will not answer our calls. Please fire this woman. I'm tired of ghetto people working at fast food restaurants.

martin rosenthal
from Las Vegas, NV
Ordered two bowls without the pop and cookie one with the the sauce on the side at $5 each. After i paid i noticed that each bowl was $5.29. it was explained that without the pop and cookie the price would be raised to $5.29 from $5.00. this was not explained when i ordered the two bowls and seems to be a form of bait and switch?? Also the bowl which was requested with the sauce and the side had the sauce inside the bowl!! i expect some form of refund.

Joseph Ardito
from Charlottesville, VA
Galax VA is the closest KFC to my home, approx. 12 miles away . Service was very slow, one employee taking orders, 3 others employee talking while my wife and I waited to order. Food on buffet was not well supplied, mashed potatoes where dry, I asked for fresh, the old was mixed with the new. Had to ask for chicken, only one breast of original was in pan. Macaroni & cheese was dry & old. Floors, tables walls & bathrooms were dirty. I have been eating at the Galax Va. KFC since your first store was built many years ago, both of us were very disappointed. It was as if there was not a manager on duty to make sure things were correct for the customers. My ticket #5838 @ 6.38 pm. L087002 5 51 5838. I do not usually take time to complain, but this experience is the worst I have ever had at my local KFC & I thought someone at the corporate level should know.

patricia milburn
from Dover, OH
My grandson was employed at one of your chains on McCauley Drive, Uhrichsville. Ohio 44683 and his manager accused him of stealing a hook to remove chicken from the fryers, she was yelling and wouldn't leave him leave the store finally after and hour he took off his hat and shirt and told her he was quitting and left. I feel if a supervisor has something to say to an employee it should be done privately and not in front of customers or other employees, I was a manager for another company Goodwill Industries and we were not allowed to yell or scream at another employee in front of others. This incident was very upsetting to my grandson this was his first job he is still in high school' I feel you should look into this matter, I will tell three people and these three people will tell others this could hurt your store and sales and would also discourage people from working for your stores. Thanks I am sure you will check this out it happened Friday April 10th 2015.

saqib nabi
from Burgess Hill, ENG
I was abused by the manager at KFC in Brixton London. I visited the store at 12.50 pm on Saturday 11th April and placed my order. After waiting for 10 minutes we asked what was happening with our order at which point the manager started to shout at us. The whole place was in chaos with various customers asking for their money back. when I confronted the manager about him shouting at me I was further abused by him and told I would be banned for complaining. All the other staff in the restaurant and customers were alarmed by his behaviour. I filmed some of the incident and can share but you will have this on camera also.
Eventually we did manage to get our order and left after the manager shouted at us again. When we got home we checked our order and realised the order was all wrong. We returned to KFC and again were confronted by the aggressive rude manager Sammi. Overall I visit KFC 5 times a week and spend a lot of money in the restaurant. I was refunded by money by another staff member who apologised on behalf of KFC and was very pleasant. The manager in questions name is Sammi and his ID number is 2402 (these details were provided to me by the staff member called Mahfuz who resolved the situation that the manager created). I would like to know what KFC propose to do about this incident and my very poor customer experience. I have video evidence to share if required. Also I expect KFC to review the store footage to see the managers actions.

Teresa Scott
from Indianapolis, IN
I was at the KFC at county line and Meridan st Greenwood, IN 6:15 p.m. 4/09/15. It took 25 mins. to get to place my order and another 15 mins before I received my food. 1 breast and potato wadges. I am not sure I will ever go back to that store. The last two times I have been in there it has been a mess. KFC needs to make sure that their food is good, the restaurant is clean, and the employees are nice. I am not going back if they keep up the crappy service.

Zoe Robson
from Sheffield, ENG
Hi, I visted your kfc branch at sheffield arena last night, where the time stated it closed at 10:30pm. I arrived at 10:10pm to find the doors locked, I was then let in and refused to be served by a member of staff because they said they were not taking no more orders. I work at a supermarket and i would never in my right mind turn customers away. It was disgusting how your staff were with customers last night.

Suzanne McCoy
from Doolandella, QLD
I ordered and was charged for a large boxed meal,+ a large fries. I received a boxed meal with small everything + a large fries. I understand mistakes happen but this happens a lot. These mistakes seem to happen again and again. I would be happy to get what I ordered as I love KFC but feel very angry when I get home only to find I have a meal with some of it downsized or missing..

Went into your store in Effingham Illinois.. tonight and it was appauling.. the service was bad and slow! waited for 20 mins for someone to wait on us and she saw us.. she was helping get drive threw and I kept asking to be served and got nothing but dirty looks .. when we did get waited on, it was rude.. and buffet was half empty.. the chicken was old and dried up .. the gravies were lumpy , and hardly any in the pans ,, 4 pans were empty and the remnance of food were dried up on the pans.. when I asked if they were going to put fresh out and new pans, I was told that if I can do better I could go back and do it .. I demanded my money back and I will never be back .. the store was under staffed or they were all in back one .. and the store was dirty .. the chicken tasted like it was fried in old grease.. something needs to be seriously done with that store..

I have had problems with orders being filled correctly/unacceptable customer service at KFC in Royersford, PA over the years and stopped going there because of that. We tried again last night and were again disappointed. We ordered two three piece meals original recipe with dark meat - one with mac & cheese and coleslaw and the other with mashed potatoes/gravy and corn for take out. When we got home, there was only 1 with a biscuit, and the sides were wrong. There were 3 coleslaws and 1 mac&cheese. The coleslaw was completely dry and tasted "off". We also recieved extra crispy for all of the chicken instead of regular recipe. I called immediately and asked for the manager and she was beyond rude. When I explained what got, she replied with "So" "Not my problem" That is a totally unacceptable response from management. I would be terminated for that type of behavior. Additionally, I dont feel that you should have to take your order completely apartto completely examine it before you exit the premises.

I went to KFC(fort valley) on my lunch break on 3/31/15 and the biscuits were hard like rocks. I've had several complaints in the past few weeks from half done chicken to bad attitudes. They will serve you something that they know should be thrown away. They actually get mad when you complain. If they go to eat somewhere and get bad food, do they over look it? I'M DONE!!!

I have recently visited one of you store locations (0271003) and have had one of the worst experiences in all my years eating at one of your restaurants. I have frequented this location numerous times and every visit has gotten worst and worst ;the food seems to be lacking quality as from when i was a child, there never seems to be enough food ready to serve and the wait times are getting longer and longer. Not only this but the customer service is the worst I've experienced. The reason why I'm writing you is todays specif order was wrong, the drive thru microphone was not working, I could hear the workers working and talking but the could not hear me yet they made no attempt to take my order. I ask that you please take measures to correct this problem with this store and bring it up to a higher standard if not my business is lost.

I have made several visits to KFC at 4303 Lemmon Ave., in Dallas, Texas, my most recent visit was today March 30, 2015. For the last two months that I have stopped by KFC at Lemmon, I've been toldy that their grill chicken machine is down or broken. I do not understand why as big as KFC and one of the top fast food resturant chain in the nation, you can't have a piece of equipment fixed. I work near the establishment, and I enjoy the grill chicken. It has frustrated me for the past two (2) months when I stop by KFC at Lemmon to be told again and again that the grill chicken machine is not working. I would appreciate it, if you would look into this matter, find out why this equipment had worked for two (2) months, and fix it, so that patrons can enjoy griill instead fried chicken. It is frustraing when I have to drive out of my way to get something that I enjoy the most, when there is a KFC two to three minutes from where I work.

I wrote a complaint in the past, rec'd an "apology" and a promise for a gift certificate, which never arrived. I don't want the gift but your company needs to wake up. There's endless complaints about your Michigan City store on a Facebook page about "Michigan City Restaurants." Is it just me or does the KFC in michigan city seem as if they don't care at all.... waited in line 15-20 min when it was just a van in front of me. The had to order at the window. Asked to have honey with my biscuit. It was even joked about that i cant have any lol then didnt get any in my bag... also didnt get a fork or spoon to eat my meal.... any body else have issues with them? I will say i did order no ice and got that correct!!

Horace Abraham
from Port of Spain, POS
I am in the KFC Munroe Road Branch, Trinidad and Tobgao and leading up to Cashier is a dead cockroach on the floor. What poor standard and unacceptable. I have a couple pictures I took as proof.
Thanks for your feedback!
Sorry. Please try again later!