KFC
KFC Complaints Continued... (Page 7)
846+ reviews added so far. Upset? Call KFC corporate: 1-800-225-5532

I went to store #D212059 @ 10720 Baseline in Mesa, AZ . An acrid odor was present as soon as we entered the store . It smelled like very old grease. I thought someone had probably just emptied the cookers. I went ahead and placed my order. When we got ready for dinner and put the chicken on the table the same horrible odor was present. We tasted the chicken and the skin tasted just like the odor. We have been KFC customers for many years and have never had a bad experience until now. The owner of this franchise should be paying more attention to his product. My bill was $23.64 for inedible food. I believe the owner should be notified. This occurred on 05/06/2013 @ 3:28 pm.

I entered the store in Bradford, Saltaire just before the saltaire roundabout at around 8.20pm. I ordered a big daddy meal and a boneless banquet. Last time I ordered only about two weeks ago. In store they had failed to put bacon on my big daddy. There had been other instances months before. However, this time I checked whilst in the store. Once again they had not put bacon in the big daddy. I asked the manager why. His answer was they had no bacon. He expected me simply to accept it. I mentioned he should have informed me as I only choose big daddy because it has bacon. I asked for a refund as I found him to be arrogant and rude.
It is my suspicion the store is refusing to serve bacon. And does not inform customers prior to purchase. They. Should inform customers if they are indeed doing this. I was very dissatisfied and let down. I do like KFC. But do not trust the staff in the store. They also sit in the customer dining area on free breaks chatting whilst customers wait. They genuinely look annoyed when having to serve you. It's very unnerving.

I entered the KFC store#E791048 in Lancaster, CA to find myself number 3 in line. The girl behind the counter was counting pennies into the cash drawer. I thought the first person in line had paid with change and the girl was counting it. The longer I stood there it became apparent the girl was ignoring all of us. The girl continued to count the coins in the cash drawer. The first person in line asked the girl if the restaurant was open. The girl looked up and said yes then looked down and continued to count the coins in the cash drawer. The customer asked if the girl would take her order. The girl looked up and said she was counting her drawer and told the customer she had to count the drawer. The two customers in front of me turned and walked out of the restaurant. I asked the girl if the only way to get service was to go through the drive through and she said yes. I walked out and drove through the drive through to get my dinner.
When I arrived at the drive through to pay for my dinner there was an employee in the background yelling at the other employees about pot pies.
This was not the kind of restaurant for customer service.

I live in Knoxville Iowa and our KFC here just needs to be shut down!! Everytime I go there and order our meals we never end up with what we ask for. Tonight I ordered a chalupa with extra sourcream and guess what? No sour cream at all. Last time we spoke right to the shift mgr and the drive thru person ordering 4 famius bowls with macaroni instead of corn and guess what? We got corn in all 4. The time before that they forgot my biscuit. This place I swear is ran by a bunch of Add people. Customer service is absolutely horrible and they are so slow .I have waited 10 minutes in the drive thru for my food. Im fed up andvthey will never get my business again.

I went with my two childeren to the KFC on south 27th st and College ave in Milwaukee, WI on saterday 1/112/2013 . As I walked in there were a couple of poeple on line ahead of us. It took a bout 15 just to get to the counter to satrt our order to go. The employees were given all attention to the drive thru window and alot less to those inside . We can only see 3-4 employees total serving . I ordered the family bucket . After long wait , we were told they are out of crispy and it will take at least another 15 minutes for a new batch if we didnt want to take original instead. We got realy dissappointed but were forced to wait because the kids didnt want to cancell the order . I thought any courtesy action would have made feel a lttle less dissappointed , but they wouldnt do anything at all...that is bad .

I purchase the 20 piece strips and other side and got home with no dipping sauces, I called and told them and the superviser not only was rude he hung up on me, I called back and he claimed he dropped the phone. He said I had to ask for the sauces, that is silly. I was not going to go back as the store is 15 miles away and it would have cost me more in gas, He did not even offer me a coupon, did not say when you come in next time we will make an ajustment. He was just out and out rude. I told him that I will not go there again and I have alot of friends that will not longer visit this location. I know this may seem like a small thing but had he not been rude and said I am sorry this happened I would not be writting this, he needs to know you get alot more with honey than you do with vinegar.

I ordered a streetwise bucket meal with spoonfuls online, then as usual - received a call from KFC to cinfirm my order. I was frustrated to hear that the "spoonfuls" was not yet available until tomorrow..The problem here I'd that the representative was so un professional until I got irritated and become an irrate customer than what I really am..becquse she even lied that the chickens too were not available and I gave her the tone that is it possible??? Then she corrected herself saying she only made a wrong statement..though I already know that she wanted me to cancel my order..No customer compassion, until hearing a strong voice from me..They even put on the speaker phone that made the call more irritating, for I couldn't hear her very well because of the background!

i went to the drive in at your store in warrington alben retail park , i orded 12 boneless box and i was asked what bottle of pop i would like i said pepsi , i paid for my meals £22.48 i paid by card , when i went to collect my order the young lady told me the she had no bottles of pepsi she only had diet i advised her that i had paid for normal pepsi not diet . i asked her for a credit not as i had paid for my drink she said no , then asked me if i wanted 7up again i said no , she told me there would be a 3min wait for my food ,i said ok i parked up and waited to collect my food after 10 min i received my food but i still asked the young lady for a note for my bottle of pepsi , she still said no her customer service was poor , i asked for the shop s phone number and the managers name , she told me she didnt know the shop number but the managers name was ste ,
i took my order and went home , only to find my side order of gravy , the lids was not on tight and went over the boxes of food , and also the food was cold , is this good customer service ???

Respected sir, My name is pushpendu bardhan from kolkata, India,today i was going one kfc outlet,and i ordered 2 pic chicken with Pepsi, when they give me i saw bad smelling from chicken then i told them i can not eat it because it too smelling please change it, but they misbehave with me and they didn't change it , this incident happen with me in kolkata, diamond plaza kfc outlet, and person misbehave with me his name is bapi, and he told me i can not change it because you are not special customer if yo do not take action against him then i will go go to court ,he used slang language with me, indecent happen in 1.51 pm, today in kolkata near nagerbazar in diamond plaza kfc outlet, i will take action against on kfc if you do not taking any action, the person who misbehave with me his name is bapi working diamond plaza kfc outlet.

I can see that all complaints to KFC are on deaf ears and they could care less, anyway. Harlan Sanders would turn over in his grave if he knew how sorry some folks are that attempt to run his business. My compaint is about the sorry restruant being operated on Albia Street in Almaty, Kazakhstan. My wife and I thought, oh boy, a KFC in Asia. We were in for a big let down. Other than being clean, the business is only a KFC in name only and we would know, because I am from Kentucky myself.
The chicken is over cooked in oil that doesn't get changed regularly, the portions are all small, no dinner meals, no bread, no mash potatoes and gravy, you pay for Ketsup for your french fries and if you want a refill, you pay for another drink, not to mention the rude and unorganized service which is normal for this country. I am really surprised that such a sorry resturant is allowed to operate under the KFC franchize. If folks had a chance to eat at a real KFC back in the USA, they would laugh this place out of business.

We decided to treat ourselves to a nice family feast meal tonight instead of cooking. We got the 15 piece bucket with the extra large fry, large gravy, two salads coleslaw & potato and 2L bottle of pop at the Midland Ontario KFC. Took it home and took everything out of the bags and the potato salad looked funny it has a funny color to it and we tried it and it has the macaroni salad dressing on it instead of the potato salad dressing and it is awful and sour tasting. The coleslaw has such a strong chemical taste to it and it instantly turned our lips numb. I'm happy to say for the first time that our kids did not have any salad not that its the kind of salad that is healthy for anyone anyway but once in a while we like to have KFC as a treat and it was really gross. I want to know what is in the salads and I am terrified by what we just ate. Are the chemicals in there to preserve it and make it last longer? Wow its bad enough getting greasy heart attack chicken but we only eat like that once in a while so its not like its going to kill us but the chemicals is that necessary? I feel ripped off by KFC and this will be our last meal there which is too bad because I remember KFC being so much better and it use to be a nice treat once in a while. I would like our money back and want someone to test the salads to see what is in them .

Just bought a KFC in Jersey to eat on the go, but all 3 pieces of chicken were barely luke warm with a soggy coating from all the greasy oil. The fries were also just luke warm and soggy soft. I would have returned them but my parking card was about to run out.
The boat show is being held near by so would have expected the outlet to be very busy, which it wasn't, and it's no wonder!
Very disappointing.
N Parkinson.

I have just purchased a colonel burger - my favorite burger from KFC that i buy frequently - and cannot believe how unbelievably DRY and CHEWY it is!! The Chicken Pattie has CLEARY been sitting for FAR too long. I have NEVER gotten such bad food at KFC before and am very disappointed. I would gladly have taken it back if i hadn't taken a twenty dollar fare taxi home!! On the bright side, the customer service was superb as it always is at KFC Princess street, Palmerston North, NZ.

This message is concerning the uniform wearing of employee named "Arthur." It is very inappropriate and disrespectful to wear uniforms in such manner as "Arthur" was. His pants were way below is waist-line and I was very disgusted when I saw this. Employees should HAVE to wear their uniforms properly. I was very displeased as a customer coming in to Kfc and seeing this. Being very disgusted I am stating my opinion that every employee should use proper employee uniform customs to the best of their ability if they want to truly work in that business. Respectfully I ask that this complaint I have be taken seriously, and there be something done about this situation.

The KFC on Martin Luther dr In North Chicago , Il 60064 they always out of the advertised items I went there for hot wings no hot wings I went there for fried chicken no chicken went vigor pot pies no pot pies this store never has anything advertised! I won't ever go there again!!!

after going into your kfc store in fenton,s-o-t,england i was disappointed how unclean it was,i had to wipe over our table to be able to eat after no staff were on hand to clean it for us,also the food was cold which seems to always be when we treat our children there. our family like kfc but we are getting to the point where we would rather go somewhere else for our weekly treat.

Drive up window, 1st time, ask for 6 piece boneless white mea family dinner. Had to wait 3 minutes for white meat fine, when we got got home we had 4 thighs and 2 white meat. Next day ordered 2 piece white boneless dinner drink came with dinner, and added an. Potatoes and gravy. No drink, no potatoes and gravy, when we got home. And I had 1 white and 1 dark, suppose to have been2 white.

I'd just like to say that we were at the kfc in Somerset, PA on Wednesday April 24,2013 over the busy lunch rush hour. While waiting at the counter for our food we observed what I'm guessing was a manager, he was a taller man with dark hair and glasses, screaming and cursing at one of his cooks. I found this vet unprofessional and ridiculous. First I was there with my five year old, so I was not happy about the language being used. Second I can't believe he would act that way in front of customers or even treat an employee that way. It was absolutely ridiculous and I will never eat there again or at any other KFC if they think that kind of behavior is acceptable!!

Ordered a 15 Pcs bucket for a mini party @ home with friends, usually choice goes to KFC. But this time the quality of the food served sucks and it was stinking. Thw whole party mood was spoilt. Dint expect this from a well established food chain like KFC, im a regular person to order from KFC during weekends , this came as a shock and felt too bad.
Ordered from Dubai - on 04-Apr-2013 @ 7.45 PM order number : 1697214 from Qusais Eppco.

I have just perchased a kfc from the popular resteraunt on county road,liverpool and I am appauled with the service provided! Firstly the server named karcolina was unbelievably rude and had an appauling attitude, and frankly looked like she could not be bothered. While serving us she got the order wrong, and claimed we were lying about our order! Secondly she was scratching her skin all through serving us, we also very clearly saw her lift up her t-shirt and scratch all her body before placing a burger bun on the grill with her bare hands which she didn't even wash after stratching.
After confronting her about the scratching she lied and said she didn't, when we very clearly did, I have two witnesses and cctv evidence of this! She claimed she would make a new meal after we confronted her and we obviously said yes. To find out she'd make another without wearing any sort of gloves or even washing her hands! Something has to be done and I will never be eating at that resteraunt ever again. The hygeine standards are appauling and I would never recommend anybody to even step foot in there!

I was eating in your KFC restaurant in Renfield Street Glasgow on the 6th of november 2012. I had the chicken selects meal, my sister had popcorn chicken and chicken wings. When my sister went to eat her meal she discovered it was cold and returned it for a hotter meal I foolishly ate mine, which was slightly cold. I have had stomach cramps, have been feeling sick and unwell since. I have not been able to eat anything since.. I will not be eating in your KFC restaurant every again, and i will also be telling all my friends and family about my experience. There was a sign that the shop was closing early for maintaince work I am just wondering if the cookers were not working properly.

The KFC in Palmerston is run by the worst managers I have ever seen.
I have been there a few and everytime the service is appalling, employees including managers are rude and extremely slow!
the whole restaurant is quiet there is no such thing as team work or time management.
As a past employee of several KFC restaurants in Queensland I was absolutely disgusted in the staff working at this particular restuarant.
Just on Saturday I was served by a very rude loud young lady of culture who could hardly speak english and it took her over 30mins to provide me with a simple family feast! when she finally gave me my order she slammed it down on the counter and served the next customer. I walked away and took my meal home to eat because she had bagged the meal up providing me with no serviettes, spoons etc which to me made me feel very unwelcomed and appreciated.
That night my partner and I were up sick the remainder of the night because we ate the family feast that had disgusting slimy chicken and the potato and gravy looked and tasted like it was weeks old, the texture of the gravy was chunky!
I would like feedback on this complaint so I know that this will be dealt with. I highly recommend further training or new recruitments for this restuarant as I know how excellent KFC restuarants are encouraged to perform especially as a team.
Kind regards,
Tamara McLean

Whilst visiting your store in devonshire rd blackpool on weds 10th april i was extremely unsatisfied with our meal orders and the customer service offered.... the big daddy burgers appeared to have been just chucked together and the bun was sum what dry and crumbling as though it was left out and had gone hard as a result.... when we took our gravy back to the girl at the til to complain it was more like brown water than that constitute of gravy her reply was it must be a faulty batch which in my opinion it shouldnt have been served but fot rid of and a new batch served. we was told we could have beans which was unsatisfyingi as we niether wanted or liked them..... i was really unsatisfyed with the whole service of the store and will not be returning there in a hurry what a truely horrible experience all round.

I just went to KFC tonight and the wait in the drive thru was very long, the guy taking the order was very rude & abrupt. What really aggravated me, was that after I got home & opened my box, I was quite disgusted with my white meat that I had to pay so much extra for. I got a breast that was about the size of a card deck and the wing was the smallest I have ever seen.
I can't believe you have to pay so much extra to get white meat & then to find this. The food was barely warm & the biscuit was actually cold. The mashed potatoes were like soup. I am very disappointed in KFC. They use to be SO good, and now chicken at Dierberg, Schnucks, Lee's & Church's beat them by far, including the price. For a fast food place, the service was not very fast.
I just would think that in this day and age with the economy the way it is, that places should be falling all over themselves to make you happy and give you your money'sworth to try and keep you as their customer when their are many more places you could patronize instead.
After reading all the complaints on line about various KFC's, there is obviously a BIG problem with this place of business. It wouldn't surprise me if they didn't close down soon. No one seems to be happy with them. Perhaps it is time for someone to do something about it. Thank you.

My family & I visited KFC at Durham Retail Park Co Durham on 4/4/13.
1 The person who served us was unprofessional and grubby in appearance. He interupted me whilst I was placing my order to comment on how dirty his inputting screen was.
2 When we received our order there was tomato ketchup on the tray.
3 The food was cold.
4 Automatic closing mechanism on the door was broken - the door was constantly open and it was blowing a gale.
5 There was a group of teenagers on the premises being disruptive and were unchecked.
In summary, it was an all round disappointing experience and one not to be repeated in the near future.

Hello, I am from danville,va. I went to kfc on memorial drive and they did not have any potato wedges. Then I went to the one on piney forest and they also didnt have any, I ordered a breast meal with two sides and wanted two orders of sweet corn, they only had enough for 1, so I had to get corn on the cob. I also ordered 3 chocolate chip cookies and they had none! I want to know why they ran out because as a manager you should know how much to order when putting in orders for your store. I am just not happy about this! Please let me know what's going on!

To whom it may concern
After a night out on Saturday 4th November 2012 myself and my husband decided to have a KFC we were out in Long Eaton Nottinghamshire tI have used this KFC just twice before and the food was ok not great but we could eat it the time was around 9.30pm so not really late we ordered a six piece meal with side of gravey and four small fries at a cost of £9.99 the shop wasnt that busy and we did get quick services.
We took the food home which took us 10minutes to get their when we opened the bucket we found fries that looked liked they had been reheated at least twice they were limp and tasted just nasty moving on to the chicken well this looked like it had been put in a microwave and left to just go dry and hard and just not nice nothing finger licking good about it im sorry but when I pay money for food I do expect to enjoy it I can honestly say I have never tasted such horrible food from a KFC. I suggest you go take a look at the quality of the food that is beinging serviced at the this KFC.
Yours Emma Lees

Please offer a low salt chicken, I had to quit eating KFC because I could feel my
BP going up because of the salt. We are older now, as everyone will be one day
and even our friends had to quit eating KFC because of High Salt
Thank You

I have sent this to my local mp David Heyes
and would like you to deal with your side of my complaint I would like to be informed of the out come aswell thank you.
Hello Mr Heyes I hope this email finds you well,
I have a complaint about the treatment of my two sons Charlie (11 years old) and Jack (9 years old) and there friend Megan (11 years old) while visiting the local KFC on Oldham road Failsworth on Friday the 21st of March.
The three children went there during there half term and ordered a snack box meal and after paying the bill they were told that they were only allowed to sit outside the store and not inside ( the store was not full and the children had used their manners).
I rang the store in question to confront the manager (and I use this term very loosely ) only to be told that it is a policy that has been implemented by KFC and the local police (the name given was sergeant O'hare ) when I asked for the managers name I was told his name was Wayne,when I asked for his full name I was told "you don't need my second name" reason given it was a data protection issue(a manager of a store should not have this attitude) any way that is an issue I'll be taking up with KFC themselves, and I'm only telling you this to tell you the situation.
The complaint you can help me with is the police side of things (if true, I have rang twice to be told someone would contact me and this hasn't happened).
I think in this day and age with all the stories in the press about children being abused,preyed upon and molested ( locally the Rochdale situation springs to mind ) for the police to say that a child isn't allowed to eat in a fast food restaurant (which I believe is aimed at children and young people) is in itself an abuse of power on behalf of the police at most and an ageist stance at least, if there has been trouble at the failsworth KFC with getting young people out of the restaurant who are not spending any cash on food or just choose to loiter surely this should be down to KFC to employ security to deal with this just as the pubs and clubs have to.
I am also sure if I opened a restaurant and told Asian or Black people that they could not eat inside only outside the police would have me in chains for racism (and rightly so) this situation is no different just because the children are young doesn't mean they are second class scum who do not get a chance to eat with the better people of the town,it sounds an awful lot like singling out a group of people because of their age and I for one think this is illegal stance from both KFC and the police and would appreciate your opinion and help to get this matter sorted!
I look forward to your swift response regarding this matter,
Yours hopefully
Mr Paul Trafford (a very concerned parent)

I went to the WILKINSBURG (PITTSBURGH), PA KFC store, ordered and PAID FOR(!) their 7-pc legs/thighs order. Drove home, 20-minute drive, half-gallon of gas, away, sat down & saw I only received SIX (6) pieces of chicken. I called the KFC phone # on the receipt, spoke with the mgr, MIKE, and he VERY ARROGANTLY(!) told me I could drive all the way back to the store and he will give me a drumstick that was missing from my order.
I asked him why would a person who GAVE THEM THEIR MONEY(!) want to drive for almost an hour, round-trip, and waste half a gallon of [$4.66/gallon] gas in order to be given ONE (1) SINGLE DRUMSTICK??? He replied by saying "give me your name and address, and I will mail you a coupon for one (1) 'FREE' drumstick." When I told him that was not being reasonable.
He, in essence, told me to take it or leave it! I asked for KFC's headquarter's customer service phone number; he said he did not have it! I asked for ANY contact info to KFC's headquarters. He told me "there's no point bothering because headquarters will only tell me to take care of the matter and you will only be receiving a phone call from me in a couple of days, ANYWAY, so do you want to come and pick up the drumstick, or give me your name & address so I can mail a coupon to you so you can receive a 'FREE' drumstick; it's your choice! What do you want to do(!)?
I told him that I'd prefer to see what KFC headquarters customer service rep's response would be. He arrogantly said okay & hung up the phone. Now I totally believe all the comments I've read about the sleezy service that customers have written about! KFC used to be a wonderful company to do business with, with good food and even good customer service. I still think the food's good, but the people skills of their employees, even the managers, is enough to cause people to never want to do business with them again.

Good Afternoon, I have been to KFC at the Angrigion Shopping Centre On Friday 28th 2012. I was treated with disrespect . Firstly i went around 7:45 pm , an the Mall Closes at 9Pm. When arriving their i wait in line because their were 2 Customers in front of me. When arriving at the cash to place my Order i have Notice on the Menu they had a Special for 8 - 12 or 24 Family Pak Piece of Chicken with a 10 Dollars Coupon.
So i requested the 8 piece only to be told We cannot give you your order becuase we Only have 20 Piece of Chicken an we have to keep for other Customers. So i told them it is only quarter to 8 . They told me they are cleaning the machine an they cannot make the chicken an i should go to Shcivenko so i said Madam i came shopping and with friends she said her decision is final and she will not give me the chicken .
So i Asked to speak to the Manager ( Nichole) an she said we have to keep for the other customers and they have only 20 piece so she cannot give it to me. And I said to her but Madam i am in line an you have 20 piece why you cannot give me 8 piece, an her respond to me is they have to last us until 9pm an she stared laughing .
I felt so humilated so i asked her can i have the complain department of K.F.C she said she do not have the phone Number , an she called Sow one of the workers an he give me their phone Number to make the complain and when i called they really starting laughing hard.
I think this treatment from employees is very disrespectful and she should not be working in the public. Please kindly look into this complaint . Looking forward in hearing from you all.

Hello, i would just like to let you know about the disgusting extra i just received wrapped up with my Zinger Bacon and Cheese Burger that i just purchased from your store on Bagot Road, Darwin. I am absolutely disgusted that i found a cockroach underneath the zinger burger.
As i picked it up to take a bite (luckily for me it was before i put it near my mouth) i noticed a cockroach laying lifeless on the wrapper. I called the store to tell them, and was offered ANYTHING i want for FREE. (this was after i said that i was going to make a complaint) I said i would rather not eat anything from their store again so declined the offer.
This whole incident is pretty disturbing and i am considering calling the health department about this.

hello i took my family to kfc in hartlepool england which is based at the hartlepool marina. i purchased a family chicken bucket the chicken had been re-fried it was hard dry and tasteless,we could not enjoy this due to the fact that it was like this we told the staff about it and nothing happened i dont think this is the apropiate way to treat customers. the whole experience was ruined wont be visiting that kfc establishment again this is not the first time this has happened please address this matter so other people paying customers like me can enjoy the kfc that it should be thanks.
I went to KFC. I placed my order and i was told it will be wait for my chcicken strips but will i like to substitute it for a chicken wing. i said "yes'becase I was on Lunch and i needed to get back to work. The cashier alsmost forgot to give me my parfait that I ordered, the food that I was given was not hot at all .. I was given 1 1/2 piece of chicken strip and a wing. The half of chicken strip looked dried out like it been sitting for hours. So I went back into the restaurant and I asked the cashier can I have the chicken that would be coming up because what I paid for is not in this carton.
The cashier was not apologetic at all. I WILL NEVER GO TO KFC AGAIN. I WILL KEEP GIVING MY BUSINESS TO POPEYES.. KFC IS TOO EXPENSIVE AND THE FOOD IS NOT UP TO PART. KFC CAN KICK ROCKS AS FAR AS I'M CONCERNED..

I ordered dark meat and pulled it apart to see what was inside. Full of skin and chicken fat and two bites of meat. What a discusting looking food. I don't think I will ever order this again. It's just a way for KFC to make the meat go farther and give us the scraps. Stay with the chicken the Colonel made and lower your prices. Your boneless chicken is BAD !!!!

On 21/02/2013 at 22:42:06 i purchaced mini loaf and a streetwise 2. When i opened the mini loaf's wrapping i found da mini loaf to be mouldy. When i checked the expiry date it read "prod date: 12 02 13 15 043 33. Best before 18 02 13 c5. It was bought from kfc Oservatory tel. 0218010881. When i phoned the branch and complained, a man by the name of Simba told me i should come and they will give me a streetwise 2 for free. I was very upset to say the least. I asked him how they can keep expired stock on their shelves but all i got was a promise of a streetwise 2. I told him i was going 2 put the phone down because i was too upset to talk further. He took my details and continued his free streetwise 2 story. I'm appalled at the insensitivity.

KFC, 801 S Eufaula Ave Eufaula Al., 36027 Ticket # 3674, 4:59 PM L747031 3 97 3674 Cashier and Manager : Richard (Called the KFC to complain about the meal, 7 pc. meal, not edible, did not even taste like KFC, terrible, called the store and told the manager, very rude conduct , manager(Richard)hung up on me,WHAT, REALLY, a manager hanging up on a customer with a legitimate complaint.
I got in my car and took the entire meal back into town, not only did he admit it wasn't right ,they knew there was a problem with the chicken, and admitted that he indeed did hang up me,on a customer complaint ! Then the female employee behind the counter starts lipping off , evidently thinking she had to handle her managers business. Now lets top off the entire experience with an employee from the kitchen coming up front ,grabbing his CROTCH, at me, laughing.
Unbelievable. I have never in my life been so humiliated . It's a good thing my husband stayed home! I will be seeking the advice of an attorney. It was bad enough dealing with a simple complaint and a less than appropriate conduct of a manager , but having a KFC empolyee make a sexual gesture was really out of line!!! I'm wishing now that I had filed a police report immediatley then and there.

Ordered 20 hot wings and sm wedges to go. She said it would take 5 or 10 minutes and ended up being 25 minutes. Handed me the box of hot wings and looked in the bag and she said the wedges are in the box. Of course I took her word and went to our destination and parked and opened the box - no potato wedges. It was not about the cost, but when I asked her she told me in the box... I will have to not take her word next time and check myself, which I should have.
Football game so I could not go back.

We have been stewing over this for a couple of months but I have to say something, my husband and I went to KFC in Paris Tn. and it has gone down hill bad the cooks were nasty nlooking the food wasnt cooked, the service was poor. The restaurant was dirty bad. When we went in the cook was standing out front eating a piece of chicken leaning up against the counter, the cashier was on the phone with a pe3rsonal phone call and kept asking us to wait a minute. The buffet was pretty empty, we asked if they were going to put more chicken and bisquets out and they brought out 3 pieces of chicken and 3 hard biscuits, we left. We have a routine on Sunday after church we always get a family bucket to take home and we eat there at least once during the week on the buffet but we will never eat at this one again. Thankyou for listening. Susan Hershey and Husband.

To whom it may concern, we very rarely get take away as it is never an easy and quick solution when you come home and find the food missing. Your store KFC Burwood Hwy Knox wantirna, has once again short changed us with food. We ordered the family super variety bucket, only to find the two pkts of chips were only half full, we received 3 crispy chicken strips instead of 6, the six pieces of chicken we were suppose to receive included 3 wings. This makes me so mad it's not the first time it has happened and I haven't complained every time it does, but somebody really needs to look at your training programme and food portions it is not hard to count to 6!
I am sorry I have had to forward this letter but if I didn't you wouldn't be aware.
Kind regards
Tracy Morganella
102 Windermere Dve
Ferntree Gully
0408763253

I was at the KFC/Long John Silvers on Loucks Road in York, Pennsylvania on the evening of 2/4/13. While sitting there eating my meal with my family I heard loud screaming between two employees. Apparently the manager or a member of management was unhappy with the work being done (or not being done) by an employee. I think this was very unprofessional. The employee should've been taken in the office or at the very least pulled aside and quietly disciplined. This not only happened once while we were eating but twice. We were also not the only family eating there. I believe IF I visit this restaurant again, it will be through the drive-thru so I can take the food home and eat in peace.

I want to make a complaint about your employee named syikin (KFC outlet nearby Across success petronas) is not customer friendly. When I went through the drive thru to buy KFC products, employees who take orders as if forcing me to place an order with a rush. It makes me less happy with the attitude of your employees. The way he communicates is also very severe. I hope the KFC can give courses on how to communicate well with customers. Thank you.

I ordered a 16 pc.Original family meal and got over crispy instead and my gravy was more like a brothy water. I called the manager because it was not the first time my order wasn't right and this time I couldn't drive back to get it right. Orders should be double checked and the managers response was that I was lying and that she personally made my order Original. This is the last time we go to that location. For a single mom w/ six kids this is highly unacceptable our kfc experience is a treat that is why we go once a week.

I went to KfC on new years eve with my mother and nephews...... My mom says, ask what family specials they are offering. I go to the speaker and a lady asks, "how may I help you" ,I ask "What family specials are you guys offer with maybe two sides..... Noone response...they come back again and say.... "how may I help you"....as if I never asked....I repeat.... But now a male comes to the speaker with a agressive tone and says " read the white board...can you read? See it says family meals". I ride to the window and say "excuse me"! He repeats "you can read the white board"...I repond,"are you serious? I don't care what the white board says,I'm asking you".....
The lady at the glass,puts her head down and smiles... I then say are you really speaking to me this way,where is your manager......he says "I am the manager ma'am"... I look at the young lady and asked for manager s info and the males name who I was speaking with....She puts her head down,looks to another employee and the male and asks,do I give her your name.. I look to her and say,so you don't know his name...she then walks to the back away from the glass.... I sit and wait...The male comes back to the glass and says "you need to move, you are on the timer" I respond.. "I'm waiting on her to give me a managers name,your name and a store number"... he says well you are holding up my line.... The lady never came back to the window and the guy says "KFC.com and have a good day".
The entire time he was very argumentative,rude and agressive. Refused to give me a name address or phone number..... I left without food and any information to file a report. I later went back to the store to speak with someone on the inside and off the timer, fortunatly enough another manager was present....I told him what happened, he said he could'nt give me any contact number to the coorporate office and that I just had to call the store until the store manager came...... KFC on Texas Parkway, Missouri City, Tx 77489

received a coupon in flier and went to kfc for dinner, tried to place our order and a few minutes went by and told my wife and me they have no chicken



Disclaimer: This complaint was submitted by Ken Kluchinsky 700 S. Betty Ln. Apt.#11 Clearwater Florida 33765 on 09/01/2013 at IP address 97.76.53.234 using our Kentucky Fried Chicken Gulftobay Blvd. Clearwater Florida complaint form. This opinions contained in this Kentucky Fried Chicken Gulftobay Blvd. Clearwater Florida customer review titled, "no chicken breast and black mold on ceiling" do not reflect the opinions of this website.

I just now went to the KFC in St.Clairsville, Ohio. It is Sat night. The sign out front states drive thru is open until 10:30. It is now 10:17 as I type this. The employee informed me they were closed. I told them the sign said 10:30, but he said they were closed. I live in MS, and I am very shocked by the attitude of the staff. I will never visit this establishment on my future visits.

On Sunday 21 October 2012 in Springbok (Nothern Cape) I ordered a family feast with three sides which were mini loaf, hot wings, and chicken burgers. I changed the mini loafs to chicken pops and were told by the cashier that I cannot change an order. she was also not wearing a name badge. I informed her that I have my rights to change an order and was told with a long face that the customers are not always right. I enforced her to change my order and she called her immediate supervisor who informed me that I can change my order. At the same space a guy behind me was complaining about the slow service and there were about four ladies just handing around the ovens at the back. I would highly recommend that a manager attend to the service related challenges at KFC in Springbok. Its not the first time. I advise that customer service training take immediately place in the branch in Springbok. The incident incurred around 12h00.

To whom it may concern.
I am a very big fan and lover of the KFC franchises. I live in Cape Town, Bishop Lavis and in our area we have a kfc branch. I would buy food during the week or maybe on Sundays to treat my family. a few weeks ago i bought 2 burger meals and 3 snack burgers and 2 avalanche's. I got home and there was absolutely no patties on the snack burgers. I called and spoke to Fatima who was quick to tell me I need to bring it back to the branch to get a refund or another burger. a few days later I went to the branch and spoke to her and she gave me a soppy excuse for why it was like that and apologized. Last night on the 30 Sept 2012 I went to Kfc again I was helped by Berenice, this time buying 1 Zinger Burger, Colonel Burger meal avalanches, 4 soft twirls and 2 snack burgers. I got home and the fanta that i asked for taste like water with gas in it. I then call the branch and spoke to Ruwayda, I explained what was happening. Ruwayda firstly said that she needs to taste the drink before she can do anything and if I want my money she can refund me the money or give me a different flavor cool drink. Ruwayda then told me since it was an swipe payment she cant refund me and she does not know how long it will take.
The service that i got from this branch is ridiculous. I have been travelling a lot and I have had Kfc from other countries and never got this type of bad service. I expect someone to contact me and compensate me for every time having to go to the branch and taking back food and cool drinks that I purchased. This branch is making their problem mine

15/10/12 Chicken and wicked wings pack.... no wings, no potato and gravy. Called the store, spoke to "manager", was offerred replacements, no thankyou, it is steaming hot outside and I am a recipient of the disability pension, not a snowballs chance in hell I can go out again..... was offerred replacements "next time".... this is the 2nd time in 18 months I have purchased from KFC, WHYALLA, SOUTH AUSTRALIA.... so I am to either go out again now or wait until next time I feel like KFC.... which, people, isn't often, given the change in taste and the price. Why KFC should I have to suffer the heat and the extreme discomfort of driving when YOU messed up. Your "manager" was pleasant, I tried to be, but ended up in a row with her anyway.....your policies regarding your errors must have some flexibility. No more KFC in this household.

I have been to your restaurant on many occasions always to find the staff are abrupt and very unhelpful, and on every occasion there is never any gravy available and on this particular visit I ordered a 12 piece family feast and asked very politely for no drumsticks and was told well I'll try now pardon me for being fussy but I do not like drumsticks and surely if I have paid for something I should get what I ask for and suprise suprise no gravy availiable. I ordered this through the drive through and was told 5 mins only to be waiting 20 minutes I don't feel this is acceptable as when I got home I has drumsticks in my order I am sorry but KFC you have lost urself 1 customer as I won't be returning to ur store again.

For the past 15 YEARS my family and I have been going to your KFC restaurant at 3702 Commercial Street Southeast Salem, OR 97302, and 90% of the time the food we order is not available by the time we reach the drive through window. The employees tell us that they will make us our order fresh, but its going to take 20-30 minutes. "Fast food" should mean that it's ready upon order. If its not available then dont sell it. It is my opinion that the employees should be trained to put down more chicken when filling orders that have made the supply low. For example, if you take the second to last pot pie, tell someone to put down another. If you fill an order that reduces ANY bin of chicken (wings, etc), by what 2 more orders would need.....put more down. How hard is this? If I were to add up the number of times we have had to leave after waiting in line, then figure out other dinner plans it would accumulate to more than 50. I swear, its very frustrating. Not to mention that it costs money to drive there, wait in line, then drive somewhere else. If the employees were trained properly there wouldnt be so many customers leaving without buying anything.

I today went into KFC store and orderd a 8 piece deluxe boneless box for me and my family. When we sat down at the table first of all the table was so un clean I had to ask a member of staff for some tissue to clean it.then when I opened the chicken there was 4 pieces of chicken which was about 3 inch,s long and 4 pieces that wasn't even a inch long. It was quite funny to see I even took a picture. I asked for the manger and he was totally un helpfull and said there was nothing they could do. 13.99 for a meal that didn't even fill me and my partner never mind kids. and as for poor management I WILL never use that store again. What happend to the saying the customer is always right.

On Sunday, February 3,2013 at approximately 7:00 P.M. we placed an order for a 12 piece meal at the drive thru window of our local KFC in Tecumseh, Michigan. The girl at the register was unfriendly and said she had taken the coupon off yet had not. So we had this issue resolved. Upon returning home we realized that we had the wrong order. We had received a bucket of chicken strips, and only four biscuits. We returned the food to the store asking for the correct order. At which time the manager was rude and unhelpful. He stated it would be atleast 15 minutes more if we wanted the biscuits that was supposed to have been in our order. However, at the register were two young women, that had a bucket meal ordered. They received their full order-yet we were denied ours. After already paying for it, driving all the way home, and returning to the store. The manager proceeded to be very unhelpful and laughed at us. He did not take his job seriously at all. He refunded our money and we sought dinner elsewhere. I am not one to complain but the treatment we recieved was terrible. Perhaps if we had we been young and attractive-instead of older and non white-I feel we would have had better service.

I just left the KFC on bruckner boulevard in the Bronx and the service was very bad and the girls that work there were standing around talking in a group and I was waiting in line waiting while they chatted. The food was terrible and I ordered two mash bowls and they had like two tiny pieces of chicken in both and I asked for extra cheese but these girls have their head so far up their asses that they couldn't get a simple order right and then a guy came in and didnt order nor did he pay and got a free order of food before me as A PAYING CUSTOMER! I will not be visiting this KFC again because of the lack of good customer service they have there!

The KFC store at 70 N Glebe Rd, Arlington, VA 22203 has misleading pricing on the drive-through menu display. The meals options are displayed showing, and stating, with two sides and a biscuit. Below that section, pricing is available for 1 piece, 2 piece, 3 piece, etc. and the price is further differenciated for white meat or dark meat.
I opted for the two piece white meat which was priced at $5.99. I was then informed that if I wanted the two sides and biscuit the price was more.
Misleading and confusing.

We walked in and looked at the buffet, looks like no one even as much stirred the food the entire day, dried an crusted to the edges. Nothing was whipes off. Walking on the floor was a layer of grease an in sneakers even, it was slippery like it was just covere in a grease layer. We asked to have the tables wiped off and he came over and gave it a swipe, leaving spilled salt and crumbs behind, so we asked do wet naps... Fresh out. There were trays of dirty food on tables and not one table in the entire place was clean. I was afraid to eat the food knowing what the dining area looked like. 7:30 pm they were out of food. What? Won't be comin back. Sad because I hadn't been here in over a year because it was bad then.

I went to drive through cause I was in a hurry and got 5 peace wing meal. I was very disappointed I usuealy enjoy my meal from kfc but this place is slippen .someone needs to check up on these guys, the biscut was as hard as the chicken. the only thing was good was the soda I called to complain but maneger seemed like he wanted to me to get on with story so he rushed me off the phone. .I wanted him to here what I had to say it would save the restaurant from a real angrey customer.peple work hard for there money and we want good juicy kfc!!

On Friday March 2 22.013 I went into KFC store # 1326 at 9025 Torbram road in Brampton Ontario at 6;42 pm. I ordered athe 18 piece bucket of chicken with large fries and i upsized the fries to an extra large fries for a dollar more. 2 mediem sides and medium gravy for $6 more and 2 popcorn chicken snack packs. the total came to $49.69. When I got home with my order and opened it I had only 14 pieces of chiken in the bucket. i called back to athe KFC and I asked to speak to the manager. i explained to the manager the situation and she to ld me to hold on. She started to talk to her staff in their language then she came back on the phone and in a very rude tone she said "Ok what are you missing cause you got all of your chicken" I told her what I had in the box and she rudely interupte me by saying " Youn lbring in the box and you show me," then she hung up. How rude of her i was a paying customer I wasn not begging her for the food. I am very disapointed in the way she spoke to me on the phone and I am a regular customer there. i guess those are the type of people that you want working for your franchise and bring it dowm.

On 10/31/12 at 1:37 pm my father ordered 2 chicken and corn dinners and one 6 piece chicken bites from the KFC A&W drive-thru at 130 north Carbonville Rd. He pulled up and said he wanted 2 chicken and corn dinners and one 6 piece chicken bite. The server asked him if he wanted 2 A2s he said no that he wanted 2 chicken and corn dinners. When he pulled up to the window the server handed him 2 A2s and said that that would be 19.18. He told him that that was not what he ordered and the server argued with him until he finally took the food. My father is 73 years old and lives on a very limited income. When he goes out to eat it is a treat for him. I must say that I was very disappointed when he told me all of this. I"m pretty sure that this is not that big of a deal to most people but it is to him and he says he"ll never go to KFC again.
Thank You
Bobbi Dadgari

This is the only KFC store that is close to our house so we had no choice but coming to them. After the last incident we no longer go there when food was never available as ordered. This happened to us 3 times at the same location.
The last straw was we put in an order for 2 pot pies with our name, including our last name. Then 45 minutes later we came to pick them up but they told us to wait for 20 minutes or so because they just sold our pies. We asked for the grilled chicken and were told to wait for 10 minutes because they were not ready. This was around 5:45pm on a week day.
I just wonder why they even asked for our name and last name.
I wonder if KFC headquarter gives customer training to their store employees or not. This location sure needs one so badly. Here is the store's address and its manager name is Dora Medina, shift supervisor's name is Jahaira Ruz:
10414 Southeast 260th Street
Kent, WA. 98030
(253) 852-3603
Before you go there for food, think twice!
A very, very unhappy KFC customer.

just now i visit the kfc, mani square mall, kolkata, india. I got an insult from the counter person, i buy chicken king kong and i got thr pepsi with the meal only half glass and same i report to the conter and they give me full glass pepsi as insult way. I reach the counter and inform that i got only half pepsi but there in no answer from the counter person and they collect the half glass pepsi from my hand and full glass pepsi not giving throw infront of me to the counter table and folldown luckly i catch the pepsi to avoid any damage on my dress. I am a frequent visiter in kfc and i got an insult first time, may be this my last visit in kfc, because of the above issue. Waiting for immediate reply

I work with disabled people. Yesterday my clients and I went to KFC , I was so disappointed in what I saw. They did not have proper sitting for wheel chairs. They had tables marked handicap, but they were not. The tables were to small to get the chair under. Also the rows where way to small, we had to move the chairs over just so the wheel chair could get pasted. The one table that was big anuff for the wheel chair was placed by the door. If my Clint would have sat there then they would have been in the way as people were comming in and out of the door. My Clint had to sit sideways with her tray in her lap. Not only that but the food was nasty. I did not enjoy anything that I ate. Please do something about this, fix this problem so next time we go in there we can enjoy our visit.

went to the kfc in reidsville nc . me and my girlfriend ordered i got 3pcs meal x crispy.she ordered liver dinner.right off top there out of the liver this is the 5 time this has happen to us at this store in 3 months time we get home n both our meals r over cooked n half the crust has fallen off the chicken.i had 2 thighs an a leg no white meat at all but was charged for it . this was the worst ever.

I was in a rush and went through the drive thru thinking it was going to be quicker but I was wrong I was in line for about 20 mins when I got to the window I seen two crew members sweeping and mopping the floors now being a manager in a fast food restrunt I know you need to get things done but when having a rush like that I also know not to keep the guest waiting that long for food. The most that upset me was the girl that took my money never once said sorry for the wait or even have a good night. This is one place I will not be going back to .

Store G135024 Shawnee KS - Ticket 1053 3:13 PM 11-2-12 Amelia - I went here to get a 2 piece chicken meal (breast and thigh) and a pot pie - drove up to window and said I wanted a two piece extra crispy meal - she said it would be 16 minutes before the breasts would be ready so I said I would wait and parked in the parking lot. After 16 minutes I went back to drive through only to be told it would be 10 more minutes - now that in itself is ridiculous - I drive 20 minutes to get to this KFC and 20 minutes back and then wait again - so I did - all I got was a sorry! And when I get home I didn't even get a biscuit - since when don't you get a biscuit with a meal. Don't these people even care - maybe someone who really needed and wanted a job would like to have their job! We are in our 60's and it is hard enough to get out and do things and then you get this type of treatment - what a way to run a restaurant - customer service gets a 0.

I live in Kingman, AZ. Last night I went through the drive thru at KFC on Hualapai Mtn. Rd. This store has KFC and Long John Silvers combined. I ordered a bucket of chicken with 2 sides of Mashed & Gravy and some side orders of fish and shrimp. I was handed a large bag and drove off. I got down the road a ways and looked at the bag and realized that I didn't receive all my order. I went back and went inside. I went to the counter where they hand your food if you're eating in. I said "excuse me, I just went through the drive thru and I think she forgot to hand me a second bag. I am missing some of my food."
The girl that was working asked "what are you missing?" With my receipt in my hand, I told her I had only received one Mashed & Gravy and was missing the fish and shrimp. Without saying a word, she walked over and put some food in a bag, came back, tossed it on the counter and walked off. I inspected the bag and said, "excuse me, I was supposed to have 2 pieces of fish." She came back to the counter, grabbed the receipt out of my hand and looked at it. Then she went to the back and put a piece of fish in a small box. She came back, tossed it on the counter, turned and walked away still without saying a word.
I said "Sorry I bothered you!" She turned and gave me a glare. They weren't that busy that they couldn't have taken a minute to acknowledge that they made a mistake and appologize. I'm just glad I didn't wait until I got home to look in the bag.

I live in China, and the Chinese managers tend to run their KFC stores like mom and pop stores. For example, they have a beautiful menu and but half the menu is out (mei you) don't have. False advertisement 24/7 over here. In ZaoZhuang Shandong and Shouguang Shandong, they never had the value menu items on hand. Mash potatos, 9 rmb chicken piece original, corn, and main items at times. But the value items was a daily occurence. Pizza Hut does a great job with food and service over here. Kfc the managers don't care that I complain. when I threatened a complaint they give me free sodas and some soup.
This is systematic. Customer service is lacking in these small cities.

We arrived at Acocks Green (1160 Warwick Rd West Midlands, Birmingham B27 6BP) KFC at 22.50 on Thursday 4th April 2013 and the door was open so myself and my friend went into the restaurant. There was no food whatsoever in the hot holds and although we could see the staff members behind the counter they ignored us completely. The KFC website stated that the store was open until 23.30 and we waited 5-10 minutes for somebody to come and take our order but this never happened. We didn't manage to talk to any members of staff as they made it quite clear that they were avoiding eye contact with us and made no effort to speak to us. We were very disappointed and expected better service considering according to the website the staff should still have been serving food for approximately another 40 minutes however it was clear that the staff had stopped cooking/serving way before this and they were just hanging around together waiting to go home. We are regulars to KFC but found this behaviour rude and unacceptable - we ended up driving out of our way to go to Mcdonalds!! If this continues to happen then we will have to start taking our custom elsewhere!!

The biscuits were raw in the middle. No regular chicken at all. 2 meals were $20. Extra crispy breasts were so dry inside it was inedible! Potatoes were so dry they were gray instead of white and almost zero gravy. But the worst offense which made me drive nearly 15 miles to demand my money back was a huge coarse gray hair buried in the box on my 2nd piece of chicken which was smaller and I thought might actually be edible. I have enjoyed KFC since my childhood when a snack pack was 99 cents. NEVER again! Harlan Sanders is certainly spinning in his grave! N A S T Y! Furthermore 2 male cooks came in from smoking & scratching and returned to their stations without washing their hands. The girl at the drive thru wore black pants that appeared to have been worn for a minimum of 3 days prior with dirty, stringy hair hanging out from under a filthy hat. Where in the world is the work ethic in America? I was even willing to OVER pay for the chicken when Chili's, Outback, Zaxbys & O' Charleys would have been cheaper and cleaner & tastier but NO MORE! This was the Lebanon TN location which OBVIOUSLY needs attention!

On the 23rd of febuary 2013, I purchase a family 10 piece bucket , at the Loughton Essex KFC retaurant, this food was for Take away.We were made to wait 20 min for the chicken to be cooked, during this time I noted that a large amont of chips were held in the bags already prepared. When the chicken was ready the already bagged chips were emptied from the bags and mixed with a new batch of chips and then re bagged and put into the meal bucket. I then took the whole meal home. during the trip home the grease from the chicken soaked through the bucket soaking the rest of the food and servietts. the chips were cold and stale , the chicken was soaked in oil which had escaped though the bottom of the bag and soaked into my jogging bottoms. this is fag below the standard I expect and would like compensation for the food and the trousers whcih have been wased twice now and the stain will not come out.

I have been eating at this paticular KFC for 20 years. At least once a week and most of the time twice a week. In springfield Missouri. At the cornor of Sunshine st. and Interprize streets. They started a food bar. I usually eat inside. Yesterday at noon April 4th 2013 I went in and ordered to go. The Chicken I got was light yellow and did not even smell like KFC chicken. It was like dipped in flour then cooked. No KFC erbs and spices at all. I know hard times are her and they want to make more profit but I will not be back. Your chicken is the best however this is terrible. It is fraud and deceitful. Thank you for listening. I have the chicken in my fridge if you do not believe me.

Went in KFC Darnley as usual with my family but this time everything were rubbish service late 1 lady was on the till and serving food 15 minutes to my order and funny things fried chicken was cold and dry even dog can't eat I returned that guy came and told me it will take minimum 15 minutes to get fresh so over all I was in KFC for 45 minutes to have a meal. Bad experience

Two weeks ago I emailed a complaint to kfc about their dumfries branch and the very very poor standard of services and the food which to be honest I would not of fed to a dog let alone served it to a huma!! On Sunday evening I pulled up to the kfc drive through waited for 30 minutes to get to the microphone box then sat for 20 more minutes before anyone was ready to take my order I was then told their was no chicken?? Only chicken burgers I had already waited fifty minutes and feel that when I pulled up to the microphone I should of been told about no chicken giving me the choice to wait to order or go else where, I then ordered a big daddy meal an my son order a hot shots meal when I got home we had the same meal neither of which was what we ordered? Why? This happens every single time I go how hard is it to get a order right! Both our meal were cold and missing items my son ordered baked beans which were a glob of dryed muck! The chips were cold and tasted like they had been cooked days before hand I put the food u eaten in the bin and emailed and phone to complain still waiting for an answer?? Poor services will not be back and I'm considering taking this to trading standards?

Many times have not received what I ordered and paid for. The last time, a few weeks ago I called them when I got home to tell them I did not get the mashed potatoes for $3.99 and I gave them my name and was told that next time I would get them. I went tonight and because I didn't have the receipt they would not give them to me. I think I am done going there now. There is a Popeyes right next door. Store is located in bails gate, ny.

I went to Mint Hill, NC KFC on Friday, I asked about the price before buying the 16 piece chicken only bucket. The girl at the counter told me it would be $29. and change. I asked her to look again because last time I came it was $22 and the 16 piece meal was $32. She came back and appologized and said it would 23. I thought that was a little high but ok. I got to the window and sat there for 15 minutes, I gave her my debit card and was told my card would not process through their equipment. I asked them to try another register, another person came over and told me the registers were all the same and I would have to find another method of payment. I had a $20 and 2 ($1.00) and serched the car for change. I found the remainder in change and gave it to her. She gave me my chicken and left the window.. I had handed her a total of $26.01. I started to drive away and she hung out the window screaming I had not given her enough money. I slammed on brakes and said how much more do you need. She said she had $25.41 and the total was 25.91. I handed her 2 additional quarters and proceeded to drive away. She leaned further out the window and screamed, you didn't give me enough money, by this time I had been there 25 minutes with my 2 grandsons in the car. I said I gave you 50 cents and that should be exactly what she needed. She said Oh and I proceeded to drive away. She hung out the window again as the cars are piling up behind me and said you still owe me money. By this time I was furious and embarressed. i told her that was all she was getting and left. I don't understand how so many people are in a service position and can not count, treat people with respect or have common sense. I am furious and will never return to KFC.
Kathy Artom

The new KFC at Silverdale Town Centre, Auckland, New Zealand advertised specials and on opening day was a roaring success! The place was packed so sure we expected a wait for our order which surprisingly arrived within minutes nice and hot, well done KFC! Oh no! Not so several days later, a wait of 27 minutes with our order disappointedly cold, what a let down!!! The regular Pespi advertised as a special was charged full price, sure a trivial matter which we were ashamed to correct.
Where were KFC's ergonomics? Where were the management to adhere to the Company's time scales? But when added to the cold food and slow service up gave us good reason for not wishing to revisit this KFC. Also disappointing was the seating arrangements, what a haphazard idea of some idiot architect to literally scatter all manner of seating that made it difficult for us to find comfortable seating even with a moderate attendance. Please, please, please the tried and proven four seater table caters for those of us elderly pensioners to sit at a table without having hyperactive youngsters at the same table making our meal very uncomfortable.

I visted the KFC franchise located inside Almead Mall in Houston, Tx. I ordered, or shall I say, tried to order chicken and mashed potatoes, The "cook" told me he didn't have any mashed potatoes cooked and he was not cooking anymore. Naturally I got upset because I'm paying for food as well as service, and the "cook" tells me NO he won't and will not cook them. When I asked him why, he stated, "because it's too close to closing time." It was 5 p.m.!!! KFC was no where close to closing. He refused my order and I asked for the manager, which he claimed his name was Rodney Lewis, but everytime I've tried to contact him to complain he is never available. I will never eat here or recommend anyone fot that matter to eat here. THE SERVICE WAS HORRIBLE! I spent my money somewhere else!!!

hi,my name is randy
i stay at the holiday inn in central point or.every thursday nite
i eat at the kfc in central point 2 or 3 times a month
tonite i ordered a dblcs small cole slaw and 10 pice hot wing.the employee named jerremy.was very cocky.complained about cooking my sandwich and all in all very un profesional in his actions.
when i asked for hot mustard sauce for my wings,he said he could only give me hot wing sauce.and would have to charge me 15 cents for the mustard.i been eating there for 6 or 7 years now.not sure i will go back.my guest number is,0172, the store number is e156-d15.
this happened on 4-11-13.at 1900 hoursthanks for your attention to this matter.
i do realize this is a job for younger kids to start out.but i have been in the coustmer servcie bussiness for about 35 years.and yeah,i started at the bottom.im thinkin he needs to be trained or find a different occupation

It's thrus night on the 21/03/13 at 7pm decided
To go to KFC morley perth drive thru placed an
Order for grilled wrap blt I was told 5 mins later
After ordering they didnt have any. So ordered
Something else and was in drive thru for 20
Mins what a joke. Got hm and food was cold
The chips were dry and over cooked I will be not
Going back there again .

Over the years I have taken my children to KFC on numerous occasions in numerous locations around the uk. Two of my sons always have a two piece meal with drumsticks only as they find the breast is too much for them to eat. However when we stopped at the services on the 9th of August 2013 and I asked for two drumsticks I was told that I would not be able to do that and I had to have a drumstick and a breast. I explained to the man behind the counter why I was asking for this and he still refused. I was shocked and explained that in all the years I have been using KFC I have never been refused two drumsticks. I was so shocked as I stopped at the fleet services on the m3 four days earlier and there was no issue with me asking for drumsticks only. The manager came over and said it company policy that no changes could be made to the meals as he couldn't do it for me then refuse a customer who wanted two pieces of breast. He was very abrupt and rude and after seeing i was unhappy, he pointed at some leaflets and told me to read the small print. I normally pay around £24 when eating in KFC, however I paid around £12 as two of my children declined to eat as they don't eat anything else on the menu. I had a mini fillet burger as did one my children and the bread buns were so dry that they were falling apart which made eating difficult. Underneath the table were the remnants of another customers meal and after a drink had been split,
It was not cleaned up but a wet floor sign was placed over the spillage. The ladies were dirty and the men's toilets had no toilet paper as my son had to get some serviettes to wipe his bottom with. Overall I was extremely disappointed with the whole experience and will never use the solstice park restaurant again. I have taken pictures on my phone that I can forward to you to show you just how dirty the restaurant was.

KFC Corporate
August 22, 2013
To Governoring boards, officers and inspectors, and Corporate officers:
Wash Your Hands Before Returning to Work. Not at Kentucky Fried Chicken located at 16150 Los Gatos Boulevard in Los Gatos, California. Although, the familiar sign seen by everyone (see Poster) is posted in both Men and Women's bathrooms. To prevent larceny from their premises, the management, knowingly and purposefully, has taken upon themselves to remove the most important gradient from this equation, the soap. Soap is required to get bacteria and germs off of the hands.
Yes, the manager admitted that he is trying to combat larceny by not providing soap in either of the restrooms to his employees and customers ignoring the FDA Food Codes, OSHA Regulations (Standards - 29 CFR) , California Retail Food Codes, and Food Handler Training procedures (OSHA Regulations (Standards - 29 CFR, 1926.51(f)(3)(iv)) and California Health and Safety Code Article 4. SECTION 113952-113961).
On August 23, 2013 around 3:30 PM , I took my family to Kentucky Fried Chicken located at 16150 Los Gatos Boulevard in Los Gatos, California. We ordered a 10 piece family pack and some other items. Before sitting at the table, my wife went to Women's restrooms to washout out son's milk bottle. She noticed that the soap dispenser was removed from the soap dish, and the employee that was in the bathroom before her did not wash her hands. Later, when I went into the Men's restroom to wash my son's pacifier, I too noticed that the soap dispenser was removed from the soap dish. I went to the cash register and told her that the soap dispensers are empty and that is against the law. Someone brought soap from the back for Women's bathroom. Upon leaving, I went to Men's restroom to wash my hands and my son's pacifier. Again, there was no soap in the restroom. As I walking out of restroom, one of the employees was coming out of Women's restroom. I pointed out to her that there is no soap in Men's restroom. She told me that, "we know; our policy is not to supply the restrooms with hand soap."
As, I was about to sit down at my table the manager walk out to our dining area and introduce himself and handed me an orange coupon to take the survey online regarding my visit to KFC and discuss these issues with them. He said, "our policy is not to stock the soaps in our restrooms as people will steal them. We just stocked the one in the Women's bathroom after you told us and it is gone." He said we have cameras pointed to the restroom doors and has a very good idea whom is stealing the soap. He said that we used to lock the restrooms, but this was too inconvenient for our customers so now we just do not stock the soaps. He said the employees wash their hands in the backroom. I asked him what happens to employees between the time that they come out of the restroom and before they wash their hands, then asked him why do not you change the soap dish so people cannot steal the soap dispenser. He referred me to KFC's website. My wife told me that she visited the restroom before our departure and the soap was still there, so the manager on duty was untruthful.
I think people need to know this, so their health and life would protected. This is a public safety issue. Proper hand washing is a critical but often overlooked in the prevention of food borne illness. Perhaps the continuous promotion of food safety education will promote effective measures that can reduce illness. But in this case, I believe a hefty fine or even the closure of restaurant is the key because management has had complete knowledge of public health safety issues but knowingly and purposefully avoid them.

I went to KFC on ballan rd werribee last week, and they did not include the 3 large chips and sauces I paid for so I rang them and they said no worries I have written you in the book for next time your here, well tonight I went to collect my 3 chips and sauces and the store manager said I'm not in the book and it's their policy if it's not in the book don't replace, I explained I rang is in the book, she got rude with me and said no because people are decetful and rip them off, so I said what do now it's ok for you to rip me off I paid for this food, she told me to move on!

I went to the drive up on the evening of 11/06/2012 and ordered the 8 piece family meal with grilled chicken (19.99 beore taxes) Went I got home I was very surprised and upset that I received 5 VERY SMALL wings, 2 VERY SMALL legs, and a thigh. This was to feed a family of 3 and was hardly enough to feed 1-1/2 people. To top it off the chicken was cold as well as the biscuits. The cole slaw was good and the mash potatoes and gravy, but the rest was at best the worst! I phoned into to complain and the person I spoke too was not very concerned and their response was sorry maybe you should have ordered a 10 piece......What! This KFC will never ever be favored with my business again and I will think twice prior to visiting any location. Location of this KFC was in Brandon, MS Hwy 80, Government St.

On the 4th of May we purchased a kfc pack chicken and chips from your princess highway store Warrnambool
we are older so it was to be a treat at $20.00 thats a lot for us
the food was cold chips looked end of the cook we were very
dissapointed our home a small drive away we boiled the kettle open
our pack had to re heat in micowave and found it a very dissapointing
tea as it was to be a treat it was not !! remembering other enjoyable
family tea in the past we were shocked as we say $20.00 is a lot at our age
so from a very dissapointed customer your adds look good but food was not sincerly Frank and Geraldine Dalton Warrnambool

I visited a KFC today, and was shocked to learn that they no longer provide knives with their food. It's nuts. The only way to eat one of their breasts now is to pick it up (which is both messy and difficult, especially when the meat is hot), or claw at it with the plastic fork. Some genius in the accounting department probably figured out that each store could save a few bucks a week if they eliminated the knives. What's next--no more napkins?
KFC, you're the only restaurant I know of that's 86ed your knives. Please have the good sense to bring 'em back.

I visited the restaurant in fenton today and ordered a hot shots box meal (no hotshots available so had 2 habe hot wings wiith it) a fully loaded box meal (no chicken on the bone available. So had to have popcorn chicken with it) and 3 chicken strips. When I got. Home I noticed the chicken strips were missing and both Box meals had hot wings not popcorn in 1 and a ginger hair in my burger. After poor service, poor quality, poor food safety standard and half the menu unavailable i will not be using this store again

I want to say I love KFC I am 55 yrs old and have ate KFC all my life. The Place in Lafayette,TN. is with Long John Silvers I have ate there twice an wasnt happy either time the food isnt prepaired well and the store itself isnt clean the tables the floors are dirty they just dont do a good job at all the Buffa table had little food in it and looked like it had been there all day not something you would want to eat. I Usually go to the Glasgow KY. store which has always been very Satisfactory condition. I wish you could or would see that this could change.

I have enjoyed on many occassions the vanilla sparkler (my fiance enjoys the apple) but last night I discovered that when choosing a sparkler with a large combo it is more expensive! If I buy a reg combo and choose sparkler I accept its a specialty drink and more expensive BUT when I buy a large combo an choose sparkler, not only is the sparkler smaller than a large post mix the combo is actually more expensive! That doesnt seem ethical or logical. It would make sense to me that if buying a large sparkler combo the price remains the same OR a larger sparkler is sold at the more expensive price! Had I have known this from the first time I purchased the sparkler my choices from then to now would have been different.

I went to KFC in Strongsville Ohio, on Pearl Rd. Sunday, Nov.11, 2012, about 12:30 pm. There were 3 kids working there, and did not see a older manager. There was only one family dining. I went up to the counter to order a bucket of "CRISPY" chicken. The boy say to me, "would you like to order something else? We only have 3 thighs." I looked at him and said, You do not need my business."I wasted my time to go there to order chicken, and if 3 kids cant see there is no chicken to sell, I do not need to waste my time, and gas, going there. I am a senior citizen, and don't tollerate sub-standard laziness. I do not see any reason to patronize that KFC. apeI

I went to my local KFC tonight to get 2 chicken pot pies. It was 7:30 and they said they were completely out. The store closes at midnight. If this were the first or second time, I can understand it, but every single time I go there they are out of something. I'll run down a list for you. They Never have chicken pot pies when I go there, they have been out of breasts, original chicken, mashed potatoes, Mac n cheese, and get this - one night, they didn't have any chicken cooked! A chicken restaurant has no chicken? They mine as well close their doors, right? This was around 7:30 or 8 pm on a Friday night. They told me to come back in 15 minutes. I gave them 20. I came back and the lady said again that they were out of chicken and it will be about 15 minutes. When I told her that is what she told me 20 minutes ago, she said, oh sorry. I really don't understand what's going on in there. Do they not want to cook after a certain time? Maybe they should close at 6pm then. They don't look understaffed. There always seem to be plenty of people behind the counter. What are they doing? Why no food at a restaurant? I would love to visit another kfc, but the other one is 25 minutes from my house. When I can't get KFC, I go to another restaurant and KFC loses money. This store is a joke around town. When people go there, jokes are made saying expect them to be out of something. They are always out of stuff. I'm not talking napkins. I'm talking out of major stuff that they are supposed to sell. Chicken and pot pies are pretty popular. They should have food ready or shut their doors! Management needs to be talked to about this situation, or maybe they need new management.

I recently visited the KFC on Taunton Ave in East Providence RI and first I was told it would be ten minutes before the biscuits were ready even though it was only 12:15 and I had to go without them because I did not have the time to wait which for a fast food restaurant is just not right. I also got several drinks to go and was told that there were no cup holders. I ended up losing two of the drinks because of that. So not only did I not get my biscuit, but also lost out on two drinks. I hope that you will resolve this problem for I am a frequent customer and the location is close to my home!

Thanks again KFC ARARAT, VIC.. i was in line at KFC Ararat just last week & this guys in front of me placed his order (didnt pay at this stage), then when to the toilet.. Yep, off he went to the dunny. im next in line waiting, thinking "yep, she will serve me know, im next".. Arh, NO..!!
can you believe i had to wait until the guy who went to the dunny to return before she could serve me..O.M.G.. thanks Mel. i complained at the time but as normal they try & blow it off & calm you down... I thought it would have been common sence.. My feet are never walking in there again.. no way in the world..

I am a loyal customer of KFC and always will be. Yesterday i stopped at KFC and orderd the 6 piece grill deal, and when we sat down to eat , th food had a strange taste to it. My chicken appeared not to be cooked enough, and there was a taste to it that we could not eat it, due to our safety of possible raw poultry. Im not sure if it was just so old and it had a smell to it or if the food was not well done to eat. I will buy from KFC again but not the grill anymore, unless i can observe it or eat at the restaurant.

On Feb 26th I went to a drive through KFC, I just wanted a Big Crunch sandwich, when the attendant told me it was $6.20! I freaked out! 6.20 for a sandwich?!?! I told her to cancel the order, and drove away, their is now way I'm paying for that. I'd hate to find out what the cost of a combo was!! I'm never returning to this establishment ever again!! Haven't been to a KFC in a while but, I remember why. I will tell everyone about this and anyone else attempting to go.

I bought a chicken pot pie at the KFC in norwalk Ohio. My son that is 11 was eating the pot pie and got choked on a chicken bone that was in it. I has to administer abdomen thrusts to get out the bone that was lodged in his throat out. There is no warning on the the box saying product may contain bones. I have a pic of the bone that was in it if need for anything.

Sat 17th my wife and me and 7year son went to kfc have a meal we got a bucket and chips that and my son got a kids. That was the first and the last food he ate got home my son vomited diriea 22times stomach pains lost all his body fluids that burger stunk like it was sitting in ur resraurant gor 6months my son is still in hospital ive now gona take this matter to court and I have contacted health and safety officers they will be in contact asap the kfc branch is milton keynes escape opposite subway the manager there is ibra I will fight all the way I want comonsation.

Worst service I have ever experienced, this is not the first or the second time I have given a chance to this store.
Everyone that works there will attend you with a bad attitude, they can never make your order correct, and the place it's always dirty.
Unfortunately this is the only one in the area of Hyannis, MA.
All the attendees and the manager are horrible with their customer service skills.

I went to KFC about 3:30 pm oct. 5th. I ordered the #5 on the menu which is 5 hot wings & cole slaw and a soda, well when I got home started eating and the wings was so hard and they tasted like they were left over from lunch. well I called the manager and told her what the problem was. she took my name and told me to hold on to my reciept so the next time I come in she will give me another order. well I went back to KFC about 8 m for dinner the same night,showed my reciept and told cahier I had spoke with the manager earlier and she claimed she hadn't spoke to me. well anyway I got my order went home and low and behold the wings was the same way hard and old!!! I threw them away. I tried to call them to tell them to check the wings before they sold them to any body else, they didn't answer the phone. this is the Shelbyville ,Tenn resturant.

myself and my friend and brother visited kfc infor st.helens .que for 10 mins to get told there a 30 mins wait on chicken on the bone..we wanted a family feast .but was really disspointed they was no chicken on bone ..i ask for a fillet box meals .she said it has chicken in .i said can i not have boneless piece in it as u nt got answer was no ..so we got 3 fillet burger and chips wiv drink and a gravy .got to car and it was beans had to go bk in .the que was nearly ti the door of entrance and still no one was sayin there wad no chicken .the drive thru wads full .but no member of staff telling any1 .i can honest she myself and my brother and friend will nt be visiting again .we think it was poor serve

My husband and I went to the kfc (Store #G630009) 2994 homer adams parkway, Alton, Il. this evening 3-5-13. We had the buffet, the cole slaw juice was sour and was spoiled, the chicken cold, the chicken and dumplin's had crusted over on the top and hardened and they had no unsweetened tea made up. It was 6:51pm when we went in to eat. You would think they would be ready for the dinner diners. I asked the girl for fresh chicken and she did get it for me. I told them that the cole slaw was sour and I believe it was spoiled, she said she would tell her manager. They told me they would make tea and let me know when it was ready. Well they never changed the coleslaw out, never put more fresh chicken out, the chicken and dumplins were left there and the tea never came. My husband and I are not happy at all about our dining experience there. We did not talk to the manager it was never offered to us as a option, the cashier said she would tell the manager about the problems. We left without eating hardly anything, didn't seem like there would be fresh food put out soon, as the people working were all by the drive thru window talking. Not to mention there was only one napkin holder that had napkins in it and that was at the register, all the ones at the buffet were empty. Please check this kfc out and find out how come all of this was allowed to happen. We will not be going back to this store, we have been there before and it seems there is always issues with their foods freshness. Thank you and please advise how this is addressed, and the outcome. My husband came home an ate a sandwich, and he never does that. my cell number is 618-444-0566 Linda Shane

We arrived at your location in gurnee il 10 min before open. But we did not mind the wait fresh product good food. After 10:30am no one came on speaker. So we circled around thinking we needed to set off the box. Still no one. Three times I'm all. Then I went up to door beat on door beat repeatedly. Still no one. 3-4 cars in lot so assume people are here.
Circle around again this blow horn several times. No one heard. Knock on drive up window. The guy finally gets the window open, we ask him are you open? It is after 1o:30, he says I don't know it is my first day. Let me find some one.
Then a few min later a different guy comes to the window and apologizes says he doesn't know we're the manager and staff went he was just the clean up guy but he was sure they would be back soon. We just could wait any longer. It is now 11am still hungery. Still disappointed.

3 $5 lunches
All 3 biscuits were hard as rocks.
There is no way they were not aware, the biscuits just crumbled they were so hard. No cookies in the meals .
Three very disappointed children.
When I called the only thing the girl could say was I just came to work.
No on wants to take responsibility for bad food ..

maddie scott
from Philadelphia, PA
when ordering, i asked for mashed potatoes with no gravy and the cashier confirmed it. upon getting the food i recieved mashed potatoes with gravy on it so i had asked for one without. they took my gravy potatoes and gave me mashed potatoes without gravy and when looking at it, it wasnt even half full. the soBe life water wasnt even pink, it was basically pure water.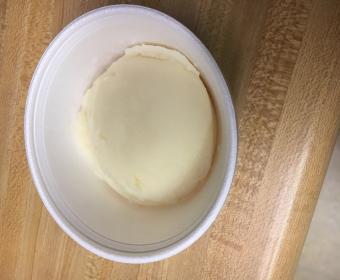 john wiseman
from Saint Albans, WV
I HAVE EATEN K FC FOR 30 YEARS HAVE NEVER BEEN TREATED SO RUDE AS I WAS AT KFC MCORCLE AVE ST ALBANS WV, I ORDERED 5 DOLLER BREAST FILL UP, FIRST THEY SAID WE DONT HAVE ORIGINAL RECIPE, I SAID OK GIVE ME EXTRA CRISPY , GOT MY ORDER, I SAID WHERE IS WING , THEY SI
AID WE DONT DO THAT,I SAID THAT IS WHAT THE CON
MMRECIAL SAYS THEY SAID SORRY ABOUT YOU LUCK,SO AFTER 30 YEARS OF BEING A LOYAL PATRON I WILL NO LONGER BE ONE THANK YOU

Joan Houser
from Charlotte, NC
On Thursday October 11th 2018, my husband and I went through the KFC drive through on University parkway, Winston-Salem, N.C. we asked for chix wings and the lady told us it would be 5 minutes. we went left and came back to the drive through after about 10 minutes. she told us that all the wings were gone and if we would have paid in advance they would have held the chix for us. she said it would be 7 mins. now. we told her we would wait because we were hungry and the power us out in our neighborhood. We paid her and she told us to park and she would bring it out to us. we parked and waited for almost 25 mins. when my husband noticed the everyone was getting chix. but us. I went in to ask about my order and the people at the counter said to the lady that helped us that "this lady has been waiting 25 mins. for chix. The lady that told us to wait came out and said I am sorry we are out of chix. I told her you told us to park and you would bring it out. she kept saying we are out of chix, and I am thinking how can a chix place be out of chix, and the other customers were told it would 45 min. wait for chix. I was very upset by now but I held my peace. she gave me 8.75 back I told her the was the wrong amount, I gave her 10.65 she gave the correct amount. I felt that was poor management and poor customer service on KFC part. she did not offer us other pieces of chicken or a complimentary coupon or anything. She just said with no concern that we have waited 25 minutes "I am sorry ma'am we are out of chicken. I may or may not be visiting that location again.

Steve Davison
from Morpeth, ENG
I'd give no stars if I could!
I went to the drive thru and sat for 3 minutes then some male said I'll be with you in a moment and three minutes later and still no response so I drove away! There was one car at the drive thru and I customer in the restaurant! This is not acceptable!

Robert Taylor
from Hove, ENG
Been to kfc 2 times in a month at portslade both times chips not cooked at all and on second occasion chicken pink had bad tummy all next day

Michelle Howell
from Cambridge, ENG
HI, I WISH TO COMPLAIN ABOUT THE SERVICE I RECEIVED RECENTLY AT YOUR BRANCH IN CHAPELFIELDS, NORWICH. I ORDERED A FAMILY FEAST, AND WAS TOLD THEY HAD RUN OUT OF BEANS, SO THE CHOICE WAS GRAVY, COLESLAW, OR CORN ON THR COB. I ASKED FOR GRAVY AND COLESLAW. WHEN I WAS CALLED FOR MY FOOD, THERE WAS NO LID ON THR BUCKET TO KEEP THE CHICKEN WARM, AND WHEN I ASKED FOR PLATES, I WAS TOLD THEY HAD RUN OUT OF THOSE ALSO!! I ASKED HOW I WAS SUPPOSED TO EAT GRAVY WITHOUT A PLATE, AND I WAS BLUNTLY TOLD, WITH A SPOON!! HOW RIDICULOUS TO BE GIVEN GRAVY WITHOUT A PLATE!! I WAS THEN GIVEN A COUPLE OF BUCKET LIDS TO PUT MY FOOD ON TO, WHERE I HAD TO TRY TURN UP THE SIDES TO STOP THE GRAVY GOING ALL OVER THE TABLE!! I DONT FIND THIS ACCEPTABLE AND FEEL THAT THE STAFF DIDNT REALLY CARE, AND ITS MADE ME THINK TWICE ABOUT GOING BACK AGAIN.

Lisa jane
from Liverpool, ENG
Went to kfc in Southport was discusted at the cleanliness tables hadn't been cleaned away food and left over packaging on tables bins were full no salts or lemon wipes toilets were disgusting will not be going there again ther were 3 staff so had to waited ages for food aswell

KFC store in Newton, NJ.: every time I've been to this location I get shorted on what I ordered. Yesterday, 10/12/18, I ordered the $5 fill up Breast & wing combo. When I opened the box, I found I was given a breast and a leg, which could have been a simple minor error. But this leg I received was as hard as stone. It was a disgusting piece that must have been a week old. Also, the cookie was missing, and no fork for the potatoes. This is not a unique occurrence at this location. Rather than list all my bad experiences with this location here, I'll just say I won't ever go to a KFC again, Roy Rogers is much higher quality. And It's not far out of my way.

Donna Leeth
from Port Huron, MI
Just got take out at the Upper Sandusky, Ohio KFC ordered a 3 pc meal dark meat to go. Got home only had 2 pc. Not driving over 30 minutes round trip to go back for their mistake but its very frustrating!!!

Kailynn arcenia
from Hyattsville, MD
I went to KFC at the Colonial Heights Boulevard location in the drive thru to order my food. The lady repeated "what?" To me 3 times and then to me to wait. Finally got my food ordered after waiting about 5 minutes. I checked my food before leaving the parking lot and realized they forgot my Mac and cheese side. I let a staff member know as soon as I noticed. I waited in the parking lot for 30 minutes. While waiting, I ate my chicken breast combo. The meal was disgusting. My chicken was dry and my mashed potatoes tasted like raisins. Another customer informed me that kfc staff is not coming outside and that I'd have to bring my receipt inside and get my Mac and cheese. My family and I will not EVER be returning here again. Trash.

Natasha paterson
from Chelmsford, ENG
Nothing stated on the drive thru about not being able to take card payments. No way out of the drive thru once you've entered. I was only informed about this as I reached the order window. I then had to sit and wait while 7 cars were served in front of me.
KFC need to get rid of the battlefield, Shrewsbury store! It does nothing but let the company down. Get your shit together.

Rebecca Lynn Smith
from Chicago, IL
I went to KFC lees summit MO 20/9 8:15p ordered $5 box chicken strip potatoes and coleslaw $6.39
I got back to my Job and in my box was a leg thigh.
I called talked to female black mgr she said she wrote my info down and to come back and get order next day. I go back manager Hector refused to assist. Was a complete ASS.
I left called customer service.

Sheena Macleod
from Glasgow, SCT
On visiting your Braille crescent branch on Wednesday 10th October I was most disappointed at the service had to wait while the staff were all having a carry on shouting playing loud music and not attending to the customers,then I handed over a voucher which has expirery date of 31/12/18 to be told we don't take these they should not have been given out ,I said I have used them previously about 3 times, no we don't take them not good customer service I visit this branch a lot as I stay in the area but I certainly won't be returning.

Keith Rimmer
from Hemel Hempstead, ENG
I purchased a Zinger meal at KFC Burtonwood Services this eveng & a Zinger wrap meal.
I could not bite the Zinger meal it was so hard & cold totally horrible the worst meal i havs ever purchased.
I did spea to the guy who served me, he did offer another meal but i sid not want to take the chance of becoming ill from eating this rubbish!
Never again !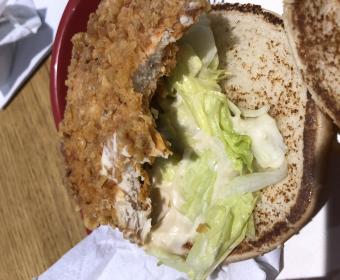 Mary A Davis
from Ft. Washington, MD
The Fort Washington Store drive thru has standing water, but once you drive thru there is a big hole that hits the undercarriage of your car.
This situation needs to be fixed, close the drive thru until this situation has been taken care of, thus can damage customers cars, the hole is unnoticed until you drive thru, all you see is standing water. The management is being told by customers and he or she should report this problem to the corporate office for a resolution. I even mentioned this to the worker at the drive thru, she stated daily complaints are made .
Please take care of this issue, it can be costly to customers if their cars are damaged.
9598 Livingston Road (store address)
, Fort Washington Maryland 20744
My visit today at 1:15 purchased a Pot Pie, no receipt was given to me.10-10-18

Esther Gregory
from Bedford, ENG
Ordered a 6 piece wicked variety bucket. Just got given lots of fries and 6 piece of chicken. No hot wings that my eldest wanted, no strips for the youngest. Bitterly disappointed as we live too far away to go back in the traffic!

Holly Lebied
from Liverpool, NY
On Oct 9, 2018 at 7:22 pm at the Camillus, NY location, a drive thru order was placed and I was told to pull up and order would be brought out to me. After 20 min my order was given to me and it was incorrect as it has been on several previous occasions. I was then told to come inside to rectify problem. After standing at counter for 15 min, someone finally acknowledged that i was even there and attempted to correct my order. So my "fast food" order took at least 40 min. As much as I love KFC, I may have to consider switching to another food establishment that takes a little more pride in their work and has more respect for the customer.

Scott A Callaway
from Wichita, KS
After purchasing 66 dollars worth of chicken and tenders, we got home and found that we didn't get one of our sides. That wasn't the worst part. The tenders were dried out, the biscuits were too hard to eat and most of the pieces of chicken were 'old' and dried up from sitting for a long time. This was at the Wellington KS KFC. We will no longer be getting chicken there, as this wasn't the first time that we have had issues with the food quality. It was 3:50 in the afternoon, and no other customers were there.

Hannah Brook
from Southwark, ENG
I have come in to order 2 bargain buckets in Alphington, Exeter (its currently 1450... not even lunchtime) and there is a 10minute wait on chicken!!!.... that's all you bloody sell!!
Seriously disappointed in you lot, no where near as good as you used to be!!

Tania Ashworth
from London, ENG
https://www.complaintsdepartment.co.uk/kfc-uk/ i would like to know if kfc is a franchised business as I have noticed that maypole kfc and Northfield have both changed hands to Asian owners both shops are not selling kfc chicken it's not the same recipe and Northfield i had a zinger fillet burger in a shiny bun the chicken wasn't spicy at all it was slapped together with so much mayo the lettuce was swimming everything slipped out the bun maypole kfc i had a family bucket and the chicken all had a different crispy coating not kfc coating What s going on kfc of its not franchising it's sabotaging terrible please tell me thanx

Vickie Kinsey
from Antelope, CA
I went to your store on greenback Blvd. in Citrus Heights Ca on Oct.4th 2018 at 9:30 pm. I waited behind a pick up truck the truck drove off so I pulled up to box then waited about 7 mins. no one answered even after I said hello several times. I pulled up to the window no one was there I waited again till I saw someone walk passed I honked my horn with no response I finally got someone's attention he tried to open the but couldn't he went to the office and asked the manager about the window, he still couldn't open it so he went back to the office to tell the manager he couldn't do it she didn't come out, the young man went on to do something else and just left me sitting at the drive up window. I drove around and went inside saw the young man that couldn't open the window and asked why he just left me their with no response the manager heard me and came out to say that they closed early because they where out of chicken I asked why they didn't post a sign saying they where closed or why no one answered at the order box she said she had everyone turn off their headsets. what kind of service is that to your customers that are waiting to order but they never get an answer. As I drove out someone else was waiting I told them that there closed so she didn't have to wait till she got discouraged and drove away. I will never go to that store again and will let others know what kind of service they will get there.

brenda sprow
from Altoona, PA
I had to want for 45 minutes to get my chicken. they had nun ready. That s unacceptable The places wasn't that busy. This isn't the first time they didn't have something ready for customers.

Pamela Walbom
from Tucson, AZ
The KFC store at 6872 E. Tanque Verde in Tucson, Arizona phone 520 505-2047 is a disgrace to your name. They never have half the items in the menu, especially CHICKEN. This occurs especially at meal times. The staff always forgets part of your order and you always have to wait 20 minutes or more if you want chicken. They are totally disorganized. We have lived in Tucson for 20 years and enjoyed KFC. However, the last few years it has been awful. Tonight my husband drove down placed his order for chicken and was told he would have to wait 20 minutes. He came inside the store to wait. After watching several other people getting there orders, he asked about his. They had lost it, and he had to start all over. His words were "I WILL NEVER GO BACK TO KFC AGAIN". He is a successful business owner. I hope someone can check into this as it is very bad for KFC's reputation in general and I don't know how the store can stay in business. Thanks for listening.

S Bar
from Petersburg, IL
Called 20 minutes ahead of time to see if they had 10 piece 19.99 meal was told yes I did not need to order it ahead of time they would have it my husband drove 30 minutes to the place on ninth Street in Springfield Illinois and was told they only had original recipe and he would have to wait 25 minutes she tried to explain to me in that 20 minutes they had 20 customers getting that same exact meal. Find that hard to believe and most of the staff was standing outside talking when he got there Won't go there ever again

We very rarely eat at KFC and chose your restaurant near Colwick Nottingham as it was close to work. The restaurant itself was filthy, half eaten food on tables, pop bottles on the floor with contents spilled everywhere, unclean tables. We waited at least 6 minutes to be served and there wasn't anyone else in the restaurant. The member of staff seemed very distracted and uninterested in our custom, he forgot our drinks order and when we received our food my chicken was cold (I had 3 boneless peices) and my partner had a zinger burger with way too much mayo and what looked like the ends of a lettuce no actual leaves. Very disappointed with the whole experience, money wasted and will not eat at KFC again.

Stephen Jenkins
from Edinburgh, SCT
I ordered a family bucket after 10 mins I was told there was no coleslaw & corn?
I advised the staff my wife was vegetarian and this was her part of the meal, I then asked for rice as an alternative but was refused then the manager came and refused the request?
I then had to ask for a refund
No apologies after leaving the store I found that I was not refunded the bag cost maybe this is why the manager was unwilling to give me my recipe
This is not the first time I have went to livingston KFC and they adviced they have no product.

Mark Pengelly
from London, ENG
Waiting over an hour for food

Kevin Curry
from Macon, GA
The KFC on 190 Tom Hill SR BLVD, Macon,Georgia, 31210, has the worst service I have ever experienced. The management and the employees are terrible. They are very disrespectful, inconsiderate, and sloppy. There Drive-Thru service is not where it supposed to be. I had to wait over 45 minutes for a $20 Fill Up. Not only that, but when I received my food my order was wrong and the chicken was dry and falling apart. Also, my biscuits were as hard as a rock but somehow still undercooked. When I went to complain to the employees and managers about my food they came back with an attitude, very mean and disrespectful. While trying to tell me that the restaurant was fully functioning as intended, a roach crawled besides my shoe. I will make sure to never come back to this establishment again!

charles pedroni
from Antioch, CA
at 6;00 pm kfc in brentwood ca. on lone tree way. has no wings or chicken ready. This is not my first time with this location always a problem.THIS IS MY LAST TIME I WILL COME HERE.This place is so poorly run I hope it goes out of business.

B J Cisco Gordon
from Tulsa, OK
I shop in Kansas and Missouri. The stores that are in my area are forever running out of Potpies. Why cant' they keep up with the customers demands? is there a reason why this is an on going problem...West 75th in KS, 47th St in MO, Barry Rd in MO, The one on 95th Quivira does way better than the other three.

David Grainger
from Newmarket, ENG
Was in your Sudbury branch today on my lunch break and the customer service was shocking,, I'm never one to complain but it wasn't busy and the girl serving the orders ( not the women on the til) attitude and work speed and effort was shocking I was second on the order list and it took 16 minutes to get my 2 piece vvariety meal and it was all cooked ready! All in all it took twenty mins to get fast food when I was second in queue when walking in! I wouldn't mind if it was busy you the girl was working hard but in the end I actually had to speak out to say can you get my food please!!

Bonnie Barton LongKnife
from Box Elder, MT
This complaint is a long time coming .I have finally decided to take the time to write concerning our Havre Montana KFC.
We continue to try ordering from this KFC and very rarely have a pleasant experience and stop going to this establishment for quit a while then decide maybe we will try again. Our main complaint is receiving wrong order, less chicken in the bucket than what we ordered or having to wait for chicken 20 mins or longer (which has been the norm at this restaurant. The many times we are told that we need to wait for the chicken has been too numerous to count . Its very frustrating when this is a fast food restaurant. Several people in Havre feel the same way. I have talked to people travelling through and they also have complaints. Last evening was the final straw. We went to the drive up window and requested original recipe 3 piece meal. The lady noted that it would be a 20 minute wait. I said never mind I would like 2 famous bowls she told me to park over between 2 vehicles. This also took a long time so I went in and asked if they were ready. There was the lady that took my order verbally yelling at employees in the back. She was yelling "where the fries and something about coleslaw. She was very condesending and rude to them( I would have walked out) The whole restaurant heard. A couple of customers even walked out. I will not ever go back the this particular KFC. Several people in Havre have stated they would love to go to KFC but I am following suit and not returning .Also its very dirty. Thought this should be brought to someone's attention. Thank you for your time. I did call and speak with a manager and told her what happened last evening and was told "okay"

david jackson
from Mineral, VA
I ordered a 3 piece meal with slaw and potatoes also ordered 5 dollar box meal 2 pc leg/thigh box, once home ( 5miles) I opened the 3 piece meal and found 3 thighs a biscuit and potatoes/gravy no slaw, and the biscuit was old and crumbly . in the 5 dollar box leg thigh there, no fries but another mashed potato and crumbly biscuit, no cookie either. im not one to complain but when your on a fixed income and you are paying almost 15 dollars for our meals we just expect to get what we pay for, also the girl who took the order was rushing the order, I did ask her at the window if she was rushing me to which she stated no and went back to looking at what I think was her phone, this is the third time in a month that something was messed up on the order, were not bojangle fans but I think that may be our option in the future as the service and accuracy of the orders makes us question what could actually be going on inside that we don't see. as a paying customer I will tell you kfc is gone down hill fast and when I pass them in the future I will hit the gas

Tracey Jacobs
from Lake Mary, FL
hello, I am writing this complaint because of the issues I have encountered on my visit's to the kfc in Deltona Florida location, providence blvd.
on 3 different occasions I have received messed up orders and nothing was done to resolve the issue but the manager saying sorry. I live on one side of town and to drive back an fourth is and issue.
1. the first and second issue we ordered buckets and no wings where in the bucket.
when I called was advised they would replace the wings and when I went in the person I spoke to never wrote it down .
3. the third issue the food was cold have not been back since then
please assist me thank you

Susie Bridges
from Trimble, MO
I ordered 80 pieces of chicken a day ahead of time. I told them I'd be there at 10:30. He DID NOT tell me to call and confirm. When my dad went to pick it up the chicken was not ready. Not only that but the manager was downright rude and said it was our fault! My dad was very upset!

joseph randall
from Chandler, AZ
I can't even give you a single star i went to kfc taco bell combo and ordered a k-5 and they had me go large so i could get a large lemonade and another side cool right? but they forgot my cookie and they know me because me and my family eat there at the one on 75th ave and thunderbird road in Peoria AZ and so the next day and yes we eat at least 6 times at this restaurant a week spending an average of $75 per visit (large family) so again i come to the same restaurant the next day and i said lets go large and when i get to the window and gave them my card after they charged me for the meal including the go large fee that is additional and then said oh we are out of lemonade and so i had to get a root beer. Not happy but nothing compared to today. i went to the same restaurant and ordered the k-5 and had them go large again and i ordered the lemonade at the speaker and they took my order with it and then i give them my credit card and they charge me then they say oh by the way we are out of lemonade and that pissed my off because i would not eat there without a lemonade and could have cancelled and gone elsewhere and they waited till they charged me again and then said we don't have lemonade and i was pissed and said give me a root beer then since i was there and he said they did not have root beer i was forced to take a sprite like product that sucked and then he tells me that they do not have biscuits now I'm fuming and they said they would give me an additional mashed potatoes and gravy and to go around front and they would bring it out but i opens the k-5 box and there was extra crispy instead of original as i requested and so they replaced it quickly with the original and then gave it back to me and said what about the mashed potatoes and gravy and he said go ahead and go out front and i ll bring it right out. after 3 minutes i walk in and its sitting on the counter and a gut picks it up and says is this yours and i said its been sitting here while i sit for 3 minutes in 111 degree heat. no response but there will be one when i post my blog about this whole thing next week unless there is some kind of settlement for the crap and I'm so mad i wrote this before i ate so you knew` how pissed i am and the 2 million followers will know too look at Payson Az you had to close that i blog how bad they were and well you know what happened you can't mess with people like that or they will not come back and that is what i am requesting others do just to teach you a bout maintaining your supplies and doing the right thing you have a week to make this right. then get ready because if i can i want to hurt your company so bad after all this you do not deserve to be in business look at britain it was a simple switch and your stuff got lost there are to many who can do things beyond your control and i am that fear.

Mr saunders
from Tottenham, ENG
Its been several months since iv been to the local whitfield branch as last time i went i had severe food poisoning, (for the second time) but benefit of the doubt i returned again today, upon entering the drive through i was greeted with a mutter of half rehearsed english, i assumed the worker was ready for my order, eitherway i ordered a larger meal with bacon and cheese and specificated the filling being without salad or mayo, when i got home not to my surprise, i had a single piece of chicken in a bun... oonce again a disappointing meal at kfc. Its a roullette as to wether i make the night unwounded!! And to add insult to injury the ingenuity of your chipdrens boxe meals i leave you the attachment i hope i need not comment further...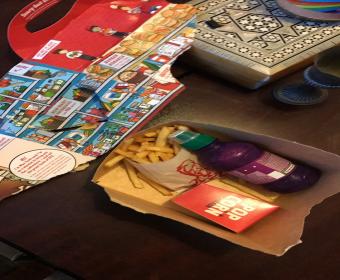 christie dent
from Hurricane, WV
yesterday my husband stopped at rhe kfc in louisa ky to get the $20 filet meal when he got to window they told him they only had 5 pieces fixed and asked did he want to wait for them to fix fresh he said yes they parked him cars streamed thru drive thru almost 30 min later they finally brought his order out i dont know how long exactly it takes to fix filets but id assume pressure cooking it shouldnt take that long and even if it did shouldnt they had enough fixed up all honesty since new owners this resturant really sucks ppl always waiting on different things on buffett chicken biscuts just name couple things

Debbie smith
from Los Angeles, CA
No pot pies three times I've been there. Requested phone number refused to give me.

Sacha arnold
from Lewisham, ENG
What a terrible service, staff didn't know what they were doing running around like headless chickens. 1 girl was doing till, fries, and trying to give out food, another one was just stood there not got a clue. I use to work for the company's which gives great training, so I don't understand why they had no clue what they were doing. Food order was wrong had to go back 4 times
Very disappointed with the vist with my family
We were at havant NEW kfC next to Asda
Many thanks
Sacha

Gloria San Nicolas-Avery
from Los Angeles, CA
My complaint is KFC at 2424 Encinal Ave in Alameda .Vs. 94501 Manager and store owner Had Her 6 or 7 yr son running in the area where staff were working on this day around 3:00 pm pst customer had tried to explain abt a safety issue because of hot equipment running and Manager Started cursing and yelling at customer. "This is my store and I can luv my son here and threatening customer that she was going to kick my ads. Police arrived gave me information who to report and I am now reporting plz Contact David Novack and return my call at 510 228-2504 Thank you a quick response would be greatly appreciated

Mary C. Jojola
from Las Vegas, NV
I stopped by KFC and ordered 2 Bar-BQ chicken little sandwiches. When I got home I found there was only a whisper of bar b-q sauce on the sandwich and only on one side of the chicken tender. There was more mayonnaise than bar b-q sauce on the sandwich. Also the bar b-q sauce looked dried out. Maybe left over from yesterday? I tried calling them to complain but they would not answer. The restaurant is #0212091 @ 71 North Nellis Blvd. Las Vegas, Nevada. The ticket is #2485. I have ordered this sandwich before so I know they definitely messed up this time!! It is too hot here in Las Vegas to drive back to complain in person!!

Devon Adkins
from Saint Joseph, MO
I was waiting for my food for half an hour, they were giving the people who were behind me their food but not mine. They didn't know the orders, so I had to go up to them for my order.

joseph cianciolo
from Clinton Township, MI
Piked up a bucket of your chicken yesterday at KFC only to be disappointed when we sat down to eat. The chicken pieces looked like they were cut from a small Turkey- (all the pieces were 2-3 times there normal size} The meat was very tough and we were having difficult time chewing (Tough) I thought that your outlets had standards on size and preparedness. Unhappy customer....

Vanessa Fry
from Trowbridge, ENG
We went to Trowbridge KFC today 28/7 for a simple coffee. My husband decided on coffee and a cookie and myself just a coffee. We were told we could have black coffee but nothing that needed milk because they didn't have any. My husband was also told that no cookies were available also. The store was empty and I can't say I blame people. They were queuing at MacDs. The toilets were stinking. When the occupant next to me flushed her loo the water and contents came up to meet me in mine it was disgusting.And no working lock on the door. It will need to pep up the store for me to want to go back.
Vanessa

Lynn Windham
from Odessa, TX
I stood at the order counter for 15 minutes waiting while the employees were either texting on the phone, another was sweeping and one was trying to fill orders. There were 7 other customers in the place and they were all eating their food. The poor guy trying to work in the kitchen did tell me that someone should be with me soon.

Beth Meiers
from Morgan Hill, CA
I volunteered to head a committe to provide a picnic lunch for an organization I belong to. The date was 7-21-18 I decided to have the luncheon provided by KFC. A couple of months prior to the event, I visited our local KFC. Terrence was very helpful at that time answering my various questions and providing me with a catering brochure. At that time I was informed that although your brochure states that delivery is offered , that service was no longer offered. I used the brochure to determine how much we would need to charge each paarticipant for the items we wanted to order so that we would break even.. Four days before the event, I went back to the restaurant to give Terrance my order. I requested the BBQ Baked Beans for one of my sides and was told that they were no longer available at that location. I then requsted Corn on the Cob and THAT was not available so I chose Potato Wedges instead. After my order was completed, I asked Terence if he could give me the total that would be due at time of pick up He said "unfortunately" he couldn't give me the total and that I should just add up the amounts listed on the brochure. I did so and arrived at a total of $317.88 not including tax. When we arrived to pick up our order we were informed that the total due was $363.41 not including tax.....a difference of $55.53. First of all, your Corporate Office should provide your stores with current brochures. Secondly, Terrance should have informed me that the brochure was outdated and definitely NOT told me to determine the total cost by adding up the incorrect figures. I feel that I am entitled to a refund of the additional amount $55.53 Thank you for you attention to this matter

Rena P
from Baton Rouge, LA
I visited KFC location on 3709 Hollywood St on 07/22/2018 thru drive thru and after placing my order presented KFC coupons that were mailed to me and was told by the night shift manager that the restaurant was not set up to accept any coupons. After purchasing my order, I was served cold food... I immediately refuse the food and was told that fresh food cold replace but I would have to wait and have it bought out to me...while waiting I came inside to use the restroom only to find both men and women restroom was over flooding with sewer and having a male employee in the ladies was down right DISGUSTING!!!!! I notified the manager on duty and was told that they always be in those conditions and that she was unaware that a male employee was in the ladies restrooms. After waiting for my order, I was served again that same cold food. I tried calling the restaurant to informed them of the order no one answered the phone after several attempts. I called another location (Perkins Rd) and left my name and number to have the area supervisor Renee to give me a call. As of this written complaint, I have not received a call from her

Karol. M Isenberg
from Kirkland, WA
in the drive-thru, when I asked what side dishes were available, I was told to read the menu. I am sure the young man did not want to be there since it was a sunny and very hot day. I know that it is most unlikely that I will return any time soon Perhaps this is the NEW customer service but, since I belong to the old school, I will not knowingly subject myself to that again.
I too am in business and know that I could ill afford this attitude with my clients. Hence my writing
Karol. M. Isenberg
Thanks for your feedback!
Sorry. Please try again later!