KFC
KFC Complaints Continued... (Page 7)
723+ reviews added so far. Upset? Call KFC corporate: 1-800-225-5532

I was in the Rockyhill CT KFC on Sunday Jan 6, 2013 we placed a order for a 12 piece Meal for 26.99 which should of had 2 mashed, 6 bisquits and a cole slaw, we only received 1 mashed first problem. Then we also ordered a 3 piece orginal recipe meal for 7.79 which we did not even receive. The only thing that was correct in the whole order was the 6 piece strips.
I called the Rocky Hill store @ 860-257-7255 and was told I could come back for what they forgot well I live at least 10 miles away so no to that. He then told me to just stop by sometime and he would give me a 3 piece he had logged me in the book well again and I am not over there very often so I asked that they credit my account and I was told they could not do that either.
This is insane not only did I not get what was ordered but now I spent 46.00 for something that we never received and my husband was so disgusted that we both did not even eat. I think this is ridiculios and I should be refund the whole meal I am driving back over there on my gas so I can get what they forgot to give me. Very Upset

I am from Cairo Egypt. Living in El Rehab City. On Friday 11Jan2013 by 16:00 hour me and couple of my friends agreed to make an order from KFC that is located less than 1klm from my house.
So I picked my phone and contact the delivery serving center and began to give them my order, but the person who has taking my order advised me that he would not be able to take my order as the electricity in the related branch next to my place is cut off. I asked him to transfer me to the complaints department to raise this issue and to find a solution with me.
A lady replied on me under the name of Soha. Advised me that would not be able to place any order to my as the related branch near to me has a problem of electricity and they do not deliver.
So I have asked her even if I pass by them myself in tge El Rehab branch would I be able to make my order, she advised me back that the branch is opened but they do not serve customer due to the electricity problem.
Even when I have asked her of the other nearest branch that could serve me, she advised me that there are no other branch can deliver me, so I asked her of the nearest branch so I can reach it myself and do the order, she advised me that she knows the nameof the branch that exist in a mall but when I asked her for its address she replied that she does not know and that she can give me its number and I call them to know their address.
I have have asked her at that time to open a complain ticket for me and when I have asked her for the ticket reference number she told me that there are no such a thing and the complain has been rejestered under my phone.
I did not have any choice except taking my car and go to get the order myself. I took couple of my friends and agreed first to check on the related close branch that has a problem and the surprise was that the branch was working normally and accepting orders, serving people, even when I asked for the branch manager he advised me that they did not have any problem of electricity the whole day.
I have called the call center again "complains" asked for the related manager, advised him with what exactly happened to me and that I am talking to him from the branch that was suppose to have a problem with electricity and that I was able to do my order and that they did not have any electricity problem the whole day.
My problem here is.
1- I could not get my service properly.
2- There was a miss communication between the call center and the branches
3- When I have arrived to the related branch, I felt that the responsible in the call center were lying on me
4- I had to leave the people at my house and to go myself get the whole order.
Make sure to find why this whole lie was raised and I was not be able to be provided with a proper service. Note, I would thank the related branch manager for his assistance, as his cashier in the branch was also under stress and was unable to fulfill my order.

My daughters and I ate dinner at KFC tonight and were very disappointed in the service and the food on the buffet,the food was old and dried up,no fresh chicken or biscuits,no forks,napkins. Every time we needed something we had to ask and it seemed to bother the employees standing around doing nothing.For 23.00 dollars i think they could have done a better job,it was not busy at all maybe 5 other people in the whole place.We will not be going back!!!

I and my family of 40 walked into your store on 4-23-13 to order a picnic valued at around $200.00 and we were totaly ignored by the staff and even the manager of the store. And yes there was only 1 customer in the store. So we left and went to chick a flick down the street. I will never eat there again and will not recomend you all.

My husband and I have lived in Ontario Oregon for the last three years, we recently visited the KFC there and were very dissatisfied with the Customer Service we recieved there. First of all I told one of the employees that the ice machine was broken, and he just blew me off, so I went back to the table to get my husband to try and get it to work, but he couldn't do anymore than I could with the machine. So to some up everything, we were unhappy when we left the resturant, and have Know plans to revisit. I think you need to revisit training employees, as they really don't understand how to treat their customers.

On 26/02/2013 i went to my local KFC in swindon, as i was waiting for my order some guy walked in complaining about mould on one of the buns to his mini fillet so decided to check mine in the shop only to find i had exactly the same problem, i walked back to the counter to complain, all i got was a grin, he then took the burger and bought another one out to me, i had no apology from anyone in the shop, i am absolutely disgusted with not only the food but the way i was treated as a paying customer!
I will wait for a reply back and if nothing gets done about it i will take it further!

I never had a good experience everytime i go to KFC, the first experience i had that really pissed me off , i was given an uncooked chicken at the drive thru in one of the store in prince albert, sk (near days inn) We complained about it the next time we visited thier store but staff there they just listened & didn't do any action nor apologized. Today, may 5th 2013 12:40nn we happened to drop by again at kfc idlewyd dr in saskatoon for lunch, i didn't know that if you order a chicken meal they always cook a thigh & drumstick part but i wanted to have 2thighs so i asked if its possible to have it changed, the staff incharge in food prep sounds so rude, i just left the counter & didn't bother to get her name since i don't want my holiday ruined because of her but i can't let this experience pass without complaining. To kfc management, you should train your staff in giving your customers the excellent customer service we deserve, i have been a customer service oriented person for 8 years & i tell you customer service really matters.

I went to KFC just about 30min before. Yesterday i had received a coupon from KFC Saying get $2 off from your next combo meal or 2,3,4 piece chicken meal at KFC. The girl there refused to give me $2 off i'm pretty sure she did not understood what the coupon said. People working for KFC do not even know how to speak English properly i mean this is about our food they should hire people who understand English she said No that does not include combo even tho it said combo meal. i was going to tell her to call someone else but because there was a line behind me i was like what ever and i dint say much i dun care about $2 off but if im going there with a coupon at least they should know there promos and what deals they have I will never ever go to KFC cashiers are rude they don't understand there own COUPONS how LAME!

I recently dined at manvers way KFC resteraunt in barnsley South Yorkshire we had to wait 15 minutes before we were served despite been the front of the que and once we had placed our order we had to wait a further 15 minutes t get our food which wasn't very warm when it was served to us due to the amount of time we had already had to wait we decided to leave the meals and go elsewhere

I placed a order for 40 pieces honey barbeque wings for my grandchildren dinner.I was pacific about the chicken wings not being spicy, when i got home and served the children they were firey hot. I called the store to complain about the order that they had gave me and I talk to the manager Jeremy and the General manager Lisa and was told that all of the wings were firey hot and they just dipped them in barbeque sauce and I no that is not true for all kentucky restaurants because I ordered some from another store a few days ago and they were perfect. The sign states honey barbeque or firey hot.I was disatisfied with the service there service.Thank you in advance .

Dear sir/Madam, I am a usual costumer of KFC. Today Morning at 11:30am I was purchased two party meal from Mangaf shop (Block :4, Kuwait Cahier name in bill Mr. Eslam hesham). And I requested to him to provide me 20 paper plate he refused to give, normally they were providing. But he replied me that now company is not allowing more than 15 paper plate. I feel very bad when he replied this way this kind of service will spoil your company goodwill and customer satisfaction

I am very disappointed as once again when we got home after purchasing KFC we were not given all our order and hear we got was incorrect. We ordered a family pack with one burger to have just chicken only and also a snack pack. When we got home there was no snack pack and no plain burger. This was very upsetting as that meant my son had no dinner and the grandchildren had to have a few chips in bread. It's is not the first time it has happened but I just couldn't be bothered to complain.
This time I have had enough as we got charged for what we ordered but did not get what we wanted. We have KFC every week so we are good and regular customers who are not satisfied with this service. While I understand it gets busy, I would think that one thing they would do before giving you the order was check it was all there. I look forward to your response. It was purchased at gunghalin store canberra.

debra smith
from Staunton, IL
I'm upset about the quality of KFC today. It's slipped many times in recent years to now being one of the worst ever. How can your franchise serve chicken like that. They were so small had to go and make more food at home to eat to get full. What ever happened to QUALITY... I quit buying KFC six years ago for the same reason, thought I would give it another chance. $23.00 for anorexia chicken. Never again.

I have been patronizing the KFC location in DeQueen Arkansas for the past 8 years since moving here. This Business is progressively becoming more and more poorly run as the dining area is always filthy. The salt and pepper shakers were greasy at out table today and the chairs had to be raked out before we could sit down. The windows and floor are nasty in the dining area as well as the floor in the kitchen. My Wife wanted to go somewhere else before we even ordered, but I was rushed due to owning a Business in town myself and had limited time to eat. Dining out is limited here due to being a small town, but there is no excuse for uncleanliness in any public Restaurant that expects to have a steady Customer base.
This KFC is going down. The food is usually good, but the thought of the process and help handling it is not appetizing at all. The Manager was filling an order and asked the Employee cleaning and wiping tables to help us. He did not wash his hands, had no gloves on while separating our buffet plates and cups to put on our trays that were also wet. The help employed there are very undesirable looking people also. I do not want any "free meal," "coupons" or anything else from you. I am letting you know this as one Business Owner to another. Someone needs to try to clean up this Restaurant while you can. I'm done eating there until I see improvements. Sorry for this note, but I felt someone needed to know.

Nicole Morgan
from Paramatta, NSW
Hi, My Name is Nicole Morgan, I went through the Merrylands drive thru at the Merrylands KFC store on Saturday 7/2/2015 at 1pm. Ordered my food which came to a total of $35 the order was all wrong and when I question the young lady who served me all I got was attitude and she completely ignored me. I will never eat at a KFC restaurant again. I am extremely unhappy.

Jessie Richmond
from Swartz Creek, MI
I choked on this bone, and complained only to be told by the store..well your ok and we all make mistakes and no ones perfect? We will give you a free 2 piece dinner. I am upset and insulted. This happened Friday the 30th of January 2015 at the Grand Blanc MI store on Dort highway. I have pictures of the pot pie and the bone if needed.

Tina Boyd
from Brantford, ON
Hello... I don't usually write in to complain, and I'm usually the one who sends the positive emails of praise, but...... I am REALLY not happy with the service from today. First of all, as I entered KFC this evening for a meal, I noticed it was pretty backed up and no one seemed to be getting their food. I waited and watched as the cashier kept taking orders and the sole cook was beside herself frustrated at the lack of organization of receipts. Every order was messed up and people were ending up with the wrong orders. As I waited, someone who had just left, called in saying their order was wrong. A guy who had placed his order an hour previous was yelling at the young cashier because he was STILL waiting for his order.
I honestly felt so bad for the two girls working as you could see they were trying so hard. The thing is...... I waited over 40 minutes for my meal, which I honestly didn't mind (although I was getting pretty restless and annoyed as orders kept getting taken when about 10 of us were still waiting for ours and it was obvious to everyone that they needed to slow down and organize the orders first) My order was placed at 6:28pm and I finally received it at 7:09pm. It took 40 minutes!!!!!!!! But that's not even what I'm upset about, I could handle the long wait, what I can't handle is that when I finally got my food, not only was it SUPER cold (I don't live far at all so it should've still been warm), my fries and popcorn chicken were way underdone and so soggy (we couldn't even eat them), the grease was literally dripping off the chicken pieces (WAY more than usual) like they hadn't been left to drain at all, and the dip'ems were tasteless and chewy. Even the gravy was so chunky with slimy balls in it that even once stirred, my kids wouldn't touch it. The only good thing about the meal was the salads, which were great.
I'm frustrated because I spent $54.22 on this meal and we don't get to have this very often so it's a treat when we do. This was extremely disappointing to say the least. Like I said earlier, I don't usually complain and I'm gonna be honest to say that I've complained twice in my entire life and both have been to KFC for this location. Funny thing is that I stopped going to that location after my last bad experience, especially since I never heard back from my complaint. But I figured it was a long time ago so I would give it another chance..... and THIS is what happened.
I am a store manager at a large retail store so I understand the importance of customer service. I do hope that unlike the first time, I hear a response from you regarding this horrible experience. Date of visit January 31st at 6:28pm KFC #1518 - Charing Cross, Brantford ON Term ID K3101518 and total $54.22. Please understand that this by no means is meant to jab at the girls working since I know they were getting stressed and flustered, but of the circumstance that caused me to waste a great deal of time, food and money. Please feel free to contact me if you should have any questions.

Carla Claycomb
from Crawfordsville, IN
My son and I went to the KFC on Lafayette Ave. in Terre Haute Indiana. We were in Terre Haute for a dance competition at Terre Haute North High School his daughter was in. We got to the high school, paid, she performed so we decided to go out and get lunch before she performed again. We went to KFC and was very impressed. It was clean, the employees were friendly, the food was good however my son left his coat there and another customer had to have taken it after we left. We are not accusing any employees of taking it. The coat was a medium green aeropostale mens coat. We left and realized he didn't have it so found the number on the internet and called. They said it was not there so we too went and looked and it was gone. Gary is 38 and dealing with some health and financial issues. I asked if security cameras could see who took it and was told there are none in the dining rom. Yes Gary left it there but a customer had to have taken it. I was wondering if you have any suggestions because it was a coat his brother gave him so not even sure how much it cost.

Richard Johnson
from Houston, TX
Stopped by KFC at 9510 Main St Houston TX today (1/30/15) around 3:30pm to treat my kids. The service was slow. I noticed that several customers had received their food prior to me placing my order. I called out my ticket #4497 to the (female) cashier and before she responded a male employee shouted out and began cursing and threating me physically in front of my kids and several customers standing waiting on their order. As I stood their with my kids not knowing what to expect next. The manager standing as an on looker did nothing to defuse the aggression he had towards me. She later pulled him aside as if it was OK and more my fault.
A female customer in line (Lori Williams) asked if she could call the cops. I said thank you and she did. The cops arrived 45mins later after the manager slipped the male worker out the backdoor and denied everything that happened. She refused to provide the store owner's name and number and continued to lie in to Ms Williams who witnessed the whole incident. This was an extremely frightening experience for my kids and myself. And for the manager to try an cover up and protect an employee of his wrong doing is an all time low.
A police report has been filed. And I promise you that I will see this to the end.

Christopher Eklund
from Hanoi, 64
I'm American living in China. The KFC does deliver breakfast food at all in the city of Wuhan where I live, so today I ventured out in an ice storm (I didn't know when I left or I wouldn't have bothered) to get my favorite breakfast at KFC, the bacon-egg sandwich with the real bread which is a luxury in China. I live in Hankou, and all of the KFC's near my home are on Jifeng Dadao street. I had to go to three different KFC's because each one was telling they were out of the that sandwich (the ham one too), and I was furious because I was freezing cold, burning my hands off as I forgot my gloves, it was that important I have this breakfast. But three places said no. Finally, at 9:50am, at the third restaurant, I explained to one Chinese girl who had good English that I had gotten out of bed early, drove to two other KFC's and now was frozen nearly to death, and two other stores had refused me. I said "Why? Why don't you have this sandwich? I've been to KFC's in Hangzhou and Shenzhen and they always have them.
No one ever eats that sandwich but me. At those cities, I ate the same meal every day for a week while on vacation, it was always there, because they don't run out of something Chinese people won't eat. So I am sure you really do have those sandwiches, you just don't want to have to make one because it will take you 10 minutes, and by then it's 10:00, isn't that the truth?" And she turned red and nodded that yes, I what I said was true. And she told me they have the sandwiches and that she would go ahead and make them for me. Which leads me to believe that none of the other restaurants wanted to make it for me, and so they lied about not having them. In China, KFC's are willing to throw away customers and not help them, and even infuriate them and make them hate you for not having certain key foods that really make our lives feel happier in a country where our kind of food is not popular and is not found often. For example, in 2010, China banned pancakes from all McDonald's in china.
PANCAKES, a foreigners favorite breakfast food. It was like China and Mcdonald's were saying "forget you, we hate you, get out of our country!" ... they are many of my foreign friend's and my own favorite breakfast. Now I go to KFC for this breakfast sandwich which is the best, because they won't even deliver that to us in the morning! I would order this every day, spend $10 a day if I had to! (Delivery is only $1.25 in China, very cheap for delivery fee, and no tips can be given, either.) KFC Corporate, you've got a real problem with customer service in China, I just wanted you to know. You don't make them support delivery, and we the customer never know when they are lying about ACTUALLY being out of anything, since the main reason they say they are out is because they don't want to make that food because foreigners are the only ones who eat it and they either A)don't know how to make it or B)refuse to make someone's day that much brighter by offering the very thing they came there for. It's just sick.

david suire
from Lafayette, LA
I had a very bad service at your restaurant #K032026. The location is 2630 N. Westport Drive, Port Allen, Louisiana and the phone is (225) 346-1748. My son and I stop to get something to eat, on Sunday January 25. We place our order and we had to over 30 for us to receive our food. My fired chicken was cold, and my son order taco bell. There was three people working on the KFC side, and only one person was working. The other two person was just standing around. I always enjoy eating KFC and Taco Bell, you shouldn't have to wait over 30 minutes for your food. I am just a concern customer, and you need to know what gone on at your restaurant.

sayed jaffar
from Dubai, DU
I like KFC a lot. I always go there to eat. Today when we asked for 3 lunch treat spicy we have been served with non-spicy chicken pieces. One of us went and asked so the guy in KFC changed his entire plate and he got spicy chicken.me and my other friend didn't bother but we left without eating n decided not to come there n tell our friends as well. More over the guy says he has never received a complaint from people eating same chicken. Please understand we are not mad to complaint if we have got the right spicy chicken. This is Happened At a KFC outlet in Dubai (Al Khaleej center mall- Bur Dubai, Dubai, UAE). I will suggest my friends not go there again.

Col Rupinder Singh
from Mansa, PB
I am one of the oldest and biggest fan of KFC but yesterday at KFC Barnala road Bathinda when we asked for RIZO RICE and FIERY GRILLED CHICKEN we were served with plain boiled rice with soggy cold fiery chicken . On inquiring we were told that company has recently changed the contents in the dish and method of preparation. A huge disappointment. Ultimately went to Mcdonald close by.

Sayed jaffar
from Dubai, DU
I like KFC a lot. I always go there to eat. Today when we asked for 3 lunch treat spicy we have been served with non-spicy chicken pieces. One of us went and asked so the guy in KFC changed his entire plate and he got spicy chicken.me and my other friend didn't bother but we left without eating n decided not to come there n tell our friends as well. More over the guy says he has never received a complaint from people eating same chicken. Please understand we are not mad to complaint if we have got the right spicy chicken.

Dennis R. Lawrence
from Wilson, NC
My name is Dennis R. Lawrence I have been employed for five years part time at the kfc in Tarboro, NC, never miss anytime out of work for anything. Just a few weeks ago my mother passed away so the general manager Monica Ricks.. gave me a few days off . I work a full time job so my schedule at kfc is 7-10 and 7-11fri. And sat. Yesterday 1/23/2015 I was only 15 to 20 late due too traffic heavy coming from work and the general manager Monica Ricks got a cashier to call me and say u just got fired. The general manager claimed to call me numerous times never received any calls from kfc, never did she call my home phone. Then when I arrive at kfc she had already left 10 to 15 min. Prior to me getting there and left message for me to leave my shirt and hat plus she had already call another employee in too do my job. But never did she contact me direct as general manager. She said it was a no call no show but i arrived at work 7:20 I was a few minutes late but i did showed......Then most night that I get off at 10 she tell me it's my job too stay there off the clock until then manager on duty locks the restaurant for the night or the night she do inventory I have to clock out at my regular time but still stay there off the clock til she finish .. so that's working off the clock..she has a very nasty attitude don't know how to talk too the employee very disrespectful! My question is if u disrespectful too your employees how do u as general manager expect your employees to be respectful too the customers. Then I only work 3 hours a day and she have me to clock out 30 min for break period I thought over 4 or 5 hours then u clock out for a break period I'm not sure but most employers are different. I really need my job.

Sabir Hussain Muhammad
from Sharjah, SH
Hi , I went to KFC Al Ramsa , sharjah, uae. me and my 3 brothers faimly we are regular costumer. but last night I was realy disappointed to find the recook chicken. means to say the chicken was not fresh. just little bit worm. the potato was also not fresh .i also order for the rice . but result is same. the rice was also not fresh and its happening last 3,4 times.If this is a change in your product we will go some another fast food.We also notice that there is Not much chicken. What was there was dried up. Empty pans. Mashed potatoes dry. 2 workers sitting on a chair.staff manager also sitting on chair and enjoing the music.he dont care about costumer. just 1 worker sweeping the floor and Puddle of water on floor. Now I know why there were only a handful of customers in there!

Ken Harlow
from Sunapee, NH
I went to KFC in Claremont NH got 4 famous bowls. I was disappointed to find that there was only 4 small pieces of chicken in each one. I also got 4 biscuits and there was no butter with them. If this is a change in your product we will go some place else. We have also noticed that there is no more popcorn chicken. Thanks for your time.

vidal clark
from Moody, AL
Just like clockwork every Wednesday night I go to the KFC in Leeds, Alabama to order takeout for dinner. The last 2 times I went to get food there it was around 7:30 and they was out of Original Chicken. This was made known to me after I had swiped my debit card. I only get a 10 meal most of the time so I was baffled that they didn't have 10 pieces of Original at 7:30. So I agreed to take Extra Crispy. Come to find out they was out of wings in that. So I told them to give me whatever at this point. The lady said she would give me an extra side for my trouble. When I got home I realized that the free side was a bowl of gravy and she forgot my Biscuits. As much as I love KFC I just really hate going to the one closet to my house because I know something is gonna go wrong.

Donna king
from Jonesboro, GA
We ordered 2 señor buffets. It was 11:45. Not much chicken. What was there was dried up. Empty pans. Mashed potatoes dry. Chicken livers. 3. Never got refilled. 3 workers sitting at a booth. One worker sweeping the floor. Puddle of water on floor. Now I know why there were only a handful of customers in there! Our bill 14.82. Won't go back. 3 dried up biscuits ! Gross! KFC. 205 hwy 314 Fayeville ga Restaurant # E121020

Tara Smith
from Orlando, FL
I went into the store on East Michigan St in Orlando Florida 32806 and was denyed service. A few years ago this also happened and my daughter and I was confronted from a manager outside of the store about a check that we had given them for a company my ex husband was working with. Apparently he had given several of these. He got several large/catering orders from places, this specific one he'd asked us to hand them the check (my daughter) because he had to go to the store, she did later to find out the checks he wasn't aloud to use. He has since left the state and the company was closed. I had no knowledge about it nore did she, we have lived here next to KFC since before it opened, we were there the day it opened, I am known around here by everyone. I have never done nothing like that nore has my daughter she's 17. I'm disabled in a power wheelchair and I'm quite offended as to the way we were talked to and treated. If this issue isn't resolved I will be contacting a lawyer.

kulsoomkamran
from Dubai, DU
I went to KFC C.C.DEIRA yesterday 15thjan2015 at 10:31.My receipt number is 30746.The lady who was taking order was philipino and could not understand proper english except those pet words which she is used to.Her name is CARMELLIA.She said me "what are you saying I dont understand you".She said that in a very rude an annoying way,after I have already given her the order.I said her that i want two sets of chicken pieces with two pieces each.One set spicy and the other non spicy....Well I had to explain my order again for which she said..."one by one...YOU TALK TOO MUCH"....This thing really pinched me that atleast you should respect your customers.How come she said her customer that you talk too much...Such a poor customer service.My order number was 97....After I got my order...it was two sets each having one chicken piece n one burger...Now i never ever mentioned burger...where did she get the idea that I wanted burger....when I showed her the Order she was very annoyed n changed the burger into the smallest wings she could ever replace with...ofcourse she wanted to serve the worst she could ever do....n when i said that cant i have a better piece for which she replied "that is what we have "in a very very rude way.N then she started taking order from the other customer,completely ignoring who Ever is there.......That is reducluse...I felt so upset That i didnt even talk to my husband about it and started to cry.He just couldnt understand what happened n then we packed it up in tissues n didnt feel like eating it.

made an order Jan. 15,2015 at Hamdan branch around 11:21pm...orders made before and after mine were already served so I approached a crew to follow up, she said to just wait till my number is called. My order # is 69 and are calling 92, so I came to ask again another Filipino crew, only to tell me another 10minutes I have to wait since the order was not relayed. I waited more than 20 mins and I guess 10minutes more is a stupid thing for me to do... it was 11:48pm then... the cashier then asked me if she can give back my money...it get into my nerves so i left after taking the receipt without the money due to frustration...it's not a matter of placing a cheap, single order...the manager was there but he didn't do anything

My wife went threw drive thru at the KFC located in Oakland Maryland 21550 the manager working (Chasity Hall) and my wife do not get along she told my wife she refused to serve her and that she would call the cops if my wife didn't leave the store we have a witness to this event and would like to have drastic matters taken on this so that No legal matter need to brought up... Thank You for your time..

Rick Gonzales
from Visalia, CA
I have been at KFC number H830015 in Visalia Ca several times at 12 lunch time and they never have their pot pies ready. Why have something on menu when it's never going to be ready. Cashier and mgr could careless of my complaint. Marie Calendars is wher I will be going to

I just bought. A box of chicken tenders when I order at the drive thru the guy took forever to understand what I'm ordering. Then I had to 20 minutes for my order he could of told it would take time to make. What a horrible place to go grt food . Super upset with the people servicing the location was on New Ave. and Valle y Blvld. Ca

I went to the local KFC to grab food for me and my family, when I asked for original fried chicken they told me they where not going to make any more and that I had to take what they had. This was not what I wanted so I left, not to mention that I over heard the manager talking to a customer about under cooked food.
I was disappoint by this and as I am a shadow shopper would have given them the lowest grade possible for this shop. If you don't believe this have me shadow shop them through Trend Source which this the company that I work for out here. I am sorry to say but things have to change or you will loss business.
I was going to post this to the web i.e Facebook and other online places that for warn customer of bad places to eat. But thought that I would send you an email instead. best of luck and thank you for the years of good food, please fix our KFC it's like a second home to me :'(

I visited the KFC drive thru which is only 4 min from my house. this is the third time I have been there and yet again very bad service. I had to repeat my order to the girl 3 times and when I went to collect it there was only 2 piece's instead of 3 which corrected, then when I got home I was charged for beans but never received them the fries looked as if they had been chucked in the carrier instead of the containers and the whole meal was yet again cold so had to be warmed up in the oven which never tastes the same. I've tried phoning them but no-one ever answers the dame thing I will never visit there again I will continue to use our other local one called Favorite fried chicken. I have written on your customer reviews and told all how very poor the service is, perhaps you should retrain your staff or employ new ones.

I visited this KFC location yesterday 4/3 at 6pm. When it was my turn to get my food at the drive through window, the worker at the window placed my two orders in a small paper bag instead of a plastic bag and when handing it out of the window, the bag ripped and all food fell to the ground between the drive through window and my car. The girl at the window immedidatly slammed the window in my face and stood there for me to drive off and/or pick up my food from the ground. I did pick up the food from the ground and hand it to her through the window and informed I did not want that food after falling on the ground. She and the manager took the two boxes out of sight and came back in a couple of seconds which was obviously two soon for them to re make my food. After she came back to the window then with food in a plastic bag as it should have been from the beginning with a horrible attitutude as if i had done something to her. I asked for her manager, the manager came to the window and I informed that I did not want the food off of the ground and demanded my money back.
Again with a very nasty attitude she did give me back my money but there were no apologies or this entire episode. The thought of how the girl at the window just slammed the window after my food dropped to the ground makes me never want to patronize another KFC ever again. I thought when food drops it is the worker's responsibility to come out and pick up the food off of the ground. After handing the food back she just threw the food to the garbage as is she was throwing a football. The same food she expected me to pick up from the ground and eat was just thrown to the garbage. I am so disappointed in this establishment and the way I was treated.

i was at the kalgoorlie kfc on the 29 of march i ordered a family feast waited 45 minutes for the order and upon returning home with the meal i noticed not only my chicken being raw but the whole box of chicken was raw as a qualified chef and mother i rang the store and asked to speak to the manager i was told to bring tchicken back which i did and by the time i arrived at the store it had closed i rang again the next day only to be told it was my problem and i should have taken the food back to the store the manager then told me tget a life and stop being so fussy needless to say i was not at all impressed with the service as that is a weekly treat for my family my children were very ups.

The place was a filthy mess and the rest room looked like a rest room in an old garage I have pics ordered 2 piece dinner white meat got a breast and a 1/4 of a wing the wing was one small bone with breading on it I ask the manager and he said it was a wing and walked away this place is a big mess with very small portions will never go back to that kfc ever and someone need to go look at that place and how filthy it is it is located at 4721 Morse Rd, Columbus · (614) 418-9104

I have just working for KFC, I have no training whatsoever which annoys me because I believe I am a hard worker and willing to learn. I am keeping making mistakes due to lack of proper training and I notice that managers and employees are getting annoyed with this but the management team say this is the only way I can learn. I am having low morale and confidence due to customers complaints about me but I do not want to quit because I need to support myself and for my family.

went to our local KFC Sunday March 30 2014 approx. 7 pm. Could not get product that I wished to purchase from your menu. Stated they only had a few items left that were available. They refused to make chicken breast original .The attitude from their staff was degrading. I ended up with the 20 piece boneless family dinner for $28.00+ the chicken was hard as a rock and may have been sitting for a long period of time. Threw out your product and made PB&J's for my family dinner, not only was my family disappointed, I was out $28.00. I hope you can address this situation and tell that location that they need to be fair to the consumer. Thank you for your time in this matter.—Karen Greene (860) 370-9171

Each time I've gone to the KFC in Federal Way Washington (98063) I had surprising experiences. 1. Sunday Night at 8:20 pm, (2 months ago) I called to find out when they closed. I was told by a male voice "9 pm", so I jumped in my car and arrived there at 14 minutes before 9 pm. I walked in and a woman standing close to a side door yelled out, "We are closed." I could see all the food was taken down. I said I called and was told you were open until 9 pm. The manger (she said she was the manger -I asked her name and she said Bonnie) said, we close early most nights.
A young man came out of the back and said, "He did call, and I told him we were open until 9." The manger, who was clearly up set with me, as she shook her head, said, "ok, just this one time." So, I went to the counter, ask for this, then that, but there were out of everything…eventually I realized there was no food to buy. So I left.
Recently, last Friday night I went in around about 7:10 pm. I asked if they had any chicken pot pies, they said they no, then I asked if they had any Mac and cheese, there was a long pause and I could hear the young man arguing saying, we need more. He said, it will take a few minutes that he was out. I ask if I could get 3 piece which he said, "yes." I went to the drive through window and bought the 3 pieces of chicken and ask him, "what is up with this place man? you guys are always out and seems really stress out in there…" He said we are always under staffed, Bonnie runs this place her way. I said, "they are advertising the chicken pot pies; I drove all the way here for those, my kids want them and I do too," He said yea, she only lets us make a certain amount when those are sold out we don't heat anymore — he mentioned how embarrassed he is all the time having to turn people away and it was the manger, she just doesn't care, she hates this place.
WHen I got home the 3 pieces of chicken were torn up -was sure but looked like someone took a small bite out of one – it smelled weird- I just threw it away.
Each time I've gone there – when I go in side you can see it not very clean in the kitchen area and they are always out of something, I never gone there once when they had want I originally went there to buy.
It is a shame – that KFC is a joke – too bad – I tried to get a hold of Harman Management group but no response from them -left several calls – I don't know who to complain about – note, this is the KFC right off I-5, there is another one – which I am going to check out – but this one (98063 off 348th street exit off I-5 is a joke)
whether anyone care corporate wise – I don't know but you are killing the brand in Federal way Washington – I'll never go there again- just glad I threw away the chicken – given at least I able to write a complaint – no telling what might of happened if I ate the chicken the other night
Average joe consumer – oh yea, a few friends had similar experiences with this KFC – note, I am guessing via big bags of food leaving before I walked in – via giving what is left and closing early – so I will with hold what clearly appeared as giving away food in conjunction with closing early –

We have lived in the area near the subject store for 10 years, and we have freqented the restaurant many times. A couple of years ago we were visiting the restaurant and Thought the tables were not clean, the floor was not clean (trash everywhere) knapkins, straws, straw paper some scraps of food, etc. I ask to speak to who ever was in charge. I pointed out the issues and suggested that they improve the situation. we were there about another 30 minutes, but there was no attempt during this time to make any corrections. We went back about a week later and it was exactly the same way, my wife and I discussed it and decided to stop using the restaurant.
Until 3-23-2014, we had not been in this restarurant for approximately 2 years. On this day we decided to check and see if there had been any change, much to our dismay. We placed our order and proceed to the drink machine. I had a small cup and filled it. I reached for a lid in the holder hanging on the wall next to the counter. there were no small lids in the holder (2 empty positions), noticed that there were at least10 small lids laying on the floor along with at least 6 straws and straw wrappers. There was other trash laying all over the restaurant. I ask the attendent at the counter for a lid, and also told him that the holder was empty and that the lids were laying on the floor. He got me a lid and didnt say anything else, just turned around and walked away without even looking over the counter to check the situation.
Next we selected one of the only 3 clean table in the place (at least we though), when we were seated we touched the table and it felt very sticky, you could hardly drag a knapkin accross the table it was so sticky. So we hand checked the other two "clean" tables and they were the same way, we really did not want to sit there but we wanted to eat the food we had just purchased in the restaurant because we weren't going home right away. We were in the restaurant about an additional 45 minutes after the counter attendendant was told about the lids, i made it a point to check before we left and the lids and trash wer still on the floor and the lid holders were still empty.
Also, when we did decide to leave we took our trash to one of the trash bins and found that it was actually overflowing, we checked the other two bins and they were the same way. It was apparent that no one in the place really cared about the situation. If it were my restaurant I would have fired everyone on the spot for not taking care of the facilities and supplies. it was not a case of being to busy to take care of things, when we got there there were only two tables occupied, with only two other groups of 2 and 3 people in the groups. so there was plenty of time to manage the situation.
Prior to any of the abovwe, as we approached the entrance which is recessed under a room, we noticed that the entire area was wet with standing water, which had to be coming from a leak in the roof, probably from an earlier snow. the side walks and drive were all dry adjacent to the wet area, so it had to be leaking from the roof. As we stepped in through the door and walked up to the counter we both felt uneasy because of the our wet shoes and both slipped a little, until we got to the rug mat in from of the counter.
We have decided to boycott this restaurant again, because it appears the over the last couple of years there is no one monitoring the cleanlessness or the maintanence of the restaurant. We really like the KFC/Long John Silver food experience, however we will not be going back to this restaurant, even though it is only about a mile from our house and eat out a lot, we will be searching out restaurants that do care. Thank you for taking care of this situation, so we may feel like going back to your restaruant.

Two weeks ago i went with my family to eat at KFC in Blantyre , Malawi.. We ordered chicken, burgers and wings. In the night all the family members started vomiting had severe stomach pains and diarrhea. The next day we went to the hospital and we were diagnosed with food poisoning. On Saturday 22 March 2014 we again went to KFC and the same thing happened. How can a franchise like KFC not have hygiene standards. It is now scary to eat at KFC. The food poisoning has made us so sick and weak. Something has to be done. The whole of Sunday we were sick in bed and even today we are so sick and weak.

I went to the KFC in Elyria Ohio Sunday. The staff was standing around and I had to wait for several minutes before I was greeted and waited on. I got my food and it was very greasy and tasted bad. The mash potatoes where awful. I went to wash my hands and the bathroom was filthy. When I looked behind the counter the area was very dirty. The area under the back counter was very nasty. I will never go in here again. Needs shut down redone and opened with a new staff and a CLEAN store.

On Friday the 14th of March I visited your KFC restaurant in Monaghan town with my daughter at apporximately 7pm to purchase a family meal. When i entered the restaurant it was totally empty excluding the two members of staff, which after my experience I can understand why. I was served by what only could be described as a rude employee. Who barked at us "wot u want" we ordered a family meal to take away,on return to our car my daughter took fries out of the bag they were cold. I returned to the restaurant and complained about the fries when I checked on the chicken it was also cold when i told the assistant he said there was nothing he could do about it. He was not at all pleasant about it, I asked for my money back and left the restaurant. I am a cook by trade and understand hot hold regulations but there is no excuse for bad manners or cold food! I will not be using your Monaghan store again.

I want it known that there was a line going in the drive thru. I ordered my meal of T4 and 2 chicken little. The line moved well considering the volume of traffic. I got my drink and my order. I went thru drive thru and opened my bag of food. The taco's were not even wrapped. There was zero chicken little in the bag. I could not believe anybody would hand out food without putting it into a wrapper. I had to get out of my car and go inside. I asked to speak to a manager. I talked to a Ms. Knight. She was working the drive thru window and handed me my food.
I asked her did she even look into the bag to double check before handing it to me. She said she was to busy to check every order. She asked me if I want them to fix it again and I said no . I felt that if it was a bother to even wrap up the food why would I chance on it happening again. I thought managers set the standard that everybody followed. It took some time for me to get a refund to my credit card. She never said I am sorry or nothing like this happens a lot I guess. Nobody is perfect but to send food out laying on top of the wrapper is not good for business and sooner or later it will cost more costumers.

On Friday, March 14, 2014 my fiancée and I went to Long John's Silvers on East Jackson Road in Macomb,Il for lunch. Our fish and hush puppies were very greasy, In fact the grease was dripping from the fish, and the hush puppies were grease soaked, I threw them in the garbage. and the French fries were cold and limp. We have eaten there several times in the past and was very satisfied with the food. We were very disappointed with the food there. Of course we won't be going back there for lunch again. We will go to Pekin or Springfield when we want fish again.

I am allowed 30 minutes for lunch. In the past I have had to wait in drive-thru for over 20 minutes to get food. Today I actually go in. One girl waiting on people during lunch rush. 3 employees outside smoking. One had her kids there and left them unattended. One being an infant in a baby seat. Manager finally came in, took my order and put my food down to cook. 25 minutes later, I had to ask for my food. She said oh yea. Grabbed it and now I was 2 minutes late for work. Might not be much but I am a sticklar for being on time.
Employees are very dirty and unprofessional. Needless to say I will no be back to this KFC that is located in Osage Beach, MO Very poor work ethics. There were even a couple of guys talking about it and one let me go in front of him because he was just getting a soda. As a former resturant owner, I would be ashamed to say I work for this paticular store. Move way to slow when people are on a luch break. They need to learn elite customer service. Out of a 1-10 point system, I would give this store a -5. On second thought as a former owner I would not hire such inadequate people. I would be very embarrassed to have this staff.

I picked up two of your 9 pc family feast last Sunday and I have to say I ordered the Original like I have all my life. This chicken was terrible. The coating was tasteless and was definitely not the Recipe we all have grown to love. I can't see you staying in business as I don't intend to purchase anything from a KFC. To bad it was once so good.

The KFC chicken I purchased on my last two visits to the Riverdale, Ga. KFC has been very dark and hard. I purchased the extra crispy, but never expected to receive extra burnt. I have purchased from this location for as long as it has been there and have always received excellant properly cooked chicken until my last two visits. I thought the first time well they just have a new employee, but after getting this last batch it is obivious that the vats are not being cleaned properly. Flakes of burnt crush seem to sprinkle the chicken. Either they are not straining the grease before using it again the next day or changing it out when they should. Plus are their timmers broke? The chicken has a dark look to it, hard and has a burnt ordor and taste. I said something to the manager about this problem the first time it happened, but nothing was ever done to correct the problem. This is the closest KFC to me and so I am hoping someone listens and cleans out the bad employees that just don't care what kind of product they are serving to the public. Ticket numbers: #2647 02/22/2014 and #4436 03/11/2014. Your help would be appreciated in this matter. M.W.

First. The food was subpar. The table was dirty and place was empty so no excuse. Third the tray our food was on was simply put gross. There was dried food and not just a little bit but a lot. We go there about once every two weeks. But after that it may be hard to go back. The date was march nineth at approximately two pm. Thank you for your time.

I went to KFC/Taco Bell in Exton, PA, after I got off of work. I am also in the food service industry, a server at a popular steakhouse. And I usually love Taco Bell. I got there at 10:15, after leaving my work starving! I sat for 15 mins for my order and one guy in front of me. I was served at 10:31. That would've been fine, but I get home, the bag two chicken soft tacos were in was so greasy it soaked through the paper that wraps the taco. I asked for extra sour cream on both, and paid for it (pic incl) and there was hardly any on either taco!!  (Pic included).  It's the worst experience I've ever had at any Taco Bell, ever. Couldn't even eat the second one, made me sick.

Worst service ever. We attempted to order. Potato wedges, no wedges. We attempted to order pot pies, no pot pies. We attempted to order Mac & cheese no Mac & cheese. The staff apologized, however, it did not end there we have been in line at the drive thru for 28 minutes and we are still not to the pick up window. Sad to say but the drive thru lane is narrow and you cannot easily remove yourself from it. My time is valuable as is yours.

On Sunday afternoon, 2nd March 2014 i went to Cresta KFC at Cresta Mall and ordered a 15 piece bucket and two coleslaw"s. It was a take away. I was requested to wait 18 minutes because they were still cooking the chicken, which I did. i took my order and drove home and when i sat down with my family to enjoy supper I noticed that from the 15 pieces bucket i had purchased, none where drumsticks.
My three boxes of 5 pieces each were packed with 1 side breast and 4 small pieces of chicken. why did they even bother to put all those small pieces in three boxes because all those little pieces would have fitted in one box. Furthermore as we tasted the chicken, it resembled nothing of the original KFC taste one is used to when you buy chicken from KFC. It was totally blend.
I was not impressed at all and I did not feel like wasting my money and driving back to that KFC to complain. I threw the chicken in my dogs feeding bowls and even my dogs pulled their noses at it. I mean what KFC chicken can taste so bad that even dogs wont eat, besides who purchases a 15 piece bucket and gets no drumsticks at all. who pays that amount R212-00 for tasteless scrimpy chicken wings and reject pieces.
Since when does KFC taste like nothing, not even chicken boil in salt water tastes like what i was sold on Sunday. All they needed to do was inform me that they had run out of chicken and let me decide if I wanted to buy the off cuts they sent me home with. KFC has just lost a very loyal client. i am disgusted to say the leas.

On April 18, 2013, we came to eat at the KFC on Brentwood Drive, Columbus, IN. Anxious to try the new boneless white chicken we ordered the 2 piece boneless meal which included the chicken, mashed potatoes and gravy, and a biscuit and drink for a total of $10.68. This meal was undoubtedly the worst we've ever had. The so called boneless "white" meal was not at all " all white". It had lots of dark meat in the pieces and was mushy and not the least bit crisp. The potatoes had a strange taste to them (we usually enjoy the potatoes and gravy very much). The gravy was even a little watery. The biscuit and drinks of course were okay. But, again the chicken was soooooo disappointing and so we ended up just throwing it in the trash along with the potatoes. I considered just forgetting about it but then decided that was the wrong way to go. Thus, this e-mail complaint. If you are calling it "white meat", you should reassess and having it mushy and not crisp is a definite mistake. I don't understand how you can mess up mashed potatoes but these sure were. Bottom line, we didn't a decent meal we just paid $10.68 for 2 biscuits and 2 cokes. Asking that you consider reimbursing us $10.68 for the cost of our meal. Thanks for your consideration. Also, we will not go there again unless there is some assurance that things have changed.

i entered the store at 8;15. there were three people at the one register that was open. I STOOD IN LINE for 35 minutes before they took my order.I know this was real stupid but—- I placed my order which was special 6 piece leg and thigh 2potatoes 2 slaw. by now my wife had called inside to see if i was ok. after i paid they informed me that they did not have any slaw. I asked for my money back. then the manager told cashier to go get slaw from somewhere. when i went in at 8;15 all the trays were cleaned out like they were closed already I informed the manager that i would complain to corporate about this and she said this was the way they scheduled things

Dear KFC, I have been to your business 4 times recently. Your chicken is so salty that my entire family has thrown it out all 4 times. I kept going back and I complained to the employees about the salty chicken and each time they assured me I would now recieve a normal batch. Wasted my money and didnt get to feed my family. I have made the last mistake with purchasing your food. We now go to Church's chicken.

Four of us tried your new boneless chicken this past Thursday, May 2, 2003, at the Muscatine, Iowa Restaurant . We were all disappointed-the regular recipe which it features certainly had too much pepper in it. It was almost not edible. I don't know if the restaurant makes up the recipe or if it is supplied to them. We will not be purchasing it again.

Store #j625009 in irving texas we went through the drive through and ordered our food. We were told it would be 15 min so we decided to go inside we stood in line for 15 min.we ordered a buy one get one free boneless chicken meal with a coupon. A trainee took our order i asked for an upsize on my drink.outside the sign said 20cents more. He ended up costing over a dollar it took another 15 minutes to get the food and most of it was cold .i have never had this this problem there before .

Last night I consumed the Ultimate Zinger Box, I later became so sick I had to take the day off work and go to the doctor. The doctor said it was Food Poisoning. The cost of medication so far is $27.00.

I would really like someone to call me about my complaint i sent my son to the kimball tn kfc they said they had to cook chicken and would bring it out it 45 min to get order after i called no one anwered the phone i had to get him to take his phone in the reataurant for me to speak to someone they were rude said they were busy never apologetic it is rideiculous service i would really like someonme to call me at 605-3585

I was at the restaurant this evening 5/2/2013 around 7:30 pm, with my mom and toddler. So after I order my food I began to wait for it, it took a few mintues. So after waiting and watching the employee do basically nothing. I decided to ask the young man what I was waiting for. I got no response. So I asked again, and he was really rude. And told me dont ask him anything because he dont take orders. So the young lady that took my order came over and informed me that I was waiting on the shrimps. I said ok, how long. Before she could answer the young man came over to us with the shrimps in his hand in a colander. He asked me if the shrimp look done to me. I jumped back and so did the young lady cause we thought he was about to throw them on me.
I feared for my life and the safety of my mom and my child. I asked to speak with a manager. He came and was unable to defuse to situation, so I called the police. As I waited from the police the employee contiued to yell and use profanity, so for my family and my safety we decided to wait in the car. After the police arrived they talked with myself as well as the employee, who by this time has changed out of his uniform into his street clothes. They informed me that basically it was nothing they could do, no one was phycially harmed. I should call corperate to make a complaint. I need something done about this immediately. I will not return to the location or any other location until I see the I can be respected as a valued customer. I would like to be contacted by someone to inform me of the actions that have be taken if any. If I hear nothing I know I have to go a step further.

Place my order for 12 tenders and was told to pull to side door, they were dropping some fresh tenders. Stated it would be about 5-7 minutes. This was at 3:57 pm on May 1, 2013, I waited until 4:22pm and called inside from my cell phone and was told they were on their way out to my automobile. At 4:53 pm, I entered t he store and asked if my order was ready yet, and was told, "Yes". This was a ridiculous situation, and I feel that I will never return to that store. The service was terrible.

First off, I do not make complaints about service, BUT in this instance I am making this complaint for the reason it isn't the first time this has happened to me. It is the 3rd!
I or in this last instance someone went for me. We both ordered the same item, and got two totally different orders. Neither being the order placed.
This location needs some training in the worst way! Service is extremely slow, and incorrect as much as it is right.

April 24 13′ I took my pregnet wife and I out on a date. Dinner and a movie, she was craveing KFC's mash potatoes . We went their and ordered 8 pc boneless chicken, 2 sides, wings and a drink. Waited patiently 10 min for hot white meat and cold dark. Heres were the problem comes in, I found a pieces of what looked like to me, my wife, and the ladies behind the counter to be a scrubby pad ( brillo pad) for cleaning.I asked what it was and why it was in my food and if the rest of my chicken was still good to eat.her response was "I dont know".
I asked what she can do about it like a refund and i was told she cant do nothing about it and would have to talk to the district manager Stan who runs the rice lake Wisconsin division . What, to get my 30 bucks back for chicken I had to throw out. Im talking to him tomorrow Friday the 25 th to resolve this and if my refund Plus this stupid effort to right the right I will have to take further actions. Thank you for your time

Within the past 2 hours my husband and I went to the KFC on Mechanicsville Turnpike in Mechanicsville, VA to order and eat our dinner. My husband uses a walker and we do not go out often to eat because with his second condition of Parkinsons he feels embarssed with his shaking. Today was a good day and we decided to have a treat. Well my experience was certainly not a treat. Went up to the counter and told the clerk that the order was for there. I wanted a 3 piece dark meat with mashed potatoes and cole slaw and before I could go any further she was busy in conversation with another clerk behind me about someone in the back. Then she ask what sides I wanted.
I repeated myself and proceeded to order a 6 piece chick strip meal with the same sides. She ask about drinks, I asked what sizes they come in and she said the meals come with a medium.. I sais fine and then she gave me my total – well over $18.00. I ask how with $6.39 for the dark meat meal and $6.59 for the strips etc. She informed me the strip meal was $8.59. No where on the menu board did I see that but okay. Still should not have come to over $18. Then I was told drinks were on $1.00 each while another girl in the background was shaking her head no, they were only $.20 each. By this time there were at least 5 clerks milling around – I guess making sure I did't do anything. I'm 74, I certainly could not have done anything but I did cancel my drinks and changed my order to go.
Then a gentleman came out from in back and ask the girl what she needed. She said to take the drinks off. He did. Never acknowledged I was there or there may be a problem or ask if something was wrong. Not even a Good Afternoon. They gave me my bag and I ask if all was in there and was assured yes. I told them I do not want to come back up so it better be. By the time we got to the car, the one clerk came out waving a bag. And I said to her oh you did forget something. She gave me a smirk (not a smile) and said no they only gave me 3 strips instead of 6. I told her I was coming home and writing a complaint.
There is too much talking and not enough customer service, learning menu, etc. Again she smirked and went inside. You know the old saying if something is good maybe 5 to 10 people will hear about it and if something is bad many many more hear about it. I hope you can do something about this. Training, menu and price learing and manager education on what to do if a customer is not satisfied besides ignoring the problem by ignoring the customer.

This store is a couple blocks from my house so after several bad experiances I have continued to try and find a good one. This time is the last i will ever go back. I will now be going down the street to Poppeys atleast there they get your order right and treat you good. I stopped in at 9pm on 4/11 to get a 6 piece strips and a swirl. I was told to wait they would be right with me in drive thru. 4 minutes later as the 3rd car pulled up behind me someone came on and rudely took my order.
They told me if i wanted that then i would have to wait 5 minutes…i agreed. I pulled behind the vehicle at the window and waited 5 minutes before they drove offi checked the time because this has happened before and did again this time. I was asked what my order was and when i answered was told…"Oh yeah thats yours…gonna be atleast 7 to 10 minutes before thats ready do you want your swirl while you wait? r do you just want to forget it?"
No I wanted my order is what i wanted and didnt want to wait another 7 to 10 minutes. After all the other times of paying for an order and coming home and its half there or waiting for way longer then someone should with out even being comped a soda or saying sorry it took so long. I will never go back in or thru this store again. The others I go to when i travel out of town i will continue to go to but I will make sure none of my friends or family eat at the one on Vasco in Livermore again.

We go to KFC in queanbeyan NSW Australia as our choice of take away and two nights in a row we had issues the first night it was 8:30 and they had run out of chicken except nuggets and popcorn chicken to me that is not good enough. The next night we went to the same store And there was no burger buns. We went again tonight April 1st and went through drive through I was served by 3 people at the same time all asking the same things. I had to ask twice to be served by only one person as I could not understand what was being asked.
This than resulted in the staff getting my order wrong thankfully I had checked while still at the window and the staff after a grunt or to changed the food that was served. We saw the manager standing out the front of the store having a smoke as we drove up to the store. I doubt the service would have been any better if she had been in the store as I have been there while the staff have been joking and swearing with the manager joining in on many occasions before
I believe that something needs to change within the management of this store as the staff do not seem to have any discipline or respect for their customers. If something is not done about this store I will no longer be going there and I am sure there are a lot of other people that feel this way as I have spoken to many friends and family about this and they all seem to agree.

Until recently, I was an employee at KFC in Big Stone Gap, Virginia. While I was there a suffered through the worst working experience of my life under the management of Cathy Ryan. She should not be allowed to be a manager and if any managers above her were aware of some of her actions I'm sure she would have been relieved long ago.
There's a long list, so I'm not exactly sure where to start so I'll just start with the reason I quit. She threated to write me up for refusing to serve people with lettuce that was three weeks out of date, telling me that if I didn't put it on there that it was a refusal to do my job. She wrote me up once for using my cell phone while I was breaking down boxes, even though I did not even own a cell phone at the time and when I told her that she told me that I was "talking back to her" and that if I didn't stop that she would write me up again.
Once, when we were going to be having an inspection the next day, she had me combine all of the out of date white meat and dark meat together and put them all in one box. She then had me go outside and pull all of the stickers out of the combination boxes that were still in date and put them overtop of the stickers of the boxes that were out of date so she wouldn't get in trouble for having severely out of date chicken. When I was making coleslaw one time, she told me to use my bare hands to mix it up because it was a waste to use a pair of gloves every time I made coleslaw. I've watched her on multiple occasions pick up old, nasty food off of the floor and throw it away; then, without washing her hands, go and "count" chicken on trays, making sure to touch every single piece as she counts them.
Our schedule would end on Sundays and the new schedule would not be made until Wednesdays and if you called to ask her when you worked, you had to suffer through her telling you that everyone in the world had been interrupting her all day long for their schedule and that she was tired of it. Even though she won't just make the schedule ahead of time so that we don't have to call her. She neglected to put my name on the schedule for a month straight and when I reminded her to add me to it, she would schedule me two, sometimes three days a week if I was lucky. When I asked her if I could work dayshift to make up the hours, she would get mad and tell me that if the man hours were up for that week that she would be talking to me about it because "it was my fault."
She refuses to let people change shifts, even if both people agree on it and it won't affect the schedule whatsoever except for the two people trading shifts. This woman is the most horrible person that I have ever had to work under and any other person who has ever worked there will tell you the exact same thing. If KFC cares about its employees any at all then they should look into this woman and do something about it.

I visited the KFC northland today, I asked for 8 chicken thighs. I was told I can't have it because KFC needed to keep some for other customers!!!! What kind of policy is this! I'm paying for these items so I believe I can ask which part of the chicken I want!
Isn't the customer KING! I was told by the staff I can have only 2 thighs then she went to ask her manager and he said I could have 3 thighs out of the 8!!!!KFC, you might need to get your staff to review their CUSTOMER Service responses!
Because telling the customer in front of you that you can't offer them something because you have to keep it for other customers!!! Seriously!!! The assistant manager clint Wilson was not very friendly neither , what's with the whatever you say attitude!!!

I must advise you of two of the most gross events that I have witnessed in thirty years of visiting food establishments. I am currently sat in kfc green plaza in Alexandria, Egypt, where ac member of staff has just used the brush that he was sweeping the floor with to then sweep down a table top. He then pulled a dirty cloth from his pocket to wipe the tabletop.
After this he used the same cloth to wipe a tray. Another member of staff took this that and placed food upon it. If I was you I would check my insurance for cover against lawsuits for food poisoning. I can guarantee that someone will become very I'll if this practice continues.

I went to the KFC on York Rd in Towson, Md. Went through drive thru paid and was told to pull into parking lot while they made my chicken. The restaurant then caught on fire and I never received my chicken. While that may seem insignificant to KFC (as I reported it to their customer service website and never heard back) I believe I should get my money back. That money is important. I understand there was a challenge that day, but I expected a response. I will not return until this is taken care of and I will tell everyone I know.

The Kentucky Fried Chicken location on 65 Highway Sedalia, Missouri 65301 is very poorly run. Every time that I have stopped ( almost every Saturday evening ), there are several unprofessional young staff members. They do not seem to have any idea what they are doing, i.e. at the front register is unattended; it is impossible to order off of the menu (when trying to place an order, after a long wait for staff to come take the order, the answer is always "We don't have that item ready tonight if you would like to order that you need to call ahead at least 20 minutes"). Tonight 01/18/2013 a customer had taken the time to call ahead for a large order, and he had to stand and wait for at least 45 minutes, because he was repeatedly told by at least 3 staff members that they hadn't received the message that he had placed an order ( The entire staff stays out of sight behind the counter, at least they should be able to answer the phone and have orders ready, but this team is hopeless! Also, it seems futile to call ahead for a Chicken fried steak, or a pot pie, as the message would not be relayed appropriately!) The staff obviously feels that the poorly stocked buffet is all that they are responsible for (in what other resteraunt would you place an order off the menu and be informed that the item is not available!)
Also, many times there is very limited amount on the buffet, and the selection is obviously been sitting too long, i.e, the chicken is soggy, the biscuits are hard, etc. It is obvious that KFC does not care whether they continue to have customers come into the Sedalia, Missouri location! Truly it is amazing that anyone continues to stop at and place orders for food at the Sedalia, Missouri KFC, it would require a great love of fried chicken or the ability to overlook a terrible group of employees who are obviously only present for the pay, and have not been trained to provide even tolerable customer service. Also, the bathroom is filthy and the toilet seat is too small for the toilet! Management please visit and correct this situation!

On the 19th of January 2013
At bently bridge KFC wednesfield
We ordered at a drive through was asked to wait in a bay
As they was awaiting on fries.
We was waiting 10mins in a bay and another car pulled up
Next to us they waiting 5mins their food arrived
We waiting a further 10nins before my sister sally flavin
Went in and asked we're our food was.
When the food did arrive we was short of gravy and popcorn chicken
This resulted in a further 10mins of our time waiting on food we was appalled with this as my sister sally flavin works in a macdonalds restaurant as he knows this waiting time is unacceptable
Especially when all we was waiting on was fries they said.
This is ridiculous service at such a high rates company we are appuled with this service and would kindly appreciate a reply at this email.

My family and i went to KFC for dinner in Balch Springs Texas on a Wednesday night we ordered a two piece dinner all white the chicken was so dried out you could'nt eat it. We also ordered three chicken fried steak dinners and two chicken sandwiches. we stood there an waited at least fifteen minutes to place are order and when we finally get up there they decided to change there money drawers out wich took another ten minutes or better. It took at least twenty to twenty five minutes to get ate food after we ordered. Went to get silverware and condments and there were none it took another ten minutes to get them buy time everyone got the crappy food was cold. So we finally went to the counter to ask for a manager and was told there wasn't one there so we left. Called the next day to to a man named Saul said was the manger he said i could come back with my family at anytime and he would replace the order so we went and he refused to replace it because it was not a wednesday I asked him the day i talked to him and he said any day . So my family an i have never gotten are food yet.

I visited this KFC store #j235014 after work at 325 Boston Ave Bridgeport CT. The employees were very disrecpectful and uncaring and rude to customers. What I saw was that customers were begging them to work. Within 10 minutes at the store I saw four argruments with customers at the time especially the employee named "Shanece". She was very rude, unconcerned to the needs of the customers. She had no customer service manners at all. She was rolling her eyes whenever someone would ask her for something.
I don't think the Colonel started it this way or else they would not have a job today. I hope the district manager get this message and really retrain those girls who worked there at 6:40 January 09, 2013 and talk to them. They need better customer service training. I decided to buy a bucket of 8 pieces chicken and found out there were only 7 pieces in the bucket. They were argruing with customers so much that they could nto count properly. Since I live far away fromt he store I could not go back and complain. I would like headquarters and the district manager to know this. For sure I will not go back there again

I just sent a complaint about the ridiculous sandwiches I receieved from your company. Twice. Anyway, I am sure someone has read it and I would like to give you my address so that you can send me my money back. I would appreciate my money back as I threw away both disgusting sandwiches. I think I at least deserve some kind of compensation. Otherwise, I will never return and I will advise many others not to. And simply telling my story will be more than enough for the people I know. Word of mouth is the harshest advertising around. Maybe you guys should treat your customers better and have a little more pride in the product that you produce and hand to your customers on a day to day basis.

At 6;37 ,1/8/13 we ate at the KFC in Durant Ok, 74701. We ordered 4 chicken littles and a medium fries(what you call) fries. As the young man was filling our order ,He put the dreges of fries in the container. I said that we would like fresh ones. No problem. After 12 min. he came with our potatoes. I put half for my wife and half for me. My wife said her fries were hard and cold, mine were hot. The clerk put fresh fries on top of the order that I refused. I went back up to the counter and told him what he had done. He said sorry as he turned around and went to te back. I did not complain that the buns were stone cold. Worst time at KFC. Might be my last Charged 3.49 plus tax for potatoes which should been trashed. Called the store this afternoon. asked for Mgr. Shift Person would not let me talk to the Store Mgr. Said It would not happen again. Did not give me any satisfaction. Did not think this is the way to build up return business. Lose a good customer for a half order of stone cold cold fries. Any other place that I know of would have. %80-937-4809. Mgr too busy to handle a complaint. Have to remember to tell my friends about my experience at KFC Durant.

I went into the high street Leicester uk branch of KFC, and asked if they served halal meat? As i heard that certain kfc resturants are serving halal, The staff member informed myself that yes they did, I was horrified beyond words, I asked if there were a choice of halal or non halal? The staff member informed myself that no its all halal in this branch, as she turned her head and shrugged her shoulders, is this true? If so, how many weeks/months/ years has this been been the case? If this is the case I have eaten halal and had no idea I was eating it, as KFC did not advertise the fact, I am very unhappy by this, it's not a matter of taste! halal tastes the same as humanely killed meat. it's also a matter of principle, it's also a matter of animal welfare. I will be seeking advice as to where I stand on this matter. If people eat halal that is their choice, is it fair that people are eating halal without their knowledge ? I think not, it is out of order. Regards ( not kind! ) mr J Flude.

I went to KFC today, 3 Jan 13 at 10:43 a.m. I was charged $21.99 for a 16 piece bucket of chicken then 2 dollars was added for 8 pieces of dark meat and 2 dollars for 8 pieces of white meat, why am i being charged 4 dollars extra?

We have got carry out on 2 ocassions and the rolls where so hard you could not eat them. I filed a complaint after the first time and nothing happened. So I guess I need to go on facebook and other places and tell everyone I know how crappy the food was and the company doesnt care…

today I had the first terrible experience with KFC, junction branch, which totally break the trust with your stuff. I couldn't believe myself when arrived home opening the order in front of my guest to found less amount of chicken pieces to what I ordered?
I visited KFC junction branch around 1:30pm today 31st December 2012, I ordered bucket 21 pcs together with other items for takeaway, I only found 17 pcs were placed in the bucket by your employee name " Pascha". I immediate came back to the branch and report the case which she denied and also your supervisor. They were even willing to listen to my complain or trying to accommodate the problem. How could the remaining 5 pcs disappear? This is an outrage to any customer who comes to KFC to be cheated that way!!
I've never had any such complain with any of your KFC branches earlier since your started operating in Nairobi. Therefore, I am requesting to investigate this case and look to the security camera records to count how many pieces your employee had put in the bucket

Dear All, I am the owner of 4×4 Cafe, a newly established coffee Shop, in the city of Shiekh Zaied, Giza, Egypt. My store is still under construction, and it is located on the ground floor of Hyper One Supermarket right underneath one of KFC Branches that is located on the first floor of the same building.
Unfortunately, the floor of your store is heavily leaking in many places which causes water to drop on my new under construction location which prevents me from installing my sheet-rock (gypsum board) fall ceiling ?? and hence delaying my work progress and postponing my opening date to an undefined time ??!! … As an Egyptian/American citizen, I deeply believe that KFC keeps a very healthy relationship with its neighbors …
I had contacted the area manager for that location as well as made a walk-through with representatives from your engineering department; the result of which is the very fact that KFC floor must be replaced and properly insulated before re-installing new floor drains and tiles .. and this is the ONLY solution to prevent and eliminate the current leakage problem ..
Please, I need your support for my case by ordering the replacement of such floor in a timely fashion as I can not open my new business branch … Your area manager told me that he can not stop his operation even for one hour ??!!! which is something I could not believe and consequently I am writing to you …

I have been to the King, North Carolina Kentucky Fried Chicken on many occasions and they never have grilled chicken, or sometimes original chicken breasts, or they have no corn on the cob. Isn't this the main menu items that KFC is built upon? It's like McDonald's being out of Big Macs. My sons has always enjoyed the mashed, potatoes, corn, green beans and chicken at KFC, but this branch never has the main menu items available.

Dear sir or madam I would like to make a complaint about the food and service at your aintree retail park fast food outlet . I purchased a chicken fillet wrap which i've had before . on this occassion .I would not have givenit to my dog . when i took it back i was given a refund at which time your male member of staff litrally threw the money at me. I will never again purchase any food from your fast food outlet again

Every time i have went to the napoleon Ohio kfc i have either had to wait a long time for my order because they are out of chicken and need to make more or they don't have any chicken and won't make any more if its close to closing. there always wanting to give me 10% off for my inconvenience or give me something else.
but all i want is my order correct and in a reasonable time, i don't think that's to much to ask . the food is great but i absolutly hate going there, I might as well send in a kfc australia complaint, maybe that will get answered sooner!

I went to kfc in airport mall belhar on 22/12/2012 after standing inline 20min becoze only 1 casher was serving I finily got helped I placed my order foe 12 zinger wings after about 40min I asked the casher how long will it stil take he told me 10 more minuts after about 20min I asked wats happening with my order he told 2 more minuts I was already upset at that time and told him to cancell the whole order and give my money back becoze its redicules to wait more than an hour for only 12 wings

I was at the Bonney Lake KFC on 12-22-12 at approx. 7:45 pm going through the drive through. I asked if they had popcorn chicken and the response was that it was discontinued. I saw they had chicken bites and asked how many was in the largest- they said 7. I told them that would be fine. This completed my order. I drove up to the window and could see inside. I watched the kid who was also doing the window put a few chicken bites into a box then realize he didn't have enough. He proceeded to pick up a chicken strip and with his bare hands tear it in half and stick the two peices in the box to complete the 7 nuggests. He turned around and had a smirk on his face. I was shaking my head and said open the window. I said "are you serious? Do you think I am going to pay for what you just did? that is completely disgusting!!" He looked dumbfounded and I just drove off. I was taking these to my fiance' who was just getting over the flu and who knows what this kid had on his hands. I would have been very happy to wait the 3 minutes for them to cook fresh ones. I am completely appauled this type of thing goes on. Please take the time to remind your employees about ecoli etc that can easily be spread. Obviously this employee was not trained properly in food handling.

I went to kfc bree street the one nxt to universal churc in jhb central south africa last night,its not the 1st time when I go there stuff is busy chatting to each laughing while customers are standing on the ques,I orded my meal and ice cream I was served are smelted ice cream in are glass and I ask abt my meal the cashier by the name of mirriam. Said wait your meat will b ready after 15 minites I waited 30 minites and wen I ask for are salt she reply with are huge and rude voice we don't have that I said always when am buying at this kfc u say the same thing she ignore me and say next customers please I felt like are fool and she talk with sum cashier they both spoke zimbambe language and laugh,I got my meat and when I get home the meat is not proper cooked it has blood inside,I've heard enough ill neva set my foot to kfc ever again the service is terrable and your stuff are unprofessional ill go spend my money where ill b treated. With respect .

I decided after 9 months to go back to KFC to purchase dinner as this is what my family had requested. I was at the store located at 499 Dundas st in cambridge, on on Friday Dec 14 at 6:40 pm. The line was very, very long but that was ok as it appeared lots of people had the same idea as I had. While waiting to place my order the manager on duty seemed very frustrated and overwhelemed by the number of customers. She was very loud and yelling at several staff members. She mainly picked on one guy, I am unsure of his name but I think he makes the chicken, he has tattoos on his arms she was yelling at him loud enough for the customers waiting to all hear the conversation. This contiued for about 10 mins. Several customers talked about how this was wrong but nobody said anything until I asked to speak to the manager. I told her her behaviour was unacceptable and inappropriate and she should have spokened to him in private and out of earshot of everyone. While talking to her she kept cutting me off which then upset me so I yelled at her as as she had at the employee. I advised her to say sorry to this guy but she did not. I asked her if she felt good about our talk as I am sure she did not but told her this is how that guy would be feeling. The customers waiting to get their orders and to plae their orders agreed with me that what she did was wrong and they were glad I called her out on it. I will not be visting this location again because of the manager Rose. I will be sure to tell my store to anyone who is willing to listen.

I am currently an 16 year old employee of a KFC have been for about 2 or 3 months. Right after I was hired another girl was hired who had the last same 4 digits of our social security numbers. All of the managers have told me that it would be fixed as soon as possible; that was over a month ago. I have worked for 2 pay periods and still not received a check because they have failed to clock me in and out, also not giving me a break and keeping me after 11 on school nights. The head manager at the KFC I work with is not manager material, I don't feel she is doing her job.

I have been into a KFC at Tamworth, on two occasions now and both times the restaurant was filthy. There was bits of food strewn across the floor. Nearly every table is dirty. the girl sweeping up we witnessed didn't even sweep properly leaving food remnants behind with her lack of bothering to do her job properly. Items left were a whole chicken bone. a cluster of squashed chips. straws. and on the second occasion there was even a whole sweetcorn left on the floor. I was so disgusted at the second time of being there and seeing the state that I have a number of pictures on my phone that I have taken as evidence . These pictures also show how all the tables are empty of people, as no one hardly was ordering due to them running out of chicken. Every bin was over flowing. Not 1 table was cleaned to any kind of standard. Half eaten meals were left lying around the restaurant.
I use Did use KFC quite a lot as my daughter is an employee and i know what high standards are expected. My daughter Sian Bent who works at the Sutton-in Ashfield branch of KFC even went and had a word with one of the staff members about how it wasn't clean and how she was fed up of standing in chips all over the floor. She was told that it was due to being busy earlier on. this is acceptable once but not twice. there was a lot of staff working and not actually doing a lot.
I fully understand if it was busy earlier that things can get a bit messy but as i said only 4 people were waiting for meals and two tables had anyone sitting at them. not one person came out or started cleaning up during the quiet period.
I look forward to hearing back and if you wish to see the pictures I have taken of the dirty restaurant, over flowing bins, food remnants on the floor. and the few people actually in the store i will be happy to forward them to you
Thank you
Deborah walker

A couple of days ago we went to KFC and got the 8 piece dinner and the flavor of the chicken was not all there,not as flavorfull as it use to be.And it tasted and looked like they used really old grease to cook it in.This will be our last time to get KFC,the quality is sucking badly.Church and Popeyes is going to replace this old and trusted company.You guys better get it together or you will be looking for employment else where.

i called the 600 number for delivery, the first agent who answered named Farida said "one moment please" then she disconnected the line. i called again and an agent named "Marlon" answered me . a very rude and not educated agent. a few minutes after that call. a number gave me a miscall. i called the number and it was from KFC asking for my location. like seriously?? tried to call the number to complain but i was on hold for almost 10 minutes! what kind of service is this???

My mom went to kfc at Columbia Heights, MN. While in the drive thru ordering her food the lady who was taking her order was extremely rude and tells my mom that she doesnt understand her because of her heavy accent and to come around. She orders a family meal and while am on the phone with her they tell her they wont give her the order because of her heavy accent again and they tell her they wont take her order on the mic but to come inside.
My mom goes in and while she tries to order again they curse her out and give her the wrong meal. My mom comes home and tells me what happened. So we went back and when we went there we ask to speak to the manager. This teenager comes to us and says she is the manager and starts calling my mom names. I ask her to please stop talking to my mom that way and she starts again saying she has a heavy accent. Your job is to take orders with a good customer service.
Not yell at people and pinpoint their heavy accents or not understanding them. And then she starts calling us rude names and starts using derogatory words at us and then she has the nerve to say she will call the police. Am very disgusted at people like this. What happened to customer service. If your having issues of your own don't bring that to work, take your shit somewhere else. I wont stop this until justice is done and the workers at that company are well trained and mannered.
This type of attitude is BULLSHIT.

Hello, my name is Mohamood Al Haj – Local in Dubai. I order KFC for my fimaly members ( 20 persons )every Wednesday since 2003. last week i called the KFC toll free number and they asked me for my address which was annoying, i order KFC every wednesday and till that time no body asked me my address. it was the first time in 11 yrs i was asked these question and was informed i am not there in their system any more. What does it mean? Finally i was fedup and gave my address with location and mobile number.
This week the same thing happened again about confirmation the address and mobile number (they said it was not in their system same answer as last week) and I could not take it any more. I even requested to forward my call to the Manager to log a complain and i was kept on hold for a long time and then later disconnected. This happened 3 times and finally i got the Manager on line the call was only ended with Sorry… Message to all, please think twice before you call KFC.
Would appreciate if you can reply to my complaint.

Visited a KFC on march 1, 2012 and saw one of the employees cleaning the ceiling over the food preparation counter. He moved the ladder a little closer to the counter and reached down on the floor to grab the bucket and put it on the counter. Remember this is where food is prepared. At one point the employee reached down to rinse the rag then ring it out.
In doing so he spilled a small amount into the food storage bin just behind the bucket. You can check out the pictures I took the link to these pictures are below. The cashier was not a very pleasant person as well. At one point I changed my order from mash potato to wedges, because of where that water spilled was into the storage bin. I ask the cashier three time where are the wedges stored and only after the third time she rudely replied "I don't have to answer that!" and stomped away then came the manager who asked if i wanted him to pack my food.
I said that's not what i asked, i asked her where are the wedges stored, why does she have to be so rude. I am sure that KFC will just notify them and then that will be the end of the story. In my opinion, the manager needs to go back to training certification for restaurants provided by the state and the little girl who was the cashier needs to go back to school and learn customer service.

i visited KFC in cheethamhill on numerous occasions and all ways leave in a bad mood this is ether down to missing food every time i go or on the last occasion it was an argument with a manager due to a crispy strips advertisement on there boards through the drive through that he said was not there most management would keep up to date with what offers where still available, so he asked where i seen this advertisement so i told him near the drive through he went off and then came back with an attitude saying that he couldn't see it?
so by that time i felt embarrassed and said i would gladly show him lets just say the manager was totally apologetic for his mistake not mine without any compensation.i spend around £30 pound each visit as it it a family treat once a fortnight so as if that or deal wasn't bad enough when we finally got home there was crispy strips missing am so applaud with how unfriendly the staff are at this particular branch in Manchester fort

Pappa Biswas
from Kolkata, WB
To,
The commission
My name is Pappa Biswas.In 2012 i have worked in KFC ,in Kolkata Baguati,which is under Devyani international pvt ltd.I leave this company a few years ago,some personal issue I could not able to claim my EPF.In 2017 after a continuously call HR in devyani international,they provide me EPF form,and said me send it in delhi.Its already 50 days over,I could not get it amount.From the Date 18.1.2017,i called to HR Mr.Anup,he told me it was nothing to show.Today i will trying to claim through online my EPF,the notification was shown me it was wrong no.Sir,my humble request please take the action against company why they are doing this type of things,i am totally suffered and harrest by her to doing with me,its a totally harrasing me.Sir,please do the help to get it my EPF amount ASAP,and take a step against her,this is my right to claim my EPF,they could not do anything,instead of help,they harrest me.I am totally unable to doing anything,they ignored all kind of me,Please help me about this matter.
Regards,
Pappa Biswas
8017596706

Daryl Hoffman
from Decatur, GA
I got a $20.00 fill up. The chicken pieces were very very very small, 8 pieces did not fill up half the bucket. Also the chicken was overcooked. My visit was 1-16-18 at location # G135082. I am 63 years old and I remember a time the bucket was so filled up the top would not stay on. Like all old people , that was the good old days. Thank You / Daryl :)

I wet to buy 9 piece at kfc trade route mall on thursday round about 15.12 the lady served me with 8 piece instead, was so dessappointed and angry yet i paid R114.90.

I went to KFC to place a order through the drive thru the cashier was very rude the food i wanted to order was not available when i asked if they could make it they said no and continued to get in a verbal confrontation with the cashier and he the began to verbally abuse me in front of my 15yr old child. I asked for the cashiers name and managers name to file a complaint and they would not provide me with the information. And then with the food that was available i ended up waiting 20mins after closing time to receive it. They were overall rude the manger would not come to the window and they were very disrespectful to me and my child.

AHITAGNI BHATTACHARYA
from Kolkata, WB
In the city Kolkata,India , all the shops are cheating people adding unwanted sauce or other charges without letting the owner know about it. Sometimes this amount is small like dip sauces to sometimes bigger charges perhaps. As a customer it has become clear to me KFC Top Management to serve KFC Team Better crosses all the limits of ethics thinking all customers are fool. previously it has happened I was charged extra for chicken pieces and the store manager apologized so I relented. Today another venue of KFC in the city I was charged for white sauce without letting me know. I read carefully and returned the sauce. I had an excellent service in Kuwait with no space for complains and in Kolkata it seems I am entering a War Zone when I enter KFC. I have to continuously repeat I don't need cheese ,don't need white sauce and despite my efforts I am cheated and charged for the same.
In Kolkata you don't give us coleslaw, you don't give us good experience , is cheating part of KFC Culture??
Very Poor Experience and I will like to share these facts with all my connections, dont take customers as sitting ducks, its humiliating. Change your strategies soon to serving better than serving Bitterness.

Becky Lyons
from Charlotte, NC
Beyond there being something wrong with EVERY order (NO exaggeration) we've had this past year (but, it being made right by the manager on call at the time), any time I have EVER gone to the survey website to fill it out, it will not allow me to, saying there was something wrong (not saying what was wrong)! So ... NO 'Go Cup' for me...EVER!

I bought a wrap from my local kfc and it was stone cold , I took it back and they made another but that was only lukewarm!

Isabella
from Blaenau-Ffestiniog, WLS
We have gone to a KFC and as we've ordered they've told us there's no chicken, What KFC doesn't have chicken? That's the whole point people go there.

Paul northwood
from Heathfield, ENG
Went to kfc in Victoria place food hall Tunbridge Wells wed 13th December and there was too many problems occurred to get in the amount of space I have here
Poor service
Luke warm chicken
Appeared to be incorrect fries and overdone
No beans
We got a refund but that is not the point they appear to be out of control

Brian Johnston
from Tucson, AZ
At 5:30 P.M. went to KFC on 7245 E. Golf Links Road in Tucson Az. Asked for meals and were told they had no mashed potatoes. This is why my wife goes to KFC for the mashed potatoes served. Asked for coleslaw, 9 pc tenders,2 pc chicken, and biscuit. when we got home the coleslaw was left out. this was not the first time we orders a product and product was missing. We are done with KFC..

Francis Miller
from Boston, MA
I was very specific with my order as I was at lunch and pressed for time . I ordered a box of popcorn chicken and 1 Chalupa. Bill shoul have been 8$ . I gave a 20$ and was given 6$ in change I asked y so much and was told I ordered a bucket of popcorn chicken and a chalupa. I stated that I wanted a box not a bucket . The cashier said she thought I ordered a shareable one for 10$ I said no a box , she argued with me until I got upset . The manager had to come over to void out the slip and start over . I reiterated my order to her and she gave me a receipt and 8$ and change , the receipt was for 8.04 from 20$ = 11.96 . I showed her this and she took the 8$ and gave me back 11.04 . By then I was steaming and took less than was owed me and my food and left . WTF ?

Claire storey
from London, ENG
Heya I went too the store in above bar Southampton and got such poor service looked like the food had been chucked in the bags! Not happy about this at all this was on Friday

Tom kelly
from St Helens, ENG
Waited in the drive through for approx 20 mins at the dovecot,near Huyton KFC only to be told for the third time out of five visits no gravy or corn on the cob.opted for large beans instead,no large beans only small.I have a newsagents in Huyton and would be embarrassed to tell my customers three times out of five visits we didn't have one of our most popular products.same scenario in St. Helens KFC couple of weeks ago.Rather than take a chance next time waiting in the que to be told no gravy or corn again I will opt for Burger King next door.

Peggy Everett
from Panama City, FL
They were out of regular chicken. They just had 2 legs that looked to be the size of wings, not legs. I had been traveling a long distance and actually stopped to use the restroom. I debated between the KFC and the Braums next door. Wish I had gone to Braums. As I started for the restroom I realized that the attendant had spread blue soap all over it and the suds looked like a commercial on tv. They assured me it would be cleaned up in no time so I went ahead and order. Very disappointed in the food. Not good at all. When I finished I asked if the restroom was done. They said it was so I went in. There was so much soap, the floor was extremely slippery and I noticed blue soap squirted everywhere. I think the whole place could have been hosed down as it all looked dirty. The staff was not friendly or cooperative. This was the KFC at 1882 W. Martin Luther King, Jr. in Fayetteville #J295045. I was there 10/23/17 at 2:57 pm. I had not been to KFC in 2 years as the one in Bentonville always left something off my order and when I got home and called about it, they acted like I was lying. Think it will be at least another 2 years before I try again and the KFC is going to have to look alot better. I saw all the bad reviews so it appears that most of them are bad.

Leigh Stadelmeier
from Atlanta, GA
I stopped at the Valdosta store off of I-75 North in Georgia. This was the slowest service I have ever experienced. In addition while sitting at the drive through windo the employee was mocking the person giving an order over the speaker. I will not stop here again

Dale stimpson
from Denver, CO
While traveling in Canada we stopped at the KFC on Reeve Street in Port Hawksburg thinking that perhaps in Canada the service and quality of the food would be better than what we have experienced in Lakewood, Co. I was very disappointed. There was a big line of people waiting which should have been a clue. Service was poor. They didn't have the bucket of Christy chicken we wanted so had to settle for strips which were poorly cooked and they were out of some sides. It was early evening. As I waited at the table for my husband to bring the order I could hear others complaining as they sat eating. Bathe tables were dirty as well as the floor. The men's room was out of order and the ladies room which I visited wasn't supplied with paper products and the floor was hideous! I used to look forward to KFC but I think it is off my choices unless you improve dramatically!

The service received at your store located at 2711 Emanual Church Road yesterday was very poor to say the least. I had to return on three different times due to my order being incorrect and on the third and final trip the manager refused to complete my order and stated that I had to leave. I considered her professionalism and customer service efforts to be very poor as the various other customers in the store at that time also stated. I am 55 yrs.old and have been eating at one of your stores as long as I can remember and iv'e never seen or received service so poor. I am sure there have been complaints in reference to this location previously.
David Foulks

B Scott Berry
from American Fork, UT
I am a contractor and took a couple of employees to lunch. KFC has some great stores in Utah. My personal favorite is in Brigham City. We went to lunch in Roy. I ordered 3 of your $5 box lunches with chicken strips (Nashville Hot) wit coleslaw. We sat and watched while several customers after us had received their orders. After 35 minutes went up to the counter and complained that virtually everyone since us had been served. Within a couple minutes the server call my name. I reached and she said is was 9 piece popcorn chicken and handed it to the rightful customer. I calmly explained what happened and she said she would get it right away. She said "I don't know who this is, 3 box lunches". One of my employees went up and picked up the order. The box lunches were chicken strips and mashed potatoes. I took the orders right back up and told them what I ordered. The server apologized and started in with an excuse I told her " I don't want excuses, I want my lunches". The manager was behind the till and was obviously annoyed. Several minutes later we received our order with the worst chicken strips I have ever seen and mashed potatoes. 1 hour and 10 minutes after we walked in we got up to leave. As we left the manager didn't say we're sorry or kiss my butt. When we got in my truck, I noticed the manager came out and stood in front of the door with his arms crossed. I said what he said "GET THE FUCK OUT OF HERE AND DONT EVER COME BACK". I backed up 5' stopped and flipped him off. he said "get the fuck out of here right now or I am going to call the police. If I didn't need to get my guys back to work I would have sat there. I went back to work. I told the individual we are working for right now my story. He said Roy is the worst and I agrre.

Albert Taylor
from Lancaster, OH
Tried your new Nashville gold. It sucked. It was greasy, it wasn't even hot. It wasn't even a little spicy. I was very disappointed.

It has been at least 4-6 weeks since I contacted a Customer Service agent at headquarters office and stillhave not received money back as I was told would be sent in the mail. Does the office not follow through on customer calls? How long does it take?

Hussein
from Haenertsburg, LP
KFC at Ayoba garage in Louis TRICHARDT service is terrible, always sold out on some items management Sholi customer service is terrible

This is the 4th time in a roll you pissed me off. I understand not maybe having biscuits or cookies but tonight I was told you don't have chicken.??? Your a chicken restaurant or are you? I came in 2 hours before you close. What is the problem?

zak ovoian
from Huntington Beach, CA
location 19091 Brookhurst st, Huntington beach ca. 7149687621 ticket number 3613 date 10/19/2017 ( 5 bone's up to 1 inch long in the pot pie) I tried to call the store got box is filled. I really enjoyed the pot pie in the past but not this one?

Julia Weaver
from Spartanburg, SC
I went to get a 16 pc meal carry out which came up to 41.03 @ 1459 W.O Ezell Boulevard Spartanburg SC Ticket # 4658 on 10/19/2017 @ 4:40 P.M. and I paid cash $41.03. Well when I got across town to feed my family as a surprise, they were busy because the first time they had my order wrong with my sided but we got the straight, but their wasn't any biscuit in the bags and I tried calling KFC for 2 1/2 hours the phone was busy. I tried to call so I could have someone else get the biscuit for me, I finally left my daughter house to go home and stop by their to get my money back just for the 8 biscuits I didn't receive and it was 3 to 4 people listen to my complaint that work their, when I only ask for the 1 manager the other should have been working, well she said she can't give me money back, and the reason why because she just couldn't ring it up. I ask what if I come in and just want biscuit only, I ask how would you ring it up then. Well she did it and still say she couldn't give me my money, but could give me more food, I didn't want more food because, I just bought a 16 piece for my family and I got some out. When I told her I had been calling for 2 1/2 hours I assume she thought I was lying she stated that the phone hasn't ring at all , I told her I believe they took it off the hook cause they were busy, well she ask me to show her my calls on my phone and I did, she said omg cause it was like 15 calls made to them. This guy that was up front with them said the phone is off the hook though. The girl gave me 6.plus change back but I think that was wrong because I seen on the menu that 2 bisc was $1.69 and I suppose to have got 8, I will continue going to KFC but not that one because I felt disrespected and basically made out to be a liar.

Judy Romano
from Charleston, WV
Every time we visit the KFC near home in Teays Valley (Hurricane), WV, there's an issue. We always order 10 hot wings, my neice's favorite, and some other meal for myself. We always have to wait 10 to 15 minutes prep time. We've grown accustomed to that though not happy with it. On one occasion they dropped them in the floor so we had to wait about 20 minutes for more to be cooked. Once they gave our wings to another customer so again we waited.
Tonight we ordered our usual wings and a pot pie for myself and we waited about 20 minutes. We brought the food home. I opened the box to find my pot pie was badly burned, blackened all around the edges. I called the store and reported the problem. I said, "you had to know this pie was burnt when you put it in the box."
The manager, Cory, said, "yes and they were supposed to ask if you were ok with that."
I responded, "Who would be?"
This is ridiculous. They're never so busy that they can't prepare the food properly. I'm infuriated. I told the manager, who sounded as if he might be 18 years old, that he has major problems there and perhaps that's why the are never busy.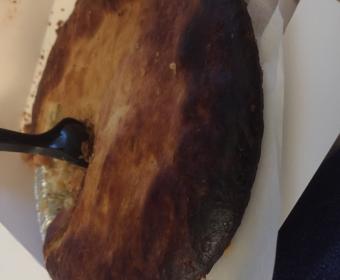 David's Israel
from Lakeland, FL
Your commercial with the idiot hitting a football player on the behind has given my daughter and I a reason to never, ever eat at any KFC ever again. Colonel abusing someone on t.v. in front of children only shows how low your company has sunk. I rate KFC a zero.

Carolyn callahan
from Timmins, ON
I got a couple of 5 dollar fill ups they are geting smaller mash pototoesmaybe 4 oz no cookies. This has happen a few times since new people toke it over will not go there again poor service half the time the ice machine is down

Edward Gandy
from Louisville, KY
Neither the KFC on Brownsboro Rd, Louisville or the KFC on Westport Rd, Louisvile ever have "Hot Wings! Today at 3PM, Wesport Rd had 4 wings for sale! Really!! And... I wasn't offered an alternative! No "sorry sir, we can drop some fresh if you would like to wait!" Nothing!! Every time I go to either one of those stores, they either have "0" wings or not enough to complete even a small order! Maybe you should just take them off the menu since they NEVER have any ready to go anyway! I might add that I never have issues getting hot wings at the KFC stores on the west side of I65....
I have never, ever gone through a KFC near or on the other side of I65 without complete satisfaction! Can you explain why that's so?

Dikeledi Matlhare
from Hartbeespoort, NW
a loyal pregnant customer, the toilet is always out of order they say there is no water. which is not true pls I need to enjoy my meals relaxed

jim anderson
from Green Bay, WI
Not the first time we visited this location. 1696 Main St. Green Bay, WI. Store is dirty, service is terrible, and the employees are unprofessional and obviously untrained. Manager is oblivious to the problem. Won't visit this store again or any other KFC locations that are dirty. I will report this location to the local health department. KFC, please clean up your act!

Eric Fronstin
from Phoenix, AZ
Date of complaint: 9/6/2017, 3:49 P.M. Store D212067, Ticket 3245.
I came into store. No other customers. I asked a Hispanic lady, no name tag for a 2 piece original meal, 2 thighs, mashed potatoes and Cole slaw.
I specifically asked again for 2 thighs and she nodded her head yes. When I got the meal to go, I asked a 3rd time, are there 2 thighs, YES. I went to my car, opened box to check and there was 1 thigh and 1 leg. I took the box back in and asked for a different employee. She took the leg out and added a thigh. No Sorry, no nothing !!!!!!!!!!!!!! I'm letting you know ONLY because there's no sign that states a customer can't have 2 thighs. It's just horrific Customer Service !!!!!!!!!!!!!! Pretty sad that a customer cannot trust this location to get an order correct. I'm so close to going on Social Media to let everyone know to go elsewhere or check your boxes whether in drive-thru (holding up a line) and in store.

Philip mauro
from Salinas, CA
The parking lot is horrible with grease and milky funk all around.Inside has old grease and dirt all over the kitchen. The air conditioner is not working and the smell was horrible.not to mention children's dirty diapers by the front door.i love KFC but that branch should have the health department look at it.

Nashawna Jones
from Kent, WA
To whom it may concern on September the 1st 20017
after a long day of work I decided to go to your KFC/LONG JOHN SILVER location in
Kent WA store address 10414 SE 260th #328 Kent Wa 98030
so I a paying customer place my order to your cashier name RASHAWNAR THAT WHAT THE RECEIPT SAY
E720484 4 68 4418 @ 4:31pm
I ordered the L5 and i was told its cooked to order so i waited only to be served trash the food had all types of particle on it
and mind you before I was handed the food I clearly let the cashier know that i was concerned about my food i have the cook on
camera being unprofessional playing on his cell phone and then handling the food to be served to the public with no gloves on
I finally requested to speak to the manger whom said her name is Tammy i explained to her the situation and showed the store manger the food that was served to me with all the particle on it and I informed the manger Tammy that I have her cook on camera playing on his phone and then handling food that there serving to the public i then proceed to show the store manger the video of the cook playing on his phone @ this time after she reviewed the tape i asked for the cook name because this is so unacceptable she tell me the cook name is Alfonso I explain to the store manger Tammy that I file a complaint @ that time after I said that she refunded me my money and re cooked my order
so in Washington State food safety rules and chapter 246-215 wac your employee is in violation before i go any further I'm giving you the opportunity to correct the problem to have someone do something to your food out of spite is the worst and for you to have employee that works for you that would harm a consumer food is unacceptable
there are so many germs on a cell phone it is one of the most dirtiest possessions with bacteria all over it and for a cook to display such poor regards about food safety is unacceptable
i still have images on my phone that i showed your store manger for some reason it will no upload but if you need proof i can go to a friends computer to show you sincerely Miss Jones

Patricia DeRenzo
from Wallingford, CT
I had 7 pc meal that cost me $17.01 only to get 3 thighs (small) and even smaller 4 pcs. chick legs. Got small biscuits and bland mashed potatoes. Gravy was fine. The chicken tasted "funny", dried out and not hot. Biscuits were dry and not very good. I drove from Wallingford,CT to Hamden, Ct to have KFC because we don't have KFC in Wallingford any more. So very unhappy with this KFC experience. About ten minutes after eating, I felt stomach sick. Got up to take Pepto Bismal and then, had to take Alka Seltzer..burping and feeling stomach sick for hours. An hour later, my sister, who shared this meal with me, asked me if I had "adjada"....which means upset stomach. I told her yes and she, too, said her stomach was sick and she couldn't stop burping. I am expecting a full refund of $17.01 and seeking to speak to whoever necessary to resolve this horrible experience

HERBERT BROWN
from Troy, OH
been going there for years and I a nd my lady was there on 9-1-17 and there was not much food in the buffet and what was in there was dried up some of it and I told them that they needed to fill the buffet and I waited and waited for 15 mins and I told them again my food that I got while waiting got cold so I went there to the counted for the third time and I think it was the manager and told her that I was not going back there anymore and all she did was looked at me like big deal.

Sheryl Lundy
from New Hartford, CT
I ordered a 16 pc. meal that they charged me for. and they gave me a 12pc meal. I discovered the mistake when I got home. Which is a bit of a drive. But it took about 12 min. to get someone in the place to even take my order. The Torrington, CT restaurant just is steadily going down fast on quality of food some of the chicken pcs in the bucket looked like they cut the small pieces in half and counted each pc as 1 pc. (really people, they are that cheap.) I don't mind waiting if there are other customers in the building but I was the only one there. This wasn't the first time the quality of service and/or the food has had a issue. We went to kfc last week and did the buffet. some of the food looked like it was there all day and the mashed potatoes started to have crack lines, no grilled chicken or biscuits and the chicken that was there was hard and dried out. and that is the 2nd time I have found the buffet in that state. unbelievable. I WAS VERY UPSET WITH THE STATE OF THE SITUATION. I work in the quality control field (for 30 yrs.) and this wasn't it. $42.00 for a wannabe bucket of chicken with some of the stuff missing really do you think I want to go back and get ripped off again. and how many other people has this just happen to occur with. Corporation needs to fix this.

Bill Hillman
from Houston, TX
Your KFC store at 20320 FM 529 in Cypress, Texas is the worst KFC I have ever been a customer with. I have been purchasing food there for 3 years and the food keeps getting worse and worse. Today when I tried to purchase a 3 piece meal, all white, grilled, I was told that this particular store didn't sell grilled chicken anymore. Reluctantly, I ordered crispy instead. When I got home and opened the box, the chicken was greasy and looked and tasted like it was cooked days ago. Until KFC corrects it's menu and monitors this store better, I will not waste another penny at this restaurant.

My drive through order was shorted; I was handed the bag and thanked; when I got home, I found the order was short. I typically do not tie up the line by checking each item in my order; I trust that the person at the window has verified my order is complete. The purchase was for $19.35. Since the dollar bill is the only form of consequence for poor service at my disposal, my family and I will avoid this store for 19 weeks.

thomas timothy
from Hamilton, OH
I am fed up with your tiny pieces of chicken. How much smaller can they get? I've been a KFC lover for over 30 years but the size of the pieces he reached an unacceptable level. I wish I could post pictures. I just got the 20 piece and the two breast are small and the wings aren't much bigger than what I get at a buffalo wild wings restaurant. The drumsticks were the same way. Your piece size have slowly gotten smaller over the decades. But the have got to the point of ridiculousness. I'm hoping you will take my disappointment seriously. I can't be the only one that has noticed this significant size difference.

Caroline whitworth
from Halifax, ENG
Just being to your branch at Marsh, Huddersfield, and I have to say I was appalled at the service. I ordered 2 zinger wraps meals and a snack box. The wraps came with no salad. The drinks were poured from bottles and were flat and warm and one of the wraps had mold on. Took them back and they made 2 more, got back to work and again no salad in them, took them back again. Spoke to the manager and got a refund, I only have half an hour for lunch and it took me 15 mins to get served and after going back twice my dinner was over.

Ashay
from Port Louis, PL
I am hereby writing you as a very disappointed customer. I was today present at the KFC of G.Bay La Croisette at around 8.00 PM. It was a quick service, I bought two zinger with pineapple and cheese as add-ons. I moved to my table and started eating with my friend. I was really shocked when I faced such an unprofessionalism from the part of the KFC staff. When I started eating, the outer layer cooked, but when I reached the interior layer, it was a complete disaster, the inner layer was not properly cooked, I could sense the raw taste of the chicken.
I firstly thought it was in my mind. But when I asked my friend how was my zinger, he confirmed that it was not properly cooked. We immediately packed it again and moved to the cashier where we bought the zinger. There she took it from us and moved to the back in the kitchen. I was asked to wait with my friend. There, the person in charge came to meet us, and he told us that no, the zingers were properly cooked. We insisted that no it was properly cooked. But the person in charge had already made his mind. And Sir, we were really shocked with firstly the way he talked with us, we did not expect such a treatment from the person in charge of the KFC branch of G.Bay La Croisette.
Secondly I do confirm with you Sir, we did not expect that the person there would take back our zingers to a place where they were out of our sight, and come back to us and tell us that it is properly cooked and expect us to eat it again? The person in charge returned us the zingers and when we opened the box in front of him to show him, he watched it and even took pictures of it and returned us it.
And I think he expected us to eat this not properly cooked zinger. Is that Sir, the way KFC, an international outlet operates? And I always heard that the customer is always right? And today the person there actually proved it wrong. He told us that not only two chicken are cooked together, but many more. And no one complained that the chicken was not properly cooked? So if no one else bothered to come back to complain, so the zinger was perfectly cooked? I was really very disappointed today with the staff of KFC G.Bay La Croisette.
To conclude Sir, we were very disappointed how we were treated there in front of everyone and secondly how could this guy tell us that the chicken was properly cooked when it was not the case. We would be very grateful if you could look into the matter.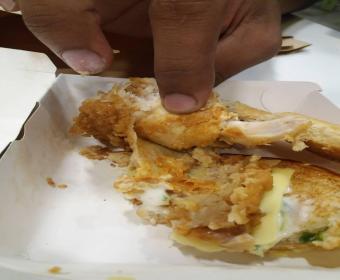 Helen Calhoun
from Aiken, SC
Well today my brother went to KFC on Jefferson Davis highway Beech Island SC phone 803-593-4778 we purchased a 8 piece family meal. When we receive the food it was dried out and had so much salt on it you couldn't eat it. Therefore, I called the store back to speak to the manager which he stated for me to bring it back I couldn't because my brother had left and I am disable. He ask for my name in the process of giving it to him the call was disconnected so I call back multiple time and they refuse to answer.

Sheila Zborek
from Knoxville, TN
My family met at kfc in lafayette indiana on 52. 4 people in the place took staff 10 min. For anyone to help us. We got the buffet, it was all dried up from being on the steam table for a long time. Had to ask for chicken. Had to ask for sweet tea that we never got. My son had to use his shirt to clean off a table. Manager was very rude. It was very filthy!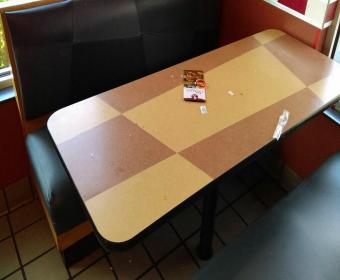 Benjamin Truong
from Tuart Hill, WA
I bought a couple of things from KFC in Morley. The wait was a long, there was only 1 person working at each station. The chip were old and cold, I found out I was missing the burgers, even though I double check with the servers to make sure everything was in the bag, she said yes. Once I arrived home, ready to tuck in, I'm missing the burgers, the chips are cold and old, and the it just doesn't very appetising. I think I'll stick with other fast food chains instead a KFC. You have gone down on your standards. Disappointed.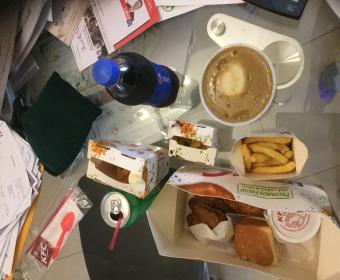 I am a regular customer. I used to purchase via drive thru at Malaysia, store # 1010832. Each time my purchase was not given a receipt. Never mind of that but I wanted to try the survey to get a 10% discounts but was not able to do so because no validation code found on the receipt. Do you think this is equivalent to cheating as receipt stated get a 10% discount on your next purchase after completing the survey, but the receipt has no code to continue the survey and they save 10% on our next visit. They get profit of 10% because they don't give the 10% discount. This is a real cheat.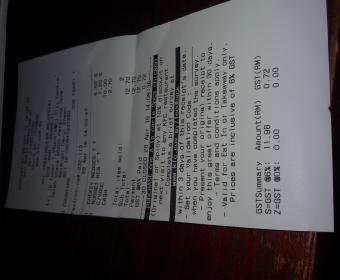 Today I and my kids went to reservoir KFC, we bought family feast and 4 crushers for take away. When we went home and started eating we found at least five very tiny small pieces. I took 3 pieces to the shop and I said to her, we had at least 5 tiny pieces of chicken and we went to many stores and ate in and that didn't happened. She said we have to put about 5 small pieces and she talks like a boss without a respect to the customer or even offering to swap them or apologising and I said to her thanks any way and left the chicken pieces there and said to her I will lodge a complaint.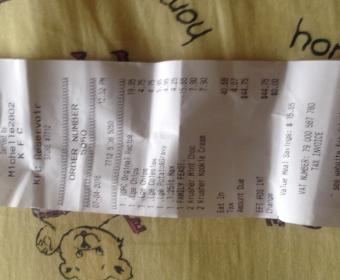 I ate at your #g135034?KFC Long John Silvers 3949 North 132 Maple Omaha Nebraska yesterday 12:45PM. What a mess it smells like old grease the employees are loud, uniforms filthy dirty looking. My Food took forever. Manager to young and dumb to know how to run this ghetto store he was running around yelling even heard crew say im not doing that manager states fuck your not. My wife and I just about lost it but we just were waiting for food 20 minutes. I have seen so many managers come and go from here.
We wont be back unless you fix this mess. I would suggest finding someone who is Professional and old enough to manage his group and be a leader it was the blind leading the blind. I could go on but I won't it will be sometime before I go back. I will be telling our Catholic church to stay away.

H Cortés
from Hialeah, FL
They where Cleaning the Store At 7:54 pm ok 02/11/2016. I came At the time above TO order 6 original Chicken breast, large mash potatoes and large wedges. I approached the counter and they told me they weren't accepting Credit cards only Cash. And then the conversation transpired TO christian the employee With the Assistant Manager whether they should take money or Credit Card contradicting each other what they were going TO do. I noticed they were Cleaning the restaurant and things were putting Away even though the store closes At 10:00 pm.
The appearance Of the Store is dirty. The Assistant manager Marry i requested her My food and she said she only had two pieces and i wanted 4 More and she denied TO Cook them. And she became argumentative about her service. And when i requested for her manager she said she had none and she didnt know who her Boss was. Then she started being rude and Not being helpful With the FOOD or information.
I decided i was upset about the demeanor the customer customer Service, how can she be an Assistant Manager and Not have any information on who her employer is. She said she was Not trained in customer Service. And that she didn't have TO give me Amy names or information Of managers and owners so i DON'T make the complaint. And then she threatened me (the customer) to Call the Police because i was questioning her and trying TO obtain the Manager information TO Call her At a later time. This is about the fourth time i commented to this Store in the hours between 7:00 pm TO 10:00 pm and always are More interested in closing the Store rather than selling the food.
The Store Number is 305 226 3596. I am gonna post this in the social media for People TO avoid get ring mistreated Not giving FOOD that is properly FOOD. (Not Fresh) and the Store to be dirty when you have 5 People working that shift .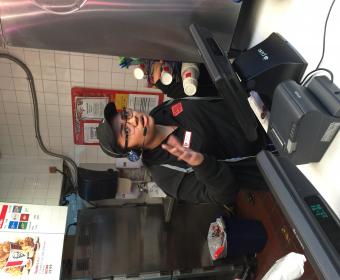 Amelia Jones
from Phoenix, AZ
Went to kfc on Richland ave. in Aiken sc and they wouldn't sale me any chicken wings. Said they was saving them for the family meals. I should be able to go to a restaurant and order what I want. Then one of the employees knocked the tongs on the floor and picked it up and put them back and they continued to serve chicken even after a customer complained about it.
Thanks for your feedback!
Sorry. Please try again later!