KFC
KFC Complaints Continued... (Page 6)
837+ reviews added so far. Upset? Call KFC corporate: 1-800-225-5532

saqib nabi
from Burgess Hill, ENG
I was abused by the manager at KFC in Brixton London. I visited the store at 12.50 pm on Saturday 11th April and placed my order. After waiting for 10 minutes we asked what was happening with our order at which point the manager started to shout at us. The whole place was in chaos with various customers asking for their money back. when I confronted the manager about him shouting at me I was further abused by him and told I would be banned for complaining. All the other staff in the restaurant and customers were alarmed by his behaviour. I filmed some of the incident and can share but you will have this on camera also.
Eventually we did manage to get our order and left after the manager shouted at us again. When we got home we checked our order and realised the order was all wrong. We returned to KFC and again were confronted by the aggressive rude manager Sammi. Overall I visit KFC 5 times a week and spend a lot of money in the restaurant. I was refunded by money by another staff member who apologised on behalf of KFC and was very pleasant. The manager in questions name is Sammi and his ID number is 2402 (these details were provided to me by the staff member called Mahfuz who resolved the situation that the manager created). I would like to know what KFC propose to do about this incident and my very poor customer experience. I have video evidence to share if required. Also I expect KFC to review the store footage to see the managers actions.

Teresa Scott
from Indianapolis, IN
I was at the KFC at county line and Meridan st Greenwood, IN 6:15 p.m. 4/09/15. It took 25 mins. to get to place my order and another 15 mins before I received my food. 1 breast and potato wadges. I am not sure I will ever go back to that store. The last two times I have been in there it has been a mess. KFC needs to make sure that their food is good, the restaurant is clean, and the employees are nice. I am not going back if they keep up the crappy service.

Zoe Robson
from Sheffield, ENG
Hi, I visted your kfc branch at sheffield arena last night, where the time stated it closed at 10:30pm. I arrived at 10:10pm to find the doors locked, I was then let in and refused to be served by a member of staff because they said they were not taking no more orders. I work at a supermarket and i would never in my right mind turn customers away. It was disgusting how your staff were with customers last night.

Suzanne McCoy
from Doolandella, QLD
I ordered and was charged for a large boxed meal,+ a large fries. I received a boxed meal with small everything + a large fries. I understand mistakes happen but this happens a lot. These mistakes seem to happen again and again. I would be happy to get what I ordered as I love KFC but feel very angry when I get home only to find I have a meal with some of it downsized or missing..

Went into your store in Effingham Illinois.. tonight and it was appauling.. the service was bad and slow! waited for 20 mins for someone to wait on us and she saw us.. she was helping get drive threw and I kept asking to be served and got nothing but dirty looks .. when we did get waited on, it was rude.. and buffet was half empty.. the chicken was old and dried up .. the gravies were lumpy , and hardly any in the pans ,, 4 pans were empty and the remnance of food were dried up on the pans.. when I asked if they were going to put fresh out and new pans, I was told that if I can do better I could go back and do it .. I demanded my money back and I will never be back .. the store was under staffed or they were all in back one .. and the store was dirty .. the chicken tasted like it was fried in old grease.. something needs to be seriously done with that store..

I have had problems with orders being filled correctly/unacceptable customer service at KFC in Royersford, PA over the years and stopped going there because of that. We tried again last night and were again disappointed. We ordered two three piece meals original recipe with dark meat - one with mac & cheese and coleslaw and the other with mashed potatoes/gravy and corn for take out. When we got home, there was only 1 with a biscuit, and the sides were wrong. There were 3 coleslaws and 1 mac&cheese. The coleslaw was completely dry and tasted "off". We also recieved extra crispy for all of the chicken instead of regular recipe. I called immediately and asked for the manager and she was beyond rude. When I explained what got, she replied with "So" "Not my problem" That is a totally unacceptable response from management. I would be terminated for that type of behavior. Additionally, I dont feel that you should have to take your order completely apartto completely examine it before you exit the premises.

I went to KFC(fort valley) on my lunch break on 3/31/15 and the biscuits were hard like rocks. I've had several complaints in the past few weeks from half done chicken to bad attitudes. They will serve you something that they know should be thrown away. They actually get mad when you complain. If they go to eat somewhere and get bad food, do they over look it? I'M DONE!!!

I have recently visited one of you store locations (0271003) and have had one of the worst experiences in all my years eating at one of your restaurants. I have frequented this location numerous times and every visit has gotten worst and worst ;the food seems to be lacking quality as from when i was a child, there never seems to be enough food ready to serve and the wait times are getting longer and longer. Not only this but the customer service is the worst I've experienced. The reason why I'm writing you is todays specif order was wrong, the drive thru microphone was not working, I could hear the workers working and talking but the could not hear me yet they made no attempt to take my order. I ask that you please take measures to correct this problem with this store and bring it up to a higher standard if not my business is lost.

I have made several visits to KFC at 4303 Lemmon Ave., in Dallas, Texas, my most recent visit was today March 30, 2015. For the last two months that I have stopped by KFC at Lemmon, I've been toldy that their grill chicken machine is down or broken. I do not understand why as big as KFC and one of the top fast food resturant chain in the nation, you can't have a piece of equipment fixed. I work near the establishment, and I enjoy the grill chicken. It has frustrated me for the past two (2) months when I stop by KFC at Lemmon to be told again and again that the grill chicken machine is not working. I would appreciate it, if you would look into this matter, find out why this equipment had worked for two (2) months, and fix it, so that patrons can enjoy griill instead fried chicken. It is frustraing when I have to drive out of my way to get something that I enjoy the most, when there is a KFC two to three minutes from where I work.

I wrote a complaint in the past, rec'd an "apology" and a promise for a gift certificate, which never arrived. I don't want the gift but your company needs to wake up. There's endless complaints about your Michigan City store on a Facebook page about "Michigan City Restaurants." Is it just me or does the KFC in michigan city seem as if they don't care at all.... waited in line 15-20 min when it was just a van in front of me. The had to order at the window. Asked to have honey with my biscuit. It was even joked about that i cant have any lol then didnt get any in my bag... also didnt get a fork or spoon to eat my meal.... any body else have issues with them? I will say i did order no ice and got that correct!!

Horace Abraham
from Port of Spain, POS
I am in the KFC Munroe Road Branch, Trinidad and Tobgao and leading up to Cashier is a dead cockroach on the floor. What poor standard and unacceptable. I have a couple pictures I took as proof.

John Irving
from Birmingham, ENG
Well we ordered twice to the lady asking for the following:
1 x Allstars lunchbox
1 x flaming wrap
2 x burritos Zinger
8 x wings
2 x large Popcorn
1 x still water
We however did not receive the lunchbox or the 2nd large popcorn chicken. We were left with limited to napkins despite seeing 4 of us in the car we only received two. This is very disappointing for us as we are regulars at the Solstice Park KFC. We hope that you can assuage are feelings of disappointment.

Mrs. Waite
from Nuneaton, ENG
I went to the kfc in bulwell Nottingham,to find when I got home most of my bargin bucket was missing,phone the number on the recipt,i was told that I was to bring the recipt back and she would replace my order, and to extrea meals for my inconvience.so I rang back today to see if I can come and collect it and was atold by kalam that it wasn't in the book,so there was nothing her do.i think it is discugusting how you can be told one thing and something else its wrong,you need to train your staff better,and to commicate propley.

Tania Nash
from Melbourne, VIC
29-3-2015 at 12.30pm went through Swan Hill KFC's drive through after placing order the young girl informed me that they only had a few wings left and there would be a 15 to 20 minute wait for chicken then asked me if just the wings would do, i declined and said i'd come back later.So i went back at 1 pm decided to go into the store this time and place my order.Placed my order 2x 3 piece feeds up sized and a small coleslaw the young girl walked off and started the order she had to go around the back to get chicken had a chat whilst she was at it came back around then proceeded to chat with her co worker by this time 10 minutes had passed i said to the young lady excuse me but im in a hurry it still took her a further 8 minutes to put this order together. I asked the girl if i could speak to her manager to express my concerns she told me that they had no manager there today. What a way to run a a business no manager? dirty store, and snail pace service, cold food. Poor effort Swan hill KFC Poor effort. Wont be returning in a a hurry.

jacqui peel
from Stoke-on-Trent, ENG
Staff were really busy but no apology for my wait I then ordered to be told after I payed that there was no corn on the cob yet again an then there was no lettuce but yet again no apology I life minutes away my food was all cold after paying 28pound for 5 of us I was not happy an this is not the 1st time

My family and I walked in and ordered our food mostly KFC food and my son- in law had taken his back up and told them he couldn't chew it .. it was too hard they gave him extra crispy but ordered and asked politely if they could give him what he asked for.. but they had non ready so he said ok and waited a very long time to get his order... so when it was done he went back up to the window and the girl in the back was handing his order to the girl up front and said out loud to the girl up front something to the effect of here's your chicken hope you can eat it or cram it up your ass if you cant .....she had a bad attitude and as we left I stopped to say something to the manager about that not being to cool to say things like that out loud with in ear shot of everyone standing there at the counter....
I continued to tell her that, that she shouldn't be working with people if you don't like to work in a hospitality business .. she could lose her job for that .. then this "manager" asked me to point her out and I pointed to her but she missed seeing who I was talking about so I said "the black woman right there" "she said which one , the chunky one?" and I said yes... I also said Im sorry if I offended anyone saying it that way I didn't mean any harm by it .. I was talking in a hurry she said she would take care of it and I left it at that and left.... then we go back there 3 weeks later and we get told that they cant serve us anymore and we need to leave.... I asked why and she said the girl I complained about was the store manager... and the staff was told to not serve us ever again.....
Now Im sure how I said "the black woman " might have offend someone but how else could I explain it in a hurry to the person in charge.() who said she was she manager and wasn't), who I was talking about they don't have name tags on in the back... but as far as what the real store manager said about my son- in law was uncalled for and unprofessional...... but to ban us from eating there again is way out of line.... so I asked the first girl I talked to ( the non manager) why and she said her store manager said we cant serve you guys anymore and told me to call corp. or talk to the store manager and shes not here... I asked what her name was and she said Pat and I asked for her last name and they refused to give it to me .. So I left and Im writing to you now about it... we spend a lot of money in there and all the other KFCs we go to .....
This is NOT how to run a business...... I would like "Pat" to give a public apology to me and my family for her rudeness .....

Mrs S Ali
from London, ENG
I have been to this KFC a number of times and it never seems to improve, and after the recent tv programme showing regular inspections i have started to think this branch has never had one! We went one time and the staff on the front desk spent too much time giggling to each other instead of serving people and whilst we were being served they spent most the time whispering to each other and laughing!
The other weekend we went, same staff were on. Served our food and yet again too busy giggle and having a conversation whilst we were placing the order. As we were sat eating the que was from the counter going all the way to the main door, and they were picking each other up laughing and staff from the kitchen were coming picking the girls up and singing very loud as i am sure all this would be on the stores CCTV. As we were eating one girl starting to clean the tables as people were complaining over how dirty they were there was food and sauce on the floor looked like it hadnt been swept or cleaned since it opened.
Then as she was cleaning up she sprayed the disinfectant all over my partner and his food and just said OMG laughed and walked off behind the counter no apology, nothing i was so angry as she found it amusing. I didnt see a manager try and approach us and trying to speak to them was like talking to a wall. I will be pursuing this until something is changed at that branch as it is horrendous and contrdicts everything which is promoted from KFC branch, a complete joke!!!!

Sanaa Harb
from Slough, ENG
I went to KFC Hounslow East and I was shocked and disgusted to find out that the Tuesday deal was not available for Muslims who eat halal meat! I would like some sort of explanation or something to be done for me about this.

Portia Buthelezi
from Johannesburg, GP
I bought KFC in Johannesburg corner Von Brandis and Bree Street, and shared with my colleagues, after eating the food I felt sick , even now my stomach is acking and went twice already to the bathroom for number 2. I then asked the people I ate with and they are having the same problem, the meat was off I suspect. I will log a complain with the health inspectors, your customers health is important.

Linda Faulk
from Port Clinton, OH
We went thru the drive thru at the Port Clinton Store. We ordered 2 5.00 strip boxes one with a pepsi and one with a root beer. The woman said wait a minute. She said ok a 3 piece strip 5.00 box with a pepsi, was there anything else. I said there were 2 of those one with a pepsi and one with a root beer. She then says so what did you want to drink with the 3rd one. I said there were only 2. I then ordered the 6 piece shrimp meal with mashed pot and gravy with it and and a dr pepper with that and also a large macaroni and cheese. When we got to the window I paid her and she gave me thee change and receipt. I was charged for a pepsi, dr pepper, and 2 root beers. I told her she made a mistake and she gave the money back for the drink but she kept the receipt..
She ask us to pull ahead and wait for the order which I didn't have a problem with. I told her we wanted ranch, bbq sauce, butter and honey and pulled ahead. when it was brought out we started to leave and found a small mac and cheese instead on the large. I went back into the store and that was corrected. When we got to where we were going to eat not only didn't we have bbq sauce, honey or butter we had no napkins or forks which makes it hard to eat mashed potatoes. I was really hoping this year would be different at KFC but its not looking good. Several people on facebook have said they won't go to this store because of poor service and food. I will say the food was hot and fresh but when you have to repeat the same order over and over and then its wrong I can understand why people say there is poor service. The line for the drive thru was past the front doors on the other side of the store so drive thru was very slow.
Her name tag said Bonnie and I think maybe she needs to be retrained or not be on drive thru. It was my first trip there since they opened this month and I was very disappointed.

Jodie Wild
from Liverpool, ENG
The KFC branch in chester Cheshire the staff are rude the floor in waiting area is very dirty there is no room for all the waiting customers and also the waiting times are ridiculous I won't be visiting that particular branch again.

Albert Carter
from Marietta, GA
25 Mar 15 I visited the KFC store #G135085 in Smyrna Georgia. I'm 57 years old and grew up on KFC and loved eating it through the years. I haven't eaten at a KFC in the past year or so because I had switched over to Popeye's. Today I wanted to switch up the flavor. I ordered a two piece meal to go Ticket #4052... After getting back to my office after and expecting a wonderful lunch. What I got was a nasty and greasy looking piece of meat that was by far the worst tasting meat I have ever put in my mouth. I thought when I looked at it, it looks darker than I know it be in the past. It looked like it had been dropped in grease and black sand a few times. I tasted as it looked, like crap! I paid $7 for a biscuit, because the rest of that meal went into the garbage can. I do have pictures of it, if you would like to see it. I also took the survey Validation Code 22170. I was not at all satisfied with the meal that came out of that store.

I went to our local KFC in Liberal, Ks tonight. I went inside ordered and specifically ordered 2 extra bisquits. I got all the way home, which is like 5 miles and too my surprise, no extra bisquits. Upon calling back, spoke with the manager and she basically put the blame on me. I got charged for the extra bisquits, they sure got this part down. The manager defended the store and employee, busy, which they were not. There was no apology, no I'm sorry. She expected me to drive back, let food get cold. Also the bisquits I got were thrown in with the chicken, not put in a separate container, they got soggy from the chicken and 2 out of the four were all broken up in pieces. They were also out of honey. This in my opinion was an easy fix. First, a sincere apology, then get name and address and offer a gift certificate of like $5. This would accomplish two things, let me know you care about me the customer and second and probably more important, get me to come back into your place of business. What it did was give me a really bad taste in my mouth and second, and worse for you, I will not be back to KFC in Liberal, Ks. I might add that I am doing this so they can learn from this mistake.

I just left and went thru KFC for dinner. I order a 2 piece crispy with wedges and mashed potatoes. They say they only have 1 piece of crispy (I'm thinking why? Isn't this a chicken place?) so I say fine give me one piece of original. Then I get back here (luckily I was coming back here) and there is no silverware, ketchup, salt, pepper or napkins in the bag. How did they expect me to eat mashed potatoes with no silverware. How can you eat fried chicken with no napkins? Who eats potato wedges without ketchup..

My family and I decided to eat out tonight. My daughter wanted chicken from KFC, so on my way to pick up all the food, I stopped at KFC first to get my daughter some chicken legs. When I arrived at the drive thru to place my order Christie introduced herself. I asked for two chicken legs, and she said they didn't have a two piece. I told her I just wanted to buy two pieces of chicken. She refused to sell me two pieces of chicken. So, I asked if they had a three piece, she said yes. Christie asked me, if I wanted Original or Crispy, I said Original. They she said, We don't have Original our machine is not working. So I told her never mind. I have bought two pieces of chicken there before many of times. I will not use this location again! The location is in Batesburg Leesville South Carolina. Sorry Management!!!

Tracy Miller
from Clarksburg, PA
Never fails what time of day u go in they never have hot wings up n gotta wait 10 minutes! Contacted training manager in Greensburg store once already because these ppl also don't know the difference between a thigh n a breast ! If this store was under good management today things would be better up there, I known worked Latrobe 4 8 years! Hope 2 here form someone about this situation going on in there soon.

Gwen Lee
from Waterbury, CT
I made a purchase at the drive-thru at KFC 930 New Britian Ave., West Hartford, CT 06110 on 3/20/2015 @5:13 PM Ticket# 2437. I ordered and paid for a 4 pcs. w/2 sides. I received a 4 pcs. wing w/1 side. Because I was quite a distance away from the store I attempted to contact the store via the phone number on the ticket. On my 1st 3 attempts the phone continuously rang until it just stopped. On the 4th attempt they actually picked up the phone and hung up. This made me furious that you are supposedly running a legitimate business and during normal business hours you cannot get a response to your calls. They took my money regardless of how much it was and then hung up in my face. I haven't been to a KFC In many years and you can bet I won't be going back. I will continue my patronage of Popeye's where I've never been slighted my order. With the customer service that KFC provides it's no wonder your business is diminishing in the state of CT.

15700 E 8 Mile Rd, Detroit, MI and the Manager on Duty was: Melinda. On Thursday, March 19, 2015, I went to the above location with a question regarding the KFC Club welcoming coupon. The Manager on Duty, Melinda appeared efficient, professional and energetic. She listened to my challenge without interrupting and then reviewed my printed email regarding the KFC Club before responding. I felt she took the time to properly process the information and after determining it was not an issue she could resolve, she asked for my name and number so she could forward it to her District Manager (good strategy). She maintained a level, pleasant attitude throughout our interaction and seemed to give me her undivided attention.
She stepped away momentarily to resolve another issue, however the employee at the counter continued to assure me she would be right back. While I waited for her return, I observed the location appeared very clean and well maintained. I also observed the employees were courteous and friendly to other customers entering the location. All employees appeared neat, clean, well groomed and in uniforms identifying them as KFC personnel. From my viewpoint outside the partition, the chicken appeared hot, plumb and juicy. On Friday, March 20, 2015 I called the KFC Corporate Office to see if they could re-send the KFC Club welcoming coupon. The receptionist answered the phone in a pleasant, upbeat manner and seemed to listen to my challenge. She transferred me to Steve Kelly and I left a message. Within 10 minutes, Mr. Kelly returned my call and explained why I was locked out of printing the coupon. He apologized for the inconvenience and assured me he would resolve my issue in efficiently and in a positive manner.
On 2 separate occasions, I felt I received outstanding customer service from everyone at KFC and look forward to enjoying the delicious food (especially the popcorn nuggets) for years to come! Thank you for treating me as a valued customer; all of you are greatly appreciated.

Laura schuster
from Clive, IA
Went to the KFC in Bellevue and the drive-through person had her hand in her butt

Reggie Brumfield, Jr.
from Arlington, TX
I went into KFC, restaurant #C002150 at 6730 Bridge Street Fort Worth, TX about 4:20pm on 3-19-15; I ordered 40 hot wings got home with them and they were still raw inside took most of them back to the store; but my sixteen year old daughter had consumed some of them and it caused her to throw up violently I talked to a Vicki Novels, she took my return said she didn't have to look at it that she believed me and gave me a refund, I ask for something stating why I brought back the wings (just in case I had to take my daughter to the hospital) she went to telling me she need to work and that she could not incriminate the store or herself; then she wrote on my receipt "Not cook all the way to customer like" I told her that was wrong that it should read not cooked to the specifications of the store this was about 5:50pm; I wait till she cleared her customers, she then apologized for if she was rude earlier.

Kelly Matney
from Warrensburg, MO
On 3/18/2015 at approximately 6:15pm my husband pulled through drive through at Blue Springs South 7 hwy KFC in Missouri. The female that took his card turned her back away from us. It was a long period of time that we questioned her. She was very nervous and gave the card back. This morning we were alerted from our bank that our card was being used to buy tickets in Afghanistan among several other things being purchased. Thousands of dollars being stolen. Very sad and disgusted with this experience.

Bevetly Kinzel
from Ashburn, VA
3/13/2015. I was so disappointed in their food!! Gravy tasted burnt, Mac & cheese tasted as though it had been sitting all day. Chicken was ok, but nothing to brag about. We ate in, but they gave us no plates, no forks. They were mad when I went & asked for them. No butter for the biscuit. They were not friendly or wanting to help me, the customer. Would love a refund of my $24.00 I wasted on a meal that was not edible.

Elaine Gessner
from Rock Hill, SC
I went through the drive through at the Rock Hill, SC store on Ebenezer Road on March 12. the first time i went through I ordered 2 $5 film ups with chicken strips and a Capri Sun for my granddaughter. I asked for honey mustard sauce and butter for biscuits. Of course when checking my order it wasn't correct. So i went through the drive through again and told the girl i had not received the Capri sun and instead of honey mustard sauce I got ranch. she said she was sorry and gave me a bag with the Capri sun and the honey mustard. I pulled away only to realize I never did get the butter I did not have time to go through a third time as i had a doctor's appointment that I needed to get to. I guess I just don't understand why i would have to go through twice to get what I asked for the first time. How hard can it be to get that small of an order messed up. This isn't the first time this has happened and believe me i am not happy. I could have gone across the street to hardy's or subway or many other restaurants. The person that took my order was Brittney. I would hope that this isn't the way KFC trains their people. It's ridiculous that it has to be this way. Drive through's are mean't to be fast for conveinience, sadly this KFC is not. thank you for your attention.

Ginger Risinger
from El Dorado, AR
My 91 year old Mother wanted to go to KFC. We went through the drive through about 7 pm but once we ordered (he was very uninterested and not helpful) and pulled forward to p/u window there was no one there and we sat for atleast 15 minutes without seeing anyone at the window. I could see a young man talking to someone near the dining area inside but even when I honked no one came to the window. We took our food home paid $12.75 for 2 meals. I did not get one of my sides and the chicken was mushy on the outside and the chicken was undercooked and tasted terrible. I ordered extra crispy. I live 15 miles from the location so I could not drive back. My mother ate hers at her home and the following day without my saying anything my mother brought up how awful her chicken was. I just thought someone should know. If I were the owner I would want to know.

eric callaghan
from Portsmouth, ENG
I purchased a 12pc bucket last night having got it home found it had been over cooked looked very dark and very salty unable to eat it and the fries was also cold the trans.number was 3194 we are both oap and cant not afford to pay out £12 as this was a treat .sorry to complain but this was the worst we have had think give it miss now.

Karen Varner
from Conway, AR
Went to KFC in Conway, AR at lunch, took over 20 minutes in the drive thru. Clerk shoved the order at me and closed the window without saying Thank You, Sorry for the delay or anything, I mean anything, not one word. Then when we got to work realized that the order was incorrect. They definitely need some customer service training. I tell you one thing, if I treated my customers like that I wouldn't have a job. Their attitudes are "Well I get paid the same whether I do a good job or not."

Cynthia Keenan
from League City, TX
I went into KFC Santa Fe, TX. 77510 to order two Chicken Pot Pies. They only had one and I waited 20 minutes for them to cook another one. While I was waiting I over heard the lady in the back say, Oh I forgot to put the chicken in.. After I received my order and returned home, I cut into the pies and found no chicken in the one pot pie. I then went back and told her that it was one thing to say that she forgot to put the chicken in, but not to correct what she had done. Of course she said she was not talking about that. The ladies name is Ruth at Santa Fe, TX. 77510 location. Not very happy.

Kim Johnson
from Compton, CA
On, March 10, 2015 at Restaurant #H730271 4 23 4460 (5:56PM) - Cashier: Jesus - I purchased (6) Chicken strips and (2) small cole slaws. When I got home and got ready to eat, I opened the box and saw that my chicken strips were nothing but crust. There was hardly any meat. The chicken was hard and dry. I was very disappointed, tired from work and had no desire to go back to KFC. I called this location, which is location on Compton Blvd & Central Ave. I have to say, this location is by far the worst location in California. I usually go to the one in Carson, CA because there food is always fresh & good and they even sell Apple pies at this location but the one in Compton has always been horrible and it's never going to change.
I am so upset because I didn't have must money as it is and to have to deal with dry crusted chicken is just not acceptable. I would like to get a refund of my money or some kind of coupon for having to deal with this. I did call the location and told them what they gave me and there response was "am I bringing it back now". I told him "No" because I am tired and had already changed my clothes and I should not have to run up and down the street in order to get the correct food that I paid for.
Somebody needs to do something about this location because it has always been this way. It seems like Compton gets nothing but the worse food! It is said that we have to go to another City to get something good!

mary malema
from Pretoria, GP
I bought streetwise 5 and I was given streetwise three. I checked my slip to see if I paid for streetwise 3 but it shows that I paid for streetwise 5,i only discovered this when I got home and am so disappointed.

I went in the KFC in Covington Virginia and the service was a joke the employees were to busy playing around, when I asked a employee I know if I should tell the manager, I was told don't bother they do it themselves.

My family and i went to kfc Mission Texas and when our order was called we went up and they gave us our order in two trays at the table we still hadn't handed everyone their food when two employees and a customer came to our table stating we had taken her the customer her food ..we got receipt and before we could check employees starting attacking accusing us of purposely taken her food but it wss in our tray THEY made mistake not us antways made my stomach turn and im so nauseous from experience WE ARE NEVER GOING BACK which is a shame because of my allergies KFC is the only place i can go out to eat..but believe me its healthier for me to eat at home...

Nicola Mattis
from Birmingham, ENG
Visited Star City KFC in Birmingham ordered a zinger tower meal got home bit into the burger it was that raw my teeth didn't even go through it this is disgusting and should of never been sold to me I will never go there again and thinking of taking this further.

Anne Kay-spratley
from Ashgrove, QLD
Went to Smithfield QLD store p/code 4878 bought 2 boxes of chicken and paid for extra pieces which I never received. This is the third time this has happened. The drumstick was so dry that there was only crumbs left and no meat on it. This is a treat for our family and I didn't get what I ordered now we have hungry people. I rang the store and I am still waiting for the manager to contact me. The staff need more training but what do I do about our dinner which I paid for. This is not good enough, I have been ripped off and still no solution to the hungry problem

Andrea Oatis
from Davenport, IA
If I could post a picture I would show you how a piece of "chicken" looked! Looked like a tore up liver! Nasty as s**t! Mount pleasant Iowa KFC is disgusting. Their food is undercooked. Small portion sizes and they are serving food that doesn't even look like food! NEVER eating at a KFC again!

I am writing this from Jeddah Saudi Arabia. Tonight we bought kfc chicken pieces and strips fRom madinah road. usually fresh chicken meat is white and I was happy with the strips. But we were extremely disappointed with the chicken pieces as they were grey, smelt foul and tasted bad. We've experienced this several times before and my brother has complained twice but in vain. Now i make it a point to tell my friends and family not to buy from kfc. I want this complaint to reach the headquarters at kentucky. Otherwise i am not confident about this issue being solved. u may ask y we didnt complain at the restaurant. Cuz it was take away. And we found this only at home. And no I don't want anyone to call me and offer me free food. I just want fresh food every time I decide to buy kfc.

the chicken pieces are so small and the prices are ridiculous, this really bad because I've always love to eat your food but its getting to the point no meat just bones, your chickens sizes have went from using 3lb chickens to 2 lb and it sucks. I will not buy any more till this is changed. and its not just me and then also the wings they don't have them in our area anymore. Defiance Ohio and Napoleon Ohio. Actually Famous recipe right now is giving you Guys a run for your money in Findlay Ohio. highly disappointed.

I am a loyal customer of KFC and always will be. Yesterday i stopped at KFC and orderd the 6 piece grill deal, and when we sat down to eat , th food had a strange taste to it. My chicken appeared not to be cooked enough, and there was a taste to it that we could not eat it, due to our safety of possible raw poultry. Im not sure if it was just so old and it had a smell to it or if the food was not well done to eat. I will buy from KFC again but not the grill anymore, unless i can observe it or eat at the restaurant.

On Feb 26th I went to a drive through KFC, I just wanted a Big Crunch sandwich, when the attendant told me it was $6.20! I freaked out! 6.20 for a sandwich?!?! I told her to cancel the order, and drove away, their is now way I'm paying for that. I'd hate to find out what the cost of a combo was!! I'm never returning to this establishment ever again!! Haven't been to a KFC in a while but, I remember why. I will tell everyone about this and anyone else attempting to go.

I bought a chicken pot pie at the KFC in norwalk Ohio. My son that is 11 was eating the pot pie and got choked on a chicken bone that was in it. I has to administer abdomen thrusts to get out the bone that was lodged in his throat out. There is no warning on the the box saying product may contain bones. I have a pic of the bone that was in it if need for anything.

Sat 17th my wife and me and 7year son went to kfc have a meal we got a bucket and chips that and my son got a kids. That was the first and the last food he ate got home my son vomited diriea 22times stomach pains lost all his body fluids that burger stunk like it was sitting in ur resraurant gor 6months my son is still in hospital ive now gona take this matter to court and I have contacted health and safety officers they will be in contact asap the kfc branch is milton keynes escape opposite subway the manager there is ibra I will fight all the way I want comonsation.

Worst service I have ever experienced, this is not the first or the second time I have given a chance to this store.
Everyone that works there will attend you with a bad attitude, they can never make your order correct, and the place it's always dirty.
Unfortunately this is the only one in the area of Hyannis, MA.
All the attendees and the manager are horrible with their customer service skills.

I went to KFC about 3:30 pm oct. 5th. I ordered the #5 on the menu which is 5 hot wings & cole slaw and a soda, well when I got home started eating and the wings was so hard and they tasted like they were left over from lunch. well I called the manager and told her what the problem was. she took my name and told me to hold on to my reciept so the next time I come in she will give me another order. well I went back to KFC about 8 m for dinner the same night,showed my reciept and told cahier I had spoke with the manager earlier and she claimed she hadn't spoke to me. well anyway I got my order went home and low and behold the wings was the same way hard and old!!! I threw them away. I tried to call them to tell them to check the wings before they sold them to any body else, they didn't answer the phone. this is the Shelbyville ,Tenn resturant.

myself and my friend and brother visited kfc infor st.helens .que for 10 mins to get told there a 30 mins wait on chicken on the bone..we wanted a family feast .but was really disspointed they was no chicken on bone ..i ask for a fillet box meals .she said it has chicken in .i said can i not have boneless piece in it as u nt got answer was no ..so we got 3 fillet burger and chips wiv drink and a gravy .got to car and it was beans had to go bk in .the que was nearly ti the door of entrance and still no one was sayin there wad no chicken .the drive thru wads full .but no member of staff telling any1 .i can honest she myself and my brother and friend will nt be visiting again .we think it was poor serve

My husband and I went to the kfc (Store #G630009) 2994 homer adams parkway, Alton, Il. this evening 3-5-13. We had the buffet, the cole slaw juice was sour and was spoiled, the chicken cold, the chicken and dumplin's had crusted over on the top and hardened and they had no unsweetened tea made up. It was 6:51pm when we went in to eat. You would think they would be ready for the dinner diners. I asked the girl for fresh chicken and she did get it for me. I told them that the cole slaw was sour and I believe it was spoiled, she said she would tell her manager. They told me they would make tea and let me know when it was ready. Well they never changed the coleslaw out, never put more fresh chicken out, the chicken and dumplins were left there and the tea never came. My husband and I are not happy at all about our dining experience there. We did not talk to the manager it was never offered to us as a option, the cashier said she would tell the manager about the problems. We left without eating hardly anything, didn't seem like there would be fresh food put out soon, as the people working were all by the drive thru window talking. Not to mention there was only one napkin holder that had napkins in it and that was at the register, all the ones at the buffet were empty. Please check this kfc out and find out how come all of this was allowed to happen. We will not be going back to this store, we have been there before and it seems there is always issues with their foods freshness. Thank you and please advise how this is addressed, and the outcome. My husband came home an ate a sandwich, and he never does that. my cell number is 618-444-0566 Linda Shane

We arrived at your location in gurnee il 10 min before open. But we did not mind the wait fresh product good food. After 10:30am no one came on speaker. So we circled around thinking we needed to set off the box. Still no one. Three times I'm all. Then I went up to door beat on door beat repeatedly. Still no one. 3-4 cars in lot so assume people are here.
Circle around again this blow horn several times. No one heard. Knock on drive up window. The guy finally gets the window open, we ask him are you open? It is after 1o:30, he says I don't know it is my first day. Let me find some one.
Then a few min later a different guy comes to the window and apologizes says he doesn't know we're the manager and staff went he was just the clean up guy but he was sure they would be back soon. We just could wait any longer. It is now 11am still hungery. Still disappointed.

We went to KFC which located at East haven, Connecticut around 12:30 PM on Dec.12 2011. Two employees harassed us : When I ordered 12 PCS, The lady and the man mocked and laughed at us because we were not familiar the orders while we are asking questions and they were rush us order even there were no other customers behind us. The table near the widow was so messy. I asked for cleaning, The lady was lazy and reluctant to clean it. She use watery clothes purposely to wipe it and put us waiting for a long time.
They don't even gave us only 2 pieces napkins and 2 forks ( After I asked). When we asked why limit customer for napkins and forks. The lady and man angry and Yale to us said "go out" In mad voice. In the very hostile environment, we didn't finish eating plus the chicken was not warm enough and they were not fresh at all. when I asked their name, they didn't tell us. The man said he is manager when I ask if I can talked to manager. I called the restaurant after we left about half hour, the man very rude and told me that manger take off. He didn't understand English when I ask more questions.
On the other hand, we felt that the food soaked in the oil for a long time. It was not fresh and even not warm enough. Their behavior harassed us. I am looking forward to hear you. I called restaurant again this morning. The man said : "the owner will be back in two month". Obviously he lied. I believed they are really under qualified employees. They behaved like they own that restaurant and they devastated KFC's reputation and harassed customer.

kfc 2715 north carolina 24 warsaw nc 28398. The date entered kfc 1 10 13, I ordered a chicken breast wing mashed potatoes and mac and cheese plus a biscuit, the girl that took my order was very unpleasent you could tell that she didn't want to be there, waited around fifteen minutes for my order, while I was waiting Iwas looking at the buffet and it looked like a pig trof nasty, sat down with my meal had to clean off the table dirty, the wing was hot and very good the breast was hard and very dry, the mac and cheese was dry the biscuit was hard as a hockey puck I banged it on the table and it would not break the only thing that I ate was the wing and mashed potatoes, will never enter that kfc again.

I am so tried of the excuse about us living in Alaska. That what it is. We live in alska, the 49th of our 50 united states not timbuckto. I was so disappointed about the price difference I could not even enjoy the meal. I can see why we currently have only a few locations left here. I should have went across the street to the other chicken place. For the same meal with more flavor I would have paid $6.78 less. This is the second time I was disappointed. The first time I paid $10.00 more than the advertisement. Pricing at the extreme. Although you are closer, I will not pay $16.78 for a $10.00 meal or $28.99 for a $18.99 dinner for my family anymore. That is outragous price gorging.

At the ramsgate, Thanet KFC I tried to redeem the 7th of may free chicken deal. They said I wasn't allowed. They told me that people had been passing there phones back in the que and will only accept printed copies. I asked if they thought that I was doing it and they knew it wasn't me. But me and all my classmates didnt get our chicken.

I have driven several miles each time, over the past several years, to visit the location at 7006 W.75th Street in Overland Park, Kansas. I try to arrive when they are supposed to open at 10:30. Each time, I've had to wait from 5 to 30 minutes for them to open. One time the cook quit and I never did get served that time.
I know I should have quit going there long ago or gone at a different time, but will now go to a different location. Today, with a low temperature, standing outside the door and waiting was just too much. Your store should not advertise an opening time if it's virtually never going to open at that time.
Tony Holland

I have purchased KFC tonight from Ballina NSW store (around 8.25 on 5.4.13) - a Family Pack of 10 pieces of chicken. 4 of the pieces were wings and Coleslaw had a use by date of 6.4.13. This is not the first time I have had short dated coleslaw and to use by the following day is inadequate (it already had the 'tang' to it). And 4 wings seems a little too many of the smallest pieces. The chicken was our hashed as a birthday treat for my visiting daughter and it would have upset the atmosphere to return the chicken etc. Regards Patricia Kingdom

Kfc Uitenhage eastern cape,everytime I drive down to kfc to buy a krusher they always have some story about the machine,the first time they said someone threw in the mixture too late so it was runny,f ew weeks later go back then their is a sign saying machine is out of order, few days later they tell me there is no slush??what is actually the problem. The new nestle krusher has been out and advertised for over a month and I still haven't even tasted it. Can kfc not just buy a new machine or what is the problem, the employers find it amusing at times which I don't! The food is good and I still buy there but just get annoyed driving down there for nothing somedays

I visited KFC - Merry Hill, in the West Midlands today at around 12:30, we ordered 2 fully loaded meals with gravy.I regret to say that I was very disappointed with the overall service from the staff their and their lack of customer service skills. Whilst waiting for our food one member of staff, who was the only person serving on the till at the time swore at another member of staff as they were leaving. I visited the restaurant with a friend, I ordered my food but we had to wait around 5 minutes for my friends food to be ready, during this time my food was out waiting on a tray getting cold. My friend ordered a 7up that had to be returned as it didn't taste very nice, when we finally got our food mine and my friends burger had small short black hairs on the burgers I took the food back to show an employee who got the manager and our Money was refunded. The shift manager did appolagise and ashore d me that it wouldn't have been something that was done out vindictively, I had obviously questioned this considering their were hairs in both of the burgers. This restaurant is the one most local to me and every time i have visited the store the staff their have either got the order wrong or the service has been bad, i enjoy KFC food and it is something of a treat for me as I don't eat them often. For the prices that are charged for the meals I would expect that the food be delivered hot, with a smile and hairless. I will not be visiting that particular restaurant again as it has quite honestly, in the words of the front desk employee 'pissed me off' I sincerely hope that something is done to shake up that store considering it is situated in one of the busiest places in the West Midlands.

I was in KFC in Pooler,GA on Hwy 80 and purcahsed 2/12pcs. hotwings and went back to work after eating 2-3 wings my
coworker and I both relized the wings was raw so he took them back and the manager was going to refund our money but to asst. manager ask where was the other 2-3 wings and he said we ate them instead of them giving us our money back and praying we did not get sick they did not give us food or our money back. we had no lunch to eat on our 12 hour day at work and no money to get somthing else.This was the worst experince I have ever had at KFC . This meal cost me $20.50 and I would like my money back. The sad part is my wife cousin work at that store and I never had that problem before. If this is not resolved the guys said they will never eat there again . Thanking you in advance Mr. Herrington

My husband and I went to the KFC on Civic Center Drive in Augusta, ME last night Monday, February 25th 2013. We each ordered the 3 piece meal along with to sodas.
I must say our dinner was the worst we have ever eaten there. I ordered the chicken breast and wing and he the chicken thighs. The chicken was dried out and tasted like it should have been thrown out. The biscuits were also not very good. We usually love the cole slaw, but that tasted like sawdust.
The potatoes and gravy in my opinion was the only thing salvagable. I don't know if they think they are saving the company money by serving us that swill, but I can say it will cost the company by losing customers.. We usually stop there because it is on our way home, but I guess I'll have to stop some where else to spend my money and there are plenty of places out there on the way home..

I went to our local KFC in Kirkland Lake, ON on Feb.25, 2013. The service was HORRIBLE. The cooks in the back were swearing non-stop, when they had a few orders waiting, they panicked. The supervisor working the cash went to the back to help out and DID NOT wash her hands. I could see her touching food after she just finished handling money!!! The workers in the back were also touching there face/wiping their sweaty foreheads, then touching food. Our family will NEVER return to this KFC!

I was working for KFC and one of my managers verbally attacked by Brittany the manager due to the other manager rob telling me not to open the drive thru window for her and then came inside and verbally attacked me in front of costumers.
I apologized to the customers on her behalf her name is Brittany and Joe or tony the other managers don't seem to see she was wrong at all.
I'm the only one got terminated for this situation. They also had a meeting on my be half without me present to tell my side or got a statement from me or another employee that was there and tony told me he done talking to me since I didn't open the window for Brittany to get a cup of water.

Place is filthy, food is everywhere, same seats,TV, benches andwalls for over a month and its still dirty month later . Workers putting on makeup an standing around talking . Glass is filthy with food when opened. Will never come back.

I have stuck in drive through at greenfield Indiana for 18 minutes There has been car moving with four still in front of me. I am unable to leave due to drive through construction. They are out of chicken at 1:00 on Sunday; then why do they exist? I should have never come here; it usually takes 10 minute per car on non busy day. Now ex customer.

On Saturday the 13th of October 2012 I ordered a $5.99 streetwise meal from 357 Pennant Hill road Pennant Hills NSW. I was half way into my burger when I came across a long black hair. I went to the counter to show the staff, All the manager could say and do is sorry and continued to serve another costumer. Did not offer to give me a new one or even my money back. I said what am I meant to do continue to eat a burger with one of your staff's hair in it; I put my burger in the pin right next to the counter and walked back to my seat where my friends were trying to finish eating their meals.

My partner and I live locally to the KFC burnside Melbourne Victoria, every time we come here before 10pm their chairs are stacked by 9:15, cleaning progress has already started and there are always no chicken in the oven, we went through drive thru this evening at 9pm and ordered a giant family feast with a streetwise burger meal, gentlemen who served us was in training and was ok. We drive up to the next window to be told that there is a 20 minute wait on the chicken as there was none left, not only that but it seemed like they wanted us to say, oh it's ok never mind but we insisted in waiting, the streetwise meal was ready we added extra cheese with it as well with the original fillet burger, my partner an I had parked up, while we waited he ate his food only to notice that he had no cheese and ordered a original fillet with the meal and was given a zinger burger, he walks inside and tells them to make him what he ordered, the manager on duty replied to my partner that they had no fillets left an they will replace it with 2 strips, not exactly what he ordered, they never said they ran out of fillets at all. They were just plain lazy to make a fresh burger. To my disappointment this KFC is beyond a joke, they close well ahead of time, they don't cook enough chicken to get them through to closing, and their customer service is shocking, management is a disgrace, the first time they said they don't have chicken previously when we came I thought ok fair enough, but then 2nd 3rd time is terrible. They need to do something about how they run this shop, you are loosing customers each time they say nothing's available, and if nothing changes I will go higher than you could possibly go to ensure nobody else experiences my frustration. They need to have the shop open until its close time instead of sending customers away, they need to take action and make sure this doesn't happen. I will never be going back here AGAIN.
VERY DISAPPOINTED.

As I was walking into KFC two employees were eating behind the counter by the drive thru neither one bothered to was there hands which is a violation then while taking my order she had to get a napkin to wipe the crumbs off her mouth. The food was old and hard and the floors filthy

A kfc has recently opened in the my area my post code is ws3 2bn. I am sorry to have to complain about this but is becoming a real nuisance with the litter that i have to remove from my drive everyday. It is not just me that is fed up with it both my neighbours are also finding the same problem i have not a problem with the kfc being there but i am sick and fed up with the nuisance of the litter. eagely awaiting your reply.

just departed the kingsway and royal oak kfc ( van bc can ) after your card reading machine failed five times, finally working on sixth effort. ordered 3 pc meal plus small popcorn chicken. ( 16 $ ) requested sauce for wifes nuggets, and coleslaw for my friend meal. neither was in bag upon return home. 2 ketchup, no utensils , one napkin. had to go behind counter for transaction to pay at drive through, was called an asshole by server and treated like the reason for my credit card not working was my fault. i don't know if you understand the term " market share " but i am going to vocalize my experience with some of my media friends and also bring some fascinating accounts of other friends experiences. good luck in the future. !! oh, my friend asked i request three thighs, no wings. he indicated that it was far from such. i looked at it and would have to agree that it was a pathetic offering. had a couple of my wife's nuggets, not bad.

the food at the kfc in remington, indiana is never cooked properly the chicken is all grease and never well done the kitchen is a disater the employees never wear hair restaints or gloves the floors are filthy and the restroom in atrocious i can't believe this place has never been cited for anything pertaining to health and well being of staff or customers the employees are rude and the manager and the assistant manager are no way friendly the all you can eat buffett has spoiled food in it the lettuce is always brown and discolored

I visted the Gastonia, North Carolina store on Sunday October 29,2012. The store is on new hope road in Gastonia and the manger's name is Shauna Washington. When I placed my order, I ordered 5 crispy pieces and 5 original, when I got home, I only had crispy chicken. My father can only eat oringal, so I had to drive back to the store , my family was ready to eat, but had to wait on me to return. When I arrived I told the clerk that my order was wrong, she immediately took offense and went and told the manager Ms. Washington. Ms. Washington had an attitude with me, she threw down my receipt and hollowed to the worker to give me 5 pieces of chicken, she had such a bad attitude, she did not aplogize, she could have said, I am sorry for the mistake and the fact that you had to drive back to the store. I work in a governent agency and we never treat our clients the way I was treated today. Other people were in line and she was loud with me. She acted as if I wanted to get some free chicken. That was not my purpose. I frequent your store many times, but the way Ms. Washington made me feel. I am not sure I want to go back again. I realize mistakes can happen, but she acted as If did something wrong. She did not err on the side of the customer. I have never had a problem with KFC before. Thank you for listening to my complaint.

Today at KFC, A N Traders Pvt Ltd,SCO -100, Sunny Business Center, Chandigarh Road,Kharar. My husband ordered 1Veg Zngr Strips and 1 veg Hot wings as take away order. But they give us non-veg, we are pure vegetarians.I started eating that order.Give strict instructions to your delivery boys chk the order carefully when they deliver to the customer.I will take action against him.
Tin No.3262010914
4212 Aman K
Date 23 Feb,2013
Time 18;45

in the ince in wigan branch sun 24/2/13 at 1-30 approx ordered a boneless bucket watched a member of staff clean down an preperation area while she was actually dealing with food and was making a wrap the young woman in question then,put the cleaning fluid down and continued making the wrap no gloves were used n or did l see her wash her hands during this time. l took my meal home only to find that the side order of gravy had been watered down that much that there was very little taste to a meal l had paid thirteen pounds plus for l will not be visiting kfc again.

In Lawton, Ok praise to the KFC on 1st & East Lee Blvd - it is clean, the food is well prepared, the staff is clean and courteous; re: the KFC on West Cache Rd - this is long term - over the last 2 yrs since I started trying to eat at buffets presented in both places ---> persistent smart-ass employees, slippery floorover and over again - laziness to mop up the soap used I would suppose, employees who can't make change and screw up the amt tendered - failure to operate the cash register as it should be operated - attempts to short change customers - I've had it happen to me and seen it happen to others - particularly senior citizens.
Today, I decided to voice the complaints I have after once more going in to the one on West Cache Rd and encountering the same backed up line of people standing around on a slippery floor.
I went to KFC at Salisbury to get a 3 piece feed and was told Wicked Wings was the only type of chicken left. I was dissapointed but decided that I would have the Wicked Wings as the chicken substitute. But when I got home I opened the box to find that I had only been given Wicked Wings, so no chips, potato and gravy or bread roll.
Which is what I thought came in a 3 piece feed meal. I'm dissapointed at not receiving the chips and gravy after having paid full price for them.

I dont know if this website is a serious website to help complaining customers or a website paid by the food companies to let average people vent their complaints so they do not take their complaints to a legal level.. seriously.. I don't want to insult this website but seriously.. looking at all the other complaints filed by thousands (at least thats what I see on this website with my own eyes . which is a good thing for this website)..
I used to work at KFC when i graduated from HS, back when we were sent to KFC University (yes a actual school :p).. and for so many yrs have enjoyed the "famous" recipe with my family and kids.. Now, it seems KFC has grown to resent KFC coupons (yes they are franchised, but still), and personally visiting a huge amount of different KFC's in the southern californin area (from los angeles to san diego), have seen many franchised KFC's either not accept KFC coupons (not participate) or give 'alternative' items to replace those that the coupons listed.
I have seen advertising on TV nowadays, advertiseing a whopping 20 dollars (approx) for 8 pcs of chicken ( legs and thighs only/mostly dark), and a glorious side of chocolate chip cookies or a pie and a few sides..
What has happened to KFC? compared to other chicken franchises ( Churches, popeyes, lousiana, pioneer, ect).. they offer good prices (sales coupons or not) for a decent amount of chicken like the way it used to be back then ..
KFC franchise owners have taken advantage of the finances with huge disregard to our economy (based on other chicken selling franchises), and have grown very arrogrant of the consumer.. again I have tried to get hold of KFC consumer complaints but have not directly been able to talk to the right person.. .. wonder why they offer soo many coupons on their website? to distract the average complaining KFC customer...
I stil like eating KFC chicken now and then (and being a past employee. long ago).. but things have grown wayy past the consumers interests and they do not even care, based on sales... they could care less about the older more dedicated KFC customers that used to enjoy a good KFC dinner ( a bucket of mixed chicken (not thighs/legs/dark), some good ol sides veggies and mac and corn, and appreicate KFC for what they were.. compared to nowadays..
I had a coupon for 10 pc mixed a few weeks ago. i went in.. manager said all they had was legs/thighs now.. i could wait 15min to get what the coupon said.. i agreed (sitting in the food area with my 3yr old son).. after bout 10 min, mngr called said order was ready.. i got it and left.. driving home, i found he only put legs/thighs in the order.. I called back.. he said that i wanted that.. i told him i waited 15 min to get my coupon order.. he said sorry.. thats what he heard.. i filed a complaint with KFC online and phone.. never heard any replies since...
What does that tell u.. Idont have huge lawyers to file stupid complaints to KFC headquarters and they know this too... if anything.. if u experienced soemthing similar.. plz definitely complain and maybe, just maybe, a lawyer that has had the same thing happen to him/her, can take our cases and bring justice to a corrupt company that once used to be honests... the company I used to work for many long yrs ago..

Louis Trichardt KFC drive threw always has a problem, we went there tonight 26/10/2012 to get dinner and the lady taking the orders firstly got the order wrong then there where tree other cars that were waiting to get there food in the parking lot because they don't want us to wait in the line they order us to wait in the parking area. when we said we orders three crushers and not one the people working there said we didn't order three. the previous time there was no mash so they gave us coleslaw to replace the mash as soon as i had a fit all of a sudden the had mash. that is shit service if they don't do something about the management soon there reputation is going to be ruined, i know i wont ever go there again.

Ordered a 12 piece dinner and gave the cashier a coupon for such. She said that it expired one day earlier and could not accept it. I told her I was a regular customer at this establishment and could I go home and print off another coupon off the internet which was not expired to apply for the cost of this meal. She said no that she was unwilling to hold my meal and wait for my return. I reluctantly paid full price but due to the cashier's rudeness and unwillingness to try to save me a few dollars., I will probably not be a returning customer at this KFC. Considering the coupons that are circulated via the Sunday papers and off the internet., I thought that KFC would value these and would try to accommodate its customers., but this is not the case.

I went to your Grants Pass, OR store and got a honey bqq snack sandwich and an order of honey bqq wing. When I had the wings it was like having hot wings with honey bqq sauce on them. I love the wings with the bones in them. I will not get the honey bqq wings from this store ever again. In fact I will not go to this store again as they do not have the original chicken seasoning. They add hot spices on the regular chicken so I have not got your chicken from the store for years as my husband did not like it hot. He made me go to Albertsons that is in the same shopping center to get fried chicken and I have others tell me they did not like the chicken at this store.
Donna Mason

I went to KFC at 9 15 in the evening on 23/02/13 I ordered a 3 piece large and a tower burger. When leaving the drive through and getting home and finding my tower wasn't in the bag but I got my sunkist drink. How does tht work. I'm very disappointed from the service at Armadale KFC on Jull street I expect a full refund of both meals for the inconvenience of you dier staff. I expect a reply from head office ASAP, to resolve the matter. Again very disappointed.
Oliver Ashford

They have repeated calling my cell phone 4 times after me calling them and saying that they must have called the wrong number manager was very very rude and obnoxious this started happening at 6:30 p.m. until 6:44 p.m. if this persists I will seek an attorney for harassment the number they are calling from is 865-483-5059 and is coming from oak ridge tn I don't even live in that area I reside in white pine tn I would really prefer for somebody to call me after you receive this complaint my number once again is 865-761-0218 I used to be a good customer of kfc in Morristown tn but after being talked to and treated the way I was by your oak ridge store I doubt very seriously if me or my family will proceed to eat or deal with any kfc again sorry but I wasn't trying to be rude to him and him being a manager shouldn't have responded the way he did he should control his employees at a better manner and why are employees being allowed to use a company phone every company I've worked for wasn't allowed on company phones need to control and watch your stores and managers and employees better

For family business I find this AD very offensive by deciveing a child plus lying to him really sends the wrong message to a child . This may be a reason that our generation's responsibility for teaching our children right from wrong has failed based on the actions of the younger generation of today.

Dear Sir/Madam, on Tuesday 16th October 2012 i went to my local KFC store in Hackney to buy two pieces of chicken (a Drumstick and Side Breast) and when i arrived home and opened the bag it wasn't what i asked for, a Chicken Thigh (which i don't like) was in the bag instead of a Drumstick.
This has happened about four times now and i've gone back to the store to complain twice before but nothing seems to be solved so this is why i'm making this complaint now and further more if they don't have the order that you want they shouldn't be allowed to give you anything that is available or they should say they don't have what i just ordered so I could choose what else i want.
Thank You
Pauline Stevenson

I visited Store# Y336058 on 1-18-13 at 12:18pm and simply ordered a #2 (doublicious combo). I've ordered this many times in the past so I was surprised to find that instead of being made with a chicken breast it was made with what appears to be a dark meat chicken strip that had almost as much breading as actual chicken. I wasn't able to have them remake it because it took several minutes for them to even get it to me despite being the only order being made and I had to be back at work. It wasn't until I sat down to eat that I was able to notice this. Normally I do not have any issues at this store, I go specifically there because I always have problems with the other stores in my area. I just do not understand how or why they would just put an entirely different piece of meat on there and it really ruined the sandwich.

On Easter Day we bought a 12 piece family value meal, we ate it around 4:00 pm, and after an hour 3 of my kids and myself got really sick with vomiting and diarrhea all day and night. One of my kids,who is the youngest, ended up in the hospital for food poisoning. I do not know if the chicken was bad, old or not cooked properly.We went to the location where we bought the chicken at, and they did give us our money back. I would like to have an answer to my complaint, before we take a legal action of some sort. We have always been a customer at KFC, but after this issue we do not know if we would like to go back, because my 3 year old was in the hospital, and we would not like this issue to happen to someone else, because having the whole family with food poisoning is not pleasant.

I went into KFC tonight and ordered a grilled twister max at approximately 10:40pm, they informed me they had no grilled strips and offered me original strips which I was fine with, I asked for no sauce and no tomato on my twister, the first time my order was given to me it contained sauce which I had asked not to have on there so I went back in and told them I had asked for no sauce at all, the second time they tried making my order it contained tomato which I asked for not to be on there, I shouldn't have to go in there 3 times to get a simple order made correctly, it's quite frustrating...

Yesterday, Thursday Sept.23,2011, me and my friends went to KFC at Al Khalej Centre in Bur Dubai.We reach around 3:50 pm in the counter and straight away ask for the lunch meal promotion for Dhs.15/-, but unfortunately the person in the counter said its closed already.How come! The timing says it starts from 12:00 to 04:00 pm.but then they didn't allow us to order the promotion coz they said in their system its already 4:15pm.
Then one supervisor came which i don't want to mention the name, says,they cannot do anything coz this is from the management and if we want to complain we can call and then he give us one of your take away plastic which has the number on it.You think its the right way? I don't think so!It's very unprofessional!!! I'm sorry to say. He could have done better than that. Either, change your system timing or change the timing from your poster or brochure make it 12:00 to 3:35 pm. since your system is 25 minutes ahead.
People won't care your system timing anyway, we all follow the standard timing in our watch.I hope you will look into this matter....If you really care about your customers!!!

I went to the Upper Hutt KFC today I found the customer service absolutely disgusting! when I got to the window to pay and collect my food I asked if I can get extra seasoning on my chips. the girl who was serving me at the window was very helpful at that stage and said yes of course and gave me extra seasoning. that was when I heard the 2 other females who were packing the food pipe up and say we don't do extra seasoning anymore (which was news to the girl who was serving me).
They then proceeded to say that if they really need it give them a pack of salt or even better tell them to bring their own if they want it. all of this banter was going on while I was still at the window but weather they thought I could hear or not this is not what a customer should be hearing. I got my food and drove off very unimpressed and not wanting to go back really. I don't know names of these females but the girl at the window was a Maori/islander the other 2 - 1 was a European lady and a Maori/islander and I believe she is the manager?
I manage in a food place myself and I would never let my staff talk about customers in such a way. customer service means serving the customers needs. I wish that these people are talked to as they need to realise they are customer facing and they need to sort out their ways of talking and acting.

On Wednesday evening we ordered a family feast from the mingara, central coast, now takeaway. When we got the food home the gravy lid wasn't on properly and had leaked all through the bag & food. Also we realised that the food we were given wasn't the family feast. We returned to the shop and were informed by Sean that they were now closed, apologised & told us to come by the following evening & we would receive a free family feast. We told him we would be driving by at 7pm & would call in. Sean assured us he was working at that time, however when we called in that evening he wasn't working & wasn't even on the rota to work at all. The young girl apologised but there was nothing she could do about it. KFC owe me my money back for the meal we originally ordered. We go to KFC once a week after footy training but we won't be going again ! There are other chicken takeaway shops here on the coast & will be getting our hard earned money in future.

Your location at 80th and Wadsworth in arvada CO is horrible. 99% of my visits I end up having to go back to get missing food. I was at that KFC every Thursday but the horrible made me stop going to KFC six months ago. Two weeks ago I decided to give it another try. I had to return twice. My large cole slaw was missing. I was so upset I left my home and went back. When I returned home I noticed they had also forgot the dinner rolls. I need you to know that the location have young people who do not care about the customer. The manager laughed when I returned for a second time and said "we have new people training new people". ??

We went to Waterloo NY KFC drive-thru and then drove 45minutes to our home only to find part of our order was missing. We called the store to report the mistake and we were told that because of the great distance to the store that we would be reimbursed the entire amount of our purchase in food credit by the store manager.When we went to the store later , we were told that because the store had made so many mistakes lately that they would not be honoring the fore-mention good-will offer,but only replacing the food that was missing .when I asked about the offer the other manager had made with us ,we were told rather bluntly that with was not their problem! All this was done in front of many other people waiting to order. I don;t believe this is what KFC had in mind when they trained their employees.This store WILL NOT get another chance to embarrass us again!!!

I went to store #J295004 in Poteau, Ok at 7:42 pm , 15 Dec 20012 to order my dinner. Upon doing so I joined the sizable group of people standing there waiting for their food. The faces of these customer were not happy ones as they waited while the crew of approximately 7 young people lolllygagged and horseplayed. Their did not appear to be any adult supervision. Their enthusiasm for service left much to be desired. The one young man that finally got my food looked and moved like he would have rather been anywhere but at work. I observed him assembling orders with obvious beligerence. The quality of my food left much to be desired. I live less than a mile from that store an when I opened my food immediately upon returning home I found it to be cold. This is not the first time my family and I have experienced slow service and poor food quality. If there were another place to get chicken other than a convenience store I would go there. Thank you for your time. I hope someone takes this seriously.

I am 60 years old and have eaten and enjoyed kfc for a long time. Now, suddenly , I can no longer eat it due to the fact that is way too hot and spicy.
did you change your original recipe. I have tried eating it with milk, bread and butter etc. My mouth is on fire. Others have said the same thing. what happened to my favorite chicken place.

Hello,I am a regular buyer of KFC,I love KFC,but the people who are working in your KFC shops are cheating the customer.I've been in Wembley high road at KFC and order a wicked bucket(as in every weekend) to take away ,and when I'm in hurry I don't heck all the time to see if everything is in the bucket,and i'v noticed that they are cheating,they don't put your full order.Either your pieces of chicken are missing,or your gravy ,or ketchup(and I always order large gravy and ketchup) and I pay extra for this.I am very disappointed with the services of KFC in Wembley High Road.You wait so long for your order to be completed ,you pay extra for what you want,and when you get home you notice that you have been cheated by the people who worked there.Very dissapointing.I will never buy again from KFC in Wembley.

yesterday i used a buy 1 get 1 free coupon at kfc big chicken marietta ga roswell rd. i was supposed to get 1 dark and 1 white piece chicken in ecah dinner. when i got home all 4 pieces of chicken were dark meat. i also ordered green beans with each meal but was given cole slaw instead. i love kfc and was dissapointed since i was trying to try your new white meat boneless chicken. i would like my money back 4.99 plus tax or another coupon to try again. thanks loyal customer barry kelly 404-316-9901.

This happen in Buenos Aires, Argentina, we have one store that oppened a few months ago:
Last Friday in Buenos Aires, Argentina I ordered some chicken strips and inside my box there was a USED BANDAGE! I had already eaten several strips so I asked them to tell me why the person who has the bandage on was waring it, in order to see if I had to take precautions for my health. They ensure me that they where going to find that out. Two days later I was not given any information and they told me that they throw the bandage away! They said that the bandage couldn't come from inside the store, and they didn't take any responsability. But you CAN CHECK THE VIDEO OF THE MALL and see that it came out of there! It's a shame that they are not considering the health of their customers. And now I am very concerned for my health.

Jade broadhurst
from Glasgow, SCT
We have just been to order out tea ya 21:04 they refused to serve us saying they shut at 21:00 even though it says on the door it shuts at 22:00, there was 3 tables still eating there food! I have had a very stressful day with my father passing away! And I can't even go to my local food place on the way home from the hospital! Absolute disgrace and I will be taking this complaint further if nothing is done!

Gary Tilley
from Croydon, ENG
After our latest visit to your restaurant we were very disappointed with our meal. The chicken seemed very dry as if it had been sitting there for a while. The hot wings had way to much seasoning on. All in all our meal was way below the standard we usually always get we eat kfc

Gary Tilley
from Croydon, ENG
After our latest visit to your restaurant we were very disappointed with our meal. The chicken seemed very dry as if it had been sitting there for a while. The hot wings had way to much seasoning on. All in all our meal was way below the standard we usually always get we eat kfc

Gary Tilley
from Basildon, ENG
After our latest visit to your restaurant we were very disappointed with our meal. The chicken seemed very dry as if it had been sitting there for a while. The hot wings had way to much seasoning on. All in all our meal was way below the standard we usually always get we eat kfc

PL Konieczki
from Daytona Beach, FL
I believe this store is giving out old food on their to go orders. The last 2 times I took food to go, the biscuits, potato wedges and the biscuit were inedible ( I live 1.8 miles away), but when I eat in the location, the food is always fabulous and fresh. Yesterday was the last time I will go to the store on 1035 Dunlawton Ave in Port Orange Florida. #J718274. I am sure you have had the experience, at least once, of being utterly disgusted with your food when you ordered take out. KFC has always been a treat for my family, so on that note, I regret to say, but I will, it is time to find a new chicken place. So long, farewell KFC. Pam Konieczki

GARY REZNICK
from Portland, OR
Had a three piece dinner take out Opening dinner found one leg and two thighs. It was the smallest chicken I have ever had at a kfc The biscuit was small also There is no way they are using kfc chicken I'm 69 years old and like kfc Service was nice food was not will not be coming back restaurant #D9470002

Latisha Barnes
from Beaumont, TX
Order 2 5 dollars fill up chicken sandwich meals and received 2peice chicken box with mash potatoe for sides. Try to contact the store for 45 minutes phone off the hook.

Prakash
from Abu Dhabi, AZ
New Online Order # 34894681 - KFC
KFC ordered online. Delivered KFC is not fresh. Not taste like KFC.
Looks like they have used old chicken.
This time KFC was really bad taste.
When called for KFC call center for complaint.
They are not listing to me.
We have eaten a few pieces and remain just wasted.
From today onward. We are not going to order or eat KFC.

Patricia Walden
from Shepherdsville, KY
The KFC in Hillview, KY is always out of something. My husband and I was going there every 3 or 4 weeks but I decided we will not be going back. Anytime we visit this restaurant they are out of biscuits or coleslaw or they have a 20 minute wait on chicken. Its ridiculous! ALSO they never have there outside lights on.

Dear Customer Service, I can't believe that the store on 154th & the Palmetto Expressway; #1) doesn't care about their customers and are rude. #2) they don't have any cocked chicken. The supervisor/manager tells my wife who's ordered an 8-piece grilled box ... "mam we're out of breast and most children" we'll have to cook more if you want it - she says. Again, we ordered an 8-piece (grilled - beautiful we're on the Keto Diet) and she charged us full price for 6 drums and 2 thighs. This is the 4th or 5th time this store does the same. Today was extra special because of the rude tone in which the supervisor/manager (blonde heavey set lady) speaks to us and other customers.
We love KFC chicken but if this is the way they are going to treat us - we will have to switch to Boston Market.
Regards, Ivan

Jamie cyphus
from Nuneaton, ENG
I went to the KFC in neitherfield Nottingham and the store was distrusting looked like it hadn't been cleaned In days bins over flowing mess everywhere I took my daughter and left my daughter was upset and went mad but I wasn't going to eat from somewere in them conditions something needs to be done feel like sending the pictures to the local paper to show KFC high standards. and as you can see the store is empty so no excuse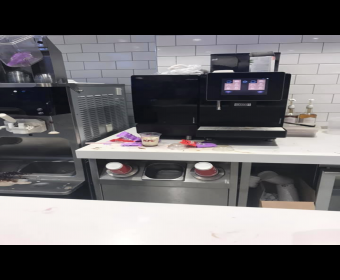 Caitlin jones
from London, ENG
I came to kfc as last option due to the Wales game cardiff is packed. My food was cold, the chips were huge so there was not many, I order 3 tangos and there was only half drink in the due to how much ice u put in there, the women on the till takes too many order and cannot keep up with them, I've never been so appalled with someone's attitude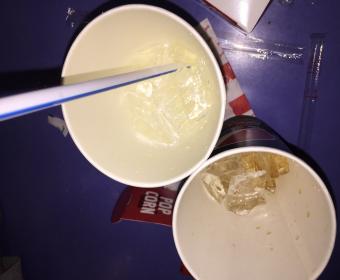 Ann Long
from Kinston, NC
I rate your food at most of your KFC as very poor.

mike mcgarey
from Clinton, OK
I purchase 10 pc chicken and fixing, and when I got home the chicken was cold and short of pc's and to pay that amt of money 20 bucks plus tax, and since I was miles away from where I purchase was made I just desided it wasn't worth the drive back to make my complaint, but KFC is gone to hell in a basket over the years from the 70's and 80's and been sold so many times to corp. who don't give a crap about quality, and chicken is being reduced in size. and it a rip off. just check the comments made on line about KFC, they need the to reduce their prices and get bigger chicken pc's like it was in the 70's and 80's. and if they did they would have so much business coming their way, I know this by working in a kfc when I was a teenager. in the 60's AND I WILL NEVER TAKE ANOTHER CHANCE GETTING CHICKEN FROM THERE AGAIN, WILL GO TO ELSE WHERE, AND CHEAPER

Rita Gammage
from Chesterfield, ENG
We started our journey for our meal at 6.30 pm on Thursday 15th November 2018 from KFC at sprotborough in Doncaster.
We asked for a boneless bucket, he said do you want 6 or 10 pieces we asked for 10. We reiterated that this was a boneless bucket and his reply was yes we asked again is this bonless and it was confirmed it was. The trainee asked for assistance from another team member who also clarified our order. When we got the order home we found it was chicken on the bone. We contacted the shop and spoke to the assistant called Victoria she apologised and said if you come back they would rectify our order. I asked for the money back and she said no but offered us a larger meal. We didn't want more food and declined this and she then said they would just replace the original order. After considering this I then telephoned the store again and spoke to Chloe, t accepted that mistakes can happen and we would return the meal and accept the offer of a larger boneless meal, 18 pieces to be precise, for our inconvience. Chloe told me that someone would take my name and telephone number so that someone of seniority would speak to me about the mix up of our meal. No one did this. when we picked the meal up we told we had been given extra fry's and sides along with an additional bottle of pop as an apology. On returning home and opening our meal we found there were no extra fry's, we did have an additional small gravy but to my dismay only 8 pieces of chicken and not the eighteen as promised. I was quite happy to accept that mistakes can happen especially if you are training but I have to say that I find the situation tonight totally unacceptable. I have paid £24.66
for a meal that took me several phone calls 3 journeys and very unhelpful staff to get thing so wrong. If being rude on the telephone is part of your training that I must say that you get 10 out of 10 if being helpful is part of your trading you get zero out of 10. Also may I add that I don't appreciate someone inferring that I am lying, I don't tell lies and would not go to all this trouble for a few bits of free chicken. I am a person who does not have money to just squander and this was a treat for my daughter my granddaughter and myself and I can assure you I will not be using your services again. I expect a full refund for this horrible meal and my inconvience. The time is now 20:40 pm and I still haven't eaten.
I look forward to your prompt response
Many thanks
Rita Gammage

Shawn
from Grosse Ile Township, MI
On nov 14 around 6:30 pm we order a 8 piece family meal plus order of large maccroni and cheese the the drive thru after getting home find out they didn't include the macaroni and cheese also one of the piceces it tasted like it has been fried twice or it's old and biscuits they were it done I called the manager he just took my name and he told me that next time we will give you order of macaroni and cheese didn't apologies or explain what happen iam very disappointed for the quality and the service plus I paid you should get what you paid for. Very bad business for big name like KFC

Every time I visit your Portage, Indiana location there is an issue. Once my chicken was seriously undercooked, then there was a 30 minute wait for chicken another time. Today, I'm being told their is a 40 minute wait for grilled chicken and there is no corn. This is the worst location ever... Seriously, your job is to keep food prepared for customer's to buy. They can never get it right. I just moved to this town and love KFC, but despise going to this location.

Carl Carnegie
from Waterloo, ON
I had ordered 3 zinger sandwiches and med gravy for delivery...……..8pm 801 to be exact......Wait and wait for an hour. call back to service get told to call store and of course. its past time to redeliver. I get employee on phone that turns out to be my landlord supervisor .She and delivery guy are friends I guess. She said he had called my number that I gave on order. It was call on delivery. .she said she called her husband who is land lord of my building and he knocked on my door ,which I did not hear because I am earphone guy...but my cell phone was on my chest and had not rung...………..She then says that's it is my fault that I missed delivery and it will go against me for future calls....I have screen shoots of my call logs that prove they never called me....I just want to tell you that I will never order or go that spot again....my daughter really like it and my son loved the Taco bell...…..FUCK OFF...never again....oh and I have told all my friends and anyone who will listen to avoid place like the black plague....I was a 3 times a week kinda guy...….never again...….oh HER name was Aida.

Lee robinson
from Workington, ENG
My complaint is! I recently called at one of your outlets, mainly Beaconsfield services, I recently called there and bought a bargain bucket, upon my surprise I received 6 pieces of chicken, 3 of them badly burned and dryed out, the chips were fine although when I went to open my gravy and the sell by time was 5-15pm on the carton, however it was 22-20pm when I made this purchase, I was in a rush so didn't have time to return to the counter to express my complaint, I've been using kfc on a regular basis for over 30 years, but found this particular establishment very unsatisfactory,

Quiani boskie
from Odenton, MD
The restaurant was filthy look like someone had spilled soda and no one never got it up trash on the floor I purchased two $5 fill up boxes and was charged $7 and on top of that they didn't even put cookies in the box the manager was arguing with the cashier then when the cashier was asking her questions after the argument the manager ignored her very unprofessional this kfc is horrible address is 7720 Blair rd silver spring md

Andrea Watts
from Jackson, MS
I went to KFC in Madison MS last week the customer service was terrible. Upon paying for my meal white meat the cashier informed me that all of the white meat was sold and I would have to wait 25 minutes. waited more like 40 minutes in the store, the cashier asked the other employee to go to back and box my chicken. Upon presentation the chicken looked like someone dropped it on the floor and stepped on it. I informed the cashier that I did not want that chicken and she proceeded to take the food back and told me that the rest of the chicken was already sold to other customers after I waited in the store 40 minutes left with no food I made several complaints on the hotline for KFC with no follow up call from a Manager. This is unacceptable and I would like a follow up. This store need to be looked into, poor management the store is always dirty and the employees are rude and very unprofessional, Eating in front of customers rude and mean

Ray Blanchard
from DeRidder, LA
The new Drive Through KFC in Deridder, La is serving Half Cook Chicken. The Regular KFC Fried Chicken is Bland. Have The Corporation changed Original Recipe? I sure won't be buying half cooked chicken at the DeRidder, La. Store.
The Locals are also Complaining about the Raw Chicken.
Thanks for your attention to this matter of Business.
Ray Blanchard

JANICE STETLER
from Beckley, WV
while the service was great ,the chicken tenders were not.the chicken was room temperature, hard tenders .this is the second time I have gotten hard cold chicken.staff was not busy at all with customers.the tenders should have been hot ,tender and moist.

Audrey Harrell
from Stone Mountain, GA
I went to the location at #G135178 and purchase two (CHICKEN) Pot pies. When I got home I discover there was no chicken not one morsel in neither of the pot pies. Is this the new practice of the company or was I Just ripped off. I got the $5 fill up meal. If you are not going to service meat in the pot pies please take it off your menu. This is unacceptable. I will not patronized that location anymore. 2080 Pleasant Hill road Duluth, Ga.

Jodie Evans
from Chelmsford, ENG
We went into the drive through at 15.03 with not much of a queue in front of us. We were sat at a standstill for ages. Finally moved up and got our order taken and not even a mention of sorry about the wait. When we got our order it was 3.30! I said to the lady I was not happy she apologised about the wait and said it had been manic...not good enough when you go through the drive through you're stuck, somebody should have come round and told us what the hold up was and at least offered an apology before I say we was not happy...

Steve chitty
from Chicago, IL
I shouldn't give one star. At 9:30 a full half hour before close, I started to place my order and was interrupted by a femal voice telling me "we are out of mashed potatoes " knowing full well they could have made more up.
After asking for a manger was told they would not make any that late. Remember the sign on the door says 10:00 pm close. Please explain if you can.

Sharon doyle
from Edinburgh, SCT
I ordered a meal from kfc RENFREW road paisley to be delivered,when it arrived items were missing I tried to contact the store but phone line was constantly engaged I then got through to just eat which was another disaster.i eventually got a refund for missing items but my experience with kfc has been dreadful I'm insulin dependent diabetic and it was my birthday and as I have to carefully watch what I eat this was a treat and it was totally ruined your orders should be checked and double checked to ensure orders are correct my order number is 624 156 269 my telephone number is 07985276709 and address is flat 0/2, 8 Claud road,paisley pa3 4rx

I visited the location at 8350W. Judge Perez in Chalmette, La. it was the worst experience ever. I placed an order for the pot pie. The person serving me if I wanted a drink with it and I said no. I asked her after is the cost was the same with the drink. She replied yes. At that point I asked to get it with the drink. Her attitude became horrible. She turned away and stated "I should have never asked her if she wanted a drink!" I said I can cancel my order. She replied I just shouldn't have ask you if you wanted a drink. Her attitude and tone was terrible. I stated " just give me my money back you're talking to much. She inturn said "I can say what I want!" I said you're right and asked three times who the manager was. She refused to answer. I asked another employee and she pointed to the person that was waiting on me. It is appalling that a manager would behave in such a manner.

bryshunna snow
from Jacksonville, TX
i went to kfc in Jacksonville tx and ordered family 10 piece with two sides and my chicken wasn't fresh and i tried to call back numerous of times the last time i called he told me he couldn't fix my order because i didn't bring it back he was very unprofessional and he also used profanity

Jeanie pritchard
from London, ENG
My food was off smell and tasted horrible put me off eating it went Bk to tell them the manger was very rude

Kathy Bakey
from Austin, TX
My complaint is about your store on Saratoga street, Corpus Christi, TX.
Your manager Mary stated that many people are complaining about your online menu is not the same as what is listed on their service screen.
When I ordered the 1 piece white chicken breast with a bisquit, mashed potato, it did not come with a cookie as stated online. Please match screen to online!

Kevin mannion
from Brighton, ENG
Ordered in store. For a start I had to be served by the drive-thru person due to members of staff unaware of where the till person was. Whom was in the customer area cleaning, as we went passed her to enter the premises. Order was taken fine. A bit rushed but obviously I can understand as she might have had a car waiting. Which she had as she went away before finishing our payment. However did shout back the till person to gather our order. The person came back in look at the screen and went to assemble the order. 5 minutes passed before I had to tell her the payment hadn't been taken. Which she could've seen on the screen because I was able to. Payment went through. Another couple minutes later we got our food. Fresh fries. Great that's a first. Get home roughly about 5 minutes away. And the chicken is lukewarm. I reckon it could either be due to overheld chicken or due to the fact the member of staff took the food out of the hot holding area 5-7 minutes before all the food was ready. If I could go lower with the stars I would. Also popcorn chicken large. Half filled so really a medium. Sums it up really. It's a sham also I love the food when it good and correct. However when it not its terrible. Not one for complaining as I also work in the fast food industry but this was far below par.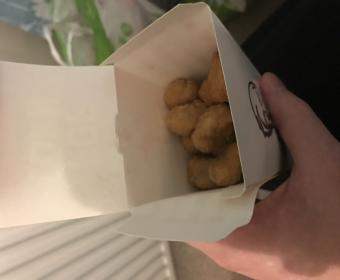 Gloria Ruttan
from Toronto, ON
On Saturday Oct 6th I placed a delivery order from your store on 464 Dundas St E, Belleville, ON K8N 1E9.. I have never been so upset with the order my family placed.....The order was around $45.00-$46.00 I gave $50.00 cash at the door.. Driver was great However he kept my Receipt :( ....My order included 2 Big Crunch meals one spicy and one normal as well we ordered a 12 piece chicken bucket with fries and gravy.... The spicy chicken sandwich was so dry it was like leather, the bucket of chicken was really greasy, the grease in the bottom of the bucket was brown, not sure if the company is aware that the oil needs to be changed... I have attached some pics... I will never go to that KFC again... When I called the store they did replace the sandwich but after waiting a hour to get the order then another half hour to go pick it up was really upsetting
KFC has always been our go to for fast food for a treat for my family...the time this order was placed was between 7:00pm-7:15 pm
As well I don't believe the pricing was accurate either what I had ordered was specials from the coupons I received in the mail two chicken big crunch meals $10.69 12 piece chicken fries and gravy 21.99 total $37.00
Thanks for your time
Upset customer
Gloria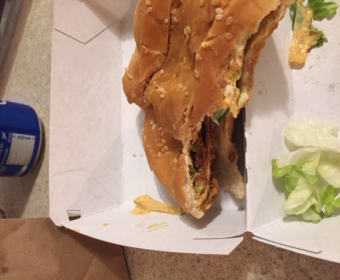 Martyn haines
from Cardiff, WLS
Caerphilly kfc what can I say ...
Always cold food when taken away sometimes no boneless chicken and today no lids for soft drinks some one isn't doing their job shocking

Mark Radloff
from Minneapolis, MN
I'd like to give zero stars but that's not an option so I'll give a one star. Three weekends in a row I've tried to order from KFC in Monticello MN at 8 pm and have been told that they are out of crispy chicken and they aren't making anymore. I wanted to order a 10 piece bucket and get crispy but they wouldn't complete the order. So we called Pizaa Ranch. KFC is horrible customer service.

wayne r nelson
from Cape Coral, FL
My local KFC (33904) does not honor the TV advertised price for the 5$ box. As this is important to me I will not purchase anything from KFC until this changes.

Rosie Milian
from Spring, TX
1. 9:20 pm no chicken if I wanted to place an order had to wait twenty minutes , as it was myself and 4 other vehicles 2. Misunderstood ordered 10 pieces of chicken only which came out to be 6 pieces only (too expensive). 3. No ketchup, no napkins no offer made when the employee came out to the parking lot I asked her for napkins she brought me a bundled of tissue disgusting. 4. No offer of a biscuit or apple pie for the wait ??? 5. Spoke to Chelsea manager she informed me she understood how unprofessional her employ was and would council her (not my concern). She commented wish I had taken your order it would not of happened poor excuse are your employees incompetent? Poor poor poor service from KFC and 6 pieces for 10 with 2 breast 1 leg and tiny wings that is greed. My last question one employee was cleaning why are your doors locked at 9:20 when you close at 10:30? If I was a corporate exec I would realize what a loss of revenue ???? And employees in a major rush to close the store , I just moved in this area and was blown away , the only good comment the chicken was good.

Rachel
from Dumfries, SCT
The world worst kfc Eastbourne lottbridge drive after waiting 40 minutes in the que then to be told they have no drinks what a joke all ways the worst service from here don't know why I thought to give it another go the place is a run down joke

Elaina Disher
from Denham Springs, LA

3 $5 lunches
All 3 biscuits were hard as rocks.
There is no way they were not aware, the biscuits just crumbled they were so hard. No cookies in the meals .
Three very disappointed children.
When I called the only thing the girl could say was I just came to work.
No on wants to take responsibility for bad food ..

maddie scott
from Philadelphia, PA
when ordering, i asked for mashed potatoes with no gravy and the cashier confirmed it. upon getting the food i recieved mashed potatoes with gravy on it so i had asked for one without. they took my gravy potatoes and gave me mashed potatoes without gravy and when looking at it, it wasnt even half full. the soBe life water wasnt even pink, it was basically pure water.

john wiseman
from Saint Albans, WV
I HAVE EATEN K FC FOR 30 YEARS HAVE NEVER BEEN TREATED SO RUDE AS I WAS AT KFC MCORCLE AVE ST ALBANS WV, I ORDERED 5 DOLLER BREAST FILL UP, FIRST THEY SAID WE DONT HAVE ORIGINAL RECIPE, I SAID OK GIVE ME EXTRA CRISPY , GOT MY ORDER, I SAID WHERE IS WING , THEY SI
AID WE DONT DO THAT,I SAID THAT IS WHAT THE CON
MMRECIAL SAYS THEY SAID SORRY ABOUT YOU LUCK,SO AFTER 30 YEARS OF BEING A LOYAL PATRON I WILL NO LONGER BE ONE THANK YOU

Joan Houser
from Charlotte, NC
On Thursday October 11th 2018, my husband and I went through the KFC drive through on University parkway, Winston-Salem, N.C. we asked for chix wings and the lady told us it would be 5 minutes. we went left and came back to the drive through after about 10 minutes. she told us that all the wings were gone and if we would have paid in advance they would have held the chix for us. she said it would be 7 mins. now. we told her we would wait because we were hungry and the power us out in our neighborhood. We paid her and she told us to park and she would bring it out to us. we parked and waited for almost 25 mins. when my husband noticed the everyone was getting chix. but us. I went in to ask about my order and the people at the counter said to the lady that helped us that "this lady has been waiting 25 mins. for chix. The lady that told us to wait came out and said I am sorry we are out of chix. I told her you told us to park and you would bring it out. she kept saying we are out of chix, and I am thinking how can a chix place be out of chix, and the other customers were told it would 45 min. wait for chix. I was very upset by now but I held my peace. she gave me 8.75 back I told her the was the wrong amount, I gave her 10.65 she gave the correct amount. I felt that was poor management and poor customer service on KFC part. she did not offer us other pieces of chicken or a complimentary coupon or anything. She just said with no concern that we have waited 25 minutes "I am sorry ma'am we are out of chicken. I may or may not be visiting that location again.

Steve Davison
from Morpeth, ENG
I'd give no stars if I could!
I went to the drive thru and sat for 3 minutes then some male said I'll be with you in a moment and three minutes later and still no response so I drove away! There was one car at the drive thru and I customer in the restaurant! This is not acceptable!

Robert Taylor
from Hove, ENG
Been to kfc 2 times in a month at portslade both times chips not cooked at all and on second occasion chicken pink had bad tummy all next day

Michelle Howell
from Cambridge, ENG
HI, I WISH TO COMPLAIN ABOUT THE SERVICE I RECEIVED RECENTLY AT YOUR BRANCH IN CHAPELFIELDS, NORWICH. I ORDERED A FAMILY FEAST, AND WAS TOLD THEY HAD RUN OUT OF BEANS, SO THE CHOICE WAS GRAVY, COLESLAW, OR CORN ON THR COB. I ASKED FOR GRAVY AND COLESLAW. WHEN I WAS CALLED FOR MY FOOD, THERE WAS NO LID ON THR BUCKET TO KEEP THE CHICKEN WARM, AND WHEN I ASKED FOR PLATES, I WAS TOLD THEY HAD RUN OUT OF THOSE ALSO!! I ASKED HOW I WAS SUPPOSED TO EAT GRAVY WITHOUT A PLATE, AND I WAS BLUNTLY TOLD, WITH A SPOON!! HOW RIDICULOUS TO BE GIVEN GRAVY WITHOUT A PLATE!! I WAS THEN GIVEN A COUPLE OF BUCKET LIDS TO PUT MY FOOD ON TO, WHERE I HAD TO TRY TURN UP THE SIDES TO STOP THE GRAVY GOING ALL OVER THE TABLE!! I DONT FIND THIS ACCEPTABLE AND FEEL THAT THE STAFF DIDNT REALLY CARE, AND ITS MADE ME THINK TWICE ABOUT GOING BACK AGAIN.

Lisa jane
from Liverpool, ENG
Went to kfc in Southport was discusted at the cleanliness tables hadn't been cleaned away food and left over packaging on tables bins were full no salts or lemon wipes toilets were disgusting will not be going there again ther were 3 staff so had to waited ages for food aswell

KFC store in Newton, NJ.: every time I've been to this location I get shorted on what I ordered. Yesterday, 10/12/18, I ordered the $5 fill up Breast & wing combo. When I opened the box, I found I was given a breast and a leg, which could have been a simple minor error. But this leg I received was as hard as stone. It was a disgusting piece that must have been a week old. Also, the cookie was missing, and no fork for the potatoes. This is not a unique occurrence at this location. Rather than list all my bad experiences with this location here, I'll just say I won't ever go to a KFC again, Roy Rogers is much higher quality. And It's not far out of my way.
Thanks for your feedback!
Sorry. Please try again later!