KFC
KFC Complaints Continued... (Page 3)
791+ reviews added so far. Upset? Call KFC corporate: 1-800-225-5532

Ann Long
from Kinston, NC
I rate your food at most of your KFC as very poor.

mike mcgarey
from Clinton, OK
I purchase 10 pc chicken and fixing, and when I got home the chicken was cold and short of pc's and to pay that amt of money 20 bucks plus tax, and since I was miles away from where I purchase was made I just desided it wasn't worth the drive back to make my complaint, but KFC is gone to hell in a basket over the years from the 70's and 80's and been sold so many times to corp. who don't give a crap about quality, and chicken is being reduced in size. and it a rip off. just check the comments made on line about KFC, they need the to reduce their prices and get bigger chicken pc's like it was in the 70's and 80's. and if they did they would have so much business coming their way, I know this by working in a kfc when I was a teenager. in the 60's AND I WILL NEVER TAKE ANOTHER CHANCE GETTING CHICKEN FROM THERE AGAIN, WILL GO TO ELSE WHERE, AND CHEAPER

Rita Gammage
from Chesterfield, ENG
We started our journey for our meal at 6.30 pm on Thursday 15th November 2018 from KFC at sprotborough in Doncaster.
We asked for a boneless bucket, he said do you want 6 or 10 pieces we asked for 10. We reiterated that this was a boneless bucket and his reply was yes we asked again is this bonless and it was confirmed it was. The trainee asked for assistance from another team member who also clarified our order. When we got the order home we found it was chicken on the bone. We contacted the shop and spoke to the assistant called Victoria she apologised and said if you come back they would rectify our order. I asked for the money back and she said no but offered us a larger meal. We didn't want more food and declined this and she then said they would just replace the original order. After considering this I then telephoned the store again and spoke to Chloe, t accepted that mistakes can happen and we would return the meal and accept the offer of a larger boneless meal, 18 pieces to be precise, for our inconvience. Chloe told me that someone would take my name and telephone number so that someone of seniority would speak to me about the mix up of our meal. No one did this. when we picked the meal up we told we had been given extra fry's and sides along with an additional bottle of pop as an apology. On returning home and opening our meal we found there were no extra fry's, we did have an additional small gravy but to my dismay only 8 pieces of chicken and not the eighteen as promised. I was quite happy to accept that mistakes can happen especially if you are training but I have to say that I find the situation tonight totally unacceptable. I have paid £24.66
for a meal that took me several phone calls 3 journeys and very unhelpful staff to get thing so wrong. If being rude on the telephone is part of your training that I must say that you get 10 out of 10 if being helpful is part of your trading you get zero out of 10. Also may I add that I don't appreciate someone inferring that I am lying, I don't tell lies and would not go to all this trouble for a few bits of free chicken. I am a person who does not have money to just squander and this was a treat for my daughter my granddaughter and myself and I can assure you I will not be using your services again. I expect a full refund for this horrible meal and my inconvience. The time is now 20:40 pm and I still haven't eaten.
I look forward to your prompt response
Many thanks
Rita Gammage

Shawn
from Grosse Ile Township, MI
On nov 14 around 6:30 pm we order a 8 piece family meal plus order of large maccroni and cheese the the drive thru after getting home find out they didn't include the macaroni and cheese also one of the piceces it tasted like it has been fried twice or it's old and biscuits they were it done I called the manager he just took my name and he told me that next time we will give you order of macaroni and cheese didn't apologies or explain what happen iam very disappointed for the quality and the service plus I paid you should get what you paid for. Very bad business for big name like KFC

Every time I visit your Portage, Indiana location there is an issue. Once my chicken was seriously undercooked, then there was a 30 minute wait for chicken another time. Today, I'm being told their is a 40 minute wait for grilled chicken and there is no corn. This is the worst location ever... Seriously, your job is to keep food prepared for customer's to buy. They can never get it right. I just moved to this town and love KFC, but despise going to this location.

Carl Carnegie
from Waterloo, ON
I had ordered 3 zinger sandwiches and med gravy for delivery...……..8pm 801 to be exact......Wait and wait for an hour. call back to service get told to call store and of course. its past time to redeliver. I get employee on phone that turns out to be my landlord supervisor .She and delivery guy are friends I guess. She said he had called my number that I gave on order. It was call on delivery. .she said she called her husband who is land lord of my building and he knocked on my door ,which I did not hear because I am earphone guy...but my cell phone was on my chest and had not rung...………..She then says that's it is my fault that I missed delivery and it will go against me for future calls....I have screen shoots of my call logs that prove they never called me....I just want to tell you that I will never order or go that spot again....my daughter really like it and my son loved the Taco bell...…..FUCK OFF...never again....oh and I have told all my friends and anyone who will listen to avoid place like the black plague....I was a 3 times a week kinda guy...….never again...….oh HER name was Aida.

Lee robinson
from Workington, ENG
My complaint is! I recently called at one of your outlets, mainly Beaconsfield services, I recently called there and bought a bargain bucket, upon my surprise I received 6 pieces of chicken, 3 of them badly burned and dryed out, the chips were fine although when I went to open my gravy and the sell by time was 5-15pm on the carton, however it was 22-20pm when I made this purchase, I was in a rush so didn't have time to return to the counter to express my complaint, I've been using kfc on a regular basis for over 30 years, but found this particular establishment very unsatisfactory,

Quiani boskie
from Odenton, MD
The restaurant was filthy look like someone had spilled soda and no one never got it up trash on the floor I purchased two $5 fill up boxes and was charged $7 and on top of that they didn't even put cookies in the box the manager was arguing with the cashier then when the cashier was asking her questions after the argument the manager ignored her very unprofessional this kfc is horrible address is 7720 Blair rd silver spring md

Andrea Watts
from Jackson, MS
I went to KFC in Madison MS last week the customer service was terrible. Upon paying for my meal white meat the cashier informed me that all of the white meat was sold and I would have to wait 25 minutes. waited more like 40 minutes in the store, the cashier asked the other employee to go to back and box my chicken. Upon presentation the chicken looked like someone dropped it on the floor and stepped on it. I informed the cashier that I did not want that chicken and she proceeded to take the food back and told me that the rest of the chicken was already sold to other customers after I waited in the store 40 minutes left with no food I made several complaints on the hotline for KFC with no follow up call from a Manager. This is unacceptable and I would like a follow up. This store need to be looked into, poor management the store is always dirty and the employees are rude and very unprofessional, Eating in front of customers rude and mean

Ray Blanchard
from DeRidder, LA
The new Drive Through KFC in Deridder, La is serving Half Cook Chicken. The Regular KFC Fried Chicken is Bland. Have The Corporation changed Original Recipe? I sure won't be buying half cooked chicken at the DeRidder, La. Store.
The Locals are also Complaining about the Raw Chicken.
Thanks for your attention to this matter of Business.
Ray Blanchard

JANICE STETLER
from Beckley, WV
while the service was great ,the chicken tenders were not.the chicken was room temperature, hard tenders .this is the second time I have gotten hard cold chicken.staff was not busy at all with customers.the tenders should have been hot ,tender and moist.

Audrey Harrell
from Stone Mountain, GA
I went to the location at #G135178 and purchase two (CHICKEN) Pot pies. When I got home I discover there was no chicken not one morsel in neither of the pot pies. Is this the new practice of the company or was I Just ripped off. I got the $5 fill up meal. If you are not going to service meat in the pot pies please take it off your menu. This is unacceptable. I will not patronized that location anymore. 2080 Pleasant Hill road Duluth, Ga.

Jodie Evans
from Chelmsford, ENG
We went into the drive through at 15.03 with not much of a queue in front of us. We were sat at a standstill for ages. Finally moved up and got our order taken and not even a mention of sorry about the wait. When we got our order it was 3.30! I said to the lady I was not happy she apologised about the wait and said it had been manic...not good enough when you go through the drive through you're stuck, somebody should have come round and told us what the hold up was and at least offered an apology before I say we was not happy...

Steve chitty
from Chicago, IL
I shouldn't give one star. At 9:30 a full half hour before close, I started to place my order and was interrupted by a femal voice telling me "we are out of mashed potatoes " knowing full well they could have made more up.
After asking for a manger was told they would not make any that late. Remember the sign on the door says 10:00 pm close. Please explain if you can.

Sharon doyle
from Edinburgh, SCT
I ordered a meal from kfc RENFREW road paisley to be delivered,when it arrived items were missing I tried to contact the store but phone line was constantly engaged I then got through to just eat which was another disaster.i eventually got a refund for missing items but my experience with kfc has been dreadful I'm insulin dependent diabetic and it was my birthday and as I have to carefully watch what I eat this was a treat and it was totally ruined your orders should be checked and double checked to ensure orders are correct my order number is 624 156 269 my telephone number is 07985276709 and address is flat 0/2, 8 Claud road,paisley pa3 4rx

I visited the location at 8350W. Judge Perez in Chalmette, La. it was the worst experience ever. I placed an order for the pot pie. The person serving me if I wanted a drink with it and I said no. I asked her after is the cost was the same with the drink. She replied yes. At that point I asked to get it with the drink. Her attitude became horrible. She turned away and stated "I should have never asked her if she wanted a drink!" I said I can cancel my order. She replied I just shouldn't have ask you if you wanted a drink. Her attitude and tone was terrible. I stated " just give me my money back you're talking to much. She inturn said "I can say what I want!" I said you're right and asked three times who the manager was. She refused to answer. I asked another employee and she pointed to the person that was waiting on me. It is appalling that a manager would behave in such a manner.

bryshunna snow
from Jacksonville, TX
i went to kfc in Jacksonville tx and ordered family 10 piece with two sides and my chicken wasn't fresh and i tried to call back numerous of times the last time i called he told me he couldn't fix my order because i didn't bring it back he was very unprofessional and he also used profanity

Jeanie pritchard
from London, ENG
My food was off smell and tasted horrible put me off eating it went Bk to tell them the manger was very rude

Kathy Bakey
from Austin, TX
My complaint is about your store on Saratoga street, Corpus Christi, TX.
Your manager Mary stated that many people are complaining about your online menu is not the same as what is listed on their service screen.
When I ordered the 1 piece white chicken breast with a bisquit, mashed potato, it did not come with a cookie as stated online. Please match screen to online!

Kevin mannion
from Brighton, ENG
Ordered in store. For a start I had to be served by the drive-thru person due to members of staff unaware of where the till person was. Whom was in the customer area cleaning, as we went passed her to enter the premises. Order was taken fine. A bit rushed but obviously I can understand as she might have had a car waiting. Which she had as she went away before finishing our payment. However did shout back the till person to gather our order. The person came back in look at the screen and went to assemble the order. 5 minutes passed before I had to tell her the payment hadn't been taken. Which she could've seen on the screen because I was able to. Payment went through. Another couple minutes later we got our food. Fresh fries. Great that's a first. Get home roughly about 5 minutes away. And the chicken is lukewarm. I reckon it could either be due to overheld chicken or due to the fact the member of staff took the food out of the hot holding area 5-7 minutes before all the food was ready. If I could go lower with the stars I would. Also popcorn chicken large. Half filled so really a medium. Sums it up really. It's a sham also I love the food when it good and correct. However when it not its terrible. Not one for complaining as I also work in the fast food industry but this was far below par.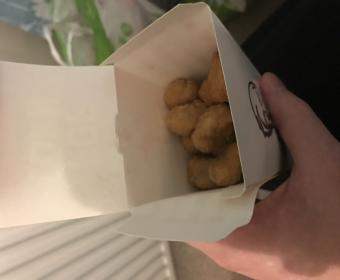 Gloria Ruttan
from Toronto, ON
On Saturday Oct 6th I placed a delivery order from your store on 464 Dundas St E, Belleville, ON K8N 1E9.. I have never been so upset with the order my family placed.....The order was around $45.00-$46.00 I gave $50.00 cash at the door.. Driver was great However he kept my Receipt :( ....My order included 2 Big Crunch meals one spicy and one normal as well we ordered a 12 piece chicken bucket with fries and gravy.... The spicy chicken sandwich was so dry it was like leather, the bucket of chicken was really greasy, the grease in the bottom of the bucket was brown, not sure if the company is aware that the oil needs to be changed... I have attached some pics... I will never go to that KFC again... When I called the store they did replace the sandwich but after waiting a hour to get the order then another half hour to go pick it up was really upsetting
KFC has always been our go to for fast food for a treat for my family...the time this order was placed was between 7:00pm-7:15 pm
As well I don't believe the pricing was accurate either what I had ordered was specials from the coupons I received in the mail two chicken big crunch meals $10.69 12 piece chicken fries and gravy 21.99 total $37.00
Thanks for your time
Upset customer
Gloria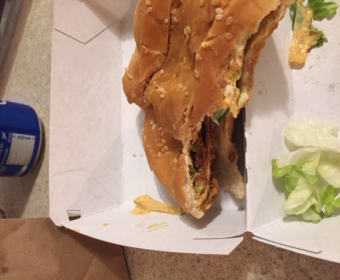 Martyn haines
from Cardiff, WLS
Caerphilly kfc what can I say ...
Always cold food when taken away sometimes no boneless chicken and today no lids for soft drinks some one isn't doing their job shocking

Mark Radloff
from Minneapolis, MN
I'd like to give zero stars but that's not an option so I'll give a one star. Three weekends in a row I've tried to order from KFC in Monticello MN at 8 pm and have been told that they are out of crispy chicken and they aren't making anymore. I wanted to order a 10 piece bucket and get crispy but they wouldn't complete the order. So we called Pizaa Ranch. KFC is horrible customer service.

wayne r nelson
from Cape Coral, FL
My local KFC (33904) does not honor the TV advertised price for the 5$ box. As this is important to me I will not purchase anything from KFC until this changes.

Rosie Milian
from Spring, TX
1. 9:20 pm no chicken if I wanted to place an order had to wait twenty minutes , as it was myself and 4 other vehicles 2. Misunderstood ordered 10 pieces of chicken only which came out to be 6 pieces only (too expensive). 3. No ketchup, no napkins no offer made when the employee came out to the parking lot I asked her for napkins she brought me a bundled of tissue disgusting. 4. No offer of a biscuit or apple pie for the wait ??? 5. Spoke to Chelsea manager she informed me she understood how unprofessional her employ was and would council her (not my concern). She commented wish I had taken your order it would not of happened poor excuse are your employees incompetent? Poor poor poor service from KFC and 6 pieces for 10 with 2 breast 1 leg and tiny wings that is greed. My last question one employee was cleaning why are your doors locked at 9:20 when you close at 10:30? If I was a corporate exec I would realize what a loss of revenue ???? And employees in a major rush to close the store , I just moved in this area and was blown away , the only good comment the chicken was good.

Rachel
from Dumfries, SCT
The world worst kfc Eastbourne lottbridge drive after waiting 40 minutes in the que then to be told they have no drinks what a joke all ways the worst service from here don't know why I thought to give it another go the place is a run down joke

Elaina Disher
from Denham Springs, LA

3 $5 lunches
All 3 biscuits were hard as rocks.
There is no way they were not aware, the biscuits just crumbled they were so hard. No cookies in the meals .
Three very disappointed children.
When I called the only thing the girl could say was I just came to work.
No on wants to take responsibility for bad food ..

maddie scott
from Philadelphia, PA
when ordering, i asked for mashed potatoes with no gravy and the cashier confirmed it. upon getting the food i recieved mashed potatoes with gravy on it so i had asked for one without. they took my gravy potatoes and gave me mashed potatoes without gravy and when looking at it, it wasnt even half full. the soBe life water wasnt even pink, it was basically pure water.

john wiseman
from Saint Albans, WV
I HAVE EATEN K FC FOR 30 YEARS HAVE NEVER BEEN TREATED SO RUDE AS I WAS AT KFC MCORCLE AVE ST ALBANS WV, I ORDERED 5 DOLLER BREAST FILL UP, FIRST THEY SAID WE DONT HAVE ORIGINAL RECIPE, I SAID OK GIVE ME EXTRA CRISPY , GOT MY ORDER, I SAID WHERE IS WING , THEY SI
AID WE DONT DO THAT,I SAID THAT IS WHAT THE CON
MMRECIAL SAYS THEY SAID SORRY ABOUT YOU LUCK,SO AFTER 30 YEARS OF BEING A LOYAL PATRON I WILL NO LONGER BE ONE THANK YOU

Joan Houser
from Charlotte, NC
On Thursday October 11th 2018, my husband and I went through the KFC drive through on University parkway, Winston-Salem, N.C. we asked for chix wings and the lady told us it would be 5 minutes. we went left and came back to the drive through after about 10 minutes. she told us that all the wings were gone and if we would have paid in advance they would have held the chix for us. she said it would be 7 mins. now. we told her we would wait because we were hungry and the power us out in our neighborhood. We paid her and she told us to park and she would bring it out to us. we parked and waited for almost 25 mins. when my husband noticed the everyone was getting chix. but us. I went in to ask about my order and the people at the counter said to the lady that helped us that "this lady has been waiting 25 mins. for chix. The lady that told us to wait came out and said I am sorry we are out of chix. I told her you told us to park and you would bring it out. she kept saying we are out of chix, and I am thinking how can a chix place be out of chix, and the other customers were told it would 45 min. wait for chix. I was very upset by now but I held my peace. she gave me 8.75 back I told her the was the wrong amount, I gave her 10.65 she gave the correct amount. I felt that was poor management and poor customer service on KFC part. she did not offer us other pieces of chicken or a complimentary coupon or anything. She just said with no concern that we have waited 25 minutes "I am sorry ma'am we are out of chicken. I may or may not be visiting that location again.

Steve Davison
from Morpeth, ENG
I'd give no stars if I could!
I went to the drive thru and sat for 3 minutes then some male said I'll be with you in a moment and three minutes later and still no response so I drove away! There was one car at the drive thru and I customer in the restaurant! This is not acceptable!

Robert Taylor
from Hove, ENG
Been to kfc 2 times in a month at portslade both times chips not cooked at all and on second occasion chicken pink had bad tummy all next day

Michelle Howell
from Cambridge, ENG
HI, I WISH TO COMPLAIN ABOUT THE SERVICE I RECEIVED RECENTLY AT YOUR BRANCH IN CHAPELFIELDS, NORWICH. I ORDERED A FAMILY FEAST, AND WAS TOLD THEY HAD RUN OUT OF BEANS, SO THE CHOICE WAS GRAVY, COLESLAW, OR CORN ON THR COB. I ASKED FOR GRAVY AND COLESLAW. WHEN I WAS CALLED FOR MY FOOD, THERE WAS NO LID ON THR BUCKET TO KEEP THE CHICKEN WARM, AND WHEN I ASKED FOR PLATES, I WAS TOLD THEY HAD RUN OUT OF THOSE ALSO!! I ASKED HOW I WAS SUPPOSED TO EAT GRAVY WITHOUT A PLATE, AND I WAS BLUNTLY TOLD, WITH A SPOON!! HOW RIDICULOUS TO BE GIVEN GRAVY WITHOUT A PLATE!! I WAS THEN GIVEN A COUPLE OF BUCKET LIDS TO PUT MY FOOD ON TO, WHERE I HAD TO TRY TURN UP THE SIDES TO STOP THE GRAVY GOING ALL OVER THE TABLE!! I DONT FIND THIS ACCEPTABLE AND FEEL THAT THE STAFF DIDNT REALLY CARE, AND ITS MADE ME THINK TWICE ABOUT GOING BACK AGAIN.

Lisa jane
from Liverpool, ENG
Went to kfc in Southport was discusted at the cleanliness tables hadn't been cleaned away food and left over packaging on tables bins were full no salts or lemon wipes toilets were disgusting will not be going there again ther were 3 staff so had to waited ages for food aswell

KFC store in Newton, NJ.: every time I've been to this location I get shorted on what I ordered. Yesterday, 10/12/18, I ordered the $5 fill up Breast & wing combo. When I opened the box, I found I was given a breast and a leg, which could have been a simple minor error. But this leg I received was as hard as stone. It was a disgusting piece that must have been a week old. Also, the cookie was missing, and no fork for the potatoes. This is not a unique occurrence at this location. Rather than list all my bad experiences with this location here, I'll just say I won't ever go to a KFC again, Roy Rogers is much higher quality. And It's not far out of my way.

Donna Leeth
from Port Huron, MI
Just got take out at the Upper Sandusky, Ohio KFC ordered a 3 pc meal dark meat to go. Got home only had 2 pc. Not driving over 30 minutes round trip to go back for their mistake but its very frustrating!!!

Kailynn arcenia
from Hyattsville, MD
I went to KFC at the Colonial Heights Boulevard location in the drive thru to order my food. The lady repeated "what?" To me 3 times and then to me to wait. Finally got my food ordered after waiting about 5 minutes. I checked my food before leaving the parking lot and realized they forgot my Mac and cheese side. I let a staff member know as soon as I noticed. I waited in the parking lot for 30 minutes. While waiting, I ate my chicken breast combo. The meal was disgusting. My chicken was dry and my mashed potatoes tasted like raisins. Another customer informed me that kfc staff is not coming outside and that I'd have to bring my receipt inside and get my Mac and cheese. My family and I will not EVER be returning here again. Trash.

Natasha paterson
from Chelmsford, ENG
Nothing stated on the drive thru about not being able to take card payments. No way out of the drive thru once you've entered. I was only informed about this as I reached the order window. I then had to sit and wait while 7 cars were served in front of me.
KFC need to get rid of the battlefield, Shrewsbury store! It does nothing but let the company down. Get your shit together.

Rebecca Lynn Smith
from Chicago, IL
I went to KFC lees summit MO 20/9 8:15p ordered $5 box chicken strip potatoes and coleslaw $6.39
I got back to my Job and in my box was a leg thigh.
I called talked to female black mgr she said she wrote my info down and to come back and get order next day. I go back manager Hector refused to assist. Was a complete ASS.
I left called customer service.

Sheena Macleod
from Glasgow, SCT
On visiting your Braille crescent branch on Wednesday 10th October I was most disappointed at the service had to wait while the staff were all having a carry on shouting playing loud music and not attending to the customers,then I handed over a voucher which has expirery date of 31/12/18 to be told we don't take these they should not have been given out ,I said I have used them previously about 3 times, no we don't take them not good customer service I visit this branch a lot as I stay in the area but I certainly won't be returning.

Keith Rimmer
from Hemel Hempstead, ENG
I purchased a Zinger meal at KFC Burtonwood Services this eveng & a Zinger wrap meal.
I could not bite the Zinger meal it was so hard & cold totally horrible the worst meal i havs ever purchased.
I did spea to the guy who served me, he did offer another meal but i sid not want to take the chance of becoming ill from eating this rubbish!
Never again !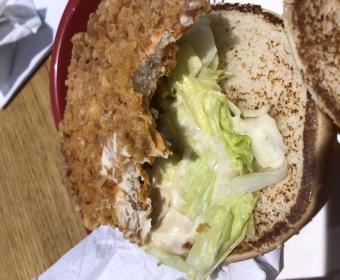 Mary A Davis
from Ft. Washington, MD
The Fort Washington Store drive thru has standing water, but once you drive thru there is a big hole that hits the undercarriage of your car.
This situation needs to be fixed, close the drive thru until this situation has been taken care of, thus can damage customers cars, the hole is unnoticed until you drive thru, all you see is standing water. The management is being told by customers and he or she should report this problem to the corporate office for a resolution. I even mentioned this to the worker at the drive thru, she stated daily complaints are made .
Please take care of this issue, it can be costly to customers if their cars are damaged.
9598 Livingston Road (store address)
, Fort Washington Maryland 20744
My visit today at 1:15 purchased a Pot Pie, no receipt was given to me.10-10-18

Esther Gregory
from Bedford, ENG
Ordered a 6 piece wicked variety bucket. Just got given lots of fries and 6 piece of chicken. No hot wings that my eldest wanted, no strips for the youngest. Bitterly disappointed as we live too far away to go back in the traffic!

Holly Lebied
from Liverpool, NY
On Oct 9, 2018 at 7:22 pm at the Camillus, NY location, a drive thru order was placed and I was told to pull up and order would be brought out to me. After 20 min my order was given to me and it was incorrect as it has been on several previous occasions. I was then told to come inside to rectify problem. After standing at counter for 15 min, someone finally acknowledged that i was even there and attempted to correct my order. So my "fast food" order took at least 40 min. As much as I love KFC, I may have to consider switching to another food establishment that takes a little more pride in their work and has more respect for the customer.

Scott A Callaway
from Wichita, KS
After purchasing 66 dollars worth of chicken and tenders, we got home and found that we didn't get one of our sides. That wasn't the worst part. The tenders were dried out, the biscuits were too hard to eat and most of the pieces of chicken were 'old' and dried up from sitting for a long time. This was at the Wellington KS KFC. We will no longer be getting chicken there, as this wasn't the first time that we have had issues with the food quality. It was 3:50 in the afternoon, and no other customers were there.

Hannah Brook
from Southwark, ENG
I have come in to order 2 bargain buckets in Alphington, Exeter (its currently 1450... not even lunchtime) and there is a 10minute wait on chicken!!!.... that's all you bloody sell!!
Seriously disappointed in you lot, no where near as good as you used to be!!

Tania Ashworth
from London, ENG
https://www.complaintsdepartment.co.uk/kfc-uk/ i would like to know if kfc is a franchised business as I have noticed that maypole kfc and Northfield have both changed hands to Asian owners both shops are not selling kfc chicken it's not the same recipe and Northfield i had a zinger fillet burger in a shiny bun the chicken wasn't spicy at all it was slapped together with so much mayo the lettuce was swimming everything slipped out the bun maypole kfc i had a family bucket and the chicken all had a different crispy coating not kfc coating What s going on kfc of its not franchising it's sabotaging terrible please tell me thanx

Vickie Kinsey
from Antelope, CA
I went to your store on greenback Blvd. in Citrus Heights Ca on Oct.4th 2018 at 9:30 pm. I waited behind a pick up truck the truck drove off so I pulled up to box then waited about 7 mins. no one answered even after I said hello several times. I pulled up to the window no one was there I waited again till I saw someone walk passed I honked my horn with no response I finally got someone's attention he tried to open the but couldn't he went to the office and asked the manager about the window, he still couldn't open it so he went back to the office to tell the manager he couldn't do it she didn't come out, the young man went on to do something else and just left me sitting at the drive up window. I drove around and went inside saw the young man that couldn't open the window and asked why he just left me their with no response the manager heard me and came out to say that they closed early because they where out of chicken I asked why they didn't post a sign saying they where closed or why no one answered at the order box she said she had everyone turn off their headsets. what kind of service is that to your customers that are waiting to order but they never get an answer. As I drove out someone else was waiting I told them that there closed so she didn't have to wait till she got discouraged and drove away. I will never go to that store again and will let others know what kind of service they will get there.

brenda sprow
from Altoona, PA
I had to want for 45 minutes to get my chicken. they had nun ready. That s unacceptable The places wasn't that busy. This isn't the first time they didn't have something ready for customers.

Pamela Walbom
from Tucson, AZ
The KFC store at 6872 E. Tanque Verde in Tucson, Arizona phone 520 505-2047 is a disgrace to your name. They never have half the items in the menu, especially CHICKEN. This occurs especially at meal times. The staff always forgets part of your order and you always have to wait 20 minutes or more if you want chicken. They are totally disorganized. We have lived in Tucson for 20 years and enjoyed KFC. However, the last few years it has been awful. Tonight my husband drove down placed his order for chicken and was told he would have to wait 20 minutes. He came inside the store to wait. After watching several other people getting there orders, he asked about his. They had lost it, and he had to start all over. His words were "I WILL NEVER GO BACK TO KFC AGAIN". He is a successful business owner. I hope someone can check into this as it is very bad for KFC's reputation in general and I don't know how the store can stay in business. Thanks for listening.

S Bar
from Petersburg, IL
Called 20 minutes ahead of time to see if they had 10 piece 19.99 meal was told yes I did not need to order it ahead of time they would have it my husband drove 30 minutes to the place on ninth Street in Springfield Illinois and was told they only had original recipe and he would have to wait 25 minutes she tried to explain to me in that 20 minutes they had 20 customers getting that same exact meal. Find that hard to believe and most of the staff was standing outside talking when he got there Won't go there ever again

We very rarely eat at KFC and chose your restaurant near Colwick Nottingham as it was close to work. The restaurant itself was filthy, half eaten food on tables, pop bottles on the floor with contents spilled everywhere, unclean tables. We waited at least 6 minutes to be served and there wasn't anyone else in the restaurant. The member of staff seemed very distracted and uninterested in our custom, he forgot our drinks order and when we received our food my chicken was cold (I had 3 boneless peices) and my partner had a zinger burger with way too much mayo and what looked like the ends of a lettuce no actual leaves. Very disappointed with the whole experience, money wasted and will not eat at KFC again.

Stephen Jenkins
from Edinburgh, SCT
I ordered a family bucket after 10 mins I was told there was no coleslaw & corn?
I advised the staff my wife was vegetarian and this was her part of the meal, I then asked for rice as an alternative but was refused then the manager came and refused the request?
I then had to ask for a refund
No apologies after leaving the store I found that I was not refunded the bag cost maybe this is why the manager was unwilling to give me my recipe
This is not the first time I have went to livingston KFC and they adviced they have no product.

Mark Pengelly
from London, ENG
Waiting over an hour for food

Kevin Curry
from Macon, GA
The KFC on 190 Tom Hill SR BLVD, Macon,Georgia, 31210, has the worst service I have ever experienced. The management and the employees are terrible. They are very disrespectful, inconsiderate, and sloppy. There Drive-Thru service is not where it supposed to be. I had to wait over 45 minutes for a $20 Fill Up. Not only that, but when I received my food my order was wrong and the chicken was dry and falling apart. Also, my biscuits were as hard as a rock but somehow still undercooked. When I went to complain to the employees and managers about my food they came back with an attitude, very mean and disrespectful. While trying to tell me that the restaurant was fully functioning as intended, a roach crawled besides my shoe. I will make sure to never come back to this establishment again!

charles pedroni
from Antioch, CA
at 6;00 pm kfc in brentwood ca. on lone tree way. has no wings or chicken ready. This is not my first time with this location always a problem.THIS IS MY LAST TIME I WILL COME HERE.This place is so poorly run I hope it goes out of business.

B J Cisco Gordon
from Tulsa, OK
I shop in Kansas and Missouri. The stores that are in my area are forever running out of Potpies. Why cant' they keep up with the customers demands? is there a reason why this is an on going problem...West 75th in KS, 47th St in MO, Barry Rd in MO, The one on 95th Quivira does way better than the other three.

David Grainger
from Newmarket, ENG
Was in your Sudbury branch today on my lunch break and the customer service was shocking,, I'm never one to complain but it wasn't busy and the girl serving the orders ( not the women on the til) attitude and work speed and effort was shocking I was second on the order list and it took 16 minutes to get my 2 piece vvariety meal and it was all cooked ready! All in all it took twenty mins to get fast food when I was second in queue when walking in! I wouldn't mind if it was busy you the girl was working hard but in the end I actually had to speak out to say can you get my food please!!

Bonnie Barton LongKnife
from Box Elder, MT
This complaint is a long time coming .I have finally decided to take the time to write concerning our Havre Montana KFC.
We continue to try ordering from this KFC and very rarely have a pleasant experience and stop going to this establishment for quit a while then decide maybe we will try again. Our main complaint is receiving wrong order, less chicken in the bucket than what we ordered or having to wait for chicken 20 mins or longer (which has been the norm at this restaurant. The many times we are told that we need to wait for the chicken has been too numerous to count . Its very frustrating when this is a fast food restaurant. Several people in Havre feel the same way. I have talked to people travelling through and they also have complaints. Last evening was the final straw. We went to the drive up window and requested original recipe 3 piece meal. The lady noted that it would be a 20 minute wait. I said never mind I would like 2 famous bowls she told me to park over between 2 vehicles. This also took a long time so I went in and asked if they were ready. There was the lady that took my order verbally yelling at employees in the back. She was yelling "where the fries and something about coleslaw. She was very condesending and rude to them( I would have walked out) The whole restaurant heard. A couple of customers even walked out. I will not ever go back the this particular KFC. Several people in Havre have stated they would love to go to KFC but I am following suit and not returning .Also its very dirty. Thought this should be brought to someone's attention. Thank you for your time. I did call and speak with a manager and told her what happened last evening and was told "okay"

david jackson
from Mineral, VA
I ordered a 3 piece meal with slaw and potatoes also ordered 5 dollar box meal 2 pc leg/thigh box, once home ( 5miles) I opened the 3 piece meal and found 3 thighs a biscuit and potatoes/gravy no slaw, and the biscuit was old and crumbly . in the 5 dollar box leg thigh there, no fries but another mashed potato and crumbly biscuit, no cookie either. im not one to complain but when your on a fixed income and you are paying almost 15 dollars for our meals we just expect to get what we pay for, also the girl who took the order was rushing the order, I did ask her at the window if she was rushing me to which she stated no and went back to looking at what I think was her phone, this is the third time in a month that something was messed up on the order, were not bojangle fans but I think that may be our option in the future as the service and accuracy of the orders makes us question what could actually be going on inside that we don't see. as a paying customer I will tell you kfc is gone down hill fast and when I pass them in the future I will hit the gas

Tracey Jacobs
from Lake Mary, FL
hello, I am writing this complaint because of the issues I have encountered on my visit's to the kfc in Deltona Florida location, providence blvd.
on 3 different occasions I have received messed up orders and nothing was done to resolve the issue but the manager saying sorry. I live on one side of town and to drive back an fourth is and issue.
1. the first and second issue we ordered buckets and no wings where in the bucket.
when I called was advised they would replace the wings and when I went in the person I spoke to never wrote it down .
3. the third issue the food was cold have not been back since then
please assist me thank you

Susie Bridges
from Trimble, MO
I ordered 80 pieces of chicken a day ahead of time. I told them I'd be there at 10:30. He DID NOT tell me to call and confirm. When my dad went to pick it up the chicken was not ready. Not only that but the manager was downright rude and said it was our fault! My dad was very upset!

joseph randall
from Chandler, AZ
I can't even give you a single star i went to kfc taco bell combo and ordered a k-5 and they had me go large so i could get a large lemonade and another side cool right? but they forgot my cookie and they know me because me and my family eat there at the one on 75th ave and thunderbird road in Peoria AZ and so the next day and yes we eat at least 6 times at this restaurant a week spending an average of $75 per visit (large family) so again i come to the same restaurant the next day and i said lets go large and when i get to the window and gave them my card after they charged me for the meal including the go large fee that is additional and then said oh we are out of lemonade and so i had to get a root beer. Not happy but nothing compared to today. i went to the same restaurant and ordered the k-5 and had them go large again and i ordered the lemonade at the speaker and they took my order with it and then i give them my credit card and they charge me then they say oh by the way we are out of lemonade and that pissed my off because i would not eat there without a lemonade and could have cancelled and gone elsewhere and they waited till they charged me again and then said we don't have lemonade and i was pissed and said give me a root beer then since i was there and he said they did not have root beer i was forced to take a sprite like product that sucked and then he tells me that they do not have biscuits now I'm fuming and they said they would give me an additional mashed potatoes and gravy and to go around front and they would bring it out but i opens the k-5 box and there was extra crispy instead of original as i requested and so they replaced it quickly with the original and then gave it back to me and said what about the mashed potatoes and gravy and he said go ahead and go out front and i ll bring it right out. after 3 minutes i walk in and its sitting on the counter and a gut picks it up and says is this yours and i said its been sitting here while i sit for 3 minutes in 111 degree heat. no response but there will be one when i post my blog about this whole thing next week unless there is some kind of settlement for the crap and I'm so mad i wrote this before i ate so you knew` how pissed i am and the 2 million followers will know too look at Payson Az you had to close that i blog how bad they were and well you know what happened you can't mess with people like that or they will not come back and that is what i am requesting others do just to teach you a bout maintaining your supplies and doing the right thing you have a week to make this right. then get ready because if i can i want to hurt your company so bad after all this you do not deserve to be in business look at britain it was a simple switch and your stuff got lost there are to many who can do things beyond your control and i am that fear.

Mr saunders
from Tottenham, ENG
Its been several months since iv been to the local whitfield branch as last time i went i had severe food poisoning, (for the second time) but benefit of the doubt i returned again today, upon entering the drive through i was greeted with a mutter of half rehearsed english, i assumed the worker was ready for my order, eitherway i ordered a larger meal with bacon and cheese and specificated the filling being without salad or mayo, when i got home not to my surprise, i had a single piece of chicken in a bun... oonce again a disappointing meal at kfc. Its a roullette as to wether i make the night unwounded!! And to add insult to injury the ingenuity of your chipdrens boxe meals i leave you the attachment i hope i need not comment further...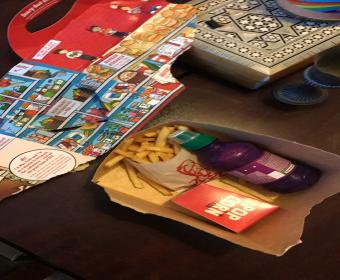 christie dent
from Hurricane, WV
yesterday my husband stopped at rhe kfc in louisa ky to get the $20 filet meal when he got to window they told him they only had 5 pieces fixed and asked did he want to wait for them to fix fresh he said yes they parked him cars streamed thru drive thru almost 30 min later they finally brought his order out i dont know how long exactly it takes to fix filets but id assume pressure cooking it shouldnt take that long and even if it did shouldnt they had enough fixed up all honesty since new owners this resturant really sucks ppl always waiting on different things on buffett chicken biscuts just name couple things

Debbie smith
from Los Angeles, CA
No pot pies three times I've been there. Requested phone number refused to give me.

Sacha arnold
from Lewisham, ENG
What a terrible service, staff didn't know what they were doing running around like headless chickens. 1 girl was doing till, fries, and trying to give out food, another one was just stood there not got a clue. I use to work for the company's which gives great training, so I don't understand why they had no clue what they were doing. Food order was wrong had to go back 4 times
Very disappointed with the vist with my family
We were at havant NEW kfC next to Asda
Many thanks
Sacha

Gloria San Nicolas-Avery
from Los Angeles, CA
My complaint is KFC at 2424 Encinal Ave in Alameda .Vs. 94501 Manager and store owner Had Her 6 or 7 yr son running in the area where staff were working on this day around 3:00 pm pst customer had tried to explain abt a safety issue because of hot equipment running and Manager Started cursing and yelling at customer. "This is my store and I can luv my son here and threatening customer that she was going to kick my ads. Police arrived gave me information who to report and I am now reporting plz Contact David Novack and return my call at 510 228-2504 Thank you a quick response would be greatly appreciated

Mary C. Jojola
from Las Vegas, NV
I stopped by KFC and ordered 2 Bar-BQ chicken little sandwiches. When I got home I found there was only a whisper of bar b-q sauce on the sandwich and only on one side of the chicken tender. There was more mayonnaise than bar b-q sauce on the sandwich. Also the bar b-q sauce looked dried out. Maybe left over from yesterday? I tried calling them to complain but they would not answer. The restaurant is #0212091 @ 71 North Nellis Blvd. Las Vegas, Nevada. The ticket is #2485. I have ordered this sandwich before so I know they definitely messed up this time!! It is too hot here in Las Vegas to drive back to complain in person!!

Devon Adkins
from Saint Joseph, MO
I was waiting for my food for half an hour, they were giving the people who were behind me their food but not mine. They didn't know the orders, so I had to go up to them for my order.

joseph cianciolo
from Clinton Township, MI
Piked up a bucket of your chicken yesterday at KFC only to be disappointed when we sat down to eat. The chicken pieces looked like they were cut from a small Turkey- (all the pieces were 2-3 times there normal size} The meat was very tough and we were having difficult time chewing (Tough) I thought that your outlets had standards on size and preparedness. Unhappy customer....

Vanessa Fry
from Trowbridge, ENG
We went to Trowbridge KFC today 28/7 for a simple coffee. My husband decided on coffee and a cookie and myself just a coffee. We were told we could have black coffee but nothing that needed milk because they didn't have any. My husband was also told that no cookies were available also. The store was empty and I can't say I blame people. They were queuing at MacDs. The toilets were stinking. When the occupant next to me flushed her loo the water and contents came up to meet me in mine it was disgusting.And no working lock on the door. It will need to pep up the store for me to want to go back.
Vanessa

Lynn Windham
from Odessa, TX
I stood at the order counter for 15 minutes waiting while the employees were either texting on the phone, another was sweeping and one was trying to fill orders. There were 7 other customers in the place and they were all eating their food. The poor guy trying to work in the kitchen did tell me that someone should be with me soon.

Beth Meiers
from Morgan Hill, CA
I volunteered to head a committe to provide a picnic lunch for an organization I belong to. The date was 7-21-18 I decided to have the luncheon provided by KFC. A couple of months prior to the event, I visited our local KFC. Terrence was very helpful at that time answering my various questions and providing me with a catering brochure. At that time I was informed that although your brochure states that delivery is offered , that service was no longer offered. I used the brochure to determine how much we would need to charge each paarticipant for the items we wanted to order so that we would break even.. Four days before the event, I went back to the restaurant to give Terrance my order. I requested the BBQ Baked Beans for one of my sides and was told that they were no longer available at that location. I then requsted Corn on the Cob and THAT was not available so I chose Potato Wedges instead. After my order was completed, I asked Terence if he could give me the total that would be due at time of pick up He said "unfortunately" he couldn't give me the total and that I should just add up the amounts listed on the brochure. I did so and arrived at a total of $317.88 not including tax. When we arrived to pick up our order we were informed that the total due was $363.41 not including tax.....a difference of $55.53. First of all, your Corporate Office should provide your stores with current brochures. Secondly, Terrance should have informed me that the brochure was outdated and definitely NOT told me to determine the total cost by adding up the incorrect figures. I feel that I am entitled to a refund of the additional amount $55.53 Thank you for you attention to this matter

Rena P
from Baton Rouge, LA
I visited KFC location on 3709 Hollywood St on 07/22/2018 thru drive thru and after placing my order presented KFC coupons that were mailed to me and was told by the night shift manager that the restaurant was not set up to accept any coupons. After purchasing my order, I was served cold food... I immediately refuse the food and was told that fresh food cold replace but I would have to wait and have it bought out to me...while waiting I came inside to use the restroom only to find both men and women restroom was over flooding with sewer and having a male employee in the ladies was down right DISGUSTING!!!!! I notified the manager on duty and was told that they always be in those conditions and that she was unaware that a male employee was in the ladies restrooms. After waiting for my order, I was served again that same cold food. I tried calling the restaurant to informed them of the order no one answered the phone after several attempts. I called another location (Perkins Rd) and left my name and number to have the area supervisor Renee to give me a call. As of this written complaint, I have not received a call from her

Karol. M Isenberg
from Kirkland, WA
in the drive-thru, when I asked what side dishes were available, I was told to read the menu. I am sure the young man did not want to be there since it was a sunny and very hot day. I know that it is most unlikely that I will return any time soon Perhaps this is the NEW customer service but, since I belong to the old school, I will not knowingly subject myself to that again.
I too am in business and know that I could ill afford this attitude with my clients. Hence my writing
Karol. M. Isenberg

You're company is shit.. every time I try to go to any of your stores they are either closed for some reason or you have run out of products, quite frankly I am sick of going to McDonald's because of this constant problem

Tricia Salgado
from Magnolia, TX
I went to restaurant #D212015 here in Magnolia,Texas and the staff was not paying attention to the front counter. Some employees were very rude and the food was very cold and the biscuts were very hard almost as hard a brick.

Ron Hall
from Mansfield, OH
I was in your Mansfield Ohio Ashland Rd store on 7-20-18 at about 12:40 I order a kids meal a 5.00 fill up breast meal and I thought a 3 piece strip meal plus a cole slaw. When I went to my car I didn't get a receipt and no strip meal so I went into the store and the Manager look it up and said that I never order one and did nothing else even the cashier who grab up at least 10 receipt's left me just standing their for at least 2 mins and I was planning on ordering the meal. I called the store and that manager answer the phone and was very rude on the phone I ask for the district manager number and he didn't know it so I called your other store in Mansfield and got her number and when I called her she was more concerned if it was a male or female who gave up her phone number and not what happened and she called me back saying she was trying to help me which she wasn't at all. I was in management for over 25 years and my district managers didn't care if I gave up their phone numbers they was there to help a customer not worried about who gave up the number. I called this into your corporate office and did not feel that he cared about it either so it makes me feel your company is just out for the money and not your customer's and I will not visit your store's again and I will let others know how I was treated. And the breast I got in the meal was small like a chicken thigh not like a breast

Nisha patel
from Norwood, ENG
I ordered my food 15 minutes ago still waiting for my order the customer service Is so poor getting frustrated as I have hungry children could you pls look in to this for me I am not a happy customer

Rachel ingram
from Camberwell, ENG
Service was appalling waited ten minuites just to order food in the drive through and didn't even get a sincere apology absolutely fuming shall not be coming back ever again and will be publicly shaming you!!

E Fowler
from Sunderland, ENG
Yet again I tried to get a Friday night treat for the boys and myself 40 mins stood in the preston queue is just not my idea of fun,the whole family have decided it's not going to be repeated, come on KFC sort it!!!!!

Penzance kfc is well known for being dirty and dail My food hygiene inspection but since being closed earlier this year, I had heard that they had cleaned up their act.
Was a bad sign that the intercom was covered in dirt and spiders webs but the staff were worse. They were out of all sides except gravy as their delivery has failed. The drink tasted like carbonated chemicals and the whole thing was more expensive than other fast food and besides the chicken and corn was not worth eating. Hoping this was a one off, the Next week I tried again and went for a bargain bucket but asked if two of the chips could be exchanged for corn (as chips here are like limp cardboard and devoid of all taste) but that was impossible. In the end I went to McDonald's which was cheaper and tastier. Sad as o prefer Burger King over McDonald's but kfc Penzance is not worth wasting the petrol to go through the drive through.

Adele
from Liverpool, ENG
Drives in to the drove threw to see NO SIGNS stating it was cash only! Starts my order in the the speaker before being told! Then had to drive 10 min to get a cash machine. Goes back decided to go in the store as I had already taken so long for quickness I wanted a fast service.
No one was serving tolls were empty and the que was out the door.
Signs in store to say cash only.
No hot drinks were being served also no water available.
The service is terrible to think people are paying for food they should be providing a fast effective service.
One bad experience can put someone off every going back. It's not somewhere I would go kfc I just fancied it tonight for tea. I won't be rushing back. The girl serving Jess was really polite an effective when serving, it's a shame she was hosting on her out.
You really need to pull your finger licking finger out! Kfc. Av you ever heard a happy wife is a happy life.
customers left fed up an hungry isn't good.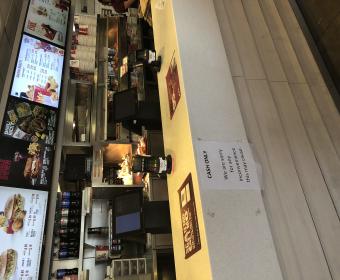 Chris chapman
from Croydon, ENG
Your kfc at birchanger services was vile I ordered a twister fillet wrap and they pretty much slapped it together one big piece of chicken no salad didn't even fold it properly. I am very disappointed with this kfc it isn't the first time . They don't care how they make your food and I won't be coming back again

william laflair
from Kennesaw, GA
My family and I stopped at the KFC in Carrolton Ga last night (The one close to the collage) and it was the worst experience of our life. We arrived at KFC at 2110 and did not get our food until 2150 - it was outrages !!!!!! According to girl at the counter, there was only 4 people working - yet I saw the manager just sitting in the office, 1 girl was just walking around on her cell phone, and the guy that was there walked in and out of KFC about 10 times - this was the worse and most incompetent staff I have encountered at any restaurant. No since of urgency and obviously had no problem just letting customers wait and wait -I had asked for a refund but was told due to using a discover card they were unable to reverse charge - so I am now going to refuse charge with discover - even though we got our food 45 minutes later, I will not pay for that service. The only reason we waited was because your staff basically held us hostage and made us wait. If you have video surveillance of that store, start watching from about 2100 and you'll see what I'm telling you. Found out also that we were not the only ones made to wait like that - that whole shift should be fired. I live in Kennesaw and visit the KFC in Marietta often(The Big Chicken) now that staff knows how to perform and treat customers. But the one in Carrolton should be shut down if that's the best they can offer - What a disgrace!!!

I don't know what's going on at the KFC at 1501 S Nevada avenue Colorado Springs Colorado BUT::
1. Never have any pot pies and one time I got a pie with ABSOLUTELY NO chicken in it!!
2. Long wait times. Say they're out of chicken??? Then it's frozen- have to wait- then forget about you.
3. When you call (to check if they ever HAVE pot pie lol) the phone just rings and rings- then hangs up on you. They say it's broken. Hmmm

The stupid workers charge me regular price when I gave them a coupon and then told me that it was too late it's already been paid for.! Then I had to wait 15 minutes for a biscuit.

Roy Esslinger
from House Springs, MO
The KFC store in Pacific Missouri is terrible. Several times now I have gone there to get our family supper and have seen employee's standing out behind the building smoking what smelled like Marijuana and just acting stupid. on 3 occasions they put old and dried out chicken pieces in with fresh, I am so sick of dealing with these people I will no longer go there nore will the rest of my family all 28 of them. I am sure you really don't care what I say cause I am just one of those disgruntled customers but at least I got to vent.

Connie massey
from Vonore, TN
I have taken KFC to my uncle's house for the last several years. As a rule, I normally go to the Store in Lebanon Tennessee. The problem is that you never know what you are going to get. My regular order is the 8 piece chicken only crispy and side order of Mac and cheese.
In the past, I have gotten the wrong pieces of chicken and one time was given mashed potatoes instead of Mac and cheese. It seemed like they had gotten a little better but 2 weeks ago, they gave me original instead of crispy. Tonite, I went and ordered the same thing. They did at least tell me they did not have any crispy wings but when I got home, I had 4 thighs, 3 legs, 2 wings and 1 breast. This may seem trivial but when I order something, I want what I order.
I have even tried going inside and trying to watch them but I usually get frustrated doing that. I know how hard it is to get good help but I am tired of never knowing what I am going to be eating. Tonite, I was given a higher price but since I knew the amount that I usually paid, I got that corrected.
I know there is no way you can make sure this problem is corrected and if I am going to continue to go to KFC, it will be my responsibility to check my order before I leave with it but feel it is a shame that is necessary.

Rick Teeple
from Bullhead City, AZ
I complained to you about getting chicken with NO meat on them. Now this has happened twice from the same location and I contacted you and you said you were sending me a voucher for me to use on my next purchase yet I have NOT received it. My case number is FGY9N. Now I have not purchased any more from you since you obviously don't really care if I spend my money on your chicken or not and only told me you were sending me a voucher hoping I would go away. Well I have found out recently that I am not the only one complaining about the lack of meat on your chicken bones. I know of at least 3 other people that were NOT satisfied with what they received at your establishment as well.
Now a friend stopped by yesterday and although I had no idea he was even coming he just happened to bring a bucket of chicken from you with him and it was supposed to be 16 piece bucket meal and even though there was 16 pieces in it we had 9 wings... REALLY??? Now I don't know about you but when I pay TOP DOLLAR for something especially food I expect to get what I pay for and not get robbed just because you decided to pawn off more of the cheapest cuts on me.
I just want to know if you are sending that voucher like you said or should i go on all my social media sites and tell everyone about my experiences with you? I can NOT afford to keep purchasing food from you if you insist on not giving me what i pay for.

Brandon mcmullen
from Marshall, TX
Went through drive through in Center T.X. Store.Ordered family mashed potatoes checked order jalf full took it back into dining area and told cashier she then called manager over i told her then she asked who made order the whole kithchen employees started laughing and called uppon another employee and said u got caught then they filled another container of mashed potatoes and the manager handed it to me and said have a nice day

richard
from Taylorsville, UT
My compaint is i went to get 10 hot wings with other stuff, the lady went and checked and she said she only had six i said ok plus a couple of legs for being short hot wings she said no i would have to pay the same price for six as i would for ten i told her no just put a couple of legs in will call it even this lady should be fired. I will never go back to that store ever again and i am telling everyone to stay away. What a rude cheep person .

Rachel Evans
from Woolwich, ENG
KFC Barlborough. Made an order at 11am for collection at 1:30pm. A large order. When collected was missing items and had to do 10min drive back. When collected just got a curt sorry and had to wait again.

Deb Holmes
from New Port Richey, FL
We spent almost $20 for 2 dinners, for BOTH to be wrong and didn't get close to what I paid for. I then called the store to be put on hold twice and be "disconnected ". Unacceptable.

Hi myself and my family went to kfc on Salhouse rd Saturday 7.7.18 for the first time . I was absolutely appalled at the hygiene pics to follow.. firstly my burger was stone cold drinks were flat told the machine had broke.. my children's corns on the cob were green, I went to use to toilet absolutely disgusting clearly hadn't been cleaned that day!! The bin beside our table that we sat to eat our food had old liquid spilled to the bottom of it.. the window to the other side of us had dead flys all over it.. the tables where dirty not the service you expect in a restaurant..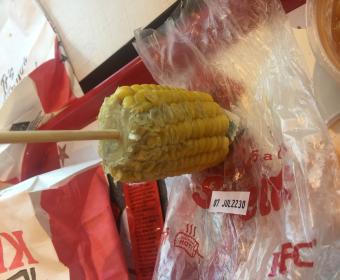 Maxine
from Birmingham, ENG
My Husband and I use the KFC regularly at the Princess Alice dr,B73 6RB.
We order a fillet meal and a zinger meal mostly box meals from the drive through.
We are getting a bit tired of getting home and the boxes are not marked so we have to sort who's is who's and I don't like bitting into a spicy burger. But it just so happens this has not been the case on our last few visits as both burgers have been fillet ?? I have managed to persuade my husband it's been a couple of one offs but today was the last time. We never get what we ask for so we will take our orders somewhere else as this is the only KFC close to us.
Mrs Hawkley

SPI tx location...Food was cold like it had been sitting out and there was hair In the popcorn chicken. The manager BLANCA refused to replace the order!

Lorena
from Pawtucket, RI
Had to wait an hour in my car for my food. They didn't have any grill chicken so they told me it would take 20 minutes to be done and that they would bring it out to my car. After waiting for 50 minutes they brought my food out. No apologies what so ever. Is kind of ridiculous that it's supposed to be a fast food drive thru and I had to be pulled to the side and had to wait 50 minutes. So disappointed.

Ian Peter
from Widnes, ENG
I bought a zinger box meal from Runcorn branch in Cheshire England. I've had food poisoning for over three days since and have not been able to eat since.

Willadean B. McRae
from Indio, CA
JUST SPENT ALMOST $30 FOR 3 (2-PIECE MEAL) WITH MASHED POTATOES, COLE SLAW, MAC & CHEESE & COLE SLAW. WE WERE NOTGIVEN THE COLE SLAW ON ONE OF THE ORDERS. INSTEAD WAS GIVEN 2 MASHED POTATOES/GRAY. VERY DISAPPOINTED.
ALSO, WHEN WE TRY TO CALL THE # LISTED FOR THE KFC IN iNDIO, CA IT GOES TO A FAX MACHINE.
QUESTION: THEY INSIST WE BUY A HUGE DRINK WITH THE MEAL. iS THIS CORRECT? (ALONG WITH A COOKIE).
QUESTION: CAN ONE BUY OVEN-ROASTED LEGS WITH A 2PIECE ORDER OR DOES IT HAVE TO BE ORIGINAL OR EXTRA CRISPY?
THANK YOU FOR ANSWERING THE ABOVE.
OUR ORDER FOR THE ABOVE IS ON SATURDAY, MARCH 2,2019 FROM THE INDIO, CA 92201 FRANCHISE ON HIGHWAY 111.

Katy hodgkin
from Milton Keynes, ENG
I went to the drive thru on the 1st March ordered a fillet meal and when I got home it was a zinger tower meal I was so disappointed and was sooo hungry I love kfc and always have a good experience with urselves, I would have driven back but the kids had their meals.
The receipt number is 84190301194113

1st time they forgot to give me my chocolate cake at the drive thru window and I had to drive back to the store to complain and get my chocolate cake, manager apologied :/
2nd time same location and about two weeks later again they forget my chocolate cake, and I drive back to the store to complain and get my forgotten chocolate cake, manager said to me next time bring back the whole order , so she can see what is missing on the order, (No way the kids are hungry when I get home and we are all upset No chocolate cake) but I promiss to go back for it) totally not friendly manager and no apology.
3rd time always the same order of Chocolate cake 8pieces pieces of chicken grilled which most of the time they do not have so I say OK give me the rest in original recipe, One mash potatoes, One Green Beans, and One Cole Slaw. and a Chicken pot pie meal with a drink and a cookie.
What I get is 8 pieces of chicken and two mash potatoes, NO greens means and NO cole slaw :(
First and second time OK, but the 3rd time, I have to complain... sorry and upset at KFC Harman-Douglas # 147 on san pablo in Richmond CA 510-232-1527

Waited 20 minutes in line for chicken to be cooked for lunch. Location 6000 block Lancaster ave Philadelphia pa

the manager on duty working the window was cussing at the other employees and had a terrible attitude

On 2-26-19 I was taking a meal to a family of 6 because the mother had suffered a serious concussion I ordered 20 piece chicken with 3large sides of potatoes and gravy, 2 cole- slaw and 1 mac-and cheese with box of biscuits. received order and I asked if all the sides were there and the order complete , the gentle-man said yes and I even put in some honey and butter. As I had a few children and thought that the two large bags did in fact have every thing. Took the meal to the family and later they called because I accidently left the receipt in the bag, $75,00, they said the bags contained only chicken and biscuits. I was so embarrassed. I tried to call the store every 10 minutes from about 6pm until 7:15 pm, had to leave and returned and tried to call again, every 10 minutes until I went to bed around 9pm. The phone was always busy. I called the next morning around 10:30am when a person answered refused to give me his name or the name of the manager, kept asking what I was calling about so I told him. He said that was impossible, very argumentative. Now I am 77 years old and from Louisville, I know KFC does not treat their customer this way.
The next day I went to the restaurant at 11:15 am to show them my receipt, asked for the manager and a young woman announced that she was the manager so I explained what happened and a man, name Zane I think, took over the conversation, still argumentative, told me he would talk to the young man and call me later that day. He never called, I am not satisfied and of course I will never go there again and will let my family, friends and other know why. This is a franchise I believe and they are not representing KFC as you expect. My sons worked at KFC when they were young and I remember how they said customers were supposed to be treated. Sadly store #S720008 located 1216 Grant Avenue in Ogden Utah

Mary Stubblefield
from Greeneville, TN
went to KFC today at7:53 did not get my food until 8:27 my lovers where like rocks they had cars pulled up everywhere waiting on there food one car left got tried of waiting for there food then the girl came out with 4 bags of food everybody food was messed up they was going around the parking lot looking for the people to give the food to want to back I am done with that restaurant I will go out of town next time

I love your chicken, but l love your coleslaw even more. I ordered a breast, coleslaw and biscuit for take out. I opened the container and what was inside - mashed potatoes. I hate mashed potatoes!! I think you owe me a container of coleslaw.

I ordered the 8 piece meal. The chicken and everything was very good. The problem is that two pieces were wings about the size of my thumb.
They looked about the size of a pigeon wing. Where do you get wings that small. I was disappointed in the wing size.

Received chips that were extremely over cooked, looked as if they were left out then re cooked for service.

Today @ approx.11.20am. I went through the drive through at Kings Park KFC.NSW.2148, I purchased a Honey Mustard twister Plus a coupon for small chis & drink. When I arrived home, I unwrapped the twister and everything fell out making a mess, after cleaning up (no serviettes supplied)
I did enjoy the mess!!! Normally twisters are wrapped properly and turned up at one end to avoid this. PO. Box 833,Kings Langley, NSW.2147. I must admit that I was very disappointed.

Your store in Yreka ca is awful I waited 20 minutes at drive they window for the young man to tell me he didn't have the order and told me to wait anoth 10 minutes. Your staff there is very rude. This is not the first incident I have had there and other people that had traveled thru here said they will never come back. You really need better people there that are better trained and care about the people who pay there wages.


I ordered a 3 piece variety meal however I received a normal 3 piece meal. The service was terrible as I was waiting approximately half an hour, to top it all of I noticed they forgot to give me my drink to go with the meal!

Ticket #1855, Restaurant #G135428. Yesterday, I purchased 2 a la carte pot pies. I am very unhappy with the quality of the items in that there was very little chicken in the pies but more importantly, a chicken bone (approximately 1-1/2 inch(s) was found inside the pie! Needless to say, this upset me! Obviously, someone could have choked on it! No, I did not contact the restaurant as I live quite a distance away and would not have been able to drive back there. To me, that was money down the drain!! I would appreciate your responding to this.

Aletta Willemse
from Johannesburg, GT
We love KFC, but I were very disappointed on Friday the 15th of February 2019.
I saw your New street wise deal and just love the roll, mash and everything that comes with it.
How disappointing when we got home and all the other food was there but me with the new Streetwise mix only got the roll and mash, no 1 piece chicken or my 2 zinger wings.
I phoned both the numbers on the slip attached with no avail. Kept going onto voicemail.
Thought I will leave it, but yet again I am sure you would like to know about it. Cannot get slip uploaded.
Thank you.

I ordered two three pieces meals I had to wait over 20 minutes for them to be cooked they will cooked in dirty Grease the chicken was dark even though I ordered white pieces it was over seasoned I tried to call back and got no response also they did not give me a receipt

When being served the employee serving me was spitting in a box that was on the floor next to till not just once but twice. This was at kfc Bristol fishponds time I was served was 7.58 on 15/2/19

Half of food missing in fact quite a lot. Paid over £30 and got like £20. I have an autistic son who looks forward to his kfc when half was missing it was me dealing with the meltdown no one from kfc. This is from the Oldham town centre branch. I have told friends and family to avoid

Barb Kerkstra
from Bedminster, NJ
We visited KFC in Bonita Springs,Fl. One day last week. This is the second time they were either out of chicken or refused to give us chicken breasts on the all you can eat buffet. The buffet promises you white or dark meat. I asked the lady for more breasts and she said "no". I asked the guy and he gave me 1 piece. If this is how it is! No more buffets and maybe no more kfc.

Merlynn Lenders
from Cape Town, WC
Last nite 10/02/2019 I went to KFC Pelican Park, Western Cape after we had loadshedding. I had my kids with me in the car and was disgusted by the service serviced by the staff. Loadshedding was done already it was before 9pm. 3 ladies came to the door, which was shut. They refused to let us in. They laughed at us, told us DON'T WE HAVE FOOD AT HOME. I find this extremely disrespectful, they don't care about the customer service they give. We pay for this. Staff have horrible attitudes and this is unacceptable. We have pics of how they simply refused us entry and service. They allowed cars at drive thru though.

Went to get my food on the drive through Hatfield lady comes out finishes a cigarette she left on the floor !!! See her go in and handle my food I had five kids with me was very bloody hungry but couldn't stomach it told her she needed to wash her hands and I'm a regular !!!

Jason Dysart
from Bedminster, NJ
The $5 famous bowl I got from KFC @ 4909 East McKinley Avenue Fresno, Ca. Was very light on everything. This is the third time in a row that i have gotten " light bowls" from this location. All others are great.
I would like a complimentary famous bowl combo and for this store to correct their practices, thank you.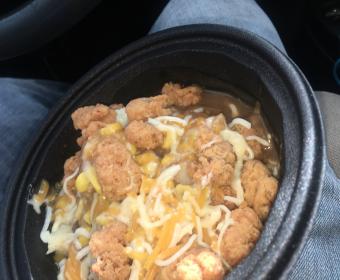 I think the commercial where he stubble and says what he does is not a good way of advertising the food any child can put 2 and 2 together that he is saying a bad word I think you need to change the commercial or take it off

Kevin McAbee
from Bedminster, NJ
I was in line in the drive thru of the Boiling springs NC location for 26 minutes before I got my order! Then it was wrong when I got it home !

kitty miller
from Augusta, GA
I WAS TRYING TO DECIDE WHAT TO ORDER THERE WAS NO BODY BEHIND ME I WAS TALKING TO A LADY ON THE SPEAKER AND HER WAS SO RUED WHEN I GOT UP TO THE WINDOW I SAID YOU DON'T HAVE SO RUED AND THE YOUNG GIRL AND THAT WAS NOT ME IT WAS THE MANGER THE I SAID I COME UP HERE 4 TIMES OR MORE A WEEK THE THE GIRL SAID SHE SEE ME A LOT THE MANGER DID NOT COME OVER TO WINDOW OR SAY SORRY. I ALSO TAKE CARE TO OLD PEOPLE HIS IS 90 AND SHE IS 85 THEY LIKE KFC . I FEEL LIKE RIGHT NOW THE MANGER NOT CARE ABOUT HER REGULARS.

Milton Hanson
from Columbus, MS
went in to kfc at 5:59 p.m. ordered $5 fill-up box with thigh and drumstick did not get a drink or side when asking the cashier she said it did not come with anything but chicken and biscut. Finally complained enough to get mash potatoes without paying xtra but still no drink other customers ahead and behind me were getting the same treatment almost like they were saving back these sides to sell later and pocket the extra money. the food was not hot at all chicken was almost raw just got mad and threw away what I got and left the store I don't plan on going back to get robbed of what was advertised on t.v. and internet

Kathryn Eikenberry
from Cincinnati, OH
The person who took my order was rude, and unpleasant. I do not hear well and had to ask her repeatedly what she said. She spoke quickly and softly and the more I had to ask what she said the ruder and more irritated she became. II also became more irritated and less pleasant. I did finally get my order placed and it was filled correctly. A napkin included in the bag would have been nice. I will not be going back to #H127027, 3945 Redbank Rd..
Ticket#3674
Date of visit 2/3/19 at 12:15pm

Kristy kemp
from Baltimore, MD
I came on a Friday night around dinner 6:00. As I pulled up after I paid for my order I was told it would be a 10 minute wait on 8 pieces of chicken. I ask for my drink while I waited it was completely flat. I walked in and the restaurant was so dirty I couldn't even eat the food from seeing how unsanitary the place was. I wasted 21.20. 8 piece meal and a Diet Coke. Will not be back. Unacceptable!

I ordered 2 $5.00 Fill boxes with boneless chicken breast and got one breast in one and a back in the other. When i took it back the KFC on Bee Ridge Road in Sarasota, Fl. I was told that they do not sell the boneless chicken breast and everything they do sell has a bone in it.
I am 72 and fried and cut up lots of chicken in my life and the manager tried to tell me the "BACK" was a thigh! Give me a break. She gave me 6 chicken strips for my trouble and they were so tough I could not chew them.
This means to me that the National ads are not honored by the local franchise store owners so I can not get the $20.00 Fill up for my family with the boneless Chicken breast.
I will just to to Cik-Fil-A in the future and drive right past all KFC in the future to get the best. This is why you are #2 in the US
Uncle George

This is the 3rd time in 6 weeks that KFC Tambotie mall gives me the wrong order. When i phone them they said i must come back and they will correct my order. I'm staying 16km away from Kfc. I cant drive up and down because of their mistakes. If this is the way kfc operate i will NEVER buy from you again. And i will shame kfc tambotie mall. You are stealing my money. I have kept my slips as proof
Gerda


Regarding Davis CA 95620. Over the last two years I have been stopping at the noted restaurant approximately once every two months. I have yet to have a good experience. I have arrived home (10 miles away) without my complete order, been told that they are out of something I want and the best asking to wait until they finish the next batch of tenders and while I was waiting they gave the last of the coleslaw to an order that came in after me. I noticed that every time I go to the Davis place the staff is completely different. So I again tried to take home and order. Asking , before I ordered, what they were out of. Being told they had everything I order the 12 piece tender bucket. After the employee went around looking in the kitchen and checking with someone, I was told they only had 7 tenders left for the day. This was at 6:00 PM on a Sunday. I left immediately and went to a Pop-eyes, out of my way, and got my complete order, without any excuses and no wait. I have sent this complaint in a couple of times before but nothing has changed.

Samiya
from Northampton, ENG
I really did not enjoy my dinner, KFC is my favourite but This time it was bad. I did not say "mmmmmmmm"
The chicken was cold and dry, the wings were so small and looked like they were fried twice because of how hard and chewy they were. The peice I requested wasn't even the one I had in my box.
I am very disappointed with KFC tonight as I travel far for the halal resturant. It was not finger licking good:(
Hope I enjoy it next time...if I do go again.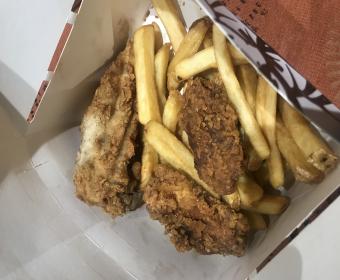 No chicken, 25 minute wait if you want any kind of chicken. Staff does not know what they are doing! They would rather play on phones and make disgusting jokes then do their jobs. Could care less that they are unprepared for any kind of dinner rush. This is not the first time this has happened. KFC needs to be shut down on Bristol rd in flint mi! Waste of a building.

Paul Holland
from Winston-Salem, NC
You probably don't really care because this is petty, but we eat at KFC Long John Silver right often and little things like this matter to your customers!!
I ordered one piece of fish for my wife who is sick and ask for the vinegar packs in bag. They gave me the bag and when I got home no vinegar. I called and they said they were out and had been ordering for awhile !!!!!!!!!!!!!!!!!!!!!!!! This SUCKS in the customer service world !!!!!!
Rest. # G 135201 / 7:11 PM
5715 University Parkway
Winston-Salem NC

David willett
from Cleveland, OH
Henderson Ky has the worst service in the world.

florim mahmudi
from Kenosha, WI
i placed a order of 20 piece meal.
i had all crispy chicken was suppose to be original
the side of mashpotatos were cold and i brought receipt same day in kenosha wi on 94 and hwy 50 they did nothing very upset and caused me family probalem

Eric Johnson
from Broomfield, CO
We went to KFC January 26, 2019 at 10:55 am Store # E720302. Address is 6400 West 120th Broomfield, Colorado
There was open boxes of forks stacked by the soda fountain, also noticed that the soda fountain was not clean in the tray
dried up soda in the pan.
If you need to contact us my email is johnsoneric56@gmail.com. Eric Johnson

Neelofar taj
from Nottingham, ENG
I had few online offers on my kfc app flaming wrap £1 and bargain bucket £3. I went to keighley West Yorkshire KFC, when I placed my order and showed offers on my phone to the girl who was taking my order, she said her scanner is not working and took the code directly on her system, than she said code is invalid, she didn't take both my offers, I had the same offer on my husband's phone and when I showed those offers, she said the same thing, she was smiling because they don't accept any offers and make their customers fool by saying that codes are invalid. I was very disappointed, why would you send offers when you don't take them. My order cost me £26, it should have cost me only £10 due to these offers.

Hyacinth waite
from Southwark, ENG
I went to your store R kfc T 2340 to purchase a meal on my night break and the shop was closed I knocked the door an the person walked into the back
If the were closing they could have at least beckoned to me so I took a photo of the times it clearly stated store closed at 12 midnight
I enjoy my breaks at your kfc and was really disappointed I had no meal Lewisham high street

Hyacinth waite
from Barking, ENG
I went to your store R kfc T 2340 to purchase a meal on my night break and the shop was closed I knocked the door an the person walked into the back
If the were closing they could have at least beckoned to me so I took a photo of the times it clearly stated store closed at 12 midnight
I enjoy my breaks at your kfc and was really disappointed I had no meal Lewisham high street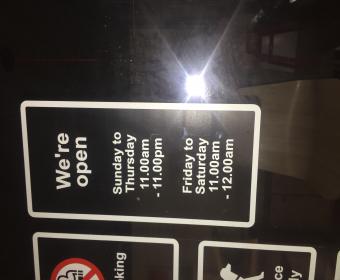 Sean hagerupsen
from Southampton, ENG
Good evening I attended your KFC unit h antelope park Bursledon road Southampton so198 he on the 24/01/19 at 1902 . I waited patiently for 9 mins to order my food via drive through, after another 7 mins I got to payment window confirmed order , moved to pick up window after a short while .stayed at window for a further 5 mins until a staff member decided to appeare and state possible 5 more minutes m8,OK I said then staff member returned to ask my order.I told the member of staff what I have ordered ask how long,not much longer m8. At 1931 he confirmed my order and said enjoy. I drove home,about 10 min drive to find no graveyard.wife asked me to return with food as our meals would be cold by time I returned. Returned to KFC store to find large queue, so decided to jump the queue went straight to counter.another lady was getting felt with at that time as her order was wrong.she stated she has already been waiting 20 mins to be seen.luckily I managed to grab the attention of the manager who had no name badge on and refused to give me his name.I explained that my food order was short so said he would only replace the gravey which I was short of,I stated my food would be cold by the time I would arrive back home.he said not his problem.cutting a long story short after briefly stating I was going to go on line and complain he said he would rectify everything.when he returned I explained that I have had three incidents from this store in the last 3 visits . his reply was what do you want me to do about it.I walked out very upset of how rude your manager and staff were and how unprofessional they all were.my average order always is around £30 and feel when paying for food I do deserve to be treated with some respect.I'm a 50 plus gentleman who works in front of the public for a living, and would dare treat members of the public like this.I do hope I get a reply to this e-mail as I really feel up set with my visit to your store.
Yours sincerely Mr Sean hagerupsen 71 Devonshire gardens Southampton hangs so318 he mobile 07828940189

Dana Hamilton
from Newark, NJ
Just ate buffet at KFC. It was awful, no white meat available. The cobbler was just peach pie filling poured out of can with a couple of pieces of dough on top, not even enough to cover peaches. The cost was too high. Could go down street and eat at Western Sizzlin for same price and many more selections. Very disappointed and will not return for buffet.

Richard Bombard
from Minneapolis, MN
On 01-11-2019 at 7:07pm I stopped by store number C750034 and picked up a 16 piece meal I asked for all of the breast to be extra crispy and the rest original I had to wait for the order so they asked me to pull out of line. It was a very short wait time and the crew was pleasant. after reaching my destination we opened the bag we only had 11 pieces of chicken, all original no extra crispy and 5 pieces of chicken short.
It was nice to have a pleasant crew but I wish they could count and fill my order correctly.Poor management!!!!
Richard Bombard .

Eric Johnson
from Broomfield, CO
We to the KFC in Broomfield Colorado on January 20th about 10:30am ( They open at 10:00 am). and found the door was locked I looked thru the
window no lights on, We were concerned what was going on. If there was a problem there should been a sign on the doors but there wasn't.
The restaurants number E720302.
Thanks for your feedback!
Sorry. Please try again later!