KFC
KFC Complaints Continued... (Page 3)
837+ reviews added so far. Upset? Call KFC corporate: 1-800-225-5532

Daryl R Imler
from Hartland, WI
First I would like to start by saying I do not and I repeat do not complain unless it is a bad situation. I have been a KFC customer for over 50 years. I even worked for KFC when I was in high school. I went to the KFC in Waukesha Wisconsin on April 14th and ordered the $20 Bucket Special. I was prepared to pay for it but when I was told my total would be $25.56 I questioned the young cashier and stated it should only be about $21.05 with the tax. He said he would check with his manager and he came back and said the $25.05 was correct. The only item I ordered was the bucket of chicken. I then asked to speak to the manager and he came out and asked if I wanted the original or crispy. I answered with crispy. He input the order in again and my total came out to be $21.02 which I figured to be correct including the tax. When we arrived home my wife took out the chicken it was original not the crispy as ordered. Not only that but we were shorted 1 chicken breast which is the only chicken my wife will eat. Here comes the good part, the dinner rolls were so hard we could not eat them. Needless to say this was a very bad experience with KFC. We live about 15 miles from the this KFC so it is not easy or convenient to take this order back. We are extremely disappointed with KFC as we have had issues with you in the past and thus I am finally sending in a complaint in frustration. I'm sure this won't go any further but KFC must do something to improve it's service. If not, I'm sure you will be losing a lot of long time customers. Thank you! A long time (frustrated) customer.

Leslie Stewart
from Denver, CO
Went to the KFC in Glenwood Springs and this is my third time there and they have no chicken we were there at 815 pm to get food. They had a lot of people coming in and the girl locked the doors!! We left with no food

Harley mendelssohn
from Coventry, ENG
Orderd before , food was cold , paid for gravy overall not a nice meal

Today I ordered a number 9, I paid I was told to pull up I waited 10 minutes when I received my food it was badly burnt, pictures below. This is a constant problem with the KFC on portage road in South Bend, Indiana they don't give you receipts they make it hard to bring your order back the service is completely horrible the presentation of the food as you'll see in the picture is not appealing.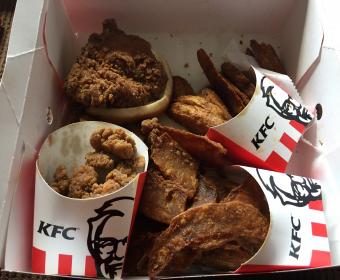 Maureen Lund
from Delta, UT
First of all,I love KFC.I was over whelmed that they finally built one closer to my home. Payson,Utah. It is still 40 miles away,but the ride is so worth it! But,I have been there 6 times since they opened and I can honestly say been so disappointed, all but one time. The chicken,usually reddish pink in the middle, or so over coojed. But I have always thought, they are learning and soon it will be perfect.Yesterday,I sent my husband up to pick up some chicken,we were having friends over. He ordered the 12 piece meal,half crispy,half original. And of course he always orders his hot wings to eat on The way home,which he waited a extra 10 minutes to get! They then handed him his meal,and away he went. Our friends would arrive soon,so I thought I best warm up my chicken. To my surprise I had 4 crispy ,thigh,wing,drumstick,and breast. That was it. I did receive the 8 biscuits,2 coleslaw and potatoes and gravy. I do realize my Hubble should of noticed,especially by the amount of sacks,but he didnt. So our friends came,and we each got one piece of chicken.But,too make matters worse, a long black hair appeared in our potatoes. Nothing,and I mean nothing makes me sicker. Well, I am so dissapointed. I do realize this place is new,but I really think it would be worth it to drive to Spanish Fork. I feel we should be fully reimbursed,plus I should add the gas mileage,about 75 miles round trip!!!! Please take this into consideration. I do love KFC. I have enclosed a picture of the hair in the potatoes! Also NO receipt was given Thank you....Maureen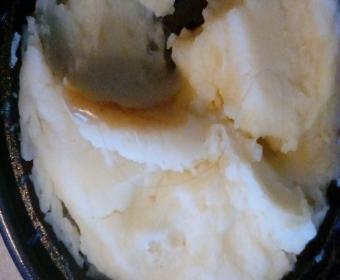 Meysio Saechao
from Bedminster, NJ
3922 San Jeronimo Ct
Anchorage, AK 99508
United States
First off, i really loved KFC until i had so many bad experiences here at the location above. I let it go a couple times but today, whoever i spoke to was just rude over the phone. I ordered an 8 piece meal (all dark) knew i had to pay more mind u. Also a #16 large lemonade. Wasn't given a receipt when given my card back. Got back home, 10 min drive. Found out that it wasn't all dark so i called to get the price on the items. Was given the wrong price which didn't add up to what i saw charged to my card. This guy also said "no, it's all dark. I know, I'm the one that packed it" i told him it wasn't and he proceeded to say i was wrong. All i said was i wanted to make sure i wasn't charged extra for all dark, he said it's the same price -___- it's not adding up. At this point, I'm not going to let someone be rude to me like that so i drove there. Brought it all back and asked for the manager. Older lady, i didn't see her name. It says Williams, Chanta on the Manuel receipt she made for me. She saw that it was not All dark and said she will make me another, i just wanted my money back but she refused. I didn't realize that. Now the rest of the food is cold since she only replaced the chicken. Great...asked to have the receipt printed for me but they couldn't find it. As she came back she said i wasn't charged for All dark!!! That was all i wanted to know when i called but your employee gave me the wrong price and was being rude on the phone. I got no apology, sometimes a sorry goes along way especially when the order was done incorrectly. I had no problem paying the difference to get what i wanted so i did not like that they made me feel like I'm in the wrong. Customer service is horrible. Oh and to top it off, as i was waiting..they said i got the wrong order that's why..still no apology.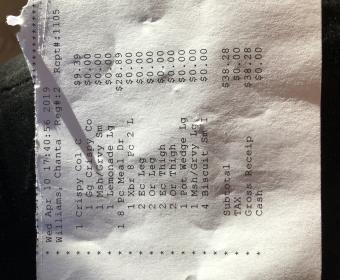 I was on the internet for the KFC menu. I noticed the chicken wings were priced at 10 for $5.49. When I visited the KFC business in Neptune New Jersey they wanted to charge me $1.50 for each wing. They would not honor the price I told them was on the internet.

Mick Burtonwood
from Hatfield, ENG
Third time in six weeks I've been to middlebrook store and not got what I paid for. Go through the drive through and drive away with either the wrong meal or something missing. Last night they left some out and I was walking in and out. Trouble is the queue is that long you can't be bothered going back. I reckon they just guess what they put in and send you away with it. Never again

tim ashley
from Campbell, CA
I spoke with a fellow in India already, but I'll report this in writing also. On 4/8/19 around 3:00 pm I went into the KFC on highway 53 in lower lake ca. the place was FILTHY. I know sometime you can get busy and don't get a chance to sweep, but this is way beyond a simple sweeping. The place not only had trash all over in the restaurant and behind the counter and kitchen area, the seats in the booths were ragged and the floors looked as if they haden't been scrubbed in a long time, this was the worst chain store I've ever seen. I wouldn't take time to inform you of this, it's a first time for me, but if the health dept. see's what I saw they might shut this dirty place down. I know I'll never eat there again. I've been in many restaurants I was in the bread and the coffee business before I started buying self storage facilities.

Sam mincher
from Derby, ENG
Very slow ! Not enough staff on service counter ! After getting served I waited in line ,as I was handed my mega box I was then told they had run out of gravy ! Had to have more chips instead . The chicken wings were over cooked ! The chips were over cooked ! The piece of chicken was o.k ! Terrible ! I actually now 30 mins later feel sick ! Very upsetting . Don't think I can go to kfc again.

Cindy Cummings
from Fort Worth, TX
Every time I come to the McKinney location on 2030 west university drive my large order is either missing breast or has thighs instead of breast. Just ordered a 12 pc today and I knew to look before leaving and sure enough 10 pcs and shorted 2 breasts. This is the third time in the past 2 months.

My wife and I had not eaten your chicken for months. We had a sudden hunger for it and thought we would treat ourselves to a really special treat. Being both retired 25.00 dollars was a big expense But we fiquered we deserved a treat. We stopped into our Kentuky chicken outlet and ordered two 4 piece meals to go. When we got home, we were really disappointed, out of the eight pieces of both meals we had two pieces of freshly fried chicken . and six pieces of chicken that must have been fried two or three times over. It tasted very greasy and the batter was very hard. .The chicken was also very dry. My urge for your chicken was really disappointing

Connie Long
from Excelsior, MN
I haven't had KFC for over 5 years since the store in Bloomington was bought by Popeyes. I was hungry! I bought a dinner and asked for hot sauce, butter, honey and utensils.
None of the above! Picnic was spoiled! Not even a napkin!

Ben Davis
from Exmouth, ENG
Hello I recently bought a kfc at the Exeter city centre and it was well bad, the chips were hard and stodgy the chicken was pink and underdone and worst of all the staff was rude and when I requested to complain they told me to go do one so I want compensation please because that is not on especially when my other half and 1 year old baby was there who was made unrested by the staffs rudeness

Doreene Gaustad
from Covington, GA
We are very disgruntled with our local KFC on Salem Road in Conyers, GA. We wanted to substitute for the mashed potatoes and gravy on the $20 fill-up and we were told that was not allowed..We were treating our 88 year old friend and my husband argued with them for five minutes to allow us to get cole slaw or cole slaw and beans for instance to replace the mashed potatoes and gravy which we hate. They would not allow it so we were forced to get a $5 fill-up and then we could substitute for the mashed potatoes and gravy..this makes no sense!! Not happy with our experience and will never go back to this restaurant!

I was just inside your KFC store in Hazlet NJ (airport plaza) around 8:15 pm and I had asked for 2 extra crispy breast the person behind the counter told me that he did not have any.... then as I was leaving the store he then said wait I have 1 I had asked what time do you close he stated 11:00 pm. So why wouldn't you make more extra crispy them. This is why this KFC location sucks, very poor customer service

Hello
I have just walked into kfc in Ruddlan off wales, to be honest it was a hoke, first thing that hit me was the smell, then my feet sticking to the floor, the amount of waste on tables and the floor was disgusting, looking over the counter and through to the kitchen looked the same in there, I asked if anybody was responsible for keeping it clean to witch I was answered with,,, good bye,,, disgusting attitude, will never enter a kfc again.

Sarah Durham
from Cleckheaton, ENG
I was asked to wait for food. I only order one zinger box meal. When I tried to eat it, it was like rubber and over cooked and it was also cold. Total disappointment. As if just worked a 14 hour shift. And is called in on my way home from work.

I ordered a value meal and what was suppose to come in it did not. I don't know who's order they gave me but I called the store and was suppose to send me out coupons and I never received them. Poor choice of customer service!

Laurie Kovacs
from Jacksonville, FL
My husband and I went to the KFC on US1 St. Augustine Florida.
We were extremely disappointed in the store cleanliness and the poor choices for the buffet. Which we both ordered.
I'm NOT a complainer, however this time I think it is safety and health issues.
I hHIGHLY recommend for corporate to go unannounced!
The trash cans were over flowing, we couldn't dispose properly of our trash. So we had to sit our trays beside the piled up garbage.
Food crumbs all over the floor, tables NOT wiped as customers asked for a wet towel to clean their table.
Keep in mind there were only 5 people in the restaurant including my husband and I.
I literally threw up, upon entering the woman's bathroom it was the most horrendous smell of sewage. Yes sewage.
I believe you need a new KFC.
I'm 52 years old. I personally love KDC.
But, this store needs to close down before someone gets sick.
I really hope and pray something and someone checks into this store.

Laurie Kovacs
from Saint Augustine, FL
My husband and I went to the KFC on US1 St. Augustine Florida.
We were extremely disappointed in the store cleanliness and the poor choices for the buffet. Which we both ordered.
I'm NOT a complainer, however this time I think it is safety and health issues.
I hHIGHLY recommend for corporate to go unannounced!
The trash cans were over flowing, we couldn't dispose properly of our trash. So we had to sit our trays beside the piled up garbage.
Food crumbs all over the floor, tables NOT wiped as customers asked for a wet towel to clean their table.
Keep in mind there were only 5 people in the restaurant including my husband and I.
I literally threw up, upon entering the woman's bathroom it was the most horrendous smell of sewage. Yes sewage.
I believe you need a new KFC.
I'm 52 years old. I personally love KDC.
But, this store needs to close down before someone gets sick.
I really hope and pray something and someone checks into this store.

Terri southall
from Halesowen, ENG
Me and my partner went to merry hill kfc in Brierley Hill West Midlands it was disgusting and all night we was being sick will never go there again

Robert Timm
from North Judson, IN
Bones in my chicken were broken

Nick Gilbert
from Derby, ENG
I went to kfc in Uttoxeter on Saturday.The Water that came out of the chicken was unbelievable.The piece of chicken I had seperate from my fillet burger well let's say there wasn't any.The service was poor one person serving.

Sarah Gray
from Exeter, ENG
I ordered for 5 of us and when I collected at the window I noticed I didn't have my twister and the crushem had no lid. This was quickly rectified at the window. As I drove away I also noticed that we didn't have the popcorn chicken, I was able to reverse and again it was rectified. However when I got home only one of the meals was supposed to be regular and I'd paid for large on 3 of the 4 meals. I received only 1 large and 3 regularl and the diet cokes came as regular. Very disappointing, I've given 2 stars because the food was hot and the staff were friendly.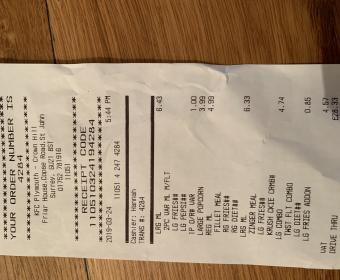 JAKE GOULD
from Romford, ENG
Worst customer service I have ever experienced. Got told to stop moaning when given the wrong food twice. Told if I don't like it to go somewhere else. Woman in charge was also being very rude to fellow employees in front of customers shouting they are rubbish. Food given was wrong third time but lost patience so decided to leave with the food given. Very disappointed and won't be going back.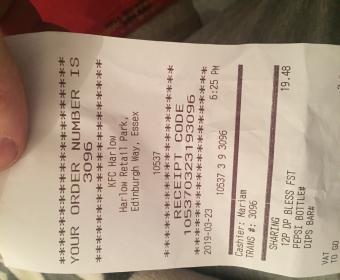 Jeff Loyd
from Bedminster, NJ

Worse meal
Small pieces. Burned to a crisp
Never order again

You advertise $20 chicken buckets (chicken Tenders) on Wednesday. The Store in Kennewick Wa doesn't Honor your daily advertisement on TV about $20 Chicken Tenders on Wednesday. So because of that, I'm done with KFC. JR

Kathleen
from St Albans, ENG
Food wasn't together food was missing had to get a refund was given the ring drinks and staff was rude

Donna Anderson
from Waxahachie, TX
We have been to the Waxahachie Texas store a few times in the past year and have yet to have a good experience. The entire staff walked out on the second shift supervisor one time when we tried to buy chicken, the supervisor was crying and said she was closed because she couldn't do it by herself. A couple other times we got food to go because the restaurant is filthy, both times our order was not complete or correct. The chicken and the oil are old and the crust is not KFC quality. This last time we tried once more on Tuesday, March 19 th at 7:00pm. There were seven cars in the parking lot, two customers and three employees walking in and out of the cooler. There were two people at the counter waiting and we stood there for five minutes, not one of the three employees greeted anyone so we left for the last time. So sad....

Rodney Jacobs
from Lancaster, TX
My family and I moved to Lancaster Texas form Dallas Texas in November of 2018. The nearest Kentucky Fried Chicken to our home located @ 915 North Interstate 35, Desoto Texas 75115. We have visited this specific location at least ten times and every time we order chicken they never have white meats which includes the breast and wing. I am for certain that the price for each individual meal plan is based on the selection of the type's of meats. This restaurant is charging the customer premium pricing for legs and thighs only meal plans. I understand that your demographic market is African Americans, but you must give the customer the selections that come with the meal plan. It is frustrating to not be able to order the meal plan we want, and then having the back up to leave or having to wait until all of the vehicles have gotten their orders ahead of us. If I could suggest that your inventory and forecasting representative freshen up on those skill sets. You are losing business to the Popeyes Chicken right down the road from this location.
Rodney Jacobs

I went to KFC on Patterson Ave on yesterday March 18. When I say the young lady Beverly made an everlasting impression. She can handle that frontline and knows the meals. She was so kind. Beautiful, she is always flawless. I was upset because the young lady that cooks had put a bad taste in my mouth. Because she was on phone talking loudly and Beverly couldn't hear my conversation. So, Beverly said to me. You know this is your day and you can start it over as many times as you like. That was sweet.I moved here and my first time running into Beverly it was sweet. I come past another KFC to this one because of Beverly. She puts a wonderful feeling in the resturant. She makes you feel Welcome. Just wanted to let you'll know she has wonderful customer service

pam reesor
from Louisville, KY
DO NOT have a complaint but a comment about one of your employee. Store number K750031. Tiffany is the best store manager that store has ever had. Had a complain about a very rude employee. She called me and handle the problem. Thank you for having very polite young lady.

Isam Gabir
from Croydon, ENG
Bad services specially from a guy called yogi says bitch to my wife why a good company like this employ people like you that who aware at employee and customers will file a police report after getting your replay

Deborah Jones
from Binghamton, NY
Never going back to the KFC on Robinson St., Binghamton, NY. You should send someone in there undercover. Swearing, using the N word, the F word. Happens all the time. As a customer, I don't need to deal with that. I'm out!

Yvonne
from Brisbane, QLD
Please explain how current Australian KFC tv ad shows it's funny to laugh at elderly lady falling, thinking she's sitting down on bench, whilst grand daughter laughs hysterically, what sort of company would support this as a positive way to represent their company and values towards older people, disgusting

Jake Gaskell
from Nottingham, ENG
ordered two fillet rice box meals to find there was no rice in stock and therefore had nothing and was left starving. not eaten all day and felt faint resulting in me having to leave work.

Naeem Ikram
from Camberwell, ENG
I raised a complain and yet to receive a formal response from KFC as your 28 business days have elapsed.
I am not surprised at your delay and am really offended by the abuse me and my children had to suffer at the hand of your staff who are incapable of providing customer service. I even have a witness one of your staff who would be willing to testify against your employee if you were ever interested in hearing the truth and taking action to rectify the problem.
Regards,
Naeem Ikram
07802631122
On Jan 31, 2019, at 3:31 PM, kfc <ukkfc@marketforce.com> wrote:
Date: Thu 31st Jan 19
Case Reference Number: L8MX2
Location: Colindale - The Hyde
Dear Naeem,
Thank you for taking the time to get in touch with us here at KFC and providing us with feedback about your experience at our Colindale - The Hyde restaurant. We love to hear from our customers as it helps us to focus on the things that matter most.
The first stage of this process is to gather all the relevant facts, in order for us to conduct a full investigation into this matter. We may write to you again should we need further details.
In the meantime, please bear with us while we are busy investigating and we will respond to you within 28 days.
Best wishes on behalf of all of us at KFC,
Joy
Please click here to view KFC's Privacy Policy.

I've visited your store today in foresters,derby,U.K.,spending just short of £30,we ordered a family feast and requested corn on the cob and coleslaw as our sides both of these were missing when we arrived home,I also ordered x2 Krushums,we wanted Oreo but ended up with Maltese's,I'm very sorry to complain as I've always been happy before,please find enclosed my receipt codes for your reference...
030290310191095 and
030290310196065.
Thank you for your time
Sharon reeves.

Martha Wagner
from Henderson, KY
I would score KFC but it would be -5 stars. I went to KFC on 3-2-19 waited for more than 10 minutes to place and order. Once someone finally came on the speaker and asked for my order it started like this. "Just to let you know it is a 45 minute wait for chicken, the only chicken we have are wings. We have no pot pies, no mac and cheese. No, no, no, it just went on and on of what they were out of, I just drove away. I went back on 3-05-19 and order a $10 chicken deal all dark and a large coleslaw. I asked first if they had enough dark meat to get all dark for the 6 piece meal. The lady said let me check she came back on the speaker and said yes. OK that is what I want. Everything went smooth. I get home and I have a 20 legs 2 thighs, a breast and a wing in my box. So today 3-6-19 I take the white meat back to the store and as soon as the shift leader saw that I walked in with a FKC bag she asked me what was wrong with my order. In a very emphasized tone. After her protesting that she couldn't do anything about it she informed me that GRUB HUB orders came first then people who came in the restaurant and drive through was last to be waited on. Wow, that was a blow. She proceeded to ask me if I was the one that called corporate on them. Finally the lady at the window who filled my order was told by the manager that I couldn't get all dark meat.....What, really! That is how I ended up with a breast and a wing. Had she told me this I would have changed my order. This I don't understand white meat is more expensive than dark. This is just one of a long line of ordering problems over the last 3 years. I don't know why I keep going there, but I do 2-3 times a week. Last year I quit going there for about 3 months. It is store #c119002, ticket #2532 in Evansville Indiana. I love the chicken but when will service get better?
.

The staff here are rude!
When I ask for what I would like for my families dinner using the drive through (I have a physical disability) I expect my order to be correct & not have to go in to ask for the actual food I ordered and be met by 'kids with attitude' I don't expect an arrogant person a third my age to say that's what you ordered & not even apologise when they read my receipt properly!
Some serious staff training is required at the very least...
A) so your staff know the difference between different pieces of chicken and fillet strips
B) more importantly Customer services!!!
It's not the first time this has happened, I fact it's happened the last three times! From now I shall drive to Cardinal Park which is out of my way & hope we get better service

over charged in drive thur and manager said that's the way it is in front of a dozen cust. call your cust. serv vice # and then hung up on me ticket #1274 533 pm sunday

Ian Peter
from Widnes, ENG
I bought a zinger box meal from Runcorn branch in Cheshire England. I've had food poisoning for over three days since and have not been able to eat since.

Willadean B. McRae
from Indio, CA
JUST SPENT ALMOST $30 FOR 3 (2-PIECE MEAL) WITH MASHED POTATOES, COLE SLAW, MAC & CHEESE & COLE SLAW. WE WERE NOTGIVEN THE COLE SLAW ON ONE OF THE ORDERS. INSTEAD WAS GIVEN 2 MASHED POTATOES/GRAY. VERY DISAPPOINTED.
ALSO, WHEN WE TRY TO CALL THE # LISTED FOR THE KFC IN iNDIO, CA IT GOES TO A FAX MACHINE.
QUESTION: THEY INSIST WE BUY A HUGE DRINK WITH THE MEAL. iS THIS CORRECT? (ALONG WITH A COOKIE).
QUESTION: CAN ONE BUY OVEN-ROASTED LEGS WITH A 2PIECE ORDER OR DOES IT HAVE TO BE ORIGINAL OR EXTRA CRISPY?
THANK YOU FOR ANSWERING THE ABOVE.
OUR ORDER FOR THE ABOVE IS ON SATURDAY, MARCH 2,2019 FROM THE INDIO, CA 92201 FRANCHISE ON HIGHWAY 111.

Katy hodgkin
from Milton Keynes, ENG
I went to the drive thru on the 1st March ordered a fillet meal and when I got home it was a zinger tower meal I was so disappointed and was sooo hungry I love kfc and always have a good experience with urselves, I would have driven back but the kids had their meals.
The receipt number is 84190301194113

1st time they forgot to give me my chocolate cake at the drive thru window and I had to drive back to the store to complain and get my chocolate cake, manager apologied :/
2nd time same location and about two weeks later again they forget my chocolate cake, and I drive back to the store to complain and get my forgotten chocolate cake, manager said to me next time bring back the whole order , so she can see what is missing on the order, (No way the kids are hungry when I get home and we are all upset No chocolate cake) but I promiss to go back for it) totally not friendly manager and no apology.
3rd time always the same order of Chocolate cake 8pieces pieces of chicken grilled which most of the time they do not have so I say OK give me the rest in original recipe, One mash potatoes, One Green Beans, and One Cole Slaw. and a Chicken pot pie meal with a drink and a cookie.
What I get is 8 pieces of chicken and two mash potatoes, NO greens means and NO cole slaw :(
First and second time OK, but the 3rd time, I have to complain... sorry and upset at KFC Harman-Douglas # 147 on san pablo in Richmond CA 510-232-1527
Thanks for your feedback!
Sorry. Please try again later!