KFC
KFC Complaints Continued... (Page 4)
723+ reviews added so far. Upset? Call KFC corporate: 1-800-225-5532

Prakash
from Abu Dhabi, AZ
New Online Order # 34894681 - KFC
KFC ordered online. Delivered KFC is not fresh. Not taste like KFC.
Looks like they have used old chicken.
This time KFC was really bad taste.
When called for KFC call center for complaint.
They are not listing to me.
We have eaten a few pieces and remain just wasted.
From today onward. We are not going to order or eat KFC.

Patricia Walden
from Shepherdsville, KY
The KFC in Hillview, KY is always out of something. My husband and I was going there every 3 or 4 weeks but I decided we will not be going back. Anytime we visit this restaurant they are out of biscuits or coleslaw or they have a 20 minute wait on chicken. Its ridiculous! ALSO they never have there outside lights on.

Dear Customer Service, I can't believe that the store on 154th & the Palmetto Expressway; #1) doesn't care about their customers and are rude. #2) they don't have any cocked chicken. The supervisor/manager tells my wife who's ordered an 8-piece grilled box ... "mam we're out of breast and most children" we'll have to cook more if you want it - she says. Again, we ordered an 8-piece (grilled - beautiful we're on the Keto Diet) and she charged us full price for 6 drums and 2 thighs. This is the 4th or 5th time this store does the same. Today was extra special because of the rude tone in which the supervisor/manager (blonde heavey set lady) speaks to us and other customers.
We love KFC chicken but if this is the way they are going to treat us - we will have to switch to Boston Market.
Regards, Ivan

Jamie cyphus
from Nuneaton, ENG
I went to the KFC in neitherfield Nottingham and the store was distrusting looked like it hadn't been cleaned In days bins over flowing mess everywhere I took my daughter and left my daughter was upset and went mad but I wasn't going to eat from somewere in them conditions something needs to be done feel like sending the pictures to the local paper to show KFC high standards. and as you can see the store is empty so no excuse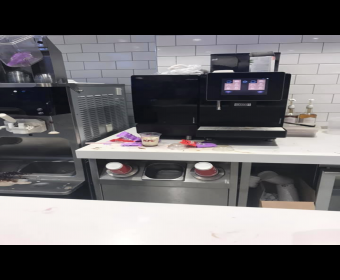 Caitlin jones
from London, ENG
I came to kfc as last option due to the Wales game cardiff is packed. My food was cold, the chips were huge so there was not many, I order 3 tangos and there was only half drink in the due to how much ice u put in there, the women on the till takes too many order and cannot keep up with them, I've never been so appalled with someone's attitude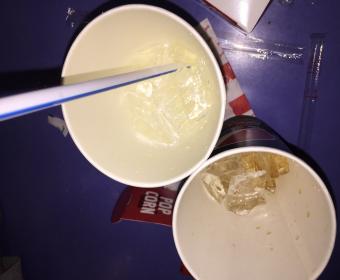 Ann Long
from Kinston, NC
I rate your food at most of your KFC as very poor.

mike mcgarey
from Clinton, OK
I purchase 10 pc chicken and fixing, and when I got home the chicken was cold and short of pc's and to pay that amt of money 20 bucks plus tax, and since I was miles away from where I purchase was made I just desided it wasn't worth the drive back to make my complaint, but KFC is gone to hell in a basket over the years from the 70's and 80's and been sold so many times to corp. who don't give a crap about quality, and chicken is being reduced in size. and it a rip off. just check the comments made on line about KFC, they need the to reduce their prices and get bigger chicken pc's like it was in the 70's and 80's. and if they did they would have so much business coming their way, I know this by working in a kfc when I was a teenager. in the 60's AND I WILL NEVER TAKE ANOTHER CHANCE GETTING CHICKEN FROM THERE AGAIN, WILL GO TO ELSE WHERE, AND CHEAPER

Rita Gammage
from Chesterfield, ENG
We started our journey for our meal at 6.30 pm on Thursday 15th November 2018 from KFC at sprotborough in Doncaster.
We asked for a boneless bucket, he said do you want 6 or 10 pieces we asked for 10. We reiterated that this was a boneless bucket and his reply was yes we asked again is this bonless and it was confirmed it was. The trainee asked for assistance from another team member who also clarified our order. When we got the order home we found it was chicken on the bone. We contacted the shop and spoke to the assistant called Victoria she apologised and said if you come back they would rectify our order. I asked for the money back and she said no but offered us a larger meal. We didn't want more food and declined this and she then said they would just replace the original order. After considering this I then telephoned the store again and spoke to Chloe, t accepted that mistakes can happen and we would return the meal and accept the offer of a larger boneless meal, 18 pieces to be precise, for our inconvience. Chloe told me that someone would take my name and telephone number so that someone of seniority would speak to me about the mix up of our meal. No one did this. when we picked the meal up we told we had been given extra fry's and sides along with an additional bottle of pop as an apology. On returning home and opening our meal we found there were no extra fry's, we did have an additional small gravy but to my dismay only 8 pieces of chicken and not the eighteen as promised. I was quite happy to accept that mistakes can happen especially if you are training but I have to say that I find the situation tonight totally unacceptable. I have paid £24.66
for a meal that took me several phone calls 3 journeys and very unhelpful staff to get thing so wrong. If being rude on the telephone is part of your training that I must say that you get 10 out of 10 if being helpful is part of your trading you get zero out of 10. Also may I add that I don't appreciate someone inferring that I am lying, I don't tell lies and would not go to all this trouble for a few bits of free chicken. I am a person who does not have money to just squander and this was a treat for my daughter my granddaughter and myself and I can assure you I will not be using your services again. I expect a full refund for this horrible meal and my inconvience. The time is now 20:40 pm and I still haven't eaten.
I look forward to your prompt response
Many thanks
Rita Gammage

Shawn
from Grosse Ile Township, MI
On nov 14 around 6:30 pm we order a 8 piece family meal plus order of large maccroni and cheese the the drive thru after getting home find out they didn't include the macaroni and cheese also one of the piceces it tasted like it has been fried twice or it's old and biscuits they were it done I called the manager he just took my name and he told me that next time we will give you order of macaroni and cheese didn't apologies or explain what happen iam very disappointed for the quality and the service plus I paid you should get what you paid for. Very bad business for big name like KFC

Every time I visit your Portage, Indiana location there is an issue. Once my chicken was seriously undercooked, then there was a 30 minute wait for chicken another time. Today, I'm being told their is a 40 minute wait for grilled chicken and there is no corn. This is the worst location ever... Seriously, your job is to keep food prepared for customer's to buy. They can never get it right. I just moved to this town and love KFC, but despise going to this location.

Carl Carnegie
from Waterloo, ON
I had ordered 3 zinger sandwiches and med gravy for delivery...……..8pm 801 to be exact......Wait and wait for an hour. call back to service get told to call store and of course. its past time to redeliver. I get employee on phone that turns out to be my landlord supervisor .She and delivery guy are friends I guess. She said he had called my number that I gave on order. It was call on delivery. .she said she called her husband who is land lord of my building and he knocked on my door ,which I did not hear because I am earphone guy...but my cell phone was on my chest and had not rung...………..She then says that's it is my fault that I missed delivery and it will go against me for future calls....I have screen shoots of my call logs that prove they never called me....I just want to tell you that I will never order or go that spot again....my daughter really like it and my son loved the Taco bell...…..FUCK OFF...never again....oh and I have told all my friends and anyone who will listen to avoid place like the black plague....I was a 3 times a week kinda guy...….never again...….oh HER name was Aida.

Lee robinson
from Workington, ENG
My complaint is! I recently called at one of your outlets, mainly Beaconsfield services, I recently called there and bought a bargain bucket, upon my surprise I received 6 pieces of chicken, 3 of them badly burned and dryed out, the chips were fine although when I went to open my gravy and the sell by time was 5-15pm on the carton, however it was 22-20pm when I made this purchase, I was in a rush so didn't have time to return to the counter to express my complaint, I've been using kfc on a regular basis for over 30 years, but found this particular establishment very unsatisfactory,

Quiani boskie
from Odenton, MD
The restaurant was filthy look like someone had spilled soda and no one never got it up trash on the floor I purchased two $5 fill up boxes and was charged $7 and on top of that they didn't even put cookies in the box the manager was arguing with the cashier then when the cashier was asking her questions after the argument the manager ignored her very unprofessional this kfc is horrible address is 7720 Blair rd silver spring md

Jodie Evans
from Chelmsford, ENG
We went into the drive through at 15.03 with not much of a queue in front of us. We were sat at a standstill for ages. Finally moved up and got our order taken and not even a mention of sorry about the wait. When we got our order it was 3.30! I said to the lady I was not happy she apologised about the wait and said it had been manic...not good enough when you go through the drive through you're stuck, somebody should have come round and told us what the hold up was and at least offered an apology before I say we was not happy...

Steve chitty
from Chicago, IL
I shouldn't give one star. At 9:30 a full half hour before close, I started to place my order and was interrupted by a femal voice telling me "we are out of mashed potatoes " knowing full well they could have made more up.
After asking for a manger was told they would not make any that late. Remember the sign on the door says 10:00 pm close. Please explain if you can.

Sharon doyle
from Edinburgh, SCT
I ordered a meal from kfc RENFREW road paisley to be delivered,when it arrived items were missing I tried to contact the store but phone line was constantly engaged I then got through to just eat which was another disaster.i eventually got a refund for missing items but my experience with kfc has been dreadful I'm insulin dependent diabetic and it was my birthday and as I have to carefully watch what I eat this was a treat and it was totally ruined your orders should be checked and double checked to ensure orders are correct my order number is 624 156 269 my telephone number is 07985276709 and address is flat 0/2, 8 Claud road,paisley pa3 4rx

I visited the location at 8350W. Judge Perez in Chalmette, La. it was the worst experience ever. I placed an order for the pot pie. The person serving me if I wanted a drink with it and I said no. I asked her after is the cost was the same with the drink. She replied yes. At that point I asked to get it with the drink. Her attitude became horrible. She turned away and stated "I should have never asked her if she wanted a drink!" I said I can cancel my order. She replied I just shouldn't have ask you if you wanted a drink. Her attitude and tone was terrible. I stated " just give me my money back you're talking to much. She inturn said "I can say what I want!" I said you're right and asked three times who the manager was. She refused to answer. I asked another employee and she pointed to the person that was waiting on me. It is appalling that a manager would behave in such a manner.

bryshunna snow
from Jacksonville, TX
i went to kfc in Jacksonville tx and ordered family 10 piece with two sides and my chicken wasn't fresh and i tried to call back numerous of times the last time i called he told me he couldn't fix my order because i didn't bring it back he was very unprofessional and he also used profanity

Jeanie pritchard
from London, ENG
My food was off smell and tasted horrible put me off eating it went Bk to tell them the manger was very rude

Kathy Bakey
from Austin, TX
My complaint is about your store on Saratoga street, Corpus Christi, TX.
Your manager Mary stated that many people are complaining about your online menu is not the same as what is listed on their service screen.
When I ordered the 1 piece white chicken breast with a bisquit, mashed potato, it did not come with a cookie as stated online. Please match screen to online!

Kevin mannion
from Brighton, ENG
Ordered in store. For a start I had to be served by the drive-thru person due to members of staff unaware of where the till person was. Whom was in the customer area cleaning, as we went passed her to enter the premises. Order was taken fine. A bit rushed but obviously I can understand as she might have had a car waiting. Which she had as she went away before finishing our payment. However did shout back the till person to gather our order. The person came back in look at the screen and went to assemble the order. 5 minutes passed before I had to tell her the payment hadn't been taken. Which she could've seen on the screen because I was able to. Payment went through. Another couple minutes later we got our food. Fresh fries. Great that's a first. Get home roughly about 5 minutes away. And the chicken is lukewarm. I reckon it could either be due to overheld chicken or due to the fact the member of staff took the food out of the hot holding area 5-7 minutes before all the food was ready. If I could go lower with the stars I would. Also popcorn chicken large. Half filled so really a medium. Sums it up really. It's a sham also I love the food when it good and correct. However when it not its terrible. Not one for complaining as I also work in the fast food industry but this was far below par.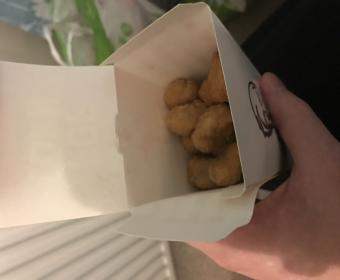 Gloria Ruttan
from Toronto, ON
On Saturday Oct 6th I placed a delivery order from your store on 464 Dundas St E, Belleville, ON K8N 1E9.. I have never been so upset with the order my family placed.....The order was around $45.00-$46.00 I gave $50.00 cash at the door.. Driver was great However he kept my Receipt :( ....My order included 2 Big Crunch meals one spicy and one normal as well we ordered a 12 piece chicken bucket with fries and gravy.... The spicy chicken sandwich was so dry it was like leather, the bucket of chicken was really greasy, the grease in the bottom of the bucket was brown, not sure if the company is aware that the oil needs to be changed... I have attached some pics... I will never go to that KFC again... When I called the store they did replace the sandwich but after waiting a hour to get the order then another half hour to go pick it up was really upsetting
KFC has always been our go to for fast food for a treat for my family...the time this order was placed was between 7:00pm-7:15 pm
As well I don't believe the pricing was accurate either what I had ordered was specials from the coupons I received in the mail two chicken big crunch meals $10.69 12 piece chicken fries and gravy 21.99 total $37.00
Thanks for your time
Upset customer
Gloria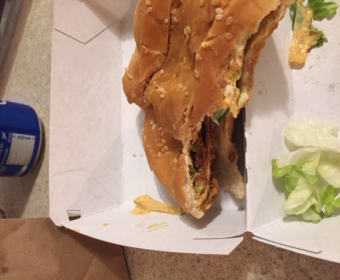 Martyn haines
from Cardiff, WLS
Caerphilly kfc what can I say ...
Always cold food when taken away sometimes no boneless chicken and today no lids for soft drinks some one isn't doing their job shocking

Mark Radloff
from Minneapolis, MN
I'd like to give zero stars but that's not an option so I'll give a one star. Three weekends in a row I've tried to order from KFC in Monticello MN at 8 pm and have been told that they are out of crispy chicken and they aren't making anymore. I wanted to order a 10 piece bucket and get crispy but they wouldn't complete the order. So we called Pizaa Ranch. KFC is horrible customer service.

wayne r nelson
from Cape Coral, FL
My local KFC (33904) does not honor the TV advertised price for the 5$ box. As this is important to me I will not purchase anything from KFC until this changes.

Rosie Milian
from Spring, TX
1. 9:20 pm no chicken if I wanted to place an order had to wait twenty minutes , as it was myself and 4 other vehicles 2. Misunderstood ordered 10 pieces of chicken only which came out to be 6 pieces only (too expensive). 3. No ketchup, no napkins no offer made when the employee came out to the parking lot I asked her for napkins she brought me a bundled of tissue disgusting. 4. No offer of a biscuit or apple pie for the wait ??? 5. Spoke to Chelsea manager she informed me she understood how unprofessional her employ was and would council her (not my concern). She commented wish I had taken your order it would not of happened poor excuse are your employees incompetent? Poor poor poor service from KFC and 6 pieces for 10 with 2 breast 1 leg and tiny wings that is greed. My last question one employee was cleaning why are your doors locked at 9:20 when you close at 10:30? If I was a corporate exec I would realize what a loss of revenue ???? And employees in a major rush to close the store , I just moved in this area and was blown away , the only good comment the chicken was good.

Rachel
from Dumfries, SCT
The world worst kfc Eastbourne lottbridge drive after waiting 40 minutes in the que then to be told they have no drinks what a joke all ways the worst service from here don't know why I thought to give it another go the place is a run down joke

Elaina Disher
from Denham Springs, LA

3 $5 lunches
All 3 biscuits were hard as rocks.
There is no way they were not aware, the biscuits just crumbled they were so hard. No cookies in the meals .
Three very disappointed children.
When I called the only thing the girl could say was I just came to work.
No on wants to take responsibility for bad food ..

maddie scott
from Philadelphia, PA
when ordering, i asked for mashed potatoes with no gravy and the cashier confirmed it. upon getting the food i recieved mashed potatoes with gravy on it so i had asked for one without. they took my gravy potatoes and gave me mashed potatoes without gravy and when looking at it, it wasnt even half full. the soBe life water wasnt even pink, it was basically pure water.

john wiseman
from Saint Albans, WV
I HAVE EATEN K FC FOR 30 YEARS HAVE NEVER BEEN TREATED SO RUDE AS I WAS AT KFC MCORCLE AVE ST ALBANS WV, I ORDERED 5 DOLLER BREAST FILL UP, FIRST THEY SAID WE DONT HAVE ORIGINAL RECIPE, I SAID OK GIVE ME EXTRA CRISPY , GOT MY ORDER, I SAID WHERE IS WING , THEY SI
AID WE DONT DO THAT,I SAID THAT IS WHAT THE CON
MMRECIAL SAYS THEY SAID SORRY ABOUT YOU LUCK,SO AFTER 30 YEARS OF BEING A LOYAL PATRON I WILL NO LONGER BE ONE THANK YOU

Joan Houser
from Charlotte, NC
On Thursday October 11th 2018, my husband and I went through the KFC drive through on University parkway, Winston-Salem, N.C. we asked for chix wings and the lady told us it would be 5 minutes. we went left and came back to the drive through after about 10 minutes. she told us that all the wings were gone and if we would have paid in advance they would have held the chix for us. she said it would be 7 mins. now. we told her we would wait because we were hungry and the power us out in our neighborhood. We paid her and she told us to park and she would bring it out to us. we parked and waited for almost 25 mins. when my husband noticed the everyone was getting chix. but us. I went in to ask about my order and the people at the counter said to the lady that helped us that "this lady has been waiting 25 mins. for chix. The lady that told us to wait came out and said I am sorry we are out of chix. I told her you told us to park and you would bring it out. she kept saying we are out of chix, and I am thinking how can a chix place be out of chix, and the other customers were told it would 45 min. wait for chix. I was very upset by now but I held my peace. she gave me 8.75 back I told her the was the wrong amount, I gave her 10.65 she gave the correct amount. I felt that was poor management and poor customer service on KFC part. she did not offer us other pieces of chicken or a complimentary coupon or anything. She just said with no concern that we have waited 25 minutes "I am sorry ma'am we are out of chicken. I may or may not be visiting that location again.

Steve Davison
from Morpeth, ENG
I'd give no stars if I could!
I went to the drive thru and sat for 3 minutes then some male said I'll be with you in a moment and three minutes later and still no response so I drove away! There was one car at the drive thru and I customer in the restaurant! This is not acceptable!

Robert Taylor
from Hove, ENG
Been to kfc 2 times in a month at portslade both times chips not cooked at all and on second occasion chicken pink had bad tummy all next day

Michelle Howell
from Cambridge, ENG
HI, I WISH TO COMPLAIN ABOUT THE SERVICE I RECEIVED RECENTLY AT YOUR BRANCH IN CHAPELFIELDS, NORWICH. I ORDERED A FAMILY FEAST, AND WAS TOLD THEY HAD RUN OUT OF BEANS, SO THE CHOICE WAS GRAVY, COLESLAW, OR CORN ON THR COB. I ASKED FOR GRAVY AND COLESLAW. WHEN I WAS CALLED FOR MY FOOD, THERE WAS NO LID ON THR BUCKET TO KEEP THE CHICKEN WARM, AND WHEN I ASKED FOR PLATES, I WAS TOLD THEY HAD RUN OUT OF THOSE ALSO!! I ASKED HOW I WAS SUPPOSED TO EAT GRAVY WITHOUT A PLATE, AND I WAS BLUNTLY TOLD, WITH A SPOON!! HOW RIDICULOUS TO BE GIVEN GRAVY WITHOUT A PLATE!! I WAS THEN GIVEN A COUPLE OF BUCKET LIDS TO PUT MY FOOD ON TO, WHERE I HAD TO TRY TURN UP THE SIDES TO STOP THE GRAVY GOING ALL OVER THE TABLE!! I DONT FIND THIS ACCEPTABLE AND FEEL THAT THE STAFF DIDNT REALLY CARE, AND ITS MADE ME THINK TWICE ABOUT GOING BACK AGAIN.

Lisa jane
from Liverpool, ENG
Went to kfc in Southport was discusted at the cleanliness tables hadn't been cleaned away food and left over packaging on tables bins were full no salts or lemon wipes toilets were disgusting will not be going there again ther were 3 staff so had to waited ages for food aswell

KFC store in Newton, NJ.: every time I've been to this location I get shorted on what I ordered. Yesterday, 10/12/18, I ordered the $5 fill up Breast & wing combo. When I opened the box, I found I was given a breast and a leg, which could have been a simple minor error. But this leg I received was as hard as stone. It was a disgusting piece that must have been a week old. Also, the cookie was missing, and no fork for the potatoes. This is not a unique occurrence at this location. Rather than list all my bad experiences with this location here, I'll just say I won't ever go to a KFC again, Roy Rogers is much higher quality. And It's not far out of my way.

Donna Leeth
from Port Huron, MI
Just got take out at the Upper Sandusky, Ohio KFC ordered a 3 pc meal dark meat to go. Got home only had 2 pc. Not driving over 30 minutes round trip to go back for their mistake but its very frustrating!!!

Kailynn arcenia
from Hyattsville, MD
I went to KFC at the Colonial Heights Boulevard location in the drive thru to order my food. The lady repeated "what?" To me 3 times and then to me to wait. Finally got my food ordered after waiting about 5 minutes. I checked my food before leaving the parking lot and realized they forgot my Mac and cheese side. I let a staff member know as soon as I noticed. I waited in the parking lot for 30 minutes. While waiting, I ate my chicken breast combo. The meal was disgusting. My chicken was dry and my mashed potatoes tasted like raisins. Another customer informed me that kfc staff is not coming outside and that I'd have to bring my receipt inside and get my Mac and cheese. My family and I will not EVER be returning here again. Trash.

Natasha paterson
from Chelmsford, ENG
Nothing stated on the drive thru about not being able to take card payments. No way out of the drive thru once you've entered. I was only informed about this as I reached the order window. I then had to sit and wait while 7 cars were served in front of me.
KFC need to get rid of the battlefield, Shrewsbury store! It does nothing but let the company down. Get your shit together.

Rebecca Lynn Smith
from Chicago, IL
I went to KFC lees summit MO 20/9 8:15p ordered $5 box chicken strip potatoes and coleslaw $6.39
I got back to my Job and in my box was a leg thigh.
I called talked to female black mgr she said she wrote my info down and to come back and get order next day. I go back manager Hector refused to assist. Was a complete ASS.
I left called customer service.

Sheena Macleod
from Glasgow, SCT
On visiting your Braille crescent branch on Wednesday 10th October I was most disappointed at the service had to wait while the staff were all having a carry on shouting playing loud music and not attending to the customers,then I handed over a voucher which has expirery date of 31/12/18 to be told we don't take these they should not have been given out ,I said I have used them previously about 3 times, no we don't take them not good customer service I visit this branch a lot as I stay in the area but I certainly won't be returning.

Keith Rimmer
from Hemel Hempstead, ENG
I purchased a Zinger meal at KFC Burtonwood Services this eveng & a Zinger wrap meal.
I could not bite the Zinger meal it was so hard & cold totally horrible the worst meal i havs ever purchased.
I did spea to the guy who served me, he did offer another meal but i sid not want to take the chance of becoming ill from eating this rubbish!
Never again !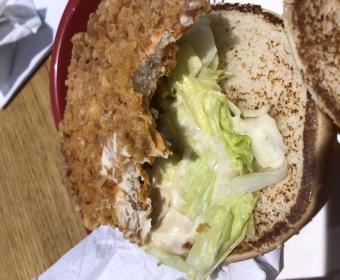 Mary A Davis
from Ft. Washington, MD
The Fort Washington Store drive thru has standing water, but once you drive thru there is a big hole that hits the undercarriage of your car.
This situation needs to be fixed, close the drive thru until this situation has been taken care of, thus can damage customers cars, the hole is unnoticed until you drive thru, all you see is standing water. The management is being told by customers and he or she should report this problem to the corporate office for a resolution. I even mentioned this to the worker at the drive thru, she stated daily complaints are made .
Please take care of this issue, it can be costly to customers if their cars are damaged.
9598 Livingston Road (store address)
, Fort Washington Maryland 20744
My visit today at 1:15 purchased a Pot Pie, no receipt was given to me.10-10-18

Esther Gregory
from Bedford, ENG
Ordered a 6 piece wicked variety bucket. Just got given lots of fries and 6 piece of chicken. No hot wings that my eldest wanted, no strips for the youngest. Bitterly disappointed as we live too far away to go back in the traffic!

Holly Lebied
from Liverpool, NY
On Oct 9, 2018 at 7:22 pm at the Camillus, NY location, a drive thru order was placed and I was told to pull up and order would be brought out to me. After 20 min my order was given to me and it was incorrect as it has been on several previous occasions. I was then told to come inside to rectify problem. After standing at counter for 15 min, someone finally acknowledged that i was even there and attempted to correct my order. So my "fast food" order took at least 40 min. As much as I love KFC, I may have to consider switching to another food establishment that takes a little more pride in their work and has more respect for the customer.

Scott A Callaway
from Wichita, KS
After purchasing 66 dollars worth of chicken and tenders, we got home and found that we didn't get one of our sides. That wasn't the worst part. The tenders were dried out, the biscuits were too hard to eat and most of the pieces of chicken were 'old' and dried up from sitting for a long time. This was at the Wellington KS KFC. We will no longer be getting chicken there, as this wasn't the first time that we have had issues with the food quality. It was 3:50 in the afternoon, and no other customers were there.

Hannah Brook
from Southwark, ENG
I have come in to order 2 bargain buckets in Alphington, Exeter (its currently 1450... not even lunchtime) and there is a 10minute wait on chicken!!!.... that's all you bloody sell!!
Seriously disappointed in you lot, no where near as good as you used to be!!

Tania Ashworth
from London, ENG
https://www.complaintsdepartment.co.uk/kfc-uk/ i would like to know if kfc is a franchised business as I have noticed that maypole kfc and Northfield have both changed hands to Asian owners both shops are not selling kfc chicken it's not the same recipe and Northfield i had a zinger fillet burger in a shiny bun the chicken wasn't spicy at all it was slapped together with so much mayo the lettuce was swimming everything slipped out the bun maypole kfc i had a family bucket and the chicken all had a different crispy coating not kfc coating What s going on kfc of its not franchising it's sabotaging terrible please tell me thanx
Thanks for your feedback!
Sorry. Please try again later!