KFC
KFC Complaints Continued... (Page 2)
837+ reviews added so far. Upset? Call KFC corporate: 1-800-225-5532

mike kersey
from Strasburg, IL
our KFC USED TO BE ONE OF THE CLEANEST, LARGEST AND BEST RAN KFC'S IN THE STATE OF Illinois .folks regularly traveled 30 plus miles to eat here going out of their way to have a great buffet . The fall of 2017 the restaurant was sold and a new management took over, for the first year service and food quality stayed the same but as 2019 everything about the place has slowly declined , costumers often find the steam tables almost completely empty of most items. sometimes waiting 15 to 20 minutes just get plain chicken ,often employee's will check the steam tables and return to the kitchen and do nothing to refill it . when told of the problem they mainly say that they can only restock items periodically and there's not much they can do . is there anything corporate can do to rectified this problem . I for one have refused to dine inside anymore and will only get chicken to go-I hate to see a great restaurant go bad, something should be done . thank you

Angie Neelands
from Bedminster, NJ
I have been to the kfc on liberty street in York South Carolina several times in the past month and the service was bad. The first time we waited at the driver through for 15 minutes and there were no vehicles ahead of us and only a few other cars in the parking lot when we finally got our order we received the wrong order took the food back in and they were very rude and acted like it was our fault. This evening we went back sit at the drive threw and no one ever takes our order we look around and then very employee was outside. I wish I had taken a picture, but I was to mad to even think about it at that time.

Jerry Martinez
from Raleigh, NC
The store on Perrin bietel near loop 410 San Antonio Texas not sure zip code, it's was somewhere around 5:30 5-21-2019 on Wed. I pull up at drive thru got delayed response then when we order two pot pies the reply was ....we have none, order 1 piece Breast meal no breast, k order 5$ tenders and the new nachos they had but took about ten min.mean while behind a line was forming were like good luck to other people. So I didn't order for myself so Friday of that week I pick up my granddaughter and ask how was the food from KFC she said tenders only no side nachos were awful the way she explained how they were made she didn't eat ...dog didn't even want.She lives with her grandmother not even a mile away but she didn't have reciept so they didn't go back. But I mention if that happens again to take photo.I-stop a lot at different parts of town at many fast food restaurants and I have never experienced this bad.Moral of this complaint is your interest. I suggest send a employee thru drive Thru and have them check it out all negative

Chloe Martinez
from San Antonio, TX
The store on Perrin bietel near loop 410 San Antonio Texas not sure zip code, it's was somewhere around 5:30 5-21-2019 on Wed. I pull up at drive thru got delayed response then when we order two pot pies the reply was ....we have none, order 1 piece Breast meal no breast, k order 5$ tenders and the new nachos they had but took about ten min.mean while behind a line was forming were like good luck to other people. So I didn't order for myself so Friday of that week I pick up my granddaughter and ask how was the food from KFC she said tenders only no side nachos were awful the way she explained how they were made she didn't eat ...dog didn't even want.She lives with her grandmother not even a mile away but she didn't have reciept so they didn't go back. But I mention if that happens again to take photo.I-stop a lot at different parts of town at many fast food restaurants and I have never experienced this bad.Moral of this complaint is your interest. I suggest send a employee thru drive Thru and have them check it out all negative

KFC Restaurant #G135694, 216 FM 1382, Cedar Hill, TX
The ONLY reason I stop at this location is because it is at a midpoint between work and home. The ONLY reason I stop at KFC is for the hot wings - all the other chicken is either over cooked or old tasting. The owner for this particular location needs to be more visible and get onto the kid employees about actually doing their job. On 3 different occasions this location has gotten my own wrong and have shorted me food. I do not go through the drive through anymore because the first time I ordered a 20 hot wing order and when I got home 20 miles later the ding dong at the drive through was too busy flirting with a co-worker she gave me a 2 pc meal. The other two times I have ordered a 40 hot wing and today (ticket #3047) I ordered a 20 pc hot wing and the kid with attitude at the register (who ignored me for at least 8 minutes) told me they don't have 20 pc and I would have to order 24 pc. I said fine - each time (with the 40 pc and the 24 pc) they have shorted me 8 pc on one and 6 pc on the other. So apparently they can't count either. Seriously wish my husband would NOT want KFC anymore - why can't you hire people who care about their job and actually give customer service.

Hi visited your kfc store in Wishaw this evening to order a medium zinger tower box meal side coleslaw and drink peps, and a kcrush, after getting my order I drove home, to open my box and there was no hot wing, and on my receipt a payed for my side of coleslaw which are ament to come with ma meal, hope this matter can be resolved, have attached images of the meal and receipt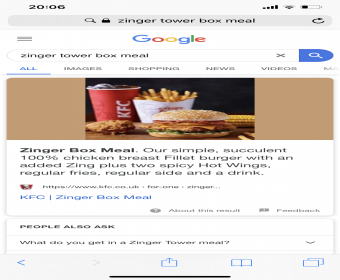 my complaint is about a manager at one of your locations her name is donna speede she is to ignorant and not suitable for sore point fortin, i watche how she gets on with her staff, like for instance the 19th/5/19 she told one of her staff that she will cuff she down and curse her out infront of her customers

Chicken purchased at your HUlen Blvd store in Ft Worth Texas tonight was HORRIBLE. Ordered a bucket of extra crispy and a bucket of Original. In reality only 1 piece of Original was found. The rest of the chicken was overcooked, Too hard to eat. My guests were appalled as was I. The only good thing was that the sides were edible. VERY DISAPPOINTED. $58.53 totally wasted.

I did not receive the mashed potatoes & gravy or the popcorn chicken. The green beans & cole slaw were very small size for the price. Mac & cheese was not good, biscuits were hard. I tried to call to complain but phone was answered but no one spoke x 4 attempts, or phone was busy x 6 attempts. This franchise is awful, last time I waited in drive thru for over 30 minutes only to be told they had no one to prepare the food. I did complain & was told manager would contact me but she never did.

We are been to KGC in Plainwell, Mi 2 weeks in a row; the service is slow, employees at the register need more training and are out of something every time. The first time it was 3 different pops and today it was biscuits, gravy, and potato wedges. The same employee at register is no better after a month. I don't know why I go back, I get frustrated every time I go there. I guess I keep expecting it to be better.

Found a piece of hair in my meal which I bought from KFC it looked really disgusting and put me off eating KFC food again also made me feel really sick it was absolutely shocking !!

ALWAYS out of pot pies. Do not offer to cook any either. Crappy service, takes FOREVER to get waited on. HORRIBLE SERVICE!!!

I ordered a 12 piece meal..had to go threw
the drive threw renavations are being done.when I got home the chicken was missing half the skin all dried out didn't even taste like kfc.so I called the next day and told the manager my problem she said just come down with your receipt and we will give you another.well supperwas already cooked that day so we went the next day and the manager would have nothing to do with honoring the other managers word.it cost me over 35 dollarsfor a meal me and my family couldn't enjoy.very dissappointed

Whenever i go to this location they never have grilled chicken. I have to wait 25 minutes for them to cook it. Once i get the chicken home the legs and thighs are the size of a wing. This is aa the time. All the fried chicken pieces arr huge. This place is filthy on inside and out. Bums stand at drive through begging for money everyday. If they do have grilled chicken it has been there for hours. I have waited for 25 minutes for chicken and the cashier puts 10 to 12 pieces in a box not a bucket and once home the chicken falls through the soggy box onto the kitchen floor.
Because they do not like tocook grilled chicken
Causethe fried is more popular i ha e been told the grill machine is broke for several weeks. So much is wrong with this kfc that its crazy.

Robert Malan
from Chicago, IL
This is the 2nd time i have been there in 3 months, and the service has only gotten worse! I order extra crispy they give me origanal recipe again! My son just brought home the same thing AGAIN! How hard can it be? My freinds have already stopped going there, I thought I would give it 1 more chance. Never again!!!

About 3 weeks ago I called your office and complained about the 5.00 box where the 3-pc. chicken tenders
were real hard on the outside. Should have brought them back. You sent me a free $5.00 voucher which I used
today. I told them no hard pieces. I see where you have smaller boxes which means smaller pieces. Two of them
were so hard around the edges. Never will I ever go into KFC again!! Chick-fil-a just opened next door to KFC. What a difference in the food. They will never give you food to go like KFC.

I understand fast food is what it is...fast food; but that does not mean treating customers disrespectfully. Whereas the individual at the cash register was courteous, the manager was not. I asked for pickles with my order and I even asked them to pay for it but the server gave the pickle for free as there was no way to ring it. If I had known, I would have not even asked for it. The manager came over and started making snide comments that 'are we now giving away food?'. When I went back and complained about this comment, she was extremely rude, ill-mannered, uncivil, disrespectful, derogatory, insulting and demeaning. In fact, if ever in my life I have seen the worst customer treatment was in this KFC of Pleasant Hills, PA (KFC, 5130 Clairton Blvd, Pittsburgh, PA 15236). Go and enjoy the food..with bad customer treatment at your own peril. Whatever happened to Pennsylvania courtesy.....You won't get it here. Actually, KFC should hire more people especially managers like her to ensure their sale goes down the drain even sooner than Mcdonald's, Wendy's and Arby's want and give her employee of the century award.

I was in the drive thru and was told to pull up, so I did thinking maybe they were throwing in some chicken to warm up because I ordered number 17 2 chicken littles meal, so I'm waiting and waiting, good 5 mins and get my food I live about 5 miles away and I get home and my food is cold. Took a bite of everything, threw it away.

Joseph and Doretta Cooper
from Baltimore, MD
My husband and I visit the drive-thru KFC located at 6600 Reisterstown Road, Baltimore Md. on May 04, 2019 after church at 7:26 PM.
Our intention was to purchase chicken for dinner. My husband ordered a 3 pc. combo dark meat and quickly realized he made a mistake and changed the order to white meat The clerk behind the window became extremely upset and yelled "I don't know how to change the order from the previous one" and slam the window shut and proceeded to inform co-workers about us in a loud tone of voice because we changed the order. Finally, our order arrived and she gave us the order and proceeded to yell at the car behind us "we cause confusion with our order".
My husband and I are both senior citizens with dietary limits; we both like KFC chicken and it is a treat for us, therefore we normally order the white meat..my husband sometimes forget but he was not rude and changed the order within seconds.
The lady at the window acted in an unprofessional and irresponsible, rude manner. Perhaps, she need to be train on how to make different transactions and customer relations.
We both loss our appetite for KFC chicken after that horrible experience.
My ticket number is #1171 Cashier: Tracey
Thank you

The buffet was absolutely disgusting and disappointing... we had to ask for new food to be put on the buffet... we had to ask for more plates even though there was workers standing there looking at us and ignoring us... we had questions and we had to just wait as they stood there looking at us like we were not there... it was truly the worst trip to KFC ever and if it weren't for Jeremy (y'all need more Jeremy's in your store, here in Duncan, Oklahoma... below find pics of the way we found the buffet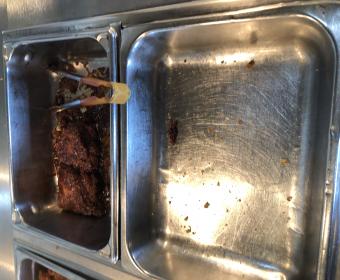 Purchased a 10 piece bargain bucket this evening but when got home we had only been given 8 !

We were traveling from Wilmington, DE, and stopped at your KFC in Milford, DE. When we arrived my Husband ordered your Pot Pie, did not have any, and this is the second tme we stopped that they did not have your Pot Pie. Then I ordered original 2 piece dinner and he ordered the same. Again, they said we only have one so he said for me to have it and he ordered 2 pieces meal crispy. They had no bisquits, and gave us dinner rolls. Then my Husband had to go to the rest room. When he came out, the said it was absolutely filthy and stunk! When he went to get our sodas, he said area you could tell had not been cleaned all day. Needlesstosay, we will not stop at that KFC again unless things change. We hate complaining but we think you should check out the Milford KFC. There is no sense to this at all!

The Westlake location you guys are slammed at 6:50 and you only have two people working two older ladies working they're doing their best and then you had a Cook walkout .. you've lost a lot of business today because you were cheap I'm not having more people there on a Friday night ridiculous

Jimmy Edwards
from Kinston, NC
Ticket # KFC 4-30 2019
I am sending this email to voice a complaint about substandard service I received at your Kinston NC location, ticket # 4149
Restaurant #E080059 1613 West Vernon Avenue Kinston NC 28501.
I entered your store at about 8: 30 pm and I ordered 2 - 20 pc hot wings with coupon ,2 potpies with coupon ,1 large mash potatoes with gravy and 4 individual potato wedges.
The cashier (name on the receipt is Alicia) called the order to the back as 20 pc hot wings and the rest of my order. I told her I ordered 2 20 pc hot wings ,she said I know you will get 2 separate boxes of 20 I said okay.
My order came ,I thanked the cashier and left to go home and enjoy me and the families meal. Once I got home I saw I only had 1 -20 pc hot wings and 1 individual potato wedges.
I returned to the store and told the cashier my order was short, she called the manager and asked the manager if she knew how to pull up the receipts on the cash register. The manager said she didn't have time for that as it was near closing time.
The cashier pulled up the info and printed out a duplicate receipt because I hadn't received a receipt from my original visit, the cashier was saying I am not going to pay for your food I have to pay my light bill, I told her I have already paid for it.
She then explained that if there is a discrepancy in an order she has to pay for it. The manager then told her to go in the office and shut her mouth she still replied I am not going to pay for his food.
The manager then looked at the duplicate receipt and pointed out where the cashier had only charged me for 1 -20 pc hot wing.
I told her I was led to believe I had paid for the full order and it wasn't my fault the cashier messed up the order ,the manager said all she could do was give me my 3 individual potato wedges. I said ok and she said they will be ready in a few minutes, we want to make sure they are good and hot for you. I told her you know what you keep them because somebody will probably spit in them and left.
My complaint is that I feel as a valued customer I should have been treated better and probably been "comped" the 20 piece hot wings and your staff needs better training on how to handle a botched order.
I must say your manager handled the situation pretty well, it was the cashier that flew off the handle.
My contact info is
Jimmy Edwards
Email- zip316j2ya@yahoo.com

maria
from Johannesburg, GT
I tried odering my meal on the phone and said I will come pick it up , garankuwa kfc said they do not take oders on the phone I hv to come and que , and we at the same centre so they said they do not deliver around the centre also, since I was on lunch I wanted to oder telephonically to avoid the long que .

Went to KFC on south state street in Westerville ohio on May first about 7:00pm. There were three people ahead of us. No one looked over or said anything. We waited about five minutes,then asked another grumpy customer how long he had been waiting. He said he had ordered about ten minutes ago. Did not seem like there were enough people working tonight. We were not acknowledged and we overheard one employee say something about they (us) would just have to wait. Also, we took down the managers number on the plaque on the wall, it was no longer working. Not much of a guarantee. Just thought you should know. P.S Arbeys was very good.

Sharon mcmanus
from Horton, MI
Greetings
I am contacting y'all due to
Terrible tasting food yesterday April 30th I purchased 24 dollars of food from a kfc on Monroe st in Jackson Michigan and I did not get a receipt the food was absolutely horrible I ordered a bucket and potato wedges and mashed potatoes and coleslaw
And coleslaw the chicken was extra Crispy and it had a nasty taste the biscuits were stale these folks served food that was unacceptable and with no receipt I was asked by the manager he couldn't do anything till I brought the food back I live over 20 miles from Jackson so goin back is not an option or I would have so I am deeply disappointed over the food I purchased and offered no solution and I have been a customer for over 45 yrs and not ever been disappointed so I pray that corporate will rectify this matter in an expediant manner or I will not ever patronize kfc ever again and tell others about your service and thank you for your expediant response
Respectfully
Sharon McManus

went thru drive thru...placed order....total given was 3 dollars more than order total....told girl at window....the manager got involved....itried to tell her what had happened....I was supposed to have gotten the 4 free desert bisquits w/order.... the manager then told me to get the free biscuits, I had to spend 25 for a different bucket meal....I finally got mad and said I would be talking to corporate about it....the manager treated me like trash

This is the second time I've been to the KFC DY6, 7AP and I have to say how disappointed I am with the service and after repeating my order twice and spending £35.00 on food to drive a mile and half home to find all the chips are missing and no dips £18.99 for chicken strips.. 74 calls and still can't through because the phone is of the hook. 20mins to get served at the drive in, to get a women on the intercom who couldn't speak English clearly, so your repeating yourself 3 times or was it that intercom isn't working that good.. then to drive round to find a young lad so busy it a-shame.. I felt that angry about the money I had spend and I hadn't got enough food to feed the family and to take the phone of the hook it's a disgrace order number 4115
Receipt code 134340430194115
Time 6.25pm. Where is the management in that place because it was like a construction site with the service and the best thing is inside was quiet empty. I'm not one to complain but I feel robbed of what should of been a nice treat for the family, after work a hard days work turn into stressful evening constantly trying to phone the shop

Mark Cox
from Johnson City, TN
I was at the store on roan street in Johnson city Tenn and got the buffet bar. It seems like that they was more interested in the drive though than the buffet bar. It was just bout out of every thing. I told them bout it. They said they just put everything out real hateful. I said you couldn't have because everything gone.

I have been going to kfc for 50 years and have had a few problems in the past but nothing serious enough to sendin a written complaint, last nite was different. I went through the drive thru and got a $20.00 fill up. Upon getting home and opening the bucket there was only 7 pcs, there were 4 small wings, 2 small legs and about a half breast. I took it back, set it on the counter and asked "what do you think about this ? " they gave me another bucket. We dished up our plates,
The coleslaw was really watery, as it was the last time as well. Probably the most disturbing of all was that the chicken didn't taste at all like kfc has always tasted. I realize that kfc is a franchise which makes me suspect that possibly the coleslaw is being watered and they have skimped on the chicken spicing. Bad news for the quality, reputation and business of providing a quality product to your customers. Which affects your bottom line.
Respectfully, Wayne Meek

Transaction 4295, Rhuddlan, North Wales, Sat 27th April, items missing, Reg beans, large fries, fries cold. No one answering phone.
Same thing on a previous visit here but told on that occasion I reported it too late.
Thank you.

Marlys E Galler
from Port Saint Lucie, FL
Yesterday, I decided I was not real hungry so I went to your KFC about 4:15 to take home a drink and a chicken sandwich as I had to be in our clubhouse for bingo at 5:30. I knew I should have opened and checked as the chicken was so hard all around the edge as it probably was in the sham for two hours. Also it was on a small bun like they use for hamburgers. Disgusting will never go in there again. The address is 1641 N.W. St. Lucie West Blvd. Port St. Lucie, Florida. About 4 or 5 years ago I complained to you about the soda machine. When you walked up to it smelled rancid and then there was a dirty rag laying there they used to wipe around it. I could not stand the smell so I asked the girl to fill my drink from the drive-thru. I live in an adult community 1 mile from this KFC and many seniors will not go there because it is not very clean. Being the former owner of a fast food in Ft Lauderdale, Florida our place was so clean you could eat off the floor. One more complaint - they never adjust the soda machine as the sodas are usually flat in taste. Thank You!

Crownhill Retail Park, 227 Tavistock Rd, Plymouth, PL6 5US Once again visited this branch and yet again ice cream machine broken this has been the case over the last few years chips too were cold also common problem with several different branches I have used
the Zinger Tower We had was more representative of a bungalow than a tower this is a shame as we really used to enjoy using KFC
Regards Rob

Appalling customer service, in drive through girl asked me for payment without a please or even a thank you. No manners at all, her face said it all very unfriendly. Rude and impolite

Came in and asked for a BARBECUE all star meal. Came out with a SPICY one

order not right, tried to call store, nobody answered

No stars!! My 88 year old father went to your location on Foothills Blvd in Roseville, CA. He ordered two of your specials on Mondays...chicken and corn. It was dinner time 5:00 today, April 22. My Mother, 83, was in their vehicle waiting in 90 degree weather. I met them at the location and waited..and waited. One person in store eating and a couple of cars in drive through. At 5:40, still no food. Two dinner specials. The manager tells me in a bit so friendly tone they ran out of corn. It is dinner time and you run out of corn? No apology, no offer of a free drink to my Dad. Nothing. The guy at the register was polite and apologetic but your Manager could care less. Shame on him. Very dissatisfied customer! I worked fast food and we always were ready for the dinner crowd. Hire some staff that anticipates a dinner crowd. Really shouldn't be that difficult of a situation?

I recently visited your franchise in Barrack street in Perth, Scotland for a take away meal and to say I was disappointed would be an understatement. There was nothing about the meal I could say anything good about. The chicken looked as if it had been sitting in the heater for some time, it was not fresh. The fries were untrimmed and were covered in "eyes ", limp and soggy. The sides, beans were dried out and inedible and the gravy cold.
I am disappointed with the standards of this franchise as they have been going downhill for some time. The last time I visited no cleaning had been done and the tables were un bussed. Three tables being used on a public holiday, late afternoon?? That should tell you something. I don't make many complaints but this, I feel requires some attention.

Denise Shannon
from Bedminster, NJ
On 4-11-2019 ticket 33081 RESTAURANT #F036007 5321 Salem Ave Trotwood Ohio 45426 @ 4:38pm cashier Kendra I ordered a 4pc meal coleslaw and pot wedges biscuit $7.38 plus A la carter 3 EC tenders for $4.49 got home and the only things was in the bag was the 4pc meal called KFC and spoke to a lady which stated her name was Cheri@5:08pm she asked me if I could come back I stated I couldn't can you come back tomorrow I will be in the store until 3pm I stated I couldn't will not be off work until 4pm then you took my name and address and stated I will send you a coupon to get your tenders that was on 4-11-2019 as of today 4-19-19 I have not received the coupon it must be on a slow boat from china lol I would either like a refund or a coupon to get my tenders. Thanks Denise Shannon 9 Burchwood Street Trotwood, Ohio 45425 9378540197

Lydia Howard
from Portland, TN
my husband stopped by lebanon kfc yesterday. we always get the large family box with fixings the bowel of mac and cheese and potatoes didnt have enough for 3 people much less 6 people. the chicken wasnt as good either . whats going on? i really like to get it to go couple times a month last few times going down.

First off I need to say that I use this KFC branch and always get great service even on this exchange. I was using the new drive thru in kailua kona restaurant # H730292. So i get to the pay window and get the great friendly service I was used to. Drive away and take a drink and it turns out it was Diet Pepsi instead of regular Pepsi. in all fairness the receipt said dt. pepsi but that is not what i ordered and never would. When I get close to home I just poured it out on the road to my house and thought nothing of it. I get home and my wife is all excited because we have an 8 piece bucket which we get two meals out of. The only thing she eats our the breast and I feast on the rest. Guess what I open the box and there were 4 drum sticks and 4 thighs. That did not go over very well but we made due that night but ended up throwing away 2 drum sticks and 2 thighs. Basically I feel that I was cheated out of half my meal because I know if i ordered that same bucket with all white it would be more anyway it will probably be a long time before my wife says maybe we should go out and get some kfc.
Aloha, Michael Dunne

remsha shehran
from Dubai, DU

I've never complained to a company but feel compelled to ... I've just tried kfc Denton rock for the second time they had no chicken after queuing for 20 mins,went failsworth rude staff and freezing inedible food not to mention wrong order KFC gorton is a no go because it's filthy Ashton moss can't seem to smile and staff don't want to be there??? I absolutely love kfc what a brand but total miss management at restaurant level is ruining it

Bryant Parker
from Miami, FL
Winchester & Hackcross location on 4-15-19 at 845pm the crew taking drive thru orders are rude with nasty attitude they rush you to order and still don't get it right. I will not be returning to this location it's ridiculous to have 5 people working and no one can be courteous. The manager was worse than the employees and is a liar. The manager was a Short blk lady with arm tats a bad attitude and a nasty uniform.

So the KFC in Remington had no white meat chicken in their store at 7:45 last night. The worker tried to give me a thigh. When I brought it back she said she gave me a breast. The worker in front of the manager asked if I was on drugs and someone needed to call the police. I asked the manager if she lets her people talk like this to customers, and she just looks at me. Showed the manager my thigh and she says sorry sometimes people get the chicken mixed up. Lied to by two people who don't care.
Submitting this for a brother at church. Has been going through a huge battle fighting cancer. He would never file this complaint, so I am doing it for him. His name is Mark Sipkema As a matter of fact, he just had his port removed today. He is a manager of Panera Bread in Greenwood, IN

Ashley ghoulds
from Lebanon, NH
I have visited the KFC/taco bell in somersworth nh and that place was so dirty as well as it took over a hlf hr to get my food than b4 we left my 5 yr old son had to go to the bathroom and we waited for over 20 minutes cuz they was someone in it so we waited a couple more minutes and a blondes headed assistance manager walked out with I believe is a crew member cuz he had a black shirt on I believe his name tag said Marc it's very sad when u go to a family restaurant and u have to see this stuff happening I don't believe that a manager an crew should b in the bathroom together they was in there for some time as well as some manager Darren I believe his name tag said was handed packs of cigarettes out to certain customers I feel that they maybe something weird going on in this place from what I saw I will never go back and will b sure to tell everyone that I know not to go there this is not a good family restaurant to bring your kids nor a family to I know as a crew member working at another fast food that this behavior is not exceptable the way them three was acting and 2 of which keeps touching each other I believe it's a store policy that managers and crews are not supposed to be dating each other especially on each other's shifts I have mentioned something to another manager and he said there's nothing he could do about it as I heard him walking off telling another crew who's name was tasha the customers should mind their fucking business I don't believe any customer should b treated or talked about like the way this crew does at this store so unexceptable behavior something needs to be done

My mum bought myself and my family a KFC last night (Sunday 14th April 2019) from your Portadown branch. We went round the drive through about 5.25pm because my mum was in a rush as she was heading away once she bought us our food and dropped us home. We ordered our food (6 piece family feast bucket I think it was called) and we must have sat a good 10-15mins in the drive through after placing the order, we then got to the window and paid to then be told to park over by the fence - where cars exit the carpark - an wait for our food. The lady before us, plus 4 cars behind us also had to park to the side and back up in the carpark. Nobody was told what the hold up was or what we waited for. About 3 cars actually went and didn't even pay/wait for their food. We must have waited about another 20mins on the side for our food to come, my mum almost had her car hit a few times by cars exiting the restaurant car park because of where they made us park. Eventually then they brought our food out with no apology for the wait or anything (still unaware to why we waited so long) and we literally got to The Bann Bridge in Portadown towards town (not even 5minutes after getting our food) and I wondered why my legs/lower stomach etc was burning (I'm due a baby any day now so being heavily pregnant I was scared to what was wrong) I lifted the bucket off my knee where I'd set it thinking it was just very hot to find my jeans plastered in grease and my white T-shirt too, all brand new clothes. Not only covered in grease but also the red dye from the bucket had also ran through to my jeans and top, these which I only bought new recently as I needed new clothes to fit me being pregnant. It was also all over my mums new car seat where I was sitting. I had to place in on her passenger side floor and it left her carpets in a mess too. I have pictures to attach, my phone can also provide dates/times and where photos where taken if need be. I'm a very big fan of KFC, I could go anywhere and kfc would be my first choice but I'm very disappointed with this deeply, ill be even more disappointed if my clothes are now ruined as when I took them off last night I had to shower as the grease was stuck to me it was that thick through my clothes!
Our WiFi was down last night so that's why I'm only getting my email across now to you.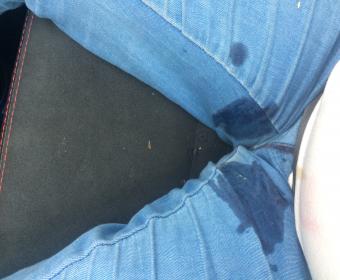 Thanks for your feedback!
Sorry. Please try again later!