Walmart
Contact Walmart Corporate
Toll free phone number: 1-800-WALMART
---
To file a complaint by phone call 1-800-331-0085 from 8am to 5:30pm Central, Monday-Friday. Other than by phone, Walmart has a corporate feedback form on their website which can be used to submit feeback.
They also have a Facebook fan page and a company Twitter account which can also be used to share your problems with the company. The best email address is feedback@walmart.com but we have not heard a response back yet.
If you do want to write a letter to the Walmart CEO Doug McMillon, email him at doug.mcmillon@wal-mart.com or write the corporate headquarters at 702 Sw 8th Street, Bentonville Arkansas, 72716. Walmart.com is a mega chain retailer that carries consumer goods from food, tires, and pharmacy drugs. With over 11,000 locations and 2.2 million employees Walmart.com is publicly traded on the NYSE: WMT.
The original Walton's store was first opened in Roger, Arkansas by Sam Walton in 1962. It is still a family owned business as the Walton family owns over 50% of the corporation.The Walmart slogan is: Save Money. Live Better. Walmart is the largest worldwide employer and the world's largest company by revenues.
Walmart Contact Information
Report complaints to corporate and get satisfaction
Walmart headquarters address

702 Sw 8th Street
Bentonville
AR 72716

Company website

1-800 phone number

1-800-WALMART

Support email address

feedback@walmart.com

Better Business Bureau rating

A-

Customer service hours

8am-5pm CST
Browse reviews of other Department Stores
Top Walmart Complaints
Browse more than 1670 reviews submitted so far

Joshua Bastien
from Windsor, ON
****update number 2: same crap different day. i was right to be skeptical. Woke up today to another cancelled item, no explanation. refund to my bank card but no refund for my gift card. so its going to be another week wait at least. I'm so over it I've been stressing over this stupid phone for over a week. Now I get to go to work with no phone and a new born at home since walmart had this "great online sale" that I wont even get to use since they wont honor the original sale nor do I want to. when ever I get this refund back I will be selling it and taking the $60 hit because I CANNOT STRESS ENOUGH I do not want to deal with this head ache and sad excuse of a reputable company again. hopefully some people take this review to heart and i save them the time and hassle. NEVER AGAIN! Walmart should be ashamed of themselves.
**update: I got my refund 8 days and 2 escalations later. I feel like if I hadn't bugged and bugged, emailed corporate it wouldn't have got done for a long time. I will change my rating when and if I receive my phone, I'm still skeptical after this whole experience.**
If i could write down -1000000 best believe i would and looking at these comments everybody is experiencing similar problems. Customer service is a joke. They place me on hold and just kept me there. They've owed me almost $400 for the past week. Its all games when you call, just the run around. They dont give any proper information out. They dont tell you if you use a walmart gift card on the walmart website, to use at least 1 cent of another patment method or it will cancel. I order a phone and the next day i wake up to a refund in the form of another gift card, no explanation. I reorder the phone with the gift card the sent me back because i wasnt trying to miss the sale. This one just gets cancelled nothing about a refund. I call and they say they are giving me my refund. They dont send anything about the gift card yet. They actually send me an email telling me to use the same payment method and everything which would of screwed me over again if they had actually refunded me. They dont say anything about the gift card until the third time i call, then they tell me that i cant use just a gift card online. They say thats the reason why i cant get my refund right away because of their error, with their gift card, on their website. Theres a second sale on and the phone i should already have is $40 more. The way things are going now they are just going to hold it off until the sale is done and ill be stuck with a useless gift card to a useless company. I really regret not getting a cheaper phone from amazon or even paying 100 more for the same phone. At least i would have it and customer service gets stuff done if need be which ive never really needed. Walmart is supposed to be a reputable company but they are jokes. I ask for corps number and they give me the wrong one. AMAZON IS THE WAY TO GO!!!!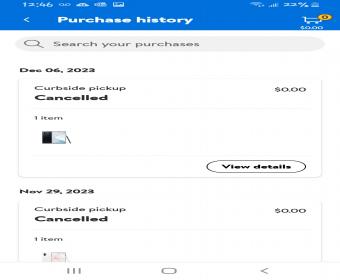 Tracey Rosali
from Lake Worth, FL
I order many times from Walmart for food delivery. Im handicapped and can't shop so I pay my membership to have it delivered your delivery is horrible I ordered yesterday and the delivery guy came and brought me only 2 items I ordered but was giving me someone else's order I told him no that's not my order we're is the rest of my order he said I don't have it so I chat with someone who definitely couldn't help me so someone from customer service called me back and kept saying they can't help cause the driver who couldn't speak English didn't put delivered it's still on attempt my issue is get people in customer service who can really help cause I feel I pay Walmart to raise my blood pressure and anxiety. No one at Walmart helps plus delivering other people food good thing I wait outside for my order otherwise they would drop off stuff that's not mine you must loose a lot of money. Please call me

James Grauer
from Riverside, CA
I am writing to express my deep dissatisfaction with the service I have received from Walmart's online grocery delivery. I rely on this service due to my physical handicap, and I place my monthly orders promptly between 12:00 am and 12:30 am. Despite selecting and paying for specific items, it has become a recurring issue that at least 3 or 4 of these items are marked as out of stock when my order is fulfilled. What's most frustrating is that these items were in stock at the time of payment, and yet they seem to be sold to others before my order is processed. Walmart's proposed solution of returning these items to a physical store is impractical for me, as my reliance on grocery delivery is precisely because I cannot make it to the store in person. I believe this situation is unfair and negatively impacts my ability to receive the groceries I rely on. I kindly request that Walmart address this issue to ensure a more reliable and equitable service for all customers, including those with disabilities."

thomas robert butler jr
from Houston, TX
I had been using walmart grocery delivery service for over a year. I began to be missing items from deliveries and it is difficult to report missing items at once. on 10/17/2023 I had 6 items missing from a 16 items grocery home delivery. This was it for me so I did something about it. I found the main store number of the Houston East Frwy local walmart. I had to really argue with the person who answer the main number to get connected to the manager of the online grocery delivery service. Finally I got to speak to the manager who said she had been at walmart about one year to date. We had a very long conversation and me being an auditor I asked her questions about quality control over the order filling and delivery system. She said she had no written instructions of how to practice quality control over her system she was responsible for and that she was aware that many customers had missing items from their orders. We discussed the cause could be employee theft and/or theft from Spark delivery service drivers. I asked whether there was security practices in place at her store to guard against employee theft and whether she took it upon herself to check on the Spark drivers. She said no and that there was no security at her walmart. I told her that I was going to write a letter to the CEO or walmart and recommend some that the online grocery delivery system be audited and that the corporate auditors should come up with some recommendations for improvement. This is because "shrinkage" is really hurting walmart's bottom line however at present they are content to write it off a "business expense" and will not make changes to security or quality control especially in the new online grocery delivery service that has not been operational except for just a few years due to covid. I now really question whether or not I will continue to use walmart online grocery delivery service and the worst thing for their bottom line is going to be losing many dissatisfied customers.

Randy Wooten
from Morristown, TN
Last two times we were in Walmart in Hendersonville NC we seen the cashier not ring up products and giving away free stuff for I guess people they know. I'm tired of paying for people that steal stuff and then getting away with it. In the long run we pay for it as a customer and the thief gets away free.

IT SI NOT SO MUNCH A COMPLAIN BUT THE WAY THEY HAVE ORDERS CATAGORIES BECAUSE I HAVE ORDER CAT LITTER AND CAN OF DOG FOOD IT SAY IT COULD NOT BE SHIP GROCERIES WHERE I LIVE WHAT I WOULD LIKE TO KNOW THE PERSON THAT INPUT THE LIST HAS EVER EATEN CAT LITTER AND DOD FOOD BECAUSE AS FAR AS I AM CONCERN I NEVER HEAR ANYBODY EATING CAT LITTER AND DOG FOOD SO WHAT IS IT DOING IN GROCERY LIST ? WAS NOT ABLE TO HAVE IT SHIP

Kerrie Sims
from Malden, MA
My name is Kerrie Sims and this is what occured at the Brunswick Maine Walmart on October 1, 2023 at approximately 3 o'clock on I entered Walmart to get a few things. I was waiting for my friend to meet me so I walked around I grabbed 2 salads today were on sal for 4.47 and the smaller grapes and apple slices contribute to jewelry then to clearance clothing I got a bra and shorts I checked out self checkout scanned ALL items I needed to ask one of workers to help me b LoL because qI didn't realize I had hit another payment method. Trust me she looked to see if I scanned all of my items. I paid with my chime debit card got my receipt realized there were no bags so I put all items in my messenger bag. Kept receipt m hand when I got to the exit offered the checker my receipt. He said you're all set. So I proceeded outside to wait for Brunswick Taxi. About 15 minutes go by and I realize that I forgot the 12 pack of Pepsi so I rushed back inside to grab it. When I came through the door I Wentz directly to the greeter and explained to her I was just here a few minutes ago and I bought the things in my bag but I forgot the soda. I said here is my receipt when I went to hand it to her she wanted me off no I don't need to see it. I felt at that point I felt I had protected myself from exactly what ended up happening. I walked directly to the soda isle then straight to self checkout where I also purchased a Walmart bag so I didn't have to have everything crammed in my messenger bag. After I paid I stood right there at the terminal and transferred everything from one to the other. I then proceeded to leave the store. When i got to the second exit to get outside I hear excuse me ma'am and he rushed up on me he didn't identify himself he just told me I needed to come back inside. He walked me through the second set of doors I was trying to explain that when I came 't back to grab the soda make false accusations and then he asked to see the receipt for the things I had in the Walmart bag. I had been carrying it t in my hand in my hand and said I must have dropped it I know exactly the route I took can we go get it?!? He basically was pretty pleased with himself he started to get more and more condescending treating me like a criminal and I know that this guy had come after me with the thought that I was was about to look at the register tape or they have toI just felt myself go out of control in bipolar 1 with psychotic features and I also have PTSD. This person was going to have me arrested and the I do know that there is no possible way that he was into a as o started to reside old me no which was when he started to get more and more confident that he then started to talk to me in a condescending tone I then pointed at the greeter and told him when I came back in to get the soda I told her I was coming back in and offered her the receipt. She was right there as I started to get more and more frustrated so he asked her if I did have the receipt and she said I didn't look at it in this nasty tone line or was my fault that she didn't do her job. He started saying ma'am are you alright you're acting erratic. As it's I was still just in total disbelief!! He was making a huge scene calling me a tief I'm at my local Walmart where I know most people. I was starting to realize that I must have dropped it between the entrance right after I offered the greater the self checkout. I said wait I on I asked the it's we wain front me of taking all the items in the Walmart bag he was trying to usher me to the back I finally had to to show him my banking app to show proof and even then I didn't get any kind of apology he was still rude as I was finally able to go he thanked me for shopping at Walmart. I have been doing some research and i think it's very important to stress t in order to accuse and then detain someone of for shoplifting there's a protocol to follow (and this changes from company to company) is: 1) see the person come into the store. 2) See the person select an item or items 3) see the person conceal the item (or continue to hold the item) 4) see the person exit the store without paying for the item(s). This is something that's got me shook to be honest. I was there spending my money and I was treated like I was not only a thief but like I was trash. Even after I proved my innocence I wasn't treated any better. I'm still trying to figure out how to deal with it. Even after I took extra precautions you're workers couldn't be bothered to do their jobs and I'm trying to figure out what to do about it

Athena Macha
from Coventry, CT
I purchased a phone card they voited it out because the card wouldn't work then the girl working customer service sent my daughter to get another one then tells me i cant do anything
i can't exchange it i said your not exchanging it you voided it out she wouldn't help me at all she was very rude it was basically my problem when she screwed it up to begin with I'm just asking for help she shouldn't be working there if she's not gonna work

On Thursday 21st September 2023 at approximately 3:30pm, I visited the Walmart store located at 10750 Westview Dr Houston, TX 77043
United States (store 1409). I approached the money services counter and asked for Western Union services. The employee Kathy asked for the information and the correct name, I went on my phone to call the person for their last name and this is where things unexpectedly went left!
Sir you cannot use your phone here and your suppose I have known that. I said ok but it's the first time I have been told that. She said no sir you should have known that and because of that I can't give you any service, I said ok. Still processing the tone of the employee towards me. I said ok. And went back to the end of the line on the front and made the call. While there I couldn't believe the manner how the employee was talking to me. I tried keeping it together. She served a male and then I went back and asked for the service again. While she was about to start I said Miss first let me say something " I am not your child and I do not appreciate the way how you spoke to me in a demeaning manner, with immediately rebuttal she said and I don't like the way how you talking to me like a two year old, I said miss what is your name, she refused and then said their it is and showed me her tag, I said to her that she was disrespectful! I said I am going to make a complaint about you and I need to talk to a supervisor or a manager. I said Miss please process my transaction. She said sir NO! I have the right to refuse to give you service. I was like what ! I said please call the manager she said she is calling one now. I overheard her telling the manger that this customer was mad because she told me that I can't use my phone and I am treating her like a 2 year old! The manger Dynisha came and served me while I was telling her the ordeal.l and that the employee told a blatant lie on me. At no point was I mad! I was stunned and shocked of the level of arrogance and high tempered she was! Coupled with refusing me Service. I could have easily caused a raucous and embarrassed her. But that's not the person I am. This employee needs CS training and needs No customer contact until then. I have never ever, not even near had this issue with any Walmart employees. Ever!! She she says anything more or less that I have wrote. Play the tapes!!!! For an elderly lady you need to have respect for yourself before you attend to customers who are paying for the service. For the other employees, keep doing good you guys are Great!!!

Susan Howse
from Lexington-Fayette, KY
Walmart is still charging me for some tires that I never received. Online my order is stating that I picked them up. I don't even have the means to pick up four tires in my car. I came in for installation which did not happen because they were the wrong size. The order number is 2000110-71231489.

Foxmaster Woods
from Cordova, TN
This arrogant walmart employee, got up in my face for no reason except, hearing me simply speaking about wearing mask after taking a bunch of covid shots, why wear a mask?, If this happens again I will do my best to have this poor excuse of a person/employee charged!!!!!!!

Dennis Corridori
from Chicago, IL
The vandalia Illinois pharmacy has got to be the worst for costumer service In the country I'm a 70 year old male have had a stroke can't hardly walk am handicapped spent almost an hour on the phone yesterday trying to talk to someone about a prescription ordered on the 5th of this month they said they would send a text when ready today is the 14 still nothing no it's not on my porch or in the front byard as the last one was I will never be so glad when November gets here so I can change my insurance back to Cains pharmacy at least they have a drive up window I can use this is the fourth time this pharmacy as lety prescription run out I have had it with Walmart pharmacy

Alexandre Laberge
from Blainville, QC
On August 29 I bought an article on Walmart Marketplace. I was provided 2 shipping options 1) free September 7, 2) $9,95 September 2
I paid extra shipping to get it on September 2nd and received confirmation by e-mail on August 29 at 19h54. The message was: Your shipment is set to arrive by the end of day Sat, Sep 2. My decision to buy with Walmart was based on the fact the shipping would arrive 3 days before I flew back from Las Vegas. On August 30 18h39 I received another e-mail that said: 1 item arrives by end of day Tue, Sep 5, 2023, Arrives late. This e-mail was instructed with a FedEx tracking number. To be proactive and make this shipping on the due date I reached Walmart, the vendor and FedEx to find solutions. the information was never clear on Walmart side and many false information was provided to me like: Don't worry we have a special department who take care of those shipping your package will arrive September 2nd.
But I was able to figure out the scheme by putting information over each compagnie. The seller provided me with a record of shipping instructions from Walmart and it was standard shipping. FedEx confirmed the standard shipping is the slowest one and at the date it was placed shipping due date will be September 7. At this point, I clearly understand that Walmart just proposed me 2 shipping options free which is the standard shipping or paid which is the same standard shipping. This information was validated by a supervisor of Walmart that Walmart does not provide another type of shipping than standard shipping when a third-party seller provides the goods.
Why this is set up like this is simply because FedEx will usually provide the shipping in a range of 2 or 3 days before the due date. So to be able to make more profit Walmart is ready to easily get the $9,95 to customers who complained because probably 2/10 consumers complained about a 2 or 3 days retard delivery they put consumer care able to fastly handle this situation. This means if 8 consumers do not complain it could represent 8x$9,95x10 000 orders a day this generates a potential of 796 000$ profit a day without delivering any services supported by backend opération.
When you understand this consumer support can not help you anymore other than tell you you can cancel your order. So this is how Walmart controls the consumer journey. The first step you speak with first-level representatives, they will not be able to assist you so they provide his supervisor and if the supervisor can't assist you he will tell you that you don't have any other resources over him, yes this is the end. If sometimes you are lucky you will be transferred to a special department for a refund because the delivery is late. This is another part of the funny trick. This department looks at your delivery schedule provided by FedEx, Remember September 7th and tells you they will not pursue the conversation because your delivery arrived on time on September 6. They will never take into consideration the original contract which was delivered by the end of the day on September 2nd. They will tell you they don't see this information in the system. Even if you have the e-mail provided by help@walmart.com on the purchase day the best thing no one accepts to receive e-mail communication.
This scheme is well operated and the consumer has no chance. I have all e-mails, all recording conversations and all chat texts to demonstrate it again.

Janet M. Golt
from Easton, MD
I ordered Business Deposit slips and received them on Monday. The problem is they were left outside of my Business, which I am closed on Mondays. Thanks goodness noone took them and got my account number off of them! The email said it did not require a signature....
Why not???? When I was sent a picture of them being delivered I had to travel 20 miles to get them being as though it was my day off I was home...... I was not real happy. Attached is the email where is says "no signature required"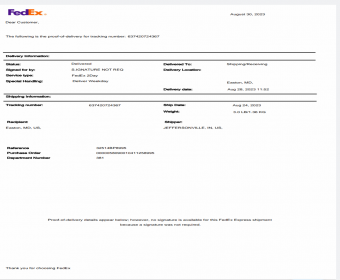 MaryLou Stout
from San Antonio, TX
I arrived at the Walmart Car Services at 7am on Saturday August 26,2023. I was in need of a battery replacement for my 2010 Chrysler Sebring 4cyl engine. I was told by the female Hispanic technician working that morning I'm the register initially that the "books " showed that my Sebring took a year battery. I informed the technician that I wanted at least a 3 year battery but she insisted that the 3year battery would not work on my car & that she had to go by what the book says & that was only a ONE YEAR BATTERY. I went off t sho & wait for service to be completed returning one hour 20 minutes later. A different cashier was now at the register. A female black girl. I decided to double check with her about getting a three year battery because that's what I really preferred. She went back to talk with the technicians concerning my request. A few seconds later the same rude woman came out & said to me very nasty " I told you already that only the one year battery will work in your car & we can't put in the 3 year battery & I've been doing this a long time."I I told her "well obviously not long enough." After the female Hispanic girl left the other black girl apologized to me & said " I don't have any say in the matter because she is a technician." I had to wait another 20-30 minutes before my car would be finished & then had to rush off to work. I didn't have any extra time to discuss anything with the technician. I had already been there an hour and 45 minutes. I would like the 3 year battery put in my car which is what I originally ask for but was continuously denied this service by this extremely rude technician who was clearly wrong about her findings in the "Book"

Bruce Chennell
from Miami, FL
My personal property of bike saddle and seatpost was stolen from inside Walmart store#03235 at 1425 NE 163rd street North Miami Beach FL 33162 on August 22 between 5.15pm and 7.30pm. I informed customer service and police and have a report card.No one from Walmart or police would view store cameras inside from 5.15 to 7.30 to see has stolen my property from inside store.I was standing at watch counter at 5.15to buy watch for hour and then went to milk and canned food section and paid at TV section at 7.26 I was wearing red top and yellow vest and blue pants and bag.I called store 305-949-5881 and was disconnected and i called 800-925-6278 more than 10 times and was disconnected after 30 mins each call i an very unhappy and i want answers and store credit to purchase another bike saddle and seatpost costing $65 on walmart.com thank you Bruce Chennell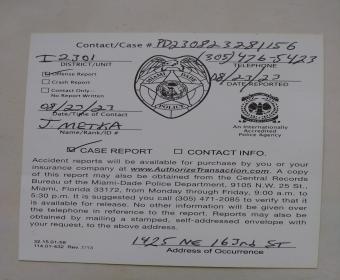 ELLEN MAJOR-HANNA
from Delray Beach, FL
I was a Walmart plus member, with each experience I've had with orders there was always something wrong, did you get my order some of it it was even delivered to other address, although my address was very clear on the list. About six 2 months ago I tried to place an order online and was unable to do so. Only this allowed to get so far, I did contact the order department who could not solve my problem and told me that someone from the IT department will get in contact with me within a few days, weeks went by I called again still unable to order, however, the order department was kind enough to verbally take an order and then I still couldn't place it. I only get as far as the page it said, taxes to be added, the clerk in the oil department, and I were not looking at the same thing in reality I learn from my own research, and I shared it with Wallmark that someone else was using my account and block me out there. That's why we were seeing two different cards in the wallet. I know that for a fact because there was an order place and pick up. . I know that for a fact because there was a order place and pick up, I never pick up because I don't drive. I will not have anyone else pick it up. At that time I was serious it took me about three weeks to come to this realization with no help from your staff. I requested my refund for my membership and I told the clerk at the time please do not send the refund back to the card. I used it with because I was fraud and I no longer have that card or is affiliated with that banking institution. Please send me a paper check, she insisted and I "just give me the four digits of a bank card" and then said to her how would she know the rest of the numbers she said she will. It has been almost 2 months now seen no money was really got me on two different occasions when I call, I spoke to two different people two different times that identified himself as a manager and agreed that they would put in an order through to the billing department to send me a paper check , the latest one manager I spoke with exactly a 2 weeks ago said to me, he will guarantee I will have my check within 48 to 72 hours, I knew that wouldn't work, the mail couldn't do it that fast but certainly within two weeks I would've expected it. I am now reaching out to you to see that you can. Please send me my refund because Wallmark failed me they didn't protect my account. There was no evidence of an IT or fraud department to assist me and not getting my money. After all the untrue I was told, we need to always be mindful. Everyone has commodity with Celsius is your level of Customerservice and in my world honesty is your bot if honesty is not there and you tell Customer lives what Customer you think will continue to patronize your business out by share. My story, personal advertisement is advertisement no business can pay for. I am so sorry I do need my money back please you did not live up to your part of the bargain and continue to lie. I have waited months, but I believe in going up the chain of command before getting too serious places. I appreciate you taking time to help me and I hope you can understand me. Should you need to reach me please use the email as a means of communication. I surely hope that I can have my refund. Yes it's not much but you know some thing you can buy me grocery , and more importantly, it belongs to me. I did not get your service as I was promised and you tell me that I am at Staha Customer.

john dayse
from Amarillo, TX
i purchased a phone through the t mobile representative at store #03383 in amarillo, texas. i gave representative my soc sec #, my drivers license and my date of birth. i went back to the above same store to upgrade the phone and was told by the t mobile representative that they couldnt process my order. i received in the mail a letter from walmart entitled: ECOA adverse action and it had the reason why the t mobile rep couldnt process the order:
UNABLE TO VERIFY IDENTITY
It also had an order number, 329312636544583. It has as well a letter code, AAIPC
I called the number in the letter numerous times (8667954583), they could only help by escalating the issue each time I called.
I called the escation team and they didnt seem to know what i was taking about, and said they could only help if it was an online putchase. I called 800 331 0085, a guy put me on hold and then transferred me to t mobile.
i simply request help getting the UNABLE TO VERIFY IDENTITY out of my file and resolved.
THANK YOU.

Shaniece Fitts Walls
from Huntingdon Valley, PA
I was speaking to a Walmart customer service supervisor on the phone explaining my issues and he hung up on me.

karen maguire
from Richlands, NC
your manager that works in the office has an attitude. i ordered donuts online had them delivered and when they arrived on my steps there were several flies in my donut box so the gentleman that does online orders told me i could return them to the store and get a gift card and get a new box and make sure i get the gift card since i drove up to walmart to get the new box and when i told her what i was told she got smart i go there all the time. i live at 801 three bridges estate circle jacksonville

Joel cloud
from San Francisco, CA
On 8-6-2023 I tried to purchase some items with a gift card that I had. That card had $33 dollars left on it. When I swiped the card the register said approved thank you. But the cashier tried to get me to pay $22 dollars in cash. He said the card balance was $1.20. today on 8-16-2023 I checked the transactions and it says on 8-6-2023 a transaction of $32 Dollars was tooken. So that means I was charged $32 and was not allowed to take what I purchased home. He tried to get extra money from me. Ive been trying to get a hold of a manager and nobody ever answers. This happened in rhonert park, California. All this is on camera at the Walmart store

Donalis
from Riverside, CA
Don't join Walmart.com membership. Not worth it, they kept on canceling my orders 6X in a row, then called customer service, their customers support is rude very rude and he didn't want to hear me out and talked over me and he didn't want me to talk to his manager and just hang up on me.

Lily Qin
from Bellevue, WA
Today, during my shopping trip on 08/13, I had an extremely negative experience at the Walmart store located at 15063 Main St, Bellevue, WA 98007. There are a few key points I'd like to address about this incident.
To start, it's evident that Walmart lacks proper training in raising awareness about discrimination among its staff. As I was preparing to check out, a female store assistant approached me and posed the questions: "Do you speak English?" followed by "Do you live here?" These inquiries struck me, as I've been a resident in the United States for nearly three decades. It's disconcerting to still encounter such queries. I'm left wondering if my appearance triggered this interaction.
Furthermore, the store seems to inadequately organize its merchandise for the convenience of customers. I later discovered that the lady suspected me of attempting to purchase two spare rib pieces while only paying for one. The items were frozen together and hadn't been separated before being put on display, resulting in my unintentional mistake. Although the assistant did eventually assist in separating the pieces, there was no acknowledgment or apology for her earlier assumptions.
This experience has been deeply hurtful as a customer. I've been a loyal patron of this super center due to its convenient location, but today has left me questioning my allegiance. The incident of being questioned about my English-speaking abilities, despite being a long-standing citizen, particularly stung.
The store manager exhibited a level of politeness when addressing my concerns. He listened to my complaints, took down my phone number, and committed to investigating the matter further. I remain skeptical about the outcome. What I truly seek is a simple apology. The Asian American community should not remain silent in a land that values freedom.

Cynthia Stenli
from Nunn, CO
Accused of not paying for all my items at the register. When I was through I was told I could not leave. I said excuse me? What's wrong? The store employee said that I didn't pay for two items! I said that I paid for all my items! I then asked her just what do you think I missed? She said the root beer and Doritos and I immediately showed her the register ticket with the root beer and Doritos on it. She didn't apologize to me. Just said oh well I guess I missed it. I have never knowingly stolen anything and I was very surprised and embarrassed about the situation and the way it was handled by the employee in front of other people waiting to check out

Doreen Benavidez
from Phoenix, AZ
I spent $500.00 at your store and upon reviewing the receipt I was over charged $55.00 for 7 products that were more than the original price indicated. Attempts to collect my $55.00 were impossible and was lied to that the supervisor was in a meeting so i left my phone number for them to call me in regards to getting the money back and no one ever did!

Michelle
from Dandridge, TN
Ordered an item that was said to be received in three days on July 22. Still has not arrived and nobody responds to emails.

Wendy
from Balch Springs, TX
I just wanted to say that produce looks 100 % better since you all got rid of the guy and let that lady take over. She's done an awesome job! It's cleaner and looks great! Congratulations on a job well done! Sorry I can't remember how to spell or say her name but it starts with an S.

Vu Huynh
from Bradenton, FL
Please don't shop at Walmart.com anymore
I have a shopping account at Walmart.com for more than 20 years and buy items very often with large amounts of money, but today I received an email from Walmart.com saying I violated the return policy??? I have never returned a Walmart.com online purchase in over 20 years. A few months ago I bought a manual lawn mower for about $175 but never received the item, I have received the tracking of my parcel but it was delivered to an address other than my home with pictures. Snapshot of the delivery company in it.
I called Walmart.com to report the package was not received because the shipping address is not my home and asked for a refund, and the person who answered the phone that day said I wasn't alone. so because the shipper is fake (SCAM) should refund the full amount to me.
But today I received an email from Walmart.com and contacted by phone for almost 2 hours including talking to the manager who said I am not allowed to do so, If I buy something and do not receive it, I have no right to complain. or what, stealing? The staff and the manager hung up my phone many times saying they couldn't solve it for me because of my violation to ask for my money back, which is ridiculous.
They said they won't let me re-do the account if I send it to my home address and it's okay to go to the store to buy it. End of opinions.

Sandra Vines
from Trumann, AR
I've always gotten my meds at WM's Pharmacy, I didn't mind using the old system of using the push button for everything. The next system is a total waste of my time, I called a prescription in today and I told my DOB, 4 times, and finally ended up talking to a real live person. WM needs to go back to their old system of refilling prescriptions,

I was visiting my local Walmart looking for a wall calendar. I pulled an employee to ask her where the calendars are. The setup recently changed so where I thought the calendars would be was actually the fabric/craft section. She was very friendly and easy to talk to. She shared with me that she works overnight stock, but she was willing to show me where the calendars are. There were two guys who walked past us and kept staring. I asked her if they were her supervisors to which she nodded. One of them looked at the employee and said, "What time is it" and looked at his watch. I was appalled that her supervisor would speak to her in that tone of voice. It was rude and degrading. I told her I wouldn't keep her much longer, but to guide me to where the hygiene section was. Right before I walked away I heard a loud and rude male voice yell "The garden section is that way" and turned around to see her supervisor, "Shane" pointing her in another direction. This interaction happened within 13 minutes and it made me feel apologetic to the young lady and very frustrated and disappointed with the management at this Walmart in Denison, TX. This "supervisor" was lacking respect not only towards me but mainly towards this lovely employee. This is the first time in all the years I've been coming to my local Walmart that such an event has occurred. I can only imagine how the other employees are treated at this location.

Mary Legacy
from Toronto, ON
The store is disgusting in the day time when I go shopping.. the bathrooms isn't done the floor has spills on it

Carr
from Philadelphia, PA
Fedex and Walmart are horrible irresponsible delivery companies!
I have had UPS,Fedex and USPS deliver my packages to the wrong address,and even UPS and Fedex say they can't deliver my items because they were damaged in transit,and I have had damaged broken,ripped open packages delivered from Fedex! Months ago Ebay and Target kept saying on their sites that my order was delivered,but there was *nothing* outside my front or back door apartment building.I told them that I was telling them the truth and about a week later a maintenance man knocked on my door and said he had two packages for me that were delivered to the wrong building next door!
Walmart,Fedex,and Amazon.com delivery drivers have also delivered my items to the wrong building and took a picture of a blank wall of my out side apartment building so you can't even see what the if it's the wrong building #! A Walmart delivery person even took a picture of the wrong apartment on the first floor,and delivered my package there and I live on the third floor! Then someone left my package outside my apartment door many days later and thankfully I did get refunds sometimes .
I have complained to all of these stores and delivery carriers about this too. On Pissed Consumer,Hissing Kitty,Site Jabber,and Trust Pilot,UPS,Fedex,and USPS have only 1 star ratings, and 1000's of customer complaints,USPS got a 2 on a few of them.
Sometimes a nice neighbor or maybe another deliver person with these services leaves my package outside my apartment door many days or even about a week after I never received it when the carriers and stores I bought the items from said they were delivered.
Just the last 3 days Fedex kept saying 3 days in a row that they were going to deliver my package, a $0 dress from Walmart.com from about 10 in the morning until around three in the afternoon, then that changed and they claimed by the end of the day, this is now three days in a row they changed it to delayed and Pending! I even spoke with a Fedex customer service agent on Saturday the second day and he claimed they had too many packages the day before but he reassured me that I my package would be delivered by the end of the day, but I never got it on Sunday either! And now the item is out of stock too.On July 31, I finally got the dress.
And now the item is out of stock too a Walmart representative said he was giving me refunds for this and another recent order of 6 items that they claimed were delivered to me about a week ago but I never received them and the picture the delivery guy took you couldn't even see what building it was and there was no package visible in the picture and I called and told this to a Walmart customer service representative and he said yeah you can't see what building number it is and there is no package in the picture either.
This customer service agent was nice and said they often have complained about these Fedex drivers not doing their jobs right, I told I have too including complaing to Walmart,and he said but why would items from the store be delayed like this? And then he said that many times they don't have delivery drivers show up to do their job, I said yeah they don't have enough good help. He claimed he gave me a refund for both missing orders but when my items were refunded, it always showed this on Walmart's site where my orders are.
Another customer service agent I spoke to about this a few days later offered to give me a discount promocode but I said no because I was falsely accused in the past of often trying to get compensation and promocodes when I didn't ask for them I only spoke up about the bad service experiences I had, and most of the time they offered a justified refund. This customer service agent said that I could wait until August 1 for my order to be delivered, so I said ok, their website days later still says delayed order.
Well on July 31,I ordered 3 packages of sugar free cookies and 2 minutes later the site said my items were canceled falsely accusing me after carefully reviewing my account of a series of return violations and also said while future orders from this account will also be canceled I'm always welcome to shop in store. I haven't been vaccinated for Covid yet, and I haven't been in a public place since March 2020,I also have a bad painful permanent lower back condition too so I can't carry or lift heavy bags or bend over. This is the second time Walmart wrongly unjustly flagged my account falsely accusing me of often asking for promocodes and compensation many months ago, a very nice customer service agent said they shouldn't have flagged your account and shouldn't have told you that, and he said he can see that I have been a good customer and have given them 1000's of dollars worth of business for over two years.
Even when I didn't receive an item or two, I was always honest and told customer service that I received all of the other items in the order, I even called them and told them to charge me if after many days I didn't receive an item,and then sometimes eventually got it, there were times when they delivered it to the wrong address but then either another delivery person or a kind neighbor put it outside my third floor apartment door. I have had items not only missing in my Walmart grocery orders,but wrong items I never even ordered in the delivery order! I have to wait until August 2 for the Walmart customer Account review department's response about this very unfair situation.

Kenneth E Payne
from Bakersfield, CA
I have had 3 of 4 deliveries not being received. Although tracking implies that they were delivered. I attempted to resolve the problem but I get a computer asking for the 15 digit number (which I do not have). I get no further to a resolution that being frustrated with the 15 digit loop back. It seems as though the problem lies in the vendors that are providing a service (?) to Walmart customers. I have had zero problems with Walmart store shipping items.
My personal problem is that I am deaf. I do have a Cochlear Implant that allows me to understand most things. But, telephone conversation is not one of them. The phone is useless to me for voice. I do communicate using text messaging 99% of the time. Therefore, in addition to my email address, my phone may be used contacted using text.
I realize that I have only submitted minimal specifics. But my concern is real. Being hearing impaired as well as mobility impaired I rely on deliveries almost exclusively in the last few years.
Sincerely,
Kenneth E. Payne
PO Box 667

William Fritsch
from Burlington, VT
I purchased a car battery online on 7/28/2023, picked it up at curbside a 8am on 7/30/2023. Walked it over to Auto Center and they noticed the battery the store gave me was a little older than what they had in stock, so they offered to exchange it for me. They were unable to return the battery I picked up just 20 minutes earlier and told me it needed time to "work its way through the system". I was assured by "Donna" in Customer Service that I would have no problems returning my first battery, but since my car was in the Auto Center repair bay, I decided to buy the identical battery from the Auto Center, and come back later to return the first battery. When the Auto Center attempted to install the battery, it did not fit (despite being selected by the online system and verified by the Auto Center mechanic). Now I owned two batteries that did not fit my car. The Auto Center returned the second battery, used it to pay for all of a better fitting and less expensive battery, and gave me around $40 cash for the difference. Later, after the better fitting battery was installed, I attempted to return the first battery; but, Donna in Customer Service said I had to call Walmart Online because she cannot return my initial curbside battery. I called Walmart.Com and they said my account had been deactivated for "return violations" and was told I could not return anything with a deactivated account. I was told that the account would not be activated and I was to "take it up with your bank". W-O-W

Ellen Wolfson
from Philadelphia, PA
I placed an online order for delivery. Delivery was scheduled for 3-4 pm today, July 23. I was notified that the delivery was going to be delayed 2 hours. At 7:30 pm when the order was 3 1/2 hours late, I called customer service. The agent said that they were "looking for a driver to deliver my order". I also was given the option to cancel the order.
I canceled the order.

Tyra A Wesley
from Goose Creek, SC
I place curbside orders weekly usually don't complain I got home with my order my bread was crushed my pork chops had awful smell drove bac to walmart realizing I was charged for 2 pork chops only got one and it smelled. n customer service didn't wanna refund both after I said multiple times I only received 1. The CSR behind counter was jus rude actin like I'm trying to steal some dam smelly pork chops I spent $300 a week jus on food but she acted like I was trying to get them for $7. Finally after telling me policy is to get my money by 1800 walmart I was vesude myself but the manager ended up refunding me $16.00 but I was made to feel like a criminal all the while who answers for the smelly meat that if I was elderly cudve eaten n become deathly ill. N thr rude woman behind the counter that was sure not to flip her name tag over so I cud c her name. I am a Regustered Nurse n I wud never treat parient in manner I was treated shame on all of u and I have shopped at walmart for lots of years n I don't think I wanna go there anymore I am disappointed in the behavior but am appreciative the the team leader cud c past the policy and the fact that it wasn't fair or mayb sees im in there all the time said she refunded by card $16. I wasn't even gonna file this but my husband opened his tomatoes granites they were bought yesterday and the r rotten so wtf????

Tracy mccoy
from Pomona, CA
I was in your store I paid for my stuff let the guy at the door see my receipt that I paid for it and then he runs out of the store pushes me take my basket excuse me of not paying for it hurt my arm I don't understand because he had no right to catch my basket and push me out of the way after I paid for myself it was on the receipt that their problem what he's saying but I know that I was in the right and I want to sue for that person during that I got his name

Thomas bortel
from Cincinnati, OH
My complaint is with the pharmacy in Fremont Ohio almost every time I go to pick up scraps after receiving a text that they are ready just to get there and no scrips have to talk to pharmacist one time I had to go back to window 3 times and today I called in for pain patches they checked and had them in stock for the rest of the order from last week I was told they would be ready now I get a text they are out and have order what great customer service

Charles Mullenix
from Los Angeles, CA
I recently placed an online order on the evening of Friday July 14,2023 to be delivered to my son at the Jacksonville job Corp on Saturday morning july16,2023. The order I placed was over a $200 order with multiple items my son needed to fly out to his advanced training for the job Corp. The order was never delivered and after spending over four hours on the phone with customer service my order had to be canceled due to the Walmart located at 12100 Lem Turner Rd. Jacksonville, FL 32218 not being able to deliver my order. The customer service department associate I spoke to on the 16th at 11:30 am assured me she had fixed the problem and my order would be delivered at 1pm. She lied to me and after waiting 3 hours for the order to be delivered I again contacted customer service and spoke to a supervisor who guaranteed me the would have the order delivered by 8pm on the 16. He also lied to me as this never happened. I called customer service again four the 6th time that day and spoke to another supervisor who said his name was Jeffrey and I was informed the order could not be delivered and I would receive a refund on the order. My son needed several items on this order for him to be able to fly to his advanced training program. The order I placed 36 hours prior now has been cancelled and my son will not receive his items. I have had several issues with this Walmart and their delivery service. The same Walmart ruined my son's birthday in June due to their failure to deliver an order I had placed which contained items including a cake for his birthday. I will no longer be shopping at Walmart. The customer service department is a joke where the associates will blatantly lie to you and can't solve a simple delivery issue

Heather White
from Vernal, UT
I tried to make a $860.00 online purchase. The card didn't have quite enough, when it did have enough. I tried the purchase 2 more times. They Walmart froze my account. So my friend tried to make the purchase for me, from his completely independent account. It went through, but then the order was cancelled anyway. This is the second time, I have gone through this with Walmart. I'm not going to beg Walmart to take my money. I am made the same purchases from Amazon, and saved $60.00 without the hassle. Maybe customer service is no longer your forte, if it ever was.

Bernard
from Pittsburgh, PA
I needed one tire for my truck was at wall mart it was soposed to be 189 plus mounting and balance I was tex on three occasions tire was at store after 3 try's had to order again they called today sed my tire was there in the two hours waiting nobody told me that tire didn't Mach I go to pay haven't seen truck yet the price of tire went to 250 pluse minting balance it came to 285 dollars I complain didn't do no good so I go out to truck getting ready to get in I glance at tire it didn't look right they had put on a tire that didn't look nothing like my other 3 tires right then I went back in side told manager what they where trying to do I guess he was in it to I was so mad by then I ask for my money back first thing come out of his mouth was we can't give you money back finally they gave money back less 2 dollars but if Walmart needs it keep it one experience I won't forget and also broke my center cap put in the floorboard of my truck never saying a word I'll never buy a tire from Walmart again Bernard Slater

Julio Dominguez
from Chicago, IL
Walmart didn't want to fix my heater wheels I have 2 year warranty I'm disabled person

The manager for the on line pick up is already pretty rude and was really rude to me several times now and I haven't done anything wrong. I deliver Walmart orders for 2 years now and I feel like he is trying to get anyone he feels like in trouble for one minor thing. It needs to stop and he brought to attention.

Deborah Lynn Brown
from Sebastian, FL
I don't have a complaint, I just want to know what to do.
I was hired for online Orders at the Sebastian Florida store 1068
I got hired and then my father passed away, I had to go down to Fort Lauderdale for couple months to burry my father, deal with his documents, deal with cleaning up his home to sell it.
I got sick through all this and I have proof of all the tests they did on me and my liver is inflamed and I have to eat no greasy foods. .
I would really like my job back, I was only working for one day, I text our hiring Manager Greg to let him know what was happening with me.
I understand they hired me and I just had things happen out of my control.
Can I please get a phone call back please.
772-300-5901
Deborah Brown

Sandra breschi
from San Pablo, CA
Walmart kept canceling food orders on purpose took my money for a membership and was not able to deliver food to my area automatically switching it to a Vallejo spot to pick up instead of delivery near me. I just got out the hospital with 300 stitches for my hysterectomy I've been sleeping on the floor they took money off my $500 gift card and they are not putting it back. They also took over $400 from my credit card ending in 7421 for a black couch which they had canceled. On purpose holding up the money. When we know they weren't supposed to take the money till it was shipped. I spoke to the manager and right away. He said he stop the cancellation and it would still be sent. That is not the case I called back every day they have been giving me serious problems keeping my money not giving it back. We know they have it in the bank in the collecting interest on it. My financial institution told me the $400 for the couch was not put in my account yet And it is being held strictly by Walmart spoke to them every day they're very rude. They are shrewd Ponzi scammers, but I need the money back today so I can purchase another couch to make it right they need to sit in the couch really and make up the difference their self now because they canceled it in the chat on the support system and calling back the manager every day for two days saying that it was not canceled and he stopped it and it would still be sent but that's not the case . My email is. sandrabreschi27@gmail.com they are supposed to put a cancellation food order knowing that I could not go to Vallejo when I live here near hilltop Richmond California taking the money for membership and they had no openings to pick up their or deliver food but they kept taking the order and delivering it at and canceling it not being able to delivered or anything sending me all around different places Palo Alto, Vallejo, and I told him 50 times I cannot pick up the food. They still have not put the money on the gift card or my debit card. There is to order numbers one order number is , 200011110251100. The other order order number is for a black couch. 20001102228132733, or 2233. Sandra breschi 5104784319 these purchases were bought with half of my $500 gift card and the rest of my DirectExpress debit card 400 and something dollars was the difference for the black couch. This was not canceled by me you could see and check the records. I have called the manager and the store manager twice sent me an email saying he stopped the cancellation and it would be delivered but that was not the case and they giving me the runaround. They're very rude they lie they hung up on me several times, and this was the Walmart on hilltop in Richmond California online orders. They are very terrible. Terrible customer service terrible terrible manager terrible everything missing out now on I missed out on all the Fourth of July sales and didn't get the couch because we know they're holding that money in the bank on interest trying to lie saying it's my institution but it is not. I have had this bank account for 30 years and they never have lied. They have not been anything posted or anything close to being posted to that account , they're not supposed to take any money unless something ships but they did only a half hour after it was ordered speaking to the chat and your support of the website which is really skanky they had canceled it and I was only asking a question automatically canceling it, and then holding my money like yeah really really really honest thieves right this is terrible and I'm gonna take this that copied all this I am sending it to every single person I could send it to because it's wrong what they have done I don't and I want conversation sleeping on the floor with 300 stitches in my stomach. Yeah because there's a screwup canceling most of all everything food order after food order knowing that it wasn't gonna be able to be picked up or delivered from the Richmond hilltop area because I live in San Pablo my address is2712 delcamino ave San Pablo Calif 94806 very terrible service

Micheal Schneider
from High Point Subdivision, TN
I am a spark driver and the store I am filing about is the Walmart in Winchester, TN; store #735. I was informed by an employee there that I was not allowed to smoke in my personal vehicle due to a policy that they have. I then contacted the customer service line and was informed that no such policy exists. I was told that complaints of the smell of smoke could be made; but as far as a policy that says I cannot smoke in my car before, after, or while delivering did not exist. Then on 07/01/2023 at about 6:20 p.m., this store informed me that they would no longer be giving me any deliveries due to me being seen smoking in my car. Spark nor Walmart has shown any policy stating that I cannot smoke in my vehicle; therefore, I request that someone do something about this situation before legal action is taken. I believe the store is harassing me due to my fiance being fired recently. I had nothing to do with her getting fired but it's obvious they have a problem with me delivering for them for some reason. I say this because I've seen others smoking in there vehicles and noone has been reprimanded for it except myself. Thank you for your time and hopefully your help.

Joanne Serrano
from Ashburn, VA
I went yo Walmart today to get a money order, after standing in line for 20 minutes I was told the machine was down. I suggested to the manager that maybe it s a good idea to put up a sign that states the money order machine is down. He said no because the customers will it off. REALLY!

I'm an associate with Walmart 536. I'm an overnight stocker. I have a complaint on my shift leader. I strongly feel I'm being discriminated by him. He almost terminated me. By falsely Saying I can't do my job.
He lied about how many cases I had to stick.
I was stocking A8/9. He says I only had to carts of cargo to stock.
That's not true. I also had 3 pallets and a additional cart with 3'tots full of spices. Not only that I was called upon to go unload a truck that came in. That took time away from stocking.
He doesn't consider that.
He also lied saying I'm all over the place. Not at my work station.
I'm at my work station the entire time I'm on the clock working my tail off.
He also comes to my aisle and criticize and ridicule me , constantly.
While, he doesn't do that to nobody else.
I feel, he's singled me out because of my ethnicity.
He's only hateful and ugly to me. I feel so discriminated. What do I do? What can I do?

Anthony Turner
from Indianapolis, IN
Walmart store, location Indianapolis Indiana, Washington st branch. I am handicap, this store only has only 1 operating handicap cart out of 6, no lie !
And it has been this way for 7 months! I have to shop across the street at Kroger, because I need a handicap cart. The Money service center opens when they get ready, depending on when the only 1 trained employee feels like coming to work! Maybe it's 9am or 11am, and sometimes she doesn't even come in at all !
I believe the best results are to contact agencies for the handicap and stage a protest against this branch, because they simply do not care about the handicapped or the customers.
Maybe I should contact channel 11 Action news and see if they will investigate and broadcast their findings.

Yvonne Williams
from Hemet, CA
I would like to start off by saying that I am a disabled person and I purchase a lot of my stuff all mine to Walmart and Instacart with that being said and done. I purchased a portable washer because I live upstairs and it's very hard for me to use the apartment washer and dryer so me and then I'm on disability I saved up for months to purchase a portable washer once I was able to purchase this portable washer. I chose to go on Walmart website which I order on there every day anyway or every other day around 5 to 6 months ago needless to say my washer don't work to stop working on me I Contacts Walmart because if anybody ever shop online Walmart, don't give you a receipt everything's on your phone so I contact him and they provide me the sellers phone number because it's been it's been 90 days so they can't return it I need to contact the seller. My shoe is been well over 45 days. I have been trying to contact the seller double global Incorp the phone number that Walmart has provided me know whenever answers leave a message and left several messages. The email address does post it on Walmarts website say contact the seller know what has responded to my emails. They also have a message page on their website that you can leave a message for the seller which I have done on numerous occasions no one has contacted me back, so what do I do I contact Walmart they tell me they're sorry but there's nothing they can do for me. I said bro you're selling his corporation product and you can't contact him. I'm sure I'm not the only one that's going through this problem but I've but what I'm saying to you , Walmart has it on their website we make returns and replacements easy for our customers, so why am I running around a disabled person like a chicken with my neck cut off feeling victimize finally I had it up to here today I said no more Bou I'm gonna call customer service and I'm going to speak to a supervisor needless to say the supervisor comes on the line. I explained my whole situation to her like I'm explaining it to you only to have her to wait a few minutes on the line and come back and say ma'am the invite is over 90 days we can't help you. I said you can contact the seller I'm sorry man I said, what's your name Melody do you know you would think that a supervisor would be able to do something different need to repeat the return policy back to you do you need a supervisor I don't need a supervisor to tell me this in past 90 days I need a supervisor to assist me and help me while I'm still under warranty have a product that they chose to sell inside their store. This is a response on the complaint. Thank you.

Stacy Jordan
from Edina, MN
Good afternoon my name is Stacy Jordan filing a claim about I ordered to be delivered to my home I recently got released from a rehabilitation center, which I was hospitalized since 14 May and was put on a a Renal diet so I need to order certain kinds of food and I'm kind of tired explaining myself because I have multiple times. I spent a lot of time on hold with the customer service reps who kept on transfer me. They didn't want to assist me. Yes, they did provide me promo codes but I still feel like I deserve more because it wasn't from my end that they made a mistake. They need to take ownership for what they did and provide me with some pop eustachian I am going to attach these emails or text messages I mean so you can see for yourself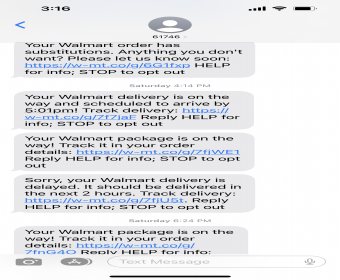 Dennis Baker
from Syracuse, NY
Fanta zero orange 2 liter bottle has been removed from Walmart stores and I have been asking why but can't get an answer from corporate support or from the store management. I have not been able to speak with anyone about it. The Fanta Orange regular has not been removed.i would like to see it brought back into Walmart. . Thanks.

Larry E Barnes
from Washington, DC
Place an order that the system said would be fulfilled the next day, Walmart system said the order was in stock. Shortly afterwards received a message that the order was delayed. Upon talking to a unhelpful customer service representative he said there was not enough stock just fill my order. Deceptive practice, Walmart took my money and did not deliver the merchandise as promised.

Richard R Tingle
from Snellville, GA
This concerns the Walmart on North Decatur in Decatur Georgia. My wife and I attempted to shop there this morning at 8:15 am; she was to get something from the pharmacy while I was to get some fruit. In the produce department, a stock person was restocking the bananas by tossing them into the bin. I told him he was bruising every banana in the bin, making them unfit to eat. He got smart with me; I told him to save it for the Store Manager. I went to find the Store Manager, but I was told he was not in yet, so I ask for an assistant manager... turns out there were no managers in the store at all. My wife shows up, physically shaken... a man had been stalking her in the store demanding money; she carries no money, just plastic. She tried to find a manager to get rid of the stalker but could find none. I ask her to point the stalker out to me, but she was so shaken that she just wanted to leave the store, which we did. We will never return to that store or any other Walmart store; I have called my broker and instructed him to sell all my Walmart stock and never buy any again. As far as we are concerned, Walmart can go bankrupt.

rita M seese
from Cleveland, OH
on day 3 of wwaiting for my grocery order to be delivered and keep getting stories about when and where it is

Cassy
from Fort Worth, TX
I call Walmart .com I put in a order of two cans of Oliver oil with coconut oil never got the order
When I call last Monday person told me it be in June 12 it way past
Walmart .com just lost all my business this is not the way you do good business

Chris moore
from Fayetteville, AR
I'm 60 years old yet your carding me and making me give you my birthday this is not only going to slow down your store service it's also going to anger many many customers, including me.. you have a sign on the door that says they won't charge you unless you look under 40 you need to take that sign down and you need to really seriously consider changing the that policy to 40 and sticking with it instead of carding people 60 and 80 years old.. your managers being stupid doing that

Sandeep
from Las Vegas, NV
Nicholas my delivery driver was rude I had to go out to meet him and he had an attitude because he couldn't find the apartment he should be fired or written up not my fault he's incompetent and can't follow directions

Lisa
from San Antonio, TX
I have CHF and I have diabetes. June the 8 around 3 or 4 o'clock I went to customer service store number 3279 for a chair to set, and Matthew, Michelle was so kind to tell me we don't have any chairs here. That when I ask them do you mind getting me a chair. Michelle from customer service said we are not going to do that. An manager came to the customer service and told Michael to get me a chair. That he did. I took pictures of the store, and Michelle contacted an coach who was very unladylike. Andrea she can stared to a very unladylike voice. It was at this moment I was fearful of my life. Though of Emmett Till. Yes I was unsure of what she may do. So I left the store. Please understand people like her could of done anything.

Tanya Coley
from Pascagoula, MS
When going there last night to buy food ,we had a lot in the basket to buy ,well they had little bitty signs on the doors that we did not see when we walked in the door .but we wait in line and get to the register to find out they are not taking cash at all!!! What they should maybe have someone telling people that as they come in the door .like maybe the people that check our receipts at the door could have said hey I'm sorry if you are paying with cash you won't be able to at this store !! Something!! No lady since I can only see out of.one eye ,I didn't see your little bitty piece of paper on the door !! Just ridiculous.!!

Karen S Hagaman
from Columbus, OH
I ordered a Dyson Animal vacuum and received a Dyson UP13 Ball Multiple Floor Origin Vacuum EX-TV instead. All of the paperwork was changed and does not reflect the substitutiion. I am furious. I have never had anything like this occur before but it will effect my purchases in the future.

Beverly Coker
from Hattiesburg, MS
Was waiting to be checked out at register in automotive department, when the black girl was on the phone with a customer. We waited and waited and the girl didn't acknowledge us. Another black girl walked behind the counter. She started talking to the other girl on the phone. We still stood there and neither one acknowledged we were there! I got tired of being ignored and asked one of them to ring us up. Well shoot me down with a gun, I mean, the reaction from them were as if I'd committed some sort of CRIME!!! We ended up going up front to pay for our automotive things! Neither one of these two black girls cared the least bit about us, the customer! These two should be repremanded accordingly!

Mook Love
from Palm Bay, FL
Why are the Aborigines getting taxed when we come into any Walmart store we are American Indians and the store is sitting on our land you all should be paying us for the hardship you have put us through not honoring the treaty of middle plantation and doing fraud on our land we should be able to walk in Walmart and use our tribal ids to get food free of charge but instead you all want to tax us in the treaty of middle plantation it says Indians are not tax so the only document that gave you all power to do that was the doctrine of discovery and that is gone now so the state has no power to tell us what we can't do and you all neither so you might as well start honoring us the american indians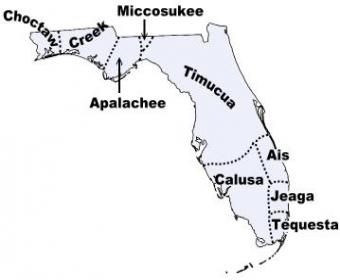 Valerie Fields
from Dallas, TX
Walmart used to be my favorite store but now it's not. They don't answer their complaints and they have poor customer service. I am going to pick another favorite store which I will not say but I have already started doing a lot of my business with them. I am going to pay off my Walmart card and close it. It's sad but I'm not going to continue dealing with such poor service.

Brenda Lattimore
from Houston, TX
On Monday May 22, 203 I schedule via your online service to have (4) new tire installed on my vehicle at 3pm. The service was scheduled and confirmed via you online system. I show up to the store 15 minutes early and was told there was not anyone there to services me. The technician called in sick and of the three other gentlemen there none were skilled in changing tires.
My frustration is why did the system not send me a cancellation or ask me to reschedule. The is a flawed system and I still did not get an apology; just "It happens". if you are going to use the system to schedule; please be proficient enough to have the system or a person call to cancel the service. I drove 25 miles on a bad tire with hopes of getting new tires.
VERY DISAPPOINTED
Brenda M. Lattimore
8327217274

John Frederick
from Gilmer, TX
I just got home from Walmart and checked my receipt. Here again I paid for something I did not get. I get so tired of this. Groceries are high enough and to pay for something I didn't get I am disgusted. Maybe I need to find a different store because this happens a lot. Very disappointed with this store.

Bradford Leete
from Fort Lauderdale, FL
Today I visited your Walmart Store #02962 in Pompano Beach, Fl to do some grocery shopping which I often do every week. Before shopping I attempted to exchange a can of Great Value pickled beets that I had purchased by mistake this past January. I wanted to exchange it for a can of non-pickled beets. I did not have a receipt but the store was able to pull up the purchase date by using the same credit card that I had used when I shopped in January. The clerk was not able to exchange my can of beets and she explained to me the store's policy. I then asked to speak to the manager and I then spoke with your manager Babbett and she was unable to help me and she also told me the store's policy that has been in effect since the pandemic. Apparently I can not exchange an item without a receipt and after the 90 window. She would allow me to exchange the beets for another exact can of beets but not for a can of non-pickled beets. There was nothing wrong with the can of beets and there was no reason why the can could not go back on the store shelf for another customer to purchase it. To not be able to exchange this can of beets makes absolutely no sense to me, does it to you?
I come from a background of being in the customer service field when I worked as a Flight Attendant for American Airlines before I retired 10 years ago after working for 37 years at American Airlines. I therefore know good customer service when I experience it and I also know when the customer service falls short which is the case that I experienced today at your Walmart store. I asked your manager Babbett to please override the cash register system by allowing me to exchange the can of beets. She explained to me that she was unable to override the system which astonished me. In my expert opinion Walmart would be better served by allowing a customer to exchange an unspoiled item or at least offer a store credit and in doing so would offer good will and excellent customer service. Therefore the customer remains happy and Walmart loses nothing and its a win, win situation for everybody involved and everyone is happy, quite simple. How easy is that?
I have been doing much of my grocery shopping at your store for years and I will probably continue to do so, however my experience at your store today left me with a sour taste in my mouth, no pun intended and it leaves me with some reservation. I hope that someone will reply to my complaint and I will be interested to know your response. Thank you.
Sincerely,
Bradford W Leete III

James Rocha
from Manteca, CA
I purchased a bike through walmart.com $120 also bought $80 assembly fee. When I received the bike we got the wrong pedals front fender was dented. Also no seven instructions and no parts list. The person who had to assemble that had no instructions so they did the best they could Which left the bike in complete and not usable and I still have to pay the $80 I'm asking for is my $80 back and half off the bike price comes to $110 comes to a grand total of $190 refund it back to my original payment. I will keep the bike as is please respond as soon as possible order ID 200011020470775 thank you James Rocha

Jim Johnson
from Columbus, OH
Rude customer management,no cashiers,poor customer service store in bainbrige ohio

Tiwhana Morris
from College Station, TX
I've send my money from social security office asap get h and h pawn money back to me my credit card is hacked from everyone in the world GALVESTON TEXAS CITY to I no for sure open my card ending in 6091 616 open !!!!air plans are flying in surance came threw

SABRINA S BOLTS
from Arlington, TX
Ordered two tires twice and both times only one arrived at the store. I use my car for work so I missed a week of work due to yall negligence. Here it is and I reorder trying to give yall a chance and the store once again only has one tire wtf. I am thinking about sueing for lost of wages and emotional distress because there was no updates literally had to waste gas to go to the store and check only for one to be there. Now I have to cancel the order and just buy them from Discount tire. Walmart is sorry and a terrible company.

PATRICIA Travis
from Columbus, OH
On March 18th 2023 at 3:31 in the afternoon. My disabled daughter were shopping at your store thats inhillard/rome on trabue right outside of Columbus. we had to go thru a self-checkout, where we spent just over 300.00. At this time we had an item that had a security lock on it . Which an employee took off for us. Now my daughter is 30 years old and in a wheelchair. As we are leaving ,: I told my daughter to meet me at the door. so i went to get the car, and when i got to the doors to meet her she is not there. SO I of course went in to find her. I come around the corner and my daughter is crying!!! like i said she is very sick. Well she was surrounded by about 4-5 employees. They had blocked my daughter from LEAVING' She did not have the recipt. I had it. SO my daughter is totally embarassed by this , because they were trying to take our purchasefrom her and they were telling her, TO DRIVE THE WHEELCHAIR OUT INTO THE PARKING LOT TO LOOK FOR ME ARE YOU f--KING KIDDING ME . i WILL NOT SHOW MY RECIPT , 1)I HAD TO DO YOUR JOB. 2) THE EMPLOYEES THAT WATCH SAID NOTHING AND THEY WERE THE ONES WHICH TOOK OFF THE SECURITY TAG! But I can not believe that this store would let this happen. especially trying to make my daughter go look for me, and then detained her, trying to take our purchases from her and her and I both totally embaresad !Everybody was looking, watching which made my daughter more humiliated and cried harder. a\All anybody did was get more wal-mart employees. And tes i know nothing will become of this. We talked to somebody non the 18th on the phone and have never heard one thing back from anybody at wal-marts. And I will never show my recipt at your stores. And this is not the first time something like this has happened to me. You could go back , to the same store on March 27, 2020 at 5:41 pm with pouring rain outside. I talked to 6 employees at your store and all they did was play games. aI would call to tell what happened and each time we would get disconnected and i would call back, I would give then the name of the person I was talking to. I was always told that they didnt have a manager with that name or no employee was there at the time with that name, after having to check myself out , the person working self check out ripped my cart out of my hands. And he started to rering my stuff. But he refused to tell me why he was doing this. Lets not forget this is on March 27, 2020 at5:41 on a FRIDAY night and of course the store was packed. . So your worker wont answer me , and looking around EVERYBODY IS WATCHING> SO NOW THESE PEOPLE THINK IM A THIEF!! Did i even get an Hey I.m sorry or nothing. Nothing was done the first time, but i will never show you a recipet again , I will still go there but not buy anything and if anybody does touch me, my daughter ,,my cart . you can call the cops and they can stop me . Otherwise i>m. sure you will read it on the news.! Like I said , your not gonna do anything about this incident. you did nothing the first time, and this time will be the same,. You wecome to call me and discuss further. . I"ve been waiting since March 18 for some responce! My name is Patricia Travis or my address is 78 N. Terrace ave columbus, ohio 43204 I look forward to hearing from you Thank you very much.

Connie Naish
from Warsaw, IN
To refill a prescription on your new system take longer and is very annoying now. Put back the old system it worked better. Thank you!!!!

Sheila Adams
from Pine Bluff, AR
I was charged 2 times for my mem6once on May 7th and once in May 9th. I would like to get a refund and cancel my membership.

Nancy Warren
from DeFuniak Springs, FL
My checking account was charged $50 May 8
2023 through a direct debit . I did not authorize this, I did not order anything from Walmart. I did not buy anything .
I want my $50 dollars back and I will never buy anything from Walmart again, I have been calling 4 days and talking to people who work for Walmart and they have not helped me with anything!!!!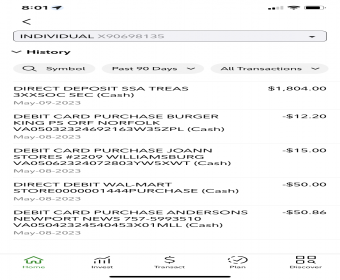 Kathryn Anson
from Cleveland, OK
The Cleveland Oklahoma walmart has only 1 tub of ice cream that is sugar free. I don't want Popsicles. With all the diabetics and obese people in the US you old think Walmart would consider healthier options besides everything in the ice cream section being full if sugar. Blue bunny has it. Doesn't have to be the high dollar 8$ a carton. Like we can afford that

Just when I thought Walmart customer service couldn't be worse, they prove me wrong. I had an issue with a $1500 delivery showing "1 piece" when I know for a fact it should have been two boxes. Walmart.com offered the typical scripted, might-as-well-be-AI responses that never answered my simple question regarding shipment facts. Believing that I was only getting half of an order, I contacted the third party shipper and the BBB. The shipping company wrote back on the next business day (after a weekend) to confirm that the two boxes were secured together as one "piece" on the pallet. Easy enough, problem resolved (and the delivery arrived as two boxes shrink-wrapped on one pallet, as stated by Estes Shipping). Fantastic!
Three days later, I started getting harassing messages from a Walmart CS employee named Barbara, claiming to be management. She repeatedly told be I was wrong about the two boxes in a belittling and confrontational tone. She intentionally called me by the wrong name and gender multiple times, even after being corrected. She has still been sending me petty emails in spite of my "cease contact" request. That awful employee created an issue out of nothing. There is no place to complain about these unprofessional harpies because there is no accountability or quality control within the Walmart Corporation. In fact, "Barbara" implies that she's a trainer.
This is just an FYI to note the companies to avoid. Walmart has reasonable prices and convenient locations, but it just isn't worth having to deal with their customer disservice.

Sharyl Hollingshead
from Oklahoma City, OK
I have received damaged product and is impossible to discuss with helpline as they do jot speak understandable English. I have chatted and I have emailed and I'm still not sure where when and how to rerun 84 pieces of damages delivered wet flooring when the boxes have fallen apart and I cannot upload any images because they aren't correct size

Angela Anderson
from Newark, NJ
I purchased some camping gear online for 171.00 I paid 10$ for express delivery from Walmart my order was supposed to arrive by 530 pm so I work through the week I don't spend much time with my children so I promised them to go camping on Cinco de mayo they were very excited until my order never showing up I called customer service and they said they cancelled my order due to suspicious activity which was a lie because I ordered the previous day and I had no problems so I couldn't go on my camping trip so I had to tell my children the bad news this is the second time Walmart has done this to our family the first time they brought ice cream and the fruit punch for my daughters 7 th bday but forgot the cake and I had a house full of children waiting to sing happy bday to my daughter without a cake who does that? So I had to reorder from a different store because they were out of stock and didn't even have the decency to email me or call me or text me and I would like to be compensated for these incidents this is just bad customer experiences that they have caused me and they won't even agree to accommodate me for any inconvenience that this caused me!

You have a maintenance employee using Walmarts time and money% he has two beers at lunch mostly every day, after lunch if able takes a nap in van.pulls the plug in dash board to keep same location.you are paying him great money to drink and drive in company vehicle and take naps.he's at Pasadena or Salisbury md..Kevin Richard harns is his name,he's taking advantage of Walmart.if you survey him you will see.concerned Walmart citizens

James Dennis
from Rochester, IN
My name is James Dennis and I'm trying to stay calm and provide you with this grievance and hopefully immediate action. About 7 weeks ago I arrived at the Auto & Tires services at the 6727 Raleigh Lagrange Road, Memphis, TN 38134 for a repair of a slow leak in my tire Which I had a warranty on. All the Tires on my 2018 Nissan Sentra were bought and installed there since 2019. Besides the long wait I was told by the certified mechanic that my wheel sensor was inadvertently knocked off and they would order one and replace it. This is why they could not reset the error icon on my dashboard without the part. Stephen Edwards gave me his phone number so about 8 days later I texted him and he replied ( yeah Mr. James I'll let them know when you are on the way. I replied Saturday 7AM. April 9th. ) I arrive that morning with at which point worrying about the integrity of the back tires I asked them to install two new tires and rotate them for this upcoming trip on Mother's Day. By now Stephen had moved out of State. Now they only had unskilled or non-certified workers that had no idea how to Reset the sensor if it had arrived. Which it didn't. I talked to the Service manager for the Tire center which she replied that I have no record of an order for the sensor. Since Steepen was gone and after collaboration with her employees, she agreed to fill out a claim after I went to AutoZone to get a receipt showing the cost of the item. She gave me the money and I went and purchased the part. The installation was set up for that Saturday and the tech installed the part but as he said did not know how to reset the sensor. Let me catch my breath. Why would you install a sensor if you cannot correct the error. I went home dejected and because I have faith like patience went back to the store Monday the following week and talked to the store manager who I have brushed by quite a few times, and he knew my dilemma. So, he sent me to a site that had the tool and the Certified mechanic to complete the task. I felt relieved that finally justification was on the horizon. However, after arriving there showing where the sensor was installed was not in his system. So, I told him I'll go back and ask the tech which tire. Once I arrived there, he replied I can't remember. It was only 2 days ago. It seems in this story line no one want's to be accountable.
Now enter the certified tech at the Germantown/Stage Road store who after checking all the tires he conveys to me that two of the sensors on the passenger side are offline and there was nothing he could do. I asked him for a written explanation, yet he explained have them call Ladarius. Now my frustrations levels are peaking. Now he is telling me 2 more sensors are out probably from the two new tires purchased. I go back to the Raleigh store to speak to the store manager and the service manager.. They both are overwhelmed and lets me know to come back Saturday at 7am to get this resolved. I arrive promptly at 7am and meets the store manager on my way to the tires center. Also, he is talking with I found out the new Certified tech.. He finally got to me, and I rehashed the story which he replied He cannot authorize anything until his service mgr. arrive at 11AM. Still patient and calm I stop at the Firestone Tires to get a paper receipt of what it would cost to Fix the situation that the unskilled techs caused. Let me get my breath again.
Sometime after 11:30 we all get together to Figure out who has liability. I drove in with all my sensors working and after the techs fixing a flat and knocking the sensor off and the installation of two new tires, I'm the guilty party. This has become unbelievable. No accountability. We all huddled around my car with the tool Derrick had to check the wheel sensors and one of the back tires was flattening out. This was an insult to my peace. Which I explained to both if the sensors were installed that technology would have given me a warning. Which the tech replied don't you walk around your car to check your tires. He may have been right yet at this age of high tech so that customer service dagger really infuriated me. Now I must wait in line to get my flat fixed which took 3 hours and the plan they came up to fix the situation was to order the two sensors and complete the repair as soon as they arrive, Sounds familiar? This was supposedly done on the 22nd. I texted Derrick Thursday April 27th they had not arrived. Which I replied maybe you should buy them from AutoZone
So, we can wrap this up this weekend. Sunday, I went by the store the service manager was not there and the certified tech was on lunch. I texted him and asked for a timetable. He replied this was not a time set delivery of the sensors.
I have Three documents in my attachments. $16 for fixing a flat for which and still do have a warranty on the tire. Truly unfair. A receipt for Firestone to repair the sensors and correct the error. I'm afraid to have them find something that also needs repair. The last document is from the dealership which always cost more ( and that price is for 1 sensor and $58 for labor per sensor ) but at this point thru all the aggravation I've been through and in case something else needs refining. It may be the best route to go. I was going to turn this over to the http://www.consumerfinance.gov/.. Hopefully, we can get this resolved ASAP.
I am a customer who loves Walmart and have spent quite a lot over the years. I would prefer to have one of the Motor agencies repair my vehicle. Yet being humble however if we can get this completed before Mother's Day weekend that would give me much joy.
Thank you,
James Dennis
I will send the PDFs for pricing when you reply.

Tom Sauther
from Spokane Valley, WA
I waited over 20 minutes for an associate to unlock a case to get a 4 dollar bicycle inner tube. 20 minutes! The CSM knew i was in need of help and after she gave an associate the wrong key, I never heard or saw her again. It wasn't until the "toy department" associate finished their lunch that I received the 45 seconds of customer service I needed. The call buttons did absolutely nothing, but several employees said they do alert "somewhere". I spoke with two other associates, each saying they can't help, then walked off. I asked one of them to get ahold of the manager, he said "sure".... I then watched him go right back to restocking items. Thus was an absolute customer service nightmare at the spokane valley store on the 15000 block of mission. Do better walmart, that was embarrassing for you.

Gary Turner
from Hemet, CA
I get my Modafinil (controlled sub.) at Walmart. They are constantly out of stock, causing me to miss 2,3 sometimes 4 days, which causes me much discomfort and stress. They never offer to check other stores which might have it in stock. My last refill, they only filled 60 out of 90 tablets, and now they tell me they can't give me the rest until May 15 (it's now April 29!) These tablets are part of my prescription I picked up on April 25! So they had to order more, they've had 4 weekdays to do this, and STILL haven't gotten them in. If Walmart is going to be in the pharmacy business, they should learn how to do it right. Nobody's perfect, but I'm 1 person; if this happens this often to me, how many other people are getting this kind of mediocre treatment? People need their medication, and Walmart is dropping the ball big time.

john rojas
from Woodridge, IL
I would like to give my experience NO STAR bc of horrible customer service at store #02215 receipt time 1213pm. I went to the deli and a older white man walk by and a black/hispanic lady never acknowledge me either. I rang the deli bell but nobody came out so I left (again no one helped me or even acknowledged me). After I did my shopping I went back to the deli and again the same black/hispanic lady was there and again to acknowledgement. I ring the deli bell again several times and no one came out to help me. I saw some people in produce and ask them is there anyone in deli and they said yes and pointed to the lady but I said no one is saying anything from the deli so I just left and went to Meijer for the deli meat. When I got home I called that specific walmart to talk to management and the operator sent me to talk but the phone just rang with no answer. Then I called back and ask the operator her name and she put me on hold, no name was given, the phone just rang again. How do you complain about poor customer service when you cant even get any names to report the CRAMPY, SHITTY customer service!!!
str#02215, op#009001, te#01, tr#07531 that is the info from my receipt.

Flora A DuBose
from Camden, SC
My daughter took her car in for an oil change at Walmart here in Camden South Carolina. The auto service department did not change her oil correctly causing the oil to leak and spill over the engine of the car. We had to have the car towed to a mechanic, and was told her car needs a engine due to the oil spill
. Between the both of us. We have been holding on the Corporate phone line for 5 hours. I will be seeking legal action.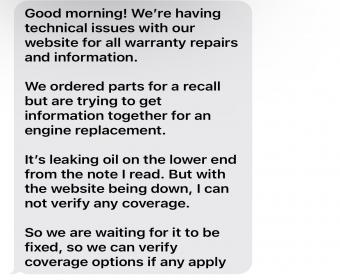 Ralph Barker
from Everett, WA
I bought a birthday gift for my daughter a Asus Chromebook. I bought it in Everett Washington on Highway 99. The store was closing permanently. She opened it up for her birthday and it did not work at all. Not even light up. I called another location to return it, and they said they couldn't help me that it Hass to be returned at the store it was purchased from, how am I to do that? Walmart needs to honor returns. I have the receipt, but it seems no one wants to help. I find a disappointing, especially on my daughters birthday for this to happen and have her be upset and crying. This is not fair to her. Please get back to me in a very timely manner, so this can get resolved.

Erin Bingham
from Ogden, UT
My 12 packs have all had 1 or 2 flat sodas in them. I bought 4 and each one had at least 1 flat can of soda

Ekash Kumar
from Newton, MA

Paula Wolfe
from Leesville, LA
After seeing my car in the same location for right over an hour, I went to the service desk. She told me they had an issue and only one tire worker. My text message lied because my car wasn't in a bay, it was where he told me to park. I came to get all four tires rotated and my driver front tire repaired. Told him it was low and last time they said nothing wrong. Also told him I cannot wait until they get new lifts because I have been waiting months and I need them rotated because they never have been rotated and I was not going to be told that they are too bad to be rotated like they did my Pontiac. So when checking out, I inquired about my repair and he didn't do it but it was at 22 psi. So if he didn't hear me, why didn't he check since I have road hazard or why didn't he say something to me? I had to get to my grandkids and couldn't wait
over another hour for him to get to it!

Emma Holmes
from Minneapolis, MN
My order was delivered to the wrong address. I had went in the app and clicked help set for the customer service to call me once they called I sat on hold for 45 minutes then a women preceded to tell me it was the right address I then told her to google the address and she will see that's not my house I have enclosed pictures in this email. She then gets back on phone and says that I can not get a refund or reissue my order as due to your policy I had previous returns before which this is my first account and I have not had any refunds at all. She says I need to contact my ebt provider I stated what could they do when the driver Walmart assigned messed the order up she said that's not her problem and hung up on me. So now my kids have no food and no money back to get them food. As the driver delivered to wrong address and my account is deactivated. I tried to add pictures but kept giving the error message.

Angela D Fontenette
from San Diego, CA
I understand now why soon their will be no more humans in customer service my first visit to Walmart east lake was amazing and employee with above beyond to help I and my daughter but Thursday I my daughter and granddaughter I ask one employee where was the google cards located he just said they should be at the register which I told him they was not so he said go to electronics I get the the employee trys to tell me their up front again I tell him their not so he said their on one of these idles somewhere wow what happened to customer service showing you at least what you looking for I am 64 I work target stores the rack never have I done that no your store and where product is at least if you don't want to really help its said and no they where not young both at least in their 30 or 40 maybe older love the store

Gerald Jones
from Maryland Heights, MO
I was at the pharmacy in Walmart in Bowling Green Missouri to pick a prescription refill and got someone in training. The young lady was having a hard time spelling Gerald and when I corrected her I was informed that most spelled it with a"j" and I stated 90%spelled it with. G. Then the pharmacist name Stacy got into the conversation. I spelled my name one letter at a time and for the 6th time my date of birth. Then Stacy proceeded to jump mown my throat about this and even got out her chair to harass me.

Tari Nelson
from Bemidji, MN
I have continued to be a Walmart customer through empty shelves and no cashiers, but my latest experience with an online order and return is the last straw.
To begin with, ordering the item was difficult. I couldn't remember my password and couldn't get a code texted to me due to incorrect information in profile. Called customer service and was told I couldn't change information in profile so must remember password (this makes no sense, people change addresses and phone numbers all the time). Finally given a code verbally.
After receiving items I decided to return them. Started a return online and chose the return by mail option. When label printed it was a FedEx Ground label. As I live 65 miles from nearest FedEx pick up station this was not convenient. Called customer service, was told to just take it to US Post Office, they would take deliver it. I did, they didn't. Called customer service, was told they would email me a new label, they couldn't get the email to work (although I immediately received survey questionaire by email) was told it would probably take a while to come through, it didn't . Called customer service, was told to take items to nearest Walmart store (again 65 miles from home) with order number and barcode captured from puchase history. When I tried to return items to store they scanned the bar code and said they couldn't take them. Called customer service, was told it had to be returned by FedEx because it was a third party purchase. Why couldn't I have been told this the first three times I called customer service?
I will not be shopping at Walmart in the future, I will go across the street (literally) to Target.
I realize that this will probably not be read by anyone and if it is, they won't care. I also realize that someone somewhere is probably calling me a "Karen" . If you employ inept, uncaring, and unprofessional people you can expect "Karenesk" behavior at some point.
Please do not send me a response stating that you are sorry for the inconvenience and you hope to retain my patronage, because obviously you're not and you don't.

TASHMEET
from Vancouver, BC
Hi Walmart customer service
i want this writing to reach to your general manager as I was at Walmart yesterday and i faced racism , bullying and misbehaved by your customer service rep. named MARLEENE at 9251 Alder bridge Way, Richmond, BC V6X 0N1 Location . so explaining myself i went up there for an exchange item i bought on low price this Monday April 10 as the price on yellow low price board was showing $14 but when i scanned it on wall scanner it showed $18.88 and i have talk to the associate upstairs there he said its a mistake and the cashier will do price match for me. than i went to the cashier and when she scanned it went only $9 and right away i bought 2 more as it was this low price came home opened two of them they didn't fit my bed so i was sad that i opened and didn't fit the one i didn't open i bring it to Walmart yesterday april 13 Wednesday for an exchange "if i could be mean i could have bring the other one packaging again too but i was like let me only bring one as i have opened the others ... i went to customer service desk with one queen size which i wanted and the double size which i bought on Monday to exchange ... here comes the bad part .. there was guy Deepanshu he understood everything i told him politely and told me that the price has gone up but i was telling them that i only want exchange which should be done at same price. than he called his customer service supervisor /manager not sure lady named MARLEENE this lady has behaved so bad with me i have never faced this kind of behavior in my whole life .. when i just started explaining her that i am here for an exchange on my first few words she raised her voice so loud that "it cant be exchanged the price went up i wont exchange it " very loudly and rudely as wanted me to feel embarrassed and leave .. than i started explaining again than she start yelling right away loudly she literally didn't let me even complete one single sentence on my own keep on cutting my words loudly and rudely .. it was no less than bullying someone and not letting them even explain the situation. than i just said the word "mam umm" she stopped me and start calling someone that lady came up i was trying to talk to her so i can explain i just said "so what happened was" than immediately she cut my words again and almost said "shuttt" than start taking to the other lady ... than told me "tell her " rudely and left ... with no sorry no than you nothing .. while was going she start whispering in her own language and giving me looks .. "pangiittt ka" this is only what i heared rest she went far i came home and serched it up which come over as "ugly" that's very racist and i was really thinking to bring her to court after the way she has behaved to me than lady named hiam helped me talk to the duty manager i explained him they did exchange .. i really want Walmart should get back to me by email and let me know what action they took on my concern this not about return or buying but how i got harassed and would neevr comne back buy anything from walmart never giving business and letting my frieds and coworkers know that if you buy they say nothing but if you return or even exchange you get harased and bullied.. running low on my words i hv more to say

Charles B Price
from Highland Park, MI
Yeah I'm caught up right now about the Walmart on 33rd 01 Tower Road Aurora Colorado you have a loss whatever he is in there he's telling people certain people they can't shop in there no more that in a couple weeks he's going to turn into a we have to have a membership and it's 500 dollars a year for membership and if you don't leave because cops on you you need to do something with this jerk off he's lost prevention he says he used to be a ex cop my nephew ran him he was never a cop he was arrested for personally cop you need to do something with this idiot now before you guys get sued

David Lanclos
from Piscataway, NJ
Been trying to buy item number: 67421, home essentials expresso mugs, and all I see when I go in the store is 2 broken pieces in the box and the store is not restocking the shelves. I been trying for a month and none...I asked a worker and she did not know.....so, the question I am asking, when will this store restock it? I tried to email and ask about it and I was told to try another email and when I tried to email, my email was returned ....So, I am not getting no answer from no one..
Hope I can get a response from CORPORATE.
thanks
dave

Kamisha Martins
from Tampa, FL
Placed an online grocery order, pickup time was between 4-5pm. Received a text at 3:45pm saying my order is ready for pick-up. I got to the store at 3:50pm….. called the store to let them know I was here NO ANSWER. Called 8 times and still no answer. It's is now 4:54 and I STILL DONT HAVE MY GROCERIES!!!!!! And they still aren't answering the phone! Called Walmart.com 3 times and I was not helped AT ALL! Just put on hold and hung up on!!!!! EXTREMELY poor customer service and EXTREMELY disappointed with this company and experience

Peter graves
from Pawtucket, RI
I placed my order online for o2 sensor extention was told it was usa shipped. I never got them. I was shown in tracking it was shipped from ny. I found out it was sent from hong kong. Usa ship wass a lie. It was in new york las week. To be delivered no later than 4/6 to my address in mass. Did not get it. I checked again it was in midland texas. WHY?where is my part? You had no problem taking my $$ it is showing in midland texas 2200 miles away from where it was. I called your. Customer serrvice in the f'in phillipines. They were rude and useless. WHY ? I still have no answer. WHY???? I want my money now. Not 10 days.
This screw up has lost me a service customer and i had to refund him 1200$ for incompleted service. Where is my part? Where is my money. Thisbis inexcusable. Please answer back asap as my lawyer will be the next person you hear from. This is a promise not a threat. I will be looking for my losses slso if it gets to that. You should be ashamed of the piss poor way i have been treated!!$!

James Crump
from Mobile, AL
I've been placed on a "return violation" status. This was done with no fault of my own.
I had an account with United healthcare for OTC products from Walmart. United healthcare had a subcontractor that delivered the product. They delivered the product I ordered to the wrong address many times. I reported this to United healthcare and they got Walmart involved. Long story short, this caused my account to be flagged for "return violation". I'm a disabled 63 yr old and need this service. Can you please help with this matter? I've tried many times to straighten this out but nobody at customer service will help.
Thanks for your time.
James Crump

We recently visited your Walmart in Douglas Arizona and to be honest I was most displease. The store its self was nasty and unkempt. I've never seen one of your stores in such condition and was really surprise. On top of all that they seemed really racist. I took pictures for you but can't figure out where to send them.By the way, they have a leak under the water fountain that could cause someone to get hurt. I reported it and a month later it was still leaking..

Lekeisha
from Pascagoula, MS
I placed an order for a sheet cake that feeds about a hundred people. Told the lady what I wanted on the cake and told her the colors but when I went back to pick the cake up I was in total shock. The appearance of the cake was unprofessional and not up to par with what I know Walmart usually produce. I was not satisfied at all I have attached pictures for your viewing. Please let me know what you think?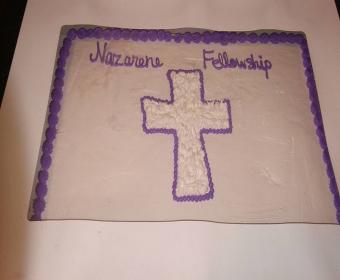 jeramy malcolm
from North Richland Hills, TX
My father and I went to purchase a battery for my Harley Davidson at the Wal-Mart off of Hulen St. after making my purchase we were approached at the exit by an officer and two people employed by Wal-Mart acting as a part of the loss prevention team. I was asked if I had put anything into my pockets that did not belong to me. I and my dad replied no. we were asked to accompany them to the security room or what ever it may have been called. mind you this was after I had already checked out and made my purchase as a paying customer. upon our arrival at the security room,we were asked to empty our pockets. they even took the liberty of searching and violating my dad's personal space. my question is what was it is that I or my dad had taken that I could not have purchased at the checkout, and what relevant excuse the officer had to suspect a paying customer would be shoplifting.

Charles krop
from Englishtown, NJ
I bought new everstart car battery which failed after 1 1/2 years. It says on the battery that it has a 2 year exchange warranty. When I brought it back to exchange it was told there is no warranty. It is clearly deceptive since the battery and display says 2 year replacement warranty. I was forced to buy a new battery.

Charles krop
from Englishtown, NJ
I bought new everstart car battery which failed after 1 1/2 years. It says on the battery that it has a 2 year exchange warranty. When I brought it back to exchange it was told there is no warranty. It is clearly deceptive since the battery and display says 2 year replacement warranty. I was forced to buy a new battery.

Jeanette Wools
from Austin, TX
I went to the Wal-Mart in my hometown of Lockhart TX this morning to buy dog food and two chicken breasts. I am a retired Senior Citizen and no longer buy in bulk. Imagine my surprise when I was told, both by the young man in the Meat Department and Customer Service, that it is "company policy" not to break up packages. I had no idea that Wal-Mart was in the habit of discriminating against Senior Citizens and small families, but HEB is not. I will not shop again at Wal-Mart. HEB had the exact same price for the dog food and sold me two chicken breasts.

Amanda merhley
from Lombard, IL
I got 2 tires. Paying about $200. I bought them on may 8 2016 and by August 3 2016 they were bald and wires are poking out everywhere. When I called wit my concern I was told a manager would call back. Waited an hour no call. I called back talked to a manager then requested to talk to someone else. And I was put on hold for 20 min. Called back and was told phone lines weren't working. Don't believe that.
Then when I talked to the co manager he put me on hold then had someone else pick up and give me the answer I was waiting on. The lady said the manager had to go somewhere. I find it extremely unprofessional to just decide ur done helping a customer. I told the lady that I wasn't done talking to him and she said she cud call him back.
So my bad tires that didn't even last 3 months are still on my car because Wal-Mart doesn't want to replace them. I will never get tires from Wal-Mart again and I will tell others what happened to me so that they will think twice about purchasing tires from Wal-Mart.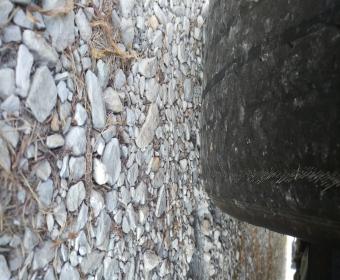 Can you please tell me the Bereavement Time Off Policy (PD-06) for a employee that work 32 hour a work. It my sister-in law. If it not paid time off can they write me up or not give me the time off. Please send me the info asap and if you can tell me where I can get a copy of the policy. thanks

I have a Walmart credit card. I made a substantial payment (paid in full) on August 4 2011. I went shopping on August 11 2011 and my card was declined while I was in line. I had to get out of line, go to customer service and call the number on the back of the card. I did so, and the lady that was on the other line told me that there was a hold on my card that it would not clear until tomorrow and that there was nothing that she could do. I had to pay for my now defrosting groceries with the remaining balance of the card and the rest with my debit card (which was to pay bills).
So, I go home and call 1800 walmart to make a complaint, they told me that I had to call 1-866-611-0048 and ask for a supervisor. So this is what I did. When I was transferred to a supervisor, I tried to explain to him that I made the payment, that it has cleared my bank but it is money that I am unable to use. He then told me that the funds will be available tomorrow. This is not helping me today when I needed the groceries, and the fact that I won't be able to shop tomorrow as I have a job and have to go to work.
So, my complaint is that I can make a substantial payment (over $500), and Walmart can hold it for over a week so that I can not use it, but when I am late on a payment they are so fast to charge me a late fee. Can I charge them a fee for making me wait? I had to call and make arrangements with my electric company so that I can pay for the groceries today that I should have been able to use the card for. Its not like I can use the Walmart card tomorrow to pay my electric bill, now can I?
Where is the convenience of having a card if I can not use it? Why would I even use it if it is not even worth my time and effort? I pay my bill on time and pay it in full so that I dont get charged fees and I am still getting treated like crap!!!

bryan a snyder
from Troy, MO
On November 24, 2015 my wife four month old son and I went to Walmart in Warrenton, Mo. I recently had back surgery, so I have to use an electric cart. We were going through the store looking for Christmas items for our kids. We had been there for about twenty minutes. My wife and I were in the back of the store and the battery for the cart went dead. I saw a manager so I talked to her and let her know about my situation. The manager did not acknowledge anything that I had told her, That being said having back surgery my doctor does not want me walking for long distances. The manager I talked to did not have anyone go and get another cart instead I was forced to walk to the front of the store in a lot of pain.
I had to use a regular cart as a walker. This is ridiculous I was under the impression that managers were supposed to be helpful and courteous to there customers in this case apparently not. I don't know what I did to deserve this, all I know is something needs to be done. I took the risk of falling an would have ended up in a lawsuit which is not something i want to do. The reason I am complaining is that nobody should be treated like this, if the manager would not have walked away so fast I would have her name but i don't. Thank you for your time and hopefully the Walmart corporate office will respond.

tom gualt
from Twinsburg, OH
This seems to be a constant that there is only one or at most two lanes open around midnight. Sometimes before that. There are long lines and the store does nothing about it. I guess hiring one or two more, or even train those stocking to run a register would be asking too much. Very disappointed about finding help during the day as well. I wont stop shopping yet at walmart but I will reduce my spending , even if I pay a little more for the items. Kroger is building a huge complex a stone throw away - and I cant wait. This isn't just a first complaint it has been going on for some time and I guess I'm getting tired of the company falling behind more and more in customer service and customer care.

Ron bricker
from Fort Lauderdale, FL
I read on Facebook where your Medina Stores manager, Janet, was not allowing the Marine For Toys for Tots to stand inside the store. If you want anti-military and insensitive individuals to manage your stores then YOU do not need the military personnel to shop in your stores. I am taking back my Walmart purchases of this past Friday and will not be purchasing from any of your stores in the future. Tell Janet she does not deserve to enjoy the freedoms the military have given her and hers. Next, I will write a letter to the Walmart corporate office in Bentonville, Arkansas and see what the CEO says.

George Motley
from Salem, IL
I'm an electrician, and we do new walmarts, and remodels. Today I was in Salem Illinois and the manager called the cops on us for trying to work. Said she had no information about the work. So basically the cops came and harassed my boss, and when I came, only black guy in this town, he asked for my id. And questioned my car, for some reason. Walmart has to do better.

I won't EVER spend another dollar at the Walmart in Dublin, GA...I found a ladies pocket book in an empty cart in the cart return in the parking lot. I took it inside after asking 2 ladies that i saw walking away from the area, who said that it wasn't theirs. I stopped an emplyee walking by asked if she could take the purse, that I had found in the parking lot, she tried to give to 3 other employees, none of which seemed to want to be bothered with having to take it.
I was a little worried by now that no one would even try to notify the owner.. So i decided to look and see who the owner was, maybe I could let her know that her pocket book was safe. Then the 1st cashier that declined to accept the pocket book, Shouts "Don't let that man go through that woman's purse!", insuating that I was up to no good! Then the first employee that I stopped snatched it out of my hands and took it behind the counter.
If I was gonna do something wrong, I wouldn't walk back into the store, garner a bunch of attention then do it in front of everyone!!! I had serious concerns about whether any them sorry/rude employees was even gonna inconvience themselves enough to try to notify the owner!!! I know that if my wife left her pocket book in public place, that she would worry herself to death until she knew that it was safe! That'll be last time I darken the doors of that store full of sorry, rude, lazy, and inconsiderate employees!!!

emma richardson
from Owens Cross Roads, AL
My daughter's income tax was posted today, and because she don't have a bank account the monies was posted to my wife's (her Mother's ) Walmart Card. However, Walmart card managers have decided to hold the money for the next TEN days alleging 'something amiss, Despite the faxed evidence they requested and received from us today(1-29-2015). we told them that our child is about to be evicted and she has Two children. The card customer service hung up on my wife TWICE, and hung-up again when she repeatedly asked for a mgr. when Emma Richardson finally called corporate they said "they didn't understand why they're still holding these monies but they cant over-ride the(" greedy insensitive ") card mgrs.

Justice Writer
from Madison, AL
Our family, on tonight, September 18, 2016, was met with a touchy situation birthed from a mischievous Leeds, Alabama Walmart employee who goes by the name of Scorpio. Unfortunately, this overzealous, contemptuous and disrespectful Leeds Walmart employee meant evil by calling the Leeds, Alabama police on our loved one who had treated him with the upmost respect when he refused to give cash from our debit card refund when Walmart, all day and night, hands over cash from debit card refunds even when a person would rather have had the refund placed back on the card at hand.
Then, Jerry, likely Jerry Hicks Jr, a new Leeds Walmart employee, who is obviously a "good" friend of Scorpio, pretended to care about the ill-treatment our loved one was receiving when at the end, we discovered that he too was a huge part of the problem of involving the police in a situation that could have erupted into the death of our loved one.
Fortunately, when Scorpio chose to abuse his minute power by calling the Leeds, Alabama police for no reason, resulting in a gigantic waste of tax dollars from hard-working citizens, Officer Breasseal, an understanding police came on the scene. Not only did Officer Breasseal arrive on the scene, but, three cars of officers showed up as well indicating that Scorpio had likely made the situation seem to be that of a true emergency when it was not an emergency at all. We are confident that had Officer Breasseal not shown up, there would have been an assault, battery and bloodshed upon our loved one.
Furthermore, the actions of Scorpio and of Jerry proved that some people should not be given supervisory responsibilities when these hard-working, we're sure, officers could have been addressing serious issues that could have been life threatening. Likely, people like Scorpio and Jerry are against marriages that involve people who are unlike them or perhaps they, like Hitler, are drunk with a little bit of power.
In the end, nevertheless, Officer Breasseal did not make a report against Scorpio and the obvious prejudices Scorpio had cowered upon our loved one; but in the same vein, Officer Breasseal did not treat our loved one with scorn, hate or contempt. He was respectful and may our father bless him and his family, always for that.

Marissa Krysta
from Merritt Island, FL
I am very upset with the whole savings catcher program, I truly believe it is a genius marketing tool and a great way for Walmart to control what they allow in regards to what consumers can save. First shoppers had the BOGO, which was awesome; however I can understand how that would have cost too much to the bottom line since cashiers were not able to check ever advertisement and consumers would take advantage of it. Fail on the consumers part to remain honest and shame on them for ruining it for the honest ones. So then here comes savings catcher, not quite BOGO since we are only refunded the difference on the price of the two items combined. Ok, well, that doesn't replace the BOGO, but it's something.
Adjustment to the savings catcher way - DONE!. Wait for my savings to come back, get my egiftcard but then at the store, have to hold up the line so a CSM can come and put the key in when I redeem my egiftcard.. OK, not the most convenient, but I'll deal with the glares and complaints of the people behind me (normally 8-10 people deep because my Walmart never has enough cashiers) to save a couple of bucks. Over the weeks of using the program, I start noticing that I'm not getting back as much as I think I am. I am an financial analyst, so let's just say math and budgets are my thing. On my last receipt, I anticipated a refund back on two larger ticket items and several smaller ones. Out of the approximately 8 items that were BOGO at other stores, I received a refund on NONE of those. I got a few cents for a difference in grapes. So, I went through my receipt and indicated the discrepancy via the instructions.
I entered in the dates of the advertisement and the competitors name. I waited expecting the difference to show up. I received an email stating that the savings couldn't be found and that I had to submit a picture of the ad in a specific format (not a common format like a .jpeg, .pdf or .bit, but one that I've never heard of) to defend the fact that I'm not getting the proper reward. The email didn't even state WHICH ITEM I needed to submit the documentation for. It's been weeks since my purchases. I am an environmentally conscious individual, so I don't normally have the actual paper hard copy advertisements. I normally do my shopping list on my phone. All this PLUS the fact that I don't recognize the format, I do not have the proper documentation to send in and can't PROVE I am owed the "reward". CONGRATULATIONS!!! You have now made it so difficult to save those extra dollars that I'm done with this whole insane program.
I have to rely on your proper data entry that is obviously not up to date nor accurate, plus I have to PROVE you are missing it... I can understand missing one item, but 8 items?.. that just seems intentional. Walmart now won't "lose" money by giving consumers money back on items that can get be purchased less expensive elsewhere. In return, I will no longer be shopping the deals, will no longer use the savings catcher and will be back to my old way of shopping the deals by going to Winn Dixie and Publix for their advertised BOGO's. I will no longer be doing my weekly shopping at Walmart or dealing with the madness you all have created. You all may have the "best" prices, but you have the worst customer service, the store is filthy, poorly stocked and I honestly feel this whole savings catcher was a calculated move by your marketing people to save face with taking away the BOGO as well as a way for you to control what savings are given.
Well done honestly - at least you have a couple of geniuses working for Walmart and they have done their job... they have maximized your profits. Maybe someone should check on the employees doing the data entry for the savings catcher program. Doesn't seem to me that they are doing their jobs, or maybe they are?

Chad Wilhite
from Fishers, IN
Cancelled Service back on Oct. 27, 2014 when my phone broke and I switched to another company and called to transfer my number to new provider and cancel service at that time. But now I am still getting a bill for $92.64 saying I own for two months. I called to find out why and was told that when you call to transfer your number you then have to call a different number to cancel service. This should all be taken care of with just one phone call not two. So please stop billing me for two months of unused airtime.

Your stores are depleting fast, that's all I'm going to say. Customer service has ultimately died with Sam Walton. Such a shame, good idea, and it is absolutely dead now. I think now, you have over stepped your bounds, and management everywhere I've been, needs intensive training on service and respect.

Barbara Lenex
from Minneapolis, MN
I ordered a tv on thanksgiving day it was supposed to be in the walmart store in Ash Flat Arkansas on Dec 9th 2015 well before Christmas. Well, it not there yet this is 12/22/2015 and no one know where it at or when we will get it. Talking to people on the phone with customer service is a joke be cause no one speaks ENGLISH. It sure would help if they did we might get this straightened out. We ordered this so we would have it for the CHRISTMAS shows. We saved all year for this tv when it came on sale.

Sandi Parker
from Concord, CA
Racial Profiling: on November 3, 2015 I went to walmart in Fremont Ca (Albrae location) after shopping I went to register where a cashier name Narcisco, as he started ring up my items he looked @ me and stated I know this will be with your EBT Card right. I was shocked my daughter in-law and I was caught off guard with this statement, I said no he looked at me and stated you are buying a lot of items, I asked him do you ask every one you ring up the same thing he stated no, so I asked why me because I'm black he just said sorta, I told him you know that's wrong he said I'm sorry, you must not be from this area I said why because I took offense.. I just said wow and showed him my money and asked for a manager he said there is none on duty, and said really I'm sorry.

duane novak
from Rochester, MN
My wife and I shop at Walmart all the time. We buy everything from groceries, dog food, T.V.'s. even change our oil there. We live close so go there multiply times a week. We also have been a member of Sam's club since they opened. They have a 20 or less checkout that I usually use because I go there so much. The last 10 or so times I have gone there, there is always someone with a full cart getting checked out. Why have the 20 or less checkout if you don't use it for that. I have talked to the managers about it and they tell me that they tell the checkout people to use it the way it is intended. The checkout people tell me that the managers tell them to take the full cart people and ignore the 20 or less people because they would rather make the 20 or less people mad than the full cart people because it is more business. I am not making this up. We spend 1000's of dollars a year there and I will simply start shopping somewhere else. I have been to other stores and the checkout people adhere to the policies of the store. It is really upsetting to be lied to when you are a good customer. You are losing a good customer. Maybe it doesn't matter to your company because they are so big. I can't believe that is the fact because that is bad for the store and you will lose a lot of money. The store number of our store is 1971 and it is in Rochester, Mn. Thank-you for your time

Andrea Berry
from Stone Mountain, GA
I called in a re- fill prescription for my pet. I specifically told the worker that I had a new phone number for the Vet. The next day I go to pick up the prescription it is not ready and no one can find it. I have to wait in two different lines to get some sort of information on what has happened. The worker says she called and the vet said the pet needs a new test. So I asked the worker to call the vet back because I had just got a new test done for the medicine 2 week ago. Her response was why would I call back she already has told me she would not sign off on it. So I am like wow this person will not call the Vet to clear up the problem. so I just left and told them I will go somewhere else. Which I did and got the prescription filled without any problems. Turn out the worker had called the wrong vet and not the number I gave her and if she had recalled when I asked that would have taken care of the problem. Wal-Mart in McDonough, Ga. 30353. I will never go back to that pharmacy. The service was shabby from start to end.

Rod Schmidt
from Wichita, KS
I was in grocery shopping and stopped by the meat dept to pick up a whole cut up chicken like I have done many times in the past. I noticed there wasn't any so I asked the person putting out meat and he said they didn't have any and he never has seen any. I asked him for a manager and I waited 10 minutes he had to call her 2 times just so she can tell me the same thing. But she said wait and she would get me another person in which I waited another 10 minutes and Tyler came up and asked me what I needed and I asked him you mean no one told you the problem and he said no, so I go over it all again so he can tell me the same thing. I asked them to please just go and cut me up one and said they can't do that. So after almost 25 minutes of waiting to get a cut up fryer to no avail, I told him well you wonder why people go to dillions for the groceries and told him thats where i will going in the future. So I left and went to Dillons to puchase my cut up fryer and other items I needed for our dinner.The Walmart I was at was 3030 N Rock Rd Wichita Ks 67226.

maryann clare
from Weedsport, NY
I ordered a 7inch tablet for a xmas gift picked up at auburn Walmart dec. 19th ,on xmas gave as a gift worked fine for week, than would not hold charge, brought back to Walmart with receipt no box would not do even exchange and also said was over 15 days so could not return anyway. call the Walmart number they said not whole lot they could do either except for me to file complaint, they also said when you order on line I had until jan. 10th to return.
Was well before that date, very unsatisfied with this and all the time I have had to spend trying to return, than to find out it was within time limit that they should of let me return item. I would appreciate any thing you would be able to help me with this on going issue, and also educate employees on return policy for online orders would much be appreciated thank you

Angela McCoy
from Marion, OH
Today (December 3rd. 2015) I ordered 2 toys from Walmart.com. My local store was out of one of them so the site suggested a store an hour away that had it in stock. I hurried and paid for it so I could pick it up and have it before Christmas. About 15 minutes later I received a text saying one of the toys was no longer in stock. I called the store and asked how long to get the refund back to my Walmart Money Card. He said it was showing it was refunded already. It is not on my card. He suggested I call the Walmart.com customer service so I did. I talked to a man that I could barely understand that informed me it would take 7 to 10 business days. I said no I can't wait that long.
I have a fixed income with 4 children and up to 2 WEEKS is not an option. He said there was nothing further he could do for me. I asked for a supervisor and was put on hold for 2 minutes only for him to come back on the line and tell me the supervisor would not get on the phone. He said the only thing he can do is give me an authorization code for me to call my bank with. The customer representative at the bankcard had no clue what I was asking him to do, saying that wasn't something they did. So now, not only do I not have the toy, I don't have the money. I tried to get on the corporate site for a complaint number that took me right back to Walmart.com. The email is sent to my local store. I am very disappointed and cannot believe there is no way to actually speak to someone at corporate offices.

Stedson Linkous
from Kensington, MD
I am a good Walmart customer. I am a general contractor. I wanted to purchase some Bostitch, 18v, cordless impact drivers for the business to try out. I purchase a lot of tools and like Bostitch products. On line you show this impact driver with 2 batteries (same for drill driver). I read the first couple Reviews where they clearly state this tool comes with 2 batteries. I placed my order. It arrives with only one battery per tool. This makes it almost worthless to me. We have to stop work to recharge the battery or use 2 tools to do the job of one. Had I known this was a 1 battery tool I would never have purchased them. Your advertisement is misleading. I am an UNHAPPY customer. You should modify your advertisement for this tool to correctly show only one battery. My wife, my business, and I have not shopped at Walmart since this happened.

Saturday, May 23rd, 9;00 ish, Platteville, Walmart.... was shopping and went to the automotive dept to get a gas can since I forgot to bring mine to town and needed lawn mower gas. I got it and couldn't figure out cap pieces as to how they went together. I looked for someone and I looked for someone then went to the auto counter and rang the bell 4 times...NO ONE!! Another couple was there waiting for help who haven't yet been helped either.
Finally approx ten minutes later, I dropped the gas can right behind the counter and left so they knew someone was not happy. THEN I had many things to get. In the grocery aisle by the fresh produce, I heard a women explaining to a man why their were no produce bags and she said we are out of them. I looked and their were none so I left without produce.
Then up front between the produce and the check out there were 2 men talking and one looked like maybe a manager openly complaining about not having staff etc etc.... what a downer...with the billions of dollars our CEO makes you sure as hell should have staff and you surely should not have unhappy staff complaining in front of your customers.
I spent 405.00 dollars there which I do 2 times monthly and I will not ever shop there again but then again that doesn't mean anything to you I am sure.... my shopping will be in Dubuque at Hyvee etc....

Linda Tingle
from Sherman, TX
Our Sherman, Tx. store can not seem to keep their shelves stocked. , This has been going on for several months now. They once carried sugar-free orange jello and nursery water with Florida. Haven't seen either in some time. I have talked to workers and mgrs. alike. They take your name, number and never call you back. Other Walmart's in neighboring towns don't seem to have this problem. Getting tired of having to go to other stores to get the things I need.

elizabeth schreiner
from China Springs, TX
As a result of walmart continuing to side with the L.G.B.T. community and supporting the anti God anti Christian majority we will take our business elsewhere and sell our stock in your pro homosexual perverted gay agenda company!

Jeff Hodgson
from Redding, CA
I love the false advertising Walmart does so well, *Near the bottom of the page you will see other heaters for sale and there sale prices, the URL is current. Do you see the Roll Back Price for the Lasko 5790 Oscillating Ceramic Tower Heater with Remote Control Was 44.98 now 35.00. So go click on that advertisement and wow it's on sale from $48.98 List price $59.72 Save $10.73. So what happened to the RollBack of 35.00. Oh yeah that was just to get you in our Doors.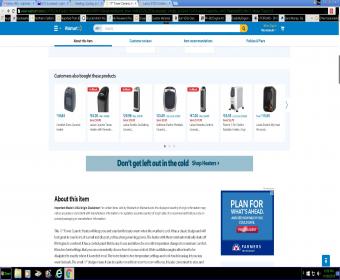 Roy Welch
from Center, TX
I used to live in El Paso Texas. While In El Paso, I discovered a cheese called Mennonite cheese. in 1986 I moved from El Paso to East Texas. I looked everywhere but could not find Mennonite cheese until a couple of years ago. I discovered Chihuahua quesadilla cheese and realized it was the Mennonite cheese that I had so long search for. yesterday I went to Walmart to restock on my quesadilla cheese but discovered that wal-mart has discontinued it. Why is it that everytime someone find something good at Walmart you eventually discontinue It. it may be something trivial to the people up at corporate office however it was something very important to me. and I am sure that there are a lot of people who are extremely pissed about this matter as I am.
I know that the product was a good seller because there was always empty spots of it on the shelf. I don't know what kind of marketing strategy you're idiot and corporate are thinking of but people are getting tired of it and they are shopping elsewhere. You are not the only grocery retailers in the world. I have just about this I did you start doing my shopping elsewhere because to tell you the truth there really is no difference between your prices and your other leaving competitors. since Walmart was the only place that I could find the chihuahua cheese but you don't carry it anymore there's really no reason for me to continue patronizing your business.
I would also like to point out that you need to start training employees on social skills. there are some of the most out of touch young kids working for you who know absolutely nothing in customer service.

Xenia, Ohio,,,March 28th, 2015. Manager and employees treated my family rude simply because we expected them to honor price. Soda sign read as follows.. $3 or 10. So I purchased 10 cases of soda for $3. Manager did not want to honor it and it took 20 minutes before they rudely did. they proceeded to give us dirty looks (employees and manager)...told other customers in line what happened. Openly saying "THAT IT IS PEOPLE LIKE US THAT TAKE ADVANTAGE OF SITUATIONS." Customers gave my kids dirty looks and shook their heads while the employees looked on in their direction with pleasure.

The Shelbyville , TN Walmart continues to allow semi trucks with trailers to park in their parking lot in front of the no truck parking sign. This creates a significant hazard as it is very difficult to see around these large vehicles. I have discussed this with the management on several occasions to no avail. On many occasions I have narrowly avoided being hit by other cars that could not see around these trucks. Does it a take someone getting hit or killed to get Walmart to enforce their own posted rules?
They could allow trucks to park at the far left side of the building between the Ascend Credit Union and the outdoor and gardening section of this store where there is minimal traffic.

I read on the Newspaper that walmarts were matching Competitors prices and their ads but when customers get to the check out it became a whole different ball game. my thing is this if you say you going to do something Please deliver have a meeting with your cashiers so they are all in the same page because it really makes Walmart look bad when you see cashiers are standing there arguring with customers.I love Walmart and I want you to do better see you.

Linda Wingo
from Mauldin, SC
This is in reference to the pharmacy department at this Walmart, my husband and I get all of our prescriptions filled at this Walmart, and in the past month on three of our prescriptions when we call them in and are told they would be ready the next day we go to pick them up and are told they are out of that prescription that the order has not came in, On Monday Feb.15, I called in a prescription for my husband and received a call the same day that they were out of that medicine, but would have it in on Wednesday Feb.17, we waited until Thursday Feb.18 to pick up the prescription and were told then that the medicine still had not came in. so we still have to wait a few more days and go back to Walmart for a second time. This seems to happen at LOT at this Walmart, Whoever is suppose to order all the medicine is not doing there job. Someone needs to check on this matter at this Walmart.

patrick mulligan
from Norristown, PA
Now i don't know if all of this is because of vendors or if walmart tells the vendors what they want but i have a list of products that i have bought from walmart in the bloomsburg and buckhorn, PA. store that i love and bought a lot of and bought frequently and out of nowhere they just stopped selling these products. For example, Jello brand pudding, Boston creme pie flavor, smores flavored rice krispie treats, barbecue flavored goldfish blasted. The list is now up to about 12 products total and i am beginning to think that they watch to see what products i am buying so they can stop selling them just to make me mad. I'm not really thinking that but im not far from it. I love all these products and believe me when i say i bought a lot of them to the point i know they cant tell me they stopped selling them cause they weren't selling good at their store cause i would bet i bought enough myself each week to to ensure they would continue getting them. I'm so dissapointed to the point i am gonna stop shopping at walmart even if it means that my grocery bill would increase 200 dollars a week. Whoever, if anyone reads this thank you for your time and i hope to hear back from you.

Barbara Elliott
from Joplin, MO
I see from this site only having only one star this will be useless to file a complaint but here is my story I bought a Fulton at the Corbin Ky Walmart after getting someone to haul the large heavy box to my home and then getting someone to put together the frame they unwrap the mattress only to find a stain all the way down one entire side this did not happen at my home my husband is 68 and I slightly behind him, after a huge job of taking this back to Walmart we were told we had to bring in the complete set all they had to do was change the mattress we would have taken the display one but after waiting 2 hrs a manager said no had to have frame and all, this is the2nd time and last for me at any Walmart store we bought a TV it went bad just about 1 year from date of purchase we paid 348.00 and they would not change it either , your customers has made this company so rich it don't give a d--- about America or its customers I will never buy from any Walmart again no compensation was ever made for the TV and none for the Futon sure hope all \you Walmart owners enjoy your dirty money you make off people your day will come .Never buy at Walmart again.

Graceann Esposto
from Drexel Hill, PA
I will never again go into you Walmart store in Springfield Pa. The employees that are in there are the most miserable people I have ever seen. They don't smile, say hello, how are you, nothing comes out of there mouth. I work in retail so I know you are suppose to smile, make eye contact with customers, say hello, how are you, can I help you with anything. Also this store is very messy I have never seen such a messy store. Also all the employees that work in this store seem to have a chip on their shoulder. Yes Walmart will never be seeing me again.

Chris Martin
from Punta Gorda, FL
I went to the Walmart in Lehigh Acres, Fl on Sunday to get my oil changed. When I got there, all the techs were sitting inside with nothing to do. However, I was refused service because I just changed phones and did not have it with me and did not remember the number. I called two days later to talk to a manager about this and was told I have to give them my phone number to receive service there. I will take my business elsewhere for now on. Very poor customer service!

letta greene
from Antioch, CA
While waiting in the Express Checkout I noticed the customer in front of me had a cart full of various Easter clearance items. When the cashier did not speak to the customer and ask her to move to another register I asked if I could be rung out first as I had less than the required number of items and the other customer far exceeded the indicated number? While the customer looked at me the cashier (without a name tag) ignored me and began to have a conversation with the customer. I then asked to speak to the store manager. The cashier asked why? Even when I pointed out (again) the cashier failing to honor the Express item numbers the cashier said she is trying to ring up as quickly as possible. I informed the manager the cashier was not following the store policy and I wanted to complain about lack of protocol. While the store manager apologized the cashier never did. Why have Express lanes if your cashiers cannot follow your own company policy, or are to illiterate to read andnenforce policy? This has not been the only time I've observed cashiers failing to honor Express . How often are cashiers trained/retrained? Do they understand English? Why would the cashier not a knowledge my request for faster check out? How often are they trained in customer service and satisfaction? Store #2697 Antioch, California. Op #00004872 Date: 04/19/15 Time: 20:28:31.

Was looking online for portable basketball hoops and searched stores near bu but both stores said not able in store. I then ordered online and am currently awaiting the arrival of the hoop. But went to both said stores this weekend and the exact hoop I wanted was available in both stores with many available. To double check before writing a complaint I again went online and they still said not available in store. Very disappointed that we are currently waiting 5 days later for an item to arrive that was available in store all along due to incorrect information online.

Jesse Simon
from Port Arthur, TX
I bought Kettle Brand Sea Salt and Ground Black Pepper chips at the Wal-Mart in Port Arthur, Texas for a long period of time. Delicious chips that go good with anything. What Happened to them? Can't find them at ANY Wal-Mart in my area. Why does it seem as though when you find those things you simply love and look forward to finding at your stores, it suddenly disappears off the shelf never to be seen again?... Please bring them back, if you haven't tried them you must! They are GREAT! I learned that Walgreen's sells them. its just one more inconvenience I have to go through because you all decided to pull them off the shelf.

Barbara Crank
from Stratford, OK
I recently bought a bag of Marketside premium romaine lettuce mix and it was soaking in water. I couldn't even spin the water off the lettuce in my salad spinner. I will no longer buy Marketside products . I not only wasted my money on the lettuce as it was inedible, but also the salad dressing. It is too inconvenient for me to take a food product back to the store.

Sheena Waggoner
from Columbia, MO
I have went to WalMart store more than twice and received the worse service ever, and I have made complaints to the store manager on duty every time, and his answer is always an excuse. Then have the rudeness to treat me as if I am nothing or nobody, when I spend thousands of dollars at WalMart. The receipt reads at the top ST# 0451 OP# 00005797 TE# 10 TR# 06245, in this transaction the clerk double charged me and I called the store and the man listened to me then he said oh let me transfer me to customer service and the phone just rang. The night before the night customer service manager Mike had no register open then he said he would come to the self check out to assist myself, mom & sister, but never came the clerk at the self check out told us she didn't know how to price check the items we had. It was just a terrible experience. We spend so much money at WalMart to be treat piss more by your staff at this store. And this Mike night customer service manager is very rude along with this Christine customer service manager. I have been in customer service for years and know how to treat customers, and it is oblivious these two individual do not have the skills to wear such a badge that recognize them as customer service manager. I am thinking very serious about taking my family business and money to Target. This store has struck my last nerve. Once a very happy WalMart shopper, Sheena Waggoner.

On Jan.8th there was suppose to be the movie *House at the end of the street* dvd & blue-ray put out for sale in their new release section,but to my dismay they didn't put it out even though I really wanted to get this movie. Some how the release of this movie was changed by someone high up & isn't gonna be released until Jan.15th,which to me is Illegal because they have it advertised for release on Jan.8th.
So,since Tuesday I have been hounding my store to get that movie put out on shelves because I believe that they are obligated to honour the first release date for any new releases and if they don't,then they are truelly falsely advertising products in their store and they should be held accountable.

Re: Mattoon, IL Walmart. I have a few medical problems and don't always know when I will go to the store. I only go every three to four weeks and buy for the month. My husband has a sugar problem and only eats the sour dough bread from Walmart bakery.
At the Walmart in Mattoon, IL and older employee was watching me when I was getting the sour dough bread. She came up to me and asked why I was buying so much sourdough and told me I should leave some on the shelf for other customers . I ask her if Walmart was in business to sell groceries..she said yes..and I said , Well I am a paying customer buying groceries and I haven't seen a sign saying I am limited in the amount that I buy. She gave up and left me alone.
Cosmetics manager also in Walmart, Mattoon, IL. Since I only go to Walmart once or twice a month I have a list to stock up on what I am low on or out of. For three months I have been trying to purchase cover girl foundation and for three months the display has been covered in makeup. It is smeared all over. This month I found someone stocking shelves in the shampoo isle so I stopped and asked nicely if there was a shortage of staff because the makeup section needed some attention.
The woman informed me help had been cut back and she was the only one handling a large area. I told her about the mess and inquired about being out of this paticular item for three months. She said you couldn't get the makeup off of those displays and she didn't have time to get to everything. She was also the manager of that area. Just out of curiousity I went back to the makeup section and took a piece of paper and wiped off some of the makeup from the display. It does come off.
Bottom line is employees were disrespectful...areas aren't being cleaned....stock is not getting to the shelves...so I am deffinately checking out other grocers in the area.....oh and I forgot to mention large sticky areas on the floors

Joshua Bastien
from Windsor, ON
****update number 2: same crap different day. i was right to be skeptical. Woke up today to another cancelled item, no explanation. refund to my bank card but no refund for my gift card. so its going to be another week wait at least. I'm so over it I've been stressing over this stupid phone for over a week. Now I get to go to work with no phone and a new born at home since walmart had this "great online sale" that I wont even get to use since they wont honor the original sale nor do I want to. when ever I get this refund back I will be selling it and taking the $60 hit because I CANNOT STRESS ENOUGH I do not want to deal with this head ache and sad excuse of a reputable company again. hopefully some people take this review to heart and i save them the time and hassle. NEVER AGAIN! Walmart should be ashamed of themselves.
**update: I got my refund 8 days and 2 escalations later. I feel like if I hadn't bugged and bugged, emailed corporate it wouldn't have got done for a long time. I will change my rating when and if I receive my phone, I'm still skeptical after this whole experience.**
If i could write down -1000000 best believe i would and looking at these comments everybody is experiencing similar problems. Customer service is a joke. They place me on hold and just kept me there. They've owed me almost $400 for the past week. Its all games when you call, just the run around. They dont give any proper information out. They dont tell you if you use a walmart gift card on the walmart website, to use at least 1 cent of another patment method or it will cancel. I order a phone and the next day i wake up to a refund in the form of another gift card, no explanation. I reorder the phone with the gift card the sent me back because i wasnt trying to miss the sale. This one just gets cancelled nothing about a refund. I call and they say they are giving me my refund. They dont send anything about the gift card yet. They actually send me an email telling me to use the same payment method and everything which would of screwed me over again if they had actually refunded me. They dont say anything about the gift card until the third time i call, then they tell me that i cant use just a gift card online. They say thats the reason why i cant get my refund right away because of their error, with their gift card, on their website. Theres a second sale on and the phone i should already have is $40 more. The way things are going now they are just going to hold it off until the sale is done and ill be stuck with a useless gift card to a useless company. I really regret not getting a cheaper phone from amazon or even paying 100 more for the same phone. At least i would have it and customer service gets stuff done if need be which ive never really needed. Walmart is supposed to be a reputable company but they are jokes. I ask for corps number and they give me the wrong one. AMAZON IS THE WAY TO GO!!!!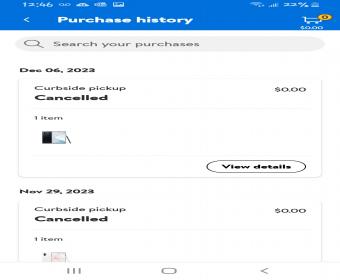 Tracey Rosali
from Lake Worth, FL
I order many times from Walmart for food delivery. Im handicapped and can't shop so I pay my membership to have it delivered your delivery is horrible I ordered yesterday and the delivery guy came and brought me only 2 items I ordered but was giving me someone else's order I told him no that's not my order we're is the rest of my order he said I don't have it so I chat with someone who definitely couldn't help me so someone from customer service called me back and kept saying they can't help cause the driver who couldn't speak English didn't put delivered it's still on attempt my issue is get people in customer service who can really help cause I feel I pay Walmart to raise my blood pressure and anxiety. No one at Walmart helps plus delivering other people food good thing I wait outside for my order otherwise they would drop off stuff that's not mine you must loose a lot of money. Please call me

James Grauer
from Riverside, CA
I am writing to express my deep dissatisfaction with the service I have received from Walmart's online grocery delivery. I rely on this service due to my physical handicap, and I place my monthly orders promptly between 12:00 am and 12:30 am. Despite selecting and paying for specific items, it has become a recurring issue that at least 3 or 4 of these items are marked as out of stock when my order is fulfilled. What's most frustrating is that these items were in stock at the time of payment, and yet they seem to be sold to others before my order is processed. Walmart's proposed solution of returning these items to a physical store is impractical for me, as my reliance on grocery delivery is precisely because I cannot make it to the store in person. I believe this situation is unfair and negatively impacts my ability to receive the groceries I rely on. I kindly request that Walmart address this issue to ensure a more reliable and equitable service for all customers, including those with disabilities."
Have feedback for Walmart?
Thanks for your feedback!
Sorry. Please try again later!