Walmart
Walmart Complaints Continued... (Page 6)
1418+ reviews added so far. Upset? Call Walmart corporate: 1-800-WALMART

Lela Powell
from Cantonment, FL
You are losing a bunch of older people shopping with Walmart never shop again. So many do not have a smart phone and saving catcher has
gone to smart phones only. We are no longer shopping with Walmart unless you change a better way.

Olivia Smith
from Gastonia, NC
Walmart at 2324 S New Hope Road Gastonia, NC 28054 has only two electric carts and two wheelchairs with baskets. They do not keep the electric carts charged and are often sitting, not plugged in, with a dead battery. The also do not check the wheelchairs with baskets to ensure they are operable and have all the parts. The two wheelchairs have one foot rest on each of them which makes it not only uncomfortable but dangerous and leaves room for injury. I have complained to their corporate office but it has fallen on deaf ears. I have talked to the managers on duty on both occasions that I had an issue but they were not willing to help or get the equipment fixed. My family member needs this equipment to shop due to a stroke and a hip and knee replacement. Whether intentional or not, If this is a form of discrimination due to the fact that a permanant or temporary handicapped individual or an elderly person does not have the same opportunity to independently shop as others do. If Walmart is going to provide this equipment, the company and employees should be responsible enough to inspect the equipment for safety and operability.

Mary I Velez
from Avondale, AZ
I had to postpone my wedding because they can't find my wedding rings. I purchase the rings on 10/18/2018, they sent them out to be sized on 10/19/2018. My wedding was scheduled for 10/31/2018. No to rings. Still today is 11/06/2018 no ring no answers. My happiest day ruined. I will have my attorney contact your company and I will. Make sure to share this experience without family and friends on social media, this should not have happened. Look at your customer service statement. You did not meet the standard. I should be sleeping at this time enjoying my marriage and here I am 4 am no sleep wondering where is my ring.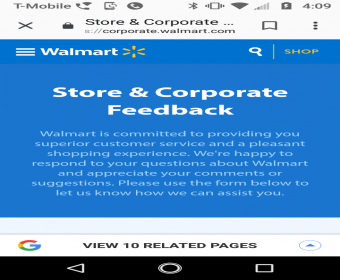 Automotive dept. didnt have a battery water filler. The person working in the Auto dept. said she had never seen one. We ask her to see if she could order one, ahe said it wasnt her job. Walmart in Pahrump Nevada.

frances
from Muskegon, MI
I called my local Wal-Mart on Sherman Blvd. in Muskegon mi 49442. I was transferred and put on hold for 45 min. finally I had to call the pharmacy to see if they could get someone to answer the phone . they found someone . I still don't know if I actually talked to a manager or if they were just messing with me.. this store has gone down hill in the last year service sucks and there is never enough registers open . and the shelves are always running empty help is snooty . think I will drive out of my way to Meijer's.

Pat Graham
from Salisbury, MD
Does the North Salisbury, MD store #01890 (so called manager Anthony Durando) even have a manager anymore? I know Kevin left. He wasn't much better but that store, if it has a manager, needs to fire him!!!!I have never seen a worse run WalMart store anywhere and I have been in a lot of them. The shelves are bare...even hear rumors that they are closing. (They might as well) Frozen food shelves bare. What little stock of merchandise is on the shelves is so far back on the shelves , you can;t reach it. Whatever happened to moving the stock forward? Today, a weekend, the store was very busy and there were only a couple of registers open with very long lines. They only seem to want the self service registers open. The few cashiers they have now are very unhappy with their jobs and it shows!! They are very unfriendly and on the verge of being rude. There is going to be a new Aldi store opening this week just in sight of this WalMart and people can't wait. I am sure you will see a big difference in this store. People are so anxious for somewhere else to go shopping. This store really is horrible. I do't know what the "workers", if thats what you want to call them, are doing blocking the aisles with big carts. You can hardly get around in the store. They are not stocking shelves, so I have no clue what they are doing. It seems nothing at all. I have been in a lot of your stores both here and in other states, but never have I seen one managed so shabbily as this one. I ask the cashier if the store even has a manager anymore and she said "I think so,k but I don't know him. I have seen him twice and he never speaks to any of us". Not good!!! There needs to be a complete revamping of management at that store. There were two ladies standing around doing absolutely nothing and I asked the cashier what their function was and she said "They are some kind of managers too and are supposed to open up more registers when the lines are this long, but they don't". It's just a total disaster in this store and you need to do something and soon or there will be no business there. Thank you.

Mitchell D Turner
from Cincinnati, OH
I send money to and from my sister at Walmart. My driver's license name is Mitchell D Turner. My sister sent money by the name of Mitchell Turner. I had the confirmation number for the money and valid identification and was told that it is your policy that since she did not give the middle initial of D that could get the money. She had to go back to the store and add the middle initial. This policy makes no sense in that I had proper identification and confirmation number. My middle initial stopped me from getting the money. Explain your policy

Marge Jones
from Perrysburg, OH
Yesterday I ordered 2 - 1000 text message cards. I still have not received the code I need to get my text minutes. Totally disgusted. I want my money back.

Akash Deo
from Milford, OH
I ordered a spring matress, instead of that, I got a hammock, which I returned, walmart reordered the matress, then after 5 days they say that there is some problem with the system and they will need to cancel the order and will give back the refund, it has been 2 weeks
No refund yet, and the customer representative say now that there is some problem with the refund system as well, well I want to ask, does anything work correctly in your system!!! Ridiculous to be honest, what level of stupidity these guys can go upto.

Ralph Anderson
from Leesville, SC
Asked Donavan for assistance with fire ant killer which seems to have disappeared - very rudely said, it's on the garden shop. I told him I had searched inside/outside of patio, he said, then we don't have it and turned to his cart in hardware and said "what the fuck" , someone evidently set an item on his cart so he proceeded toward the service desk with the item but didn't have time to assist the customer (I went down the street to Lowe's) - on a good note, store was clean and stocked and the self checkout was staffed with a friendly lady. We spent $37 there today. Guess it's hard to teach good manners.

Ron Gillespie
from Mount Airy, NC
I've been shopping at the Mount Airy, NC Wal-Mart since it's inception and have been a regular customer. Over the last year or so, the store grocery section is consistently out of products (empty selves). Products such as crackers and chips are often badly crushed on the bottom and boxes that contain product are damaged. Areas such as clothing is always out of popular sizes. Your prices are the best but it comes a time when the aggravation isn't worth the hassle. Many of my friends have the same complaint and are no longer shopping at Wal-Mart.
I hope these problems will be addressed so I can enjoy your low prices and selection.

Michael Cox
from Fort Worth, TX
Yesterday was my 3rd trip to this Walmart in 7 days looking for 24pk Mountain Dew sodas. And this was the 3rd time they were out of this product. They had 12pks but no 24pks.. The first time I just skipped it and left the store. the second time I asked an employee to look in the stock room, there were none in the back store room. I asked a cashier to call a manager to find out if I could get 2- 12pks for the 24pk price. A manager came to the front and when asked he said no the company did not allow that to be done. So again I left after spending $60. Then this past Sunday 10/21/2018 , we needed a few more Items from the store so I went to Walmart so I could get my 24pk of Mtn Dew.and…….. you guessed it they were still out and I asked for a manager again and the same guy (sorry I did not get his name and I asked if he could do this once due to the fact that this was my third trip there and still no 24's.... he said no and I told him that I wanted My MTN. DEW , he was polite but firmly refused to help me out. I told him that I was sorry but if he could not do this for me then he and Walmart did NOT Care about my business and I would discontinue using Walmart as my primary grocery store.. There is an HEB store less than 1 mile from there and they would be happy to have my grocery monies from a family of Five..He said Im sorry you feel that way but I cant substitute the item.. So I am just looking to find out how the "Management" really feels about a situation like this . Oh and the mgr.started to explain to me that the Pepsi Vendor was at fault and I stopped him and enlightened him to the fact that Management of Walmart Stores are ultimately responsible for the inventory and condition of the store, not a third party vendor.. Vendors will do as much or as little as you let them do and if its allowed, it is the customer who suffers.. Thank You for your time,
Michael Cox
229 NE Amy Street
Burleson, Texas 76028
817-343-1115

marlene crites
from Cape Girardeau, MO
I been going to walmart for a while now.ever since i went to a local grocery store and a snake was in my face at meat department.but every time i go into jackson mo walmart a employee with long reddish hair always gives me dirty looks and watches everything i do.i feel like im being harrassed.ive always use self checkout and she looks over at me and makes me very uncomfortable.well this time she came over and said my chicken didnt ring up.i had several items.she didnt even look at screen.it embarressed me so i scanned it again.2 bags.by then everyone was looking at me.i felt red in the face..well i went on and got home to find out i paid for 4 bags because i did have it scanned .she was very rude and i spend alot of money in there.but i think id rather go back to the other grocery store and take my chances with a snake then go and feel embarressed and she made me feel like everyone thought i was trying not to pay for my purchases.] got alot of christmas shopping to do.cause i have 4 children and 5 grandbabies.i might just have to go to kols.i cant stand being treated this way.when i walked out she headed back to service desk where she was when i came in and was talking to 4 or 5 people.im tired of feeling harrassed by this girl every time i go in there.i work hard for my money and i dont need to pay for things twice. I am a very well known .person around town and noone has ever treated me this way. Thanks..Marlene Crites. Jackson mo.

chelsea riggins
from Oklahoma City, OK
I visit Walmart at 1801 belle isle in Oklahoma city every single day first of all, but on this particular day (10/20/2018 around 330 pm) I visited here and purchased a pack of cigarettes, I waited on the inside bench for my uber but realized I didnt have them so I went back to the cashier to make sure she gave them to me, she said she did so I asked her to get a manager to look at the camera because I did not have them, one particular black manager told me that the camera showed me getting my cigarettes but I don't even believe they looked at no video first of all he said something about me leaving the store when I never left the store. But that's not the part that angered me it is when the assistant manager shood me off and told me that I could now leave the store, that is what sent me over the edge, first of all I spent my money and did not receive my product so now I feel as if Walmart has robbed me and did not care by his attitude, I was never to walk out of that store as angry as I was and I am still angry because I should not have been treated that way. Poor customer service from management!

James Reinsbach
from Fond du Lac, WI
Store 01727 in Berlin Wisconsin. I attempted to return three battery in which the store wouldn't return my core fee of 10.00 because they said I didn't return them in a certain time and they have no way of knowing if they paid the fee back. I know the receipts were from 2017 but there is nothing stating how long I have to return a battery to get my core fee back I looked on my receipt and in the store and seen nothing. A simple hole punch on the receipt like they used to do would know if it was paid it back or not. I know $30.00 doesn't seem like a lot but somewhere it should say or be told to the customer that they need to return it in a certain amount of time. The store took my money for the core fee they should honor it.

Edward Catanzaro
from Tampa, FL
The Walmart on Hallandale Beach Boulevard in Hallandale Florida never has paper towels or soap to wash hands. Never !

Blair Bradley
from Boise, ID
Poor customer service, property damage to my custom rims, loss of income from Idaho Falls Auto Center negligence, managers are not being truthful, claims adjuster Luther Williams isn't investigating the matter timely, corporate and everyone associated is putting responsibility on others when this could have been resolved immediately. I am going to complain everyday until this matter is resolved correctly. They damaged my vehicle and the store has video. I don't understand why it is that hard to replace the rim that negligence caused by auto center isn't immediately replaced. Every effort attempted has been met with resistance and conflict. I was demeaned by the manager and believe it was because of making and incident report and being African-American. The male manager was rude and I have several witnesses to attest to that. My old tire is still missing and I wanted them. It is on the receipt and order.

P Houser
from Bakersfield, CA
I purchased a bath and shower seat with back and lost my receipt. It is a Carex brand, and paid $46.50 for it. In the meantime your stores relayed that department and only carry equate products. I was told that no Walmart would accept it back due to that fact that you no longer carried Carex brand. I told the girl at the counter that I charged it on one of my debit cards and she first told me that the card reader was down, then she scanned my cards and told me that I had not used my cards in 90 days. I then showed her a Walmart receipt that was dated 10/16/18 to show that I had used it within the 90 days. She then told me that the card reader did not keep all transactions. I have shopped your stores for several years and am very disappointed in your customer service. I would like my money back.

David yang
from New York, NY
I don't like being followed by one of you associates Anastasia around the store like I'm stealing some. I've never been treated like this in my life. If this doesn't get fixed I will not shop here again.

Bob k
from Shippenville, PA
Often not stocked of many items. Carts allover lot floors still blocked off for cleaning at 6 am many walkways piled with stock all hours I have been to a lot of Wal-Mart's this one at my home town is the worst in clarion pa

Russ Latimer
from Tampa, FL
Customer Service. In general, my several experiences with On-Line Customer Service have all been poor and resulted in either NO RESPONSES or NO RESOLUTIONS of my issues. The most recent involved three separate inquiries to Customer Service on why a produce (Gatorade G Series "RAIN BERRY" in 32 Oz (UPC 052000324310) in ALL SIZES from has been eliminated from all local stores and customer are unable to order the 32 oz size From Walmart on-line (although other 32 Oz flavors ARE available through on-line ordering), I then posed complaints about NOT receiving any responses - although for each and every query I posted, I received from Walmart an automated response acknowledging their receipt. WHAT DOES IT TAKE TO GET SOME RESPONSE FROM A WALMART REPRESENTATIVE WHOM IS NOT SEVERAL EGGS SHORT OF A DOZEN?

GLENN FINCH
from Birmingham, AL
EVERY TIME I GO IN WALL MART IN ALABAMA THEY USALLY IS NOT BUT TWO REGISTERS OPEN AND BOTH WITH A LOMG LINE I REFUSE TO USE SELF CHECK OUT BECAUSE THAT IS TAKING SOMEONES JOB IF SOMETHING DONT CHANGE THEY ARE GONNA START LOSEING A LOT OF BUISNESS SAM WALTON WOULD ROLL OVER IN HIS GRAVE IF HE KNEW HOW THINGS WERE BEING RUN I HOPE YOU WILL TAKE THIS MATTER INTO CONSIDERATION FOR I PROMICE YOU I AM NOT THE ONLY ONE COMPLAINING LAST WEEKEND PEOPLE STARTED HOLLERING AND SCREAMING FOR A MANAGER IT WAS SO BACKED UP BECAUSE THERE WAS ONLY A COUPLE OF LINES OPEN THANK YOU IN ADVANCE GLENN W FINCH

Beverly Mizell
from La Marque, TX
Why has Walmart cut hours for their employees?? It is ridiculous that this is happening to their employees. Walmart cooperation and stock holders are worth millions. Sam Walden was a good Christian and would have not wanted his family to be so greedy.
Many of Walmart employees are having difficulty paying daily expenses.
I do shop at Walmart regularly but have decided to shop at Kroger or HEB. I also have discussed this with family and friends.
Hopefully, Walmart Cooperation will rethink this bad decision and restore the lost hours to there faithful employees,
Beverly Mizell, RN
bevmizell@msn.com
409-739-4904

Bob DeHamer
from DeKalb, IL
I ordered 66 pieces of chicken on Monday at the Silvis Il. Walmart for Sunday pick up at 12.00. The Silvis Walmart call me on Saturday the 13th and said there fryer was down for me to call the Moline Il. Walmart witch I did. The moline store was very rude and wouldn't help me. They said I needed 48 hours notice ordering I told them I gave Silvis Walmart a weeks notice but there fryer is down they said get ahold of you at Moline Walmart. The Moline representative on the phone said I cant help you we need 48hours notice. I hung up the phone and drove to the Silvis Walmart and talked with 2 assistant managers excuse my language but neither new what time of day it was at least they could have done is call the Moline store and try to help me out but offered me a 25 dollar gift card you no where I told them to put there card. I have 30 people coming for dinner at my house I said the Hell with Walmart went across the street and ordered chicken from jewel with a 12 hour notice. As you can see I will no longer go into Walmart for anything. This is where the Wife and I always shop but no more. Thanks for listing to my complaint but If Managed the Moline store someone would be looking for another job.
Thanks Bob Dehamer

Joseph Shidiskis SWr.
from Alexandria, LA
Four months ago I brought 2 8super MM reels to the photo dept. at store #4295, they said it would take about a month too convert them to DVD's. I have been checking up for three months, they said it has not been returned yet. I went back again and got the same story, an dept. clerk Mrs. Sandra Williams helped me out and found out they were sent to the wrong processing center and sent back to the store. She along with dept. manager Robert Courvelle found them in a cabinet, how long they were there I don't know. Mrs Williams called and was to get the correct shipping label and get back with me. As of yet , still no word!!!!! PLEASE get with them and find out what the HELL is going on. I guess this is what you call customer service and satisfaction!!!!
THANKS'
Mr Joseph Shidiskis
Store is located at colusium blvd Alexandria la.

Ty Baker
from Chapel Hill, NC

Cornelia Warren
from Conway, SC
This store looks like a tornado went through it. Many shelves have not been stocked much less having the merchandise fronted since Hurricane Florence hit SC devastating the town of Conway SC almost a month ago. I will focus on the pet section where I spend a good amount of money taking care of my cats buying large bags of cat food as well as canned, litter, and grooming products. Since the store has reopened the pet section remains in a state of disarray. I had to straightened out the section with flea collars, worm medicines, etc in order to find the product I was looking for which after all the work I did Walmart was out of stock and has remained out of stock since that time three weeks ago. By the way, the was an employee, white male, about 5 feet with glasses that watched me straighten out the section while he shoved merchandise on the shelf near me.
I also purchase the Special Kitty Variety 12 oz case of 12 which has been out of stock for three weeks. I asked the same employee today 10/11/2018, if he knew when they would be receiving flea collars in as I've been checking for three weeks to buy them. He just stated the product is ordered and put out when received and had no idea when they would receive any. I thanked him and walked to the other side of the gondola where I was looking for the canned food and I could hear he and another male employee discussing the inquiry I had just made so maybe they need retraining on customer service. This store overall is out of stock on a lot of items and I do not for one minute believe that Walmart cannot receive an orders of flea collars in three weeks and I'm referring to any kind of flea collar as they have none of the brands on the shelf. The employees are not friendly, lack customer service skills in assisting customers with shopping needs and check out. I try to shop out the other Walmart in the Conway area when I am in that part of town as that store is clean, well stocked, with associates that smile and don't mind helping someone. I am not looking for anything from Walmart but being a previous manager for the Circle K convenience stores for 15 years, the art of customer service and having product in stock is the back bone for operating a successful business and increasing the sale and profit margins. And empty shelves are not a good thing to have. I did not take pictures as I didn't realize they were to be submitted. I hope someone can help this store manager get a handle of the stocking and filling the shelves with merchandise.

leslie gates
from Medina, NY
I went to Walmart and used my own bags (Walmart in Brockport, NY).
When I got home, I was missing 5 items. The cashier must have placed the items in a plastic bag and did not place them in my cart.
I called the store 3 times today. Each time someone answered the phone and I asked for the Customer Service Department. All three times, the phone kept ringing. No one from the service department picked up.
I would go back to the store, but I live 15 miles away.
The total amount of the items I am missing is $8.85.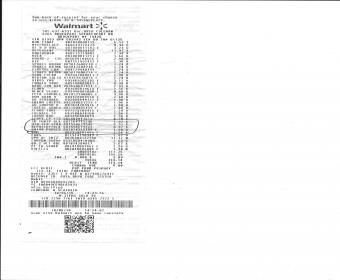 Russell Tillery
from Kilgore, TX
Never even made it inside the store, the "GREETER" told me I had to move to the "outer" parking lot to park my motorcycle or was going to have me TICKETED & TOWED. In the same breath he said that I wasn't allowed to park in the striped areas as well or he would have me towed. When I asked when these parking rules changed, (I always park out of harms way in these areas) he asked me how long I planned to be in the store,....Oh no, too late for that, doesn't matter, I'm NOT risking getting a tow fee OR a ticket for something like this. So I suited back up, left the area & did my shopping @ Brookshires & the Dollar General Store. My plan is to NEVER darken the doors of Gilmer, Tx. Walmart again on account of an ignorant greeter that wants to "BE someone". Even the Longview, Tx. Walmarts (all of them) encourage motorcycle parking in the "out of harms way" spots. The whole situation was ridiculous & uncalled for.

Lila M. Newman
from Ingram, TX
I had a serious experience with your Pharmacy here in Kerrville, TX. It is a long story and I need to discuss it with someone that is head of the Pharmacy Division. I am going to report the incident to the State Licensing Board here in Texas. I feel you need to know of this incident so others can be protected from this type of serious mistake by one of your pharmacist.
You can reach me by phone:
830-367-2025

Lila M. Newman
from Ingram, TX
I had a serious experience with your Pharmacy here in Kerrville, TX. It is a long story and I need to discuss it with someone that is head of the Pharmacy Division. I am going to report the incident to the State Licensing Board here in Texas. I feel you need to know of this incident so others can be protected from this type of serious mistake by one of your pharmacist.
You can reach me by phone:
830-367-2025

John Flud
from Buffalo, NY
I went to get gas in Darlington sc Walmart. The employee had a friend talking in the store she was not buying. O gave her 40 dollars for gas and went out no other customers were at pumps but me. She was talking and never cut pump on . I finally went back in and asked for my cash back. As I was leaving she called me stupid both of them said it . She should be fired immediately.

Pamela Baker
from Boise, ID
I shopped at store #01088 at 2681 CT Switzer SR Dr. in Gulfport, MS. at 22:30:58 this evening and I have to tell you I am so damn tired of giving you my money and the cashier (Kira) could not even speak a word to me. I AM THE REASON SHE HAS A DAMN JOB! I said thank you to her when she gave me my receipt and she still didn't say a freakin thing to me. She just looked past me like I wasn't even there. What the hell people???!!!! Do you not train these people to appreciate the customers? I know, you are a big company and one person not shopping there isn't going to hurt your business. Well, I may not be able to get everything I need a Froogle's but by God I will shop there because at least they ask how you are and they thank you for shopping with them. And besides, most of the time I go into the neighborhood walmart on Anniston, they are out of half of the items I normally buy. I just stopped going there because they no longer sell my coffee, my vitamins, ect. Just tired of wasting my time with bad service and constant inventory changes.

Ralph Anderson
from Charlotte, NC
I'm back in Batesburg-Leesville Walmart. Self check unattended and off line. No upfront supervision. Amazing

allen struck
from Saint Anthony, ID
on sept. 21 I went to purchase gas at the Rexburg Idaho Walmart. was not finished filling up and the pump shut off.
price $75.00 gals. 23.518. went to talk attendant. what happened she said was that my bank card would allow me to
purchase only that amount. I called my bank they told me that Walmart was wrong. I feel that Walmart has no right to
tell me how much I can or can not spend if I have the funds. If they don't want my business I can go to places that do
Rexburg, Idaho Walmart for a new store is the worst one I ever been in.

Rita Adams
from Pasadena, MD
Received Walmart Visa Gift Card (thru Green Dot Bank). Did not register it right away. Now cannot register it on old Walmart GiftCard site nor on the Vanilla website. Card was for $50. Cannot talk to anyone on any of these sites either. Tried going to Walmart store and customer service tried also. They could not resolve issue either. How do we solve this issue? HELP.

Kenneth Davis
from Panama City, FL
I bought a jar of mayo from the grocery section this morning. Got home , wife making dinner waiting on the mayo to finish . Went to eat and the food tasted spoiled. While i was throwing up in the bathroom my wife realized i had gotten a jar of mayo that was out of date since May of this year!!! Its currently Sept so how in the world would this happen. Besides the aggravation of having to run all the way back to Walmart, the service mgr seemed like she was to busy with other customers to take me serious and then ask for my receipt !! I have lived in PCB for over 25 years and use this Walmart for everything, if this is how you people react to bad products and bad customer service then I need to take my business to the large number of your competitors because through the years the customer service at this store seems to lack the passion to make customers happy!! Thanks for your help. Ken Davis 850/866-3350

Tony Lux
from Houston, TX
To whom it may concern,
My name is Anthony Lux and I am a retired Combat Veteran of the United States Marine Corps. I have something to say about a certain WalMart store.
My wife called me about being labeled as a theft at Walmart store #3213. She called me on my cell phone a few times explaining to me that a WalMart manager and a loss prevention officer has her in custody and keeping her in a small room for theft.
I did not know what was going on, I was at work at the time. I called four times to the Wal mart Woodlands store to speak with someone that have any knowledge on what was going with my wife. I was put on hold for a long while or was disconnected a total of four times. Either way I thought this unkind act was very inappropriate and unprofessional on the person part on the telephone (PBX).
I called my wife on her cell phone now very concern on what was going on at that store and why the third degree. My wife is from the Philippines and when she gets upset it is hard to understand her. When she talked to me she was saying that she was being watched by and associate and reported her to the door greeter and accusing her of theft. I said, "What?!" She then explained the whole story, I told her to show that manager that we have over $5000.00 in our checking account, and that you just bought over $200.00 worth of groceries. My wife tried to explain but the manager said to her that she didn't want to hear her side of the story and kept reminding my wife why she is being held.
By this time I was getting very annoyed because no one from the store would answer their phone let alone speak with me. So I called the Montgomery County non-emergency number and had them send a unit out to that Walmart store and if they did have, have that officer call me on my cell phone. A deputy sheriff did call me and explained that they did have my wife in holding and that she is being accused of theft of "Frozen chicken wings of $10.04". I said, "What?! Are you kidding me!?! Then I explained to the deputy that we have much money and my wife has no reason to steal. This is an honest mistake that was made. In fact, I've seen and heard of customers doing the exact same thing and the Customer Service Manager would tell the customer to go back to the register and pay the difference. He concurred but has a job to perform. I understand so that deputy gave my wife a Citation for theft of $10.04!!!
Again, my wife was profiled and looked down on continuously. From time to time she would tell me that some managers told her to speak proper english. Haydee would come home upset and tell me what was said to her. I told her to report this but she would tell me if she did then the retaliation would start.
No one talked with me, No one answered there phones or messages that I have left on their recorders, No one responded to any of my emails.
Where I come from that is consider rude and unexceptable.
Sincerely,
Anthony Lux

Laura Delao
from Nampa, ID
i visited store # 2781 on 08/28/2018 as i was making my way to check out i noticed that they had the candy bar "TWIN BING", i was excited to see that because that is my favorite candy bar and living in Montana i was able to purchase them there. When i moved to Idaho i could not find them at any retail store. i purchased 3 of them and on my way home i decided to eat one. i took a bite of it and bit into the chocolate, on my second bite i bit into the cherry filling and it was so hard i chipped my tooth, when i got home my boyfriend tried it and commented on it being hard. i checked the date on the package and was shocked to see a date of 07/11/2004!!!?????? Being a past employee/assistant manager i was very upset. To me that is very unacceptable, poor merchandising and carless stocking, now i have a tooth that is broken, i do not have insurance. i would like to take care of this without any lawyers involved, but if we have to we can. i would like a response to this asap. you can contact me via E-mail or phone 406-694-5044. Thank you and i will be waiting for your response.

Canera Miles
from Highland, CA
I am a 65 year old Grandfather just trying to buy Beer at your Rialto Branch On Baseline, Upon checking out I was asked for ID. which I did not mind at all. But This is the Drama they put my wife and I Through They would not sell me any beer because my wife left her ID in The car. this little old lady Returning to the car that was maybe 100 yards away she barley made it by a car that almost ran her down. yes she is also in her 60's.
I please this complaint on the day this happened early in August and still received no Conformation If no comply I will be Calling Corporate Office.
Thank you Miles

Robert f.hesse
from Franklin Lakes, NJ
My complaint is as follows . I use only one credit card for my purchases. In the past month i have spent over one thousand dollars between products and prescription medications. I have a walmart credit card which I very rarely ever carry.. I feel if walmar t does not respect me as a customer i will need to go else where to make my purchases. Who's ever came up with the bright idea it was to randomly decline customers credit or debit cards is responsible for losing my business. When I called both the bank and credit card companies and they asked was it at Wal-Mart where my card was declined, I feel that Wal-Mart no longer want me as acustomer. I have bought my medications at Wal-Mart for over ten years and been a purchases of merchandise since 1979. I am disgusted with this treatment and will make daily purchases at Wal-Mart. I have over ten prescriptions which I fill at your pharmacists monthly. It will take a great deal for me to come back. Disgusting policy you will regret i will not be back. Thanks but no thanks

Sonia cordova
from Sacramento, CA
It was on July 6 2018 it was about 630 I had to use the restroom so my husband and i walk in and he goes into the men's and I'm yeti g to go into the woman's i couldn't go in cause the worker at florin in Sacramento her name jovani and siad no I would have to wait 15 min but as I was talking to her there was a customer already coming out of the stall i had asked please I can't hold it she siad I'm sorry it's policy. I even told her I would be quick all that talking and the other customer was just barely getting out and she did say uthere a restroom in the back while I'm dancing up and down I told I can't just go I had3to let my husband know he was in the men's as he got he did get up set and was getting the wrong idea so weas I was walking out I couldn't hold it so I go back in the store as embarrassing
And having a blader problem made it just as worse for me i wasn't trying to make it that obvious it just made it worse by the time I got to the restroom I it was late half on me and in the toilet I was trying to figu6out what to do I was crying and embarrassed I did clean my self but still felt embarrassed so as I was walking twords the front I asked a worker were can I talk to a manger she at the then I go talk to another girl and she gave me the corporate info I called twice I sent a letter and I still haven't here nothing and were going in to September and the incident happened a few months but now I'm at point were I'm just going to get a lawyer and see what are my options in this situation or resolve something I've been waiting for a response and just letting me know that it get looked into I'm mean you guys have cameras there but I also remember the people that I spoke to that day. Than you for taking the time to read this I hope to here from you

Charles Breitzke
from Rogers, AR
Store 64856, Pineville MO, about 1:30 afternoon of 8/29/18 - have always been upset about the out-of-stock condition at this store. Today, they were completely out of cane sugar. I asked a couple of associates working the area, figuring it was a recall or some such. Nope, just out. Blamed it on The System. Told them the store is always out of I want, then discovered that the one type of snack crackers I wanted, the Great Value family pack of cheese squares, was out. On the way to checkout with what I COULD find, a nice young associate was telling another couple that, no, there was none of what they wanted in the back.
Don't feel like going through this process again, so I'll mention that the shopping cart return area in the parking lot was overflowing, and some prime parking spots were blocked by the excess carts.
Finally, this store was too small on the day it opened. They roughly doubled it in size a while later, and it's still too small. I hope the corporate moron that makes those kind of decisions is no longer employed with Walmart.
Rant over, have a nice day.

Timothy Haselden
from Okeechobee, FL
I went to get my prescription on 8/8/18. They did not fill it right. I talked to the clerks tonight at Okeechobee, Florida pharmacy. They were supposed to call me back. I waited one hour, no phone calls. I called back and no one knew what I was talking about. The manager left already. They need to give me my medication, since I already paid for the amount that they were supposed to fill to begin with. This is stealing if it was intentional I don't know. But I need my medication to be filled the rest of the way. Thank you. Timothy Haselden. 863-458-7436. They also messed up on my wife's medication refill last month. Bacflelon. The dosage is 10mg, but the gave her 20mg instead. Customer service is very unprofessional at this store. Thank you. Timothy Haselden, Notice 1.

Judy kirkland
from Roanoke, TX
Took my vehicle in for an oil change, nothing outside with instruction as to how or what to do for service. I parked unloaded 3 grand children an walked inside to a counter where 4 employees are chatting and 2 actually looked at me then continued chatting, on other finally acknowledged us and I asked for an oil change. I was then informed that I would have to take my vehicle around to the last bay at which point I would receive a ticket. I did this then walked back inside where we waited for an hour and a half. Finally was told they couldn't service my vehicle because the oil pan plug was bent and over torqued and I should take it back to the last place it was changed. I did this and they place I took it back to had no trouble with the plug, they brought it out to me and there was no evidence of it being bent. I am 60 years old and the walking is hard, I can understand the wait it happens but I cannot abide wasting my time because they didn't know how or want to do the job is unacceptable. I don't want anything just hope this will improve customer service. Especially at the store in Midlothian, tx.

anthony geonnotti
from Newtown, PA
I want to find out the young lady that assisted me today with my complaint about Nowornever co.. She said I would receive an Email
to write my opinion of how I was treated. I didn't get it yet. She was very helpful which I appreciate VM & I want
her supervisors to know how pleased I was with what she/Walmart did for me.
Thank You, A.R.Geonnotti

Esther Blount
from Brooklyn, NY
Order number 4761855-873004
I ordered of three bikes on 7/24. Two of the bikes arrived immediately the third bike came to the store on Tuesday 7/31. Since that time I have been calling the store everyday, as I requested that the bike be put together. Everyday I am told that bike will be put together before the end of the day. Today 8/2 when I called I was told by Fred Becchetti that the person who puts bikes together is not there and will be there tomorrow. He also informed me that it is Walmart policy, that they have seven days to put bike together. I was never told this in all the time I was calling. I am very upset and I my grandson didn't not have his bike for his birthday. Also I have been left on hold up to 45 minutes waiting to resolve this matter. Today I have cancelled my credit card with Walmart.

SHERRY A. WILEY
from Honolulu, HI
8/1/2018 I went to the Walmart Store on Ke'Eamokuo, Honolulu, HI. Evrerytime I go into this racist store, your employees follow me around the store. Today at the self check out your employees had the nerve to get with other stalkerish customers and debate if I was going to steal the items I bought. Every time I go, your racist employees slander me by making comments about me not being able to pay. Every time. Slandering me and causing other customers to look my way as if I am anticipating stealing. I'm looking for an attorney to sue this store! Sherry A. Wiley

Paul Croteau, 4725 E, Brown Rd #73, Mesa, Az 85205 MY ORDER #471185331284
from Mesa, AZ
I am a Disabled Senior and have shopped at Walmart for many years and I cannot believe how poorly I have been treated after ordering a Samsung phone and combined with Walmart Family minutes plan.The total order came to $118.95 and I only got the phone which was not the phone I ordered as it did not arrive with the blue tooth or hearing earphones on the website. I contact customer service multiple time without any help I went to the local store twice and no assistance. They are telling me the minutes came by electronic mail sparate from the phone. The only refunded the cost of the phone $86.43 and claim they send me the minutes and the can not send me any copy of the electronic e-mail these so called minutes proving they sent them but the also say even if I have received them it would have be too late to get a refund for them 4 days after thew order was placed. I feel I have been treated very poorly and I am asking for the additional sum of $32.52 not returned to me. This transaction was placed on my BBVA Compass credit Card #4638 2900 0073 1934 exp 02/21 I would appriciate if you would look into this......tHANK YOU pAUL cROTEAU 480-696-4138

Jeanette LeVesque
from Minneapolis, MN
I am very angry and frustrated. You have the very worst customer service I've ever come across. The same guy in India made me keep telling him things I'd already told him, then he hung up. He had already hung up on me once. His name was given as Allen Jordan ( not exactly an Indian name.) I also spoke to a woman at the roseville store and told her my problem and she put me thorough to a number that did not answer, just rang and rang. Yesterday I got on with a foreign woman that didn't give me her name. She talked so fast I couldn't understand her and asked her many times to slow down so I could understand her and she did not comply. I asked to talk to another agent and she transferred me to some vendor of Walmart. I was just going to place an order of about $200. I didn't shop at Walmart for years because of their horrible treatment of employees but decided to try. I think you have just lost me again.
Jeanette LeVesque

JOYCE MCNEIL 13707 GILBERT ROAD WOODBRIDGE VA 22193 703-593-9902
from Lanham, MD
On July 28,2018 at 1044p, I visited this walmart and had the worst experience ever. while shopping I came across some bathing suits that were on a rack not 1 or 2 about 20 priced at 5.00 with a sign posted. To be sure of what I was seeing I took to the self service counter and asked one of the employees to check for me it rang up 13.00. I informed her of what the sign read and showed her. there was another employee named Edwin who informed her to give to me for 5.00 because of the sign..I had more shopping to do so they told me to inform the cashier. when checking out the cashier rang up 13.00 I let him know what was said he call the Manager ElSA who would not give her last name. I told her the whole story again and went to get the original cashier who was told to price at 5.00..Elsa stated Edwin was not a manager and had no authorization to tell me or the cashier the price and she would not change and proceeded argue with me in front or other customers and employees not a good example..(unprofessional). I have work in customer service for 40 years and shop at walmart 2 to 3 times a week.....NOT A GOOD LOOK!!!!! FOR $5.00

Milton Allen
from Northport, AL
On July 28,2018 I discovered that there was a leak in tire for which I had a warrant. I took care to the Jasper, Alabama Wal Mart Auto Center. I spent one hour there and was told that there was no leak found in tire. I continued to a funeral in Heuytown, Al. Coming out of Church I discovered that my tire was completely flat. One of the members had a pump and blew the tire up. I proceed to your store in Heuytown,Al. I explained the problem to one of your employees in the automotive department. There was also a lady that had warrant . I watch people come and go. After sitting there for five hours I demanded to know about the tire. I was told that there was no leak. They called their self showing me. I had to pay full price for a brand new tire. I asked that my old tire be put back in my trunk. The tire that I received does not look like mine. I am very upset by this ordeal. I did not get good customer service. The email address above belong to my sister. You may contact me on it.

Kelly Miranda
from Prince Frederick, MD
The Walmart Pharmacy in Dunkirk Maryland is the worse. The only reason my family have kept going there as long as we have is because of the tech PJ. After Fridays on July 27th and today my family will no longer get prescriptions at any Walmart. I tried to pick up my prescription Friday July 27th that was supposed to be ready several days earlier. The lady named Diana was extremely rude. She did not even attempt to force a smile on her face when she told me it was out of stock. Mind you this is after I was waiting for my husbands prescriptions for several hours that were suppose to be ready by 1:30. This was after 4pm. (They tried to tell me I would have to wait until after six pm for my husbands prescription due to be short of staff). I told them I could no longer wait for my husbands and needed them now. When I got my husbands prescriptions that is when when Diana told me mine was out of stock and will be in Monday. I just called the Pharmacy at Walmart in Dunkirk Maryland to make sure my prescription was ready. When the lady answered the phone she did not give her name so I asked. She said her name was Kathy. When I told her I wanted to make sure my prescription was ready she rudely told me no its not because are very short of staff. I told her that was no excuse because it was suppose to be ready last Wednesday and then I was told it would be ready today. She said " well I don't know what to tell you because we are short". So I told her so you are telling me I was lied to Friday and it was in stock. Kathy said again I don't know what to tell.
There is no excuse for this behavior what so ever. I have never been talked to like that from any company. This was horrible service and I will make sure I spread the word in this small community. Shame on Walmart for letting their employees treat paying customers like this.

Teresa Harris
from Miami, FL
On July 29, 2010 I was to meet my son in the furniture area to get a futon, when I arrive he was standing with an VERY RUDE employee name Duane. I have NEVER been so poorly treated and spoken to in that manner at Walmart by any employee. I am in that store on a daily basis sometimes twice per day, I have come to know some of the employees. This guy seems to be new as I have never seen him at this location before which is 5555 W. Atlantic Blvd, Margate , Fl. I am applaud. We were purchasing a futon which was in a very large package, he got the dolly for transport but he refused to assist in taking it to the car. It was raining slightly and the thunder was loud. However it wasn't raining hard. He said to me "I'm not going outside and getting wet" I said, that's no way to talk to a customer, you are suppose to provide 1005 customer service. He said again" with an expression on his face and his mouth twisted "I'm not going outside Period!" My son took the cart and roll the merchandise out thru the garden area where I was parked and I went to report him to the Manager which I did speak to Vade and she seemed not to care either, so that's why I'm turning to you for your assistance. If these young kids don't want to be bothered by customers then they have the wrong job. Thank you for attention to this matter.
Teresa Harris 954-294-9902

Lloyd Pritchett
from Ellijay, GA
I took a prescription to the Ellijay, GA. (store # 1070) for a 30 day supply of Tramadol. The pharmacist called me to the consultation window and the conversation was this way: Pharmacist- Why did the dr. write this script for you? Me- I hurt my knee. Pharmacist- did you hurt it yesterday? Me- no I hurt it 2 weeks ago but I waited until today to come to the dr. Pharmacist- I can only fill this script for 7 days worth of Tramadol or any other pain medication. She had no right to ask all these questions. It's none of her business! All she had to say was I can only fill this for 7 days worth of medication. I will never use a Walmart Pharmacy again!

Carolyn H Landreneau
from Jena, LA
We purchased a pound of Jimmy Dean breakfast sausage at 10 am this morning from the Ville Platte Wal Mart. When I opened it, it was rancid. There was no visible "sell By" date on the package. We live 15 miles from the Wal Mart, so I called to speak to a manager about the problem, hoping we wouldn't have to drive to town again today. The first time I called, I was put on hold for 6 minutes, at which time I hung up and called again. The second time I called, I was on hold for 15 minutes. I gave up again. In my experience,the Ville Platte store has a few good employees, but many are indifferent and appear to be "put out" if you ask them for service. Whoever answers the phones there had to be aware that my call was not answered. I called a third time and was transferred directly to a manager's office this time. No one answered after 35 rings. Wal Mart can be convenient, but next time I'll use one of our small local groceries. There's no excuse for selling rotten meat.

Bill Erickson
from Minneapolis, MN
I shop Walmart a lot BUT that will be changing very soon! You have changed the deli department for the WORSE!!!!!! you had great products Like Hoffmans Super sharp cheddar cheese and many other very popular items and now you discontinued them! STUPID!!! guess we will have to go elsewhere to get the products we want!!! By the way, your staff is VERY unhappy with you also!!!! It is showing in many departments!!

Ailsa Winje
from Brantford, ON
I applied online & received a Walmart Mastercard in the mail. I activated it & used it to rent more points for our Bluegreen timeshare. Our air conditioner quit working on us so I tried to buy a new one with the card shortly after that without even coming close to the limit on the card & it was declined. Extremely embarrassing but I thought it might be because I tried buying it in Oakville & I live in Brantford, ON. So I thought I'd get a much smaller unit in Brantford at Walmart but the same thing happened it was declined. I phoned Customer Service at 1-888-331--6138 & they put me through to Security, I was informed that they didn't have all the information they needed. "Strange to send a card to someone if they didn't have the information they needed wouldn't you think". Anyway I faxed down a copy of my driver's licence & Notice Of Assessment from Revenue Canada as requested on July 17th & was told it would be reactivated 5 days later. I phoned again on July 25th to check if it was activated so I wouldn't have to suffer embarrassment again & found out that apparently the fax was too dark so the card still wasn't activated. I just faxed another copy down from a different fax machine & again I was told it would take 5 days to activate it. What I don't understand is why would a card even be sent to me & activated if they didn't have the information they needed? I figure they won't activate it because the fax will be too dark again so I will just pay off what I have used when I get the bill, I'm planning on sending in some hopefully on Friday but I haven't received a bill yet. If the online application is going to cause all this much trouble I suggest you take it offline. I was going to use the Mastercard to pay on my maintenance fees on my Bluegreen timeshare but doesn't look like that will be happening. I'm extremely displeased with this whole mess!

charley ropp
from Melbourne, FL
Bought my tires though Walmart sat a appointment up 5/18/18 they charged me for new stems not all are new. tire is leaking rear pass. side. weights fell off 2 of the wheels called to make appointment was told to just show up early and take my chances. this Walmart was #03538 service order#485700-41377

Tyrone Howard
from New Windsor, NY
I purchased a potiable jump box from Walmart it ran around 100 dollars plus tax. I had it about 4 months an it just stop charging an jumping vehicles. S o I decided to return it to the store today 7/22/18 just to exchange of course I don't have my receipt. Ok so the store is all out of the same jump box that I have . No big deal, but now they (employees at Walmart i.e. supervisor during the day shifts) acts like the jump box didn't come from wal,art telling me she cant give me store credit without the recipt an the product number to the jump box . S o I go an get the same brand of jump box that's smaller then the original 1 I purchased , she continues to tell me that she can not help me even though I proved clearly that the jump box came from Walmart. I FELT TOTLLAY DISRESPECTED BY THE LACK OF CUSTOMER SERVICE I RECIEVED AT THE NEWBURGH NY LOCATION BY ALL PERSONS OF AUTHORITY. Im a quality customers who shops there frequently an feel as though , as a faithfull customer to Walmart the situation could have been handled better. The supervisor then tells me she cant give me back the 100 dollars an change I spent on the jump box cause its a lot of money . it is a lot of money when I spent it an the product is malfunctioning already. Plus walmarts a billion dollar corporation im sure a store credit of 100 will not effect day to day operations . Sincerly ANNOYED BEYOND BELIEF CUSTOMER!!! A TIMELY RESPONSE WILL BE GREATLY APPRECIATED.

james
from Louisville, KY
Went to store on Greenbelt Road Louisville Ky. Was going to buy Bluetooth wireless headphones. The store had a display set up. Seen what I wanted so I found the person who was suppose to be working that section. First off she says we don't have wireless headphones, I pointed to the display and also box in glass cabinet. She points at earplug type. That is not what I wanted and pointed at box I wanted to see. She finally takes her key and attempts to open. Then tells me they need to get a locksmith. Not a happy young lady. Not helpful at all. Went over to market side for groceries. Seen a employee leaning against a stack of something on phone. Ask where a manager was so I could complain. He said he was. Told him about problem and he tells me that they have called ab out 15 times to have it fixed. Bad service for a multi billion dollar company. I was at that store around 1130 Saturday the 21st

David hook
from Cleveland, OH
Store in Biddeford always it of product and getting worse. Thank you for converting me to another store. And carts are terrible. You have a manager to comfortable in that store

This is for store #1659
I tried to return a tablet for another better one with no receipt. Since it was a gift, I did not have a receipt readily available.
I get it, it's a little bit sketch (The seal was still intact and the tablet is clearly unopened). The first CS rep told me she had to get a manager and I told her immediately I could come back later with an actual receipt from my gift giver since I lived so close. She insisted on getting a manager anyways for approval.
Ok... I thought, if it would save me a trip back, I will wait for the manager. The manager comes and tells me right away that I would be getting less than what the online store price says. I was taken back and argued that the online Walmart sold it for 10 bucks higher. However, at no point did I curse, name call, or even yell. I may have matched my tone with his but nothing more.
He then proceeded to tell me that if the item is more than 50 bucks, they cannot even do store credit without receipt. Then he flashed his "I'm a manager card" and said "Its up to my DISCRETION to help you".
I was already ready to go home, but the way this guy was talking to me it was incredibly patronizing. So I decided to stand my ground in principle.
I told him that NO WHERE on Walmart's page does it say that about the 50 dollar max amount. Check it out here:
http://help.walmart.com/app/answers/detail/a_id/121/related/1
I must have accidentally insulted this guy's mom because he right away decided to shut down on me and told me verbatim "I'm done with you!"
So I told him I needed this escalated. I wasn't going to let this guy working in customer service of all places to treat me this way. And trust me I worked in retail and never in my dreams would I ever speak to a customer like this. It doesn't matter if they guy had a bad day or maybe another customer was a pain in the butt. You don't do that to customers.
Second manager was much nicer and much willing to explain things to me but still was unrelenting to give store credit. I was much more satisfied with her answer partly because she treated me like a human being. The other guy, Ron, treated me like complete garbage.
However, my biggest problem is that if you read that link, no where did that say anything about 50 dollar limit. Why would Walmart not follow their own policy and what's worse is that these managers are so arrogant to assume they know all the policies when a simple google search proves otherwise.
All it says is that if the product price is more than 25 dollars, they can only give store credit or gift card. Needless to say there is a reason why I do not frequent at Walmart. However, from now on, I will only go to Target and if managers at the store is reading this, yes I will also make a complaint at Corporate. This kind of customer service is simply unacceptable.

I was at Walmart in Richmond Indiana and got two 2 liters of Mello Yellow. I lost $14 in the store a ten and four ones. When I asked for help in finding it.I was pffered no help at all. I never felt less mportant as a customer . I was only in the store for a couple minutes so they could of viewed cameras to see where it dropped and who fpund it. The only thing I got was a sorry. Ifl it would of neen their money or item they would of done something. It was money I needed. I shop their couple times a week, but I will not now after the lack of help and compasion.

Susaln Belzi
from Nashua, NH
A little after 6pm today 7/19 I was ending my shopping at your store in Amherst NH. I went to cash out, there were 2 people ahead of me. There was an elderly woman on the register ( I have seen her there many times). When it was my turn a new cashier was going to take over. For the first 5 minutes I had to listen to the cashier coming on complain to the other cashier about her having to do this and that and something about being pregnant...all I wanted to do was pay and be on my way. Well first I had to hand her a personal size watermelon because when I put it on the belt I notice a soft runny spot :( I really craved water melon to). Anyway she starts ringing me up and she had a horrible attitude. She was slamming my items into the bags. My son (not a child he is 38 years old) was walking up to put the bags in my cart she would not spin the bag carousel she just kept slamming the bags on top of it he was pacing because the way she was banging my items was getting him angry and he did not want to make a scene. She continued to slam them. I paid, started to leave saw that a woman manager had come into the little area where they have the cigarettes and said to her and I quote " Your cashier behind you on register 15 has a Piss Poor attitude." I work in nursing in a nursing home and am always shopping there for soaps, goodies to munch on and clothes for my patients because they struggle. I am always at the pharmacy I at least 2 times a week getting groceries and have NEVER ever been treated so poorly. It makes me want to change pharmacies and go back to Market Basket for groceries. Oh yes and when I got home and took out the jar of pasta sauce I bought and paid for and wanted to cook, the jar had a crack all the way up the side of the jar and that is when I really got pissed off and decide to send this complaint. We couldn't eat it because I did not know if any glass was in it. I went on to my banks web page to see how much money I have spend at your store in just the past couple of months and let me tell you I shop there often. I wish I could say I would never set foot in that store ever again but that is unrealistic but I will tell you this I will make certain that my visits will be a heck of a lot less.I do not want an e-mail from you with a sob story as to why this happened I just want you to know that this happened and I am sure it has happened many times over because it is allowed to happen. I should have just thrown my arms up and walked away but after working so many hours one just wants to shop, pay and carry on.

Neil Grimm
from Americus, GA
I have been shopping at the West Macon Walmart for about a year. I usually go two or three times a week. I have always used the self service check out because they never open more than three full service registers. Yesterday I went to check out at the self service check out and was told I could no longer use it because I had to many items. There is no sign stating there is a item limit. I talked to a manager and was told that to many people were not scanning all there items, so you can only use the self service for a few items. There were four registers open and no one waiting to use them, but they still would not let me use it. I had to go to a full service line and waited almost twenty minutes, just to get up to the register. When I left I had to walk by the self service check out and out of the eight registers available, only three were being used and no one was waiting to use them, so the girl who was working that area went to the restaurant to take a break. This is totally stupid to have forty eight registers and only three open, eight self service and no one there. Taking my business to Kroger.

Andrese Al Wakeel
from San Diego, CA
I was called to the management room by the manager( Alberto Adams), in the presence of another manager( Faiz Esho ) fluent in Arabic because he is an ArabIc. Alberto claimed that I stayed in the break room more than 15 minutes and when I asked him to prove that .He said that there were spies told him that I stayed more than 15 minutes . I asked him to confront these spies face to face and I told him maybe those hate me or lie, he refused. But he said there were cameras in line with the spies' words. I work in the maintenance department and it is my duty to clean the break room and wipe the tables throw out old food, open cans and prepare cups for coffee, which may take the rest of my work.Alberto practices a racist policy with migrant workers from Iraq and openly contravenes ( California Discrimination and Harassment Prevention Policy.Alberto is not a direct manager. .My departmental manager respects me and gives me a report that I am a good worker.

Robert owens
from Macungie, PA
Wal-Mart store in Williamsburg, va #03219 op# 006353 te# 01 Ye# 06801 is the receipt on 07/15/18. We bought several items and was over charge on 3 remotes of cloth over $30 dollars.so I call the store when we got home for the mod, manager on duty . They never pick up. Then I call the complaint line which all they said the store will call you back in 1 to 3 days. I am not happy having to drive all the way out to the Williamsburg store. Today we had to go to Newport news, va to see our lawyer and saw a Wal-Mart there. We stop there to get the corrections fix. The assaint manager we had to go to the Williamsburg, va store to get it correct since that store mess it up. That is not fair. I have to waist my time and gas to fix your store screw up which over charge me $30 dollars.so I will loss more gas money and time cause of your incompetence employee.
What can you do about this?
Robert C Owens Sr.
201 tam O Shatner Blvd apt 25A Williamsburg va 23185
484 354 5781

laurie baker
from Blenheim, ON
your corporate office has reduced the hours of our store, it now doesn't open till 8am. I work 12 hr night shifts and would stop daily on my way home from work to pick up items for supper, school lunches, or work lunches. my shift ends at 7:30 and Walmart was the only store in my town open at that hour. There are aprox 200 people getting off work each morning and nearly every face I saw in the store was from the factory where I work. I guess saving a few dollars by opening later is better in your eyes than the huge inconvenience it has created for my small town. I live in napanee Ontario, many of the people from my plant that were shopping there at 7:30 am were from much larger towns on either side of it that simply wanted to pick up things their family needed and go home to bed,

Wilfred Hinchliffe
from Ocean Isle Beach, NC
The check-out policy in this store.(and I'm sure like many of your other stores)…….they have in this store at least fifteen (maybe more) I'll call them stop and go check-outs...you check out your items yourself...…..no one is going to tell me that they were put in your stores mainly for the convenience of the customer. Some people like them, most don't. You want to go to a register where a Walmart casher is and find that out of twelve registers,only three are manned.(Waiting again in long lines (happens a lot) I guess Walmart is saving a lot of money on wages they don't have to pay out.....right??!! just a guess. anyway myself and others would like to thank Walmart for the inconvenience...…………………………..We'll find another store to shop at...…..I'm sure this will bother the CEO's a lot.

Cherie Wirth
from Grants Pass, OR
I am very unhappy & disgusted with Walmart on line ordering. I placed a very simple order (I thought) but it took a total of almost 2 weeks in several separate packages before they were all received. I hate the fact they do not all come at one time. I think it is a way of Walmart to scam the customers. You get so many "little" boxes at all different times you forget what you originally ordered a couple of weeks prior! The 2 day shipping is a joke! There is really only 1 thing that Walmart carries that I can't find anywhere else but I will NOT order on line. I will go into the store & get that item & ONLY that item!!!! My other on line shopping I do through another retailer who not only sends it all at once but I get it within 2 days!! With free shipping also. The last order I placed was order #4511891-522393 on June 29, 2018 & I finally got the last item (I think) on 7/13/18....2 1/2 weeks later!!!! That is so insane------I now see why Walmart is getting such a bad name. I still don't know if I received everything because they were all spaced out so much.
Cherie Wirth

Michael hreene
from Chicago, IL
Need to tell your checkers to stop talking with other employees about their personal lives to each other and check people out, in line so long, frozen pops were melting, no excuse for such lousy service. Had to get them replaced

L Eudy
from Albuquerque, NM
Last month 6/08/2018 I shopped at Walmart on Academy NE in Albuquerque, NM and spent $178.58. The cashier was very rude, I asked if he could please bag my 2 bottles of apple juice which he had laid on the upper part of the bagging area. He said if I wanted it bagged I could do it my self. Also he laid on the upper area a pizza and a couple larger other items which I DID end up bagging myself. I was shocked and very upset and now wished I had left everything behind. I have shopped there again but will stop going so I don't have to be humiliated a second time. I'm sending a few numbers from my receipt so maybe you can locate this rude person. I 14 appr#008893, ref# 1042000314, trans ID 308159685382474, Validation zlfb, Aid a0000000031010, TC d054ef34aba121f6, Terminal # sc010928. Hope this helps find this person. Also while he was checking me out he was goofing around with other female employees. Thanks for your time. I'm NOT a person who complains but this experience was not acceptable.

Ryan Westenberger
from Anaheim, CA
i was stopped by asset protection about 3 weeks ago #1 i was stopped while exiting the first set of double doors AND garret (lp) had stopped me i was basically not even out the door yety he told me to follow him we went into office and he said he would explaian everything i y thought i had haD got home iNOTICED I HE DIDNIM IT WAS THEIR RESPONSIBT GIVE ME BACK MY LIC 2 1/2 WEEKS LATER THE MGR BASICALLY TOLD ME OH WELL I TOLD MGRTTING IT IN THR PROPER STORAGE OR LOST AND FOUND THAT IF THEY LOST MY ID OR DIDNT PUIT IT ANYWHERE SAFE THE MGR HAS SAID HE WILL CALL ME AND NEVER HAS L/P WAS IRRPONSIBLE UPON THEIR BEHALF FORPUTTING MY DOCUMENT IN A SAFE PLACE LIKE THEY DO EVERYTHING ELSE I HAD JUST GOT MY LIC 2 DAYS PRIOR TO STORE 2546 BACK TO ME ON THIS MA6TTER IRRARATABLY MIS PLACED MY CARD ALL I WANT TO DO IS BE COMPENSATED FOR MY LIC COST 88 DOLLARS SOMEONE NEEDS TO REIMBURST ME OR ILL GET A Lawyer cause he didnt give it back to me that very poor customer service and not fully doing his job polkease contactb me @ ryanw714@gmail,com or 7146766140
thank you mr. ryan westenberger

Bonnie Rains
from Ruidoso, NM
The Ruidoso, NM store is in desperate NEED of HELP! Store shelves are not being stocked! Cashiers are in very short supply (and I am one of those objectors who refuses to self-check) - People do need work, and if I succumb to the wiles of corporate greed it only helps YOUR cause. Check-out lanes (the few that were open) were backed up which caused traffic jams. Of course, the garden center check-out was closed, adding to my frustration. I think I can get away from Walmart shopping altogether by using the dollar stores for cleaning supplies and buying groceries at the supermarket. If I see an improvement on my next trip - I will reconsider. Bonnie Rains.

Donna Clark
from Halethorpe, MD
Most recently I have been unable to get my regular products at Walmart since their reorg I guess you would call it. I use Suave hair products in the pump containers, none of which are now available and there are no comparable unhealthy aerosol options there either. I always shopped your Faded Glory and other regular Walmart clothing brands and now I find that everything available is either horrible lookin or nylon, haven't bought any of the new lines - poor designs and horrible patterns. I still see some t shirts from before and do purchase them. There are a few Walmart brands of pharmacy items that have been absent from the shelves since April. I witnesses a manager scream at a salesgirl for opening a register to assist senior customers trying to checkout because their were people backed into the ladies department - there was only one register open. The manager was telling people to check themselves out there was someone in that area to do it for them. Customer friendly at Walmart is no more. I personally have been cussed out by an African American manager AND 3 or 4 of her sales force - wrote to you and NEVER got a response. Is Walmart trying to go out of business. Most of the time associates are in isles sitting on their phones or doing anything but work - don't they have an employee room for that when they are on break Or they are screaming and playing grab a__ in the isle - Time to wake up and take note - My apologies to those at Walmart who are helpful and do their jobs because they are the only ones keeping you going. One more question Does Walmart have a dress code for employees???

kris
from Fredericktown, OH
I have shopped at Walmart in Mt Vernon Ohio since it opened. But after this past week, I will never shop there again. The things I have witnessed and heard from employees ( who are afraid to come forward) are very unacceptable for an establishment in this community! I have been a store manager for another company for over 26 years and I NEVER treated my employees in such a horrible manner! I watched the "store manager" yell, disgrace, demote, and talk in a manner that would be classified as "abuse" to their employees. And ON the sales floor .... in front of customers and other co-workers! These are things that need to be held in private. Although I am sure this is not what your company teaches, it should be held responsible. Due to this action from the "managers", the employees aren't giving the customer service as they did years ago. I believe you should investigate this further. I felt sorry for these individuals being humiliated in public. This is very wrong to treat people like this..... thought Walt-mart was a family ran business?
I will be waiting for your reply.

Rafael Galarza
from Layton, UT
On 7/6/20018 I was in Bridgeport, Ct. I bought at Bridgeport Wal-Mart to set of cell phone. Straight talk LG one for me because the one I had the battery was not good. and one for the ministry. I came back home to Fort Valley Ga. on7/12/20018 and turn in the new Cell phone to the office but unfortunately it was not the one they needed. I went to the Perry Ga. Wal-Mart store to exchange it. I try to explain to the agent what happened and as soon I told her that I have misplace my receipt With out hesitation she said that with out a receipt there was nothing she can do. I ask for her manager. Mrs. Lashandra came and said the same thing, I ask for the complaint number and she just verbally gave me the number and she reply that she will not loos her job over exchanging an electronic product and that she will supply me with the Return/exchange policy. Miss Kayla came back she did not introduce her self to me. But she handle the police to me and show me where it said that with out a recipe they cannot do the exchange, She also said that they tell every customer about the policy. But that is not true. Miss. Lashandra had an attitude, the first agent I talk to said that she did not know that if the product been stolen.
But your Policy state that a customer can exchange the electronic device. That was not explain to me or even try to help me on what they can do to solve my problem. It is very un professional service that your department has. the will not care a bout the customers and the manager nor her employees are aware about you return policy completely only on portion of it.
After I got home red the full policy I whet back to the store the manager on duty had no idea about exchanging merchandise with out the receipt. and to bring him your copy of your Return policy. I told him that the manager had provide me a copy of the policy but he said he had no access and that he can not do anything for me. If Lashandre already decide that she will jot accept my return.
So I have a device that is not good to us thanks to walmart policy according to Mrs. Lashandra and Kayla. Also the evening manager said that there is no way for walmart electronic department find out where the product was purchase.
Your store history said that you are only one organization own by the same family. I feel that the electronic department in Perry Ga. do not meet the customer service expectations and do not provide the customer full professional and positive attitude to customer problem solving.
The staff roll the ayes up , they will walk away and manager will do the same and will not come back to assist me.

glen burt
from Jefferson, GA
had brain surgey paid off my Walmart card what they told me but I owed 11.00$ I got cancled on the card I will not to Walmart any more

william meneese
from Louisville, KY
I went shopping at Walmart at 3:00 am July 12th. I usually dont complain but every aisle I went down there was a walmart worker. Nobody said Hi may I help you and some just glared. You might want to talk to the manager, to train his workers better or have them work where they dont come in contact with people. I was at 175 Outer Loop, Louisville,Ky 40214.

Patricia Schilz
from Spokane, WA
I have applied for a Walmart Credit Card twice in the last two months and I have not received any confirmation on either one. I have attached a screen print of the application receipt thanking me for applying for a credit card with a reference number. I have called customer service twice and they said I would receive a confirmation in an email and physical mail, but have not received either. The last call I made today they said they were unable to send me an email but would send me physical mail which could take up to 20 days to receive. Could someone please help get this problem resolved? Thank you for looking into this, it is much appreciated.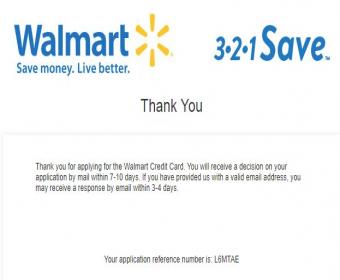 Donna Bazzell
from Santa Clara, CA
About a week and 1/2 ago, I purchased and loaded a Walmart Visa Debit card, initially for the purpose to use for Xbox online game play for my grandson. I registered the card and was told that I could use the card in store in person only until I received the personalized card in the mail. Over this past weekend, I attempted to make a purchase and the PIN which I know was correct was declined. Several attempts were made and finally the store employee assisted me as I used a bank card to complete my purchase.
I did find out that although I loaded the card for $20, that a $5 monthly maintenance fee automatically was subtracted and so the balance is now only $15.
After calling the number on the back of the card and receiving absolutely no assistance or resolution due to it being fully automated as I made multiple attempts to speak to a live customer service person. I called another number found online and spoke with a "Lee" who was helpful and explained to me and apologized that I was mislead about the card. She said that I would not be receiving a personalized card in the mail as when the registration is completed, the system decides either you are allowed a card to use and a personalized one will be sent or you are categorized as only being able to use the card with the balance on it and no more. This is so ridiculous and I was definitely mislead. How can a debit card that is reloadable be denied? That does not make any sense whatsoever. She has inormed that a refund for the card balance is being sent to me.
My fiance' who had absolutely no credit at the time, purchased and registered the card several years ago and had no problems at all, still utilizing it at his leisure.
I have good credit with multiple bank and charge cards in great standing.
Advertising these cards as reloadable Visa debit cards is false advertisement because if the only way money can be put on the card is by the customer doing so, how can they be denied that use when before purchase does not at any time inform it can be denied.
I am a frequent Walmart customer, have been for many years, and I am now totally and thoroughly frustrated, disgusted, unhappy, and prepared to report this situation to BBB as well as to several local newspapers. As a state government Business Services Manager, I find something very wrong about this.
What kind of scam is this?
I would like answers please.
Thank you,
Donna Bazzell
502 807-7575

Missouri Glover
from Charlotte, NC
July 10, 2018
To Whom It May Concern:
My husband and I shopped at your Walmart located at 3240 Wilkinson Blvd, Charlotte NC on 07/06/18. We bought two large packages of skinless chicken breast, 022763040810 cost $8.10 and 022763070935 cost $9.35. I put two of the breast in my crock pot on Friday and they are still cooking today is Tuesday. Those breast are as tough as an OX's rear end, what are we suppose to do with them, the more they cook the tougher the meat become and we can't take them back. It is a shame that kind of meat is put on the market for customers to purchase especially when we are on a fixed income. We spent $169.02 cash money thinking that we at least we has enough meat to last through this month and now we don't, stop putting BAD MEAT OUT THAT PEOPLE CAN'T EAT!! Thank you
Missouri Glover

Yesterday, Thursday, July 5, 2018, sometime during the evening, my wife and I purchased some items at the Walmart store located in Brawley, California 92227. As we paid for our purchased items and headed to the exit door, we were stopped by a female employee, who asked us for the store receipt. My wife asked as to why she was doing this, since the store is not a membership business, such as SAMS or COSTCO, where you are required to show proof of membership when you enter and exit facilities. The employee stated that she was doing her job and for us to take our complaint to their main office. I do not think that this is proper customer service and or a proper way to explain as to why this store is conducting business contrary as to what other stores do. If I want to be examined as to when I enter and exit this store, then; I rather pay for a membership and conduct business at COSTCO instead. Note: I noticed several customers displeased by this action conducted at your establishment. Thank you.

Bryan Keith Freeman
from Bangkok, 10
I am in Thailand, my brother is in Arizona, he went online to send me some money through MoneyGram. I went today to get the money at the bank here. When the teller entered the Ref # she got "Please call the Moneygram Help Center to complete this transaction." She called them and after a few minutes she handed me a phone number in America to call. She said that they would not tell her what the problem was. So I called and got a lady, she said the system was "Down". But the way she said, the tone and the nervousness in her voice told me that she was not telling the truth. So I hung up and called again. I got Jeff Spikoly from Fast Times at Ridgemont High. Not only did he sound like I either woke him up or he was higher than a kite. After I explained the situation a few times, he finally got it and asked for the reference number which was already given twice. He then told me that my brother did not complete the form so my brother needs to contact him. I told him that my brother did it online and that he has a receipt for it. Showing the transaction was completed and got a reference number. He said that my brother needs to contact the help center. I asked if the number I was given would work as I am in Thailand and he is in the states. He asked me "which number did you dial?" OMG, I gave him the number and he said, "Uh, yeah, sure that will work." So I contact my brother and he calls 4 times and got no answer. I still do not have the money and he can not contact anyone. This is what he received:
Your transfer is being sent! Have receiver bring Ref no.31345976 & PhotoID to pick up when ready. https://www.moneygram.com/walmart/us/en/ for status.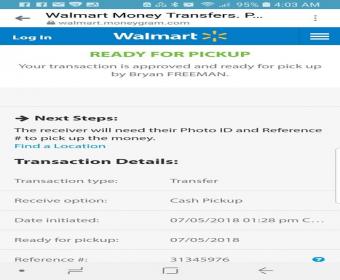 Sam, Soheir
from Hollywood, FL
To Whom It May Concern,
I'm filling a complaint against customer service supervisor her name "Samira" at Walmart store # 02591 in 151 sw 184th Ave., Pembroke Pines, FL. 33029
She was overbearing, Rude and despicable
On Tusday 07/03/2018 at 1:20 PM I try to use moneygram to transfer money to my native country the casheir asked for my social security number which I refused to provide her I told her I did transfer many times I never asked to provide my SS# she said because the transfer money so much I told her what the maximum transfer money I can do without providing my SS# she answered rudely I'm not telling you, I did asked for the superviser, she came with bad attitude without saying hi or either what can I help you, I told her I going to reduce the transfer money to $3,000. Without looking to the computer screen she said I need your SS#, I said to her ok I'll reducet the money to the same amount I did transfered a couple of month ago without SS#, she said very rudly "no" you told me already two different amount of money, I said because you don't want tell me the maximum amount I can transfer money without SS#, you didn't type nothing at the computer or either took the money, she said "no" and turned her back with very low class attitude, I was embarrassed.
She never said "Hi" or "sorry" or "I can't help you or call the moneygram to check how much".
She is unprofessional woman, overbearing, Rude and despicable.
This type of behavior is not at all acceptable.
I request you to look into the matter as soon as possible before the other employees will do the same to get a higher position like their supervisor.
I really greatful that walmart exist in my life I feel safe, comfortable and satisfied when I buy their products on line in terms of price, quality and delivery speed.
My favorite store is the "Walmart" close to my house, so I would like the staff to be an honorable face to Walmart.
Regards,
Sam, Soheir
suesue1010@hotmail.com

Ruth durham
from Arlington, TX
I shopped for my last time at Crowley Walmart . I spend at least $100 a week on pet food and supplies there , I volunteer with animal rescue and appreciate any savings I can get as it helps feed another animal .todays visit I thought yay , got lucky ,30 cents a can for ,13 ounce poultry platter , of course I took all 33 cans but cashier would not honor price,5 employees later ,including 2 that where visiting and supposedly high corporate guys (that where calling to me to have a great day as they refused to honor the price) said I could buy only one can , I should have taken their pictures to post my experience on face book.. I wished I had put back the other $78 .worth of cat food I had in my cart , but had already paid for it while waiting for management to honor the price they had on the shelf .SHAME ON WALMART in Crowley .!!!! What's worse is the disposition of those managers who stood smiling like they ruined my day .by no means , I was prepared to buy it no matter what , just thought I had a lucky day . , but instead they managed to force me not to shop there . I have high ethics and principals that I stand by and Walmart has proven again that they lack morals . It was not me misreading anything , upon me questioning that I could only buy one ,that was not on any item on the shelf stating that .anyway bye bye Crowley .ill spend my money elsewhere

Your PEDO symbolism on the shirts in the boys department in Lewisville, Texas "you want to pizza me" is sic and disturbing it goes to show where Walmart's Moral Value is. You and your company can go to hell in a hand bag. We Americans will expose you and your company for what you really are A BUNCH OF SIC PEDO'S so get ready your times up. #BOYCOTTYWALMART hit em where it counts in their pocket book!!!!! Bunch of SIC DEMONS.

Shirin Purnell
from Sperryville, VA
Location: Walmart store, Culpeper, VA 22701
Date: June 27, 2018
Time: 12:25 and 12:45 p.m.
Where: Bench by a restroom in the front area of the store. After that Customer Service area next to the restrooms.
Today was my last day as a Walmart customer. Our local Walmart's customer service has been going downhill recently. Not sure why but some employees are placed at the exits and randomly stop customers to see their receipts. I understand that some items may beep that would render the checking of a receipt, but being stopped while you already have Walmart shopping bags in hands smells of some racial or some other bizarre profiling to me. I have been stopped rudely last weekend while wheeling out a kids bicycle (their birthday gift) with my little kids and having other Walmart bags in hands. The lady at the door rudely gestured to see the receipt and then didn't even look at it and handed it back to me without any "thanks" or apologizing. What was the point? Can't remember being singled out like that at Target or other local grocery stores we frequent. I had to shudder every time while leaving this store expecting to be pointed at and asked to step aside. Not a pleasant experience at all.
Today was the worst with my mother who is visiting from overseas and doesn't speak good English. She buys all her gifts, necessities and souvenirs at Walmart, and this week alone spent over $500 there. Today I was supposed to pick her up from yet another Walmart shopping spree on my way to pick up my kids from their day camp. Instead I ended up searching for her for 20 minutes since she wasn't where we agreed to meet, and she wouldn't pick up the phone. I was imagining the worst thinking she had some health issues due to her age. Then I finally received a call from her saying that some employee lady approached her when she sat down next to the restrooms while putting the money back in her purse after just having paid for her items, and started asking her questions. My mom told her in her bad English that she was waiting for her daughter and she didn't speak good English. Then the lady proceeded to empty all her Walmart bags (WHAT?) and checking every single item against the receipt my terrified mother produced for her. What the hell? Then she took my mom to customer service and made her wait in a long line while I was losing my mind searching for her. When I finally found them, I got the end of the conversation between the first employee and the cashier accepting refund items at customer service. Turns out that some cheap lip balm has been rung up twice, while the same lip balm in a different shade hasn't been rung up at all by the cashier. Which puzzled even the lady who had to assure the first employee that it was totally fine. I WAS SPEECHLESS!!!! I was so upset, late and mad that I just grabbed my mom and we left. I had to pick my kids and I was late because of THIS?! The lady never apologized, by the way. It didn't occur to me to ask for her name (which I should have), or to see the manager, because I didn't realize the whole ridiculousness of the situation then. Now I am wondering who gives these employees instructions to search bags of elderly ladies who are peacefully sitting on benches inside the store bothering no one. She didn't try to leave the store, nothing beeped, she had a lot of bags with her and her receipt had over $150 worth of goods just purchased. Did she really think someone who paid that much would steal a cheap make up item costing $2? If so, why didn't she take her back to the cashier that made a mistake? What is wrong with you, Walmart? This is how you treat your customers, and in this case foreign tourists???
Like I said. Never setting my foot in your stores starting today, and never letting my foreign guests enter your stores either. Not worth the humiliation and lack of human decency.
P.S. If you are serious about finding out who the employee was, though I suspect the problem is not limited to that one employee only, I could describe her. Or you can always check with the lady who worked the Customer Service desk at 12:40 today. I am sure she remembers.

James Raposa
from Houston, TX
while purchasing tires employee who was doing install got very upset and was throwing tools across the floor and screaming at employees, after getting home I noticed he did not install valve stem caps, and did not replace hub center in rim. Need employee # to watch cameras and check this out. Not the kind of employee I would have working for me. store was in Lumberton, Texas 11 am Josh A 6700 6/20/2018

Judy Ling
from Tehama, CA
Prescription was sent in by doctor 10a.m. I went to pick it up at 12 I was told it would be an hour. I left came back. Asked for the medicine and was told again I would have to wait an hour. I said I have already waited my hour ask the other clerk who took my order, She came over looked at the computer and said you still have 5 min. I have always gotten my prescriptions at Walmart in GA and they didn't have the policy you had to wait one hour no matter if it was ready. I will NO LONGER GET MY MEDICINE AT WALMART CVS HERE I COME.

My girlfriend and i tried to return three items this morning at the lonoke location. There were two employees involved. One was a regular cashier who looked to be stocking in her isle. We greeted her and said good morning we would like to return these the receipt is on her phone. She sighed turned her back and mumbled what sounded like "morning". She began to ring the items up. Then she told me a total. I said no mam we are trying to return these she sighed again and yelled "ms Rita" which was the second employee that came walking up wearing a yellow vest and she said "we don't do returns till 7am" my girlfriend said ok no problem. The cashier snatched the bagged items and laid them on the counter and said we don't do returns till 7am. She was extremely rude and I have never felt like such an annoyance to someone we spend a lot of money with! I do not believe Walmart operates or wants to be known to operate like this. I am
Not sure what we did to upset the cashier but i was also amazed the superior employee in the yellow vest "ms Rita/Nita?" Allowed this to happen and didn't even act like the employee had done anything wrong. We do not APPRECIATE being treated like this. My girlfriend is actually from bentonville ar and a former employee and was shocked at the treatment.

Michael Randall
from Candler, NC
I was in your store on Airport Road in Arden, NC tonight shopping in the electronics department. There you have many TV's playing stuff which is expected but there was one TV on the top shelf that was on some channel that had some black guys doing rap. The language was so bad that I was in shock that the store would be allowed to play something like this. There were children nearby shopping with there parents and it was terrible. I went and complained to the customer service desk and they call some employee by the name of Marc and told him about it. I proceeded to go back to the area and wait to see what would happen. I was shocked that nothing was ever done while I was there which I waited about an hour. Marc and the other employee that finally showed up just stood around and talked. I did not purchase anything from the store tonight and will not shop at that store again. I will be going to another store down the road from Walmart tomorrow and buy what I need. I'm not sure this will even be address but I just felt that a faithful long time customer was completely ignored.

charles cobb
from Mebane, NC
I was shopping in your store and was about to leave when I was stopped by a manager david was his name and he asked out of the blue if he could see my receipt I asked him why without answering my question he goes on a tirate about having the right to ask me for a receipt that might be true while I am shopping but after I pay its mine don't stop me on a hunch I am sorely pissed he followed me around the store he didn't ask for a receipt frankly it was a matter of race profiling plain and simple I want the managers head on a stick I was not raised to be silent to speak out when wronged by anyone

Paula ciletti
from Irwin, PA
You sent me two five dollar gift cards for a bad product i bought .They don't work. And I been trying to contact the mainstay about the gazebo i bought it only lasted four months and it fell apart .I been trying to contact them for months .I paid 200.00 dollars for it it should of lasted longer then that. Thanks paula ciletti .

Patricia Simpson
from Dallas, TX
My sister and I with are grandchildren were in the self check out. We were talking and I paid but truly forgot about my husbands beer at the bottom. My sister was just checking out and I turn to take the cart to her and the woman was standing there and I replied oh I forgot the beer and she just stood there with her arms across her chest smirking. Even when I couldn't find the bar code she offered no help what so ever. I felt bad and said to her I would have caught it and I wasn't trying to steal and as she walked off she popped off and said ya right. My sister was done and we started to leave and she came back stepped in front of my 5 year old grandson pushing his new bike and said loudly I need to see the receipt for the bike which was the first thing that was rung up. I go to Walmart at least once a week and spend anywhere from 150 to 300 dollars. I don't care how far I have to go I will never go there again. Never have I been so embarrassed or so upset. I understand you have to keep your eyes out but it was her very rude attitude that hurts the most. And I'm also aware that she is watching the screens to see what is rung up. I truly felt she was trying to embarrass me my sister felt like she did it because one of granddaughters is mixed race. She was a manager and had the worst people skills I have ever seen. This was at the Harrison Arkansas store and here my sisters and my receipt information 6/15/18 tc#07630779063167289268 time 12:43 tc#11398516894658762727 12:41 tc#72979224918712504515 12:44 if needed this is my phone number and I will save the receipts Thank you Patricia Simpson

Robert Henriksen
from Lebanon, PA
Customer service so bad it drives customers somewhere else to shop.

DARREL W SENTER
from Wrightsville, GA
Hello, I was in your Eufaula, Alabama store yesterday buying groceries and there was a woman with a dog in the store.
One of your employees told her no pets were allowed ln the store and the woman started screaming at the man telling him to leave her alone and to get away from her.
The store manager was called and he listened to her complaint about how a store employee was harassing her about her dog and all he was doing was informing her of store policy. I told the manager I saw what had happened and the incident was all her doing from the get go by bringing the dog in the store and evidently this isn't the first time she has done this and screaming at an employee to leave her alone that she needed her dog with her for her nerves or something.
My point is I don't want damn dogs, cats, pigs, snakes, lizards, horses, cows or anything else in a store where I buy my foods and clothing.
Tell your store managers to get a back bone and escort trouble making stupid people outside. There is nothing wrong with having a pet for companionship, I have 2 cats and 2 German Shepards my self and love them immensely but I don't take them to the damn store with me! Remind customers that they are not in a pet store to shop elsewhere or leave their damn pets at home if they want to shop Wallmart!!!! Thanks for listening and stop this crap now before it gets out of hand. DW Senter Cell phone: 706-957-0086 if you want to call
This complaint is strictly between me and Wallmart customer service and not to be shared with 3rd parties for any reason and is to be kept confidential.

Cathleen naumann
from Chesterton, IN
I'm was the last person in my family to shop at walmart and after my last experience will never again. I went to return an item and waited 25 minutes in line with one register opened and six other employees stand around talking and doing nothing. My time is important to me. Then I waited at the deli forever while employees act like they don't see you, this happens ever time I uses your deli . Then I went to the lawn and garden and bought two bags of mulch, when I asked for a carry out I was told they were too busy, again with multiple walmart employee doing not a lot standing in the garden section. So I guess my family is correct walmart is not worth the trip. Very disappointed shopper

I keep seeing dogs in the store. They come in in purses and on ropes. They are in the food area, the clothing area, everywhere!! These are not service dogs. I know a service dog when I see one. These are pets and hunting dogs. Store employees say they can not stop them from entering. What type of customer do you want? Someone who plays by the rules or someone who makes up their own ?I can guarantee if I lit a cigaret inside I would be told to leave.

The pharmacist Olivia at the Beebe Wal-Mart store sold us an inhaler that doesn't work, she refused to replace it, refused to refund the purchase price and refused to give us back the prescription. Her only solution was for us to take it apart and fix it ourselves. My wife is still suffering without the meds and had to return for a new prescription. I told all this to the store manager Connie, she doesn't care and told me to leave. Been complaining to cooperate ever since, but so far nothing. Don't know we're to go from here.

William Finnegan
from Mesquite, NV
I arrived at my local Walmart like I have done in the past 14 years. parked in front stall, and sat there for about 15 mins. then I decided to go inside and talk to the manger, One of the young kids runs in side, tells me it would be about 15 min! I looked at him and said, you could not tell me it would be 15 mins when you walked past my vehicle about 7 times!!! He got smart with me! I asked him his name! He told me it was none of my business! I told him I would never come here again, his replay was that's not a big deal. I'm very disappointed in the service that I received! I will not go back and I will voice my concerns with my friends and family.
Sincerely disappointed customer,
Bill Finnegan

RE PENNEY
from New York, NY
One would think that returning a defective Walmart battery well within the warranty period with original receipts in hand would be a hassle-free, straightforward process. Think again! Leaving my disabled European vehicle behind in Cypress, I managed to make it to this Long Beach store, battery and receipts in hand. I presented the battery, and receipts, to the auto center personnel. This was done after guidance by the customer service department. The receipts revealed that the battery, Walmart's top-of-the-line " EverStart, 5 year, 3 year free replacement" , had failed after only two years. The failure was verified by another facility, and the in-op vehicle itself was proof-positive. But Walmart's succinct, & clearly printed warranty served only to confuse the auto center employee. He did not seem to comprehend the word "warranty"; obviously not comfortable with the many nuances of the English language. He immediately became loud and pugnacious, demanding I present the receipt from the shop that tested the battery! (What shop issues a receipt for a free battery test?!) "Where is the shop?" he demanded. "I want the receipt" he angrily continued. Becoming smug he then stated "it will take an hour to test the battery". I remember thinking "what country am I in?". It became clear the employee seemed to have been schooled in the realm of "mordida", and my continued presence would yield nothing but continued insult. So I unhappily departed, defective battery in tow. I am certain, if Sam Walton were watching, he would be saddened and disgraced. REP, Laguna Beach, Cal.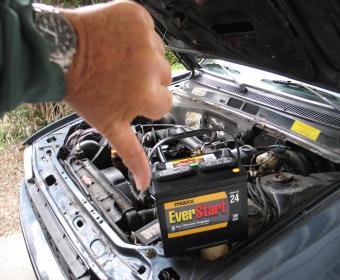 george ellsworth
from California, PA
trying return a tv that was purchased at your store. they were very rude. I would like someone to call me. your west Brownsville, store

****MILITARY ***** (Navy) son has horrible experience at this Walmart location on Memorial Day leave. On leave looking to purchase some headphones so he could use when back in Virginia.. VERY SAD that he had to deal with this and especially to be treated as he did something wrong. I asked for Walmart to step up and do the right thing. Here is the story: We stopped in to purchase a set of Apple Airpods only to walk out of the store and open the package to find a lighter, vape pen pieces inside the case. Someone had repackaged and placed it for sell. We went into the store right away to speak with Assistant Manager, he stated that it was not a legit product. He would not replace or refund the item even after verifying the video surveillance. We were told to call Apple. Had to call the police and file a report at the store. Next Day spoke with the Manager Ruby, she wanted to review the surveillance and was going to get back to us and of day. That did not happen, I called back after waiting for a return call only to find out she left early for the day to attend a family event. Nice to know what she was enjoying herself while our family had to deal with the aggravation. Called again next day and she started they couldn't do anything, she did call the Vendor and Apple stated they were not going to handle. I've requested a response from her corporate office but don't expect much. If you purchase electronics or higher dollar
from Walmart it would be in your best interest to verify the merchandise before leaving the store. I get the store would be leery of scams but this was minutes of leaving the store. This has gone beyond the money and is more about principle. I've reached out to a few local news papers to share the story in order to prevent other from having to deal with this.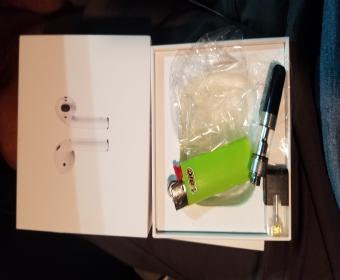 I went shopping at your Duarte, CA store. I was going to purchase 12 pack Shock top, 4 pack red bull and 4 pack monster. As the cashier was ringing up the items she asked for an ID, I let her know I did not have it on me, I was surprised since I am 56. My 32 year old son walked up and showed his ID. As the manager walked up, the cashier said she could not sell the beer to us since I did not have an Id. The manager said it was policy and that they could not sell it to my 32 year old son even if I was not with him for a 24 hour period since I did not have my ID. Unbelievable! Every one in line was staring at us, your employees were cavalier and seemed inconvenienced by us, that we were bothering them by needing clarification on the policy. I am happy to report that my local Albertsons had Shock Top for a good price as well and sold it to my 32 year old son even though his 56 year old mother did not have an ID. I agree with a policy of verifying the age of individuals prior to selling alcohol but once my son showed his ID verifying he was over 21 the sale should have taken place.

Today was the 2nd time I have tried to buy a tv at the Harrison Walmart. The 1st time was last year. First I could not find anyone to help me.
Everytime I asked for assistance, I was to told to wait and someone would be with me soon. New customers enter the department and someone would walk up to them and if they needed any help. I was very stupid because I waited an hour before I left the store. I went to best buy in Branson and was help within minutes and they answered all my questions and were very helpful. Today, dump me, went to Harrison Walmart to buy another tv. I did find some to help. this is what happened. I asked two questions about the tv,s. He answered both and started to walk away. This is Friday ant your ad on the Walmart page stated a sale for the holiday weekend. I asked if the sale was on or if it was just on Monday. He stated the sale started earlier in the week and all the sale products were gone and if I wanted to buy a tv that was on sale I should have been there earlier in the week. I don't know what is wrong. I guess I am not young or pretty enough because those employees will spend lots of time with them. I am just one person and I know my business does not mean that much. I don't buy groceries there and most likely still will. But anything else I will go somewhere else. You should tell you employees that it may be a lot of fun to wait on the young and pretty, but it is the older people that have the money. And trust me, WE will go somewhere else, Our money matters, and I do not have to spend it at Walmart..
Like I said, I may still by grocerties but any anything else I may need including electronics I will go somewhere other than Walmart
Margaret Metzgar

why is it when you purchase some Great Value products you get sub standard quality, i purchased a 12 oz package of Great Value thick cut sliced bacon after opening the package the bacon has a couple strips normal sliced (not thick sliced) and the rest is almost paper thin this is very deceiving i am very disappointed in your product i would think you would have better quality control standards than this

Hi, This Mahesh, I am this Reynoldsburg Walmart customer last 19/20 years, used to be a business customer also, and getting Tire and Lube service for me and my brother's family, around 6 to 7 cars and vans. This time I am terribly disappointed with Walmart Tire dept. at 2793 Taylor Rd. Reynoldsburg, Oh. 43068. who's selling Goodyear Tires and not honoring either Road Hazard warranty or Goodyear 65000 mile warranty.
I purchase Two Goodyear Tires Assurance Auth from Walmart in Reynoldsburg, Ohio, in Nov 2016 with 43034 ml. both installed in front. As of routinely for the rotation and balancing, I went to Walmart this past Sunday morning, May 19th, they were balancing and rotation, but in the same evening with my bad luck I ran over somewhere on Nail and Screw on each tire. I went there for repair on Monday, May 20th evening at around 4:30pm and found due to some reason they closed the Tire department. Timings are 7am to 7pm. Then I went there on Tuesday, May 21st. at 2pm and explain to Mr. Tom. The way he acts, I feel like he is not in mood to honor the road hazard warranty and Mileage warranty. He makes excuses like I bought the tire 3 years ago (acutely 2yr and 6 months) and your tire don't have enough tread on the Tire so we cannot replace your Tires, and he was forcing me to buy two new tires. In our conversation at one point he said (You just want free tires. He doesn't have right to disrespects me like that) and I told him I am not here to get free tire I have a road hazard warranty and you guys should replace these tires under road hazard warranty. And then he calls Mr. Garly to handle this, they have more than 5 minutes' conversation in between. Mr. Garly he acts like a supervisor and he also said my tires are not in good shape and refuse to honor me with road hazard and Mileage warranty. If my tire is not in good shape, then why they didn't tell me at the time when they rotate and balance the tire and they did not even mention on their service order sheet. I told him how long I have been coming to store for all kinds of services and you guys treating me like this. Also in the rotation and balancing time they totally ignored that pothole cut. Most of the people working in Tire and Lube department are totally nonprofessional and non-technical and careless, and don't care about Customers safety. When I ask him can I talk to the Manager then he said he don't have any manager available right now. When I ask him to find some manager then after 12 to 15 minutes he came with lady Manger from some other department, and she repeats the exact same thing what Mr. Tom and Mr. Garly told me.
On first tire I have 4/32 and on second tire I have 2.75/32, They still in good shape to drive another 15K to 20K miles. Right now I have 86242 ml. means I drove only 43208 miles. I still have 21792 miles to go, according to Sam's Club, Tires still in good shape and Walmart should honor the Road Hazard warranty or Manufacturer warranty.
I would like to know how Walmart management justifies this situation and punish those people.
Today May 21st I purchased 4 Goodyear Assurance Comforted Touring Tires from Sam's Club with the best deal. I am pretty sure of myself and my family, Walmart lost valuable customers.
I am still holding both Tires with nail and screw in it. And one of it also have pothole cut on it, Pease see attached pictures. My contact number 614-961-2803 and email add. bharat168@gmail.com
My contact number is 614-961-2803. And my email add. bharat168@gmail.com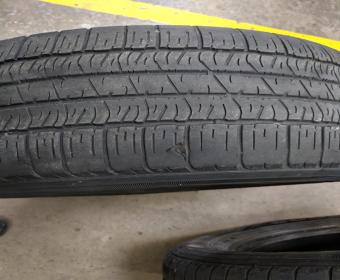 I was on your website and I wanted to buy your v7 dyson cordless vacuum cleaner for $299.99 When I looked up the website a day later It said that vacuum was now $399.99.I complained to your corporate head office and all I got was a woman named Sabrina V who I could not hear properly, Im pretty sure she was doing that purposely because 1 minute you could hear her clearly and the next you couldn't. She kept on asking the same question about the vacuum cleaner and then would go away and check,.she did this many many times, finally she said she found the item. I asked her if she would order it for me since I couldn't find it on the computer anymore and she said yes. My visa account number was given to her plus my adresse then she again said she would CHECK! when she came back she told me she would put me in touch with another customer service rep. That rep gave me the same bull and I was getting nowhere so I hung up. If walmart advertises a product on line and does not say when the sale is over they should honor that price for the same item!!

Yesterday on May 21 2019 I went to Walmart in the Ephrata area. I bought a 16 oz container of Wilton Rich Chocolate Icing. When I tasted it it tasted terrible. I looked at the expiration date and it had expired August of 2017. I was very disappointed as I had expected a good rich quality tasting icing. Also this was for my cake I was decorating for someone's birthday. Is there anyway this can be looked into and steps taken to fix the problem? I would like to see the old icing taken off the shelves of the Ephrata Wallmart in Pennsylvania.

I live half a mile from this store. Automotive department has a SLOW NICE gentleman working at cash register. He needs second young man at cash register. It ALWAYS takes LONG time to give a service. PLEASE send help!!!

I purchased a comforter from Walmart.com $57.49 on Friday 5/17/19.
It won't be delivered until 5/23/19.
Today I got an email from Walmart that the price dropped to $24 . So I contacted Walmart for the price adjustment. I was told that the item came from another vendor and Walmart won't adjust the price. When I order and pay my Walmart credit card I expect Walmart to honor the adjustment. If I wanted to deal with another company I would have gone to their website. I use Walmart trusting the integrity of the company.

I visited store #577 on Friday and again about 1 month ago to buy diapers for my granddaughter. On both occasions I am now being stopped at the door on my way out because the box of diapers are not in a bag, now you imagine putting a big box of diapers in a bag, but mostly you don't have bags to fit over them. Really so now your going to treat all of your customers as thieves because your large bulky items that DO NOT FIT INTO BAGS are thieves..... Its discouraging when I have to frequent this Walmart many times because I have to struggle to go to the mall or other places to buy items for my 15 month old grandbaby plus my 2 kids and husband and I. I suggest that if you dont want stuff not in a bag then you need to stop selling these items and put your stores to stuff that will only fit in a bag. Its very upsetting when people are starring at you like youve done something wrong and you have like 5 other bags in your cart plus a box of diapers and a potty chair. ( LARGE ITEMS) it's really disgusting of THE NOT SO GREAT WALMART TO TREAT THERE CUSTOMERS THAT WAY WHEN THERES NOT MANY PLACES TO SHOP AT. So I think you need to fix this issue with me now that this has happened to me now twice and I am almost sure if I go buy another bulky item that this will happen again. Fix your stupidity and don't blame me if your employees can't do their job correctly and catch thieves. Don't treat me as a thief when I have stood in your rediculous line because you won't hire people to work the registers and expect people to work for free by doing the self check out. So fix it, your not so happy customer......

I called to Walmart (1825 Rockbridge RD, Stone mountain Ga 30087) I asked to be transfer to the meat dept. I was left on hold for about 5mins, then call drop. I called back spoke to a African American women, I ask to be transfer back to the meat dept. She stated she couldn't transfer to that dept. She asked me how can she help, I ask her did you have the case of whiting, she stated I just left from over there and there is not no whiting today. To me that was very odd, I went a step further and use you Walmart app, that stated you all have whiting fish in stock, so surely I took the drive to the location, and discovered there was over 6 boxes of whiting fish. She straight up lied. I use a gift card that was giving to the school for us to by items we needed for the kids picnic on this past Friday. I used $73.34, which left a balance of $26.66. I went to you your Centerville store and the card decline. I'm like I know there should be $26.66 remaining on the card. I went to customer service, where it was discovered someone use my gift card. I had to pay out of my personal money, because you all have fraud. I was told to notify the Rockbridge store. I called and spoke to Timothy he advise me that I have to go back to the store where the card came from, however I live 1hr away from this store. He also told me that you all are aware there is a scam going on. With that been said, I don't feel like I shouldn't have to commute the other Walmart which is off of Peachtree industrial, to get my money back. I have been dealing with this since Friday, what a inconvenience.

Razvan Petre
from Québec, QC
Hi,
I have made an online order on the Walmart website with the option "Pick-up in store" on 13th of May. I have received the notification that it was delivered on 15th of May but the store is telling that they don't have it, not even after several days. The store is telling me to call Walmart Canada, Walmart Canada is telling me to contact the store. This is the worst experience I've ever had.
Regards,
Razvan

Large Holiday order from Walmart.com was received damaged and defective. Returned in person with store manager. Promo codes were received to make up for AWFUL experience. Final code did NOT work. Upon questioning with on-line chat my account was deactivated. Call center supervisors created new account for me so promo code could be applied. The new account was also closed. Tried a third time with supervisors instruction and assistance. Third account closed. All returns were accepted as an item cannot be returned without being accepted. Walmart has a return policy, yet they penalize a customer for using it. Items ordered from Walmart.com ALWAYS arrive with problems. Boxes, bags burst when thrown from whatever delivery service. Items inside boxes defective and damaged. You can NOT shop Walmart.com with confidence. I suggest Amazon as they appreciate their customers.

This is the second shipment that has been damaged in shipping. First it was almond milk not properly packaged and 2 half gallons leaked out completely before it got to me. This time I have 2 bags of flour torn and all over the box, and I am missing 5 pounds of sugar! I am in a very small town and have transportation issues now so I can't even get to the nearest Walmart, which is 16 miles away. I guess I quit ordering from them and start ordering from Target

This is a consumer complaint.
Yesterday, while shopping at the Grants Pass, Oregon Walmart, I was walking down an isle to get some Tums for my sick husband. While pushing my basket down the isle, an above cameo was filming me, and snapped pictures of me. I was not stealing, nor was I near any products, yet I could hear the camera click and two bright lights flashed off in my eyes. That is not acceptable and feel very violated by Walmart's tactics to invade my privacy as a customer and to take away my personal space and right to shop in peace.
I am appalled at their intrusion of privacy at my shopping trip of 5/6/19. In the past, I worked for attorneys and a Police Department and have never stolen a thing from Walmart!
When I called to complain, my call was given to an Assistant Manager, who said no pictures were taken and denied it happened. Then she said, apparently the camera was just "rebooting".. I do not agree.

I shopped 5/5 at store # 02955. I bought 2 outdoor chair cushions. I paid for them, with a basket of other groceries through the self-serve check-out. After scanning them, I placed them on the bottom of the cart while I scanned the rest of my items. Apparently on my way out of the store they must have slid off the bottom rack. They were lightweight and the material was kind of slick. After driving about 8 miles home and unloading groceries I realized I did not have the cushions. I have tried to call customer service 7 times in the past 24 hours. Either I get no answer at all when I call the store phone number, or if someone does answer they transfer me to Customer Service and then no one answers there. I let it ring and ring and ring. I would like to know if anyone turned in the two cushions. Of note, this Walmart store (133rd State Line, KCMO) has steadily gone downhill , in my opinion. It is the closest one to my home and I shop there on a weekly basis, but I am now willing to pay a little more to simply cross the road and give my business to Target and hopefully receive better customer service. These c/s issues arise and there is no one to address them. If you don't care, you'll soon find there will be many less customers to care for.

Daughter had a tire fixed and 12 hours later it's flat try to get it off lug nuts start breaking off. Call wal mart and he has no answers as to how I'm getting this tire off. So now I'm having to pay a mechanic to get it to his shop and get the tire off. On the 2 remaining lug nuts. Should also mention that it was already missing 1 lug nut before the tire was fixed. Found this out on paperwork. And when we tried to get the tire off.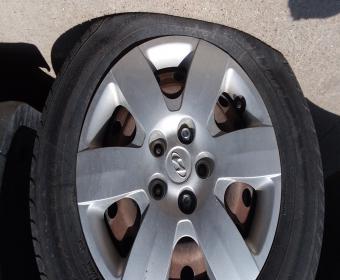 antoinette merlino 757-345-2376
MY COMPLAINT IS ,HOW RUDE AND INSULTING THE MANAGER IS AND 2 OF THE EMPLOYERSARE. 2 TO 3 WEEKS AGO I HAD AN ISSUE REGARDING A RETURN ON SLIPPERS. I KNOW THE RULES ABOUT HAVING A SLIP,. I';VE BEEN SHOPPING AT WALMART SINCE
2003.I MISPLACED MY SLIP I HAD THE ITEM IN FULL TACT .THE GIRL SAID NEW RULES, NOSLIP ALL YOU GET IS $3.00 REFUND AND
THE ITEM WAS $11.99 NOT ON SALE. THAT IS NOT POSTED ANYWHERE IN THE STORE,. FOR CUSTOMERS TO SEE.
SO I APPROACHED THE MANAGER AND HE WAS RUDE COULDNT UNDERSTAND HIM. AND WOULDNT HELP ME. AND SO HE WARNED
ALL CLERKS AT THE DESK,DO NOT REFUND $11.88 .THEN THIS SAT. WHEN I WENT SHOPPING 5/4/19 THERE WERE 2 CLERKS
ON GUARD. ONE WITH A 2 WAY PHONE AND ONE POSTED AT THE DOOR WATCHING ME LIKE I WAS A THIEF. I'M VERY INSULTED.
I RESENT THIS ATTUTIDE TOWARDS ME WATCHING ME LIKE I Was THIEF AND FOLLOWING ME. ANTOINETTE MERLINO

Kathryn Pullman
from Des Moines, IA
I purchase the majority of our groceries at our local Walmart Store located at 5101 SE 14th St in Des Moines, Iowa. Recently I have noticed that our store no longer carries the Rotella Bread that my family loves so much. I spoke with a Rotella employee at another store today (where they still sell Rotella Bread) and asked him what had happened. He said that he had heard that Walmart was going more nationwide with the merchandise that they carry. I personally believe in buying local. With stores all over the U.S., I would think that they would prefer to stock the shelves in each location with local products.
I would like to see the Rotella Bread back on the shelves at all of the Walmart store in Des Moines. As is since Walmart is not providing that choice at this time, I find myself going to other stores that do and that is an inconvenience for me, but worth it.
Please reconsider your decision to remove Rotella Bread from the selves by putting it back on your shelves.
Sincerely
Kathy Pullman
Des Moines Iowa

Rodney cochran
from Granite City, IL
the pharmacy in granite city would not fill a Doctors prescription saying I need to talk to the Doctor it is not the job of Walmart to pry in my wifes medical history I will talk to a lawyer about hippa rights and Walmart.

May 3, 2019. I took a unopened DVD BLACK complete First Season 31398 28380 to the Customer Service counter 1650 W. Maloney Av Gallup, NM 87301 505-722-2296.I did not have the receipt. The cashier said it was Item not found. I told them it came from their store.
I asked to talk to the manager. An Assiatant Manager Vilda, said it did not come from thier store and refused to listen.
In front of a store full of people, she basically called me a LIAR.
This is Gallup, NM, the store employees are Navajo, and I am a white women, and flet attacked. The manager took no time to help, but continued to embrass me in the store.
Right now, returning the DVD is not an issue, but the act of discrimination is!
The DVD did come from Walmart, for Gallup, NM is a small town and there is no other place to buy DVD's.
The assistant manager is rude, neglectful, prejudice, and not a people person, and cannot handle store situations.
Maybe I need to seek other legal advice...
Geneva C Davis
1801 W. Aztec
Gallup, NM 87301
505-870-8167.

Frank & Deloris Readnour
from Oakwood, IL
The gates you have installed is a pain in the you know what. You have added more self check out lanes and taken away full service. I hate this and so does every one I have talked to, I have gone to Walmart for years but I am seriously thinking of switching to Meijer in Danville, Illinois, Please do something to correct these problems. IT IS A MESS!!!!!!

OXFORD, MS
I WENT TO MY LOCAL WALMART STORE 00699 NEEDING TWO TIRES AND AN OIL CHANGE!
I WAS TOLD I COULD NOT BUY TIRES BECAUSE THEY HAD NO BALANCING WEIGHTS TO BALANCE MY NEW TIRES.
I SAID WELL CHANGE MY OIL THEN! I SPECIFICALLY TOLD THE WORKER THERE THAT I WANTED 10-W 30 OIL BEING MY CAR IS AN OLDER MODEL! THEY PUT 5-W-30 OIL INSTEAD. I TOLD THE WORKER TWO TIMES WANTED 10-W-30 OIL!
THE WORKER TOLD ME ALL 4 TIRES WERE BAD! THAT IS NOT TRUE MY 2 REAR TIRES WERE REPLACED AT MY LOCAL WAL MART 4 MONTHS AGO! THIS GUY DOES NOT SEEM TO KNOW WHAT HE IS DOING!
I WILL TAKE MY BUSINESS ELSWHERE FROM NOW ON!
NOT A GOOD EXPERIENCE IN OXFORD, MS.
ROY PITRE

we purchased a ATT sims card at your store in AZ we moved prior to using it lost our receipt only to find the sims card is no good...……...

robert d rupert
from Galesburg, IL
too long of line checking out..more cashiers please..thanks.

All of the self check out lines. If you have a cart full of goods the last thing you want to do is check yourself out. there are 4 lanes that are not self serve. you can wait in line up to 45 minutes to get checked out. I used to be a checker at Albertsons if I wanted to be a checker and get paid for it I would still be a checker. there is no incentive to self check, how about 10 to 15% off since you are not paying a checker or a bagger. I normally do all of my shopping at Walmart but have changed to WinCo as my time is valuable and I do not have time to check and bag a cartful of items. Sad

I bought some pork rids at your Ephrata wa store. they were so bad that they were rotten they stunk . I never buy meat and food from your wall mart again. you .need to clean up you meat dept .. .people do not have money to buy rotton products . I will tell people not by from wall mart

I checked out on 4/1/19 and 2 feet from the checkout at the door, I was stopped scanned my receipt and then He proceeded to take out 5 easter buckets that was 90% off 49 cents, counted them, took pictures of them, I could not believe what I was seeing, He told me that anything that is not in a bag is to be counted and pictures taken! I paid for these items and I feel that he did not have the right to touch my items, I am 76 years old and never in my life has this happen before, 49 cent buckets!!!!! Everyone I talked to I told them to make sure that every item they buy at walmart to put in a bag, even if they have to tape them around the item, What is going on with you people, I have shopped at walmart for years and this is a sad thing to happen.

I was in Walmart located on Annapolis Road, Lanham, MD and wanted to purchase a Xbox game for my grandson, I was informed that they only had one Key as they had lost the other one. Understandable I could wait until the key returned, but when the employee who had the key returned I still didn't get any service, actually Robert the CS Rep who informed me stated he wasn't going to help me when one of the cashiers said we were still waiting. I finally flagged down someone else and they retrieved the key and assisted me.
If the young man was having a bad day he should have clocked out and went home. I guess he got upset because I asked why we couldn't get the game again. However, this is no way to treat a customer. You need to train your customer service staff on effective customer service. If it had been him and he got treated poorly he would have had an issue. This should not be tolerated.

TO WHO IT MAY CONCERN:
Hi, my name is Angela. I went to the Walmart in Blytheville, Arkansas yesterday to purchase a $200 push mower that was back in Garden Center. I am highly upset about the whole ordeal. No associate was in the Garden Center and we waited in there for about an hour,still no associate around and there were more customers asking me why no associate was in the Garden Center. know but we had been waiting for an hour.I told them I didn't know and I went and asked a woman associate that was working the floor. She gave me a dirty look and called for an associate Name April, I went back to the Garden Center and waited believing she would be right there. We waited another 30 minutes and the associate never came to assist me. i went to the pharmacy center to ask them to call an associate to Garden center and that one has been called already but she never came to assist me. So, The lady in pharmacy paged that an associate is needed in the Garden center. Once again I go back and wait another 30 mins. Still no assistance from an associate .I go to the pharmacy once again and asked for an associate to give me assistance. She as well, gave me a dirty look this time but she did call for Garden Center Associate about 5 minutes after I went back to the Garden Center. Waited 30 minutes more and STILL no associate came to assist me. My little 65 year old mother was with me and she had to help me load the big heavy box that contained the mower because we got tired of waiting. Three hours Is too long to have to wait on an Associate. We didn't even have help loading it. This Walmart lacks well mannered Associates and has the poorest customer service reps that I have ever seen. I went through all of this just to buy a $200 mower that I desperately needed or I would have walked away. One upset customer! Thank you.

Paul E Klautsch
from Chicago, IL
We accidentally wrote a check on an account that was compromised and had to be closed. We realized it the next day and have been trying to repay what we owe. We have gone to the pharmacy and the store talked to managers who said just wait for a letter. We also contacted corp but no help. Now you send us to a collections agency. So now that you have done this we will never again use your stores for anything. We spend on average of 2-300 dollars a week there. What you did is just wrong. And on top of it trying to charge us an extra $30.00 to boot.

On April 6 of 2019 my grandson visited your Auto care center at the Walmart located at 7101 Cedar Springs Blvd., Louisville, KY 40291. He purchased motor oil and an oil filter from inside Walmart's and took it to the auto center for then the changes oil and filter. He was told by a technician name Marissa number 8509 that she was declining to change his oil and filter because the drain plug she claimed turned twice and was very hard to turn showing signs of cross threading. He brought his car to me and explain the situation and being an aircraft mechanic I told him I would help him. I purchased a new drain plug and brought home a 14 mm tap to re-thread the drain plug. From the comment the technician indicated on the service order I was prepared to remove this plug with an impact wrench. However a hand wrench was only needed because the plug was so loose I merely unscrewed it with my fingers. Within the service order it indicated an inspection had been done only for me to find out that I could actually remove the oil filter with my hand barely turning it. This should not have been missed within that inspection. Concern about the comments the technician made I made a visit to the Walmart Auto Care Center and asked to speak to the manager. The manager said his name was Jim and he was the assistant manager and hired to straighten out the mess with in the auto center. I explained to Jim the situation and he was very rude and continued to smoke his cigarette with another employee and the whole time I was talking to him they would smoke their cigarettes and constantly spit on the pavement. I explained to him that what the technician wrote down had to be a lie because she indicated the oil pan plug was cross threaded and there is no way she could have known that if she did not remove the plug. After observing several of the employees it was obvious they were trying to get the Walmart customers discouraged from having their oil changed. The rest of that week I make several trips back to the auto care Center only to be told and discouraged from getting my oil changed. On April 28 I did visit the Auto care center again with my personal vehicle and told them that I had my own oil that I purchased inside Walmart. I was told that they had changed their policy and they no longer would change oil that was purchased from inside the store. I told the technician that I seen an ad where they now carried mobile synthetic and if that was the case for $44.95 I would take the oil back that I purchased and it would be cheaper for me. But I was told they did not have 0W 40 oil so I was out of luck. What would have happened is your shop would put the wrong oil in my truck with no doubt. Your employees are discouraging customers if they feel like they cannot make a lot of money on them. I have been in business for more than 40 years and this is the worst business practice I think I have ever seen. Upper management needs to look into this practice. I am also going to file a complaint with the Better Business Bureau. Walmart is a big company and I am just shocked that you would conduct business this way. I have attached the service order and a picture of the drain plug.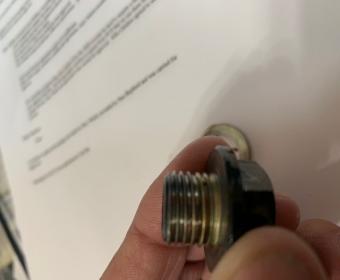 I utilize the Chattanooga Walmart on Greenway drive for extensive purchases within all facets of my life. Store is very complete and rarely do I not find what I am looking for. Unfortunately the bathrooms are not monitored very closely and whenever I can the men's room it frequently smells foul and the waste container for s overflowing. There are some nice associates working there but I have noticed their tenure is usually limited, yet the rude associates seem to remain. Some very nice and very capable associates that in some cases have been there a long time have been fired. I noticed this trend off fast turnover gaining speed after the last store manager(Alan Curtis)quit. He was very capable and very nice, it's anybody's guess why he left. The management team that replaced him are inferior.
But the main reason I am writing is that upon entering your store today, many hundreds of dollars worth of plants had toppled over because of the wind, had obviously been there sometime. And upon closer inspection all these plants, as well as the rest on display we're dieing for extensive periods of time due to be ok ack of water. I have seen t he is before at t hi us store. It posts a terrible WE DON'T CARE IMAGE, totally opposite of the messages of a positive nature on Walmart TV commercials. I spoke to three mangers who all acted arrogant and indignant, and when I left the store 45 minutes later the poor plants were still spilled out into the entrance driveway, many withered from lack of water and proper care. As discussed said, it represents a store wide attitude of not caring about the reputation of the store or how their behavior translates amongst the customers.

You corporate policy now of checking any unbagged items, even when there are may other bagged items in the cart is insulting. It assumes that ALL your customers are potential thieves. Tonight I went to the Supercenter on Westport Rd. in Louisville, KY. I had a few large items that the checker did not bag. As a result I was stopped at the door and scanned on those items. I told the woman at the door that I objected to the policy. She said that it was corporate policy. Therefore I am filing this complaint and telling you that this is a one strike and your out deal. I have done this with another box chain here. Now I will here. I will not go back to this or any other of your stores unless or until I find out that this policy has been revoked. It treats all your customers as thieves. It is VERY INSULTING since I spend a lot of money a year there. You won't miss mine anyway.
James H. Stahr
Louisville, KY

Price mis-marked green peppers on bin .88/lb instead of each. Produce manager told me let the cashier know. While dealing with cashier on register 5 the cashier on register 4 was very rude and inserted herself in the conversation. My decision was easy then decline purchase. This all occurred about 5:25 pm today.

I went to Walmart to purchase Bod body spray, it is now kept in a locked display case and I understand that and appreciate that they had to do that b/c people end up using it and then the next person doesn't get a full bottle. There was a button to push for customer service and I ended up pushing it 3 times, so when no one came I went to the front of the store to customer service and asked if they could get someone to come open the case. The girl paged someone over the loud speaker to help so I went back and waited for someone to come and when no one did I pushed the button again and in a bit a gentleman worker came over and told me they had been looking for the key and no one has it so basically I couldn't buy the product. I told him that isn't right and went back up front and asked for a manager and this gentleman was one. He called to another lady worker who was probably a supervisor and she then found the lady clocking in and asked her for the key. She didn't seem too concerned and left toward the back of the store and the supervisor lady told me come on, we'll go back and wait. When we got back to the case she was talking on the radio with the 1st gentleman and he told her there was no key and that he had already told me that. In my mind that's not an acceptable answer!!!! She apologized and said hopefully they could get more keys and that she and some others would get one. For an organization as large as yours that's poor customer service.....no one has a key???? That took probably a half hour of my time.....not acceptable.....

I complained about the Harlequin Series Books being taken from Walmart Humboldt Tn and found out it was not true . I sincerely apologize. Thank you.

Charles Amaral
from Fall River, MA
O i will use a Hundred words. I was in your Fall River store around 4.30 today doing some shopping, as i was walking down one of the main isle's i slipped on a Broken Egg sitting in the middle of the floor twisting my lower back then catching my balance with no one in site but i'm sure it's on one of your countless cameras in the Grocery Section. After it happened i left my shopping cart over it so no one else would do the same wile i looked for help. So here is the help i received, told one worker who told me o i'm not on the clock anymore and quickly walked away. Then i told a second worker who was a so called greeter and told him about the Broken egg i slipped on and he told me he could not walk to were the broken egg was located but when he seen that it was in eye site of him he grabbed a cone and marked it after i removed my shopping cart. All the wile i can already feel the twink in my right lower back as i was checking out so i told my story to the cashier who asked me if i would like to make a report and i said yes. So then one of your so called Managers came out to meet me and i told him what had happened. Well he told me he seen the broken egg and it was being cleaned up. (Never even asked if i was OK or what my name was.) Right now i can feel the pain in my back and i'm just dealing with it until the morning. If it is still hurting i'm going to the Hospital and strait to a Lawyer. Who leaves a broken Egg unattended as this was? I want you to take a look at the Video i know you have to see just how long this Broken Egg was left unattended in the middle of the floor. I was told by one of your own workers if something like this is spotted they are suppose to stay with the object to warn the public until it's cleaned up. If i'm still in pain in the morning i promise you won't be hearing from me again it will be my Lawyer you're talking to. Made sure it was cleaned up on the spot before i could even have a chance to take a Picture. Unbelievable Neglect.

I went to Walmart in pace florida today to get oil changed. after reading my receipt about service, it said tires checked 35 lbs in each tire, my car has the tire pressure for each tire on speed dial. 3 tires had 35 lbs, but 1 tire had 38 lbs. so I checked when I got home and I know they did not check it. also got to checking other things and know they did not change my oil filter. so I will not be going back. bad service.

On April 1st I paid for 2 Better Homes And Gardens 3 person Glider to be delivered by April9th, it wasnt and Walmart kept telling me to wait it's coming. Later they reordered and dropped shipping charges and only 1 glider was delivered 2 weeks later in a damaged taped up box with pieces missing and frame twisted and bent, driver said they didnt recieve 2. I called Walmart they insisted both were delivered and I needed to file a police report. I made several calls, online chats to Walmart and asked that they call delivery and confirm 1 was delivered, they would not do it. I had to call Pilot delivery service and they went above and beyond to contact Walmart. I still have not been refunded and have a pile of junk sitting in my yard . Walmart has had my money for weeks and caused severe stress over this situation.
Customer service is horrid. And I dont appreciate speaking to someone in the Phillipines that I can't understand.
I asked 2 be refunded for both pieces .
This was a large purchase of ove $700 dollars .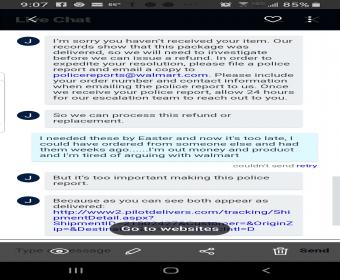 I spend a lot in Walmart I used to work for wal mart we never told a customer there wrong and the customer has to prove that the sign is there and boxes of this is there 50% off the price with the easter waited up at self service for about ten minutes then went for this person and was told the same thing and then had to show her I did ask for a manager but they gave me this person I am really thinking hard on this one I do not like to be told I am wrong this is the store in huntersvlle I can barely read the reciept transaction number is 5504 1712 1492 2367 5724 the manager at this store is james dick I also shop at the one in Denver,nc they are always helpful and nice guess the way I look at it is if travel longer distance just get treatment I expect as a customer even though this one is close to me I spend a lot in Walmart I also do stuff on line

There is an express checkout lane clearly marked 20 items or less. On numerous occasions at the Walmart in Eastland TX I have gotten stuck behind customers with full carts. Today at 9:45 I had 11 items. The customer in front of me besides 5 garden purchases had at least 45 additional items. Her total was 67.xx. When I asked the cashier she told me they are not allowed to turn them away from their line. The lady behind me in line also had an overflowing basket. If it isn't an express lane then take the stupid sign down!!
Very annoying especially when there were 2 other checkouts open. Just one more reason I hate shopping at this Walmart. Maybe management needs to retrained in what express lane 20 items or less, means.
Seriously considering driving an additional 20 miles to shop in Breckenridge from now on. On the many occasions I have shopped in Breckenridge they always have registers open. What a shame this store in Eastland is so bad. Even some of the cashiers have complained.

Rick Garrett
from Louisville, KY
Visited sporting goods department in Lawrenceburg Ky store On Easter Sunday. Was looking for food plot seed for wildlife planting on my farm. This is the time of year (spring) for planting. Not during the hunting season which is the time of year you guys tend to carry seed. (not real smart) I normally have all my planting done by this time but wanted a little extra seed for some bare spots. Tractor Supply was closed for the holiday or I would never have paid your store the visit. Our visit was at approx.1:00pm I told the lady in sporting goods what I needed and she acted like I was insane! THIS TIME OF YEAR WE SELL FISHING EQUIPMENT AND FISHING LICENSES NOT STUFF FOR HUNTING. IF THAT WAS A PROBLEM CALL HEADQUARTERS. My wife and I looked for our self and actually found two bags of seed. this employee was very rude in my opinion. I have been hunting and fishing all over north and south America and run my own hunting camp here in Kentucky. I buy seed from you guys some times in the fall and normally store it for spring planting because you tend to be a little less costly than outdoor stores. I do not need lectures from associates on the proper time of year it is. And as a side note it is spring Turkey hunting season here in Ky.

On 1-24-I9, I got a Walmart Gift Card off the display rack in Corinth MS. I paid $0.75 for the card and put $500 on it. The following day I couldnt use the card. It% was invalid with a zero balance. The card security was breached PRIOR to my purchase. The balance was withdrawn MINUTES AFTER purchase. I need my money . I have talked with local Walmart management many times without reeolving this issue. The card was basically hacked prior to purchase. I need my money refunded, PLEASE HELP.!!

On 1-24-I9, I got a Walmart Gift Card off the display rack in Corinth MS. I paid $0.75 for the card and put $500 on it. The following day I couldnt use the card. It% was invalid with a zero balance. The card security was breached PRIOR to my purchase. The balance was withdrawn MINUTES AFTER purchase. I need my money . I have talked with local Walmart management many times without reeolving this issue. The card was basically hacked prior to purchase. I need my money refunded, PLEASE HELP.!!
Have feedback for Walmart?
Thanks for your feedback!
Sorry. Please try again later!