Walmart
Walmart Complaints Continued... (Page 4)
1418+ reviews added so far. Upset? Call Walmart corporate: 1-800-WALMART

Tara Tidoni
from Los Angeles, CA
This morning I went into the Walmart location on Fallbrook at The Fallbrook mall in Woodland Hills California needing to make a return of two products that have been unopened not user tampered with with my original receipt and had the expectations based on your return policy and previous experience at Walmart stores doing returns that I would get my money back and be able to get a refund for the items I kept my receipt for it and didn't use. One item was vitamins totaled at $19.98 & muscle rub totaled at $7.97. I waited a total of 12 minutes before it was my turn to be helped I went to the register and the cashier who was there to help me Eileen was told halfway through the transaction to go on lunch so she said okay walked away clocked out and left so I was left there standing for another 5 minutes before any of the other three customer service employees that were standing there not doing anything would acknowledge me and start the transaction over again.
much to my shock and surprise I was denied a refund or exchange of any kind because my receipt had been folded up several times I'm sorry I keep a small pocketbook so I fold my receipts of tiny and file them away apparently Miriam the customer service rep that refused My Refund and The elusive customer service manager who would not come out of the office I was told "she's not going to tale to you and plus shes too busy handling some monies" or so it was relayed to me in a very condescending tone. I also had a bathing suit I had purchased a week prior for my daughter's birthday that was today and I realized I had gotten a size too small and I wanted to exchange it I did not have my receipt for that one but I don't do excessive returns at Walmart so I could have been able to do a return or so I understood from the policy that I read just that morning online, but lo and behold I was refused for that return as well. now I would understand if I had excessive returns or if I had even walked around the store prior to give me my return but I came directly from the front doors to the customer service desk I had my receipt I had my items on damaged I don't understand the problem and as far as I know I was completely entitled to a refund per your Walmart policy that's posted as of right now on the website. I don't know why I was humiliated by a customer service rep this morning in front of serveral other customers, I really don't understand the disdain that the customer service rep had for me considering her personality changed immediately when she started helping me as opposed to the lady that she was helping minutes before. I don't enjoy spending money for my 6 childrenand my husband and my pets add a company who doesn't value their customers and treat them as though they are the scum of the earth. I'm a professional woman middle-aged I don't have a bad attitude I'm a very Cherry person and I greeted her to such so I really don't understand and I'm humiliated embarrassed appalled upset and I completely disrespected and insulted. And not to mention now I'm out the money for those two items and the bathing suit that I was denied a return for. I had one of their complaint in the past that I brought up to the GM there and he didn't care about it I gave them the benefit of the doubt thinking it was just a bad day so I continue shopping and this makes me want to tell all my friends not to go to Walmart anymore cuz this is how you're going to be treated you have to worry about buying items cuz God forbid their mistake and you have to return them you'll just be humiliated in front of all the other customers and denied and you'll be out money. I hope that my complaint is taken seriously and that issue can be resolved and those employees are disciplined accordingly because this behavior is got to stop especially in economy like today you have to earn your customers not scare them away. I really thought Walmart had better values and instill better values and customer service skills in their employees but I'm sadly mistaken I highly doubt that this will be resolved I don't have much faith in it I'll be pretty shocked if it is , but one can hope.have a good day and thank you for your time.

Robert Leeds
from Dallas, TX
Ordered a television from walmart.com because they were out of stock at the nearest store, it all started when the woman working and electronics informed to me I could buy the TV at walmart.com since it was out of stock there and because it was out of stock she would give me a 10% off voucher which I could use on Walmart.com. well first thing, the voucher was not 10% it was only up to $20 and secondly the voucher was expired so I order my TV and after much confusion about when it was supposed to arrive it finally got to me in time for my birthday.
It was then that I found out that pilot the delivery company does not deliver anything be on the back of their truck so getting a 65 inch TV to the second floor apartment with only myself and my wife was not going to be very easy, but I did get the man to help me take it up there and gave him a $10 tip
But when I opened it and turned it on I saw that it was broke the screen was cracked straight down the middle and at the very top had a half moon almost look like someone kicked it
I immediately called Walmart and the Fiasco began, I was first told that no problem they would take care of it and get me out a new TV and also they sent me an email with a $20 off my next purchase at Walmart of $45 or more.
So then I get a US Post Office shipping label in my email so I am supposed to box this thing back up and take it to the post office? I called them back up and by the way every time I call I am talking to the call center in India and speaking with a different person so this person gets on the phone and I tell them there is no way I can take it back to the post office and explain the reason which was I am on the second floor and it would not even fit in my vehicle oh, I mean this is a 65 inch TV and I only have a small car.
So this man informs me that he will take care of it of course and that FedEx will be there the next day to pick it up at which time he offers me 10% off of the TV. He tells me that the TV will be there within 7 days. I get an e-mail verification about the replacement TV and the shipping date the new one will arrive, then immediately after I get another email stating the TV has shipped?! The next day comes and there is no FedEx I figured maybe they got busy and would be there the next morning so I waited until the next morning and still no FedEx at which point I call Walmart again and I am told they will have to call me back after they look into it oh, I never did get hey call me back what I did get was an email stating the TV WOULD ship after they verify that they received the broken one.
So of course I call Walmart again and I am talking to the call center in India and I am fed up with what they are doing so I tell them I want to speak to someone higher up than them so at first I am told there is no one higher up then then to which I said they're absolutely is somewhere then I am placed on hold and when she comes back she tells me that she will give me 10% off of the TV, again and will order it immediately so I am at a loss now and I say no I want to speak to someone above her I finally get an American woman I don't know where but she has no clue what is going on and when I tell her the situation about FedEx she cannot find anything so this takes about a 45-minute phone call to where she finally reschedules FedEx to come get the TV. So after I get off the phone with her I get an email stating my order has been cancelled saying the TV is out of stock and they have no idea when they will be getting any more in stock that is exactly what it said so being very angry now I call Walmart backup and I am speaking to the call center in Indy again and at first the woman tells me the TV is out of stock and cannot be ordered after me reading her the riot act for a minute or so she then asks me if I want her to reorder the TV and she will take 10% off of it, at this point it's all thoroughly ridiculous and I hang up and write a letter to Walmart to which I get a generic response stating they are sorry and the customers are their most important yada yada yada so anyway I get another email this one saying I am not going to be charged for the TV or something then I get an email after that stating they are going to refund my money so now they have $800 of my money tied up and according to the email it will take up to 223 billing Cycles to put the money back on our card. So now I cannot even go somewhere else and buy a TV so I'mma sit here and twiddle my thumbs trying to see my computer from across the room on my birthday in our new apartment.
I know many people probably exaggerated but I actually have all of the emails all of the correspondence and in fact I went to walmart.com and the TV that they cannot get it still being sold I even went through the whole buying process up until putting my actual credit card information in and clicking by and was told that it would be available April 3rd if I wanted to pick it up at a local store and it would be between April 3rd and 10th if I wanted it delivered.
That is my complaint Mickey Mouse just started running Walmart

A D Million
from Houston, TX
I shop mostly at the Livingston, Tex Walmart and recently I have tried unsuccessfully to use my Chase Debit Card. This card has worked at every other store but the last three times at Walmart it wont accept my card. the card is not that old and has been used at 3 different check outs at the Livingston store with the same results. Apparently the checkers do not pass this problem on or the management ignores it.

L Winter
from Arroyo Grande, CA
OMG went to the store to buy a few things and to my surprise the polish dogs I buy went up $3.00 that is outrageous. I was already upset that a case of the dog food went up $2.00. How are people supposed to live on a fixed income? I do a lot of price checking so I suppose I will be buying things somewhere else....

Robert Lee
from Knoxville, TN
I went in store 6777 clinton hwy.knoxville tn. 3-20-19 at app.19:30 pm. entered the main doors due to the lawn and garden doors closed.every time i have been to this store the doors were closed.even afternoons.So i go get the 4 things i needed and went to the front 10 check outs where i had came in.they are 10 of them at that entrance,only one was open.a lady in management walked by with 4 or 5 people in line ,looked and went on by,did not open another check out. i was in line 10 mins or more waiting.I should not have had to walk to the food section to check out. some people did.if all those check outs are not used take them out for more space. and then after i checked out i had to wait in a line going out due to a employee checking every thing in people had bought with there receipt.there were at least 6 in that line. I think some changes need made. or close this store down. I will try my best not to go back to this location again or Walmart at all.

Anthony
from Little Rock, AR
4350 Southwest Dr, Abilene, TX 79606
Profiling is a real big issue at this store I go to the store at least once a week this week I've been going at least every day for lunch in the morning before I go to work and I get harassed almost every time I go there followed around the store by the managers and I get questioned after I already purchased something . I'm African American I have a full-time job I'll bring in over 1500 a week I've been going to this Walmart for years and I have not seen it this bad I question myself every time about even going to that store or Walmart engine oil

I am a handicap person who must use the electric carts. Now Wytheville, Va. has put in all these self checkouts. How are handicapped people and the elderly supposed to be able to use these? I went to Wal-Mart for groceries because I could get other supplies there as well. It was a one stop shop but I will not be back if I have to try to check myself out!!!?????

Great Value white bread UPC 007874228644 I believe you have changed bakeries for this white round bread. Try a loaf. It tastes OK but is full of air holes. I have not had one loaf that is not full of air holes. It is impossible to make a PBJ or put mayonnaise on a slice of bread as the condiment
goes right thru. Please Please find a better bakery for this bread

I have been waiting for 15 mintues for customer service to help obtain a product that is locked behind glass door (Baby formula). I am a valued customer and i feel like im getting treated like a criminal. All items should be locked behind a glass door. Is this worlwide practice to lock walmart products behind glass doors and have the customer wait 15 minutes or more to custumer support? If so, i will take my business other places and encourage my friends and associates to shop other places where the customer is valvued.

I went into the Brunswick Wal-Mart super center on yesterday morning to get a set of tires. After waiting for 2 and a half hours, the tires were not properly put on my vehicle or were not the proper tire for the car. After, I complained and asked for the tires to be removed the young man put my original tires back on my car. This morning the tire pressure is off. My tires were not low when I went in there, so I believe that the mechanic did not put enough air in my tires. I am highly upset.

sh erry Newby
from Ithaca, NY
my name is Sherry Newby I am complaining about the way I have been treated by one of new pharmacist. She insinuated I was going to get hooked on the medications I was taking. She said I should not be ta in front of about 10 customers. then she says, she could'nt believe a doctor would prescribe lorazepam and subozone together. She looked at me with such disgust. I was just so taken back by her abrasive attitude. I am on meds for PTSD major anxiety issues and depression. I have been a customer at Walmart pharmacy for over 3 years. She also insinuated that I was getting medication from more then one doctor, I told her I have had the same doctor, Howard Silcoff, MD and have never had anyone other then him prescribe my meds in his care. I have never had a bad screening in the 3 yrs with my doctor. The next month it was worst. She refused to fill my med because she needed approval other then a email from my doctors direct computer. she has given me such anxiety issues over this and for what. I have been clean over 7 years and I am at the peck of my life. I am 55 and do not deserve to be treated as I have been. Deb has treated me so very good and the past pharmacists too. This is a situation I feel strongly discriminated against. may I say every time she needed these approvals, I had to go days without my meds. there is so much more to say about the two months that followed these. I was treated worst each month that passed, only by her. Please do not shove this under a pile of papers, I am very upset and need more then just her apology. Thank you for your prompt attention to this matter. I do not know her name. I know what she looks like, short curly gray hair with glasses. I will go there tomorrow and find out. The store is located in Ithaca, RTE #13, Elmira Road, 14850

BeverlyHendrickson
from Endicott, NY
I text your company 3 time with no success. all want a replacement for my Keurig coffee maker.it look like asurion is not going honor the RPL plan.I'am sending the plan no#060538821997.I do have a copy of the mail in card.It bought 6-21-17 so I know that's still cover.Thank you

theodore gregor
from Fort Worth, TX
We purchased a Sharp vacuum cleaner on 3.8.2019. When we brought it home and went to open the box it was closed with a single piece of tape. Also it showed where the flaps had been glued shut but now was open. I opened the box and took out the vacuum and the tank inside we dirty and not only that it was a canister for a Dirt Devil vacuum. When I tried to return it, with the receipt, the next day. the manager as much as called me a liar saying the boxes are all sealed when they get them. I was also told that if I wanted to be sure something was good in the store I should open the boxes before buying.
We did not want our money back we just wanted to return for another vacuum. Can you please help us

Mark Hale
from Buffalo, NY
I just received a recall on my medication I bought at my local Walmart in Olean,New York. I took it to the pharmacy for a replacement as described in the letter from the corporate office. After a more than 45 minute wait the Pharmascists told me it would cost $17.90 to replace my prescription. That cost was more than what I originally paid for the prescription. I have 2 sons that are both Pharmascists and they both said it should just be a swap. I drove 30 miles each way to get this and ended up leaving with nothing. Ever since the old Pharmascists manager (Tracy) has left the service level here has diminished. I would expect some sort of response as I am concerned If I keep taking the current medication there could be some serious side effects or illness.
Mark Hale
5 Sunburst Lane
Allegany,New York 14706
716-373-5275

Beverly A Hendrickson
from Endicott, NY
Hi.I texts your company on 3-11-19 about my Keurig coffee maker it stop working . I have a 2yr replacement plan on it,I bought at Walmart on 06-21-17 .they told me that would take 48hr .I text a copy of the receipt at that time.it has been 5 days now and no response. I hope to hear from you? My email is Bev13760@yahoo.com

Darlene Lopez
from Highland, IN
I was doing a search on bing.com for a Samsung TV model number mu6070 and this one came up first
https://www.walmart.com/ip/SAMSUNG-58-Class-4K-2160P-Ultra-HD-Smart-LED-...
When I click on it the price says $349 and Walmart # 565429971. It says price for in-store purchase only and in stock at Homewood Illinois.
I asked my husband if he can go and pick it up so he gets there and she will not give it to him for that price. The price is coming up $448. After doing some investigating I see that they also have another listing for the same model number and the Walmart # 572043830 is different .
https://www.walmart.com/ip/SAMSUNG-58-Class-4K-2160P-Ultra-HD-Smart-LED-...
I tried calling the store and it would ring and ring nobody would answer so I tried to call again and a woman answered so I ask to speak to a manager and was put on hold but nobody ever returned. I tried to go online to live help and the woman was not helping me at all. She told me I had to go into the store this whole time my husband is waiting at the store.
I call you on the toll-free number And I explained the situation to the woman giving her both of the Walmart numbers and all she could tell me was Walmart # 565429971 it does not exist. If it does not exist how come it is coming up in a search engine and how come I am looking at it right now?
I received a response from walmart.com online and they said that they would for sure have the store contact me within 48 hours. It's been longer than that and I have no contact so I emailed them back again and today another person emails me asking questions that have already been answered and offering me a $25 credit, really? Walmart sucks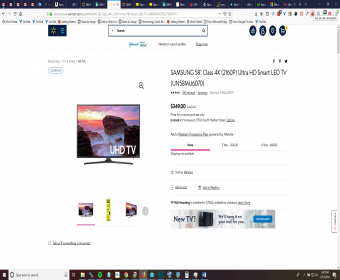 Robert Greer
from Palm Desert, CA
After waiting over a month we finally received Walmart.com order number 3091956-372019. Color specified on the leather loveseat was "ivory" the color received was identified as "ice" (It is gray) on the shipping container, "ice" is not an option on Walmart's web site. If ivory color leather love seat is no longer available, we should have been informed in advance.
In order to reconcile this matter, Walmart should replace the ice/gray color, Steve Silver Co. Laurel leather upholstered power reclining console loveseat with ivory color, if an ivory color is no longer available then a credit ($1,222.18) be issued with the understanding that because of all the inconvenience we keep the ice/gray color loveseat.
Robert Greer
40641 Meadow Lane
Palm Desert, California 92260
760 346-4429
greercor@msn.com

The service! NO one should have to stand in line to check out for 15-20 minutes and be told to use the self checkouts. The older people do not want this they want to have the service they are paying for. I worked for Wal-Mart in the 80's and we were taught the customer came first and that they left the store happy. Please get back to the way Sam Walton ran his stores with the customer was important because with out them you won't have a store. Money can't be the ruler.

Dottie Crow
from Centerville, TN
Today, I went to Walmart in Athens Alabama. They only had one person manning a cash register and I was forced to use the self check out or wait in a long line. Everything went well until I tried to scan an item on clearance. It would not scan so I dug out the old reading glasses and punched in the number for look up. It came back as number not found. A cashier was standing nearby so I politely asked for help. That's not my job was the response I got and she yelled a name across the store. No one responded, she walked away with a frown on her face. I waited a few minutes and then left the item on the counter and checked out the ones that scanned. I should have left them all in hindsight I then went and found the phone number for the manager. Ha ha ha a lot of good that did me. The first call, she hung up on me and I was being very nice. The second call I was put on hold for 15 min and I hung up. Long story short WALMART SUCKS. I will not shop that Walmart again and may not shop any Walmart again. If I have to drive to another town there are other choices. I am a 70 year old disabled woman on a fixed income. I do buy things on clearance when I can. If you expect us to use self checkout you should make the clearance tags so that they will scan. This is not the first time I have had problems with this Walmart but it will be the last.

Unhappy customer
from Saint Paul, MN
I ordered a mattress online and after waiting a week and realizing the mattress hadn't shipped, I contacted customer service. It turned out that the mattress was out of stock. Okay understandable. I was willing to wait. Another week goes by and I decide to check back with customer service and now I'm told my order will be canceled and I will receive a refund. At this time the price for this bed has gone up over $100 everywhere else and the only remaining size left on walmart.com is a king and now that has gone up over $100 from what it was the day I ordered. (I originally ordered a queen) So I call and speak to another agent and explain I'm willing to wait and would like the same price I originally paid. I'm told they will take $60 off of the price I paid and the will shipping will be expedited when it's finally back in stock. I'm satisfied with this and thank the agent. Then I'm emailed and told my order has been canceled. Are you serious? Here is the emails sent to show the inconsistency:
Response email (03/13/2019 05:08 PM)
Hi Sheila,
I am Charlie the Supervisor in charge and I am sorry to read this inconvenience with your order. Sheila, be advised that I have carefully checked our records and I have placed a cancellation request for this order, so please I kindly ask you to allow up to 48 hours for this order to be cancel,for the refund process to be initiated.
Again I apologize for this inconvenience and trust me I truly hopes this issue never happens again.
Sincerely,
Charlie A.
Walmart.com Customer Care
**MY RESPONSE
Customer email (03/13/2019 09:11 PM)
I spoke to someone earlier today that offered an adjustment of $60.71 off the price of the mattress. He explained to me that once the mattress is back in stock it will be automatically shipped to me and I won't need to do anything else . I'm okay with waiting since he offered a discount. So now...Who should I believe, him or you?
This is the email they sent after the call:
Hello Sheila,
Thanks for your recent Walmart.com purchase. An adjustment in the amount of$60.71 has been made to this order. See below for details.
If any of your items have already shipped, you will receive a refund for the adjusted amount for those items.
Order number: 3301968-845943
Sincerely,
— Your Walmart Customer Care Team
Adjustment details - Walmart.com
Item Adjustment Reason
Modern Sleep Engage Gel Memory Foam and Innerspring Hybrid 11-Inch Mattress, Multiple Sizes -$60.71 Late to Arrive
Total Adjustment: -$60.71

I bought a toaster oven on-line last week and when I received it and plugged it in it did not work. I read on-line I may take it back to the store for exchange or refund. Upon arrival to the store the person at the counter was polite but informed me I could not exchange or return at the store. Another girl next to her to her no that's not right he can only return it.They called for the customer service manager how reiterated she could and would not help, her words and was not rude but not polite either. Basically just looked to be going through the motions. I asked for a store manager and was told she was not in store. They called for the assistant manager who came 45 minutes later, this after I had already been there 40 minutes before getting to the front of the exchange line. I explained to him as well I bought it on sale for $20.00 off and they told me I could only return it and buy another at full price. I told them I had never heard such a policy that you could not simply even exchange a defective product for the price paid that was clearly in the return period, I only bought it last week. He reiterated that he wasn't going to take a $10 dollar loss for me even if he could. I said first you policy is written on the wall behind you. It clearly says you will return it or exchange it with or without a receipt. It says nothing about in store only or excludes on-line. It only reads Walmart. Pretty sure they are both the same company? He proceeded to condescend me and asked me what my problem was and i should just spend the extra money it was no big deal. Not that anyone needs to know my personal business but right now for me it is a big deal. I explained to him that I spend hundreds a month in groceries in this store as well as several season clothing and other merchandise purchases throughout the year. To no avail he could not have been ruder or cared less. I can't believe that Walmart has a person like this representing them. I even knowing I had to exchange this item, ordered some other things on-line to pickup in store while exchanging this. I proceeded to find out, as I said fine I don't want this either then. I will return all my purchases, that you can't return an on-line purchase for 24 hours, and I would have to come back if I wanted to do that. I said fine then, this will be my last purchase here EVER.
Fast forward about 45 minutes later at home my phone rang. It was Amanda the store manager from that Walmart calling who was immediately apologetic. She was at the store, the other personnel lied and said she was not. I believe one of the non management personel had informed here of how the other 2 managers had treated me. Amanda went out of her way to find my on-line order and phone number and call me to make things right. She could not have been nicer. I came back to the store and got the product at the price I originally paid and she gave me an additional 20 bucks off. She truly seemed to care as you would expect an employee should care about a customer.
While she did the correct thing, I have to believe that Walmart executive are not letting enough empowerment to trickle down to lower management to make logical judgement calls.
This oven was on sale at Amazon too for the same price. I could have bought from there, and if I had an issue, I simply fill out the included return label and they will send me back my exchange. I would not have wasted nearly 3 hours of my life over a toaster oven. The funny thing is that retailer wonder why brick and mortar stores are not popular anymore.
Not sure what I will do next time. Amanda did make it right. I'm just not sure it's worth the hassle to have to get to the point of being right again in the future.
Walmart you have some learning to do about GOOD customer service.
Thank you Amanda!

Jeanette Richardson
from Olympia, WA
I don't know what's up with your online ordering but it's not working. I tried to place an order and all goes well until I go to my cart for checkout. I verify the order and hit continue and it goes no further. I called the customer service line and she had no idea what the problem was or how to fix it. GREAT BUYING EXPERIENCE.
Walmart is so often out of stock that you have to try to order online and end up paying more because it's not in the warehouse and you get an extra charge for shipping charges for having to buy directly from the retailer through Walmart. Then when you do try to online order it doesn't work. What are our option other to stop shopping at your store period. This is BS.
If you people care at all about your customers then fix the damn problem.

Cashiers at scan and go completely Ignored me for over 10 minutes. Water was on clearance. It didn't scan right. Finally got assistance and was treated extremely rude. I asked why if there was a green light why it was closed. Was pretty much told off by cashier. She refused to help me. Another customer told a group of 5 cashiers that I needed help. The one that was supposed to help completely ignored me. Told me I rang up the wrong code because they are 2 different prices. They are to assist and they did not!!! Completely Rude. Will not shop at this location again! My shopping experience was horrible!

Alfred
from San Antonio, TX
Tried to return an item bought a paint sprayer to paint a room the paint sprayer busted and now Walmart does not want to return the item . The employees at Walmart were very rude and not helpful at all .

Terry Paul
from Shreveport, LA
I was in the Wal Mart on Friday 8th to get new tires on my Rav4
I dropped it off and went shopping. When I got done shopping I returned to the automotive department to see if my car was finished. When I got their it was still in the bay. They were backing it out as I parked. They took off at a high rate of speed squealing my tires. Then they turned the corner way to fast (again squealing my tires) Then I heard my brakes being slammed on and my tires squealing more. He then drove it back and parked it in a spot next to where I was standing. When I went inside, I asked the guy who was checking me up, what the hey were they doing tearing up my car. He said "They drive it thru the parking lot doing figure 8's to make sure the tires don't fall off" REALLY
I said why do you have to tear up my new tires and my car. Said it was common.
I have never in my life had to deal with someone doing that to my vehicle. What is your solution to this issue?
Also, at this point, it probably a mute point, he got grease on the inside of my car door (which is cloth)
My car was don at 1125 Shreveport Barksdale Hwy, Shreveport LA 71105. I'm very upset with this. I am over 60 years old, so I'm not a kid who finds it amusing to squeal up my tires.
I am attaching a copy of my invoice so you know when I did this
Mrs. Terry Paul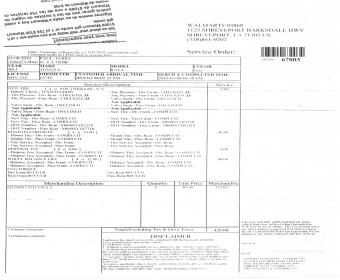 Steve Oliver
from Marshall, MO
Been going to Wal-Marts for about 40 years now. The old store was great as everyone that worked there seemed happy and they were always willing to help but the new supercenter is nothing like that. The people that work there seem unhappy as the never smile or speak and some are just down right rude. I know I'm not the only one to feel this way.

We ordered a TV on Feb. 24 of this month (order #3261965-491599) for some reason it was canceled. We checked with our Visa acct. and were told that everything was fine, there was no problem on their end. I did not pursue that order again but instead decided to order a different TV . On the 26th I ordered another TV (order 3281967-236255). This order was also canceled. Both times I had gotten confirmation and then processing e-mails then a couple of hours later they canceled. I called Walmart "help" line and was told it was "security issues" I asked what kind of issues and was told they did not know, just that it was " security issues" I asked how I could find out what was the problem so I could fix them. She said she was sorry but all it said was "security issues". Again I called visa and was assured it was nothing with the credit card. Both orders had been immediately refunded to Visa. The Visa agent suggested I go directly to the store and have them order it - maybe that would work better coming directly from the store. I did this and placed the order on the 27th order #3291967-781551 (the tv is the TCL series 6 roku tv which was not on hand at the Walmart store here in Worthington, MN). I paid for the TV with my Visa card at the store. I got the confirmation e-mail 10:06 a.m. I got the processing your order e-mail at 10:07. At 6:16p.m. I got the " We Got Your Message---We canceled as requested" e-mail. I DID NOT cancel this order!! At 6:17 p.m. I received the Great News! Your refund is ready for pick-up e-mail. I returned to the store the next day to find out what they knew. Customer service tried to refund using the email bar code but it was denied They were as helpful as they could be but stated that online and in store were pretty much two different entities and they could give me some customer help numbers one in particular that was different than what I had already. I called the help number I had gotten and the help representative was apologetic and said the problem was on Walmart's end and he would have it taken care of. He said I could reorder in about an hour and it should be o.k. . I did not order because I was going to wait until I had gotten my refund. I told him I wanted my refund to go back on the visa card and he and one other rep assured me that would happen. I even pointedly asked if the refund would be put back on the card and they said yes, but processing could take 5 days. Because of the weekend I waited 8 days and checked my card. Guess what no refund! Again I called Walmart "Customer Care" (that was today Wed.7th). After explaining the whole process, (for the what is it now 4th or 5th time? I was given to the resolution center. Here I am told I have to use the e-mail paper because they can't (or won't) credit my credit card. So I have the option of taking the letter back to the store, (because they should know how to redeem it, they have to call Walmart.com or something) or the rep can help me, but it might take longer than if I go to the store. I chose to go back to the store as the rep was not the most understanding and the "I know how frustrating this is for you" line got old after the 8th time. The in store people were very genuinely helpful. We tried the e-mail refund and it said invalid again, I explained that they may have to call Walmart.com and that eventually helped, however, now I must wait for an additional week (the 14th) to get a refund, at least that is where we stand right. The online rep at the resolution center just didn't communicate well with myself, I recognize my patience was pretty slim, but when I asked about the "security issues" I was told we were working on the refund now and could work on that after while. From my point of view they were kind of one and the same, but from hers apparently not. As a matter of fact I never have found out what the "security issues" are that do not allow me to order any higher priced items online from Walmart, to bad for me I guess. Anyway I must say this last online experience at Walmart has been very disappointing and exhausting. My family and friends find it unbelievable but they are sure going to be more cautious when ordering anything from Walmart online.

For years, I have always gone to the Garland Groh walmart location for my groceries. I am finding recently that the store shelves are empty and it doesn't matter what day I go. I cannot locate the Great Value Sugar free Jelly because they no longer carry it. There are several things I used to buy at Walmart that I need to make another trip to a different walmart or another grocery store.
Why aren't the shelves being stocked at this store?? Get with it Walmart!

I was just in my local Walmart (store #01844) and am furious. First the self-check out machine did not give me the correct change. After waiting 10 minutes for someone to come and help I received nothing but an attitude. I went out to my car only to find that the person collecting the carriages hit my back door and put a dent in it. Fortunately there was someone sitting in my car and witnessed the incident. I went inside to report the incident only to be told to call the police.
I have to tell you that I have lived here in Toms River, NJ for over 30 years and have shopped in many of the Walmart stores and this one is the worst. The shelves are never stocked, management is non-existent and customer service sucks. I want to be compensated for not only my inconvenience, but for the damage to my car. If necessary I will take this further.
Frank Palladino
732-330-0548

The store in Farmington Maine doesn't have seats for people with COPD to take a break, or any illness for that matter.

Terry Bauer
from Norwich, NY
I purchased a Frabill 371 Straight Line Bro 30" light Combo rod/reel from one of your online sites on March 2, 2019, for a total of $82.94. I used my debit card to make the purchase and your store took the money out of my account right then. I was supposed to have received the rod/reel today, March 6, 2019. At approximately 11:30 AM I received an email on my cell phone from your site telling me that it had been delivered. Well it wasn't delivered to my residence and this evening at approximately 7:00 PM I contacted your help desk and asked where it was at. After being placed on hold for approximately 5 minutes I finally got to talk to one of your representatives who was extremely hard to understand, as well as being very soft spoken. Long story short, he told me there was nothing he could do, that your store could not send me out a replacement rod/reel, and that in approximately 5 business days my debit card would be reimbursed. Funny how your store can grab the money out of my debit card account right when I make the purchase, but it takes your store 5 business days to reimburse my account. The tracking number for the item I ordered was 482078125531 and the order number was 3321970-835836. My address is 8470 Livingston Rd., Red Creek, NY, 13143. You screw me on the delivery and then you don't even have the courtesy to offer me a gift card. We did shop frequently in your stores,....not anymore!

Stephanie A
from Sierra Vista, AZ
I put in an online order to be shipped directly to me. However, 3 things have yet to ship. I took me over an hour, talking to customer service, to find out where the items that haven't shipped are and why they haven't shipped.
The major problem was, that you all had the wrong billing address for my credit card, and I couldn't remember the old address. The only one that could tell me where to find it was the supervisor, that it took me 45 minutes to be able to talk to.
Here is my thing, if you don't have an item that is ordered within 100 miles of the person's address, but you have one 1000 miles from their home, that can be shipped immediately, then ship it.
I ordered a tv stand, the excuse for not having been shipped yet, is that they didn't have one in the warehouse (which makes it sound like you only have 1 warehouse). I would have much preferred you sending the one that you had in a warehouse on the East Coast immediately to me, than for me to have to call and get a hassle trying to find out where it is and why it hasn't shipped. Also, if you have found one, why is it not going to ship for another 2 days? If you have it and found it, ship it immediately. I placed this order on 2 Mar, this particular item isn't going to ship until 8 Mar. That is garbage.
I will most likely never buy another thing from Wal-Mart online or in store if I can absolutely help it. Your customer service is total crap.
I would give you zero stars if it would let me. But it won't.

gwenjwilliams
from Indianapolis, IN
hello i used to worked there and I work registered on 20 for four and in half years and you know iwas the only one that would come to work but ; inever took off to not any length of tiem I know it was in side job and I hate ididn't do this well there was two twin ladies who now work on Michigan road well the had broughta tv from youalla bygone a two thousand dollar tv and so okwell, now ; there return the same night and with out t he tv and thebox was filled with bricks no one bothered t o look in it or nothing but they gave them the two thousand dollar backfor the empty box at he time annie was work and I believe lorrie over ride so they would give them the two thousand dollars back for they said a tv was not in there icheck it it out when they left and so okwell ; it s a lots of stuff that went on but as it did when iwas running a registor the y planned 2000.00 inmydraw so the ythought iwas going to take it isaid no way ; iwanted a job not to take stuff that didn't belong to me so okwell they Carolyn planet tha check under her desk so they wouldsee who counted thedrawer could n't fine it it was there when iturned in my draw so idon' knowthey wantedtofire me bad and lied on me so okwell ; ; they tried tosay iwas a theif my parent didn'traise mel ike no theirf I never had a desire to steal nothing an d I had a recipt for everyt hing I every bough t up there inever been so ever out don' iwill enevre shop in your store a gain ; my name is gwen willams Roger hired me at 10.00and hour and I think it was so many jealous people and so okwell iwant ed to learn how to cash checks and so idid mike in the accounting told me how and what iwas suppose todo so okwell , ;I wa streated so bad iwill never shop at Walmart ever again the folks that werethere were dirty and jealous ofeach other ; iwished iwould n't have never been hired there ; so igues youdeserve what yougot too people stealing out of your store not paying for what they get ; wow you know iwondered if all t hem folks were still there you had some good working folks but others trying tofire them and lying and tocover them ownass up ;im sorry;

Larry L Williams
from Tifton, GA
On February 15, 2019 my 2001 Chevy S10 was in for oil change after leaving the Douglas Ga 31533 store oil was not replaced in vehicle engin which i had to replace for used engine $810.00 plus labor $850.00 Towing fee $50.00 a total of $1,710.00.
Please feel free to call me (912)592-0103 cell anytime.
Thanks
Larry L Williams

Tonia Bowman
from Detroit, MI
This is my third time writing a complaint to Walmart can someone please contact me . my number is 313 608-9983. Tonia Bowman . I contact you on March 1, 2019. My experience at Walmart Friday was unacceptable. I bought my son 84.00 headset during xmas they did not work. I talk them back got another one. they stop working , I took them back to Walmart me and my son and grandbaby. the cashier couldn't pull up receipt . She went to a Manager. Cashier came back said Manager was looking trying pull it up. Manager said she couldn't where is other receipt. I said that the only receipt cashier (Walmart) gave me . it was a big mess that me and my kids was there for two hours which should bee 30 minutes. Manager Cornelia told me she had to look in back so she can pull up my receipt. Cornelia also said I may have to come back in three days for her to find the receipt. I told her I was going shopping in Walmart so while she look in the back . She took my receipt . I finish went back to the front . the manger Cornrlia act like she didn't no me. She told me she couldn't find anything in back . I said where my receipt at a cashier desk told me to come back in 3 days . I said for what give me my receipt. I said i'm making a complaint . She told me she told cashier to get my information and she call me in three days . i'm still not understanding what's GOING ON. MY SON BEGIN TO GET UPSET AND CRY. SO WE GO TO FRONT AND SHE HAS US TO WAIT TO GIVE ME MY RECEIPT ANOTHER 30 MINUTES. SHE BASICALLY GIVE IT BACK. I WAS ALSO BEING FOLLOWED IN STORE BY WALMART EMPLOYEE'S. I NEVER STOLED ANYTHING WHY AM I BEING FOLLOWED . I CAME TO THE STORE TO EXCHANGE HEADPHONES WITH A RECEIPT. WALMART EMPLOYEE MESSED UP NOT ME. SO I ASKED FOR ANOTHER MANAGER ONE CAME TO ME WITH HER BADGE TURN AROUND SHE SAID HER NAME WAS HEIDI, BUR WHY IS YOUR BADGE TURNED AROUND SO I CAN'T SEE YOUR NAME. HEIDI (BLACK LADY) MANAGER. SHE TOLD ME ANOTHER MANAGER WITH BE WITH ME. I SHOULDN'T HAVE TO WAIY 3 DAYS TO EXCHANGE HEADSETS,SHE SAID. WELL MANAGER SARA (WHITE LADY) CAME OUT MADE ME EXPLAIN ALL OVER AGAIN AS IF SHE DIDN'T NO . SHE TOLD ME YOU GOT THE MONEY. IT'S NOTHING SHOWING YOU PURCHASE ANYTHING, SHE GAVE YOU YOUR MONEY. I TOLD HER I DID EXCAHANGE LIKE I WANTED TO DO TO DAY. SHE SAID YOU GOT YOUR MONEY NOTHING I CAN DO . SHE SAID AGAIN . I SAID YOU SAYING I STOLE HEADPHONES AND TOOK 83.00. SHE SAID THAT'S WHAT IT LOOKS LIKE , IT'S NOTHING I CAN. SO I PD FOR MY THINGS AND LEFT. I AM EMBARRSED THAT PROFESSIONAL sara the manager said that to me and in front of my son and grandbaby. I felt offended, disrespected, and a lot of other things, humiliated, discriminated, accused of stealing. I come to this store 1 or 2 a week. I was at store248- 957-0106 29574 7mile rd 48152. My son do not have his headset replace and I am out of 84.00 dollars. I am very upset.

Zachary Daniel
from Charlottesville, VA
I had a super frustrating experience this weekend when changing the oil in my wife's car, something I've been doing for more than 20 years. As I was finishing, I took the oil pan I had just purchased from Wal Mart and had never used and was walking over to place it in the grass off the edge of the driveway. When I turned around, there was a big oil spot on the driveway. I've been doing this a long time, and between the oil pan, gloves and rags, I never spill a drop, so this had me really confused. Then I looked down and saw oil splattered all over my pants and shoes. Now I'm hot about it and still perplexed as to what was going on. Then I looked over at the oil pan in the grass and there was a growing black spot where the oil pan was spilling out. Oil pan, you had one job! There was a small hole in the bottom edge of the pan, something I never would've noticed when purchasing it. So my pants are ruined ($85) and my Hoka running shoes ($140), and I have a big oil spot and several oil streaks on my driveway. And of course the ego takes a hit from friends that wonder why I can't DIY without making such a mess. ;) I've attached photos. I'm hoping Wal Mart can help me out here.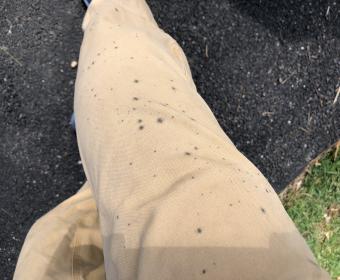 Mark Bartels
from Fort Wayne, IN
On Feb 18 I ordered a Canon Pro 10 printer from walmart.com. Order # 3201962-638451 I received this printer on Thursday Feb, 21. I took the shipping label out of the plastic and right away I noticed that the upc label had been cut out of the box. Your e-seller was smart enough to try and cover this up. I called the customer service dept. and was told that E-Site LLC would contact me within 24 hrs. This did not happen. I called customer service again (Ref # 190225-006463) and again was told E-Site LLC would contact me within 24 hrs. This has still not happened. I purchased this from walmart because you are an authorized Canon dealer and I knew the $200 rebate from Canon would be good. I obviously cannot get a rebate without the upc label, but I am sure that Sheldon Kohl your E-Site LLC reseller did. Not wanting this devious reseller to get away with this I attempted to return this to my local Walmart. I was quickly told that I had to ship this to the e-seller at my own expense. This of course is quite impossible as the e-seller did not put a physical address on the shipping label.
Sheldon Kohl
3475784013
(347) 385-3517
Brooklyn, NY 11204
I would ship this via the United States Postal Service because I know that I can have a restricted delivery to this person. If he goes so far to cover up his rebate fraud can you imagine what he would do if he got this printer back. I would assume he would 1. Keep the printer and say he never received it or 2. Obtain my credit card information and use it. Either way I wouldn't trust this person any farther than I could throw him. I have not opened this printer yet as I am hoping to get this resolved. I would at least like to get the $200 gift card back if not a full refund on a return. And even more important I would like to see Sheldon Kohl removed from your e-sellers. He will just sell on e-bay or maybe amazon.
sincerely
Mark Bartels

Cynthia Hallman
from Knightdale, NC
Due to your TV ad using the gay men, you have lost me as a customer. I do not care to see this or have children see this.

Cynthia Hallman
from Knightdale, NC
After your latest ad of the two gay gentlemen you have now lost me as a customer! I don't like having the values of others forced on me or my children!

William R. Hayes
from Mount Vernon, MO
You push the sale of gift cards for Walmart and other businesses. They can be found in all designs for different purposes and functions near many of your check out counters in every Walmart. We have been buying them as gifts for quite a while. You have hundreds of cards for sale WITHOUT HAVING ANY PROTECTIVE ENVELOPES DESIGNED FOR THEM. I asked a sales person, in the Republic, MO. store for help and her answer was, "We haven't had any of those since Christmas" and that was the end of her assistance. Can anyone make an attempt to order those little, card size envelopes that protect the magnetic strip on each card and keep the card and magnetic strip clean and looking new? Could this be accomplished at the time the cards are re-ordered? HELP!

Randolph Gordon
from Clarkesville, GA
My complaint is not with Walmart but the employees working the Straight Talk Booth. I have repeatedly tried to get service for my Cell phone and there is never anyone there can can help with the problem. i am told that they are not there and will be in later or tomorrow and the straight Talk employee that is thre cannot help me or doesnt know how and all I have gotten is the run around. I live 17 miles from the store and cannot keep coming back at their convenience. This problem has gone on since I purchased the phone 1/02/2019. I had to replace my old phone because it was damaged and bought a new one for $99 Samsung Galaxy J3 Orbit. Came back a few days later and it was selling for $59. I have worked with the company on my problem twice and the first time did not work. They reset it again today and I will just see if it is fixed. Iwill know in a few days.
Randolph Gordon

Tonia Bowman
from Detroit, MI
I went to Walmart today at 29574 7 mile road, Livonia mi, 48152 number 248-975-0106. I was their for two hours which should have been a 30 minute stop. I wanted to return my son headseat. I brought them for xmas for my 11 year old son. They didn't work . I returned them and xchange them for another one I believe on Jan 3, 2019. A week ago my son said they were broke so I returned them today the second headseat. I went to a cashier who were only taking returns. She couldn't get info from my receipt . She went to talk to a Manager . They couldn't find the scan on receipt or something. I told the cashier that that was all I had. She told me this wrong the wrong receipt it look like refund receipt. I told her this was a second pair and the cahier only gave me that receipt. I asked the cashier on 1-03-2019 to give me my whole receipt she said no that's all I needed. So the cashier went to her Manager came back and said basically this is the wrong receipt and its gone take me 3 days to find the other receipt that's what the Manger CORNELIA told me but she said i'm going to go in back she if can find it well pull it up. I said well i'm going to go and shop and maybe you can find something by then. SHE said i'm try but you need to find the other receipt. I told Cornerila from the start that was the only receipt that the previous cashier gave me. I went shopping started to feel as if the employee's was following me and my kid and grandbaby as I was shopping as if trying to return headset was a crime.with a receipt. I EVEN WENT TO GET THE HEADSET FROM ELECTRONICS TO TAKE TO FRONT CAUSE I NEW THEY WERE GOING TO LET ME EXCHANGE THEM. I was proceeded to the front to check out and see if Cornelia had found another receipt or come back in 3 days. I seen her as soon as I went to front ,she appeared I wave my hand as she was coming toward me to make sure she see me. MANAGER CORNELIA SAID (CAN I HELP YOU ? ) THIS LADY ACT LIKE SHE NEVER EVER SEEN ME AND SHE TOOK MY RECEIPT WITH HER. I SAID WHAT GOING ON WITH THE HEADSEAT. cornelia basically said she couldn't really do anything and I just have to wait 3 days until she go back to that day and look threw the receipt that day. I said well where is my receipt and why haven't you ask for my name and number if you want me back in 3 days. she said well then I was about to tell you I left the receipt at cashier and I told her to get your name and number . I said i'm going to file a complaint because this is your employee faught and Walmart computers not mine. SO CORNELIA LIED TO ME SHE WALK TO FRONT WITH ME TOLD ME TO WAIT HERE . MY CHILDREN WERE TIRED AND SO WAS I . EVER DID SHE TELL A CASHIER THAT. Twenty more minutes went by, she basically came back more excuse, I begin to leave get in a line to purchase my grocery. I got out line ask for another manager, because Cornelia told me she was the only Manager there . WELL ANOTHER FIVE MINUTES WENT BY AND A MANAGER CAME TO ME WITH HER BADGE TURN AROUND SO I COULD NOT SEE HER NAME. I ASKED HER WHATS HER NAME SHE SAID Heidi . SHE BASICALLY SAID ANOTHER MANAGER HELP YOU I DON'T NO. SO A MANAGER NAME SARA CAME AND SAID MAM YOU GOT YOUR MONEY BACK SO ITS NOTHING I CAN DO. I SAID I THE CASHIER GAVE ME THE MOEY BACK AND I GAVE IT BACK TO HER AND BOUGHT ANOTHER HEADSEAT . SHE SAID YOU GOT YOUR MONEY BACK AND THIS RECEIPT SAID YOU DIDNT PURCHASE ANYTHING YOU KEPT THE MONEY. I SAID YOUR SAYING I STOLE THESE HEADSET AND KEPT THE MONEY. SHE SAID THAT'S WHAT THE RECEIPT SAYS. I SAID YOU NEED TO FIRE YOUR EMPLOYEE. SHE TOLD ME NOT TO WORRY ABOUT HER EMPLOYEE SHE WILL TAKE CARE OF HER. I AM WORRIED BECAUSE IF IT WAS NOT FOR HER I WOULDN'T BE IN THIS SITUATION. BUT I UNDERSTOOD HER AND WHAT I UNDERSTOOD WAS THAT SHE SAID I STOLE HEADSET AND KEPT THE MONEY. SHE TOLD ME TO CALL XBOX AND SEE WHAT WARRANTY IS. THES WALMART PEOPLE WERE REALLY REALLY PUSHING MY BUTTONS. I FELT AS A FAITHFUL CUSTOMER AT LEAST TWICE A WEEK. I WAS MISTREATED, MISUNDERSTOOD, BLAMED FOR SOMETHING THAT WAS NOT MY FAUGHT ., ACCUSSED, AFFENDED, INSULTED, AND CALLED A THEIF IN FRONT OF MY CHILDREN. THEY ALSO WAISTED MY TIME. MY SON IS VERY UPSET THAT HE CAN'T HER WITH HIS HEADSET AND CERTAINLY WONDER WHY THE LADY CHANGED HER MIND ON LETTING US COME BACK IN 3 DAYS, THEN ANOTHER LADY COME OUT AND JUST BULLY US AND SAY WELL THE RECIPT SAY YOU GOT YOUR MONEY. I WOULD SOMEONE FROM CORPORATE LOOK FOR ME ON THE CAMERA AND SEE MY TRANSATION THAT DAY ON CAMERA.

I understand you are changing the qualifications needed to be a greeter at Wal-Mart therefore discriminating against those with mental and physical disabilities. I work with people who have both mental and physical disabilities at two different jobs. I shop a lot at the Ebensburg, Altoona and Johnstown Pa Wal-Marts. The greeters who have some disabilities have gone out of there way to greet you as you walk in, make nice comments, and help you. You should be ashamed. This is their lives you are dealing with and affecting. You obviously don't know what this means to them. It's not just a job or a way to make a living. Its socialization and being a part of their community.

I have received horrific customer service from your company. On 2/14/19 I placed an order online for tires. I received a confirmation that the item should arrive on 2/20/19. Between 2/14 and 2/20, I received another email stating item had been delayed. I followed up with Walmart.com to see when the expedited delivery date would be and was told 2/25/19. On 2/25/19 I had not received an email nor the order. I followed up again and was told the order was still being processed. I then asked would I received the item within the next two days and agent's response was they were not sure. I then asked that the item be cancelled and the agent assured me I would receive a refund within 48 hours. I checked back on Wednesday as I had not received a refund. On Wednesday I reached out again and the agent told me that they did not see where it had been cancelled and that it was still showing order being processed. I was very upset and demanded my refund be issued by 5pm that day. Thursday, still no refund and I keep getting the run around with your customer service agents. Every time I talked with them I was given a different answer. On Thursday I demanded my refund be processed. Agents were very rude and disrespectful in your Resolutions Department. This is not the first order in which I've had this problem. Your Walmart.com process is awful. I was never told the reason why my order was delayed or why it set in processing for almost two weeks after I placed it. If the item was out-of-stock or not available, I should have been told that at the very beginning and my refund issued but I was not. This is the worst customer service I've ever experienced!!

I Love Walmart and I am in the store 5 days a week. So my complaint is employee's parking in parking spaces closest to the entrances. I am sixty
six years old and have a hard time walking far distances. I live in Port St Lucie West Fl. Please ask employee' s to be considerate of older people. I am not eligible for a handicap sticker.
Thank you,
Maureen G, Ruffino

Kaye Camp
from Fairburn, GA
at the Walmart where I shop there aren't enough electric carts for this store I am disabled and have to shop with one of these carts I have waited as long as an hour and leave without doing my shopping I would do all my grocery shopping here if I could just have access to a cart and im not the only customer with this problem there is always someone waiting for these carts if you are lucky enough to get one it will die on you this isn't the only store with this problem its nation wide a company as big as Walmart really should supply more than 3 carts to a store and at least keep them in working order I have to shop at Kroger where they keep around a dozen carts for their customers

I have never seen a more unorganized or lack of employees or lack of management! The store is 355 Cypress Gardens Winter Haven Florida. I don't know if this store has a store manager...This is a VERY busy store and makes a lot of money. The CSM members are ridiculous. It's all about them not the other employees. I watched a young man walk out with a large roll of bubble wrap without stopping at a register. What the heck is up with this store or the store manager??? There should be an employee watching the front doors but nope! I'm not an employee just a customer who sees a lot of stuff at this store that needs work. It will loose customers no doubt!

I need to know about a complaint number 1551902693. I stayed waiting for the label to sent the item by mail.

Janice Latham
from Star, NC
Product complaint on Equate Protein Shake Chocolate 12 box
When you drink them theY link on you the seal around top of pour is nor glue all way and the flavor was flat. This happen to more than half of the in box I had another box that I felt the flavor was flat no taste purchased at same time. Number on box #8113101580 product Sell by Aug 15 2019 L183220E 323 07:56

Bernard Lawrence
from Madison, AL
I've been a loyal customer of the Walmart Super Store, 8650 Madison Blvd., Madison, Alabama, 35758 for over 20 years, but this was my last trip to that store. Signs telling where a product was located were wrong and misleading. The brand new shelves are so tall that trying to reach the Shower Spray on the very top shelf, as there was only one bottle left at front of shelf, was impossible and I'm 5' 9" tall. Some Isles are very wide while others like the Greeting Card isle was so narrow two carts could hardly have room to pass each other. I saw people hunting for items they couldn't locate including me. It was utter bedlam. On top of that a middle aged woman talking on a cell phone with one hand and pushing her cart with the other came within 2 inches of doing a T-Bone on my cart as I was going down a main isle and she was coming out of a side isle. It appeared that she didn't look to see if anyone was there. I had ordered a 3 drawer Sterilite plastic cart from Walmart.Com. Unfortunately, Walmart.Com would not ship it but chose to send it to this Walmart Store. As I stopped to pick it up I was told that there was only one plastic cart of that description so even without a name on it, it must be mine. When I got it home I found that my name was on a sticker on the top of the cart. they had the cart setting upside-down on a stack of other things. It appeared to me that there was insufficient space to properly store items for pickup. Thanks for listening.

getting in touch with anybody for support is absolutely ridiculous I looked all over the website and kept getting links to email support then it would take me to another questionnaire and then another one and another one and another one I never actually got an email address to submit my support questions.

Tried to buy a radio flyer wiggle ride on today for granddaughter birthday. Started at the Wal-Mart on telegraph rd in st louis/ They were unable to communicate with other stores except by phone and then received no answer on other end. Left and went to Kirkwood store on Lindbergh. A nice manager looked it up and told me the Shrewsbury store on Watson had it in stock. Left and went there. Went to toy department, didn't see it so I asked young lady. She said it did not look familiar but since I said Kirkwood said it was there in stock she went to look for a manager. I followed her and upon hearing my dilemma, she laughed and said "why would we have it, we're the smallest store. I replied that it said it was in stock,and again lsugged. I left with nothing for granddaughter.. I am so disappointed in your ability to steer customers in the right direction and felt ridiculed by the msnager! I guess I'll start shopping at Target,at least you're treated with respect

I do not have this issue anywhere else especially other stores other than Walmart and other shoppers I'm with whom regardless of their phone or phone service provider their cell phone service is not being interfered with. I have noticed an ongoing on off interference with my cell phone service especially internet interference when in the store shopping or attempting to shop. I will go in the store and start shopping, if I can't find a product, I will go on my phone and go on the internet Walmart.com for example, I will not have internet connection problems at first, but then my phone states I'm not connected to the internet as if a block got put on my cell phone. When I go outside I have internet service again after a maybe 5 minute wait. No other person I'm with nor around me in the stores has this issue. My phone service provider is stating there should be no reason for this unless someone at your stores is purposely placing a block on my phone. Almost Everytime I am shopping in the store this happens, my phone appears to be solely unable to keep its internet or phone service. I am constantly contacting my phone hone service provider about what is beginning to appear to be harassment as no one else is phone service is being interrupted while in the store shopping.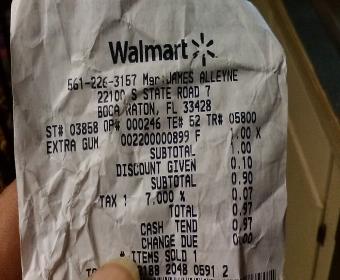 I live in Port Angeles WA. I was not able to find many of the products I like. At customer service they told they do not have rolls of quarters that was an inconveniences to me. I did not want to drive to the others side of town to my bank. One of you Customers service personnel called dearie that is offensive .

the grocery dept. is a disgrace. shelves are never stocked, items that I have been buying for years are no longer stocked, no matter when I go shopping. the deli is a joke, one employee behind the counter, little or no pre-sliced items. wait times between 10 and 15 min are common. pre-packaged items are just put in a pile in an open cooler so you have to dig through them to find anything. also most people don't need those giant shopping carts, the choice of a smaller cart would easier to maneuver and cause less congestion in the store. until I hear that the auburn store has made improvements, I am going to do my shopping @ wegmans.

The store in Rincon Ga is getting so bad they are losing customers,they are loosing customers to other stores.not caring products that they did have.they only have 3 types of sodas now.there is not enough help and never enough cashiers.I saw one woman working the deli with no help and she was doing all 3 or 4 jobs with customers tired of waiting and I have to say she handled it well.keep in mind that these are some of the things that ruined kmart and sears.

I was in the Walmart on 47th Ave. in Greeley,Co this morning and was using the self checkout as there were very few registers open, I had a large order and was unable to get the belt to move. I asked for help and a young lady came over and was unable to help and left and didn't return. I again asked for help and what I think was a supervisor came over and got it going. I asked how she fixed it and she said she didn't want the customers to know because they might break it. I said I thought if Walmart wanted the public to do the checkout themselves it would help if we were told how to do it. Things then escalated and we both lost our tempers. I felt she was needlessly rude as I thought I made a good point about not being able to help myself without the information. My language was nastier then it needed to be and for that I said I was sorry. She walked away then returned and started again. I finished and left. I've heard that some staff are not happy about the self service because of fear for their jobs being cut and I can understand that. Most custormers I know are not happy either. I felt her behavior was uncalled for. I asked the girl at the door for her name She knew right away who it was when I said she was rude, Apparently this isn't the first complaint she's gotten. Most staff at that store are very nice and I know many by name and enjoy seeing them. This experience was awful and shouldn't have happened. I was told her name is Malissa

If I could do less than 1 star I would. My husband has been with your company for over 20 years and is 53 years old. He suffered a heart attack 3 years ago and has under went other procedures due to his health. He's had many struggles with finding the right medications that allow him to function daily,during this time he has put up with management harassing him about his work load and simple mistakes he's made but corrected. Under no terms has he ever allowed the company to lose money and has at times brought losses to their attention. He always received feedback that they would take care of it and never did or to just let it go. which is unethical within your company. Im sure if you investigate this particular store and see the turnover and management issues you would see that the employees are being harassed and treated unfairly. My husband also has provided pictures of his back room and the store that would immediately bring in OSHA, but he choose not to go forward because of the harassment they receive. Today he was terminated and he is probably 1 0f 5 that where still there since the store was built and stocked from the ground up. Im amazed that an asset protection manager and an assistant manager can take it upon themselves and terminate a long term employee without as much as paperwork stating why they are being terminated. Where is the Store manager during this time? Im not sure this is ethical or professional in any way and I'm sure the state of Indiana will be very open to learning this as my husband will be applying for unemployment. Just to be clear this particular store also caused my husband to work with a broken toes from a Wal-Mart work related injury and under doctors orders was asked to be put on restricted duly which was not done and he told your workers comp department this. When the manager found out he was reprimanded and since then harassed and now termination. Please do your review at Store located at 316 Indiana Ridge Blvd, Mishawka Indiana 46545.

I when to get prescription pill phentermine 90 pill 37.5 mg with my Good RX card the pharmacist is telling me the price 78.00$ the price on the Good RX card site show it is 22.24 with discount why is Walmart Pharmacy not honoring the price that is post on the web site this is not the first time this happen with prescription. If Walmart isn't going to except the Good Rx card them it should post that at the Pharmacy. But if you are excepting the Good RX card then they should be honor that price. The women you take my Prescription didn't even look up my card just look at it and gave it to me. If she might of got it right. This is the store in EastGreenvillie PA. Below are some examples one is has Walmart right on it the other is the Good RX card I will not Take my family Prescription to Walmart any more unless Walmart fixes this problem. thank you Timothy Sneckenburg.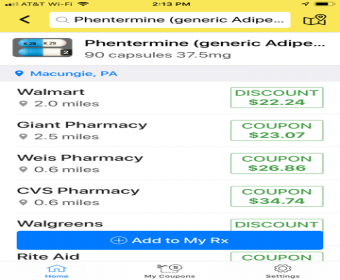 I shop at your yukon ok, store, Have been shopping there for years. Now that I'm handicaped I need to use a cart, It seems that you don't care about your older customers at all, carts sitting around out of service and not very many to start with. Please do something about the number of carts at this store, The handicaped spend money too.

Yes I have been using the savers catchers for years, but for the last several months(3) I have been scanning receipts and it states it has been accepted and I can look at it but it has not been telling me that it ha been processed or received and I like using the app because I had !$10 saved up from several month and used it last month. I would like to know if you are still using the app.

My complaint is you are missing a Huge Market , I cannot seem to find Sugar Free Holiday chocolates packaged for Valentines Day, Christmas , Easter ect. almost everyone I know has at least 2or 3 Diabetic friends or family and the only way to buy them chocolates is in a bag from the small sugar free section of the candy isle . so No pretty heart shaped box or other holiday packaged sweets for them. I am not Diabetic but have friends who are , who I would purchase such Items for. I am glad that over the last 10 years or so there has been a lot more diabetic or dieters friendly merchandise available at your stores and hope that eventually the ratio will become closer to the ratio in society . I visit your store in Martin Tn. approximately 5 times a week buying food and household supplies for a house of 5 with 2 of them diabetics and have become acquainted with many of the friendly persons working there. So any action on this request would be Greatly Appreciated . Thank You.

Lately each time I shop for groceries at the Walmart Center in Gainesville Ga. 30501 the shelves are poorly stocked with the name brand items I prefer to buy. The Great Value brand is fully stocked and twice the size display of the name brand items. Morton's salt is one item that is almost alway empty as well as Dominos Sugar. The Jello brands are never as plentiful as the Great Value. The jams and jelly displays are the same way. I could go on and on. I have to shop at Kroger to find the items I need. I have shopped at Walmart for years and been very please with the pricing and selection but now I find myself flustered and dissatisfied with my shopping and the inconvenience. Could you address this problem or is this to be the new norm?

Janet Chavis
from Fort Branch, IN
I had invited my son over , he decides to stop at Walmart. deli and get chicken. It was cold chicken so I put in the oven for about 20 minutes. When I took it out to check it I cut it and it was raw. I called to report it and the manager said that's not possible. I told him I would bring it back. I couldn't. that evening but I'm returning it today, but I'm including a picture of what it looked like as soon as it came out of the oven. This is very dangerous under cooked chicken . This is the third time iv had under cooked chicken, but I decided to take picture to have proof. And this time returning it . It's hard going across town in the evening to Walmart then have to return things. This is the Princeton Indiana store. I would hate for Walmart to stop selling chicken but I would like for it to be fully cook.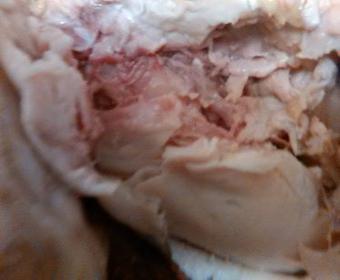 Susan Wheeler
from Jesup, GA
My Daughter placed an order in your Vidalia,Ga # 864 store for a cake for her son on Monday the 4th for pickup on the 9th. When she arrived to pickup her sons birthday cake she was told the order had not been placed.Sounds like to me poor Customer service.i called an spoke your Asst.Manager Karen and was transfred to Deandra who is over your Bakery stayed on the line and never came to phone.

CJ Harris
from Loveland, CO
I have a problem with a greeter at the Wal-Mart Supercenter on 65th Street, Loveland, CO. Whenever I shop there, if this greeter is there, she will almost run through a crowd to demand to see my receipt. Last week, I bought a mop and broom. She pushed through several people to once again demand my receipt. She has done this one several occasions.
This morning, my husband and I were there. I was behind him and he passed her without any intervention. Then she saw me, rushed up and demanded my receipt. I told her he had it. (He was pushing the cart btw, so why demand it of me?) I was a bit irritated and asked her why she was the only one who always wanted my receipt and legally, we didn't have to show it. At this point, she was ignoring me. As we exited, another customer said she singled him out everytime too and that he was going to stop saying ok. Well, we had to return one item and while doing so, I mentioned my problem to a customer service supervisor. My husband and I both left with the impression that nothing would actually be done. I don't mind an occasional "random" request for a receipt check, but this is ridiculous.

my complaint is that I have been scammed by Walmart and their affiliates that do a survey with promises of Walmart gift cards. I have literally completed their surveys on line 17 times. ive been promised three 1,000.00 gift cards 7 100.00 gift cards and 7 300.00 gift cards and never have I ever received not one. the site still continually try and gets me to do another of their surveys with promises f a gift card from wal mart. they go as far as saying my 1,000 gift card is being mailed out since I completed their survey and finished with x amount of points and ordered one of their selected items or ordered so many magazines. my son also has completed their survey and was promised three cards he was just a little smarter then I and quit figuring wal mart is a scam. I continued on really needing those gift cards for household goods, to help buy school clothes for the grandkids then at Christmas time was promised a thousand dollar card and was extremely happy thinking I was going to be able to celebrate Christmas and buy the family gifts, boy was I wrong and,embarrassed and very hurt. my grandkids received nothing again from grandma just like the school clothes I promised. when is it going to stop and when is wal mart going to stop letting people get hurt by their actions in being involved in this scam. I believe that I need to have this investigated by the channel 7 news channel jesse jones of seattle and then I need to open a law suit against your wal mart that helps the community so much! yea and I need to do what I can to get what I expected for the tasks I completed and didn't get paid for. this was the same as doing a regular job for wal mart and not receiving a pay check for it. I would like to request that someone from the corporate offices of wal mart please read this and contact me before I take legal actions to collect my gift cards and before I also contact the news channel to investigate wal mart. maybe you people don't really understand what its like to live on very little each month and have to try and locate a way to be able to celebrate holidays with my family and wal mart is suppose to care so much about the community by sharing and giving. but all iv'e seen is hurt and disappointment from you all. if you don't respond as I expect you won't then I will proceed to try and collect the gift cards promised and to tell the world whats really going on at wal mart stores. thank you very much'
Lisa Nush 3020 Broadway apt. 806 EVERETT WASHINGTON 98201 PHONE NUMBER IS 425 374 8808

Hello,
My name is Tiffany Domer from York, PA. The only reason I'm writing this is regards to a problem I had yesterday that involved your company. I'm 32 weeks pregnant so obviously needing to get the crib up and all the baby stuff ready is important. I made to online purchases on Walmart.com one for the crib and the other for the crib mattress. Now yesterday the crib mattress was delivered by fedex, but for one it was thrown on my porch completely dirty and all on the plastic. I carried it up two flights of stairs to then it over and it was straight cut through the mattress. Looked like someone took a knife to it. Now looking at the time it was delivered by fedex I was minutes away from my house so it wasn't sitting out on my porch long. So your company shipped a damaged mattress, then fed ex decided not to even bother to care or look at it. Just throw it. So obviously I called Walmart right after seeing the damage and they told me to bring it in with my information and they would be able to exchange it or get me a new one. So my pregnant ass was by myself carried it back down the stairs got it in the car drove it to the East York location in York pa got it in a car and went to the service desk. Where I stood for 15 minutes to then be told by a really rude woman trying to leave I guess that because I bought it online she could only refund my money to the card that would take 48 hours to reappear. Now keep in mind I need this baby mattress now! The reason I ordered when I did! She had no regards for me and then even tried to get me to lift it over the counter for her. Once again I'm 32 weeks pregnant i shouldn't even be lifting it. So I had to go buy a new baby mattress with my card taking more money from my bank because my other money isn't even on there yet. Then had to carrying that mattress back out to the car and back into my home and up the stairs again. So I tried to avoid the trouble and me carrying it to much because I'm pregnant but clearly the company didn't even seem to care I was pregnant and it was your companies fault it was damaged, it wasn't like i didn't want it , didn't need it or did it myself it was brought to me like this. I have never had an issue before but yesterday has made me wanna go to target for now on. They delivered my bassinet yesterday without any issues or damage but your company couldn't even deliver my mattress without issues. My crib is supposed to be coming today from your company and if it's damaged there will be extreme issues, this stuff is for my baby,
My first baby I don't have the strength or time to being hassled around. Extremely disappointed with Walmart.

I purchased a $212.00 air cooker and used a Company Christmas gift card for $25.00 The remainder I used my debit
card .The cooker was returned 2 days later.Upon return I was told I had to take the entire$212.00 return amount in the
form of a Walmart gift card.This is absolutely ridiculous.I totally understand to refund me the $25 in gift cards since I used it for the purchase but not to give me my cash back is wrong.You are forcing me to spend my money at your store ...that should be my decision.The manager told me that was the policy.The store is located in Columbus ind Merchant Mile Dr.Please get back to me before I lodge a complaint with the better business burea.You can reaspond back via e-mail address.Ref #903500878243(on receipt)

I have to really discipline my emotions when I see Walmart personal dressed in a burka. When I see non Muslim personal wearing American clothing from the neck down and with the head wrap of a Muslim something needs to be addressed. Muslim is not a religion it is an ideology, one of rape, disfigurement, child marriages, murder and taking over America from within our own country. It is a cult that brainwashes and enslaves women from birth. So I can understand middle eastern women's blight. Not so of a Negro women wearing a head wrap. This to me sends a message of mental illness, of deep seated hate for people of western European linage. I do not feel safe shopping in a store with non Muslim personal wearing burkas. I do not feel safe with a group of people who cover their bodies with so much clothing that you can not see what they might be carrying. Do you have employees go through a medical detector prior to going on duty? Do you want to be the Next Sears...I shop on line rather than have to deal with Walmart's unsafe employees. Yesterday I went to Bed Bath and Beyond to purchase two items I knew you carried as I needed them today, the price was double yours but you only die once. Last week I needed to replace blinds for a entire rental home, I ordered them on line, first time I did not use Walmart. Also, I am not willing to support a company that does not stand for what America was build on, freedom and God as our creator.

Dear Sir,
I have been a loyal of Walmart for quite some time, especially in the grocery section. My husband and I moved to the Chapel Hill/Chatham County, NC area in 2017 and found a Walmart conveniently located near our house. The store is Walmart Superstore located off of Hwy. 15/501 S in Chatham County but the address is Chapel Hill. The store number is #3182. At first the store was very well stocked and very clean - offering a wide variety of products. A few months later, we noticed the shelves of many items, not only in the grocery section, were empty and this situation has worsened. In the refrigerated yogurt section the area was almost completely empty. Below the screen where the yogurt is displayed was the nastiest display of filth. The area could not have been cleaned in six months or longer. The odor of the area was one of soured milk. With the complaints mounting, not only with me but from my neighbors and husband as well, I think it is a reflection to the store's management. What began as a wonderful shopping experience has deteriorated and if this situation is not addressed and changes made I will be forced to find another store. Kind Regards, Judy Knight

Denise Upshaw
from Austin, TX
I'm awake at 4am looking for a resolution to my PORCH service issue. I cancelled the service two weeks ago because the worker showed up and said he didn't have his tools to get the job done - tv mounting. He packed the items back in the box and left. From that point I was no longer interested in using the service.
I have called/emailed/chatted with walmart customer service 4 times to be refunded! Why am I not getting resolution on this simple $80 transaction?? Please help.
Denise Upshaw
Deniseupshaw@gmail.com

Joyce Libben
from Springfield, IL
I was shopping yesterday at Walmart 3210 grocery side, a woman was sitting by customer service on the floor drinking a bottle of whiskey, security was standing down further laughing and talking to each other. No one did anything about it.
Don't you want decent customers to come into your stores? This seems to happen rather regulargly in this store!

Barbara Teeter
from Corning, NY
I bought Chili No Beans and when I opened it ,it had beans.

Tim
from Winter Springs, FL
To Whom It May Concern:
I recently purchased a 70 " Vizio TV at my local Walmart here in Merritt Island Fl. It was purchased on 11/09/2018 3 months ago. Yesterday morning the television stopped displaying a picture. I had sound but not picture. I called the store the man in the electronics department said "sure bring the TV back to the store". When I got to the store and tried to return the TV, Bonnie at customer service said ( with a snide inflection) "that I only had 15 days to return the television. There was nothing they could do, 15 days??????? I can go to that store and return a toaster a year after buying it but cannot return a $1000.00 TV?????? This indicates to me that Walmart knows that they are selling an inferior product and does not want to be bothered with it after it leaves the store. I will be contacting the manufacturer, my attorney today as well as calling my local representative. Bad service , bad products such as this has to stop and now it the time to do it.
On a side note the only reason I purchased the TV was to watch the Super Bowl on it, a task which I was unable to do yesterday. The faulty product and the faulty service of your company made me miss the largest sporting event of the year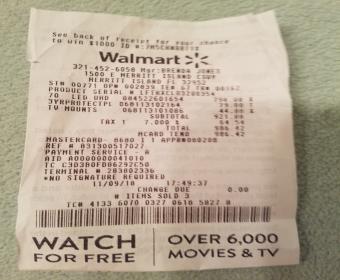 TERRY OBRIEN
from Janesville, WI
HI I WENT TO ROSCOE WALMART ABOUT 8:30 FRIDAY AM I WENT TO THE AUTOMOTIVE DEPT. FOR A BATTERY THEY SAID IT WOULD BE ABOUT AN HOUR. I SAID OK BECAUSE WE WERE GOING TO SHOP. SO WE LEFT TO GO SHOPPING WE CAME BACK AN HOUR AND HALF LATER THEY SAID IT WAS NOT DONE SO WE WAITED AGAIN (4 HOURS LATER) THEY FINALLY PULLED IT IN I TOLD THEM IT WOULD NOT TAKE LONG BECAUSE ON MY CAR THE BATTERY IS UNDER THE BACK SEAT AND I HAD THE BACK SEAT OUT ALREADY. IVE BEEN A MECHANIC FOR 40 YEARS (IF I PULLED THIS ON MY JOB I BE WITHOUT A JOB) I UNDERSTAND IT WAS COLD AND THEY HAD APPOINTMENTS ITS JUST MISMANAGED. IF YOU KNOW ITS GOING TO BE BUSY THEY SHOULD HAVE A COUPLE PEOPLE ON QUICK THINGS LIKE OIL CHANGES AND BATTERIES AND TIRE REPAIR AND HAVE OTHERS ON TIME CONSUMING JOBS IT WOULD MAKE IT BETTER FASTER FOR THE CUSTOMER AND MORE MONEY FOR WALMART. THE MANAGER IN AUTOMOTIVE DIDNT LOOK LIKE SHE DIDNT KNOW WHAT SHE WAS DOING AND THE WORKERS LOOKED LIKE THEY WERE IN NO HURRY TO DO ANYTHING MY GRAND DAD WALKED FASTER THEN THEY DID VERY POOR MANAGER AND WORKERS I WOULDNT CALL THEM MECHANICS OR AUTO TECHS (THANKS)

GWENETH BLAIR
from Charlotte, NC
I had bought some items at the Walmart named above. I didn't realize that one of my T-shirts on sale for $5.00 was missing from my bags as I had bought 2. I took the one back to show the attendant what I was missing and Teresa, an associate told me to go back and see if I find the exact item and take it back to her. I looked around but did not find the exact thing, however I saw another T-shirt for $5.00 and started to take it to Teresa. She was not in the same place, let me make it clear that I had bought a Panthers Jersey on the same receipt and had exchanged the size the day before, using the receipt. However, I didn't have the receipt when I went that day. I happened to run into Caleb instead of Teresa, who bluntly told me that I couldn't be helped as I didn't have the receipt showing the item for $5.00. Well, he asked me who I had spoken with and I couldn't remember except that it was a woman. He saw a woman & asked her if she had spoken to me & she said yes, he went further to let her know that she should not have offered me the t-shirt without the receipt I thought that was quite unprofessional telling her that in my presence. The way he spoke to me I didn't like either. I told him that I had the debit card I had used, he went to Customer Service turned on the light and proceeded to check for a copy of my receipt. I went to online banking and found the exact date where I had spent $70.07 & gave him the date. He found the itemized receipt, printed it (this is about 3/4 hr after) then told me he could do anything for me, except he pull the cameras. I lost, why waste my and his time. I sure cussed him out. I don't use profanity but..... I told him I wasn't leaving without my $5.00 or an item to the value of. He said he was just doing his job so I let him know he was "overdoing" his job and that customer service was his job. I didn't go back to say I hadn't gotten my $25 item. It was $5.00 and after all the investigation he said he couldn't help. Theresa seemed to have contacted someone else as it was late at night and she took the $5.00 item to a cashier and gave it to me.
I had two other items which Caleb said I'll pay for when we go up front to the customer service area, they were bagged, I had to remind him that I hadn't paid for those items. That is Gweneth Blair, very honest, respectful & respected. I could have left with those two items in a bag.
Caleb was condescending, unprofessional and belittling. Please convey to Teresa my thanks and my apology for the incident.

Eugene Wheeler
from Mesquite, NV
I am a customer at one of your Walmart stores. Store #3847 here in Mesquite NV. The Men's Room in the front of the store has an issue that has not been resolved for some time. I am speaking about this restroom as not having a mirror available. It has been like this for sometime. This is inconvenient and not acceptable! Can you please look into this and see what has to be done to have a mirror installed in the Men's restroom next to customer service.
Respectfully,
EC Wheeler

Walmart is a great place to shop, when & only when you are looking for the best prices on multiple items. This is because of the principles that Sam Walton used to built this corporation. As a savvy consumer, I wanted to purchase a TV, Xbox, and many accessories online, then pickup tonight. However, I was unable to do that. Why? I'm sure you already know the reason: poor customer service & a manager that is incapable of understanding customer service.
I went to pickup items purchased online, then purchase additional items that I saw on Walmart's website. I go to the store, went to the electronics department, then explained I would like to pickup the TV I purchased online (1871 Chamblee Tucker Rd, Chamblee, GA 30341), along with purchasing the additional xbox, controller, & two games. The electronics associate explained that the xbox had a different price online, and he was only allowed to reduce prices by $20. He took me to the manager at the customer service desk. I had to wait, then the manager (possibly associate manager) walked out & didn't help at all. She would not listen to anything I had to say, instead, she kept repeating, "we cannot honor the online price", without letting me speak. I explained that it was sold & shipped by Walmart, but she continued to give me an attitude & make excuses. I would be asleep right now, if it weren't for how rude the manager was. I would pickup my purchase tomorrow, like the manager said I would have to do; however, I am going to cancel my order & buy the $700+ worth of product from BestBuy. Is it because BestBuy is just awesome at what they do? No. It is because the people running the Walmart stores have the whit & emotional intelligence of individuals that are incapable of running on a treadmill, much less a store that does millions in sales every year.
If the manager explained that the issue was related to the corporate policy & she wished she could do something about it, then I would go on about my day. However, she broke 3 of the top 5 rules of customer care. I deem that unacceptable, and embarrassing.
Please contact me at my email address. I would love to speak to someone that is knowledgeable about the actual policies in place. If I do not receive word back by 2/5/2019, then I will make a bigger deal of this. I'm not out to get anyone. I just don't want to waste my most valuable resource: time.

C T Brimage II
from Magee, MS
I needed some active wear clothing so I, against my better judgment, looked at options from walmart.com. I found several things I wanted and ordered them. As I placed the order, it bounced back to me telling me that the order could not be placed, yet walmart took the money off my card anyway. I called a customer service representative and they informed me that they had no record of my transaction that I should call my bank. My bank definitely had a transaction showing and informed me that it was just a hold and the money would be returned back to my card. Well I still needed the clothing, so I made another transaction from a different card. I got the order I did place and walmart instead of releasing my monies to my card, decided to send me out another pair of the same items keeping the monies from the first card. I AM TOTALLY PISSED!!! Since when was Walmart that hard up that they wouldn't return the monies to my card for a so called transaction that never existed. I AM RETURNING THE SO CALLED PAIR AND INSIST THAT YOU GIVE ME BACK MY MONEY!!

Nancy Cornish
from Cleveland, TN
I have long been a customer at Wal Mart 2300 Treasury Drive, Cleveland, Tn. For the last 3 to 4 months, when I do my grocery shopping, I haven't been able to get the things that I need from Wal mart because the shelves aren't kept stocked. Every time I shop, the shelves are more and more empty. I am considering finding myself a different place to shop for groceries. It is frustrating when you have to go to a different store to finish shopping.

Anthony
from Fullerton, CA
This email sent this morning to the CEO of Walmart.
Attachments9:02 AM (3 minutes ago)
to doug.mcmillon, bcc: tlf514
Very doubtful I will get a reply, but am going to try anyway.
Attached is copy of our receipt shopping at Store 05687 on 2/01/2019 at 1307hrs. Also attached are 2 coupons, printed directly from the Walmart coupon web site for (1) Hillshire Farms Product and (2) Yoplait Yogurt.
As USUAL at this store only a couple check stands open along with the self check out. The line we were in took 25 minutes to get to the actual conveyor belt to place our items. During this time it looked like the on duty manager was on a phone or intercom to call additional checkers, but that was a joke as only one showed up to relieve another for her BREAK. Clerk rings up our items, but the coupons would not scan. Here again this is typical and has happened several times that the untrained clerks say the coupons are not valid. She tried calling someone to come assist her but after 5 minutes I said forget it as the lines were so long. I then go to the Customer Service Desk to ask to speak with the manager, but she is going out the door for her break. The 3 clerks here did not understand what I wanted. It was to speak with someone to ask why these coupons would not scan and that I WANTED them to be honored. They said I had to go to the P/U counter to talk with another clerk, but he was helping another upset customer and walked away. At that time I was REALLY PISSED and walked out, not worth trying to get back $1.05. Then what do I see, the manager with the other clerk sitting out front on their break. GO WALMART!!!!!
This is the most worst Walmart I have been in here in Orange County, Ca. The shelves are ALWAYS EMPTY in all departments, never any staff to assist on the floor if needed, and NEVER sufficient check-out staff.
Bottom line is there must be a District Manager that should visit this store and be concerned about the lack of groceries on the shelves along with long lines when checking out, and clerks that do not know how accept coupons from Walmart's web site.
Do YOU GET THE PICTURE??????
UNFORTUNATELY this site will not let attach copies of the receipt & coupons.

Dear Sir or Madam,
This email has surfaced out of sheer disgust resulted by my recent gift card purchase, and the way some members of the customer service department handled it. I purchased a gift card as I usually do weekly and sometimes I have issues with the card not loading or either card is defected. When this happens I have to go to the Customer Service department to resolve the issue. It took one hour, three supervisor, and one team member to assist with gift card problem. I can understand things can get disarrayed for some reason or the other. But, I feel it is your responsibility to correct a problem promptly when a customer has an issue. But, none of this sort was done.
Moreover, not only did I have to deal with gift card issue I also had to deal with poor customer service. I was treated very rude by Nina (supervisor) verbal and nonverbally by way of body language. However, I would like to shout out two employees who really went above and beyond and turned my negative into a positive. Marisol (supervisor) she was determined to fix the problem and did everything in her power to assist. I also would like to shout out Sarah ( customer service rep) she was so very helpful, kind, and patient. She actually fixed the problem by calling the gift card servicing department.

The Thomasville Store in North Carolina shelves are a mess--not fully stocked--one week they might have what you want the next week it isn't there. Very often the produce is not up to par. The people who work there are great--they have their hands full. Your new check out system is very unsatisfactory--not everybody likes to check themselves out. You could use Robots in the cashiers jobs and save more money. Don't know if this is just poor management or headquarters ideas.
Pat Nicolia

Hello We are having the same complaint as before w/ the Pet dept. at your Bremen Wall-Mart store # 856 When we went to purchase the Hertz Cat Litter. code # 00237001-4913 it was not on the self and there was none in the back stock room Also None available at the warehouse near by. This is not the 1st time w/ this Issue. We have contacted Hartz Corp. and let them know the lack of ordering this product and keeping it on the self at all time. We have 9 cats and use the " Hartz Brand all the time. Our Transpiration is limited at this time. So we can not keep running back and fourth. to find out if you have it on the shelf or not. ???? and it's frustrating You carry tons of the other brands which cost a lot more. and dose not work as good as the Hartz. Trust me we have tried every brand on the market. So please contact the Wall-Mart Store # 856 and get some one in charge to over see this issue and have it taken care of ASAP.... Thank you for your time and consecrations in this matter. Also note it's not the people on the floor fault for the lack of this product. your MGR;s should be on top of this. Sincerely Annemarie Cain

lea johnson
from Fond du Lac, WI
on Tuesday January 29th. I went to my local Walmart and bought minutes for my track phone, the clerk quoted me the prices, and when I told her no they are this price, she said now they are this price , I said okay, she should know, she has the scan book right in front of her. when I got home and tried to activate it was told it was not for the track phone it was for a different phone. when i went back they gave a me some what of a hazel as they said they do not do credits or refunds or exchanges on phone cards, well this was not my mistake so finally the service desk manager did a gift card and hopefully sold me the correct one, she said I should always go back to the electronics to purchase my time, I told her they told me a long time ago I know had to go to the registers up front to purchase them, she said no that is wrong, you can do it back there as they are more up on the items. then we are up front, say what!!!!!!!!!! I am not in the greatest of health and then to get this kind of run around is uncalled for, especially since not my fault at all.i am very disappointed with this experience with Walmart. lea

I was shopping at Walmart on January 23/2019.
I needed eggs, I had to lean over into the case and stretch to the back of the case, as I am only 5' 1" tall this is not easy for me.
I injured my ribs, a few days later I had to go back for more eggs.
I saw a manager who's name is Cody.
I talked to him about my issue and his response was telling me to stand on the round rail around the bottom of the case.
I'm still in pain on January 30 2019.
I've had a difficult time getting done all the things I needed to do this past week.
Thank you
Cassandra McPherson
Camden, Arkansas

Dear Mr McMillon,
I have purchased goods from Walmart for over twenty years as well as used the optical services without incident until my last prescription eyeglass purchase in August 2018. I refilled my eyeglass prescription at the Foxon Boulevard, New Haven, CT, location and have been having problems with the eyeglasses ever since. I returned the eyeglasses to the location and was told that nothing could be done. I find this unacceptable, because I work hard every day, and cannot afford to give $250.00 away. I am not able to wear the eyeglasses purchased in August 2018 --I am not able to see clearly or read when wearing them, and am wearing eyeglasses previously purchased from the Walmart, Foxon Boulevard, New Haven, CT, location. I would like a refund for the August 2018 purchase because I cannot use the eyeglasses.
I would appreciate you looking into this matter, and look forward to a favorable response. I can be reached by telephone 203 623-8025 or by email: adt8462@yahoo.com.
Sincerely,
Angela D. Thigpen

Not only is Wal-Mart stores always understaffed but I called 3 different auto centers and only one had enough tires for my 2014 for focus, they told me they had 6 of them (size 215 55 16). when I got there I waited 20 minutes before getting acknowledged then 1-1/2 hours later I get a call saying that their inventory was off and they only have 2. This is not the first time this has happened to me at Wal-Mart.

Kim Grande
from The Bronx, NY
I ordered a very expensive Treadmill for a Christmas gift. It was not delivered when promised, When I spoke with a supervisor and they rescheduled delivery, it still was not delivered, but returned to store. On the third phone call I filed a complaint with Walmart Customer Resolution Team, till this day I have not heard from them at all, Ive made several phone calls and even with a complaint number, nothing!! horrible experience and will never order from there again.

We employees of 3462 are being bullied and abused. Lots of unethical issues. Please when you come this week question all associates on all shifts, department managers, etc. We need scanners to do our jobs, we are yelled at constantly and even assistant managers (christina) are grabbing and hurting people. Many lawsuits have been talked about. (Store manager) and other management bullying people. Please come out to speak with all associates.

grannysmith224@yahoo.com
from Bradenton, FL
We buy your steamable vegetables all the time. Lately the bottom of the bags have been leaking the juice out..Not happy bout this

Kenneth D Ayers
from Canandaigua, NY
Not really a complaint, but your shopping carts are in terrible condition. Wheels stick or steer hard, some carts have rust in basket, jammed together in staging area( hard to separate). I'm wondering if getting a good heavy plastic cart would be better. Just saying!!
Thank-you for your time
Kenneth Ayers

Dorothy Burton
from Albuquerque, NM
I shop at the Walmart in Los Lunas NM and am thoroughly disappointed shopping there. They are in the process of remodeling and the STORE IS A MESS!! And you can't find anything now, even more than you usually can't. The shelves they are moving are more than half empty. Before the remodeling its hard to find what you want and now IT'S EVEN WORSE!! There is no rhyme or reason for the aisles that are relocated in different areas of the store now. This store on a regular basis is a disappointment to shop at. You can't find what you want, shelves aren't kept stocked and who is the idiot that decided to put items on shelves 10 feet in the air. Not even the tallest male can reach some of the things on those shelves. You have customers climbing on the lower shelves to reach the items on the higher shelves. There never seems to be an associate available to use a latter to help reach items on the higher shelves. Waiting to hear when someone has something on those higher shelves falls on somebody's head. Right now the customers AND EMPLOYEES are frustrated with the REMODELING MESS!! It's bad enough normally when I have to reach 2 liter bottles of soft drinks that are 4 feet above my head. I've even written the store manager in the past and received no response concerning the display for the 2 liter bottles and that at least 10 different items on a regular basis I can't find available. I've even noticed customers seeming frustrated shopping and commented to them that it was frustrating shopping at this Walmart and how hard it is to find things and MANY HAVE AGREED WITH ME!! We have also agreed that maybe shopping at our towns Albertson or Smith would be better. Also some of the high up employees in charge have an attitude. They act like its your privilege to make believe they are helping you and addressing your concerns. I even wrote to the management complimenting 3 of their outstanding employees and later asked those employees if they received recognition and of course the answer was NO! Come on people get your organization in order before our Walmart is forced to shut down.

Kent clemons
from West Helena, AR
Helena west Helena parking lot lights needs to be fixed

yvette starks
from La Mesa, CA
I experience severe racism at Super Walmart College Grove, San Diego Walmart SuperCenter 3412 College Ave, 92115
619=858-0074. 0071
One of the associates working at the self-check out department was reluctant to help me with the self-check out machine in the store. He walked over slowly to me, and quickly dismissed me--took him a long time to respond to me, I had to beg him, please help me. But I noticed he helped others eagerly, and quickly, and was happy to do so; he even stood by them to make sure everything was okay, but not me. Furthermore, I noticed that he spent a longer time helping the other customers. I spoke to the manager, Gregory who was also racist toward me; he refused to help me with the incident of racism---they both should be fired. This happened on January 23, 2019 about 10:10 am, to about 10:25 am

MBREWER
from Greensboro, NC
I RELOADED 2 GIFT CARDS ON 1/12/2019. I USED PART OF ONE ON THE SAME DAY. THE CARDS WERE PLACED IN MY PURSE AND FULLY IN MY POSSESSION AT ALL TIMES. ON 1/22/2019 I WENT TO USE THE CARDS AND THEY WERE BOTH EMPTY. I WENT TO CUSTOMER SERVICE AT THE STORE - NO HELP. I CALLED THE NUMBER ON THE BACK OF THE CARDS- NO HELP. I CALLED THE STORE AND ASKED TO SPEAK TO A MANAGER, HAD TO SETTLE FOR A CLERK IN FINANCIAL SECTION. WENT BACK TO THE STORE TO SPEAK TO HER- SHE SYMPATHIZED BUT COULD NOT HELP. SHE DID GIVE ME A COPY OF THE TRACKING OF THE CARDS. I THEN WENT TO THE POLICE AND FILED A FRAUD REPORT AND GAVE THEM ALL THE INFORMATION. I LOOKED ON LINE-NO EASY WAY TO GET TO THIS AND I CALLED THE TOLL FREE NUMBER 1-800-925-6278- ABSOLUTELY NO HELP!! NOW SENDING NOTICE! THE ONLY WAY THIS COULD HAVE HAPPENED BEGINS WITH THE RELOAD AT THE ORIGINAL STORE. BOTH CARDS WERE REDEEMED ON 1/17/2019 AT DIFFERENT STORES FOR THE BALANCE ON THE CARDS.. WILL YOU HELP?

Pat Philson
from Lakeland, FL
First off. Wal-Mart is carrying fewer and fewer of the items or brands I like in favor of their own Great Valu garbage, yes garbage.
The stores are not anywhere as clean as they should be. Today I needed honey and the shelf was all sticky like a container leaked and nobody wiped up the sticky before reloading the shelf. Many of the container were sticky no only the bottom but the sides too.

On January 2 I placed an online order for a Ball Stylus Dotting Tools Pottery Modeling Tools 18pcs Clay Sculpting polymer Modeling Set for Pottery Sculpture, Mandala Rock Art, Polymer Clay & Ceramic Pottery Craft, Embossing Pattern, I was told I would receive the item by Jan 14. I have not received it, INSTEAD I received an item I DID NOT PURCHASE! I WANT MY MONEY BACK. Ships from NOWORNEVER INC
Arrives between
Shipping To
Tue, Jan 8 and Mon, Jan 14
We'll send an email with tracking info when your order ships.
​Linda Brown
​102 Harbor Drive
​Palatka , FL 32177
Item
Qty
Total
Ball Stylus Dotting Tools Pottery Modeling Tools 18pcs Clay Sculpting polymer Modeling Set for Pottery Sculpture, Mandala Rock Art, Polymer Clay & Ceramic Pottery Craft, Embossing Pattern
$10.94
1
$10.94

Jerry Smith
from Ridgeland, MS
I returned my old battery for the $12.00 core charge refund. The barcode on my receipt was faded and would not scan therefore they would not give me my $12

Missy Davis
from Carlsbad, NM
RE: Walmart Supercenter Carlsbad NM
If I could rate this store a 0 I would have. There is a huge issue in the customer service department. Not only was is closed before 8:00 pm, the customer service lady told me I had to wait 15 min then she could help me with a return. All I needed to do was make an exchange, 45 minutes later, she was still standing at the end of the self check outs observing. I witnessed a customer ask her about sending/receiving money and they were suppose to be open etc. This manager or employee literally told her quote"I am not gonna be doing any money services, if you want to pay a bill or make a return/exchange then you are gonna have to wait about 15 minutes. Same story I got 45 minute earlier.
This store in Carlsbad is miserable to shop at period. Employees are rude as hell and could care less and if you are shopping any time past 7:00 pm, you cant get down an isle past all the stockers. You would think you would do that after hours. Walmart has become my least favorite place to shop and I avoid shopping there anymore. It is a small town so our options are limited unfortunately or I wouldn't be going back at all. Its not worth it. Never has anything available, employees are not only useless to assist you, but out right will refuse to assist you. Hearing that employee/lady tell the customer "NO I am not doing it," made me mad and I literally dropped what I was gonna exchange in my hand and walked out. I will just go get my money back in the morning and will make every effort possible to never go back. Hours are not reasonable, employees rude and the isles are always blocked in the evenings and what you need is not there. So...I don't know if this will even reach anyone or if this will even matter. But I am not going back to this walmart in Carlsbad. I will go to Artesia and see if they have any better employees with better attitudes and stock after hours. What happened to your store? It really does suck to shop there anymore. Change something before you lose more customers. I know this store lost about 6 just in the last hour. We all walked out pretty upset and disgusted with that lady. She need to be put in the back somewhere.
Good Luck and I hope you take this complaint seriously.

John Junior Compagner
from Holland, MI
can not fifd out about item ordered locally at store in grandville mi and have been unable to find out if i can pick it up

Melissa Roberts
from Belleview, FL
I placed on order online in April, never received it, was issued a refund. On June 9th they took the refund back out of my account and said I did receive item. To top it off they then said my bank stole my money

Delores Hinchman
from Denver, CO
i have called many time to talk with manger over the matter that happenend 3weeks or so ago when they took the change i had that was counted and told to them there was 500.00 and i trusted walmarts people to be homest but they where not.i did not see the manger at time put change through and after all the time i waited at least 45min and was told from a young lady that was working in front that the change wasnt counting right in there machine.but on top of that they tell me that they put my change in hopper and that they had change already in there .i was pissed still am ,because my change should of been sepreat and i know i had 500 dollars in change.ii want this matter taken care of or myHusband and MySELF will take action on this matter.I was doing you store a favor and i got took

Pat Foster
from Pasco, WA
I live a block and a half from Walmart and 37 miles from a Winco and I would rather drive the 37 miles. This store is pathetic, nobody is friendly and they sure don't know where anything is and couldn't be bothered. I asked 3 separate employees where I could find Horseradish and they would just shrug or ask if I looked here or there. As they are in the process of rearranging entire store it was very frustrating. Not one offered to help me find it, and as I needed it for a recipe that day I ended up going to Safeway. The people filling orders for online ordering are totally clueless to the in store shoppers. They block isles and will practically run you over, it just seems to be getting worse. Now when I go to the neighboring town it is a totally different story. Pendleton Walmart is so much more organized and the workers are actually friendly.

Laureen Cahall
from Camden, DE
I am having a lot of delivery issues and I cannot seem to find the correct person who can help. I order for residents in a Long Term Care Facility and items are being left in a Walmart bag in a lobby that is not staffed after hours. My name is not even on the bags. I spoke to Ray @ 10:49am this morning, and she said that she will send one of my issued to the escalation department but the other issues has to be address by the grocery department, when she transferred me someone answer the phone and then hung up. I was not given a phone number for that department.
If someone would be able to help me, that would be greatly appreciated. If you look at my account, you will see that I do place a lot of orders from Walmart.com.
Laurie

Barbara Baugh
from Everman, TX
They way the workers treet everyone like a theef. Customers don't need that.

veda scott
from Portland, OR
I have been more than patient with your customer support.I made a payment on 5/4 to Viasat internet in the amount of 105.50. That payment was lost. I filed a dispute on 5/14. I was told 5-10 business days. When I called to check the status, I was told they needed more time, another 24-48 hrs. This has happened 3x. When I called today, I was told the same thing! Enough is enough!!! Customer support gave me the transaction Id# and the approval code. My question is this, if I could be provided that information, why can't you find the payment using that same number? I am not pleased at all with this service! Today is the 11th and I don't know anything more than I did when I filed on the 14th. This is unacceptable! It should not take this long! I was on the phone for over 1 hour and15minutes.I was continuously transferred back and forth and when I asked for a supervisor, the agent would place me on hold and then put me back in the queue!!! Next I'm repeating myself verifying the same information over and over again! That in itself is most frustrating and it's even more frustrating when you've been bounced around for over an hour!!!!

Ike Okafor
from Toronto, ON
Dear Customer Service,
On the 30th of April I made an online purchase of three items from your online store with Order #3202133010571, namely;
1, A Wrist Type Blood Pressure Monitor LCD
2, A Digital Bathroom Measure Scale
3. Non contact Digital Infrared Forehead Thermometer
Up until today, over a month later, I've only received the Digital Thermometer! I have made several calls to your customer service team concerning this issue and have also requested for the purchases to be cancelled and all I have received are empty promises that it will be resolved while they were also referring me to the seller. At one point I was given an escalation reference number 210528006796 with a promise that my issue has been escalated and that a Walmart staff will get in touch with me, which never happened.
This development has left a sour taste in my mouth and has been a real disappointment with Walmart for me. All the time I have tried to track the items I bought, the status has remained on "Ordered" until today, which was what prompted me to cancel the order as it seems like a fraudulent transaction to me.
I hereby request for the immediate refund of my money for the purchase of the two undelivered items, one of which I was long advised has been cancelled by the way, and of which I'm yet to receive any refund.
I hope to be contacted and my money refunded this week otherwise I will be forced to utilize other measures to address the issue.
Looking forward to hearing from you ASAP.
Thank you
Ike Okafor

No buggies in store when I went in then at check out there was 2 lines open with 20 registers total and 20 people waiting in both lines! Everyone in line was complaining!

Lilit Hovhannisyan
from Chicago, IL
Currently, I have open complain case # 18749052, - due to Walmart associate's mistake MoneyGram system blocked me when I was sending money to my retired father (Martin Hovhannisyan). Since then (March 25th, 2021) I can't send money. The mistake is related to the accidentally pushing wrong button <YES> when answering the question of suspicious behavior. This Complaint Case #18749052 was filed by the Walmart manager as all incontinences happened due to their employee's error.
Now, I am filing this Complaint Case on behalf of my father: He was not able to receive money via MoneyGram, sent to him on May 15th, 2021 by his friend. He was told that he is blocked by system, and agent refused to provide money. The Reference Number of that transaction is 43382523 (sent on May 15th, 2021).
Could you please clarify if the rejection to provide money to my father (as receiver) is related to the same mistake that Walmart employee did
If these restriction are related to each other, please, review it parallel.
Thank you,
Lilit

Jodie Rector
from Tampa, FL
Walmart Sun City Center FL is the worst store I have ever been in. The stores and shelves in all areas are always a big mess, not organized. I have purchased produce (specifically salad kits) that don't even last a week before spoiling. The customer service is also very terrible and most employees are rude, ignore you or don't know where anything is located, It is like you are bothering them to ask for help. I recently just purchased a BBQ grill and all three of them on the shelf had damaged boxes. I choose the one that only had a small tear in the box only to come home, unpack it to find the whole front was smashed in and damaged. I went back to the store and couldn't get anyone to help unload it from my car to return it so I had to do it myself, the customer service lady was rude to me through the whole process.
I think corporate needs to pop in to this store sometime and see how bad it is. They need to take more pride in their store,.

MSgt. (Ret.) Richard Rivera
from St. Cloud, FL
Refusal of refund for a defective product by ST# 01086. I purchased a EverStart Digital Power Station at ST# 3402, 10/18/20, due to the need of a batter jump starter. The jump starter worked with no issue. Due to multiple mechanical issues with my RV, I return home early and took the RV back to the dealership for appropriate warranty repairs. Please note that the device was stored in the RV. Due to availability of parts delay because of the pandemic, my RV was out of service and at the dealership for over 3 months. This delay of course surpassed your 90 day warranty. As I was installing a tire pressure monitoring system in the RV this week, I attempted to use the air pressure and found that is was malfunctioning and after following manufactures recommended trouble shooting guide, I found that the compressor was not producing any air and the pressure ready was 3 lbs. off actual tire pressure. Since the device was not functioning properly, I took it to the Walmart near my home for a replacement and/or refund. The Customer Service Rep told me flat out that I could not get a replacement or refund because it was passed the 90 days. I asked to speak with the Manager Mr. Rodrigues, I was told he was not available and instead a Team Leader Tatiana came to speak with me and she repeated the same statement and indicated that the other problem was the device was not purchased at the local store. I assume that a purchase at Walmart can be returned at any Walmart with a receipt and appropriate action would be taken. I called Mr. James, ST# 3402 Manager and he indicated that the Store Manager has the discretion to make any adjustment necessary to ensure quality customer service is provided. That did not happen at ST# 01086. As a long time Walmart/Sam's shopper, I have never had any issues like this at all. As a Disabled Veteran on a fixed income, $100.00 is a lot of money to lose. I appreciate your time and assistance and will hope for a favorable decision for a refund on this defective product. Please feel free to call me

Chris A Chamberlain
from Cape Coral, FL
am filing a complaint regarding horrible customer service I received at my local Walmart in Englewood, Florida. On Sunday, May 3, 2021 I wanted to purchase 14 bags of mulch. These bags are extremely heavy and I am disabled and not able to lift anything heavy. I only had my two young daughters with me. I asked a manager if I buy the bags of mulch would someone load them in my van. She said yes a checked out my order. I pulled up to the garden center and s very old elderly man was there. He waved for my daughters to follow him to the piles of mulch. I thought he just needed to know what color mulch we wanted. After a while I saw him wheel a cart with the mulch to my van. However, both my daughters we sweaty and winded. I came around the back of the van and my daughters were struggling to pick up the mulch to put in the car. The elderly man was just standing there. I asked where was an employee to load this mulch. He said he was just security and there were no men working today. Hr rudely said we just need to do it ourselves. My daughter was struggling with a bag and I bent down to try and help life it. My disability consists of back issues. I immediately felt excruciating pain. I sat in my van and dragged into Walmart to customer service. The manager who originally waited on me came over. I was in pain sweaty and upset. I asked why no employee came to help. She said to me I did not come to work today to be yelled at and said she did what she was supposed to do and call someone. She said she called for someone once and that is all she was required to do. If no one came it was to bad. I explained me and my daughters struggled with lifting this mulch. She walked away and another manager ignored the situation and said to just file a complaint if I was not satisfied. I am filing this complaint not only the pain and suffering my daughters I endured but how rude inconsiderate and unprofessional the managers of this store treated us. I am asking for a decent resolvement to this complaint. If my complaint should be sent to another contact for review I would appreciate that information. Thank you.

Zelda Williams
from Dallas, TX
I feel to believe I was treated unfairly. On Saturday 5/1/2021 Walmart had baby sharks power wheels marked down and I was told they were out but I witnessed two workers buying them and this happened on Sunday also and I thought customer had first choice this was not the case and I could not find a manager at the time to voice my opinion to.Was so disappointed

Lorna MacLachlan
from Jefferson City, MO
Walmart associates seldom know what they really do have in stock and what they do have, as far as certain products go they will not sell you without an all out argument about potential fraud. This is particularly true of Store #47, in Salem, Missouri

Daniel Morrison
from Redfield, IA
i give a rating of one only because i had to there no o. i place online order and wait for it when it didnt come i was told to wait long or cancel my order i ask how much longer emily said 2 or 3 days mite be more so if you cancel then you dont have to wait thats real smart service

Eliazar Santos
from Sparks, NV
Received rude & disrespectful service. I had formula to return that my 8mo. old was vomiting up and it upset his stomach. This was on Easter Sunday, right out of coming from church. I had a valid receipt from Walmart pay and the return was within 90 days of purchase. It's not the customer service associates fault. He was just working off his training & knowledge. However the team lead Jeanie just came up rude and unwilling to cooperate. She wouldn't let me speak to assistant member of management and wouldn't even give me the store number. She even lied to me on who the store manager was. Said his name was Ralph. I still continued to make purchases because we had to get some items. I had to find on my own after my purchase for the day with my wife and son. The store number is 3254 and the store manager is Steven. If she had just seeked to understand and tried what she could for an honest loyal customer. Instead of smashing someone down to make themselves feel superior. I just hope that she doesn't continue to treat customers rudely and make a better experience for the next customer.

Wanda Clayton
from Grand Rapids, MI
My order number is 3482193-942438 and I placed a large order that I had financed through Affirm for over $47830 dollars. I received all but of my items as I have been fighting with customer service making promises they can not keep. I talked to them a week ago and they said they could not send me the items , that they would have to do a cancellation for my items not received and issue me a refund. It has been over a week and my cancellation has been sitting there showing pending and never processed. When I called customer service to find out why my refund has not been completed, and they did not have an answer for me but my supervisor will look into this and it will take 24 to 48 hours as I was told a week ago the same thing.
This is poor customer service and did not care about me getting my products or money back. I am not happy with the way I was treated nor is my issue resolved. I work hard for my money and want my products or my money back for what I paid for.
I am looking forward to receiving a response on this.

william burgess
from El Dorado, AR
We buy frozen hash browns and we have to pick the peelings out and there isnt much left they are the patties shedded and seasoned we are very unhappy with them code # is 0 78742 28332 6 also we buy the greatvalue cut green beans which isnt as good as they use to be the code is 078742 36944 0 Thank you

Sharon Robert
from Welland, ON
I read that you can return within 90 days and I made a purchase just over a month ago and went to returned it and customer service refused I need receipt due to covid 19. What is the difference for return with or without receipt a purchase is a purchase.

Diann Miller
from Sikeston, MO
In a recent shopping trip to your Sikeston Missouri store, which is being remodeled. Store was relatively clean and organized considering. Hate the new look, so cold, clinical and unwelcoming.
Doesn't make for a pleasant and relaxing shopping trip if you feel like you are shopping in a hospital.

Terrance Youngblood
from Kentland, IN
If all Walmart and Sams clubs are going to self check only, and no product on the shelfs but pallets blocking ailes and nobody stocking then I will take my business to a store that has customer service. That is bullshit! If I wanted to be a checker I'd get a job being one!

Janine Gober
from San Antonio, TX
My spouse and I are disabled. Close to the entrance most of the spots were designated for your officers. There were a couple of wheelchair openings, van spots and only two for people who did not need a wheelchair. They were filled. However, at the far end of the store that remains locked, were quite a few handicapped spots. My husband and I still walk but just barely. We were left with the choice of going to the far end of the store or to the very back of the row. Please rearrange these disabled spots so that people like us who are still trying to be independent can do so. This was at Thousand Oaks and Nacogdoches in San Antonio Texas. Thank you!
Janine Gober
4906 La Barranca
San Antonio Tex
78233

Amelia Hooks
from North Augusta, SC
Common occurrence in the garden area of the Walmart on Knox Ave in North Augusta, SC. Was in the store yesterday to buy mulch. My receipt showed the purchase was made at 11:58 PM. The associate paged numerous times for help. No one came and I finally went to the customer service desk and asked for their help. The manager there was able to get someone. From the time I made the purchase until it was loaded was 25 MINUTES. I don't want to shop Lowe's for mulch but will be going there today and will pay more rather than go through what I went through yesterday. Last week when I purchased mulch at Walmart a customer had to load it for me. Please see what you can do to improve service in that area. The associate was very nice and did all she could to get someone to load my purchase.

reda bikhit
from Bayonne, NJ
an employee in bayonne walmart her name is Lieha , refused to refund the taxes on my product and ask me to leave the store or she will call the cops. i called online they said she has to refund the full amount include the taxes. but she refused. i asked for another person to help she said i am the only manager for walmart and no one will help, what she did is harassment.

Sharon Robert
from Welland, ON
Walmart Welland Ontario I purchase some mats at this store and went to return them and they refused
because did not have my receipt. The website says you can return things without receipt up to 3 months. I purchase them at the end of June and they refused to take them back without receipt. They say it is because of covid 19. What different does it make for returns without receipt when the website says you can return these items? This is really false advertising. I am very unhappy customer who might take most of her business elsewhere. Need to update your website
Thank you
Sharon Robert

Lilly
from Los Angeles, CA
On August 2nd I was standing in huge line to return a merchandise. They only had 2 cashier working. I asked an employee that was passing by if he can call the manager. He smiled and said "No". I asked "Why?". He said "I just can't". I asked for his name. He was hesitant. Started smiling. After a couple of seconds hesitating he said "Angel". I am not sure that it was his name. But I know that he is employed outside, moving shopping carts (he was wearing a lime west). He is a young Latino, very handsome, with undercut hairstyle, dark completion. THis kind of customer service is not expectable and unfortunately happens in this Rosemead, CA store a lot. In addition, their return line despite of 3 cashiers open is always super huge. Once way before COVID I stood in line to return something in summer for 1.5 hours. Employees just talk too much between themselves and with the customers. Because of this I prefer to drive to hacienda Heights store, which is always in order and their customer service is superb!. Returns take no more than 10 minutes. This is obviously because of the management.
Please address

demos young
from Mashpee, MA
Jan 2020 ordered Allswell hybrid QUEEN SIZE mattress Received King Size mattress PROBLEM OBVIOUS for 6 months repeated calls to customer servive for correction have availed zero results Allswell mattress is in living room blocking access Need resolution to this problem remove mattress from premises and money returned

Paul K Bublitz
from Wisconsin Dells, WI
I purchased a combination Hyper Tough Weed Trimmer and Blower last summer. I am in need of replacement string for the trimmer. The Model number of the trimmer is RD20GS10. The walmart number for the string is 550523605. My store is in Portage Wi. They don't stock it at all. I have contacted 10 others and they said the same thing. How can you sell a product and not have replacements for them???? I expect something done please. I am not going to go and buy another. I can't even order the spools online. They have to come from a store.. ?????
So I will let you decide whats going to happen.
Thank You

Theresa Thomas
from Rising Sun, MD
I had the worst experience yesterday at Walmart 5450 in North East MD when asking an associate named Michael for help. I was there with my 12yr old daughter. I have a broken foot and have a big cast on it so I was using one of the electric carts. The cart I was using kept stopping every couple feet. I saw an associate so I asked for assistance in getting another cart. His name was Michael. When I asked him if he could help me get another cart his response was "they are up front". I said I know that but I'm not sending my daughter up there by herself and I can't walk up there because I have a broken foot and a huge cast. His response again was "well they are up front". I said can you please get one for me. He huffed and left. I decided to just deal with the cart I had and went on because I was upset at how I was treated. A couple minutes later I was in another aisle and he rode up with a new one. He said well you know they stop if you get up because they have a weight sensor and I repeatedly told him I hadn't been getting up that my daughter was getting stuff off the shelf for me. He said "well here's another one" and got off it and looked at me and said "I'll take the other one up when you are done unloading to the new cart". I'm standing in the aisle trying to support myself with the cast on my foot and transfer my items from one cart to the other. He REFUSED to help me and just stood there and stared. When I was done transferring the items he just got on the cart and left. Not one word. I have never seen such poor customer service at this store. NEVER. I was so upset at the time or I would have found a manager and addressed it right then. My husband is employed at this WalMart and apparently this person has had other complaints. This Michael associate is a very poor representation of your company. Very displeased. My cell # is 443-350-5476. Thank you.

James Neville
from Los Angeles, CA
You've probably already heard this many times but I need to say something. I'm an OTR driver. I've been sitting here at the D.C. in Buckeye, AZ for 7 hours waiting to be unloaded. Why does it take so long. I get paid by the mile, not for sitting and waiting. If I try to complain to someone inside, I'll be here longer. This is not good living. Someone should try a little harder to appreciate the effort we put forth to serve you. I figure this will fall on deaf ears, but I have plenty of time. Thank you and have a wonderful day.

Jacqueline Scott
from Edmond, OK
my package never arrived I work from home and I see everyone arriving from my office window. Noone from Fedex came to my home. Tracking#169070413746 package was not delivered.

Yulanda Watkins
from Chicago, IL
Hi to whom it may concern,
I'm a regular shopper at Walmart in Rockwall Texas and other locations for several years. The treatment I've gotten while inside the store is so frightening due to being followed around by Walmart employee, managers and store security. I can't shop in peace this causes anxiety before going to Walmart and while shopping there. I feel harassed the entire time I'm inside the store. There's been several occasions after I've paid for my items with a cashier or self checkout to show my receipt with a door greeter as if I've stolen something. Walmart has camera's at the register and all around the store. I've witnessed the door greeter not check certain customers receipt without their items inside of bags and instead check different genders or different ethnic backgrounds.

Jeff akright
from Plainfield, IN
the auto center at the Delavan store is way under staffed.I've been waiting over two hours for an oil change and I was the second person in line when it opened at 7am. my vehicle still hasn't been touched. this is an unacceptable wait for a 20-30 minute job

Elsie NATAL
from Englewood, FL
I was given less pills instead of 90 it was 67 today is my last pill they owe me 23 pills, my doctor ordered 90. MY CHOELESTROL IS HIGH. ZIP CODE PHARMARY IS 34224

David Broussard
from Opelousas, LA
Have no idea if this will get read or if anything will be done about it after reading the comments on your corporate headquarters site. Anyway, here it is: My personal cell phone broke. I go to Walmart Supercenter in Opelousas, La. Store #543 to purchase another on 7/19/19 at approx. 5pm. BIG MISTAKE! I selected a phone and asked associate to see the phone, he told me he could not open it. Okay, I purchased the phone. Before I left the store grounds, I opened the packaging. What do you think was in there? A phone with a broken screen without any of the contents listed on the box. The phone in the box did not match the listed phone on the package! The box was also damaged! Went back in store to return phone or get refund. The male associate ask me for the contents listed on the box. Tried to explain there were no contents in the box. Associate turns investigator, accuses me of switching phones and refuses to exchange phone or provide refund! I ask for a Manager. Manager named Miranda shows up. Approached me with an attitude, totally rude and disrespectful!! She said I must have switched the phones. I know the person who may read this does not know me from Adam, but believe me, a thief or a crook I AM NOT!! Suggested that they view Walmart cameras and show me such outrageous accusations and offered them to search my vehicle. She said no! She chose not to give me another phone or return my money! Instead, manager of the year called the police because she said I was loud. She probably was right, in my opinion, so was she! I was upset with her response and attitude. I did nothing wrong so nothing happened. I left! I am disabled with back issues. I know $55.00 is nothing to a company whose net worth is 386 plus billion dollars and a Manager like Miranda who receives a competitive salary from Walmart. However, it is a lot to me! When on a fix income and everyday of your life is in pain, those 5,500 pennies are treasured. She was adamant about her wrongful accusations! The only person that got something stolen from them that day, was me! Well enjoy! because it will be the last red cent Walmart gets from me and all 138 (yes I counted, that is just how petty and thorough I am) of my loyal family and friends who live nearby along with the 5 that has business accounts!!!!! Miranda's poor judgment has just become your liability! #WEHAVEOPTIONS Awaiting your corporate response, I Remain
David Broussard
337-678-0018
337-692-9598

I want to check the status of a refund for order number 4491996-196764

Dear Sir's Ma'am
I'm now a rehire due to scheduling error and that's all that I was told. All information was from the DM office and Mgr. of store whom has left the store from my understanding. I was suppose to have had a call from the office around the holiday time and no reply in which I've called to cover most ends if not all sir's/ma'am. My position's are now probably closed due to the failing of? Please consider my applications as followed. Part Time still morning Morning til 2.30 or 3pm. I could probably do an on call for nights. I'm not sure on the travel time for nights. Would you all be so kind please to sign me up for classes as well I'm not really sure on where to go on web site. I got paid the very first time 8.25 I think I pissed her off she took to long to return the call after testing. What an punishment. I had to work my way up and the $15 was offered at another location after the 90day's. oook. Thank You
DebraGrosly. CSM/CSA/Door Greetr/Stocker/

Robert Collins
from Houston, TX
7-17-19@12pm-110pm, making me late from lunch.I came in to store 4139 in Bryan Texas to look for bicycle for my wife. I frequent due to location in proximity of my job sites. I work for Britt Rice Electric as a superintendent , managing installation of scope work to our major client TAMU. I am very fluent in the art of taking care of my customer as its important for long term customers in my field as well as yours.This turned into a 1hr event , due to the miss management bike department. I was lucky to find a representative by calling the front desk from the bike department because no one was to be found.. An older gentlemen after the page issued , I know face from the hunting department . The gentleman was older , but helpful and kind, yet lacking the training in this department never gave up trying to make me smile.90% of all bikes on the racks were miss labeled prices and types making this frustrating. The older man never gave up. Although throughout the process I kept asking , if a item is placed where a price is , that's the price customers should not have to call management to have bar codes read to them (very misleading). At this point I was uneasy buying a new bike because, I wasn't sure the price could change on the way to the register. So I opted with a used bike with a rusted chain, brake lines and disc brakes rust, along with paint, this bike had a yellow tag of $88.58. I was uncomfortable I just wanted get out because I was confused. I asked why the bikes where so organized, and the older with a smile , that guys so I cant answer that question. My wife asked for a comfortable seat so I walked to the bike isle with the helmets on the other side. While looking for new seat for my wife's comfort. I turned around and looked up , and saw blacked out mongoose listed as super T ( I thought this was a model type) and thought 58.68$ is a hell of bargain and I want that bike. The mongoose in question was on a rack by its self pretty straight forward I thought. So I went to find the nice old who had helped me earlier , he must have been filling in for someone else in a different because I could not find. I waited 6-8 minutes hoping a employee. This never happened , so I called front desk and asked for management to be sent to my area. 10-12 min no one had showed, I noticed short red headed lady walking with a taller black girl. I waved at as I needed , and they approached (still have not seen management). I aske d the two young women if this a model super t mongoose and the if the price as labeled. She did not scan (must known something of the disarray) quickly as she was roughly 5'11'' - 6' tall scanned (not the label of the single on the single labeled as super T 58.68$) Management still has not arrived. THE taller young lady informed me that the actual of this bike is not 58.68$, yet 200-250$. So again I pondered what to do. I looked at watch realized that I was already late for lunch , might as well see what the manager has to say. I began thinking that manager would understand and realize I've been taking through process that a customer should not experience. About a minute in from the two young ladies departing , wanting to not get involved as I asked a question ---IF A LABEL / OR ITEM IS MISSED PLACED AND OR IN WRONG AREA , THE TAGGED PRICE SHOWN IS THE COST OF THE ITEM ?- THE YOUNG WOMEN SAID I CAN GET A Manager, I replied have been waiting for when I flagged you two down. As they waked off short middle women walked around , I assumed she was the acting manager. She was very kind throughout our talk , and kept referring to the bike in question Mongoose whatever was not 58.68$ but 200-250 or something , I began to do ever want to come back to the store because no one owning the problem. I told her that in my line contracting for clients that the customer is always right , they entrust labels are correct and vested by management . I also stated that if mistake was made and costing the customer time he did not a lot for this process , which should 15 min , we are 45 min, and no solution. I said if one of employees made mistake , I own it , I would eat the cost and let the customer (who has opted used bike , to un organization of pricing. That I would do anything to make day and keep as a long term customer. She then that she would to go get the general manager of the Bart and that is dealing a situation , and could be a few more minutes. At this time I felt as though they were hoping I was going to leave because they were covering co-worker who was not there today, as the first old gentlemen told me earlier. I had no hope that any right was going to be done towards me as customer and thinking about how I never want to come to Walmart again. Walmart maybe convenient , yet lost ouch with customer base , and managing the long term customer relationship which is needed for successful business. Then I look up and Bart was walking with the middle age lady(with intent ) as the decision was already before he could hear me out. Bart approached with kind greeting , then informed that it is not Walmart's to own up to the mistake of the mislabeling of the bike(this is not true have spoke to many people in the area, who had completely different experiences , same store , ticket value was honored, and customer left happy, At his point I kept asking is this how you correct a over looked problem with all the labeling , hardship you have go through now what the price is. He stated and mistake was mad and he would 20$ of the bike , this was insulting to me , because I lost more than in pay , waiting for someone to make this right. He stated that he will sell the mongoose for the ticket price of 58.68$ because his employee made a mistake. I informed that I was customer this not a good way to handle , with the problems the customer had to go through to make sure he knew the actual price. This lead to believe that it is now the customer responsibility to ensure the price has been missed tagged. As I stated above , if did this to any of my clients at TAMU , I wouldn't have a JOB with Britt Rice electric. I gain sked are you going to honor the ticket price and let be on my way , he stated this is no longer in affect. I asked what I did to be mislead by pour quality control of a area in a building He owns responsibility too. He stated again 20$ was the max of the cost , I stated no you need to honor your price as Walmart has done the whole 38 years that I have been on this earth. He said no way and seemed he more pressing issues than my discomfort. I asked gain please honor the tag , take the time sort your area and hold someone else responsible and let be on my way. He gained replied with no. I asked are you sure you want to do this as I have taken pictures , and voice recordings of all conversations and that I would be following this up with a email, also posting on social media of the non sense you though at this Walmart. He said go ahead send the email , it does not got corporate it gets forwarded to me and that's where this will end. I then realized that, he was not going nothing for me , I looked at the used with all rust and thought ask it to be lowered , but I had no faith as I was being treated that this was my fault for coming to his store and expecting good outcome. I replied that I have taken pictures like I said earlier and recording this mistreatment of me , I also said I come all the time, and want to keep coming please sell the bike for the sticker, fix situation and move as management should when employees make a mistake,. This should never be presented in a manor of the customer is asking to much for the prices to be correct. This is why I use amazon lot of the time. I stated I was going even though he had control email and would never make it out of his hands. So I went and paid for the used bike I settled for because it was the best option I felt in the automotive section because that's where I park for convenience. I began to the man checking me out the situation , and he just shook his head in disgusted, I asked what the store was this location because I'm going file verbal, then email, but also hold all recordings and pictures until right is done by me. I feel as I should have been sold bike for the sticker price. I then went to my vehicle , asking my self what just happened , then thought that I need to look a number to call because I was afraid that he some how was going to delete and make this like no big , had to get back produce major problems . I looked up the customer complaint line in the parking before leaving , a said to my self I'm to get to the bottom of this. I called the number which was listed on the internet . Had short three minute wait , then soft women's voice came over the phone asking how may she of assistance , this was first anyone seemed concerned of my discomfort of the shopping , she did even not know my name yet. I let her know the current situation in all detail as listed above , she was not happy with my treatment during the shopping experience. She asked to verify store number and location , as well as Bart's name. She then put me on a short hold and came back two , to ensure that I would be taken care of , I let her that I would be willing to pay the 58.68$ and be on way , with nothing told to anyone of the experience I just endured. She then said she did not have the clearance to approve this change because she did not have the clearance. I said ok I understand pecking orders and others responsibilities in a large corporation. She then told that in 1-3 days either the tagged price will be honored hopefully but she did not for sure , but said I had every right to be upset because I had been mislead and could not get to a solution with onsite management. I thanked for her time as she was the best and knowledgeable help from Walmart during this now 1 hr. and 15 min(still late for work). So I then called the front desk and let Bart know that it had made its way to where needed to be in corporate and he was going to get a call to hopefully honor the price , I said if he honored the mistake and sold bike I would cancel and say thank you and the ticket price right now . He said he would for very arrogantly , I did reply to him and say I'm gonna get this correcting my favor , because in the line of business , the customer is the most important thing we have. I also told him again that as of 135pm 7-17-19...started the 72 hr counted before I published my agonizing and dragged process of purchasing a bike from Walmart store 4139, in Bryan Texas and the level of professionalism experienced. He seemed to have no care and said arrogantly will see what happens. I have waisted the entirety the rest trying manage a large installation of a faculty on the rellis campus BRE , installing for TAMU. This has taking more money than the total of the bike , as my attention is set on the experience an d sending hoping that Bart did not delete this before anyone could see other than, I have also copied cut and pasted this message incase Bart tries to delte as he said the eamils will stop with him. I would love to know the solution that a large corporation , of which in every city know is going to make this right. I make good living and have family did not go in looking for anything but to purchase a new bike for as a surprise, so we couldride this evening with our son together had no intrest abike for but when say tag I said that's I l buy , but I did not it was going to ruin the rest of my day, and I will wait to here from you all my phone number is 9795955768, and personal line is 9792556275. .

i called in ahead of time to inquire if I could bring my daughter's prescription in for butran (Melissa Lowe, d.o.b. 2/23/1987. I explained my lack of transportation, as well as limited funds. I was assured by a representative that they had one box and I should bring the prescription in. I sent my daughter via lyft to get the prescription and she was told they did not have it. Whomever the person I spoke to apparently was not there and I was told that she would be spoken to and "sorry for the inconvenience." This was not just an inconvenience. My daughter is in extreme pain 24 hours a day(she has a chronic spine condition that she has suffered with for 21 years now) and I don't appreciate the games being played. When I made the call, I should have been told that they did not have it!! this is such bad customer service not to mention the assaultive nature of the entire encounter! I am livid. I take care of my elderly mom as well as my daughter and this treatment turned an already difficult situation into something unbearable. These techs need to be accountable. Honestly, I don't expect any satisfactory response but needed you to know how patients are being treated. Address of Walmart 1436 dogwood Drive, Conyers, Ga 30013

william
from San Antonio, TX
called 1235. on hold for 28 minutes called back asked person in charge talked to mike 2 minutes later have automotive on phone. needed tires this is the closest store called other stores and answered within 2 minutes. so instore issue. please solve this issue because this is my store but having to go to different store is a inconvience and not right.

how come the price on the internet is different then in the store. this is just another version of bait swich

Richard Milner
from Dallas, TX
Bought my grandson a ride on 4-wheeler in January of 2018. It quit charging around th 1st of May.
I also purchased a warranty.
I called the number provided and followed instructions.
I got one letter back stating they need more info.
Sent the inf I thought they need.
This morning, I got a call need and they need model and seriial.
These foreign companies do no put a number that will stay on the product.
It is not visable on the outside. This information should be on the warranty for future reference.
I believe Walmart needs a local repair center to take care of warranty work.
The way it is now you want the customer to screw around will all the BS till they throw the product in the trash.
The world is turning into a throw away society. BS. I will try Target the next time.

Mario Fernandez
from Orlando, FL
Very similar situation to mine  has happened here to other customers there is a patron of corruption check other victim here :
https://www.facebook.com/208869909162258/posts/2194038087312087/
( This person bought laptop when arrived home there was another laptop inside the box when he talked to assistant manager he was threatened with call on him the police.Sound familiar? )
https://www.facebook.com/241837812505414/posts/2033200690035775/?sfnsn=m...
( This person was horrible suffered also horrible discriminaction for being transexual)
My case :
Assistant manager lie to the police to get client banned from his Walmart location!
Assistant manager Harold B (employee number 33780 ,) is negligence, rude ,lier , abuser of power angry person incapable of acts as manger ,he bully me & kicked me out from Walmart because I was making more sense than him in my argument about a product return ,he is unable to use logic or to have a civil conversation if you don't agree with him he will make up any lies to kick the client out of the store , two other employees told that is not the first time that he does that.
Yesterday I went today to Walmart since before yesterday I bought in company of my boyfriend a $140 dollar tv but when we arrived home we found out that  the box doesn't have the item that matches the tv description instead have Samsung TV  .I talked with the assistant manager Harold B (employee number 33780 , which from the beginning of our conversation he acted in a  homophobic way  asking me  in with rude tone if am gay ( he assumed that for the way I talking),that is no of his business I said and  also after he told me that 'his" employees don't make mistake,( talking about the wrong item selled or putting in the wrong boxes) I asked him  if they aren't human ,and I told him  we all human make mistakes, I talked in a very peacefully way  trying to change his initially rude way and  get over with this situation to get  my money back and be free to go home far a way from this angry person , but isntead he yelled me and told me : ." -You know what  you must go now ,call the Walmart number ,you must go! " I was so shocked that turned on my camera to have evidences & protection but instead of he calm down he acted defensively & more angry,he called the police and he made the police officer give me a fake reason for the warning of traspass that say "disturbance 'when I didn't do anythinh wrong & even  when I was asking him why he wanted me out of Walmart, he failed to give me any reason as the video shows ,my boyfriend was there also and  he witnessed everything .
Store located at 2500 S Kirkman RD Orlando Fl 32811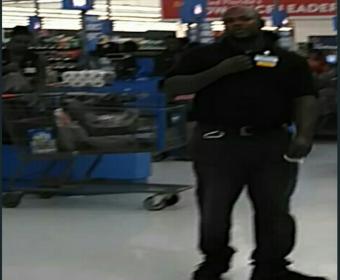 Darlene Smith
from Richmond, VA
Darlene Y. Smith
5711 Crenshaw Road Apt G
Richmond, VA 23227
Crystal Allen
Claims Management Incorporation
702 SW 8th St
Bentonville, AR 72716
July 16, 2019
Dear Ms. Crystal Allen,
The State of Virginia does not recognize my 2004 Escape truck as a semi-truck or trailer. A semi-truck requires a commercial driver license.
Wal-Mart indeed, provide private parking for their customers. I am expecting you to return my vehicle and "just compensation" for my inconvenience.
Sincerely yours,
Darlene Smith

Jeffrey McKenzie
from Miami, FL
I ordered a 65 inch TV 11 days ago, I received updates and correspondence verifying that my delivery date was July 15th. I called your delivery company on the 16th and they told me that it won't be delivered for another week that's complete b******* I paid my money I waited my time and the dates were verified for July 15th now your delivery company tells me I have to wait unacceptable. I will never order or recommend anything from Walmart again you people lost a good customer.

daniel duhaime
from Moose Creek, ON
Now another complaint about Walmart in Cornwall Ontario has been filed,I complained about being laughed at ,and given dirty looks ,and nothing was done!now another complaint was submitted at being mocked and laughed at ,making front page news ,of the freeholder in Cornwall!about senior citizens treated the same way!I suggest the ones involved should be given five hours of community service for bad behavior!

took my truck in to delta Colorado auto shop to get oil changed told the girl at the counter that if they counld not fill the truck up with 5-30 oil then don't do the oil change I would do it myself, she went ahead and filled it up with 5-20 witch she was told not to do itold her to drain it out and do what I requested she started getting really smart mouthed and acting like a total ass, in return I treated her back like she was acting . I requested a manger ,they shipped a manger back and asked what the problem was I told her all she could do is stand their with a smerky little grin on her face and acted like she didn't really care never been treated like that in any store before there for we will not go to that Walmart ever again poor way to treat customers my number is 970-964-8327 jerry
Have feedback for Walmart?
Thanks for your feedback!
Sorry. Please try again later!