Walmart
Walmart Complaints Continued... (Page 7)
1418+ reviews added so far. Upset? Call Walmart corporate: 1-800-WALMART

Kay Young
from Woodbridge, VA
Just learning to order online, saw the picture of the phones that looked just like mine---wanted 2 additional ones, so ordered them online with Walmart. They arrived and did not work with my Vtech model... Took them back to my Walmart and was told to contact Marketplace and they would send me a return shipping label......well my total purchase was $38.21 which was paid on my Visa-----Today I had to take pkg to UPS and ship it back to Teledynamics , which cost ME, yes ME a whooping $11.89 WHAT GIVES!! WHY CAN'T THE STORE HANDLE THIS RETURN??
I shop at Walmart 2 to 3 times a month and never felt so ANGRY and USED.. I think I deserve a refund of this shipping charge, how about you???

Patricia Savage
from San Antonio, TX
I'm sitting in the service center waiting for my tires to be put on. While waiting they call me to notify me they have broken my shifter. First he tryed to say it was that way, after I said no it was not he admitted it wasn't broken until he tryed to move it then the spring just pooped out..needless to say after speaking with the other auto dept employees and being told there is nothing that they will do about it. If my car wasn't on that lift having the tires put on at this moment I'd take my car elsewhere.. I will not be shopping here anymore.

Charles A Harrison
from Logan, WV
I BOUGHT A FACEBOOK GAME CARD ON 4/28/18. iT DID NOT WORK, SO MY WIFE TOOK IT BACK, tHE LADY SCVANNED IT AND SAID READY TO GO NOW, IF TROUBLE BRING BACK.... WELL IT DIDNT WORK AGAIN SO WE TOOK IT BACK WHEN WE WEENT FOR GROCERIES..... WOMAN SAID NO REFUND NO OTHER CARD.... SAID THEY JUST SELL CARDS FOR OTHER COMPANIES, I WAS THINKING TO MY SELF, WHAT ABOUT TIRES, WINDSHIELD WIPPERS, HATS, KNIVES, TOOLS? if I BUY ONE WOULD THEY TAKE BACK?
SO I WAIT THERE TO SEE AND SURE ENOUGH PEOPLE COME IN LINE TO EXCHANGE, BRING BROKE STUFF BACK, AND THINGS DIDNT WORK RIGHT,.... THEY GOT THEIR MONEY OR EXCHANGE, SO THEY SAY, WE GET Kathy now ... WELL OF COURSE KATHY NEVEDR COMES... SO I LOOK FOR NAMETAG SAYING KATHY.... AND I FIND HER STROLLING AROUND..... I SDAY NOTHING BECAUSE I DINT WANT TO SEEM SILLY.... SO WE PAY FOR GROCERIES AND LEAVE.....so now i have no card... wallmart has my 25 dollors... and seems really happy about that. B ut i cant seem to find the joy in getting ripped off of 25 bucks. maybe i am missing something. so i tell the girl while i was there i will advertise this for them about no refunds at wall marts stores for cards bought.. she said ok that works..... now be advised no one yelled or was out of line during all this... was a calm happening... just happened i didn't get my card........ so i wait and see what u guys say. if that's how u run it then nothing i can do to recover 25 bucks. so its up to Walmart keep my money or give it back... let me know anyways several cant wait to hear the decision.... Charles a Harrison logan wva .... 304-752-1048..........

Cathy Evans
from Arlington, VA
I am a dedicated shopper at Wal-Mart and have been coming here for years. I often have my car worked on here and know the process--first come first served. Hence my getting up at the crack of dawn to be first in line. Imagine my surprise when people who had gotten there long after me were put in front of me because they were standing at the door. This is unnerving and very upsetting for me. As an asthmatic and highly sensitive to the extreme pollen, I could not stand at the door for 40 or so minutes without fear on having a life threatening asthma attack. The policy has always been first come first served and my car was the first in line. When a process changes, it would be very helpful to post notices. Although one of the mechanics told me I would be served first since I was there first, this was not the case. I am a very loyal customer and would just like you to consider keeping the first come, first served policy in place. Especially, for customs like me who cannot stand outside for extended periods of time for health reasons.

Tristian Straub
from Plainview, NY
My order was supposed to be delivered today. But was not. East Meadow store had them on hand, but no, It had to be sent to my house for delivery for today.
Where is my shipment? If not delivered in the next 20 mins. I want a full credit and my closet. And for those that shop at Walmart, stop.

David Selneck
from Matamoras, PA
I don't get my oil changed at Walmart anymore because your employees would rather "play" than do their job. I don't buy my tires from Walmart anymore because I had General Tire Grabbers on my vehicle, I went in for a rotation and was told tires not worth rotating. Which I knew. The Automotive manager, Buck, told me in front of an employee that once tires have been adjusted they cannot be adjusted again. That was a bold faced lie, I have an email from Continental stating that.
To day is my last dealing with your pharmacy. I am diabetic and take Metformin to control it. I called in a prescription to be refilled on May 1. I went to my Drs. office they there was no request submitted. I went to Walmart Pharmacy and was told they submitted it May 1 at 8:30 p.m. someone is lying again. My script was done at 5 p.m. When I went to pick it up, I waited in line paid for my script, then it was placed by consultation. I tell them every time, I don't need a consult. Now I don't have a choice!!! Bulls--t. I have been taking my medication for 15 years, I think I know how to take it. If I have questions I'll ask. Don't have someone call me to make nice. When my refills are done or I find out I can pull them from your Pharmacy I'll be doing business with Price Chopper Pharmacy. A few dollars more but well worth not having to deal with the petty, aggravating, crap of dealing with your pharmacy.

I went to the store 12555 w sunrise and have a terrible custumer service from the manager plce contac me 9544877565 thankyou very

CSS wanda is one of the rudest people
I have ever met.. she wouldn't do a price check or check on something in the store
And just walked right by me when I tried to ask her a question..

SHARON L METZ
from Kansas City, KS
We went to return a product bought in Kansas. It was a PHILIPS NORELCO Cordless Rechargeable Men's Electric Shaver. We paid 69.99 for it. I was able to show that to them from the website. I was also able to prove to them that it had never, not once been used. Because it wouldn't take a charge at all, none what so ever! We sure didnt expect it not to work at all! We bought it opened it and put it on to charge, and threw away bag, box, ect. We are full time summer RV campers, traveling everywhere. We had to make a stop in Joplin Mo. (Exit 8) while here we went to the Walmart, and tried to exchange the razor. They didn't carry the exact one, they had two that cost a little less than the one we had, but I didn't care, we just wanted one that worked.we were there over a hour and a half, while they were trying to get a UPC code. I was getting sick and dizzy, and almost vomitted. Waiting, and being pretty paitent. But then they told us they couldn't do anything to help us. I was feeling really weak by now, i lost it and tears rolled. I told my husband lets get out of here, and i pushed the razer toward them, after all it didnt work, and they werent going to do anything for us! There was a brunett manager that was really rude. There was a guy manager that was pretty nice, but he had to leave. When the brunette came, she didn't do a damn thing to try and help. All I wanted was to get one that worked, I didn't care if it was more or less... I would have paid the difference if it was more, but they only had two and they were less than the one we had. Right now I am spitting mad! Not only didn't they help us, but I left the broken one that never worked there! I bet that "bi@!$h" exchanges it now! Cuz she has the new one that had never been used! My cell number is 316-755-6661, my husband's cell number is 316-516-8903. We are both on disability, and can't afford to just throw money away, I feel like we just got screwed, by Walmart, since they wouldn't stand by their product. I don't know if writing this will don any good or not, since we no longer have it, instead Walmart in Joplin No has it
Thank you if you can do anything to make it right,
Otherwise, I think we are thru with Walmart
Mr and Mrs John J Metz
10606 West Atlanta Circle
Wichita Is. 67215
Ladyhawk1957@gmail.com

Lois Johnson
from Clinton, IN
Have been trying to call in perscriptions to Walmart in Martinsville, IN. The phone rings numerious times and then hangs up on me. This is not the first time that this has happened. Your customer service sucks. Maybe I should find a different pharmacy!!!!!!!

I love the deli foods at your store1437, but the racial comments are awful. lilly they called this assoicate speaking about another co worker of a different race. that assoicate of a different race just made a weird look at them as she helped me. i have heard other racial slurs from lilly towards this same assoicate. I just feel that this could be bad for walmart.

Danny carter
from Pensacola, FL
Magnolia ark store very rude and smart mouth employees black lady in the garden dept.. Lazy and very racis. Here name is Kama I think very disatfied with this store.

Juanita Davis
from Birmingham, AL
I purchased my second baby gate from your store. The second one was also too short for the stairs. I purchased the last gate in November 2017. My daughter-n-law told me that one was also to short, but better than the first. I had intentions of giving her the receipt to return it, but that did not happen. I finally remembered to put the gate in my car. I tried to return the gate on yesterday @ the same store of purchased. I was told that I had exceeded the return policy of 90 days. I was speechless, but I did not argue the point. I did mentioned that I was unaware of this policy. (I am only assuming this is a policy). I thanked the attendant & left. I had numerous Wal-Mart receipts in my car. I could not find written information on ANY RECEIPTS NOR ANY POSTINGS in the Customer Service area which displayed a return time limit. I knew about the "no receipt, no cash refund", there is a credit given. But to have the receipt & unable to get my total refund is OUTRAGEOUS!!!!!
The front of the receipts ink is almost gone, but the back of the receipt with nonsense about survey is very legible. What is the most important entity of your receipt? The purchases, not a survey on the BACK of a receipt. This seems to be a ploy to prevent the public from receiving there money back. If I had found this "policy" on any other receipts, I would have to accept this. But this seems to be an undisclosed policy which is deceitful, & dishonest.

marvin davenport
from Humble, TX
eggs were purchased at your Walmart store #2688 on HIGHWAY 64 this morning the IPC numbers are listed in the nationwide recall for salimeno. I called you store manager and asked him why the eggs are still on the shelf. He stated they were not . The IPC numbers on the package shows clearly the number in the recall , no excuses are good enough , and I will not accept any manager telling me that they are not on the recall list
. Its BAD BUSINESS PRACTICE, and I am sure the FOOD and Drug Administration will not appprove of any one keeping them on the shelves.
IPC number78742 12714

Diana Smith
from Denver, CO
I waited 20 minutes and 3 requests to have someone open a locked case. In the case I wanted makeup removal pads. The cost of the pads $3.48. The clerk told me I could ask my product from customer service. When checking out customer service as busy and could not being my items to check out. When I complained to the manager Keaton (Castle Rock Co)he told me to blame NY. He could do nothing. If I didn't like it I could leave, so I did! Also changing deli hours to open at 10:00 Is just stupid. According to your customer service rating 2 out 5 this complaint will not mean a thing to Walmart! I won't go back. There are many other stores that can serve the customer needs!!!!!

Store Address
1801 W Lincoln St
Harlingen, TX 78552
(956) 428-0734
I have been going to this store for the past year. I always shop from 8-9 am Mondays through Fridays at least twice a week. I won't be going there anymore for things I need, but just to record my shopping experiences in hopes that social media or management can rectify an extremely rude environment made by its employees. This is a case of, "The monkeys running the zoo."
On more occasions than I can count, always on the grocery side of the store, when rolling my cart down the aisle, I have to stop my shopping cart and give employees "the right of way". They were not stocking shelves, they were either walking by or talking together side by side. The isles are only so wide, I would have to stop shopping and halt my 200 lbs cart so they can pass.
At first, I believed that they simply were not paying attention and it was an accident. Now, I am certain it is intentional. I began talking to the employees asking them if me and my 200 lbs cart were in their way of walking past me. Most would not respond, some would half heartily say, "Sorry."
This behavior is akin to the jock in high school bullying the kids to get of their way in the hallway. It only happens at this store, other stores in near by towns such as Weslaco and Donna have helpful and courteous employees.
So, from now on, I will be videoing my shopping experiences at the Walmart store on 1801 W Lincoln St in Harlingen Texas. My intentions are to bring awareness to my community, through social media, about this behavior and prevent people who are probably having a bad day, from being belittled while shopping .

Dennis Williams
from Salt Lake City, UT
We purchased a NEXTBOOK notebook at wall mart. It worked OK for a while and now will not charge or indicate that it is plugged in.
we looked it up on line under repair or service for NEXTBOOK and it states that it is under warranty for one year. If service is required return it to the place of purchase, not to them. We returned it to our local wall mart ware we purchased it. we were told by the electronics department manager that they will not help us. We must return it to the manufacturer. We purchased it from Walmart, not on line as they would warranty it for one year.
Purchase date Dec 14 2017
store Washington Utah, #01439
Price $211.64
SN YFGV0316079960
Transaction ID 587348780907222

I have been shopping at Walmart on Highway 72 since it opened. At first it was great. Now it is the worst Walmart in Huntsville, and Madison. The shelves are never stocked. For two weeks the vitamin shelves have been empty. Every time you go in there shelves are empty. Today I went in there around 4 pm and there was only one cashier. The line was backed up. I asked if no one was working and they said they called off. There were at least 5 CSM's in there and none of them were doing anything but standing around talking. There are always at least 5 of them in there little yellow vest doing nothing and no employees working. At 4 in the afternoon the manager should be staffed and if not his little CSM's need to work. I do not go to the self check out because I don't get paid to check myself out. I spent $230.00 in there last week and 270 this week I expect better service. We spend a lot of money in there. I had rather spend more and be treated better. Your employees do not care. This store needs better management at the top.

bill middlesworth
from Santa Monica, CA
I have been going to the town center Walmart in long beach ca. for several weeks and before there have not been hand wipes for the baskets, I have contacted the managers about the wipes and all have told me we don't have on hand but will get them in a couple of days it didn't happen. so I started bring my own wipes. there are other problems, dirty wash rooms, and the demeanor of some the with workers , one heavy set black male with a beard in the sporting dept. ( I was trying out of a chair, he started ordering out of the way your blocking the me from going by, I was off to the side of isle). I don't think I am not going to shop at that store. I feel a investigation from the cooperation should be made. thank you.

j. bailey
from Mandan, ND
Terrible customer service in the store in Mandan, nd and terrible customer service on you 1-800 customer service line. I would give 0 stars!

Tonya Brennan
from Midlothian, VA
This store would not except my personal check as payment at check out on 4/14/2018, so I had to leave my bagged grocery's at the counter and return home empty handed as I do not have a debit card. I pay by check all the other time, this is the second time this issue has happened.

Melinda Riley
from Chatsworth, GA
I want to file another complaint about the Walmart in Summerville/Trion Ga. They have the Primo Water Refill System. About two months ago it went out of order. It was out of order for two weeks. They finally got a new machine installed about a month ago. It went out of order after two weeks. They got it fixed. I was in the store today and it was out of order again. It has been out of order twice in the last three weeks.
I would dearly like to know why they cannot keep this machine working. Do I have to go in the store to check if the machine in working and then go back to my car to retrieve my refill water jugs? Can you tell me what is going on and why they cannot seem to keep this machine in working order?

Rhonda goode
from Oklahoma City, OK
I was in the store at 23 and Penn in okc ok to day at about 4.50 ,I picked up 4 items ...there were 2 cashier's and all the other employees were helping the new self - check area the line was ridiculous .....at 5:40 I left the store without the items I went in for.....I don't work there but I know they are busy at this time of day,you would think the manager would know it! I know my purchases will not affect your business but I think you have lost it.......I refuse to try to self-esteem check a basket full of items.YOU ARE NOT THE ONLY PLACE TO SHOP IN OKLAHOMA CITY! Close yes but not worth my time
Rhonda Goode

Kathy Cone
from Madison, OH
Walmart in Madison, Ohio
I received a Samsung phone as a gift from Walmart.
I had to activate the phone. When I couldn't do it from the internet because I was changing from
Family Mobil to smart talk, I had the choice of calling or going to Walmart to have them activate my phone.
Went to Walmart. They refused to help me in any way. This is not the first time I have had problems with the
Walmart Phone employees at this store. They put a sim card in my last phone and damaged the sim holder in the phone.
They had to be threatened to help me after that with a problem with my phone not receiving service.
They did it reluctantly so they were able to do it even though they told me they couldn't.
This time I just went home and used the call # for Smart Talk. Waited 1 hour for help... he told me he would
call back on my home phone... he didn't. Finally I got a hold of a woman that really could do her job and got my phone activated!
The process took 3 1/2 hours. This seems unacceptable to most reasonable people.

Bruce Showalter
from Phoenix, AZ
Wife took in vehicle for tire repair, had a leak in two tires, within road hazard coverage. Repair was covered, but leaked back down overnight. I took it back, and granted, they were busy, but didn't even get a "can I help you" around their personal chatting, so I gave up, took it back home, and put in some Fix-a-flat. Around 6 months ago, same experience, same vehicle, so I took it back a few days later, and finally the repair worked. Same occurred on my truck nearly a year ago, but I have no road hazard coverage. Second trip worked on my truck, but they weren't swamped. This time, not so much. Would not recommend Walmart for tires, or at least THIS Walmart.

Sandy Jones
from Fayetteville, NC
My online order was sent to an address in Maine, not Kentucky. I was charged for the order. I chatted online with a representative on Monday, 2 April, and all she could say was that it was a third-party supplier. She said she would escalate the problem and I would receive a response in one business day - NOTHING as of yet. I just want my money refunded and forget the order. Order # 3541887-699055. It was delivered on 30 March to Newtonville, MA. The total of my order was $39.59, $26.05 from my debit account and $13.53 from a gift card. This is the second incident with this same third-party supplier. At Christmas I ordered a battery powered ride-on toy and it arrived with no battery. I contacted Breezes and no response. I had to purchase a battery myself.
Please respond with an answer. All I want is my money refunded, forget the order, and I will never order from WalMart again.

Clayton Heflin
from Rohnert Park, CA
I've been shopping at the Windsor Walmart 6650 Hembree Ln. Windsor, Ca. since it opened. I, was always able to get all items that I wanted there. But since I see a new store manager name on my receipt, I, have a hard time getting items I've always been able to get. Now the shelves are bare, I haven't been able to get the razor blade I use, because they never have any razor blades. When I go to Lake County to see family and come back through Ukiah and stop at that Walmart they have everything I can't get at Windsor. I, asked a worker today why they never have razor blades any more and the answer (I, don't know) and he went back to doing what he was doing. What seems to be the problem at that store, except someone Is not doing there job of ordering and stocking shelves. There was lots and lots of empty shelves. I, seriously thinking about not going to Walmart's any more since I can only get some items there and have to go elsewhere to finish my shopping. SOMEONE IS NOT DOING THERE JOB AND IT SEEM TO START AT THE STORE MANAGER.

ellen hess
from Allentown, PA
I was at the pharmacy at 10:00am to get my pills, the one came is as a new script which I had at home paroxetine called it in as a refill, lady told me I have to talk to the pharmacist its a new script. I told him I have it at home. We can stand here all day and ague he said, told him about the refill not a new script. I'm here to give u your script if its new and wish u a happy Easter, I said fuck Easter and laughed (I hate holidays) He threw the pills across the floor I had to pick them up and he said I'm done with u. I came back because they only gave me 15 which it a week suppose to be for a month, He said now u wanna talk to me after to told me to fuck off, I said I didn't not say that. Go to another pharmacy GOODBYE!!!!!!!!!!! I'm filing harassment charges against that Pharmacist, he has a attitude and I will go to another pharmacy who treats u like a human being.

Perry Davidson
from Gainesville, FL
I went shopping in the Chiefland WalMart on Saturday morning, 30 March 2018, at 9:00 AM. This was the day before Easter and the store was very crowded. In spite of the crowd, there were only two registers open. Although the cashiers were working as quickly as they could, it was very evident that the store was severely understaffed for a "holiday" weekend. I suggest the management sincerely relook their staffing policies to become more responsive to community needs. To preclude the standard response, there is a significant number of people who do not care for and/or do not participate in the self check-out program.

Don R Quinn
from Bullard, TX
Why have you not activated grocery pick up at my closest store #4164 Kaufman, TX? This is not a even a reasonable situation. This is causing me to have to drive 28 miles to the Ennis, Tx WalMart to take advantage of this very helpful service particulary when my wife and I both are handicapped. Please at the least give me an answer as to when my closest store will have this very heloful srevive.
Thank You,
Don R Quinn

Daniel Billings
from Sparks, NV
On 3/10/18. I bought some products on line .from Walmart. To be exact a 750 amp.Jumpstart tool with commpressor, for $38.87 and a Handheld microscope on line .And I paid for it wth my SSI debit card! They were supposed to send me an email with a receipt witch they never did .the amount of my purchase was $57.35 when I ordered the product for my Son for a Birthday Present.then I contacted Walmart and told them .I never received a confirmation for my order but they did take $57.35 from my bank account I did get confirmation of that .I need to know how to get my money back I'm a disabled man and only have a limited amount of money to spend .and don't understand how a big cooperation such as Walmart doesn't keep track of there transactions .said I never ordered anything from them .!!! My email is grandpadan123@gmail.com .and they told me they would respond to this problem I have with in 4 hours yesterday and never did!!I been trying to get my money back since 3 days after they took my money.now they tell me that they never even heard of me and I didn't order anything from them.then why is there a record of the transaction on my debit card? Thank you Daniel Billings grandpadan123@gmail.com

Sandra s campbell
from Columbia, SC
I live in a nursing home, my favorite activity IS crocheting and I have friends who get me RED HAERT YARN at Walmarts..
Three friend went to three different stores and prices were all wrong..14 ounce was $5.94
10 ounce was also $5.94. But is usually 3.88
The 7 ounce is 2.94. But was ringing up at $5.94
So I spent way more than I should have...at one store sales person counted up rolls and scanned the biggest...now I worked at Walmart many years ago. So I know this throws off inventory and money...
I only RECIEVE $30.00 a month and can not afford to be wasting money on others mistakes...But to be fair RED HEART ALSO MADE A MISTAKE AS I AM USENG A TEN OUNCE ROLL AND IT IS MARKD AS 7 OU ce...
This is a big mistake on someone's part and needs to fixed immediately...
I spent $35.00 when in fact I should have only been charged $20.00
Thanks
Sandra Campbell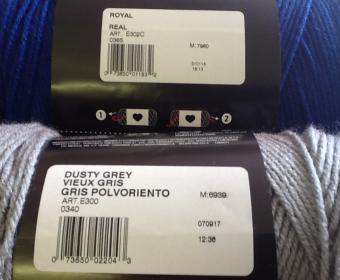 Samia Asaad
from Bowmanville, ON
On Thursday March 15/18 at 2:20 PM Terminal ID: WMTCJ021666 I had an incident or argument with one of the cashiers and CSM at the Bowmanville, ON. Walmart. The incident was over a price matching an item which was a tea box and the sore I was price matching with was Sunny Super Mart the Scarborough, ON. location The cashier was helping me asked me the name of the store, when I told her the store's name(Sunny) she said "We don't price match with this store." Then she turned to her co worker who was standing beside her to take over and asked her whether they accept a store from Scarborough, the coworker insisted that they don't take the Scarborough area. The I explained that every week, may be 2 times a week I shop at this store and I saw customers, including myself, price matching and most of the cashiers don't give us hard time only a few with no updating of the new store policies they asked one of the managers the manger said that they( Walmart) accepting all the ads.
At this point I asked the cashier that was helping me to ask one of the CSMs, but the other cashier turned around to ask a manager who was standing near by, that manager said that the do take any ad for price matching. Then that cashier( co worker) went to customer service and came back with another CSM Both of them with very aggressive attitude said" we don't do it". At this point I paid for my groceries and about to leave, I saw the CSM came from the customer service area after she talked with the customer service representative and told me, in the same aggressive tone" If you have the ad I will do it for you." A cashier from customer service apologized to me and cashed the last item which was the tea box.
In my experience in this particular store the cashiers don't agree on one thing every one has a mind and information on their own. Some of them like Wendy the co worker cashier , and her supportive CSM make my experience and I am sure other customers experiences shopping at Walmart is difficult. Of course, all of that happened in front of other customers.
Customer Service Manger, was aggressive and rude, her name : Lexi
Co worker cashier, was aggressive, laud voice, challenging and rude : Wendy
Thank you for your attention,
Samia Asaad

B etty Sharkey
from Galesburg, IL
I entered Walmart store 775d in Galesburg, Il, yesterday to return some unneeded sympathy cards. I was unceremoniously stopped at the front door by a person informing me of a new return policy. I told him that I had the necessary receipt. He grabs my small bag and pulls out the cards. He attempts to scan them and in the process drops them in the cart and on the floor. I told him that I did not take kindly to being treated like a felon and that this new policy was insulting to all the honest people. He seemed to loose his grip. He shoved 2 labels at me and drops 2 more on the floor. I continue waiting for the rest of these yellow tags. When I asked him, if he was processing the rest of the tags, he flipped. He told me just to go to Customer Service, while waving his arms in the air. As I walked away , he yelled "Fuck Off" at me!
I told the Customer Service ladies what had occurred. They dealt with my returns and I did a bit more shopping. While shopping, I ran across the store manager. I introduced myself and related the story to him. He was too shocked to even apologize and tore off to the front of the store to deal with the situation. When I finally checked out, this man was still sitting in his folding chair at the entrance!
I have lived all over the country and traveled all over the world. Being told to "Fuck Off" was a first for me! The manager did not seek me out to apologize or to inform me of any action that may have been taken.
As for your new return policy, honest people are getting tired of being treated like thieves. It's insulting. I can understand if a customer has no receipt. But don't punish the good guys. I intend to take my money and my business to Target. No one has ever told me to "Fuck Off" in their stores.....

Viola Henry
from Atlanta, GA
I had a layaway for Christmas but I didn't get it out. It was two laptops I put 50.00 down they told me they sent out cards to those who didn'tget their layaways out I never received my.They said they couldn't find it. I just want my 40.00 I did buy two in the store because they were on sale the same ones. Not good at writing

Ann Marie Wintle
from Sarasota, FL
Once again Ive had a problem with an associate, this time overt he phone as I am currently out of state. I was trying to explain to her that a script was last ordered on 2/12/18 with 2 refills that would require being filled by the 3/08 but she would NOT let me get a word in. She went on and on until finally I had to just hang up. within minutes she called back to tell me never to order medications again there because I was not welcomed! I understand that the medication is a controlled substance, Im a retired psychiatric Social Worker. It seems that they already had a vendetta before I could even speak This is a violation of rights not to mention the worst in customer service, I will be contacting the Better Business Bureau
AnnMarie Wintle

Vickie Buckley
from Mount Pleasant, MI
I would like to express my feelings about your Walmart.com. Every time and I do mean every time I order something from here seconds later I get a email saying that they had to cancel my order... I call and they fix the problem and I am having to reorder what I already ordered. I am getting sick and tired of doing this, if you do not want my business I will take it else where. There is a problem with this site and it needs to be fixed! I am sure I am not the only one that is complaining about this. I would appreciate it if you could take the time to investigate my problem and get back to me. If I do not hear from you in a timely manner I will be forced to shop somewhere else. Thank you for taking the time to read this.

linda baker
from Louisville, KY
got all my items except my sunday newspaper which cost 3.00. called the outerloop store, operator transfer to cust service. I was on hold until it transferred back to operator. the operator again tried cust. service, back again to operator. I waited a total of 20-25 minutes, so I hung up. I prefer to get my refund. I was in the area and stopped in to shop, live in shively area.

Anita Walden
from Galveston, TX
Was using monthly for home delivery. Now, every time I place an order and save to cart to complete the next day with additional items or needs, my order has been obliterated in my cart overnight so I can't complete. Saved to site for additional items to add. This is BS especially when quality is lowered priced to reach us who have so litle. Millionaires and Billionaires don't give a damn!

Poor service, lack of knowledge, pooly trained employees and don't care attitude of employees in paint dept at Dry Ridge, Ky Walmart store!

Luis lopez
from Los Angeles, CA
Bad services i whent to get tires spend 4 ahours and still dont get my tires

Barbara Darrow
from Redding, CA
February 23, 2018
To: WalMart Corporate Customer Service
I was at the Redding, CA Walmart last week to get a gadget for my new computer. As I passed the office department on my way to electronics I noticed that all the pens, pencils and markers are now behind glass and under lock and key. The last time I saw something under lock and key there for the first time (other than spray paint) was a week or so before that when I went to buy shaving cream for my husband. I had to have someone unlock the shaving cream, then the employee walked the shaving cream down to Register 15, where (when I finished shopping) I went to be reunited with the shaving cream. Then because I was going to go through the self-check, someone perp walked the Barbasol to the self-check line where, while I stood there, the employee scanned the Barbasol so they knew I had purchased it. I think the Barbasol cost $1.36.
Anyway, the guy in the Electronics department listened to my dismay about the pens and pencils and markers now imprisoned under glass, explained it was due to theft. And guess what else has been locked up? MEN'S UNDERWEAR. Now under lock and key.
So, my imagination wonders what the bad guys are doing with shaving cream, razors, markers and men's underwear.
The sad thing is that last year I went to buy some spray paint from Walmart, and after waiting around for a little more than ½ hour for an employee to show up and free the paint from lockup with no success, I went to Ace Hardware to get it.
Walmart, you might want to re-think your loss-prevention policies before you lose your (paying) customers. I am a regular customer who was treated like a criminal while trying to by shaving cream for my husband, value $1.36. How much do you lose if I take my business elsewhere?
I am also a local small business owner, and I find it offensive to be treated like a criminal. A Walmart employee has to walk me to the self-checkout so they can scan my purchase so I don't steal it? If I treated my clients like that, I'd be out of business.
Anyway, just a heads up. I'm planning my future purchases. If I decide to stop thinking of WalMart as my go-to place for everything (for good prices, good service, good return policy, and convenience) I may find options like Amazon, Target, Kmart, and other businesses that won't be me like the dregs that are stealing your stuff.
I would like to hear back from you on this matter.
Regards,
Barbara Darrow
Owner, Hooked On Dogs
www.hookedondogsboarding.com
2532 Goodwater Avenue
Redding, CA 96002
(530) 241-5031

sean forsman
from Sarasota, FL
This is one of many times that I have complained about this same problems at Walmart store no. 01171 university parkway. The liquor store is not open on time 7am on many occasions this morning it was open at 712 am 2 employees standing out front waiting for a manager to unlock the door so they can go to work it happens so many times that you complain and nothing gets done about it . Always we will take care of it but its same old same old story like a broken record. The second complaint is the trash left in shopping carts many of the cart guys do not bother to take trash out. I have complained many many times to no fixing the problem it is not up to the customer to remove trash from a cart. I get the impression that Walmart the big corporate giant is making so much money that this does not seem to matter what says about management and employees not good.

latanya washington
from Oswego, IL
i go to the walmart on 159th st in orland hills. i will say this i love the store because its big and have a lot to choose from but time and time again even when i have my child. i have seen your employees smoking in their cars of the parking lot. these same young men have helped me to my car and i smell it on their clothes. i've seen them on their phones in the bathroom, and what caused this email most was a transaction between Tommie Milliner and another young man i only see Marvin on his ID. I'm familiar with Mr. Milliner because i've had conversations with him in the past and invited him to my church. this is terrible your employees are smoking in their cars MARIJUANA NOT CIGARETTES AND BUYING PRODUCT FROM ONE ANOTHER. this is bad for business my mother have seen them in their cars we always smell it on their clothes. something needs to be done about this or you guys will definitely have a bad representation.

Vanessa Stoudt
from Keswick, VA
Hello. I wanted to purchase 2 bags of cat litter. There was only one on the skid and 4 bags on the top shelf. Now if you need anything off the top shelf you are to ask for assistance. My son walked over to electronics and a team member ask for assistance in the pet area and they said that someone would be right there. I waited over 15 minutes and no one came to help us, so I walked away to finish my shopping.
After I purchased my items I found a lady in a yellow vest for customer service and told her to cancel the help for the cat litter because I got tired of waiting and that I waited over 15 minutes and that is way to long for help and that I was mad. She agreed but all she could say was I'm sorry. Really that is all you can say???? My time is just as valuable as any one else. When you go to a store do you like to wait over 15 minutes for help and no one comes to help? This isn't the first time I have had bad customer service at this Walmart, but it is the first time I am sending in a complaint. Unfortunately there is only a few stores in Rocky Mount that I can purchase cat litter and I don't want to drive over to Roanoke county to another Walmart for cat litter or anything else, but I might soon since the customer service is horrible at this store.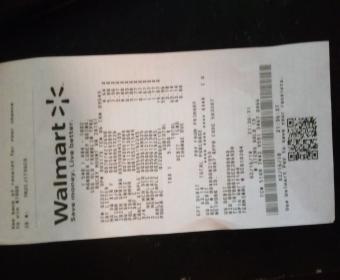 john whistler
from Del Rio, TX
i have recently started selling chickens. most easy way for me to receive funds is thruu wallmart to wallmart money gram. the last 2 transactions have been rejected by wallmart. when i go to receive my funds wallmart has put a stop payment on all my transactions. finally got a superviser to call for me and they would not tell him why this has been done to me. i have missed out on 2 sales for a total of about 650 dollars. if wallmart wants to stop me from useing this service should let me know that i have been barred from receiving money thru money gram. . customer service all but told me i was a fraud. at least i finally found this out so will never use money gram again. and i will tell everybody i know about this obsurd action. i 71 years old and i ant no hooblum and never have been. please reply john whistler po box 422004 del rio texas 78842 cell 830 719 3045

Janet Link
from Indianapolis, IN
I have been going to the Walmart at 7245 S US 31, Indianapolis, IN 46227 and several times on my way back out to the car I have come across very angry employees who are collecting the carts, but tonight this employee actually made me nervous. He was cussing and slamming the carts around and quite frankly violent. I was almost afraid to put my cart up for fear it would upset him. This happened between 5:15 and 5:30 today 02/16/18.

Jimmy Holman
from Keystone Heights, FL
This happened at the Starke, Florida store between February 14-15, 2018. Purchased what I thought was a television after speaking with 2 associates in the television/electronics department. and when I got it home, found out it was not a television. Neither employee made mention of it being only a monitor or that additional equipment would be required to receive over the air broadcast television signals. I returned to the store the next morning and explained to two assistant managers individually (the actual store manager is somehow never available) that what they were doing was false advertising and false marketing by having monitors/tunerless displays mixed in with televisions and that they needed to be segregated after which the first assistant manager started to point to the price labels which were arguably misleading in their content and product placement. The first assistant manager argued with me even after me explaining the legal definition of a television requiring a tuner vs that of a monitor or display which do not. After requesting the assistance of another manager she claimed to be the only manager available. As I was walking out the store I found 4 that's right 4 more assistant managers not 6 aisles away. I requested the one who was the most senior to come with me. I again explain the same thing I had with the first assistant manager. I even purposely and blatently led the second assistant manager past the first one to show her the same problem. The second assistant manager said she would send it up through corporate thought I doubt this will happen as she did nothing else but shrug her shoulders at it. No notepad, no phone, nothing. She said I could get a tuner (additional money out of pocket) or to bring back the other one and that they would exchange it. I went back home, disassembled the tv and because of the aggravation up to this point, lost my focus and nearly got a speeding ticket on my way to return the tv to the store. There is no good reason that a company of that size and technological prowess, with all of the strategic and purposefully designed facets of its operations, should have an array of problems like this, especially on the customer interaction level. 1/2 a tank of gas and 3 hours of life wasted going back and forth not to mention the sheer irritation, anxiety, and stress of the whole experience. I absolutely hate being lied to and I'm not going back for anything else either, I'll be a lifetime customer elsewhere. I am an Honorably Discharged Disabled Navy Veteran. I also hold a Bachelor's of Science Degree in Business Administration with Dean's marks and majors in Marketing and International Business and am eligible to continue Master's and Doctoral studies.

P. Blay
from Kansas City, MO
I was making a clothing and stuffed toy purchase so I put my items on the higher stand as the place where you put your groceries was dirty. Brenda was working the registered and she was upset and very rude because I did so, and she instructed me that I needed to inform her before I put my purchase up there. After she cashed me out she wouldn't hand me my receipt, She put it on the top of the bag turn style, protesting my putting my items on the higher point on the counter. I went to report the incident, and she had thrown my receipt in the trash. The manager had to take it out of the trash, as she refused to do so. The manager said she would talk to her but I wanted to make sure something was done. It happened at the Raytown Walmart on 350Hwy in Raytown, Missouri.

George Pope aka Sam Pope
from Pontotoc, MS
I see there is NO need to had a complaint because I had one Sunday and I have not heard a single word from anyone from Wal Mart. This shows me that you DO NOT CARE about the people who spend their hard earned money with Wal Mart

Rae Jones
from Jamestown, NY
Was at ST #1973 / TC# 7322 2138 4021 8176 8216 / Received poor customer service. The lines were long, the cashiers slow. When I finally checked out, there was no receipt. She said she would call someone over, I went to the Customer Service desk, as I didn't want to hold up the long line behind me. Big mistake, as I had to stand in another line just to get copy of my receipt. Then for a CSR to come over and get it out of the office. We went back to the register, and they finally opened another line, but the lines were still long. Usually my experience with WalMart is ok - not the best but never this BAD. And I have had time to cool down

Constance Sanders
from Plano, TX
I would like to inquire as to why money center policies are not the same at all locations? I live in St. Louis and pay my bills at Walmart, my Ameren account is online so I do not receive paper bills, if I take an old bill with the account number on it to the location nearest me, West Florissant in Dellwood, they will not process the payment stating company policy, however if I go to the Walmart on Lindbergh in Florissant, I have no problem, so I believe the location in Dellwood just doesn't want to do it, I am a disabled senior who does not drive so the extra distance is a disconvenience.

Kevena davis
from Beaver Falls, PA
Store asst call cops on me said i was stealing i never stole anything and it was proven that i didnt and they only did that because i was black i made a complaint on the phone but i never got a response back and i am ready for my lawyer to take over if i dont get a call back for this and i will go to the new for this walmart in chippewa pa 15010

Mary Rivera
from Hondo, TX
I have tried to have an online error caused by Walmart resolved since 1/29/2018 and as of today 02/13 it has not been resolved. I am at my wits end. I have been to the Walmart store in Castroville Tx 78009 customer service twice (1/29 & 2/9) to see if they could help and they have done their part at being helpful but its the customer service billing dept that apparently doesn't know what they are doing. I am owed a credit of $156.20 and the customer service billing dept has said that I would be receiving a credit on my credit card and like I said before it has not happened. What do y'all propose to do?

Ellen Lewis
from Salt Lake City, UT
Order# 870753872--Belmont 9-Piece Modular Wall Storage Unit: Ordered from Sam's Club.com on 25 Jan 18, Received 2 Feb 18.
Item received was incorrect. Can't get the error corrected.
Order sent in 9 separate boxes. Should have consisted of 3 Belmont Bookcase Drawer Bases (all received), 3 Belmont 4X4 Bookcases (received 2), 3 Belmont Bookcase Cabinet Tops (received 4, one of which was damaged). I called Customer Service @ 3:00 pm to get missing 4X4 in exchange for the damaged cabinet top. Asked for and received assurance that only the missing 4X4 would be sent. On 8 Feb FedEx showed up with 9 more boxes -- 5 drawer bases and 4 cabinet tops. I refused delivery as "Not Ordered." I called Customer Service @ 12:20pm that day (8 Feb) and asked for a manager. The rep I was speaking to insisted on details, which I provided. She then told me no managers were available and placed me on hold. She came back on line 2 or 3 more times with the same statement. At 1:20pm, it was suggested that I leave my phone number and I would be called back when a manager was available. At 3:00pm I called back and finally spoke with a manager. I again had to provide details of the problem, as the reference number I was given at 1:20 was incomplete. I was also told that FedEx would come out to pick up the damaged cabinet. She suggested I pack the 8 pieces and ship them back, get a refund, and reorder the wall unit. This is not a good option for me. Each piece weighs a58 lbs. Plus there is no guarantee any subsequent order would be correct. I was then given a new reference number -- 180208-010323. I was told I would be called back in 24-48 hours with info on how to proceed.
It is now 2:45 on 11 Feb and I still have neither received a phone call nor has FedEx come to pick up the cabinet.
Meanwhile, my house is in disarray. Items removed from the places this unit replaced cannot be put away because I cannot complete assembly of the unit without the missing piece.
What must I do to get this resolved? I have ordered furniture items on line from Amazon, Joss & Main, and Wayfair. I have encountered only one problem, which was resolved within 2-3 days with only one phone call. I have been a Sam's Club customer for many years. After this experience I am considering dropping membership and going to Costco.
Ellen Lewis
shotigor@msn.com

Lori kirby
from Barry, TX
I tried to return some deco mesh that was purchased the end of December. I was told it was a Christmas item and couldn't be returned in February even though I had my receipt and it was well within the 90 day return policy. Nowhere have I seen this policy posted regarding deco mesh. I have been fighting both flu and strep and I don't think it was safe to expose store employees sooner. I spend an average of 600$ per month wal mart, however, I will not be doing business there again.

Carrie Donaldson
from Laurel, MD
I went to your Severn Maryland store this morning and they had no 2 liter diet Pepsi not even caffeine free, the Lipton tea I normally buy, Equate liquid gel ibuprofen (any size) the brand of Mac and cheese I buy or three other items on my list. I should be saying thank you for saving me money but I really wanted the items. And while I am at it the electric motor carts there are in terrible shape and rarely charged.

Terry Kenney
from Topeka, KS
Having to stand in line half an hour waiting for a cashier with only 2 lanes open. Then you get stopped at the door for your receipt like you have
stolen your merchandise. I will be doing my grocery shopping at a different store. I might pay more but get treated with respect.

bill whitehouse
from Casselberry, FL
I just left Walmart in summerfield fl 34491without a purchase. I went to the bakery dept. to purchase some individual pies (which are very good) and no one was behind the counter. I needed to ask if they had any in the freezer because there was no lemon ones on the table. After waiting awhile and no one to help I asked the women in the ham dept. and she looked for someone to help me and said the person was on break, I don't understand why she could not have checked because she was not waiting in anyone so I left. As I was walking out without a purchase I stopped at customer service and asked for a manager, when he came over I explained my situation expecting him to say let me check for you, instead he said he would look into it and said he was sorry. At that point I just turned around and walked out. We spend about $130.00 a week every week in that store and I am going to do everything I can to cut that down to $110.00 over a .50 cent pie.
Thank You
Bill Whitehouse

Vince Stoyanoski
from Locust Grove, OK
I stopped by the deli department at the Pryor OK Walmart as usual to get my sandwich meats I like. There was a new girl working, short, young, dark hair and glasses. I didn't catch her name, couldn't stand to be around her any longer. She was extremely rude, sarcastic tone, raising her voice at me because she couldn't hear me very well because of the noise in the background, and just so crappy to me, I told her to cancel my order, I'll just have to get my order at another store, even though I like the deli meats at the Pryor Walmart better than the other stores in the area were they're available. I've never been treated like this little punk brat treated me in ANY Walmart! She acted like she was PMSing, and I was her two year old brat kid! I have teenagers in my home that don't treat me or their mother like this! This little brat employee has obviously been raised without any discipline and has no idea how to treat people! I ended up not spending 40 to 50 bucks on my regular deli items, and now have none for my work week because I just don't like the meats I get from the other places I can get them. I live 15 miles away and go out of my way to go to the Pryor, OK store to get my deli items, but don't believe I'll ever get them there again as long as I see this little punk working there!

Keith Seegars
from Lithonia, GA
i bought a 55 inch tv and was told the delivery would arrive by 2/1/18. but when I checked tracking it said it would be here 2/5. I would no have bought this item. Now I have no tv for superbowl sunday for my guests. the delivery company "Pilot" stated Walmart should not have promised that date. I should at least be compensated. Since I cannot even go out and buy a different one since Walmart has my money for a tv I don't have. I have documentation that could not be uploaded because of the type

Frances Masters
from Dickson, TN
We live in a small town, Waverly, TN. We use Walmart at least 2 times a week for Walmart's' products. My husband went to return Walmart's brand,
' Mainstays Vacuum Sealer Rolls.' A 2 pack 8"x20" and a 2 pack 11"x16". I have used them before and buy extras. The ones my husband TRIED to return were both of these boxes. ALL FOUR rolls had CRINKLES in them across, about every 6" to where I could not vacuum seal them because the wrinkles in them would not seal right no matter how I tried. So he goes to Walmart and speaks to the manager but she says she cannot take them back because they were OPEN! and cannot be re-shelved! My husband asked her that if we could not use them, why are you going to put them back on the shelf for re sale?! She gave no answer. So, he brought them back (to take up space on our shelf) and he bought the Ziplock brands. We have a small grocery store near by and we tend to start using their services more frequently instead of Walmart and let our neighbors be informed how disappointed we are with Walmart.
FL Masters

Don Jinrighjt
from Montgomery, AL
Out of stock items,items stocked in wrong locations,out of date items on shelf, workers standing in isles complaining about work and break time.
Employees gathered in groups talking loud and laughing,very disruptive. Employees talking about Jeremy More being the worst since Dooley left.
I was here when first store was built and this is the worst I have witnessed. This is Store # 00483

Connie Harless
from Branchland, WV
Went to deli and waited while girl finished a cake ,waited while a discuss a job of being cake decor then while they waited on other people like I wasn't there and then a third girl cames back there after about twenty min. And ask if she could help me .I told her what I needed .she said I'll have to wait and let someone else.told manager they talked to them and I still had to leave without what I wanted

bought a brand new battery at Walmart in Morgan Hill calif, and battery went bad within
3 months, battery has Walmart refused and exchange because I didn't have my receipt,
even though I paid for it by credit card and they should be able to track it with the battery SKU number
total bullshit !!!

susan nugent
from Port Saint Lucie, FL
The associates at the store were great. I purchased a 65 inch LG TV on January 15,2018. While in BJs I say the exact TV for $250. less. I had already taken it out of the box and set it up and used it for 2 days. The associate too it out and never gave me the receipt. The girls at the store told us they do not match other stores and we would have to bring it back. I was very up set because of the fact we had to take it off the wall disconnect the cable package it up bring it back and of course we had no receipt. The girls looked it up and credited my Walmart card. This whole ordeal was a large inconvenience for me and my husband. We will think twice to make a large purchase again. I just needed to get this off my chest.

Rose Cronk Ashley Falls, MA 01222
from Great Barrington, MA
Friday, January 18, I was shopping at the Walmart in Torrington, CT. I purchased a toolbox that was quite large considering it was in a box. A very nice young man loaded it on a dolly, and went to the checkout with me. After paying, I followed him out to the entrance where he left me and my purchase. When my friend came with the car keys, I went to find someone to help load it. I asked three employees for help. Two couldn't find anyone to help, and one said he had no walkie-talkie to get any help. I am a 63 year old woman who obviously needed help loading this in the car. There was such a ruckus and not one employee made a move to help. Thank goodness a male customer said he would be happy to help. Which he did. I was tempted at one point to have it returned and get it elsewhere.
I would hesitate getting any large item from this Walmart again. They made a sale and that was all that was important.

Joe Michael
from Skiatook, OK
My name is Joe Michael in Joplin,Mo. I recently emailed an inquiry to doug.mcmillion@wal-mart.com but no response. My inquiry/complaint is I recently purchased a product online thru Walmart.com approximately 11/28/2018 and it has a defective part. It was delivered Dec. 18th and reported about part then, I am getting run around and stalled and without answers to when the issue of replacement part and repair is to be done. We talked to the manager at West 7th Walmart here in Joplin and she advised to notify you to see if we could receive any support on getting the issue resolve!We are needing support for a warranty issue concerning Leggett & Platte. We think almost two months should be ample time to replace and repair the part as is not usable as it now stands. We think we have been very patience in this matter and want the problem resolved asap. We have contacted Leggett & Platte number provided in owners manual several times with no success. Please advise where to report problem in more detail. thank you in advance

Judy L Moore
from Dexter, MO
I am a user of Blu E Cig and my store from Sikeston MO 63801 store number 09
has not refilled the stock with my brand for well over a month now
I have had to go Cape Girardeau and Jackson stores to even get some
I thought inventory was loaded as the product sells and especially when empty on a daily basis that has sold
I don't live in Sikeston - I live 16 miles away and when I'm in town I always check to see if the product is in

Chandra
from Millfield, OH
I went to have my hair trimmed and OMG my hair is butchered.. I will never ever again go to that hair place again in Walmart. This is horrible

Sheila Beach
from Panama City, FL
I'm with Callaway Rebels a football and cheer organization for Bay county ,Florida. We tried to schedule a fundraiser with your Panama City Beach location at 10270 Front Beach Rd and we were RUDELY told we would not be allowed to fund raise at that location we needed to stay at the Callaway and Lynn haven Walmart's we have never had this issue before in the past we were welcomed at this location. we our a county organization and feel we are being discriminated against by this Walmart. We play more than 50% of our games on Panama City Beach and we know other teams associated with this league are being able to participate at this location So if you could please check in to this issue it would be greatly appreciated. Thank You Callaway Rebels! Contact number is 850-866-9867 Jeff Beach- President OF Callaway Rebels

donald
from Nacogdoches, TX
First: your customer service is pathetic. I was put on hold for ten minutes and then disconnected.
I called back and was hung up on by your automated answering system.
I called back and got the idiots in the Phillipines; they cant do anything because they cannot understand English.
Second: trying to get status of my order which has not delivered; Delivery date has changed three times.
I cannot get a firm date from anyone.
I have been told to contact some third party agent.
I made purchase from Walmart. I paid Walmart.
I want a refund and I will go somewhere else to buy. Someone that is willing to help and give assistance.

Brenda Beaufort
from Charlotte, NC
On 1/18/2018 @ appx. 07:00 I went to walmart garden center to purchase a snow shovel the sale associate stated to me that they did not have any other than the ones with the pointed ends. so I asked him can I go out side in the garden area where tools are and he stated he could open the door to the area because he did not have a key and then he point out the only shovel he had was this # 004920613192 sitting by the inside door I told him I needed two and could he get the manger to open the door he the called the manger over who came right away and said I can't open the door to let you go out their due to safety issues now it was some snow out their that looked frozen over but I could also see plenty of concrete ground so I ask him maybe he could grab me a shovel "the manger said again I can't open the so I ask him his name and he stated Gary, I said you don't have a last name and he said he don't' give out his last name. I thank him and went directly to customer service. where I found another Manger Gogar v. walmart csm and I ask to speak with the manger of the store. She ask me what I needed so I said to myself I'll give her a try and I told her my problem. She then radio back to the garden center and ask for ( I don't remember the ladies name but she pretty much stated what the associate and Gary had told me,so Manger Gohar and I went to the Garden center where she talk with the unknown lady who went on to tell me the type of shovel I needed a round or square one not the pointed one that she only had left in the garden center. So Gohar said well can't we go out and look and Gohar unlock the door and the two ladies went out where the tools are kept. now i;m looking out watching them the other lady pick up a larger pointed shovel and started to come back in when Gohar picked up the same shovel 004920613192 that the associate and manger gary tried to sale me one of when I needed two all because this customer wasn't going to make them unlock the door and go into the cold. I want to thank Manger Gohar for going above and beyond her duties to do some one else job. My husband will be able to get in the house safely with the drive and walk way shoveled, from his dialysis treatment five stars to Manger Gohar.

Theron jenner
from Marion, IL
Your prices are not the same at the check out as priced on the shelf . for example 2 liter bottles of diet cola priced at $1 dollar - checked ticket when I got home was charged $1.60 at Princeton Indiana store.

Donnie Bailey
from Malden, MO
Every time I go in for my 90 day refill request one or more of my refills is out of stock. I am told I have to go to this pharmacy. WHY CAN THEY NOT KEEP MEDICINE IN STOCK. THEY SHOULD BE ABLE TO SEE THAT THEY ARE GETING LOW AND KEEP THESE STOCKED

Jennifer Flood
from Jenks, OK
I took my 2002 Kia Sedona van into the Bristow Okla. Walmart on the first part of December 2017, well on December 23rd I had just left my home and my van started to make a knocking noise, after the holidays I had a mechanic look at it and it has a rod knocking, the mechanic said that they put in the wrong type of oil and that is what cause the rod to blow, so now I am without a vehicle. I am a woman that has several doctors that I have to see like my cardiologist doctor, a orthopedic and a neurologist doctor, I have a daughter that has needs as well and I husband that has to see special doctors as well, so all this puts me in a bind. I am now going to have to scrap my van or find me a motor to put in it.. all this cost money that I do not have and all this could've been solved if the Walmart tech would have just did his job the correct way.

Went shopping on 1/6/18. Spent about an hour in toy section looking at radio control drones. I'm 61 and my granddaughter and I love these. Nothing had a price on it and no one to ask. Had to go and find scanner to see price. Left my buggy and walked to scanned at least a dozen times. 3 times I returned to find an employee walking away with my buggy. I had 6 items and my winter gloves and hat in there. When I left store noticed my gloves were gone. Can't get anyone to answer customer service phone.

Zofia Zakrzewski
from North Port, FL
Dear Walmart management,
I am writing this complaint about incompetence of Wal-Mart management in North Port, Florida on Tamiami Trail.
The incident happened on Dec 20, 2017. My husband and I were making shopping at that store. There was an offer of $35 discount when opening Walmart credit card while doing that shopping. When all my items were rung up I asked the cashier to get me this $35 discount by opening the credit card account. She said she doesn't know what it is and how to do it. She said that I take the receipt to the customer service and they will fix this.
The associate at customer service desk told me that she can't do it, because it needs to be done while I pay for the shopping and the account must be open at that time. Otherwise she would need to cancel my purchase, refund the money and rescan all the items from a full cart of merchandises to be able to do it. It was a proper information based on a discount booklet. I said I can't waste another half hour due to incompetence of Wal-Mart personnel. She said that maybe the floor management will have some ways of fixing it. The floor supervisor name Fame came over and gave me completely wrong answer to my claim disagreeing with the spirit of the Wal-Mart offer. She said that I need to open Walmart credit card account before and then do my shopping and then the $35 dollars will appear on my next cycle credit account statement. Based on the booklet of the offer it was a wrong answer since it supposed to be an instant discount while doing shopping, like it happens in any other store I received such a discount for opening the credit account while shopping. I didn't feel that Wal-Mart is falling behind any other store in such a deal. So I asked for a store manager. The gentleman in a wheelchair named Tony came over as a floor manager and after being debriefed by miss Fame he gave me the exactly same answer as miss Fame assuring her view that I need to open a Wal-Mart account first and then do my shopping and then the discount will appear on my next cycle statement. I said "so you don't know either how this deal works". He said " I know exactly how it works as I described it to you". I didn't see any sense to discuss it any further with the people lacking either competence or proper training to be in a management position and serving customers. And that's why I am writing this complaint to let you know about shortcomings in your entity. Due to the lack of competence of your employees I lost possible $35 discount and decided not to open the account not knowing how my complaint will be answered. It was a big deal for me getting substantial discount from $164.60 bill for a retiree trying to meet ends on a fixed income.
I'd like to ask for updating me on the course of action taken based on my complaint.
I am attaching screenshot of the offer booklet with circled terms of the deal.
Sincerely
Zofia Zakrzewski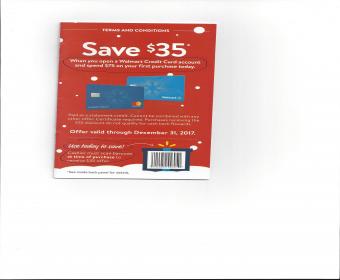 Frank Emrath
from Hartland, WI
i bought a lifetime tire rotation from you when I bought my tires an had them installed ,I tried to stop in an make an appointment in sept but was told they were busy an booked, so I put it off until about a week before thanksgiving an was denied again then last week, now today I was advised only booking for today an tomarrow an there are no apointments avaible in fact the person answering the phone said she was told, not to encourage people to make apointments .well you got my money I would like to have my tires rotated now or a refund for services not provided ! I also was encouraged to complain because this issue is not getting addressed at the store management level................Frank Emrath

Angie Partin
from Miami, FL
I had placed something on layaway and was unable to go pick up Dec 11th and went to Dec 15 but the $10 I paid on it they took. NON REFUNDABLE ! And then the CSM called to the counter seems not to be concerned or anything and says no cant be refunded. To me that's not right and then the Hazlehurst Walmart wonders why many don't shop local .They all seem to be unfriendly and no concern. People is having a hard time trying to buy a child's Christmas and then they don't want to refund what you applied, I could understand if it was over a week or you didn't purpose the items. But this was 3 days and I did buy the items. They actually were still in layaway the CS went and brought to counter but it had took the $10 applied to hold.

Joannie P. Elerick
from Anaheim, CA
On November 26, 2017 at approx. 4:15 hrs. My daughter (Ashley} asked Door Monitor (Isaiah) to assist her with a bike I wanted to purchase for my grandsons Christmas present. Isaiah refused to help Ashley, telling her with sarcasm to ask the Self Check Employee. When Ashley asked Isaiah to please utilize his radio to eliminate me from further inconvenience (I underwent surgery to have my neck replaced) he still refused displaying an unprofessional demeanor.
At this time, Ashley asked another Employee to please call for the Store Manager. As we waited Isaiah approached Ashley yelling at her as he raised his arm holding his work radio near her head in a threatening manner. This is when I stepped up towards Ashley and Isaiah, telling him to put his hand down and stop raising his radio at and near her head. Ashley moved away from Isaiah to ask for additional help. I informed Isaiah his actions are threatening and he needed to stop. Isaiah immediately approached and leaned into my shopping cart continuing to make sarcastic remarks. I asked Isaiah 3 times to move away from me. He refused to do so, also raising his handheld radio in very close proximity to me. I told him the radio is used to communicate, not use it as a potential weapon in a threatening manner.
Isaiah refused to step away from me putting his hands in the air making a verbal gesture to me (Attempting to provoke me) as he remained leaning into my shopping cart. There's no doubt I felt I was in danger as I tried to remain calm. I am physically unable to defend myself and extremely vulnerable. Not a moment sooner Assistant Store Manager Ymauda came to my rescue and intervened. She immediately ordered Isaiah to step away and return to his work assignment. Ymauda was very friendly and concerned with the above mentioned when I informed her. I observed Isaiah moving closer to us as I told Ymauda of his actions. Ymauda told Isaiah to have a seat in the office. To my dismay, Isaiah made yet another inappropriate comment to Ymauda refusing to obey her direct order. It was evident this embarrassed and surprised Ymauda. She gave another order to Isaiah to go to the office as I heard him tell her, "No". Ymauda immediately approached Isaiah and had a short conversation with him. He finally left and entered her office. Ymauda was so apologetic and professional in handling this situation that I don't want her actions to go unnoticed. I was pleased with the control and demeanor Ymauda possessed in dealing with the above and the respect and courtesy she delivered.
I can only hope this Employee Isaiah is no longer employed with Walmart. I have never had a bad experience shopping at Walmart, until November 26, 2017. No one has communicated with me as to this traumatic event I endured. I was victimized by Isaiah (Assaulted) to say the least. I only wish someone from Corporate reached out to me to check on my mental frame of mind. I have not returned to this Walmart since the above mentioned. I do not feel safe shopping here and will miss everything Walmart has to offer.
In closing I would like to recognize Ymauda. She was superb in her Leadership, Professionalism, Sympathy, and taking control of a potentially volatile incident that if not for her quick assessment could have had a much worse ending. For that I thank her and wish her SUCCESS with her Employment at Walmart.
Sincerely,
Joannie P. Elerick
760-992-1581

why lie an tell a customer the vision center is rented out ? i used to work for this crappy company I KNOW THE RULES , now i will give all my business to any store but yours .. canon city Colorado store ... always no one in the vision center to help gone to lunch ALWAYS! .YOUR STORES SUCK , TREAT PPL LIKE SHIT . PEOPLE SHOULD BOYCOTT YOU MOSQUITOES . THINK SAM WALTON WOULD APPROVE ....? you just lost 10 ,000 $ a year annulay
Sincerely
fuck you

Ray Workman
from Forest City, NC
This complaint is on the forest city nc store i get all my meds from there but every time and i mean every time i go to pick it up it is not ready or they say it was not called in from the doctor. the last time my wife called it in they said it had not been called in she called it in 5 days before it is time you do somthing about this. please let me here back about this i am 71 years old live 5 miles from the store can not keep makeing trips back to get my meds.
thanks Ray Workman

Kelly
from Louisville, KY
4 lanes open on Saturday night n December. Just plain ridiculous

Jake carrera
from Avon, CO
The manager in walmart are very rude especally clarissa and sam. Disgusting!!!

Andrea Kollars
from South Bend, IN
I was to receive a pkg through Fedex today ordered from Walmart! I left specific instructions for Fedex to knock & then slide it inside for me since I am elderly & it weighed 63#...no one here to help me. I got an email this morning saying it would be delivered Tues., 12/5 instead. I was in my living-room ALL day & no one knocked, but I wasn't expecting the pkg 'til Tues. Tonight, something told me to look outside. THERE IT WAS! It was delivered around 2:30pm according to an email I got....no one knocked! It is, now, 8:38 pm. It could have been stolen left out for all to see for hours! In the future, I will NOT order from Walmart if Fedex will be the method of delivery! There's no excuse for this. I sent instructions to Fedex plus I called them & gave them instructions telling them I am elderly & probably couldn't get the pkg inside! It had straps on it & after much effort, I was able to pull it inside! The tracking # is: 788652578220! Please....no more Fedex deliveries. There are many, many complaints on their service online. Add mine! I have NEVER had a problem with UPS! Thank you, Andrea Kollars

david ferron
from Arlington, MA
To whom it may concern
Once again your store merchandise buyers have deemed it ok to sell extremely questionable merchandise; in this case the tee shirt reading "rope, tree, journalist". And once again, Walmart is passing the buck because it has blamed an outside vendor. Imagine how the corporate office would reacte to a tee shirt that said something that directly targeted and denigrated its stores and brand? Freedom of speech? Sure. Why not. Walmart would have its laywers going crazy. No one with a mind and a heart can stomach this uncaring attitude. No more shopping at a store that can't get its act together.

Walmart sells Antifa shirts!!! There are already You Tube Videos and upon searching your site myself I cant believe you support this trash, this group is known for violence against women, children and the elderly or anyone else who exercize their 1st amendment rights. This group are undercover communists and wish to cause the collapse of our country. SHAME ON WALMART!!!! I wont be back till this garbage is gone

I have any ongoing issue with Walmart in general. Years have passed, and the same issue continues. That issue being the long lines at check out. This past year has been the worst. This particular Walmart Supercenter I thought would have cured the issue when they moved a few years ago, but it has only gotten worse. Even before this years busy holiday season, this problem occurs, Recently I purchased a few small items. The total time shopping was about 10 minutes. When I reached the (4) checkout garden department, there was only (1) cashier, and I counted (27) customers waiting to get checked out. I waited 40 minutes to get my items payed for, and left the store fuming. Needless to say, the talk among these waiting customers was unfriendly. This issue has gone on for years at this location. Obviously this is a management issue. Untill this problem is solved I will do my business elsewere.

Anonymous
from Pawtucket, RI
I worked at the North Smithfield,RI STORE and was worked and treated like a dog. I was injured and still 6 months later still have problems but was bullied into not seeing a doctor and along w another coworker who was hurt the sa e way and treated horribly. The CSM ARE ignorant, bullies, and they yell and humiliate employees I front of customers, they make you work days you can't or lose yourjob even though it was days you told you couldn't work when applied. They have you close the store then go back in 5 hours later.The Supervisors and Dept Heads are the guilty ones. If you happen to work a shift w all Spanish workers you get talked about, get denied your breaks, which happened to me numerous times, and make you do all the crap jobs while they just stand around.

Denise Howard
from Princeton, WV
This is the 3rd time this has happened to me and I am livid. Never in my entire life of being in extensive training on the proper procedures of responsible alcohol sales and the state laws have I ever been treated so bad. I am in my local Walmart (Lewisburg, WV) with my 15 and 14 teenage daughters finishing my Thanksgiving shopping for our annual family feast and I pick up a 750ml bottle of Chardonnay to go with our meal. As I get to the to self check out, I scan the bottle of wine and bag it, knowing that under law the underage girls can not touch the bottle. The cashier rudely approached me and asked my daughters for their id's. I politely tell her they are my daughters and they are underage and do not posses an id. She takes the bottle from me and tells me that she can not sell the bottle of wine to me. Ok, am I buying multiple 30 packs of Bud Light???? This to me would be a red flag not a mother food shopping with her underage children. Then the cashier goes to management and comes back to ring the bottle up for me. I feel like I was targeted for no reason. As I stood and looked around me, there were other families there with their minor children that were purchasing alcohol. I had just spoke to my friend whom I bumped into while shopping that had her children with her and purchased a 12 pack of Miller Lite along with other items. I later called her to tell her about my experience and she stated she had no problem at all purchasing alcohol in self check out with her minor children only moments before I came thru the check out. I am a very good person and I would like to think most others are too. But, I have to say that this question popped into my thoughts, Is it because my children are a different race? I hate that my mind in this day in time would even go there. At this point and time it isn't sounding to far fetched. I will be waiting to hear from you. I will make sure that I tell everyone who poorly me and my family were treated during the holidays.

Betty Saizan
from Opelousas, LA
Went to the 20 items or less isle with no one behind me, and this so called cashier named KEENAN proceeds to throw my items as he was ringing up. And also said this looks like more than 20 damn items to me. I told him a few choice words and left my basket behind. Told manager and a few more cashiers then left. You don't treat customers this way especially around the holidays. By the way I am from New Roads, Louisiana if that helps

Terrence KS Hee
from Honolulu, HI
I have put in an order in early Oct. 2017 for two photo tote bags, I was called in by wal-mart for pick-up the week of 10-25-17 and only have received just one 18X18 tote bag, the 16X16 tote bag the staff could not find and informed me that they will call when ready, just FYI, I have not receive any phone calls and it has been over a month, I have been comming in to this wal-mart store every week for house hold items & holiday shopping and checking in to the photo dept. and the sale staff keeps telling me that it is not in yet, and they will call when ready, I would like to know how long would I have to wait for this item to come in, this 16X16 photo tote bag was for a Birthday gift for a special person in Nov. which I was told by your staff I would have it by then, but they were wrong.
Wal-mart #3478 700 Keeaumoko St. Honolulu, Hawaii 96814
Please see attachment : Order # 2678095506439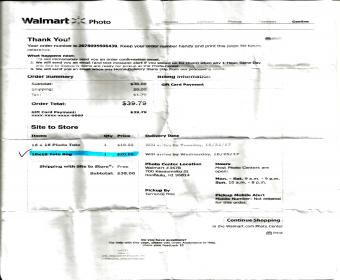 Carolyn B. Telfare
from Jacksonville, FL
My complaint is regarding the survey site. I would never have gone on the site except that I received extraordinary service from a cashier. Instead of having a forum to say nice things about her, I was led through a maze of questions not related. I will never take that survey again.

Cheryl and Benny Janek
from Weatherford, TX
Bought a Honeysuckle whole turkey for $.99 a llb on Friday, November 17...On Saturday the 18th, I found out they had been reduced to $.68 a lb.
I called the store about the policy regarding price changes and was told if it changed within 7 days I could get a reimbursement on the price. I asked if I needed to bring the turkey back and was told to just bring the receipt...after at least 15 minutes of frustration of the customer service clerk and myself, I got my $4.70 refunded and was told I should have brought the tag off the turkey ?!/..I then thawed the turkey out and noticed an old grease type smell from the turkey, but I tried to scrub it with salt and clean it well- I preceded to cut it up as I do not bake turkeys whole- I noticed a brown glob on the inside of the breast cavity and when I cleaned it out good there was a small hole all the way trough the bone...I just did not feel comfortable with all this to serve my guests...I took back the breast to show them the issue and was told I needed to return the entire turkey for an exchange or reimbursement...here I am a day from Thanksgiving without a decent turkey....we live out of town 30 miles but my husband insisted on taking it back - I just went and purchased another fresh turkey from another store- When my husband took the entire cut up turkey back later that day, the clerk said we told yall to bring back the entire turkey... he preceded to tell her that it was the entire turkey- just cut up...had I not cut it up, I would not have found the deformation in the breast...another clerk came along and refunded the amount of $10.57 after just asking a few simple questions....
I am a 68 year old that has cooked many a turkey and this turkey was not right....I should not have to go thru all this...I was not trying to get away with something, just wanted to get a decent turkey to serve my family- if they were frustrated with me, I definitely was frustrated with them...I should have been told to bring the tag when I called about the price thing and didn't call the second time because its hard to get an answer during peak time...I hated to walk in with a cut up turkey in a cooler ....

Bobbie
from Daytona Beach, FL
Bought cream cheese at the large Walmart and it was bad. Tried to return it at the neighborhood store where I shop several times a week and was told I would have to take it back where I got it. My time is more valued than the three dollars they could have refunded me. I had to rebuy it and throw the other one away. Great customer service guys. They were also very rude. Port orange neighborhood market. Thanks for letting me vent.

Rheta Gardner
from Colquitt, GA
I ordered an item on line and it stated it would be available for pickup on Tuesday, Nov. 21 which was great because that is why I ordered because I needed it for Thursday. Later I received an email stating it would available for pickup on Wednesday, Nov. 22, so I made a phone call to verify I that date of arrival. Today I received an email stating the arrival date would not be until November 29. I called to cancel my order and even though it states on my account the order is being prepared and may not be able to cancel but they have my money on hold at my bank. This is ridiculous. I will never order anything else from Walmart.com. and I am going to tell about my experience on Facebook so other people will not get taken advantage of like I have been. Holding my money for 8 days is ridiculous. Got me one time, will not get me again. This is a selfish world we live in!!!!!! I would not even give Walmart 1 Star but I do not have that option!!!!!!!!! Order # 5951753-875935

Hello from El Paso, TX., the most Western city in the great state of Texas.
I live in N.E. El Paso, where your nearest Supercenter for most of my consumer needs is located on Dyer Street; store # 05947.
It is very frustrating not to be able to communicate with deli, bakery or floor personnel when your associates are only required to speak Spanish.
I am an American English-speaking senior.
Having to wait until someone can be found who can understand my questions/orders, (deli/bakery) is oblivious. I feel very inconsequential as your customer.
El Paso is a border community. Most employees in our City and County government are bi-lingual. This is important so they can serve our English and Spanish speaking population.
Our business community as a whole employ English speaking staff.
I do not know how your employment interviews are conducted, or what your expectations are of future employees, but, as long as I pay the IRS, local sales taxes and property taxes in U.S dollars, I should be able to use English to conduct business in America.
I will recognize Spanish as the national language as soon as Mexico reclaims Texas.

James M Montagne
from Biddeford, ME
Left Iphone in parking lot in Walmart cubicle for those waiting for bus or taxi.[ Walmart 04005 ] Realized when almost home that phone was forgotten on bus, called walmart on out of country phone through Skype and am still on hold for customer service. Initiated call at 4:38 PM EST and am still listening to elevator music, time now 5:44 PM 4/22/2019. People have cut in 4 times to inquire what I am on hold for and to no avail customer service " is very busy". When left store customers were quite sparse. Spend thousands a year on Amazon prime and figured to share a little business with Walmart to see how it goes and am disappointed with the dawdling service. Before getting incapacitated had small business that did well by satisfying my customers. Sincerely, James M Montagne @ mikemontagne2@yahoo.com

Ann lustan
from Sun City Center, FL
Bad service and ride people. All self check registers and one with a cashier. I went to the one with the cashier and she puts out her closed sign. I do not use self checkers because I do not work for you. Then I went to the service counter she ringing up a customer with about 20 items. She yelled to me that she won't ring up more than 5 items, I had 12 . I let her know that I was not going to self check and that she was ringing up more than 10 items for the person ahead of me. She agreed to ring me up and told me not to bring more than 5 items in the future. Do you call this customer service? Your company is losing thousands a day with your self checkouts. People are bragging what they got for nothing in the parking lot. Bad way to do business.

I purchased a large bag of Great Value frozen Whiting fish Thursday, April 18. I cooked some of it yesterday but it is no good. I contacted your University Heights store this morning and was told that I could not get a refund or store credit for the bad fish because I opened the bag. This is an unfair policy and I would like an $11.28 refund on fish that is not consumable. How is any customer suppose to determine good frozen fish from bad frozen fish just by looking at it. It is impossible!!!

Ruth Olson
from New London, WI
Bought new tires less than a month ago, one keeps loosing air, went back to get it checked, the man was very rude. No, I did not have road hazard, was never offered it. Said it would cost ten dollars for you to fix it. Now if he would have said, if it is more than the seal it would cost me, but he just said, I didn't get road hazard so it would cost me to get it fixed. It wasn't the money so much as the way it was presented to me. I left, will go else where to get it fixed, and if it is just a bad seal (your fault), I will be sending another complaint. Thank you

My husband returned a product. Cashier did a convoluted transaction so he did not realize that not only was the money not refunded, he was overcharged for the product that he purchased in return. I called the Epping NH store to complain and spoke with the assistant manager John. He felt it was reasonable to ask me to drive back the 90 miles roundtrip to get my refund. I offered to scan and email him the receipts but I was told I could only get refunded if I went back to that store. I called headquarters and spoke with Brenen employee#1252106 who insisted he was a manager, but when I questioned if managers worked weekends he eventually admitted he was a supervisor and not a manager. He also stated that headquarters could not issue me a refund, send me a gift card or do anything to help. He said I had to drive the 90 miles. I asked if he would be willing to do that to correct a Walmart associate error and he said that his opinion did not matter. He refused to answer the question. Please be very wary when shopping Walmart as their customer service is pitiful. Too bad you don't have negative starts because 1 star is being way too generous.

I waited 25 minutes for a consult on a prescription. The pharmacist's only excuse was "I forgot you were here".

Jane Pappas
from Atlanta, GA
I have sent three e-mails to your fraud department because two 50.00 gift cards purchased with cash for my husband's and daughter's birthdays were maxed out a week before they received them. I went to the store where they were purchased and was told nothing could be done for me at the store level. The phone number I was given had no options for human contact. I finally managed to reach a Customer Service representative who gave me information for contacting the fraud unit. As of today, I haven't heard from them, even though the e-mail said it would take three days. It has been over a month since my first local contact and I am extremely disappointed that WalMart doesn't seem to care about me or my situation.

linton poullard
from Lake Charles, LA
About my complaint of things being moved at Walmart so much you cannot find things , because they are being move so much , if you did not move things so much , people could get in and out and shop , more efficient , people with health problems that can not get around to good would not have to look for things and be in other customer way , and you would sell more , people shop for less when they have to look for the same thing in a different place all the time , they get a bad attitude and shop for less , due to the fact they are tired , from work or going to work and they have to look for things , moving things that often , hurts your sales , people buy less , because they get tired hunting for things in the Grocery section , the man that came up with this suggestion , does not shop , and is causing Walmart to lose a lot of money , look at the money you could make if people could find things and not get fustrate while shopping .

Greetings,
I recently (4-16-2019) went to the Walmart Super Center in Defiance, Ohio to purchase a battery
for a 2015 Ford Escape. All advertisements regarding battery sales state that it includes
free installation of the purchased battery.
A Walmart representative at the desk of the Automotive Department stated that it
would be about a 40 minute wait before my vehicle could be serviced. He then took my phone
number so he could call me when the service was completed.
I browsed the store for about 30 minutes while waiting for my vehicle and then received a
call from the same representative and he informed me that the Automotive Department
COULD NOT install my battery due to the location of the battery in my vehicle.
I saw no such disclaimers anywhere in Walmart advertisement and wasted at least 30 minutes
waiting for my vehicle only to not get the service done.
Are your mechanics not properly trained and do you not believe in TRUTH IN ADVERTISING?
I should have asked for a refund on the battery and went else-where.
I could have installed the battery myself if I had the tools that these mechanics have available
to them.
What a waste of time and what a frustrating experience!
A response would be appreciated.
Bob

linton poullard
from Lake Charles, LA
In Lake Charles La. on highway 14 Walmart , for the last 14 years this Walmart , moves items so much in the grocery area , that every week you have to look for the same item , in and on a different isle , nothing stays in the same place over three weeks , so every time you go into the store , you have to hunt for the same items , you bought 2 weeks ago , that not good business , people spend most of there time looking for items , not buying , store is pack with people trying to find thing in the grocery section ..after looking and looking you get tired looking and leave and go to another store , and finish your shopping .

Patricia Wright
from Greenwood, DE
I ordered (order number 3571986*584246) $109.96 of clothing and 3 tops ($37.77) do not fit. I tried to return them to the store in Georgetown, Delaware and they said it was from a third party and I had t send them to them. I thought the person was typing out an address to send them but they were not it was just a slip telling me the same thing they said. I called customer service and they said they handled it and I would get an e-mail from the seller giving me the address to send them with in 24 hours. I waited 48 hours and still have not received anything. I called customer service again. After I explained the problem she said they were having problems and could I call back (why didn't she tell me that instead of after I explained? I am very good costumer of Walmart but if something isn't done that may change I want my money back. And people should be told about the third party deal before they order... Right now I am very upset with Walmart. I want something done.
Sincerely
Patricia Wright
(302)381*4430
P.S. I hope it does not take as long for this as the calls that were made.

I have contacted Walmart more than seven times to facilitate my "unsubscribe" ( any and all Walmart advertizing messages sent to me ) request and I have received no response. I and my family and friends will never shop Walmart until this problem is resolved.
Sincerely,
William Thibodeau
3245 Weigl rd.
Saginaw, Mich.
989-781-0204

Steven mccool
from Belleville, PA
Every time I go into this store there are no sani-wipes for cleaning cart handle. Often items needed are not available due to failure to restock. Then after all this frustration there are only 2-3 checkouts open with 4-6 people in each line and everyone is angry and complaining. You want my money but fail to provide reasonable service. Thank god for Target! Very disappointed long time customer.

Fred Mallaire
from Phoenix, AZ
Dear Sir,
My name is Fred Mallaire. On Saturday April 13th, 2019, I purchased what I thought was a Mariokart7 2DS game system with a box having serial number AW11472120 from the Walmart store # 2113 at 1607 W. Bethany Home Rd., Phoenix, Az. 85015.
On Sunday 04/14/19 my granddaughter opened the package for her birthday to find in lieu of the 2DS system a wire cutters wrapped in a Los Angeles times newspaper.
That same evening we immediately went to Walmart with the defective purchase. We spoke to an assistant manager with the name Margan or Margarita. She went back and reviewed the film and said that from when the box was received by Walmart to my purchase they could see that no one had tempered with it. So my wife and I knew we had been a victim of fraud and we decided not to purchase another 2DS for our Granddaughter at Walmart.
My wife and I went over to the Target store in the same mall complex. And we notice that the 2DS system boxes, there, are not sealed in a plastic wrap. The sales employee at the target said these units never come with their boxes wrapped in plastic. We explained what happened at WalMART. The Target employee said I would go back and see if the other boxes were wrapped in plastic at that Walmart for the boxes do not come like that, for I used to be a manager at game stop and I know how they are sent from the distribution Center and as you can see here at Target they are not wrapped in plastic. I said did it come from the factory this way? He said no, and added that the stealing of the 2DS had TO HAPPEN at the distribution center and perhaps Los Angeles, since the La paper was in the box with the wire cutters.
My wife and I went back to Walmart and noticed that none of the other boxes were wrapped in plastic. My wife asked the assistant manager, If she would please look on the video again to see if the box that she watched on film earlier from delivery acceptance at that Walmart to my purchase of it on 04/13/19 was wrapped in plastic and then seeing it wrapped in plastic as it should not be would confirm that it was received in a tampered condition. The Assistant manager said sorry I can't help you.
We walked away with the understanding that Target in lieu of Walmart cares about customers.
We know that we received a sealed box from the Walmart locked cabinet that did not have the actual game system inside. We purchased in good faith and if the manager would have just checked the film then they would have seen that it was wrapped in plastic unlike all the other system boxes in the locked cabinet.
We would appreciate if you would please make this right.
I have attached pictures of box, plastic wrap that box was wrapped in, wire cutters in lieu of game system that box contained and receipt.
Respectfully, Fred Mallaire at 602-361-6574, email: fred.mallaire@gmail.com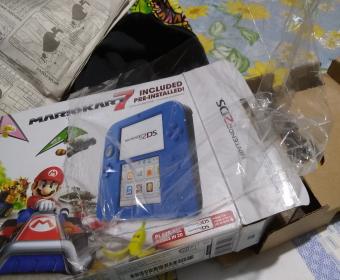 Jonathan Bradley
from Greenwood, MS
On April 13,2019. I, Jonathan Bradley was visiting the Greenwood Walmart Tire Department located in Greenwood,Ms. I informed employee Rosie Jackson that I needed to replace a tire that under warranty because I mistaken ran over bark wire causing the wire to rap around my entire putting a large hole and causing wire to come through the tire. Ms. Jackson began doing the paper work later. Another employee first name Rosie stated she (Jackson) were on her break. I asked Rosie could someone check me out because I had been waiting for approximately one hour. Rosie began to check me out informed me (Bradley) that I owe sixty plus dollars. I informed Rosie that the tire was under warranty. Ms.Jackson return from her break assume. She (Jackson) informed Rosie that wasn't correct paper work. Ms. Jackson look for the correct paper and couldn't relocate the paper work that when she departed to the back (Tire Shop). She return with two employee from the back. One tire worker gave (Jackson) a number from the tire rack. At this time (Jackson_ stated to me that I needed to get a tire alignment. I informed(Jackson) that I didn't need a alignment. I ran over some wires again showing her the hole in the tire. Ms. Jackson informed one of the employee to check the thread on both tires. The young informed her that my old tire thread about 6/32 and the new tire was 8/32. She informed him he didn't read my tire correctly. That when she stated 4/32. At this time she stated she could give me a credit of $14.00. and I would have to pay a credit of $47.00 . I informed her that the young man read the thread right the first but you change it. Again I showed her the big hole in the tire. She started hitting on the wall calling for Associate Manager Kimberly Mays. I seen Mrs. Mays looking through the Tire Shop door. Ms. Jackson departed the front area to the shop area and began talking to Mrs. Mays. Mrs. Mays and Ms. Jackson both re-enter the front desk area. Mrs. Mays began playing with a small child hugging on some customer and later on start typing something on the computer. At no time Mrs. Mays said anything to me. Ms. Jackson again stated I needed to get my rear end aliment. At this time my wife Linda Bradley informed (Jackson) to take the new tire off and put my old tire back on. At this time departed Greenwood,Ms. Walmart. This is the not the first time I have had problem with Greenwood Walmart. First time I lost my three of my hub cap because the weight were put on the outside causing the hug cap to not stay on. The manager stated I didn't informed the tire man to put the weight on the inside. I informed him the tire man seen the weight was on the inside before he put new tires on my vehicle and hug caps wasn't fitting correctly. The second time the tire man mess up 14 lugs on my car.The manager informed me to buy some more lugs and he would get his best work to replace them which he did.

anthony allen
from New Albany, IN
myself and my family go to Walmart everyday we probably spend $2000 a month in the clarkesville Indiana store but as of today that all stop I wouldn't shop at Walmart again if it was the only store on earth.I tried to return a plum tree I bought there it was supposed to have a 1 year warranty if it died I was supposed to be able to get another tree but because of some hag on a power trip they got me for $22 she would not swap out the trees because I had lost the receipt even though the tags were still hanging on the tree all she had to to was scan the bar code but no she insisted on a receipt I have return and swapped out stuff at lowes home depo and Walmart in the past without a receipt and did not have any problems what so ever.Will never shop Walmart again!!!!!!!!!!!!!

charles hine
from Mount Pleasant, MI
I can't find the products I'm used to buying. It seems like I get accustom to a product the stop stocking it.
I get to the checkout line and I have to wait for the cashier to stop chatting with the customer in front of
me. The lines are long enough to wait in, let alone waiting for cashiers to talk about their personal problems.
I can't even get a 1 serving can of peas. 1 liter bottle of diet coke. Vegetables are not very fresh....etc.

Jane Marbet
from Plymouth, MA
I spoke with Harvey from Chicago Illinois (call center) took my online order today. As it was a large order, I had called and spoken with someone both yesterday and the day before and had my shipping fees waived. Victoria gave A+ customer service as did Maley. Harvey from Chicago -took my order-hit my debit card for the full amount and then said no I am not going to waive your shipping fees and then HUNG UP ON ME despite it being documented as approved by a supervisor 2 days prior. During the course of my transaction he said he would finish my order as he would be going on break in 4 minutes. He is rude and was not authorized to take the full amount. This needs to be resolved. I am IRATE!

R Turner
from Fishers, IN
My Walmart online grocery account with Fishers, IN was flagged because of reporting too many honest facts about their flawed grocery delivery service and because I used too many promo codes. Apparently, they don't want you to be honest about their continual issues of out of stock items. They send you a survey and if you give them a low rating too often they don't want your business anymore. The flagging is determined by the grocery manager's discretion in an effort to prohibit you from ordering in the risk that the department will receive another bad review or customer service call. Instead of raising their standards to improve service they simple ban you as a customer. I placed15 or more phone calls including speaking with corporate and the only resolve was to open up a new account with a different email address. I received no apologies and most of the people I spoke via customer service, call centers, consumer dept. and even corporate acted as if their hand were tied. Many were downright rude!

Thomas Jacobsen
from New Port Richey, FL
I tried fo many times to call a store and your customer service line. Over an hour of my wasted time. I never gotto speak to a live person. The stores' lines just rang and rang on. HORRIBLE CUSTOMER SERVICE!!!

Robert Chisnall
from Little Rock, AR
I took two rims to the auto dept and bought 2 tires and have them mounted.
They put my tires on the machine and stopped and started on other customers that came in after me, to service their vehicles. One of them I knew and he wanted oil change and didn't have it scheduled. Finally after over 2 hours of waiting they had my tires ready. I paid and drove 25 miles to mount them. When I got them out of the truck one was flat. I aired it up to find the valve was leaking. I looked at my ticket and they charged me $3.00 for new valves for each tire. They did not put new valve but charged me $6.00 for them. I had to drive to wal mart in Forrest City Ar and pay $3.18 for a new valve. The wal mart in west Helena at is the one that I paid for something, not to mention the extra time and expense to go have one fixed again. The time on the ticket does show the accurate time I waited. My ticket service order 26588. I think the extra charges for the valves were done on purpose thinking I wouldn't know the difference. Wonder how many more times that has happened On 4-9-19. This is not the first bad experience I've had at this store. Most of your employees are rude and act as if it's a pain to wait on customers and I have never got a thank you for doing business. If they don't like their job they should find another.

I went to the Walmart in 1919 Davis St San Leandro, CA. This happened Monday 4/08/19. This Walmart in particular is always gives me extremely delayed service when the formula drawer to be opened. I went in and there was no bottom to called for assistance to open the formula cabinet. Both me and my husband are walking around asking ALL employees for the key. No one had it. After about 15 minutes we ask someone to make an announcement over they speaker, they did. 5 more minutes and no one came. I decided to go to the front and I encountered the CUSTOMER SERVICE MANAGER DANIELLE. I asked if she could send someone to formula bc no else could seem to help us and she just "ok." I replied frustrated, "It's been over 20 minutes," And she rudely answered "well the only thing I can do is call and you can wait." I walked about 10 feet away and watched her NOT MAKE THE CALL. I went over to her again and said "can you please call because I clearly saw that you didn't." She replied, "Well that's your fault because you walked the other way and now you're going to have to wait longer" I cannot believe this is the type of service I received from the Customer Service Manager. I am extremely applaud and hurt by the attitude of this employee. I shouldn't have to drive to the Walmart father from my house, I expect every Walmart to live up to the great customer service you claim to give your customers. I would like the district manger or store manager to contact me via email or phone. Yessika0@gmail.com or 510-696-0142.

I am writing this letter to clear my Wife Juliette,s good name also mine
Let me give you a picture of how it began .We were checking out at Walmart in Ajax Ontario and the Cashier asked my wife if she would
like to apply for a Wall Mart credit card and with my nod she agreed ...now the line behind us was long and people were not pleased about
this so she felt stressed as the people were grumbling...however she gave the information asked of her ..I was bagging our purchases while she
gave the information as understood .We got the card bearing my name by mail and called activating it being told that we must make the first purchase at Walmart which we did and another at a Pharmacy ...no problem at this time...the third purchase was declined ..I called the security
number that was given and was asked my name where I live date of birth credit cards and their numbers that I have and drivers licence number
and they said this is not correct and asked for me to fax a copy to them ….this is when I took objection...I would not send such a document by mail
ever ..considering the electronic fraud taking place, and beside this it may be against the Law.
We have never been made to feel as though we were scammers as at this time ! and we have never been refused a Credit card before! and we have a number of them in good standing some saying that we qualify for a Credit Increase if desired!...so we don't see why Walmart cannot validate our identity other ways and restore our good standing in the credit department.
We spend about 3-5K at Walmart every year using other Credit Cards ;we would like to continue business with Walmart and it is up to you if this
relationship continues
Sincerely
Neville & Juliette De Abreu

susan mack
from Killingworth, CT
Shopped at Walmart Cromwell CT. Store #02299. Spent over $500.00 with 2 carts of merchandise. Ref#90900040835 on 3/31/19 at 11:12am. Gave clerk $1.00 coupon. She entered $1000.00 in error. Had to empty entire 2 carts, unbag and rescan order. This took another 1/2 hour after waiting in line. No process to void coupon apparently after a manager tried. What a huge inconvenience with children. Almost aborted trip...Walmart needs more up to date computer system to keep loyal customers. I spend an awful lot at Walmart and was very unhappy with this experience.
Sincerely,
Susan Mack
3 Mario Drive
Higganum,Ct 06441

Our local Walmart in port Allen Louisiana is open 24 hours. Should I be able to call and talk to someone at 630 in the morning. Tried this morning from 6am to 630. No answer.

I don't mind self check out usually but.......today I had the worst experience ever! I arrived at the front of store to massive lines in all lines with a cart full of groceries only to find out that yes I had to check myself out and that the store has NO BAGS!!!! Their was a young girl very rudely handing out cheap plastic garbage bags that would barely hold anything heavier than a load of bread without breaking!!!! And since the bags were just laying there the scanner kicked off and had to wait for an employee to come type in code after every few items scanned because the scanner perceived us to be stealing because you couldn't balance the garbage bag in the correct place! Total lack of managerial presence during this catastrophe and total overall poor management! Thank goodness we have another option nearby in Murray, KY !!!! Will not return to the Paris,Tn. STOre! Hire a manager! This woman is never there! We are a rural area we need our store!

Susan Hiner
from Minerva, OH
Purchased 4 tires and had them put on my jeep almost 4 years ago. I bought road wear and have been satisfied with everything until this weekend. I hit something with my front drivers tire and my tire went almost totally flat. I have only put 29,000 miles on it since I bought the vehicle. I know tires wear and I didn't have a problem with paying for another one at all. My issue was the run a round with my nearest Walmart. I looked them up on line yesterday Sat, 4/6/19 saw their hours were until 7 pm. I called, couldn't get an appointment, must come in person. Was told they could cut off taking customers early so they wouldn't run out of time. I understand this. My husband took the tire off and we drove 35 mins and got there at 6pm. I was told they didn't have time because they were short on help. I wasn't real happy but understood, we shouldn't have gotten there so late. I looked up their hours for today, Sun, 4/7/19, open until 6 pm. We got there at 3pm and was told it would be a 3 hour wait by the same man as the day before. That would have made it closing time for them so why was he still taking customers if I was going to have a 3 hr wait which put it till 6 pm, closing time? Once again he said they were short on help. Not my problem, hire some help, bad manager or something. I was pretty hot this time and should be ashamed of myself for what I said. There were still 2 people in line behind me to talk to him so I'm guessing they didn't have a problem waiting 3 hrs. We drove another 35 miles to Canton, got waited on, the tire replaced, and had dinner out, then drove 45 mins to get home at 6:15. I'm guessing we'd still be down there waiting or would have been told at 6 pm, Oh sorry, it is now too late to do this tonight. You got some serious problem down there. Just needed to vent and apologize as I did use some nasty language at your business. I've had all 4 new tires put on both the last 2 vehicles I've purchased at Walmart and I just purchased another vehicle which I'll put new tires on soon I'm sure but I think I'd rather stay in town and give local merchants my business even it does cost me more after this frustration.

Nat Agensky
from Hallandale, FL
MY TV SAGA: I purchased a 50" Samsung LED TV from Walmart.com on Nov 2016, together with a 4-yr extended warranty. The TV lost its picture and sound in Feb 2019. Asurion, Walmart's Customer Care Team agreed to have the TV repaired at its depot. It was returned via UPS. Although it was now working, it was physically damaged, probably having been dropped in transit.
Asurion now decided to replace the damaged unit but instead of a Samsung, the choice was a Polaroid or a Sceptre---each retailing for much less than a Samsung. I complained to various supervisors at Walmart and Asurion that if I wanted a Polaroid or Sceptre, I would have bought one. "Too bad" was the reply and I was given 48 hrs to decide.
All this with an extended warranty! I chose a Polaroid with a picture that is not the greatest and a reputation that is even worse.

Kevin Jeppsen
from West Valley City, UT
I bought several things at the Brigham City, Utah store including a razor for 11.88. When I got home it wasn't in the bag. I took the recite back to the store and the cashier who helped me said to just go get another one and take it to the customer service desk. They wouldn't let me have it and said they can't do anything about it unless someone turns it in. So I am out a razor and travel to and from the store...I live 5 miles away. Very disappointed and hope this can be resolved.

annie stu
from St. Petersburg, FL
i had sent a complain on 4/5 when we got home,about 2 employees engaged in a very loud tone,seems the man was trying to calm a cashier down,you wouls thing,that they would go into a offics,the lady was talking so loud,waving arms just unreal,mean while people are looking because it was loud, she is off reg. and there are lines,come on ,then she is going to reg. and a employee walks buy she yells its ok i have been talking to micky,the employee said nothing to her unreal

Joe York
from Cementon, PA
The store in Whitehall, Pa. is by far the dirtiest store I have ever been in, it is a total disgrace. There is garbage, spills and partly eaten food containers everywhere. I just spent over 30 minutes trying to get assistance in the jewelry department along with six other customers. One was waiting so long he sat on the floor waiting for assistance.. I know a long haul truck driver who goes to Walmart before every trip and he once stated to me this was the dirtiest Walmart he had ever seen.

Rick Weitz
from Rochester, NY
Pertaining to Elm Ridge store, their is no...........................NO need to call me.
My business will all be done with Target. Thank you if you are able to help me.

daphne ayers
from Odenton, MD
Walmart customer service, I am a regular shopper at Walmart I tried to send e-mail to Customer Service so many times
clicking on different customer service links never got to send a message Want to return 2 items asap
Senior citizen What is the matter with Walmart. I want them to send me an e-mail explaining this and how to contact
Walmart via message I am hard of hearing

Howard Culver
from West Columbia, SC
I was in Vietnam 1969-1970 I took a lot of 35mm pictures. I had some of them developed (slides) by Walmart and they were very good. I decided to get some more done. I went back to Walmart and left them, I was told by the clerk that they would be ready after 5:30 3/29/19. I went back 3/31/19 to get them and was informed that they were not in yet. I was told to check back latter. I went back this AM 1000 and they still do not have them.?? My ticket no. was not checked? I told the girl working that counter my name three times. she went through a pile of envelopes and told me my order was not there. I was not told when to expect them to be in. These photos are not replaceable. My ticket No. is 487487. The store is at 1780 South Lake Drive Lexington SC 29073. I NEED YOUR HELP. THANKS.

Lionel Tatro
from Gainesville, FL
Four people waited over 20 minutes for someone to assist us in the jewelry area. I was the last in the group to arrive the over head page was sent out twice still no one came! I needed a watch battery the other wanted to purchase from in the counters. What a shame!!! Store number is #01081 manager Donald Chavis 2900 SW 42nd. Street my receipt ID# 7N5KLWCQ3VM

Erma Diallo
from DeSoto, TX
In December, 2018, I bought a Walmart gift care for $100 at the Walmart #3432 in Texas. I mailed it to my niece in Glendale, Arizona. When she went to use it at her local Walmart store, the cashier and manager confiscated it. They stated the computer directed them to do so, but gave no reason. Prior to going to the store, my niece had checked the balance and it showed $100. When I spoke with the store manager by phone, he confirmed they had taken card, but he did not know why. He gave me a phone number and email address, which I used to contact Walmart. It is now March, and I have received no response. The manager of my local Walmart stated this may be related to a gift card scam. All I want is to have my money refunded, since we were unable to use card. This is very frustrating!

Laura Norris
from Kingsport, TN
I live in Elizabethton, TN, but purchased several items at the Walmart in Boone, NC, last Sunday, March 24, 2019. Upon leaving, I asked the cashier if I had all my bags, and she said that I did. When I returned home to TN, I realized that one bag was missing, and looked on my receipt to see if I had been charged for that. When I saw that I had been charged, I called the store that same evening and asked if the bag had been retained. The lady I spoke with was very nice and told me that the bag had been located. She told me that I could bring my receipt and pick it up. I told her that I lived in TN, and that it would probably be a week before I could pick it up. She said that it was no problem, and that she would leave it up at the customer service desk for me with a note. Today, exactly a week later, I went to pick up my items, and a different lady at the customer service desk said that it wouldn't be there and that they restock merchandise like that. She said that shouldn't have told me that. I told her about the phone call, and she wasn't at all sympathetic or apologetic and said that I could have checked the bags myself before I left! She did give me a refund for what I said I was missing. Luckily for Walmart, I am a very honest person and told the truth! Since she was not very nice, I asked to speak with a manager. I told him that I had driven back from TN (1.5 hours each way) to retrieve the items. Here's when it got worse! The manager said that he couldn't do anything about it because "we ain't got no room to keep anything up here." It was only two items in one, small bag! I was blown away by his lack of professionalism and just walked away. Besides his unacceptable grammar, could he not have offered to go back and find those items for me that had been restocked? At no time did he offer to do that. While I could have done that myself, I just left the store. This store just lost the items I would have bought, in addition to the $100+ groceries I would have purchased while I was there. What a customer service nightmare! Walmart has layaway, but can't hold one paid bag for a customer until she can pick it up? I don't fault the original cashier, as I'm sure she thought she gave me all my bags. What I cannot understand is the lack of professionalism on the part of the customer service department and the manager on that shift. I have never had a bad experience at that store, and I am very frustrated by the experience.

IMLFORD DUBE
from Saco, ME
BIDDEFORD,ME. WALMART insensitive to people with disabilities. They have eliminated 7 disable parking spots by placing mulch and shrubs in the parking area for disabled. I complained to assistant manager to no avail, if not resolved I plan to post my complaint on facebbook.

Catherine N Hesselbacher
from Cody, WY
I live in Wyoming in heavy Grizzly Bear country and am a pro photographer. I am out in the mountains a lot by myself, so along with bear spray, wanted to carry a shotgun. I went to my Wallmart in Cody, WY to purchase a shotgun. I was talking to my HUSBAND on the phone, so I didn't answer the clerk right away when he asked me who the gun was for. So he called a manager to the back and made me feel like an absolute CRIMINAL! I am SO OFFENDED right now, I am furious. I do not so much as have a parking ticket on my record, but he REFUSED to sell me a gun because I was talking to my HUSBAND on the phone!!!! I spend at LEAST 200.00 per WEEK in your store, and yet I got treated like total dog crap!!!
NOT a happy consumer of Wallmart. I will go to ALBERTSONS from NOW ON!!!!!!

Walmart in Broomfield Colorado doesn't have enough electric carts my last visit I spent an hour and 40 minutes waiting for an electric cart I can't walk I need the help I'm here now I've been here another hour they say that their tour broke down tour to Noah's wedding to you know what a senior citizens need to be able to shop to I'm leaving your store now cuz I can't possibly shop here help the elderly they don't seem to care at this store and they're very rude to me

Every time I've picked up prescriptions at the Mount Dora, FL. pharmacy I've experienced a waiting line. Minimum - 7 minutes, longest to date - 34 minutes. Folks, that is a freaking SHAME! Corporate/store management should be appalled. Are you unaware of the fact that MOST of these people are the elderly and sick? Of all the lines in your stores, the pharmacy should be the shortest and smoothest. Not so much, I'm afraid. I was number eleven in line today (21 minutes) and counted seventeen folks in line on the way out (line went to the aisle end cap and headed off down the cross aisle) Is this REALLY how you want to be known for treating the sick and elderly in this nation??
To their credit, the two ladies on pickup were and have always been courteous, efficient, and friendly. I've always been underwhelmed by the four or five "specialists" behind them. Seem so "special" and "elite" - above it all. Regards, Roy Stup

S. Anderson
from Bedford, IN
I was treated rudely by an employee (named Virginia) in electronics in the Bedford, IN store. This was approximately 1:30pm on Wednesday, 3/27.
1) After unlocking a case for me to get a 11$ screen protector for a cell phone, she pointedly told me I would have to pay for it immediately in that department - even though I hadn't suggested otherwise. Normally, this wouldn't have been a problem for me. Today, it seemed purposely rude, because a moment before, she had just told a man that he did not have to immediately pay for his item she had just retrieved from the same case.
2) I needed 2 additional items from another locked case. She retrieved one of them for me, but she acted impatient the whole time. I needed the last item from the next case, but I noticed that a customer had been waiting at the register for at least 5 minutes. She apparently hadn't noticed them, so I told her that I still needed one item from the case, but that she should go ahead and help the customer that had been waiting. While I was waiting (at the case a few feet from the register) another customer walked up behind the first.
3) After she had helped the first customer that I had deferred to, instead of helping me with the last item I needed, she immediately asked the new customer what he needed and took him a few aisles over to talk to him. I felt this was not just terrible service, but outright disrespectful - especially after I had offered to wait while she helped the first customer.
4) After that, she walked back to the register to help someone else - again without even asking if I was ready!
As she saw me mad and leaving the area, she yelled at another employee who was just passing by and said, "Oh yeah, this guy needs help." I said that I no longer wanted help and didn't intend to buy anything after her bad service.
5) Instead of apologizing, she made excuses, telling her coworker (in front of other customers), "Oh yeah, he's been acting like he's gotta have his stuff first." That was entirely false - I even asked her to first go help the customer that had been waiting a long time! That was also incredibly unprofessional and rude to talk like that about a customer - in front of other customers, instead of providing pleasant and helpful service. She then tried to say that she didn't know that I was ready - even though I had told her that I knew what I needed when I asked her to help the FIRST customer. She knew I was waiting, but she didn't even ask if I was ready before she proceeded to help additional customers. She was rude, unapologetic, and acted like I was the problem. When I told her I would inform customer service, she just acted even more defiant and rude in front of other customers - not a good look for Walmart. I didn't buy those items or the items in my cart. I returned the 50$ cologne I had already paid for. Her terrible service & rudeness lost 170$ in sales today. I won't be back. Customers want help, not rude power-tripping attitude.

Yvonne Tefs
from Akron, OH
I would like to know why your stores do not have a stamp saying paid on it or some type of tape to attach to items that do not fit in bags ? I am sick of being stopped as I'm leaving the store asking for my sales receipt to prove I paid for the item even tho they watched me leave the register. This is very embarrassing not to mention it humiliates you as other shoppers are passing and looking at you as if you were a criminal ! I realize you have theft problems but that is a different problem and not one for your greeters stopping and saying Honey can I see your receipt and embarrassing a person. How hard could it be to furnish this at your registers to save your customers from going to other stores to shop that does do this ! This happens daily , there is no reason for it !

Tara Tidoni
from Los Angeles, CA
This morning I went into the Walmart location on Fallbrook at The Fallbrook mall in Woodland Hills California needing to make a return of two products that have been unopened not user tampered with with my original receipt and had the expectations based on your return policy and previous experience at Walmart stores doing returns that I would get my money back and be able to get a refund for the items I kept my receipt for it and didn't use. One item was vitamins totaled at $19.98 & muscle rub totaled at $7.97. I waited a total of 12 minutes before it was my turn to be helped I went to the register and the cashier who was there to help me Eileen was told halfway through the transaction to go on lunch so she said okay walked away clocked out and left so I was left there standing for another 5 minutes before any of the other three customer service employees that were standing there not doing anything would acknowledge me and start the transaction over again.
much to my shock and surprise I was denied a refund or exchange of any kind because my receipt had been folded up several times I'm sorry I keep a small pocketbook so I fold my receipts of tiny and file them away apparently Miriam the customer service rep that refused My Refund and The elusive customer service manager who would not come out of the office I was told "she's not going to tale to you and plus shes too busy handling some monies" or so it was relayed to me in a very condescending tone. I also had a bathing suit I had purchased a week prior for my daughter's birthday that was today and I realized I had gotten a size too small and I wanted to exchange it I did not have my receipt for that one but I don't do excessive returns at Walmart so I could have been able to do a return or so I understood from the policy that I read just that morning online, but lo and behold I was refused for that return as well. now I would understand if I had excessive returns or if I had even walked around the store prior to give me my return but I came directly from the front doors to the customer service desk I had my receipt I had my items on damaged I don't understand the problem and as far as I know I was completely entitled to a refund per your Walmart policy that's posted as of right now on the website. I don't know why I was humiliated by a customer service rep this morning in front of serveral other customers, I really don't understand the disdain that the customer service rep had for me considering her personality changed immediately when she started helping me as opposed to the lady that she was helping minutes before. I don't enjoy spending money for my 6 childrenand my husband and my pets add a company who doesn't value their customers and treat them as though they are the scum of the earth. I'm a professional woman middle-aged I don't have a bad attitude I'm a very Cherry person and I greeted her to such so I really don't understand and I'm humiliated embarrassed appalled upset and I completely disrespected and insulted. And not to mention now I'm out the money for those two items and the bathing suit that I was denied a return for. I had one of their complaint in the past that I brought up to the GM there and he didn't care about it I gave them the benefit of the doubt thinking it was just a bad day so I continue shopping and this makes me want to tell all my friends not to go to Walmart anymore cuz this is how you're going to be treated you have to worry about buying items cuz God forbid their mistake and you have to return them you'll just be humiliated in front of all the other customers and denied and you'll be out money. I hope that my complaint is taken seriously and that issue can be resolved and those employees are disciplined accordingly because this behavior is got to stop especially in economy like today you have to earn your customers not scare them away. I really thought Walmart had better values and instill better values and customer service skills in their employees but I'm sadly mistaken I highly doubt that this will be resolved I don't have much faith in it I'll be pretty shocked if it is , but one can hope.have a good day and thank you for your time.

Robert Leeds
from Dallas, TX
Ordered a television from walmart.com because they were out of stock at the nearest store, it all started when the woman working and electronics informed to me I could buy the TV at walmart.com since it was out of stock there and because it was out of stock she would give me a 10% off voucher which I could use on Walmart.com. well first thing, the voucher was not 10% it was only up to $20 and secondly the voucher was expired so I order my TV and after much confusion about when it was supposed to arrive it finally got to me in time for my birthday.
It was then that I found out that pilot the delivery company does not deliver anything be on the back of their truck so getting a 65 inch TV to the second floor apartment with only myself and my wife was not going to be very easy, but I did get the man to help me take it up there and gave him a $10 tip
But when I opened it and turned it on I saw that it was broke the screen was cracked straight down the middle and at the very top had a half moon almost look like someone kicked it
I immediately called Walmart and the Fiasco began, I was first told that no problem they would take care of it and get me out a new TV and also they sent me an email with a $20 off my next purchase at Walmart of $45 or more.
So then I get a US Post Office shipping label in my email so I am supposed to box this thing back up and take it to the post office? I called them back up and by the way every time I call I am talking to the call center in India and speaking with a different person so this person gets on the phone and I tell them there is no way I can take it back to the post office and explain the reason which was I am on the second floor and it would not even fit in my vehicle oh, I mean this is a 65 inch TV and I only have a small car.
So this man informs me that he will take care of it of course and that FedEx will be there the next day to pick it up at which time he offers me 10% off of the TV. He tells me that the TV will be there within 7 days. I get an e-mail verification about the replacement TV and the shipping date the new one will arrive, then immediately after I get another email stating the TV has shipped?! The next day comes and there is no FedEx I figured maybe they got busy and would be there the next morning so I waited until the next morning and still no FedEx at which point I call Walmart again and I am told they will have to call me back after they look into it oh, I never did get hey call me back what I did get was an email stating the TV WOULD ship after they verify that they received the broken one.
So of course I call Walmart again and I am talking to the call center in India and I am fed up with what they are doing so I tell them I want to speak to someone higher up than them so at first I am told there is no one higher up then then to which I said they're absolutely is somewhere then I am placed on hold and when she comes back she tells me that she will give me 10% off of the TV, again and will order it immediately so I am at a loss now and I say no I want to speak to someone above her I finally get an American woman I don't know where but she has no clue what is going on and when I tell her the situation about FedEx she cannot find anything so this takes about a 45-minute phone call to where she finally reschedules FedEx to come get the TV. So after I get off the phone with her I get an email stating my order has been cancelled saying the TV is out of stock and they have no idea when they will be getting any more in stock that is exactly what it said so being very angry now I call Walmart backup and I am speaking to the call center in Indy again and at first the woman tells me the TV is out of stock and cannot be ordered after me reading her the riot act for a minute or so she then asks me if I want her to reorder the TV and she will take 10% off of it, at this point it's all thoroughly ridiculous and I hang up and write a letter to Walmart to which I get a generic response stating they are sorry and the customers are their most important yada yada yada so anyway I get another email this one saying I am not going to be charged for the TV or something then I get an email after that stating they are going to refund my money so now they have $800 of my money tied up and according to the email it will take up to 223 billing Cycles to put the money back on our card. So now I cannot even go somewhere else and buy a TV so I'mma sit here and twiddle my thumbs trying to see my computer from across the room on my birthday in our new apartment.
I know many people probably exaggerated but I actually have all of the emails all of the correspondence and in fact I went to walmart.com and the TV that they cannot get it still being sold I even went through the whole buying process up until putting my actual credit card information in and clicking by and was told that it would be available April 3rd if I wanted to pick it up at a local store and it would be between April 3rd and 10th if I wanted it delivered.
That is my complaint Mickey Mouse just started running Walmart

A D Million
from Houston, TX
I shop mostly at the Livingston, Tex Walmart and recently I have tried unsuccessfully to use my Chase Debit Card. This card has worked at every other store but the last three times at Walmart it wont accept my card. the card is not that old and has been used at 3 different check outs at the Livingston store with the same results. Apparently the checkers do not pass this problem on or the management ignores it.
Have feedback for Walmart?
Thanks for your feedback!
Sorry. Please try again later!