Target
Contact Target Corporate
Toll free phone number: 1-800-440-0680
---
Welcome to the Target complaints department for customers. If you have a problem with either service or products at Target you can call 1-800-440-0680. If you would like to contact the CEO, Brian C. Cornell in a posted letter you may address the letter to him at Target Plaza South, 1000 Nicollet Mall, Minneapolis, MN 55403. You may find answer to concerns at the shopping experience page of their website.
Recently, Target complaints have increased due to a data breach where credit card information was stolen. There was also a substantial customer boycott of Target due to a new bathroom rule passed in 2016. Because of both of these items the stock price has decreased and many wonder if the retail giant can compete with Walmart and Amazon long term.
Target Corporation is the second largest discount chain in the United States and operates mostly in North America. You will find home goods, food, pharmacy and clothing in their large outlets. With 1790 stores and over 355,000 employees Target operates 37 distribution centers. It is publicly traded on NYSE:TGT and in 2013 reported sales of US 71 billion and revenues of US 72 million.
Founded in 1902 by George Dayton and called Goodfellow Dry Goods Target opened its first Target store  in 1962 and in 2000 became Target Corporation. Unlike their primary competition Target does not sell fire arms and as of the early 1990's even stopped selling toy guns that looked real. They do sell colorful gun-type toys. Since 1996, unlike their primary competition, Target has not sold tobacco of any kind. Their motto is: Expect More. Pay Less. 
If you need to contact corporate in another way there are many options. Other forums to share your experience might be in Target Corporation social media arenas such as Facebook, Twitter, YouTube, Pinterest.
Target Contact Information
Report complaints to corporate and get satisfaction
Target headquarters address

1000 Nicollet Mall
Minneapolis
MN 55403

Company website

1-800 phone number

1-800-440-0680

Support email address

contact@target.com

Better Business Bureau rating

A

Customer service hours

24 hours a day
Browse reviews of other Department Stores
Top Target Complaints
Browse more than 363 reviews submitted so far

Rex L King
from Denver, CO
I shop at Target Stores a lot and tonight I was there and bought a pair of gloves (getting a little chilly out) The gloves were 30% off and when I got to the register to pay she rang them up at the normal price. I told her they were 30% off! She said that I needed an app on my phone to get the 30% off. I told her I don't have a smart phone just a flip phone. She said that I couldn't get the discount then. The lady behind me in line was nice enough to let me use her app an I did receive the discount but I shouldn't have to do that.
I am retired an on a fixed income an I am not getting a smart phone. There should be some way the cashiers can take care of discounts when customers don't have these type of phones. I guess that is what I have to say.

I will never shop at Target again. I was told I can only use one coupon,I was trying to use two. When I told the store manager Leon at target store 1040 Dale Mabry, Lutz, FL 33548 they policy was four coupons he's said it was corporate policy. I advised him corporate policy is four coupon he got very annoyed. So i didn't push the issue further with him. He allowed me to use one coupon and even asked if I was going to purchase the rest with this transaction.
When I contacted corporate customer service, the customer service said she will call him because the policy is four coupons . She asked me to hold on. When she got back on the phone her attitude changed toward me. She said he refused the coupon because i was buying to much. It was not a inventory issue but a coupon issue because he allowed me to purchase all the items without using coupons. I feel like I was mistreated and bullied because I want to use coupons (which are in their coupon policy limit).
I made the same call to Target customer service two weeks before this incident, not in the spirit of complaining but to figure out the coupon policy. I even contacted the manager to ask the policy. I was told the policy was the same a targets corporate website. I feel singled out and humiliated for trying to use a coupon and have no recourse to help this situation because they lied to cover themselves. When Target let their managers amend the coupon policy as needed they also allow managers to lose business.

Today, November 23, 2016 I was at the Target store in Hanover PA - 31 Wilson Ave. I tried to purchase the Beats powerbeats2 wireless earbuds for the online sale price. I was told by the sales associate in electronics I could not do that. So I went to the customer service desk and asked if they price matched there online prices and was told yes they do. When told I was trying to purchase the Beats he told me they couldn't price match them. I said you just told me you price match your online sales.
He then become rude and ignorant and told me that they don't have to price match nothing. I was trying to price match the online sale price and use the cartwheel app to purchase the beats earbuds. After being disrespected and treated like garbage I left the store disgusted on how I was treated at this store today. Totally shocked that there is a sign at the customer service desk that says, only to be told that Target doesn't have to price match anything. Not sure if I will be going back to this location anytime soon, and will be letting people know how I was treated.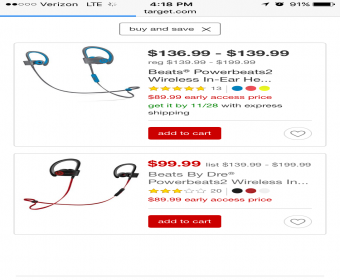 Alan DeBellis
from Buffalo, MN
I have shopped for 40 years at Target it is the place I prefer to shop. I am almost 70 years old now and need a motorized cart to shop. I have talked to many people at the store for over a year now about the condition and safety of there 2 carts but they never get fixed. One cart you can't steer well it just wanders all over causing you to run into things, other carts, shelving, even people. The other cart won't stay running and needs to be turned off and back on to reset it all the time not fun or safe for me or other customers around me.
After many times of trying to get someone to fix the problem I have given up and have made the move to Walmart for my shopping needs even though I don't like to shop there there carts are always in good working order. I still need to change my pharmacy to another, that in it self is 30 to40 thousand dollars a year. store level personnel should have been able to handle this problem.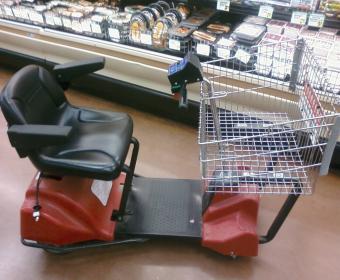 Shirley Bates
from Fayetteville, NC
On Saturday, January 02, 2016, Upon entering the store I was followed by several employees including a plains clothes security man who left his post outside to follow me inside. Walking through the store there was a Black female employee who walked in front of me until I turned into one of the bath aisles (I used to work for Walmart and other retail stores so I am familiar with this tactic of following someone without being behind them). When I was at the bath items, several other plains clothes security personnel (a total of four - of which two females were together) surrounded me in that one aisle as I was looking at items, in particularly, plastic woven baskets similar to the ones Walmart sells.
Realizing what was going on, I left to look at flower vases - the reason I had visited the store. I selected two different styles of glass flower vases to purchase. I looked around the remainder of that section for a while and returned to the bath aisle I had previously been in. This time no one else appeared which allowed me to view items in peace. After looking at several items I wanted to know the price of one of the plastic baskets so I proceeded to find the price checker.
Not being familiar with the store (I rarely ever shop at Target) I did not know where the machine was located. I noticed a Caucasian female worker nearby and proceeded toward her. I was half way near when the Black female employee (the one who had earlier followed me while walking ahead of me) approached the other female employee and began talking. I stood before them, somewhat In between, while they carried on a conversation without acknowledging me.
After approximately five minutes, the Black female employee abruptly left and then the other Caucasian employee asked if she could help me. I was about to ask the location of the price checker when I noticed it, which the Black female employee had been standing in front of, but I could not see it. I then tried to obtain the price of the basket for what seemed like several minutes with no success. As I was about to ask the employees if the machine worked, it suddenly beeped without me placing the basket underneath to be scanned, as if it had been turned on. I was then able to obtain the price of the plastic woven basket.

Mary Ann Hasty
from Lady Lake, FL
I wanted to buy a bike that needed to be assembled. The clerk told me to come on Thursday and it would be put together by 3 P.M. I went and the clerk in then told me the bikes are assembled Mon. Wed. AND Fri. not Thursday. One trip wasted. He said he would put a hold on it and I could come and get it on Saturday morning. I went to pick it up Sat. morning. Couldn't find it. The clerk said they must have sold it. TWO TRIPS WASTED! I talked to the manager and he did apologize and said I could probably find another bike or have the last one in stock assembled. I said the only way I would buy a bike from you now is if you gave me a good discount for my time and gas. He said we sell plenty of bikes, I don't need to do that. I told him again what I thought of Target and left.

I am very upset at target, I bought a vacuum cleaner for my daughter a year ago. The box was never opened and I can not find the receipt. I tried returning it to the store they said they no longer carry that vacuum cleaner so it was worth nothing. I came home and got online the vacuum cleaner is available on line for $119.99 it is a Bissell rewind smart clean. I called customer service the woman would not help at all, she just kept saying this is our return policy like she was reading it from a paper not even trying to help me. My daughter and her husband moved to San Diego, Ca. it would cost me more money to have this shipped. I live in the Greensburg, Pa area, this where I bought the sweeper. I also was able to return numerous things for her that was at Walmart and Bed Bath Beyond which they can me a gift cards for the returns since nothing was opened. there was no problem with them. I am very upset I will no longer buy anything from Target. I could understand if the box was opened but it has not been touched. My daughter husband is in the Navy we did not know they would have to move across the country. I do have a redcard with target, which I am going to throw away because of the way this was handle.
No more Target for me.
Lori Miller

I am completely offended at your Target Commercial that is airing in the USA in SPANISH. We are Americans, and as your commercial is broadcast in America, your commercials should be in ENGLISH.

Friday before last- I had enough money in my account to finally purchase a 55" Phillips Flat Screen LCD TV with a 3 year service plan- Total $1,078.00. I made the mistake of going to the Target Store at 4575 West 11th Eugene Oregon. I was declined the purchase- all said and done, the reason for my decline? I hadn't spent ENOUGH money in the previous year to "qualify" to spend such a large amount. Hmph. I then proceeded to the Walmart store at 4550 West 11th, Eugene Oregon. Where- lo and behold!
Walmart had ABSOLULTELY NO PROBLEM with my money. Despite my not purchasing anything with them for the previous 4 years. Therein I purchased a Sanyo 55" Flat Screen TV LCD, complete with service plan for about two hundred and fifty dollars LESS. How Target stays in business with their patronising attitude- is beyond me. My apologies Target- for not being 'worthy' enough to spend even more money in your stores. And I apologise also- for my complete unwillingness to spend any more there- ever.
Later that month I went to the Target store in Van Nuys, CA. A large sign on a baby T-shirt display read "Clearance 70% reduction and more." I bought 3 T-shirts for my grandson and checked out. When I got home I realized that I hadn't received the reduced sales price. About an hour later I went back to customer service for the reduced price and they said those T-shirts weren't really on sale. So, I went to the department and shot a picture of the display and brought it back to customer service.
A representative was sent to check it out and came back with the sign and said it wasn't supposed to there. I showed the manager, Eduardo, the picture and he said sorry, we don't do our sale price tags this way and refused to sell it at the in store advertised price. Still have the pic in my phone.

I just came out of Target located in 100 Parsonage Road, Edison, NJ. I had purchased 3 items of clothing and pulled out my Target gift card to use that I had gotten from the store in June when I returned a girls' Champion performance legging ($15.00). My child wanted an all black color legging but I had gotten her one with a some colors on the waist of it. When I went to pay for my items, I was told by the cashier that there was no money on the gift card. I realized that the gentleman who had helped me return the colored leggings did not put the $15.00 on the gift card.
The cashier then asked me if I kept my receipt. Obviously, I didn't. Who would think that anything like this would happen? I just want you to know that this can be prevented easily. Perhaps, the person at customer service should check to make sure that the amount is on the gift card before they give it back to us (the customer). I am upset that I lost the $15.00. I hope that by telling you this, this will not happen again to me or anyone else.

veronica guzzone
from New York, NY
Please be informed that myself, a group of family members and friends have decided to boycott your stores until you remove the Spanish speaking commercial from the English speaking channels. We do not speak Spanish and we find it offensive that we are subjected to non-English speaking commercials in this country and on main stream media. There are Spanish speaking channels that can reach those who understand Spanish so why not advertise there. How effective would it be to advertise in English to those Spanish channels? Until these commercials are removed we will take our Target business to Walmart.

Michael R Heineman
from Evansville, IN
I cannot believe you would allow a male to go into the ladies restroom. Not only is a morale issue it is a perverts dream come true. Has the world gone mad. This pandering to 1 percent at the expense of 99 percent is out of hand. what about a lady or childrens right to privacy. I will shop at Walmart where they still have common sense and respect the rights of the majority. would you let a male guest go in the restroom with your 12 year old daughter at your house? how about your wife. political correctness is the bane of a civilized country. your either born a male or female. why invite a firestorm over a basic right that has worked since the founding of this country. This is not progressive thinking it is sick.

Colleen McGinty
from Las Vegas, NV
No complaint. Just want you to know I agree with your restroom policy. I am not worried about a transgender person being a threat in the restroom. I will continue to shop and support Target.

Cindy
from New Baltimore, MI
I went to target to purchase a shark steam mop, I was pleasantly surprised to see it was on sale for 109$ after picking up a few other costly items, I went up front to pay for my items, the steam mop rang up for 129$, I questioned the cashier who called over the customer service cashier, he went over to where they kept the item and came back saying there was no sign I went back with him, showed him wear the sign was and told him he took it down, I understand that mistakes happen and it was probably last weeks sale, if he would have explained that I would have purchased it anyway, I spent 345$ yesterday and walked out feeling like he called me a liar, I will never spend another dollar there, if something I want is on sale at target I will go to a place that price matches, they will get no more of my money!!!!

Jane Oates
from Glenolden, PA
Today I tried to use my new Target card with the chip. I did not know the I needed to set up a pin. There were too many people in line so I paid cash to check out. I called customer service and waited an hour to s/w a manager who told me I cannot be credited the 5% discount bc "I failed to follow instructions" additional "this is my failure". I stated Kmart, Macy's can all use phone numbers and never make the customer feel stupid. My mother is currently dying and I may have forgotten to select a pin 2 weeks ago. I have never been treated so poorly. Evidently I'm too stupid to shop at Target". I have shopped at Target for years and had this credit card since 2014, but will never go again.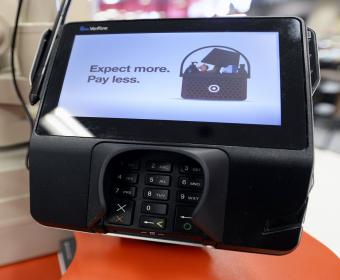 Judy McKinney
from North Liberty, IA
I have been shopping at Target stores for years. Your recent decision to allow those people who have chosen to be a different sex, (transgenders) into the restrooms/dressing rooms of their choice is a huge disappointment to my family and thousands of others around the country. Any person could dress up and SAY they are a transgender, enter a restroom where a young girl, lady is and brutally attack or rape them. What about the rights of these young women/girls to their safety and privacy? Where is the common sense?
We will NEVER shop at a Target store again. I hope you are prepared for the litigation that will occur when something happens. My rights as a woman count as much as the person who biologically is a MAN, no matter what he thinks he is. Please take a common sense approach to this matter and think of the safety of all the young women/girls who will be shopping at your stores. I would appreciate a response from someone from the corporate office who can explain this decision to me.

I went to Target today and purchased several items totaling $160.00. When checking out I attempted to use my Target Red Card. The cashier told me my card was denied. I asked why and she said I needed to call the number on the back of the card. I used my bank card but was unable to receive the 5% discount when using my card. I did call Target when I got home and was told my limit was only $200.00 because I didn't use the card recently I told the rep I hadn't used it much since the security breech and waited until I got a new card. My previous limit was $4000.00 and is now $200.00. The rep said he would have it increased, but I am not sure if I will ever shop at Target again!

My husband and I purchased a TV for Christmas. We needed to return it to the store. Not knowing the difficulty we would have not having the receipt customer service said if we didn't have the bank card or receipt (which we paid with cash) we had to only exchange it the same department which would be 008 that means TV's or accessories. This was ridiculous I went to the department it was a waste of time especially when it was no need for those items. I asked for a store credit, customer service said that was not there store policy. I felt humiliated. There should be a different policy for the Christmas holiday. So I end up bringing the TV back home, a TV that doesn't work great and was purchased from Target.

Juan Garcia
from Chicago, IL
As of today who have lost a long term loyal customer, I will not endanger my wife and my daughters, you can thank your new bathroom policy, you just gave the green light to sexual predators to attack our loved ones, I used to like target, I was even a team member in CA on the flow team, we'll I have just lost all respect for your company. I will cancel my target red card, I just applied for a Walmart card and was approved...you might be thinking that my 2,000 yearly dollars are chump change but imagine if millions of customers did the same thing, oh and it will happen, this just the beginning. Enjoy your losses. Ex customer Juan

Lynn Harrell
from Macon, GA
It is very disappointing that Target is allowing transgender employees and customers to use the bathroom of their choice! With this decision to give transgenders their rights you infringe on MY rights as a woman. Personally, I do not want to share a bathroom with men and I have 2 daughters who I do not want to have to share a bathroom with the opposite sex. I will not shop at any Target store until this decision has been changed. I appreciate your consideration with this concern.

Ann cronin
from Santa Ana, CA
Santa Ana NW location. Entrance to store was filthy. Vodka bottle , cups, and trash everywhere. Purchased four Lysol promotional items, buy three get one free. All items were charged to my account so I proceeded to customer service for assistance. After scanning the items staff determined that one item did not qualify. Their remedy was to refund the items and have me repurchase which meant that I would be required to reenter the store, stand in line again. Just not the service I would expect. Would have been wonderful if they could have given me credit or taken a moment to retrieve the correct product. The store was not busy and the supervisor should have assisted

Brenda Powell
from San Antonio, TX
I was on my facebook page and a friend of mine posted something that should not be selling at a Target store. You are selling a product called syringe pens. Age 4+. In light of all of the heroin overdoses this is not appropriate. Let alone being showing at a doctors so the kids are not afraid. Only as a prop. I wend send you a picture of it but there is no where to put it.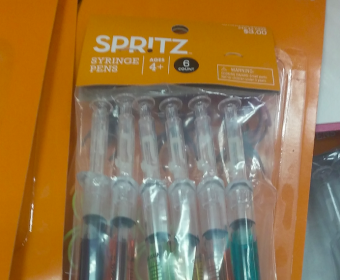 Maureen Brown
from New York, NY
On Thursday, May 7th, I went to Target as I usually do on my shopping trips. I wanted to pick up 4 12-packs of Ginger Ale which were advertised in the Target flier on sale. As the shelves were empty of Ginger Ale I asked one of the floor workers if there was any in stock. The young lady called the storeroom and relayed to me that there was Ginger Ale in stock but as they were shorthanded that day there was no one available to put it on the shelves. She then advised me to come back the next day as the shelves would have been stocked by then. I knew the item was on sale until the 9th and I wanted to make sure they had time to stock the shelves so I returned to the store on the morning of May 9th. Unfortunately the shelves were still empty of Ginger Ale. I again approached one of the floor workers, who called the storeroom and relayed to me that the Ginger Ale would not be stocked on the shelves until Monday.
She then kindly advised me to go to the front of the store and ask for a rain check since the sale would be over by Monday. I went to the front of the store where I asked one of the Help Window clerks for a raincheck on Ginger Ale. She told me and not very kindly that Target doesn't give rainchecks for items that are put on the shelves by the company (Ginger Ale apparently) and then proceeded to pick up her phone. As she is punching in the numbers I explain to her that one of the clerks on the floor told me to come to the front and get a raincheck for Ginger Ale. Again she told me rather nastily and loudly "We don't give rainchecks for soda that's stocked by the company!" and proceeded to turn her back to me and start talking on the phone. I then said to her that I'd like to speak to the manager or someone in authority and was told very nastily with her back to me that there was no one here. That was my experience with Target today. I have to say that everyone else was absolutely kind and generous. Also, I shop at Target at least once and usually twice per week and I have never been treated so unkindly by any of the Target staff until today.
I just turned 75 2 months ago. Shopping is not just a hobby. It keeps me active and I really enjoy meeting and talking to people. Most people like me. That woman today was mean and quite cruel and it took alot to not let it ruin my day. I also would still like my raincheck for Ginger Ale at the sale price of 4 12-packs for $12.00.

Louise
from Milwaukee, WI
On Monday, May 4th, early morning hours I went to pay my Target Bill. While waiting for a sales clerk to assist me at the service desk, a clerk came up and said that if I read the sign, it says go to lane 6. She were very rude, I said I am sorry but I did not see the sign and I continue to tell her that she do not have to be so rude this early in the morning. Her attitude did not change, so I decide just to not let her wait on me. I spoke with the store manager, her attitude then change. Customer service is very important to me and I will not be shopping at Target any longer.

Edward Cauthorn
from Concord, NH
I cant get you clowns to accept my payment over the web. My wife was just hung up on by a "Manager" that told her that she did not hit the Submit button. And this is four times in a row. Are you people just plain idiots?

My wife has had knee surgery and has to get around by crutches . She has shopped at target for many years now . She unfortunately would like to be able to use the electric carts provided for elderly or disabled people . The six time that she has recently been there the carts are never charged . She sent a complaint by email and received back a reply that said this would be taken care of . Well guess what this morning at 11:30 am after the store had been open for only three and a half hours 4 of the 6 carts they have we're not charged . I been patient but now feel I have to take this a step further with the Americans with disabilities act . Obviously target does not care about this situation . Sad to say that this has left her with a choice to never shop at target again . And we will make sure our families are made aware of the situation also .

On Monday 3/31 at 10am I went to Target Store on North Bergen NJ to buy the special they had on pepsi cans (4 x 10) no limit.
I wanted to buy 20 packs (to pay $50) but when I was ready to pay the security came to the cashiers and told them "Do not sell more than 4 per person, there is a limit, I told him there was no limit on the flyer and He replied to me I do not care, they have to do as I say.
I believe this is not a proper way to treat a customer, this is ridiculous
Sincerely
Hugo Francisco Melendez

Deborah Koppinger
from Hasbrouck Heights, NJ
I am a senior citizen and long-time loyal Target customer. I was trying to place an order (it's been 45 minutes now) for an electric can opener. I tried to use my Target Red card. The website changed it to my Master Card. I do not want to use my Master Card. I called Cust. Serv.. She said she cd NOT take the order over the phone because they are not allowed to take PIN numbers, so I cd NOT use my Target card to place a Target.com order. I am registering a complaint and will make this purchase at another store. I am very annoyed that I wasted almost an hour now and will call Target Corporate and register a complaint as soon as I can.

Melissa Dollahon
from Carlsbad, NM
I received a USED set of DVD's that were smudged. Okay, but I would have liked to know they were used when I ordered them. Also, the inside of the case was broken; still not a deal breaker for me because I love the movies, and it was a good price, all in all. But I was charged 30.47 for them, when the online listed price was 22.99 and customer service kept saying I was NOT overcharged. With the same order, I ordered a sheet which it turned out to be a third party seller, so my order was divided in half. Okay, but the extra 7.49 had no explanation, so I deleted my account. I can't order items at one price and be charged another; I'm too darn poor!

It's not fair that because I don't have a family member as a lead on target I don't get treat same as his mother or sister. I used to work at cascade station target in Portland oregon and it was never fair that I barely got hours but maria delgado and her daughter always had there 40 hours because of her son jose delgado. They had preferences for them that made me quit working for target.

TERRY w CRAWFORD
from Knoxville, TN
no one seems to be able to answer the simplest question and customer service seems to be non existent

Shannon
from Morro Bay, CA
On April 8, 2020, I ordered a set of rocking chairs through Target.com for my daughter and her wife for their birthdays. I was sent an email from target to forward to my daughter to open which was supposed to tell her about the gift and how to claim it. (It was supposed to be delivered to their house in Texas.) When I clicked on the link to forward it, a message popped up that said the URL was not valid. There were two more links at the bottom of the email-one to check the status of your order and one to ask for help. When I clicked on either one I got the same message; The URL was not valid. I have attempted to contact the "delivery company" by email and received and auto-reply that said they would get back to me in one day; they didn't. I called Target too and asked them to immediately re-send the rocking chairs. It has already been a whole month since I ordered them and a whole month since the birthday. I was told 1) the delivery company is not one Target uses 2) they were going to have to launch and investigation to find out what happened and that will take up to 30 days and 3) until then, they will not ship anything nor will they refund my almost $300 I paid!! I am furious!! They gave me the number to call the delivery company myself after they tried with no success but it just went to voicemail. How is it acceptable customer service that I pay for something, it does not get delivered for a birthday, and now my money is tied up and I cannot purchase another gift nor can another one get delivered for another month? And why should Target's choice to use this company inconvenience its customers and tie up their resources like this? I am appalled. Moreover, to challenge a charge, you MUST write them. You cannot do it on-line. And they put up an iron curtain between their customers and corporate. There isn't even a corporate email. What a joke!!

While attending a baseball tournament in Brighton Michigan, we stopped at target to pick up some Gatorade and snacks for our game the following day. We were approached by the manager of the store, his name was Stephen, he followed us around the store as we were looking for our items and later asked us to leave in a rude manner, we were respectful the entire time we were in the store and did not deserve to be treated that way. I wanted to be sure to let someone know so that this doesn't happen to anyone else. The next time in town we'll most likely go somewhere else. We were paying customers and have always liked Target. You should train your managers to be more accepting of young adults. Thank you

Kay Anderson
from Stockton, CA
New Target store in Stockton, CA, Pacific Ave.
Have been to the tech desk 2X seeking to open a Consumer Cellular account for my husband's i-Phone. Each time we were informed that the clerk who makes these transfers would be in soon. Kept returning to the desk, but the clerk who knows how to accomplish these services never arrived.
In previous days when I made a transfer from T-Mobile to Consumer Cellular on my personal Android cell phone at Target, a female clerk was on duty and very efficiently performed this operation. What goes? Why is someone not on duty during the hours that the store is open? Surely Consumer Cellular would be annoyed to learn that they are losing accounts by selling via Target.

Tracy Hamilton
from Bedminster, NJ
Cashiers standing around talking with each other. Went to them, was told self check would be easier. I asked for who would it be easier for. Highlights why I don't shop there anymore.
Tracy

Rita Smith
from West Chester, PA
While shopping at Target the registers all went down and were not working.
While I understand these things do happen the way management handled the situation only added to the stress of the situation.
While people were waiting in line some of the cashiers just left and no one knew what was going on. Some lines ended up being cash only, again not everyone knew this. Still, other lines were working at a hit or miss situation. Once more , not everyone was apprised of this.
The poor communication only added to the nightmare of waiting over an hour in a line!
So some people were in a line that may have moved while others were told noting is working-all very confusin.
And quite frankly unfair to those , like me, that were trying to be calm and wait. Very poor service-sorry about this is not the right anser.
At the end of it all i was told to take my cart of unwaned items to the customer desk-really after being in line an hour
I cannot see myself returning to Target after this experience
I hope this helps with management training in the future. Having worked in retail I can honestly tell you it was horrible!
Thanks for listening.
,
Rita SMith

Kathy Lund
from Seattle, WA
Went shopping today and the colors of the clothes were off, dull and very few. T-Shirts were limited of basic style and variety of colors. Not, gray,black and no colors like red, pink yellow, lite blue, white & other colors.
Styles were limited set up for all young people--teens.
PJ's limited. Why long legs and not shorts with top and short sleeves.
Lots in store but not much matching in clothing. All ages nd clothes not just teens. I shop at Wedgwood village in West Seattle WA.

Jessy
from Boca Raton, FL
Target never has enough cashiers on duty....why???? They can't beat Walmart prices so why not provide better customer service ie. cashiers??? Their motto should be "self customer service" not customer service. That is more accurate!!!!

I ordered an item on line for pick up at your Springfield East store, pa and it showed it was picked up but I did not pick it up, so I called and was told that the order would be canceled and my package which was for a baby shower on june 1st would arrive on the 30th of may. Still waiting and its May 31st, really wanted the Minnie mouse stroller for a gift but wont have it to give, very disappointed in your customer service, not sure if they ask for Id at the pick up desk but I was even out of town when it was supposedly picked up, and to be told my shipping would be waived and have it sent to my home address in plenty of time to have it for shower and still waiting very disappointing experience with your company sorry to say order number #9052438522761

I sent an email to guest.relations@target.com and not sure which is best. I had a disturbing experience with an employee at the Edina, MN super store on York Ave. May 29 at approx. 4:20pm. What it boils down to is that I was made to feel targeted/profiled. I'm an African American professional woman and I was going through the self check-out. The employee singled me out as I entered the area. There were others in front of me and she didn't say anything to them, but me she said hello to me. I know, so what? But typically that's a code for, "I'm watching you." - for Black folks for sure. Before I knew it she came up behind me and was grabbing a makeup bag I was purchasing and proceeded to rifle through it. I was startled and I asked what was going on and she said she was checking to be sure I hadn't hidden anything inside. She said they are required to do that. I've never experienced that before but the real issue is how she spoke to me. She was disrespectful. I told her I didn't want the bag and she took it off my charge, "Whatever!", she said.. She had a very rude attitude. I told her I felt she profiled me, that I noticed she spoke to me, but not the others and she said, "Yes, I did!" and she called security. I didn't want to make a scene with this person (in her 50's perhaps). A young guy arrived. I asked if he was security and did she call him, "Yes." I said, "I'm not here to create problems, but I am very unhappy at the way this woman treated and profiled me." The date and time will help identify the female employee at the check out area. I expect Target to speak with her and to all employees about this type of behavior. My email is more detailed, but I am expecting a response and some action regarding the employee, e.g., re-assign her to duties where she does not need to interface with customers. I expect more from Target, regardless of the location. And quite frankly, Black Americans are incredible consumers and we have definitely supported the Target brand. What will you do for the community in return? If I don't hear back from you, it will be a sign of complicity and I will not only withdraw my purchasing from Target, there are others who will join me.

I ordered a dress online, from an associate at the Blaine (109th) store. Was due to arrive in 5 days, prior to my vacation to Aruba. It was late. I return from my vacation, and what they sent me was a baby gate. I had to return it. I then was told I had to order the dress online, as the store couldn't order it for me. So I did. I ordered one dress. When I tracked it, it showed that it was shipping to an old address that I haven't lived at for over 4 years. I contacted UPS, they said to contact the store. I contacted the store, and they told me I had to call them back the next day, as it's only in shipping mode. I called back, the guy said he had everything corrected to ship to the correct address, and I ended up receiving 2 dresses - one to my old address, and one to my current. I spent a lot of time and money tracking these orders, gas to return wrong product, having to go to old neighborhood to get a shipment in error, and ended up returning both dresses just cuz I was so ticked off. I received a $5 gift card from the Target rep on line - but seriously that doesn't even begin to make up for all of the hassle.

Sir pleas kind u attention that the weavetex overseas home textile company is located in india in baghpat city and this your partner and this is already in black list. into the company once again harresment today( 24 may 2019) with a worker ,his face doing paint with black colour and than his shoes hang in his nack and walk around the compony this is very shamfull metter.company already in blacklist with this issue so pleas help us........

Numerous times that I had ordered something from Target.com, the amount that is posted on the order listings don't match my Target Mastercard bill. This especially happens when more than one item is ordered and/or if the purchase triggers a gift card with purchase. Not only that, but occasionally, the state tax is wrong. The way that they correct that is to place a separate charge of pocket change with only the date of transaction to provide a hint of which order it might belong to. I place an order for two items, then it turns out that they will be shipped separately. Normally, that wouldn't be a problem, but they don't let you know that before the magical order cancelling window closes. Now we have two orders, but they still show only one transaction amount on Target.com, TWO on the credit card account! When you call, they can't (or won't) tell you the separate breakdown; only the total of each that either does or doesn't add up to what charges are on the credit card account. Of course, that information isn't available until after the items show as received. I wish that Target.com would improve things and post the amounts for each shipment separately. Until then, their practices only serve to frustrate me. Every time that I compare my monthly bill to my target.com and target store purchases, it never matches up perfectly, NEVER!

Below is an email I sent to Target today regarding their selling of product before release dates. Please see my email to Target below.
Hello,
I am writing this letter in regards to concerns surrounding the early sales of Target Exclusive Star Wars Retro Figures and Board Game prior to the release date . As a fan and a collector of star wars memorabilia I rely on the stores having the product in stock. It has been getting increasingly hardr to go into a store to buy the items because there are never any on the shelf. I also follow many Star Wars collecting pages on facebook. Recently there has been a HUGE influx of members posting photos and receipt images, sharing the DPCI numbers with all members and sharing tips on how to get employees to go into the stockrooms to fetch cases at a time for them to buy. These are not supposed to be released until I believe May 12th, this is for the Retro action figures and I believe the new board game that comes with a retro figure. The problem I have with this is that this is happening all over the US. These so called "collectors" are going in an convincing employees to go in the back room and they are buying a case of (6 Figures) at a time. These figures retail for $9.99 each. These so called collectors are listing the figures separately for $30 or more on ebay, and the whole set of 6 figures for $170-$250 for the whole set on ebay. The sad part is that people are buying them at these crazy prices. The collectors like myself that enjoy hunting them down in the stores now have no chance of finding any at any store. Not only is target losing the business in the toy dept but I know when I go in to the Target to look for toys, I always leave with other items that I need for home. If I travel from store to store looking for items that will never make it to the shelves, Target is losing much more business from me, and I think I can speak for other true collectors, or just that parent looking to buy their kid a new action figure to open and play with. We are forced to look on ebay and pay ridiculous prices just to obtain an item for our collection. I have reached at to Hasbro as well with my concerns. It is sad that companies like target have to police their inventories and I realize that Target is still making there money. It's just the principal behind it all. Why is there a release date if it's not enforced. I would rather wait outside a store for a few hours to be the first to get in on a release date. I have to stores near by where I live. Rockaway NJ and Washington/Hackettstown NJ. I went in to both stores. Rockaway stated that they were sold out and the Washington store, the employee told me that yes they were in the back room but had "Hold For" a customer to be picked up on May 12th. The entire case!!!!!! I called two more stores in NJ, Fairfield and Clifton and was told over the phone that they had the figures but then was told that they were sold!!!!!! I am not looking to get anyone in trouble at the store level, it's not their fault. I was looking forward to being at Target on May 12th before the store opens but I am not going to waist my time. I don't expect you to jump on facebook but there are hundreds of posts again with pictures and receipts and instructions on how to get them. There are even people selling them on Ebay with a note that says "Store is holding them for me" until May 12th. Will ship out to you on the 13th once I bring them home. I know this all sounds silly, it's just a toy right???? Yes, it is just a toy that many people like to collect and share with their kids as well. Now that there are limited brick and mortar stores that have big selections of toys we rely on stores like target to always have the inventory in stock so that we don't have to pay "scalper" prices online. I would really appreciate a response and feedback into this issue. I want to be able to give my business to Target, not some guy on Ebay that is charging three - five times their value. I have been in retail loss prevention for 26 years now. I understand the challenges that retailers have, I truly do. It just bothers me to see companies that have the potential to keep customers happy, throw it all away. We need brick and mortar stores, not everyone enjoys buying online. There is nothing like hunting for toys in the store as I did as a young boy, you can't get that experience online. I would love to hear from someone at Target, thanks for taking the time to read this long letter.
Respectfully,
Ray Fritz

I HAVE TRIED SEVERAL TIMES TO PAY MY ACCOUNT OFF IN FULL, BUT THEY KEEP DOUBLING THE AMOUNT OF MY BALANCE. MY ACCOUNT HAD A$300 LIMIT, AND THEY ARE WANTING ME TO PAY OVER $600, NOT GOOD.
I WANTED TO KNOW WHAT CAN WE REACHES ON AS FULL PAY OFF AMOUNT THAT WILL BE WITHIN MY FINANCIAL BUDGET.
I DO NOT OWE MORE THAN WHAT MY LIMIT WAS ON THIS ACCOUNT.
I NEED TO HEAR FROM YOU ASAP, BEFORE I SEEK SOME LEGAL ADVICE.
THANKING YOU IN ADVANCE FOR YOUR COOPERATION
LOUIS CARLOCK, JR
501-258-7789
EMAIL:l-carlock@sbcglobal.net

Thomas Nastoff
from Dearborn, MI
Was in a Target store in Columbus Ohio and was shocked to see pictures of John Legend & Chrissy Teigen
They are two of the most foul mouthed Trump critics using profanity to described him and his administration.
How can you promote Americas favorite store with such wild eyed propagandist.
Really feel betrayed by Target and bet most of middle America agrees with me.
Tom Nastoff

Vicki Terrell
from Muskegon, MI
I ordered on line this lego set. I received this in my email.
Item ready for pickup
LEGO Super Heroes Marvel Avengers Movie Thanos: Ultimate Battle 76107
Qty: 1
Total Paid
$46.31
Target Credit Card Target Credit Card ****7994
$46.31
By reading this email you would assume $46.31 would be charged to my Target Account!!! WRONG!!!! I was aware if I purchased a $50.00 lego set I would get $10.00 off so I figured the $10.00 was taken off of this lego set. I picked up the toy and also spent another $65.00 at target that day. I noticed in my email I had a 10.00 gift card which I could have used on my $65.00 purchase but I thought it was taken off the lego toy. I called Target Customer service and was hung on twice. I called back and asked for a Supv. which Janelle said she was a supv in Corporate in Arizona and there wasn't anyone else higher than her. All I wanted was the $10.00 put towards what I purchased and not a gift card. She told me to read the rules on Target and that was not going to be done. However she said I could go back to the store and they could apply the gift card. That would be fine if I lived by Target but I would eat up the $10.00 in gas. Very frustrated!!!

Katrina Springer
from Enid, OK
I ordered 4 swimsuits & returned 3 according to the instructions. I have chatted online twice & finally received a refund for 2 of the items. Today I began a chat & as soon as I completed typing the issue the agent ended the chat. I then called the 800 number twice & regardless of what option I chose the recording continued to say that option doesn't work. I am just trying to get the refund for the 3rd swimsuit & should not be going through all of this.

Brenda Ramey
from Broken Arrow, OK
Today when I was in the target store, a very nice associate ordered a women's top for me because they didn't have my size in the store. When I reviewed my order via the email that came from target, I realized that the associate had ordered the incorrect size for me. Within an hour of the associate placing my order, I called your customer service number and ask them to cancel my order. The customer service representative I spoke to advised me that she would cancel my order. I asked her (two times) if I would be receiving an email showing that my order was cancelled. She assured me that I would. Three hours after I spoke with the CSR
I still had not received an email showing that my order was cancelled. So, I called customer service again only to find out that my order did not get cancelled and that it had been processed. They couldn't tell me what happened. They did offer me a $5.00 Target gift card. My complaint is that you need to hire more competent employees in your customer service department. Now, it will be an inconvenience for me to have to return the item to the store. The other ISSUE is that the top was on clearance in the store but when the associate ordered it online for me it was not on clearance. So, they charged me the full price when they placed my order nd then turned around and gave me the difference on a Target gift card. So, I will have to go back to the store and have them order the top for me again in the correct size, at the higher price, and get a Target gift card for the difference.
And then WHEN I receive the top that was ordered today, in the wrong size, I will have to make another trip to Target to return it. I don't understand why this has to be so complicated! SO FRUSTRATING!!

Paula Dolchanczyk
from Cherry Hill, NJ
On April 9, 2019 I ordered 4 pillows priced at $19.99. On April 10, 2019 I received an email that the pillows I ordered were now on sale at $13.99 each. I called customer service on April 10th to request a price adjustment and was informed by the rude sales representative that I could not get the price adjustment. When I went to return the pillows on April 11th at the store the sale girl informed me I was within the fourteen day price adjustment time frame and should have been given the adjustment!! Also on March 28, 2019 my online order had all missing items when I received it. The again rude sale attendant did not even apologize when I told him how horrible my items were just rolled into a ball and thrown in a shipping bag not to mention missing items!! You need to be more careful in your hiring process!!! So dissatisfied with target.
Have feedback for Target?
Thanks for your feedback!
Sorry. Please try again later!