AT&T
Contact AT&T Corporate
Toll free phone number: 1 (800) 331-0500
---
One of the largest telecommunications company in the world, AT&T brands now include Wireless, U-verse, home security, DirecTV, and home phone. Upset at AT&T? Call the complaint line and tell them now! The company does have an official contact page, but social media is probably the best way to get a response to your problem.
Tweet AT&T customer service on Twitter at @attcares or post a complaint to their Facebook page. If you would like to send a complaint to AT&T corporate headquarters, their mailing address is 208 South Akard Street, Dallas TX, 75202. There is an image of the corporate office location here.
Contact the CEO with your problem! Write a letter to the corporate office. The most popular method of contacting AT&T with a complaint is by calling them, that phone number is 800-331-0500. They follow normal business hours of operation, so call between Monday and Friday, 8am-6pm EST. You can also email the support department 24/7 at attcustomercare@att.com.
AT&T Contact Information
Report complaints to corporate and get satisfaction
AT&T headquarters address

208 S. Akard St.
Dallas
TX 75202
USA

Company website

1-800 phone number

1 (800) 331-0500

Support email address

attcustomercare@att.com

Better Business Bureau rating

A-

Customer service hours

9am-6pm CST
Browse reviews of other Cell Phones
Top AT&T Complaints
Browse more than 1202 reviews submitted so far
SanJuana Chavez
from Round Rock, TX
Increased on billing.........
On two occassions I have issued a complaint and/or concern regarding my billing issues. I have experienced nothing but price hikes on my billing the last three months.
AT&T does not bill what it advertises!!!!
AT&T has increased my 'internet' when it essence it stated 'UPATE YOUR INTERNET AT NO EXTRA COST'.
AT&T also promised, offered a $25.00 Vist Reward card
AT&T also advertises that 'military discounts' are offered for military - not true
On my bill due September, it increased AGAIN due to 'promos' expired, discounts removed. I spoke with Bri and she informed that 'promos' were no longer offered. She stated my internet is at 69.99 but I could lower speed to 500 from 1000 (as initially installed). Also stated I could not go back to 30.00 on my internet.
Again, my argument to her and to AT&T, is that the customer was offered the service, 'update at no extra cost', which was not true according to billing. From date of install thru 9/21/22, we never received the gift card that was offered and promised for service install. I also complained AT&T only lures the customer at upgrading their internet by advertizing 'upgrade at no extra cost and offered gift card for install'.
Since my service installs for my move in 2014, I have seen nothing bu increases on my bill. What type of service is this??????
After all said and done, I feel that I should be offered a discount for being a 'loyal customer'. Not once has AT&T offered this, I have had to threatened AT&T of switching services. What a disappointment AT&T provider has been to my household.
I expect a resolution to my complaint. Don't allow me to publicize this on social media because I no no problem.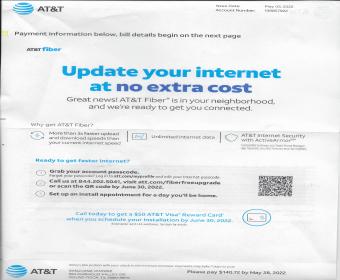 JANETH G. SERAILE
from Goldsboro, NC
I've had a landline phone with unlimited long distance since 2002. In Aug '22 I'm being charged for long distance calls by the minute and was billed $236.93. In Sep '22, the bill for long distance is $453.26 which is a total of $704.69 and that's just for the long distance calls. I don't know why my unlimited long distance service stopped. It states on my bill that I have "Unlimited Nationwide Calling". I would like to have these charges removed and restore my unlimited long distance calling. I have spoken with many representatives over the past two months and they haven't provided any meaningful remedy for this serious issue. I am 67 years old and on a fixed income. I really need your help. My address: 103 Robinson Dr, Goldsboro NC 27534. Phone: 919 778-5502 or 252 452-7567. Thank you for your time.
Lavdrim Smerqaku
from New York, NY
I entered ATT in Boston MA on 443 Washington st Boston MA 02111 (Store B010.) I received the worst customer service I ever have received. I walked in, the employees spent 5 minutes wrapping up their conversation about their day off. The manager said "hey guys there's a customer" not once, not twice but three times before they looked up. The employee Glen C processed the transaction, failed to mention that the new generation was coming out the same day. (I assume he needed to make his sales quota.) When i returned less than an hour later I was greeted with "just sit someone will be with you" no Hello, no hi, no how are you. When I returned the headphones (closed, not opened, not touched, in a sealed box, they charged me a $10 restocking fee. I had the item for less than an hour and I returned it sealed, I would not have bought it if the employee told me new ones were coming (HE EVEN MENTIONED HE WAS JUST WATCHING THE APPLE ANNOUNCEMENT AND KNEW NEW ONES WERE COMING. I understand you work in sales, but this is ridiculous, terrible customer service and terrible business practices. I will be closing my lines, coaching needed for the manager, and employees. I would like to be reimbursed for the $10 taken unnecessarily.
Michael Dunahee
from Gallatin, TN
Hours spent on hold and unable to talk with tech support about internet problems. THEY ARE TERRIBLE AND HAVE BEEN FOR THE LAST TWO YEARS. Simply cannot talk with any live person there.
Steve newman
from Bradley, IL
No service in the city of Watseka in Iroquois county in the state of Illinois. Even if the phones have bars nothing will send any messages or text. This is multi phones.
Alisha Russell
from Houston, TX
I called to ask for a way extension because my son is passing way today or tomorrow and they said you will be off today. I am so sad because i want be able to call for services for my child and i want be able to. I admit had an arrangement for 27th but i was in hospital and i could not deposit check until today and now the bank has to verify it and now it will not post until Tuesday evening or Wed morning. I feel like they could have granted me one thing and be symptomatic, My feelings are truly hurt.
Alexandra/George Stadtler
from South Pasadena, CA
I returned from vacation unable to receive/use my email.
After several calls to ATT, I finally got a live response. the result after 1 hour and 20 minutes was failure. The phone tech said I would be "referred"> That evening at 9:30 I got a (dreadful) call. After more than 30 minutes, I was connected to Yahoo..
I called ATT the next morning. The checking, etc. said I needed a repairman.
The repairman came at 8 a.m. the following day. He said he couldn't help. He contacted a TECH who would come to the house before noon. ANTHONY. Anthony never showed.
I called the repair man. Anthony finally called and said his system failed but promised he would be at my house at 11 a.m. Saturday, Aust 27. He never showed.
First, my bill has been abnormally high since I upgraded it. I was told in the store that it would be high for one month then straighten out and I was not charged an activation fee both of which are not true. My bill has been 355.00 for two months now.
But the worst part was the insurance claim that I had to file last week for my kid's lost phone. It was lost for all of two hours and luckily the maintenance guy returned it after finding it on the ground. As soon as he did I canceled the order only to found out that is not possible. I spoke with a supervisor who allegedly told ATT that the phone was returned because it was according to USPS. Last night they cut off my kid's phone because its still reported being lost or stolen in the system and they continue to charge me 275.00 for it. I have been lied to by Amber, Kay, Jose and Vincent B. This morning Vincent B falsely accused me of not paying my past due balance and that's why the phone was suspended which is false. It was off because ATT reps don't listen nor read the information in the Chat. Now my bill is 632.00 because no one can find the missing phone that I have given the tracking number for multiple times for at least 7 people at ATT. But I realize they only give scripted responses. Kay even gave me her phone number to get help but she read all of my messages this morning but refuses to respond.
If you want a complaint resolved with AT& T, the only way to get it done is through the office of the president of AT&T. But the only way to get to them is by filing a complaint with the FCC, the FTC, the BBB, and the state Attorney General's office in the state of Texas and Georgia. I have done this process 3 times wherein I recorded my calls with AT&T (and DirecTV) yet I have had to fight to get them to honor the contract. RECORD ALL OF YOUR CALLS WITH AT&T and DIRECTV.
Currently, I have contact information with the office of the president. A man named Darren handles the formal complaints. Unfortunately, if he doesn't resolve your complaint satisfactorily, then you can go to arbitration, which he also then handles. Yeah, that's not shady at all. His current number is 972-396-2459. His current email address is g12804@att.net. There is also a manager that works with him named Ben. I suggest if you have a complaint you reach out fast because they will probably change their contact info. Best wishes. Go get 'em!
And yes, I made this Facebook profile for this exact reason.
Links to file a complaint:
FTC
FCC
https://consumercomplaints.fcc.gov/hc/en-us
Texas State Attorney General
https://www.texasattorneygeneral.gov/consumer-protection/file-consumer-c...
Georgia State Attorney General
https://law.georgia.gov/key-issues/consumer-protection
Better Business Bureau
Christina Alvey
from Elizabethtown, KY
Called ATT on 6/5 to cancel just my smart watch data plans, explained I was trying to save money. Representative did not mention anything besides my next bill should be less. When I checked my bill July 28th, I freaked out bc it said my bill was over $600!!! I called customer service to find out the installment plan for my watches would be due up front for canceling my bill. What part of $600+ sounds like I was saving any money?! I asked to reverse the cancelation, as I was not explained to, that I would be due this money up front. They said yes and began working on it. 5 consecutive days, multiple calls each of these days, they finally re-activated one watch plan, but not the other watch. Last agent created an advance technical ticket. I told them my bill is now past due, when will this resolve so I can pay my normal bill and not get disconnected. Rep said we'll extend the due date, and just to pay what I normally would because when the ticket is completed, it would fix the remaining amount. I called back a few days later bc I received no update. She said to pay the normal amnt, and try to fix the other watch line. No avail. We'll, here we are, the extended due date, and after I paid my normal bill amount as instructed, MY SERVIC GETS CUT OFF!!!! WTF ATT!? I call again, bc not this is ATT fault my service was cut off, bc they can't figure out how to reverse a cancel on one watch. I had 2 "supervisors" tell me it's impossible to do, yet neither could explain to me, HOW IT WAS JUST PERFORMED WITH THE FIRST WATCH THAT WAS REINSTATED JUST DAYS PRIOR!!!!! So over a dozen calls, and COUNTLESS LIES..... I paid the bill bc I can't go without a phone! Thanks ATT! I'll be calling back for an update on that last phone call that I was lied to again about, and how I would be called back with an update.
I'm disgusted, annoyed, exhausted and sick of this pathetic excuse to customer service I ever had to experience! I hope ATT does right, and fix their representatives misleading direction, and reimburse my $100+ they cost me to reactivate my wireless line they caused to be shut off. I'd like for a competent representative or technician, to activate my other watch and reinstall the installment plan. And I would like to be compensated for SO MANY HOURS WASTED GOING AROUND IN CIRCLES, REPEATING MYSELF OVER 2 DOZEN TIMES!!!!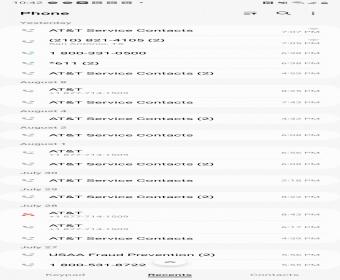 Horrible horrible horrible scamming company. Can't wait till I pay off my phone and GTFAH. Be aware the internet it's to slow and the customer service doesn't know what they doing.
Angela Ciccarelli
from New York, NY
I have called twice about an added charge for extra data on my May 2022 bill. I spent over 1/2 hour on phone in the first call and was told they would credit out the charge. They didn't. I called again (another 20 minutes) and they told me they had no record of the 1st call or promise of a credit. Requested supervisor call me back and he did. More time on the phone, no resolution. I am refusing to pay the added charge and now they are charging me a $7 late fee. I paid my bill on time but did not include the added charge amount. I want the credit promised on June 20, 2022 for added data fee and new $7 late fee removed from my bill.
Polly C Dross
from New York, NY
We were without phone service for over a week beginning June 8th. We got it back on June 17th, but the next day we were out again! Our June bill says we were credited $1.99 for a 2-day outage.
We have neighbors who also were without service during this time. Since our bill was for $76.46, I assume we are owed more than $1.99 for the long outage!
I have been with AT & T for over 40 years and am tempted to cancel my landline if this can not be resolved.
And I would rather NOT call your office!
Carolyn Pourciau
from Cedar Hill, TX
Have been trying for 2 days now to payoff installments remaining on cell phone,it is a combined bill with another cell and home phone. I have spent 7 hrs on phone being passes to every department and no one can do this. I find that utterly unbelievable and very aggravating.
Jared perlman
from New Orleans, LA
I had att installed for my TV and computer.also reqeusted my land line phone be installed with att.tech installed TV and computer but not my land line.went to att store and was told to call att.i was at store 2 times.was told to call att. I was on hold for a hour with no help.was told att rep would call me back to set up time for a tech to fix my landline.no one called me back!!!! This is very frustrating.thank you Jared perlman not a happy customer
Nicole Morgan
from Southaven, MS
This has been the worst and most stressful service from day one. I have had issues and still have them and Noone ever calls that can fix when I spend hours on end trying to get help. I have literally balled my eyes out over the stress this has caused. They lied about the plan and it being cheaper. They keep trying to take money out I don't owe and Noone cares there
Erin Melley
from Charlotte, NC
At 70 dollars a month, my internet should never be down for 5 days. If fiber is not a service that AT&T has the resources to provide you should not provide it. The internet is supposed to be so reliable, but I have to spend 50% of my time talking to customer support bc the internet never actually works.
Angela Johnston
from Hendersonville, NC
I signed up for your service because I moved. It sounded like a good deal at the time. Once it was all set up I was not impressed. I called to have it ALL canceled including the phone service. I sent everything back like I was told. I found out through my bank account after I canceled EVERYTHING you were still taken money from my account and Robbie Raines account as well. I called about it and wanted to know why you were taking money out of my account since I canceled EVERYTHING. The gentleman I spoke with said he would take care of it and he refunded both of us money that was taken out of our account. But for some reason your company still said I owed you money which MAKES NO SENSE AT ALL!!!!! Y'all sent it to collection agency. I owe you NOTHING!! You refunded me money so I owe you NOTHING! I still have the emails where you refunded the money back to my account. So you need to take the collection off my record!
Donna Pereira
from Indianapolis, IN
ATT&T sends these so called salesmen knocking on your door. They are going to save you money, give you a phone or gift cards and better service. All lies. I was scammed. My bill is double what I was paying with US CELLULAR. My phones were fine. . No gift cards as promised. Surcharges and taxes are ridiculous. Now I have a 3 year contract with a high bill. BEWAREdo not let them in.
Laura
from Hopkinsville, KY
ZERO Stars!!! I have had spotty (at best) to no internet for over six weeks. I have spent hours on the phone with the tech dept (huge waste of time). The techs have made housecalls and could not fix the issue. Finally, one told me that it was a tower issue and would require the Engineering Dept. to resolve. He said he escalated a ticket to them and they would call me back in two days. That never happened (all the time I am still paying for the internet, but can't use it). After 3.5 hours on the phone one week after I was supposed to get the call, they 'guaranteed' me I would get a call within one hour. Nothing. Called again, went through the whole explanation with yet another person, was on the phone for over an hour when they finally told me the Engineering Dept was closed on the weekend. Then, they once again told me for sure I would get a call back. Never happened. This is a worthless company. I am filing a formal complaint and cancelling service. I can't believe the level of incompetence.
Tierra Mccray
from Brockton, MA
I'm at location 1809 Reisterstown Rd in Pikesville, MD to have 2 phones repaired. Was told we had to wait 30-40min for tech to comeback @ 3:30pm. Ask rep can they see if tech is back, the reps response was "oh he somewhere bullshitting" you just gonna have to wait for him cuz I can't fix it!" I'm highly irritated and have been a loyal customer for years…this type of customer service is offensive and unacceptable!
Kristy Cravens
from Grand Prairie, TX
Recently purchased a $50 cruise package and it only worked for the first day. Phone number for the purchased line 816-392-1712. We had to instead purchase ship internet because the Att cruise package didn't work.
Look..I do not owe $700.00 to AT&T. I have been talking to about 4 different people to fix it but nothing has happen..I had account for 3 days when I returned the phone #436181201792 last year I sent the phone back brand new with in 7 days but your billing department lied and did not take it off and claimed they reimburse me money they did not I only had the phone 3 days they sent the wrong phone I called and told customer service I was closing my account after that it was on t h em I did not save any pkg I sent it through ups with your labele at one time they took the money off and now it appears on my account so when I try to get a cell phone or internet they say I owe this money I will go to consumer affairs it's not correct and the people I talk to do nothing they told me to go to a AT&T store I do not have a car and I a senior I also order the phone over the phone this is fraudulent and when I counseled my order it was done 3 days after I got the phone it was your billing department that messed up I would like it taken off perm so I can order my SamsunS22ultra and internet service this issue has been going on for over 1 year first they took it off and than they put it back on when I tried to order services. I took care of this 1 yr ago apparently the billing department did not and your customer service is blaming me for not keeping my records they keep saying I made payments I did not..I do not know where they are getting this information from but if you do not want me as a customer ok but you still need to take $700.00 off my account that is fraud and hurting Mr, I was hoping you can hp me with this before I go to consumer affairs. It's ironic just 5 months ago AT&,T was going to give me cell phone but I was not ready to switch I filled out the application and that $700.00 was not on there now it is showing up again please explain that to me and I need to talk to a supervisor who will truly help me one final attempt, AT&t expects me to keep receipts or account info that is over 1 yr I o ly had the phone 3 days how do they figure Ithey reimburse me money for several months that is what Brittany told me she said something is wrong but that the other people I talk to say funny things here is what I think happen? I order the phone it was on a contract but when I counseled it and sent the phone back the billing department did not close it and kept charging me payments but than a couple of months went by I got a bill from At&t saying I owe money I called them and I said I sent you back t h e phone it wS brand new and with in 7 days they stopped it than but it was not done correctly and now it keeps coming up I owe nothing to AT&T for a phone I gave back I get soany different stories from your customer service people but its not correct let's not make up things, so I want this cleared up..I should not have to go into a store I order the phone over the phone I have my ID N7887599 Ca..expires 10/31/2029 my phone us 669-279-9881 ,feel free to call me
Diane Bohn
Kevin Crumb
from Melbourne, FL
I was scammed by an AT&T in home expert on mobility service.
In March of 2022, I was waiting for my AT&T internet install appointment when Jeffrie P. (ATTUID: FP5460) knocked on my door. I thought he was there to install my internet, but he was there to sell me on switching my family's phone plan to AT&T. My whole family has been with Verizon for over 15 years. It was good timing on his part, because 4 out of our 5 lines needed new phones.
The deal was.... we'd trade in our phones and get new iPhones. We'd also get $250 visa gift cards per line we switched. He quoted me in person and over text message that our total bill would be $160/month (before tax) and would never change. So it sounded like a no brainer, so we decided to move forward. (My total tax is $10, so let's use $170/month for the quote). He told me it was "special In Home Expert pricing".
After my first few bills were a bit all over the place our 3rd bill settled in at $242/month with an expiring promotion of $10/line after 10 months. So currently I'm paying $242/month and it will be $292/month after the AARP promo ends. Again, he quoted me $170.
After multiple phone calls to corporate, they told me that I needed to get back in touch with Jeffrie or his Supervisor, Melissa (ATTUID: MP1547). It took about 3-4 weeks to get Jeffrie back on the phone. Jeffrie finally admitted that he mis-quoted me and it was his mistake. Jeffrie told me he had to go to his supervisor Melissa to get me a 1 time credit for the mis-quote. That one time credit was around $3,800 for the 36 month term. Not surprisingly, it took weeks to get ahold of Melissa after she dodged my calls and texts. The only things she told me I could do was lower my level of service, which is the same thing ATT corporate told me.
Finally ATT corporate told me that my only course of action was to sue ATT.
Shame on you ATT. Shame on you In Home Experts. Shame on You Jeffire P (ATTUID: FP5460) and Melissa (MP1547).
Jeffire's game: to tell the potential customer whatever number they want to hear in order to get them to sign up. He says your first few bills will be all over the place due to the trade in's/ special pricing. Then when your bill settles in, AT&T corporate has no recollection of the communication between you and your In Home Expert (Jeffrie). And now I'm stuck for 36 months, paying $122/month more than what he quoted. Not a good feeling being taken advantage of.
daniel tuffs
from Ashburn, VA
i had wireless phone service with a 3g plip phone and it was canceled with my account that was paid up to dec. 1 2022 ,i had a cash balance of 347.84 in the account . the phone number was 708 -710-7617 my pin # was 7717 . i believe there was a change to 5g which my did not support. i would very much like to get the money that was the balance in the account. thank you . daniel a. tuffs 7226 w. 109 th. place worth ,il. 60482
James Betus
from Houston, TX
ATT has continued to promise me I would have access to Fiber for 4+ years now. I understand the new construction in the area will be getting it, but the existing customers will not. This is not acceptable, I am paying more for 6MBPS than customers with fiber. When is ATT going to put forth the effort to take care of their rural customers?
Haskel and Wanda Deal
from Conover, NC
I have been without landline service and internet service for a week and a half or longer. When I called on Monday, June 27, 2022 I was told service would be restored on Saturday, July 2, 2022 by 6:00 p.m. On Saturday, July 2, 2022 around 7;00 p.m. called customer service again because still no landline service or internet service. I was told it will now be Saturday, July 9th before technician can come out. Can someone tell me why? I am not very happy right now with AT&T service. I will expect credit for the weeks I have been without these services. I have been an AT&T customer since 1968 but it may be time to change. I would like someone to check into this matter for me.
Wanda Deal
I'm really disappointed to AT&T. All I need is just a receipt for my previous payments when I was in US! I can't login to my prepaid account from oversea. The website is not working (I can do that while I was still in the US)! I called for helps several times. I was told that my invoices will be sent to my email account. Got nothing after 3 days. I called again today and was told that I can't get my invoices in any ways out of US! I can't imagine how AT&T can say that they are the best mobile service in the US and charges for that much! People should really be told how poor the service that AT&T provides!
Ashley Thompson
from Cartersville, GA
VERY POOR CUSTOMER SERVICE. ATT IS FAILING THEIR CUSTOMERS AND DO NOT EVEN CARE. I WOULD APPRECIATE A PHONE CALL. I HAVE SPOKEN TO 11 PEOPLE SINCE 06/09. I WAS PROMISED A PROMOTION AND STILL HAVENT RECEIVED ANYTHING. I CANT EVEN GET A PHONE CALL FOLLOW UP. CUSTOMERS MEAN NOTHING TO ATT AND IT SHOWS.
Diego Sanchez
from Los Angeles, CA
I have fixed wireless with AT&T its a internet service based on antenna to tower service, i had service interruption since day 1, but lately every Friday around 7:30-9 service goes down for days, i have contacted customer suport and att help on Twitter and they give me random answers but they dont fix my service, now i think they have blocked me on Twitter and on service support on the phone they have me waiting for 20plus minutes and then they drop my call
Calvin shoemaker
from Bluefield, WV
I have tried for 4 days now to activate my base fir my home for I am unable to do anything so my daughter has been handling this for me I have been in and out of the hospital not to say I need my phone!!!!!She had called 5/6 times and on hold for an hour at a time, disconnected after being on hold for 50 minutes. Told to take base into local store to activate when got to local store told that they couldn't activate that SIM card that was in the base, sold me another one, supposedly activated the new one and told me all I had to do was to go back and plug in the phone. Nope it still didn't work. Called back on 6/13 on the phone again for almost an hour, after about an hour was told I had to go back into the store with a drivers license and call back when I'm the store to activate the base!!!!!!! This has been unreal. I'm 87 years old terribly sick need my phone desperately. WHAT A messed up system!!!! And no one can help!!!! AT and T your a joke!!!
Robert Pham
from Houston, TX
Was told the technical would come to install internet 3 times with no show. When calling to confirm what exactly is going on the AT&T manager I spoke with on the line hung up. Disappointed in the service.
Ahed aamer
from Tulsa, OK
Very bad customer service and they have wrong and false advertisement on their website, i added international calls feature for $10 a day like the app says then after one month I got a bill of $1008 and no body could resolve or help on that issue, especially the manager Leonards he's very unprofessional and rude and has zero communication skills, this company is a scam don't ever join it
Kenneth Bridges
from Wendell, NC
AT&T don't take care of customers and fix our service so we have DSL and internet again.for myself and all my neighbors I have talked to.they want even show up when they set up a appointment time or even call .this has been down for over a week.we don't have fiber optic because AT&T want run it.
Ryan Beesley
from Alpharetta, GA
On May 9, I called in order to check on my account as I knew my current contract would be expiring at the end of the month, and I wanted to see what sort of deals were running at the time to resign on with. I spoke with Kendell, and all of this was under the phone call with this employee. Fiber had just been installed into our neighborhood the previous month, so I was told that in efforts of getting people to sign on for fiber, they would give me a deal. If I signed on and agreed to Fiber (at $65/month with autopay discount included), that he would keep my Uverse charge the same as my previous contract and roll that price over for the next year ($12.24). I specifically verified and asked what my total bill would be multiple times, and he told me $77.24 plus taxes/fees. Today, I get a notification that I am being charged $165.17. OVER DOUBLE what I had agreed to. I immediately called and spoke with about 10 different people. Everyone told me the same scripted answer that there was nothing they could do differently to honor what I had previously agreed to. After much convincing, I was allowed to just cancel the Uverse part of this (because there is NO WAY I am paying $85 for a service I used maybe twice a month), but I will still be charged this amount for the previous month, THAT I NEVER AGREED TO.
I know that phone calls are recorded, so I asked to please have that looked up and that all of it would verify. They told me that they could see that I spoke with someone on May 9, but that its only recorded SOMETIMES, and that then it is reviewed by a manager and deleted. So therefore they are claiming there is no way to verify how THEY messed it up. I was even told that knowing that Kendell was the sales employee meant nothing, as they had no way of looking up who that even was.
I made sure on this phone call on May 9 that I discussed both internet and Uverse, knowing my contract was up very soon. We discussed multiple promotions/options before landing on this one. Throughout my conversation with Kendell, he even kept putting me on hold in order to see if there were any other better deals he could get me as a VERY long time loyal customer. Today, I was told that in the transcript from that original phone call--there is no mention of Uverse at all so they can't verify anything I said, and are not taking my personal notes that I had written down as fact.
Something else they tried to convince me of, was that I only signed a contract at this price for the remainder of my previous contract??? (May 9-May 27). That is absolutely false, and very evident by the fact that my bill from April 27-May 27 is $165.17. So, that was just more wasted time with more lies from your employees.
Honestly, I have never been more disappointed with customer service. To make an agreement, confirm it multiple times, and then charge over double the amount of the total bill is outrageous. I work for our local TV station in Atlanta, and I have already contacted our consumer story reporter about this practice. I will continue on to contacting the BBB, FCC, and my lawyer about how to proceed with this further. At this point, we are not even arguing back and forth on numbers--it is about honoring an agreement as a company that an employee of yours made with a customer. We have been ATT customers for over 20 years, and the best the I was offered on the phone today was a $20 credit. I am appalled that I am not being honored the amount that I was offered and had agreed to.
Donna Whitmore
from Woodland, WA
Had an account rep stop by our home on May 9, 2023 and talked his way into us switching our cell phone service by reducing our bill from $100/month with Berizon to $50 a month with ATT. He upgraded one of our 2 phones and explained we would receive the upgrade for free. He said we would see a charge for $22 every month for the new phone but that there would be a credit of $22 month for my old phone. We discussed NOT wanting insurance. Once he us into switching to ATT, he handed us his mobile phone and asked us to sign on his screen. We trusted that what he told us is what he was doing so didn't request to see what our signature was attached to. 2 weeks later on May 23, as I was trying unsuccessfully to set up our online account, I finally called and was
advised our bill was over $300. When I pursued this with a supervisor (the service agent was polite, but had no response or suggestions to stay with ATT- she seemed very anxious to get us a return mailer for the phone and get the lines disconnected) . The polite rep also said I was SOL on my phone I turned in to the scammer thatt completely misrepresented ATT. The supervisor was a little more understanding and said we were set up on the highest tier of service and were paying for insurance. Again, the rep that came to our home scammed us. The supervisor (Amy) did advise me that May 23rd was the last day to turn in my new phone for buyers remorse. She confirmed that since I turned in my old phone, ATT would not give me ant credit for that phone. I made the decision to return to Verizon where we have been customers for 22 years. Amy, the supervisor, suggested we get the numbers ported over to Verizon so we did not lose our existing phone numbers. Amy also said we could bring our tier down lower so our bill wasn't so high, but that we were locked in for 3 years.
That same day, I took my phone and husbands phone to Verizon and got our prior account opened and numbers ported over. In my discussion with ATT supervisor Amy, because of how we purchased the phone ( through an in home advisor/rep) we needed to return the phone to an ATT store.
So, after finishing with Berizon, I went to the ATT store. The agent there couldn't understand how I got my phone but finally seemed to comprehend I got it from an ATT agent that showed up at our house. Then she asked me where the box and charger were and said she couldn't accept it without it. She ended up taking my new identical phone box and charger I got from Verizon with my new phone I purchased from Verizon. She also commented that this whole transaction would have been easier (on her I'm sure) if I had turned in my phone to them before I went to Verizon . Evidently she was unaware that I would have lost my phone number since I was told that turning it in immediately shut down the service and cancelled the number. Then as the final straw, she said there is a $55 restocking fee. Needless to say, this was icing on the cake. I paid it just to get rid of ATT. The agent said since no one told me about the restocking fee, I could call and might get it refunded.
So, ATT will be the last place we would go for service. Unfortunately, our Direct TV Service is part of ATT, but other than the continual increasing costs on Direct TV, customer service and wanting to help customers seems more of a priority. Our bill was taken from our account pretty quickly, before a month had even passed, so we paid over $200 for 2 weeks of cell service, I'm out the value of a good iPhone to ATT. No good words to say, and this will not be the end unless I get some satisfaction.
james sorenson
from Dublin, OH
Today I had one on the worst customer experiences at your ATT store at 3302 University Ave Madison WI 53705.
The customer representative was Nolan Kuhn.
When I entered the store a different representative greeted me but Nolan jumped up from a couch and had a minor dispute with the original rep saying he was the next one in line. I have no idea what their procedures are but having this interaction in front of a customer is wrong.
I am trying to sign up for internet service for my new house and my interaction with this rep was not great. When I told him that due to identity theft i would not give my SSN he said that I had to give it to him. The manager told me that I could prepay two month of service so i was happy with that arrangement.
Once it was obvious that I was not going to get the service, Nolan was quite brisk, when I said that I was going to give this customer service feedback, He told me that I should not come into the store and tell him how to do his job. (which i did not do). Although I am only a customer, I do not think this person should be in a customer facing role. ATT may have different standards so I have no idea what you will do with this information.
tim michaelson
from San Clemente, CA
In January I went into the local AT&T store to take advantage of a trade in promotion. I was told with my 7 Plus and my down payment my monthly payment for my 13 Pro Max would be $9.45 a month.
I sign up and turned in my 7 Plus and a month later I get a notice that all I was going to get was $40.
I called customer service and after a long call I was told I would be getting the full trade in credit but it takes a couple of months to complete the process.
April's bill came and my payment is still $19.45
Another long call and they told me I wasn't eligible for the trade in program. I asked the speak to a supervisor and while on hold I was disconnected. I called back and after explaining my problem again the representative put me on a long hold and when she came back on told me everything was taken care of and I would be receiving the trade in credit.
This month's bill came out today and I'm still being billed at the higher charge.
I again called customer service and spoke with Jeremy, he looked over my account and told me I wasn't eligible for the credit. I again ask for a supervisor and was connected with "Magic"
After putting me on hold many times Magic told me there was nothing he could do. So I asked for a corporate number I could called and the number he gave me was a customer service number.
The whole reason I did the upgrade was because I was told I qualified for the trade in program. My account on the AT&T app also told me I qualified.
I've been a customer of AT&T for over 30 years and am very disappointed with this "bait and switch"
Please return my old phone and my down payment and the payments I've made and I'll turn in the new phone and take my business to a different carrier.
James Westerberg
from Buffalo Grove, IL
Just thought you should know why you lost a customer. Yesterday i cancelled ATT and switched to Infinity because of your enormous rate hikes in service. As Doctor Phil famously asked, "How's that working for you?
Sincerely James Westerberg
Manjita karki
from Fort Worth, TX
I would like to complain about the supervisor you have for customer rep. his name is Lincon. I dont think he even tried to help me instead of keeping me on chat for almost 2 hours. If this is the customer services you have then there is not need of support team or at&t should not be operated. took my 2 hours just for 5 min answer. After i end chat other supervisor told me i have to call certain number for the issue i was having. I dont know who made him supervisor
Coy alford
from West Blocton, AL
We wer me trying to get a phone line threw our internet connected to my wife's computer from her office at home. She needed the phone to connect with her company's phone service to take calls from home. She had this last year but to to Covid-19, she had to be off for several months , so we canceled the phone part of service while she wasn't working to save money. Once she was able to start back working from home, it took an act of congress to get it back on. First they said that since the phone itself wasn't an att phone, then the service wouldn't work. Well we knew this wasn't correct due to her having this same service just six moths prior with same office phone, plus other employees that work from home do not have issues. Well after several days finally get it worked out. This whole time, her office was loosing there patience because she couldn't be on the phone. Luckily got it fixed. Well today, after having the service up for about a week, it's not working . Come to find out, the guy from att that was handling thus for us, didn't complete the order and the phone was cut off. So we have been on the phone all evening trying to find someone that not only could speak enough English to understand, but someone that could tell us what's going on. Finally get ahold of a nice lady that was able to tell us about the worker not completely doing his job, so we gave to get it redid. She was very nice and apologized for us going thru this and would get a technician to come out as soon as they could. So now thanks to our faith in att service, my wife will not be able to fully do her job again tomorrow until they fix their mistake. Hopefully her jib will not be in jeopardy due to this. Very upset right now.
Judy T. P.
from Los Angeles, CA
Advice double check always your bill, 2021 my husband walks into a store with a broken phone and warranty on it, customer service advised phone is being discontinued by Att there a new upgrade would be given hubby approves as he needs a phone for his company, agreements and terms over a new upgrade are presented to my hubby he signs for what we expected to be a new upgrade right nopE wrong 2 months on the billing cycle appears a 3 line at the time of me King a payment online and in the app I called loyalty dept because we also have internet with them and customer service mentioned we can return the device to cancel the 3 line added but keep in mind we need the device for my husbands job, so we decided to keep the line that is been hanging for a no th without activity in it and at the time I decided to give my iPhone 8 plus to my daughter over that Line that pho e was bought with Apple therefore the phone is paid off and I decide to upgrade to a 12 pro max cool we have 2 payments for 2 phones under installments on the with month I check and see bill is way higher that 2 installments taxes and internet combine in a single bill $330-340 every month I called they said we have 3 phones under installments to which I reply it should be only two devices where is the third one they mentioned is the 3 line which the customer service advisor who gives my husband never remove the broken phone even when we clear deductible and Att no longer carrying the phone the reason of the upgrade and mess of ending with a third line every month up until On April /18/2022 I called to finally settle what our friends and family have been telling us Att is horrible Att charges super high which is true but I always have had service when I'm Camping, traveling, etc. so I called to pay my phone because I'm the one in charge of making payments but due to an emergency surgery it slips my mind and ends up with two month which gladly I'm paying $660.+ cents for my BILL also I request to pay off all installments to see where we are without installments and if the bill will be reduced I pay 2 PHONES and when everything is done the very kind gentleman mentions you only have left the third line when you pay the bill an installment of $6.99 was paid for a phone so you paid also the 12 pro max you have left another Samsung to which so how many phones I been paying oh 3 which I request to hear besides the two first lines what other phone he can't find but is paid and no refund can be made to which reverts the payment cause is late on a Sunday 5 pm everyone is gone for the day call Monday I called no one know anything but I have a bill of $840 Because they didn't revert the payment of the installments they revert the money from my bill so I proceed to leave two phones paid off and paid $585 to bring my bill to the current statement no one can help to tell me about this third phone but they reassure will be fixed I hang up I assume will be fixed may comes on May / 14/ 2022 my Iphone 8 plus dies of frying results of my daughter Studying hard for finals on H.S. Tests I walk into Apple to obtain a new device which apple mention the phone Is fry you need a new one let's get one with Att since they are your provider he finds lock on the system I should call Att to which I do and tell me again my bill is in $800's to which I simply leave apple to thank the guy and proceed to get furious with all this mess I been dealing with for a year and a half ok To which I in the term of this year and a half I have spent countless hours been transferred from loyalty to reg customer service from 3 to 6 hours keep in mind I paid for I a phone I Dont have and no one can't find installment of 24 months 373.18 cents and no one knows where it is why my bill is been bouncing and I still haven't paid my husband phone when I hang up with Att from 6 hours of frustration I called another provider who in 15 minutes me new service orders me a new phone for my daughter and gives me two sim cards for our phone that once I receive and pay off my husband phone in full will be able to take those number to a new phone company May/20/22 comes everything arrives and give a call to Att to cancel service pay the phone and tell the person I want to resolve and leave so pls let. I pay my bill and he replies to get the codes and you free I asked if the payment is made yes happy hang-up called the other company that made the transfer give codes and I get service for the 3 lines but only one works mine and my daughter and hubby are locked call back to Att they said payment is processed but phones are locked and I can stop at the store to which I go they can no longer see my account, not in any device form Ior shape to which is a Friday 6 pm everyone left you to need to call Att loyalty dept THIS IS THE REASON WHY I LEFT ATT THIS FOR THIS I DONT UNDERSTAND WHY YOU ATT CARE AND PROTECT FOR CUSTOMERS THAT HAVE BEEN LOYAL TO THE COMPANY so if you ask me or anyone asks me if I recommend Att is BETTER to GO TO A PROVIDER YOUR RELATIVES CAN PROVE THIS IS THE BILL WITH TAXES AND UNLIMITED FOR $$$ money and boom no headaches this morning I call and 3 representatives could find my account or explain why some see it partially and my lines are blocked if we no longer belong to Att and bill is paid. The irony is I still have u-verse they couldn't help with my wireless bill and since I left yesterday may/20/22 this morning appear a $101.18 credit text towards my u-verse why couldn't you help we had a great thing Since you guys were CINGULAR against all odds I supported you but you failed me and my family my kids now know att is not a great company because they heard me countless hours olead with you guys. Thx I know you'll continue to make money but I won't support you in any way, shape or form.
Joanne Gilmore
from Salem, NH
Telemarketer call at 2:49 a.m. !!!
Kelly Randall
from Dallas, TX
People are in my alley, installing fiber optic cable. It is now Friday afternoon. Wednesday morning those same guys in the alley disconnected my internet and the internet of everybody on my block, at least. We have spoken to the guys in the alley each day, and they said they had reported the problem to AT&t. They acknowledged that they had broken the internet connection. I called and finally got somebody out here today. But he couldn't fix the problem in the alley. As I had been telling AT&t from the beginning, the problem was not in my house or immediately behind my house. So, the AT&t guy who came out today placed a call to the AT&t people who can work in the alley. Now I'm getting a message from AT&t saying that they can't schedule these guys to come out because of a problem with the AT&t network. I feel sure now they won't be out here today, which probably means they won't be out until Monday, and who knows if they'll be able to fix it then. Soon I will be without internet, phone and television for a week. This is ridiculous, but it's not the first time AT&t has done this to me. I need AT&t to fix this and I want to be reimbursed for the cost of the internet that I did not get because AT&t disconnected my internet.
Lisa Bailey
from Indianapolis, IN
One star because 0 is not available! After the company driving me crazy to switch my wifi to fiber I caved and agreed. Had to lose a days pay for install that didn't happen because company had no box at existing pole after making me crazy to switch! 24 hrs later they send an idiot out to climb pole and add box to except the new fiber. When he leaves he doesn't recconect existing service so now I have no internet! I call for him to return to make it right and they said their schedule is full. Yes full of half a__ed work!! So now I miss another day of work! Calling and talking to someone who barely speaks English outside of country, I request someone inside the states. Once connect I speak to another person who suggested I made an appointment yet again-why they cannot complete first appt! I ask for his supervisor. Once connect to him he says let's see if we can get him back out there, I will update you shortly. Few hours later I get an auto message for an appointment and NO RETURN CALL FROM SUPERVISOR!!! I am livid. What am I pay for? How many days work do I miss? Why can I not get anyone with power to respond to me? Worst customer service ever!!!
TREY SHANNON
from Fort Worth, TX
ATT HAS DROPPED THE BALL AGAIN
I WENT INTO OFFICE TO GET A SIM CARD WORKING IN A CRADLE POINT
THEY RE-ISSUED & IT WORKED..
THEN 2 WEEKS AGO IT STOPED
I TALKED TO BUSINESS SALES AND THEY TURNED OFF 4 OF MY NUMBERS
(I FOUND MAYBE 10% OF THEIR PEOPLE FLUENT AND INTELLAGIBLE IN ENGLISH)
THEY THEN SUGGESTED A CHANGE IN ONE OF MY ACCOUNTS - SENT TECHNICIAN OUT TO INSTALL FIBER.
I ALREADY HAD FIBER & THEY WANTED TO DRIO SPEED FROM 1000 TO 100
TECHNICIAN SAID HE THOUGHT THAT WAS A POOR IDEA AND WITHDREW TICKET
I HAVE NOW BEEN ON PHONE AT LEAST 3 HOURS TODAY AND LOST CALLS SEVERAL TIMES - NO ONE SPEAKS INTELLAGIBLE ENGLISH AND LAST CALL, AFTER STARTING CONVERSATION AGAIN, WITH NEW SUPERVISOR,
WENT TO HOLD IN SPANISH & THEN COMPUTER REQUESTED NEW INFORMATION FROM START.
REALLY -
DOES ANYONE WORKING IN TELEPHONE SUPPORT CARE, OR HAVE THE AUTHORITY TO SOLVE WHAT SHOULD BE A SIMPLE PROBLEM?
Juan patarroyo
from Tampa, FL
My wife took a day off of work in order to be home and wait for technician and when he shows up 1 hour late he says he doesn't know how to fix it. He calls for a specialist to come by and he doesn't show up. Terrible service and company doesn't respect its customers.
Terry Dixon
from Dallas, TX
Was scheduled an appointment 5/1/22 12-4 pm for fixing cut internet line from tornado. Confirmed text saying tech would be here 315-345. Tech called at 345 saying he was out of material and he checked with his supervisor and he wold be out 1st thing next morning. 20 minutes later I received a text saying my appointment had been moved to 5/4/22 from 12-4. I was lied to. I should have been 1st o list next day as you guys missed my appointment not me. Spent 3 hrs on phone with 2 different depths and best I could get was 5/5/22 AM as pm does not work for us. I should have been a priority but was not. I don't want an I'm sorry. I want priority as I was lied to.
Anna welty
from Pittsburgh, PA
I was quoted a price for a phone this December and when the bill was higher than the quote I went back to the store twice. The first time I was told that my credit didn't kick in . The second time I spoke to the manager who said the employee who gave me the price no longer works there. He tried to tell me it's not a big deal and there is nothing he can do for me. My bill is 20 higher than my quote. I have been a customer for years and would not recommend AT&T again. How can they get away with quoting one price and bill you another price?? It feels like a scam!! I guess I'll try the better business.
Scott Barnes
from Nipomo, CA
I have been a customer for many years, got a new phone it was stolen , i got a broken non functioning used one , they took my old flip number and now no phones work
HORRIBLE SERVICE
John Cammarota
from Lebanon, TN
My wife went up to our AT&A office because we kept getting on our cells qe were using to much Data we would us around 3 GB for total for both cells come to find outwe had 9 GB in our service so we would Never go over but she was talked into by the sales person to change our plan and get unlimted Data and it would only be $10.00 a month more.come to find out when we got our billit was $30.00 a month more it was over 10.00 per phone so we were lied to and when she went up to tell them and she wanted to go back to our old plan she was told it was discontinued so now on a fixed income we got lied to and now have to pay 190.00 a month when before we paid 162.00 a month. We have been with this company for 10 years but as soon as my wife's phone is paid off and that will be in two months we are dropping AT&T and going with another service one thing we won't stand for is being lied to. Very bad customer service and our 4 children will be dropping thir service also
Jan Smith
from Euless, TX
Only HAD internet with ATT. Two weeks ago internet disappeared and after calling for a week never got anyone to help or even talk to. After a week of calling and getting NO HELP OR A PERSON TO TALK TO. Tried to return box but had to take it to UPS OR FEDX unfortually we don't have a store where I live have to do a 60 mile drive. FINALLY sent me an address knowing I had no way to print it since I don't have internet!!!!????? So wrote everything on label hoping it gets somewhere. Not my first problem years ago when had AAT PHONE BUT SUCH POOR SERVICE I could hardly get service to use phone and they refused to let me out of my contract offering items that would not work. Took over an hour today to get the address to mail the return.
giora cohen
from Newark, NJ
At&t billed me for service whjch was not working.
Cassandra L Winters
from Brenham, TX
Please address my complaint. I keep being charges on my bill of a Applewatch that has been removed and the service in my area of Brenham Texas is horrible. It drops all very often and everyday. I need AT&T to remove a recent charge for a Applewatch ending in 3413 immediately!
Geraud Moreland
from Miami, FL
Called AT&T regarding a AT&T fiber optic cable box that was destroyed in a car accident. Wires are exposed. We told them children are playing outside, not our children but children just walking by our house. We called at 12:36pm EST. After being sent from person to person the right person set up an appointment with the repair dept at 3:08pm EST
I f I could rate them 0 I would.
Gloria Burd
from Sunnyvale, CA
My phone was temporarily disconnected when I was late paying my bill. (I have basic, $24.99/mo. \ The account code is 705. I have had this phone number since 1985.) I was never notified of being permanently disconnected, only temporarily. This afternoon, I was connected and transferred to at least six different customer representatives, most of them in the wrong dept. I was told by one representative I couldn't have my service restored, but could only start a new account, at twice the cost of my old one. I am a pensioner, and don't want to pay twice as much, and then have all these extras thrown in that I do not need. All I ask is to be made whole. My account is paid in full; now I demand to be made whole, fully restored to what I had before.
Mary Swink
from Orlando, FL
Sales representatives are misinformed. AT&T won"t fix their mistakes and will not work with their customers. Very unsatisfactory customer service.
badlands17
from Quincy, MA
I have the same problem others have had. I have a paid in full (at purchase) Samsung S10 and my nephew's iPhone11(also paid in full) and tried to unlock them. The iPhone, no problem, it's unlocked. For my phone, I did the same thing on AT&T's unlock page and when I checked later the status was "In Progress" Later it came back DENIED saying there was no manufacturer's code for my phone. Called AT&T support (90+ min) who created a case number. The next day, hearing nothing back I called AT&T again. Another good hour or more on phone. That call turned out to be useless as well. Tried again to unlock online. Checked status later in the day and said "in progress". The next day called AT&T again. This was a 2+hr call as I was moved up the phone chain. Was told by the second person that since 5 attempts to unlock my phone were made (I only made 2 attempts, so AT&T support must have tried some attempts while I was on the phone with them), the phone is now permanently locked. Final suggestion today from person on support call was to wait at least a month or more and MAYBE it will work. But no one at AT&T can override my now permanently locked Galaxy S10. So my only other option is to spend $1000 on a new phone from AT&T that is unlocked from the start. If that is my only option, I am done with AT&T. I have always paid my bills ahead of time, have both the phones paid in full and this is how AT&T treat their good customers? I'd like to tell the executives at AT&T what they can do with this phone.
Michael Twomey
from Watervliet, NY
On January 31 2022, I was at an AT&T location in Utica NY to get my mother a phone while she was going through cancer treatments so she could contact family or her medi cab. The AT&T representative talked me into buying a new phone and keeping my existing number, and giving my mother my old phone, with a new number. The representative, when asked, stated that my bill should only increase by an approximate 10 dollars. When I received my next bill it had increased by 280 dollars. I went to a AT&T store in Latham NY to see why my bill was so much, and to cancel the old phone with the new number being that my mother wasn't using it at all. The AT&T representative informed me that they were unable to do anything being that they were just a contractor for AT&T. They stated that I would have to call customer service to get any results. When I called customer service they told me that I had to go to a store to get the phone shut off and only took the installation fee of 30 dollars off my bill bringing it to an approximate 330 dollars. After many attempts by the representative to get me to sign up for auto pay and much debating they finally transferred me to the cancellation manager. Also trying to get me to sign up for auto pay one last time. The cancellation manger got on the line and wanted me to agree to one last bill being charged to the phone I was canceling. When I did not agree and was asking why I would agree to this, being that my last bill was 360+ dollars, the representative hung up on me. Noted, they hung up on me after spending almost an hour of trying to get to a live representative and then dealing with almost 30 minutes of a representative trying to get me to sign up for auto pay instead of assisting me with what I needed. Plus I'm not signing up for auto pay when you just increase my bill by 280 dollars for no reason and without informing me??!!
Sue Johnson
from Meridian, ID
On March 18, 2022, I visited the AT&T store at 1475 Broadway Ave, Boise, Idaho. Two days previously, AT&T and arbitrarily shut of my cell phone. I own a OnePlus phone that is 4G LTE, which is compatible with 5G networks, but AT&T had decided that they wanted me to use a phone locked to their company and shut off the OnePlus. From my first encounter with a young man named Stetson Cox, he lied to me. His first answer to my question about my phone was that AT&T was working on towers in the area and there were spotty outages of service. I then told him that I was with a friend the previous evening who also had AT&T service but whose phone was working when mine was not. At that point he changed his story to the truth, which was that AT&T had shut off my phone and that there was nothing he could do about it. I told him that I would take my business elsewhere. I went to another store to move my cell service, and in the process of transferring it, the SIM card for AT&T was lost. Due to this, I was unable to get a PIN to port my number to the new company. I returned to the AT&T store to see if they could help, and they assured me that they couldn't. I then said that they'd highjacked my phone number because I no longer had an AT&T SIM to be able to use it, and without the SIM I couldn't set the number up on another network. Stetson's answer was basically, "It sucks to be you." I then told him that I thought the action warranted an FCC complaint, and he became defensive and told me that I was being abusive and that he didn't have to put up with me. He then gave me a number to call, and I returned to the other store. The number that AT&T gave me to call didn't work. I returned to the AT&T store, and Stetson pretended to try to issue a new SIM card to me, but then said that there was a fraud warning on my account due to all the times I'd been in the store trying to transfer my service. I stupidly believed him. He gave me a number to call. At this point, I have no phone, so I went to a friend's house and called the number from there. It turned out that he had just given me the number for customer service. In talking to them, I discovered that there was no fraud warning on my account and that Stetson was lying to me to screw me around. I returned to the AT&T store and told Stetson what I'd learned and asked to see the "fraud warning" on his computer screen. He refused to let me take a picture of it, but did let me write it down. He had written on the screen, "We are unable to proceed with the transaction. Do not call for review. Do not open a ticket. If customer persists engage a manager." That is a direct quote. I had not been abusive, aside from offering to file a complaint with the FCC. I never raised my voice, I never threatened anyone, I never used a swear word, I only said that I'd take my business elsewhere, and then mentioned filing the FCC complaint. I then called customer service back from inside the AT&T store, on a borrowed phone, since I didn't have a working phone and the store never offered to let me use their landline, and the man on that call offered to send me a new SIM card in the mail. Before we could complete that transaction, he suggested that the store I was in could issue a new SIM, or sell me one, and asked to speak to them. I don't know what Stetson told him, but by the time I was put back on the phone, the customer service rep was telling me to go to WalMart and buy a SIM. By this time, I'd been trying to get a working phone for 7 hours. I went home. The following morning, I went to the second AT&T store in Boise, and the person there issued me a new SIM. It took about 10 minutes and was free. I was then able to complete the transfer of my service to another carrier. Had Stetson been decent to me, I would have let the matter drop. Due to his extreme arrogance and his policy of lying, I'm going to file the complaint with the FCC about shutting off a working phone and leaving me without any phone.
Stephen Turner
from Kansas City, MO
We have been without internet/TV for two days. Repair may or may not happen and tomorrow will be day 3 without service. Numerous calls, chats and messenger messages were useless. Supposedly there is a system failure in our area. At one point a repair technician was dispatched to our residence. He arrived at the scheduled time and sat in his van while I watched him for about 5 minutes. He did not attempt any communication. He drove off and we waited for 4 hours of the appointment window. He never returned.
Finally after hours and hours of frustrating communications with agents that were clueless and making up stories about what the problem "might be", I made contact with Edwin on a chat. He explained that the problem was an ATT system failure and what it was. One out of maybe 6 people had a clue about what was going on. He was not aware of when the problem would be corrected.
ATT has demonstrated that it is highly capable of providing mis-information, inaccurate information and no information are all. Reaching out to customers when the repair technician drives off is something the ATT giant is not capable of achieving. We were stood up one time by a repair technician and our next door neighbor was stood up two times on service calls that never happened.
It is inconceivable that ATT cannot repair their own equipment and they score a 0 when it comes to customer service. Midco is in our future.
Julie A Fallon
from Colrain, MA
The two men at the AT&T store on Federal Street in Greenfield should receive a poor evaluation. Juri, who said he is a 14 year employee, accidentally upgraded my daughters phone instead of mine. This left her without a phone for two days, and a loss of business as she is a digital strategist with Veracity Media in DC. Juri had no idea how to fix the problem, and after 3 hours, I had to leave without a working phone. I got angry at him and we exchanged expletives; which I don't think he should have been doing given that I informed him I had a psychiatric condition and had my service dog present. When my husband picked up my phone the next day, they said it was all set- but it was not ready and much of my info did not transfer. When I stopped in the next day to return my old phone (as Juri directed me to do ) Nikolai said to me, "I thought I told you not to come back to MY store." This young man behaved like a thug, and does not represent your company well. It has been nearly three weeks and my new phone still does not have my phone contacts. Unacceptable. I went and logged this exchange with the Greenfield Police. Do yourselves a favor and reprimand these two, or provide a manager that has customer service skills to oversee the Greenfield store. Thanks for your time.
Dennis Bergendorf
from Frankfort, IN
My wife and I have different PCs and different email accounts. I have to reset my password at least once a month, and it's been three times in the past week. I just spend over two hours with something jokingly called "customer support," and the last dumbbell couldn't figure out what I wanted. Her script called for to tell me about changing my password (something I've mastered rather well). By the way, nobody at AT&T speaks English as a first language. Those kids in East Asia are hard to understand. I can't wait to get rid of AT&T.
Markeeshiah McReynolds
from Nashville, TN
Im first time customer. I just paid my bill yesterday and my service stop working after 1 second. I talk to 6 customer service representative yesterday trying to resolve my issues. I was told I would've to make another payment after to used my service. After my payment went through successfully. I just want my service up and running. I was only offer $5 out of money. I'm very upset how I was treated about my money .
Sherri Lusk
from Atlanta, GA
Went into the Chapman hwy store in Seymour Tennessee specifically to buy two new phones! Associates name was Paul, He was rude, condescending, and treating us like we were stupid! Now not only will I not buy a new phone we will probably change companies! Never had a problem with att before but this guy needs to be reprimanded!
Sherri lusk
Carlos
from Arlington, TN
The freaking site changed when I logged in to make a payment. Asked to combined accounts -what the just happened now??? So I did used my ATT landline and no success...of course. People in ATT I just want to make a payment why are you making this process so freaking hard,,,
Andrea Leos-Voyek
from Simi Valley, CA
This company is horrible, my business lines have been down a week, it is nearly impossible to reach a person and when you do they transfer you somewhere. Best part is you're really angry and they are still trying to sell you additional, shitty products. I am going to run as far as I can, I got rid of them at home a long time ago. I should have learned my lesson. My phones say , they have been disconnected.
Valerie Abraham
from Palm Aire, FL
A representative was supposed to set up my account Feb 15. Its now Feb 22 and I am still without internet and TV. I received the new optic 5G equipment Feb 19, hooked it up but the ethernet cord was too short. Bought extenders, still no service. Called to find out what's wrong, there's no account created. I finally speak to Tom in the sales department today who actually figured out what happened, created my account BUT it won't be activated until Feb 24! Unbelievable that I have to wait again for service. I am finding this t be a turn off and I will not be using your service when this lease is up in June. Absolutely horrible service and no relief in sight. I work from home and rely on my desktop. This situation cost me a week's pay. Improvements need to be made on the technical side of the company and re-train your representatives. I must have spoken to 10 people in 2 days and they all kept transferring me to others who have no clue what I'm talking about or back to the previous person I talked to. A very dissatisfied customer.
Muskan Master
from New York, NY
I bought iPhone 13pro max from AT&T retail store on 9th January 2022. I raised a request to unlock the phone on 27th January was sent an email on 28th January that the request was approved. Since then I have been trying to use T mobile sim in the phone but it didn't work. I reached out to AT&T tech support, advance tech support, had a conference call with AT&T advance tech support and apple support but AT&T people kept telling me that they did everything and the phone is unlocked. I talked to t mobile and walked in the store too but nothing came out of it because AT&T didn't really perform the network reset on their part. Apple run a hardware and software check on the phone but that too came out clean, nothing was wrong with the device. AT&T never raised a ticket nor noted down the facts, every time i called I had repeat the same story and I got no help from them. Today on 13th February AT&T raised a ticket when I asked them to do so and asked me wait for 24-48 hrs for the case to get resolved. AT&T didn't do their job and kept asking me to go to t mobile and apple store. In the end it was figured that AT&T's back office didn't do the work properly and phone was still on their network. This was the worst customer service experience and waste of my Time since last 1 month.
JENNIFER ROSE PFLUG heindel
from Libby, MT
JENNIFER ROSE PFLUG grinder hostag ENFORCE NEEDED LIBBY COURTHOUSE ANNEX SENATE COUNTRY ASSAULT incumbent tribal PRISONER MILITARY MONOPOLY MONTANA PIPE PIP PIPELINE SOLAR EXTORTION MONOPOLY OVER å
Jessie Clark
from South Holland, IL
I initiated new service last week., January 25, 2022. I previously had service with W.O.W. The company would
not release my old phone number 798-527-3075 , therefore Direct T.V. issued me another number, which I presently have . That number is 708- 566- 1103 . Does AT&T have a service to inform the incoming caller that the number dialed has been disconnected and changed . The new number is such. I'm 76 and contracted Covid 19 leaving me medically impaired. Nerve damage to lower extremities, I'm in a wheelchair and with heart and respiratory issues, using oxygen. I need communication to the outside, especially for emergencies. Please assist me. Your staff doesn 't seem to know which department to refer me to, and I've called several times and spoke with numerous staff. No avail..
Jessie Clark
Ed Lamont
from Boynton Beach, FL
The people I deal with at 611 are dreadful. They don't understand me and the phone reception quality is often not good. I want to get a new phone - 5G compatible.
I've made 3 trips to ATT stores and 3 calls to 611. I GET NOWHERE WITH EITHER! I want to speak with a supervisor who speaks understandable English knows what they're talking about, and can solve my problem.
I've been an ATT customer for between 10 and 20 years. You look it up.
If I don't hear from a supervisor quickly,
Jan Gavin
from New Providence, NJ
If I could give a zero I would. My bill is $11 higher this month. The website to address this first sent me to fios. Over at least 12 attempts, I had 12 different tree options, none of which worked, and all led down rabbit holes. I provided the same info each time, and was never able to get to billing.
I got offered new devices to buy, one time got to my account info. I clicked billing and was bounced out. I never, ever got to billing details
Charlie Martinez
from New Orleans, LA
I learned that you will be removing OAN from Direct TV, claiming they spread miss information. I STRONGLY disagree with your claim and will be finding other providers for our home internet and TV services. We also will be encouraging everyone we know to do the same.
Keith Stevens
from Mount Jackson, VA
You promised you would get my phone fixed
When are we fixing your problem
AT&T Free Msg: Urgent case has been assigned to KEITH STEVENS for research. We will call you within 24 business hours.
AT&T Free Msg: Per your request, we will call you shortly to work on resolving your concern. Please do not reply to this text. Thank you for choosing us.
Terri Coonce
from Bloomington, IN
My mother-in-law is 86yrs old with declining health issue's she has been without phone service since Sept 24th and several calls have been made to have it repaired and explained the urgency of the situation her life depends on the phone service for her medical alert in case of emergency thank God my sister-in-law happened to be there when my mother-in-law needed to go to the emergency room last week because it could have turned out very grim for your family. My mother-in-law is actually still in the hospital as I am writing this what can be done to make at&t take this situation as serious as it is? 13 day's is more then enough time to have it taken care of????
Arlyn Marrero-Nasirov
from Sacramento, CA
Manager attitude and unknowledge of the contracts and procedures. Had to go 3 times to get help with unlocking my phone, still not resolved. She came up with the story that I need to wait 30 days to be unlocked. That is not true, is only for corporation contracts, not my personal phone. She stay always in the back of the store instead of helping people coming or the new employees working under her. I have to ask for her to get involved and got defensive. I work in a hospital, we deal with multiple high-intense situations of life and death, we still present ourselves with a nice face and been sorry for the problem or issues. I have never complained and I have been a loyal customer for more than 12 years! I'm still a customer and was treated like I'm an idiot not knowing how to use the computer and doing the unlocking online. I explained many times that is not working, and that I don't need to be condescending. Still waiting to resolve my issue with my phone as nobody, online or at the store, knows what to do. She actually told me that my problem was to buy the phone with AT&T that I should buy my phone through Apple. Well, that was my first and last time getting a phone through a wireless service.
Fairoaks blvd, AT&T store, October 6, 2021;4 PM
Arlyn Marrero-Nasirov, MD
909-653-5857
Stephany salmeron
from Alexandria, VA
In 2020 I went to the att in Alexandria va beacon hill and the manager lied to my face to upgrade my phone and he told me I would be credited $350 and it would come up on the bill , later on I didn't see it on the bill and went to the store to talk to the manger and he said that I was lying he never said that I understood wrong and he humiliated me in front of his other customers. I don't think that fair coming from a manger and he basically made me feel so stupid and he lied to my face that just wrong and disrespectful , hopefully I can get answers … please contact me (571)345-8720 or my email carlos_salmeron1@outlook.com
coral melton
from Seneca, SC
I was told by 3 different reps that I was entitled to a promotion then when I called back someone else I wasn't this is the worst company to deal with they always have an excuse. I been customer since bell south I don't recommended at&t to no one
raymond goldsmith
from Canton, MI
Over a week ago I asked to have my remote for the tv replaced...................I was told 2 days for delivery.............it has now been 10 days and still no remote........it makes the tv experience very inconcovient. please please
send my remote !
Melisa Parnell
from Oxford, AL
HORRIBLE customer service
James Baker
from Atlanta, GA
I James Baker has not been treated with respect as a existing customer. I pays the same amount every month with auto pay. And has been harrased for a while by customer service in home wireless phone about purchasing other plans that costs more a month. I told them this is all I can afford to pay month. My bill has went up without any notification
John k welch
from Wilmington, DE
This was the absolute worst experience with att.They did not disclose before upgrading to an iPhone they wouldn't accept my phone.When the agent and I contacted customer service they were absolutely rude and mean.The agent was less than helpful.I switched to xfinity with great service and lower fees and costs.I would never use att again
BEWARE OF THEIR DEALS. DON'T ACCEPT ANY TV OR PHONE SERVICE.
Clearly got scammed by AT&T. I was suppose to get $250 reward from AT&T. Only got $150. Contact AT&T and they told me to wait until the end of the first month to see if the remaining comes to the mail. Cancelled my first month of TV because I only wanted it for the reward. Contacted AT&T after the first month of TV. They state they cannot give my $150 because my service is cancelled. YOUR THE ONE WHO TOLD ME TO WAIT UNTIL THE TV SERVICE ENDED. They clearly knew that by waiting until the TV service end they don't have to give me my reward. PROFESSIONAL SCAMMER. Was highly thinking about going for AT&T phone service. Clearly not even worth the money. Who knows I'm not even going to get that $250 reward from the phone like they said.
Lee Clinefelter
from Oklahoma City, OK
No part of your company works, I was on the phone for 2 hours with customer service to work to correct issues and still did not have enough time, requested a call back with the customer service agent stated would happen and still nothing. Fire everyone involved in your process and start over.
Joe Bassi
from Brooklyn, NY
My wireless signal at home in Bethany CT is terrible and has been for the longest time.
Trying to find out why is like trying to cut off your own arm. It seems that people don't man the phones any more and if you're lucky to get a person they are from some other country and don't have a clue for why the wireless signal sucks.
I'm really disappointed. It looks like the time has come to dump ATT.
Glenn Hall
from Silver Spring, MD
On Saturday, September 5, 2021, I went to the AT&T store located at 10729 Columbia Pike, Silver Spring, MD 20901 and spoke with the customer service representative, Timothy. I told him that I had gone to the AT&T website to receive the teacher appreciation program which offered qualified teachers a 25% discount off their bill if they added four phone lines to their service. My family and I have been customers with AT&T for over 15 years. My wife (Jennifer Hall) was in charge of our plan to begin with and I took over the account in 2018. I traded in four iPhone X's that met all of the trade-in requirements in order to receive the $700 discount that the promotion provided if my family turned in their personally owned phones. I was told by Timothy and the manager of Ben that my total bill would be $214.88 and that included surcharges and government taxes. I looked at my AT&T online account today and was shocked to see that my next bill would be $380. I called customer service and spoke with DJ who said he was unable to help me and that he would have his supervisor call me. I received a call from a supervisor named Jam. I explained my situation and how I was lead to believe that my total bill per month would be $214.88 including surcharges and government taxes and the only solution she offered was to downgrade my wireless plan from Unlimited Extra to Unlimited Starter which I told her was unacceptable. The only option she said she could offer was to change my plan. She did not offer any other type of help to resolve my issue no matter how I pleaded with her. This is not the first time that an AT&T customer service representative has given me the bait and switch offering me one plan for one price only to find out that I have been lied to and that the plan I signed up for is far more expensive than my budget could afford. This is not the first time that I have been treated like a second-class citizen by AT&T. My family and I have been going month to month for the past 10 months trying to figure out how we could transfer our service to another company so we wouldn't have to be abused by AT&T anymore. We are just tired of being constantly getting the run around by the customer service representations we have spoken to. In the past month or so, I have been told that I could not speak to a supervisor, hung up on more than twice and spent countless hours on the phone trying to understand why my 15% teacher discount has not been applied to my bill when I signed up during COVID. One customer service representative told me that I did not meet the requirements and I had to take my active teaching certificate, current school ID and a letter from my principal to a brick and mortar store in order to have the discount processed even though it stated that I was supposed to receive the discount in on my account. The only customer service representative that helped me was Jessica who filed an investigation for me to inquire why the discount hadn't been applied for months (case #20210903). Other than that, I have received absolutely NO help from any of the customer service representatives I have spent numerous hours talking to either on the phone or in chat. I am seriously considering paying the opt-out service charges and canceling our contract in order to move our service to another cellular company that might possibly treat us with respect and dignity. My family and I have been dealing with these issues for far too long. As I said, when we signed up for the promotion the website stated that the Unlimited Extra plan was dropped to $30 per month if four lines with added to the plan. That included new and previous customers. It also said it included HBO Max which it does not. Once again, at every turn, AT&T has lied to us and pulled a "bait and switch". No one can help us just receive what we were told to expect. My wife and I are both teachers with two children and on a very limited budget. We do not have $380 to pay each month for cellular service. If you look at our account (#418093619867) you will see that our bills rarely stay the same amount. It has gone from $297 to $211 and anywhere in between. How can I make a monthly budget when I do not know what to expect each month with my cellular bill? I ask people if they experience similar billing issues with the other big three cellular companies and the answer is always "no". If you listen to the recorded conversations I have had with your representatives, you will hear how uncooperative they are and do not try to resolve the situation to the customer's satisfaction. I thought taking notes would help document all of the information I have been told when trading in our phones and purchasing new ones, but what I should have done is take screenshots of the promos from the websites because I have been told by Sum (supervisor) that they did not exist. I told her that she really should not lie to a customer and definitely patronize a customer. All she continued to say was "I'm sorry sir, but there is nothing I can do to help you". I am trying to file this complaint first before I take matters to the corporate level and BBB. I just want the deal that I was told I would receive with having to downgrade my plan from Unlimited Extra to Unlimited Starter. I do not think that is too much to ask for from a loyal customer. Again, check the records to see how long Glenn Hall and my wife, Jennifer Hall have been customers of your company. You would think that after this long, the last thing your company would want is to loss us to one of your competing companies which I do not really want to do, but I feel like I am being forced to by the constant mistreatment and abuse. I sincerely hope that this message is read in it's entirety. There is a lot more I could write, but that would take pages upon pages. I could write an entire summary of my experience with the buy 2 get 2 free iPhone X promotion that AT&T ran two years ago from this past November 2020 (I think the promotion began around 2018).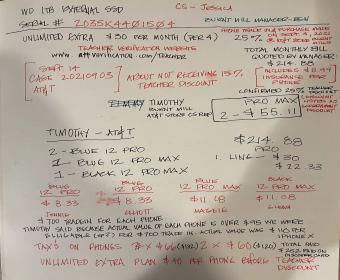 Brenda Martin
from Meadville, PA
On Sunday, August 29, my husband and I entered your Meadville store 4:50 PM. It was difficult to tell who was a customer and who was an employee as nobody there appeared in a professional manner. We were approached by a young man who told us we were second in the waiting line. He took our name and reason for visit. Seven other people came in, waited a half hour or so and left. Initially, there were two "technicians" assisting people. When the one technician finished, at approximately 4:35, she left the building and we saw her drive away. As she drove away there were seven people waiting for service. At 4:50, the individual who left returned in her car and sat in the parking lot. That left only one person, Jasmine, the manager, to assist customers. What a shame. Seven people left the store in frustration. At 5:05, we were called to the table. The store was now empty. Jasmine was attempting to assist us. We informed her that her employee was sitting in her car and she responded "I know". At about 5:15, the other employee walked back,in, sat at the table we were sitting at and never said a word. Jasmine was unable to assist us as she was apparently having "computer issues". We left with our issue unsolved. The employees had a channel with black people arguing and screaming on it the entire time we were present. The atmosphere was disgusting and one of utter apathy. Your "employees" did not care one bit about service or customers and they made it apparent. We understand that AT&T is of the "woke" mentality and as such is accustomed to a nonchalant and uncaring attitude. To us, as customers, however, this is unacceptable. The face of AT&T is forever disgraced in our opinion after our experience. We have begun a search for a new provider. Best of luck to you, you're going to need it with employees like you have in Meadville PA.
Brenda L. Martin M., Ed
Jacqueline Ann Shiver
from Huntsville, TX
No service now being told we have limited service but bill still the same..Use to get full service at home now absolute none ..Even text won't go out ..But that bill rolls in every month ..No credit for no service
Is it asking too much to put a tower up in Glen Allen Mo? Not in Marble Hill or Grassy but Glen Allen. Horrible to have a service that is over priced & can not use it at home.
Boost your signal for rural areas please
Donna Fiallos
from Miami, FL
My internet was shut off without notice my bill was accidentally not paid due to losing my card and number being change on it . I called and paid the past due amount and was supposed to recieve new equipment in a couple days and it has been five days. Now I call and there is a technical problem meaning I owe 50 dollars on the account that they abruptly closed. I must open a new one but in the mean time I am paying over a hundred dollars a month for a TV package why shut off the internet I cant watch the package that I currently have. I am on fixed income and I am sick I am sorry I made a mistake but why am I treated so poorly by your customer service. I was not told I have to pay the 50 dollar balance before my internet box could be sent out. Can I pick it up at the att store I have been without so long and going on two weeks not being able to watch my tv package. Thank you for any help
Jana Everett
from Keller, TX
I sent a payment out on April 2,2021 for $94.95, to the mailing address envelope which I had Att Atlanta Georgia then on May 3, 2021, I sent out a payment for $95..19 on the address envelope to carol stream Illinois, why the address change, to get more money from customers. I heard the att Atlanta Georgia never received the payment so I sent out another payment $94.95 on June 2, for the April 2 bill, my mother 95 does not call anyone. I have my cellphone I use, being her daughter. All she receives is scammer calls who spoof important numbers and call her number and probably charge it to her number. Att is charging her it was $250 but it has gone down to $124, she has to pay for scammer calls I guess , not right, this world sucks, people doing anything to get more money from the elderly customers. Att getting more money by having an att address to Atlanta Georgia and changed it carol stream Illinois.
Eva Mayer-Meek
from Belleville, MI
I have been without a Phone service for more than a week because of a very noisy line, my appointments to have this fixed have been changed several times.I have spend too many minutes on the phone trying to have this taken care of only to be transferred from one person to another or put on hold for 20 minutes or longer so I would hang up. If I where an invalid who needed this phone I would be in serious trouble. I did finally get my appointment on Friday the 23rd and I think I will seriously consider moving my service to a different company.
the phone in case anybody really gives a hood.
Vicente Soriano
from Lemon Grove, CA
The reason is that I am trying to get help with customer service for mistake and unprofessional way of of getting my daughter to upgrade her phone not been honest and wait to the end of the transaction to inform her that her phone was damaged and it didn't qualify for the promotion
Sharon A Shannon
from Hazelwood, MO
I am very disappointed in the customer service department at ATT. I called three times inquiring about my landline phone bill and the credit I was owed. Each and every time I speak to a customer service representative and explained to them the purpose of the call; I am put on hold for so long, I must hang up. As a matter of fact, I'm on hold as I am writing this complaint. The initial hold time was quoted for three minutes, my phone is reading 19:01 minutes. Please feel free to call me back at 314- 731-3122 to answer the simple question regarding me having a credit on my account or credit my bill. Thanks!
willis walthuis
from Los Angeles, CA
over billed me. and will not tell my why owe this money?
James Elliott
from Woodstock, AL
On June 8,2021, I agreed to sign contract to keep internet with att CSR, Karen, sold me the idea after I called to cancel to move to T-Mobie internet. Stated would have it installed quickly. Appt was set for 6/10/21 between 9-11AM. On nite of 6/9/21, att sent me msg needed to move appt to Fri 6/11/21 between 11AM-1PM. I was ok with this. Fri at 140PM, I called att to see where tech was. I was told, apparently, one big old LIE !! Told by rep that tech was held up at elderly Cust to teach them how to use equipment. No problem here, as I am 70. We'll tech never called or texted me, as requested by me, AT ALL !!! Called att again around 5:30PM to find out what was going on. I was told by him, NO RECORD of fri appt. Stated I wanted to talk to supervisor. I was put on hold for 4-5 minutes. CSR got back on line and stated a SUPERVISOR would call me within 15 minutes. NO ONE called at all. At 8:05PM this evening, got msg from att stated they noticed I hadn't rescheduled Thursday appt. SIMPLE question: Do you have to be a LIAR or a DUMBASS to be employed there ? Not kidding about this. Dead SERIOUS !! Apparently, someone got rid of Fri appt, prob to cover own ass. I'm going to call T-Mobile , where.I've had their phones,( now 6 on acct) since 2005. Offered new internet service recently at about same price. Whoever gets here first Monday, will get or KEEP my service. I've done all I can do at this point, except for acting like a complete ass and JERK. J Elliott
Szyja Samuel Szniatkiewicz
from Fort Lauderdale, FL
I switched on 05/26/2021 from Fiber1000 to Fiber 300. Special offer for existing and new customers for the Fiberglas300 Internet service ended up with paperless billing, Auto pay and $20 Discount ended up to $45( including Equipment Fee). AT&T denies now to provide this price and stated it would be now $79. As attachment i provide a print out of the published special offer as well the Customer Service Summary which I received from AT&T after I changed my plan to Fiber300. I contacted AT&T customer Service 31 times, they are unfriendly, unprofessional and even threatened to cut my Service off. I don't even want to mention which remarks I had to hear regarding my dialect and age. I`m a low income senior citizen and feel greatly abused from this company! I have the Confirmation from AT&T about this special in written and AT&T customer service ignoring it. Because i live by myself and it is very stressful for with almost 70. So my neighbor copied the AT&T Customer summary from th05/26/2021 and sent formal complaint to the Federal Trade Commission as well to the Public Service Commission of Florida. For me it is not understandable how AT&T treats Customers and absolutely doesn't care, basically lies.
Attached you find the Documents
Diane Bohn
from Ashburn, VA
I just bought a phone from At&t. I just got it today it was not what I order and I have had nothing but trouble from customer service I want a Samsung note not what they sent me since than the AT& t website locked me out of the site asking me to change my password 6 times and I still can not log in I do not want thiscphone I want a Samsung note delivered to my home address it's phone is not working it is slow and I need a note to handle my work I have no car so I want my note delivered to me and they can have this phone back I am not happy when the guy left the phone not set up and than I said this is not what I order the note came with a cover this phone had nothing just the box I am a senior and I do not like to be taken advantage of Diane Z Bohn..465 West San Carlos San Jose art 3105 please get back to me I can notveven down load my files on this little phone my old phone is better than this one but I moved my service to upgrade my phone and to get better service I am shocked I want my new phone Samsung Note delivered to my home they have my payment already no excuses from them
I have had a very bad experience so far with AT&t I am going to be paying allot every month for unlimited service and for a phone that will do the job not this one
My bill has been incorrect and I've been over charged since October 2020. It is now May 2021 and I just received June's bill. Still wrong. No matter who I talk to, I get a different answer every time. Adjustments have been made, yet every month I call and waste hours of my time to get the bill "corrected".
kevin miller
from Dallas, TX
I moved my service and was due a $400 reward card for moving and when I didn't get it, I contact them. They told me yes I was due the 400 but I needed to speak to rewards. I speak to them and they say it was only 100 and it expired. Customer service told me I was owed nothing.
Richard Huska
from Escondido, CA
I cancelled my AT&T service on 2/17/16. Switched to Cox. Wife did not like it so we switched back to AT&T on 3/27/16. I informed the ATT account rep we wanted the same service we had when we left a month ago. While with AT&T previously we had international calling to Canada as my wife's relatives are ill and she calls them in Canada frequently. Received our first bill and we were charged about $500 for phone calls. Called AT&T many times complaining about our bill and was told there was nothing that could be done. My wife and I are in our late 70s and have never been treated in such a rude manner. This is senior abuse. Apparently, their shareholders do not care how customers are treated. Keep this in mind when shopping for a new phone carrier.
Wendy Ann Earp
from Goose Creek, SC
First I want to say that AT&T is the worst company I have ever had to deal with in my whole life when it comes to customer care. I have been lied to continuously for 6 months now and with no resolution thus far. I would think that with a corporation as big as AT&T, you would have better customer care and make sure there are resolutions that do not keep lingering for over 6 months. I have an existing account with you (acct. #152144336 Jordan Douglass) as of now. I will talk about that issue at the end though.
The issue I want to complain about first is about account # 119331175 Jordan Douglass. This account is closed and was one that we had back at an older place we lived at in 2012. When we moved to a new resident we had to get another internet provider since you did not service that area at the time. When we left your company we were told that there was no need to return equipment since it was outdated anyway, so we boxed it up and put it in the closet during moving. I left it there and when we moved to the new place this year I found it and did not throw it away.
We moved from that area as of April 2016 and into the AT&T service area and got new service with you. So here is the problem.....When we moved here in April 2016 I called ATT&T and asked about service here for internet, cable and phone (landline) I was told by your agent that in order to get service here I would have to pay for equipment that was not returned from old account and also pay the $481.00 equipment fee until they receive it and once received they would reimburse/refund me my $481.00 back within 30 days after receipt of equipment.
I made sure I asked the AT&T agent if I would get my money back in that time frame with no issues and they assured me I would. That was a lie. I just want to say that the only reason I never returned the equipment in the first place back in 2012 is because we were told there was no need since it was outdated equipment. That was also a lie. I returned the equipment April 26,2016 and your company received it April 28,2016. I waited a month before I called to inquire about my refund on that equipment I was promised by AT&T's people. They told me that it would be another 30 days. I waited and did not receive anything. I called again and was told by an agent that it takes 90 days to get a refund, not 30 days.
So since it was past 60 already I would only have to wait another 30 days. The agent also said that if I didn't want to wait that long I would be able to get that $481.00 credit to my new account. I asked if that was the ONLY option at the time and she said "No, you can wait 30 days and get a check or get a credit right now to new account" I opted to wait 30 more days. This was a lie. I called again and spoke with an agent who was a supervisor. We discussed the whole situation and at the end of the conversation he assured me that I would be contacted with in5-7 business days by someone after they listen to the calls where the agents made those promises and lied to me. He said that IF they see that the agents lied, I would be getting a credit in the amount of $481 to my new account or a refund.
That was over a month ago. I did not get a call. I have called several times and I get the same old story that someone will be returning my call that day and no one does. I have to repeat this over and over and over every time I call and then again when I am transferred. I am s tired of repeating myself. I just want your company to do what they Promise and just give me the money I am owed. You got your equipment, Now I just want my money and or credit so I can be done with this and move on. I do not want to mess with this further, but if there is no resolution I will find a way to reach out to someone else and resolve this matter.
The other issue is with the New service. Where I live the cables/wires/lines for our internet and phone service is on the ground and every month we have to contact you to send out service men to repair them. There are power poles out here and our community is wondering why you do not put them on the poles. I work from home and so does my neighbor and we need our internet and phone service in order to do our jobs. We can't work if there is no service. I have had to miss a whole day of work due to the neglect of fixing this problem. I will be very unhappy if I lose my job over this continuance of outage due to your company's lack of taking care of the problem.
Again, as of Now, I am a customer. All I am asking is to resolve these issues. Your company is not supposed to be some shabby fly by night company, but as of now it feels like it is. I would like to think that you take pride in your company and care about the customers that support you. If it was not for the customers, you would not be a company, am I right? So with that being said, I would like to think that you would attend to this matter so that we can move forward without further ado.
You do not need to write me and tell me that I am not getting a refund or credit because it was returned way after the allotted time, because that has already been said and I do understand that now. But I also understand that your agents know this policy as well and should not be making promises you can't stand by. I would not have bothered returning outdated equipment if I was told that I was going to have to pay for it anyway. Do you understand where I am coming from on that? It just sounds like your company lied to me and told me that just to get money out of me on April 2016. That is just bad business ethics.
vinay reddy
from Concord, NC
I got bill 119.03, for the month of Bill Cycle Date: 08/09/16 - 09/08/16. I was upset about International Long Distance (2. Minutes Billed 16 56.32). Intentionally i did not make any out bound calls to out of the country, I would kindly request you to remove this Internationally billed amount. None of the customer agents are not understanding my situation. I am with AT&T more than six years. Please understand my situation. I am hoping you to resolve this issue, and deduct the amount and finally to providing loyal customer service and satisfaction to the end customer.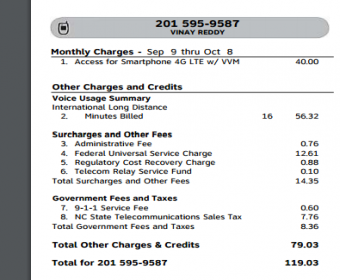 Stacy Ellis
from Greenwell Springs, LA
I spoke to Jessica Fox who is a collection specialist on September 12, 2016 around 5:56 pm. She was trying to compare AT&T's business to gas, which was very unprofessional. She also agreed with me about downsizing and switching to another company. I think Jessica needs more training, she should never agree with the customer on those terms. If so, there would not be an AT&T and she is not representing the company in the appropriate manner.
myself
from Willoughby, OH
My land line number is or was 1440 9516218 mike steele cell phone is 440 5374742. I used this land line for my heart monitor only which is as critical of a line as you can have. It was disconnected because i did not have the money. When i finally got it i paid it on 1-21-15 i paid the bill in total and called to have it connected again . In the period of 3 whole days i talked to at least 6 at&t agents from all of the country and world and was promised and guaranteed it would be on at any hours and never happened at all and there was not even any paperwork put in to have it done. I had a small dispute with the last agent and he told me it would be put back on on the 21st but as the day went on it never happened as usual. I called late in the day and got a hold of at&t and was told oh no its not going to be hooked back up till the 28th of January. Shocking i was penalized almost a week to get my HEART monitor put on because of the complaining of never getting the job done. Finally a woman supposedly helped me on Friday afternoon packaging all 3 of my services with a connection of my land line this Monday the 26th. I have been a faithful customer but this is the worse service in the history of services. My u verse account is 4405374742 which is my cell phone number and my new package is 4405255492 what a disgrace with the way this has been handled. My next stop is anyone that will listen to me i told everyone of them that this was for a heart monitor and got the same story from everyone, terrible.
David
from West Hollywood, CA
I went into the AT&T store to see if I could retrieve the unlock i needed and requested for over 3 weeks for my qualified and paid off galaxy S5. On July 13, 2016 is the date i went to the store. Of course i did not get the code but a sales rep talked to me and suggested getting an S6 for the wifi calling would resolve my home cell signal reception quality. This Microcell box is not the answer because i do not offer or will i pimp out my internet service for another companies benefit. and i do not even get anything. I get a compromised network that lets data to be used and exchanged for another companies benefit. I lost 20.00 from TWC because they could see another LAN connection using other sources, and ip addresses etc. thats not theirs.
My point is the sales rep said if i bought the S6 it would resolve the cell signal problem. and i would have aback phone if i lost or it got stolen. The S5. so stupid me bought the S6and on day 8 i had cell phone signal problems to the point they were important phone calls. I realized the wifi calling did not kick in. I called the AT&T phone customer service. I was told that the S6 does not have the wifi calling working yet. The only S6 is the active which i was not sold and the entire purchase was based on that fact. So here we are 2 months later and i must have spent over a solid day in these 2 months talking to everyone and i thought thing got resolved with them offering me a warranty replacement for the S6 Active. when i opened the box oit was another S6. Called the 1 800 the rep told me to go to the dsc near my apartment.
The employee at first refused to help me. then he finally after 30 minutes of talk decided to help. Then he read the notes and i showed him a copy of the chat i printed with the details and he said there was nothing he could do. So I called chatted today. I got no where. Lies, BS, a sore through, hurting fingers and again no where. now i am sending a formal complaint to the CEO and I have filed a complaint with consumer affairs and am going to contact the FCC. This is just wrong from the beginning and my time is not even factored in.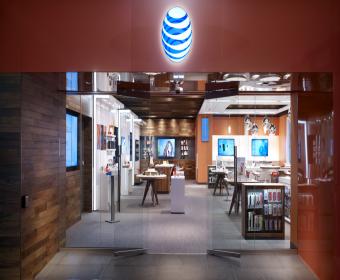 Cal Bryson
from Charlotte, NC
My phone has been out of service for 24 hours. I have tried to report the problem using your "extremely frustrating" automated systems. I have tried to talk to a person no less than 10 times today. None were successful. I was cut off, put on hold, told that your center is closed and now you are calling my other line(704-375-5300) every hour or so and hanging up. This is your automated system trying to determine if I still have a problem. I have tried numerous times to speak to a person and that evidently is not possible.
Several weeks ago you also unplugged my line while installing someone else 's line. It took several days to resolve. I have asked a supervisor to call at least 4 times and no one has called yet..Your customer service is the worst I have experience in some time and I have approximately 20 mailings on my desk asking me to sign up for additional services. I would appreciate someone from AT&T who cares to call me to resolve the issues....I have given up for the day.
Akira Gamblin
from Milwaukee, WI
I have been trying iPhone and iPad unlocked for two weeks after paying off the balance on each device. I've called numerous times to get this issue resolved, and each time a representative promised to call me back within 24-48 hours, but I have never received a return call. My wife has been without a phone for the past two weeks. I cannot go to another phone carrier because the phone is locked, and AT&T has purported that the IPhone has not been paid off. I have a receipt date August 31, 2016 that shows both devices have been paid in full. This is really frustrating, and I want to get this resolved as soon as possible.
John Kovacs
from Burbank, IL
Bought the new Samsung 7 Edge at buy one get one free. They charged me full price on both phones and refuse to make things right. I have been with AT&T since 2003, but I will be finding a new carrier this weekend. If I could have given 0 stars, I would have.
Edgar Rivera
from Miami, FL
My friends, family and myself are receiving harassing texts from 787-679-1131, this is an AT&T number not affiliated with any of the persons recieving these texts. All involved have tried to contact the number but no one answers. Can you please shed some light on how to stop this or what to do to stop this, i would like to press charges against the owner of the number.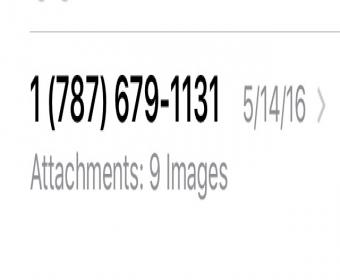 Bruce Kowalewski
from Chicago, IL
My neighbor was having work done because he lost service, I saw the AT&T truck in front of his house when I got home. My wife and I had a very busy Friday and Saturday and all we wanted to do is relax and watch a movie.
We turn on a movie and after a minute the screen freezes for 10 seconds and then tells us channel can't be reached try another channel. Well no channels worked, so I went to the main box and saw the broadband 1 light flashing green and red, all the other lights below were off.
So I powered it off for 10 seconds and powered back on, same thing, so I rebooted the box connected to my tv, nothing changed. I called support, they stated they can't even reach my box, so I went outside to see the tech on the ladder and doing something in the box connected to the line. I introduced myself, and told him that tech support can't even reach my box and by chance did he disconnect my wires. His exact words were no, I just bumped into your lines, I didn't disconnect them.
I called support back, went through the same line test and was told I am unreachable, I told them what I thought, and they said to ask the tech to take a look, I did and he said I just bumped them. I told him it was working fine until he wen't into the box and his reply was he would get in trouble with his union if he went in the box. I said you were just up in that box putzing around and his reply was I don't like the tone of your voice and walked away. The support person was still on the line and asked when should they send a tech out tomorrow.
The tech arrived Sunday afternoon, I explained what I saw and thought, so he took his ladder out and climbed up and took a look. He stated the wire is broke, and reconnected it, and everything worked fine. My neighbor came out saying his Uverse/Internet wasn't working right and scheduled an appointment for the next day, but the tech said seeing he was here yesterday, and you scheduled an appointment, I will take a look. After 2 hours and some replacement parts my neighbor was back up.
I am really pissed off at that tech, so I called to file a complaint, the girl took my information down and said she is transfering me to her supervisor. Well after 20 minutes she tells me her supervisor is working on another issue and when she gets done she will call me. Well its been 36 hours later and no call. I just called back, and was told our systems are down, call back in 2-3 hours, well just goes to show how from the top down AT&T could care less about their customers.
timothy ingham
from Fort Lauderdale, FL
This complaint starts from the day I ordered a new iphone 6 plus. My personal assistant, Patty called AT&T on October 14, 2014 and spoke with Frank Victor who placed the order for me. She explained to him that I was up for an upgrade so I wanted to do the two year plan. However, for some reason he placed me on the Next plan and was unable to change it at the time. He told me to call back in 24 hours to have it changed. My credit card was charged $57.00 for the order, which to date I have not gotten back! When Patty called back on October 15, 2014, she spoke with Jarmain and she said that it cannot be changed in the system that we have to wait for the phone to be activated and anytime within 15 days it can be changed...AFTER ACTIVATION
She did say that it shows I will get my phone in 28-35 days.
Continuously called all through November and December for when the delivery will be there and kept asking if there was any way for the reclassification to be done. No progress. On December 17, more than two months later, I finally received my phone. Patty calls to activate it on December 18. That was no problem, but when it came time for them to switch the classification, Patty was told it could not be done. She spoke with Cindy Wood who got with her supervisor Jason Pofhal and he explained that it was another department to make the changes since the order date was so long ago. I explained that I had spoken with several representatives and was told that the phone has to be activated. He said he will make notes and get someone to call me back. He assured me that I would have to only pay $499.00 which is the upgrade contract price and not the next price of $949.99.
couple days later, Jim called and told me to get in touch with the IT department. After several tried for that department, I was told that no such department exists and that I should get in touch with the Premiere Department. Spoke with Connie, he said he cannot help, but to try back. Finally got in touch with the premiere department and spoke with Carol, she said there was nothing that she could do and would check with a supervisor. I was on hold for more than an hour and spoke with Saundra who said she looked at all the notes and couldn't understand why this was not done in the beginning by the department that the supervisor Jason was in. All in all, I was on the phone for about three hours and she spoke with another supervisor in another department, Seeta who was absolutely no help and was not even nice to talk too.
Saundra decided that she would put a note on my account that I can try taking it to a store and if they would take it back I can repurchase another one. I did not want to do that since I already used my phone on a recent trip and did not want to lose the pictures, etc. on it. I am very disgusted with this service and all the back and forth. we were never told to cancel the order completely and start over...I think it's a ploy for people to pay double to own a phone. I am also filing a complaint with www.ftc.gov for this absolutely poor service to deal with a situation.
donald goulas
from Center, TX
I have an e-mail address only, I changed my phone service when I moved. I cannot access my e-mail , telling me my id an password do not match. only password I ever had. I was told I had to close this e-mail before I could open another. I have no e-mail I'm screwed att. Thank you.
Angela Pangelinan Hendry
from Fairfield, CA
First off, I am 40 years old and have NEVER filed a complaint against ANY company EVER!! That being said, this is why I feel it necessary to voice my complaint. I have been what you call a "valued customer" for nearly 25 years. I had a landline, internet and 4 cellular devices with AT&T. My nightmare began a couple years ago when my internet stopped working. I called AT&T and was talked into switching to U-Verse. Ok, no problem! A tech came out and installed my new internet service. I immediately realized the internet connection was extremely slow and ultimately did not work at all. I called AT&T back and they sent a tech out who said he fixed it.
I guess "fixed it" was temporary because a few days later....no service. This happened again and again for several months. I was finally told by an honest tech that the "real" U-Verse wasn't available in my area. Tech said she fixed it but again a few days later baaam...no internet service. I called again and they scheduled my appointment for the next day. The next day came and went and nobody came to my house or called. I called to find out why and was told that they accidentally scheduled me for the following day between 4-8 pm. So the next day I left work early so that I would be there in case they came at 4:00. My husband and I sat in our living room with the front door wide open patiently awaiting the tech. At 9:00 pm I called to find out why the tech hadn't showed. I was told the tech was running late and would be at my house within an hour.
I confirmed, "Your tech is going to come to my house at 10:00 at night?" The customer service rep said, "Yes." Ok, I'll continue to wait and that is what I did until about 12:30 am when I went to bed. The next day I called back to complain that nobody ever came and I was told that the notes stated that the tech came to my house, rang the door bell, knocked and called my phone and nobody answered. Uhmmmm...wrong!!! I had no missed calls or voicemails on my land line or cell phone. I called to complain and was transferred several times to "supervisors". One of the times I was transferred, they just hung up before I even spoke. Another time a "supervisor" would call me back the next day. Nope, that didn't happen. So that being the last straw, I cancelled my internet service and went with a different company. Since they were offering a deal on my landline also, I went ahead and gladly switched.
Jump to the next scene one week ago. My daughter had the iphone 5c. This was the second Iphone 5c that she has had because the first one decided to jump off the diving board into a swimming pool. I replaced the phone at my cost because it was my daughter's fault. So we get the new phone and it is crap from the beginning. Home button never worked, text messaging worked when it wanted to and a few weeks ago the screen cracked in front of our eyes from just picking the phone up. A few days after that, the phone was unusable.
I called AT&T and after being transferred from Insurance to warranty to whoever else and had to explain the story each time, I was told that they would ship us a Iphone 5s priority shipping and we would not need to use my upgrade. She did tell me that they would have to charge my account $400 but that they would credit my account $400. Not sure why but whatever...I agreed. Priority shipping would take 2-5 days. This was a Sunday so I figured it would be here by Friday. So the week went by and Friday night, still no phone. I called AT&T and was told the phone was accidentally shipped to the wrong address so they stopped shipping and had it sent back. (They sent it to my mother's address which makes ZERO sense.)
I was also told that they tried calling me to tell me that there was an issue with the shipping. Surprising...I must get no reception anytime AT&T calls me because I had no missed calls or voicemails on my cell phone or land line again!!! So I asked for them to overnight it to me since it has now been one week with my daughter having no phone. I was told they could not overnight it and the lady I spoke with last Sunday gave me false information and they would not be able to send me a phone without doing an insurance claim. See above- I already talked to Insurance!! They transferred me elsewhere!!! I finally asked if she (Amari) was going to help me and she said not without an insurance claim.
Which would take several more days and priority shipping would be 2-5 days again (if they sent it to the right address this time). I told her that I was fed up with AT&T and that I was highly considering switching to another company. The lack of care in her voice and her unwillingness to try and even attempt to fix this pushed me right out the door.
You just lost a "valued customer". The two words that you say to me every time I call. The two words that mean nothing to me based on your actions. I can tell my kids I love them every day but I have to show them that I love them for them to believe it.
Cathy James
from La Grange, GA
I used to have internet and telephone service with AT&T. Until about 7 months I had my telephone turned off because each month in would be a different price plus they was going up monthly. I left a balance with my telephone $68.00 I still have my internet I was paying $10.00 each month on telephone balance. Until they stop allow me to pay the $10.00 thru my online account next thing I knew they have put it collection. First it was Franklin Collection. I don't understand that I was paying them. My balance was 38.00. Now the have sent it to another collection agency. I just received my bill for my internet service and it has almost double. I look to see what they was charging me for. They stated in December I removed their service and in the same month add it back so they charge me for that. I never called them about anything in December. You can't call and talk to anyone anyway. What is going on with AT&T. I am going to contact Public Service Commission. And why do they goes up every month on telephone service?
Ray Story
from Portland, TN
I have had intermittent internet service (Uverse) for 3 weeks now. I spent a considerable amount of time on the phone yesterday with a AT&T rep trying to resolve the issue. My internet was completely out at the time. After all the tests she told me she could,t resolve the issue. She set me up for a service call today from 1:00 to 4:00PM. I waited here during that time. No one came & no one called. After 4:00 pm I called only to find out due to "overbooking" they couldn't make it. I am 72 years old & remember when At&T was a professional company that could be depended on to follow through on commitments. What has happened to this company?
Konstantin
from Fairfield, CT
I had a bundle of TV and internet (U-verse) with TV service contract term being until June 10 2016 and Internet service term being until February 28th 2017.My TV service was expiring on June 10th and I decided not to prolong the contract and cancel TV service, therefore I called ATT and asked them to remove TV on the last day of the contract, they did it and said I would have my internet rate increase since I didn't have a bundle anymore, which was fine for me. I asked what the increase would be and what discounts they can give.
The manager responded with 2 options: 1) I keep my existing term of internet contract until February 2017 and they give me 10$/month discount and 2) I sign for the new term from June 10th 2016 to June 10th 2017 and they give me $15/month discount. I went with 10$/month discount keeping my existing term until February 2017.What I saw today on my account (June 10th): my term was renewed until June 10th 2017 and I have a discount of $10/month... so, completely different from what I chose on the phone with ATT manager (yes, it was a manager, not associate).
Leigh
from Huntsville, AL
AT&T has become such a big conglomerate that their employees and CEOs have lost sight of their Missions. I have been with AT&T for a very long time and with having AT&T products such as: 5 wireless numbers, Direct TV and I have just recently added U-verse (home phone and Internet) one would think that I would be considered a Loyal customer and treated as such! Not the case, I have to do 2 each combine billings on all of these AT&T services. I have these set up for an automatic banks withdrawal (ACH) and have done this for years never had a problem. So to my surprised, I received a letter in the mail from a Collection agency this week stating that I have been turned over to them to collect my debt (which was paid by the bank).
My nightmare begins, when I try to call and discuss this matter with any and all AT&T Representatives. I ended up talking to 10 different Representatives to include supervisors yesterday and got 10 different responses on what the problem was. Finally, on my 11th attempt, I finally got someone and told me immediately what had happen. It seems like when I switched from a DSL and Home wireless account to a UVERSE account that account was closed (no AT&T Representative told me this would happen when I ordered this).
The bank draft was posted to the closed account. The AT&T Representative She immediately reversed the bank draft from the closed account to the new account and all actions were cleared up immediately. I feel I should not have had to endure this kind of mental anguish to try and correct what is apparently several broken processes with the AT&T Corporation. I feel mentally beat up and when my contract expires, I will move on to a different provider. May I suggest A Lean Six Sigma Process for the whole Corporation. Just remember you're as strong as your weakest link.
JD Straw
from Middleburg, FL
I wish I could give AT&T a ZERO rating. No, a negative zero rating. This is a popular company only because it's a monopoly and a hated one at that! Back in the 80s and part of the 90s they were pretty good because they'd inherited many of the former Bell employees who were among the best of the best as far as excellent customer service goes (Pacific Bell, Southern bell, etc. The services this company offers is now very crappy, they don't care about their customers and the service is terrible, especially their U-Verse Internet and telephone services, and VERY expensive, too.
Most times the service provided is not even up to par, but we put up with it because we want to get onto the internet. The Internet is slow to response no matter how many Mbps' the customer is paying for in order to try to use the internet. These problems, of course are only going to get worse, especially after Obozo hands the internet over to the ungodly UN for them to begin censoring what we will be able to do with internet after they take it over. In the meantime, a pox on your houses and on your headquarters, AT&T, you nasty, no-good, evil hard-to-do-business.
Derek Olivaria
from Rex, GA
AT&T debundled my service with Directv and now they're trying to charge me to have it reconnected because they made a mistake the service personnel told me that a system malfunction happen and that's what made my service be discontinued I was under a $25 a month bundle package starting 8/30/15- 8/30/16 but att system shows it was their fault but wants me to pay bill to get service back on when they breached my contract for service I was paying as if I was still under the bundle but I wasn't so they say I responsible to pay all charges both att and Directv, for their company malfunction
I have been an ATT customer for over 20-years, not that, that means anything to them. I have had landline, cable, and now internet service with them. This has got to be the most aggravating company to do service with. It sounds like they are in a boiler room, the lady was not very helpful AT ALL. After waiting SEVERAL minutes to get someone on the phone, they still insist on charging you a $5 convenience fee to process your payment. This is ridiculous! Customer loyalty means nothing to these people!
jessica arnott
from Pacific, MO
I just want to say I have been a loyal customer since 1999 and I have always been satisfied with service and product until the last 3 yrs. I have 5 phones for my husband myself and 3 kids and I have had to replace 22 phones either threw warranty or just plain by new ones because none of then work after a couple wks. The product really disappoints me these days and it does not matter if I got a 40$ phone or a $600.00 phone they r all junk. Then u call customer service and those people treat u like crap then charge u to send a replacement then sometimes the new one comes and sometimes u have to call again and get charge more money to wait on another junk phone all the while the mins that I have paid for are not getting used but that's ok cuz u guys got paid for them even when I don't have a phone to use them on for wks. This is ridiculous! I pay for data because half the time the phones won't connect to WiFi. Sometimes u get ur phone calls sometimes u get ur text and sometimes ur boss wants to fire u because u never returned the phone call u never got and sometimes when ur kid is in the nurses office and needs to come home sick or with a broken arm just maybe u will get that phone call. Please stop making new phones and fix the ones u already have out so they actually work more then sometimes. I am a very very disappointed dissatisfied long time customer that is about to change all 5 of my phones to a new service provider if I don't get some acknowledgement on this problem u have been causing me.
Stephen Cain
from Modesto, CA
Over one month ago, i spent over 1.5 hours on the telephone with ATT employees with the simple task of transferring or porting my ATT telephone number to my ATT mobile telephone because my law office moved. I was told that the process would take only a few days. It has still not happened and i have received no update. About two weeks ago, i contracted with EFax to "port" my number from ATT, (209)521-3700 to my EFax account and signed all required paperwork. ATT is obstructing that process as well. Meanwhile, ATT has no trouble continuing to bill my ATT account number 139054948, even though zero service is being provided at the address where that account was set up, because as ATT knows. I have been vacant from that address for over one month.
Calling the "customer service" of ATT is one of the most intentionally wasteful experiences any human can ever have. "intentionally" wasteful on the part of ATT management because digital notes by ATT employees are routinely deleted and apparently, only morons, idiots and otherwise unemployed people are hired to work in ATT customer service. The number one question by customer service is "how would you like to pay your bill?". I have no bill owing when i call ATT. ATT is still riding the coat tails of when it was a monopoly; if ATT had to compete in the real world, it would quickly go out of business.
When will ATT either port my number to my cell phone or to my EFax account as i requested? I have 4 iPhones with ATT, internet and DirectV at other buildings. However, very easily, I can along with my friends and relatives can switch everything over to T-Mobile and Comcast. Is that what ATT is all about now? Demanding that your customers switch to T-Mobile and Comcast? I will wait 7 more days for ATT to straighten this out and if not, i know at least 20 current ATT accounts that will get switched to T-Mobile and/or Comcast.
ATT does not have a monopoly anymore; consumers have a choice. Do not have any of your moronic customer service people call me, they have wasted over 10 hours of my time on the phone over the last 3 years and they NEVER accomplish anything. Even you field workers have no use for your customer service employees who have pretend jobs. Time will tell what you will do about this problem; most likely nothing and then you will lose more customers. The reason why T-Mobile and Comcast are growing so fast is because of the profound corruption, dishonesty and incompetence of ATT employees and not because of anything special that T-Mobile or Comcast offer.
danny henry
from Alexandria, LA
They cut my business phone off for no reason. I have three lines, but only one was disconnected. They could not give me a reason as to why this happened. Their mistake cost me a lot of customers, The only help they seem to have, is to put you on hold and apologize for there incompetence. The phone line has been off for over 24 hours with two no show repair appointments. They have only offered to credit me for the time my line was down on my bill. I cannot make up for lost customers and the embarrassment this has caused me personally and my business. I cannot in good conscience rate AT&T on a scale from 1-5, because they are a 0.
Todd Gold
from San Antonio, TX
This is my last attempt at trying to get AT&T service to our residence. We live just outside of San Antonio, Texas in a subdivision called Trailwood (at 27115 Bent Trail) - it may actually show up as a Boerne, Texas address. We have been trying to get high speed internet service for years, from AT&T, Time Warner and/or GVTC; whoever would bring us service. We presently use HughesNet which rarely works and when it does it is painfully slow. We live on a flag lot, which sets us back from the road. This is also the point where AT&T or Time-Warner would ordinarily bring us a connection - a distance of 937 LF. Right now we use Dish Network to bring us TV service.
When we first built our house in 1998, AT&T brought us a land line from the rear of our property as we butt up to an adjacent subdivision (Highlands Ranch) – just 209 ft from our house! It is also on those same overhead lines that we get our power from CPS! Since my wife and I use our cell phones pretty much exclusively, we terminated our home phone service years ago. Now it seems that AT&T will not or is unwilling to bring us a connection off our back property line!! All necessary utility easements are in place, so we do not understand why we now have this problem.
On numerous occasions we have called AT&T about providing service over the past few years - each time we had given up after being on lengthy phone calls and botched service calls. For years we heard we were simply too far from the road and a signal would not travel far enough to the house without a repeater (sorry - don't recall the jargon or all the technical reasons why), so we could never obtain service. We decided it was just going to be something we could not get answered and gave up.
However, given the increasing importance of internet service and the inconvenience of not being able to work from home in the evenings or on the weekends (since I need reliable/fast internet service), more recently my IT consultant at my business told me our situation was ridiculous and he offered to help. After weeks of calling and explaining, he first helped us schedule to have Time-Warner come out and look at bringing a connection from our front driveway (937 LF away). We actually paid many thousands of dollars nearly 10 years ago to bring power underground in conduit to the front of our property to power a private gate entry along with a separate conduit for cable.
A few weeks ago, Time-Warner came out to survey our property to better understand the installation requirements and it was during that visit my IT guy noticed that AT&T actually had fiber on the overhead lines off our rear property line!!! So, after many subsequent and lengthy calls to AT&T to explain our situation and the availability of fiber right at our back door, we were finally able to schedule to have a technician come out last week to connect us to the fiber! However, I received a call from the tech just prior to the scheduled meeting time. He was on his way and was simply confirming his service order that he was to be installing DSL service from the street! We had to go over everything all over again with him – that we had ordered fiber service. Upon hearing that he said he would need to cancel the order and reschedule after he spoke to his superiors. He added that he would call us back shortly. That was a week ago today - needless to say, no one has called us back and we are back to square one.
Given the close proximity to our rear property line (and fiber from AT&T) we see absolutely no reason why we cannot get high speed service from AT&T from the fiber line in our backyard! The other connection would need to wind its way up our drive way 937 LF to the house – it may not even be possible! But I have to say, we are at our whit's end. Years of delay and countless hours on the phone on indefinite hold with AT&T staffers. Listening to them typing away on their computer (typing what?) while we wait for any direction – any news, any solution…maybe a site visit - anything. When finally got through to someone about 10-14 days ago after having our call forwarded 3-4 times on just one such call we thought we were going to finally resolve our situation. We explained the whole story to that person. I should add – a person that sounded as though they could make something happen. We sent them an aerial of our property with measurements. We showed them where their AT&T fiber was located. They GOT IT! They said ok – we'll send out a technician and an installation team! So, we finally thought we were there. Then, as noted above, the technician called last minute and said he did not have orders to connect the fiber, just DSL!
Come on guys. This cannot be that difficult. We cannot be the only residence with a bit of a unique connection dilemma…one by the way that has an easy solution – coming off our rear property line. Why can't we get service? What takes so long? Why does it appear no one can make a decision? We ae trying to get AT&T to take our money. Please hook us up and take our money? What else can we do or try to get your attention? We are very frustrated with this continuing situation. Your attention to this matter would be greatly appreciated.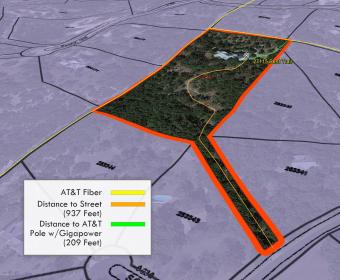 Laurie
from Lake Orion, MI
There are no words. Att and U verse are so far deep into the dirt, they can never come back to the ethical company they were years ago. No point in listing all the calls. All the time wasted, all the lies, mystery charges that appear out of no where that no can explain, charges that appear that are wrong that take months to get right. The lies start at the store level and continue into the the service. In August of 2014 we came and gave you 5 lines. I have a contract with you for 12 more months. The minute it's done we will be done with you, and your horrible internet. I will go back to Verizon. I am disgusted. I have been pushed to the point of frustration over and over again. You believe in one n done philosophy. You may have got me for 1contract, but you won't get me again after this ever. Ever. I wish I had the time and energy to legally pursue going after you for all the dirty things you have done since day one. I'm an American customer, I will not discuss my private business with people outside my country who can't speak English. Companies like you have our private info the hands of deceitful lying representatives that sit in call centers in the phillapines, Mexico and India. Do you think those people would think twice about selling our info on the black market? Of course not. Not like you would care
ijames99@hotmail.com
from Los Angeles, CA
ATT has outsourced the jobs to Asian countries where the tellers are incapable of helping customers since they do not know the US. The tellers just read the computer screen. Totally useless people. The American tellers just promise appointments yet nobody shows up. Nobody knows what they are doing. Completely irresponsible! Waiting for internet service for over 5 days.
I have been with AT&T since I was first allowed to have a cell phone in high school in 2001. I got my own line in 2008. My aunt even retired from Pacific Bell before it became AT&T. I have never had anything negative to say about AT&T until my experience the other day. I've loved AT&T so much my household has almost every single possible product AT&T owns or is partnered with ranging from U-verse to internet to DirecTV. Anything you can think of my family has owned it at one point in time.
My issue and situation started on Saturday August 20th, 2016 with a suspension notice notifying me that I need to pay $283.06 by Tuesday August 23rd, 2016 or my lines would be suspended. When I received this letter, I was shocked because having a cell phone is so crucial to my business as a realtor and a small business owner. I immediately called customer service 5 minutes later and spent 25 minutes on the phone with a customer service representative by the name of Brittany. Brittany was very helpful and we went through all of my bill payments for the last 6 months. She assured me on Saturday that my service would not be suspended because there was no notification in her system about that. My phone bill is due on the 2nd of every month. I know that if I can not use my cell phone I can not make money to pay my other bills.
After speaking to Brittany, I was assured that everything is fine. I woke up Wednesday morning at about 7am PST to get ready for my 8am training to prepare for my travel trip next week out of the state. As soon as I was about to dial in, I was shocked to find out that my service had been suspended. I immediately called in to speak with a customer service representative who was very nice and I mentioned to her my situation. I had mentioned to her how impossible it is for me to have a past due balance on a bill where the due date hasn't even came up yet. She told me that there was nothing she could do and I would be responsible for the $283.06. She then did mention that I would not have to pay a bill until October if I paid the $283.06 which clearly didn't make any sense to me. She then apologized and said sorry while also wishing me luck.
I then hung up and called back a hour later. After being on hold for about 30 minutes the second time, I hung up. At this point, it was already 10am and I had to get ready for a meeting at 11. After I got out of my meeting, I called from my office phone to clear up this issue. The customer service representative I spoke when I first got through went through my last 4 months of bills and payments and was still saying that I would be responsible for the balance. I mentioned to her that why am I suspended for being current. I stressed how many business appointments I've missed and travel arrangements. I also have 2 members in emergency surgery that I needed to get updates on. She then transferred me over to a supervisor named Camille who was helping me.
I had been on the phone with the first customer service representatives for over 30 minutes before I was transferred to the supervisor. The supervisor heard of my issue and then went to do her due diligence and saw that my file was current and sent the request over to reinstate my service. By this time it was already 2:30 and lost the majority of my day. I work a lot with the east coast and central time zones so the vast majority of my day was shot. I asked Camille to speak with her supervisor to let her know about how great of a job she did helping me with my issue. I spoke to her floor supervisor and stressed how much of a hassle this has been because I have lost so much of my day for an issue that was not my fault.
I was trying to have the supervisor understand the importance of my issue and how I felt it should be fixed. All the supervisor did was just rush to get me off and transfer me back to Camille. After she transferred me back we just hung up. I have never had such an issue with any of my AT&T products ever in my 15 years of usage. I feel it shouldn't have taken 6 hours to rectify this issue and I feel I should be definitely discounted or compensated for this . I called today to formally file my complaint and they informed me that my phone bill went up $77 and after reviewing the account they're not going to do anything about it and the account charges is valid. They also mentioned they would suspend service if the past due and the increase isn't paid.
They quoted me a price to sign up for new service and lied about the price. I'm now paying ten dollars more for the exact same service than when I bundled my home phone with internet. Ihad home phone and internet with them for 50 total with taxes. now its 57$ plus taxes. The rep lied to me because i went over this with him in great detail. AT&T will not lower my rate and apologizes.
Bobby McFarlin
from Hermitage, TN
I am ready to call the Better Business Bureau or someone about all the annoying calls to my home about switching to U-verse. I have asked to be removed from their list but the calls just keep on coming. I am feed up with this annoyance. I have told the callers over and over again I am not interested in switching but it does no good.
Greg Lawless
from Greenville, SC
I was going to wait until 1/24 to cancel AT&T home phone and internet since the home phone is paid through that time frame but I am going to call sooner, guess this weekend to cancel service . Not only has AT&T called every day for the past two weeks but now are calling two times every day, I have told them its not a got time to talk due to a death in the family and they always say NO PROBLEM , do not text and drive, So tonight after the 2nd call from the them today I told them the AT&T account holder died ( my mom three weeks ago) and I will be calling to cancel service and they say NO PROBLEM do not text while you drive I will never will have AT& T for any thing in my life No empathy and they could care less about my mom dying after 91 years of age and having having AT& T services her entire life NO AT&T for me , Its not American anymore , its a corporate money hog
Yeah, I know Esurance, but does AT&T care about their customers. This morning I talked with 2 reps, neither of which listened to me. Neither repeated to me correctly what I stated to be my problem. So what's new!
Marion Simpson
from Wichita Falls, TX
I was calling about my bill and was supposed to be transferred to billing when I got cut off. I called back and had to go thru the same routine and listen again to recordings. I asked to speak to a supervisor and the lady (Brenda) said they would call me in three to five minutes. It has now been 50 minutes and still no phone call. Why cant someone do what they say they will do? I have had problems since we switched our plans. Please contact me.
Gilberto Pazo
from Bedford, TX
To: President and CEO. Dear Mr. Stephenson, I have been a loyal customer to your cable, internet service for 3yrs now. I remember living in New Orleans when At@t came out with cable services, with the antenna ,before At@t left New Orleans. Now I live in Texas I had your services for 3 yrs. now and in those 3yrs. is have been nothing but problems. I would like you to look at my whole history to see all the problems I have since signing up with AT@T. I was been over charge after I was put in a promotion, I have automatic pay and because of the over charge I was been overdraft in my account, I'm disable and I live in a budget. I took 4 month of credits to my account and to get is straight. My wife and I would like to add extra channel to our services and for some reason they cannot do it because of some error that keep occurring into my account. so far it have been 2weeks since my request to add channels but they can figure out the problem. I have been in touch and put on wait in my cell phone up to 2 hours and the problem still exist. This is totally unprofessional and disgusting. customer service promised to call back and they don't. After various complaint a manager keeps calling me now to give me updates, but all I'm getting is (we still working on it). You guys are AT@T the (Nasa) of programing. Why can the fix this problem this is ridiculous and unacceptable. I have been very passion about this but not anymore. As today I'm looking to change your services to Time Wagner cable. I don't even want satellite because I find out AT@T own them. I might be only one subscriber , but is one less for you guys.
Bonnie Hill
from Albuquerque, NM
I bought a contract with AT&T. I have one phone and it isn't even a smartphone or iphone. I pay $47.00 a month. I went online to change my account information. Having done that I thought it was going to be automatically debited to the new account. I went to check the old debit account and found it was still being debited by AT&T. So thought I'd call them and they still had the old account listed on my profile, even though the new account was added. I got a letter from the old account saying it past due. That how I found out they didn't change the account information. I also do not like the service. I rarely get and make calls and when I do I most of them are dropped. I want out of my
contract and don't ever want another one.
Barbara Hulette
from Memphis, TN
I sign up for a AT&T services this month, it has been the biggest nightmare. I signed for wireless tv service, while the tech was installing I noticed all the wire. The tech and I called customer service to correct the problem and it wanted him to do them a favor and change the order. He informed them that he could not do that. I have been promised by several reps that they would call me back, but to this day, they have not. The internet service is so slow, it frustrating to try and log on. It is impossible to speak to someone who speaks proper English and understand the problem.
Ted I. Schreck
from Pasadena, CA
AT&T representatives offered to keep my account open when I informed them I was switching to a competitor. They did not disclose that doing so would result in a recurring $7 monthly charge. Upon receiving my first bill, I called to AT&T to dispute the charge, but AT&T refuses to remove it.
Deedee
from El Dorado Hills, CA
My husband bought the pelican water softener no salt filter system. It was the natural soft water softener. From day one, our glasses, silverware, pots and pans have white residue deposited on them. The glasses have turned from beautiful crystal clear clean glasses to completely white and you can not see through the white haze nor do you want to use them. For the price he paid for this ($1300) he should have kept the water softener that he added salt to. How do you get rid of the white deposits using the pelican water softener no salt filter system?
Nancy Young
from Cleveland, OH
Been with AT&T for many years. I thought for many years I had a non-pub and or unlisted number and no personal info listed. I was wrong. After realizing my number was listed thru all sources, google, internet, white pages. etc. others. I tried a few years ago to resolve but still not corrected. In addition, AT&T has the worst customer service w the automated system. Just now I've been on here 12 hrs or more, waiting, hold, connections transferred to wrong deptartments. Automated system is disconnected and or connected out of the country...Asia, China, Phillipines, Puerto Rico... I know it is cost effective for the company, but not the customers. No offense...but I just cant understand the dialect most times. So so so dissatisfied. Former employee/Retiree.
Paula Villarreal
from Raymondville, TX
I was ready for an upgrade my daughter and I switched phones she gave me her Samsung Note 3 and she got my upgrade. She got the Samsung Mega cell phone that was on sale for $150.00. My daughter decided she did not like the Mega phone and went back to AT&T store to get another cell phone she was told she could trade the Mega for another cell phone. I notice on my cell bill that I am being charged for the cell phone she returned for $500.00 dollars. We were never told that she still had to pay for the Mega phone even if she traded it for another one. I feel that AT&T is misleading the customers, and are not upfront with the rules at the time of purchase. I have made several phone calls and I am told that I have no choice but to pay the mega phone even though it was turned in.
Lucius Woodson
from Naperville, IL
I moved to this area two years ago and I settled on one side of the Morse Reservoir and then moved to the next side, which is Noblesville. I had good service until some towers were upgraded and no one had dealt with the problem for over seven months. I have heard all the excuses. The fact is that if I want to use my cell or tablet (both ATT), I must drive from my residence out to route 32 to get reception. It affects my email, internet, and wireless phone service. I have encouraged everyone else who is experiencing this problem to file a complaint with the FCC. If my phone, internet service, and hot spot worked ok before why not now??? Someone had done something during the upgrade that has caused the tower not to see my wireless equipment (phone and tablet, both ATT). I am retired and single and I need a reliable service so I am shopping around so that the next job that I can replace this service after I take on work again.
Sirena Rivera
from Milwaukee, WI
I called ATT customer service in attempt to extend my payment arrangement two days so my direct deposit could hit my account. I spoke with a woman who was more eager to end her shift than assist me. I asked to speak with a supervisor & ended up speaking to a Tia Wheeler who stated she could not help me even though I've been with ATT for sometime. It was made very clear they would rather loose a consumer than work with individuals.
I asked for the customer service representative name I spoken with earlier & was told she is no longer on the phone so I wouldn't need it & she refused to provide me with their location so that when I did "complain" it would be a bit more difficult for them to track down exactly whom I was speaking to. I am very disappointed in the treatment I have received & will be looking to move my business elsewhere. I cannot support a company who is quick to take people's money yet lacks the proper customer service skills needed. After all we are the reason any of your employees have a job.
I'm upset about AT&T and their lack of service and the lies from your representatives. We purchased 2 cellphones from AT&T on 1-23-15. Was told at that time that we would put uverse in the house with a sef install. Sometime between 1-23 and 1-28 the order was cancelled for the uverse self install and we were not notified. On 1-28 I called to see where the modem was at, because we had not received it.I was told that I could not do a self install.I went back to the store and talked to Dylan, about getting the uverse taken care of.We needed to get the uverse installed prior to changing the home number to the new cell phone. We needed a little bit of consideration because I'm going through chemo and needed an early time and not waiting all day.The first appt they arranged so I canceled it, and Dylan got an appt for the next day at 9 am. The techs go to work at 9 am, or so we were told.Later I foound out that's a lie, its 8 am.
The AT&T tech came on that day,at 9:20 he did a good job putting the uverse in other that some hoe our home was disconnected.At that time I ask him how I get the cell phone working. he said we had to go to the store.They said they needed the last 4 numbers of my wifes social and I did not have it with me. I came home, got on the phone and tried to get the porting procedure started. After 6 different people, the last person finally told me they could not do the porting because the home phone was shut off. They ask me why I had them shut the land line off, and I told them that I didn't.Went back to the store to try to get the land line turned on. I was told I would have to call AT&T to get that done. Finally got someone, that set up an appt for a tech to turn the land line back on.When that tech showed up, he didn't have the correct piece of equipment to get the land line working. So he called another tech to bring the piece he needed. This 2-5-15 .
After they were here and the land line was working, I went back to the AT&T store and talked to a rep about getting the porting started. He talked to the porting dept. She put him on hold and during that time another rep called my house to see if this was a working number.They came back on the phone at the store, they said the porting process had started. We received a call from napara maddox 866-695-2360 ext 13742 .This was at 2:30 central time. She assured me the matter was being taken care of and in 24 hours we would have service and she would call me at that time. We did not receive a call, so I called that number, she was not there, said she was off this afternoon. The person I talked to said the porting had not even started. Would take untill Monday before it could be reported. I'm thoroughly upset. We go back to the store, Dylan is busy with another customer and the assistant manager came to talk to us.
I believe her last name was reed. She made a call to you, was told it had been ported and would be ready within a few minutes and we would be receiving a call. More lies, again and again. This was at 4:30 this afternoon Friday the 6th. And now it is 8:45 and guess what, no phone call. Imagine that. This is the poorest excuse for a company that I've dealt with. We told Ms Reed that if we didn't receive the call and a working number that we were told over and over, that we would bring the cell phones back to that store in the morning.
Michael De Witte
from Houston, TX
I have a complaint about the local AT&T stores that I have been to for problems with my cell phones. The customer service is below all expectations. Whenever you walk in one of their stores they greet you very nicely but the seem not to be able to help you. Cracked screen? Go to website x. Bad battery? go to website Y. Camera does not work? Go to website W. So basically all the do is sell you service plans, once that is done you are on your own...
Chris Kearney
from Newnan, GA
Was it fraud? Was it a bate and switch? I am not sure but, after being on the phone for over 3 hours yesterday, I felt like I had been in a battle and I lost big time. This is a long story, but I will keep it on the short side. I have been a customer of ATT since 2011. I moved to a new build home in November of 2015. In calling ATT to transfer my service, the residential department could not find my address and could not get me service. I called back and asked for the ATT business department (these 2 departments do not speak to one another).
They did find me and set up a business account with a special offer of $40/month with an installation fee of $99, which would be refunded to me at the end of the 6 months promotion, which I found out later, that I had to request it by a deadline, which I was not aware of. (they kept sending my mail to another address) I had to fight to get the refund, but finally got that back. At the end of the 6 months, I called ATT on 4/27/16 to be transferred to a residential account with a new offer of $30/month for 2 years. I received 2 offers in the mail for the same $30/month offer. One had a deadline of 5/13/16 and the other 5/25/16. I called on the offer with the 5/13/16 deadline on 4/27/16 and all was set with the transfer of my service from business to residential.
I new that I had a credit and at $30/month, I would not have a bill for a couple of months. I happened to check my ATT account on 6/23/2016 to see how much credit I had left and to my delight, my bill is not $30, no, it's $60.00/month and had a $12.00 amount due. I should have had a credit left of my account. After speaking with 4 representatives and being transferred multiple times, I then get a prompt that my wait time is 1 hour. ONE HOUR......I did receive a call back which was a little over one hour later. I was told at that time, they were not sure why I have a $60 bill and would see what she could do. I was told that the $30 promotion was CANCELLED, she could not tell me why, she saw that I did call, but no notes on why it was cancelled. I now have a bill of $45/month instead of $30. My credit was no longer there and due to the error I had to pay $12.00 until this gets resolved so I don't have a past due bill.
You can't offer a consumer one thing and switch it to something else w/o the consumers knowledge. This is so wrong on so many levels. Oh and I forgot, I was told that this was the ONLY thing they could offer me. After an exhausting day of being on hold, going from person to person and told that was the best she could do, I was told I should have gotten a confirmation number. So I guess this is my fault. Later that evening I am enjoying my TV show and I see an ATT commercial for the $30/month offer for 2 years.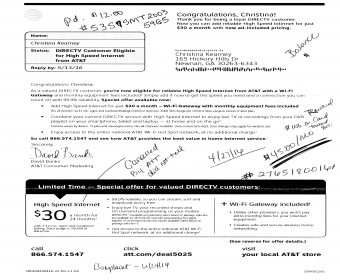 Nina
from Dickson City, PA
My name is Nicole and I have been a customer of AT&T for about 10 years now, I currently have four devices on my plan which I am paying for by myself and my bill is well over $200 a month (not the problem). My problem is with one of my devices, It loses service, drops calls, gets call interference and the battery is poor. I called customer service and they did a trouble shooting session with no result and the phone was under warranty so they were able to send me a refurbished phone without issue.
I received the refurbished phone and all was well for awhile but then the same issue started happening again so again I call customer service get the trouble shooting run around of course it didn't help and this time it is out of warranty however, I have insurance on it and I can send it back yet again but this time with a 200$ deductible. My contract for this particular device is not up until June of 2017 and if I wanted to upgrade to a different phone I would have to pay 389$ to get myself out of that contract and in to a different one. The thing is I refuse to pay $200 to send it back to Asurion (spelling?) only to get the same phone yet again and probably have the same issues with, and I do not feel that I should have to pay almost $400 on a defective phone. customer service was rude, unhelpful and transferred me to 3 different departments with no help.
I have recommended them to friends and co-workers since I've always had great luck with them, but I think it's a complete breech of contract for them to make me get the same phone I am unsatisfied with or pay such a high amount to get a device that works. All I am asking for is to upgrade this phone that does not work, that I have gone through all the motions with without having to pay the remaining $389 . It's not like the user just got sick of the phone, it legitimately is defective.
I would rather pay for a NEW upgrade on a different phone that will work. I would like to mention also that the other 3 users on my account have no trouble with their phones, they are all different brands, and we all use our phones in the same places so it's not like this user is going out a coverage area. Please help, I am fed up and I feel its immoral and quite frankly illegal to continue to charge someone for something that doesn't work and or make them pay to get the same device that they are unhappy with
Dear Mr. Stephenson, CEO of AT&T. I have a major complaint with your company. I'm a former employer of T-mobile and I wanted to share my complaint that made me literally cry. On October 30, I called to make a payment arrangement on my account and to make a payment. So, I explained to the representative that I didn't have the entire past due and that I could only pay 100.00 on the past due. The representative explained in detail if I paid her there would be an extra 5.00 charge. So I made the payment on my app. In return she stated that she was holding my account til November 30th and to make sure I keep the arrangements. I hung up the phone and ended my night. On today, I'm not relieved that nothing we discuss on the call was done.
My account does not have a payment arrangement. I have called numerous time for someone to listen to the call to see if I was wrong or what really happen. I'm not disputing the charges. I understand that I owe the bill. But I'm wondering why my account is in jeopardy of getting suspended when I called on October 30th and requested more time. I don't make a lot of money but I try to pay something on my service. I was treated horribly by your representatives and managers. I felt like a liar and all I was asking for someone to listen to the call and go over the information with me. Nothing was done about my situation. One representative told me that a payment arrangement was a a courtesy. I just need someone to hear me out. Please don't ignore this message. I would love to hear from you. Thanks for your time.
The service department at AT&T is the worst experience I have had with any company. I get service departments in India that respond to a cue piece of paper to my questions. I have wasted hours on the phone with them. All I need is another box for my living room TV on current service with AT&T. Each time I call I get different answers. I recommend any other cable company besides AT&T. They not only are monopolizing the internet connection business but my time as well!!!
Autum Luxton
from Arlington, TX
I switched my account from DSL to U-Verse. I have had nothing but trouble. I switched on March 7, 2014. I received a bill from U-verse Which charged me installation. I was assured this would not be the case when switching, After a 30 minute conversation, they reversed the charges and left a credit to my bill in the amount of 3.03. That is when the real problem started . The old DSL dept was still billing me for the cancelled service. Can anyone say Double Dipping? Let me explain that I also had my direct Tv bundled with my Phone so I mailed a payment of 150 to cover the cost of my Direct Tv . That Payment cleared on 3-31-2015. No one can tell me where that went because U-Verse cant see DSL Billing. I was transfered literally 6 times and held on the phone for 1 hour (no kidding 1 hour ) and i finally gave up. I will tell you this is the worst experience I have ever had and I'm going to make a complaint with the P.U.C. I guess I'll pay my Direct TV again. BUT I WILL LOOK FOR ANOTHER PROVIDER FOR INTERNET AND PHONE AND T.V
Thanks for your feedback!
Sorry. Please try again later!