AT&T
AT&T Complaints Continued... (Page 5)
1248+ reviews added so far. Upset? Call AT&T corporate: 1 (800) 331-0500
Diane Dixson
from Spokane, WA
My Mother and I have been AT&T customers for several years; she lives in Arizona and I, in Washington. Before she came to visit me in Spokane for Thanksgiving, her smart phone was stolen from her purse while shopping. She reported the theft - by phone to AT&T, and they told her that they would lock the phone and send her a replacement within the next couple days. It was nearly two weeks before she left on her trip, but the phone never arrived... I told my mother that we would take care of things while she was visiting.
So, yesterday I took my mother to an AT&T store in Spokane. It was early afternoon and we had to wait for someone to help us. Initially there was a young guy who appeared to be training (later, he left to help other people) and a woman whose name tag read "Tina". My mother is older but very sharp and understands what is going on... she was trying to explain the situation and find out her options while I stood by quietly most of the time. I will say up front, Tina was disrespectful and rude to my mother. She said "I've never heard of any AT&T doing that" when we mentioned the replacement phone. Then when my mother leaned in as they brought up the records of the call, she said "Oh, this is all legalese, you wouldn't understand it". She spoke extremely condescendingly and cut her off with a very loud and unkind tone the whole time.
When I had heard enough of this, I asked Tina "What is the principal balance owed on her phone?", because I wanted to end this and go talk privately with my mother about her options. Tina told me the balance, and from that point on, if my mother asked a question or responded in a thoughtful way, Tina would quickly answer, then turn to me and ask if I understood and could I explain it to her later.
Tina's behavior was beyond disrespectful, rolling her eyes and making quips about us to the next customer as we walked out of the store. I wanted to turn and scold her for being so awful, but I saw it as a loosing battle and left.
I have over 5 years of experience in customer service, and if I had ever seen this type of behavior with any of my trainees, they would be given re-training and their first warning, leading to termination. What Tina didn't know is that although my mother is older, she has worked for in a variety of city government positions, customer service, billing and with computers, and though she acted oblivious, she was very hurt and embarrassed by this treatment.
I am recommending to her that she should cut all ties with AT&T at this point... as I will be doing.
Cora Garvin
from Fostoria, OH
charged for 6 months and never used this service those six months. moved out may 3rd 2018 told to cancel was never canceled as told charge may,june,july,aug, sept.and oct. $146 each of these month. moved away may 3rd paid and I wasn't living. want this money paid back to me. will contact lawyer if not paid back to me. telephone acct under 601 575 2200 moved away last may and never used service. but was charged for all those months. 6 months charged and didn't live there those 6 months. want money back. lot of money when I never had used service and still not living there. you had been told to turn off in may 2018 and it was never turned off. this is not right. so pay me back those six months. phone no. now 419 455 5868 moved from 300 n Decatur st union,ms 39365 last may now living at 849 n water st apt 106 tiffin,ohio 44883 send money back!!!!!!!! cora garvin
Grant Rowell
from Bella Vista, AR
About 3 0r 4 times per month I get a charge on my cell phone for time that I have NOT used. I admit that I am a very low volume user (479-721-3059) My phone is a flip type. I do not text. I use this thing for emergency type communication. I am about to have it shut down as I am tired of getting charged for time that I do not use. We do not use our phones for any internet or other stuff. I called your 800 number and reached a person that sounded like they were from India and I could hardly understand her. She insisted that the charges were for text messages. I do not receive Text messages except from At&T, so if you are charging me for that then stop sending me your stupid messages. If I cannot get this fixed then I will stop using it. I went without my cell for a bit over 2 weeks and did not miss it at all. Ether this will stop happening or you will lose a customer that has been with you for over 14 years. I expect a reply from someone who lives in the USA and speaks so as I can understand them. Thank you. Perhaps you might have picked up on the fact of my total dissatisfaction with your billing practices. I am old and cranky. but people like me pay your wages, we are called customers. Without us AT&T will not be. Thank you for taking care of this, Grant C. Rowell
Cheryl Sherman
from Green Bay, WI
I called to have a jack installed for our AT&T internet and Direct TV on the other side of our living room so we can change around our TV. The person told me that they could do that and it would cost $49 plus some taxes and $5.00 for something, I don't know what. They called it Use Tax Adjustment. Why do I have to pay for Use Tax. So the install was scheduled for the next day between 8 AM and Noon. An installer called at 11:10 AM and said that he would be filling in for the original guy but couldn't make it until 1:30 or so. I called my husband and told him and he wasn't happy so he called customer service but couldn't understand the rep because they didn't speak understandable English. Meanwhile I got a call back from the installer who said the the appointment that he was on got cancelled so he would be over in about a half an hour. He got here ant told my husband that he was from Direct TV so couldn't do any with the internet cable and proceeded to drill a hole in the floor for the cable and not install a jack because that would cost more money. He left and that evening I called the Direct TV phone number to explain what happened and she told me that I had to talk to someone at AT&T and transferred me. Talked with a very nice lady who understood and wanted to reverse the charge and start all over but couldn't do anything because she was from AT&T and the charge was from Direct TV. I needed to call Direct TV and explain to them. Ugh!!! Soooo, I called Direct TV and explained again and she told me that as far as they were concerned the job was completed so she couldn't reverse the charge. I told her that it wasn't done they way that I requested, but she could care less and pretty much told me "too bad so sad", I hung up!!!
David scrivner
from St Louis, MO
Att technician will not return my call. His number is 314 740 9896. I am going to change to another provider unless I get action! Dave Scrivner St. Louis mo
Donna Hubbard
from Cleveland, TN
I have a home in Cleveland TN and was considering changing my service there to AT&T for television and internet. When I came to my cabin 50 miles away and turned on my TV which is provided by Dish, I saw where there was a blackout by AT&T. It seems like the general public gets hijacked by big companies like AT&T on a daily basis. Of course when you have the controls, I suppose that gives you the right, Needless to say, I will not be switching to AT&T after this. Some things are just wrong! It is a shame that greed always controls companies decisions. This is the polite way of telling you what jerks you are.
SIDNEY M. JOHNSON
from Youngstown, FL
AT THE END OF 2017 I WAS CALLED AND TOLD IF I DID NOT LET AT&T INSTALL FIBER SERVICE TO MY BUSINESS (JOHNSON LASER WORKS @ 3406 HWY. 2 BONIFAY, FLORIDA) MY BILL WAS GOING TO GO WAY UP. I AGREED TO LET THEM INSTALL FIBER OPTIC SERVICE TO MY BUSINESS. IN MARCH 2018 THEY INSTALLED THE FIBER AND TERMINATED IT IN MY OFFICE, AND FIVE (5) MONTHS AGO I RECEIVED THE EQUIPMENT TO FINISH THE CONNECT TO MY EQUIPTMENT IN MY OFFICE. FIVE WEEKS AGO TOMORROW A TECHNICIAN CAME HERE AND AFTER ABOUT 2 HOURS SHE STATED SHE WOULD HAVE TO HAVE HELP INSTALLING THE EQUIPTMENT.
SHE SAID SHE WOULD RETURN AND HAVE SOMEONE TO HELP HER. SHE LEFT AND I HAVE NOT SEEN ANYONE SINCE THEN.
SIDNEY M. JOHNSON SR.
OWNER
JOHNSON LASER WORKS
Richard D JONES
from Newnan, GA
I called a month ago to get my mother's phone moved to her room at assisted living in newnan georgia. Her number is 770 area code. I was told that she would have to get a new number because that was a different area code. I told them that the phone 10 feet from her room was a 770 number. The very rude man just read me a phone number. I said what is this for and he said call it if you have a problem. He was very rude and short with info. I called the number and they said I couldn't keep the number and tried to sell me a cellphone. I told them to forget it. I did some checking on cellphones from my Verizon plan and was about to get one but decided to call AT&T again. The very nice and polite gentleman said no problem. My mother now has a phone with the same number she has had for over 60 years. If any supervisor had heard the conversation with the first man he would be looking for a job.I wish I had the second man's name. He was very nice. The first one needs to be fired.
Ernestina Mendoza
from Calhoun, GA
Very disappointed Vendor "Enjoy Dallas" represented AT&T at State of Texas, promised me a great promotion deal if I switched carriers I would receive a $250.00 gift card that could be used to pay towards my balance on TMoible or anything I wish to buy with it, so I left Tmobile with the promise I would receive promotional item, only to find out by the Local AT&T store that promotion was only for bundle accounts, then to find out "Enjoy Dallas" they only deliver the phone to AT&T new customer on your behalf per rep at AT&T store, "Enjoy Dallas" falsified information, if I would have known I would nNOT have moved to AT&T and now I am stuck with an IPhone 8 from Tmobile. I would have waited to switch over, as AT&T is a much better carrier but again disappointed with the false information supplied. I have attached a copy of my receipt showing new purchase at State Fair of Texas that lists that companies phone number.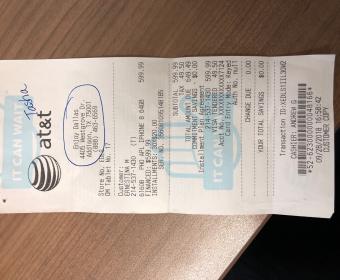 Marshall Simcox
from Atlanta, GA
We continue to have limited phone service for the last 2 years. We had to contact corporate offices last year because of this same issue.
We live at
155 CampbuckTom road
Rockwood Tn 37854
Home #
865-354-6514
We have had limited phone service for 2 weeks
And NO PHONE SEEVICE for the last 2 days.
Please check into this
Marshall Simcox
Jesus Calle
from Jacksonville, FL
On August 24th 2018 my wife and I derided to porches two new I phones and switch carriers from Verizon wireless to AT&T wireless since we already had AT&T Uvers and were told AT&T wireless had better service here in Florida. Well since the first day we have had the plan we have nothing but issues with drop calls inside and out side of our house that is located in Saint Johns Florida Zip Code 32259. I have spent hours of my time trying to resole the drop call issues by calling And talking to people that have I believe have tried to resole the issue. I have been to two different stores Best Buy and AT&T store and they admitted the service is bad in the location I live at. The AT&T store even new the area before I told him the Zip Code. What I cant understand is how is it that when I was offered the phone service at Costco no one advice me of bad service in that area. I would have stayed with Verizon instead of switching to AT&T. All of your dealers regardless of what store should inform the costumer of bad connection in areas they know the service will not work. In talking with your loyalty rep she told me their was nothing she could do for me since the phones need to be payed off to cancel my service. If you cant help me with the issue I should not have to pay for something I cant use. Please let me know how we can resolve this problem.
Jesus Calle
john c. amodei
from Crowley, TX
This compliant involves a att service truck in down town Mansfield Texas 76063. At 4:45pm on 10/22/18 I was walking in a designated cross walk with the proper arrows and was nearly hit by the service truck.
White Male drive with facial hair.
White Ford Pickup
License plate-008R51
Truck Id#-1006656-113
I was half way across the street and clearly in the cross walk area with the proper arrows. Drive looked directly at me and did not even try to swerve or break. If I had not jumped sideways he would have run me over.
This could have been a deadly situation.
Regards
John C. Amodei
Leila Joslyn
from San Rafael, CA
I have been trying to have my 95-year-old mother's landline transferred to an assisted living facility. I called a week in advance to request the service for Monday, Oct. 15th, then waited all that day for the phone to be connected, but absolutely NOTHING WAS DONE.
So, I called the next day and was told a new order had to be placed and that we would have to wait THREE MORE DAYS until Thursday, Oct. 18th. Once again, the day has come and gone, but NOTHING HAS BEEN DONE. The phone is not connected to my mother's new address, and I really have to wonder if a Transfer Order means anything at all.
This has caused enormous inconvenience to me and my elderly mother, who has not been able to move into her room as she cannot be left without access to a phone. If I could give AT&T negative stars I would do so. This is absolutely the worst experience I have ever had with a corporation--and it still isn't over...
Alexandra Close
from Branford, CT
Agents in the chats and on the phone are clueless! only one agent was able to track the package and told me that it was on the way. but after two weeks of no confirmation text saying they got the iPhone i think he was lying. besides, no other agent was able to actually track or give me any information about the trade in iphone lost in the mail.
I send the Iphone back on 9/24/18 I upgraded using the Next program like I do every year. and with the new phone i got the printed shipping label to send the old Iphone back. I lost the tracking number and At&T who printed /issued the label claims that they cant track the package without that number. I went to USPS and they told me that some other Currier Like Fedex usually pick up those packages so they can not help me either!
I do have the IMEI number 359405081036657 and the serial number G6VVLJ56JCL9 OFTHE IPHONE X that is currently "lost"
if At&t charges me for the Iphone I will call the police and report it stolen because If I end up paying for it i want it back. I will switch my 3 iphones to Verizon.
I will also report the IMEI on the IMEIproinfo.com as stolen.
Tammie Fuller
from Chicago, IL
I have gotten 3 phones in 2 months, same phone( iphoneX )and the 3rd phone is not doing what they said/promised me
it would do and they will not allow me to do my upgrade with a phone that works, I just do not think that it is fair that I have purchased a $1000 cell phone that I am unable to use it for what I bought it to do and At&t refuses to help me in any kind of way saying it is not their problem take the phone to Apple? it is not defective, it is not doing what they claimed it would do in the store, and if they would have told me that in the store then I would have chose a different upgrade option, I have been with AT&T for about 7 or more years and never had a problem until now I had to go through so many people and still got nothing solved and they were so rude and continued to read from what seemed like a script, even started a chat with a supervisor named Miguel in the loyalty department and he stopped chatting with me and left the session?? that was unacceptable to me there is no way a customer should be treated this way and I am a very, very, very unhappy customer!!! this is one of my 2 hour long chat sessions I had with Jason and Miguel below....... and the phone calls were no better! ridiculous!!!!!
Signed Disappointed!!
Tammie Fuller <tammie.fuller@ymail.com>
To Fuller Tammie Today at 2:37 PM
Agent: Hi, I'm AT&T's automated virtual assistant. How can I help you today?
Customer: Loyalty department
Agent: <span onclick = "window.inqFrame.Application.sendVALinkClicked(event);" >So I can assist you further, please select a product I can help you with: <ul ><li ><a data-vtz-link-type = "Dialog" data-vtz-jump = "95f50147-a846-4e03-933e-0ce40fafa4e8" href = "$~~$636753017018257024$~~$#" >Wireless</a></li><li ><a data-vtz-link-type = "Dialog" data-vtz-jump = "4048f4ea-71e9-462f-94b4-c89fca1cd3bb" href = "$~~$636753017018259840$~~$#" >AT&T Internet</a></li><li ><a data-vtz-link-type = "Dialog" data-vtz-jump = "5cd13887-1114-4adc-bcba-91c1cf11095d" href = "$~~$636753017018261760$~~$#" >U-verse TV</a></li><li ><a data-vtz-link-type = "Dialog" data-vtz-jump = "56a5031c-ed08-4e4c-8501-a8fc44b839b2" href = "$~~$636753017018263424$~~$#" >DIRECTV</a></li><li ><a data-vtz-link-type = "Dialog" data-vtz-jump = "a4cb3f43-cc0e-40e8-8f9d-7da21cf5caac" href = "$~~$636753017018265088$~~$#" >DSL</a></li><li ><a data-vtz-link-type = "Dialog" data-vtz-jump = "f2541f31-dcee-4f91-8016-7f2720788aba" href = "$~~$636753017018266624$~~$#" >AT&T Digital Phone</a></li></ul></span>
Customer: Wireless
Agent: <span onclick = "window.inqFrame.Application.sendVALinkClicked(event);" >Got it. Please tell us your first name.</span>
Customer: Tammie
Agent: <span onclick = "window.inqFrame.Application.sendVALinkClicked(event);" >Thank you. Please wait as you are assigned to the next available specialist for cancellation requests.</span>
Customer: Ok
Customer: If I return my phone and cancel with you guys could you tell me what I would owe please ? Thank yoi
Agent: Hi! My name is Jason. I'm happy to help! Please give me a moment to review your request.
Customer: Ok
Agent: Thank you for waiting Tammie. I hope you're having a great day. Just to make sure I got your concern correct, you want to know the amount to cancel your account, am I correct?
Customer: Yea please
Agent: I'm sorry to read that, however I can help you to provide that information
Customer: Thank you and do guys have a remorse program?
Agent: The buyers remorse program is able to be used under the first 14 days of purchase of the devices.
Customer: I'm on my 3rd iPhone X and it is not working like my 7plus did I've only had this one for 2 months can I get a different upgrade?
Customer: Not the iphoneX
Agent: Let me check your account first, could you please give me the account number and passcode, you can check it on MyATT.com/Overview
Customer: Yea I did that all day yesterday without any satisfaction but I'll let you look over the account.. thank you
Agent: Thank you for your patience on this, in order to be able to cehck your account I need the account number and passcode
Customer: 1972
Agent: Thank you
Agent: the passcode can be checked on MyATT.com/Overview, let me know once you get it
Customer: Are you wanting me to look at it?
Agent: Yes Tammie, is the way I'm able to pull up your account in my system, with the account number.
Customer: I'm in my account
Agent: Perfect, as you're in your account, could you please check the account number there?
Customer: Ok
Agent: Appreciate that Tammie.
Customer: 133004763114
Agent: Thank you.
Agent: One moment please.
Customer: Ok
Agent: Thank you.
Agent: I'm going to send you a one time security pin code, may I have teh best phone number fro you to get it?
Agent: the*
Customer: 5015484848
Agent: Perfect.
Agent: Can I have the pin?
Customer: 391128
Agent: Thank you.
Agent: One moment please.
Agent: Let me ask you a few questions to make sure I have the info to help with your request.
Customer: Sure
Agent: May I know what happened to the device that is not working?
Customer: It crashes my work apps and links
Agent: I see Tammie, and you contacted tech support yesterday to know the reason why device crashes the apps?
Customer: I've spoke with everyone in every department with no help no one seem to bothered with my problem at all...
Customer: I would just like to give the phone back and get away from this lease or get a phone that I'm happy with?
Agent: I see, it seems the line is covered under warranty until 8/2/2019. To be honest, I'll use the warranty as this is not a damaged made in your own, it seems is more like the device is not holding the usage of the apps.
Customer: I'm not sure but the phone has no damage at all I've had it less than 2 months
Customer: I would love to use the warranty or whatever I need to do to get it solved
Agent: In that case I highly recommend you to use the warranty as it seems a software damage, in that case I recommend you to call apple care. May I know if you tried to restore the device?
Customer: Yes I have hard and soft
Customer: Apple said that you guys would have to take the phone or buy it back or whatever and the. They will supply a new phone but they're not going to pay for this phone do att and a new phone for me?
Agent: I see, in that case as this is a software damage I recommend you to contact apple care as the line is under warranty until 8/2/2019
Agent: Let me double check that, just to confirm, Apple told you ATT has to buy back the phone and they give you a new one?
Customer: How do I send you guys this phone ? That's why I need the amount that I would have to pay because I am going to a different carrier as well?
Customer: Yea they did
Agent: As I shared with you the 14 days of purchase it can be returned, in this case Apple must do a replacement of the device for the same installments if you claim a replacement with apple care
Customer: I'm just going with someone else if you could please give me the amount to cancel this contract and send the phone back?
Agent: The amount to cancel the contract will be the remaining installments on the devices that is $2,323.30
Customer: The phone doesn't cost that much? I only have 1 phone?
Agent: It seems you have one line reserved, the 0844 line
Customer: I was getting another line but I am not I will just do that with Verizon
Agent: One moment please.
Agent: May I know if you accept term and conditions of that line?
Customer: No I did not
Agent: In that case I recommend you to reject the terms and conditions, in that way the line and installments will be canceled for the reserved line. For the iPhone X will be $1,073.31
Customer: And when I return the device how much will I owe ?
Customer: Could you tell me how long I have been with att?
Agent: As are the remaining installments charged in your final bill, you don;t need to return the device. My system shared that the account is active since 2010
Agent: you don't*
Customer: I'm not paying for a phone that I can not use? I am returning it and just go with the other company?
Customer: Why would I have to pay for a phone I am returning to you?
Agent: As I shared with you the buyers remorse option works on the first 14 days. If you cancel the account you receive the remaining installments charged on your final bill and you can keep the device as you receive the charge for the remaining installments.
Customer: I understand that but within 2 months I've had to return 2 of the phones why would you guy not take this phone back due to it took me 1 months to get one that would even start working somewhat?? As being a loyal long customer?
Customer: I've never had so much trouble with getting a cell phone that worked before this is the 1st time and this is making me miserable!!
Agent: I'm just giving you the information of the processes, what you can do in that case is get the remaining installments charged and go to ATT store if they buy back the phone.
Customer: Regardless I'm not paying for a phone I'm unable to use?
Customer: So how do I go about returning the phone?
Customer: I will pay for early termination or whatever but not for a phone that I can not even use for what I bought it for?
Agent: Let me explain this better
Customer: I understand what your saying
Agent: You can return it if you want, however as you're paying the remaining installments of the phone to cancel the account. The phone will belong to you
Customer: I'm not paying for a phone that I can not use??
Agent: I mean, you can return it, however I'm not sure if they will send it back to you
Customer: Why would I pay for a phone that is no use to me?
Customer: So as me being a loyal customer you guys will not allow me to return this phone for a phone I could use?
Agent: Because is a legal commitment for the device, and the system will generate that charge, if you want as the device is not working, you can replace it with the warranty
Customer: I've had 5 lines at one!
Customer: Apple said that I had to return it you guys and then they would replace it?
Agent: I'm giving you the proper info regarding the process, the warranty is managed by the manufacturer
Customer: Can you see in the notes where I got the run around with this phone? I've had 3 that will not work and every one keeps sending me to someone else?
Customer: For 2 months!
Customer: Could I chat with a manager I understand the procedure but I can't help that everybody is giving me the runs around with the phones!
Agent: I'm really sorry you went into this for a long time, however the ones that can replace the device under warranty is Apple Care.
Agent: One moment please.
Customer: Thank you
Agent: You're welcome. I'm discussing with my manager and as we manage the same tools and the same information, the option for you to get a replacement is with Apple Care
Customer: I understand that I am saying that everyone at the att Corp store assured me that this 3rd phone would work and it doesn't do what they said it would do and I think I should get my upgrade option back to replace this phone
Customer: Because they said with no doubt hopefully this one would work!
Agent: As the line is advanced on installment's the system won't be able to apply a new upgrade on that, I completely understand your point, and makes sens you are frustrated as you thought it would work, to be honest, the best option for you is to contact Apple care and replacer it.
Customer: They told me I would have to contact you guys for an override on the upgrade option to replace it?
Customer: This is what I mean this is why it is past my 14 days!
Customer: So now I am stuck with a phone I have to pay for that I can not use it for what I bought it for?
Agent: I was working with my support team and they told me the same, it must to be applied for Apple Care, they replace the device having the same installments.
Customer: I have been to Apple 3 times they told me that you guys would have to take the phone back for me to upgrade?
Customer: So if I am stuck in the middle what do I do ?
Customer: I'm really frustrated at this point I just need someone to over ride my upgrade option so I can get a phone for what I need it for ... please
Customer: They did an override for me to get the second unworkable phone!
Customer: This shouldn't have to be this hard!
Agent: I would love to do it Tammie, believe me I would love to do it from here, but the system doesn't allow me to override the installments as are advanced on the 3rd payment, I'm just giving you the information of the procedures to replace the device.
Customer: They did it on the second phone
Agent: May I know when did you get an override?
Customer: Which did not work either!
Agent: I understand.
Customer: On the second iphoneX I got all this witih 1 months and the still does not work
Agent: Let me check the notes again.
Customer: For what I need it for after they said it would!
Agent: Let me check the notes
Agent: One moment please.
Agent: Could you please give me the confirmation number of the override?
Customer: They did it the store I have no idea what it was???
Agent: From here I need all the confirmation of the processes, if you got that override at the store I recommend you to go to the store to get the process they did before
Customer: It was when we did the second phone because once again they sent me to apple and apple sent me back to the store!
Customer: They were on the phone with you guys?!
Customer: Why can you not see that information in the notes as well?
Customer: It's only been 2 mo this?
Customer: 2 months!
Agent: Let me double check
Customer: Is there a manager available I really need to get this resolved ASAP and I'm sick of the run around?
Agent: As I shared with you, my manager will give you the same info as they manage the same tools
Customer: Ok well I need to chat with someone that will help me resolve my problem
Agent: One moment please.
Agent: I'm discussing whit manager about your concern.
Agent: with*
Agent: My manager is working with other case, please bear in the chat
Customer: Ok
Agent: Thank you.
Agent: Please give me a few minutes while I look into this.
Customer: Ok
Agent: Thank you.
Customer: Do you know if too will be an all day event as well?
Agent: My manager is preparing the system to take your concern now, please bear with me.
Customer: Sure
Agent: Perfect.
Agent: Thank you.
Agent: Just to recap, you chatted to override the installments of the device that is not working, I've shared the options to replace the device with the warranty with Apple Care and the amount to pay off the phone to cancel the account, now my manager will take your concern.
Customer: Thank uou
Agent: Good afternoon. I'm Miguel manager on the floor. I can see you were transferred because you want to have the installments removed, due to is not working. Am I right?
Customer: Yea or my upgrade option back
Agent: Well, this case is a warranty. You have to go to Apple and change the device. Your equipment has a warranty covered by the manufacturer.
Customer: The phone is not defective the 1st phone was saying it was stolen or something that I received from a corporate store, the 2nd would not charge and now the 3rd one is not downloading my apps correctly or how I need them to, so I went or Apple because the Corp store said to and Apple said to bring it to you guys and now I'm getting the same from you guys? I don't understand why can not send this phone back and get my upgrade option back because I've been with you guys for a long time and I've never had an issue like this concerning getting a working phone?
Customer: Now I have to pay for a phone that I'm unable to use?
Customer: That's not right and it's not my fault that I've gone through 3 phones and none of them were working properly and it's only been 2 months with 2 phones!
Customer: 3 phones
Agent: No worries, we help customers. When you want to return a device you have 14 days Buyer's Remorse. If you are out of that period, the Apple warranty is going to cover.
Agent: In this case you will be cover by Apple. All Apple devices have warranty.
Customer: But they are sending me to you guys they will not upgrade or exchange my phone until you guys take this phone back!?
Customer: So now what am I to do to get a phone that works the way the store PROMISED would work?
Agent: Are you sure you went to Apple? They always help you with that. That's the Apple warranty.
Customer: Yes 3 tmea
Agent: Please go there, and talk to a manager. Your device is an Apple, it has warranty directly with Apple.
Customer: Are you guys serious?
Agent: Sure. And we work with serious device providers.
Agent: They have warranty.
Customer: Why can you guy not give me my upgrade option back and take the defective phones that I am getting from your store?
Agent: Because the have a manufacturer warranty. That's the way we work with our device providers.
Customer: I live 45 mins away from the Apple store and i have been the 3 times this is horrible and I don't understand if I got the phone from you guys why can I not return it to you?
Customer: There is no problem with the device other than it not downloading the apps I need for work like the att store said they would??
Agent: The first 14 days, is the Buyer's Remorse period. After that you are covered with manufacturer warranty. Apple will cover the warranty.
Customer: So what about the 2nd phone? I returned it to the store and they gave me the 2rd one that is not working like they said it would?
Customer: 3 phones in 2 months , really?
Customer: This is ridiculous how I have been a loyal customer and unable for you guys to fix this problem!
Agent: I see your point. However, our devices are covered by the manufacturer warranty. That's the way to do it.
Customer: Ok that's fine I don't have time to continually go to the Apple store that is over 40 miles away from me?
Customer: All I need is a phone to do what I need it to do
Agent: I see your point. However your device has Apple warranty. That's the way to do it.
Customer: Ok but I've been there for them to tell me that you guys ha e to take the phone back because it's still in working condition!??
Customer: I'm still stuck in the middle when I know you guys can do the upgrade over ride like on the 2nd device o had that was defective
Agent: We only take devices back on the 14 days Buyer's Remorse period. After that the manufacturer warranty will apply. Your device is Apple, it has Apple warranty.
Customer: So why is so that you guys promised me this one would work and that is not happened yet
Customer: I understand that but this is Phone #3
Customer: No 1 or even 2
Customer: 3 in 2 months! I could've kept my old phone and been fine but I was talked into an upgrade/ cordless charger and a faceplate!!
Agent: We promise our devices work, if they have some issue, it will be covered by the 14 day Buyer's Remorse period. After that period it will be covered by the manufacturer warranty. Your device is Apple, it is covered by the Apple warranty.
Customer: Ok got that part but what am I to do when they say they can't do anything about a promise that was made by att that the phone would work the way I needed it to and it doesn't?
Customer: The second phone was after 14 days??
Agent: If your device has any issue; they will cover that.
Customer: This is all to much! I just need you guys to tell me how to return. The phone because I'm not paying a phone I can't use and how to get out of this contract with you guys so maybe I can get help with people who car and are loyal to loyal customers
Customer: The devise is not defective it is not allowing the apps to download!
Customer: The ones I need to work like the store said they would!
Agent: You can only return the device in the Buyer's Remorse period 14 days. Now it is about warranty, it will be covered by Apple.
Customer: I did that!
Customer: And the only reason it has been this long is because att and Apple are sending back forth!
Agent: Actually. You can return the device only in the 14 day's buyer's remorse period.
Agent: With us you can return the equipment in the Buyer's Remorse period.
Agent: After that it will be manufacturer warranty.
Customer: So should have 28 day emotes period between the 3 phones or morw
Agent: It is only 14 days.
Customer: Per phone!
Customer: ???
Agent: Per the first one.
Customer: It's not my fault that I am getting the phone from the store!
Customer: Corp store!
Agent: After that will be manufacturer warranty.
Agent: All our phones have manufacturer warranty.
Customer: Well if you the manger I need for you to fix this issue or get me to someone who can
Customer: Thank you
Agent: Only Apple can.
Customer: Well Apple said to return to you guys been there did that I'm not dealing with this any longer
Agent: You can only return it in the 14 days Buyer's Remorse period.
Agent: Now is Apple warranty.
Customer: Please get me to someone who can help me solve this issue it has been 2 months and I am not able to pay for a phone that is useless to me I should get what I pay foe'n
Agent: It will be Apple.
Customer: Ok let please speak with someone who can help me within att
Agent: Only Apple can.
Customer: No way I should have to have had 3 phone and non of them work no way'n
Customer: No I received the phone from att so I need to speak with someone there!
Customer: As per Apple!
Agent: I'm sorry for reading that. However it is manufacturer warranty. You have to talk to Apple.
Customer: Ok I need to speak with someone over you if you don't mind
Customer: Thank you
Customer: There is no way anyone paying for a $1000 Phone and it doesn't work like att said it would..
Customer: But you still try and make me take the phone!
Agent: I'm the manager on the floor. I'm the one to take this chats. There is no way to transfer this chat.
Customer: Please let me speak with someone who can help me
Agent: Only Apple can help you.
Customer: I know there is someone over you and I would like to speak with them
Customer: Thank you
Agent: I'm the manager to take this chats.
Customer: I need to get this fixed and I'm not going to be going back and forth I've did it for 1 months
Customer: Ok who do you report to'
Customer: I would like to speak with rhem
Customer: Them
Agent: I'm sorry. It has to be done by Apple.
Customer: Well Apple said you guys
Agent: This is manufacturers warranty.
Customer: Not if the phone is not defective it's an att issue because you guys said that the phone would do what I needed it to
Customer: And continue to give me same phone that doesn't work like you said it wouls
Customer: Would
Agent: I would love to tell you we can cover that warranty. However it is Apple the one to cover the warranty.
Customer: The devise is not defective as per Apple you guy sold me a dream that does not work like you said it would!
Customer: This is not a simple issue of a couple of hundred bucks we talking $1000 for a phone that doesn't do what you promised me it would do!
Customer: Please let me speak with someone that can help me
Customer: I need to get this taken care of before 3 or 4 months come and it will definitely be too late
Agent: Then, if the device have no issues, why Apple gave you instructions about having installments remove by At&t? And have it returned? So your telling me, the device is in perfect conditions. Aren't you?
Customer: Yea the devise works it is not downloading my application that I need for work like my other iPhone did!! Apple said that you guys sold me a phone 3 times that you knew wouldn't do that!! Not not the 10'
Customer: But you still sold it to me 3 ties!
Customer: Timea
Customer: Not 1 or 2 but 3 times!!
Customer: So how is that not you guys problem!????
Customer: Why is it so hard to take the phone back and replace it with something that will!!!!!!
Customer: Would you like if this were you with this problem for 2 months!
Customer: I've never had an issue like this with att!! Until NOW!
Agent: In this case, since the device is working properly; it is about the sales accessory. We take that escalation directly at the At&t store. With the store manager.
Customer: Paying for a phone is no problem I have been doing it for almost 10 years with out a problem
Customer: I don't care I need the problem dealt with or I need to send the phone back and go somewhere else because I don't want to pay for something I can not use?
Customer: Hello
Amy Phillips
from Fremont, CA
I have been attempting to cancel my DIRECTV service for many weeks. I have been promised a call back from a manager that never happened. I was promised emails and instructions to return equipment three times, that never happened. I finally found out I had an option to return equipment to a UPS store and when we got there they didn't have our equipment listed so here I am on hold with your offices. I am being pushed around from departments because you can't locate the equipment I clearly have. Meanwhile, because I moved you are charging me a disconnect fee – despite all the hassles and broken promises you fail to keep.
I expect more from companies in delivery of service and I am sorely disappointed in AT&T and DIRECTV. This is not what I expect from a company. At this time we have been customers of yours about two years, however, prior to that we were DIRECTV customers for about 18 years. I would proudly say I had DIRECTV. But no more.
The essence of good service to me is communication and promise keeping. Neither of which you provided. You failed on every bit of this. At this time, I still have equipment I can't return, because you show we don't have those pieces. I am the first person to write a note for good service. I should also be sure to share when things god badly. Feedback is a gift. You're welcome.
PS I am still on the phone, after 35 minutes. I still have no shipping labels and you have still broken promises. Funny, you somehow got me a bill – which I deserve to be waived – yet you cannot send one simple shipping label timely or appropriately.
Edward Solseth
from Wilkesboro, NC
Purchased a home in Jonas Ridge NC (6266 Sunny Dr, Jonas Ridge, NC 28657 that had existing AT&T DSL service as does the entire neighborhood since they are the only service supplier for internet and phone. There is no cell coverage in the area due to lack of towers and shape of the mountains. I have contacted customer service multiple times and gotten varied responses but primarily there is no service at the location. Now how can that be when the prior owner had service and my neighbors have AT&T services. Neighbors have called and are told there is no plan to discontinue coverage. We have been made aware from others that once a customer cancels coverage for such as a house sale service is denied to the purchaser. So basically they are shutting down service one at a time. Since AT&T is the "only" provider this is inconceivable and highly unethical. We have no access to 911 services so this is putting people in potential life and death situations. Fire and EMS is no good if you can't contact them. It appears that the refusal to supply at least a basic line style phone is a FCC violation and a huge public relations issue for AT&T. I have contacted the local board of commissioners for Burke County and state Senator Blackwell and none of them were aware of this issue and are highly concerned. Mr. Blackwells office has contacted the AT&T lobbyist and they said they were unaware of this situation also. I just can't believe AT&T would do this to a community that has no other viable options for at least basic phone service to reach 911 services. My wife is kidney transplant patient and I have 3 hear stents. This is not a laughing matter as one of the costumer services reps thought and actually laughed at me. I hope hope AT&T will reconsider their stance on this life threatening issue.
My husband was deceived into buying a Buy-1-get-1-Free iPhone deal from a customer rep with At&T over the phone. The representative did not inform him that he would need to buy an extra phone line for the deal. My husband asked if this deal would work for his current line (to replace his iPhone) and for his wife's line (to replace her old phone with). The sale's lady said it would work and failed to say she made a sale by adding an extra phone line onto my husband's account. When the phones arrived via mail, he took them to an AT&T store to activate them. That is where he was told that an extra phone line was being charged to my husband's account (In other words...you pay for an extra phone line you don't need).
To add injury to insult, the At&T store manager refused to send the phones back to where they came from. The store manager said that the phones need to be sent back via mail.
So my husband has been on the phone for six days now being tossed around from department to department to At&T customer reps. Each time he calls, he explains the issue all over again, then the At&T customer rep admits he/she can't help or he's reached the wrong dept., and connects him to another phone number.
All he wants is to send these phones back before it's too late and he is charged for another phone line he never asked for. And he is left without a new working phone. He said he is getting ready to leave AT&T for another phone provider. We have used At&T for many years but customer service is equivalent to dealing with government agencies: untrained and clueless and uncaring. If one is lucky you find one smart rep out of a bunch.
Louis Tutino
from Seattle, WA
Customer service is HORRIBLE AND COMPLETE WASTE OF TIME.. Get people who not only can speak, but understand ENGLISH! Was on the phone 1st time 38 mins..nothing resolved, second time 27 mins. All I'm trying to do is FIND OUT TRACKING OF RECIVIER BEING SHIPPED..sounds pretty simply, IT WAS ANYTHING BUT NEVER DID GET AN ANSWER!!. READY TO CANCEL AND GO WITH DIFFERENT company..dish, xfinty..we have had direct tv since 2002 and pay 163.00 a month and you can't even track down a reciever,.!!!!
deborah malarick
from Dallas, TX
Att cheated me out of 60.90 for taxes paid on an upgrade phone I never received.and the free phone I never received.the phones were sent to Arizona instead of aekansas.becayse your staff doesn't know it's abbrevatiobs.i have talked to 13 or 14 people nobody has resolved this.the worst experience of my life.the last person jose wanted my bank acct. Number and ss number.501 424 9091
Karen Hipp
from Orlando, FL
Could you please add a zero star? ATT has ruined my credit because they cannot get their billing right!! All because I have a dsl account
for internet and direct tv. They aren't happy that I don't have U-verse, so they can't get my account right. This is the worst company I have
ever dealt with!
james m hutnick
from Pittston, PA
I came with att june 2nd and still have not received my Verizon buyout of 907.00 I had to pay this on my own
Richard Redolphy
from Claxton, GA
Unfortunately my development in SE Georgia has 2 internet options: AT&T DSL or Satellite both of which are awful. However, when I moved here in April 2018, I chose to go with AT&T DSL. Well, that may have been a mistake. Let's go right to the chase. I have to reset my modem at least once a day to keep connected. It is not uncommon to be working on an email or browsing or ordering something, etc to see the famous "Internet not connected" note flash on my screen. OK, then you go to the modem and unplug the power for 10 seconds and plug it back in....go back to the computer or whatever you are using and wait for it to connect which it pretty much always does.
I have checked out the line on your website....i have had your phone reps check out the line....i have had numerous service calls check out the line. All say it is ok. on the last service call the tech was here for quite a while....did what i thought was a good job of checking everything and then he replaced the modem. he said that he found nothing wrong. was not 2 hrs later, it went down again.
could it possibly be the Hub?? and the Fred Flintstone era DSL equipment you are probably using??? let me be clear that I am not complaining about any service techs....they all have been friendly and what i would say is thorough...
Look, first off I am paying for a service i do not want (DSL) but being the only option i am locked in to you guys. so what will it take to fix my problem?? If you do not or cannot fix this then I want a discounted rate for this service. simply i am not getting what i am paying for. if it continues like it is now, then i am asking for a 50% discount on my plan.
Finally, what will it take to have you provide a better system in my development?? U-verse?? i am told that this capability is a mere 1/2 mile up the road in another development. as soon as a new isp comes in here, i can almost guarantee that you will lose every customer you have in here.
Richard Redolphy
155 Saddle Brooke Trace
Brunswick, GA 31525
rjr7852602@gmail.com
607-349-0643
Kellie Reichert
from Arlington, TX
I have contacted AT &T repeatedly about my cell service at my house , I've done everything they suggested and all they do is tell me to buy a $1000.00 phone. Worthless criminal and I cant wait to post all this on my personal page and my city council page, your days of stealing from our community are done
walter glass karen glass
from San Diego, CA
I will get straight to the point: Account number 288143197; Karen Glass date for installation of Direct TV and Phone September 14th. Jason the installer phone 858-230-5496 was shown the wiring and cable panel of the house by me Walter Glass. Jason states he could not install because Cox the current provider for cable, phone and internet had to identify the data line or internet. Jason stated to call them then call him when Cox had completed the service. What he said made sense at the time. Jason called his supervisor Brandon, spelling uncertain, 858-705-4383 to inform.
Cox tech, Richard, at home September 18th. Shown same cable panel he stated that the Cox line was already tagged for identification and stated the installer could have completed the installation without Cox service to identify the data line. I called Jason left text he responded and communicated with Tech Richard, problem solved.
Jason had told me to call him or his supervisor Brandon and another appointment would be set for installation. I called Brandon same day as Cox appointment, but no response sent several texts no response, called 800-288-2020 per Brandon voice mail and set another install date for September 19th, on that date no show. At approximately 2:30 pm arrived at AT&T store located at 3030 Plaza Bonita Rd. Suite 1470 National City Ca. 91950 irate and upset.
There is so much wrong with this transaction: There is no accountability and a gap in the lines of communication between sales, installation and customer service. This gap allows dropped installation issues and customer service errors to go unresolved. The difficulty of knowing which department is responsible for compliance is a mystery to this writer. Anonymity gives confidence that no one person is responsible.
If increasing customer base is not important then perhaps choosing AT&T was an error. The installation phrase of the sales agreement or contract is crucial for legal performance of the contract. AT&T has not performed. Is there a reasonable explanation that convinces me that this situation is a rare occurrence or an indicator of deeper systemic problems?
The store manager Flor Hernandez 619-267-4964, while back tracking the customer order discovered that the appointment was never set for September 19th and that there were two installation orders one for Direct TV and phone the other for TV only. Flor scheduled install for this morning 8 to 12 September 20th. Flor took command of a problematic situation created by company promotion, mishandled by installation and customer service that suddenly dropped upon her for resolution. Flor took the time to make the necessary inquiries up to her managerial authoritative limit for immediacy. I asked her how can I know the install will happen, she responded you have to take my word, trust me. Flor personalized her integrity with me and frankly saved the sale.
IGNATIUS CAZAUX
from Covington, LA
UPPER MANAGEMENT HAS TO BE AWARE & APPROVING OF THE COMPLEX SERVICE YOUR PAYING CUSTOMERS ARE NOT RECIEVING ! 4 HOURS TO RESTORE SERVICE AFTER A PHONE CALL TO UPGRADE INTERNET SERVICE. ACCT. # 147699888 CHRISTOPHER YOUNG & IGNATIUS (NAT) CAZAUX. FIRST CALL on 9/7/18 AT 4P.M . UPGRADED INTERNET SERVICE . THEN OUR ATT BUNDLED SERVICE WAS TURNED OFF . 4 HOURS LATER AND 3 PHONE CALLS LATER . SPEAKING TO JULIO IN FLORIDA INITIALY, THEN YOUR EMPLOYEE "VIOLET" ( A USELESS & COMBATIVE REPRESENTATIVE), TO TECHNICAL REPRESENTATIVES AND SALES PERSONAL. ALL TO RETURN TURNED OFF SERVICE TO MY BUNDLED ATT HOME. LOWEST QUALITY OF CUSTOMER SERVICE ! A "SIMPLE TURN OF A SWITCH " FROM JULIO IN FLORIDA !!! TO BEING TOLD THE TURNED OFF SERVICE WOULD TAKE 2 DAYS OF "NO SERVICE" BEFORE SERVICE COULD BE RESTORED . I HAVE A DISABLED PERSON IN-HOME & 1 OF 2 CHILD ON INSULIN ! THIS DRAMA CAUSED BY ATT DURING THE DINNER HOURS . 4 HOURS LATER AND REPEATED PNONE CALLS FROM ONE REPRESENTATIVE TO ANOTHER DEPARTMENT REP . = HORRIBLE CUSTOMER SERVICE. TO LOW TO SCORE EVEN ONE STAR. UPPER MANAGEMENT IS DEFINITELY AWARE OF SUCH ABUSE ! A COPY OF THIS LETTER WILL BE SENT TO FCC & MY U.S.SENATOR'S OFFICE.
michael
from San Antonio, TX
LIARS, LIARS, LIARS !!!!!!!!!!!!!!!!!!!!!!!!!!! REFERB PHONES,NOT NEW, YOU PAY FOR UNLIMITED BUT IT'S NOT UNLIMITED
Scott Shores
from Morgan Hill, CA
Treated poorly while attempting to get answers to billing questions. Questions not answered. Told no one can be can be contacted in the "chat" supervisor level.
John Garland
from St Louis, MO
Customer service number 800-288-2020 is a joke, takes forever to get connected and when you get someone it's always someone overseas which means you play hell trying to understand them. They say they can help you but they can't, not even close. So you waste more time listening to their bullshit on how to fix your problem. Finally I got mad and the idiot gave up and scheduled a tech to come to my house. The tech called me to tell me he was on his way and he actually figured the problem out before he got here, so when he comes in it takes him 1 min. and sure enough he was right. Bring these jobs back to the USA and quit pissing off your customers. If you people who hold executive positions had to go through this circus of errors you'd sure as hell jump into action and correct things. ALSO, GET THAT BEIN SPORTS STATION BACK ON AND STOP THE BULLSHIT I'M MISSING LA LIGA GAMES AND I'M LOOKING TO DROP YOU NUTS
Customer service is a joke. Trying to pay bill on the phone is a nightmare. Last month I tried for 2 hours then drove to the at&t store to wait in line for another hour. I dropped at&t years ago for same problem. Went to Straight Talk with absolutely no problems. Last month I was on numerous attempts to one phone number after another on hold for 2 hours!! Drove to the at&t store and stood in line for another hour!! just to pay my bill. Today I have been sent from one number to another trying to pay my bill. So far it has been an hour trying to pay my bill. Still getting shuffled from person to person and told to call one number after another. they even want to charge $5 to pay my bill. Please don't use at&t!!!
Mytosha Laurent
from New Orleans, LA
I have been a customer for over 13 years and lately the customer service has been horrible. This company no longer have any type of loyalty for their customers. I can't pay today, and I know it can be done but they are refusing. I will be leaving ATT today.
Roy Mansker
from Park Forest, IL
I had At&t internet & tv bundle for a month and the service and help has been terrible! The internet speed is not consistent and the tv channels come in and out! I have made numerous appointments and some how they get screwed up! At&t does not deserve a payment for this poor service and I want to be compensated or let out of this mass and my money returned if your product does not function as advertise! I will be contacting the better business bureau and the Illinois states attorney's office consumer section regarding this matter. The wires has not been buried properly and the dish is still not on a pole! I have been told several time that a supervisor was going to call and I am still waiting weeks later! My account #: 286913318.
Benjamin Hudson
from Dallas, TX
After spending 4+ hours calling AT&T and my bank over a charge back of $160, I called in again on 8/30/18 at 3:10 ET to try and locate the source of the problem. I got on the phone with Rodrigo Godoy #RG5947 out of the Salt Lake City call center. Mr. Godoy was beyond reprehensible in how he handled my request. He engaged me like I was clueless and stupid. I told him the reason for my call. He asked "what bill period is it for". I responded with not being sure which statement the charge back was applied to. I've been told by at least 5 different employees something completely different every time I've called in the past week and a half. I expressed my frustration. He responded very inappropriately with "well you don't even know what bill its applied to, what do you want me to do?" I said 'excuse me". He repeated himself. I said "I'm not sure, this is all confusing, that's why I'm calling. Look it up". After he was continually rude I asked to speak to his manager. He wouldn't transfer me. He just kept telling me no. I asked for his name. He said that he already gave me that info. I asked for his employee number and he pretended not to have one. I told him I hope these calls are recorded because I can and will complain. He said 'I hope you do." This person does not belong in any of your call centers. The customer service department is a nightmare to contact in the 1st place. Mr. Godoy provided absolutely 100% 0 assistance in what I needed solved. This remind you is after I've spent 4+ hours on the phone with your company trying to resolve my issue. I know no one's perfect, but the complete lack of effort and the total disrespect I felt from Rodrigo is inexcusable. I pay your company too much money every month to be treated like that. I hope this matter is resolved appropriately. I've never made a formal complaint in my life. I usually just move on with my day. This guy is the worst rep I've ever talked to at any call center. EVER.
Steve Leigh
from San Antonio, TX
Here is an interesting story, our cable failed so we called and was told they would send us a new box in two days, never came, call a second time was on hold for several minutes, the person on the phone sounded quite surprised we did not get it. Ordered another one, said it would be here in two days, guess what ? never showed , called a third time , finally found somebody who was honest and said they don't even have any in stock , but we will put you on the top of the list.
So here we are waiting for something to happen. We have been with ATT since 1996, But i am seriously entertaining looking for a new provider.
one can only take so much.
Sir,
I have disabled data on my lines(3).But I have been charged roaming fee for an amount of $1620.I contacted chat service before going on vacation and in the mid of the vacation too to disable my roaming.
I switched off data in my phones too.It was not my fault.I need help in this regard. I contacted Social Media Service and they said that they will add international pass and will reduce the amount. But called again and said that the request has not been approved. Please help me.My ph number is2012334795.
-Thanks
-Mohan
Jasmine Facison
from Marshfield, WI
I PAID MY MONEY FOR MY INTERNET TO BE RESTORED I STAYED AT HOME TWO DAYS WAITING ON A TEC AND NO ONE HAS BEEN TO MY HOUSE. HORRIBLE SERVICE
Pam Lindegren
from Fresno, CA
This started on Monday, we were looking to trade in one of our phones the one that ends in 9611, we went to Sams club saturday which offered some perks to get a phone or trade in, so we signed up. I looked on ATT sight which said how much we had to pay I called the rep was going to process it, but said we had to do it at an att store, which I said we do not want to deal with an att store we had a couple rude reps and chose to go elsewhere he said then cant to do, end of conversaiton. Called and spoke to someone else said no trade in allowed had to pay full amount, so end of that conversation. Next day called was speaking with a rep explained everything and she disconnected the call. called again, spoke with someone she said ok told me how much we had to pay for trade in, processed everything was sending us a label to send the phone back went back to sams club everything was fine until the final process and we were flagged that we had to pay the remainder of the phone, which we were only doing the trade in so we could not do it ( lost out on a Sam Club credit of $350.00). I then called att again and the rep said oh you cant do a trade in until the phone is returned and back in our warehouse, which that was a new one. Then I looked up my account and I had a balance due, which after 3 calls this morning I finally got a rep that fixed my account. I am very disappointed with ATT your very poor customer service that we have received. I have been a customer for many many years and am so disappointed with ATT and there poor training of there reps this has been nothing but a headache I had asked to speak to a superv. or have a call back and never received a call back. I am a very unsatisfied customer.
Susan Goodman
from Dallas, TX
We lost service 08/02/2018 The service tech had been to our house the we prior to that and replaced all the lines in our house. Our service stopped working on Thur. I have Internet,TV and Home phone with AT&T I have been with them over 20 years. I talked to Katrina and she said she would call the Tech and get him back the next day 08/03/18 between 4 pm and 8 pm. She also told me she would follow up with me. I left work early and was home at 3pm. No one called or showed up at our house. On Fri I called again and was on hold for over 30 min,I finally got someone on the phone and they told me they could have someone out on Sun between 4pm and 8 pm again no one called or showed up. Monday I am so mad I can scream I and my husband own web base business's , we have been down 5 days now. I finally get William on the phone a very nice man that tells me he will handle all this for me. He runs some test and he tells me my router is bad. The Ariss is out dated and I need a new one. He tells me he will Fed x one next day and keep my appointment for Wen just in case. 8/7/18 I wait all day for Fed x. No delivery came. I call Customer service again 30 out of my day. The lady on th phone checks my system. After talking to her for over an hour I ask her to read the nots from the 5 times I have called them in the lat 4 days. She tells me in the computer note I didn't show up fo the appointments and a router was never mailed out to me. I worked in customer service for over 10 years I know they record those calls. I would like someone to listen to those calls and someone should lose their job for lieing to a 20 plus year loyal customer. I still don't have service.
Brenda Usher
from Sacramento, CA
Jan 13, 2018 Bill due $124.88 Paid rec'ng TV, Internet & ph. scvs- same $124.88 through 6/18. July 14,2018 bill is $204.9l; 7-3-18 I call to query increase in bill I spoke to Arvin discuss Direct TV no signal always and why the jump in payment; told the special was stopped?? Never knew I had a special?. I ask Direct TV to give me basic that I could afford that's when I rec'd $124.88. I called AT&T on 7-13-18 I spoke with Fatima she told me to get UVERSE TV it would be better. She never informed me that my 2 years contract with Direct TV was complete;she encouraged UVERSE-TV was better. Fatima never said I would miss 2 days without TV, internet, or a phone. Fatima never told me I would be charged ($391.58) to install UVERSE-TV Fatima stated as though it was a non-chargeable switch from Direct TV to UVERSE-TV because AT&T worked with both. This was a SENIOR CITIZEN SCAM? I was deceived and violated there should not B A hidden agenda Cost of installment should be stated at the being,.
Connie Gary
from Adkins, TX
Letter AT&T Customer Service Advocacy
08-03-18
Att. AT&T Customer Service Advocacy
Re: acct. 146419099-0
This complaint is regarding the unsatisfactory customer service received. On 08-03-18. My mother's acct. was debited twice by AT&T, on 06-05-18. However, AT&T denies payment receipt. This problem has continued without resolution since June 16th; despite several attempts on our end to resolve it. If we cannot get satisfactory resolution including removal of late fees and additional charges, I will seek other internet options. Please contact me at 412-40-1092, or cmg4jeus2@aol.com. Thank you, Connie M. Gary.
Linda Rutledge
from Oklahoma City, OK
President of AT&T and anyone who will listen,
Where to begin, I am hoping I will be able to finally get some help! After being with ATT & Directv for my 2 years, my bill almost double in price. When I called to see what could be done to get my bill back down to or at least close to my original bill. I was told the best they could do was a 5.00 discount, I quickly found another cable company to go with at a much better price. They came out and had everything set up except for the phone, they were waiting for ATT to release my Phone number. After being without a home phone for 2 weeks, I found out that ATT was refusing to release my number. So I called the company myself to get it released. I was passed around for 20 minutes before I was put in contact with Anthony Powers, he ask me if I would tell him why I left ATT to begin with. After discussing it he made me an offer I couldn't pass up. (see attached file) u200 TV, 25 mbps and VoIp for 139.99, internet would be reduce to 10. 00 a month so the bill would be down to 109.99, plus a 100.00 credit on my first bill and a 200.00 VISA rewards card. So once again I cancelled what I had with the other company and made arrangements to get ATT back. Everything went fine until I received my first bill and it was 80.00 more the expected. Once again, I start calling, but nobody had any idea what I was talking about, I was told to take my bill into the store and ask someone to take a look at it. When I tried to do that I was told they couldn't/wouldn't look at my bill. So, I called ATT back again they were no help, I was told there was no Anthony Powers with the company. My daughter had dealt with an employee at the MWC Store that was real helpful when she had an problem, so she made an appointment with her. She looked things up and got some got things figured. The 100.00 credit was being applied and should show up on the next bill. She also thought she had fixed the bill the way it was supposed to be according to Mr. Power's email. She gave us the website to check the progress of the 200.00 visa card and the website to set up tax exempt on the account. I have 100% tax free card and had it applied to the old account but when I called to have it applied to this account I was told they could not do it over the phone and I would have to go into the store and have them do. When I went into the store can you guess what they told me? You guessed it, they can't do it in store. So I went to the website they gave me and filled it all out and have yet to hear anything about it and no one seems to know how to find out. When I did it on my old account I did it over the phone and they had me take a copy of the tax exempt card to the store and have them verify it.
Imagine my surprise when I got my next bill and it was for 283.00, no tax exempt, no 100.00 credit and my u200 was changed to family (not getting all the channels I was promised). I got on the phone and called ATT to find out what in the world happened to deal I was supposed to be getting. I was on the phone for THREE hours straight, passed around to 6 different departments and got absolutely nowhere. I finally had had enough I was making myself sick, so I just hung up.
After doing some searching my daughter found that the 100.00 credit was applied to my OLD direct tv account. We made another appointment with the MWC store and the same employee. She couldn't believe what she was seeing either. She started making phone calls on my behalf only to find that the computers were down, and they would not be able to help with any answers. Next, she called the rewards center to check on that, and found that there was no record of the 200.00 Visa but he would put it though immediately, as he was starting to do it the computers went down on him, but he said he had all the info and would put it though as soon as they were back up and running. That was on Monday and nothing has been settled or fixed to my satisfaction. I am an 80-year-old widow and do not need this kind of stress, I have literarily made myself sick. Due to all the stress of this I have developed Shingles which is very painful and can last a long time.
I really hope you will take the time to look this over and be able to help me.
I want the deal promised to me my Anthony Powers, my bill is due soon, so I really need to get this figured out ASAP!! If it can not be done then I will just cancel everything, phone, internet, cable and get an old fashion antenna.
Linda Rutledge
405-606-1896
Account # 285720160
• From: "POWER, ANTHONY C" <ap759k@att.com>
Date: June 12, 2018 at 7:12:09 PM CDT
To: "la.rutledge@yahoo.com" <la.rutledge@yahoo.com>
Subject: AT&T
Hello Linda, This is Tony from AT&T. We spoke regarding giving us a second chance at your business. I know you wanted me to send you something in writing regarding our package options. So what I was able to come up with was a plan for u200 TV, 25 mbps and VoIP. Would come to 139.99. But the important thing is that we have the access program with AT&T. The access program Linda is a program we offer for senior citizens who are either retired, receiving social security benefits. I wanted to mention that as well because with that program your internet would reduce to $10 a month versus $40 so it would come to 109.99. I hope this information helps and I really hope to have you back as a customer. I also mentioned that I would provide a $100 credit to your account and send out a $200 VISA rewards card.
Becky Tholkes
from Basile, LA
I gave the agent that helped me on July 19 5 stars because he changed my shared plan of 3 GB to 10GB for $107.50. I get my bill today and the bill is $120.54. I have been on the phone the whole day trying to talk/chat with someone to understand my complaint. Long story short, I was only told why my bill was $120.54, with no explanation of why the mistake was made to begin with. I only wish I can go back and give that agent 0 stars as I would today's interaction if possible. And I can't go to the 6GB plan without losing my autopay and paperless discount. I've attached pictures of my chat with the "billing expert" on July 19.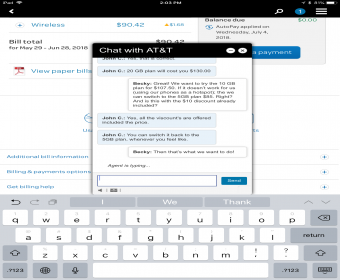 Leslie Shriver
from Grand Rapids, MI
My installation date was for the 31st between 8-12. NO ONE SHOWED! NO ONE CALLED! Starting @ 1:30, I kept calling customer service (term used loosely) & was told repeatedly that they were on their way to my house. At 7:00, my call was answered with the fact that they might still come, but best to set up another appointment for August 16th just in case they didn't make it. This would leave me without contact with the outside world for over 2 weeks! After requesting a supervisor, the girl changed her tune, & said they would be there SOMETIME tomorrow. No 4 hour window, just SOMETIME tomorrow. I had already spent 12 HOURS waiting for the tech that was supposedly on his way! The install was completed the next morning without the promised call when they were on their way. This is after 10 hours spent on the phone trying to get an honest answer. I would have been UPSET by the overscheduling delay, but to be lied to & waste my whole day is inexcusable. I couldn't walk my dog or do anything in fear that they would show & then leave. Also, I was supposed to receive a free sound bar - didn't happen.
Direct TV (I had signed up for the triple play package) did do the installation when promised, however no call letting me know they were on their way either. After spending MORE TIME on the phone, I find my local NBC channel 8 is not in HD. Had this been clarified in your published brochures, I would NEVER have switched. Their installation person had me sign electronically 3 times, once to add on a protection plan. He never said this was at an additional cost. It took 3 calls to DirectTV to get this cancelled. I am assured it will not appear on my bill.
This has been a complete NIGHTMARE - I expect some compensation for causing me all this unnecessary grief & wasting my time. I want my free sound bar as well. Please contact me @ 616 647-5397.
beryl stikkelman
from Sonora, CA
i have been a customer for over 60 yrs i am 86 yrs old you have been out 5 times to my house to hook up internet and each time you cant do it my internet cuts of today i need to buy a device from the at@t store in lodi i have just had surgery and cant drive ive called the store and can not get any body to help me please help me 2087635779
Thomas Zawislak
from Kodak, TN
I am getting 20 to 30 phone calls everyday from unknown phone numbers. In addition i am now getting calls from government official staff members enticing me to vote for their candidate. This is pure harassment. This is not my first complaint to ATT concerning unwanted phone calls. Either ATT STOP THESE CALLS OR GIVE ME SOMETHING TO STOP THEM MYSELF. I am paying ATT over $5000 anuualyl and I demand these harassment phone calls to stop. If not, I will cancel my phone service with ATT.
We NEVER answer these "phone numbers" but they persist to keep calling. THERE MUST BE some way to stop this.
Nick liberati
from The Bronx, NY
We went to AT&T store in Coop city in the Bronx, NY. We signed up for direct tv and set an appointment w/rep to assist in installing it over the phone. Well we spoke w/ several morons for 2hours and got nothing but a big fat zero. We went back to the store leaving specific instructions what we want is direct tv. Again the rep calls us with the wrong info and before we could ge a word in she hangs up. She wanted to assist us in changing phones.... We called tech services and spoke with Ron who after 5mins figured out we needed to purchase an ap on our phone....I must say your reps helping assist people setting up direct tv should be fired, retrained if they we ever trained in the first place or shot. Also the people at this particular store are not the brightest bulbs either as they deceived us into purchasing a trial run... FINALLY my girlfriend who was not only going to purchase this crappy direct tv service but was also going back to this store to upgrade to an iphoneX ....so now I'm warning her and every one I know of the AT&T crap service....by the way ..the reason she wanted an upgrade was because her signal keeps cutting out....
My girlfriend Juliet Elkins tel #
1-917-297-5120
jim smock
from Mariposa, CA
I am a retired employee. I was receiving a monthly concession for the last 18 years till I received a letter stating that concession would end at the end of July 2018 and a new concession is being offered for monthly long distance service. All I had to do was call a certain phone number and sign up. So I have been calling 877-377-9010 (a retiree and employee service center) for 3 weeks and every one of the agents that answered did not know what I was talking about. I was told numerous times that I would get a return call in 24 hours (they never came) or was told to call a different 800 number for help cause they don't do that. That would be 4 different numbers but they all said the same thing and referred me back to the original number. The offer to sign up is ending tomorrow, 7/31, so I called one more time and demanded to talk to a supervisor. Again I was told that somebody would call me back. Now it's nearing the end of the business day and not a call has come through. Is this the way the company saves money nowadays? Can this be the way retiree's perc's are ended and shuffled out the back door? Is anybody listening anymore?
Deborah Gavin
from McLean, VA
4 hours total on hold/in queue, lied to, misinformed, hung up on by Supervisors/Managers and intentionally just placed back in queue....this is just the beginning and the issue was NOT resolved. I have NEVER been so frustrated, nor have I ever encountered such poor customer service to the point of a supervisor (jerry) insulting me by telling me that I was trying to blame AT&T for my ignorance! Shame on you AT&T.
I have had the same number and have been a customer with Cingular, Cellular One and AT&T for 30 years - never once have I NOT paid my bill. I currently have 4 phones on my account and am seriously considering canceling each and every one of them and going to Verizon.
I hope that someone at AT&T cares about the Loyal Customer Care enough to respond in a manner that will erase the current opinion I have of AT&T and the value of their service.
My account is under the name on this complaint - the number associated ends in 3324
David Talley
from Columbia, SC
HELLO AT&T WAS PUTTING IN NEW CABLE LINES WHERE I LIVE AND DAMAGED MY SPRINKLER SYSTEM I LIVE AT 818-KILLIAN STATION DR
COLUMBIA SC 29229 PHONE 803-888-6140 I HAVE TRIED TO CALL LUNA GARCIA AT 469-213-4344 AND HER E-MAIL IS l564V@att.com SHE HAS NOT RESPONDED TO ME THANKS FOR LISTENING
Stephen A. Early
from Floyds Knobs, IN
I have had nothing but trouble with my home phone since I've lived here. Just since May I've called in five or six tickets on this phone 2706672464. Twenty five or more times since having this so called service. It was called in last Monday July 23 2018 after I could not hear what the lady was asking me in a very important interview. She is supposed to call me again July 30 2018. When I tried to use this phone this morning it was buzzing and making so much noise I couldn't hear what was being said. So it was called it in again and they stated it would be repaired by August 3 2018.
Well that is a problem.
You expect you payment on time each month with out any discounts might I add for an unusable phone ninety percent of the time.
I have been told by two service technicians that there is about eight miles of bad copper cable that is causing my problem. So the problem is in your hands to get the problem fixed.
I need my phone Monday morning at 8:00AMcst.
I didn't see a star for zero but that is the rating I give.
One fed up customer,
Stephen Early
9841 State Route 120
Marion, Kentucky 42064
Ralph BerryI
from Coarsegold, CA
I signed up for auto pay and was confirmed by AT&T that payments would be deducted from my checking account beginning May 16 2018. For some reason it wasn't nor was I notified of any problem. June's statement indicated payment would be deducted from my checking account on June 16, again it wasn't and I was not notified of any problems. I received a past due notice issue date June 27 with a total due of $172.81 that would be deducted through auto pay on July 16, it wasn't and again I was not informed of any problem with auto pay. I called customer service and explained everything I've written here and that a check had already been mailed out on Monday July 23. I also said I wanted to be taken off of auto pay since you couldn't get it right and never notified me of any problems with auto pay. The customer service agent informed me that I have to pay a late fee of $5.75 and a $40.00 fee to reconnect if my phone is turned off. The next day, Tuesday July 24 my wife and I noticed our phones no longer worked. If you keep payment records, check back and you will find I never skipped a payment nor was ever late making one. The check I sent to make payment was written from the same checking account as the auto pay would debit and there was never a problem for you cashing it. I feel your lack of customer service in this matter is unjust in this matter and I should not have to pay these fees, our phones reconnected, and credit given for the time our phones could not be used. I feel this error was on your part not ours and I feel we should not be penalized for your mistake!
Account # 436049521751 The account is under my wife's name, Jocelyne Berry.
I hope you take care of this right away.
One very dissatisfied customer,
Ralph Berry
Rosemary Gilbert
from San Francisco, CA
I've had a land-line phone for the hearing impaired for about 13-14 years. It''s worked perfectly until about ten days
ago. I always have used a code to access my personal phone messages - the code: *98. However, about ten
days ago I used that code only to find I had a LONG recorded message from AT&T which repeatedly used the
word "download" throughout. Since I have a hearing-loss I couldn't understand the message. FURTHERMORE,
when I attempted to use my code for personal messages I could NOT access them! A couple of days later. I received
yet another recorded message from AT&T - also inaudible to me which seemed to give some "instruction".
Please note: when the problem with the FIRST message became apparent, I contacted the AT&T website and left
a message for "Hissy Kitty" and was told my complaint was receiving attention. NOTHING has been done!!
I STILL cannot access my personal messages! AT&T caused this problem - not me. I want my service reinstated.
I am PAYING for personal message access! I am NOT of the "techie" generation so am unable to comprehend
Techie language. Neither am I STUPID! Kindly e-mail your response - NO MORE phone messages please.
My e-mail: daffodils1933@aol.com It's essential that I receive personal messages - particularly from my
healthcare organization. I am VERY healthy physically and also mentally.. AT&'s lack of service is deplorable.
Rosemary Gilbert - phone number FYI is 415-474-7849. Address 935 Hyde St. #3, San Francisco 94109.
.
Michelle matrician
from Tuckerton, NJ
My husband called around 730 to change his number from a pa to a nj number. Plus lots of harassing telemarketers calling. The lady hung up on him and shut his phone off? In the meantime i had no idea he is 2 hours away at work. I tryed calling him to tell him we had a emergency here with his young daughter. He finally called on his lunch using a office phone to tell me why his phone is off. I then tryed calling customer service to see what is going on? A markus a lady was given to me. And it was the worse experience i ever had under the stress i was under. My husband pays the phones. I have no pin or codes to give or get he was at work with no cell! She would not give me her name at first or transfer me as i had asked?? Very rude and poor business. I asked for a manager or supervisor and this lady played me on the phone. Im very upset with the whole situation .
Brad and Connie Homen
from Fresno, CA
Set up appointment to install Direct TV and internet for today between 9 &11. No one showed up. Called and dispatch was suppose to make sure someone was out today. Waited at home all day. No phone calls and no one showed up.
Customer service was clueless and only frustrated me.
Bob Ramirez
from Woodstock, GA
AT&T send my bill July 12, I receive on July 23 and it is due 11 days later. So it takes 11 days to reach them and a few days to clear, so what do the crooks do??? They slap you with a 20% late charge. Way to grow your business... and you want me to sign up for DTV and all the other mediocre services you provide? No way!
ROBERT MORAZZI
from Summerville, SC
I have AT&T phone service at my place of business, a consignment shoppe. I have two phone lines. One phone line is to handle credit card processing. That line has been down since July 17. Today is July 21. I started calling AT&T customer service on July 17. I was told they could not get a service technician to me until July 23. I made it clear that my business could not accept credit cards from customers and that July 23rd was not acceptable. They said this was the best they could do.
I called again on July 20 and got a customer service rep who agreed that I should not have to be treated this way and claims he scheduled a service call for the morning of July 21. I was at the business all day and did not see that a service call was made.
To date, I have lost in excess of $17,000 in credit card sales because AT&T cannot provide the service its customers deserve. I will be sending AT&T a bill for this lost business.
This is not the first time this has happened with this phone line. I have lost my patience with AT&T and will be cancelling this account with them as soon as I can locate another phone company.
Freeda Parson
from Columbus, OH
Why is it that when I get my bill EVERY THING ON IT IS DARK BLACK AND LARGE IN SIZE ---------------EXCEPT the account Number which A person My age has to take it to someone to read it for me or find a MAGNIFYING GLASS TO READ IT ...CANT IT BE PRINTED TO A SIZE THAT CAN BE READ YOU HAVE NO TRUBLE PRINTING THE AMOUNT I OWE 50.... TIMES LARGER THAN MY ACCOUNT NUMBER,,,, WHY WOULD YOU TELL ME TO INCLUDE MY ACCOUNT NUMBER ON MY CHECKS WHEN YOU DONT THINK IT IS INPORTANT ENOUGH TO PRINT IN A SIZE THAT CAN BE READ
PATSY JONES
from Cordova, TN
On July 18,2018 one of your installer came to my home and preceded to go in my backyard without my permission and took my gate apart .because his manager told him he could go in my yard. my property is private I did not give the idiot permission to go and take my gate apart he was told by the manager to do it. that's is what normal people called breaking and entering. my neighbor has this all of this on video and I will be speaking with the news people on Monday about this. I was told by the police if you guys don't handle it to call them back. I called my attorney this morning and I file a complaint with the better business bureau today.
Melissa Gray
from Memphis, TN
Account #286200382
I was scheduled for Installation of Wireless Internet today 07/18/2018 and the Tech did not make the appointment. He indicated he called a (812 number) which is not my number on file, the Tech is a flat out liar, he never was at the service location. He was suppose to be there between 1-3 pm and fail to attend. I had to pay someone to be there all day and your Tech fail to show up and lied about calling me. No email from ATT what so ever about this mishap. No phone call or anything, If I wouldn't have called them , they would not say anything.
Now I am rescheduled for tomorrow 07/19/2018 from 11 am -1 pm and the people who answer the phones never know what's going on. They fail to let you speak with a Supervisor. I don't trust anything that those rep say, its freaking horrible. At this point I been with you guys for years and I don't feel your company provided good customer service , technical support , or installation anymore. This is outrageous and to have representative not be able to help is even more horrible. If my service is not installed tomorrow, I will cancel all my accounts with your company. I need a call back from a Manager/Supervisor like I been requesting for the past 8 hours. Contact # 469-359-0601
Anita Garcia
from San Antonio, TX
I have been a loyal customer with AT&T since 1971 and paid my bill on time. I was interested in getting WiFi and was told that I had WiFi already. Told them I did not they insisting that I did. After all this mess turns out I did not have it, which I told them. They said I would need another modem that would cost $100. Told them why was I not informed about this modem since the beginning I would need for the WiFi. Said she would speak to the department that handles this after a while on hold, she said they would send the modem at no charge being of how long I have been a customer. They she transferred me to another customer service rep, the loyalty group and said they had a promotion for the monthly services ,Complete Choice Enhanced at a discount for 1 yr I agreed but never happened. These customer service reps tell so many lies which is a form of fraud for customers to buy and I wonder what kind of people you hire to train these reps to lie. I hope this can be resolved. Please answer
Madeleine Manire
from Arlington, TX
I have been a good customer of AT&T for 25 - 30 years. My services include 3 mobile phones, 2 Galaxy pads, internet, Direct TV and landline phone. Almost without exception, my bills are paid before they are due. Within the last month, I've experienced an issue that I believe should be elevated before it becomes anymore convoluted.
Upon receiving my Jun 10 - July 09 bill ($617.04), I called AT&T to inquire about whether there was an international calling plan that I might add to my account. I explained that my daughter was required to make and receive several international calls to Tanzania, East Africa during the billed period (86 minutes usage). Her father (age 76) lives in Tanzania and was very ill. She thought he might have to return to the US for medical care. In my initial call, I spoke with "Marion" or "Marianne" and she was very helpful. She offered a plan that is $5/month plus $.55/minute usage and indicated that my bill would be adjusted to reflect the new plan and a new balance. I accepted the plan. She then transferred me to "Emerson in International customer service" for authorization. Emerson spoke with his supervisor and the supervisor approved another new balance based on the new plan and a new adjustment amount. Emerson indicated that I would receive some type of communication within the next few days. I did not so I called again. This time I spoke with Colin on 7/1. He looked into my account and said I should receive a call within 4 - 5 days with the amount I would need to pay by July 13. Unfortunately, once again, I heard from NO one! So on July 13, I paid the entire bill of $617.04. Please note: in every call I asked the rep if I should go ahead and pay the entire billed amount and we could settle the adjustment issue on the next billing period. Each one of them said "No"... Today, I spoke with Adrian to verify that the new international calling plan was, indeed, added to my account. Well, guess what, it HAD NOT BEEN ADDED. Adrian indicated that he added it today (7/18) and to call back when I received the next bill and any international call charges would be made retroactive to 7/1/18, when I spoke with Colin.
Please let me say how disappointed and extremely frustrated I am with AT&T at this point. Since AT&T indicates that all calls are recorded, I will appreciate receiving a call or email from someone in management who can verify all of the foregoing and especially confirm my enrollment in the international calling feature. I am a Senior on a pension and social security and I cannot afford to pay $617 per month and more for mobile telephone service. Thank you in advance for your assistance.
Lakita Wells
from Milwaukee, WI
For two weeks I have been going back and fourth with AT&T. Spending a total of 4 hours and 20 minutes of my time to not get any service. Monday I got a confirmation that someone would be out on Friday the 13th and this was sent via email so I have proof. I took off work to make sure someone would be home for the installation. 3:10 come and went no signs of the technician, I called the customer care line to see if the technician was on the way. They said there will not be a technician coming out today because, they didn't have the proper equipment to do the install. So, they said someone will be calling me in 3-5 business days and my order was on high priority. So I have taken off from work for nothing and told someone will be calling me in 3-5 business So I called back to speak with a manager to be told the manager will call me back; I never got a call back from the manager. AT&T customer service has really gone down the drain. Nothing about this company is professional or worth having.
I did NOT even want to give one star. That might give the impression that I was even remotely satisfied with the performance of the AT&T customer service rep that I have been dealing with for over ONE MONTH. Lightening hit a pole in my yard and I have not had internet, phone or cable since that day. UNBELIEVABLE! I have called every single day for 30 days and they still will not come out to fix the problem. All I have been able to get to get a massive run around from every person at the call center. I understand that they are busy, but there should be a department that they could transfer me to, that handles certain calls, like mine, with some sort of detailed assessment to find out what has happened and how to fix it. Instead, I am disconnected rudely or transferred to having to leave a voice message that says someone will call you back. They WILL NEVER, NEVER call you back. They are the only cable company that runs service where I live, so I don't know what I an suppose to do. I would NEVER EVER recommend AT&T to anyone who could be sitting at home and have the unfortunate luck of lighting hitting a pole because you now are off the GRID. Especially in ATT&T EYES
Latoya Wright
from Charlotte, NC
I am not sure if the sales associate was new, but my screen was blank. He did not try to help me, but kept giving me the insurance number to call. I told him ¨How can I call someone and my phone screen is black?¨ It just felt like since I was not there to buy a phone, he did not offer any other options. I would have been willing to buy another phone. He sucked. I will never go to that location again.
Eloise Miller
from Stoney Creek, ON
July 12, 2018
AT&T sold my pastor and wife an iPhone 8 (buy one get one) in January 2018. The Rep told him that his wife could keep her current phone number (She had been a long termed customer), but they gave her a new anyway. They ended up paying for three phone bills since January 2018. They overpaid a minimum of $550 for the old number which should have been disconnected.
AT&T said it was their fault that they should have cancel the old number because in order to take advantage of the getting an additional phone you had to get a new phone number. She could not use her long termed old number. Both are long termed customers of AT&T. But we won't be one for long.
I was on a 3 way call with pastor and AT&T and heard the reps say you can keep you old number. It was not noted in the files and AT&T said she did not asked for her old number to be disconnected. Pastor had been on line with AT&T for two days and spoke with 11 Reps in 8 hours. Some reps are just incompetent. We call the 800.331.0500 for complaints and this is the kicker. At this number a guy name Bruno say, I will have to transfer because I don't change account. Also at this number, I got a Toni who put me on hold for 4 hours. She never came back and I finally hung up. On July 10th, I had spoken with 8 reps and their story was not consistent and they didn't know what to do. I wonder whether their names were correct.
I am beginning to believe all the thousands of complaints about AT&T. That it is a scam for profits business. Our phone bills have continues to increase every month while we are using them the same with no changes to the services.
Finally, I talk with a second Bruno, he said, that AT&T had changed and we don't care if you leave. I will give you up to two months credit because the account notes doesn't show a request to cancel the old number. This is just good will. It seems that all the bureaucracy is for the benefit of AT&T and customer are left out. In my research, I've found that complaints made about AT&T are rarely solved and it appears that most complaints are ruled in favor of AT&T.
Jessica Spinelli
from Topeka, KS
We moved into another home in December of 2017, at that time our contract through the combined Direct TV and AT&T INTERNET services I spoke with someone about possible canceling my services before we moved. The person I had spoke with stated that he would get my bill under a hundred dollars and we could decide to cancel when our contract was up in August of 2018 if we wanted to. He specifically stated our contract would not change upon moving services from one home address to another. He also stated our combined bill would be approx. 88 dollars per month. Charging me INTERNET 50 for only 30 a month. We moved and approx. around March I had received an email stating my Direct TV and AT&T bill were going to be separated and no longer combined. While I thought this was odd I assumed it was something they were doing across the board. All of a sudden I realize that I was now paying 74 dollars for internet alone. When I called customer service about this they had stated that it shown that I had chose to separate my bills and in turn that lost my bundle savings. Common sense alone should have be apparent that a person would not choose to pay two separate bills and pay more. I was frustrated but the technician stated that they would combine my bills and credit me for the past months I had been over paying. Also that the next month my bills would be combined and at the 88 dollars I was originally told I would be paying. This was at the beginning of June. I called customer service again yesterday after looking at my bill for internet alone again at 74 dollars on July 11,2018 and I was told that it would take another month before they would be combined and when I asked then if they would take away the 74 dollar charge for internet as I was already credited for the last mistake (why would I pay 74 the next month after I thought I resolved this issue) I was told that whoever I spoke with in June not only did not fix my issue but downgraded my internet without my authorization from Internet 50 to internet 25 I was furious that now not only am I paying more but for less internet essentially. When asked if they could fix it they stated that it was "not allowing" them to give me the internet 50 back for the price I was told at 30 dollars a month. On top of all that I found out that when we had our services moved it DID in fact extend our contract out another TWO YEARS. I feel like every time I call customer service they say they are fixing my issue then I find out they have messed it more, I feel I have been lied to on numerous occasions, I feel that they give you false information and trick you into services (ie. our contract. I wish I would have had that recorded because I specifically asked him that and he said no.) Another issue we had was at one point during all this was I had found out we had been paying for an extra receiver for two months.
Veronica Brown
from Dallas, TX
I spoke with a rep regarding my telephone bill. I have been a customer for about 17 years. I had some concerns about my bill and a credit that a sales rep told me I could get if I were to call customer service, which I did. The male rep I spoke with on 07/11/2018 was extremely rude he kept cutting me off and over talking me. He had way to much "sass" in his voice, and lack understanding which made me completely feel as if my concern didn't matter. He put the manager on the phone, and he didn't try to help at all. This is the worst customer service call I've ever had from at&t which left me crying because the rep was so rude! And nothing got resolved.
Narcille Morton
from Waco, TX
I called back in the beginning of April I believe. (I don't have my notes with me right now). We went over on our phone internet and were charged an extra $15.00. I called to see how much it would be to up the usage some. The girl told me I could get unlimited internet on all phones and it would save me $20 a month on my wireless phones, and $15 a month on my Direct TV. My wireless phones ran $205 a month. So she assured me my wireless bill would be $170 a month and my direct tv bill would be another $15 off a month. She said it started right then. Well my next bill WENT UP to $303 a month. I called and it I was told it would be fixed, that it would run $186 a month plus tax, not including my direct tv bills, and that they would give me a credit that would show up on the bill that would be due on the 17th. Well the credit was never put on. I called again and was told it would be $186 month plus tax, not including the direct tv bill (the $170 a month was never mentioned, when I asked they said it was $186). Well I was assured it was fixed. My next wireless bill was $280. I called again and was told that it was not correct, and he would fix it but it would run $240 a month plus tax. My husband did get a phone but that was only $18 a month. The guy told me he saw how many times I called in and that he would have someone call me. Well that has been over a week and never heard from anyone. Every time we have ever changed anything on our phone we ended up getting overcharged and if it is fixed it takes forever. Once our phones and contract are paid off I will switch to someone else. I am not the only one who has trouble with ATT. I have never been lied to so much.
I just came from the AT&T store in ElDorado, Ks. I went there to see about getting my cracked screen protector replaced. When I first got my iphone from you the clerk asked if I wanted a screen protector put on the phone, i said yes. She never said the protector would need to be registered to get the warranty. Later I cracked the screen and when I went to have it replaced I found out it would cost me $50. The clerk at the time asked about registering the new screen protector with Gadget Guard and I asked her to go ahead and do it. This afternoon I went to see about getting a new screen the clerks claimed they could find no registration. The clerks were not only not very helpful but acted like I had never registered the screen. I know the screen was registered by the clerk after the first one was replaced, it makes absolutely no sense that we would not have registered the screen after the first broken one. When I could not remember the password to get to the Gadget Guard account they claimed my e-mail address was no good, I can assure there is nothing wrong with my e-mail address. I am being told that the only way I would get a screen protector is pay $50. I know I was registered and feel that the clerks were trying to take advantage of me. My account no. is 444019670.
Thank You
Larry Doornbos
Michael Fetcko
from Fountain Inn, SC
High speed DSL department is a joke! Their Reps are incompetent & when you finally get through after multiple calls & excessive wait times they state "wrong department this is Uverse I'll transfer you" then they just hang up! Then if by chance you finally get though to the department for DSL which is handled by Bell South [no fiber optic out here] on 855-466-2691 and get their "code of the week", which is useless as it goes to voicemail of some fictitious Rep who asks you "give all your info all over again and what problem you are having". Ridiculous/stupid/incompetent as well as the computer answering system they have! All the while they want you to "Pay your bill today" for their crappy service! If I could give them a minus 5 star rating I would! These outages happen every month and last a week or more. AT&T cares? NOT!!!
Juan Mendoza
from Idalou, TX
I applied online for service, was approved had to pay a small amount. amount was paid, went to store to pick up merchandise and was told had to pay 500. i was approved in the morning and mid afternoon was not i have emails saying was on zero down payment. and now i cant get my phones. its sad that people get treated like this and cant even speak to someone of higher authority.
Robin Tice
from Plainfield, IN
We have had DirectTv since about 1995 in California. We moved to Indiana and signed up for the service 2 years ago. When the promo for Direct TV and internet was coming to an end, we went to an ATT store near us to see if there were other options. This was a authorized dealer, not a corporate store which we didn't know at the time. The difference between the two, ended up costing us in the long run.
We asked what we could do to keep direct tv, since our bill was about to double in price since we are on a fixed income. The manager said there was nothing they could do about keeping the cost the same for us. His option was Uverse, that was owned by AT&T. He told us that it wasn't cable, it was all fiber optic. And the internet would be about 4 times as fast as our current internet and no weather interruptions like satellite. Since there was no help from Direct TV as far a price, we chose to get Uverse. We also switched our cell service to ATT, got new phones and got the Uverse TV and internet package. The main reason we even considered it was that he said everything would be "better", as far as internet speed. We would have rather stayed with Direct TV, we have never had any issues with them.
When the installer arrived, I found out there is no fiber optic anywhere near our area. So everything they installed is running on CAT-5 phone line. The tech told us our internet was exactly the same as before. He said its running at 6 megabites and no where near the 4 times faster we were told we would have. I took it for granted the manager at the store who helped us, knew what he was talking about. We found out that's not the case. He looked up our address online, so he knew exactly where we lived. The install tech told us the only fiber optic in the area was a new sub division was a new sub division being built now. I feel like I was deceived, in order to make the sale.
I contacted the Direct TV loyalty dept.which told me they were very sorry but couldn't do anything to help me. Contacted AT&T to find out about returning the Direct Tv boxes, explained the situation to them and received another, I'm sorry. They did say I could double my internet speed to 12 megs for additional $50 a month. So much for the help...Customer service did say we have 30 days from installation of Uverse to cancel. But none of the terms were put on paper at the time of purchase.
I was surprised and disappointed no one at At&t / Direct TV loyalty dept. wanted to work with us.
Here is the store we went to:
At&t
Justin
2683 Main St
Plainfield, IN 317 838 3099
These authorized dealers are using your name, to make money and deceive your customers. We have 30 days from install to decide to keep or drop everything.
Concerned Customer,
Robin Tice
154655975
Chris McReynolds
from Itasca, IL
Have the unlimited plan worked great went and got a new phone now this unlimited plan has a limit and it made my hotspot absolutely worthless after 10 gb that wasn't in the plan we paid for have been customers for decades and this is how they treat us? Upgrade your phone and downgrade your plan? $1000 phone that I can't truly enjoy because the hotspot is worthless not what I call good service. Speaking of service we'll that isn't great either.
Dennis L. Harris (334) 507-0955
from Moundville, AL
As an AT&T customer for over 20 years and an Apple user of more than 10 years, I have been very displeased with my services with AT&T for the past 3 to 4 months. I have an iphone 7+ and cannot have a work or personal conversation over 1 minute. I have called for assistant several times and I can truly say that the young ladies have really did their best to help; from walking me through resetting my network to referring me to help from customer care. On today (July 5, 2018), I received a very important phone call, but was unable to communicate with the other person due to drop calls back to back. The same thing happened yesterday and the day before. This has become an ongoing issue. I depend on my iphone for work as well as personal uses. Today the representative walked me through resetting my network again. After she finished I requested to be reimbursed for the inconvenience for the last 3 to 4 months, she informed me that I would have to speak with some one in customer care. I was transferred to customer care only to hear that I was only entitled to $25.00, in which I refused to except. The representative then informed me that $25.00 was all that AT&T would reimburse to customers. I informed the representative that I had been a loyal customer for over 20 years and I wanted to speak with a supervisor. The supervisor informed me of the something. I also informed the supervisor that I would not accept $25.00 for reimbursement for missing work-related calls as well as personal calls for the past 3 to 4 months. After speaking with a colleague about this issue, I was informed that the information that was provided to me from the customer care representatives was not correct. I was advised to call AT&T complaint center and make a formal complaint. After speaking with the representative in the complaint center and sharing the past discussion, he informed me that someone had already applied a $25.00 waive on my account. I instructed the representative to remove the $25.00 from my account. He placed me on a brief hold, after he returned he advised me to choose another data plan which was cheaper but had less date to save money. I informed him that I didn't want another plan. He also informed me that I was not using a lot of data on my current plan. I then informed him that this was the reason I was calling; my phone is dropping calls and is not working correctly when trying to use the network. I informed the representative I was seeking a waiver for the 3 to 4 months that I was unable to use my device reasonably, a device that I pay for each month, a service I have been a loyal customer to. $65.00 is not an adequate or a reasonable amount to waiver for 3 to 4 months of unsuitable service. I am requesting a waiver for one full month. Please contact me if needed (334) 507-0955.
Thanks for your support.
Todd Laviolette
from Marquette, MI
I scheduled a repair appointment because I wasn't getting anywhere near the speeds promised I currently have the 1000 Mbps plan and was only getting 250-400 Mbps the appointment was suppose to be between 10 am and 12 noon. It currently is 1:45 pm and they still have not arrived.
Sarah Bailes
from Fresno, CA
This afternoon, between 4:00 & 4:30 PM, I started a job application, which took 2 or more hours to complete. Problem was that a resume writer sent my updated resume by email. I opened another window to assess my email. Now since the email icons/functions have changed, & I am unable to just click on "Move" & transfer it to "My Documents" as I had before, I needed instructions/assistance to walk me through this process. So I called AT&T for tech support. I talked to a female who's directions were unsuccessful. Then, and only then did she tell me that there were no tech support persons on duty tonight, they wouldn't be back until tomorrow. So I said," Hope u have a good night", before hanging up. I realized that she did not tell me what time tech support would be returning in the AM. I called back, just for that that information. I asked the next person, "What time will tech support be back tomorrow morning, & got no answer. Instead he also tried to have me try things that did not work...I had asked a few times during this interaction, "what time will tech support be in/back, in the morning ? ", each time he ignored my question; he even tried to redirect me to another company for help, so unprofessional, when I know AT&T usually have an excellent support team. That is inexcusable. Before hanging up, @ 9:00 PM, My resume that was on my email & the application have both been deleted, and I still don't know what time the knowledgeable tech support team will arrive in the morning. I work in a field in which these applications need to be carefully worded, & it takes a considerable amount of time to compose, so I am very upset about this extremely poor service, & especially the persons whom are obviously not capable to solving a basic issues.
Donna Makowski
from Chicago, IL
my uverse has not worked for weeks and I have called and complained and no one fixes this problem. Mark a service tech installed another service and charged me again and it is still not working. I want credit for the month of June. I also want a service tech to CALL ME before he comes, not to show up when I am out of the office. This is ridiculous. The service is terrible. The ban # 285544238.I want a credit for all the time of non-use. Donna Makowski
Edward Hedin
from Las Vegas, NV
Directv Account 35056717 Had a service appointment today, 6/28/18, between 8 and noon. Received an email yesterday reminding me of the appointment. Received another email this morning at 10:00 am saying I was still scheduled. No show by 2:00 pm so called 800-519-1823. I was told the technician came to the door and I cancelled. No one came to the door and I did not receive a phone call saying he was coming. I did not cancel the appointment. I confirmed the technician had the correct address, 2848 Carmel Ridge Drive, Las Vegas, NV 89134. Obviously he went to the wrong house. Doesn't he use a GPS. I am asking for a month's bill rebate for my lost time and inconvenience. BTW, rescheduled appointment is not until July 10th. Poor service.
Eloise Miller
from Atlanta, GA
I received an administrative broadcast from ATT regarding an application today
(June 27, 2017.) Your technical support is familiar with this broadcast and could not assist me.
I had previously requested that ATT not call or email me about selling products or service, yet you disregarded my request and force this message on me and taking up my time for the past 4 hours to get the mess you made cleared up.
Just as soon as I can find another carrier, you have lost me as a customer. You failed to respect my request to not contact me, especially to sell a products and services and then made it impossible for me to delete the message.
The call was spoofed on my caller ID that showed it came for Allstate Insurance.
of which I am not a customer.
This voice mail cannot be deleted by me using the regular way from my phone voice mail. I had requested that ATT not call me or email for any product. I am furious and will file a complaint. You are just like all the other business no respect for the customer.
christopher robinson
from Ashburn, VA
TO WHO IT MAY CONCERN,
MY NAME IS CHRISTOPHER ROBINSON..
I'VE BEEN AN AT&T CUSTOMER FOR A VERY LONG TIME.. LAST YEAR AT&T INSURANCE DEPARTMENT BEAT ME OUT OF $250.00 FOR A IPHONE THEY SENT ME WAS MESSED UP! I ENDED UP TAKING IT TOO THE APPLE STORE AT LENOX MALLS IN ATLANTA, GA. WHERE THEY REPLACED IT FOR FREE DO TO THEY STAND BEHIND THEIR PRODUCT... I STILL ENDED UP PAYING AT&T FOR A MESSED UP PHONE WHICH I SENT BACK TO THEM.... NOW THIS MONTH, MY TABLET WHICH I HAD A ONE YEAR CONTRACT EXPIRED THIS MONTH ON JUNE 14, 2018... THEY DIDNT EVEN TAAKE THE TABLET OFF! I STILL GOT CHARGED FOR THE TABLET THIS MONTH!! WOW!!! INSTEAD OF THEM TAKING THE TABLET OFF MY ACCOUNT WHICH I WAS TOLD THAT IT WOULD COME OFF MY ACCOUNT AUTOMATICALLY.. I HAD TO CALL THEM AND TELL THEM TO CANCEL THE TABLET OFF MY ACCOUNT!! WOW!! THAT'S SOME BULLSHIT!! NOW IM UNHAPPY AGAIN BECAUSE IM BEEN RIPPED OFF TWICE BY AT&T!! THAT'S REDICULIOUS!!! I JUST WANT THE CEO OR PRESIDENT TO RESOLVE THIS ISSUE!!! I LOVE BEEN AN AT&T CUSTOMER AND WOULDNT TRADE YA'LL FOR THE WORLD, BUT IF THIS ISSUE CANT BE RESOLVE THEN IM LOOKIN' TO GO TO VIRIZEN WIRELESS... PLEASE CONTACT ME 404 990-0925 OR EMAIL@: christopherrobinsonsr.197401@gmail.com
THANKS,
CHRISTOPHER ROBINSON
Steve Hawryluk
from San Francisco, CA
June 2018 - I called AT&T to let them know that the address they had on file for me had the incorrect house number. I spoke with a representative who kept questioning if I wanted to move my internet service to another location. He could not grasp the concept that I was simply calling to correct a clerical error. I asked to speak with a supervisor after 30 minutes or so and was quickly told that the steps that had been taken were the correct ones. I was told that their system required that they disconnect my service from the "old address" and then reconnect my service to the "new" address. I was told that I may have a brief period of time where I did not have internet access while the system "moved" the services to the "new" address. Remember, that I did not actually move anywhere. The equipment never left my house... I simply wanted to correct the house number they had on file for me.
1 week later
Tuesday - I came home from work and my internet service was not working. I called AT&T to speak with resolve the issue and was told that my services were disconnected because I was moving to another location. I spent another 2hours on the phone with some poor tech guy until he finally said there was nothing more he could do. He suggested I call back the next morning when the correct people would be in the office.
Wednesday, Thursday, Friday, Saturday - Each day this week I have called, spent about 2 hours each day on the phone, and spoken with 2 to 4 different people each call to try to get this resolved. EVERY person I spoke with said one of two things... 1. I will get to the bottom of this and you will have internet shortly... OR 2. I need to dig into this, contact the "back department", and you will receive a call within a few hours with an update. I have. I have not received a single call back and, you guessed it, It's Saturday and I still don't have internet.
The most frustrating thing about this situation is that there is no one accountable at AT&T. Each time I call I speak to a new person, and have to spend 20 minutes reviewing what has happened so far. Then, an hour or more later, I get off the phone with that person (or multiple people) and they are off the hook. There is no follow up, no need for them to every question or check to see if their customer's issue had been resolved.
AT&T,,, please help me. I don't know what else to do here. Unfortunately, AT&T is the only internet service provider in my area so I don;t have the option of going with someone else.
JIM RYAN
from Stockton, CA
I CALLED YESTERDAY WITH QUESTION REGARDING BILLING ON MY WIFES PHONE, 1-209-603-2629. THIS PHONE HAS NOT WORKED SINCE MAY 3 THIRD. YET I AM BEING CHARGED $93.95 A MONTH FOR A PHONE THAT DOESN'T WORK. IT NEEDS A NEW BATTERY AND CHARGE PORT NEEDS TO BE REPLACES. THE PERSON I TALKED TO TOLD ME TO BUY A NEW PHONE, I WILL NEVER BUY A HAND HELD COMPUTER WHICH ARE THE NEW PHONES YOU SELL. ONE I AM ON SOCIAL SECURITY CAN'T AFFORD THE OVER PRICED PHONES. THE MAN I TALKED TO SAID THERE WAS NOTHING HE COULD DO ABOUT THE CHARGES FOR A NON WORKING PHONE. I A HAVE A LONG TIME ATT CUSTOMER FOR MANY YEARS. I DON'T APPRECIATE THE AGENT IF YOU CHOSE TO CALL HIM THAT HIS ENGLISH IS TERRIBLE COULD NOT UNDERSTAND EVERY THING HE SAID WHEN I ASK FOR HIM TO SPEAK UP HE STARTED TALKING LOWER . ALL I AM IS A FAIR DEAL REGARDING THE PHONE. IF THIS CAN NOT SETTLED I WILL HAVE TO FIND ANOTHER CARRIER FOR MY SERVICES.
Gary Rutherford
from Dimondale, MI
Have called 5 times...…….Can't get anyone that speaks good English...…..asked to be switched to someone in the U.S...…….response..call back please...…. Unbelievable that a corp. as large as you has such bad manners...…..never again...…….
Ron Wilchek
from Cleveland, OH
We had at t tech come in and upgrade our router. After he left out Wi-Fi printer is off line. Called customer service. They informed me it is not their problem. I should call the printer manufacture. It was working fine before they showed up. My money their way. Zero stars !!!
Mk Jeskey
from Houston, TX
I had Uverse installed in my new home in March 2018. After 2 weeks a TV issue appeared, could not access recordings or pause a live viewing. Tech came and fixed it, said it was a bad box. Same issue returned this past Sunday (no recordings access, no pause). Tech comes Tuesday. End result without consulting me, he deletes all my recordings on the grounds the disc was full (it wasn't), 2 of those recordings I needed for work (3 of those service calls were Sunday-Wednesday this week). Not 10 minutes after he leaves I lose Internet. Another call to "customer service". Eventually get the Internet back. I return to the TV and THE SAME ISSUES ALLEGEDLY JUST FIXED! Except now in addition to the recordings/pause issues, I can't record at all. For the third time this week I call. I'm told a tech will be here between 4-8pm last night (Thursday, June 14). NO ONE CAME AND NO ONE CALLED!
Rating ATT with 1 star is 5 stars too high.
+richard l green
from Harlingen, TX
after 61 years with same phone# my uncle86 and aunt82 feel betrayed by you. a letter said they must upgrade so they made an appointment.3 guys came in took away landline and DSL[they did not ask for this] and put in VOIP. no amount of calls has resolve this. it seems everyone involved is denying any wrong doing. so, congrats to you ATT customer service. they have only been with you 61 years
Richard
from San Jose, CA
Our landline is out of service. No dial tone and the phone doesn't ring when called. I checked and there is no dial tone at the service box on the side of the house (the demarcation). I found it very difficult to report the repair issue to AT&T. When 611 is called you are put through various levels of automated nonsense before being routed to the wrong person, generally in the sales department. Finally got through to a human who made a repair appointment 4 days out with a 4 hour window. On the appointed day no one showed up and no one called. Called back to complain and AT&T has no record of either the repair request or service appointment. So I made another appointment, 4 days out and with a 4 hour window. I waited all day and no one from AT&T showed up. Tried to call AT&T, but by then their call center was closed. Today is Saturday, they will reopen on Monday. I will call on Monday and make another appointment. I will wait all day and they will probably not show up again. It's not like they can't find us. Their RT is at the end of my driveway. Meanwhile, we will continue to get billed for the phone service that we don't really have - payment for which they will continue to demand on, or before the due date...
Susan Conca
from Arvada, CO
I called to pay my bill. First call use automated service, didn't work. Second call, talked to billing customer service. I was told amount and it would cost an extra 5.00 to pay with James. I explained automated service was not taking my information. In fact it tried to have me pay someone else's direct tv account. I only have a wireless account. Was told try again at *611. Tried the automated system tried to add 40.00 for me paying my bill. Called back spoke to Casey she took my payment charged me 5.00. When I asked about my bill I was referred to app. Spoke to Randy supervisor. He was rude, nasty and talked down to me because at this point I had been told 4 different balances not including what the app said, 5 different balances. I tried to tell Randy I had never had another carrier but that was going to change. I have had a car phone before they had cell phone to now a cell from age 16 to current with AT&T. Randy basically said AT&T didn't care about my loyalty and should leave. Last time I checked AT&T was doing better but still in the forest and not even close to the woods let alone in the clear. I don't understand why Randy (supervisor) is able to talk like that to anyone! Randy needs a mouth wash and a very long time out, possible long enough he is no longer on AT&Ts payroll!
Stephanie
from Garland, TX
I am so extremely disheartened with AT&T customer service. I have had several issues in the last two months related to Internet and DIRECTV. I've spoken with countless customer service agents and multiple supervisors who have not not only not helped at all but have also been dishonest and none have returned calls as promised. I've invested at least 15 hours in phone calls. I'm at my wit's end and still have no resolution. I am ready to take legal action if I cannot get a resolution to my billing and contract issues.
Sherry Stephens
from Royal Oak, MI
ATT U-Verse service went out at approximately 2 AM Saturday, May 12, 2017. Spoke to 3 representatives and 2 supervisors starting at 7 AM who had me do a reboot before telling me it was a problem in my area and would be restored in 2 -4 hours to telling me I would have to wait until Tuesday, May 15 for a repair.
walter asbell
from Neodesha, KS
some one called me from at&t but instead of fixing my problem he just wanted to give me a few bucks and that's makes things alright? why do you not fix the problem. then told me he would take phone back but would give the taxes I paid
C. Montgomery
from Houston, TX
Our beautiful lawn is DESTROYED from your company (AT&T) digging up my yard to put in new lines and the DEAD SOD and ROCKS that was put in to replace the dug up holes looks like TOTAL CRAP and I AM VERY UPSET. I would like AT&T to put down sod that is actually alive and make it look like it did before my lawn was destroyed!!!!!!! I already cleaned up most of the rocks so the lawn mower doesn't hit them as well as fixed the huge bolts that had springs in them which I had to take off for the bolts to fit level to the ground (nothing like a trip hazard) very dangerous. PLEASE FIX THIS ASAP!!!!!!!!!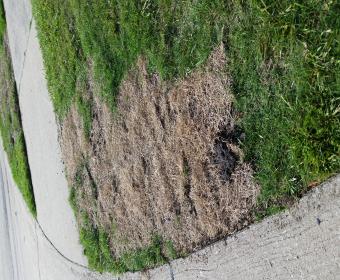 Danny neeley rome ga 30161
from Rome, GA
You lied multiple times about our bill an the perks you supposedly where letting us have what a joke charging us twice for phones that where supposedly free or we would not have gone this route maybe that's why we havent received a paper bill for 3 months no happy customer here ever wonder why? Even the so called credit cards where nothing as to what you advertised to us amount cut in half per Pam @276 254 9587 she said would return calls an never had please pull taped phone call if you don't believe this !so why am I receiving so much dung from this so called customer based company you can contact me three the snail mail @ Danny Keeley 1480 ward my rd rome has 30161 of you have the gonads to I'll be waiting today is 5/10@8:45pm
walter asbell
from Neodesha, KS
your sell man lie to me I have been with you for years time to look for new company
Roy Holton
from Stowe, VT
On April13 I made a call to the ATT service department reference my direct tv not working properly. On this date I'm not sure if I spoke to a person or not about getting it fixed. On April 15 I spoke with a person who set up a service call for me for repairs on the 16th. The 16th came and no one showed up advising road conditions were too bad to get here. Personal in the survey department called wanting to know if my tv had been adequately repaired at which time I told the person no one had showed up. This person set up another repair date for April 19. Again no person showed up for the repair. I called the repair service once again asking why. The lady advised that she would have the service supervisor call within the hour. Needless to say no call. I pay 124. dollars a month for a service that I'm not getting. I feel that ATT show prorate my bill for this inconvenience and I will be looking elsewhere for tv service.
Chad Schwartz
from Stroudsburg, PA
I needed to purchase a new cell phone. I'm an HVAC service tech and I'm crawling in and out of attics and crawlspaces all the time. My old Samsung flip phone was a military grade phone and has been through the war. I asked for a rugged phone and was pushed to an $850.00 phone plus a case. I didn't need a smart phone for where I was working, I knew it wasn't going to last. I was offered one flip phone which is a cheap piece of plastic for 63 dollars and change. But, I can buy 6 of them and still save 500.00 dollars over the smart phone which will only last two years anyway. I called tech support to find out how to import my contacts, there isn't anyway to do it. I have to input 239 contacts by hand. He told me I had 14 days unconditional to return the phone so I went back to the store to return it and was informed there is a 45.00 restocking fee on a 63.00 phone. So, I'm keeping it while I go out to bid for a two new phones and carrier, did I mention there are two phones on this plan and carrier. I've been with AT&T for 13 years now, but I guess that doesn't mean a thing. You're only as good as the new money they want you to spend in there store. I now understand why they are rated the worst of all the carriers for customer service.
Carolyn
from Gainesville, FL
I am a handicapped seventy year old. I came to this store to pay a final bill for a family member. Three people behind the counter and I have been waiting over 30 minutes and no one is taking my money. This is unacceptable
Howard L. Love, SR.
from Little Rock, AR
0n 4/2/ 18 I spoke with an agent regarding a $40.00 charge for a mini genie that a tech left at my home & a $9.00 late charge. advised the agent that I had contacted agents in feb. & mar. 2018 and was told that the non owed $40.00 & 9.00 late charge would be removed. this did not happen. the agent that they were generating the paper work to effect the removal of these charges.also onthis date i advised the agent when I attempted to schedule $153.52 payment due 4/ l7/18 the system was showing a payment for $151.51 was schedule for 4/13/18.the agent advised me she entered and scheduled the $153.52 for 4/7/18. in checking bank account on this date I did not find the that the payment had not been processed. an agent advised me, after inquiry that they were unable to process the schedule payment because my banking information was not available and because of this I would have to pay $5.00 or processing fee and, be charged a $ 9.00 late charge on my next billing I schedule my paymentst to be drafted from my checking on the scheduled due date. when I do this it shows my banking information is stored in the system. the time I have spend on the phone waiting and the thank you for being a valued at&t customer at the closed of the call is not true. I trust that your response to this complaint will make it true.
Ed Lamont
from Boynton Beach, FL
The people I deal with at 611 are dreadful. They don't understand me and the phone reception quality is often not good. I want to get a new phone - 5G compatible.
I've made 3 trips to ATT stores and 3 calls to 611. I GET NOWHERE WITH EITHER! I want to speak with a supervisor who speaks understandable English knows what they're talking about, and can solve my problem.
I've been an ATT customer for between 10 and 20 years. You look it up.
If I don't hear from a supervisor quickly,
Jan Gavin
from New Providence, NJ
If I could give a zero I would. My bill is $11 higher this month. The website to address this first sent me to fios. Over at least 12 attempts, I had 12 different tree options, none of which worked, and all led down rabbit holes. I provided the same info each time, and was never able to get to billing.
I got offered new devices to buy, one time got to my account info. I clicked billing and was bounced out. I never, ever got to billing details
Charlie Martinez
from New Orleans, LA
I learned that you will be removing OAN from Direct TV, claiming they spread miss information. I STRONGLY disagree with your claim and will be finding other providers for our home internet and TV services. We also will be encouraging everyone we know to do the same.
Keith Stevens
from Mount Jackson, VA
You promised you would get my phone fixed
When are we fixing your problem
AT&T Free Msg: Urgent case has been assigned to KEITH STEVENS for research. We will call you within 24 business hours.
AT&T Free Msg: Per your request, we will call you shortly to work on resolving your concern. Please do not reply to this text. Thank you for choosing us.
Terri Coonce
from Bloomington, IN
My mother-in-law is 86yrs old with declining health issue's she has been without phone service since Sept 24th and several calls have been made to have it repaired and explained the urgency of the situation her life depends on the phone service for her medical alert in case of emergency thank God my sister-in-law happened to be there when my mother-in-law needed to go to the emergency room last week because it could have turned out very grim for your family. My mother-in-law is actually still in the hospital as I am writing this what can be done to make at&t take this situation as serious as it is? 13 day's is more then enough time to have it taken care of????
Arlyn Marrero-Nasirov
from Sacramento, CA
Manager attitude and unknowledge of the contracts and procedures. Had to go 3 times to get help with unlocking my phone, still not resolved. She came up with the story that I need to wait 30 days to be unlocked. That is not true, is only for corporation contracts, not my personal phone. She stay always in the back of the store instead of helping people coming or the new employees working under her. I have to ask for her to get involved and got defensive. I work in a hospital, we deal with multiple high-intense situations of life and death, we still present ourselves with a nice face and been sorry for the problem or issues. I have never complained and I have been a loyal customer for more than 12 years! I'm still a customer and was treated like I'm an idiot not knowing how to use the computer and doing the unlocking online. I explained many times that is not working, and that I don't need to be condescending. Still waiting to resolve my issue with my phone as nobody, online or at the store, knows what to do. She actually told me that my problem was to buy the phone with AT&T that I should buy my phone through Apple. Well, that was my first and last time getting a phone through a wireless service.
Fairoaks blvd, AT&T store, October 6, 2021;4 PM
Arlyn Marrero-Nasirov, MD
909-653-5857
Stephany salmeron
from Alexandria, VA
In 2020 I went to the att in Alexandria va beacon hill and the manager lied to my face to upgrade my phone and he told me I would be credited $350 and it would come up on the bill , later on I didn't see it on the bill and went to the store to talk to the manger and he said that I was lying he never said that I understood wrong and he humiliated me in front of his other customers. I don't think that fair coming from a manger and he basically made me feel so stupid and he lied to my face that just wrong and disrespectful , hopefully I can get answers … please contact me (571)345-8720 or my email carlos_salmeron1@outlook.com
coral melton
from Seneca, SC
I was told by 3 different reps that I was entitled to a promotion then when I called back someone else I wasn't this is the worst company to deal with they always have an excuse. I been customer since bell south I don't recommended at&t to no one
raymond goldsmith
from Canton, MI
Over a week ago I asked to have my remote for the tv replaced...................I was told 2 days for delivery.............it has now been 10 days and still no remote........it makes the tv experience very inconcovient. please please
send my remote !
Melisa Parnell
from Oxford, AL
HORRIBLE customer service
James Baker
from Atlanta, GA
I James Baker has not been treated with respect as a existing customer. I pays the same amount every month with auto pay. And has been harrased for a while by customer service in home wireless phone about purchasing other plans that costs more a month. I told them this is all I can afford to pay month. My bill has went up without any notification
John k welch
from Wilmington, DE
This was the absolute worst experience with att.They did not disclose before upgrading to an iPhone they wouldn't accept my phone.When the agent and I contacted customer service they were absolutely rude and mean.The agent was less than helpful.I switched to xfinity with great service and lower fees and costs.I would never use att again
BEWARE OF THEIR DEALS. DON'T ACCEPT ANY TV OR PHONE SERVICE.
Clearly got scammed by AT&T. I was suppose to get $250 reward from AT&T. Only got $150. Contact AT&T and they told me to wait until the end of the first month to see if the remaining comes to the mail. Cancelled my first month of TV because I only wanted it for the reward. Contacted AT&T after the first month of TV. They state they cannot give my $150 because my service is cancelled. YOUR THE ONE WHO TOLD ME TO WAIT UNTIL THE TV SERVICE ENDED. They clearly knew that by waiting until the TV service end they don't have to give me my reward. PROFESSIONAL SCAMMER. Was highly thinking about going for AT&T phone service. Clearly not even worth the money. Who knows I'm not even going to get that $250 reward from the phone like they said.
Lee Clinefelter
from Oklahoma City, OK
No part of your company works, I was on the phone for 2 hours with customer service to work to correct issues and still did not have enough time, requested a call back with the customer service agent stated would happen and still nothing. Fire everyone involved in your process and start over.
Joe Bassi
from Brooklyn, NY
My wireless signal at home in Bethany CT is terrible and has been for the longest time.
Trying to find out why is like trying to cut off your own arm. It seems that people don't man the phones any more and if you're lucky to get a person they are from some other country and don't have a clue for why the wireless signal sucks.
I'm really disappointed. It looks like the time has come to dump ATT.
Glenn Hall
from Silver Spring, MD
On Saturday, September 5, 2021, I went to the AT&T store located at 10729 Columbia Pike, Silver Spring, MD 20901 and spoke with the customer service representative, Timothy. I told him that I had gone to the AT&T website to receive the teacher appreciation program which offered qualified teachers a 25% discount off their bill if they added four phone lines to their service. My family and I have been customers with AT&T for over 15 years. My wife (Jennifer Hall) was in charge of our plan to begin with and I took over the account in 2018. I traded in four iPhone X's that met all of the trade-in requirements in order to receive the $700 discount that the promotion provided if my family turned in their personally owned phones. I was told by Timothy and the manager of Ben that my total bill would be $214.88 and that included surcharges and government taxes. I looked at my AT&T online account today and was shocked to see that my next bill would be $380. I called customer service and spoke with DJ who said he was unable to help me and that he would have his supervisor call me. I received a call from a supervisor named Jam. I explained my situation and how I was lead to believe that my total bill per month would be $214.88 including surcharges and government taxes and the only solution she offered was to downgrade my wireless plan from Unlimited Extra to Unlimited Starter which I told her was unacceptable. The only option she said she could offer was to change my plan. She did not offer any other type of help to resolve my issue no matter how I pleaded with her. This is not the first time that an AT&T customer service representative has given me the bait and switch offering me one plan for one price only to find out that I have been lied to and that the plan I signed up for is far more expensive than my budget could afford. This is not the first time that I have been treated like a second-class citizen by AT&T. My family and I have been going month to month for the past 10 months trying to figure out how we could transfer our service to another company so we wouldn't have to be abused by AT&T anymore. We are just tired of being constantly getting the run around by the customer service representations we have spoken to. In the past month or so, I have been told that I could not speak to a supervisor, hung up on more than twice and spent countless hours on the phone trying to understand why my 15% teacher discount has not been applied to my bill when I signed up during COVID. One customer service representative told me that I did not meet the requirements and I had to take my active teaching certificate, current school ID and a letter from my principal to a brick and mortar store in order to have the discount processed even though it stated that I was supposed to receive the discount in on my account. The only customer service representative that helped me was Jessica who filed an investigation for me to inquire why the discount hadn't been applied for months (case #20210903). Other than that, I have received absolutely NO help from any of the customer service representatives I have spent numerous hours talking to either on the phone or in chat. I am seriously considering paying the opt-out service charges and canceling our contract in order to move our service to another cellular company that might possibly treat us with respect and dignity. My family and I have been dealing with these issues for far too long. As I said, when we signed up for the promotion the website stated that the Unlimited Extra plan was dropped to $30 per month if four lines with added to the plan. That included new and previous customers. It also said it included HBO Max which it does not. Once again, at every turn, AT&T has lied to us and pulled a "bait and switch". No one can help us just receive what we were told to expect. My wife and I are both teachers with two children and on a very limited budget. We do not have $380 to pay each month for cellular service. If you look at our account (#418093619867) you will see that our bills rarely stay the same amount. It has gone from $297 to $211 and anywhere in between. How can I make a monthly budget when I do not know what to expect each month with my cellular bill? I ask people if they experience similar billing issues with the other big three cellular companies and the answer is always "no". If you listen to the recorded conversations I have had with your representatives, you will hear how uncooperative they are and do not try to resolve the situation to the customer's satisfaction. I thought taking notes would help document all of the information I have been told when trading in our phones and purchasing new ones, but what I should have done is take screenshots of the promos from the websites because I have been told by Sum (supervisor) that they did not exist. I told her that she really should not lie to a customer and definitely patronize a customer. All she continued to say was "I'm sorry sir, but there is nothing I can do to help you". I am trying to file this complaint first before I take matters to the corporate level and BBB. I just want the deal that I was told I would receive with having to downgrade my plan from Unlimited Extra to Unlimited Starter. I do not think that is too much to ask for from a loyal customer. Again, check the records to see how long Glenn Hall and my wife, Jennifer Hall have been customers of your company. You would think that after this long, the last thing your company would want is to loss us to one of your competing companies which I do not really want to do, but I feel like I am being forced to by the constant mistreatment and abuse. I sincerely hope that this message is read in it's entirety. There is a lot more I could write, but that would take pages upon pages. I could write an entire summary of my experience with the buy 2 get 2 free iPhone X promotion that AT&T ran two years ago from this past November 2020 (I think the promotion began around 2018).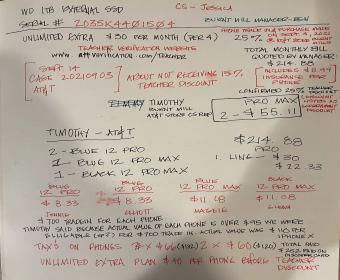 Brenda Martin
from Meadville, PA
On Sunday, August 29, my husband and I entered your Meadville store 4:50 PM. It was difficult to tell who was a customer and who was an employee as nobody there appeared in a professional manner. We were approached by a young man who told us we were second in the waiting line. He took our name and reason for visit. Seven other people came in, waited a half hour or so and left. Initially, there were two "technicians" assisting people. When the one technician finished, at approximately 4:35, she left the building and we saw her drive away. As she drove away there were seven people waiting for service. At 4:50, the individual who left returned in her car and sat in the parking lot. That left only one person, Jasmine, the manager, to assist customers. What a shame. Seven people left the store in frustration. At 5:05, we were called to the table. The store was now empty. Jasmine was attempting to assist us. We informed her that her employee was sitting in her car and she responded "I know". At about 5:15, the other employee walked back,in, sat at the table we were sitting at and never said a word. Jasmine was unable to assist us as she was apparently having "computer issues". We left with our issue unsolved. The employees had a channel with black people arguing and screaming on it the entire time we were present. The atmosphere was disgusting and one of utter apathy. Your "employees" did not care one bit about service or customers and they made it apparent. We understand that AT&T is of the "woke" mentality and as such is accustomed to a nonchalant and uncaring attitude. To us, as customers, however, this is unacceptable. The face of AT&T is forever disgraced in our opinion after our experience. We have begun a search for a new provider. Best of luck to you, you're going to need it with employees like you have in Meadville PA.
Brenda L. Martin M., Ed
Jacqueline Ann Shiver
from Huntsville, TX
No service now being told we have limited service but bill still the same..Use to get full service at home now absolute none ..Even text won't go out ..But that bill rolls in every month ..No credit for no service
Is it asking too much to put a tower up in Glen Allen Mo? Not in Marble Hill or Grassy but Glen Allen. Horrible to have a service that is over priced & can not use it at home.
Boost your signal for rural areas please
Donna Fiallos
from Miami, FL
My internet was shut off without notice my bill was accidentally not paid due to losing my card and number being change on it . I called and paid the past due amount and was supposed to recieve new equipment in a couple days and it has been five days. Now I call and there is a technical problem meaning I owe 50 dollars on the account that they abruptly closed. I must open a new one but in the mean time I am paying over a hundred dollars a month for a TV package why shut off the internet I cant watch the package that I currently have. I am on fixed income and I am sick I am sorry I made a mistake but why am I treated so poorly by your customer service. I was not told I have to pay the 50 dollar balance before my internet box could be sent out. Can I pick it up at the att store I have been without so long and going on two weeks not being able to watch my tv package. Thank you for any help
Jana Everett
from Keller, TX
I sent a payment out on April 2,2021 for $94.95, to the mailing address envelope which I had Att Atlanta Georgia then on May 3, 2021, I sent out a payment for $95..19 on the address envelope to carol stream Illinois, why the address change, to get more money from customers. I heard the att Atlanta Georgia never received the payment so I sent out another payment $94.95 on June 2, for the April 2 bill, my mother 95 does not call anyone. I have my cellphone I use, being her daughter. All she receives is scammer calls who spoof important numbers and call her number and probably charge it to her number. Att is charging her it was $250 but it has gone down to $124, she has to pay for scammer calls I guess , not right, this world sucks, people doing anything to get more money from the elderly customers. Att getting more money by having an att address to Atlanta Georgia and changed it carol stream Illinois.
Eva Mayer-Meek
from Belleville, MI
I have been without a Phone service for more than a week because of a very noisy line, my appointments to have this fixed have been changed several times.I have spend too many minutes on the phone trying to have this taken care of only to be transferred from one person to another or put on hold for 20 minutes or longer so I would hang up. If I where an invalid who needed this phone I would be in serious trouble. I did finally get my appointment on Friday the 23rd and I think I will seriously consider moving my service to a different company.
the phone in case anybody really gives a hood.
Vicente Soriano
from Lemon Grove, CA
The reason is that I am trying to get help with customer service for mistake and unprofessional way of of getting my daughter to upgrade her phone not been honest and wait to the end of the transaction to inform her that her phone was damaged and it didn't qualify for the promotion
Sharon A Shannon
from Hazelwood, MO
I am very disappointed in the customer service department at ATT. I called three times inquiring about my landline phone bill and the credit I was owed. Each and every time I speak to a customer service representative and explained to them the purpose of the call; I am put on hold for so long, I must hang up. As a matter of fact, I'm on hold as I am writing this complaint. The initial hold time was quoted for three minutes, my phone is reading 19:01 minutes. Please feel free to call me back at 314- 731-3122 to answer the simple question regarding me having a credit on my account or credit my bill. Thanks!
willis walthuis
from Los Angeles, CA
over billed me. and will not tell my why owe this money?
James Elliott
from Woodstock, AL
On June 8,2021, I agreed to sign contract to keep internet with att CSR, Karen, sold me the idea after I called to cancel to move to T-Mobie internet. Stated would have it installed quickly. Appt was set for 6/10/21 between 9-11AM. On nite of 6/9/21, att sent me msg needed to move appt to Fri 6/11/21 between 11AM-1PM. I was ok with this. Fri at 140PM, I called att to see where tech was. I was told, apparently, one big old LIE !! Told by rep that tech was held up at elderly Cust to teach them how to use equipment. No problem here, as I am 70. We'll tech never called or texted me, as requested by me, AT ALL !!! Called att again around 5:30PM to find out what was going on. I was told by him, NO RECORD of fri appt. Stated I wanted to talk to supervisor. I was put on hold for 4-5 minutes. CSR got back on line and stated a SUPERVISOR would call me within 15 minutes. NO ONE called at all. At 8:05PM this evening, got msg from att stated they noticed I hadn't rescheduled Thursday appt. SIMPLE question: Do you have to be a LIAR or a DUMBASS to be employed there ? Not kidding about this. Dead SERIOUS !! Apparently, someone got rid of Fri appt, prob to cover own ass. I'm going to call T-Mobile , where.I've had their phones,( now 6 on acct) since 2005. Offered new internet service recently at about same price. Whoever gets here first Monday, will get or KEEP my service. I've done all I can do at this point, except for acting like a complete ass and JERK. J Elliott
Szyja Samuel Szniatkiewicz
from Fort Lauderdale, FL
I switched on 05/26/2021 from Fiber1000 to Fiber 300. Special offer for existing and new customers for the Fiberglas300 Internet service ended up with paperless billing, Auto pay and $20 Discount ended up to $45( including Equipment Fee). AT&T denies now to provide this price and stated it would be now $79. As attachment i provide a print out of the published special offer as well the Customer Service Summary which I received from AT&T after I changed my plan to Fiber300. I contacted AT&T customer Service 31 times, they are unfriendly, unprofessional and even threatened to cut my Service off. I don't even want to mention which remarks I had to hear regarding my dialect and age. I`m a low income senior citizen and feel greatly abused from this company! I have the Confirmation from AT&T about this special in written and AT&T customer service ignoring it. Because i live by myself and it is very stressful for with almost 70. So my neighbor copied the AT&T Customer summary from th05/26/2021 and sent formal complaint to the Federal Trade Commission as well to the Public Service Commission of Florida. For me it is not understandable how AT&T treats Customers and absolutely doesn't care, basically lies.
Attached you find the Documents
Diane Bohn
from Ashburn, VA
I just bought a phone from At&t. I just got it today it was not what I order and I have had nothing but trouble from customer service I want a Samsung note not what they sent me since than the AT& t website locked me out of the site asking me to change my password 6 times and I still can not log in I do not want thiscphone I want a Samsung note delivered to my home address it's phone is not working it is slow and I need a note to handle my work I have no car so I want my note delivered to me and they can have this phone back I am not happy when the guy left the phone not set up and than I said this is not what I order the note came with a cover this phone had nothing just the box I am a senior and I do not like to be taken advantage of Diane Z Bohn..465 West San Carlos San Jose art 3105 please get back to me I can notveven down load my files on this little phone my old phone is better than this one but I moved my service to upgrade my phone and to get better service I am shocked I want my new phone Samsung Note delivered to my home they have my payment already no excuses from them
I have had a very bad experience so far with AT&t I am going to be paying allot every month for unlimited service and for a phone that will do the job not this one
My bill has been incorrect and I've been over charged since October 2020. It is now May 2021 and I just received June's bill. Still wrong. No matter who I talk to, I get a different answer every time. Adjustments have been made, yet every month I call and waste hours of my time to get the bill "corrected".
Jay Thompson
from Hanford, CA
Wife put down payment on Galaxy s21 plus. Was sent s21, not plus. Customer service lied repeatedly. Never once did they try to make things right. Called numerous times, was told numerous lies. Haven't been a customer for even a week. Worst experience ever. I am deeply disappointed how they treated my wife and I.
Linda Donnell
from Chicago, IL
I am a longtime AT&T customer, having AT&T service since 1967. I currently have landline, uverse internet, and DirecTV service.
My email accounts do not work. I spoke this morning with Stephanie in your AT&T Atlanta Executive Office who assured me someone would get to the bottom of my issue. She called me before 7:00am CST. She informed me that someone from digital assist would contact me to resolve the issue. It is now 3:05pm CST and I have not heard from anyone. That is not quite true as someone called to try to offer me an internet upgrade to 1 gig. I've tried calling customer support since 1May 6th. I have been transferred to 12 different individuals to no avail. Each transfer takes me to the automated caller system and I wait in queues once I've answered the same questions over and over. More upsetting is the fact I've asked to speak to a supervisor and was not put through.
I also attempted to work with AT&T customer service on May 5th. These sets of calls were transferred and made me so upset that I filed the FCC complaint 4757566.
AT&T is supposed to be a communications giant. Has it gotten so big that it no longer provides customer "service"? It appears the only thing AT&T cares about is making a sale and collecting money; that the customer is having issues with AT&T products is not important.
It is now May 10th. I will continue to try to work with AT&T but have no confidence that anyone there will assist me. I have already discontinued my mobile service and am investigating other carriers regarding internet connectivity. I am also looking to try Dish rather than DirecTV. The only service I cannot transfer is my landline; for that I must remain at AT&T.
Other companies value their customers. Somewhere along the line, AT&T devalues their customers.
Yasir Mahmood
from Costa Mesa, CA
AT&T in a nutshell
5/5/21
-filed insurance claim on broken phone
-rep told me after claim was filed, i had an upgrade and could trade my replacement phone in for upgrade
5/6/21
-received replacement phone, went to AT&T to trade in. Rep (Ana) told me i have to wait 30 days to upgrade with trade in, was told to call insurance and send back replacement and pay for upgrade. We looked at my account, verified me with my id. She said i was eligible for an upgrade
-called and said i was sending phone back and paying for upgrade since i wasn't offered that in the beginning
-waited 30 mins for rep(Ana) while she was in the back of the store (I asked another rep to contact her)
-Ana came out and said her manager said we cant help you as i have a note on my account saying not to touch account this account and she cant tell me why. Told her call manager
-Manager said i have a lawsuit with AT&T(i do not)
- Told me to go to another store or call 611
-I called 611 to verify, said no such thing is true
-Ana told me to leave and go elsewhere
-Jerome (rep on the phone) was on the phone for 1.5 hours with me and verified over and over again that i was not being rude to anyone and was also confused on why they wouldn't help me.
-Jerome asked me to ask her why she couldnt help me - she turned her head and ignore me
-store called 911
-gentleman came out from the back and told me "its in your best interest to leave the store"
-said i am not leaving - please let the police come here
- police came and said that this was unnecessary by AT&T
-The manager came outside and was talking with the police and said she will show me that it says i have a lawsuit - pulled up my account and nothing of that showed, then proceeded to say she cant access it anymore.
Gregory Ashley
from Memphis, TN
We have been without internet service for one month and att has not been helping at all. The help center had stated that a line was down. It has been more than enough time to resolve the issue. This is unprofessional!!
James Cahoon
from Jackson, MS
I have DIRECT TV service at my home and have had for several years.
THIS IS A CHANCE FOR DIRECT TV TO IMPROVE THEIR SERVICE.
The sound volume output on lots of movies is very loud and very low with the TV sound volume set on the same setting.
A person has to set the sound volume control continually while watching these movies.
Most of the time I just change programs.
I KNOW THAT DIRECT TV HAS THE KNOW HOW TO CORRECT THIS PROBLEM.
AN OPPORTUNITY TO IMPROVE DIRECT TV SERVICE.
Ron White
from Hot Springs, AR
I can only assume AT&T are like they are because of the lack of good and plentiful competition, especially when it comes to business and land lines. AT&T is, in my opinion, a despicable company. With the lack of good competition, in my opinion, they have become as about a dishonest, deceitful company I have ever had to deal with in the 50 years in business. Their customer service and their pricing and pricing policies have got to be at the bottom of the barrel of 'who's who' in America corporate business. I and from what I hear from many business, the minute some worthy competition with some reasonable amount of integrity, will be the end to the likes of AT&T. Of the many corporate companies that I've had to deal with over the years, AT&T would take the trophy hands down, as the sorriest corporation in America today.
Ozzy
from San Antonio, TX
I have been yrying to connect a smart watch for the last 3 days. It is hard to believe. 2 differente representatives told me that that is something that will take a supervisor to do.
Last night they had.me on the phone for over 2 hours and i did not get to talk to said supervisor. Tonight I went through the same thing. But this time while i was waiting forbthe gost supervisor I open at&t chat. I got to connnect with some one who apparently did what I wanted to do. He said that he would get back with me in 30 minutes to check and make sure that everything was ok.the stupid watch us still not working and the great chat helper never got back with ne.
Should I trust at&t. Not at all
They. All they are just a buch of people that don"t know what they are doing. But that a a bug problem. I can just understand that at&t in orxer to save money they might not be hiring skilled people. But that has nothing to do with being deshonest. I am very frustated and I got the imptesion that I made a mistake making bussiness with At&t.
Unity of Pasadena - Nancy Smith
from Covina, CA
Our church facility gets poor Internet service, which multiple AT&T technicians have confirmed. They state it is because we are too far from one of their centers. Our facility is within the City of Pasadena limits. The wires are copper and AT&T tells us this problem will disappear once fiber optic cable is install in our area, but they give no date for when this will happen.
During lockdown, our "business" depended on the ability to stream. Participants in the Sunday Service needed to be streamed in remotedly, due to COVID-19. While we are able to successfully stream whomever, if anyone, is willing to come in (minister, etc.) to the sanctuary, any use of a remote guest often results in a frozen screen and garbled sound; therefore, due to poor AT&T service we cannot use remote guests. When we are locked down, this inability to stream remotely means that we either must violate public health department guidelines or else close down our organization. Even though guidelines for Los Angeles County are currently loosened, many people do not yet feel comfortable coming into the building.
Perhaps what is most frustrating is that there is no accountability. No one at AT&T is willing to'get to the bottom of this". I suspect that this is because they know what needs to be done, but are unwilling to do it. (Fiber optic cable). The technicians who come out tell us this, but the tech people on the phone are not so honest. Instead, they insist on sending out a technician. The technician that is sent out is always different and comes with no background information about our situation. They are supposed to have access to notes but they don't. This means each new person who is sent out starts from scratch. What is the use of the notes that are kept? We get nowhere this way - it is th proverbial spinning of wheels. This means we have spent a total of hours and hours on hold with AT&T, hours and hours waiting at the facility for a technician to show up, then something gets done which is supposed to have solved the problem, but doesn't. And the cycle continues with AT&T cheerfully apologizing and insisting once again that they will send another technician out.
Our neighbors are having the same problem.
I have asked to be able to communicate with the same person until the problem is solved, but AT&T refuses. They say the technicians are assigned by a national center and they cannot control who will be sent. I was told that these technicians do all have the same manager, however; that there is only one manager assigned to this area, and that he can be asked to look over the case; however, I was not allowed access to this person. I was supposed to take the word of the AT&T employee that this would be done.
On multiple occasions, I have been told that, because of our repeated problems with service, that they would send a supervisor out on the call with the technician. Even though this promise is apparently common practice, the practice is not - a supervisor literally never comes. The two times this was put on a work order for us, no supervisor showed and the technician says it pretty much never happens. So, it was a blatant lie. Honestly, I feel that AT&T is playing with us when the health of our organization is at risk. The disrespect of the customer is apparent.
I only began documenting my communication with AT&T in December, 2020,. and have spoken with them on the phone at least 20 times. They have sent someone out at least 3-4 times. They want to send out another person, but frankly, I feel this would be a complete waste of my time. I am at a loss as to what to do.
AT&T essentially has a monopoloy over our area; it is the only servicer, other than a satelite service (which can be affected by weather) and another service that uses AT&T lines. If we as a government are going to allow them to have this monopoly, then there needs to be expectations of them, just as there are for other utilities.
In addition to doing whatever needs to be done to provide adequate service, they could display concern and a bit of accountability by assigning one person to difficult cases until the problem is resolved. Also, technicians in the field must be able to see notes from previous technicians so they are not re-inventing the wheel each time. These should be simple to implement and would show a concern for actually solving problems.
Meagan Sánchez
from Austin, TX
I made an insurance claim back in oct 2020 I returned my old phone, they ended up charging me 600 dollars because it was supposedly "not returned" my tracking number states that it was delivered to att, I have gotten my phone cut of multiple times, they've made multiple cases on my account nobody can seem to help me, I keep getting told that the amount will be credited back to me and nothing has happened!! It has been 5 months of dealing with this!!! Att is stealing money from their customers!!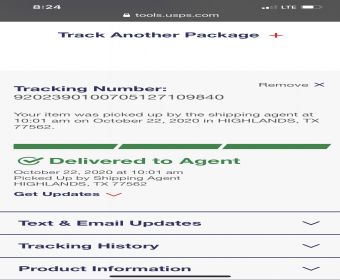 Tiffany L Slaughter
from Chicago, IL
I did a trade in promotion online 6mths ago. I traded-in a gs7 and got a gs20. The promo was to send in phone that was in good condition and then start receiving a credit of $33.34 for the new phone within 1-3 billing cycles. 4 months in I noticed no bill credit so I called in and have called several times since, only to get different information. First, I was told that they couldn't find info on the phone I traded in, then they said the promo didn't exist during the time I traded it in Sept, next the phone value was low and the screen was cracked. However, before I did the trade-in I was told my phone qualified and it definitely wasn't damaged. At&t stated that they would investigate. Now I'm here because throughout this process of me calling, trouble tickets and escalation have been filed but no resolution. Basically, I'm being told i have to wait and I will recieve a call or email that hasn't happen. In 4 months the tickets are still open that supposedly take 7-10 business days. I am now stuck with paying off the new phone. I would like to add that a sibling on the family plan we shared
has the same promotion he just has an individual line now and traded his phone in store. He has no problems with being credited. After everything I've experienced I plan on cutting ties with this company. March 22, 2021 just confirmed my decision.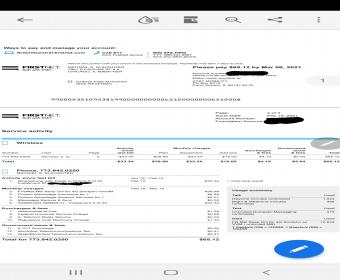 Sakara M. Tyson
from Renton, WA
I am responding to a final notice letter dated February 22, 2021. This account was closed by the customer effective January 8, 2021 at your AT&T store located in Tukwila, Washington. All outstanding charges ($42.20) were paid in full on January 8, 2021 before AT&T would release my phone number.
Although the account was closed and paid in full, AT&T continued to send me billing statements totalling $127.82 for the months of January, February and March 2021. On February 21, 2021, I called your customer care representative (Brenda) to discuss the charges on the February 6, 2021 billing statement. She stated that I would receive a final statement on March 13, 2021. This final statement would include only credit charges for fees that were incorrectly listed on my billing statement such as restoral fees, late fees, etc. I only received another billing statement in the amount of $127.82.
Your cooperation in resolving this matter will be greatly appreciated. If you have any questions, I can be reached at (425)919-0597.
Sakara M. Tyson
Former Acct #298105574149
Maude Coleman
from Brandon, MS
Talk to customer service representatives in trade department name Mary was very unprofessional on 3/18/2021approximately around 8:45 am, Didn't want to give information, disconnected phone while I was talking and loyalty department as well same thing happen with Teisha on 3/18/2021 had an attitude when answered phone just go back and listen to recording. I've been with AT&T for over 30 years.
Sebastian Lampe
from Elk Grove, CA
We live in Elk Grove Ca. and have been customers for many years. We have severe problems with cell phone coverage at our house. The phone suddenly drops calls or calls to us do not get through. We have gone to our local store and called several times. Last time we were told that if we upped our plan for more money service will be better. We did that and it was still terrible. We do not get a consistent reason. At the store they said we don't have a tower nearby. I see several when I drive??. How can you offer service if there is such poor reception? We have gotten a run around but no help. We want to stay with AT&T but why can't reception improve? An honest story would help. A work around to help our phones at home would help.
Thank you,
Sebastian Lampe
Kenneth Hermann
from Oswego, IL
I have two AT&T accounts. One is tel 630-554-9564 and the other is 630-544-4577. (one is Uverse and the other ATT Mobility) I have tried to have the billing for these two accounts combined because payments have been misapplied to each account. I apparently have a credit of $107 on the first account and a past due balance of @206.07 on the second account. I spent 45 minutes on the phone today including talking with a manager who said he needed to get folks from the Mobility side on the call to resolve the issue. That resulted in another delay and back to step one of the 45 minute call.
I do not intend to pay ATT late fees when you have a credit balance on one account and a late charge on the other. I have been to the ATT store in Oswego, IL to try to get the billing resolved as well as the unsatisfactory conversations on the line today. I am an stock-holder and I think your management practices of several different subsidiaries billing separately with the same corporate name is ridiculous and management should make some changes. Incidentally, I am told today it will take several billing cycles to get combined billing completed. NOT SO GREAT SERVICE
Kermit Davis
from Gadsden, AL
I have been unable to login to my email account for 2 days. This has been going on for a month. WONT TAKE MY PASSWORD even after I change it. Tried to call customer service and got a guy that did not speak English, I have just about had enough of this. FIX IT or I well have no choose but to get Another IP, THE way it is now it is useless to me.
Mel Clary
from Sacramento, CA
Very POOR customer service from Brian Singh! My Mother passed away and the AT&T account was under her name. My husband went to the local AT&T store here in Sacramento with a death certificate in an attempt to transfer the account into his name. As a result of Brian Singh's incompetence we have not had telephone service since 7/5/19 and I had to go without internet service for 4 days .....All the while I am grieving my Mother's death.,
Eileen Shedroff
from Marshfield, WI
SCAMMERS!! Store did not have proper inventory. Told me if I put down my credit card they could get the large and the smaller iPad in stock for me to take a look at. I could choose whichever one worked best.
ALL. LIES !!! The manager of the store took my credit card, set me up on monthly plans for both iPads unbeknownst to me. So now there's an installment amount coming off of my monthly credit card statement. I'm never signed up for a plan I never signed anything that said I was going to put a plan on the iPad. How I was signed up for a monthly plan is beyond me! Especially for two iPads that I'm now being told that I'm stuck with
Just now I got a call from a blocked number. Only when I declined the call it on masks the caller. The call was from a fort pierce number 772-940- 4987. Store manager doesn't know that he's being recorded. It's ridiculous how I was just spoken to! This guy tried to bullshit me kept disrespecting me by talking over me, RUDE, OBNOXIOUS & defensive. No matter what I said he kept talking over me and telling me his projection of the ideas and events that he claims to place. Completely contradictory to what actually happened. I'm so glad I record everything!! Why does it seem like the state of Florida is filled with nothing but scum bag scam artists .
.
I NEVER SHOULD'VE TRUSTED THEM WITH MY CREDIT CARD. Do you know they waited 2 1/2 weeks to contact me to let me know that the iPads were ready to be picked up. I had just come home from a business trip and had a termite infestation in my house and I got busy. Talk about totally taking advantage of somebody! There was a two week window of opportunity that I had to be able to return these iPads.
WOW I am away on business right now in Cambridge Massachusetts. Talk about a buzz kill! This would cost me $400 out of pocket now on a monthly basis. I want to pay myself phone bill normally 77 per month it's over $300. I cannot begin to express how disheartening this is. It seems as though trust is a thing of the past. I never should've given my credit card out like that! I thought it was a little weird I never got a receipt or any paperwork from the store whatsoever. QUITE SUSPICIOUS
This is not going to go away for you, which is why right from the very beginning of our conversation I gave you the opportunity to do the right thing. I left you the voicemail hoping that you would choose to do the right thing. Getting an attorney, the Better Business Bureau, Fl Stare state attorney generals office, filing a police report with the Martin County sheriffs, reporting your unethical behaviour and contacting corporate to have you formally written up, are all things that are going to be happening when I get home. Believe me the path of least resistance is always my first choice. I will not allow you to get away with this unethical fraudulent behaviour .
Calling me a bitch just now from your blocked number. Probably not the best move for your career. I honestly have to say, in my opinion you would never have handled yourself with such hysterics, letting your emotions get the best of you, had you not been up to no good. I have never been spoken to like that. Did AT&T teach you to run over peoples conversations with that louder tone, yelling at your clients. Like that's gonna work
Brenda chickering
from Chicago, IL
My husband and I have been AT&T customers for 18+ years. This last year my husband passed away and the nightmare began. 7 hours on the phone with 8 people and three trips to local store over the last month and a half and all I can say is your call center people need a lot of training in more ways than one, they have scripts and don't care about the customer.
Had to cancel husband's account, could not just change names, no that would be too easy. Had to cancel Direct TV return equipment and 5 days later pay for new installation. How stupid is that....they could not understand he passed away and I wanted to put account in my name,
And how do you have the right to deny unlocking a phone that was paid for in full the day I bought it, no contracts no payments etc. it's my phone and I should have the right to do with it whatever I choose. Other companies do not do that.
I have never dealt with such an incompetent company in all my life. You think because you are a big company you can control all, well, you can't control people going to other carriers and you are not rated #1 carrier and I can see why because your service is a nightmare. I know this will probably just be deleted and certainly nothing will be done but it has given me great satisfaction just to write this. Your statement when we call is our calls will be monitored well it's pretty obvious you don't listen to these recordings because if you did you would start making some changes.
I will never have anything positive to say about AT&T again. You don't even deserve one star.......
Robert Scappa
from Fort Myers, FL
In the middle of May, 2019, my iPhone broke — I went into an AT&T store, and purchased an iPhone XS 257 GB, however, I wanted the 500+ GB, but they did not have one in the store — per the advice of the store personnel, a few days later, I ordered the iPhone that I wanted through AT&T — when this new iPhone XS 500+ GB was mailed to my home, per the instructions that came with it, I returned the iPhone XS 257GB via the box and the label provided by AT&T — the instructions did not tell me to erase the data, and turn off "find my iPhone" — on Monday, July 1, 2019, I received this iPhone in the mail, instructing me to turn off "find my iPhone " and erase the data (which I promptly did) — the next day, July 2nd, 2019, I put this iPhone into the box provided, placed the label provided on the box, and took it to a post office in my hometown of Fort Myers, FL — I asked if I could insure this package, however I was informed by the post office clerk that packages with prepaid labels cannot be insured — the label demonstrated that this phone was being sent to a return center, with no address on the label, just a barcode (I have a receipt from the post office with the label number on it, as well as a photo of the package with the label on it)— when tracking this package, there is no further information available, except that I took it to the post office on July 2nd — the satellite post office in Fort Myers, FL is telling me that my package was sent to the central post office in Fort Myers — the central post office is telling me that they never received it — in other words, the package is missing, and the satellite office is blaming the central post office, and the central post is blaming the satellite post office, each claiming that the other lost my package — I have called AT&T numerous times, and have spoken to several different customer service people — each of these individuals apologized that I have had to deal with this issue, however none of these individuals have been able to help me make it so that AT&T does not charge me $1,100.00 for this lost phone on my next bill — and in fact, instead of getting this problem resolved, at least two of the customer service representatives tried to sell me cable TV service from AT&T (unbelievable) — all of the individuals with whom I spoke were quite nice, except today I spoke with a "manager" named, Maryann Nichols — she was extremely rude and condescending— when I informed Ms. Nichols that I tried to purchase insurance on this package, when I took it to the satellite post office, but that I was told the package cannot be insured, her response was, "The post office will insure anything if you're willing to pay", thus the implication being that either I'm lying about attempting to purchase insurance, or that the post office employee gave me erroneous information — Ms. Nichols told me today, quite rudely, that it is my responsibility to make the post office pay for the cost of the lost phone — I feel that I should not have to do anything further, but rather AT&T is responsible to deal with the post office concerning the lost phone, for the following reasons:
1. I was not provided a physical address that would have allowed me to return the phone via FedEx overnight, and insure the package against loss
2. I did everything to the letter that AT&T instructed me to do concerning returning this phone
3. AT&T has elected to use the USPS for phone returns, not I
4. It was impossible for me to do anything else, other than to follow AT&T's instructions, which I did — AT&T did not give me any other option as far as how to return the phone, and yet now that the return system (that AT&T chose to use) failed, suddenly I'm responsible, at least according to Ms. Nichols
I have been a customer since 2009 — I have never been late paying a bill, and in fact, I usually keep a credit balance in my account — everyone at AT&T keeps thanking me for being a "loyal customer" — well, if making me spend hours on the phone with various AT&T customer service representatives (who cannot help me with my mobile phone problem, yet still try to sell me cable TV service), and making me spend hours on my days off going to post offices, and waiting there to speak to postal supervisors, is how you show your appreciation to a "loyal customer" then that is scary.
Patricia Williams
from Fort Hood, TX
A company called Tele Circuit is calling ATT customers Claiming to be with ATT and have new plains in the area. what happens when you want the new plan is they bill you and take control of the number. The number is then listed as a business number and customer name is removed from the account . After 3/4 months ATT shuts the phone off for lack of payment, when you call ATT to find out what happened they have no records of you in the system. You start getting calls from Tele Circuit wanting you to pay your bill. I got on line and found BBB complaints ,almost all targeted the elderly. This company is using ATT to gain trust of your costumers and the rest is fraud. I was on the phone with ATT, many different departments , for over 4 hours trying to get this mess cleared up for my 87 year old friend. I called Tele Circuit and was told to pay the account in full and they would let us have the number back. We had to get a new number to replace the one he had had over45 years. Can ATT do anything about this??
bill boyd
from Rotterdam, ZH
I have been a loyal customer starting 1988 over 30 years.. for the most part excellents has been great.
I just ordered a hotspot as I was told it would work great with my old plan and findout I wasted have of the day with support trying to get it online
I have an unlimited plan and will not change it. unless I leave att I was told it would work just fine added to my plan with my other 4 phones as being the 5th addition. now im told it only supports 15 gig for a hell of a price. not unlimited as my plan has.
this is no way to treat a customer and for darn sure one that has been with you as you purchased Cellular One as I was one of their first customers in 1986.
If I did this with my customers I would not have a business for 35 years as I have now.
not good idea to treat old customers in this mannor..
sell a product and not full fill your agreement as your team was what sold me and said it would work great.
use to be service was the selling point and keep customers was the goal
now its all about the buck, I am just glad I didn't turn off my old sprint account and still have time to place a couple phones back with them If needed..
unlimited hotspot and unlimited v20 plan has 50 gig wifi per phone which I have never used much of..
the sells people was great on your team, its ATT that has let them and me down. thanks a lot
Bill Boyd
order 56-826000017952910 was my last order
you have a great team and service..
you just need to teach and stand behind them and their word. as they represent the ATT as a whole. AS I SEE IT. but who cares all about the coin
Thanks for your feedback!
Sorry. Please try again later!