AT&T
AT&T Complaints Continued... (Page 2)
1299+ reviews added so far. Upset? Call AT&T corporate: 1 (800) 331-0500
Michael Dunahee
from Gallatin, TN
Hours spent on hold and unable to talk with tech support about internet problems. THEY ARE TERRIBLE AND HAVE BEEN FOR THE LAST TWO YEARS. Simply cannot talk with any live person there.
Steve newman
from Bradley, IL
No service in the city of Watseka in Iroquois county in the state of Illinois. Even if the phones have bars nothing will send any messages or text. This is multi phones.
Alisha Russell
from Houston, TX
I called to ask for a way extension because my son is passing way today or tomorrow and they said you will be off today. I am so sad because i want be able to call for services for my child and i want be able to. I admit had an arrangement for 27th but i was in hospital and i could not deposit check until today and now the bank has to verify it and now it will not post until Tuesday evening or Wed morning. I feel like they could have granted me one thing and be symptomatic, My feelings are truly hurt.
Alexandra/George Stadtler
from South Pasadena, CA
I returned from vacation unable to receive/use my email.
After several calls to ATT, I finally got a live response. the result after 1 hour and 20 minutes was failure. The phone tech said I would be "referred"> That evening at 9:30 I got a (dreadful) call. After more than 30 minutes, I was connected to Yahoo..
I called ATT the next morning. The checking, etc. said I needed a repairman.
The repairman came at 8 a.m. the following day. He said he couldn't help. He contacted a TECH who would come to the house before noon. ANTHONY. Anthony never showed.
I called the repair man. Anthony finally called and said his system failed but promised he would be at my house at 11 a.m. Saturday, Aust 27. He never showed.
First, my bill has been abnormally high since I upgraded it. I was told in the store that it would be high for one month then straighten out and I was not charged an activation fee both of which are not true. My bill has been 355.00 for two months now.
But the worst part was the insurance claim that I had to file last week for my kid's lost phone. It was lost for all of two hours and luckily the maintenance guy returned it after finding it on the ground. As soon as he did I canceled the order only to found out that is not possible. I spoke with a supervisor who allegedly told ATT that the phone was returned because it was according to USPS. Last night they cut off my kid's phone because its still reported being lost or stolen in the system and they continue to charge me 275.00 for it. I have been lied to by Amber, Kay, Jose and Vincent B. This morning Vincent B falsely accused me of not paying my past due balance and that's why the phone was suspended which is false. It was off because ATT reps don't listen nor read the information in the Chat. Now my bill is 632.00 because no one can find the missing phone that I have given the tracking number for multiple times for at least 7 people at ATT. But I realize they only give scripted responses. Kay even gave me her phone number to get help but she read all of my messages this morning but refuses to respond.
If you want a complaint resolved with AT& T, the only way to get it done is through the office of the president of AT&T. But the only way to get to them is by filing a complaint with the FCC, the FTC, the BBB, and the state Attorney General's office in the state of Texas and Georgia. I have done this process 3 times wherein I recorded my calls with AT&T (and DirecTV) yet I have had to fight to get them to honor the contract. RECORD ALL OF YOUR CALLS WITH AT&T and DIRECTV.
Currently, I have contact information with the office of the president. A man named Darren handles the formal complaints. Unfortunately, if he doesn't resolve your complaint satisfactorily, then you can go to arbitration, which he also then handles. Yeah, that's not shady at all. His current number is 972-396-2459. His current email address is g12804@att.net. There is also a manager that works with him named Ben. I suggest if you have a complaint you reach out fast because they will probably change their contact info. Best wishes. Go get 'em!
And yes, I made this Facebook profile for this exact reason.
Links to file a complaint:
FTC
FCC
https://consumercomplaints.fcc.gov/hc/en-us
Texas State Attorney General
https://www.texasattorneygeneral.gov/consumer-protection/file-consumer-c...
Georgia State Attorney General
https://law.georgia.gov/key-issues/consumer-protection
Better Business Bureau
Christina Alvey
from Elizabethtown, KY
Called ATT on 6/5 to cancel just my smart watch data plans, explained I was trying to save money. Representative did not mention anything besides my next bill should be less. When I checked my bill July 28th, I freaked out bc it said my bill was over $600!!! I called customer service to find out the installment plan for my watches would be due up front for canceling my bill. What part of $600+ sounds like I was saving any money?! I asked to reverse the cancelation, as I was not explained to, that I would be due this money up front. They said yes and began working on it. 5 consecutive days, multiple calls each of these days, they finally re-activated one watch plan, but not the other watch. Last agent created an advance technical ticket. I told them my bill is now past due, when will this resolve so I can pay my normal bill and not get disconnected. Rep said we'll extend the due date, and just to pay what I normally would because when the ticket is completed, it would fix the remaining amount. I called back a few days later bc I received no update. She said to pay the normal amnt, and try to fix the other watch line. No avail. We'll, here we are, the extended due date, and after I paid my normal bill amount as instructed, MY SERVIC GETS CUT OFF!!!! WTF ATT!? I call again, bc not this is ATT fault my service was cut off, bc they can't figure out how to reverse a cancel on one watch. I had 2 "supervisors" tell me it's impossible to do, yet neither could explain to me, HOW IT WAS JUST PERFORMED WITH THE FIRST WATCH THAT WAS REINSTATED JUST DAYS PRIOR!!!!! So over a dozen calls, and COUNTLESS LIES..... I paid the bill bc I can't go without a phone! Thanks ATT! I'll be calling back for an update on that last phone call that I was lied to again about, and how I would be called back with an update.
I'm disgusted, annoyed, exhausted and sick of this pathetic excuse to customer service I ever had to experience! I hope ATT does right, and fix their representatives misleading direction, and reimburse my $100+ they cost me to reactivate my wireless line they caused to be shut off. I'd like for a competent representative or technician, to activate my other watch and reinstall the installment plan. And I would like to be compensated for SO MANY HOURS WASTED GOING AROUND IN CIRCLES, REPEATING MYSELF OVER 2 DOZEN TIMES!!!!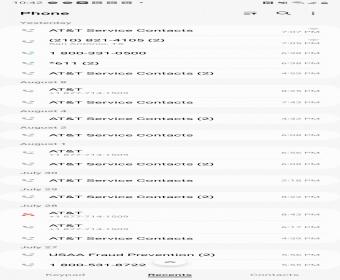 Horrible horrible horrible scamming company. Can't wait till I pay off my phone and GTFAH. Be aware the internet it's to slow and the customer service doesn't know what they doing.
Angela Ciccarelli
from New York, NY
I have called twice about an added charge for extra data on my May 2022 bill. I spent over 1/2 hour on phone in the first call and was told they would credit out the charge. They didn't. I called again (another 20 minutes) and they told me they had no record of the 1st call or promise of a credit. Requested supervisor call me back and he did. More time on the phone, no resolution. I am refusing to pay the added charge and now they are charging me a $7 late fee. I paid my bill on time but did not include the added charge amount. I want the credit promised on June 20, 2022 for added data fee and new $7 late fee removed from my bill.
Polly C Dross
from New York, NY
We were without phone service for over a week beginning June 8th. We got it back on June 17th, but the next day we were out again! Our June bill says we were credited $1.99 for a 2-day outage.
We have neighbors who also were without service during this time. Since our bill was for $76.46, I assume we are owed more than $1.99 for the long outage!
I have been with AT & T for over 40 years and am tempted to cancel my landline if this can not be resolved.
And I would rather NOT call your office!
Carolyn Pourciau
from Cedar Hill, TX
Have been trying for 2 days now to payoff installments remaining on cell phone,it is a combined bill with another cell and home phone. I have spent 7 hrs on phone being passes to every department and no one can do this. I find that utterly unbelievable and very aggravating.
Jared perlman
from New Orleans, LA
I had att installed for my TV and computer.also reqeusted my land line phone be installed with att.tech installed TV and computer but not my land line.went to att store and was told to call att.i was at store 2 times.was told to call att. I was on hold for a hour with no help.was told att rep would call me back to set up time for a tech to fix my landline.no one called me back!!!! This is very frustrating.thank you Jared perlman not a happy customer
Nicole Morgan
from Southaven, MS
This has been the worst and most stressful service from day one. I have had issues and still have them and Noone ever calls that can fix when I spend hours on end trying to get help. I have literally balled my eyes out over the stress this has caused. They lied about the plan and it being cheaper. They keep trying to take money out I don't owe and Noone cares there
Erin Melley
from Charlotte, NC
At 70 dollars a month, my internet should never be down for 5 days. If fiber is not a service that AT&T has the resources to provide you should not provide it. The internet is supposed to be so reliable, but I have to spend 50% of my time talking to customer support bc the internet never actually works.
Angela Johnston
from Hendersonville, NC
I signed up for your service because I moved. It sounded like a good deal at the time. Once it was all set up I was not impressed. I called to have it ALL canceled including the phone service. I sent everything back like I was told. I found out through my bank account after I canceled EVERYTHING you were still taken money from my account and Robbie Raines account as well. I called about it and wanted to know why you were taking money out of my account since I canceled EVERYTHING. The gentleman I spoke with said he would take care of it and he refunded both of us money that was taken out of our account. But for some reason your company still said I owed you money which MAKES NO SENSE AT ALL!!!!! Y'all sent it to collection agency. I owe you NOTHING!! You refunded me money so I owe you NOTHING! I still have the emails where you refunded the money back to my account. So you need to take the collection off my record!
Donna Pereira
from Indianapolis, IN
ATT&T sends these so called salesmen knocking on your door. They are going to save you money, give you a phone or gift cards and better service. All lies. I was scammed. My bill is double what I was paying with US CELLULAR. My phones were fine. . No gift cards as promised. Surcharges and taxes are ridiculous. Now I have a 3 year contract with a high bill. BEWAREdo not let them in.
Laura
from Hopkinsville, KY
ZERO Stars!!! I have had spotty (at best) to no internet for over six weeks. I have spent hours on the phone with the tech dept (huge waste of time). The techs have made housecalls and could not fix the issue. Finally, one told me that it was a tower issue and would require the Engineering Dept. to resolve. He said he escalated a ticket to them and they would call me back in two days. That never happened (all the time I am still paying for the internet, but can't use it). After 3.5 hours on the phone one week after I was supposed to get the call, they 'guaranteed' me I would get a call within one hour. Nothing. Called again, went through the whole explanation with yet another person, was on the phone for over an hour when they finally told me the Engineering Dept was closed on the weekend. Then, they once again told me for sure I would get a call back. Never happened. This is a worthless company. I am filing a formal complaint and cancelling service. I can't believe the level of incompetence.
Tierra Mccray
from Brockton, MA
I'm at location 1809 Reisterstown Rd in Pikesville, MD to have 2 phones repaired. Was told we had to wait 30-40min for tech to comeback @ 3:30pm. Ask rep can they see if tech is back, the reps response was "oh he somewhere bullshitting" you just gonna have to wait for him cuz I can't fix it!" I'm highly irritated and have been a loyal customer for years…this type of customer service is offensive and unacceptable!
Kristy Cravens
from Grand Prairie, TX
Recently purchased a $50 cruise package and it only worked for the first day. Phone number for the purchased line 816-392-1712. We had to instead purchase ship internet because the Att cruise package didn't work.
Look..I do not owe $700.00 to AT&T. I have been talking to about 4 different people to fix it but nothing has happen..I had account for 3 days when I returned the phone #436181201792 last year I sent the phone back brand new with in 7 days but your billing department lied and did not take it off and claimed they reimburse me money they did not I only had the phone 3 days they sent the wrong phone I called and told customer service I was closing my account after that it was on t h em I did not save any pkg I sent it through ups with your labele at one time they took the money off and now it appears on my account so when I try to get a cell phone or internet they say I owe this money I will go to consumer affairs it's not correct and the people I talk to do nothing they told me to go to a AT&T store I do not have a car and I a senior I also order the phone over the phone this is fraudulent and when I counseled my order it was done 3 days after I got the phone it was your billing department that messed up I would like it taken off perm so I can order my SamsunS22ultra and internet service this issue has been going on for over 1 year first they took it off and than they put it back on when I tried to order services. I took care of this 1 yr ago apparently the billing department did not and your customer service is blaming me for not keeping my records they keep saying I made payments I did not..I do not know where they are getting this information from but if you do not want me as a customer ok but you still need to take $700.00 off my account that is fraud and hurting Mr, I was hoping you can hp me with this before I go to consumer affairs. It's ironic just 5 months ago AT&,T was going to give me cell phone but I was not ready to switch I filled out the application and that $700.00 was not on there now it is showing up again please explain that to me and I need to talk to a supervisor who will truly help me one final attempt, AT&t expects me to keep receipts or account info that is over 1 yr I o ly had the phone 3 days how do they figure Ithey reimburse me money for several months that is what Brittany told me she said something is wrong but that the other people I talk to say funny things here is what I think happen? I order the phone it was on a contract but when I counseled it and sent the phone back the billing department did not close it and kept charging me payments but than a couple of months went by I got a bill from At&t saying I owe money I called them and I said I sent you back t h e phone it wS brand new and with in 7 days they stopped it than but it was not done correctly and now it keeps coming up I owe nothing to AT&T for a phone I gave back I get soany different stories from your customer service people but its not correct let's not make up things, so I want this cleared up..I should not have to go into a store I order the phone over the phone I have my ID N7887599 Ca..expires 10/31/2029 my phone us 669-279-9881 ,feel free to call me
Diane Bohn
Kevin Crumb
from Melbourne, FL
I was scammed by an AT&T in home expert on mobility service.
In March of 2022, I was waiting for my AT&T internet install appointment when Jeffrie P. (ATTUID: FP5460) knocked on my door. I thought he was there to install my internet, but he was there to sell me on switching my family's phone plan to AT&T. My whole family has been with Verizon for over 15 years. It was good timing on his part, because 4 out of our 5 lines needed new phones.
The deal was.... we'd trade in our phones and get new iPhones. We'd also get $250 visa gift cards per line we switched. He quoted me in person and over text message that our total bill would be $160/month (before tax) and would never change. So it sounded like a no brainer, so we decided to move forward. (My total tax is $10, so let's use $170/month for the quote). He told me it was "special In Home Expert pricing".
After my first few bills were a bit all over the place our 3rd bill settled in at $242/month with an expiring promotion of $10/line after 10 months. So currently I'm paying $242/month and it will be $292/month after the AARP promo ends. Again, he quoted me $170.
After multiple phone calls to corporate, they told me that I needed to get back in touch with Jeffrie or his Supervisor, Melissa (ATTUID: MP1547). It took about 3-4 weeks to get Jeffrie back on the phone. Jeffrie finally admitted that he mis-quoted me and it was his mistake. Jeffrie told me he had to go to his supervisor Melissa to get me a 1 time credit for the mis-quote. That one time credit was around $3,800 for the 36 month term. Not surprisingly, it took weeks to get ahold of Melissa after she dodged my calls and texts. The only things she told me I could do was lower my level of service, which is the same thing ATT corporate told me.
Finally ATT corporate told me that my only course of action was to sue ATT.
Shame on you ATT. Shame on you In Home Experts. Shame on You Jeffire P (ATTUID: FP5460) and Melissa (MP1547).
Jeffire's game: to tell the potential customer whatever number they want to hear in order to get them to sign up. He says your first few bills will be all over the place due to the trade in's/ special pricing. Then when your bill settles in, AT&T corporate has no recollection of the communication between you and your In Home Expert (Jeffrie). And now I'm stuck for 36 months, paying $122/month more than what he quoted. Not a good feeling being taken advantage of.
daniel tuffs
from Ashburn, VA
i had wireless phone service with a 3g plip phone and it was canceled with my account that was paid up to dec. 1 2022 ,i had a cash balance of 347.84 in the account . the phone number was 708 -710-7617 my pin # was 7717 . i believe there was a change to 5g which my did not support. i would very much like to get the money that was the balance in the account. thank you . daniel a. tuffs 7226 w. 109 th. place worth ,il. 60482
James Betus
from Houston, TX
ATT has continued to promise me I would have access to Fiber for 4+ years now. I understand the new construction in the area will be getting it, but the existing customers will not. This is not acceptable, I am paying more for 6MBPS than customers with fiber. When is ATT going to put forth the effort to take care of their rural customers?
Haskel and Wanda Deal
from Conover, NC
I have been without landline service and internet service for a week and a half or longer. When I called on Monday, June 27, 2022 I was told service would be restored on Saturday, July 2, 2022 by 6:00 p.m. On Saturday, July 2, 2022 around 7;00 p.m. called customer service again because still no landline service or internet service. I was told it will now be Saturday, July 9th before technician can come out. Can someone tell me why? I am not very happy right now with AT&T service. I will expect credit for the weeks I have been without these services. I have been an AT&T customer since 1968 but it may be time to change. I would like someone to check into this matter for me.
Wanda Deal
I'm really disappointed to AT&T. All I need is just a receipt for my previous payments when I was in US! I can't login to my prepaid account from oversea. The website is not working (I can do that while I was still in the US)! I called for helps several times. I was told that my invoices will be sent to my email account. Got nothing after 3 days. I called again today and was told that I can't get my invoices in any ways out of US! I can't imagine how AT&T can say that they are the best mobile service in the US and charges for that much! People should really be told how poor the service that AT&T provides!
Ashley Thompson
from Cartersville, GA
VERY POOR CUSTOMER SERVICE. ATT IS FAILING THEIR CUSTOMERS AND DO NOT EVEN CARE. I WOULD APPRECIATE A PHONE CALL. I HAVE SPOKEN TO 11 PEOPLE SINCE 06/09. I WAS PROMISED A PROMOTION AND STILL HAVENT RECEIVED ANYTHING. I CANT EVEN GET A PHONE CALL FOLLOW UP. CUSTOMERS MEAN NOTHING TO ATT AND IT SHOWS.
Diego Sanchez
from Los Angeles, CA
I have fixed wireless with AT&T its a internet service based on antenna to tower service, i had service interruption since day 1, but lately every Friday around 7:30-9 service goes down for days, i have contacted customer suport and att help on Twitter and they give me random answers but they dont fix my service, now i think they have blocked me on Twitter and on service support on the phone they have me waiting for 20plus minutes and then they drop my call
Calvin shoemaker
from Bluefield, WV
I have tried for 4 days now to activate my base fir my home for I am unable to do anything so my daughter has been handling this for me I have been in and out of the hospital not to say I need my phone!!!!!She had called 5/6 times and on hold for an hour at a time, disconnected after being on hold for 50 minutes. Told to take base into local store to activate when got to local store told that they couldn't activate that SIM card that was in the base, sold me another one, supposedly activated the new one and told me all I had to do was to go back and plug in the phone. Nope it still didn't work. Called back on 6/13 on the phone again for almost an hour, after about an hour was told I had to go back into the store with a drivers license and call back when I'm the store to activate the base!!!!!!! This has been unreal. I'm 87 years old terribly sick need my phone desperately. WHAT A messed up system!!!! And no one can help!!!! AT and T your a joke!!!
Robert Pham
from Houston, TX
Was told the technical would come to install internet 3 times with no show. When calling to confirm what exactly is going on the AT&T manager I spoke with on the line hung up. Disappointed in the service.
Ahed aamer
from Tulsa, OK
Very bad customer service and they have wrong and false advertisement on their website, i added international calls feature for $10 a day like the app says then after one month I got a bill of $1008 and no body could resolve or help on that issue, especially the manager Leonards he's very unprofessional and rude and has zero communication skills, this company is a scam don't ever join it
Kenneth Bridges
from Wendell, NC
AT&T don't take care of customers and fix our service so we have DSL and internet again.for myself and all my neighbors I have talked to.they want even show up when they set up a appointment time or even call .this has been down for over a week.we don't have fiber optic because AT&T want run it.
Ryan Beesley
from Alpharetta, GA
On May 9, I called in order to check on my account as I knew my current contract would be expiring at the end of the month, and I wanted to see what sort of deals were running at the time to resign on with. I spoke with Kendell, and all of this was under the phone call with this employee. Fiber had just been installed into our neighborhood the previous month, so I was told that in efforts of getting people to sign on for fiber, they would give me a deal. If I signed on and agreed to Fiber (at $65/month with autopay discount included), that he would keep my Uverse charge the same as my previous contract and roll that price over for the next year ($12.24). I specifically verified and asked what my total bill would be multiple times, and he told me $77.24 plus taxes/fees. Today, I get a notification that I am being charged $165.17. OVER DOUBLE what I had agreed to. I immediately called and spoke with about 10 different people. Everyone told me the same scripted answer that there was nothing they could do differently to honor what I had previously agreed to. After much convincing, I was allowed to just cancel the Uverse part of this (because there is NO WAY I am paying $85 for a service I used maybe twice a month), but I will still be charged this amount for the previous month, THAT I NEVER AGREED TO.
I know that phone calls are recorded, so I asked to please have that looked up and that all of it would verify. They told me that they could see that I spoke with someone on May 9, but that its only recorded SOMETIMES, and that then it is reviewed by a manager and deleted. So therefore they are claiming there is no way to verify how THEY messed it up. I was even told that knowing that Kendell was the sales employee meant nothing, as they had no way of looking up who that even was.
I made sure on this phone call on May 9 that I discussed both internet and Uverse, knowing my contract was up very soon. We discussed multiple promotions/options before landing on this one. Throughout my conversation with Kendell, he even kept putting me on hold in order to see if there were any other better deals he could get me as a VERY long time loyal customer. Today, I was told that in the transcript from that original phone call--there is no mention of Uverse at all so they can't verify anything I said, and are not taking my personal notes that I had written down as fact.
Something else they tried to convince me of, was that I only signed a contract at this price for the remainder of my previous contract??? (May 9-May 27). That is absolutely false, and very evident by the fact that my bill from April 27-May 27 is $165.17. So, that was just more wasted time with more lies from your employees.
Honestly, I have never been more disappointed with customer service. To make an agreement, confirm it multiple times, and then charge over double the amount of the total bill is outrageous. I work for our local TV station in Atlanta, and I have already contacted our consumer story reporter about this practice. I will continue on to contacting the BBB, FCC, and my lawyer about how to proceed with this further. At this point, we are not even arguing back and forth on numbers--it is about honoring an agreement as a company that an employee of yours made with a customer. We have been ATT customers for over 20 years, and the best the I was offered on the phone today was a $20 credit. I am appalled that I am not being honored the amount that I was offered and had agreed to.
Donna Whitmore
from Woodland, WA
Had an account rep stop by our home on May 9, 2023 and talked his way into us switching our cell phone service by reducing our bill from $100/month with Berizon to $50 a month with ATT. He upgraded one of our 2 phones and explained we would receive the upgrade for free. He said we would see a charge for $22 every month for the new phone but that there would be a credit of $22 month for my old phone. We discussed NOT wanting insurance. Once he us into switching to ATT, he handed us his mobile phone and asked us to sign on his screen. We trusted that what he told us is what he was doing so didn't request to see what our signature was attached to. 2 weeks later on May 23, as I was trying unsuccessfully to set up our online account, I finally called and was
advised our bill was over $300. When I pursued this with a supervisor (the service agent was polite, but had no response or suggestions to stay with ATT- she seemed very anxious to get us a return mailer for the phone and get the lines disconnected) . The polite rep also said I was SOL on my phone I turned in to the scammer thatt completely misrepresented ATT. The supervisor was a little more understanding and said we were set up on the highest tier of service and were paying for insurance. Again, the rep that came to our home scammed us. The supervisor (Amy) did advise me that May 23rd was the last day to turn in my new phone for buyers remorse. She confirmed that since I turned in my old phone, ATT would not give me ant credit for that phone. I made the decision to return to Verizon where we have been customers for 22 years. Amy, the supervisor, suggested we get the numbers ported over to Verizon so we did not lose our existing phone numbers. Amy also said we could bring our tier down lower so our bill wasn't so high, but that we were locked in for 3 years.
That same day, I took my phone and husbands phone to Verizon and got our prior account opened and numbers ported over. In my discussion with ATT supervisor Amy, because of how we purchased the phone ( through an in home advisor/rep) we needed to return the phone to an ATT store.
So, after finishing with Berizon, I went to the ATT store. The agent there couldn't understand how I got my phone but finally seemed to comprehend I got it from an ATT agent that showed up at our house. Then she asked me where the box and charger were and said she couldn't accept it without it. She ended up taking my new identical phone box and charger I got from Verizon with my new phone I purchased from Verizon. She also commented that this whole transaction would have been easier (on her I'm sure) if I had turned in my phone to them before I went to Verizon . Evidently she was unaware that I would have lost my phone number since I was told that turning it in immediately shut down the service and cancelled the number. Then as the final straw, she said there is a $55 restocking fee. Needless to say, this was icing on the cake. I paid it just to get rid of ATT. The agent said since no one told me about the restocking fee, I could call and might get it refunded.
So, ATT will be the last place we would go for service. Unfortunately, our Direct TV Service is part of ATT, but other than the continual increasing costs on Direct TV, customer service and wanting to help customers seems more of a priority. Our bill was taken from our account pretty quickly, before a month had even passed, so we paid over $200 for 2 weeks of cell service, I'm out the value of a good iPhone to ATT. No good words to say, and this will not be the end unless I get some satisfaction.
james sorenson
from Dublin, OH
Today I had one on the worst customer experiences at your ATT store at 3302 University Ave Madison WI 53705.
The customer representative was Nolan Kuhn.
When I entered the store a different representative greeted me but Nolan jumped up from a couch and had a minor dispute with the original rep saying he was the next one in line. I have no idea what their procedures are but having this interaction in front of a customer is wrong.
I am trying to sign up for internet service for my new house and my interaction with this rep was not great. When I told him that due to identity theft i would not give my SSN he said that I had to give it to him. The manager told me that I could prepay two month of service so i was happy with that arrangement.
Once it was obvious that I was not going to get the service, Nolan was quite brisk, when I said that I was going to give this customer service feedback, He told me that I should not come into the store and tell him how to do his job. (which i did not do). Although I am only a customer, I do not think this person should be in a customer facing role. ATT may have different standards so I have no idea what you will do with this information.
tim michaelson
from San Clemente, CA
In January I went into the local AT&T store to take advantage of a trade in promotion. I was told with my 7 Plus and my down payment my monthly payment for my 13 Pro Max would be $9.45 a month.
I sign up and turned in my 7 Plus and a month later I get a notice that all I was going to get was $40.
I called customer service and after a long call I was told I would be getting the full trade in credit but it takes a couple of months to complete the process.
April's bill came and my payment is still $19.45
Another long call and they told me I wasn't eligible for the trade in program. I asked the speak to a supervisor and while on hold I was disconnected. I called back and after explaining my problem again the representative put me on a long hold and when she came back on told me everything was taken care of and I would be receiving the trade in credit.
This month's bill came out today and I'm still being billed at the higher charge.
I again called customer service and spoke with Jeremy, he looked over my account and told me I wasn't eligible for the credit. I again ask for a supervisor and was connected with "Magic"
After putting me on hold many times Magic told me there was nothing he could do. So I asked for a corporate number I could called and the number he gave me was a customer service number.
The whole reason I did the upgrade was because I was told I qualified for the trade in program. My account on the AT&T app also told me I qualified.
I've been a customer of AT&T for over 30 years and am very disappointed with this "bait and switch"
Please return my old phone and my down payment and the payments I've made and I'll turn in the new phone and take my business to a different carrier.
James Westerberg
from Buffalo Grove, IL
Just thought you should know why you lost a customer. Yesterday i cancelled ATT and switched to Infinity because of your enormous rate hikes in service. As Doctor Phil famously asked, "How's that working for you?
Sincerely James Westerberg
Manjita karki
from Fort Worth, TX
I would like to complain about the supervisor you have for customer rep. his name is Lincon. I dont think he even tried to help me instead of keeping me on chat for almost 2 hours. If this is the customer services you have then there is not need of support team or at&t should not be operated. took my 2 hours just for 5 min answer. After i end chat other supervisor told me i have to call certain number for the issue i was having. I dont know who made him supervisor
Coy alford
from West Blocton, AL
We wer me trying to get a phone line threw our internet connected to my wife's computer from her office at home. She needed the phone to connect with her company's phone service to take calls from home. She had this last year but to to Covid-19, she had to be off for several months , so we canceled the phone part of service while she wasn't working to save money. Once she was able to start back working from home, it took an act of congress to get it back on. First they said that since the phone itself wasn't an att phone, then the service wouldn't work. Well we knew this wasn't correct due to her having this same service just six moths prior with same office phone, plus other employees that work from home do not have issues. Well after several days finally get it worked out. This whole time, her office was loosing there patience because she couldn't be on the phone. Luckily got it fixed. Well today, after having the service up for about a week, it's not working . Come to find out, the guy from att that was handling thus for us, didn't complete the order and the phone was cut off. So we have been on the phone all evening trying to find someone that not only could speak enough English to understand, but someone that could tell us what's going on. Finally get ahold of a nice lady that was able to tell us about the worker not completely doing his job, so we gave to get it redid. She was very nice and apologized for us going thru this and would get a technician to come out as soon as they could. So now thanks to our faith in att service, my wife will not be able to fully do her job again tomorrow until they fix their mistake. Hopefully her jib will not be in jeopardy due to this. Very upset right now.
Judy T. P.
from Los Angeles, CA
Advice double check always your bill, 2021 my husband walks into a store with a broken phone and warranty on it, customer service advised phone is being discontinued by Att there a new upgrade would be given hubby approves as he needs a phone for his company, agreements and terms over a new upgrade are presented to my hubby he signs for what we expected to be a new upgrade right nopE wrong 2 months on the billing cycle appears a 3 line at the time of me King a payment online and in the app I called loyalty dept because we also have internet with them and customer service mentioned we can return the device to cancel the 3 line added but keep in mind we need the device for my husbands job, so we decided to keep the line that is been hanging for a no th without activity in it and at the time I decided to give my iPhone 8 plus to my daughter over that Line that pho e was bought with Apple therefore the phone is paid off and I decide to upgrade to a 12 pro max cool we have 2 payments for 2 phones under installments on the with month I check and see bill is way higher that 2 installments taxes and internet combine in a single bill $330-340 every month I called they said we have 3 phones under installments to which I reply it should be only two devices where is the third one they mentioned is the 3 line which the customer service advisor who gives my husband never remove the broken phone even when we clear deductible and Att no longer carrying the phone the reason of the upgrade and mess of ending with a third line every month up until On April /18/2022 I called to finally settle what our friends and family have been telling us Att is horrible Att charges super high which is true but I always have had service when I'm Camping, traveling, etc. so I called to pay my phone because I'm the one in charge of making payments but due to an emergency surgery it slips my mind and ends up with two month which gladly I'm paying $660.+ cents for my BILL also I request to pay off all installments to see where we are without installments and if the bill will be reduced I pay 2 PHONES and when everything is done the very kind gentleman mentions you only have left the third line when you pay the bill an installment of $6.99 was paid for a phone so you paid also the 12 pro max you have left another Samsung to which so how many phones I been paying oh 3 which I request to hear besides the two first lines what other phone he can't find but is paid and no refund can be made to which reverts the payment cause is late on a Sunday 5 pm everyone is gone for the day call Monday I called no one know anything but I have a bill of $840 Because they didn't revert the payment of the installments they revert the money from my bill so I proceed to leave two phones paid off and paid $585 to bring my bill to the current statement no one can help to tell me about this third phone but they reassure will be fixed I hang up I assume will be fixed may comes on May / 14/ 2022 my Iphone 8 plus dies of frying results of my daughter Studying hard for finals on H.S. Tests I walk into Apple to obtain a new device which apple mention the phone Is fry you need a new one let's get one with Att since they are your provider he finds lock on the system I should call Att to which I do and tell me again my bill is in $800's to which I simply leave apple to thank the guy and proceed to get furious with all this mess I been dealing with for a year and a half ok To which I in the term of this year and a half I have spent countless hours been transferred from loyalty to reg customer service from 3 to 6 hours keep in mind I paid for I a phone I Dont have and no one can't find installment of 24 months 373.18 cents and no one knows where it is why my bill is been bouncing and I still haven't paid my husband phone when I hang up with Att from 6 hours of frustration I called another provider who in 15 minutes me new service orders me a new phone for my daughter and gives me two sim cards for our phone that once I receive and pay off my husband phone in full will be able to take those number to a new phone company May/20/22 comes everything arrives and give a call to Att to cancel service pay the phone and tell the person I want to resolve and leave so pls let. I pay my bill and he replies to get the codes and you free I asked if the payment is made yes happy hang-up called the other company that made the transfer give codes and I get service for the 3 lines but only one works mine and my daughter and hubby are locked call back to Att they said payment is processed but phones are locked and I can stop at the store to which I go they can no longer see my account, not in any device form Ior shape to which is a Friday 6 pm everyone left you to need to call Att loyalty dept THIS IS THE REASON WHY I LEFT ATT THIS FOR THIS I DONT UNDERSTAND WHY YOU ATT CARE AND PROTECT FOR CUSTOMERS THAT HAVE BEEN LOYAL TO THE COMPANY so if you ask me or anyone asks me if I recommend Att is BETTER to GO TO A PROVIDER YOUR RELATIVES CAN PROVE THIS IS THE BILL WITH TAXES AND UNLIMITED FOR $$$ money and boom no headaches this morning I call and 3 representatives could find my account or explain why some see it partially and my lines are blocked if we no longer belong to Att and bill is paid. The irony is I still have u-verse they couldn't help with my wireless bill and since I left yesterday may/20/22 this morning appear a $101.18 credit text towards my u-verse why couldn't you help we had a great thing Since you guys were CINGULAR against all odds I supported you but you failed me and my family my kids now know att is not a great company because they heard me countless hours olead with you guys. Thx I know you'll continue to make money but I won't support you in any way, shape or form.
Joanne Gilmore
from Salem, NH
Telemarketer call at 2:49 a.m. !!!
Kelly Randall
from Dallas, TX
People are in my alley, installing fiber optic cable. It is now Friday afternoon. Wednesday morning those same guys in the alley disconnected my internet and the internet of everybody on my block, at least. We have spoken to the guys in the alley each day, and they said they had reported the problem to AT&t. They acknowledged that they had broken the internet connection. I called and finally got somebody out here today. But he couldn't fix the problem in the alley. As I had been telling AT&t from the beginning, the problem was not in my house or immediately behind my house. So, the AT&t guy who came out today placed a call to the AT&t people who can work in the alley. Now I'm getting a message from AT&t saying that they can't schedule these guys to come out because of a problem with the AT&t network. I feel sure now they won't be out here today, which probably means they won't be out until Monday, and who knows if they'll be able to fix it then. Soon I will be without internet, phone and television for a week. This is ridiculous, but it's not the first time AT&t has done this to me. I need AT&t to fix this and I want to be reimbursed for the cost of the internet that I did not get because AT&t disconnected my internet.
Lisa Bailey
from Indianapolis, IN
One star because 0 is not available! After the company driving me crazy to switch my wifi to fiber I caved and agreed. Had to lose a days pay for install that didn't happen because company had no box at existing pole after making me crazy to switch! 24 hrs later they send an idiot out to climb pole and add box to except the new fiber. When he leaves he doesn't recconect existing service so now I have no internet! I call for him to return to make it right and they said their schedule is full. Yes full of half a__ed work!! So now I miss another day of work! Calling and talking to someone who barely speaks English outside of country, I request someone inside the states. Once connect I speak to another person who suggested I made an appointment yet again-why they cannot complete first appt! I ask for his supervisor. Once connect to him he says let's see if we can get him back out there, I will update you shortly. Few hours later I get an auto message for an appointment and NO RETURN CALL FROM SUPERVISOR!!! I am livid. What am I pay for? How many days work do I miss? Why can I not get anyone with power to respond to me? Worst customer service ever!!!
TREY SHANNON
from Fort Worth, TX
ATT HAS DROPPED THE BALL AGAIN
I WENT INTO OFFICE TO GET A SIM CARD WORKING IN A CRADLE POINT
THEY RE-ISSUED & IT WORKED..
THEN 2 WEEKS AGO IT STOPED
I TALKED TO BUSINESS SALES AND THEY TURNED OFF 4 OF MY NUMBERS
(I FOUND MAYBE 10% OF THEIR PEOPLE FLUENT AND INTELLAGIBLE IN ENGLISH)
THEY THEN SUGGESTED A CHANGE IN ONE OF MY ACCOUNTS - SENT TECHNICIAN OUT TO INSTALL FIBER.
I ALREADY HAD FIBER & THEY WANTED TO DRIO SPEED FROM 1000 TO 100
TECHNICIAN SAID HE THOUGHT THAT WAS A POOR IDEA AND WITHDREW TICKET
I HAVE NOW BEEN ON PHONE AT LEAST 3 HOURS TODAY AND LOST CALLS SEVERAL TIMES - NO ONE SPEAKS INTELLAGIBLE ENGLISH AND LAST CALL, AFTER STARTING CONVERSATION AGAIN, WITH NEW SUPERVISOR,
WENT TO HOLD IN SPANISH & THEN COMPUTER REQUESTED NEW INFORMATION FROM START.
REALLY -
DOES ANYONE WORKING IN TELEPHONE SUPPORT CARE, OR HAVE THE AUTHORITY TO SOLVE WHAT SHOULD BE A SIMPLE PROBLEM?
Juan patarroyo
from Tampa, FL
My wife took a day off of work in order to be home and wait for technician and when he shows up 1 hour late he says he doesn't know how to fix it. He calls for a specialist to come by and he doesn't show up. Terrible service and company doesn't respect its customers.
Terry Dixon
from Dallas, TX
Was scheduled an appointment 5/1/22 12-4 pm for fixing cut internet line from tornado. Confirmed text saying tech would be here 315-345. Tech called at 345 saying he was out of material and he checked with his supervisor and he wold be out 1st thing next morning. 20 minutes later I received a text saying my appointment had been moved to 5/4/22 from 12-4. I was lied to. I should have been 1st o list next day as you guys missed my appointment not me. Spent 3 hrs on phone with 2 different depths and best I could get was 5/5/22 AM as pm does not work for us. I should have been a priority but was not. I don't want an I'm sorry. I want priority as I was lied to.
Anna welty
from Pittsburgh, PA
I was quoted a price for a phone this December and when the bill was higher than the quote I went back to the store twice. The first time I was told that my credit didn't kick in . The second time I spoke to the manager who said the employee who gave me the price no longer works there. He tried to tell me it's not a big deal and there is nothing he can do for me. My bill is 20 higher than my quote. I have been a customer for years and would not recommend AT&T again. How can they get away with quoting one price and bill you another price?? It feels like a scam!! I guess I'll try the better business.
Scott Barnes
from Nipomo, CA
I have been a customer for many years, got a new phone it was stolen , i got a broken non functioning used one , they took my old flip number and now no phones work
HORRIBLE SERVICE
John Cammarota
from Lebanon, TN
My wife went up to our AT&A office because we kept getting on our cells qe were using to much Data we would us around 3 GB for total for both cells come to find outwe had 9 GB in our service so we would Never go over but she was talked into by the sales person to change our plan and get unlimted Data and it would only be $10.00 a month more.come to find out when we got our billit was $30.00 a month more it was over 10.00 per phone so we were lied to and when she went up to tell them and she wanted to go back to our old plan she was told it was discontinued so now on a fixed income we got lied to and now have to pay 190.00 a month when before we paid 162.00 a month. We have been with this company for 10 years but as soon as my wife's phone is paid off and that will be in two months we are dropping AT&T and going with another service one thing we won't stand for is being lied to. Very bad customer service and our 4 children will be dropping thir service also
Jan Smith
from Euless, TX
Only HAD internet with ATT. Two weeks ago internet disappeared and after calling for a week never got anyone to help or even talk to. After a week of calling and getting NO HELP OR A PERSON TO TALK TO. Tried to return box but had to take it to UPS OR FEDX unfortually we don't have a store where I live have to do a 60 mile drive. FINALLY sent me an address knowing I had no way to print it since I don't have internet!!!!????? So wrote everything on label hoping it gets somewhere. Not my first problem years ago when had AAT PHONE BUT SUCH POOR SERVICE I could hardly get service to use phone and they refused to let me out of my contract offering items that would not work. Took over an hour today to get the address to mail the return.
giora cohen
from Newark, NJ
At&t billed me for service whjch was not working.
Cassandra L Winters
from Brenham, TX
Please address my complaint. I keep being charges on my bill of a Applewatch that has been removed and the service in my area of Brenham Texas is horrible. It drops all very often and everyday. I need AT&T to remove a recent charge for a Applewatch ending in 3413 immediately!
Geraud Moreland
from Miami, FL
Called AT&T regarding a AT&T fiber optic cable box that was destroyed in a car accident. Wires are exposed. We told them children are playing outside, not our children but children just walking by our house. We called at 12:36pm EST. After being sent from person to person the right person set up an appointment with the repair dept at 3:08pm EST
I f I could rate them 0 I would.
Gloria Burd
from Sunnyvale, CA
My phone was temporarily disconnected when I was late paying my bill. (I have basic, $24.99/mo. \ The account code is 705. I have had this phone number since 1985.) I was never notified of being permanently disconnected, only temporarily. This afternoon, I was connected and transferred to at least six different customer representatives, most of them in the wrong dept. I was told by one representative I couldn't have my service restored, but could only start a new account, at twice the cost of my old one. I am a pensioner, and don't want to pay twice as much, and then have all these extras thrown in that I do not need. All I ask is to be made whole. My account is paid in full; now I demand to be made whole, fully restored to what I had before.
Mary Swink
from Orlando, FL
Sales representatives are misinformed. AT&T won"t fix their mistakes and will not work with their customers. Very unsatisfactory customer service.
badlands17
from Quincy, MA
I have the same problem others have had. I have a paid in full (at purchase) Samsung S10 and my nephew's iPhone11(also paid in full) and tried to unlock them. The iPhone, no problem, it's unlocked. For my phone, I did the same thing on AT&T's unlock page and when I checked later the status was "In Progress" Later it came back DENIED saying there was no manufacturer's code for my phone. Called AT&T support (90+ min) who created a case number. The next day, hearing nothing back I called AT&T again. Another good hour or more on phone. That call turned out to be useless as well. Tried again to unlock online. Checked status later in the day and said "in progress". The next day called AT&T again. This was a 2+hr call as I was moved up the phone chain. Was told by the second person that since 5 attempts to unlock my phone were made (I only made 2 attempts, so AT&T support must have tried some attempts while I was on the phone with them), the phone is now permanently locked. Final suggestion today from person on support call was to wait at least a month or more and MAYBE it will work. But no one at AT&T can override my now permanently locked Galaxy S10. So my only other option is to spend $1000 on a new phone from AT&T that is unlocked from the start. If that is my only option, I am done with AT&T. I have always paid my bills ahead of time, have both the phones paid in full and this is how AT&T treat their good customers? I'd like to tell the executives at AT&T what they can do with this phone.
Michael Twomey
from Watervliet, NY
On January 31 2022, I was at an AT&T location in Utica NY to get my mother a phone while she was going through cancer treatments so she could contact family or her medi cab. The AT&T representative talked me into buying a new phone and keeping my existing number, and giving my mother my old phone, with a new number. The representative, when asked, stated that my bill should only increase by an approximate 10 dollars. When I received my next bill it had increased by 280 dollars. I went to a AT&T store in Latham NY to see why my bill was so much, and to cancel the old phone with the new number being that my mother wasn't using it at all. The AT&T representative informed me that they were unable to do anything being that they were just a contractor for AT&T. They stated that I would have to call customer service to get any results. When I called customer service they told me that I had to go to a store to get the phone shut off and only took the installation fee of 30 dollars off my bill bringing it to an approximate 330 dollars. After many attempts by the representative to get me to sign up for auto pay and much debating they finally transferred me to the cancellation manager. Also trying to get me to sign up for auto pay one last time. The cancellation manger got on the line and wanted me to agree to one last bill being charged to the phone I was canceling. When I did not agree and was asking why I would agree to this, being that my last bill was 360+ dollars, the representative hung up on me. Noted, they hung up on me after spending almost an hour of trying to get to a live representative and then dealing with almost 30 minutes of a representative trying to get me to sign up for auto pay instead of assisting me with what I needed. Plus I'm not signing up for auto pay when you just increase my bill by 280 dollars for no reason and without informing me??!!
Sue Johnson
from Meridian, ID
On March 18, 2022, I visited the AT&T store at 1475 Broadway Ave, Boise, Idaho. Two days previously, AT&T and arbitrarily shut of my cell phone. I own a OnePlus phone that is 4G LTE, which is compatible with 5G networks, but AT&T had decided that they wanted me to use a phone locked to their company and shut off the OnePlus. From my first encounter with a young man named Stetson Cox, he lied to me. His first answer to my question about my phone was that AT&T was working on towers in the area and there were spotty outages of service. I then told him that I was with a friend the previous evening who also had AT&T service but whose phone was working when mine was not. At that point he changed his story to the truth, which was that AT&T had shut off my phone and that there was nothing he could do about it. I told him that I would take my business elsewhere. I went to another store to move my cell service, and in the process of transferring it, the SIM card for AT&T was lost. Due to this, I was unable to get a PIN to port my number to the new company. I returned to the AT&T store to see if they could help, and they assured me that they couldn't. I then said that they'd highjacked my phone number because I no longer had an AT&T SIM to be able to use it, and without the SIM I couldn't set the number up on another network. Stetson's answer was basically, "It sucks to be you." I then told him that I thought the action warranted an FCC complaint, and he became defensive and told me that I was being abusive and that he didn't have to put up with me. He then gave me a number to call, and I returned to the other store. The number that AT&T gave me to call didn't work. I returned to the AT&T store, and Stetson pretended to try to issue a new SIM card to me, but then said that there was a fraud warning on my account due to all the times I'd been in the store trying to transfer my service. I stupidly believed him. He gave me a number to call. At this point, I have no phone, so I went to a friend's house and called the number from there. It turned out that he had just given me the number for customer service. In talking to them, I discovered that there was no fraud warning on my account and that Stetson was lying to me to screw me around. I returned to the AT&T store and told Stetson what I'd learned and asked to see the "fraud warning" on his computer screen. He refused to let me take a picture of it, but did let me write it down. He had written on the screen, "We are unable to proceed with the transaction. Do not call for review. Do not open a ticket. If customer persists engage a manager." That is a direct quote. I had not been abusive, aside from offering to file a complaint with the FCC. I never raised my voice, I never threatened anyone, I never used a swear word, I only said that I'd take my business elsewhere, and then mentioned filing the FCC complaint. I then called customer service back from inside the AT&T store, on a borrowed phone, since I didn't have a working phone and the store never offered to let me use their landline, and the man on that call offered to send me a new SIM card in the mail. Before we could complete that transaction, he suggested that the store I was in could issue a new SIM, or sell me one, and asked to speak to them. I don't know what Stetson told him, but by the time I was put back on the phone, the customer service rep was telling me to go to WalMart and buy a SIM. By this time, I'd been trying to get a working phone for 7 hours. I went home. The following morning, I went to the second AT&T store in Boise, and the person there issued me a new SIM. It took about 10 minutes and was free. I was then able to complete the transfer of my service to another carrier. Had Stetson been decent to me, I would have let the matter drop. Due to his extreme arrogance and his policy of lying, I'm going to file the complaint with the FCC about shutting off a working phone and leaving me without any phone.
Stephen Turner
from Kansas City, MO
We have been without internet/TV for two days. Repair may or may not happen and tomorrow will be day 3 without service. Numerous calls, chats and messenger messages were useless. Supposedly there is a system failure in our area. At one point a repair technician was dispatched to our residence. He arrived at the scheduled time and sat in his van while I watched him for about 5 minutes. He did not attempt any communication. He drove off and we waited for 4 hours of the appointment window. He never returned.
Finally after hours and hours of frustrating communications with agents that were clueless and making up stories about what the problem "might be", I made contact with Edwin on a chat. He explained that the problem was an ATT system failure and what it was. One out of maybe 6 people had a clue about what was going on. He was not aware of when the problem would be corrected.
ATT has demonstrated that it is highly capable of providing mis-information, inaccurate information and no information are all. Reaching out to customers when the repair technician drives off is something the ATT giant is not capable of achieving. We were stood up one time by a repair technician and our next door neighbor was stood up two times on service calls that never happened.
It is inconceivable that ATT cannot repair their own equipment and they score a 0 when it comes to customer service. Midco is in our future.
Julie A Fallon
from Colrain, MA
The two men at the AT&T store on Federal Street in Greenfield should receive a poor evaluation. Juri, who said he is a 14 year employee, accidentally upgraded my daughters phone instead of mine. This left her without a phone for two days, and a loss of business as she is a digital strategist with Veracity Media in DC. Juri had no idea how to fix the problem, and after 3 hours, I had to leave without a working phone. I got angry at him and we exchanged expletives; which I don't think he should have been doing given that I informed him I had a psychiatric condition and had my service dog present. When my husband picked up my phone the next day, they said it was all set- but it was not ready and much of my info did not transfer. When I stopped in the next day to return my old phone (as Juri directed me to do ) Nikolai said to me, "I thought I told you not to come back to MY store." This young man behaved like a thug, and does not represent your company well. It has been nearly three weeks and my new phone still does not have my phone contacts. Unacceptable. I went and logged this exchange with the Greenfield Police. Do yourselves a favor and reprimand these two, or provide a manager that has customer service skills to oversee the Greenfield store. Thanks for your time.
Dennis Bergendorf
from Frankfort, IN
My wife and I have different PCs and different email accounts. I have to reset my password at least once a month, and it's been three times in the past week. I just spend over two hours with something jokingly called "customer support," and the last dumbbell couldn't figure out what I wanted. Her script called for to tell me about changing my password (something I've mastered rather well). By the way, nobody at AT&T speaks English as a first language. Those kids in East Asia are hard to understand. I can't wait to get rid of AT&T.
Markeeshiah McReynolds
from Nashville, TN
Im first time customer. I just paid my bill yesterday and my service stop working after 1 second. I talk to 6 customer service representative yesterday trying to resolve my issues. I was told I would've to make another payment after to used my service. After my payment went through successfully. I just want my service up and running. I was only offer $5 out of money. I'm very upset how I was treated about my money .
Sherri Lusk
from Atlanta, GA
Went into the Chapman hwy store in Seymour Tennessee specifically to buy two new phones! Associates name was Paul, He was rude, condescending, and treating us like we were stupid! Now not only will I not buy a new phone we will probably change companies! Never had a problem with att before but this guy needs to be reprimanded!
Sherri lusk
Carlos
from Arlington, TN
The freaking site changed when I logged in to make a payment. Asked to combined accounts -what the just happened now??? So I did used my ATT landline and no success...of course. People in ATT I just want to make a payment why are you making this process so freaking hard,,,
Andrea Leos-Voyek
from Simi Valley, CA
This company is horrible, my business lines have been down a week, it is nearly impossible to reach a person and when you do they transfer you somewhere. Best part is you're really angry and they are still trying to sell you additional, shitty products. I am going to run as far as I can, I got rid of them at home a long time ago. I should have learned my lesson. My phones say , they have been disconnected.
Valerie Abraham
from Palm Aire, FL
A representative was supposed to set up my account Feb 15. Its now Feb 22 and I am still without internet and TV. I received the new optic 5G equipment Feb 19, hooked it up but the ethernet cord was too short. Bought extenders, still no service. Called to find out what's wrong, there's no account created. I finally speak to Tom in the sales department today who actually figured out what happened, created my account BUT it won't be activated until Feb 24! Unbelievable that I have to wait again for service. I am finding this t be a turn off and I will not be using your service when this lease is up in June. Absolutely horrible service and no relief in sight. I work from home and rely on my desktop. This situation cost me a week's pay. Improvements need to be made on the technical side of the company and re-train your representatives. I must have spoken to 10 people in 2 days and they all kept transferring me to others who have no clue what I'm talking about or back to the previous person I talked to. A very dissatisfied customer.
Muskan Master
from New York, NY
I bought iPhone 13pro max from AT&T retail store on 9th January 2022. I raised a request to unlock the phone on 27th January was sent an email on 28th January that the request was approved. Since then I have been trying to use T mobile sim in the phone but it didn't work. I reached out to AT&T tech support, advance tech support, had a conference call with AT&T advance tech support and apple support but AT&T people kept telling me that they did everything and the phone is unlocked. I talked to t mobile and walked in the store too but nothing came out of it because AT&T didn't really perform the network reset on their part. Apple run a hardware and software check on the phone but that too came out clean, nothing was wrong with the device. AT&T never raised a ticket nor noted down the facts, every time i called I had repeat the same story and I got no help from them. Today on 13th February AT&T raised a ticket when I asked them to do so and asked me wait for 24-48 hrs for the case to get resolved. AT&T didn't do their job and kept asking me to go to t mobile and apple store. In the end it was figured that AT&T's back office didn't do the work properly and phone was still on their network. This was the worst customer service experience and waste of my Time since last 1 month.
JENNIFER ROSE PFLUG heindel
from Libby, MT
JENNIFER ROSE PFLUG grinder hostag ENFORCE NEEDED LIBBY COURTHOUSE ANNEX SENATE COUNTRY ASSAULT incumbent tribal PRISONER MILITARY MONOPOLY MONTANA PIPE PIP PIPELINE SOLAR EXTORTION MONOPOLY OVER å
Jessie Clark
from South Holland, IL
I initiated new service last week., January 25, 2022. I previously had service with W.O.W. The company would
not release my old phone number 798-527-3075 , therefore Direct T.V. issued me another number, which I presently have . That number is 708- 566- 1103 . Does AT&T have a service to inform the incoming caller that the number dialed has been disconnected and changed . The new number is such. I'm 76 and contracted Covid 19 leaving me medically impaired. Nerve damage to lower extremities, I'm in a wheelchair and with heart and respiratory issues, using oxygen. I need communication to the outside, especially for emergencies. Please assist me. Your staff doesn 't seem to know which department to refer me to, and I've called several times and spoke with numerous staff. No avail..
Jessie Clark
Ed Lamont
from Boynton Beach, FL
The people I deal with at 611 are dreadful. They don't understand me and the phone reception quality is often not good. I want to get a new phone - 5G compatible.
I've made 3 trips to ATT stores and 3 calls to 611. I GET NOWHERE WITH EITHER! I want to speak with a supervisor who speaks understandable English knows what they're talking about, and can solve my problem.
I've been an ATT customer for between 10 and 20 years. You look it up.
If I don't hear from a supervisor quickly,
Jan Gavin
from New Providence, NJ
If I could give a zero I would. My bill is $11 higher this month. The website to address this first sent me to fios. Over at least 12 attempts, I had 12 different tree options, none of which worked, and all led down rabbit holes. I provided the same info each time, and was never able to get to billing.
I got offered new devices to buy, one time got to my account info. I clicked billing and was bounced out. I never, ever got to billing details
Charlie Martinez
from New Orleans, LA
I learned that you will be removing OAN from Direct TV, claiming they spread miss information. I STRONGLY disagree with your claim and will be finding other providers for our home internet and TV services. We also will be encouraging everyone we know to do the same.
Keith Stevens
from Mount Jackson, VA
You promised you would get my phone fixed
When are we fixing your problem
AT&T Free Msg: Urgent case has been assigned to KEITH STEVENS for research. We will call you within 24 business hours.
AT&T Free Msg: Per your request, we will call you shortly to work on resolving your concern. Please do not reply to this text. Thank you for choosing us.
Terri Coonce
from Bloomington, IN
My mother-in-law is 86yrs old with declining health issue's she has been without phone service since Sept 24th and several calls have been made to have it repaired and explained the urgency of the situation her life depends on the phone service for her medical alert in case of emergency thank God my sister-in-law happened to be there when my mother-in-law needed to go to the emergency room last week because it could have turned out very grim for your family. My mother-in-law is actually still in the hospital as I am writing this what can be done to make at&t take this situation as serious as it is? 13 day's is more then enough time to have it taken care of????
Arlyn Marrero-Nasirov
from Sacramento, CA
Manager attitude and unknowledge of the contracts and procedures. Had to go 3 times to get help with unlocking my phone, still not resolved. She came up with the story that I need to wait 30 days to be unlocked. That is not true, is only for corporation contracts, not my personal phone. She stay always in the back of the store instead of helping people coming or the new employees working under her. I have to ask for her to get involved and got defensive. I work in a hospital, we deal with multiple high-intense situations of life and death, we still present ourselves with a nice face and been sorry for the problem or issues. I have never complained and I have been a loyal customer for more than 12 years! I'm still a customer and was treated like I'm an idiot not knowing how to use the computer and doing the unlocking online. I explained many times that is not working, and that I don't need to be condescending. Still waiting to resolve my issue with my phone as nobody, online or at the store, knows what to do. She actually told me that my problem was to buy the phone with AT&T that I should buy my phone through Apple. Well, that was my first and last time getting a phone through a wireless service.
Fairoaks blvd, AT&T store, October 6, 2021;4 PM
Arlyn Marrero-Nasirov, MD
909-653-5857
Stephany salmeron
from Alexandria, VA
In 2020 I went to the att in Alexandria va beacon hill and the manager lied to my face to upgrade my phone and he told me I would be credited $350 and it would come up on the bill , later on I didn't see it on the bill and went to the store to talk to the manger and he said that I was lying he never said that I understood wrong and he humiliated me in front of his other customers. I don't think that fair coming from a manger and he basically made me feel so stupid and he lied to my face that just wrong and disrespectful , hopefully I can get answers … please contact me (571)345-8720 or my email carlos_salmeron1@outlook.com
coral melton
from Seneca, SC
I was told by 3 different reps that I was entitled to a promotion then when I called back someone else I wasn't this is the worst company to deal with they always have an excuse. I been customer since bell south I don't recommended at&t to no one
raymond goldsmith
from Canton, MI
Over a week ago I asked to have my remote for the tv replaced...................I was told 2 days for delivery.............it has now been 10 days and still no remote........it makes the tv experience very inconcovient. please please
send my remote !
Melisa Parnell
from Oxford, AL
HORRIBLE customer service
James Baker
from Atlanta, GA
I James Baker has not been treated with respect as a existing customer. I pays the same amount every month with auto pay. And has been harrased for a while by customer service in home wireless phone about purchasing other plans that costs more a month. I told them this is all I can afford to pay month. My bill has went up without any notification
John k welch
from Wilmington, DE
This was the absolute worst experience with att.They did not disclose before upgrading to an iPhone they wouldn't accept my phone.When the agent and I contacted customer service they were absolutely rude and mean.The agent was less than helpful.I switched to xfinity with great service and lower fees and costs.I would never use att again
BEWARE OF THEIR DEALS. DON'T ACCEPT ANY TV OR PHONE SERVICE.
Clearly got scammed by AT&T. I was suppose to get $250 reward from AT&T. Only got $150. Contact AT&T and they told me to wait until the end of the first month to see if the remaining comes to the mail. Cancelled my first month of TV because I only wanted it for the reward. Contacted AT&T after the first month of TV. They state they cannot give my $150 because my service is cancelled. YOUR THE ONE WHO TOLD ME TO WAIT UNTIL THE TV SERVICE ENDED. They clearly knew that by waiting until the TV service end they don't have to give me my reward. PROFESSIONAL SCAMMER. Was highly thinking about going for AT&T phone service. Clearly not even worth the money. Who knows I'm not even going to get that $250 reward from the phone like they said.
Lee Clinefelter
from Oklahoma City, OK
No part of your company works, I was on the phone for 2 hours with customer service to work to correct issues and still did not have enough time, requested a call back with the customer service agent stated would happen and still nothing. Fire everyone involved in your process and start over.
Joe Bassi
from Brooklyn, NY
My wireless signal at home in Bethany CT is terrible and has been for the longest time.
Trying to find out why is like trying to cut off your own arm. It seems that people don't man the phones any more and if you're lucky to get a person they are from some other country and don't have a clue for why the wireless signal sucks.
I'm really disappointed. It looks like the time has come to dump ATT.
Glenn Hall
from Silver Spring, MD
On Saturday, September 5, 2021, I went to the AT&T store located at 10729 Columbia Pike, Silver Spring, MD 20901 and spoke with the customer service representative, Timothy. I told him that I had gone to the AT&T website to receive the teacher appreciation program which offered qualified teachers a 25% discount off their bill if they added four phone lines to their service. My family and I have been customers with AT&T for over 15 years. My wife (Jennifer Hall) was in charge of our plan to begin with and I took over the account in 2018. I traded in four iPhone X's that met all of the trade-in requirements in order to receive the $700 discount that the promotion provided if my family turned in their personally owned phones. I was told by Timothy and the manager of Ben that my total bill would be $214.88 and that included surcharges and government taxes. I looked at my AT&T online account today and was shocked to see that my next bill would be $380. I called customer service and spoke with DJ who said he was unable to help me and that he would have his supervisor call me. I received a call from a supervisor named Jam. I explained my situation and how I was lead to believe that my total bill per month would be $214.88 including surcharges and government taxes and the only solution she offered was to downgrade my wireless plan from Unlimited Extra to Unlimited Starter which I told her was unacceptable. The only option she said she could offer was to change my plan. She did not offer any other type of help to resolve my issue no matter how I pleaded with her. This is not the first time that an AT&T customer service representative has given me the bait and switch offering me one plan for one price only to find out that I have been lied to and that the plan I signed up for is far more expensive than my budget could afford. This is not the first time that I have been treated like a second-class citizen by AT&T. My family and I have been going month to month for the past 10 months trying to figure out how we could transfer our service to another company so we wouldn't have to be abused by AT&T anymore. We are just tired of being constantly getting the run around by the customer service representations we have spoken to. In the past month or so, I have been told that I could not speak to a supervisor, hung up on more than twice and spent countless hours on the phone trying to understand why my 15% teacher discount has not been applied to my bill when I signed up during COVID. One customer service representative told me that I did not meet the requirements and I had to take my active teaching certificate, current school ID and a letter from my principal to a brick and mortar store in order to have the discount processed even though it stated that I was supposed to receive the discount in on my account. The only customer service representative that helped me was Jessica who filed an investigation for me to inquire why the discount hadn't been applied for months (case #20210903). Other than that, I have received absolutely NO help from any of the customer service representatives I have spent numerous hours talking to either on the phone or in chat. I am seriously considering paying the opt-out service charges and canceling our contract in order to move our service to another cellular company that might possibly treat us with respect and dignity. My family and I have been dealing with these issues for far too long. As I said, when we signed up for the promotion the website stated that the Unlimited Extra plan was dropped to $30 per month if four lines with added to the plan. That included new and previous customers. It also said it included HBO Max which it does not. Once again, at every turn, AT&T has lied to us and pulled a "bait and switch". No one can help us just receive what we were told to expect. My wife and I are both teachers with two children and on a very limited budget. We do not have $380 to pay each month for cellular service. If you look at our account (#418093619867) you will see that our bills rarely stay the same amount. It has gone from $297 to $211 and anywhere in between. How can I make a monthly budget when I do not know what to expect each month with my cellular bill? I ask people if they experience similar billing issues with the other big three cellular companies and the answer is always "no". If you listen to the recorded conversations I have had with your representatives, you will hear how uncooperative they are and do not try to resolve the situation to the customer's satisfaction. I thought taking notes would help document all of the information I have been told when trading in our phones and purchasing new ones, but what I should have done is take screenshots of the promos from the websites because I have been told by Sum (supervisor) that they did not exist. I told her that she really should not lie to a customer and definitely patronize a customer. All she continued to say was "I'm sorry sir, but there is nothing I can do to help you". I am trying to file this complaint first before I take matters to the corporate level and BBB. I just want the deal that I was told I would receive with having to downgrade my plan from Unlimited Extra to Unlimited Starter. I do not think that is too much to ask for from a loyal customer. Again, check the records to see how long Glenn Hall and my wife, Jennifer Hall have been customers of your company. You would think that after this long, the last thing your company would want is to loss us to one of your competing companies which I do not really want to do, but I feel like I am being forced to by the constant mistreatment and abuse. I sincerely hope that this message is read in it's entirety. There is a lot more I could write, but that would take pages upon pages. I could write an entire summary of my experience with the buy 2 get 2 free iPhone X promotion that AT&T ran two years ago from this past November 2020 (I think the promotion began around 2018).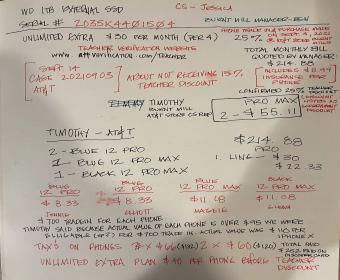 Brenda Martin
from Meadville, PA
On Sunday, August 29, my husband and I entered your Meadville store 4:50 PM. It was difficult to tell who was a customer and who was an employee as nobody there appeared in a professional manner. We were approached by a young man who told us we were second in the waiting line. He took our name and reason for visit. Seven other people came in, waited a half hour or so and left. Initially, there were two "technicians" assisting people. When the one technician finished, at approximately 4:35, she left the building and we saw her drive away. As she drove away there were seven people waiting for service. At 4:50, the individual who left returned in her car and sat in the parking lot. That left only one person, Jasmine, the manager, to assist customers. What a shame. Seven people left the store in frustration. At 5:05, we were called to the table. The store was now empty. Jasmine was attempting to assist us. We informed her that her employee was sitting in her car and she responded "I know". At about 5:15, the other employee walked back,in, sat at the table we were sitting at and never said a word. Jasmine was unable to assist us as she was apparently having "computer issues". We left with our issue unsolved. The employees had a channel with black people arguing and screaming on it the entire time we were present. The atmosphere was disgusting and one of utter apathy. Your "employees" did not care one bit about service or customers and they made it apparent. We understand that AT&T is of the "woke" mentality and as such is accustomed to a nonchalant and uncaring attitude. To us, as customers, however, this is unacceptable. The face of AT&T is forever disgraced in our opinion after our experience. We have begun a search for a new provider. Best of luck to you, you're going to need it with employees like you have in Meadville PA.
Brenda L. Martin M., Ed
Jacqueline Ann Shiver
from Huntsville, TX
No service now being told we have limited service but bill still the same..Use to get full service at home now absolute none ..Even text won't go out ..But that bill rolls in every month ..No credit for no service
Is it asking too much to put a tower up in Glen Allen Mo? Not in Marble Hill or Grassy but Glen Allen. Horrible to have a service that is over priced & can not use it at home.
Boost your signal for rural areas please
Donna Fiallos
from Miami, FL
My internet was shut off without notice my bill was accidentally not paid due to losing my card and number being change on it . I called and paid the past due amount and was supposed to recieve new equipment in a couple days and it has been five days. Now I call and there is a technical problem meaning I owe 50 dollars on the account that they abruptly closed. I must open a new one but in the mean time I am paying over a hundred dollars a month for a TV package why shut off the internet I cant watch the package that I currently have. I am on fixed income and I am sick I am sorry I made a mistake but why am I treated so poorly by your customer service. I was not told I have to pay the 50 dollar balance before my internet box could be sent out. Can I pick it up at the att store I have been without so long and going on two weeks not being able to watch my tv package. Thank you for any help
Jana Everett
from Keller, TX
I sent a payment out on April 2,2021 for $94.95, to the mailing address envelope which I had Att Atlanta Georgia then on May 3, 2021, I sent out a payment for $95..19 on the address envelope to carol stream Illinois, why the address change, to get more money from customers. I heard the att Atlanta Georgia never received the payment so I sent out another payment $94.95 on June 2, for the April 2 bill, my mother 95 does not call anyone. I have my cellphone I use, being her daughter. All she receives is scammer calls who spoof important numbers and call her number and probably charge it to her number. Att is charging her it was $250 but it has gone down to $124, she has to pay for scammer calls I guess , not right, this world sucks, people doing anything to get more money from the elderly customers. Att getting more money by having an att address to Atlanta Georgia and changed it carol stream Illinois.
Eva Mayer-Meek
from Belleville, MI
I have been without a Phone service for more than a week because of a very noisy line, my appointments to have this fixed have been changed several times.I have spend too many minutes on the phone trying to have this taken care of only to be transferred from one person to another or put on hold for 20 minutes or longer so I would hang up. If I where an invalid who needed this phone I would be in serious trouble. I did finally get my appointment on Friday the 23rd and I think I will seriously consider moving my service to a different company.
the phone in case anybody really gives a hood.
Vicente Soriano
from Lemon Grove, CA
The reason is that I am trying to get help with customer service for mistake and unprofessional way of of getting my daughter to upgrade her phone not been honest and wait to the end of the transaction to inform her that her phone was damaged and it didn't qualify for the promotion
Sharon A Shannon
from Hazelwood, MO
I am very disappointed in the customer service department at ATT. I called three times inquiring about my landline phone bill and the credit I was owed. Each and every time I speak to a customer service representative and explained to them the purpose of the call; I am put on hold for so long, I must hang up. As a matter of fact, I'm on hold as I am writing this complaint. The initial hold time was quoted for three minutes, my phone is reading 19:01 minutes. Please feel free to call me back at 314- 731-3122 to answer the simple question regarding me having a credit on my account or credit my bill. Thanks!
willis walthuis
from Los Angeles, CA
over billed me. and will not tell my why owe this money?
James Elliott
from Woodstock, AL
On June 8,2021, I agreed to sign contract to keep internet with att CSR, Karen, sold me the idea after I called to cancel to move to T-Mobie internet. Stated would have it installed quickly. Appt was set for 6/10/21 between 9-11AM. On nite of 6/9/21, att sent me msg needed to move appt to Fri 6/11/21 between 11AM-1PM. I was ok with this. Fri at 140PM, I called att to see where tech was. I was told, apparently, one big old LIE !! Told by rep that tech was held up at elderly Cust to teach them how to use equipment. No problem here, as I am 70. We'll tech never called or texted me, as requested by me, AT ALL !!! Called att again around 5:30PM to find out what was going on. I was told by him, NO RECORD of fri appt. Stated I wanted to talk to supervisor. I was put on hold for 4-5 minutes. CSR got back on line and stated a SUPERVISOR would call me within 15 minutes. NO ONE called at all. At 8:05PM this evening, got msg from att stated they noticed I hadn't rescheduled Thursday appt. SIMPLE question: Do you have to be a LIAR or a DUMBASS to be employed there ? Not kidding about this. Dead SERIOUS !! Apparently, someone got rid of Fri appt, prob to cover own ass. I'm going to call T-Mobile , where.I've had their phones,( now 6 on acct) since 2005. Offered new internet service recently at about same price. Whoever gets here first Monday, will get or KEEP my service. I've done all I can do at this point, except for acting like a complete ass and JERK. J Elliott
Szyja Samuel Szniatkiewicz
from Fort Lauderdale, FL
I switched on 05/26/2021 from Fiber1000 to Fiber 300. Special offer for existing and new customers for the Fiberglas300 Internet service ended up with paperless billing, Auto pay and $20 Discount ended up to $45( including Equipment Fee). AT&T denies now to provide this price and stated it would be now $79. As attachment i provide a print out of the published special offer as well the Customer Service Summary which I received from AT&T after I changed my plan to Fiber300. I contacted AT&T customer Service 31 times, they are unfriendly, unprofessional and even threatened to cut my Service off. I don't even want to mention which remarks I had to hear regarding my dialect and age. I`m a low income senior citizen and feel greatly abused from this company! I have the Confirmation from AT&T about this special in written and AT&T customer service ignoring it. Because i live by myself and it is very stressful for with almost 70. So my neighbor copied the AT&T Customer summary from th05/26/2021 and sent formal complaint to the Federal Trade Commission as well to the Public Service Commission of Florida. For me it is not understandable how AT&T treats Customers and absolutely doesn't care, basically lies.
Attached you find the Documents
Diane Bohn
from Ashburn, VA
I just bought a phone from At&t. I just got it today it was not what I order and I have had nothing but trouble from customer service I want a Samsung note not what they sent me since than the AT& t website locked me out of the site asking me to change my password 6 times and I still can not log in I do not want thiscphone I want a Samsung note delivered to my home address it's phone is not working it is slow and I need a note to handle my work I have no car so I want my note delivered to me and they can have this phone back I am not happy when the guy left the phone not set up and than I said this is not what I order the note came with a cover this phone had nothing just the box I am a senior and I do not like to be taken advantage of Diane Z Bohn..465 West San Carlos San Jose art 3105 please get back to me I can notveven down load my files on this little phone my old phone is better than this one but I moved my service to upgrade my phone and to get better service I am shocked I want my new phone Samsung Note delivered to my home they have my payment already no excuses from them
I have had a very bad experience so far with AT&t I am going to be paying allot every month for unlimited service and for a phone that will do the job not this one
My bill has been incorrect and I've been over charged since October 2020. It is now May 2021 and I just received June's bill. Still wrong. No matter who I talk to, I get a different answer every time. Adjustments have been made, yet every month I call and waste hours of my time to get the bill "corrected".
Jay Thompson
from Hanford, CA
Wife put down payment on Galaxy s21 plus. Was sent s21, not plus. Customer service lied repeatedly. Never once did they try to make things right. Called numerous times, was told numerous lies. Haven't been a customer for even a week. Worst experience ever. I am deeply disappointed how they treated my wife and I.
Linda Donnell
from Chicago, IL
I am a longtime AT&T customer, having AT&T service since 1967. I currently have landline, uverse internet, and DirecTV service.
My email accounts do not work. I spoke this morning with Stephanie in your AT&T Atlanta Executive Office who assured me someone would get to the bottom of my issue. She called me before 7:00am CST. She informed me that someone from digital assist would contact me to resolve the issue. It is now 3:05pm CST and I have not heard from anyone. That is not quite true as someone called to try to offer me an internet upgrade to 1 gig. I've tried calling customer support since 1May 6th. I have been transferred to 12 different individuals to no avail. Each transfer takes me to the automated caller system and I wait in queues once I've answered the same questions over and over. More upsetting is the fact I've asked to speak to a supervisor and was not put through.
I also attempted to work with AT&T customer service on May 5th. These sets of calls were transferred and made me so upset that I filed the FCC complaint 4757566.
AT&T is supposed to be a communications giant. Has it gotten so big that it no longer provides customer "service"? It appears the only thing AT&T cares about is making a sale and collecting money; that the customer is having issues with AT&T products is not important.
It is now May 10th. I will continue to try to work with AT&T but have no confidence that anyone there will assist me. I have already discontinued my mobile service and am investigating other carriers regarding internet connectivity. I am also looking to try Dish rather than DirecTV. The only service I cannot transfer is my landline; for that I must remain at AT&T.
Other companies value their customers. Somewhere along the line, AT&T devalues their customers.
Yasir Mahmood
from Costa Mesa, CA
AT&T in a nutshell
5/5/21
-filed insurance claim on broken phone
-rep told me after claim was filed, i had an upgrade and could trade my replacement phone in for upgrade
5/6/21
-received replacement phone, went to AT&T to trade in. Rep (Ana) told me i have to wait 30 days to upgrade with trade in, was told to call insurance and send back replacement and pay for upgrade. We looked at my account, verified me with my id. She said i was eligible for an upgrade
-called and said i was sending phone back and paying for upgrade since i wasn't offered that in the beginning
-waited 30 mins for rep(Ana) while she was in the back of the store (I asked another rep to contact her)
-Ana came out and said her manager said we cant help you as i have a note on my account saying not to touch account this account and she cant tell me why. Told her call manager
-Manager said i have a lawsuit with AT&T(i do not)
- Told me to go to another store or call 611
-I called 611 to verify, said no such thing is true
-Ana told me to leave and go elsewhere
-Jerome (rep on the phone) was on the phone for 1.5 hours with me and verified over and over again that i was not being rude to anyone and was also confused on why they wouldn't help me.
-Jerome asked me to ask her why she couldnt help me - she turned her head and ignore me
-store called 911
-gentleman came out from the back and told me "its in your best interest to leave the store"
-said i am not leaving - please let the police come here
- police came and said that this was unnecessary by AT&T
-The manager came outside and was talking with the police and said she will show me that it says i have a lawsuit - pulled up my account and nothing of that showed, then proceeded to say she cant access it anymore.
Kim Conkle
from Carthage, MO
Signed up the for next program in the middle of the month with when updating my phone. I was offered the u-verse phone option at that time so I signed up for that too. I had a combined billing that was due at the end of the month. AT&T did the split around the 20th. I then received a bill from ATT cellular (same billing dates) and a separate bill to pay u-verse internet and phone which I did two weeks before they were due. The following month I get a collection letter from the combined services that state I did not pay my bill. After 2-1/2 hours and getting hung up on several times and calling back I found out they were closed. I called back the next day they told me a claim will be filed and someone would call me.
After two weeks no call, I called them said it was still in process and I would get a letter by the end of the month with the resolution. I never received a call or letter I just figured it was taken care of. Another month goes by and now I am getting calls from a third party collection agency on this bill. Called AT&T back and they cannot find any records of my combined account and have no idea who to send me to. After being transferred 10 times and 45 minutes later no resolution. I got hung up on again!!! Next step will be finding an attorney.
Susan Anthony
from Houston, TX
Grossly over billed for services. Was on phone with 3 customer service reps for over two hours, only to be told be all 3 of them that their phones and Internet were not working!!! And this is their business! One rep was located in Montego Bay, one sounded Chinese, the other sounded Indian. All said they were having too many technical issues to resolve my problem!
Mary Mitchell
from Raleigh, NC
My experiences with AT&T products is fine. i am mad that your people have sprayed expensive plants with orange paint in North Raleigh. I am not buying fiber optic use and have told you so. My computer is with Time Warner and will stay that way. You do not have the right to tear up my yard by digging. It is too hard to grow a yrad here, and I have rare and expensive plants, too.
The least you can do is contact me. If you are digging, You need to let me know so that I can remove the plants and take them to my greenhouse and replant them at a later date. I am thoroughly disgusted. As far as I am concerned, this is vandalism.
Barbara Hopkinson
from Washington, DC
First of all, I deal with your AT&T customer service every month. It seems as though your department lacks accountability. Every month my bills are messed up. But recently, I got an email telling me my bill was due- this was in April of $128.15. I made the payment right away. To be exact, my bank paid it on 5/5/2015.
I have been getting threatening emails from AT&T saying my bill is past due, and my services will be discontinued. I spoke to a supervisor yesterday, she informed me this is a past due bill, I said my bill has been paid as soon as I receive them, I explained to her I don't know about any pass due bill. I made the payment yesterday which was a holiday, and you should receive it very soon. I spoke to Emerly Carlson this morning, she was very nasty, telling me if they don't receive the money soon my service will be cancelled.
I can't believe I've been with AT&T for years and now I am treated like a dog. What can be done to fix this issue? I am seriously thinking about going with another company! I also mentioned to your supervisor and Emerly this morning, if I never got a pass due bill, how am I suppose to know there is a past due balance?!?! I am so upset that I don't know if I'll use AT&T ever again!
Lugenia Twombly
from Enid, OK
My husband has terminal Brain cancer and we live on a very limited budget. I was with a different carrier and wanted to find a better cheaper plan! I called AT&T and spoke with a present at seven she assured me that she could get me a better plan for less money she also told me that they were having a promo and I would you see the hundred dollar credit for each phone. That there would be a one time fee of 40$ to connect my phone lines but that it would be dropped because I was getting the 200$ credit for the two phones. And my monthly bill would only be 105$ (30$ cheaper than I was paying at the other carrier) I thought wow great deal! Then I got my bill and it was 250$ nothing was credited as a matter of a fact they couldn't even find a promo and if there was one it wouldn't be added to my account for 10 weeks! That's not what i was told in the beginning but since I couldn't even find a promo and her notes I wouldn't be credited that anyway! On top of that my bill monthly would be 125$! I asked to speak to a supervisor but have yet to be able to! I feel very taken advantage of. I came to this company expecting better service. And I've only been disappointed lied to and handed a large bill that I can NOT afford to pay!
Susan Johnson
from Cleveland, OH
I received a notice about our business account - service contract expiring soon and to call discuss options. I called the 800 number for AT&T specified twice. Each time I was on hold for over an hour. There was no way to get to a live person, no option to have your call returned and not lose your place in line. I tried in the morning, noon, and late afternoon. On hold for 3 hours that one day. Worst customer service ever. If you want to change my contract, give me a way to get a hold of you and not wait for 3 hours.
Michele Gonzalez
from Mobile, AL
Went to AT&T store. I wanted to combine phone accounts between my husband and myself. Bought a new phone $1,000, plus ordered Direct TV and obtained a security system. I was told combining the phones with Direct TV would save me money.
They told me the plan would be for 2 years which would include NFL package for 2 years. I was notified in mail NFL package would be for 1 year. And the direct TV with all the hidden cost will cost me more than I was paying for cable. was not told they had to run big wires across house nor a big dish on top of house. drilling in house for security was a mess. left dust from drilling everywhere. Didn't tell you system issues.
I went to ATT over 2 weeks ago my account still is not right on the billing side however, it is closer after they told me I would still have to pay for 2 separate accounts for 2 months and I had a melt down. so I was mislead in multiple directions and after being a customer for many years I was greatly disappointed. Now I know for sure when this contract is up I will switch my plans to another company, bc I don't like being mislead.
Emily Duke
from Lawrenceville, GA
We have AT&T u-verse, Internet and direct TV. When this months' bill was received it is almost $50 more than last month's. When establishing the account, we were told the bill would be the same for 2 years. When calling customer service, I was told there was a change in the billing date, and that was the reason for the increase. My complaint is that we are senior citizens living on a fixed income. A sudden $50 increase in a monthly payment impacts us. We do it have extra money. Why were we not previously informed? I was told in my conversation with customer service that we could get a discount for being AARP members and a discount for my husband being a veteran. You web sites appear to have discounts for cell phone users only. Please advise how to get these discounts.
Hodson, Hannelore
from Chicago, IL
3/17/2016 - No phone service(landline) no internet as well. 1st appointment 3/18/16 had to cancel toward the end of the promised time as I had to leave the house. Rescheduled for 3/18/16 PM and services reestablished by 9:30PM. 3/21/16 - rental unit in same house without any service; AT&T provided them with services the same evening. However, I again had no more phone or internet services(3/21/16). Another AT&T appointment 3/22/16 (now the 4th one) made and was informed that service man the evening before had given my line to rental unit and just cut me out and left me without services. Not only that the service man on 3/21/16 refused to reestablish my line as he did not have a "ticket".
Knowing very well that he had just given my line to his customer and that I was left without services. What kind of way is this to treat a customer? Unacceptable. It took 4 appointments and a lot of waiting time to have my services reinstalled. To reimburse me for all this inconvenience and unprofessional way of handling this matter I would appreciate if you would wave my service charges for one month. Thanking you in advance.
Brandon
from Union City, CA
I just got a new phone, the one plus two, and the mobile data wasn't working. So I went to the att store to resolve this issue. I went to the att store in downtown San Leandro and was helped by Berlin. He did not inform me of why the data wasn't working nor did he tell me that he needed to install a new sim. He takes my phone and disappears for awhile and when he came back, there was a scratch on my brand new phone. I brought that to his attention and he simply denied that he did it. After expressing my discontent with what happened, he brought his manager, Taira, over. All she managed to do was tell me that they take no responsibility and that they could not do anything about it. She told me that it is not a phone they carry so they can't reimburse me in any way.
At this time, my data was still not working and they told me that they were not trained to fix the data situation and Taira then left. I asked Berlin for both their names and he decided to bring over his other manager Evan. Evan simply did not listen to what I had to say and instead got angry at me for being upset about a scratch on my brand new phone caused by his employee. He continued to say that sometimes sim cards need to be installed and sometimes the phones have to be laid on its screen, so if a scratch occurs, it's part of the job and not their fault. Luckily my phone had a screen protector on it and the screen was not damaged, however, I'm still disappointed and outraged at the fact that they believe it's ok to damage a customer's phone while servicing it. This is not acceptable.
Frank Camarotti
from Fernandina Beach, FL
I switched to ATT from Verizon because I did not have service at my home from Verizon. The ATT representative said with ATT I would have wireless service at my home. I recorded this conversation and in reality I do not have service. The only reason I switched is because ATT told me I would. I have called Customer service and they said there is a device I can buy to give me service. The ATT store personal were I live said they should give that to me. Why should I buy this device when ATT said I have service and do not. Yes I can afford the device, but it is the principle of the thing. Give me the service I signed up for and you said I would have. I have been a satisfied U verse customer but am not satisfied with ATT not doing right by what is told me. I appreciate your consideration in this matter.
Absher Enterprises
from Virgie, KY
We moved from our location in Prestonsburg, KY to Betsy Layne, KY. AT&T does not service this area. We would have kept AT&T if possible. We had to go with a different carrier and had our phone number ported to new number. I paid what I thought was our last phone bill and then began getting calls from a collection agency. When I filed an appeal with AT&T, they did a credit for part of the balance. That left a total of $495. We were still unhappy, feeling we should not be charged a early termination fee.
I tried the appeal again and got a reply that it had already been filed and turn down. When one of our other businesses came due to renew, we gave a stipulation that before renewal this $495.00 needed to be taken off. Just got a call that they are still unwilling to do so. So, AT&T will be losing our other business, Highland Theatre Corp and several restaurant business owned by the same owner. We have businesses in Prestonsburg, Pikeville, Martin and Paintsville, KY. of which all have AT&T phone service, but be assured with those contract come up for renewal we will NOT renew with AT&T. Our biggest account to be cancelled.
sheilah anderson
from Houston, TX
I have changed my account three times in the last mo and each time a day later my account goes back to the original order. I am trying to get my payment down. I am a senior citizen. When I SPOKE with a supervisor on Saturday, they stated someone in my home was changing the account bank. No one is changing anything!! His attitude with horrible on Sat... accusing me of changing it back..AT&T is the worse company I have ever done business with. This is just one incident the payment issues is another huge issue....taking the bill out two weeks early and on. I AM NOT HAPPY AT ALL.
Samuel L. White, Sr.
from Marksville, LA
Around mid-November, 2014, Deviney Construction Co. (an AT&T subcontractor) did some underground cable work in front of my house located in Fayette, MS. They made deep tire tracks, displace the sod and left a sizeable hole in the front yard. While the area in question is a part of the City's right-a-way, it is maintained by me as the homeowner. I asked the Deviney crew if they were going to restore the lawn and they agreed they would. On an earlier work project they had re-sodded and returned the lawn to its original condition. This time that was not done.
To date, I have repeatedly contacted AT&T regarding this issue. Ms. Mylissa Nevels of your Brookhaven office has sent Chris Nelson and Derrick Manuel to the site to investigate and take pictures. The matter is well documented, but no corrective action has been taken. I am a loyal AT&T customer, and I feel less than valued. Curb appeal is of value to me. Please address my concern immediately. I have informed the Mayor of my dilemma. I look forward to your response.
Gus Navarro
from Milwaukee, WI
I just had the worst customer service experience of my life. AT&T has the worst automated phone system I've ever used. I want a call back from a customer service manager ASAP. We are a new commercial customer. We have had nothing but problems, from before we were even open. Because of a clerical error, our bill was mailed to the wrong address. Consequently, we missed a payment. Our service was interrupted. We discovered this at 10:00 AM. We made a payment quickly. It is 3:20 PM and our service is still not back up.
In the computer age we live in it should take a couple of computer key strokes to get us back up and running. Any delays in the process are, I'm sure, built in by at and t to punish customers who don't pay on time. What about the customer who has a problem because of an error on your part. Your collections department is horrible and I'm beginning to think AT&T is horrible. I think I'll be making that opinion public, in every way I can from now on. I spoke to a manager named J Moore in collections this morning, and she was especially unhelpful. I tried your automated repair line, and it keeps hanging up on me. Terrible service, just terrible. I expect a return call from somebody with some authority ASAP.
This is by far the very worst company out there. I broke up with AT&T a few years ago. I used them for my home and mobile communications and after 12 plus years and in the end they just robbed me. I could kick myself now for forgiving them and giving them another chance to do business with them. This time I got screwed over even worse. PLEASE, PLEASE, PLEASE, Run from this company before they snatch your purse. I did not sign up for a contract, nor did I want a commitment, and expressed that at the time of purchase. I was told that I would not have a commitment, so I decided to give them a shot again in hopes that they would treat me as a valued customer.
Setting up my service was a nightmare and they billed me over $300 when i was told there was no fee to turn on my phone line. When I disconnected my service AT&T informed me over the phone that I would not have any disconnection fees (I checked). I should have known they would send me a huge bill regardless of what they said (close to $400 and that was not even the final bill). I called to complain, was very kind, but they could careless about you or myself. They are white collar thieves looking to swipe your wallet. I was told by the rep that they had sent me a letter that basically states we are allowed to rob you for any reason when and if you decide to use our service(s). Please run, there are better companies out there, AT&T is no longer the an American company, they are a terrorist company. I am actually embarrassed that I chose to do business with them.
A representative came to my house to sell me ATT Uverse. I reluctantly took the service and have had nothing but problems since. First my bill was more than I expected. Then a piece of equipent went bad. I was told that I would have to send it back within certain time. I had to drive 35 minutes to turn in equipment to the closest UPS store.
When I got there, they would not take it because they had no pick up order. Really? Then I had my service cut off because my bill was sent through email along with a million other ATT emails daily which I automatically deleted not realizing a bill was included. When I called to get this mess straightened out I was charge a huge reconnection fee. They would only take the charges off if I agreed to let them automatically draft my bank account. I had enough. I canceled service and was charge an early cancelation fee.
I refused to take equipment back since it was a 35 minute drive and was sent a prepaid UPS box to mail it back. I sent it back the next day after I received it. That was in January and I am being billed for this equipment, even though I have a receipt from UPS with tracking number and signature of person receiving it.
I have made numerous phone calls and ATT just can't find the equipment. Now I have been turned into collections. AT&T is the worse company I have ever dealt with. THEY SUCK!
Tamisha Wilson
from East Orange, NJ
I joined AT&T last April based on a promotion for the iPhone, buy one get one free promotion. Based on this I opened 4 lines. The BOGO promotion was supposed to go into effect after 45 days. It never happened. I have made over 12-15 calls to ATT since May/June trying to get this resolved. I was told it takes 2-3 months for the BOGO to go into effect. Again, not what I was told when I joined. After 3 months still no BOGO. I have called, I have spoken to multiple supervisors, I have had multiple tickets opened, all with no resolution.
I am being told today that a ticket that was opened on 8/22 as urgent is still not resolved. I am also being told today 9/7/16, that it clearly indicates that the BOGO should have gone into effect for me, but it was put in incorrectly?? After 3-4 months of me paying over $300/month, this can't be resolved? I am also writing a complaint letter to corporate headquarters with a more formal complaint, including names of the repa sand supervisors I have spoken with. I have had cell phones for 20 years and this is the worst customer service I have ever experienced. I would never recommend ATT to anyone.
Kristen Painter
from Fresno, CA
I am writing this formal complaint, because we have been lied to for the last time by one of AT&T's "professional" customer service representatives. Let me start out by saying, we have been loyal AT&T customers for many years, more than I can count and when we went into an AT&T store around June of 2015 to upgrade our phones and were talked into switching to Uverse from our current Comcast cable is when this all started. The representative in the store went through his whole spiel about the Uverse package and how it would save us money.
We liked that idea and had had some issue with Comcast in the past, but our only concern was that we had already paid for the MLP Xtra Inning's package through Comcast and it was only 1/3 of the way through the baseball season at that point so we wanted to make sure we would still be able to get the MLB Xtra Inning Package with AT&T Uverse. The rep at the store said "absolutely" you will and the Gift Card you will receive will make up for the money you lost with already purchasing it with Comcast. It was 189.00 for the package and if I remember correctly the Gift Card was for 200.
So we agreed to switch and were told that after they install your service, you can call to order the MLP Xtra Innings Package. Well, AT&T Uverse doesn't carry that package we found out when we called to order about 2 weeks later. We had already canceled Comcast, turned in all of our equipment, lost our money we had paid for the package with Comcast and your service tech ripped out all of the Comcast lines to our TV's. We have 5 TV's with cable boxes. The only thing we got after we called to complain was, we are sorry you were misinformed, this happens a lot when customers purchase services in the stores.
2 months ago I called to talk to someone about getting another Promo, because our year was up and our bill would go up over 100.00 a month. I either wanted to dropped some services/channels or get another promo so our bill would be about the same. Comcast did that for us every time our year or 2 year agreement was up without hesitation. I was told at that time, that they couldn't offer a new promo, but would continue the same one we had for 6 months and to call back in December.
Last month I received our bill and they did not extend the promo, our promo was over and our bill was way more than expected. So of course I call to find out, tell them I need to drop some services and ask why I was told the promo would be extended for 6 months. The rep saw the comments on my account and apologized, he wasn't sure why it wasn't applied, but told me he was able to adjust the bill and told me how much to send for payment to make the Uverse account current.
I don't remember the exact amount, but I think I paid 196.00 for that month. At that time he said if you combine your Mobile bill and Uverse bill it will save you 30.00 a month, so I agreed to do that. He also came back on the phone and said "I have found another savings for you, if you change your mobile plan to unlimited data and it will save you another 30.00 a month". To that I asked, that's funny last year you had us change from unlimited to our current plan to save money. He said it's a promo that we are offering at the moment. I said my only concern is that with the unlimited we can't use our phones as 'Hotspots" and that is the main reason we went from the unlimited last year to our current plan.
He told me that we still have the ability to use the hotspot on the phone. Well, that is not the case, because the first time we went to use it, it was not available. We called to complain and of course were told, we are sorry you were misinformed. So we opted to switch back to a plan that allows us to use our hotspot. He also told me that AT&T was "giving" me a tablet and I would not incur any costs associated with this. I asked him what is the catch? He said nothing, it was a gift and it would not cost me anything per month. It would just be added to our data plan. I got an email saying this would not ship until I accepted the terms and conditions, which I NEVER DID. It showed up a few days later, I opened it, turned it on and played with it for a few minutes and it has sat on a shelf since.
Yesterday I opened a bill for $588.62, you have to understand this was shocking to say the least, it said I had a past due amount of $233.22, which I now understand is because we combined our bills and not only am I paying for last month mobile service, I have to pay ahead for next month's mobile service. Which was never explained to me, but I understand. This needs to be explained to customers, they are basically paying for 2 months on the first bill, and this is tough for most people who are on a budget. The upsetting part about this bill is I am being charged a monthly fee for this "tablet" and the phone number associated with it. I was never told it had a phone number, I don't want nor do I need another phone number.
I was also told yesterday when I called that there is nothing they can do (Theresa from the WV office) because I accepted the terms and conditions on 8/4/16, which I did not, I specifically refused to do it until I saw the first bill and was convinced that everything I was being told was the truth. There was never any mention of this tablet being on a "2 year contract" when I was "given" it. Makes sense, because I would have questioned a contract, when I was told it would cost me nothing per month. I did not accept the conditions, and neither did anyone else in my household. I would like to turn this tablet into a store and have this taken off our account.
I can understand being "misinformed" maybe once by your customer service reps, but this has been multiple times over a 14 month period. I have spent hours on the phone trying to get these issues resolved and now I have to somehow come up with 588.62 when I usually pay about 390.00 a month for our services.
I have also requested a call back from a supervisor and the representative that "GAVE" me the tablet and that has not happened yet. I know you are a multibillion dollar company that I hope takes pride in your honest employees. Well either we are extremely unlucky that we got 3 of your "dishonest employees" or you have some serious customer service issue. When I call it says that the conversation is recorded, I would like someone to listen to that conversation from last month with the employee that changed us to unlimited date and assured us that we would be able to use our hotspot and about giving me the tablet that "would cost me nothing per month". See how dishonest he was, "just to get a sale".
Looking for a resolution in a timely manner. I am sending this complaint into the corporate offices today.
S. Gravel
from Rochester, NH
I was on the phone for an hour trying to add a service to my mother's land line phone. I called the number on their website for New Hampshire customers and I was told I was calling for South East customers. In all I was told to call 5 different numbers (some of them the same ones I already called). The last time I asked to speak to a manager but was put on hold for another department. I finally hung up. Changing over to Fairpoint. Everyone I talked to (but 2 people) had accents and were very hard to understand. I have never had such a problem in my life as this.
Kara Burgess
from Columbus, OH
I am done with this company it has the absolute worst service and absolutely no help when needed. I used to love this company but as of now I give you a negative 20 stars.
Reginia Abdul-Mateen
from Houston, TX
I noticed that my back gate was open and went outside to close the gate. At that time I saw a MAN ENTERING MY BACKYARD! I asked, "who are you?" He did not respond and I ask again. His response was, I don't have to tell you anything! He finally told me he was fixing a phone line. I asked him why was I not informed as I had been in the past. Once again, he told me he did not need tell me anything. In the past, when AT&T company works in my backyard, they have left a tag on my door to inform me that At&T would be working on my property. This was upsetting because I live alone. This was a serious safety issue for me.
jenifer dillow
from West Dundee, IL
I closed my business in mid October and when I canceled my service with AT&T we put in an order for an intercept number to be put into place so that my customers would know how to get a hold of us. This was all suppose to be in place by October 26th. I have made a total of 6 phone calls to AT&T to get this started and each time I am given a new conformation number and told that an order will be placed and it should take about 6 days. Once I was told it would take 4 hours. Tell me, why would a new order need to be placed with each phone call? The order was started why is no one taking care of it? I am in Illinois and I am losing business because you are not doing what you told me you could do. Believe me...EVERY SINGLE CLIENT that does find me or my stylist DOES hear what a lousy job AT&T is doing!
Tim McAllister
from Fort Worth, TX
My auto refill for my cell phone did not process (1st payment) and I got the 7535 message and made the call. My plan is $40, but all they want is $45 and next month I may be reinstated to the $40, etc. Long story short, no root cause of the problem, at&t customer service reps can not help, supervisor, no help and then the manager hangs up on me. I would pay the $40, but immediately wanted to be reinstated. I was read the same script by everyone I talked to, not one person could make a $5 decision to make a customer happy. So to get my service, I made the $45 payment with a new rep. Asked to speak to another corporate AT&T manager to voice my displeasure and wanted a contact to escalate the problem to. AT&T has no email accounts for complaints, nor anyone to address these kinds of issues to. But I was offered a snail mail address to at&t in ft. wayne, in. No person just at&t. If the bird has it's head in the sand, guess everyone is happy. NOT What ever happened to good old fashioned Customer Service? And treating people with dignity and respect? Now, it's all about the money.
Jerry Lopez
from Moorpark, CA
AT&T fees for TV, phone, and internet are out of this world, The worse thing is that they are an American Co. and they have just moved their customer services out of the country. When you call or email AT&T for any service, you are connected to the Philippines, and you can no longer speak to anyone in the US. How many jobs did they cut in the US? They should be helping build US jobs, and they are sending them out of the country. I will not support this anymore and will be switching my phone service to another company like Verizon or T-Mobile.
Louis M Aiello
from New Castle, PA
I am so fed up with AT&T, as my wireless carrier, which I've had for the last 10 years. Their customer service stinks, no one solves your problem, and you can't get a callback from them. Recently, I tried to upgrade my phone, which would cost me more money, went to the chat session and after about 45 minutes online with a service rep.- she told me she couldn't help me. I called customer service, and got nowhere , I asked to speak to a supervisor, naturally none available, but one would call me back, Right, that was 4 days ago. Seems like AT&T cares more about getting new customers, than worrying about keeping the ones they have. I am so sick of getting offers from them, which I can't use, because it applies to new customers only!!! This is not my first incident with them either. I am going to Verizon, or Sprint- see if they are any better!
Helen Peterson
from Spearfish, SD
WHEN I WENT TO RENEW MY COMTRACT I HAD ONE OF THE WORST EXPERENCES I HAVE EVER HAD TO DEAL WITH IN MY 61 YEARS. I went to the local store explaining that I wanted to renew 4 of my 6 contracts as the were expiring in under two months... was told I could do this BUT I could save money doing the NEXT program RIGHT!!! I did not fully understand this program I and tried to explain this to the sales man but of course he just kept saying this was better . I ended up getting 1 blackberry which will cost me over $499.99 @ 15.00 a month over 30 months (that's almost 3 years ) more than it would have on a 2 year contract with the phone costing .99, 2 other phones for 199.99 at $8.99 over 24 months this does not include the monthly charge and taxes on each phone.
Not only is it costing me more but I received a different phone than I wanted. They gave me a TO-GO PHONE.. I told them that I do not text or want a smart phone but a simple flip phone with a camera as I have problems hanging on to a phone with arthritis and drop my phone. The one they gave me I just found out has not camera!! This phone cost me $5.00 a month for over 18 months RIP OFF RIGHT I tried to return it with in 5 days informed it would cost $40.00 restocking fee and I then I would be charged this and have no phone. Now I have a phone without camera and a phone with a small screen small numbers. Of course calling AT&T does not help because the 15 day grace has now expired ( nice rule right) I wish we had a different cell phone company besides AT&T or Verizon out here in South Dakota.
Rick MacInnis
from Pompano Beach, FL
I have been dealing with AT&T for months trying to get a credit on my company's DSL line and it has yet to appear on my bill. We are now moving (to a place with better internet service) and have transferred the service to the landlord and they are charging me a $120 early termination fee. They have the worst customer service policies and it seems no one can issue a credit the same day on the account. They are operating in the dark ages!
Thomas Cooley
from Greer, SC
Ever since I have been with AT&T I never know what my bill is going to be. It has ranged from $27 to over $200 a month. I am supposed to have basic phone for about $16 and high speed internet special for $19.95. I was told my bill would be $36.44 per month.
After I kept calling someone decided to lower my internet speed to as slow as it would go. After calling I got someone who told me I should have the high speed internet for $19.95, so she set it back. Then I get a letter on May 4, 2015 that said my high speed would be $34.00. My total bill was only to be $36.44.
Does anyone know what they are doing at AT&T?? Each time you call customer service you get a different price for Phone and internet. I got this special deal back in November 2014 for one year, but have never got the special price I was quoted. I'm sorry I don't have another choice at this time, but when I do I will leave it with AT&T.
Edward James
from Indianapolis, IN
My bill went from the end of the month in December. I agreed to U-Verse, then it went to the 14th of January. Now it is saying it is due on the 10th? There has only been two months with 31 days since then. I am being scammed by AT&T crooks. I was told by Rosanna when I spoke with her on Dec. 19th. that my bill would be no more than $130 a month with taxes. Rosanna called me on Dec. 20th from a 702 area code to make sure AT&T was doing what we agreed upon in order for me to accept and agree to our contract. A 40" television was offered. I didn't receive a television.
The contract was supposed to include me being hooked into the U-Verse lines, and I wasn't until near Feb 2015. I have had old Lead lines at the back of my house for 5 years. Lead is degraded Uranium. Every time it would rain my phone would go out. This happened so much, there were time I didn't even call because so many thugs would come to my home and spend multiple hours at my residence looking at the box on the back of my house, and it was always the same thing, the old lead lines. Creeping my bill earlier and earlier each month will cause me to have to pay an extra bill in two years. YOU ARE TRYING TO ROB ME!!!!!!!!!!!!!!!!! YOU HAVE LIED TO ME, AND CHEATED ME!!!!! YOU HAVE GIVEN ME HORRIBLE SERVICE FOR YEARS!!!!!!!!!
Clara Schollian
from San Diego, CA
I closed my AT&T account on January 31, 20015, witnessed on that date by 4 persons. AT&T is still billing me more than I originally was billed every month since I closed my account. One month it was over $300.00!!!! Every month on the 2nd I am billed by you taking my money from a bank account. I finally had to close my account. I am 81 years old and have a fixed income. I have to borrow for gas and other items as you take all of my extra money from an account that was closed back on January 31, 2015. Give me back my money.
Now you have started to charge me an additional bill for my phone; no account number visible, verified by a customer supervisor. I DO NOT HAVE AN AAT&T ACCOUNT. I HAVE COX. I WANT AN IMMEDIATE REFUND FOR ALL THE CHARAGES YOU TOOK FROM ME WITHOUT MY PERMISSON. ELDER FRAUD IS JUST AROUND THE CORNER ALONG WIWTH ELDERBUSE AS I AM DEVISTATED, DEPRESSED AND ETC. BECAUSE YOU ARE TAKING ALL MY MONEY AND I HAVE A CLOSED ACCOUNT WITH YOU. Immediate action needs to be taken NOW.
We noticed a charge to our home line for long distance. Since our plan with AT&T was for unlimited free long distance, this was naturally a cause for concern. We called the customer service line and they looked into it, explaining that we were "slammed". "Slamming" is basically a scam where one company calls AT&T (and I presume other carriers as well) and tells them that you have authorized the new long distance carrier. AT&T says "Okay!" and starts incorporating their charges into you AT&T bill. That's it. No phone call, email, text, carrier pigeon, smoke signal; nothing to the customer from AT&T asking if you did indeed authorize there change.
When I call AT&T, I have to answer 57 questions to get a customer service rep to agree that I am the person on the account. But they just take "company XYZ" at their word? And why in the world would I switch from free long to distance to paying for long distance? Anyway, multiple phone calls to the customer service line, dealing with multiple people, all who have said that it was indeed fraudulent, will be taken care of, and that it wouldn't affect my services. That was December. This is almost May. Since then we have had our internet service suspended every month when the new bill posts. Suspended for non-payment. Non-payment for a fraudulent amount. Each phone call results in a long wait, a long discussion, and MORE assurances that it will be taken care of. Assurances that all they're waiting for is "company XYZ" to reverse the charges. Does that make any sense?!?
Now my internet is completely suspended, until we pay the outstanding balance. The FRAUDULENT outstanding balance. This is after months of paying our bill, our legitimate charges, and having internet restored in 24-48 hours. Now, I'm being told that we have to pay the entire amount, and that the money will be refunded to me when the discrepancy clears. Right... In supposed to take them at their word after months of fighting with this. And just fork over $300 dollars, which, if I get back will probably be in the form of a bill credit, instead a cash refund.
I would switch carriers, but I live in an area where I need a land line due to spotty cell service, and they are my ONLY option for internet, other than satellite. I just want this cleared up and some acknowledgement for the insane difficulty it has taken thus far!
Radha Petaru
from Shrewsbury, MA
Such a worst service.I have been their customer for 15 years but seriously i am planning to change now .I called in for a data issue to the customer care as i am in a family plan of 6 lines and they offered me a extra line with discount.I wanted to move my daughter from Tmobile to ATT and took the new plan as well and bought an Iphone 13 .In my first phone call i was with the customer service agent for 2 hours ported number from tmobile and paid the service fee.Instead of giving my address (boston) they sent the phone to my brother(phoenix).I called them aagain and with 2 hours of back and fourth the agent said she cant cancel the first order and assured me that they will send me a return label to my brother's place and ordered a second phone again.First phone didnt get the return label and i had to call for 3 times and the second phone its been 1 month i again ported the number one month back and still says shipping status "Working on Orders" .April 29th i did this order and still no phone yet Order Number : 56-801000052770644.Shut Down the business .
pamela Churchill
from Ashburn, VA
I had $969.17 taken out of my bank account due to you not recieving a phone back and my trade in.
I called and called I chatted on line, I was told I should have taken a picture of the return label. I didn't even think about taking a picture of it due to due to a daughter diagnosed with stage 4 cancer and a husband who have cirrhosis of the liver. The last thing I was thinking is take a picture of the label.
Both the replacement phone and my trade on phone where in the same box "yes you can put them together" I was pretty much accused of keeping both phones. I am 58 years old the last thing I want are 3 phones.
That being said I stopped my phone with AT&T, stopped any monies coming out of my account. Now I have 2 new phones that are about 3 months old and are unusable. So what do I do with these phones seeing as though they are not that old I would expect some reimbursement when I turn the phones in. Since I no longer trust you company I will not bring them to a store and not get a refund, and do not want to hear we need to look at them then we will send you the money value of the phones.
I want to thank you for the $969.17 taken out of my account along with the over draft charges I was charged.
Thanks for nothing
Beverly A Barnhouse
from Farmington, MI
I have been without landline phone service since a week ago last Saturday. I have not had service for at least 10 days! I have a disabled child with epilepsy at home who is bedridden AND I CAN'T GET A HOLD OF HER TO TAKE HER MEDICATIONS because of no line. I HAVE CALLED REPEATEDLY AND KEEP GETTING TOLD THE LINE WOULD BE FIXED AND THEY GIVE ME DATES BUT NOTHING IS DONEin Royal Oak, Michigan. I understand that 13 people in my apartment complex/neighborhood are without phone service.
Enough is enough. I understand it is a sliced or broken cable problem. FIX IT NOW OR BE SUED IF SOMETHING TERRIBLE HAPPENS TO MY KID BECAUSE SHE HAD A SEIZURE. WE DID NOT EXPECT OUR PHONE TO BE OUT THIS LONG!
Erie Nagle
from Manor, TX
My ATT Universe bill has become so terribly expensive, it's hard for me to keep up with it. My monthly bill for my home phone, cable TV and internet is now $122.24 each month. I call ATT and speak to an agent each month and ask for some assistance with this bil. Some months, the agent is able to reduce by only $10 and some months the agent is able to reduce my bill by more, which help out a lot. I don't know what else I can do. I used to quality for promotional offers, which extended a year, but I may be out of promotions. I can't remain with ATT if this bill is going to e $222.00 per month. This is outrageous !!!! This Sunday, May 21, have started a case with ATT which is. M75679365. I don't know what will be the outcome of this case. I don't know what else to do !!!
Patrick Kalischko
from McAllen, TX
My mother's phone line has be out for sometime. Her number is 361 575-0105 and her name is Evelyn Kalischko. I am a schizophrenic man that is her son. My sisiter lives with my mother and she is schizophrenic too. I think At&t is taking advantage of her service and she has two children with mental conditions.
Kristin Stewart
from New York, NY
I did an upgrade to one line. It would not let me do it myself online so I had to call ATT directly. I traded in a fully paid off Iphone 11 Pro Max for a new Iphone 14 Pro Max. I received the phone no problem. I didn't receive a trade in kit. I had to call back on 02/27 to get a return label. I sent the old phone back on 02/28. In March, I didn't receive the trade in credits. Called ATT and they said they did receive the phone but they were still looking at it to call back. Just got the cell phone bill and it is still wrong. Been on the phone with ATT and they said the reason the promotional credit was not applied because the genius that took my order did not create a trade in order and because it is past 30 days, they cannot adjust it. So now because of a negligent employee at ATT, I will be losing hundreds of dollars and they are unwilling to fix it. It is almost like theft.
Nancy McCaffrey
from Winston-Salem, NC
Added two iphones to my AT&T and had to pay the taxes. This was on 5/13/2023. I was called today because the girl was 10 dollars short and if I do not come in today before 6 pm she will have to call the police. First this is not my mistake and second it is Mother's Day and I have never in my life heard of anything so ridiculous. I will not deal with this company any more and I will tell anyone that will listen what a horrible policy and company this is.
Rafi Hasan
from Bloomington, IN
To Whom It May Concern:
On 5/10/2023 I visited the AT&T Store Bloomington Whitehall Crossing. My objective was to upgrade the I-phone on my account. I was immediately greeted by a Customer Service representative who appeared to be very accommodating. He correctly requested my identification to prevent fraud protection, however, I had forgotten my identification at home. He politely apologized but I understood. Being a victim of fraud, I was pleased that he held firm to the policy. I returned to the store 30 minutes later with ID.
I had informed him that I wanted to upgrade on my account, and I wanted to learn of all options that would maintain my bill at the same price. I had informed him that two of the 3 lines on the account were for iphone 8 and one for an iphone 11. I did not necessarily need to upgrade to an iphone 14. He briefly looked at the 2 of the 3 phones that I brought with me and discussed upgrading options with the I-phone 14. I informed him that I spoke with a customer service representative over the phone that mentioned the Loyalty Department discount and the trade in value for my phones. This is where our conversation soured.
-The representative denied having knowledge of the Loyalty Department
-Quoted me a different trade in value for my I-phone 11 Pro Max than the Loyalty Department
-He failed to inform me of discounts that I may qualify for considering my spouse and I work for local government and public education.
-He accessed my account but made no effort to review my account.
I ended the conversation with him by explaining that I was dissatisfied with the customer service that I was receiving. It was clear that he was insistent upon providing me with one option to upgrade the phones to the iphone 14.
I will never return to the store, and I will tell others not to visit the store.
Shonda Harris
from Carmel, IN
I Call AT&T to see what I could do
about almost $4000 cell phone bill I have four phone devices one watch trying to see about me continue to use the same phone and going back on my payment arrangement to pay off devices . They kept Given me the runaround they said they wouldn't be able to help me the only person that can help me is Collections I asked them to Go ahead and transfer me to collections they had me on hold for 40 minutes someone else picked up the phone It still wasn't collection-if it was not collections I have been talking to them for about 20 minutes before I discovered they still wasn't collection so I asked that person the second person can they transfer me to collections They put me back on hold and some woman got on the phone yelling talking about my Internet bill so I was wondering how did I get on the line to talk about my Internet bill when I'm trying to reach collections she hung up and I called back again Still didn't get to collections I don't get it if you calling discussing something Out of their lead I thought they automatically suppose to transfer it now is a hour and a half later and I still haven't Talked to collections I don't even feel like getting back on the phone all night again.
Martha Hoyle
from Graham, TX
Ok I order. A iPhone 14 pro max for my grandson in March .some how it was put on lost and stolen list. This is is 1st week we got it.Now these was March 2 it was delivered. I have been in contact with them at least 6 times I ask for a new phone but was told your past of getting refund . I said that's you guys fault I been calling you for 2 months All I one is to exchange phones. I have exhausted myself from hearing oh it should work now. Well I'm here to tell it doesn't. Either give me a refund on r new phone. The phone I'm having trouble with number 817 583 9107. I can't believe company big as you people can't send damm new phone out crazy
Blake Jeffery Ellison
from San Diego, CA
Ive been with Att for a long time, just so you know. I went in to the Riverdale Utah AT&T store last weekend to either buy a new phone or get a case they could have cared less whether I was there or not...the same thing happened today in the Layton Utah store I went in to check on a new phone or get a case and they acted like they could care whether I was even there or not, I was working around Mountain Bell, doing installations back when it was Mountain Bell, and the attitude back then was a whole lot better than it is now. I'm thinking about switching carriers
John Myatt
from Greenbrier, AR
I was told when I got a samsung galaxy watch my bill would only go up to 274 dollars I receive a text saying next month's bill will be 526 dollars and every bill after is 435 dollars a month 2nd time I have had a problem with at&t store and at&t company not on same page basically lied to.
Susan Herweck
from Chicago Heights, IL
Very tried of my internet and home phone service, this has been a ongoing problem. I am tried of calling and waiting for tech to come out. I have been doing home class's, and my internet and home phone. Can you all JUST FIX IT or DO I HAVE TO MOVE TO ANOTHER COMPANY !!!
Very Upset !!!
Lisa A Efferson
from Dallas, TX
Att&t sent me a bill for an acount I never opened that is 15 years old. They told me it was open in 2009 and closed in 2011. Then reopen in 2023 .why are they trying to bill me for this and I haven't had a phone with at&t since 2003. They just keep giving me the run around. Nobody can help me. I've talked to five people and no resilution.
Alexandria Goldich
from Las Vegas, NV
Your customer service is Absolutely Terrible. They're very unprofessional. Anyone I speak to. I sent back a phone I got for my daughter cuz she broke hers. When I got the phone I didn't need it anymore so I sent the phone back ( never used it ). My service keeps getting shut off cuz they won't credit me for the phone which was received on March 3,2023. Everytime I call all they want is payment. When I explain the situation they instantly get nasty and don't want to help me with this credit until payment is made. When I asked to speak with a supervisor they say they'll transfer me but they hang up on me Everytime. I don't know what kind of business you're running here. I've been with you 12 plus years and ready to go else where. If this is not resolved Now !! I'm also reporting you to the BBB ( better business bureau). I'm not paying for the 5 times my phones have been shut off. !!!!! So fed up with this. It's a credit of $168.00.
Troy Crumedy
from Miami, FL
A whole joke. They only work with you under their terms. No sympathy or understanding at all. And I've been with them for years!!!!
Lisette R. Castro
from Baltimore, MD
Hello, I decided, after 20 plus years with Sprint/T-Mobile to try AT&T, given a new location opened up from my home. I was able to swap out my phone for the new S22Ultra in July 2022. I am a faithful customer and believe in great customer service. Easter Sunday, my phone would not make calls, receive calls, sent/receive text messages, however, I was able to use social medial and log into my bank accounts.
1. I called customer service, was told my sim card was bad and I would need wireless network to connect and have an esim card issued. I was outside of my home and was scheduled for two appointments, two different locations and both locations were close. 2. I called back once home, on EASTER SUNDAY and spoke with Pamela, was her name. After about 1 hour or more on the phone, I was told, their was fraud on my account and a manager was not available to override this "fraud". I should expect a call back on Monday or I could go in to the nearest AT&T store. 3. I went to the store near my home, the sim card was replaced, I made a call. I arrived home and my phone would not make a call or sent a text. Back to the store, to call customer service because I have not working phone at home except my cell phone. We call customer service and they try and trouble shoot and advised me I need to be HOME to receive a call and trouble shoot. Well, no other phones at home. I locate a phone and the representative, Jade, does not call me back after texting with her on another phone. 4. Meanwhile, Monday, afternoon, Pamela, the rep I spoke with on EASTER SUNDAY, advises me there is a "Network outage" in my area and it will be fixed in 5-7 days. She will issue me a credit for 7 days and would call me to see in ONE WEEKS TIME if I can use my phone. Wow!
5. Back to the store I go, I speak with someone from the AT&T stores phone, they confirm THERE IS NOT NETWORK OUTAGE in my area. My son is now home, he has att and his phone works perfectly fine. 6. I forgot, I requested to speak with a manager at some point, Monday evening, Allan is his name. He advised me, he will send me a replace phone, I go to Att.com/claims, confirm the claim and I should have a phone in 1-2 days, sending priority and an email with tracking number. Meanwhile, he tells me to visit UBREAK for a diagnostic and see if they can help repair the phone. 7. My phone has several errors per the diagnostic, I have the report, I cannot upload it from my gallery because my phone does not work. 8. It is now Wednesday, I have no tracking number and no phone. 9. Back to the store, they advise us to call customer service again, once my info was provided, the rep hangs up on me. 10. Back home, to beg and borrow for a home, I spend 2.5 hours on the phone yesterday, ONLY TO CONFIRM there is no claim for my phone with Asurion. I explain this above debacle to the reps and finally, another claim is processed, I go and confirm the claim and after the call. The rep tells me, "oh, your phone is under Samsung warranty". You will not get a phone from us, let me transfer you to the warranty department. 11. I speak w/ Warranty, they submit the claim, I have a tracking number which DOES NOT WORK and CANNOT TRACK my package. 12. I has for higher support, I advise them of this debacle and advise them I am disgusted, embarrassed, annoyed, frustration and repulsed by the lack of true concern and care for a newer customer now with no cell phone service for 4 days. They cannot release me, I can pay the 900 and I can go elsewhere if that is my preference. Is that all sir? Is that all you can do for me Justin, ID FZQ9? Ok, thank you. Today, Day 5, no phone, no way to track a second phone which was allegedly shipped. 13. Back to the store I go to see if they can confirm a shipment, can I upgrade, do they have a loaner phone, what can they do? Michaela, the manager allowed me to use the phone and asked the reps to please assist me in order to retain me as a customer. Today, still not call from Jade, the rep, who does text my phone, which I can periodically receive, however, I cannot respond and do not have a way to call her give MY ONLY phone is the phone I believed would serve as my primary phone.
All of this to say, I am utterly, completely and whole heartedly sadden by the way ATT and the reps have handled this matter. I was lied too about a network outage, hung up on, bounced around, lied to again about a phone which was never sent, yet, today, Day 5, no phone .
I intend to honor my contract to pay for a phone that is no working and I will be leaving ATT to a provider which values my hard earn dollar and it's customers.
Thanks for your feedback!
Sorry. Please try again later!