AT&T
AT&T Complaints Continued... (Page 2)
1219+ reviews added so far. Upset? Call AT&T corporate: 1 (800) 331-0500
BEWARE OF THEIR DEALS. DON'T ACCEPT ANY TV OR PHONE SERVICE.
Clearly got scammed by AT&T. I was suppose to get $250 reward from AT&T. Only got $150. Contact AT&T and they told me to wait until the end of the first month to see if the remaining comes to the mail. Cancelled my first month of TV because I only wanted it for the reward. Contacted AT&T after the first month of TV. They state they cannot give my $150 because my service is cancelled. YOUR THE ONE WHO TOLD ME TO WAIT UNTIL THE TV SERVICE ENDED. They clearly knew that by waiting until the TV service end they don't have to give me my reward. PROFESSIONAL SCAMMER. Was highly thinking about going for AT&T phone service. Clearly not even worth the money. Who knows I'm not even going to get that $250 reward from the phone like they said.
Lee Clinefelter
from Oklahoma City, OK
No part of your company works, I was on the phone for 2 hours with customer service to work to correct issues and still did not have enough time, requested a call back with the customer service agent stated would happen and still nothing. Fire everyone involved in your process and start over.
Joe Bassi
from Brooklyn, NY
My wireless signal at home in Bethany CT is terrible and has been for the longest time.
Trying to find out why is like trying to cut off your own arm. It seems that people don't man the phones any more and if you're lucky to get a person they are from some other country and don't have a clue for why the wireless signal sucks.
I'm really disappointed. It looks like the time has come to dump ATT.
Glenn Hall
from Silver Spring, MD
On Saturday, September 5, 2021, I went to the AT&T store located at 10729 Columbia Pike, Silver Spring, MD 20901 and spoke with the customer service representative, Timothy. I told him that I had gone to the AT&T website to receive the teacher appreciation program which offered qualified teachers a 25% discount off their bill if they added four phone lines to their service. My family and I have been customers with AT&T for over 15 years. My wife (Jennifer Hall) was in charge of our plan to begin with and I took over the account in 2018. I traded in four iPhone X's that met all of the trade-in requirements in order to receive the $700 discount that the promotion provided if my family turned in their personally owned phones. I was told by Timothy and the manager of Ben that my total bill would be $214.88 and that included surcharges and government taxes. I looked at my AT&T online account today and was shocked to see that my next bill would be $380. I called customer service and spoke with DJ who said he was unable to help me and that he would have his supervisor call me. I received a call from a supervisor named Jam. I explained my situation and how I was lead to believe that my total bill per month would be $214.88 including surcharges and government taxes and the only solution she offered was to downgrade my wireless plan from Unlimited Extra to Unlimited Starter which I told her was unacceptable. The only option she said she could offer was to change my plan. She did not offer any other type of help to resolve my issue no matter how I pleaded with her. This is not the first time that an AT&T customer service representative has given me the bait and switch offering me one plan for one price only to find out that I have been lied to and that the plan I signed up for is far more expensive than my budget could afford. This is not the first time that I have been treated like a second-class citizen by AT&T. My family and I have been going month to month for the past 10 months trying to figure out how we could transfer our service to another company so we wouldn't have to be abused by AT&T anymore. We are just tired of being constantly getting the run around by the customer service representations we have spoken to. In the past month or so, I have been told that I could not speak to a supervisor, hung up on more than twice and spent countless hours on the phone trying to understand why my 15% teacher discount has not been applied to my bill when I signed up during COVID. One customer service representative told me that I did not meet the requirements and I had to take my active teaching certificate, current school ID and a letter from my principal to a brick and mortar store in order to have the discount processed even though it stated that I was supposed to receive the discount in on my account. The only customer service representative that helped me was Jessica who filed an investigation for me to inquire why the discount hadn't been applied for months (case #20210903). Other than that, I have received absolutely NO help from any of the customer service representatives I have spent numerous hours talking to either on the phone or in chat. I am seriously considering paying the opt-out service charges and canceling our contract in order to move our service to another cellular company that might possibly treat us with respect and dignity. My family and I have been dealing with these issues for far too long. As I said, when we signed up for the promotion the website stated that the Unlimited Extra plan was dropped to $30 per month if four lines with added to the plan. That included new and previous customers. It also said it included HBO Max which it does not. Once again, at every turn, AT&T has lied to us and pulled a "bait and switch". No one can help us just receive what we were told to expect. My wife and I are both teachers with two children and on a very limited budget. We do not have $380 to pay each month for cellular service. If you look at our account (#418093619867) you will see that our bills rarely stay the same amount. It has gone from $297 to $211 and anywhere in between. How can I make a monthly budget when I do not know what to expect each month with my cellular bill? I ask people if they experience similar billing issues with the other big three cellular companies and the answer is always "no". If you listen to the recorded conversations I have had with your representatives, you will hear how uncooperative they are and do not try to resolve the situation to the customer's satisfaction. I thought taking notes would help document all of the information I have been told when trading in our phones and purchasing new ones, but what I should have done is take screenshots of the promos from the websites because I have been told by Sum (supervisor) that they did not exist. I told her that she really should not lie to a customer and definitely patronize a customer. All she continued to say was "I'm sorry sir, but there is nothing I can do to help you". I am trying to file this complaint first before I take matters to the corporate level and BBB. I just want the deal that I was told I would receive with having to downgrade my plan from Unlimited Extra to Unlimited Starter. I do not think that is too much to ask for from a loyal customer. Again, check the records to see how long Glenn Hall and my wife, Jennifer Hall have been customers of your company. You would think that after this long, the last thing your company would want is to loss us to one of your competing companies which I do not really want to do, but I feel like I am being forced to by the constant mistreatment and abuse. I sincerely hope that this message is read in it's entirety. There is a lot more I could write, but that would take pages upon pages. I could write an entire summary of my experience with the buy 2 get 2 free iPhone X promotion that AT&T ran two years ago from this past November 2020 (I think the promotion began around 2018).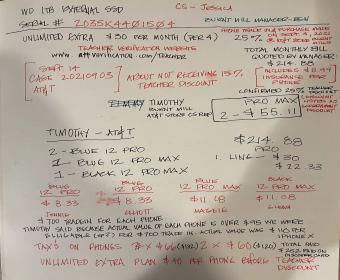 Brenda Martin
from Meadville, PA
On Sunday, August 29, my husband and I entered your Meadville store 4:50 PM. It was difficult to tell who was a customer and who was an employee as nobody there appeared in a professional manner. We were approached by a young man who told us we were second in the waiting line. He took our name and reason for visit. Seven other people came in, waited a half hour or so and left. Initially, there were two "technicians" assisting people. When the one technician finished, at approximately 4:35, she left the building and we saw her drive away. As she drove away there were seven people waiting for service. At 4:50, the individual who left returned in her car and sat in the parking lot. That left only one person, Jasmine, the manager, to assist customers. What a shame. Seven people left the store in frustration. At 5:05, we were called to the table. The store was now empty. Jasmine was attempting to assist us. We informed her that her employee was sitting in her car and she responded "I know". At about 5:15, the other employee walked back,in, sat at the table we were sitting at and never said a word. Jasmine was unable to assist us as she was apparently having "computer issues". We left with our issue unsolved. The employees had a channel with black people arguing and screaming on it the entire time we were present. The atmosphere was disgusting and one of utter apathy. Your "employees" did not care one bit about service or customers and they made it apparent. We understand that AT&T is of the "woke" mentality and as such is accustomed to a nonchalant and uncaring attitude. To us, as customers, however, this is unacceptable. The face of AT&T is forever disgraced in our opinion after our experience. We have begun a search for a new provider. Best of luck to you, you're going to need it with employees like you have in Meadville PA.
Brenda L. Martin M., Ed
Jacqueline Ann Shiver
from Huntsville, TX
No service now being told we have limited service but bill still the same..Use to get full service at home now absolute none ..Even text won't go out ..But that bill rolls in every month ..No credit for no service
Is it asking too much to put a tower up in Glen Allen Mo? Not in Marble Hill or Grassy but Glen Allen. Horrible to have a service that is over priced & can not use it at home.
Boost your signal for rural areas please
Donna Fiallos
from Miami, FL
My internet was shut off without notice my bill was accidentally not paid due to losing my card and number being change on it . I called and paid the past due amount and was supposed to recieve new equipment in a couple days and it has been five days. Now I call and there is a technical problem meaning I owe 50 dollars on the account that they abruptly closed. I must open a new one but in the mean time I am paying over a hundred dollars a month for a TV package why shut off the internet I cant watch the package that I currently have. I am on fixed income and I am sick I am sorry I made a mistake but why am I treated so poorly by your customer service. I was not told I have to pay the 50 dollar balance before my internet box could be sent out. Can I pick it up at the att store I have been without so long and going on two weeks not being able to watch my tv package. Thank you for any help
Jana Everett
from Keller, TX
I sent a payment out on April 2,2021 for $94.95, to the mailing address envelope which I had Att Atlanta Georgia then on May 3, 2021, I sent out a payment for $95..19 on the address envelope to carol stream Illinois, why the address change, to get more money from customers. I heard the att Atlanta Georgia never received the payment so I sent out another payment $94.95 on June 2, for the April 2 bill, my mother 95 does not call anyone. I have my cellphone I use, being her daughter. All she receives is scammer calls who spoof important numbers and call her number and probably charge it to her number. Att is charging her it was $250 but it has gone down to $124, she has to pay for scammer calls I guess , not right, this world sucks, people doing anything to get more money from the elderly customers. Att getting more money by having an att address to Atlanta Georgia and changed it carol stream Illinois.
Eva Mayer-Meek
from Belleville, MI
I have been without a Phone service for more than a week because of a very noisy line, my appointments to have this fixed have been changed several times.I have spend too many minutes on the phone trying to have this taken care of only to be transferred from one person to another or put on hold for 20 minutes or longer so I would hang up. If I where an invalid who needed this phone I would be in serious trouble. I did finally get my appointment on Friday the 23rd and I think I will seriously consider moving my service to a different company.
the phone in case anybody really gives a hood.
Vicente Soriano
from Lemon Grove, CA
The reason is that I am trying to get help with customer service for mistake and unprofessional way of of getting my daughter to upgrade her phone not been honest and wait to the end of the transaction to inform her that her phone was damaged and it didn't qualify for the promotion
Sharon A Shannon
from Hazelwood, MO
I am very disappointed in the customer service department at ATT. I called three times inquiring about my landline phone bill and the credit I was owed. Each and every time I speak to a customer service representative and explained to them the purpose of the call; I am put on hold for so long, I must hang up. As a matter of fact, I'm on hold as I am writing this complaint. The initial hold time was quoted for three minutes, my phone is reading 19:01 minutes. Please feel free to call me back at 314- 731-3122 to answer the simple question regarding me having a credit on my account or credit my bill. Thanks!
willis walthuis
from Los Angeles, CA
over billed me. and will not tell my why owe this money?
James Elliott
from Woodstock, AL
On June 8,2021, I agreed to sign contract to keep internet with att CSR, Karen, sold me the idea after I called to cancel to move to T-Mobie internet. Stated would have it installed quickly. Appt was set for 6/10/21 between 9-11AM. On nite of 6/9/21, att sent me msg needed to move appt to Fri 6/11/21 between 11AM-1PM. I was ok with this. Fri at 140PM, I called att to see where tech was. I was told, apparently, one big old LIE !! Told by rep that tech was held up at elderly Cust to teach them how to use equipment. No problem here, as I am 70. We'll tech never called or texted me, as requested by me, AT ALL !!! Called att again around 5:30PM to find out what was going on. I was told by him, NO RECORD of fri appt. Stated I wanted to talk to supervisor. I was put on hold for 4-5 minutes. CSR got back on line and stated a SUPERVISOR would call me within 15 minutes. NO ONE called at all. At 8:05PM this evening, got msg from att stated they noticed I hadn't rescheduled Thursday appt. SIMPLE question: Do you have to be a LIAR or a DUMBASS to be employed there ? Not kidding about this. Dead SERIOUS !! Apparently, someone got rid of Fri appt, prob to cover own ass. I'm going to call T-Mobile , where.I've had their phones,( now 6 on acct) since 2005. Offered new internet service recently at about same price. Whoever gets here first Monday, will get or KEEP my service. I've done all I can do at this point, except for acting like a complete ass and JERK. J Elliott
Szyja Samuel Szniatkiewicz
from Fort Lauderdale, FL
I switched on 05/26/2021 from Fiber1000 to Fiber 300. Special offer for existing and new customers for the Fiberglas300 Internet service ended up with paperless billing, Auto pay and $20 Discount ended up to $45( including Equipment Fee). AT&T denies now to provide this price and stated it would be now $79. As attachment i provide a print out of the published special offer as well the Customer Service Summary which I received from AT&T after I changed my plan to Fiber300. I contacted AT&T customer Service 31 times, they are unfriendly, unprofessional and even threatened to cut my Service off. I don't even want to mention which remarks I had to hear regarding my dialect and age. I`m a low income senior citizen and feel greatly abused from this company! I have the Confirmation from AT&T about this special in written and AT&T customer service ignoring it. Because i live by myself and it is very stressful for with almost 70. So my neighbor copied the AT&T Customer summary from th05/26/2021 and sent formal complaint to the Federal Trade Commission as well to the Public Service Commission of Florida. For me it is not understandable how AT&T treats Customers and absolutely doesn't care, basically lies.
Attached you find the Documents
Diane Bohn
from Ashburn, VA
I just bought a phone from At&t. I just got it today it was not what I order and I have had nothing but trouble from customer service I want a Samsung note not what they sent me since than the AT& t website locked me out of the site asking me to change my password 6 times and I still can not log in I do not want thiscphone I want a Samsung note delivered to my home address it's phone is not working it is slow and I need a note to handle my work I have no car so I want my note delivered to me and they can have this phone back I am not happy when the guy left the phone not set up and than I said this is not what I order the note came with a cover this phone had nothing just the box I am a senior and I do not like to be taken advantage of Diane Z Bohn..465 West San Carlos San Jose art 3105 please get back to me I can notveven down load my files on this little phone my old phone is better than this one but I moved my service to upgrade my phone and to get better service I am shocked I want my new phone Samsung Note delivered to my home they have my payment already no excuses from them
I have had a very bad experience so far with AT&t I am going to be paying allot every month for unlimited service and for a phone that will do the job not this one
My bill has been incorrect and I've been over charged since October 2020. It is now May 2021 and I just received June's bill. Still wrong. No matter who I talk to, I get a different answer every time. Adjustments have been made, yet every month I call and waste hours of my time to get the bill "corrected".
Jay Thompson
from Hanford, CA
Wife put down payment on Galaxy s21 plus. Was sent s21, not plus. Customer service lied repeatedly. Never once did they try to make things right. Called numerous times, was told numerous lies. Haven't been a customer for even a week. Worst experience ever. I am deeply disappointed how they treated my wife and I.
Linda Donnell
from Chicago, IL
I am a longtime AT&T customer, having AT&T service since 1967. I currently have landline, uverse internet, and DirecTV service.
My email accounts do not work. I spoke this morning with Stephanie in your AT&T Atlanta Executive Office who assured me someone would get to the bottom of my issue. She called me before 7:00am CST. She informed me that someone from digital assist would contact me to resolve the issue. It is now 3:05pm CST and I have not heard from anyone. That is not quite true as someone called to try to offer me an internet upgrade to 1 gig. I've tried calling customer support since 1May 6th. I have been transferred to 12 different individuals to no avail. Each transfer takes me to the automated caller system and I wait in queues once I've answered the same questions over and over. More upsetting is the fact I've asked to speak to a supervisor and was not put through.
I also attempted to work with AT&T customer service on May 5th. These sets of calls were transferred and made me so upset that I filed the FCC complaint 4757566.
AT&T is supposed to be a communications giant. Has it gotten so big that it no longer provides customer "service"? It appears the only thing AT&T cares about is making a sale and collecting money; that the customer is having issues with AT&T products is not important.
It is now May 10th. I will continue to try to work with AT&T but have no confidence that anyone there will assist me. I have already discontinued my mobile service and am investigating other carriers regarding internet connectivity. I am also looking to try Dish rather than DirecTV. The only service I cannot transfer is my landline; for that I must remain at AT&T.
Other companies value their customers. Somewhere along the line, AT&T devalues their customers.
Yasir Mahmood
from Costa Mesa, CA
AT&T in a nutshell
5/5/21
-filed insurance claim on broken phone
-rep told me after claim was filed, i had an upgrade and could trade my replacement phone in for upgrade
5/6/21
-received replacement phone, went to AT&T to trade in. Rep (Ana) told me i have to wait 30 days to upgrade with trade in, was told to call insurance and send back replacement and pay for upgrade. We looked at my account, verified me with my id. She said i was eligible for an upgrade
-called and said i was sending phone back and paying for upgrade since i wasn't offered that in the beginning
-waited 30 mins for rep(Ana) while she was in the back of the store (I asked another rep to contact her)
-Ana came out and said her manager said we cant help you as i have a note on my account saying not to touch account this account and she cant tell me why. Told her call manager
-Manager said i have a lawsuit with AT&T(i do not)
- Told me to go to another store or call 611
-I called 611 to verify, said no such thing is true
-Ana told me to leave and go elsewhere
-Jerome (rep on the phone) was on the phone for 1.5 hours with me and verified over and over again that i was not being rude to anyone and was also confused on why they wouldn't help me.
-Jerome asked me to ask her why she couldnt help me - she turned her head and ignore me
-store called 911
-gentleman came out from the back and told me "its in your best interest to leave the store"
-said i am not leaving - please let the police come here
- police came and said that this was unnecessary by AT&T
-The manager came outside and was talking with the police and said she will show me that it says i have a lawsuit - pulled up my account and nothing of that showed, then proceeded to say she cant access it anymore.
Gregory Ashley
from Memphis, TN
We have been without internet service for one month and att has not been helping at all. The help center had stated that a line was down. It has been more than enough time to resolve the issue. This is unprofessional!!
James Cahoon
from Jackson, MS
I have DIRECT TV service at my home and have had for several years.
THIS IS A CHANCE FOR DIRECT TV TO IMPROVE THEIR SERVICE.
The sound volume output on lots of movies is very loud and very low with the TV sound volume set on the same setting.
A person has to set the sound volume control continually while watching these movies.
Most of the time I just change programs.
I KNOW THAT DIRECT TV HAS THE KNOW HOW TO CORRECT THIS PROBLEM.
AN OPPORTUNITY TO IMPROVE DIRECT TV SERVICE.
Ron White
from Hot Springs, AR
I can only assume AT&T are like they are because of the lack of good and plentiful competition, especially when it comes to business and land lines. AT&T is, in my opinion, a despicable company. With the lack of good competition, in my opinion, they have become as about a dishonest, deceitful company I have ever had to deal with in the 50 years in business. Their customer service and their pricing and pricing policies have got to be at the bottom of the barrel of 'who's who' in America corporate business. I and from what I hear from many business, the minute some worthy competition with some reasonable amount of integrity, will be the end to the likes of AT&T. Of the many corporate companies that I've had to deal with over the years, AT&T would take the trophy hands down, as the sorriest corporation in America today.
Ozzy
from San Antonio, TX
I have been yrying to connect a smart watch for the last 3 days. It is hard to believe. 2 differente representatives told me that that is something that will take a supervisor to do.
Last night they had.me on the phone for over 2 hours and i did not get to talk to said supervisor. Tonight I went through the same thing. But this time while i was waiting forbthe gost supervisor I open at&t chat. I got to connnect with some one who apparently did what I wanted to do. He said that he would get back with me in 30 minutes to check and make sure that everything was ok.the stupid watch us still not working and the great chat helper never got back with ne.
Should I trust at&t. Not at all
They. All they are just a buch of people that don"t know what they are doing. But that a a bug problem. I can just understand that at&t in orxer to save money they might not be hiring skilled people. But that has nothing to do with being deshonest. I am very frustated and I got the imptesion that I made a mistake making bussiness with At&t.
Unity of Pasadena - Nancy Smith
from Covina, CA
Our church facility gets poor Internet service, which multiple AT&T technicians have confirmed. They state it is because we are too far from one of their centers. Our facility is within the City of Pasadena limits. The wires are copper and AT&T tells us this problem will disappear once fiber optic cable is install in our area, but they give no date for when this will happen.
During lockdown, our "business" depended on the ability to stream. Participants in the Sunday Service needed to be streamed in remotedly, due to COVID-19. While we are able to successfully stream whomever, if anyone, is willing to come in (minister, etc.) to the sanctuary, any use of a remote guest often results in a frozen screen and garbled sound; therefore, due to poor AT&T service we cannot use remote guests. When we are locked down, this inability to stream remotely means that we either must violate public health department guidelines or else close down our organization. Even though guidelines for Los Angeles County are currently loosened, many people do not yet feel comfortable coming into the building.
Perhaps what is most frustrating is that there is no accountability. No one at AT&T is willing to'get to the bottom of this". I suspect that this is because they know what needs to be done, but are unwilling to do it. (Fiber optic cable). The technicians who come out tell us this, but the tech people on the phone are not so honest. Instead, they insist on sending out a technician. The technician that is sent out is always different and comes with no background information about our situation. They are supposed to have access to notes but they don't. This means each new person who is sent out starts from scratch. What is the use of the notes that are kept? We get nowhere this way - it is th proverbial spinning of wheels. This means we have spent a total of hours and hours on hold with AT&T, hours and hours waiting at the facility for a technician to show up, then something gets done which is supposed to have solved the problem, but doesn't. And the cycle continues with AT&T cheerfully apologizing and insisting once again that they will send another technician out.
Our neighbors are having the same problem.
I have asked to be able to communicate with the same person until the problem is solved, but AT&T refuses. They say the technicians are assigned by a national center and they cannot control who will be sent. I was told that these technicians do all have the same manager, however; that there is only one manager assigned to this area, and that he can be asked to look over the case; however, I was not allowed access to this person. I was supposed to take the word of the AT&T employee that this would be done.
On multiple occasions, I have been told that, because of our repeated problems with service, that they would send a supervisor out on the call with the technician. Even though this promise is apparently common practice, the practice is not - a supervisor literally never comes. The two times this was put on a work order for us, no supervisor showed and the technician says it pretty much never happens. So, it was a blatant lie. Honestly, I feel that AT&T is playing with us when the health of our organization is at risk. The disrespect of the customer is apparent.
I only began documenting my communication with AT&T in December, 2020,. and have spoken with them on the phone at least 20 times. They have sent someone out at least 3-4 times. They want to send out another person, but frankly, I feel this would be a complete waste of my time. I am at a loss as to what to do.
AT&T essentially has a monopoloy over our area; it is the only servicer, other than a satelite service (which can be affected by weather) and another service that uses AT&T lines. If we as a government are going to allow them to have this monopoly, then there needs to be expectations of them, just as there are for other utilities.
In addition to doing whatever needs to be done to provide adequate service, they could display concern and a bit of accountability by assigning one person to difficult cases until the problem is resolved. Also, technicians in the field must be able to see notes from previous technicians so they are not re-inventing the wheel each time. These should be simple to implement and would show a concern for actually solving problems.
Meagan Sánchez
from Austin, TX
I made an insurance claim back in oct 2020 I returned my old phone, they ended up charging me 600 dollars because it was supposedly "not returned" my tracking number states that it was delivered to att, I have gotten my phone cut of multiple times, they've made multiple cases on my account nobody can seem to help me, I keep getting told that the amount will be credited back to me and nothing has happened!! It has been 5 months of dealing with this!!! Att is stealing money from their customers!!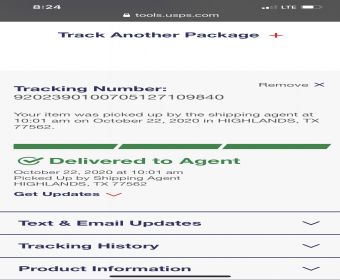 Tiffany L Slaughter
from Chicago, IL
I did a trade in promotion online 6mths ago. I traded-in a gs7 and got a gs20. The promo was to send in phone that was in good condition and then start receiving a credit of $33.34 for the new phone within 1-3 billing cycles. 4 months in I noticed no bill credit so I called in and have called several times since, only to get different information. First, I was told that they couldn't find info on the phone I traded in, then they said the promo didn't exist during the time I traded it in Sept, next the phone value was low and the screen was cracked. However, before I did the trade-in I was told my phone qualified and it definitely wasn't damaged. At&t stated that they would investigate. Now I'm here because throughout this process of me calling, trouble tickets and escalation have been filed but no resolution. Basically, I'm being told i have to wait and I will recieve a call or email that hasn't happen. In 4 months the tickets are still open that supposedly take 7-10 business days. I am now stuck with paying off the new phone. I would like to add that a sibling on the family plan we shared
has the same promotion he just has an individual line now and traded his phone in store. He has no problems with being credited. After everything I've experienced I plan on cutting ties with this company. March 22, 2021 just confirmed my decision.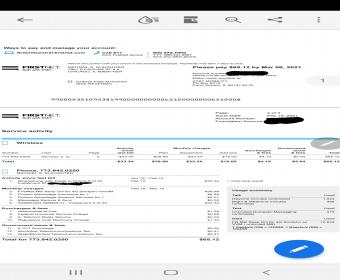 Sakara M. Tyson
from Renton, WA
I am responding to a final notice letter dated February 22, 2021. This account was closed by the customer effective January 8, 2021 at your AT&T store located in Tukwila, Washington. All outstanding charges ($42.20) were paid in full on January 8, 2021 before AT&T would release my phone number.
Although the account was closed and paid in full, AT&T continued to send me billing statements totalling $127.82 for the months of January, February and March 2021. On February 21, 2021, I called your customer care representative (Brenda) to discuss the charges on the February 6, 2021 billing statement. She stated that I would receive a final statement on March 13, 2021. This final statement would include only credit charges for fees that were incorrectly listed on my billing statement such as restoral fees, late fees, etc. I only received another billing statement in the amount of $127.82.
Your cooperation in resolving this matter will be greatly appreciated. If you have any questions, I can be reached at (425)919-0597.
Sakara M. Tyson
Former Acct #298105574149
Maude Coleman
from Brandon, MS
Talk to customer service representatives in trade department name Mary was very unprofessional on 3/18/2021approximately around 8:45 am, Didn't want to give information, disconnected phone while I was talking and loyalty department as well same thing happen with Teisha on 3/18/2021 had an attitude when answered phone just go back and listen to recording. I've been with AT&T for over 30 years.
Sebastian Lampe
from Elk Grove, CA
We live in Elk Grove Ca. and have been customers for many years. We have severe problems with cell phone coverage at our house. The phone suddenly drops calls or calls to us do not get through. We have gone to our local store and called several times. Last time we were told that if we upped our plan for more money service will be better. We did that and it was still terrible. We do not get a consistent reason. At the store they said we don't have a tower nearby. I see several when I drive??. How can you offer service if there is such poor reception? We have gotten a run around but no help. We want to stay with AT&T but why can't reception improve? An honest story would help. A work around to help our phones at home would help.
Thank you,
Sebastian Lampe
Kenneth Hermann
from Oswego, IL
I have two AT&T accounts. One is tel 630-554-9564 and the other is 630-544-4577. (one is Uverse and the other ATT Mobility) I have tried to have the billing for these two accounts combined because payments have been misapplied to each account. I apparently have a credit of $107 on the first account and a past due balance of @206.07 on the second account. I spent 45 minutes on the phone today including talking with a manager who said he needed to get folks from the Mobility side on the call to resolve the issue. That resulted in another delay and back to step one of the 45 minute call.
I do not intend to pay ATT late fees when you have a credit balance on one account and a late charge on the other. I have been to the ATT store in Oswego, IL to try to get the billing resolved as well as the unsatisfactory conversations on the line today. I am an stock-holder and I think your management practices of several different subsidiaries billing separately with the same corporate name is ridiculous and management should make some changes. Incidentally, I am told today it will take several billing cycles to get combined billing completed. NOT SO GREAT SERVICE
Kermit Davis
from Gadsden, AL
I have been unable to login to my email account for 2 days. This has been going on for a month. WONT TAKE MY PASSWORD even after I change it. Tried to call customer service and got a guy that did not speak English, I have just about had enough of this. FIX IT or I well have no choose but to get Another IP, THE way it is now it is useless to me.
Mel Clary
from Sacramento, CA
Very POOR customer service from Brian Singh! My Mother passed away and the AT&T account was under her name. My husband went to the local AT&T store here in Sacramento with a death certificate in an attempt to transfer the account into his name. As a result of Brian Singh's incompetence we have not had telephone service since 7/5/19 and I had to go without internet service for 4 days .....All the while I am grieving my Mother's death.,
Eileen Shedroff
from Marshfield, WI
SCAMMERS!! Store did not have proper inventory. Told me if I put down my credit card they could get the large and the smaller iPad in stock for me to take a look at. I could choose whichever one worked best.
ALL. LIES !!! The manager of the store took my credit card, set me up on monthly plans for both iPads unbeknownst to me. So now there's an installment amount coming off of my monthly credit card statement. I'm never signed up for a plan I never signed anything that said I was going to put a plan on the iPad. How I was signed up for a monthly plan is beyond me! Especially for two iPads that I'm now being told that I'm stuck with
Just now I got a call from a blocked number. Only when I declined the call it on masks the caller. The call was from a fort pierce number 772-940- 4987. Store manager doesn't know that he's being recorded. It's ridiculous how I was just spoken to! This guy tried to bullshit me kept disrespecting me by talking over me, RUDE, OBNOXIOUS & defensive. No matter what I said he kept talking over me and telling me his projection of the ideas and events that he claims to place. Completely contradictory to what actually happened. I'm so glad I record everything!! Why does it seem like the state of Florida is filled with nothing but scum bag scam artists .
.
I NEVER SHOULD'VE TRUSTED THEM WITH MY CREDIT CARD. Do you know they waited 2 1/2 weeks to contact me to let me know that the iPads were ready to be picked up. I had just come home from a business trip and had a termite infestation in my house and I got busy. Talk about totally taking advantage of somebody! There was a two week window of opportunity that I had to be able to return these iPads.
WOW I am away on business right now in Cambridge Massachusetts. Talk about a buzz kill! This would cost me $400 out of pocket now on a monthly basis. I want to pay myself phone bill normally 77 per month it's over $300. I cannot begin to express how disheartening this is. It seems as though trust is a thing of the past. I never should've given my credit card out like that! I thought it was a little weird I never got a receipt or any paperwork from the store whatsoever. QUITE SUSPICIOUS
This is not going to go away for you, which is why right from the very beginning of our conversation I gave you the opportunity to do the right thing. I left you the voicemail hoping that you would choose to do the right thing. Getting an attorney, the Better Business Bureau, Fl Stare state attorney generals office, filing a police report with the Martin County sheriffs, reporting your unethical behaviour and contacting corporate to have you formally written up, are all things that are going to be happening when I get home. Believe me the path of least resistance is always my first choice. I will not allow you to get away with this unethical fraudulent behaviour .
Calling me a bitch just now from your blocked number. Probably not the best move for your career. I honestly have to say, in my opinion you would never have handled yourself with such hysterics, letting your emotions get the best of you, had you not been up to no good. I have never been spoken to like that. Did AT&T teach you to run over peoples conversations with that louder tone, yelling at your clients. Like that's gonna work
Brenda chickering
from Chicago, IL
My husband and I have been AT&T customers for 18+ years. This last year my husband passed away and the nightmare began. 7 hours on the phone with 8 people and three trips to local store over the last month and a half and all I can say is your call center people need a lot of training in more ways than one, they have scripts and don't care about the customer.
Had to cancel husband's account, could not just change names, no that would be too easy. Had to cancel Direct TV return equipment and 5 days later pay for new installation. How stupid is that....they could not understand he passed away and I wanted to put account in my name,
And how do you have the right to deny unlocking a phone that was paid for in full the day I bought it, no contracts no payments etc. it's my phone and I should have the right to do with it whatever I choose. Other companies do not do that.
I have never dealt with such an incompetent company in all my life. You think because you are a big company you can control all, well, you can't control people going to other carriers and you are not rated #1 carrier and I can see why because your service is a nightmare. I know this will probably just be deleted and certainly nothing will be done but it has given me great satisfaction just to write this. Your statement when we call is our calls will be monitored well it's pretty obvious you don't listen to these recordings because if you did you would start making some changes.
I will never have anything positive to say about AT&T again. You don't even deserve one star.......
Robert Scappa
from Fort Myers, FL
In the middle of May, 2019, my iPhone broke — I went into an AT&T store, and purchased an iPhone XS 257 GB, however, I wanted the 500+ GB, but they did not have one in the store — per the advice of the store personnel, a few days later, I ordered the iPhone that I wanted through AT&T — when this new iPhone XS 500+ GB was mailed to my home, per the instructions that came with it, I returned the iPhone XS 257GB via the box and the label provided by AT&T — the instructions did not tell me to erase the data, and turn off "find my iPhone" — on Monday, July 1, 2019, I received this iPhone in the mail, instructing me to turn off "find my iPhone " and erase the data (which I promptly did) — the next day, July 2nd, 2019, I put this iPhone into the box provided, placed the label provided on the box, and took it to a post office in my hometown of Fort Myers, FL — I asked if I could insure this package, however I was informed by the post office clerk that packages with prepaid labels cannot be insured — the label demonstrated that this phone was being sent to a return center, with no address on the label, just a barcode (I have a receipt from the post office with the label number on it, as well as a photo of the package with the label on it)— when tracking this package, there is no further information available, except that I took it to the post office on July 2nd — the satellite post office in Fort Myers, FL is telling me that my package was sent to the central post office in Fort Myers — the central post office is telling me that they never received it — in other words, the package is missing, and the satellite office is blaming the central post office, and the central post is blaming the satellite post office, each claiming that the other lost my package — I have called AT&T numerous times, and have spoken to several different customer service people — each of these individuals apologized that I have had to deal with this issue, however none of these individuals have been able to help me make it so that AT&T does not charge me $1,100.00 for this lost phone on my next bill — and in fact, instead of getting this problem resolved, at least two of the customer service representatives tried to sell me cable TV service from AT&T (unbelievable) — all of the individuals with whom I spoke were quite nice, except today I spoke with a "manager" named, Maryann Nichols — she was extremely rude and condescending— when I informed Ms. Nichols that I tried to purchase insurance on this package, when I took it to the satellite post office, but that I was told the package cannot be insured, her response was, "The post office will insure anything if you're willing to pay", thus the implication being that either I'm lying about attempting to purchase insurance, or that the post office employee gave me erroneous information — Ms. Nichols told me today, quite rudely, that it is my responsibility to make the post office pay for the cost of the lost phone — I feel that I should not have to do anything further, but rather AT&T is responsible to deal with the post office concerning the lost phone, for the following reasons:
1. I was not provided a physical address that would have allowed me to return the phone via FedEx overnight, and insure the package against loss
2. I did everything to the letter that AT&T instructed me to do concerning returning this phone
3. AT&T has elected to use the USPS for phone returns, not I
4. It was impossible for me to do anything else, other than to follow AT&T's instructions, which I did — AT&T did not give me any other option as far as how to return the phone, and yet now that the return system (that AT&T chose to use) failed, suddenly I'm responsible, at least according to Ms. Nichols
I have been a customer since 2009 — I have never been late paying a bill, and in fact, I usually keep a credit balance in my account — everyone at AT&T keeps thanking me for being a "loyal customer" — well, if making me spend hours on the phone with various AT&T customer service representatives (who cannot help me with my mobile phone problem, yet still try to sell me cable TV service), and making me spend hours on my days off going to post offices, and waiting there to speak to postal supervisors, is how you show your appreciation to a "loyal customer" then that is scary.
Patricia Williams
from Fort Hood, TX
A company called Tele Circuit is calling ATT customers Claiming to be with ATT and have new plains in the area. what happens when you want the new plan is they bill you and take control of the number. The number is then listed as a business number and customer name is removed from the account . After 3/4 months ATT shuts the phone off for lack of payment, when you call ATT to find out what happened they have no records of you in the system. You start getting calls from Tele Circuit wanting you to pay your bill. I got on line and found BBB complaints ,almost all targeted the elderly. This company is using ATT to gain trust of your costumers and the rest is fraud. I was on the phone with ATT, many different departments , for over 4 hours trying to get this mess cleared up for my 87 year old friend. I called Tele Circuit and was told to pay the account in full and they would let us have the number back. We had to get a new number to replace the one he had had over45 years. Can ATT do anything about this??
bill boyd
from Rotterdam, ZH
I have been a loyal customer starting 1988 over 30 years.. for the most part excellents has been great.
I just ordered a hotspot as I was told it would work great with my old plan and findout I wasted have of the day with support trying to get it online
I have an unlimited plan and will not change it. unless I leave att I was told it would work just fine added to my plan with my other 4 phones as being the 5th addition. now im told it only supports 15 gig for a hell of a price. not unlimited as my plan has.
this is no way to treat a customer and for darn sure one that has been with you as you purchased Cellular One as I was one of their first customers in 1986.
If I did this with my customers I would not have a business for 35 years as I have now.
not good idea to treat old customers in this mannor..
sell a product and not full fill your agreement as your team was what sold me and said it would work great.
use to be service was the selling point and keep customers was the goal
now its all about the buck, I am just glad I didn't turn off my old sprint account and still have time to place a couple phones back with them If needed..
unlimited hotspot and unlimited v20 plan has 50 gig wifi per phone which I have never used much of..
the sells people was great on your team, its ATT that has let them and me down. thanks a lot
Bill Boyd
order 56-826000017952910 was my last order
you have a great team and service..
you just need to teach and stand behind them and their word. as they represent the ATT as a whole. AS I SEE IT. but who cares all about the coin
Sandra Rodriguez
from Chicago Heights, IL
Where is my $100.00 gift card I was told I was going to receive 8 months ago when I signed up for your service. My account no. 291336736. I have tried calling many a times, but I refuse to be on hold longer than 45 minutes.
Recently I had lost my job in May, and I was in the process of looking for new employment, so I got behind on my cell phone bills, also I had made arrangement to pay at a later date, but I did not get hired until June 28th, So I made some payments and caught up on my rent and other bills, I did make some payments on my AT&T, but that was not good for AT&T, I have an customer for 6 years, so I set up new bank account and I was asking them to give me til July 26 and they can take the whole payment of $926.oo and I would been all set til August bill, but no one would help me so now I'm force to look for a new phone carried for my services, and I really like being part of AT&T. But after dealing with AT&T CUSTOMER SERVICES I DECIDED I WAS THOUGHT. I GUESS I WASN'T A VALUE CUSTOMER AS THEY CLAIM
On or about the date of 4/24/19 a representative, Steve Valentine, stating he was from AT&T came to my door selling service. The explanation started off simple but quickly turned to be complicated as he was explaining the service he could provide with direct TV. We agreed to enter into a simple package. At this time Steve asked for a cash deposit of $200.00 installer fee. Steve mentioned that he had not received official at&t forms but did fill out a receipt on a page of note book paper. Which he signed but did not date. I do have the original if you have any questions. After receiving the direct service we found out that a different package stared also the operation of the service was complicated for us. We than contacted at&t on 7/17/19 and spoke with David to terminate the service. He worked with us by over turning the early fee and was helpful with device returning instructions.
Scheduled new DirecTv installation on July 5th. Scheduled installation 2 times and they never showed up. You sent AT&T to the house. They have nothing to do with DirecTV installations. You all can't get this correct.
Poniisa Rabii
from New York, NY
I have been without landline service since April 27,2019. There is no dial tone and we are unable to make calls.
If someone calls the house, the phone rings on their end but does ring so we can hear it.
We have brought new phones and the problem still exist.
I have called, wrote, and emailed AT&T on numerous occasions and have not had resolution. All I've had is empty promises that a technician would be sent to the house, 3 months later, no one has come to check out the issue.
AT& T has the audacity to continue to send me bills every month since April, for what? I have no service. What are you charging me for? It certainly can't be for service.
Two things I don't like or respect is a liar and a thief. At&T has been both since April!
David Donahue
from Knoxville, TN
I'm tired of the lies, I sign a 2 year contract with ATT for internet and cable for basic and my contract was for $135.00 a month and at our conversations me and my wife asked if we would lose service in rain or storms and were assured this wouldn't happen and we always lose service and our sales rep told us contract was for both internet and cable foe $135.00 a month and received Junes bill and our internet is the same and tv service is $176.00 plus internet $30.00 and due change made last to our account bill $273.58 and I would like to speak to someone in management about all the lies. I have basic tv service without dvr and now have to pay $176.00 a month. DavId Donahue 865-306-3969
.
.
Salvatore Salmeri
from Woodside, NY
I've been a customer of direct tv for many years and haven't been do Agravated as today. My promotion was up so I called to see what other promotions there were. I called hot transferred a few times gave them my phone number and pass code and made it through two departments then the third one didn't recognize my phone number or my pass code. I had a middle eastern or Indian on the phone. He could barely speak English and I had to keep on asking him what ,what, then he got Sarcastic with me. We had a few words and I hung up on him. I have never been treated like that by any customer service by your company or any other. It's disappointing that you have people like this working in customer service. They should at least be able to speak understandable English, be able to bring up your account like everybody else with the same ingormation and not be Rude. Very ,Very Disapointed in your Customer Service. I'm totally disgusted and looking into other cable tv alternatives.
They put in wrong email. Couldn't access my account online. FINALLY got it fixed, only to find out I can't access direct tv account because they did not fix it on that side. The rep of direct tv asked for my att passcode and the had the audacity to tell me she doesn't have access to the att account. When confronted about this double message I got silence. How many reps have to ask for your name address and passcode? Went through 4 reps and 2 hours later, it still is not fixed. 2 hours is a very long time for a runaround to fix the email address. I'm enraged.
My account number is 295743219. I have been approved for the low-cost home internet service though the access AT&T program. I can't seem to get installed because I can't be home between the hours of 1-3pm and The installer do not work weekends. I am a student and I work. I can't take anytime off to meet with an AT&T installer during those hours. I am asking to have a late evening appointment, but all the numbers affiliated with the company the customer services representative are all saying the same thing for the appointment time. That's not accommodating for me. I need a late evening appointment. I can't believe a company of this magnitude does not have technicians that work pass 3:00pm. I have also asked for a supervisor(someone whom can help) and I keep getting individuals reciting the same answer ( the only appointments we have are from 1-3pm). I have asked for a supervisor more than once( not sure if the people or persons I have been transferred to are supervisors). I am just trying to schedule an appointment for service I have been approved for after 3:00pm preferably(if possible)(with in the power of someone within the company) to approve a late evening appointment. My email address is yolandasterlingquinn@yahoo.com or cellphone number is 404-587-0888. I am tried of trying to reach someone whom may have authority. I am requesting someone whom has the power or right to give orders or can make a decision to accommodate my situation.
Robert Oakley
from Cleveland, OH
I keep having sporadic internet. Trying to stream tv shows and it keeps logging me out. I have to keep resetting my router to get service back. This is every day at the same times. Why am I paying for services that I keep losing. Fix this, and don't tell me because it's the weather. Happens on nice clear sunny days. Tired of this. Fix this!
Larry Brown
from Doylestown, PA
Never received a rewards car for 2 of the 5 phones I transferred to AT&T. I was promised 5 $250 Rewards cards for the 5 phones that I was transferring to AT&T. All 5 were verified that they were eligible. It to 6 weeks to get all 5 phones ported. After several attempts all phones were ported, but I'm still trying to get the last 2 rewards cards. I keep getting transferred and have been on the phone for more than14 hours. I was being told that the phones had not been ported in and finally after months and dozens of calls I was told that the phone were AT&T lines which they were almost 20 years ago, but had been Verizon for almost 20 years. My problem is why did it take so long to tell me this and why was I initially told that all 5 phones were eligible for the rewards after I provided AT&T all the Verizon account information? If they were ineligible it should have come up when I was having the account set up.
Takara Bard-Edwards Bard-Edwards
from Chicago, IL
If I could give ATT&T zero stars I would. I wish I would have never switched over from Comcast. Your customer service is horrible, your customer service reps have no idea what they are doing. I have been transferred so many times and no one ever handles the issue correctly. I have to contact my resident rep for help. I still have issues with my bill and no one is willing to correct it. I had ATT&T for three weeks and it has been a horrible experience. I will never refer anyone here.
Larry Brown
from Doylestown, PA
Never received a rewards car for 2 of the 5 phones I transferred to AT&T. I was promised 5 $250 Rewards cards for the 5 phones that I was transferring to AT&T. All 5 were verified that they were eligible. It to 6 weeks to get all 5 phones ported. After several attempts all phones were ported, but I'm still trying to get the last 2 rewards cards. I keep getting transferred and have been on the phone for more than14 hours. I was being told that the phones had not been ported in and finally after months and dozens of calls I was told that the phone were AT&T lines which they were almost 20 years ago, but had been Verizon for almost 20 years. My problem is why did it take so long to tell me this and why was I initially told that all 5 phones were eligible for the rewards after I provided AT&T all the Verizon account information? If they were ineligible it should have come up when I was having the account set up.
Bernard Welsh
from Hattiesburg, MS
my internet goes out from 7pm to 11pm every night. started around the 18 of june and it is the 12 th of july. servicemen have been out 3 or more times. they all say the problem is not at my house.
David Ravanshenas
from Los Angeles, CA
We have moved our business to a new location and can not activate our fax machine which is 213 607 2278 for the last two months.
we have called and talked to over 34 representatives with no success. they are not helping us and only promise to take care of it with not doing anything.
David
President
How do I make it ZERO stars? My husband and I set up an appointment at the beginning of last week. It was set for Tuesday July 9th 1-3 timeslots. The tech did NOT get to my house till after 4:30 did a few things and then stated sorry drop line from the pole to the house is bad need a new one. Please call in the morning and let them know that you need a new line and then to set you up for install. We said thank you and he left. On Wednesday 7/10/19 @ 8:21 a.m. we called and spoke to customer service and explained the situation. Paul( doubt real name barely spoke English) said he will have a tech out there to fix the line then the tech will let install know that it is ready. Install would then call and let us know appointment time. Next thing we know.....we receive a text @ 12:33 saying sorry we missed you! What?????????? How did you miss us as you did not call and set up the appointment. So my husband calls and wants to speak to a manager at 12:41. CS Rep says sir let me help you. So she gives us an appointment for Friday July 19th from 1-3! WTF 10 days from our original appointment? Cause of your mistake? So then my husband demands to speak to a manager and the CS rep puts him on hold for 15 minutes then comes back and says that the manager has our number and will call within 1-2 hours. Yep no call back. So I then start calling at 3:51 p.m. and get Alexandria, she transfers me to Jaron. He is the wrong department so he sends me to Mickey. I explain the situation to Mickey and she puts me on hold for a manager....yea no hold hung up on. So I call back and get Demarcus in product support I ask for a manager and get hung up on. I call back and get Jacks in combined billing hung up on again. This is every time I'm put on hold for a manager. I call back and get Shayna again probably not real name and she transfers me to Jen in Direct TV. Jen states that they can NOT transfer calls out of Direct TV. What? You can NOT transfer a call? Nope so I hang up and call back again. I then get Alyssa and she hands the phone to Shawn. Shawn is a floor supervisor, He is gonna get this straight. He takes my number and says I 'll call you back before 6 p.m. today. Again NO CALL BACK!!!!!!!!!!!! So I call at 6:20 p.m. and get Ralph in Tech Support and he says well Friday July 19th is the earliest appt and he just can't fathom how all this took place as that is NOT the AT&T way. So I call this morning at 8:37 a.m. and ask for the Complaint Department. I get Iris in customer support who transfers me to Liceria in Customer Loyalty(haha joke) I ask Liceria for the complaint department phone number and she says mam we don't have a phone number for the complaint department. Uh? Ok give me a corporate number. She then says she doesn't have that number either. So she puts me on hold and "asks" a manager for the number comes back with 210-821-4105 which when called sends you back to AT&T customer service! So Eric answers the phone and explains that they don't really have a complaint department how can I help. I told him never mind that I was filing with the BBB and other entities cause I do NOT trust the word of the reps in the departments.
joyce v. fritz
from Joliet, IL
I scheduled a visit with your rep yesterday because the cable box was not working on 1 TV, and the DVD was not working on the other TV. This past January, a rep was out due to several other issues, and he disconnected the DVD from our system. Tom the rep that has a thick accent and cannot be understood, took the schedule and read it back to me: July 9, 2019 between 10-12 and the rep is to call the customer for directions. At noon no rep so I notified the office but your answering mechanisms stated the time was changed by the company to 12-2. Then at 2Pm still no one. A phone call was made again and I blew up because they stated we needed to wait out the rest of the day due to problems with your reps. My husband had been in the hospitals since 12/9/2018 and in no way was I going to wait until the end of the day on July 9 for a rep to appear. I was told that there were problems. The issue is this, when you schedule the time, keep it. If not notify the customer. If the problem was your problem, rectify as soon as possible. And finally, always remember that if you want the business, the customer is always right. Joy V. Fritz. 815-725-0605
claudine w burns
from Atlanta, GA
They are stealing from people to have a policy that states they can charge a full months payment if you cancel before billing cycle ends, even if it is a day before it ends. This is stealing to charge a person for a service the cannot receive. They are charging a full months payment for a service that you have turned off, because i choose to cancel? How it this possible, how did the FCC allow this to happen , how does FCC allow them them punish customers for not wanting their service. Why do i say why does the FCC allow this, cause she kept repeating that FCC allows them to. This is a brutalization of the public! I chose to canceled cause the were charging me for a service that went in and out and i barely i had service it would be out for days . I never actually received the mbps anywhere close to what i paid for. Then when i spoke to someone she lied first she said they sent emails, then when i asked to speak to a supervisor she said her supervisor does not speak to customers. Then she tried to tell me the corporate office is in GA, it's in Texas. I will never return to ATT I had service for 3 years and never missed a payment but had major problems with billing, service not working a the poorest customer service i have ever experienced, I think of the elderly people on fixed incomes that they cheat under the guise of this is policy.... YOUR POLICY IS TO CHEAT YOUR CUSTOMER!
This really sounds like a great company right , give the worst internet service i have ever had, then you say the FFC says you can punish me because i don't like it. Your company needs me and people like me, I recorded the conversation and intend tell all that will listen about how ATT treats its customers. Thanks but no thanks.....
NANCY Cadorette
from Bay City, MI
i called back in feb of this yr to have due date moved to 15th due to my check comes then. it still hasnt been changed i get charged monthly late fee and i am tired of it. tired of calling and getting no where. i want it changed. i want refund of all late fees. also i got a new phone free on next with new line yet there is monthly charge on my bill for that phone. i have had att for over 40 yrs and in the last ten i have had nothing but trouble with attt. not doing what they say. not fixing things when i ask. out right lied to. gotten so expensive. some one needs to train the chat people phone people how to fix things. and not lie to customers
Evelyn G Horne
from Cordova, TN
I have been a direct TV customer since December 2006, and I can't remember having so many problems until ATT merged or purchased Direct TV. I am now searching for another TV provider due to an extremely high bill and poor customer service. I have called multiple times regarding many problems. 1.I was told earlier this year that my equipment was outdated and if I wanted to continue to view my local channels, I would have to get the new equipment, so in or around June the new equipment was installed. The new site is very confusing to navigate, the old movies, some of which I have never heard of are for rent with a unrealistic fee, my recordings, which I loved were deleted. I was not told this would happen, I have called too many times to count re: the bill I received for $227.41, all to no avail, I have been given many reasons why the bill is so high. There are many other reasons why I am actively searching for a new tv provider. I am 74 years old who lives on a small pension and social security, and can not pay this outrageous bill. If no reasonable alternative or option is offered, after my next billing cycle, I will no longer do business with Direct TV.
Jonathan Hennessy
from Pompano Beach, FL
My Wireless TV Receivers have not been working. I have had this problem off an on for awhile now and previously a technician came out who temporarily fixed the issue. The problem is back now and I cannot watch TV. I have personally attempted to diagnose the problem and troubleshoot it on my own as I have a technical background. I also contacted you technical support team to get the problem fixed. My problem now is that your technical support department continues to want me to work on you equipment. Initially I worked with them however after having been on the phone for over an hour with no results I refused to do anything further.
I am not an employee of ATT and I am not required to do work for your company. As such, if your technical support team is unable to fix the problem remotely and they require someone to physically do work on your equipment... They need to send someone to do that work. Your own technical support manager acknowledged he is requested me to do work on your equipment to fix the problem. If ATT expects me to do work for them then they need to pay me just as you would an employee. In the end this could all have been avoided if they just sent out a technician however they spent 45 minutes arguing with me and threatening to charge my account $99 for an "on demand tech". I am not sure what ATT teaches their employees or if there is any accountability for their actions but this is completely unacceptable.
My time may not mean anything to your company but to me my time is valuable. I expect ATT to compensate me for my troubles and do something about this as I am strongly considering terminating my service. My family also has a very large cellular plan with you company and if this is how you will treat loyal customers of 10+ years then we will terminate that service as well.
Thanks
Jonathan Hennessy
561-213-7645
Case #85986943
Employees that failed/refused to assist me:
Reuben - first person I spoke to.
Gauard - first supervisor I spoke with.
Rohit - second supervisor I spoke with.
Christina Jackson
from Charlotte, NC
I started my internet service with AT@T in May and was lied to about what my first payment would be. I got a statement that charged me for installation. I called AT&T customer service and explained this was unexceptionable to gain customers. I was told we they were sending a 200.00 visa rewards card and can pay the bill with it. I never received it. My service got disconnected for a the amount due with installation fees. I also got charged a late fee for service interruption of $9.25. I called 800-288-2020 on 6/28/2019 at 7:30 pm eastern standard time and the call center was closed. I was prompted to use the pay by debit or credit card which I did using the account number related to my plan. When I finished paying I received a confirmation to my cell phone. My service was never restored. I called again to find out the payment posted to a singular account that I don't have.
At&t this have been a complete disaster and your call center Reps need more education how to handle escalation. Instead they transfer to departments not associated with my reasons for calling.
jimmy hodge
from Clarksdale, MS
when I first moved to this address at&t offered me DSL service over time as the telephone lines degraded they degraded my service to uverse 6.0 and then down graded it to 3.0 and now to 1.5 which I am actually at about .784 tech support is useless stay away from att
Vivian Demos
from San Antonio, TX
No one in San Antonio knows anything re: Locast streaming service, the nonprofit streaming company AT&T gave $500,000 to. The service is in Dallas and Houston. Is it in San Antonio? If so, how do I get it? If not, why not?
There was an article in today's newspaper, Business section page B2, talking about Locast. Why do AT&T emnployees not know about this feature?
I have been a customer since 1999 with an A+ credit rating (which was verified on the call) and today my cell phone service was suspended due to information that resulted in a non-payment of bill status. I unfortunately became aware of this suspension while on route to pick up my son who had an EMERGENCY situation (which I was thankfully informed of via my home phone service). Due to the cell phone suspension, he could not contact me and vice versa. After vigorously explaining this to customer service, while in my car, they informed me that AFTER I made a payment my phone would be re-activated....in 30 minutes!!!!!!!!!! Do they have children?!?!?! ANYTHING could happen in 30 minutes. This is a horrible example of customer service gone SERIOUSLY wrong. Totally unacceptable but sadly not shocking. End result? After vigorously demanding immediate service re-activation, due to the situation, within minutes my phone was restored. Sadly this was not done without making some form of payment. Completely inconvenient and horrible service from att. Thank goodness my son was ok when I was eventually able to reach him. I feel sorry for anyone who has a similar situation or someone who is in a car accident or who is stuck in a ditch. Shame on you att for treating your customers this way.
herschel burton
from Germantown, MD
I went to att store in Hartford ky to take care of some business. the man that worked there today 6/15/2019 immediately
said he didn't want to see the paper work I had and to get out of store and not come back because he accussed me of trying to do something illegal.which is not true. he is the most arrogant and rude person I have ever seen. does not need a job working with public. somebody needs to call me so I can tell complete story 270-256-6738
Allison Williams
from Detroit, MI
I have a complaint I was supposed to be in a bundle according to the lady at the loyalty department. Customer order number #4526221041A.Saturday, December 29, 2018. I was supposed to pay for internet speed 50 for $40, home phone $27, and DirecTV $19.99. I had to call again in the month of January, February, March, etc. I do not have time to do this every month I work, go to school, my daughter goes to school as well. So we need the internet. I find out that I am paying $87 for the internet and home phone what happen to the cable that was supposed to be included in my package. so when I receive a bill from Directive that I suppose to pay $242 "we cut your cable off are you gon pay this bill today" I'm like what I paid at&t through the at&t app on June 1, 2019, $87 what I am supposed to pay". "The guy says no I don't see it." so I asked to be connected to the loyalty department. I was transferred. so, then I was able to explain to the lady what happened? Her response was "ok," can I ask you a couple of questions"? I said," sure". I gave her all the information that she needed. After talking to her getting nowhere I asked to speak to her supervisor she places me on hold. She comes back and says, "well I spoke to my supervisor and I explained t to her and I'm explaining it to you." My response is "So. Your supervisor doesn't want to talk to me?" "I feel like someone didn't do their job keeping my package in a bundle. Here it is I'm paying $219 for the home phone and the internet. Where is customer service here? No one is together, the two companies are separate. I asked again before I hung up the phone can I speak to your supervisor"? She said, "She said that she would call you back" like I am her relative, friend, or colleague or something. I would like to know who took me out of the bundle. I feel that I shouldn't have to pay for something that I thought I was already paying for. I didn't receive the services that I was promised even after talking to Steve from DirecTV in October per his boss giving me services for $19.99. Nor for receiving services promised to me per the lady I spoke to on 12/29/2018 or the guys I spoke to regarding this on several occasions but I have the surveys you send out stored on my phone regarding the service received on any particular day. I never received my credit for the overpayment on my bill. I'm seeing now that the DirecTV bill was promised to be on my bill but never was placed on there after all these months. I would like the fault to lay where it supposes to. I have to send my bank statements when I find them to show my payment to AT&T. I will be looking for a response and a refund check within the next week thank you very much.
I live in Shasta Ca where the Carr Fire occurred in July 2018 . We have had no phone service since then and was receiving a bill from AT & T every month since then. Which is illegal . Anyway about on June 12 I had someone to come out to install everything and the tech was here for about 5 to 6 hours and had someone come and help him run the line from the road to the house ( which the tree limbs on some of the trees had to be cut , which my nephew got on top of the garage, that is half way from the road to the house and cut the limbs off the tree next to the garage and helped the tech with the line over the garage ) then the tech that was here first finished the job on the outside and then came in to do the job inside of the house. He had to keep going out to the road to the box because the light was not coming on or would not stay on. Finally he said he would have to have someone else come out the next day to check it because he could not get it to work. The next day another tech came out and he checked everything and said he would have to go back to the yard because the line was broken and would have to be replace, which he did, then after he hook up the line he told me that another tech would come out later that day to finish up the job on the inside because he was not trained on the wi-fi . It was then that I told him that I had received a call from AT&T that morning and was told that someone would come out to do the outside work and the next day another tech would come and do the inside . He told me that they would be someone out that afternoon to finish the job and I told him ok. No one showed up that day or the next morning to finish the job so at 2:00 P.M. I called AT&T and was told that I had to reschedule for another appointment to have someone come and finish the job and was told I would have to wait until June 20th for an appointment . Needless to say I am not a happy person at this point . I have wasted 3 days sitting and waiting for someone to come and do a job that should of only took 1 day to do and now it is going to take 4 days to do. I also called and spoke with a Alex about this and she could not give me any answers as to why I was told that someone called and told me that it was going to be the next day and no one showed up in fact she didn't say anything dead silent!! I am hoping that this will be the end of all of this and that by me complaining about this that no one else will have to go what I went through....
M. LeMay
from Springfield, IL
Springfield, IL: Three weeks ago, a storm took down a tree two doors down, laying it across the alley. My neighbors and I called the City multiple times to get them to remove the tree because it blocked the alley. It also took down the AT&T cable and terminal box that caused me to lose tv, internet and land line phone. It took a week for the City to move the tree. It took another two weeks for AT&T to restore services for me -- they were restored today, June 13. I had multiple conversations with multiple AT&T personnel and each time I called, I had to re-tell my story anew; no one had a clue about what had happened and I was told that case notes are not written down or shared. Twice, service techs came and left a note on my front door, saying they were sorry they missed me. When I called back, I asked why they needed me to be home (I work) and they said they needed to check my modem. There's nothing wrong with my modem!!!!! I asked if they had gone to the alley and observed the terminal box lying on the ground ... no, they hadn't. Each time, no, they hadn't. Today, I noticed that I had a new voice mail notification (on my cell phone) so I checked it ... I had multiple voicemails, as it turns out, all from AT&T, wanting to check to see if my problem had been resolved. I never did receive these calls; they all went to voice mail but did not appear until today. Several days ago I was dealing with a "Sam" and I noticed in the afternoon that I had missed a call, and thinking it was my neighbor calling, I called back. It was this AT&T Sam, who said he'd been trying to reach me, and he told me that each time he'd called me, his call was either cut off, or it went straight to voice mail. "Welcome to my AT&T" I told him ... "this is the kind of service I have with AT&T." It's a pretty sad commentary when not only do I not have internet, land line or tv, but AT&T can't reach me through their cell service to talk with me about my services. I came home late from work one day this week and spoke with a young man whom I couldn't understand. I am a retired social worker, respect diversity, and am very tolerant of other cultures, but I simply could not understand his thick accent. I even asked him to spell his name, but couldn't understand all the letters he was pronouncing. That does not make for a clear understanding of issues. He was very pleasant and said that it was too late to reach anyone who could help me, and that I would need to call back in the morning. I responded that no, someone needed to call me back. He said that he would have to fill out a ticket and get permission from his supervisor in order for that to occur, so I encouraged him to do that. It took quite a while, but he finally came back and said he'd gotten permission from his supervisor for someone to call me the next day. The next morning, someone did call me, and we arranged for a technician appointment later in the afternoon. This was the "Sam" I mentioned previously -- as it turned out, I guess he was unable to help me. This morning, I got a text from someone telling me that someone should be here today and when I asked for a timeframe, the response was "I have no idea." Sorry, but that's not good customer service. That's apathetic customer service. Luckily, it was just before I left for work, so I walked out to the alley, and did see an AT&T truck there -- and I talked with the service person "Rob" who knew none of the history or how long my services had been out. He was most helpful and got my services restored today. His supervisor (Richard Miller) called me later and apologized as well. Three weeks is unconscionable -- I do think there could have been a work-around, if someone who had a positive work ethic had cared enough. I feel like the red-headed step child and I don't appreciate getting the short end of the stick while being expected to pay fees that are unreasonable anyway. Just after 8 p.m. I called AT&T to talk with them about it but was told that the business office is closed for the day. You gotta be kidding me!!!! It feels like insult being added to injury! OK --- I just now tried to submit this and got an ERROR message!!!!
Lou Gervais
from Jacksonville, FL
We called AT&T customer service at 18002020 to find out if we could switch our internet service from DSL to Uverse.
After a twenty minute call where we were asked for every piece of personal information including our Social Security Numbers, We have been AT&T Customers for over 9 years we still couldn't get the question "what is the price difference to upgrade to Uverse?' answered. This is the first time I have ever written a complaint letter to anyone
Your Customer Service people are going to have to do better
Nancy Raymond
from Tonawanda, NY
Received notification from AT&T that as of 2/20 I would lose my local channels from Direct TV if I did not get an equipment upgrade which was supposed to be free - but after reading the back of the notification it states I would be charged $10.00 for HD, $10.00 for DVR and $5.00 for Whole Home Service - it also states that after three billing cycles these fees would be credited to my account. I have called every number to have this explained and to verify these charges of $75.00 would be eliminated after three months. Unfortunately the Customer Service reps I have spoken to are either misinformed or poorly trained as I have been told so many different stories I am unable to verify these charges are not permanent. Being a senior citizen on social security I cannot afford to have HD or DVR installed if I am being charged for something I don't want and don't care about. I have set up an installation appointment for 6/24/19 but if these $75.00 increases are not eliminated after three months I will be forced to cancel my Direct TV account. Please verify that these increased charges will be taken off my account. No one in Customer Service will give me a straight answer.
Tony Reece
from Calexico, CA
Dear AT&T, I reside @ 8750 Mell Manor Drive # 35 La Mesa , CA 91942. Approximately 2 months I received a letter from AT&T advertising for cable and internet service their was a told of 3 services to choose from and if you chose one on you receive a gift card I chose the package with the 100.00 visa gift card and the ATT&T, customer service told I would receive the $ 100.00 visa card it 4 weeks after my first payment. As of today June 14 2019 I have not received my $100.00 visa card. at point I fill I was lied to by your service representative so I would take the deal. I found out that the card was never order when I called AT&T to check the status. I just want to know this is not right- being dishonest to people to make money I was always told that AT&T was company good ethic & high morals if AT&T, has these values you should makes this right.. If someone would like to speak with me I can be reached @ 619 .490.3707.
Respectfully ,
Tony Reece .
M. LeMay
from Springfield, IL
Springfield, IL: Three weeks ago, a storm took down a tree two doors down, laying it across the alley. My neighbors and I called the City multiple times to get them to remove the tree because it blocked the alley. It also took down the AT&T cable and terminal box that caused me to lose tv, internet and land line phone. It took a week for the City to move the tree. It took another two weeks for AT&T to restore services for me -- they were restored today, June 13. I had multiple conversations with multiple AT&T personnel and each time I called, I had to re-tell my story anew; no one had a clue about what had happened and I was told that case notes are not written down or shared. Twice, service techs came and left a note on my front door, saying they were sorry they missed me. When I called back, I asked why they needed me to be home (I work) and they said they needed to check my modem. There's nothing wrong with my modem!!!!! I asked if they had gone to the alley and observed the terminal box lying on the ground ... no, they hadn't. Each time, no, they hadn't. Today, I noticed that I had a new voice mail notification (on my cell phone) so I checked it ... I had multiple voicemails, as it turns out, all from AT&T, wanting to check to see if my problem had been resolved. I never did receive these calls; they all went to voice mail but did not appear until today. Several days ago I was dealing with a "Sam" and I noticed in the afternoon that I had missed a call, and thinking it was my neighbor calling, I called back. It was this AT&T Sam, who said he'd been trying to reach me, and he told me that each time he'd called me, his call was either cut off, or it went straight to voice mail. "Welcome to my AT&T" I told him ... "this is the kind of service I have with AT&T." It's a pretty sad commentary when not only do I not have internet, land line or tv, but AT&T can't reach me through their cell service to talk with me about my services. I came home late from work one day this week and spoke with a young man whom I couldn't understand. I am a retired social worker, respect diversity, and am very tolerant of other cultures, but I simply could not understand his thick accent. I even asked him to spell his name, but couldn't understand all the letters he was pronouncing. That does not make for a clear understanding of issues. He was very pleasant and said that it was too late to reach anyone who could help me, and that I would need to call back in the morning. I responded that no, someone needed to call me back. He said that he would have to fill out a ticket and get permission from his supervisor in order for that to occur, so I encouraged him to do that. It took quite a while, but he finally came back and said he'd gotten permission from his supervisor for someone to call me the next day. The next morning, someone did call me, and we arranged for a technician appointment later in the afternoon. This was the "Sam" I mentioned previously -- as it turned out, I guess he was unable to help me. This morning, I got a text from someone telling me that someone should be here today and when I asked for a timeframe, the response was "I have no idea." Sorry, but that's not good customer service. That's apathetic customer service. Luckily, it was just before I left for work, so I walked out to the alley, and did see an AT&T truck there -- and I talked with the service person "Rob" who knew none of the history or how long my services had been out. He was most helpful and got my services restored today. His supervisor (Richard Miller) called me later and apologized as well. Three weeks is unconscionable -- I do think there could have been a work-around, if someone who had a positive work ethic had cared enough. I feel like the red-headed step child and I don't appreciate getting the short end of the stick while being expected to pay fees that are unreasonable anyway. Just after 8 p.m. I called AT&T to talk with them about it but was told that the business office is closed for the day. You gotta be kidding me!!!! It feels like insult being added to injury!
Switched 3 phone lines from business to personal. One is operating 2 cannot receive or call out phone calls. Both can receive texts and emails, however it has been 48 hours since this has occurred. Spoke with At&t on Tuesday and they said Phones would be working in 24 hours they put in a ticket, called on Wednesday, same deal put in ticket will be working in 24 hours, called today, same put in ticket will work in 24 hours. So now I'm heading towards 72 hours without service on 2 lines and it is obsurd. I need immediate action, I'm sure I'll be paying for the two-three days my phone does not work, so I need immediate action. Beyond livid!!!
Martha Cox
from Bronston, KY
At@t representatives lied to me over and over I called at least 10 times to get the matter taking care of each one gave different answer they was rude and not 1 person told the truth ,I been customer for over 11 years and have never occurred such attitudes they would quote me something the the next person would be like oh know ,I have never heard anything like them ,I will soon not be there customer
Joseph Smith
from Des Moines, IA
On 6 Jun '19, my internet stopped working. I assumed it was a momentary outage (as has happened often, in the past), and waited for it to resume. It never did.
On 7 Jun, I called AT&T, and after a short troubleshooting, was given a repair window, of 8am-12pm, on 11 Jun.
On 11 Jun, just before noon, I got a text, implying that the techs were running behind, and would I like to keep my repair, for today. I answered "Yes", and continued to wait... and wait... and wait. Eventually, I called back, and was told they could set me up another appointment!! I told them all that had occurred, & asked if anyone was going to come fix the problem. After playing round-robin, with multiple operators, all telling me I needed to talk to someone else, my daughter asked to speak to a manager.
The manager FINALLY told her, that it wasn't me, & that they had a line problem! So I had waited all that time, for nothing!!! He told her the techs were still at it, & he expected it to be fixed today. Later that day, I get a call, from a "Charles", telling me the issue was fixed, & to call if I still didn't have internet. I called multiple times, & no one answered, or called back!!
On 12 Jun, I called AT&T, and was told they could setup ANOTHER appointment!! I asked to speak to a manager. The manager told me I was being setup, for a TWELVE hour window, this time, but didn't need to be home. I responded, that in a way, I did. You guys could fix the problem ANYTIME before 8pm, and at that point, it would be too late to do anything about it, if it still didn't work. I also asked why I had such a large window, I was trying to be patient, and wait my turn, but I had already waited!
I had no choice, & despite the extremely bad service, I ok'd my only option. When I said I wanted credit for the WEEK, I had been without service, this 2nd manager told me she could only do 6 days, because I hadn't called in that 1st day! I explained that was because I thought it was a momentary outage, that I had become accustom to, with AT&T, and that with all that had happened, I was surprised she wouldn't give me that final day.
She told me she couldn't, & that my credit would be for $12. So after all that's happened, & still might happen, you're going to quibble about $2 (the amount of one more day's credit)?!?!?!? It really shows how much you care about your customers!!!
It really makes you wonder how Verizon would have handled the situation.
The Customer Support Center, which is obviously an off-shore operation is staffed by under-trained and uniformed personnel who are a complete discredit to AT&T. I tried to communicated with the customer service operator that I needed an 800 number or email address to send in a proof of payment on a billing issue which I thought had been resolved on a previous call. The woman I spoke to did not understand that there were method other than on-line access in which to resolve the issue (Fax or an email address). She informed me that no supervisor was available to speak with me and was unwilling to take my number and have a supervisor contact me at a later time. This is probably the worst customer service experience I've encountered in over 20 years.
Your customer service center lied to me! No one showed for the promised repair service! That cost me Bye-bye AT&T - going to your competitor.
Larry Clayton 662-247-4224
Our AT& T home service failed on 6/4/19. No calls could be made or received from the home phone. My wife and I reported this to AT&T customer service department 6/5/19. No one could not tell us anything and the recipient of our call could not speak very good English. We finally found out that a service person would come on 6/10/19. This is very inconvenient to be without telephone service this long without anyone being able to tell us what the problem is, or not being able to resolve the problem. We have had problems with the internet recently. We all know that services do break down sometime. But when no one knows what the problem is and do not communicate with their clients in a professional manner, it makes you feel like it's got to be a better provider somewhere. We have been customers of South Central Bell, Bell South, /AT&T since the early 1980's. We had to provide all of our information each time we called about this problem, and there has been quite a few. I know your company can do better than this. If it cannot, please let us know, so we can start looking for another alternative.
Mrs Carmon Chambers
from Rabun Gap, GA
Our service has continued to get worse even though tech support assured us they would fix the problem and call us back two different times but did not. I pay the full price on my bill each month but am not receiving good service. We have been running ping test over the last two months, which can be used to observe network latency, and I am including some of these so you can see what is happening to our service. A ping that times out is in excess of 4000 ms, which is more than 4 seconds of the computer waiting for a response from the server. An average ping should be about 23-40ms if everything is functioning properly. If the people you have working to resolve these problem can not do their job fire them and hire someone who can. Unhappy customer ,my email address is teenachambers@hotmail.com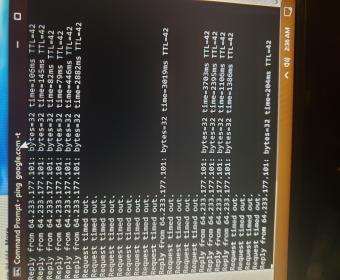 Nancy Marshall
from Champaign, IL
Every month my bill goes up and for no reason. I was told my bill (for TV and Internet only) would be about $ 86 a month. For one month is was that, the next month $ 92 and for July now $ 131. Why is there no one regulating this rotten company ??? My initial special 2 year promised price doubled in 8 months. The promised gift card was a lie. I was charged $150 for burying the cable because they sent an idiot to bury it twice and both times cut through the cable. Third try, I had to pay for it. The techs (original set-up) ran wires on the outside of my condo (on the siding) for which I got a written complaint from the HOA and almost got a fine. The only reason I don't leave this darn company is that they are only slightly better than Comcast and I have no other choice. I would never recommend this company to anyone other than my worst enemy. I will call AGAIN to see about fixing my monthly cost but I know I am wasting my time and energy...it will only happen again next month and the month after that and on and on. I am cutting the cable as soon as I can. (Senior citizen on a fixed income....thanks Att/Direct TV) Another company is getting closer with their fiberoptics.....THEY will get my business as soon as they come down my street. Hopefully they won't be run by a bunch of crooks.
nancy cadorette
from Bay City, MI
I was going to take my granddaughter off pre paid and get new sim. but rep said if I add a line I could get new phone free. then I get email saying there is a charge of 9.00 month for phone but after three months I will get credit. not what I was told. also activation free there was a charge. also I could change phone number to one she has right away know told have to wait three months or pay for phone not what I was told. I will never recommend att again. it has gotten expensive and they lie all the time. sprint t moble offer same plan on 4 lines for 100 and four new phones. I have had nothing but problems with your wirless servie.i do not like being lied to
Boneka Higginson
from San Francisco, CA
Hi, I need to express my dissatisfaction about my experience, I am really frustrated with the wrong info gave to me by a representative. I do not have a current direct TV/AT&T service and I call and ask specifically information. My fiancée does have direct tv service, I ask if he can add another home (like a second home) and add direct tv service, the answer was yes and agent quote me $49.99 plus taxes or $39.99 with a $10 discount since he have a current service. in the chat I specifically ASK that the new service was on another home and a discount was going to be applied. basic channel (PPV) + canal sur+ 2 receivers (one free) - when he call this morning to put the service, oh surprise, this is not allowed.I contract customer servie and after a conversation I ask directly if they can honor the incorrect price quoted, is not about the $10.00, is about the fact that they provide me an incorrect info when I was very specific of the situation, I do believe that this is not a good way to represent AT&T and it become a very poor service.
I would like to know if there is a way to honor the price of $39.99 with all the inclusive, so he can add our home into his current account.
I would apprciate your repsonse in this matter-
you can contact me via email bonekah@hotmail.com or 602-697-2937
------------------------------------------
Here is a copy of the chat with agent Katherine, yesterday approximately noon.
AT&T: Hello! Before we get started signing you up for DIRECTV NOW, may I have your name please?
Katherine: Hi! My name is Katherine. How can I help?
Me: Boneka, HI, I am looking for the Canal Sur (Spanish)
Katherine: I will be happy to help you
Me: how much does it cost to have it? I do not have cable a tthis moment, I am really interested basically only on this channel, I understand that I will have to get a package, what are my options?
Katherine: To make sure this is for Directvnow
Me: direct tv or direct tv now, I need the cheapest since literally that's the only channel that I want
Me: is there a discount if my fiancé have his account at his home? will he be eligible to have a second account, is there a family plan? just curious
Katherine: Let me check the based plan for you
Katherine: Please give me a few minutes while I look into this.
Me: ok thanks
Katherine: Thank you
Katherine: Thanks for your patience.
Katherine: I have checked and currently Canal Sur it is under negotiation for Directvnow
Me: under negotiation?
Me: my fiancée have the channel at his home
Katherine: I see we we Canal Sur under Directv satellite
Katherine: under spanish package for $7.99/mo
Me: is a Peruvian channel
Katherine: Correct
Me: how much it will be if I only need that chancel or do I have to do a package?
Katherine: To get the channel it will be required to get a package you can get the basic package and this channel
Katherine: Can I have the full address and zip code where you're planning to establish the service?
Me: what is the basic? how much?
Me: 13651 s 39th st, phoenix az 85044
Me: is this something that my fiancée can add on his package and have it in two homes? we are half and half
Katherine: let me check for you based in your area
Me: ok thanks for your help,
Katherine: So welcome
Me: r we able to keep this chat via email? before I make a decision I need to check with him with the options-
Me: another questions - we are planning to move together later, what happened if both of us have our lwn account, if one needs to be cancel?
Katherine: Absolutely, he can combine it with his services and will get one bill and a discount
Katherine: How many TVs will you be connecting to your service?
Me: I may do 1-2 or 3
Me: how much is a discount if he add my home to his account? ( I still need to have a basic package
Katherine: Will be $10 off in the monthly bill
Katherine: The package is for $35/mo+tax this package comes with free HD DVR
Katherine: and there is $7 charge for extra receiver
Me: How much will be the total with two receivers and with or without him
Me: thanks and sorry for so many questons
Katherine: Sure let me give you the total price
Katherine: Thank you for waiting.
Katherine: Based on what you have shared we offer Directv select over 155 channels +Free installation +Free HD DVR + 2tv +Canal Sur for $49.99/mo+tax
Katherine: With the combine bill discount will be $39.99/mo
Katherine: Just checking to see if you are there so we can continue.
Katherine: Please let me know if you're receiving my responses or I will need to end our session.
Katherine: Our chat session is now ending. Thank you for choosing AT&T! We appreciate your business.
Thank you for chatting with us today. The agent has left this conversation. Please continue to browse our website and use our self-service options.
Your chat may be monitored and recorded for quality purposes.
Mrs. Carmon Chambers
from Rabun Gap, GA
We have had excellent service until about 6 weeks ago, a storm came through and according to your service department, a tower was damaged in Blount County Alabama on Coy Road just off of Blount County Hwy 33. We have contacted your service department many times and were assured the problem would be fixed. Before the storm we had 4 and 5 bars of service on our cell phones now on a good day we might have 2 bars of service. We have internet (trough a mobile hotspot device), cell phones and tv service with you. We are having dropped calls, and loss of internet service, with degraded connections on both. Our home phone is VOIP and we have dropped calls and broken talk on this phone as well. The tower has not been properly repaired or our service would be much better than what we are receiving. Thank you for your time. Ernestine Chambers
Harry
from San Antonio, TX
as usual at&t is useless. i pay for phone service and about once a month some tech pulls my pair for someone else. useless
These idiots tried to charge me a 500.00 deposit per line for prepaid phones they will not get my business.
Ronald Walburn
from Bossier City, LA
I am constantly loosing service. Although the problems are eventually resolved it will happen again. I am still waiting to have the line repaired again. This always takes over a week and then may not be totally resolved. Example: In April 2019 I lost service. After a week the repairman came and said he repaired the line. I had to call the next day because of constant static. He came back, checked the line but told me the problem was with the phones in the house and not the line. He told me I needed to buy new phones. I did buy new phones but that did not resolve the problem. I called him again and he checked the line more extensively and finally found the problem. After waiting a week for him to show to repair the line, it took another week to resolve the problem. I do not appreciate being told I needed to buy new phones, doing so, and then finding out that was not the problem. Now my phones are out again. This is totally unacceptable and should not be tolerated by a professional business.
Janice McElligott
from Vero Beach, FL
During a storm last Monday a fire burned cables on a telephone post. The cables have to be replaced. ComEd came and replaced electrical wiring. AT&T has been promising me since last Wednesday that a new cable had to be put in and it would be okay. 4 different technicians have told me that the cable was being replaced the day they came out. To date - nothing. No one at AT&T can tell me when this problem will be fixed. They said they cannot communicate with the people that put in the cables. I find they very strange that a big company like AT&T cannot communicate with people who do their work. I work from home. I feel I have been very patient. This needs to get fixed.
Dominique Winston
from Chicago, IL
I have had 3 failed service attempts with a field tech. No call back or reason saying why they were a no show. I called in on Saturday, spoke with a mgr by the name of Bernetta who promised me the issue would be escalated to 2nd level. Still no response. Called in again today and spoke to Jay, who couldn't (or wouldn't) give me his call back number. Claims to have rescheduled me again for Wed btwn 12-4. I need an explanation as to why it takes 4 calls at almost an hour long to resolve an issue. This is extremely poor customer service and need a call back at 314-704-1951.
Marie Racutt
from Cleveland, OH
My cable keeps cutting out, msg "connection lost". Tech came out today installed new box and problem started again. I live in an apartment complex and a few residents are having the same problem with ATT. The wiring in this building is a mess and needs to be updated NOW. What can I do to get good service again.
Marie Racutt
acct# 122913676
6800 Mayfield Rd # 409
Mayfield Hts., OH 44124
dean michael volk
from Willow City, ND
why do I have a phone and pay 160.00 a mouth that never has service now today no service at all today but every one ells does
Jamie Lackey
from Columbia, MD
Finally canceling my mobile service with AT&T after 20 years. Horrible customer service and EXTREMELY OVERPRICED. Valued customer my hiney. They will never gain back my business, to much competition out there to settle for AT&T.
Geraldine Mitchell
from Fairfield, CA
AT&T has the worse Customer Service in History Both live and on Chat. First and foremost the hold times are ridiculous, the time that you spend on the phone trying to resolve your issues are insane. Most of the time the people who you speak to on live do not speak Good English which is very frustrating. Now, lets get to the major reason for my complaint. I am paying for a service with AT&T DirectTV and Internet ...I have had to have a Technician come out Apprx 6 times to repair my boxes that keep on going out. I was promised Credits for the inconvenience and never received some of them...I received a call from AT&T with a promotion offer of 70% off my bill and they processed the payment with the discount added to my bank account for 51.99 and advised me that I would be paid up through June, well the following day my service was turned off...so I called and chatted with Customer Service after holding and being transferred multiple times no one showed the promotion in the system..One gentleman advised me to send an email along with the copy of my Bill, the email from AT&T and the text message so that is what I did..In the meantime I had to pay my bill again!!! They claimed At&T does not make call outs with promotions-(I beg to differ) and that it could possibly be fraud...However, the email-text and bank transaction is from AT&T...I received and email back from AT&T and they said it would take 20 days to investigate the concern which is also insane!!! I have screen shots of all of my chat communications and the promises that I did not receive and I am also currently waiting for a Tech to come out and repair my boxes again.!!! This is the worse customer service in the History of poor customer service... You customers should not have to spend half of their days on the phone talking to you about issues and then hang up without anything being resolved...We are paying way too much money for your services...!!! Now I have a charge of $51.99 on my account from AT&T and you all have no clue where my money is...I would like to be made whole for my missing money, as well as pain and suffering!!
You all need to be accountable for you products and services & show you customers a little more respect and courtesy!! That is the Key to keeping peoples business!! You need to have a more accurate system and educate your employees on the services and processes!! Every time you call they stories change!!! I can provide documentation if needed. FYI I have filed a complaint with the BBB... This is totally unacceptable. You customer Service Reps could care less about Complaints being filed.
I can NEVER reach anyone in your company that speaks ENGLISH WITHOUT A VERY STRONG ACCENT. I ask for ON SHORE REPRESENTATIVE and it does not work. Please tell me a number I can call to speak with someone I can UNDERSTAND.
James Davis
from Miami, FL
On March 20, I received a replacement phone for my Galaxy S8 Active belonging to Phone # 305- 790-0201. I immediately boxed up the defective item , attached the prepaid label, tore off the packing slip with the smart label tracking # and drove to the Post office located at 9833 Hibiscus St. Miami, Fl. 33257. The package was given to an employee and scanned.
About 2 weeks later using the tracking #, I checked on the package and it was picked up " By Carrier" from the post office. I assumed it was on its way back to AT&T. Not so. I received my bill about 2 weeks later to find that I had been charged $769.00 plus tax for a phone that AT&T claims it never received. I have since learned that the company that picked up my phone was Newgistics and that they have a poor record of misplacing equipment.
Somehow this tracking # has disappeared into thin air. It seems that I have spent the better part of April and May on the phone from the Philippines, to India, to Chicago, to Atlanta, trying to get this resolved. I have probably repeated these facts 25 different times, to 25 different people.
I have spoken to Kimberly, Thelma, Sarah, Ariel, Tamara, Derek, Julio, and the list goes on. On May 15 Sarah was going to call me back. Never heard from her. I spoke to Ariel on May 17, and she totally understood because the same thing happened to her. She said she would not get off the phone until everything was resolved. Finally someone was going to listen to me. She was working with her Manager( Cliff Taveras ht964w@att.com) to resolve this issue and wanted me to email the tracking #, which I did. I got a response back from Cliff that my email was received and it would be resolved by the end of the day, May 17. As of 5/23 I had not heard from anyone and I email back for the status That was the last anyone has contacted me. . My family has been consistent and on time with every bill we have paid for the last 30 years. Probably longer, when it was Bell South. I just turned 60 years old last week and did not wake up and decide that I was going to start stealing phones and lying so that I could keep a defective phone. As a matter of fact, I just purchased another phone for my wife in April. So as you can see, we are not in the habit of being dishonest. I spend over $5000.00 a year with all of my services with AT&T. To lose a customer for a $769.00 charge that is not my fault, would be bad business practices from your end. I already feel humiliated and beat down. This has been a real shake down. I will cancel all services as soon as I pay these phones off to protect my credit. But you will get your money sooner than later and will lose a very good and loyal customer. I am filing a complaint with the FCC and AT&T Corporate Headquarters
Sincerely,
Dominic Monteleone
from Boca Raton, FL
Billing, for many years my cell bill has been 130.00 per month, never changes
Month of May 2019 I get a bill for 4600.00 previous month it was 130.00 for a cell phone
I did see different messages come up close to three weeks prior and I called the 611 number
and spoke to a rep. and he agreed something was not right but not to worry bill would not increase
I expect a credit, now I am waiting on the reply as I called the 611 number again
Florence Grueser
from Athens, OH
I don't think you should be charging $5.00 for credit cards when paying a bill. Mind didn't go thru so our tv service was shut off. I'm not happy with the people you have to talk to when calling. I asked to talk to a supervisor and I was refused. So I will probably be shopping for another service provider as soon as my contract is up.
I purchased a new iPhone X complete with screen cover and case from your Mt. Airy n.c. Store approximately 12 days ago. After only 48 hours I began to notice cracks in the screen cover . This phone had not been dropped or had any trauma . I returned the phone today to above store location and the manager said that if the phone was returned within 14 days the screen would be replaced at no charge . After looking through his inventory he said he didn't have a screen cover for this particular phone an d I would have to go online to order the replacement although he did have new ones on display. I think this is poor customer service at best. He should have replaced the defective screen. Having been in business for 45 plus years had I had an employee that behaved in such a manner he would be looking for other employment shortly. I realize that monetarily this is minor but principal and consumer service do matter.
I'll start with this method first. My husband passed away the first part of May. We each have a phone with AT&T service which is spotty at the best of times from home. That is not the problem, however.
I called customer service yesterday to inquire about turning off his phone. I was informed in ordered to discontinue the service on that phone I would have to pay the early termination fee. I found this to be outrageous!!!!!!! I have no use for the phone now that he has died and would like to not have to pay for it since I'm on a limited income. At this time, there are 14 months of payments on the phone, that being the case, I'll be happy to give the phone back if I just don't have to waste my money on a phone I can't use.
Where is the compassion in this company, to where you can't help a poor widow out in her time of trouble? Though the customer service rep was very considerate, he was of no help what so ever.
Please is there some way you can help me out?
Thanks,
Carolyn Crews
704-928-8879
Krista Van De Wiele
from Washington D.C., DC
I am disappointed that after 3 hours and 8 transfers later no one within the AT&T organization can tell me why my cell service was disconnected as well as why if my combined bill shows it is due 5/28 why does the cell phone department show its due 6/8. If at&t is doing away with combine billing maybe it should be a clean cutover so customers are not being billed twice in the same month for services. Also better education to your support staff is needed: with that said currently researching other providers and after 25 years dropping AT&T
I'll start with this method first. My husband passed away the first part of May. We each have a phone with AT&T service which is spotty at the best of times from home. That is not the problem, however.
I called customer service yesterday to inquire about turning off his phone. I was informed in ordered to discontinue the service on that phone I would have to pay the early termination fee. I found this to be outrageous!!!!!!! I have no use for the phone now that he has died and would like to not have to pay for it since I'm on a limited income. At this time, there are 14 months of payments on the phone, that being the case, I'll be happy to give the phone back if I just don't have to waste my money on a phone I can't use.
Where is the compassion in this company, to where you can't help a poor widow out in her time of trouble? Though the customer service rep was very considerate, he was of no help what so ever.
Please is there some way you can help me out?
Thanks,
Carolyn Crews
704-928-8879
Att ripped me off .
I have been a loyal customer with at&t for many many years. I will be discontinuing my service. Here is why.
2 years ago I resigned a contract for 2 devices. They were the Galaxy8 tablets with unlimited data and 1 with hotspot ability.
4 months ago the hotspot stoped working. I contacted custermer service and was informed at&t computer system know longer will support the hotspot app. For the galaxy tablets.i asked the rep what can be done she stated I am sorry but there is nothing you can do. Until att repairs the system. I purchased the 2 devices for my grandchildren who have now done without the ability to hotspot. I called several times a month for 4 months with the same response. I asked the last rep will I get a refund. Yes refund. When I purchased the device it was for just this reason I had the separate unite but was told it would not meat my needs . The last rep stated if I purchase a new plan and allow both devices to hotspot for only 30 more dollars a month it would be working again. I asked directly so you cut my hotspot service off so I would be forced to upgrade ? He stated well no but with a new plan it would reactivate it. I should have never lost it .someone owes me a refund for service not rendered. I will call on the 2nd of June to discontinue my service report it to my bank to reject payment. I wish att well to steel fro. Your custermer will cost you your business .
Michael johnson 9799424659.
Kim Conkle
from Carthage, MO
Signed up the for next program in the middle of the month with when updating my phone. I was offered the u-verse phone option at that time so I signed up for that too. I had a combined billing that was due at the end of the month. AT&T did the split around the 20th. I then received a bill from ATT cellular (same billing dates) and a separate bill to pay u-verse internet and phone which I did two weeks before they were due. The following month I get a collection letter from the combined services that state I did not pay my bill. After 2-1/2 hours and getting hung up on several times and calling back I found out they were closed. I called back the next day they told me a claim will be filed and someone would call me.
After two weeks no call, I called them said it was still in process and I would get a letter by the end of the month with the resolution. I never received a call or letter I just figured it was taken care of. Another month goes by and now I am getting calls from a third party collection agency on this bill. Called AT&T back and they cannot find any records of my combined account and have no idea who to send me to. After being transferred 10 times and 45 minutes later no resolution. I got hung up on again!!! Next step will be finding an attorney.
Susan Anthony
from Houston, TX
Grossly over billed for services. Was on phone with 3 customer service reps for over two hours, only to be told be all 3 of them that their phones and Internet were not working!!! And this is their business! One rep was located in Montego Bay, one sounded Chinese, the other sounded Indian. All said they were having too many technical issues to resolve my problem!
Mary Mitchell
from Raleigh, NC
My experiences with AT&T products is fine. i am mad that your people have sprayed expensive plants with orange paint in North Raleigh. I am not buying fiber optic use and have told you so. My computer is with Time Warner and will stay that way. You do not have the right to tear up my yard by digging. It is too hard to grow a yrad here, and I have rare and expensive plants, too.
The least you can do is contact me. If you are digging, You need to let me know so that I can remove the plants and take them to my greenhouse and replant them at a later date. I am thoroughly disgusted. As far as I am concerned, this is vandalism.
Barbara Hopkinson
from Washington, DC
First of all, I deal with your AT&T customer service every month. It seems as though your department lacks accountability. Every month my bills are messed up. But recently, I got an email telling me my bill was due- this was in April of $128.15. I made the payment right away. To be exact, my bank paid it on 5/5/2015.
I have been getting threatening emails from AT&T saying my bill is past due, and my services will be discontinued. I spoke to a supervisor yesterday, she informed me this is a past due bill, I said my bill has been paid as soon as I receive them, I explained to her I don't know about any pass due bill. I made the payment yesterday which was a holiday, and you should receive it very soon. I spoke to Emerly Carlson this morning, she was very nasty, telling me if they don't receive the money soon my service will be cancelled.
I can't believe I've been with AT&T for years and now I am treated like a dog. What can be done to fix this issue? I am seriously thinking about going with another company! I also mentioned to your supervisor and Emerly this morning, if I never got a pass due bill, how am I suppose to know there is a past due balance?!?! I am so upset that I don't know if I'll use AT&T ever again!
Lugenia Twombly
from Enid, OK
My husband has terminal Brain cancer and we live on a very limited budget. I was with a different carrier and wanted to find a better cheaper plan! I called AT&T and spoke with a present at seven she assured me that she could get me a better plan for less money she also told me that they were having a promo and I would you see the hundred dollar credit for each phone. That there would be a one time fee of 40$ to connect my phone lines but that it would be dropped because I was getting the 200$ credit for the two phones. And my monthly bill would only be 105$ (30$ cheaper than I was paying at the other carrier) I thought wow great deal! Then I got my bill and it was 250$ nothing was credited as a matter of a fact they couldn't even find a promo and if there was one it wouldn't be added to my account for 10 weeks! That's not what i was told in the beginning but since I couldn't even find a promo and her notes I wouldn't be credited that anyway! On top of that my bill monthly would be 125$! I asked to speak to a supervisor but have yet to be able to! I feel very taken advantage of. I came to this company expecting better service. And I've only been disappointed lied to and handed a large bill that I can NOT afford to pay!
Susan Johnson
from Cleveland, OH
I received a notice about our business account - service contract expiring soon and to call discuss options. I called the 800 number for AT&T specified twice. Each time I was on hold for over an hour. There was no way to get to a live person, no option to have your call returned and not lose your place in line. I tried in the morning, noon, and late afternoon. On hold for 3 hours that one day. Worst customer service ever. If you want to change my contract, give me a way to get a hold of you and not wait for 3 hours.
Michele Gonzalez
from Mobile, AL
Went to AT&T store. I wanted to combine phone accounts between my husband and myself. Bought a new phone $1,000, plus ordered Direct TV and obtained a security system. I was told combining the phones with Direct TV would save me money.
They told me the plan would be for 2 years which would include NFL package for 2 years. I was notified in mail NFL package would be for 1 year. And the direct TV with all the hidden cost will cost me more than I was paying for cable. was not told they had to run big wires across house nor a big dish on top of house. drilling in house for security was a mess. left dust from drilling everywhere. Didn't tell you system issues.
I went to ATT over 2 weeks ago my account still is not right on the billing side however, it is closer after they told me I would still have to pay for 2 separate accounts for 2 months and I had a melt down. so I was mislead in multiple directions and after being a customer for many years I was greatly disappointed. Now I know for sure when this contract is up I will switch my plans to another company, bc I don't like being mislead.
Emily Duke
from Lawrenceville, GA
We have AT&T u-verse, Internet and direct TV. When this months' bill was received it is almost $50 more than last month's. When establishing the account, we were told the bill would be the same for 2 years. When calling customer service, I was told there was a change in the billing date, and that was the reason for the increase. My complaint is that we are senior citizens living on a fixed income. A sudden $50 increase in a monthly payment impacts us. We do it have extra money. Why were we not previously informed? I was told in my conversation with customer service that we could get a discount for being AARP members and a discount for my husband being a veteran. You web sites appear to have discounts for cell phone users only. Please advise how to get these discounts.
Hodson, Hannelore
from Chicago, IL
3/17/2016 - No phone service(landline) no internet as well. 1st appointment 3/18/16 had to cancel toward the end of the promised time as I had to leave the house. Rescheduled for 3/18/16 PM and services reestablished by 9:30PM. 3/21/16 - rental unit in same house without any service; AT&T provided them with services the same evening. However, I again had no more phone or internet services(3/21/16). Another AT&T appointment 3/22/16 (now the 4th one) made and was informed that service man the evening before had given my line to rental unit and just cut me out and left me without services. Not only that the service man on 3/21/16 refused to reestablish my line as he did not have a "ticket".
Knowing very well that he had just given my line to his customer and that I was left without services. What kind of way is this to treat a customer? Unacceptable. It took 4 appointments and a lot of waiting time to have my services reinstalled. To reimburse me for all this inconvenience and unprofessional way of handling this matter I would appreciate if you would wave my service charges for one month. Thanking you in advance.
Brandon
from Union City, CA
I just got a new phone, the one plus two, and the mobile data wasn't working. So I went to the att store to resolve this issue. I went to the att store in downtown San Leandro and was helped by Berlin. He did not inform me of why the data wasn't working nor did he tell me that he needed to install a new sim. He takes my phone and disappears for awhile and when he came back, there was a scratch on my brand new phone. I brought that to his attention and he simply denied that he did it. After expressing my discontent with what happened, he brought his manager, Taira, over. All she managed to do was tell me that they take no responsibility and that they could not do anything about it. She told me that it is not a phone they carry so they can't reimburse me in any way.
At this time, my data was still not working and they told me that they were not trained to fix the data situation and Taira then left. I asked Berlin for both their names and he decided to bring over his other manager Evan. Evan simply did not listen to what I had to say and instead got angry at me for being upset about a scratch on my brand new phone caused by his employee. He continued to say that sometimes sim cards need to be installed and sometimes the phones have to be laid on its screen, so if a scratch occurs, it's part of the job and not their fault. Luckily my phone had a screen protector on it and the screen was not damaged, however, I'm still disappointed and outraged at the fact that they believe it's ok to damage a customer's phone while servicing it. This is not acceptable.
Frank Camarotti
from Fernandina Beach, FL
I switched to ATT from Verizon because I did not have service at my home from Verizon. The ATT representative said with ATT I would have wireless service at my home. I recorded this conversation and in reality I do not have service. The only reason I switched is because ATT told me I would. I have called Customer service and they said there is a device I can buy to give me service. The ATT store personal were I live said they should give that to me. Why should I buy this device when ATT said I have service and do not. Yes I can afford the device, but it is the principle of the thing. Give me the service I signed up for and you said I would have. I have been a satisfied U verse customer but am not satisfied with ATT not doing right by what is told me. I appreciate your consideration in this matter.
Absher Enterprises
from Virgie, KY
We moved from our location in Prestonsburg, KY to Betsy Layne, KY. AT&T does not service this area. We would have kept AT&T if possible. We had to go with a different carrier and had our phone number ported to new number. I paid what I thought was our last phone bill and then began getting calls from a collection agency. When I filed an appeal with AT&T, they did a credit for part of the balance. That left a total of $495. We were still unhappy, feeling we should not be charged a early termination fee.
I tried the appeal again and got a reply that it had already been filed and turn down. When one of our other businesses came due to renew, we gave a stipulation that before renewal this $495.00 needed to be taken off. Just got a call that they are still unwilling to do so. So, AT&T will be losing our other business, Highland Theatre Corp and several restaurant business owned by the same owner. We have businesses in Prestonsburg, Pikeville, Martin and Paintsville, KY. of which all have AT&T phone service, but be assured with those contract come up for renewal we will NOT renew with AT&T. Our biggest account to be cancelled.
sheilah anderson
from Houston, TX
I have changed my account three times in the last mo and each time a day later my account goes back to the original order. I am trying to get my payment down. I am a senior citizen. When I SPOKE with a supervisor on Saturday, they stated someone in my home was changing the account bank. No one is changing anything!! His attitude with horrible on Sat... accusing me of changing it back..AT&T is the worse company I have ever done business with. This is just one incident the payment issues is another huge issue....taking the bill out two weeks early and on. I AM NOT HAPPY AT ALL.
Samuel L. White, Sr.
from Marksville, LA
Around mid-November, 2014, Deviney Construction Co. (an AT&T subcontractor) did some underground cable work in front of my house located in Fayette, MS. They made deep tire tracks, displace the sod and left a sizeable hole in the front yard. While the area in question is a part of the City's right-a-way, it is maintained by me as the homeowner. I asked the Deviney crew if they were going to restore the lawn and they agreed they would. On an earlier work project they had re-sodded and returned the lawn to its original condition. This time that was not done.
To date, I have repeatedly contacted AT&T regarding this issue. Ms. Mylissa Nevels of your Brookhaven office has sent Chris Nelson and Derrick Manuel to the site to investigate and take pictures. The matter is well documented, but no corrective action has been taken. I am a loyal AT&T customer, and I feel less than valued. Curb appeal is of value to me. Please address my concern immediately. I have informed the Mayor of my dilemma. I look forward to your response.
Gus Navarro
from Milwaukee, WI
I just had the worst customer service experience of my life. AT&T has the worst automated phone system I've ever used. I want a call back from a customer service manager ASAP. We are a new commercial customer. We have had nothing but problems, from before we were even open. Because of a clerical error, our bill was mailed to the wrong address. Consequently, we missed a payment. Our service was interrupted. We discovered this at 10:00 AM. We made a payment quickly. It is 3:20 PM and our service is still not back up.
In the computer age we live in it should take a couple of computer key strokes to get us back up and running. Any delays in the process are, I'm sure, built in by at and t to punish customers who don't pay on time. What about the customer who has a problem because of an error on your part. Your collections department is horrible and I'm beginning to think AT&T is horrible. I think I'll be making that opinion public, in every way I can from now on. I spoke to a manager named J Moore in collections this morning, and she was especially unhelpful. I tried your automated repair line, and it keeps hanging up on me. Terrible service, just terrible. I expect a return call from somebody with some authority ASAP.
This is by far the very worst company out there. I broke up with AT&T a few years ago. I used them for my home and mobile communications and after 12 plus years and in the end they just robbed me. I could kick myself now for forgiving them and giving them another chance to do business with them. This time I got screwed over even worse. PLEASE, PLEASE, PLEASE, Run from this company before they snatch your purse. I did not sign up for a contract, nor did I want a commitment, and expressed that at the time of purchase. I was told that I would not have a commitment, so I decided to give them a shot again in hopes that they would treat me as a valued customer.
Setting up my service was a nightmare and they billed me over $300 when i was told there was no fee to turn on my phone line. When I disconnected my service AT&T informed me over the phone that I would not have any disconnection fees (I checked). I should have known they would send me a huge bill regardless of what they said (close to $400 and that was not even the final bill). I called to complain, was very kind, but they could careless about you or myself. They are white collar thieves looking to swipe your wallet. I was told by the rep that they had sent me a letter that basically states we are allowed to rob you for any reason when and if you decide to use our service(s). Please run, there are better companies out there, AT&T is no longer the an American company, they are a terrorist company. I am actually embarrassed that I chose to do business with them.
A representative came to my house to sell me ATT Uverse. I reluctantly took the service and have had nothing but problems since. First my bill was more than I expected. Then a piece of equipent went bad. I was told that I would have to send it back within certain time. I had to drive 35 minutes to turn in equipment to the closest UPS store.
When I got there, they would not take it because they had no pick up order. Really? Then I had my service cut off because my bill was sent through email along with a million other ATT emails daily which I automatically deleted not realizing a bill was included. When I called to get this mess straightened out I was charge a huge reconnection fee. They would only take the charges off if I agreed to let them automatically draft my bank account. I had enough. I canceled service and was charge an early cancelation fee.
I refused to take equipment back since it was a 35 minute drive and was sent a prepaid UPS box to mail it back. I sent it back the next day after I received it. That was in January and I am being billed for this equipment, even though I have a receipt from UPS with tracking number and signature of person receiving it.
I have made numerous phone calls and ATT just can't find the equipment. Now I have been turned into collections. AT&T is the worse company I have ever dealt with. THEY SUCK!
Tamisha Wilson
from East Orange, NJ
I joined AT&T last April based on a promotion for the iPhone, buy one get one free promotion. Based on this I opened 4 lines. The BOGO promotion was supposed to go into effect after 45 days. It never happened. I have made over 12-15 calls to ATT since May/June trying to get this resolved. I was told it takes 2-3 months for the BOGO to go into effect. Again, not what I was told when I joined. After 3 months still no BOGO. I have called, I have spoken to multiple supervisors, I have had multiple tickets opened, all with no resolution.
I am being told today that a ticket that was opened on 8/22 as urgent is still not resolved. I am also being told today 9/7/16, that it clearly indicates that the BOGO should have gone into effect for me, but it was put in incorrectly?? After 3-4 months of me paying over $300/month, this can't be resolved? I am also writing a complaint letter to corporate headquarters with a more formal complaint, including names of the repa sand supervisors I have spoken with. I have had cell phones for 20 years and this is the worst customer service I have ever experienced. I would never recommend ATT to anyone.
Kristen Painter
from Fresno, CA
I am writing this formal complaint, because we have been lied to for the last time by one of AT&T's "professional" customer service representatives. Let me start out by saying, we have been loyal AT&T customers for many years, more than I can count and when we went into an AT&T store around June of 2015 to upgrade our phones and were talked into switching to Uverse from our current Comcast cable is when this all started. The representative in the store went through his whole spiel about the Uverse package and how it would save us money.
We liked that idea and had had some issue with Comcast in the past, but our only concern was that we had already paid for the MLP Xtra Inning's package through Comcast and it was only 1/3 of the way through the baseball season at that point so we wanted to make sure we would still be able to get the MLB Xtra Inning Package with AT&T Uverse. The rep at the store said "absolutely" you will and the Gift Card you will receive will make up for the money you lost with already purchasing it with Comcast. It was 189.00 for the package and if I remember correctly the Gift Card was for 200.
So we agreed to switch and were told that after they install your service, you can call to order the MLP Xtra Innings Package. Well, AT&T Uverse doesn't carry that package we found out when we called to order about 2 weeks later. We had already canceled Comcast, turned in all of our equipment, lost our money we had paid for the package with Comcast and your service tech ripped out all of the Comcast lines to our TV's. We have 5 TV's with cable boxes. The only thing we got after we called to complain was, we are sorry you were misinformed, this happens a lot when customers purchase services in the stores.
2 months ago I called to talk to someone about getting another Promo, because our year was up and our bill would go up over 100.00 a month. I either wanted to dropped some services/channels or get another promo so our bill would be about the same. Comcast did that for us every time our year or 2 year agreement was up without hesitation. I was told at that time, that they couldn't offer a new promo, but would continue the same one we had for 6 months and to call back in December.
Last month I received our bill and they did not extend the promo, our promo was over and our bill was way more than expected. So of course I call to find out, tell them I need to drop some services and ask why I was told the promo would be extended for 6 months. The rep saw the comments on my account and apologized, he wasn't sure why it wasn't applied, but told me he was able to adjust the bill and told me how much to send for payment to make the Uverse account current.
I don't remember the exact amount, but I think I paid 196.00 for that month. At that time he said if you combine your Mobile bill and Uverse bill it will save you 30.00 a month, so I agreed to do that. He also came back on the phone and said "I have found another savings for you, if you change your mobile plan to unlimited data and it will save you another 30.00 a month". To that I asked, that's funny last year you had us change from unlimited to our current plan to save money. He said it's a promo that we are offering at the moment. I said my only concern is that with the unlimited we can't use our phones as 'Hotspots" and that is the main reason we went from the unlimited last year to our current plan.
He told me that we still have the ability to use the hotspot on the phone. Well, that is not the case, because the first time we went to use it, it was not available. We called to complain and of course were told, we are sorry you were misinformed. So we opted to switch back to a plan that allows us to use our hotspot. He also told me that AT&T was "giving" me a tablet and I would not incur any costs associated with this. I asked him what is the catch? He said nothing, it was a gift and it would not cost me anything per month. It would just be added to our data plan. I got an email saying this would not ship until I accepted the terms and conditions, which I NEVER DID. It showed up a few days later, I opened it, turned it on and played with it for a few minutes and it has sat on a shelf since.
Yesterday I opened a bill for $588.62, you have to understand this was shocking to say the least, it said I had a past due amount of $233.22, which I now understand is because we combined our bills and not only am I paying for last month mobile service, I have to pay ahead for next month's mobile service. Which was never explained to me, but I understand. This needs to be explained to customers, they are basically paying for 2 months on the first bill, and this is tough for most people who are on a budget. The upsetting part about this bill is I am being charged a monthly fee for this "tablet" and the phone number associated with it. I was never told it had a phone number, I don't want nor do I need another phone number.
I was also told yesterday when I called that there is nothing they can do (Theresa from the WV office) because I accepted the terms and conditions on 8/4/16, which I did not, I specifically refused to do it until I saw the first bill and was convinced that everything I was being told was the truth. There was never any mention of this tablet being on a "2 year contract" when I was "given" it. Makes sense, because I would have questioned a contract, when I was told it would cost me nothing per month. I did not accept the conditions, and neither did anyone else in my household. I would like to turn this tablet into a store and have this taken off our account.
I can understand being "misinformed" maybe once by your customer service reps, but this has been multiple times over a 14 month period. I have spent hours on the phone trying to get these issues resolved and now I have to somehow come up with 588.62 when I usually pay about 390.00 a month for our services.
I have also requested a call back from a supervisor and the representative that "GAVE" me the tablet and that has not happened yet. I know you are a multibillion dollar company that I hope takes pride in your honest employees. Well either we are extremely unlucky that we got 3 of your "dishonest employees" or you have some serious customer service issue. When I call it says that the conversation is recorded, I would like someone to listen to that conversation from last month with the employee that changed us to unlimited date and assured us that we would be able to use our hotspot and about giving me the tablet that "would cost me nothing per month". See how dishonest he was, "just to get a sale".
Looking for a resolution in a timely manner. I am sending this complaint into the corporate offices today.
S. Gravel
from Rochester, NH
I was on the phone for an hour trying to add a service to my mother's land line phone. I called the number on their website for New Hampshire customers and I was told I was calling for South East customers. In all I was told to call 5 different numbers (some of them the same ones I already called). The last time I asked to speak to a manager but was put on hold for another department. I finally hung up. Changing over to Fairpoint. Everyone I talked to (but 2 people) had accents and were very hard to understand. I have never had such a problem in my life as this.
Kara Burgess
from Columbus, OH
I am done with this company it has the absolute worst service and absolutely no help when needed. I used to love this company but as of now I give you a negative 20 stars.
Reginia Abdul-Mateen
from Houston, TX
I noticed that my back gate was open and went outside to close the gate. At that time I saw a MAN ENTERING MY BACKYARD! I asked, "who are you?" He did not respond and I ask again. His response was, I don't have to tell you anything! He finally told me he was fixing a phone line. I asked him why was I not informed as I had been in the past. Once again, he told me he did not need tell me anything. In the past, when AT&T company works in my backyard, they have left a tag on my door to inform me that At&T would be working on my property. This was upsetting because I live alone. This was a serious safety issue for me.
jenifer dillow
from West Dundee, IL
I closed my business in mid October and when I canceled my service with AT&T we put in an order for an intercept number to be put into place so that my customers would know how to get a hold of us. This was all suppose to be in place by October 26th. I have made a total of 6 phone calls to AT&T to get this started and each time I am given a new conformation number and told that an order will be placed and it should take about 6 days. Once I was told it would take 4 hours. Tell me, why would a new order need to be placed with each phone call? The order was started why is no one taking care of it? I am in Illinois and I am losing business because you are not doing what you told me you could do. Believe me...EVERY SINGLE CLIENT that does find me or my stylist DOES hear what a lousy job AT&T is doing!
Tim McAllister
from Fort Worth, TX
My auto refill for my cell phone did not process (1st payment) and I got the 7535 message and made the call. My plan is $40, but all they want is $45 and next month I may be reinstated to the $40, etc. Long story short, no root cause of the problem, at&t customer service reps can not help, supervisor, no help and then the manager hangs up on me. I would pay the $40, but immediately wanted to be reinstated. I was read the same script by everyone I talked to, not one person could make a $5 decision to make a customer happy. So to get my service, I made the $45 payment with a new rep. Asked to speak to another corporate AT&T manager to voice my displeasure and wanted a contact to escalate the problem to. AT&T has no email accounts for complaints, nor anyone to address these kinds of issues to. But I was offered a snail mail address to at&t in ft. wayne, in. No person just at&t. If the bird has it's head in the sand, guess everyone is happy. NOT What ever happened to good old fashioned Customer Service? And treating people with dignity and respect? Now, it's all about the money.
Jerry Lopez
from Moorpark, CA
AT&T fees for TV, phone, and internet are out of this world, The worse thing is that they are an American Co. and they have just moved their customer services out of the country. When you call or email AT&T for any service, you are connected to the Philippines, and you can no longer speak to anyone in the US. How many jobs did they cut in the US? They should be helping build US jobs, and they are sending them out of the country. I will not support this anymore and will be switching my phone service to another company like Verizon or T-Mobile.
Louis M Aiello
from New Castle, PA
I am so fed up with AT&T, as my wireless carrier, which I've had for the last 10 years. Their customer service stinks, no one solves your problem, and you can't get a callback from them. Recently, I tried to upgrade my phone, which would cost me more money, went to the chat session and after about 45 minutes online with a service rep.- she told me she couldn't help me. I called customer service, and got nowhere , I asked to speak to a supervisor, naturally none available, but one would call me back, Right, that was 4 days ago. Seems like AT&T cares more about getting new customers, than worrying about keeping the ones they have. I am so sick of getting offers from them, which I can't use, because it applies to new customers only!!! This is not my first incident with them either. I am going to Verizon, or Sprint- see if they are any better!
Helen Peterson
from Spearfish, SD
WHEN I WENT TO RENEW MY COMTRACT I HAD ONE OF THE WORST EXPERENCES I HAVE EVER HAD TO DEAL WITH IN MY 61 YEARS. I went to the local store explaining that I wanted to renew 4 of my 6 contracts as the were expiring in under two months... was told I could do this BUT I could save money doing the NEXT program RIGHT!!! I did not fully understand this program I and tried to explain this to the sales man but of course he just kept saying this was better . I ended up getting 1 blackberry which will cost me over $499.99 @ 15.00 a month over 30 months (that's almost 3 years ) more than it would have on a 2 year contract with the phone costing .99, 2 other phones for 199.99 at $8.99 over 24 months this does not include the monthly charge and taxes on each phone.
Not only is it costing me more but I received a different phone than I wanted. They gave me a TO-GO PHONE.. I told them that I do not text or want a smart phone but a simple flip phone with a camera as I have problems hanging on to a phone with arthritis and drop my phone. The one they gave me I just found out has not camera!! This phone cost me $5.00 a month for over 18 months RIP OFF RIGHT I tried to return it with in 5 days informed it would cost $40.00 restocking fee and I then I would be charged this and have no phone. Now I have a phone without camera and a phone with a small screen small numbers. Of course calling AT&T does not help because the 15 day grace has now expired ( nice rule right) I wish we had a different cell phone company besides AT&T or Verizon out here in South Dakota.
Rick MacInnis
from Pompano Beach, FL
I have been dealing with AT&T for months trying to get a credit on my company's DSL line and it has yet to appear on my bill. We are now moving (to a place with better internet service) and have transferred the service to the landlord and they are charging me a $120 early termination fee. They have the worst customer service policies and it seems no one can issue a credit the same day on the account. They are operating in the dark ages!
Thomas Cooley
from Greer, SC
Ever since I have been with AT&T I never know what my bill is going to be. It has ranged from $27 to over $200 a month. I am supposed to have basic phone for about $16 and high speed internet special for $19.95. I was told my bill would be $36.44 per month.
After I kept calling someone decided to lower my internet speed to as slow as it would go. After calling I got someone who told me I should have the high speed internet for $19.95, so she set it back. Then I get a letter on May 4, 2015 that said my high speed would be $34.00. My total bill was only to be $36.44.
Does anyone know what they are doing at AT&T?? Each time you call customer service you get a different price for Phone and internet. I got this special deal back in November 2014 for one year, but have never got the special price I was quoted. I'm sorry I don't have another choice at this time, but when I do I will leave it with AT&T.
Edward James
from Indianapolis, IN
My bill went from the end of the month in December. I agreed to U-Verse, then it went to the 14th of January. Now it is saying it is due on the 10th? There has only been two months with 31 days since then. I am being scammed by AT&T crooks. I was told by Rosanna when I spoke with her on Dec. 19th. that my bill would be no more than $130 a month with taxes. Rosanna called me on Dec. 20th from a 702 area code to make sure AT&T was doing what we agreed upon in order for me to accept and agree to our contract. A 40" television was offered. I didn't receive a television.
The contract was supposed to include me being hooked into the U-Verse lines, and I wasn't until near Feb 2015. I have had old Lead lines at the back of my house for 5 years. Lead is degraded Uranium. Every time it would rain my phone would go out. This happened so much, there were time I didn't even call because so many thugs would come to my home and spend multiple hours at my residence looking at the box on the back of my house, and it was always the same thing, the old lead lines. Creeping my bill earlier and earlier each month will cause me to have to pay an extra bill in two years. YOU ARE TRYING TO ROB ME!!!!!!!!!!!!!!!!! YOU HAVE LIED TO ME, AND CHEATED ME!!!!! YOU HAVE GIVEN ME HORRIBLE SERVICE FOR YEARS!!!!!!!!!
Clara Schollian
from San Diego, CA
I closed my AT&T account on January 31, 20015, witnessed on that date by 4 persons. AT&T is still billing me more than I originally was billed every month since I closed my account. One month it was over $300.00!!!! Every month on the 2nd I am billed by you taking my money from a bank account. I finally had to close my account. I am 81 years old and have a fixed income. I have to borrow for gas and other items as you take all of my extra money from an account that was closed back on January 31, 2015. Give me back my money.
Now you have started to charge me an additional bill for my phone; no account number visible, verified by a customer supervisor. I DO NOT HAVE AN AAT&T ACCOUNT. I HAVE COX. I WANT AN IMMEDIATE REFUND FOR ALL THE CHARAGES YOU TOOK FROM ME WITHOUT MY PERMISSON. ELDER FRAUD IS JUST AROUND THE CORNER ALONG WIWTH ELDERBUSE AS I AM DEVISTATED, DEPRESSED AND ETC. BECAUSE YOU ARE TAKING ALL MY MONEY AND I HAVE A CLOSED ACCOUNT WITH YOU. Immediate action needs to be taken NOW.
We noticed a charge to our home line for long distance. Since our plan with AT&T was for unlimited free long distance, this was naturally a cause for concern. We called the customer service line and they looked into it, explaining that we were "slammed". "Slamming" is basically a scam where one company calls AT&T (and I presume other carriers as well) and tells them that you have authorized the new long distance carrier. AT&T says "Okay!" and starts incorporating their charges into you AT&T bill. That's it. No phone call, email, text, carrier pigeon, smoke signal; nothing to the customer from AT&T asking if you did indeed authorize there change.
When I call AT&T, I have to answer 57 questions to get a customer service rep to agree that I am the person on the account. But they just take "company XYZ" at their word? And why in the world would I switch from free long to distance to paying for long distance? Anyway, multiple phone calls to the customer service line, dealing with multiple people, all who have said that it was indeed fraudulent, will be taken care of, and that it wouldn't affect my services. That was December. This is almost May. Since then we have had our internet service suspended every month when the new bill posts. Suspended for non-payment. Non-payment for a fraudulent amount. Each phone call results in a long wait, a long discussion, and MORE assurances that it will be taken care of. Assurances that all they're waiting for is "company XYZ" to reverse the charges. Does that make any sense?!?
Now my internet is completely suspended, until we pay the outstanding balance. The FRAUDULENT outstanding balance. This is after months of paying our bill, our legitimate charges, and having internet restored in 24-48 hours. Now, I'm being told that we have to pay the entire amount, and that the money will be refunded to me when the discrepancy clears. Right... In supposed to take them at their word after months of fighting with this. And just fork over $300 dollars, which, if I get back will probably be in the form of a bill credit, instead a cash refund.
I would switch carriers, but I live in an area where I need a land line due to spotty cell service, and they are my ONLY option for internet, other than satellite. I just want this cleared up and some acknowledgement for the insane difficulty it has taken thus far!
Joe E Apple
from Houston, TX
To start off with I want to praise two of your employees, Burham Zackery, outstanding young man, and John Farrell. Both are a excees to your company. Both should be promote, as far as the store Manger himself no, store No. LNSN, AttPrime Comms. 12020 FM 1960 Suite 1000.
Store Manger had no interest at all with my problem.Just got up and went back room, shut the door. Now, the problems, I bought a prepaid phone at Target . The problem started there, I came into this store for asst. mainly because your att store. I bought a prepaid ATT phone with a card a card. The young lady that help them , told them they can not use a prepaid card on the phone, they need a plan and activation.Note , , P.S. there. 45.00, and 15.00. Long story short went back to target three times, your store three times . Target had shown me proof that the phone was activated from there end. Go back to your store Burham called many times , ATT was saying it was suspended . REALLY ! Burham the whole time was polite,and tried to help us, but no to praviel. I cancelled the ATT Prepaid , and went to Verizon, BAM instantly came on. One problem solved, next problem, getting my refund back for a service that did not go with a prepaid phone. Road Block, everyone was saying there was nothing anyone can do , again take note Burham should be a store manger, John Farrell was there , I guess I was lucky, he took care of the problem instantly, another outstanding employee of yours. i was going to switch with you, until you had a racist NBA player as a spokesman , tell me he's not, . Why don't you put a Veteran who fought for this country, I don't support a Company who supports woke or racism . That's it , But please praise Burham Zackary and John Farrell.
Serra
from Schenectady, NY
I bought a $60+ screen protector from att who said any time i needed it replaced they would put it on. The one by me was vandalized so I couldn't go there. The kid at the Colonie center was laughing stoned out of his mind and said this is the last time they'd put it on
Stacey Walker
from Tunica Resorts, MS
www had a sales person come to our home after we had an issue with our internet service. The salesman sold the wireless service to us promising a saving and a gift cards to help pay off the balance of our service with T-Mobile. We have contacted the salesperson he has not returned our call. He said he was going to check it to it and get back and since he has gone ghost. We trusted the salesperson, to provide the gift card. Instead the T-Mobile account has gone in to collection while waiting.. we were told we are getting a $6 monthly discount, which is not helpful to pay our previous account. Please help us get this rectified.
Vincent Melchiorre
from Philadelphia, PA
I added my Foster son to my account based on an email I received that it would only costs $5.00 more a month. I have been a customer of AT&T since it was Cingular more than 40 years. I added the line267-339-2815 and AT&T sent me a new Samsung phone for my son. I printed the return label, put the old phone in the box and sent it back. I have been getting charged for the phone and I have been calling customer service to try to correct this problem. I have called and spent hours on the phone with your customer service and have been told repeatedly that the $22.00 charge would be taken off my bill. In my first call in August I was told the phone was received and that it would be taken off my bill. After that, I did not keep the paperwork as it was confirmed it was received. Since then I have called in September and October and spent hours going over this with more customer representatives and their supervisors. I can't afford to waist anymore time with this. Please look at my complaint history and you will see what I am talking about. In October I was given a case ID # which is ID # CM20220910_154275461. This issue should not be this hard to fix. Please just credit my account for the $22.23 which has been charged and stop charging me for a phone I did not need and which I returned the old phone to AT&T. I have already spent many hours trying to discuss this issue with your customer service advisors. I do have memo's for each call and the hours i have already wasted on this issue.
LaTosha Brown
from Greensboro, NC
I called in because I need to change the card on file where a payment arrangement was coming out of my account. The representative named Corey told me it was too late to change the card and for me to call the next day and make the payment or just make it on my own. I proceeded to ask would they be trying to take the money off of the card I wanted to cancel and he stated he was unsure. He said they shouldn't but didn't have a definite answer. I hung up and he called me back being very rude and smart and cutting me off. I then asked for his name and his then his ID and he stated his name was Cory and he wasn't obligated in giving me his ID and that he gave me his name and that was good enough. I asked to speak with a supervisor and he then proceeded to say sure can and I am currently on hold and have been so far for 22 minutes and 21 seconds. They have the worst customer service ever.
Michelle H.
from Tiffin, OH
Worst company! I would NEVER use them again. It was virtually impossible to switch to another carrier. They gave us a complete run around and it took us weeks and hours on the phone to get things settled. Choose ANY other company.
Douglas Morey
from Owatonna, MN
i was a Direct TV customer for over 15 years. my account was on autopay for the bulk of that time and was never late on a payment with them. AT&T bought them and took over the service for the past few years. I called to cancel my Direct TV account since it continued to go up and at the time of Cancellation it was costing me over $140 per month. When I called to cancel i directed them that i wanted to cancel that day. It took about 10 minutes to talk them into canceling that day but they assured me that i would be cancelled that day and i was current on my bill and did not owe them any money. i received a package to send back the equipment which i did. now about 6 months later I find out that they say I owed them $14.50 at time of cancellation (which I didn't and they had me on direct pay so if i owed them money they could have collected it). I returned all the equipment but now they say i did not return the equipment. They turned the account over to collection, even though i never received a bill saying i owed them money. My credit score has gone from 805 down to 680 because of this collection. AT&T screws their customers even after 15 years of prompt payment for their service. DO NOT use AT&T. They will not take care of you and screw you in the end.
Brenna L. Gudgel
from Crown Point, IN
My bill says it was processed on the 15 of the month but does not get here until the 27-29, have not received this month yet! It then says due by 6-7. I mail it the day I get it & you are charging me a late fee saying you don't get it in time. I have called several times & no solution. I don't know how you expect me to mail it any sooner, and no. I'm old & do not pay bills on line. I am totally exasperated with this continuing mess!!
Deborah Ann Huelbig
from South San Francisco, CA
This is insane! After hours & hours on the phone and 50 million transfers for " another dept" to resolve a transfer of service...We got fed up, canceled service with att, returned the box to ups and now this? Just too much to comprehend for you? You may get a kick out of knowing I also received a survey from att addressing me as a "former customer". Have you ever heard of the saying the left hand not knowing what the right hand is doing???? Please take care of your problem with this task.
Jehoiada Israel
from Los Angeles, CA
To Whom it May Concern;
Re: Account # 265061967176
I am writing regarding a dispute with AT&T. In 2017 I was charged for equipment I never received by this company. I contacted the company over and over letting them know that I did not receive any items. Later on, after many phone calls, emails, and my account being sent to collection, etc., they finally realized that the item had not been delivered to me, yet it had been returned back to their store or warehouse. Yet, as I said AT&T had already placed this charge on my account and turned over my account to a collection agency. The collection notice that was sent was a past due amount was $74.35 and the Total Amount Due $229.30.
AT&T need to repay for all pain they've cause because it's not fair at all being charged for something I never got and sent to collection myess my credit up. I'm really worry to sign up with them in the future.
Shutterview
from Nashville, IL
We have a fax and phone line that have been out of service for appox 3 months. We have called numerous times and each time the technician comes out but the problems are never resolved. This is a CILA home and it's unacceptable that they do not have working phone service and we pay approx $150.00 a month for this service. The service we received I would rate less than one star and if there was any other services we would definitely switch.
Ryan Ryan
from Dallas, TX
Internet went down Friday and it's Monday and is still down. I was told by 11 different agents conflicting stories all weekend. Made to stay home to reset router when service was promised to be resolved. I was told there was an outage and there was not an outage by different agents. All agents had one thing in common, they promised to own my issue and follow-up. Not 1 of them did that. I spent 3 days on calls or chats with them and found out last night a cable was cut and that dept doesn't work weekends. I have never experienced anything like this. Monday and it is still down. Disappointed doesn't cover it.
Alan J. Ruben
from Columbia, SC
Have been trying to have long distance carrier and minimum long distance charges removed from account for 9 months. After MANY calls and escalation to "office of the President" and with BBB assistance, lots of broken promises by ATT, followed by rounds of lies when clearly not able to correct the issue. Very aggravating.
Thomas Neil Lynn III
from Edmond, OK
I have been unable to resolve issues with email ceasing to work without multiple calls and "dropped" calls which is, I believe, another term for get rid of caller. I have had numerous disconnects. I do admit that with large # of calls and hours spent holding and talking to tech people has jaded me quite a bit. Att has restricted their tech assistants ability to lift a lockout due to repeated wrong password entries and they can no longer wipe the old password and issue a temporary password.
Hello, I am writing because I have to report the terrible experience I have had with this store located at 11441 SW 40 st. They made me get another line and they promised me that the bill would go down and it was all a lie. I'm already going to the store and since I've demanded an answer from them, they don't even give me a greeting. The Manager was the one who attended me and lied to me. They do not explain to entangle customers. I would never want to see them again because of the poor treatment and service they have given me.
I have had no internet for the last 11 days. When calling,using the online chat or looking at the website it says will be fixed in 24 hours....it has said this for days and customer service has no clue what they are doing. Meanwhile I am paying for internet that doesn't work as well as Hulu, Disney + and Netflix I cannot use......you are forcing customers too cancel.Shame on you!!!!
Donald H Smith
from Nashville, TN
I've been having problems with my AT&T internet connection all summer. I'm sitting here on a Saturday with no service. First they said 6 to 8 hours. Now it's 24 hours. I will not receive a refund for the day. I've had it with AT&T, I will be finding a new internet service provider. If a costumer of mine pay me for a service and I don't provider it I will be in court.
Thanks for your feedback!
Sorry. Please try again later!